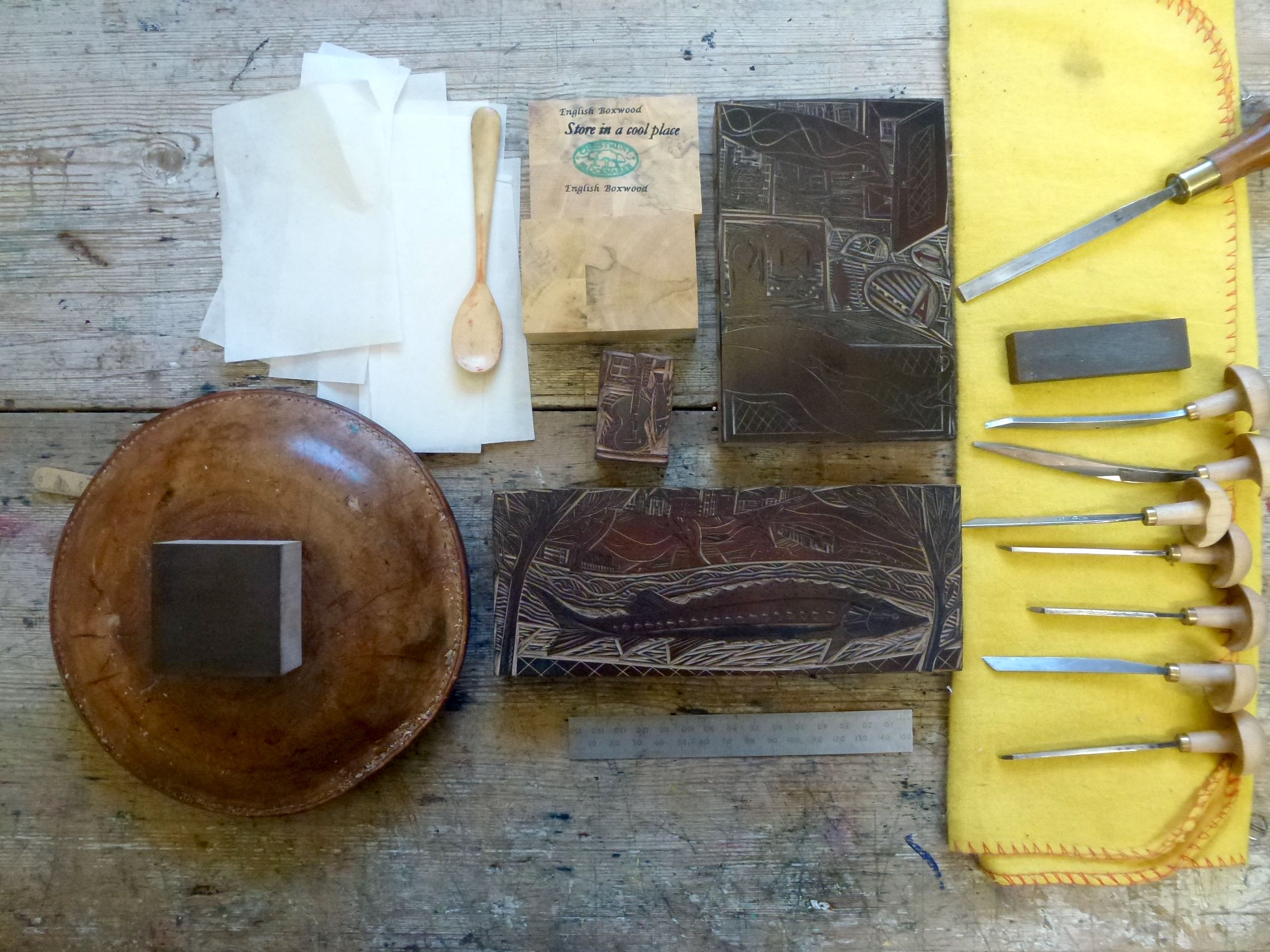 In my Scottish studio, I work on a table. Constructed in pine, it is rather battered but stable and came from a farmhouse in Gloucestershire. It was given to me by Lily Messenger, who had lived in Rodmarton before moving to Amberley, the village where we lived at that time. As our next-door neighbour, Mrs Messenger also lent me an attic room in which I worked for several years until we moved to Scotland in 1990. Before marriage, she had been Lily Bucknell, from a family of blacksmiths and wood-workers and who belonged to the Guild of Gloucestershire Craftsmen. This is only significant because my own Guild membership led to meeting highly skilled artists and craftsmen from whom I learned much concerning materials and ways of making things.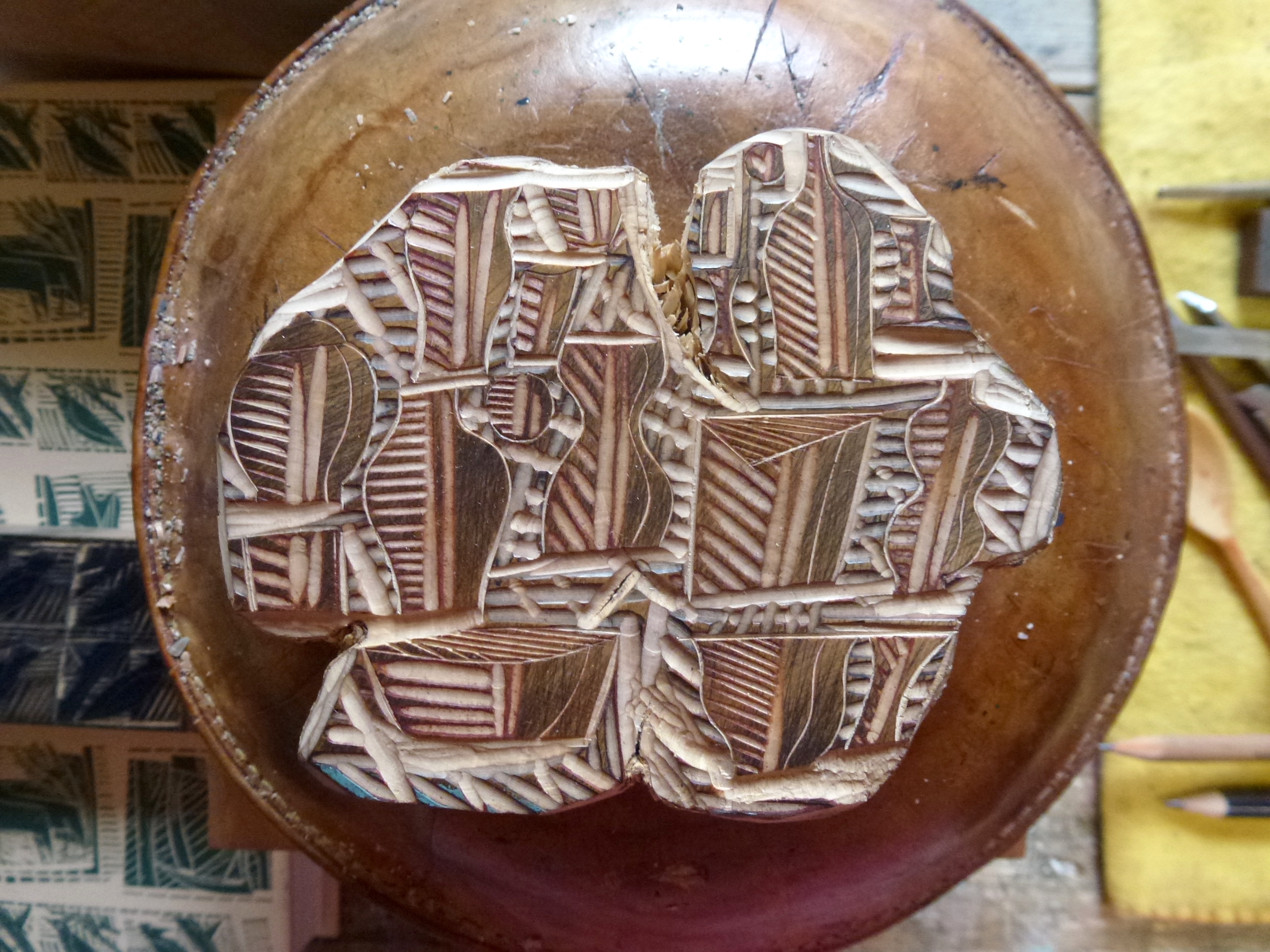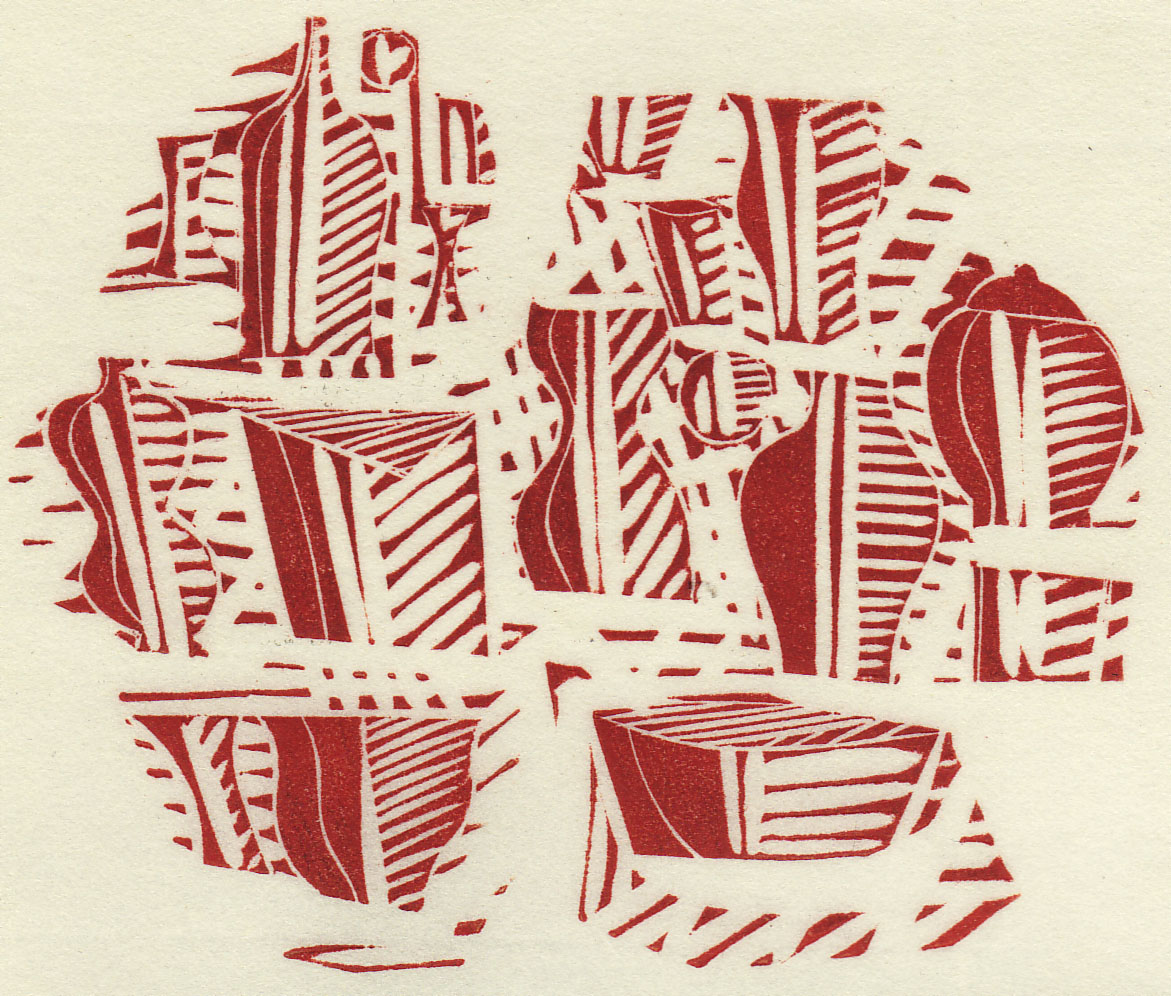 Vessels
Mrs Messenger owned a set of finely worked fire irons made by her cousin Norman Bucknell. These irons had a subtle, dotted motif to decorate their articulated forms, without appearing as superficial embellishment. They are excellent examples of craftsmanship, being both beautiful and useful.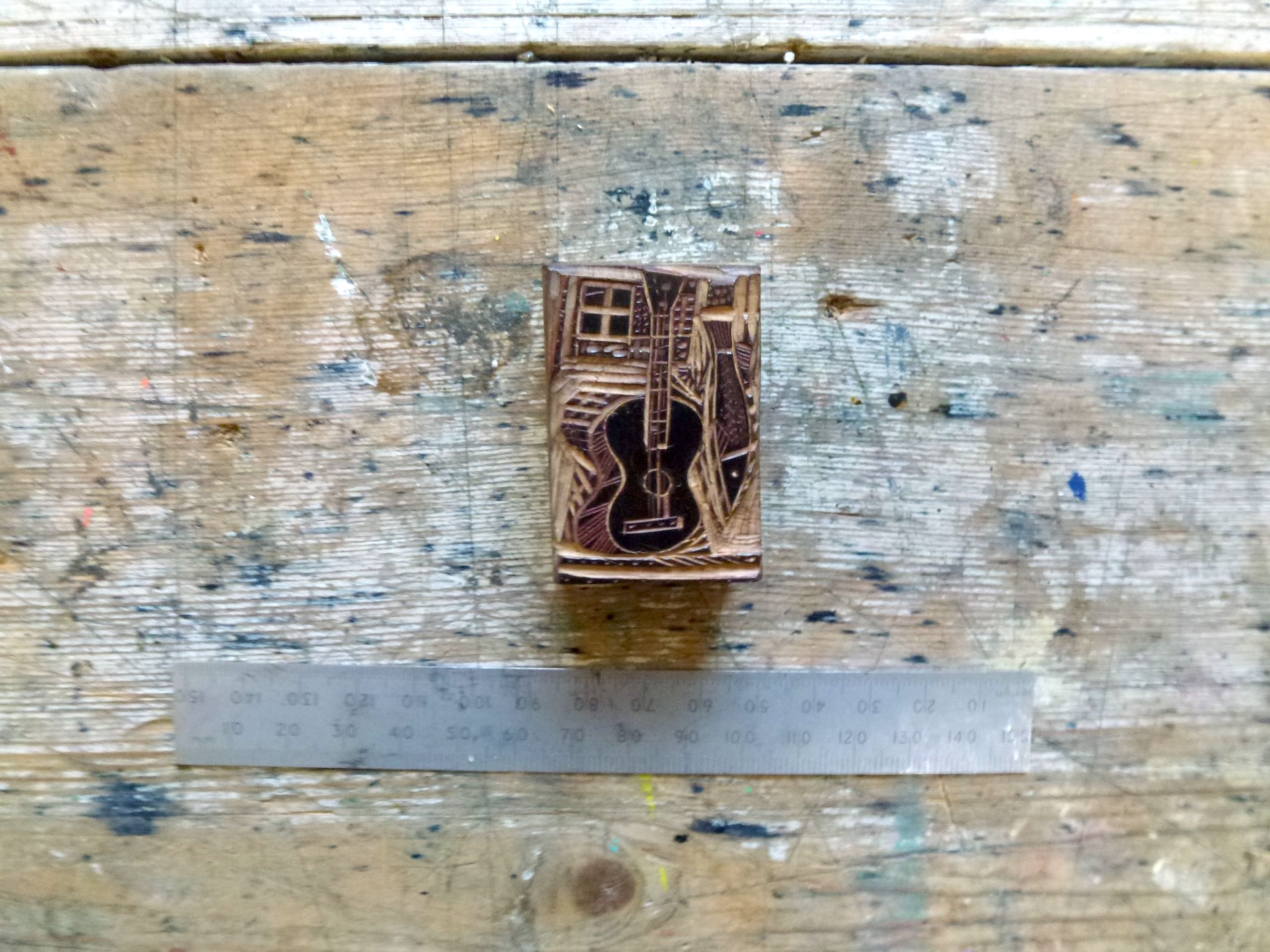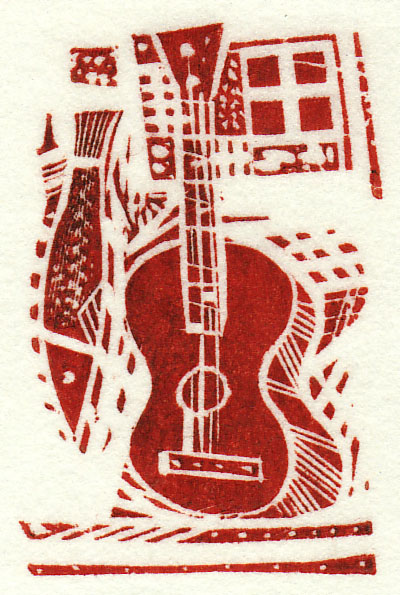 Guitarra
At the present time, my work table is beside a south-facing window to the Lammermuir Hills. This location is somewhat distant from the Cotswolds, but is a deeply inspiring vantage point from which to paint, draw, and engrave various woodblocks. These prints in the Rowley Gallery show a range of subjects which connect to the origins of my work immediately following graduation, hence recollections of Mrs Messenger's attic at the time when I began to seriously apply myself to wood-block printmaking.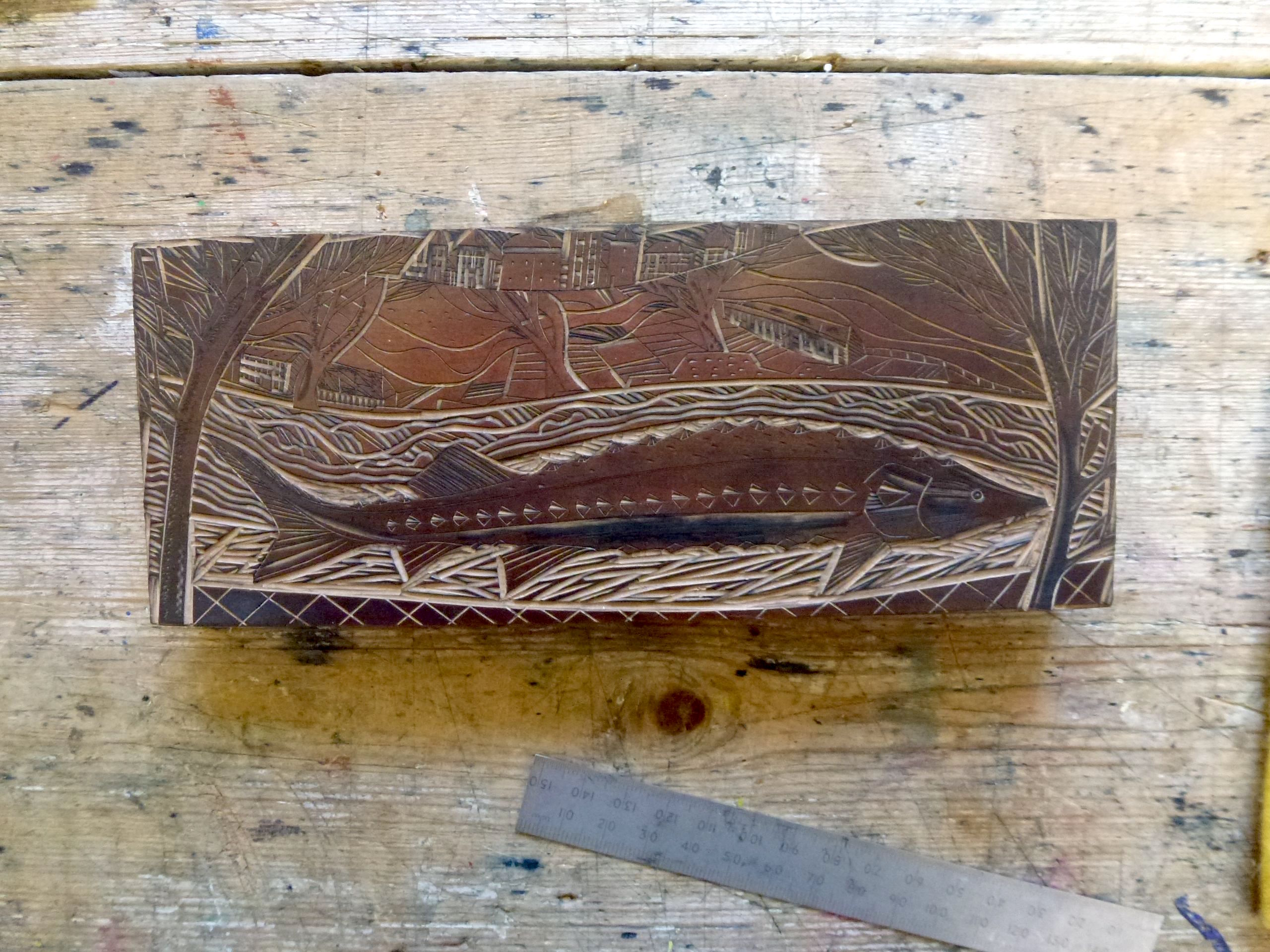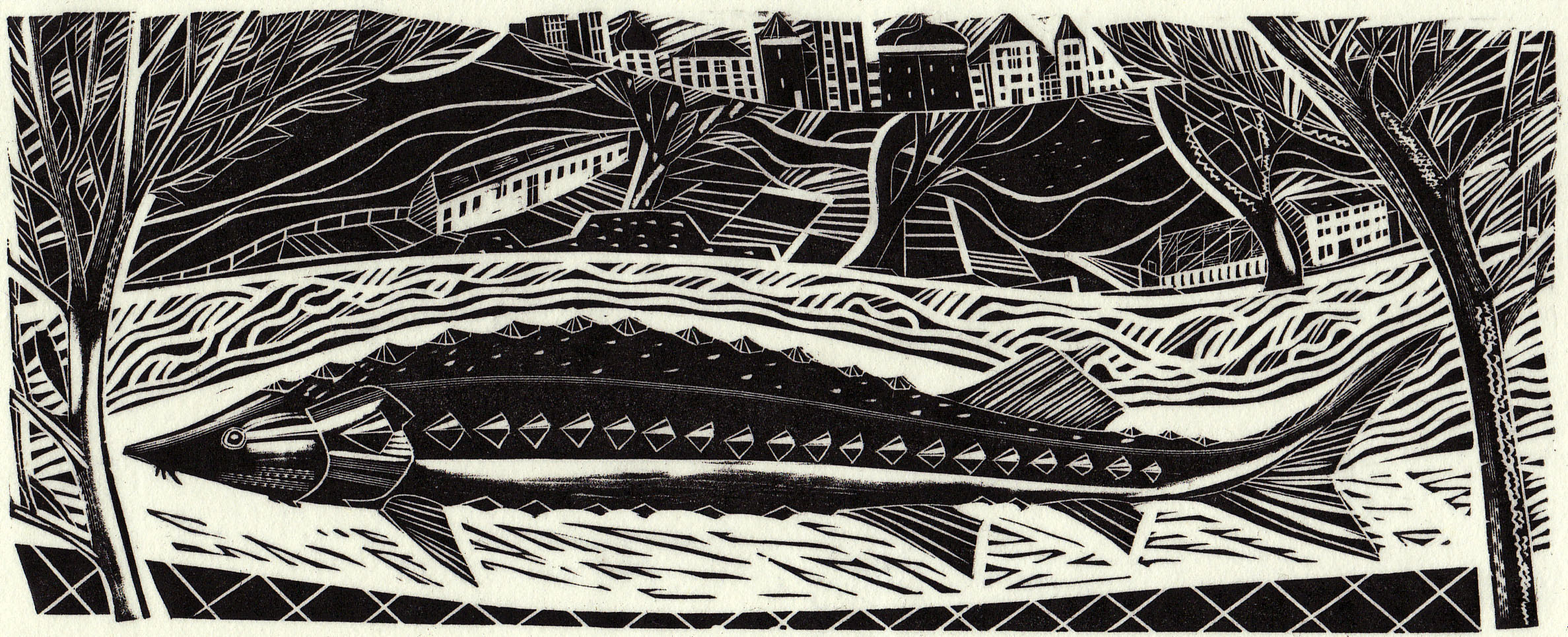 Sturgeon
Blair Hughes-Stanton taught relief printmaking at the Central School of Art & Design, but my principal education came at an earlier time from Donald Potter, who taught us sculpture at school. DP had worked as an apprentice to Eric Gill, and he gave me the fundamental grounding in how to conceive and express ideas in three-dimensional form. Of course, this was also very much about working in wood or stone; how to make something well.
Also, when arriving at the school, Eric Rennick had said to my mother, "I cannot teach this boy how to be an artist, but I can teach him how to draw", which was true, certainly.
My time as a lecturer has caused me to work out what can be taught or demonstrated to students, in relation to what I actually learned after leaving school and during six years at art college. At some point I realized that the study of sculpture deeply enhances knowledge about drawing.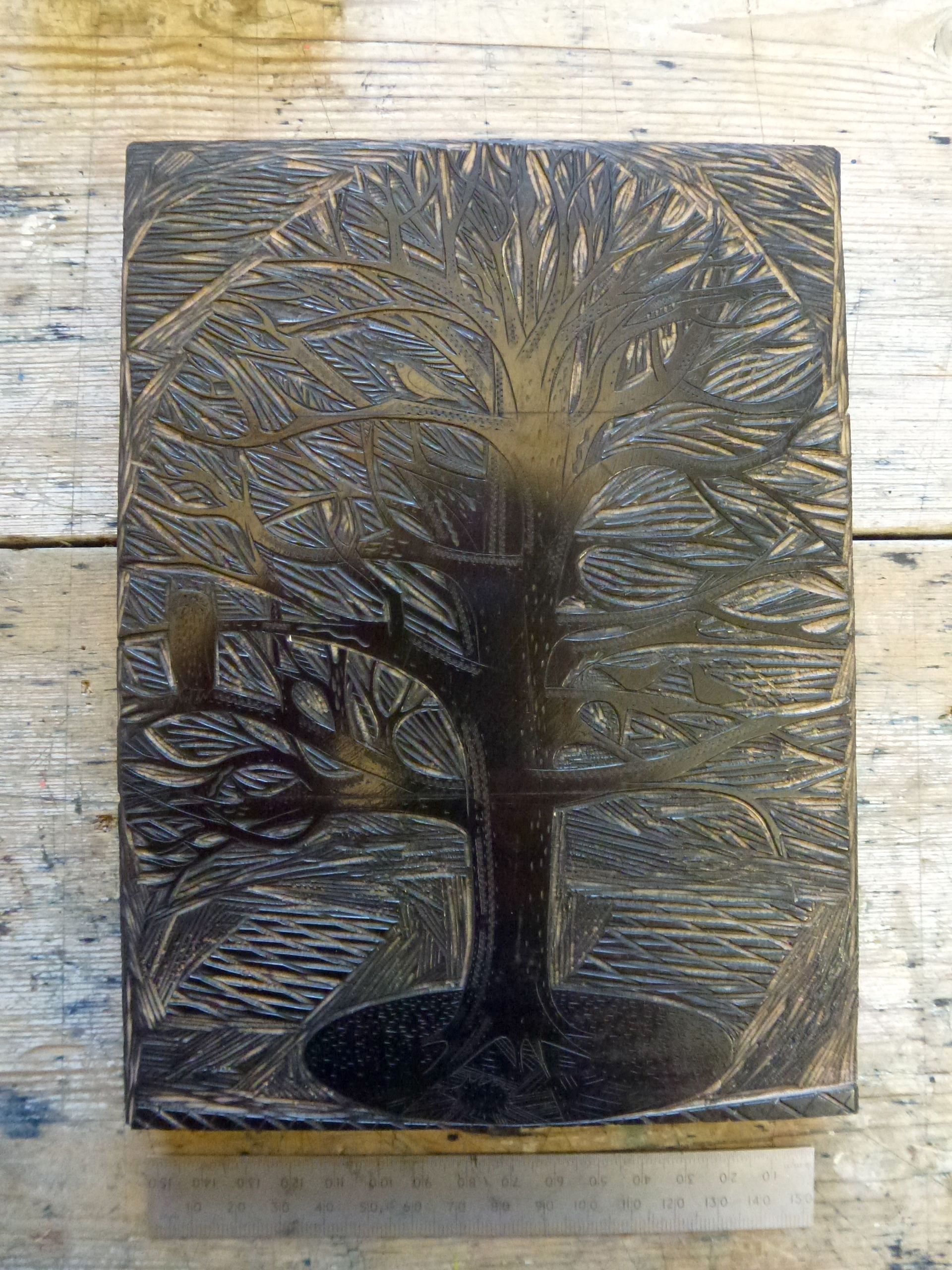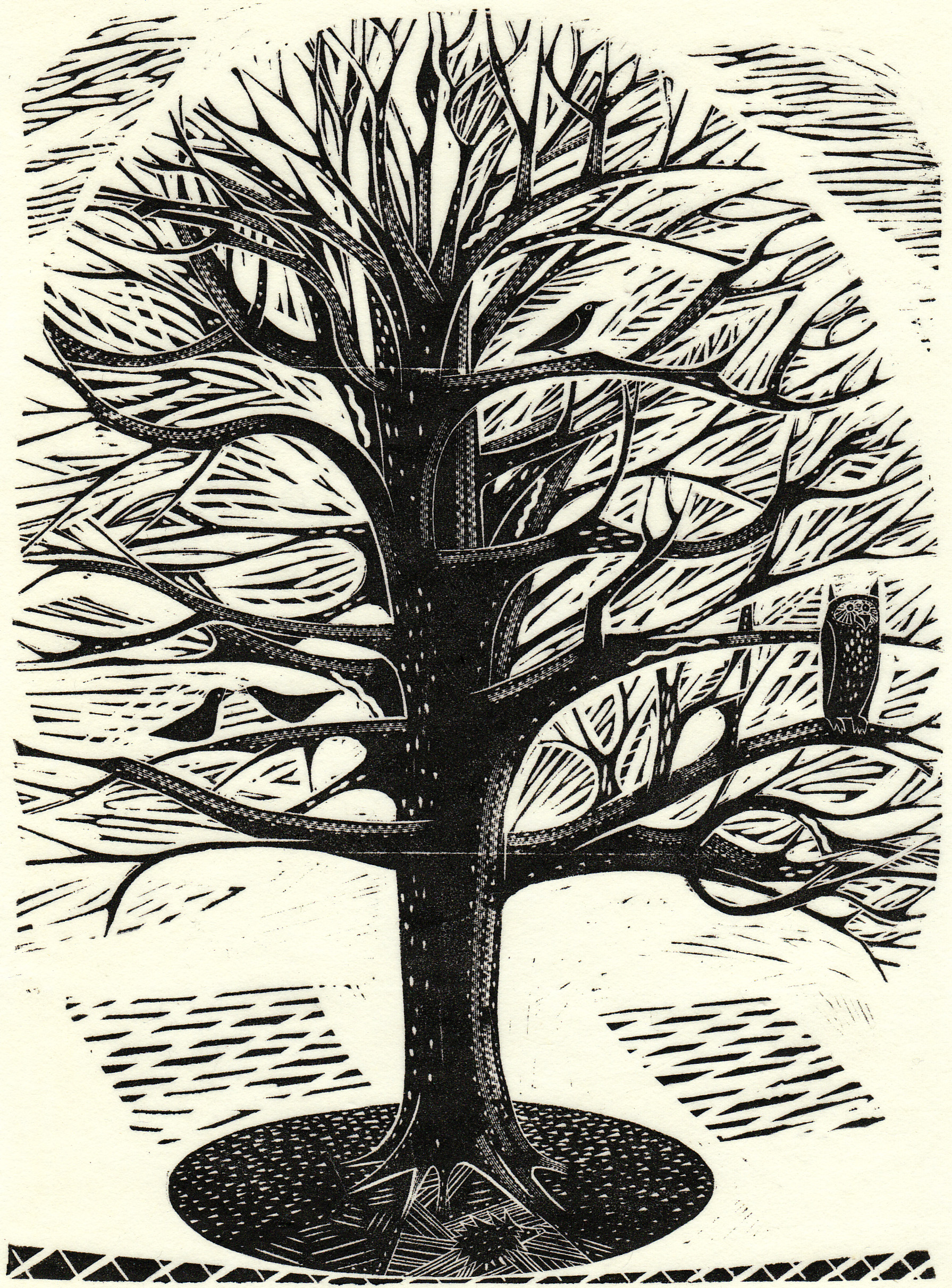 Oak Tree
Many of these images begin as a simple division of the picture space, with a horizontal or vertical line, which is then subdivided or interrupted. This is a cross-like motif that supports or frames imagery of various kinds.
It may be of interest to note that this tactile and crafted process, allied to whatever philosophical or intellectual aspects it may have, completely liberated my mind's eye in the way of making an image. When allied to the smooth surface of an end-grain woodblock, the fine sharpness of particular tools allows me to create and invent pictures as much as I have ever wished.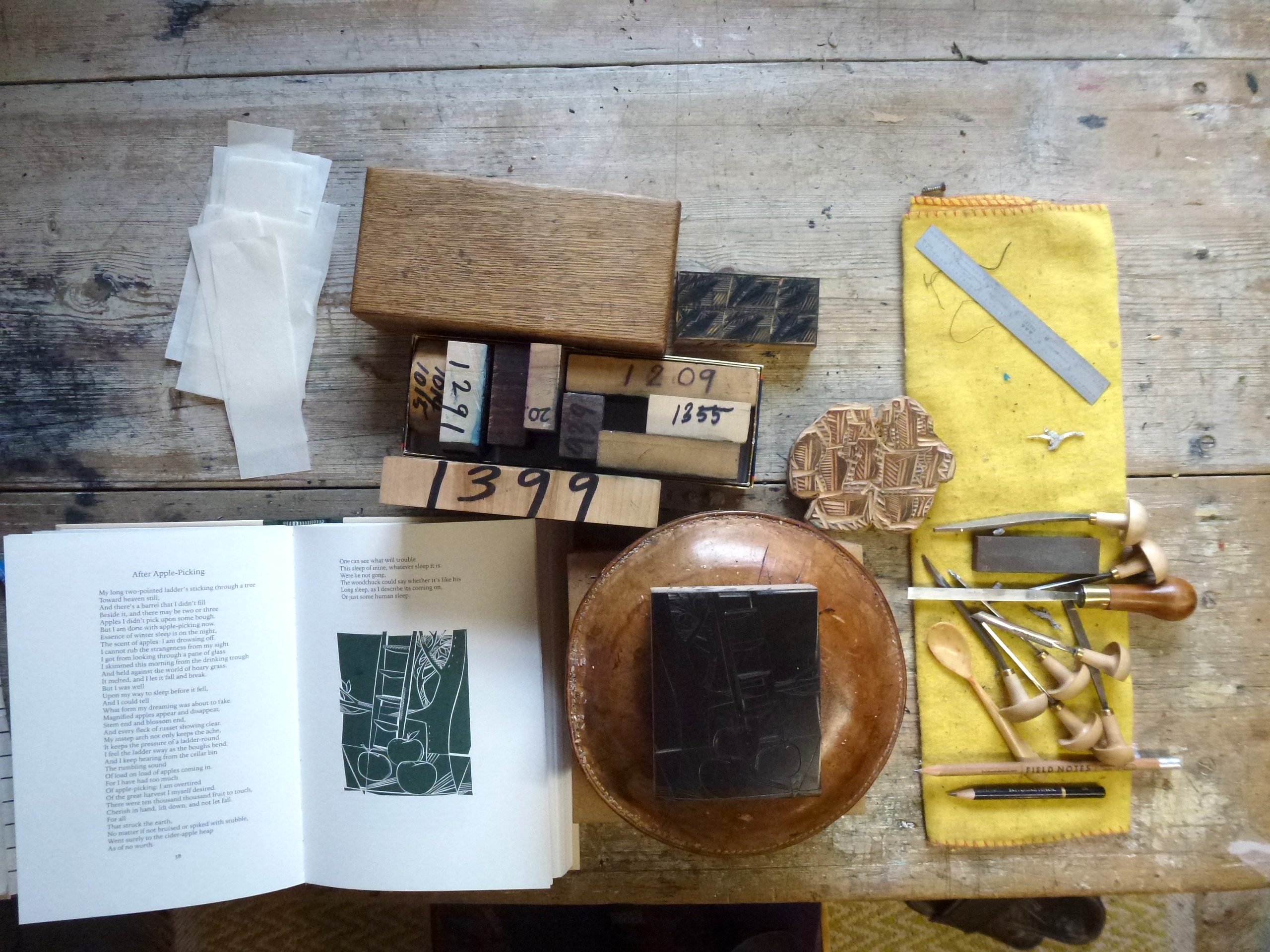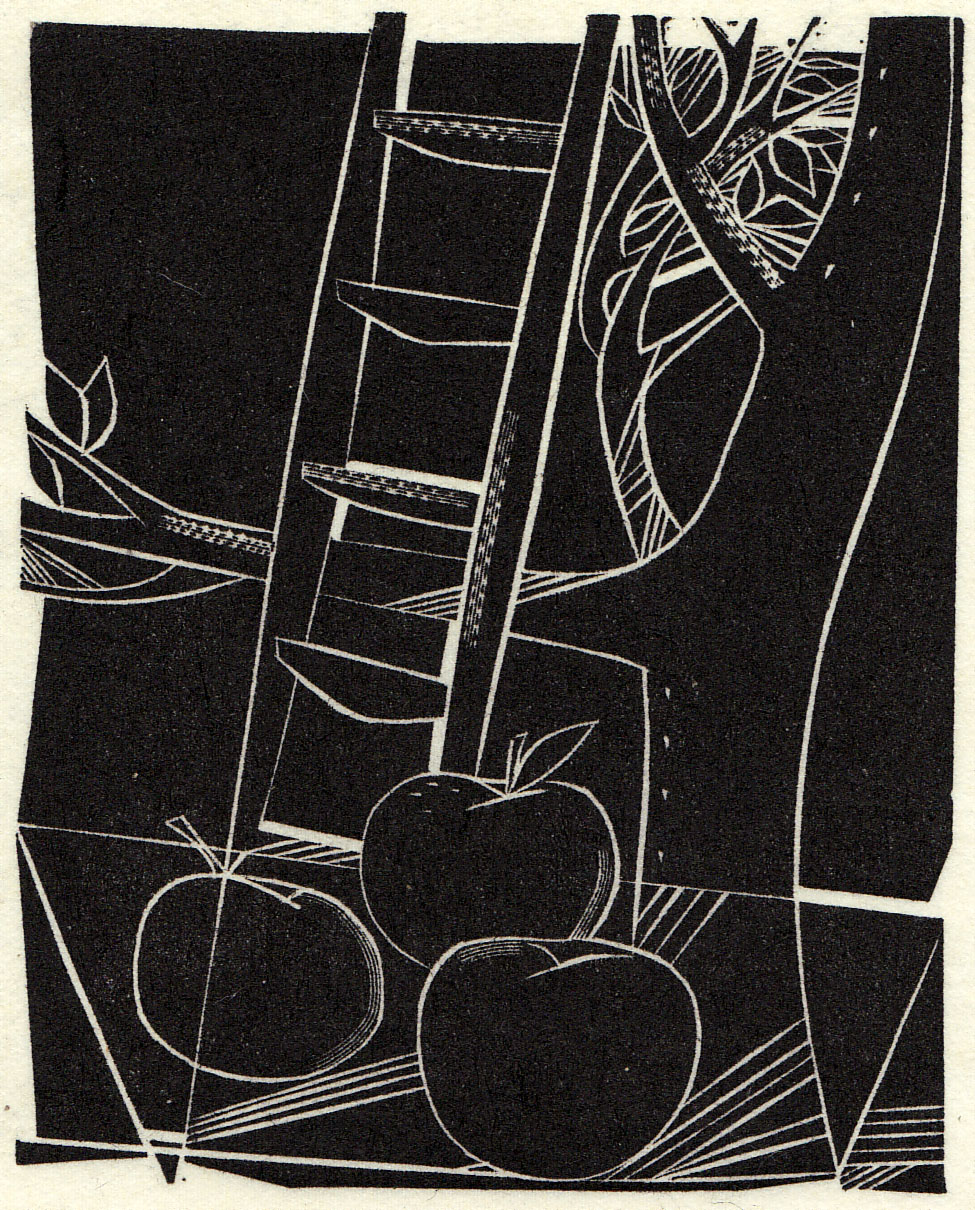 After Apple-Picking
Also, I like to make drawings of objects on window-sills, shelves or table tops. For example, these are stones & wood; feathers, shells & bones in baskets or boxes. All such collected items are an inspiration to me, for some reason. They refer to my East Anglian origins, as well as later travels and current location. Found objects hold a sense of time and poetic significance, as well as being formally intriguing. There is a subject to be found in what is placed in the foreground, with a window to divide the shallow space, and a view beyond to encompass elemental landscapes. Such subjects offer simple questions about the ways in which forms occupy space and how they can be visually expressed in two dimensions.
Jonathan Gibbs / The Rowley Gallery
※