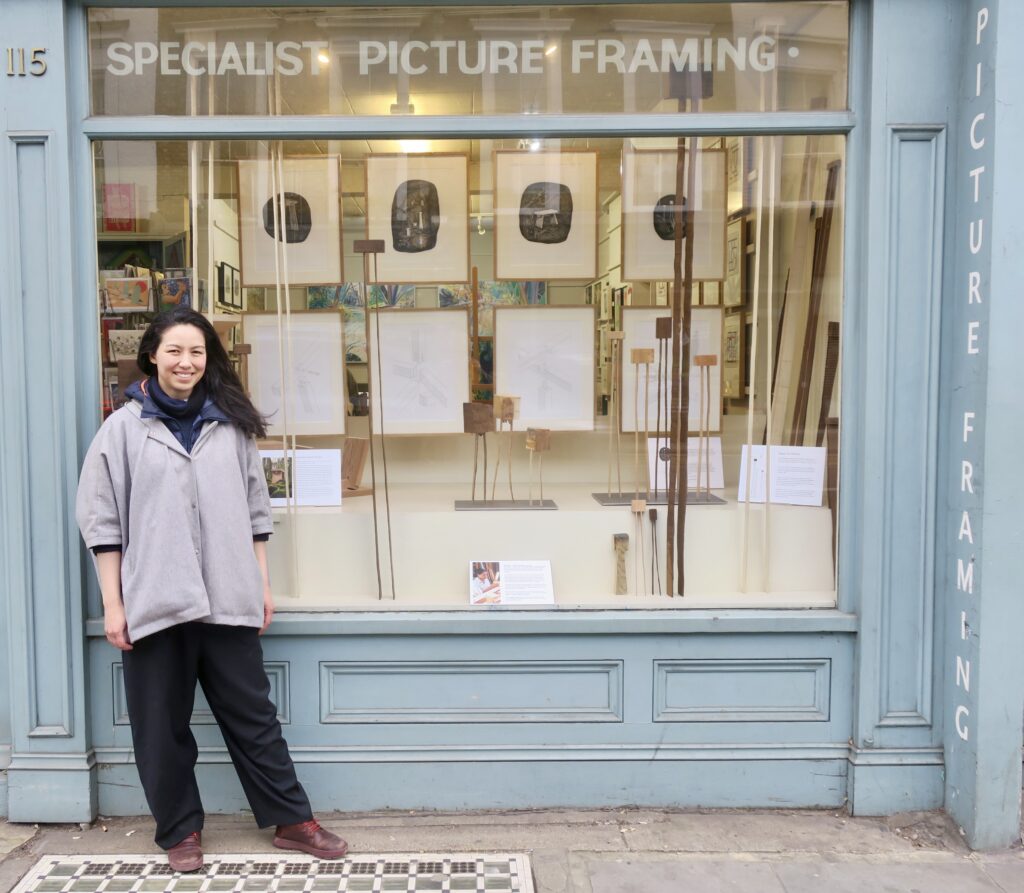 Emi Shinmura came over from Berlin especially to install our latest window exhibition, and we are honoured to host her series of recent wood carvings – Seats For Deities – until the end of March.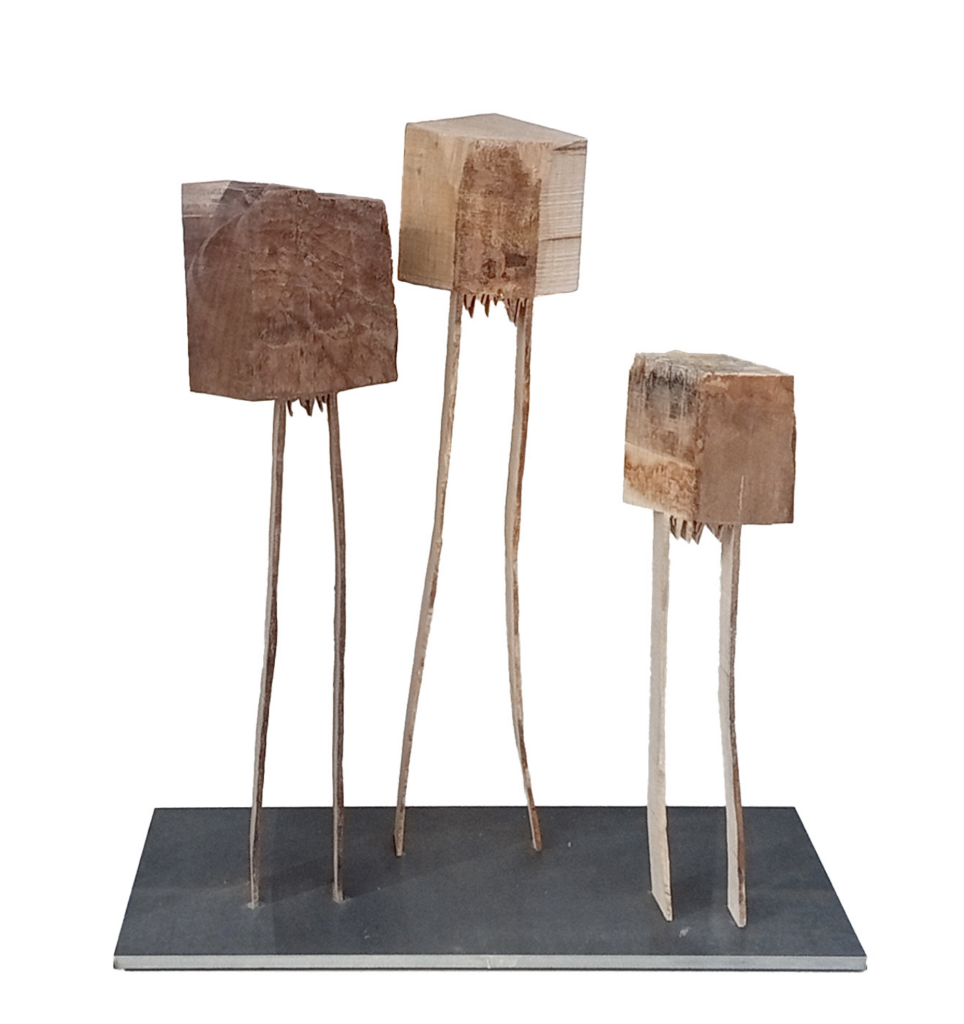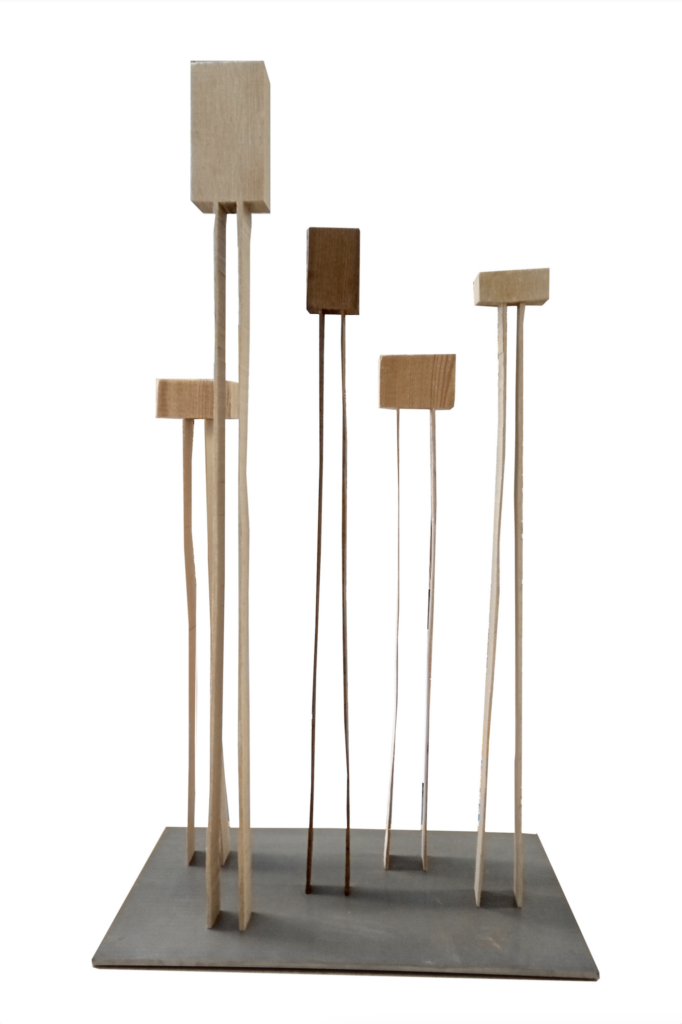 Seats for Deities
These elongated sculptures follow the theme of building a raised platform for sitting: two legs supporting a seat – an abstraction of and inspired by my work and development of traditional Japanese stools.
Striving for simplicity and pure aesthetics, each one is made from
 a single piece of timber, avoiding the need for joining. As no actual weight will be applied, balance was found in their legs being able to carry their 'seats'.
In addition, extending the legs disproportionately lends them character and gravitas, unrestrained by the practical considerations that need to be kept to when making stools for mortals. The structural freedom allows them to elegantly stand, or rest against a wall, and balance their own weight.
Differences in seat size and the natural variations found in the woods used, from dense oaks to light kiri, create a nuanced counterplay. To this end, no varnishes or waxes were used and, where necessary, the legs' curvatures follow the grain to maintain strength – offering a resting place for Deities.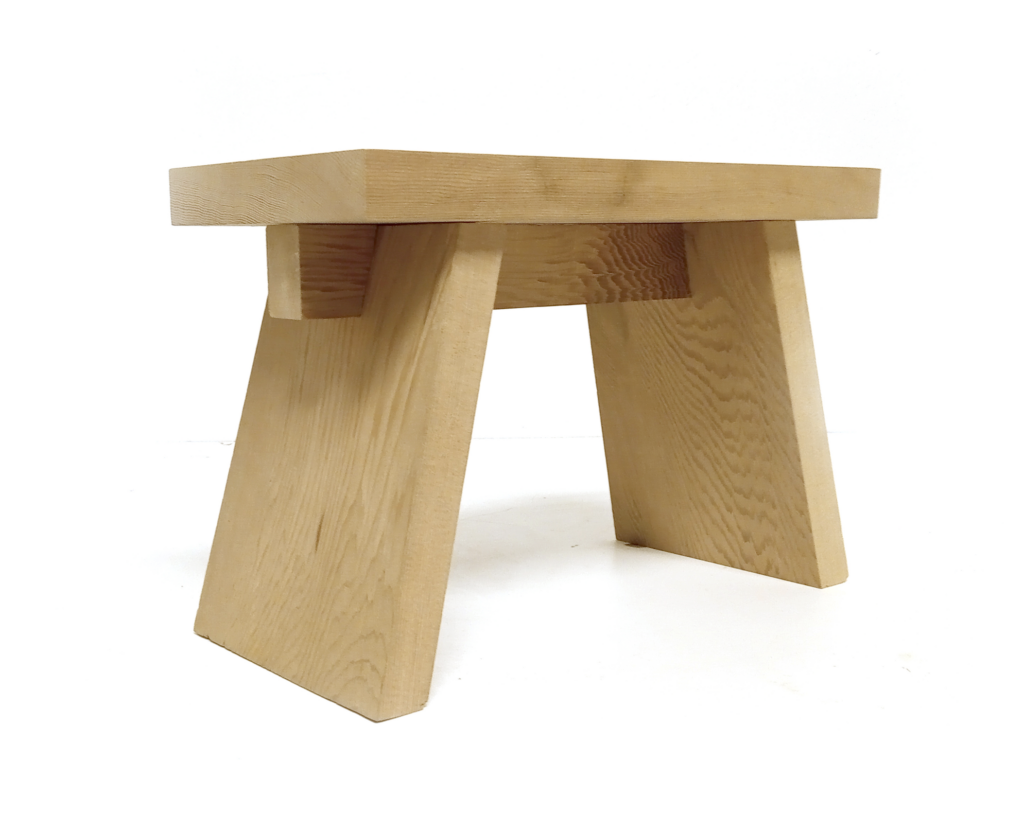 Japanese Bath Stool
Traditionally, wooden stools are used in Japan to wash oneself whilst sitting before taking a bath.
I challenged myself to re-design these iconic stools with only tight-fitting wood-to-wood joints; no glue or metal hardware. The horizontal bar under each seat is not jointed to the seat but is held in place by the legs and in turn acts as an extended angled mortise for the legs by being 'housed' (a term used to partially insert a beam inside a column). Special care is taken to use the timber in the direction that it grew (where possible) and taking into account the way it will begin to distort or 'cup' over time.
Newly made, the stools have two flat contact surfaces to the ground (several points are desireable to reduce rocking and to be more versitile on uneven ground), so the expected cupping of the legs will afford four contact points over time.
The desired seat distortion is to arch (rather than 'cup' and retain pooled water) so the heartwood faces upwards to foresee this eventuality. For the stools destined for drier situations the preference for the seats cupping as an arch remains due to gaps appearing at the outer edges but often means a less aesthetic heartwood side of the wood is facing up.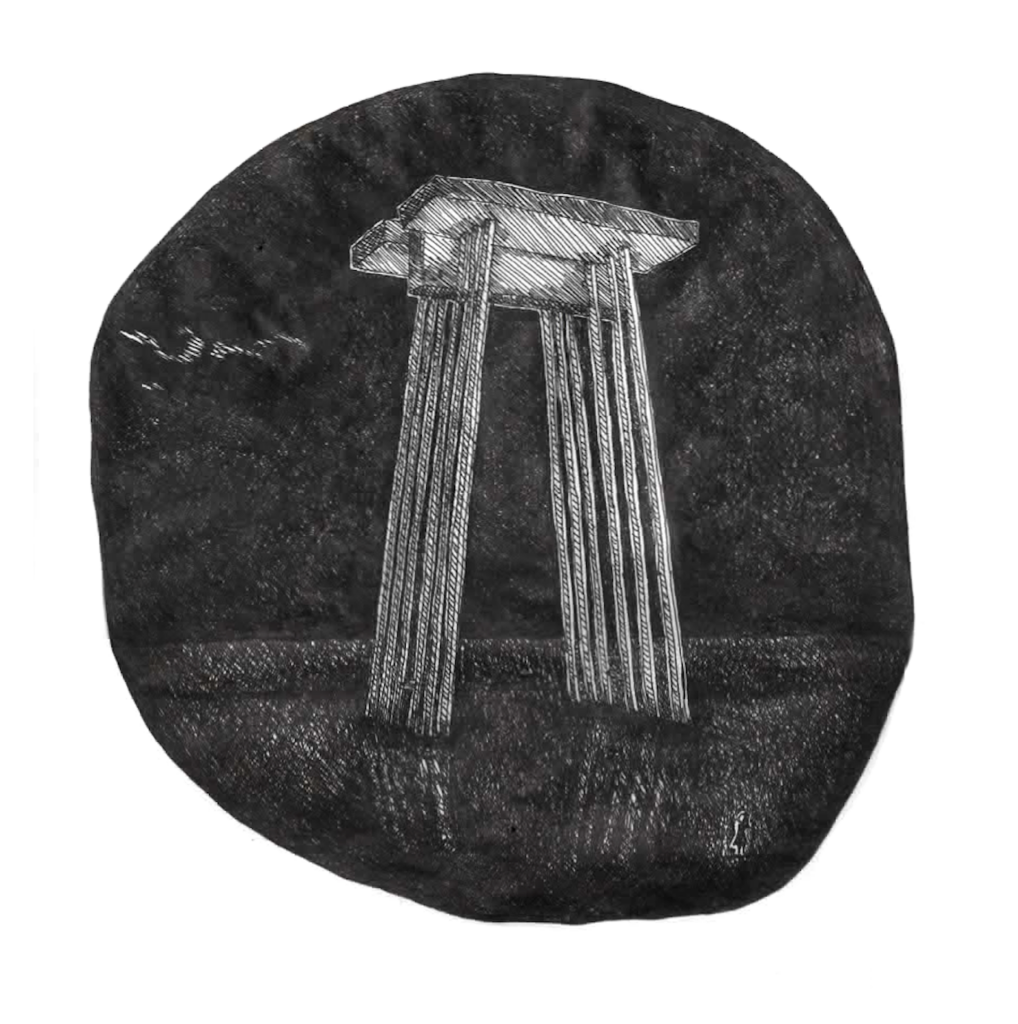 Drawings
A series of drawings depicting the developing stages of dovetail to stools to elongated seats is displayed here. My work crosses over from timber- framing to furniture and sculpture. I work only with solid wood, embracing principles from my annual training in Japan with my carpenter aunt. These drawings are imagined scenarios of a raised platform on top of two legs.
Below is a series of four isometric drawings of the joints used in the Utsuwa Project; a German-Japanese network of professionals with a
 goal to reinvent the Japanese room using traditional craftsmanship. 
A pavilion designed by architect Rieko Uchida and joints designed by Masamaki Okimoto was built in Germany involving German and Japanese craftsmen. Inter-locking joinery allowed the pavilion to be assembled and disassembled in several locations. The main joints are drawn here to explain their assembly.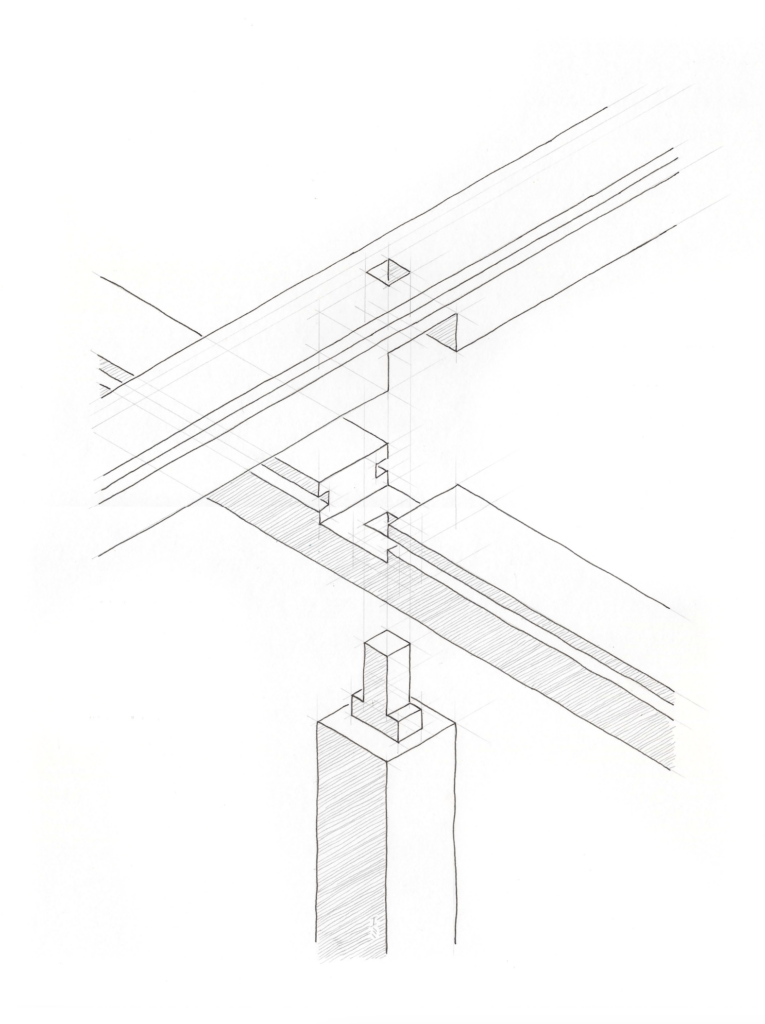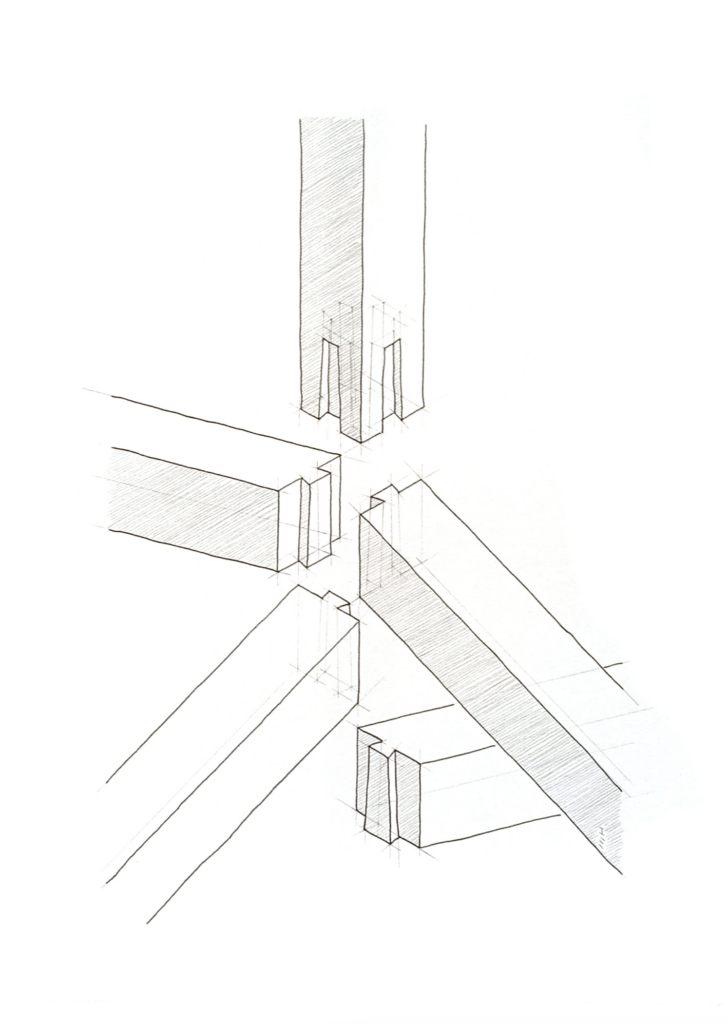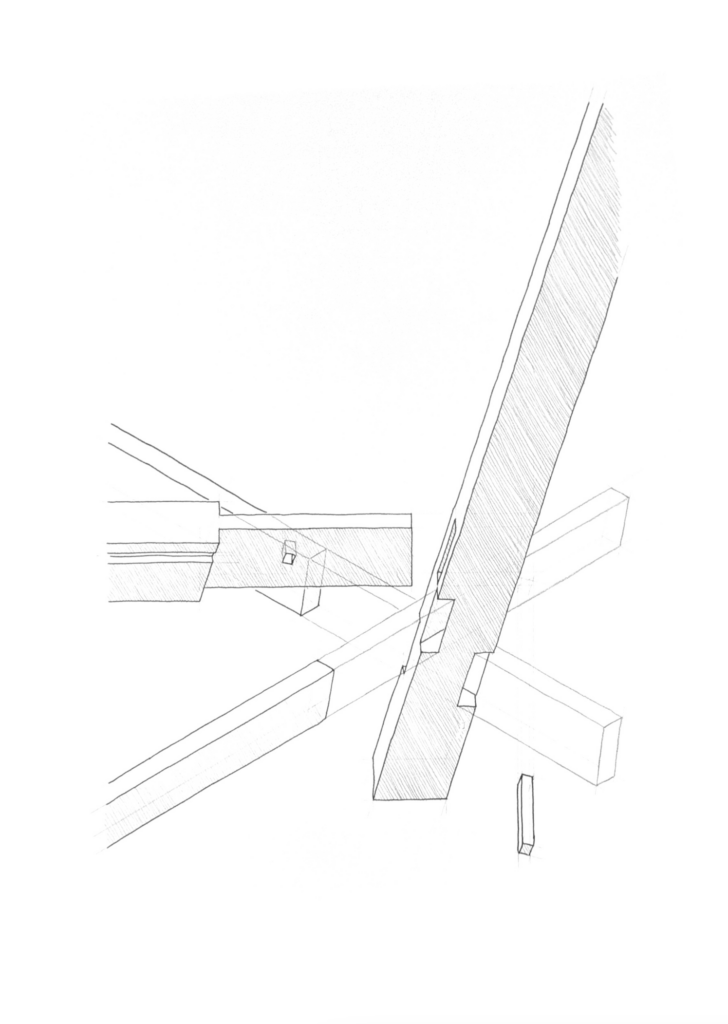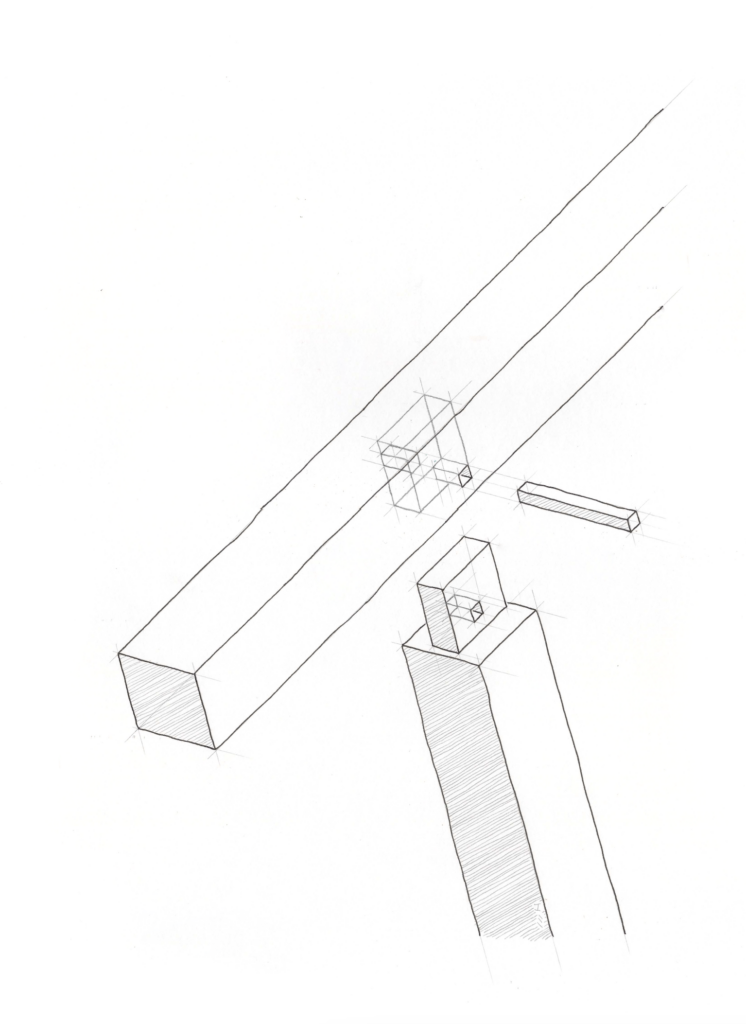 ※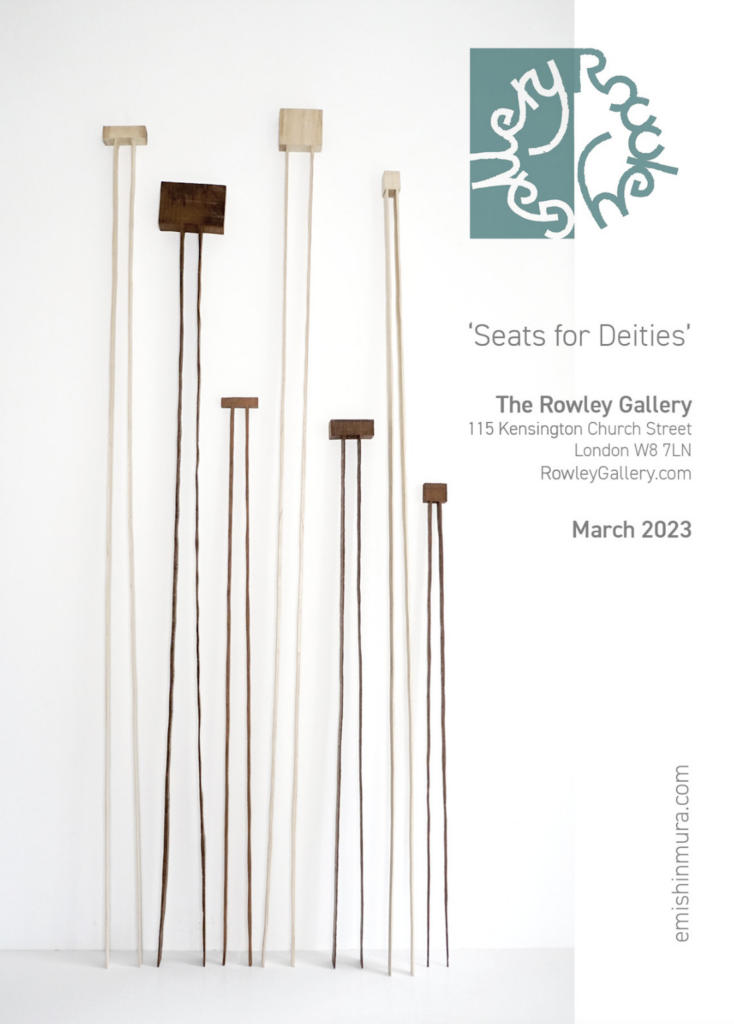 ※
※
Emi Shinmura / The Rowley Gallery