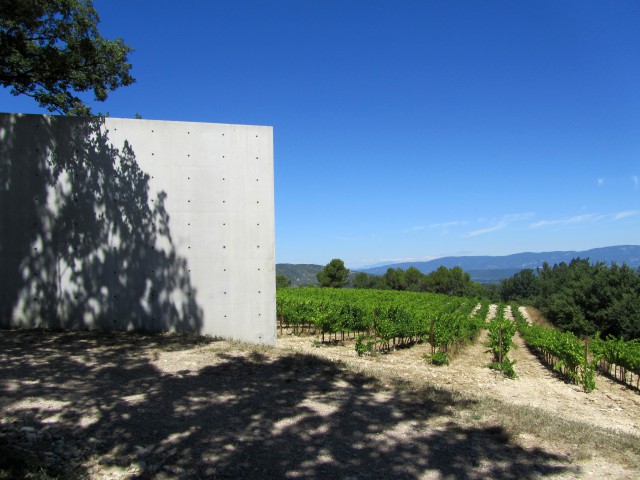 Château la Coste is a vineyard 15km north of Aix-en-Provence which, since 2004, has become home to a remarkable collection of art and architecture. Signs have been kept to a minimum and the entrance was not immediately obvious, but we eventually found our way to the elegant, new art centre designed by Tadao Ando and emerged alongside Crouching Spider by Louise Bourgeois.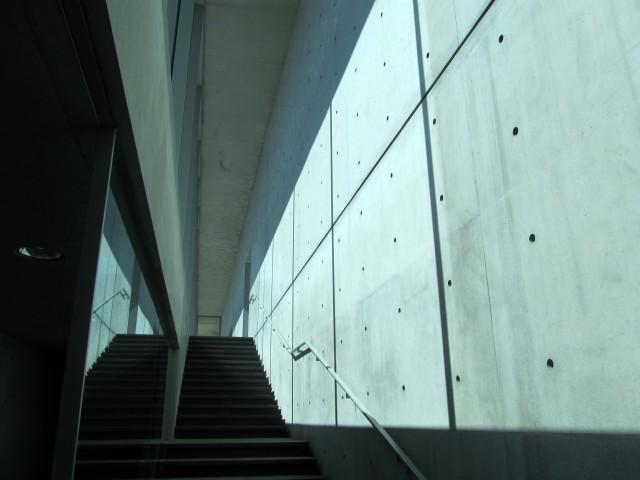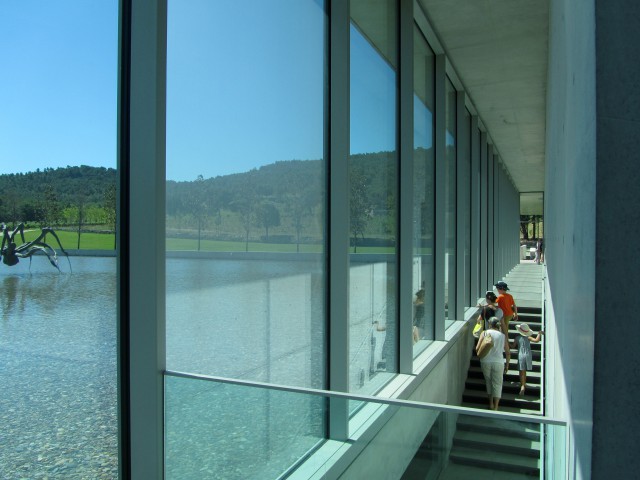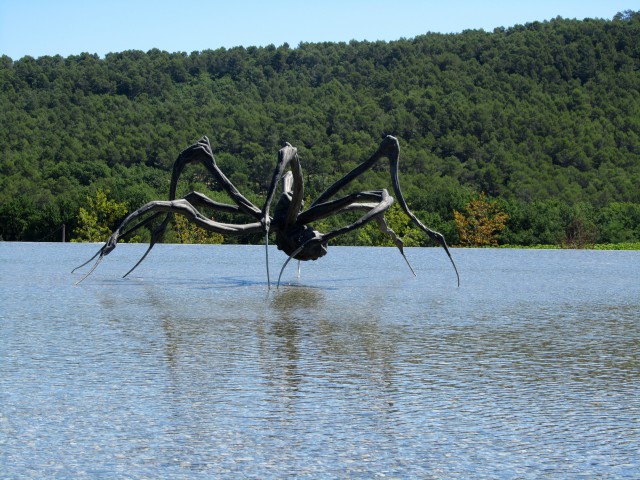 The spider is an ode to my mother. She was my best friend. Like a spider, my mother was a weaver. My family was in the business of tapestry restoration, and my mother was in charge of the workshop. Like spiders, my mother was very clever. Spiders are friendly presences that eat mosquitoes. We know that mosquitoes spread diseases and are therefore unwanted. So, spiders are helpful and protective, just like my mother. (LB)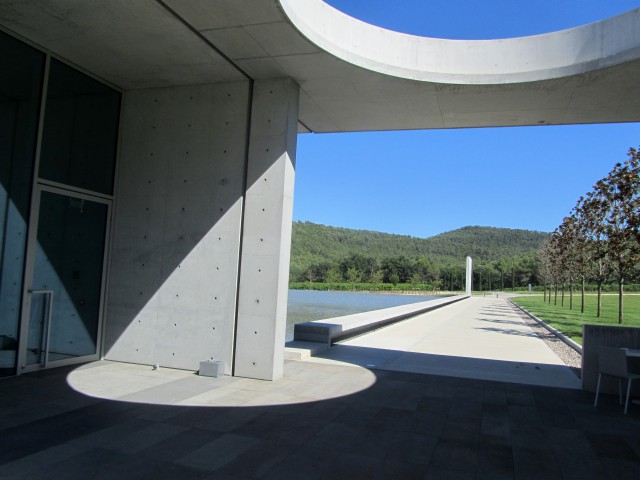 We were welcomed by Sam, a language student from Crouch End, who gave us an extensive introduction complete with descriptions of all the installations. He explained that artists and architects had been invited to Château la Coste to choose a place in the domaine to create site specific artworks.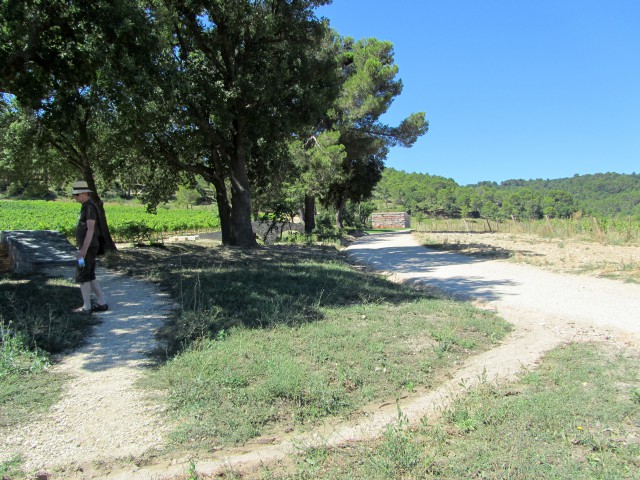 We left the benign shade of the art centre and climbed uphill through the vines in the blistering 40° heat, hopping from one shadow to the next, following the art trail. Our first encounter was with Sean Scully's extremely substantial Wall Of Light Cubed.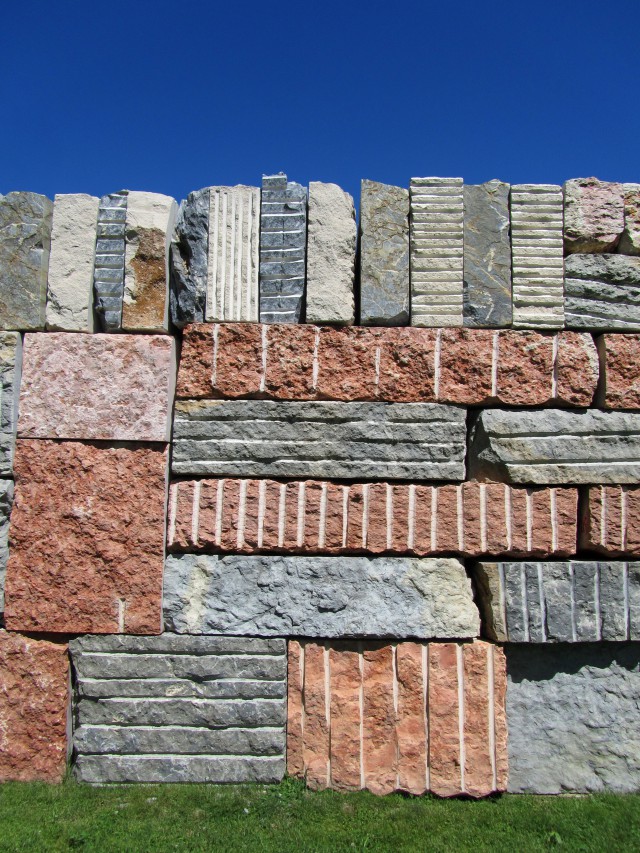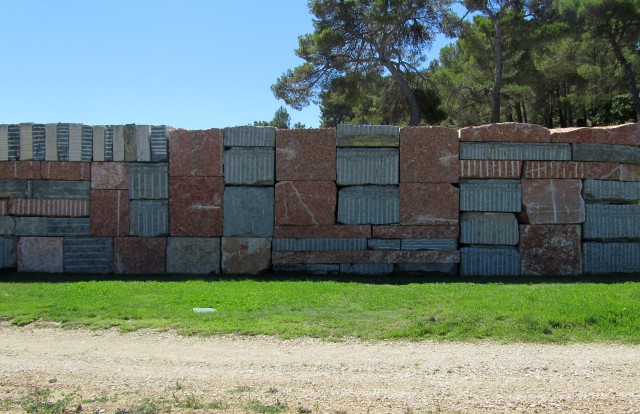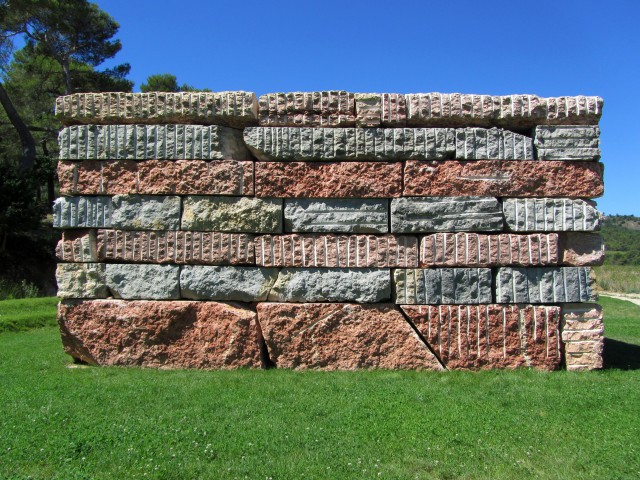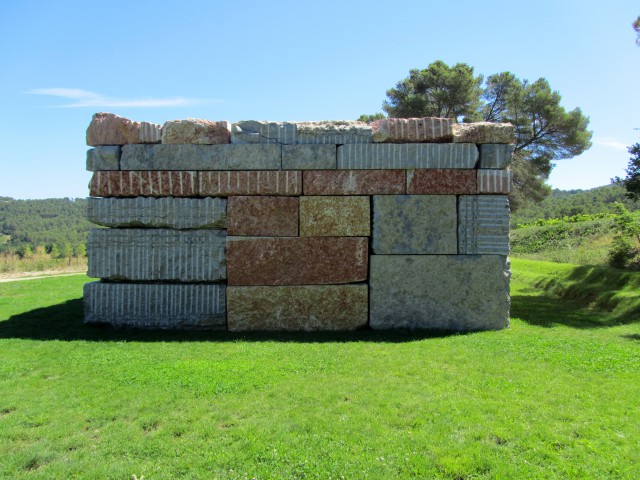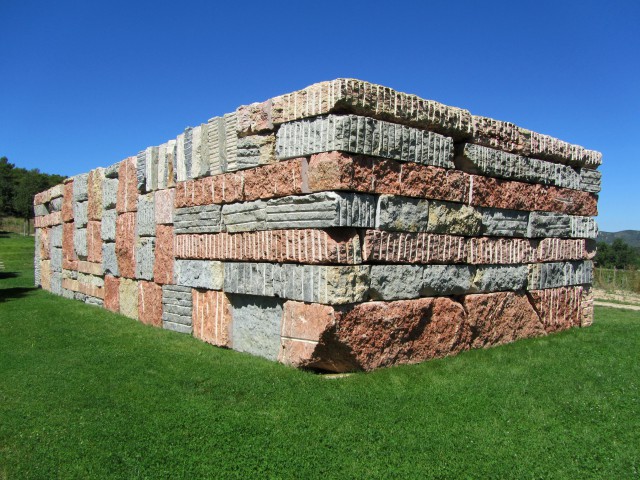 Great chunks of granite stacked like giant children's building blocks. Simple, essential sculpture. A cubic manifestation of a Sean Scully painting.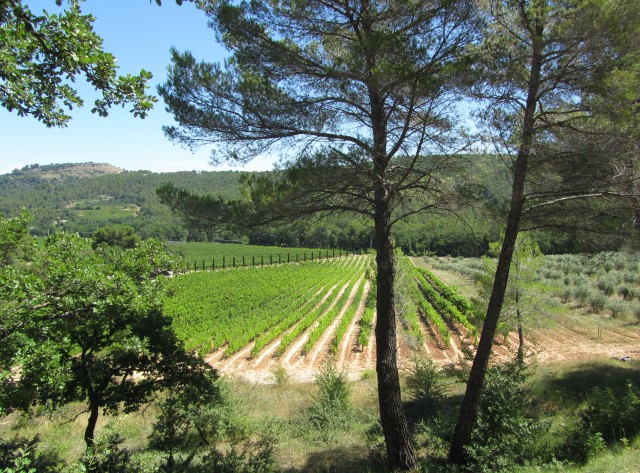 Next up was a curious trio of Portals by Tunga, aka Antônio José de Barros Carvalho e Mello Mourão.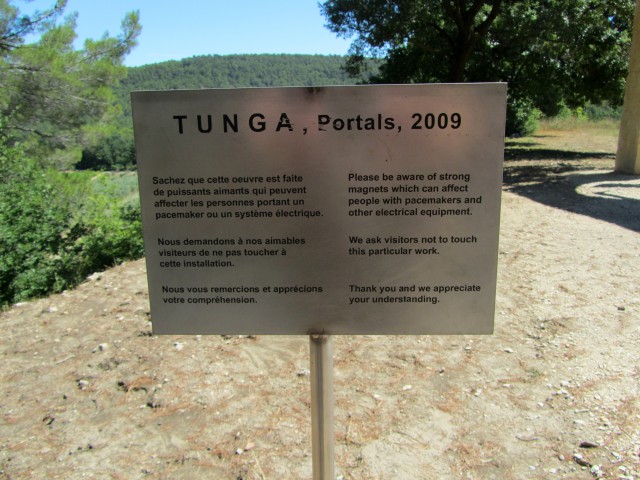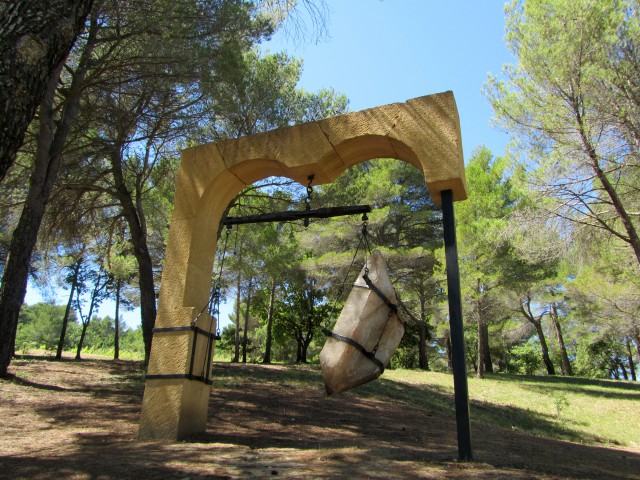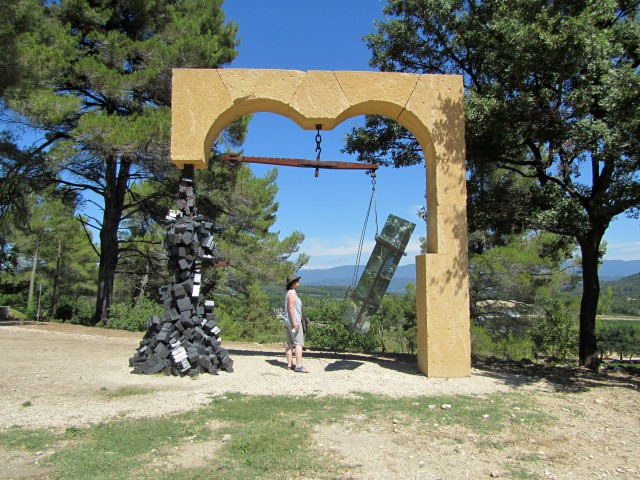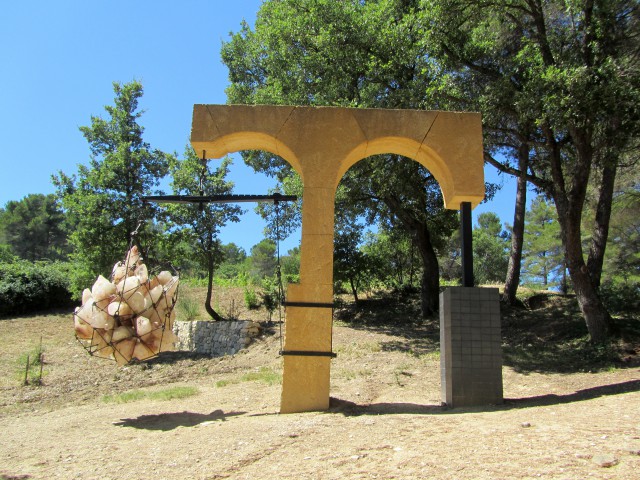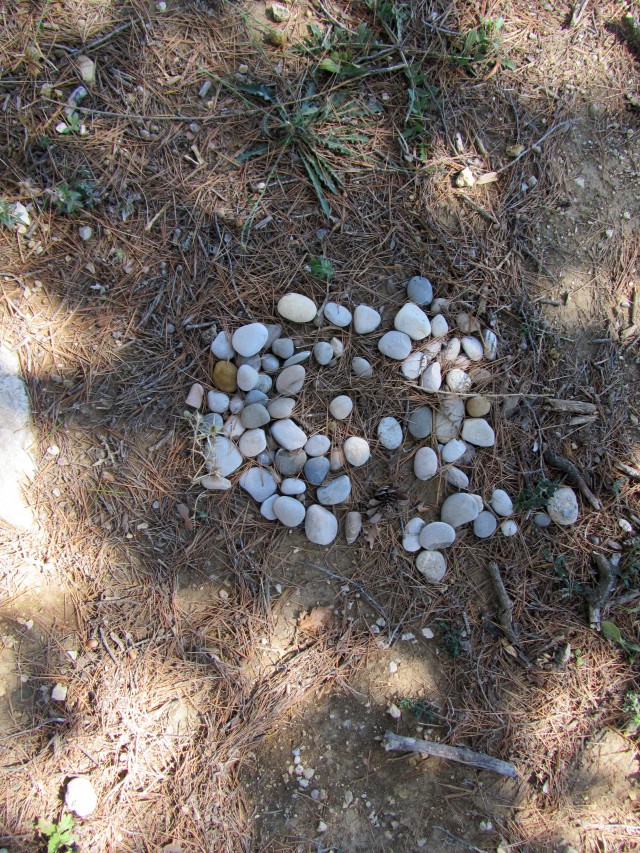 The first time I heard of Château la Coste was when I read about Andy Goldsworthy's Oak Room, (it reminded me of a similar installation I'd seen years ago at the Albion Gallery). Hidden away at the top of the hill, concealed behind an old stone wall, lies a subterranean space enclosed by woven branches.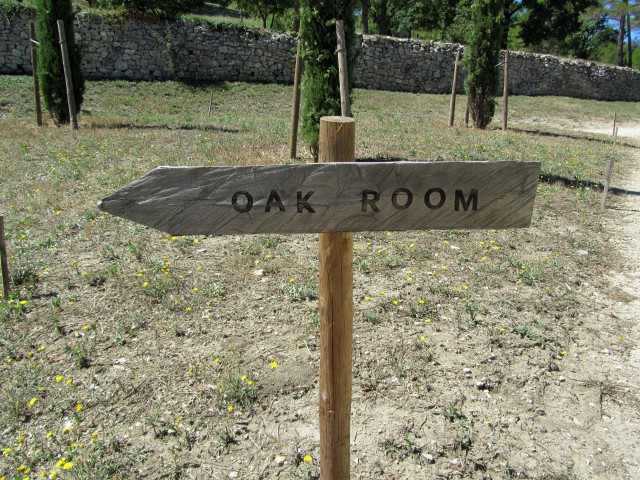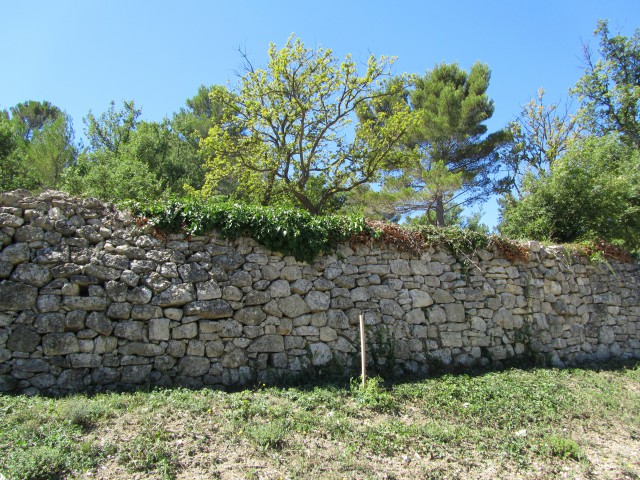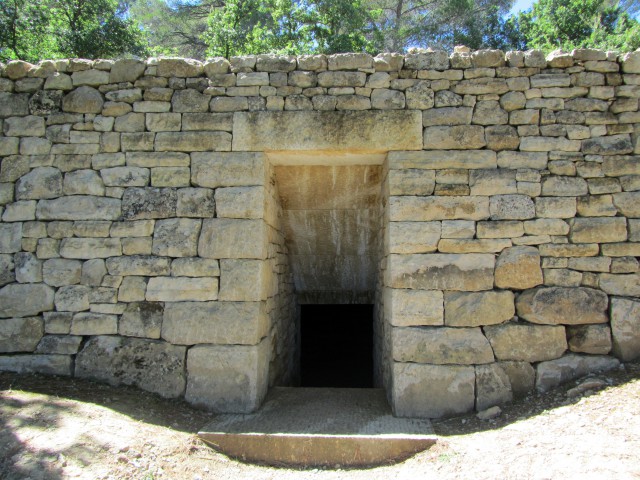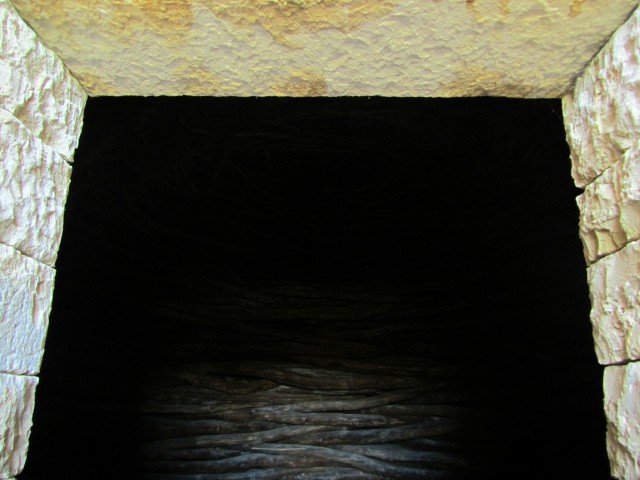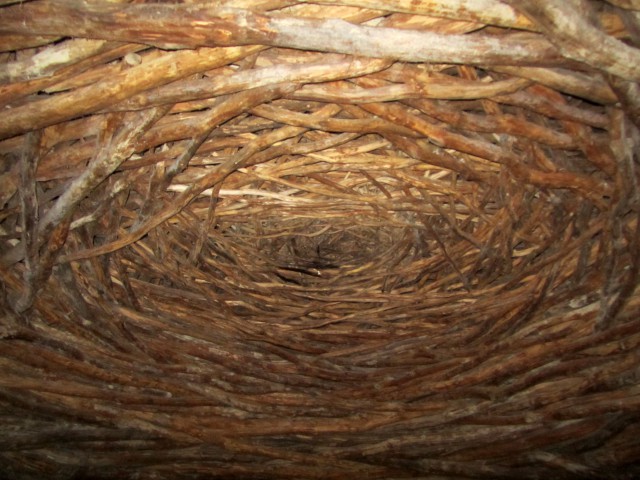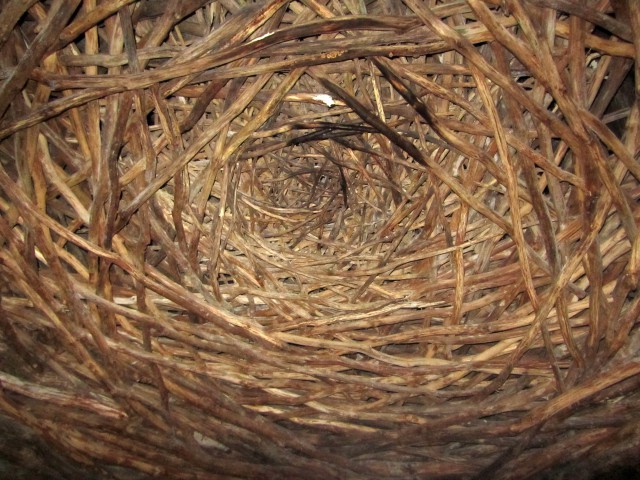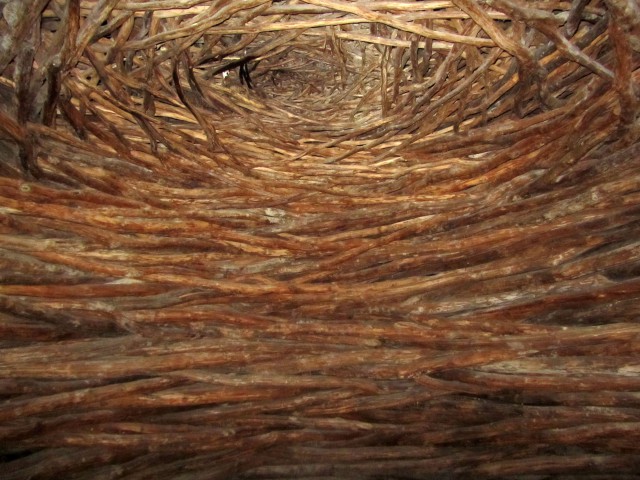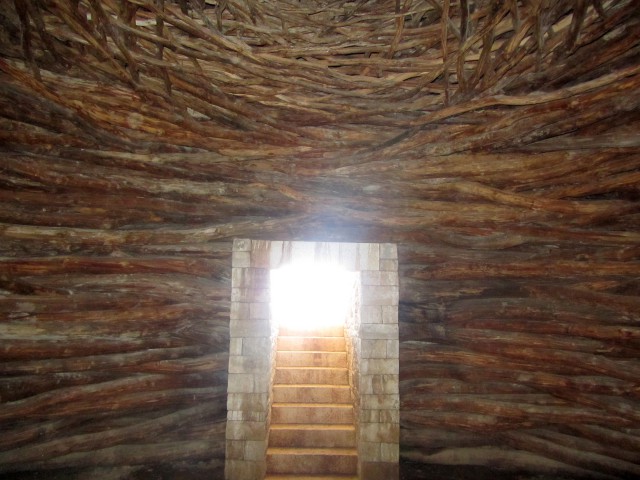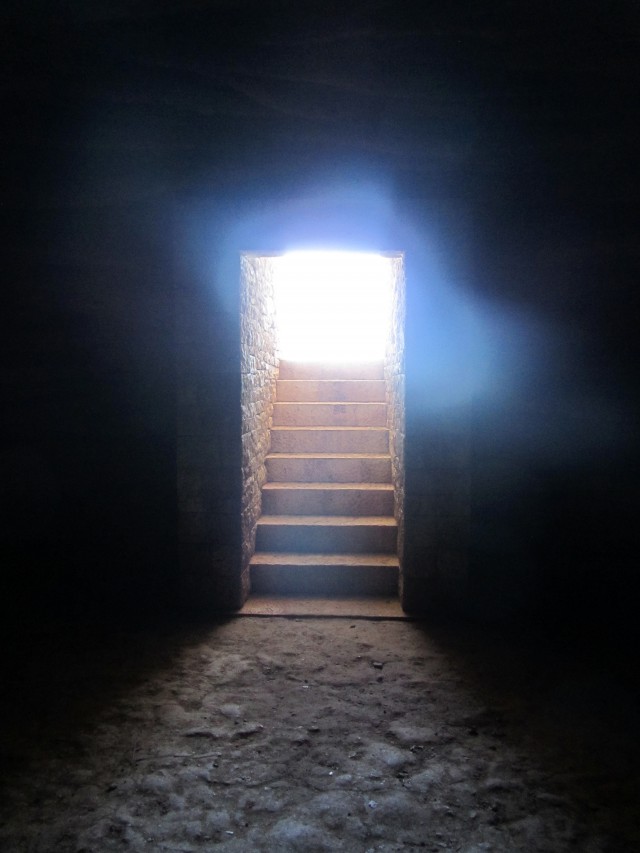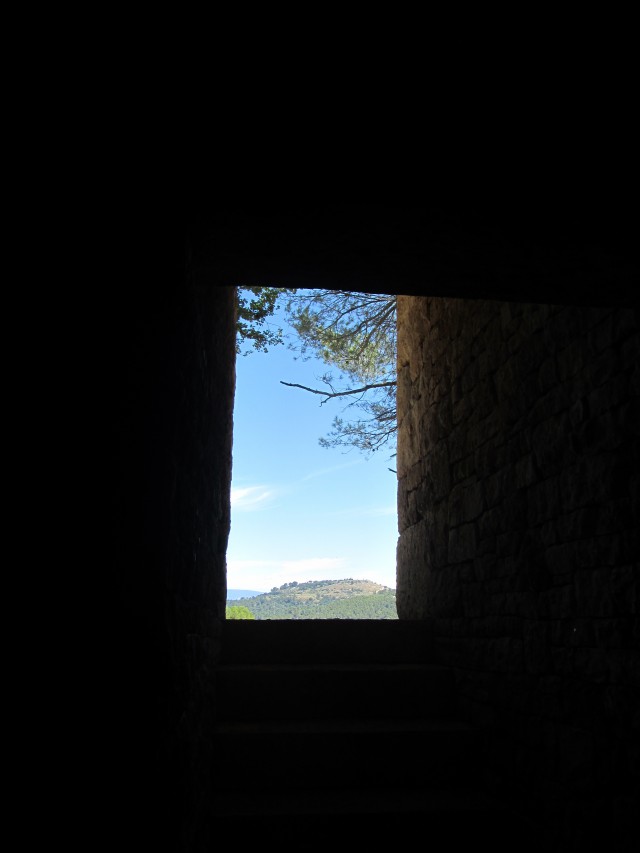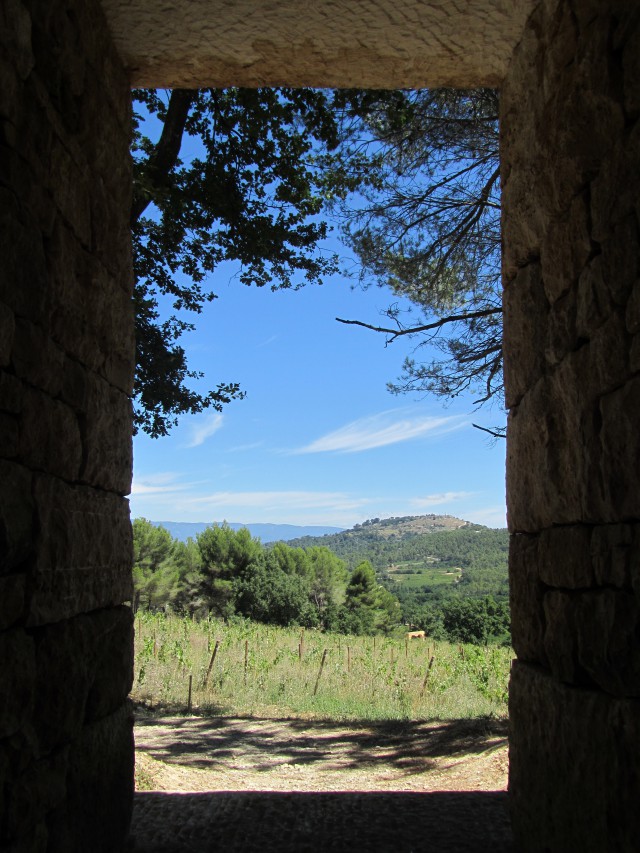 It's a dark secret, a shelter from the heat, a coolhouse, a basket, a nest, a burrow, a childhood den.
Goldsworthy found a lovely old stone wall and constructed an enormous, grassed bank behind it. He then broke a small doorway through the wall and down into an underground cavern. With no natural light and a clay floor the room is pitch black at first, cold and eerily quiet. As your eyes adjust you realise you are inside an enormous 'web' of woven oak trees. Hand-built by Goldsworthy and his team, it is both unsettling and profoundly beautiful.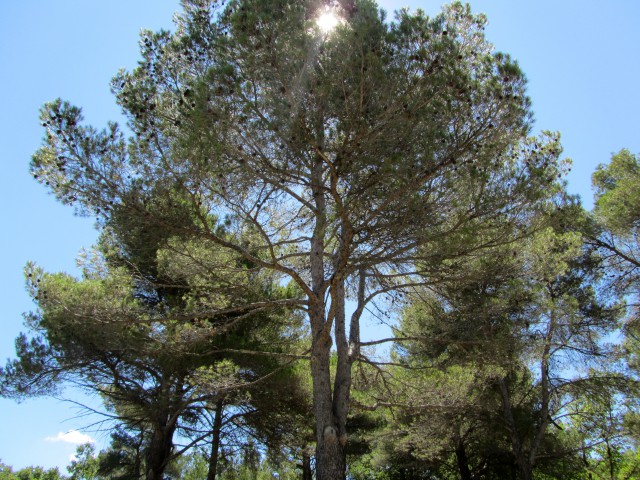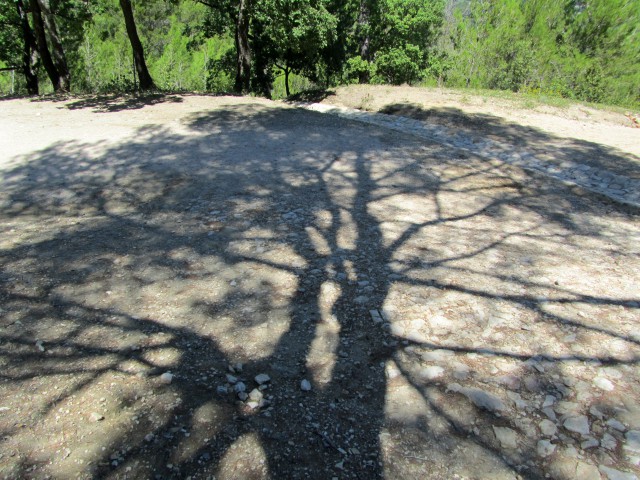 The next station en route was the chapel.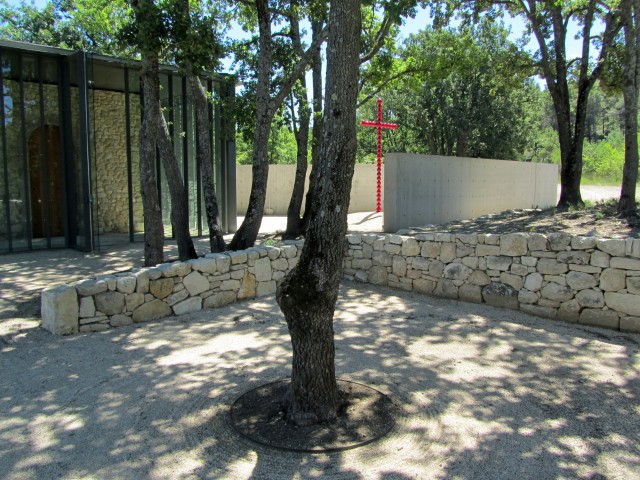 When Tadao Ando saw this ruined chapel on the top of a hill, set in a small grove of trees amongst the vineyards, he said he "wanted to wrap his arms around it to protect it," and the resulting work is a glass cube that surrounds the ruin. There is no ceiling to the chapel, so when the door is closed it is dark apart from light that floods in from the gap to the pavilion roof, and through three small holes that illuminate a glass altar.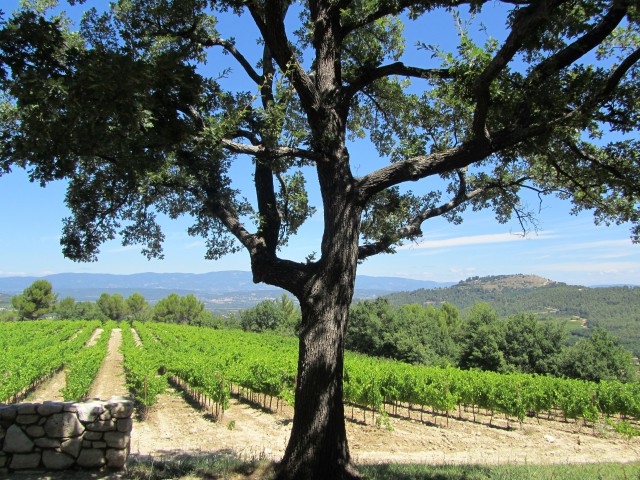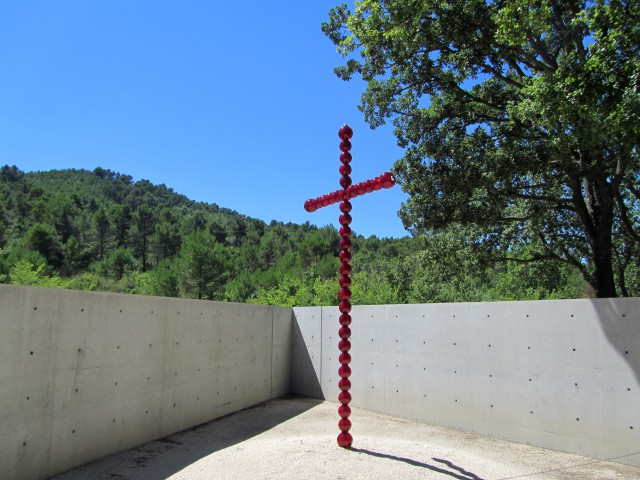 The cross is by Jean-Michel Othoniel.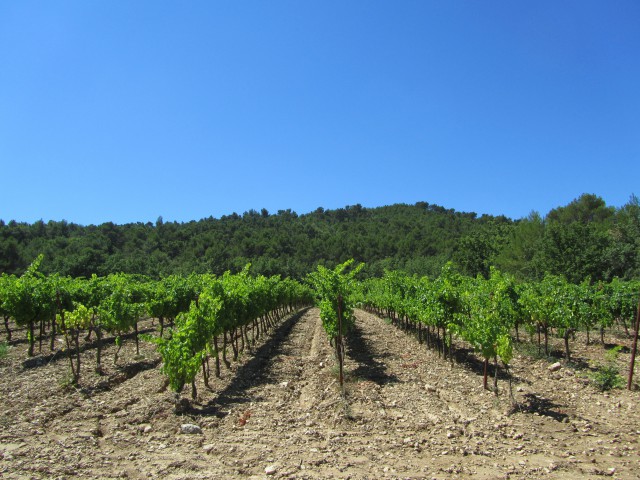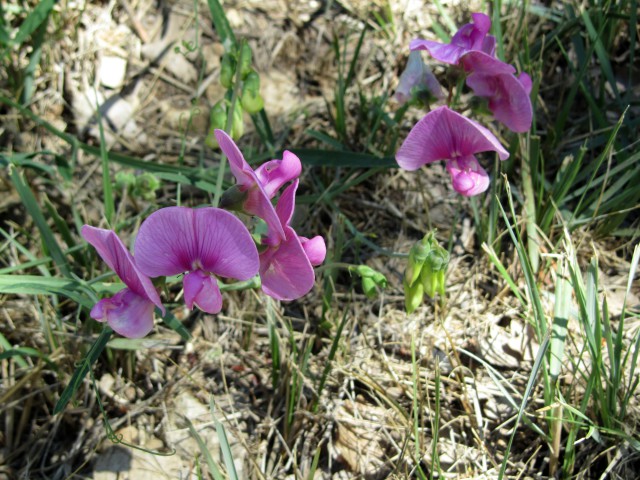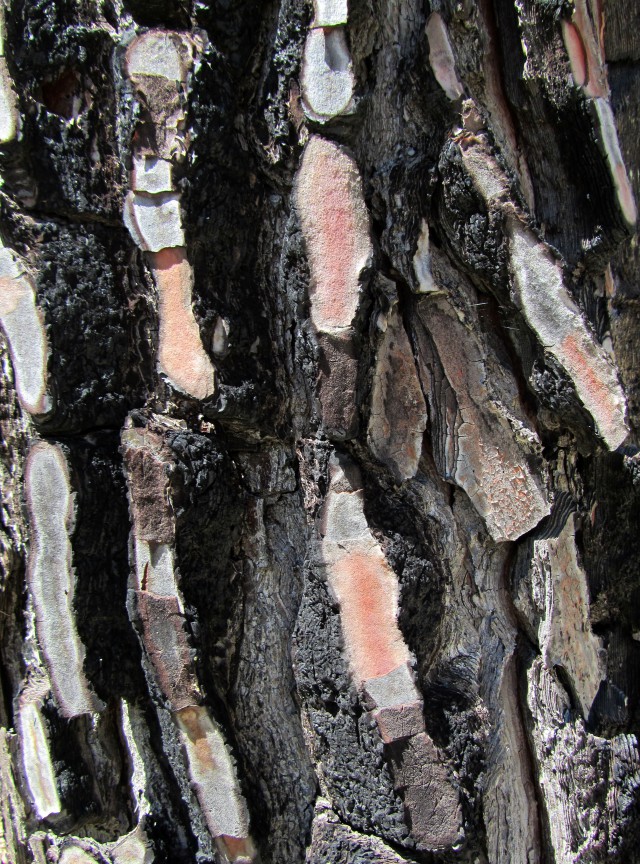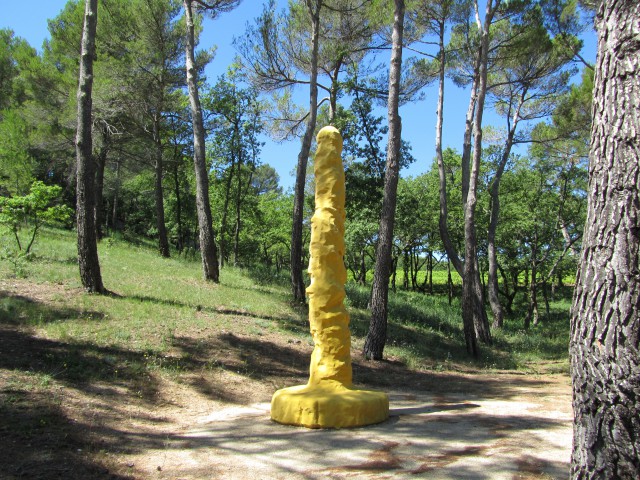 There's a piece by Franz West called Faux-Pas which foxed us. But then for balance there's a piece by Michael Stipe called Foxes which is probably a faux-pas.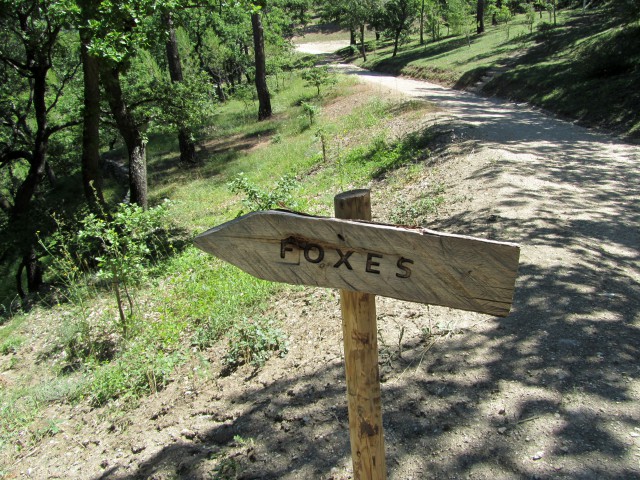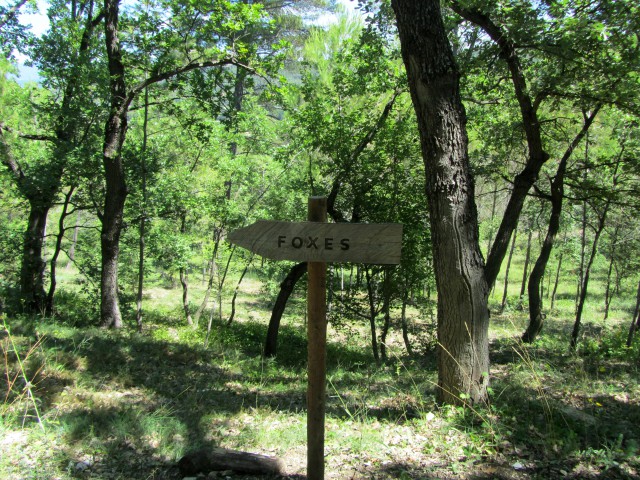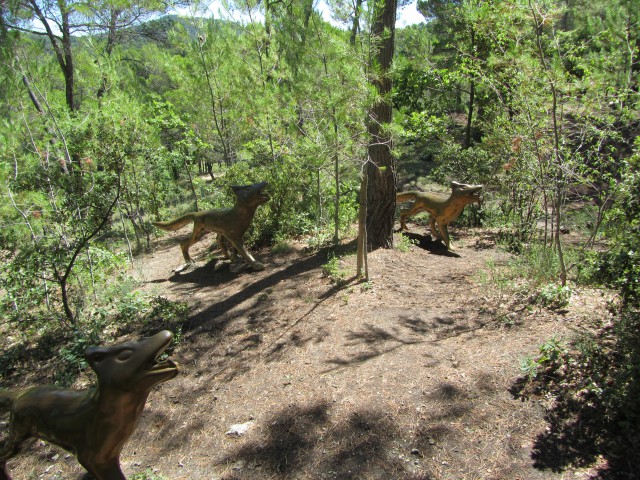 (I did a Google search to double-check faux-pas and found this fox cartoon! Is faux pronounced fox?)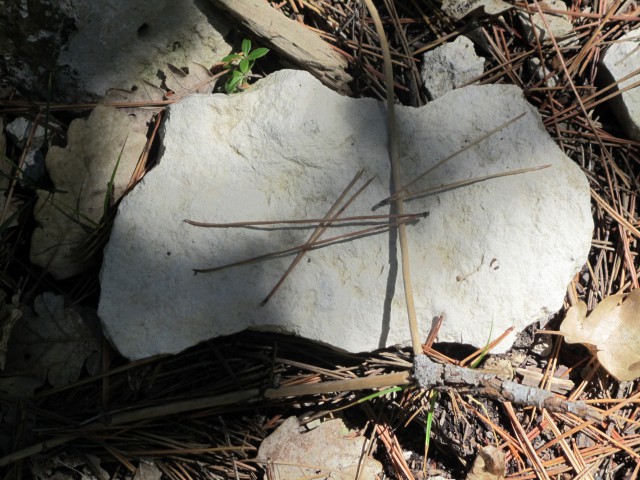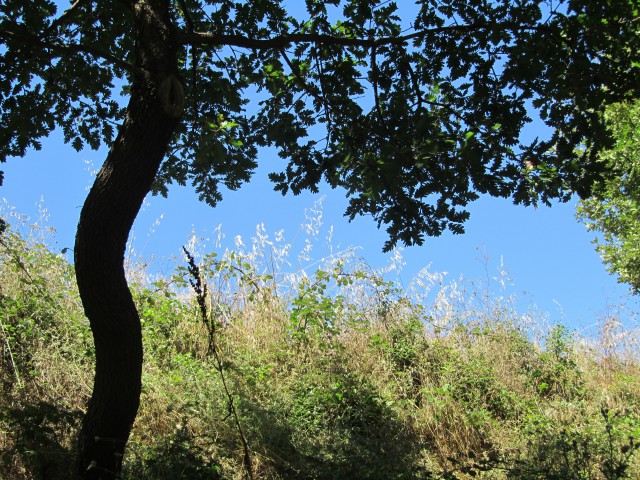 Liam Gillick's Multiplied Resistance Screened consists of brightly coloured sliding screens that can be pushed and pulled ad infinitum to create countless combinations of Op Art stripery.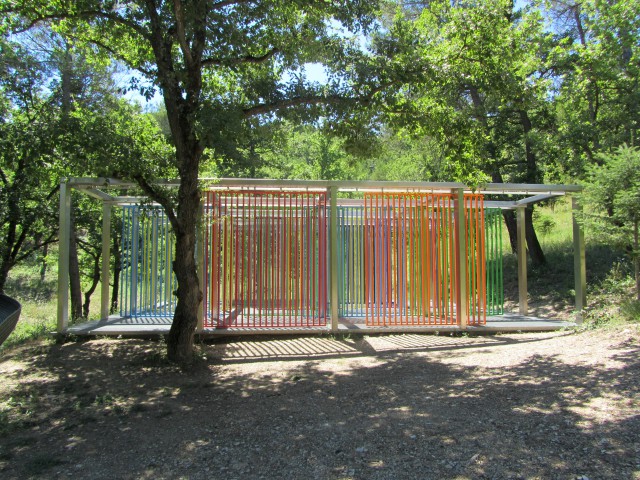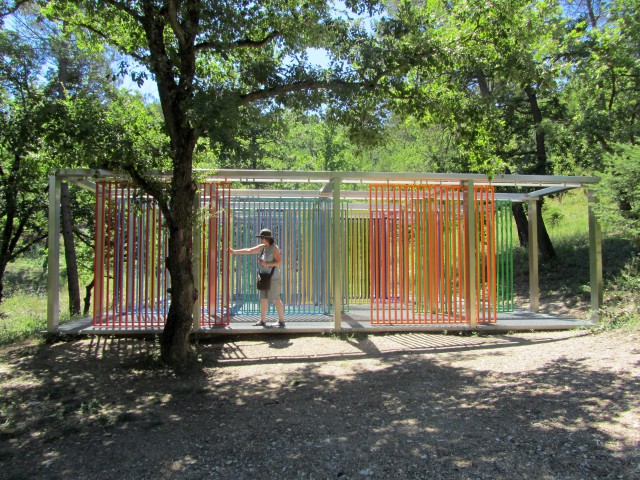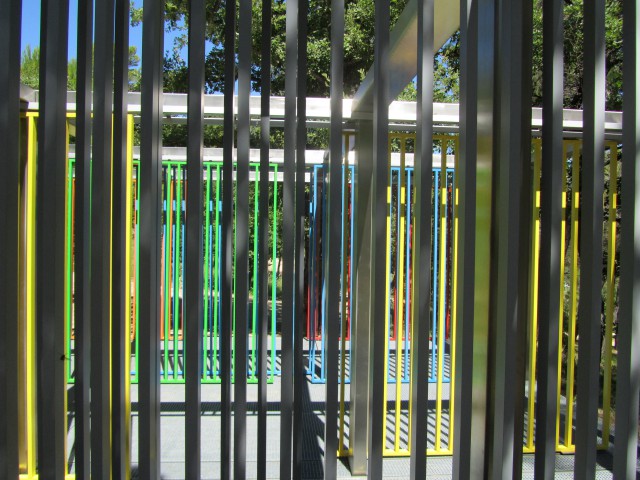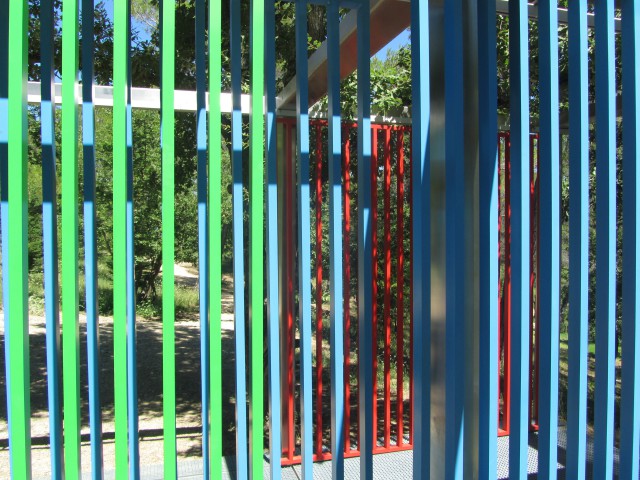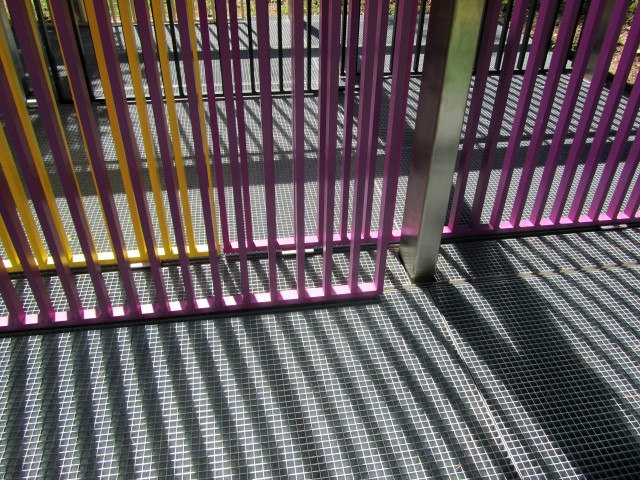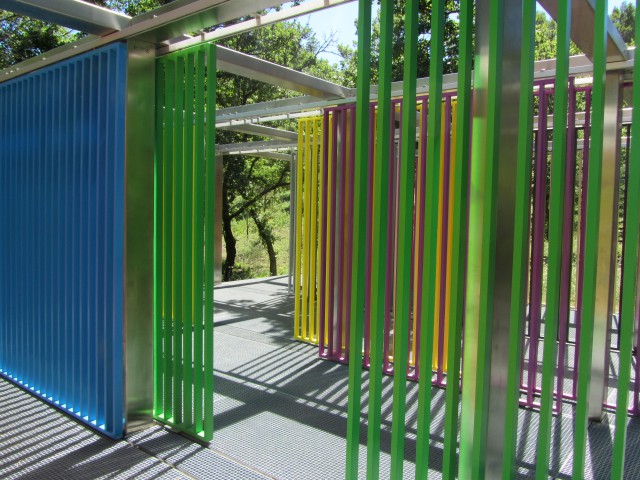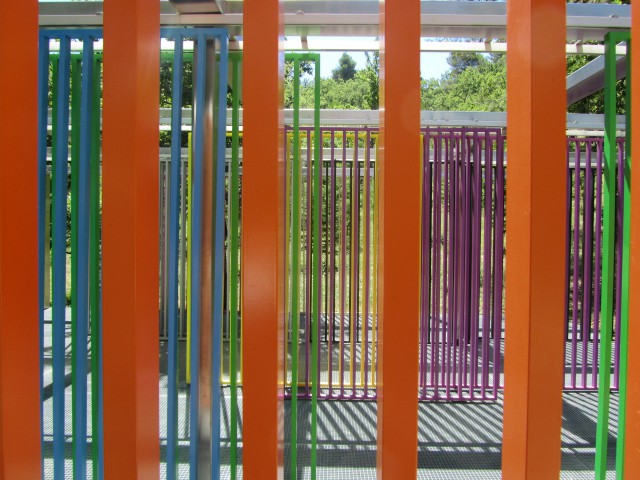 Tyger! Tyger! burning bright / In the forests of the night / What immortal hand or eye / Could frame thy fearful symmetry?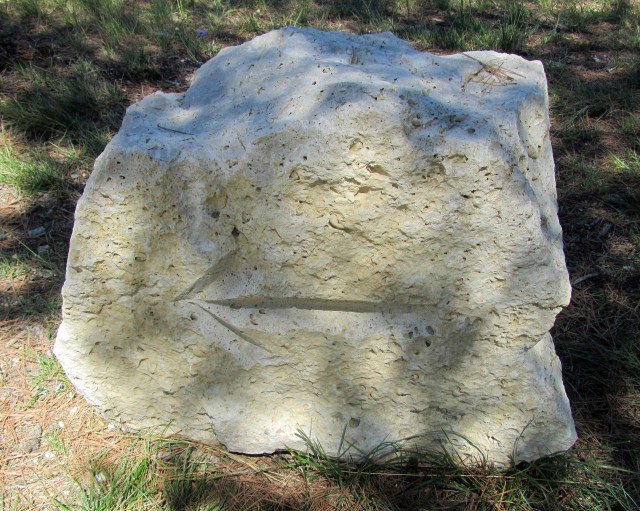 The next port of call was Aix by Richard Serra, three huge sheets of steel cut into the ground; simple, direct sculptural interventions.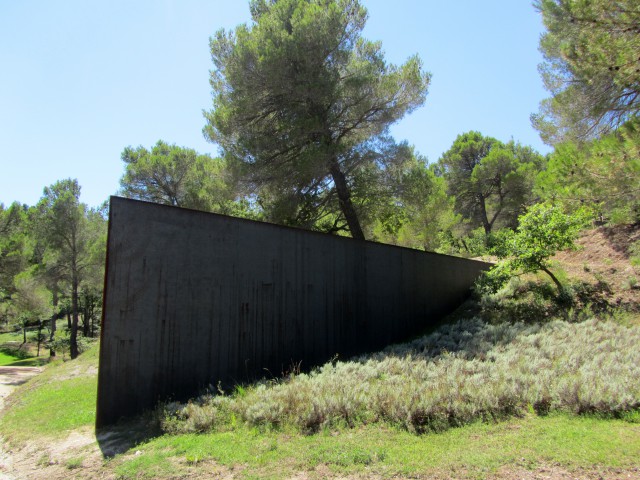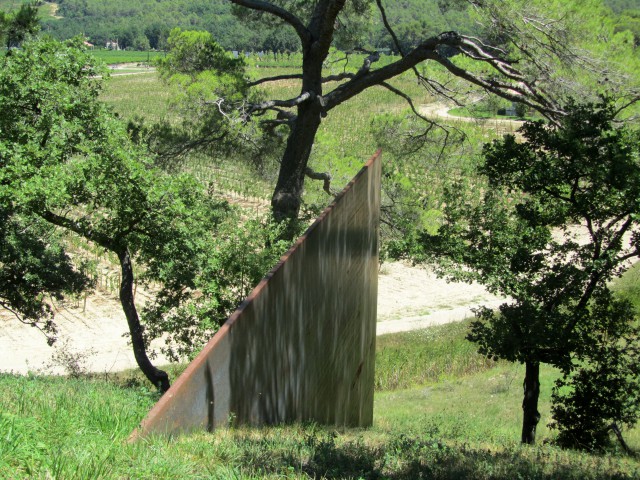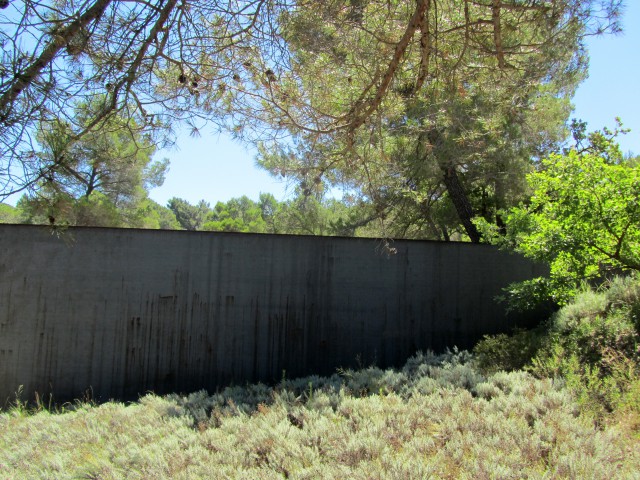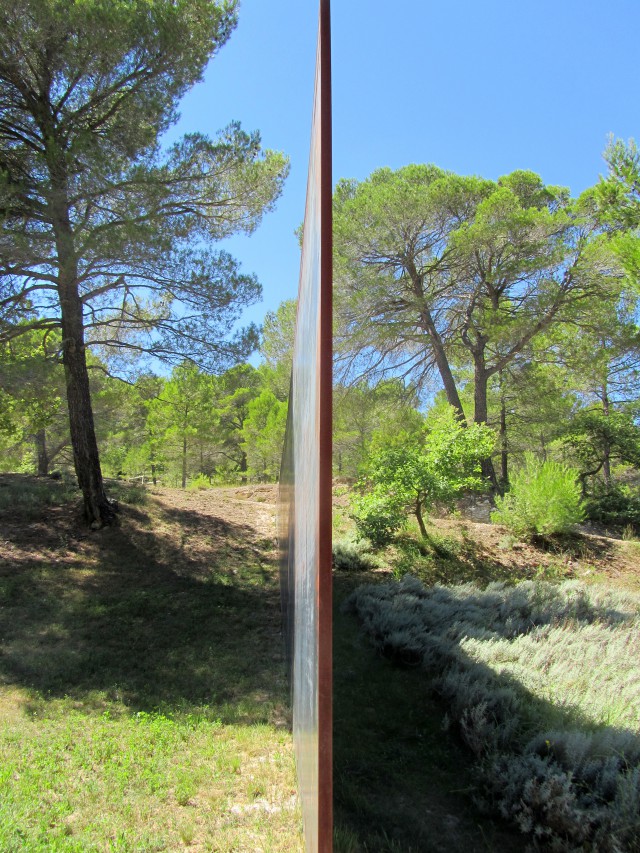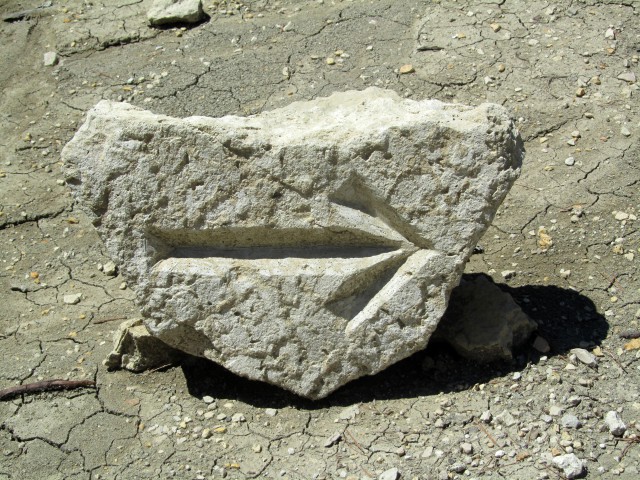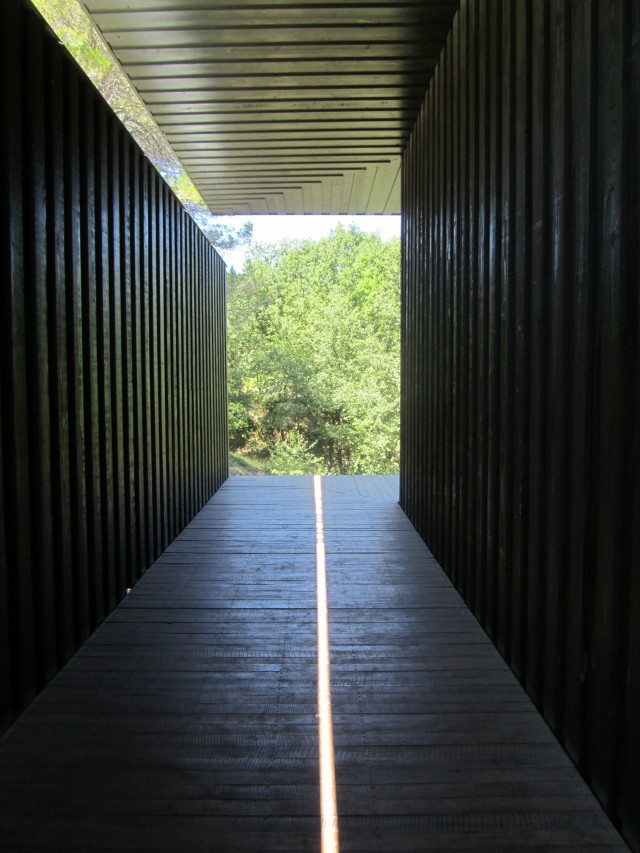 Then the cool, dark welcome of Tadao Ando's pavilion and Four Cubes To Contemplate Our Environment. It's a crossroads, a quadratic equation, a spaceship returned from a brave new world.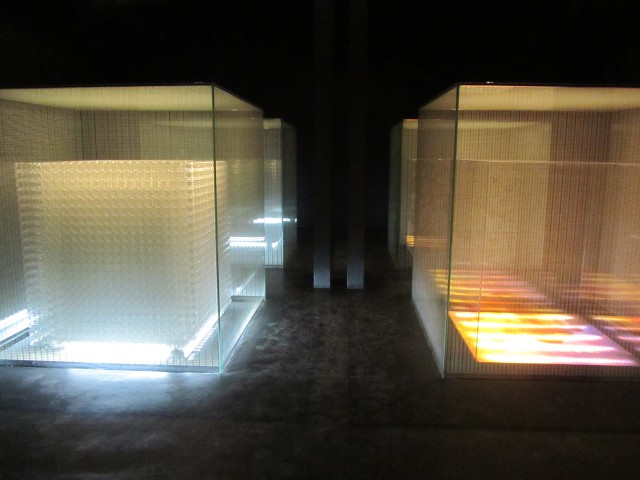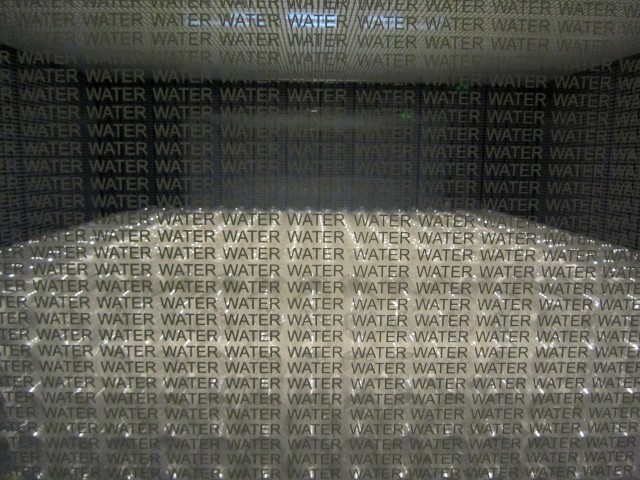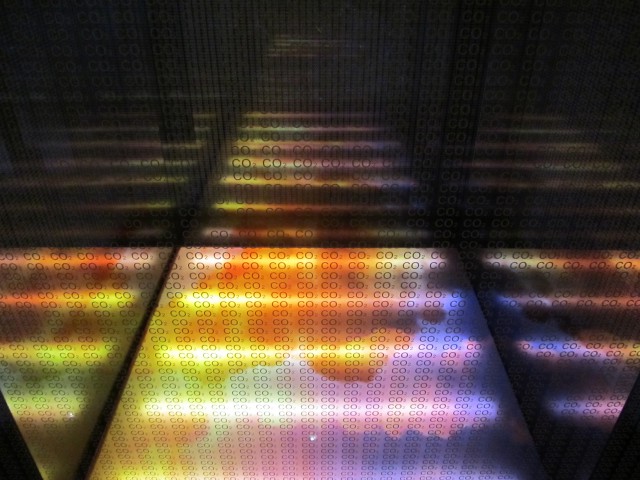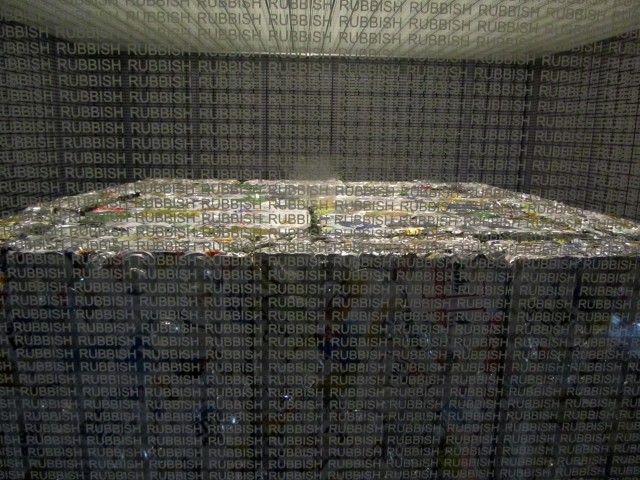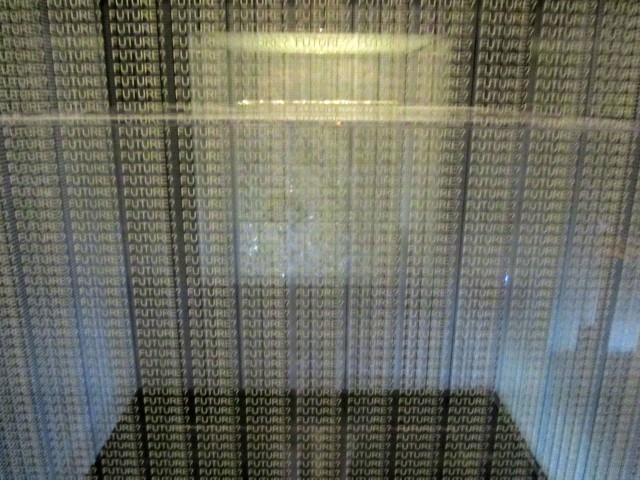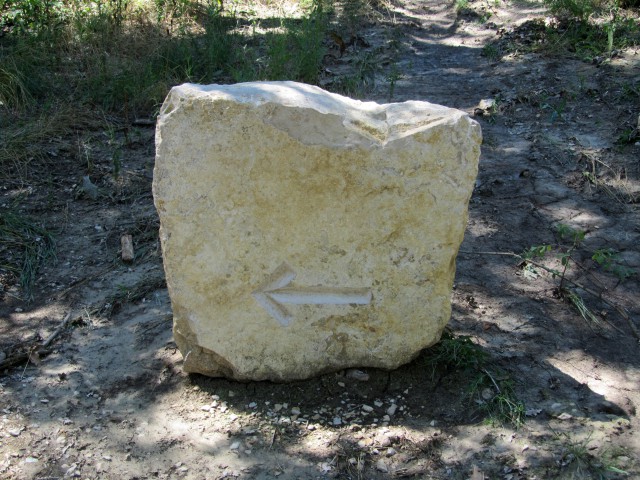 Meditation Bell by Paul Matisse (grandson of Henri Matisse and stepson of Marcel Duchamp) stands on a bridge over a stream. Pull the rope and four clappers strike a tubular bell.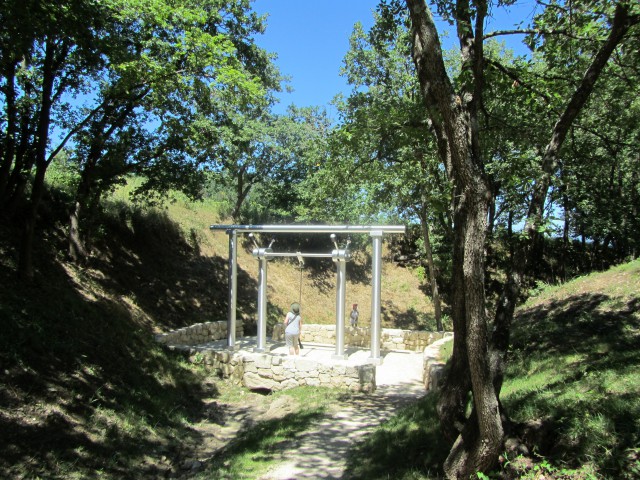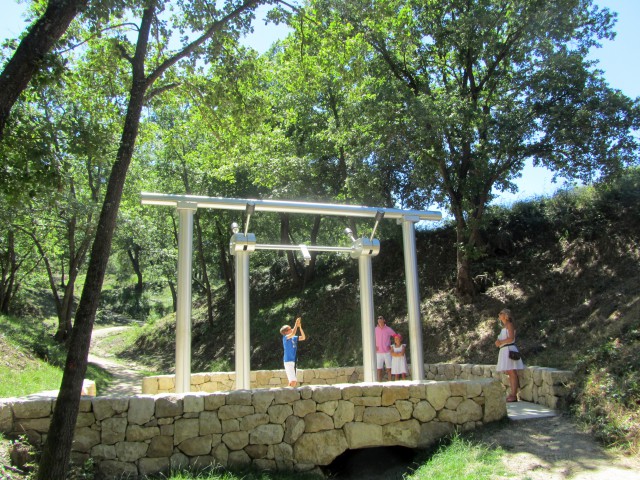 When struck right it hummed and produced an ॐ sound that, as it faded, coincided with the sound of a passing aeroplane that carried it away. Then further downstream we discovered a silent clapper.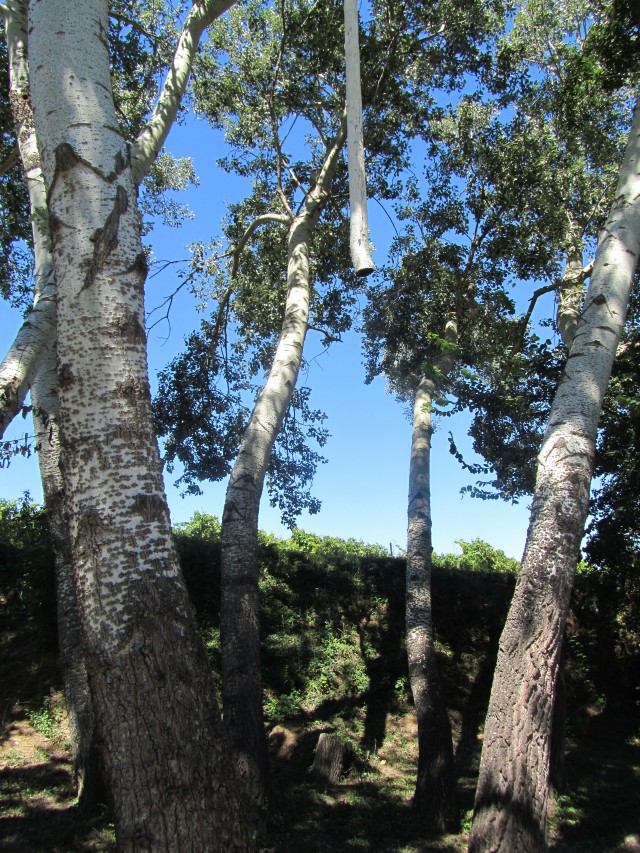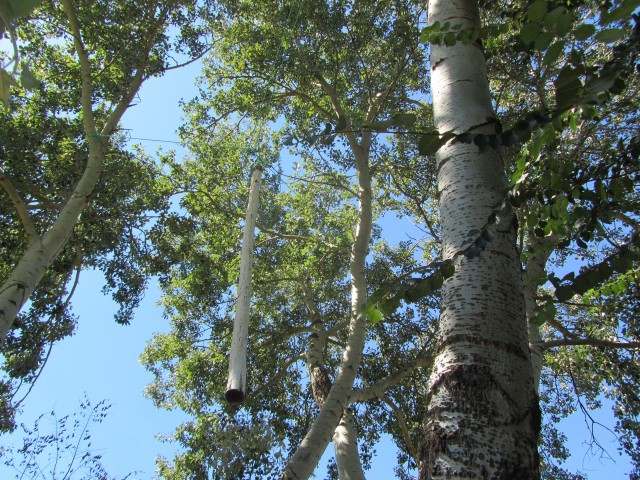 Amidst a grove of birch trees hangs a white branch, suggesting a wind chime, but clumsily suspended more like a children's rope-swing. It looks like a temporary structure. Maybe that's intentional, maybe not. There's no explanation, no title. Is this the newest installation by Tracey Emin? (It's not.)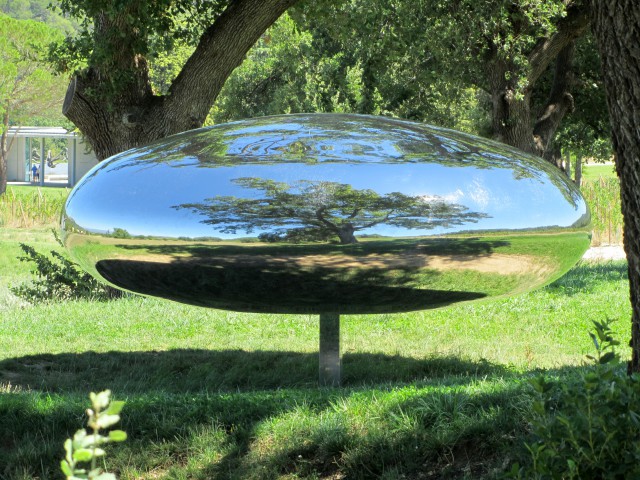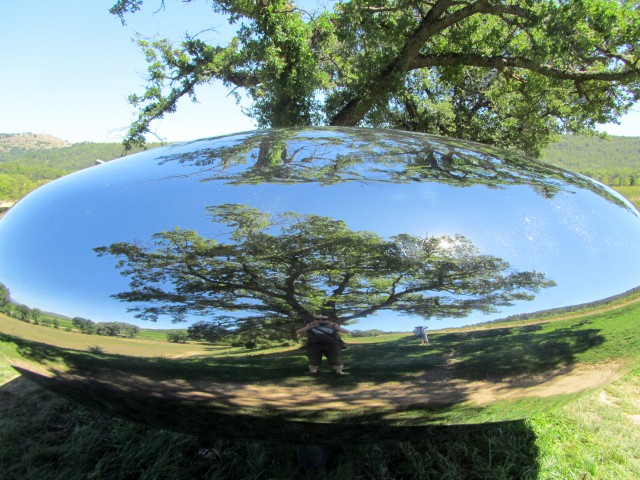 Tom Shannon's rotating silver Drop is a perpetual spinning top, like a spun globe of mercury and just as reflective. It recalls Anish Kapoor's Sky Mirror and is similarly beautiful.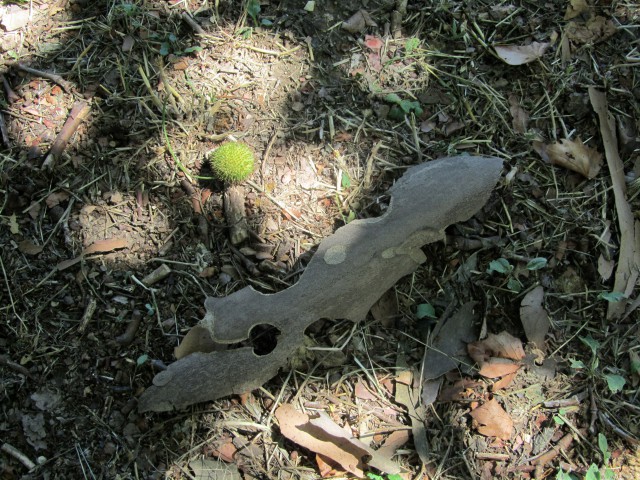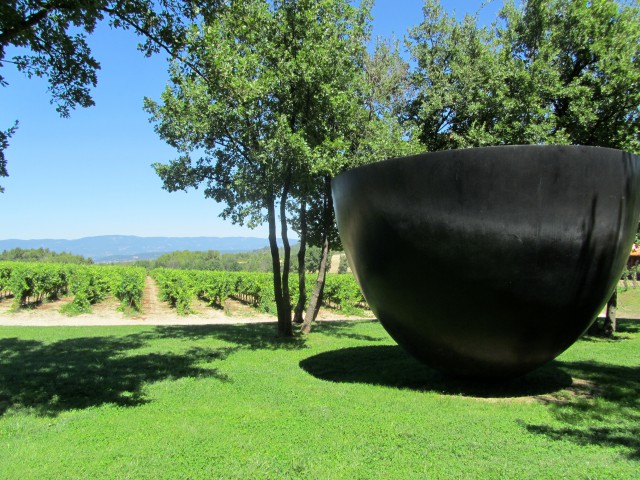 And an enormous pot by Guggi reminded me that a walk around a garden centre can sometimes seem like a walk around an art gallery, and vice versa.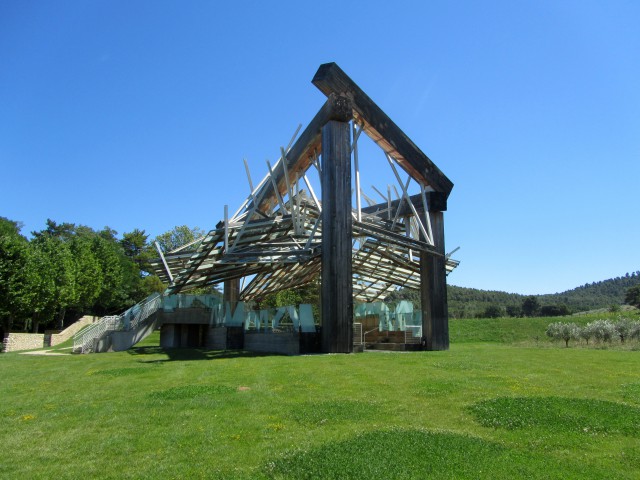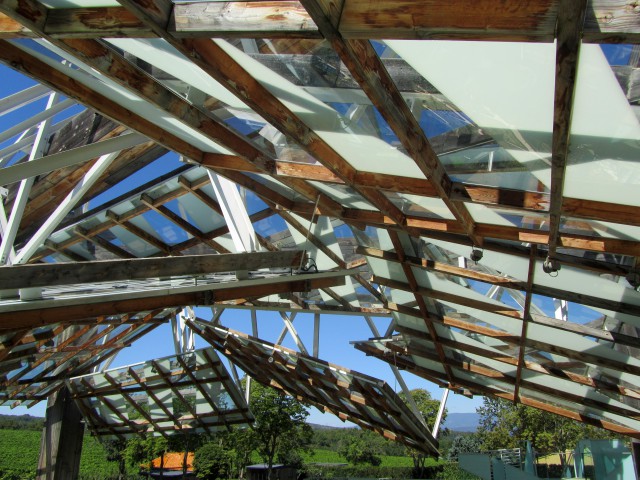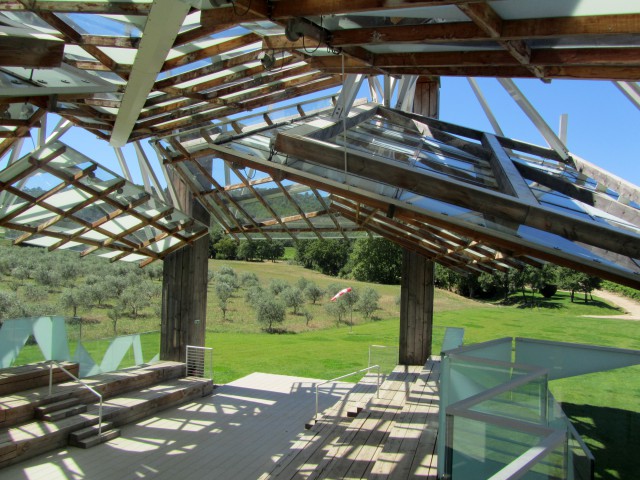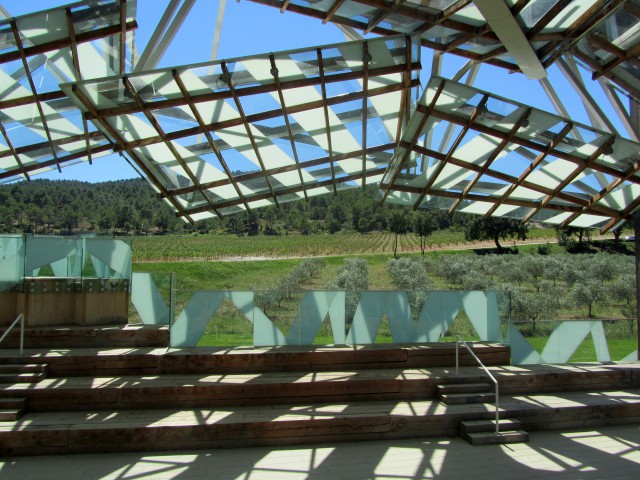 The Pavillon de Musique was designed by Frank Gehry as the Serpentine Gallery Pavilion 2008.
I don't know how it sounds but it looks like a cacophony of suspended ceilings. It is situated alongside the original 17th century villa where I saw a couple of enormous Irish wolfhounds and I'm sure I glimpsed the top of an Andy Goldsworthy cairn in the private garden. A potager by Louis Benech and a winemaking school are being developed and other buildings are being restored. Further installations yet to come include works by Renzo Piano, Oscar Niemeyer, Richard Rogers, Carsten Höller, Per Kirkeby, James Turrell, Sou Fujimoto, Kengo Kuma and Ai Weiwei.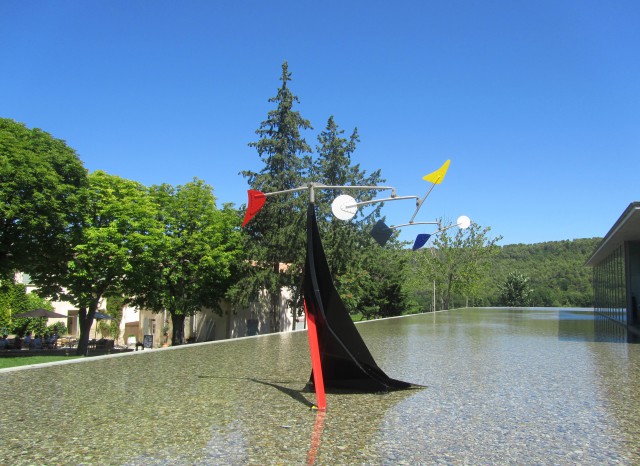 We returned to the art centre/visitor centre and Alexander Calder's mobile Small Crinkly. To the left there's a café and to the right a restaurant. For lunch we chose the café with its terrace of shaded tables around a cool fountain, but with a view of the more formal restaurant in the Centre d'Art.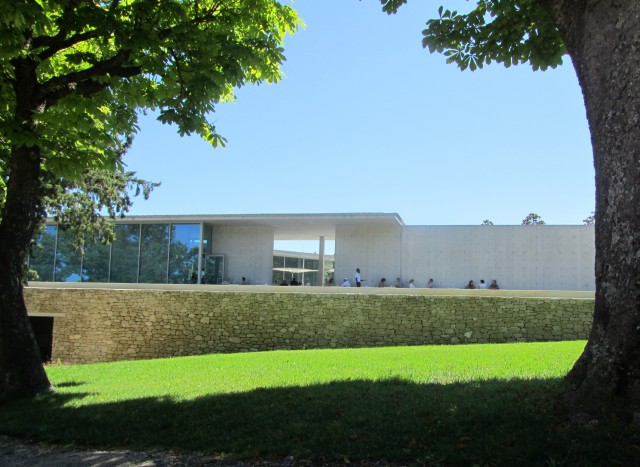 Then to the bookshop beyond Infinity by Hiroshi Sugimoto and goodbye to Sam from Crouch End.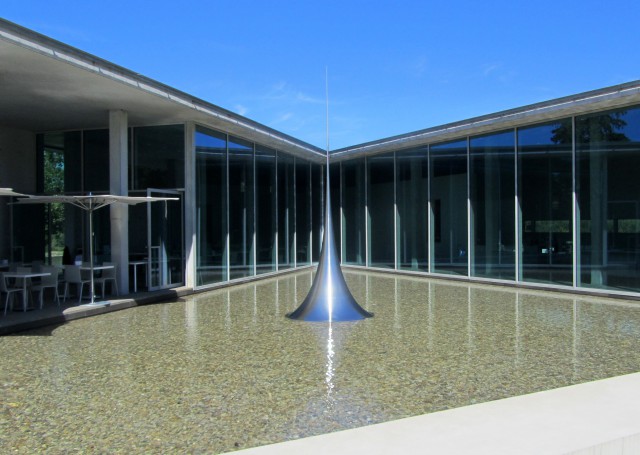 A word of warning. If you are coming here from the north as we did, beware not to take the first entrance labelled Château La Coste, as we did. With my limited French I didn't have time to read the full sign, which probably said Tradesmens' Entrance. I drove down the bumpy track beside Jean Nouvel's beautiful Cuverie then into Le Village and through the café tables where we would later eat lunch, convinced that the bollards were in the wrong place and squeezed between them to arrive at the cul-de-sac of the Centre d'Art where I made an ignominious U-turn. Picture our car centre stage in the photo below. It was not a pretty sight. Fortunately it was only a temporary installation.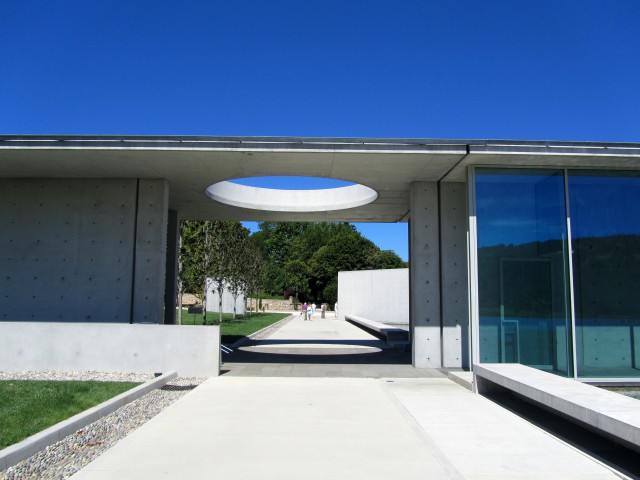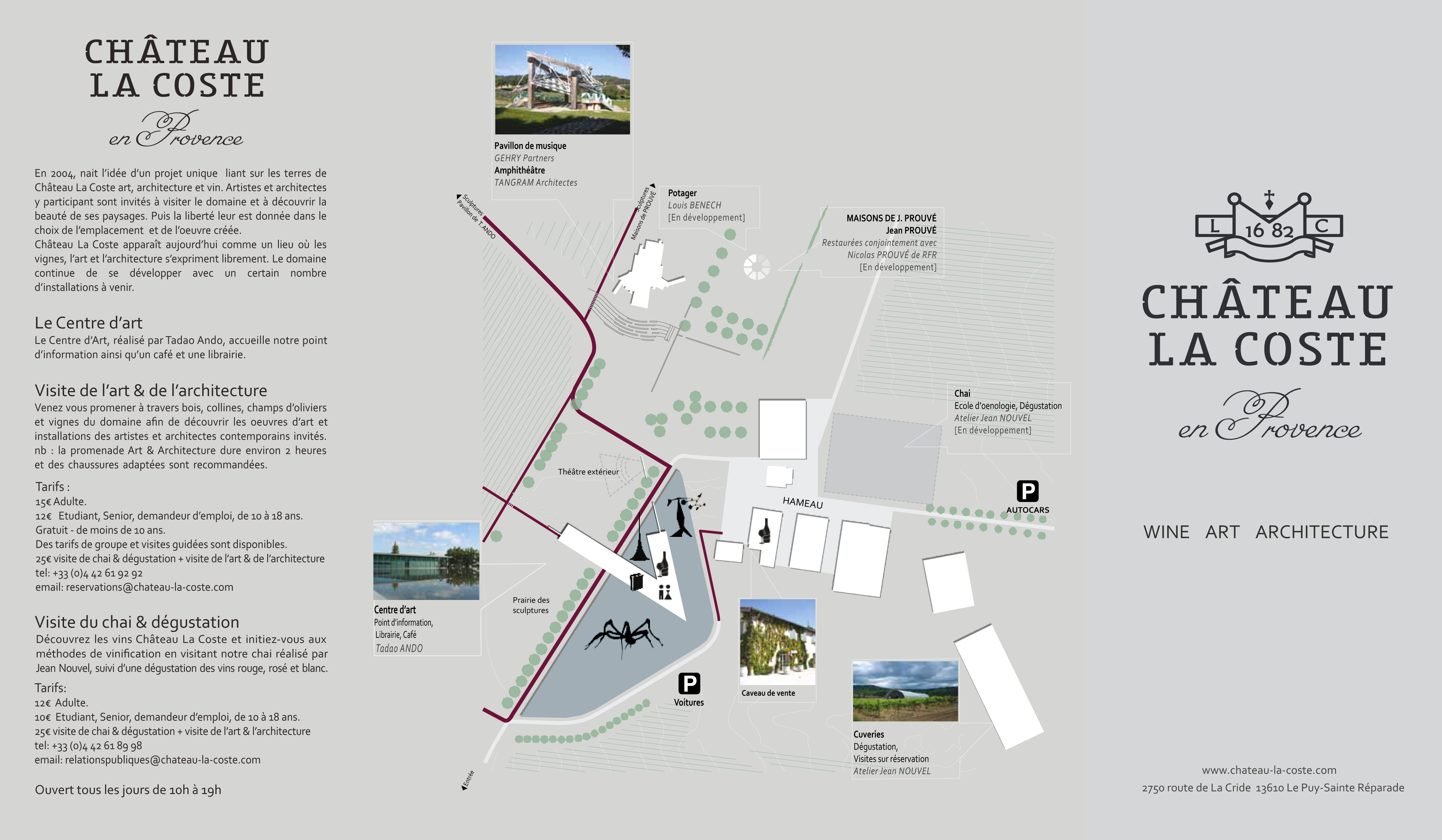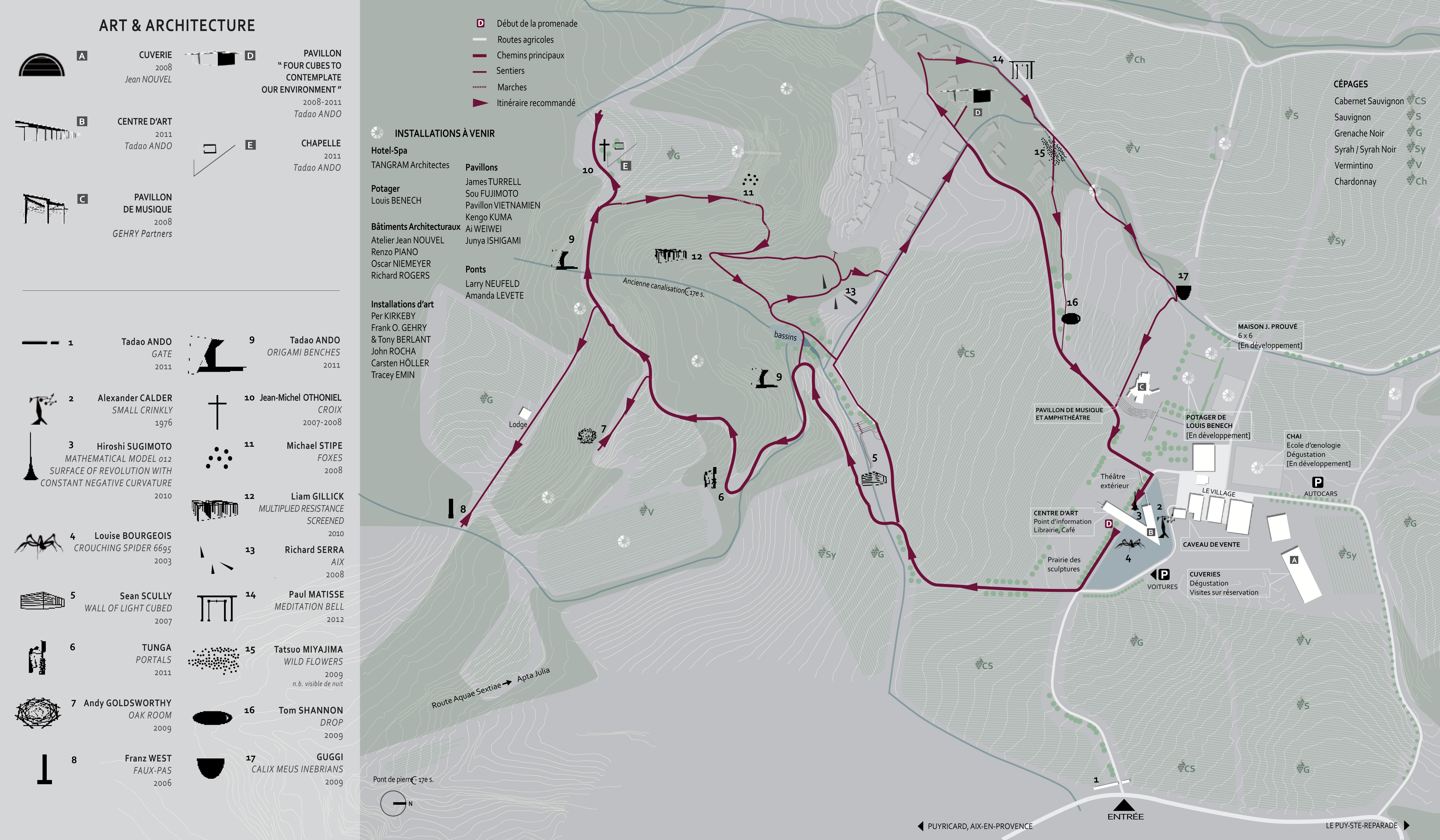 Further reading:
Château La Coste
Fruits Of The Vineyard
Wine, Art & Architecture
The Art Collection Of The Chateau La Coste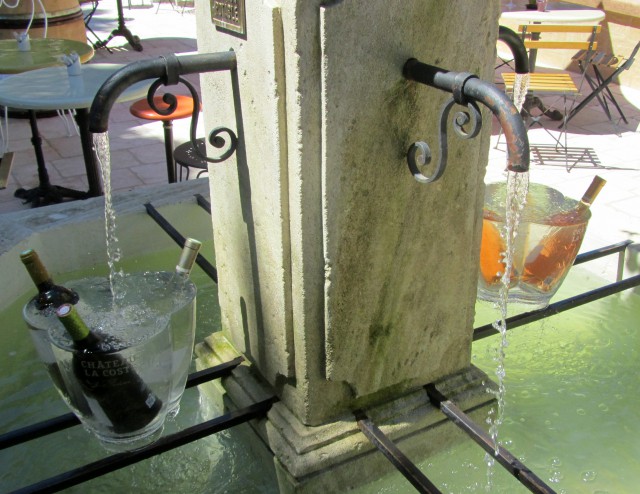 ※
PS: It seems I was wrong about the Tracey Emin installation. I got the wrong end of the stick. It was in fact an experimental test-piece. I wonder what it will become? Please see the comment below.