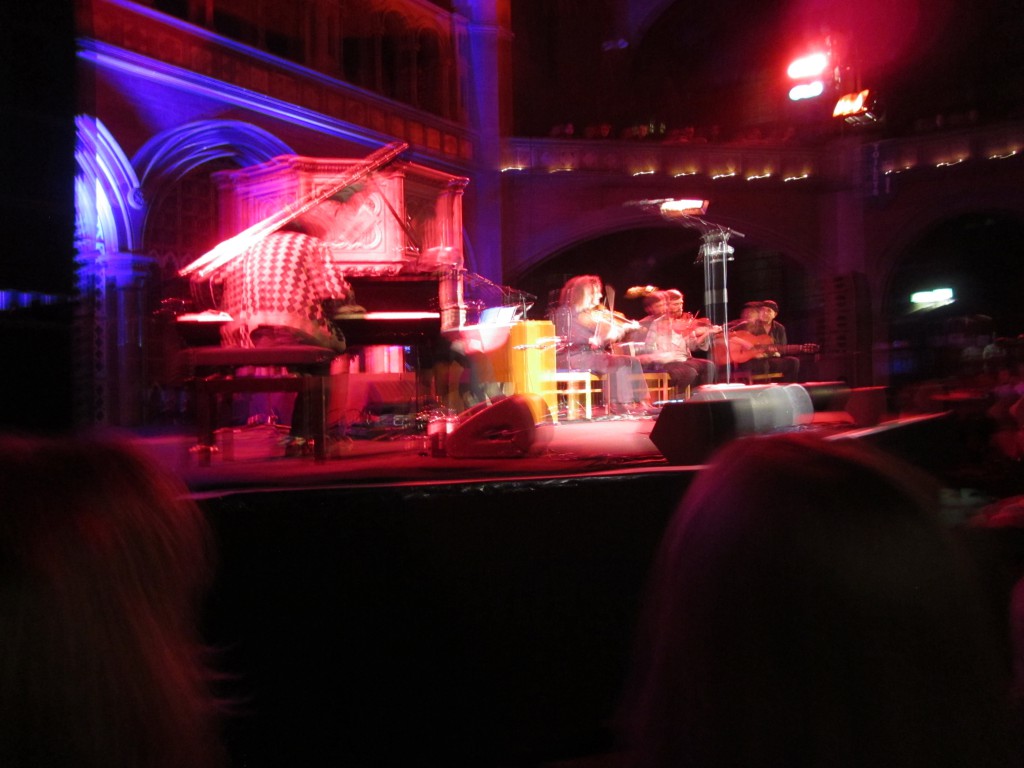 We were at Union Chapel in Islington recently to see The Gloaming. It was our first visit. Why had we never been before? It makes no sense. It's a wonderful, atmospheric venue with a long tradition of showing class acts in intimate surroundings, and The Gloaming are certainly a class act. We arrived early and sat on the hard pews for far too long, but the music was worth the wait.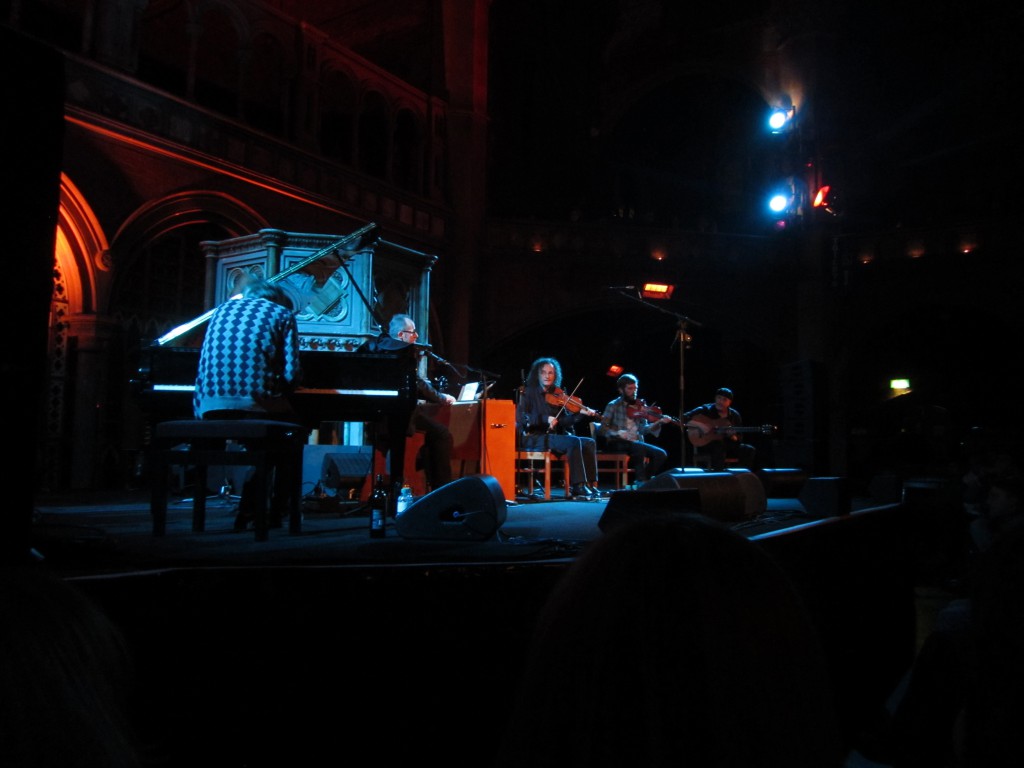 They began slow with an air from Iarla Ó Lionáird sung in a strong, beautiful voice and progressed with fiddle and piano to what seemed like parlour music, but before long I was pinching myself in amazed disbelief at the incredible dancing lines they were all weaving together. Could this really be? Iarla Ó Lionáird on harmonium, Caoimhín Ó Raghallaigh on hardanger d'amore, Dennis Cahill on guitar, Martin Hayes on fiddle and Thomas Bartlett on piano gradually stirred us into a frenzy.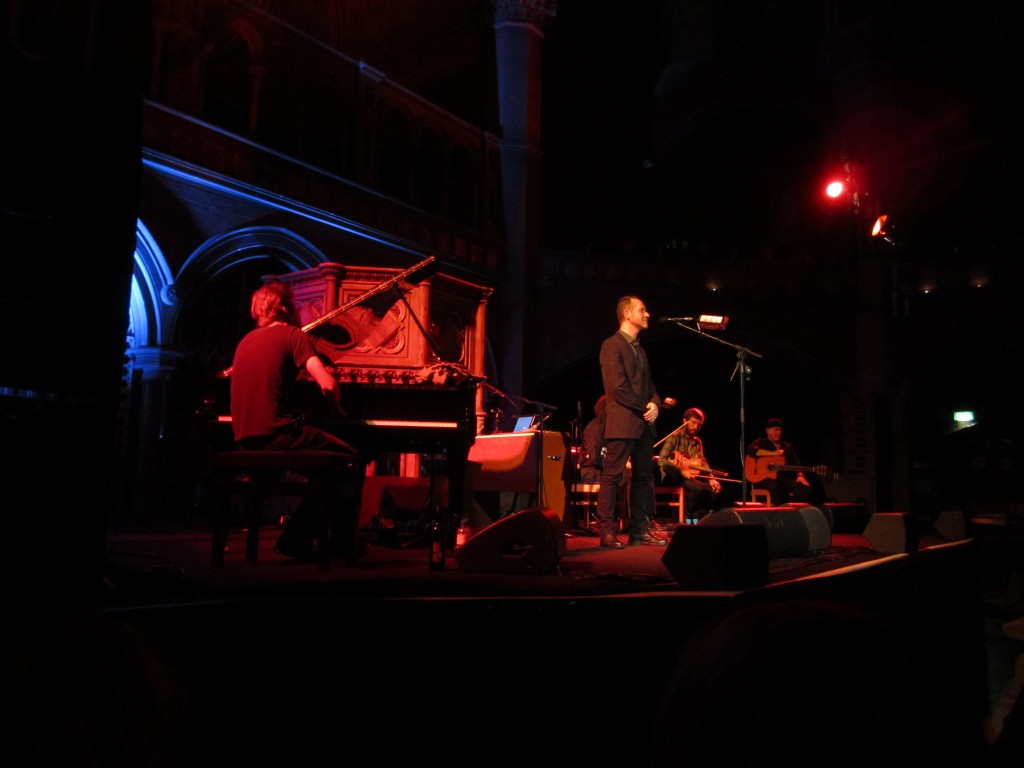 Here's a little sample, The Old Bush, starting with gentle guitar, the scrape and drone of the ten string hardanger fiddle, the piano played inside and out, then another more nimble fiddle, all reeling us in and spinning us all round the houses, with grace and beauty and the best will in the world.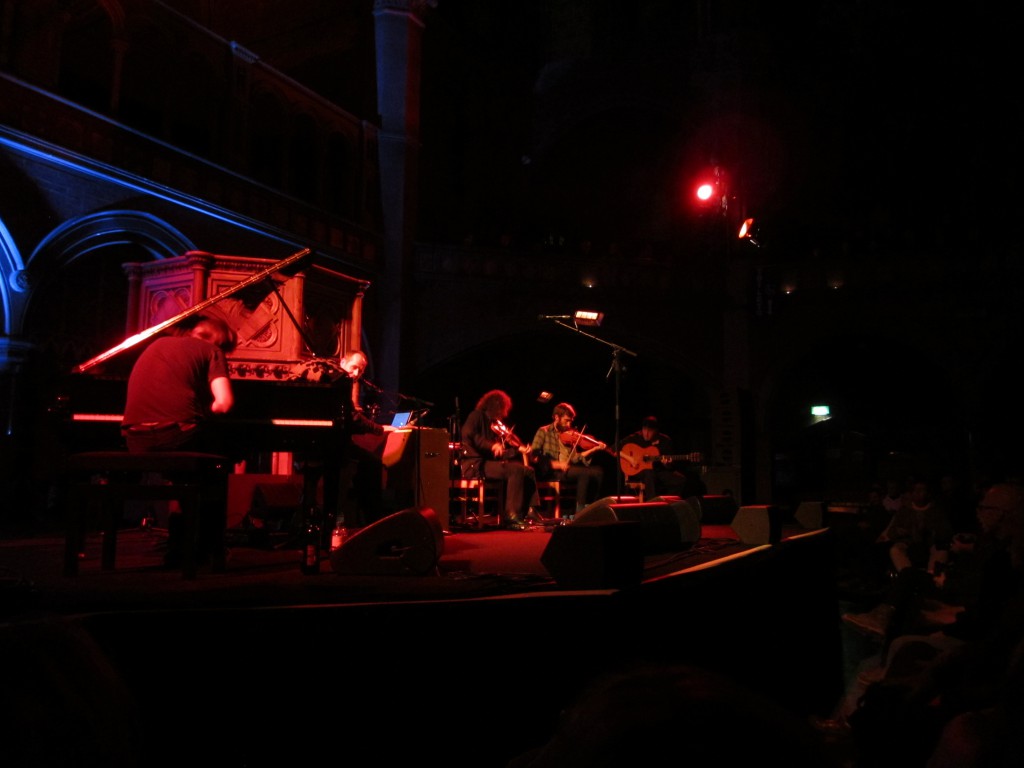 A trio of enthusiastic Irish sisters sat in front of us, head-banging and pew-dancing, also recording proceedings on iPhone. Watch out for this one on You Tube. Loud whoops and hollers and cheers of delight rang from the galleries. The chapel was storming!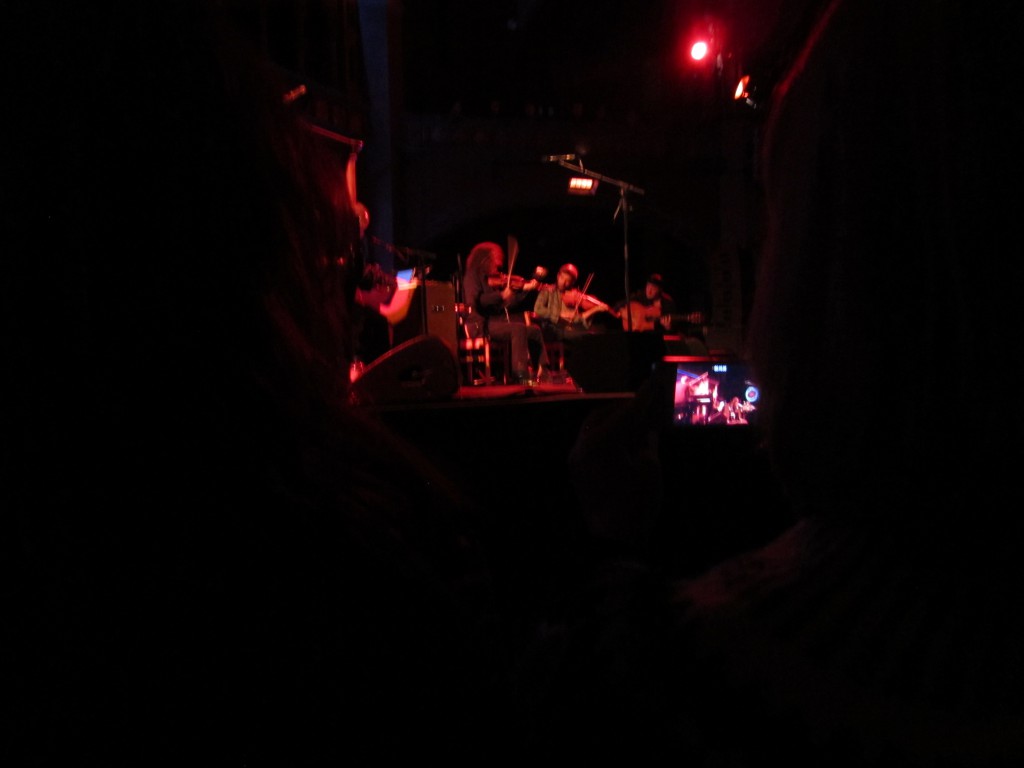 I first heard of The Gloaming here from Christopher Corr and he was at this performance too. Here are some of his photos…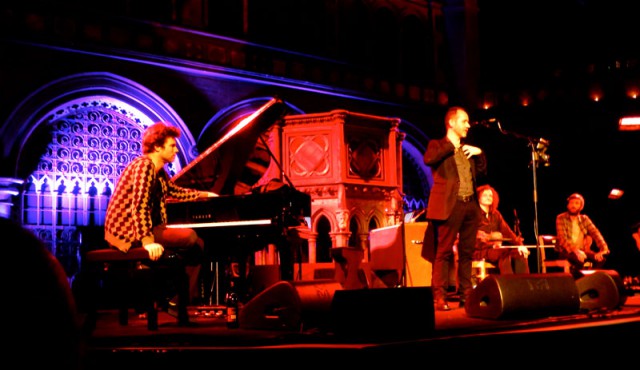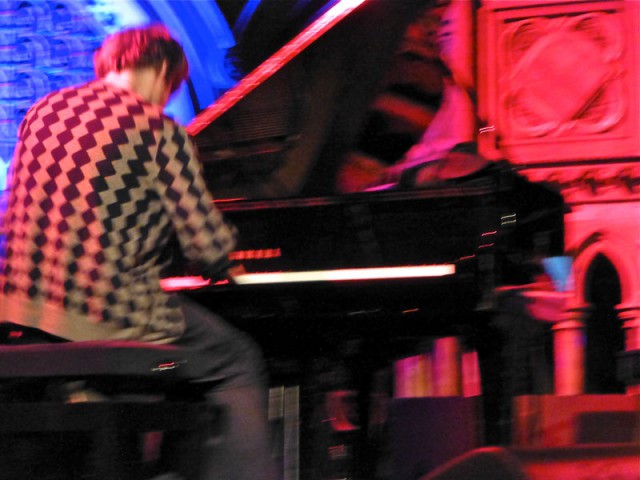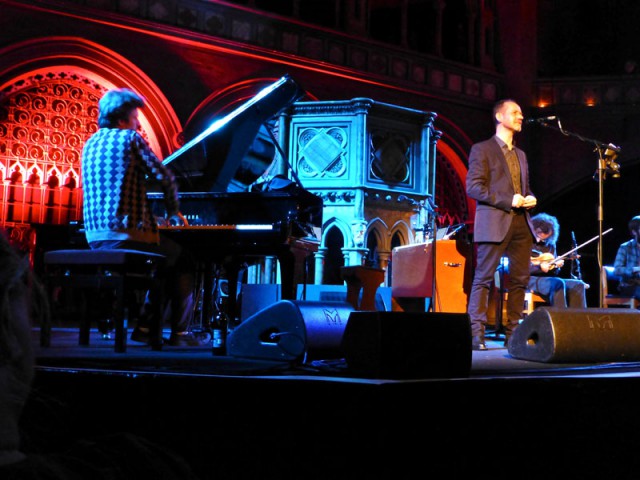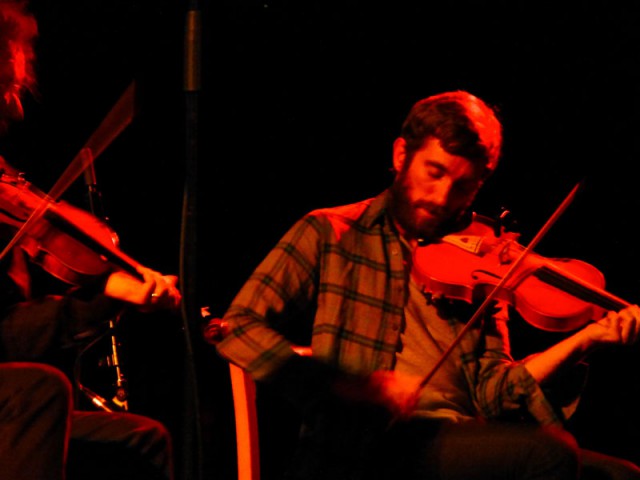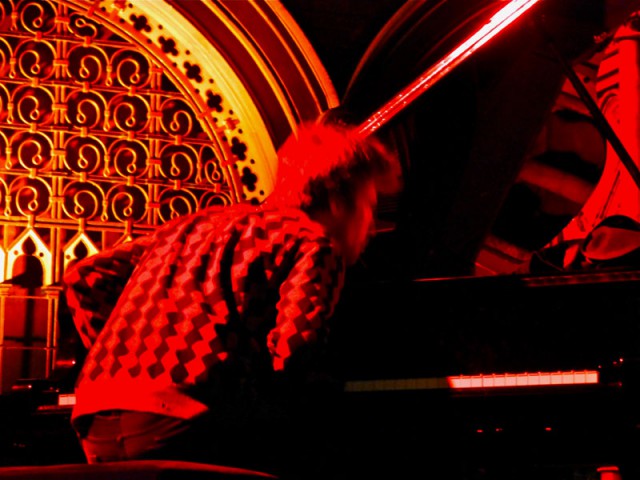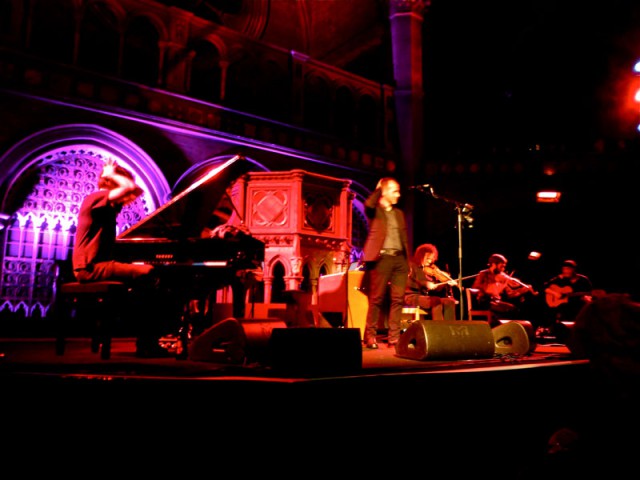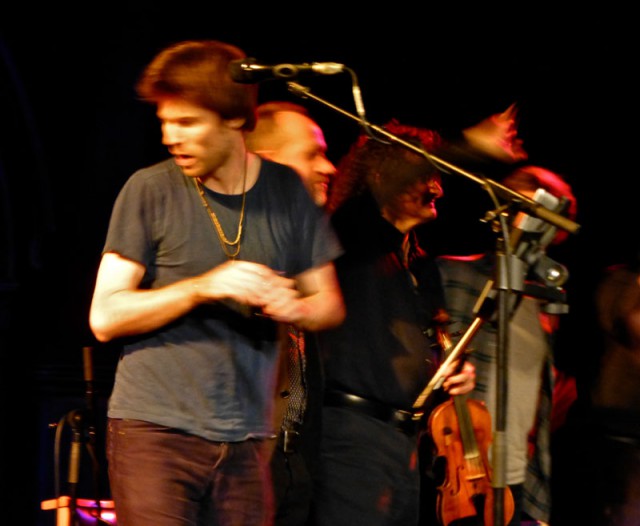 This last one is at the end as the musicians take a bow, and Thomas Bartlett suddenly remembers he's left his bottle of red wine behind!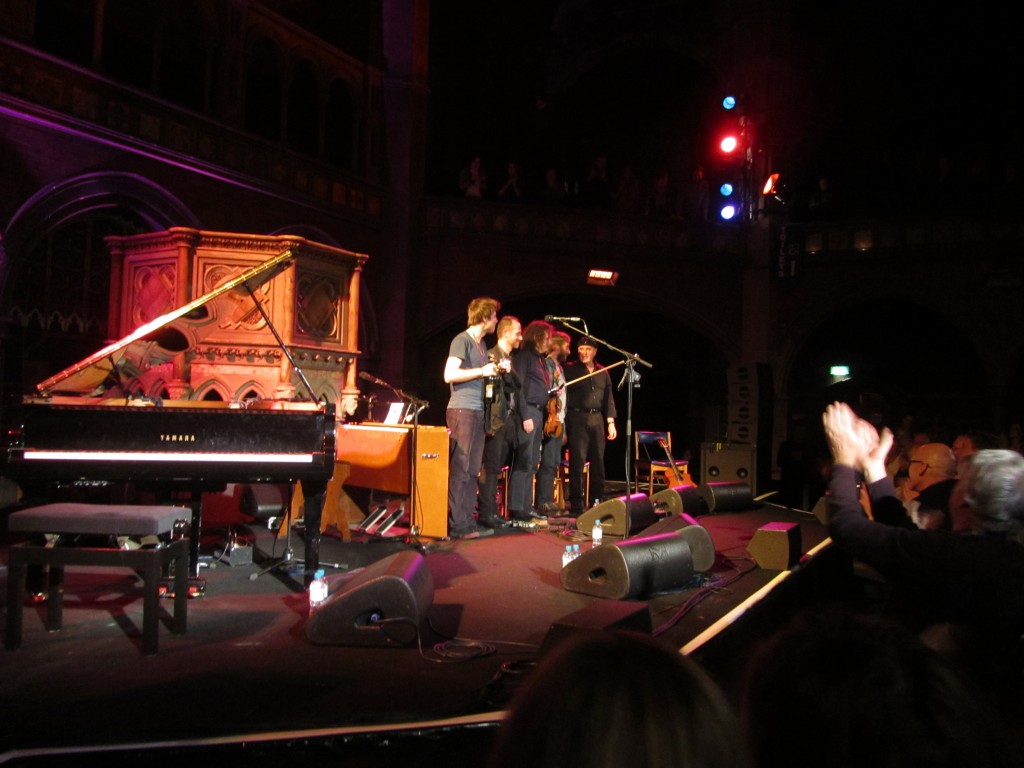 Tim Cumming was also in the audience – Great wasn't it, a livelier crowd than last time, could've done without the pew stomping during the closing Opening Set…Irish bloke up in the bar drinking vodka from a pint glass. Lit up like a Christmas tree… Tim was reviewing it for The Independent.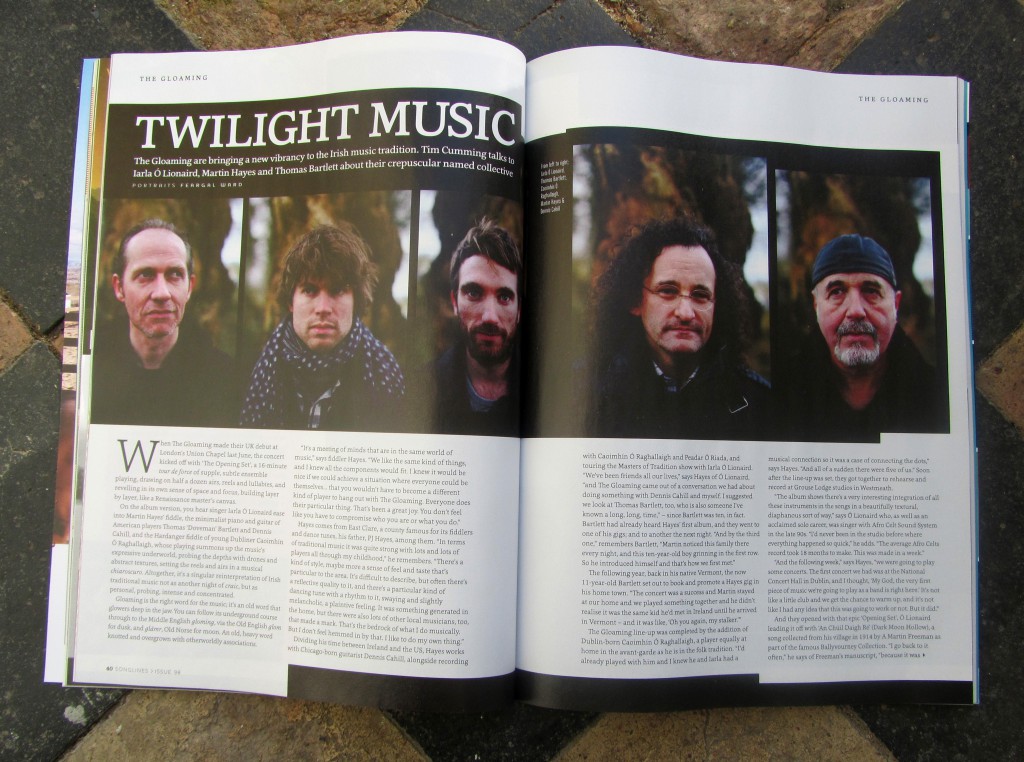 He's also written a nice piece – Twilight Music – for the March issue of Songlines magazine –
…Gloaming is the right word for the music; it's an old word that glowers deep in the jaw. You can follow its underground course through to the Middle English 'gloming', via the Old English 'glom' for dusk, and 'glāmr', Old Norse for moon. An old, heavy word knotted and overgrown with otherworldly associations…
This is a trailer for Moment To Moment, a biographical film about The Gloaming that I got from NPR's First Listen. And there's a bit more here from Real World Records – The Gloaming. But nothing beats a live show. Watch out for their next performance, it'll be transforming.