This is a short trailer for the film Sounds And Silence from 2009. It is subtitled Travels With Manfred Eicher and it tells the story of his record label, Editions of Contemporary Music, following him over five years as he records musicians around the world. I discovered it thanks to Richard Williams via his very welcome new blog, The Blue Moment where he's written about the exhibition ECM: A Cultural Archaeology, until recently at the Haus der Kunst in Munich.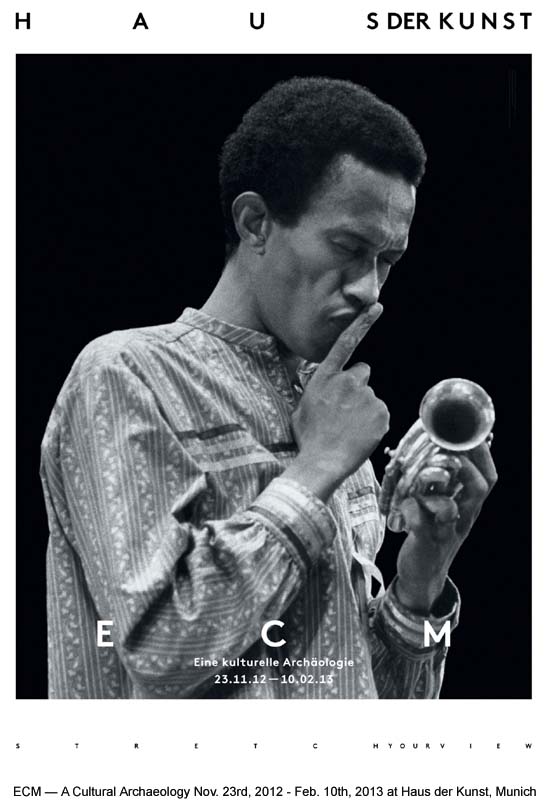 The exhibition poster featured this lovely photo of Don Cherry, one of jazz music's most generous and adventurous spirits. I first knew him from Liberation Music Orchestra, an album by Charlie Haden which I bought in 1970 because of a glowing review in the Melody Maker also by Richard Williams. Another recommendation was Carla Bley's monumental Escalator Over The Hill with Don Cherry as the guiding voice of the Sand Shepherd, then Don's own beautiful Relativity Suite. It was only later that I discovered his earlier, crucial work with Ornette Coleman on some of the best recordings of innovative group interplay in the history of jazz. I saw him play live on too few occasions, once with Old & New Dreams at the Lyric Theatre in Hammersmith and then Don Cherry's Nu at Bracknell Jazz Festival. I think Rip, Rig & Panic were also on the bill, a gloriously raucous and energetic band whose best recordings featured some of his distinctive contributions. But perhaps my most poignant memory of Don Cherry is of a concert where he was not actually present. It was at the Royal Festival Hall in 2009; Don had died in 1995. Charlie Haden and Carla Bley gave a performance of Liberation Music Orchestra, the highlight of which was Charlie's moving Song For Ché with the cornet part played by Robert Wyatt, lovingly conjuring Don's sweet ghost. I'm sure I was not the only one that night with a tear in my eye or a lump in my throat and an echo in my ear.
※
Also see the earlier post Cherry Street and for a much more comprehensive account of ECM: A Cultural Archaeology please see Tyran Grillo's epic Between Sound And Space.