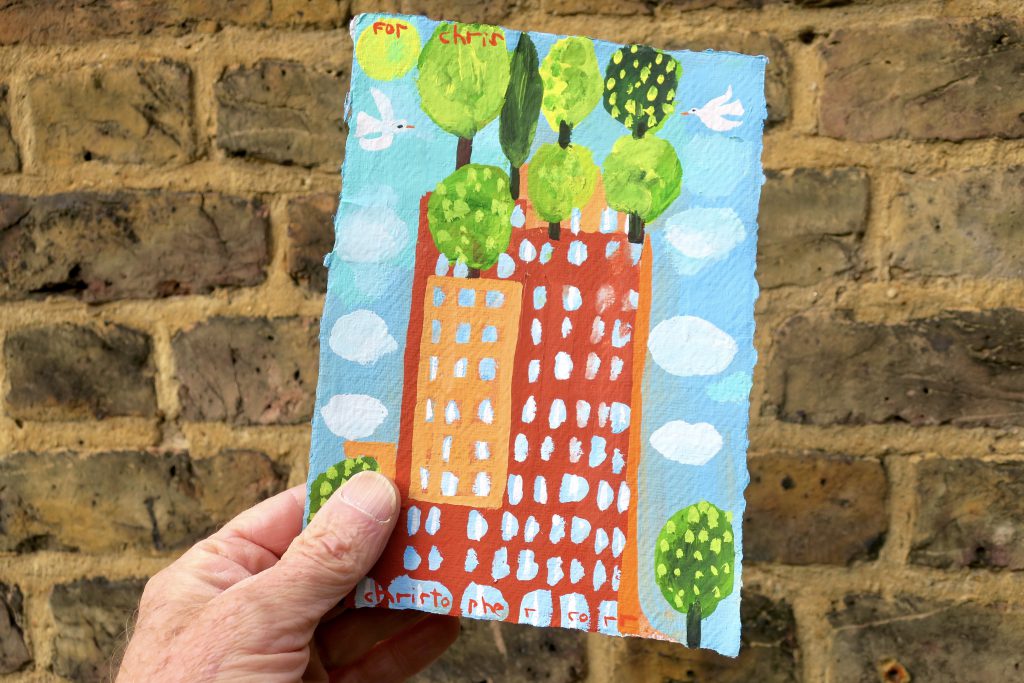 This optimistic little painting was given to me by Christopher Corr. I'd told him about my idea to put seven trees on the roof of the new tower at Seven Sisters in Tottenham. Seven Sisters got its name from a sacred grove of seven elms that grew there in the seventeenth century. Christopher was very enthusiastic, but it has proved more difficult to convince the tower's owners of the benefits of having trees on their roof. What follows begins with a Twitter thread I first posted in March 2019.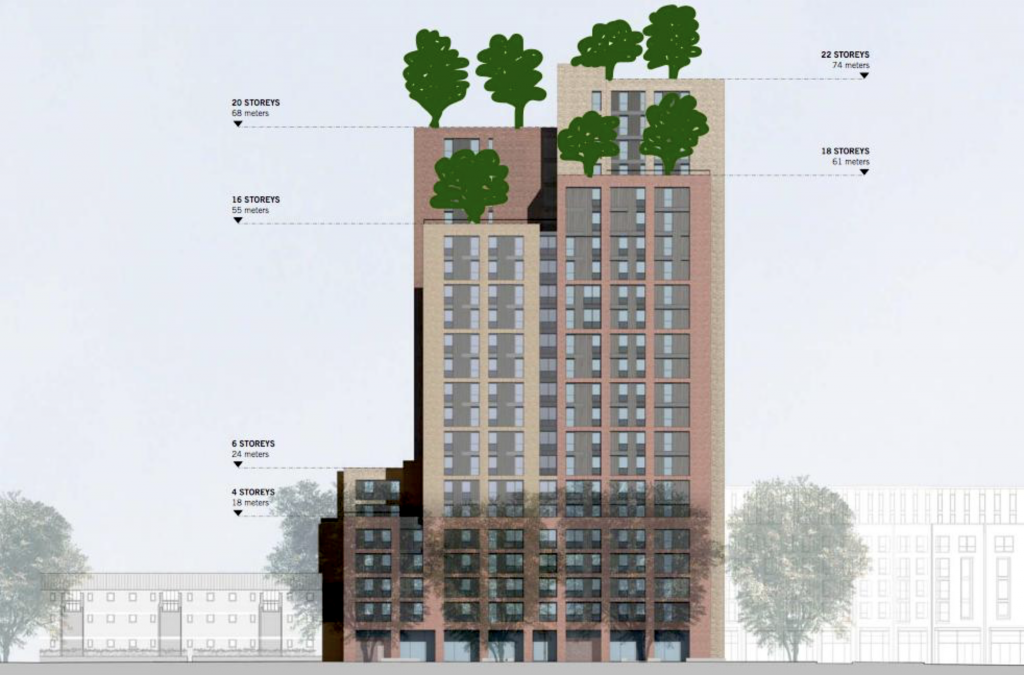 Seven Trees For Seven Sisters.
Is this an idea worth pursuing? What do you think?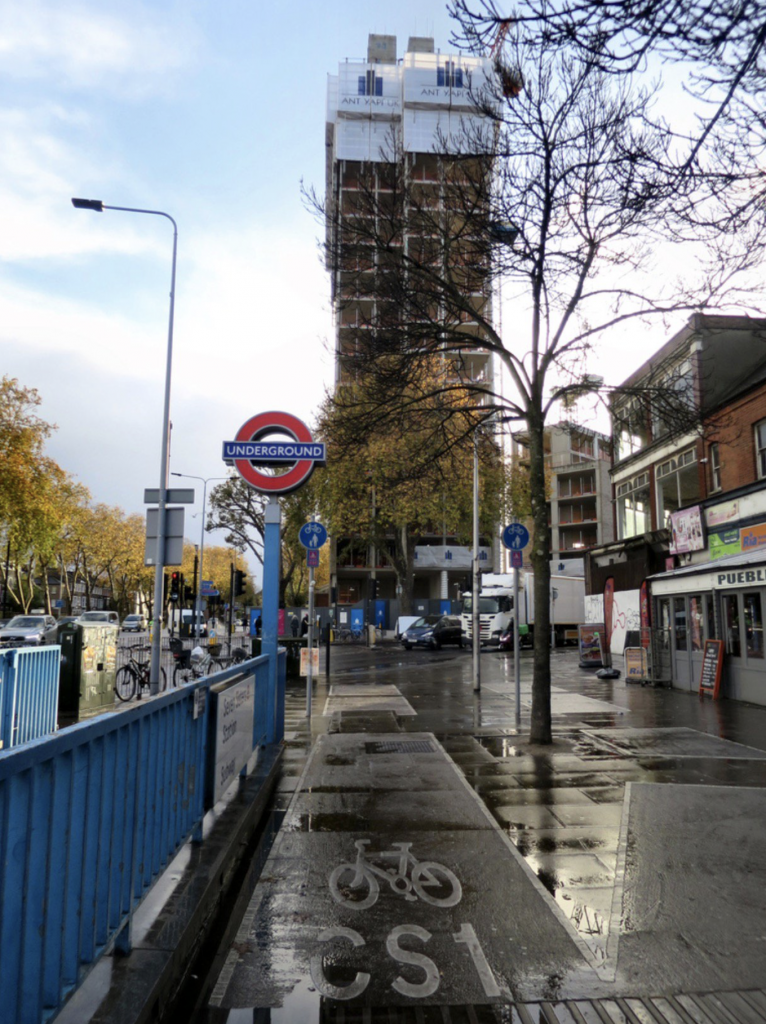 As a longtime resident of Seven Sisters I was at first dismayed and apprehensive about the size of the new Apex House building.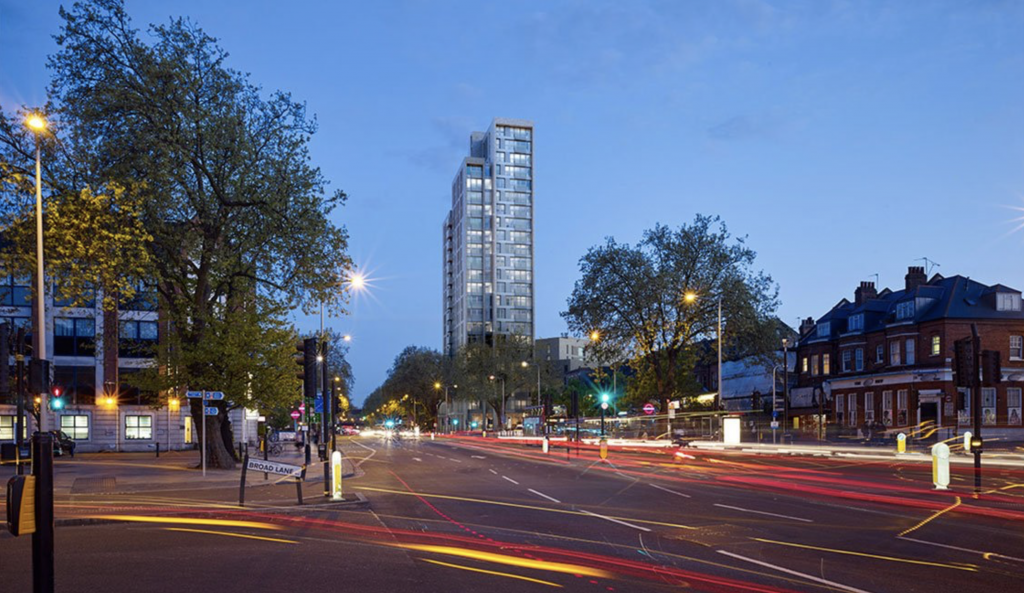 It seemed out of context, and especially so soon after Grenfell when it felt like we didn't want any more tall tower blocks.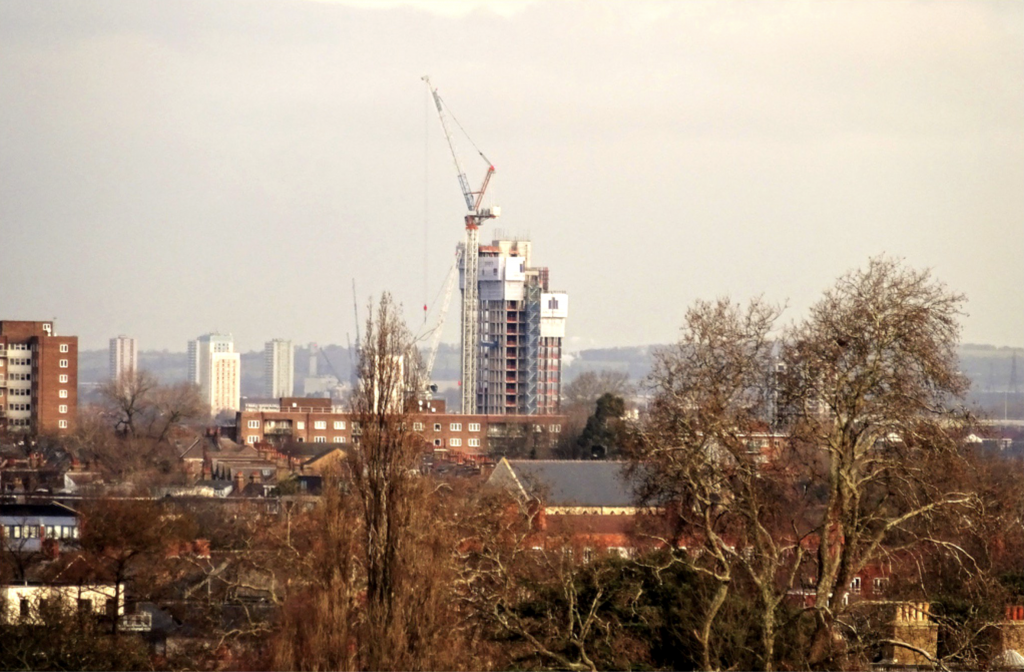 But now, driving home and seeing it as I approach from all directions, it's beginning to become a local landmark.
And thinking of how Seven Sisters got its name – Seven Sisters, London – a circle of seven elms around an ancient walnut tree.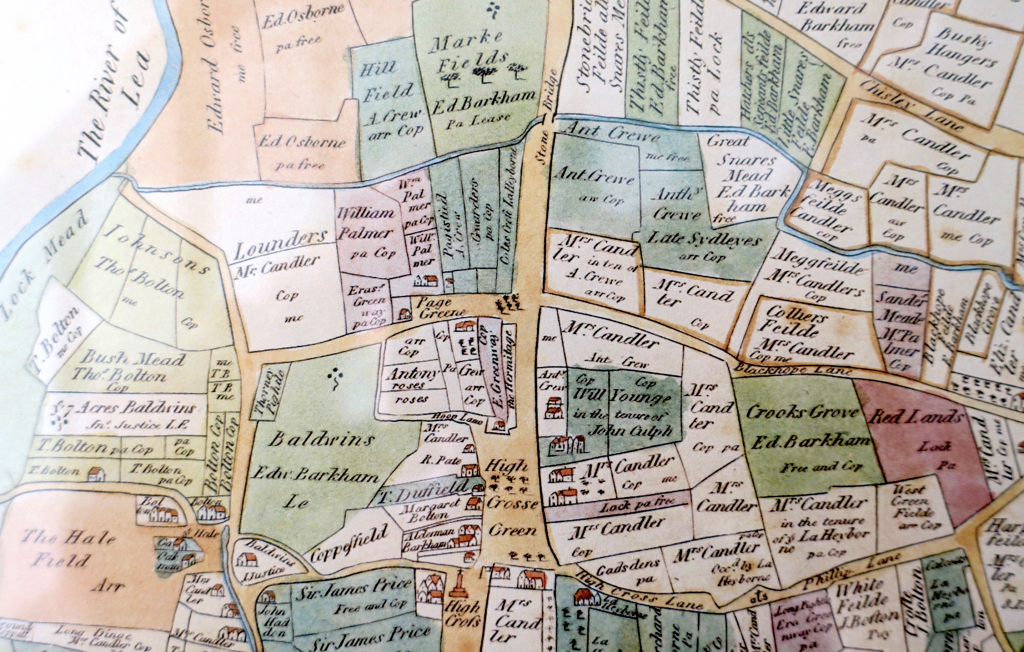 Trees at Page Greene in 1619.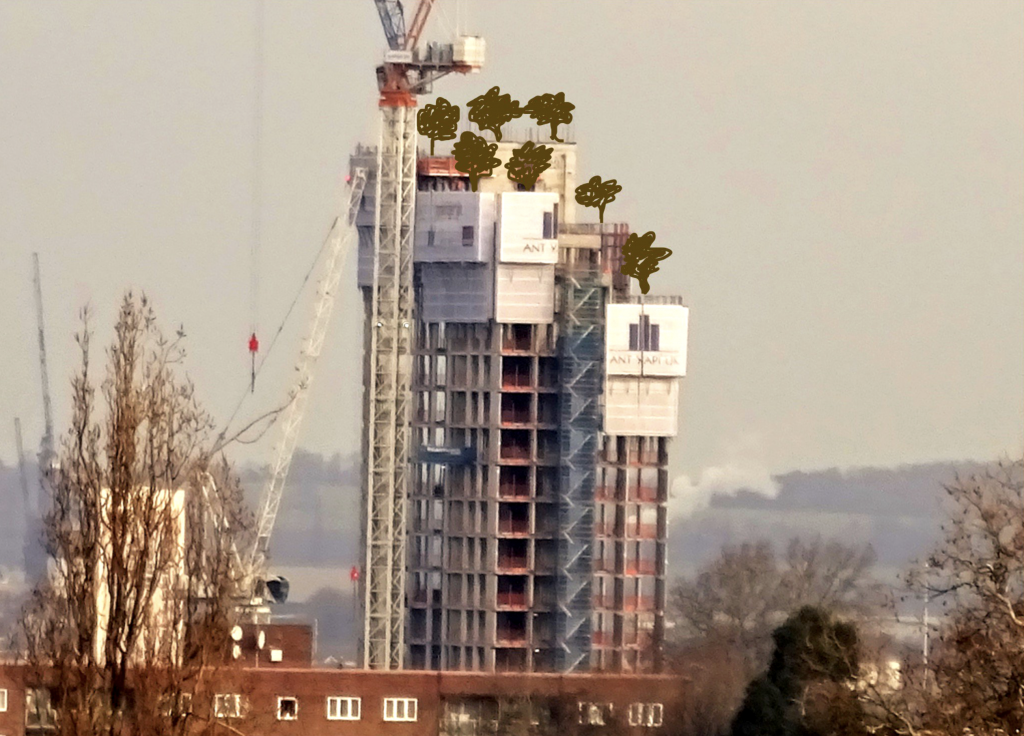 I thought how much more like home Apex House might look if it had seven trees growing on its roof!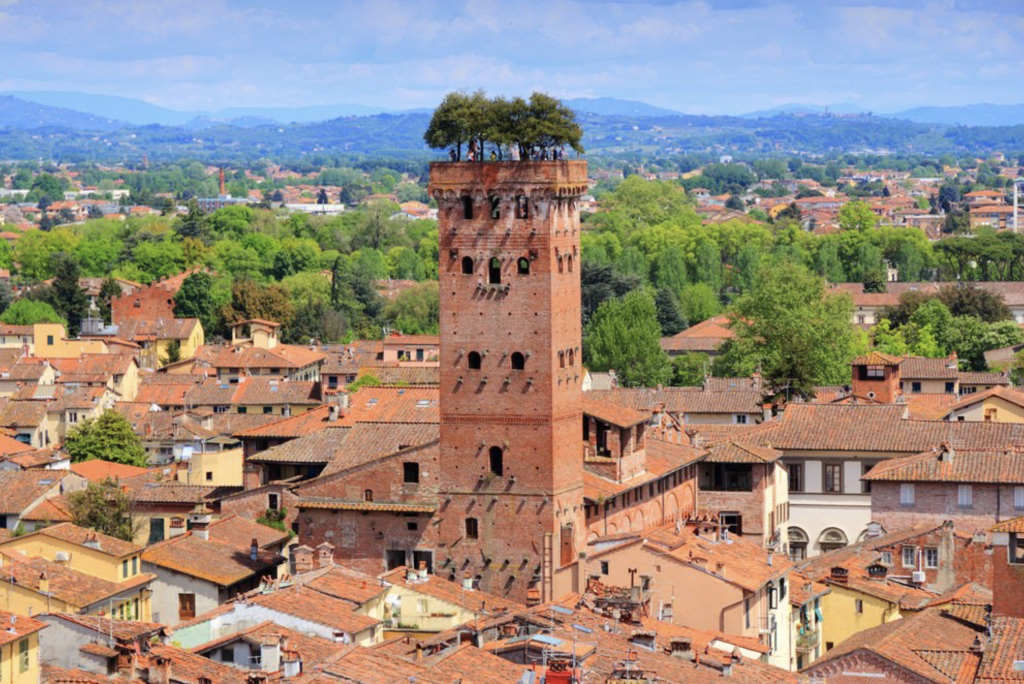 It might even become a tourist attraction like the Guinigi Tower in Lucca!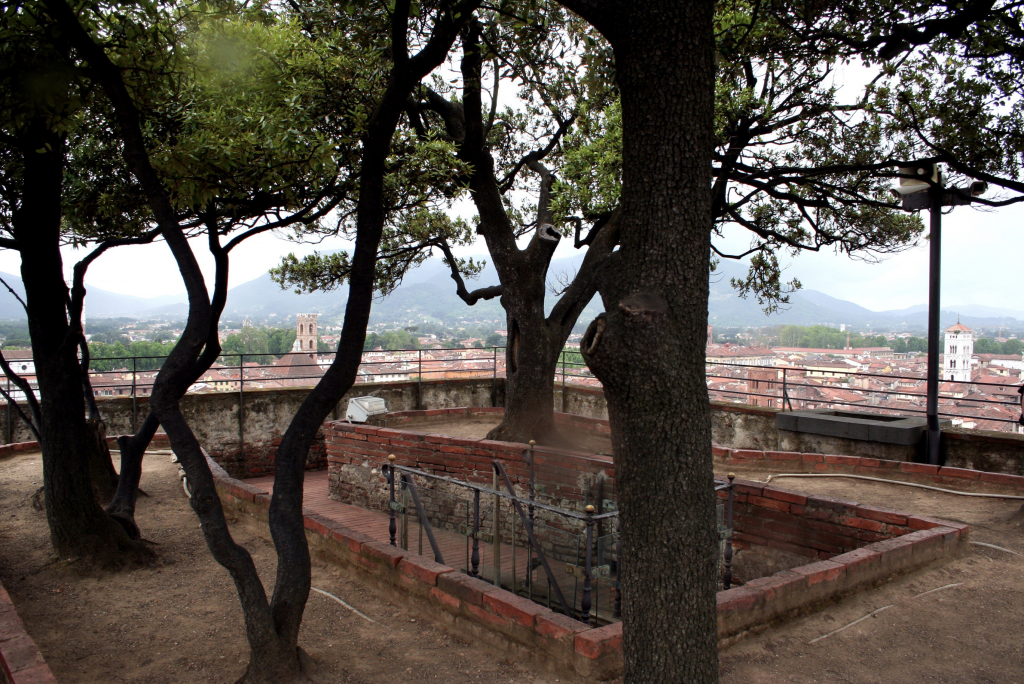 Seven sturdy holm oaks, firmly embedded on the roof, visible for miles around, waving a green flag for Tottenham. Holm oaks = home oaks.
※
My tweet didn't go viral but it got some reaction –
Paul Wood @TheStreetTree – Restore the seven elms of seven sisters! Gets my vote!
Stephen Lowe Watson @StephenLoWatson – What happens when you get a strong gale? Large trees falling from that height could do some damage!
Paul Wood @TheStreetTree – That calls for an 'engineering solution'.
Steve Pocock @spacedapenguin – This is how the Bosco Verticale achieved it.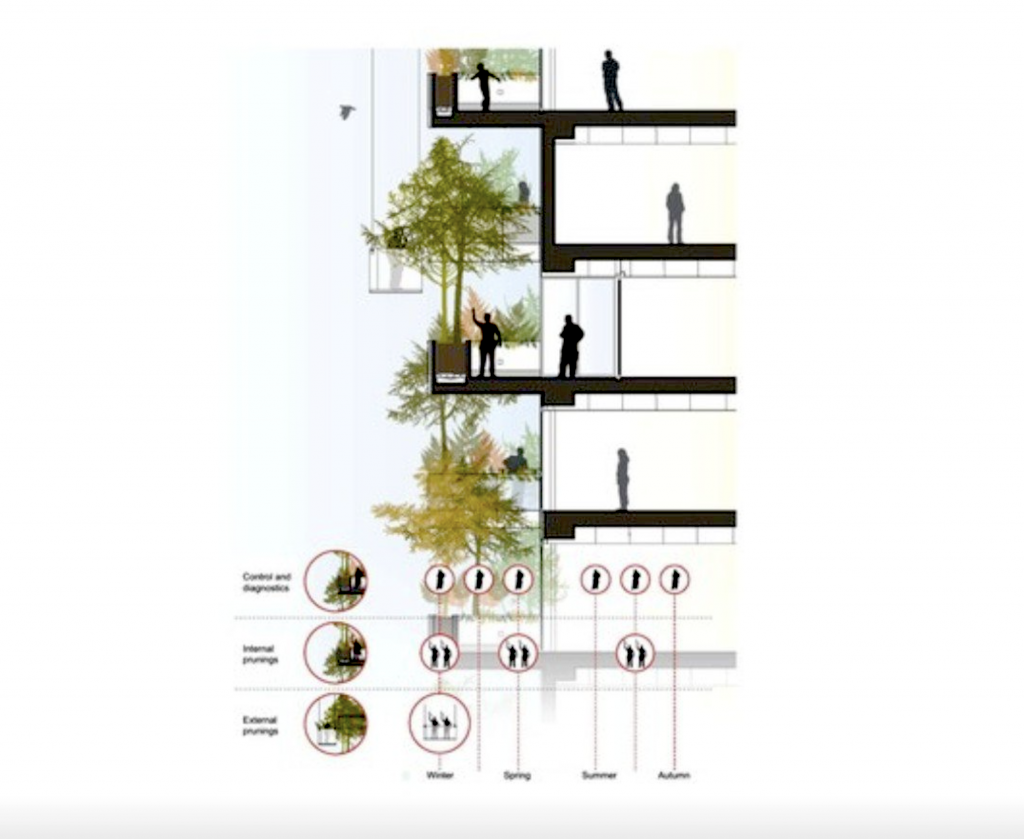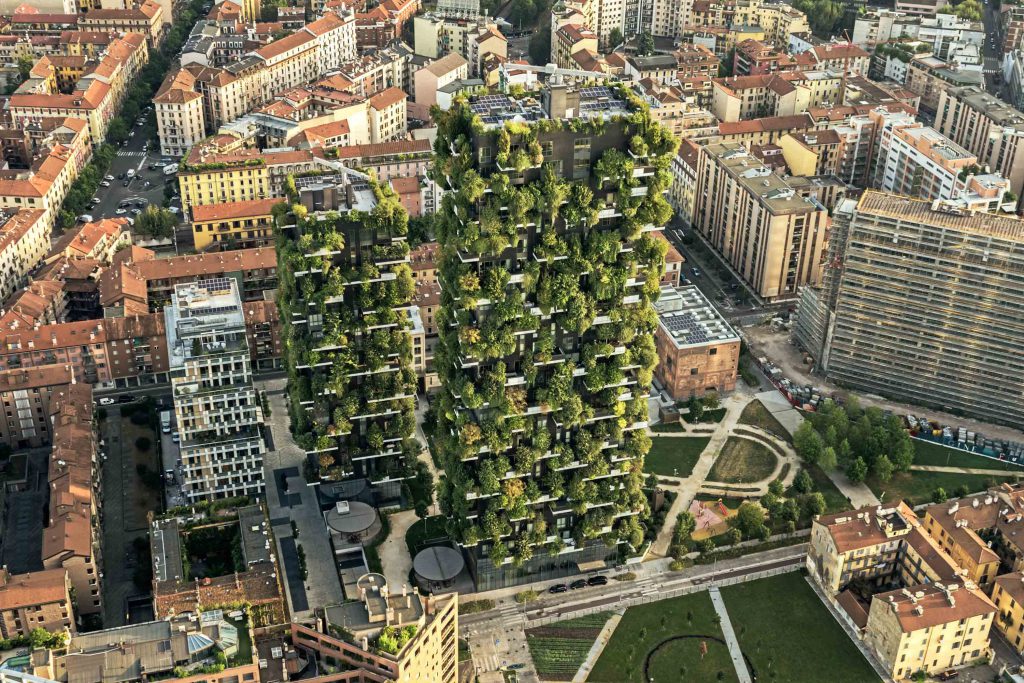 Bosco Verticale is a pair of residential towers in Milan. They are home to 800 trees. The taller tower has 26 storeys. Apex House has 22 storeys.
※
※
※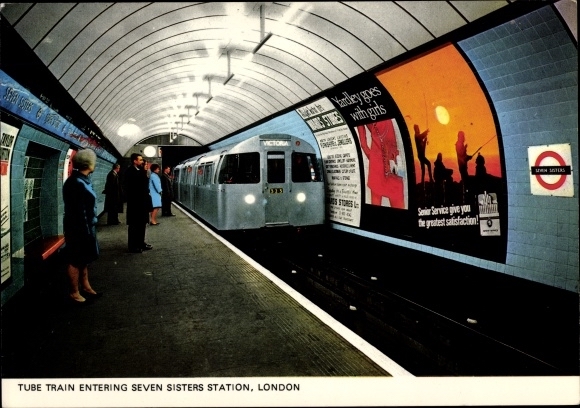 I first arrived in Seven Sisters in 1978, when I was given a house and studio by the Acme Housing Association just 100 yards from the tube station.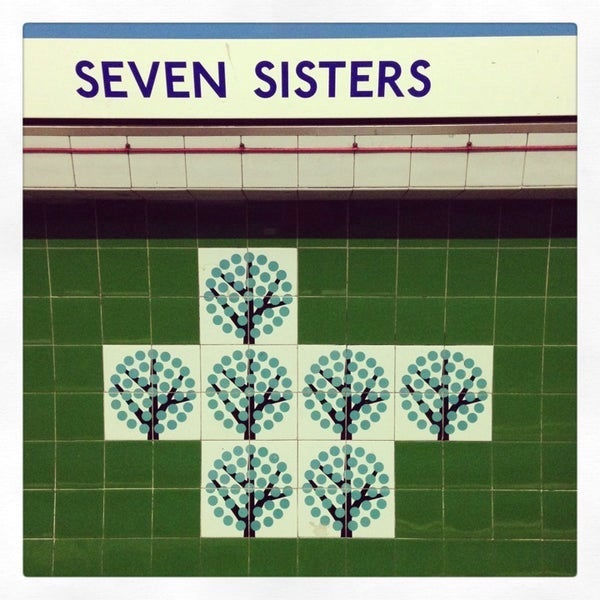 The area takes its name from seven elm trees that once grew here on Page Green. They are commemorated by these tiles on the tube station platform, designed by Hans Unger for the Victoria Line. The original trees are long gone, and this London Underground image has now become so familiar that sometimes it seems Seven Sisters was named after the tiles not the trees.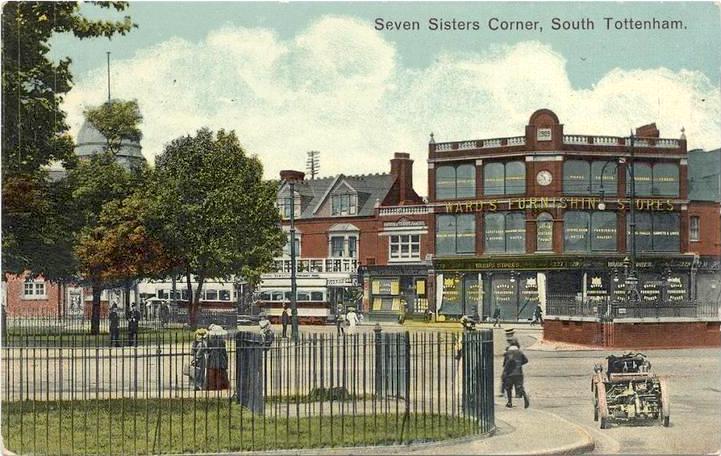 The north side of Seven Sisters Road was for many years occupied by Ward's Furnishing Stores. The parade of shops is still known as Ward's Corner but the department store closed long ago.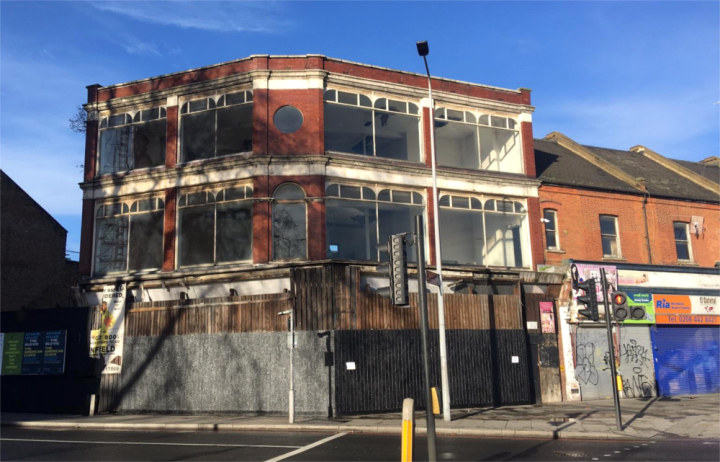 The three-storey showroom was empty in 1978 and it is still empty today. My first thought on seeing it 42 years ago was that it might be used as short-life community studios. I enquired at the town hall but nothing became of it, my suggestion fell on deaf ears.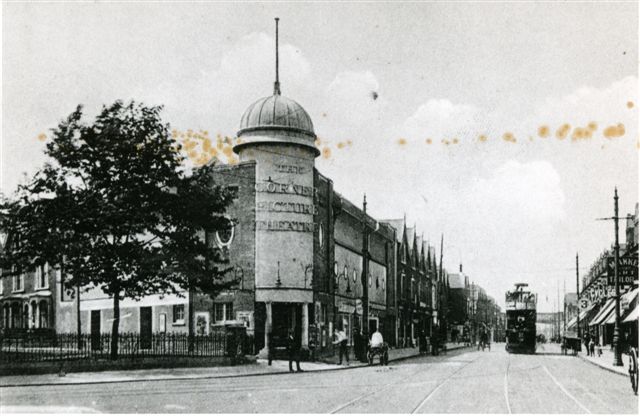 On the south side of Seven Sisters Road stood the Corner Picture Theatre, later known as the Corner Cinema. In the 1960s it became a nightclub, The Noreik (Kieron spelt backwards) but that closed in 1979. The building was demolished in 1980 and eight years later Apex House was built in its place, for use as Haringey Council offices, but that too was demolished in 2017.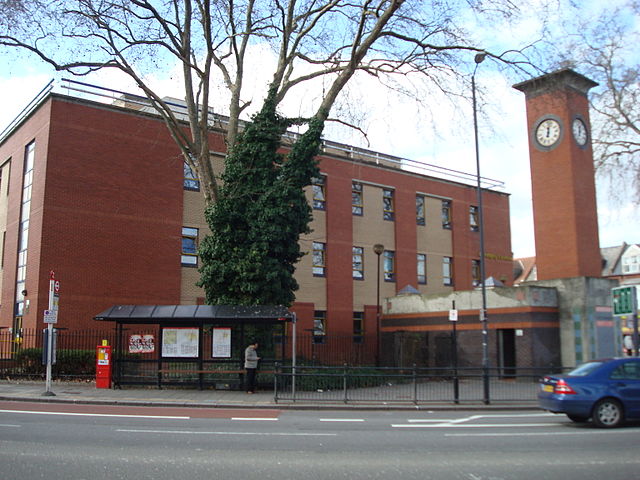 ※
※
※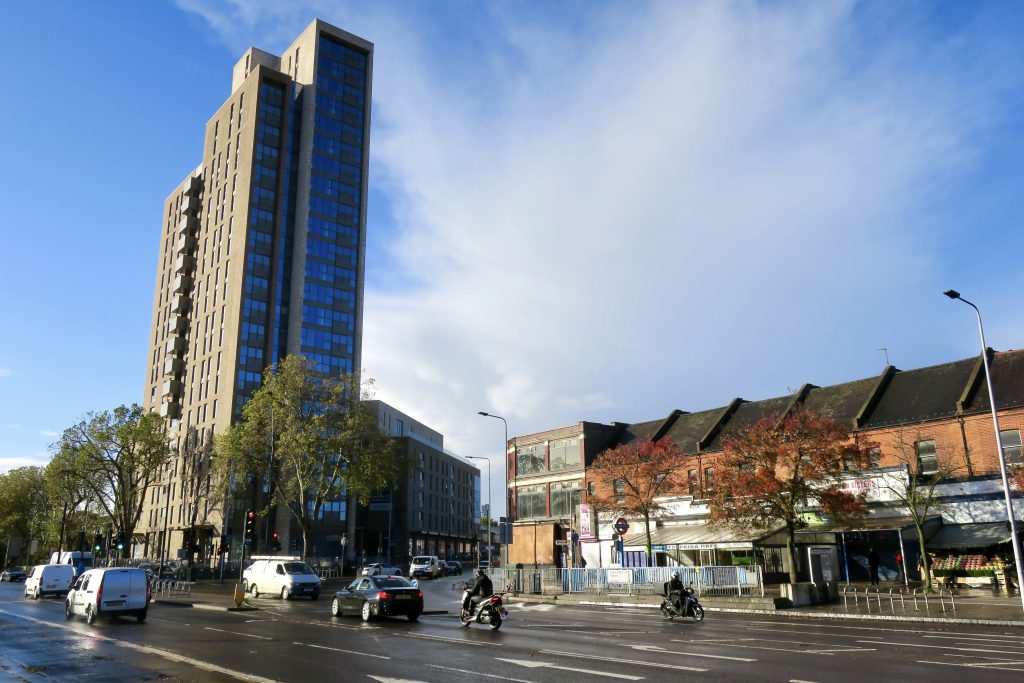 Now Apex House has risen again, reincarnated as a 22 storey residential tower block. It has become a new Tottenham landmark, visible for miles around. It just needs some trees on the roof to top it off.
Three months after my first tweet and one day it dawned on me that I know the architect! He is one of our customers and I've framed pictures for him! And I know he likes trees, here's one he made earlier…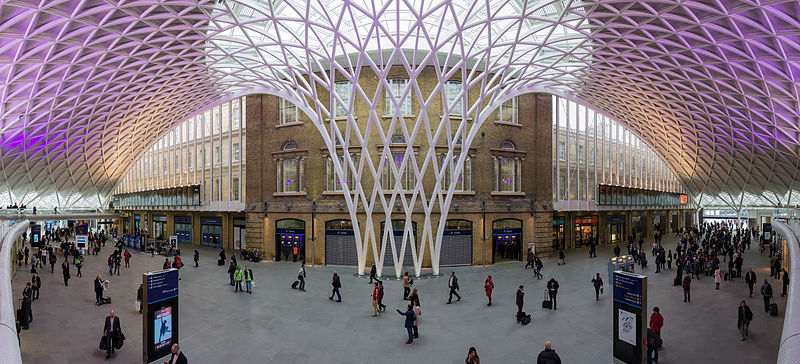 King's Cross Spreading Concourse Tree
I plucked up courage and told him about the seven trees for Seven Sisters. And almost immediately he replied – Super idea. Let's pursue.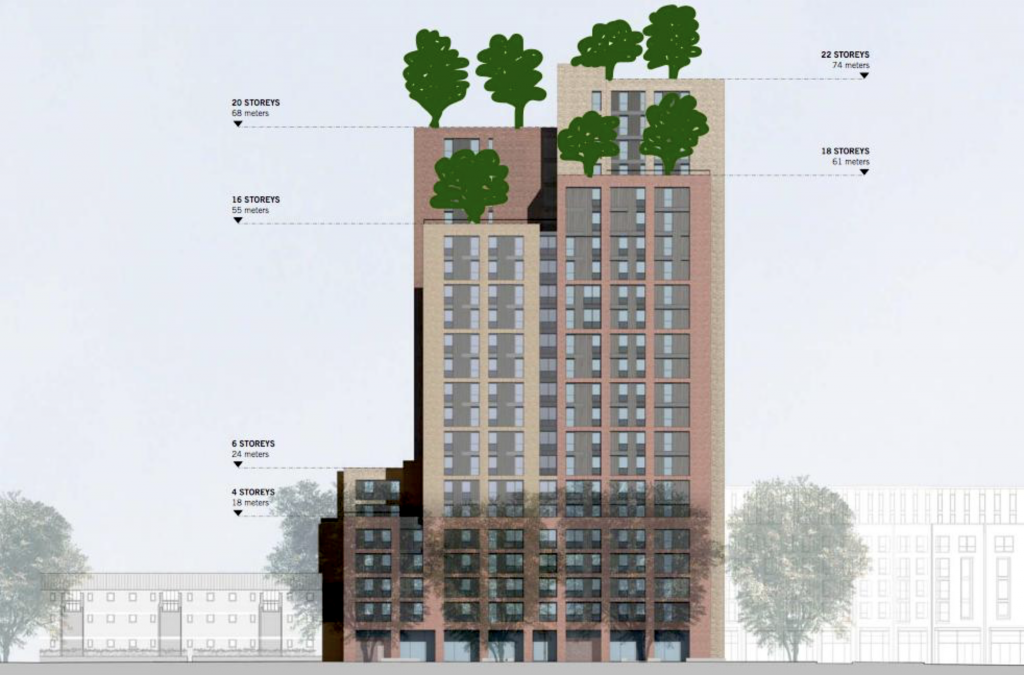 Wow! I was amazed and excited to think it might actually happen. I posted it on Twitter again and got more support –
Nick Higham @highamnews – Time to revive this idea! More buildings should have trees on the roof…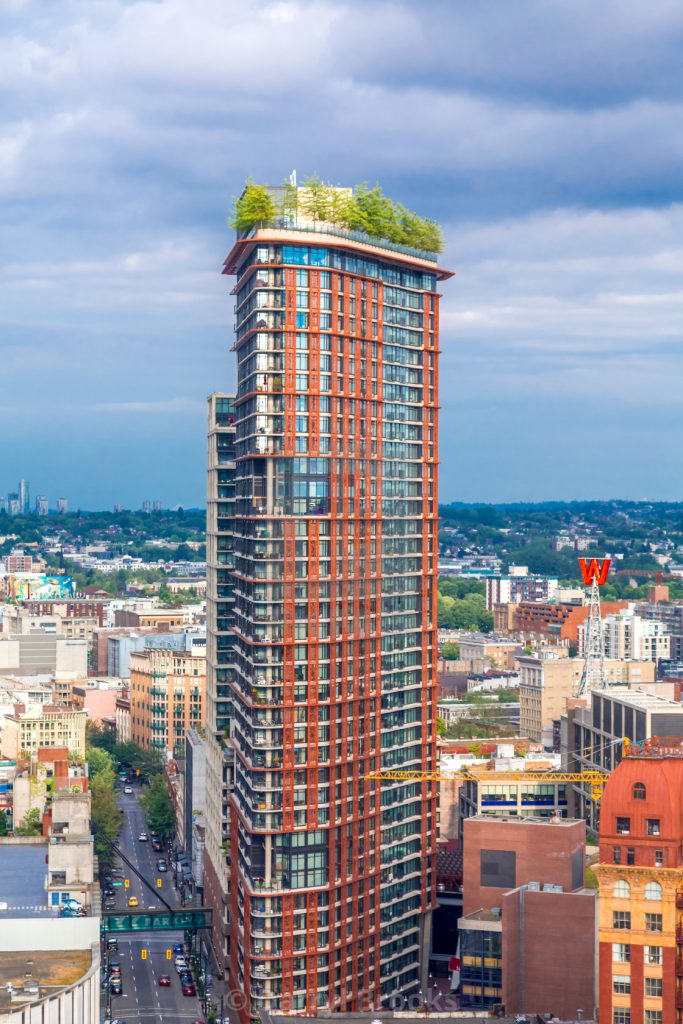 The Woodward's W-43 building in Vancouver has 43 floors, with two below ground it stands 41 storeys high, and it has trees on its roof. So it should be possible to do something similar at Apex House which only has 22 storeys.
※
※
※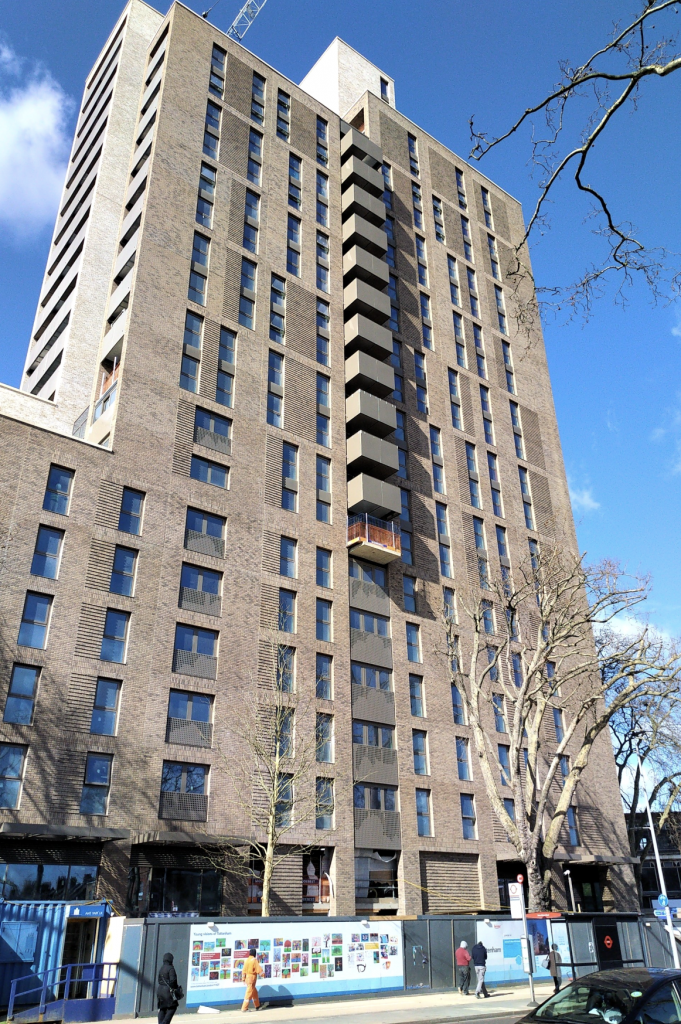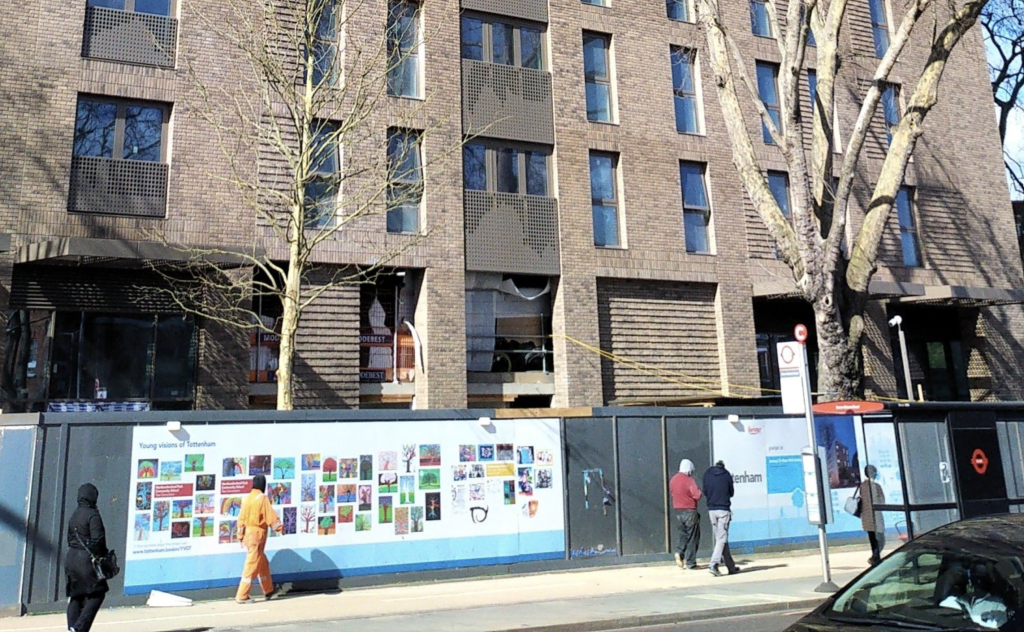 Images of trees have featured prominently at Apex House. Tree Generation paintings by pupils from Northumberland Park Community School, and inspired by Seven Sisters Regeneration, were displayed around the site.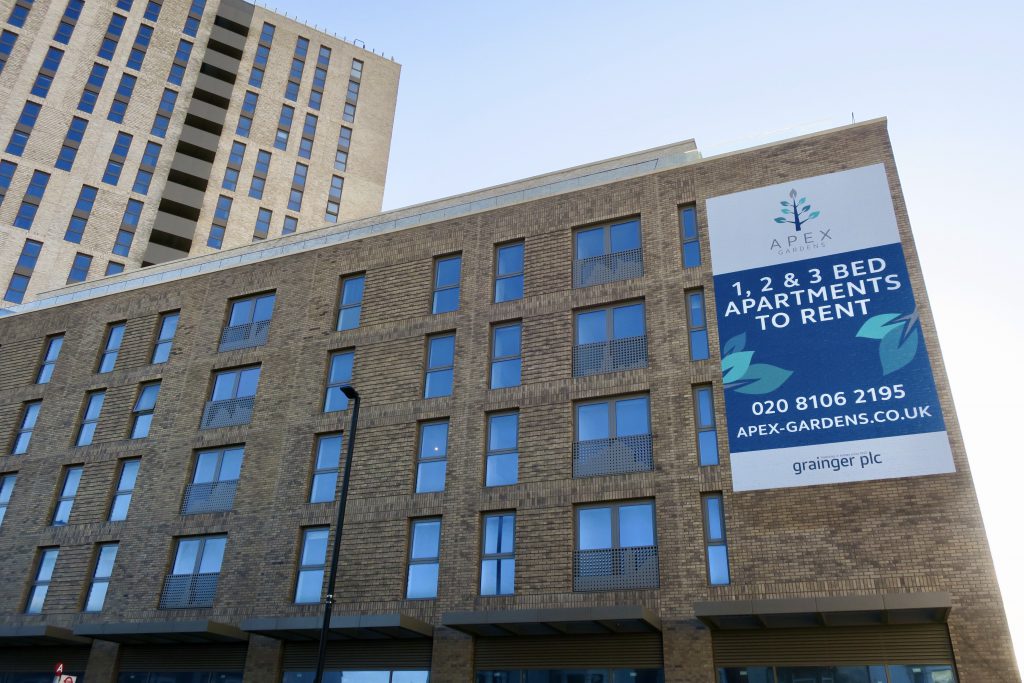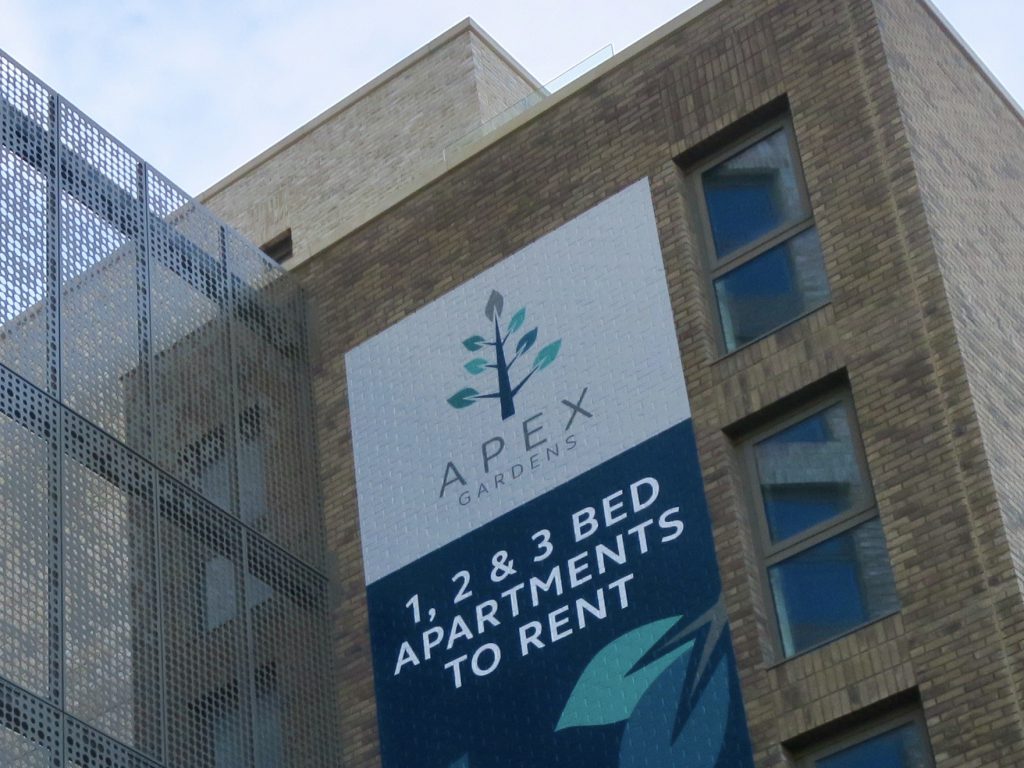 And a tree-shaped logo is being used to advertise the apartments. So it comes as a huge disappointment to learn that the development company have decided they cannot put trees on the roof. They say it is too windy and the trees will not survive. But which trees? There are wind tolerant trees such as alder, blackthorn, hawthorn, hazel, holly, juniper and especially holm oak, firmly fixed and flexible that could provide shade for the roof gardens, add visual amenity and a distinctive long-distance silhouette. Seen from afar they would be such a proud and welcome homecoming, flying a green flag for Seven Sisters, for Tottenham, for London.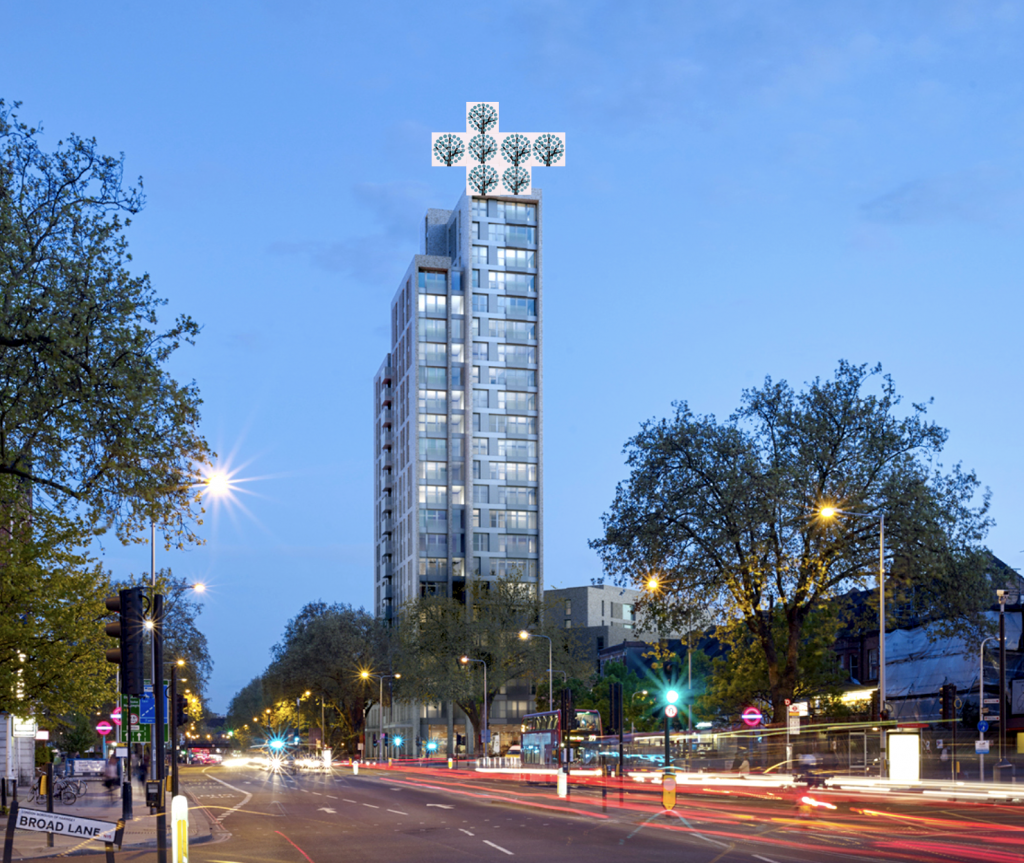 A new London landmark
or a missed opportunitree.
※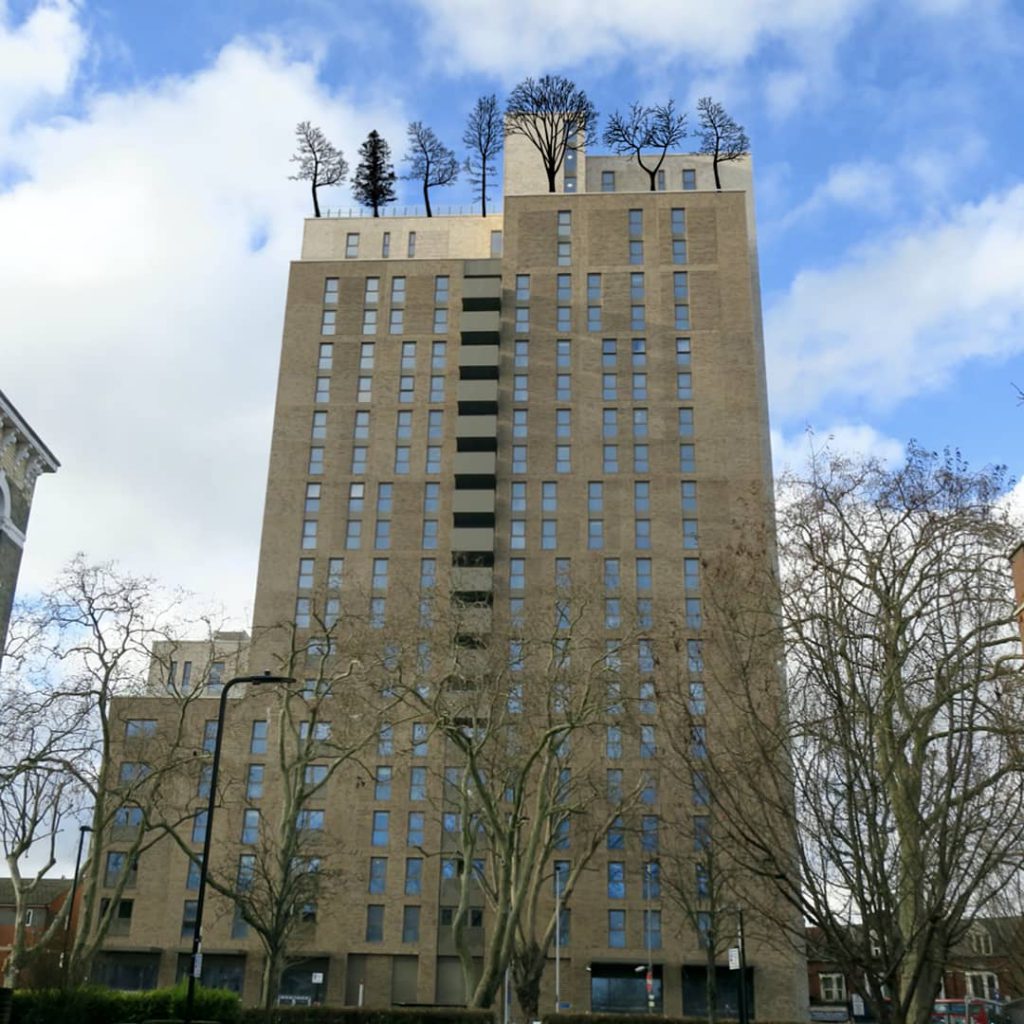 Seven Trees for Seven Sisters
with thanks to Katie Holten for her NYC Tree Alphabet
seven trees spell S I S T E R S
※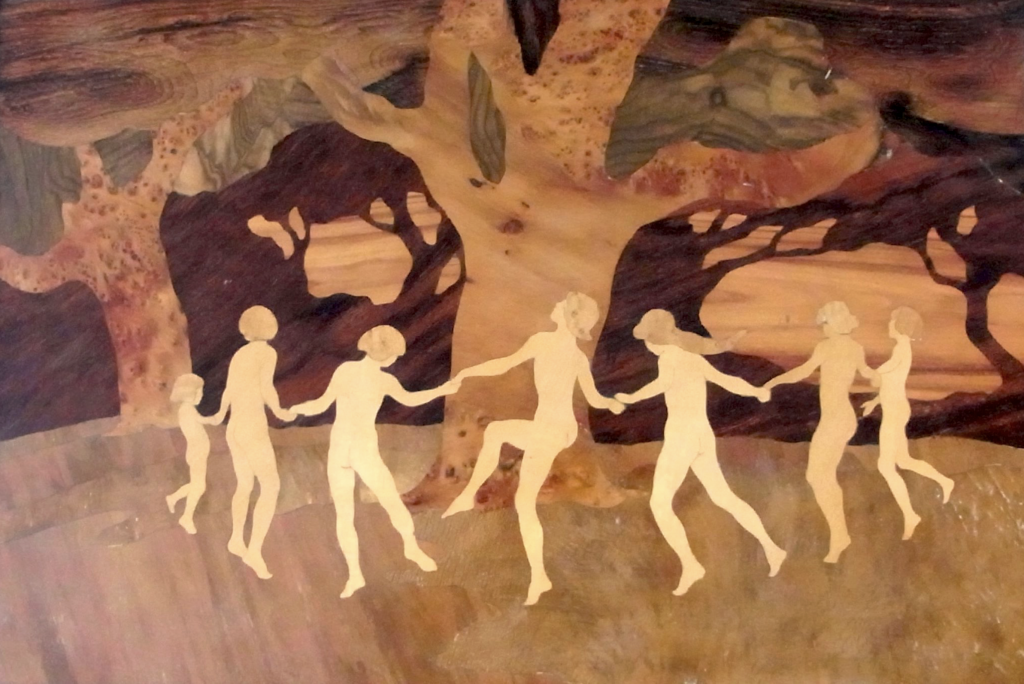 Seven Sisters
Rowley Gallery marquetry panel c.1920.