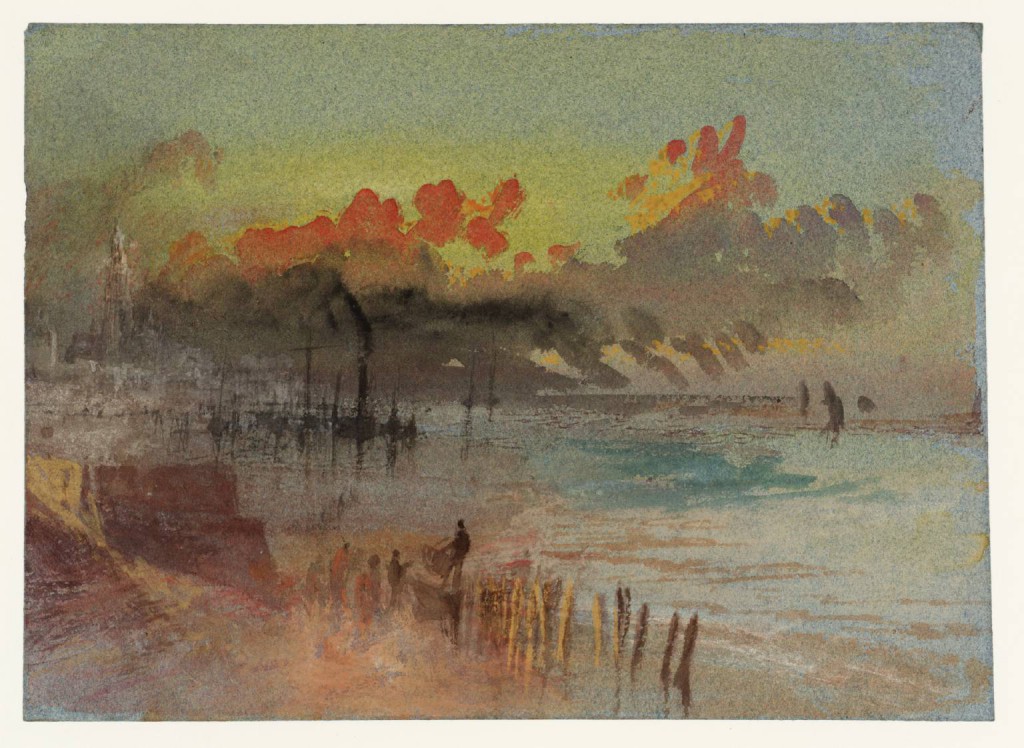 Two exhibitions, one in Greenwich, another in Margate, both featuring paintings by J.M.W. Turner, both spectacular. The image above is a watercolour from the Tate Collection, Harbour Scene at Sunrise, possibly Margate, so let's begin in Margate.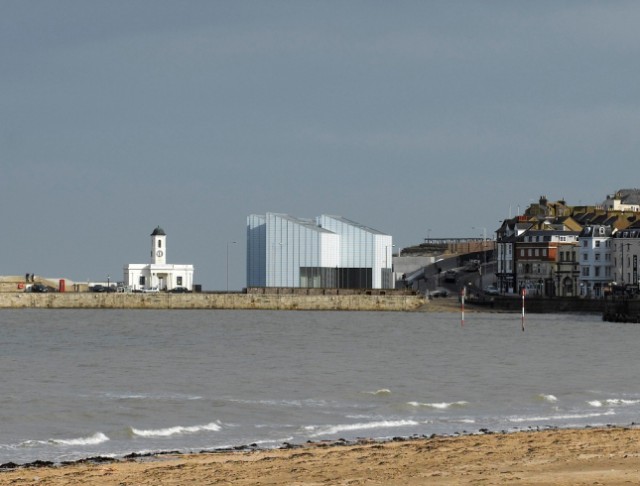 The Turner Contemporary is Margate's new art gallery, named after Turner who was at school in the town and it was built on the site of a lodging house where he once stayed. The building is on the seafront, simple and austere, north facing and flooded with natural light.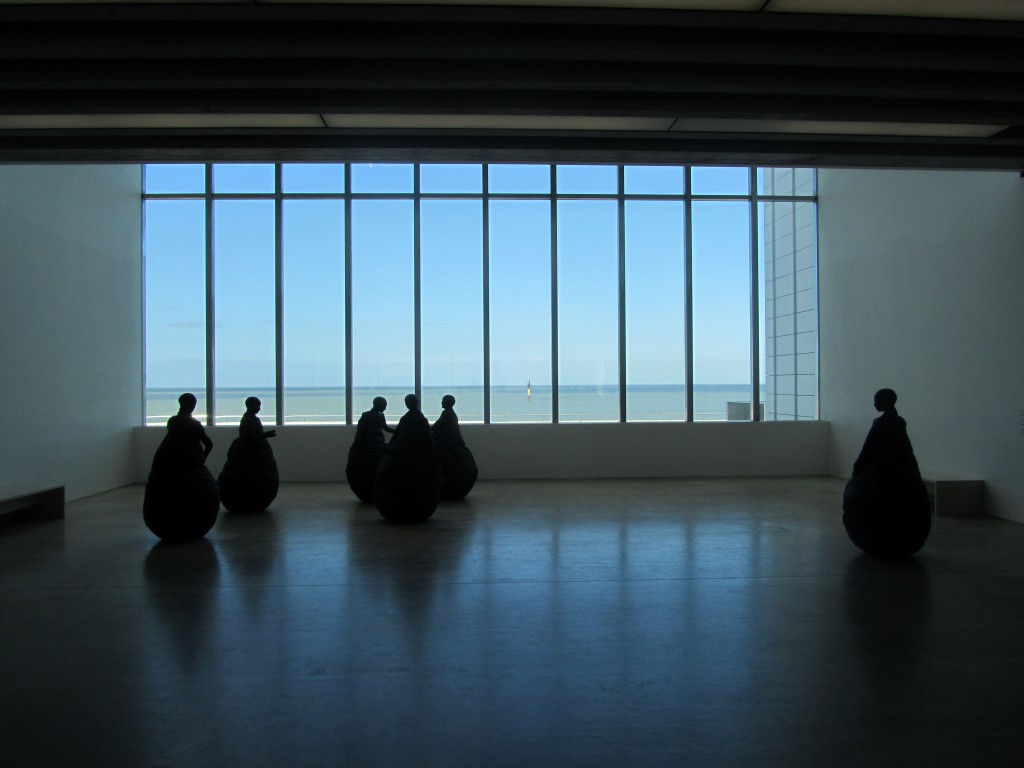 In the entrance hall overlooking the North Sea we found Conversation Piece III, a group of figures by Juan Muñoz. According to James Hall, "They resemble a creature that has only half-hatched out of its chrysalis. But the feeling of arrested development goes with a streamlined self-containment that makes them seem indestructible." Sue reminded me that "Weebles wobble but they don't fall down."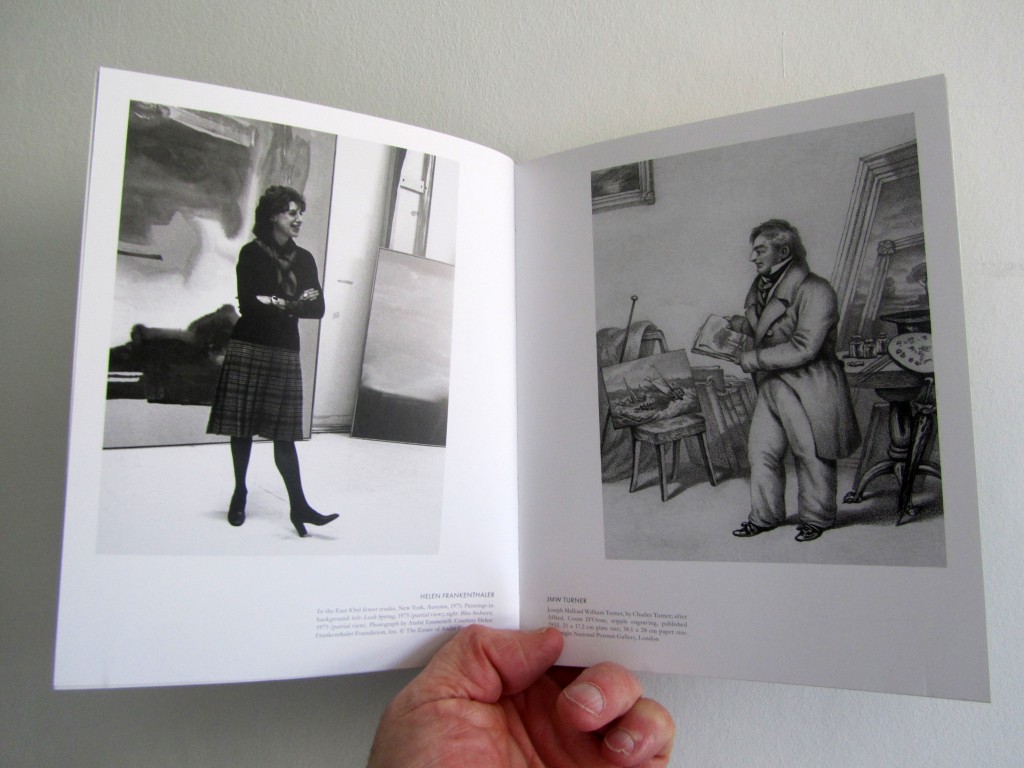 Upstairs, the galleries were devoted to Making Paintings, an inspired pairing of Helen Frankenthaler and J.M.W. Turner, two artists working in very different times and places, yet sharing many similar concerns. Turner (1775-1851) was born in London and became a highly prolific artist, regarded as the greatest and most influential and pioneering painter of landscapes and seascapes. Frankenthaler (1928-2011) was born in New York and also became a highly prolific artist, regarded as one of the great American artists of the 20th century, a pioneering exponent of painterly abstraction.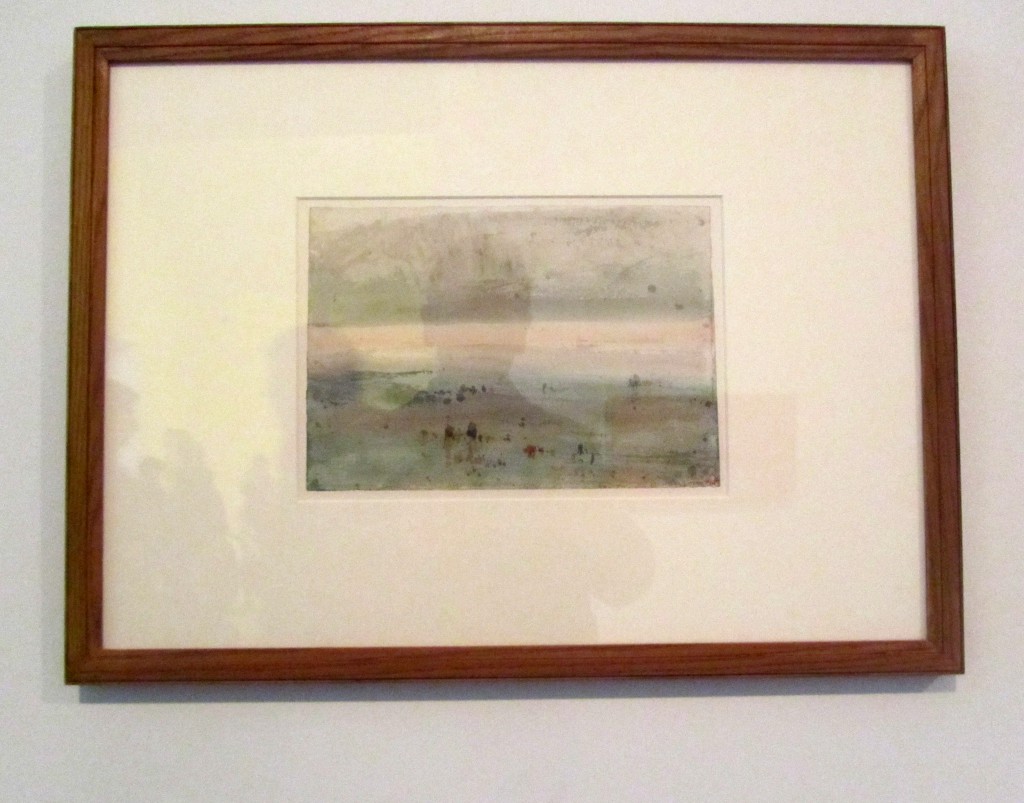 This was the first painting I saw, On the Sea Shore, a watercolour by Turner, framed and glazed and reflecting my gaze, just before the camera police caught me red-handed. It was my only photograph.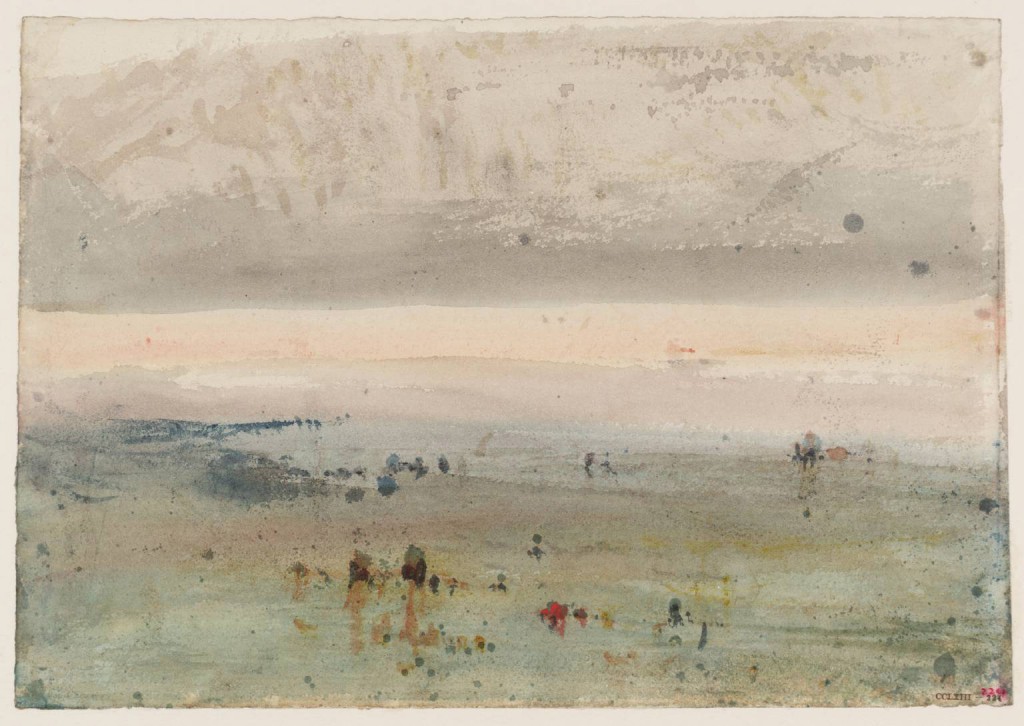 Here's how it looks in the exhibition catalogue, unframed and fresh from the beach. On the adjacent page is Calais Sands at Low Water: Poissards Collecting Bait, a surprisingly familiar oil painting.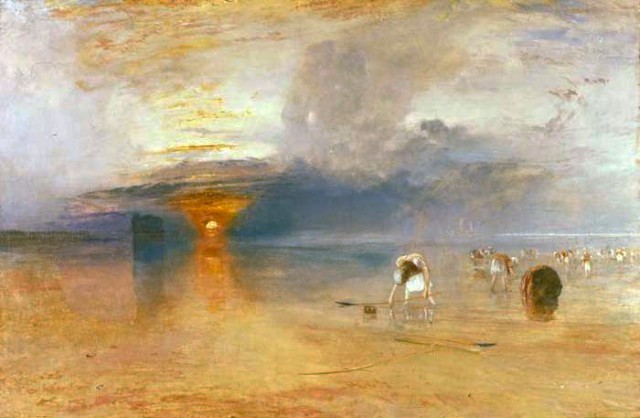 I'm drawn back 45 years to Bury Art Gallery. If I missed the bus after school it was always a good place to get out of the rain whilst I waited for the next one. That's where I first saw this painting, but it was never a favourite. A melodramatic sunset and a beach populated by weird aliens in a heavy Victorian frame with gloomy lighting was not appealing, but what did I know? Now it's an international celebrity, touring art galleries around the world. One moment it's in France and the next it's in China.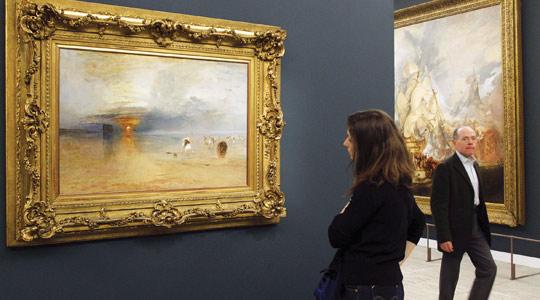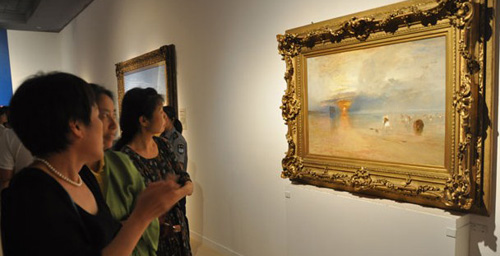 In Margate it was in the far corner of the yellow gallery, a sudden flashback in a bright, new context.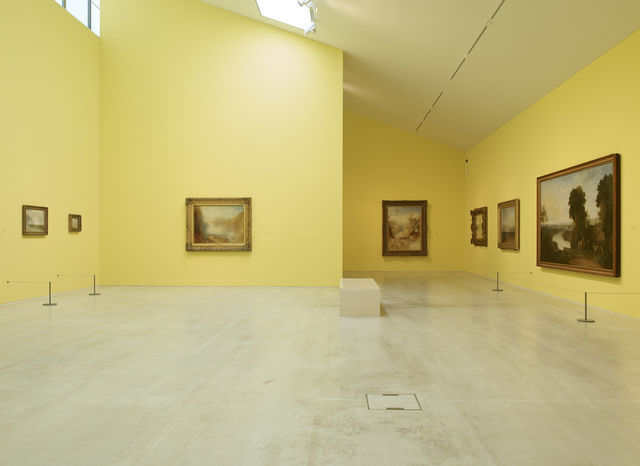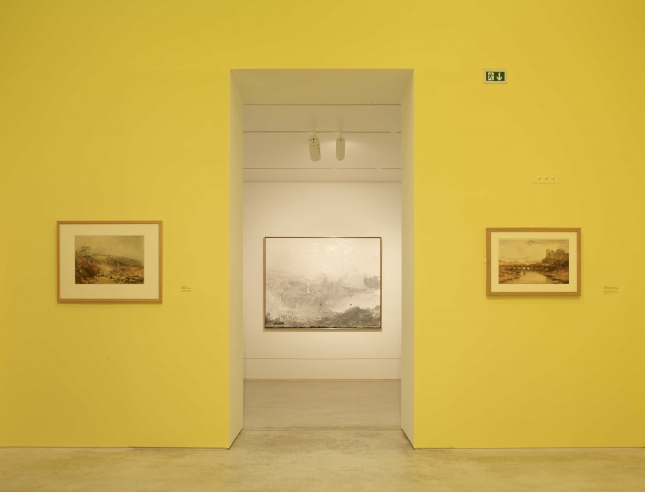 Beyond the yellow wall, a glimpse of Barometer by Helen Frankenthaler, which appears in the catalogue alongside Turner's Stormy Sea Breaking on a Shore.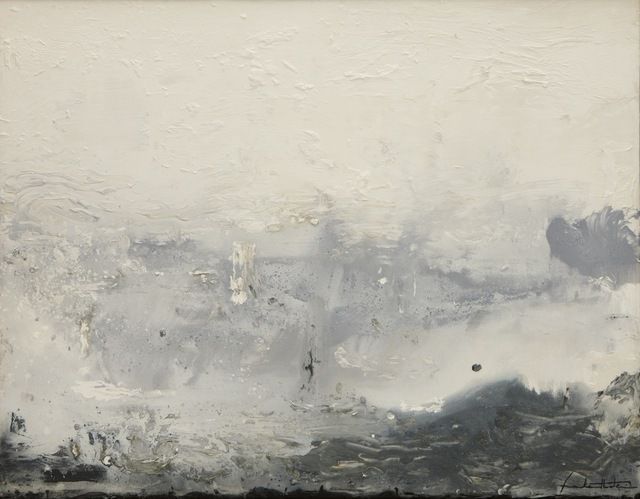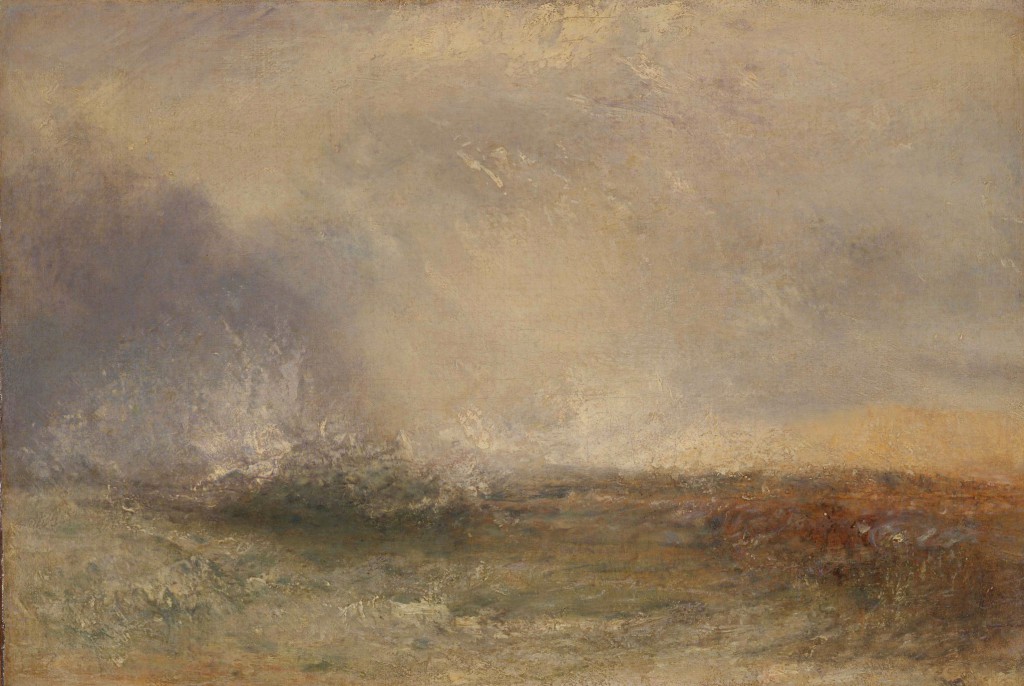 Helen Frankenthaler's Burnt Norton appears on the next page to J.M.W. Turner's Falls of the Clyde.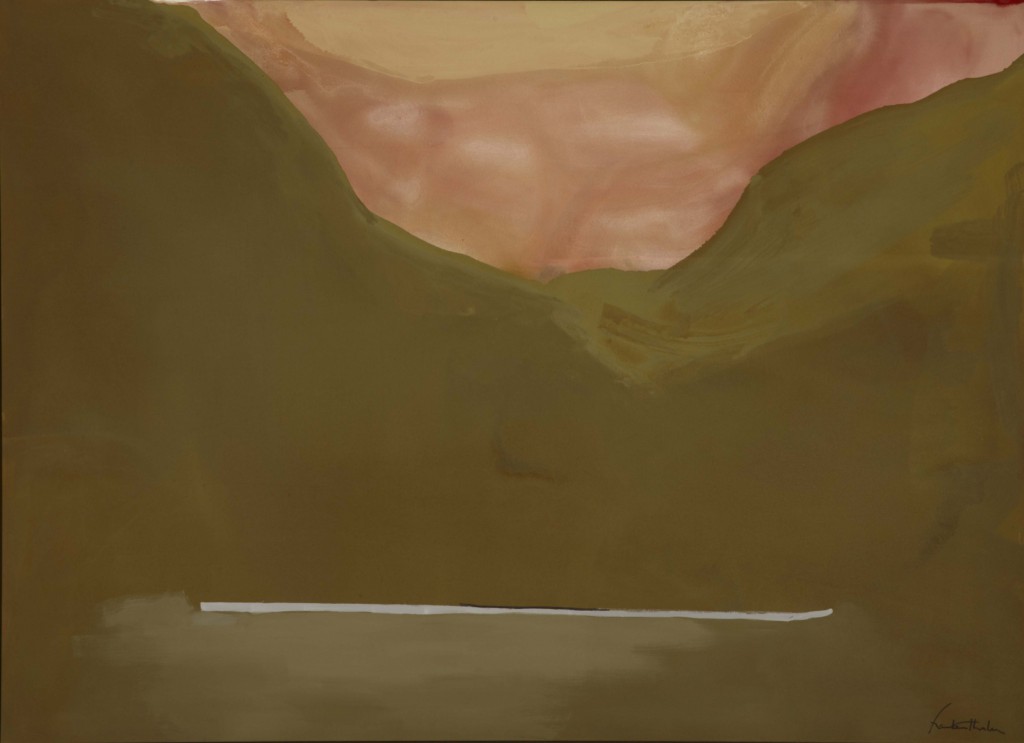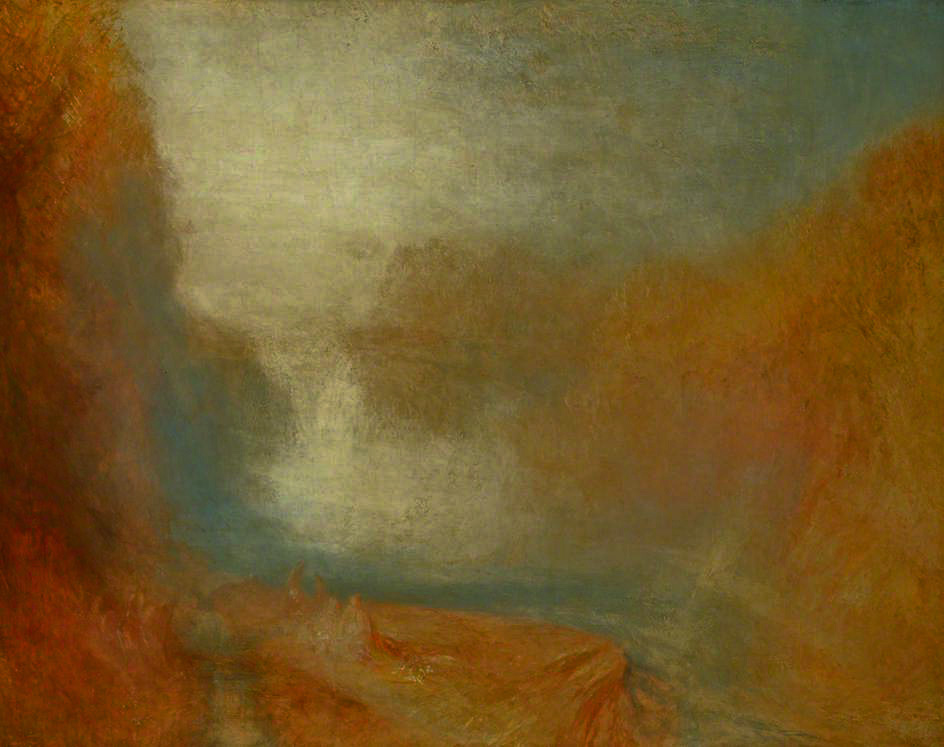 Whereas on the walls, each artist keeps their own company. Echoes are carried from room to room.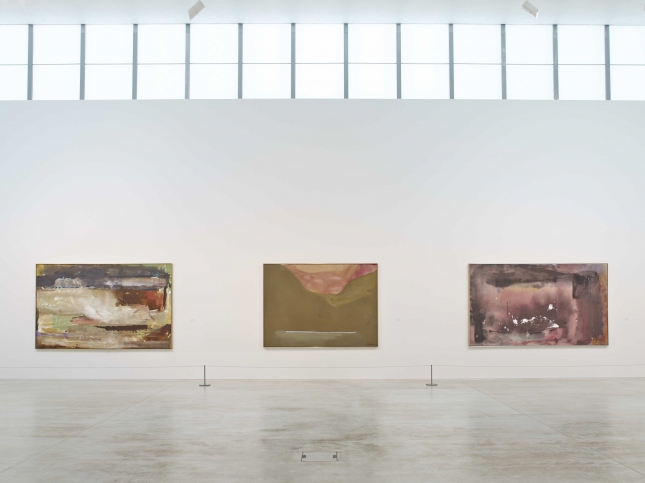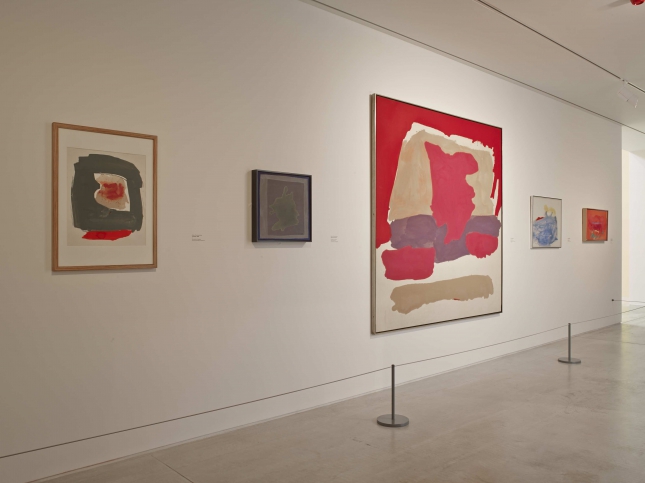 There's a painting by Helen Frankenthaler, Dawn after the Storm, whose title echoes J.M.W. Turner's Morning after the Wreck from a hundred years earlier.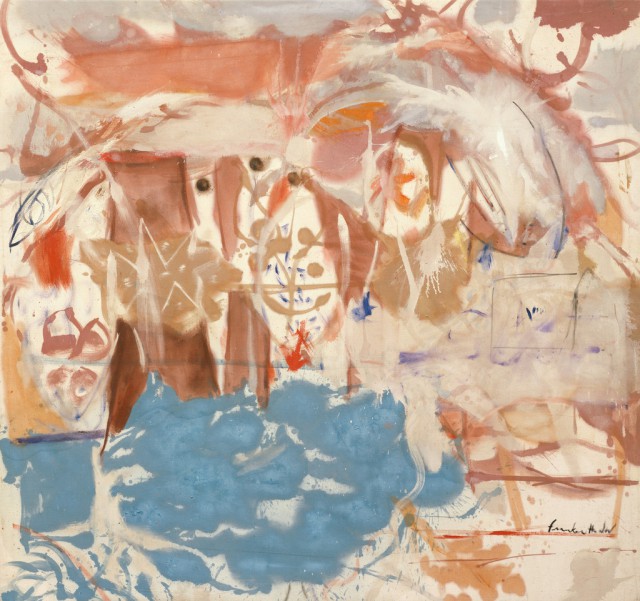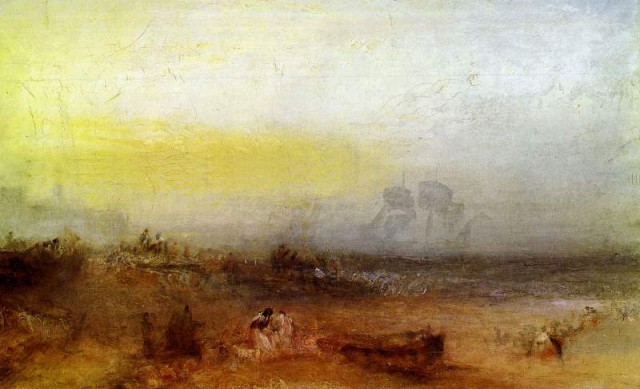 Writing in the catalogue, James Hamilton, who curated the exhibition, says:
Turner's painting may reflect the Margate foreshore the morning after a storm, with people picking over the sand and chalk at low tide for wreckage. The elements in the Turner – the distant town, the shadowy sailing ship, the schematic figures – are scattered over the surface of the painting which takes figuration just about as far as it can go until it dissolves into what contemporary audiences might have dismissed as 'soapsuds and whitewash', but what we might refer to as 'abstraction'. Frankenthaler's painting goes the other way: from a whirlwind of marks – soaked dots, splashes, a graphic star, an embryonic architectural form, a turbulent blue watery passage – the painting slowly begins to resolve itself into water, the water's edge, man-made structures, and weather. But what makes it a characteristically mid-twentieth century post-Freudian work is its reminder that the storm which preceded the dawn may be as much emotional as geophysical. This is where Frankenthaler and her generation pick up the baton from Turner's era and carry it into a new realm of metaphor.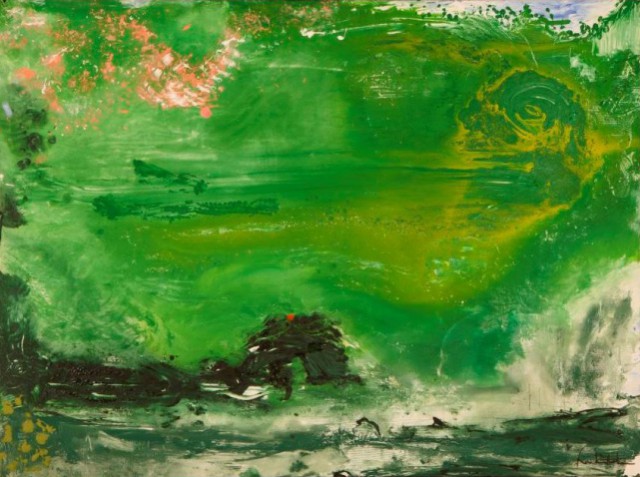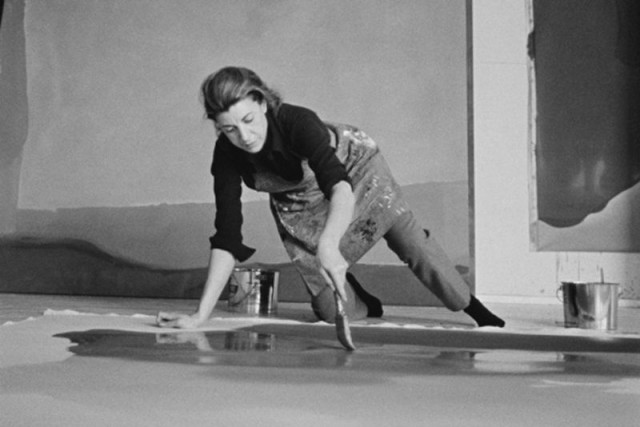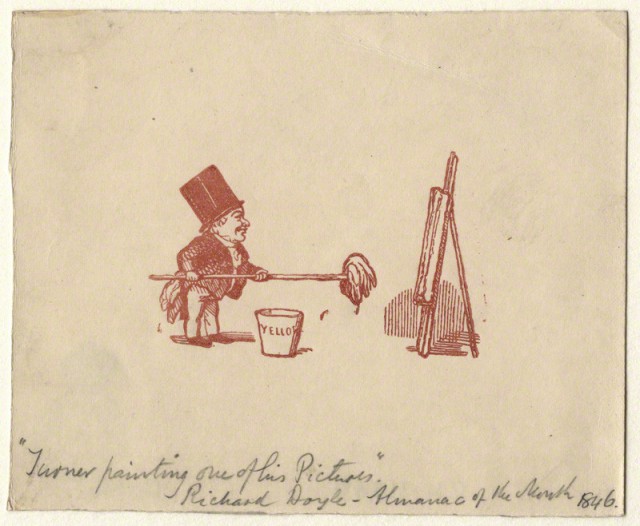 ※
Afterwards, walking through the town we saw The Bull's Head with a blue plaque in memory of Eric Morecambe. He wasn't born here, nor did he live here; this was the venue for his wedding reception, a significant event in Margate's history, linking it diagonally across England to another seaside town.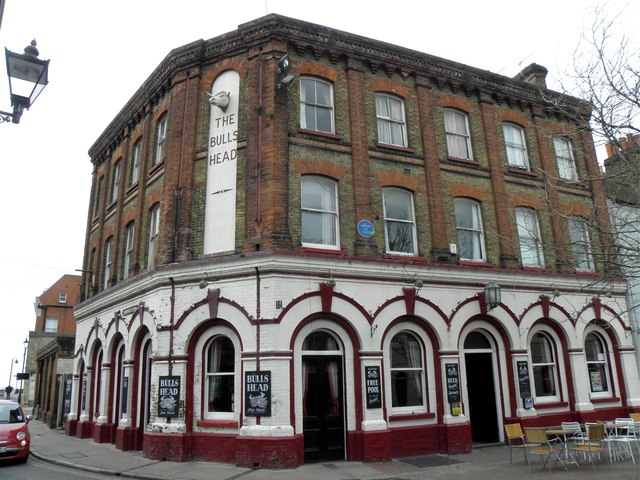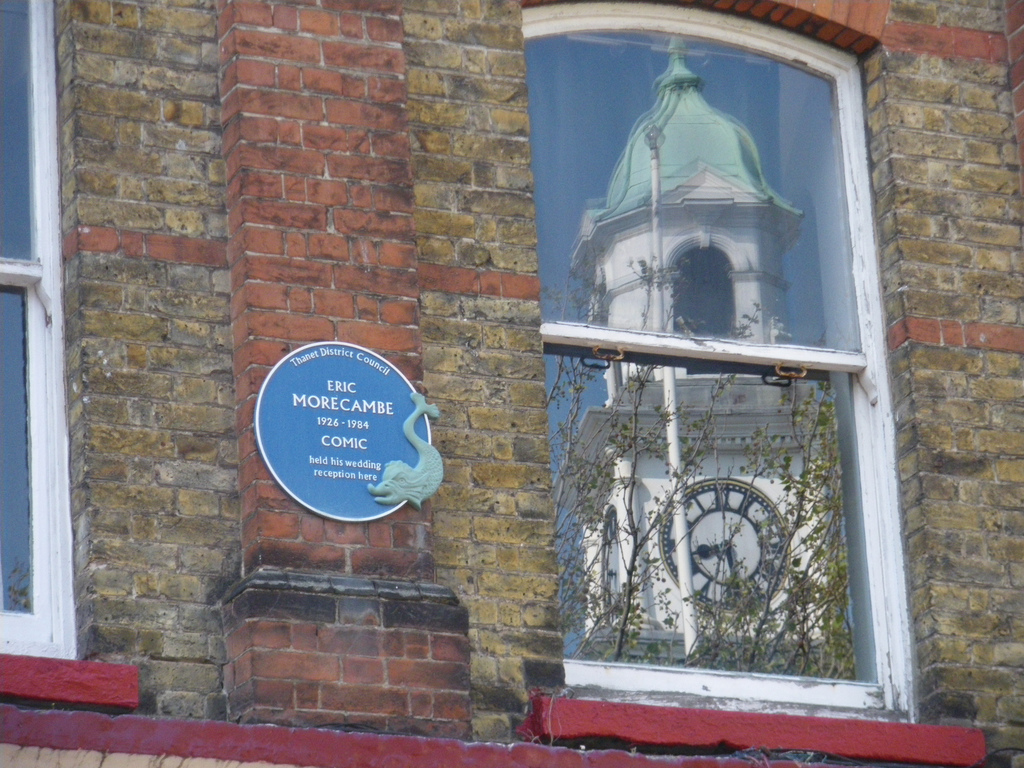 The next few photos are from June 2013 when we went for lunch at the Midland Hotel in Morecambe, another great place to see a seascape, and they probably do a very good wedding reception too.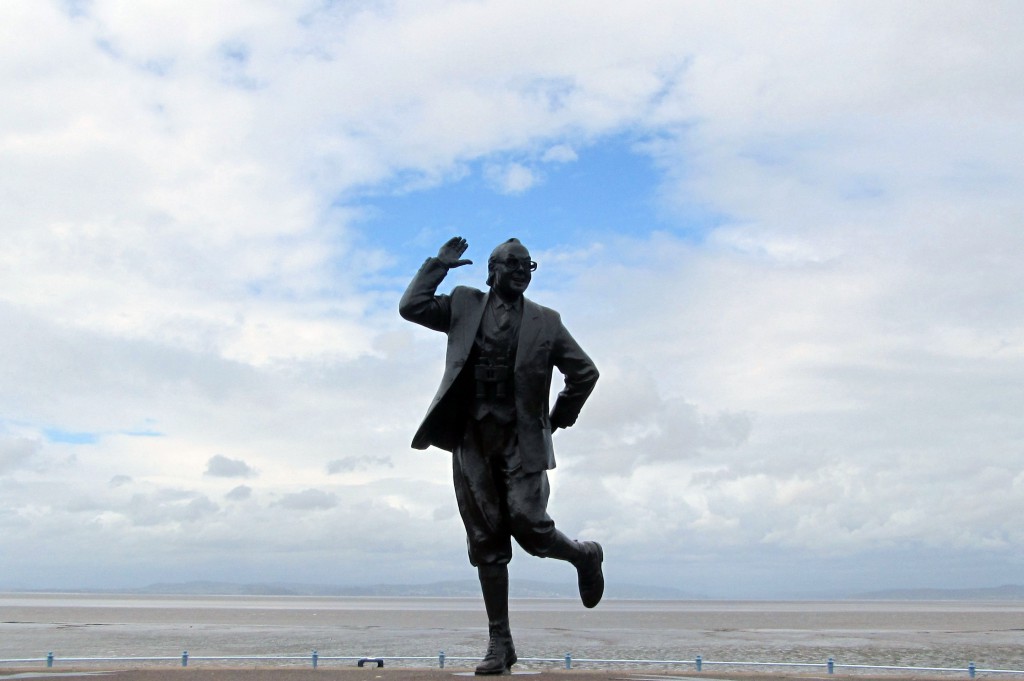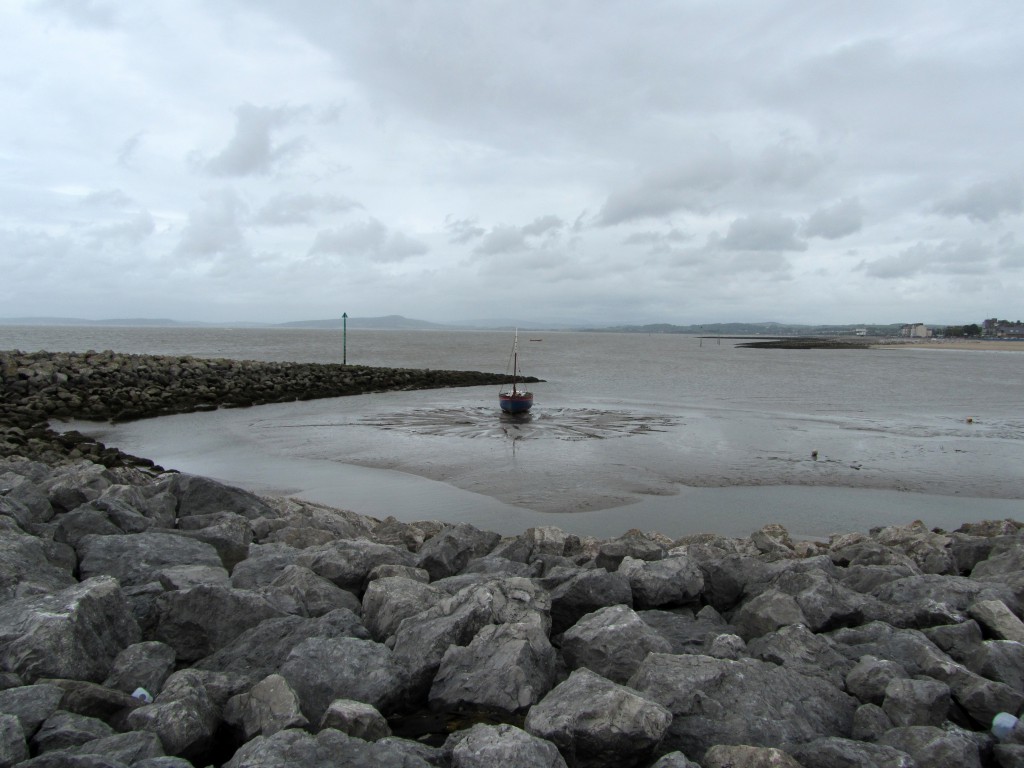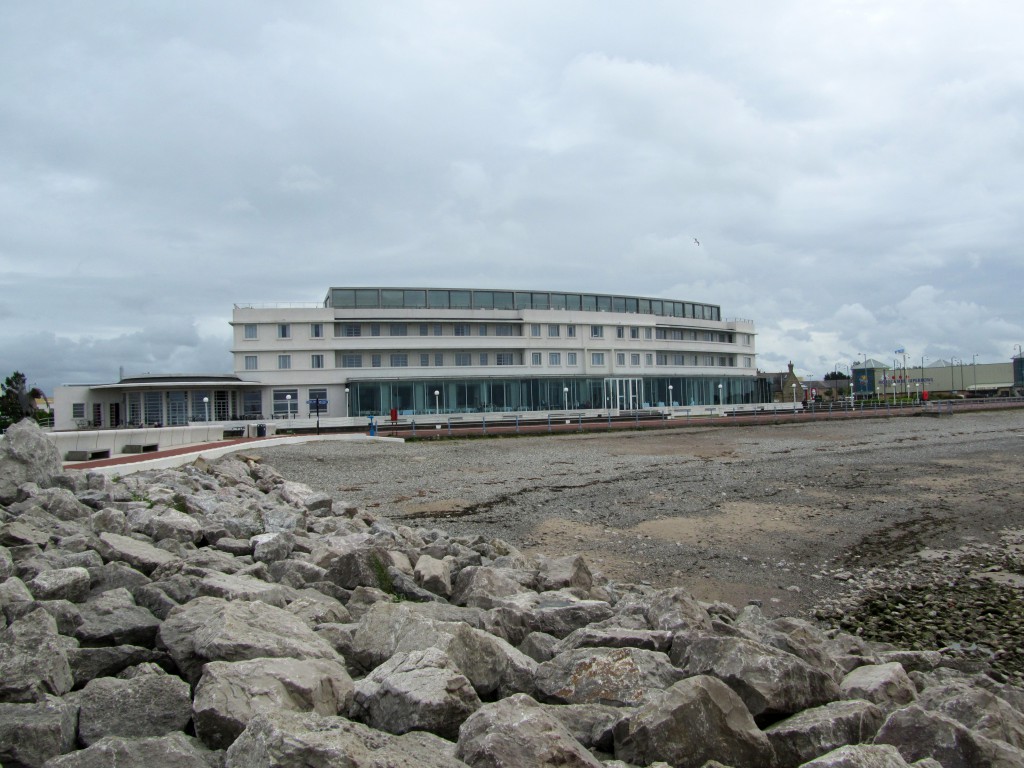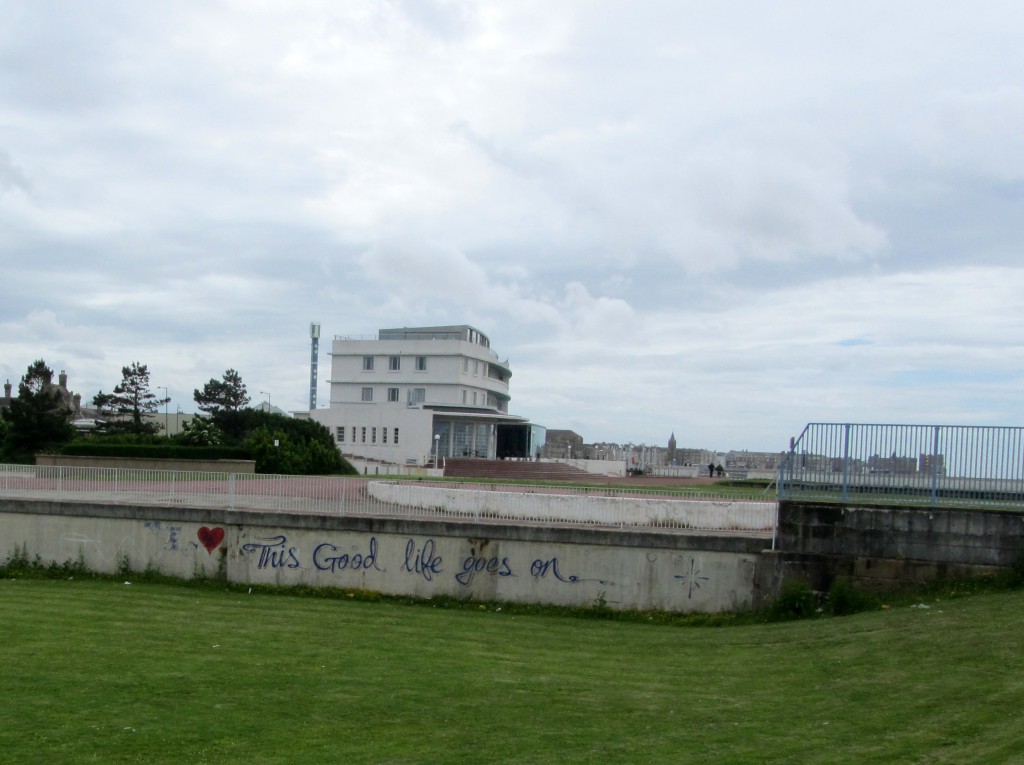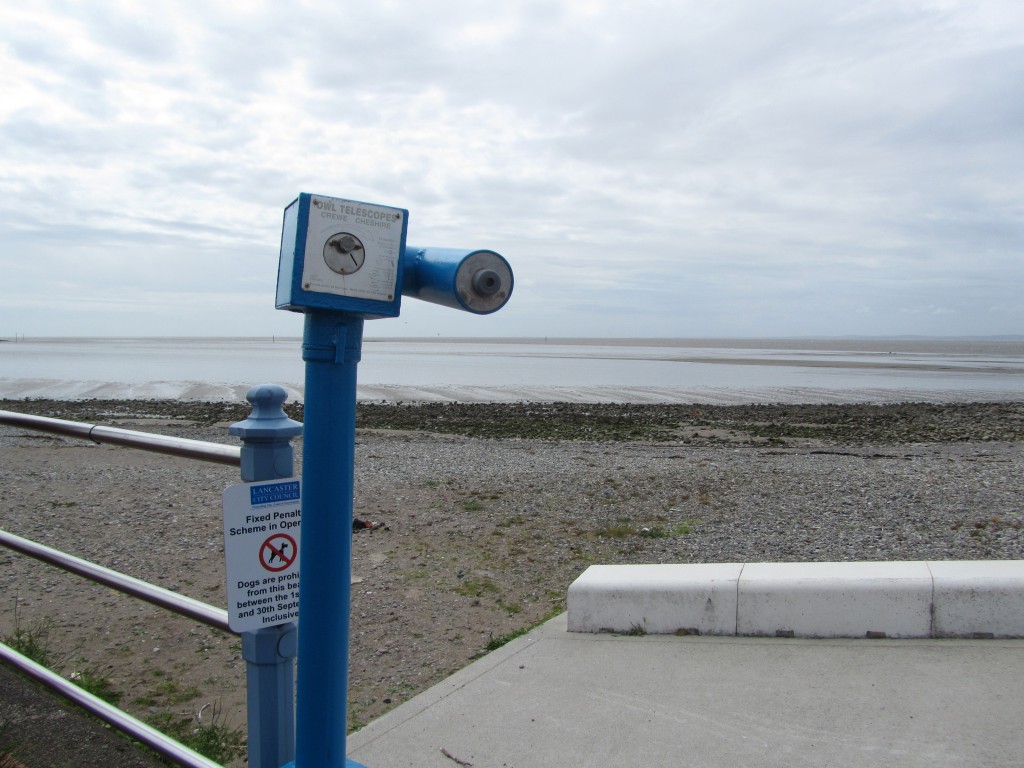 Turner was also here and made paintings of Lancaster Sands and Castle Head and Morecambe Bay.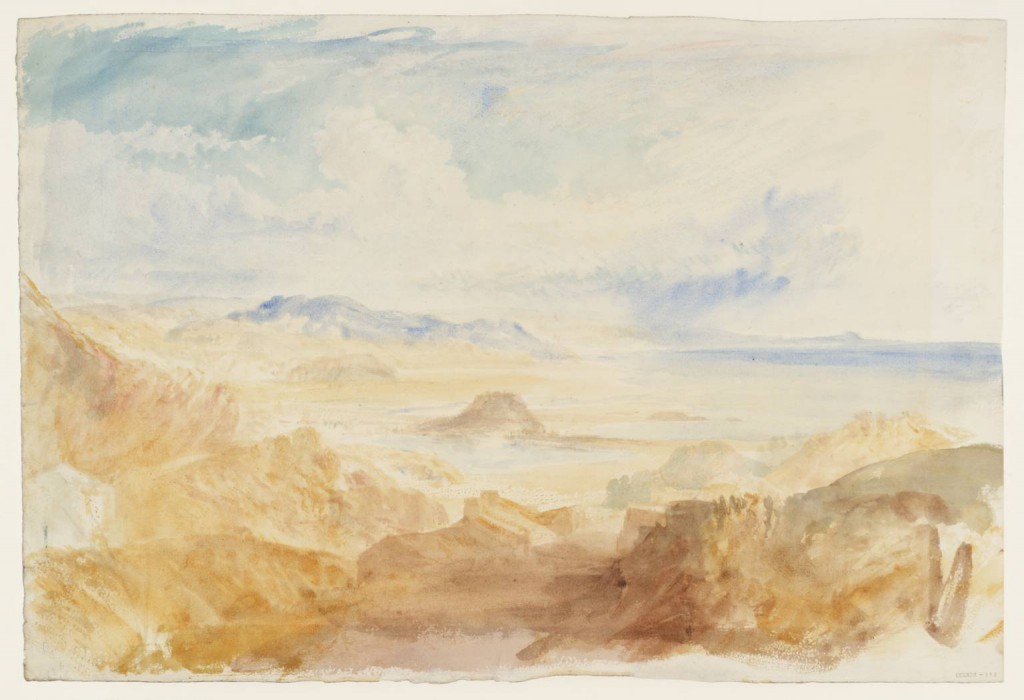 ※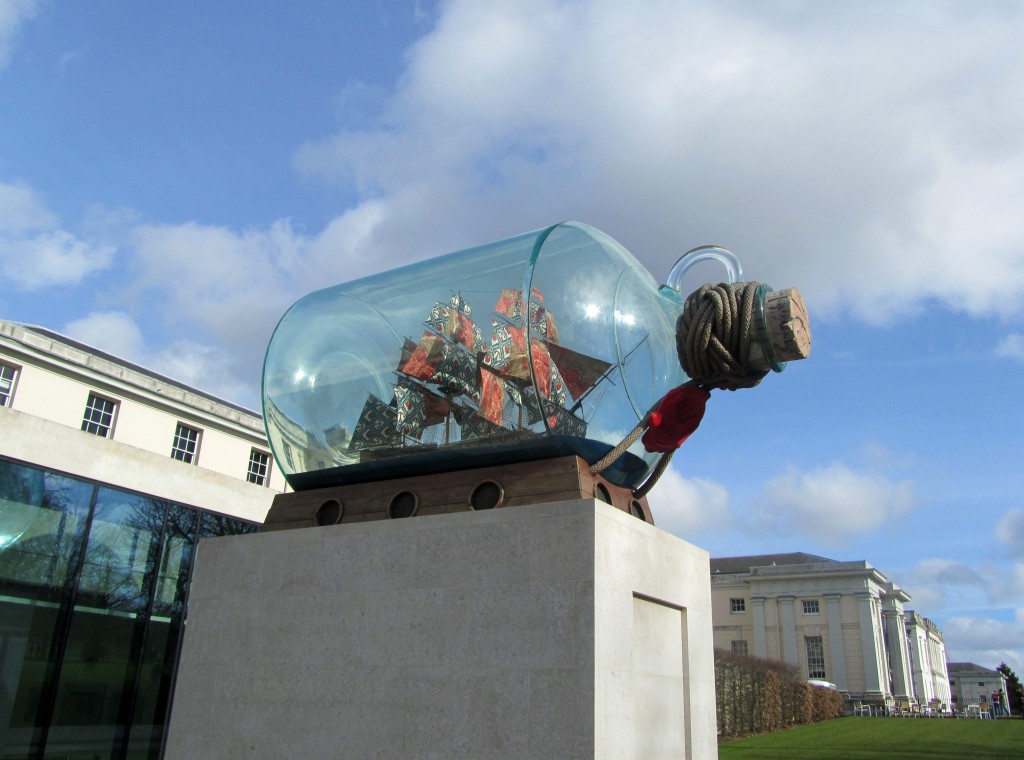 This is Nelson's Ship in a Bottle by Yinka Shonibare, the world's largest ship in a bottle, it stands on a plinth like a giant nautical pub sign outside the National Maritime Museum in Greenwich where we'd come to see another dazzling exhibition – Turner & The Sea.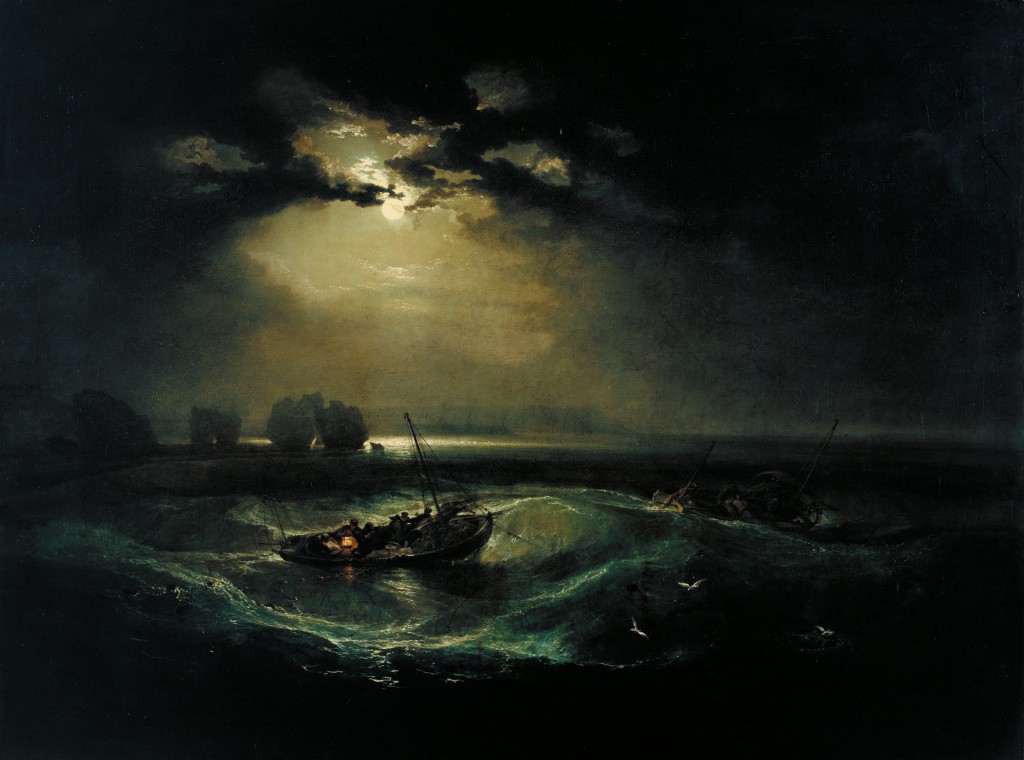 The first room was confusing and disappointing, most of the paintings were not by Turner at all, except for this one, Fishermen at Sea, his first exhibited painting from 1796. The intention was to show that this painting was a summary of all previous 18th century sea paintings.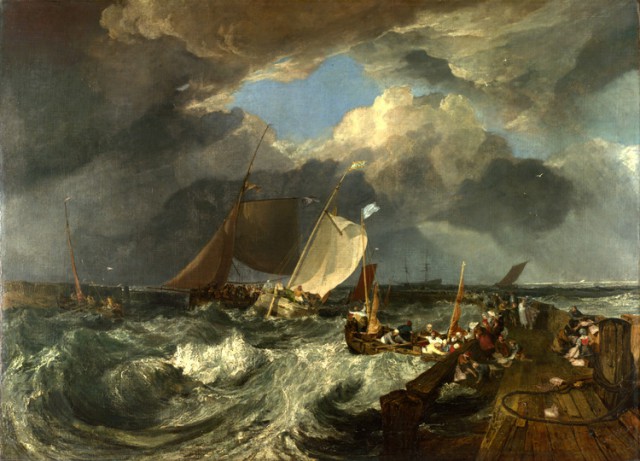 In 1803 Turner painted this oil on canvas, Calais Pier, with French Poissards Preparing for Sea: An English Packet Arriving.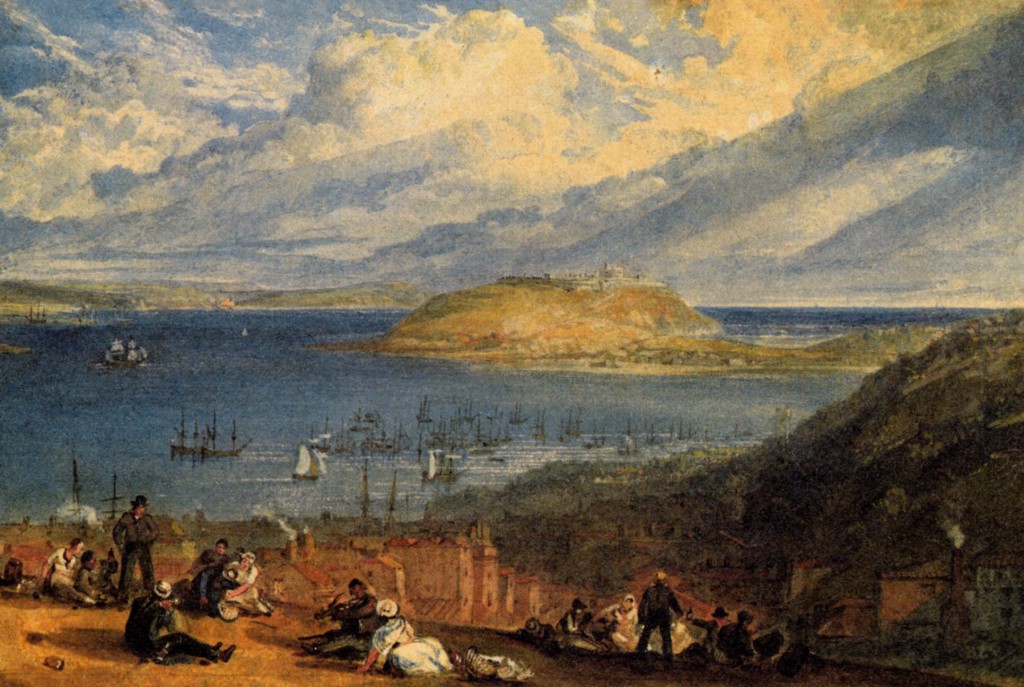 This is Falmouth Harbour, Cornwall, a watercolour, c.1812-14, looking across to Pendennis Castle, one of a number of designs for Picturesque Views on the Southern Coast of England, a collection of engravings from paintings by Turner and other artists, published between 1814 and 1826.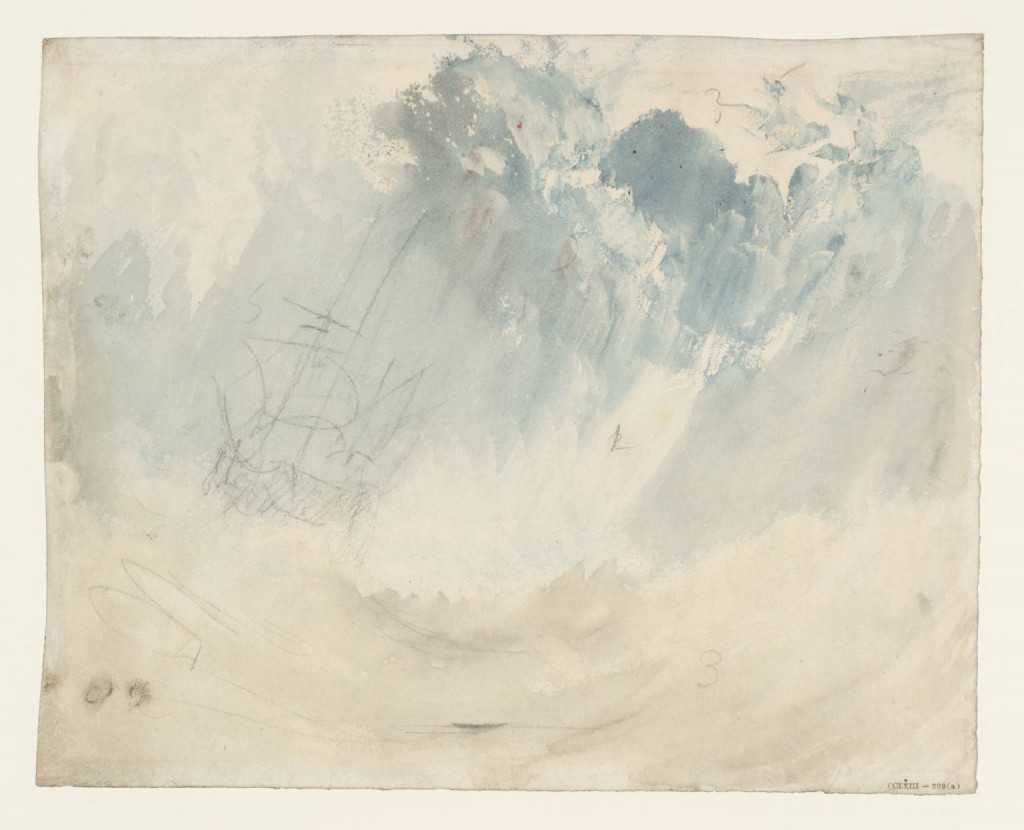 Ship in a Storm, watercolour, c.1823-26, a sketch for a mezzotint, one of another series of prints.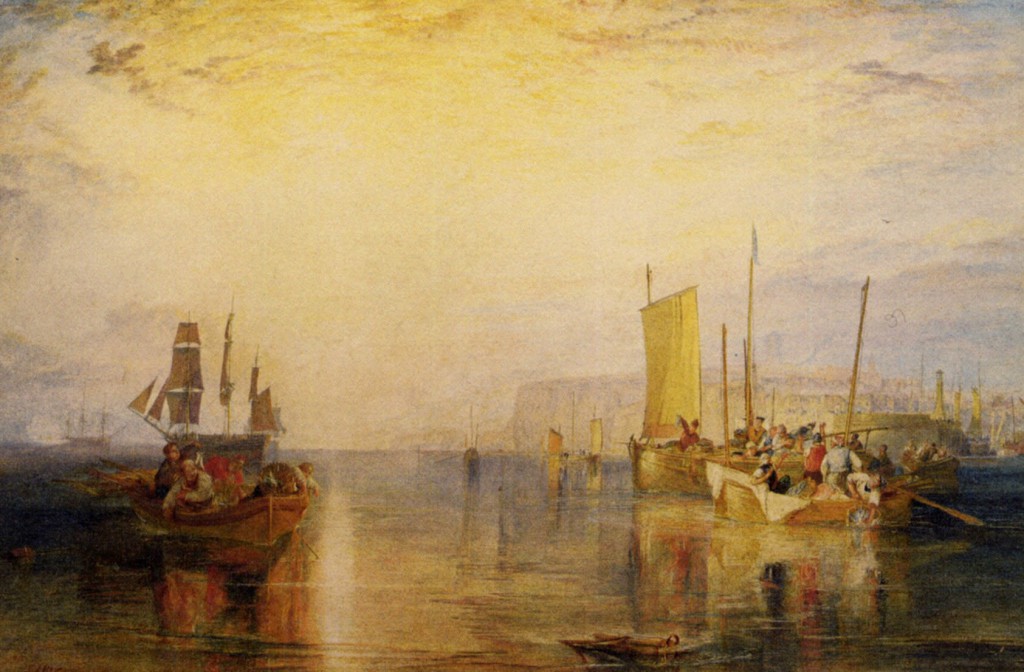 This watercolour takes us back to the beginning again; Sun-rise. Whiting Fishing at Margate, 1822.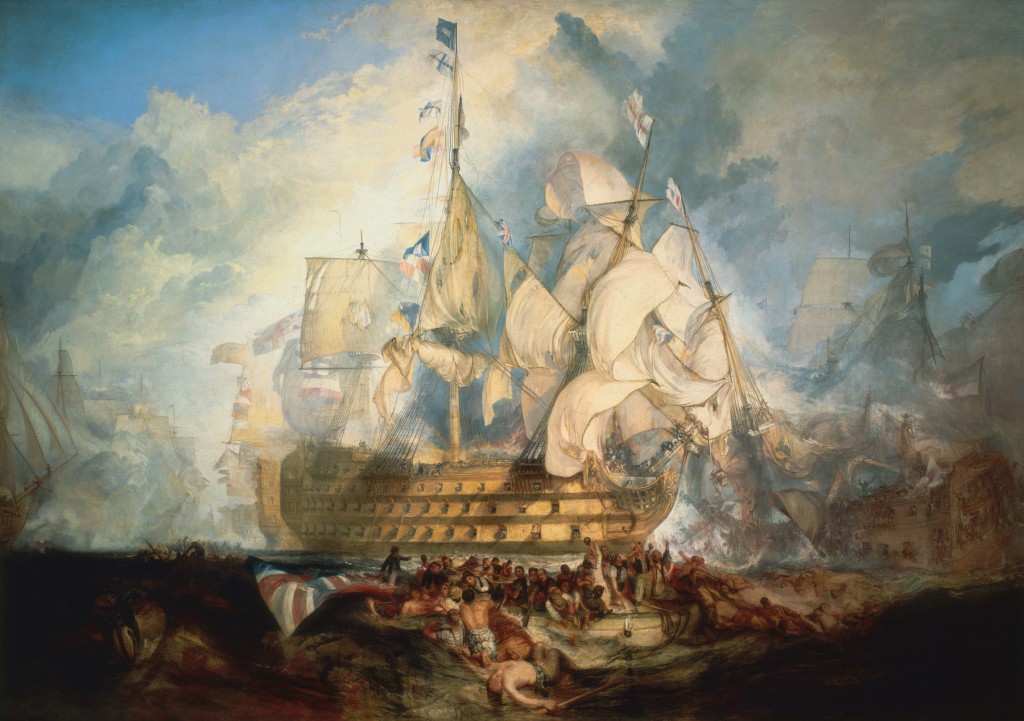 The Battle of Trafalgar, 21 October 1805, oil on canvas, 1823-24, a theatrical piece of history painting commissioned by the King to celebrate the British victory over the French and Spanish fleets but also to commemorate the death of Lord Horatio Nelson, Commander in Chief of his Majesty's Ships.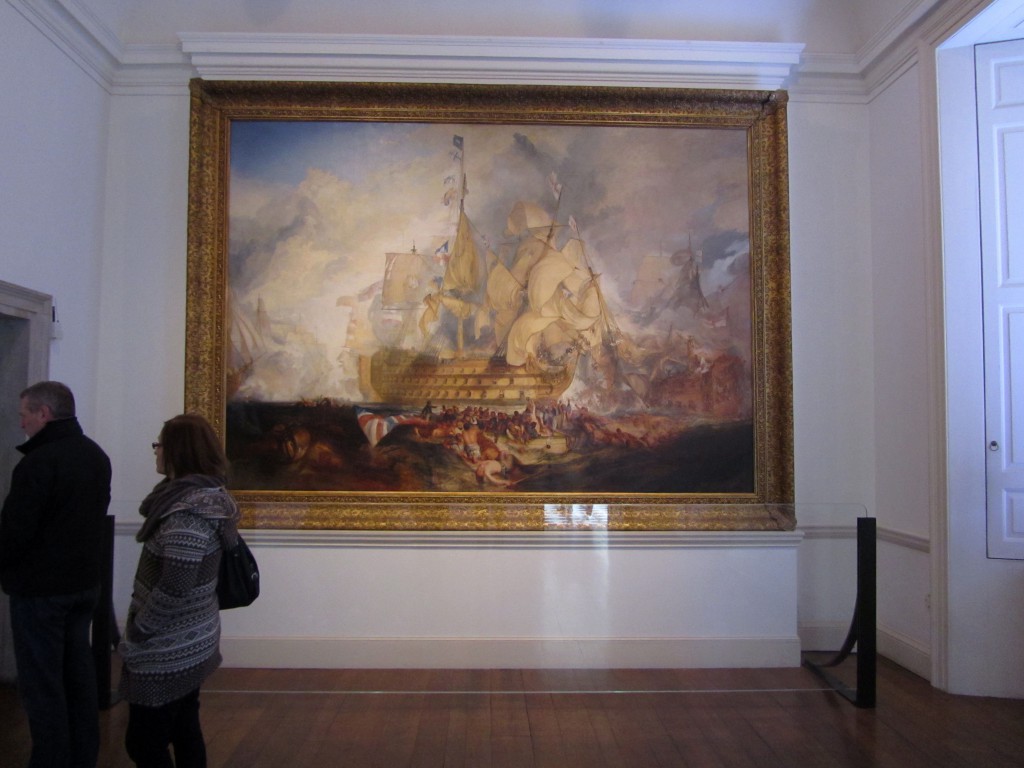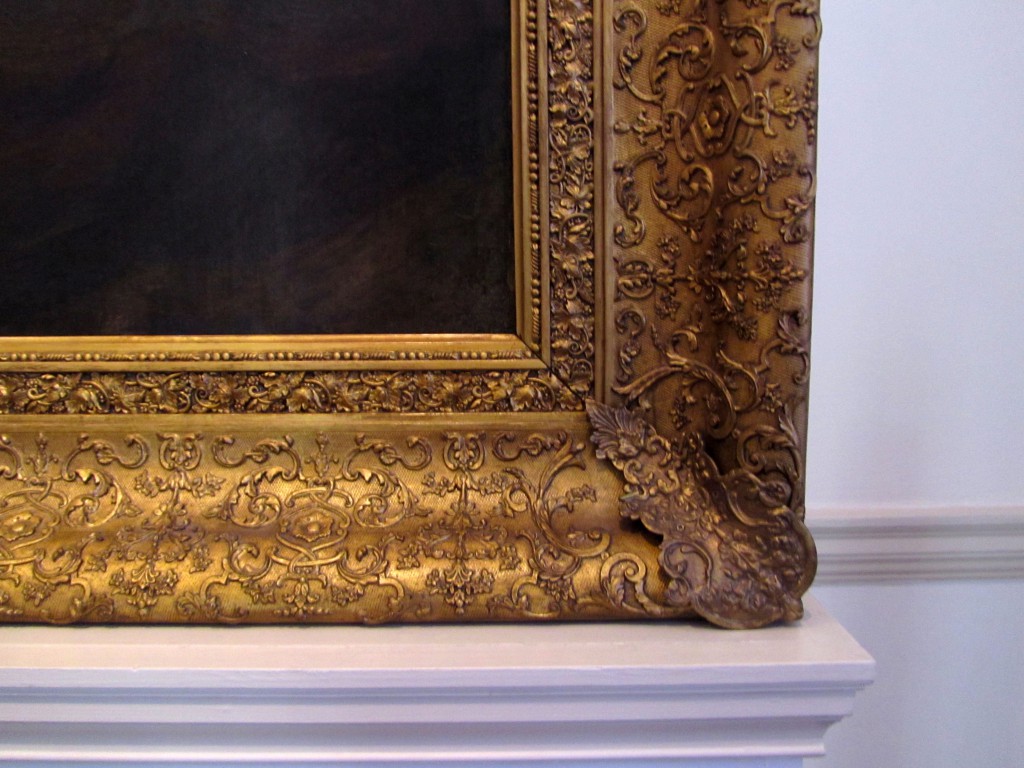 Seen earlier at the Queen's House where it usually resides and where photography is not forbidden, allowing us to see the painting in its magnificent frame.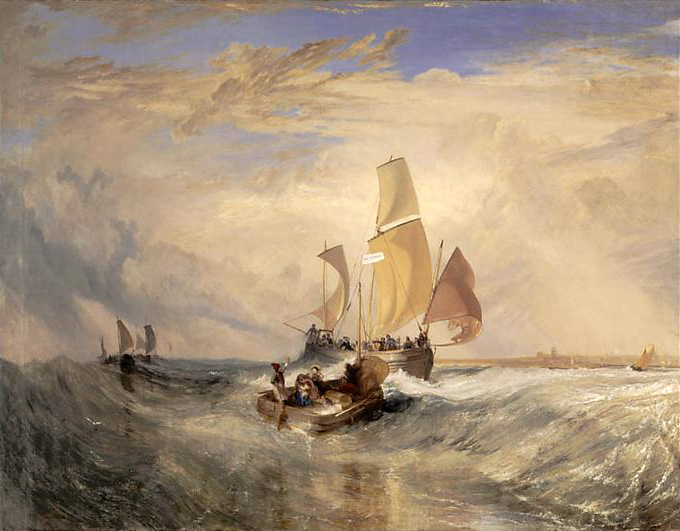 In 1827 Turner painted Now for the Painter, oil on canvas, subtitled (Rope)-Passengers Going on Board, which plays on the double meaning of the word 'painter', a nautical term for a type of rope used for tying-up or for towing another boat. The passengers are going on board from a boat labelled Pas de Calais, the French equivalent of the Strait of Dover.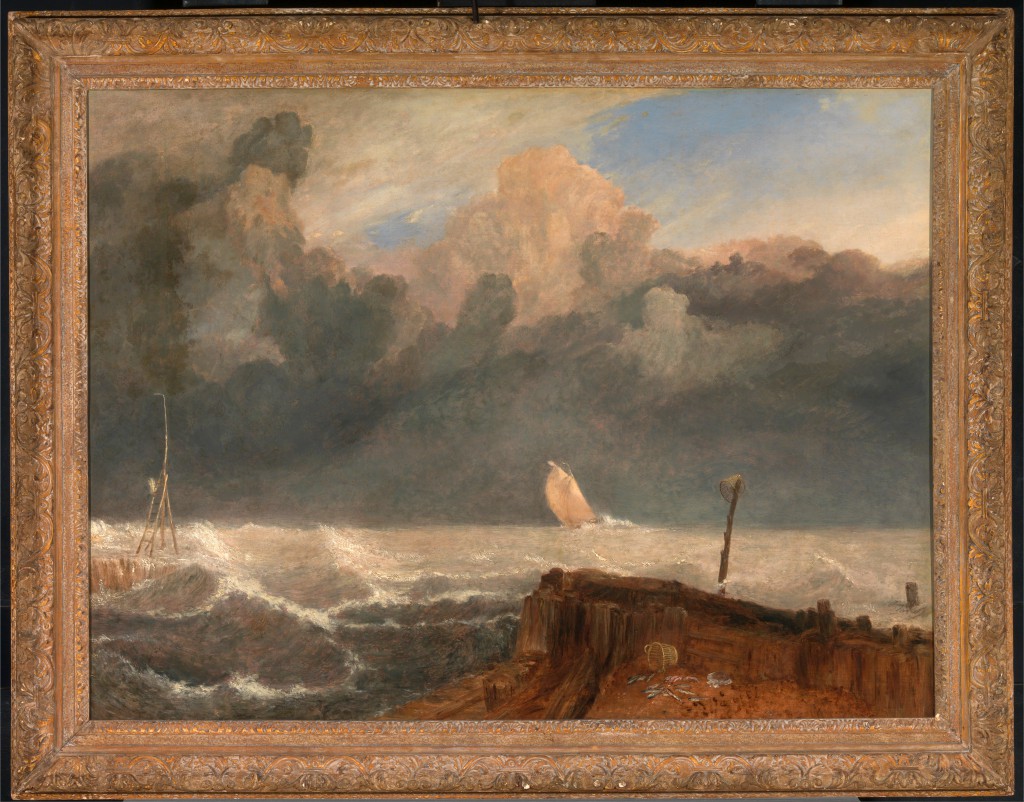 Also in 1827 he painted this oil on canvas, Port Ruysdael, an invented harbour, titled as a playful homage to the Dutch painter Jacob van Ruisdael.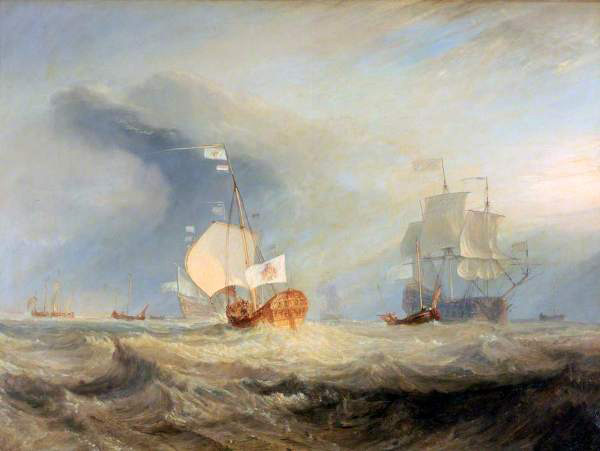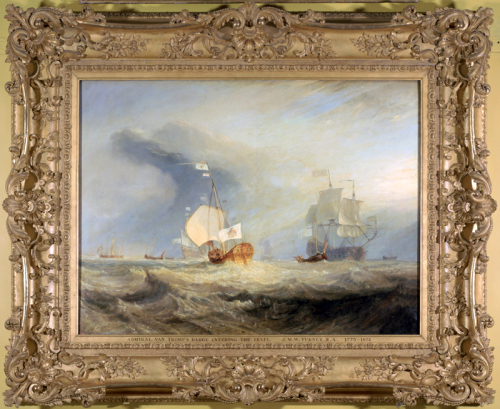 Admiral Van Tromp's Barge at the Entrance of the Texel, 1645, oil on canvas, 1831, without its frame and then with its frame, on the wall of Sir John Soane's Museum in Lincoln's Inn Fields.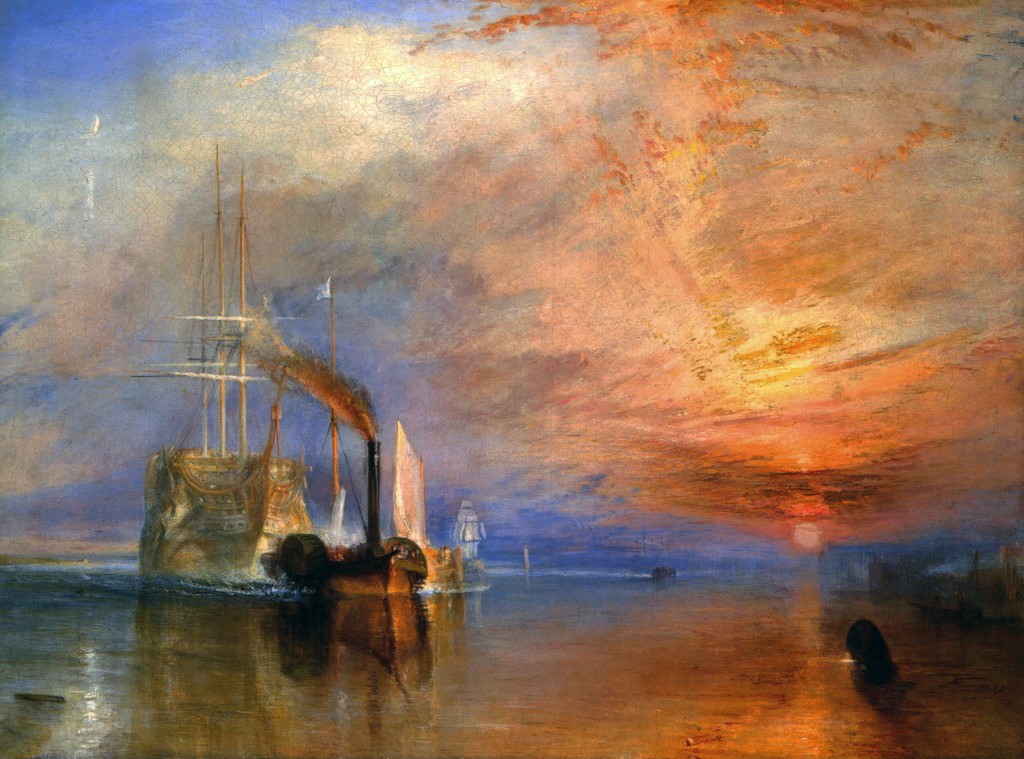 The Fighting 'Temeraire', Tugged to her Last Berth to be Broken Up, oil on canvas, 1838, the sun going down on this veteran of Trafalgar, a ghost ship lit by the rising moon.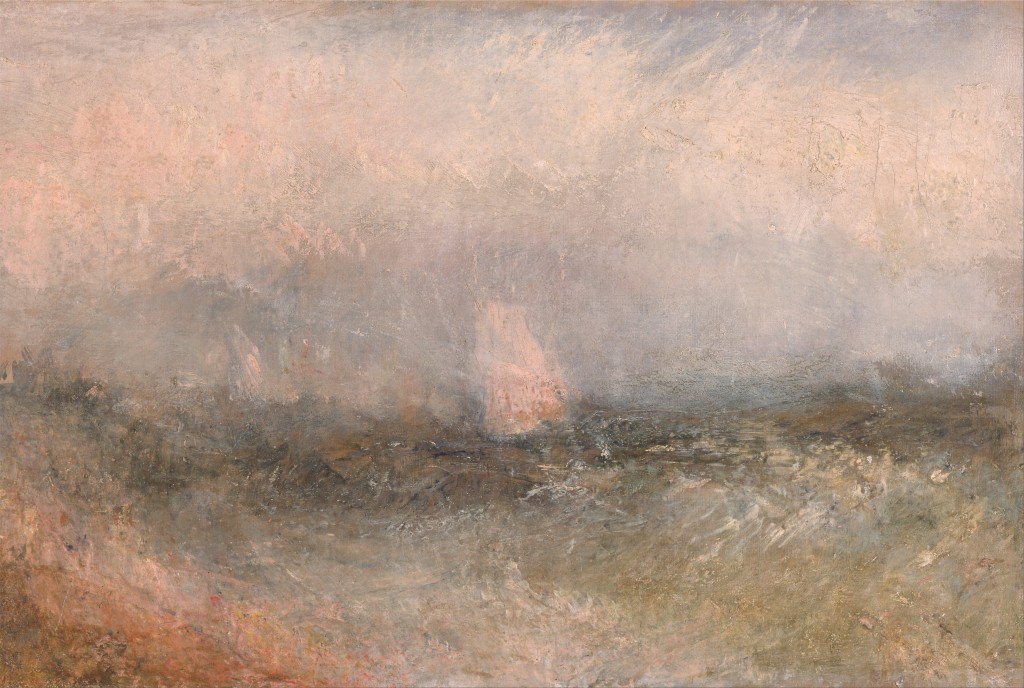 In the next room was the painting I was most tempted to photograph. Off the Nore: Wind and Water, c.1840-45, oil on paper on canvas, beautifully encapsulated by its frame and small enough to digest in a single gaze. Its frame served to isolate it from its surroundings and to draw me in. This is suddenly a modern painting, placing the viewer in the thick of the spray and the paint.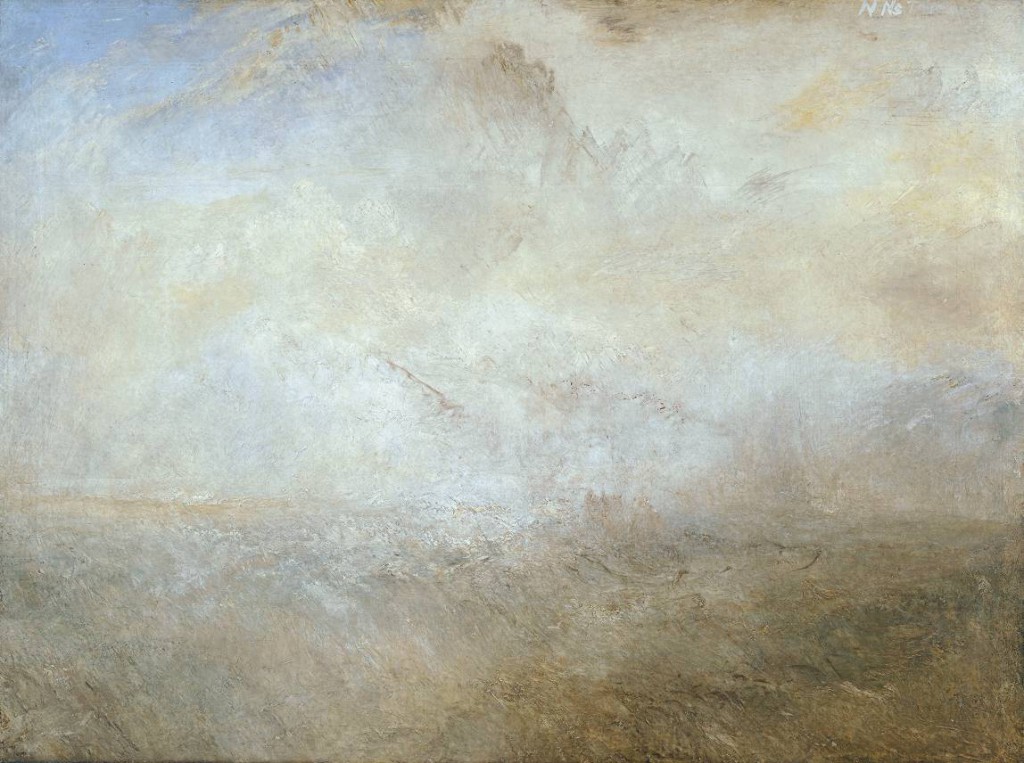 Seascape with Distant Coast, c.1840, oil on canvas, a proto-Abstract Expressionist painting, 100 years ahead of its time. Turner was a great favourite of Mark Rothko. When Rothko saw Turners at the Museum of Modern Art in New York in 1966, he joked, 'This guy Turner, he learnt a lot from me.'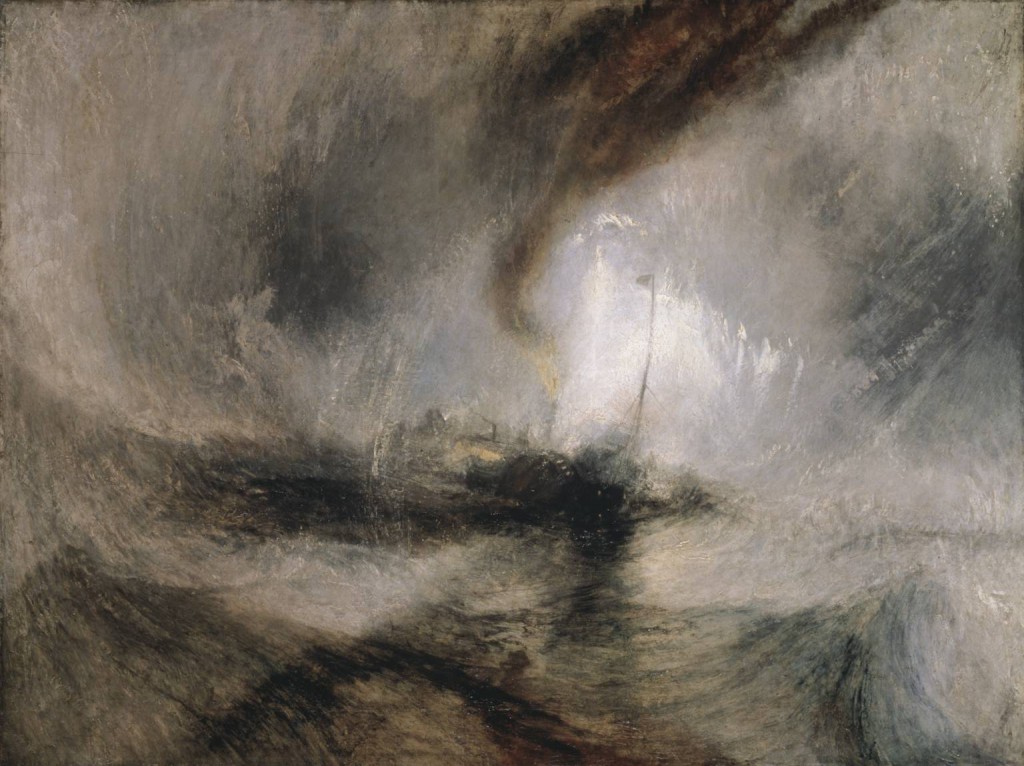 Snow Storm – Steam-Boat off a Harbour's Mouth, 1842, oil on canvas. Turner said of this painting, 'I did not paint it to be understood, but I wished to show what such a scene was like; I got the sailors to lash me to the mast to observe it; I was lashed for four hours, and I did not expect to escape, but I felt bound to record it if I did. But no one had any business to like the picture.'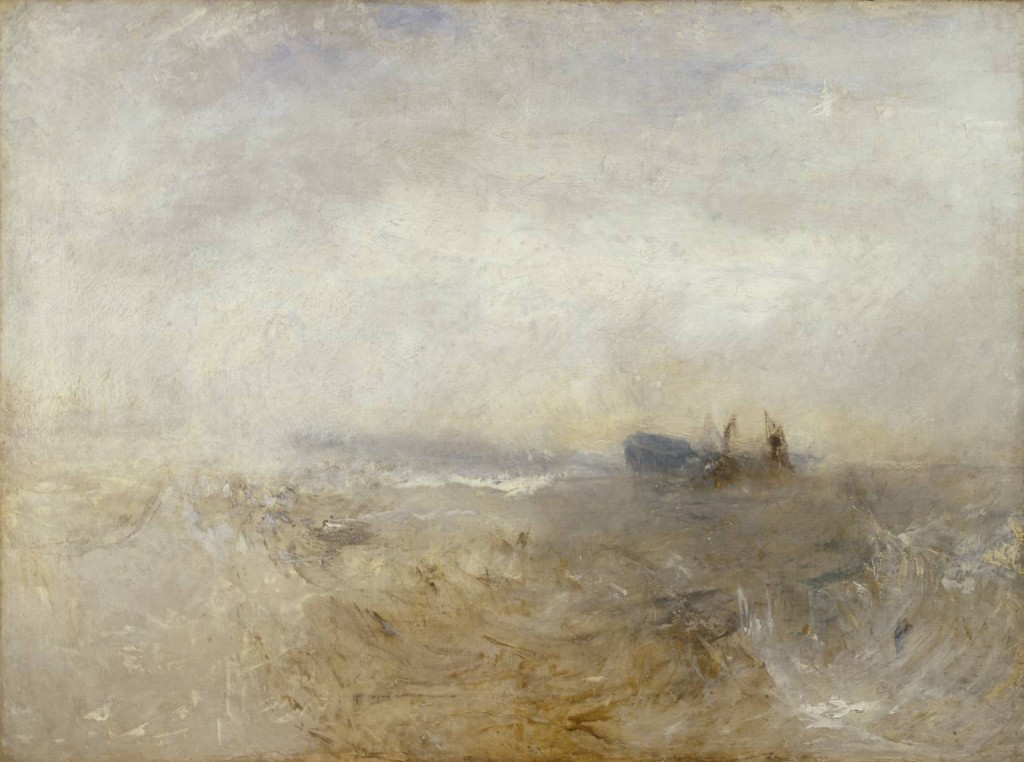 A Wreck, with Fishing Boats, c.1840-45, oil on canvas, a broken boat floats into the existential void.
※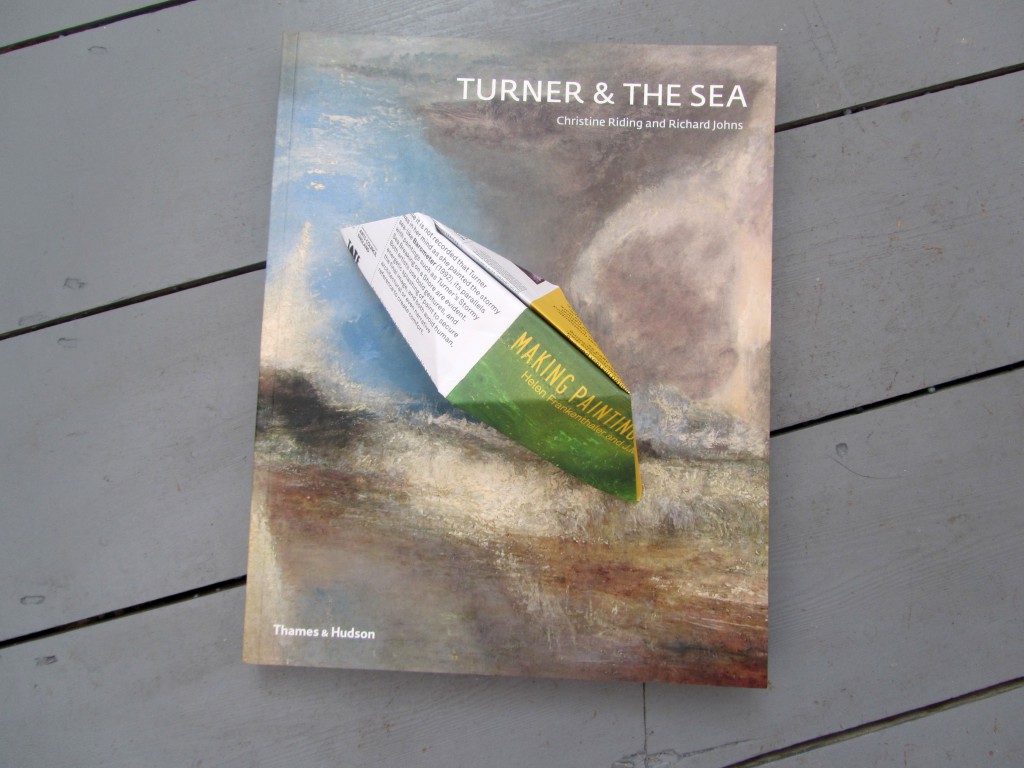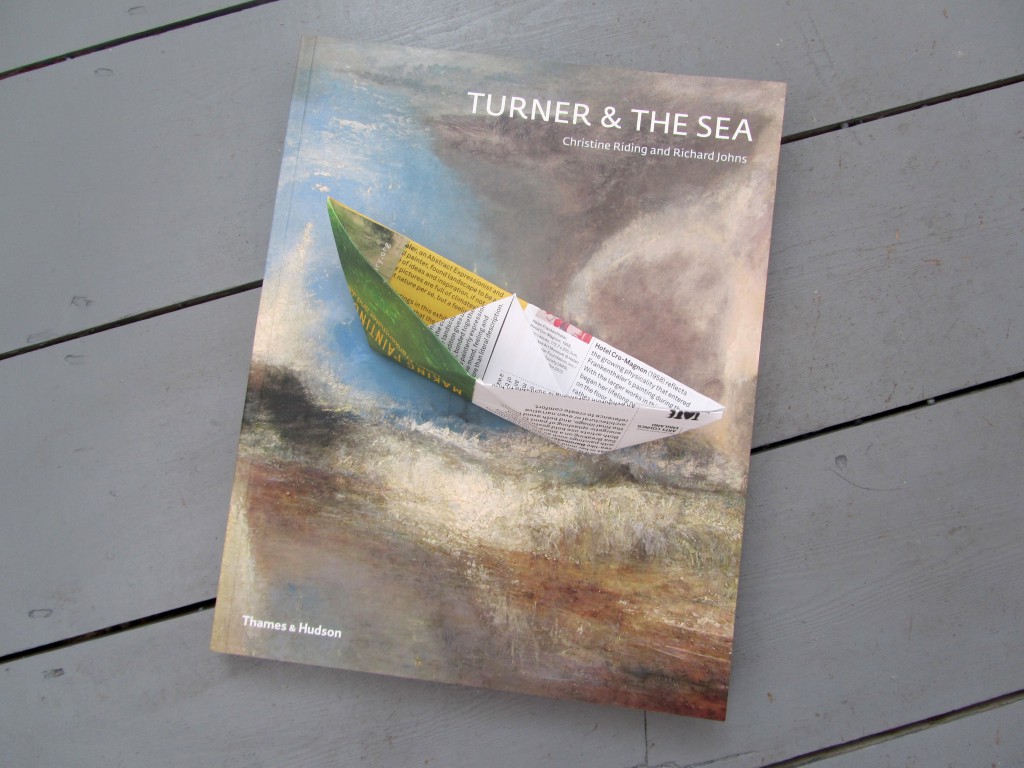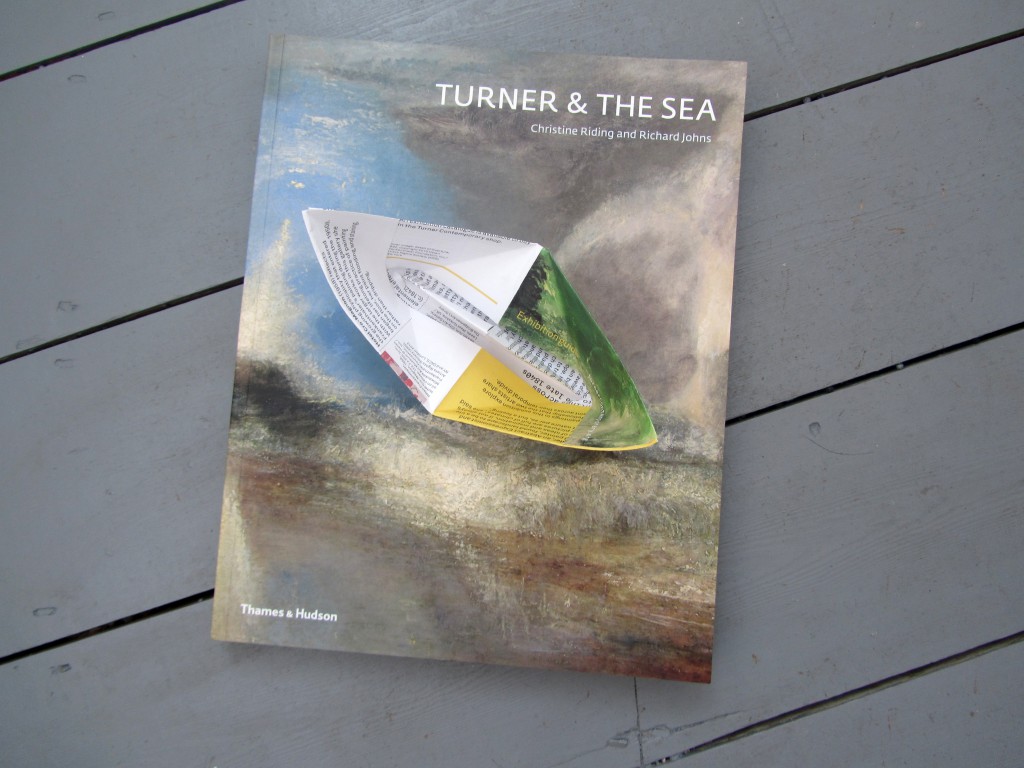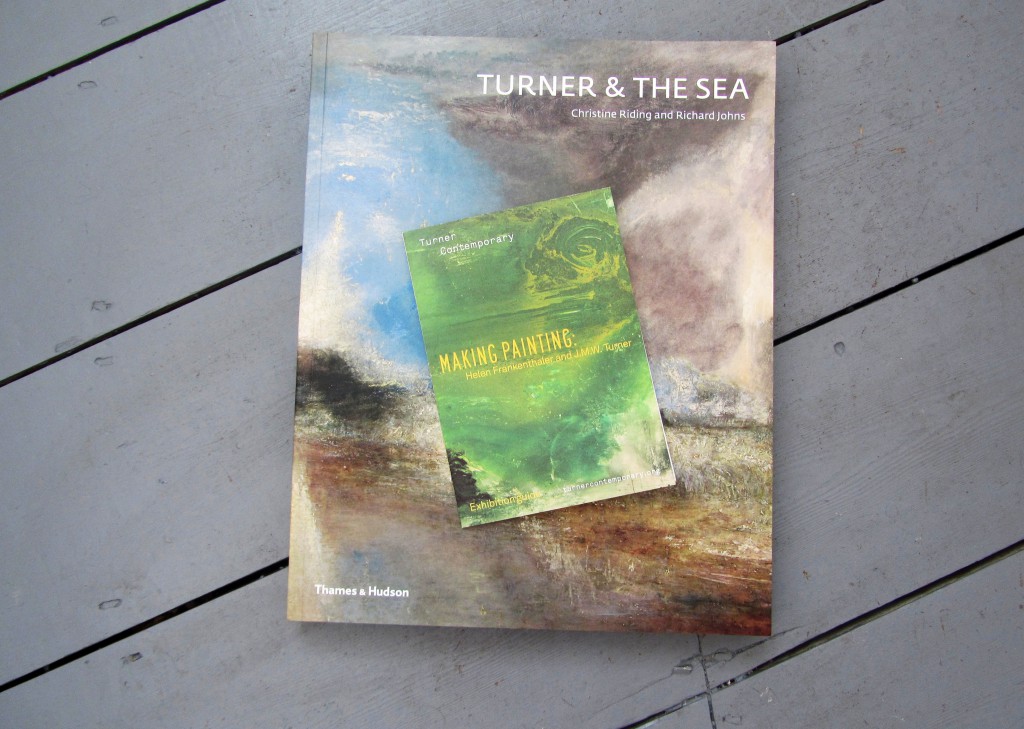 Making Painting / Turner & Frankenthaler / Turner & The Sea