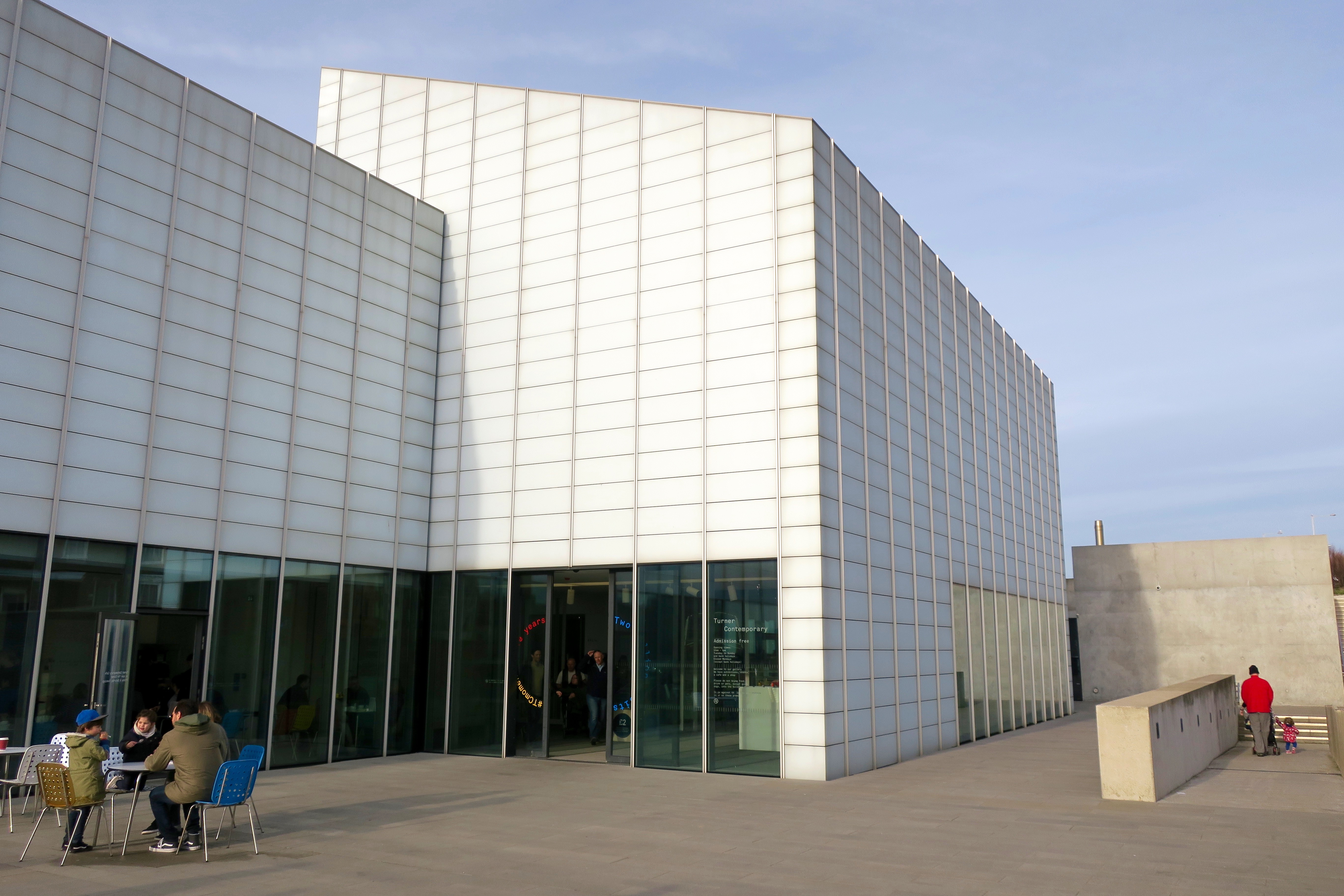 The Turner Contemporary at Margate, a light box of etched glass walls lined like graph paper, its warp and weft woven with Entangled: Threads & Making, the best exhibition I've seen in a long while.
…sculpture, installation, tapestry, textiles, and jewellery from the mid-20th century to the present day. It features over 40 international female artists who expand the possibilities of knitting and embroidery, weaving, sewing and wood carving, often incorporating unexpected materials such as plants, clothing, hair and bird quills.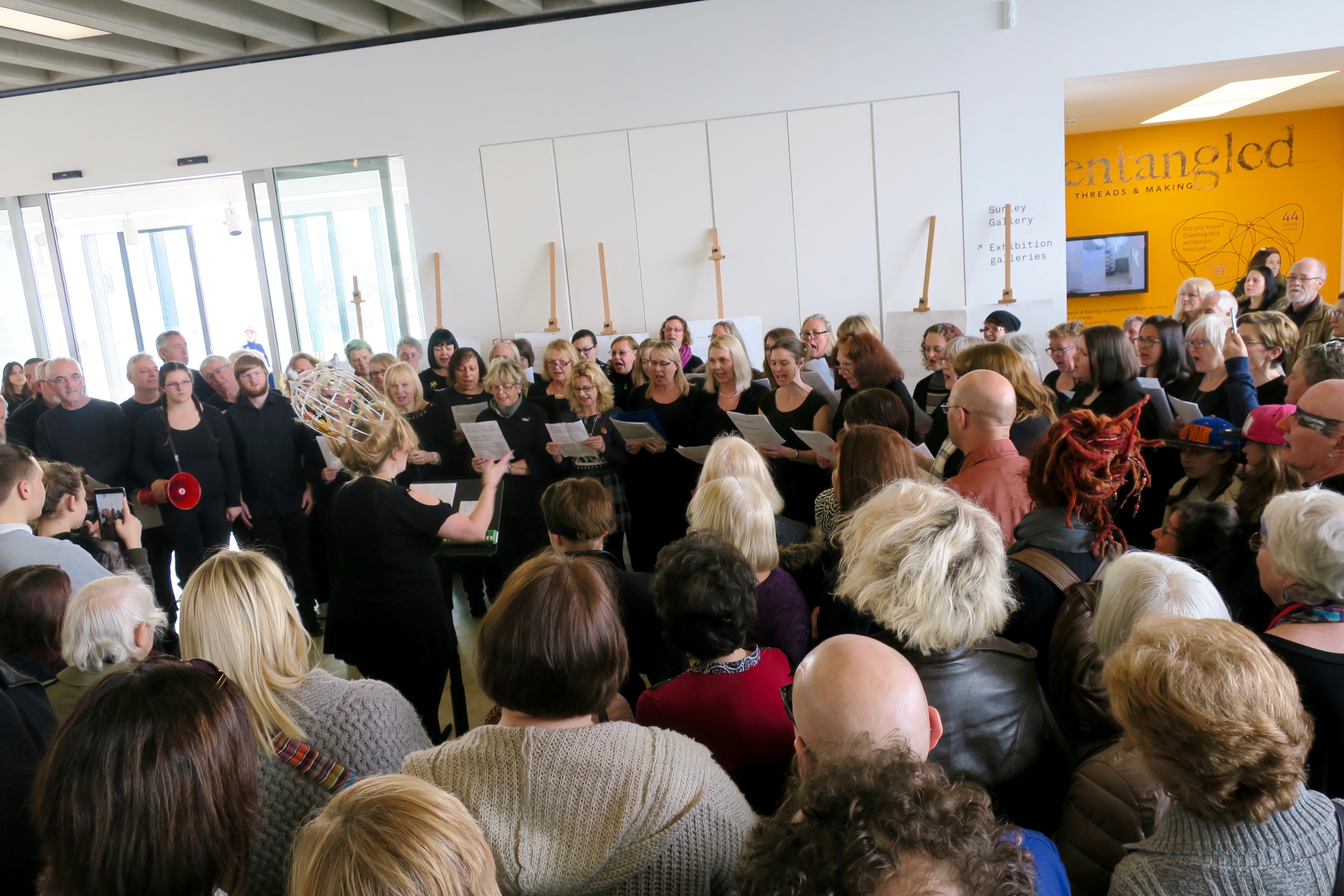 It seemed like we walked in on a flash mob. Fifty voices suddenly burst into song as we entered, led by a woman wearing a birdcage hat. It was the premiere of BIRDS and other stories by Emily Peasgood.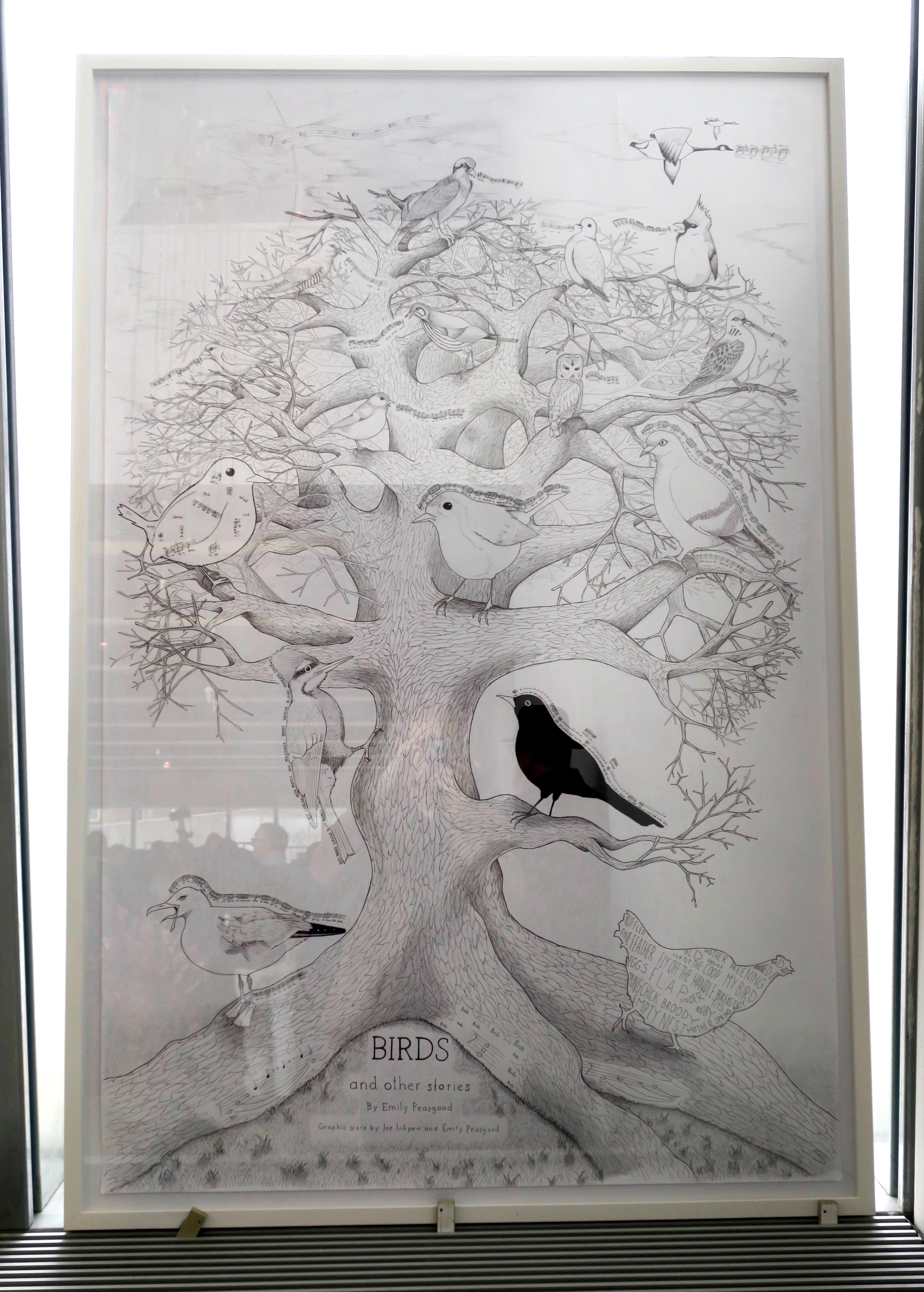 This is the graphic musical score. Click to enlarge and sing along.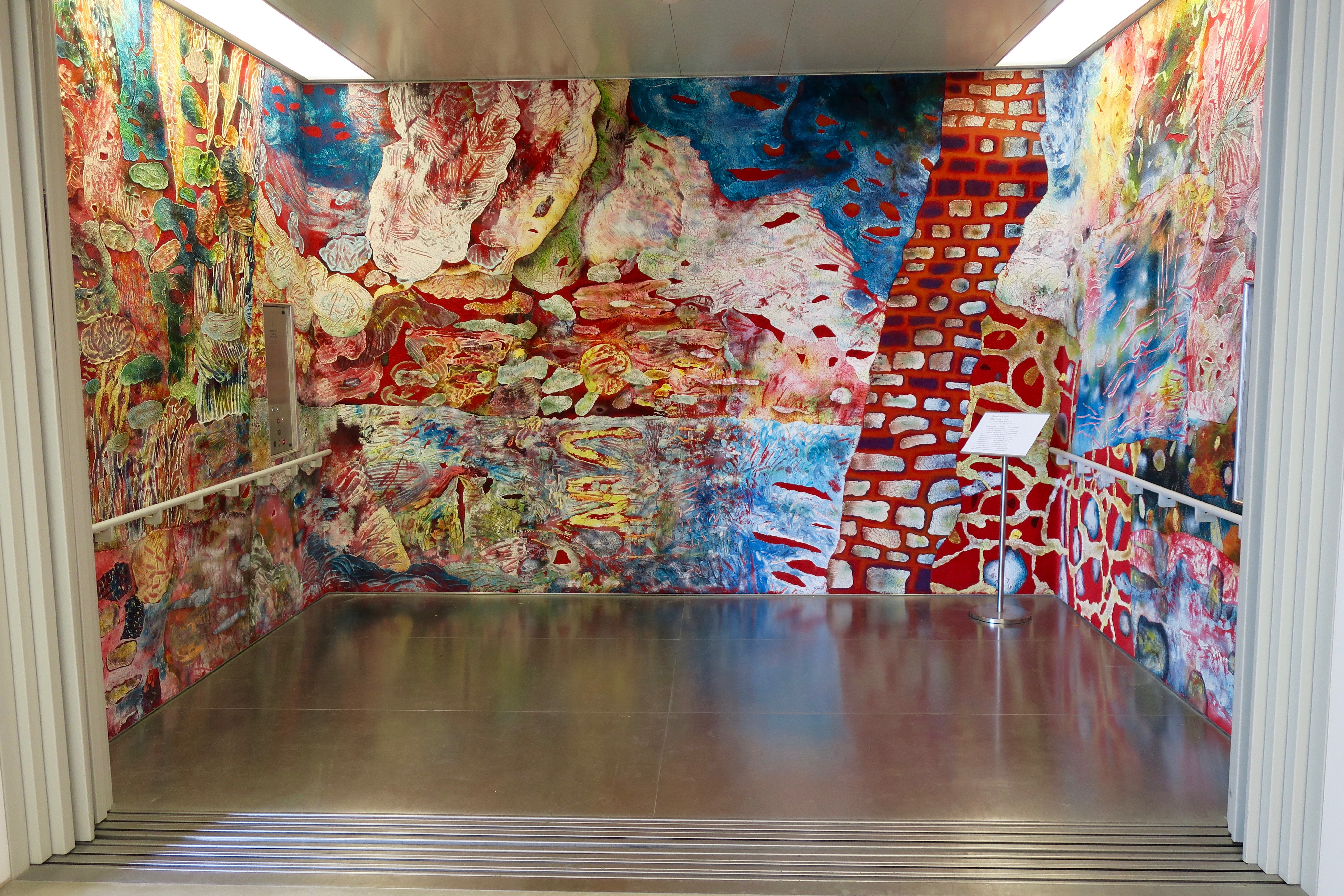 Samara Scott: Old Lake, 2017
There's a curious mural painting in the lift. The walls have been covered with carpet and daubed with yoghurt, plaster and food colouring. It's become a tropical garden aquarium and we were the fish!
Characterised by a rich use of colour, her work fuses the natural and artificial, antiquity alongside plasticity, the synthetic and organic, often resulting in pieces that engage with the implications of contemporary consumer society in vivid and thought-provoking contexts.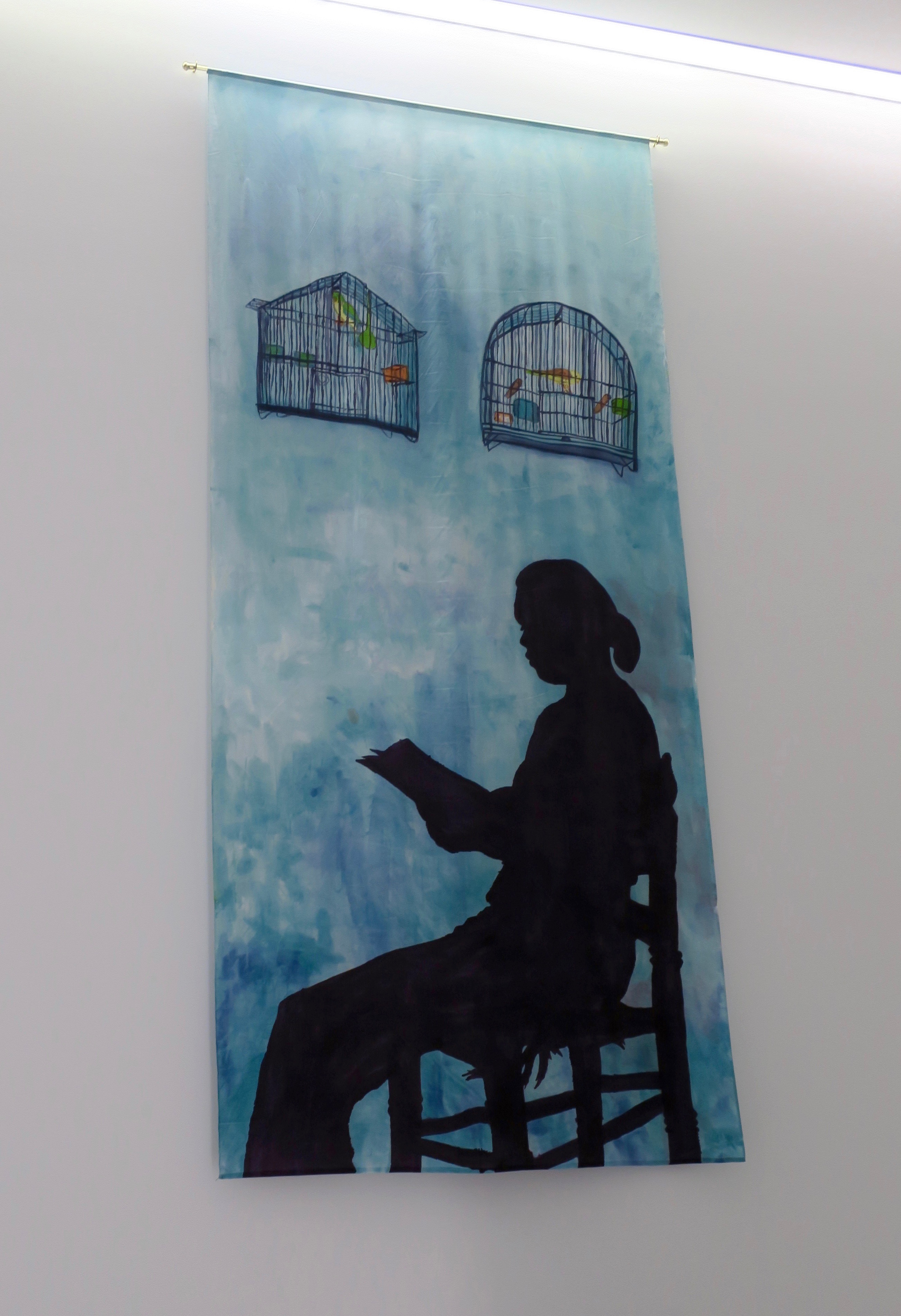 Betye Saar: Seated Shadow with Bird Cages, 1998
We took the stairs, where the birdcage hat in the foyer was echoed in this dyed silk wall hanging.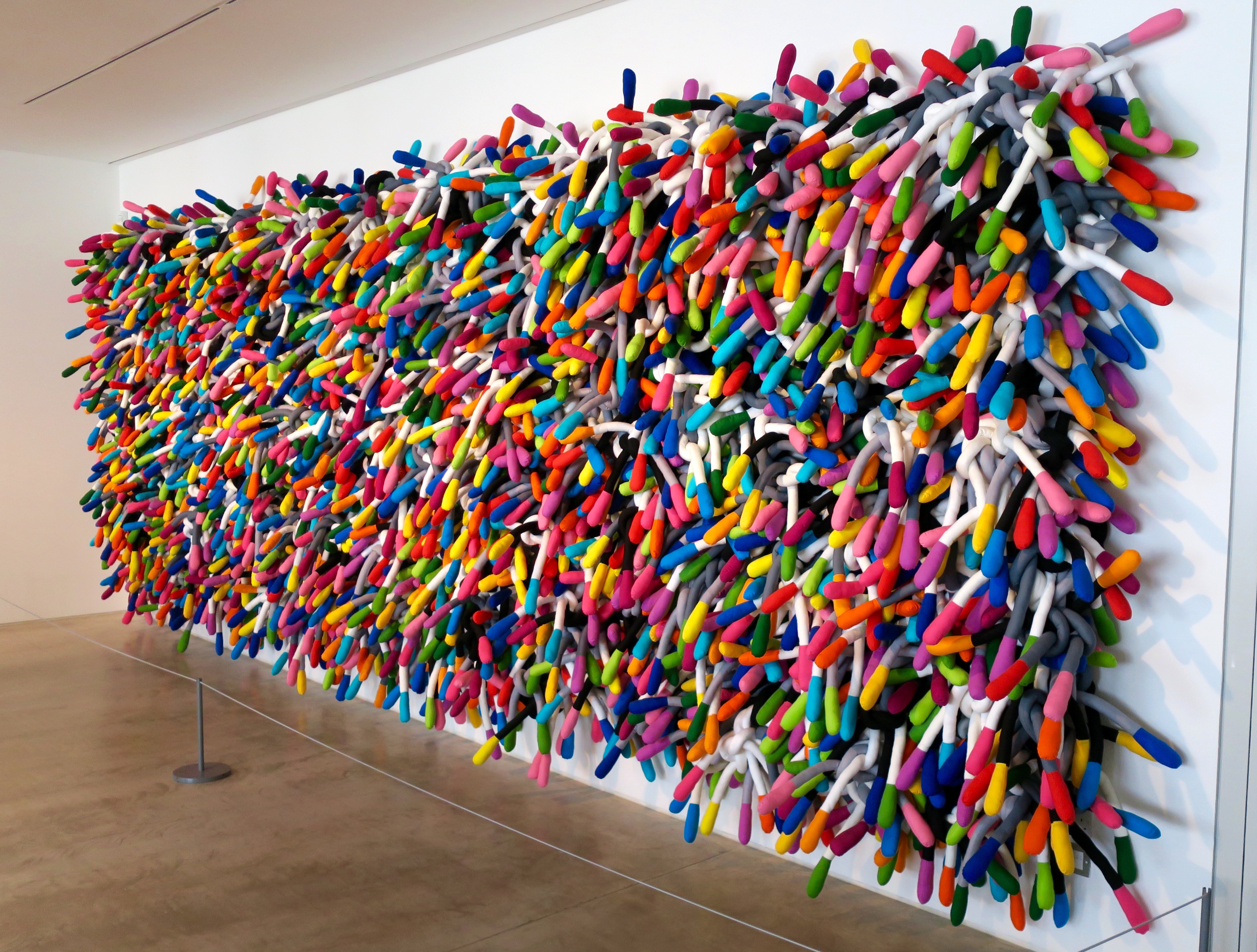 Anna Ray: Margate Knot, 2017
Upstairs on the mezzanine there's a writhing mass of padded cotton buds, like a giant rag rug.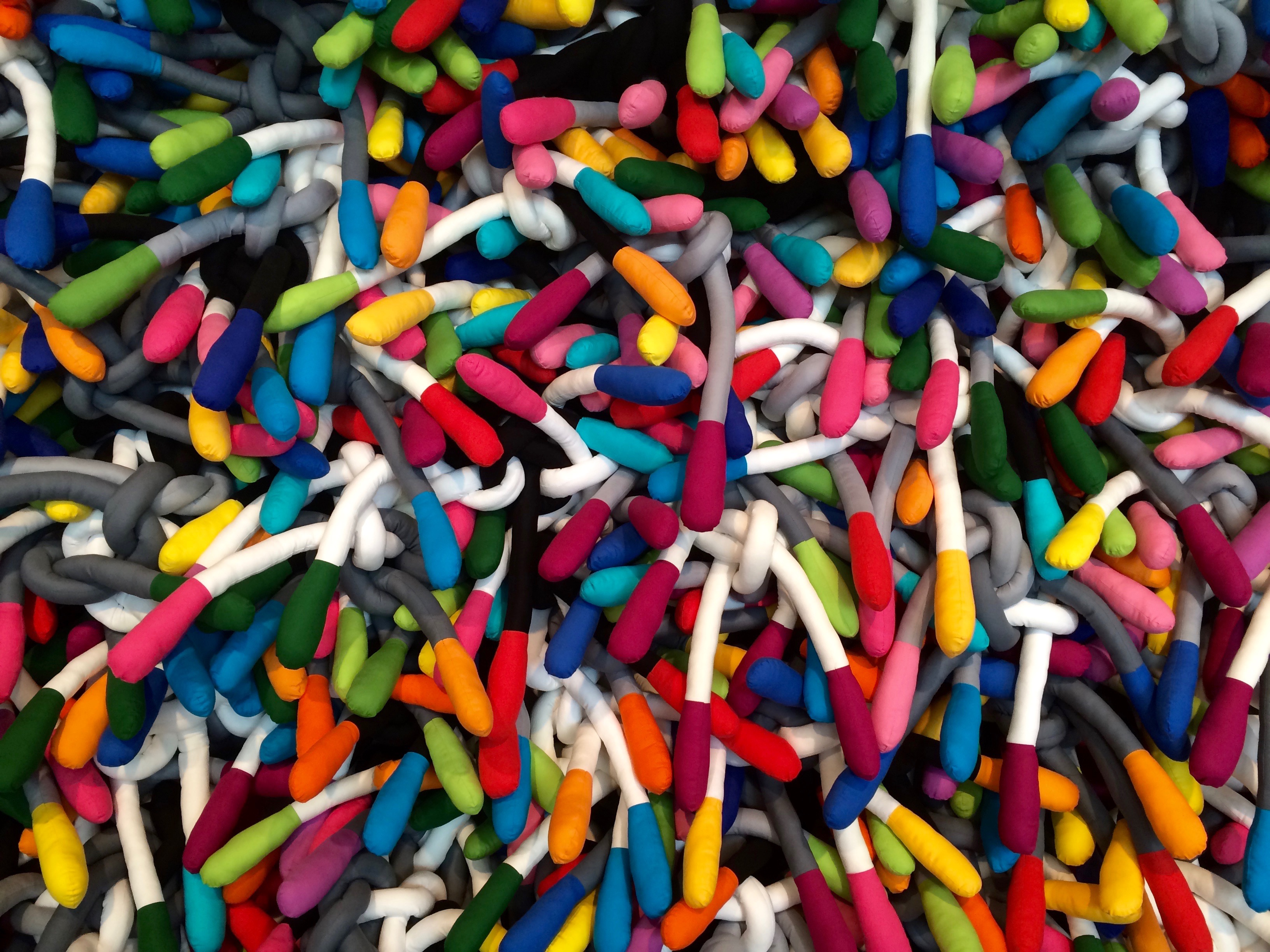 The colours in this work, made specially for the exhibition, reflect the variegated colours of Margate; its cliffs and lichen, its buildings and buoys. The 2000 individual padded fabric elements were made with the help of local women.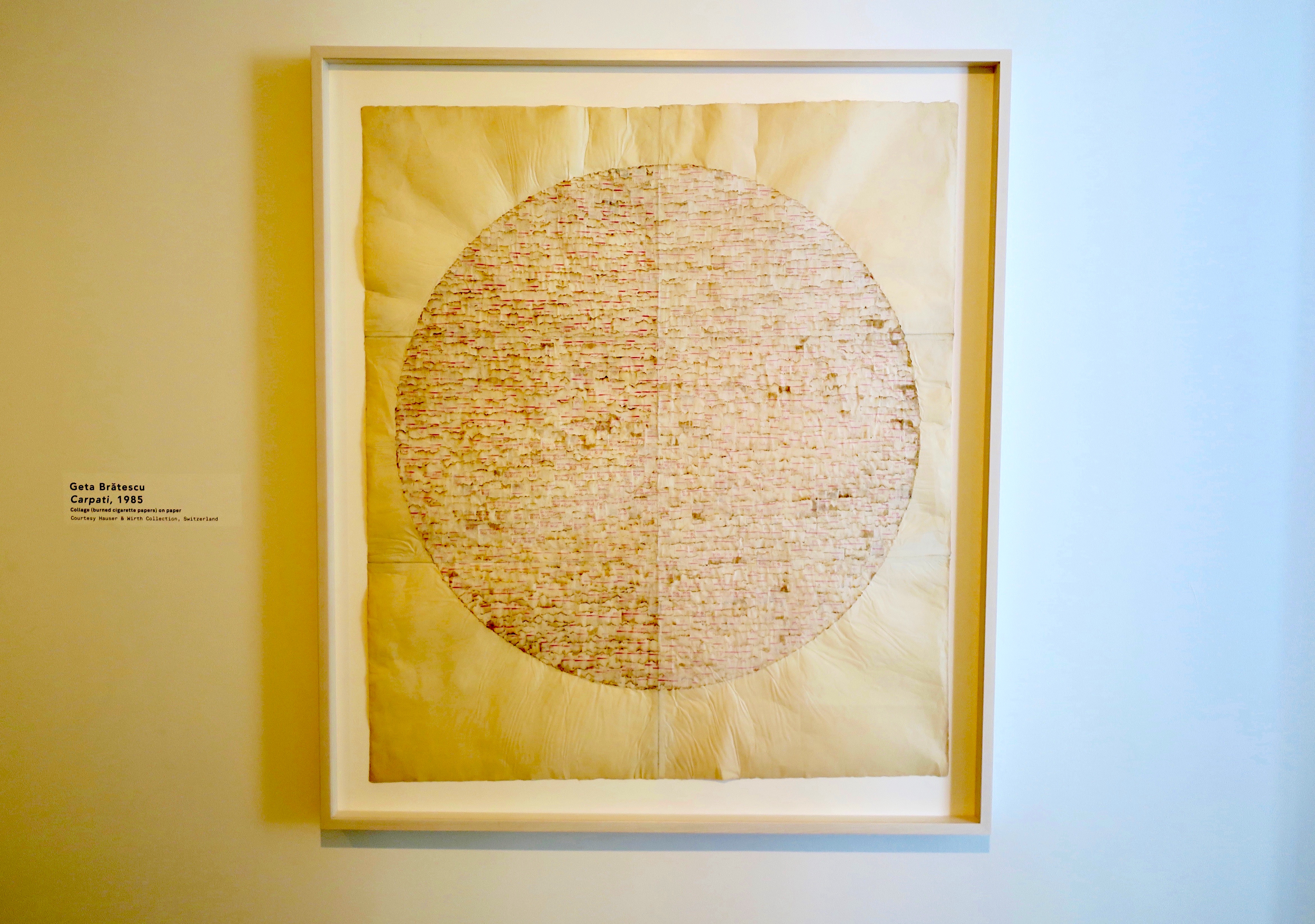 Geta Brătescu: Carpati, 1985
Through the doors from the mezzanine and into the gallery, the first thing that caught my eye was this beautifully delicate collage of burned cigarette papers.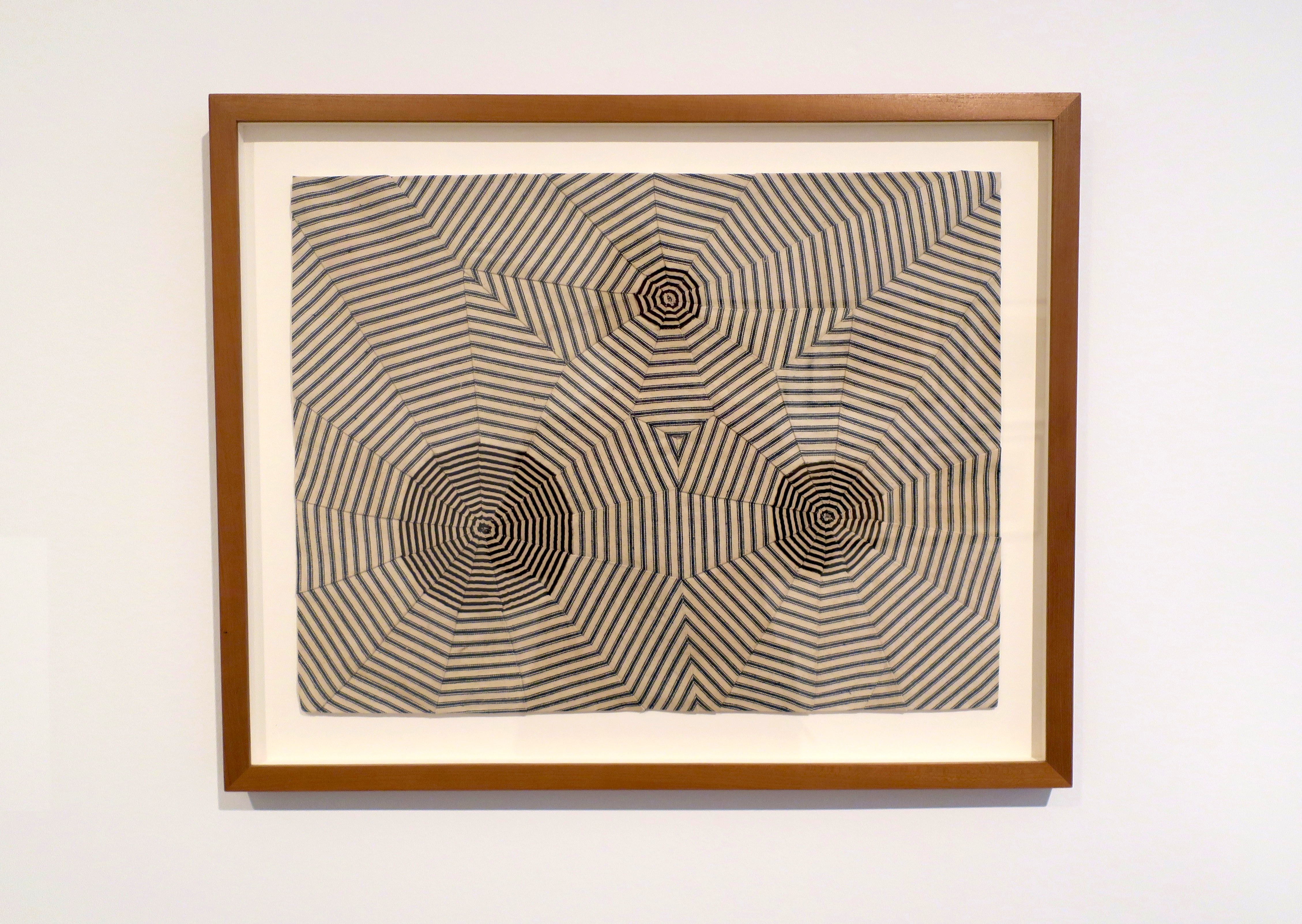 Louise Bourgeois: Untitled, 2005
Quilted panels of ticking suggest spider's webs, and my shadow caught there. Just as this wonderfully entangled exhibition seems to have caught the spirit of Louise Bourgeois.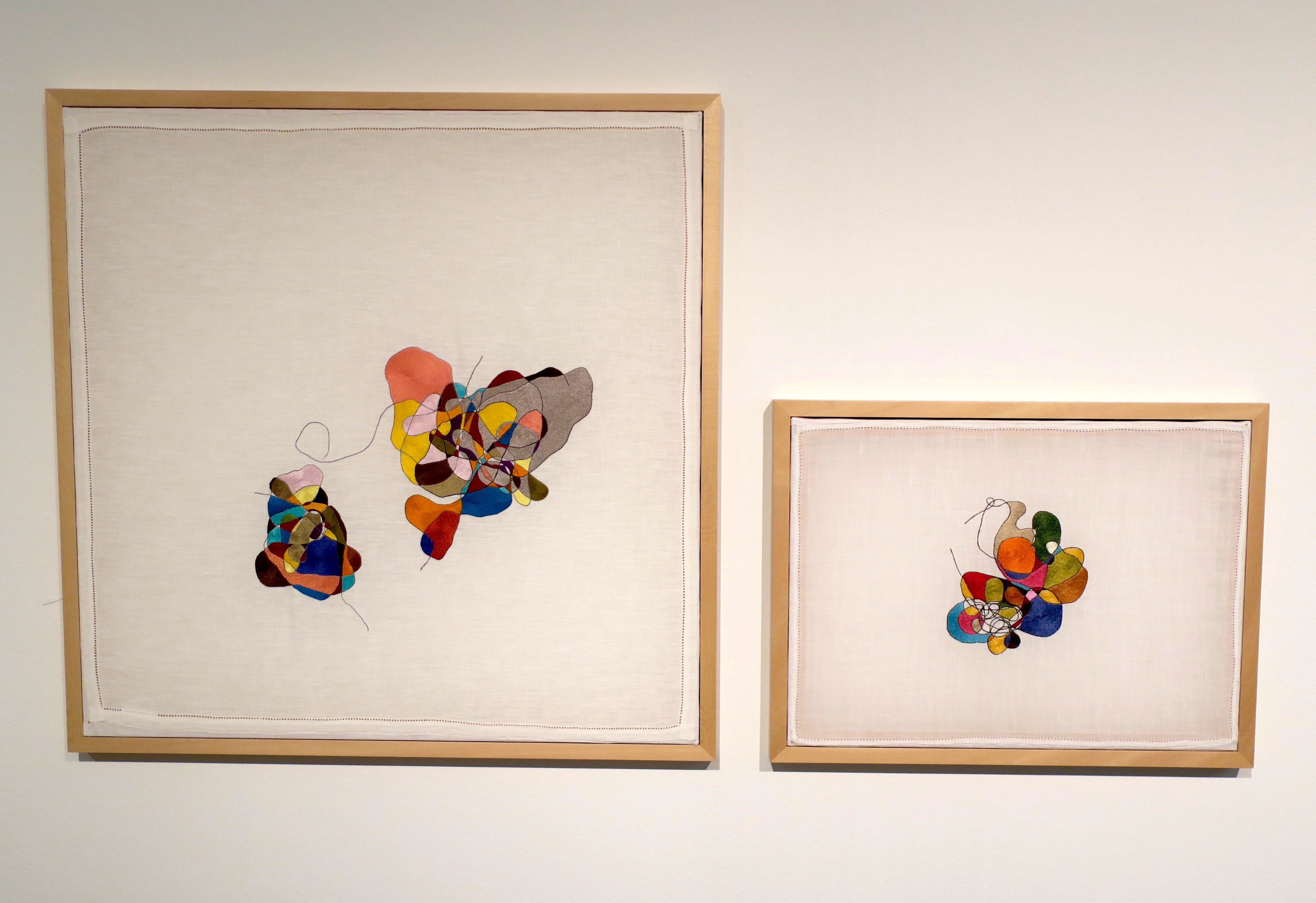 Rivane Neuenschwander: (a)casos eroticos 9 and 2, 2014
Rivane Neuenschwander (b.1947, Brazil) is known for her contribution to Brazilian conceptualism and her use of ephemeral materials, which she often chooses for their ability to evoke particular emotions. The works shown here are two from a series of nine works called '(a)casos eroticos (Erotic Cases)'. The title references the chance involved in the making process; in Portuguese, 'acaso' means chance, captured by Neuenschwander in these pieces as she dropped string onto fabric napkins, before embroidering the outline of the forms produced by the fallen string. The connotation with sensuality is suggested in twisting, curvaceous and organic configurations, whose 'chance' composition recalls the abstract practices of artists such as Marcel Duchamp and John Cage.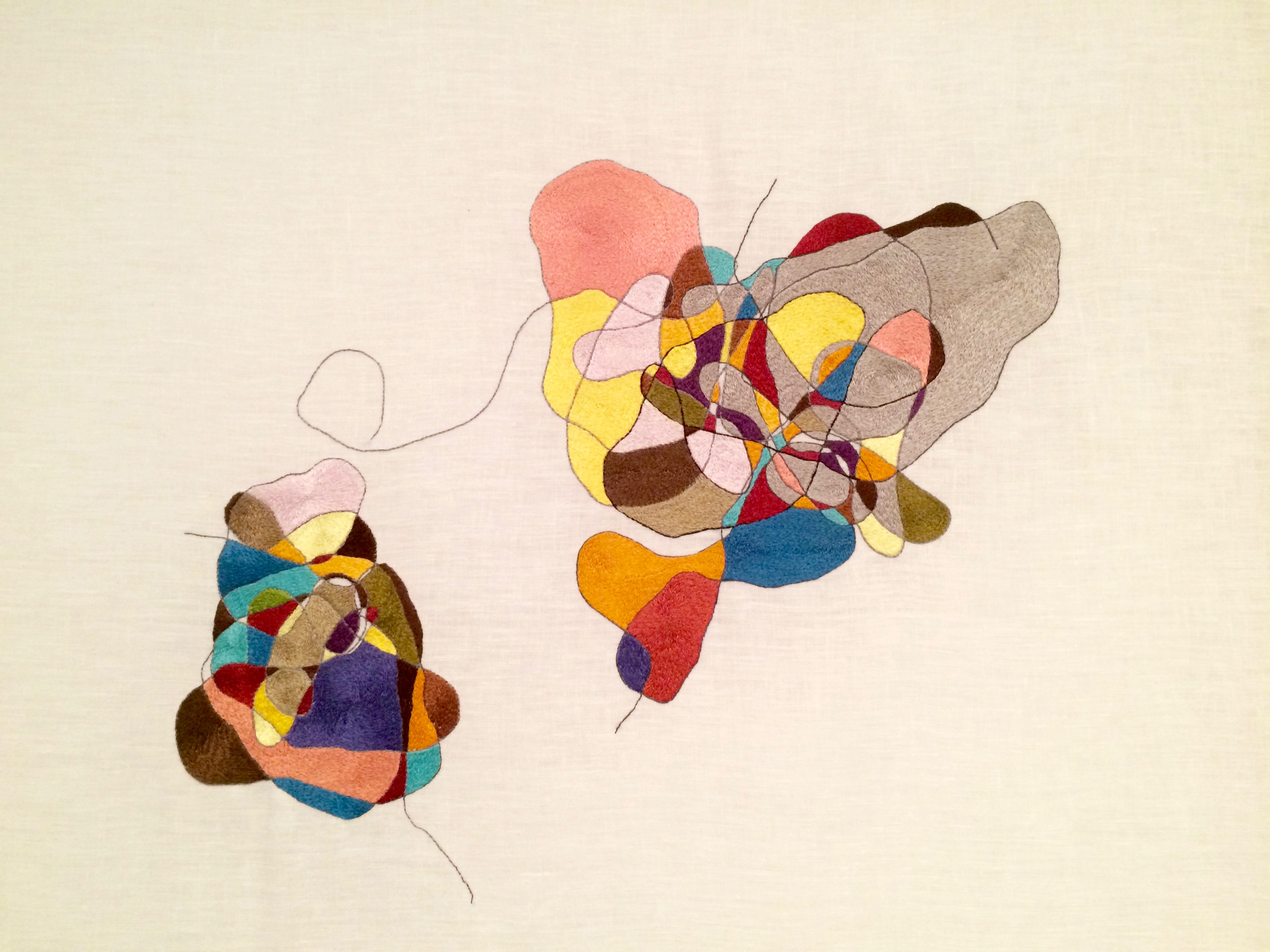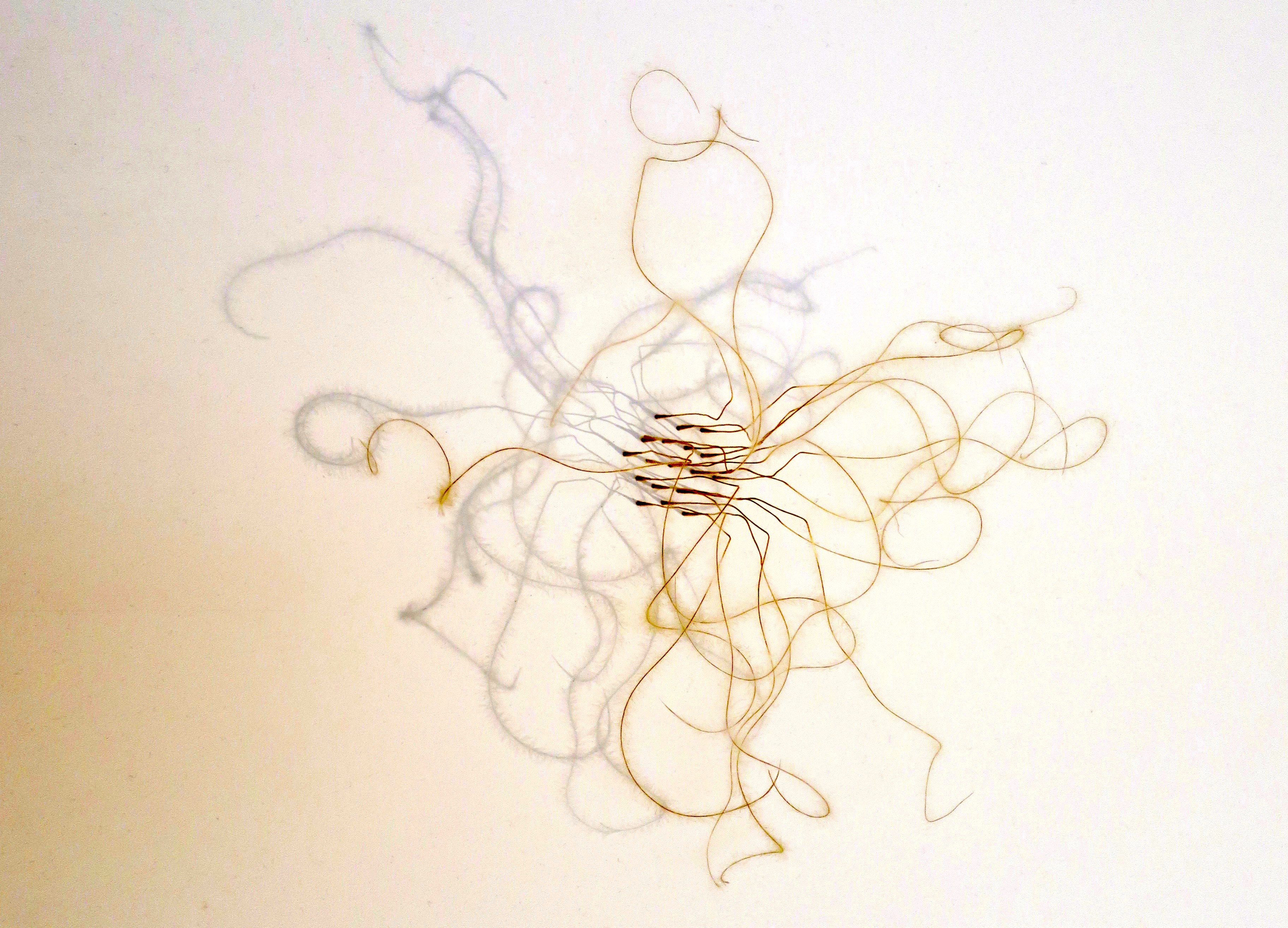 Christiane Löhr: Little Vortex, 2016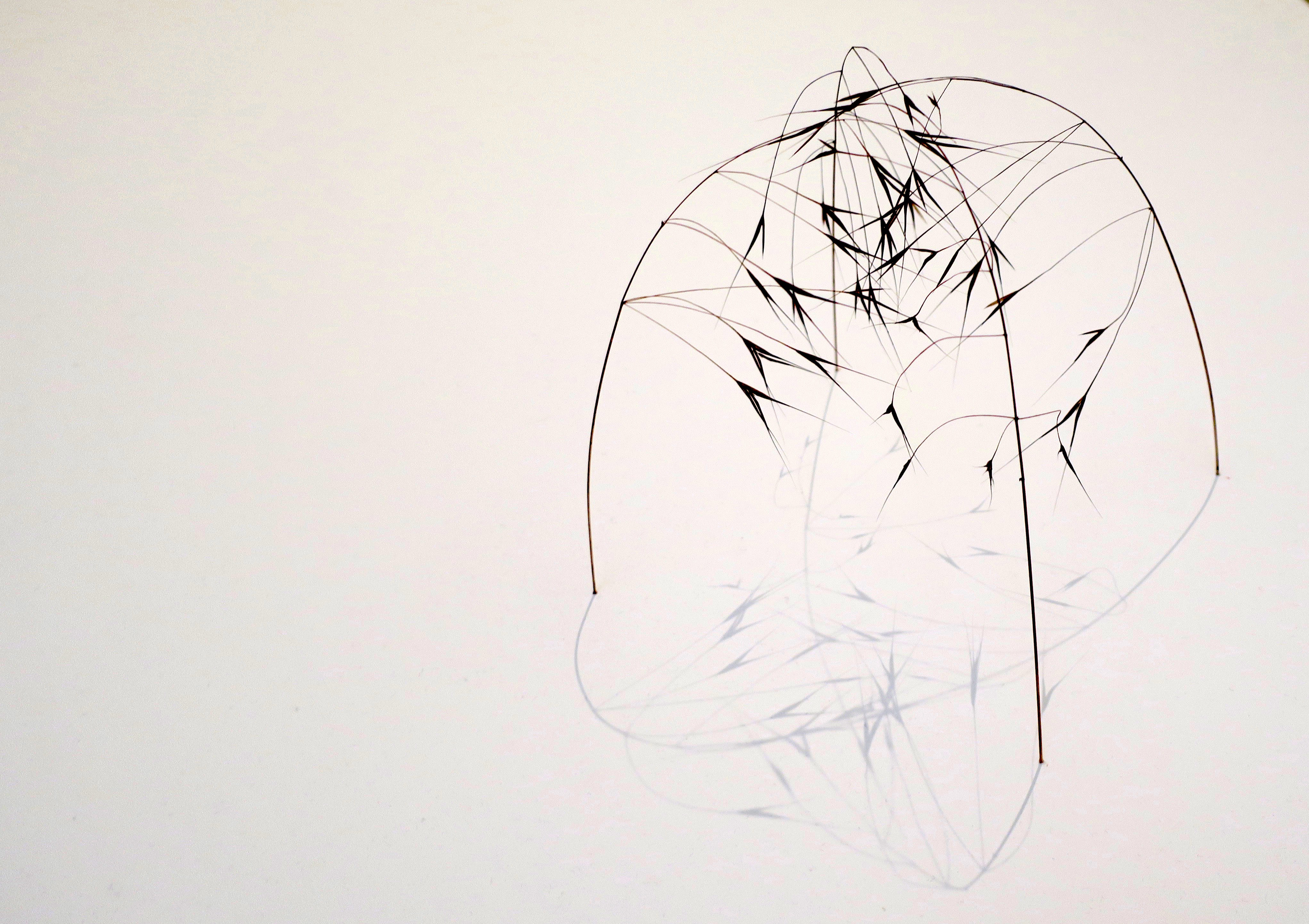 Christiane Löhr: Little Dome, 2016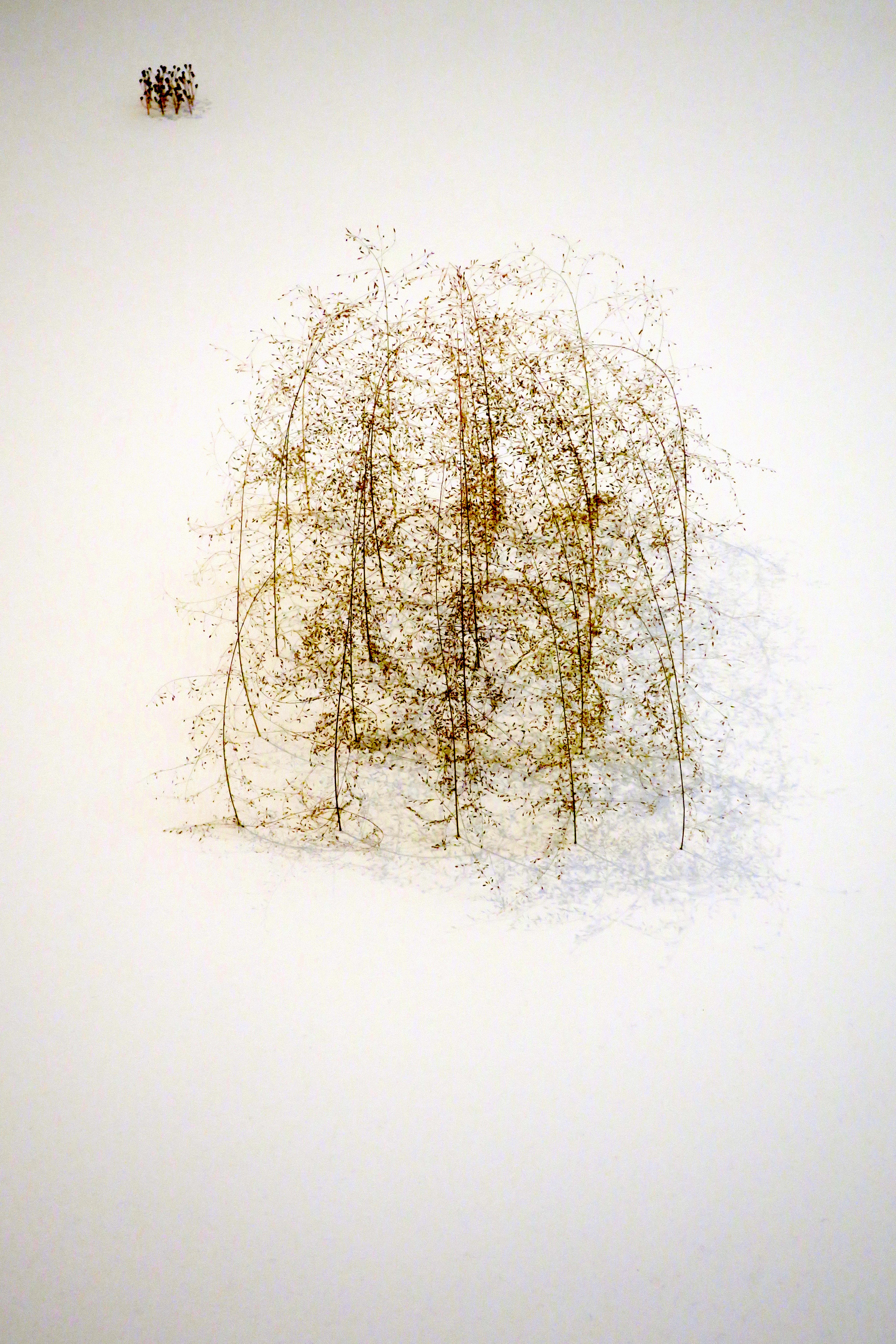 Christiane Löhr: Big Grass Cube, 2016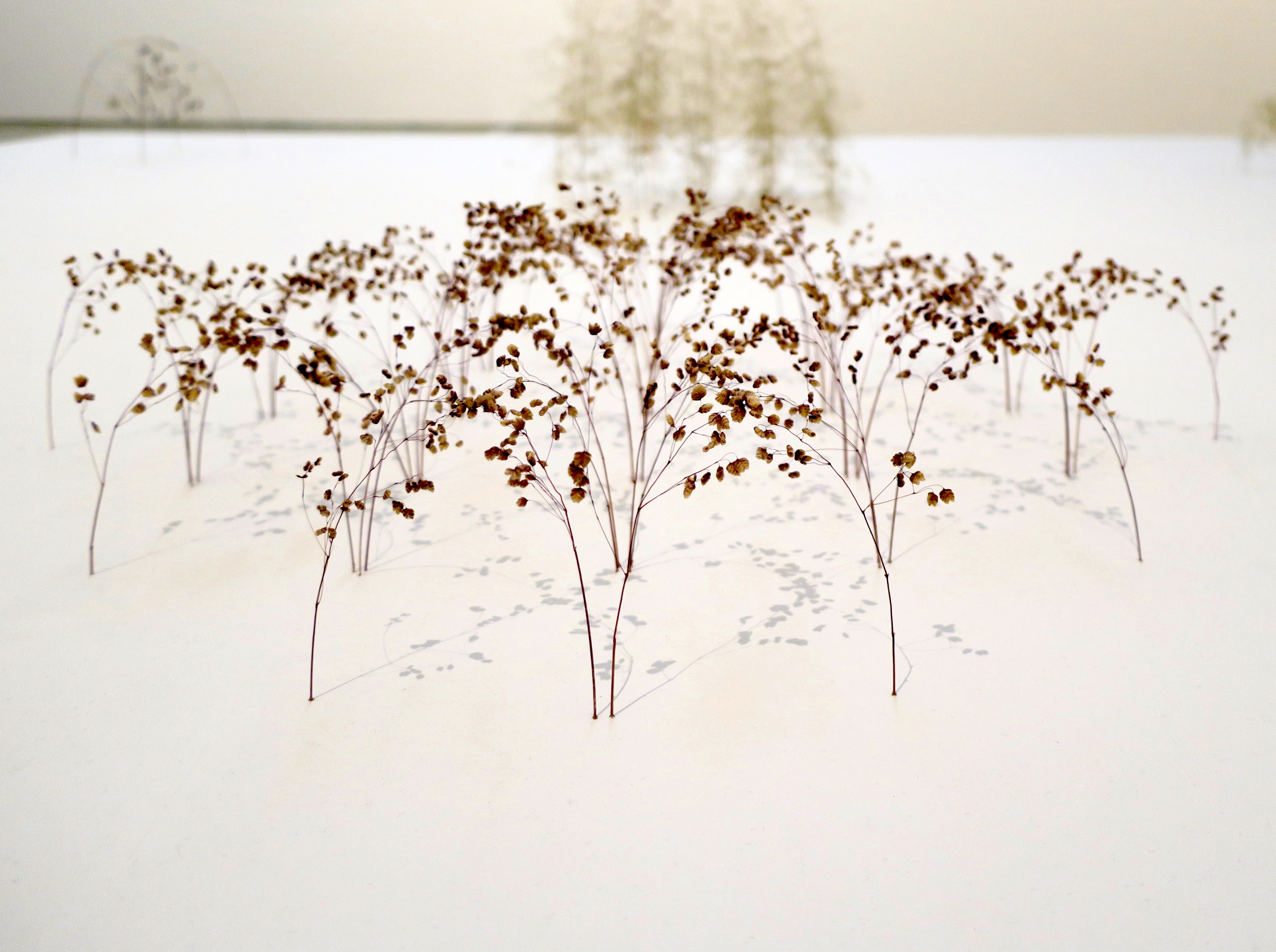 Christiane Löhr: Big Arch Form, 2016
These little pieces made with grass stalks and seeds were astonishing. Also enchanting and delightful and magical and mysterious. How were they made? Why didn't they wilt? And why did they not just blow away? They seemed anchored only by their shadows.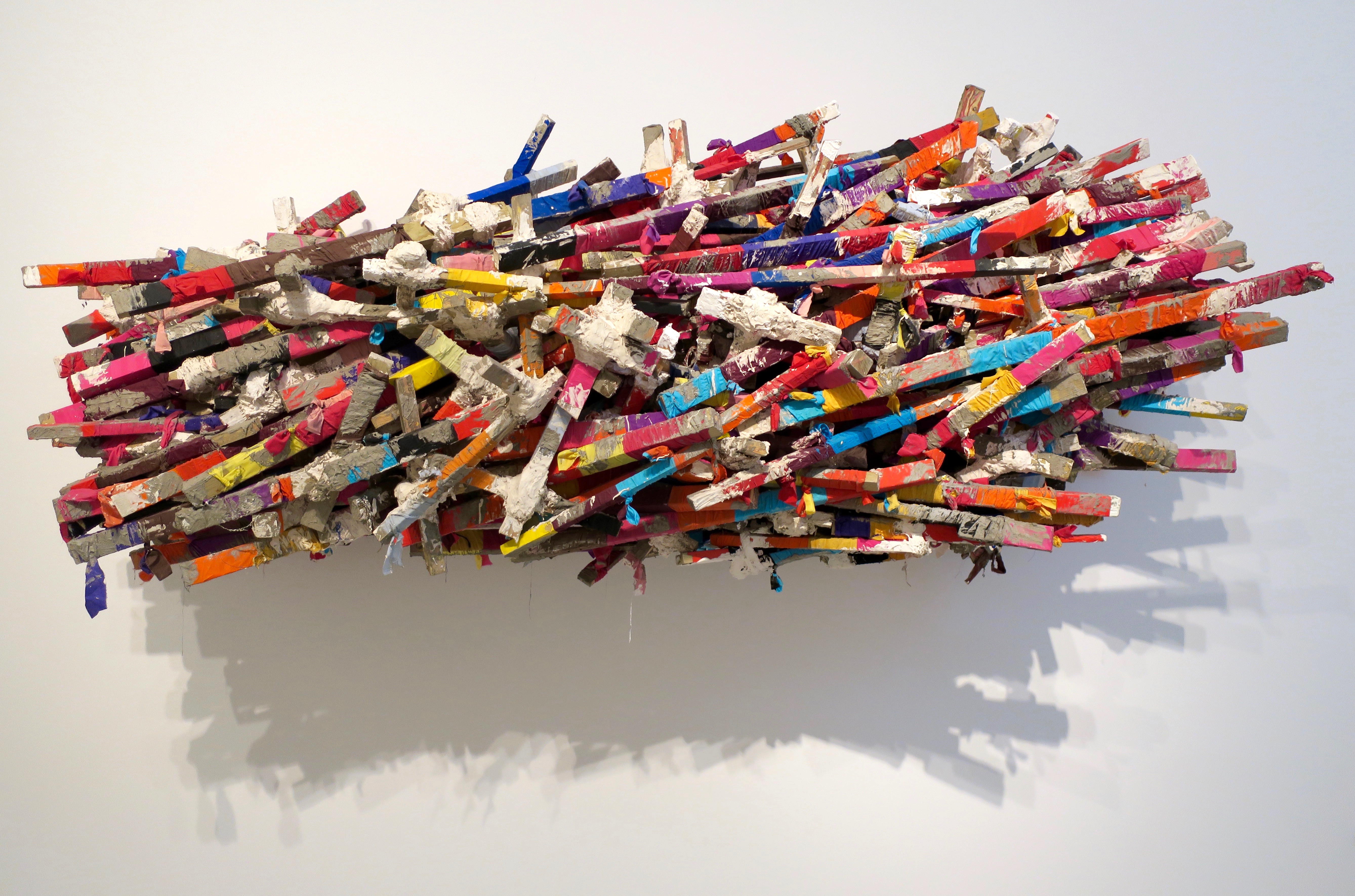 Phyllida Barlow: Untitled: brokenshelf2015, 2015
These playful and precarious sculptures call attention to the objects of everyday life. Barlow says of these works "My epiphany of what could be sculpture was to use waste materials. I used anything and everything from paper, polythene, cardboard, fabric, and many other "sheet" materials, which could easily be cut, torn, ripped, sliced. For me, these were in opposition to the labour-intensity of the sculpture processes I had been so doggedly taught at art school, and which defined sculpture as sculpture – carving, casting, welding, construction."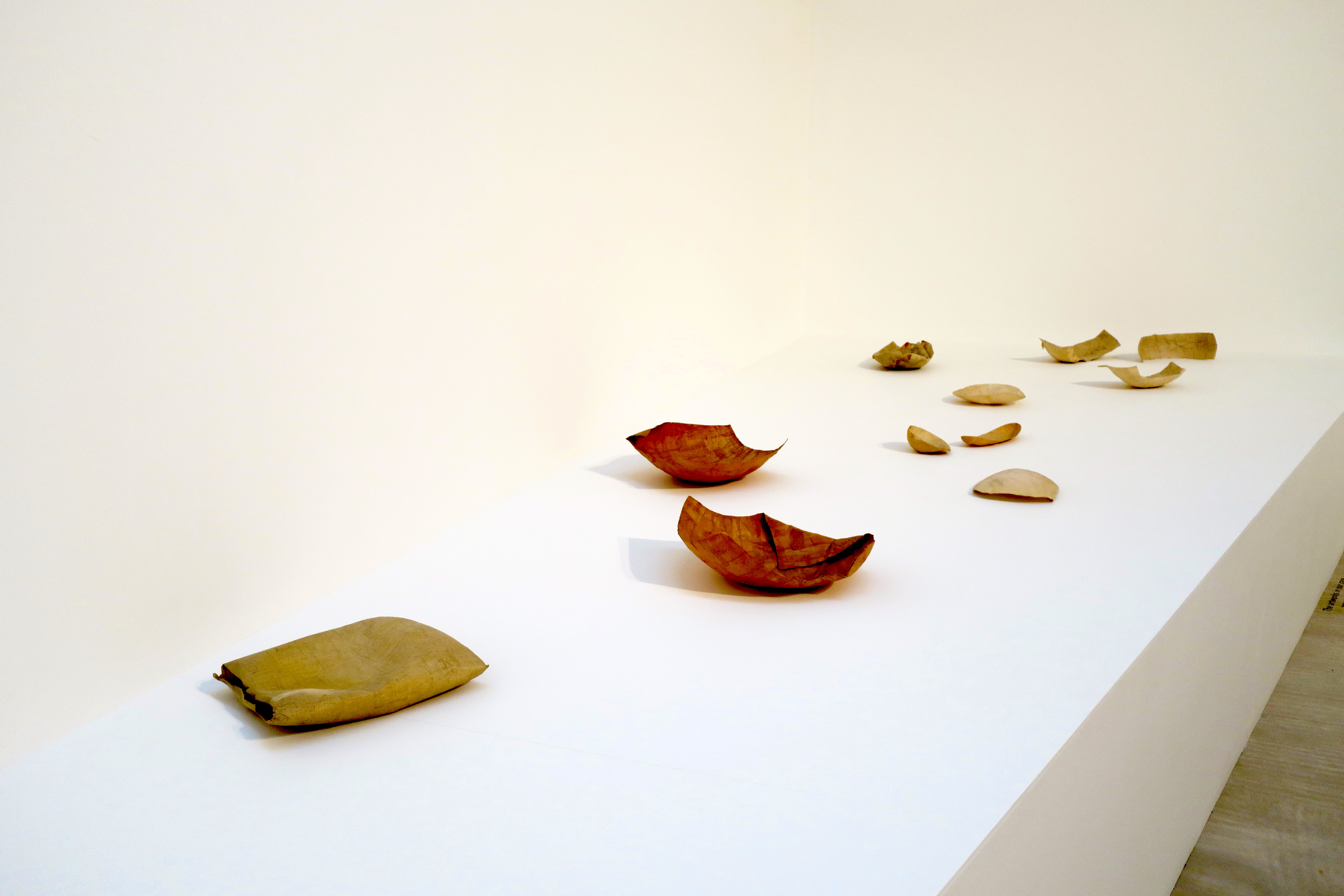 Eva Hesse: Untitled, 1969
German-born Eva Hesse (1936-1970) is one of the most pioneering artists of the 20th century, known for her fearless use of new forms and ephemeral materials. Two years after she was born, her parents fled Nazi Germany and settled in New York. Hesse died in 1970 from a brain tumour at the age of 34; during her short career, her experimentation with materials played a central role in the post-minimalist movement. The pieces shown here, made from paper, masking tape, cheesecloth and glue, may be tests or prototypes for larger sculptures.
They demonstrate the importance to Hesse of touch or hand-making, as well as her playful approach to materials. Hesse is an important figure for many contemporary artists, among them Phyllida Barlow… who has commented on the presence of the act of making in Hesse's work.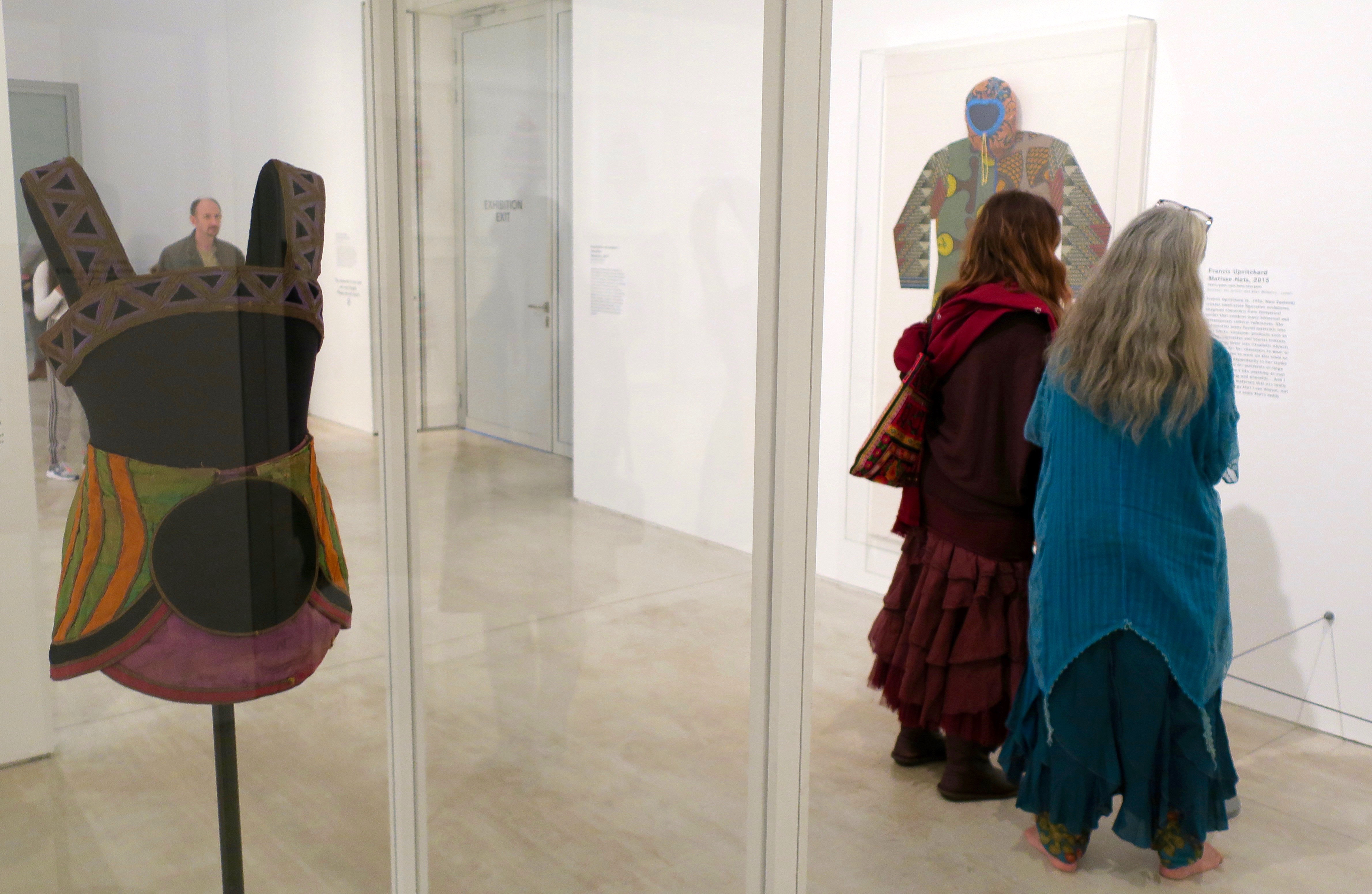 Sonia Delaunay: Costume for Amoun in Cléopâtre, c.1918
Sonia Delaunay (1885-1979) was one of the most influential artists of the 20th century. She spent the majority of her working life in Paris, eventually becoming the first living woman artist to have a retrospective at the Louvre Museum in 1964. Aside from painting, Delaunay's practice extended to textiles and design. She credited her early experimentation in dress making – incorporating geometric shapes and abstract use of colour – as a making process that aided the wider acceptance of abstraction in modern art. This costume for a male dancer, was originally designed by Léon Bakst for the experimental, modern Russian ballet company the Ballet Russes but was redesigned by Delaunay in 1918.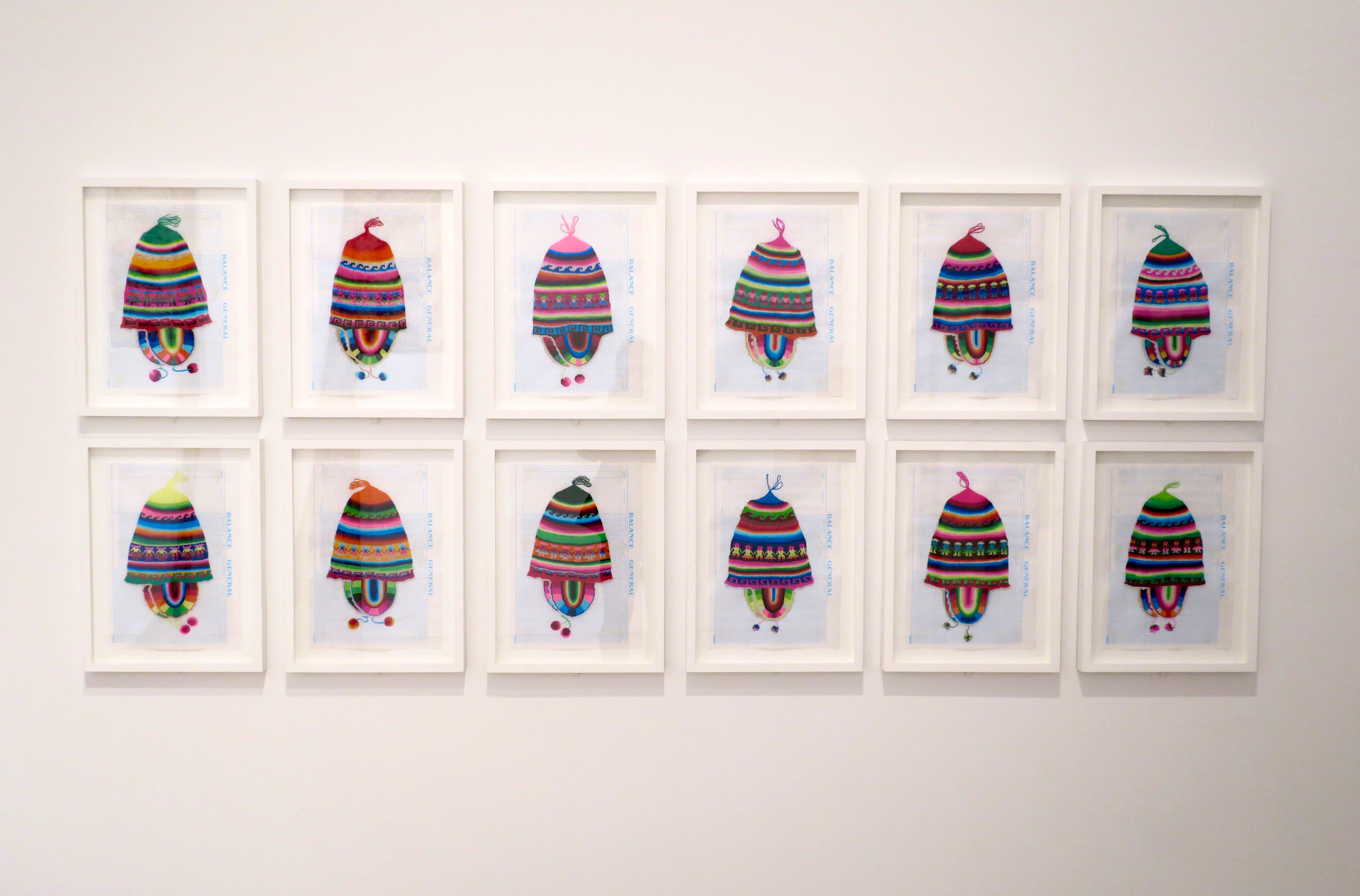 Ximena Garrido-Lecca: Una Gruesa de Chullos (A Gross of Chullos), 2013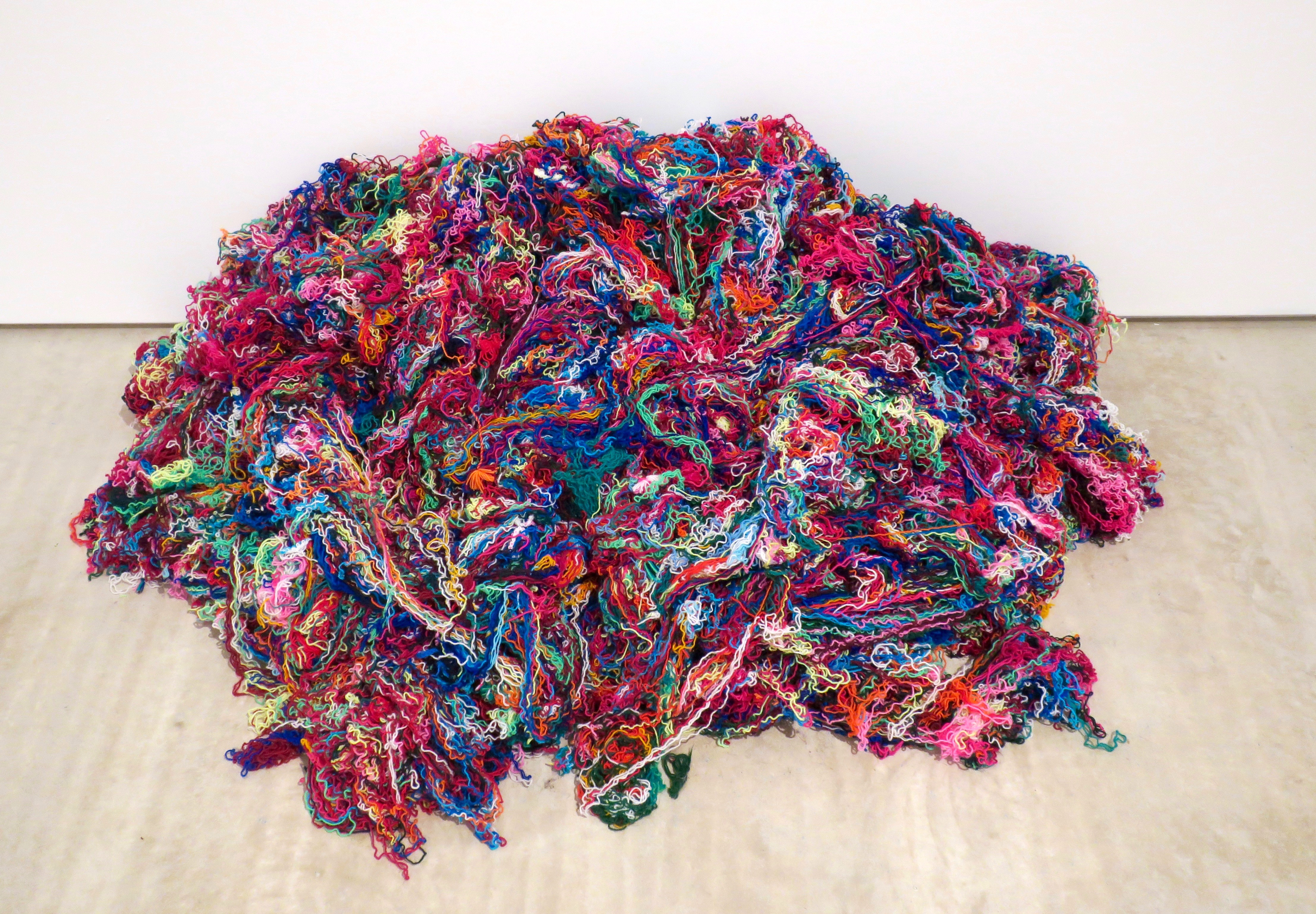 Ximena Garrido-Lecca: Una Gruesa de Chullos Destejidos (A Gross of Chullos Unknitted), 2012
The work of Ximena Garrido-Lecca (b.1980, Lima) explores aspects of Peruvian culture, including the impact of globalisation and commercialisation on her native country. For 'A Gross of Chullos', Garrido-Lecca purchased chullos, a traditional Peruvian hat with ear flaps, an ancestral symbol of Peruvian Andean culture, now a mass-produced tourist souvenir. The hats were exported to London where they were digitally scanned and un-knitted to create piles of wool. The hand-coloured scanned images are shown here alongside piles of wool formed from the unknitted chullos.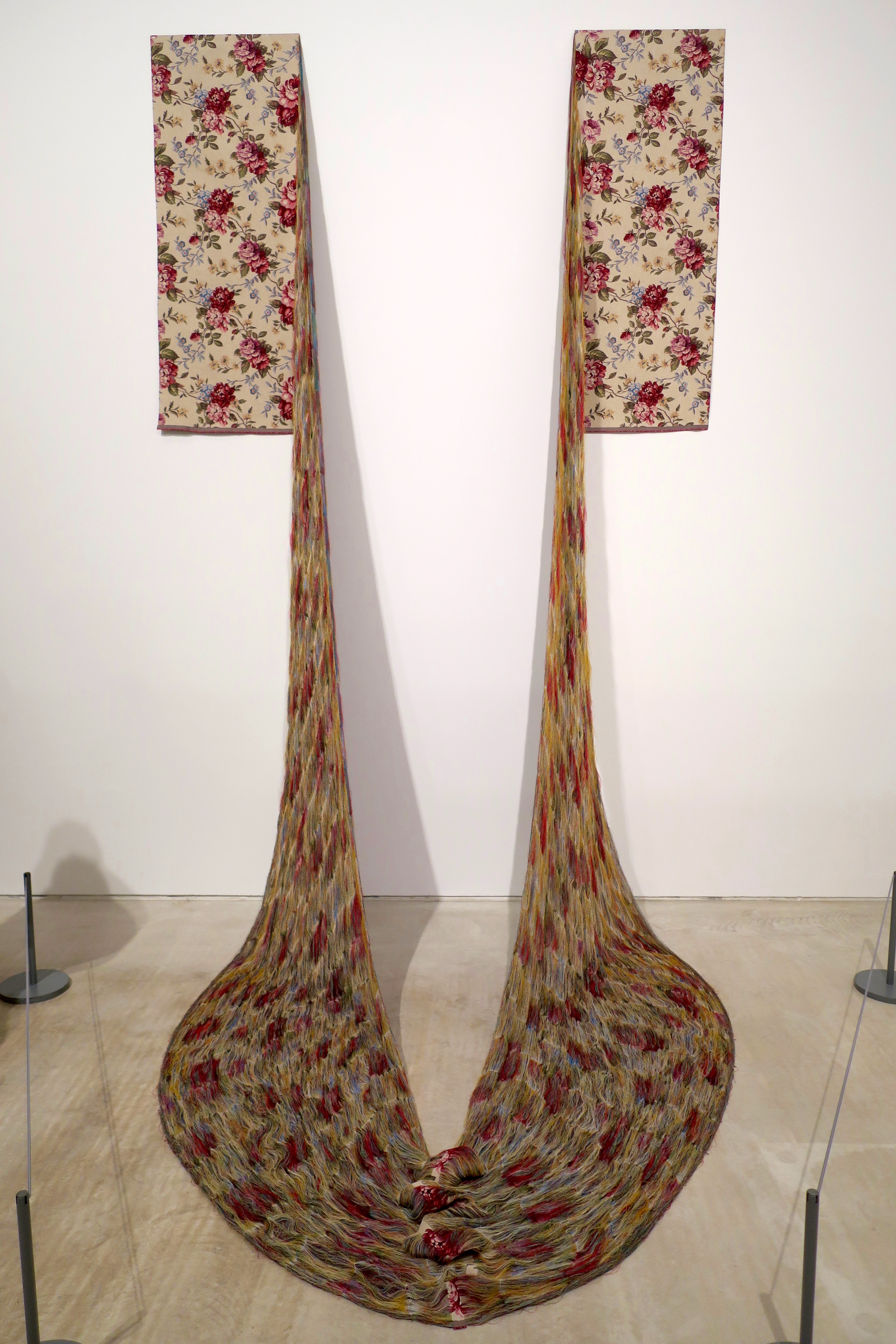 Aiko Tezuka: Loosening Fabric #6 (Entangled), 2017
To create her sculptures, Aiko Tezuka (b.1976, Tokyo) carefully unravels the threads of existing pieces of fabric, either found or designed by her. Working with a team of assistants, this painstaking process can take one hour to unpick just 10cm of thread. The resulting works, which typically spill into the space from the wall, reveal the warp and weft of the original looming process. 'Loosening Fabric #6' was made especially for 'Entangled: Threads & Making'.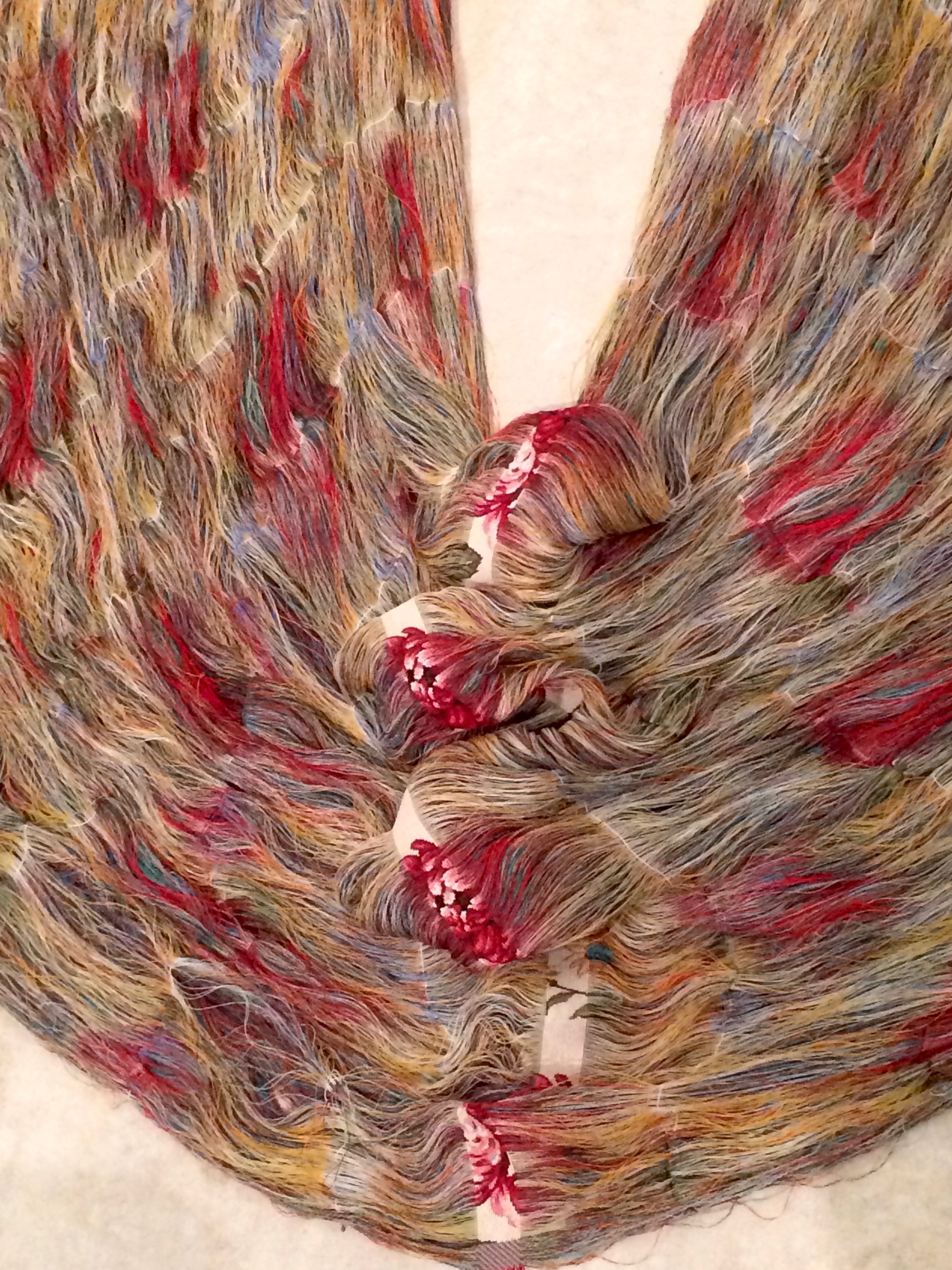 "I wanted to penetrate the surface," says Tezuka, "to see the invisible things that produce it." Through decomposing the original markings Tezuka sucks the material into the modern, leaving its unfurling centre bleating with the repetitive vibrations of dyed threads.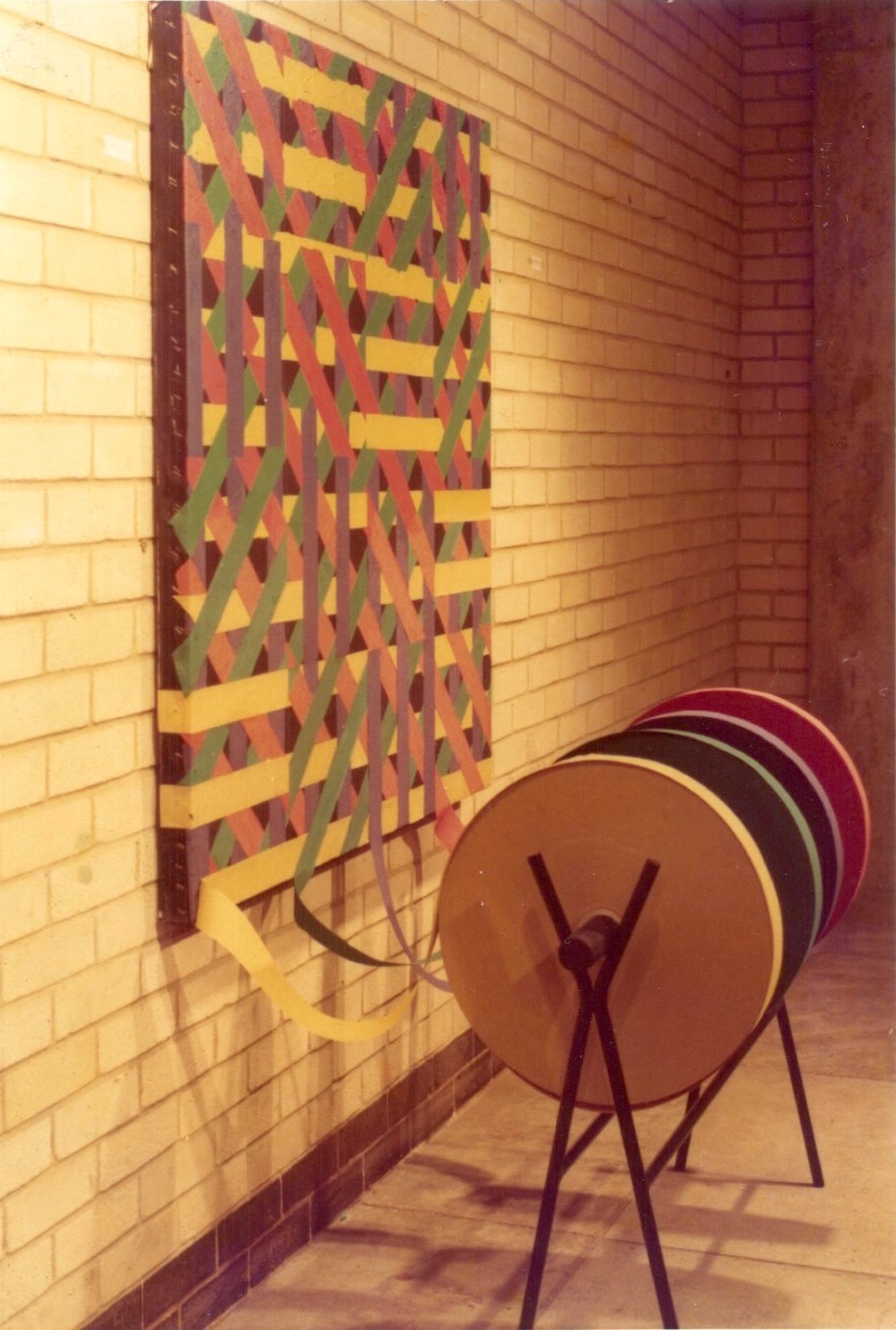 Christopher Hamer: Astral Travelling, 1974
All this unravelling reminded me of one of my own paintings from the 1970s, with a suitably seventies style title taken from a favourite Pharoah Sanders song. I'd been making paintings that consisted of squares filled with coloured stripes – diagonals, verticals, horizontals – and in this particular painting I extended the stripes beyond the confines of their squares so that they became interwoven with each other across the surface of the canvas. The chance discovery of four reels of coloured paper at my dad's waste paper mill inspired me to extend the stripes beyond the edge of the canvas to create an out-of-body experience! I'm not sure which way the energy was flowing; there was paint on canvas at the top merging into paper on canvas at the bottom, then the umbilical leap into the 3rd dimension!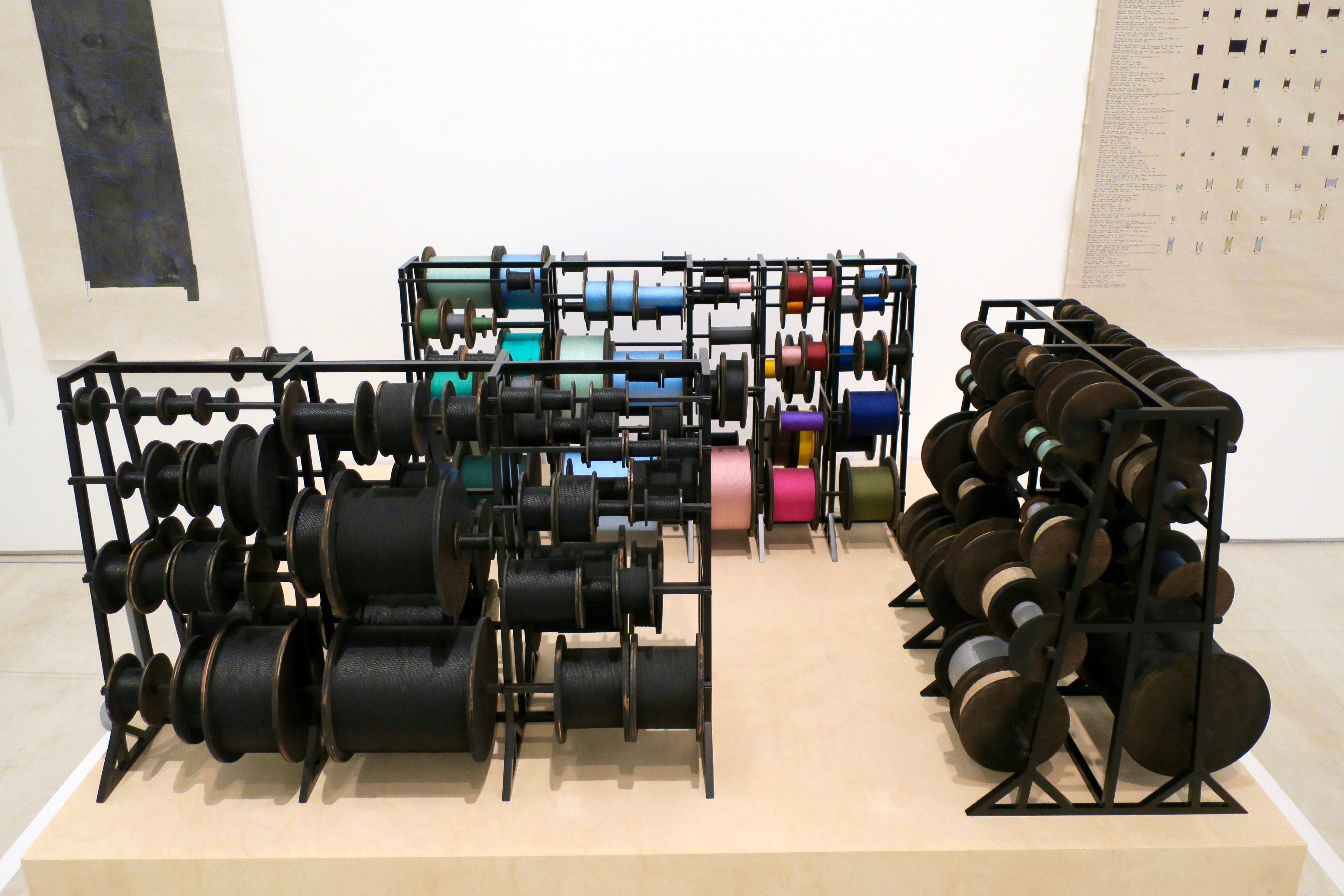 Tatiana Trouvé: Scale Model for Desire Lines, 2014
Tatiana Trouvé (b.1968, Italy) created 'Desire Lines' for Central Park in New York. The version shown here is a scale model of this larger work. The 212 coloured ropes represent each of Central Park's marked pathways; each bobbin is wound with a length of rope that corresponds to a particular path ranging in length from 60 feet to four miles. Trouvé's work translates history into thread, mapping the journeys taken by visitors to the park. 'Desire Lines' also reflects on the cultural significance of walking. The act of walking has inspired poets, musicians, writers, politicians and artists. 'Desire Lines' invites the viewer to explore the political and poetic resonance of the simple act of taking a walk.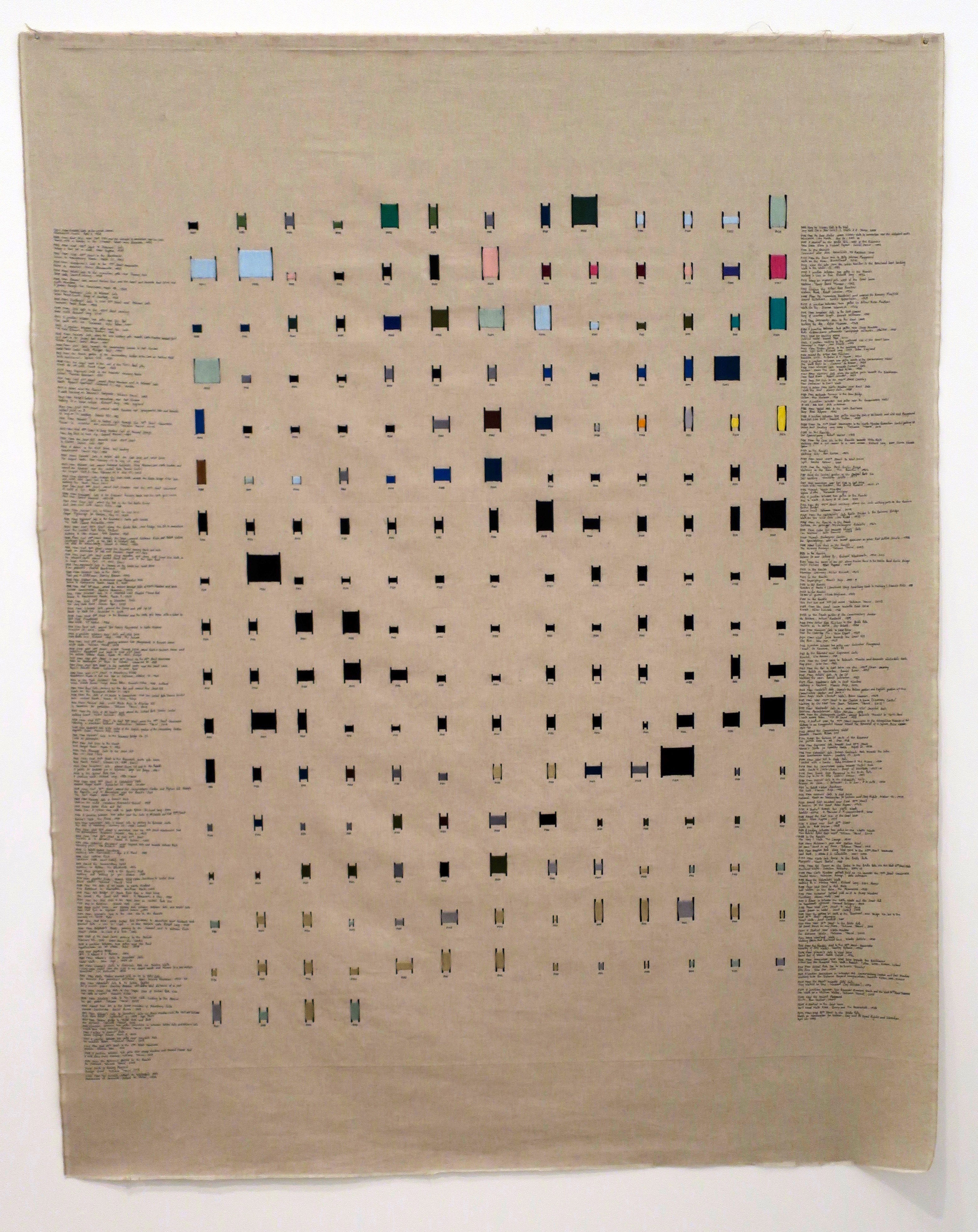 Tatiana Trouvé: Walks, 2015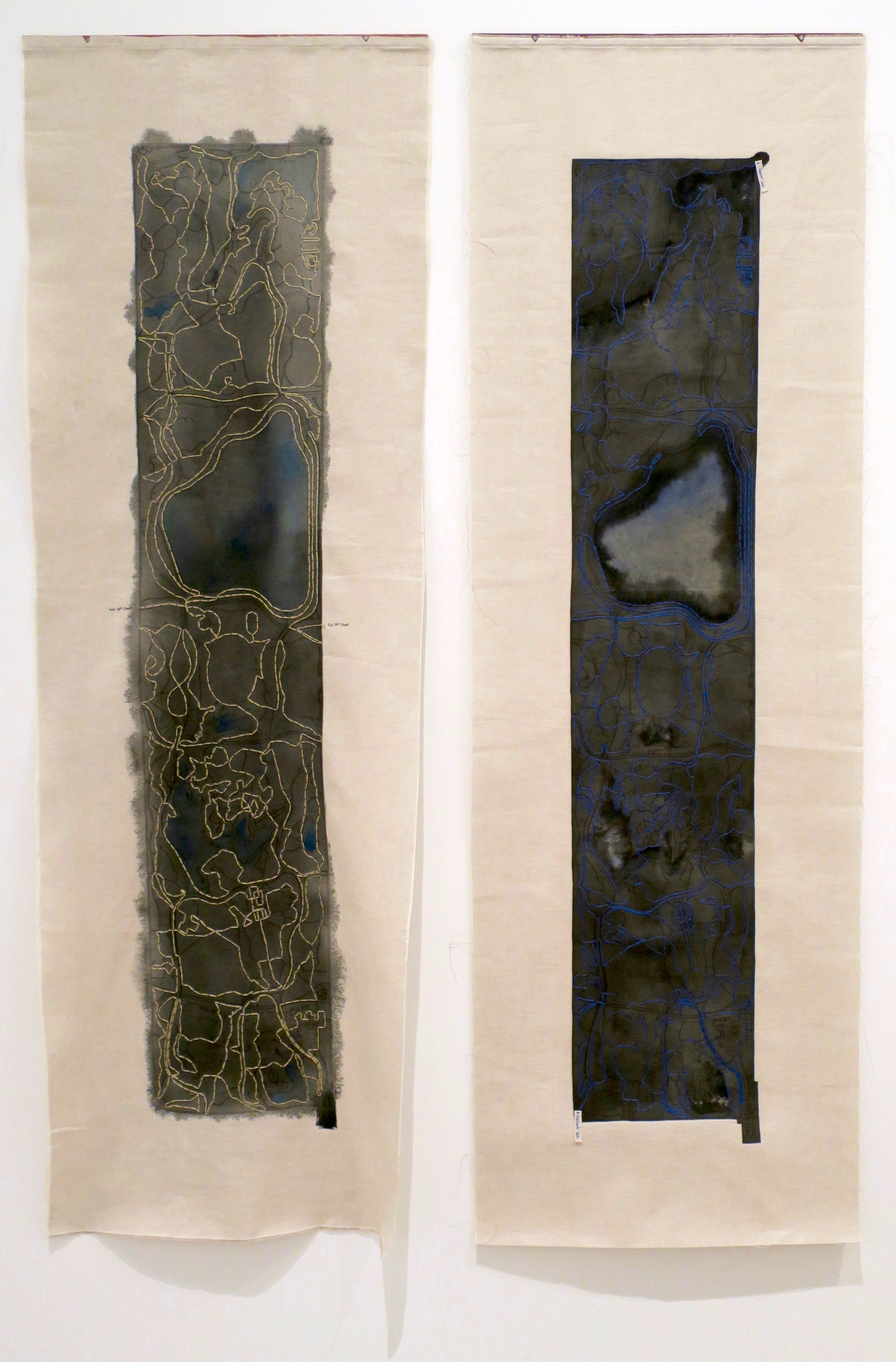 Tatiana Trouvé: The Longest Walk from West to East, 2015
Tatiana Trouvé: The Longest Walk from Pioneers' Gate to Merchants' Gate, 2015
Tatiana Trouvé: Desire Lines, 2015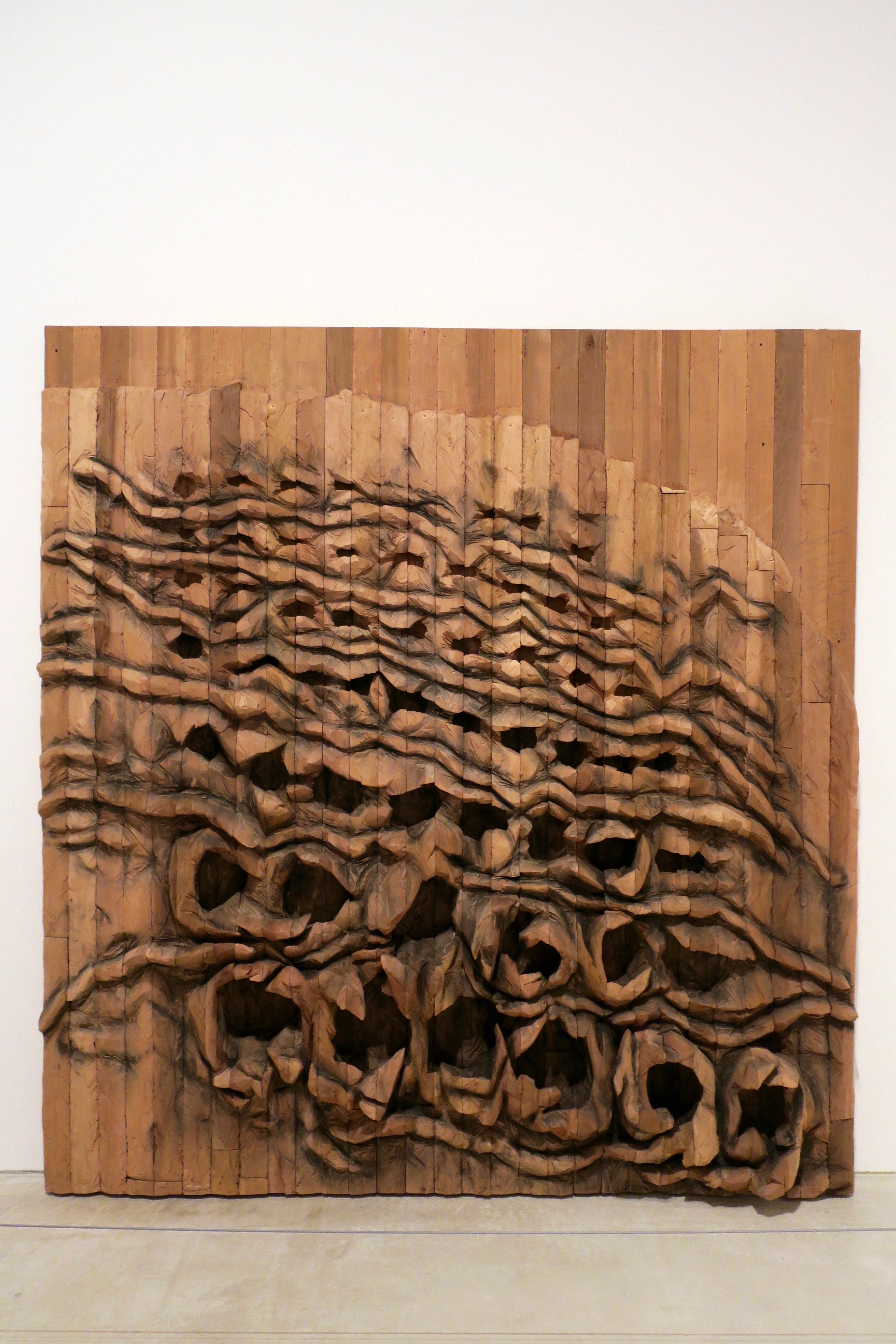 Ursula von Rydingsvard: Thread Terror, 2016
American artist Ursula von Rydingsvard (b.1942, Germany) is known for her large, abstract sculptures made from cedar and other materials, often shown outdoors in the landscape. For 'Entangled: Threads & Making', she has made a new work from 4 x 4 cedar beams, which she has cut into with a circular saw, to suggest thick thread or reams of fabric. Von Rydingsvard says of 'Thread Terror': "I feel as though I have pushed the cedar to the limit of what I can do as these deep perforations into the surface are more hidden, more muffled and yet more dramatic as they open".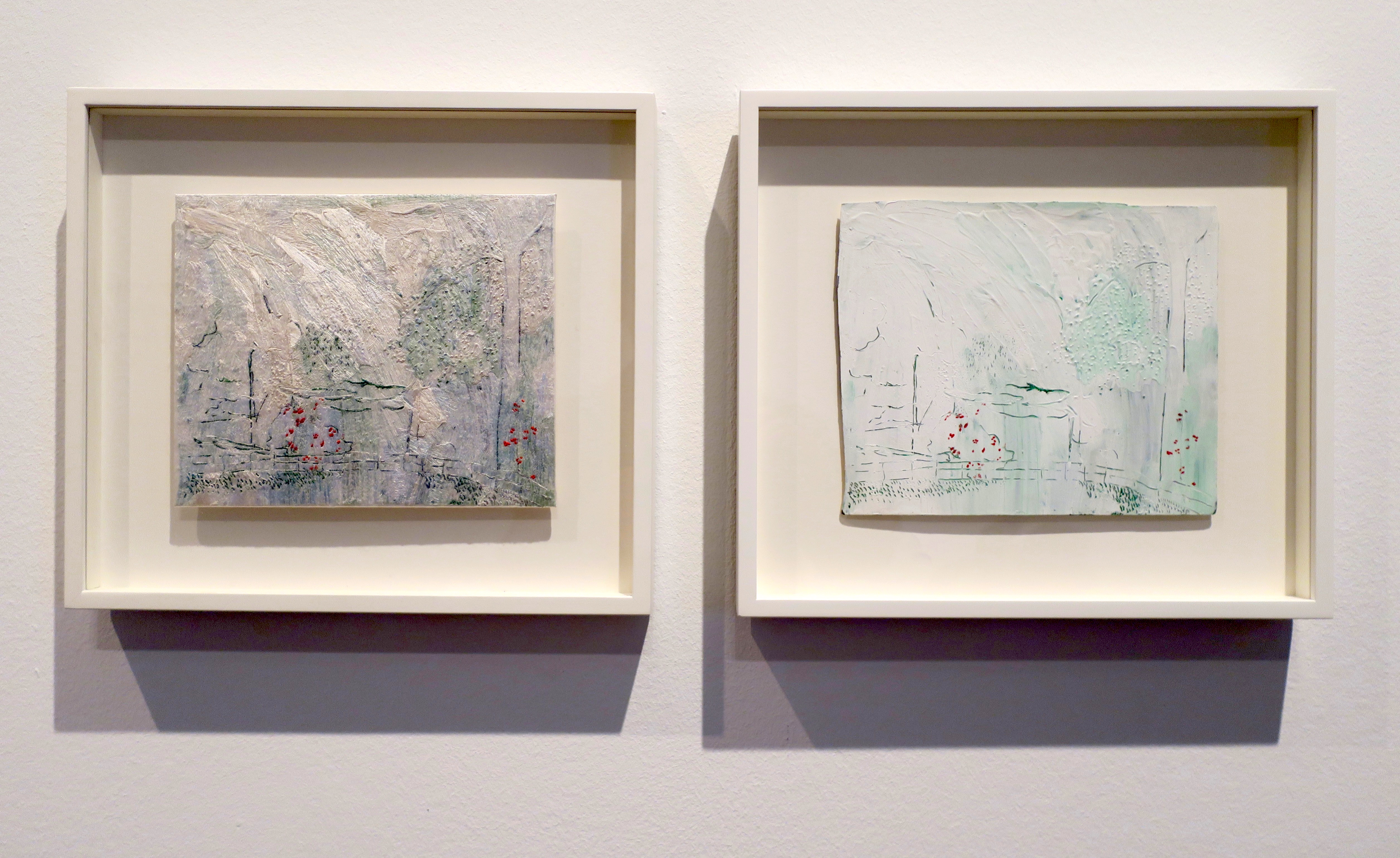 Anna Ray: Garden, 2005
A silk embroidery, and the painting that inspired it, by Anna Ray, the artist responsible for creating Margate Knot, the vibrantly multicoloured piece at the entrance to this exhibition.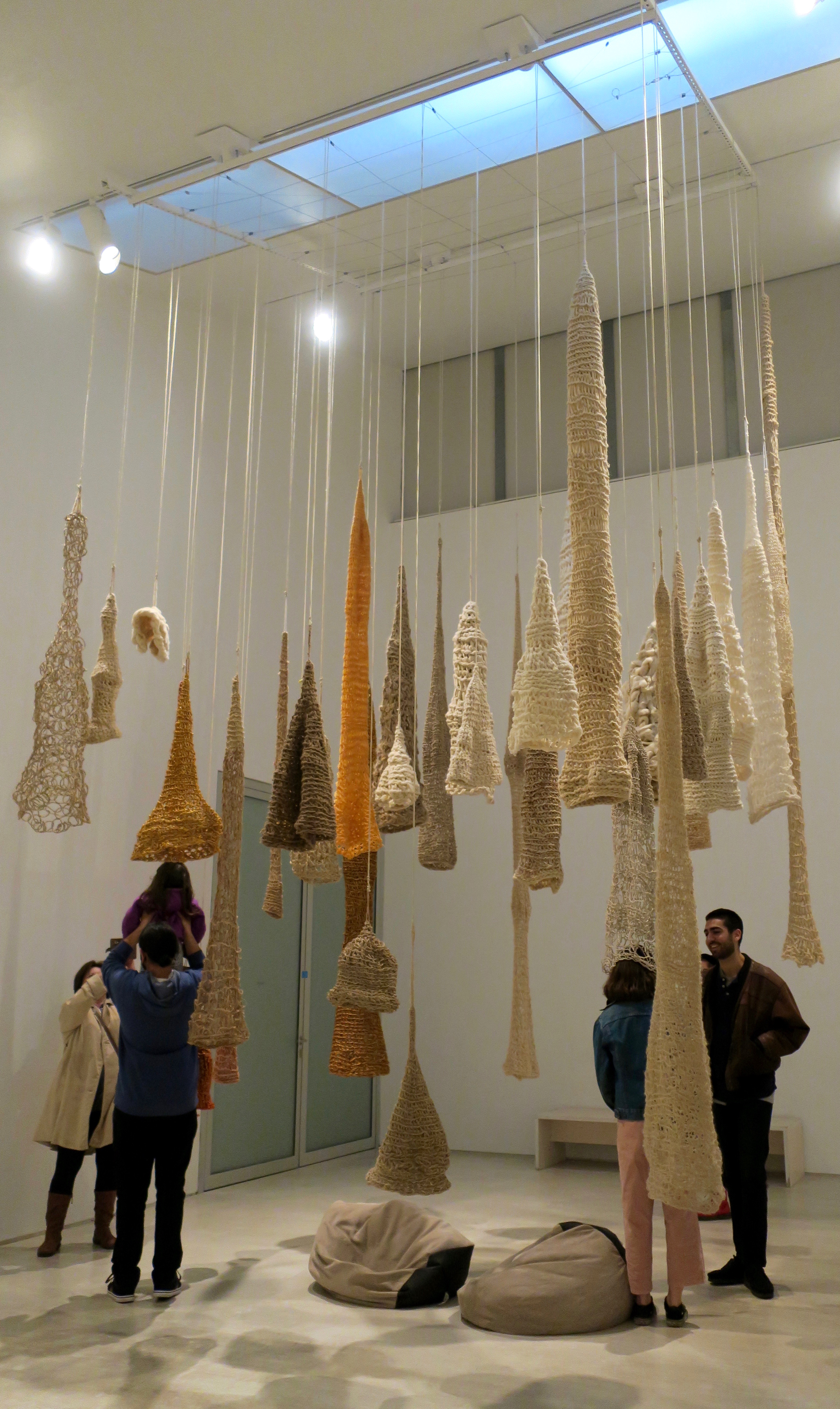 Paola Anziché: Natural Fibers, 2016
Italian artist Paola Anziché (b.1975, Milan) has been inspired by the interactive practice of Latin American artist Lygia Clark. After observing the historic minarets of mosques during a residency in Baku, Azerbaijan, she returned to Italy and began experimenting with materials, creating a large architectural and interactive installation. Anziché wants people to enjoy the experience of engaging closely with the materials – each carefully chosen for their unique natural fibres. Going into the 37 individual elements, the viewer can enter a different world and watch others enjoying their own personal experiences.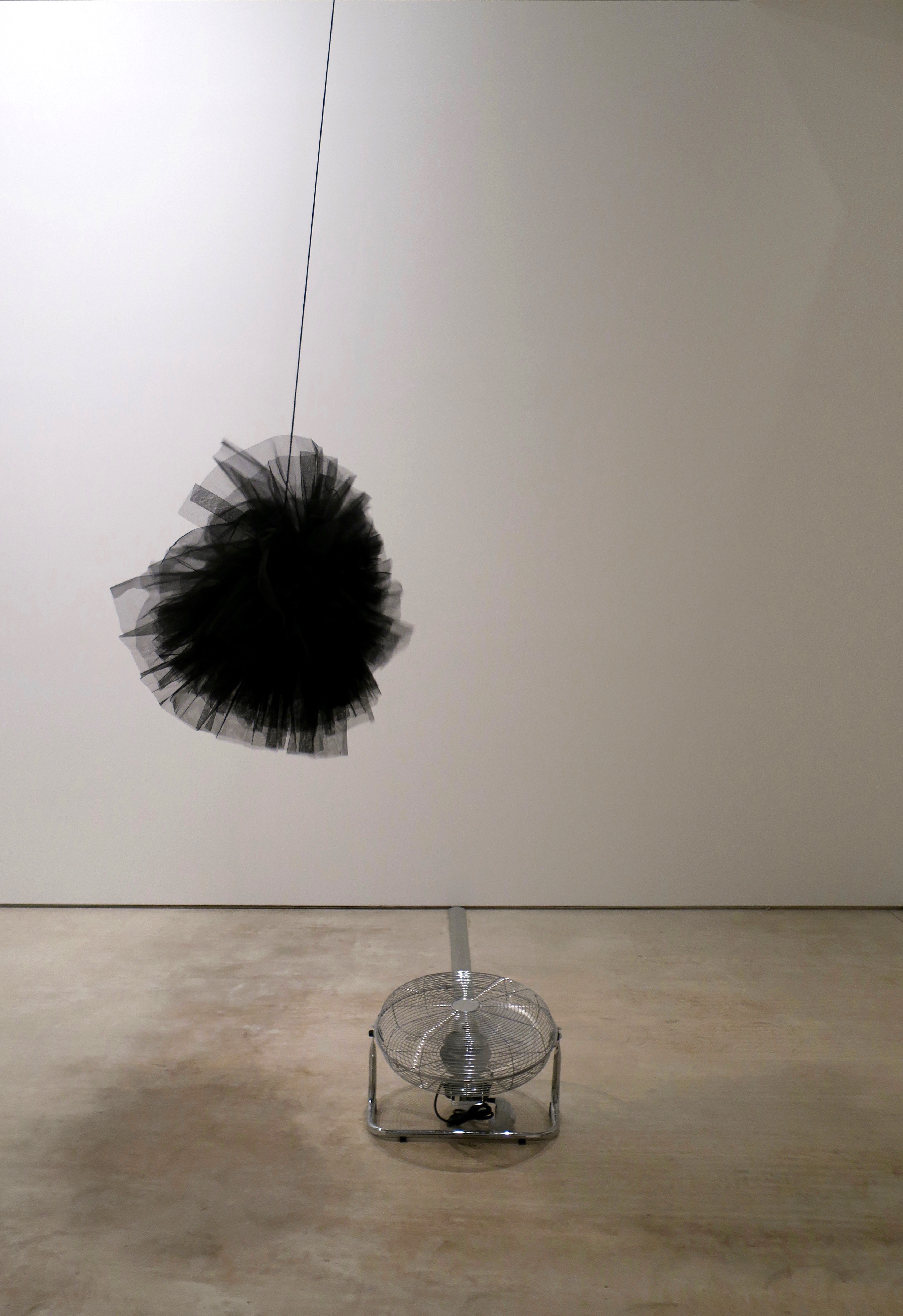 Annette Messager: Le Tutu Dansant, 2013
Annette Messager (b.1943) is a French artist whose diverse body of work spans four decades and embraces a range of media including drawing, needlework, photography, sculpture and installation. Taking inspiration from the experiences of daily life, Messager frequently uses materials associated with "feminine" crafts, such as knitting, embroidery, fabrics, fishnets and veils – in ways where the association is both subverted and upheld.
At this point we arrived at the end of the exhibition, and realised we'd missed out the first part. We backtracked in search of Anni Albers.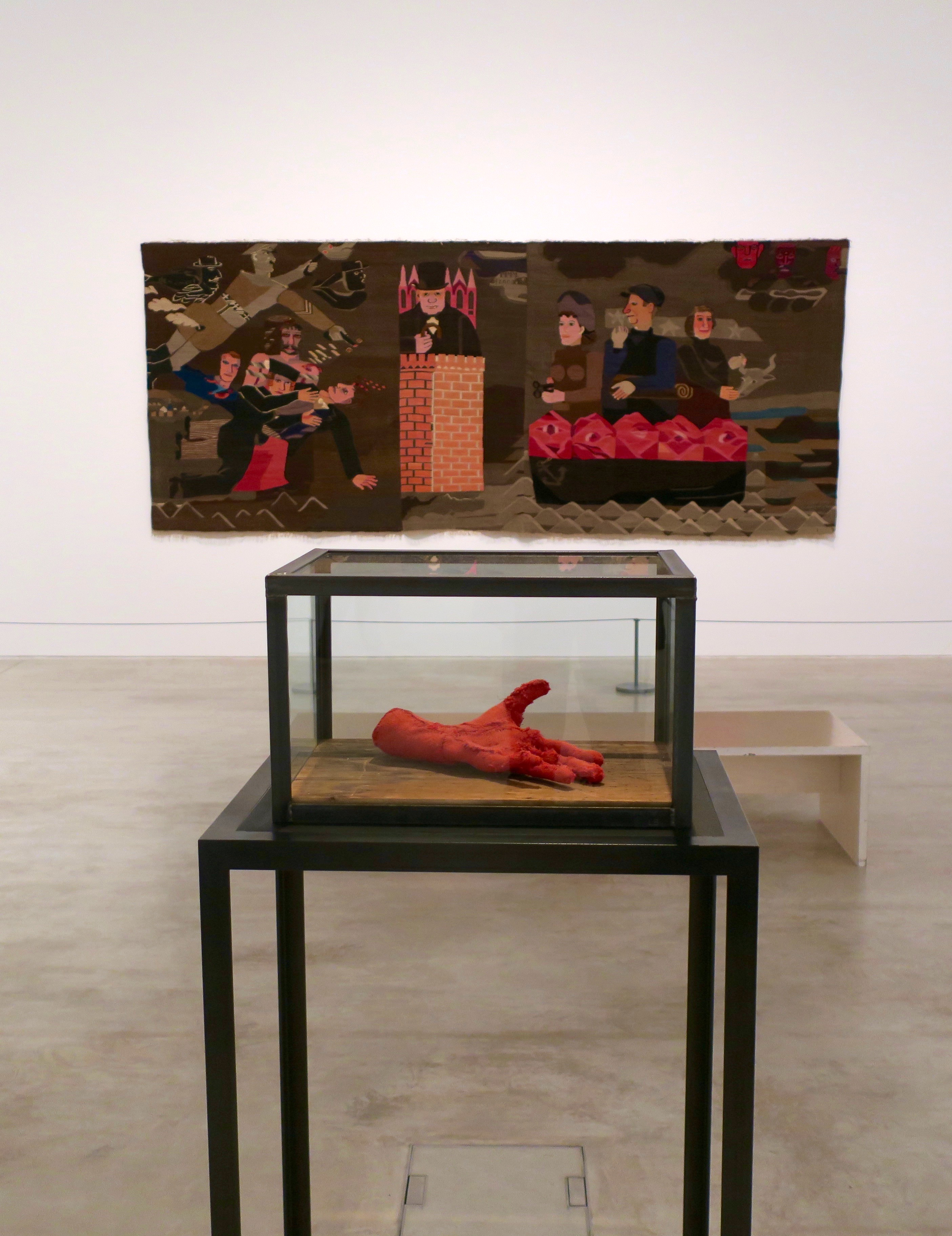 Louise Bourgeois: Hand, 2001
Louise Bourgeois (1911-2010) practiced as an artist for most of her life but only started to exhibit her work when she was 70. Bourgeois was preoccupied with themes of birth, reproduction, motherhood, sexuality and human relationships. She repeatedly explored the domestic throughout her career but didn't use fabric or sewing in her work until the 1990s.
In her later life, Bourgeois created many works based on hands. This hand, symbolic of the making process, is displayed in a cabinet or 'cell' to make it appear precious, preserved for posterity. Underneath the red threadbare fabric that covers the hand is a sculpted steel framework. The red symbolises passion, the threadbare fabric resembles a hand covered in scars, whilst the skeleton is made of steel.
Hannah Ryggen: 6. oktober 1942, 1943
Hannah Ryggen (1894-1979) was a self-taught Norwegian textile artist celebrated for her large-scale tapestries depicting the political events of the day, in particular the situation in Norway under German occupation.
Trained as a painter, in 1923 Ryggen gave up painting for weaving, devoting the next decade to mastering spinning, weaving and dyeing techniques whilst living in Ørlandet on the Norwegian coast. From 1935 to 1945 she worked on a series of anti-Nazi and anti-fascist tapestries in Ørlandet of which '6. oktober 1942' is the most celebrated. In it, Ryggen combines images taken from news reports and her own imagination to show the execution of theatre director Henry Gleditsch and other political prisoners by the Nazis on 7 October 1942.
As well as the satirical depiction of Hitler, with oak leaves falling out of his backside, and the figures of Winston Churchill and Norwegian author Knut Hamsun in the left hand portion of the tapestry, Ryggen also weaves her own family into the work, shown in the boat on the right.
During her career, despite the financial challenges of making such time consuming and painstaking works, Ryggen declined to sell her tapestries to private buyers, insisting instead that they were publicly owned and hung in museums where everyone could see them. This is the first time that '6. oktober 1942' has been shown in the UK.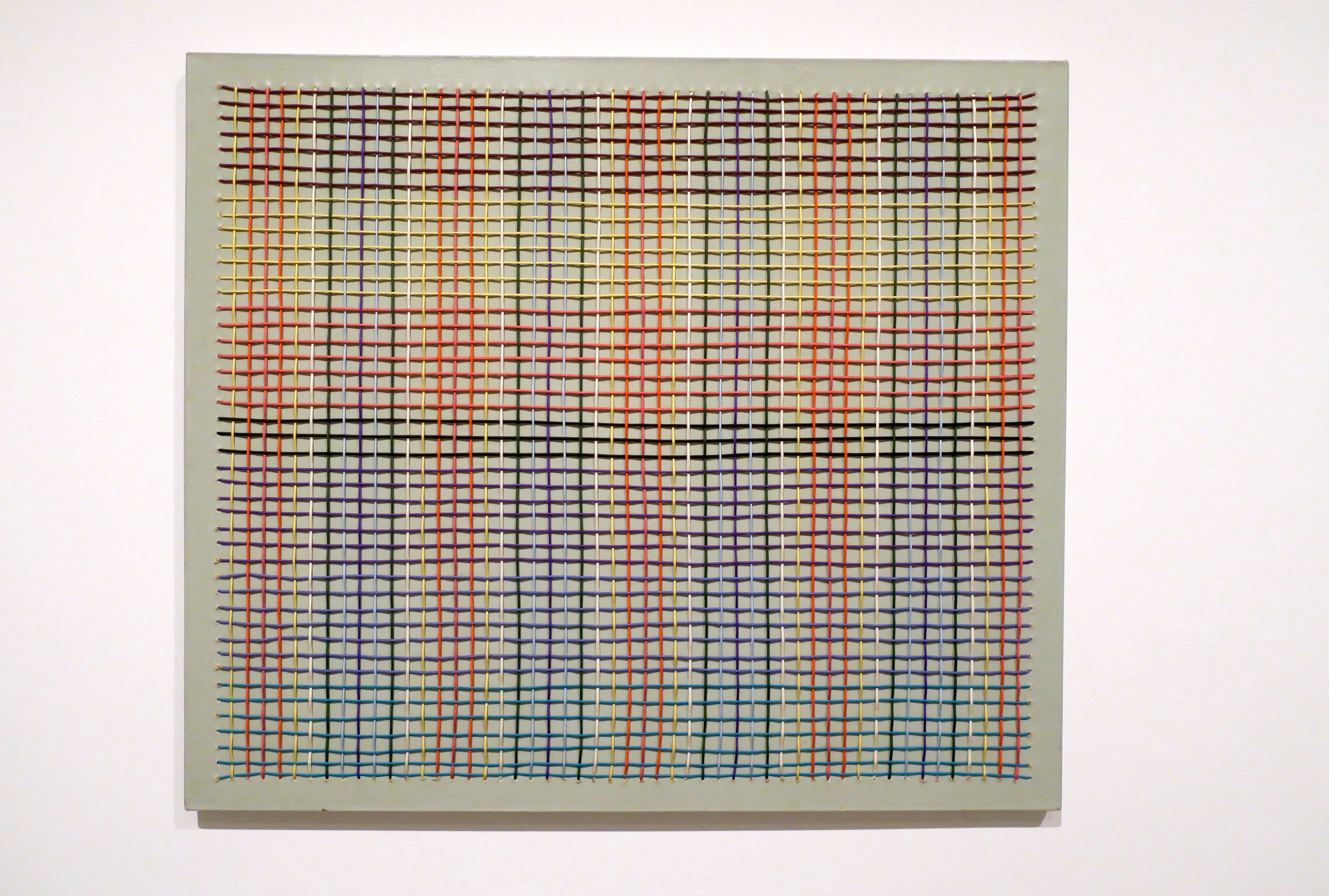 Regina Bovat: Woven Painting 4, 1973
Woven Painting 4 is made of coloured cords on painted canvas, but it reminded me of similar things I attempted at art school in the seventies, by plaiting and weaving extruded lengths of acrylic paint, never very successfully, none as good as this poster for London Underground…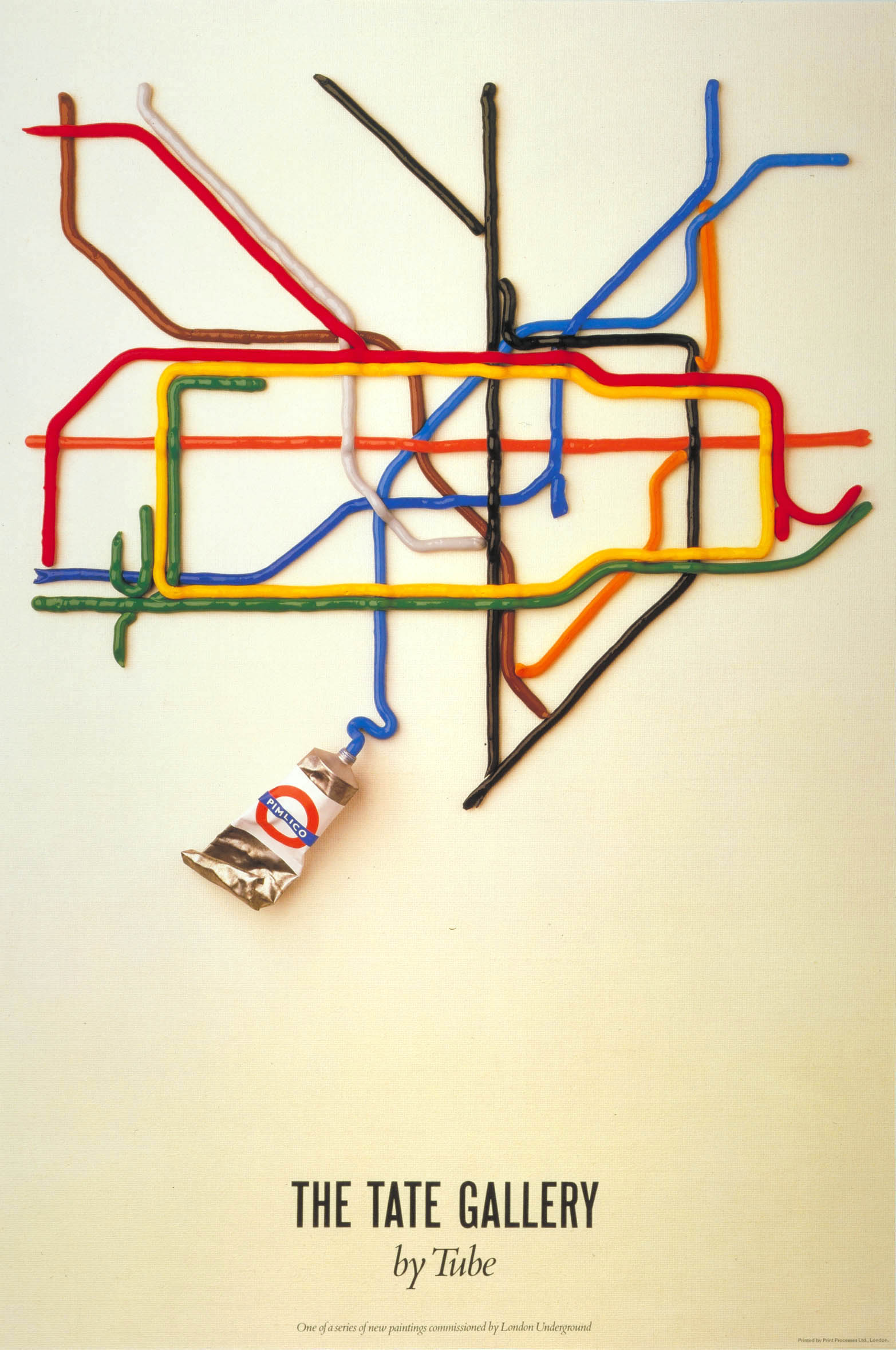 David Booth: The Tate Gallery by Tube, 1986
This is not in the exhibition but it can be seen at the London Transport Museum.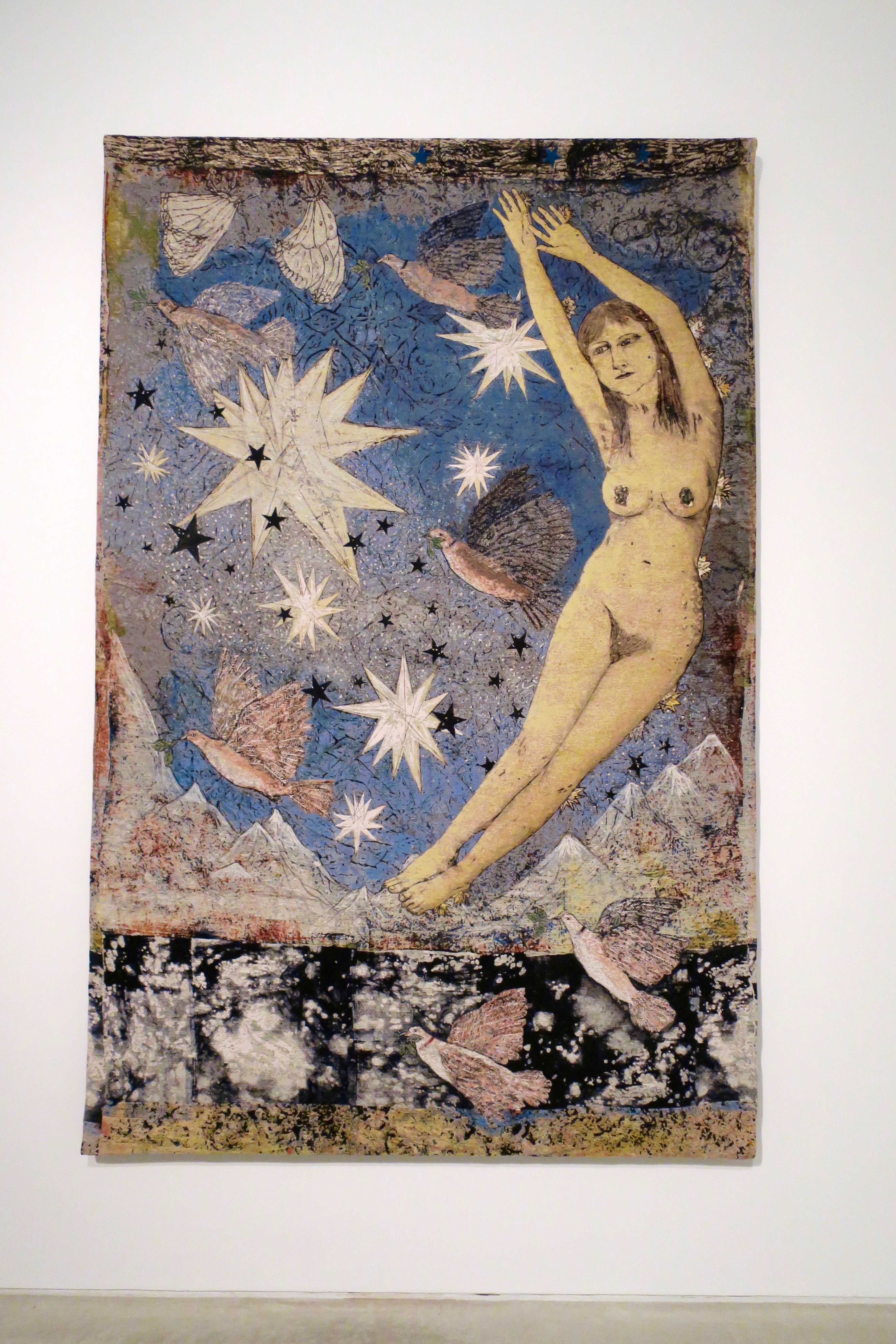 Kiki Smith: Sky, 2012
American artist Kiki Smith (b.1954) works with sculpture, printmaking, photography, drawing and textiles. Smith cites pre-Renaissance art and female Surrealists such as Frida Kahlo and Leonora Carrington as among her influences. She is also interested in the decorative arts and the narrative tradition of tapestry, as well as the communal aspects of this and other craft techniques.
'Sky' combines the tradition of narrative storytelling in tapestry with digital technology. The work is one of a series of three life-size, figurative tapestries, (the other two titled 'Earth', 2012 and 'Underground', 2012) Smith made with Magnolia Editions, a fine art studio in California. To create these tapestries, Smith first made a full-scale drawing in the studio which was translated into a digital file before being woven on an electronic, double-headed Jacquard loom.
Discussing these tapestries Smith says: "how imperative it is at this moment to celebrate and honour the wondrous and precarious nature of being here on earth".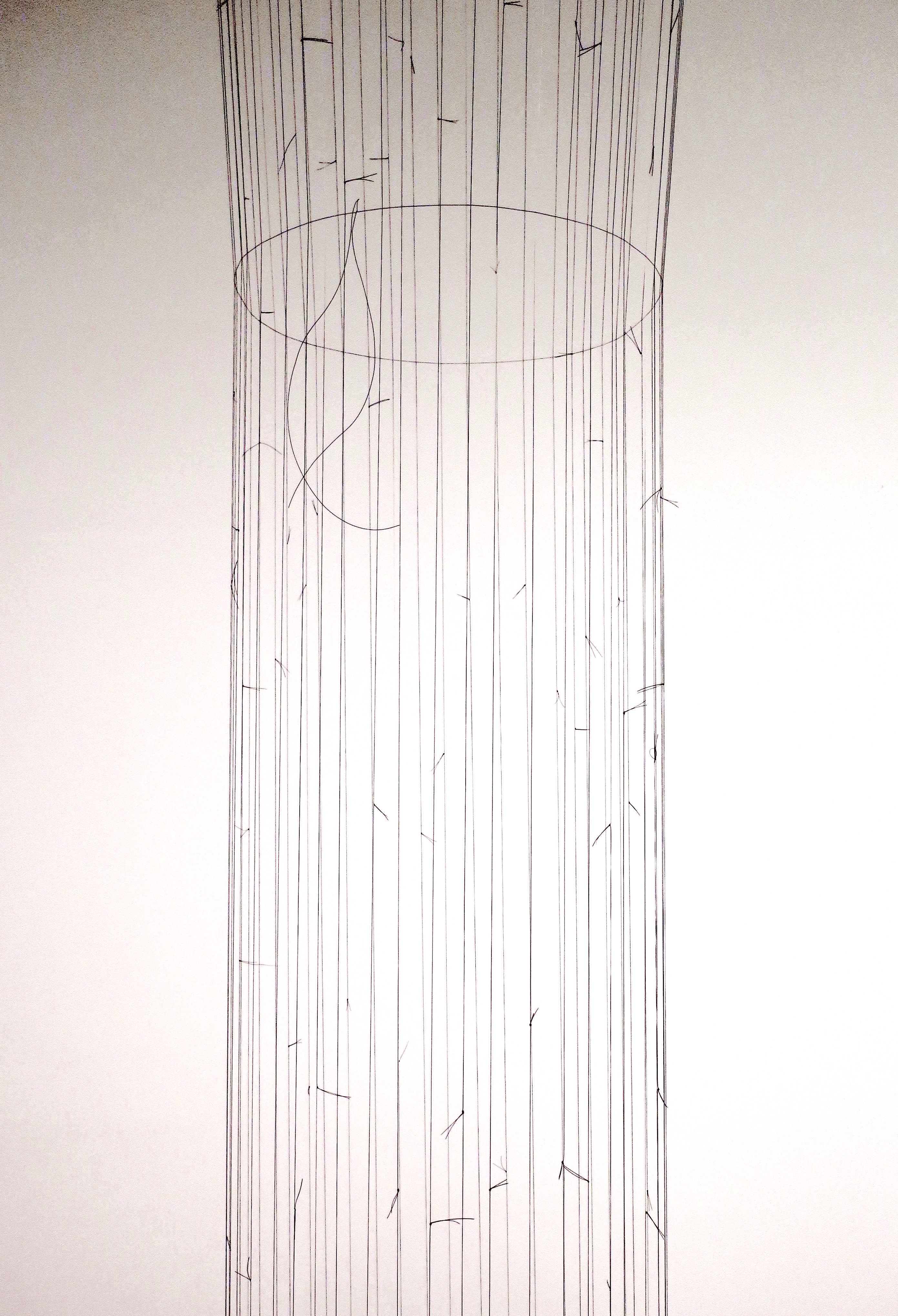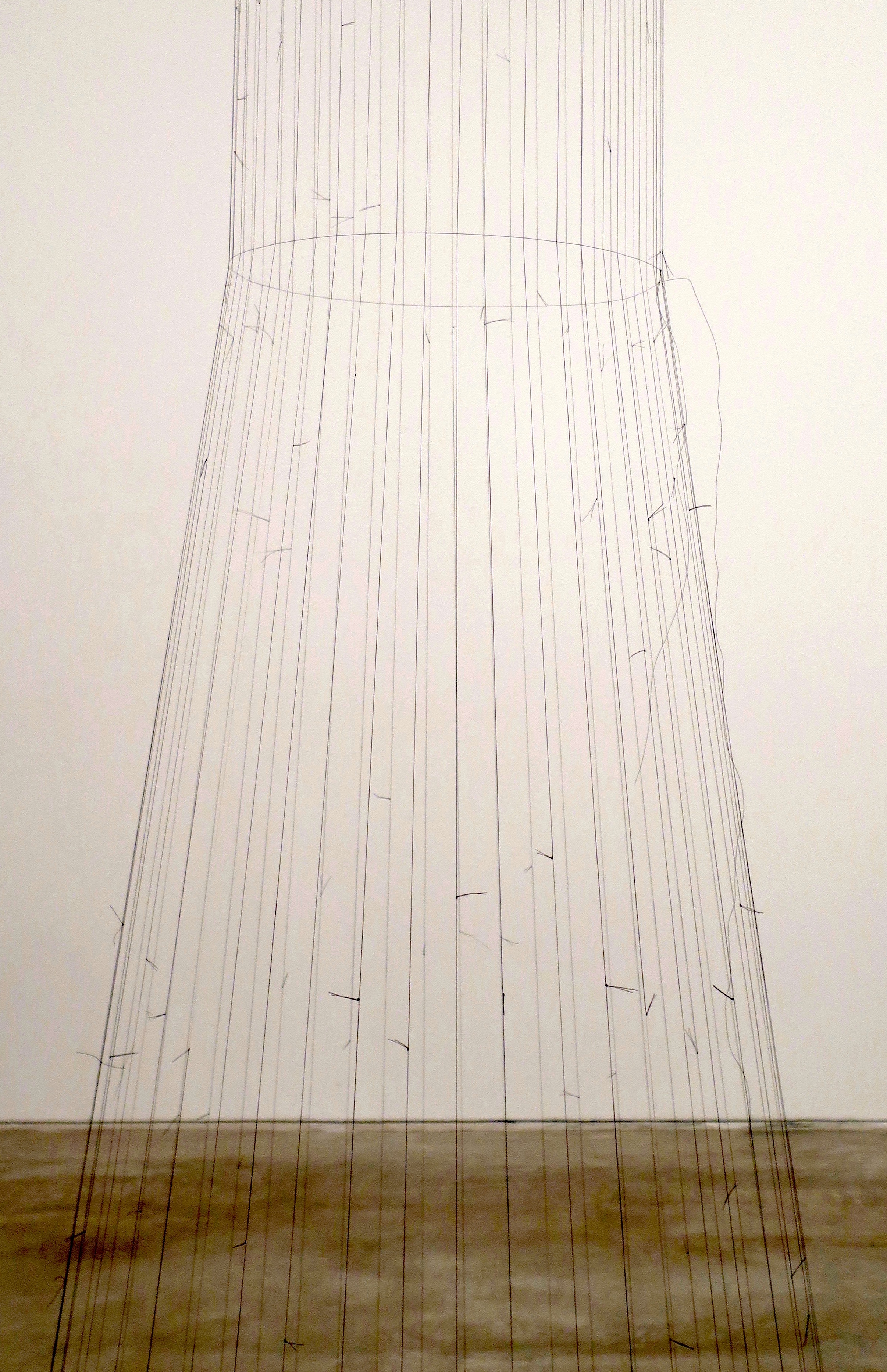 Christiane Löhr: Horse Hair Column, 2017
"For me, every hair was like a kind of jewel, and it began like that. I began to keep the hair; then I began to study art".
At the age of 18, Christiane Löhr (b.1965, Germany) won a horse in a game of local bingo; an event that would lead to the development of a distinct artistic style. Later she studied under the artist Jannis Kounellis, famous for his performances with horses, in Düsseldorf. Working almost exclusively with natural materials, Löhr is interested in the form of plants and seeds and other organic matter, which form the basis of her delicate, geometric sculptures such as those shown in this exhibition.
'Horse Hair Column' was made in Margate, using horse hair collected from local stables.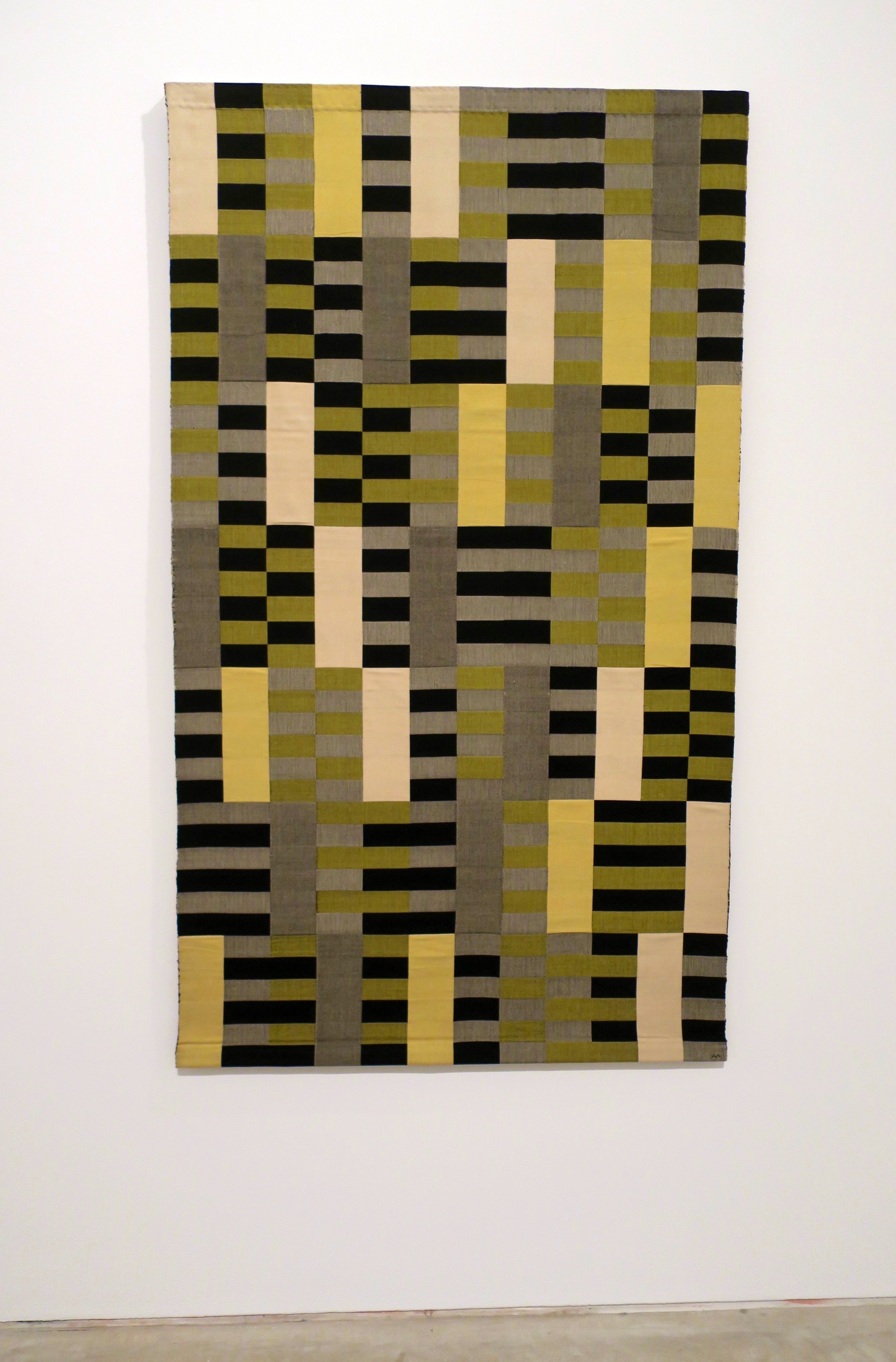 Anni Albers: Black White Yellow, 1926/1967
Hanging of tapestry-woven silk and rayon, designed by Anni Albers in 1926, woven by Gunta Stölzl, Germany, 1967.
Anni Albers (1899-1994) was a hugely influential textile artist and teacher. She is renowned for her abstract designs for wall hangings and other textiles, many made whilst a member of the weaving workshop at the Bauhaus from 1923-32, as well as her texts 'On Designing', 1943 and 'On Weaving', 1965. Founded by German architect Walter Gropius, the Bauhaus set the design agenda for the 20th century; its craft-based curriculum combined architecture, design and fine art with specialised workshops including weaving, metalwork, typography and pottery. Although she originally entered the weaving workshop because other disciplines were not open to her as a female artist, Anni Albers soon developed a love of weaving, in particular the possibilities it offered for invention and experimentation, combined with craftsmanship. Her work at the Bauhaus, and later at Black Mountain College in the US where she taught in the 1930s and 40s, helped to raise the status of textiles as a fine art.
The hanging shown here was designed by Albers whilst at the Bauhaus and later woven by Gunta Stölzl, head of the weaving workshop.
Entangled: Threads & Making is a fantastically rich and varied exhibition, worth a visit to see all these pieces at first hand and to discover the many more artists I failed to mention. I've only scratched the surface, here's the full list of participants –
Caroline Achaintre, Anni Albers, Ghada Amer, Paola Anziché, Hrafnhildur Árnadóttir / Shoplifter, Phyllida Barlow, Marion Baruch, Karla Black, Margrét H Blöndal, Regina Bogat, Louise Bourgeois, Geta Brătescu, Sonia Delaunay, Laura Ford, Ximena Garrido-Lecca, Sonia Gomes, Eva Hesse, Mona Hatoum, Sheila Hicks, Susan Hiller, Maureen Hodge, Ann Cathrin November Høibo, Christiane Löhr, Kate MccGwire, Annette Messager, Rivane Neuenschwander, Lucy + Jorge Orta, Arna Óttarsdóttir, Maria Papadimitriou, Sidsel Paaske, Anna Ray, Ursula von Rydingsvard, Hannah Ryggen, Maria Roosen, Betye Saar, Judith Scott, Samara Scott, Kiki Smith, Aiko Tezuka, Rosemarie Trockel, Tatiana Trouvé, Francis Upritchard, Joanna Vasconcelos.
※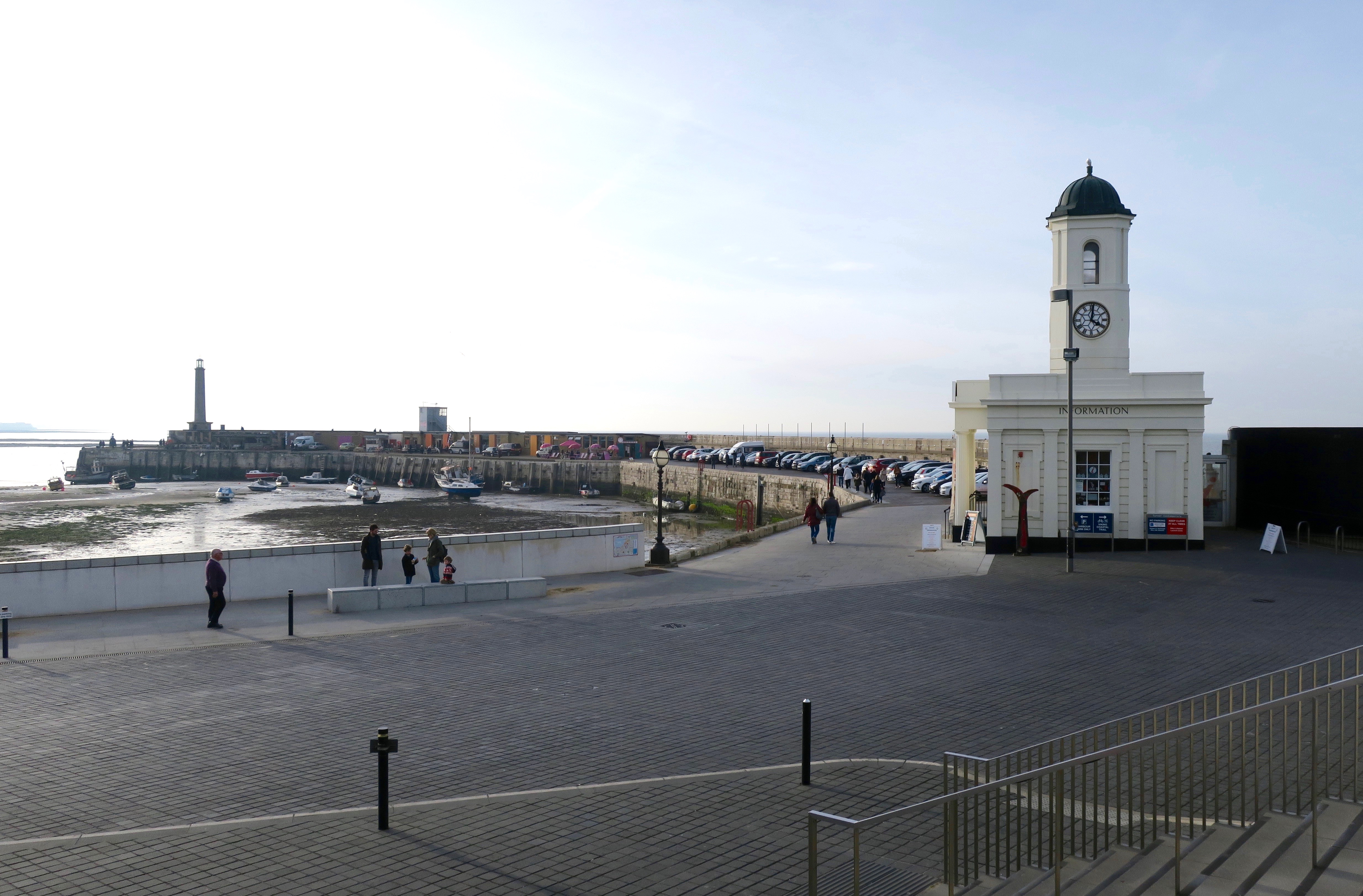 We walked out into the late afternoon sun, and along the pier, also known as Margate Harbour Arm.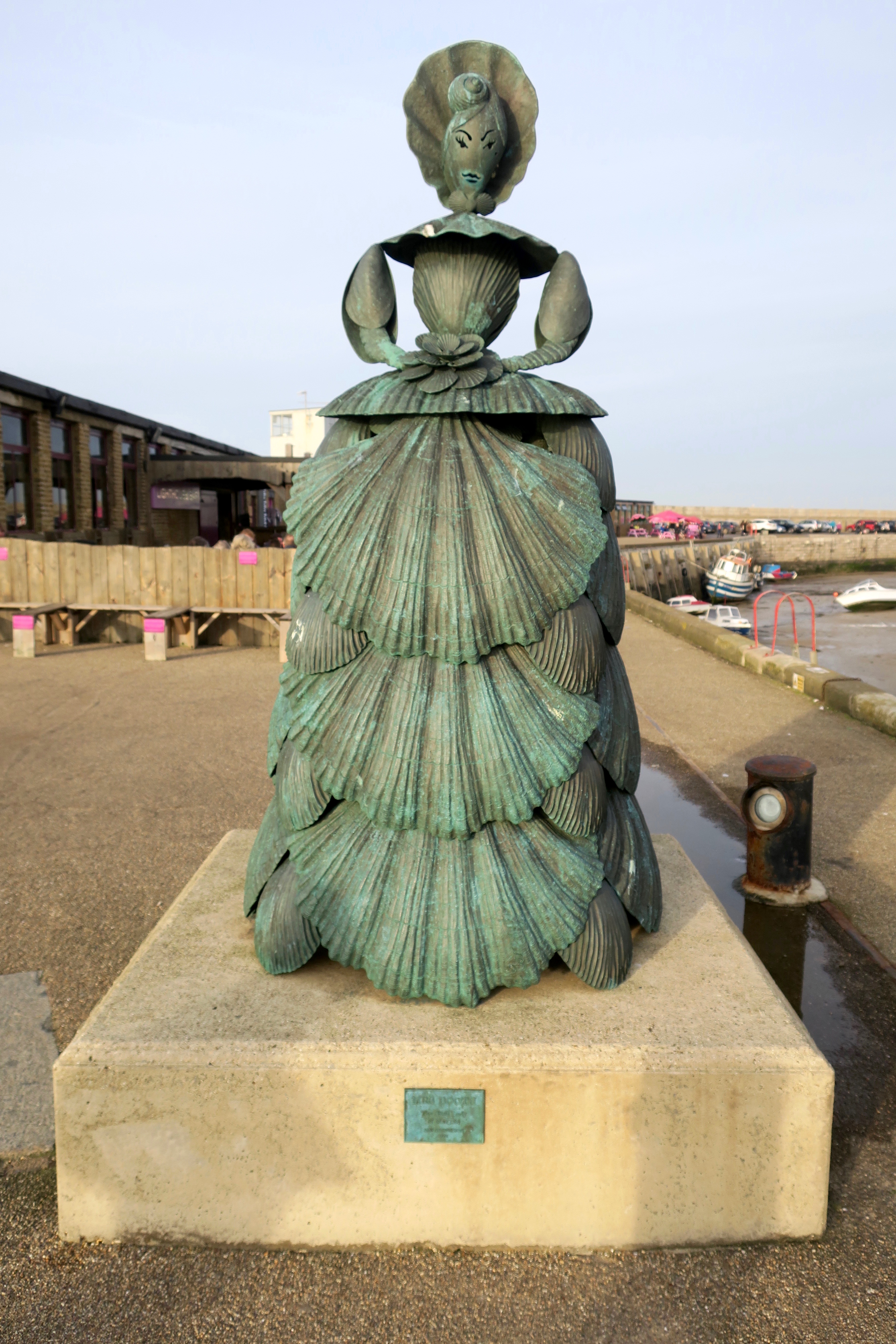 Here we met Mrs Booth, a sculpture by Ann Carrington, modelled on the shell lady trinkets sold in seafront souvenir shops. It stands as a celebration of Sophia Booth, J.M.W.Turner's landlady and companion, whose lodging-house stood on the site of the Turner Contemporary gallery. But mostly it reminded me of the Shell Grotto, a curious subterranean chamber first heard of thanks to Diana Hale.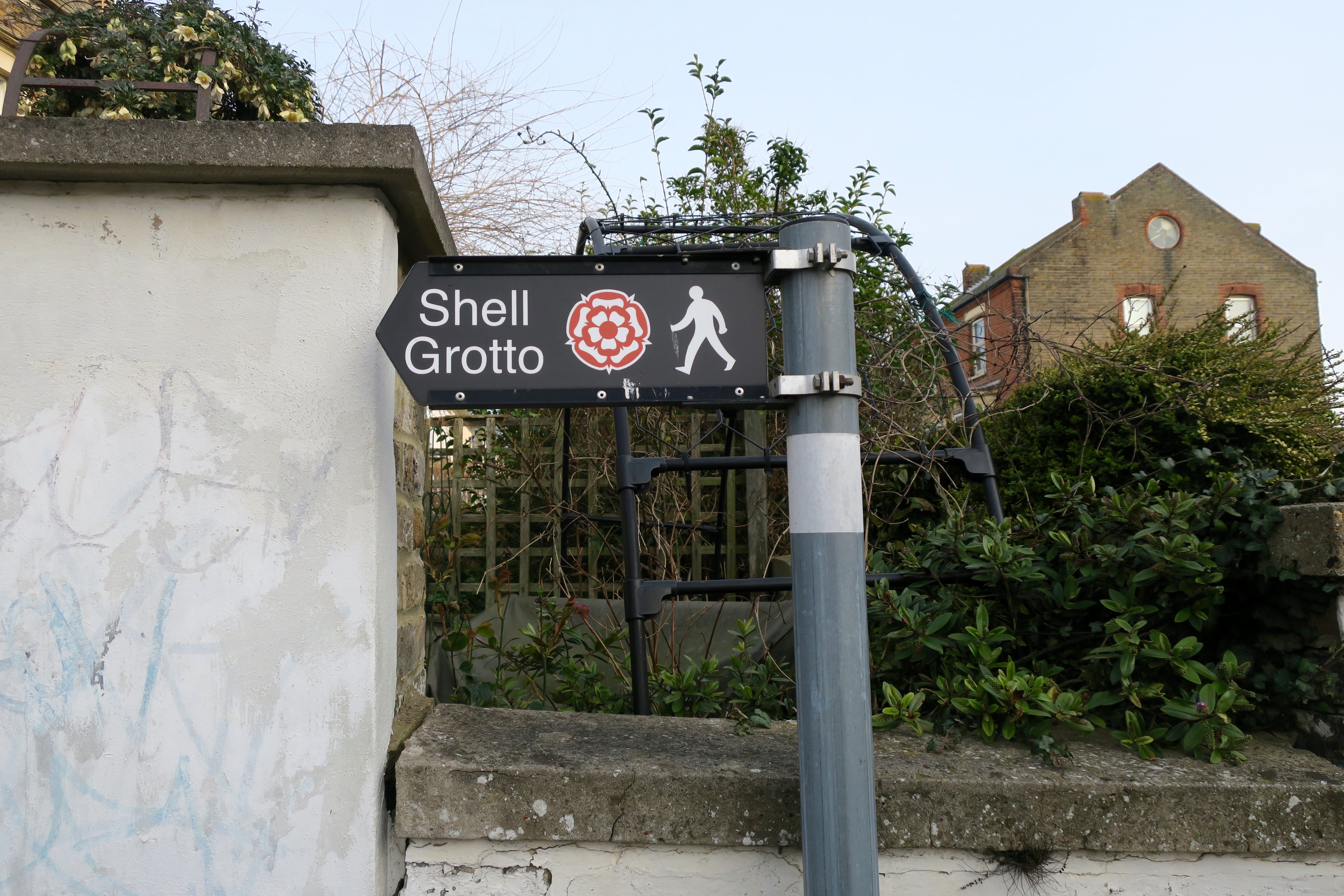 I remembered Diana's blog, and how she often left encouraging comments on this one – until suddenly she didn't. I only recently discovered she'd died, so this visit became an In Memoriam.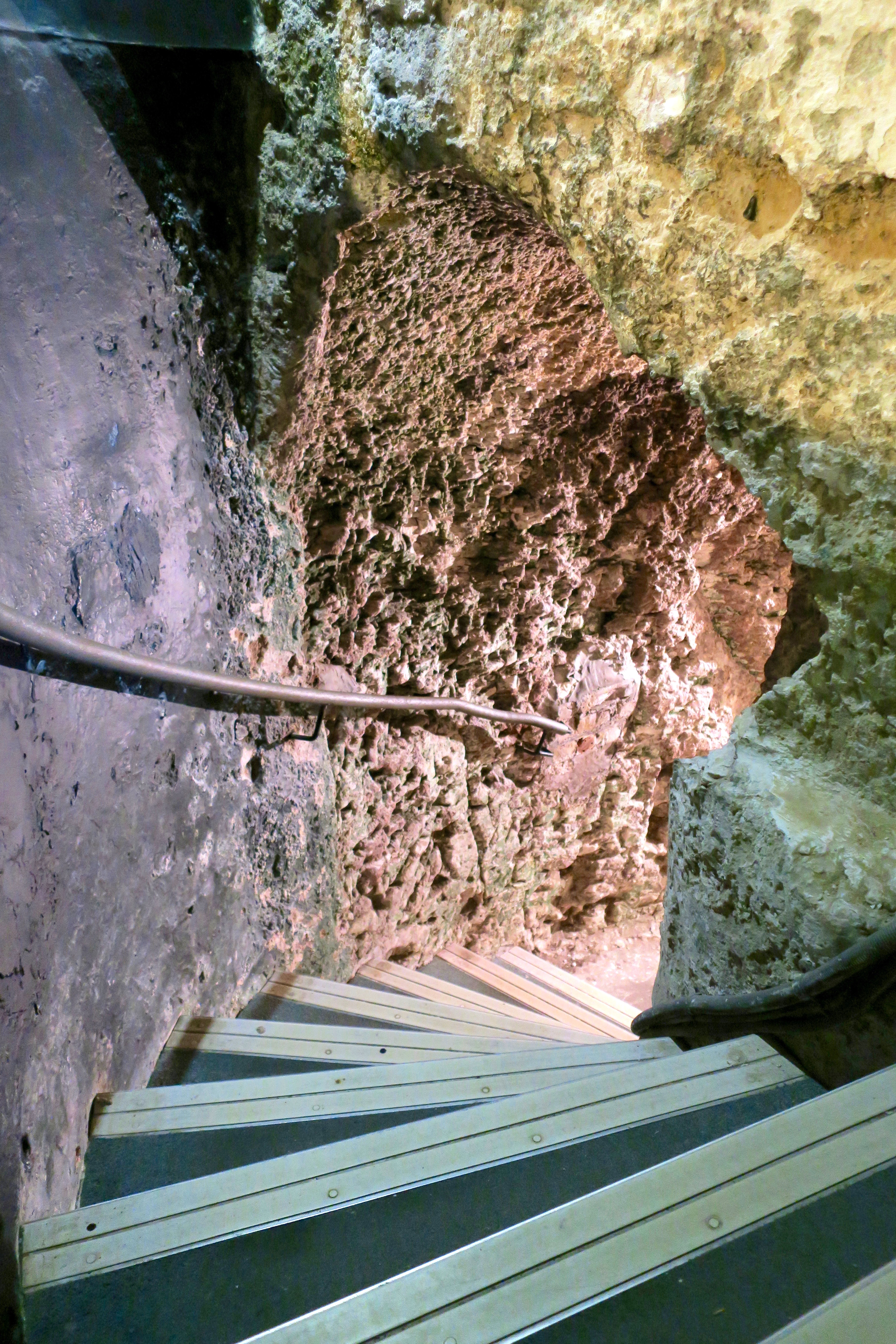 Shell Grotto is on Grotto Hill, an ordinary street of terraced houses, ten minutes from the seafront. The entrance is through a gift shop and café which has been built over an opening in the ground that leads down steps into a tunnel through the chalk and beneath the gardens of the surrounding houses.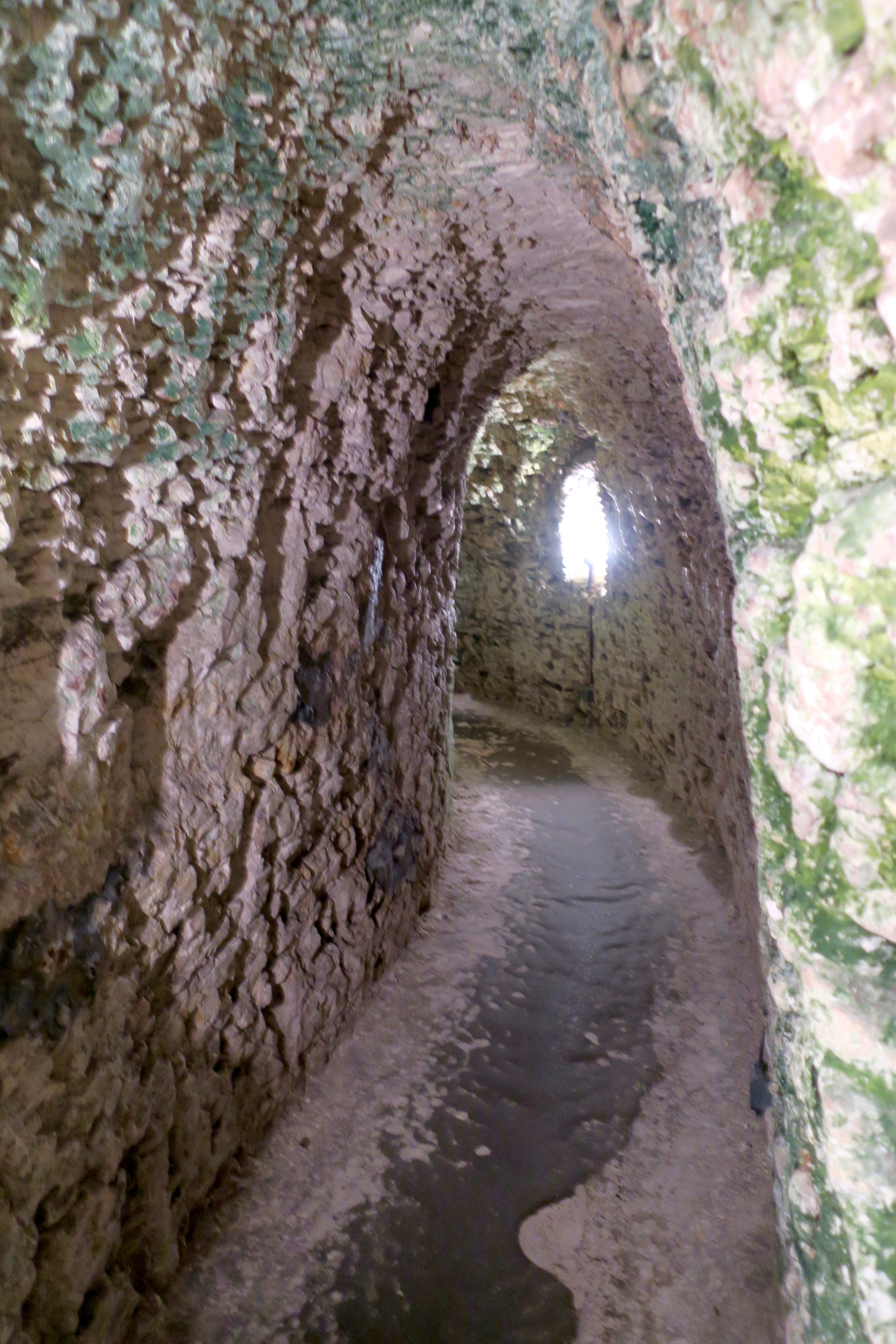 The grotto was accidentally discovered in 1835 but it is considered to be much older.
The North Passage was excavated more recently to facilitate visitor access.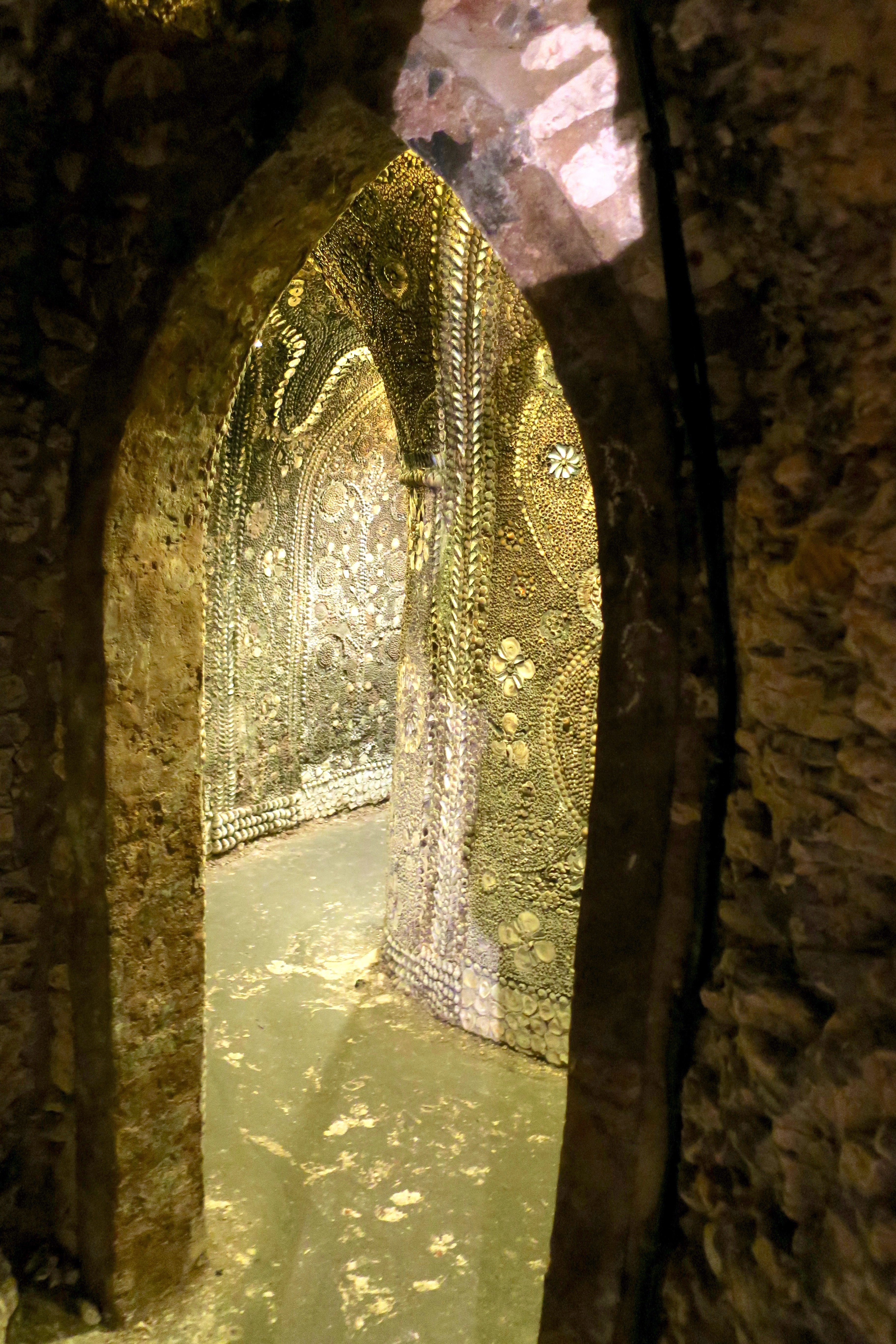 It leads to the Rotunda, the beginning of the Shell Grotto, its walls covered with 4.6 million shells, displayed in a variety of symbolic designs and patterns, and all of it constructed in utmost secrecy.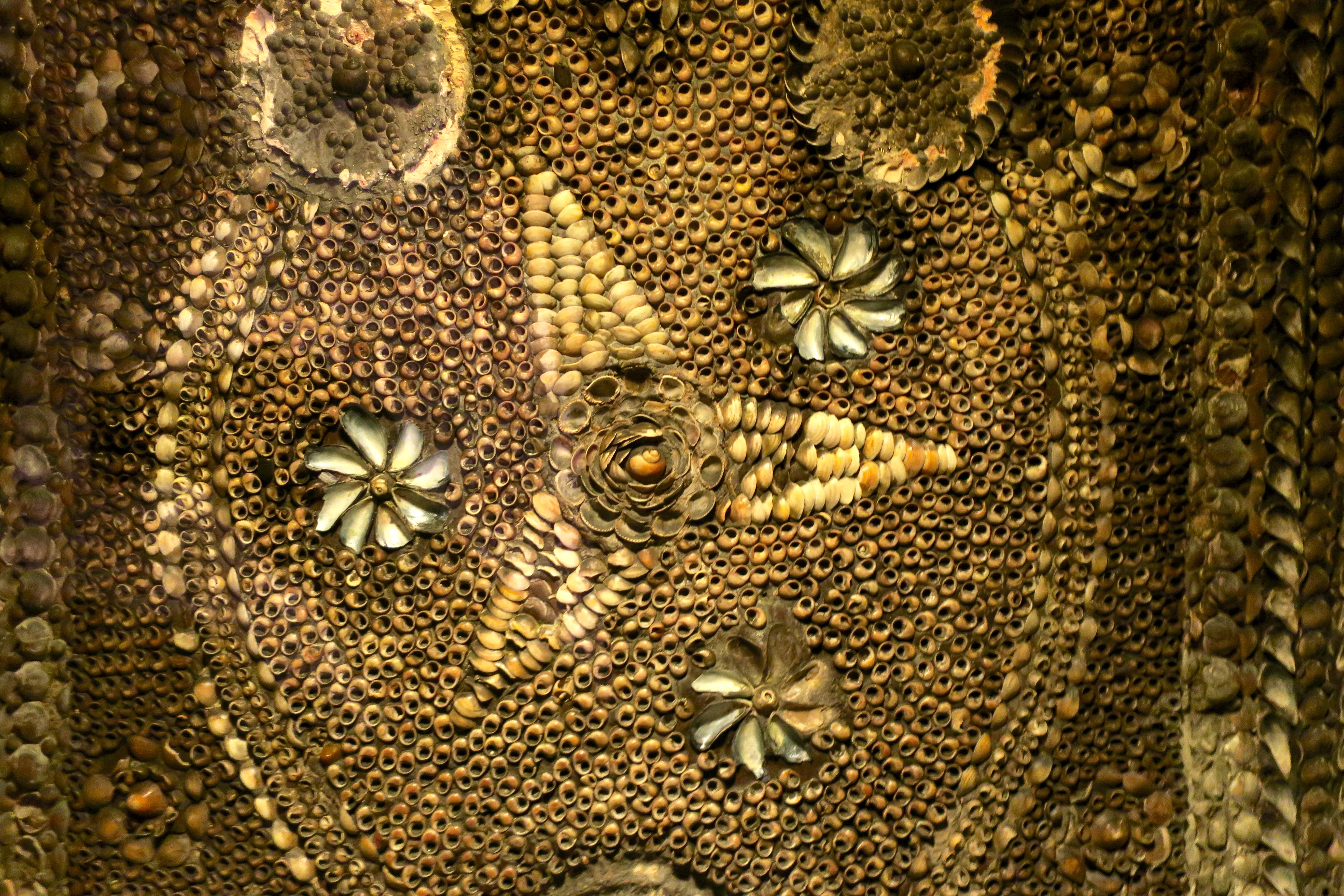 "…It was now proposed to go see the marine cave which is a large grotto, lately discovered, whilst digging a foundation for a wash house to a ladies school. This is very large and intirely (sic) composed of shells found on the Kent coast, arranged in the most singular and elegant patterns. The walls are divided into compartments and everyone is differently ornamented. The shape of the cave is a circular passage around an immense pillar. The entrance is a Gothic doorway. About the middle is a dome which rises very much above the arch of the other part of the passage, and it was by the falling of the earth through this dome that the Grotto was discovered, exactly in the state of preservation as it is now shown. The date of the work and the ingenious person who did it are both a profound mystery, as there is no record of it in any of the Kentish Chronicles. Here and there in the compartments are some magnificent pieces of spar, which glisten like diamonds by the reflection of the candles which light the cave. Since it has been known a circuitous passage has been cut into the rock to descend into it, and at the farther end a large room has been excavated and similarly ornamented."
Lucy Sophia Daniell, 7 September 1844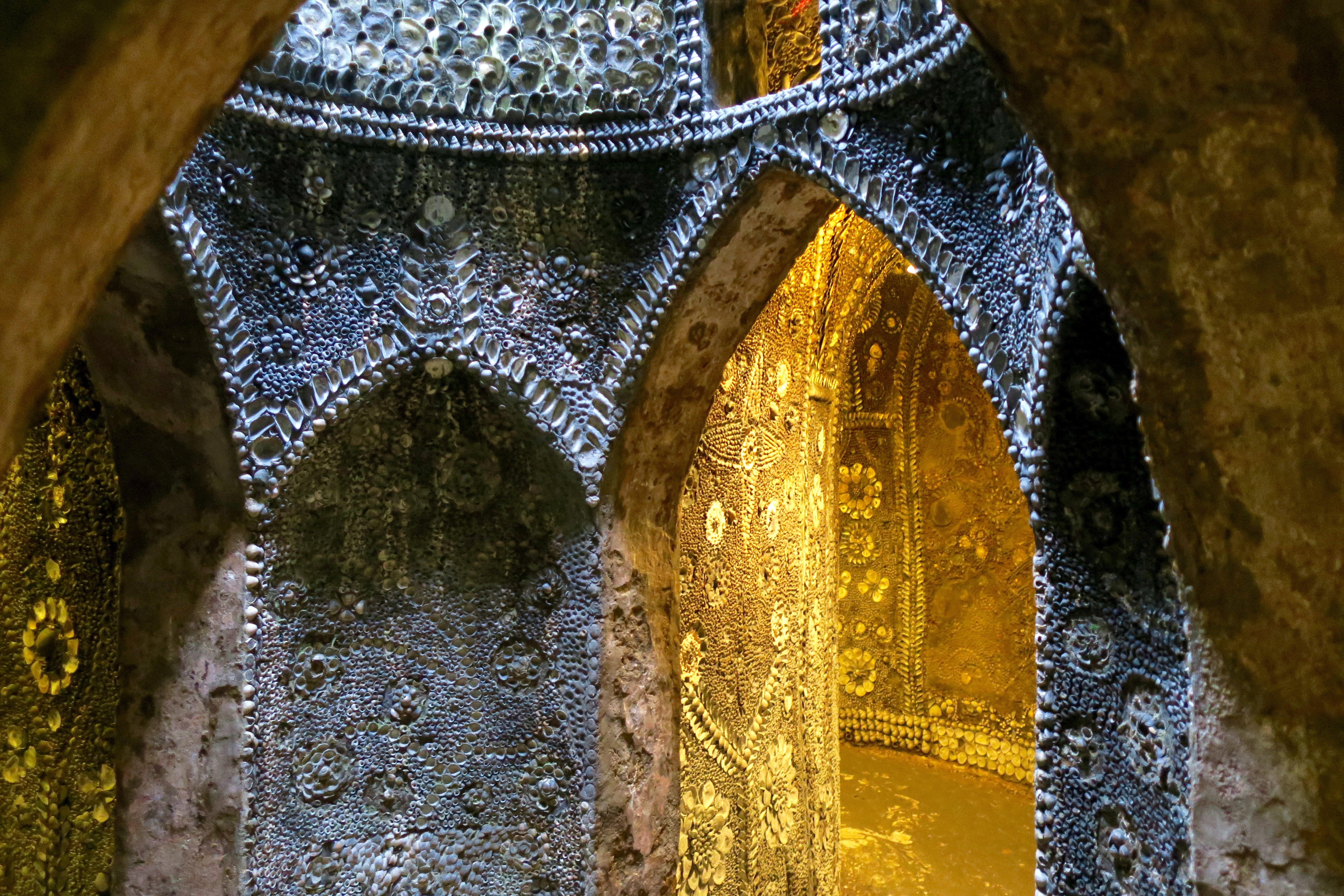 After the Rotunda we come to the Dome and the Serpentine Passage down to the Altar Chamber.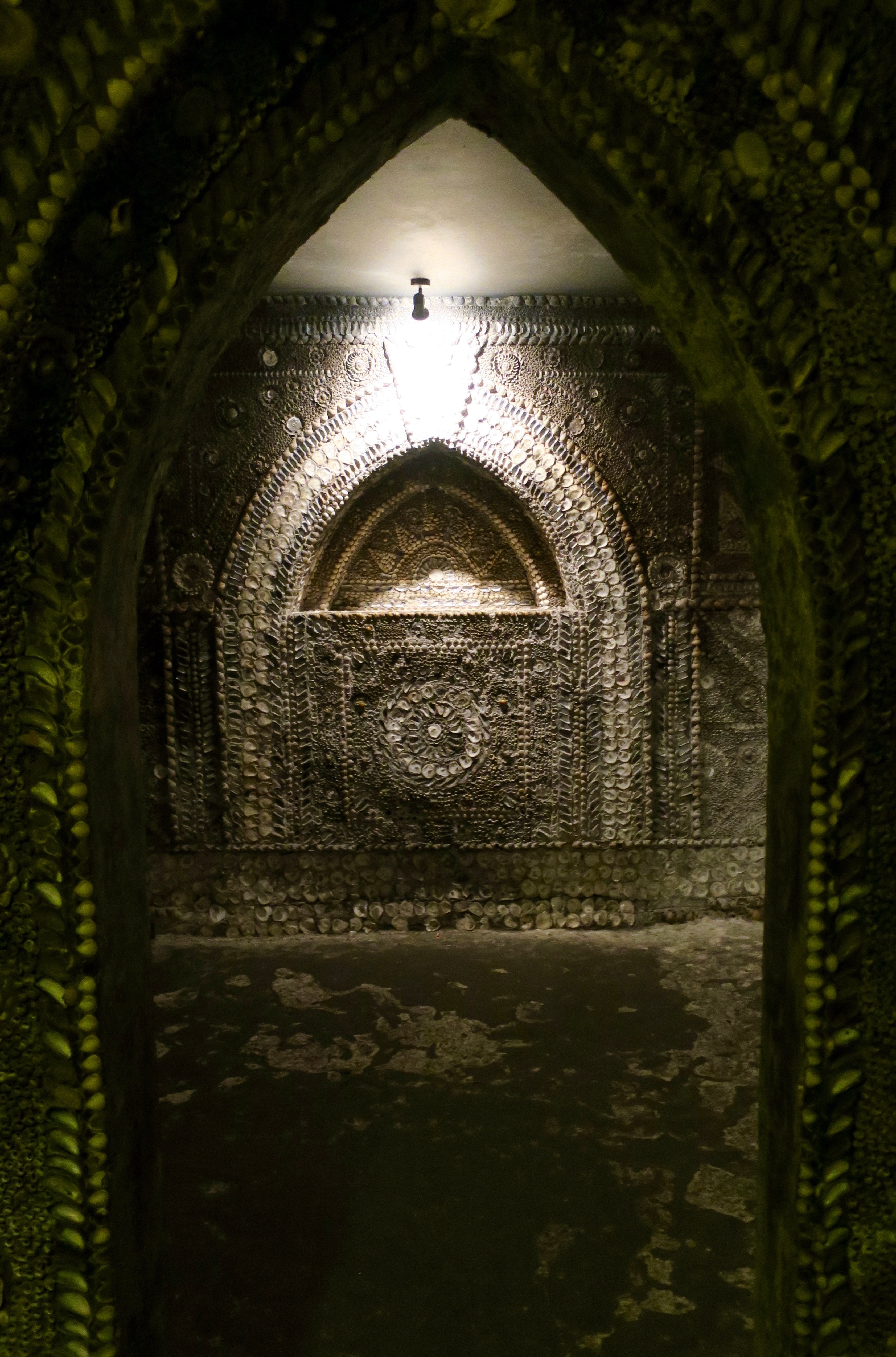 There's a feeling of gloom and melancholy, as if all the life and colour of these shells has long since drained away. The damp conditions and years of smoke from candles and gas lamps have not helped.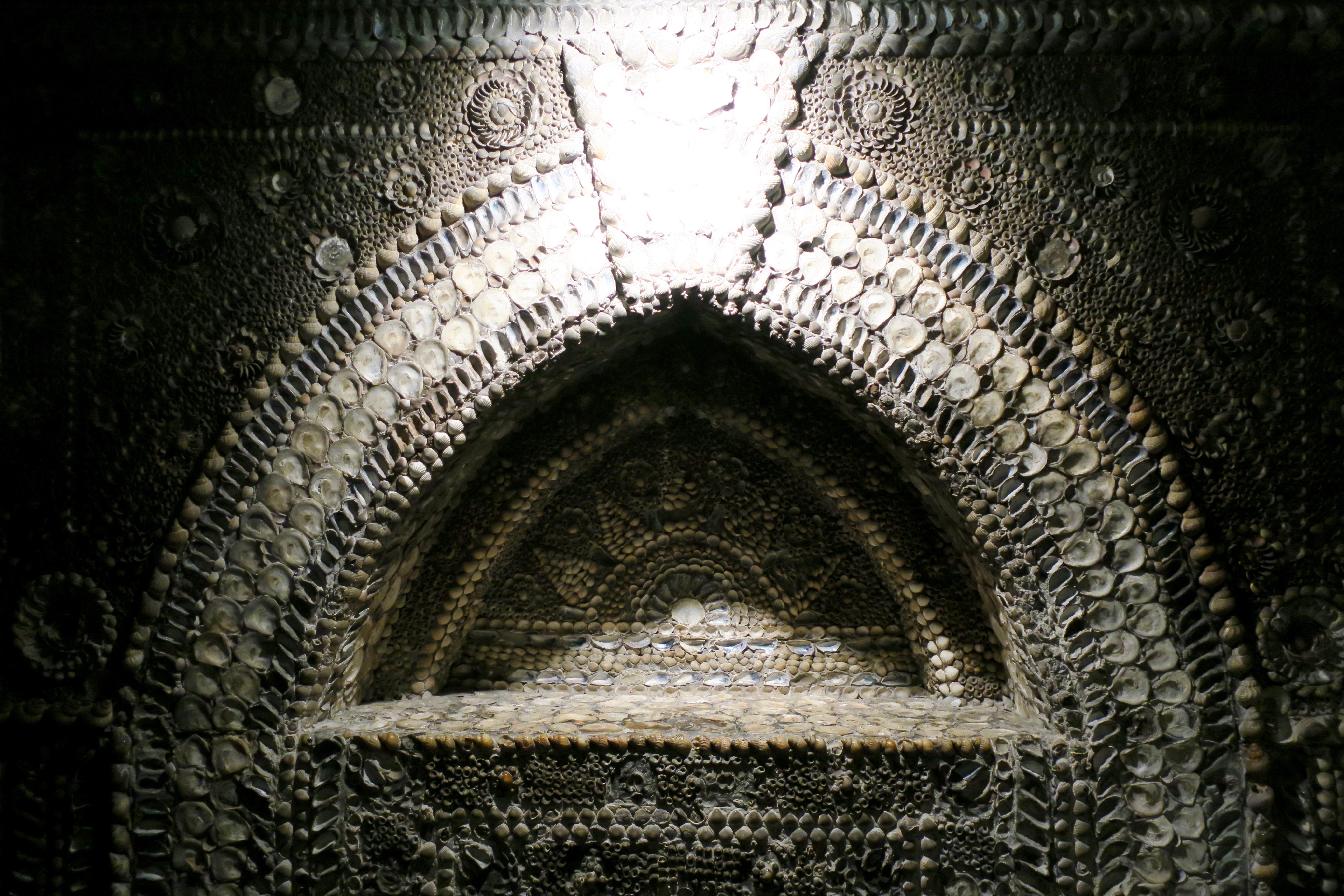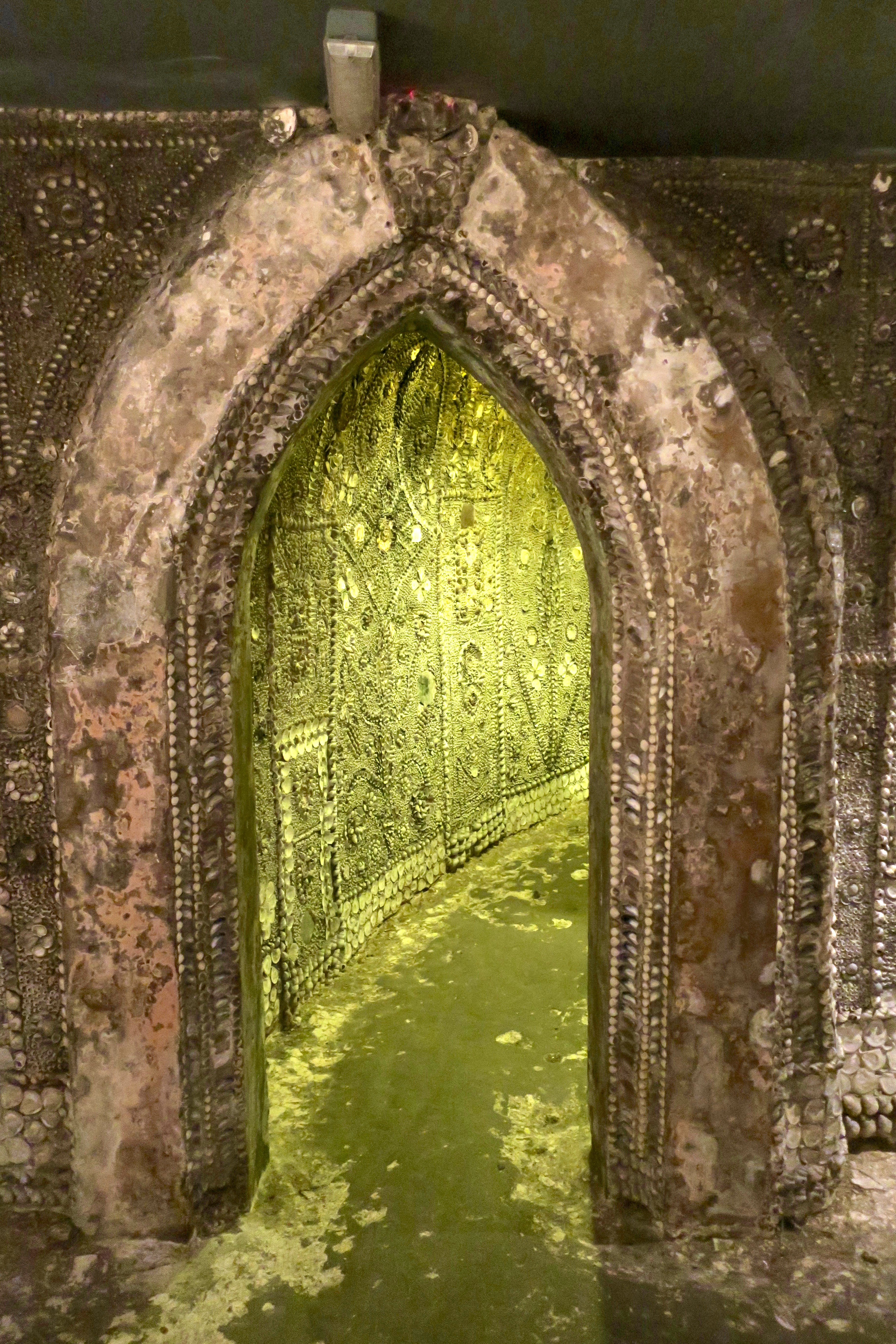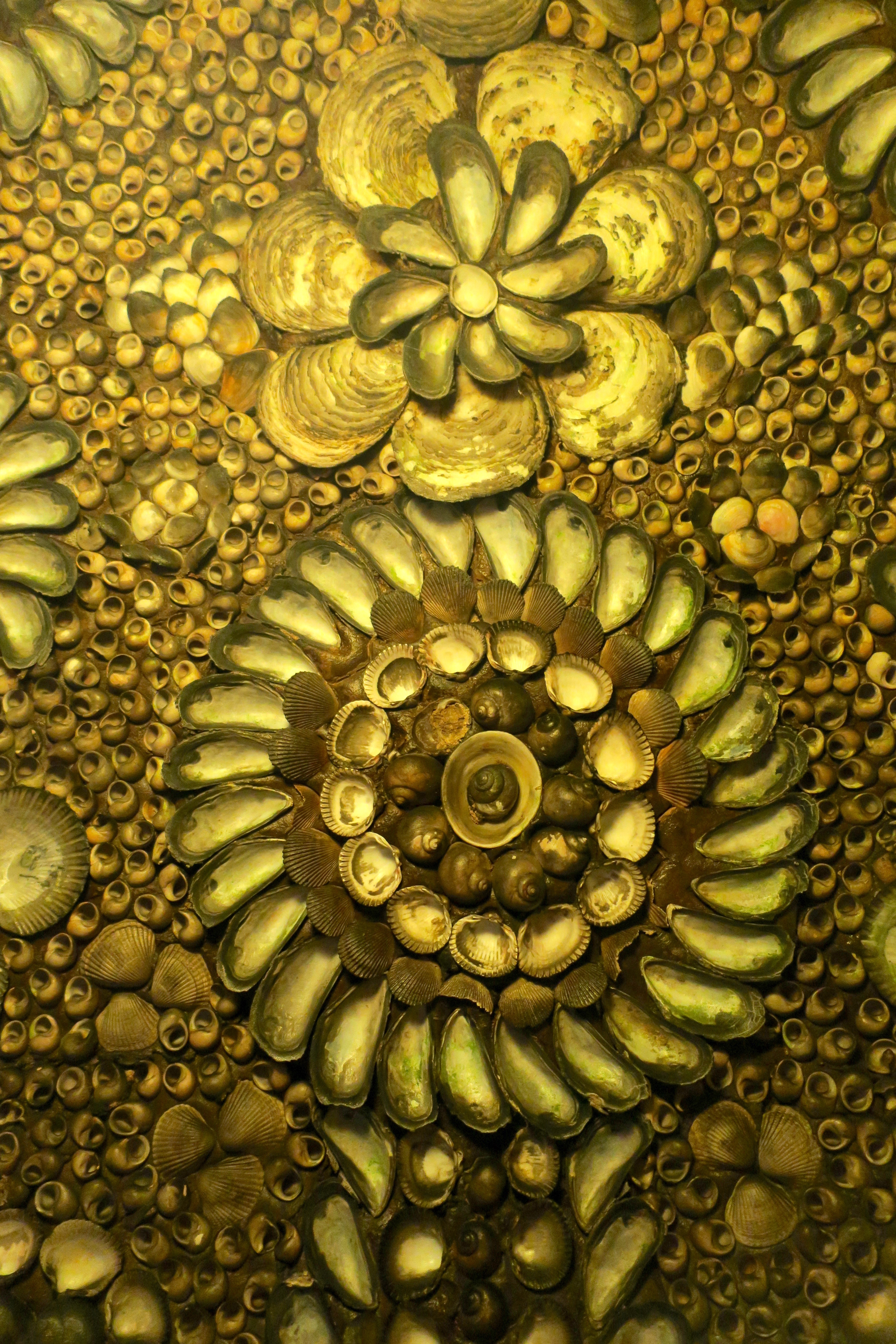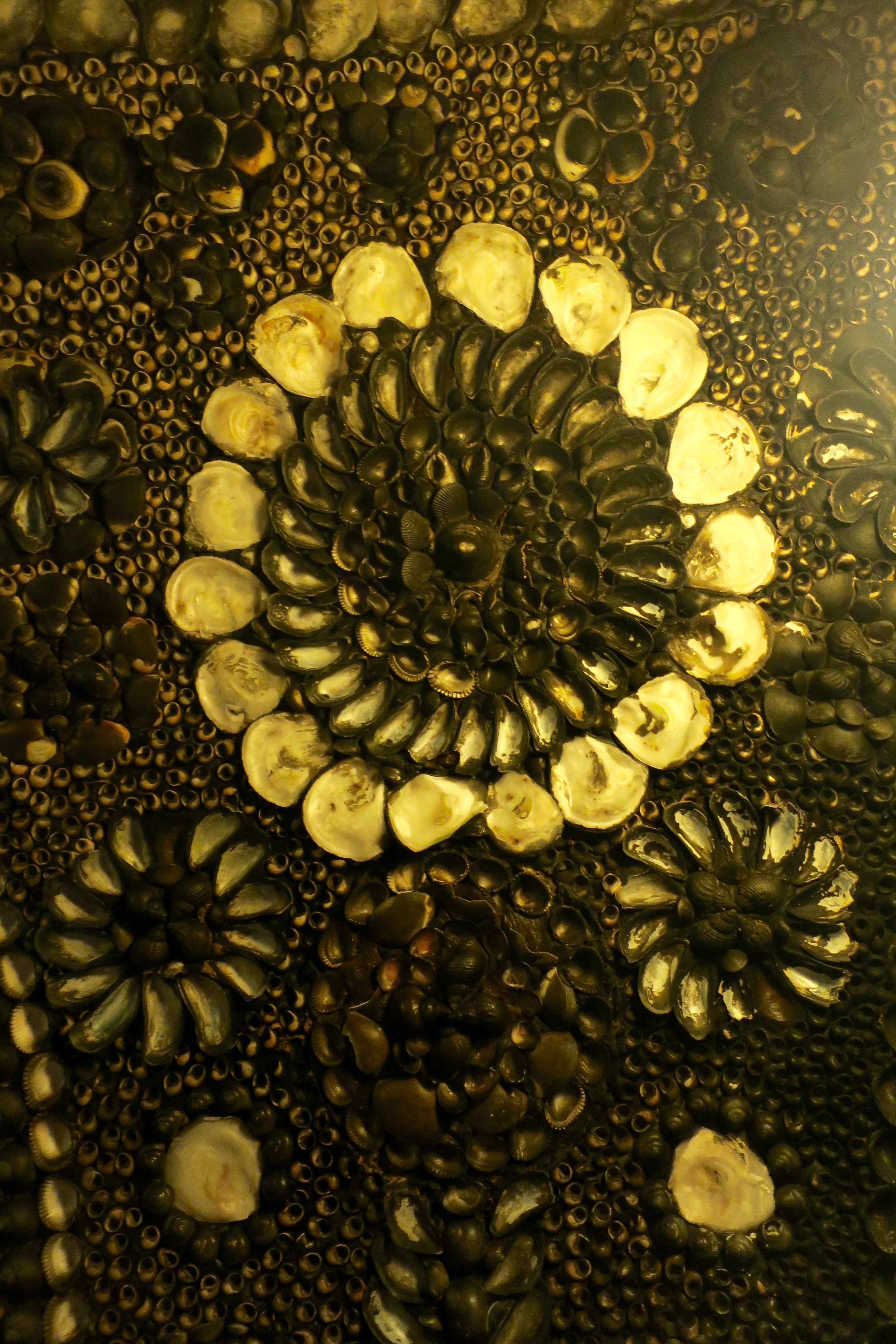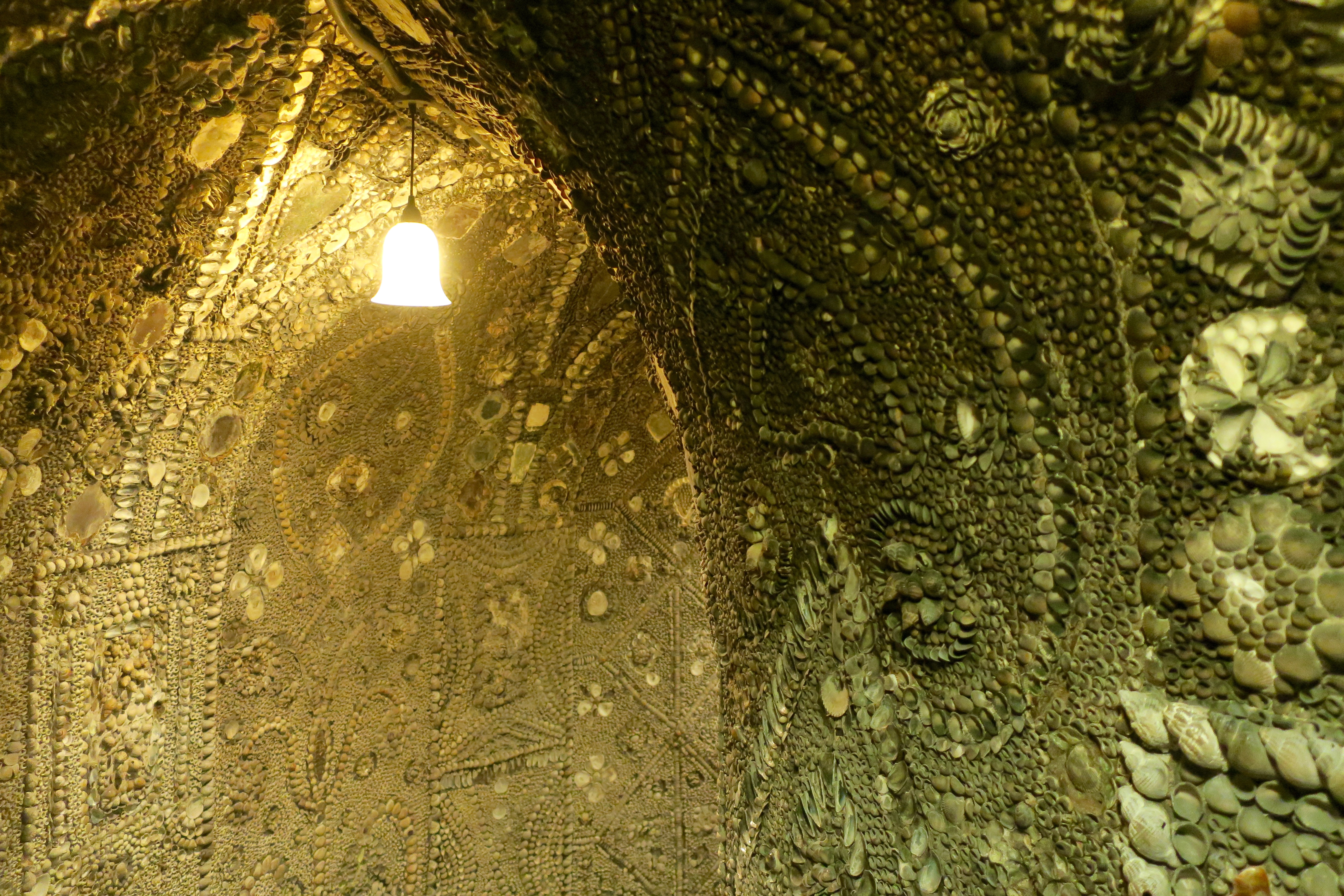 We could have stayed longer, deciphering the various symbolic panels. I wish I'd found the Tree of Life. Some say the Shell Grotto depicts the passage of life, from birth to death to afterlife, but I just wanted to retrace my steps and be reborn back into daylight and the world of colour above ground.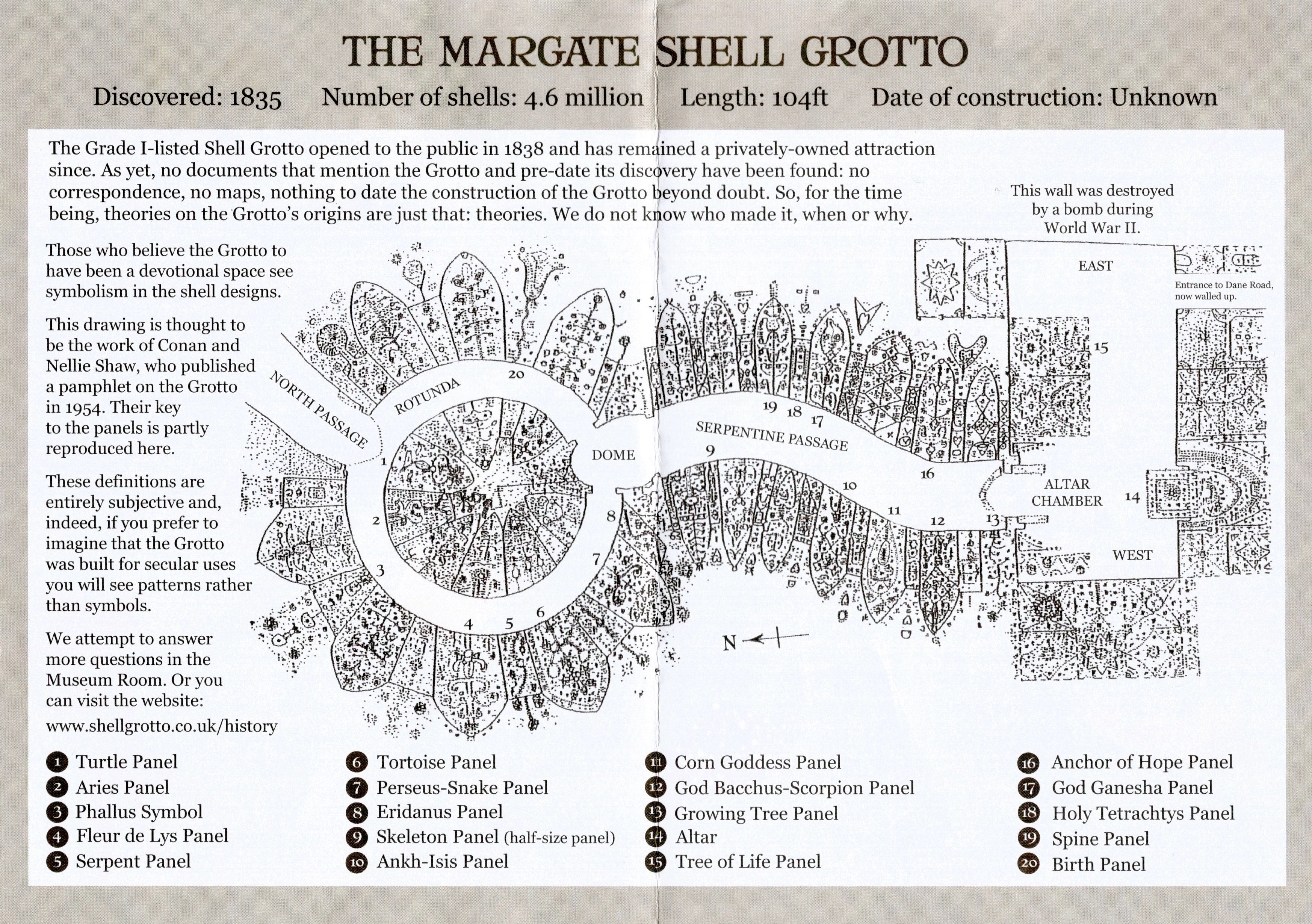 ※
Turner Contemporary / Shell Grotto