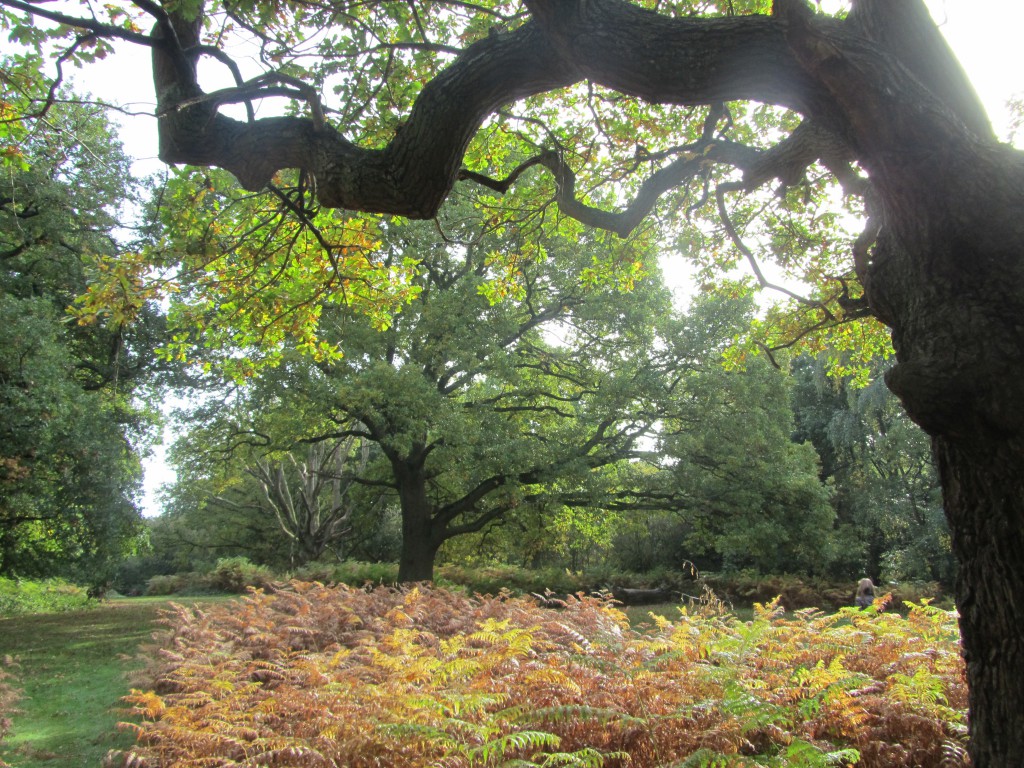 A few weeks ago we went back to Epping Forest, before the leaves all disappeared, to soak up the seasonal colours and recharge our batteries. We'd been away far too long. It was the day we put the clocks back an hour, when darkness suddenly comes too soon. It was a beautiful autumn day but it felt like the sunlight was rationed and we hurried to catch the last of it.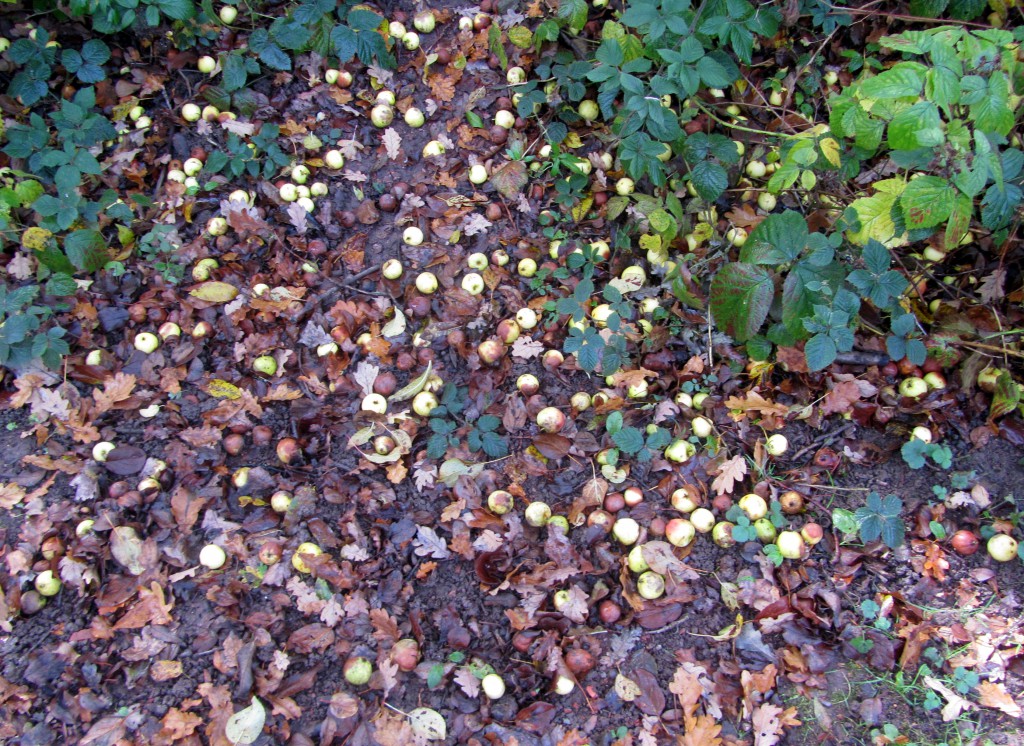 We started at Fairmead Bottom and followed The Green Ride north towards Strawberry Hill. The path was littered with windfall crab apples, trodden underfoot their sweet scent perfumed the forest air.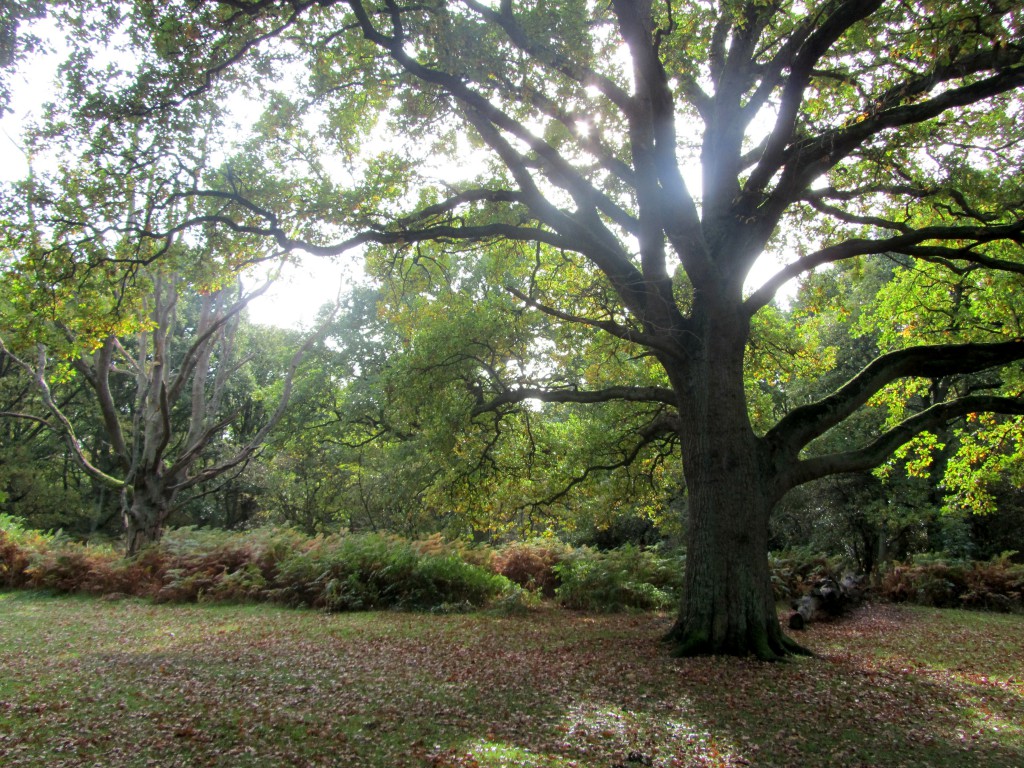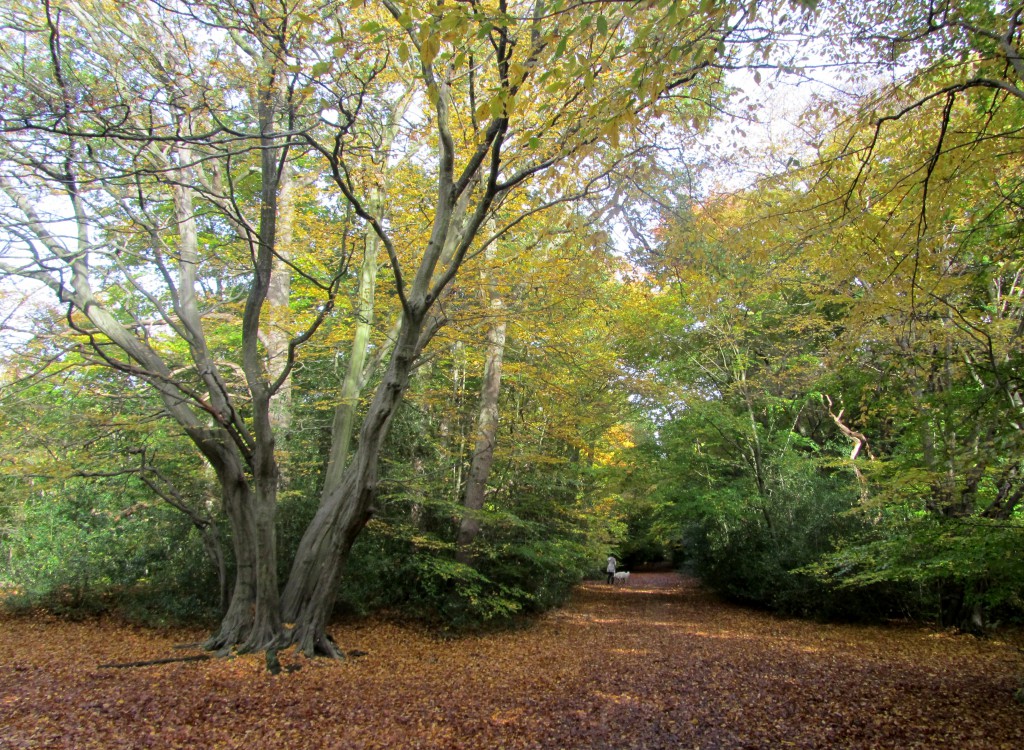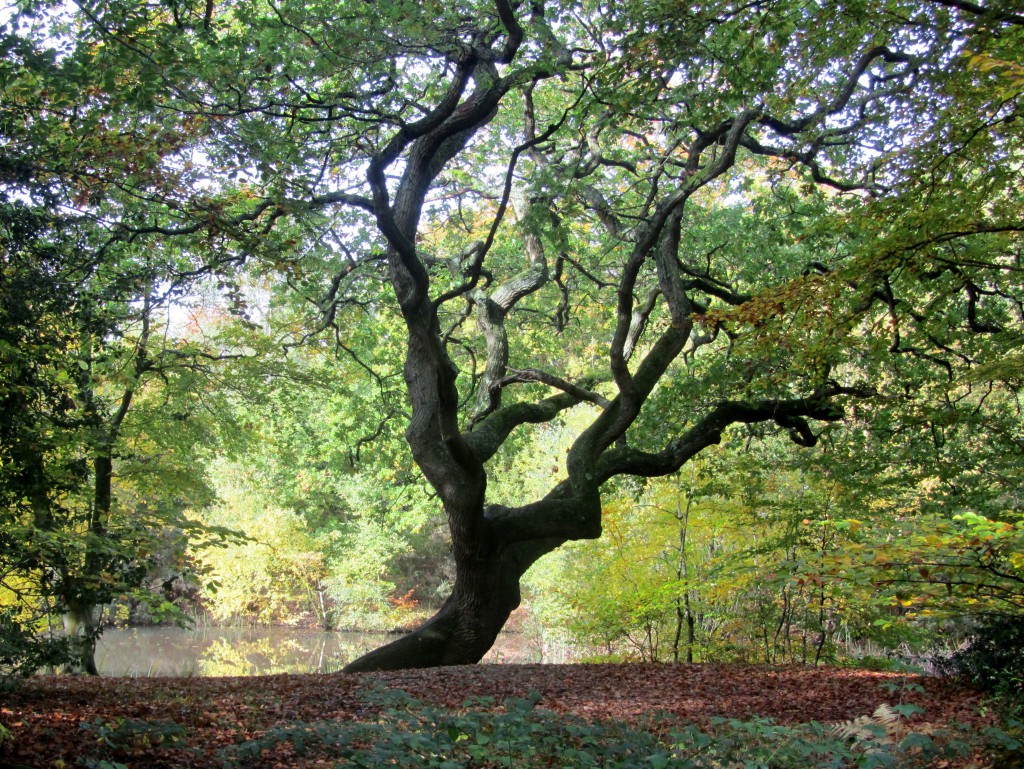 A dancing tree by Strawberry Hill Ponds.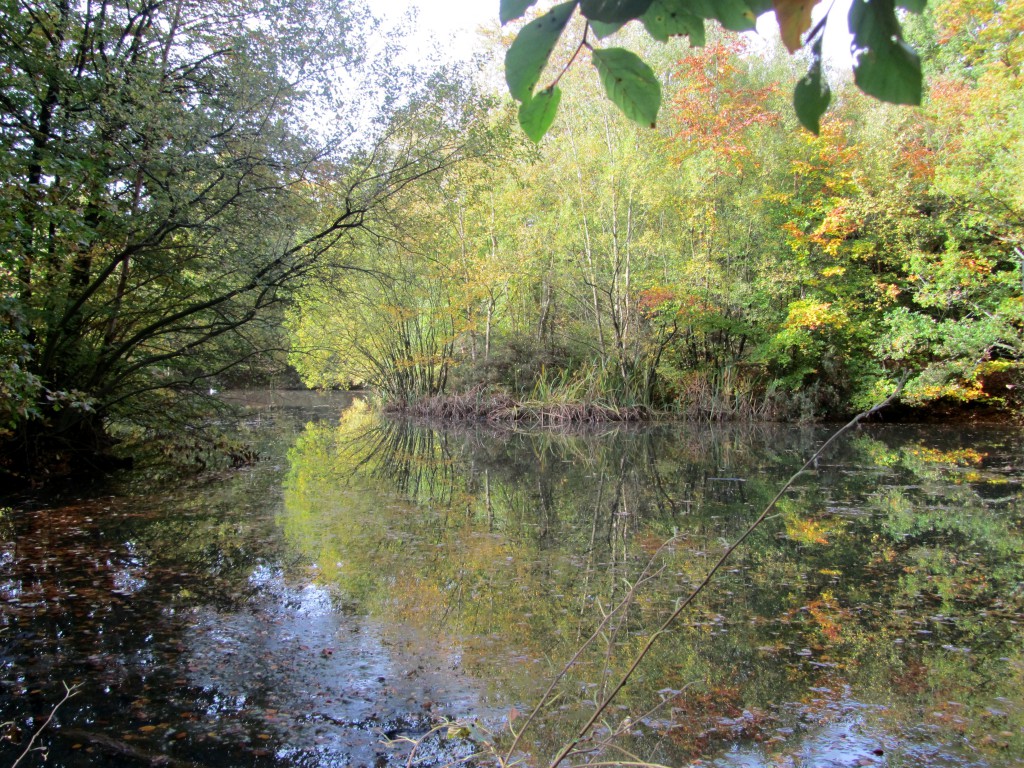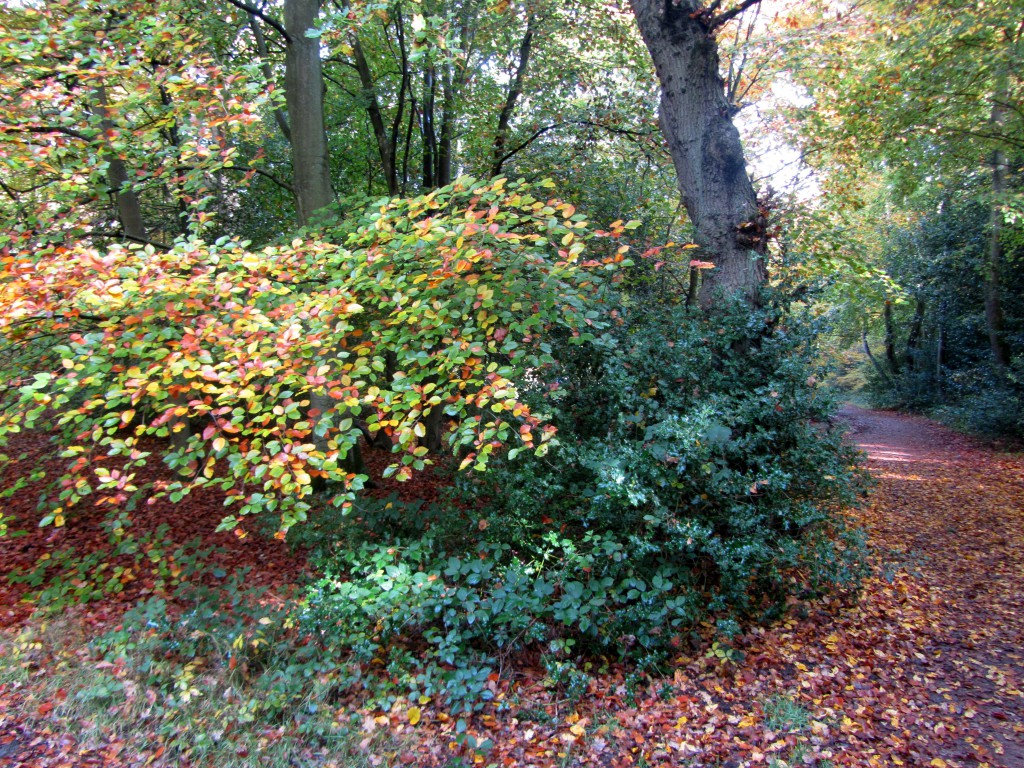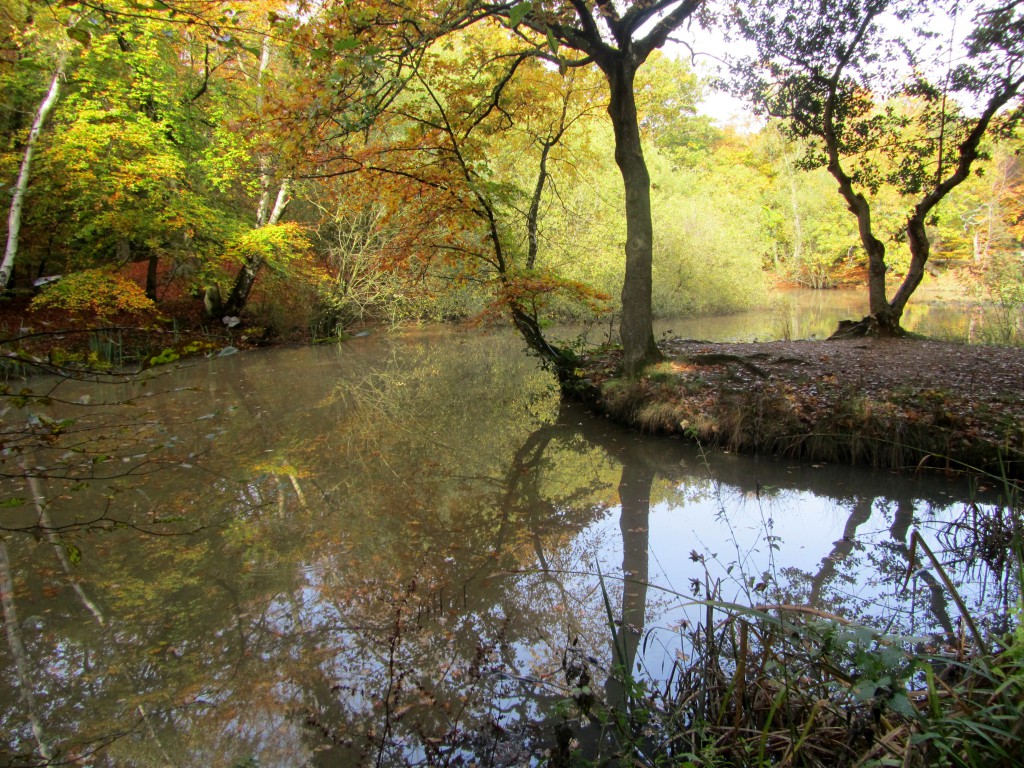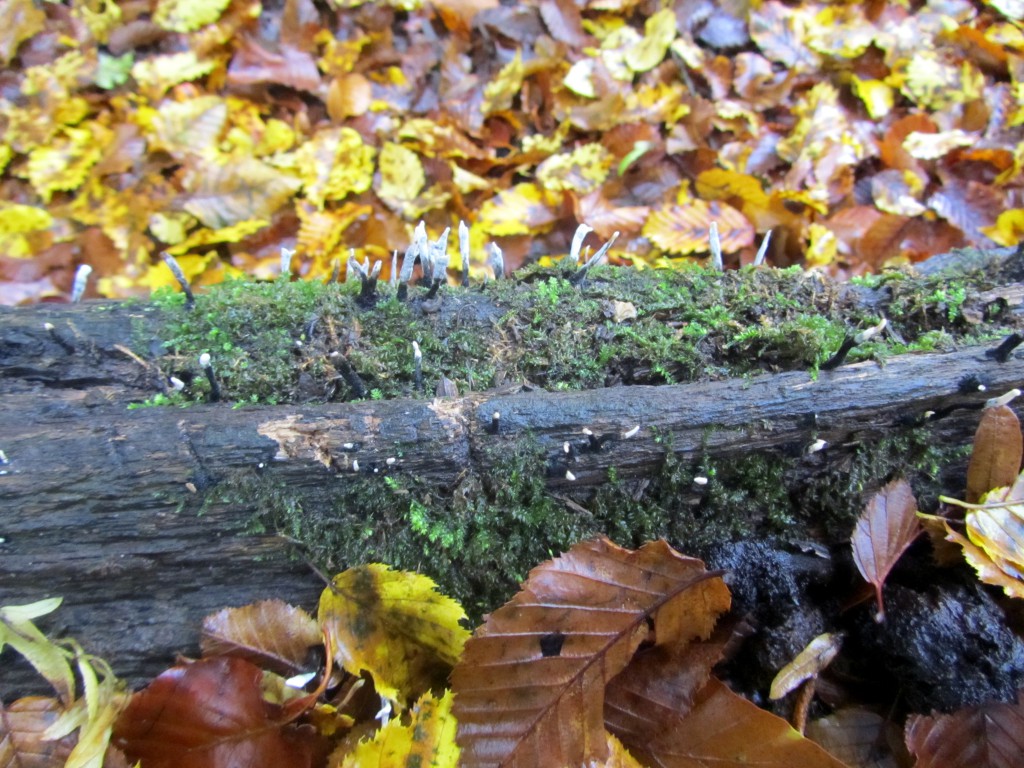 A decaying tree by Earl's Path bursting with Candlesnuff Fungus.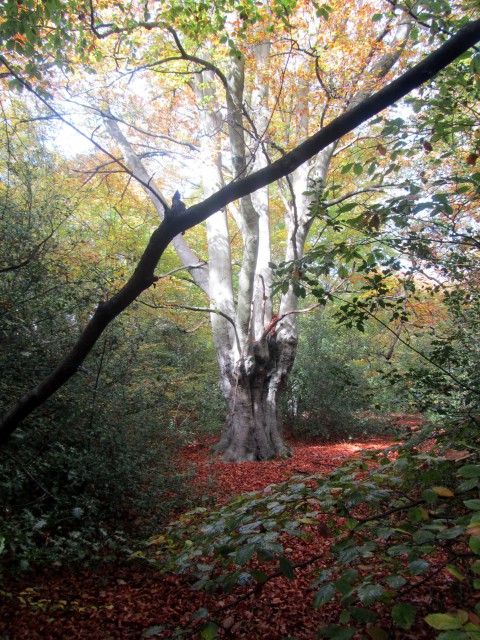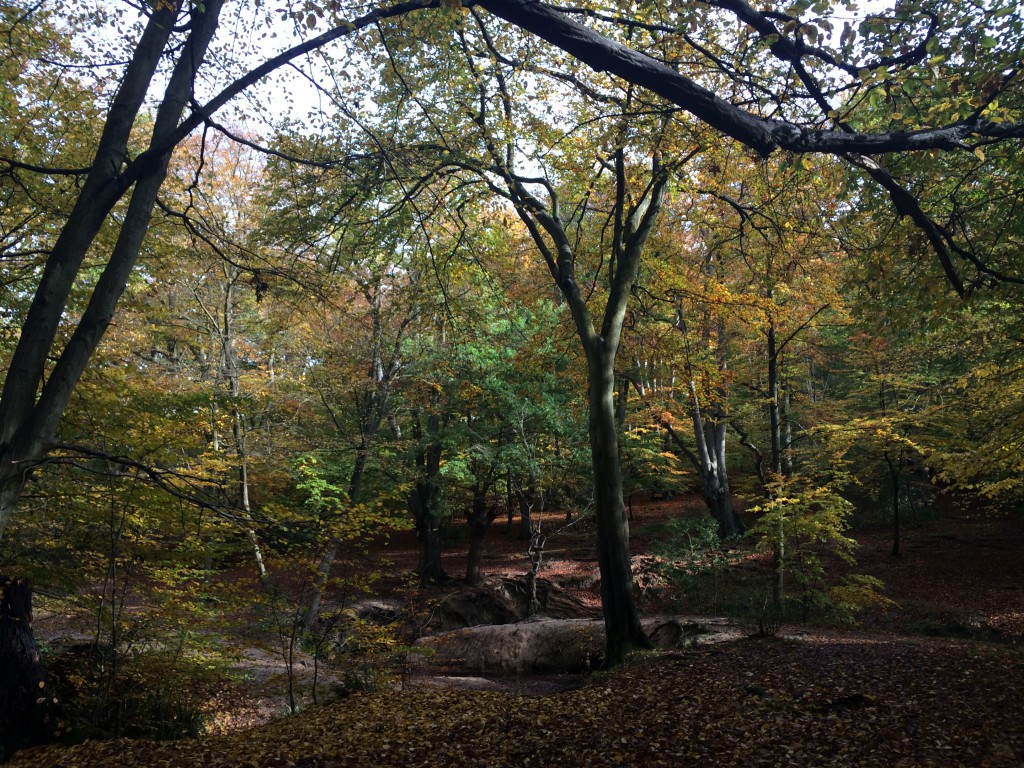 We came down The Green Ride and left the path at Loughton Brook where it meanders around the valley floor. It's a wide and shallow hollow dell, carpeted with golden beech leaves and echoing with the sounds of invisible dogs and horses and children and birds, all sounding like recorded memories.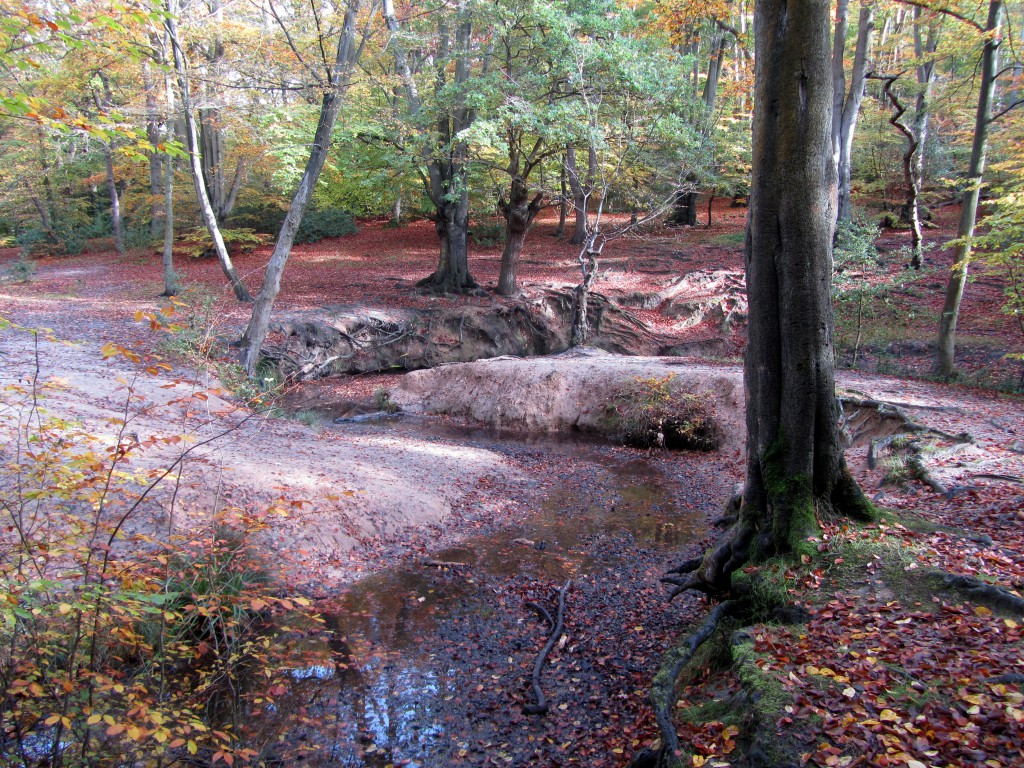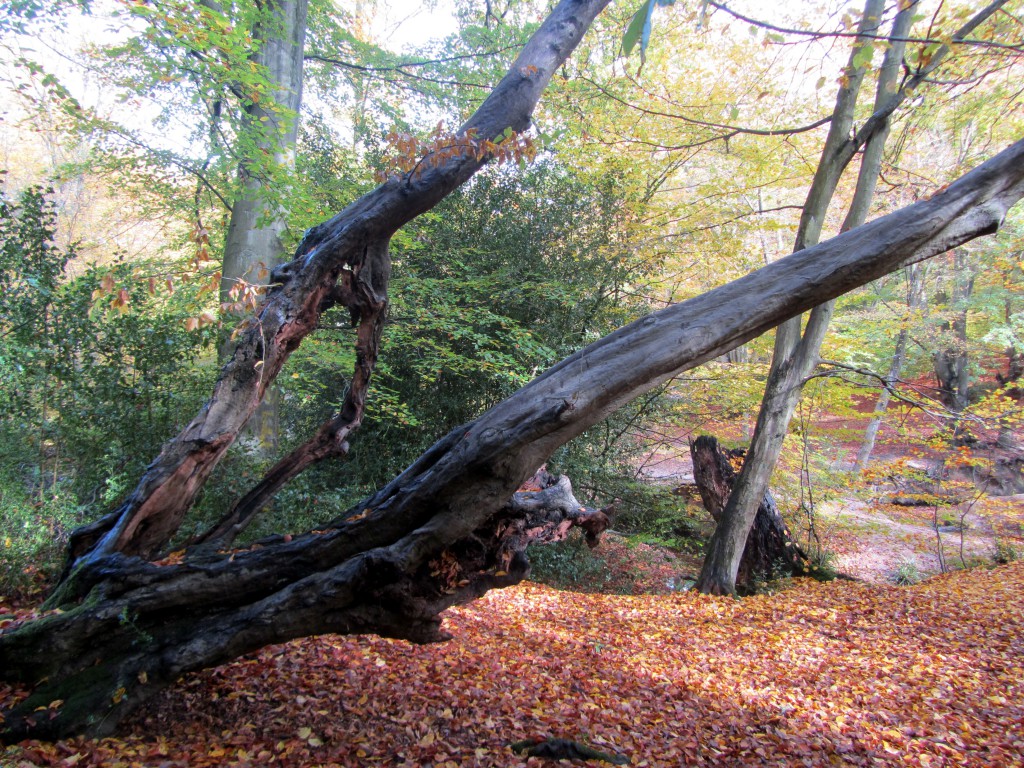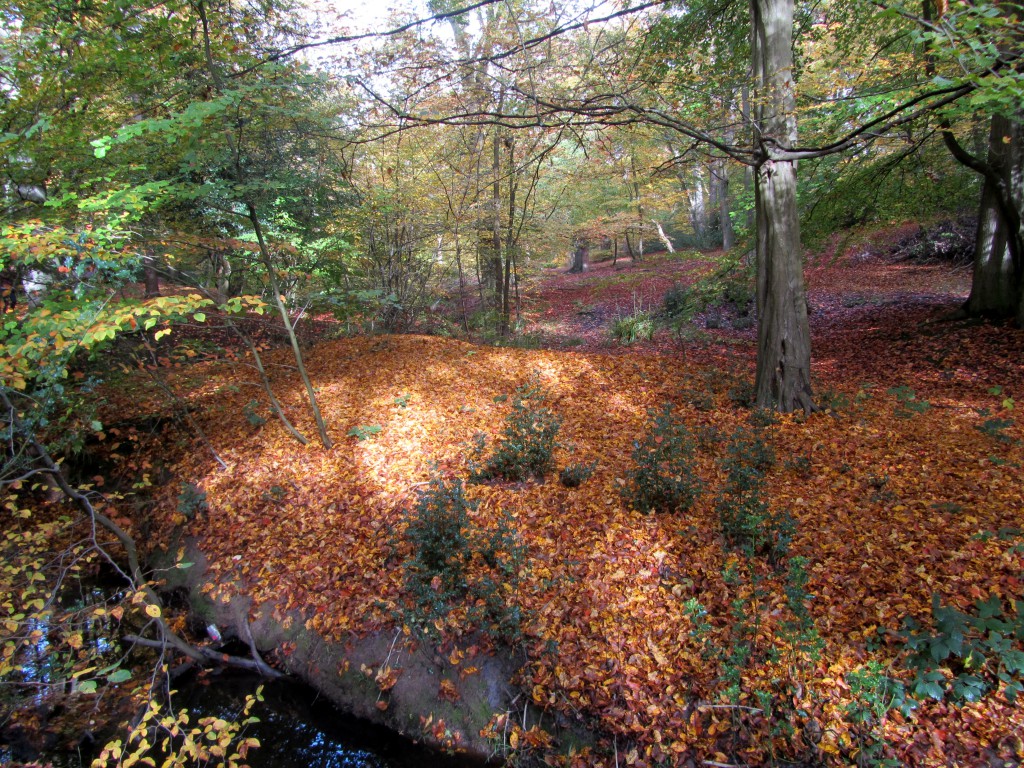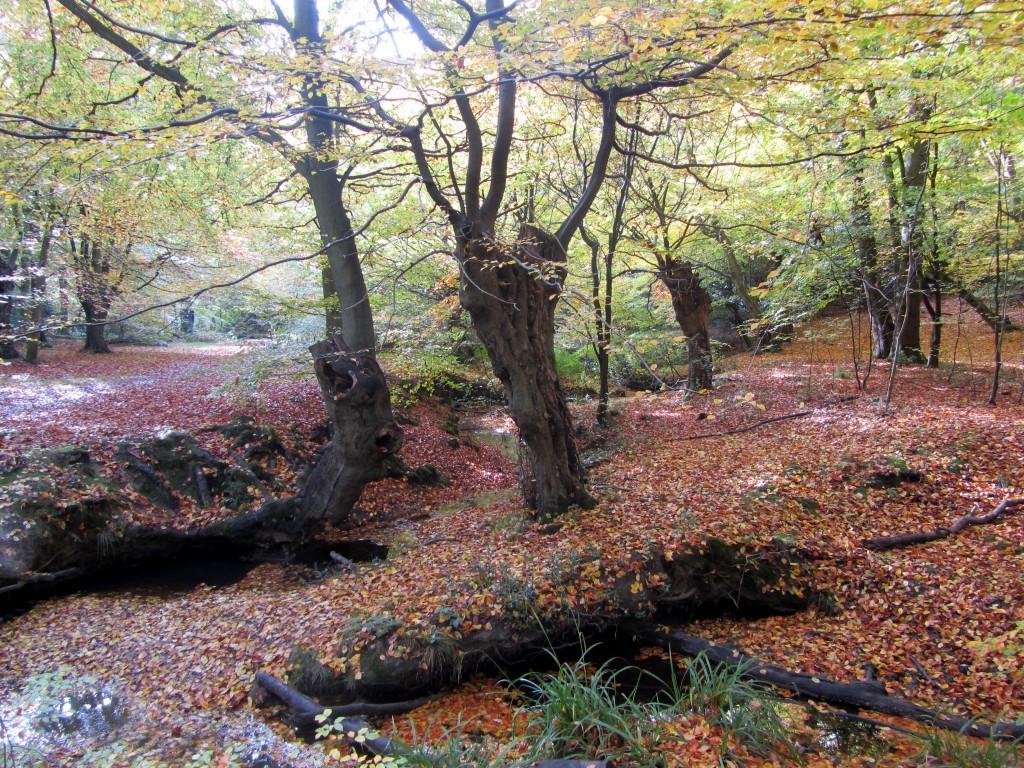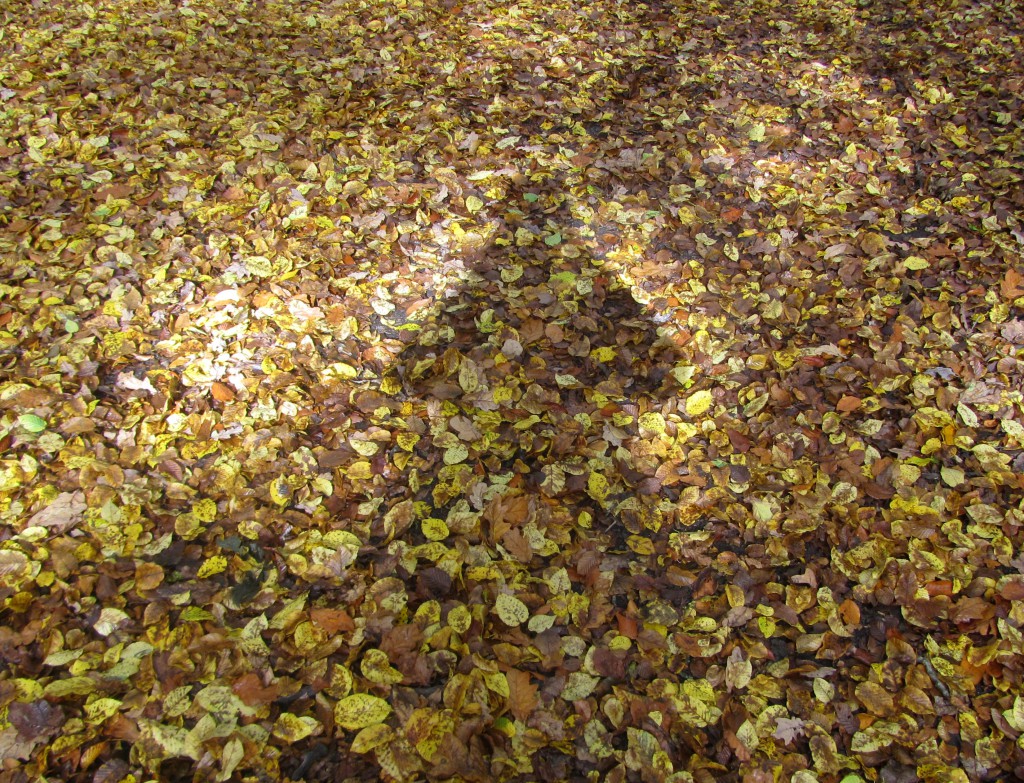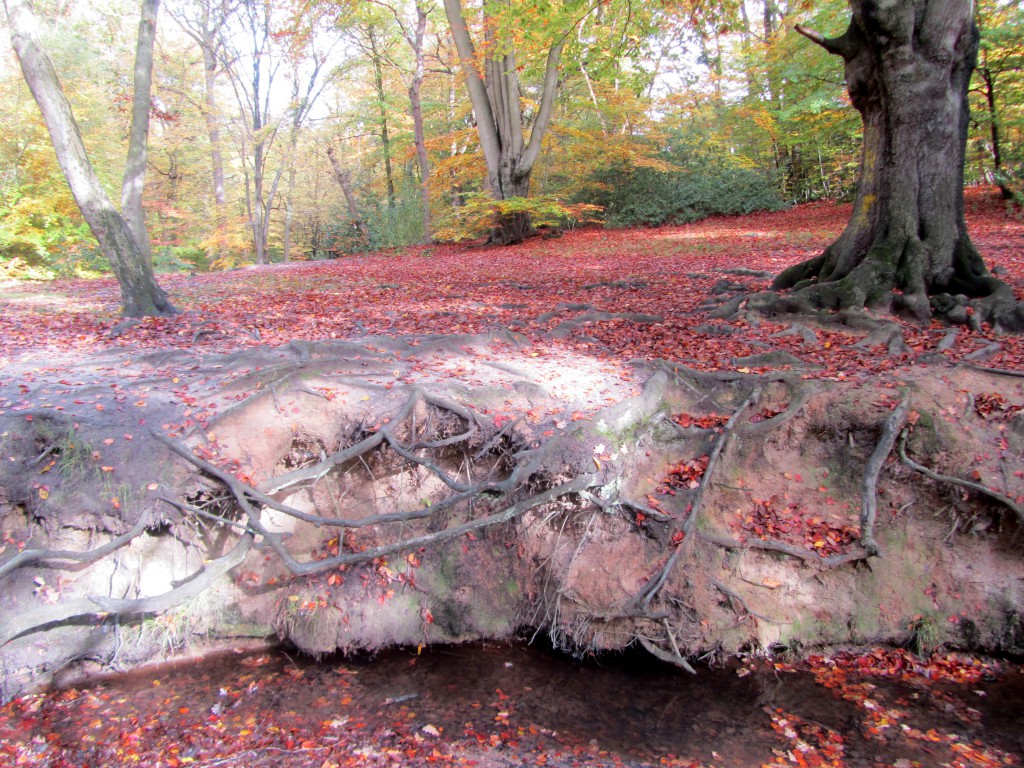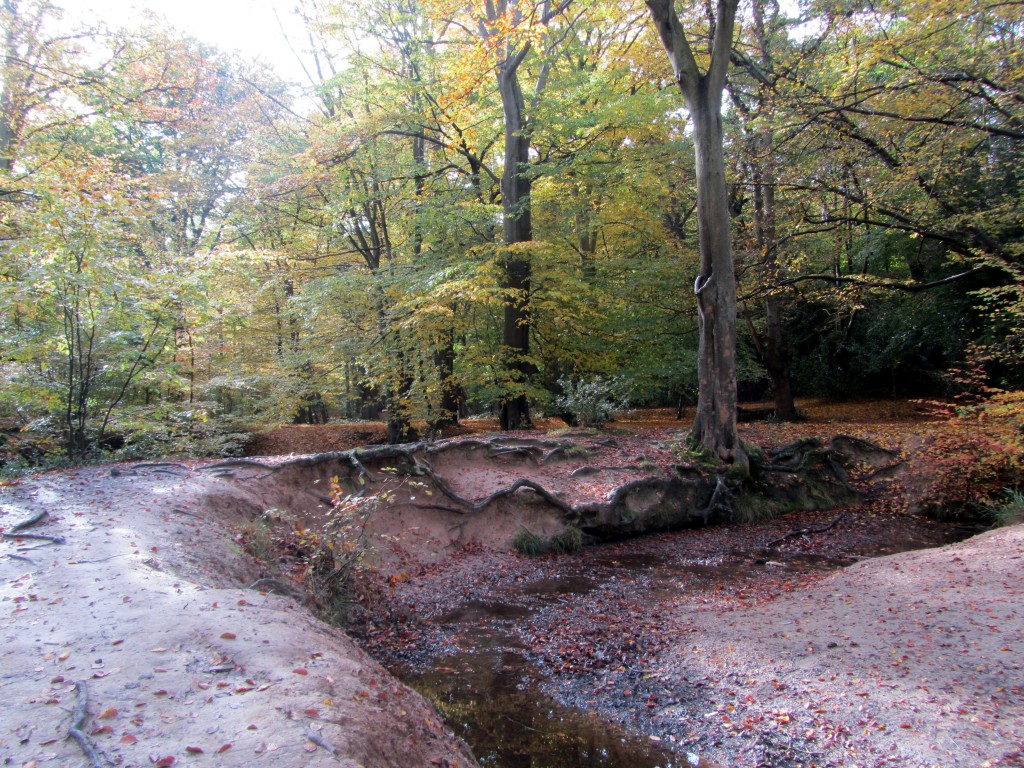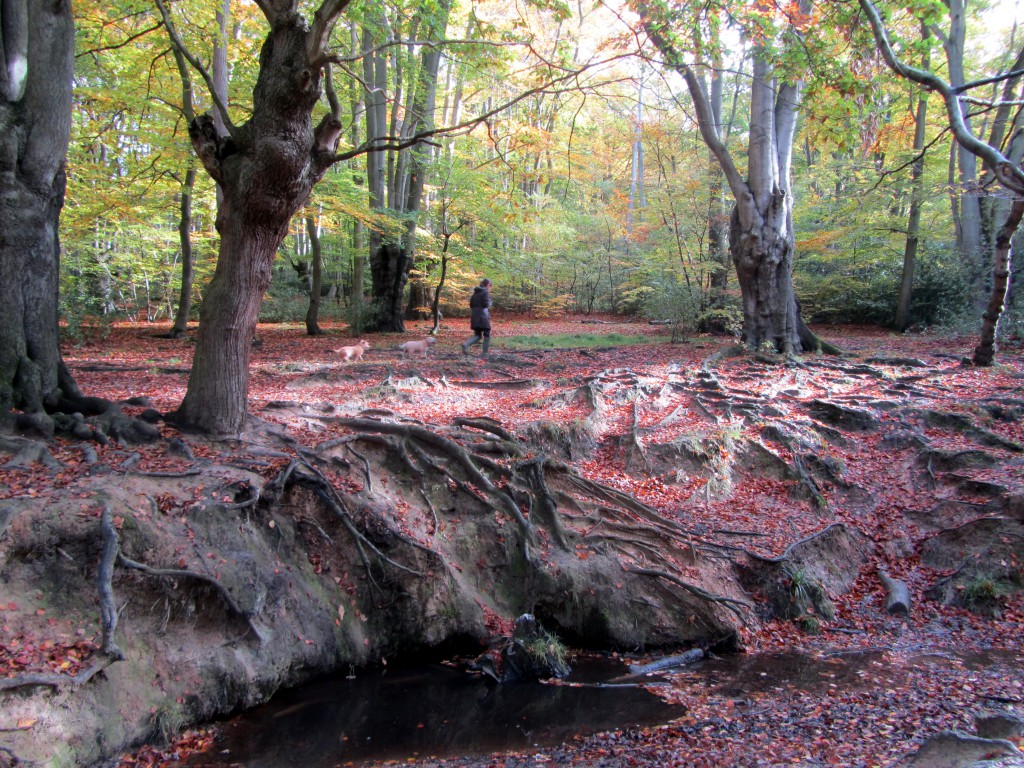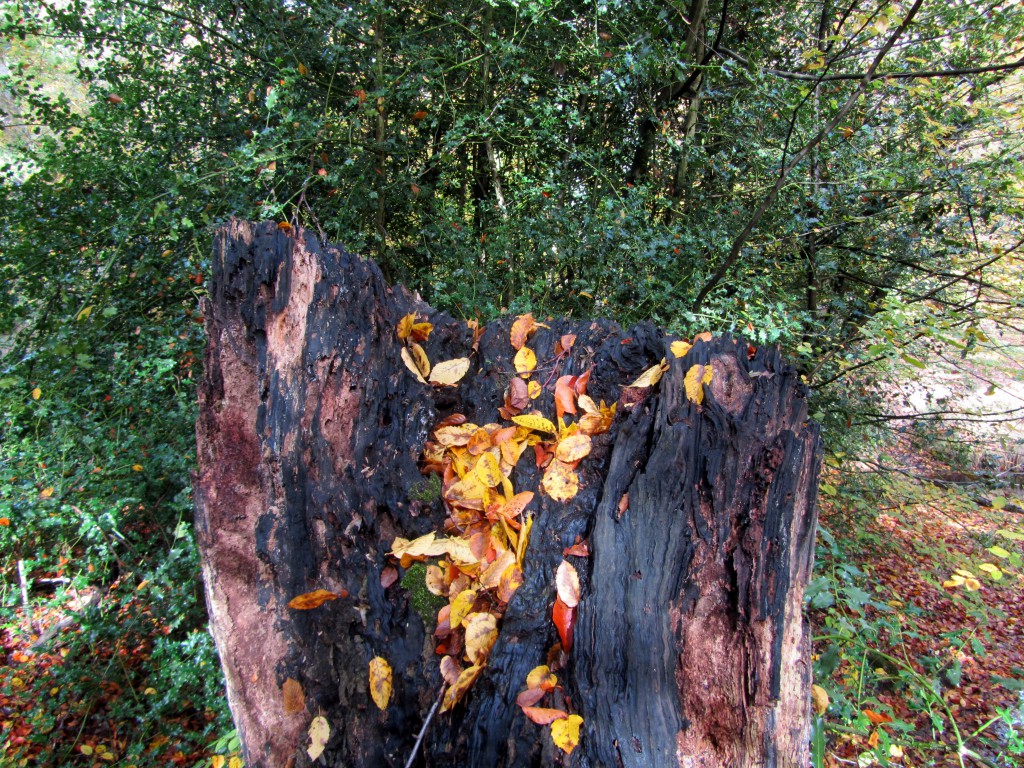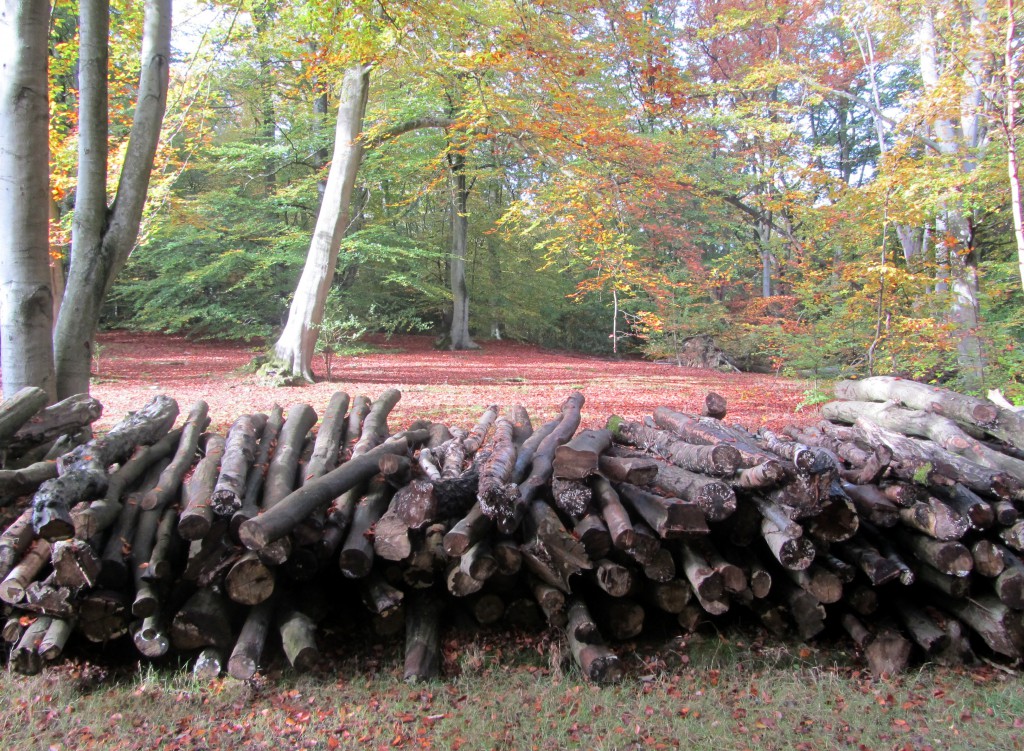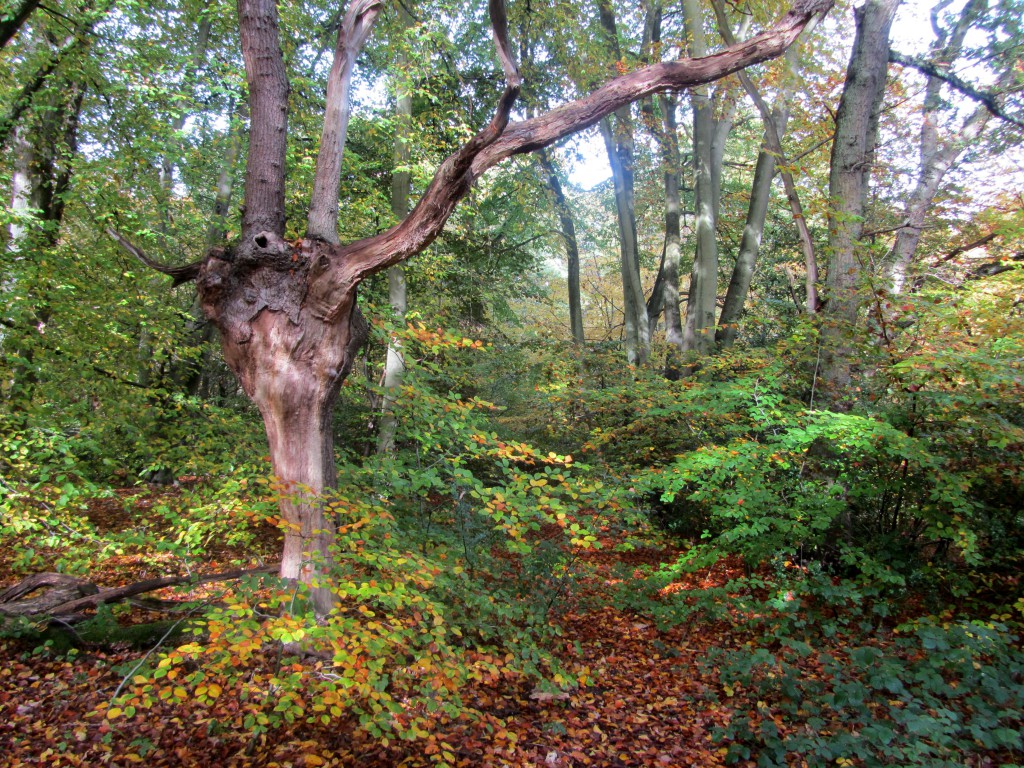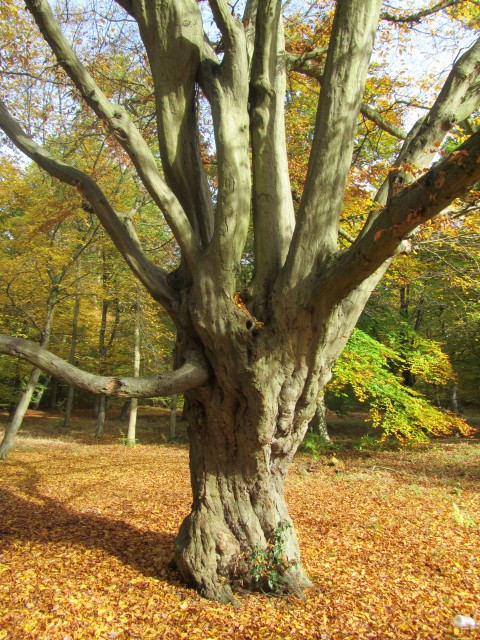 We rejoined the path but then left it again almost immediately where it crosses over Debden Slade, tempted away from The Green Ride by the sight of a hornbeam beautifully lit in a pool of sunlight.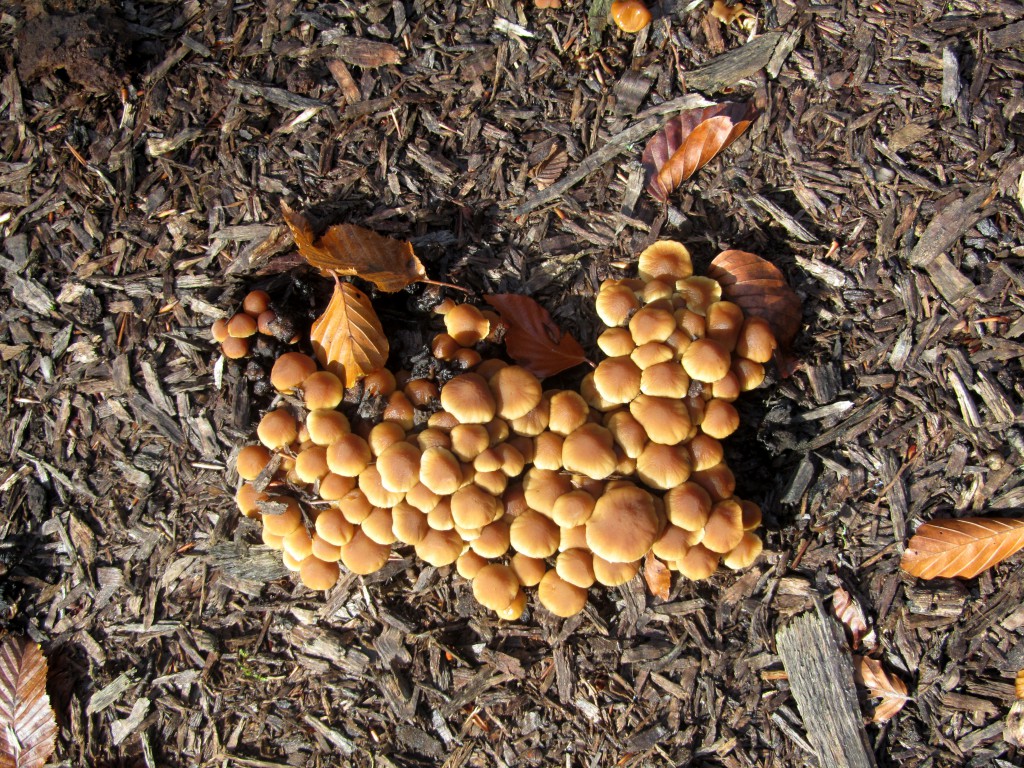 We followed a mushroom trail up the hill. I think perhaps this is Honey Fungus.
And maybe this is Coral Fungus.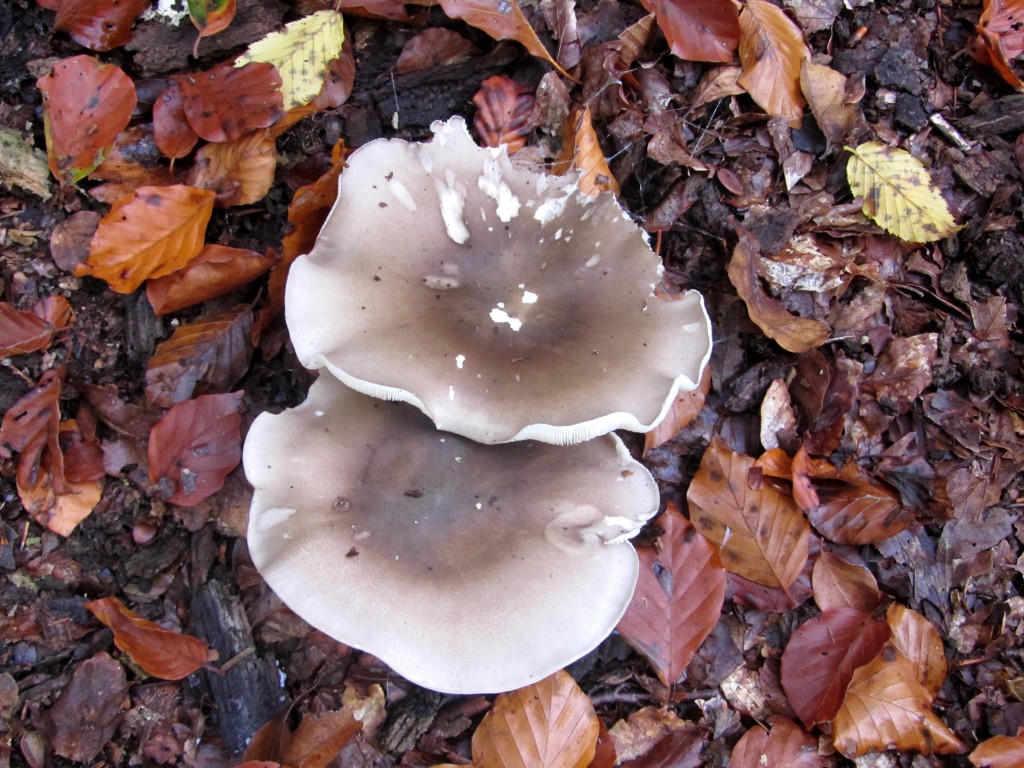 This is Oyster Mushroom.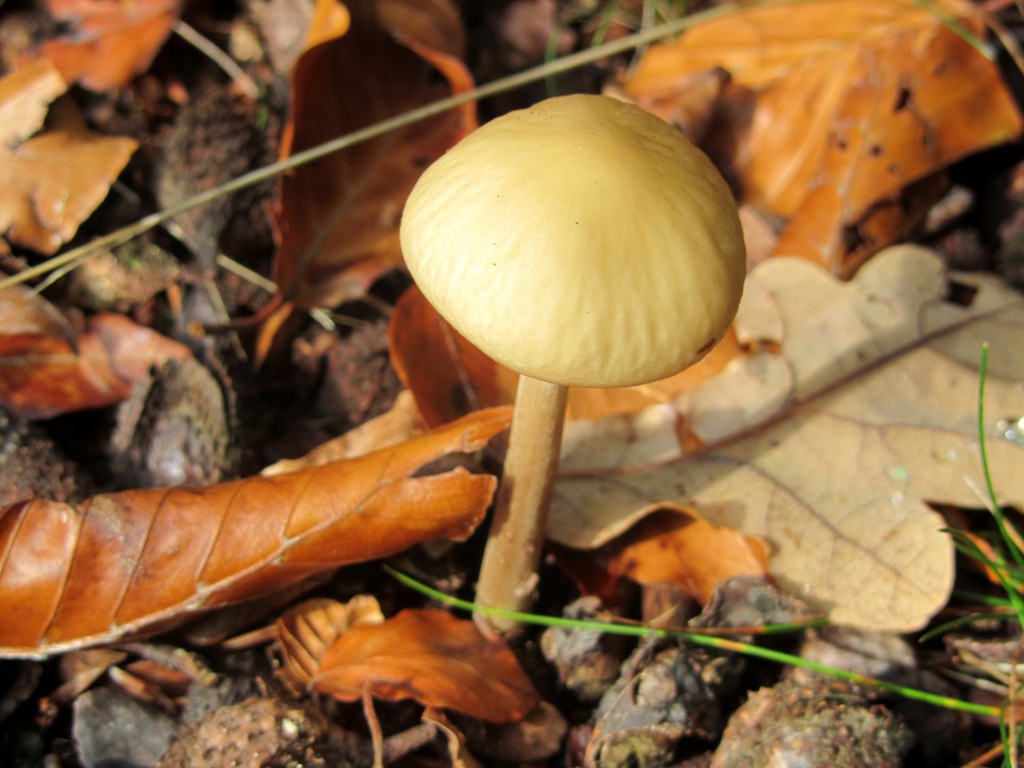 And this is a toadstool.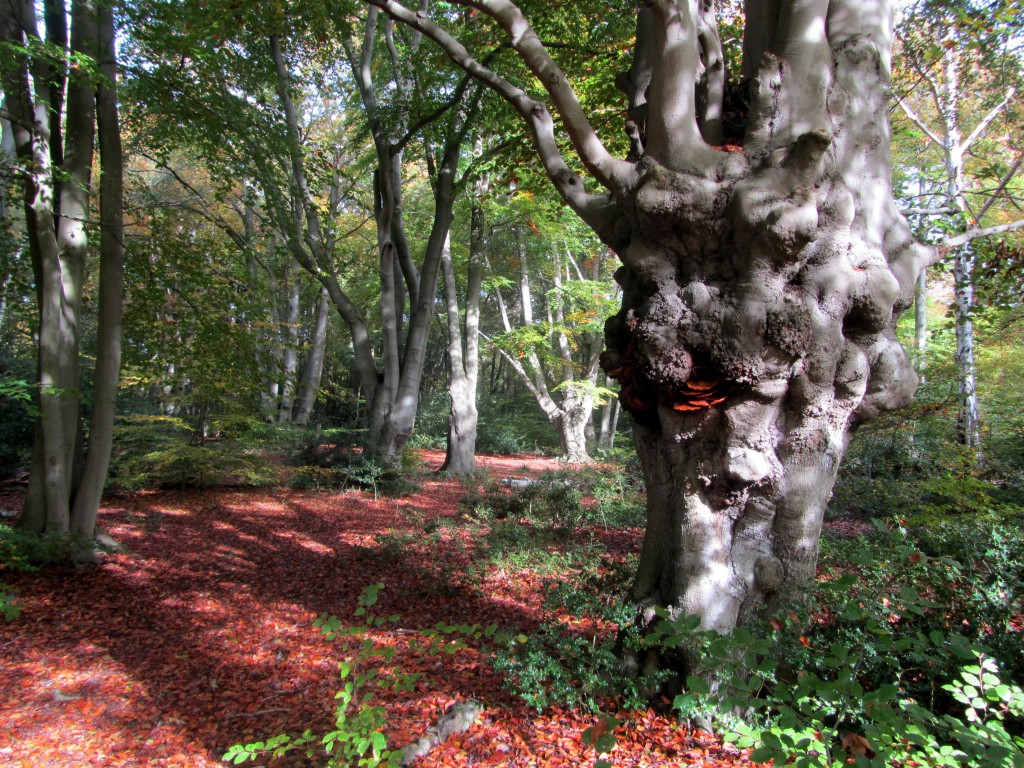 They led us to the secret zone known as Loughton Camp. The forest has been my refuge since 1978 but I'd never been here before. I've seen it on the map, marked as a circular embankment, though in fact it actually turns out to be a figure of eight, but I've always kept to The Green Ride and passed it by.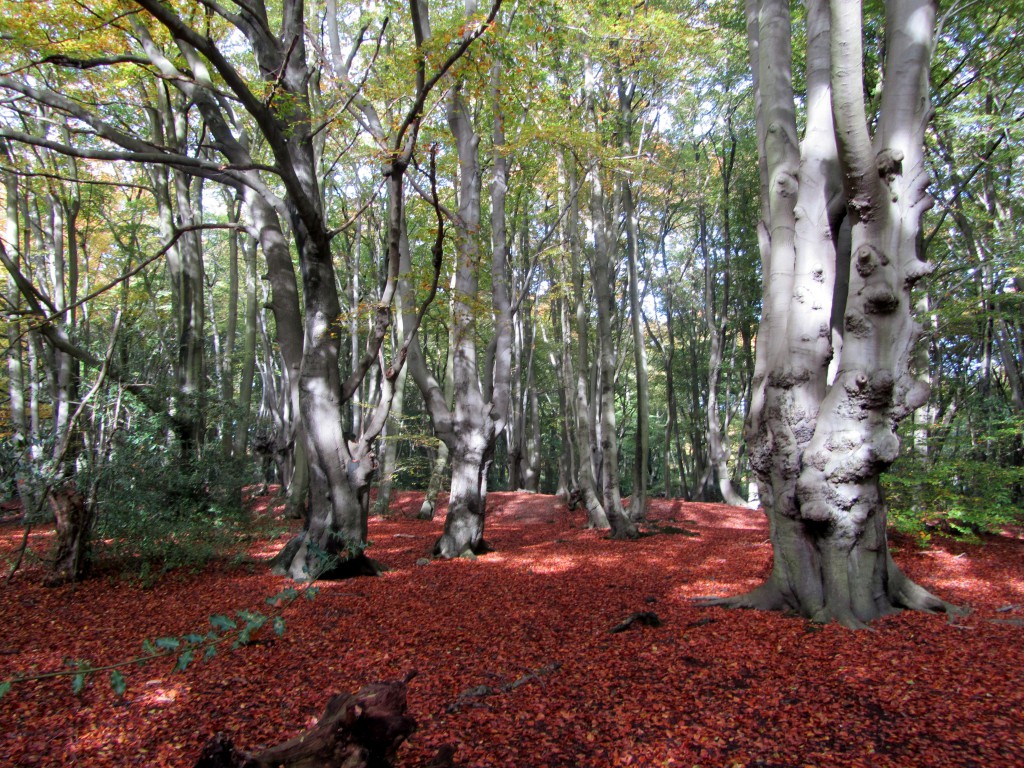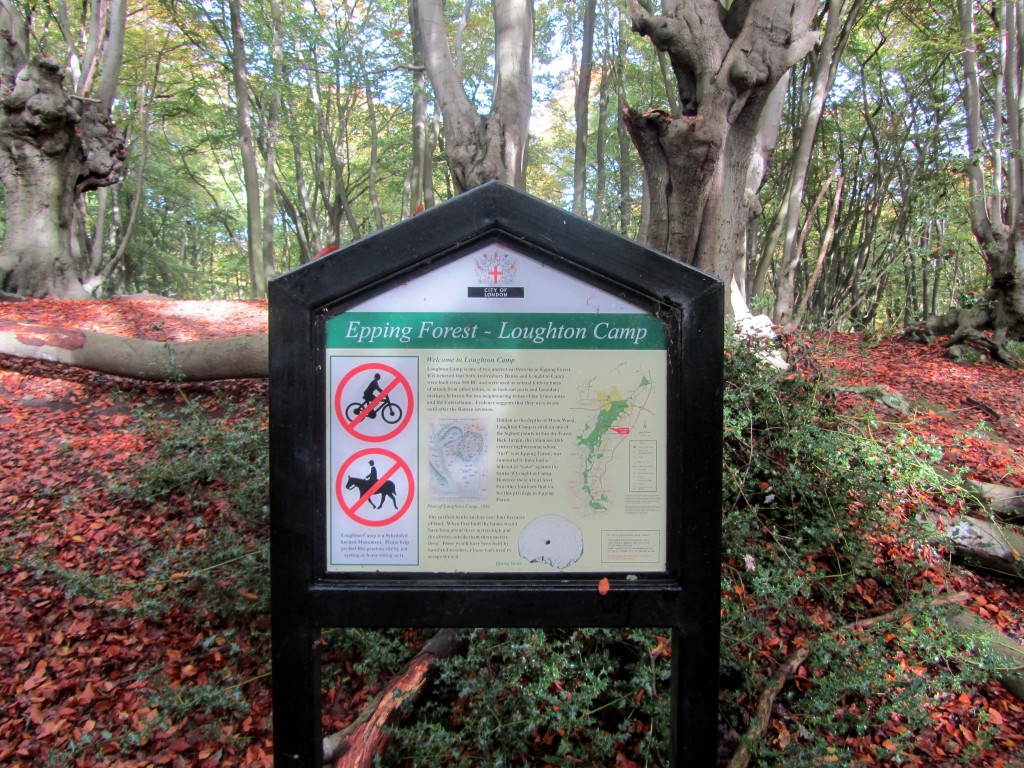 I don't know why this place has remained a mystery for so long. We previously sought out Ambresbury Banks, another similar Iron Age fort, but this one was overlooked until today.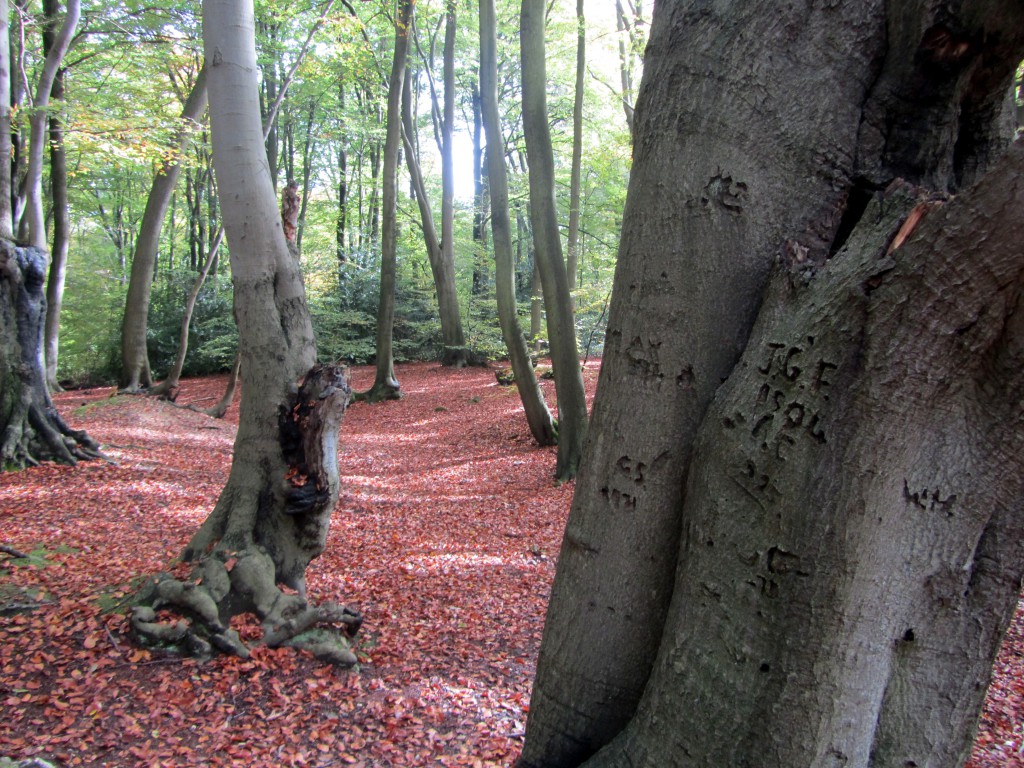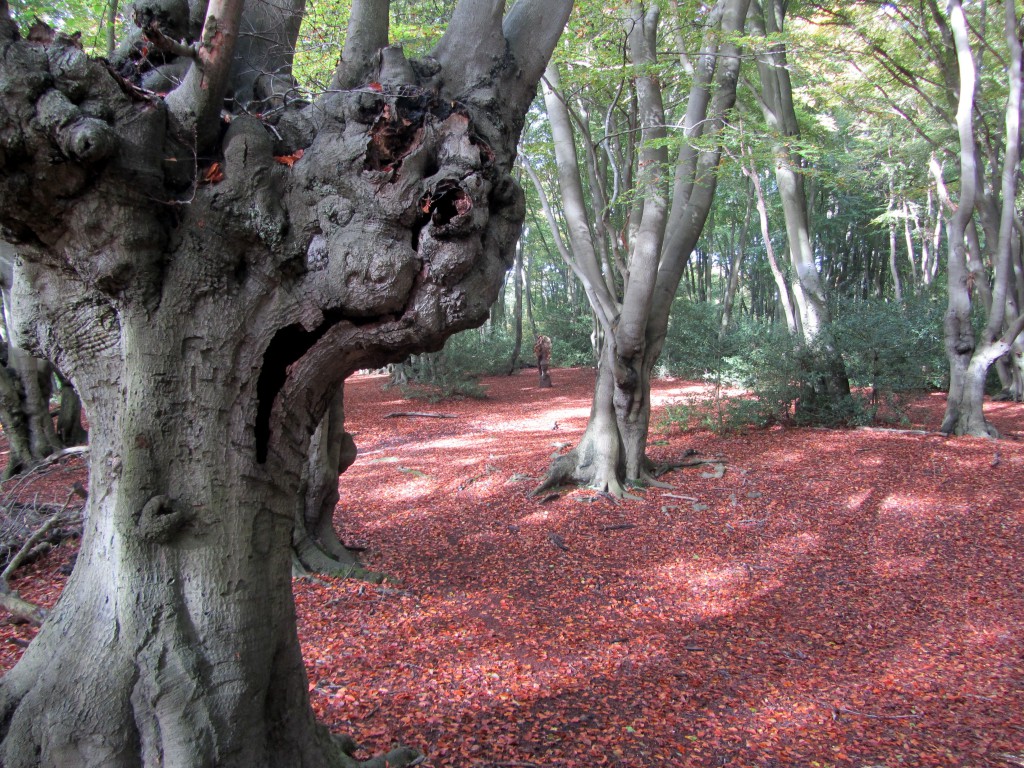 It's a magical arena of statuesque beech pollards quietly passing the time together, stoically bearing their scars and welcoming the occasional visitor into their midst with an unyielding surrender.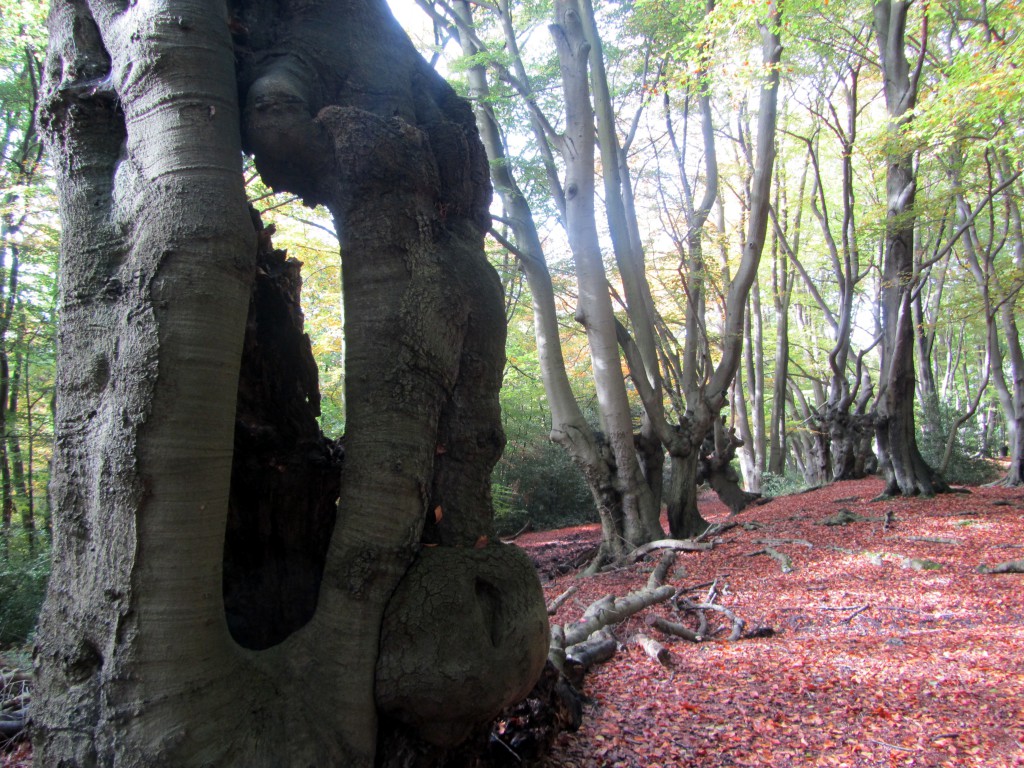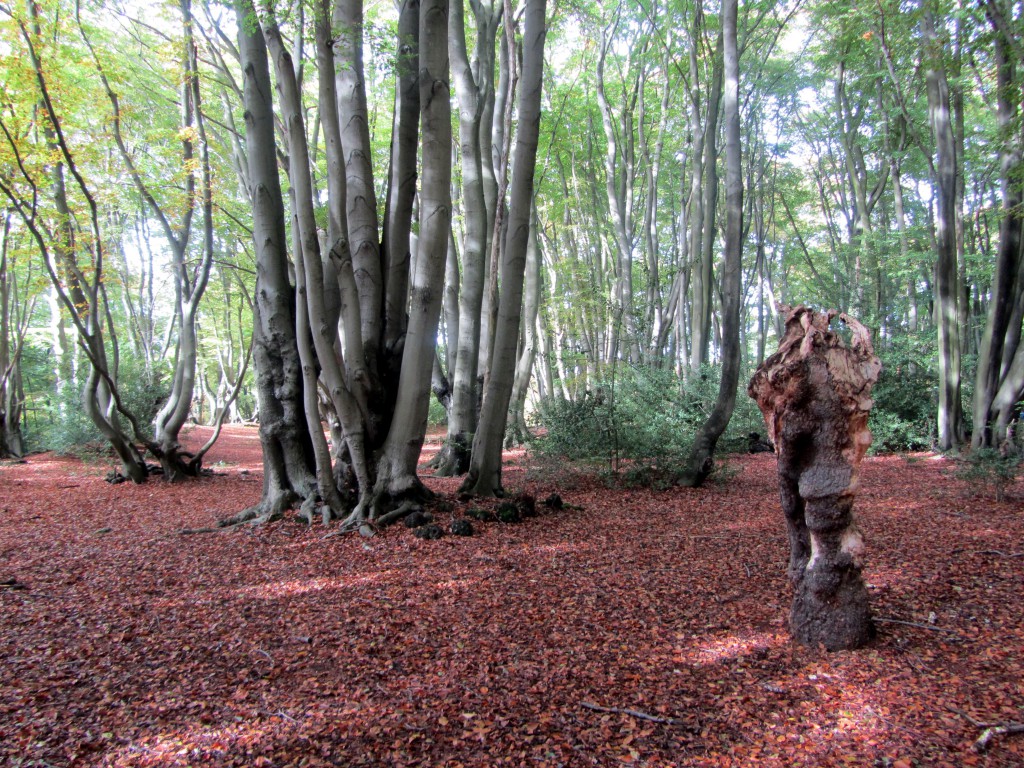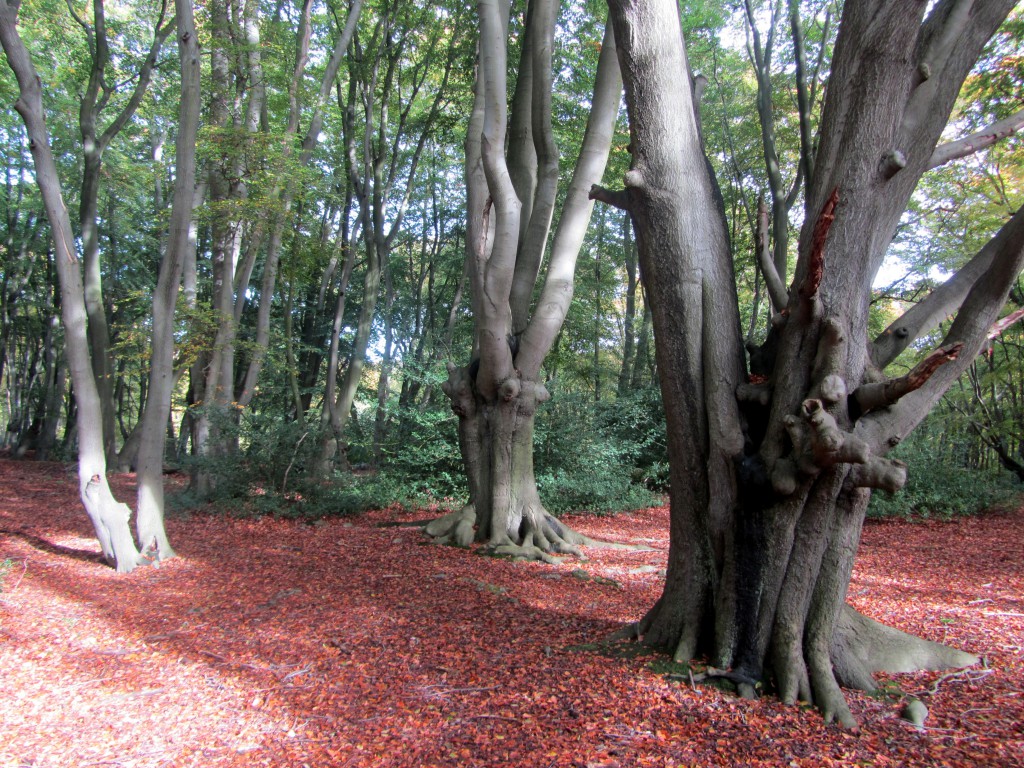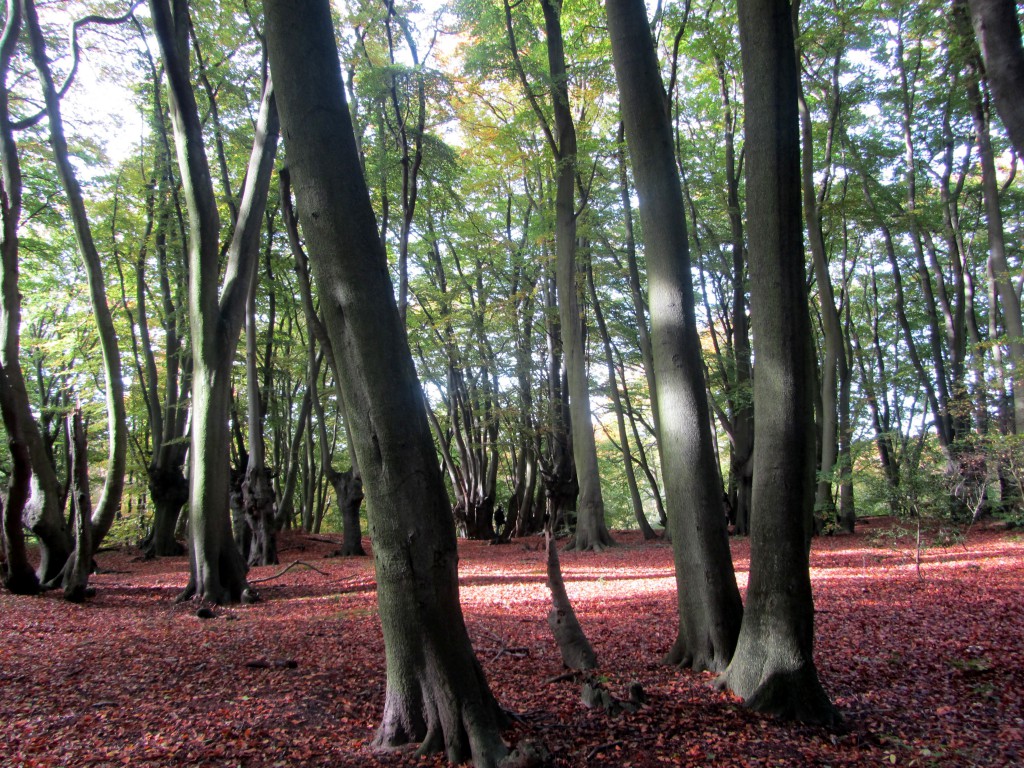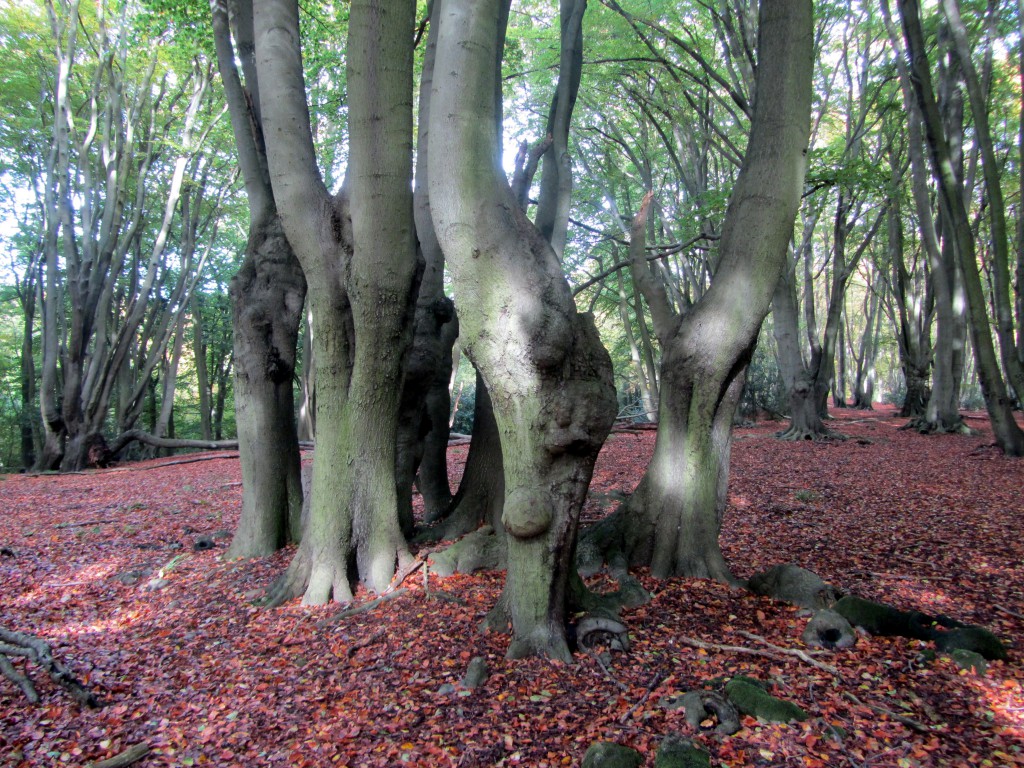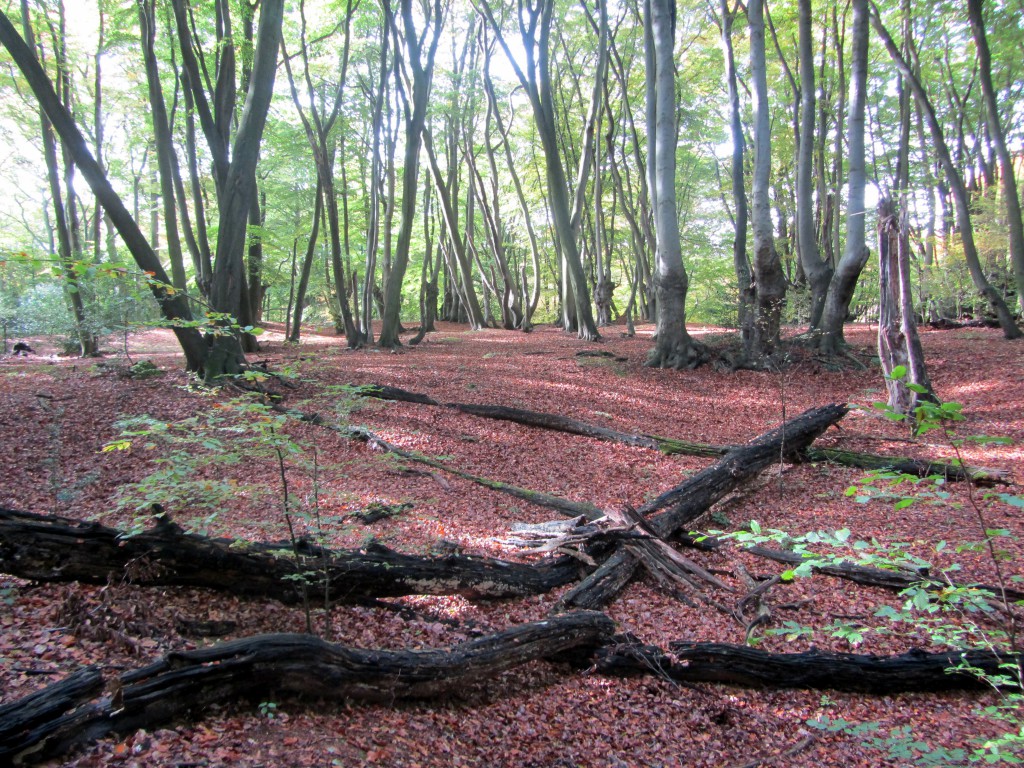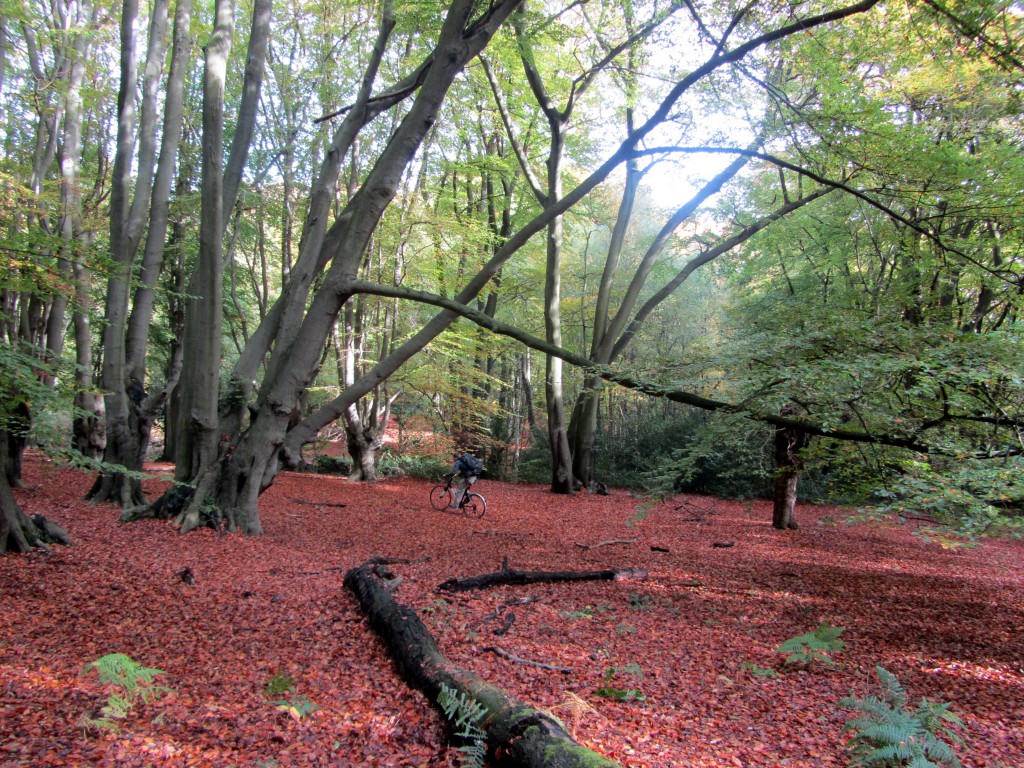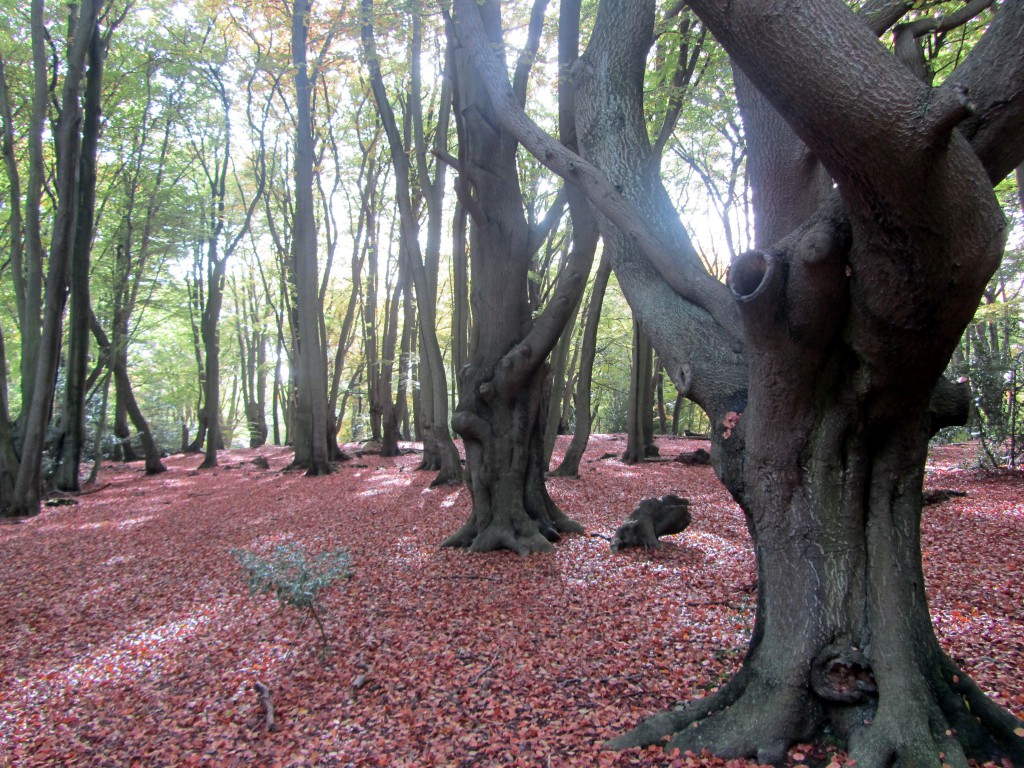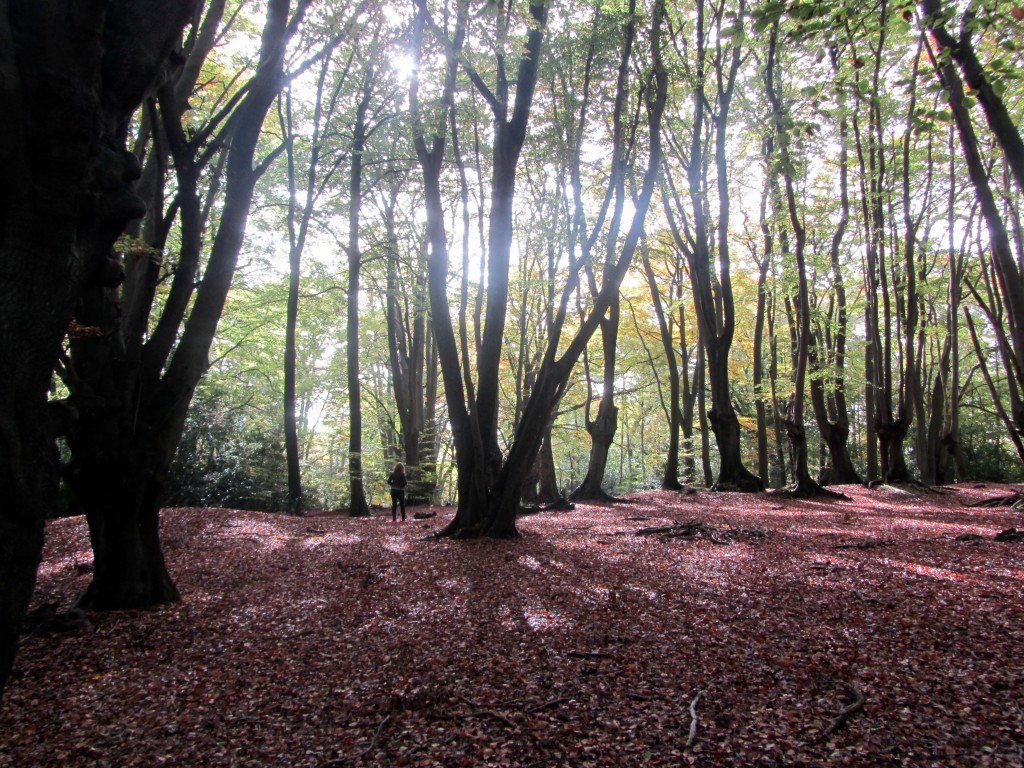 The ancient fort laid the foundations for what has become a spectacular tree cathedral.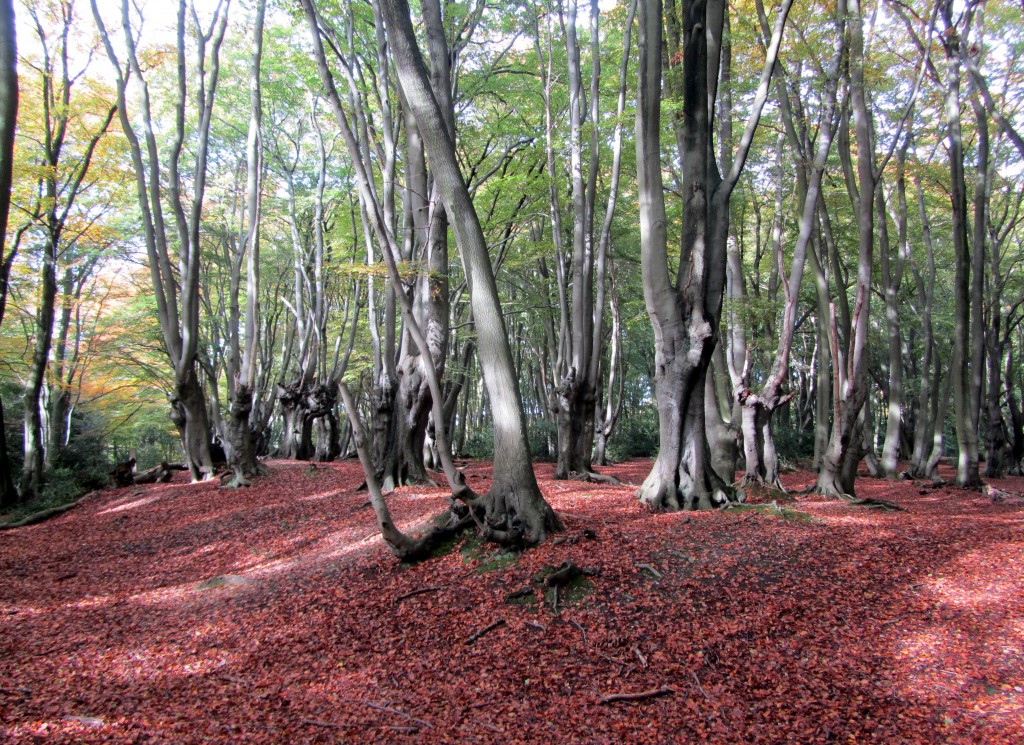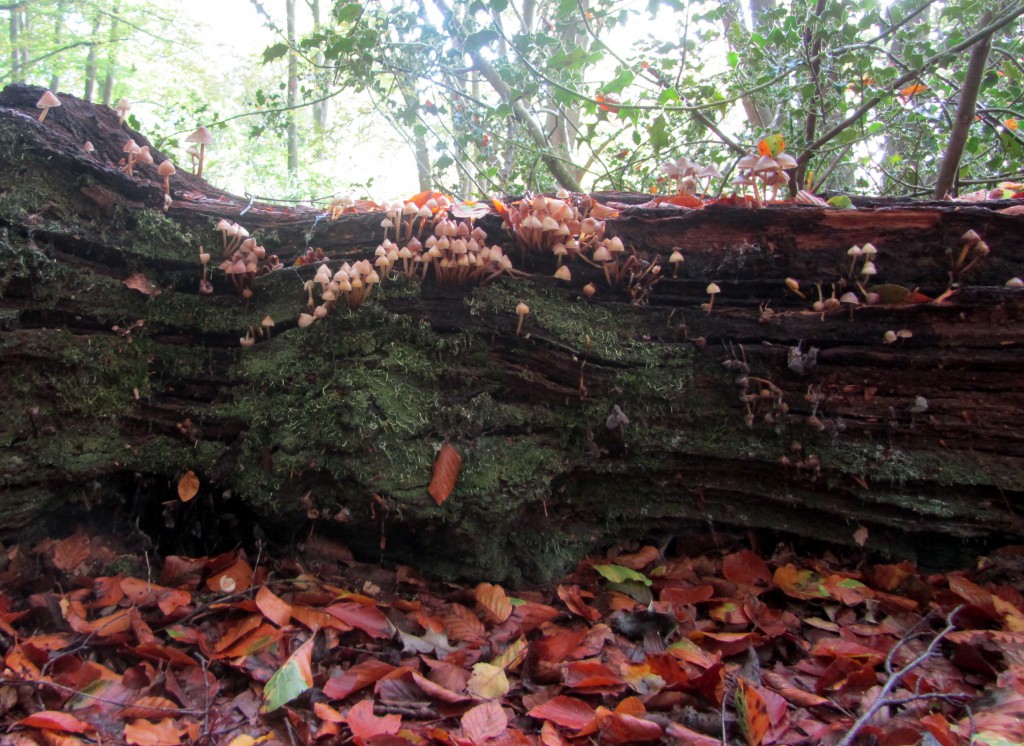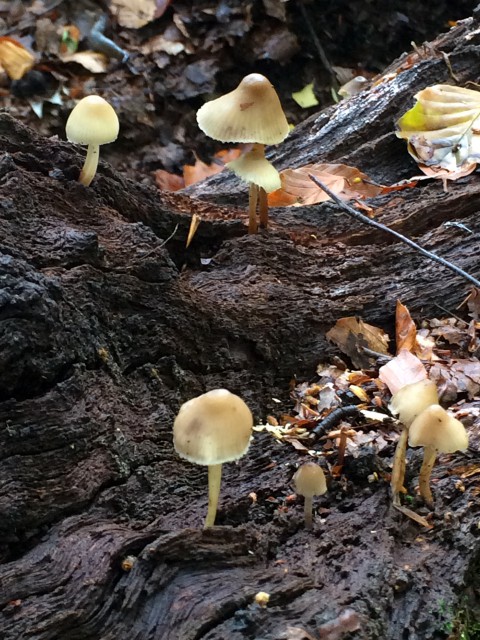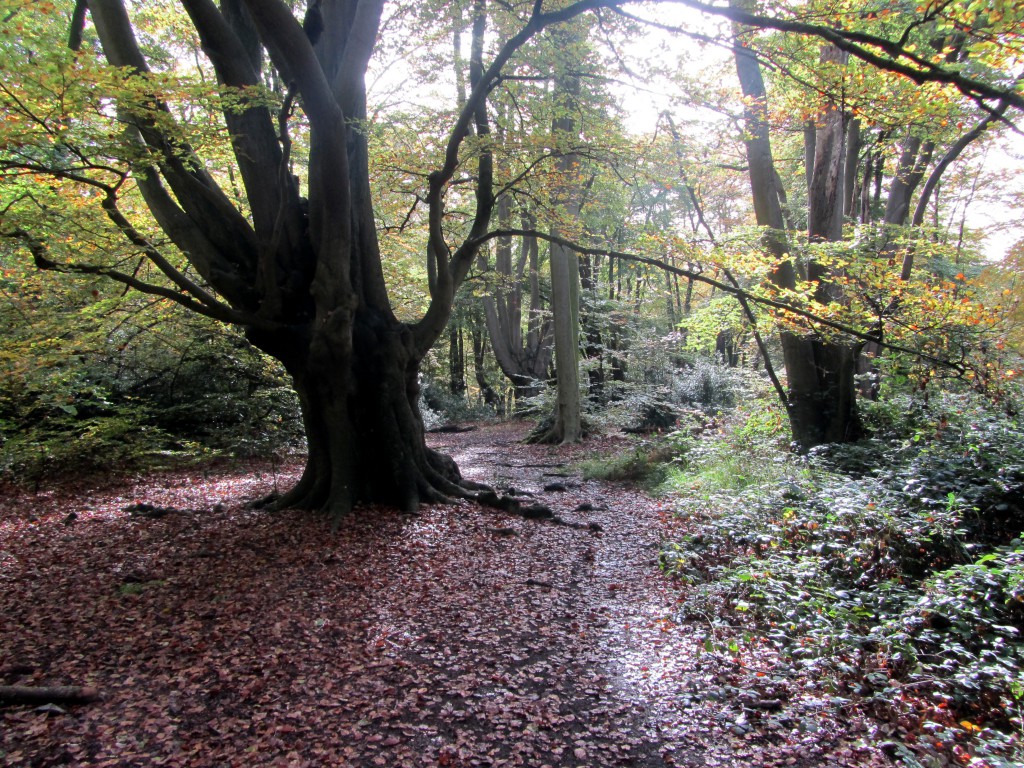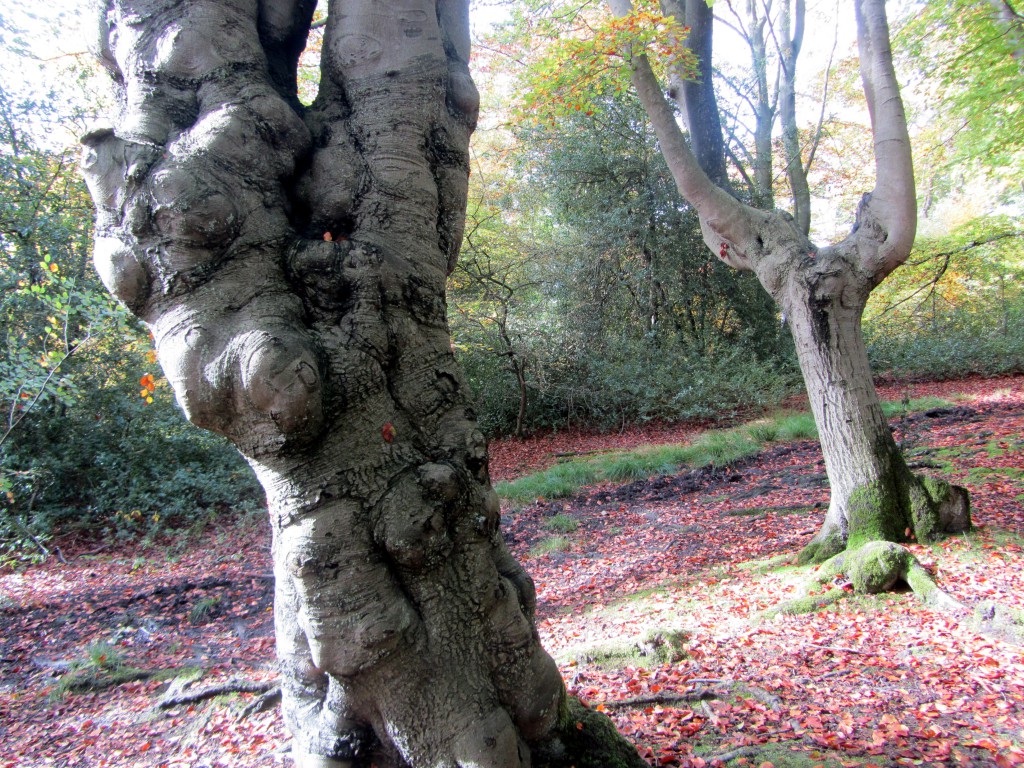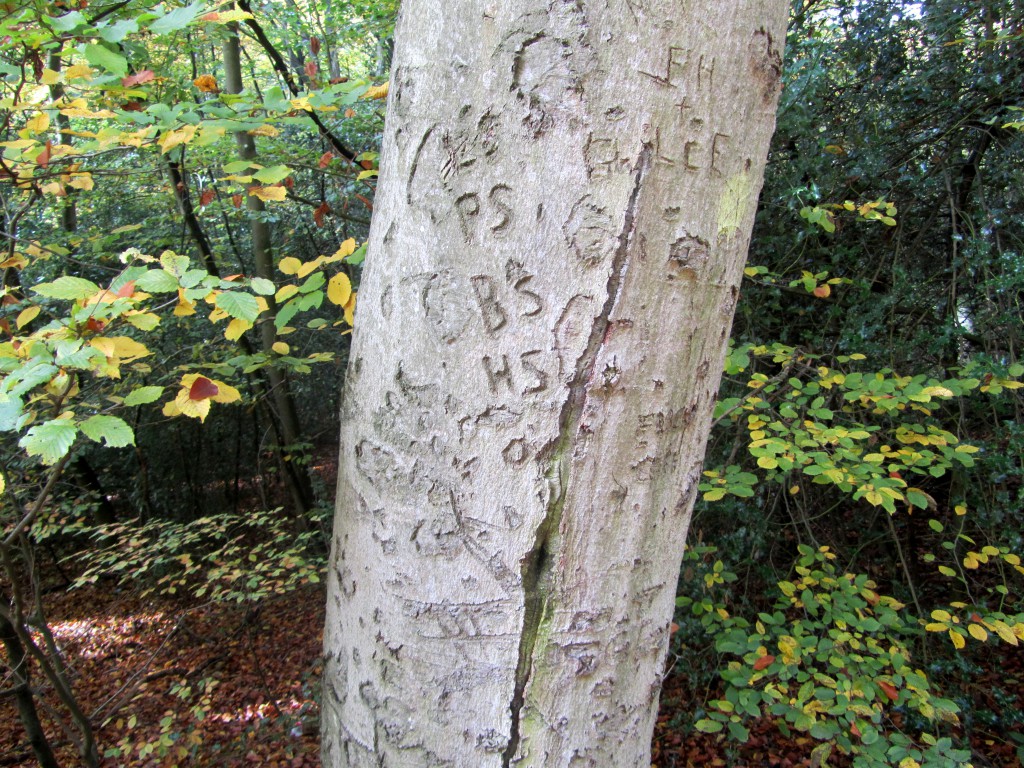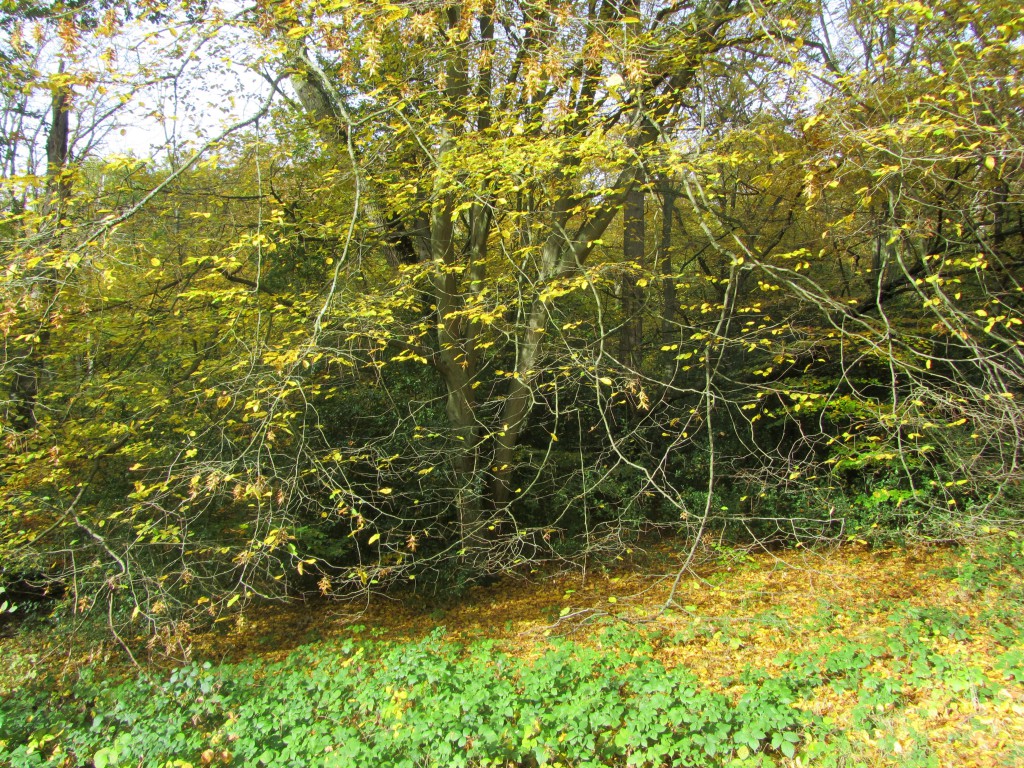 We came back down the hill along a rough track through the trees, catching a recurring sweet scent but without knowing what caused it, a mysterious perfume, there were no flowers here and no fruits we could see, only a shower of golden leaves as we returned to The Green Ride.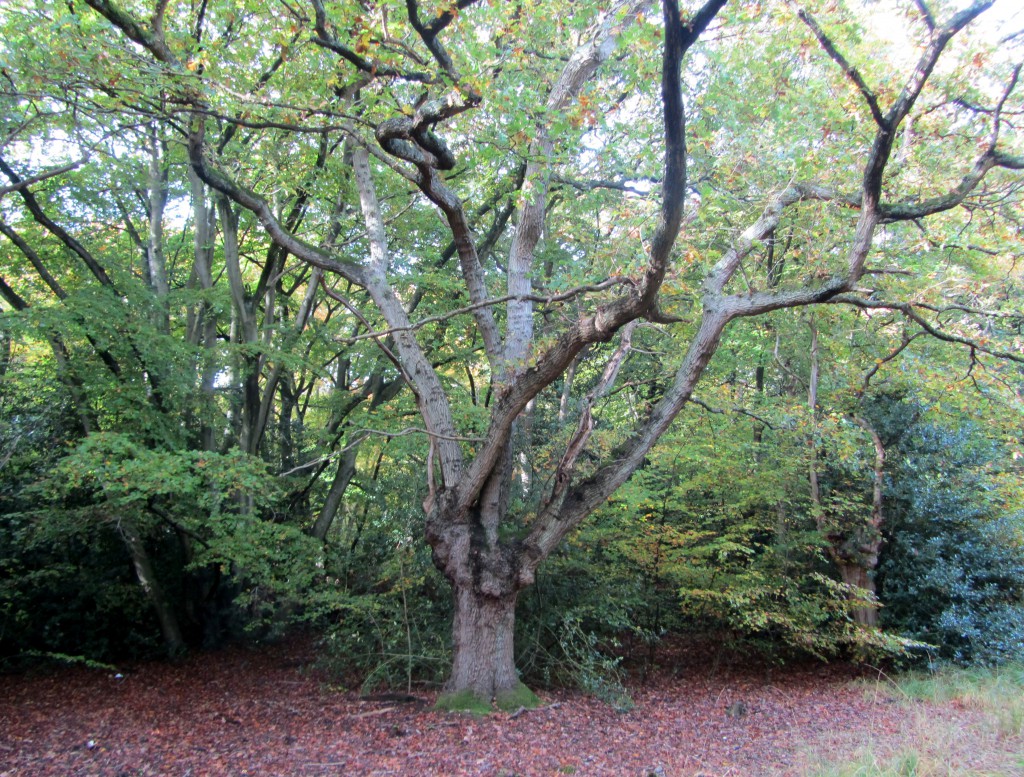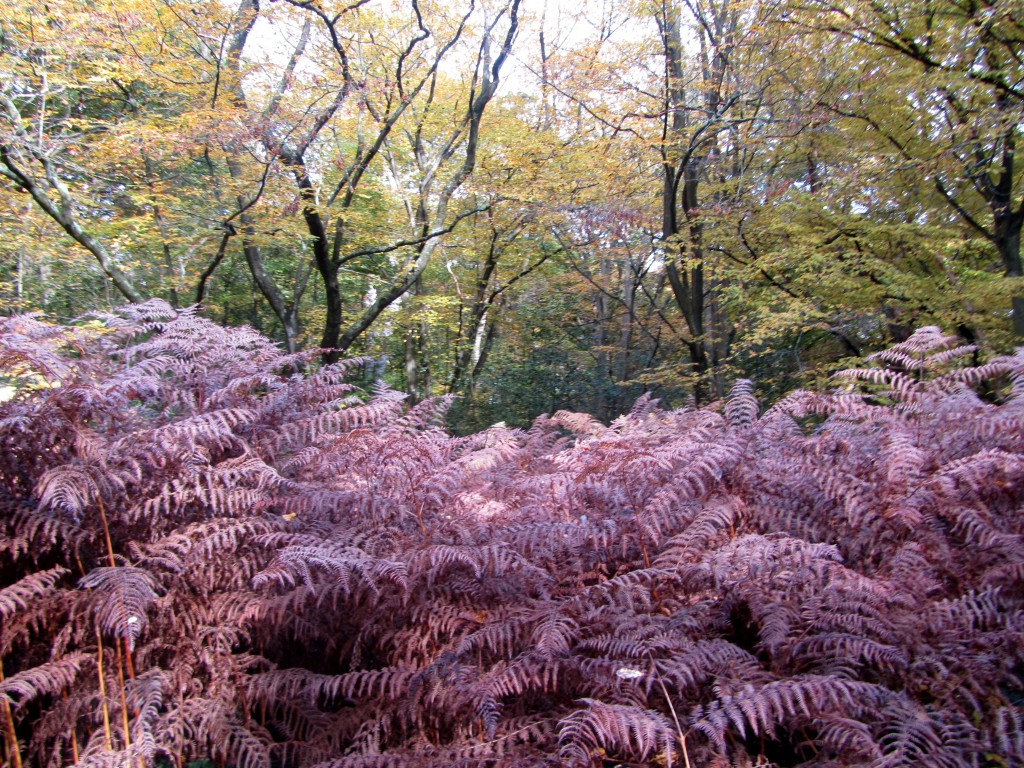 We came down Blackweir Hill to Baldwins Pond where I caught sight of a tempting rope swing, but we were headed for the pub at the top of the hill. I made a note to try the rope swing on our way back.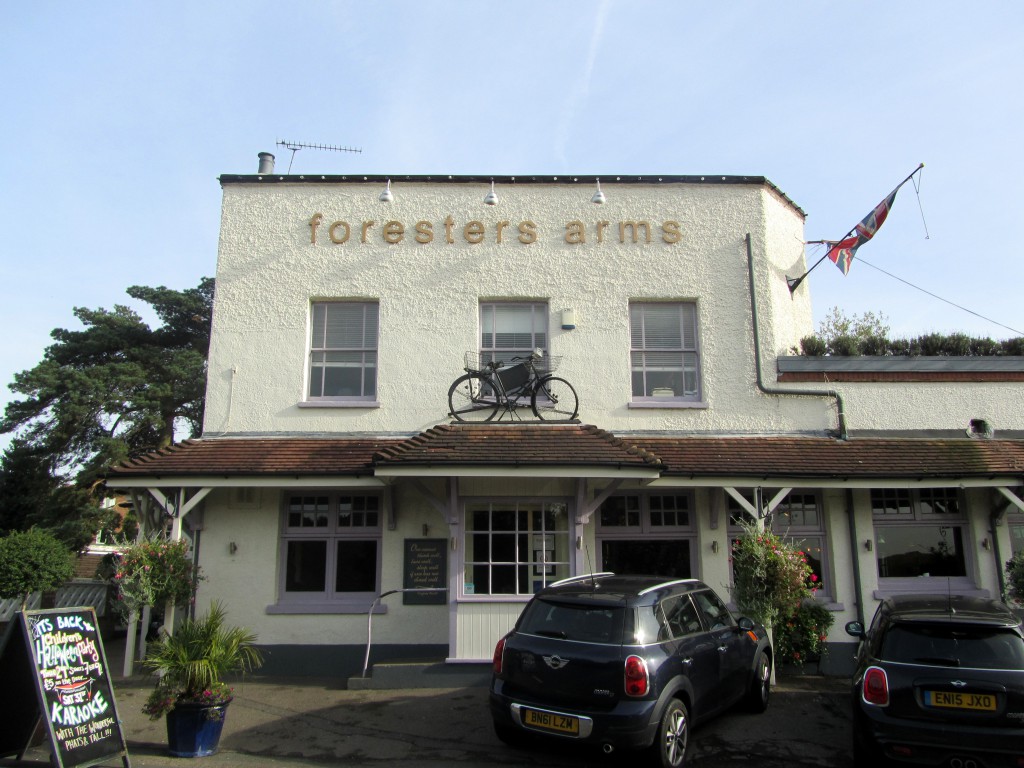 The Foresters Arms is a welcome resort at the top of Baldwins Hill, a great viewpoint over the forest and a good place to quench your thirst, but the framed photo in the gents toilet was unfortunate. The unexpected sight of Margaret Thatcher giving a victory V salute had me running for the nearest exit.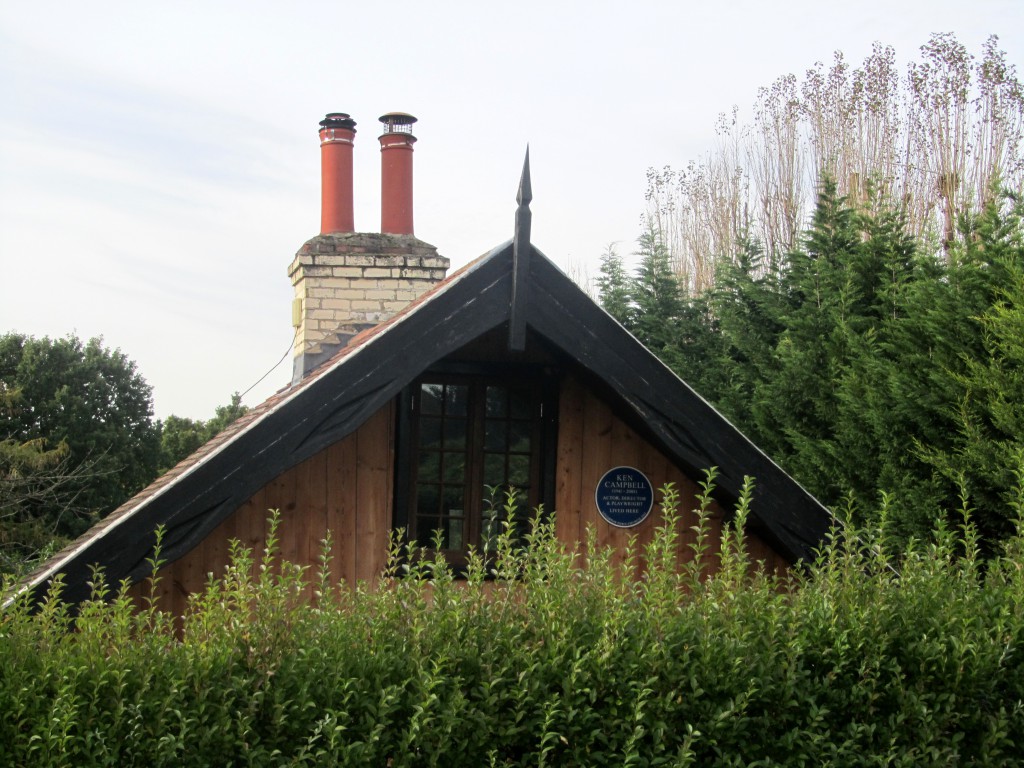 Over the road the balance was restored by a blue plaque for a genuine National Treasure
Ken Campbell
(1941-2008)
Actor, Director & Playwright
lived here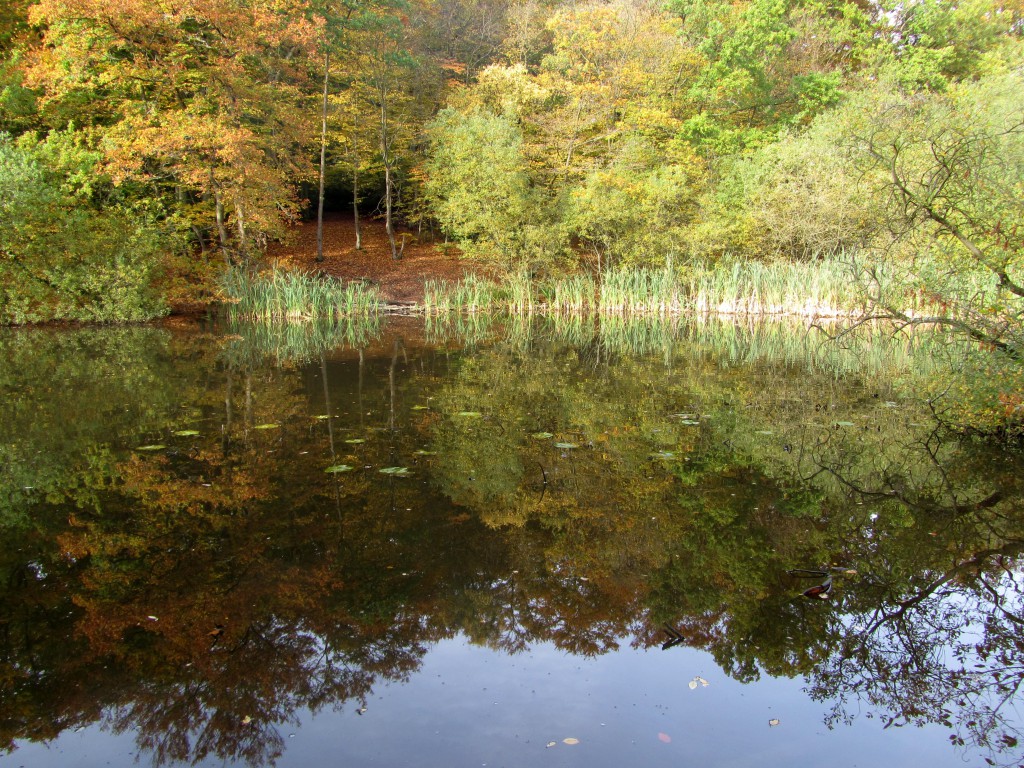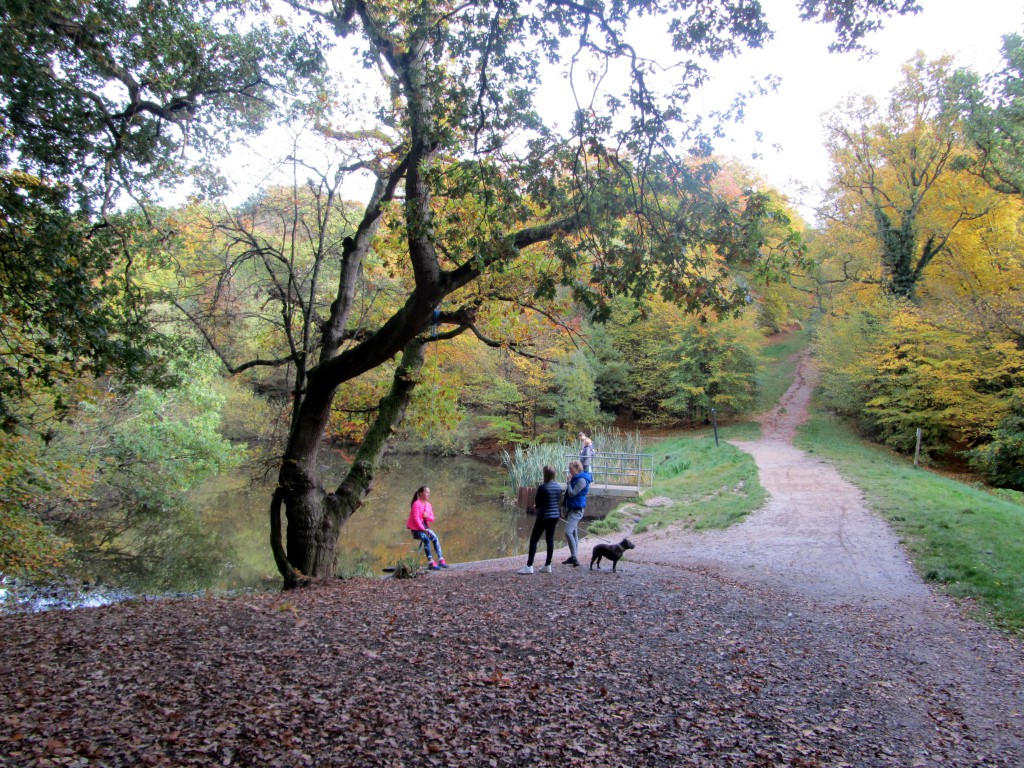 Back down by Baldwins Pond and the rope swing was already engaged. I'd missed my chance.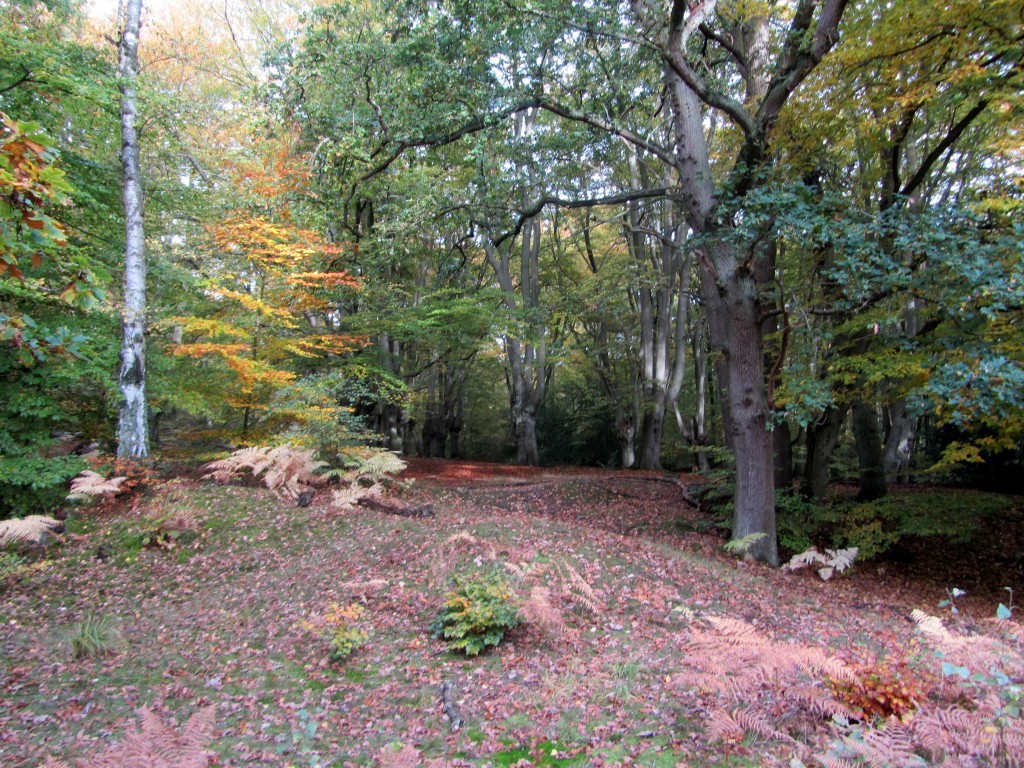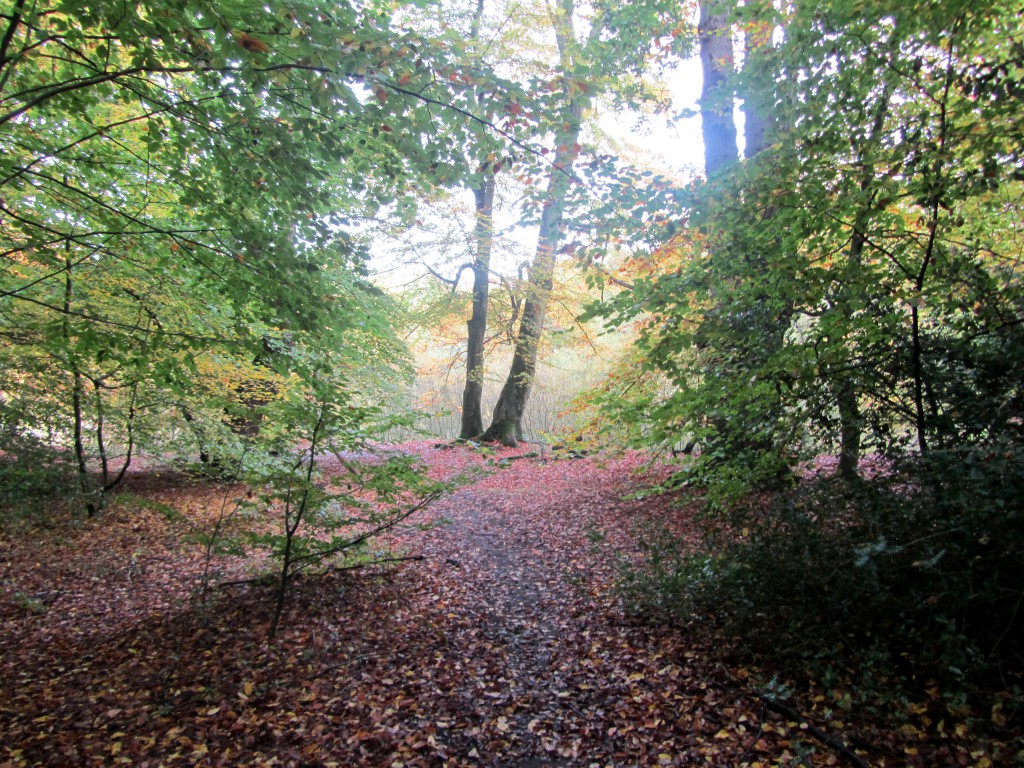 We climbed the hill and went looking for Blackweir Pond, also known as the Lost Pond. It's off the beaten track and often overlooked. It's one of my favourite forest beauty spots, and somewhere here I long ago carved our initials on one of these trees. I just wish I could remember which one it was.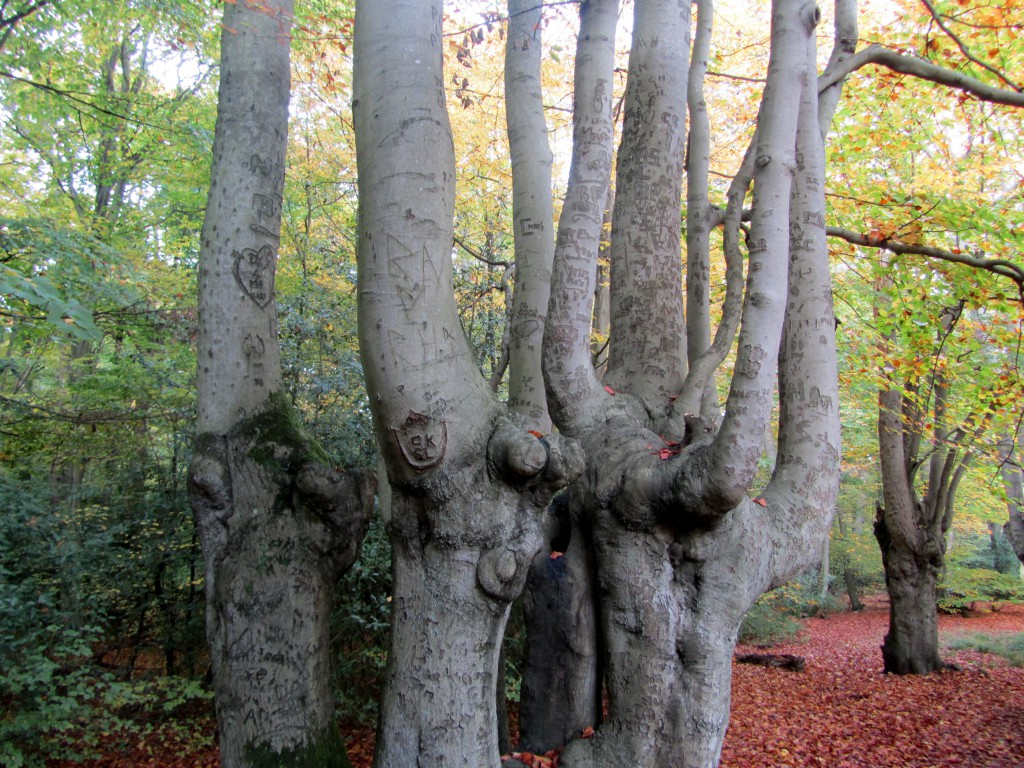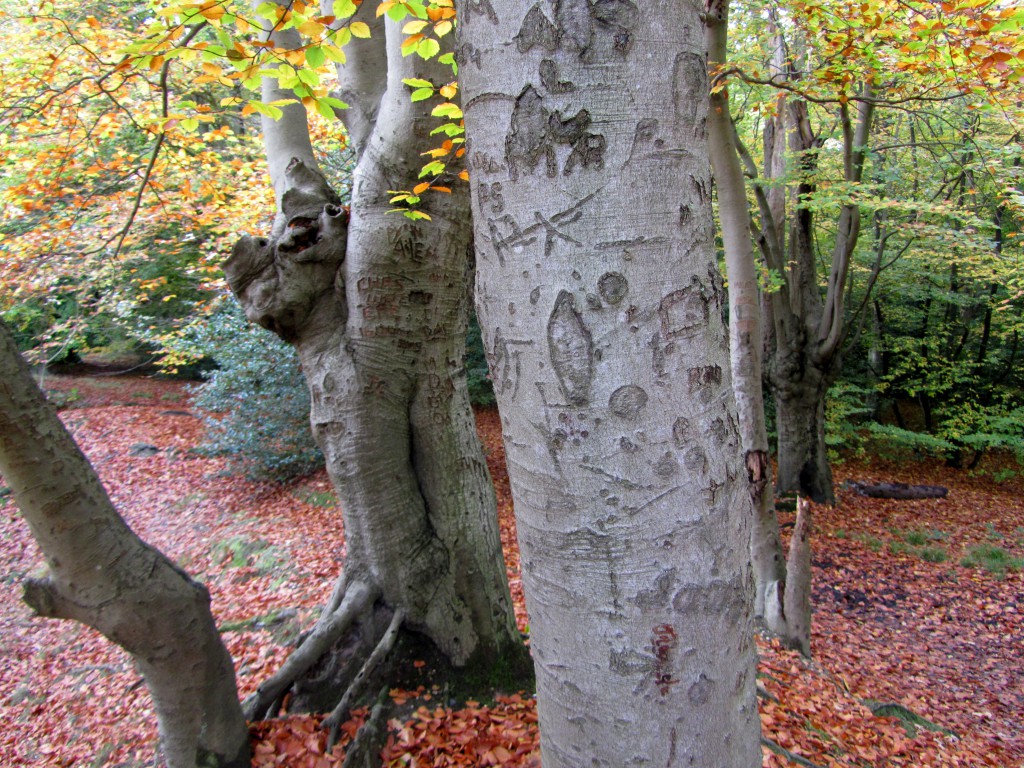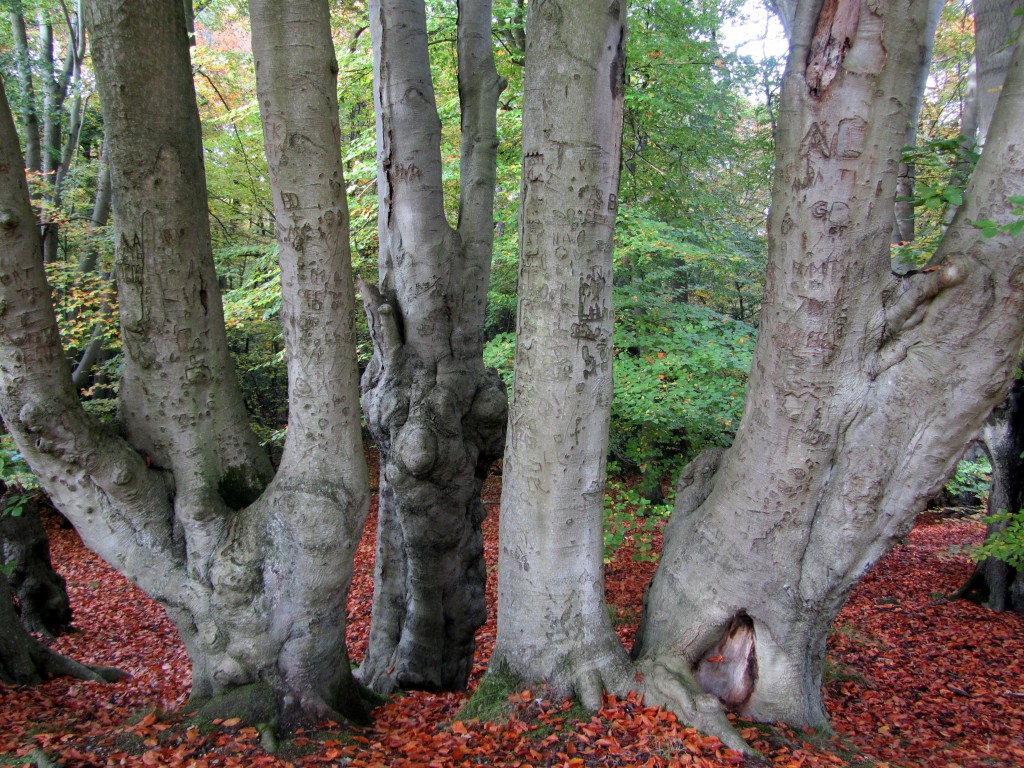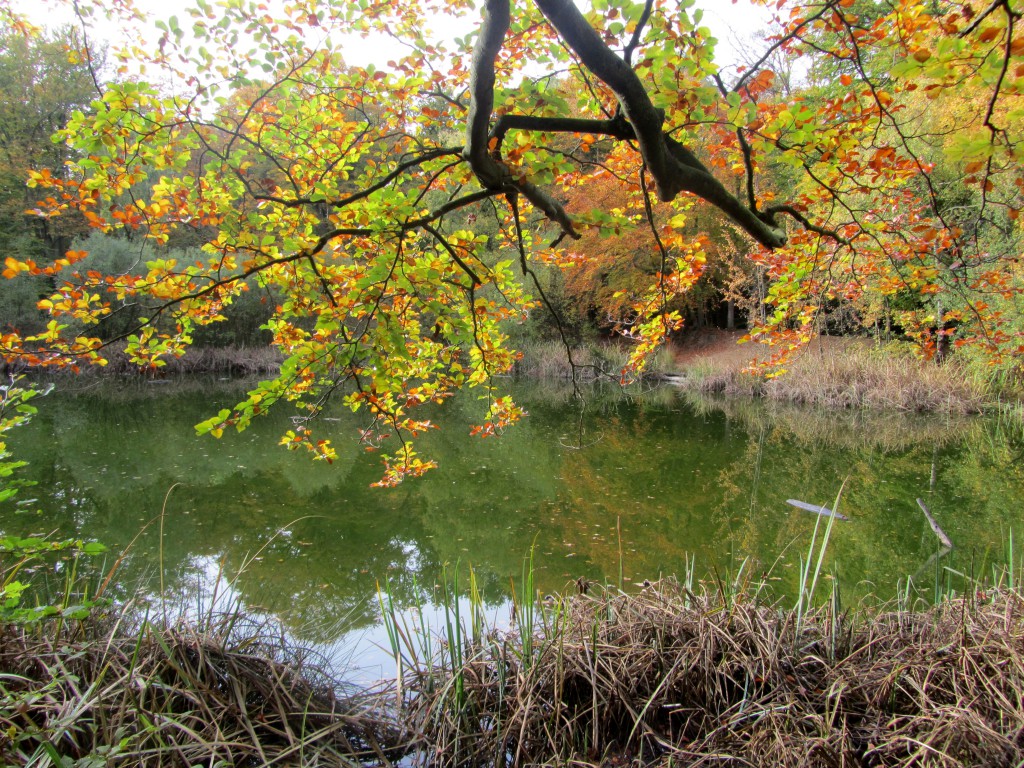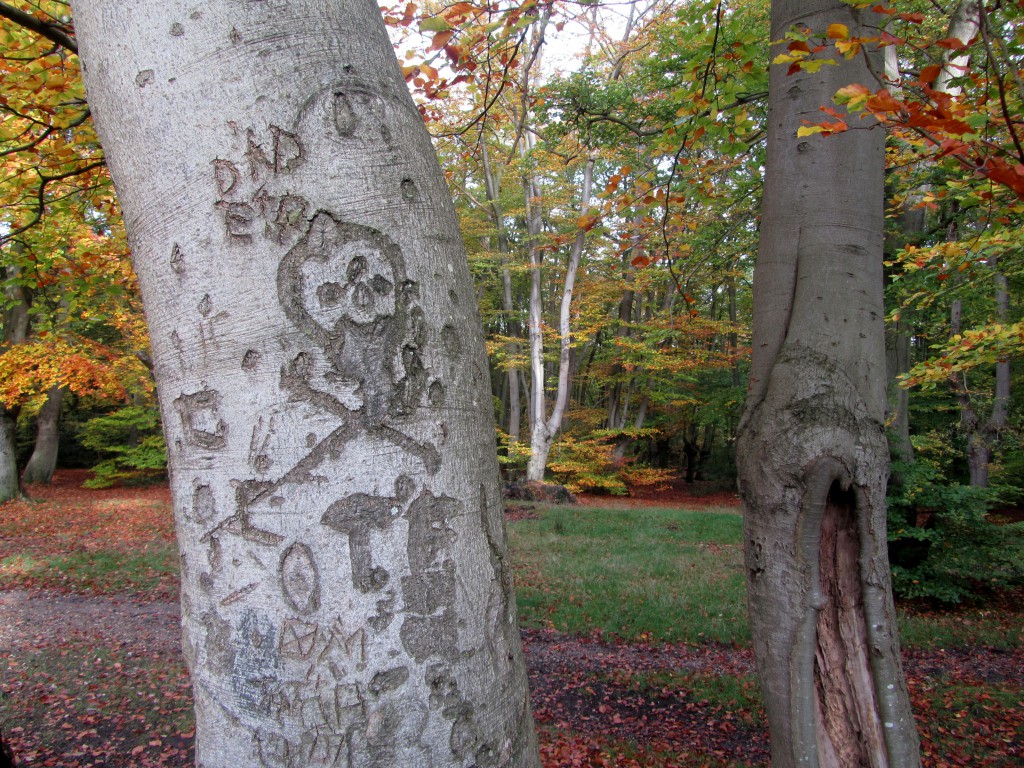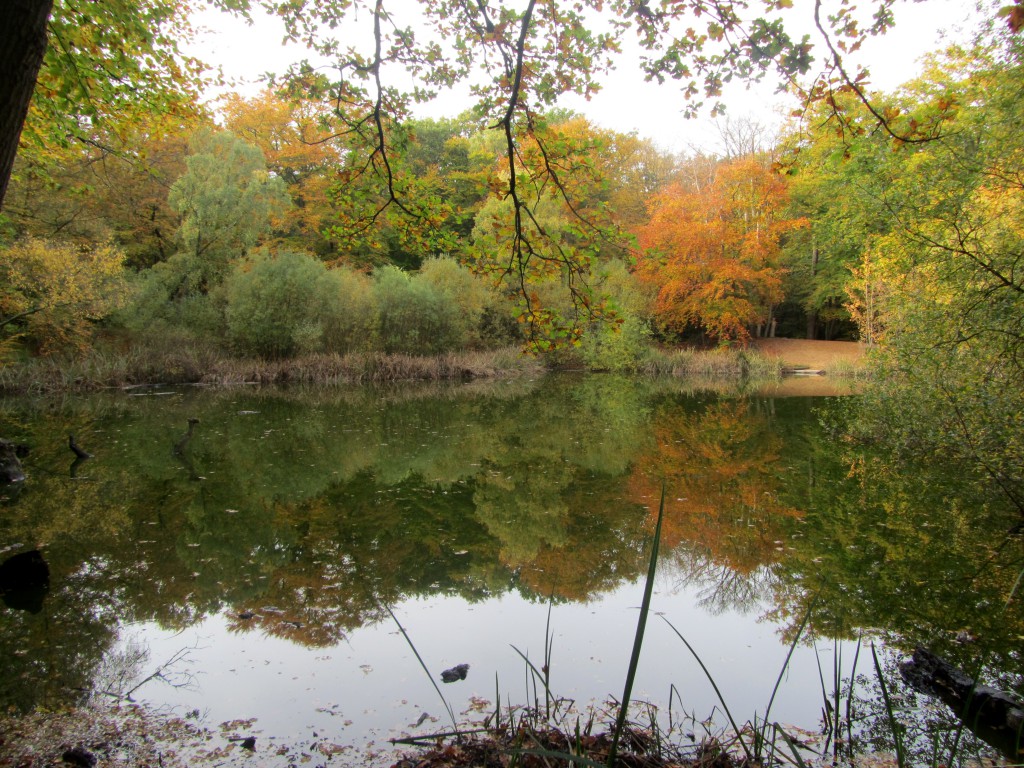 There was also once a climbing tree here, fitted with metal rungs to provide a higher view over the pond, but I can't find that either. I'm glad the water remains. Before 1895 this was just a gravel pit.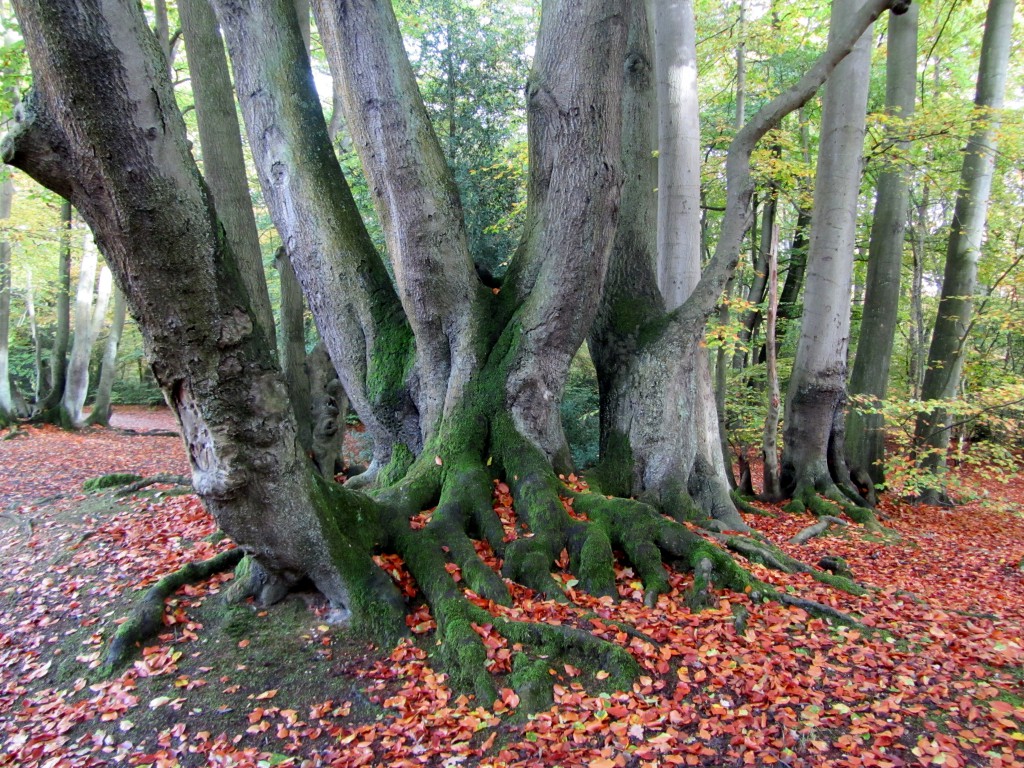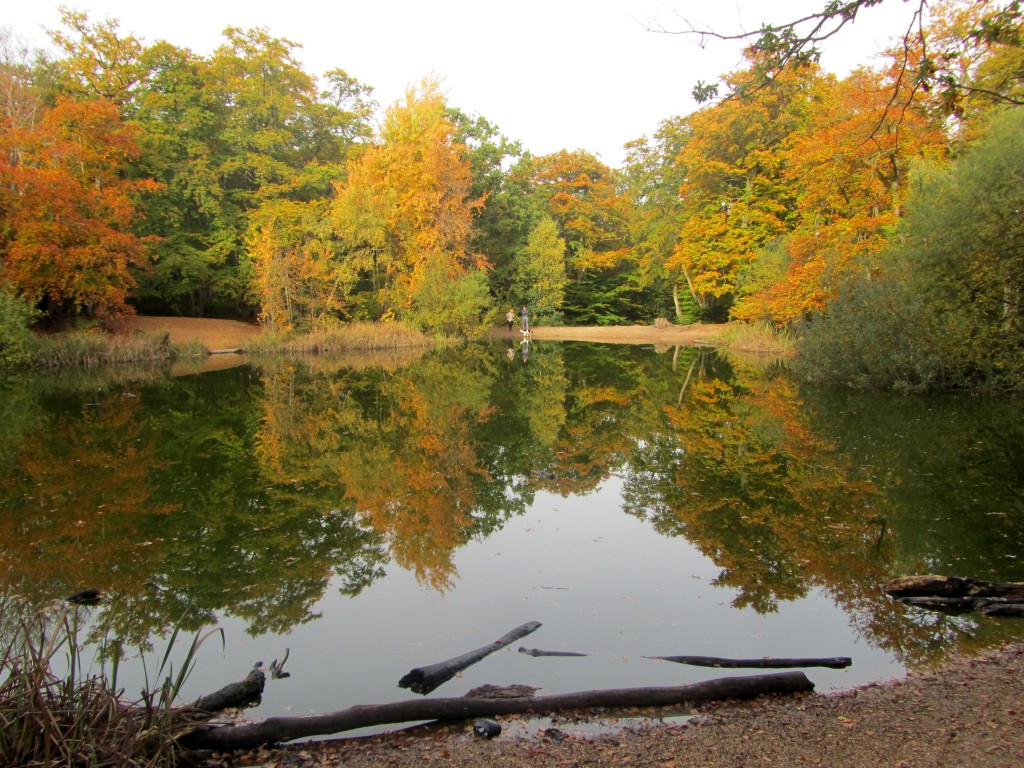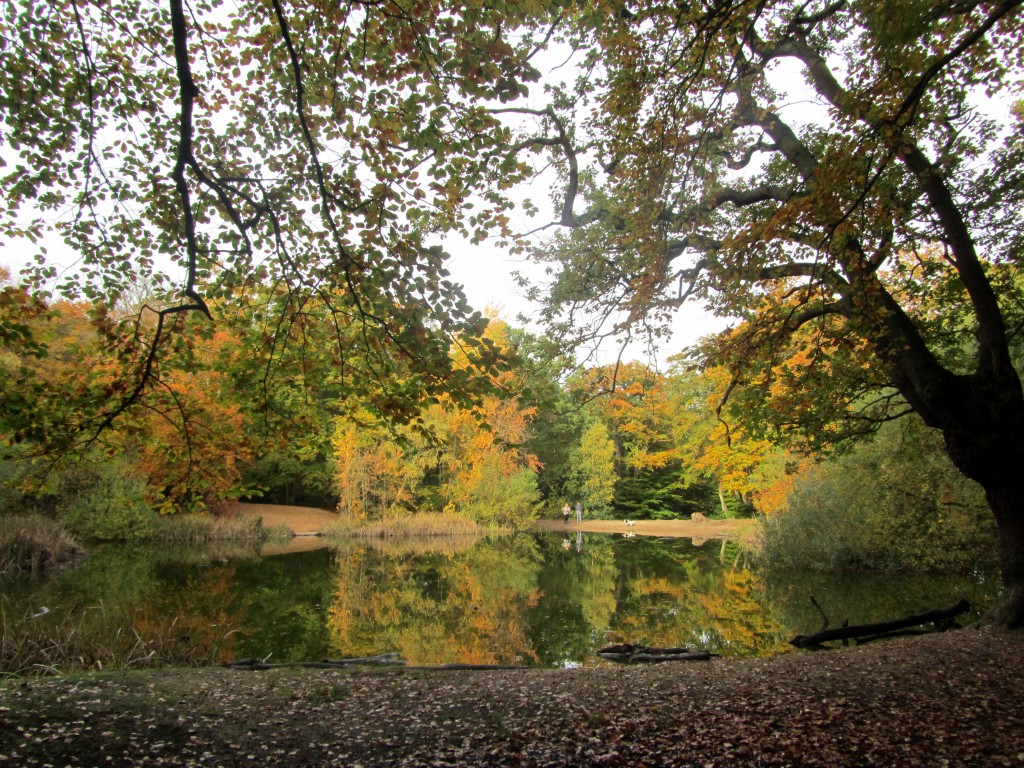 We walked around the pond absorbing every picturesque eyeful, all the more pretty for being lost, for our eyes only, or so it seems. Perhaps we all take it in turns to pretend we are the only visitors here.
Then over on the far side we discovered a hidden giant that was here long before the pond.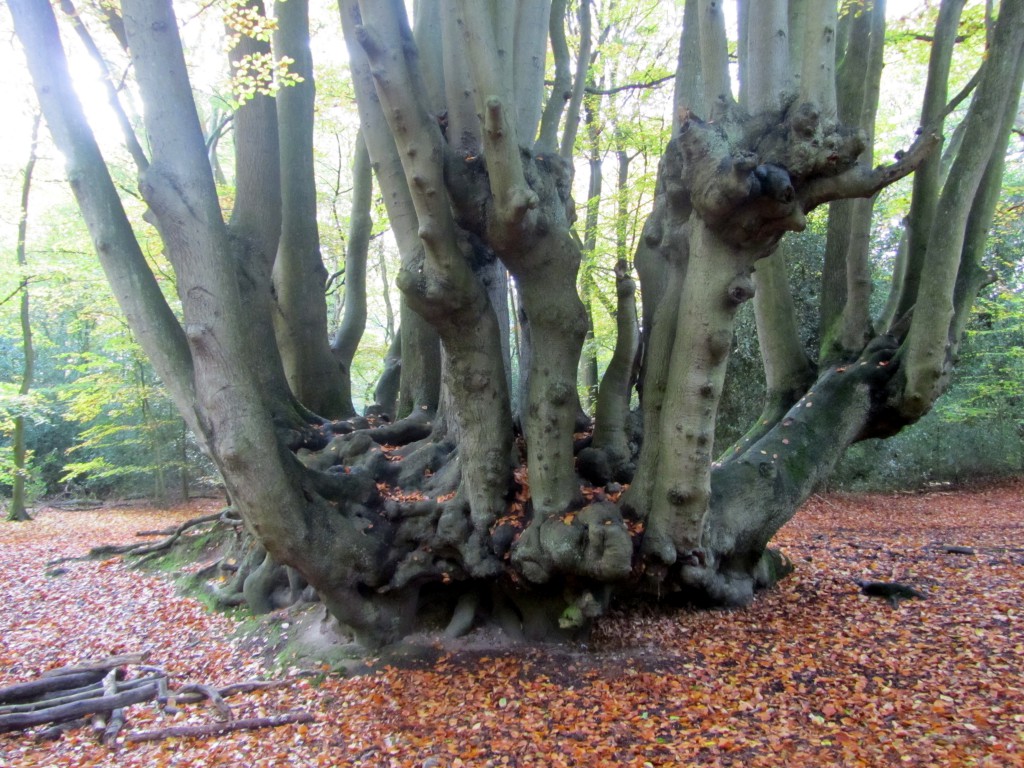 It looks like a lapsed coppice stool whose stems were later pollarded. A coppice beech pollard? I'm not sure what to call it other than spectacular. It's amazing. I didn't have a tape measure with me but I'd guess it must be at least 50 feet in circumference around the base. It's very big and probably very old.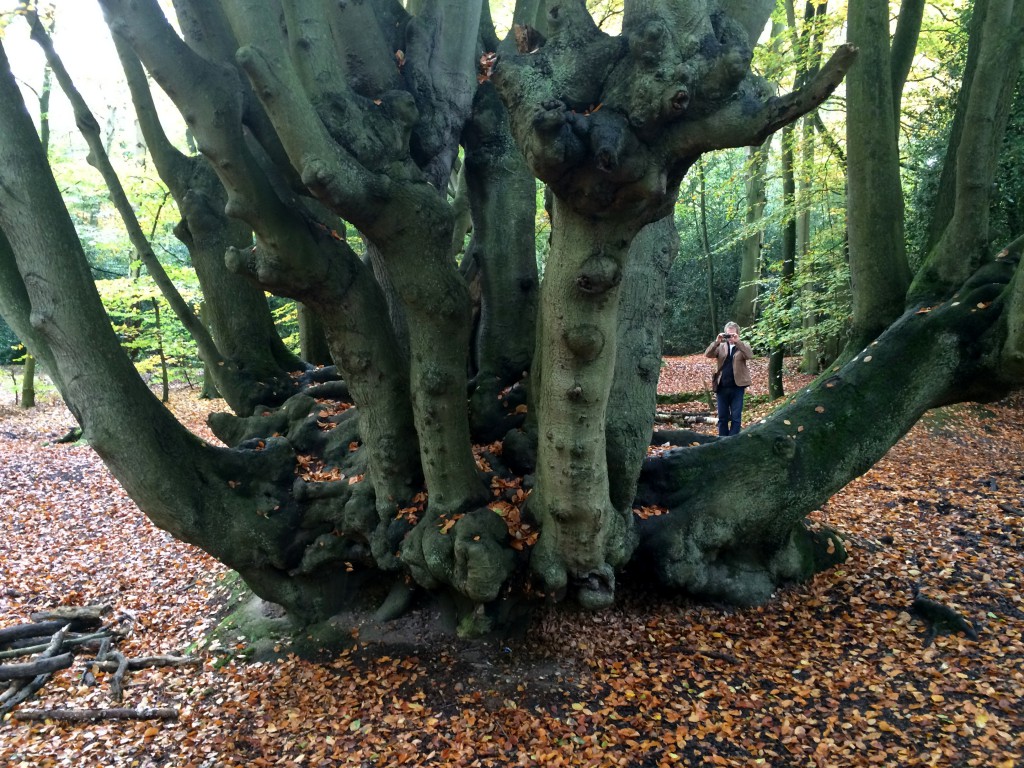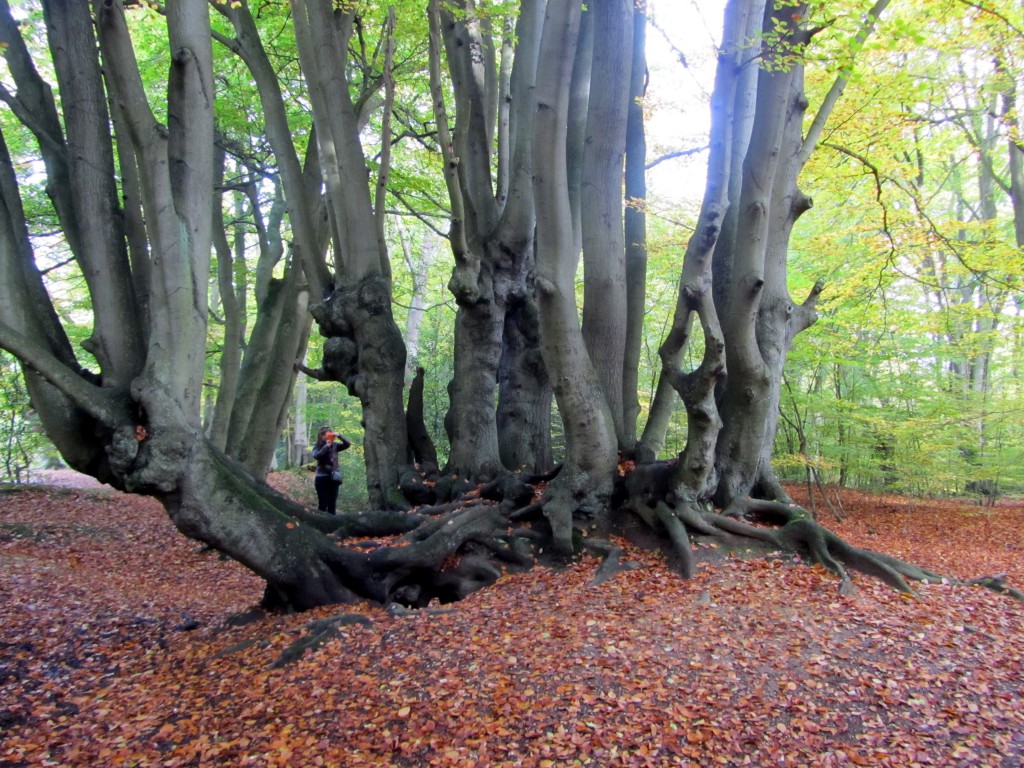 I later learned that this is what's known as a coppard and it could easily be 1000 years old.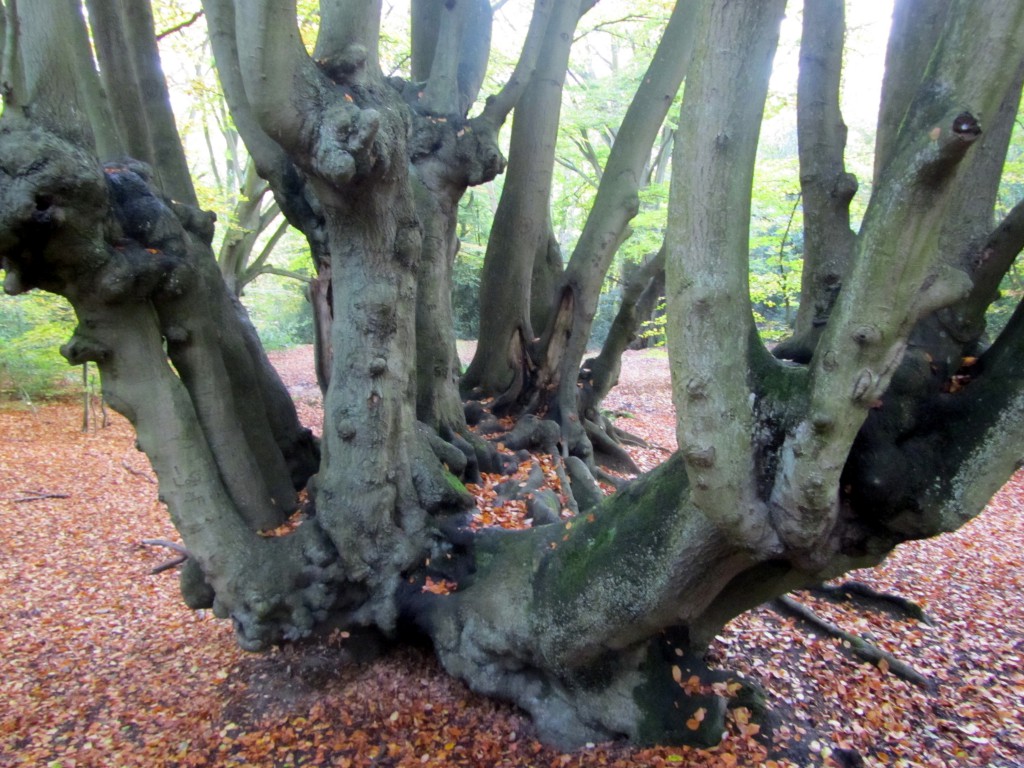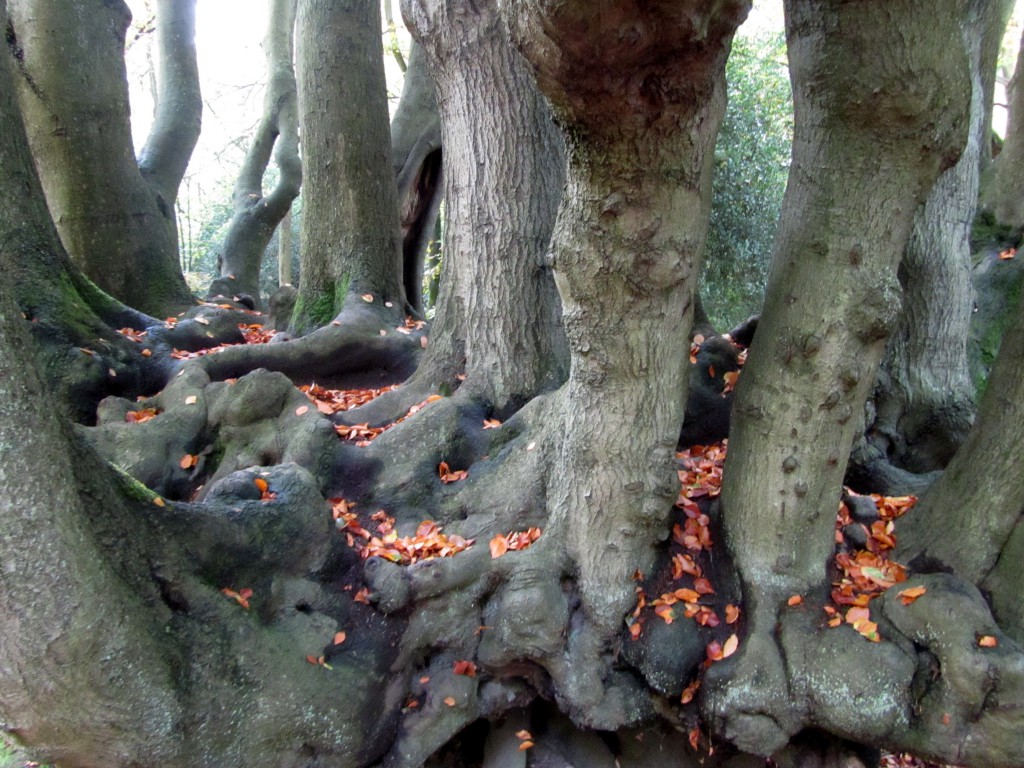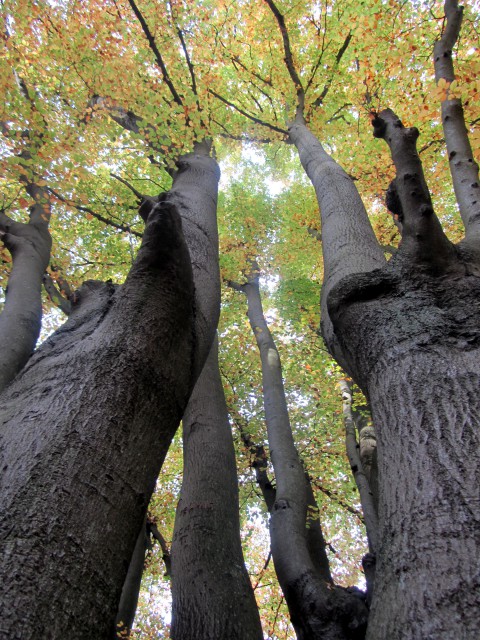 I love these woods, they're inexhaustible and always surprising. There's diversity and conviviality, new discoveries to make and familiar places to visit, and they all look different every time.
We returned to the Lost Pond for a last look and found a pool of reflections, a mirror of golden light.