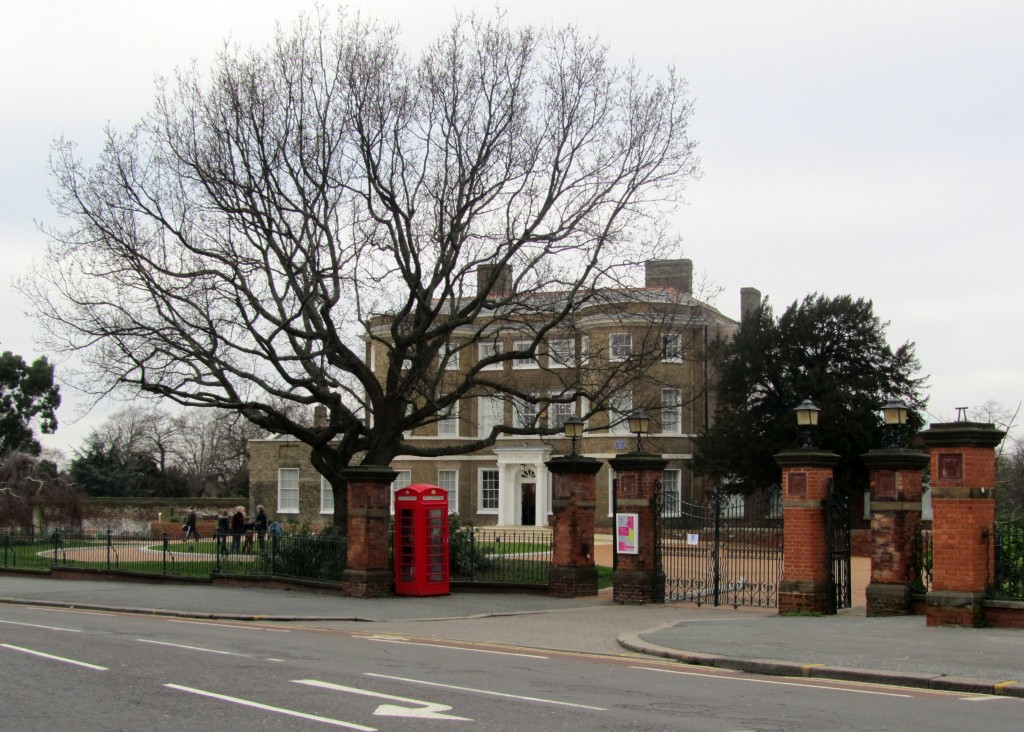 The William Morris Gallery is at Water House in Lloyd Park, Forest Road, Walthamstow. William Morris was fourteen when his family moved here in 1848. They had downsized from Woodford Hall where William's playground had been Epping Forest. At Water House he played in the grounds, particularly the moated island where he imagined there be dragons.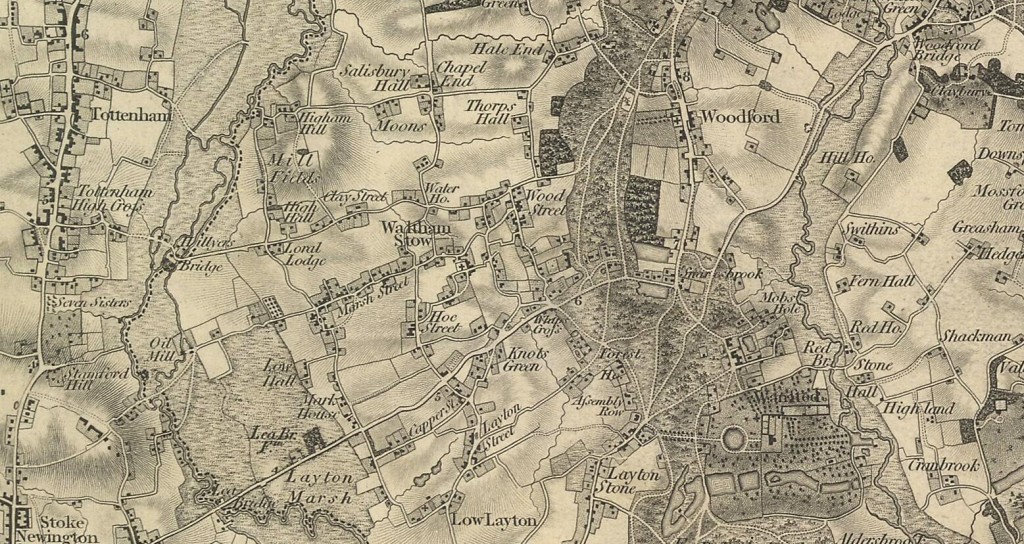 This map is courtesy of A Vision Of Britain and it shows Water House just above Waltham Stow. I think I probably first came here in 1979 when cycling from Tottenham to Epping Forest. My memory is that it was not an attractive museum. Dark and drab and filled with old fashioned fabrics. It was not my style. I visited again 30 years later and it seemed even more forgotten and uncared for, especially the gardens. But now, miraculously it's transformed. Now it is filled with light.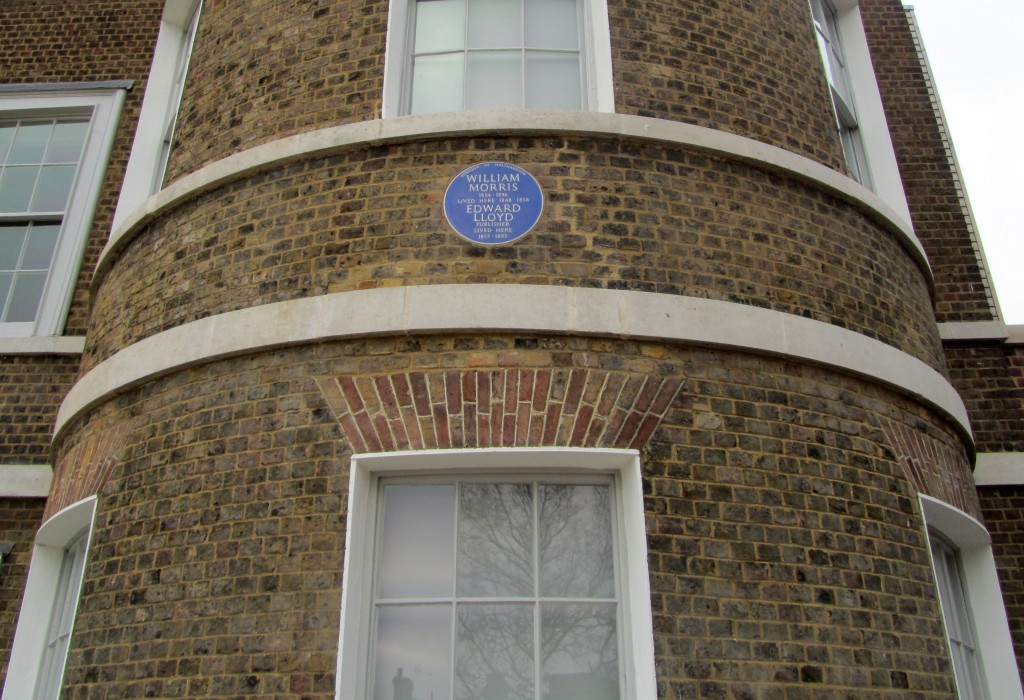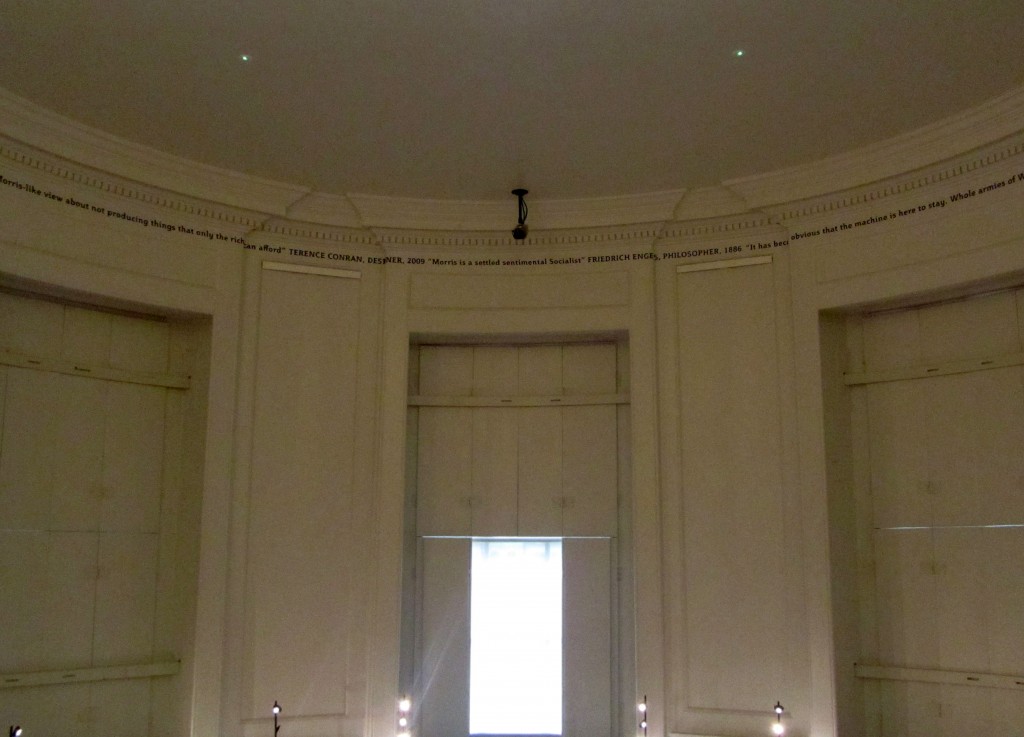 Over the last few years the William Morris Gallery has received some long overdue attention and restoration. Whilst this was happening many of the museum's treasures were on view at Two Temple Place. Seeing them in a new light helped but back here in their rightful place they seem rekindled.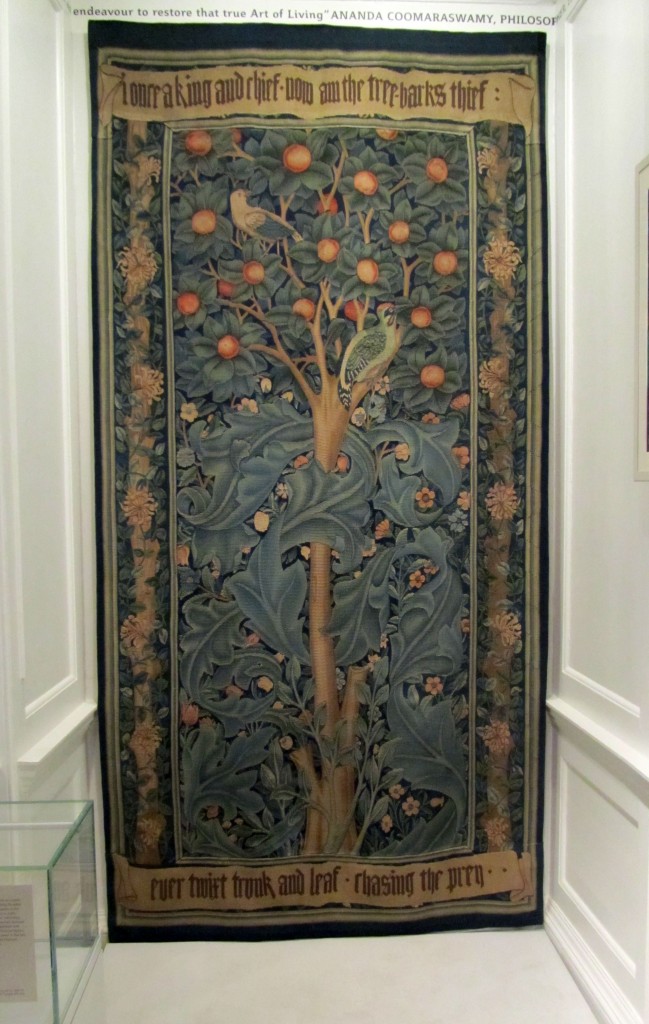 The gallery was relaunched in August 2012 under the banner of Grayson Perry's epic 15 metre long comic strip The Walthamstow Tapestry, an illuminated progress from birth to death 'via the shops'.

Alas we were too late to see it when we visited but more details of its production can be seen here.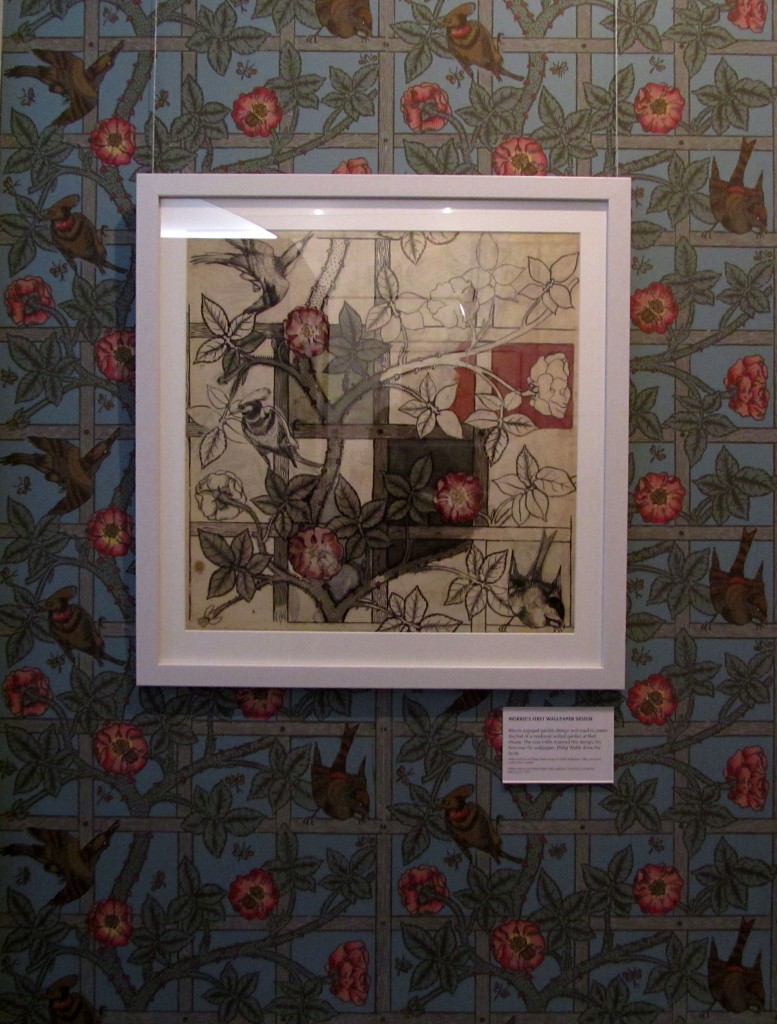 This is Trellis, the first wallpaper that William Morris designed. I like the way they've hung the original drawing on top of the finished wallpaper, a progression from start to finish via the printworks.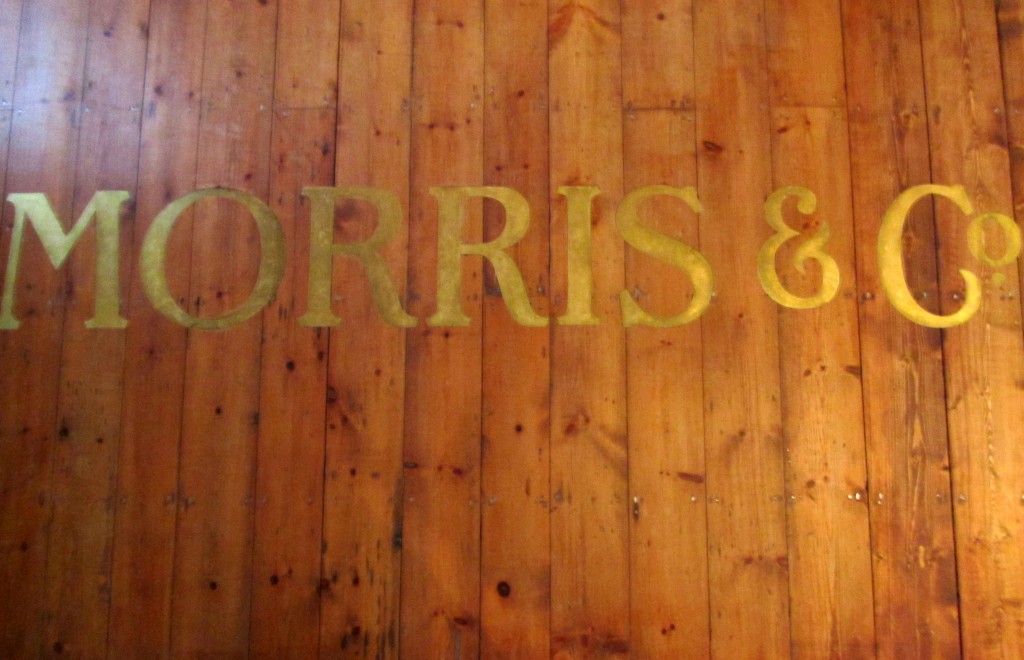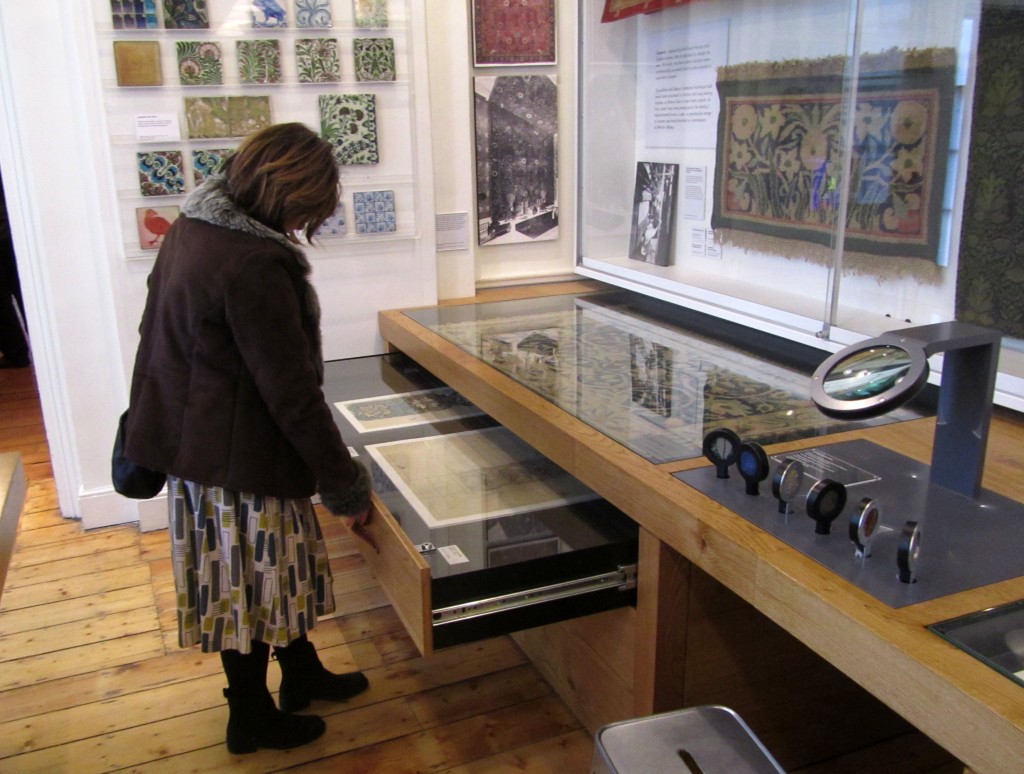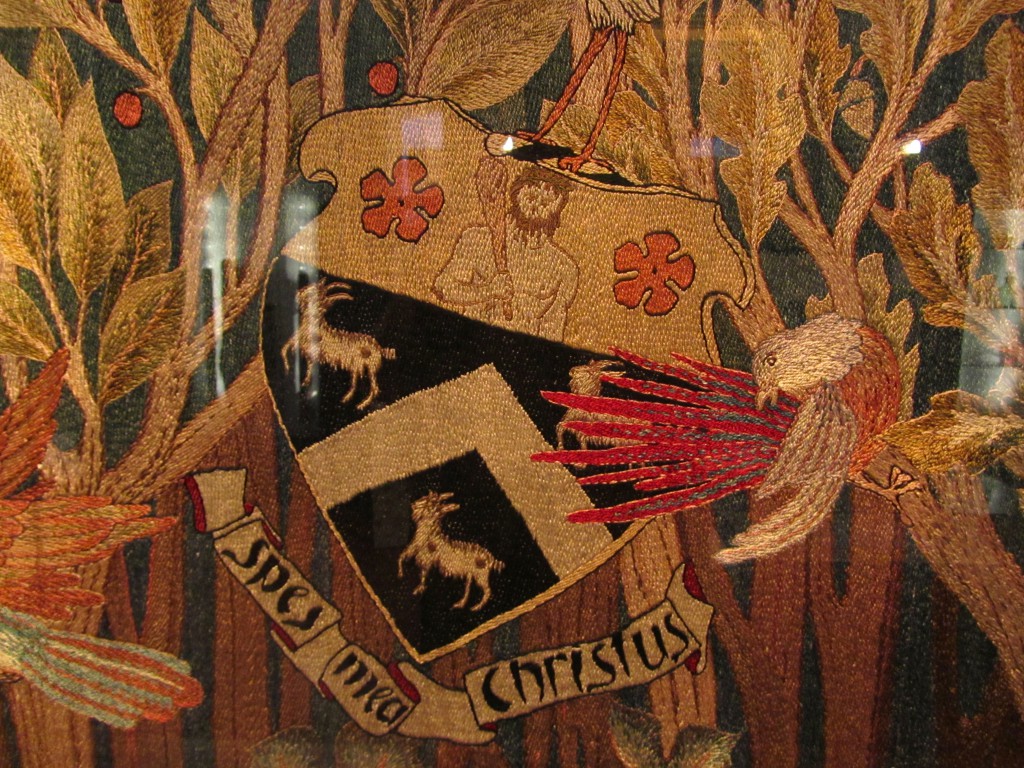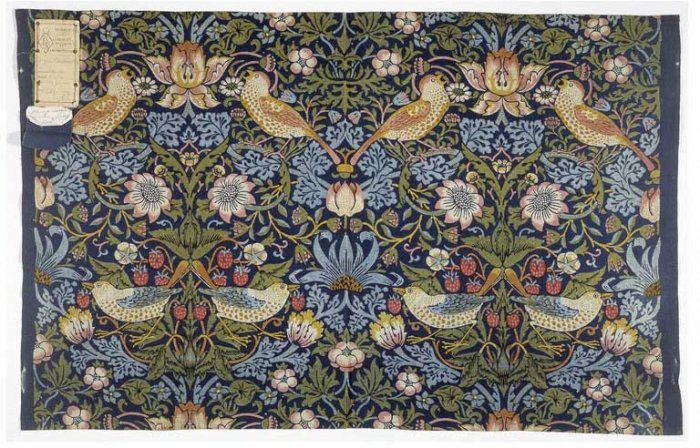 There are good examples of wallpaper, fabrics, tapestries, embroideries, ceramics, glass, tiles and drawings; some waiting to be discovered in drawers, all displayed in a house now reborn, beautifully appointed and full of energy; the twisting and twining life of branches and vines and birds of the forest.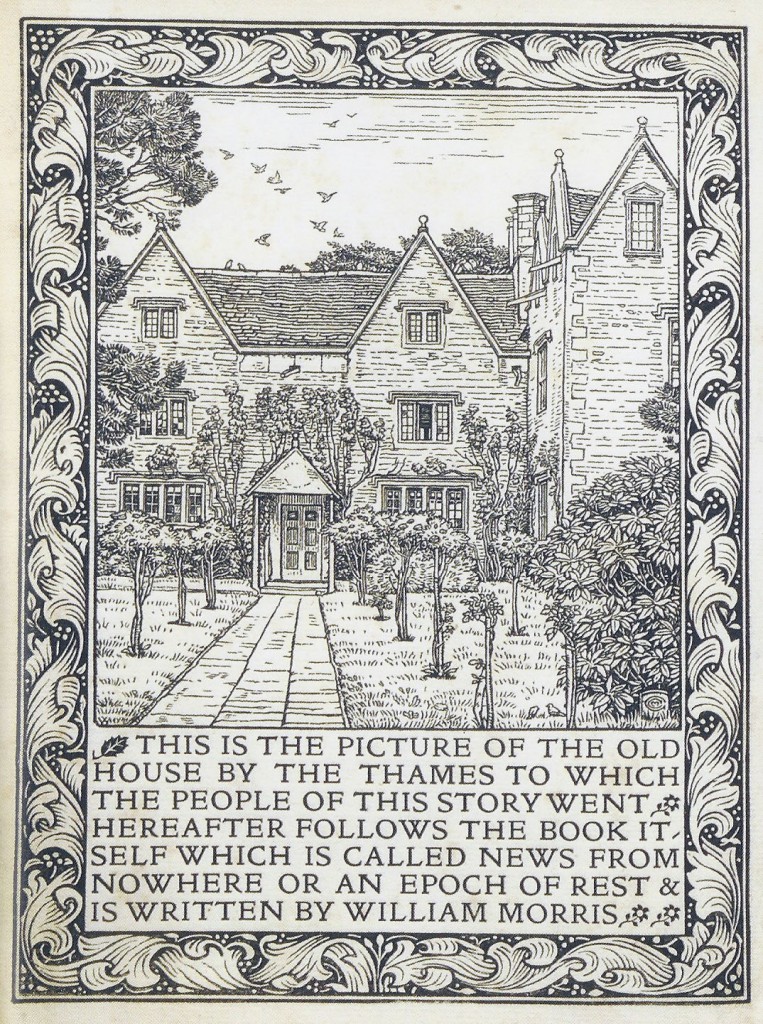 Upstairs there are many examples of fine books printed by the Kelmscott Press. News From Nowhere by William Morris is a utopian fiction which imagines a future without capitalism. It is illustrated with this woodcut of Kelmscott Manor, his country house in Gloucestershire and the destination for our Radcot & Kelmscot walk in June last year.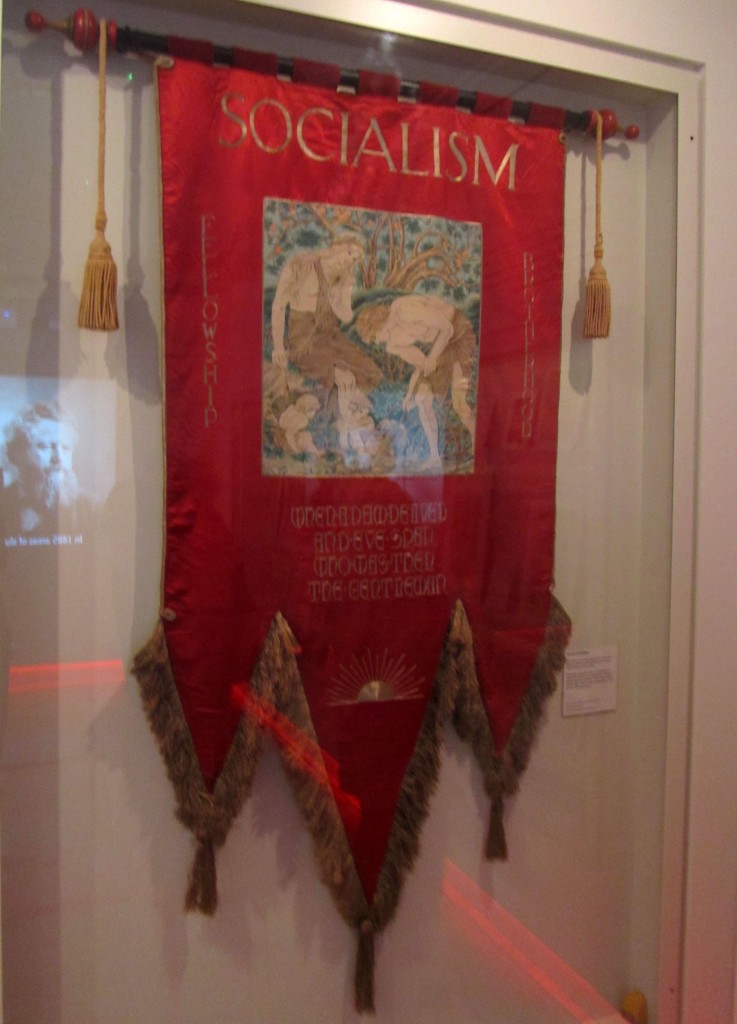 This banner was used by Morris and his comrades at rallies and marches to promote the early Socialist Movement. He spoke at public meetings and helped fund Commonweal, a socialist journal.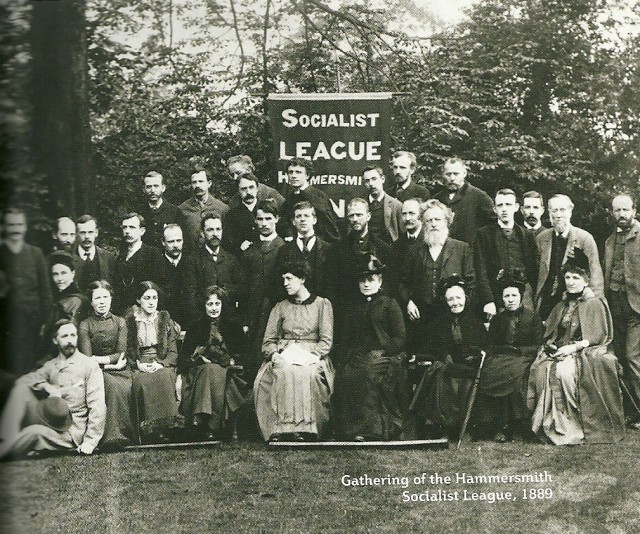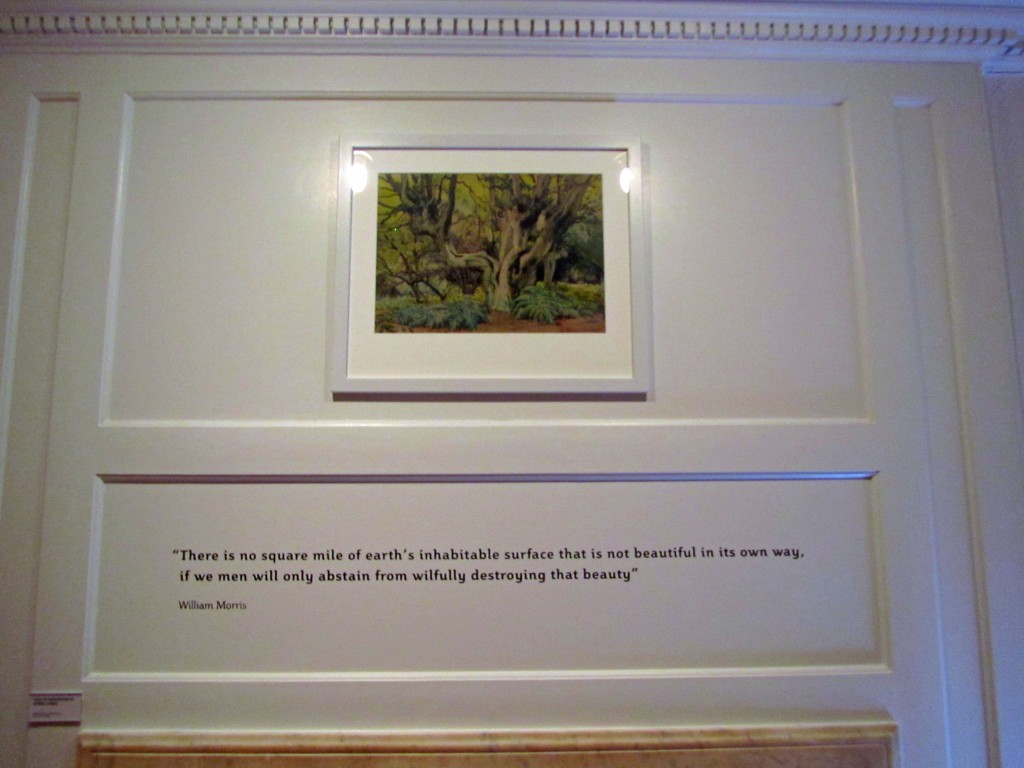 This lovely framed watercolour, View of Hornbeams in Epping Forest, was painted by Walter Spradbery. He was responsible, together with Frank Brangwyn and A H Mackmurdo, for founding the William Morris Gallery (read more here). Brangwyn donated paintings and prints as 'a humble offering to the people (of Walthamstow) in the hope that they will enjoy art and remember Morris'.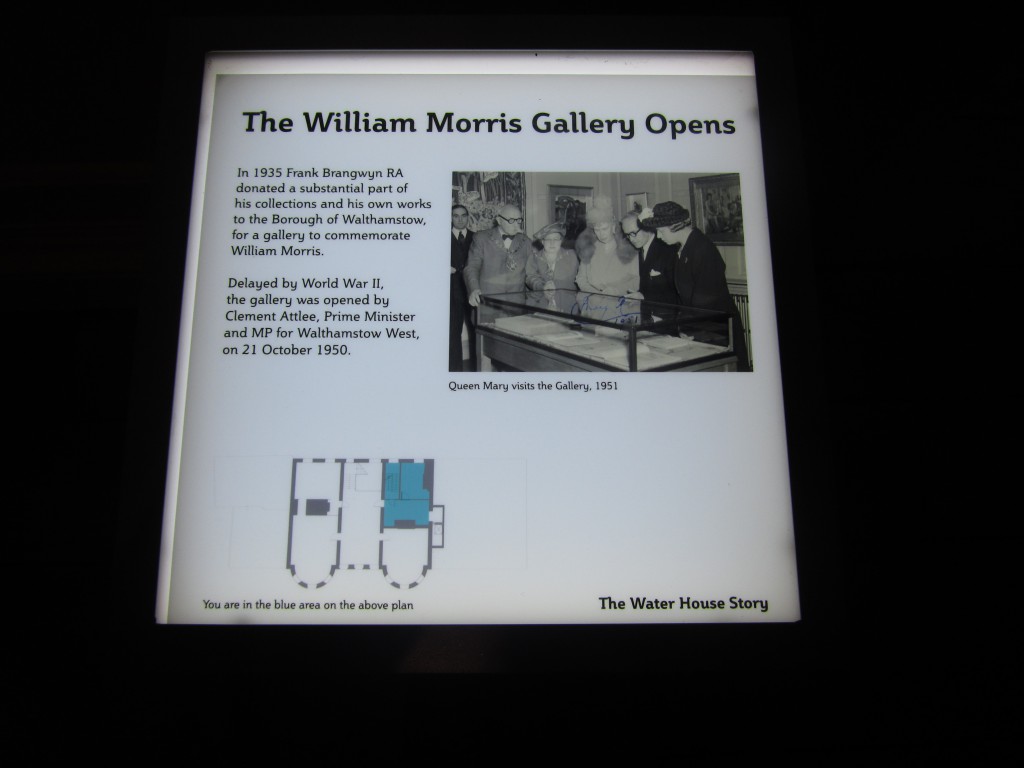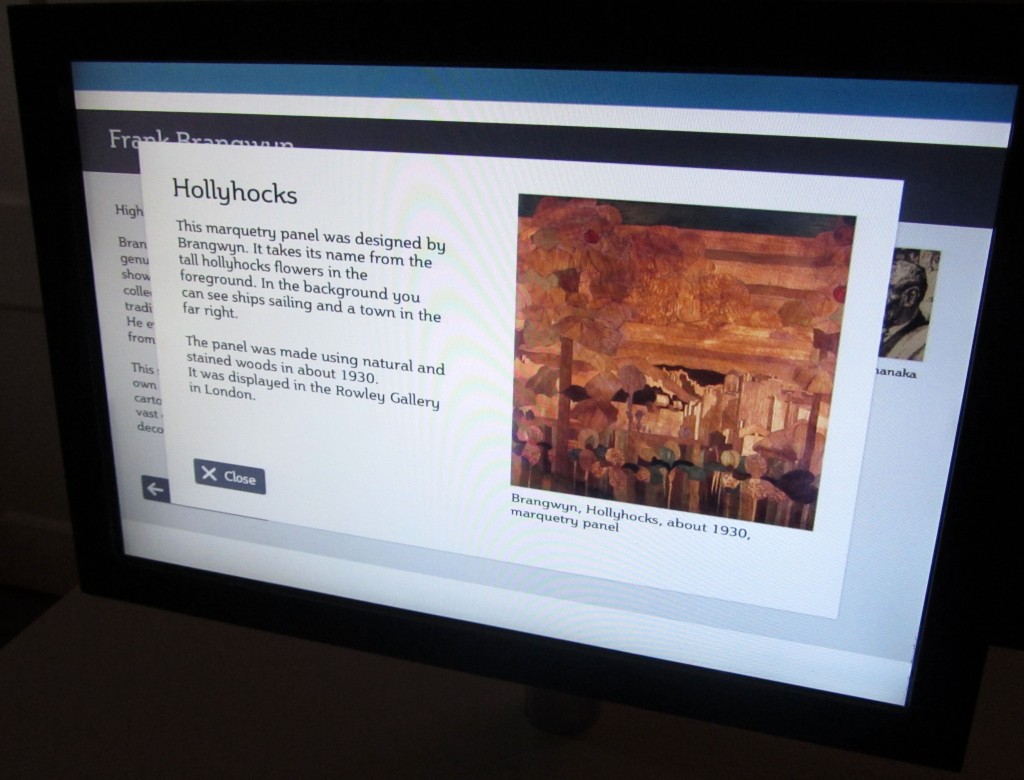 Although it was not on display Hollyhocks is in the William Morris Gallery collection. It was designed by Frank Brangwyn and made by The Rowley Gallery and was just one of their many collaborations.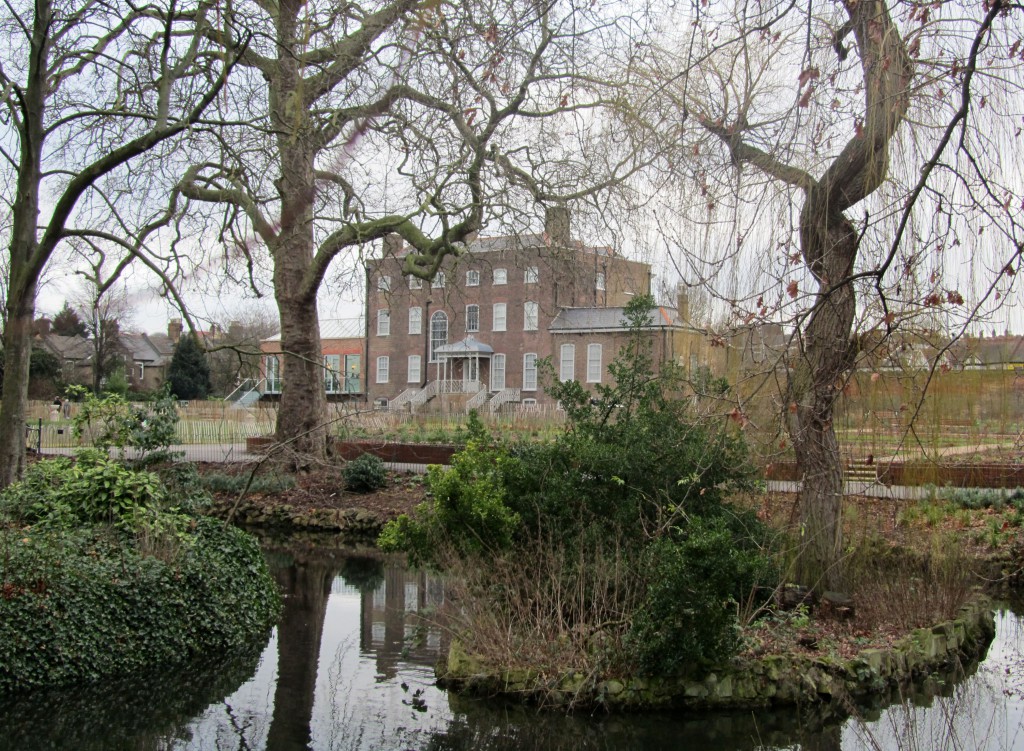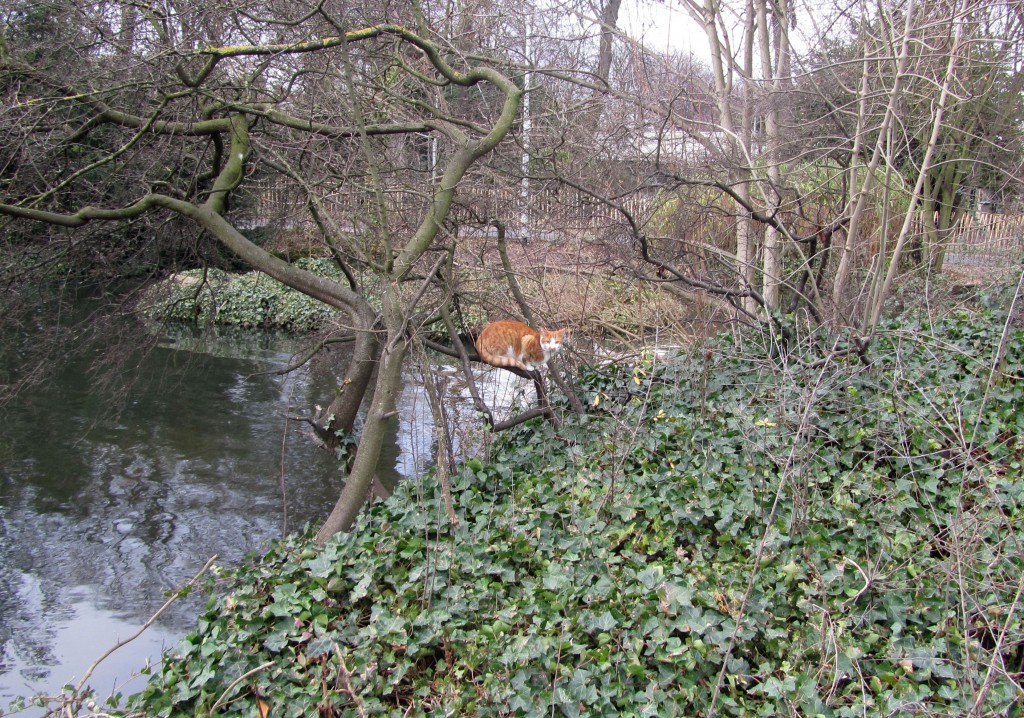 Outside the gardens have been greatly improved and restored. The moated island, thought to date from the Middle Ages, is no longer home to dragons but is now just the hunting ground of local lions.
The refurbishment of the William Morris Gallery was recorded by Paul Tucker in a series of elegant photographs entitled Under The Surface.