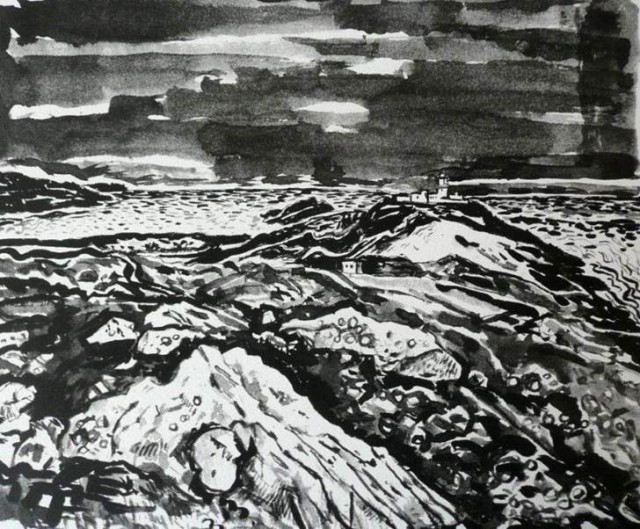 Lithography is a bit different from other print processes. Although I am interested in printmaking despite being a painter, I am no expert. Linocuts and woodblocks depend on the image being raised, and etching depends on the image being recessed. Lithography happens on a flat surface like a lithographic stone or zinc plate and depends on the antipathy between grease and water. The way a mark is made on a stone or a plate is the same as in a drawing or painting, you don't need an etching needle or engraving tool. The mark is made with a greasy crayon or ink, and then the print is created on a press where alternate use of dampening the plate or stone with water and then applying ink, which attaches only to the greasy drawing, allows the image to be printed.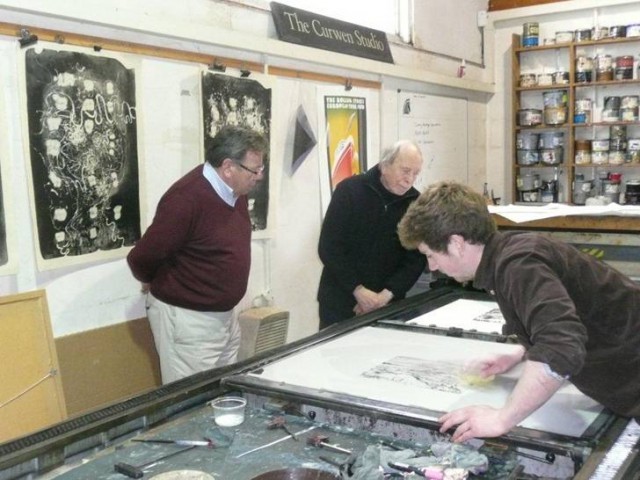 With new technology there are now many ways to make a lithographic image, and I chose to use a polymer coated photo plate. Here you draw onto a film or paper which has a degree of translucency. The drawn information is then transferred to the plate by exposure under ultra violet light. This method doesn't require the use of a greasy based substance because the polymer coating mimics the properties of grease. If a colour print is required, then a separate drawing is made for each colour. An offset press is then used which transfers ink onto the plate, then onto a rubber roller which then deposits the inky image onto the paper.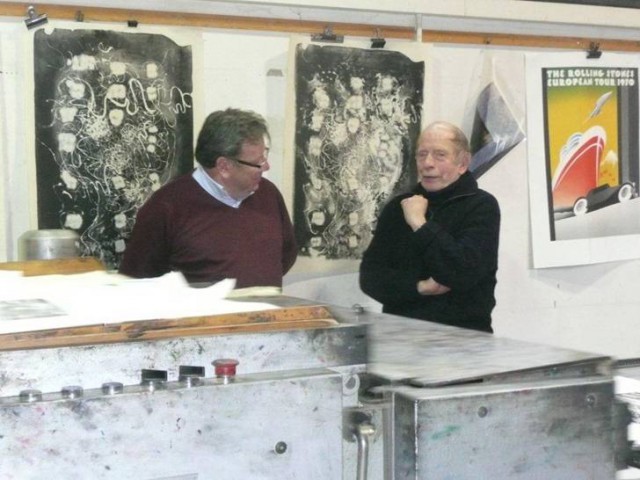 You can also make a print from an existing image by making a high resolution scan from which a set of films are made, the image is then transferred onto the polymer coated photo plate using UV light. The first lithographs were almost wholly used for commercial purposes, artists being reluctant to react to the new process, which began in Bavaria in the late eighteenth century. Certainly Blake and Fuseli published lithographs in 1810, but the first artist to really use lithography extensively was Goya. After the Napoleonic Wars, Gericault and Delacroix worked in London at the presses of Charles Hullmandel, and by the mid to late Nineteenth century the process had gained popularity especially in France notably with Godefroy Englemann, who developed a four colour system using Newtons colour theories.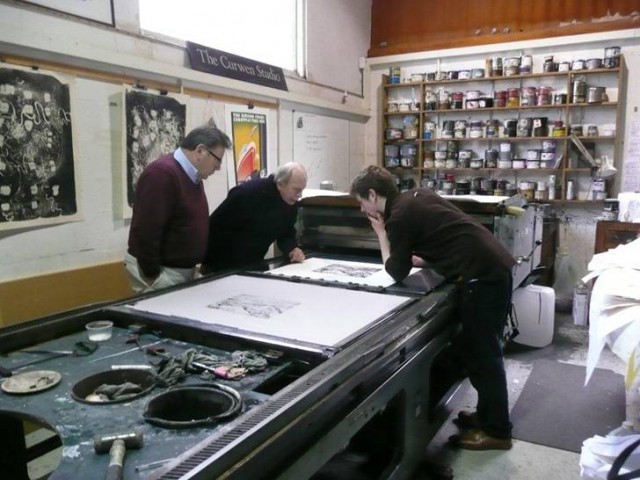 The Impressionist artists used lithography widely, Manet published with Gardaret, and lithographic images began to display the freedom found in the paintings of the time. Lautrec, Bonnard and Vuillard really popularised lithography by depicting Parisian life using flat decorative colours, similar to Japanese prints. After WW1 publishers like Vollard both maintained and developed public interest in artists and printmaking, but lithography really enjoyed a new lease of life since WW2. Picasso worked extensively on lithographs which displayed both his powers of draughtsmanship and imagination.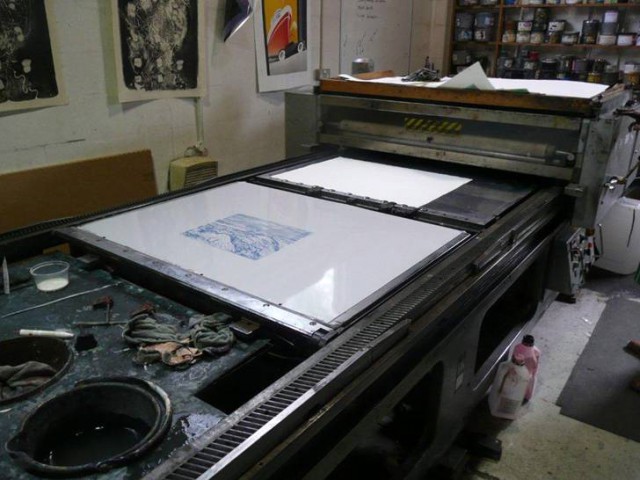 In England the Baynard Press and the Curwen Press under the leadership of Stanley Jones made lithography accessible here. Stanley Jones, having left the Slade where he was a student, worked at the Atelier Patris in Montparnasse and printed editions for Giacometti, Le Moal, Sugali, Severini and Soulages. In 1958 Robert Erskine asked Stanley to return to England and they set up the Curwen Studio eventually creating an environment where artists, printmakers and non printmakers had the freedom to work in lithography. Stanley has devoted his whole life to print, resulting in his MBE in 2009. The Curwen has occupied a number of sites in its time, from Plaistow to Milford Place just off Tottenham Court Road to its present home in Chilford Hall in Linton just south of Cambridge.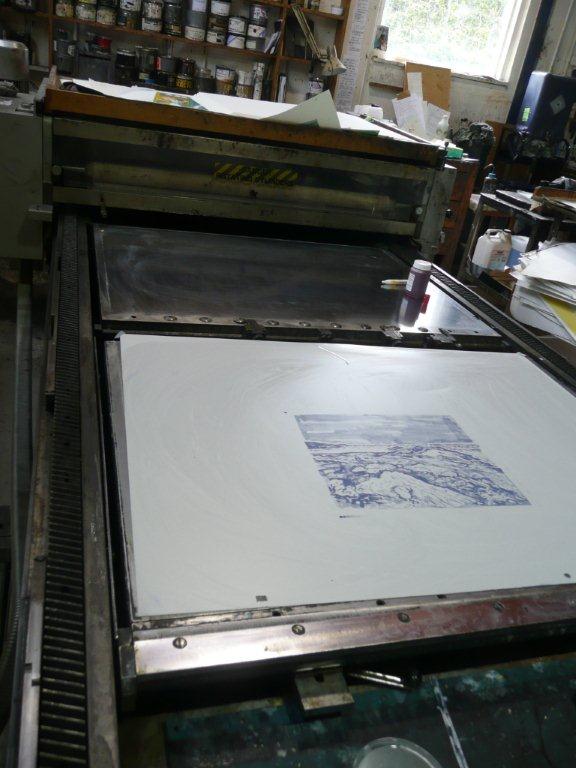 I became aware of Stanley when I was a student at the Slade in 1976. I didn't venture into the lithography room, but remember making a couple of etchings. When an opportunity arose recently to work on a lithograph at Curwen I had to take it, and as it turned out Stanley was there on the same day. I wanted to make a lithograph of Strumble Head in Pembrokeshire and decided to adopt the polymer coated photo plate method. We used one of the large offset machines to make an edition of 15 with 5 proofs. Jenny Rowland at the Curwen kindly went to their archive and showed me some work by Kyffin Williams and Josef Hermann as examples of images made in the way I wanted to make mine. The image size is 30 x 35 cm and it is printed on Somerset Paper.
Paul Finn / The Rowley Gallery
※
There was also an earlier post which referred to Stanley Jones, Curwen Press and Chilford Hall – Brangwyn's Frieze.