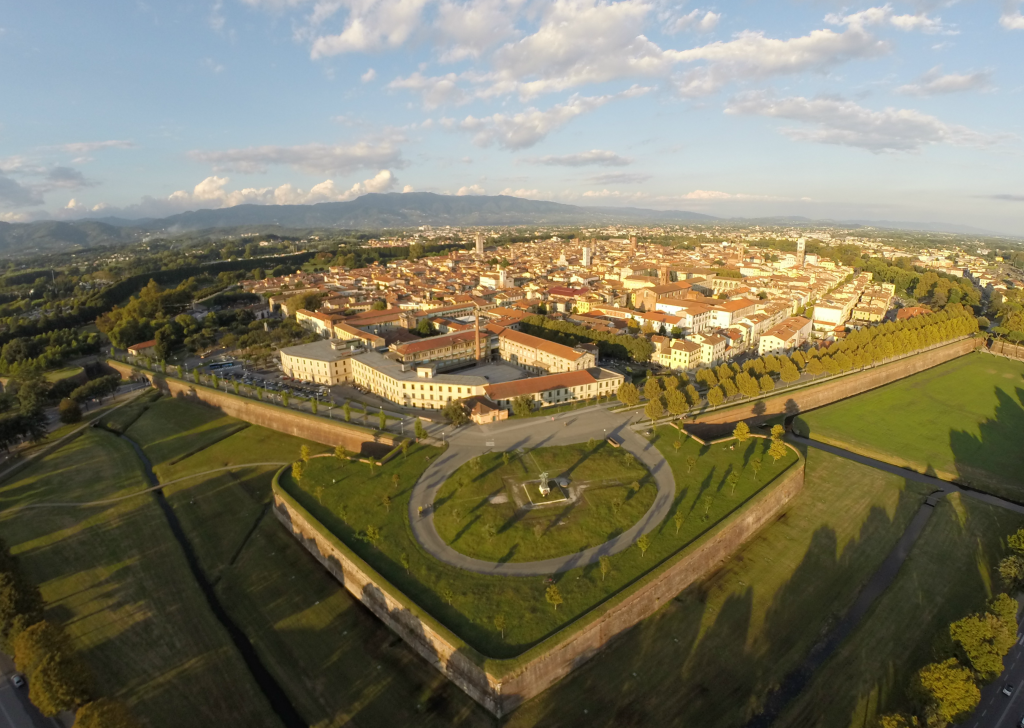 An aerial view of Lucca and its magnificent walls planted with trees, a green belt around the city, a circular park punctuated by six gates and eleven bastions. In the foreground is Baluardo San Paolino.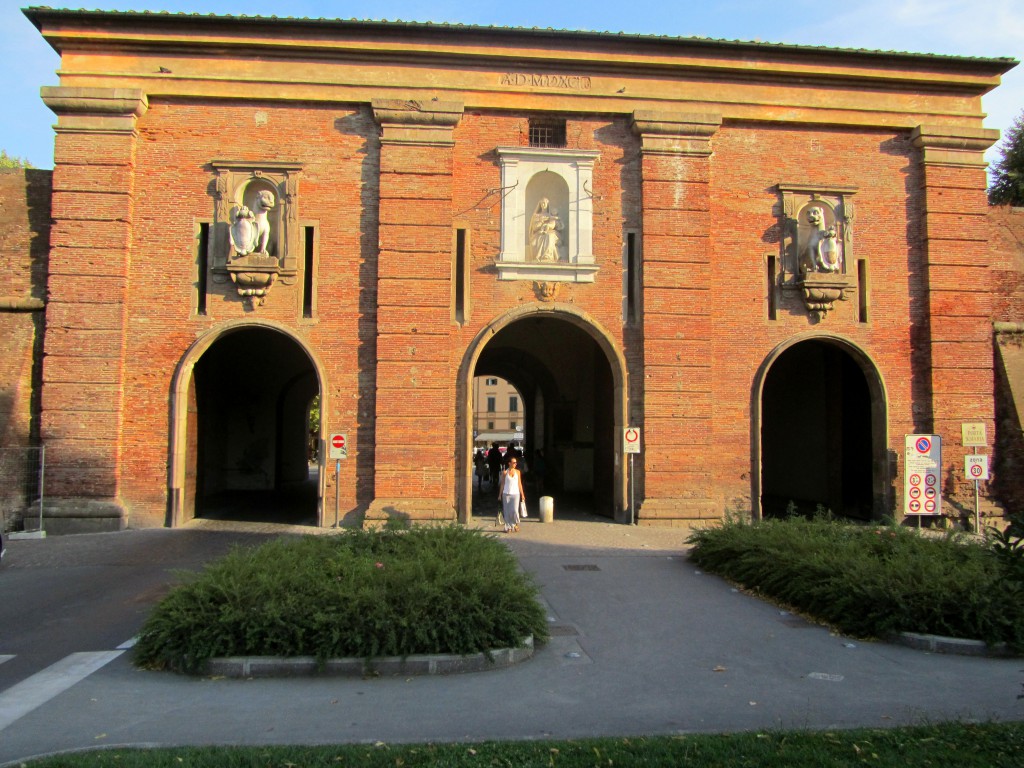 We entered via Porta Santa Maria then up the slope onto the ramparts to the Viale delle Mura Urbane where the avenue passes beneath a loggia above the gate. We made two circuits of the walls, first one way then the other, but the jumbled photographs go their own haphazard way.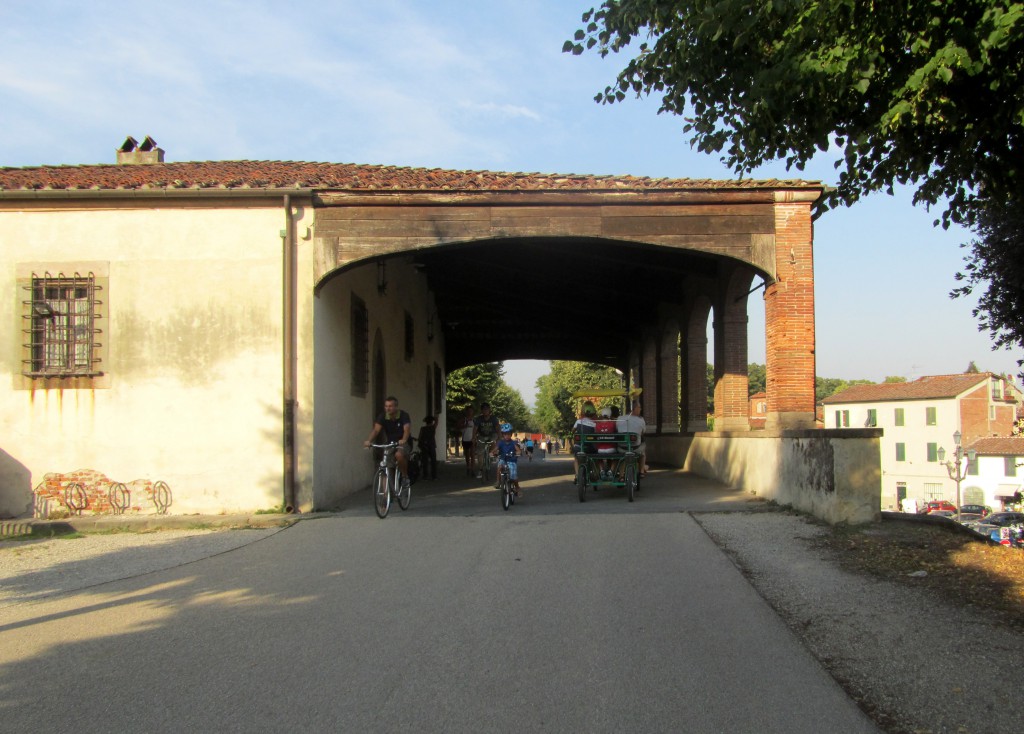 My first thought was to walk 100 metres then take a photo and repeat all the way round. But I lacked the rigour for such a strategy. I was easily distracted. The resulting slideshow is in no particular order. Apologies to those Lucchesi more familiar with a different sequence to the Passegiata delle Mura.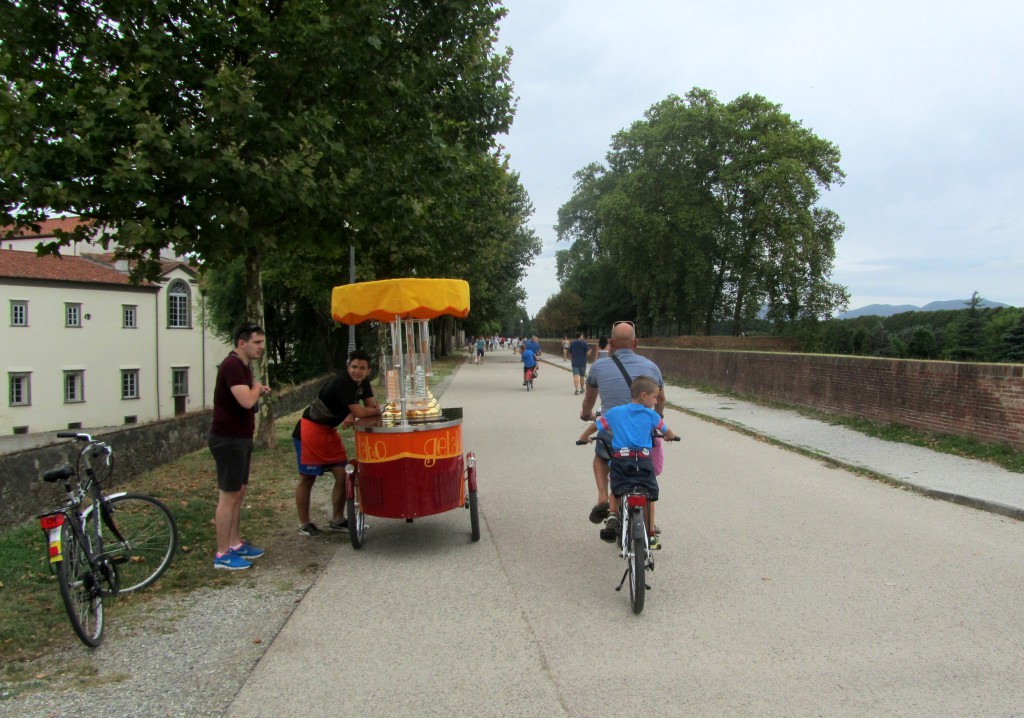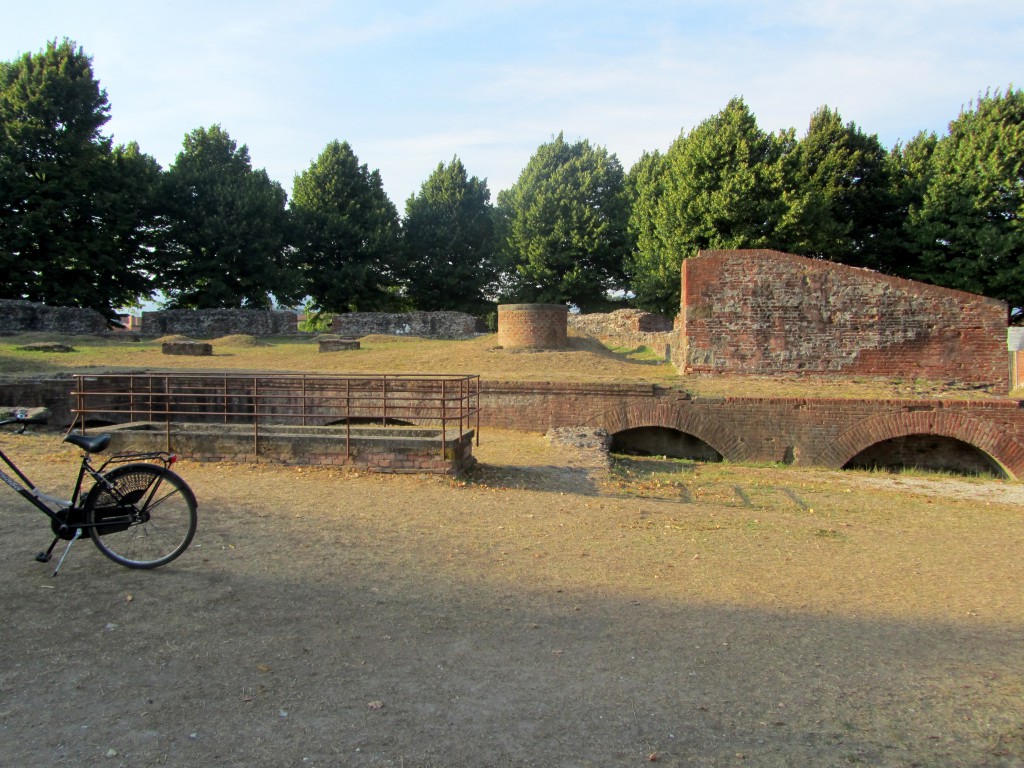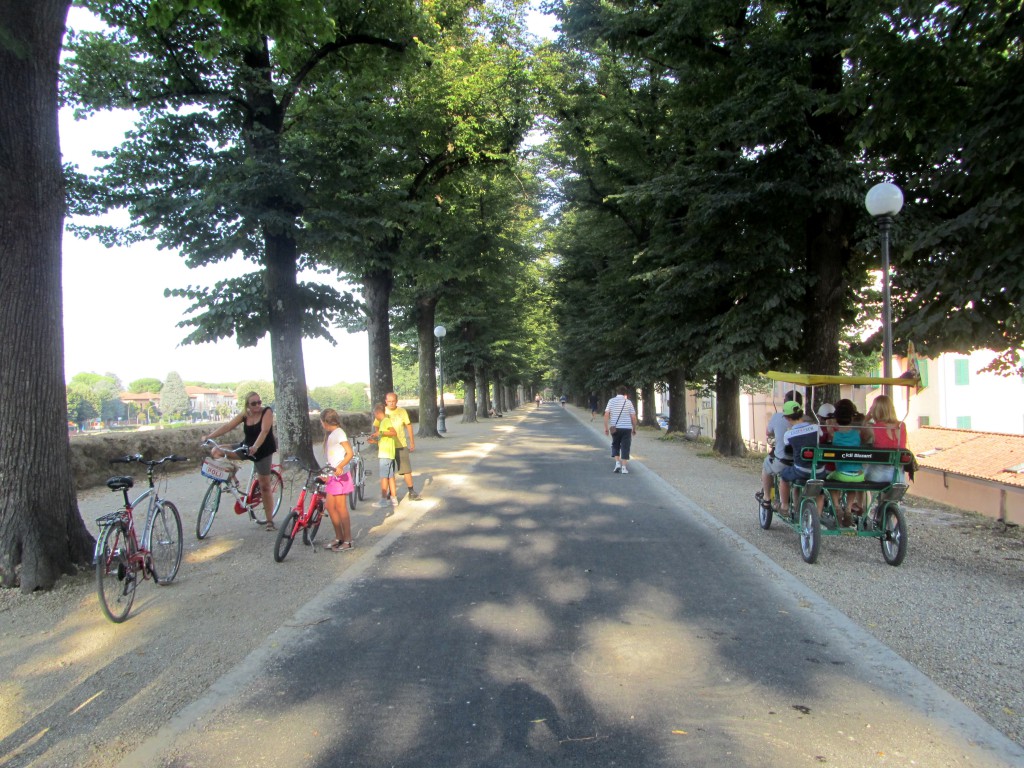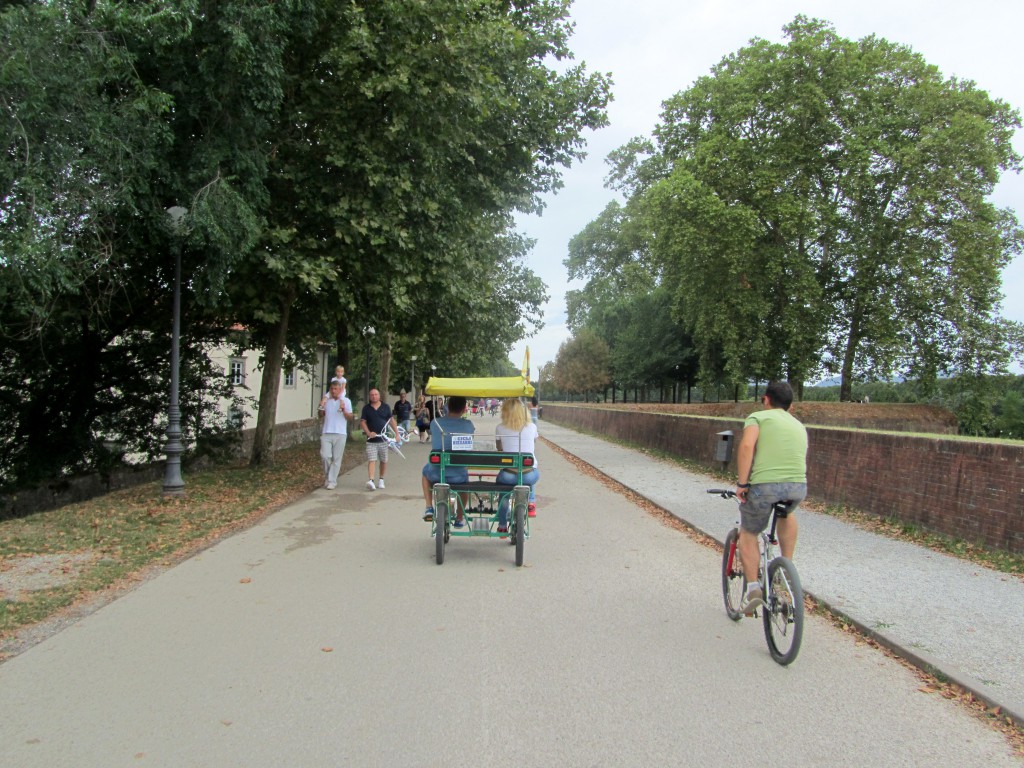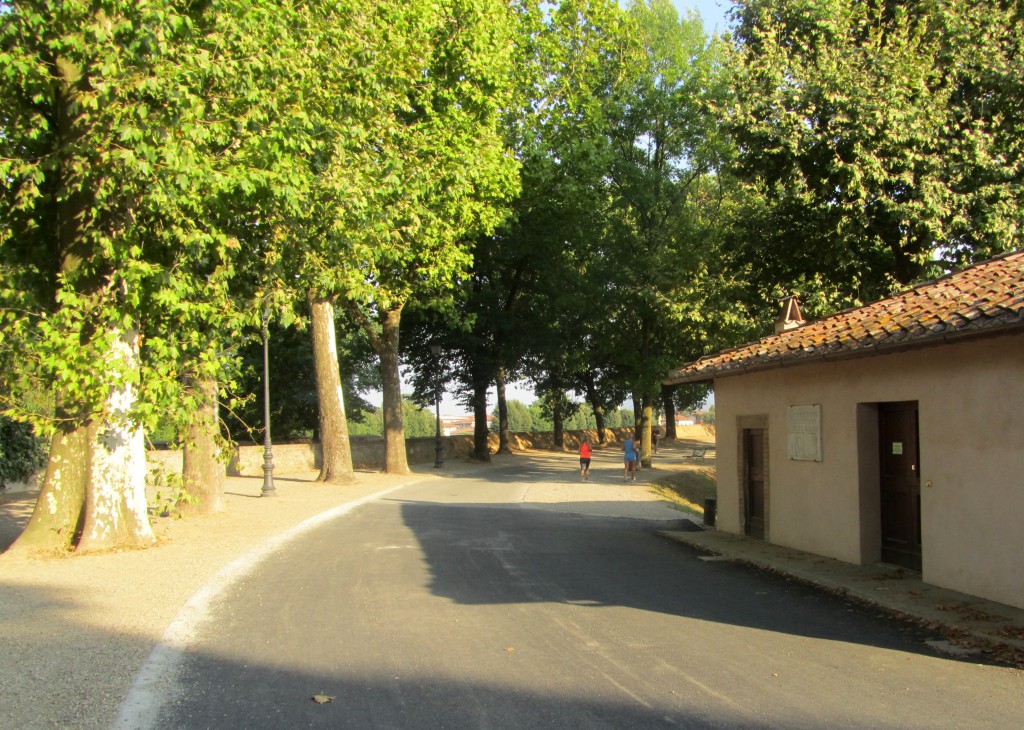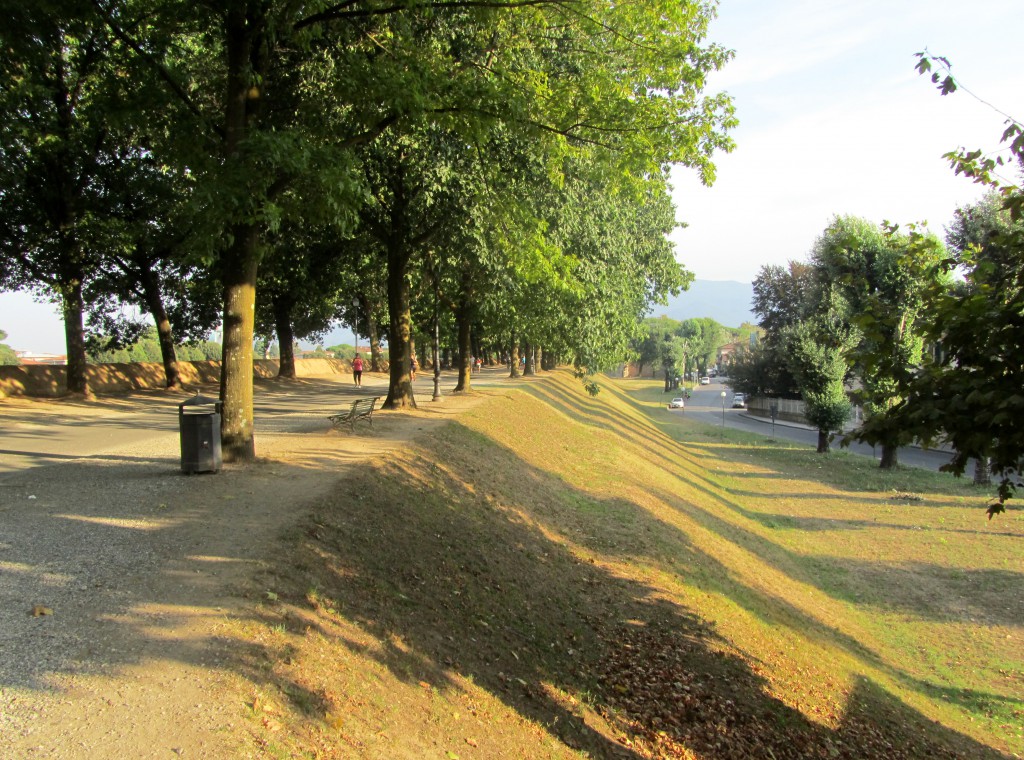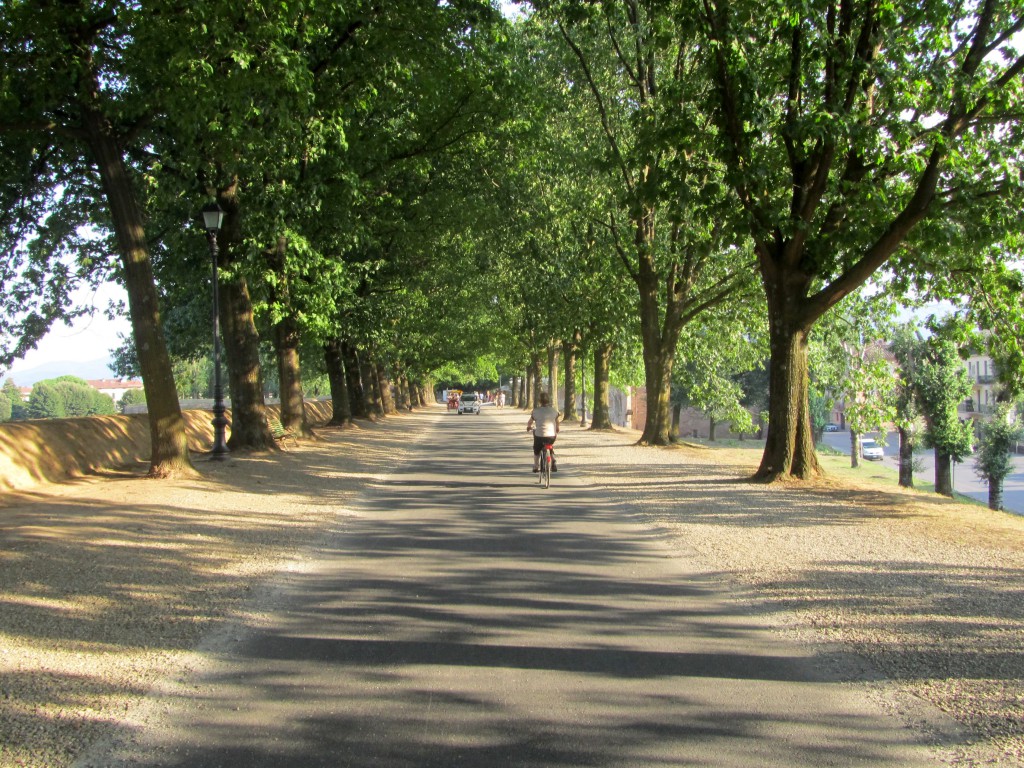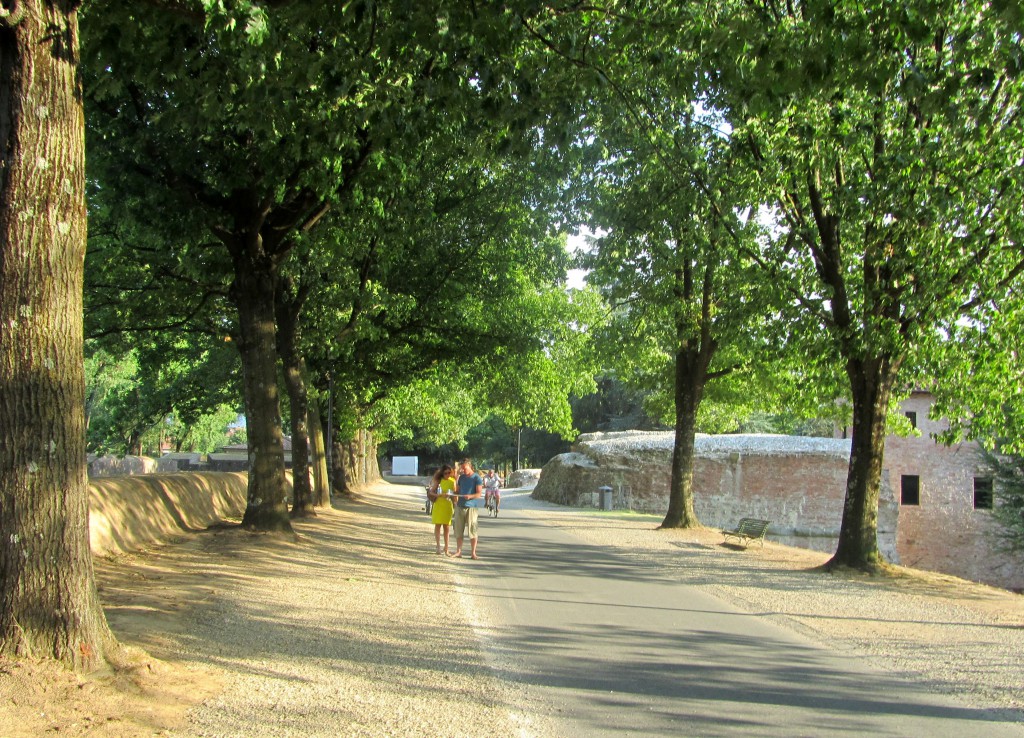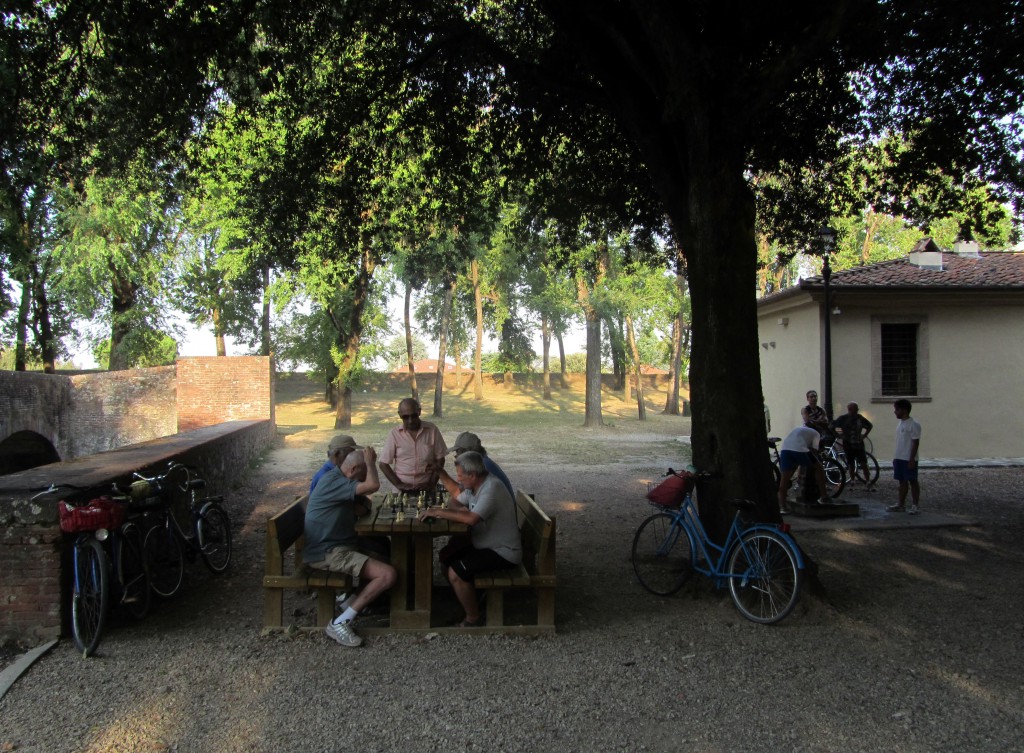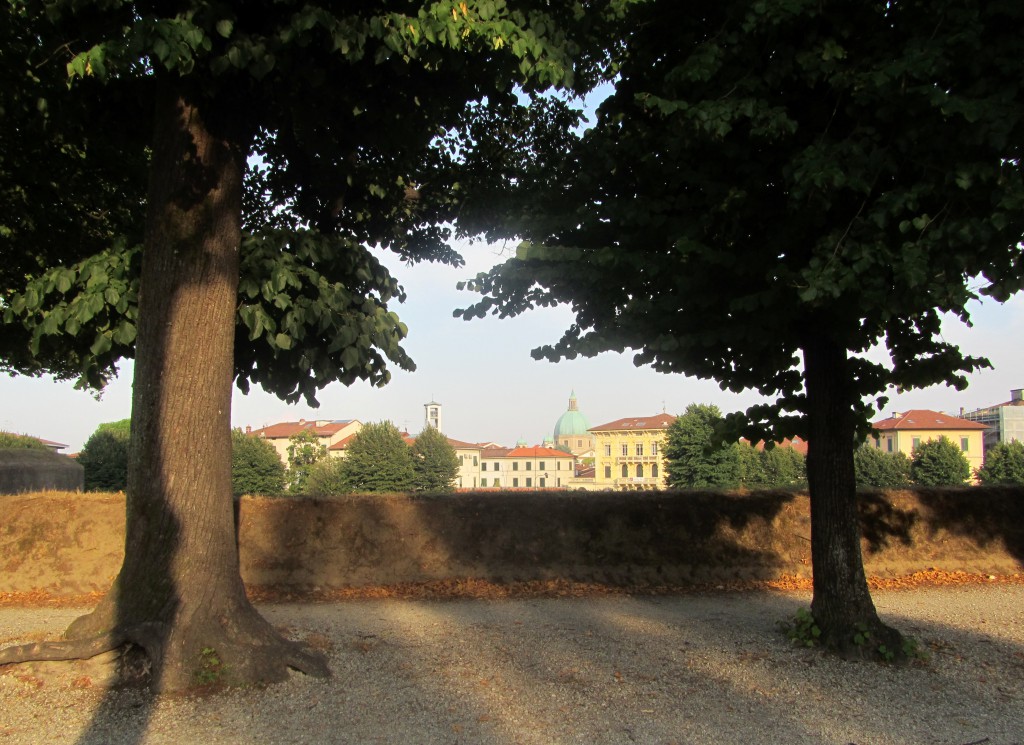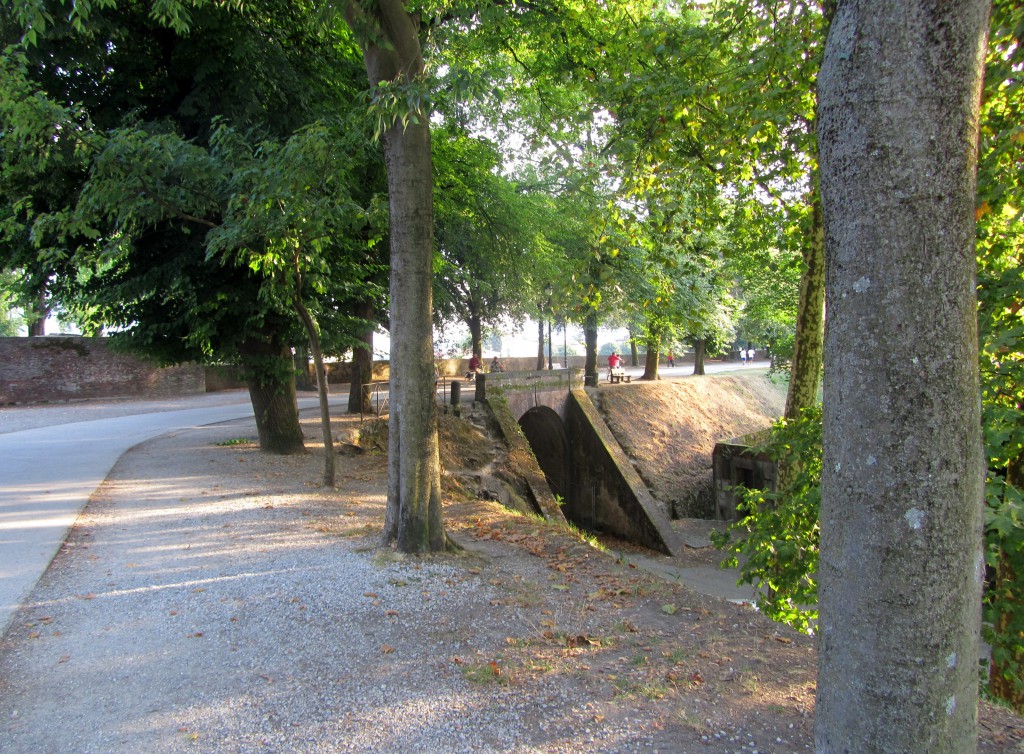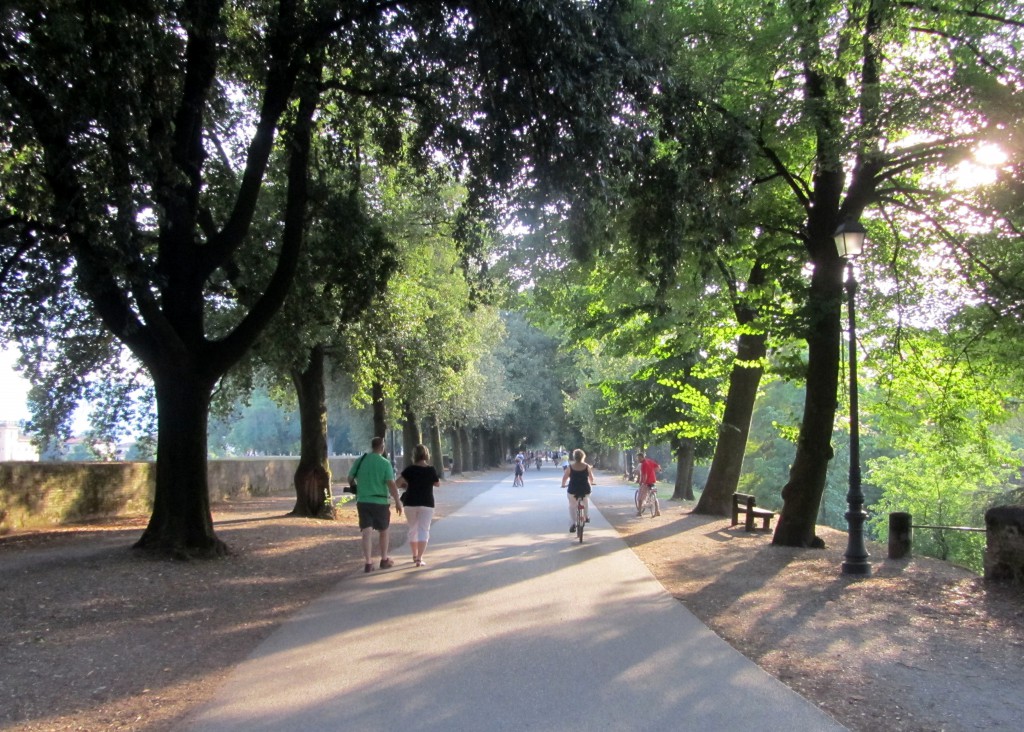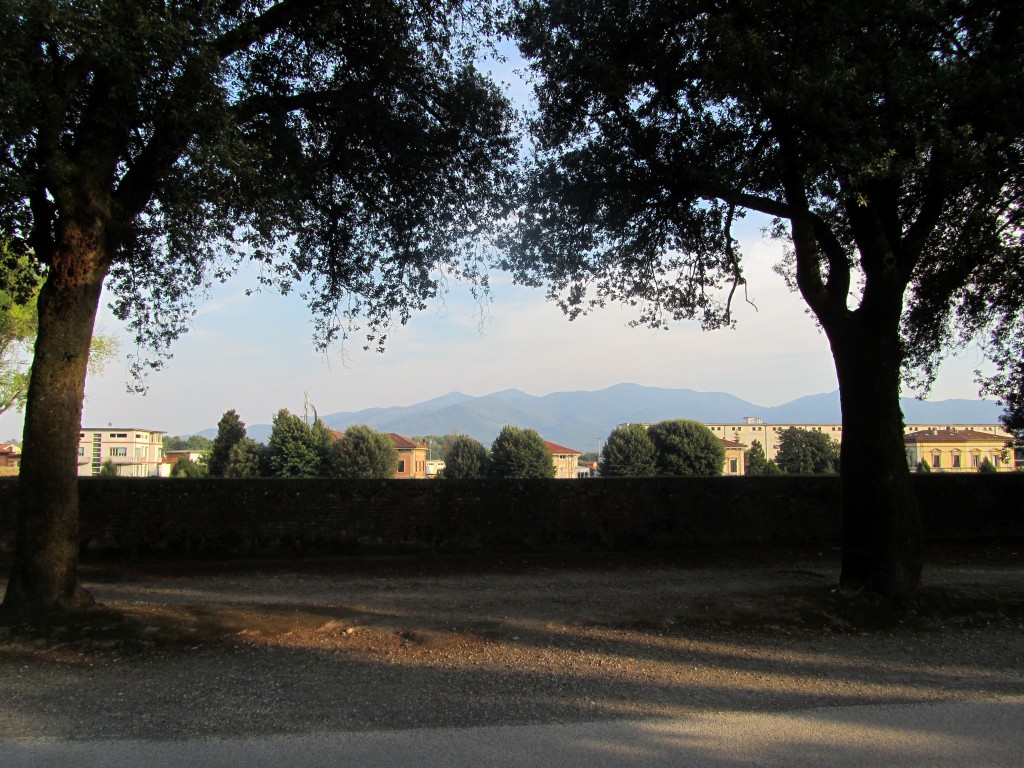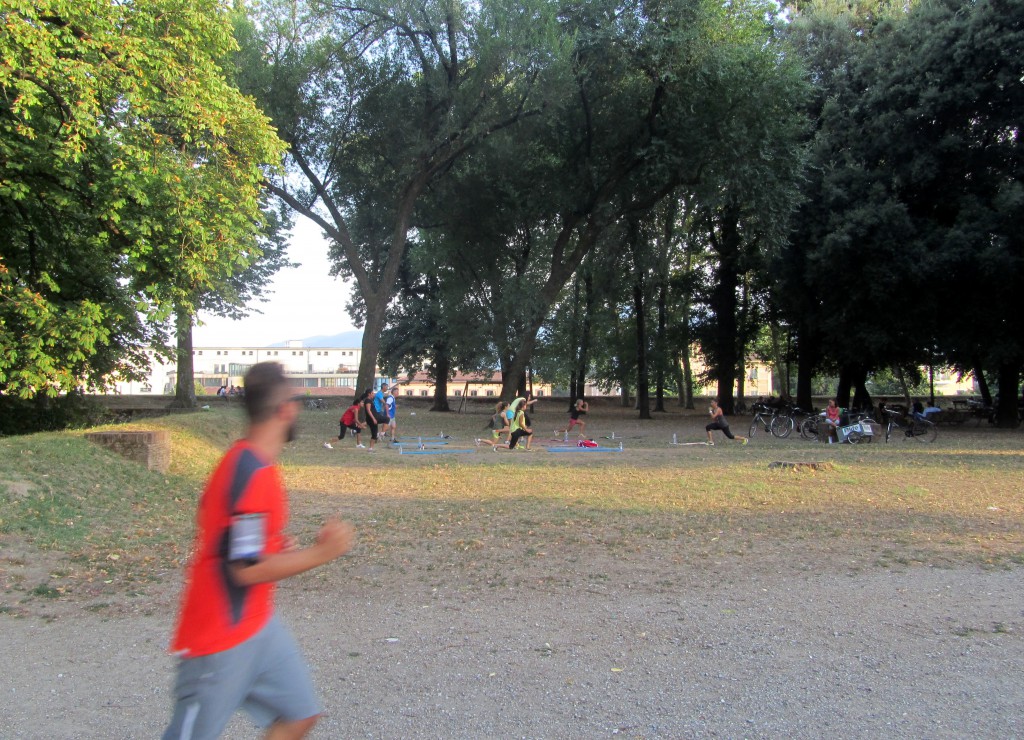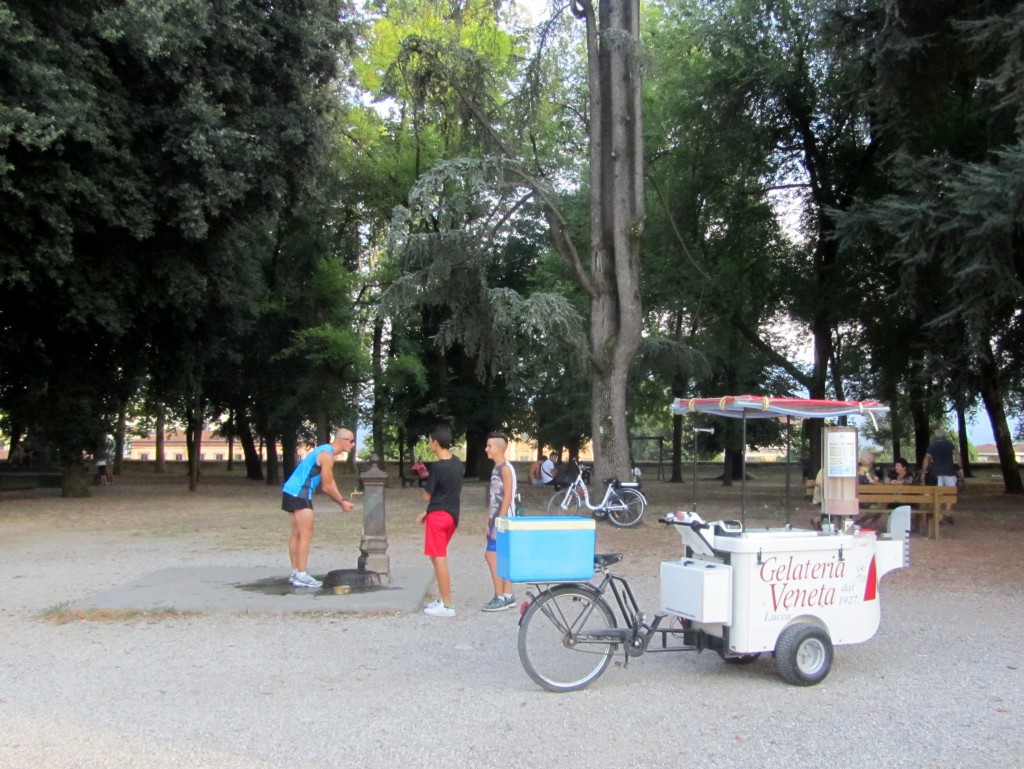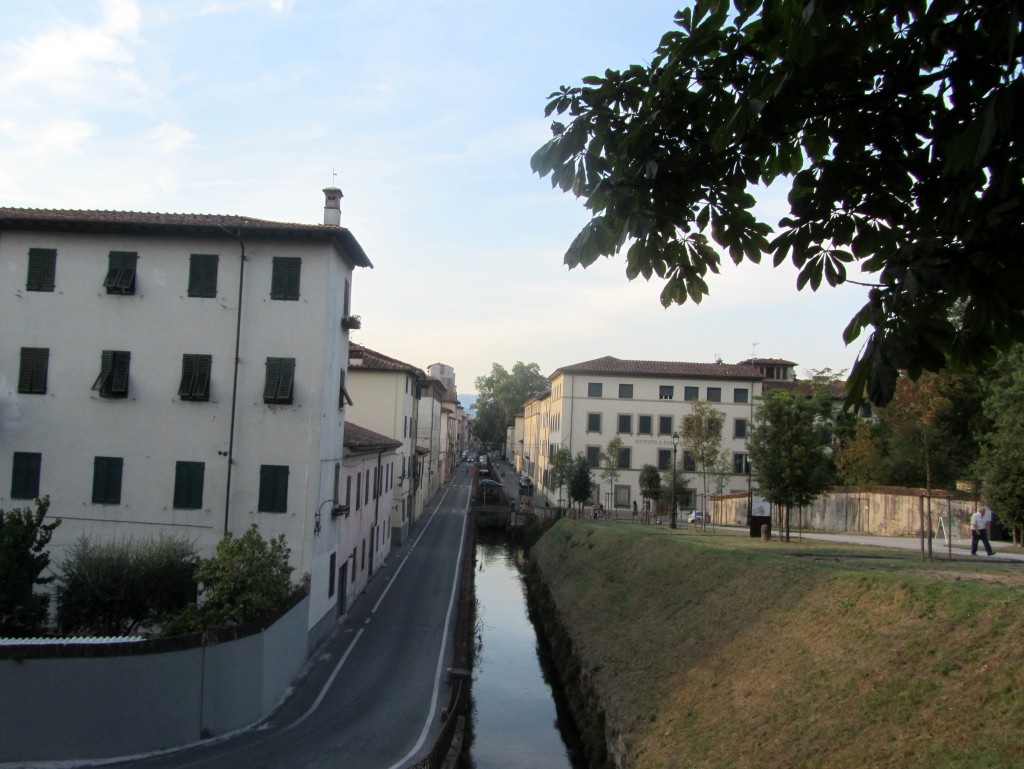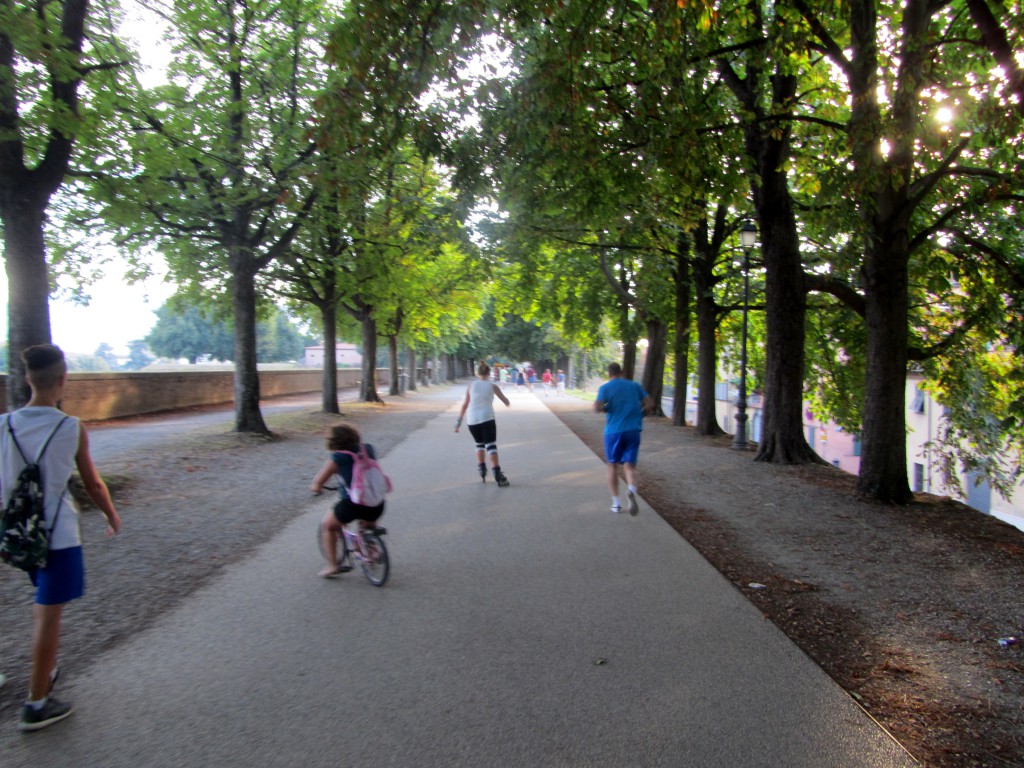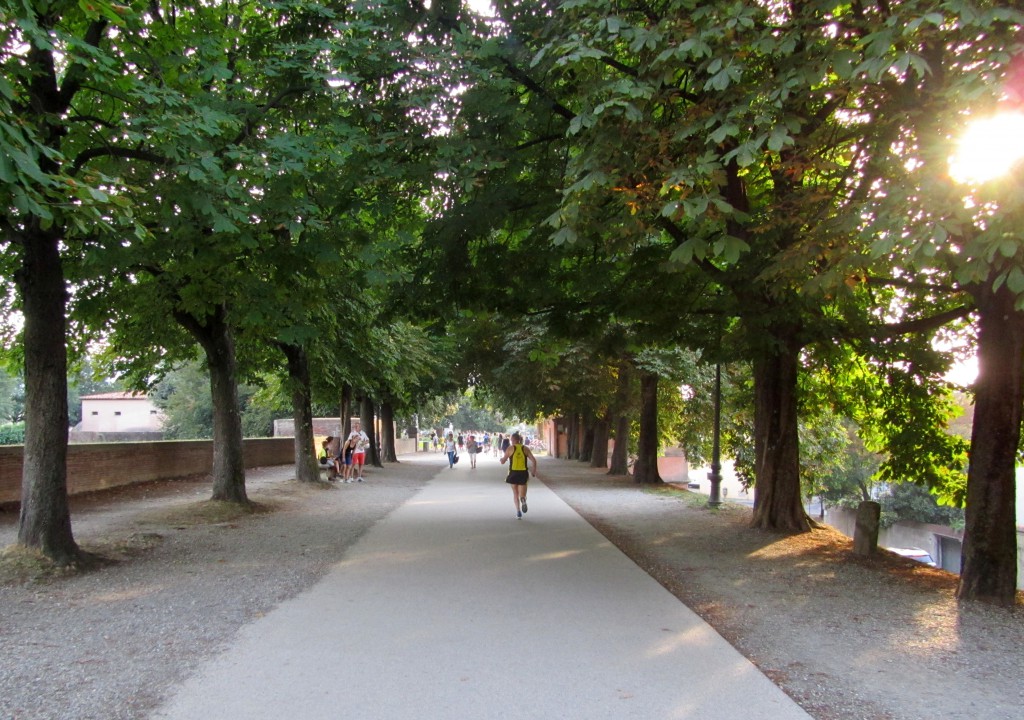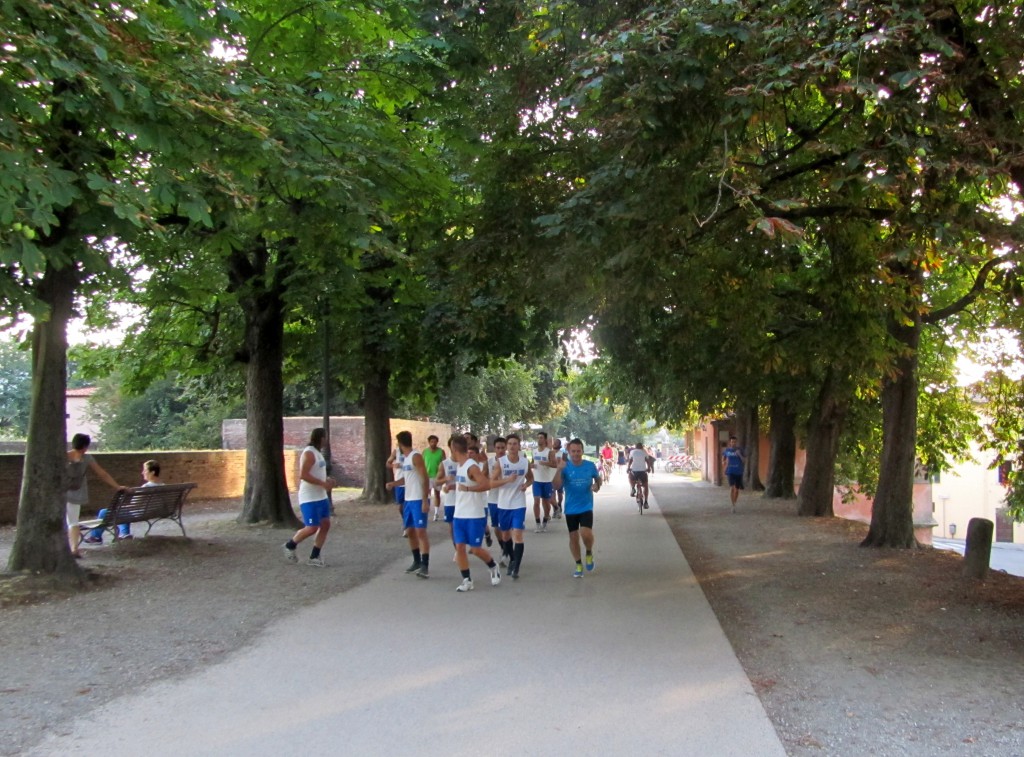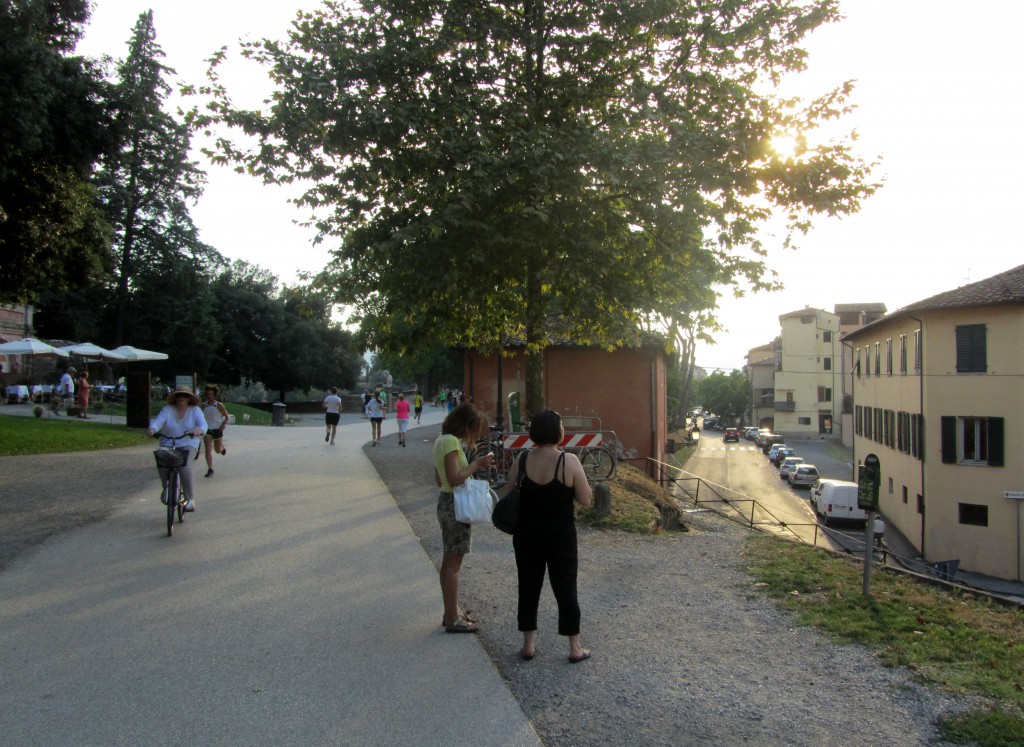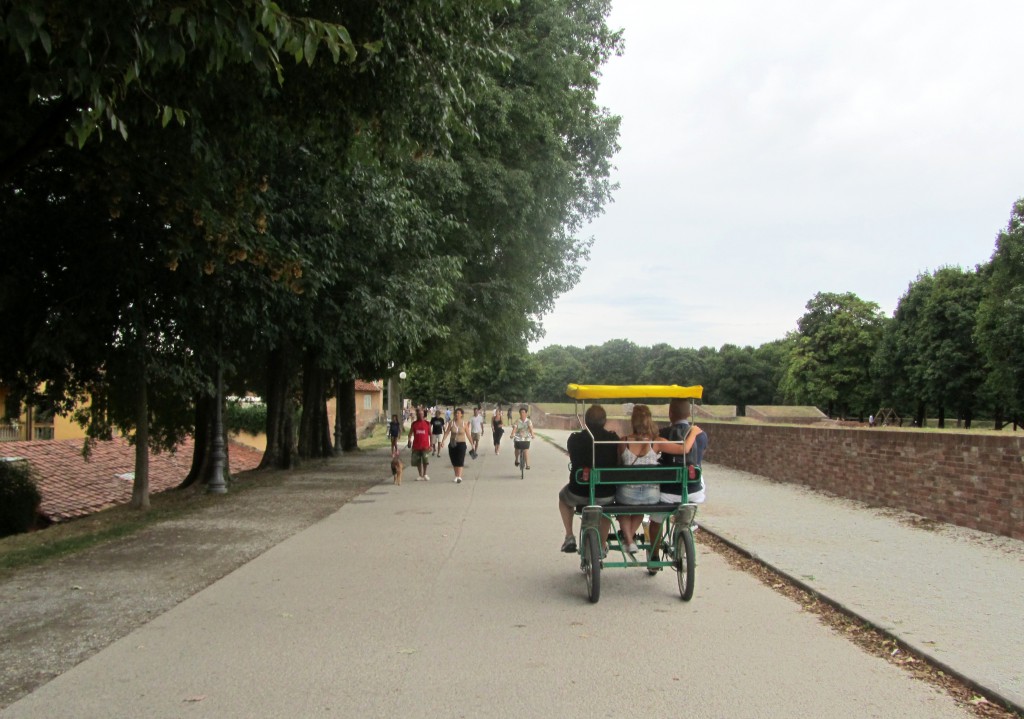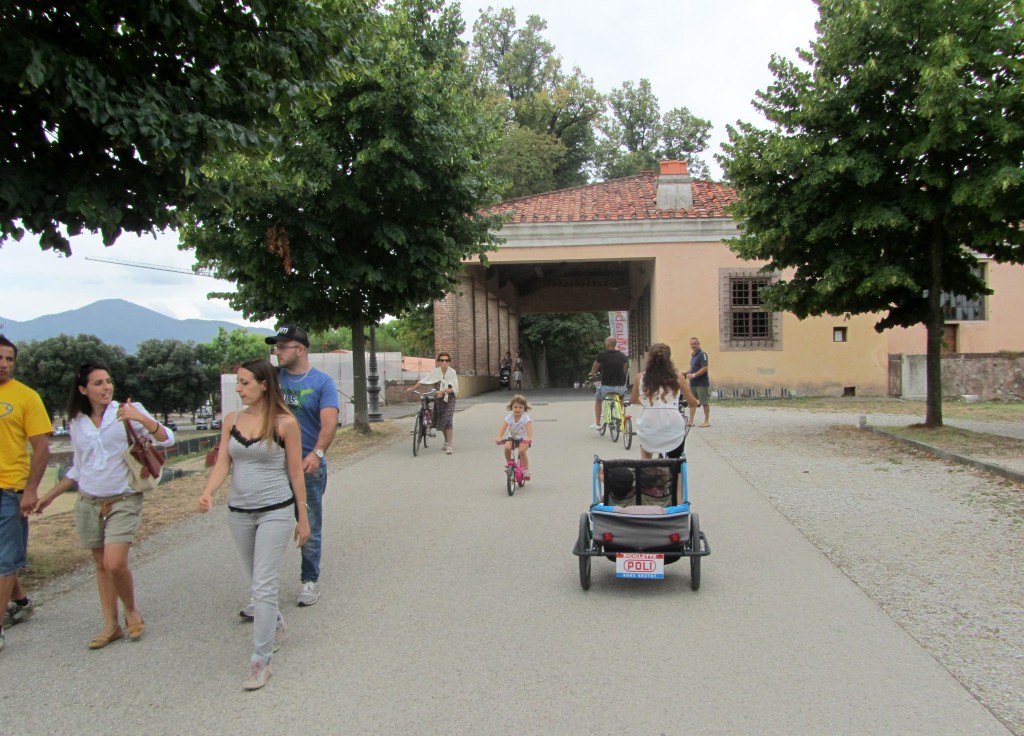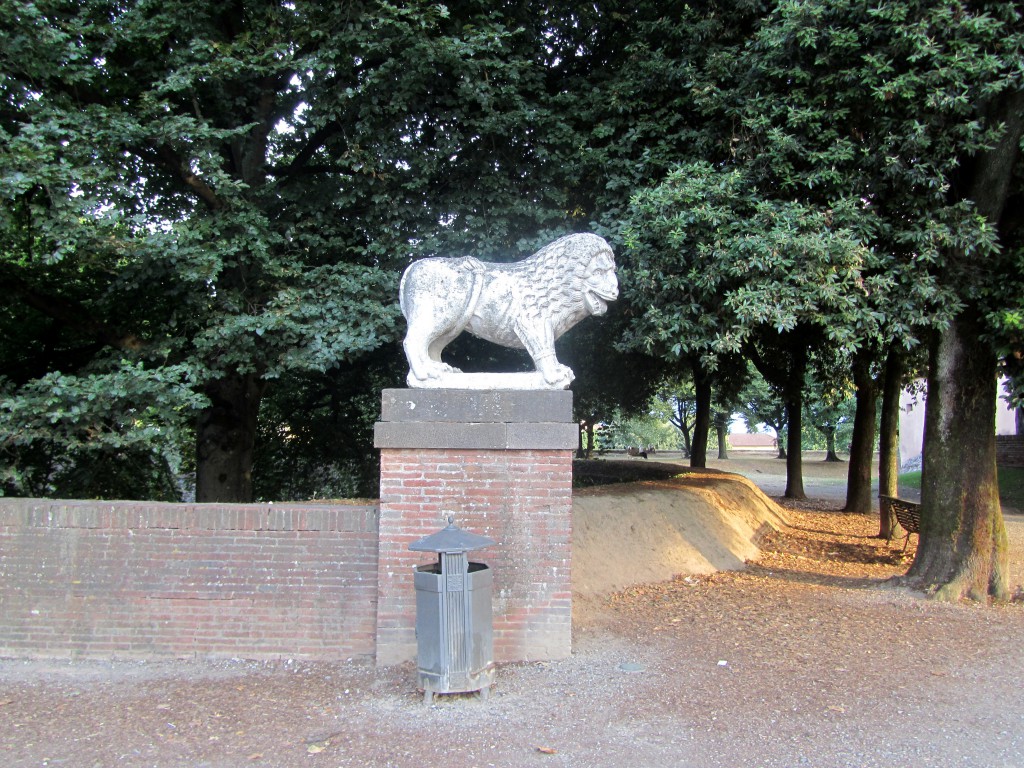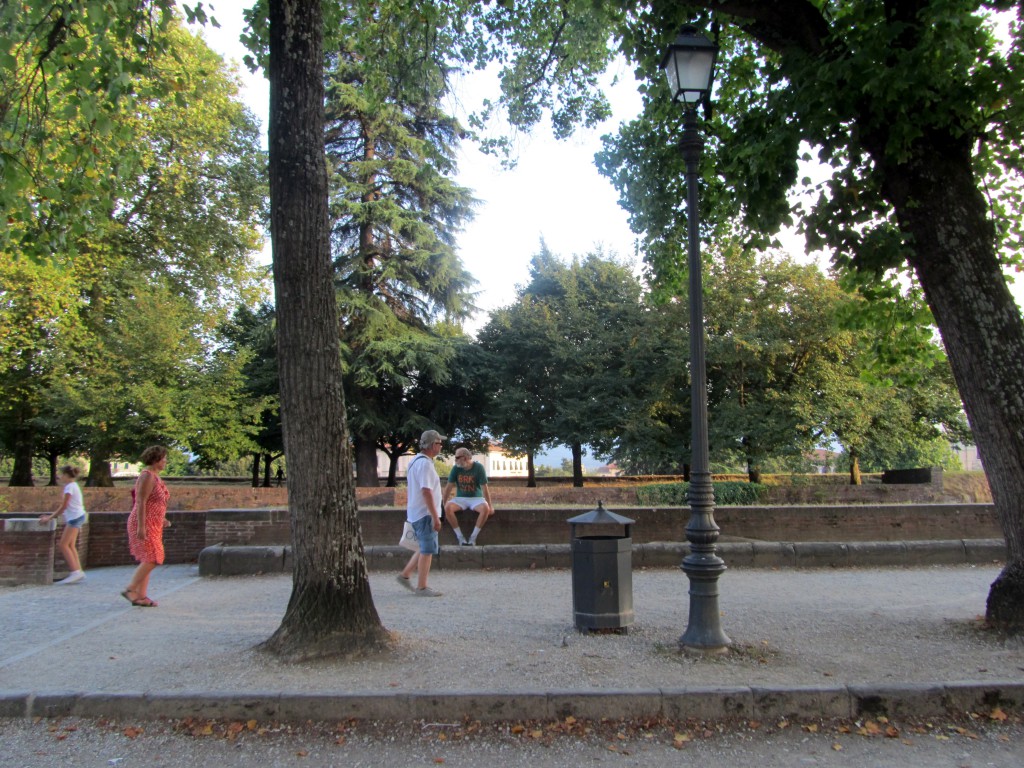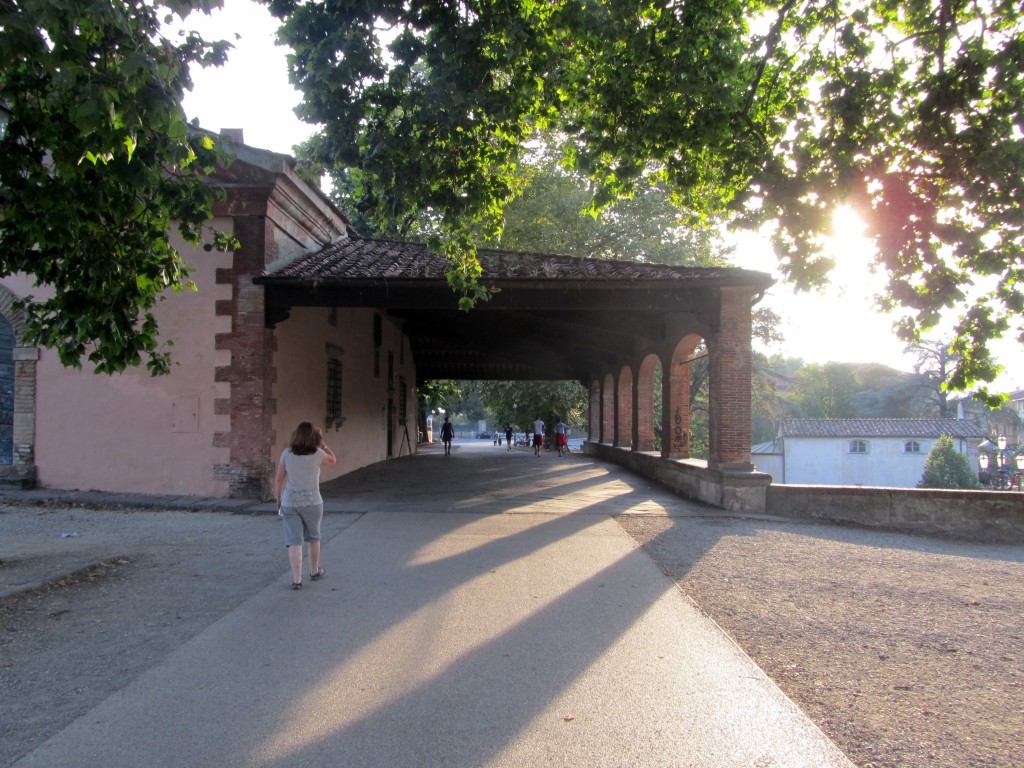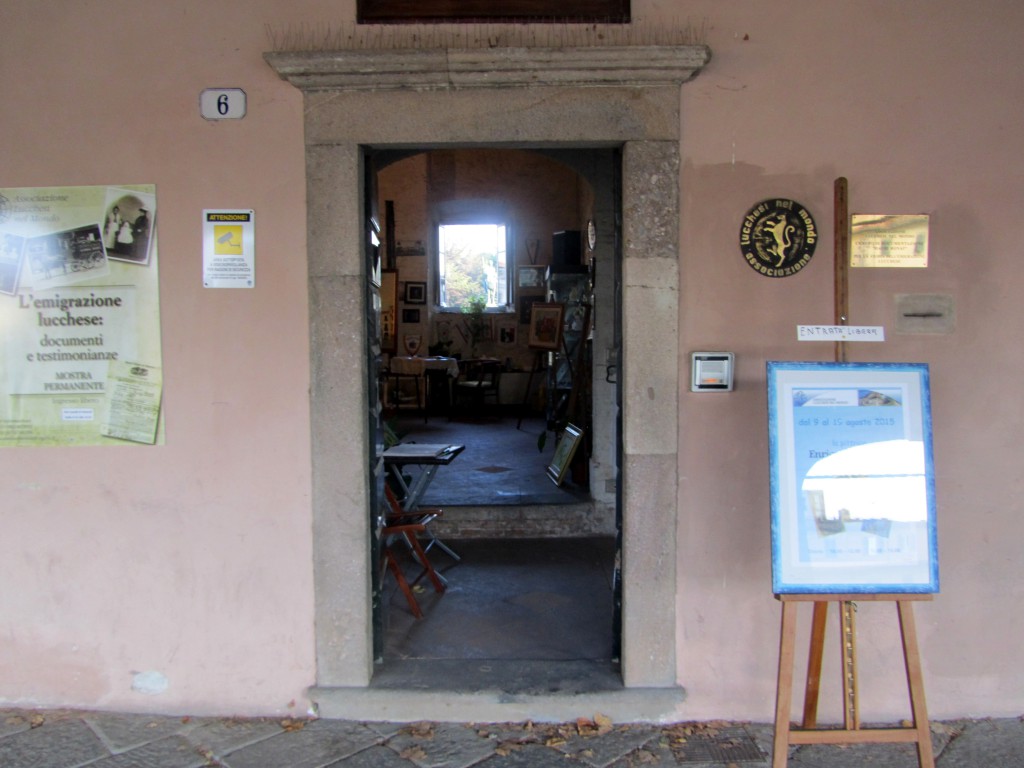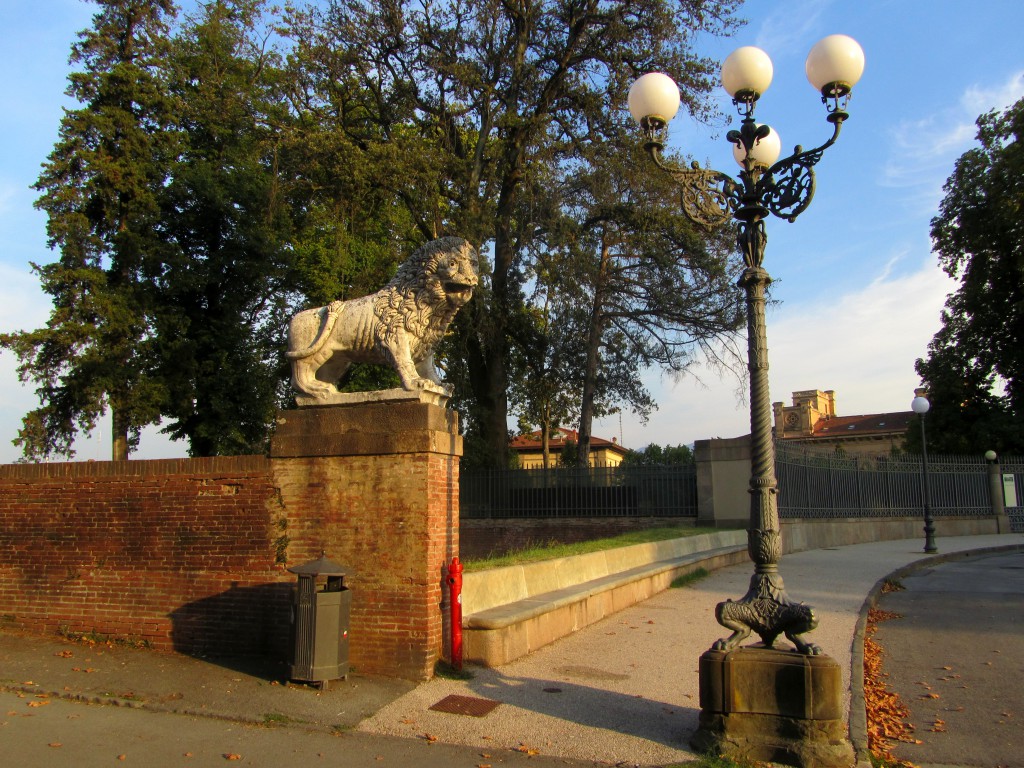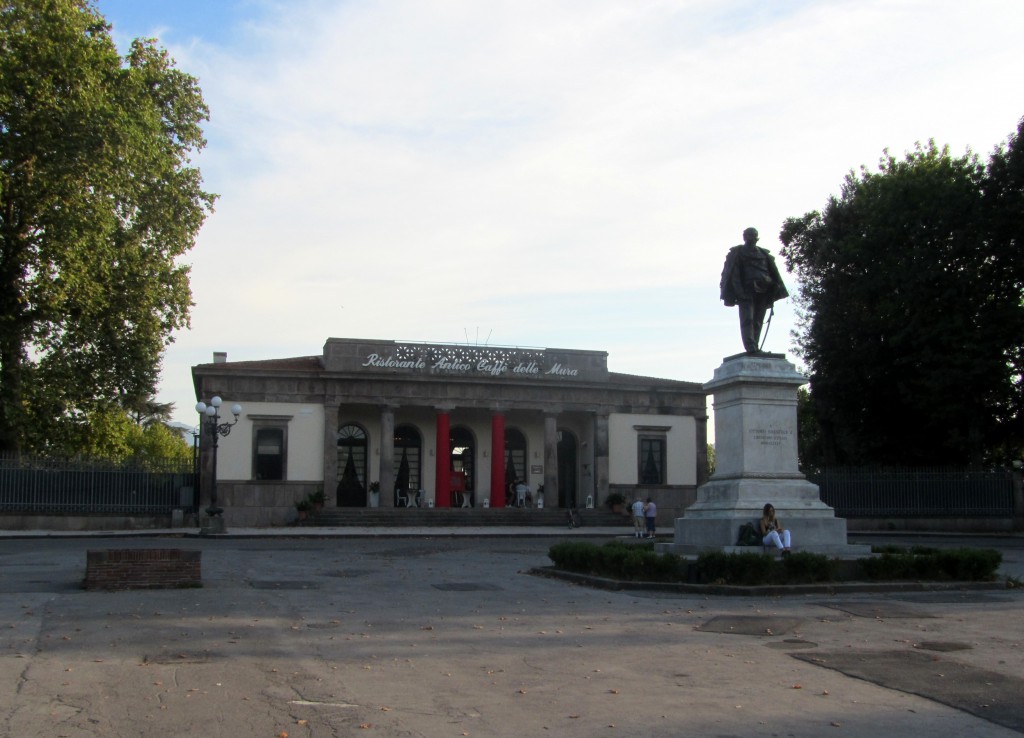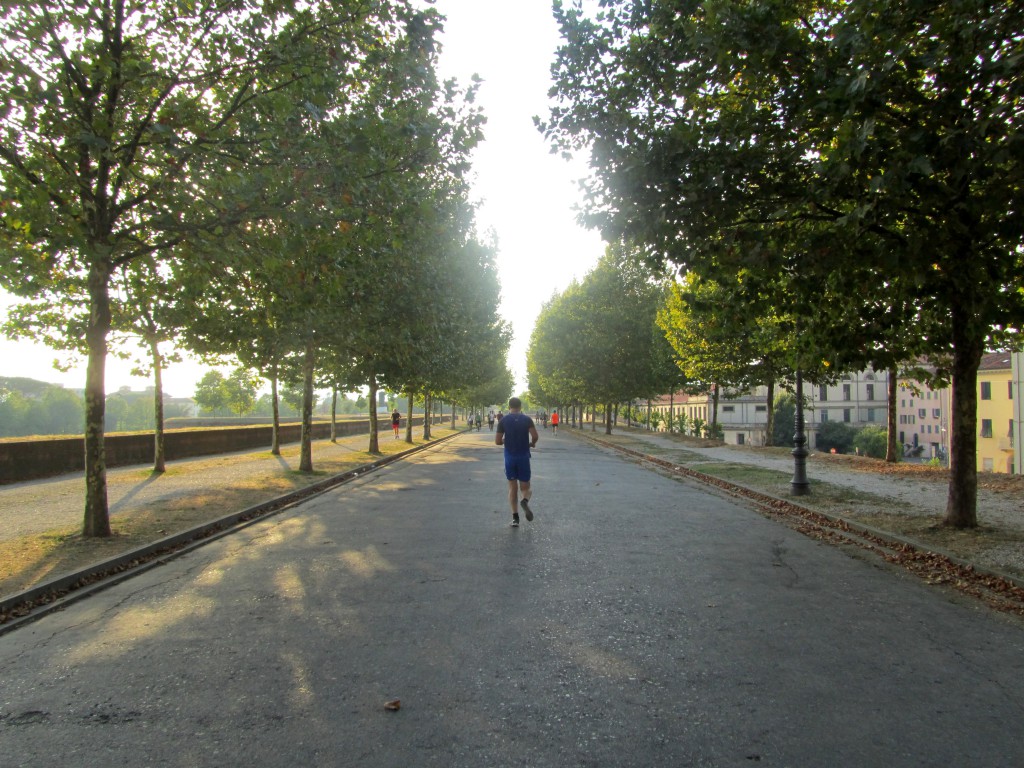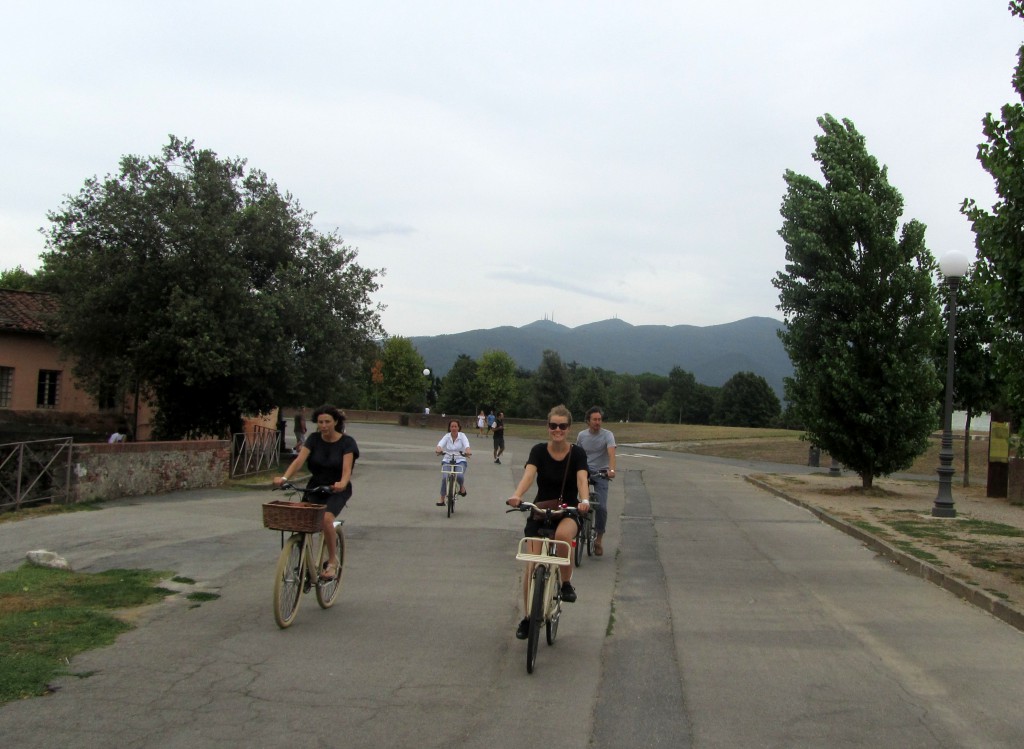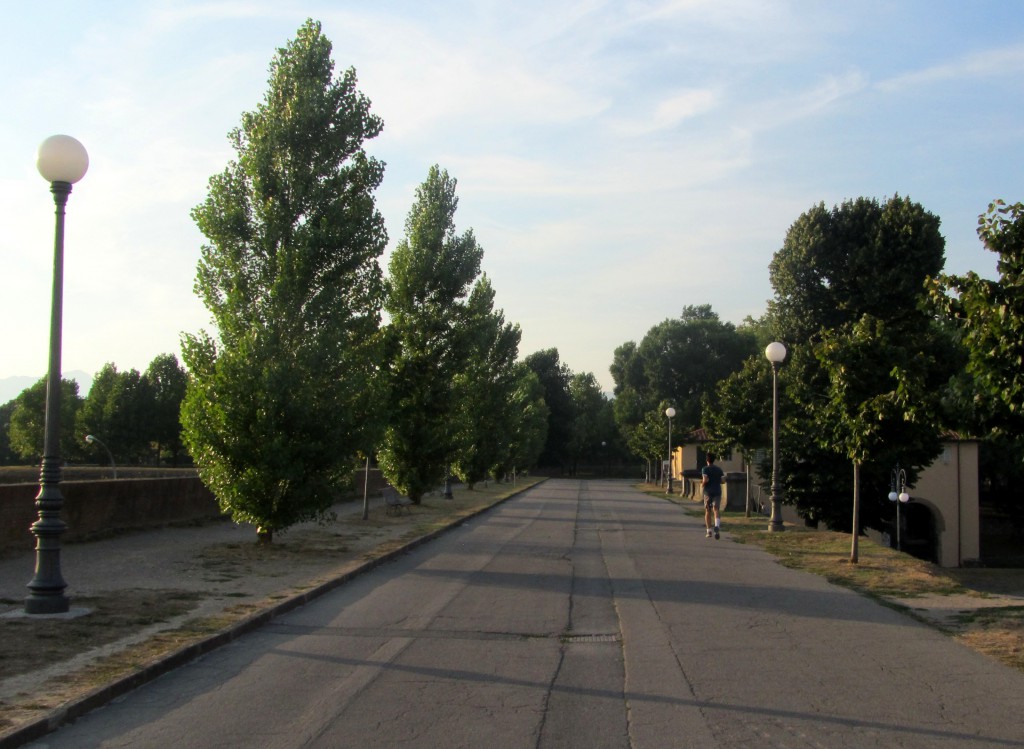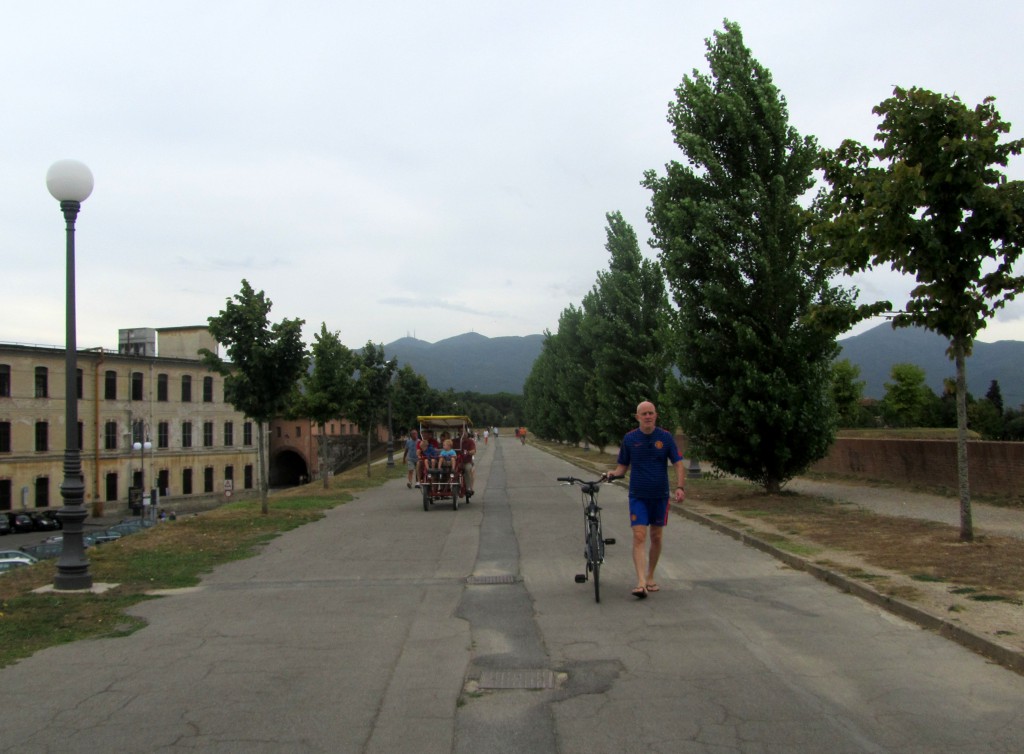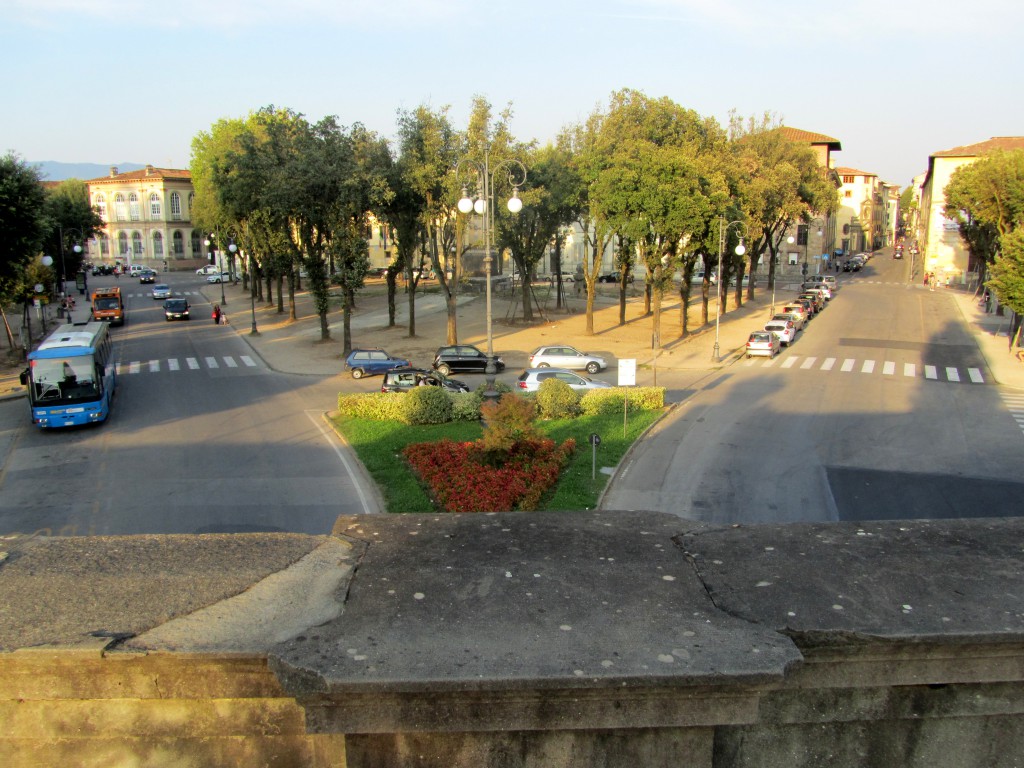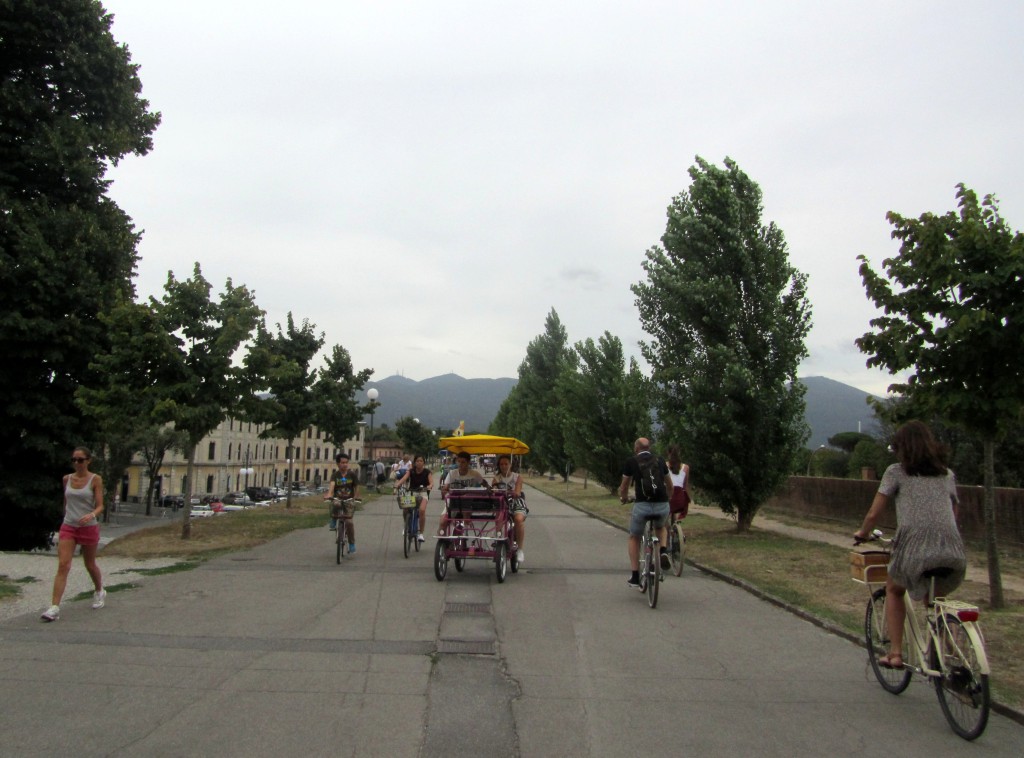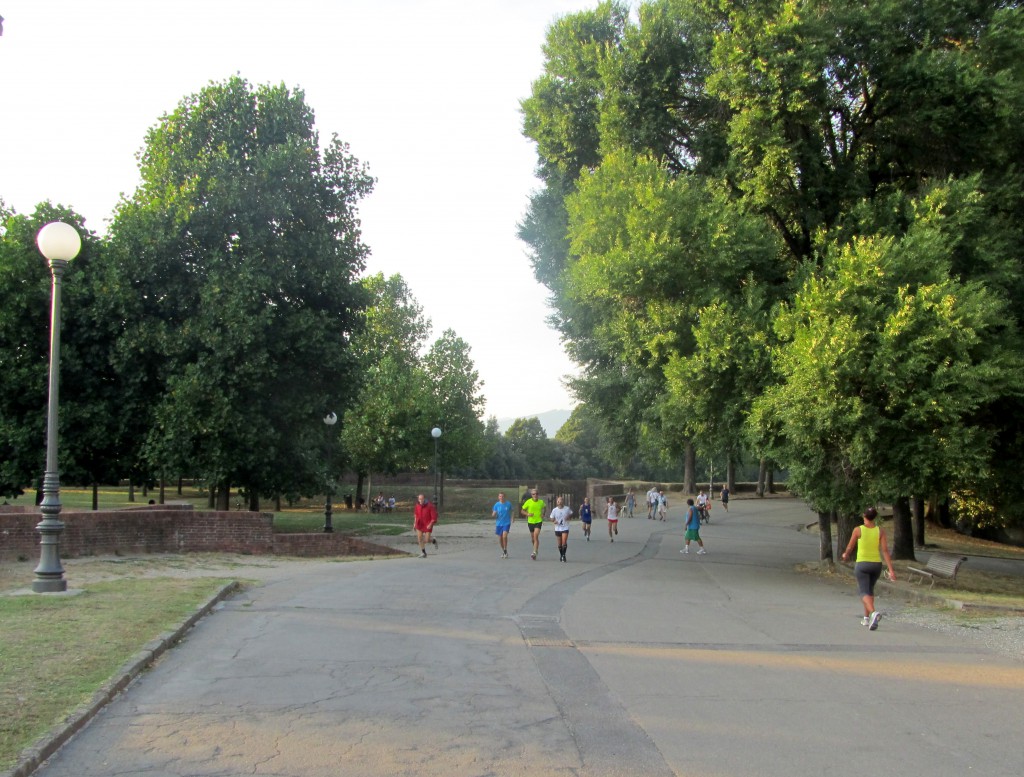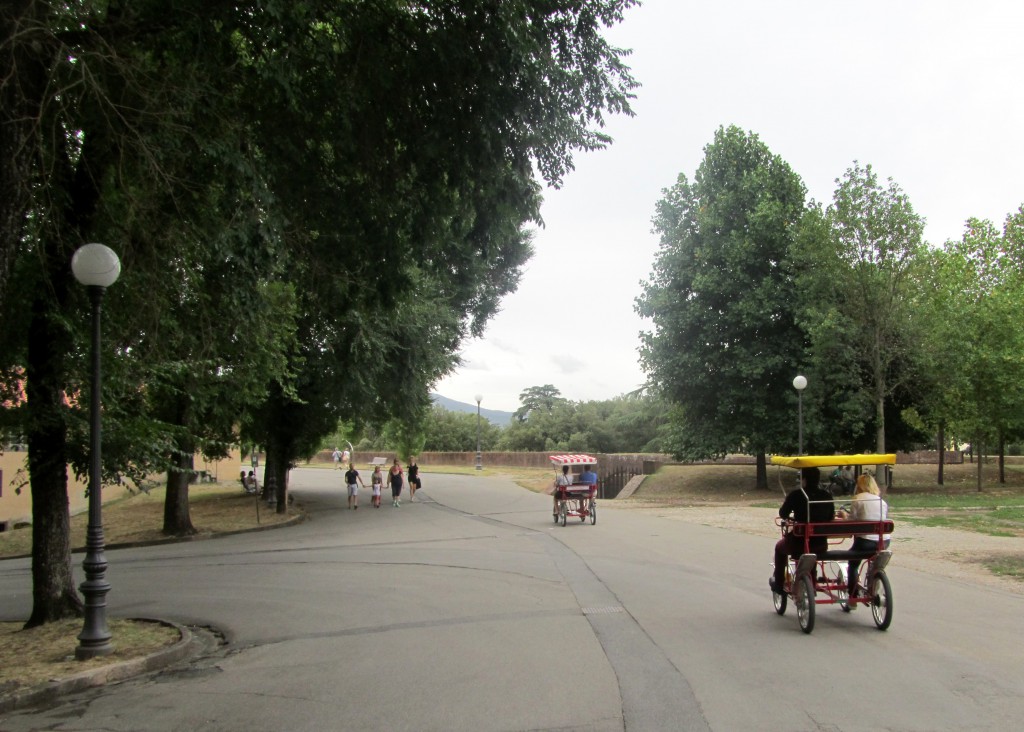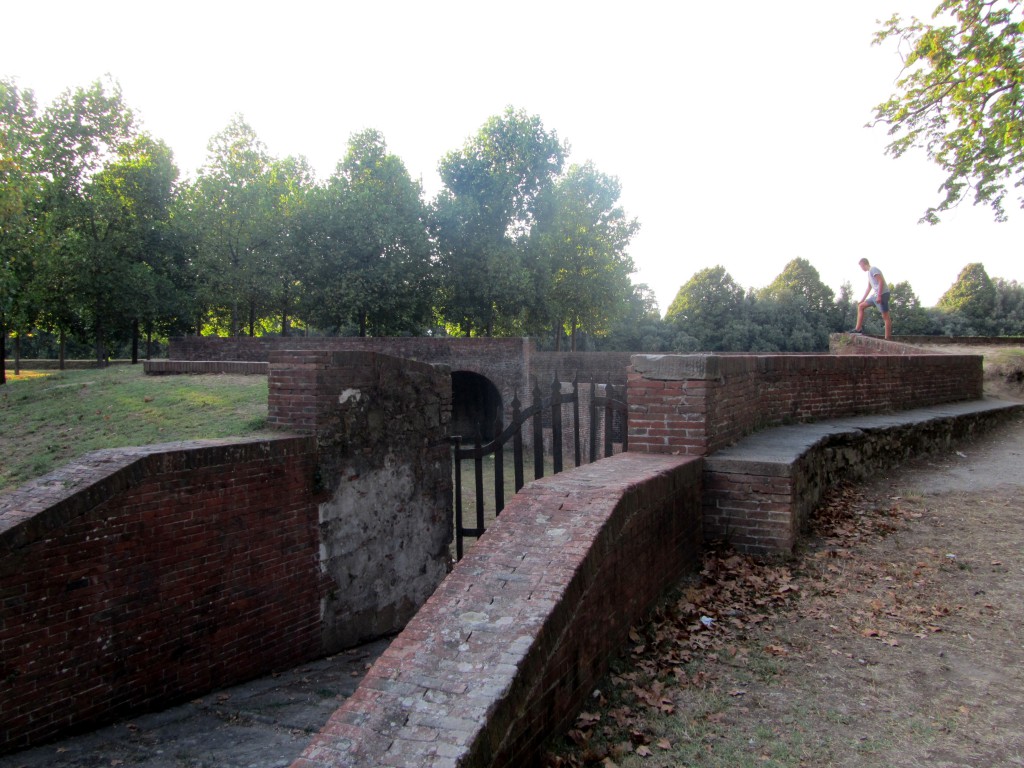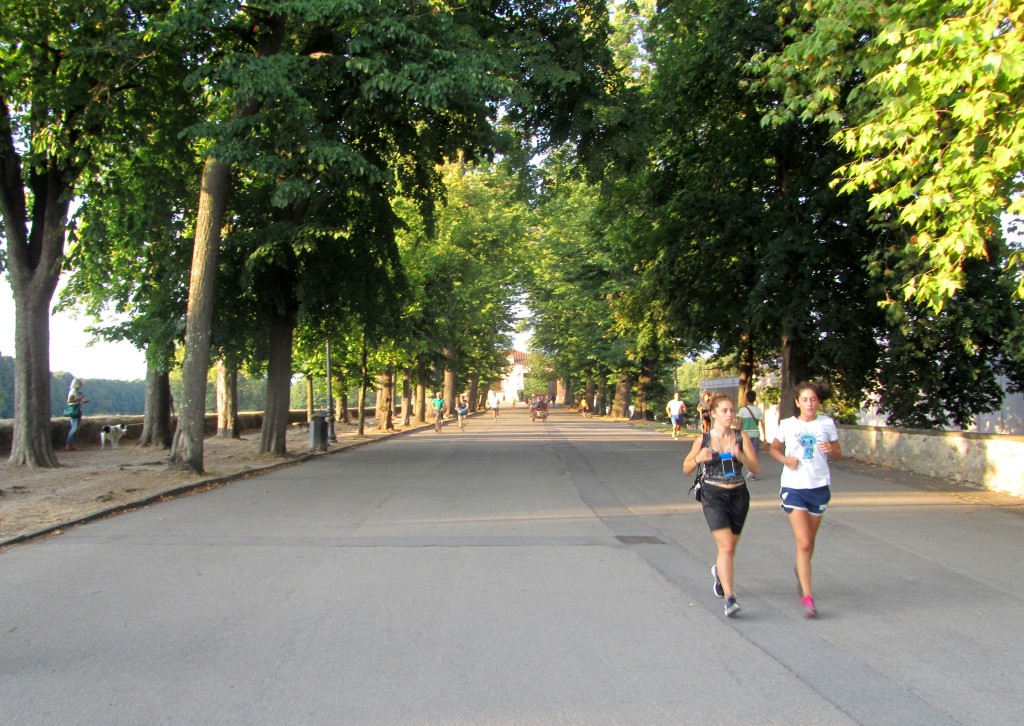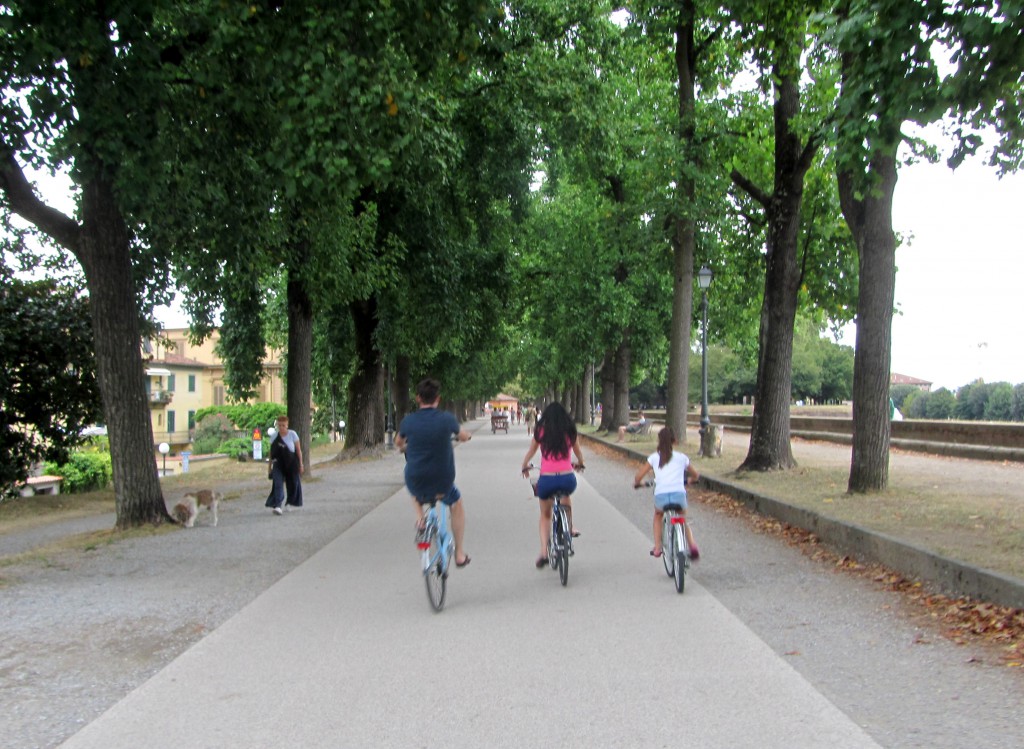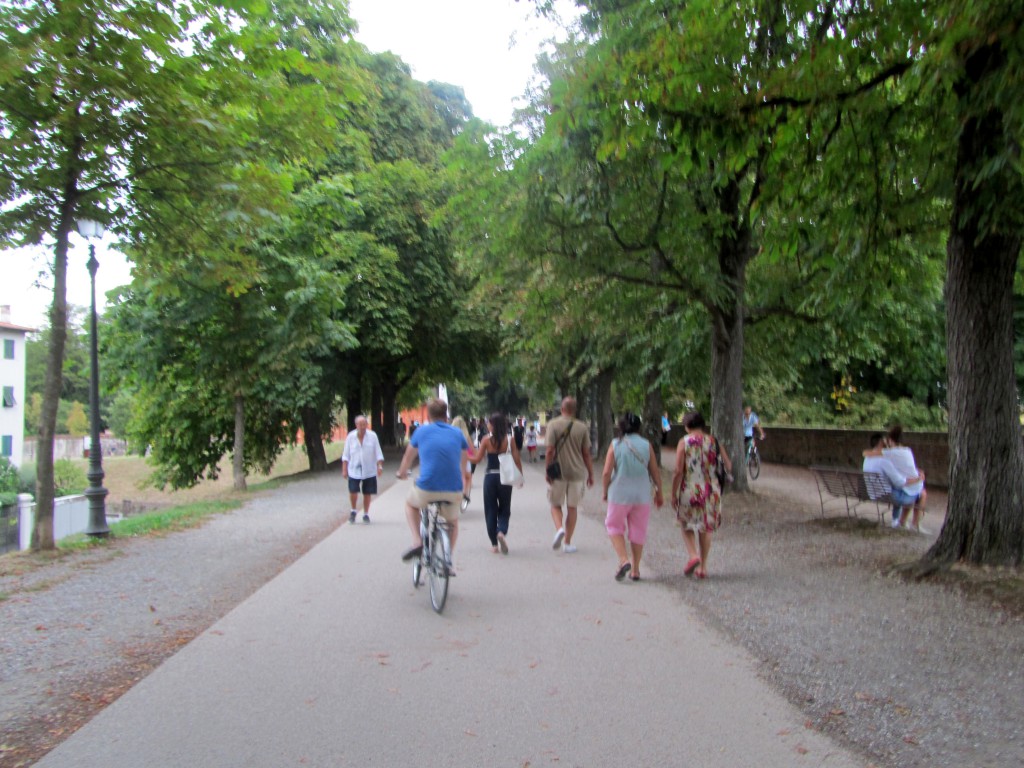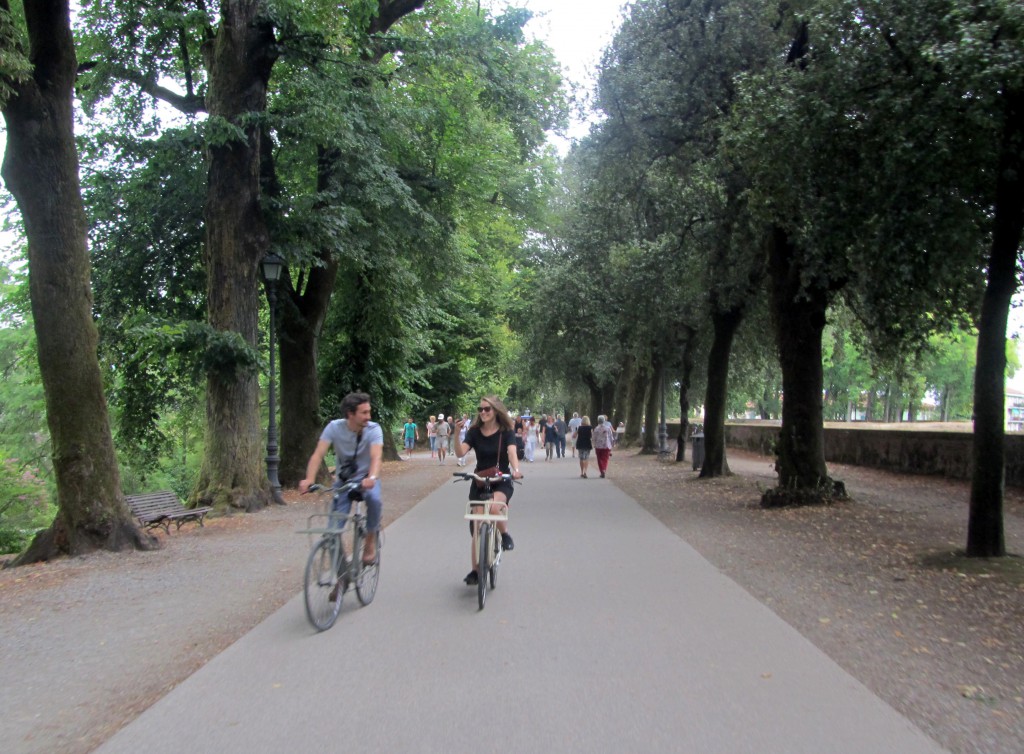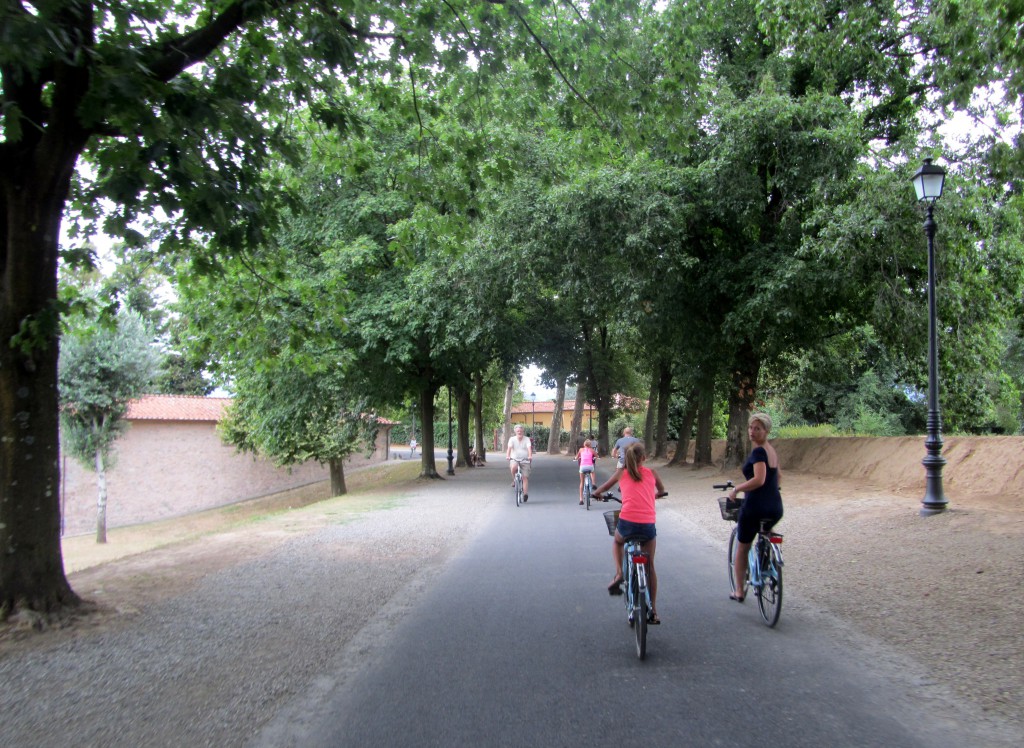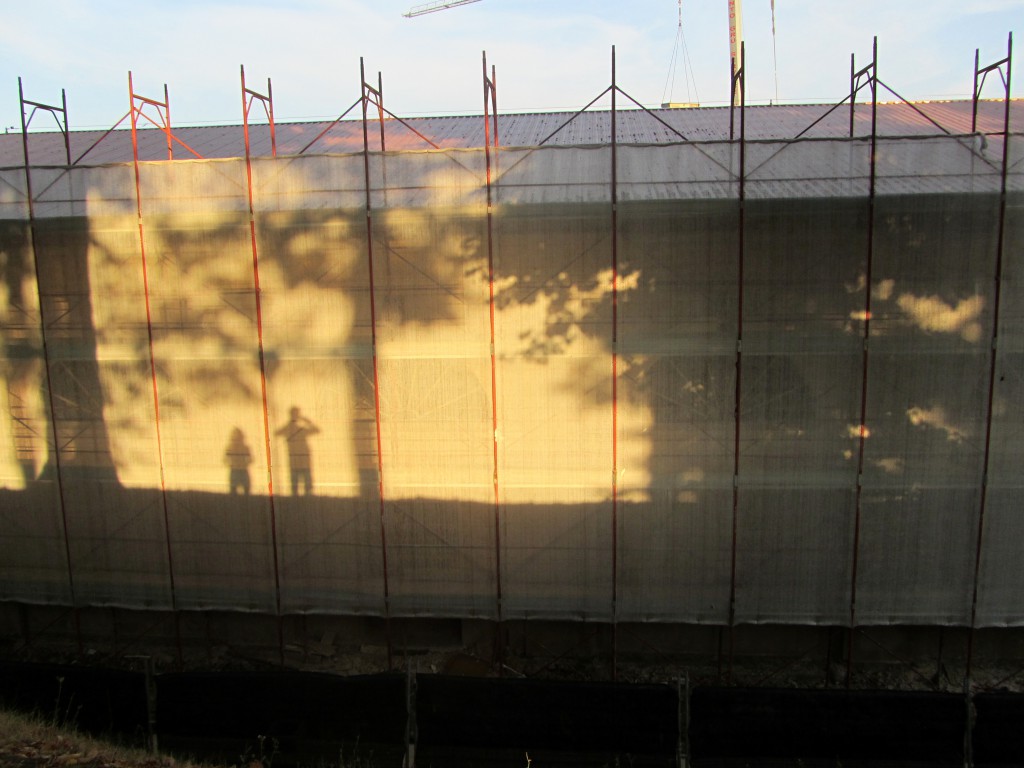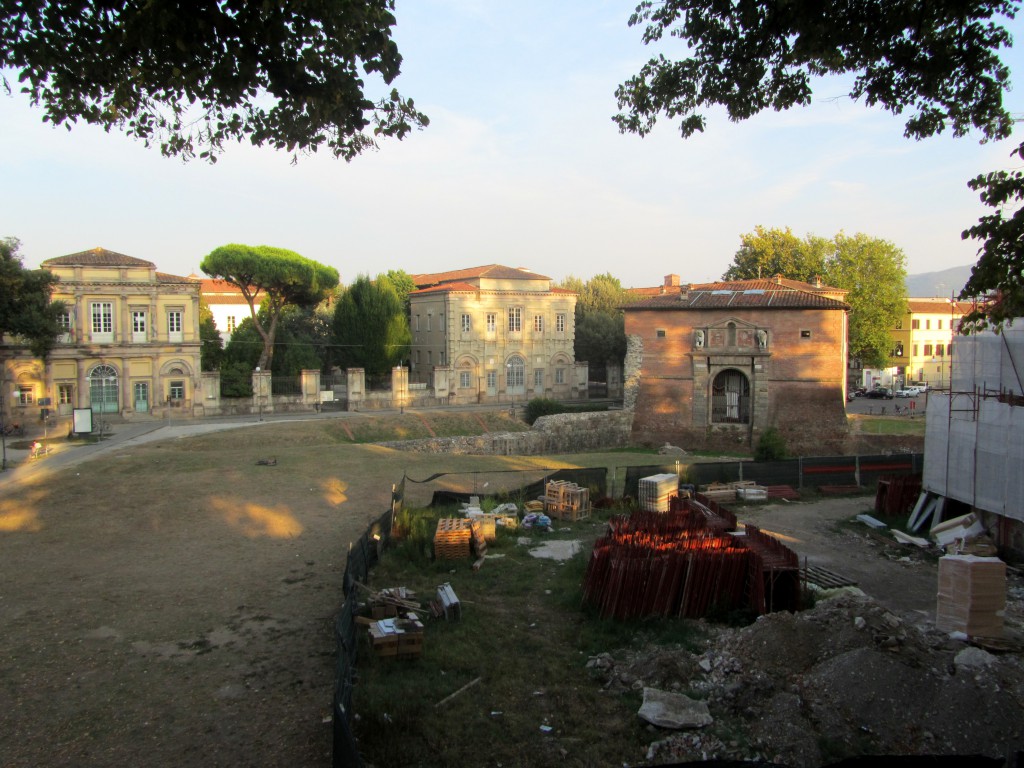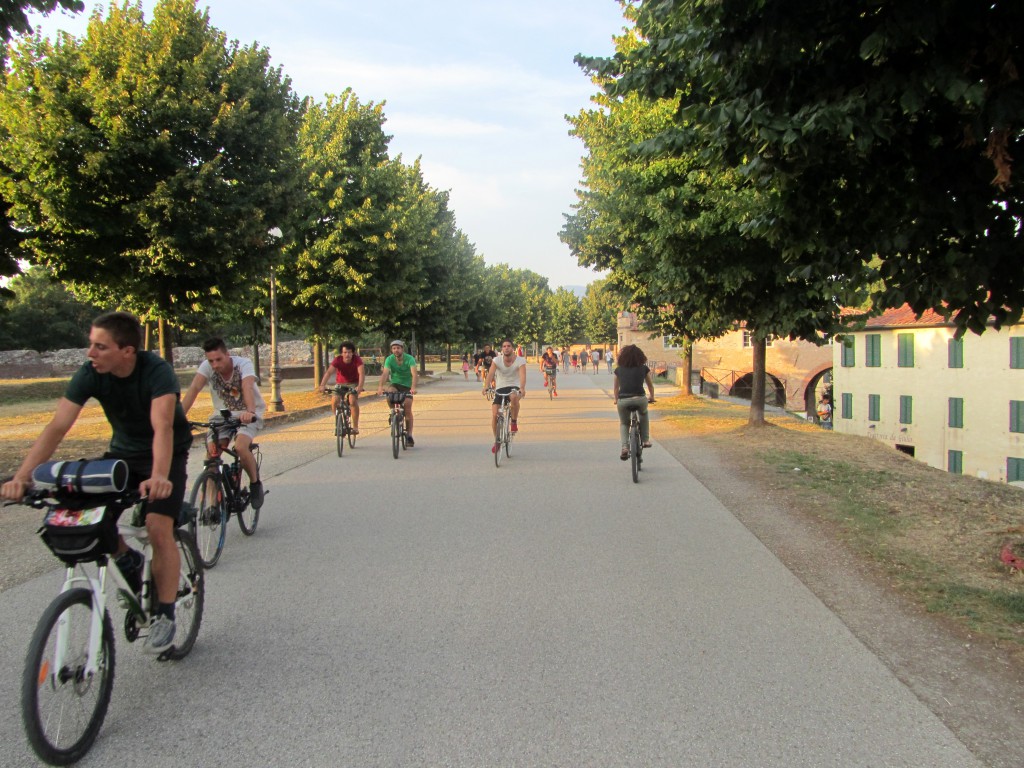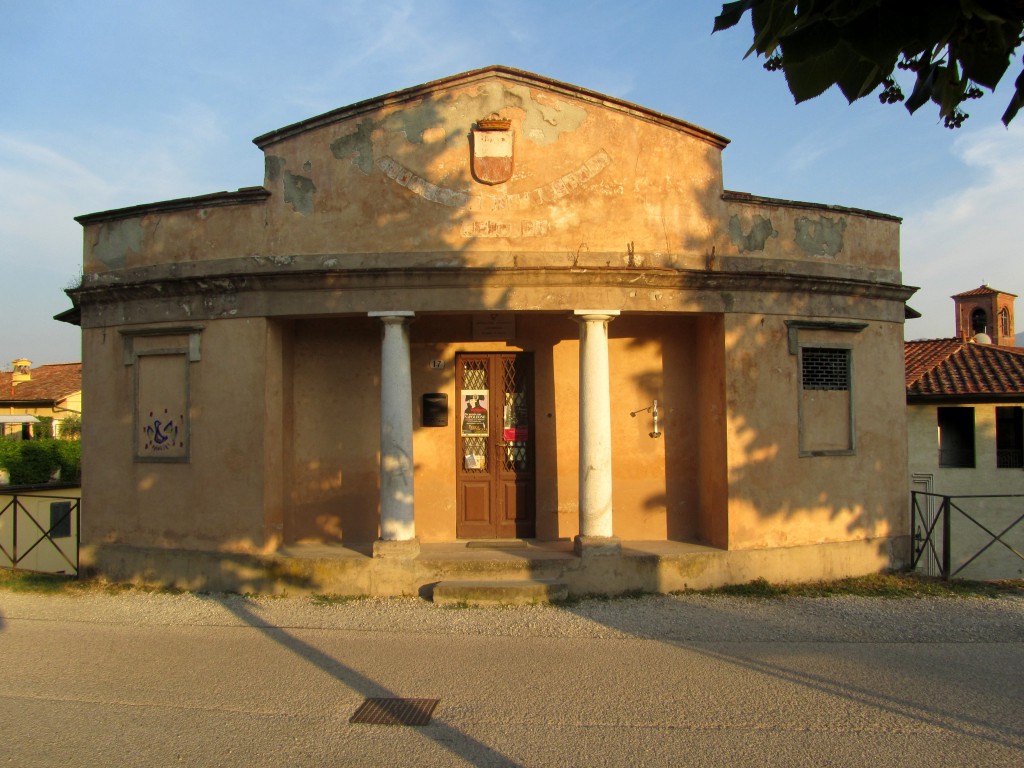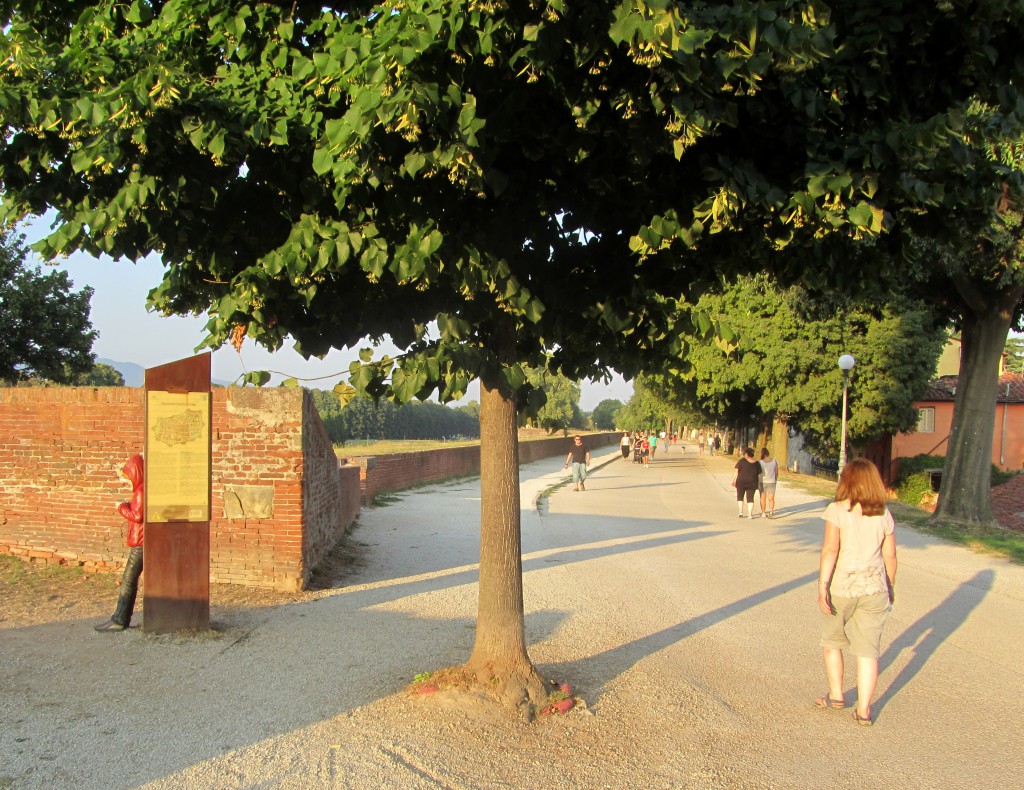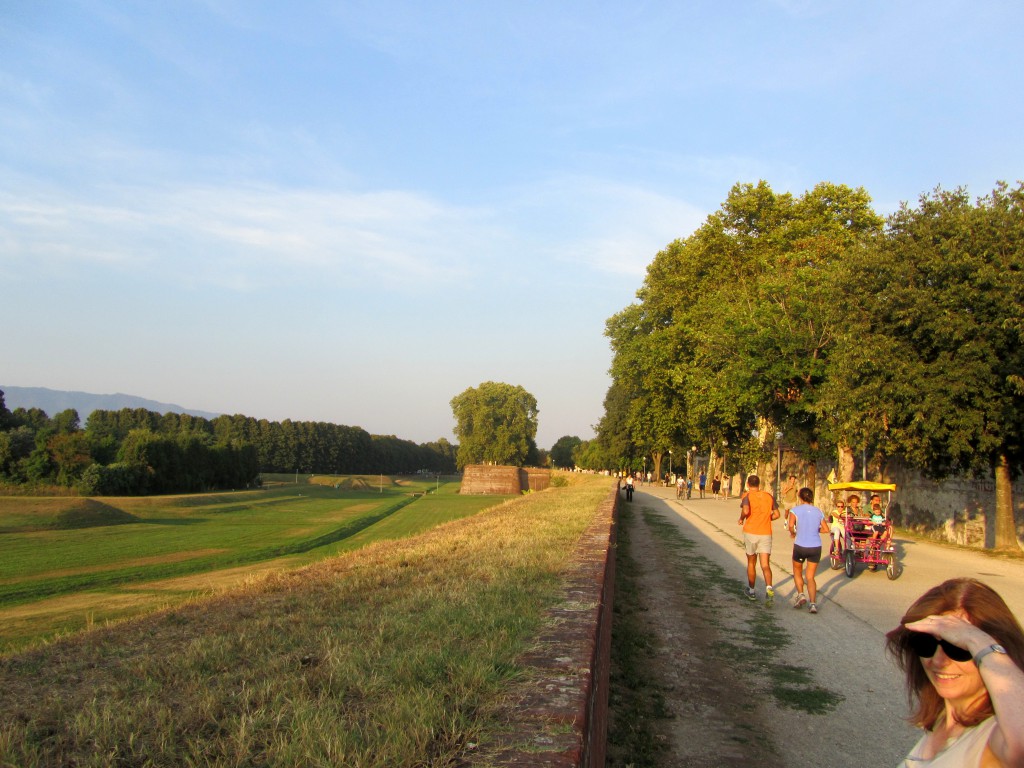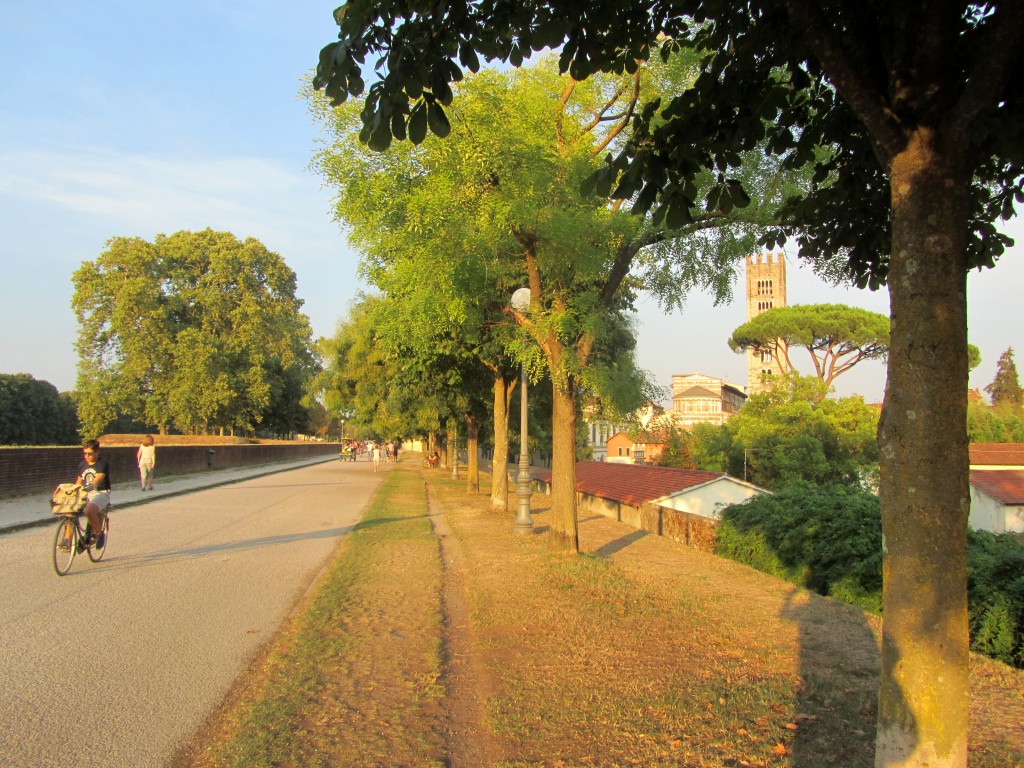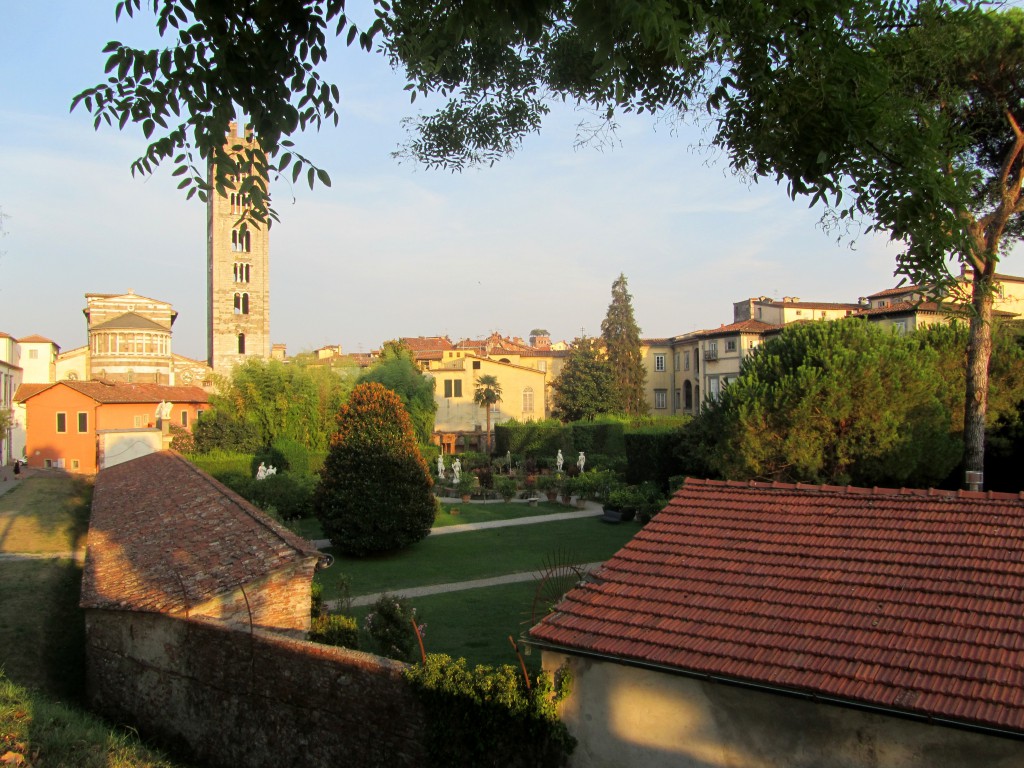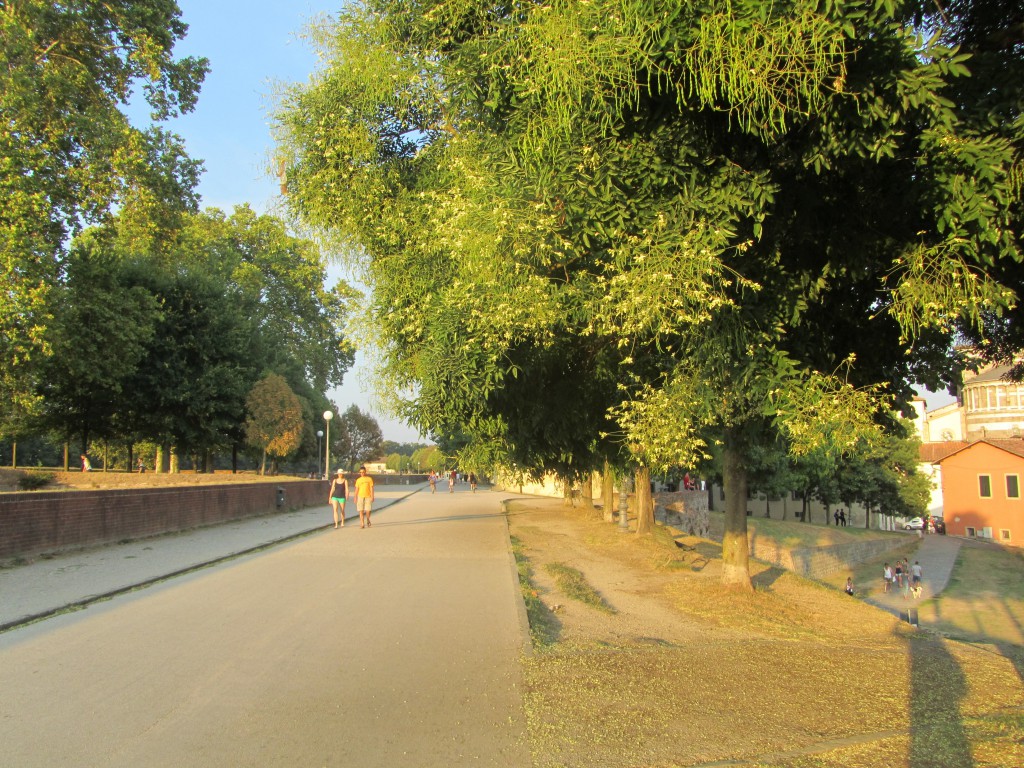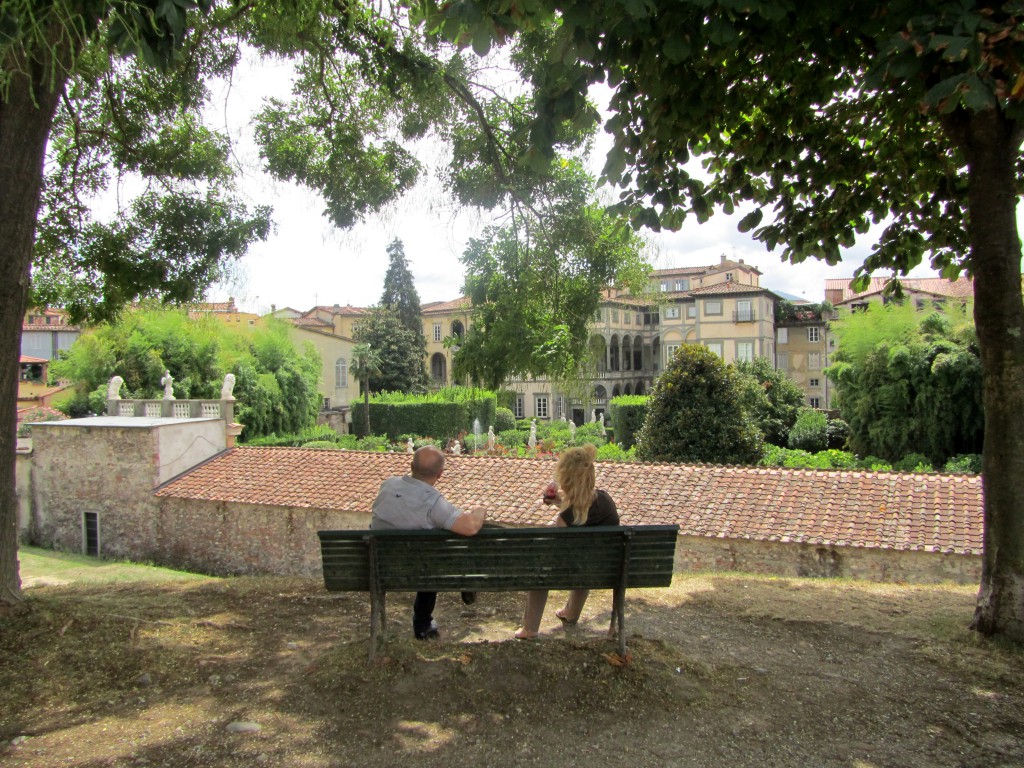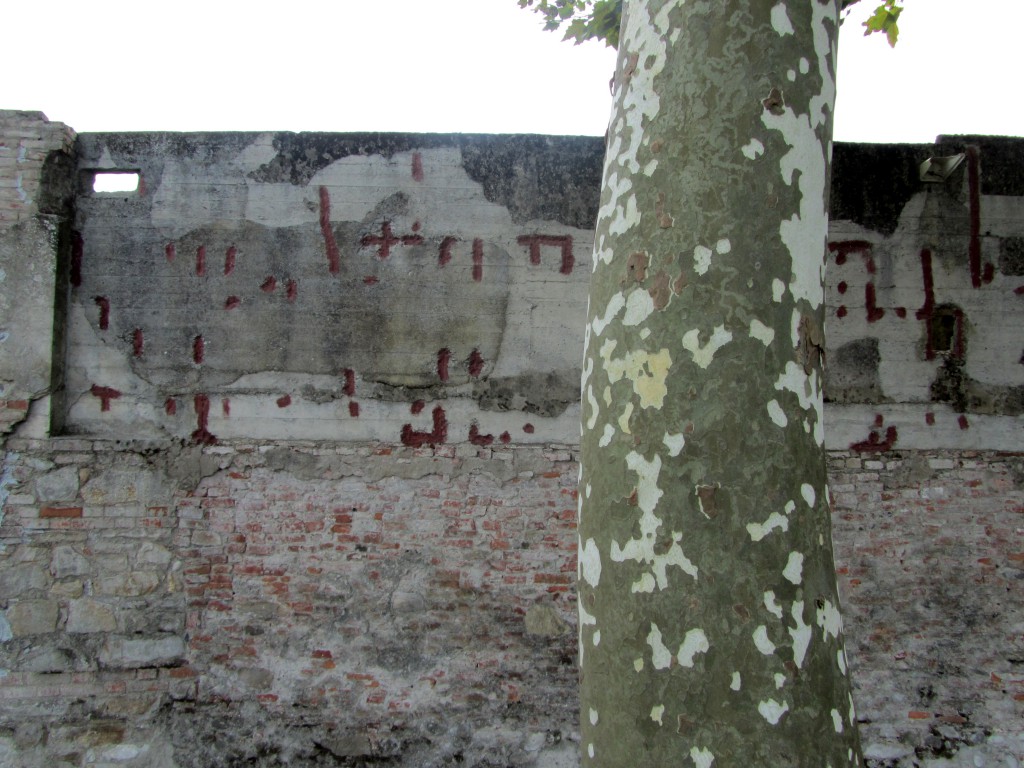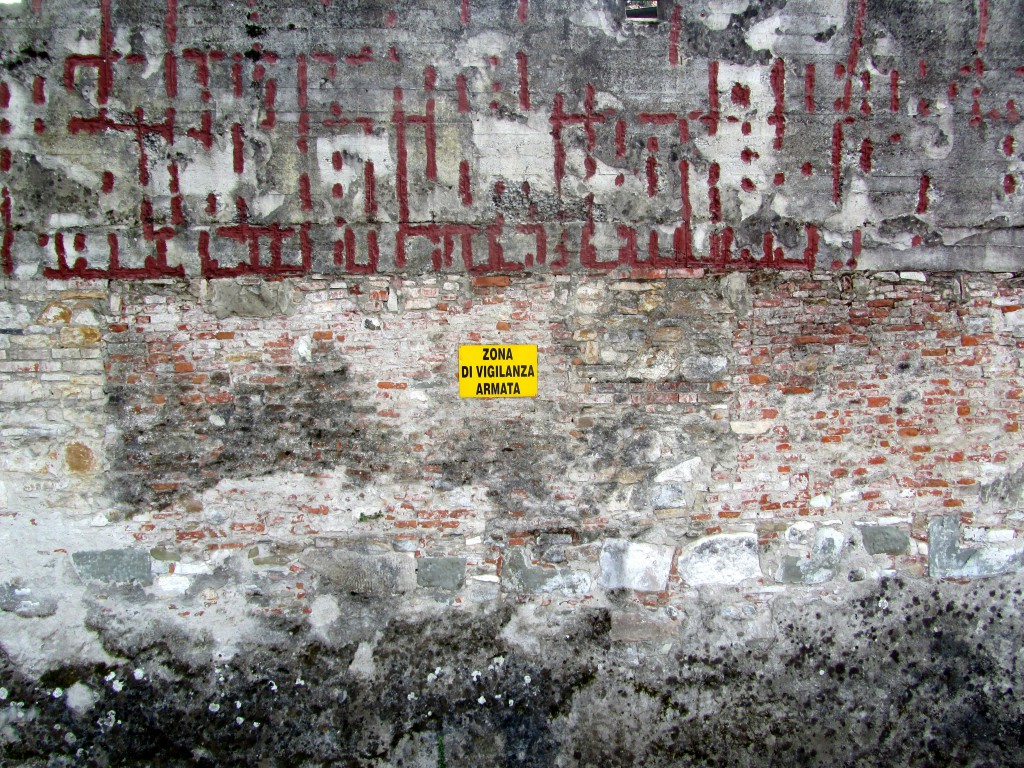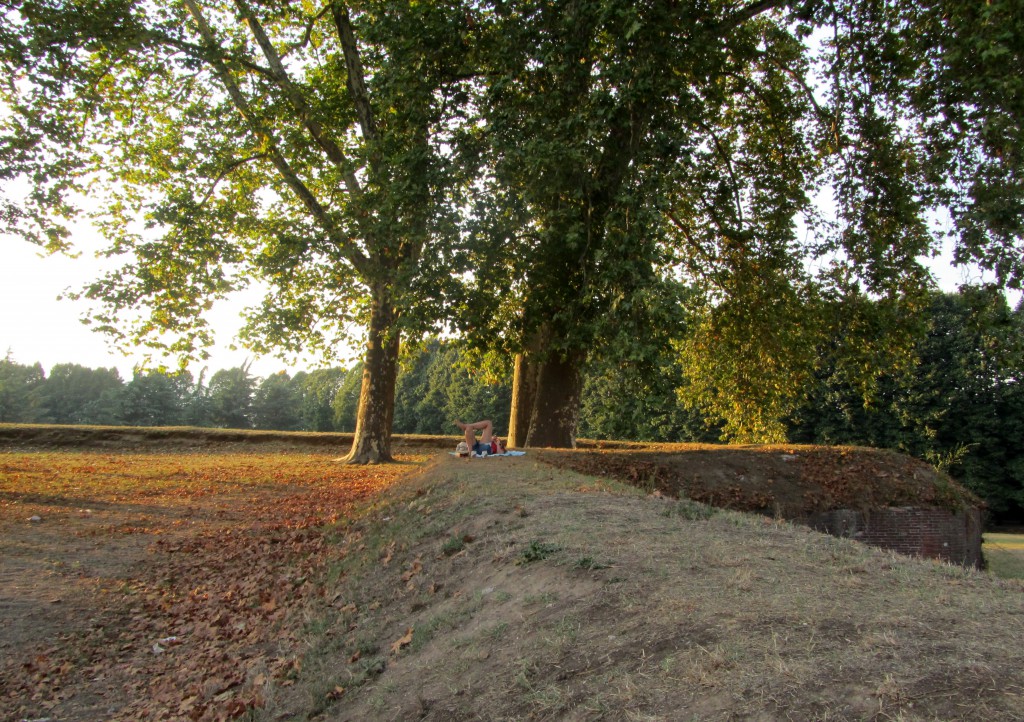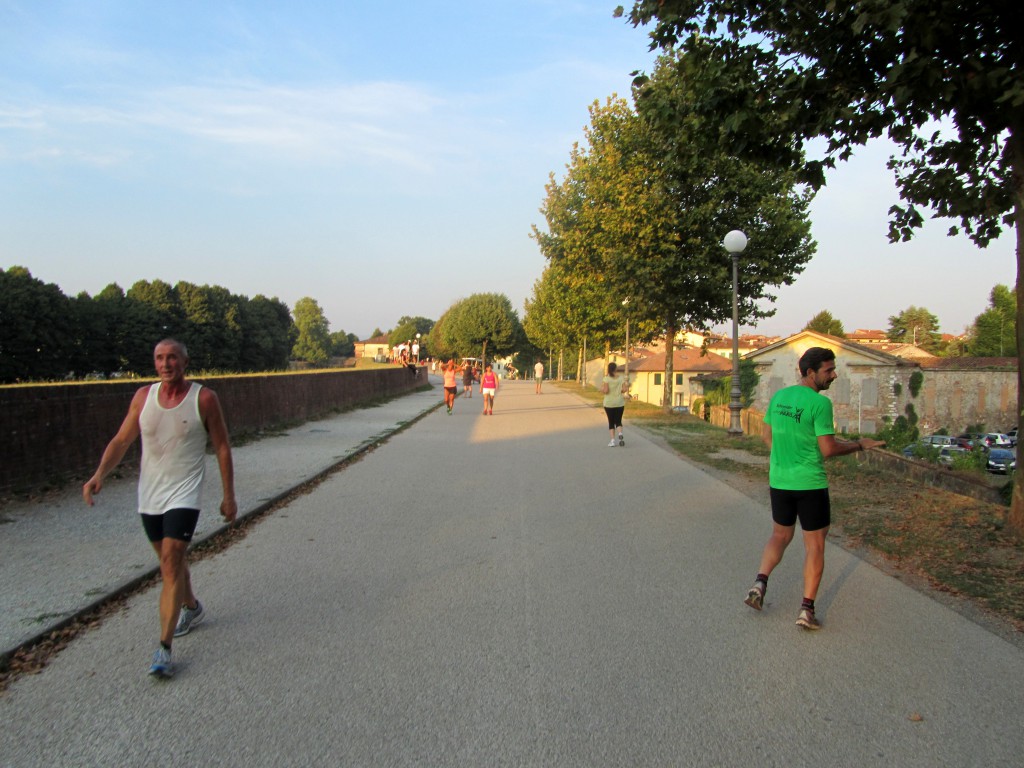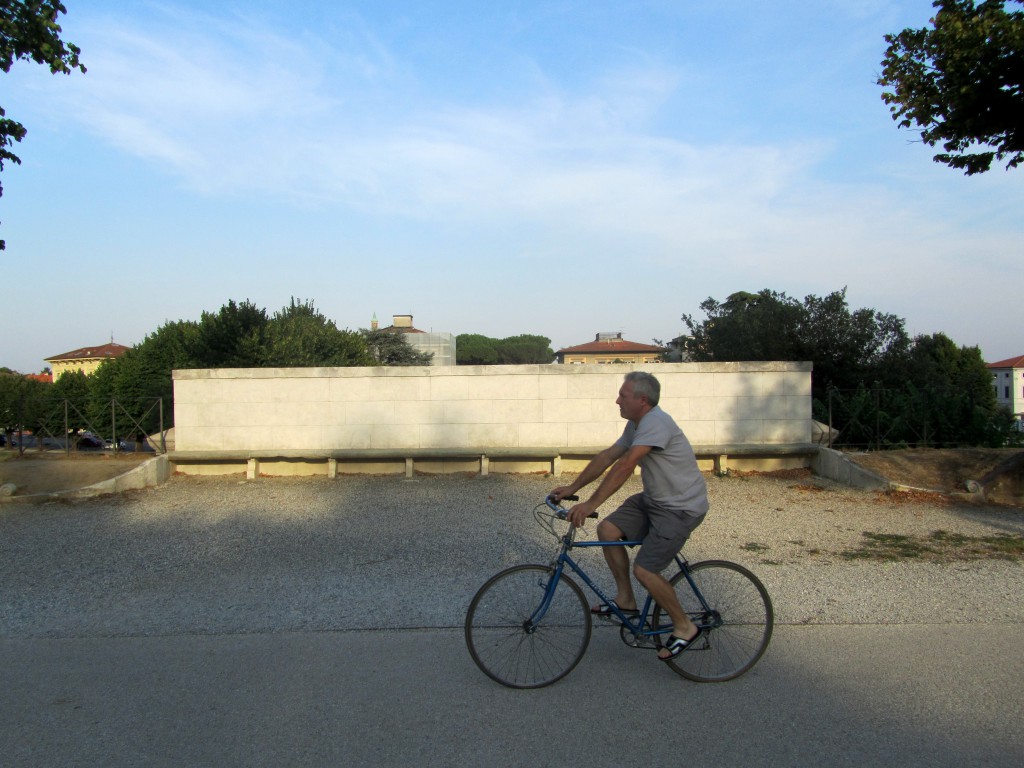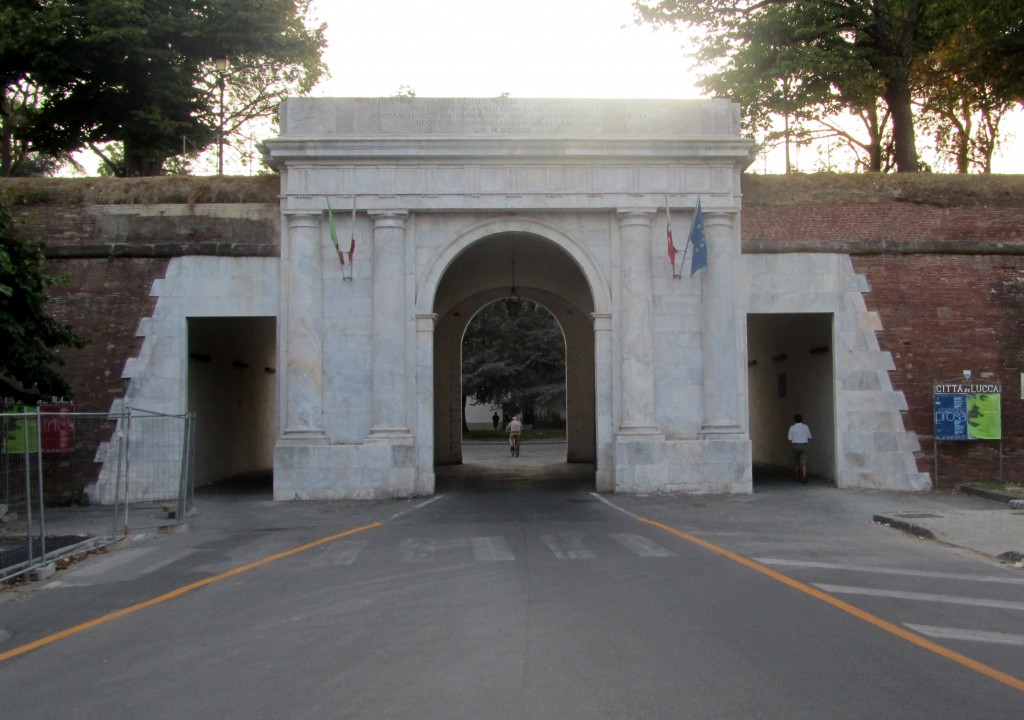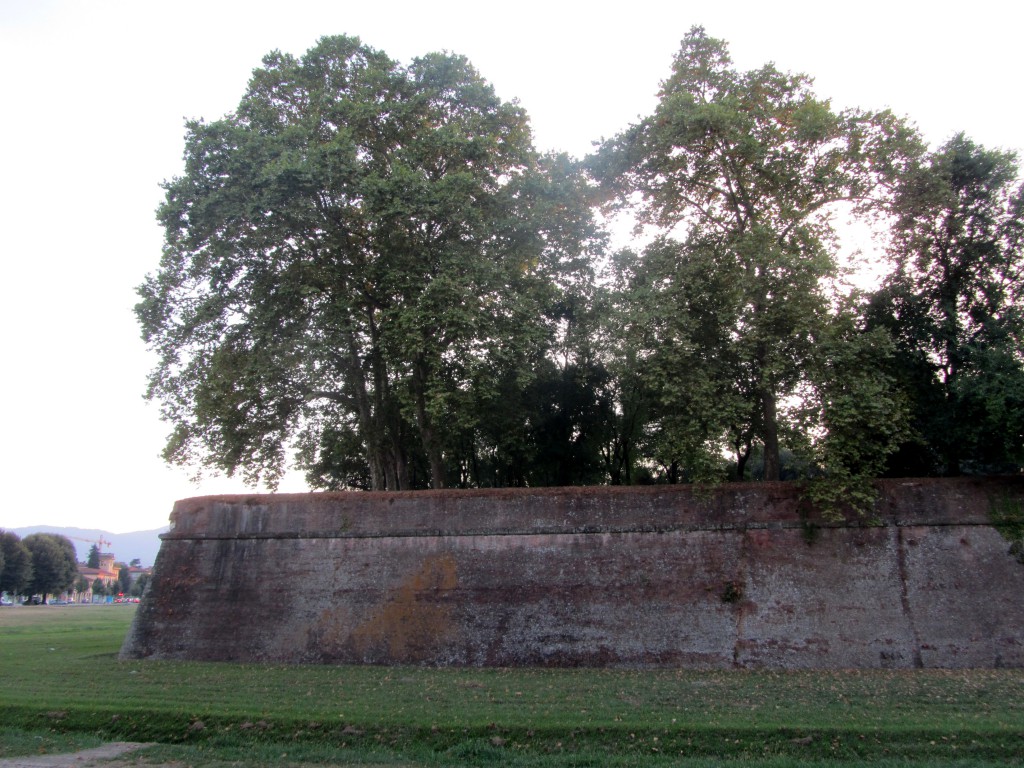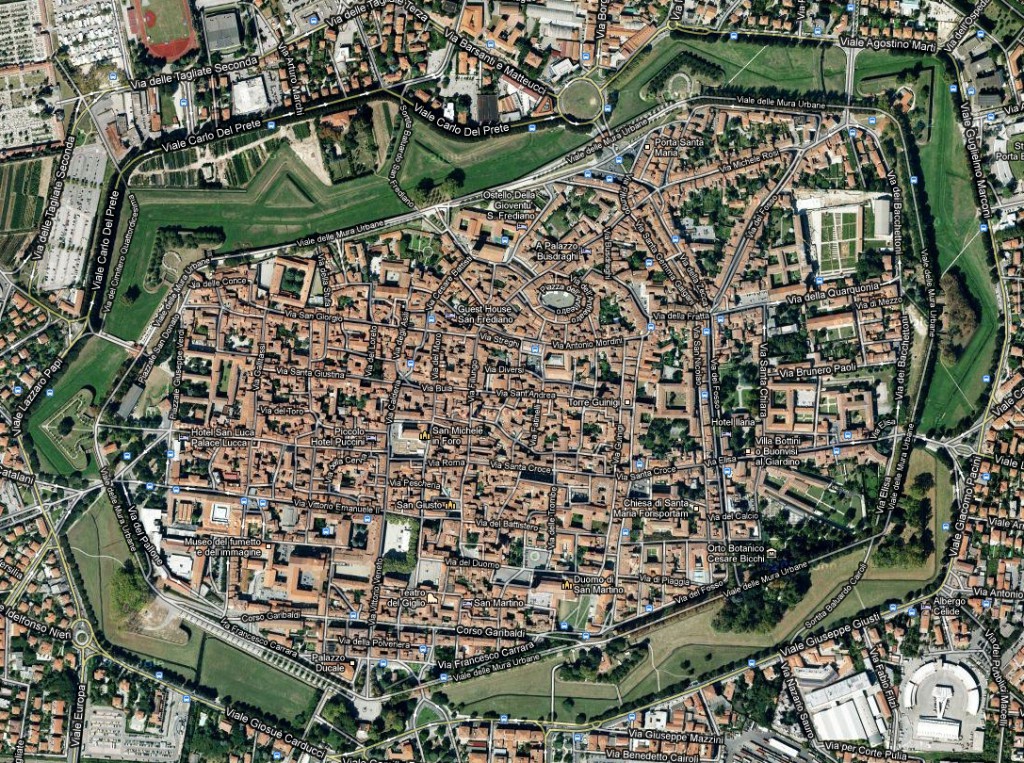 The city walls and the grassy glacis which surrounds them are one of the glories of Lucca. A walk around the top of the 16th-17th century ramparts (just over 4km in circumference) completes a visit to Lucca and provides delightful views of the town and of the Apuan Alps. The broad walk on their summit has been entirely closed to motor traffic, and is used by residents as a magnificent public park. The bastions have been planted with trees since the 16th century, including avenues of plane trees and ilex groves. The earliest circle of walls of which traces have survived dates from the Roman period; new walls were built in 1198. The present fortifications, extremely well preserved, were carried out in 1544-1650.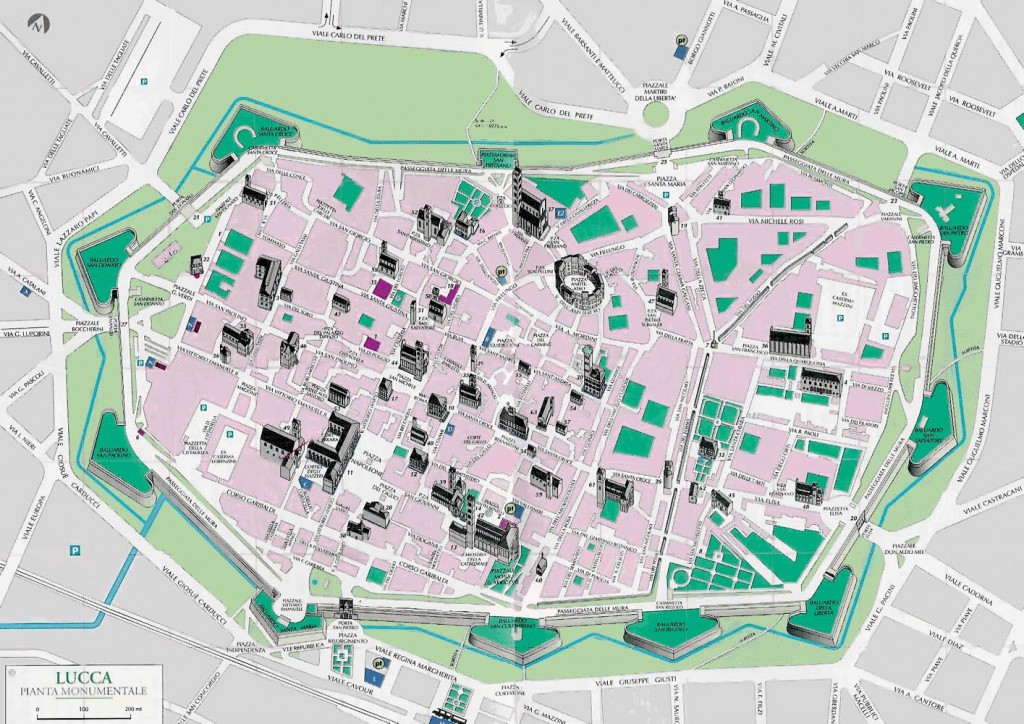 The walls are of slim brick, 12m high and 30m wide at the base, and the grassy fields outside them are on the site of the moat. Many of the eleven bastions still have their guardhouses, complicated defence works, and ammunition stores. The walls were never put to use, but must have served as an effective deterrent to Lucca's enemies. They were built on a system afterwards developed by Louis XIV's great engineer Vauban, and recall the ramparts of Verona as well as those of Berwick-on-Tweed in Scotland. In medieval times there were only three gates: Porta San Gervasio, Porta Santa Maria and Porta San Donato. The first survives intact; the latter two were replaced in the late 16th or 17th century in slightly different locations, though traces of the originals remain.
Alta Macadam, Blue Guide Tuscany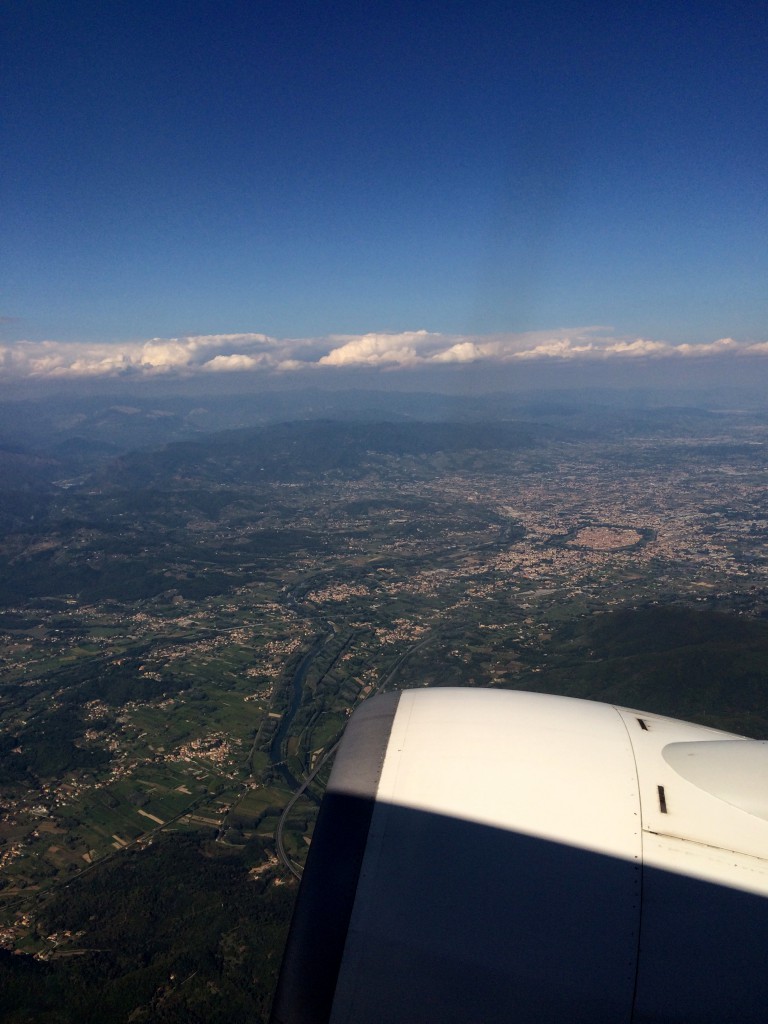 For another view of Lucca's walls please look at their website – Le Mura di Tutti (Everyone's Walls)