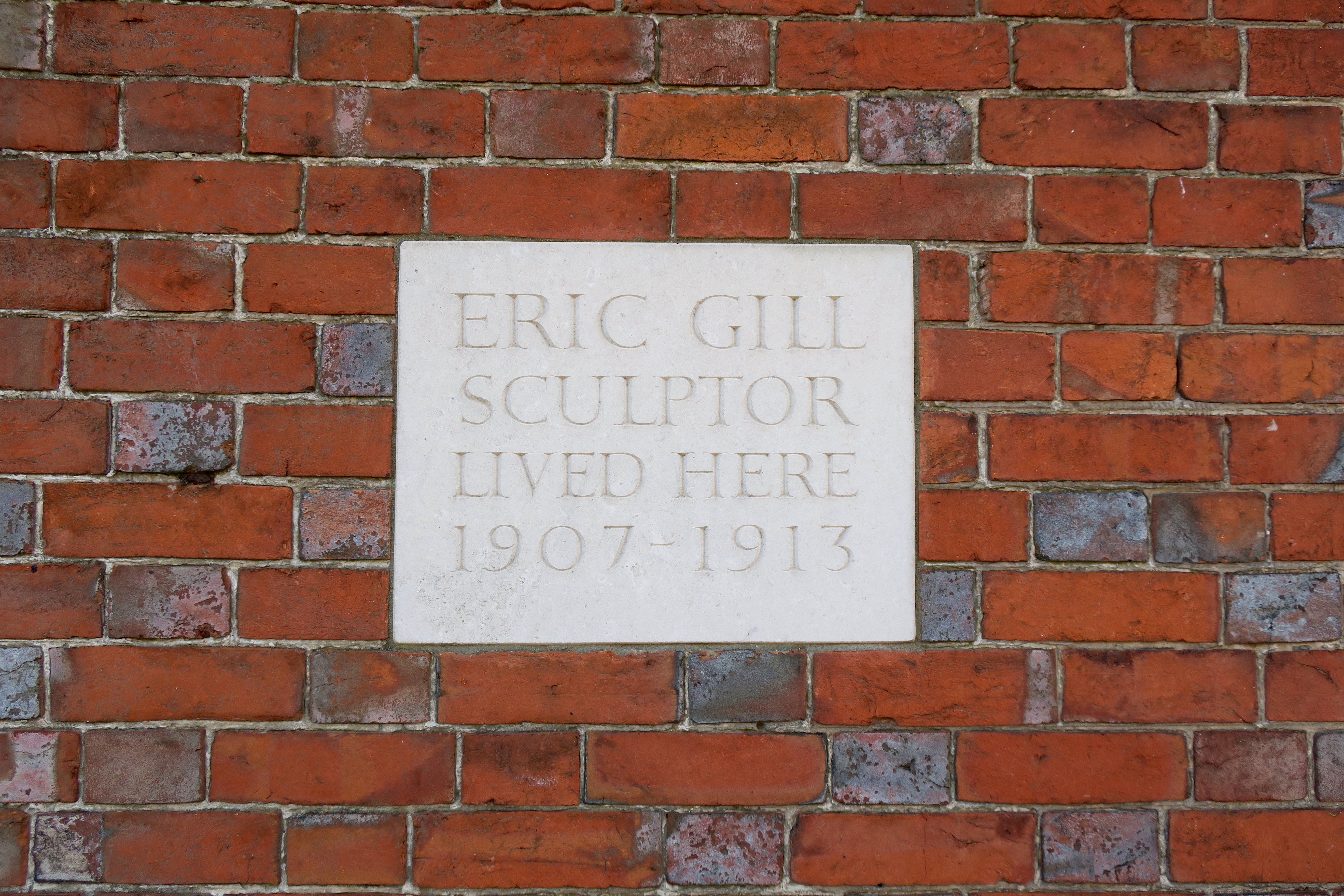 Sunday dawned cold and sharp, the sun straining through the early morning Ditchling mist. We took a walk around the village, just as the sun broke through, illuminating walls of flint and brick.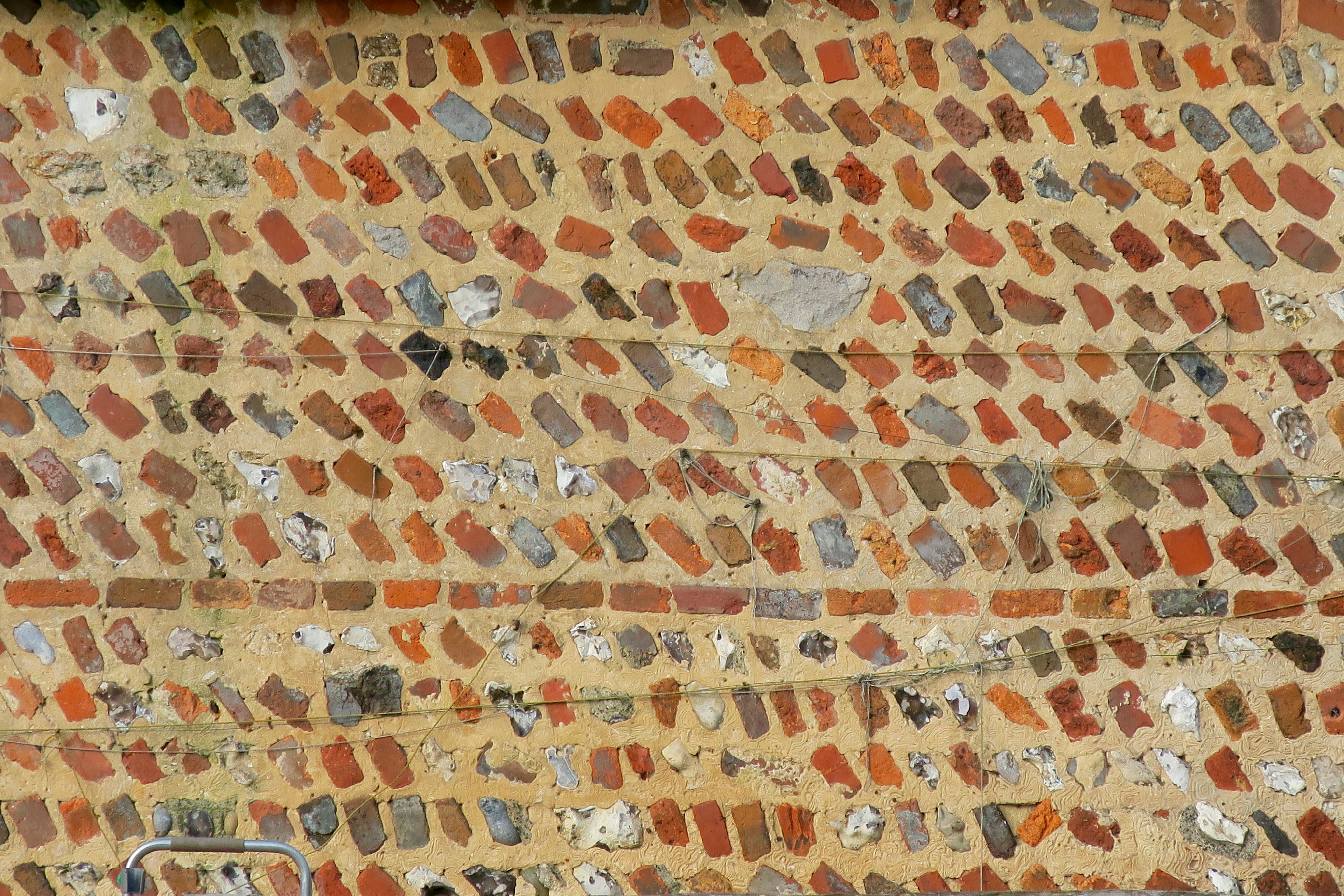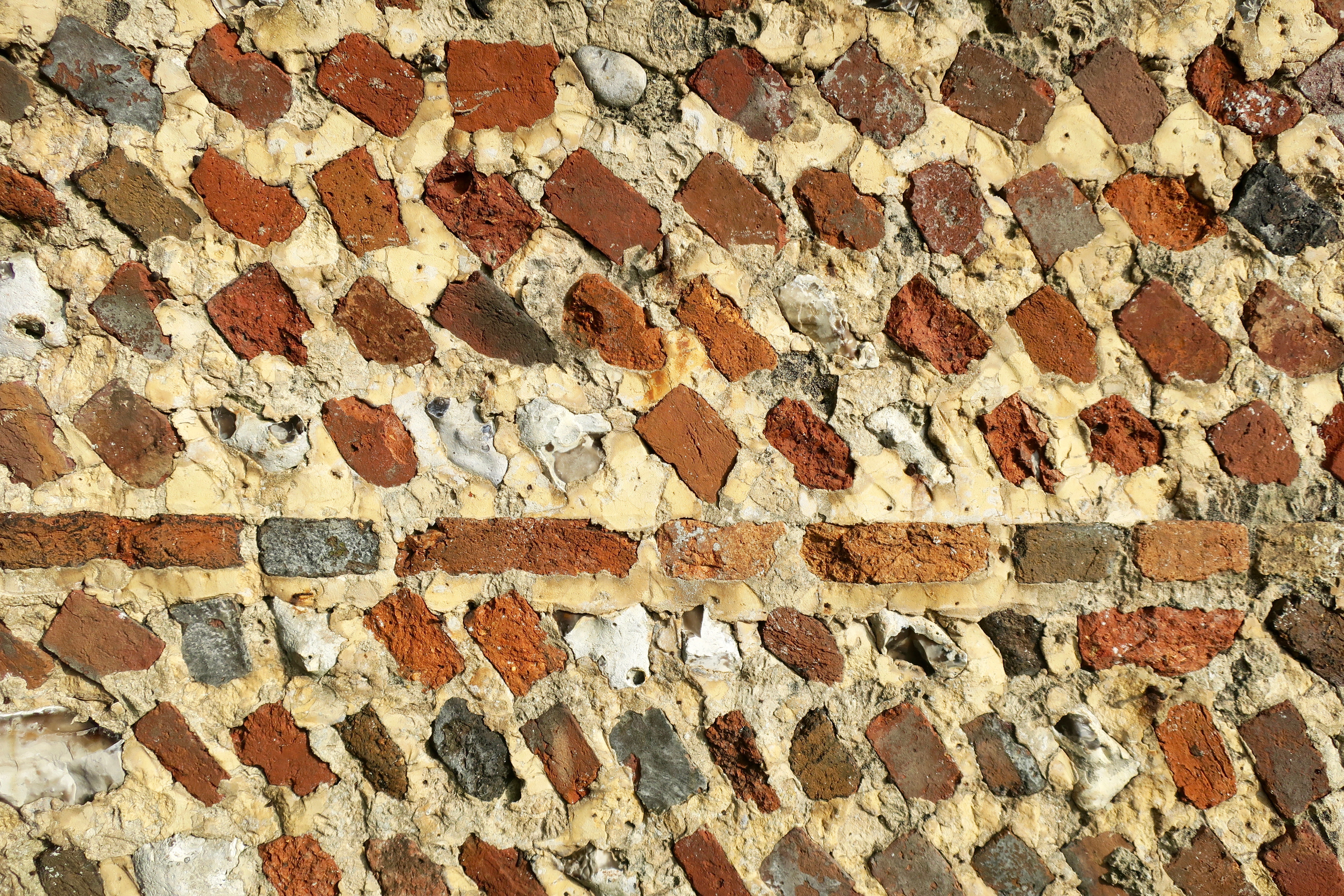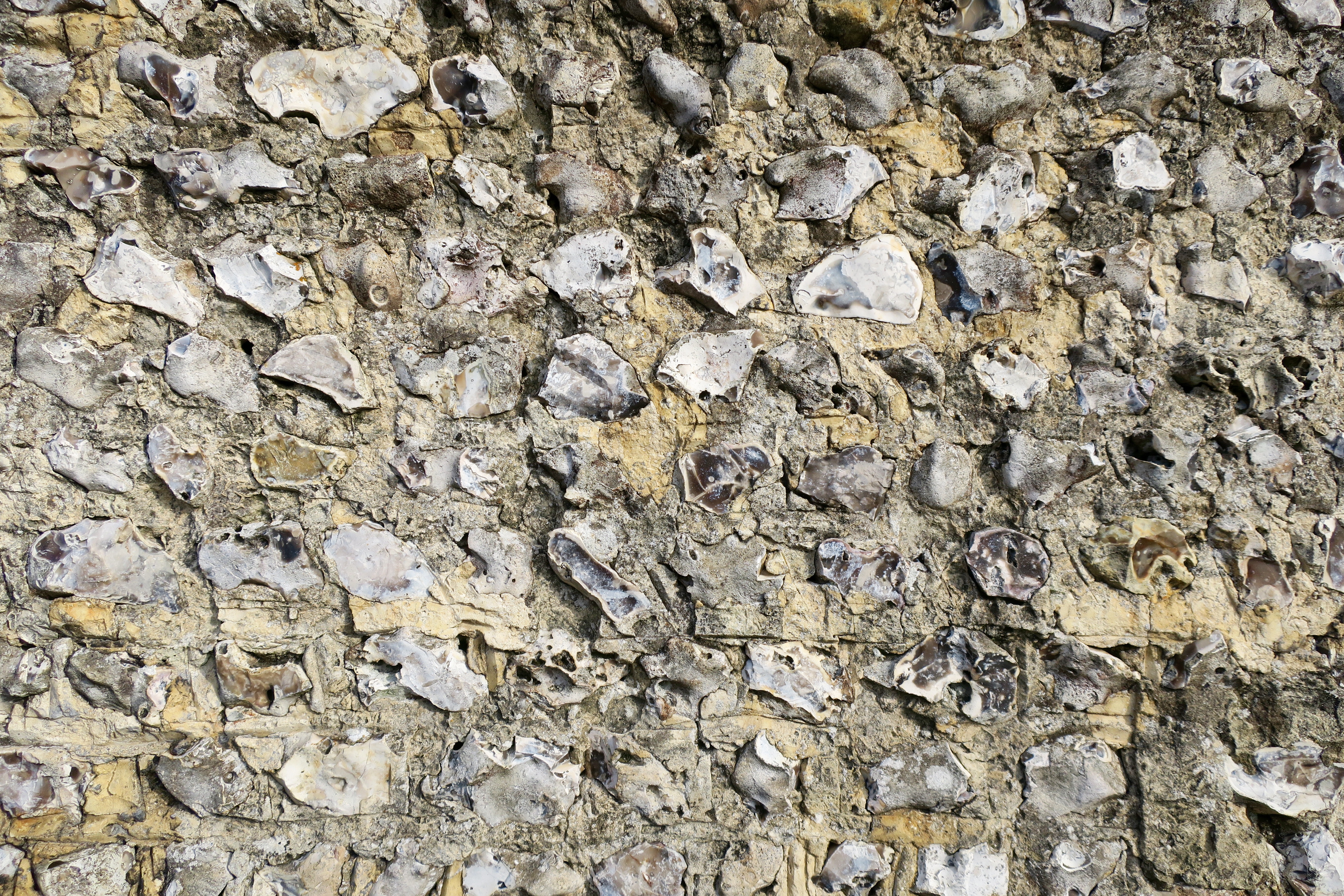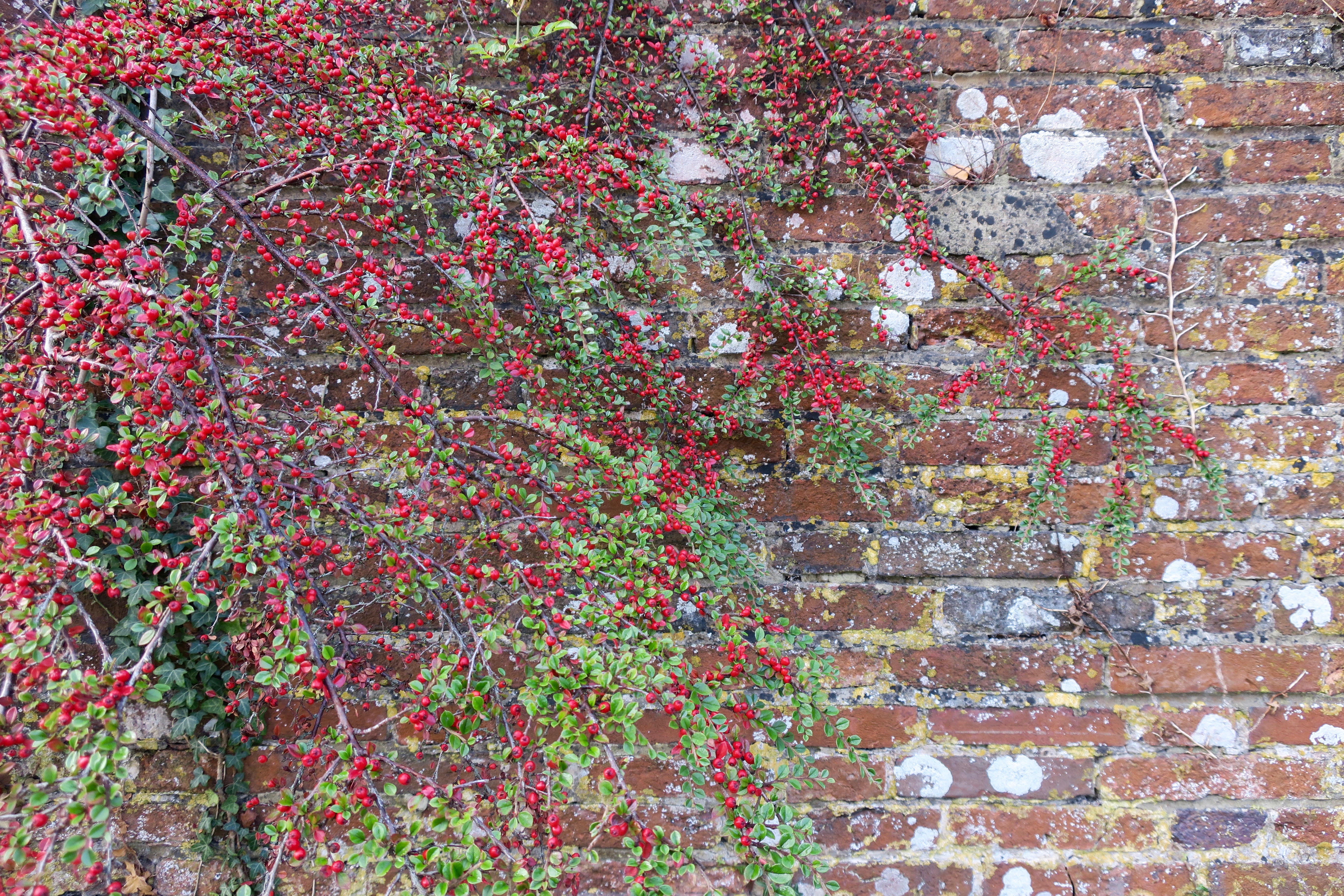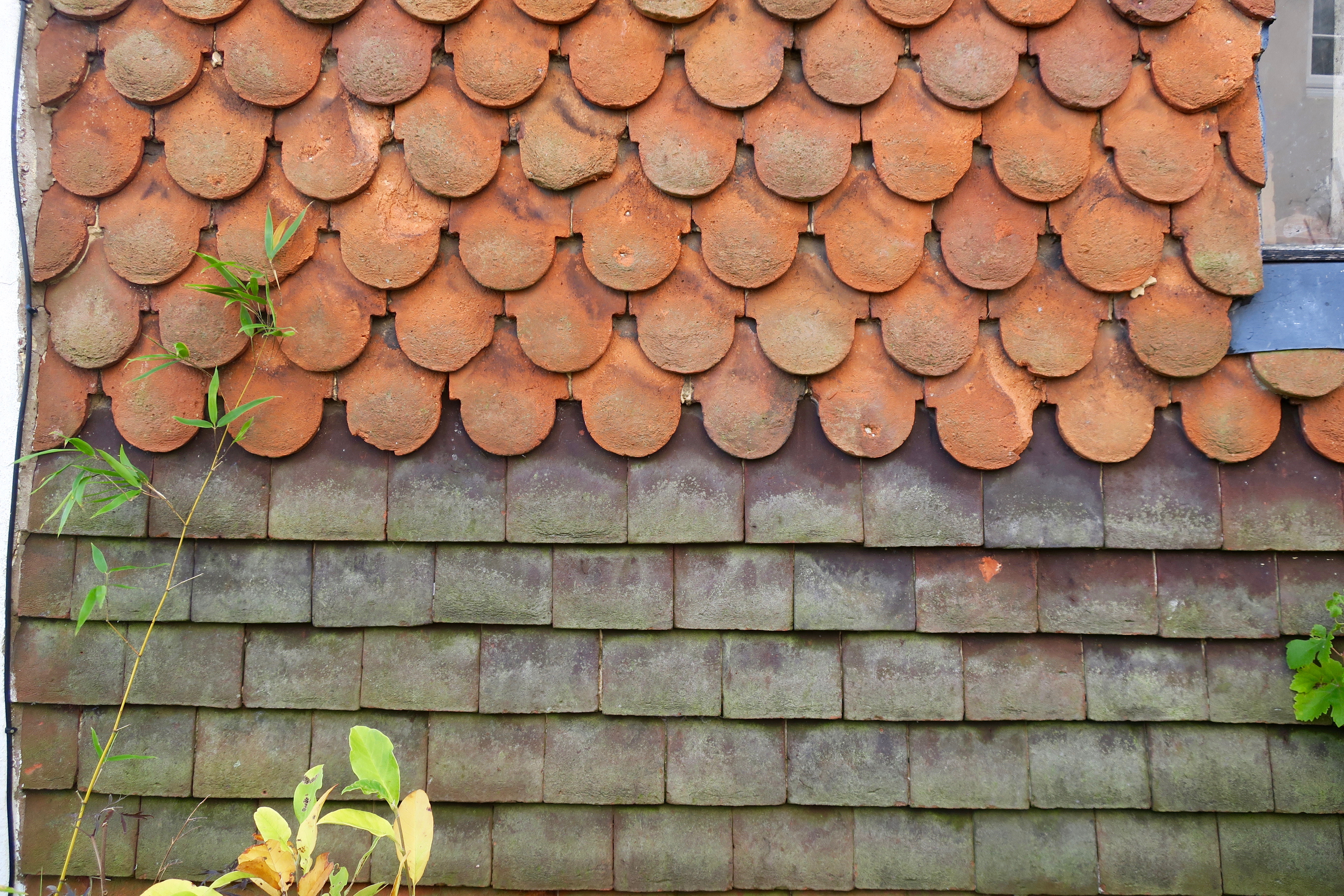 The way to the museum led us through the churchyard,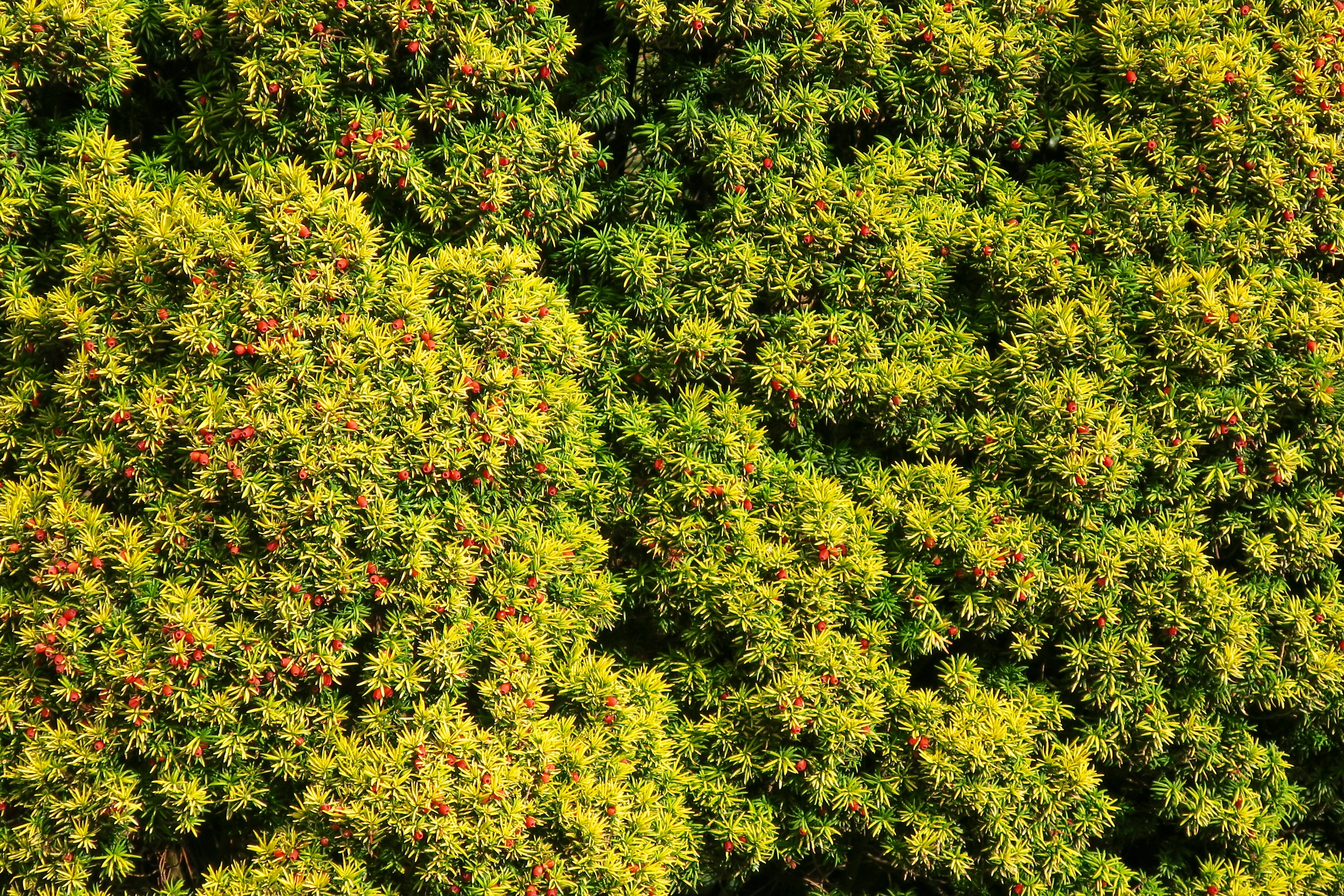 a bright green yew, speckled red,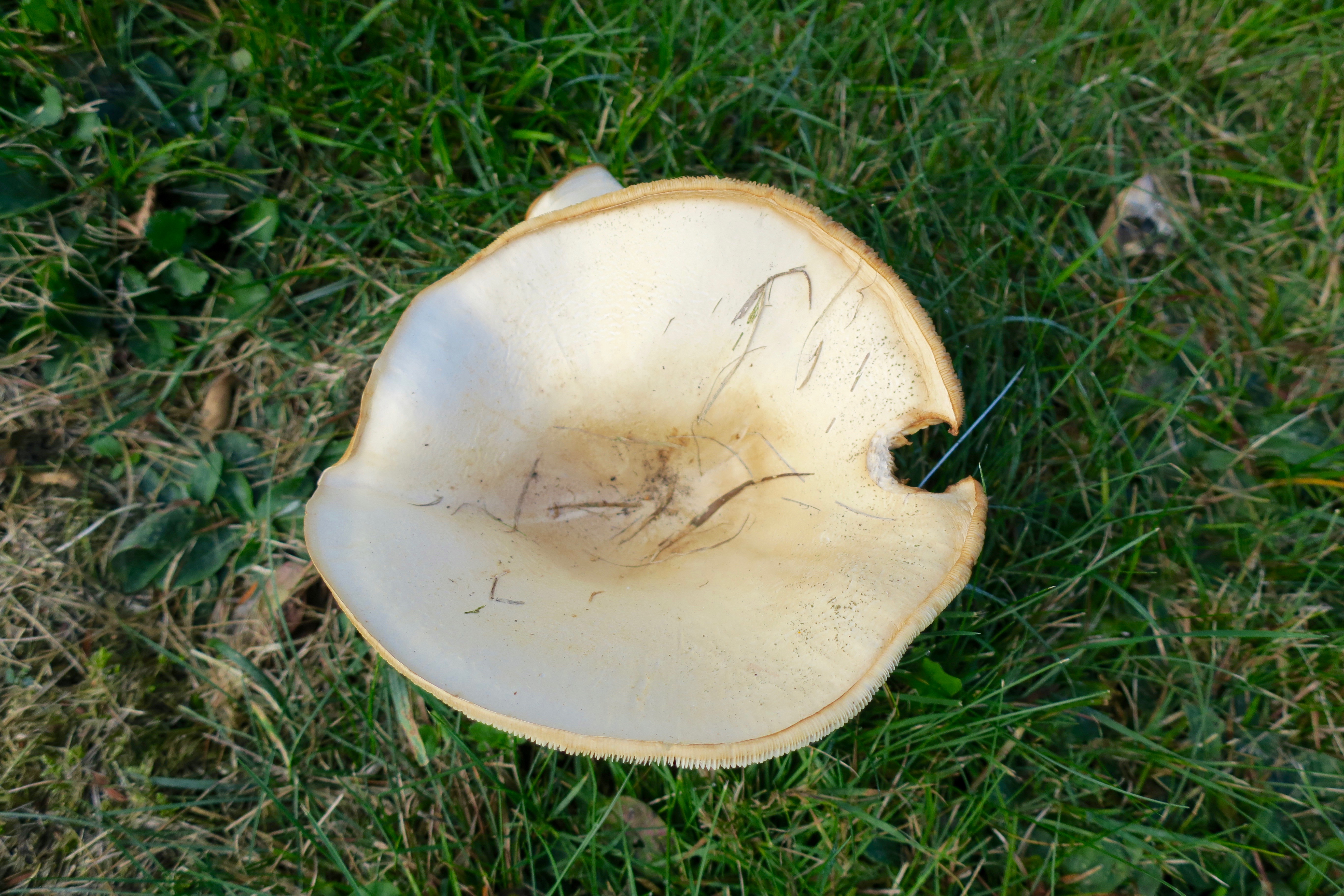 a giant mushroom beside it,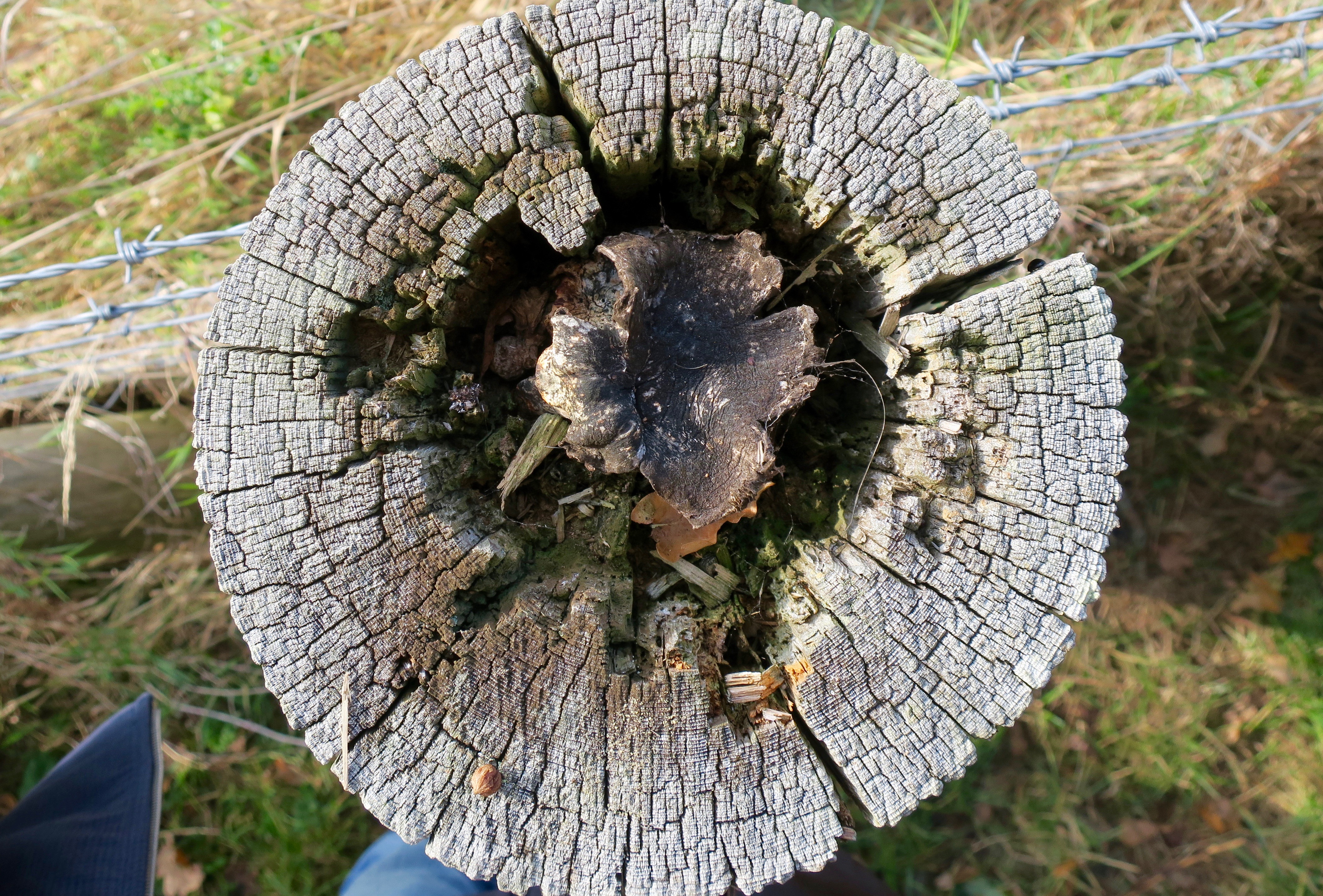 and another inside a fencepost.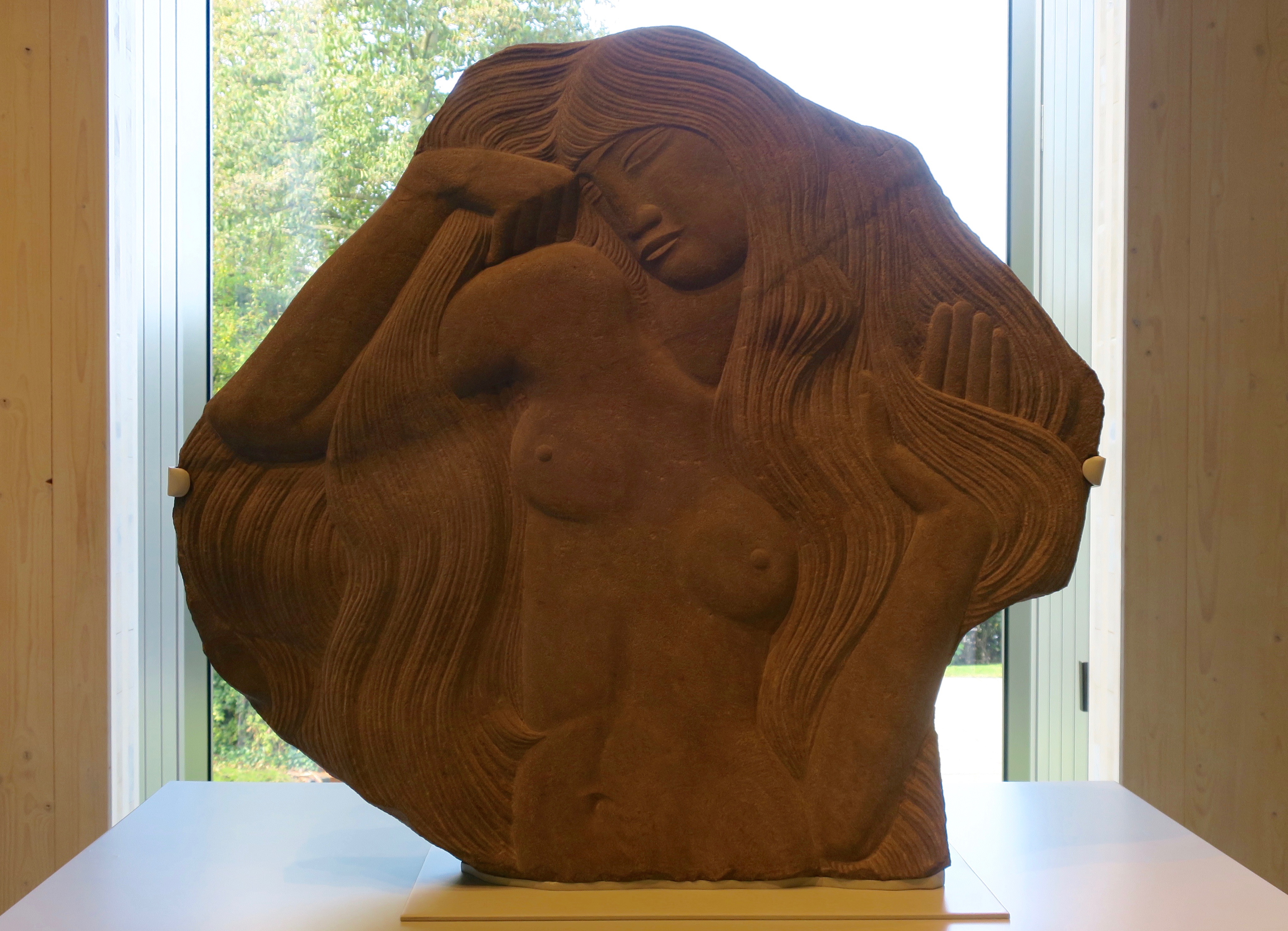 Inside the museum, a nude girl with hair:
This is a rare appearance in public of Eric Gill's 'Nude Girl with Hair'; we believe it is only the third time that this stunning sculpture has been exhibited since it was bought in 1925. Gill moved from Ditchling to Capel-y-ffin in 1924 and this is one of his first Welsh carvings. A close friend of his in Wales recalled that Gill's son "found a suitably shaped slab of stone on the hill behind the house; he got help to drag it down to the workshop, and on it Gill produced a characteristic piece of carving in relief of a girl holding up her flowing hair."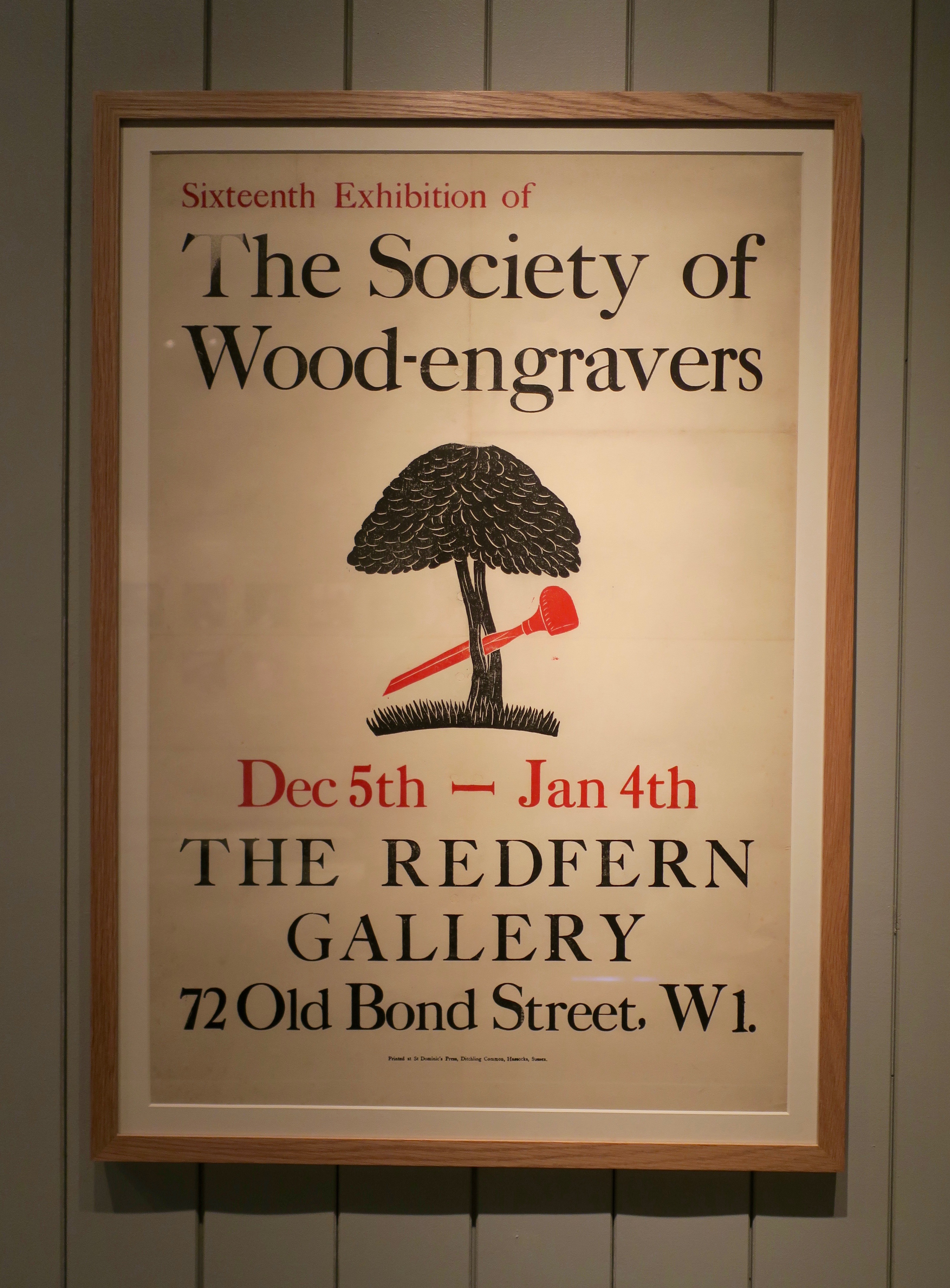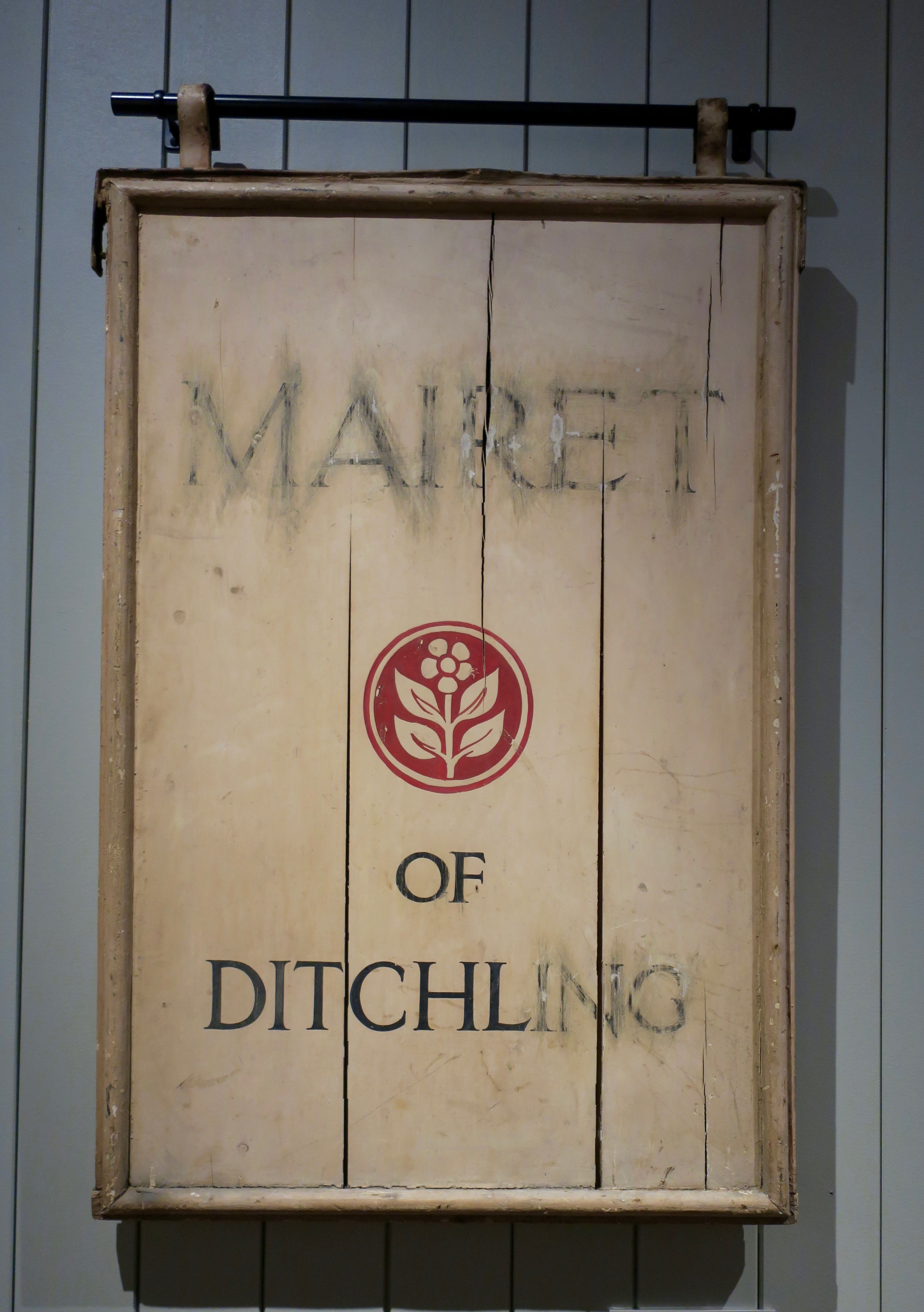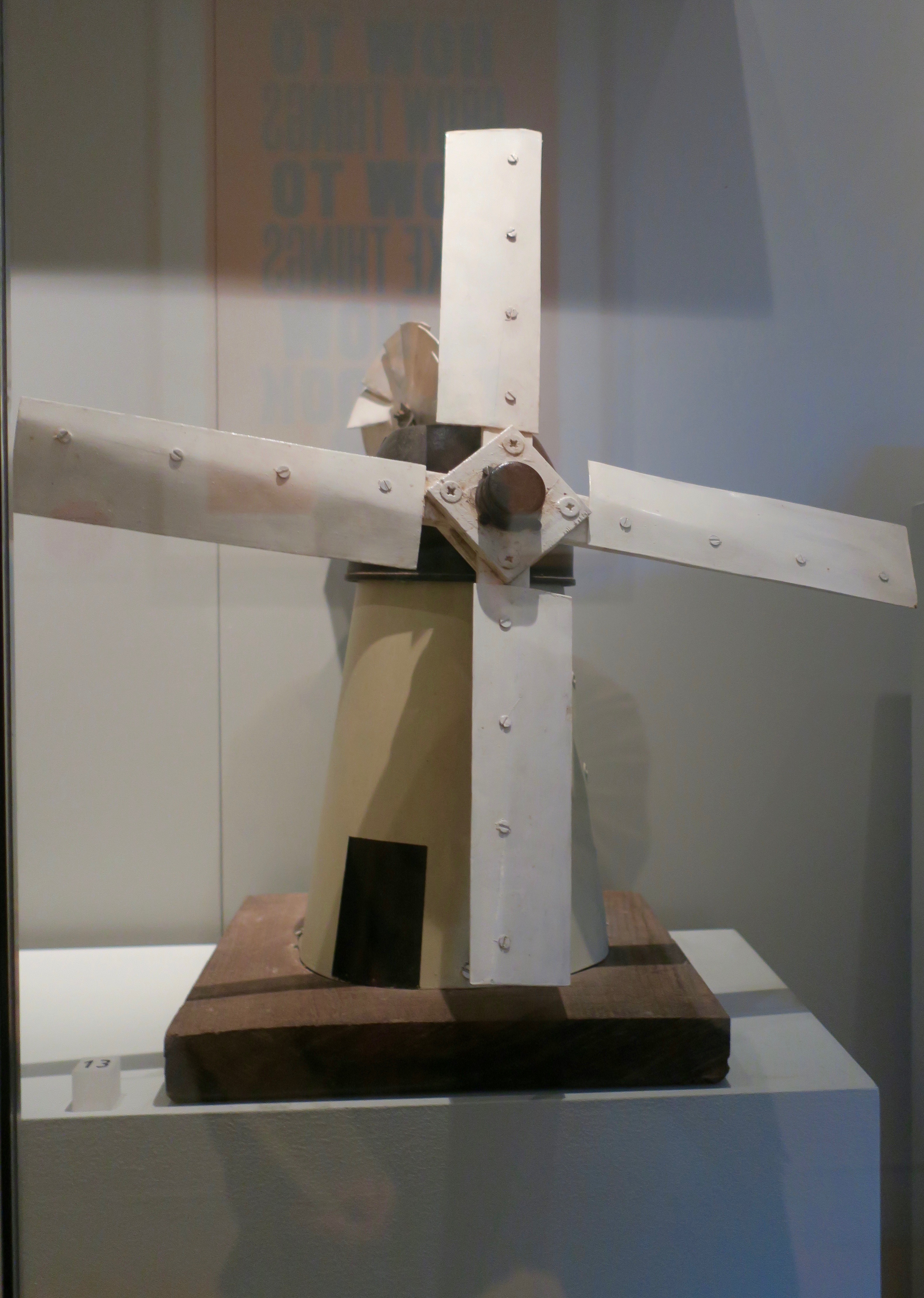 Oldland Windmill is within walking distance of Ditchling Museum
Parish Walk 1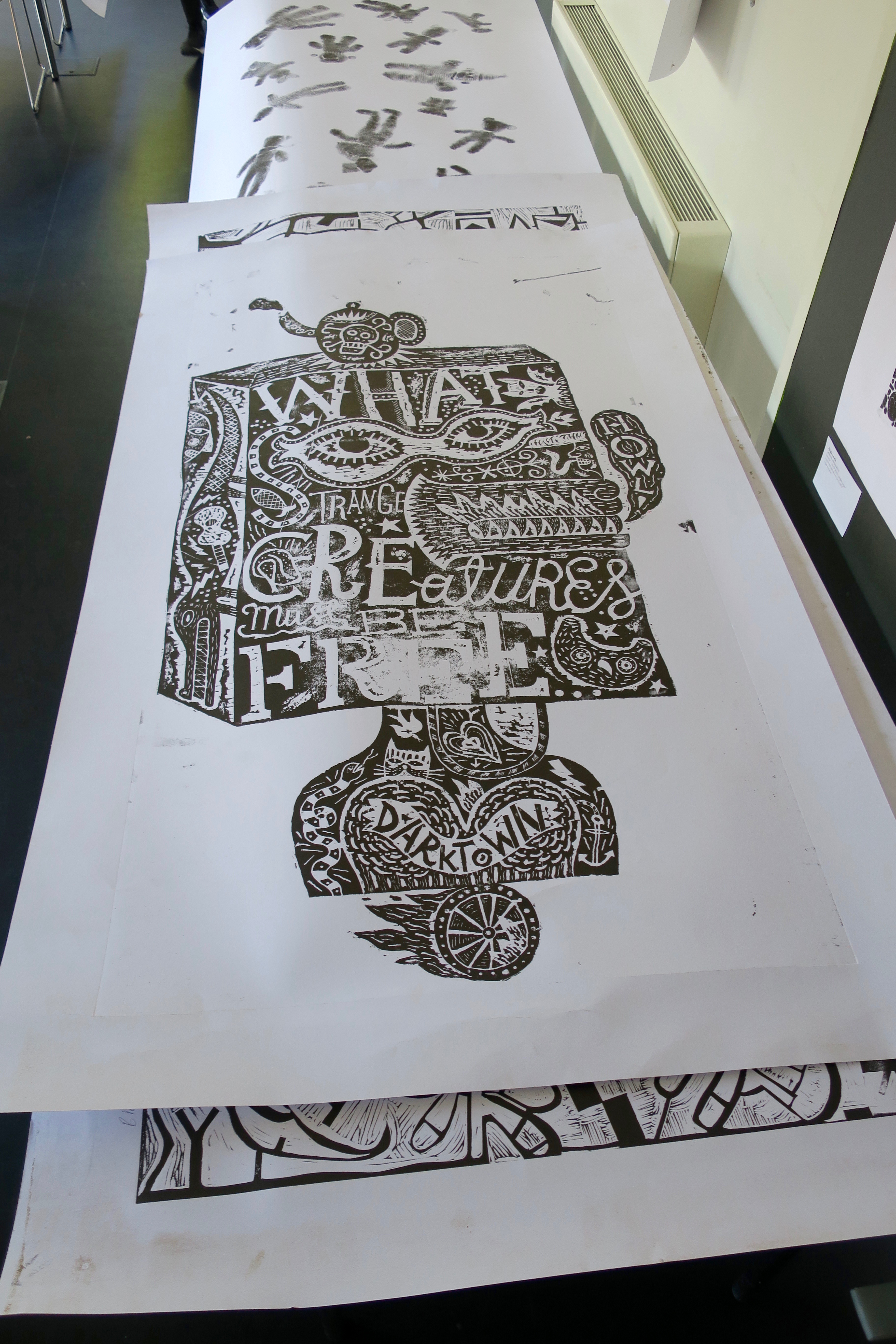 We were shown this great print by Jonny Hannah in the Learning Space
along with others produced at The Big Steam Print.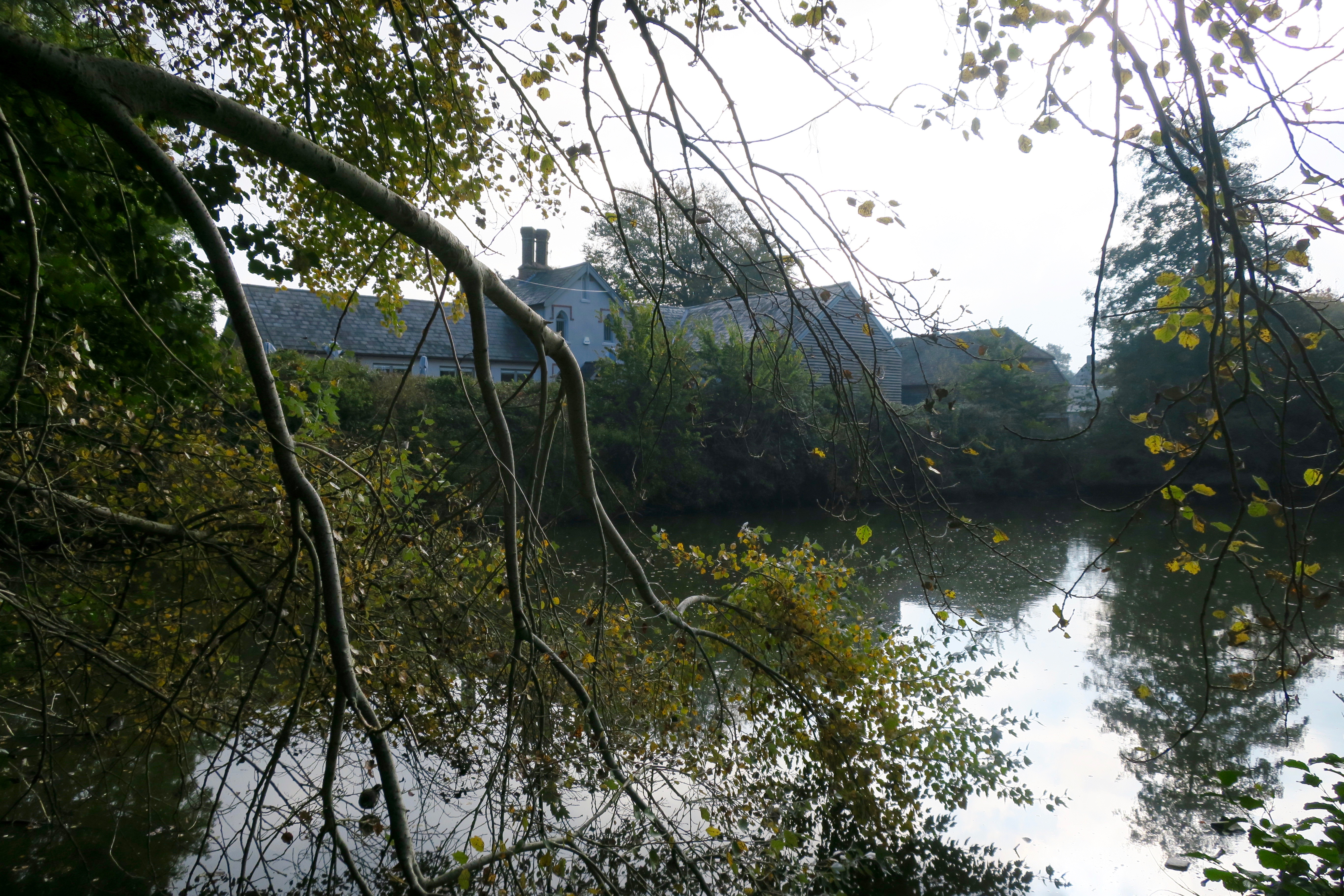 Ditchling Museum of Art & Craft is on the village green next to the duck pond.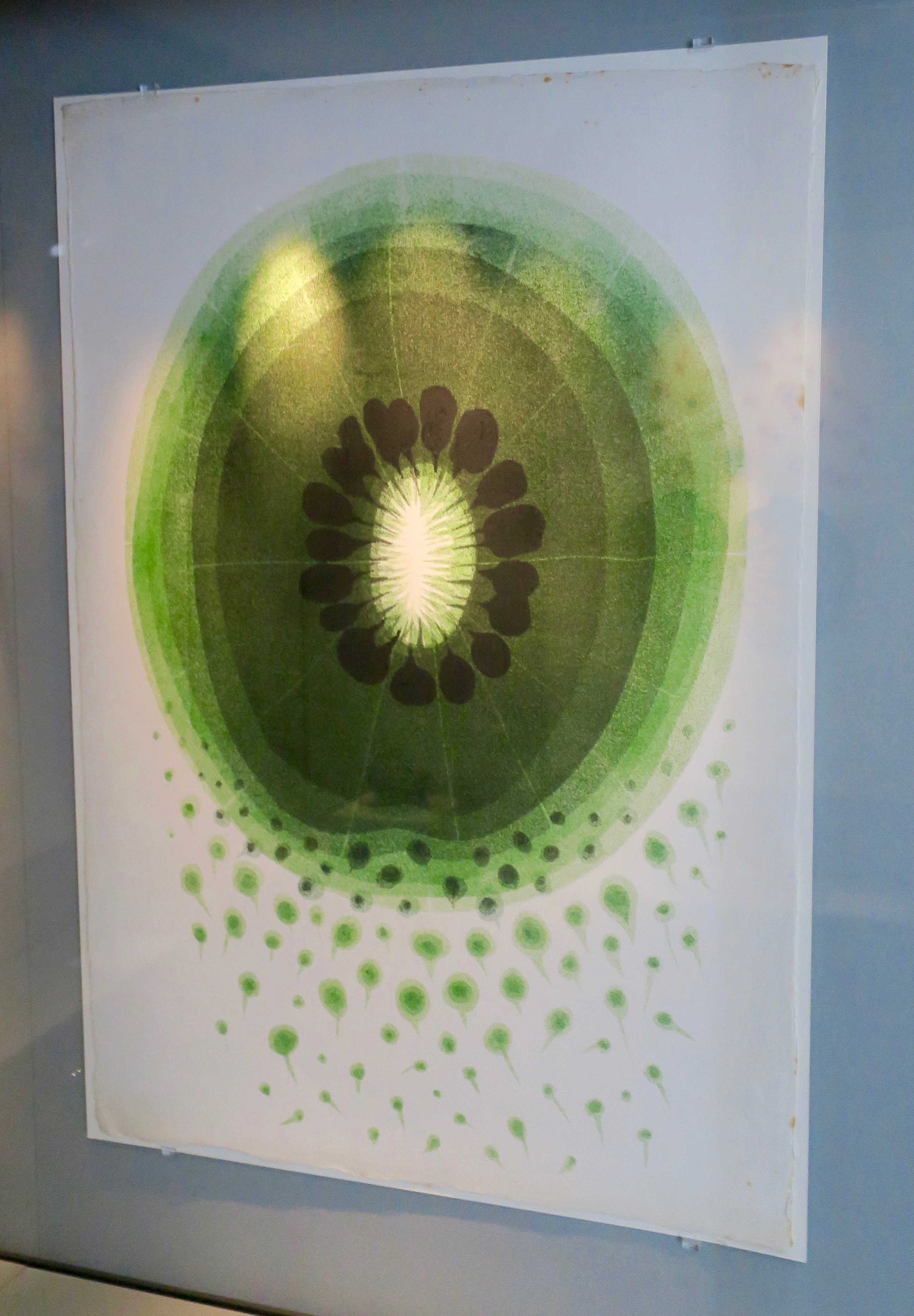 Pollination I: Tadek Beutlich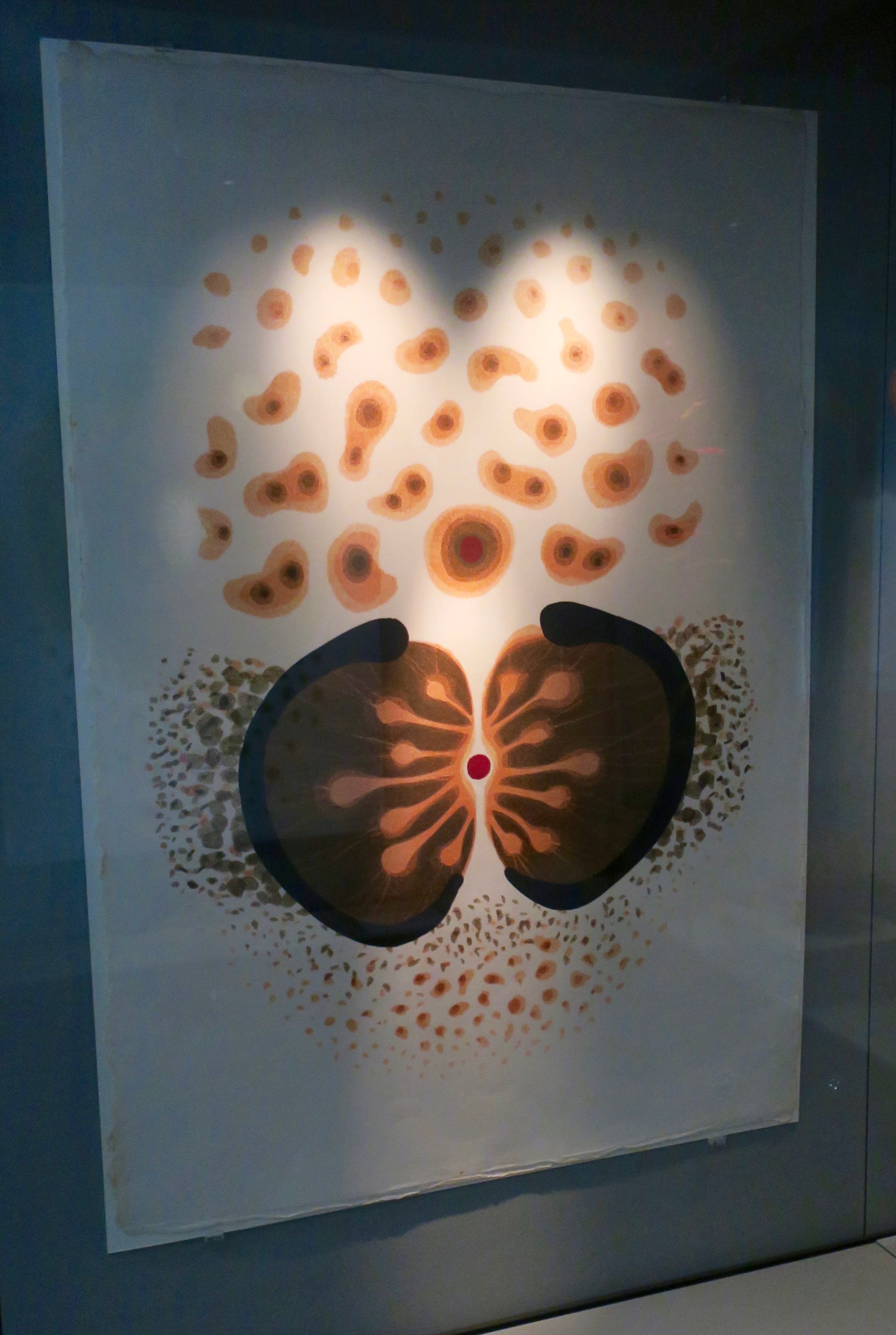 Pollination II: Tadek Beutlich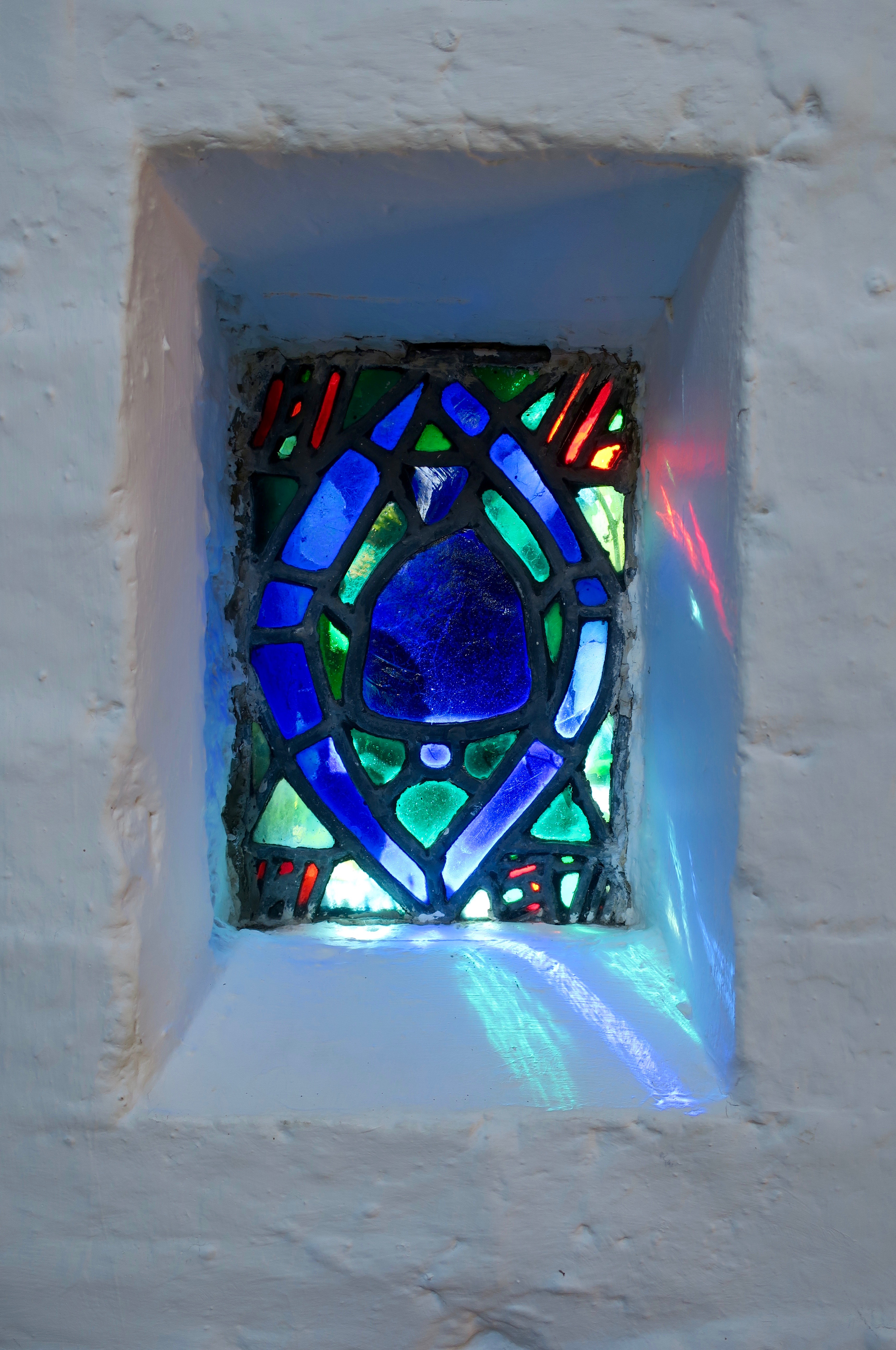 We left Ditchling and headed east via Lewes to Charleston Farmhouse, first visited over 20 years ago when we'd come by train to Glynde station and walked here through Firle village and across the fields.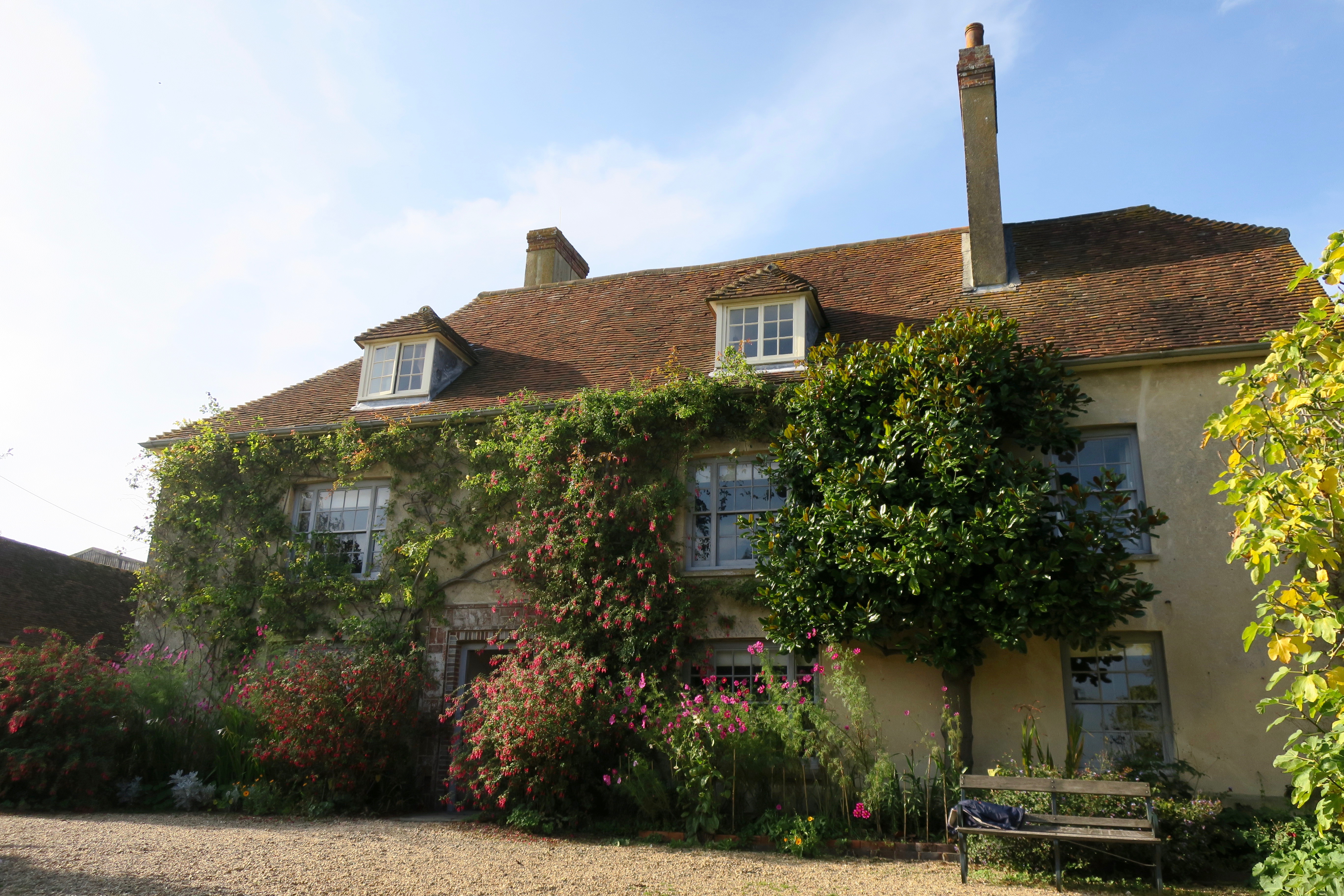 Charleston is a seventeenth century Sussex farmhouse that, from 1916, was the home of two of the most important, influential artists of the twentieth century – Vanessa Bell and Duncan Grant. It was the country retreat of the group of individuals known as Bloomsbury which included Vanessa Bell's sister Virginia Woolf and husband Leonard Woolf, the economist John Maynard Keynes, the art critics Roger Fry and Clive Bell and the biographer Lytton Strachey.
After Duncan Grant's death in 1978 the house fell into disrepair with many of its unique interior paintings and decorations deteriorating badly. The Charleston Trust, a registered charity formed in 1980, raised over £1,000,000 to restore the house and in 1986 it opened its doors to the public.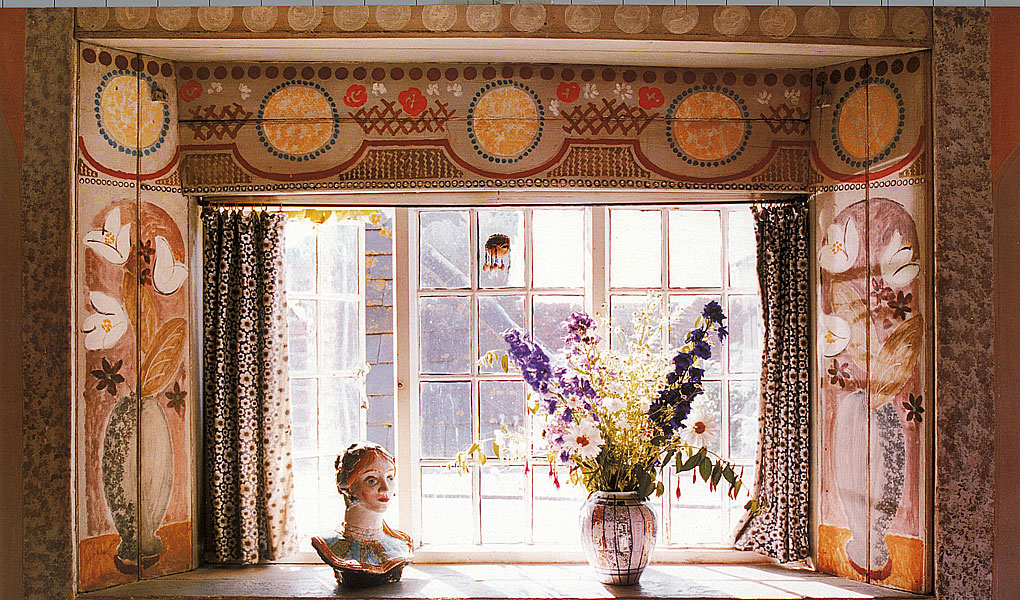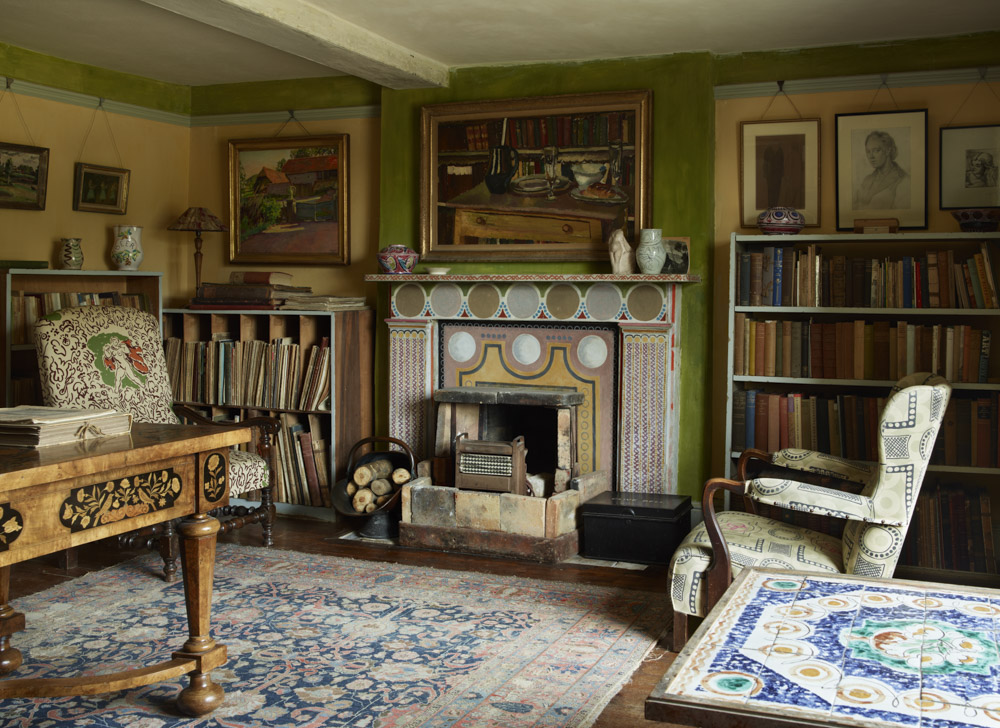 At first sight not much had changed in 20 years. Every available surface was still covered in decorative paintings and fabrics, both homemade and exotic, but I was not allowed to take photographs. There were enthusiastic volunteers in every room to make sure I didn't try, but eager to recount stories about everything on display. So these photos from inside the house are not mine but gleaned from the internet. It's a fascinating place, both visually and historically.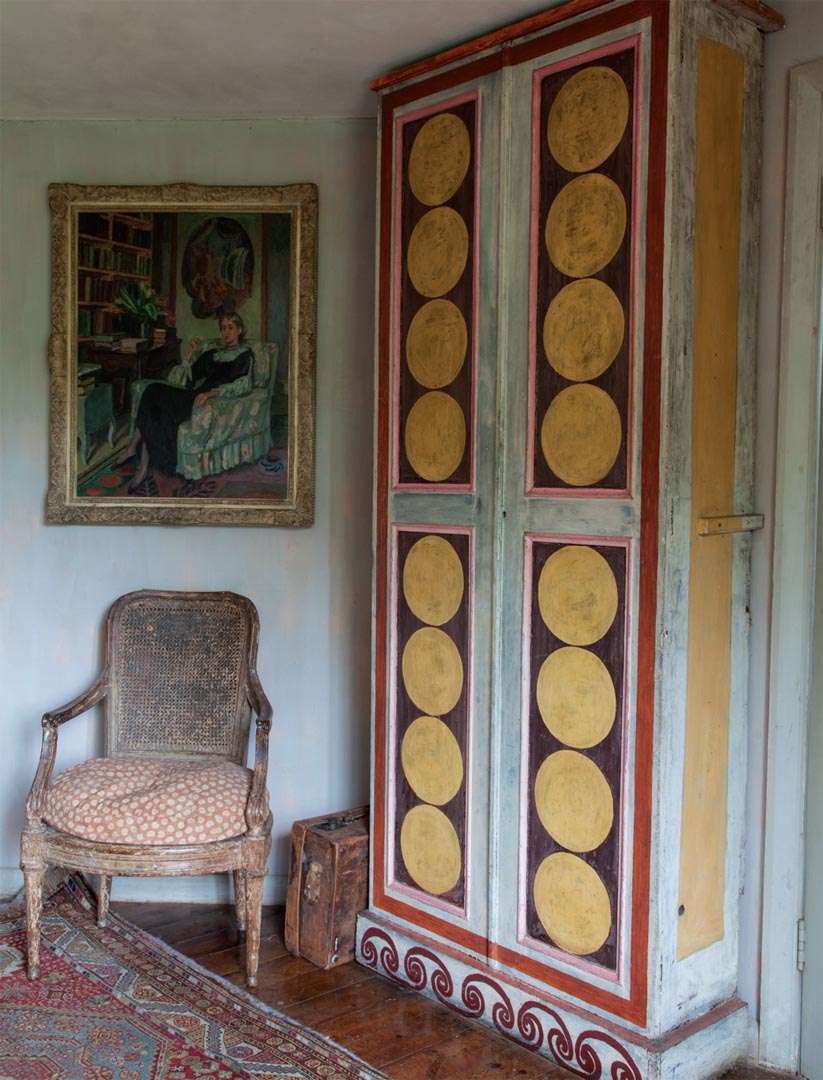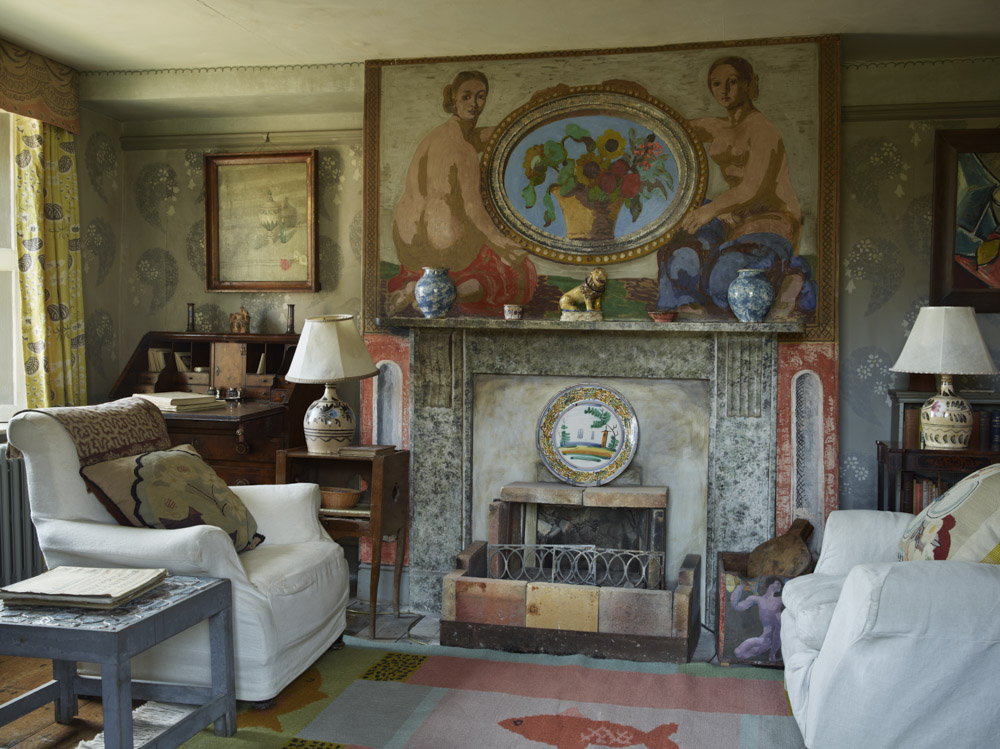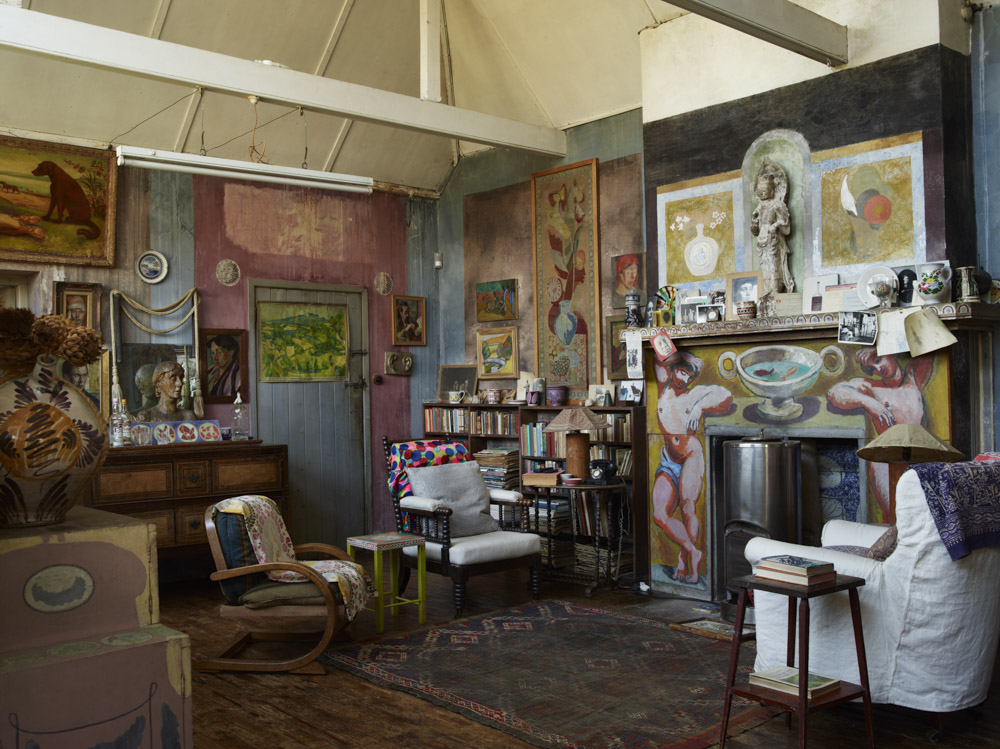 In 2008 Angelica Garnett, daughter of Vanessa Bell and Duncan Grant, donated a collection of several thousand paintings and drawings by her parents to the Charleston Trust. Work is presently underway to develop the site, restoring barns and building a new collections store, auditorium and gallery.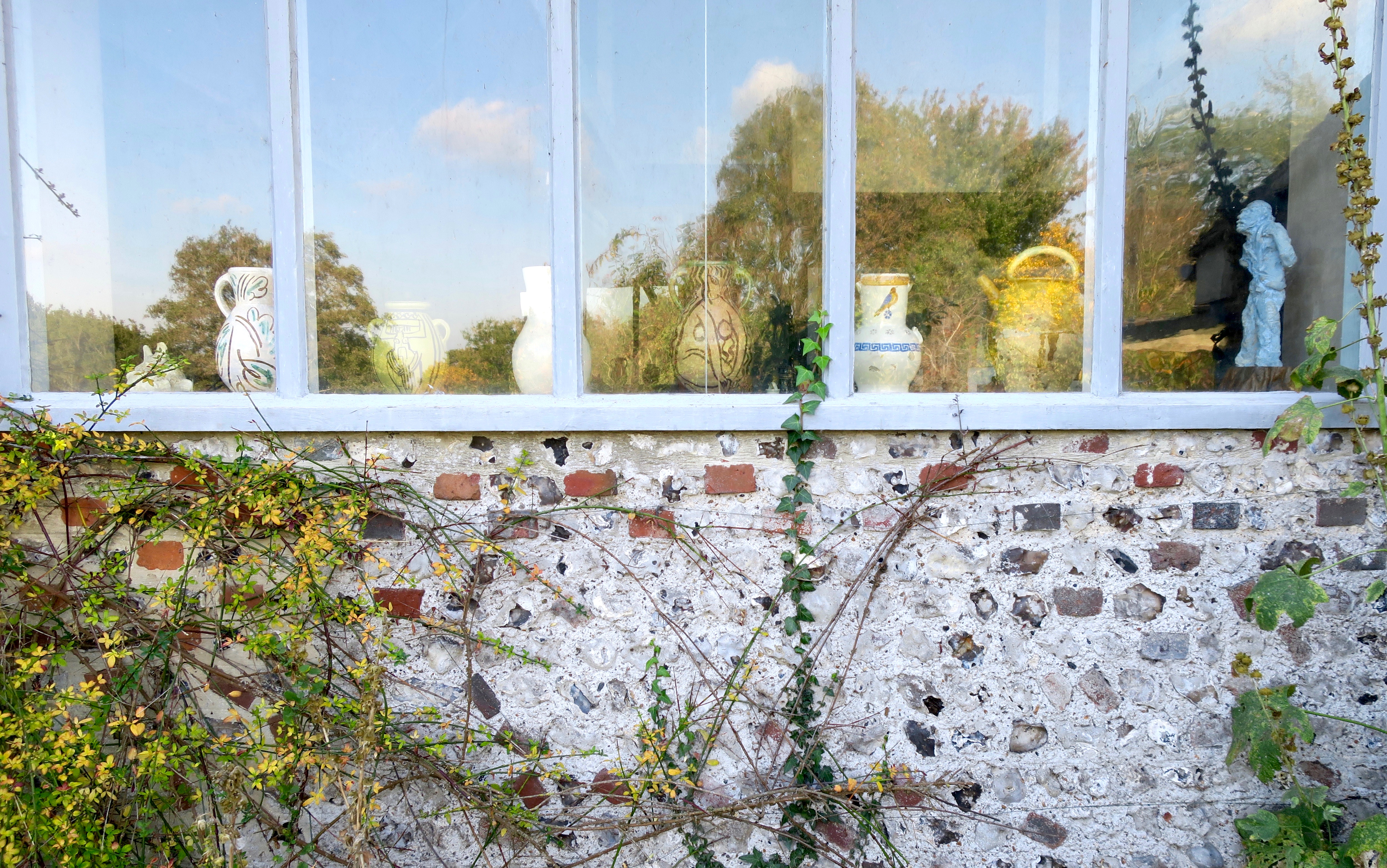 Outside in the garden we were free to take as many photos as we liked.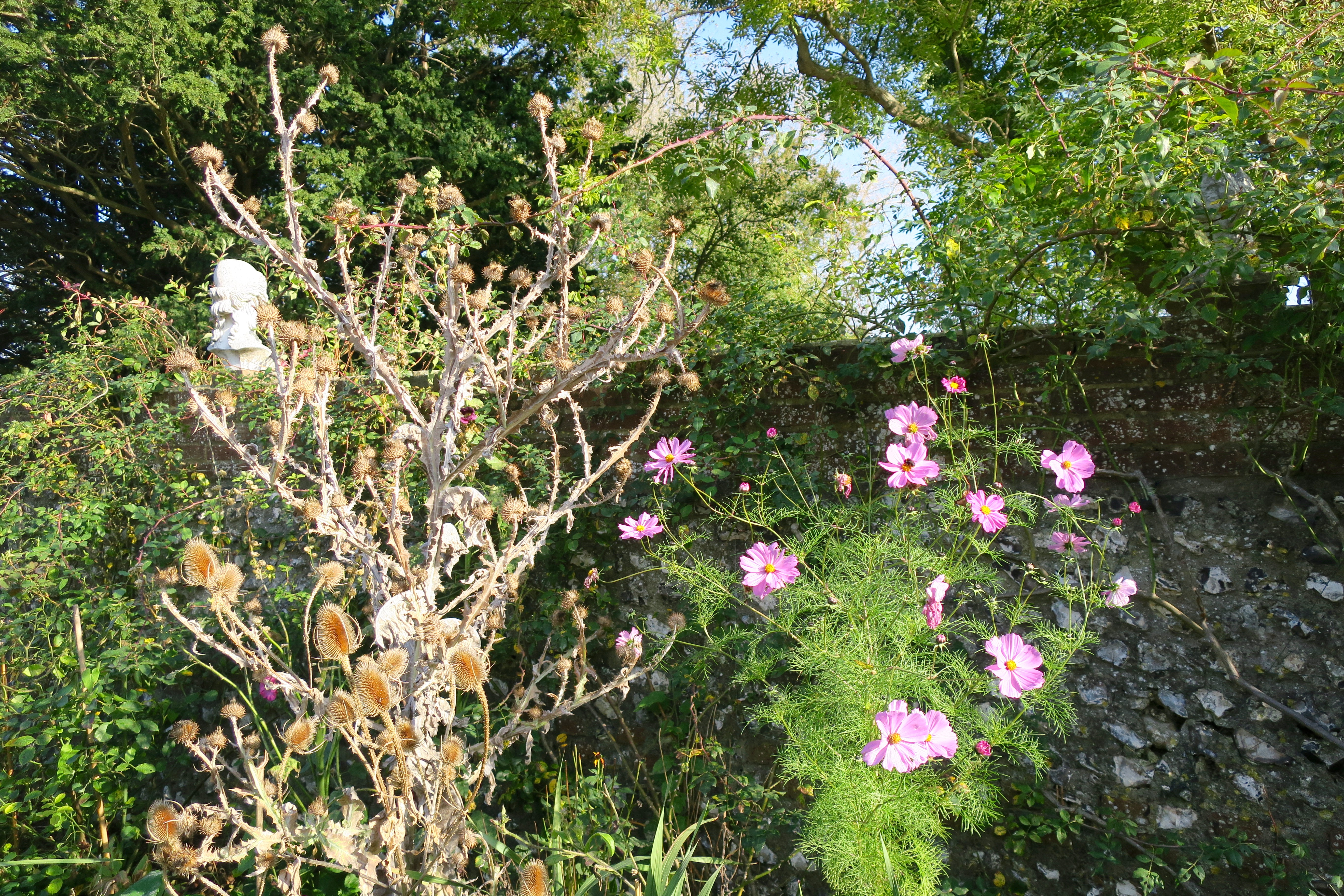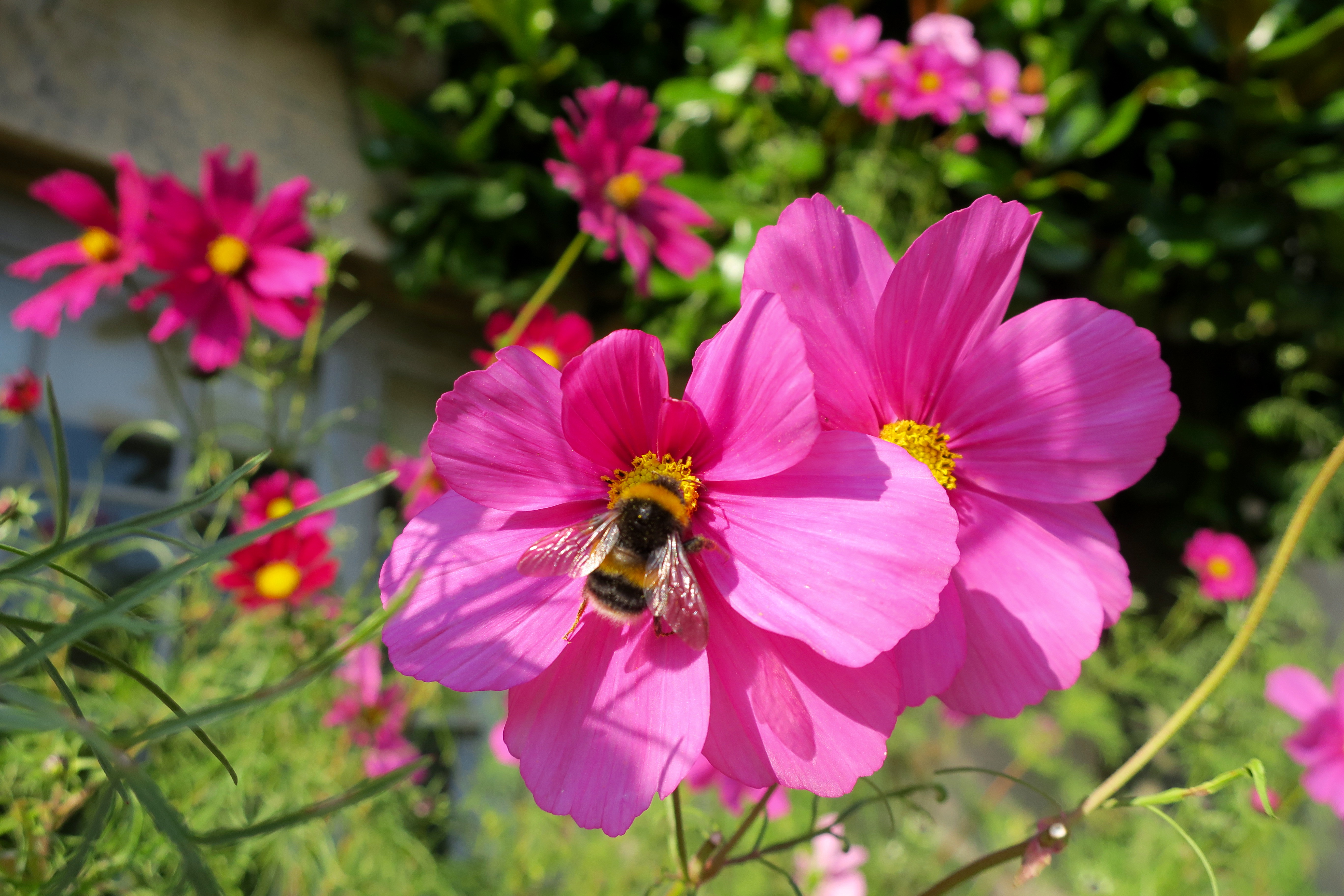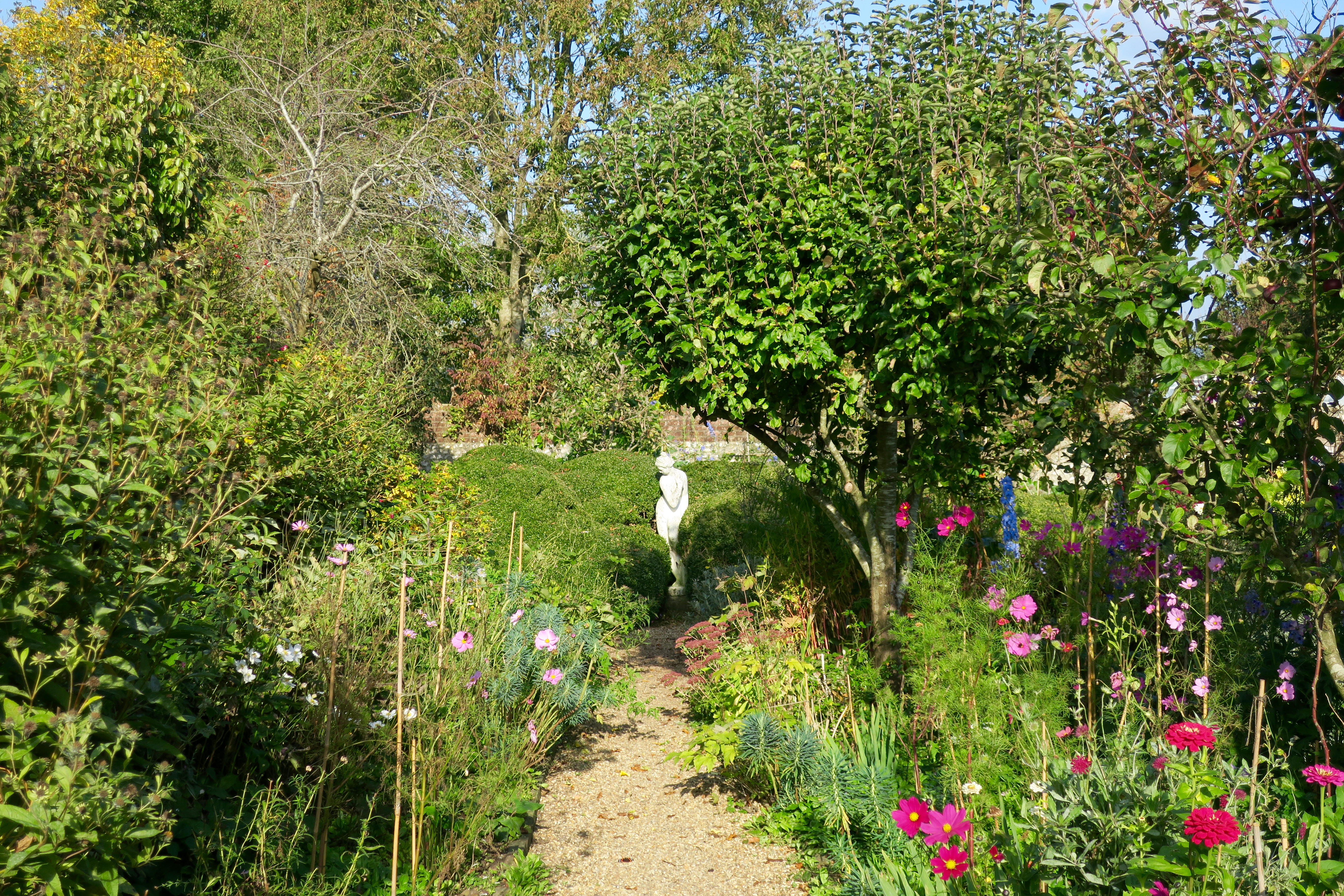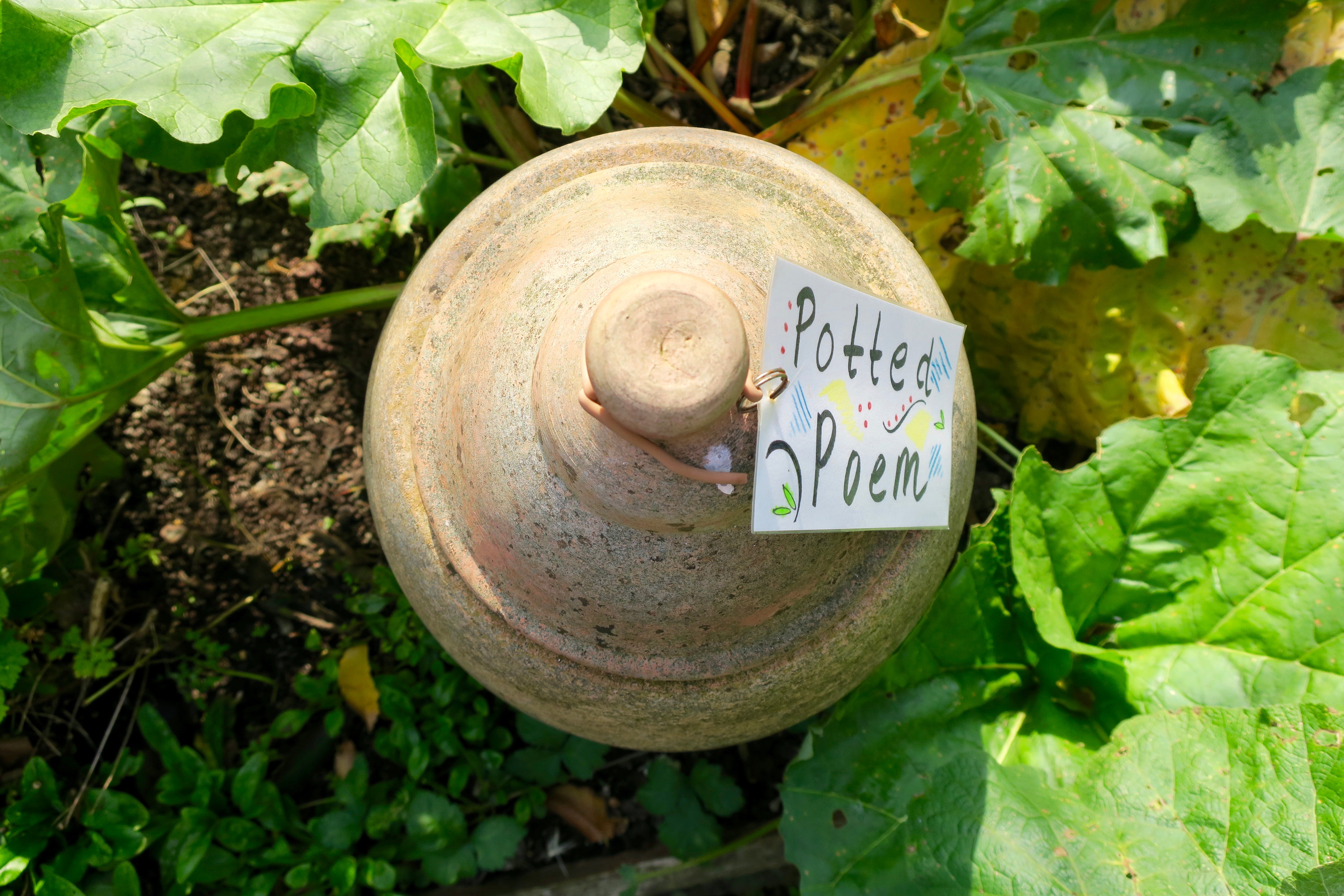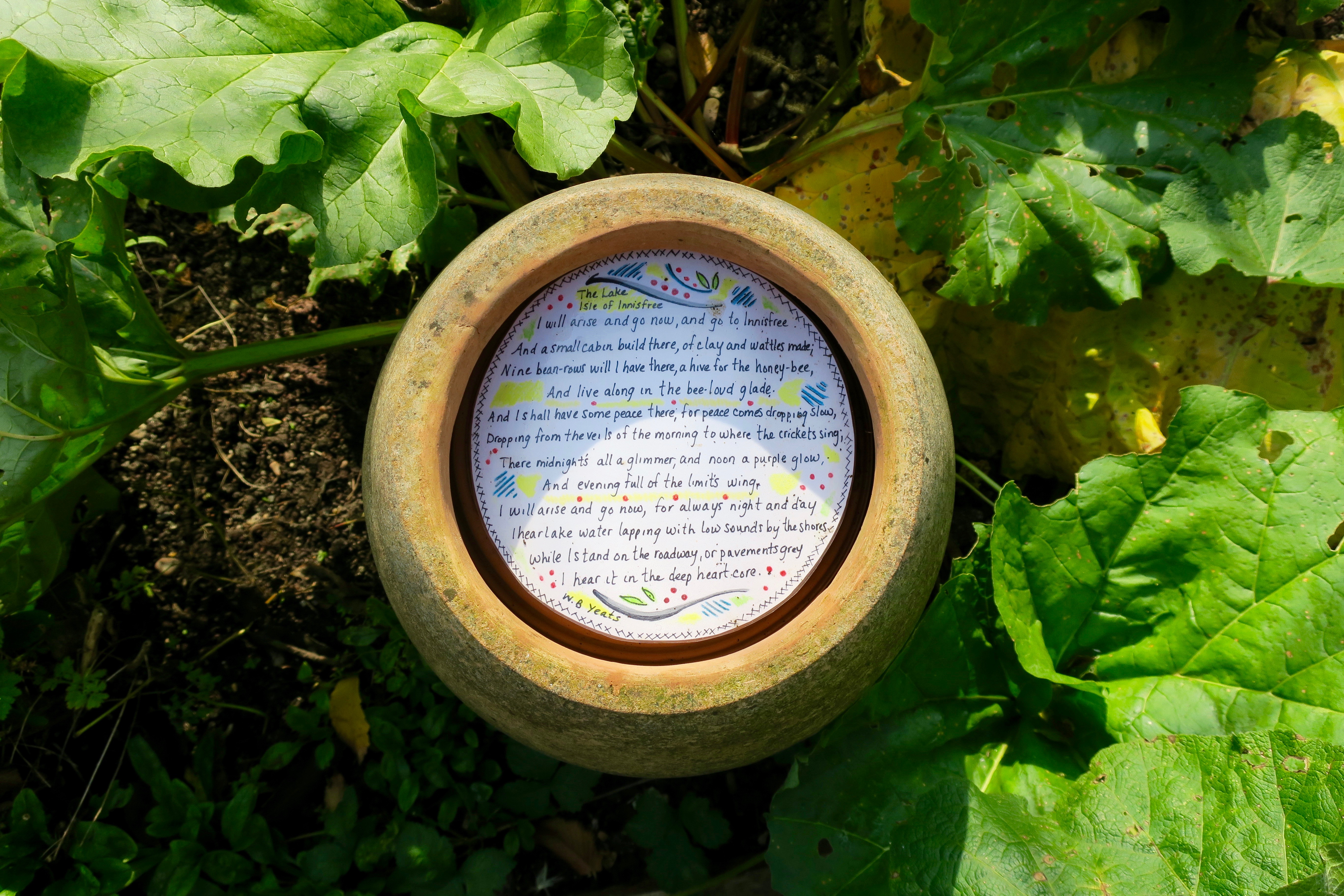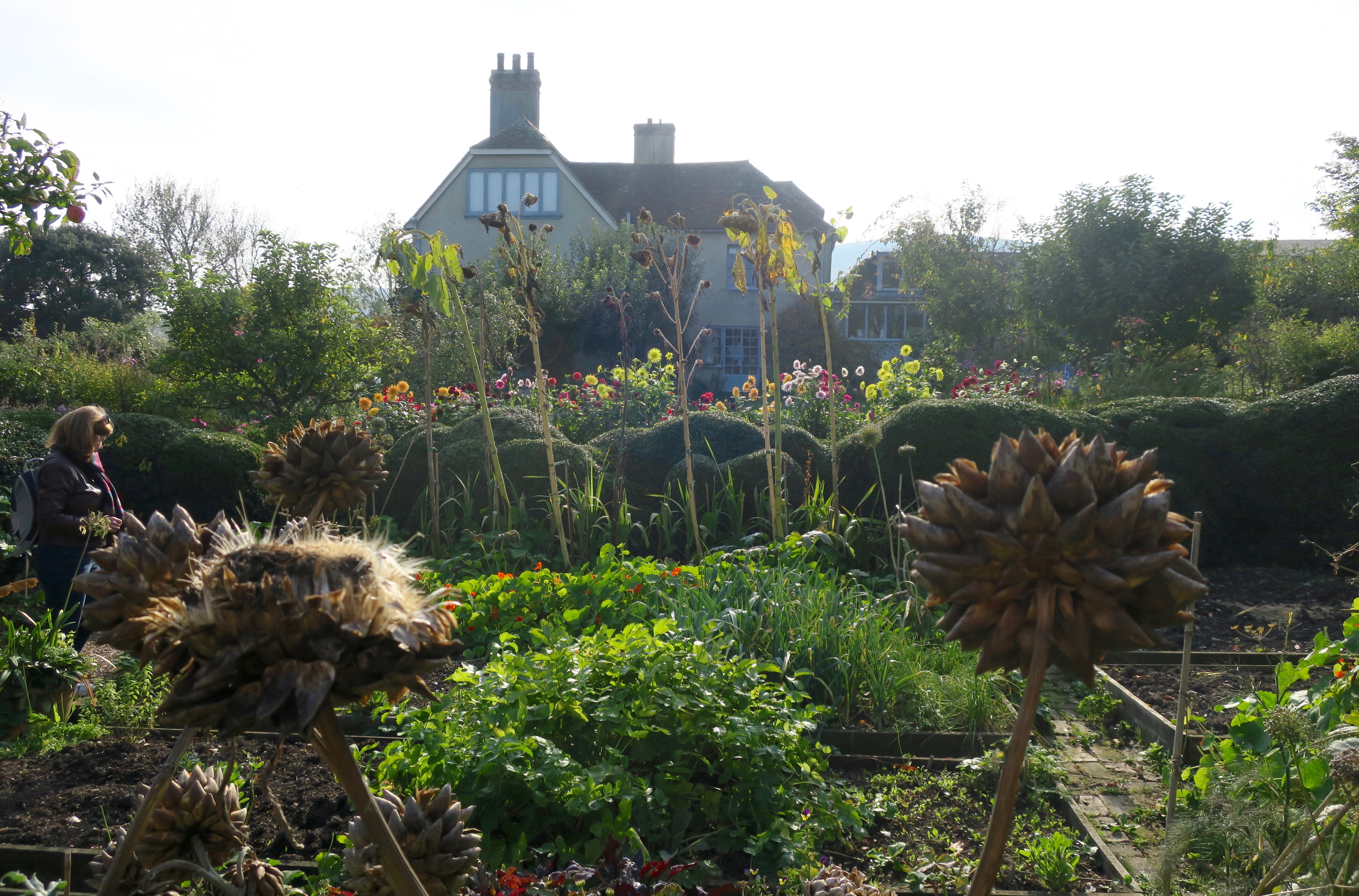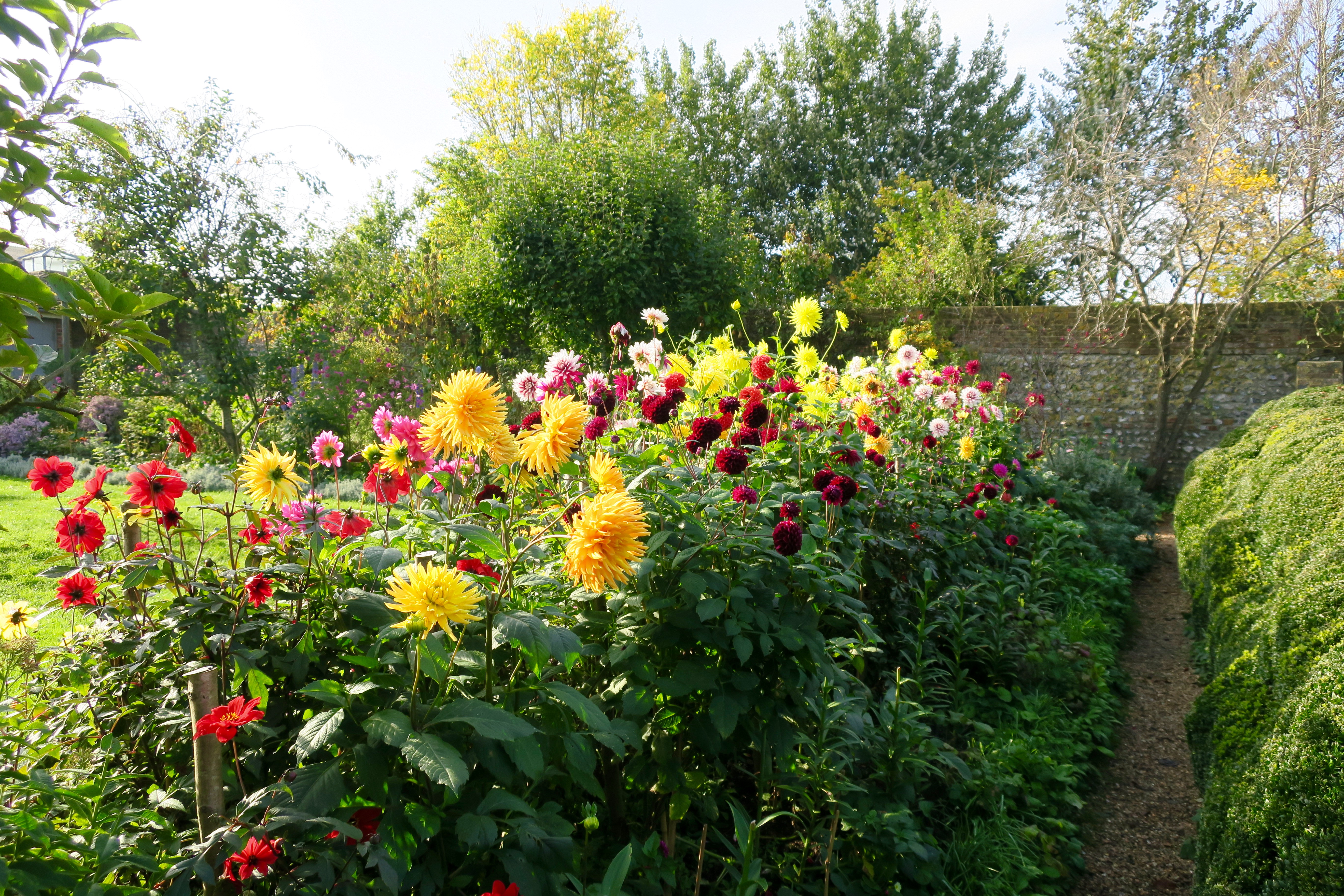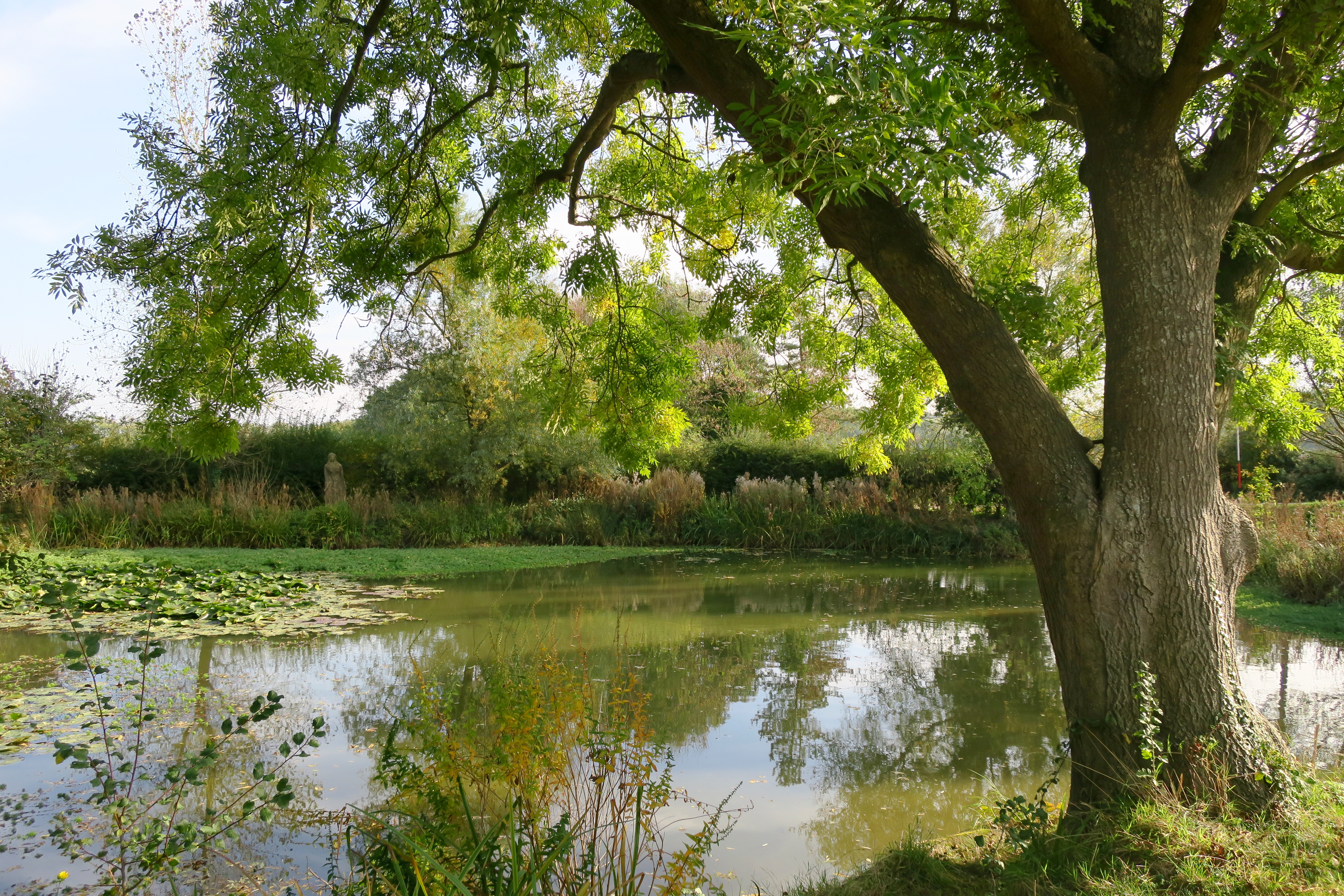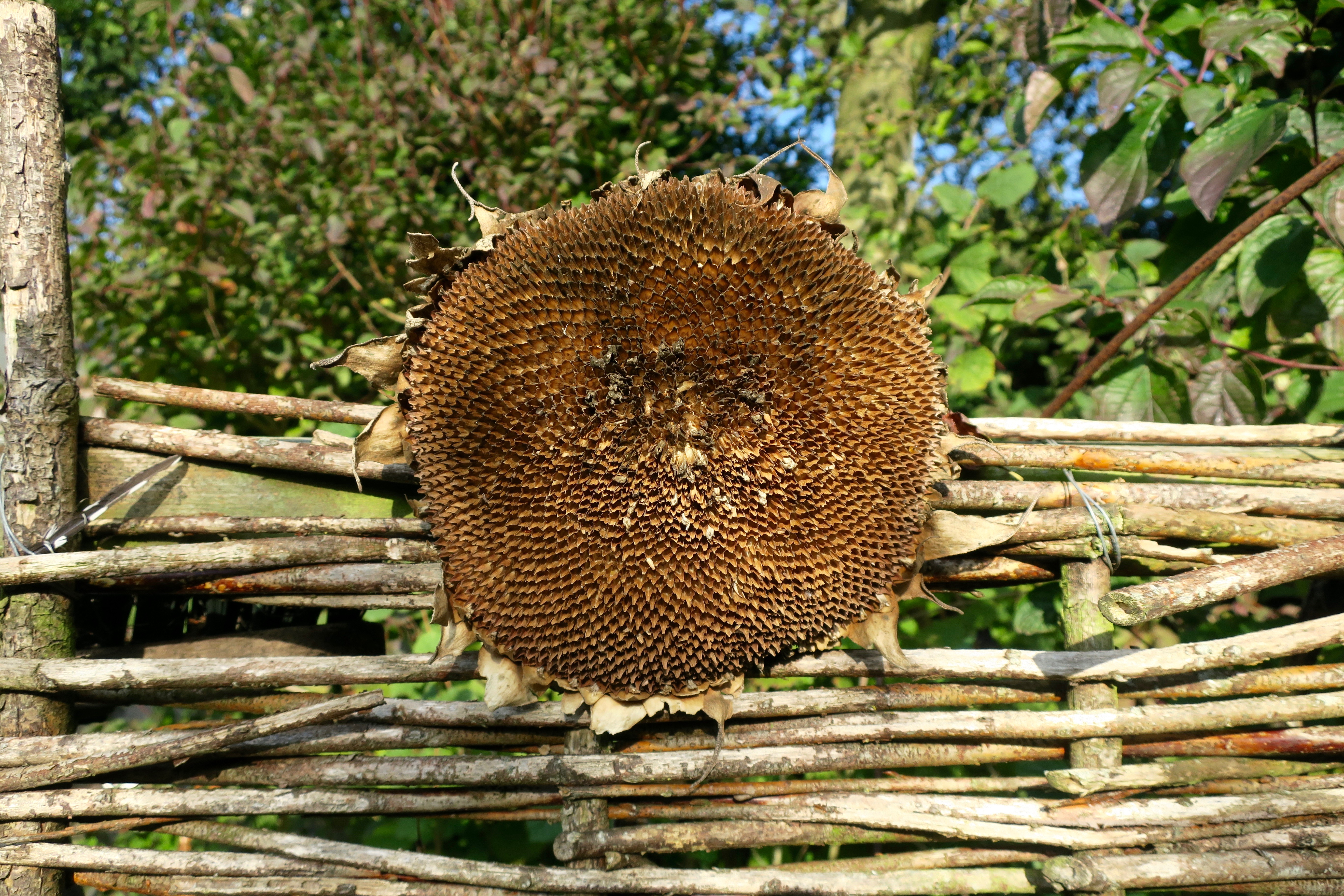 From Charleston we returned to the Cuckmere along the road we'd walked yesterday,
then downriver through Lullington and Litlington towards the sea.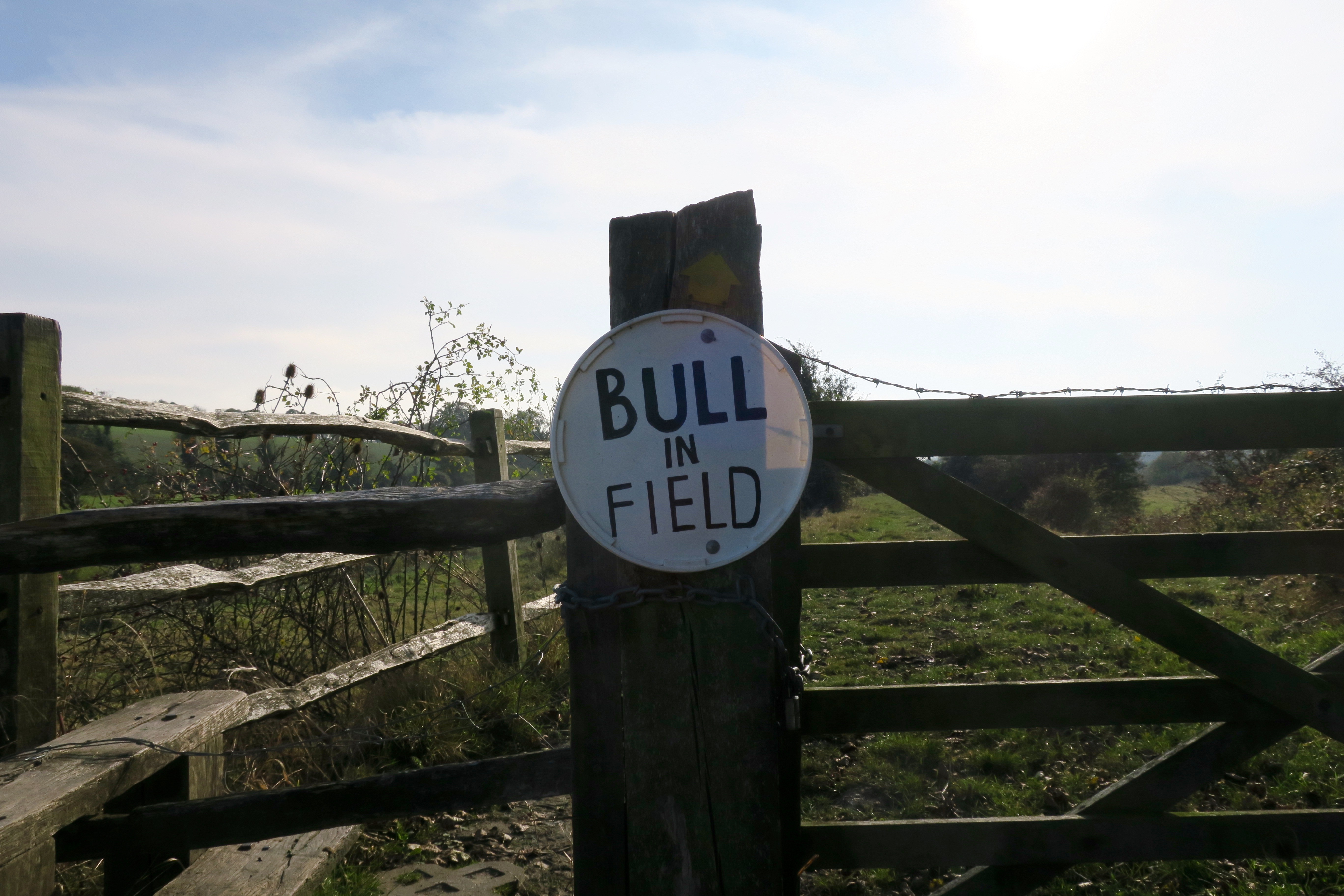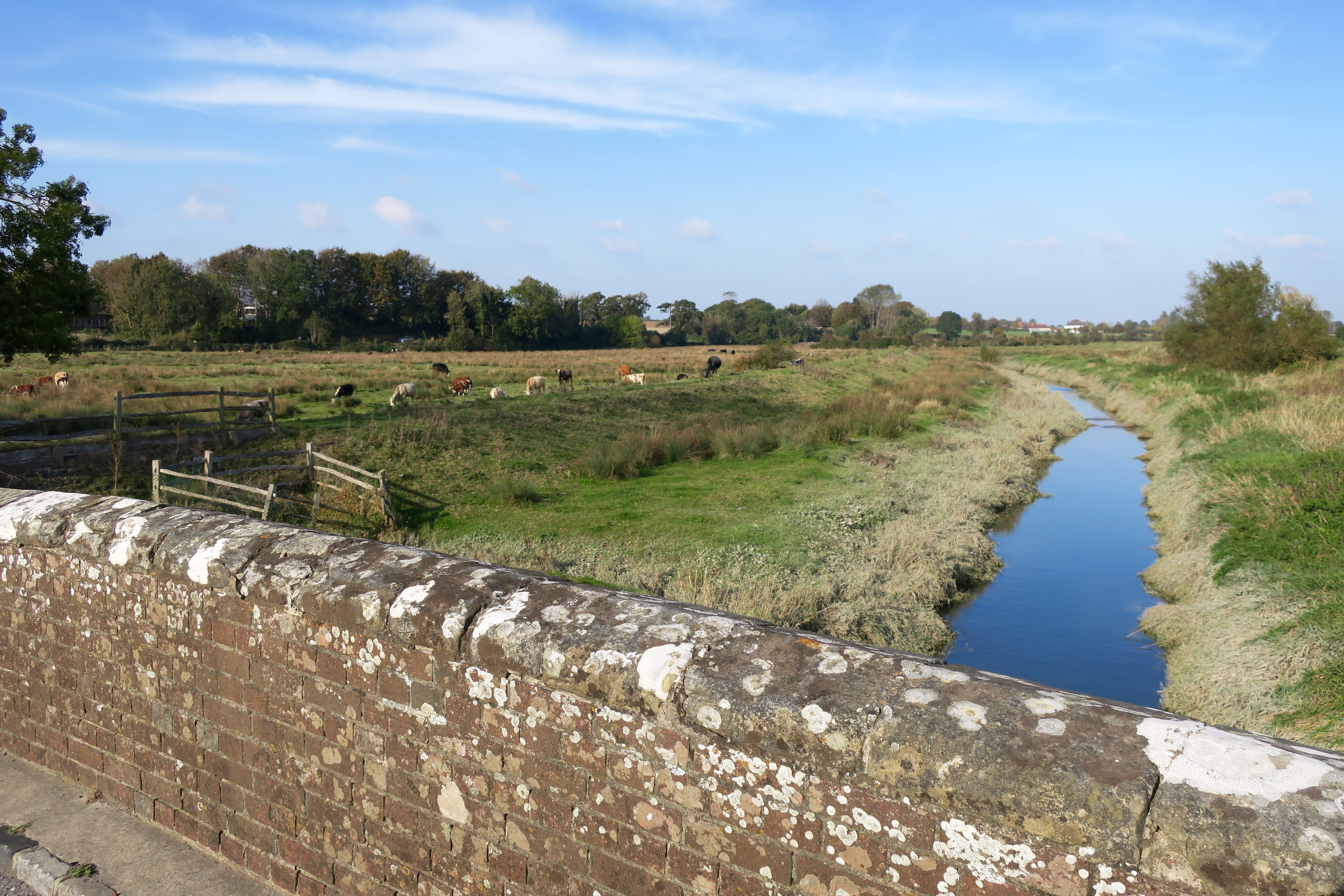 We stopped short and walked down to the sea through the Seven Sisters Country Park. With a bit of forethought we should have climbed the hill and followed the South Downs Way to see it like Eric did.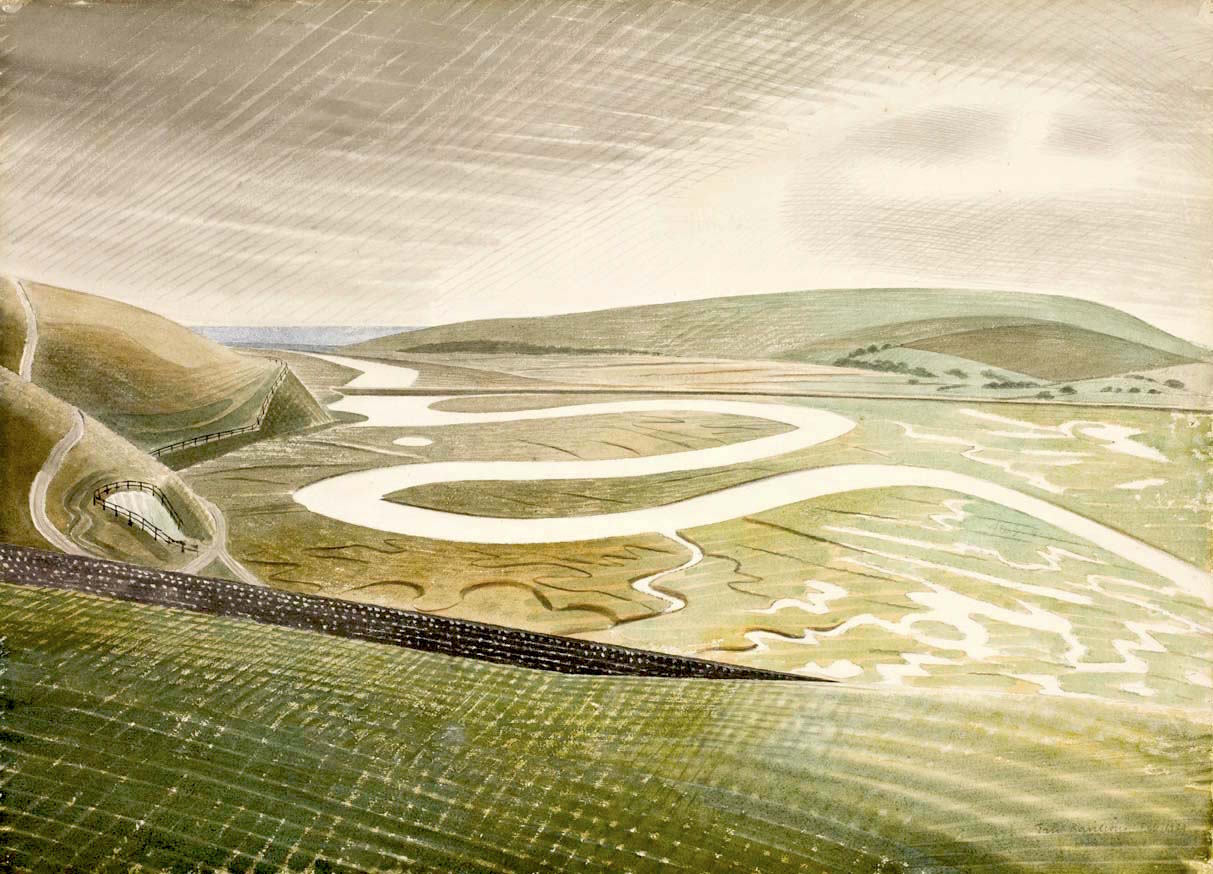 Cuckmere Haven: Eric Ravilious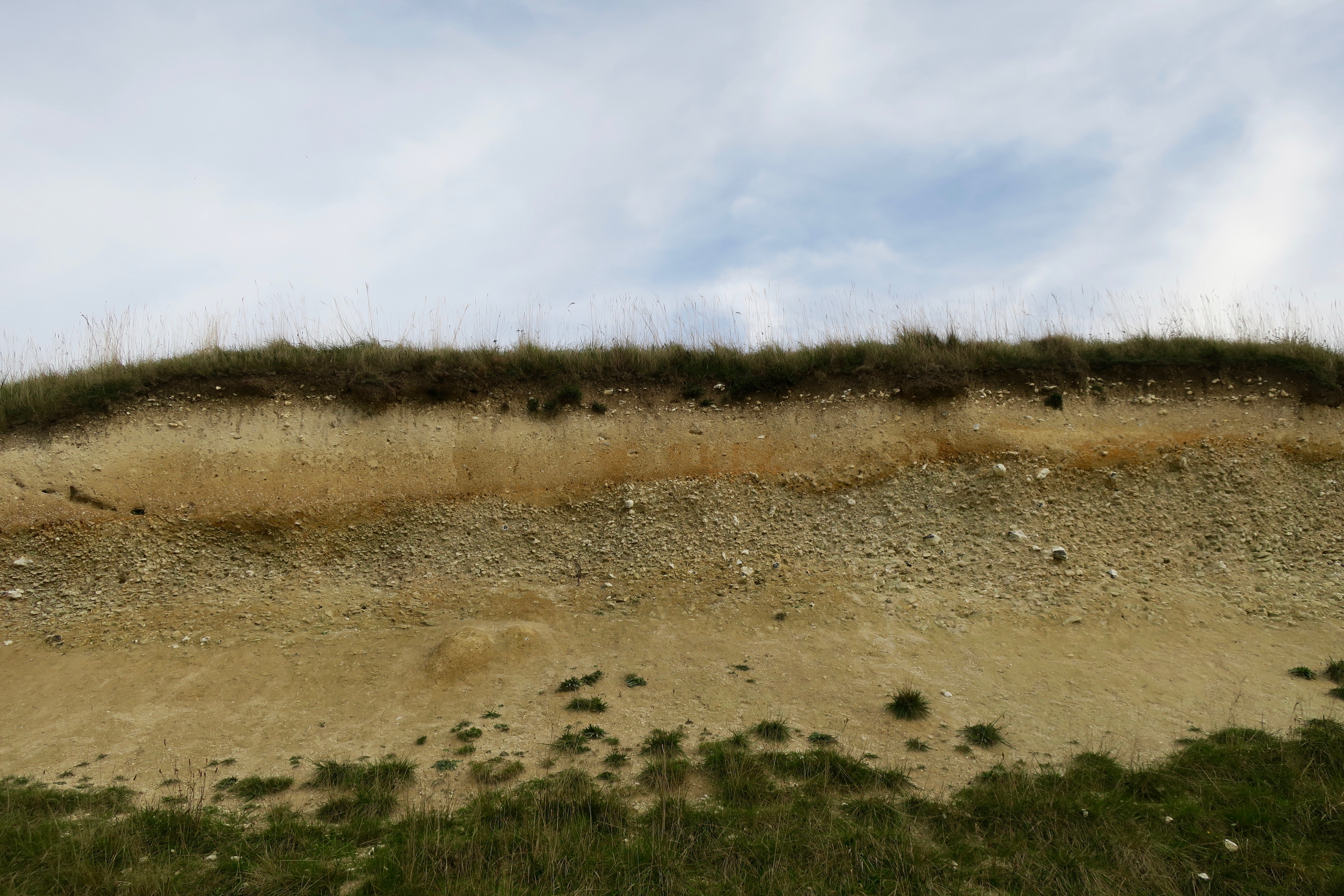 But instead we walked along beside the slow meandering river.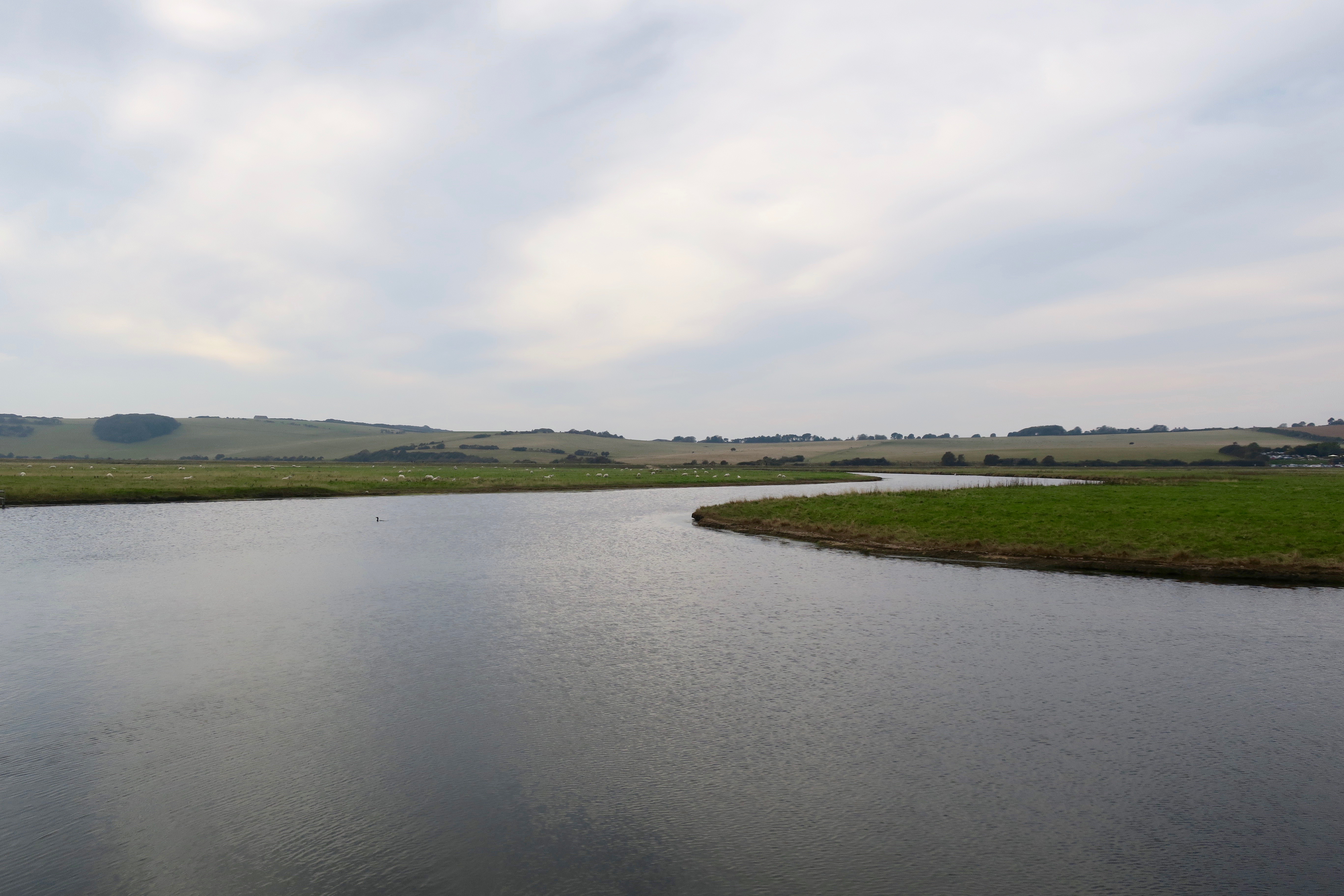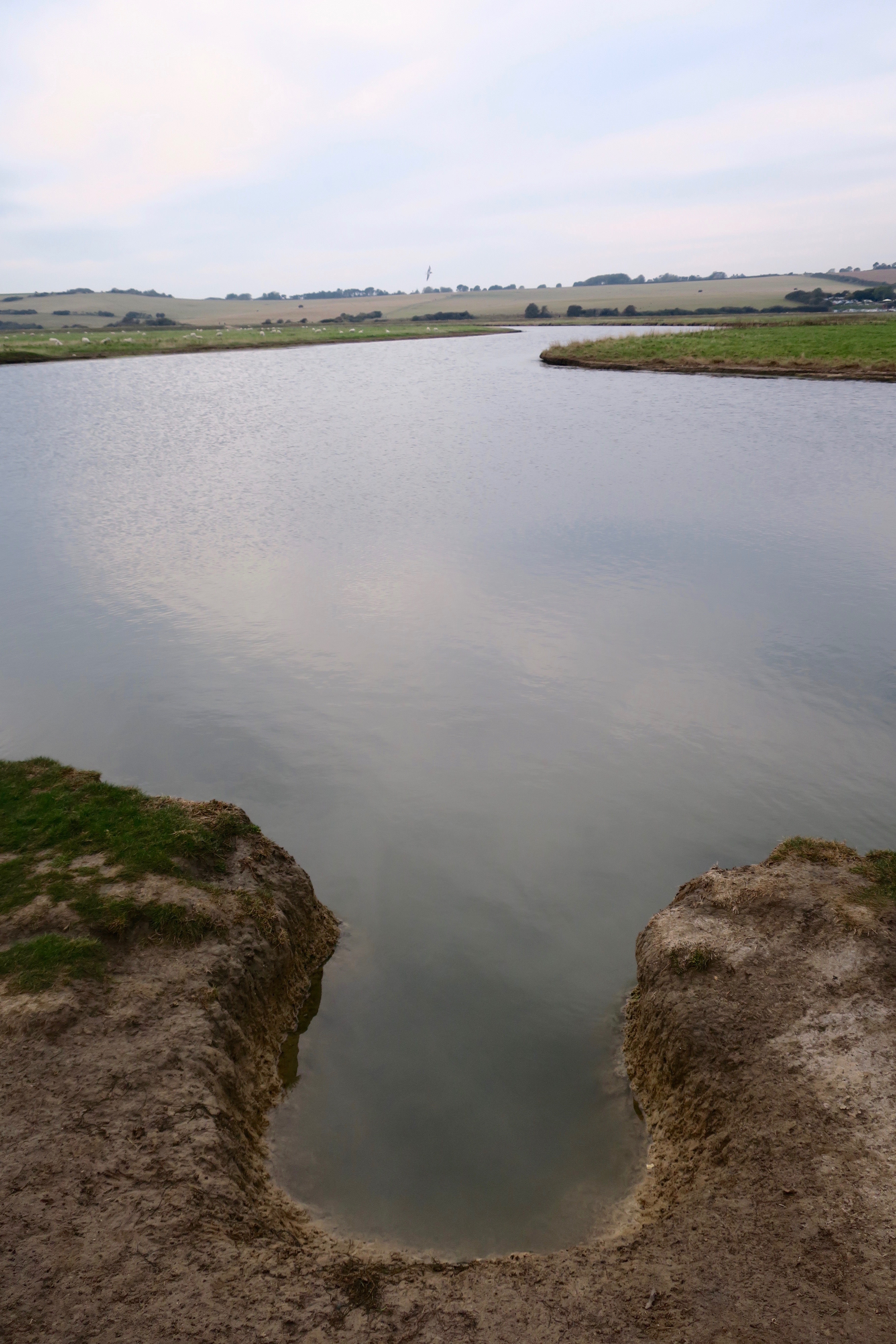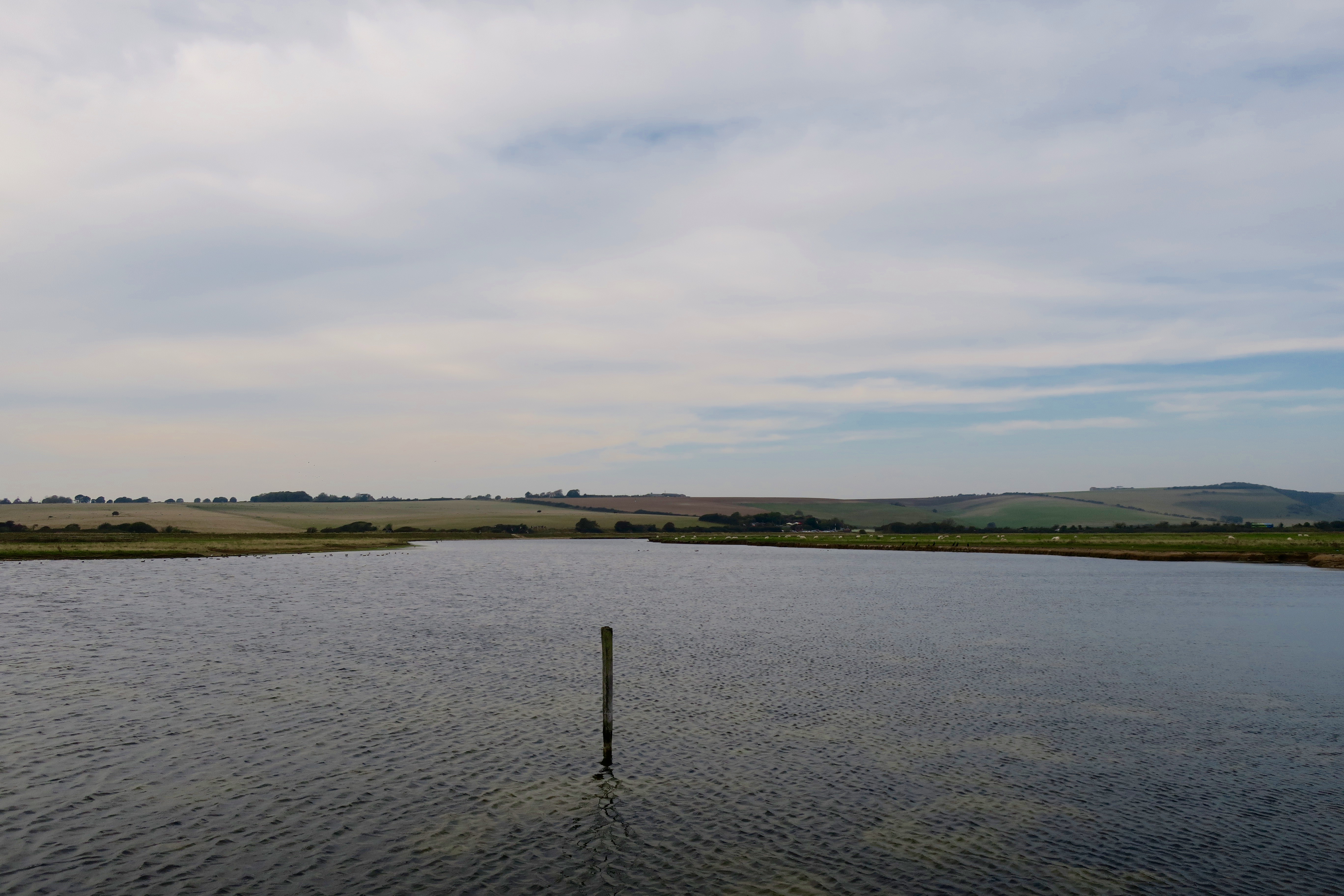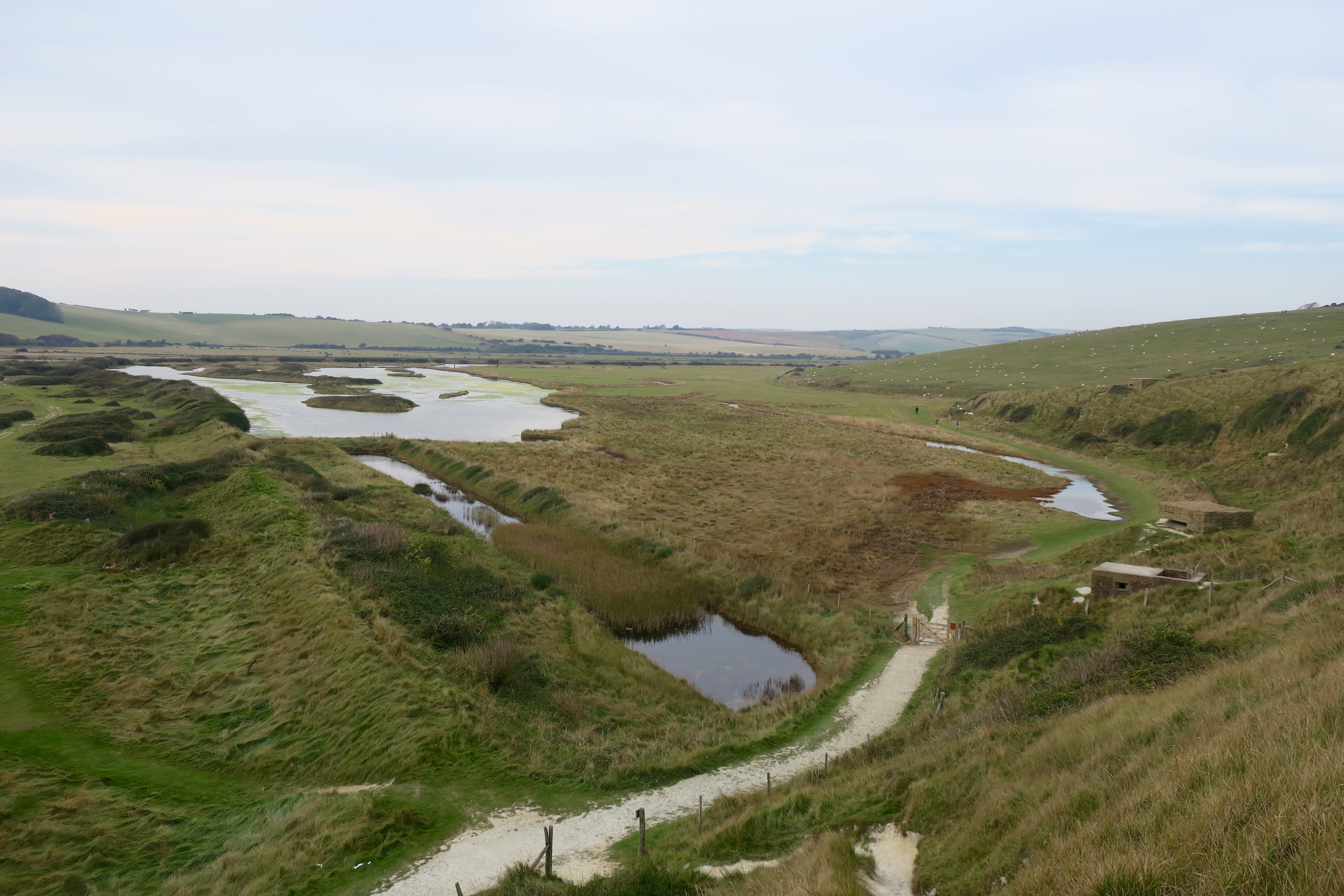 As we approached the sea I scrambled up a slippery, steep chalk path to get a wider view, but quickly realised it was easier climbing up than coming down. I descended cautiously, counting every tiny step.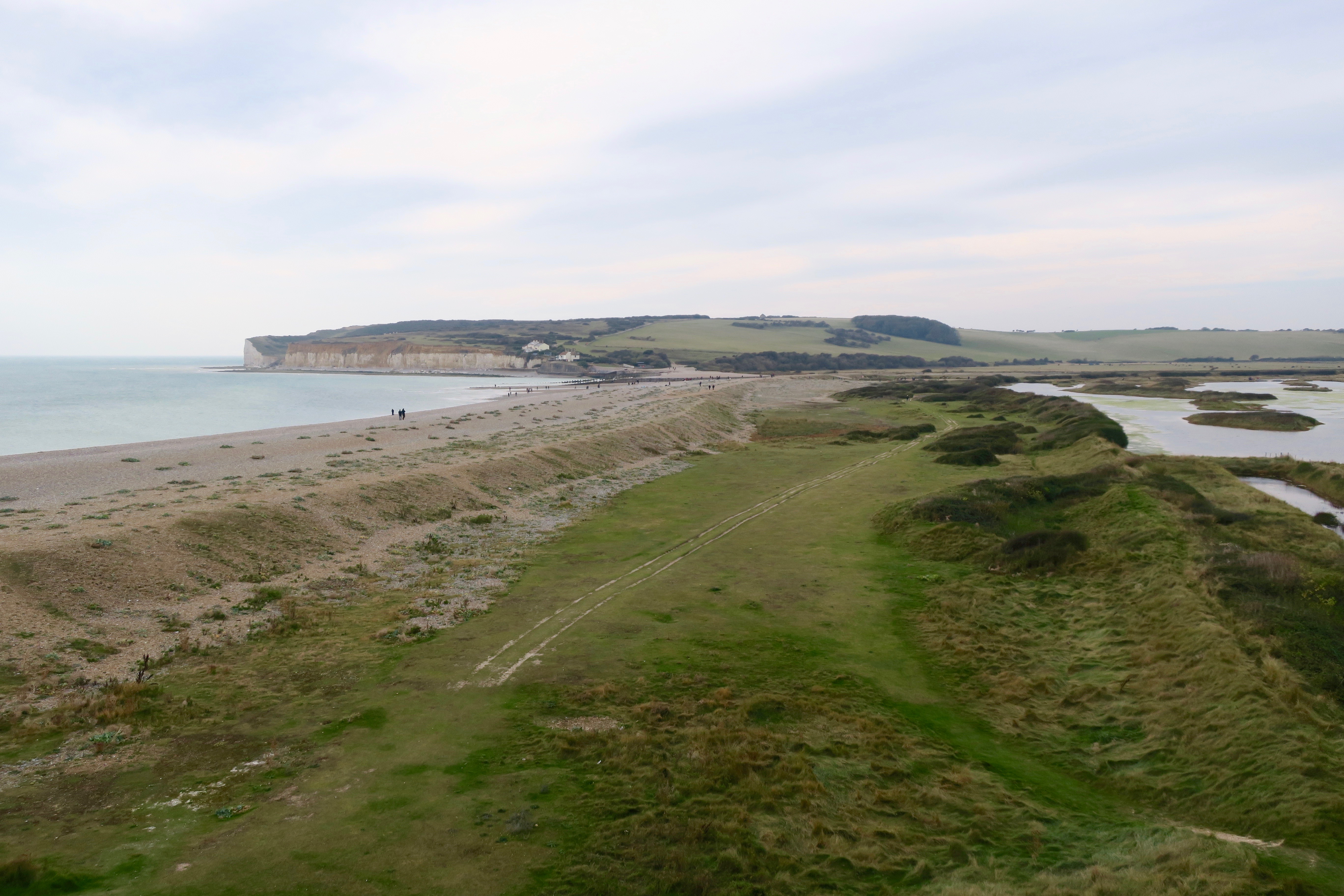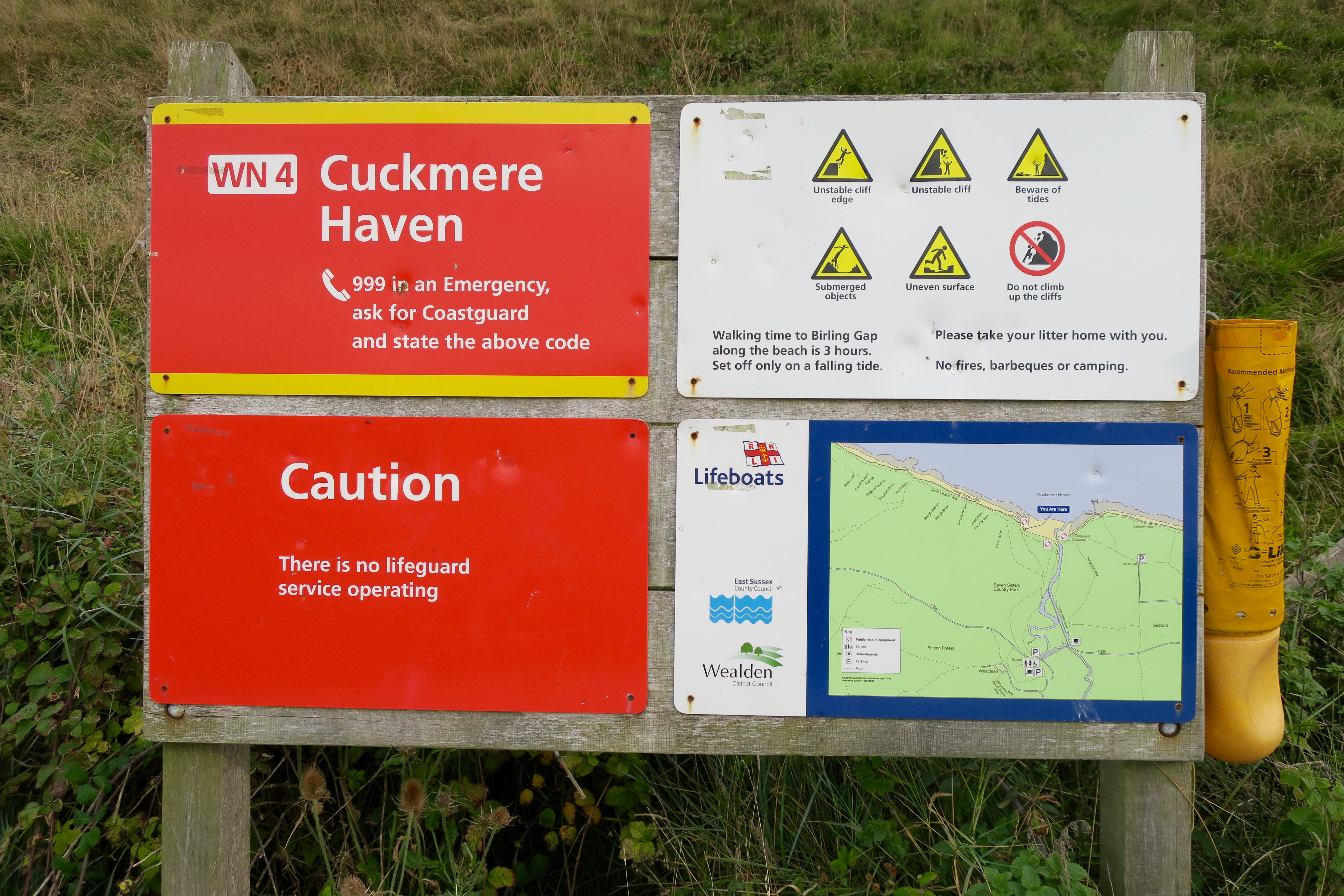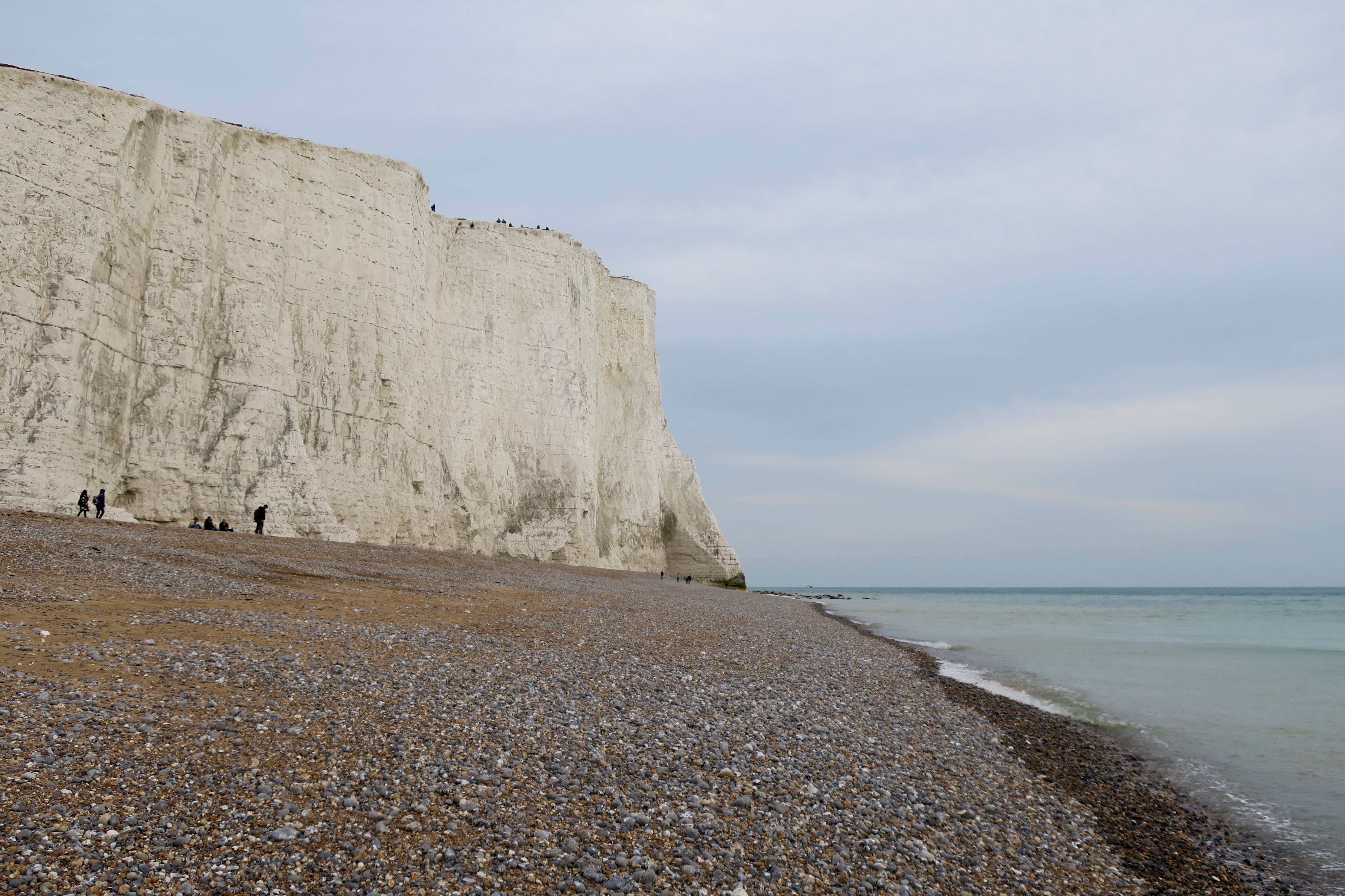 These white chalk cliffs are the Seven Sisters, stretching east from here to Birling Gap.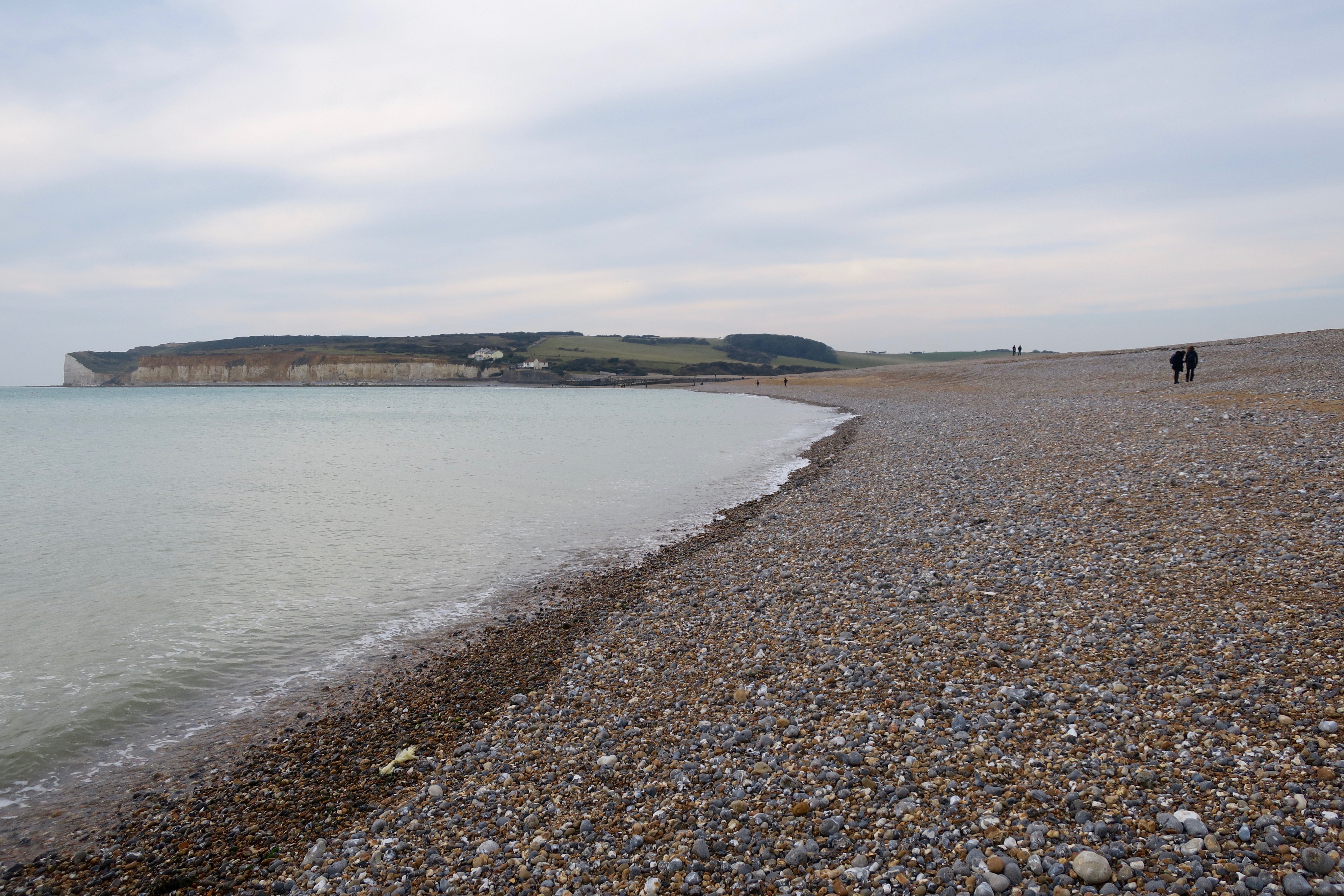 Looking west to Cuckmere Haven and its coastguard cottages, with Seaford Head beyond.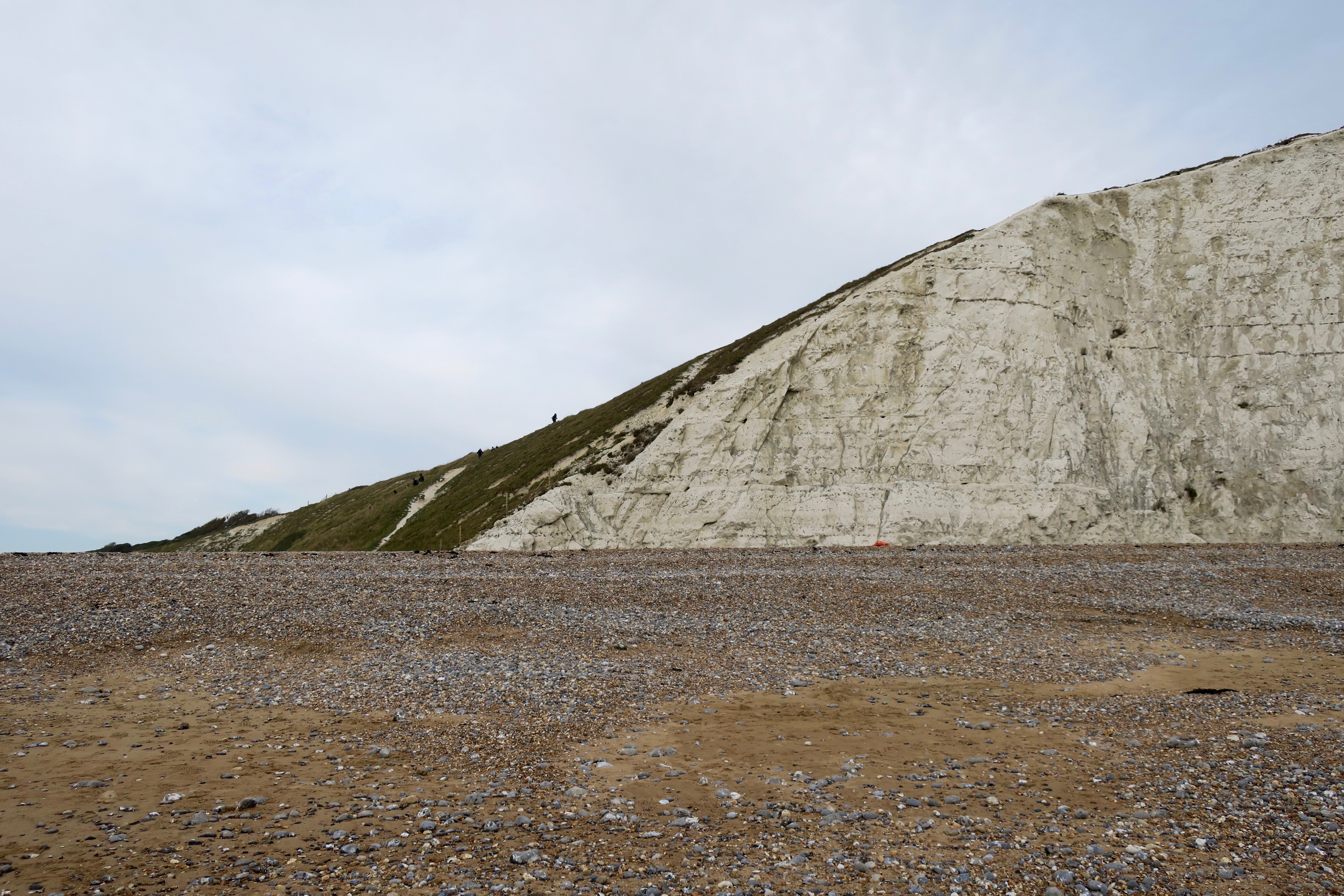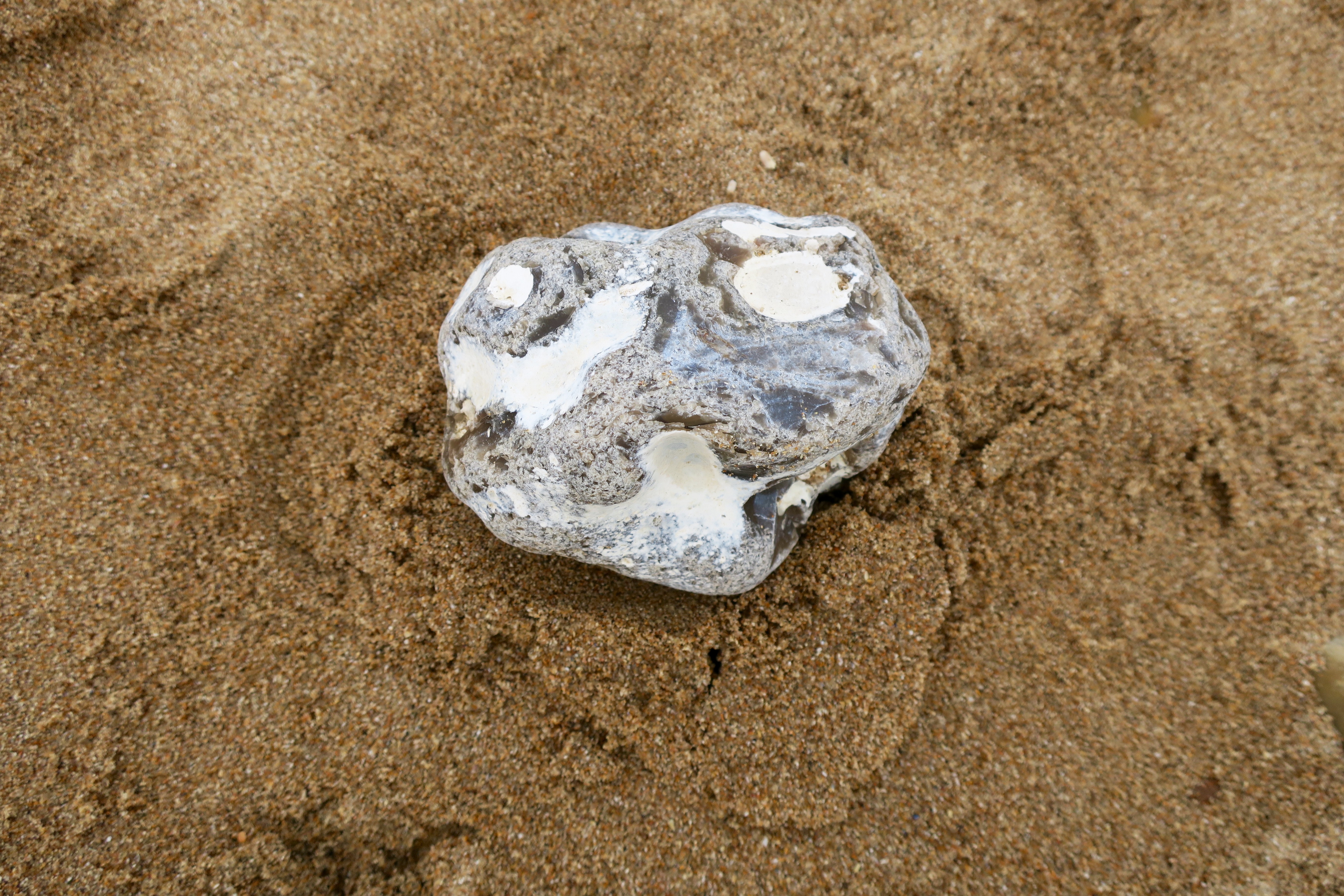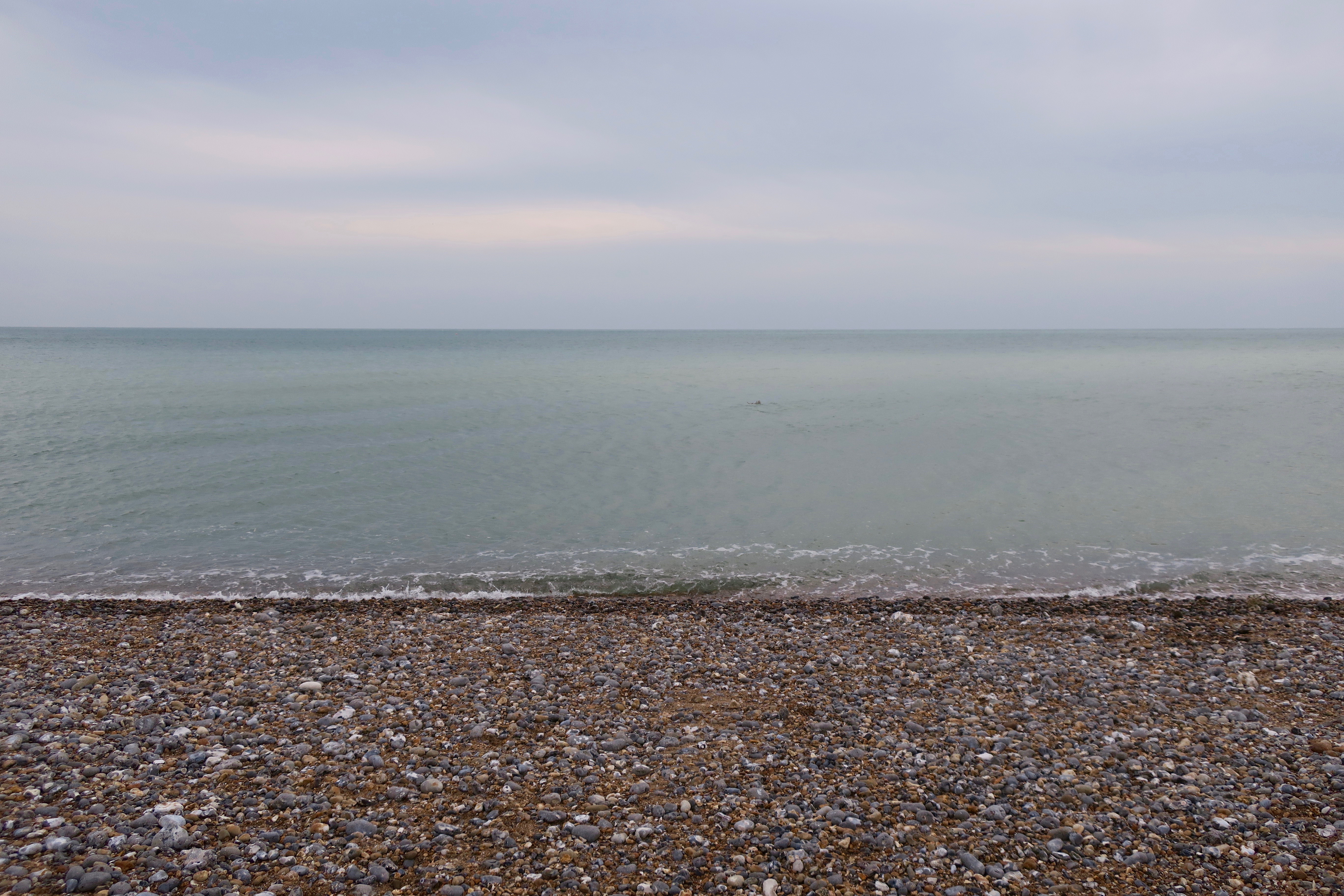 On the shore, listening to pebbles.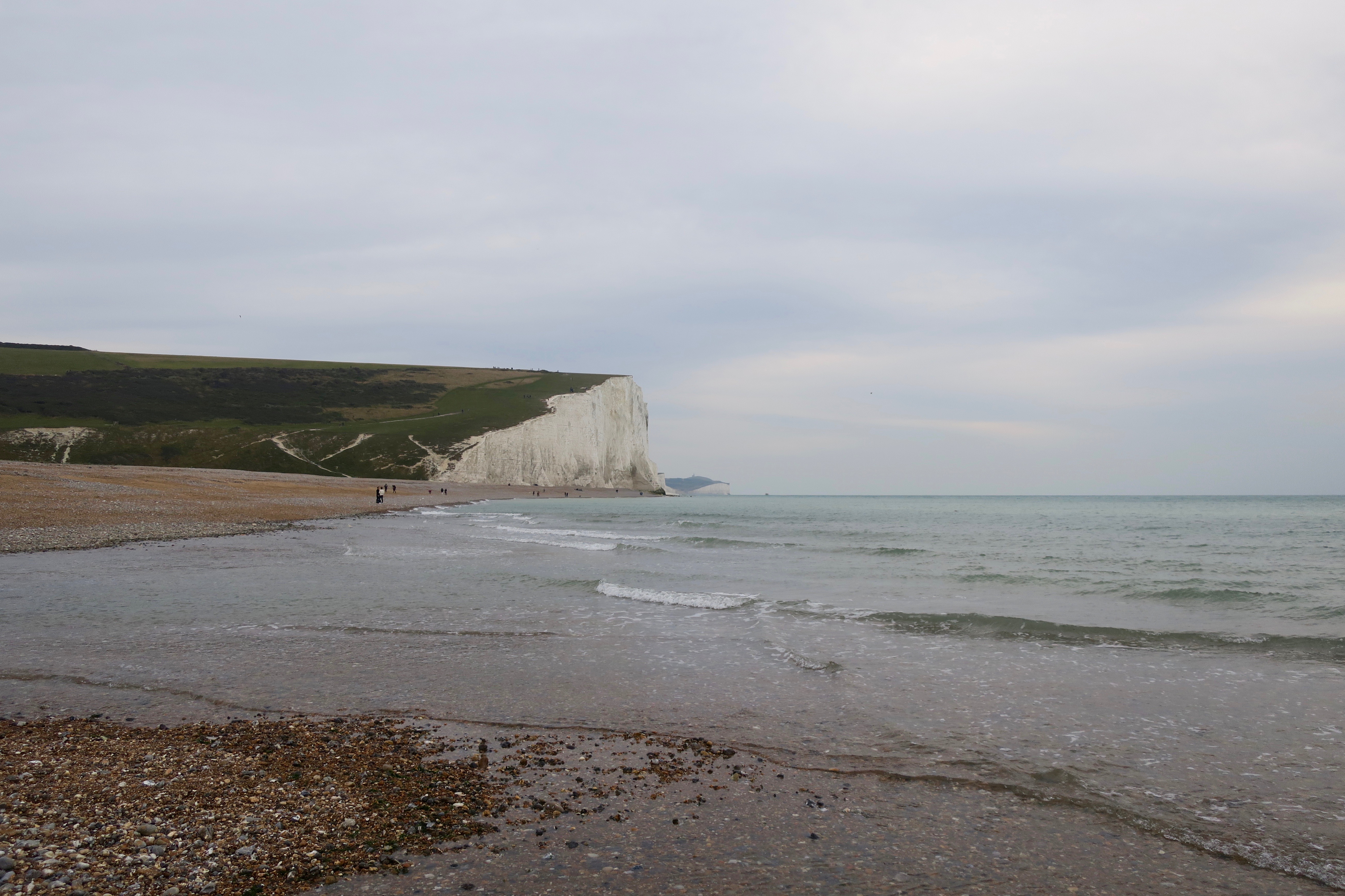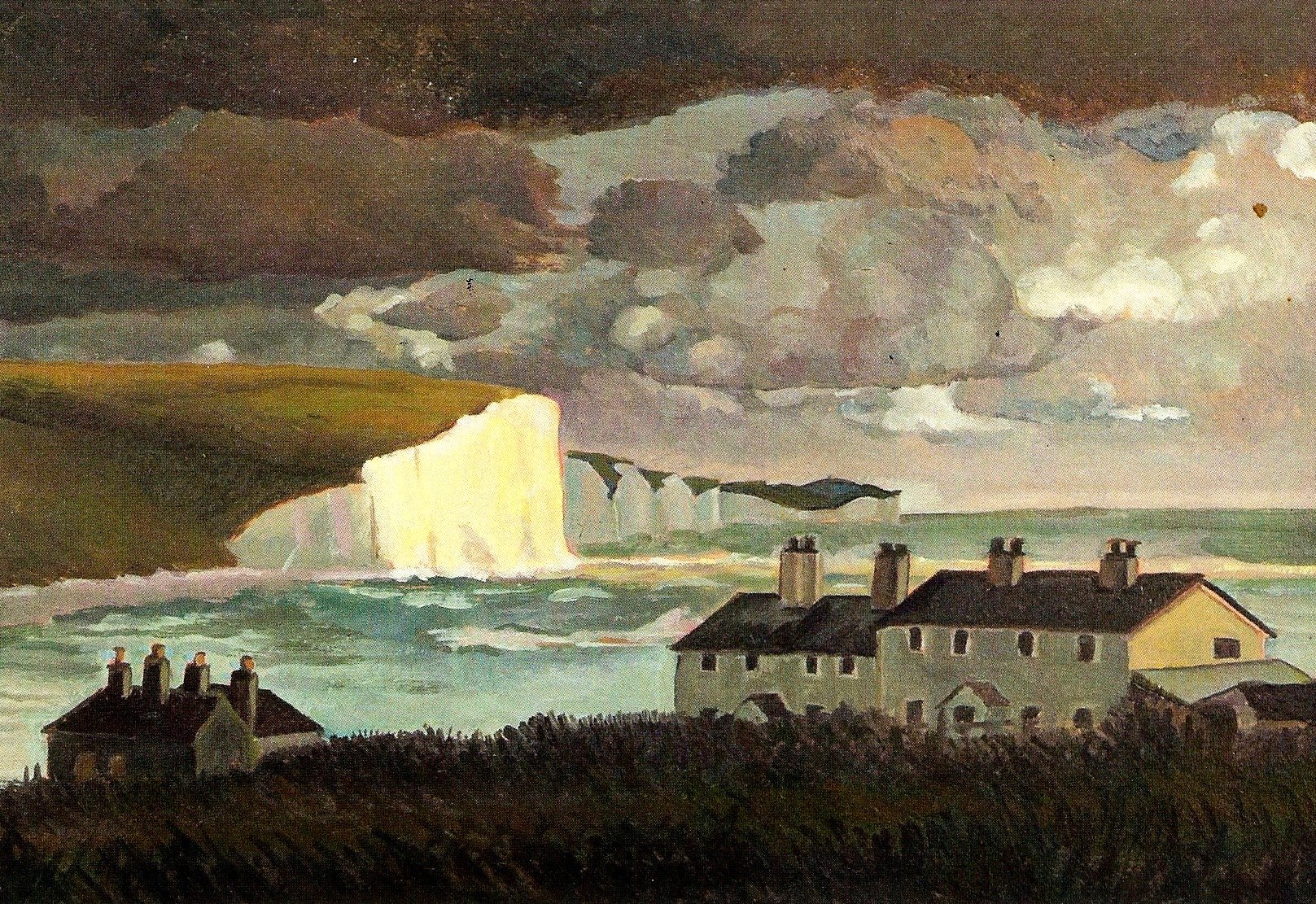 Coastguard Cottages, Cuckmere: Peggy Angus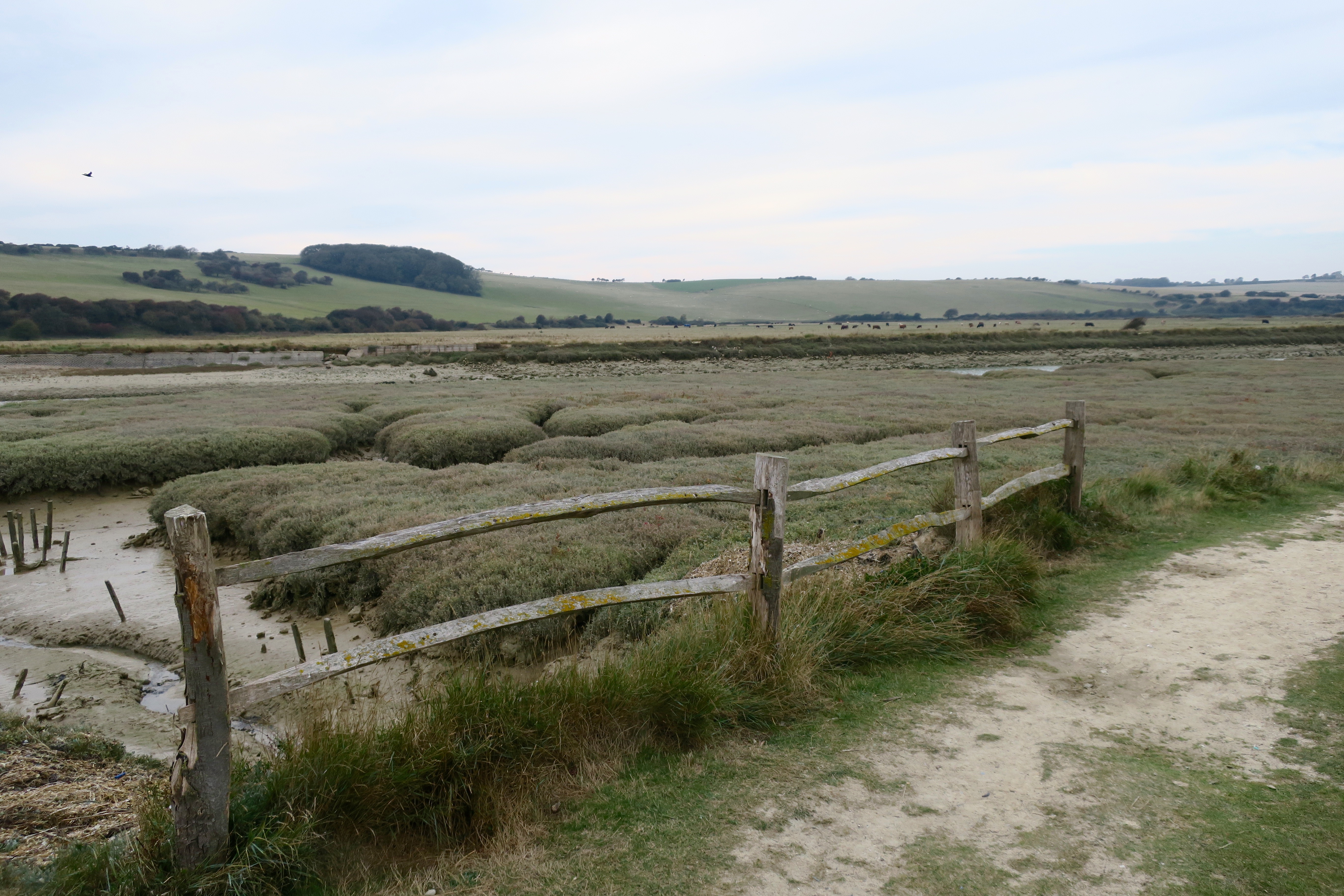 We turned away from the sea and headed back inland over saltmarsh creeks
where egrets and oystercatchers practised as mudlarks.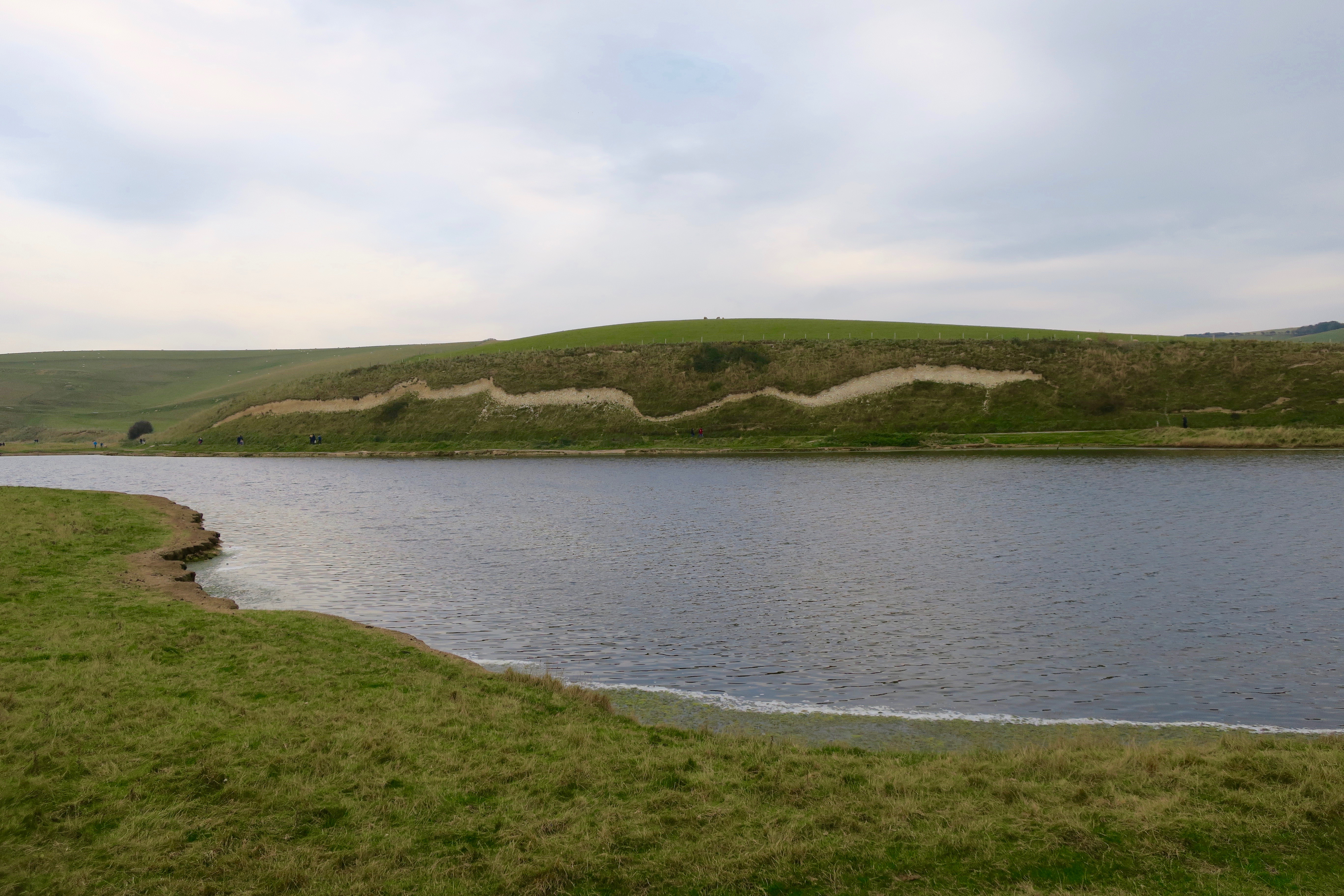 Erosion along the riverbank drawing the snake river.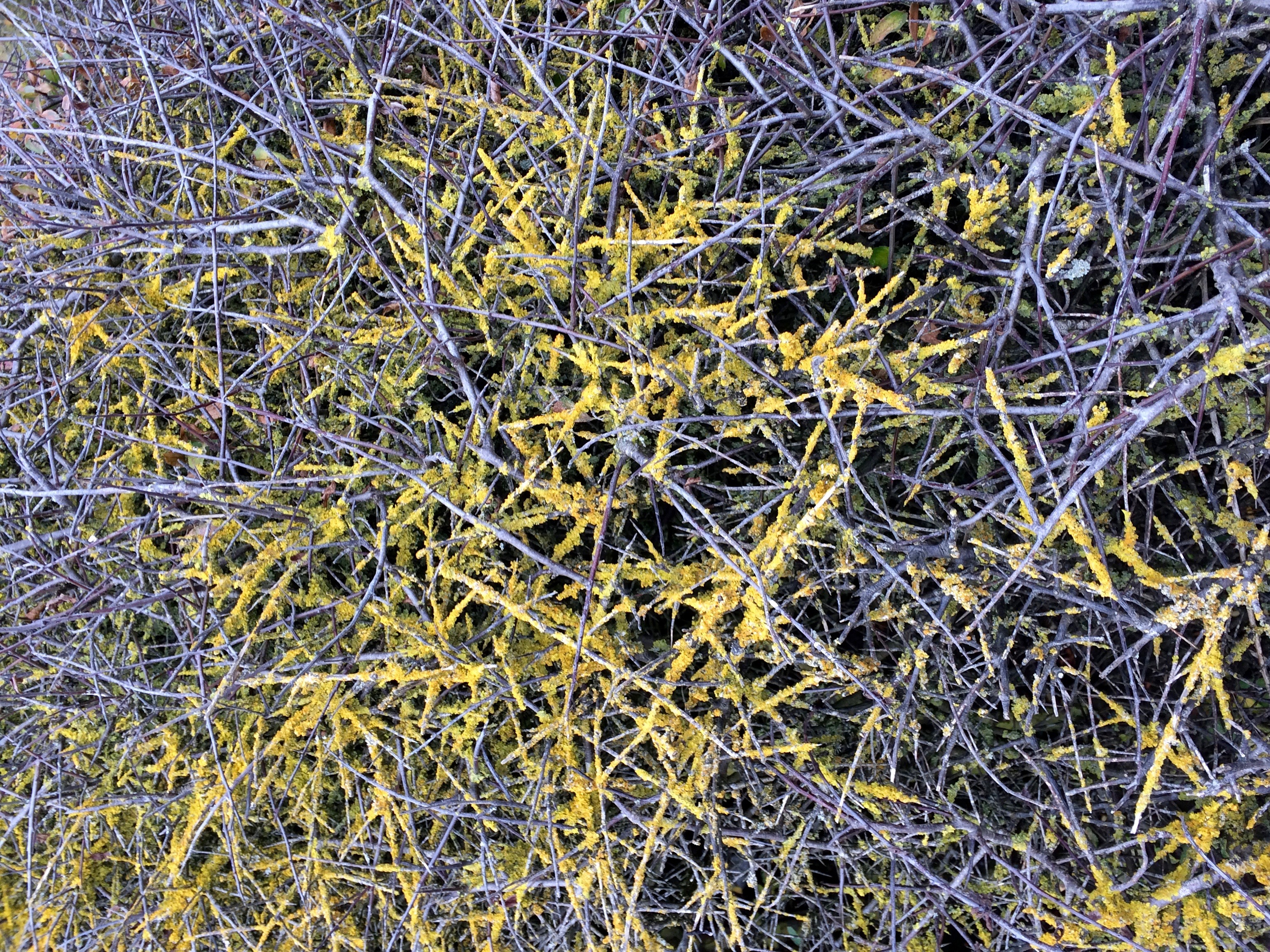 Blackthorn and yellow lichen.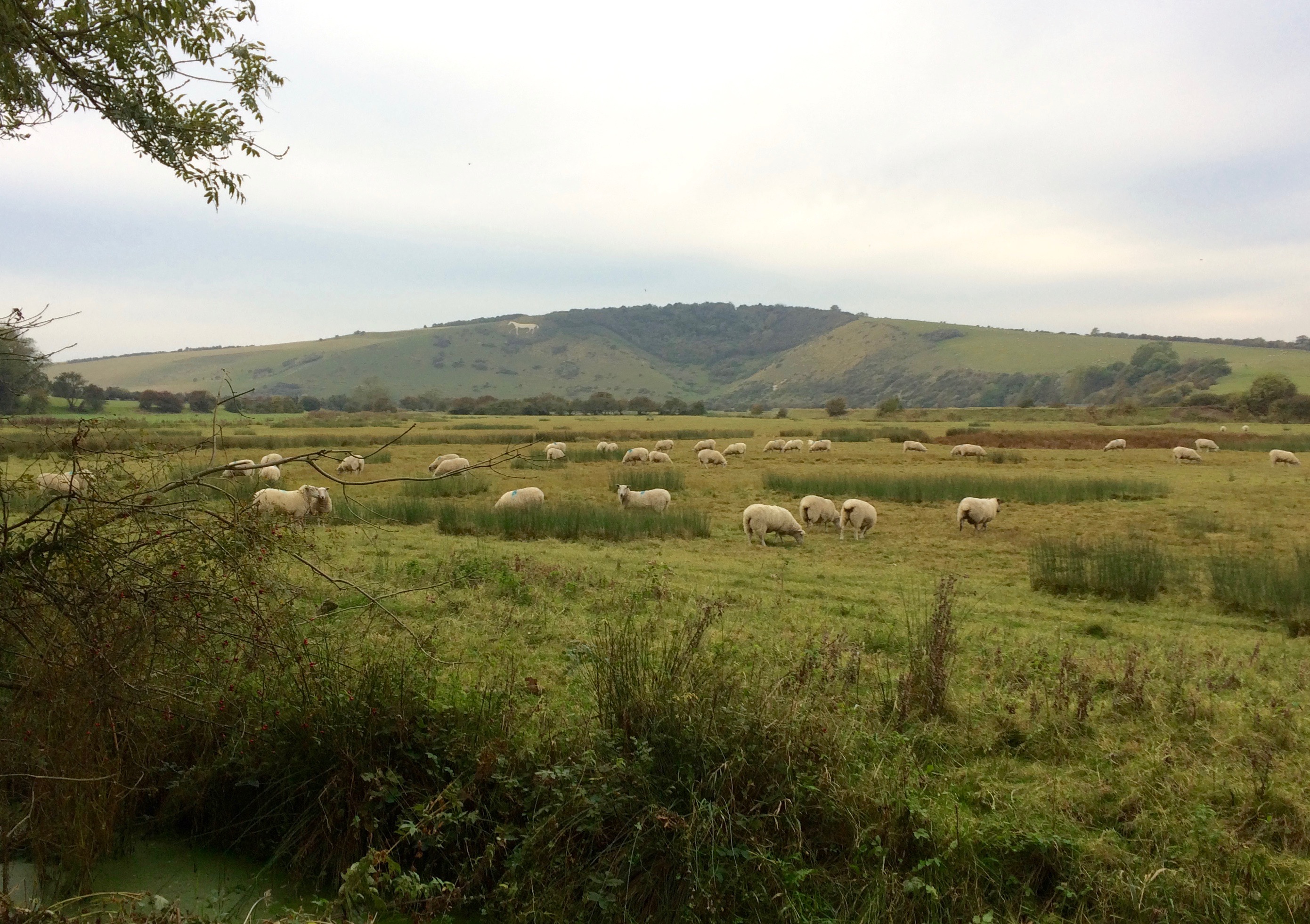 As we drove away by Friston Forest we saw the Litlington White Horse across a field of white sheep on High and Over, otherwise known as Hindover Hill. We passed through Litlington and Lullington and Wilmington, said goodbye to the Long Man, and returned home with a couple of his tasty souvenirs.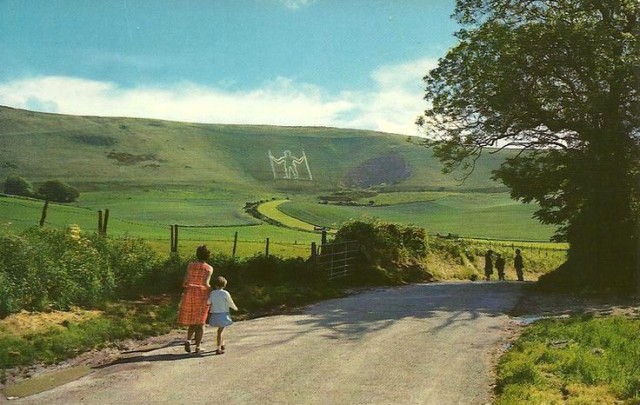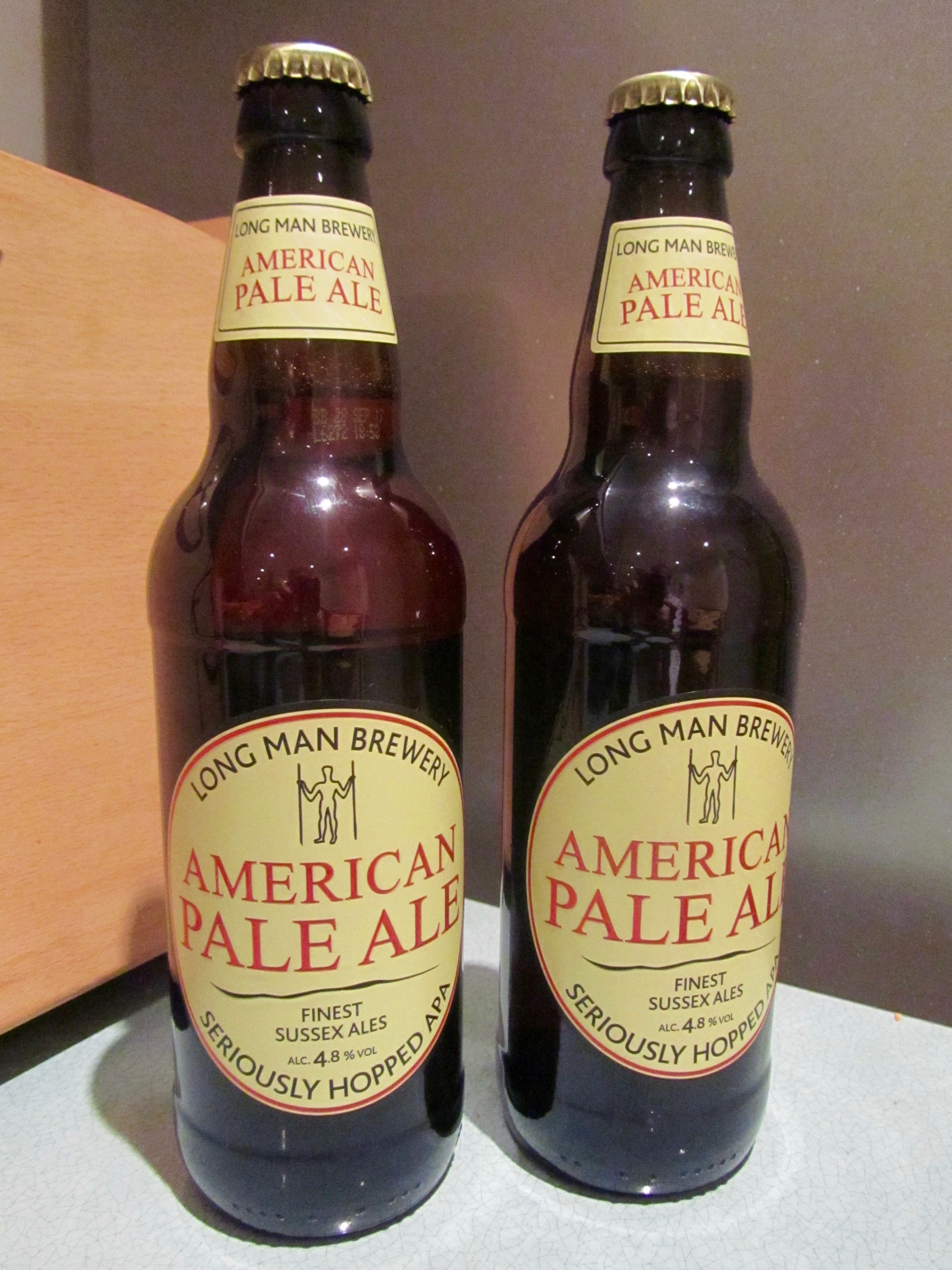 Ditchling Museum of Art & Craft / Charleston / Seven Sisters Country Park