There's a new Art Wall at Kensington Place chockablock with fruits de mer and other tasty sea flavoured morsels by Jonny Hannah. He's entitled it What Did The Deep Sea Say? and if you're curious to know the answer, if you're hungry for more please drop in next time you're passing.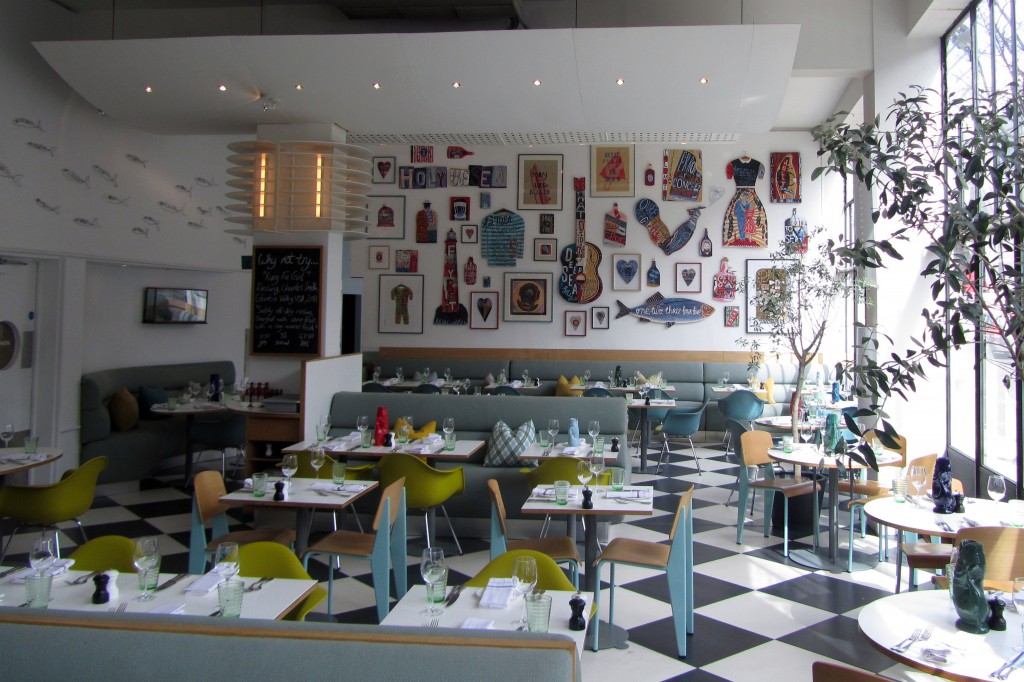 You'll find a rich collection of flotsam and jetsam from Jonny's Southampton studio where he works beside the seaside, harvesting its bounty and singing its shanties. Many of these pieces have been inspired by the songs of the sea and there's a complimentary CD to accompany the exhibition.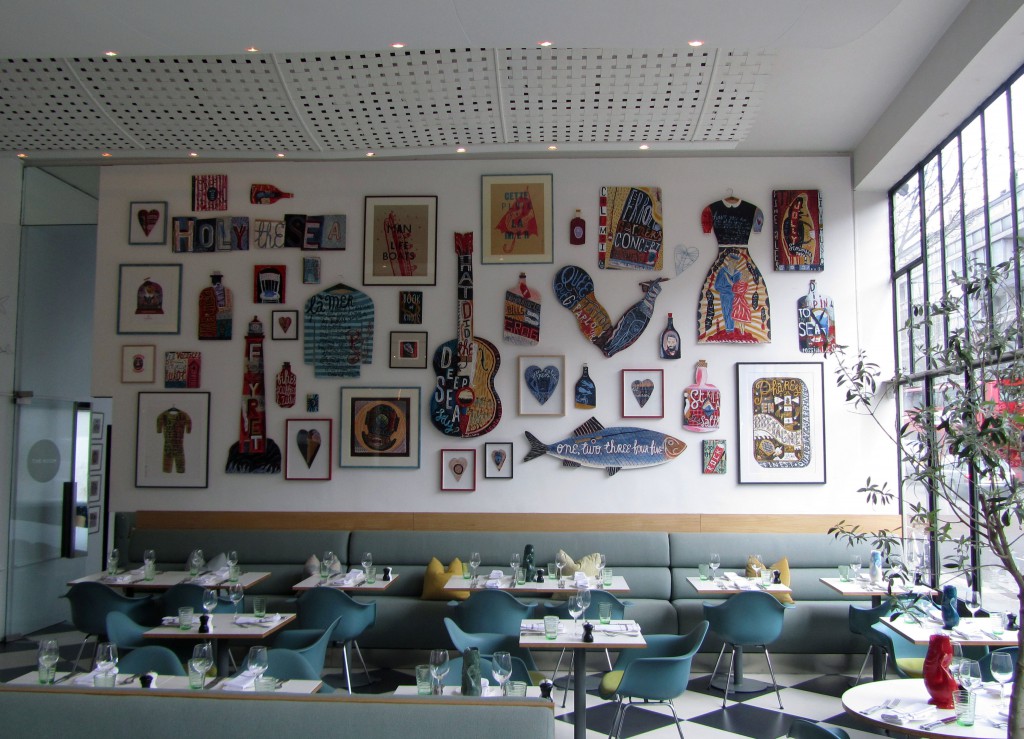 There are linocuts and woodcuts, framed wooden hearts, paintings on books and on LPs and on shapely jigsaw-cut plywood effigies, and lots of messages in bottles. He's also written a commentary to go with the exhibition, spinning a few yarns and leaving a few clues to this Nautical Gallimaufry…

WHAT DID THE DEEP SEA SAY? – Woody Guthrie set out with only a guitar to kill fascists, which I think he did. And en route, he wrote many a wonderful tale, this song included, 'never a word from my sailor have I heard…'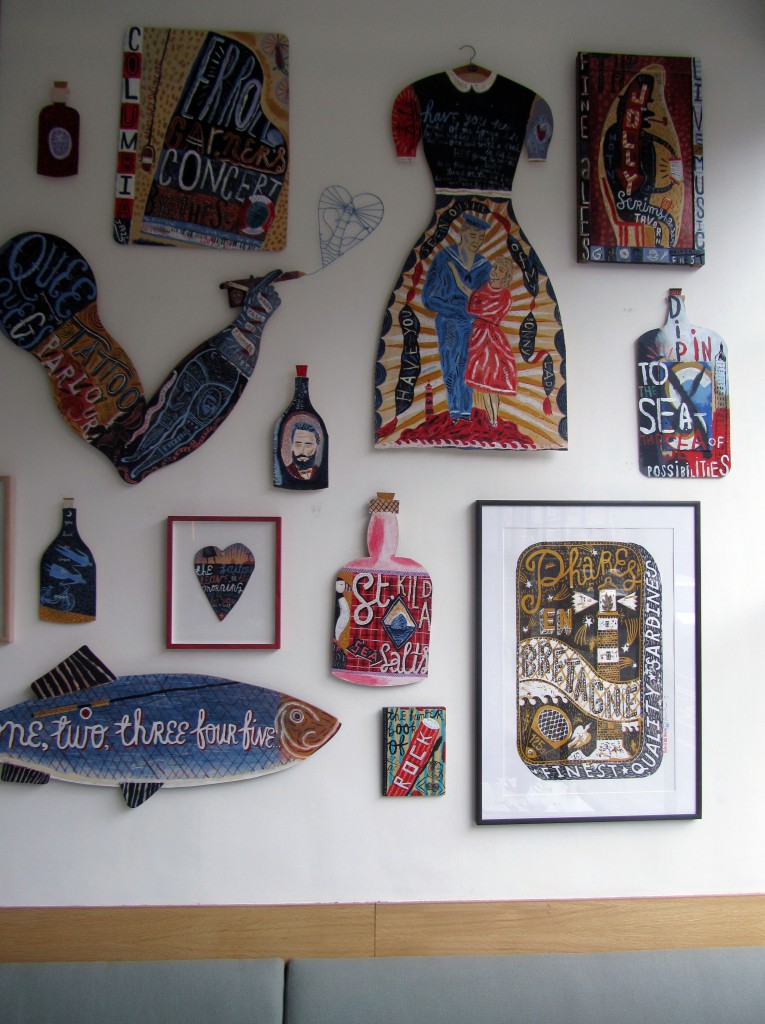 THE JOLLY SCRIMSHANDER TAVERN – When the whalers caught the sperm whale, then chopped it into bits, they would save the teeth to scratch into, making 'scrimshaw'. So a jolly tar has retired and opened up his own pub.
MY BONNY LAD – I have a couple of versions of this lament, including the Anne Briggs version. Painting pictures in a studio sometimes seems like hard work, but the thought of going to sea, with a high risk you may never return is that wee bit harder.
ST KILDA SEA SALTS – I planned to visit the islands known as St Kilda for my 40th birthday, but my wife refused to accompany me. Why wouldn't you want to spend time on a really remote Scottish island, with not a jot there other than where the sea meets the sky? When I'm 50 for sure. Once populated, then evacuated in 1930, St Kilda's story has a wonderfully romantic ghost-like presence in my heart. Only it may rain a lot there.
PHARES EN BRETAGNE – We've been going to France for some years now on holiday, especially Brittany, where you're never far from a lighthouse. Alas, our boys are bored of this, especially the ferry journey from Pompey, which in truth is the closest I get to being 'at sea'.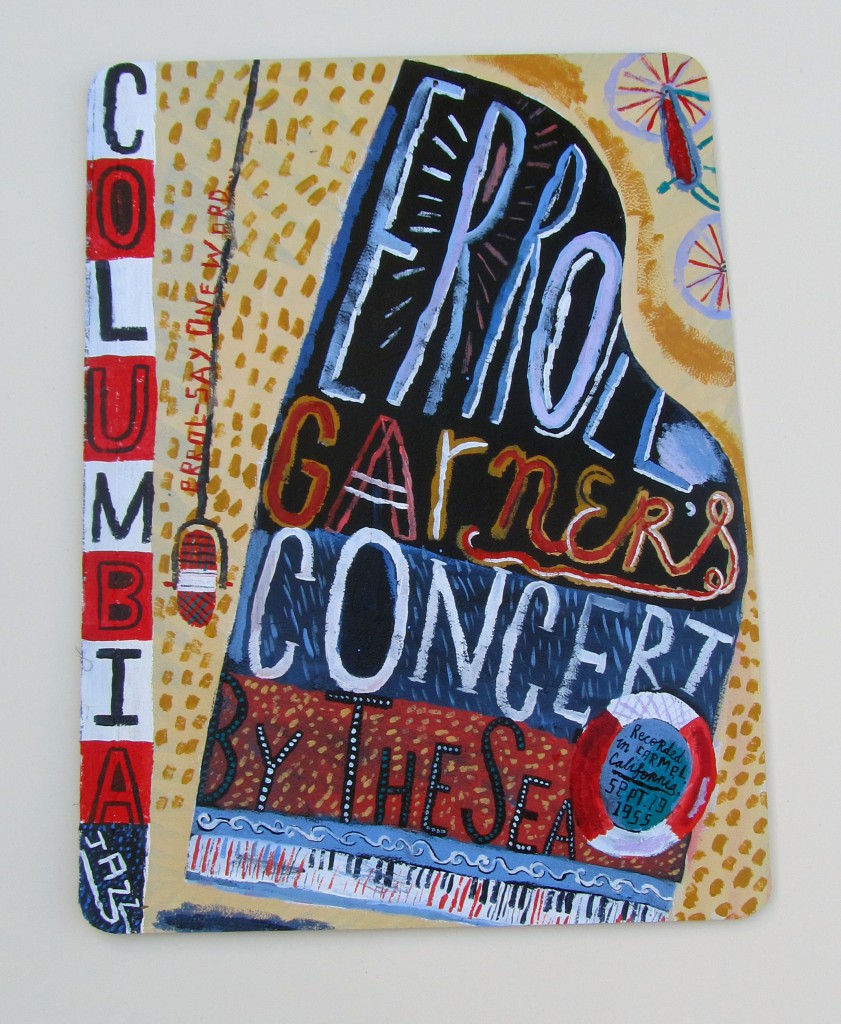 ERROLL GARNER'S CONCERT BY THE SEA – I recently illustrated an article about Mr Garner by Neil Cowley for St Jude's Random Spectacular №2, and instantly bought this album. After the initial, cleverly discordant notes, it slides into 45 minutes of subtle, soulful swing.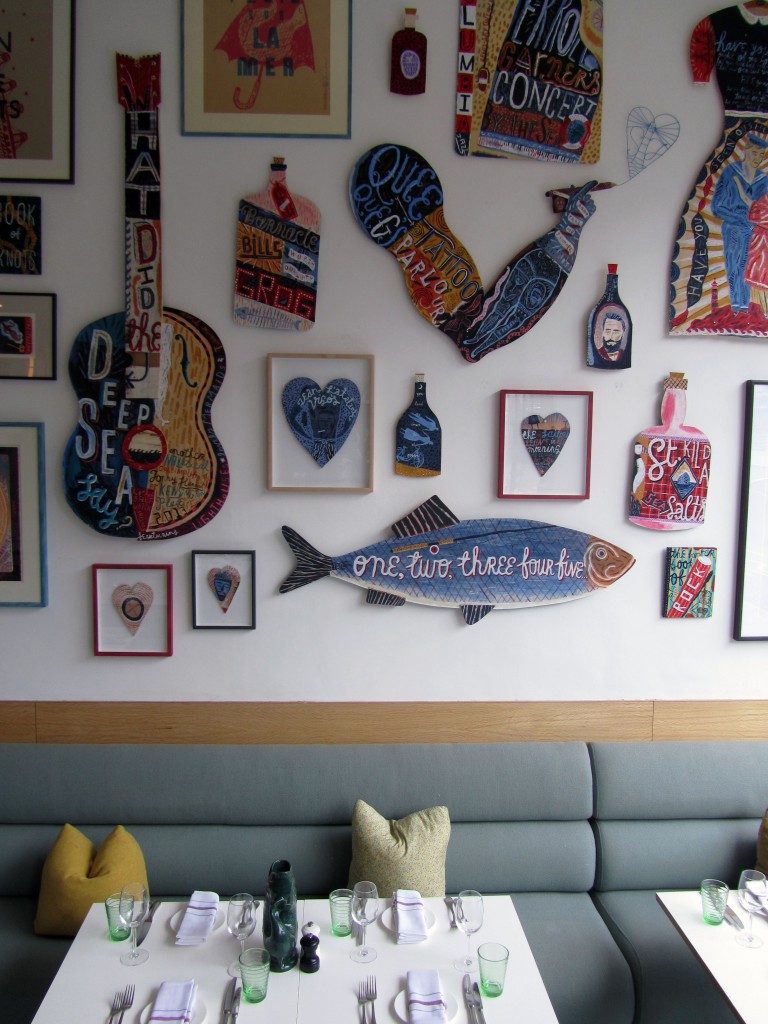 JOHN TAYLOR'S MONTH AWAY – Another slice of King Creosote here looking out from Roome Bay Beach in Fife, thankful at being himself and not Mr Taylor, about to spend 30 days far from land.
ONCE I CAUGHT A FISH ALIVE – This is the one that didn't get away. A whopper that John Taylor caught on his month away. And partly inspired the childhood remembrances of Fife writer Christopher Rush.
BUMPER BOOK OF ROCK – I love the fact that you associate certain foods with the seaside, and they're nearly all bad for you.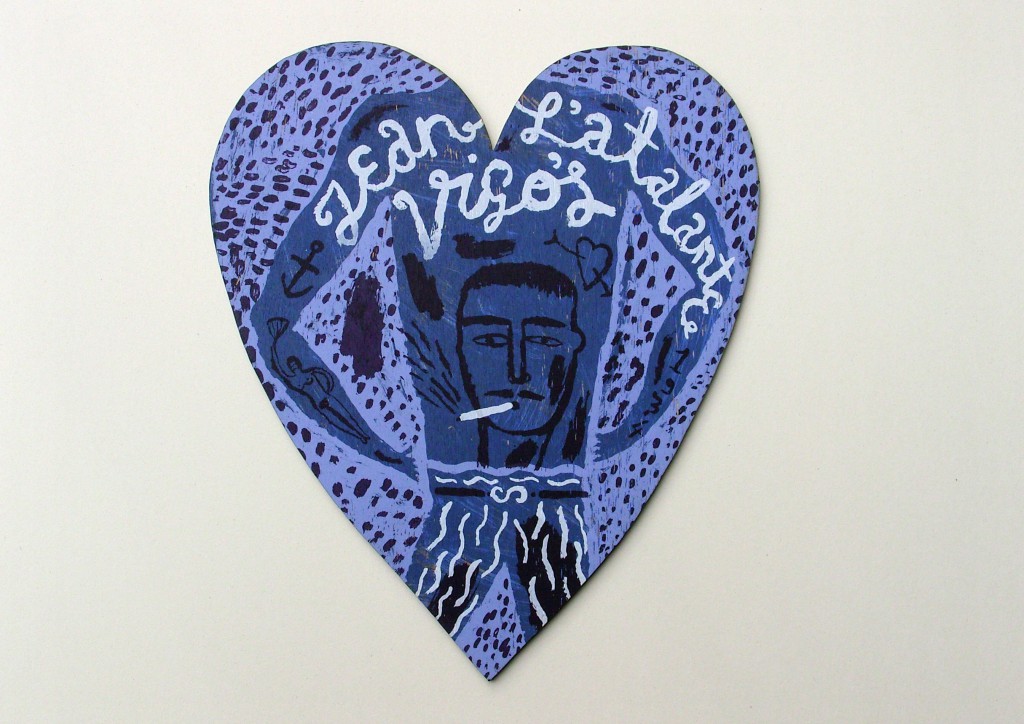 JEAN VIGO'S L'ATALANTE – Strictly speaking not a salt water ballad, but involving water nonetheless, Vigo's masterpiece, set on board a French canal barge is possibly the best film ever made. It features a tattooed tar, played by Michel Simon who does a neat trick with a cigarette.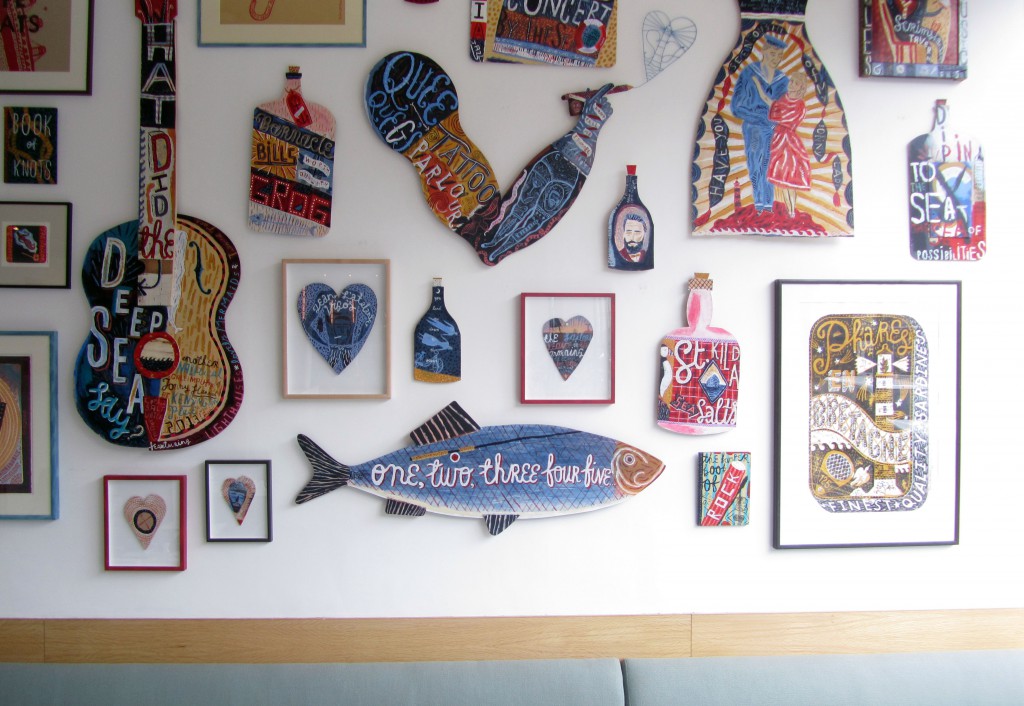 BARNACLE BILL'S WORST QUALITY GROG – As I type this list I am enjoying my own grog on the train back to Southampton. And I'm sure I'd enjoy Bill's fish-head rocket fuel too.
QUEEQUEG'S TATTOO PARLOUR – I don't have any tattoo's and it's too late now. But I love the idea. A good friend in Edinburgh, Paul Slifer, is covered in them, I think, as that's his job. I'm jealous. So now and again I fantasise I'll do a swap with him, prints for tatts. Then the grog wears off, thank god.
MR MELVILLE – One day I will finish Moby Dick. One day…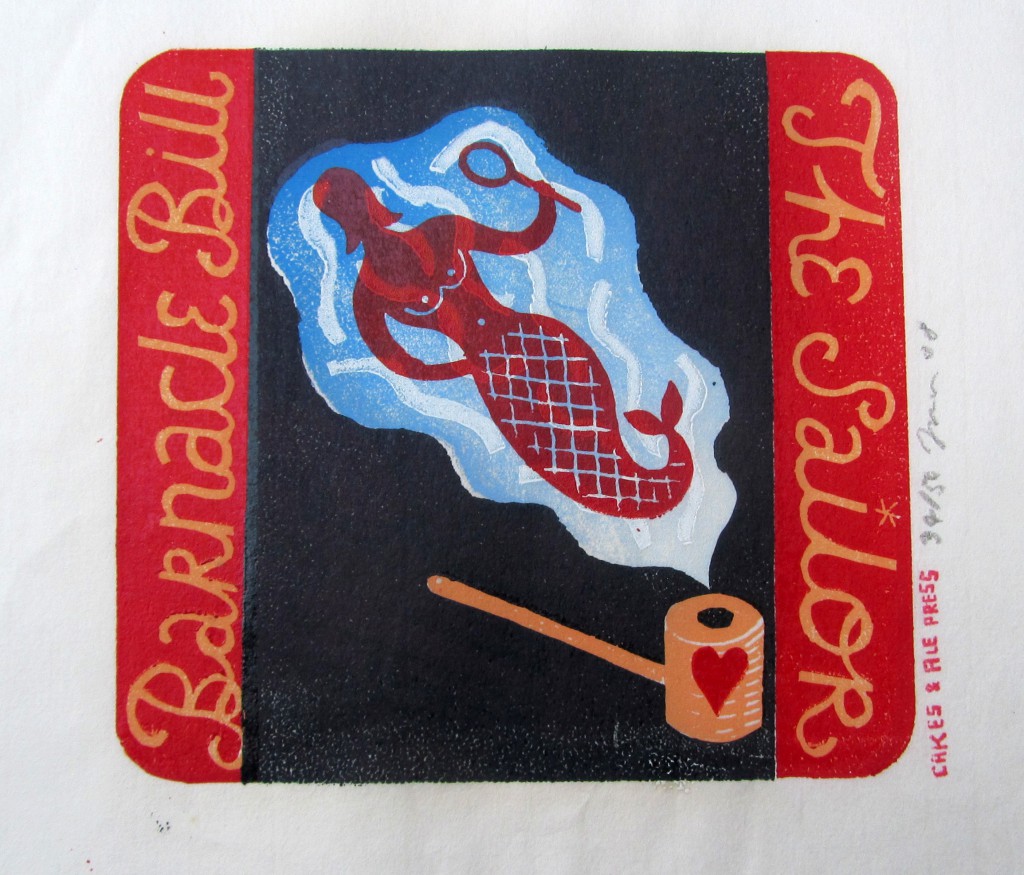 BARNACLE BILL THE SAILOR – There are various versions of this old song, from the slightly rude to the out and out obscene. I prefer Eddie Lang & Joe Venuti's renditition. What tall tales Bill would have told.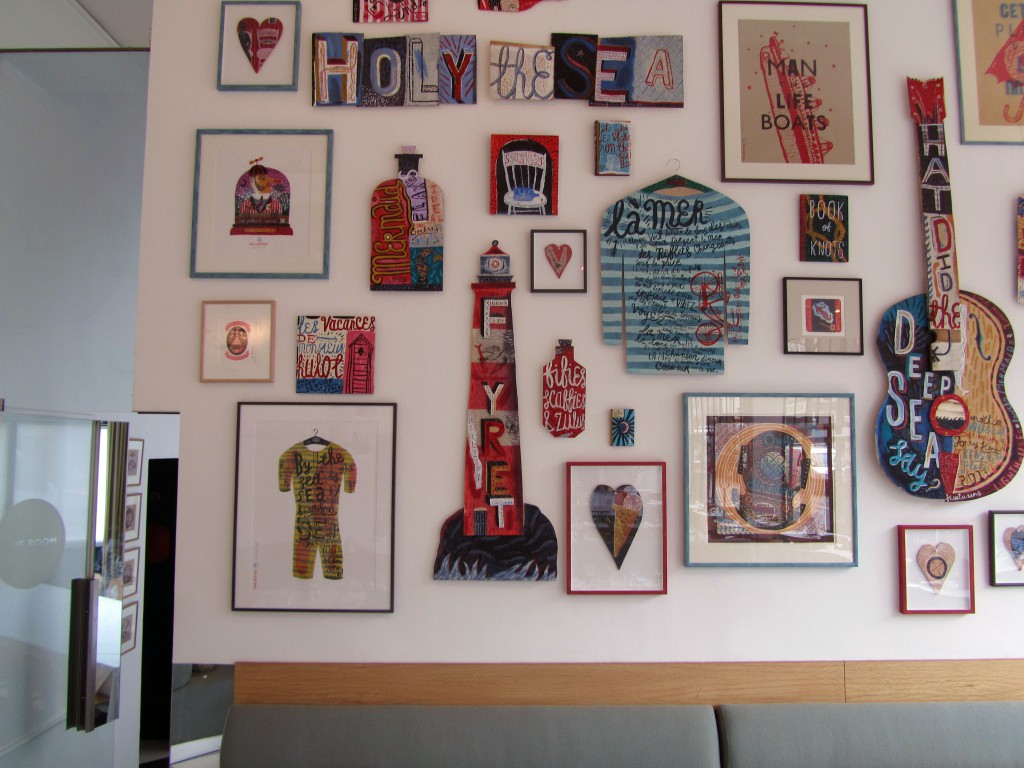 HOLY THE SEA – From 'Footnote to Howl' by Allen Ginsberg. Howl is about everything on earth, the sea included.
LA MER – Is it humanly possible to dislike Charles Trenet's masterpiece? I think not. Try listening to it in France, just before you cycle to the beach. Only then, dear reader, is life complete.
FYRET – I recently went to Norway and was treated to some akvavit in a lovely bar called Fyret. Norway has loads of fyrets, as its coast is so long. On my next visit I must see one first hand.
BY THE SEA – Spike Jones's band hail from a time when music was all about fun and entertainment. A mix of vaudeville, minstrelsy, jazz and all round buffoonery, their versions of various songs can't fail to excite. This is inspired by one of them.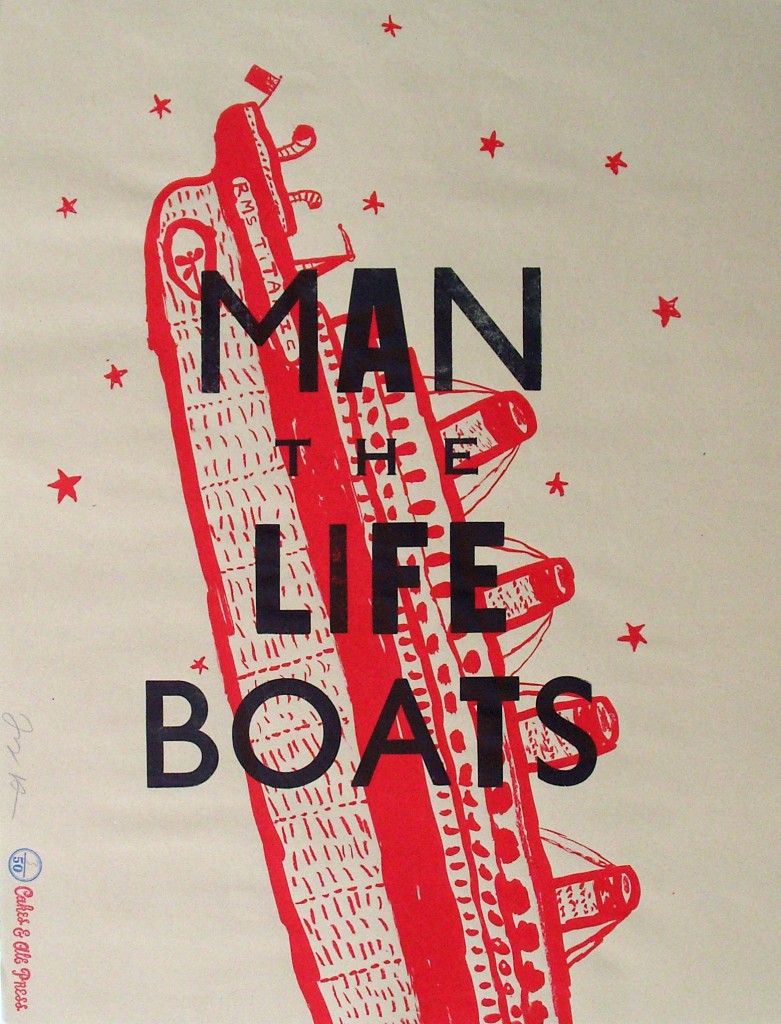 MAN THE LIFE BOATS – There was Titanic mania last year in my adopted home town of Southampton. After watching THE disaster film, 'A Night To Remember' I felt compelled to do this.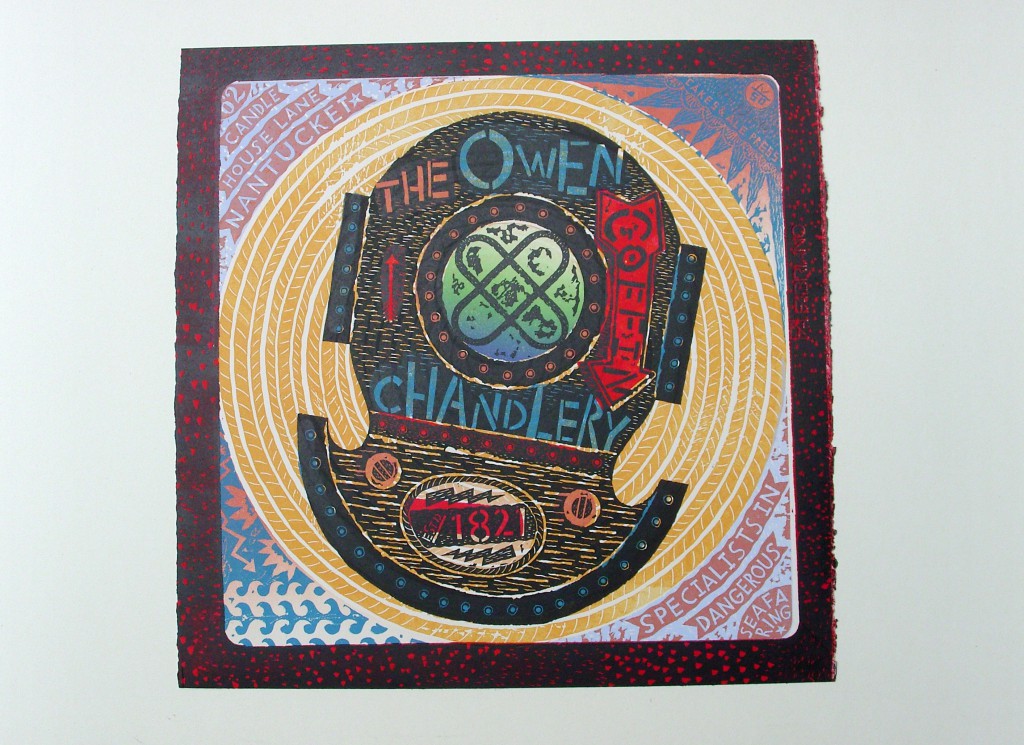 THE OWEN COFFIN CHANDLERY – A whaling ship called the Essex left Nantucket in 1819. It never returned. A sperm whale took umbrage to its activities and fought back, sinking it. The crew set sail in small boats. Some made it back, some didn't. One of the latter was Owen Coffin, who drew the short straw, was shot and then eaten by the rest of his shipmates in order for them to survive. But his spirit lives on in this shop.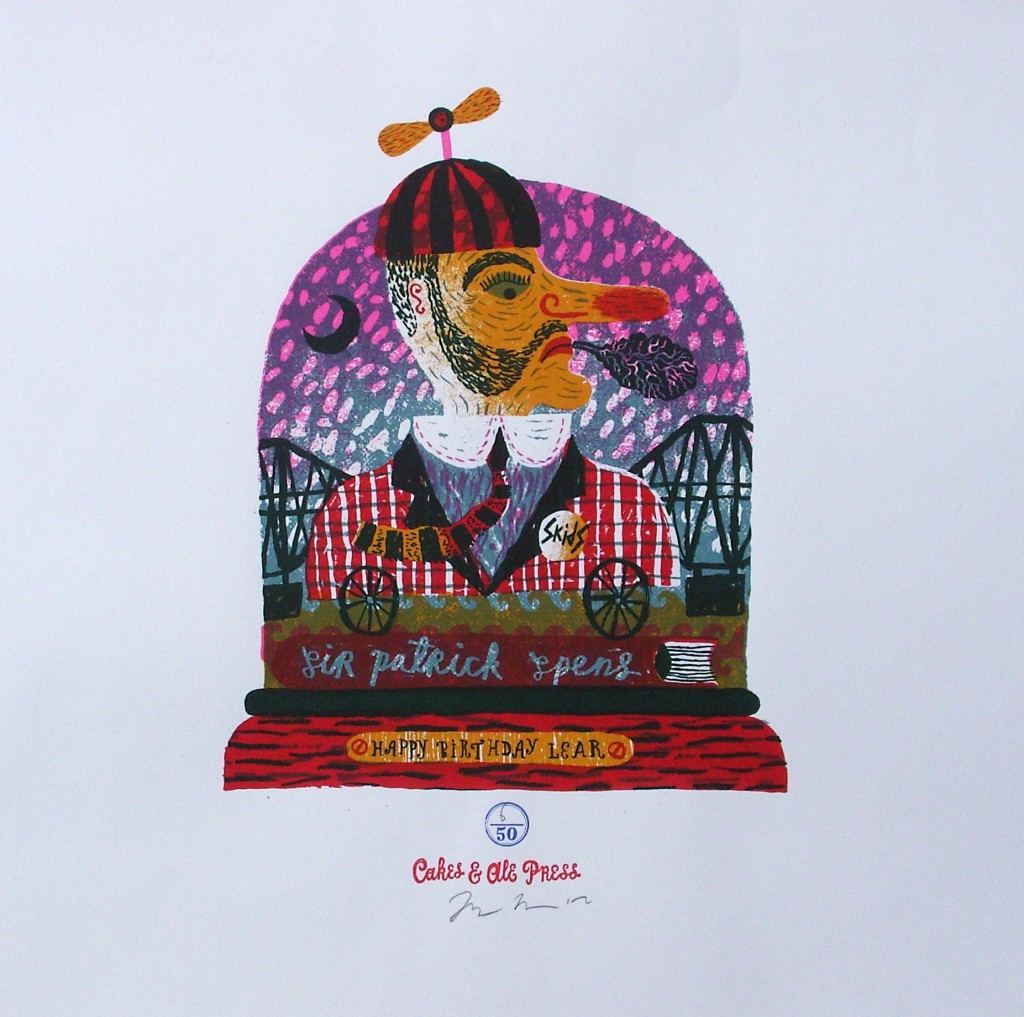 THERE WAS AN OLD MAN OF FIFE – I was asked to take part in an exhibition last year celebrating 200 years of the wonderful Edward Lear. I chose this limerick to illustrate, which became a sort of self portrait, complete with Skids badge.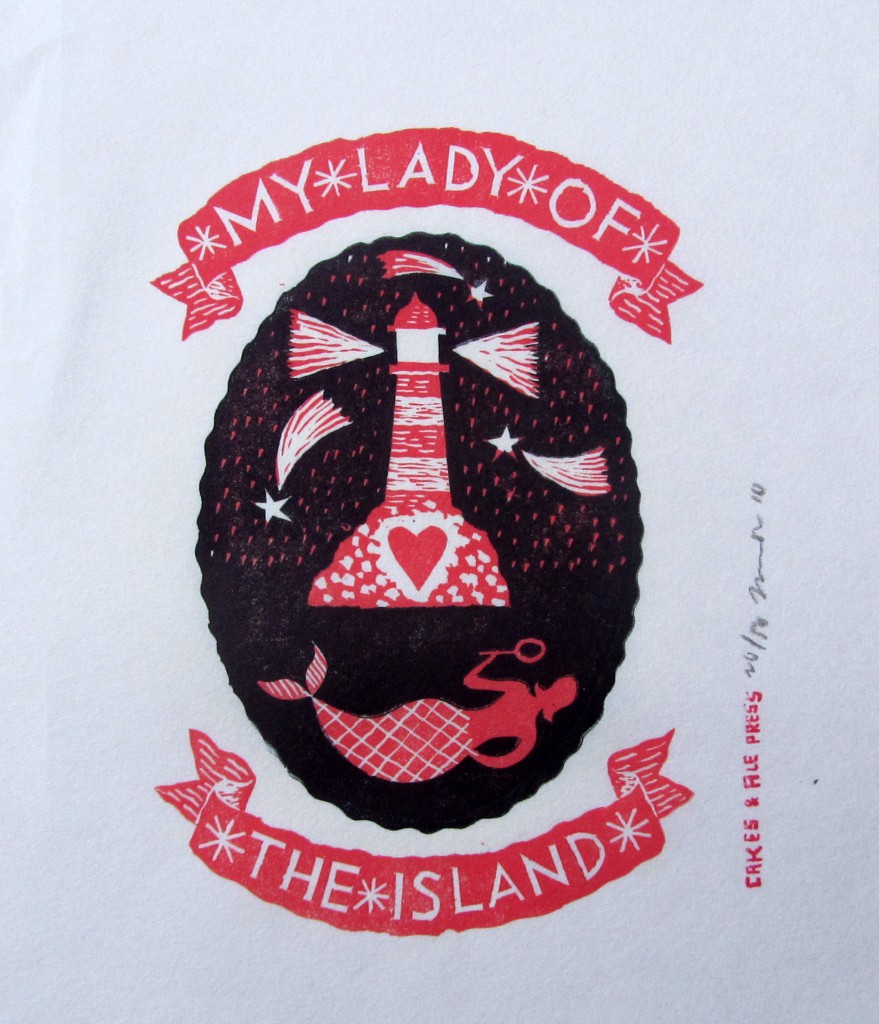 MY LADY OF THE ISLAND – Before the Fleet Foxes there was a band called Crosby, Stills & Nash. This song is from their first album. I met and married a mermaid some years ago. Our island is between the coast of Darktown and Shirley high street.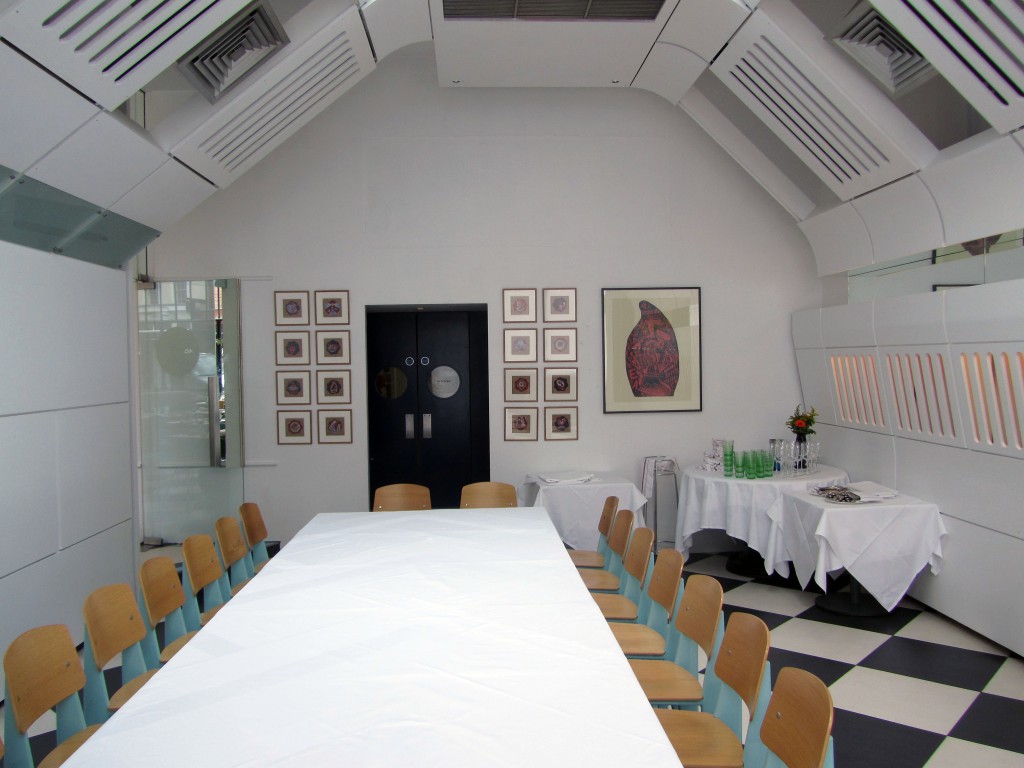 Then there are more pictures tucked away in Kensington Place's private dining room, aka The Room.
DESIGNS FOR THE CAPTAIN'S PATTERN – These 16 designs were commissioned by St Jude's as a fabric design in 2009. Available by the metre from St Jude's Fabrics. Friends have joked I should get a suit made from it. Oh, how heads would turn.
IF I WERE THE OLD MAN OF THE SEA – The big shape here is a piece of scrimshaw, a whale's tooth. And the words are from the one and only Baby Gramps. I've been doing CD swaps with Chris Hamer, from The Rowley Gallery over the last few years. And this gem appeared on one of his. My lasting memory of this song will be listening to it as I crossed the Forth Rail Bridge last year to return to my old home town of Dunfermline. After years at sea, of course…
Jonny has very kindly provided a key to identify all the artworks – What Did The Deep Sea Say?
※
PS: These final two (and more) can be found at The Rowley Gallery just a short walk down the street.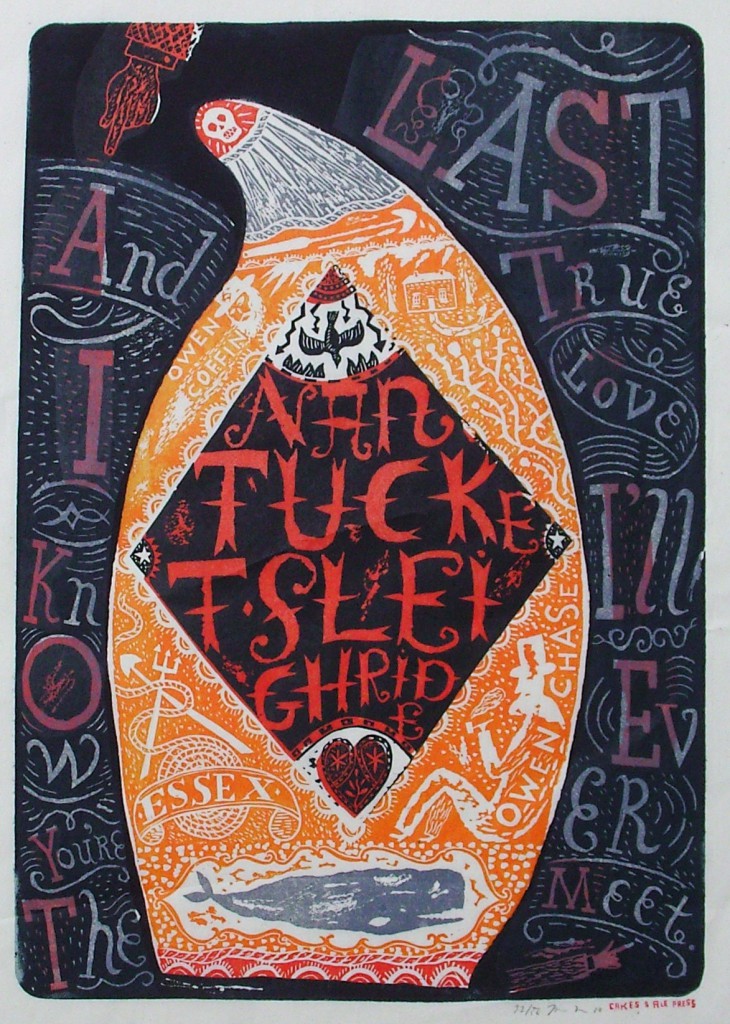 NANTUCKET SLEIGHRIDE – When whalers would first harpoon the mighty leviathans, the rope would be attached to the small boats they were in. As a result, they would be dragged along at terrifying speeds until the whale either gave up the ghost, or killed them. This was known as the Nantucket Sleighride. It's also a song by Mountain, which you'll recognise if you ever watched Brian Walden's Weekend World on a dreary 1970's/80's Sunday morning, waiting for something better to come on the telly.
AT WALLACE HARTLEY'S – An associate Dean at Solent University gave a paper last year about the Titanic. And he heavily focused on Wallace, the band leader, who like him, was from Lancashire. What a way to go, bowing one's violin as the waves lap around your ankles. Was the last song 'Nearer My God, to Thee'? I like to think it was 'Shipping up to Boston'.
As well as more prints and paintings you will also find a CD containing many of the songs that inspired Jonny's pictures. One extra tune that didn't make the final compilation can be listened to here –
and more songs of the sea can be found here – Shenandoah & Cape Cod Girls.