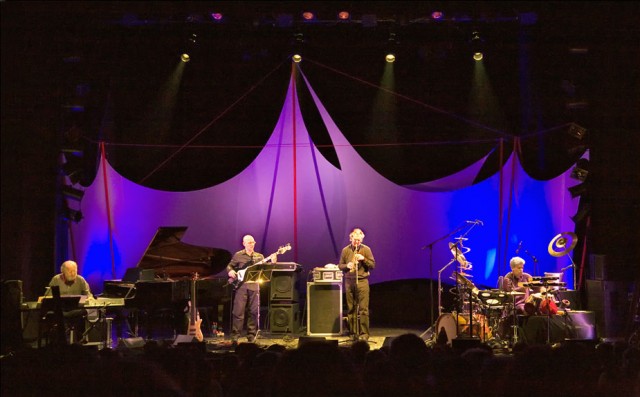 A couple of weeks ago I saw the Jan Garbarek Group play at the Royal Festival Hall as part of the London Jazz Festival. I didn't take a camera, this image is courtesy of Gert Rickmann-Wunderlich. Garbarek was cool and sharp on soprano saxophone, warmer on tenor saxophone, always assured and inventive, but he was the only member of the group who did not take a solo. He retired too often to his seat behind the piano. I would have liked to hear him play more.
His best moments came when he was interacting with the drummer, Trilok Gurtu, when they bounced phrases off each other. Occasionally, when the band were at their most propulsive there were almost echoes of Weather Report. The finest ensemble playing came after a prolonged solo by Gurtu when they all came together to play It's High Time (percussion on this recording is by Marilyn Mazur) –
– a wonderful crescendo (turn it up) when I absolutely felt I was levitating from my seat!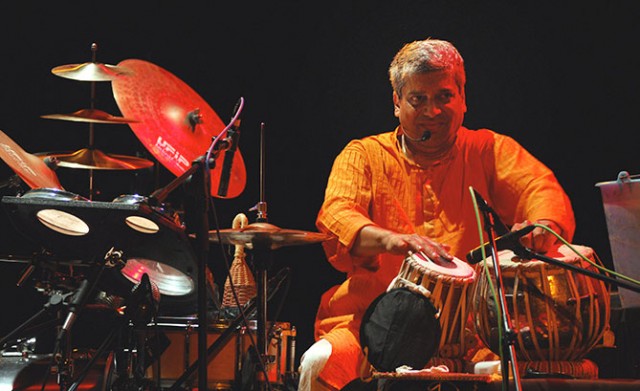 But the star of the show was Trilok Gurtu. I've heard him play many times before, on recordings with John McLaughlin, Don Cherry, Maria João, Gilberto Gil, Joe Zawinul but I'd never before seen him play live. He gave an extraordinary display of percussive effects, from kit drums and tabla, vocal konnakol rhythms and spiral cymbals, bells, gongs and a spectacular bucket of water.
PS: There's an interesting post about Jan Garbarek and Nordic music here.