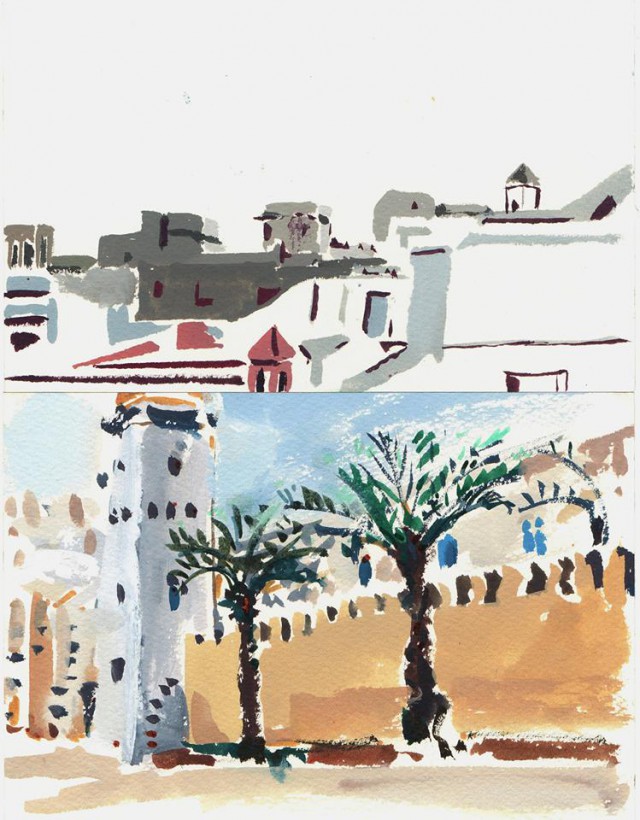 The 16th Gnawa Festival in Essaouira on Morocco's Atlantic coast is a largely free four-day celebration of the music of the Gnawa, what is perhaps the oldest trance music in the world, the root note of inner transportation and sufi trance that attracts hundreds of thousands of Moroccans and intrepid international visitors to Essaouira each June, over the weekend of the full moon.
This year's festival was bookended by two spectacular Gnawa fusions, between Mahmoud Guinea, Essaouira's great ghimbri-wielding Malaam, and Cuba's Omar Sosa,
and Will Calhoun's superb young American jazz quartet on the closing night with Mustapha Bakbou.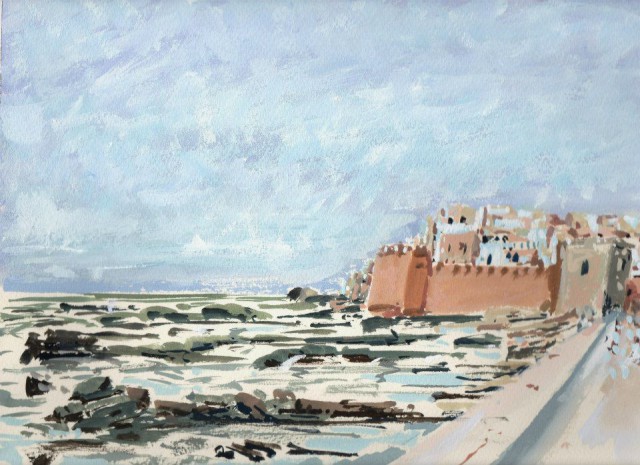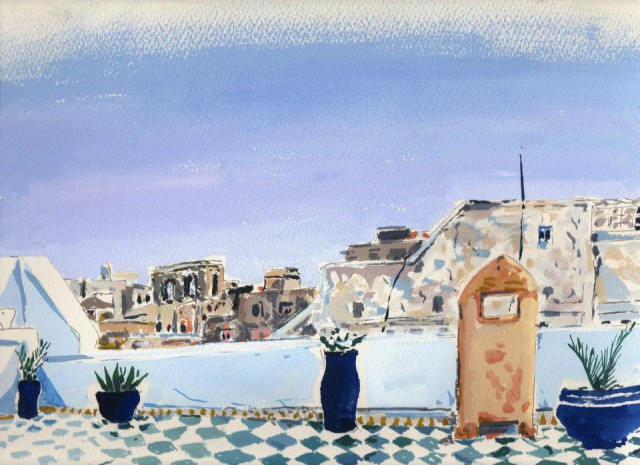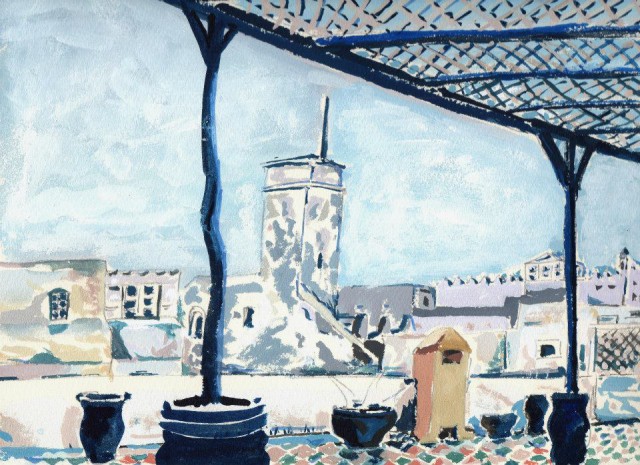 These paintings are from the garden terrace of the Hotel Sahara, and the roof terrace of the Riyad el Medina, where a greedy gull stole some olives from my table, and as I wondered where the olive stones would be expelled and upon whom, I began to ponder karma, connection and fate, all wrapped up in birdshit. The poem Feast is the result. The photos of the work in progress outside the Hotel Sahara are by Melisa Yavas, a Turkish belly dancer who was performing at the festival, and who witnessed everything.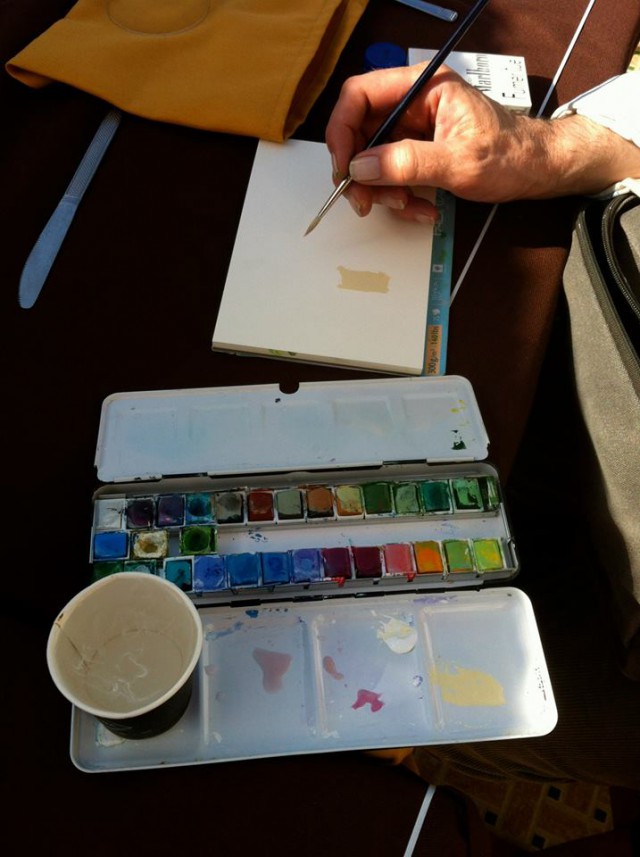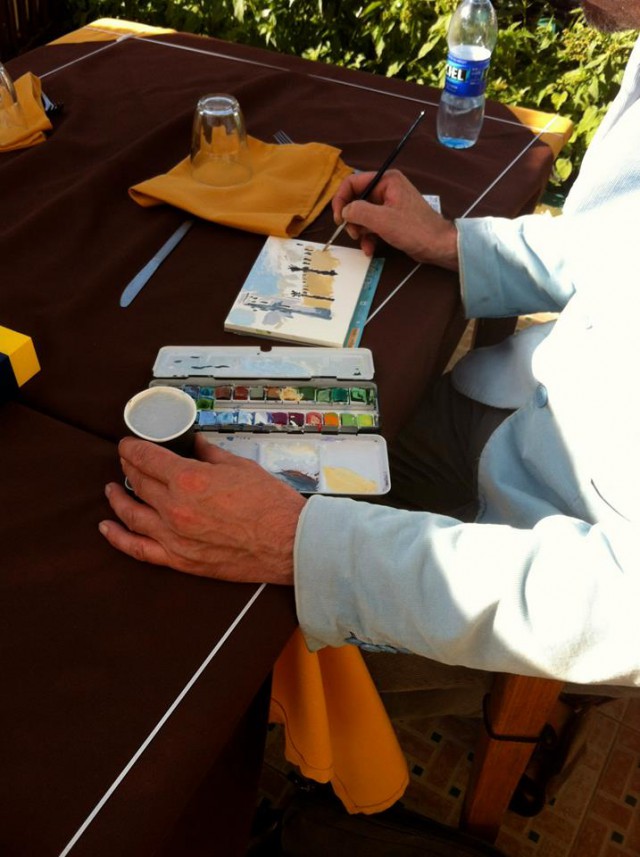 Feast
That evening, a gull stepped up to my table
on the roof terrace of Riyad el Medina,
as if to speak, but bent its neck instead
and began to peck from a bowl of green olives
set beside a bottle of wine from Meknes
before stepping off again and taking to air
as if it was its emperor, millennia
turning in the clock of its wings
wheeling high in jet stream winds
peeling back the surface of the Atlantic
and where those stones fell lies karma,
a dark stain spreading through a single
sheet of paper folded into the book of life,
the one that has your name running through
it like a well-dressed fugitive, and me
waking late with my face in the fountain
and head full of music, gut strings
occupied by touch and vibration,
costume jewellery that sticks to the skin,
our spirits disputed like the weight
of our luggage and the limits of knowledge,
the clicks and knocks that live inside doors
and the wings of seabirds swinging like padlocks
in a universe without keys, or universal laws.
I attend to the wind intoxicating itself
in stairwells and windows and the wings
of sea birds spreading themselves around
the world as we do to hide and seek each other
Tim Cumming / The Rowley Gallery
Also see Tim's piece for The Arts Desk –
'The Rolling Stones of Morocco' – Nass El Ghiwane's music of protest.