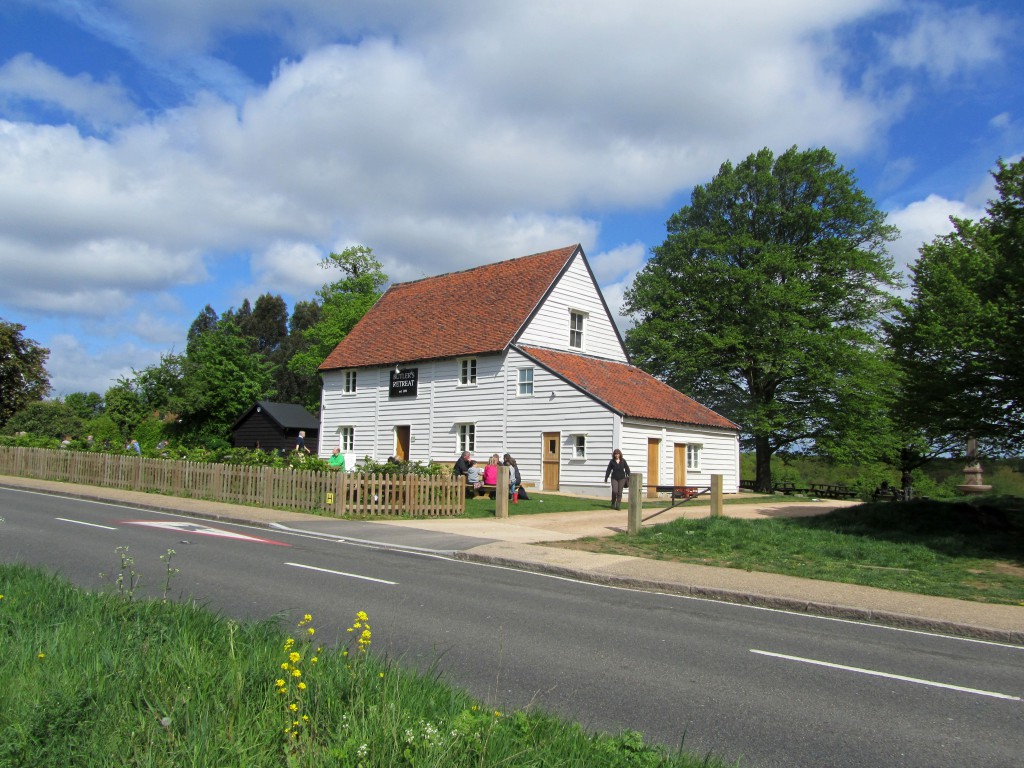 This walk begins where In Epping Forest ended. Butlers Retreat turned out to be the perfect place for breakfast, with possibly the best coffee in Essex. It kick started our trip up to Saffron Walden. Along the way we passed huge fields of cultivated rapeseed and roadside banks of wild cowslips, a yellow landscape that was once purple with crocus grown for their precious saffron.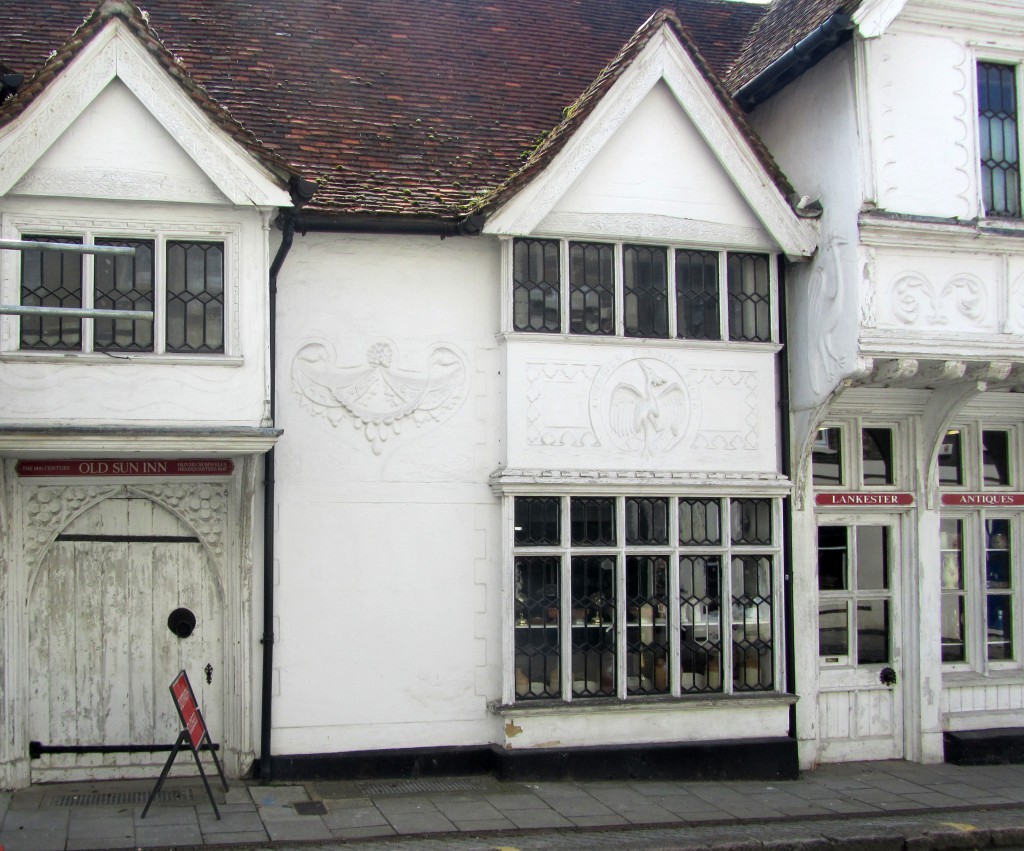 The Old Sun Inn dates from the 14th century and is one of Saffron Walden's oldest buildings, presently home to Lankester Antiques & Books. I couldn't find a website but I did find this nice link. The building is famous for being Oliver Cromwell's headquarters in 1647 and for it's pargetting, said to depict the town's flower symbol. Maybe that's it between the two upper windows, a stylised plaster crocus, but I'm not sure. Other parts of the building were under wraps and covered by scaffolding.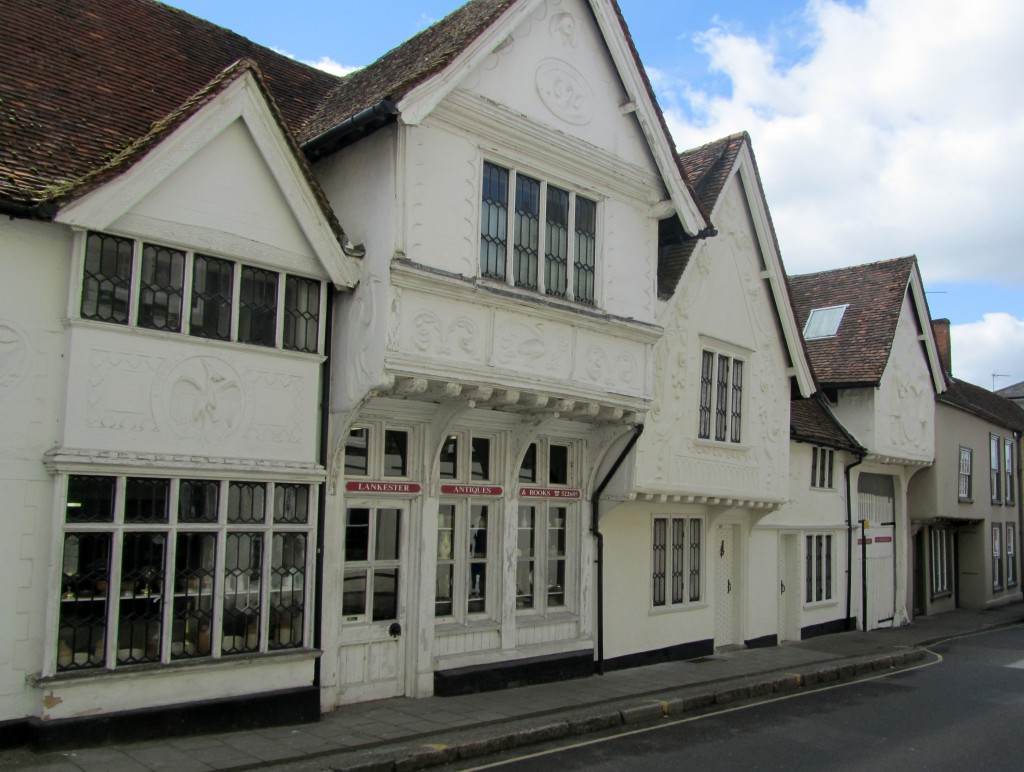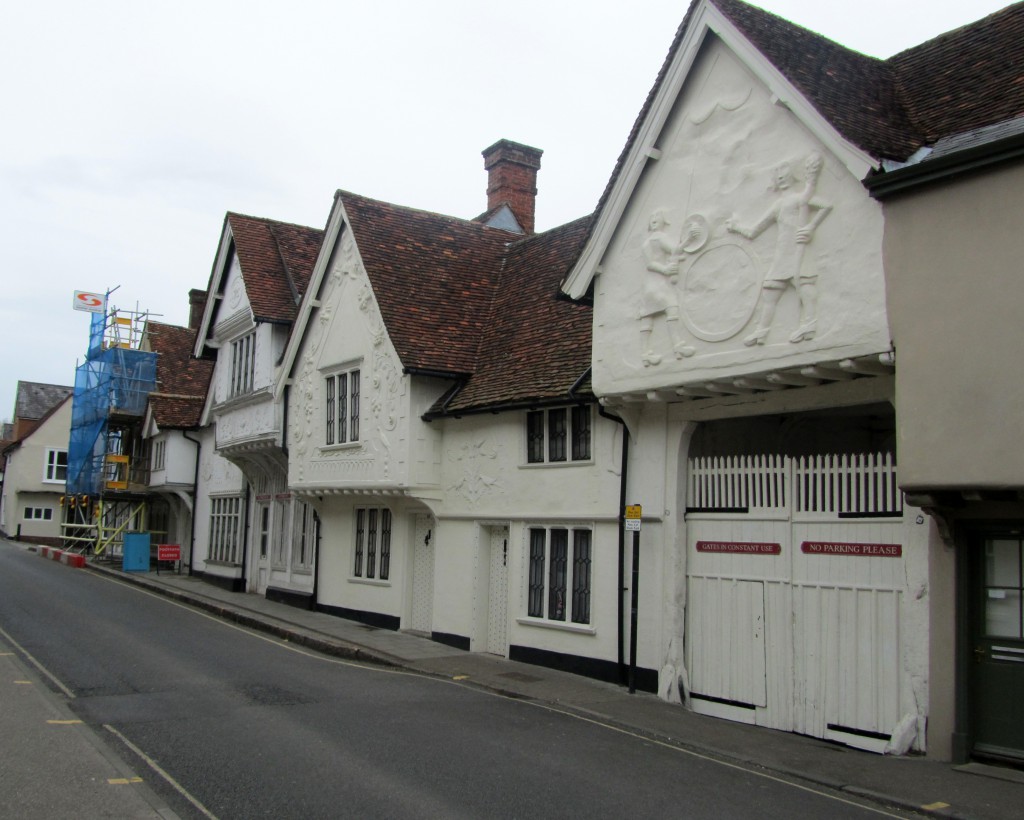 The plasterwork above the gates shows two giants. I thought maybe Gog & Magog after the nearby Gog Magog hills but I fear I'm wrong. It seems they are Tom Hickathrift and the Wisbech Giant.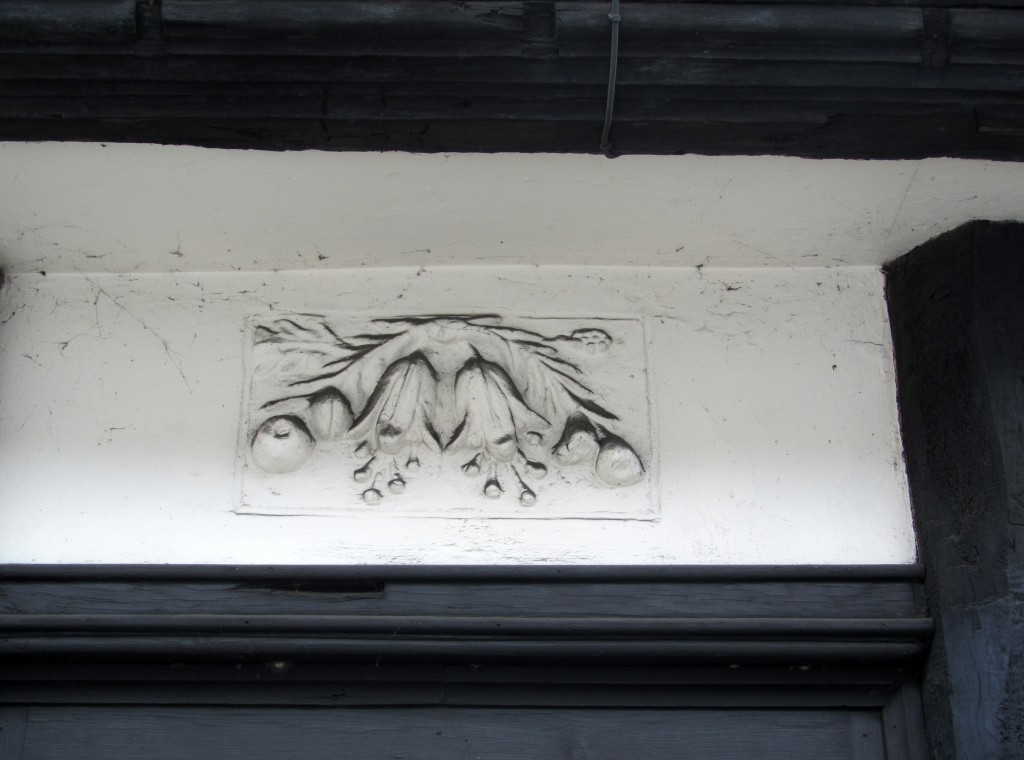 Further down the street, under the eaves of another building we spied a pair of saffron crocus with their distinctive stigmas, harvested mainly for dyeing but also as medicine and spice. This part of Essex was once renowned for its cultivation and Saffron Walden was the eponymous trade centre.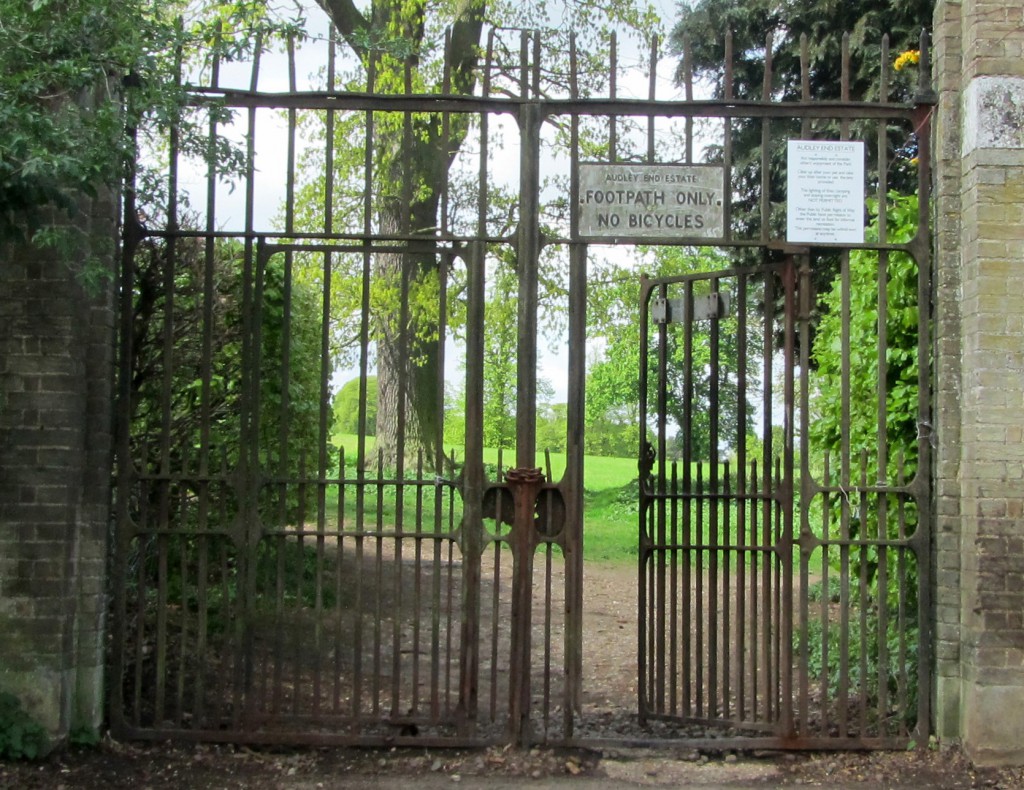 Off the High Street down Abbey Lane we came to the gates of Audley End Estate. At the far side of the park is Audley End House, a beautiful Jacobean mansion, but we were headed in a different direction.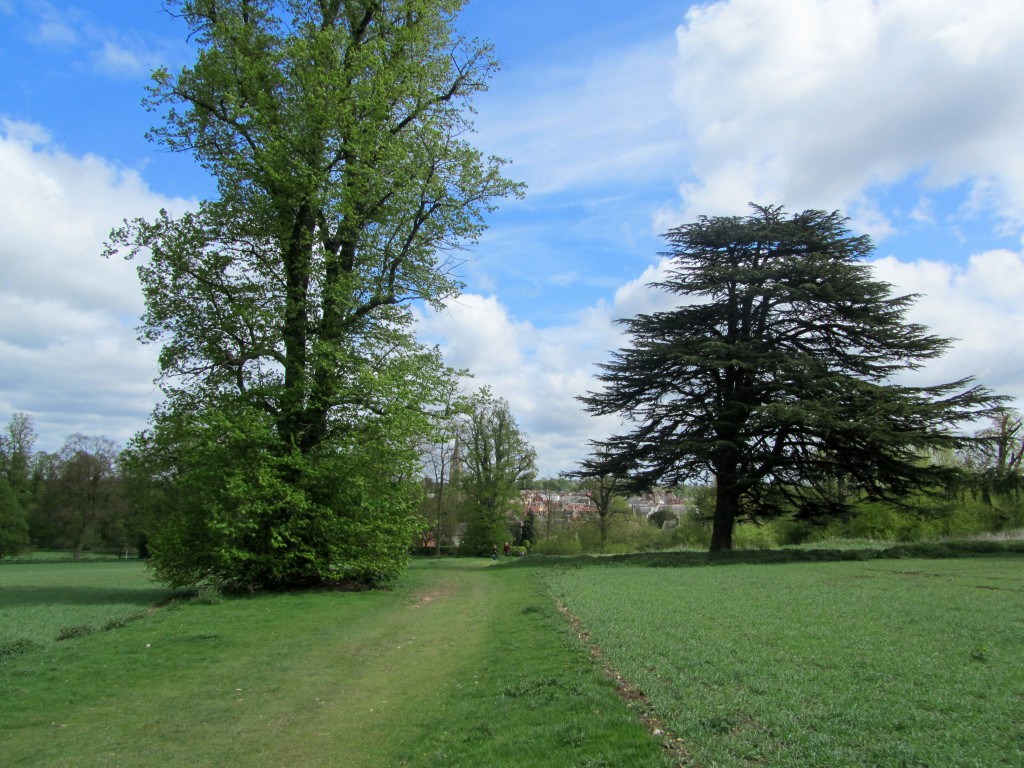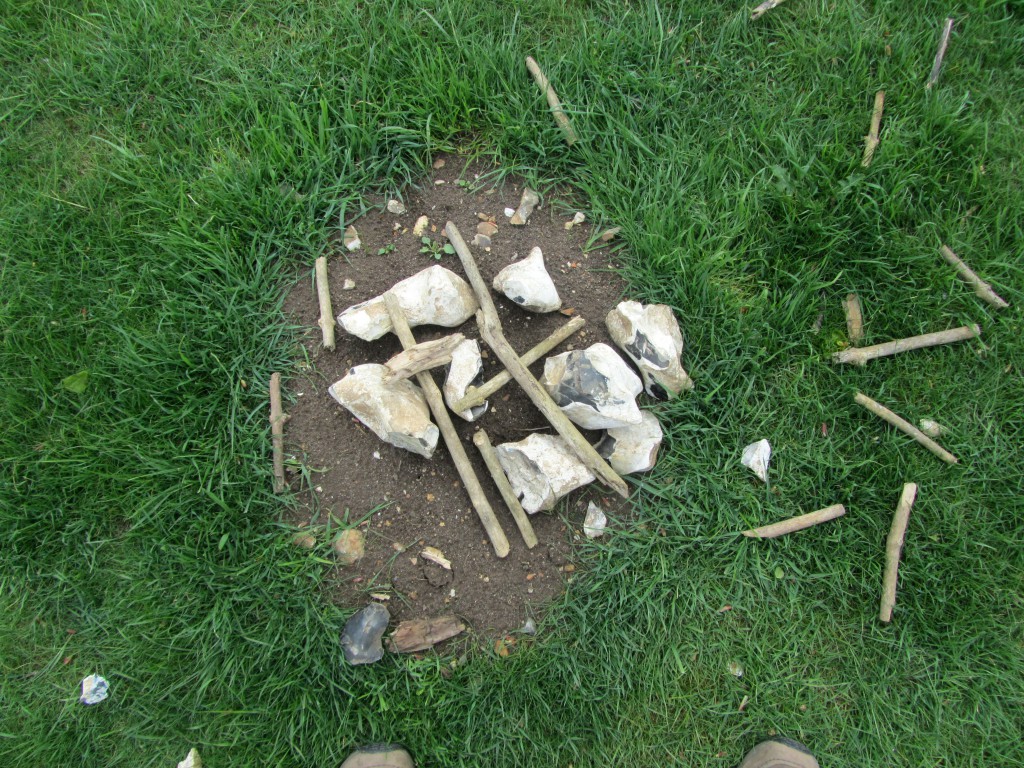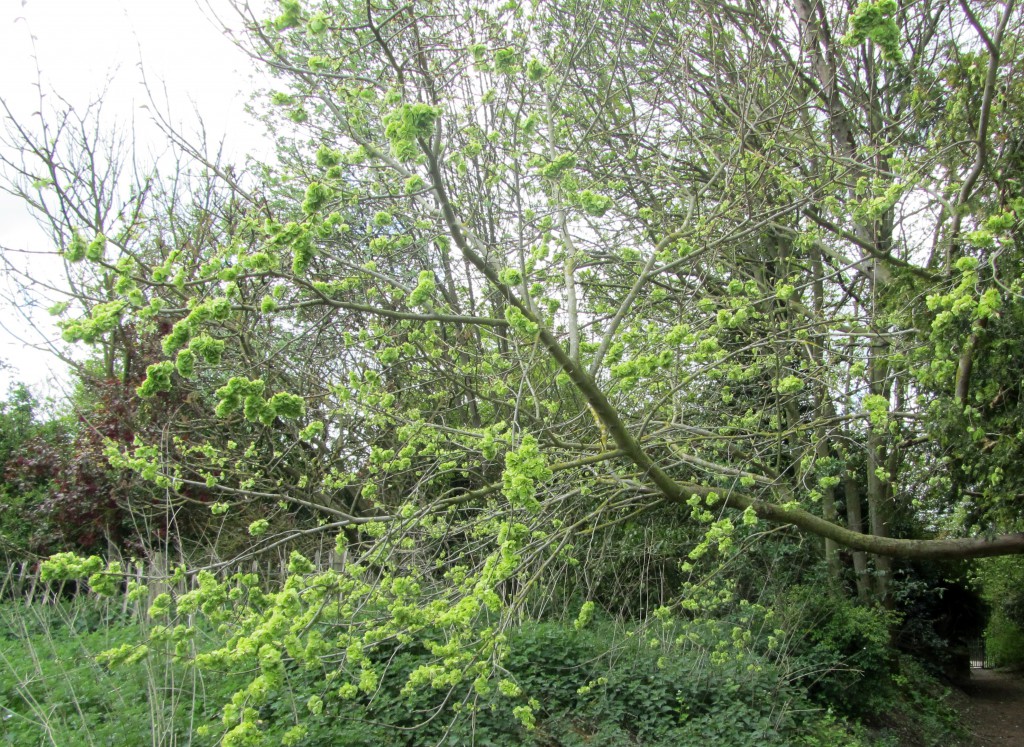 Up the hill beneath towering lime trees, the ground littered with their windblown twigs and buds, a blue carpet of ground-ivy and a carefully placed collection of flints, like unhatched Henry Moores and a surprising tree, without leaves but with great clusters of paper-thin fruits. Maybe some kind of elm?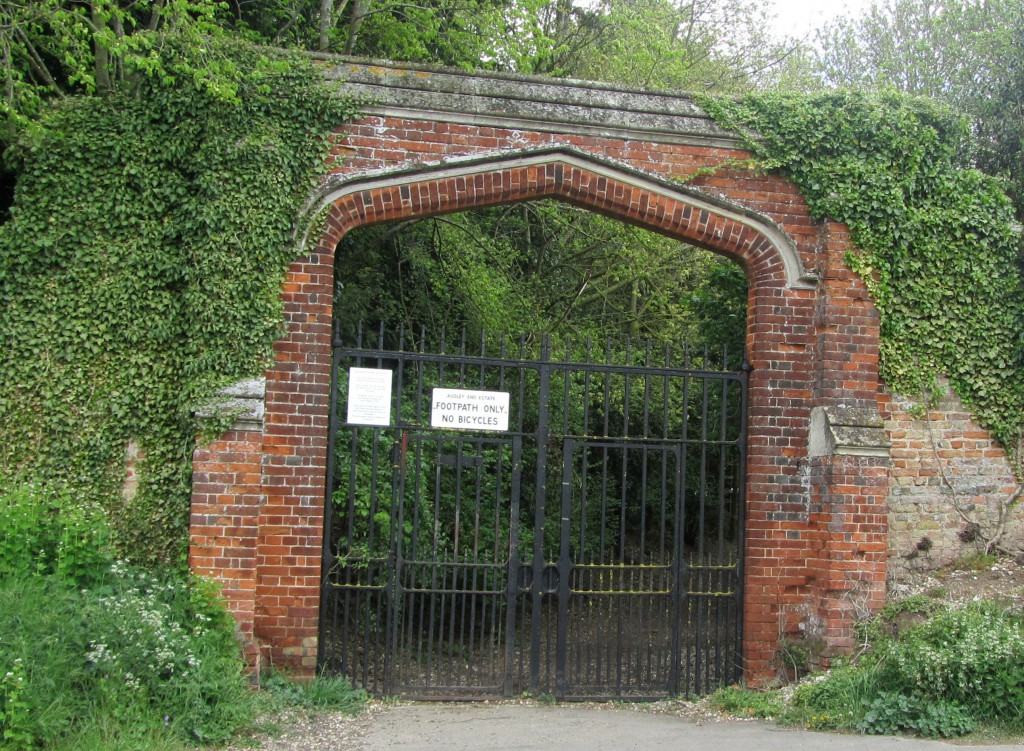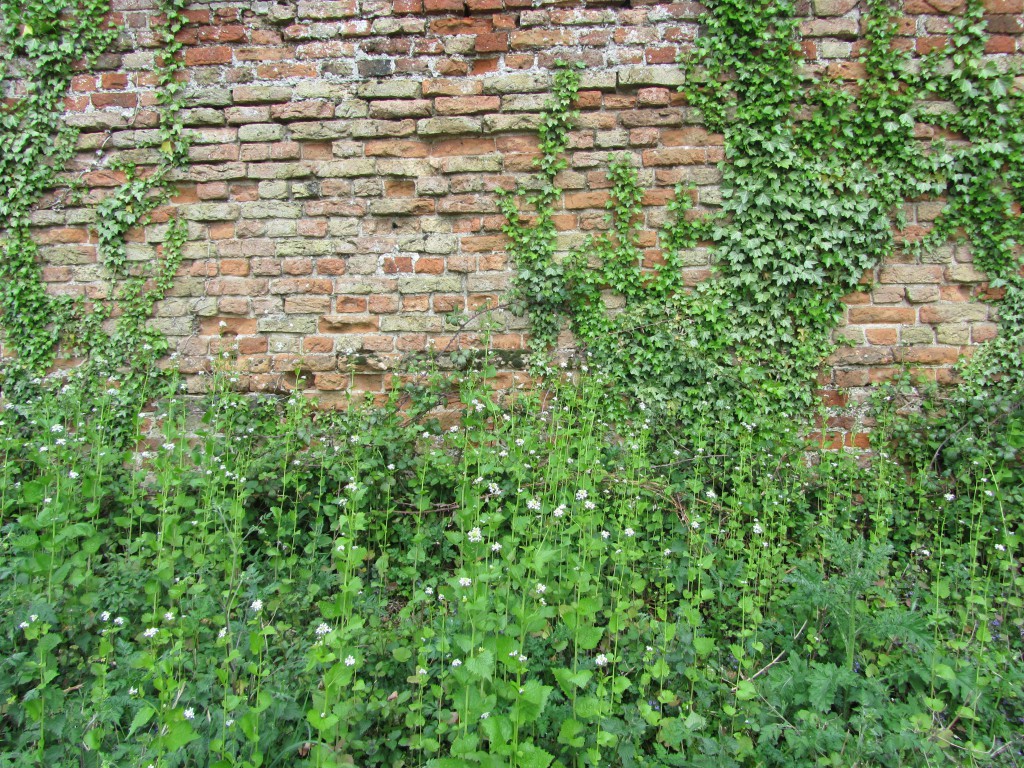 We came out by Ice House gate then down alongside the old red brick wall of Audley Park. The roadside verge is protected and rich in flora. These are some that grow there – black horehound, dove's-foot cranesbill, garlic mustard, herb robert, lady's bedstraw, lesser calamint, marjoram, pellitory of the wall, wild basil, wild clary and wood avens.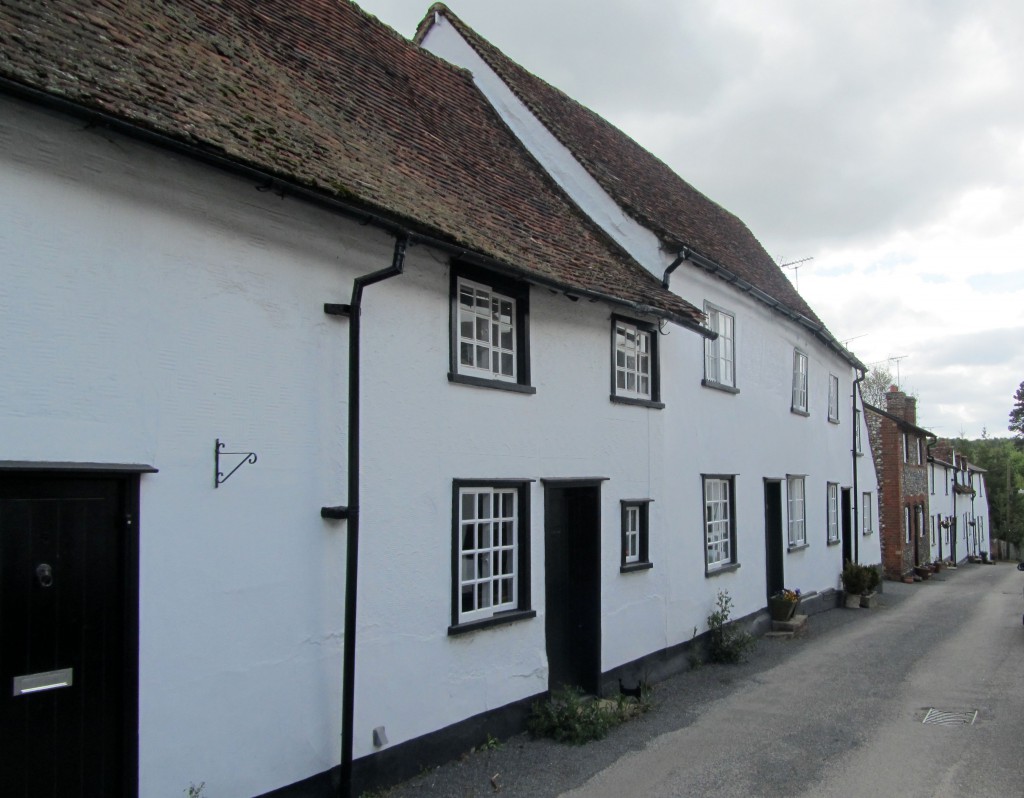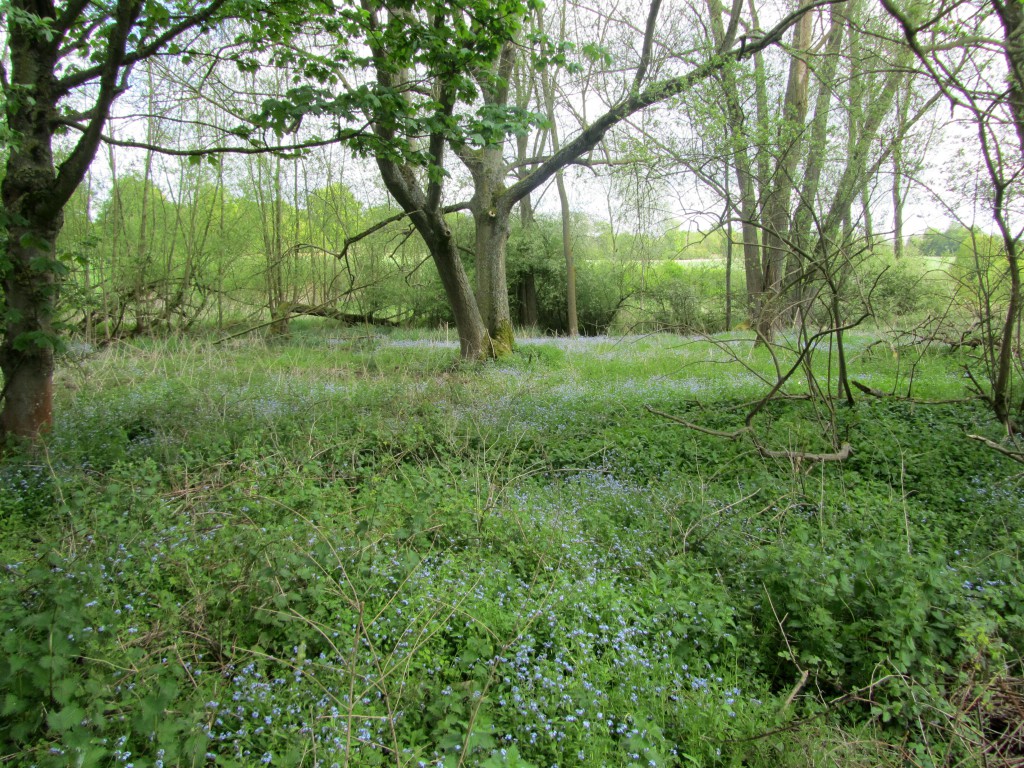 We walked through the single street hamlet of Audley End and its row of former estate workers cottages, many now standing empty, down to the forget-me-not flooded water meadows of the young River Cam where we disturbed a camera-shy muntjac munching on watercress.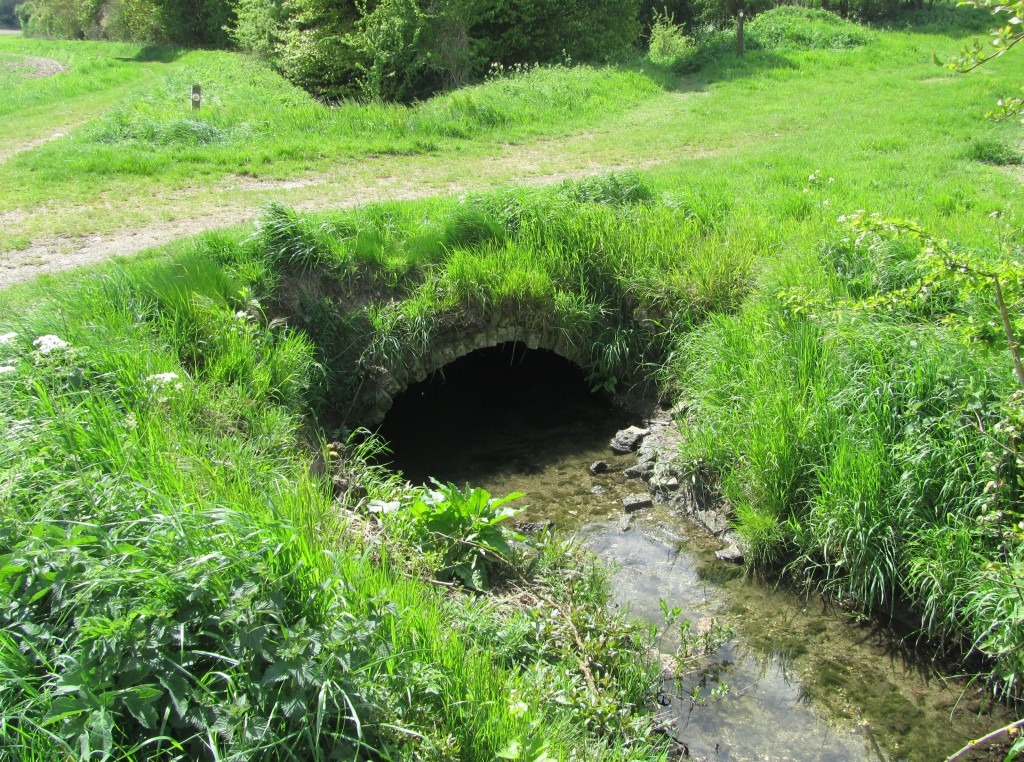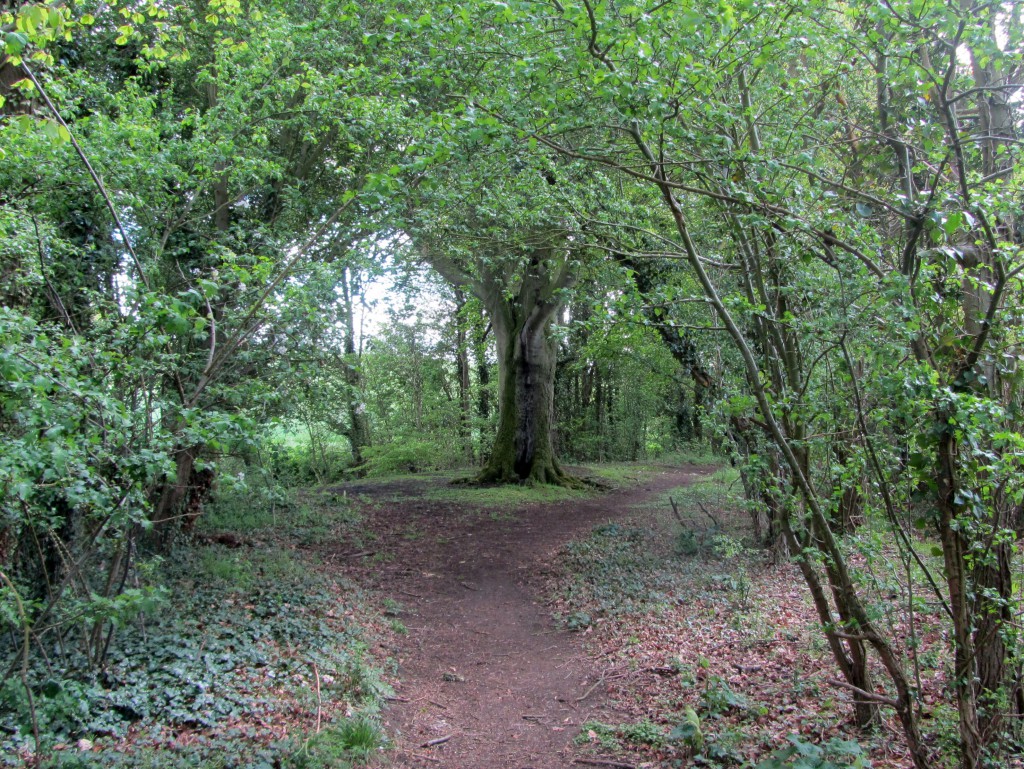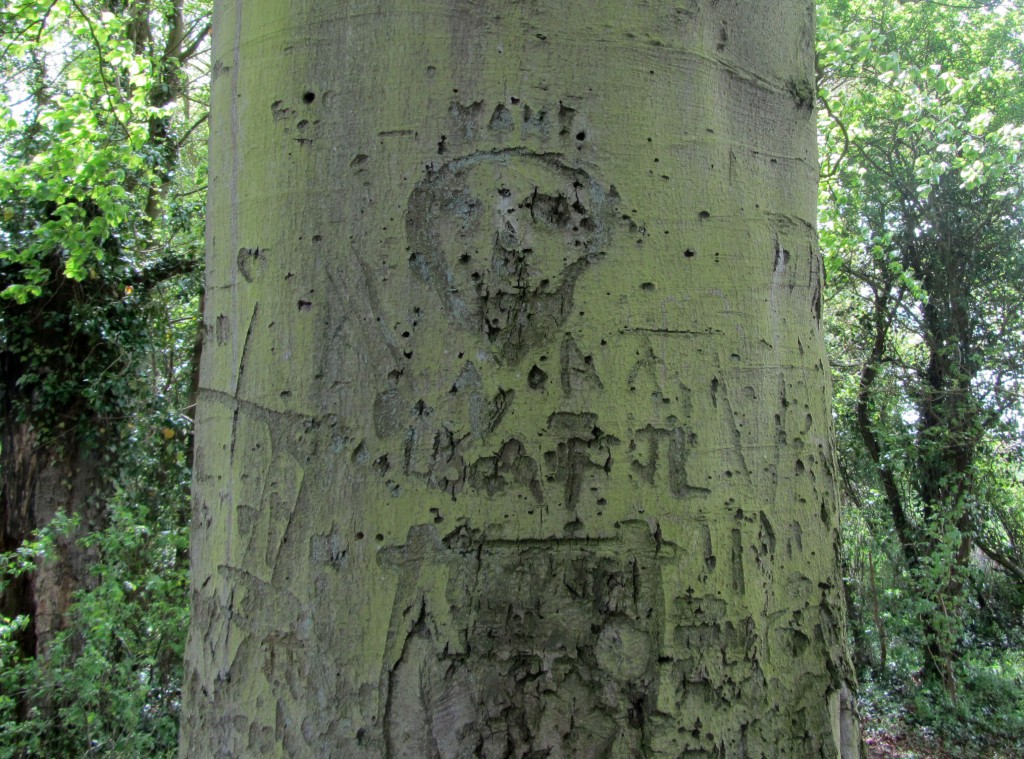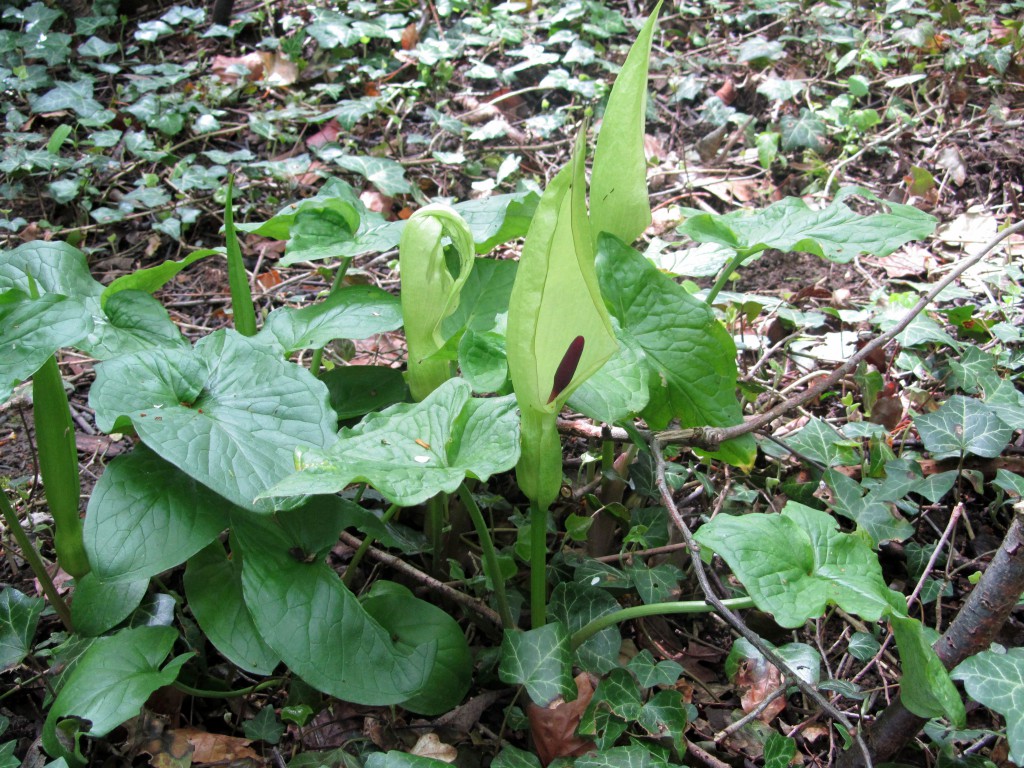 We followed the path alongside Debden Slade (same name as another stream in Epping Forest), then over an earth bridge and down Beechy Ride to a glade with the charred remains of a fire between two adult beech trees, one tattooed with the sign of a skull. The ground all around beneath the trees was a bed of cuckoo-pint, lords and ladies, devils and angels, cows and bulls, Adam and Eve, bobbins, naked boys, starch-root, wake robin, all names for the same wild arum or arum maculatum, all names that derive from the sexual connotations of the flower's depiction of a rod inside a cup.
This is from Richard Mabey's Flora Britannica:
'Geoffrey Grigson records some ninety different local tags, all of which say something about the plant's history or associations. Starchwort, for example, recalls the era when the dried and ground-up tubers were used as a substitute for starch in laundries. The majority are some kind of comment on the appearance of the plant's flowering parts in spring: the long, dull purple or yellow spadix, partially cloaked by a pale green sheath. Many names – even cuckoo-pint itself (pint is short for pintle or penis) – are, perhaps not surprisingly rather rude: dog's cock (Wiltshire) and priest's pilly (Westmorland) for instance. Others make more genteel reference to the contrasting form and colour of the two parts of the flower shoot, for example Jack in the pulpit (Cornwall) and sucky calves (Somerset). Cuckoo-flower (many locations) probably refers to the time the flower-sheath appears, but may be another euphemistic dubbing and derive from cucu, Anglo-Saxon for 'quick' or 'lively'. The commonly used lords-and-ladies is probably a Victorian invention, coined as a polite alternative to this great catalogue of vulgarities.'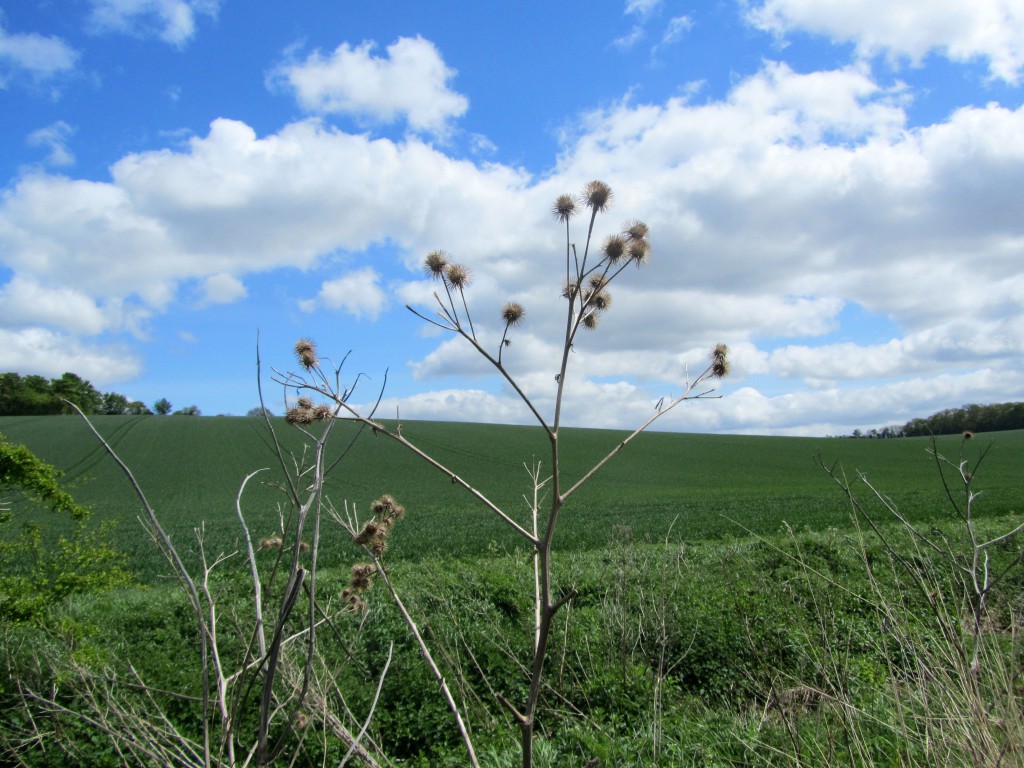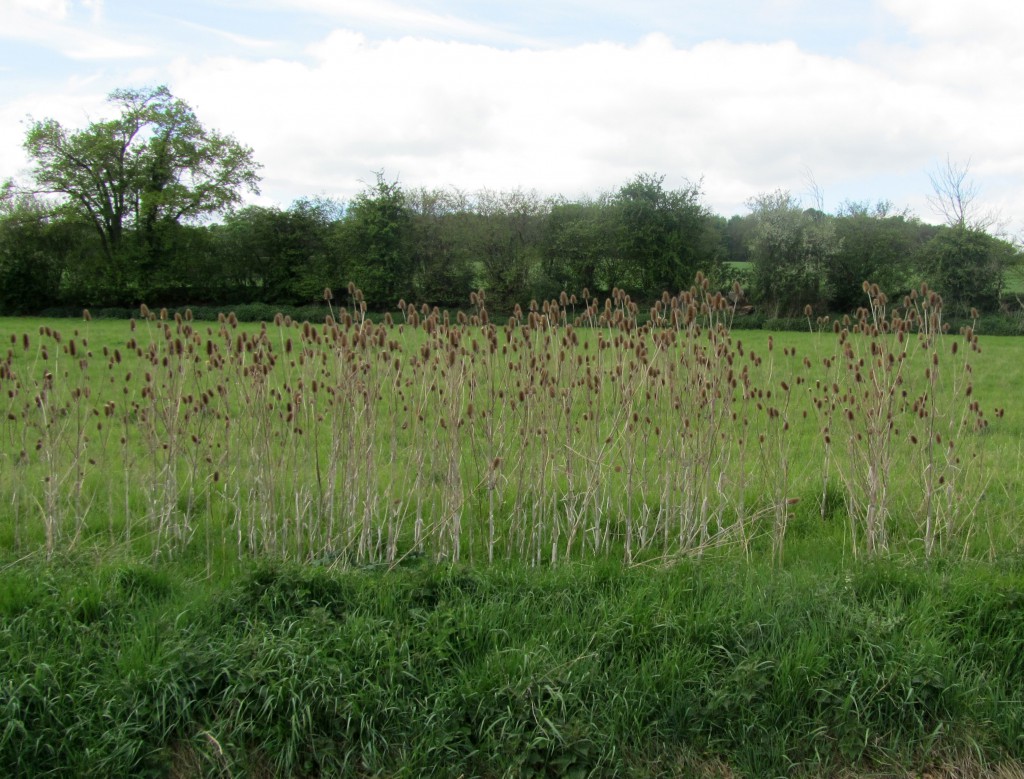 We left this steamy, wildwood hotspot and emerged blinking into the post-coital light of sticky-bobs and teasels; an orange windsock on the horizon, inflating and deflating in the breeze and a radar dish rotating and pulsating in the trees, both signs that others too were also watching the same bright sky.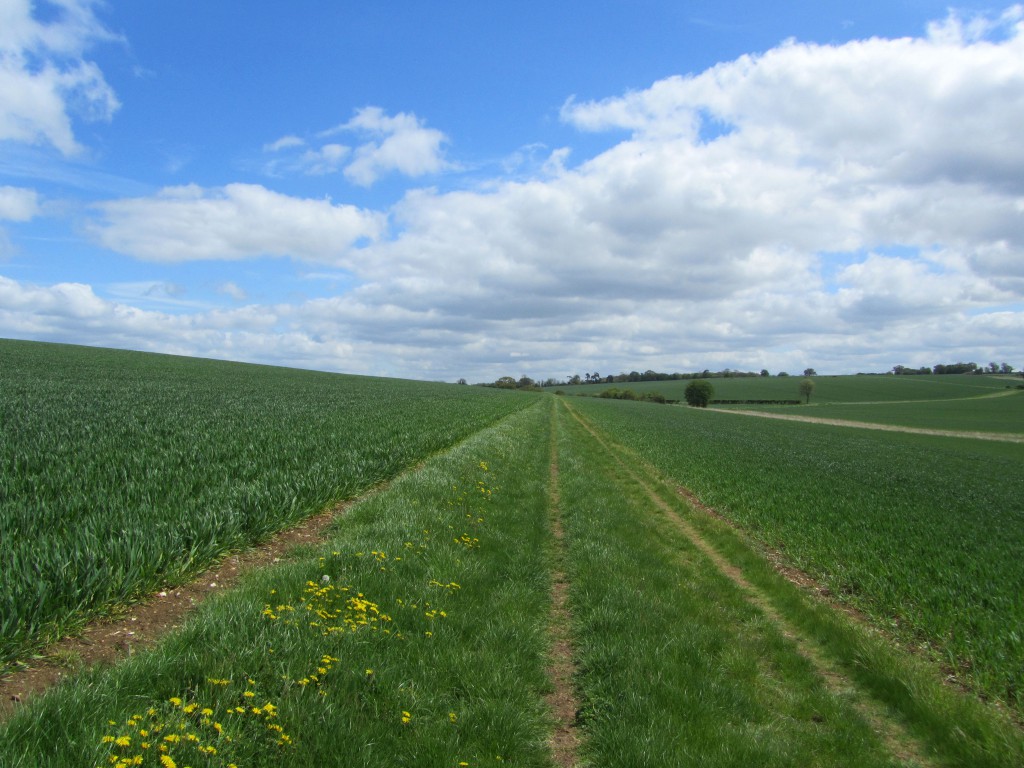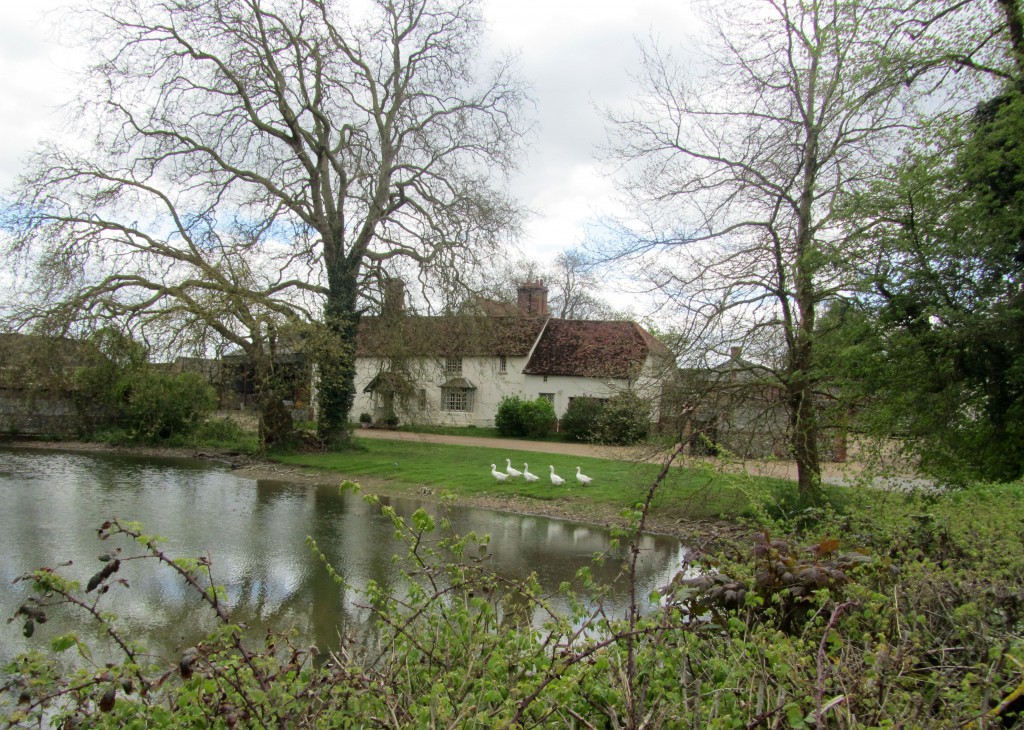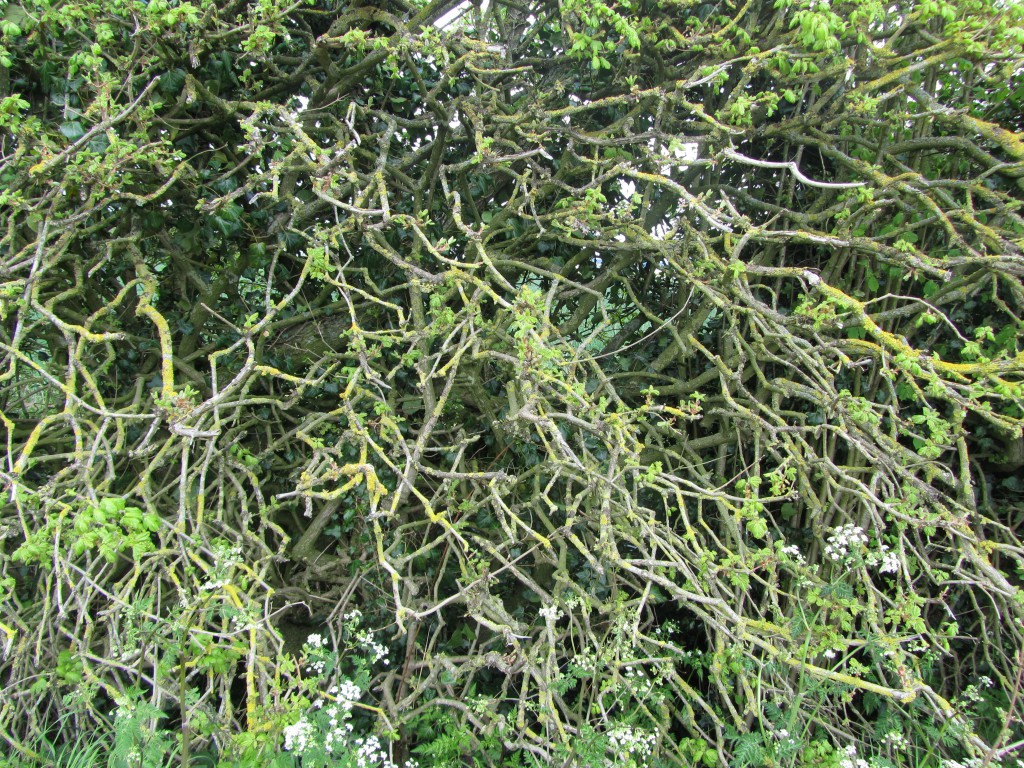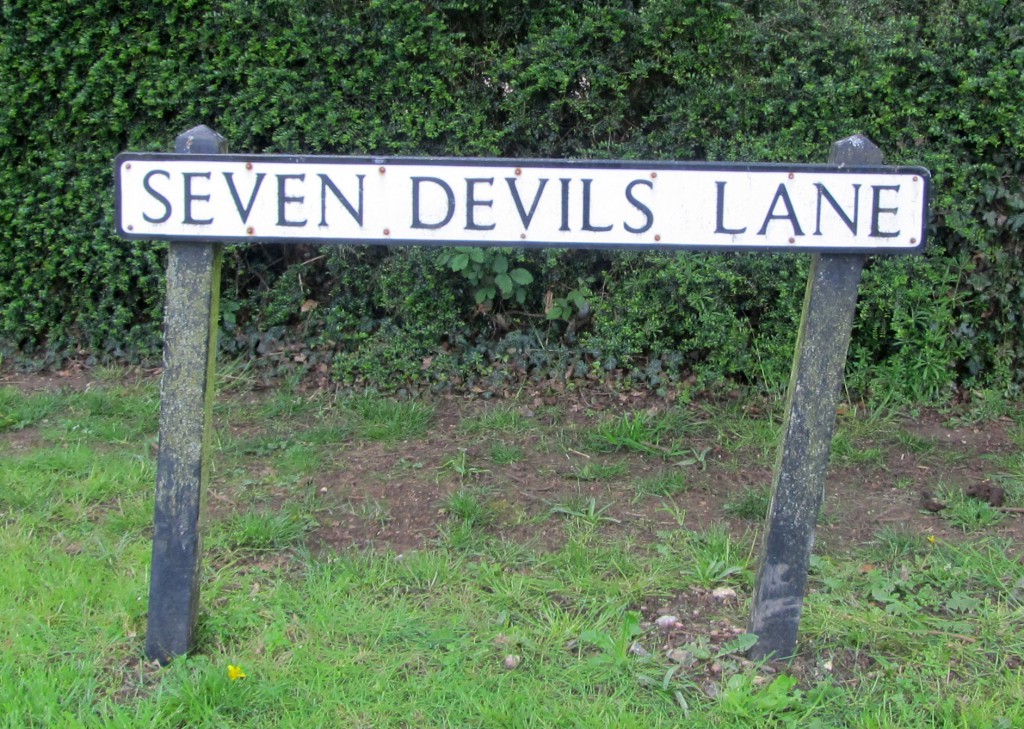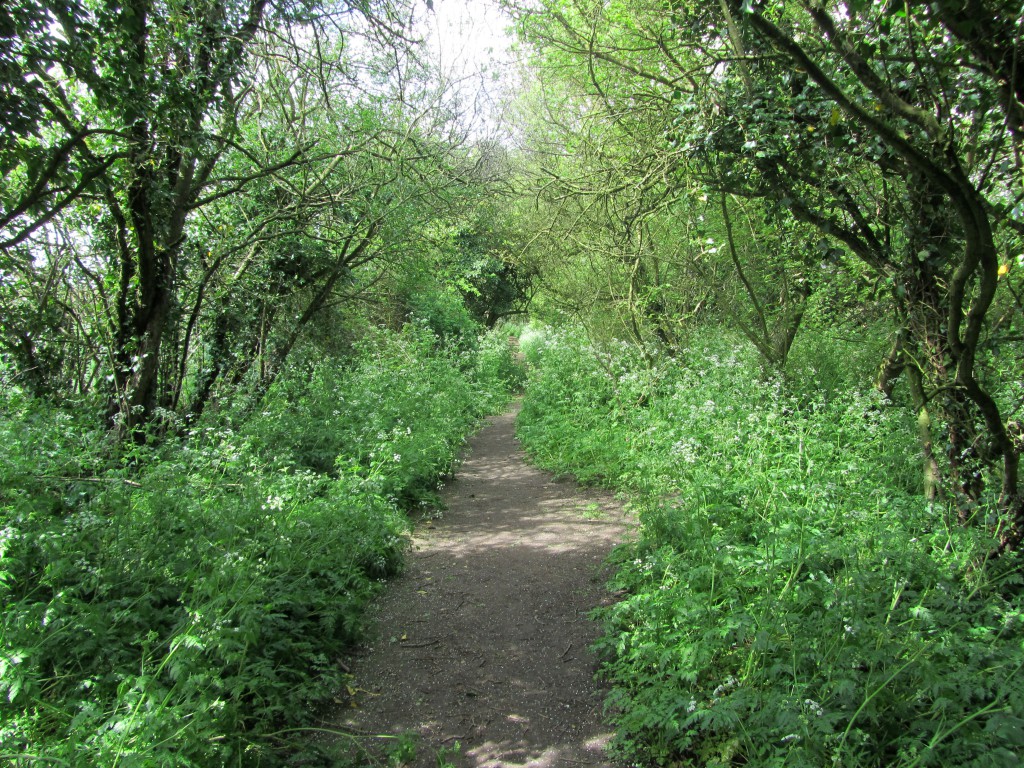 Over the fields and onto the road where traffic halted for crossing geese, eager to get to their pond. Then higher for wide views and windswept hedgerows and hawthorn budding with the first may blossom. A goldfinch danced and hovered around us as we passed. We came back into town by the devils' route, through a narrowing path overwhelmed by hedgebanks bursting with cow parsley.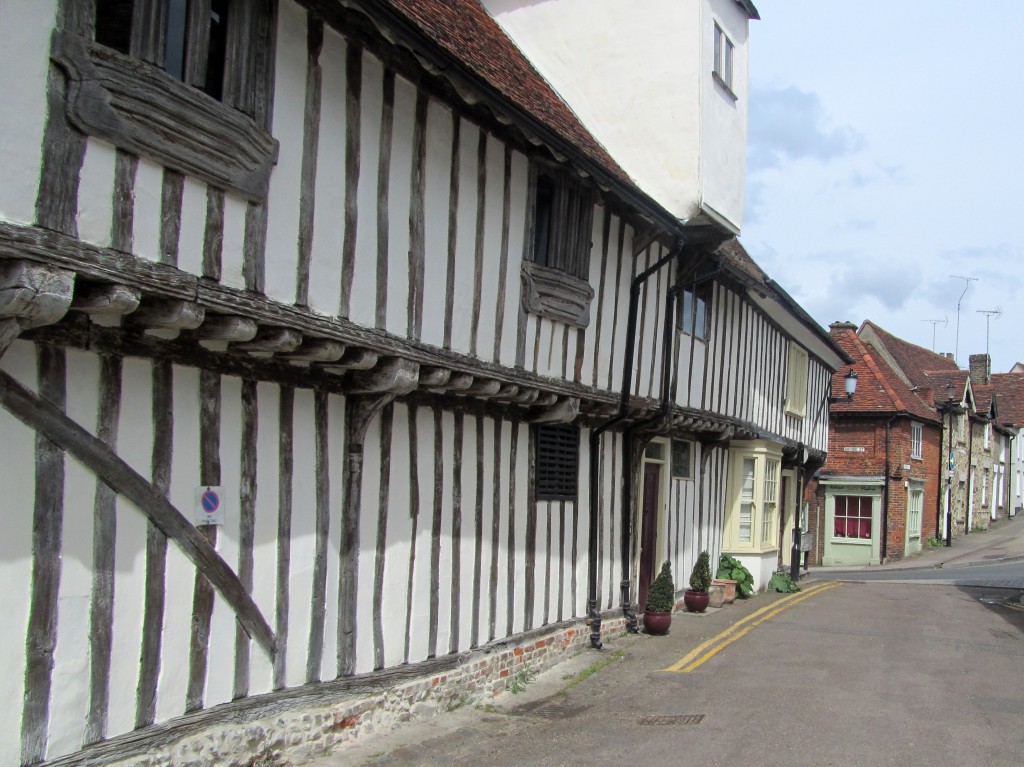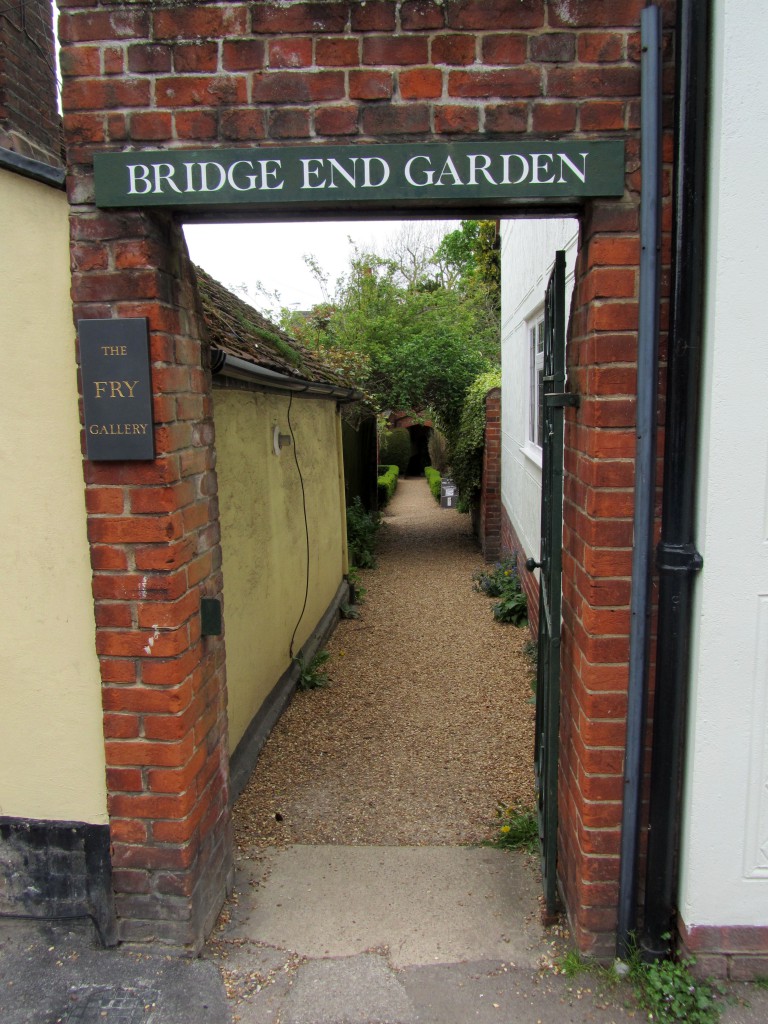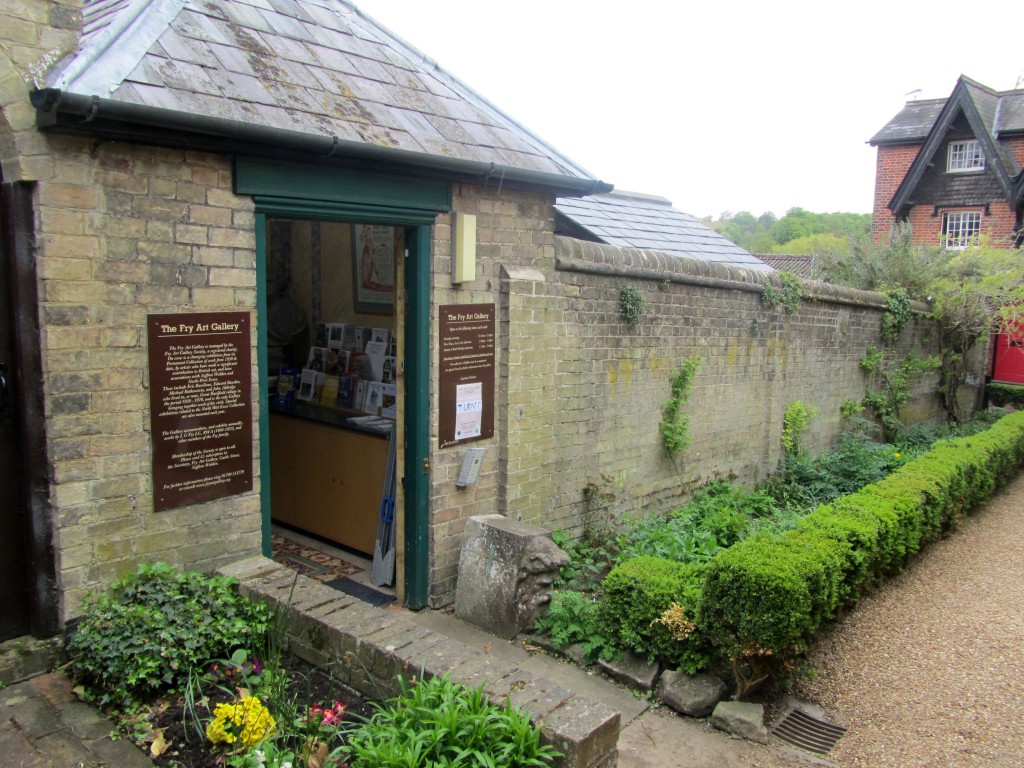 We headed for Bridge End Garden and the Fry Art Gallery. We originally came here about 15 years ago, by train to Audley End and then on foot. It doesn't seem to have changed very much since then. We came looking for Eric Ravilious and discovered Edward Bawden and many more local artists.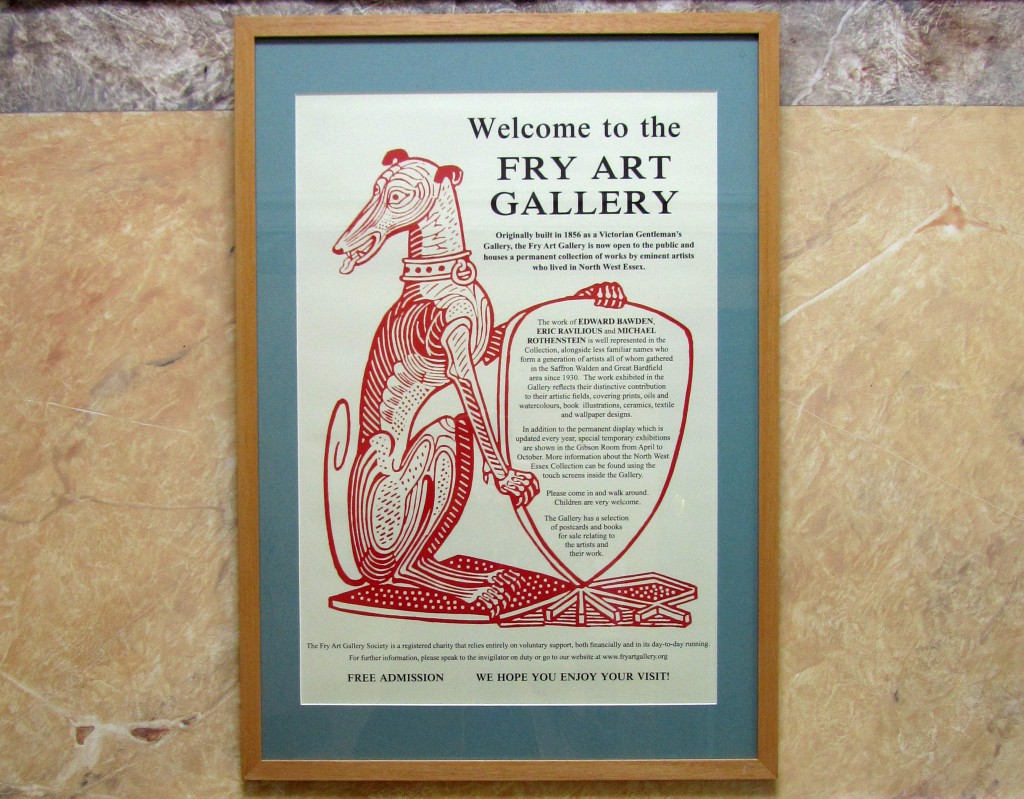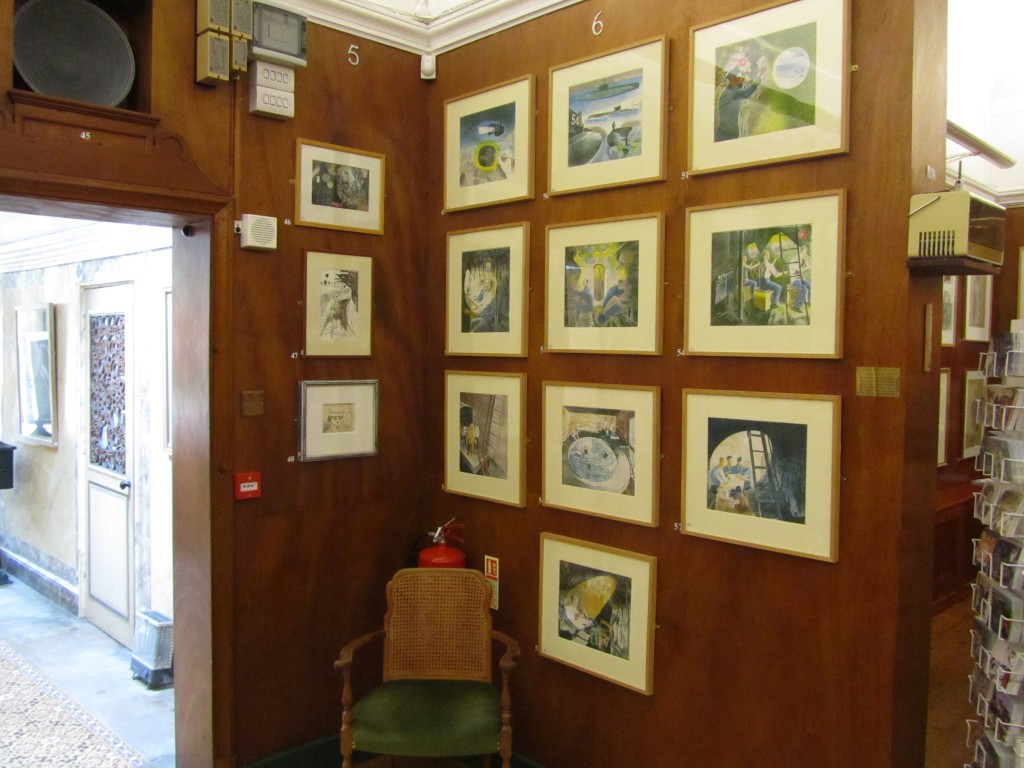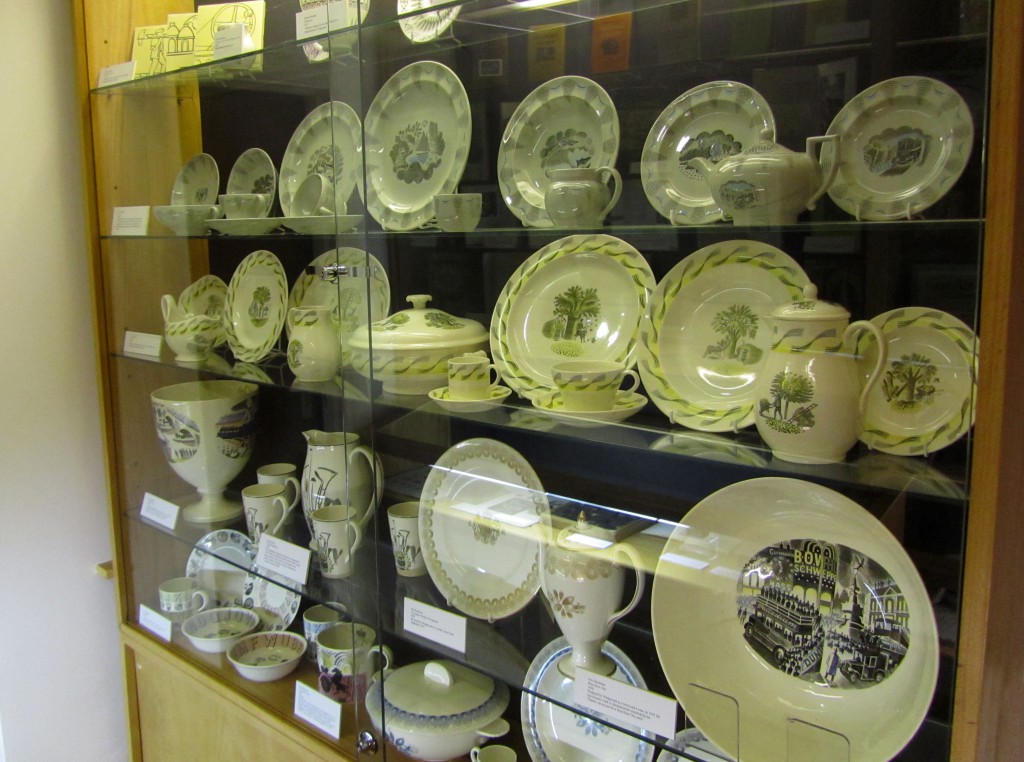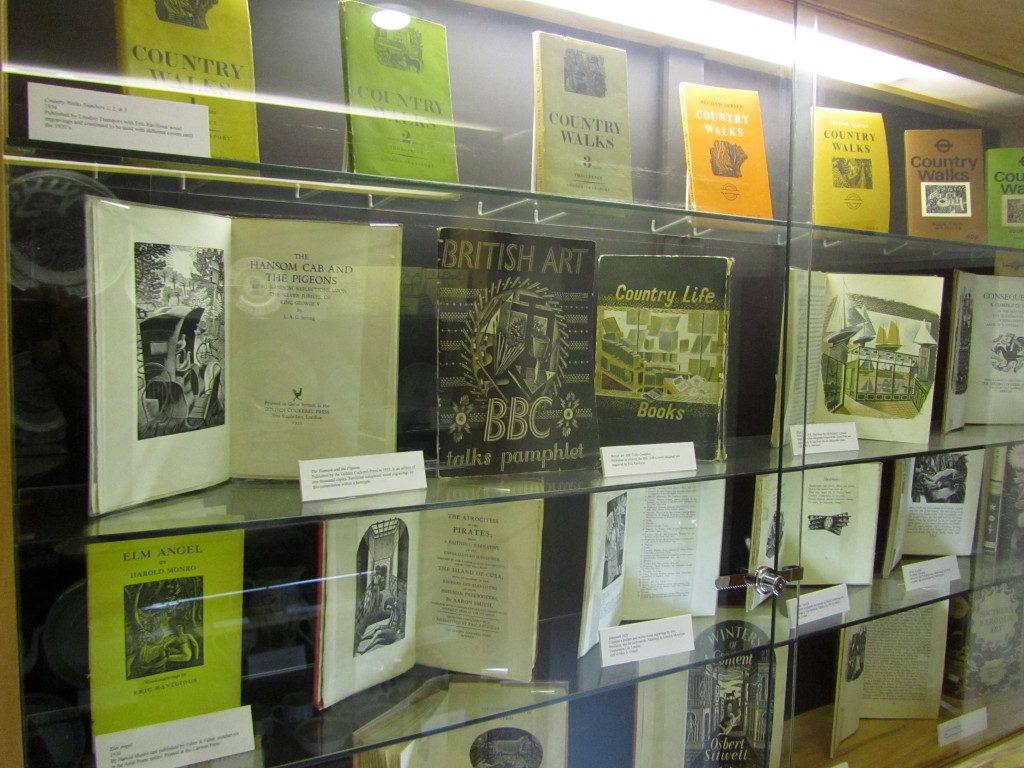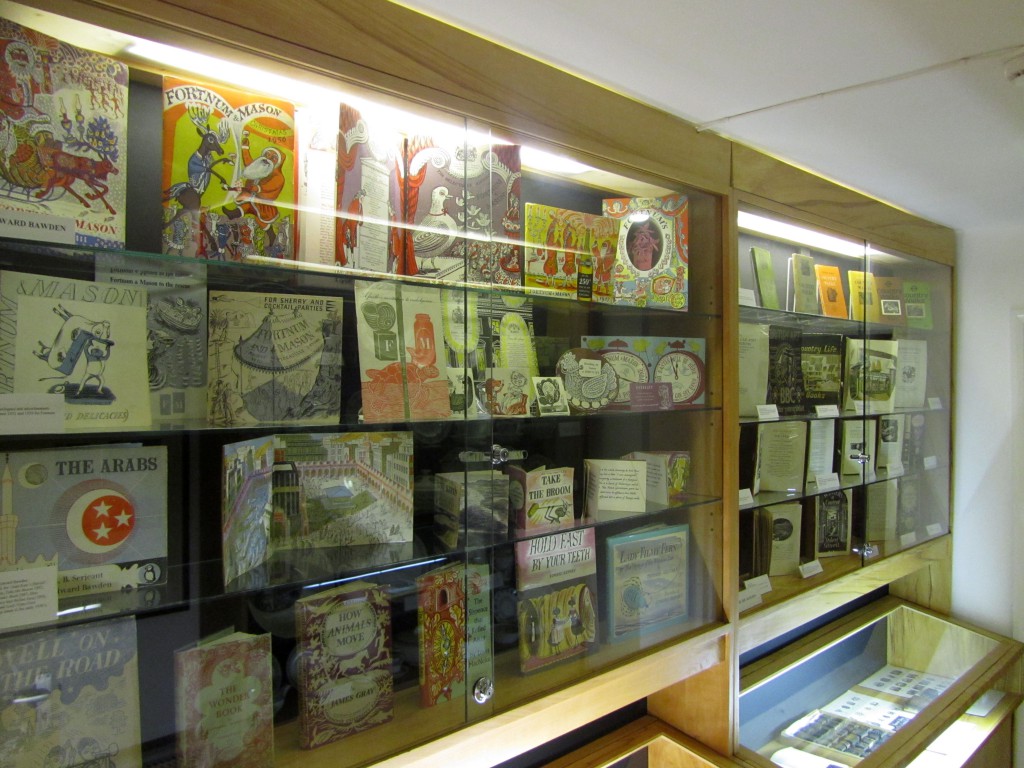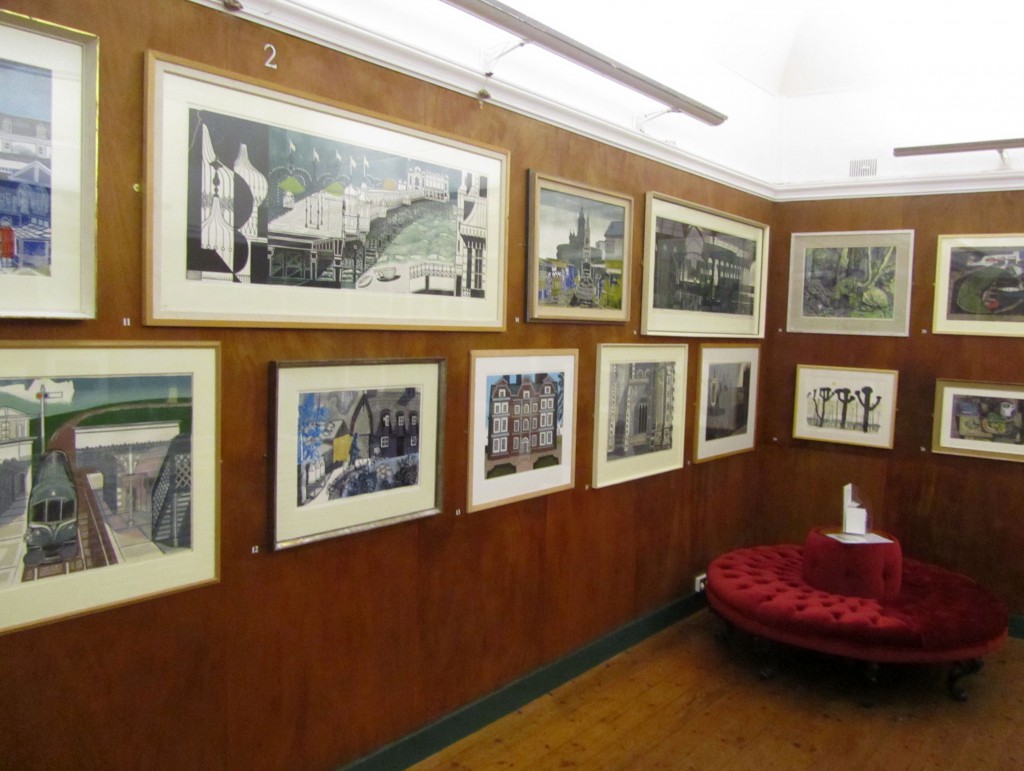 There are Ravilious lithographs and Bawden linocuts. Maybe the biggest difference since 15 years ago are the glass fronted cabinets displaying Ravilious designed Wedgewood ceramics, vignettes and the box-wood blocks that printed them and book jackets and illustrations by both Ravilious and Bawden.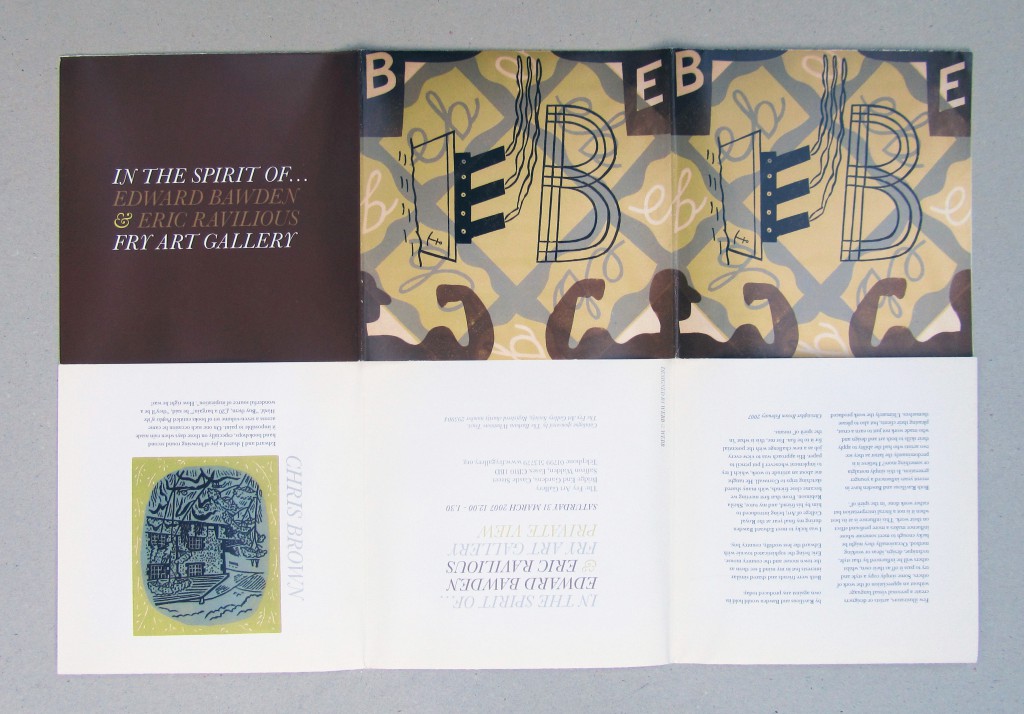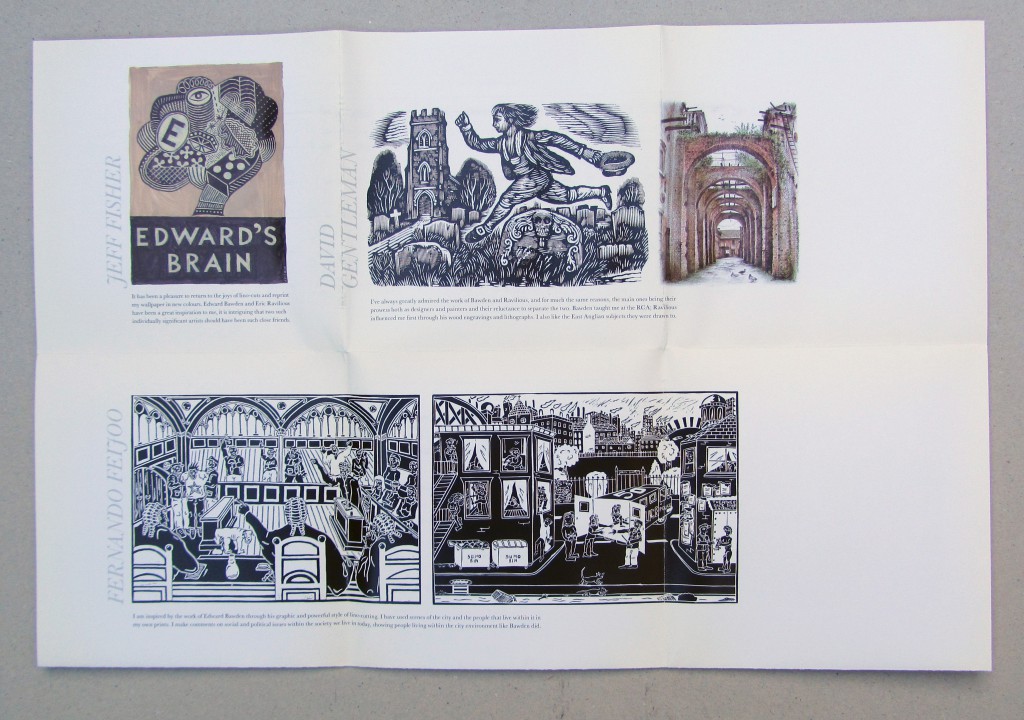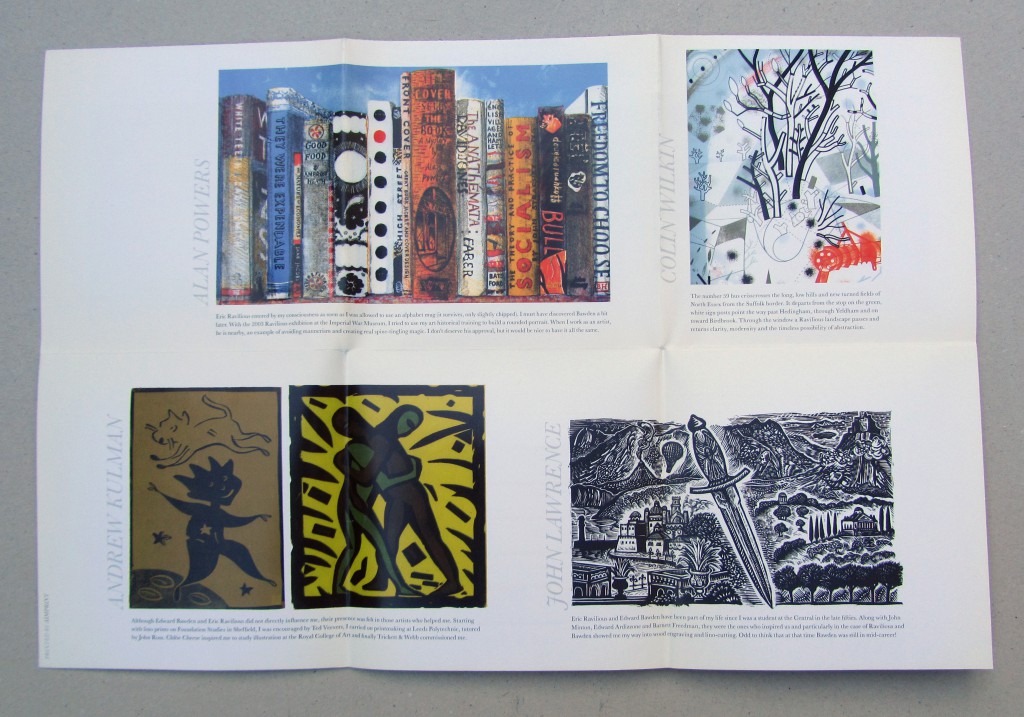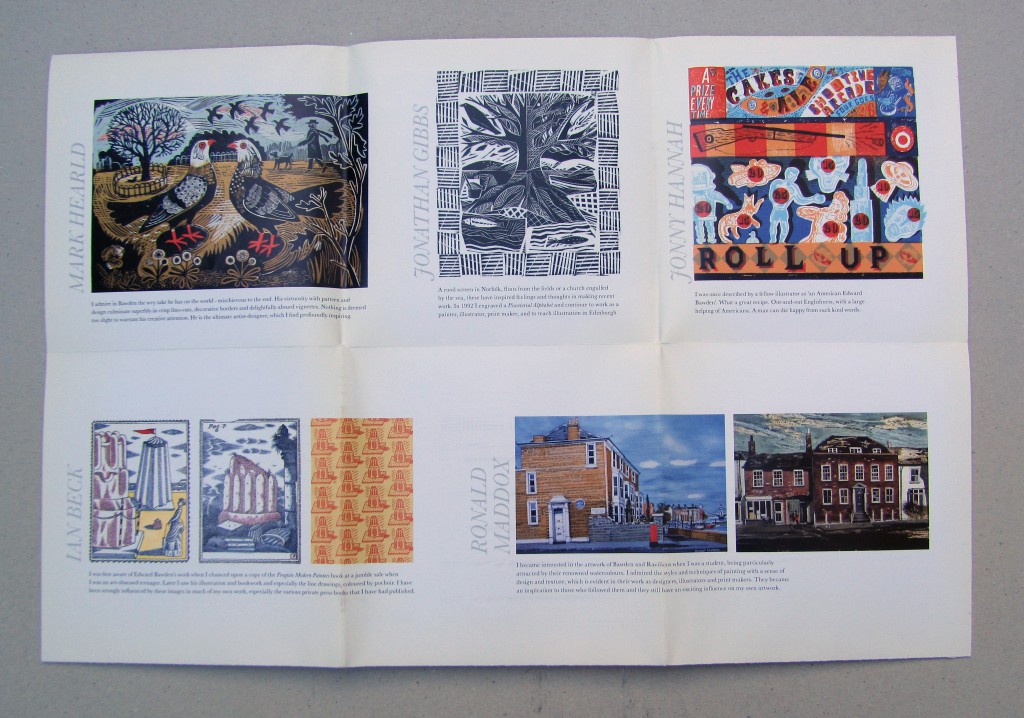 In 2007 we came again to the Fry Art Gallery on a works outing from The Rowley Gallery to see the exhibition In The Spirit Of…Edward Bawden & Eric Ravilious which featured work by artists who acknowledged their influence. Those involved were Ian Beck, Chris Brown, Fernando Feijoo, Jeff Fisher, David Gentleman, Jonathan Gibbs, Jonny Hannah, Mark Hearld, Andrew Kulman, John Lawrence, Ronald Maddox, Alan Powers and Colin Wilkin. Two of these, Jonathan Gibbs and Jonny Hannah, became some of the first to exhibit with us at the newly relaunched Rowley Gallery.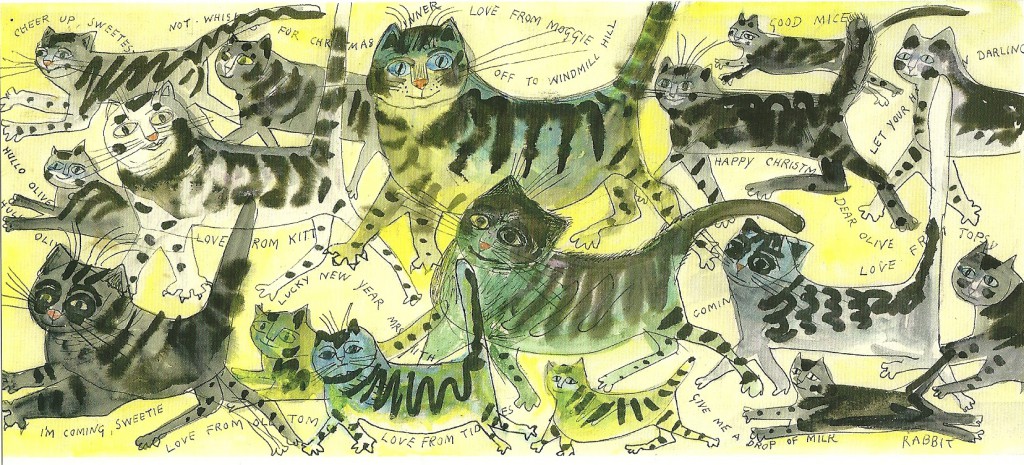 The Fry Art Gallery also stock a good selection of postcards and greetings cards, many specially printed to show work from their own collection. This is Off To Windmill Hill by Edward Bawden.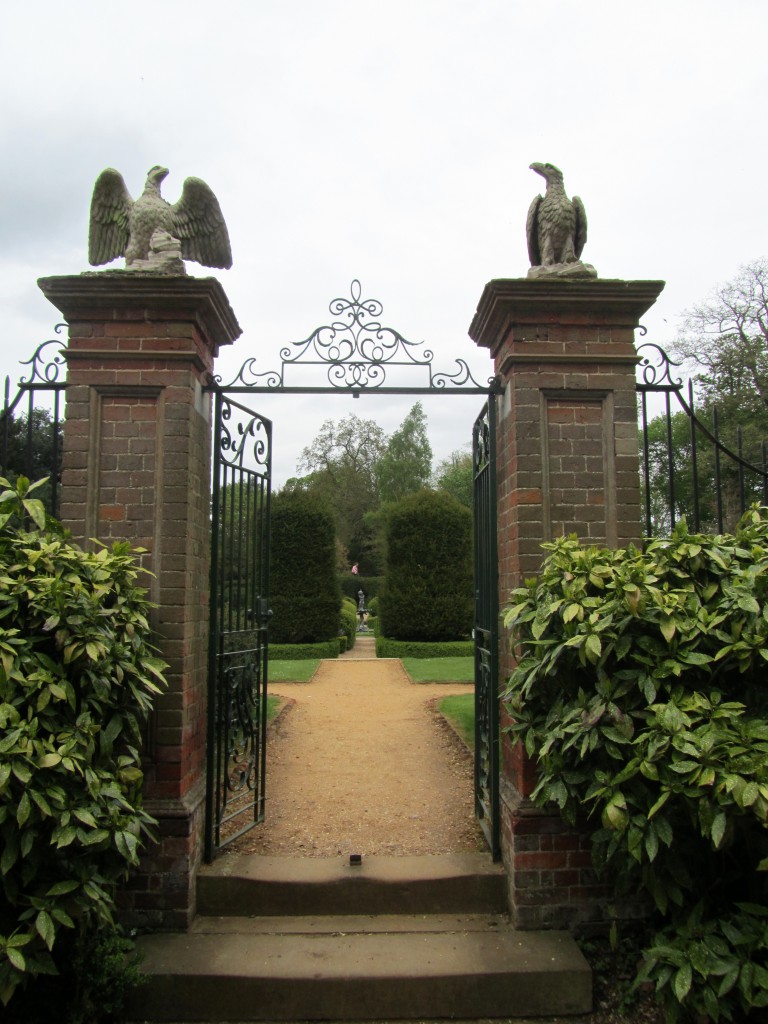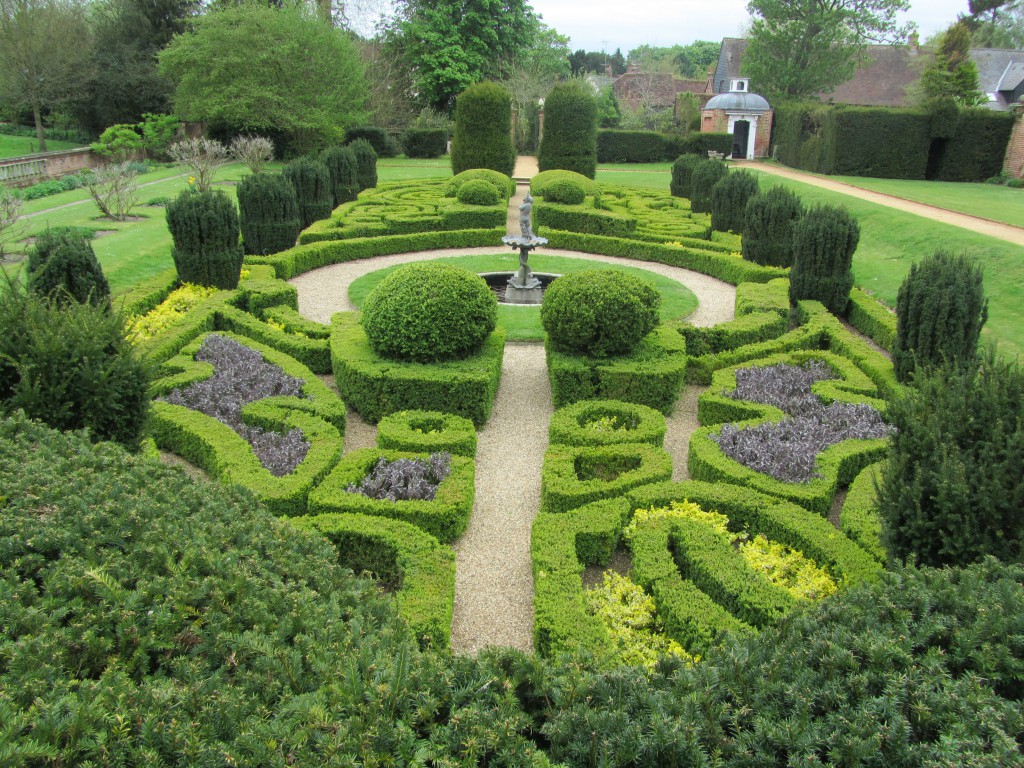 Back outside and a little further down the hill towards the Slade (a stream not an art school) is Bridge End Garden. The parterre is best viewed from the top of rickety steps hidden inside a yew hedge.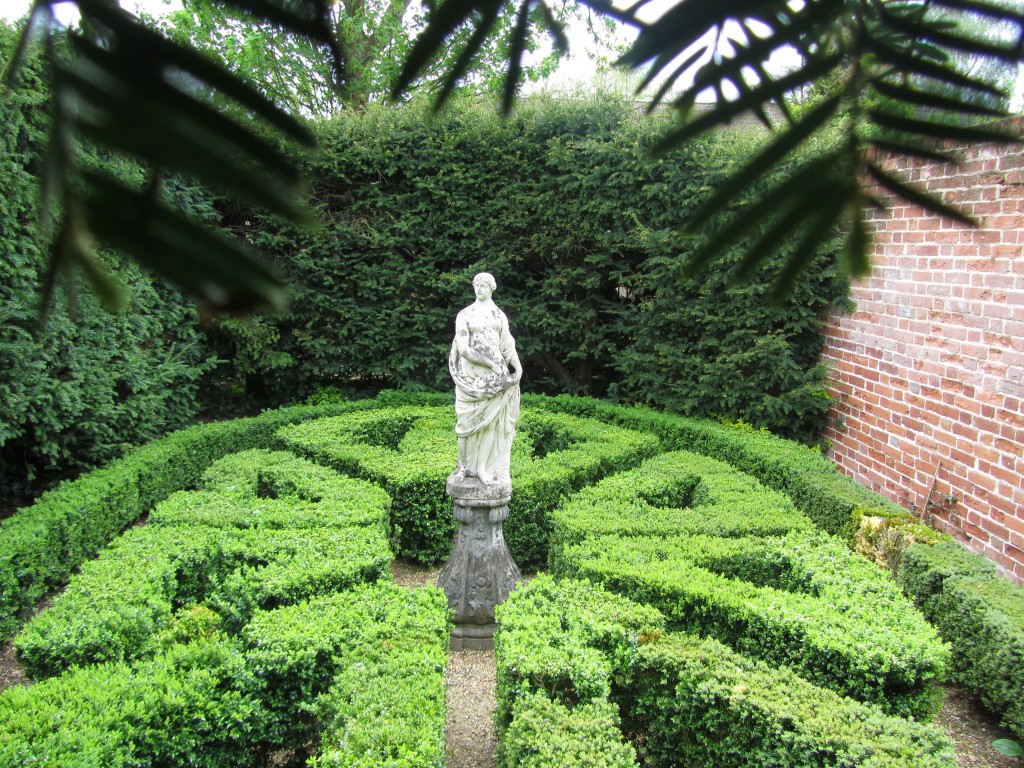 Quick now, here, now, always –
One foot in front of the other, one photo after another, the trail of footprints, images, words ends here.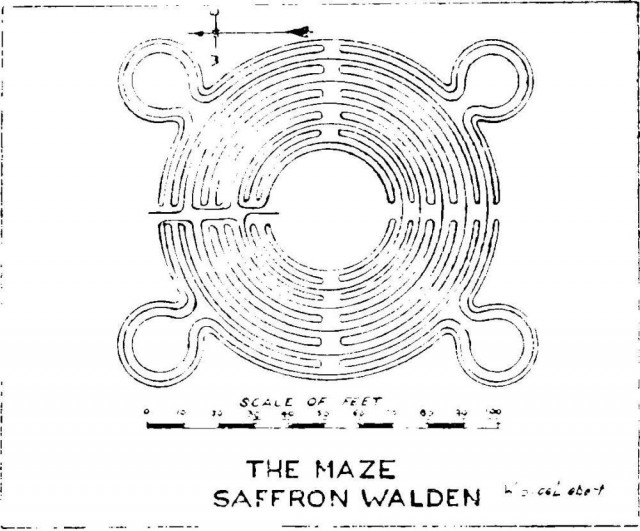 Walk the walk – From Saffron Walden.