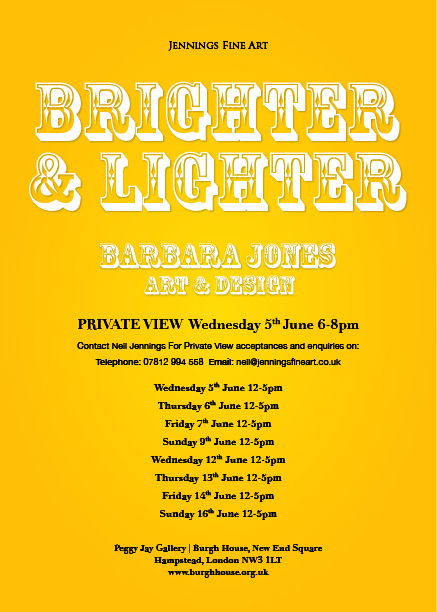 The title of the exhibition derives from an article by the artist in A Tonic to the Nation, The Festival of Britain (ed. Banham & Hillier), "I think that the Festival had a real and lasting effect on private life in Britain. Clothes, streets, houses and thousands of things in daily use have slowly got brighter and lighter ever since, and this change can be traced directly back."
Barbara Jones (1912-1978) lived and worked in Well Walk, Hampstead, which looks out on to Burgh House. She studied at the Royal College of Art and was a major contributor to the Recording Britain project during World War Two, whereby artists were commissioned to record the changing face of the nation at a time of war.
Her versatility was extraordinary: an artist, designer and writer, she designed and curated exhibitions at the Festival of Britain and for the Queen's Coronation, executed over 25 murals and wrote numerous books and articles on design.
She is perhaps best known today for her championing of The Unsophisticated Arts (everything from fair grounds to cigar-bands).
This selling exhibition, mainly drawn from her own collection, is part of an increasing recent interest in her life and work, stemming from the publication of Ruth Artmonsky's monograph, A Snapper Up of Unconsidered Trifles (2008). Her work has featured in recent exhibitions at the V&A and at the Fine Art Society and in the ground-breaking new book on British Murals & Decorative Painting 1920-1960. Her Festival of Britain exhibition, Black Eyes and Lemonade, is the subject of a current exhibition at the Whitechapel Gallery, showing artefacts and installation photographs from the extraordinary 1951 exhibition.
Barbara Jones, by her pioneering interest in what is now often termed 'folk-art', was hugely influential in the birth of British pop art in the 1950s.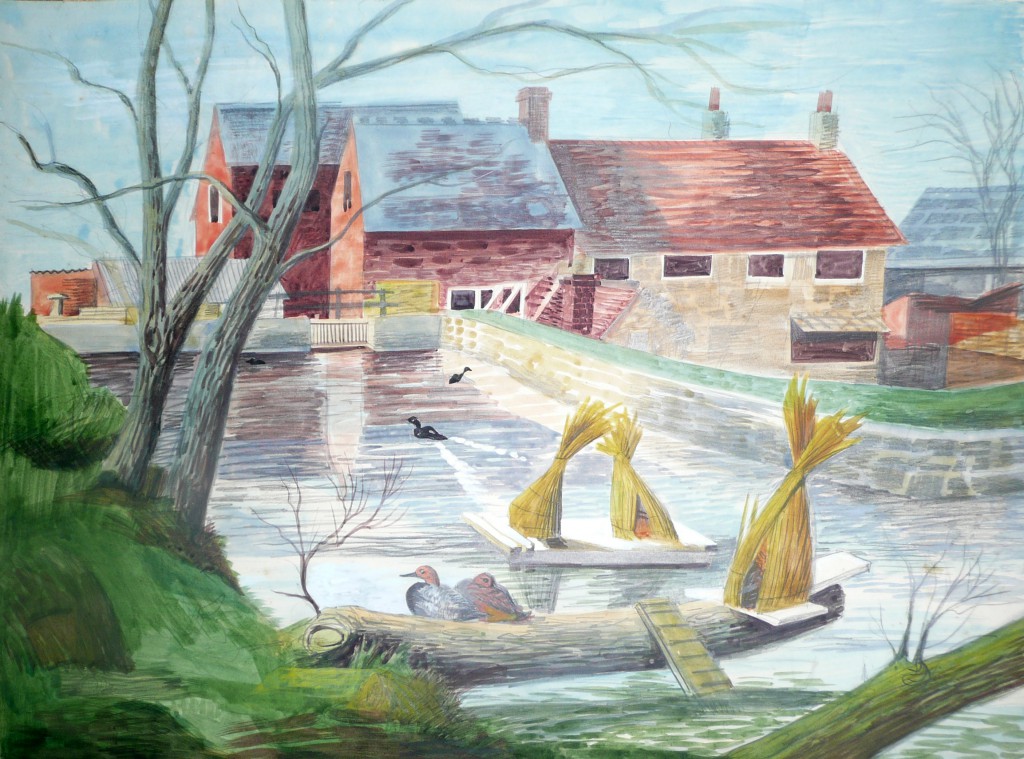 Stook Duck Houses, Calbourne Water Mill, Isle of Wight
Watercolour, c.1967.
Inscribed verso by the artist in pencil, Robert John Weekes/Send Faber Leads/Roller Mill/Calbourne I.o.W.
Although the work is undated, it relates to another work from the same collection, dated 1967.
Provenance: Private collection, Sussex.
£2250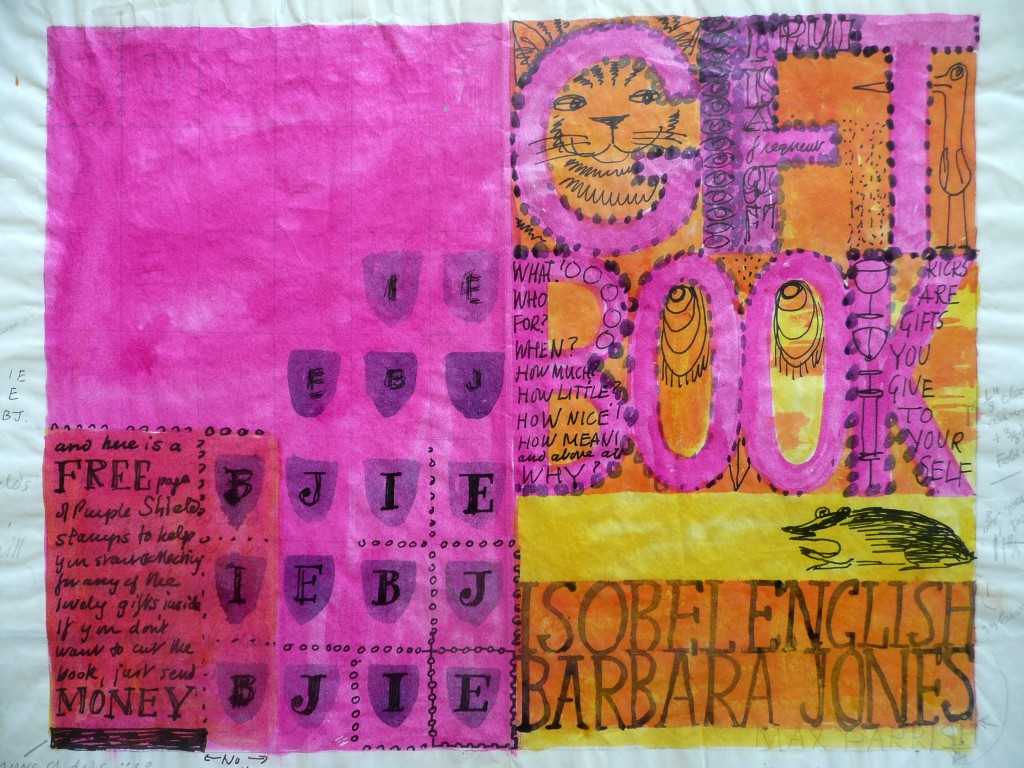 The Gift Book
Watercolour and pen & ink, 1964.
Original artwork for the front and rear covers of the book co-written with Isobel English. Extensively annotated by the artist.
Reference: Artmonsky A6, illustrated p.129.
Provenance: The artist's studio.
£850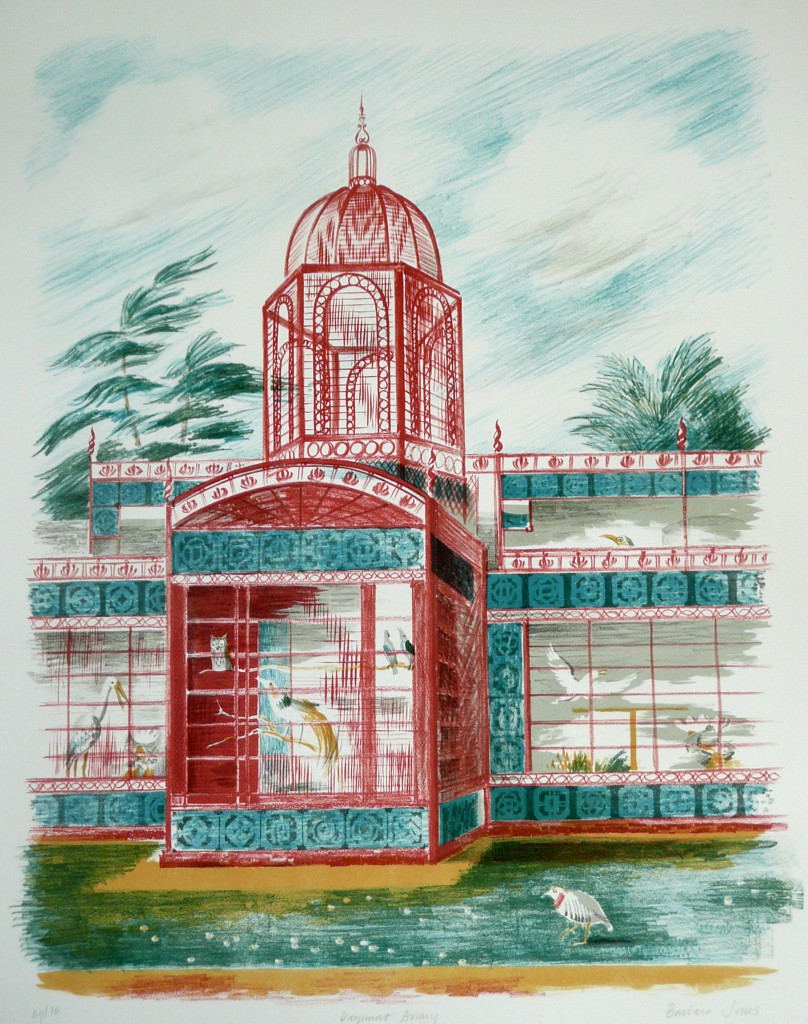 The Aviary, Dropmore, Buckinghamshire
Lithograph, 1971. Titled, signed and editioned by the artist in pencil. Printed and published by Curwen for the Follies series, edited by the artist.
Reference: Follies prospectus; Artists at Curwen p.147 (Tate Collection); Follies & Grottoes p.291-2. Artmonsky p. 87.
£725
Brighter & Lighter, 5th – 16th June, Burgh House.