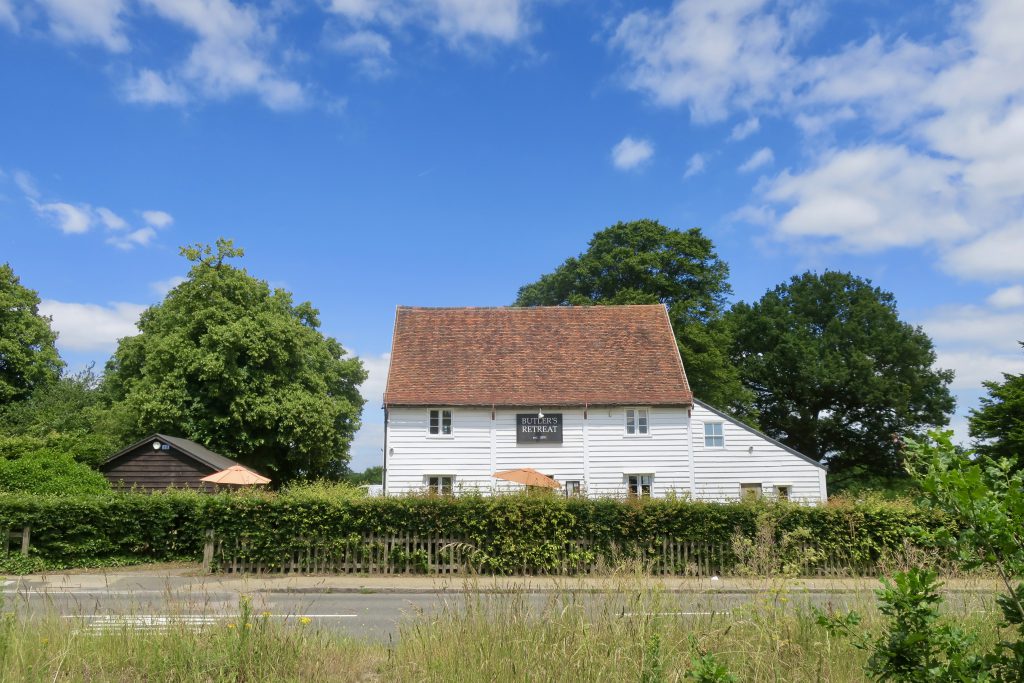 It was a Monday morning in June and we were at Butler's Retreat for a spicy shakshuka breakfast. It's my favourite and always a great way to set you up for a good walk. But sadly it was off the menu so we settled for the much more prosaic scrambled eggs on toast. Rambled legs on toes.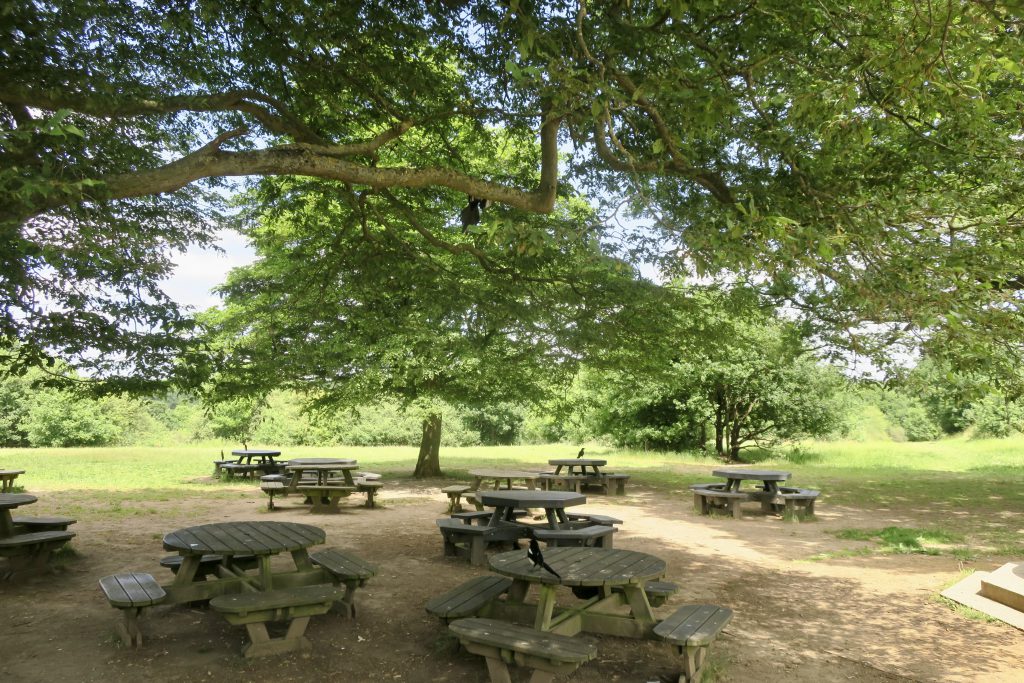 It was a quiet Monday. Jackdaws and magpies had their choice of tables.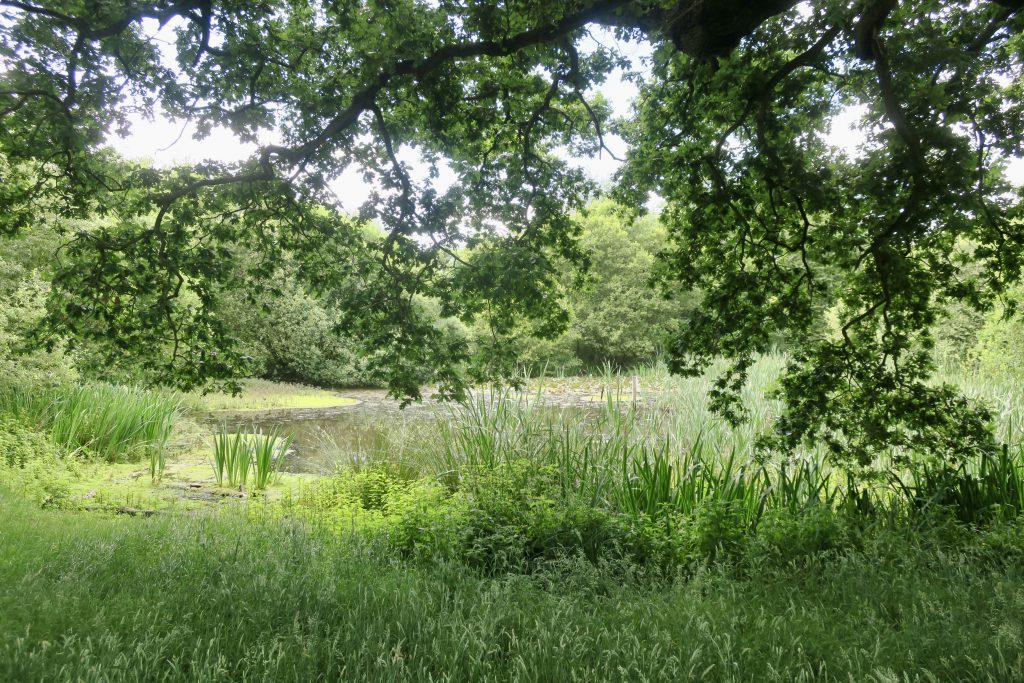 This was a walk from the AA Book of 1001 Walks, a ring-bound collection of maps and guides that had served us well since we bought it in 2008. But I'd only just noticed that it includes this walk in Epping Forest. We don't often follow prescribed routes in the forest, preferring to make it up as we go along, and superficially it looked like we already knew all of these paths. I reckoned this was a Tourist Trail for people new to the forest. But since we had it we may as well give it a go. And it wasn't too long before we were lost.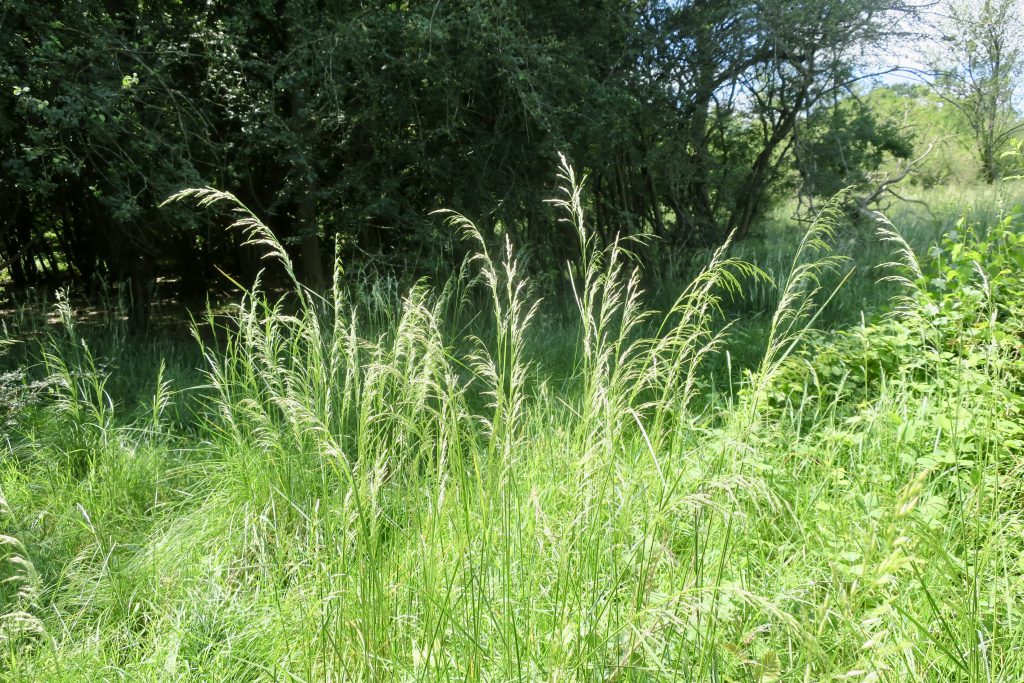 We were recommended to begin at Connaught Water, but I wanted to start with breakfast at Butler's Retreat. It was the path between them that was off the beaten track. It seemed not much used and very overgrown and took us by twists and turns through tangled undergrowth. Although in retrospect I may have misread the map and dragged us through an unglamorous detour.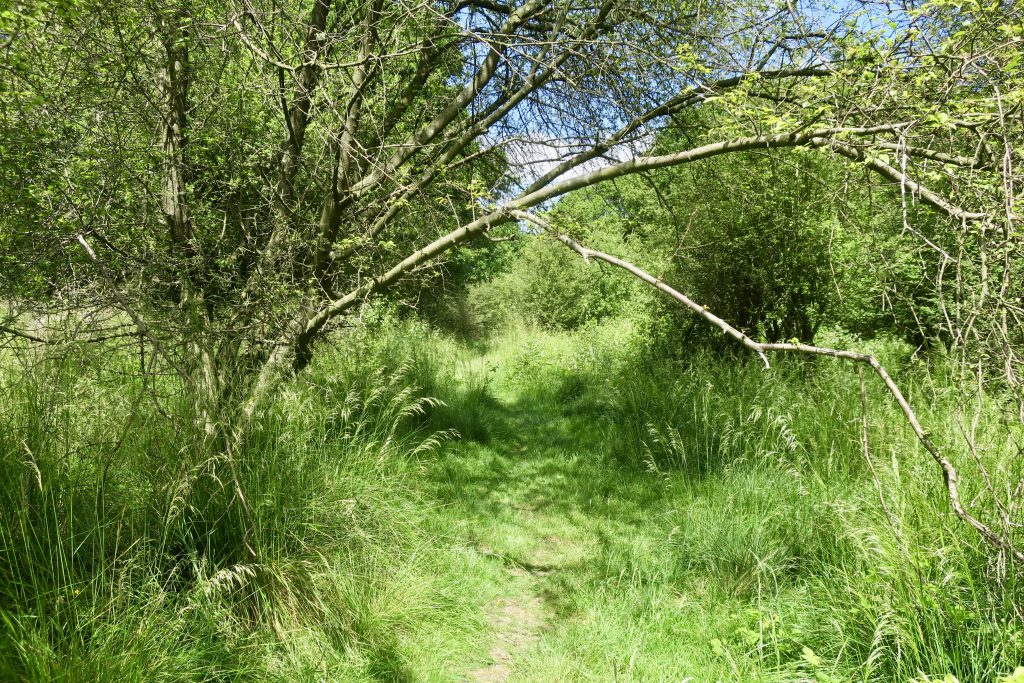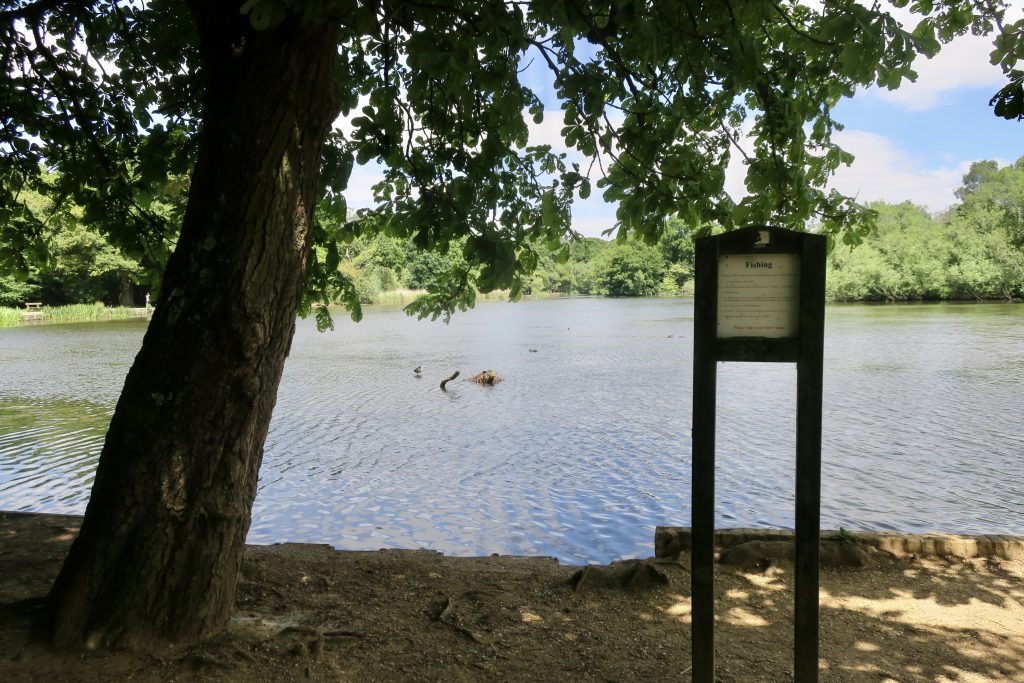 But never mind, it wasn't long before we found Connaught Water.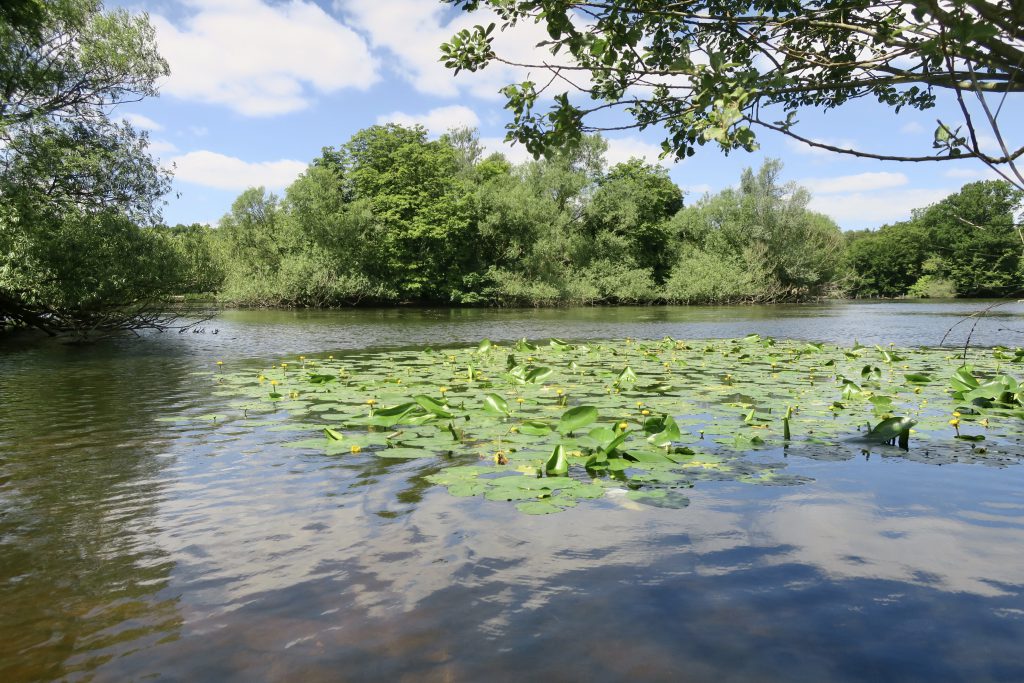 We were reminded of the times we came here in pre-Covid days to use it as a running circuit, so for old times' sake we went around again. But walking.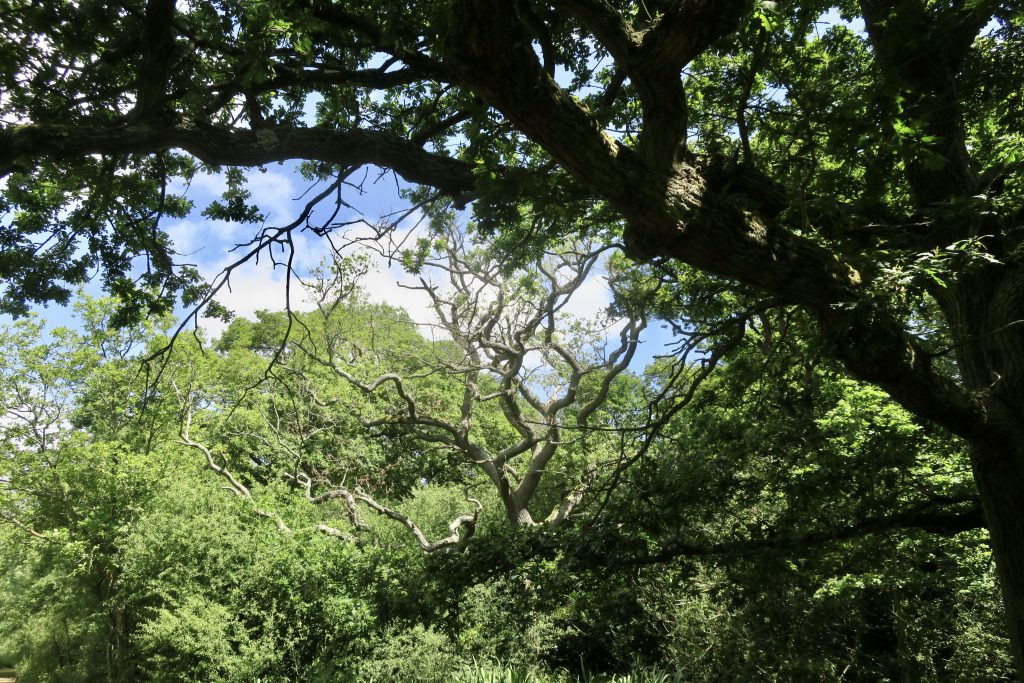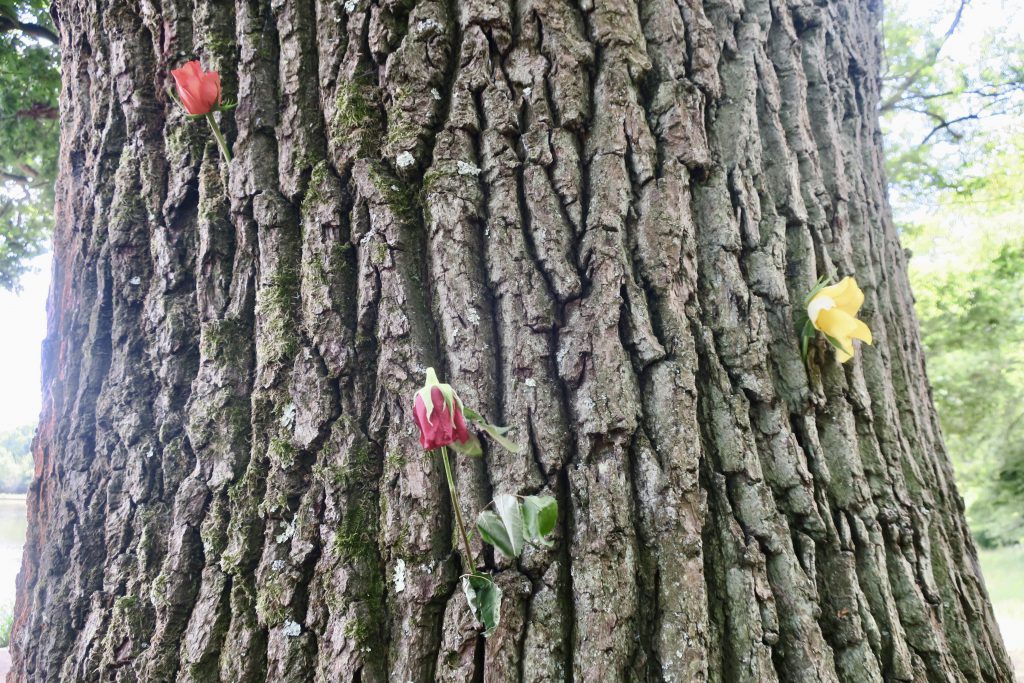 A waterside oak impaled with roses.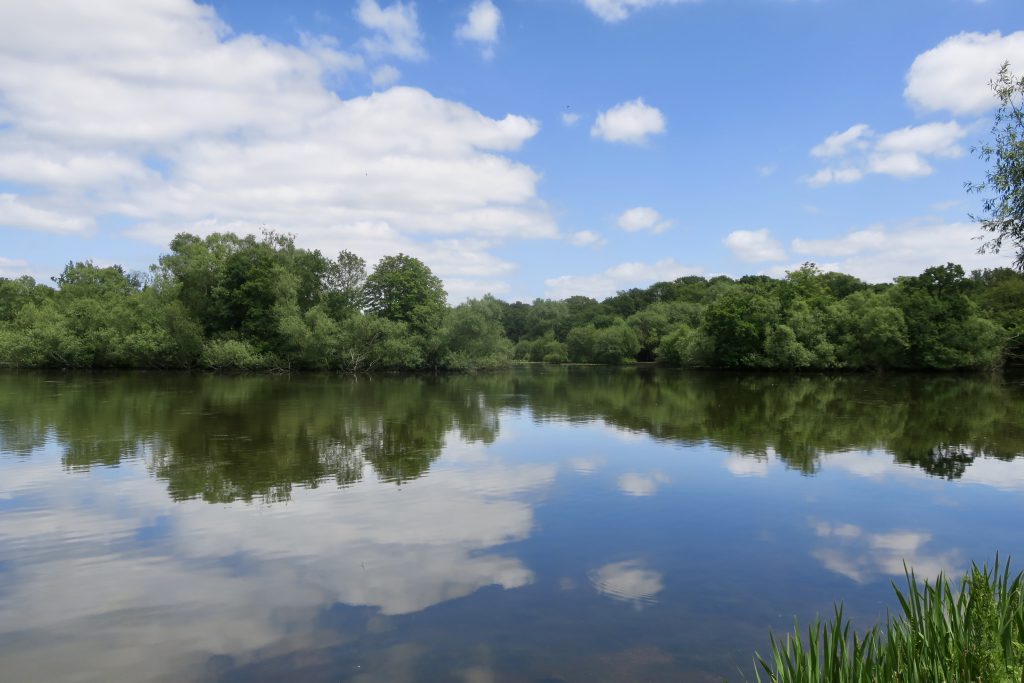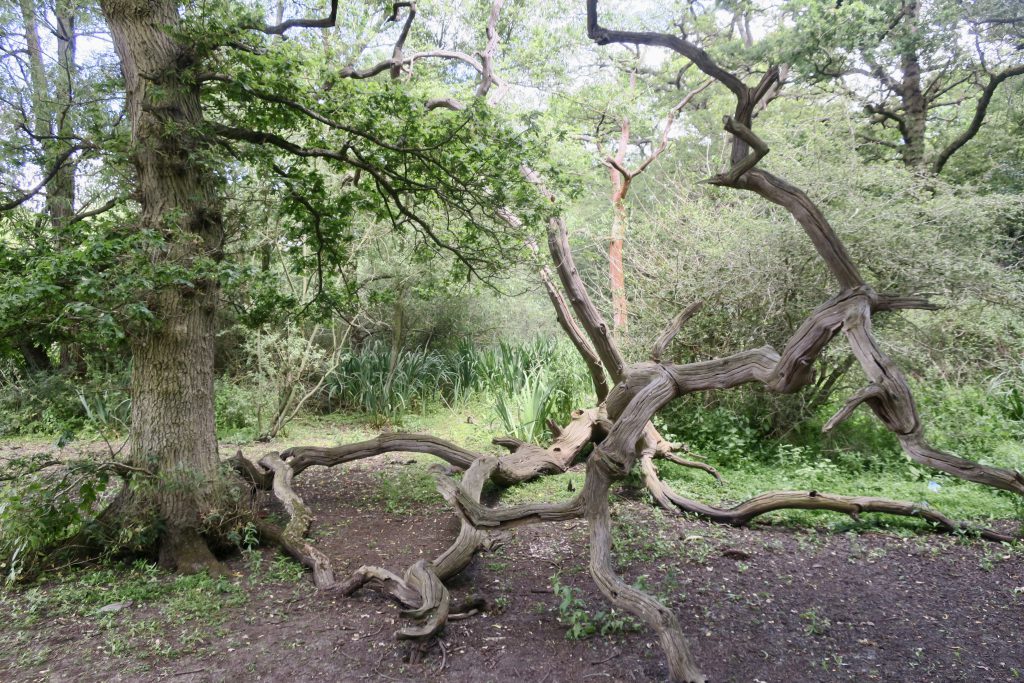 A crawling jabberwocky returning to earth.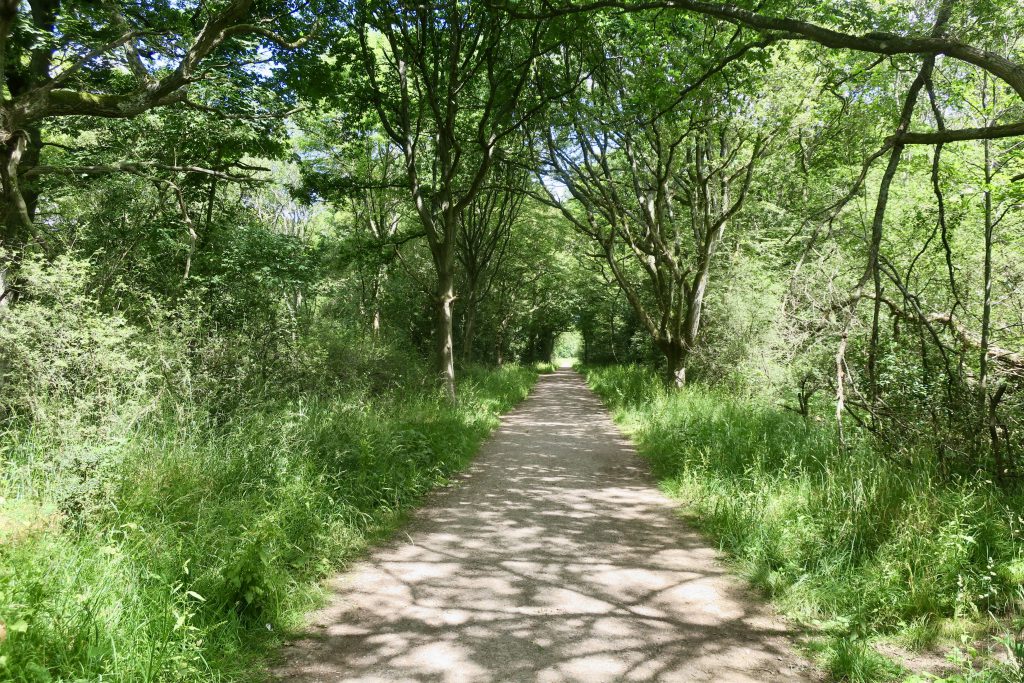 Then along the Red Path, marked on my map as an 'informal walk'.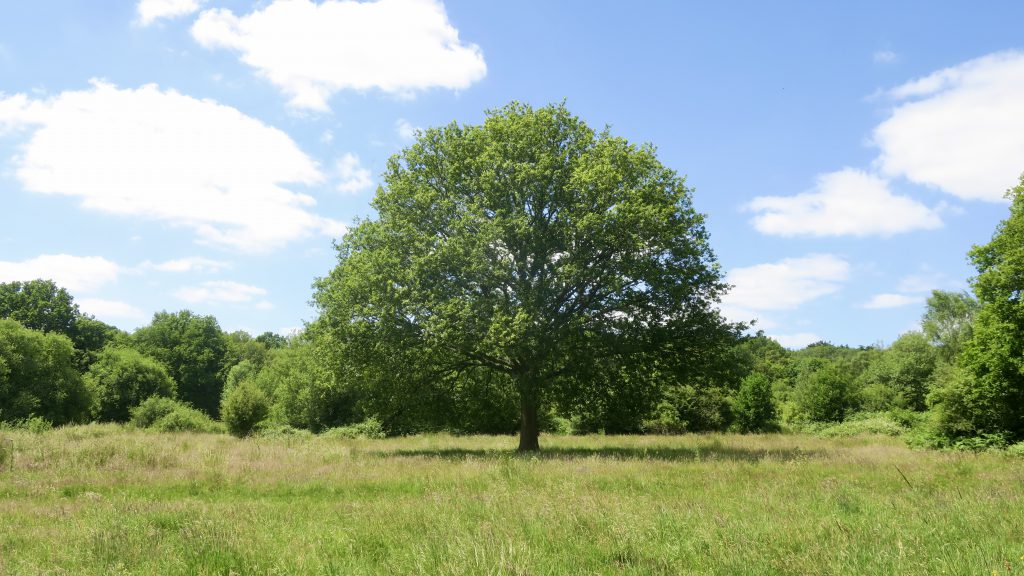 The AA guide directed us to walk …along path with trees to Fairmead Bottom. This low-lying area may flood after heavy rain. After 400yds (366m), turn L on to disused tarmac road and after a few paces cross Palmer's Bridge and bear R on to grassy track, which continues ahead close to A104 on your R. Path crosses meadows to Fairmead Pond on your L.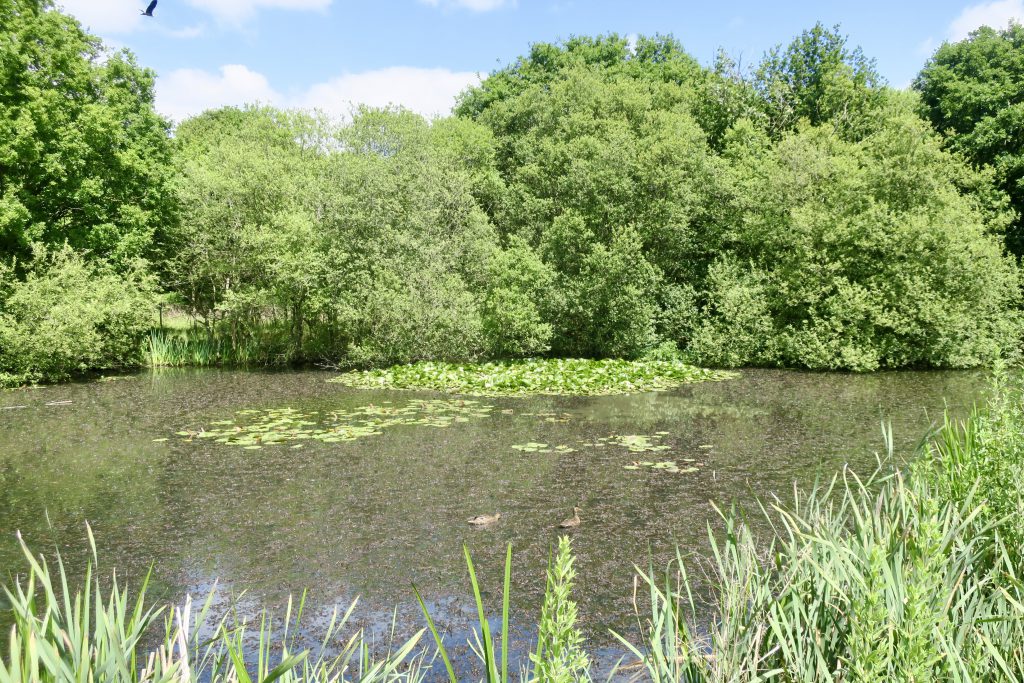 But Fairmead Pond appeared on our right, and my approach was so rushed and clumsy that I disturbed a statuesque heron that rose up gracefully and circled a few times before heading off. You can see it disappearing top left.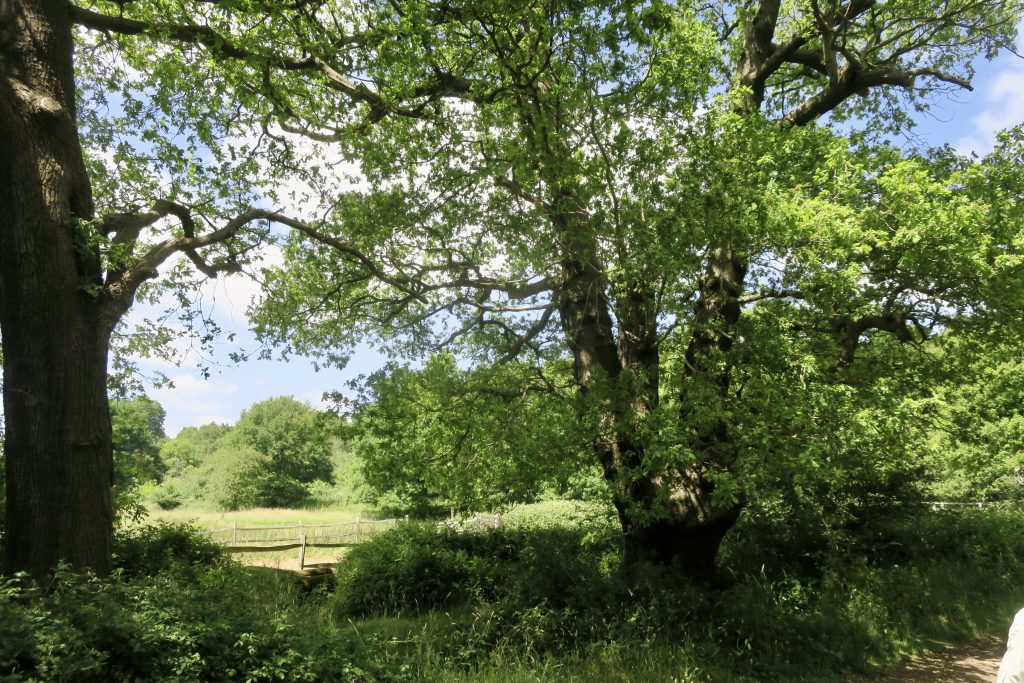 We continued north to Fairmead Road, a road that 40 years ago had been my entrance to the forest when I first cycled here, but nowadays has restricted access. And here was once the site of the Fairmead Oak, said to have been over 800 years old, the oldest and most famous tree in the forest, but sadly struck by lightning and burnt down in 1955, though its stump still remains.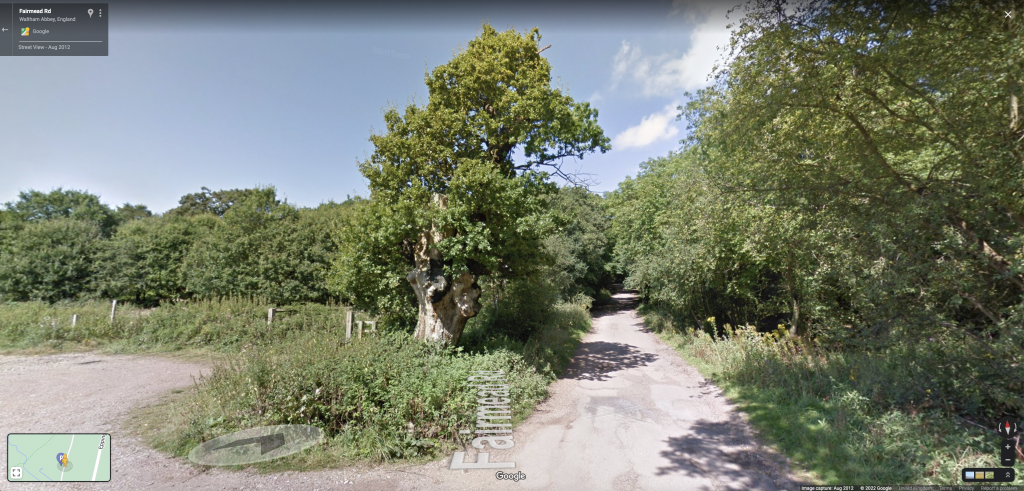 I forgot to take its photo but here's how it looks on Google Maps.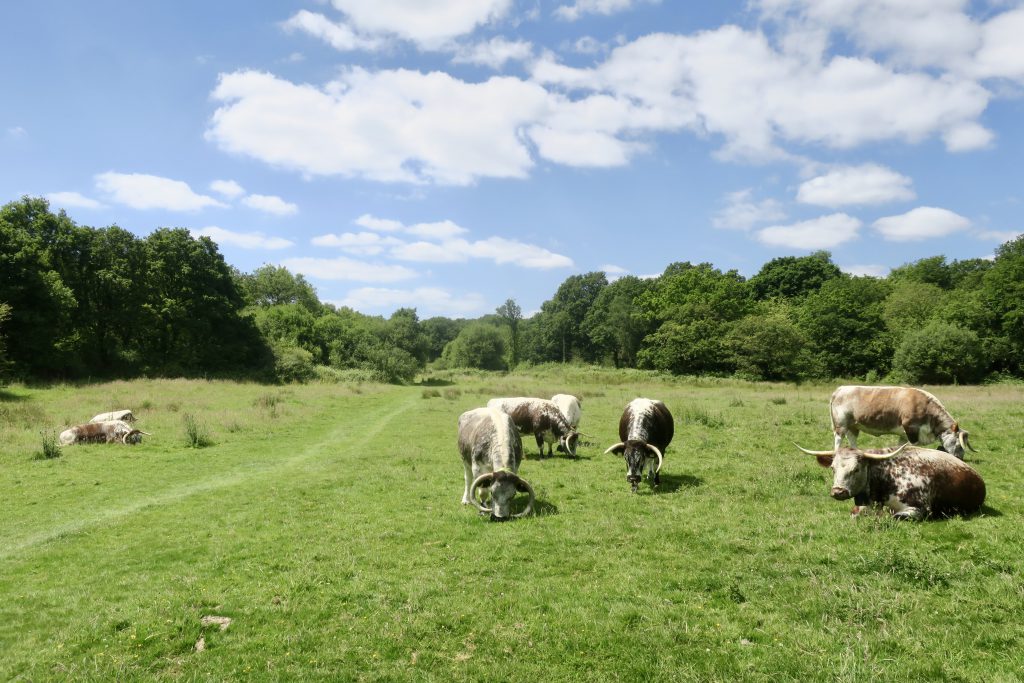 I was enticed into the meadow over the road by the sight of these beautiful longhorn cattle grazing there. I had to go over and say hello. Their presence here helps to preserve the forest's ancient wood pasture.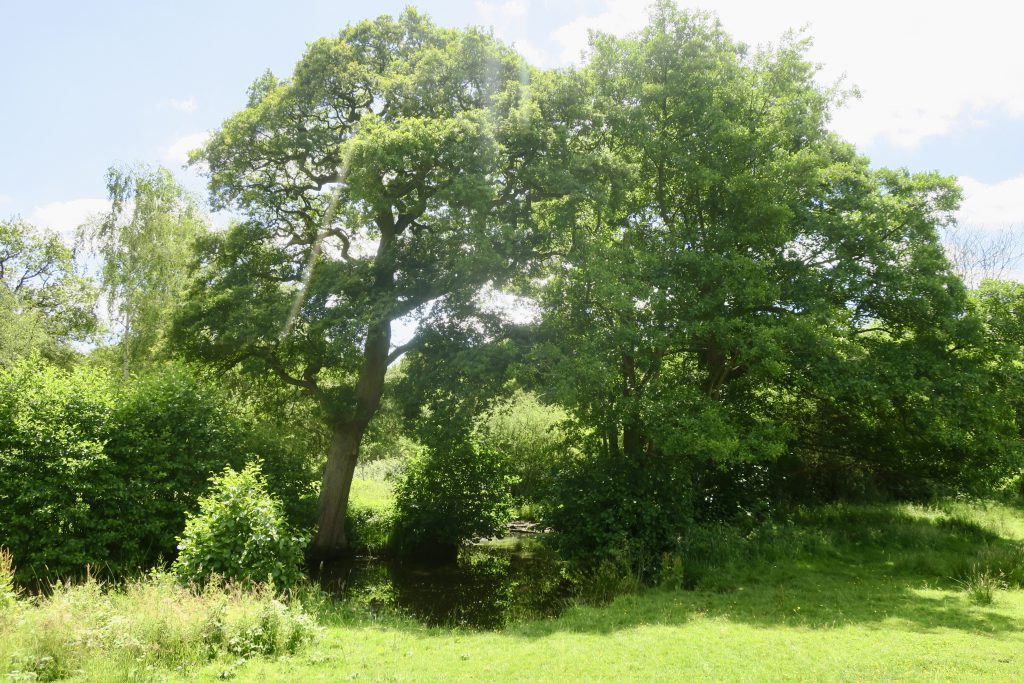 There's a shady watering-hole pond beside them under the trees.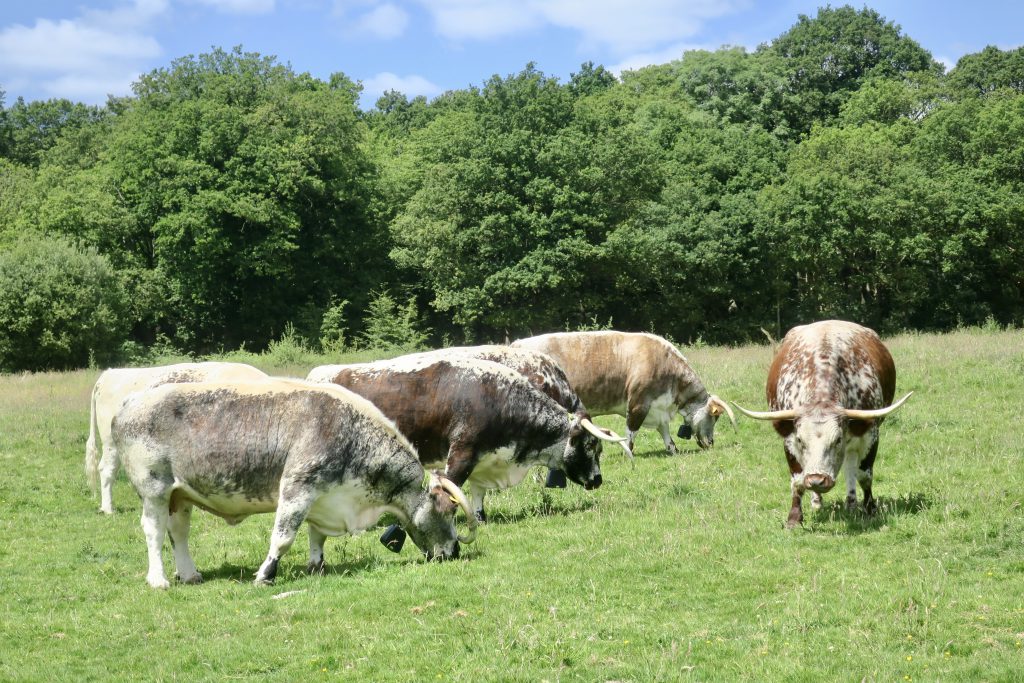 The cattle are free to roam within an invisible enclosure. They each wear a collar that will first buzz, then later shock, if they get too close to the buried perimeter electric cable. They soon learn to turn back when they get a buzz.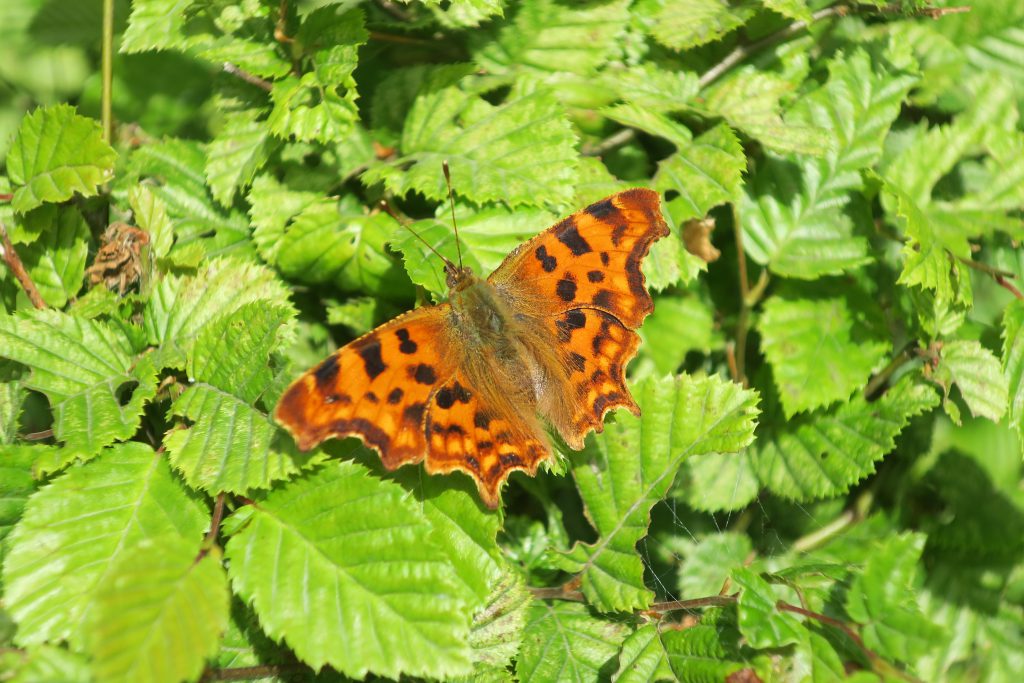 We also turned back. We were way off track.
Our turnaround was punctuated by a comma.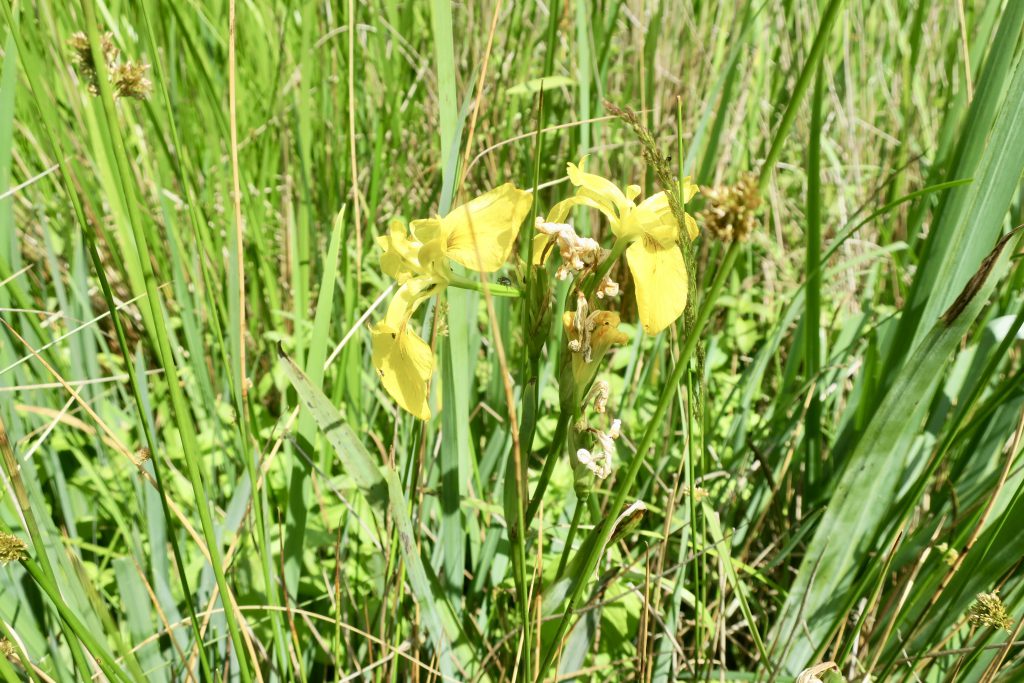 We made our way back to Fairmead Pond to take up the path on its far side, as recommended by our guide. This was easier said than done. We'd not walked this path before, probably because it was mostly non-existent.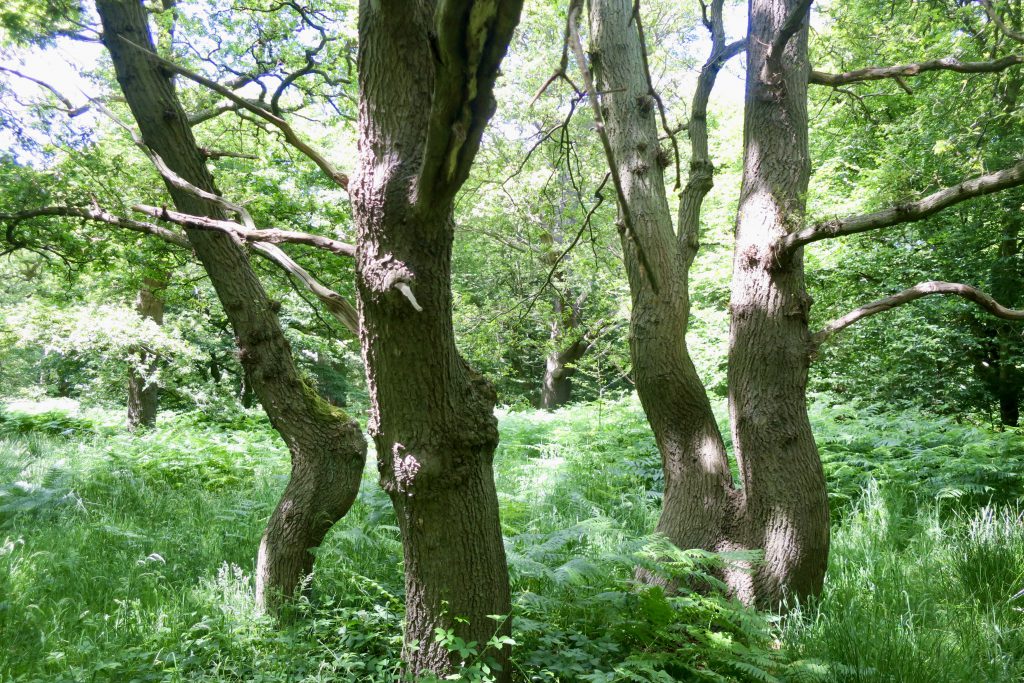 And pretty soon we were lost again.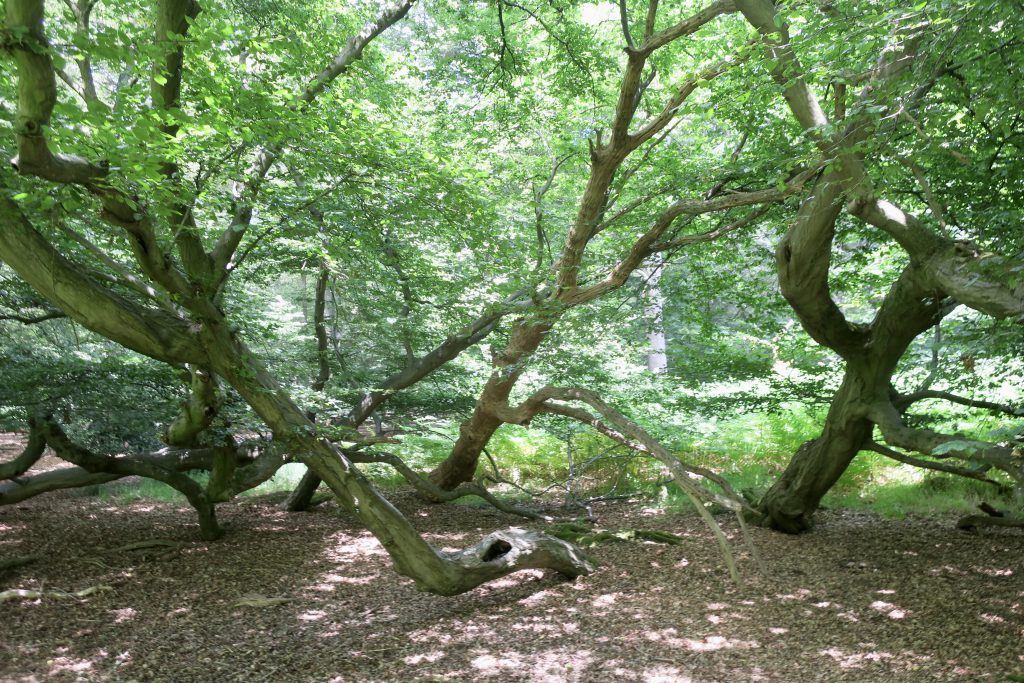 It's the best place to be lost.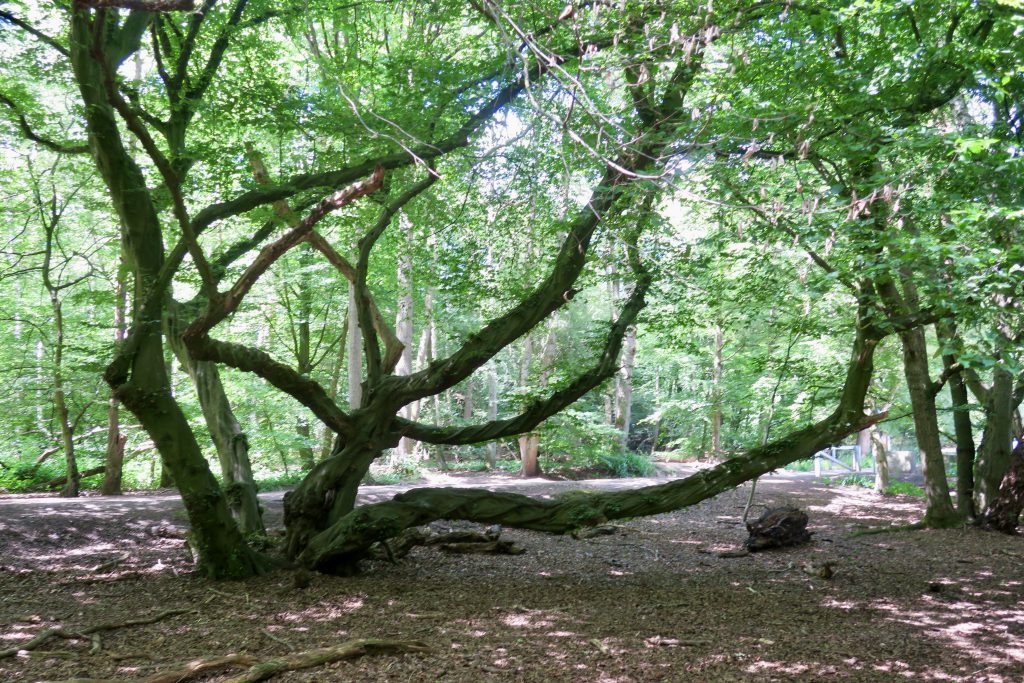 Until we found our way again.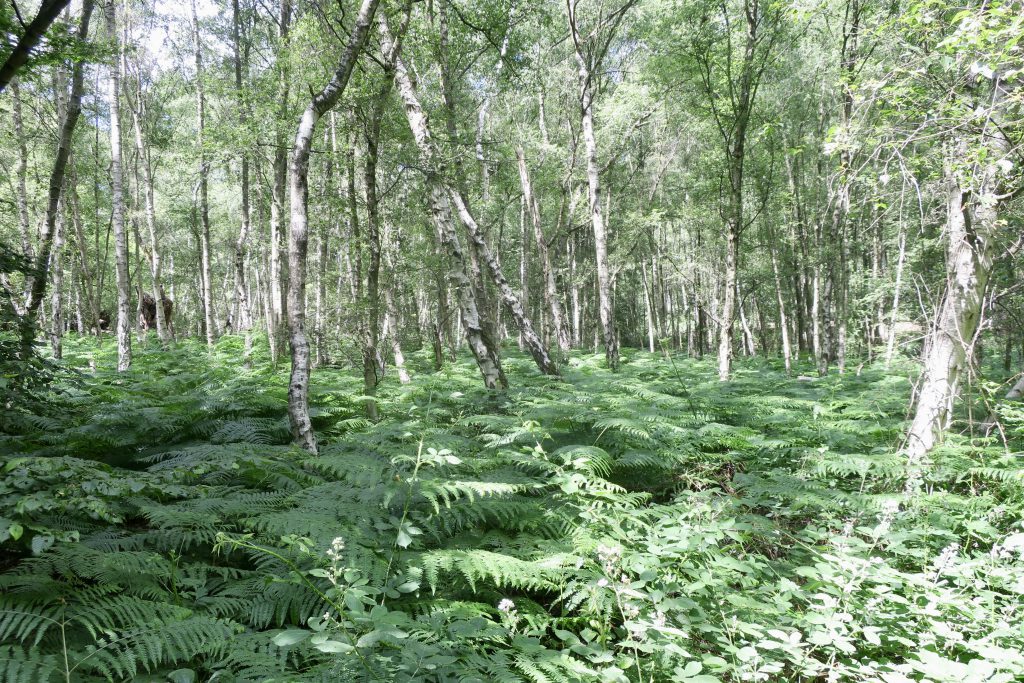 The path had disappeared and the way ahead was to keep low, avoiding branches and skipping brambles and roots and a lost blue tit that hopped and tweeted on the ground before us, until, trapped on three sides by tangled undergrowth, we turned back again to where the blue tit waited and showed us the path to the tea hut. And High Beech became High Beach.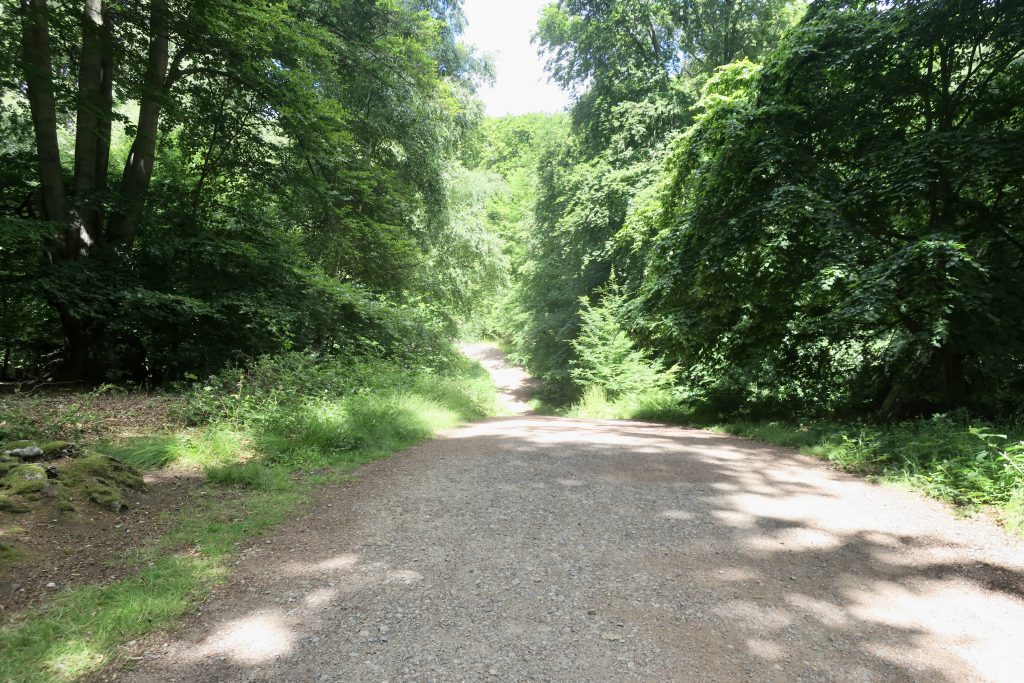 All along the Up & Down Ride to the King's Oak.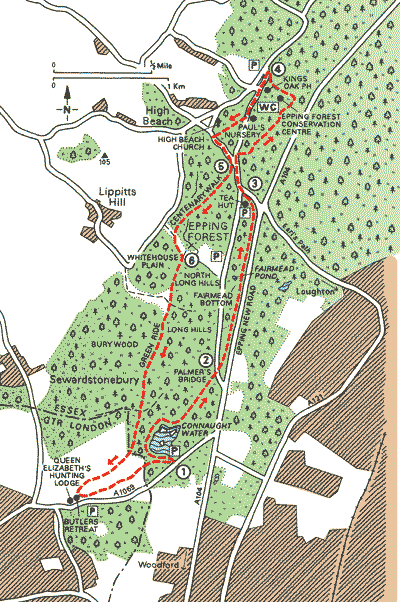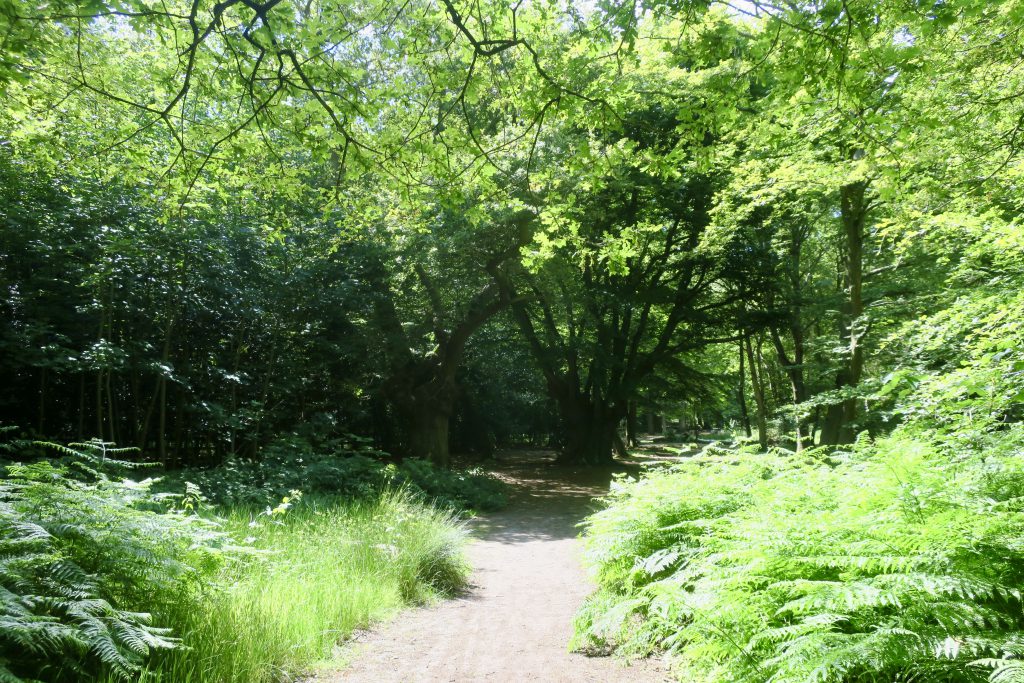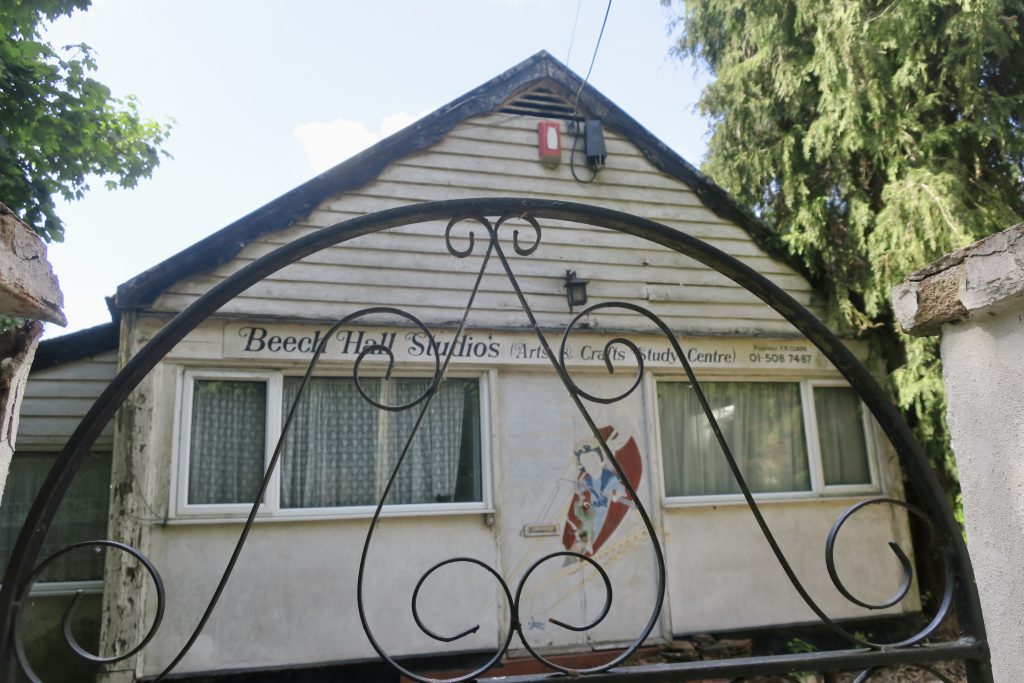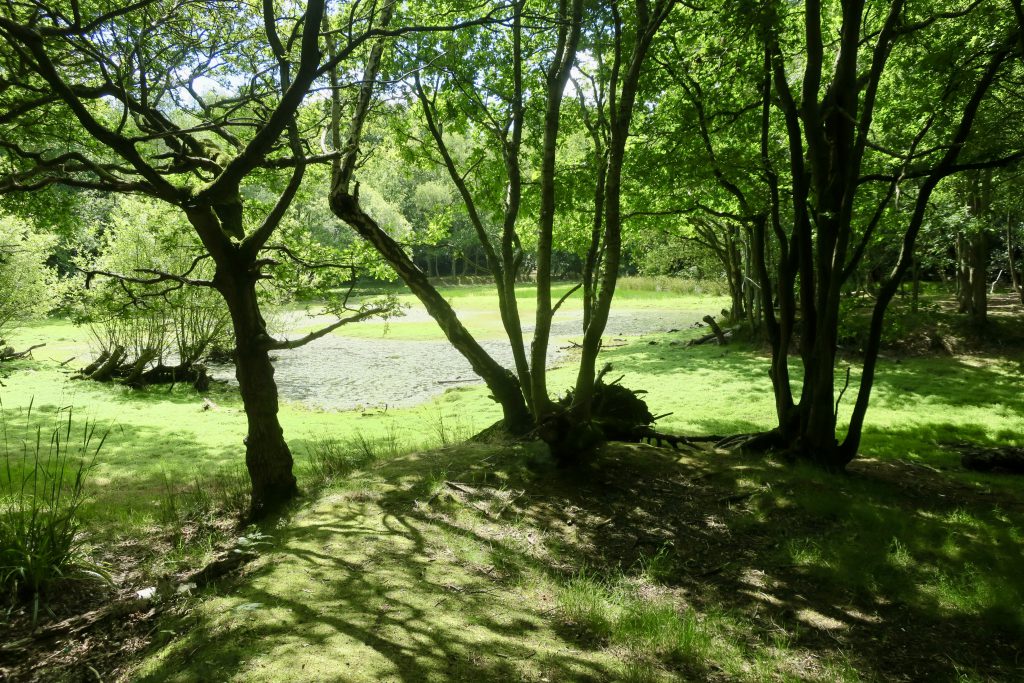 Beyond Beech Hall Studios we came into a green paradise, another green world of pondweed and mosses, a luminous green arena of unsolid ground.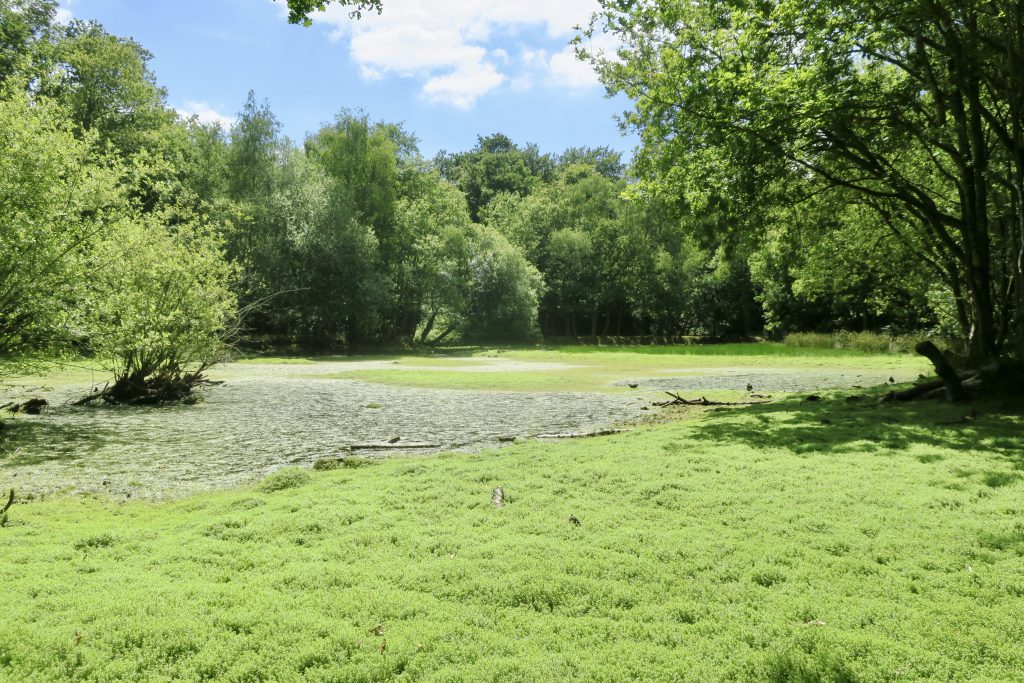 Tread softly because you tread on my dreams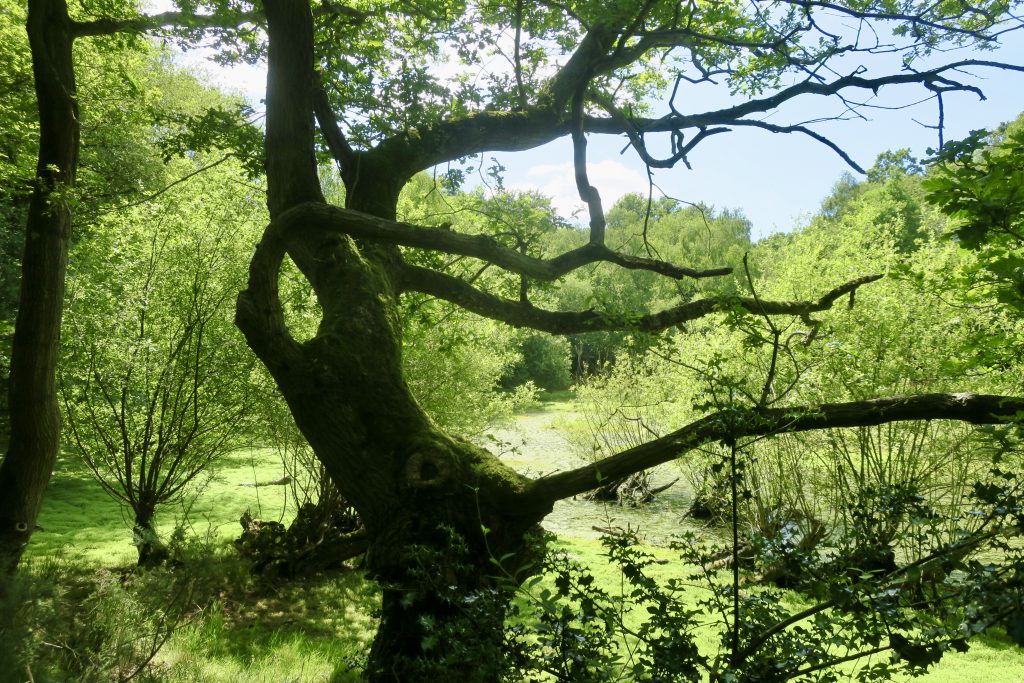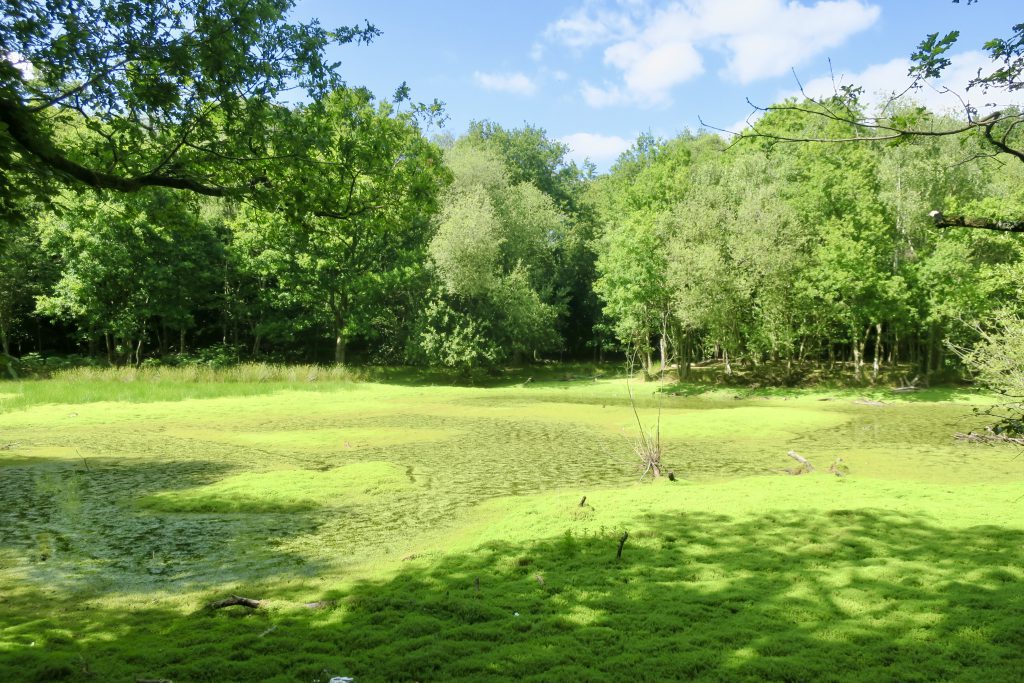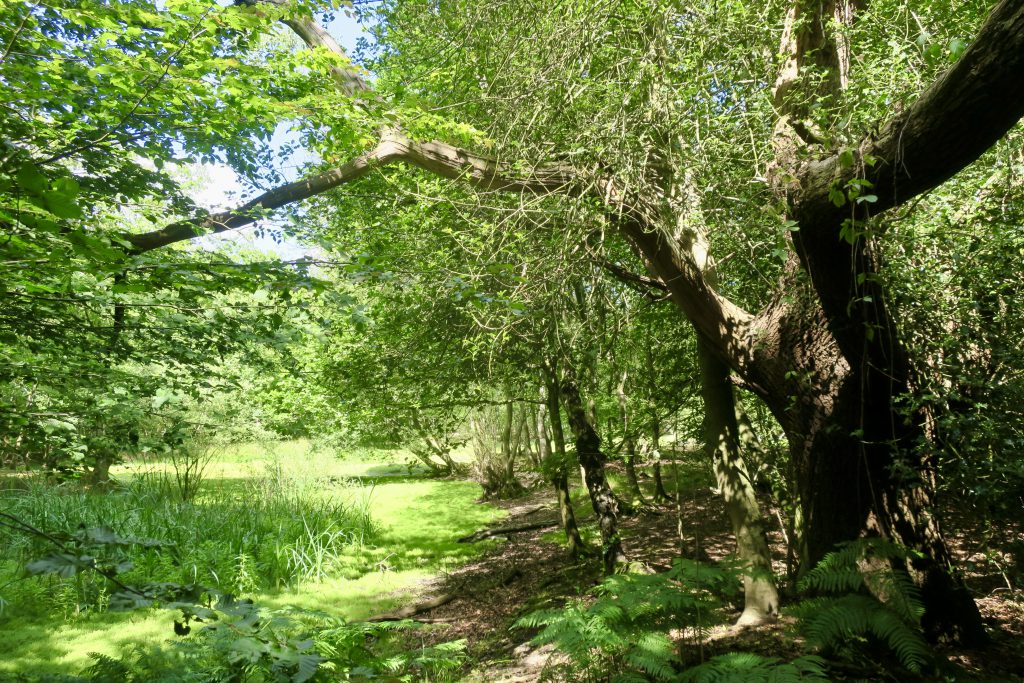 We walked carefully around Speakman's Pond then threaded our way though the dappled woods down to High Beach Church. The walk is a green prayer, the forest is my church, the light through the leaves is my religion.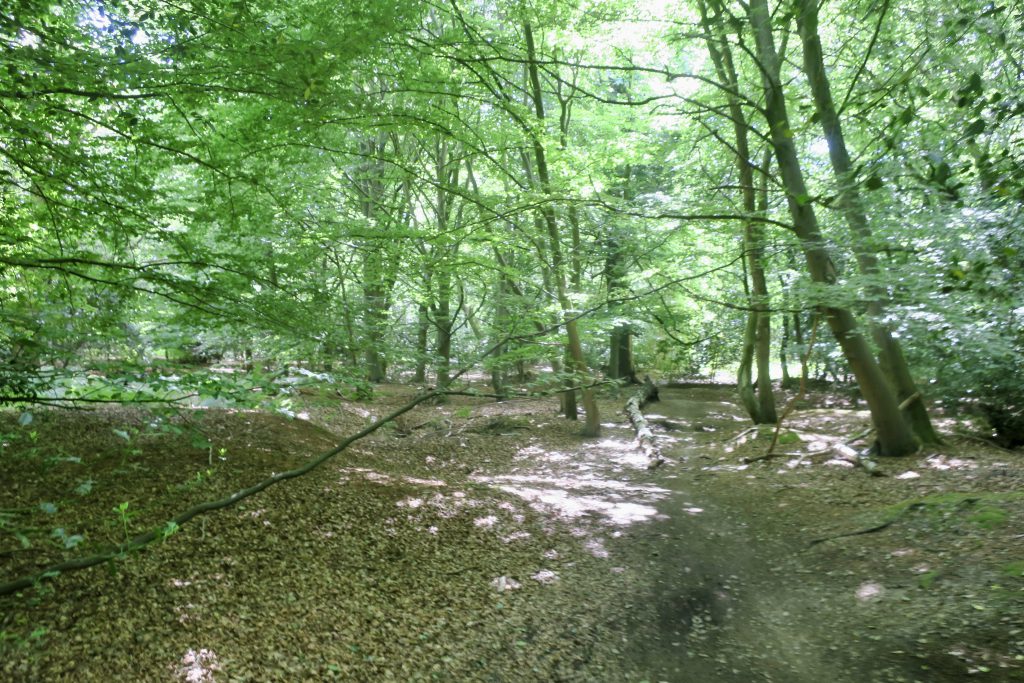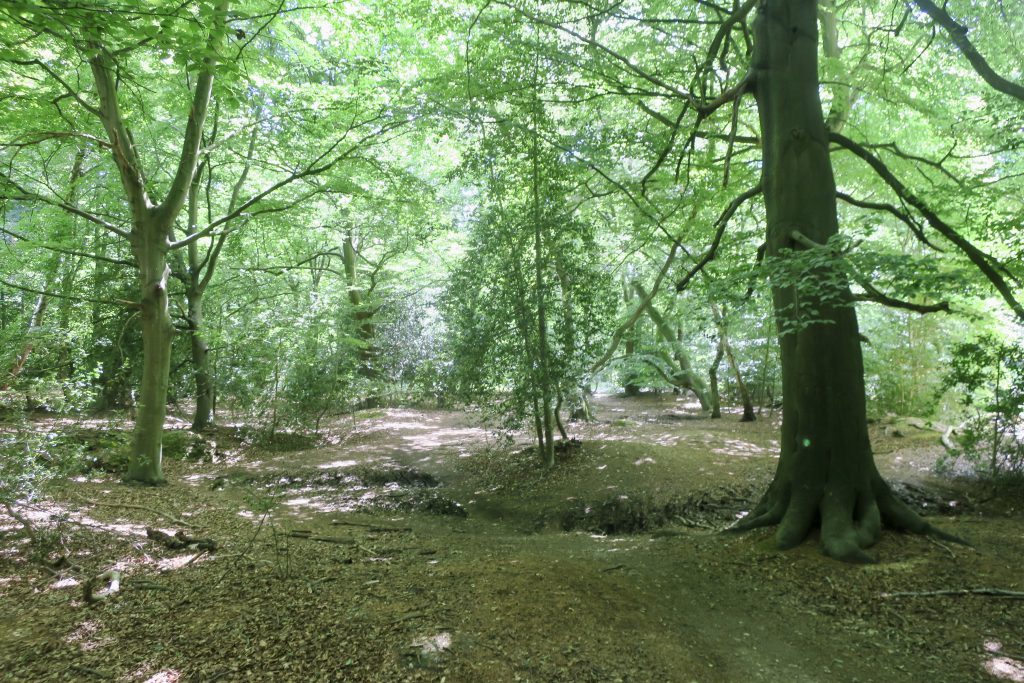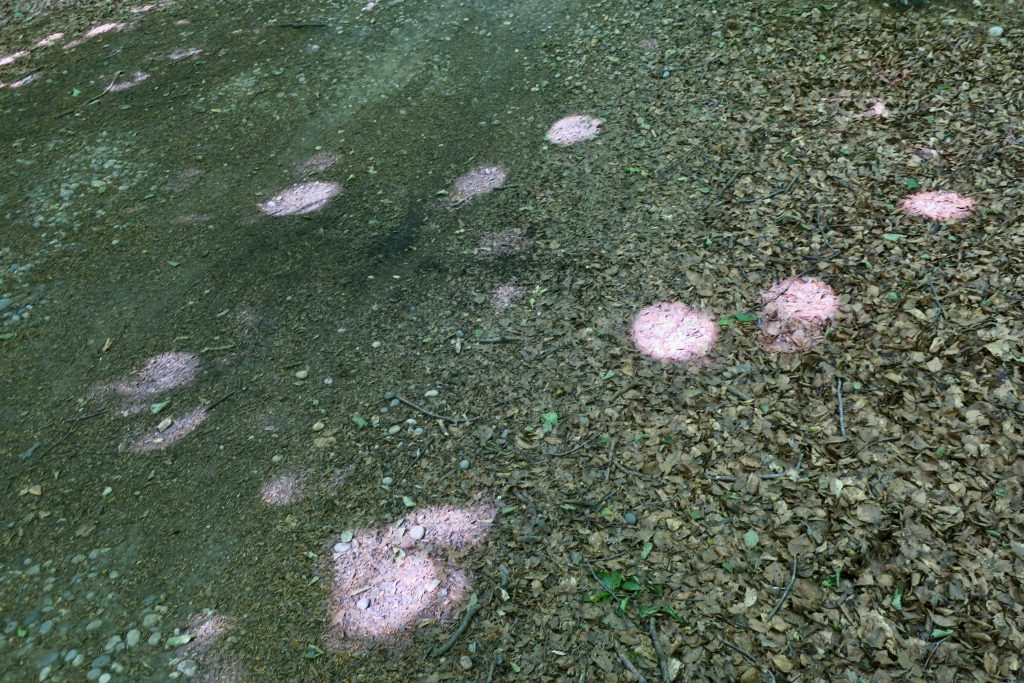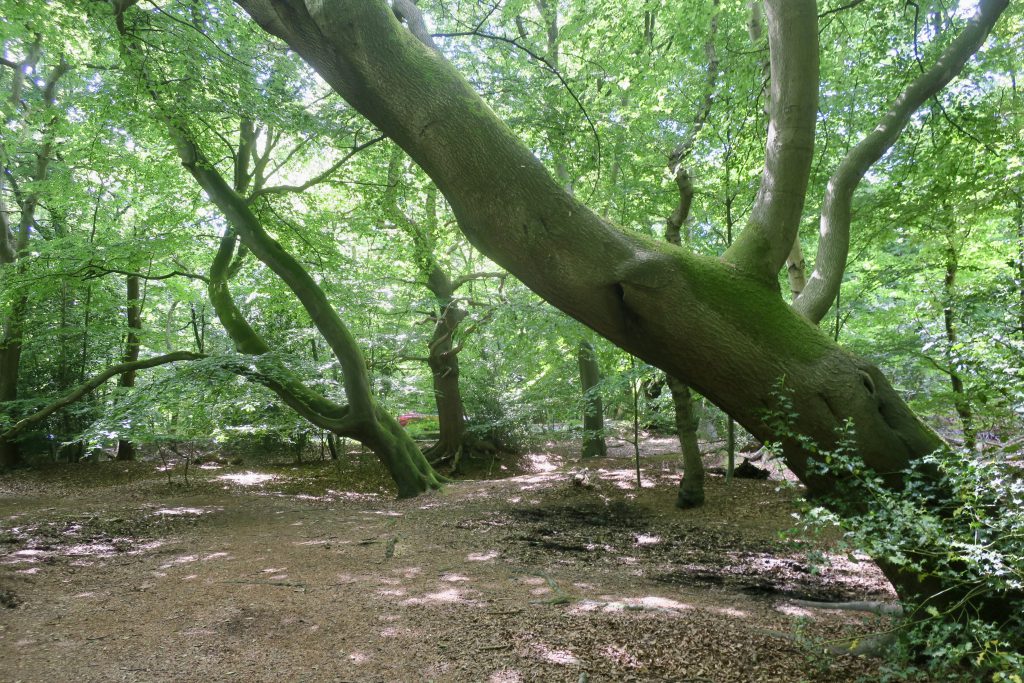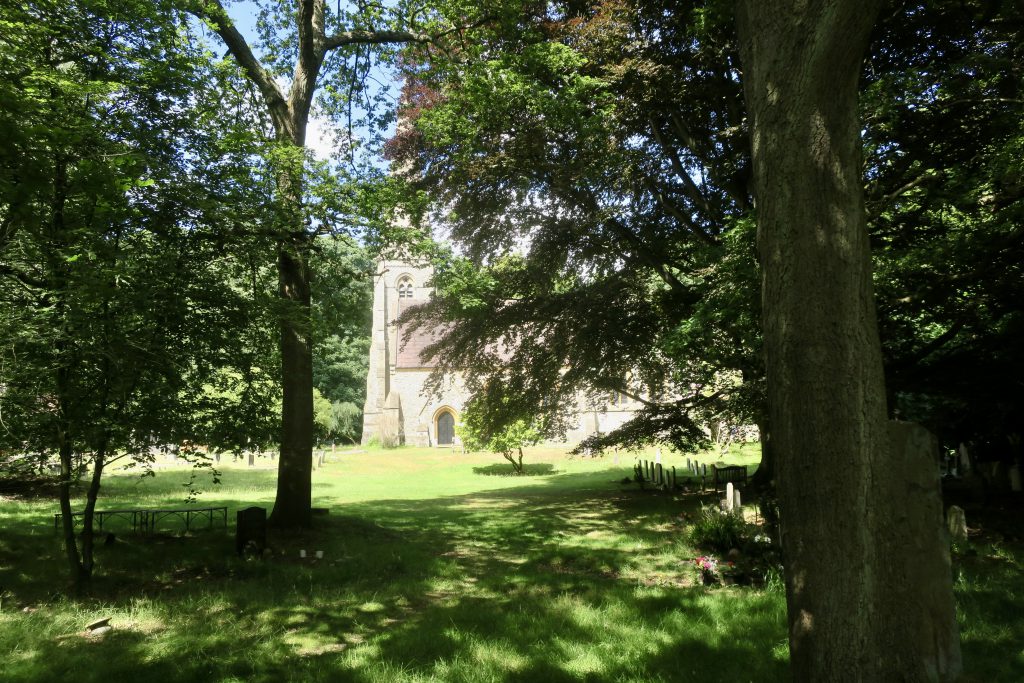 With church behind you, turn L downhill and after 300yds (274m), turn R on to path between high pollarded trees. This is Centenary Walk, which continues through woodland for ½ mile (800m) to deep cutting of small brook. Walk downhill southwest, keeping brook on R. After 400yds (366m), at grassy cross path, turn L. But this was familiar territory so we simply followed the path.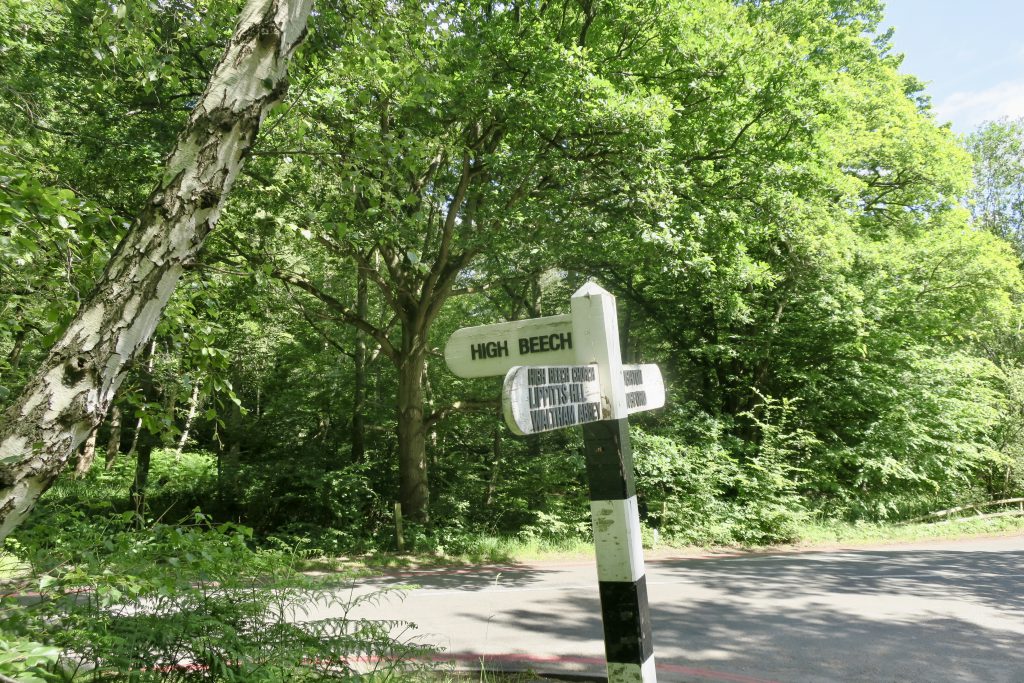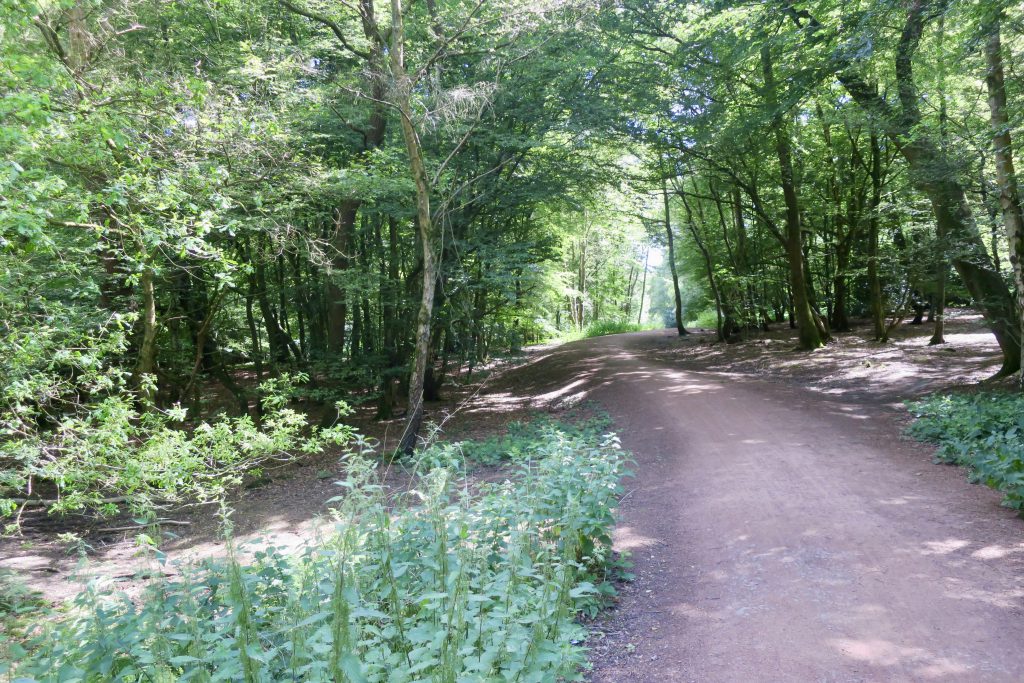 Below us in Hill Wood we could hear the excited cries of children running up and down, investigating the stream (is this The Ching?) that flows through here down to Connaught Water. I guess they were on a school field trip from the Suntrap Centre. What a great way to get to know the forest.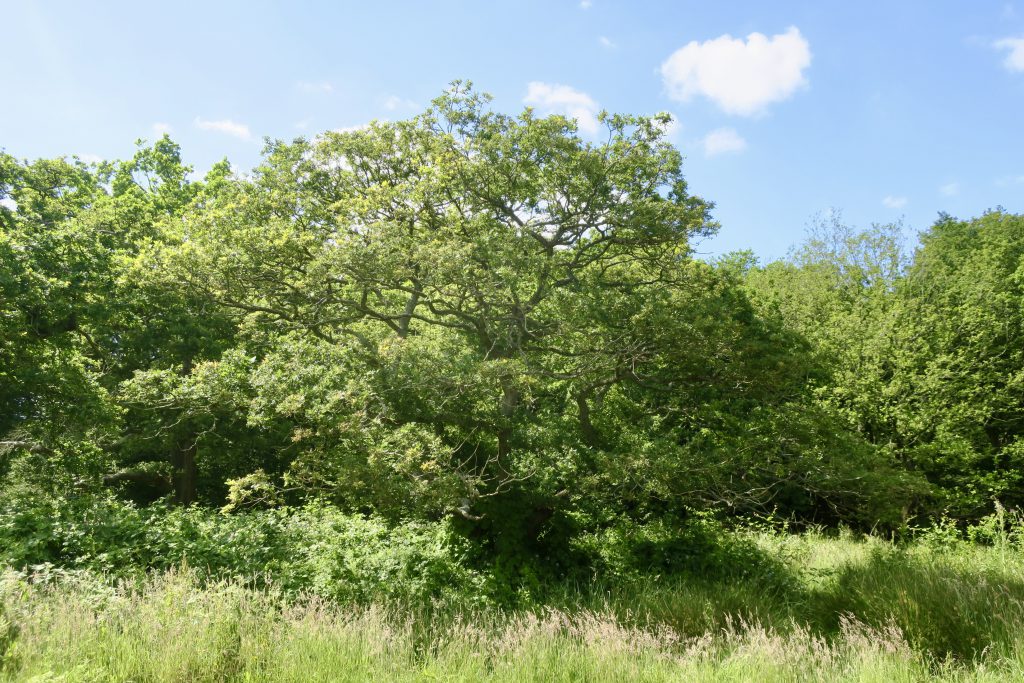 This oak at Whitehall Plain stands at the far end of the meadow where I'd earlier seen the longhorn cattle grazing wood pasture. We'd come full circle.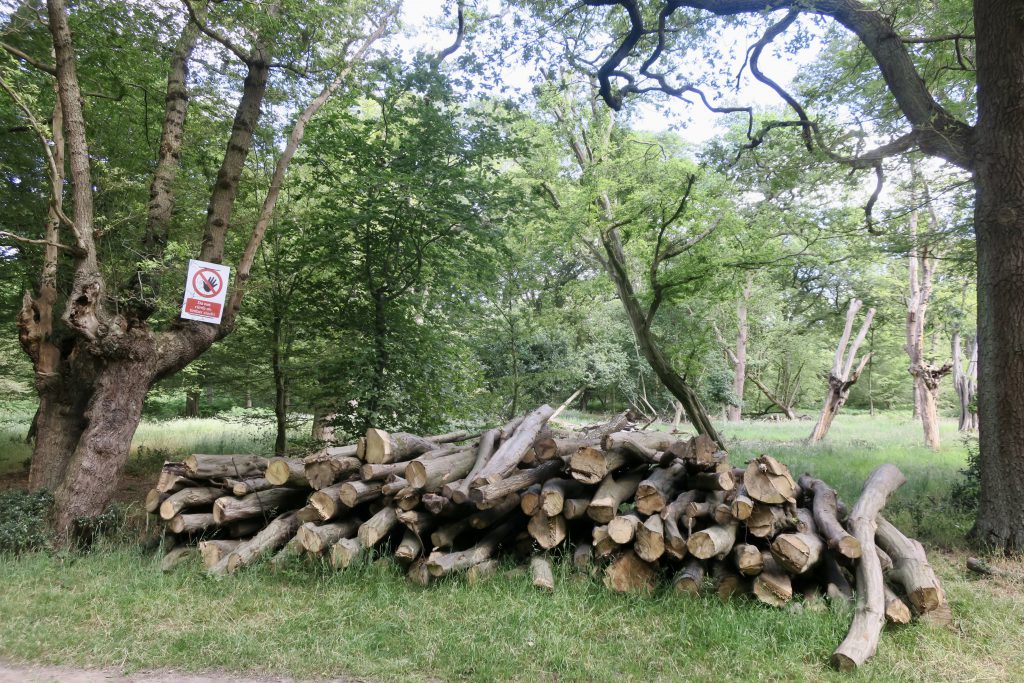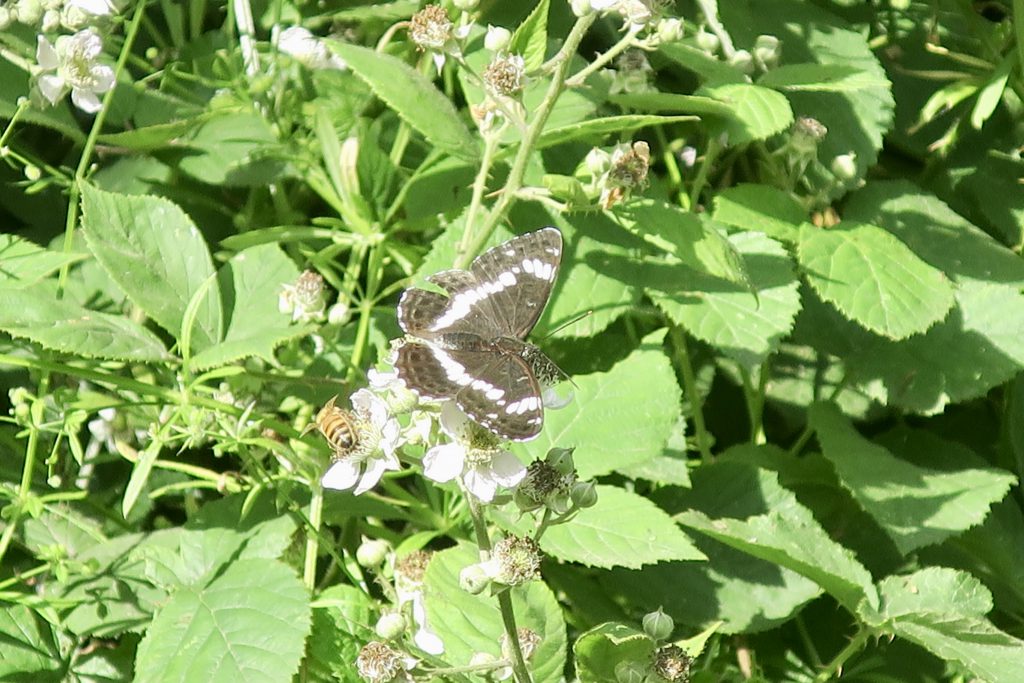 Down along Green Ride a large White Admiral butterfly came gliding past my head, beckoning me to follow. I chased it back along the path, watching as it magically disappeared and reappeared through dappled shadows, to where it eventually settled to feed on a wayside spray of bramble flowers.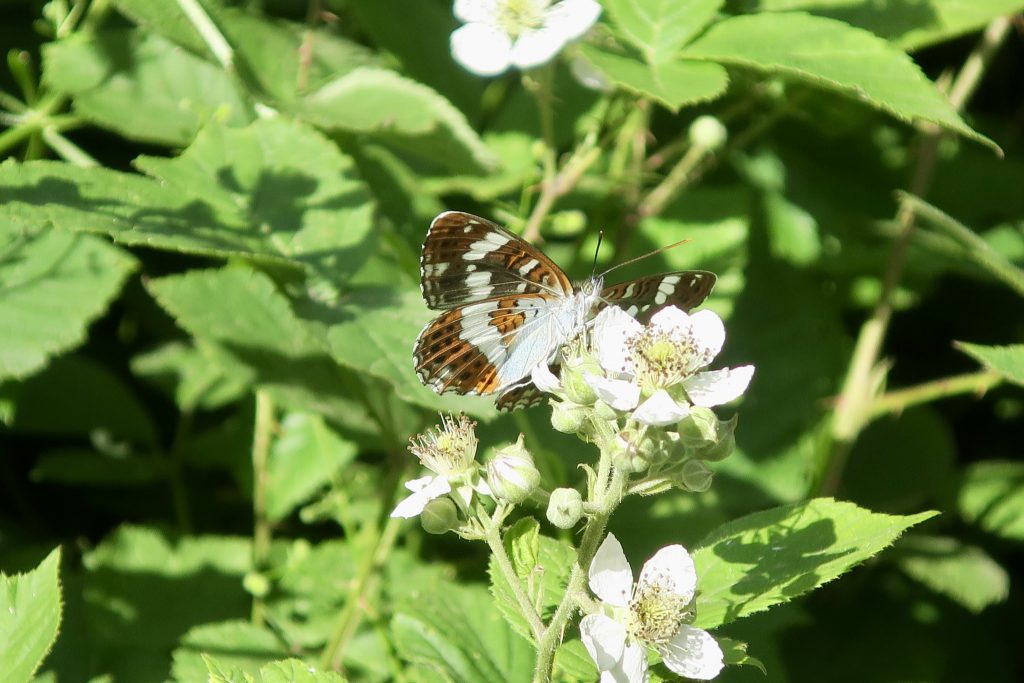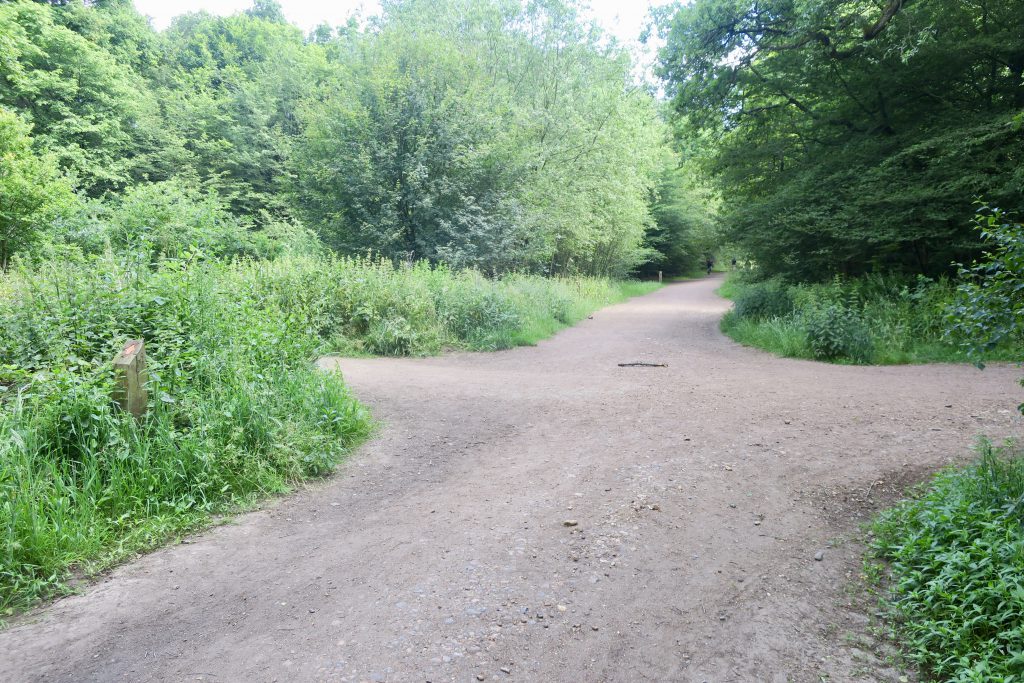 The lefthand path at Buttonseed Corner would take us to Grimston's Oak, a tree worth visiting, but today we were going straight on along Magpie Hill to another oak, a great unnamed tree that points in many directions.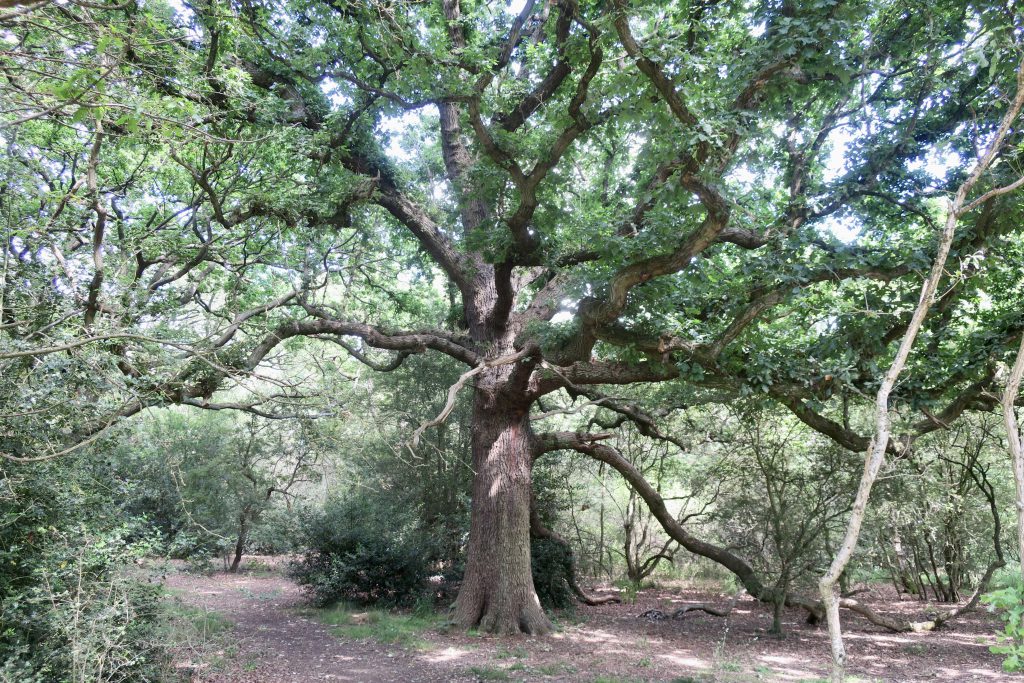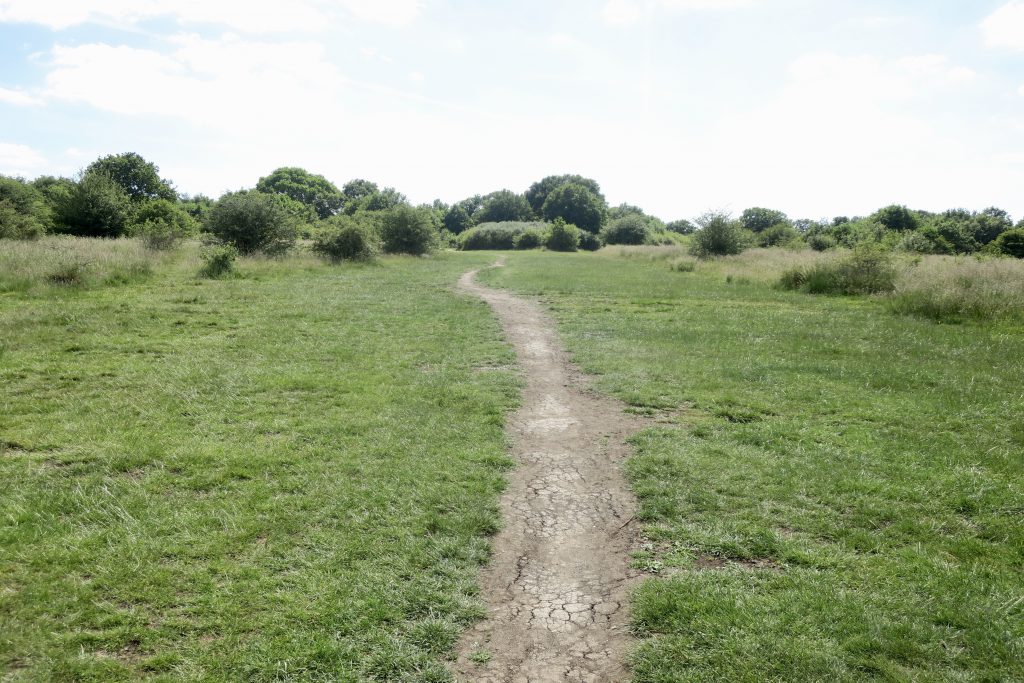 Our direction was uphill, back to Barn Hoppitt where we'd started from, a familiar walk but each time as different as the weather and the seasons.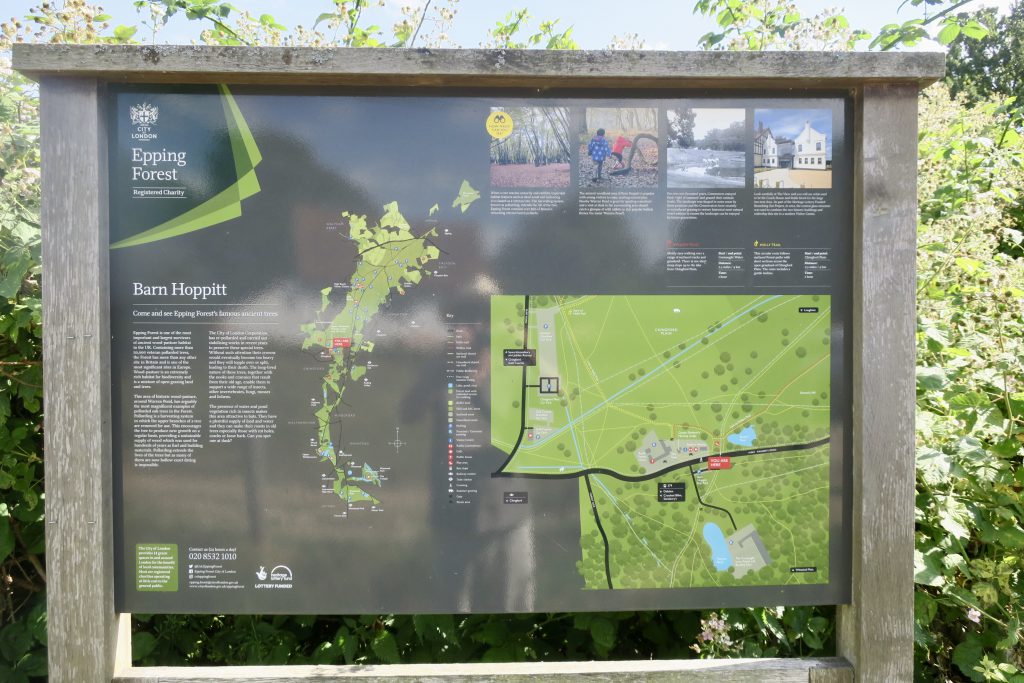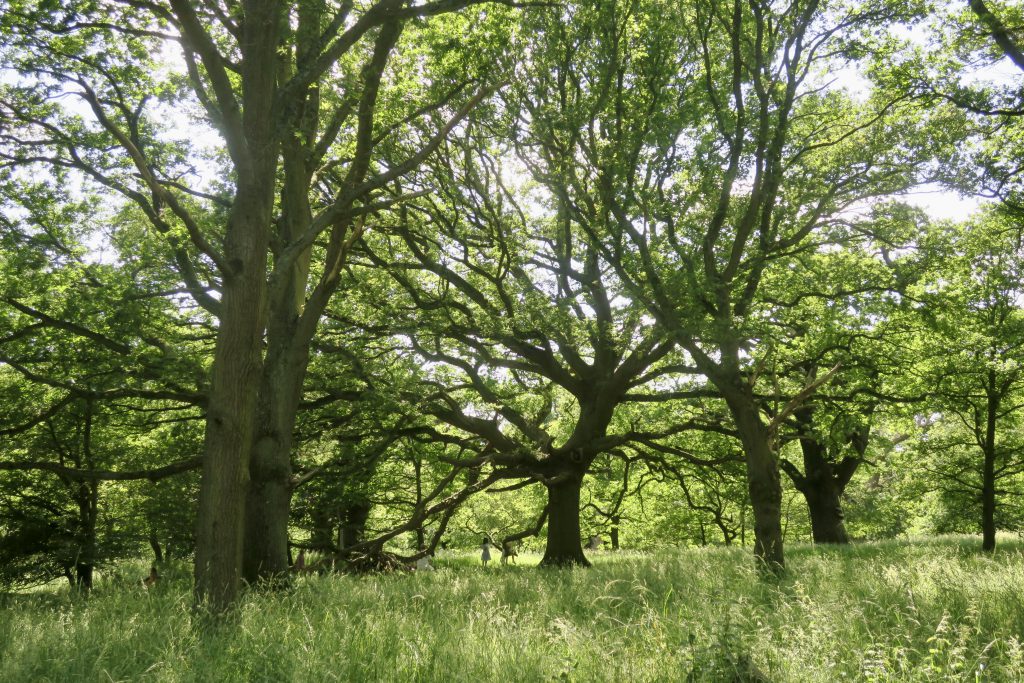 This is my favourite Barn Hoppitt tree, a great oak for a picnic, it lets down a low branch for you to climb on board, then rotates them all like the spokes of a big wheel, lifting you off your feet and up into the tree canopy where you can fly over Chingford and across the distant London skyline all the way to the North Downs, before bringing you gently back down to earth, with a head full of views and visions, and a decision to remain forever in the forest.
※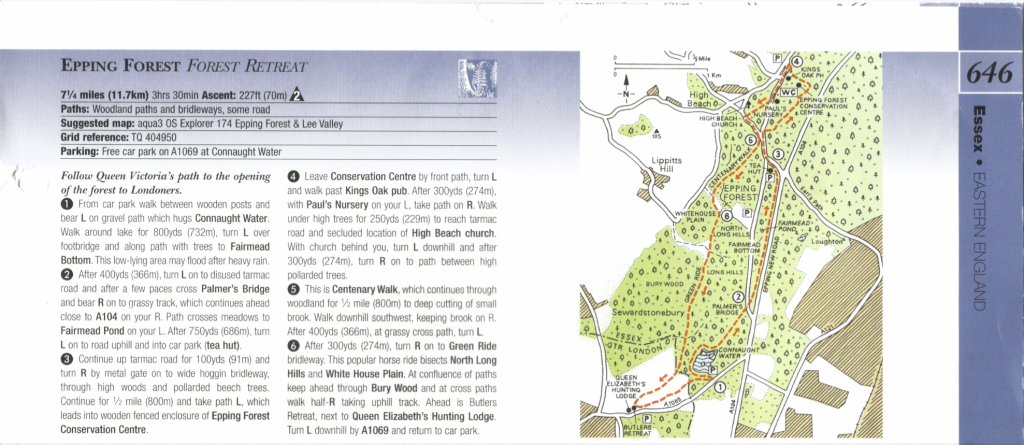 ※