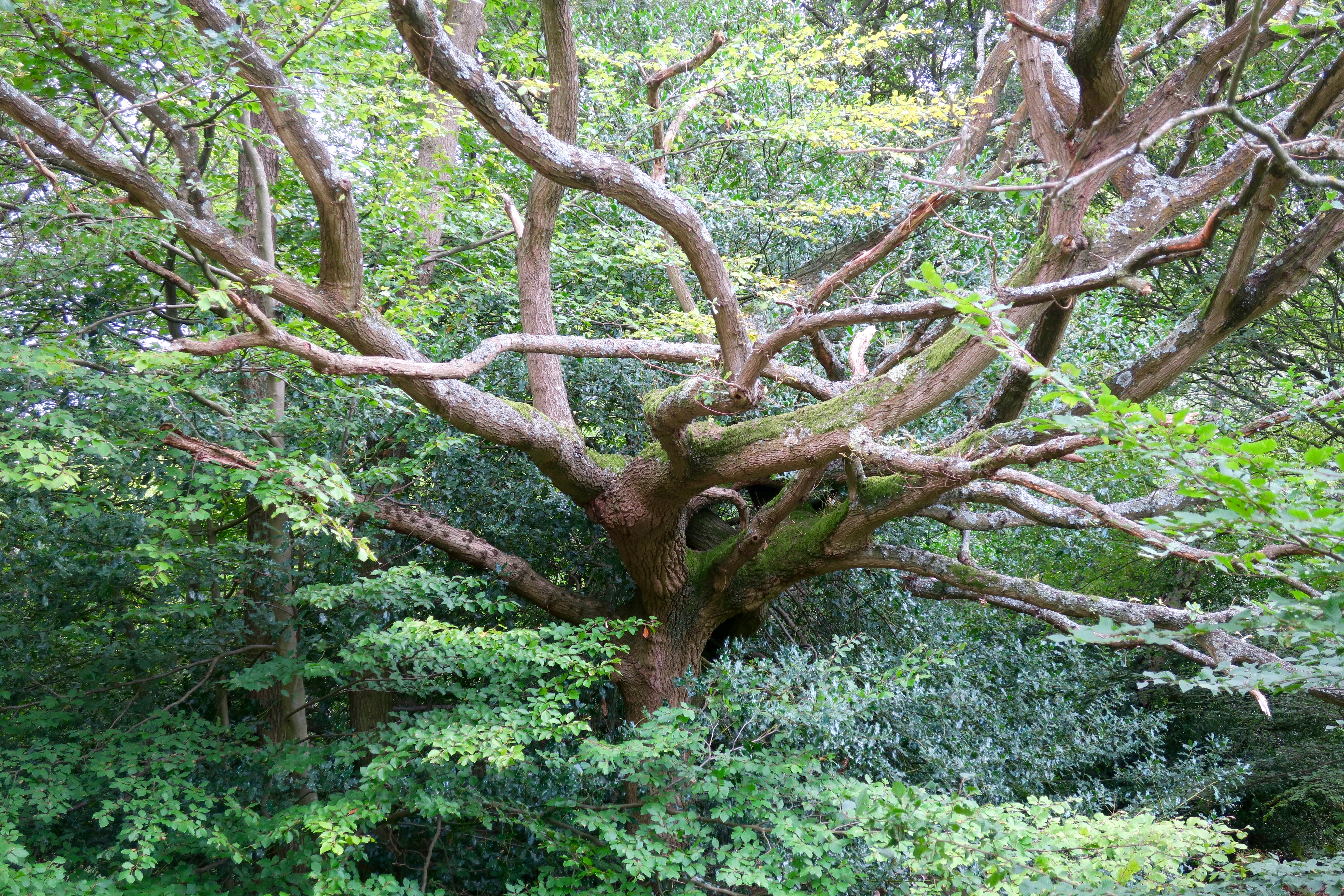 I worry sometimes that I can't take a walk without taking a photograph. The plan today was for a quick visit to Epping Forest then back home again via the supermarket. But we came to a part of the forest we'd not seen before, and I was like a dog released from the car, excitedly running and snapping my camera in wild abandon. I'm just so energised by the light in these trees.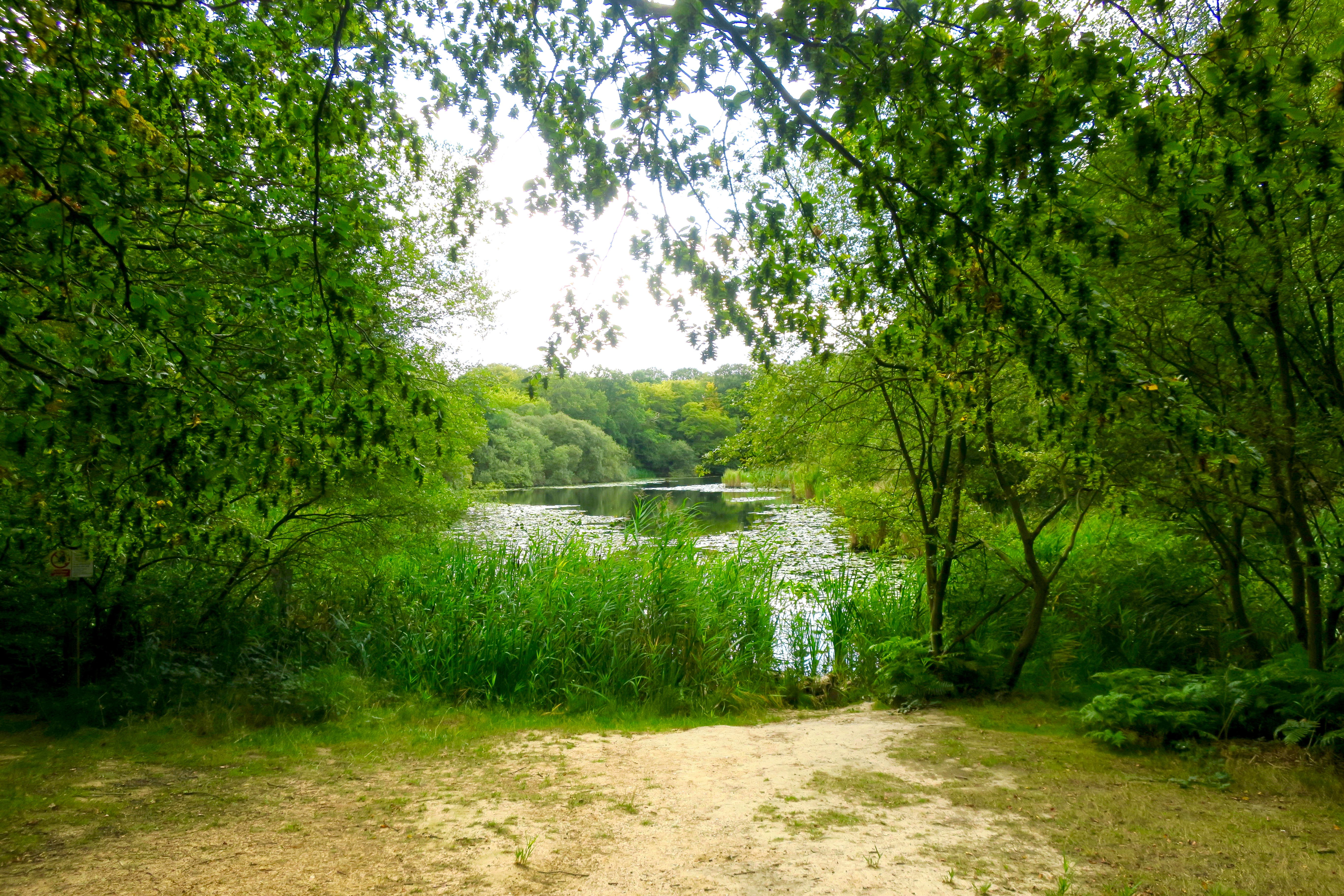 This was early September at Wake Valley Pond, a revelation hidden away just off the main Epping New Road, traffic humming behind a screen of trees, but here under the hornbeams heavy with clusters of winged fruits, we're suddenly lost in a new green wonderland. And lots of new paths.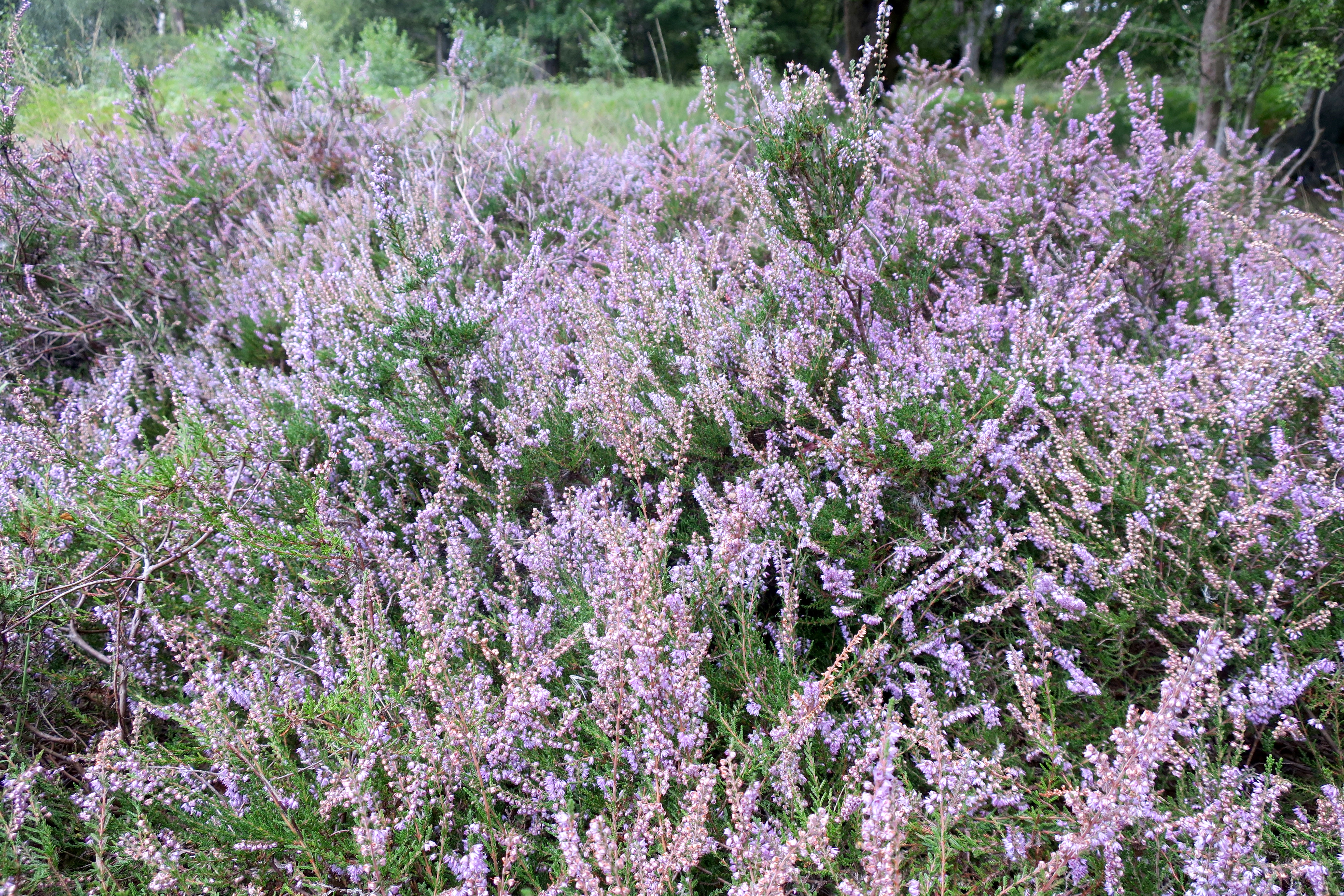 And surprising banks of wild heather.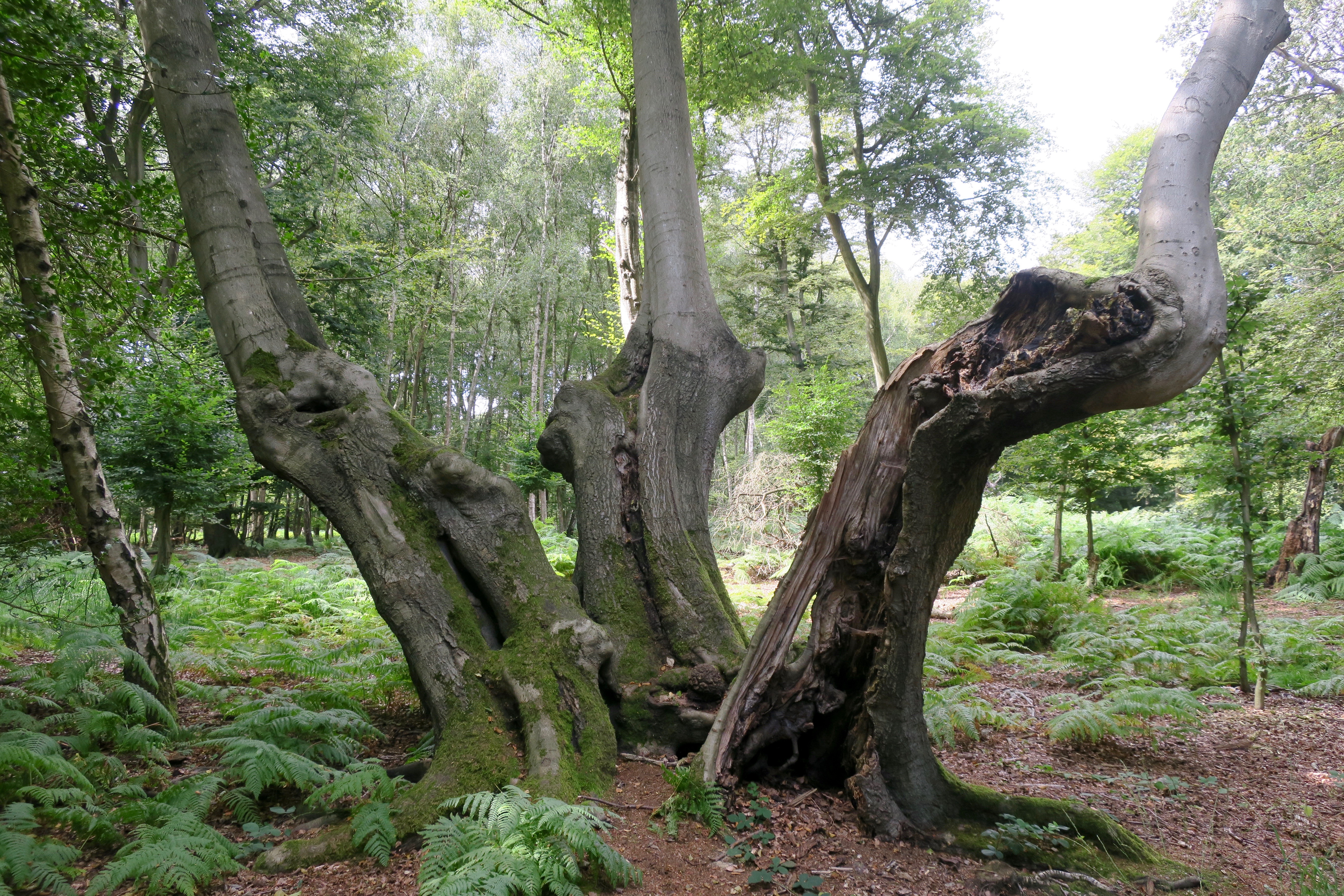 Beech Triptych #1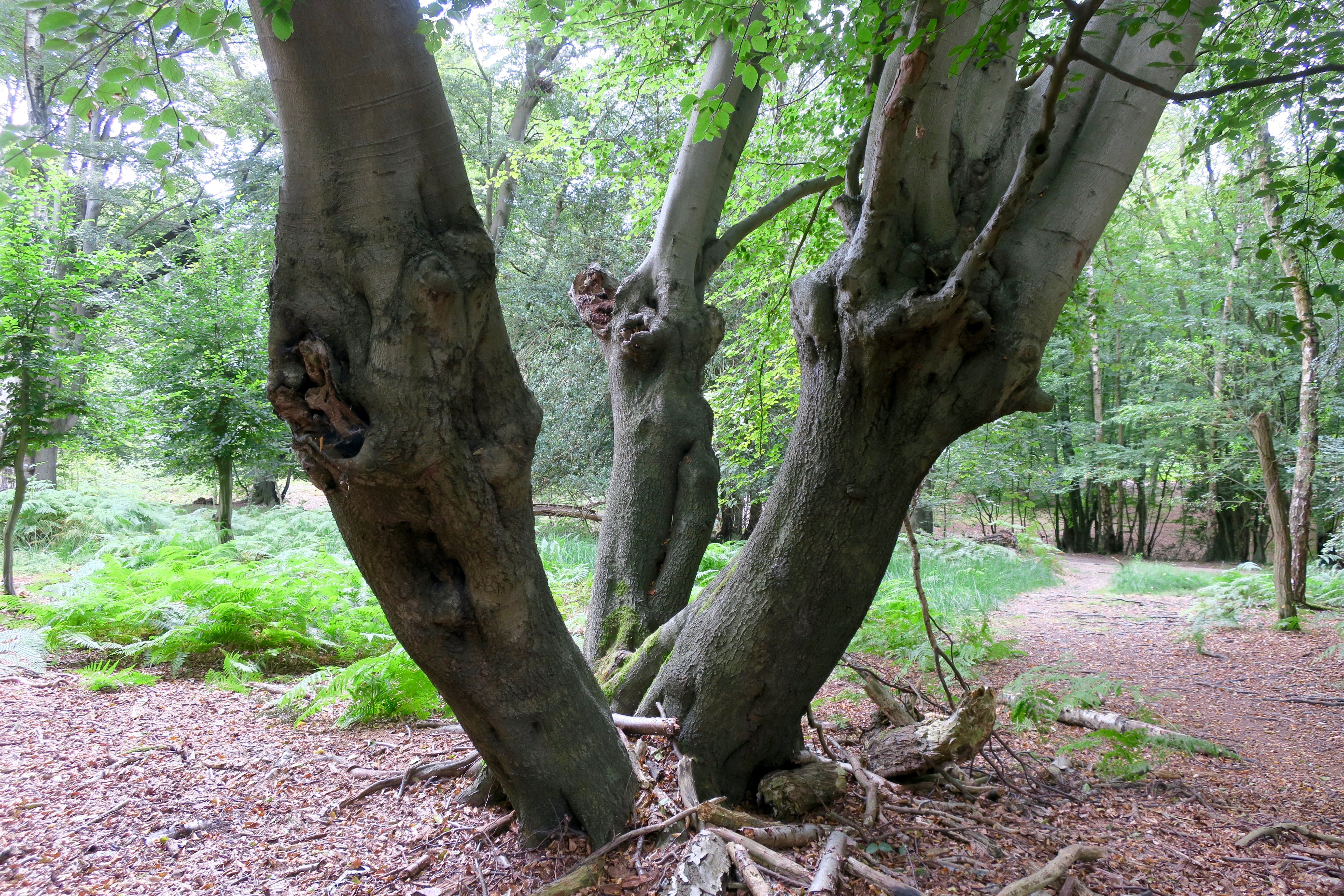 Beech Triptych #2
These two beech trees were within about 20 yards of each other, both of them split into three. Why do they remind me of Rodin's Burghers of Calais? Shouldn't I be imagining Canova's Three Graces?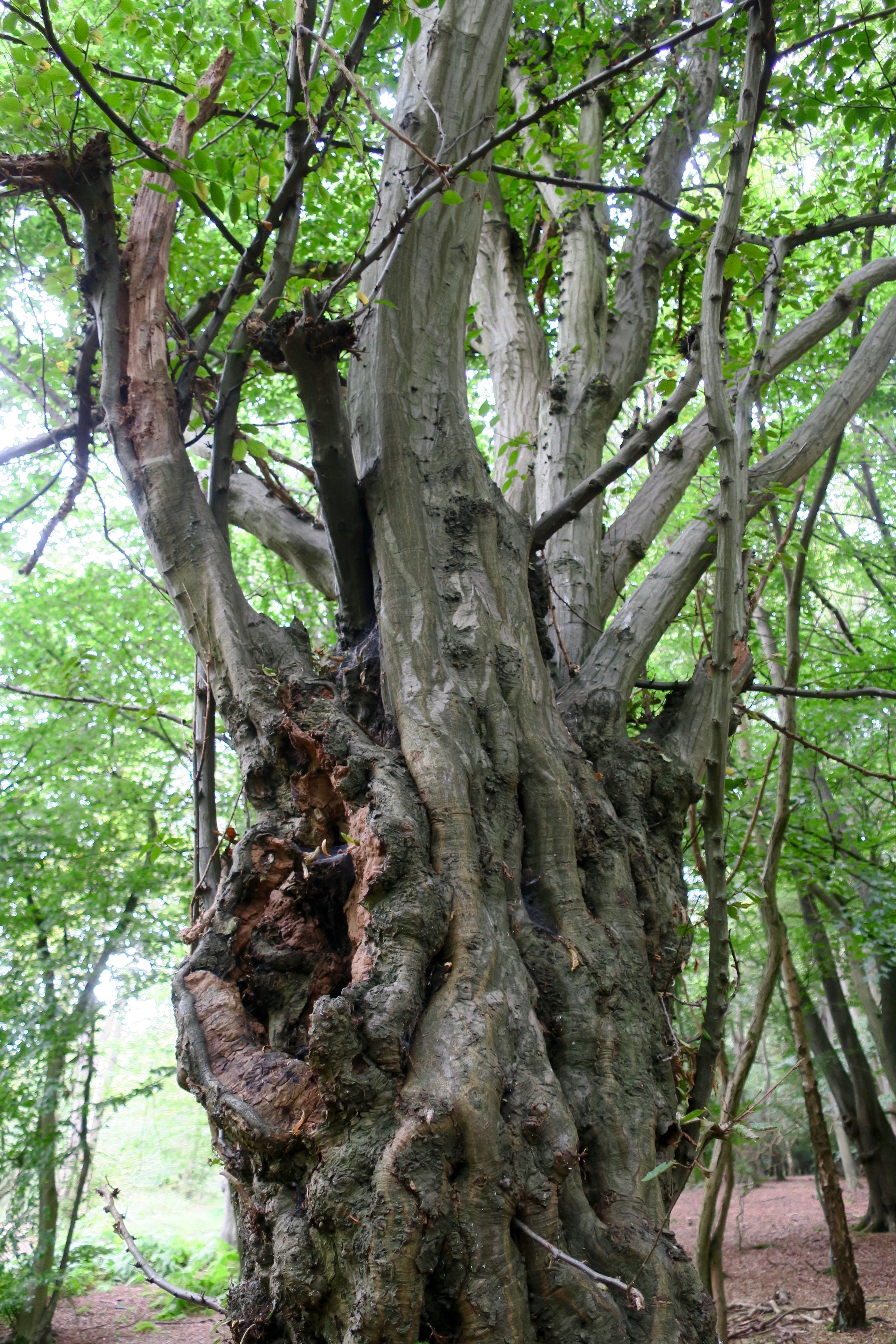 This gnarly twisting hornbeam brings to mind Tenniel's drawing of Jabberwocky.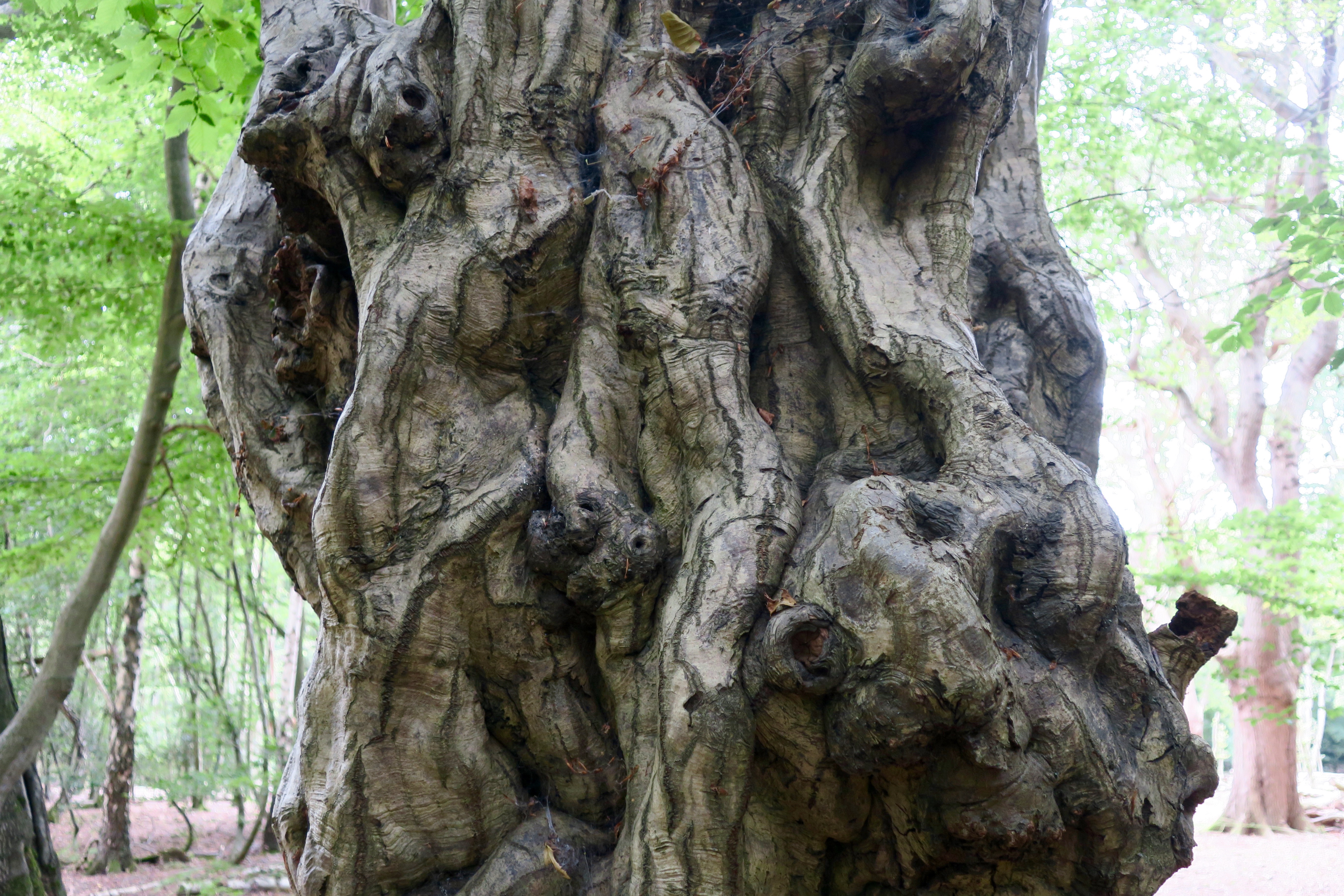 Also Soutine's carcasse de boeuf paintings and his wonderful writhing trees of Céret.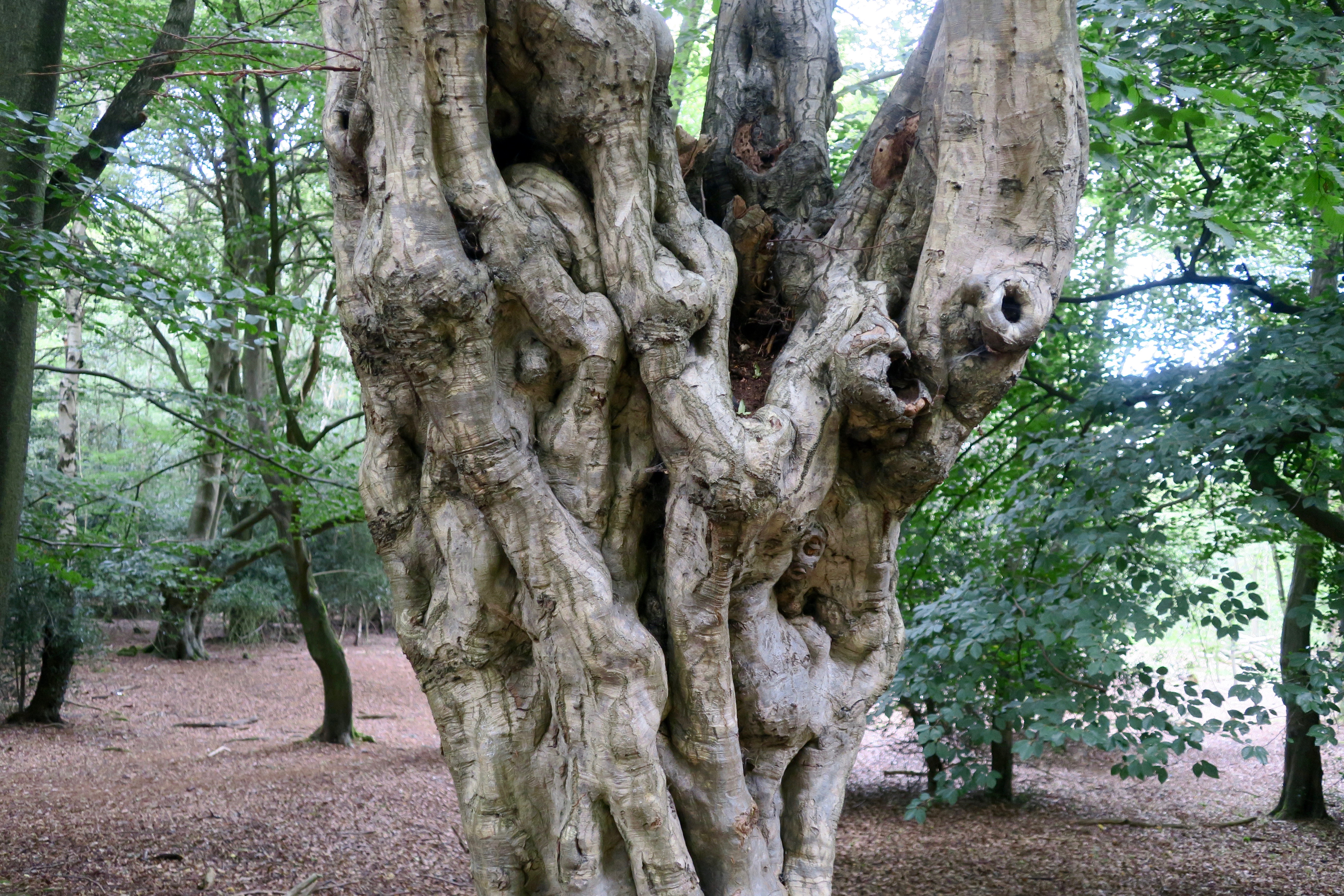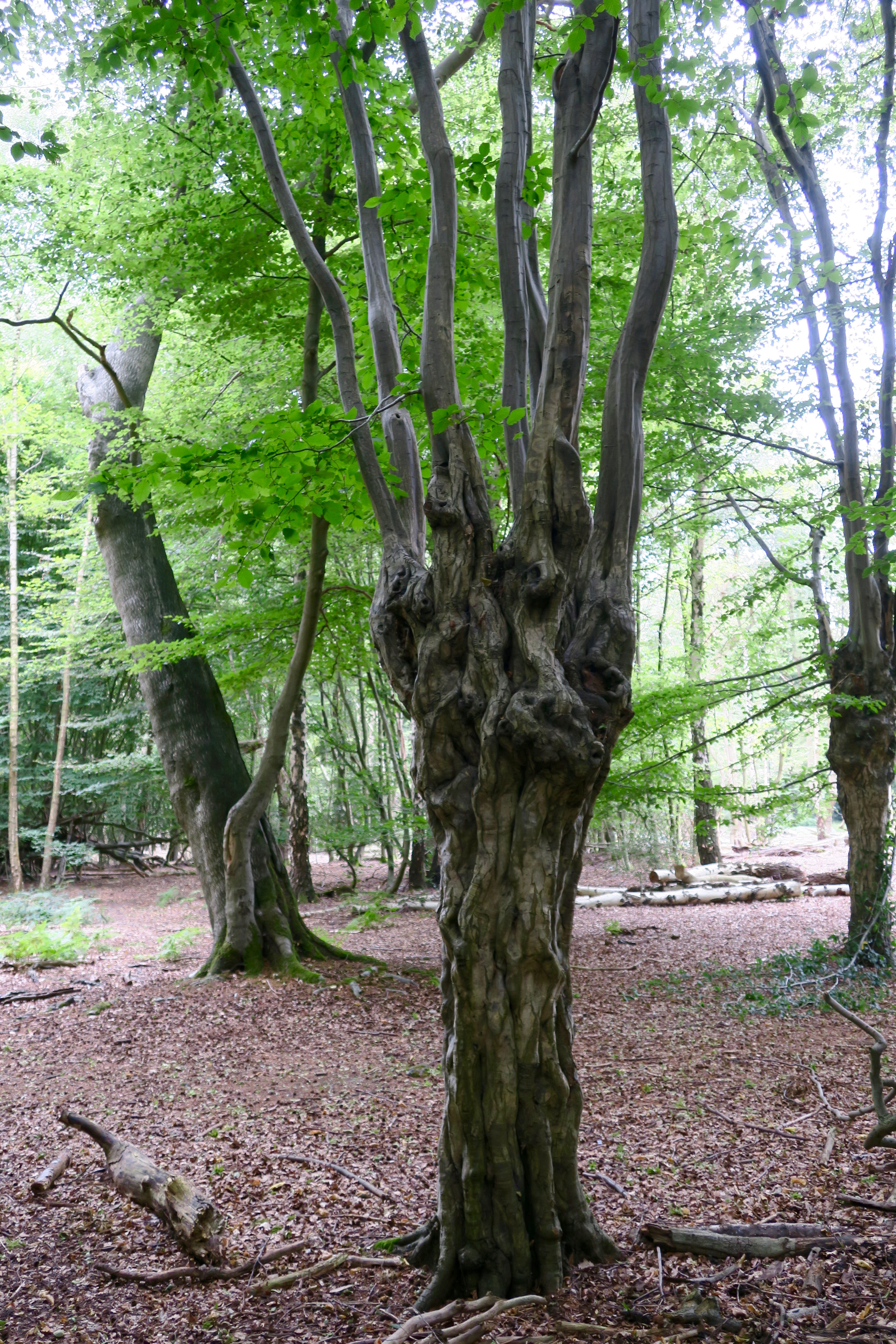 The hornbeam is also known as hardbeam. It has the hardest wood of any tree in Europe – it blunts carpenters' tools. It was used for cogs in mills, screws, skittles and skittle balls, piano keys and hammers and to make charcoal for gunpowder mills. Billiard cues and drumsticks are among its current uses.
Hornbeam / England In Particular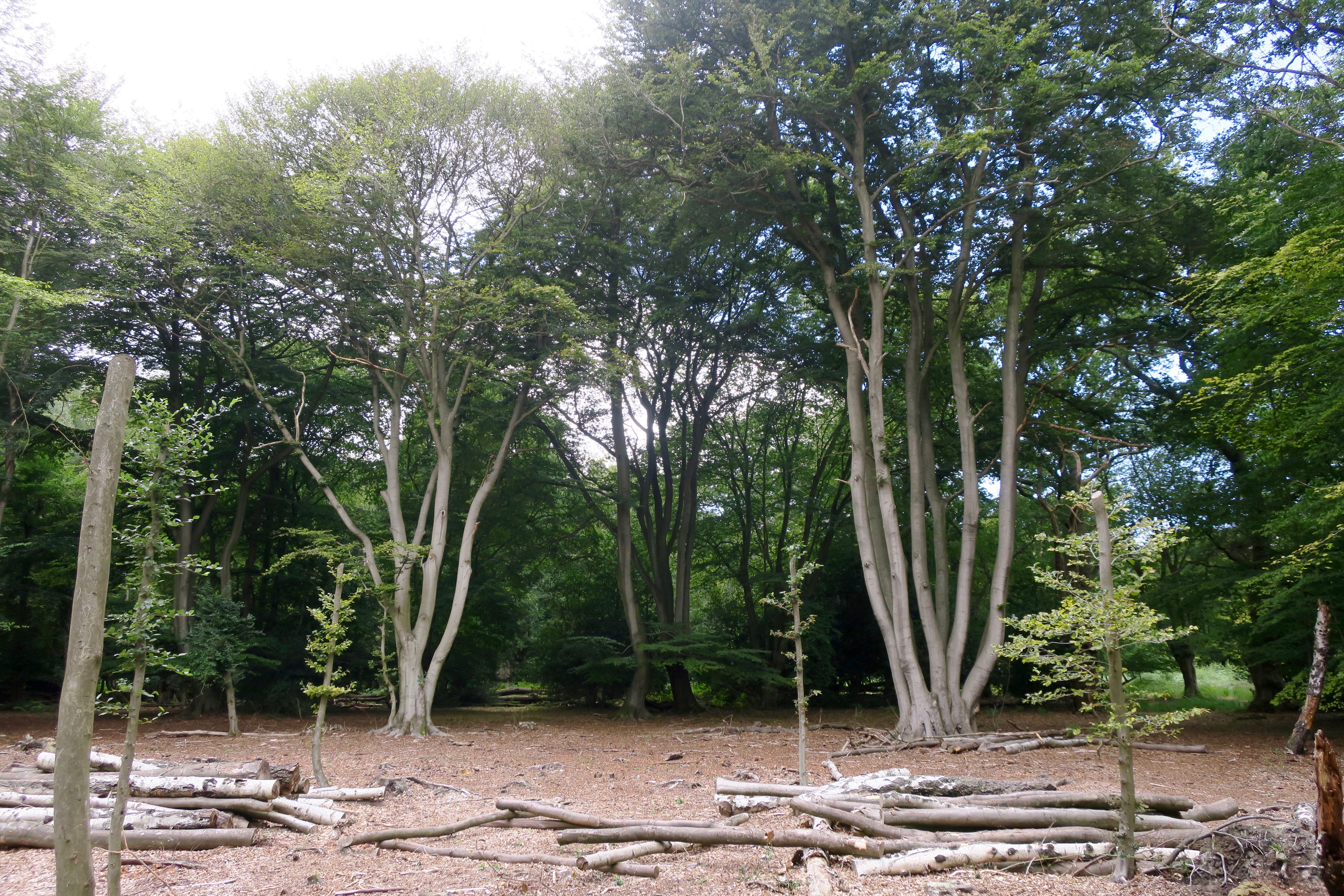 Then into a clearing where new growth beech had just been pollarded.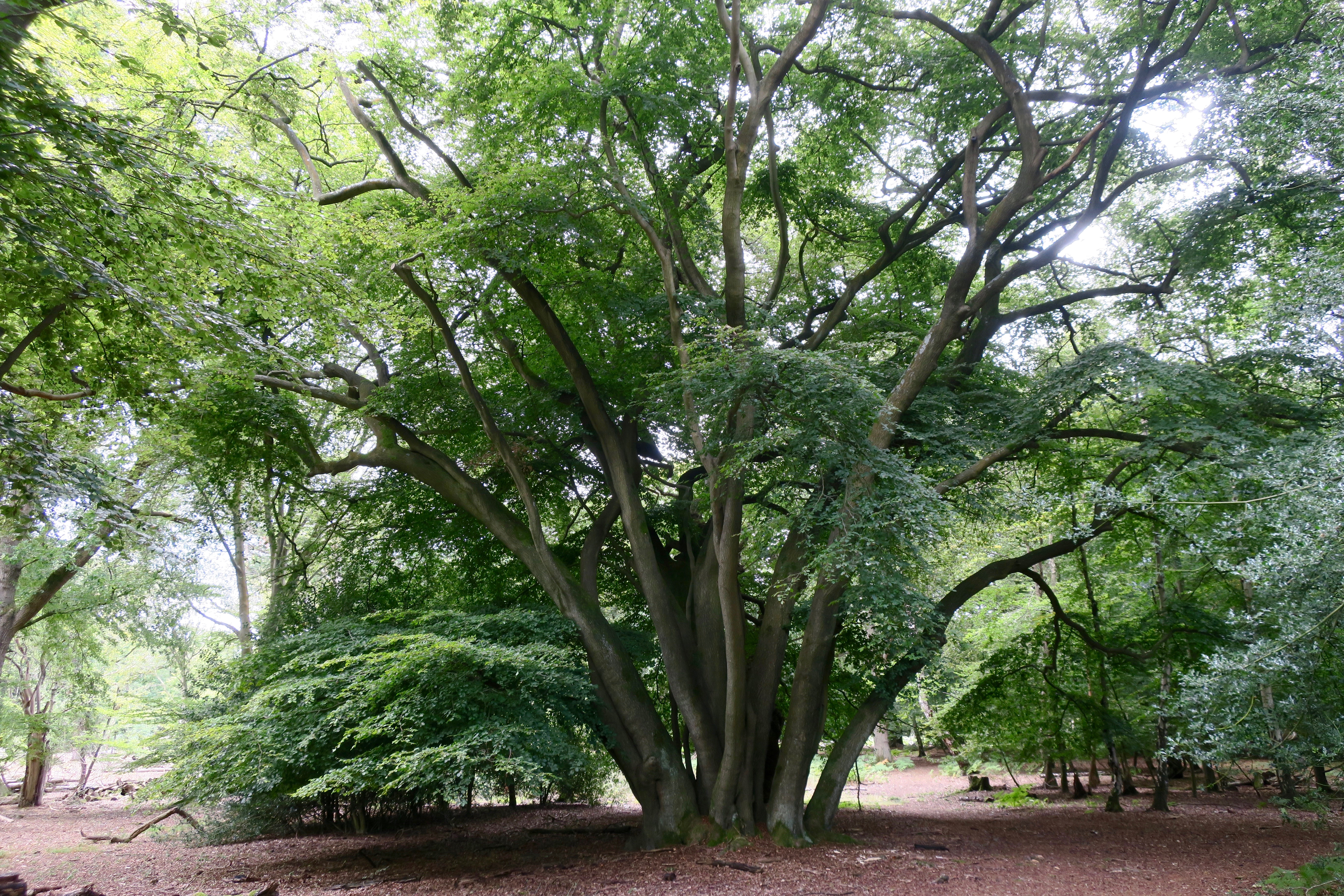 Watched over by some magnificent veterans.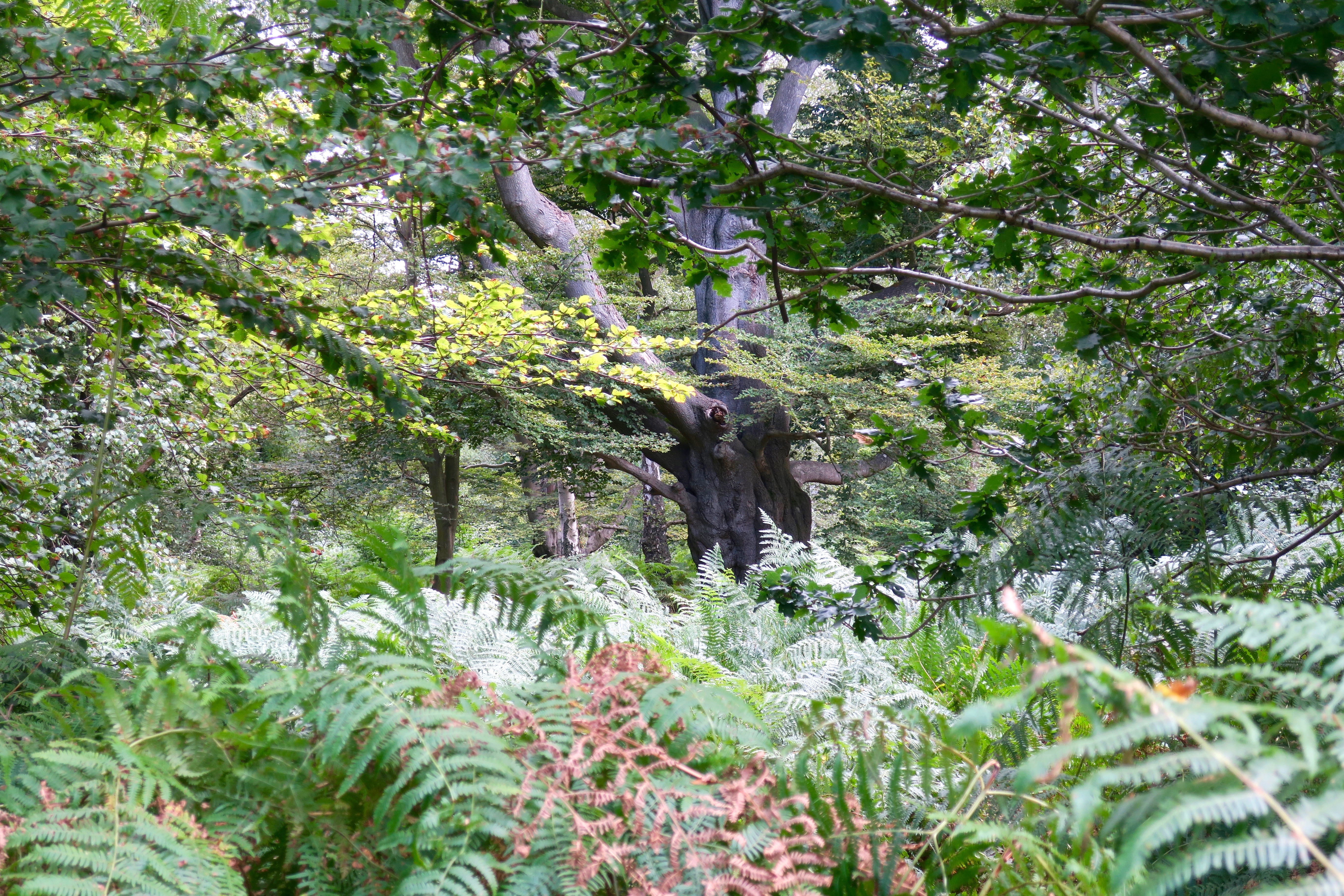 We followed a hidden path through the bracken and got swallowed up deeper into the forest.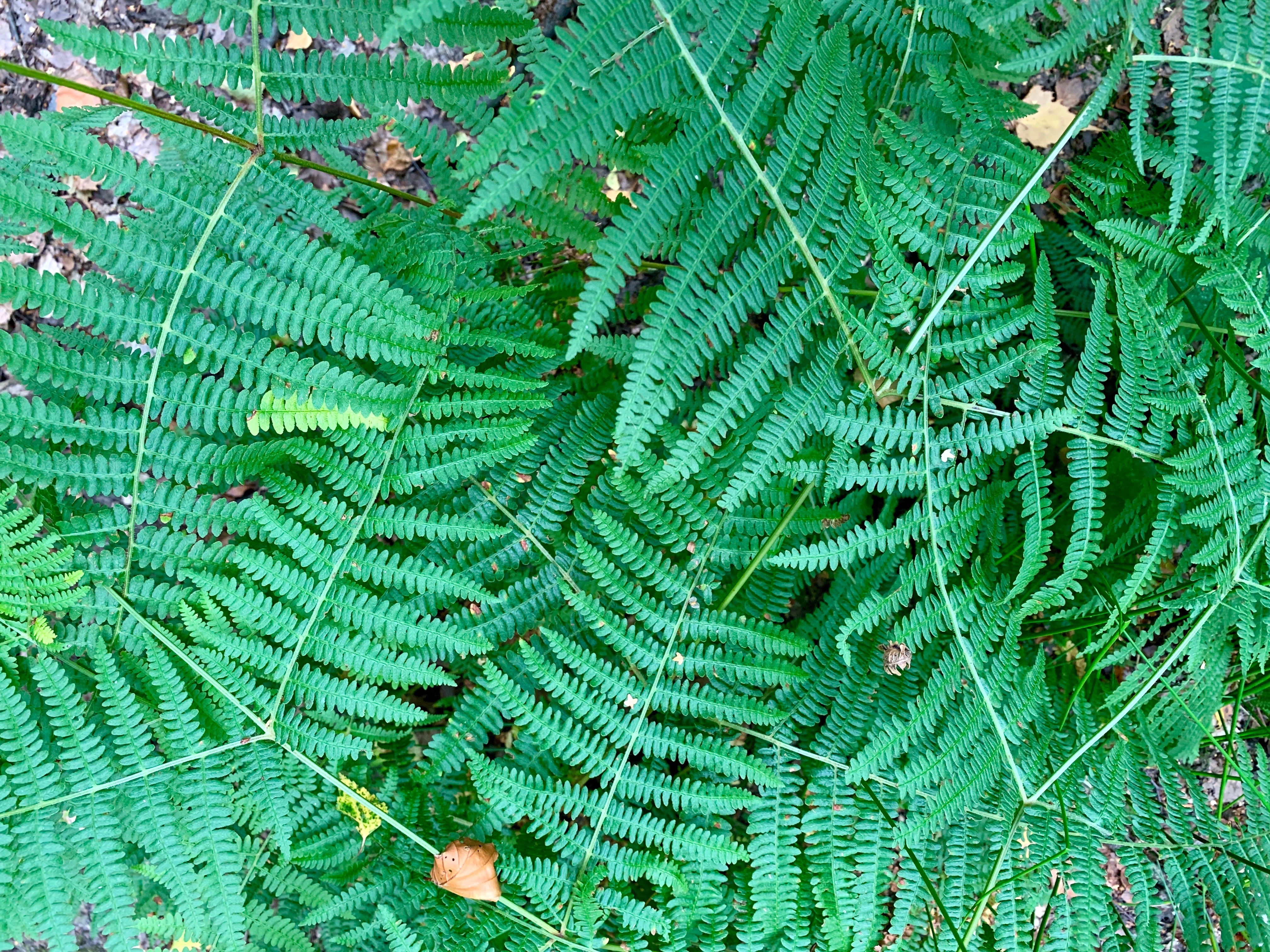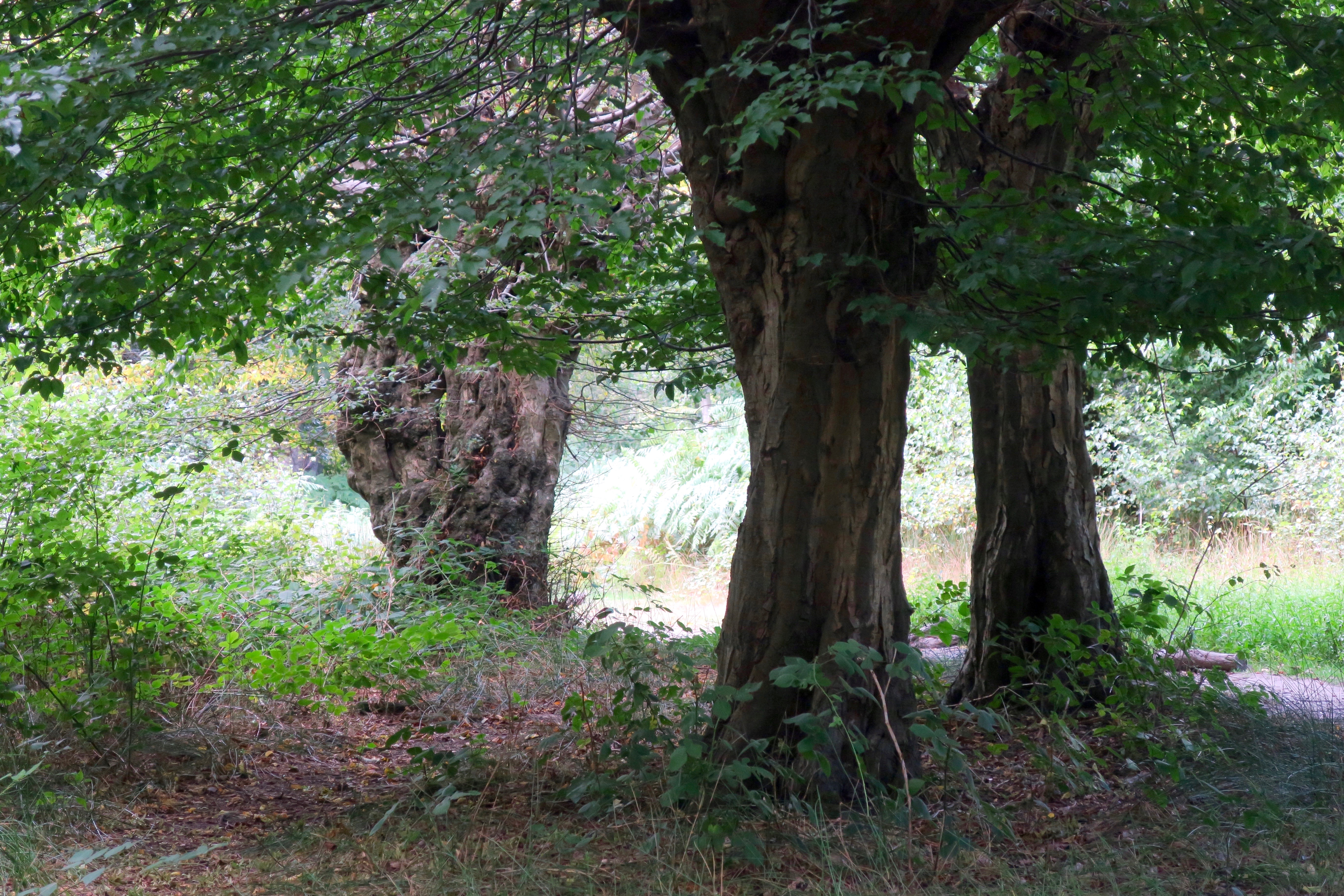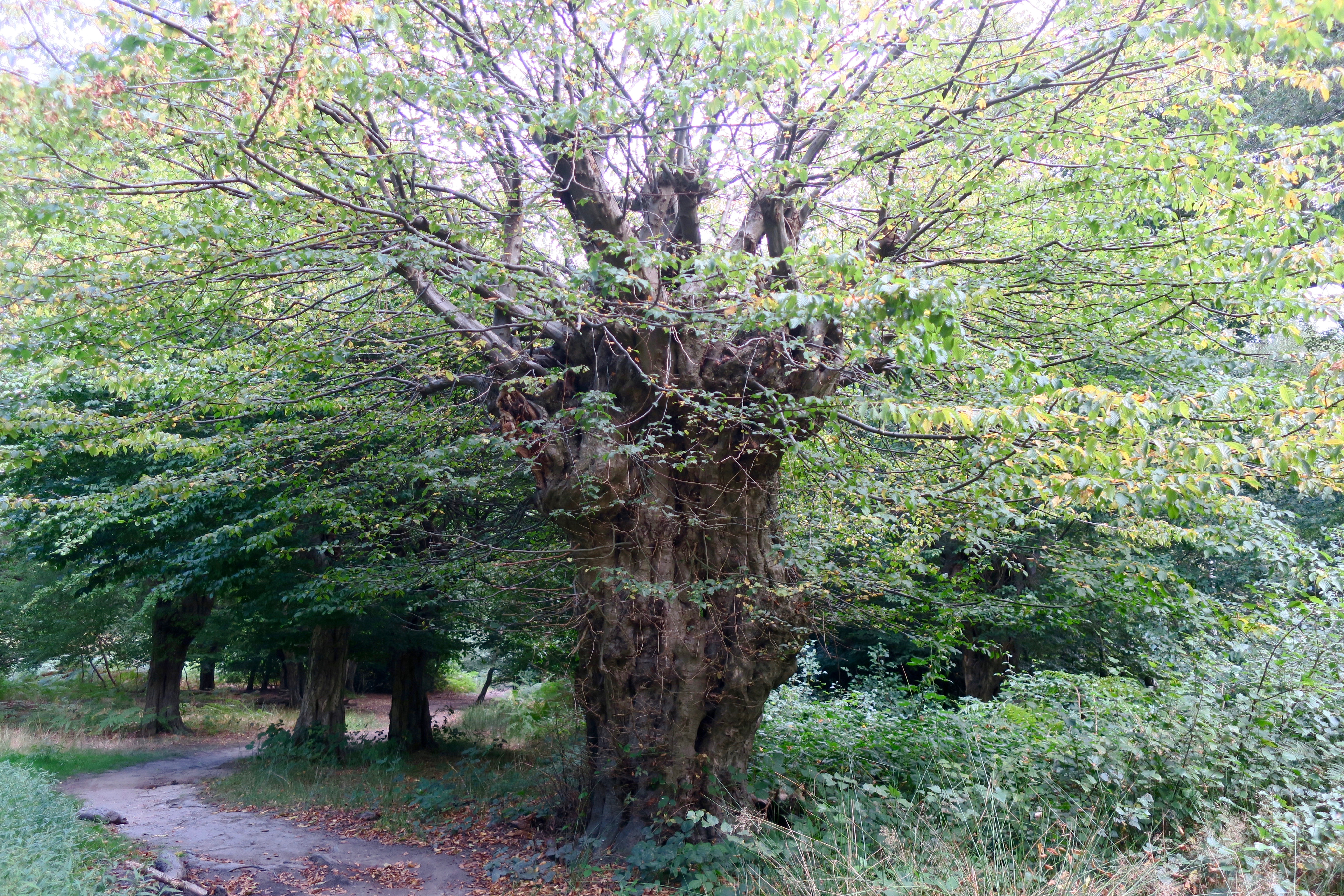 This is where to find euphoria!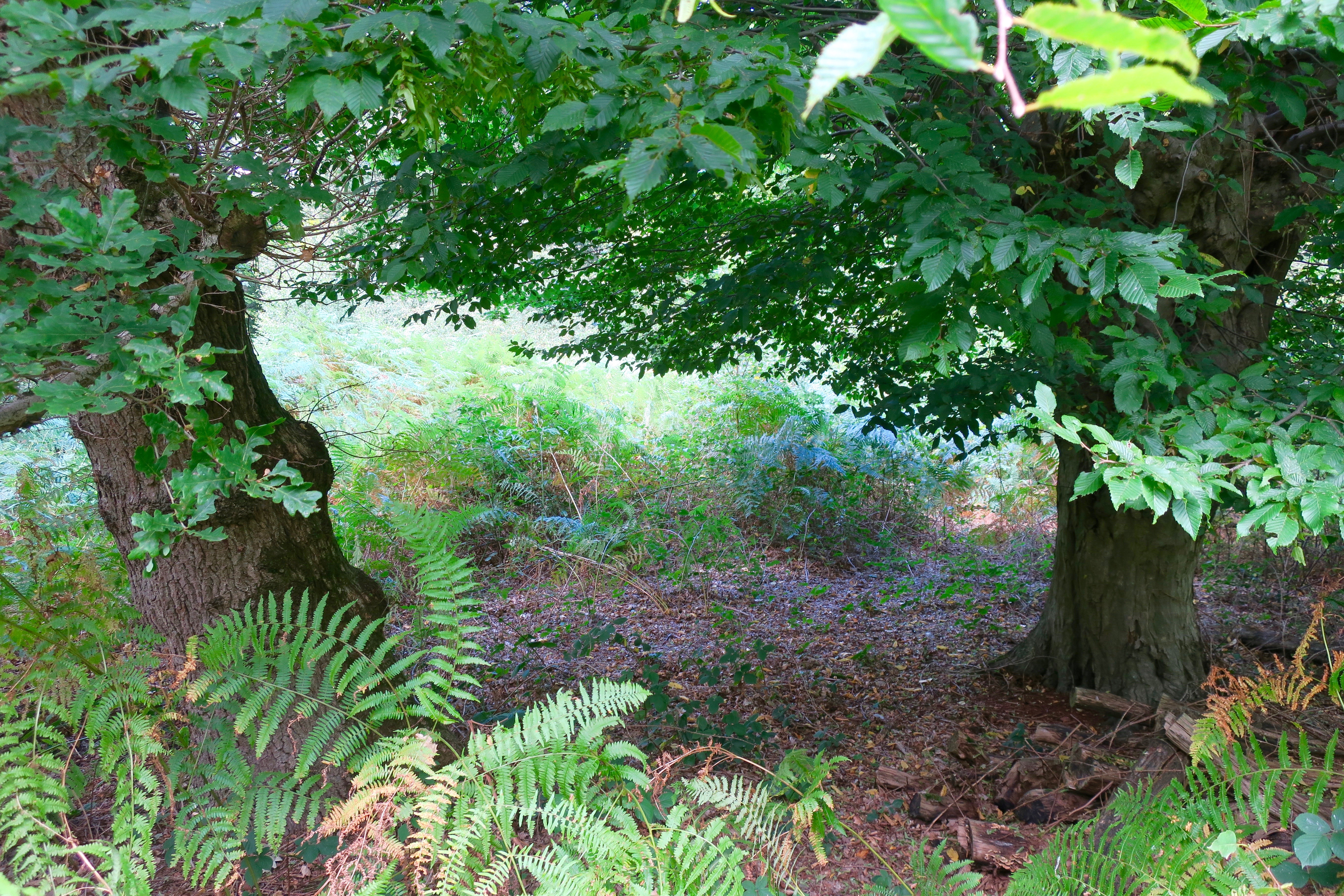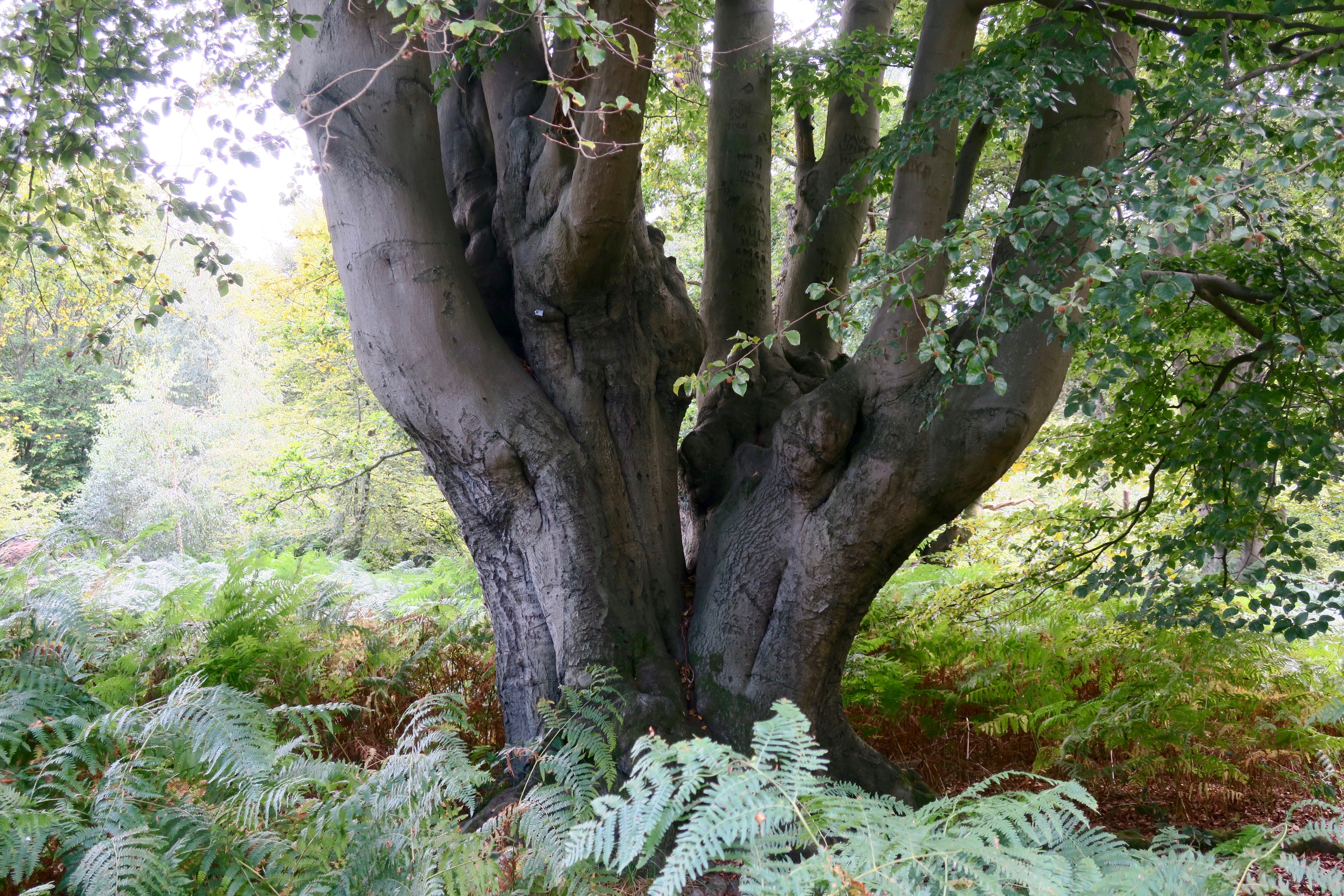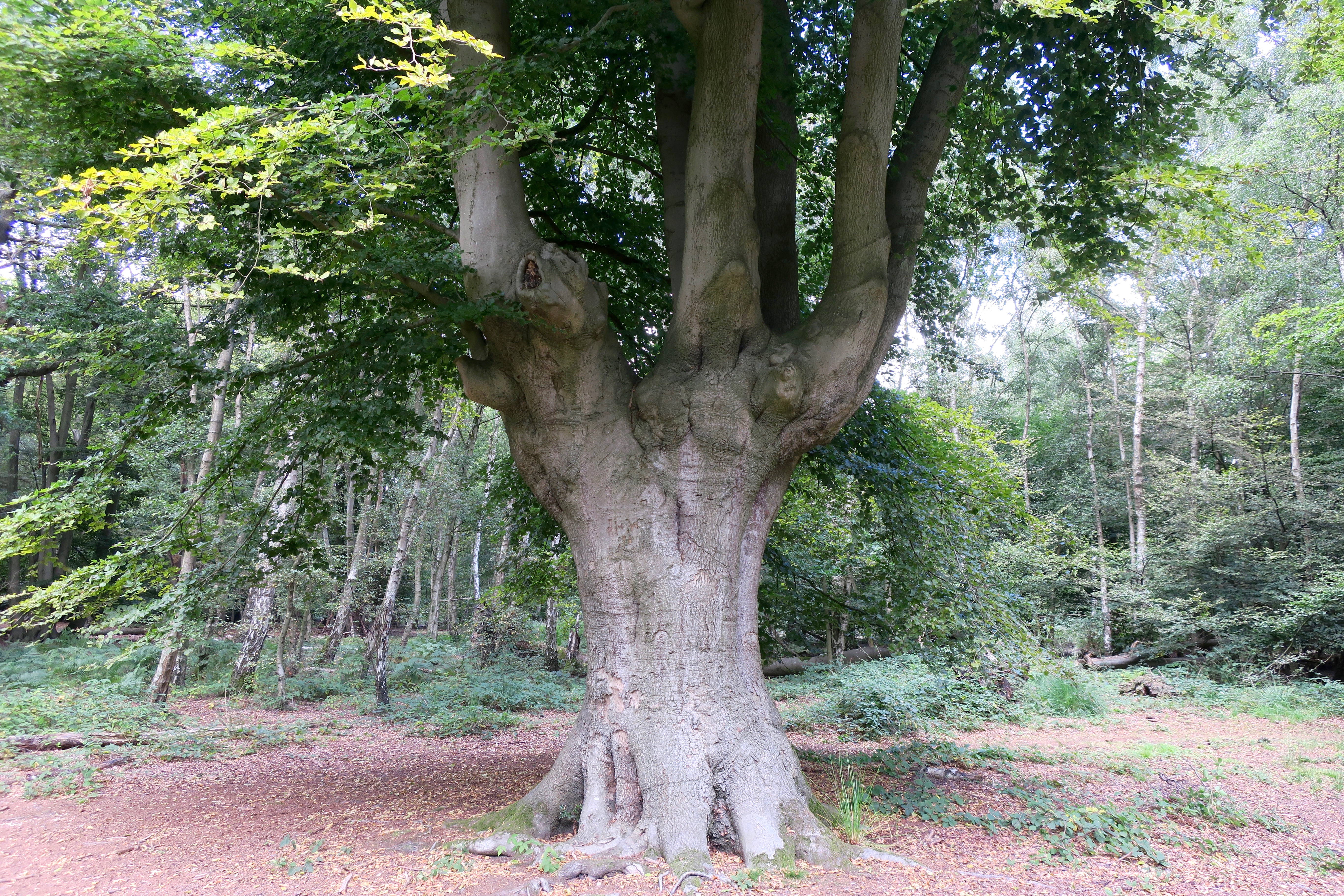 Beech pollard before a background of birch trees.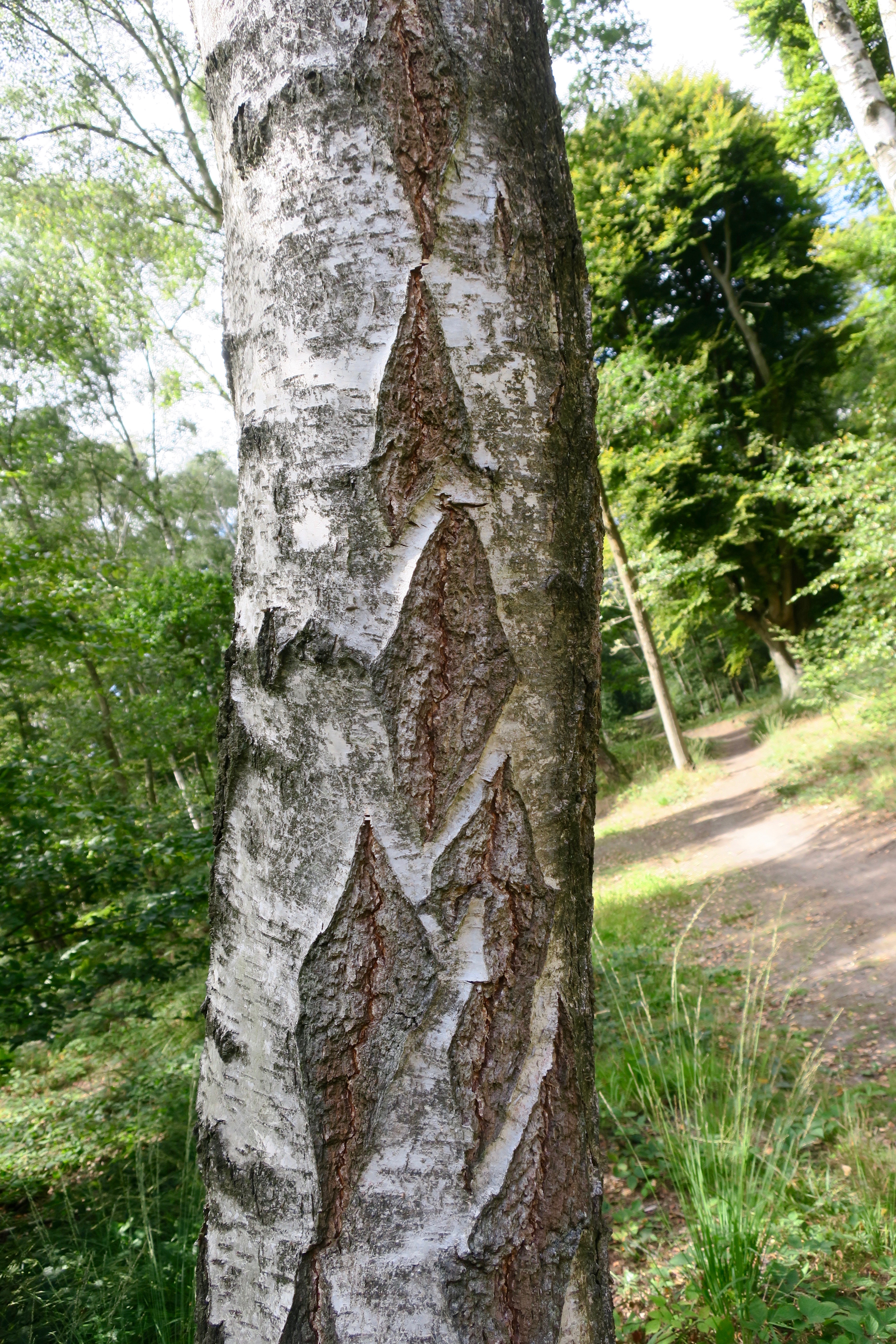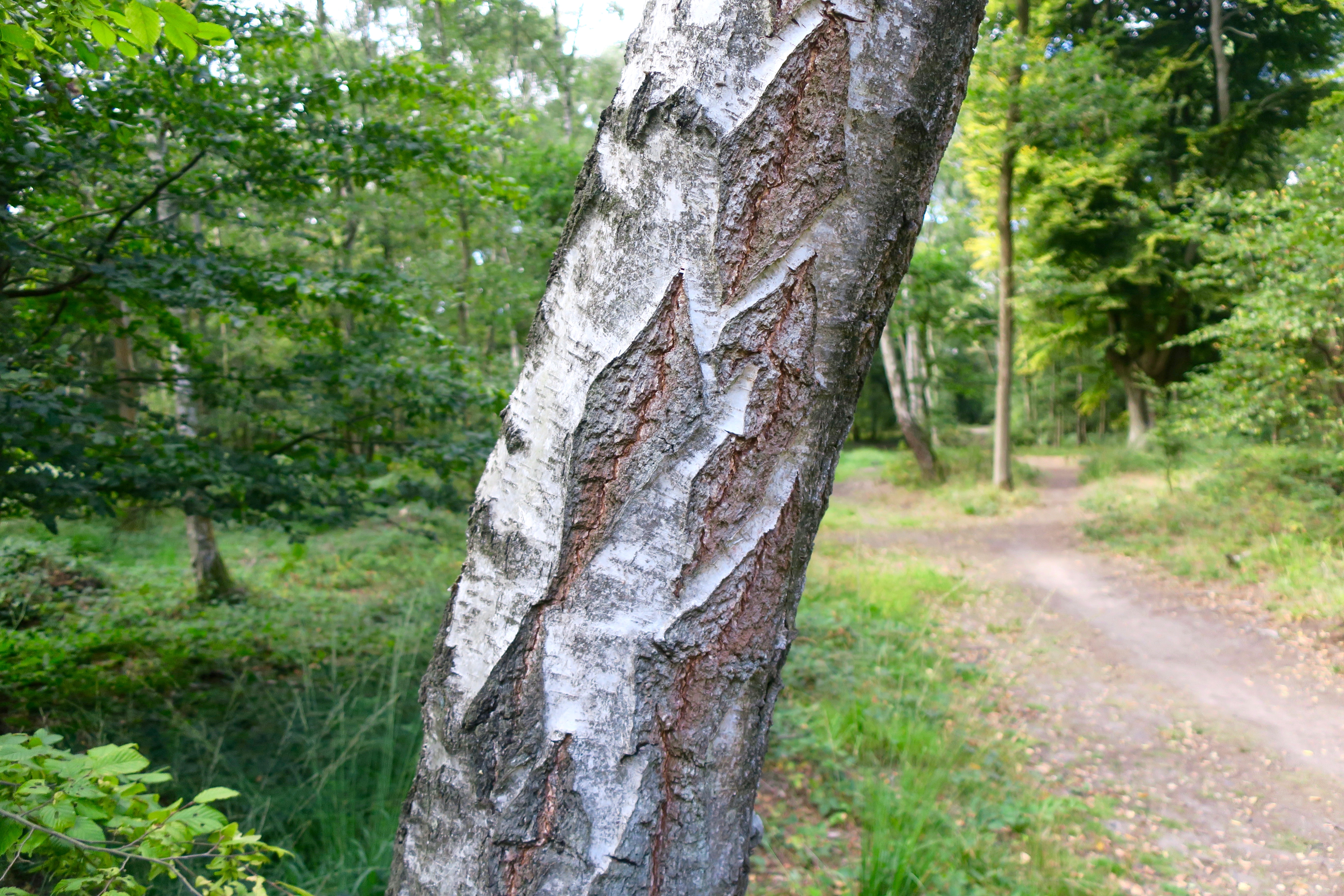 Diamondback snakeskin papered over crumbled birchbark.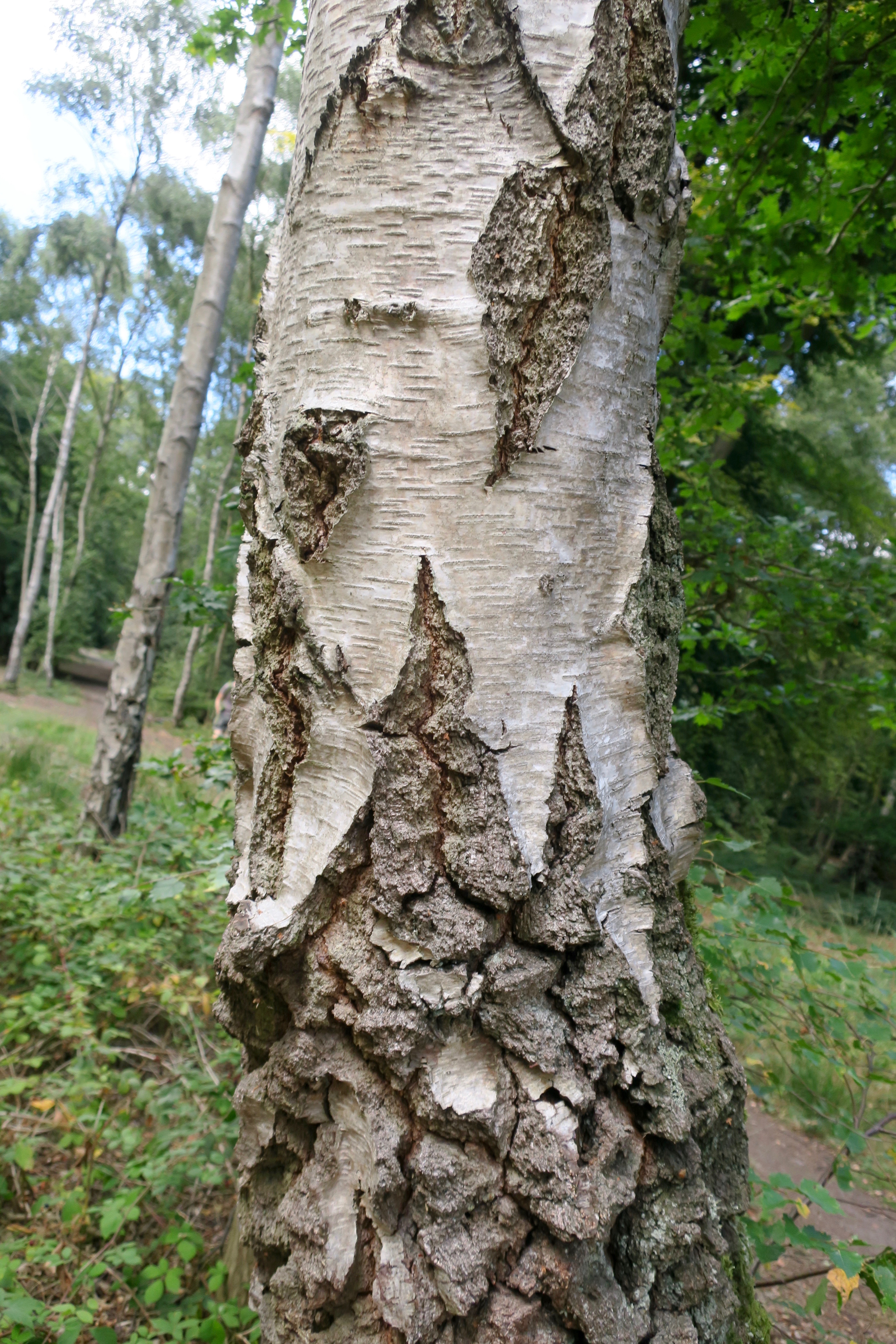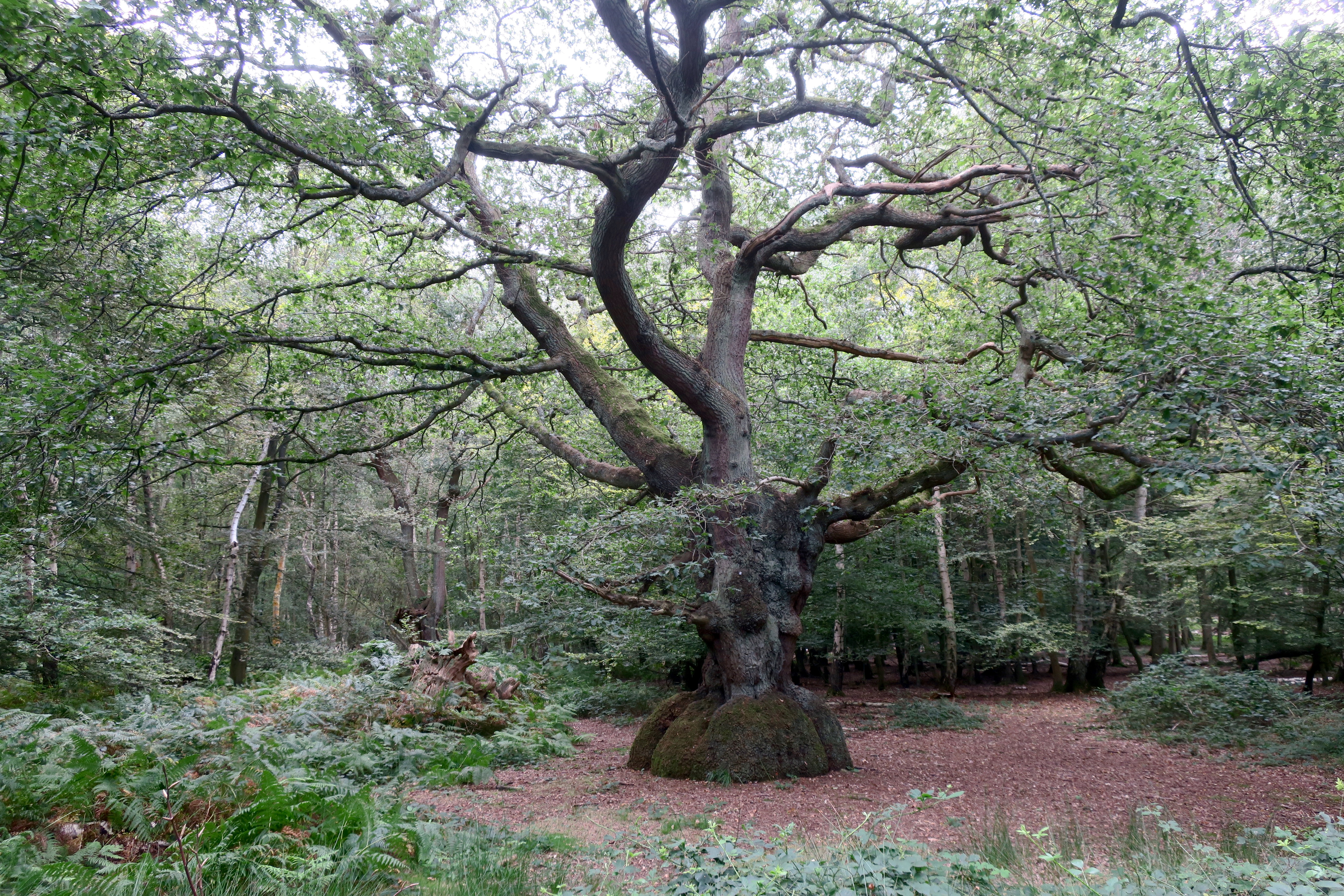 Then suddenly over to our left, away from the path and in a clearing all to itself, a magnificent oak tree unlike any other I'd seen in the forest. Its base was girdled with a huge swollen burr, so that the trunk flared out as it met the ground, as if for greater stability. It seemed centred, balanced, secure of its place in the forest, and invited us over to share its company and to dance beneath its carousel.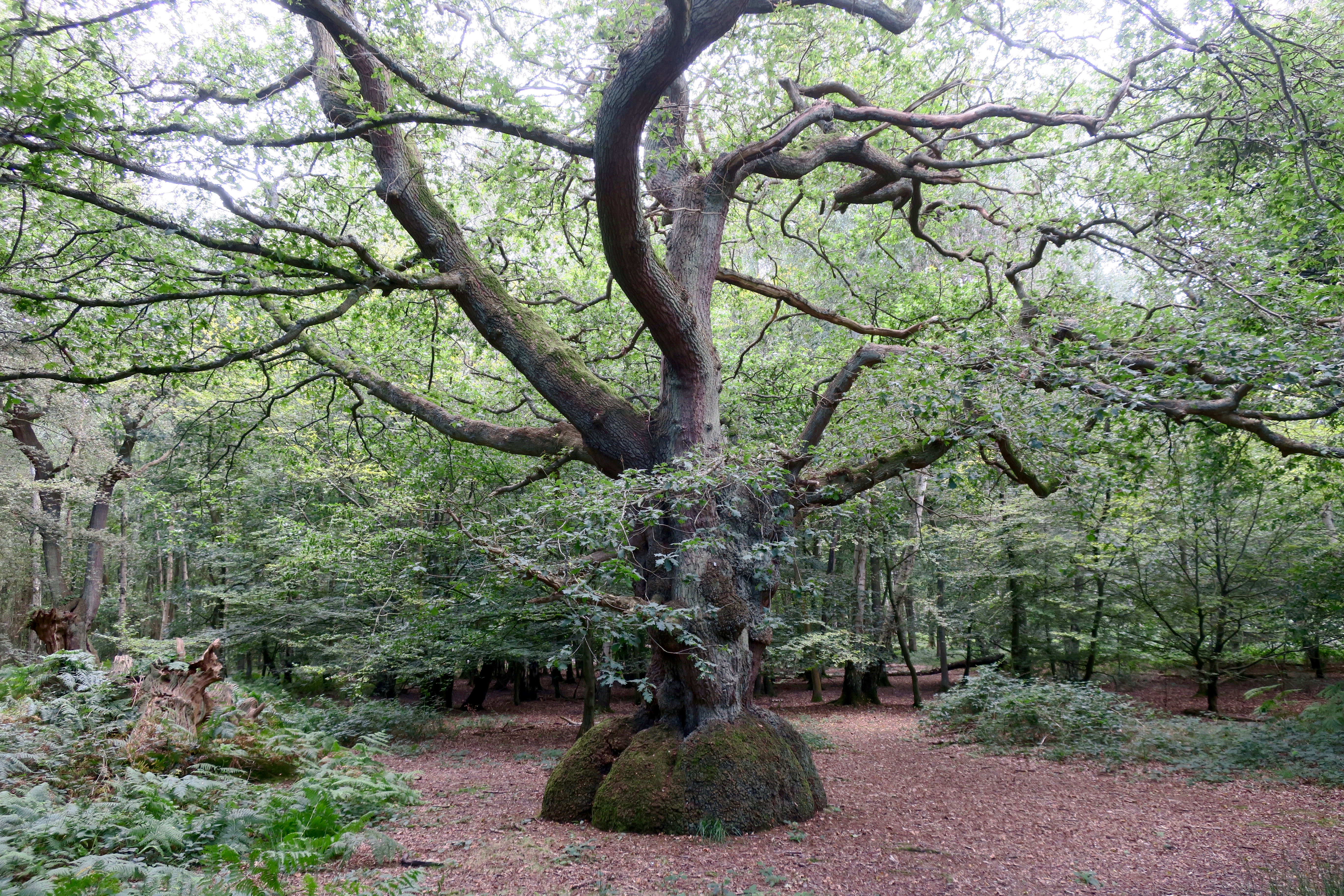 It is such a distinctive tree. It was irresistible. We went round and around and around. It was the pivot of our walk, we swung around it before heading back. We didn't need to look any further. It's all here.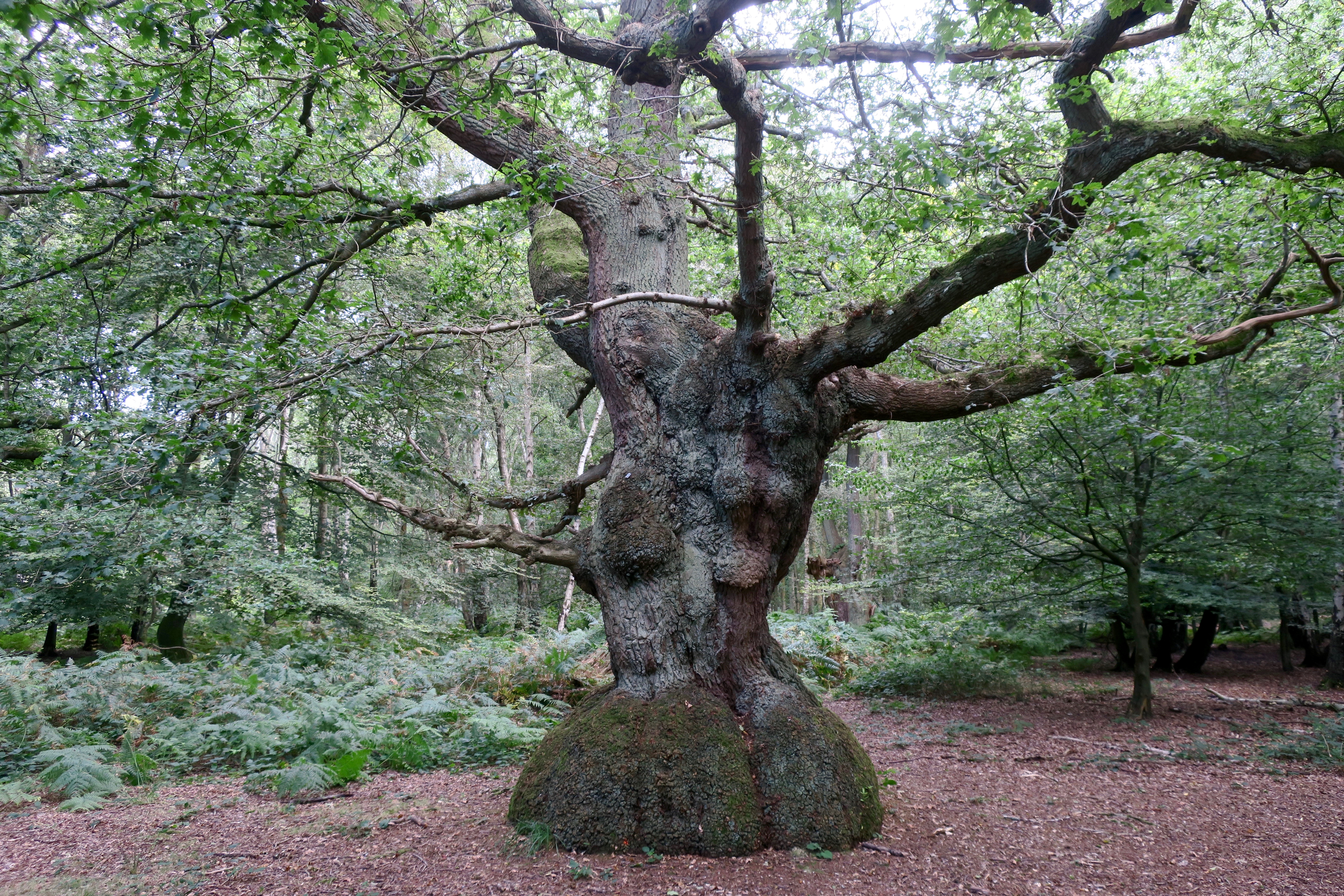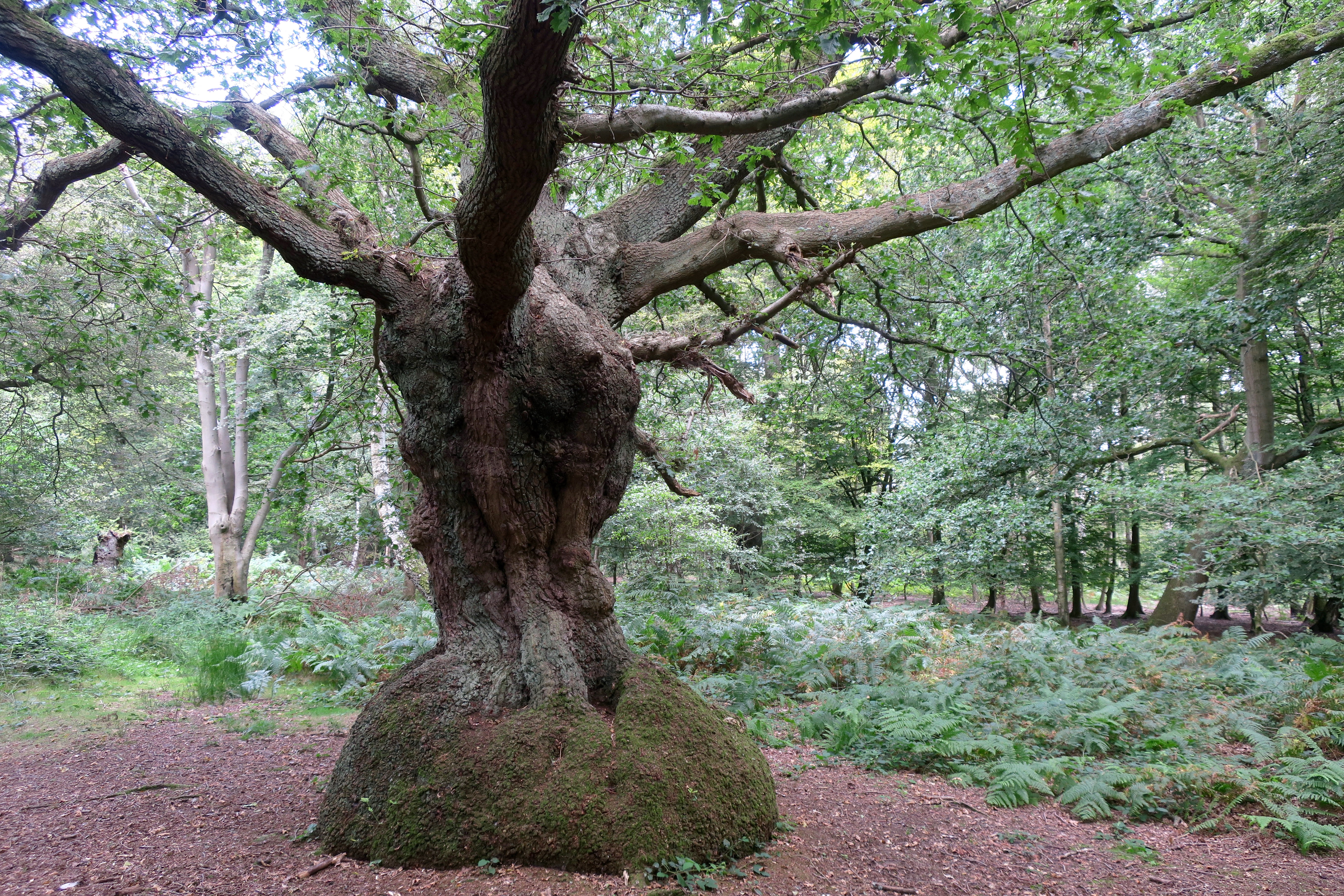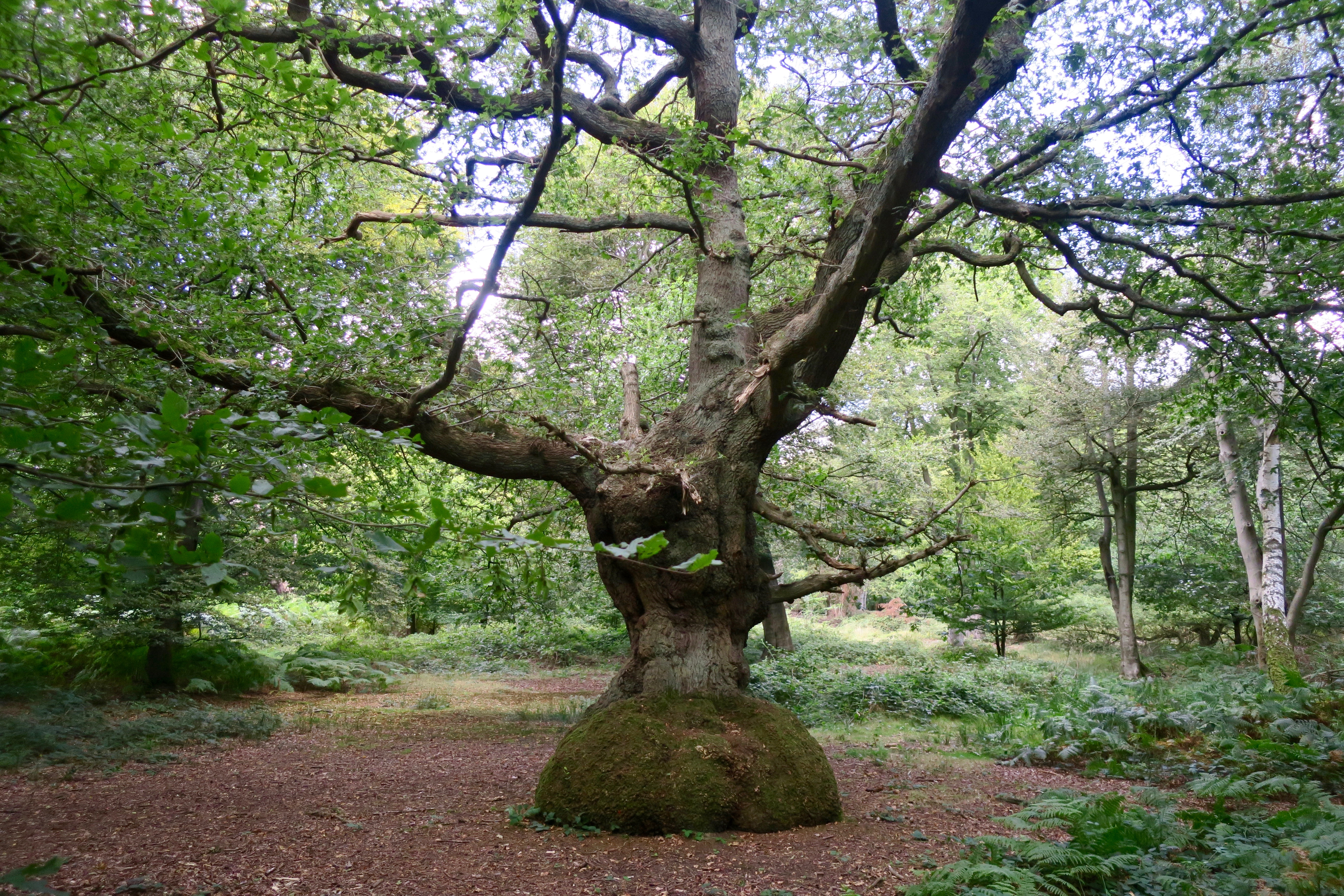 At the still centre of the turning forest.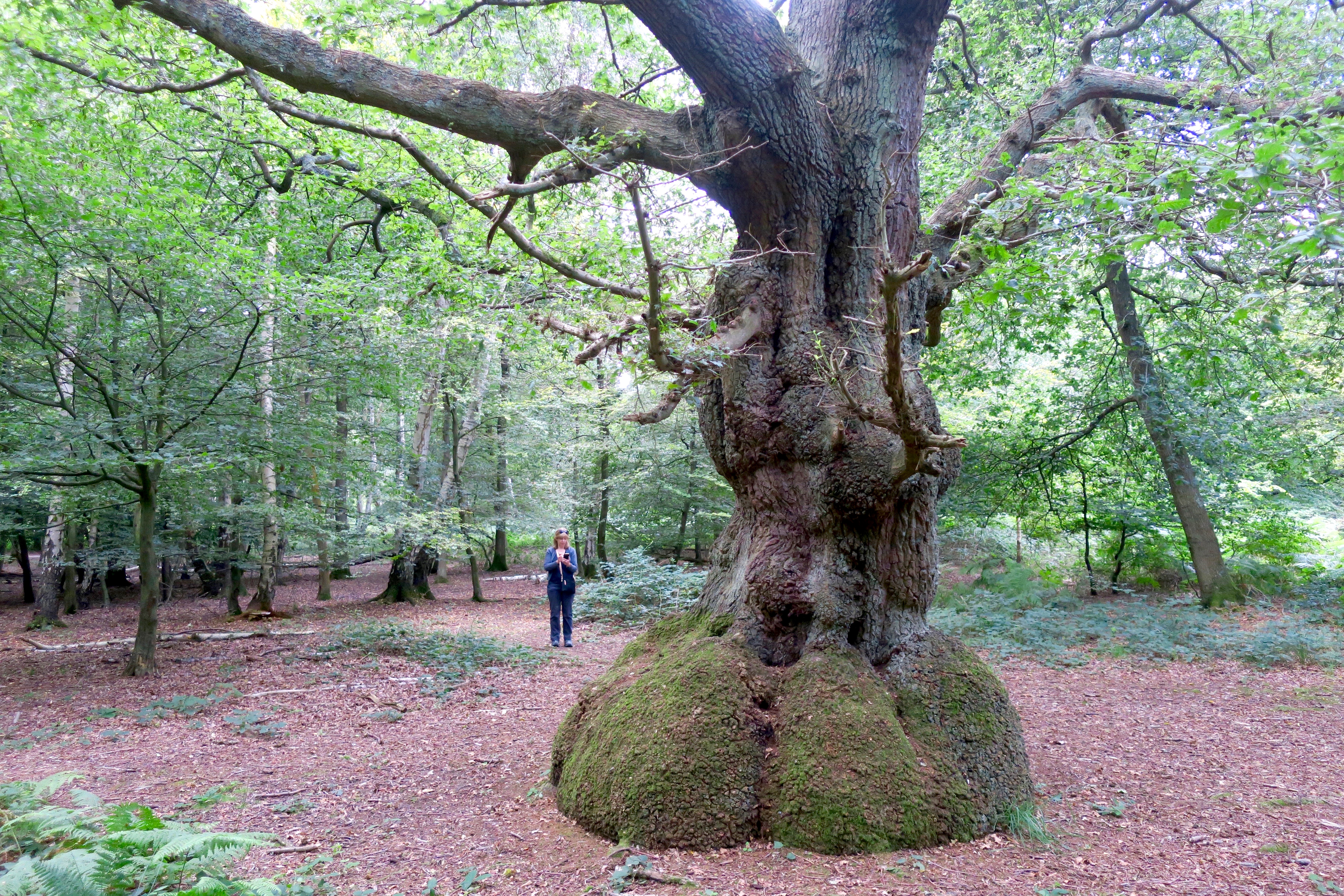 I found a description of a 'skirted tree' on the Epping Forest Veteran Tree Trail. I'm not exactly sure if they're describing this particular tree but it seems to fit the bill…
The ancient oak at this stop shows a characteristic seen in other open-grown oaks elsewhere in the Forest and in nearby sites, like 'The Crinoline Lady' oak at Thorndon Park, Essex. The base is swollen by excessive growth and re-growth of dormant buds. It is not certain as to the cause, but it would seem likely to be the tree's response to repeated browsing by ponies and cattle. Nearby to this tree an old iron ring was found which would have been a tether for a grazing animal, probably a pony. In the 19th Century this area of High Beach would have been open wood pasture with large oaks and beeches.
Many open-grown oaks survive around here but most of the large beech pollards have collapsed and died since the 1950s (judging from old photos from that time). In the early 19th Century this particular place was often used as an encampment by travellers. The poet John Clare wrote about them and would often meet up with them here during his time at High Beach asylum. It could well be that this oak was browsed by the travellers' ponies and horses, as well as by the commoners' livestock, at that time, and that this could have contributed to the skirt you can see today.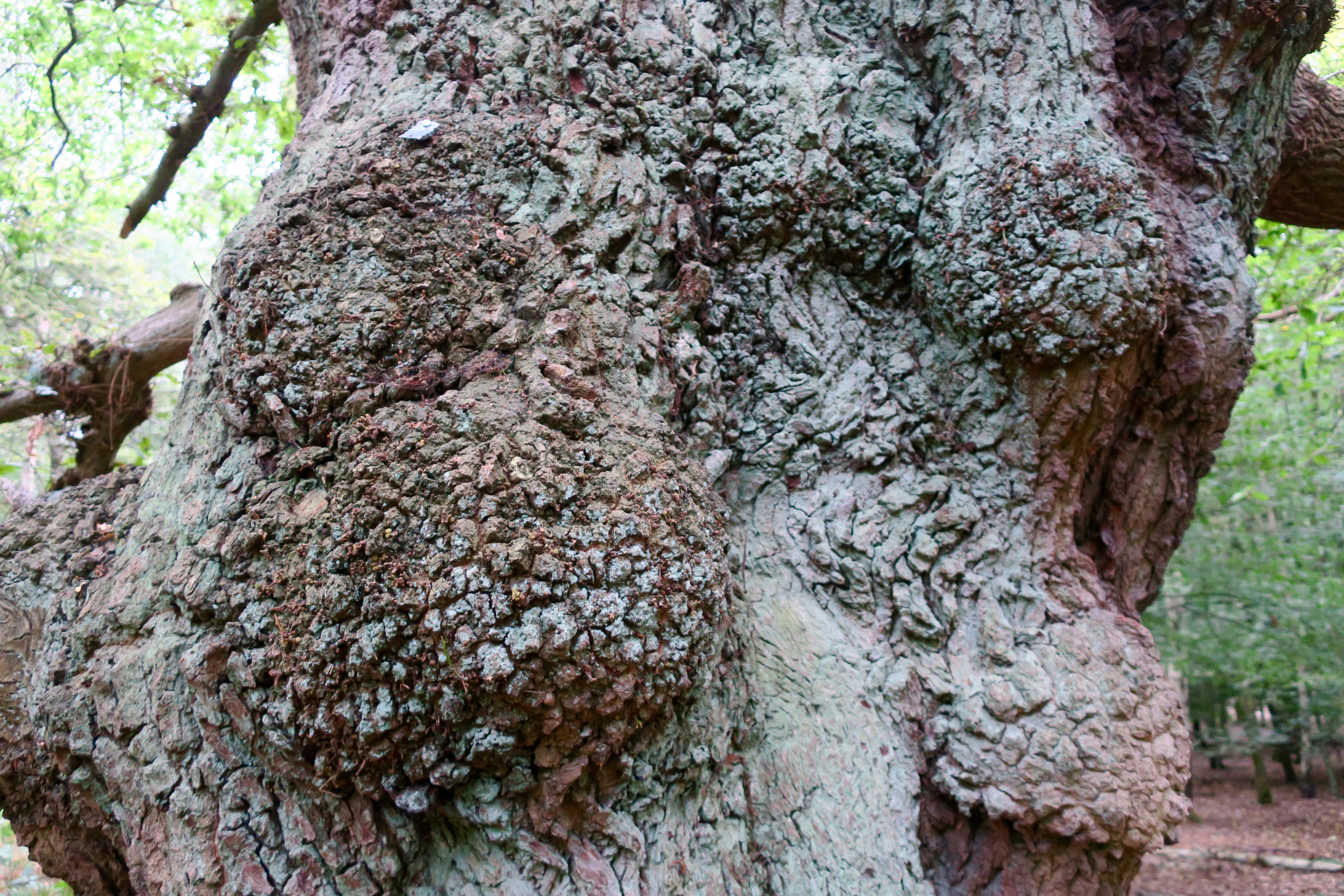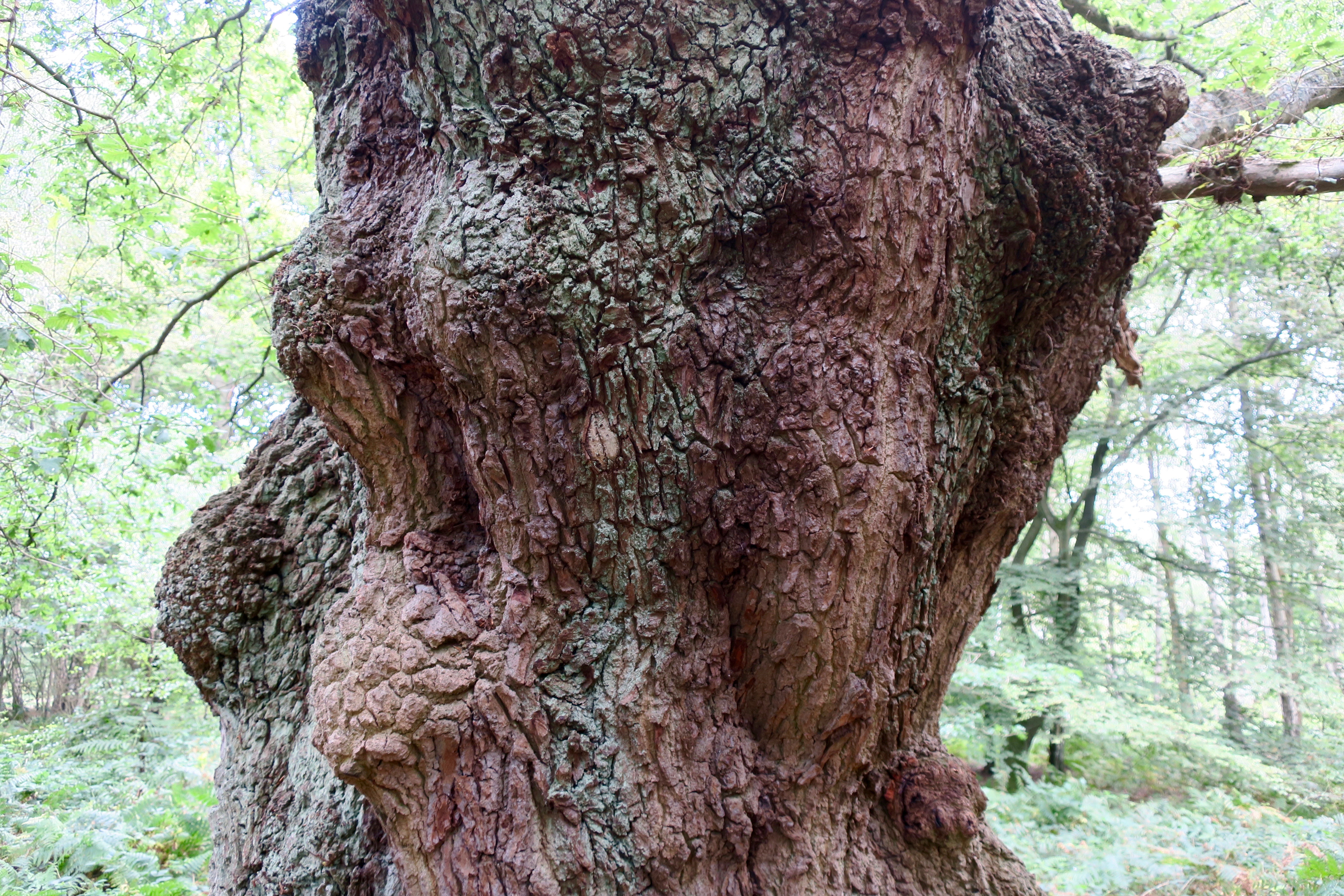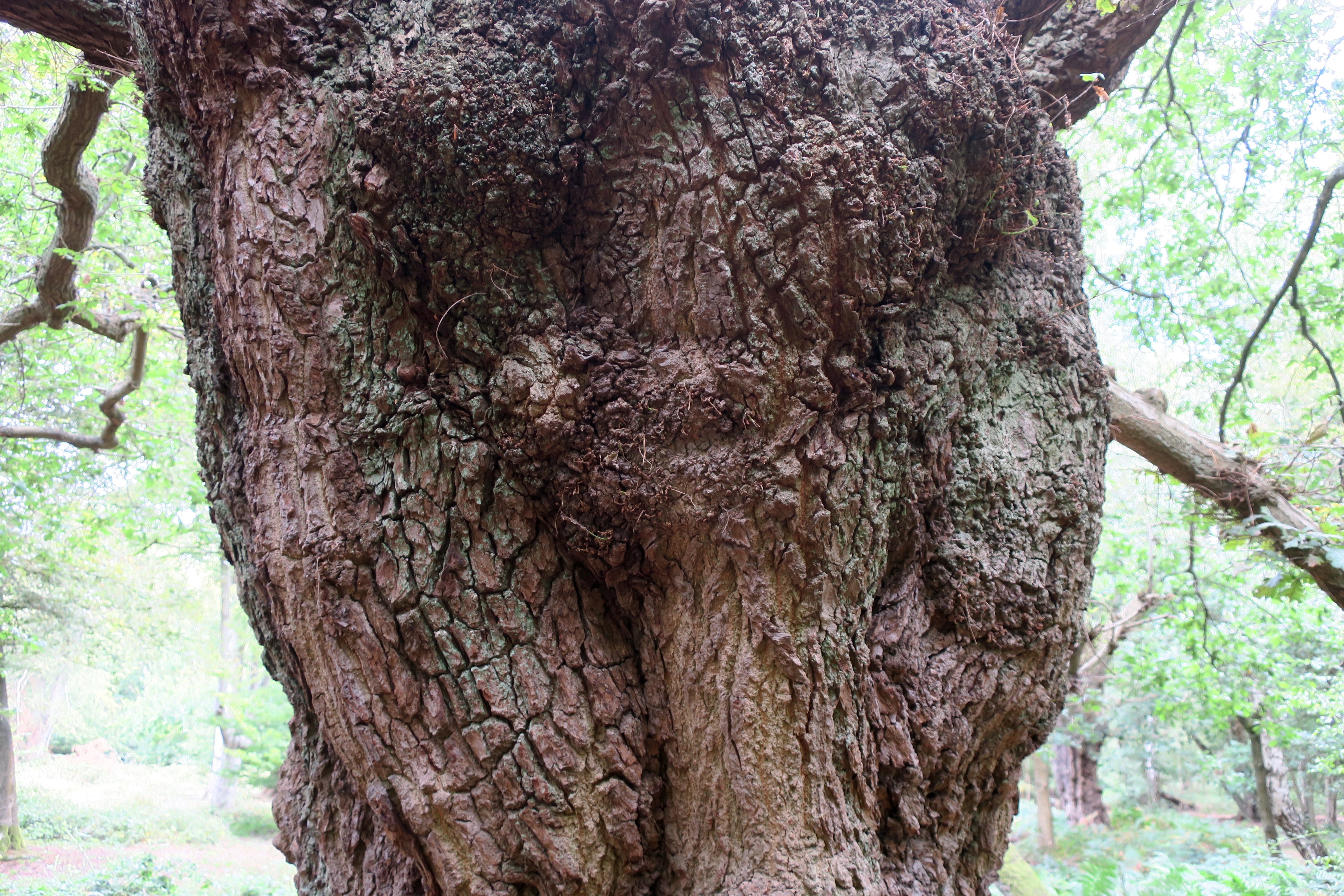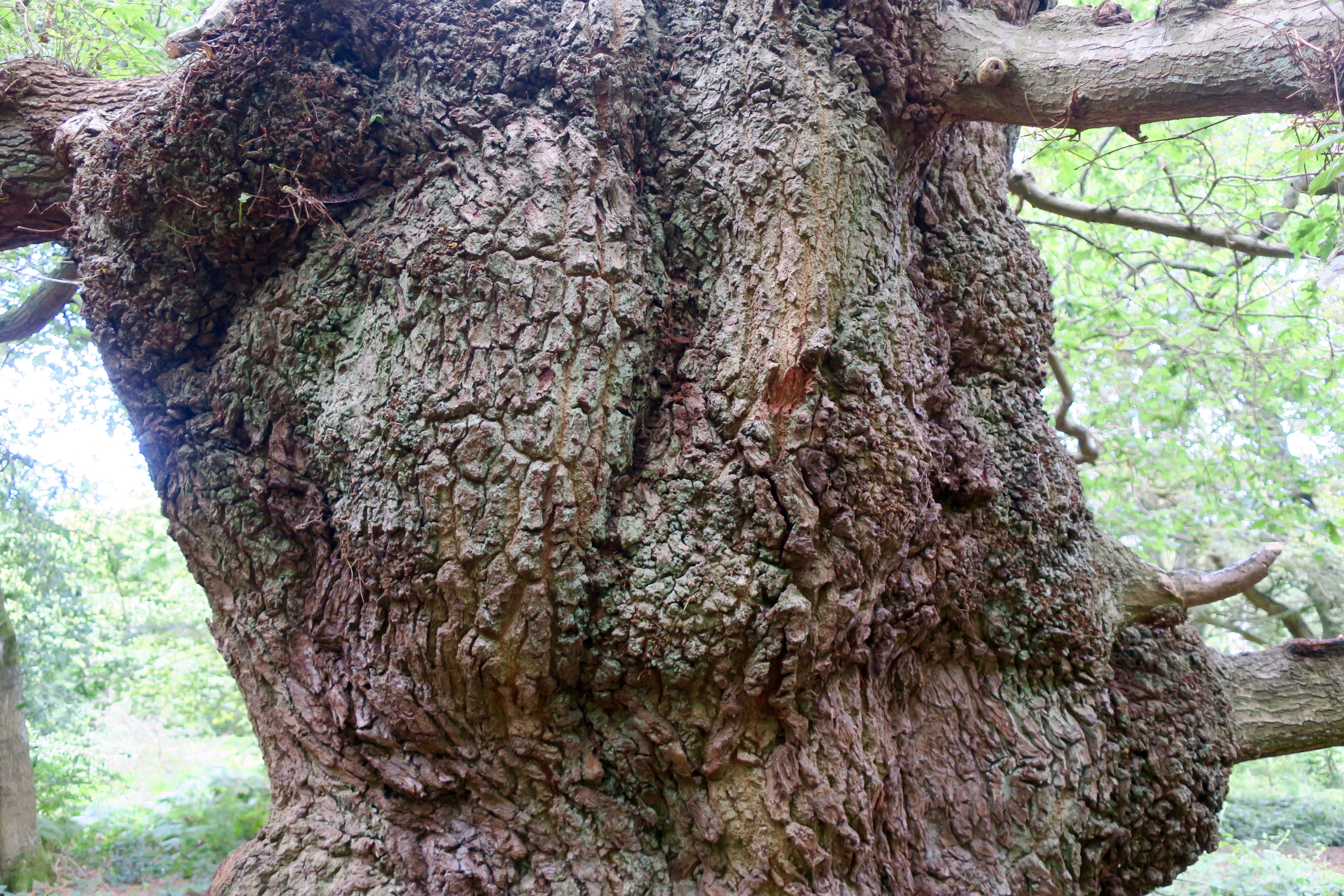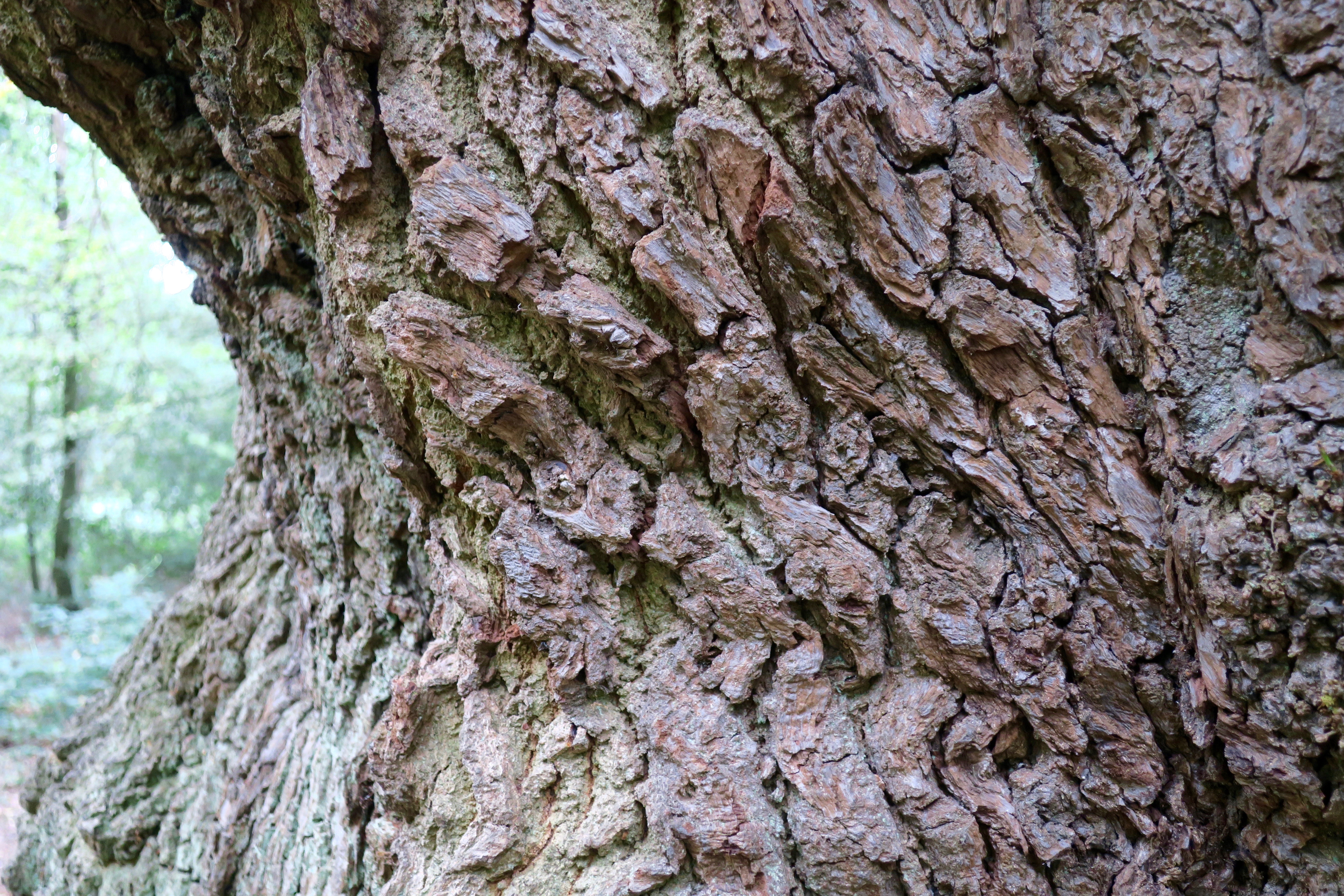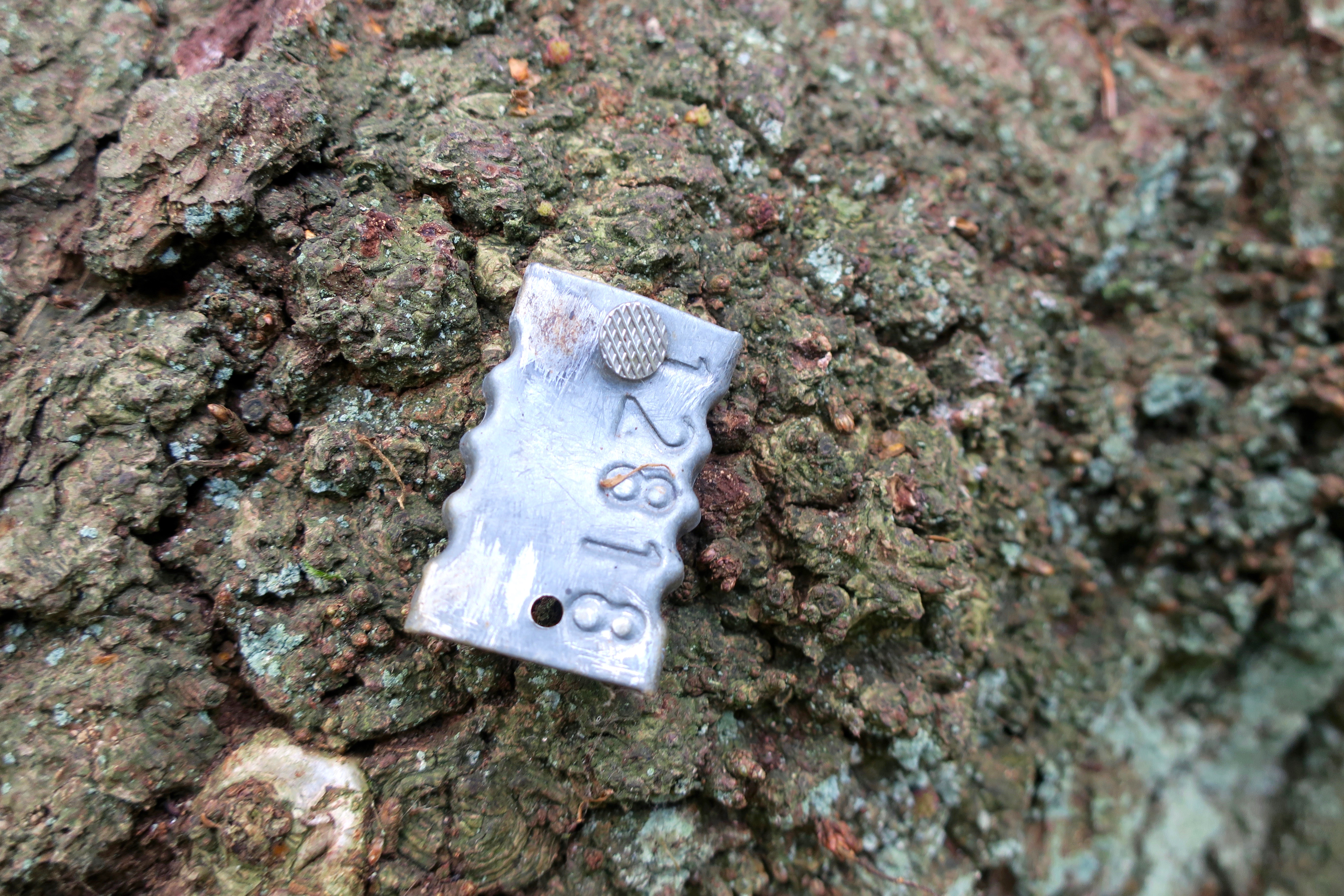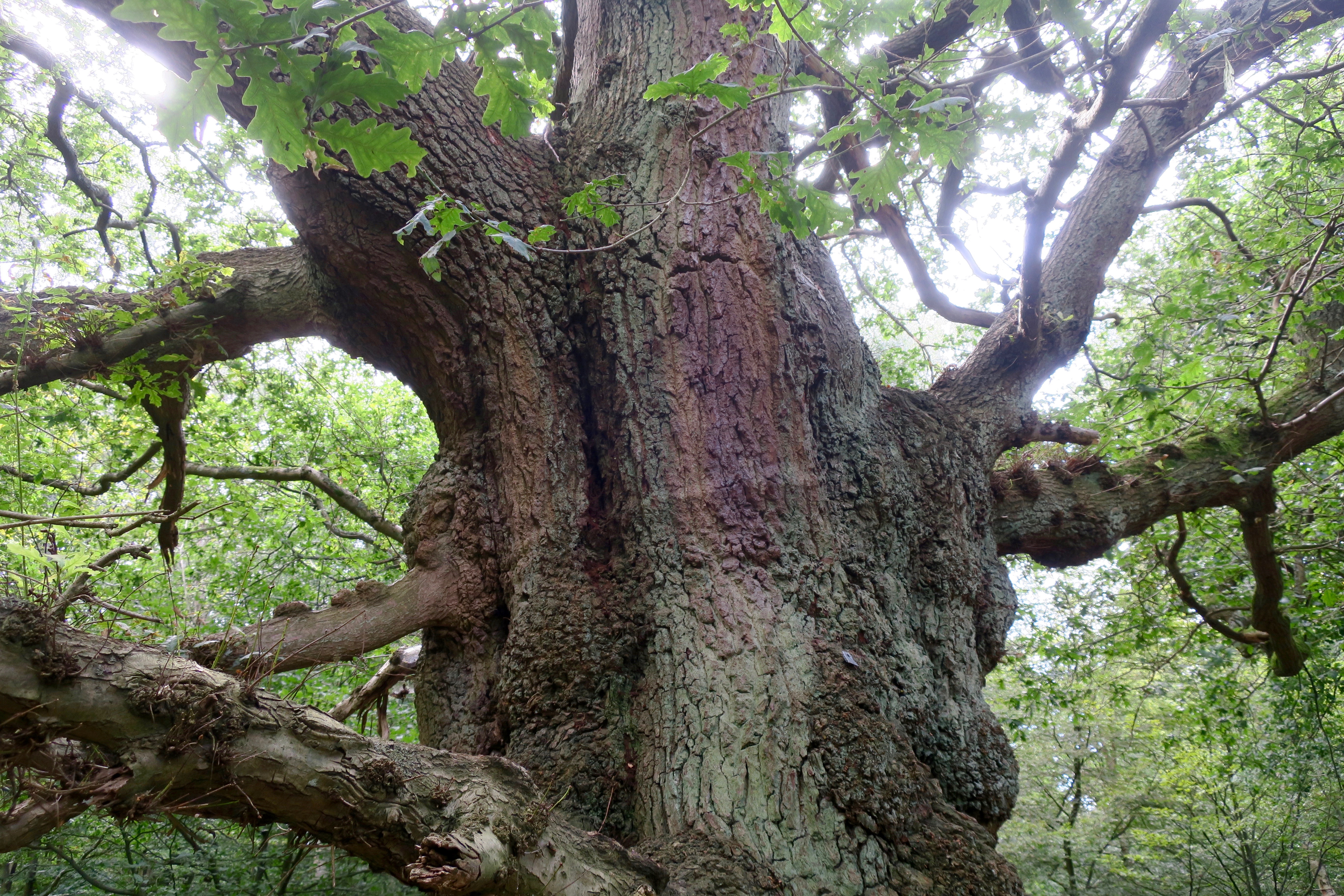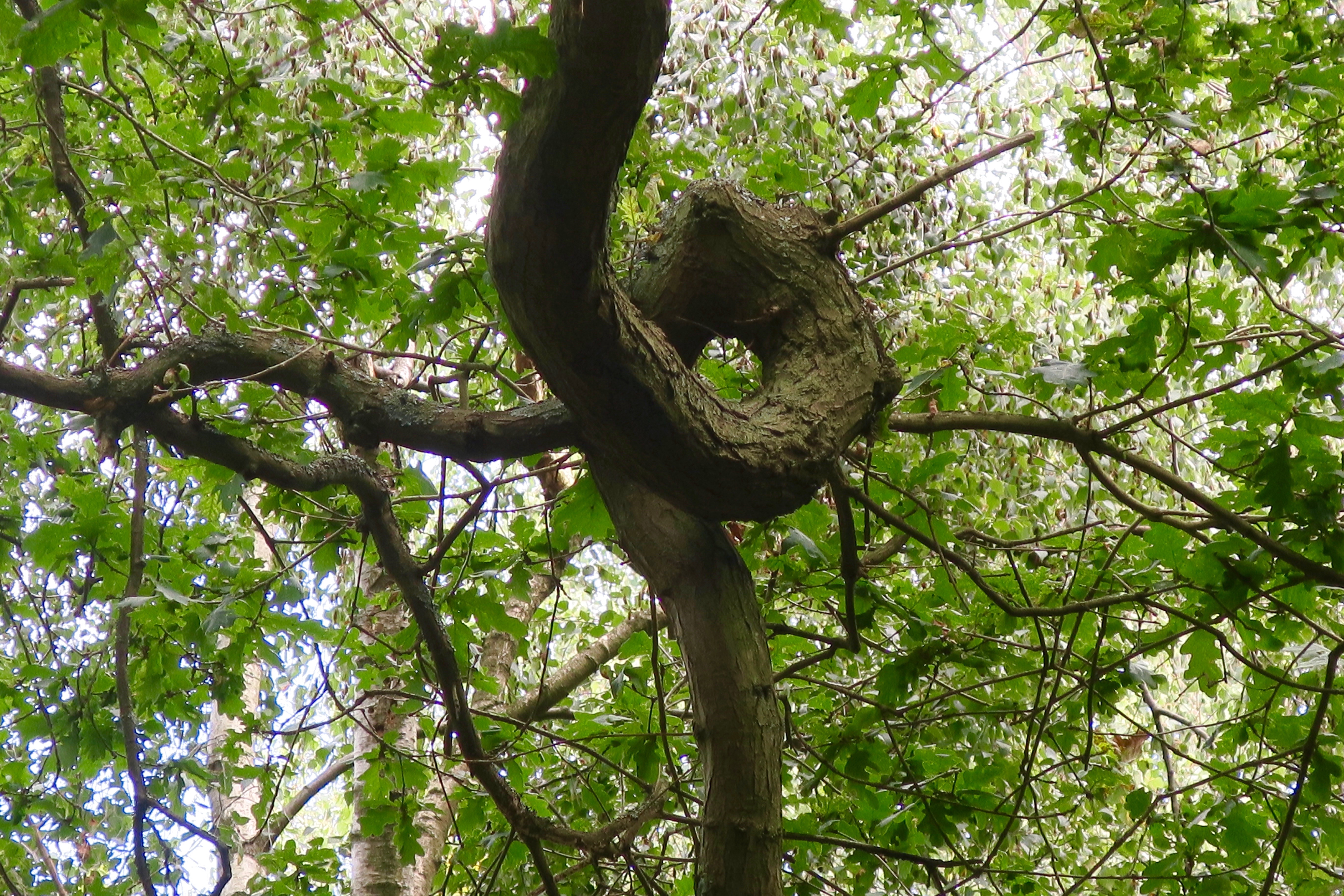 When finally we'd exhausted every angle, recharged and dizzy with turning, we retraced our steps.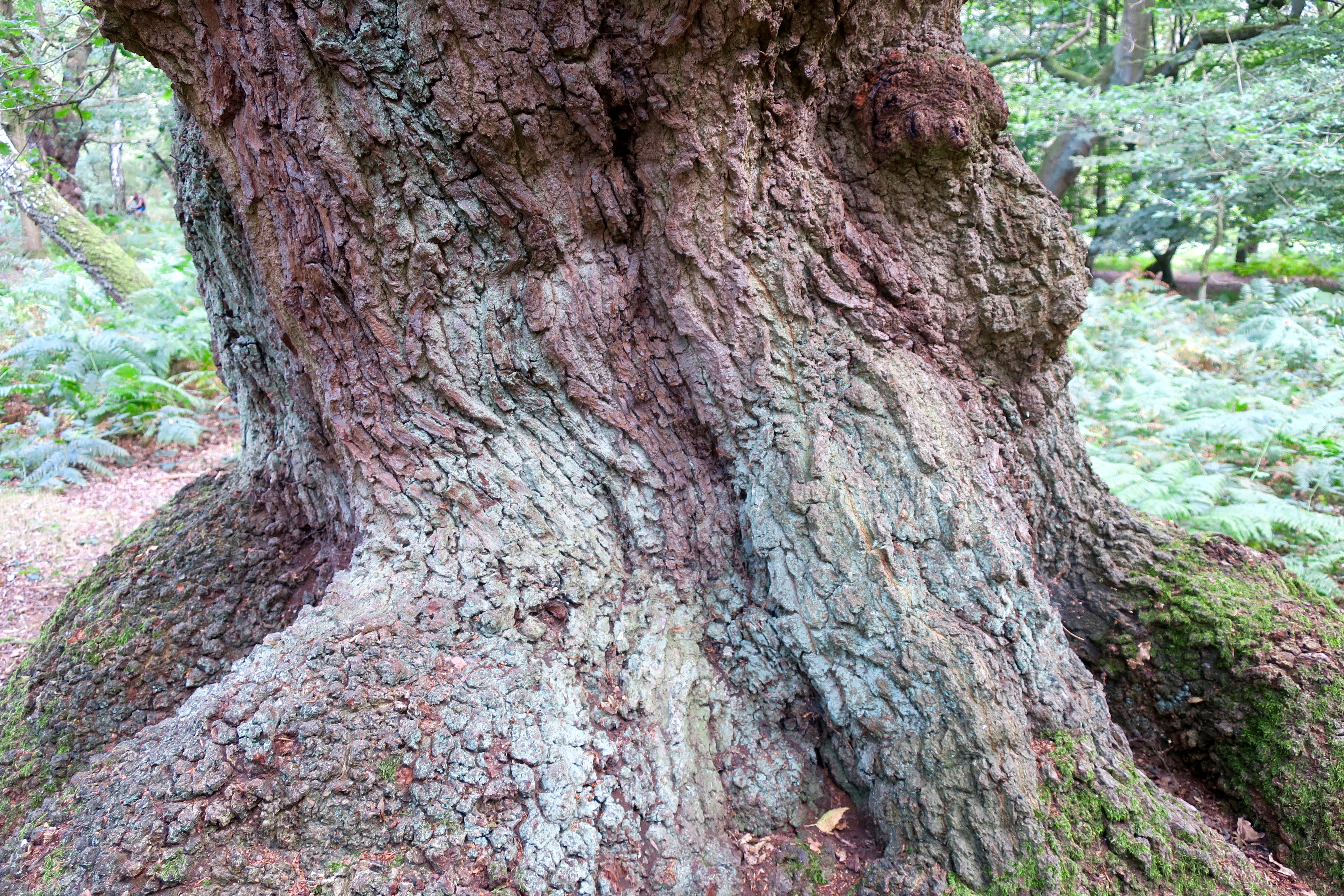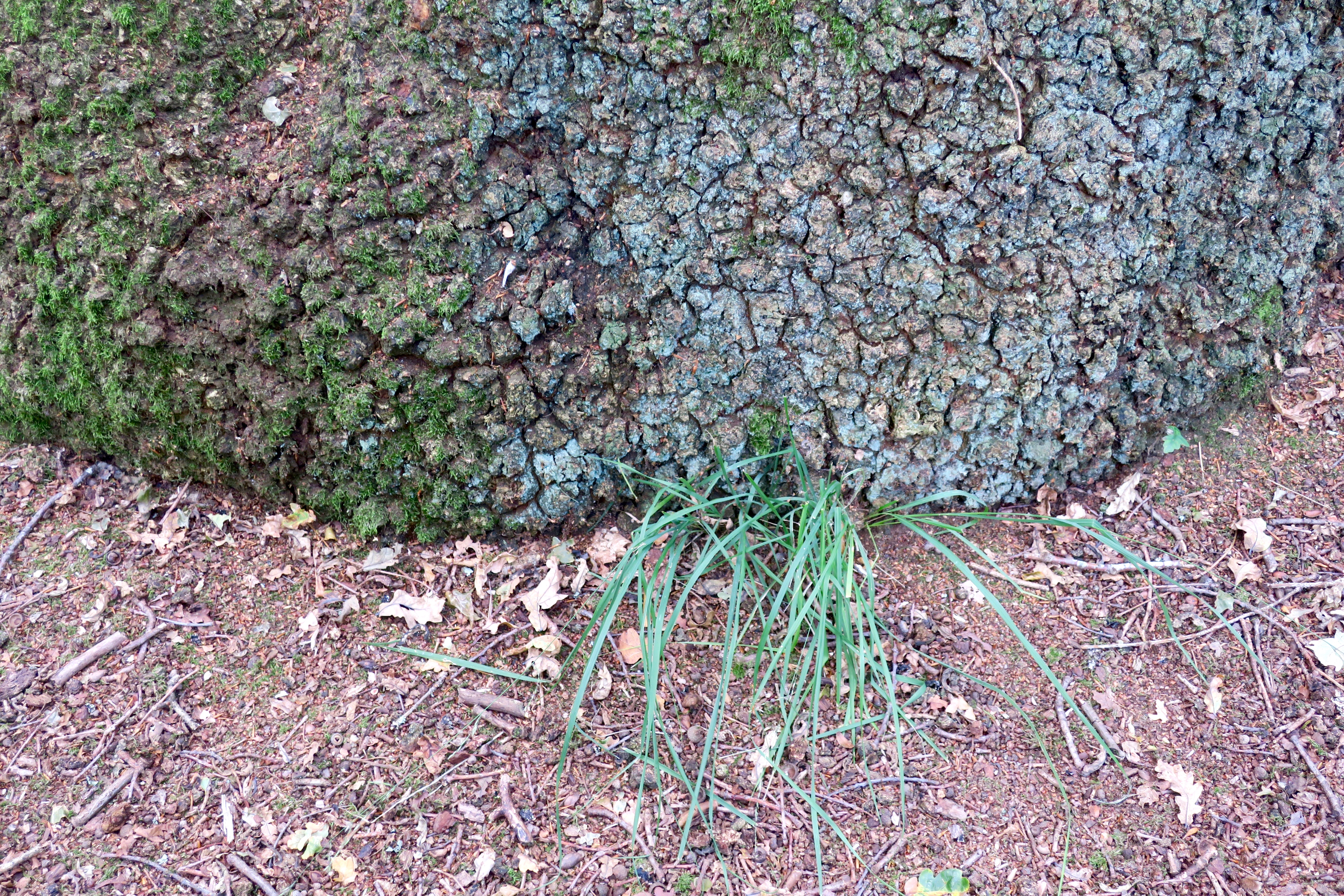 Though not exactly. Going back the other way, sole and heel don't quite correspond with their earlier footprints, and we're in a backwards backwoods version where the forest looks different every time.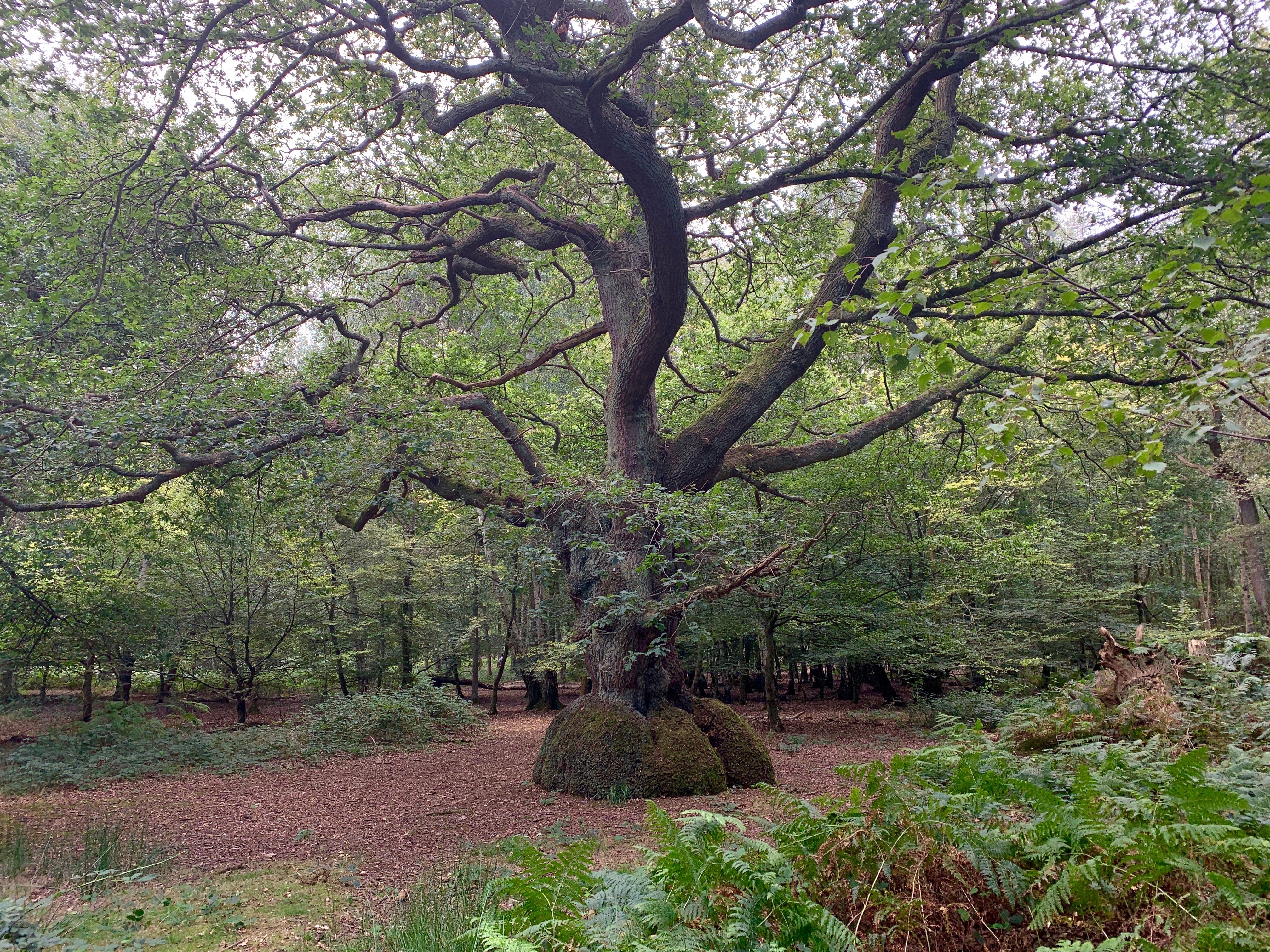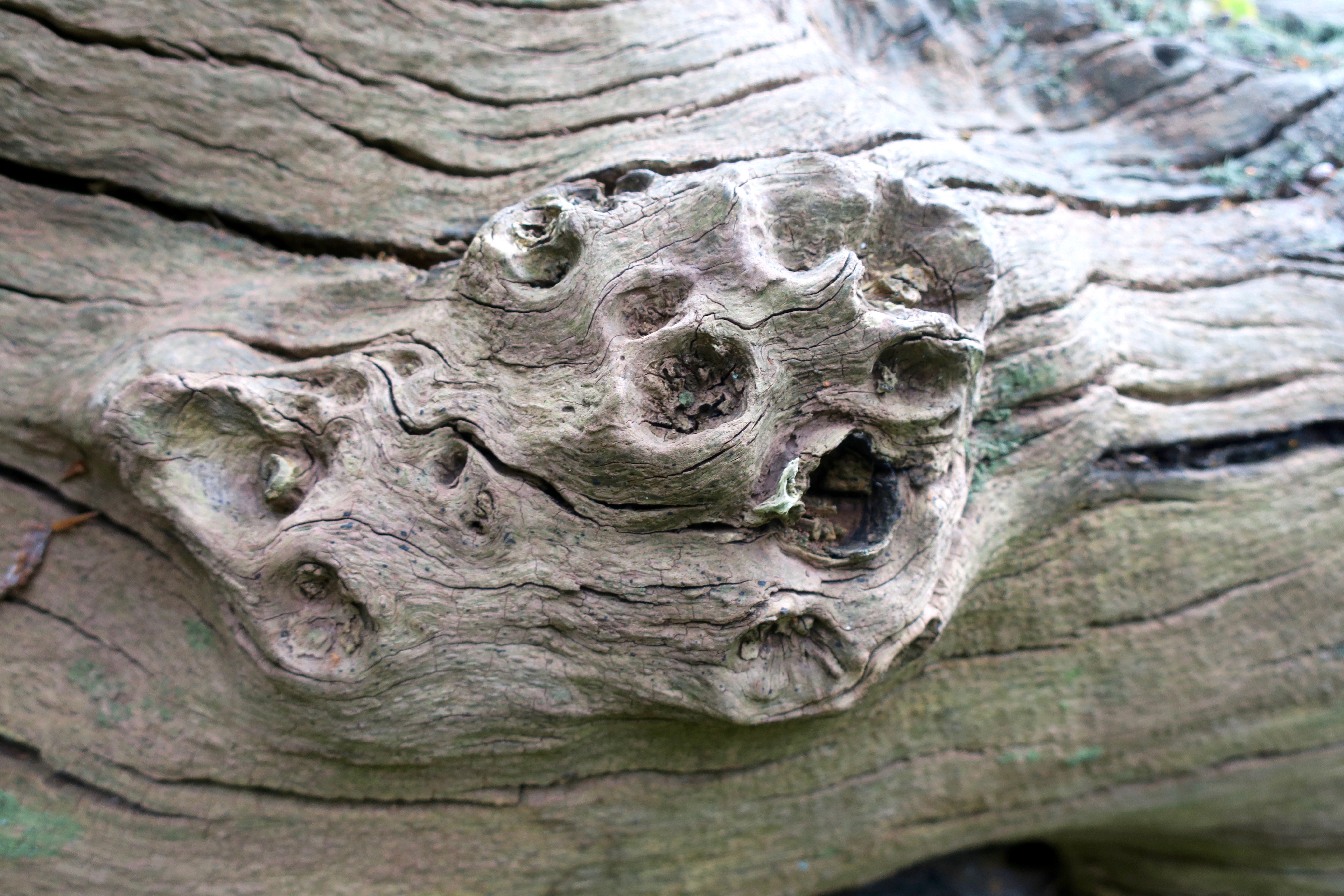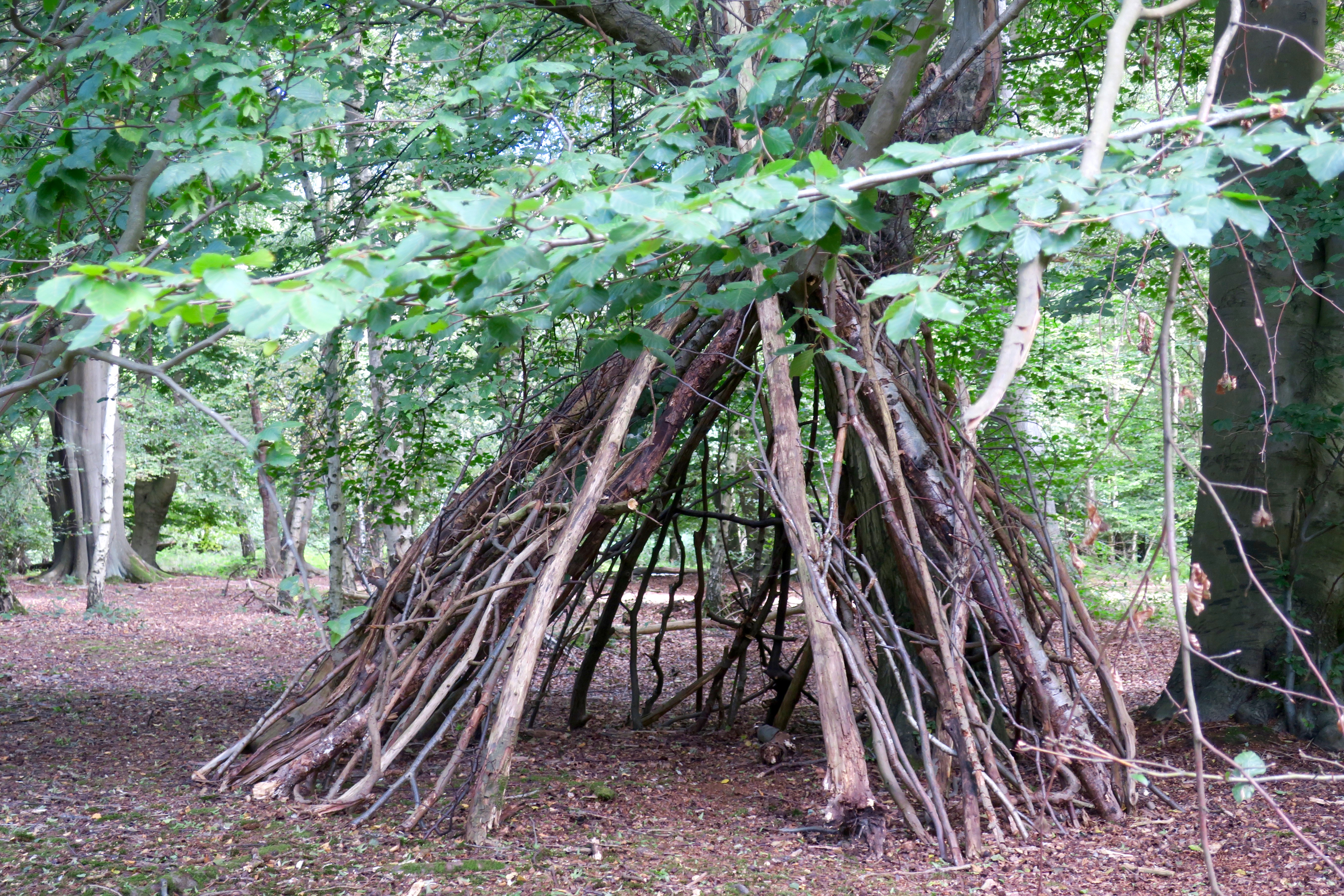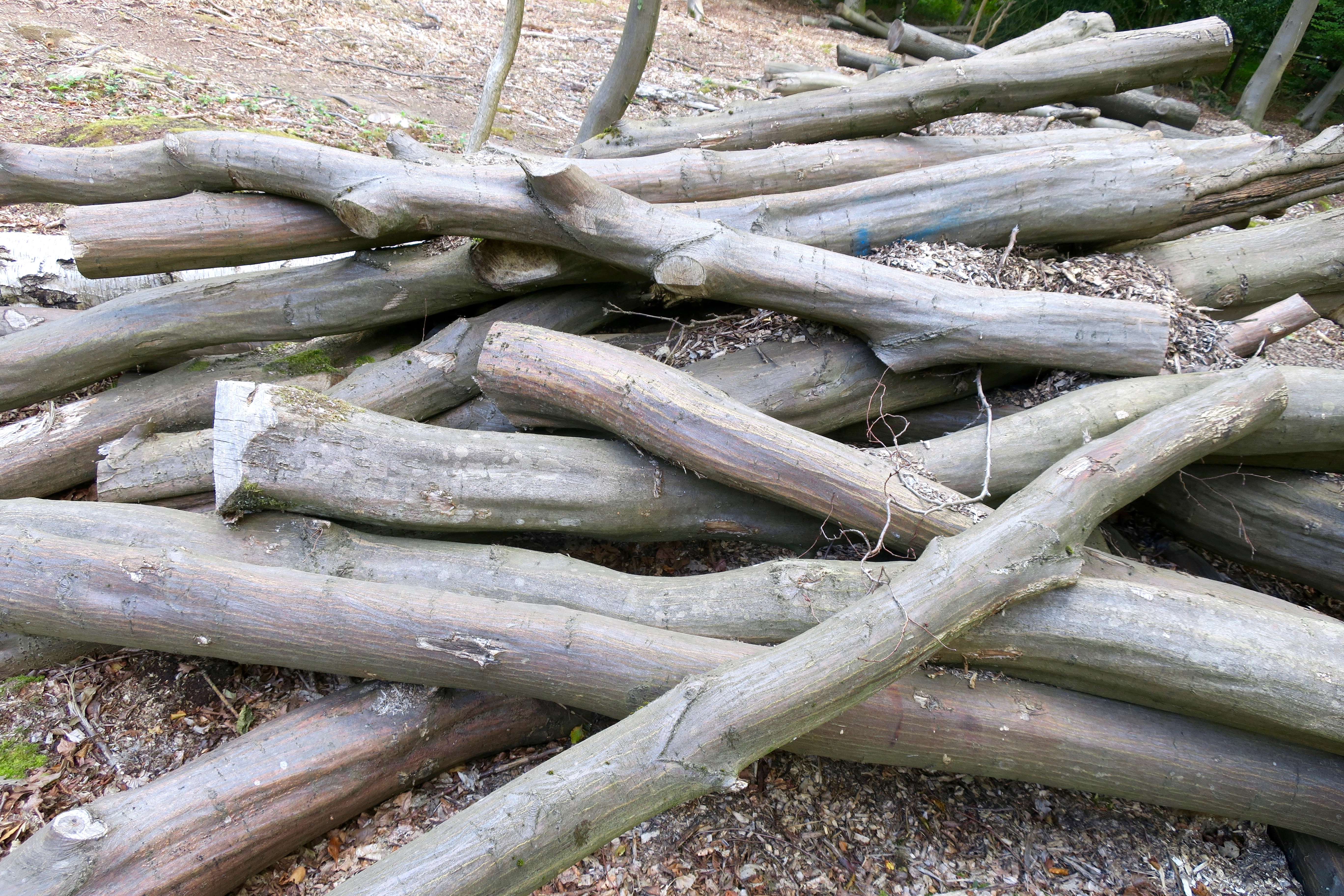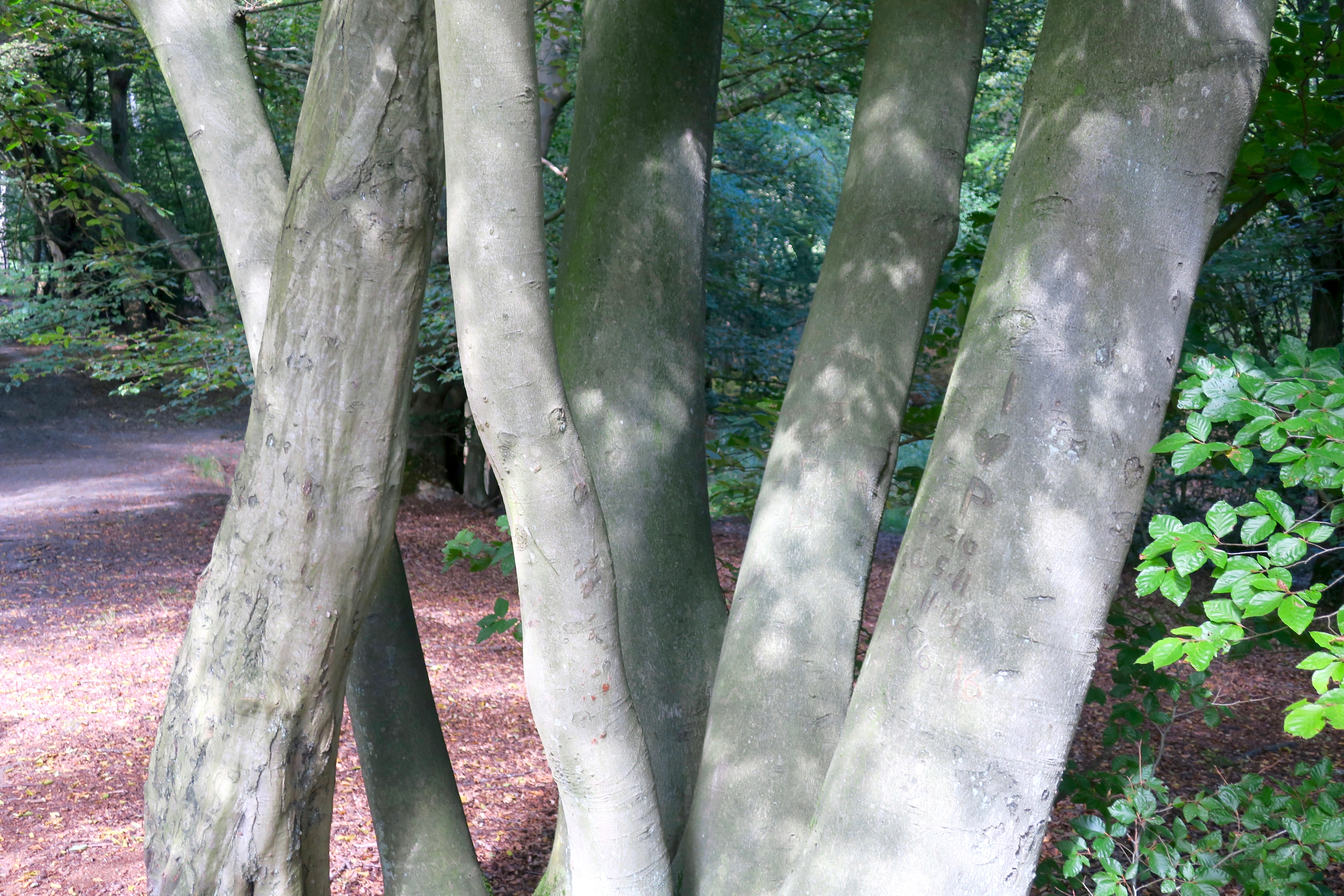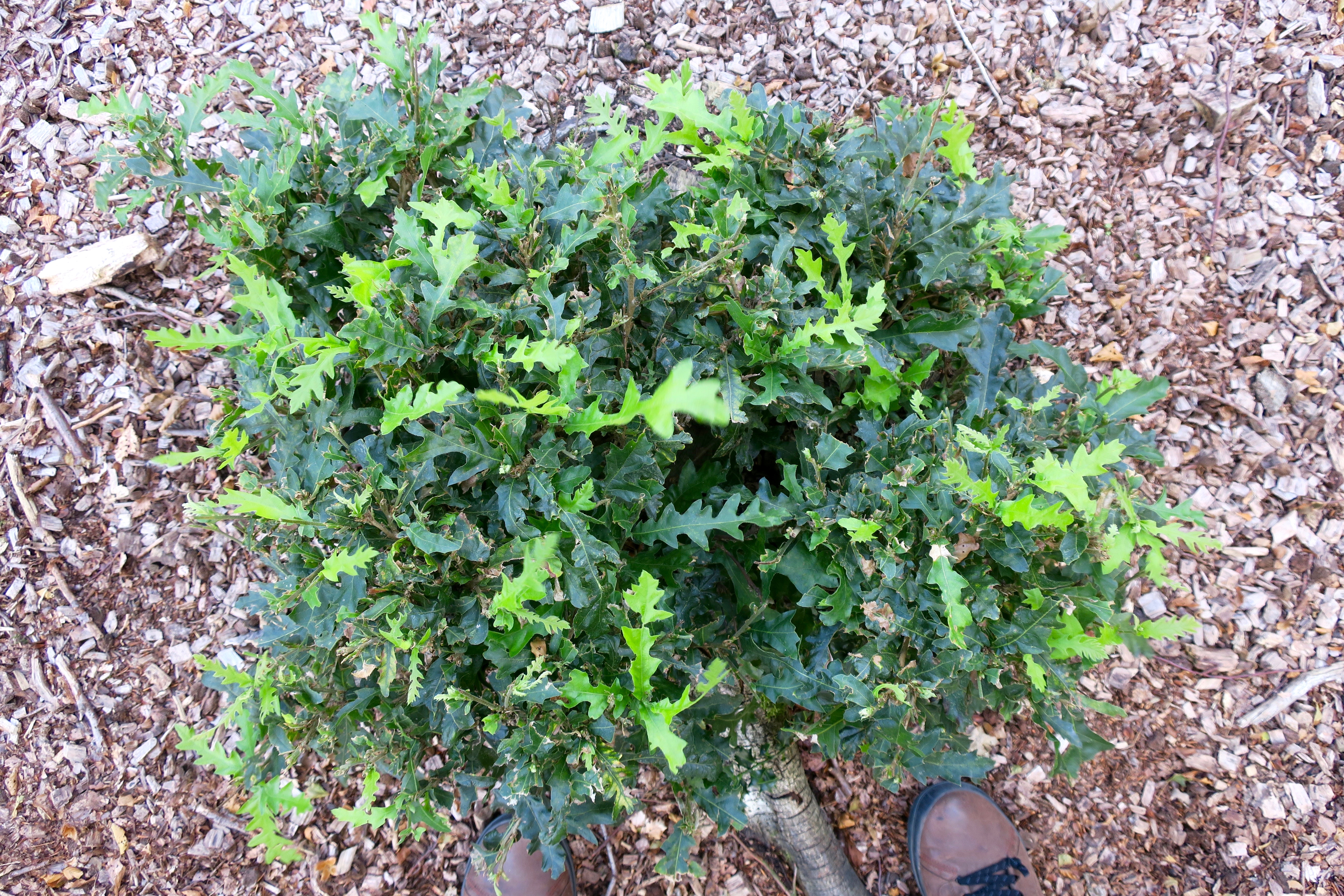 A new coppiced oak.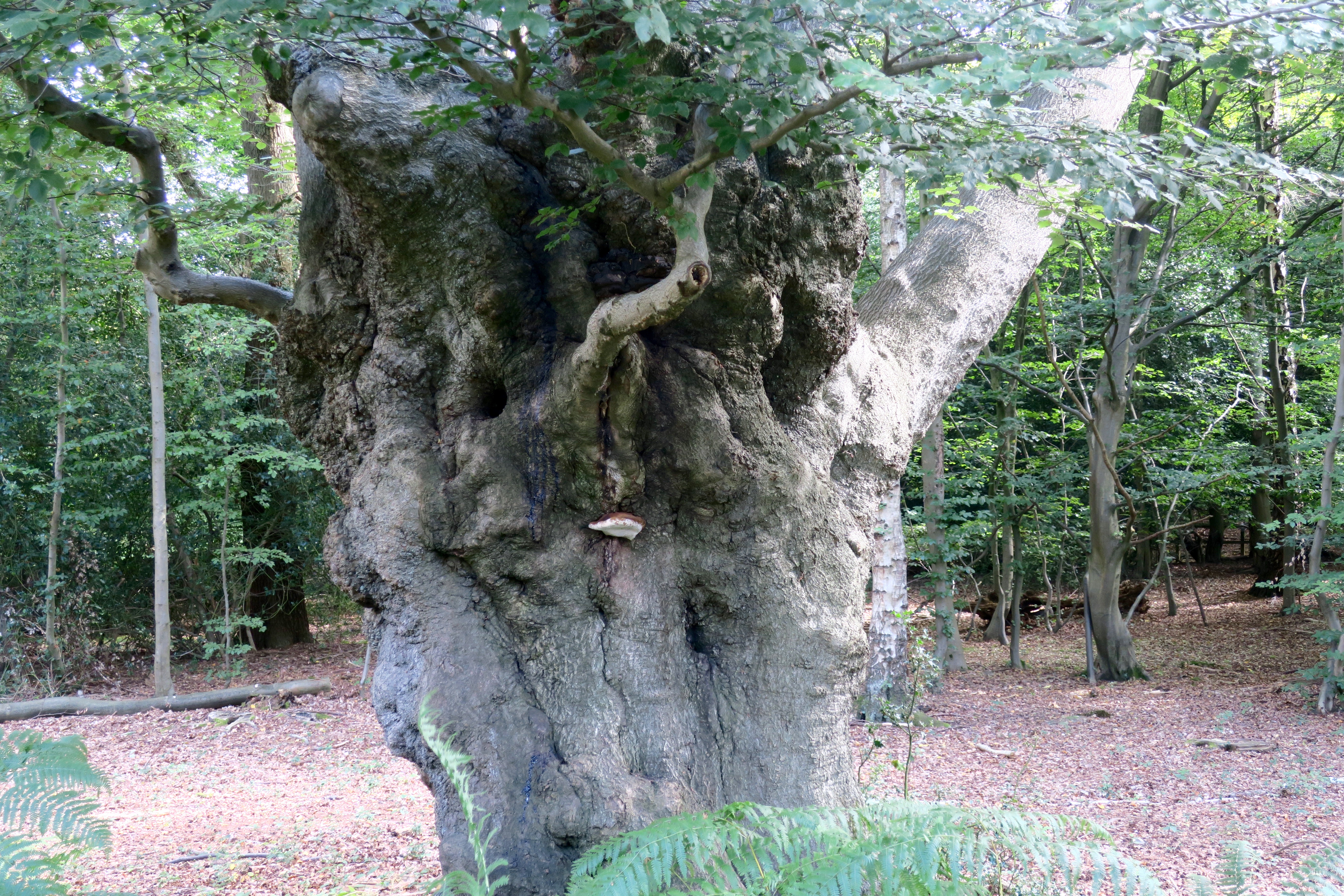 Gnarled and dappled.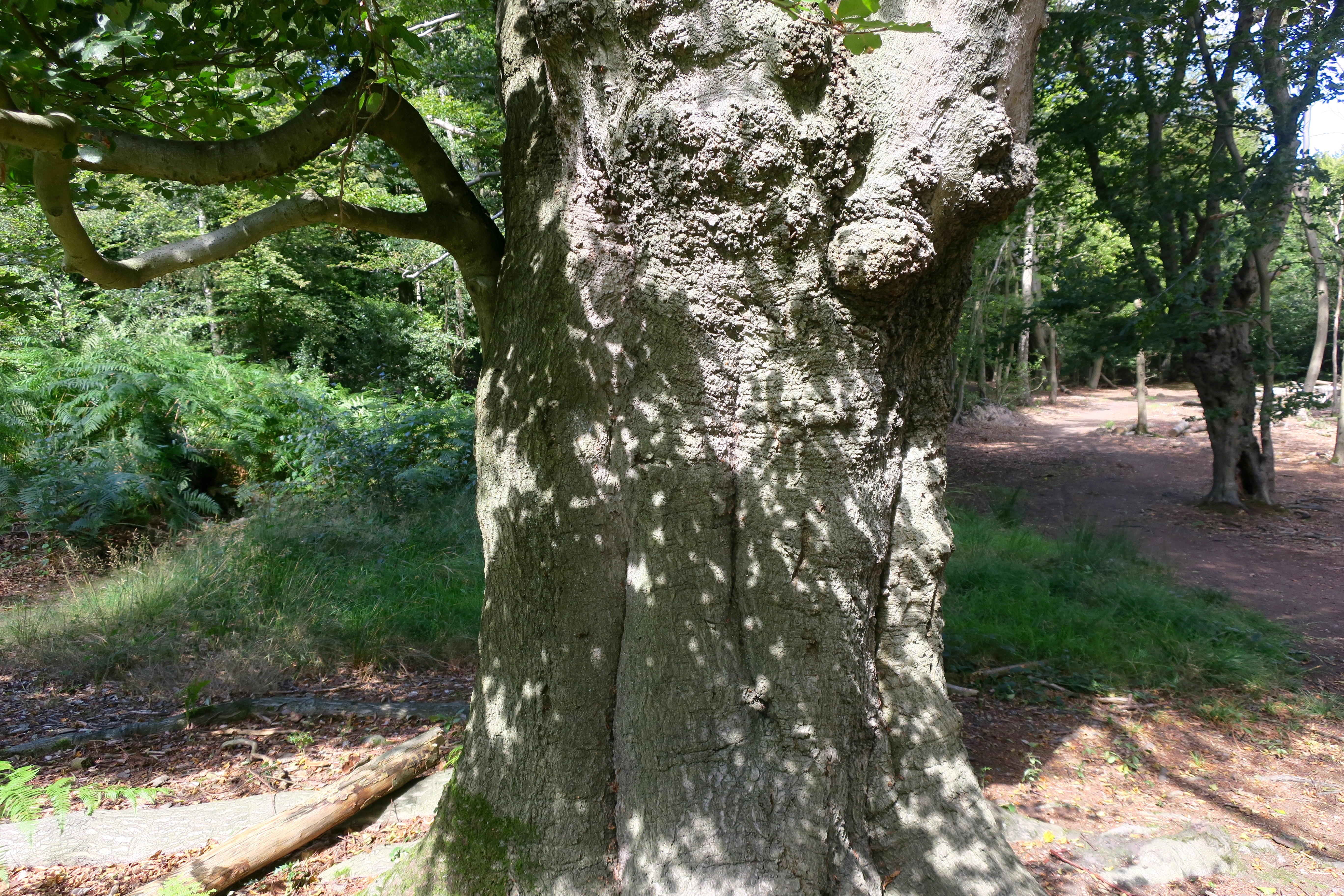 Dappled and gnarled.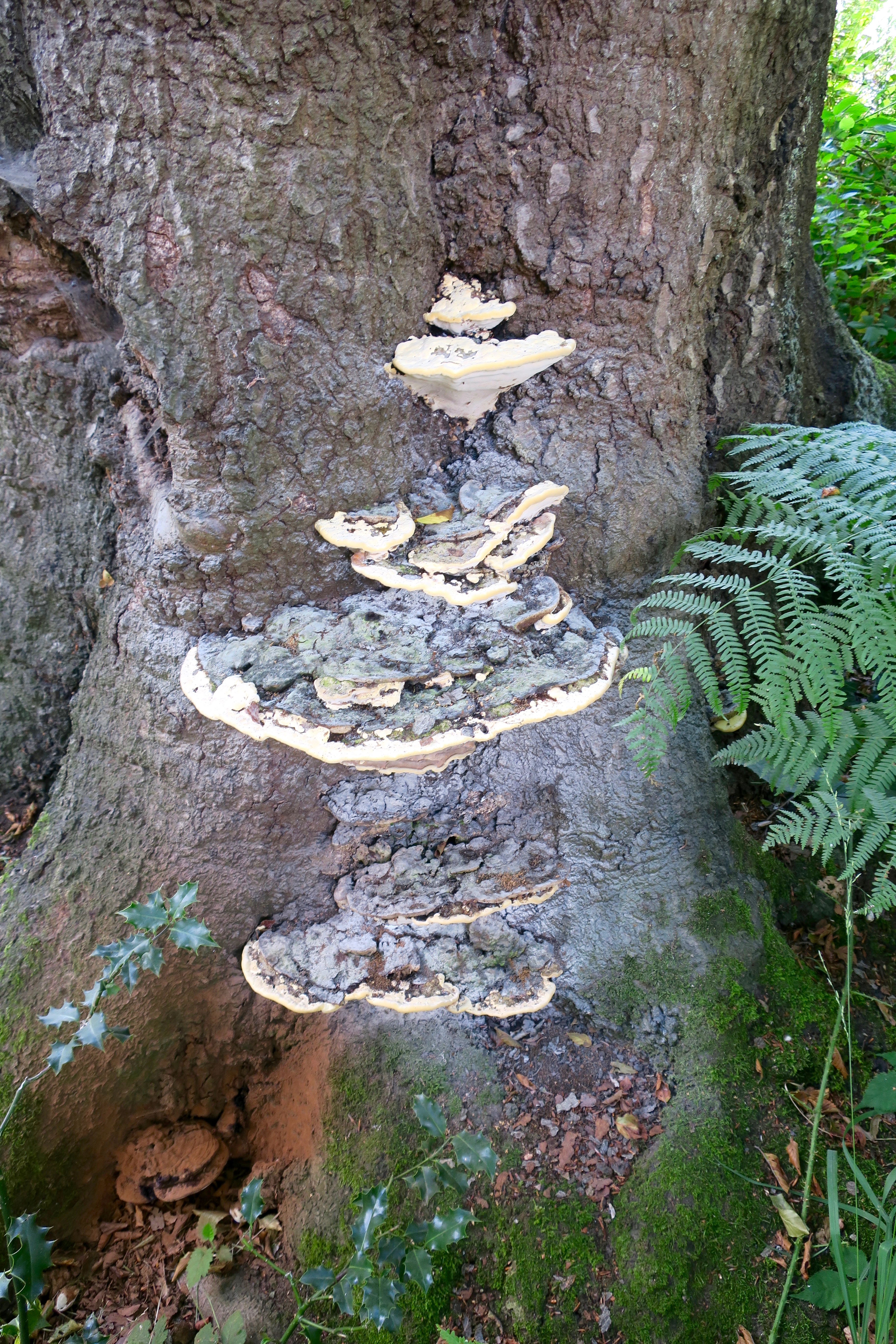 Cascading brackets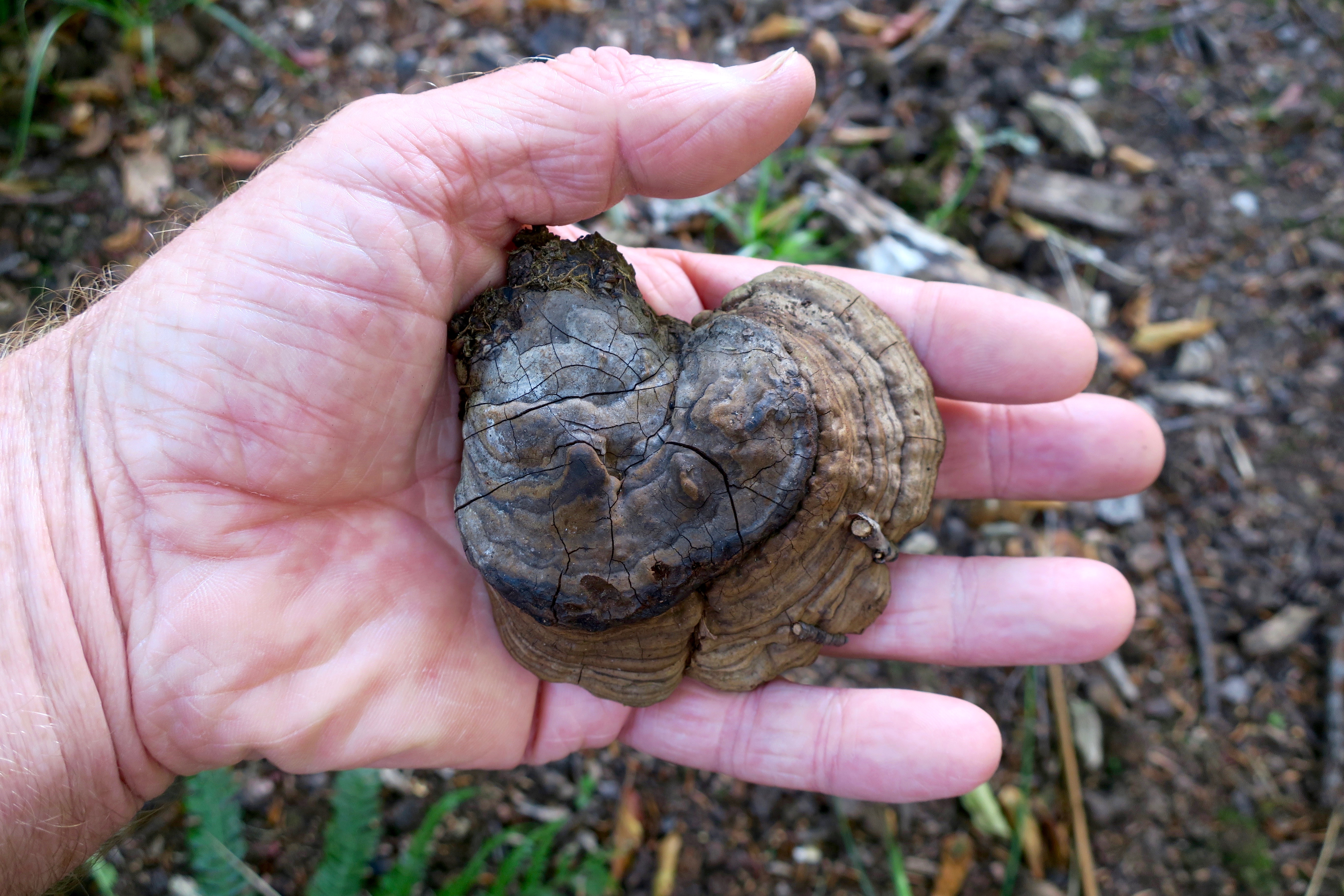 and a fallen ear found on the forest floor.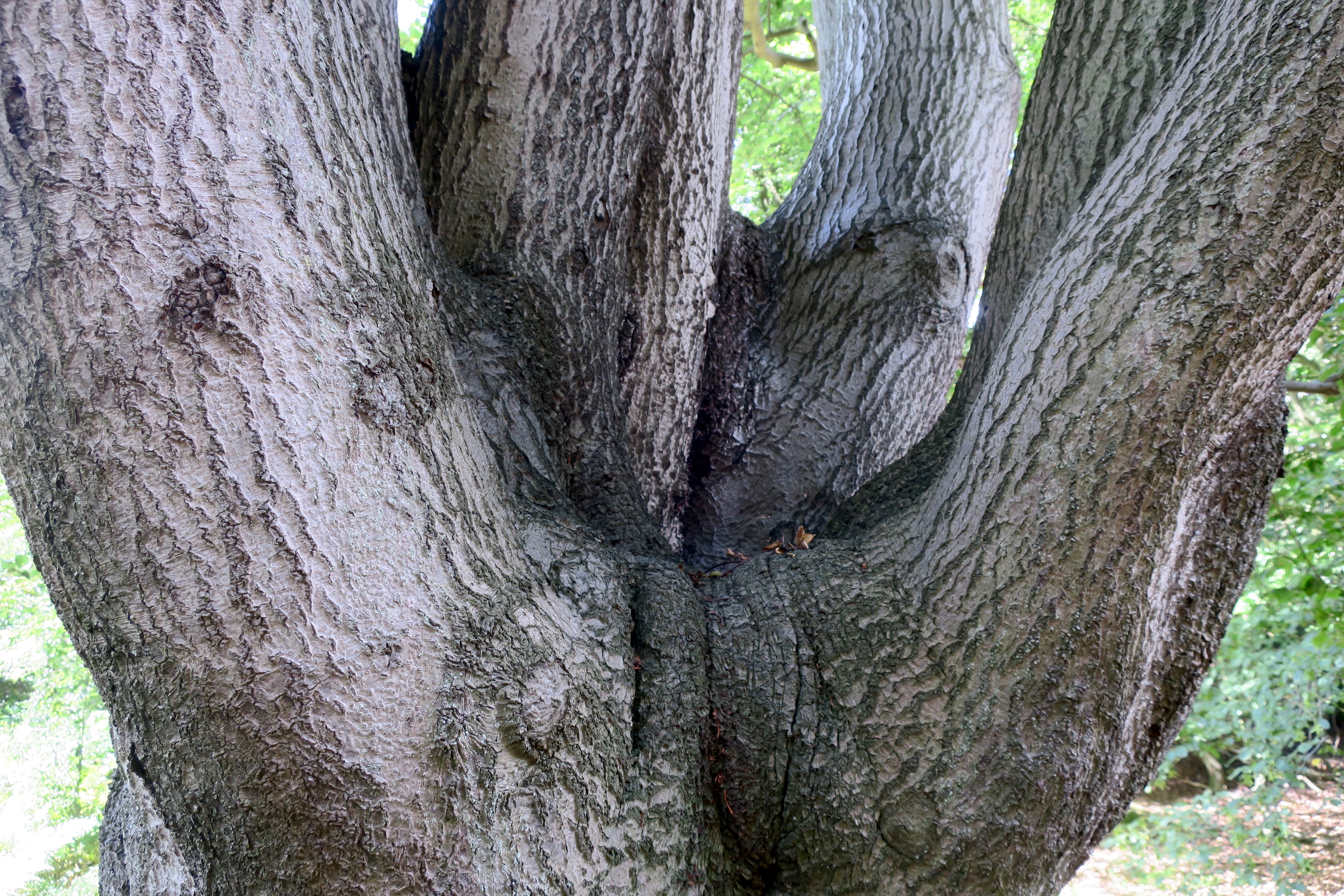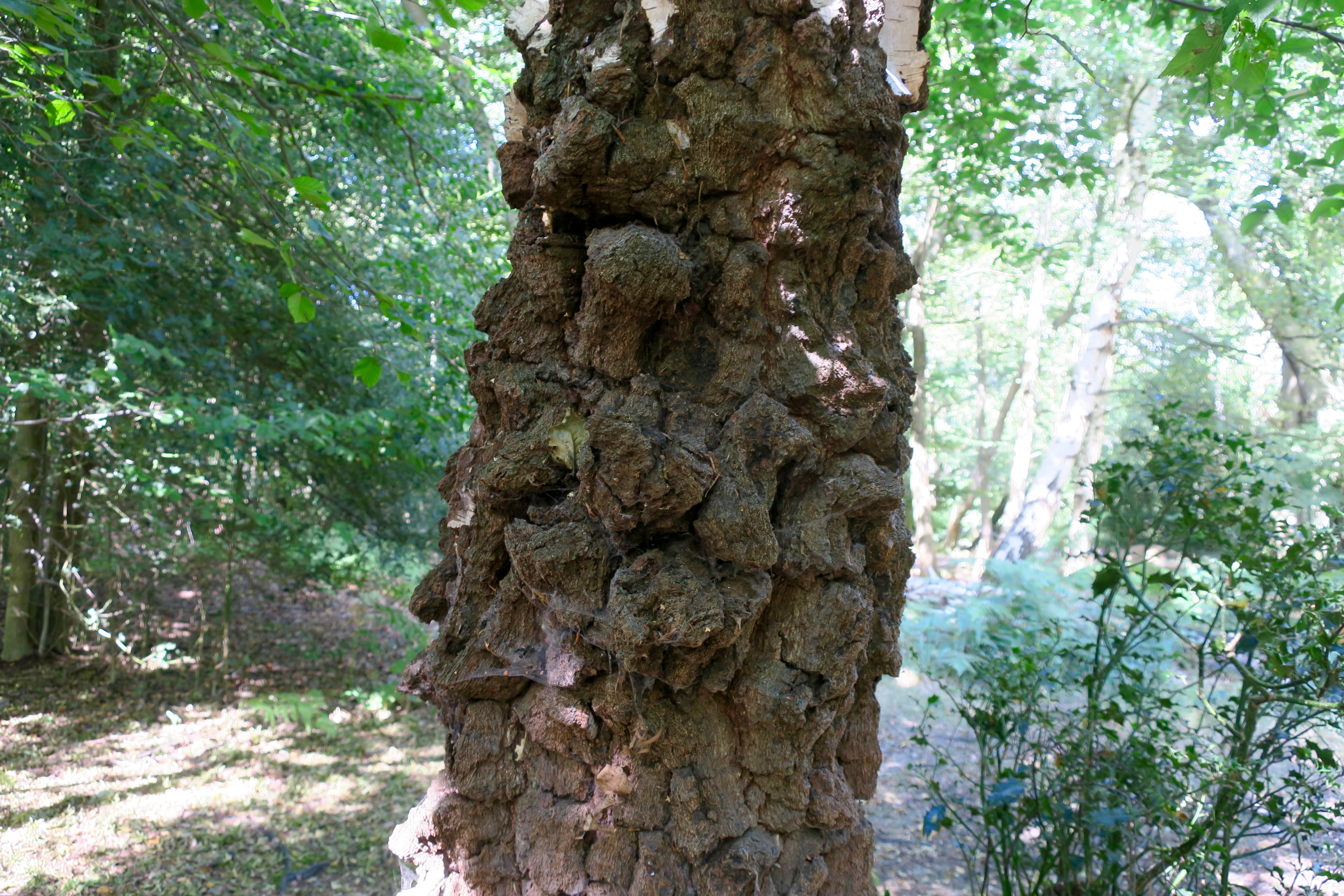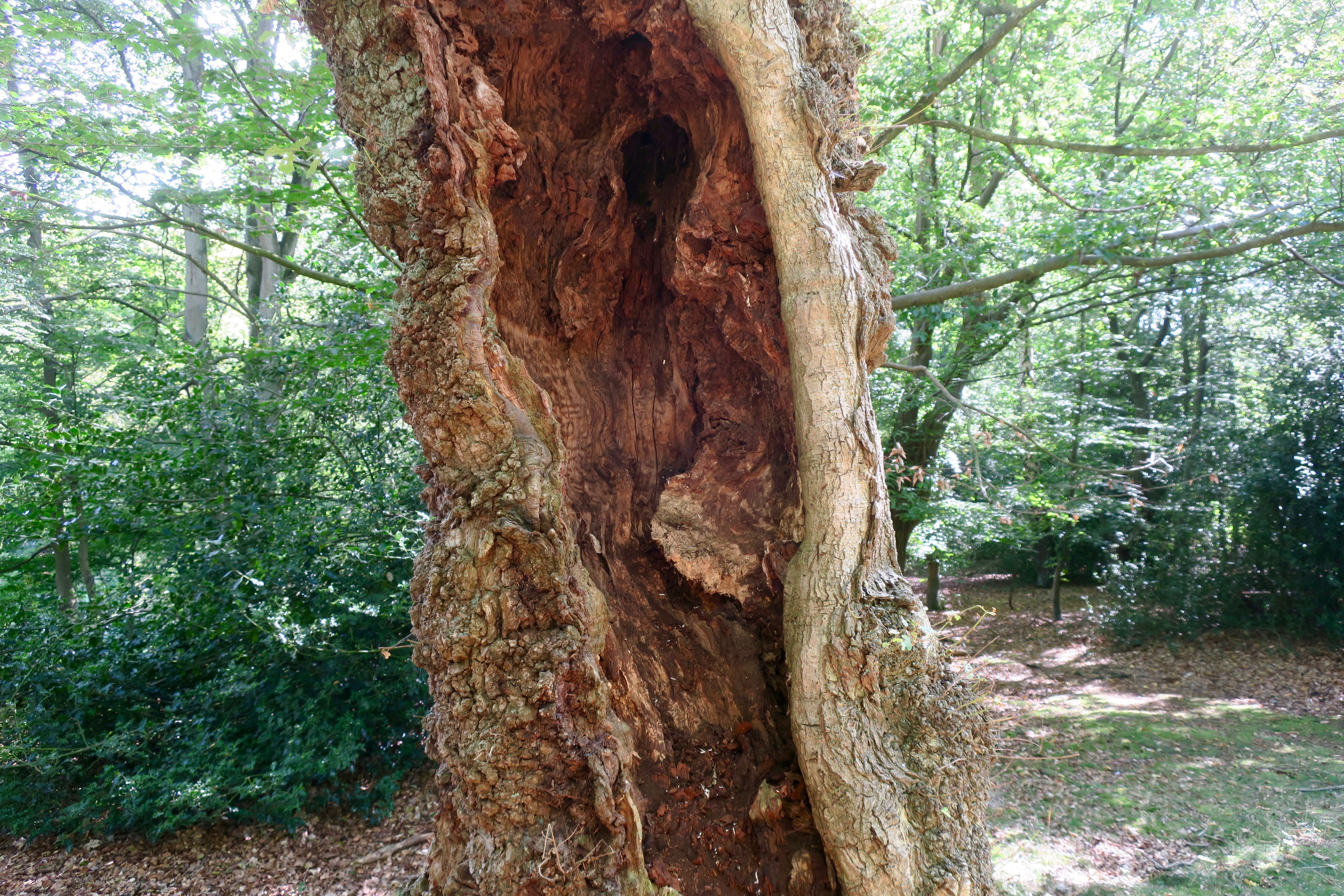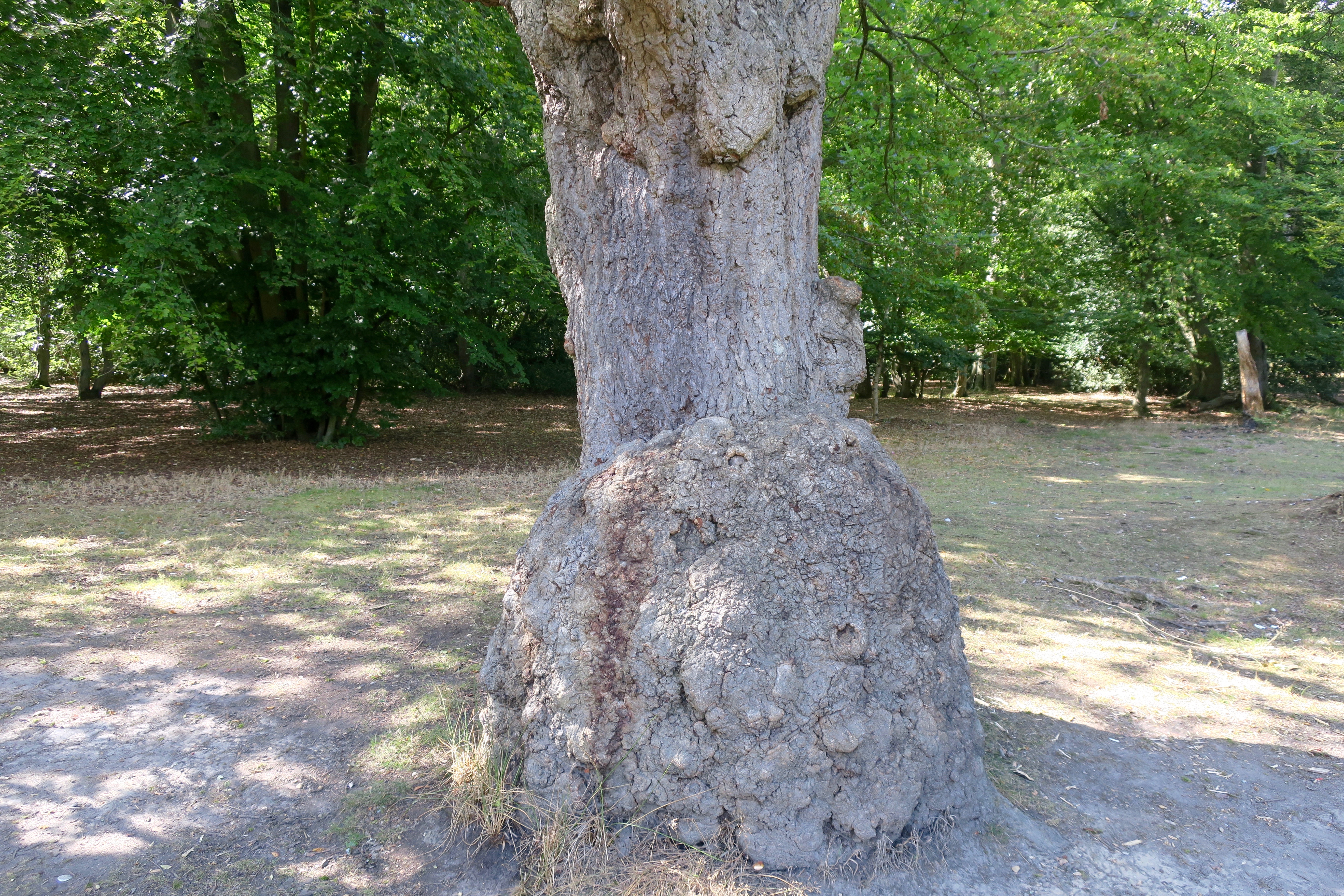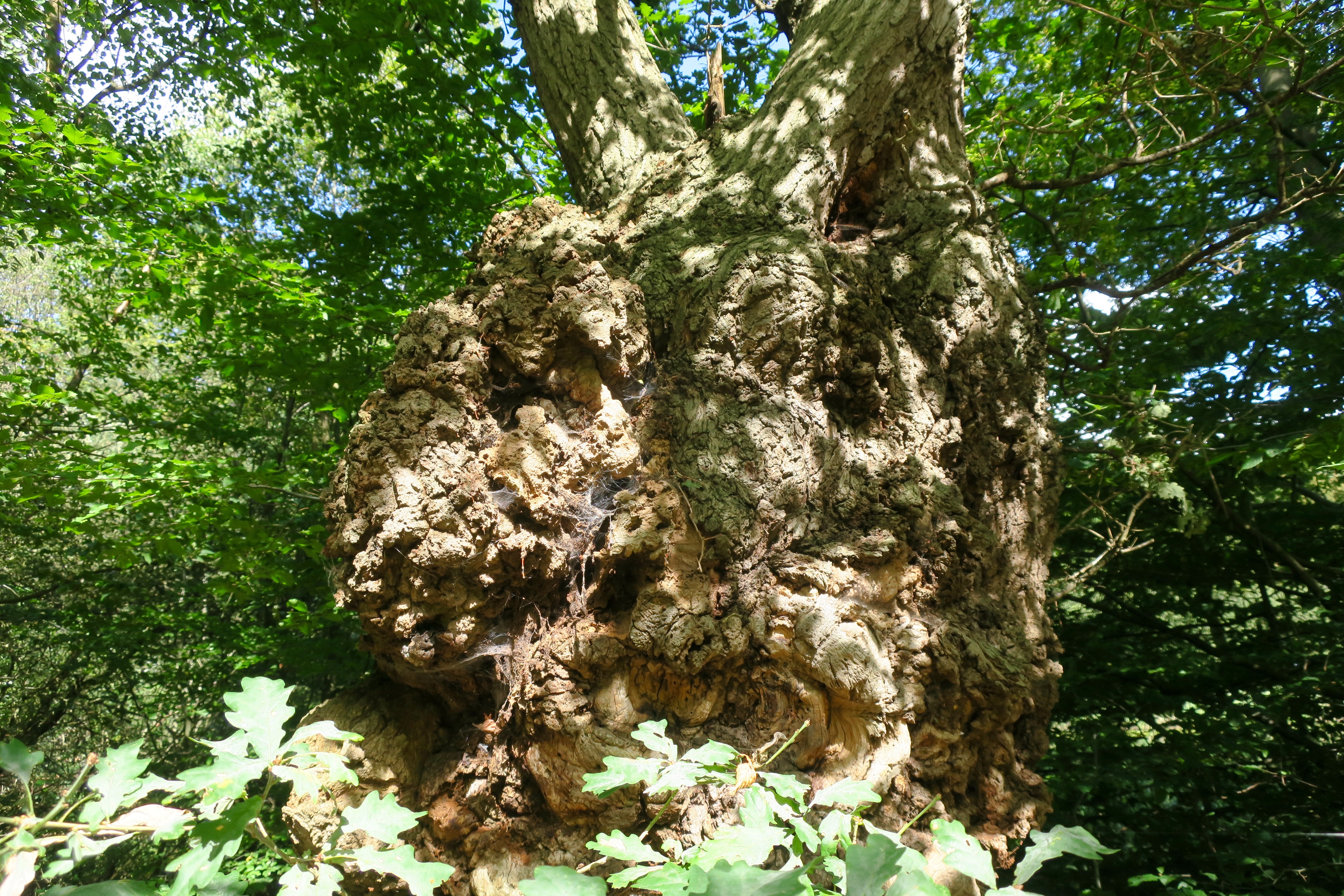 Gnarled and dappled.  Dappled and gnarled.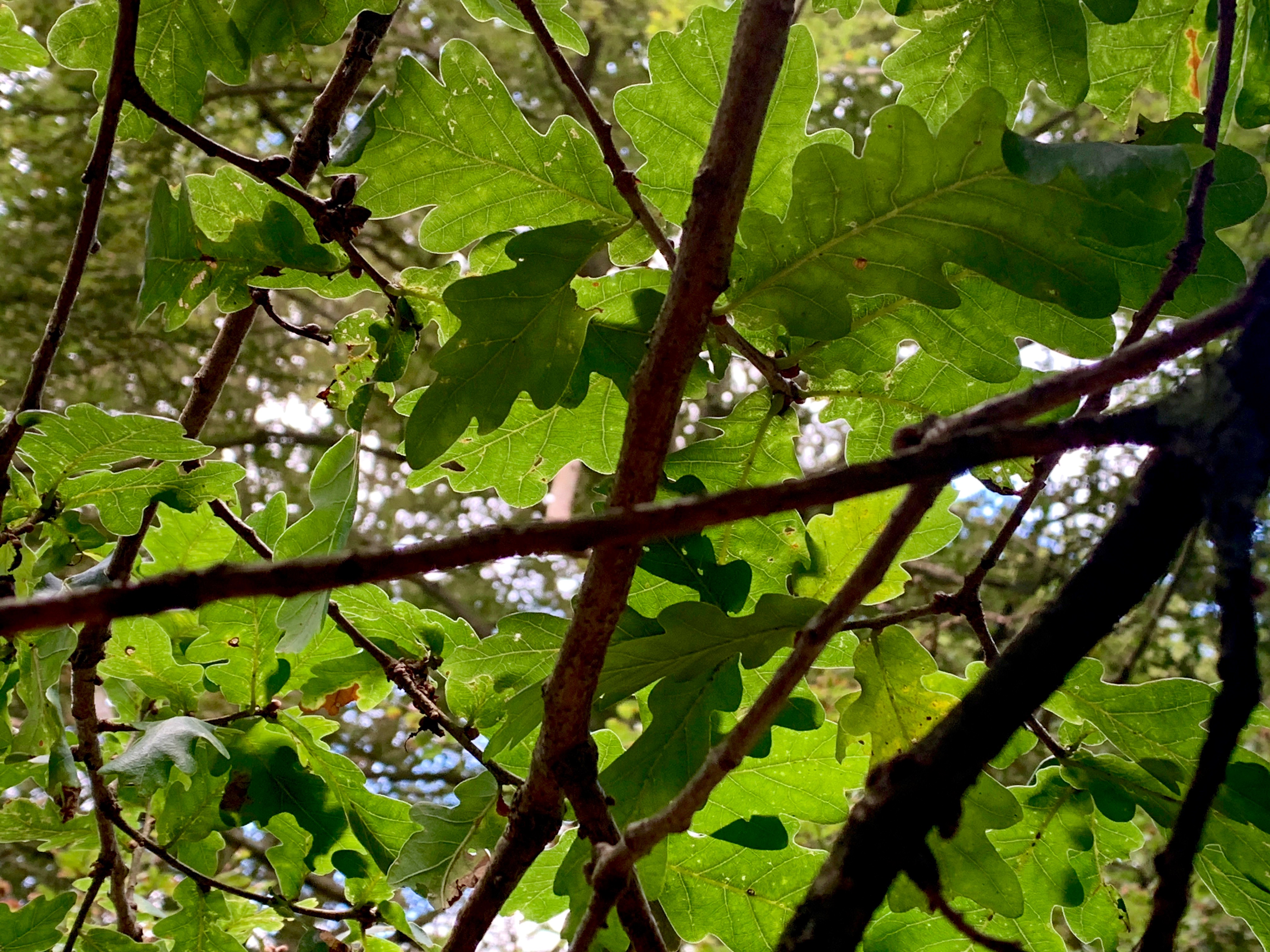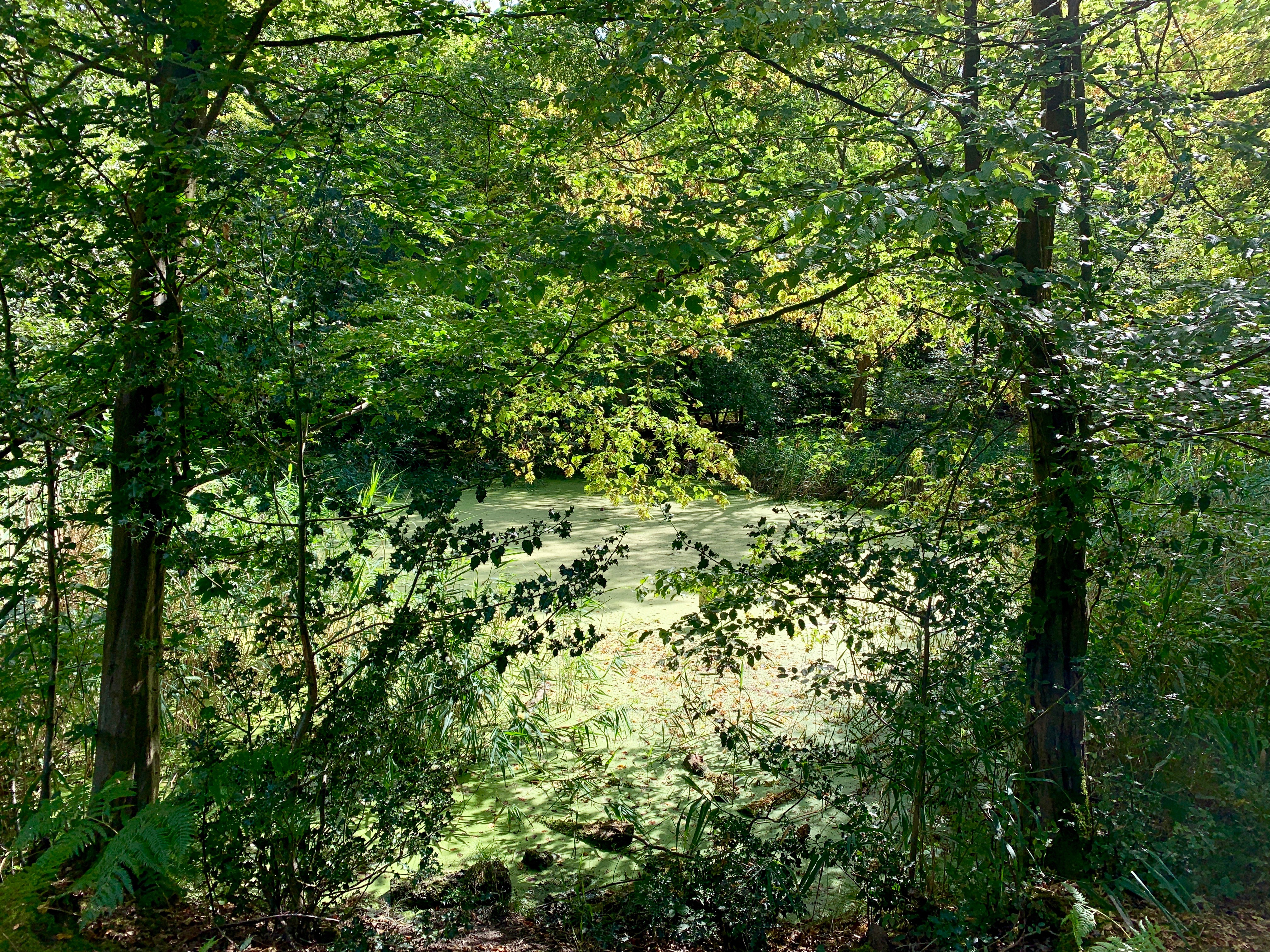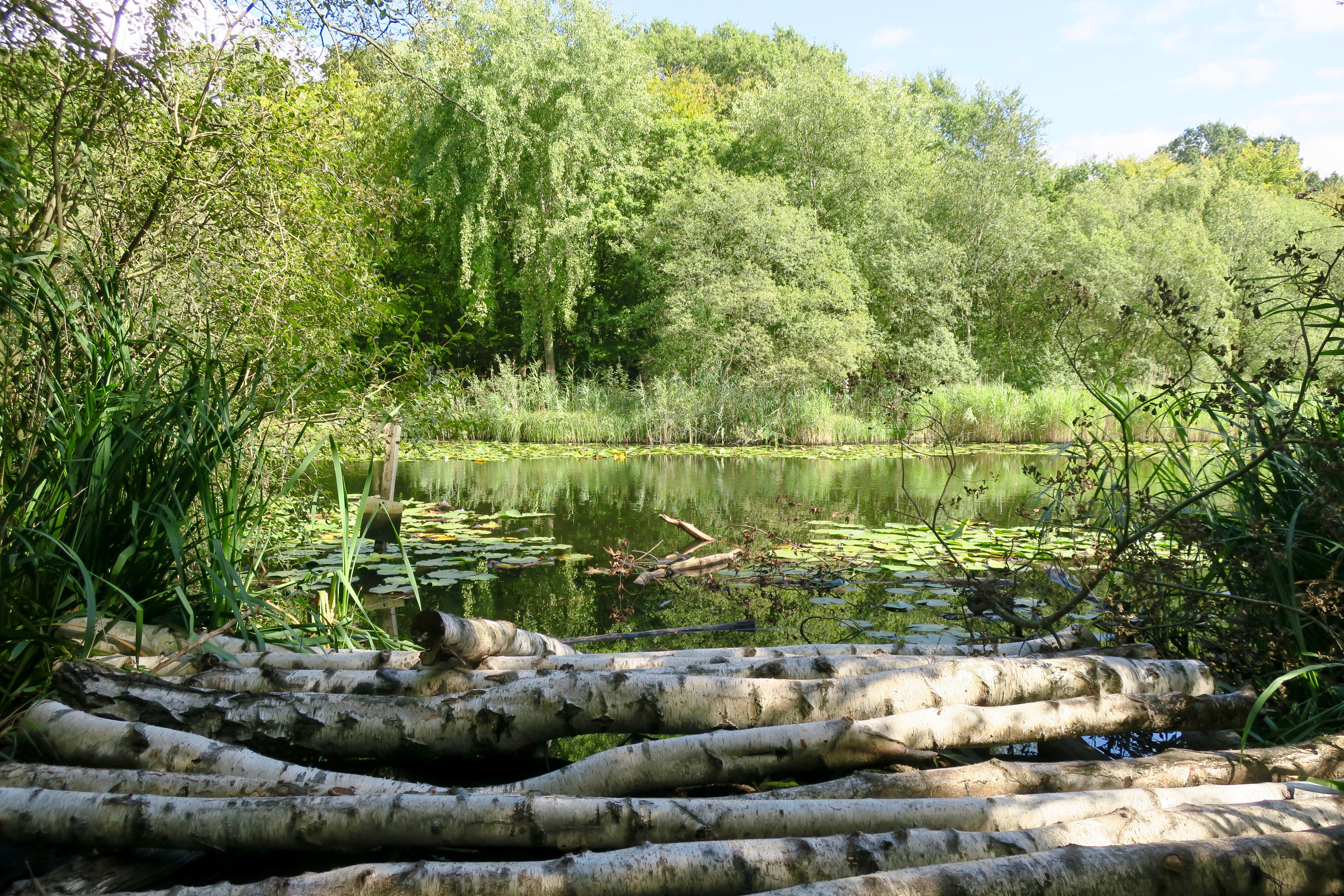 Until too soon we find ourselves back where we started at Wake Valley Pond.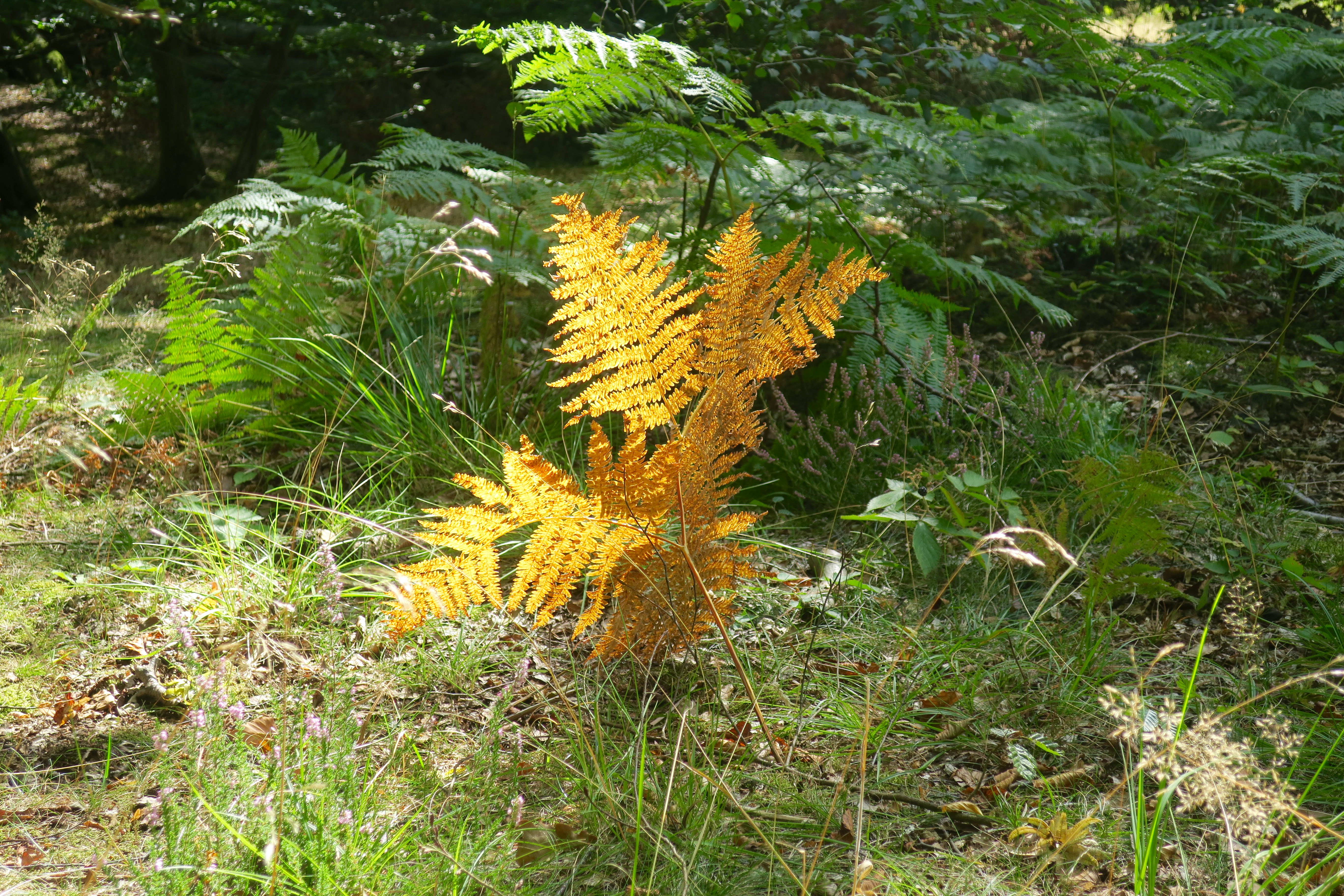 ※