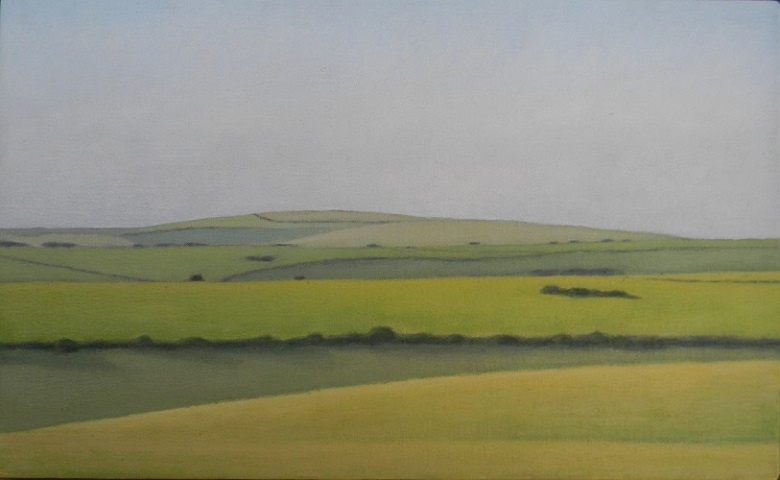 Wilmington Hill from Beachy Head
When I began painting as a teenager growing up in Sussex I painted things that were accessible. These were what was outside my bedroom window and objects I had lying around my room. The view outside my window was the South Downs and the changing light, weather and seasons made it continually fascinating and enduring as a subject matter. I began going out into the landscape and painting plein-air and when indoors I ran out of objects to paint I began collecting pots and coloured fabrics. These two ways of working have endured and developed simultaneously and I have continued to work from both landscape and still life in equal measure.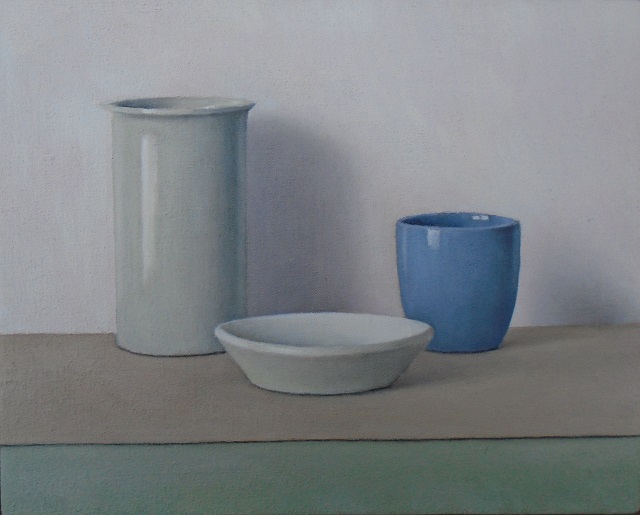 Grey, White and Blue on Brown and Pink
When I was a student at the Slade I would work in the life rooms from the figure, have a still life set up in my room and go back to Sussex to paint landscape. I found a kindred spirit in my tutor Patrick George who understood the need I had to stand in a field and respond to the landscape. Until then I had worked with the idea of finishing the landscape painting in one session or a short continuation of painting sessions. I learned to build the structure of the painting and that it was wrong for me to force the painting as it had to develop in whatever time it took and I might have to return to the same place the following year or perhaps several years to bring it to a satisfactory resolution. For me landscape painting is not about 'capturing the moment', but more about observing and letting a painting emerge. The painting can often turn out quite different to what I had originally thought.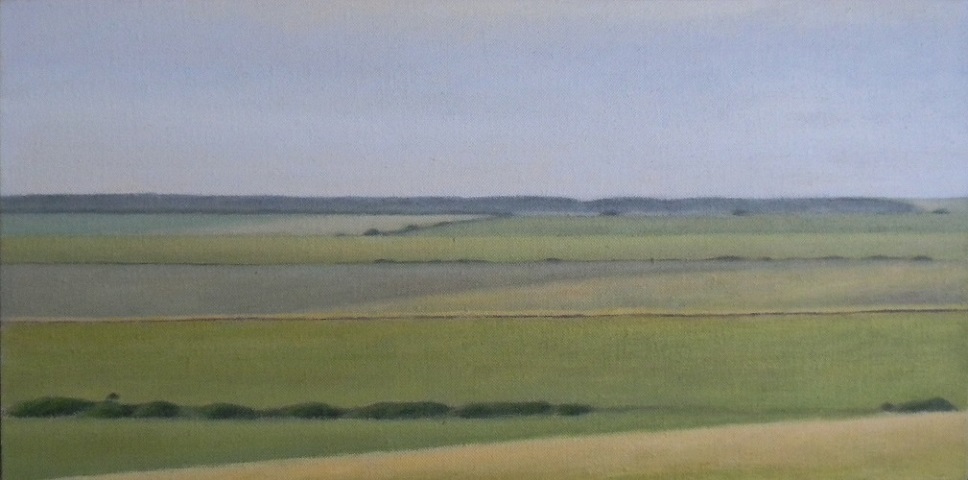 Downs Study near Beachy Head
In 1999 I bought a house in Eastbourne to be close to the Downs again. The landscape paintings I am showing this time at Heatherley's are from an ongoing series in the area around Beachy Head.
Still life painting is for me a constant experiment with composition, colour and tone. I often reconsider the painting in progress, change or move objects and backgrounds until I am satisfied. I revisit themes or objects that I have painted in the past.
The single object is something I explored as a student at art school in Worthing on the Foundation course, perhaps influenced by Rembrandt's 'Shell' etching and Manet's 'Asparagus'. Later and probably influenced by Euan Uglow, who was a teacher in the Slade life rooms during my time as a student, I produced many paintings of single fruit or bowls. In 1996 I exhibited a single 'Apple' in the Royal Academy Summer Exhibition.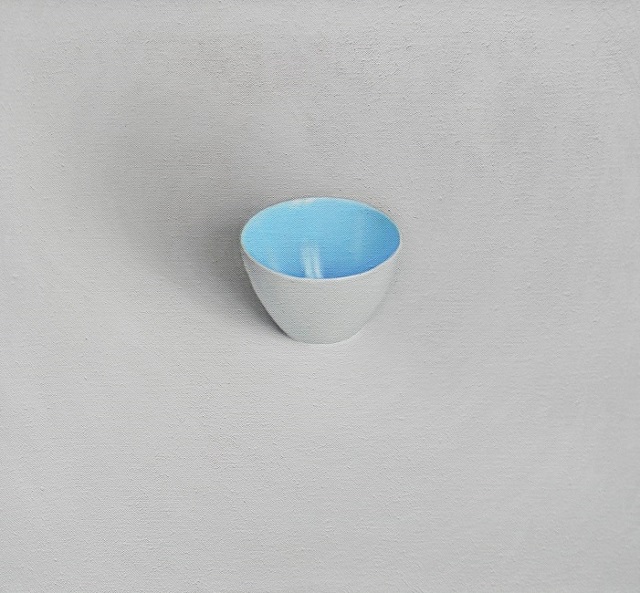 Blue and Grey on Pink
In 2011 I embarked on another series of single object still lifes and in 2012 showed 12 of these paintings of lone ceramic vessels in a solo exhibition at the Electro Studios Project Space in St Leonards on Sea. An exhibition title of 'Stand Alone' was suggested to me by a fellow artist. This is appropriate as it also reflects my belief that a painting should be able to stand without the need of a supporting text and that the aesthetic experience is visceral and can be appreciated universally. It can be therefore inclusive and transnational.
David Stubbs – Stillness – Paintings and Drawings from Life
※
David Stubbs / The Rowley Gallery