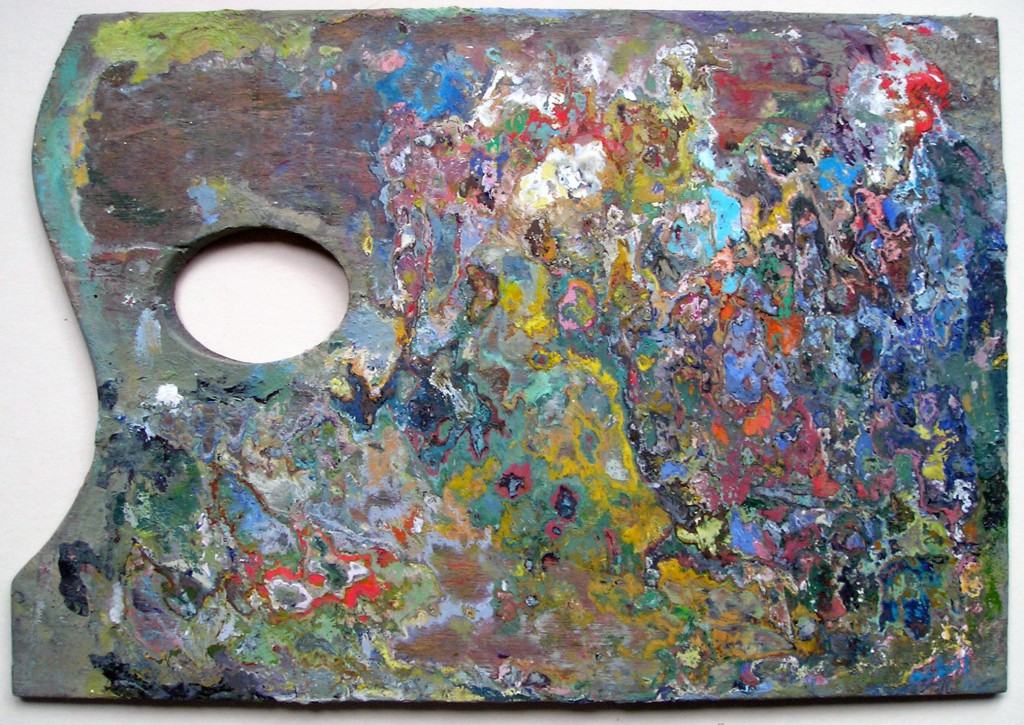 Andrew Walton kicked it off: Dear Chris, I thought you might like this palette. I came across it in my shed. I had half cleaned it some time ago and left it as it looked so nice. I have always liked the working stuff which artists use. Turner's paint box etc. I might think of a blog posting on this, what do you think? Each of your Rowley artists could send in a photo of their paint boxes and palettes!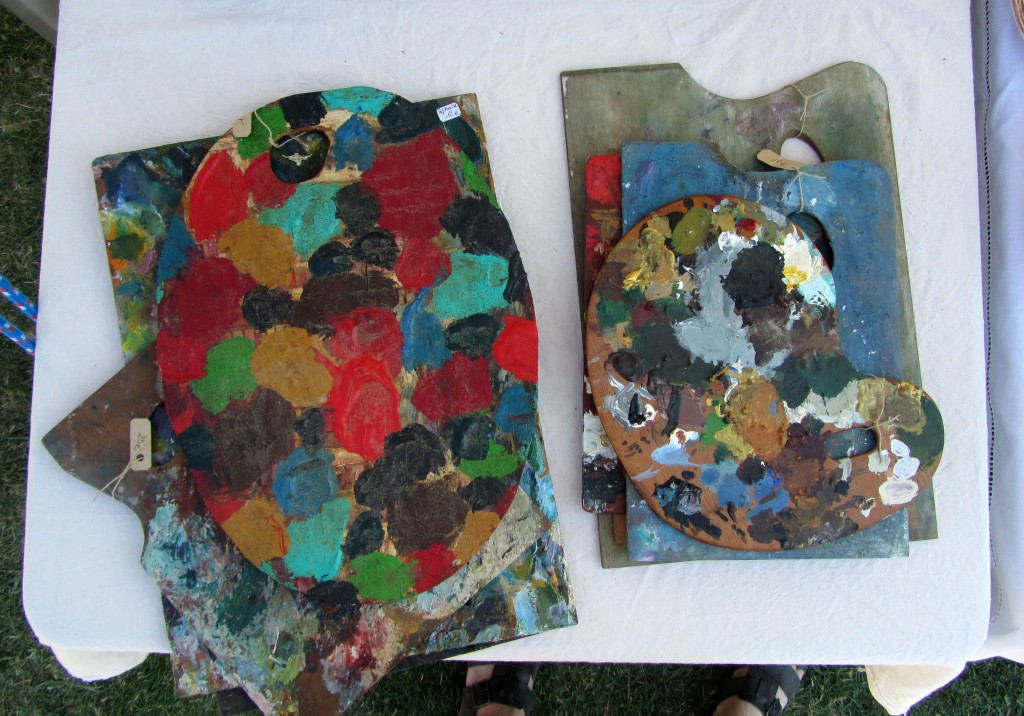 Thanks Andy, I like the palette and I like your idea. I'm reminded of these palettes I saw for sale in L'Isle sur la Sorgue antiques fair last summer. Yesterday I sent out a request for palettes to all our artists. It looks promising. So far I've had replies from 4 with photos of 8 palettes. More to come…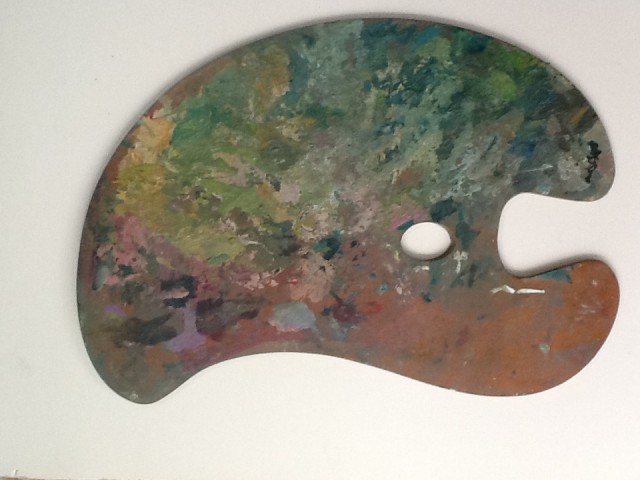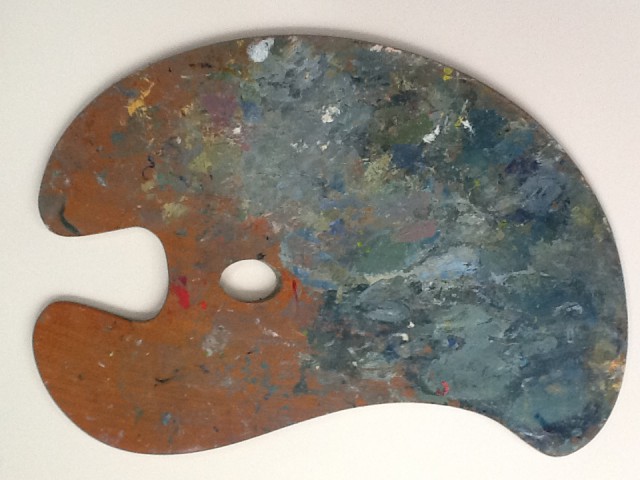 Dear Chris, In response to the palette blog, here are photos of my palette. Best wishes, Paul.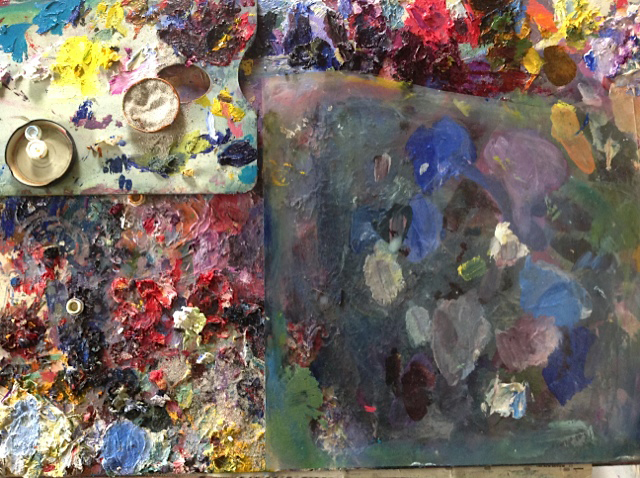 Dear Chris, Good to hear from you. Here is a palette! Best wishes, Suzy.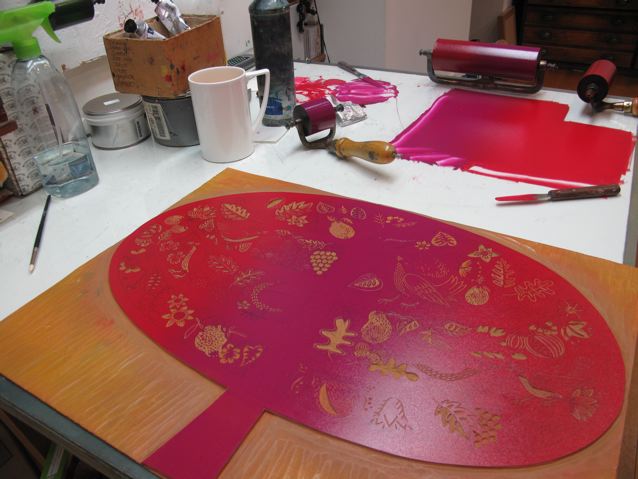 Hi Chris, This is not a paint palette but I do mix all my ink on the glass and then roll it out. A glass palette! Best wishes, Linda.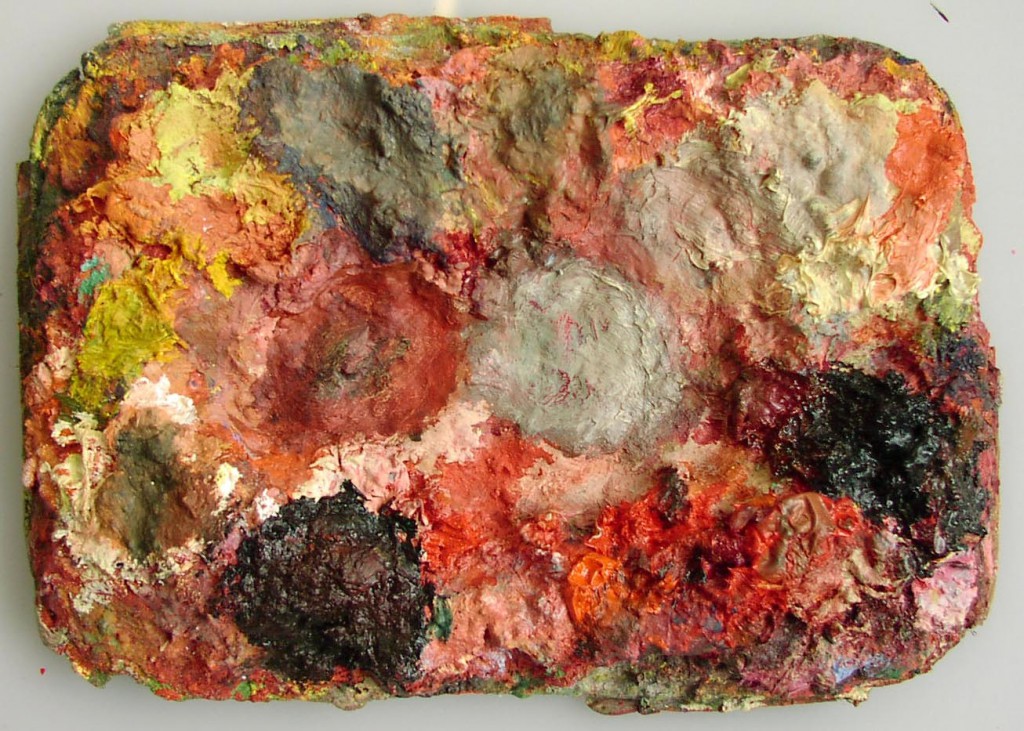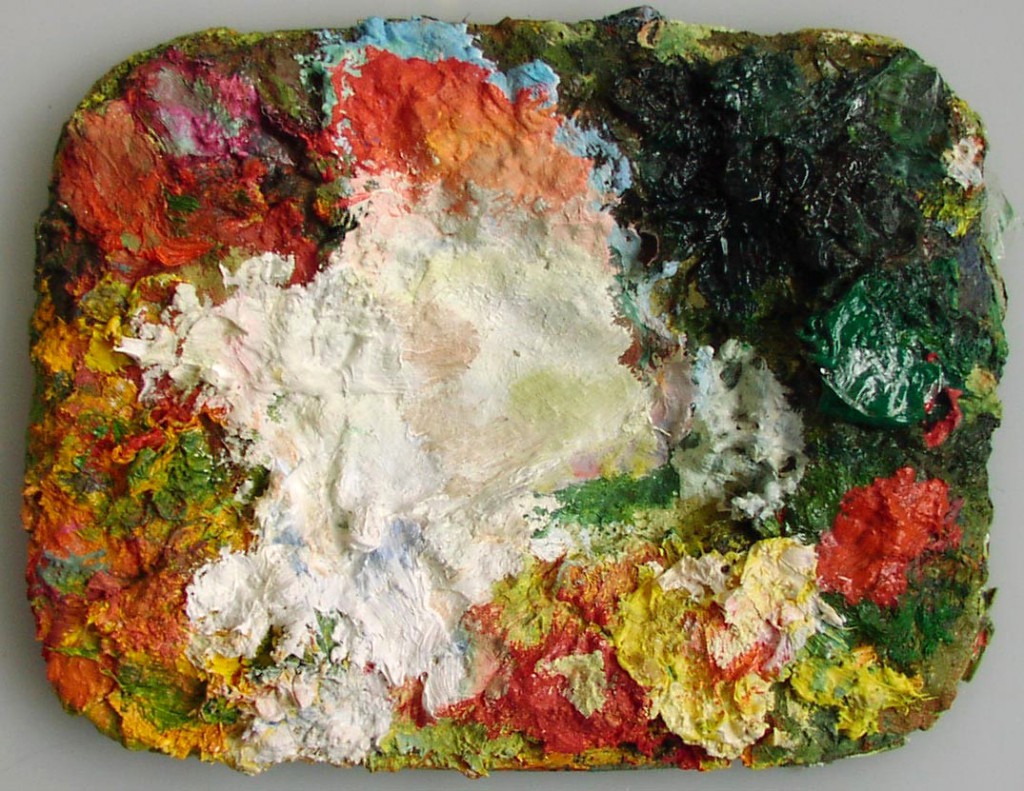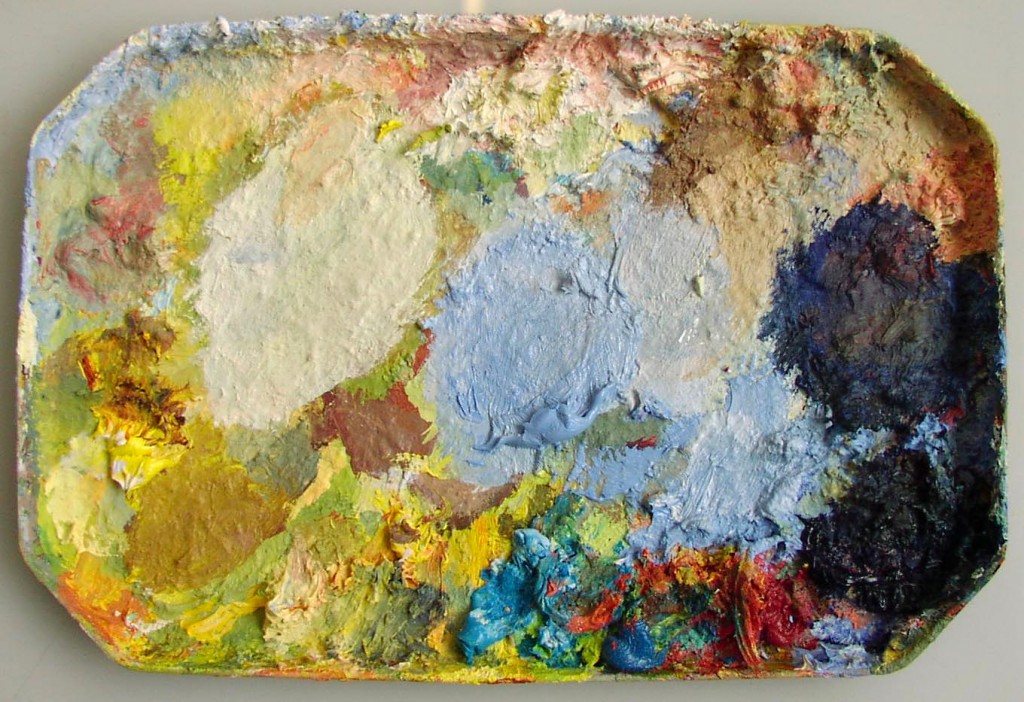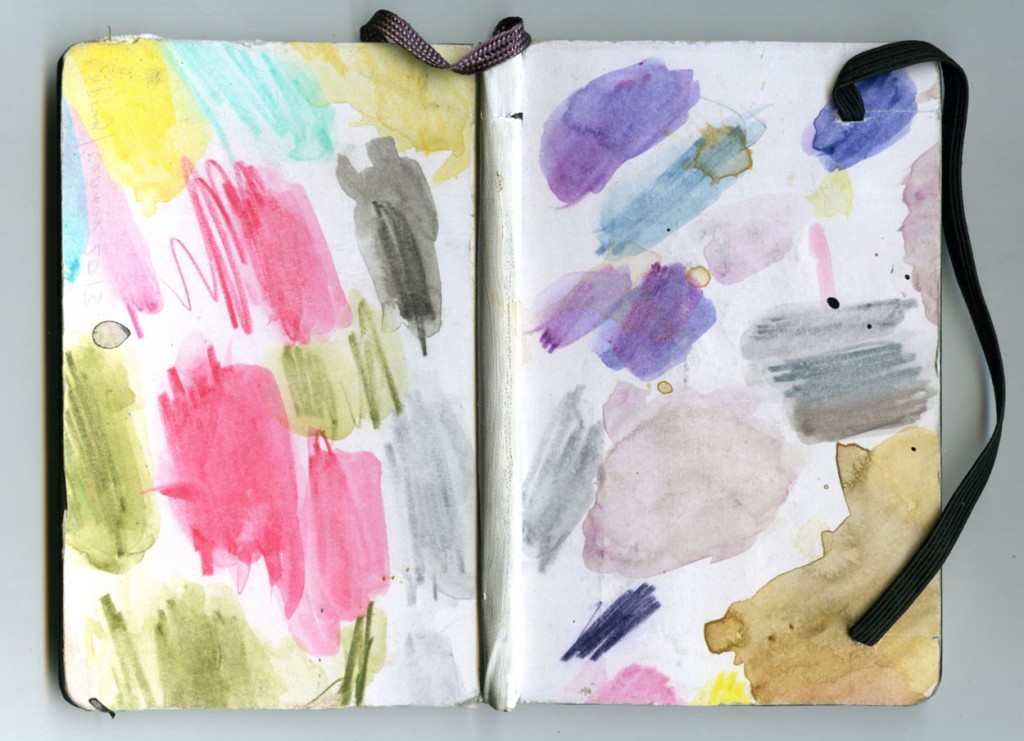 Hello Chris, great idea, my palettes are always more interesting than my paintings. Here are three plus a palette covered notebook. Best Wishes, Greg.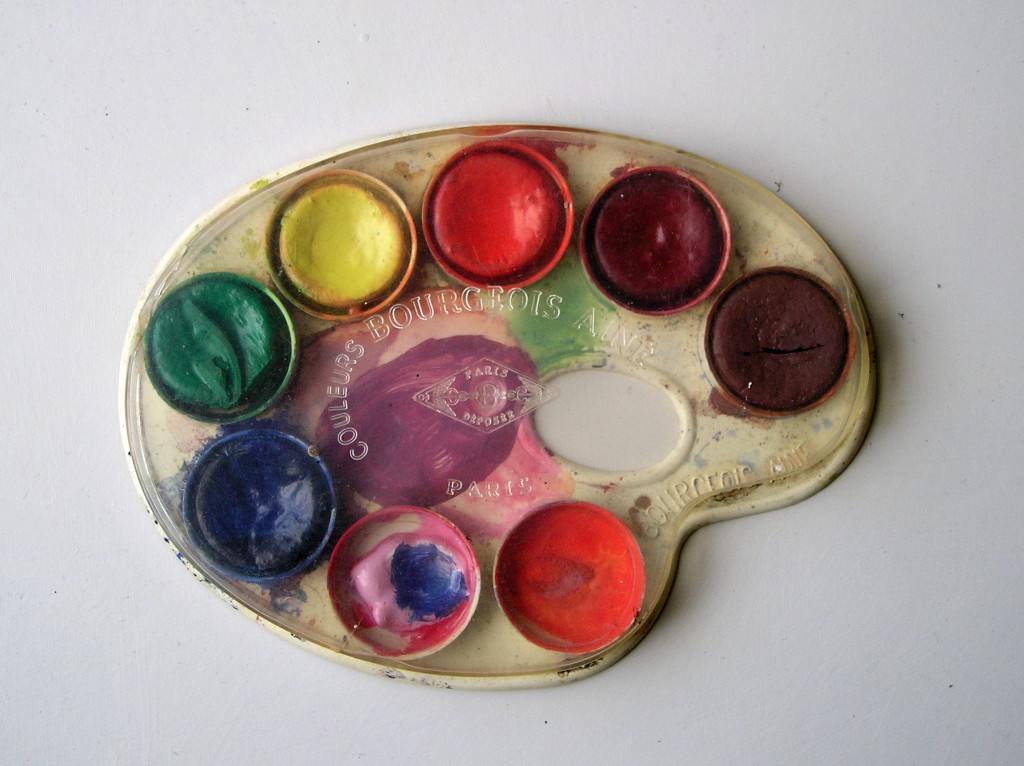 Dear Chris, Thought you would be amused by this. When I was about ten years old my mother came home from Paris where she had been for a holiday. She brought me a plastic palette of postercolours. Photo attached. Most of the colours are the originals. One other nudge for me to get on the path to being a painter. I look forward to seeing the other palettes. I hope they have accompanying stories. OK. Andy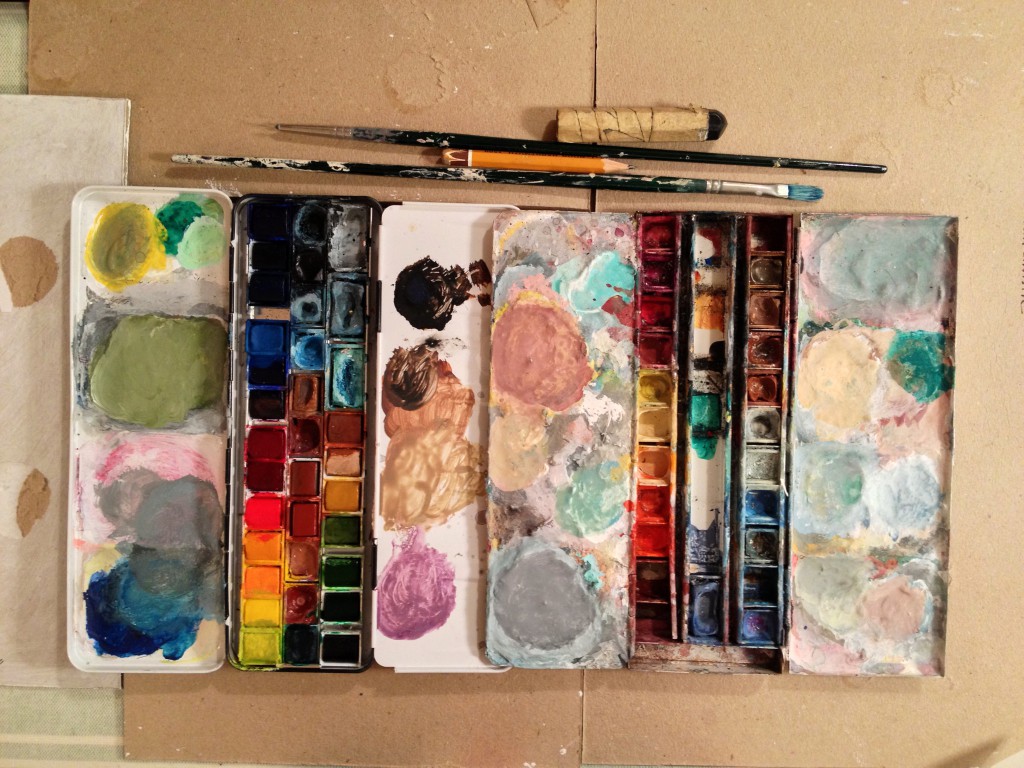 Hi Chris. Nice idea. I'm 'in-between' palettes at the moment. Had my old one for 20 years. Here's a shot of both. Hope all's well with you? Best wishes, Jonathan.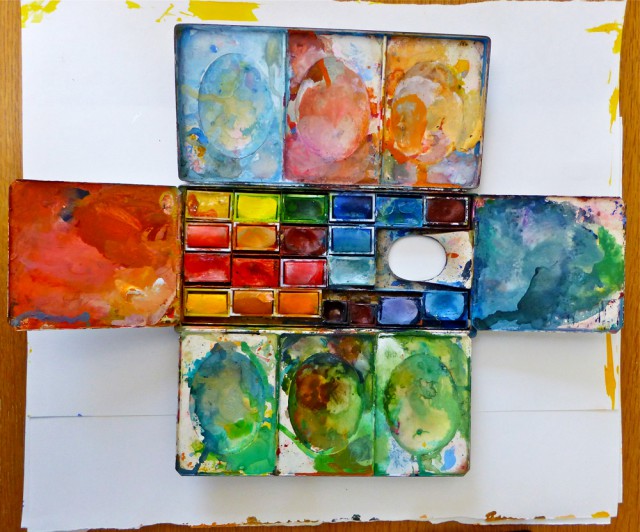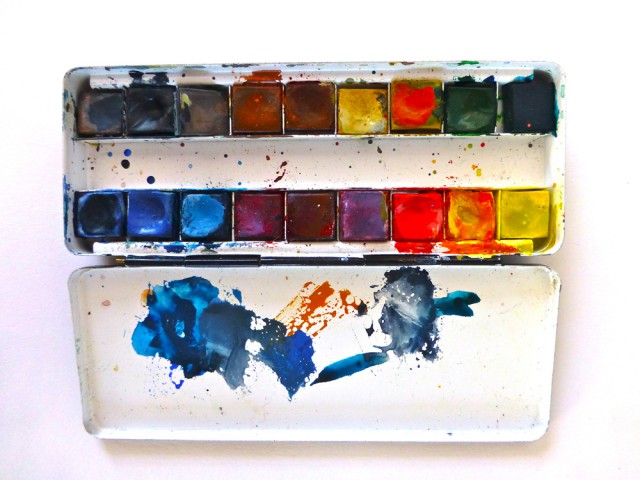 Dear Chris, here are 2 of my watercolour boxes for Andrew's blog…and I hope all is well, Chris.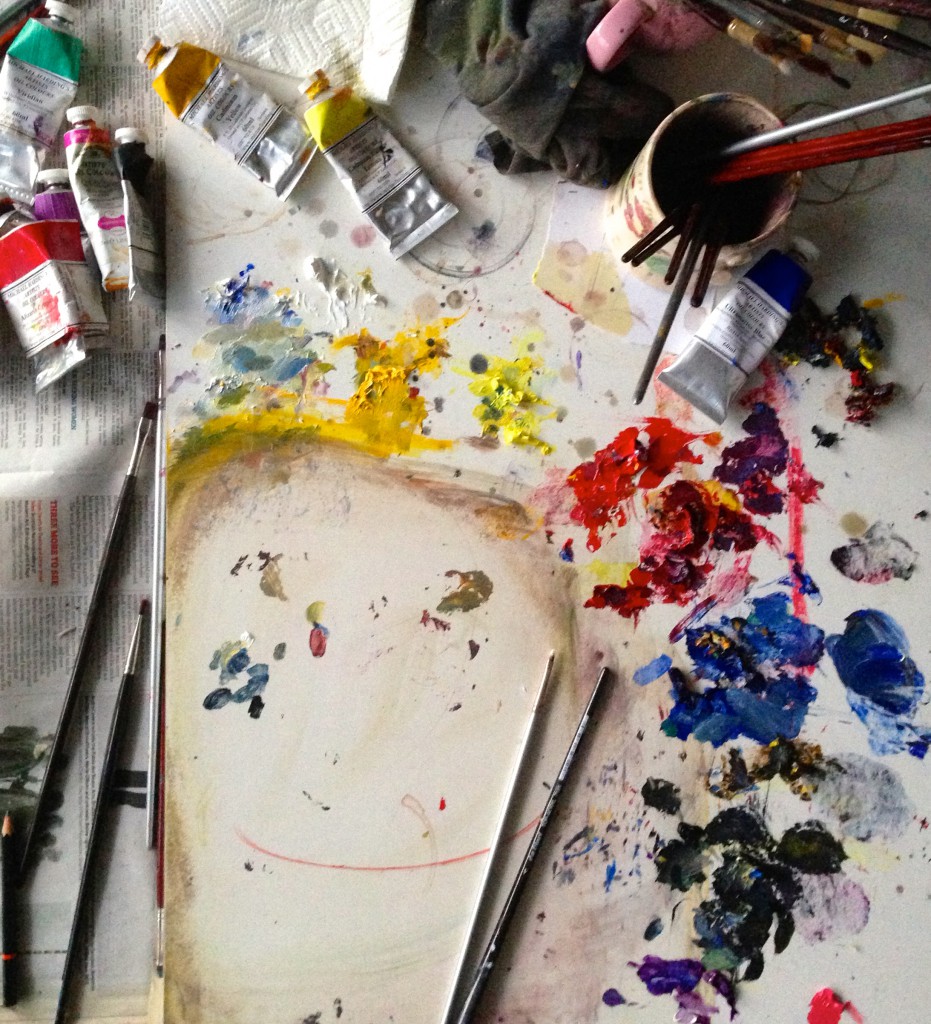 Hi Chris…I have attached an image of my painting palette…Fingers crossed for a good Christmas! Best wishes, Gail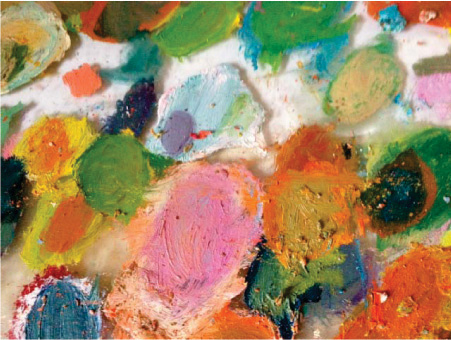 Dear Chris, My palette isn't very beautiful and I use glass now and my paint boxes are a mess (keep thinking I must clean them!) so not that tempted to photograph them…But will see… (then later) Hi Chris, Here is my oil palette, well, just a part of it. Actually, it's quite inspiring! Best wishes, Annabel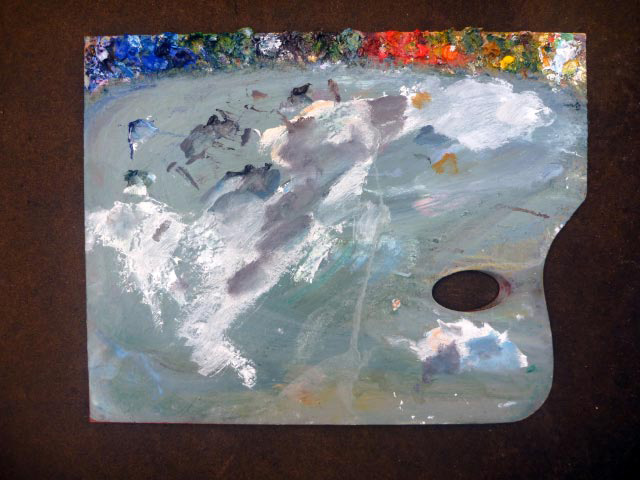 Hi Chris, My Palette, using cremnitz for a snowscape! Best, Marcel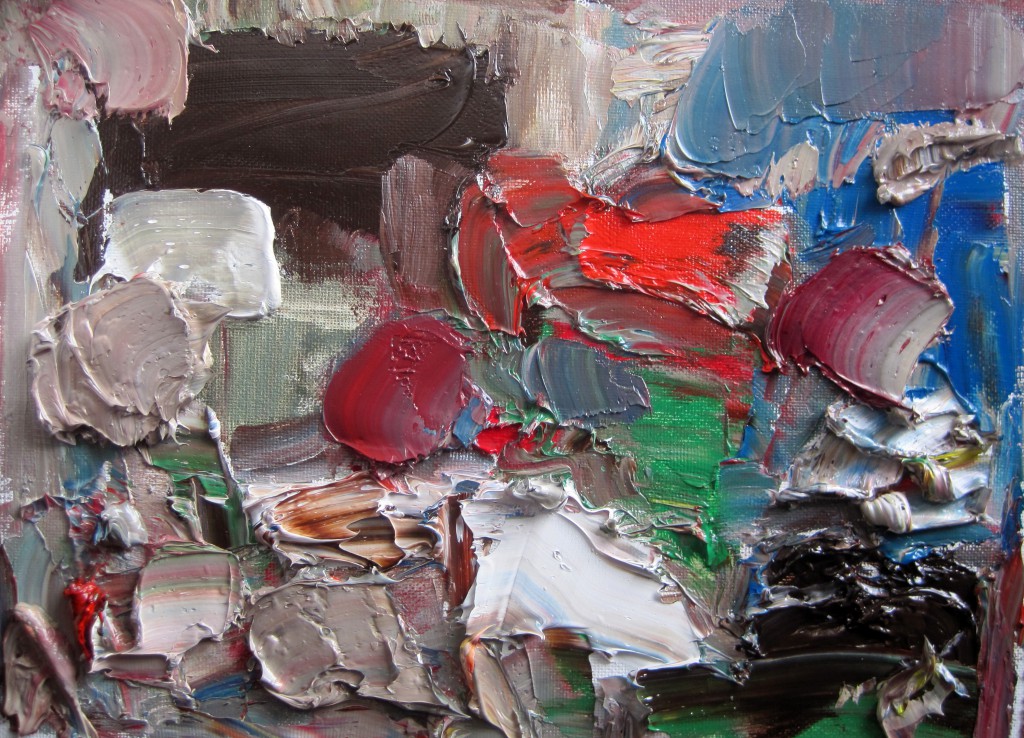 Dear Chris, Nice idea, here's mine. I use canvasses as my palettes and when they get too full I use them as the base of a new painting. Took this after I'd decided a painting wasn't working and scraped all the paint off, hence the murky piles. Best wishes, Jo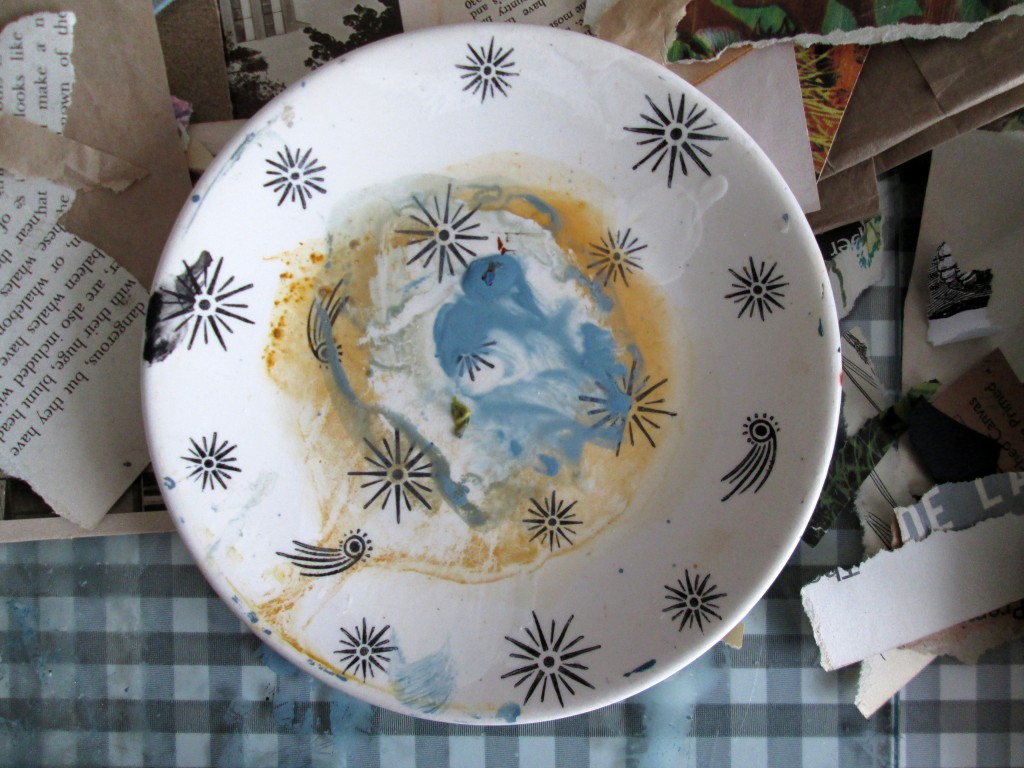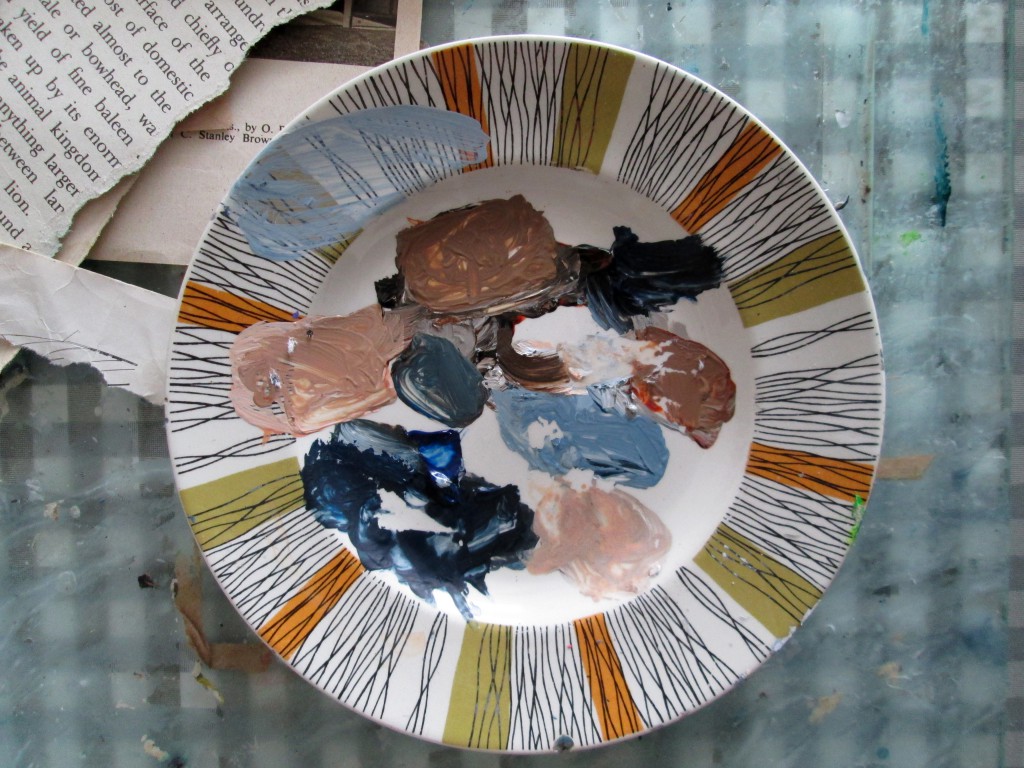 Hi Chris, Here's my two palette system, tend to clean them after each session to avoid build-up. If I get any outstandingly beautiful swirls and patterns in the near future I'll let you know! James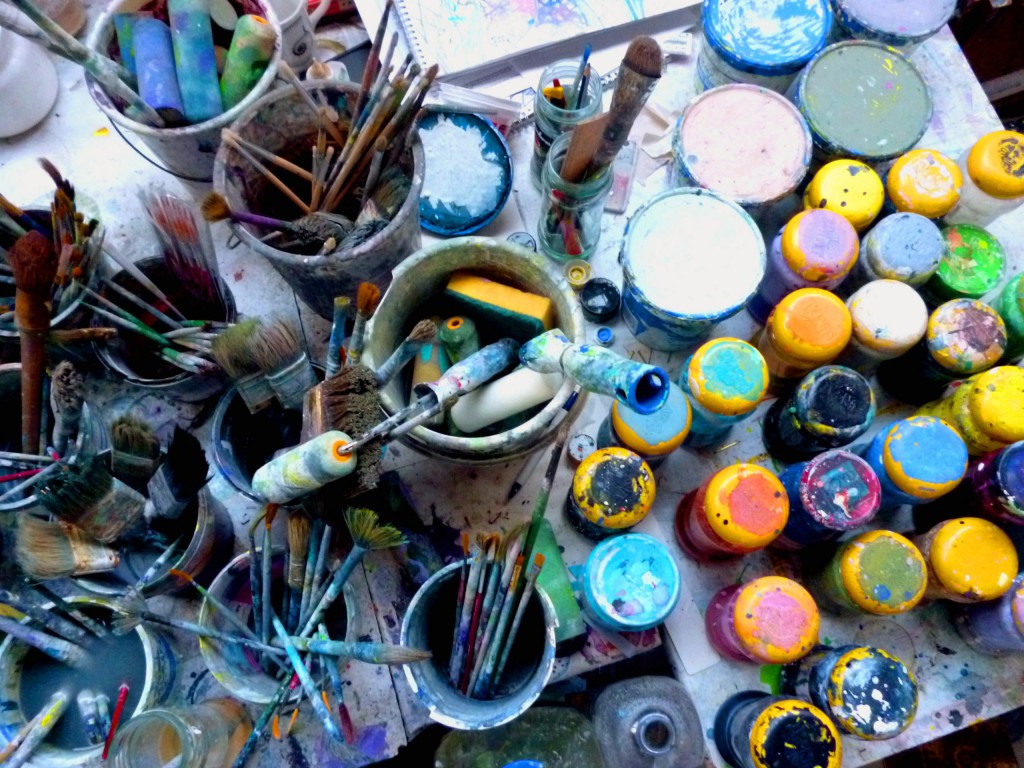 Hi Chris, Haven't used a palette for many years but have attached a pic of my sort of palette and other paraphernalia. Best wishes, David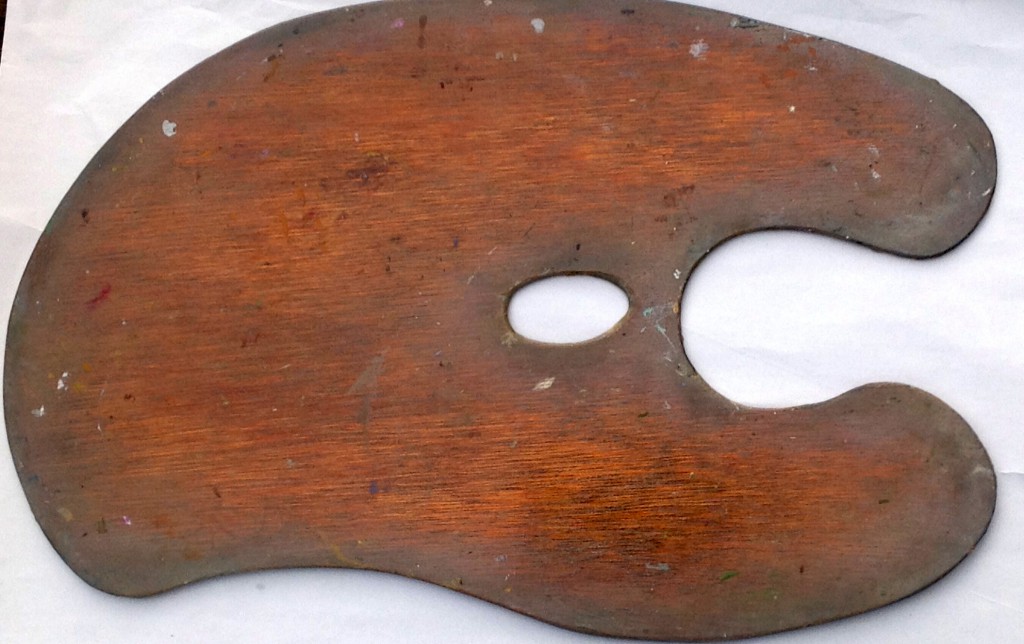 Dear Chris, This is the working end…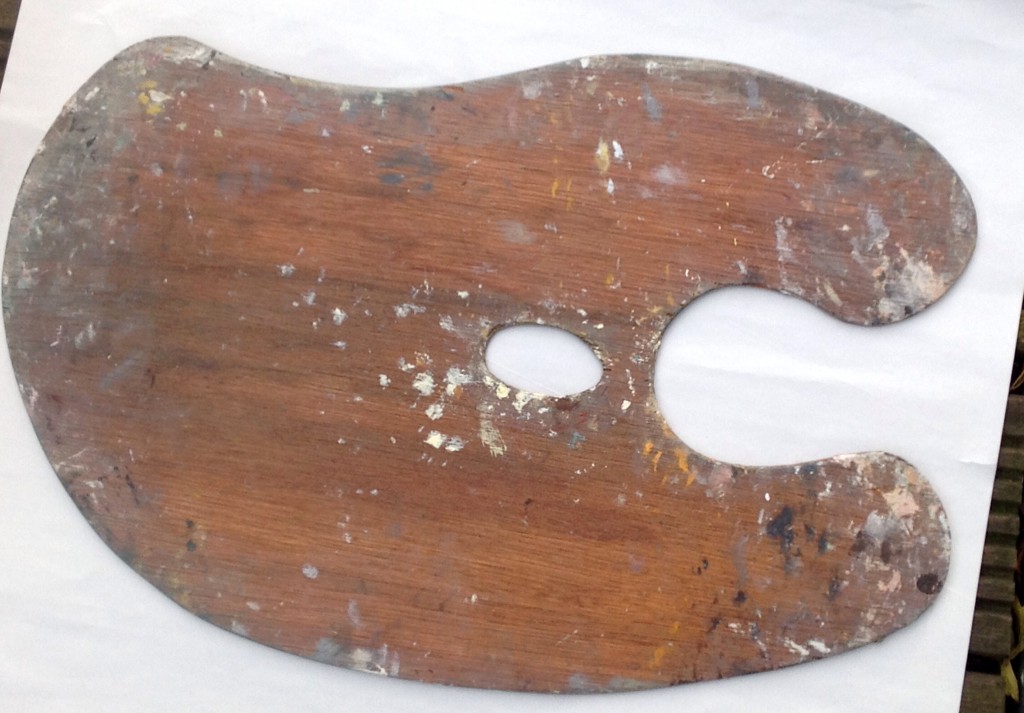 This is the underside. The surface of the working end is very very smooth & beautiful. Best wishes, Maggie.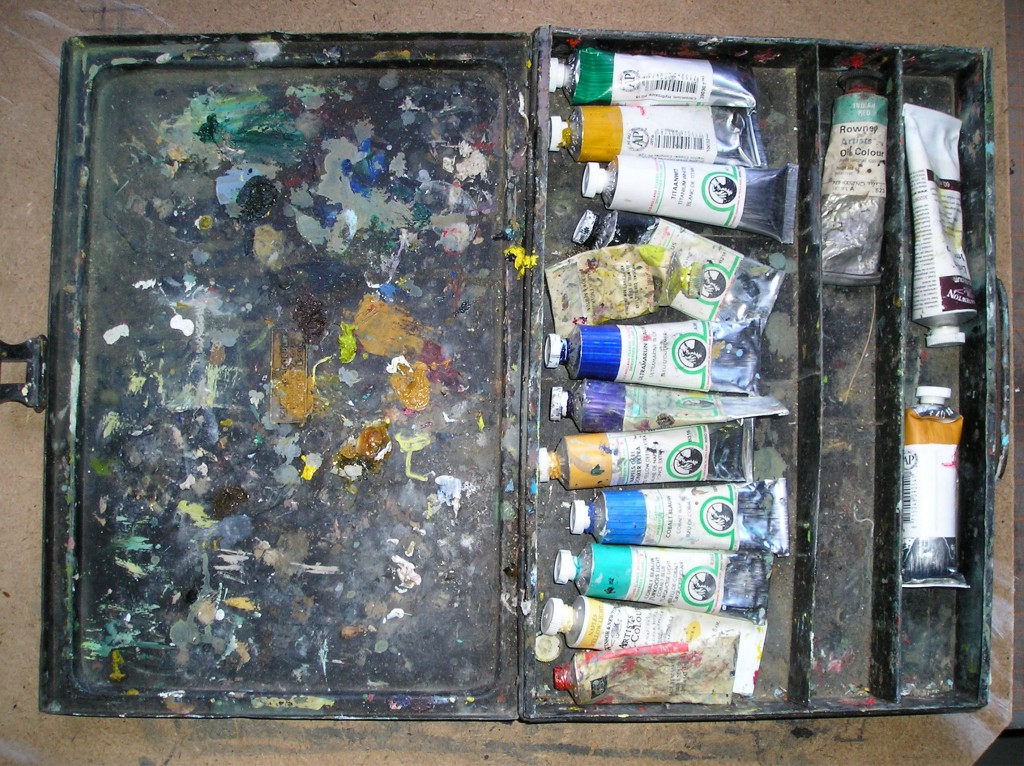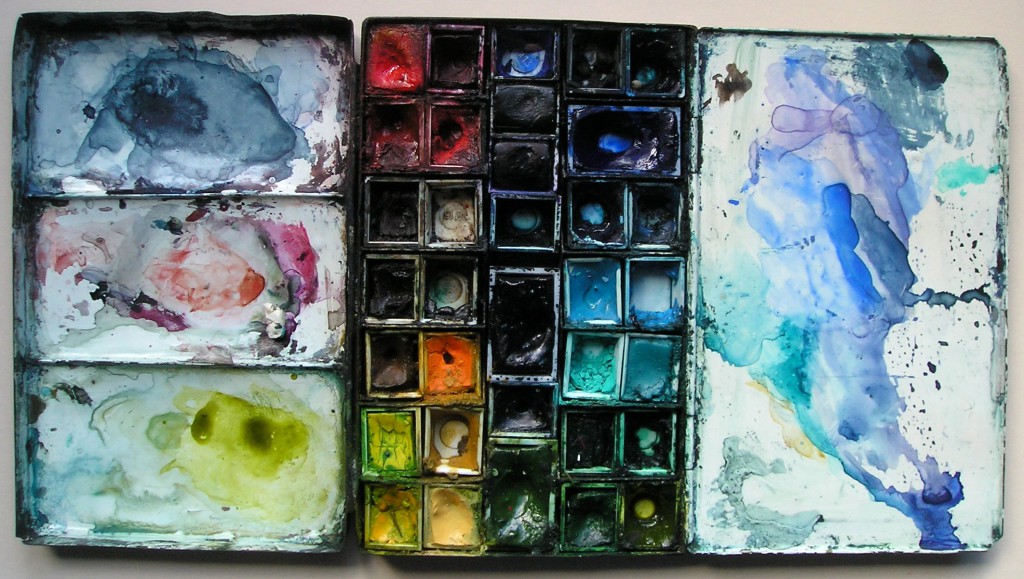 Dear Chris…"Glasgow Boy" E.A. Walton was my great uncle. He died in 1922 so I did not meet him in person. I have though used his landscape painting box for oils and his watercolour box. I guess I hope that some of his genius might be stuck in the dried bits of paint he left on the inside of the lid and creep into my paintings….Hope that is OK, Andy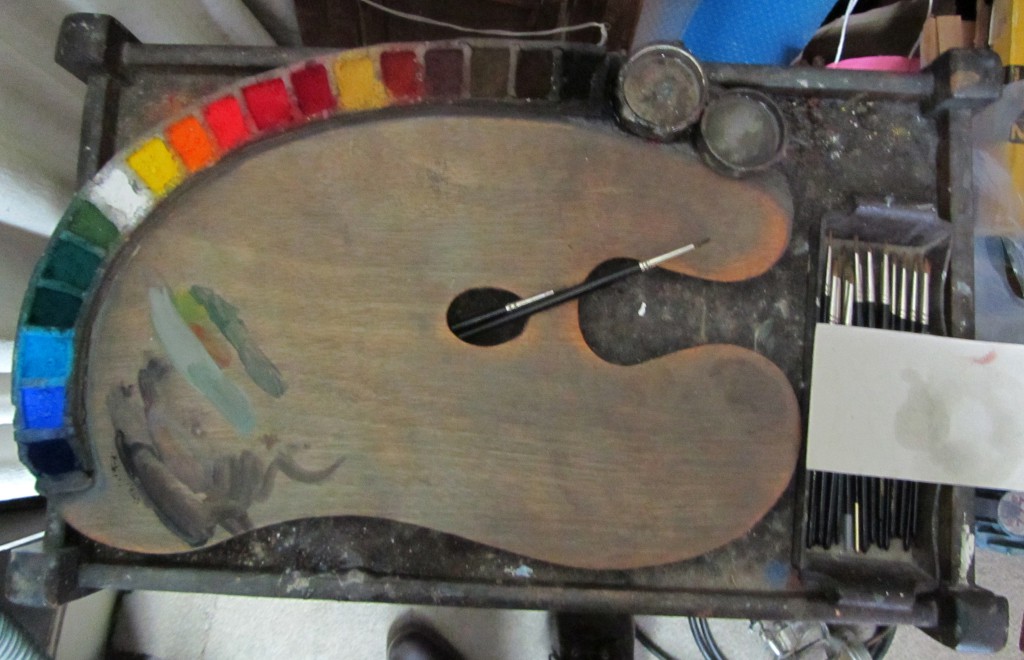 Next day, on a visit to our picture-restorer I saw this beautiful palette in the studio of Robert O'Rorke.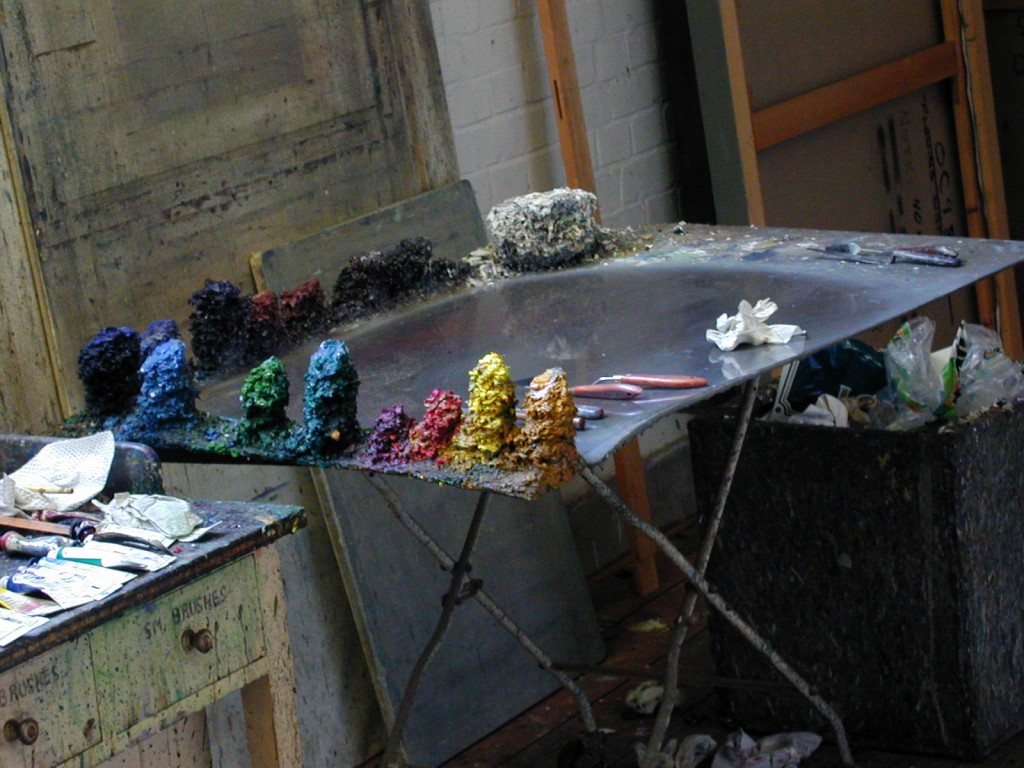 And then this wonderful photo arrived, no words just the image sent via email from John Hubbard. He'd earlier told me that he was very proud of his palette and he'd been using the same one since the 1960s. These magnificent stalagmites bear witness to 50 years of richly worked oil paintings.