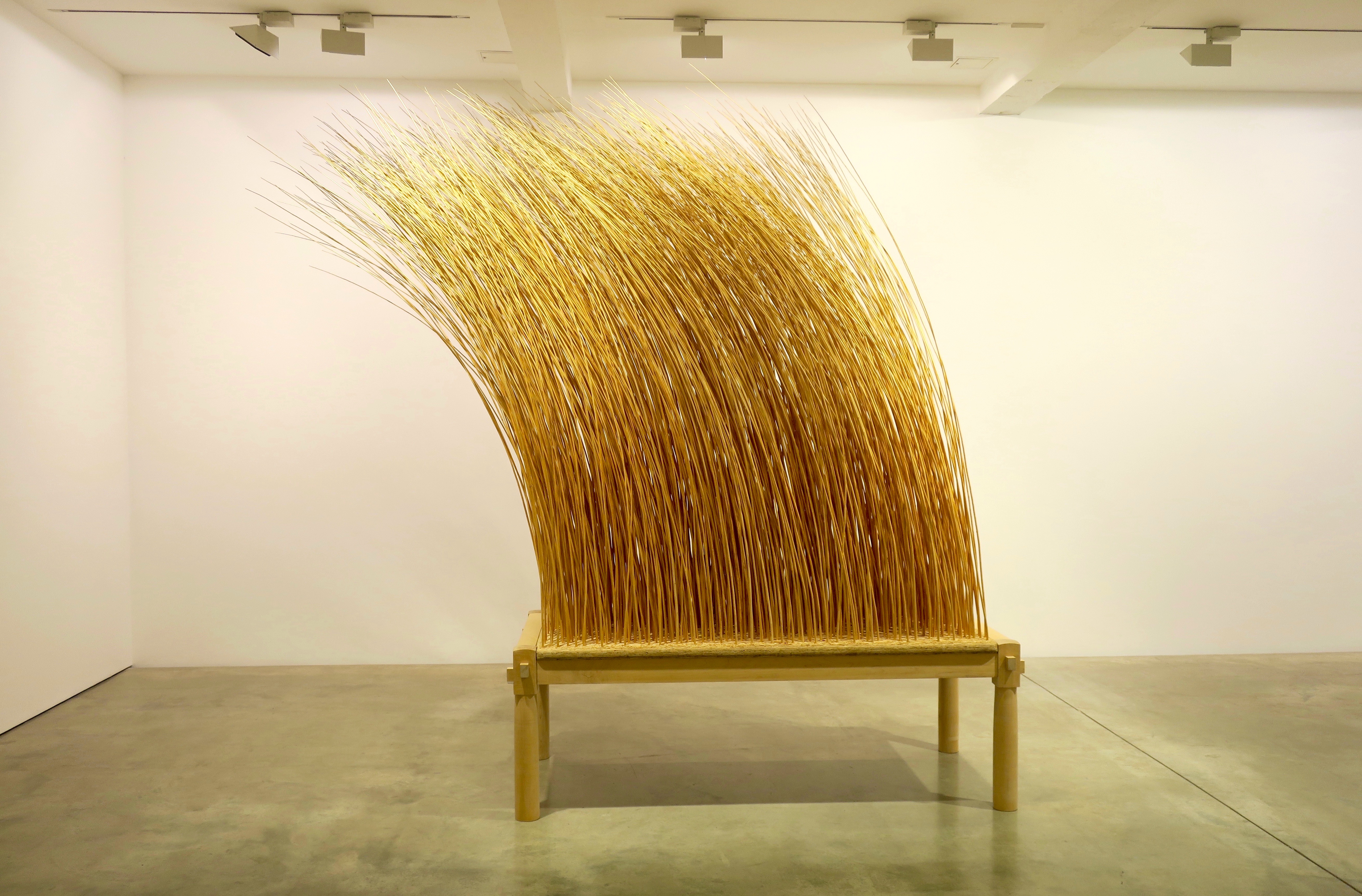 Night Watch, 2011
Maple, willow, OSB board
This was an eye-opener. I'd only once before seen a sculpture by Martin Puryear and I was intrigued then by its craftsmanship and its implied utility. That was three years ago at Villa Panza in Italy and I thought I was looking at a redundant piece of machinery. But now here was a whole solo retrospective exhibition of pieces made with great attention to detail and a love of materials that suggested these were all much more than the sum of their parts. I was attracted to them because they were all such well-crafted, beautifully made objects, and also because they all seemed slightly illogical and perhaps even allegorical. But I didn't need to know their story, I just loved their mystery, and their integrity.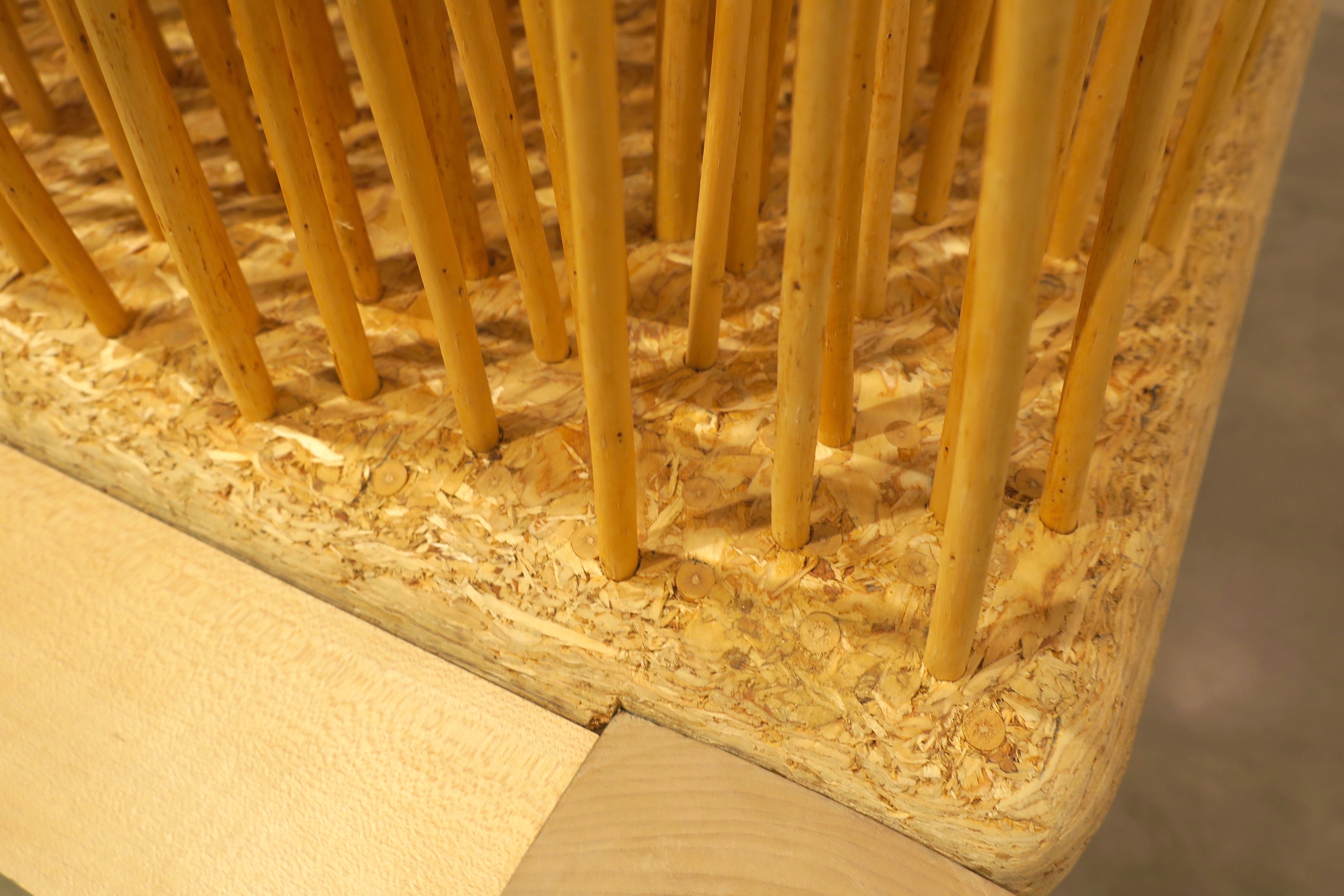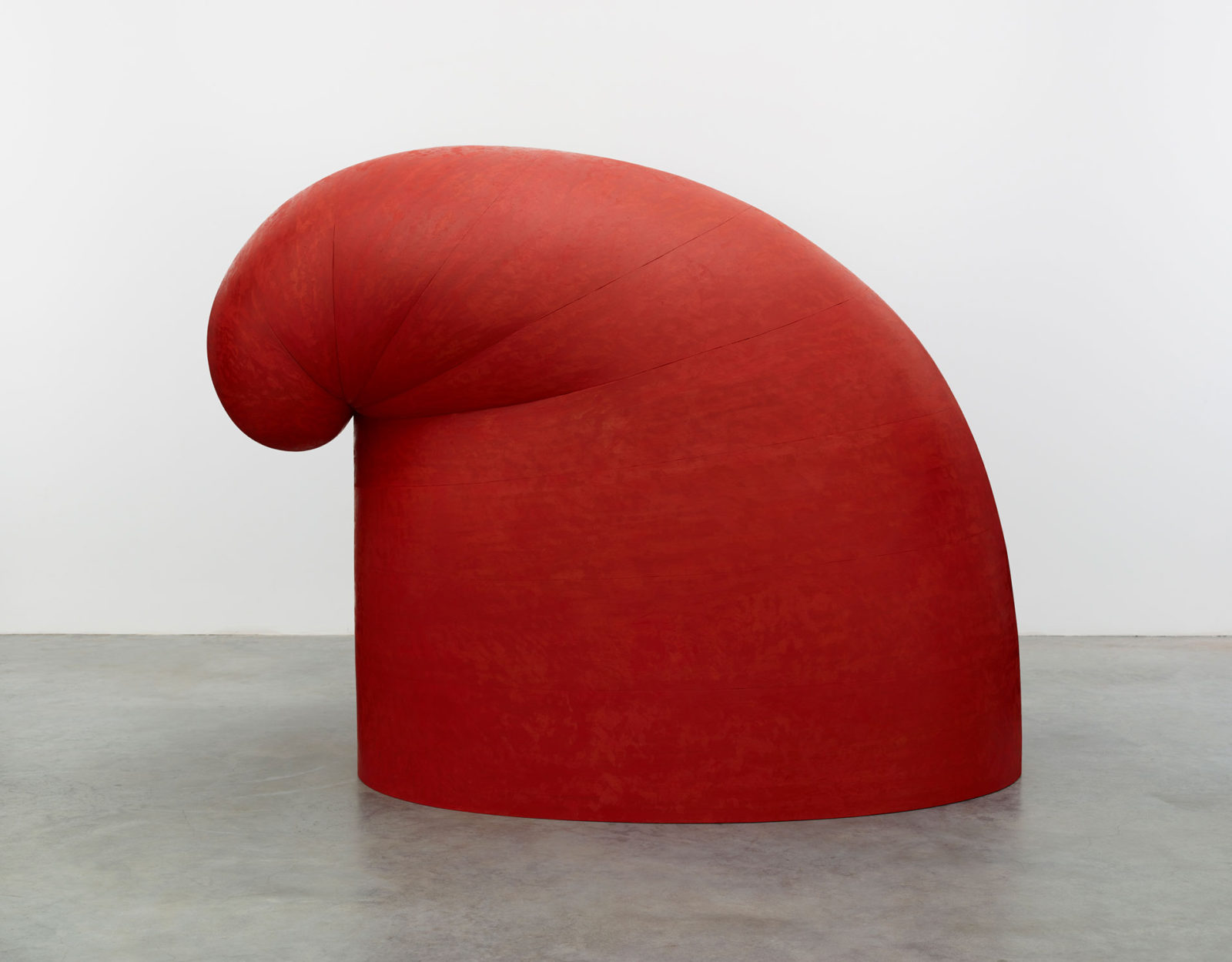 Big Phrygian, 2010-2014
Painted red cedar
This piece might suggest a huge bonnet rouge, a Liberty cap from the French Revolution, but it's also perhaps a great wood-carving exercise to demonstrate the Fibonacci sequence in three dimensions.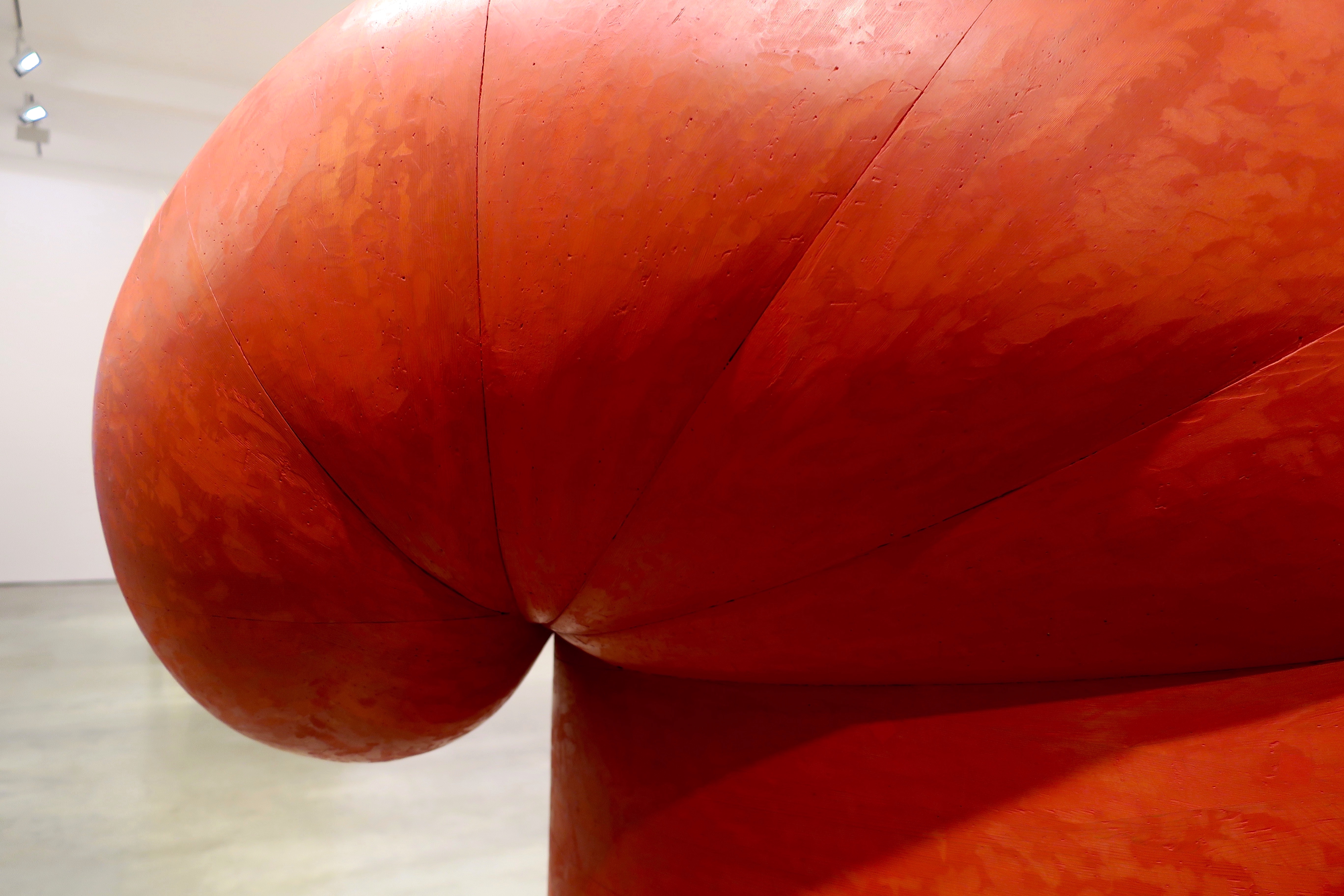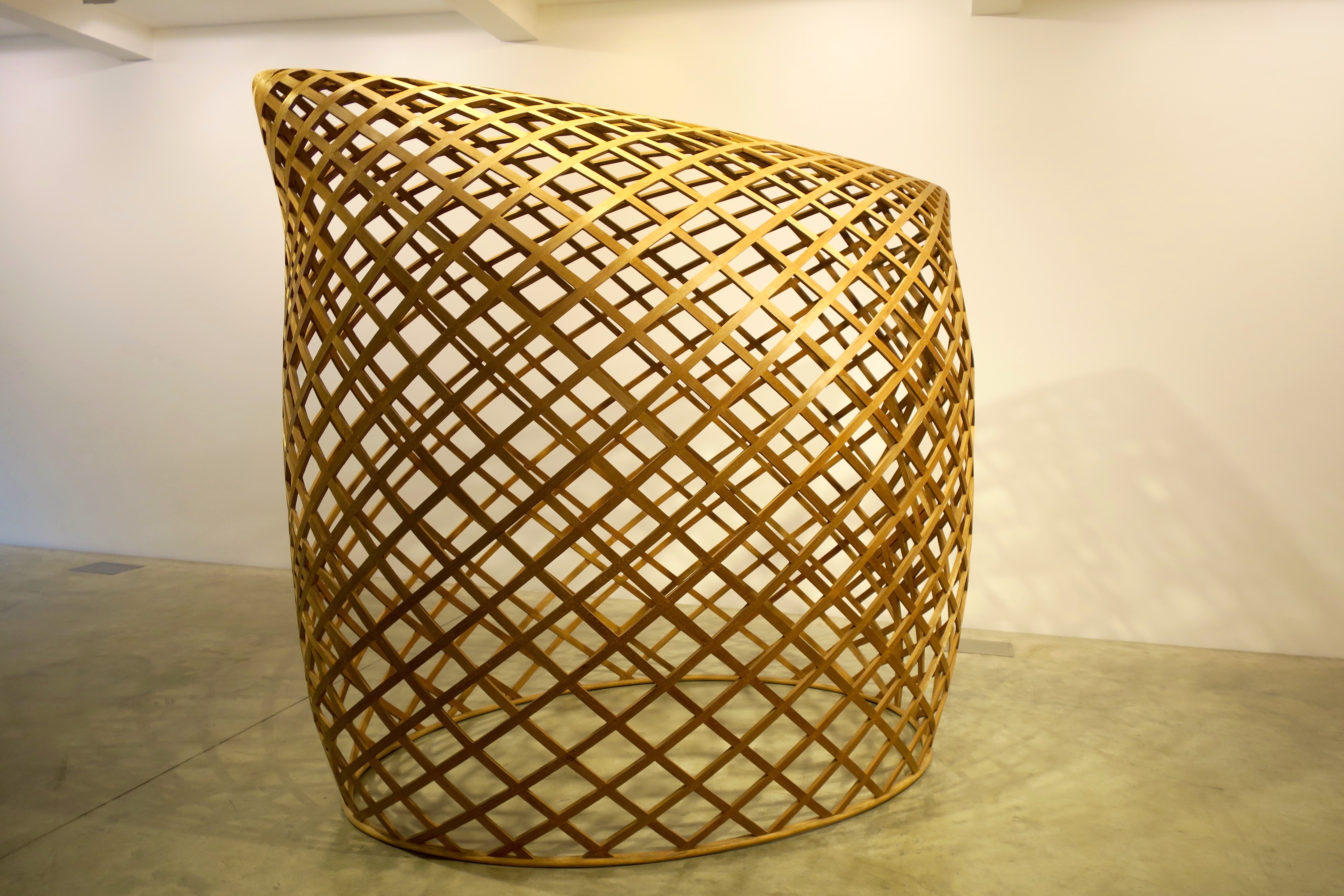 Brunhilde, 1998-2000
Cedar, rattan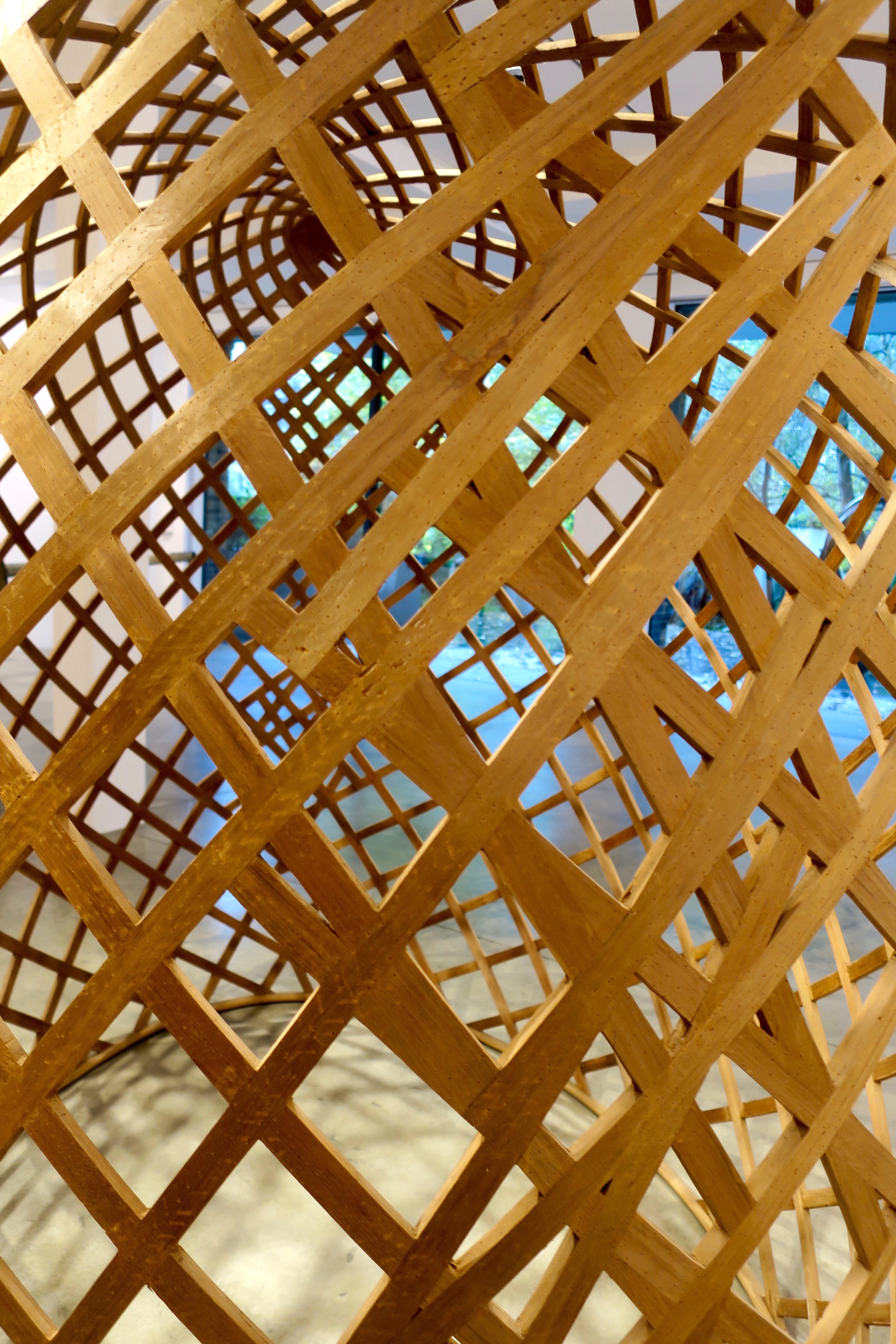 Martin Puryear's abstract sculptures are extraordinary. His reductive forms have a unique aesthetic and are loaded with a poignant sense of cultural history. Puryear explores human identity and politics with such intriguing subtlety that viewers cannot help but be enthralled by them. Meticulously constructed from a diverse range of materials, usually wood, most of his sculptures are hand-made by the artist himself using traditional techniques. Puryear's working methods are clear testimony to his deep respect for skilled craftsmanship and his intense appreciation of the natural materials he chooses to use. The artist's approach to his materials, his ability to use them to define both interior and exterior spaces, along with his inherent sensibility, all combine to produce profoundly considered works, infused not only with poignancy, strength and fragility but also with subliminal readings of our collective history.
from the exhibition Press Release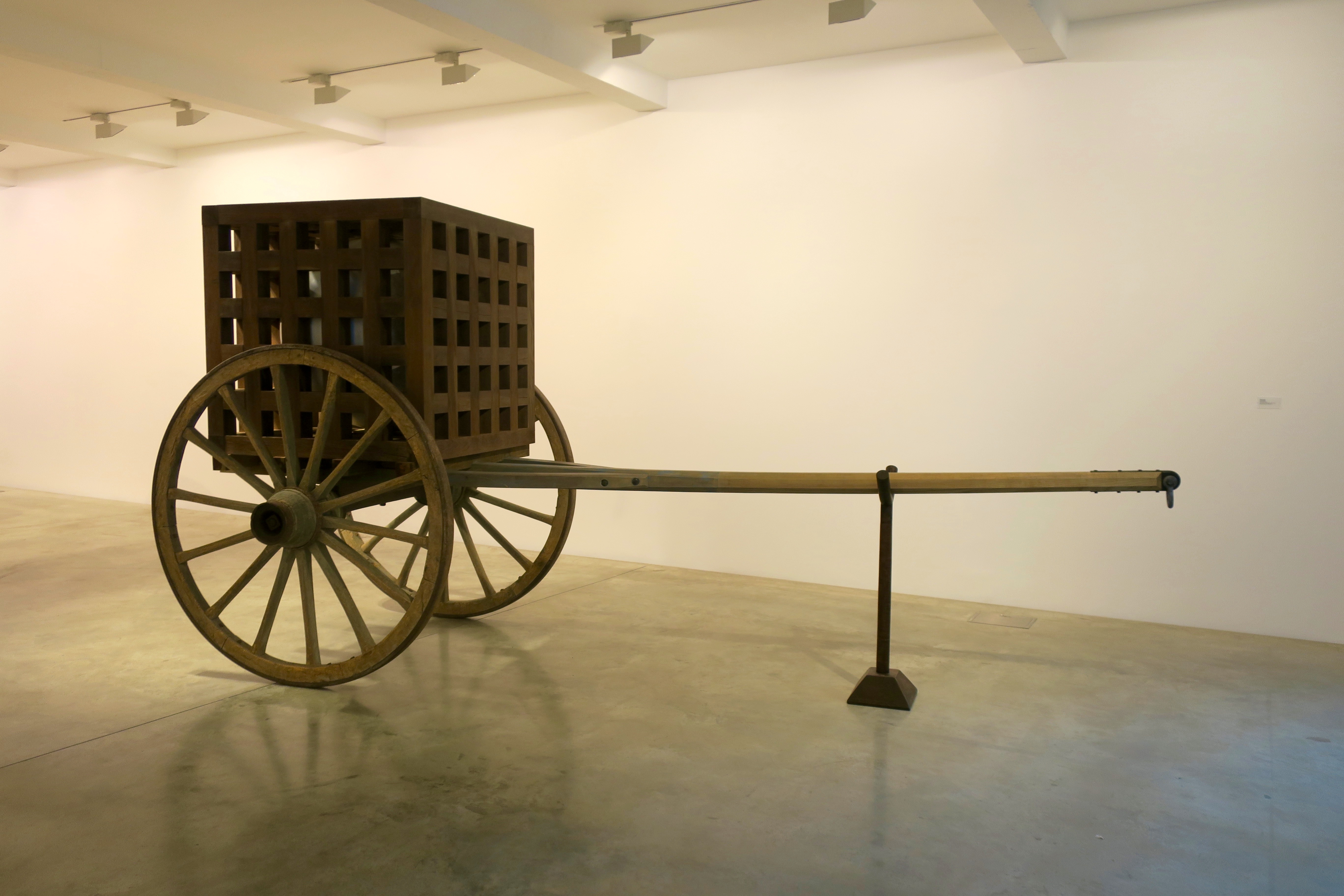 The Load, 2012
Wood, steel, glass
A pair of found wooden cartwheels surmounted by a beautifully made wooden crate containing a hollow white sphere, its complex interior joinery visible through the rear window of this surreal cart.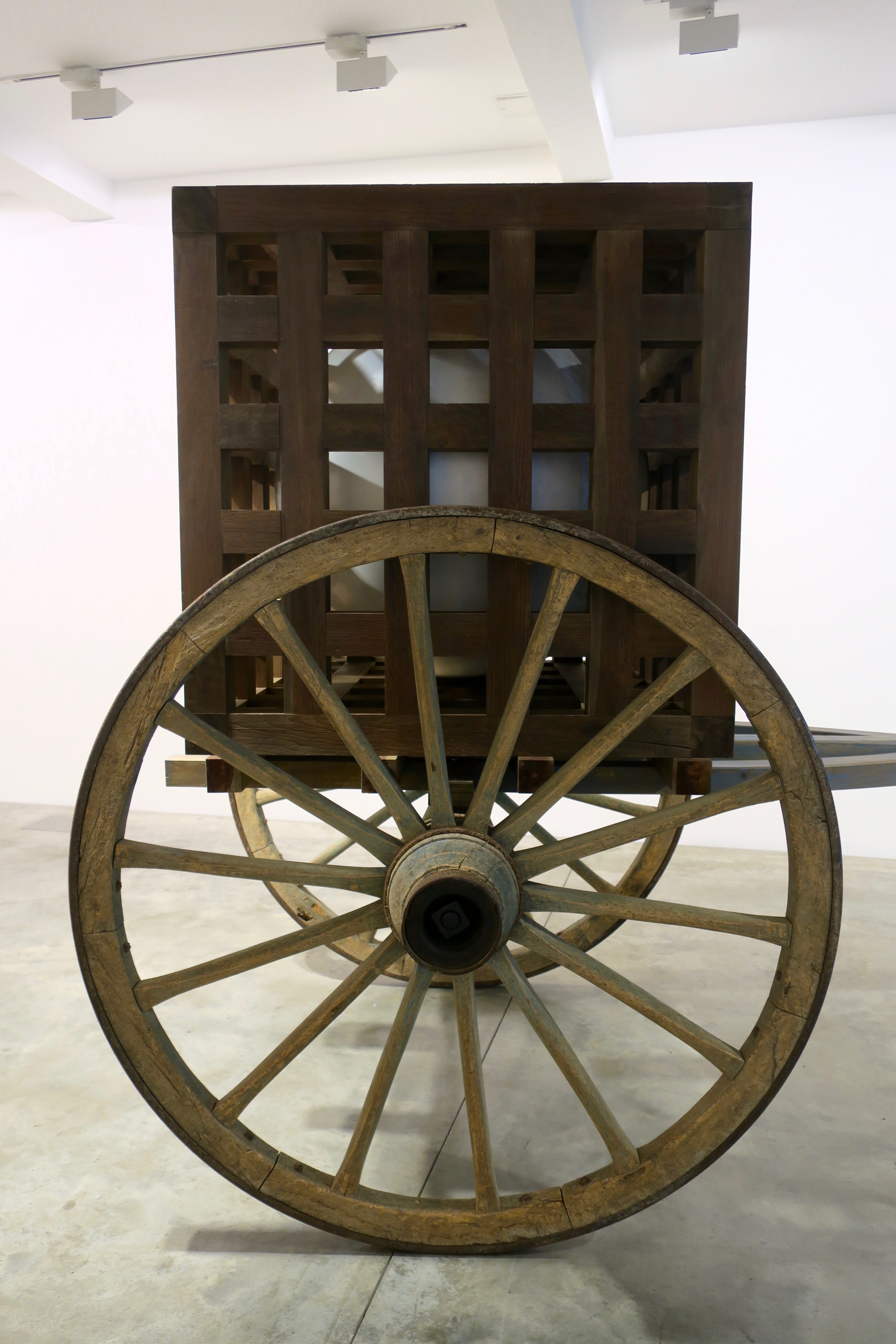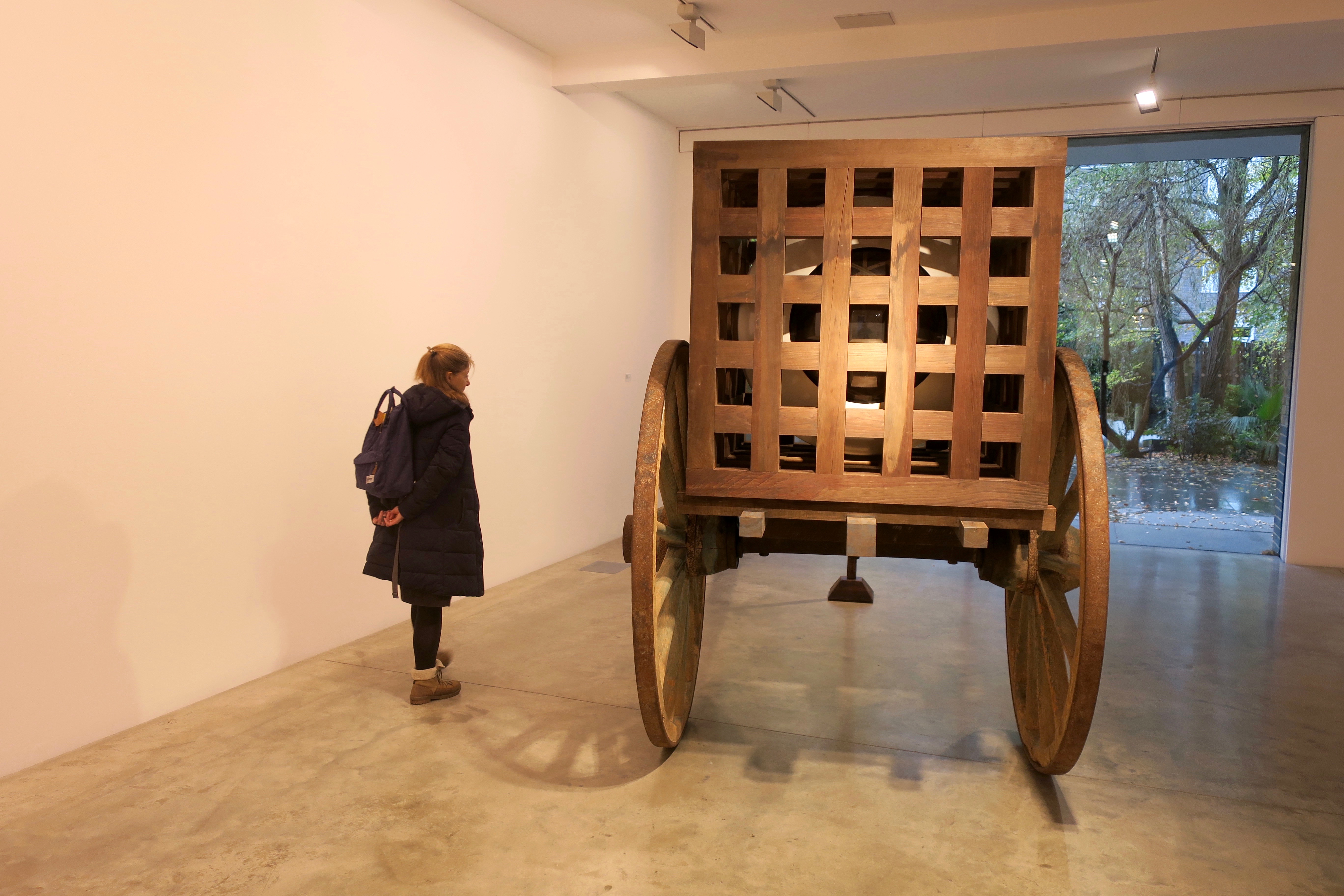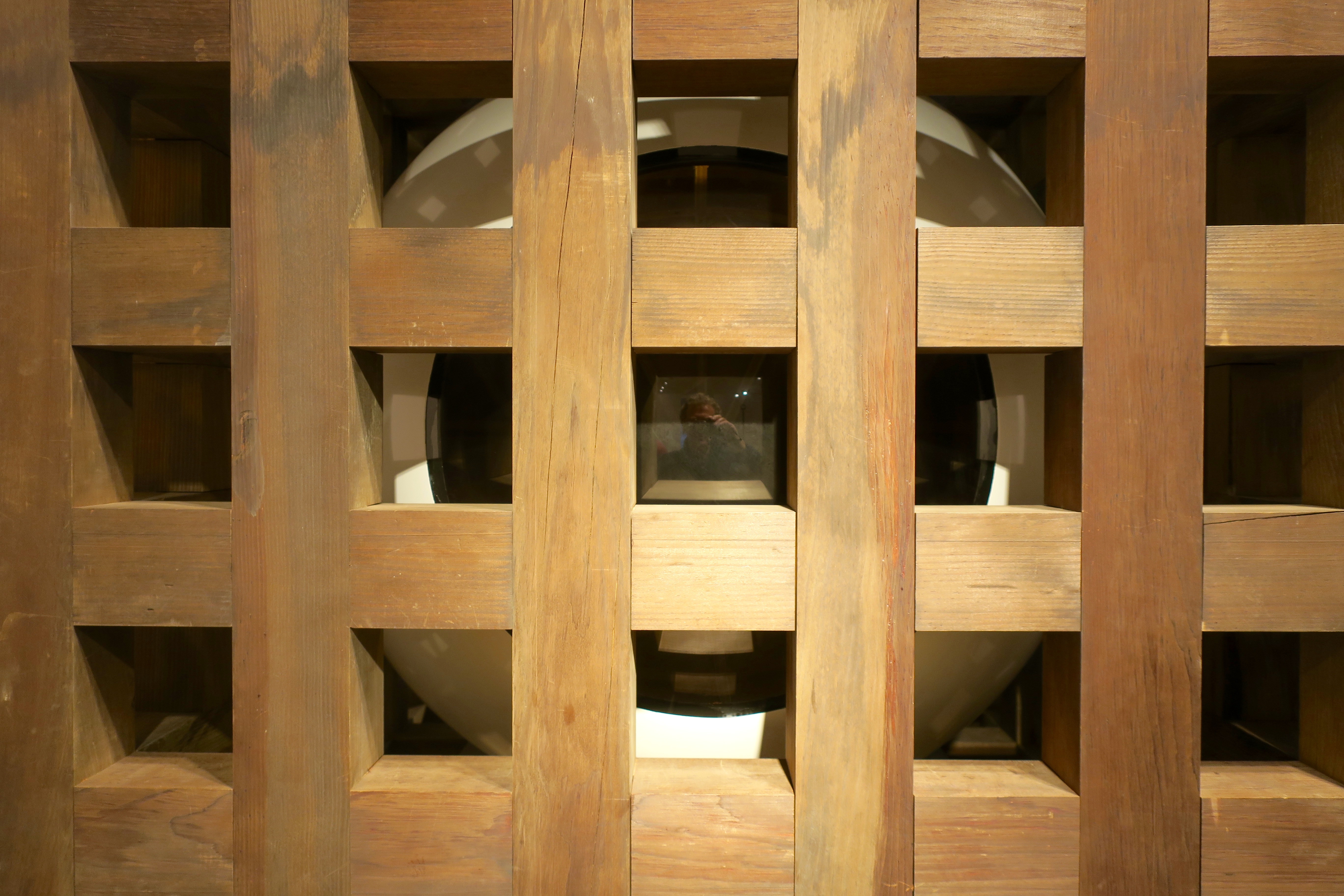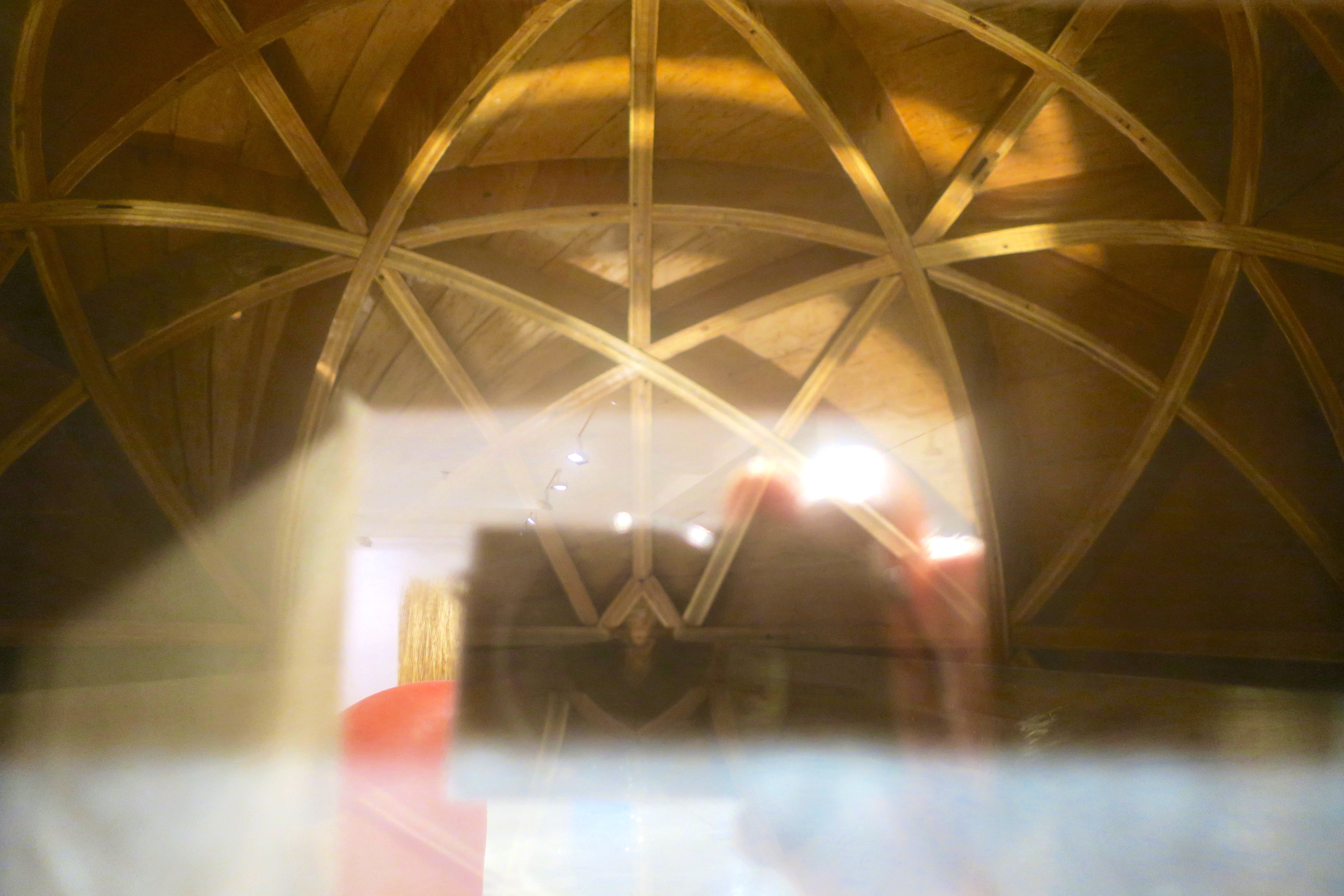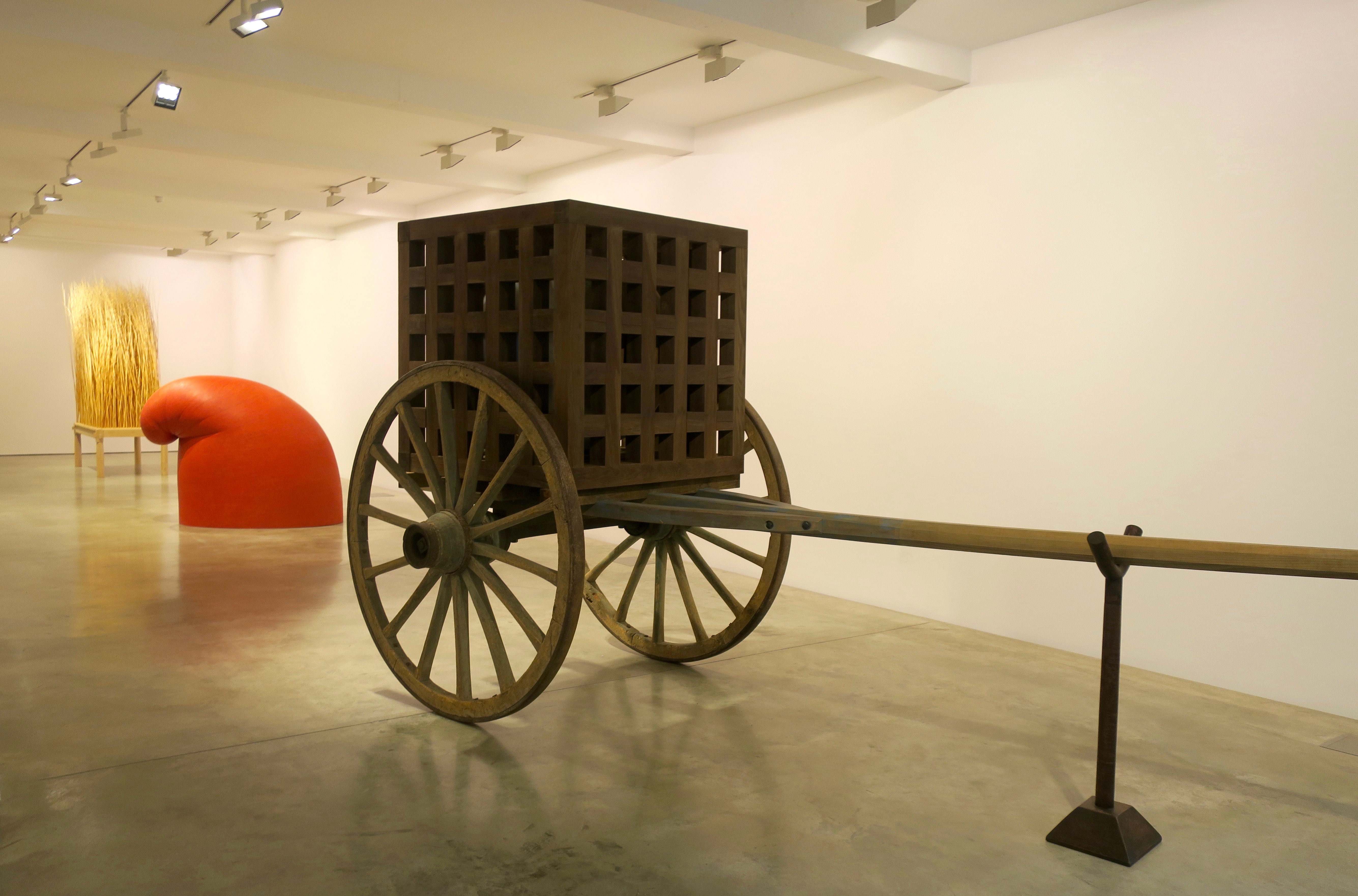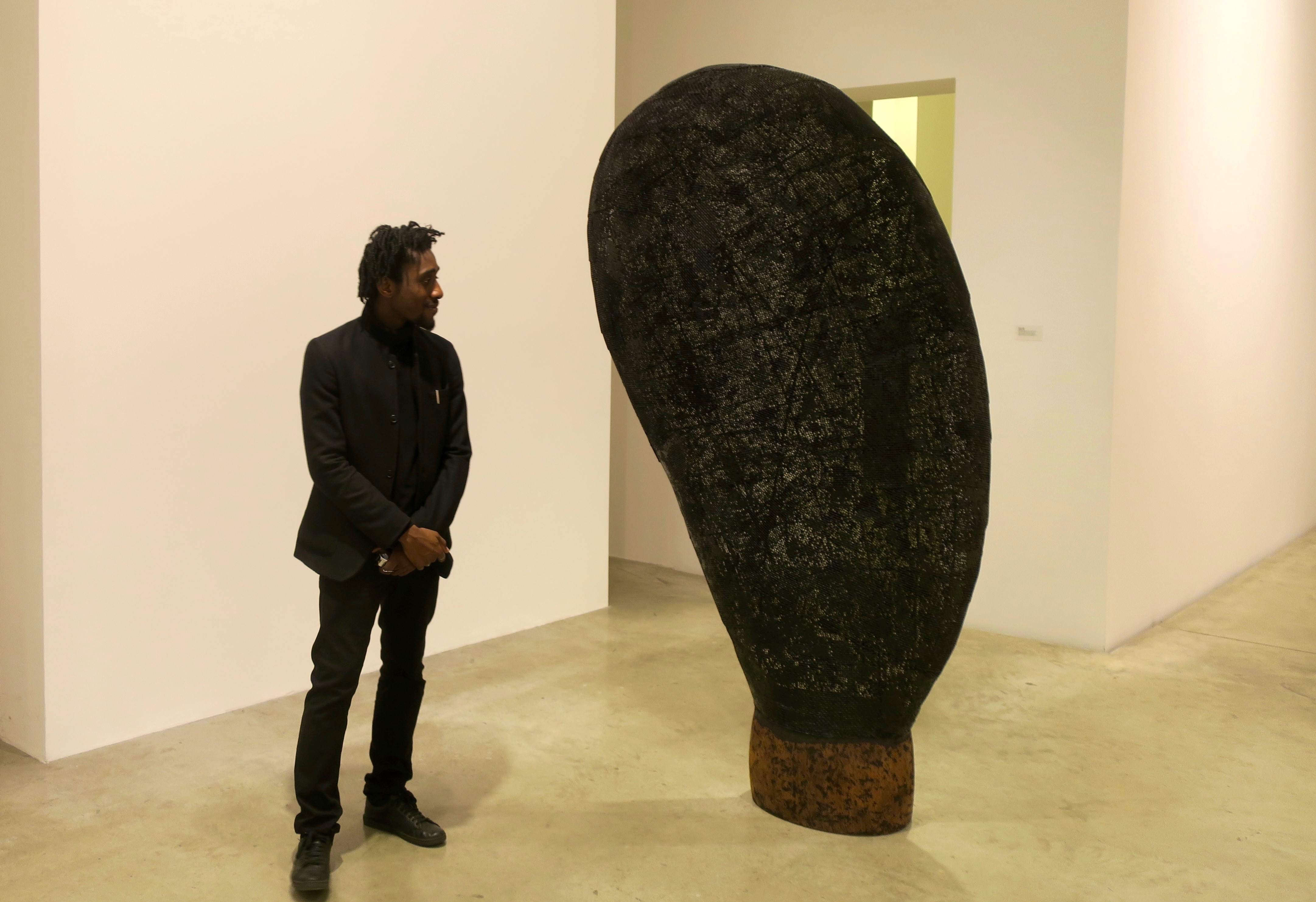 Untitled, 1995
Wire mesh, steel, tar, cedar, particle board
The exhibition attendant, Moses Kanneh, was also our host and a great enthusiast for the sculpture of Martin Puryear. He introduced us to this untitled piece as his favourite, and told us the sphere inside The Load was referred to by everyone as the eyeball. Of course! Why hadn't we thought of that?
Happy Jack, 1993/2011
Willow, cork, pine
Happy Jack sits stolidly in his own small white room, a "drunken sailor" whose inebriated state is conjured in the tight weave of his basketwork torso, the large cork rammed into his neck (the head is entirely absent – his mind clearly liberated from its earthly cares), and the invisible presence inside the torso of hundreds of corks taken from wine bottles consumed by Puryear and friends over decades.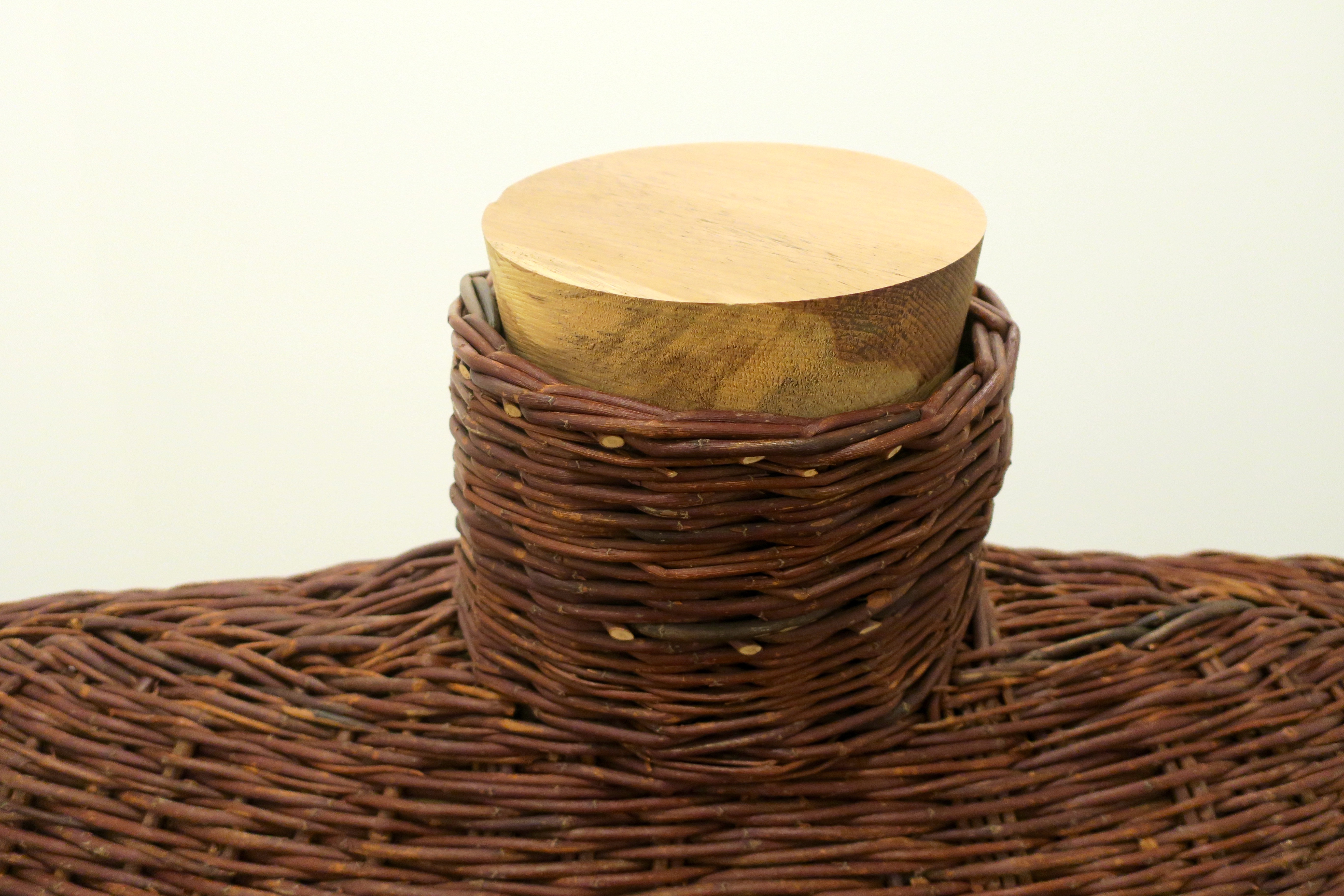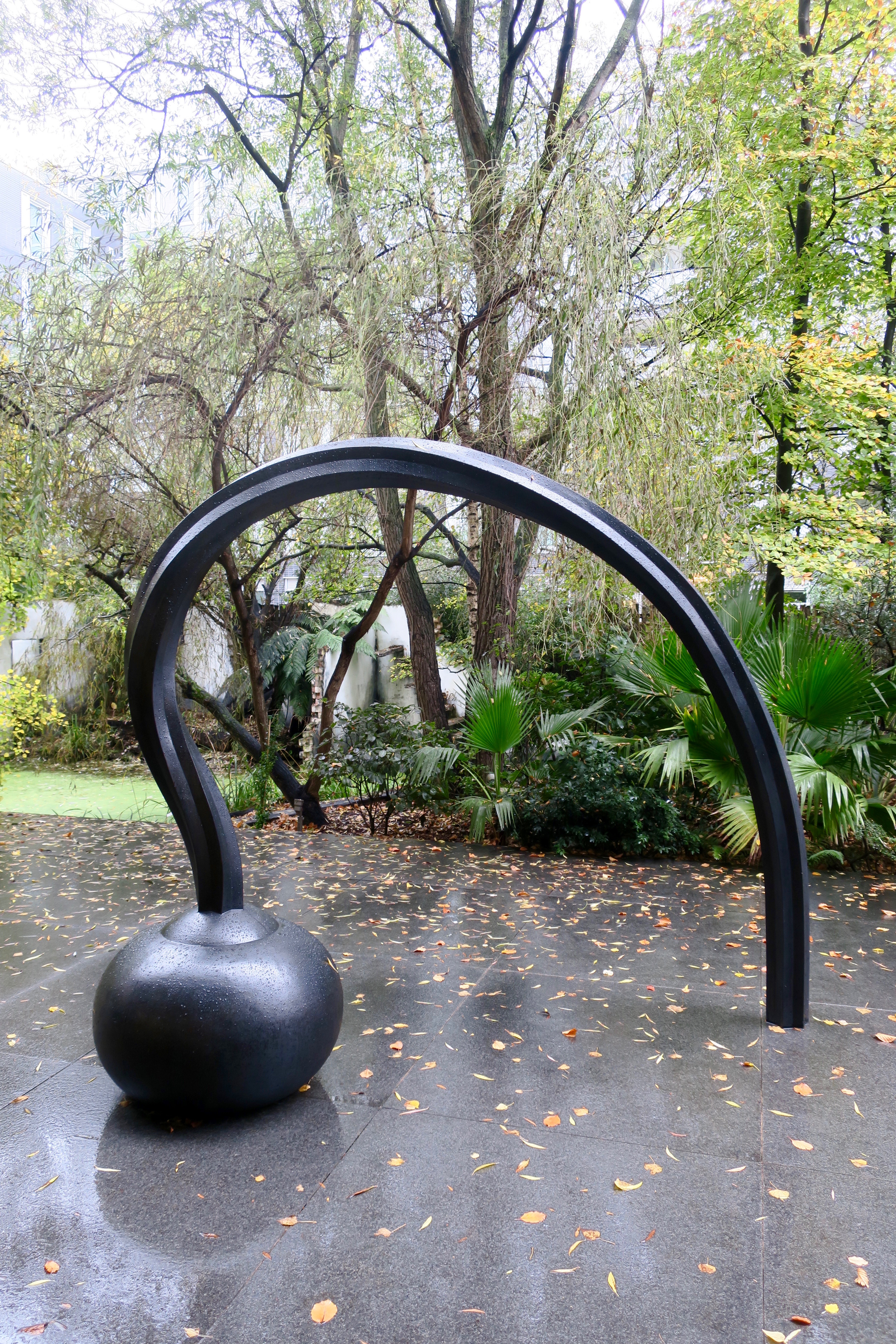 Question, 2013-2014
Bronze
Whilst I was drafting this blogpost I received a tweet containing the full text of a review in the Financial Times Critic's Choice. It was too nice a coincidence to ignore so I've included it here…
What looks like a glorious field of golden corn envelops you as you enter this dynamic exhibition. "Night Watch" consists of hundreds of tall, slender, dried willow whips appearing to bend and sway in the wind, a metaphor for the obsessive mental wanderings of an insomniac.
Behind stands a life-size closed wooden cart: peer through and a giant reflective glass eye meets your own, implicating you as the vehicle's prisoner-traveller. This is "The Load", which suggests both captivity and the burden of self – Picasso's mythical creature carting his belongings "Minotaur Moving His House" is the art source.
Martin Puryear is a truly original voice in contemporary sculpture: fresh, free from stylist conformity, intent on craft skills. His beautifully finished pieces, mostly in wood, reference carpentry, basketweaving – as in the comic outsize meshed "Brunhilde" – and are both formally and texturally satisfying in lively contrasts of soft/hard, thick/thin, smooth/rough, coiling/squat.
Each work is different but there is a conceptual undertow, with themes of freedom and constraint threading through everything here. "Big Phrygian" is a huge painted red cedarwood cap, folded and drooping, as worn by freed Greco-Roman slaves and French revolutionaries. "Phrygian Spirit", a looping wall-based yellow cedar abstraction, curls as lightly as paper. The painted pine hoop "Cerulean" indicates infinite skies, while the metal hinges of "Shackled" recall the bonds of slavery, and the fallen question mark of "Question" perhaps alludes to freedom of the mind.
An African-American sculptor with a distinguished reputation in the US – MoMA held a retrospective in 2007 – Puryear emerged out of minimalism in the 1970s, with surrealist influences also clear, but his warm, humane art, rooted in objects and experience, remains distinctive and a joy to discover in this first UK show.
Jackie Wullschlager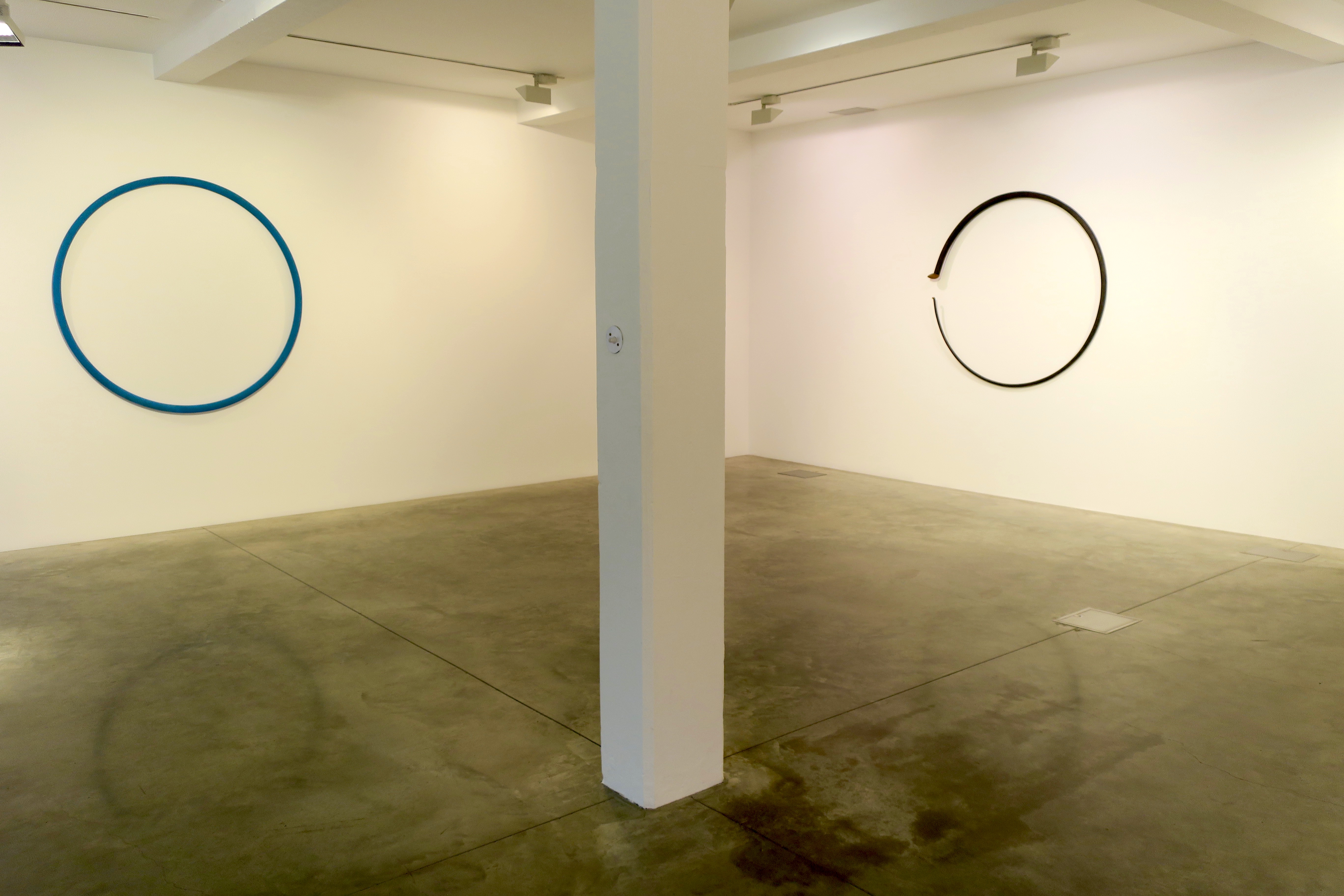 Left: Cerulean, 1982
Polychromed pine
Right: Big and Little Same, 1982
Painted pine, unpainted pear wood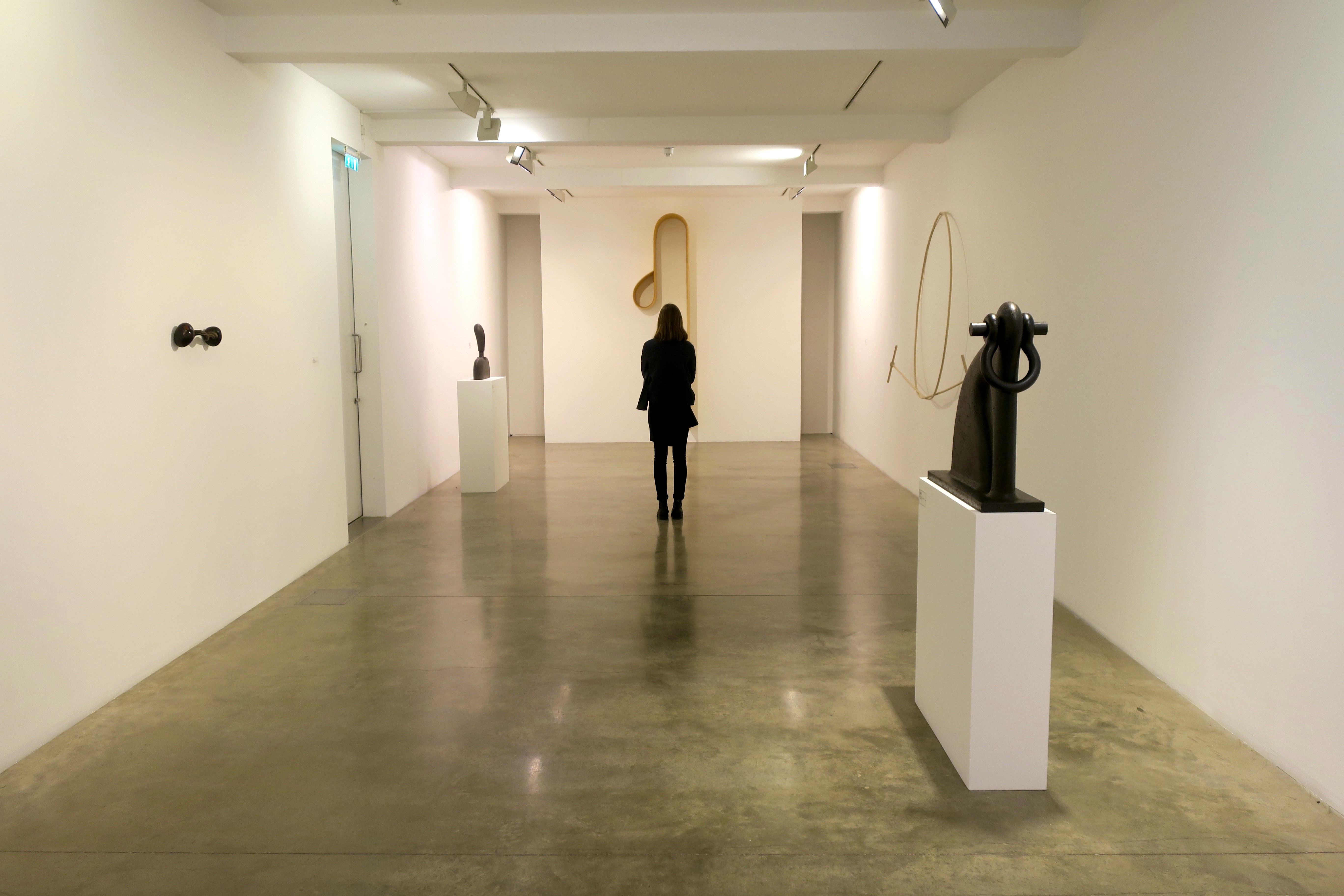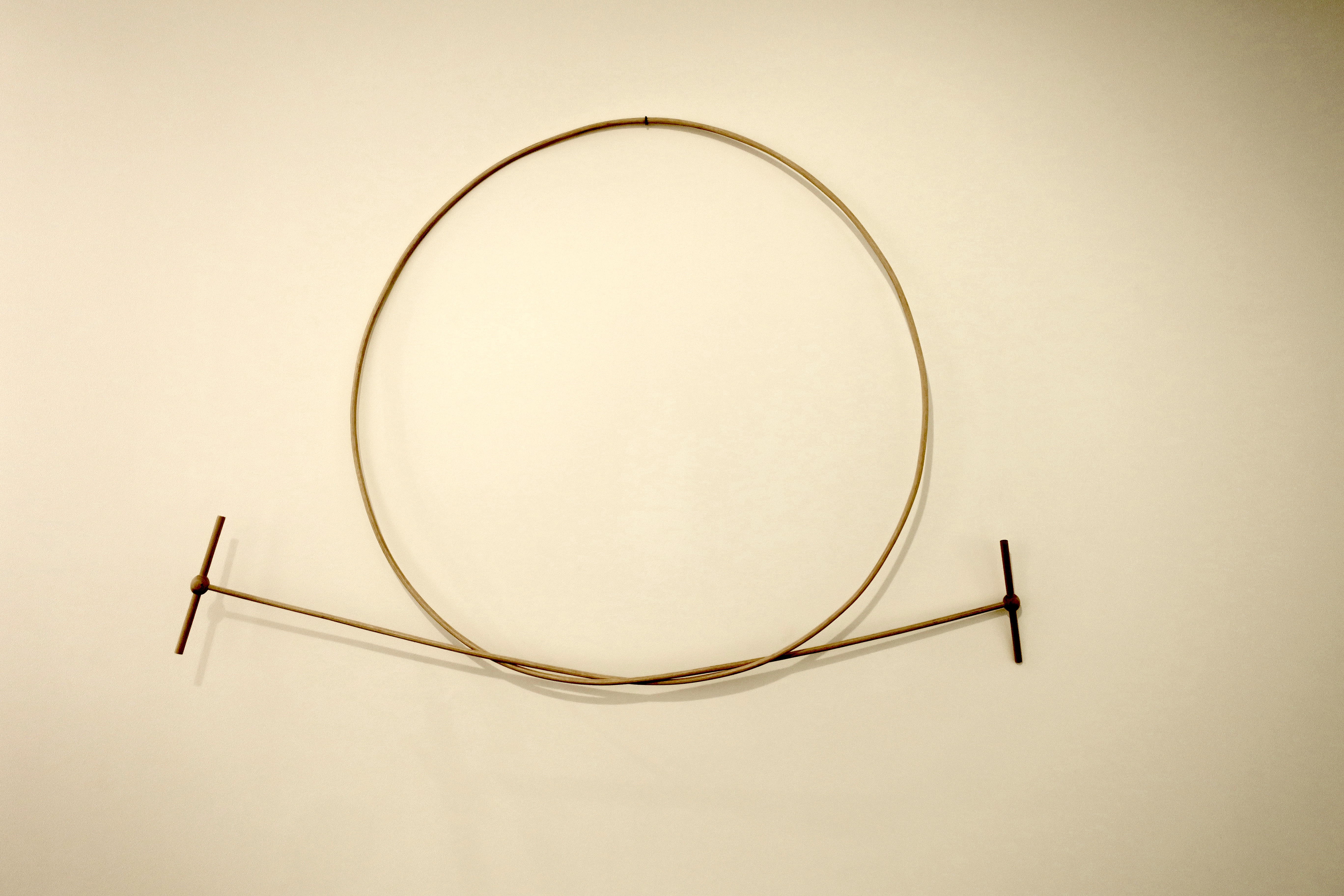 Untitled, 2017
Hickory, maple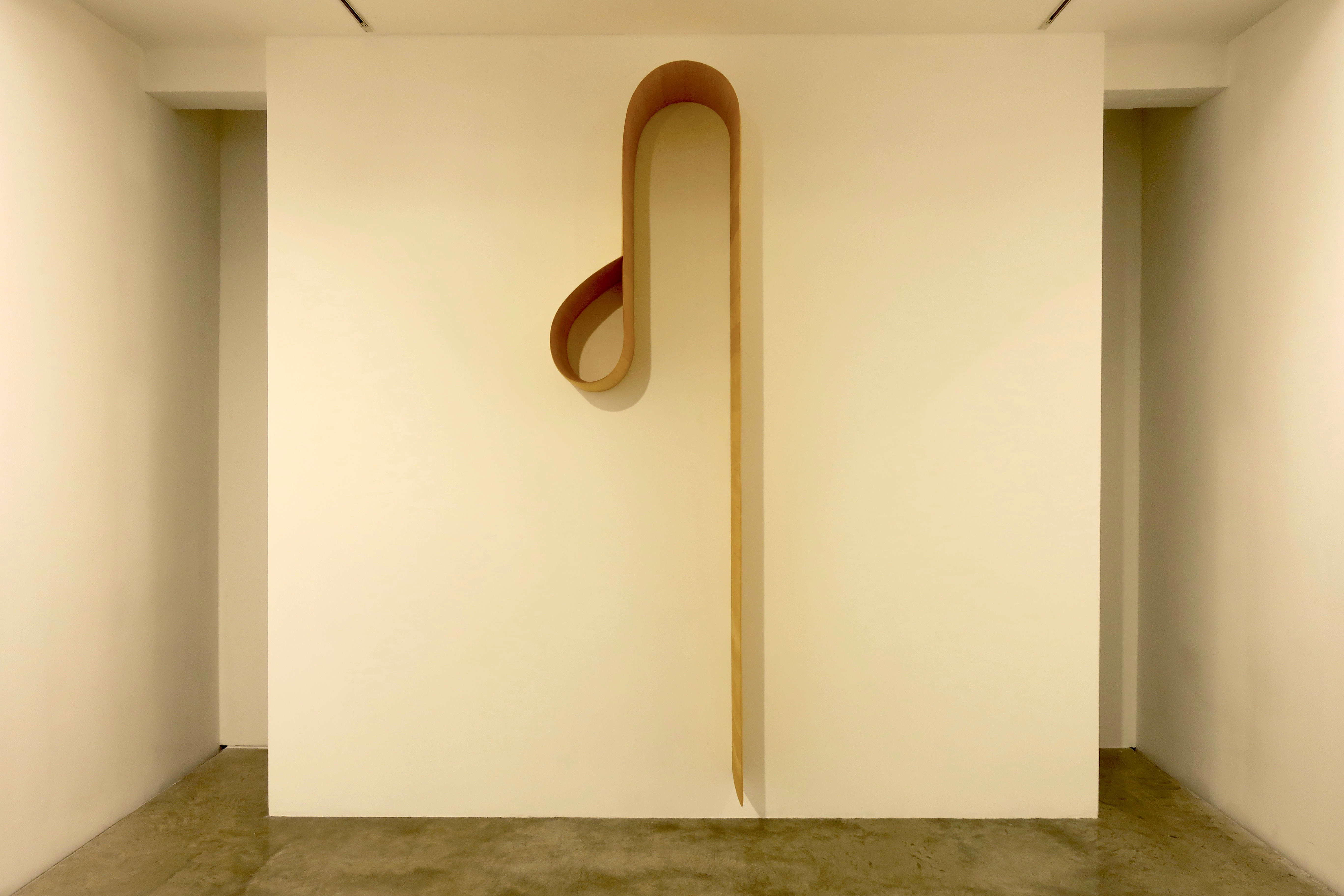 Untitled, 2015
Alaskan yellow cedar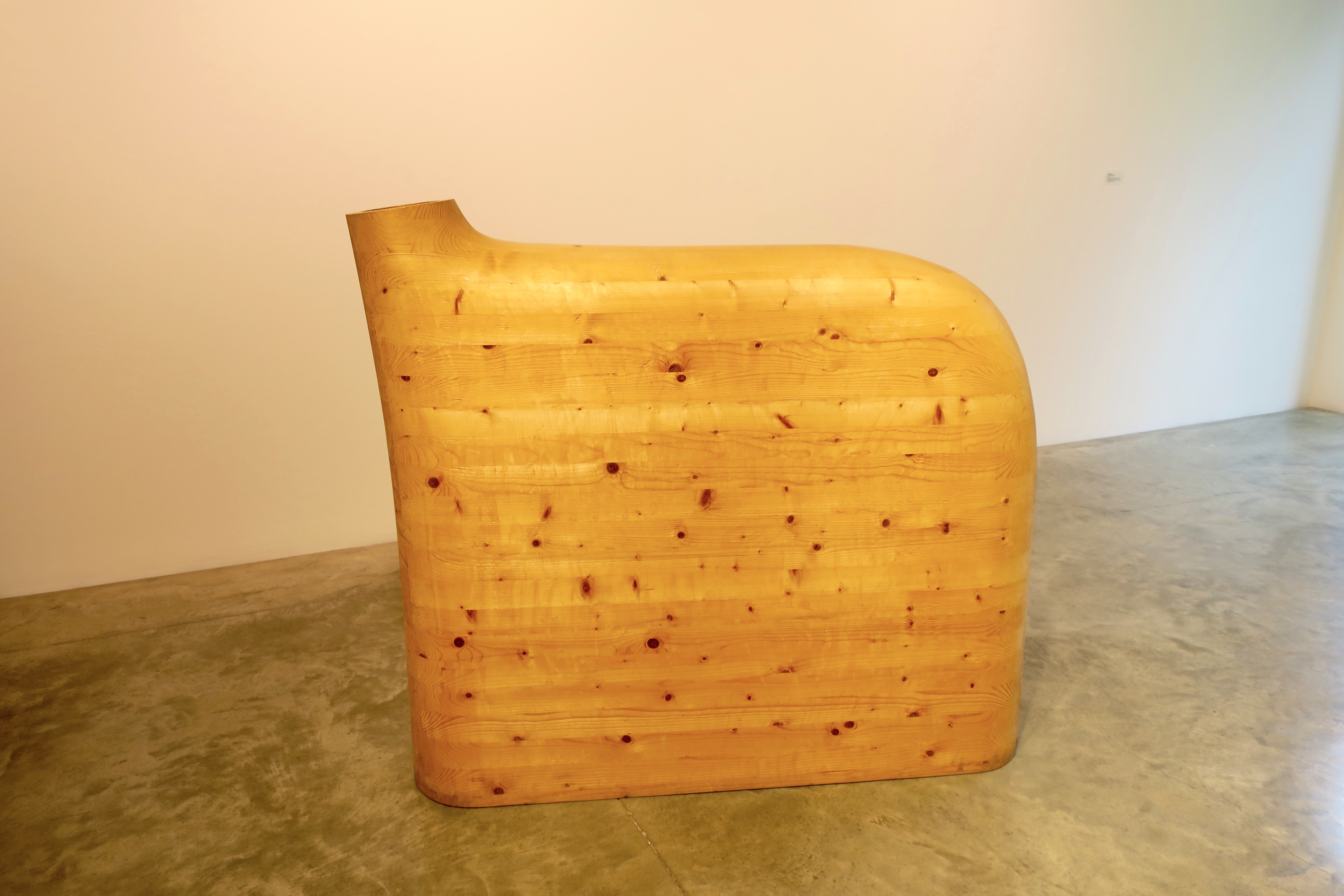 In Sheep's Clothing, 1996
Pine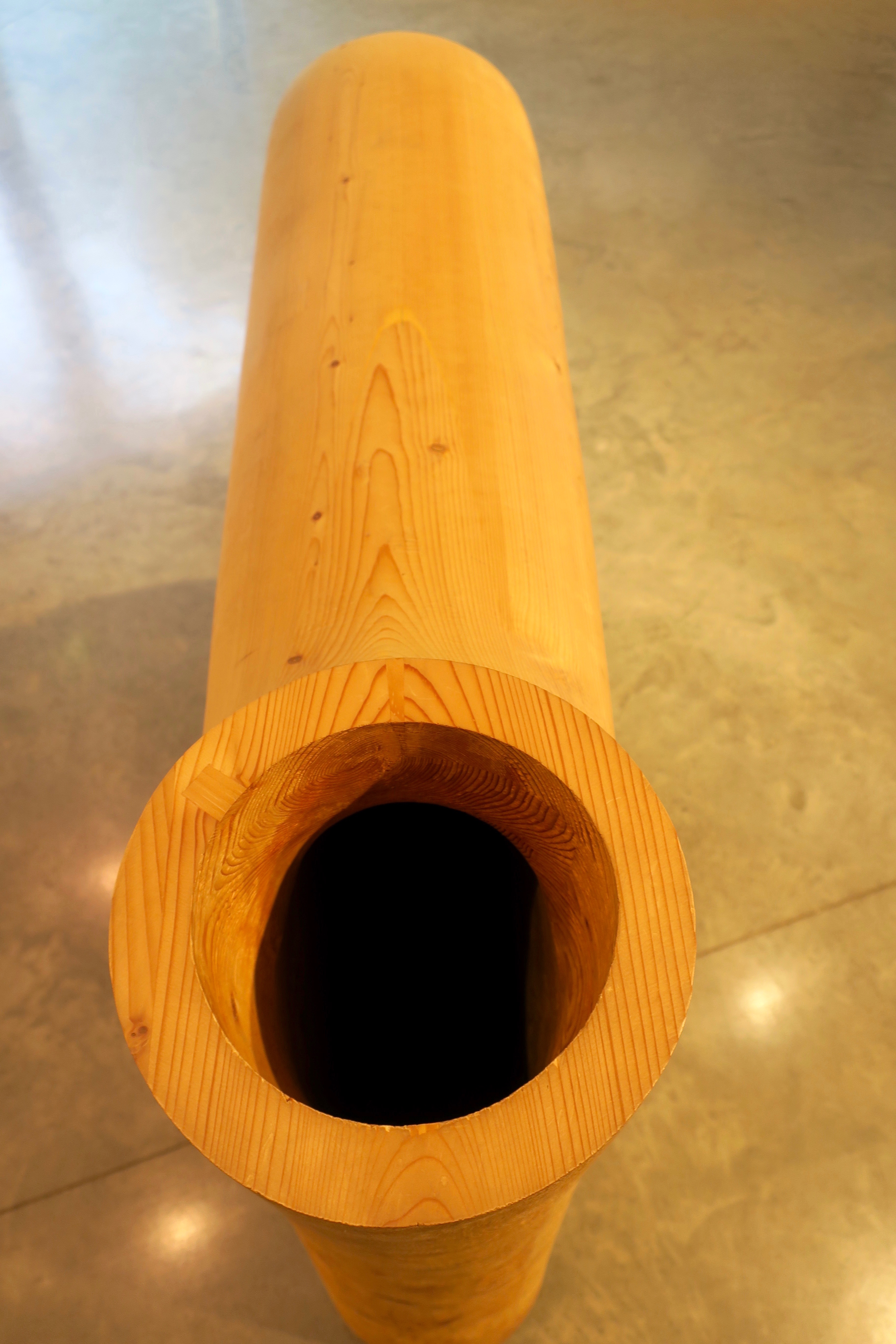 His intention seems always to have been for viewers to consider the work without seeking any specific interpretation and without feeling the necessity to assess it in relation to any particular artistic source. We are meant to vacillate between the oppositions of representation and abstraction, beautiful and ugly, familiar and unknown. These are only a few of the oppositions within which Puryear operates, working in the spaces between philosophical poles – rather than at their extremes – where he finds the most fertile ground for thought and visual challenge.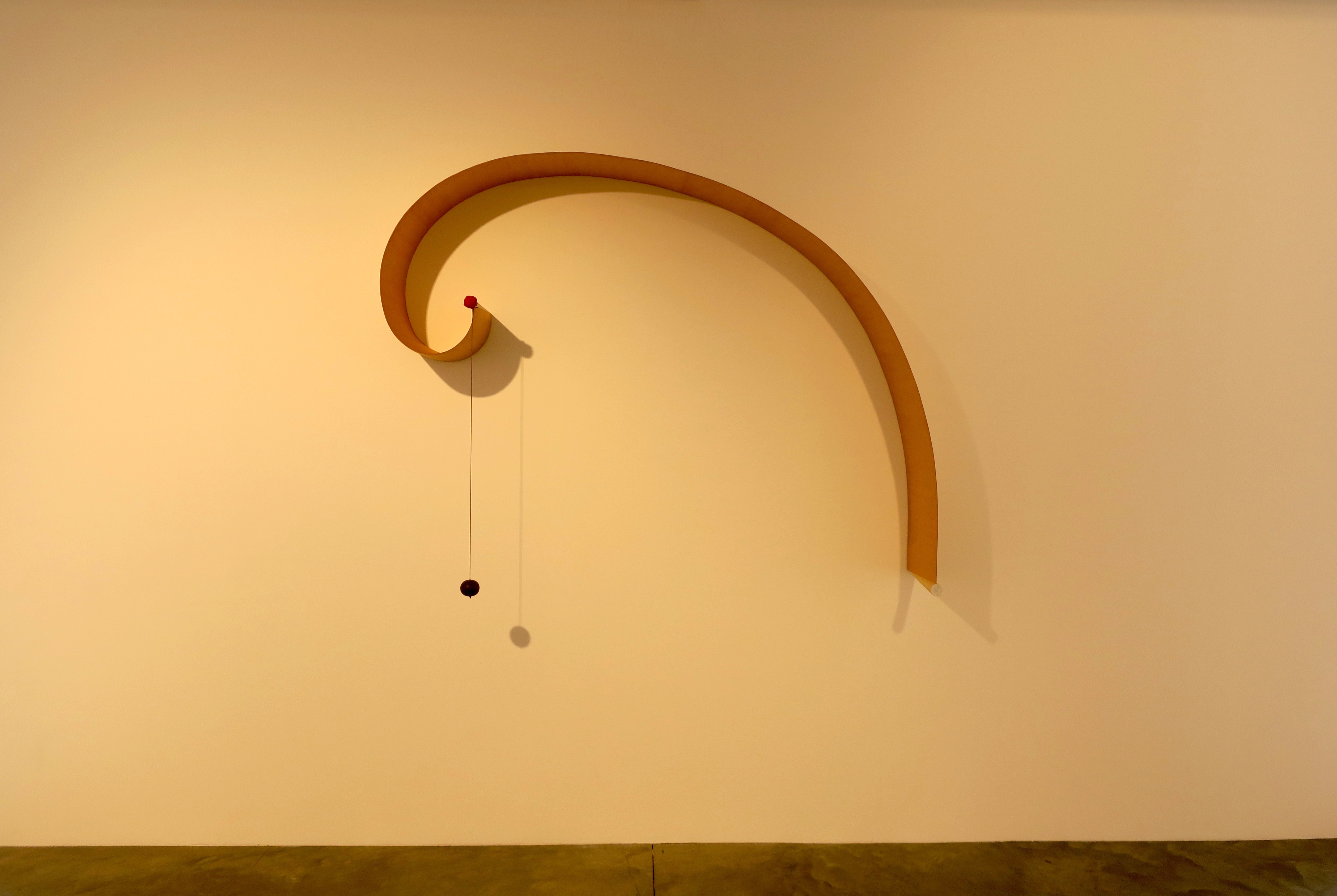 Phrygian Spirit, 2012-2014
Alaskan yellow cedar, holly, ebony, leather, string, milk paint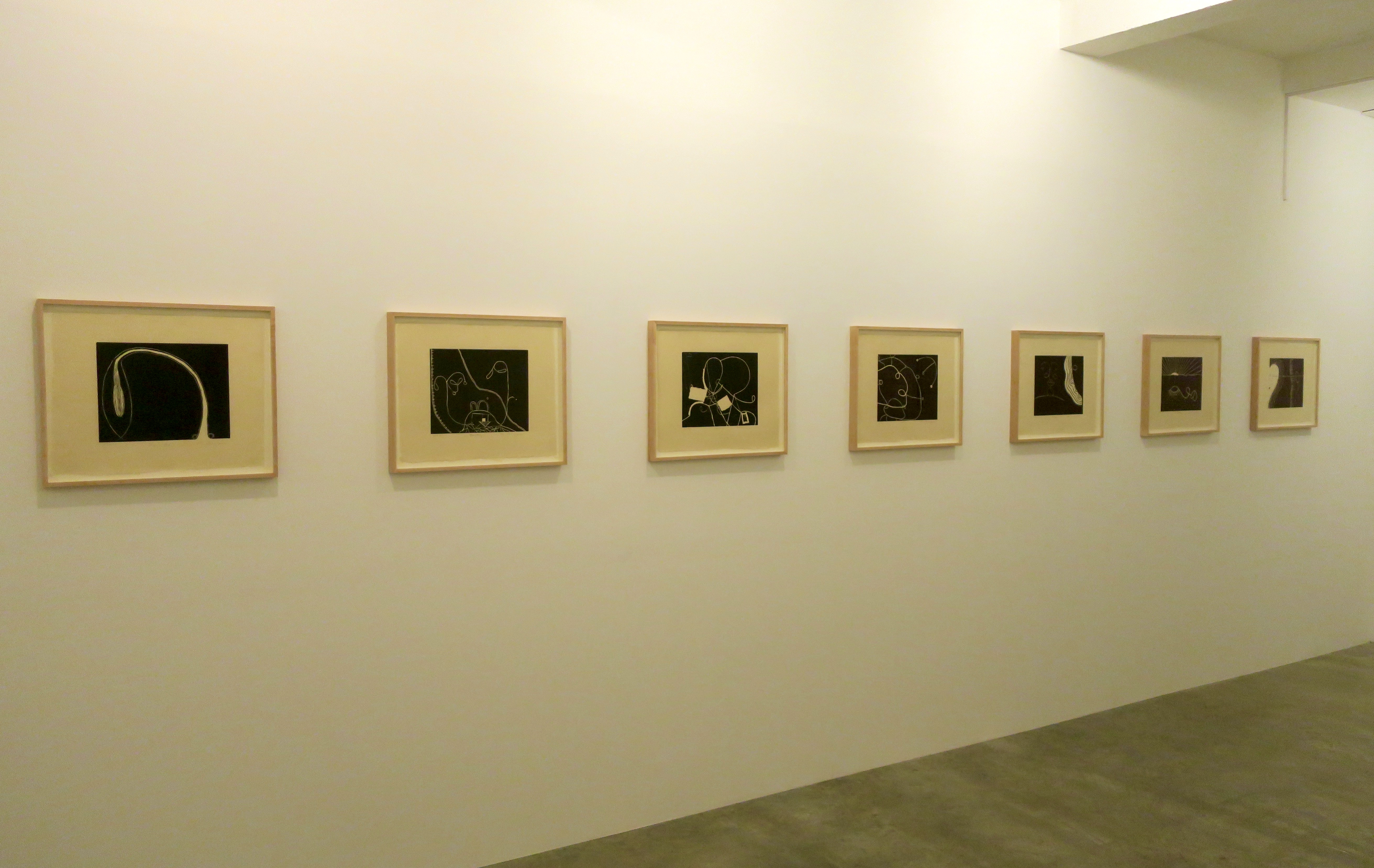 1-7. Cane series, 2000
Woodcut
Works 1-7 are part of a special edition of the novel 'Cane' by Jean Toomer (1894-1967). Regarded as one of the highest literary achievements of the Harlem Renaissance, 'Cane' (1923) consists of prose and poetry vignettes providing snapshots of the black experience in Georgia, Washington DC, and in-between. Puryear's prints are abstract portraits of the novel's pivotal female characters.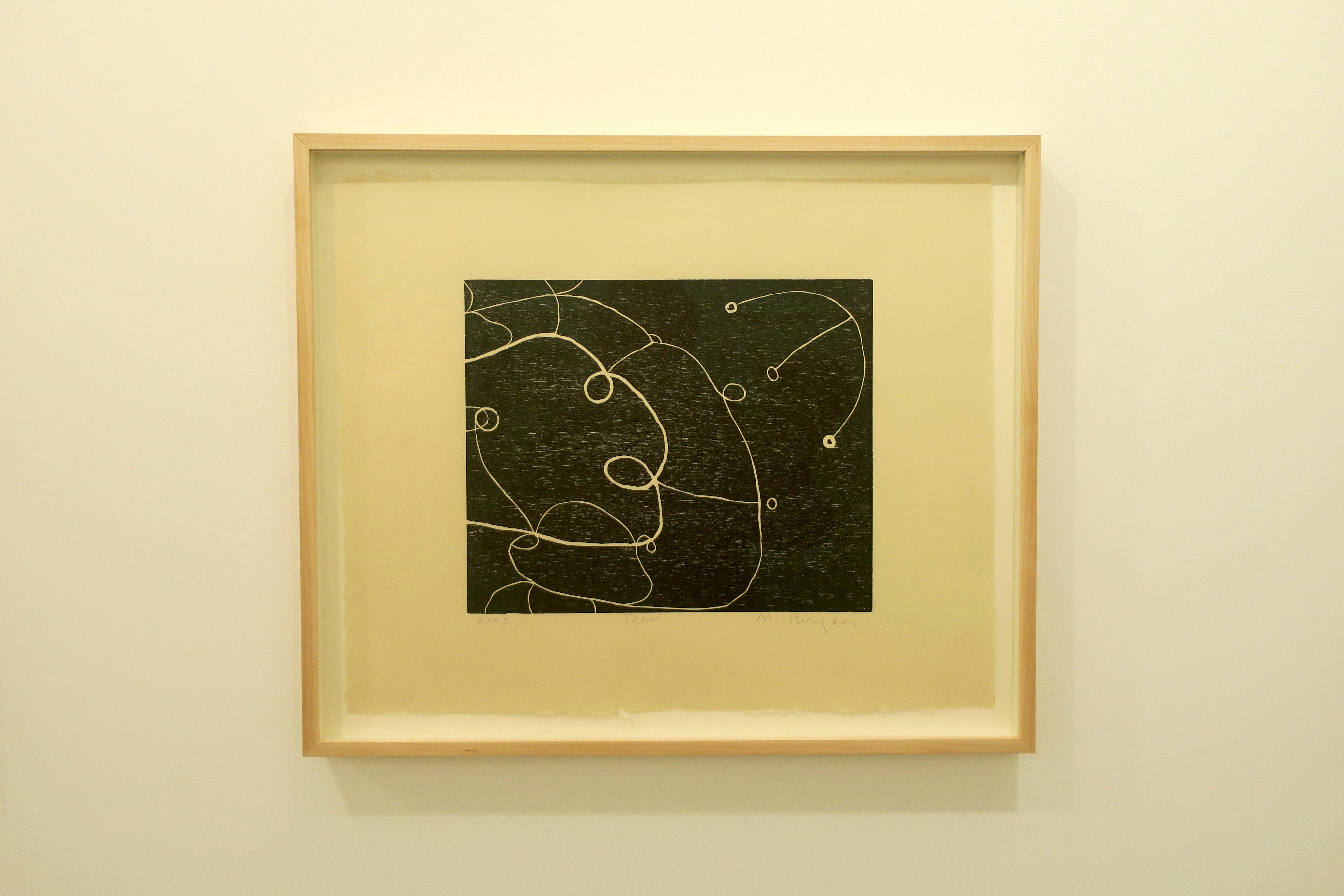 4. Fern, 2000
Woodcut
I first read 'Cane' when I was teaching at Fisk University in Nashville, Tennessee. I was living in the South for the first time… My experience was similar to Toomer's. He came as an outsider and was looking at what so defines blackness in America, the agricultural life of the South, the sharecropping that had grown out of slavery. I, too, came to the South as an outsider… I travelled around the South, went to Alabama, Mississippi. It hadn't changed much from Toomer's time. This is the work of mine that is most connected to a region and to the experience of being a black man in America.
Martin Puryear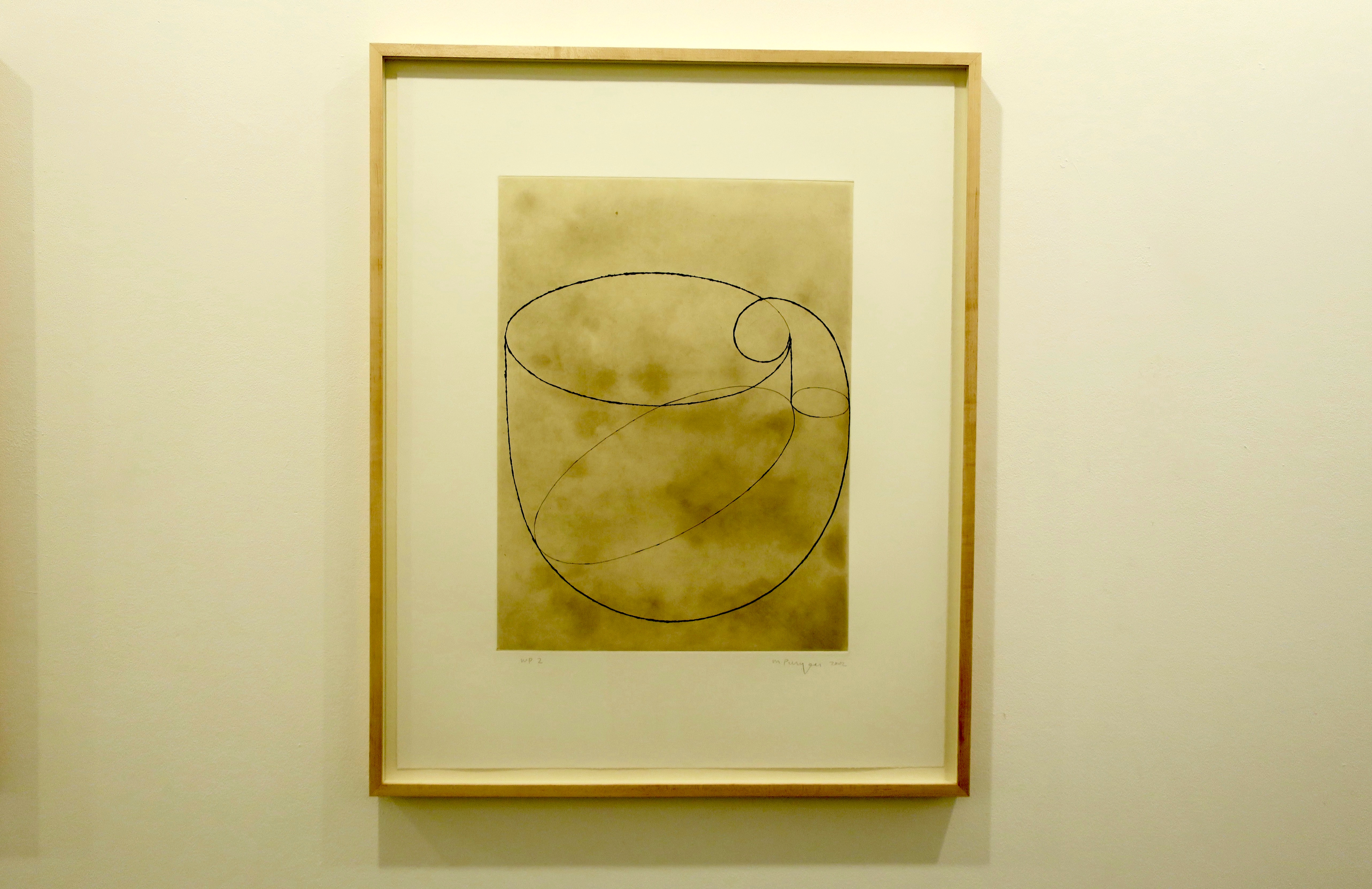 Untitled II, 2002
Soft ground etching with drypoint and Gampi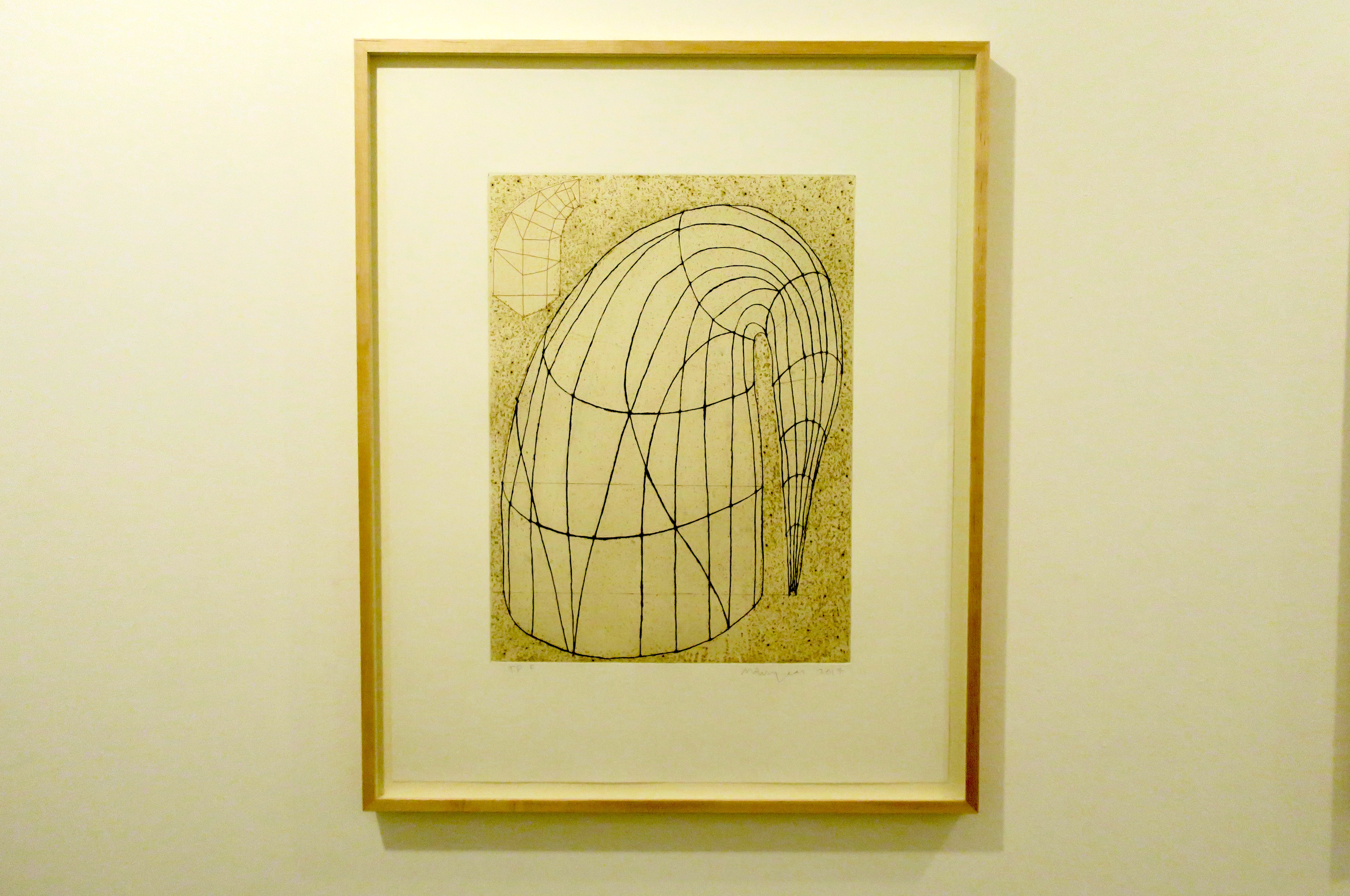 Untitled (State II), 2014
Colour soft ground etching with drypoint and chine collé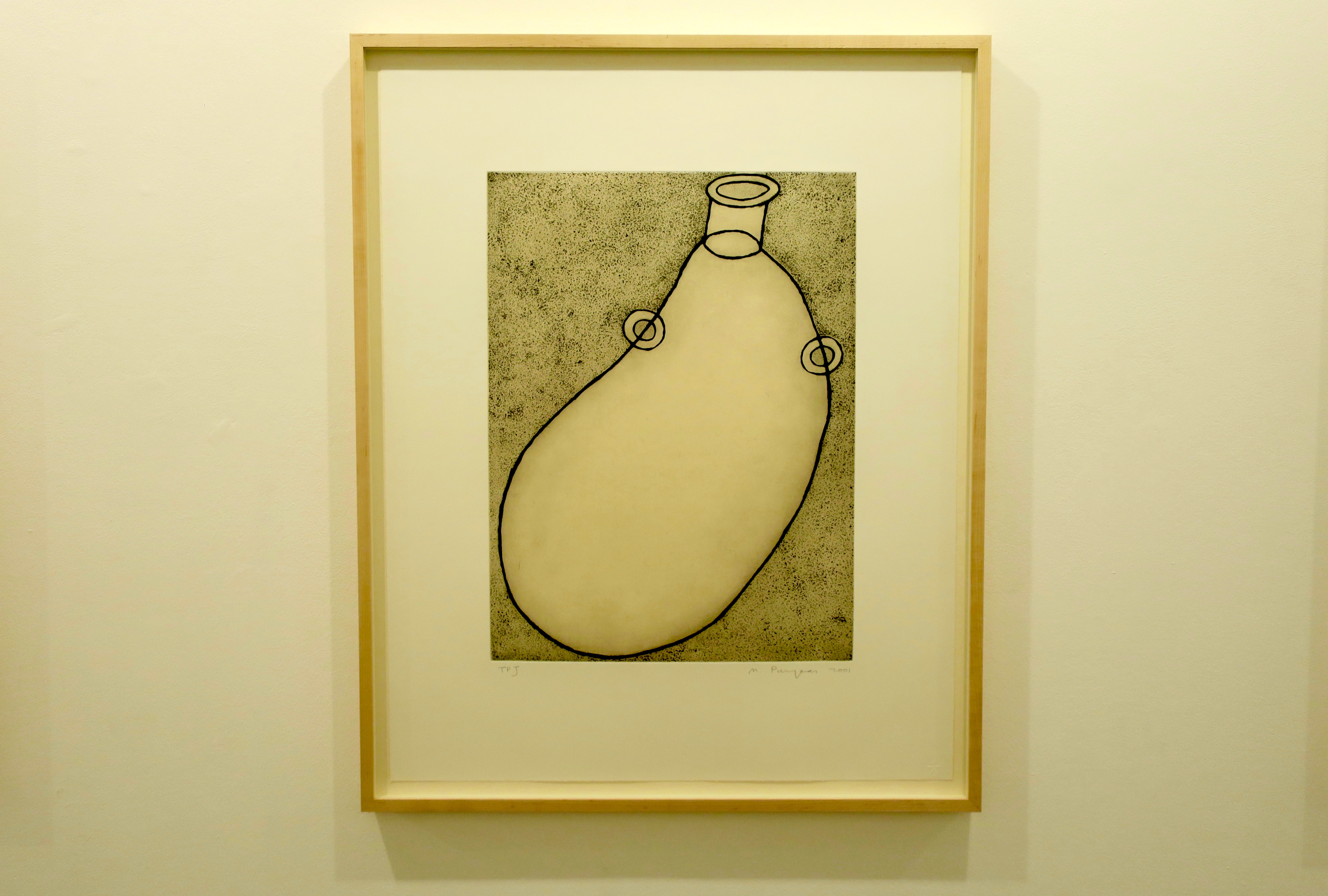 Jug, 2001
Spit-bite aquatint etching with drypoint and chine collé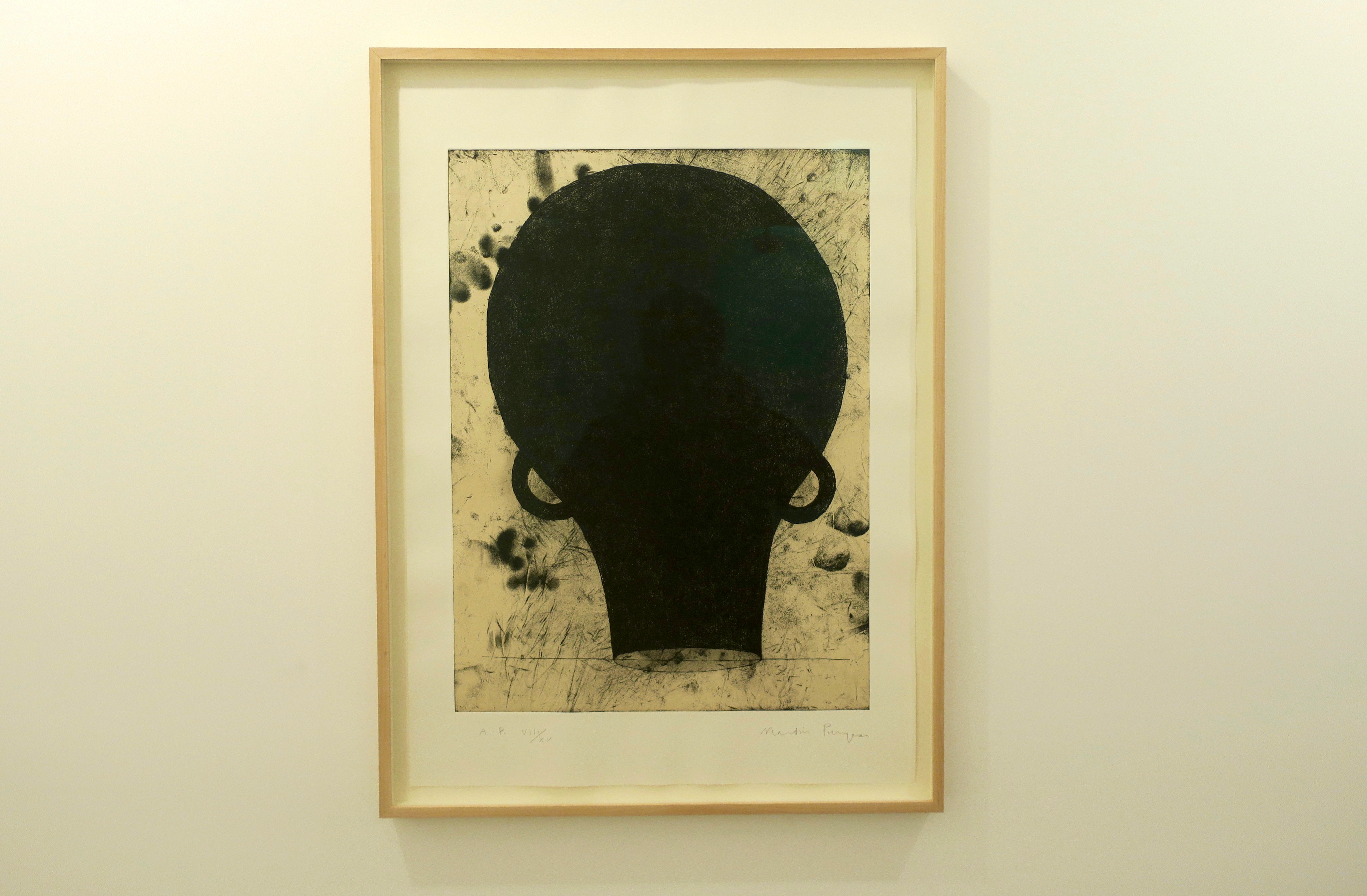 Untitled, 1999
Etching and aquatint with chine collé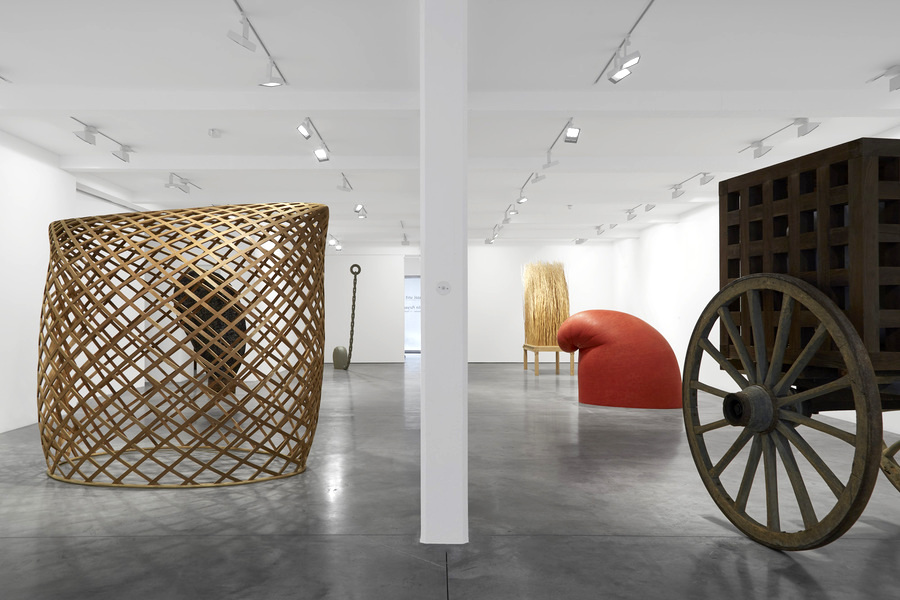 ※