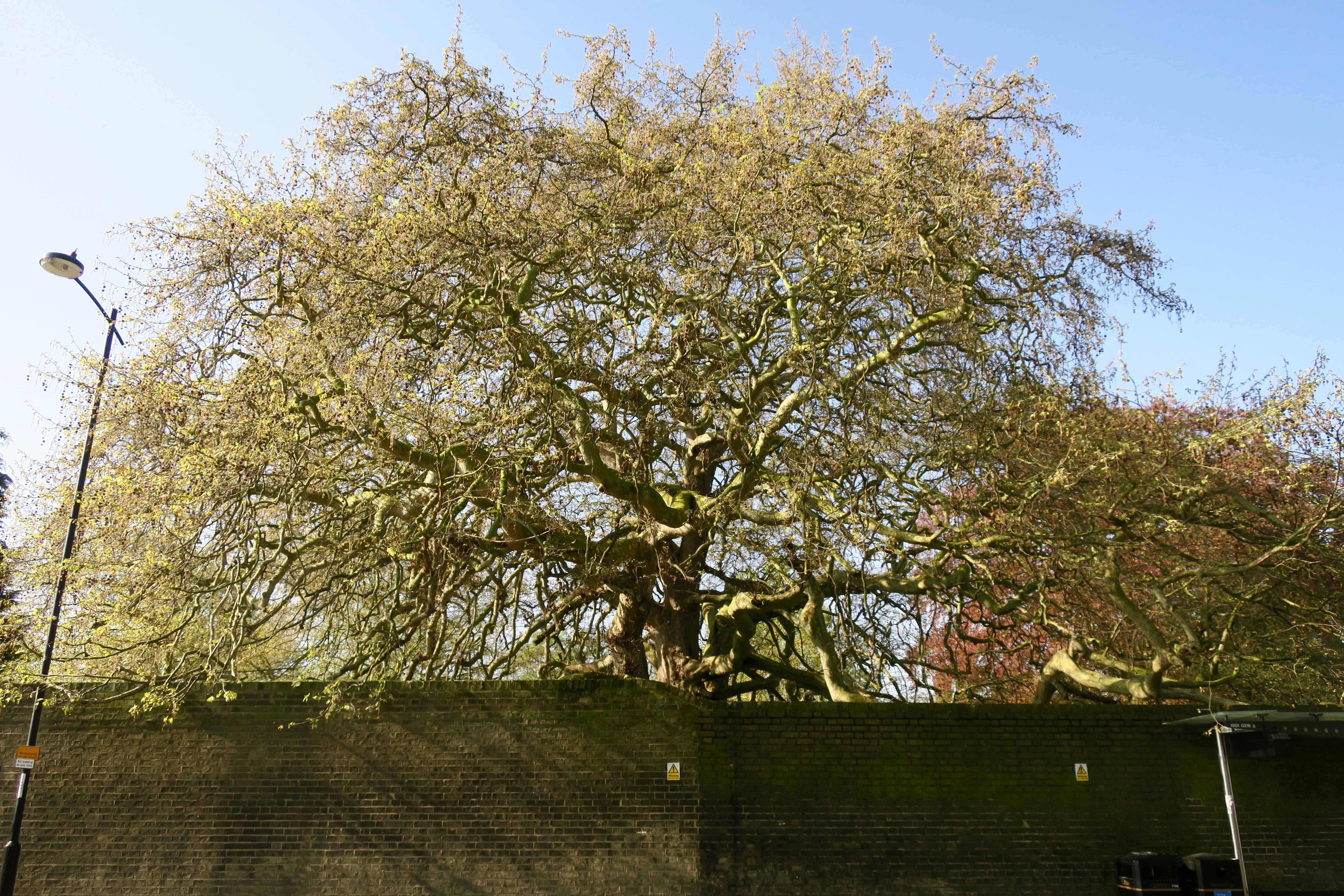 As we walked into town we passed the back wall of Emmanuel College, overseen by the great Oriental Plane tree, Platanus orientalis, growing in the Fellows' Garden. We tried to get a closer look but since neither of us are college fellows we had to be content to view it from a distance.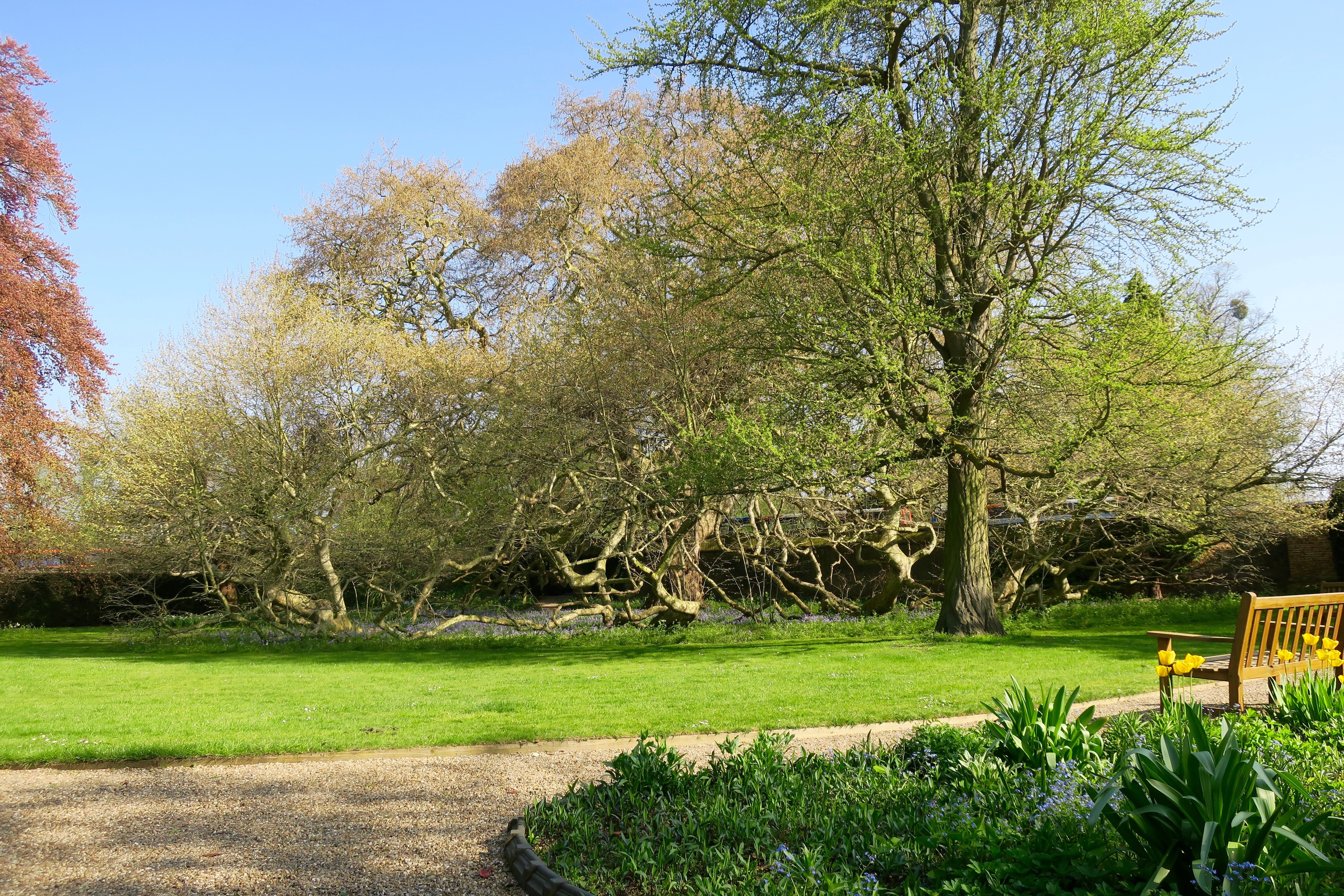 We were allowed into the college grounds but the Fellows' Garden was a step too far.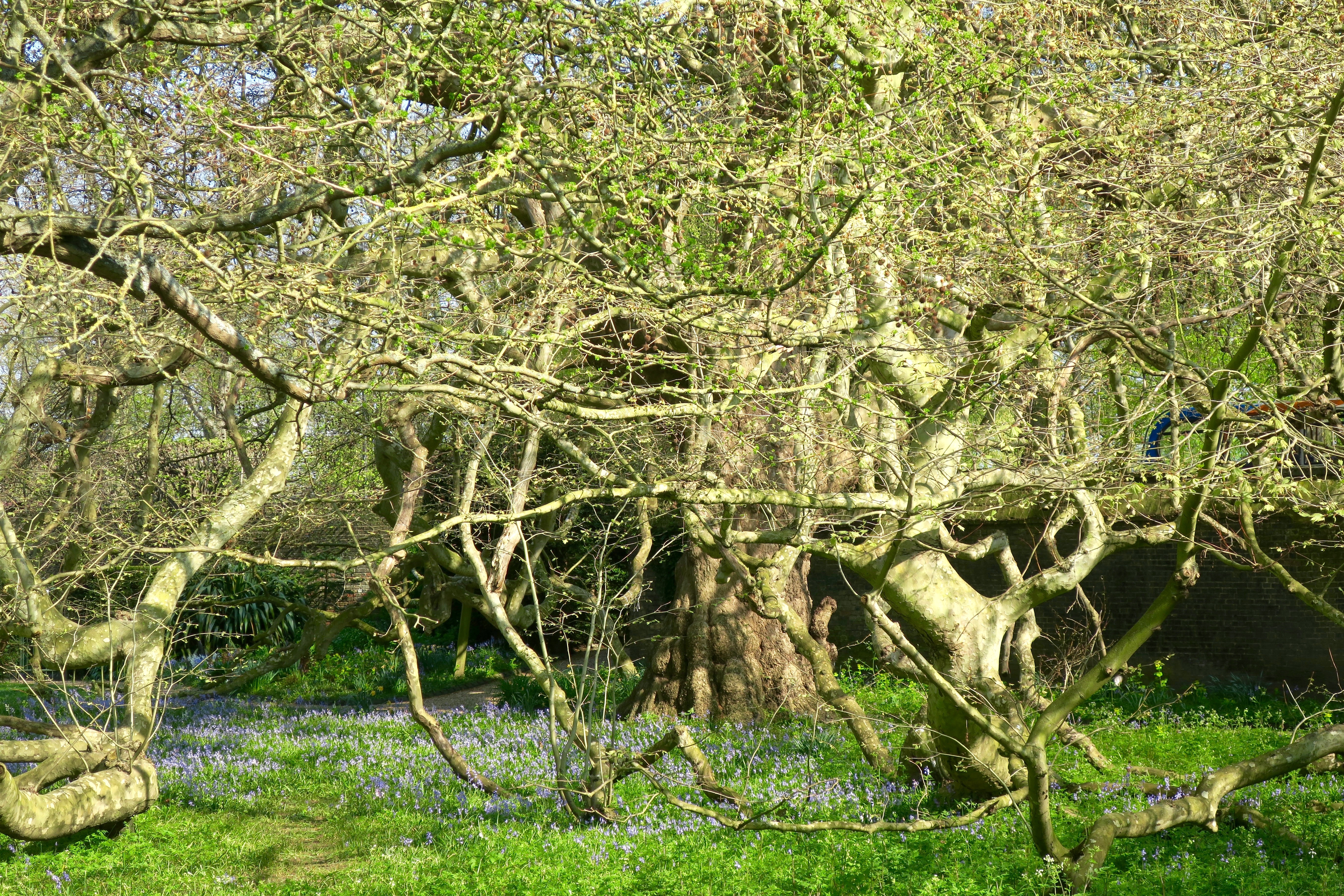 This was our view from the gate.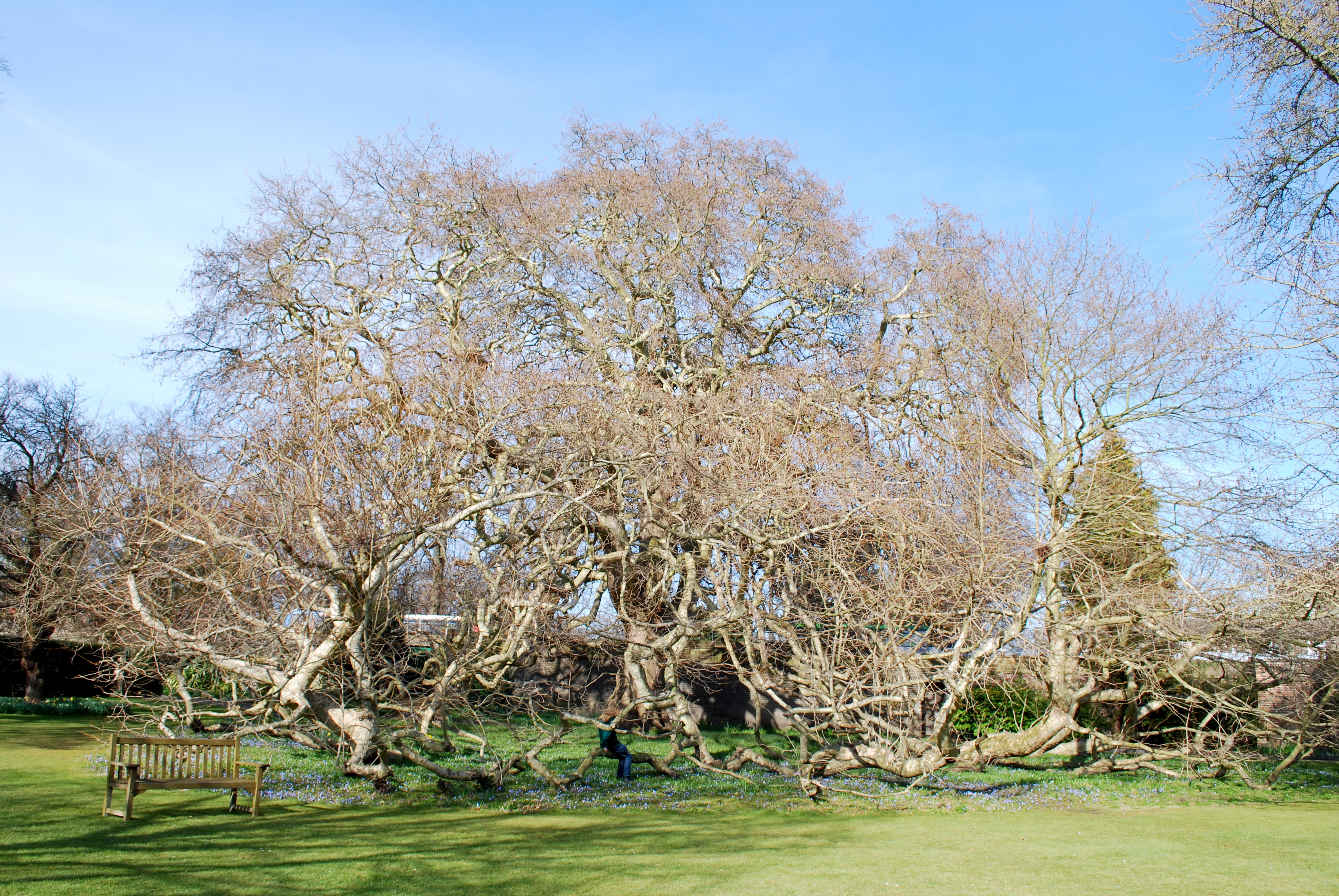 This photograph is by Joanna Dobson and there's more at The Great Oriental Plane Tree.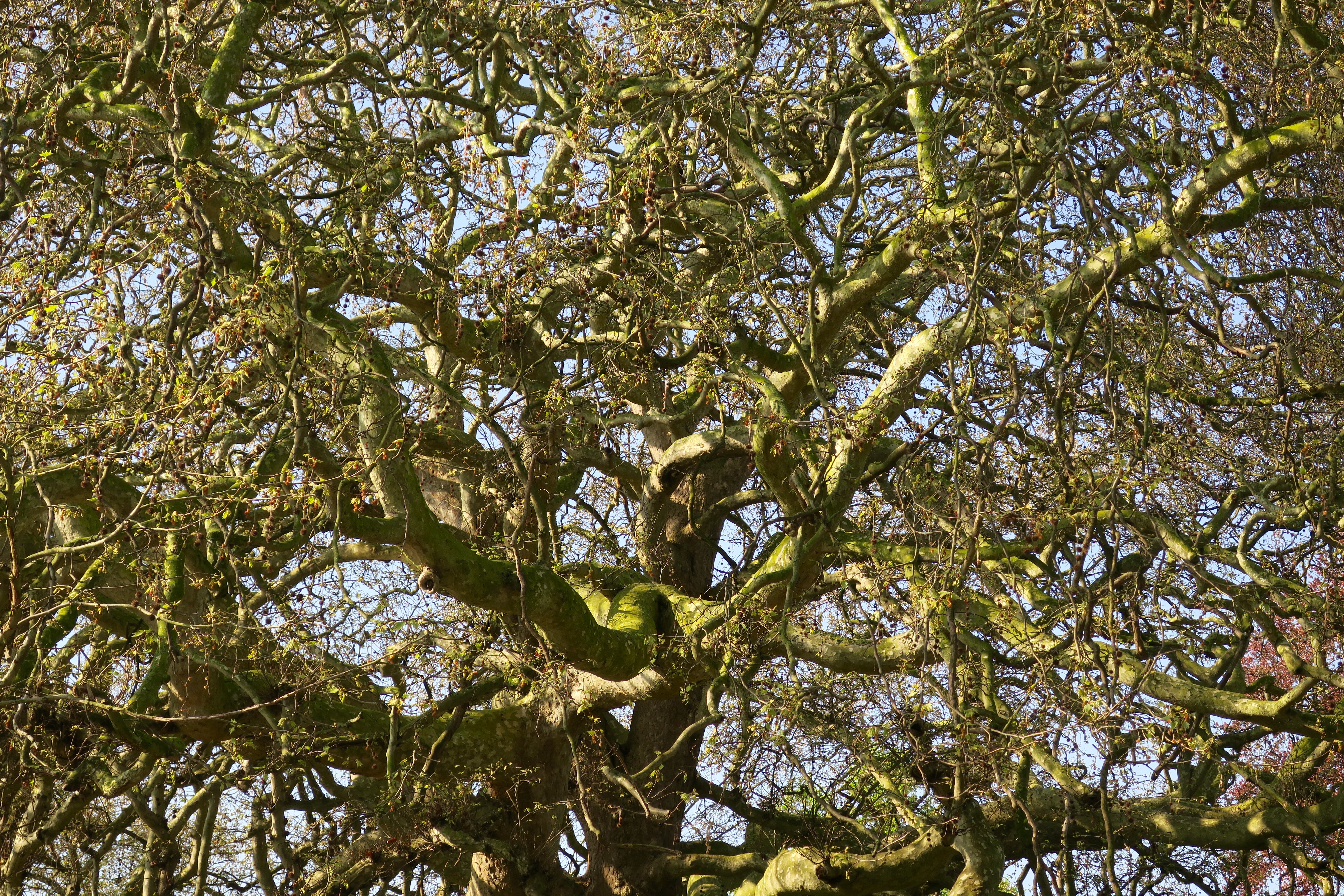 Sadly we couldn't walk under its branches, but we found a similar embrace at St Peter's Church.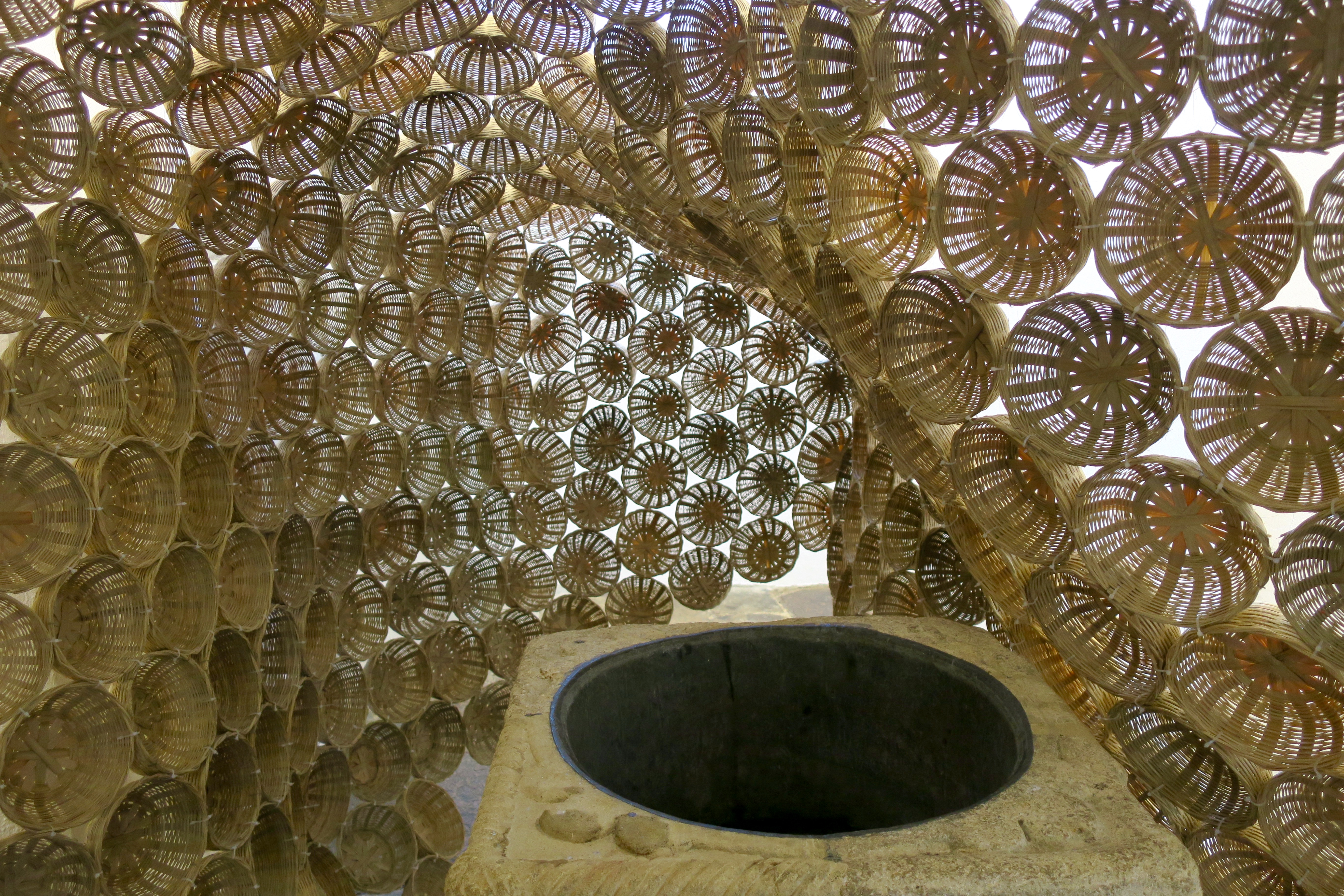 Rana Begum has created a site-specific sculpture comprised of a thousand bamboo baskets, hand woven in Bangladesh. They form a wave-like structure that visitors are invited to walk beneath. The work draws upon the artist's childhood memories of basket weaving in her village in Bangladesh, as well as time spent reading the Qur'an at the local mosque, where the dappled morning light, sound of the water fountain and the mesmeric recitation created an atmosphere of peaceful concentration.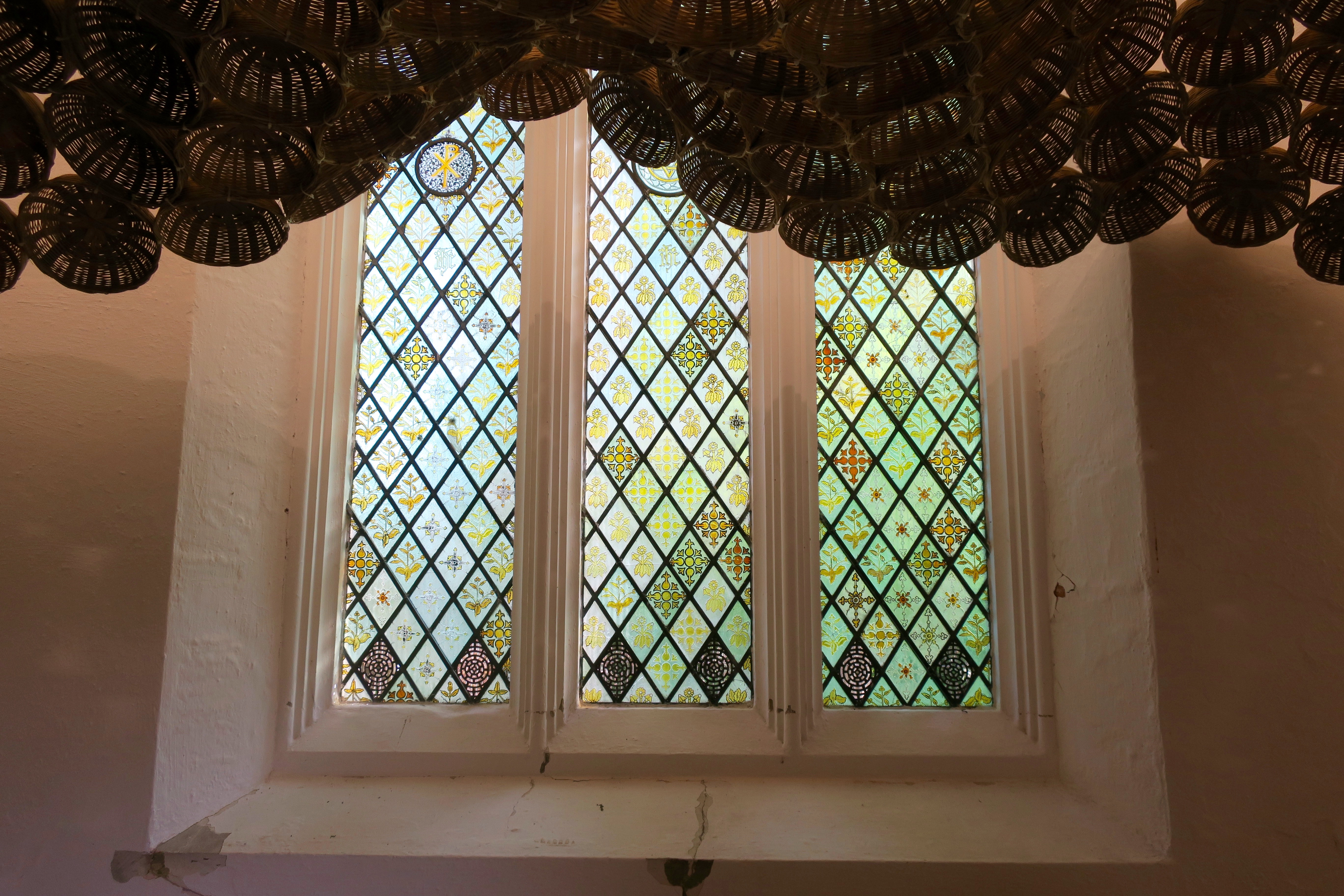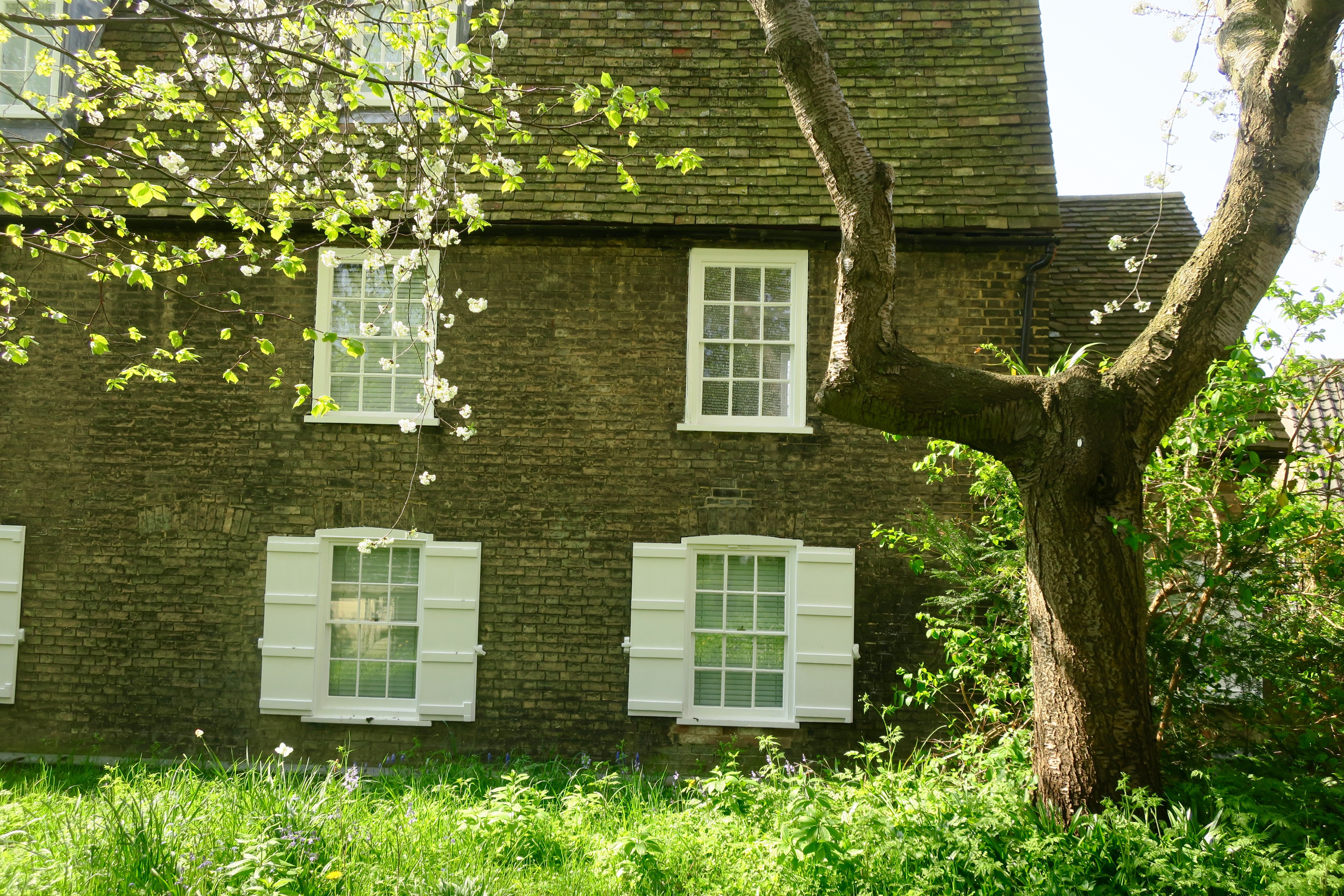 We'd arrived at Kettle's Yard too early, before the doors were open.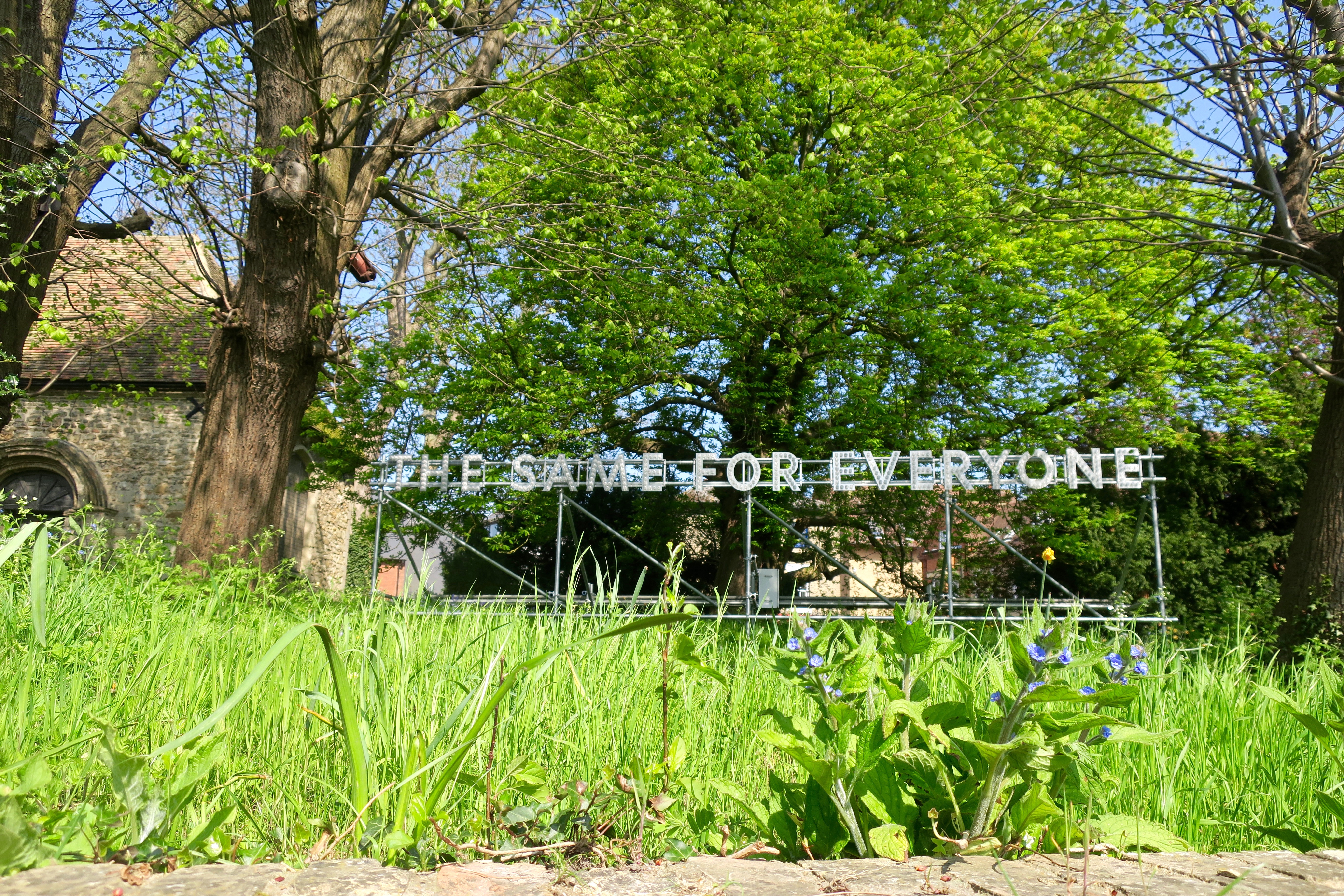 It had been a while since we were last here. Kettle's Yard closed in June 2015 for major redevelopment and only reopened in February this year. It was good to see it again but there have been significant changes. There's a new entrance and a new café and a new four-storey education wing, which unfortunately means the gallery space is diminished, reduced now to two spaces. In one there was an exhibition of paintings and in the other there was a screening of a film. The house remains as it was but access is now by timed tickets, which means the galleries have become waiting rooms, though many preferred to wait outside. It's a shame. Gone are the days when we could just turn up and ring the bell, when Kettle's Yard was a secret, unheard-of place, known only to a few devotees.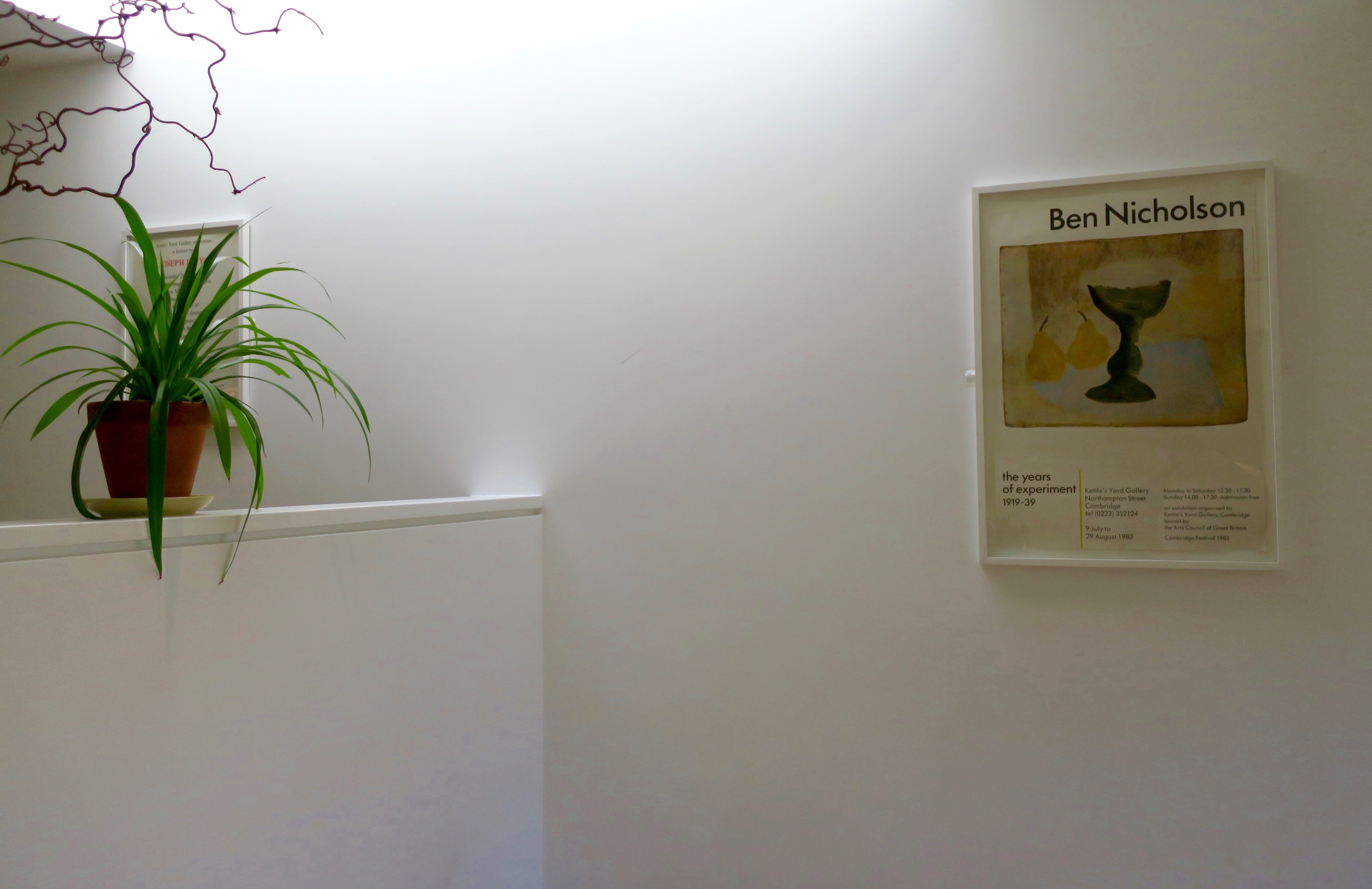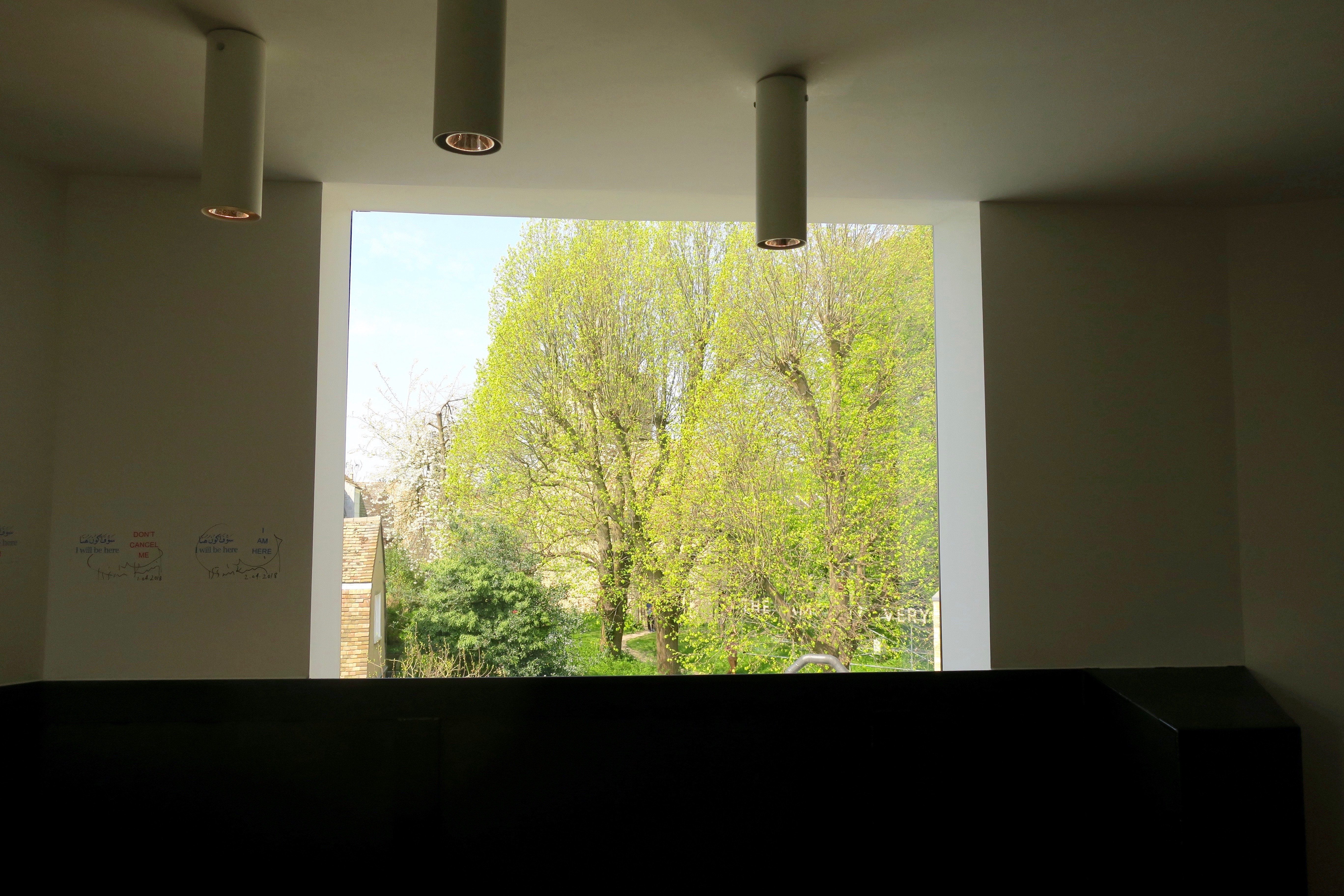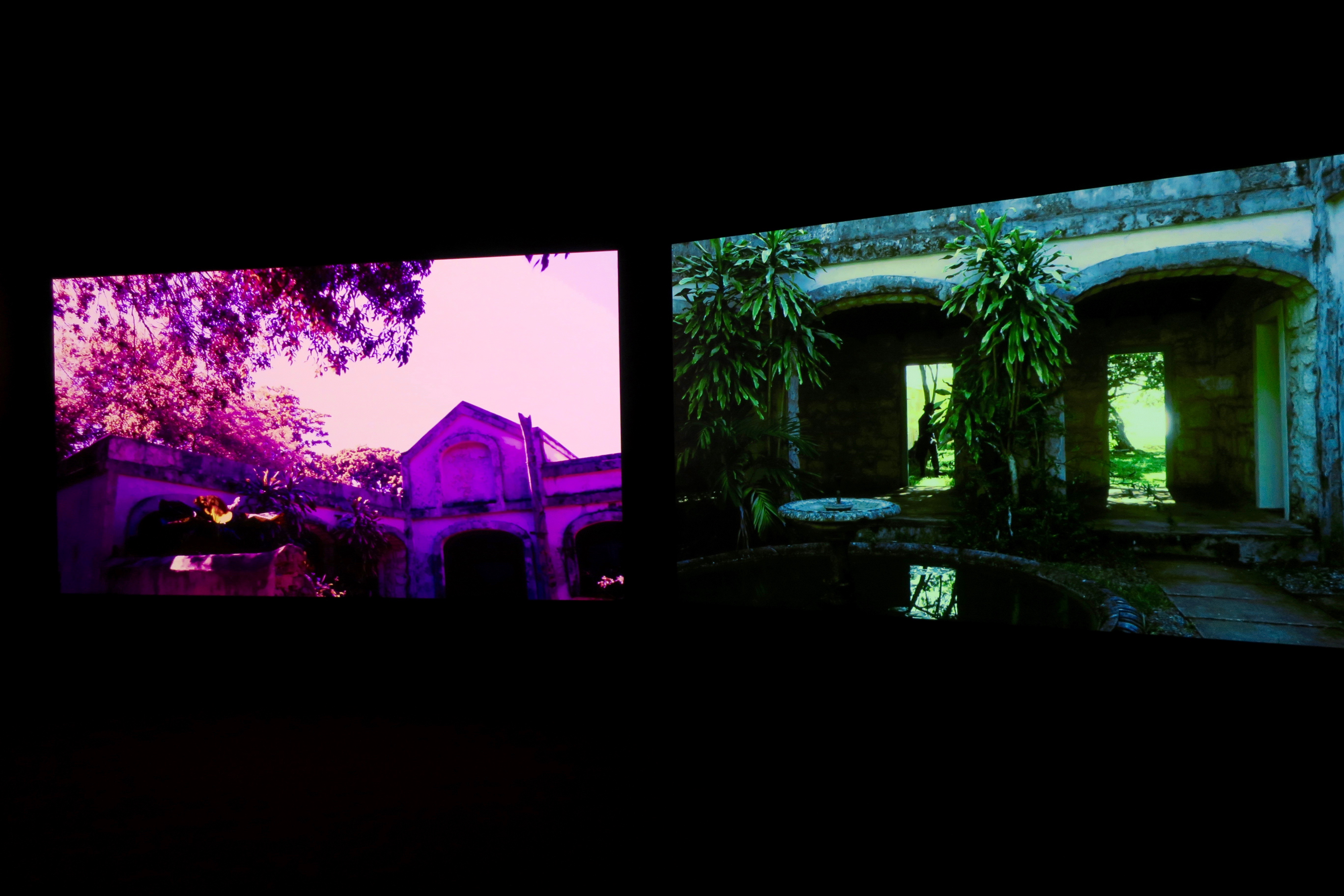 We went in to see the film, to pass the time, with little expectation, slightly apprehensive because videos in galleries can often seem manipulative, like they're exploiting a captive audience. I usually avoid them. But I was so glad we saw this one. It was the most beautiful thing I've seen in a long time.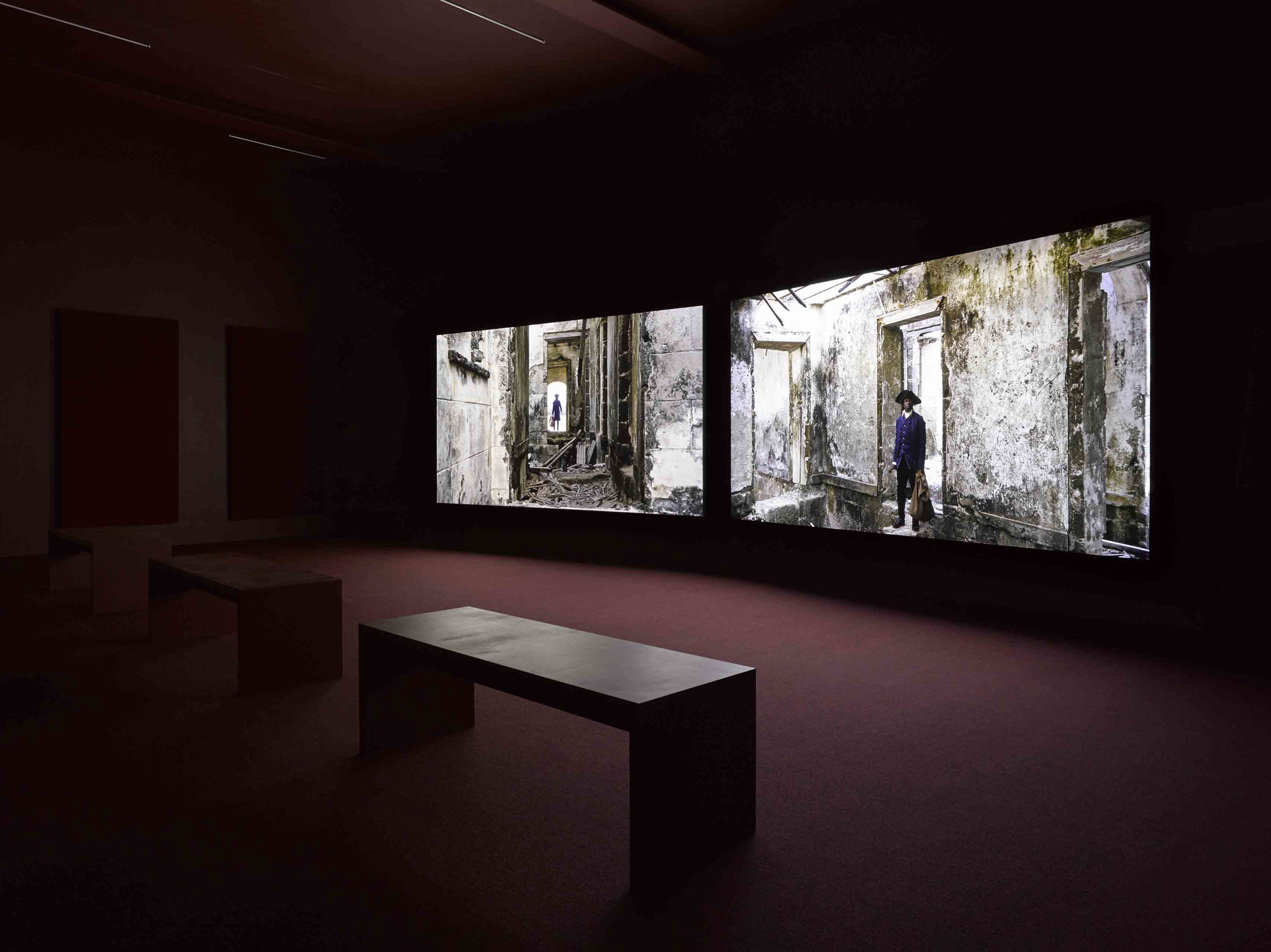 'Auto Da Fé', John Akomfrah's two screen film installation, which translates to 'Acts of Faith', looks at migration through the lens of religious persecution. Presented as a poetic period drama, the film presents a series of eight historical migrations over the last 400 years, starting with the little known 1654 fleeing of Sephardic Jews from Catholic Brazil to Barbados.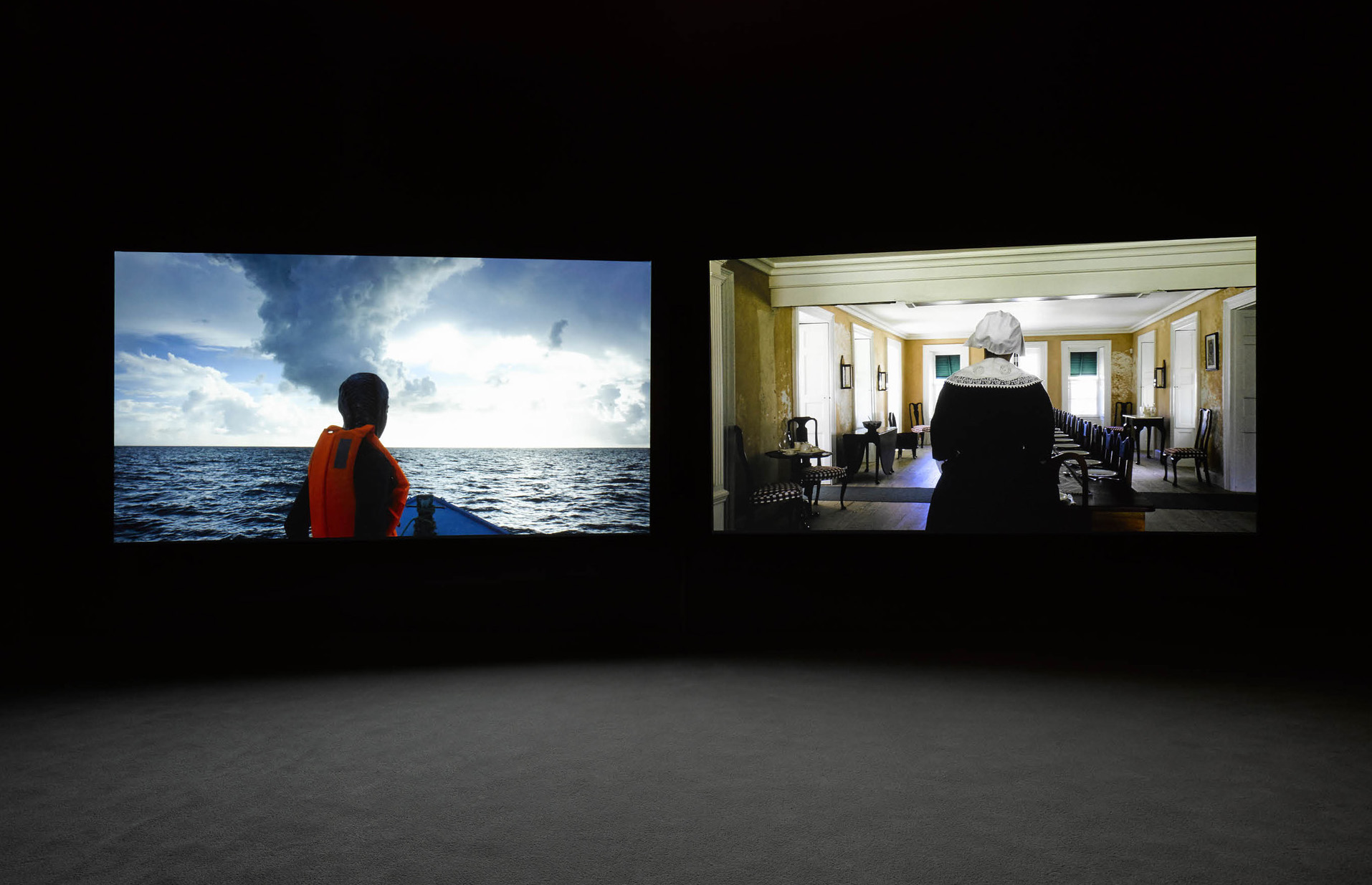 As the film develops, viewers are presented with tale after tale of populations being displaced along religious lines, right up to the present day migrations from Hombori, Mali and Mosul, Iraq. Religion, persecution and migration are, it seems, old and continuing bedfellows. The work was filmed on location in Barbados, but the landscape is deliberately anonymous, reflecting the universal nature of these stories.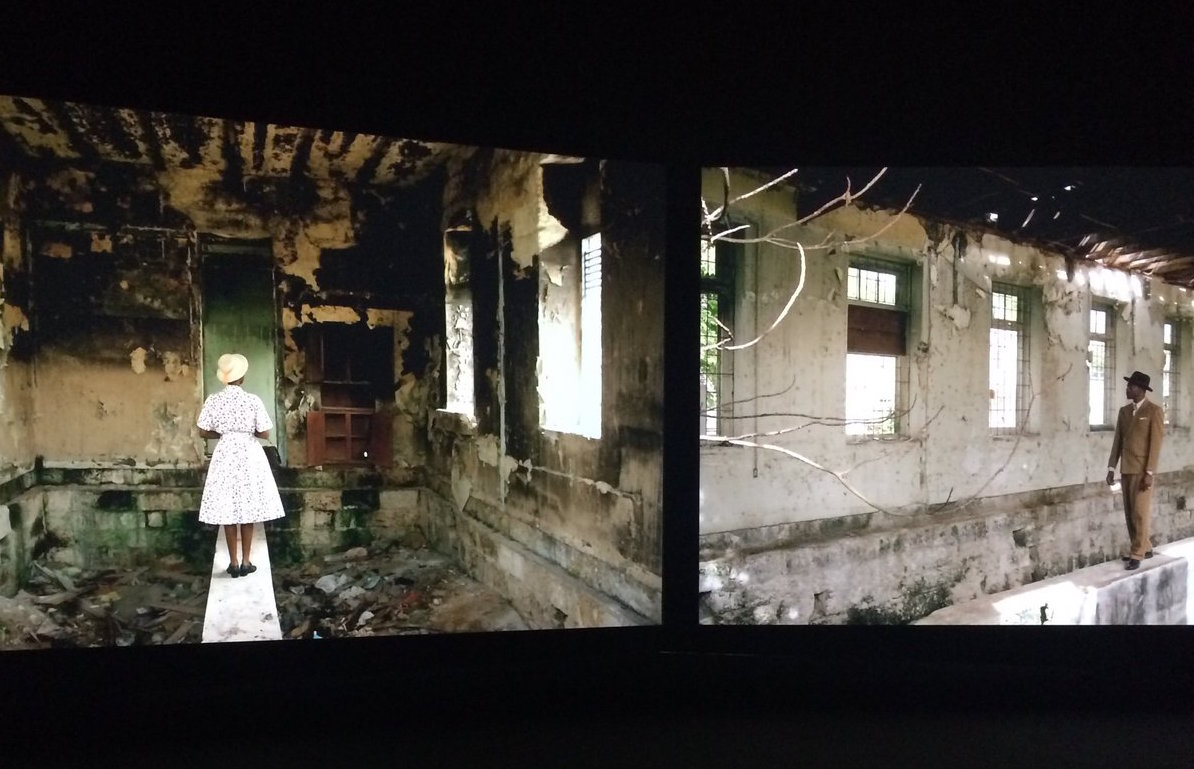 We watched as people come and go, walking through ruins, seen inside and outside, the two screens in constant dialogue, in scenes of great beauty and deep melancholy, echoes of Sebald and Tarkovsky, poetic visions of humanity lost in nature, overwhelmed and out of place and looking for home.
John Akomfrah talking about Auto Da Fé.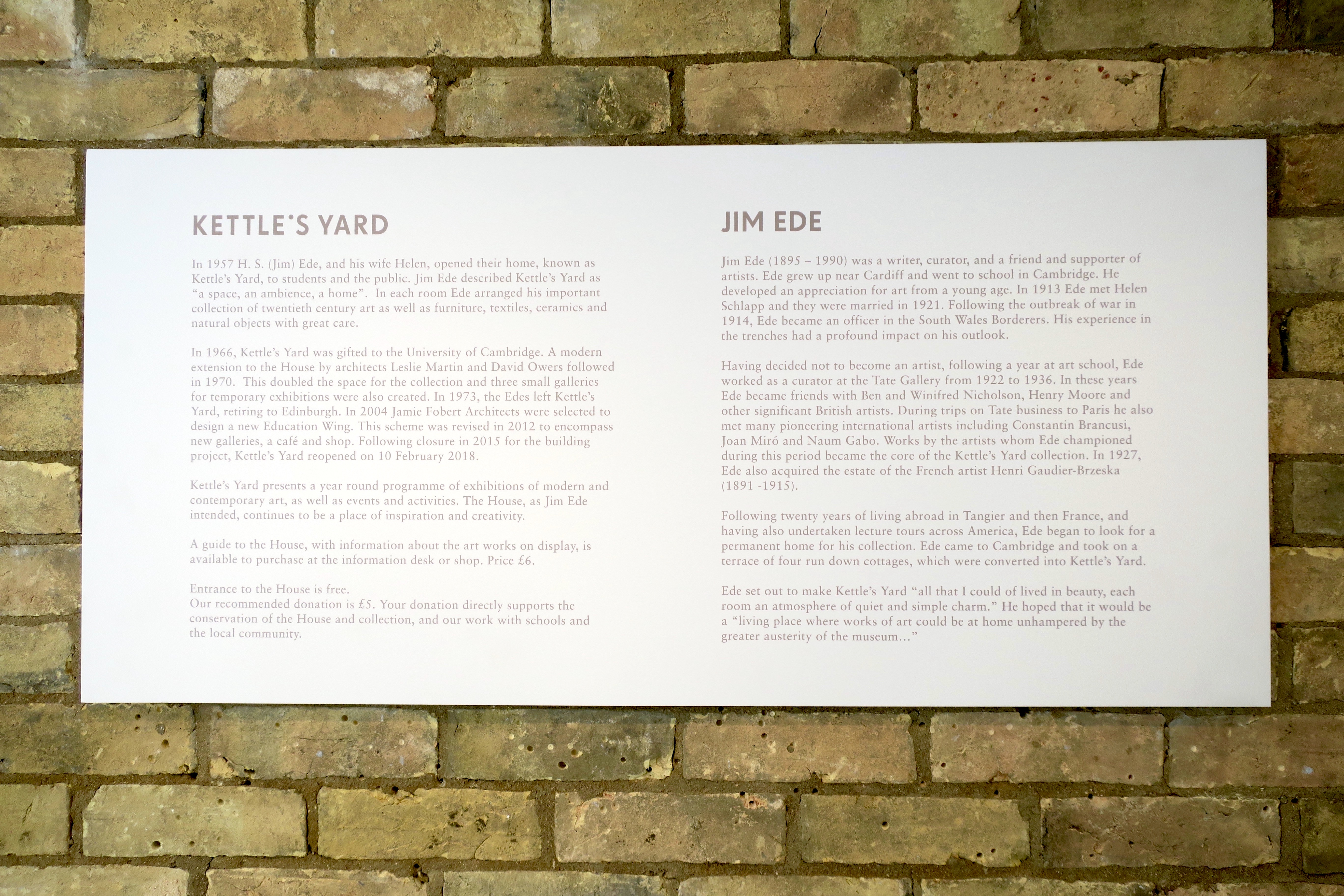 And then we went into the house.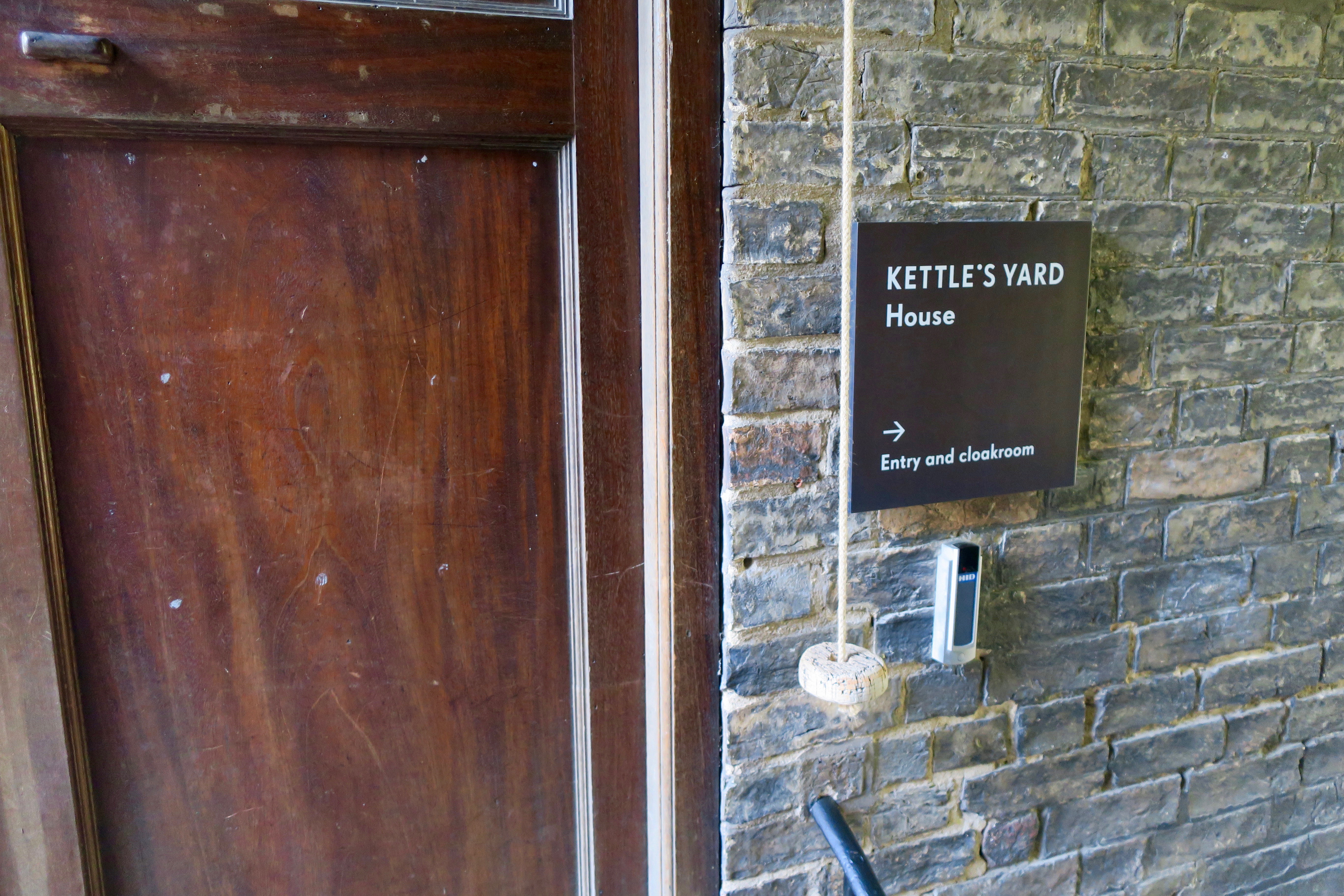 'Do come in as often as you like – the place is only alive when used'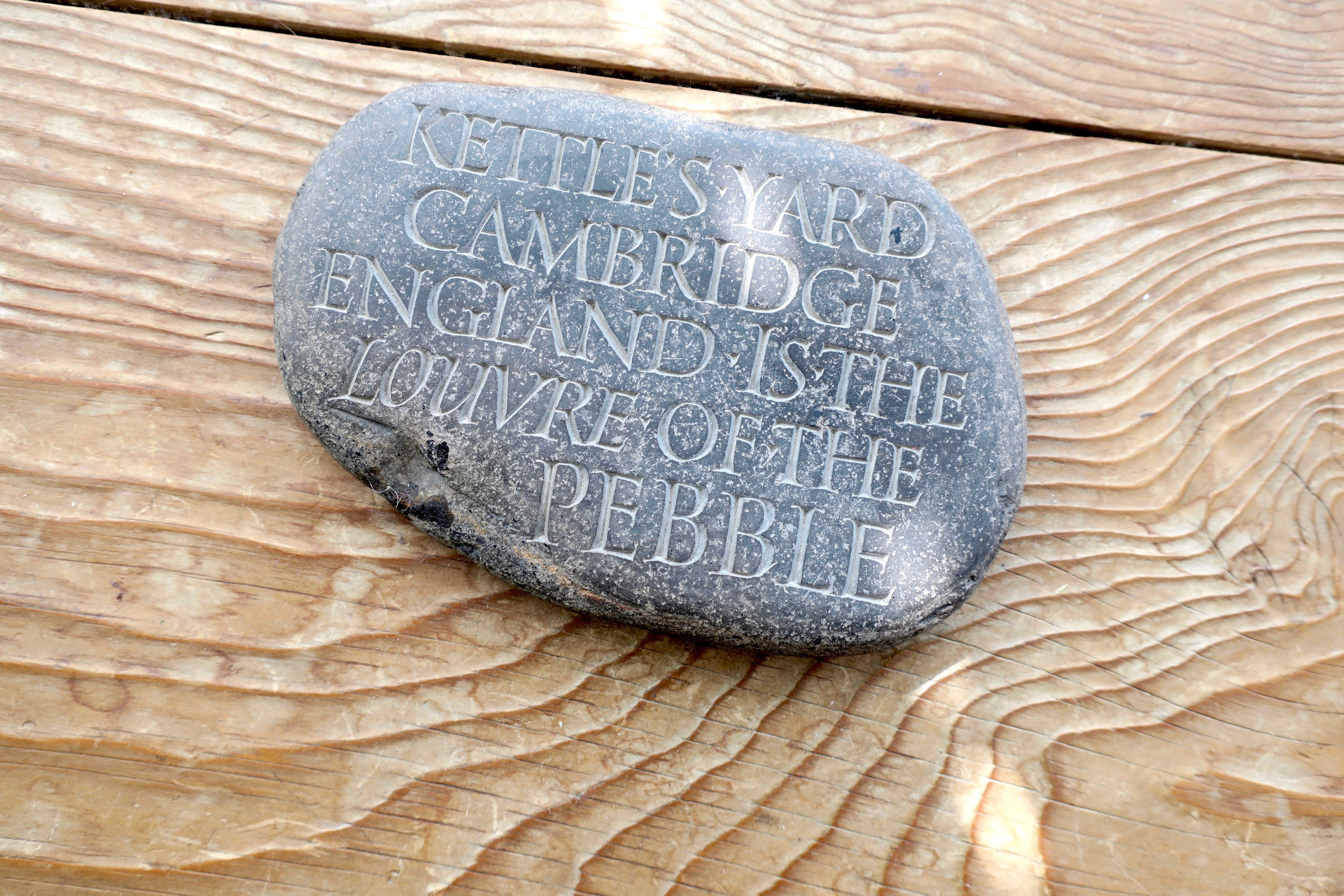 And it still feels like home.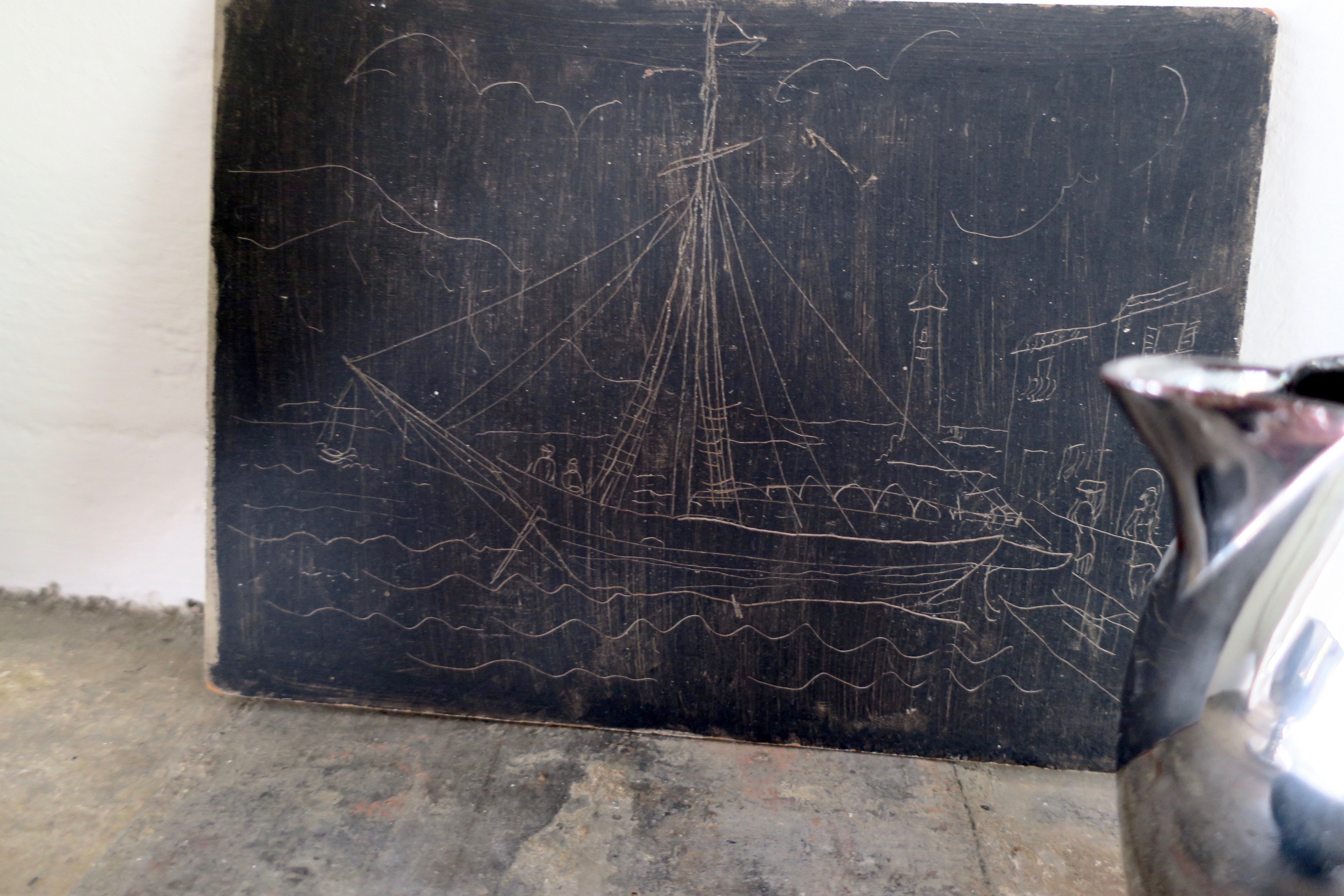 And every time there's something new, something I've overlooked and not seen before. This time it's an Alfred Wallis scraperboard on the mantelpiece, and today it looks like it might be a refugee boat.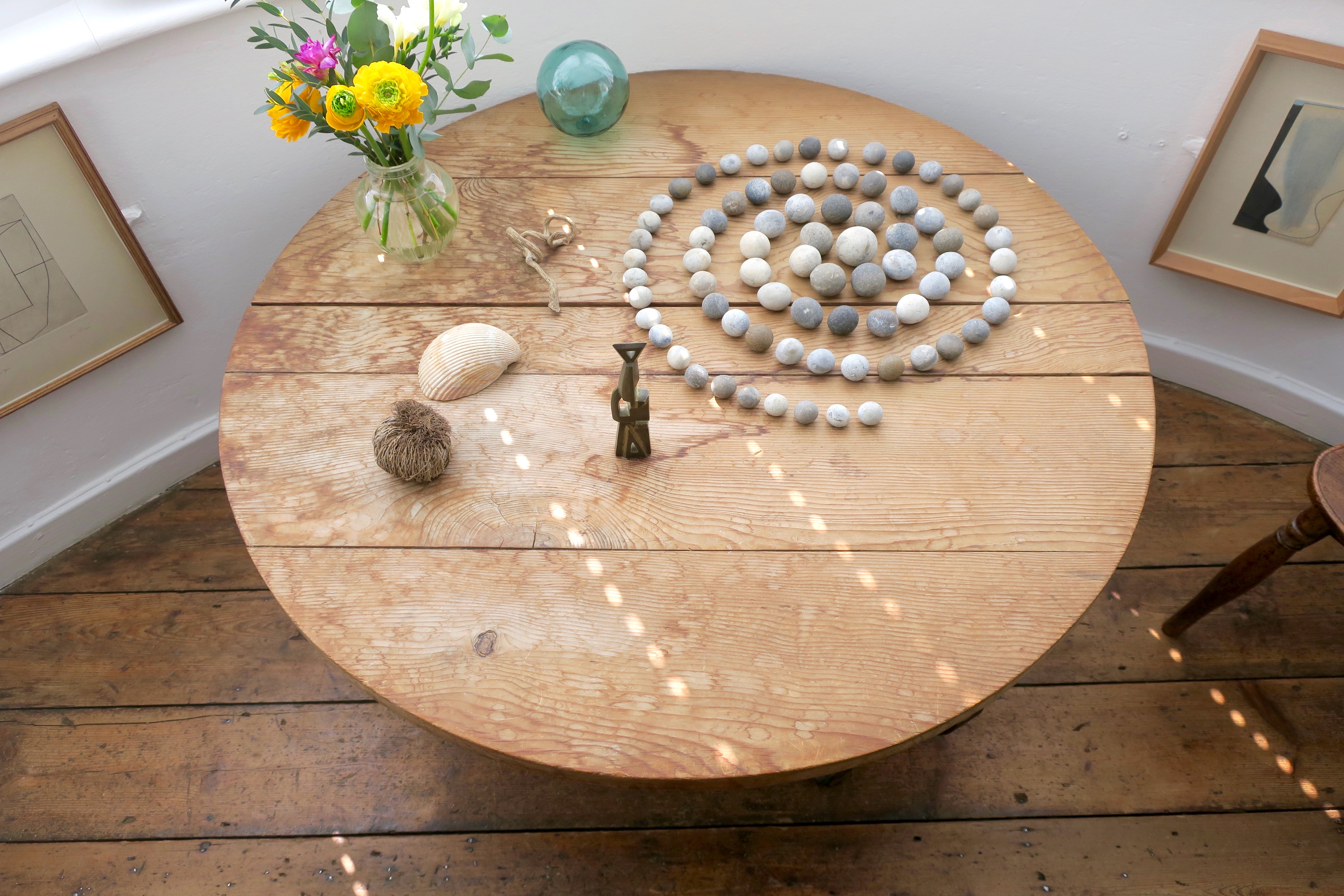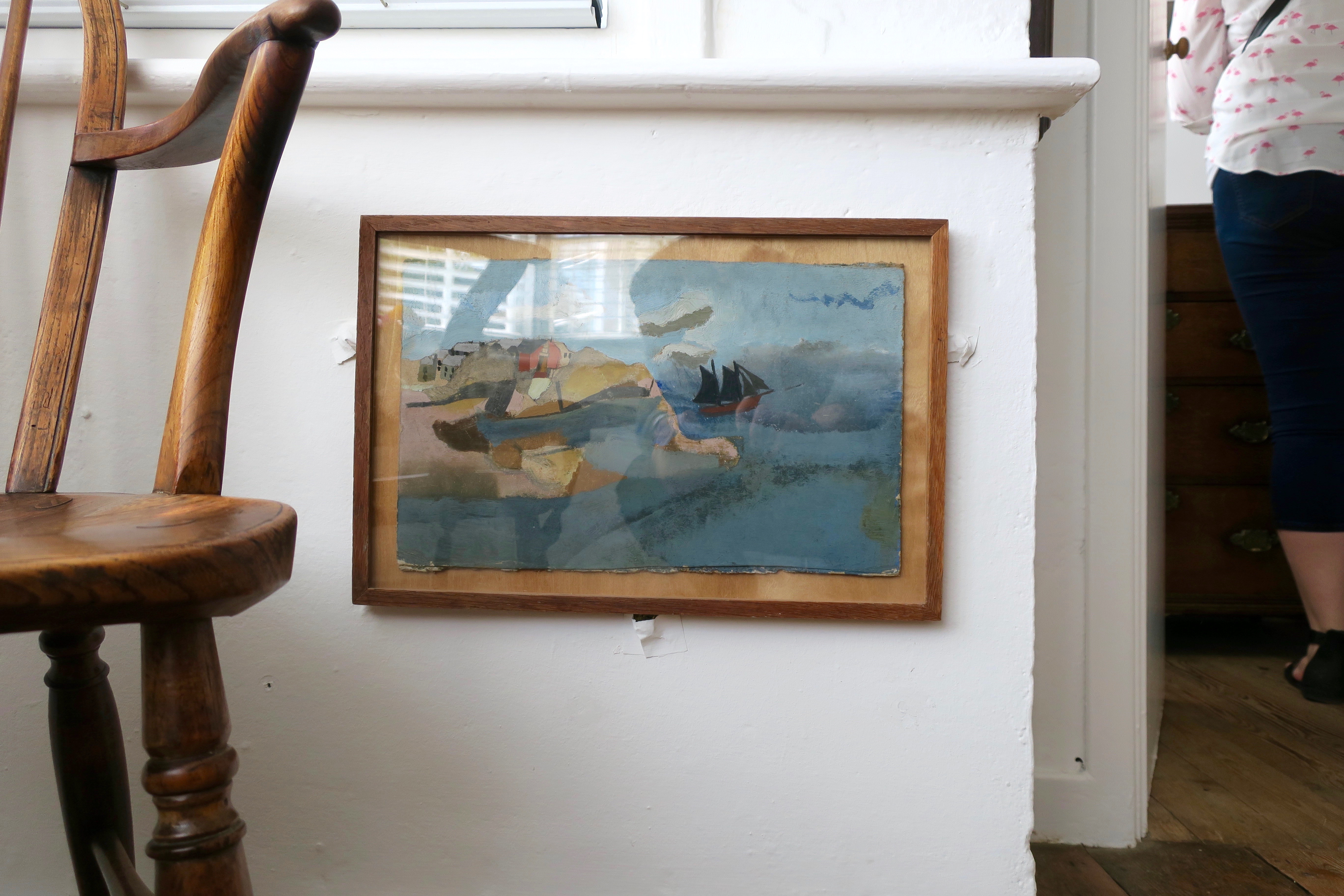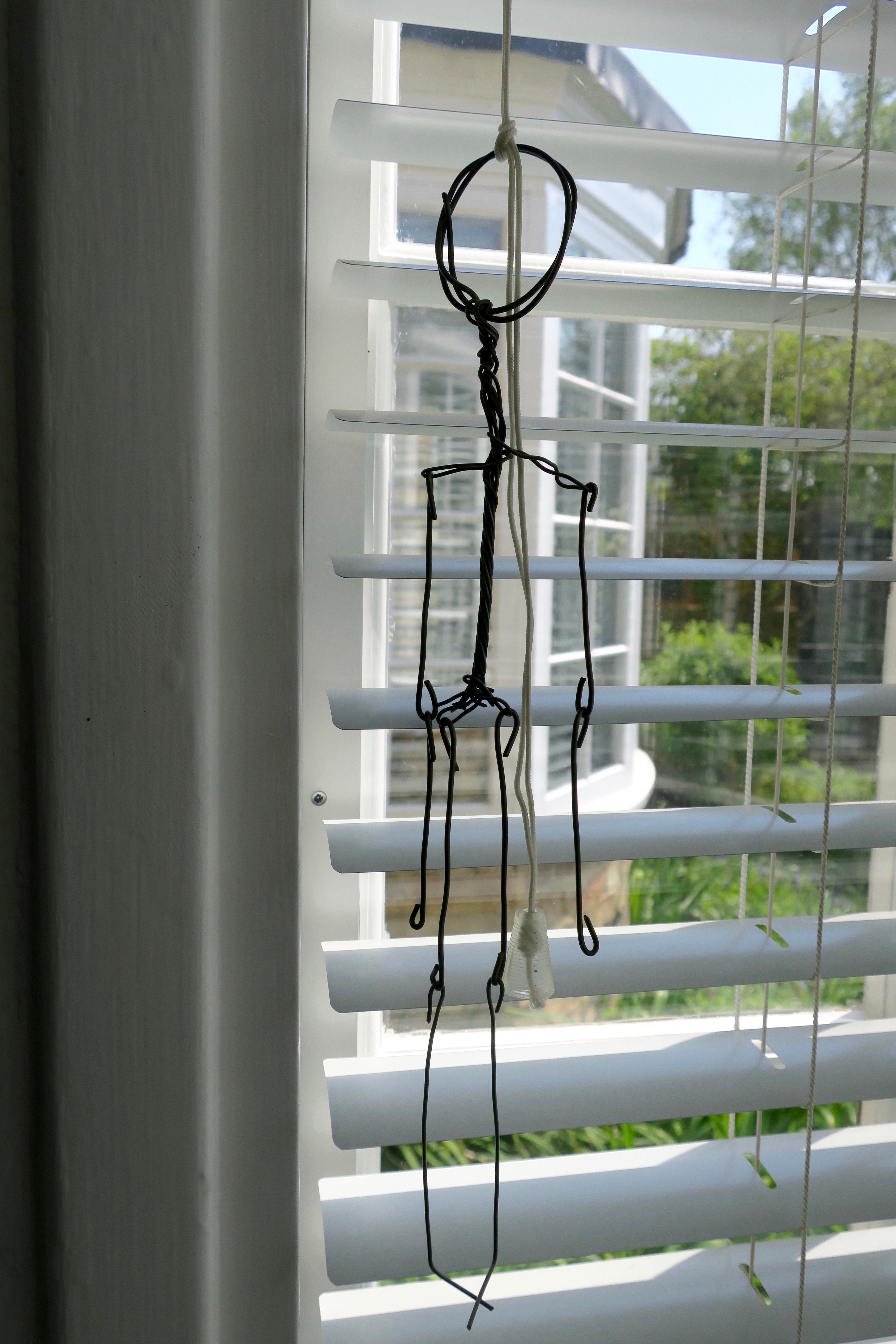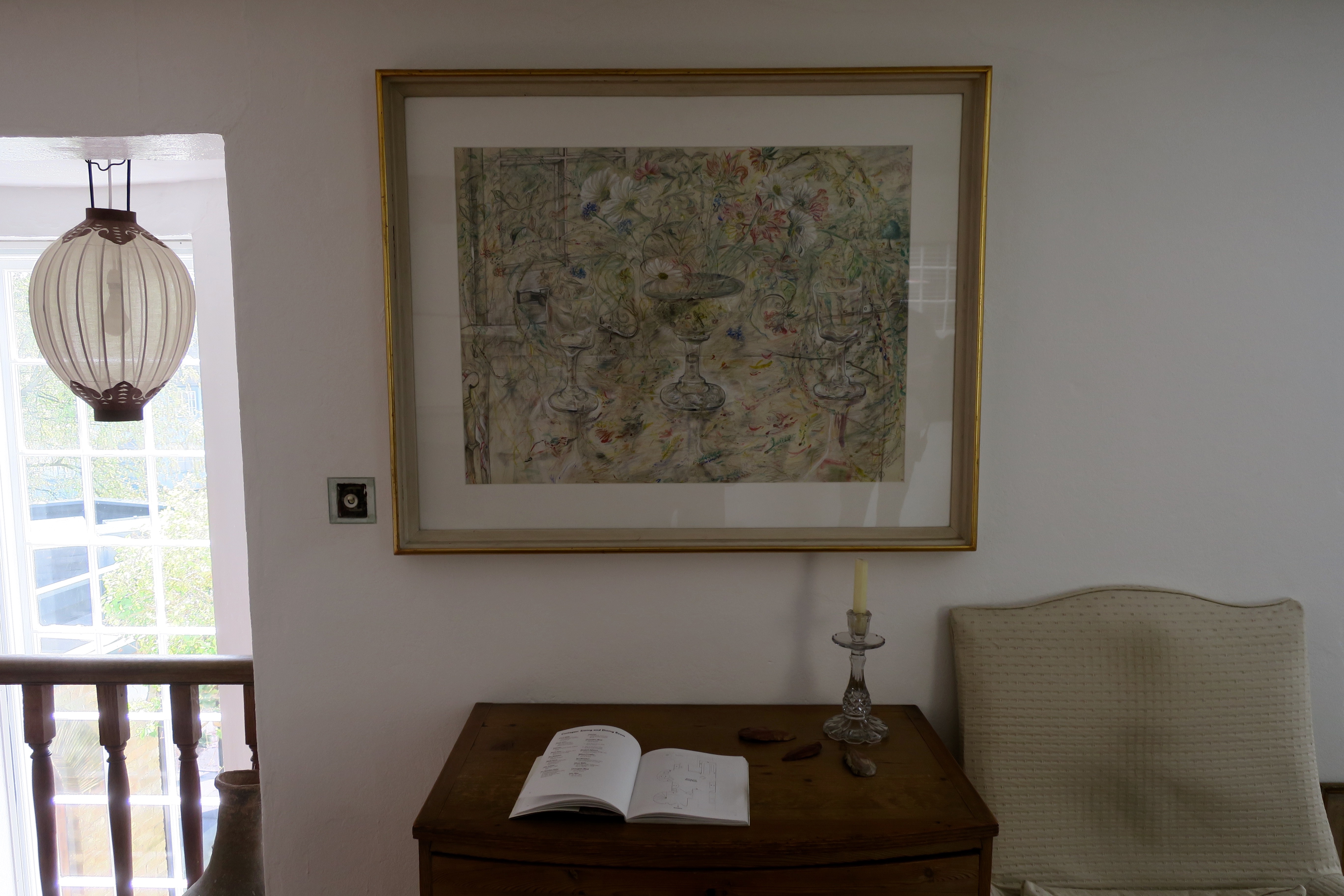 Flora in Calix Light: David Jones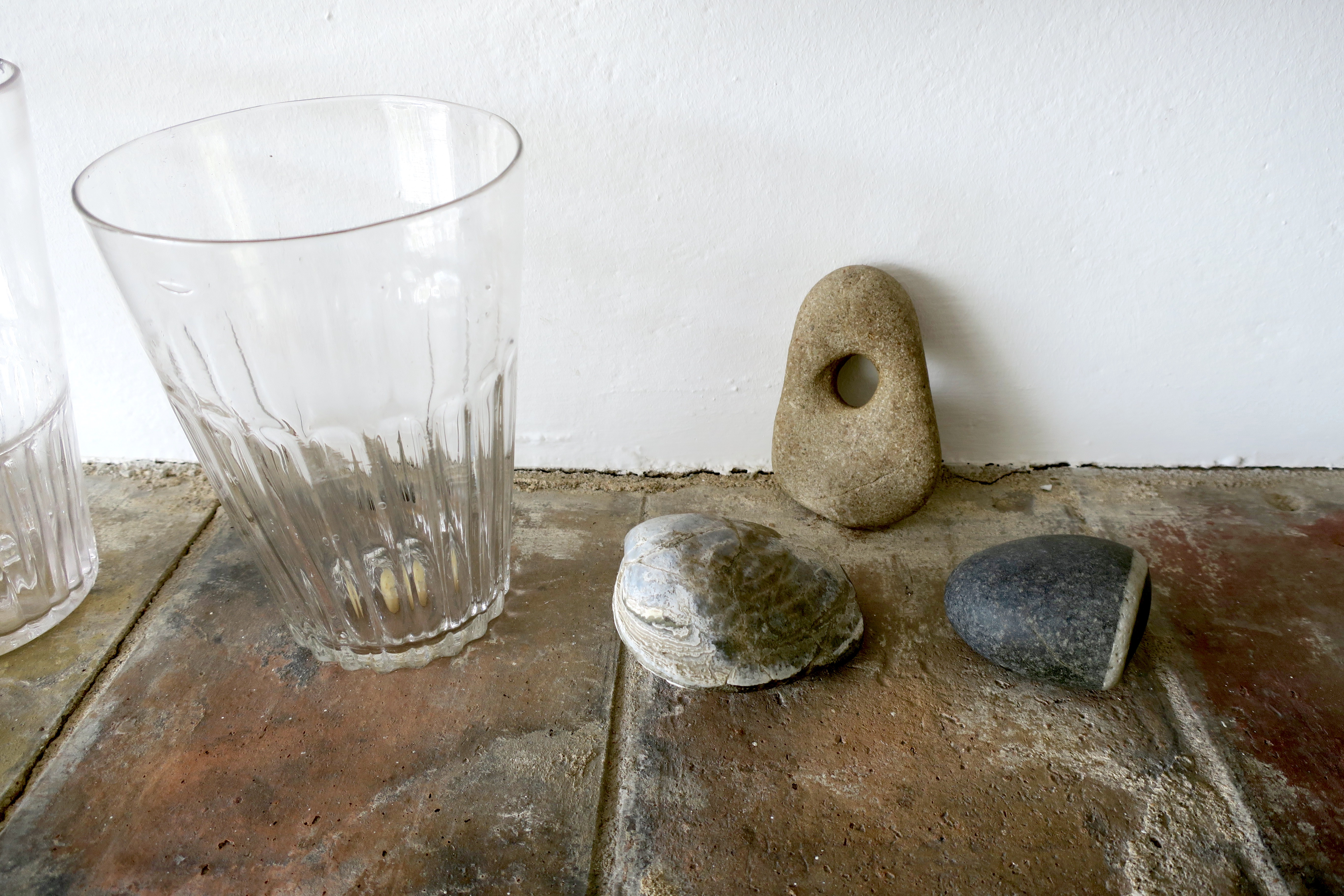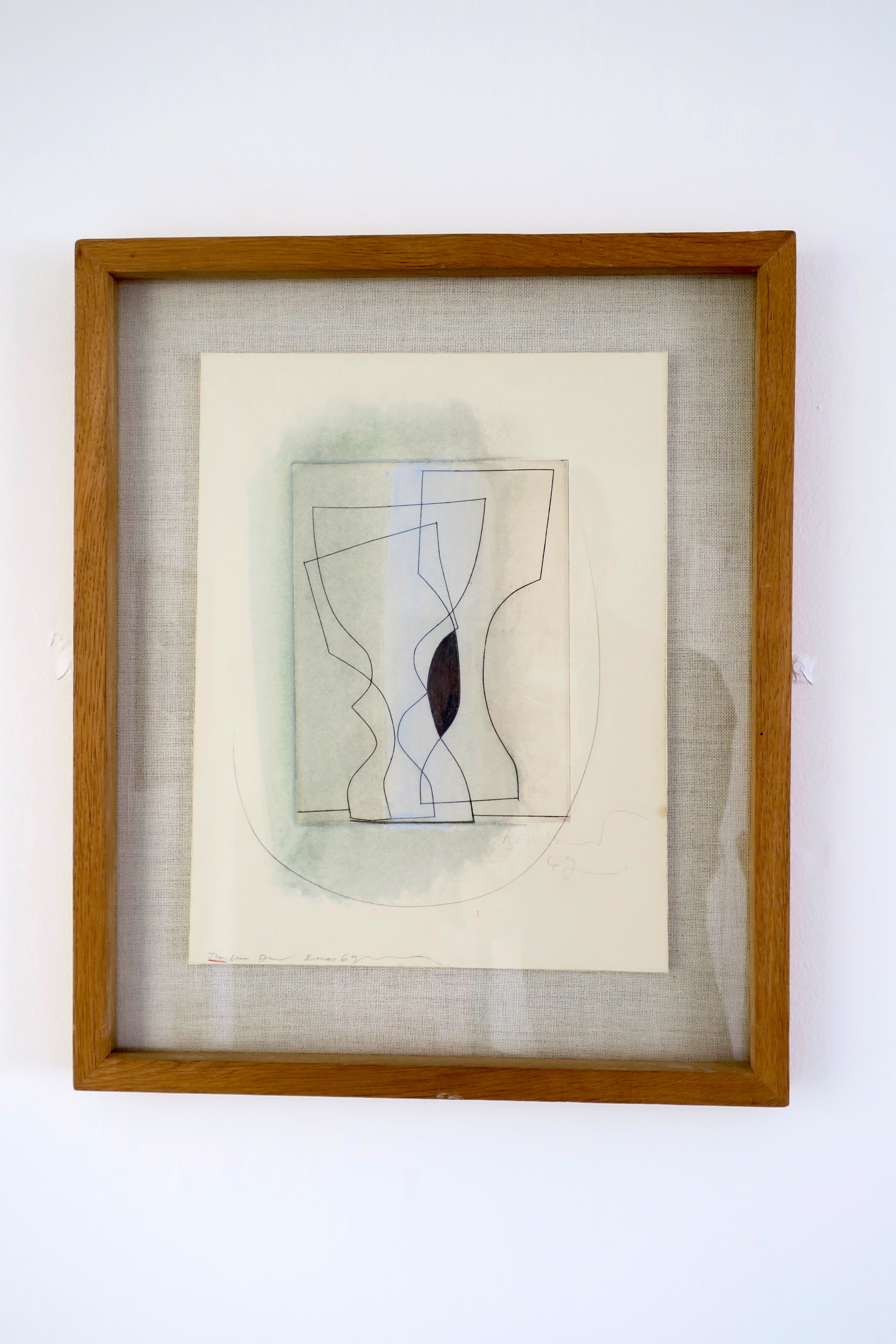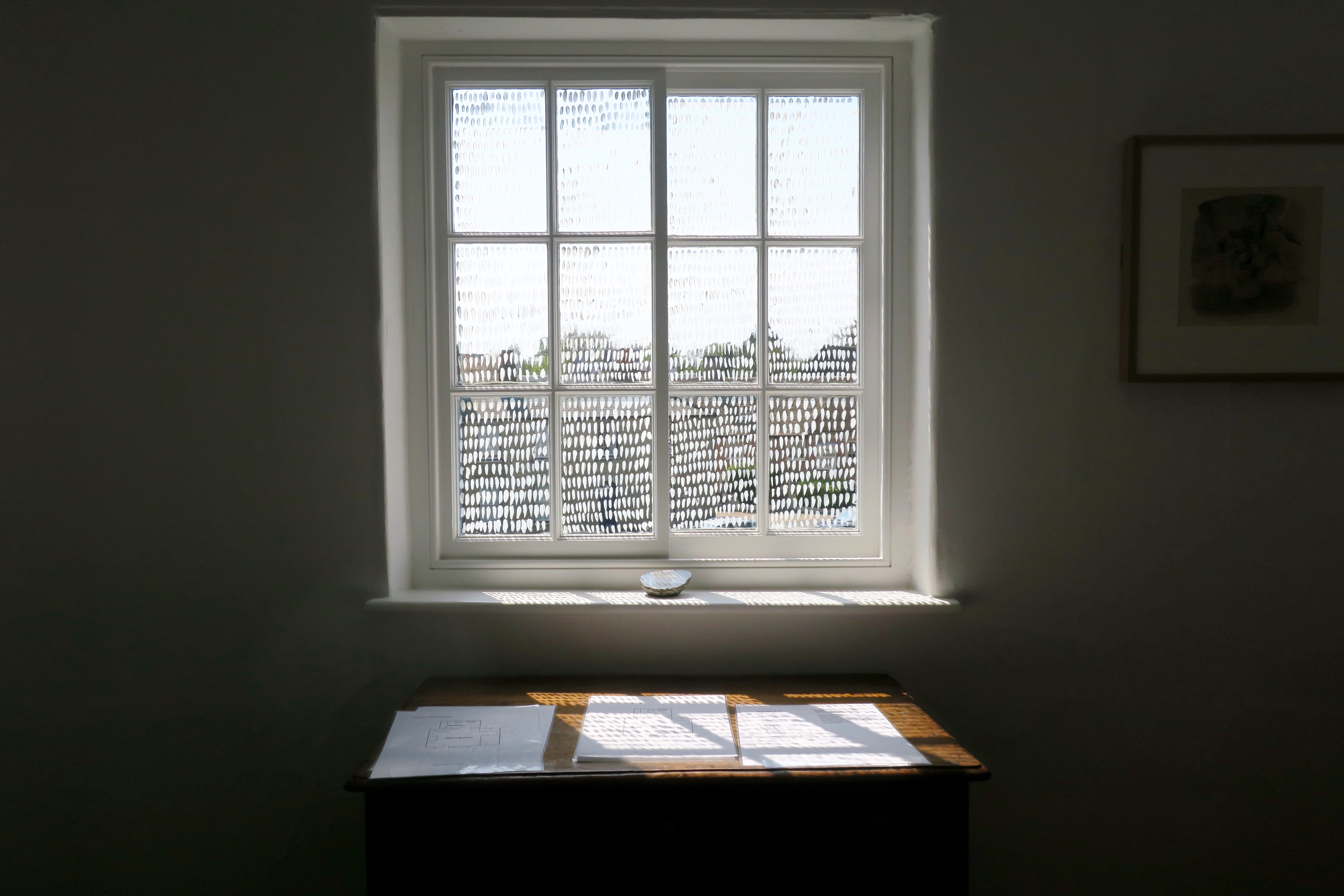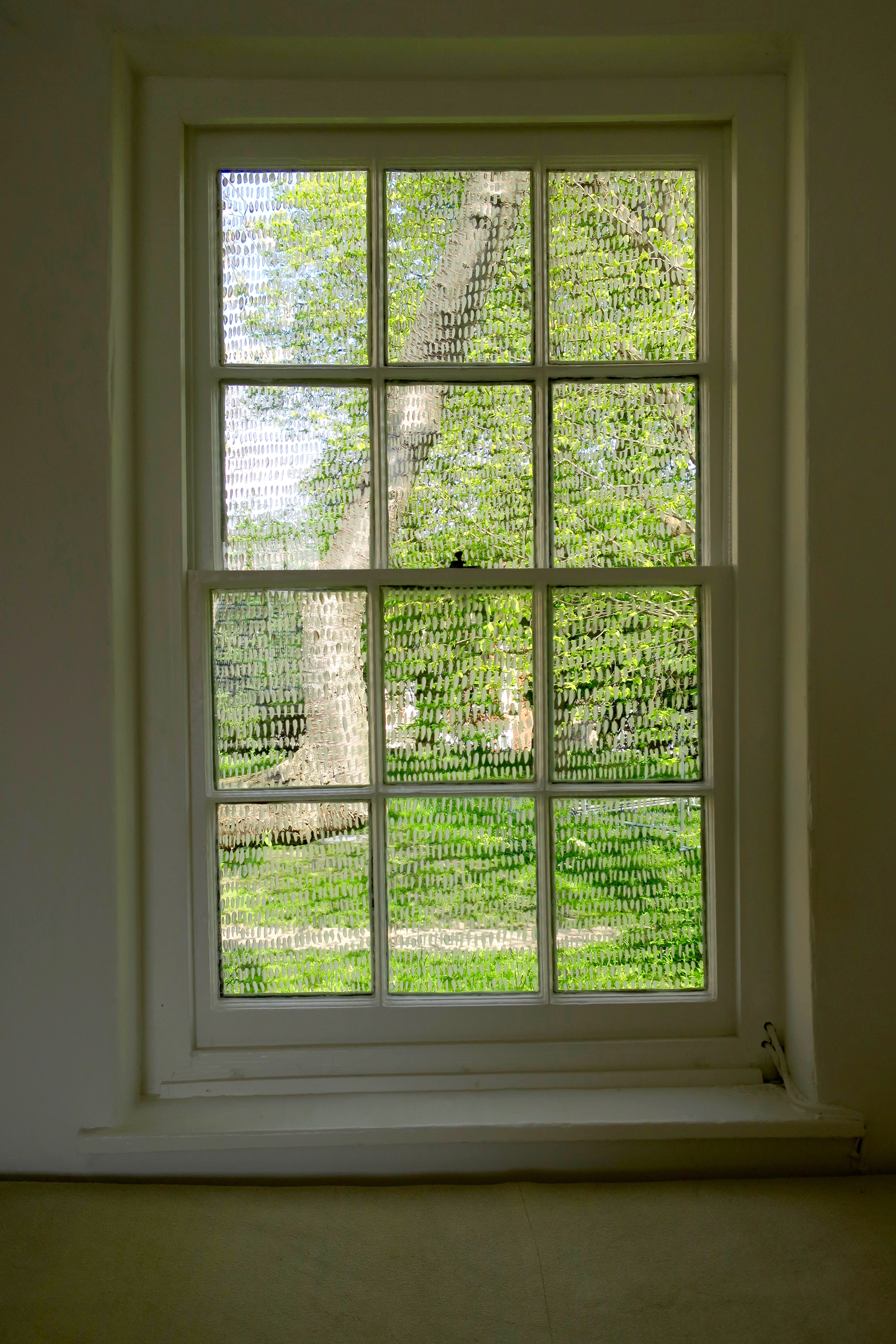 Chalk from the white cliffs of Dover, Windows of Helen Ede's bedroom: Cornelia Parker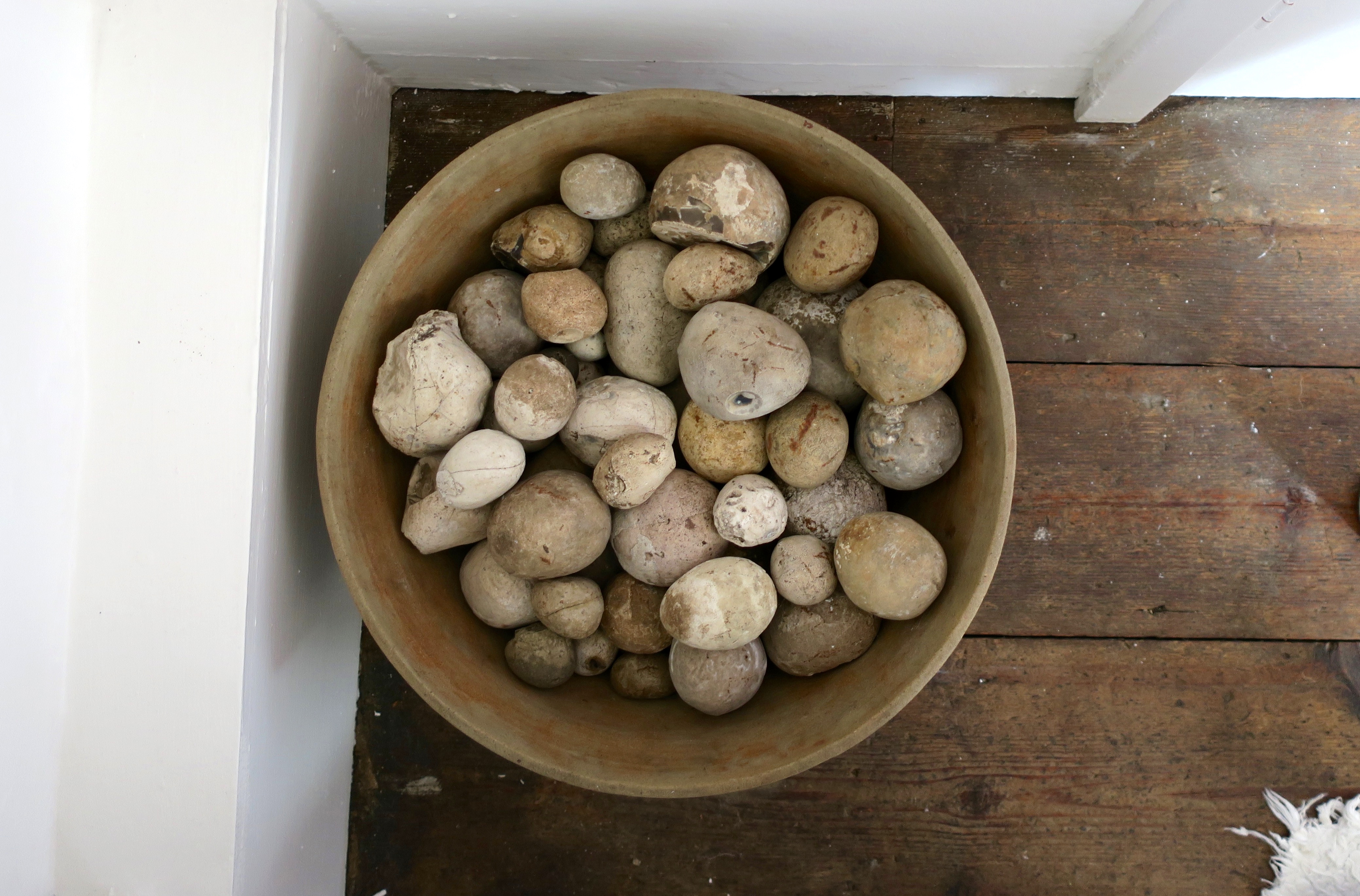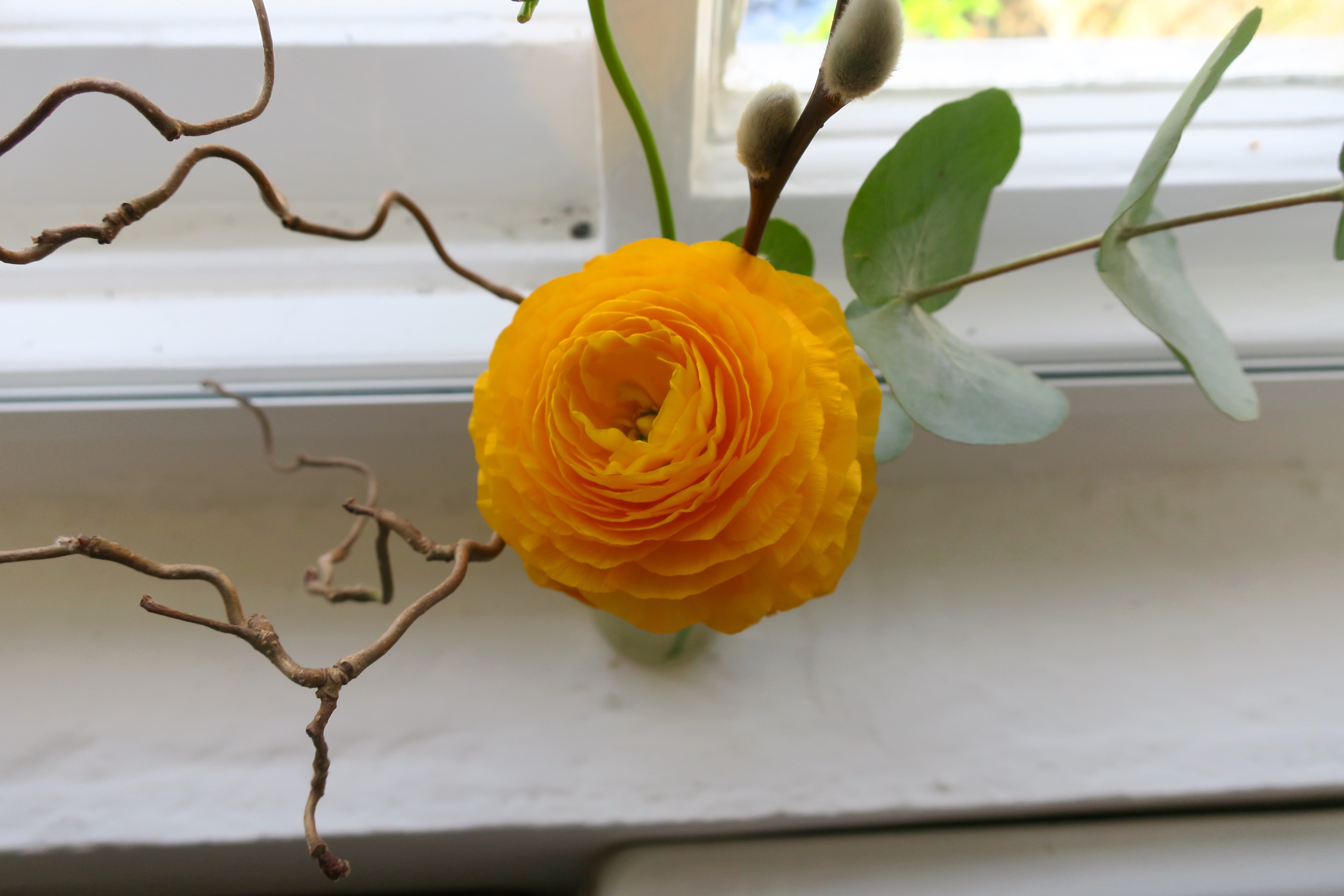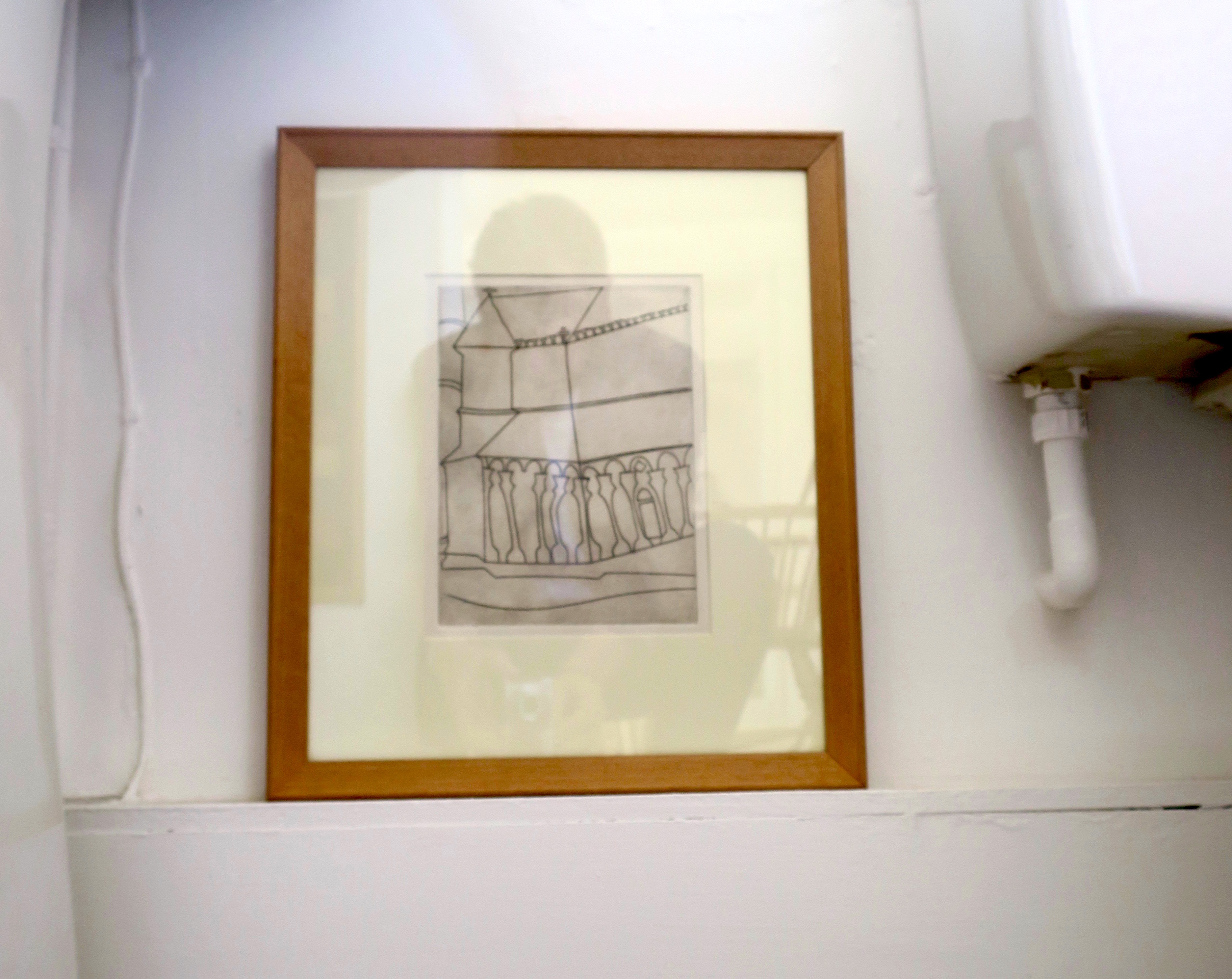 A Ben Nicholson etching in the bathroom.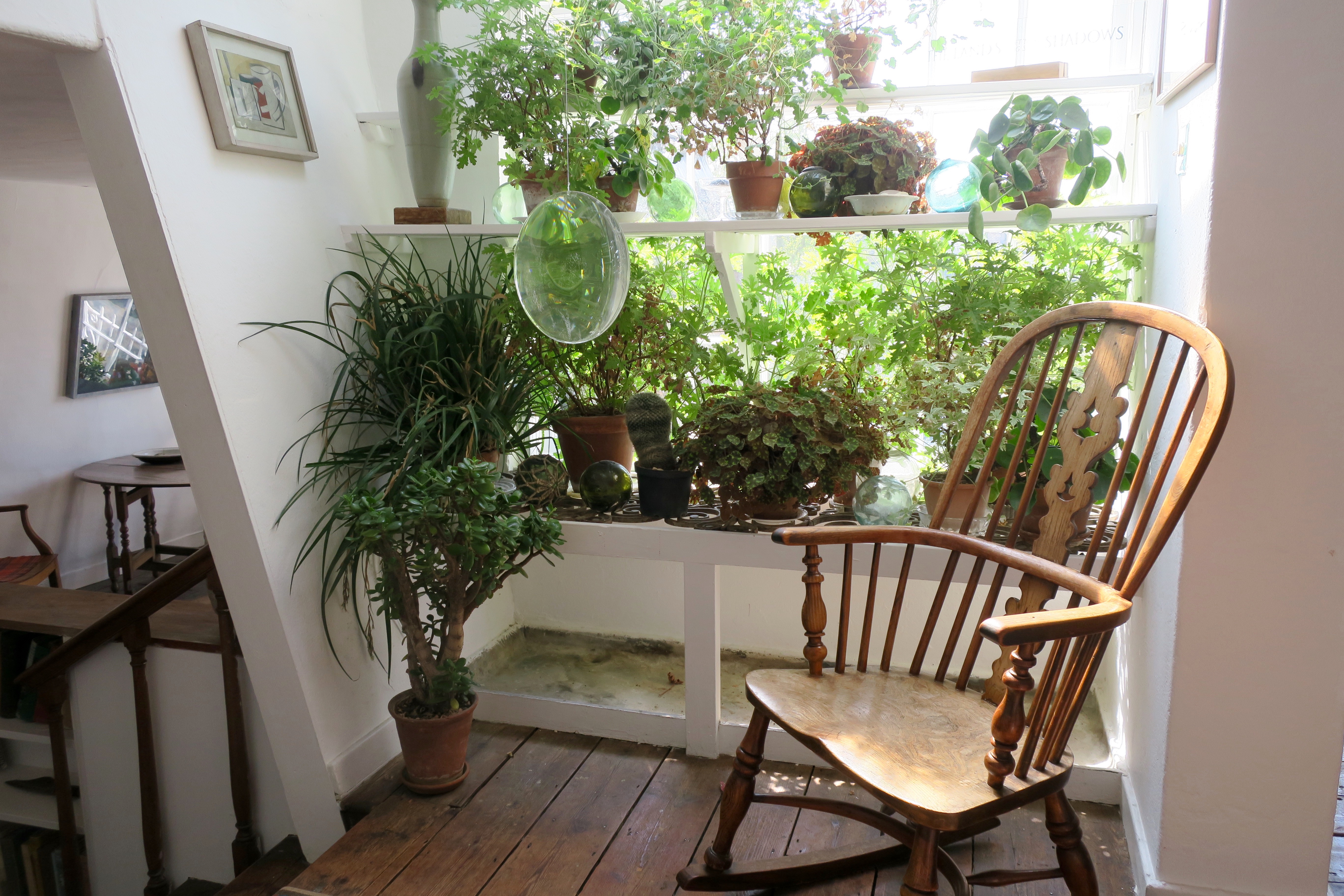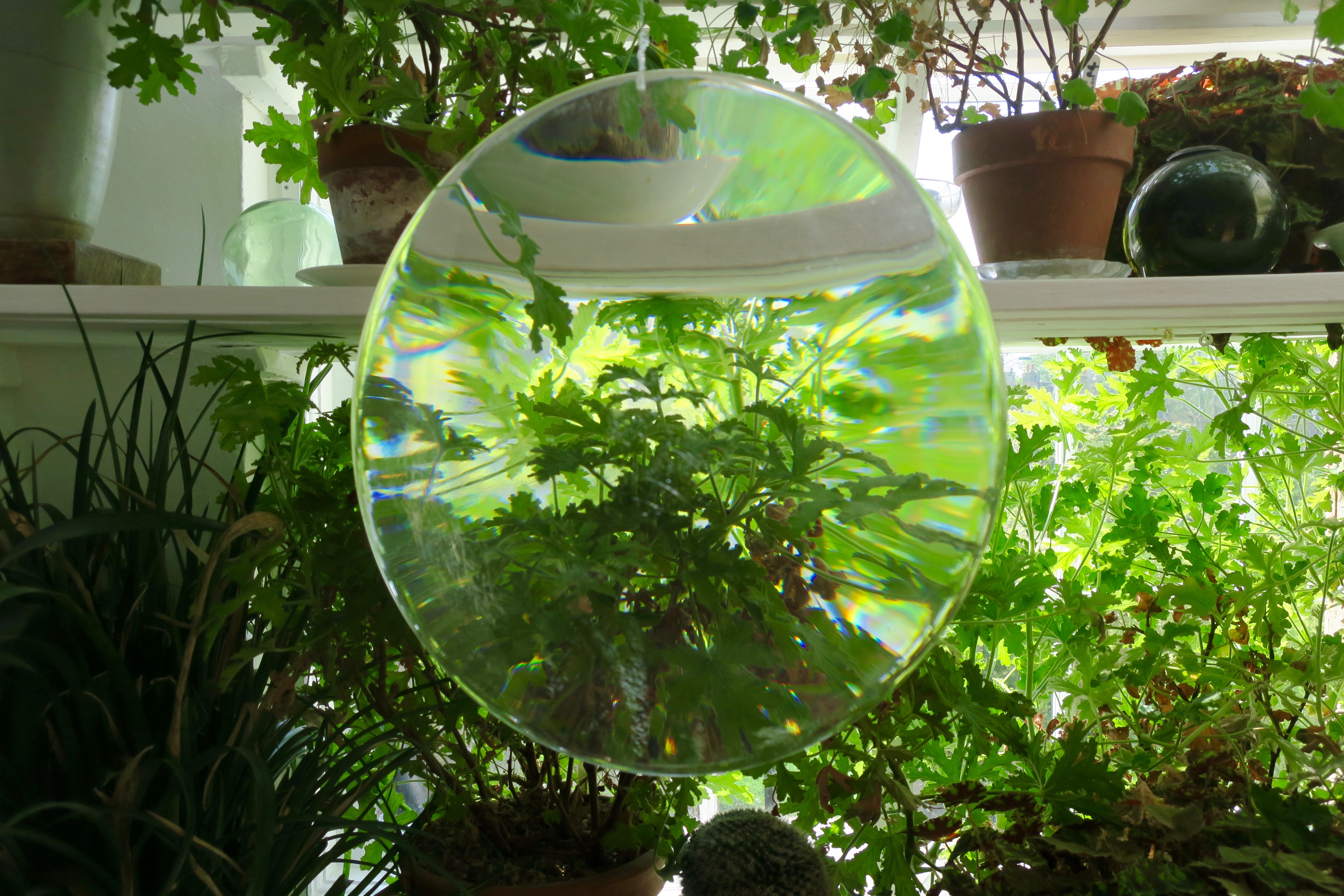 Disc by Gregorio Vardanega hanging in the green window.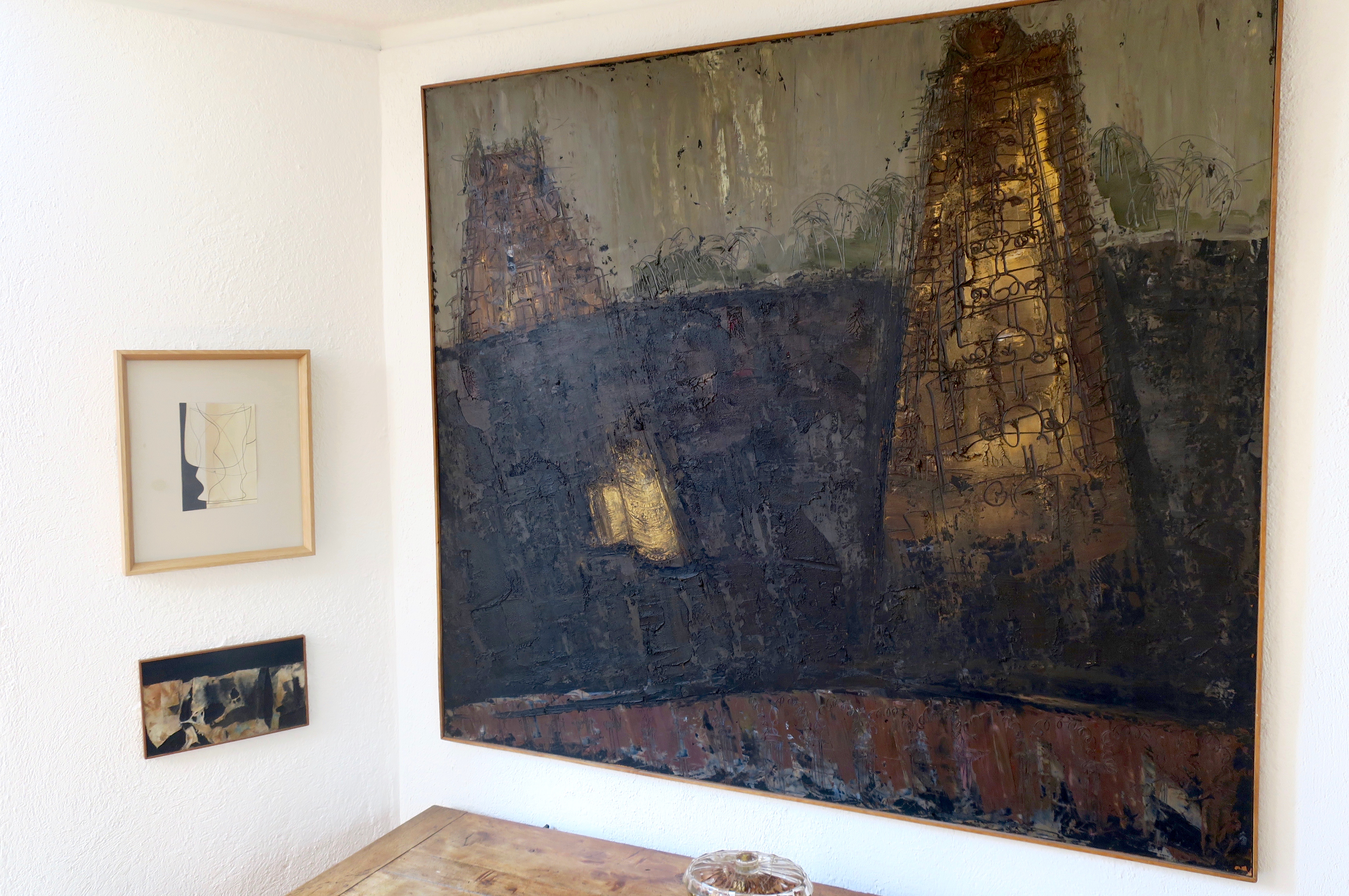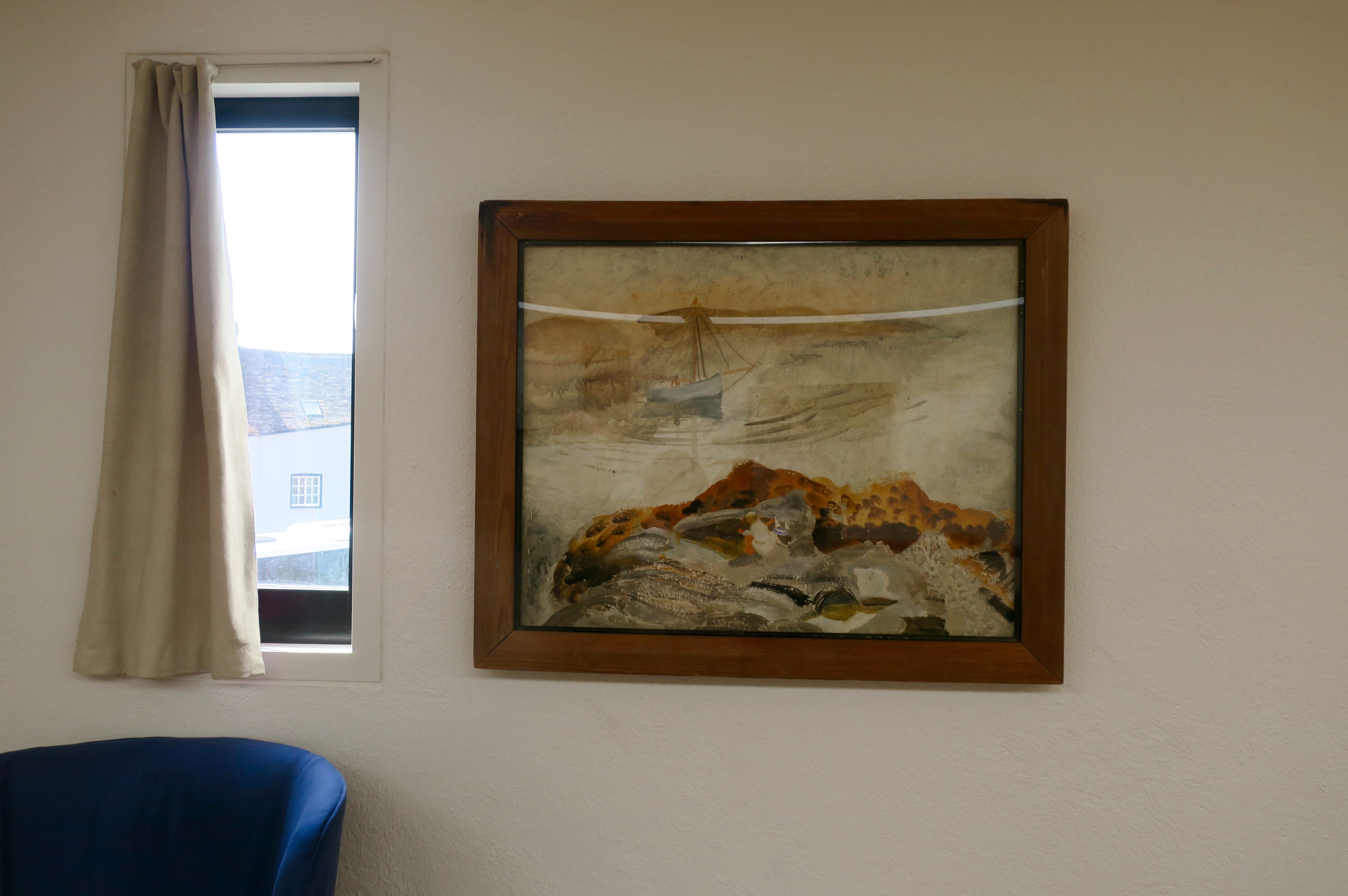 Seascape with Dinghy (or Seascape with Two Boats): Winifred Nicholson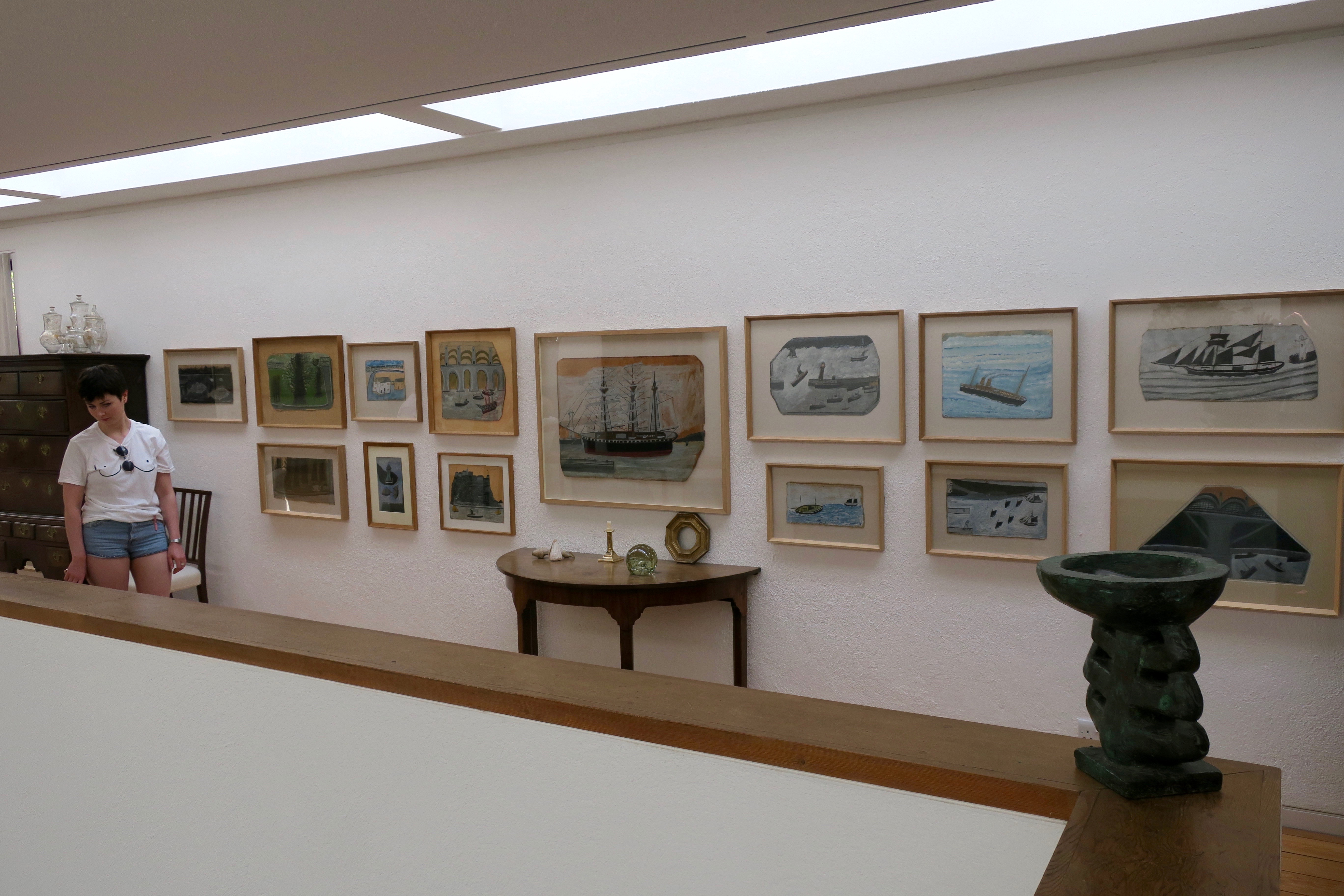 A wall of Alfred Wallis paintings.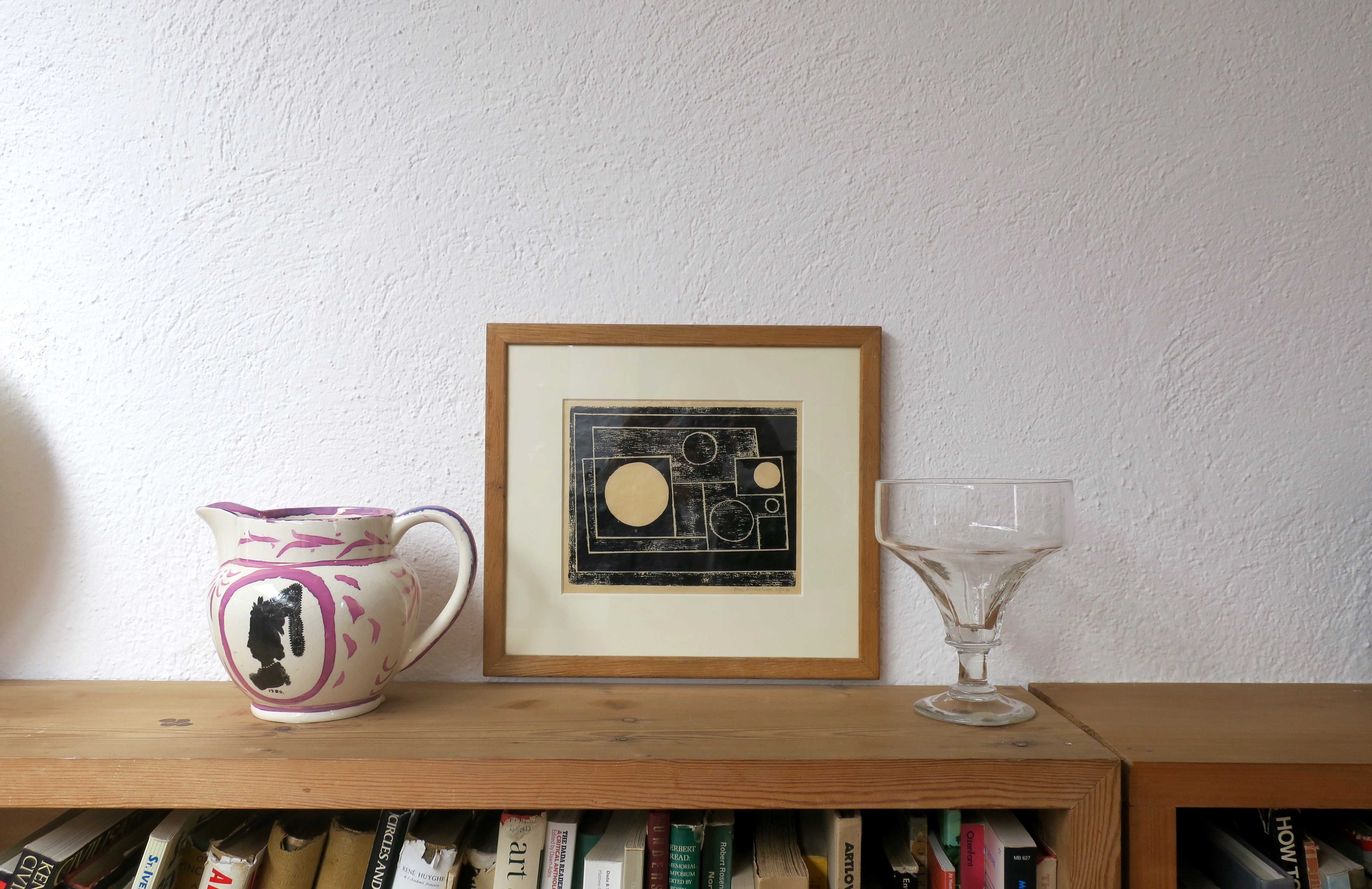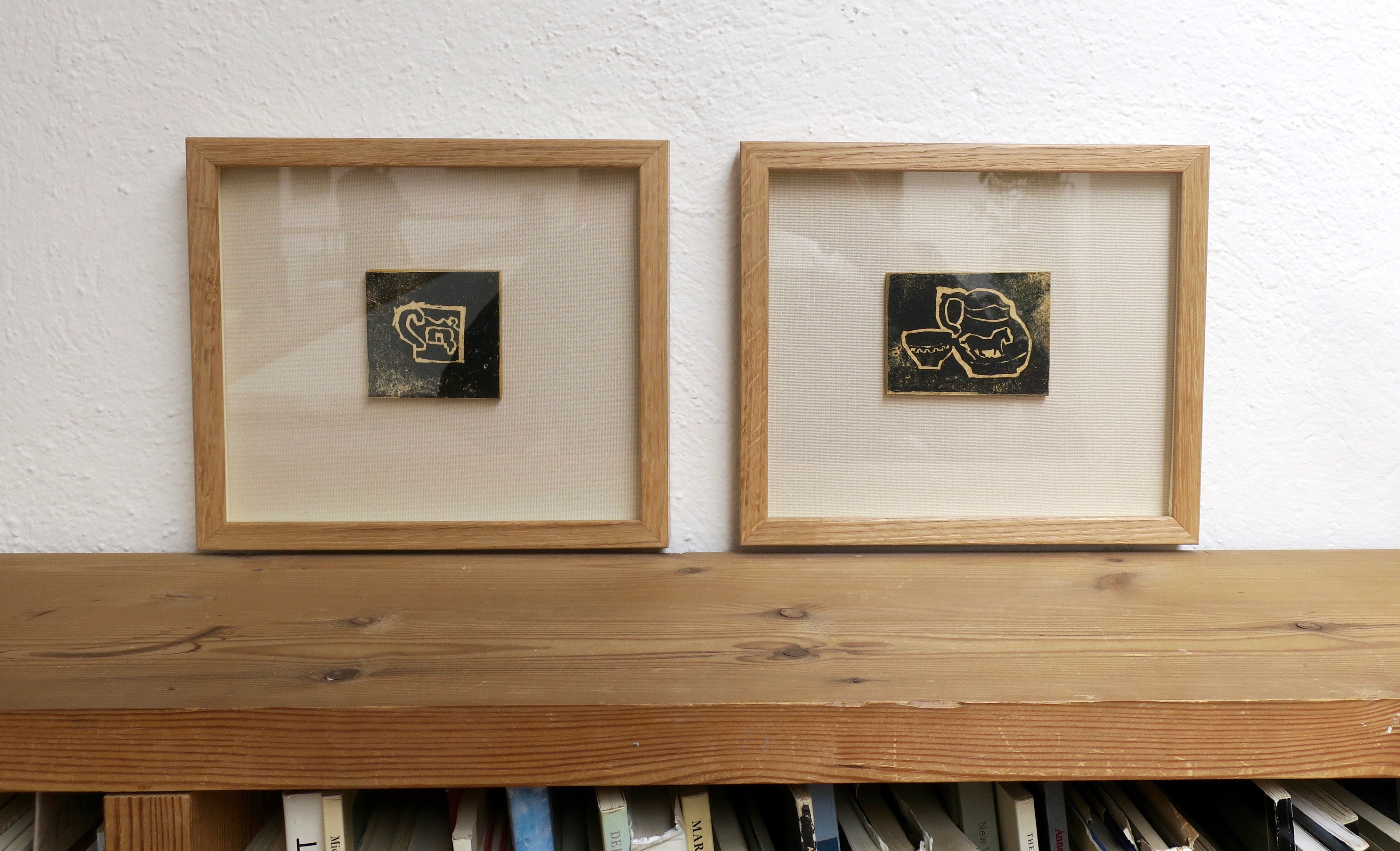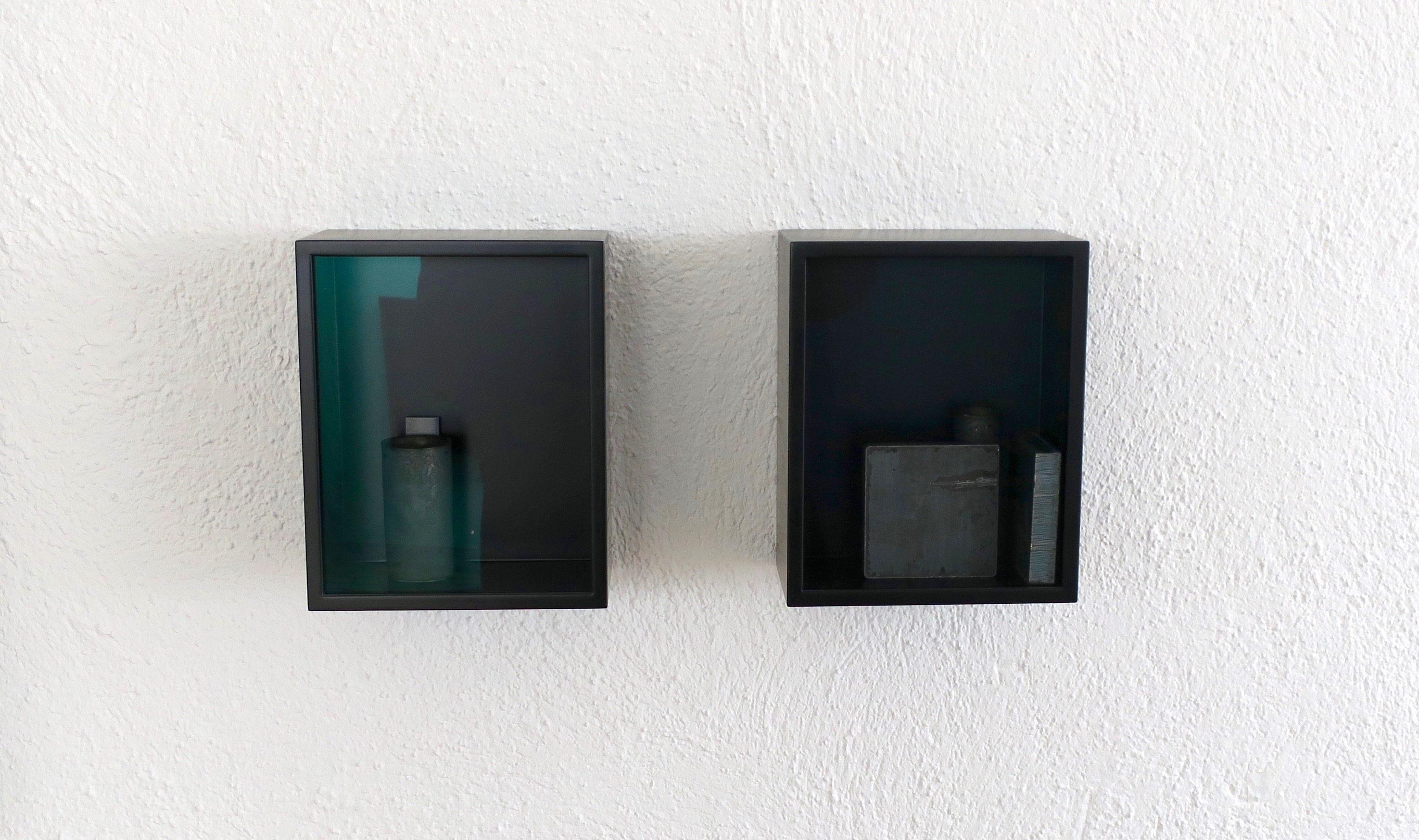 Letters from Paris: Edmund de Waal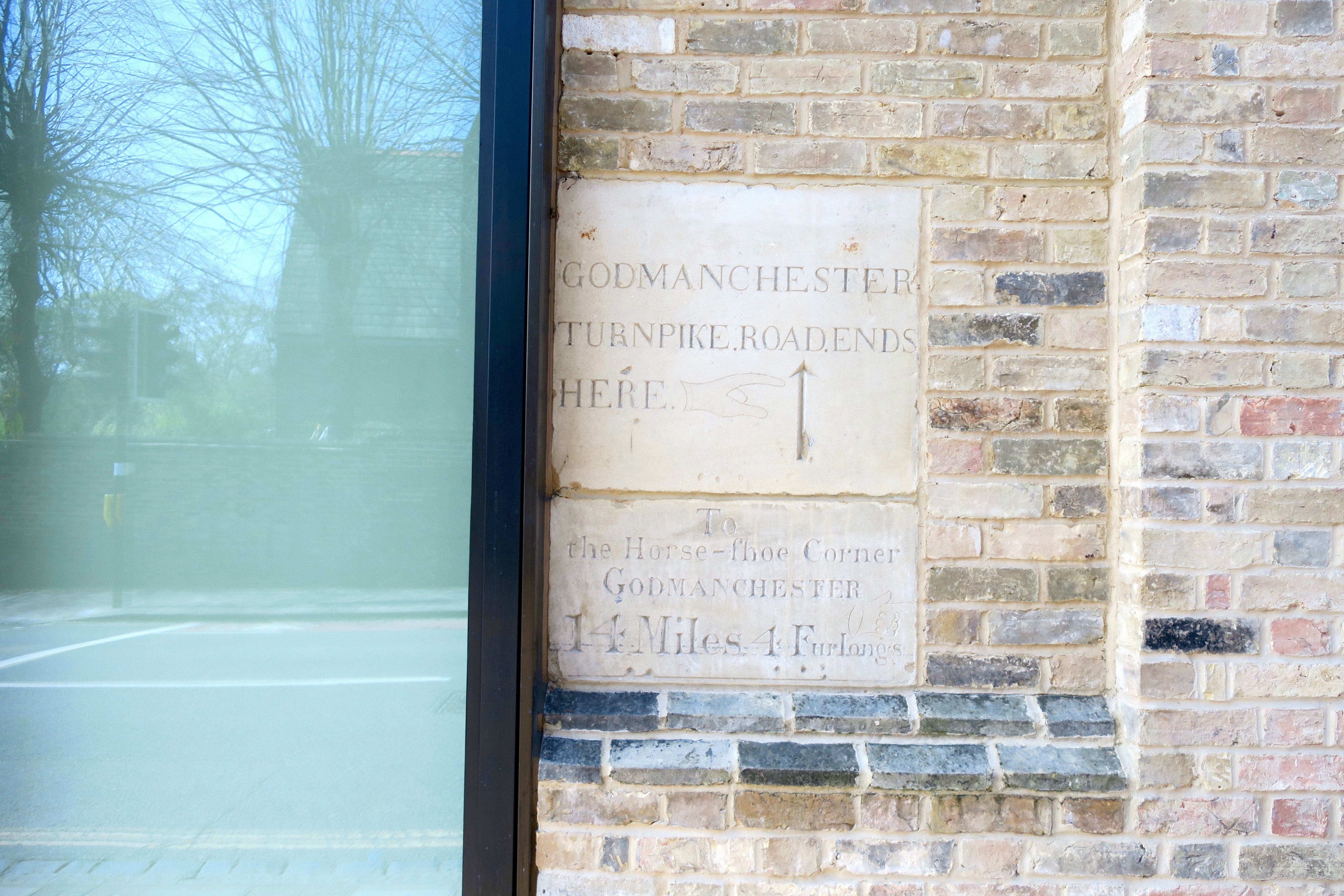 We left Kettle's Yard and walked back into town, satisfied that the house was as we had left it, save for a few discreet interventions, but still a haven of peace and tranquility despite the need to attract ever more visitors. I noticed one man who was so overwhelmed he had to keep sitting down; he'd not been before and could hardly believe what he was seeing. It was a touching testament to the profound influence of this magical place. So even though I'd like to keep it quiet I can't help but sing its praises. Long may it provide an intimate welcome to new aficionados and to all who arrive at its door.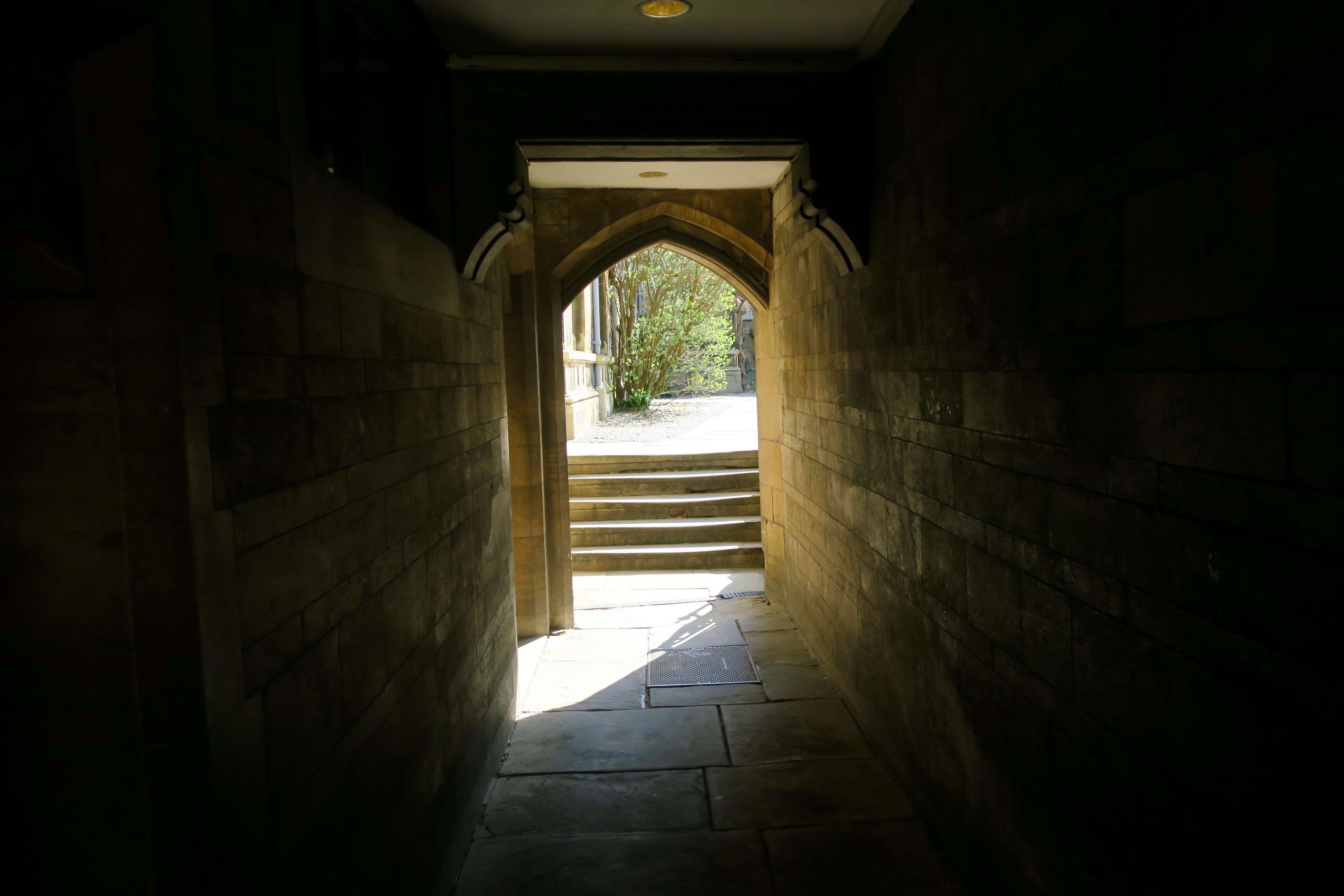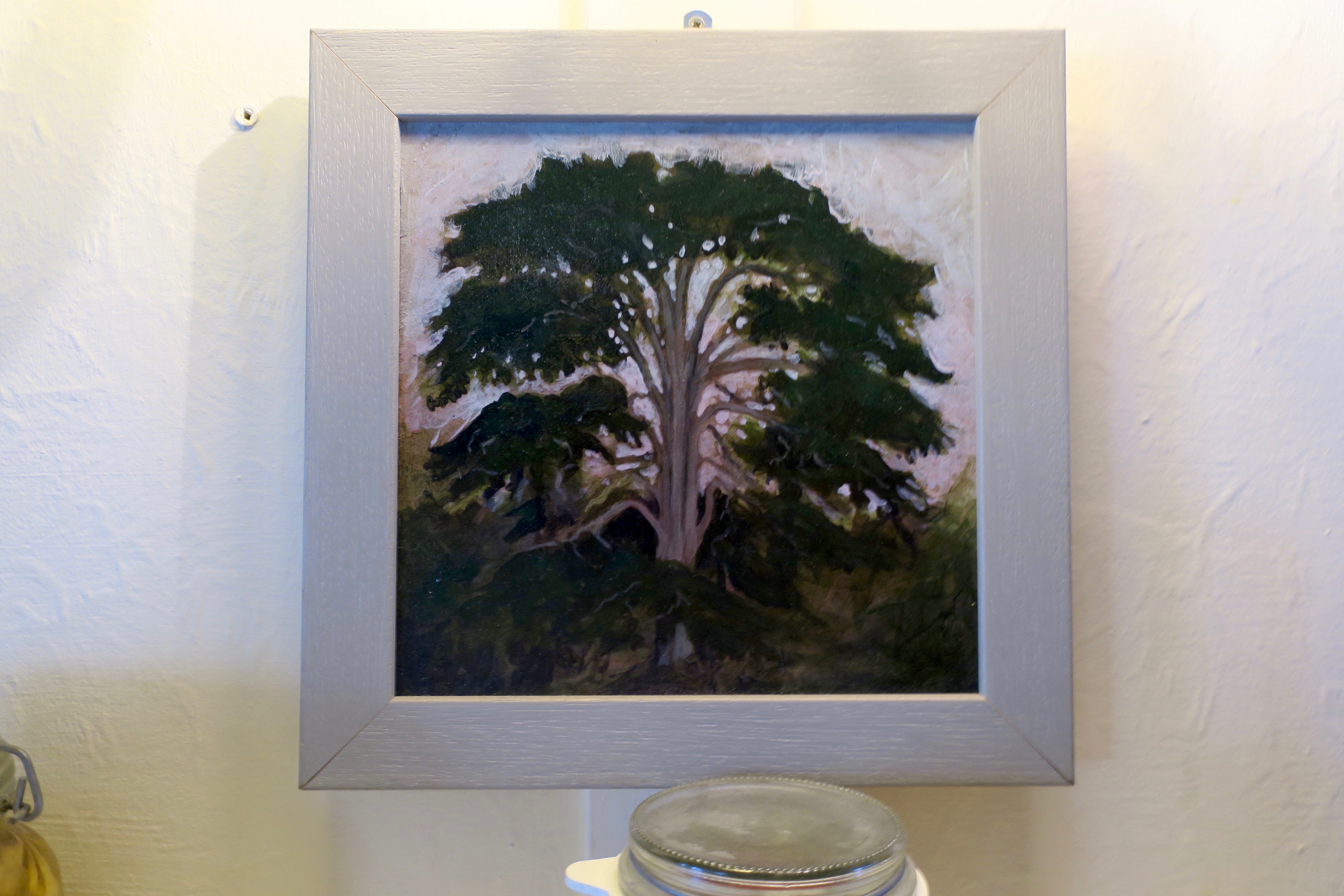 An anonymous painting of a tree at The Clarendon Arms.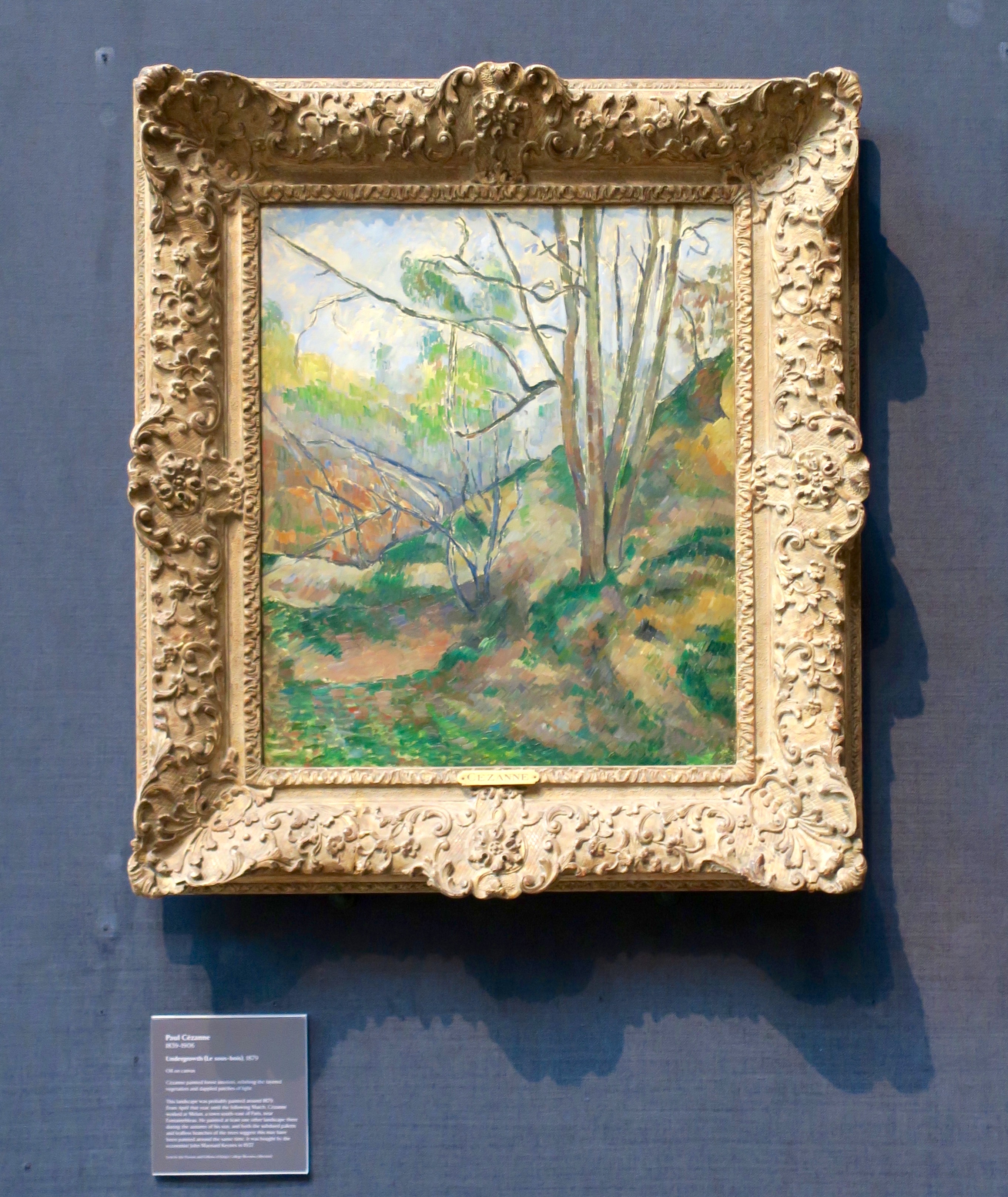 Undergrowth by Paul Cézanne at the Fitzwilliam Museum.
Tree of Life, an earthenware charger by Bernard Leach, one of the many treasures featured in
Things of Beauty Growing: British studio pottery, an exhibition at the Fitzwilliam Museum.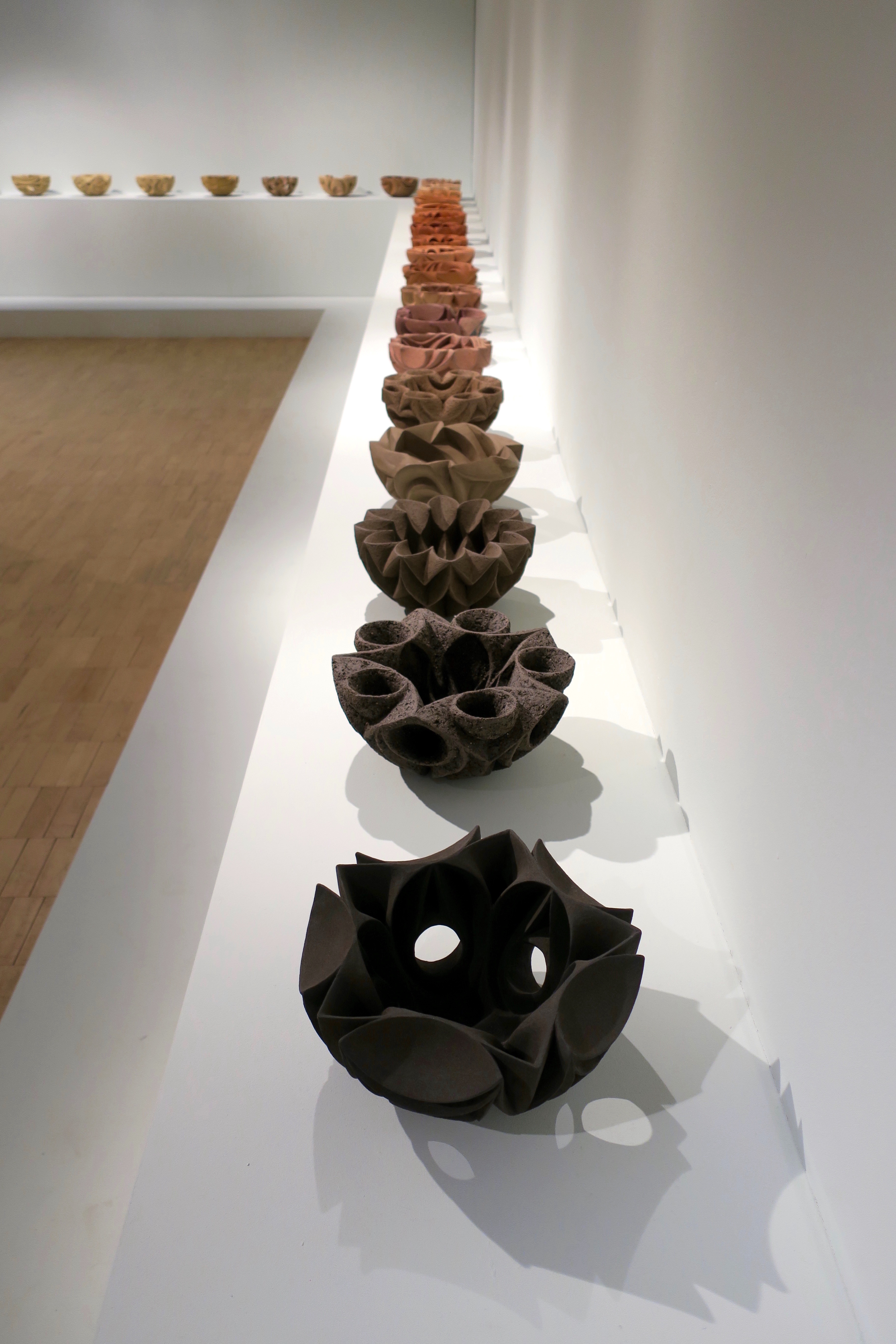 Virtues of Unity by Halima Cassell, hand-carved clay bodies, each piece carved from clay sourced from countries around the world. Starting in the foreground – Dignity, Germany; Mercy, France; Unity, Belgium; Purity, Spain; Peace, Netherlands; Honour, England; Awe, Spain; Fidelity, Belgium; Valour, Wales; Modesty, Greece; Purity, Indonesia; Liberty, Netherlands; Felicity, Belgium; Hilarity, Cuba; Serenity, Ireland; Honesty, Switzerland; Amity, France; Constance, Indonesia; Tranquility, United States; Temperance, United States; Grace, Spain; Vitality, Israel; Clemency, England; Fortitude, Belgium; Hope, Germany; Harmony, Netherlands. Virtues of Unity: Halima Cassell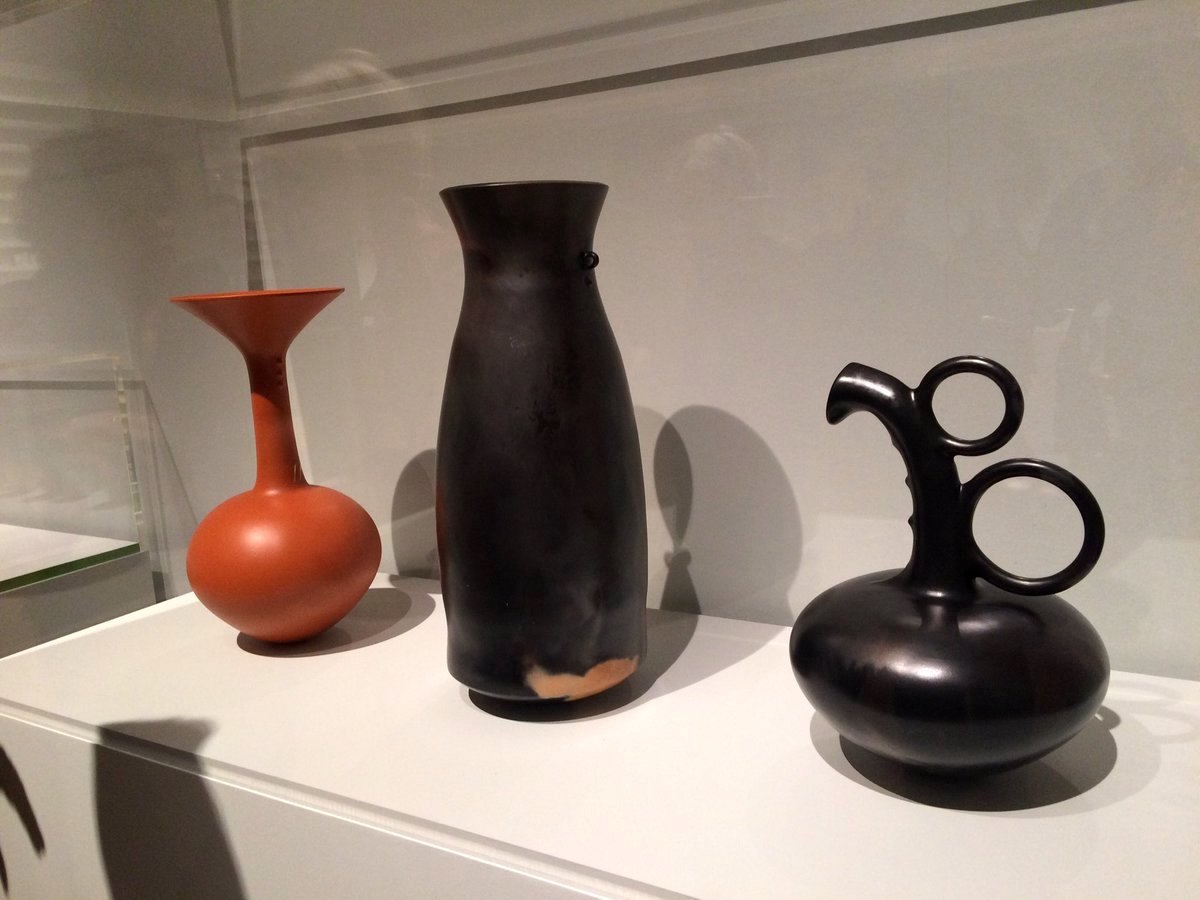 A trio of magnificent hand-built burnished terracotta vessels by Magdalene Odundo.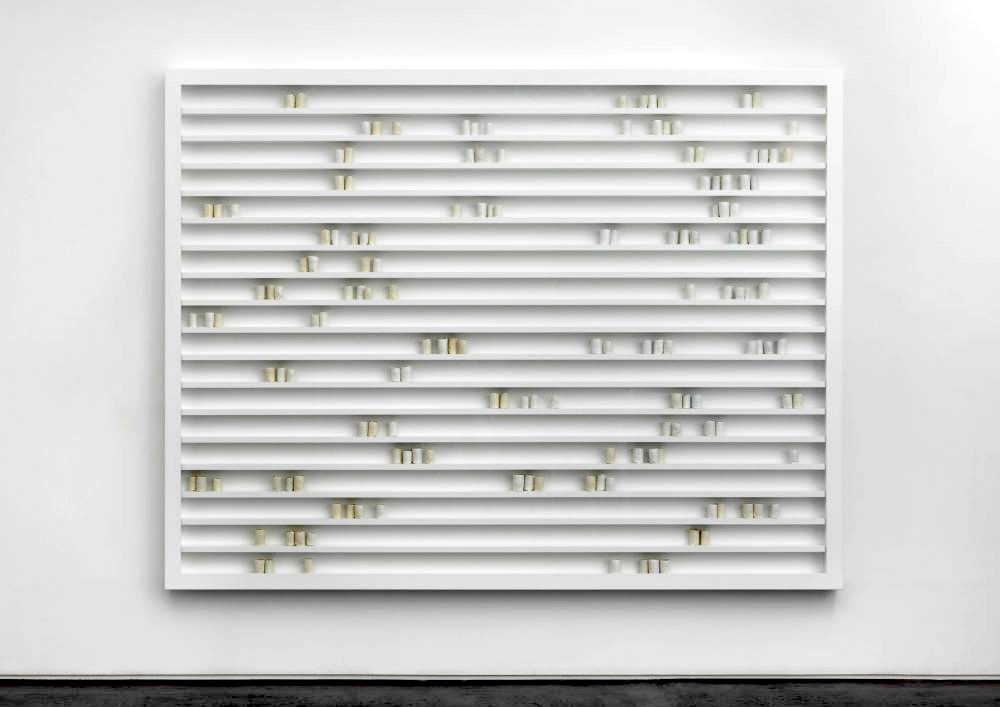 a place made fast by Edmund de Waal, a large-scale vitrine work with thrown celadon pots disposed on shelves. The caption alongside said many things but mostly I remember words to the effect that – 'the quality of the air around the pots is changed when they are displayed under glass'. An acute and indisputable fact that, as a picture-framer, I would have to say is true for most artworks.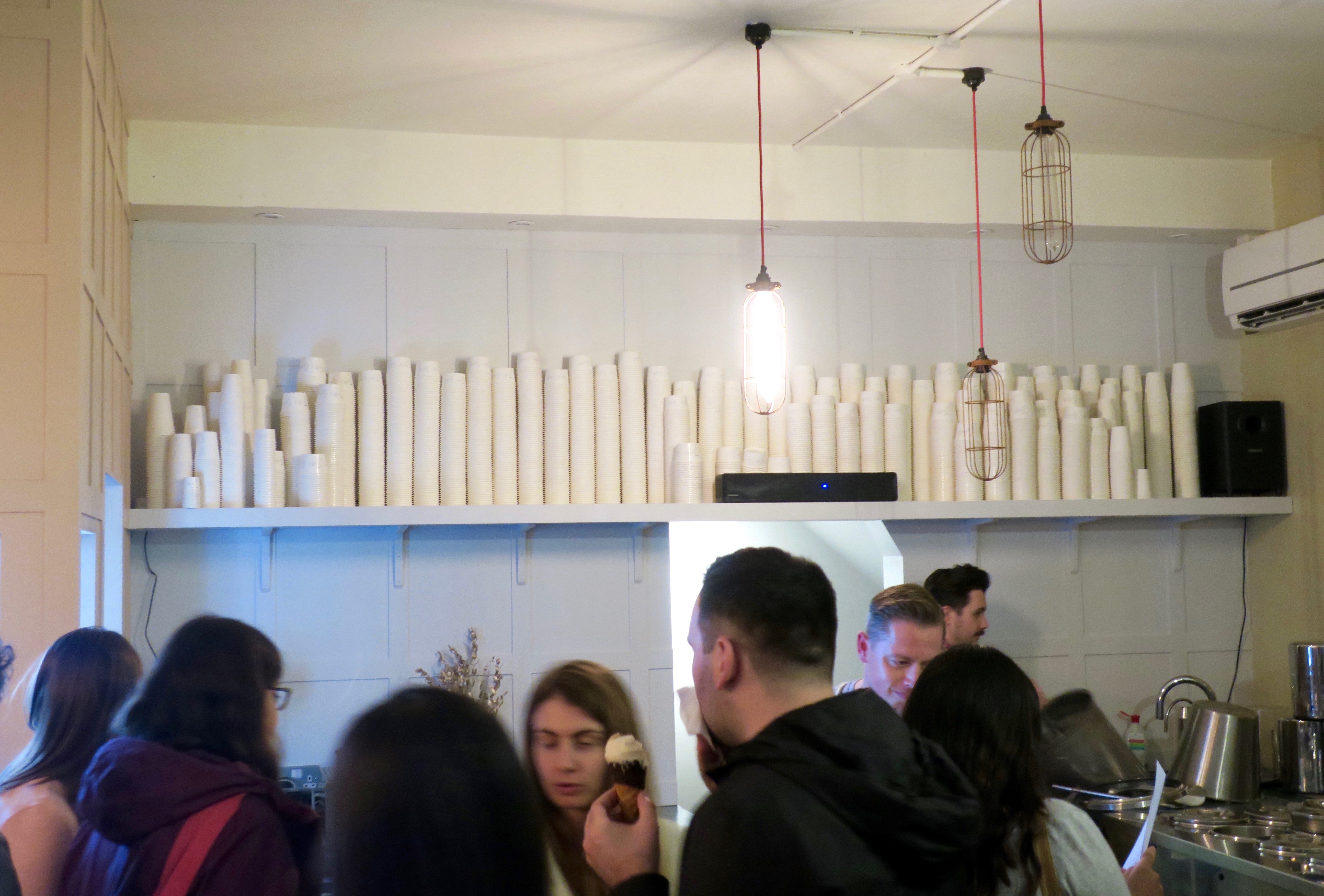 A shelf of pots at Jack's Gelato parlour.
※
And here's an earlier visit to Kettle's Yard – Art & Life (& Memory).