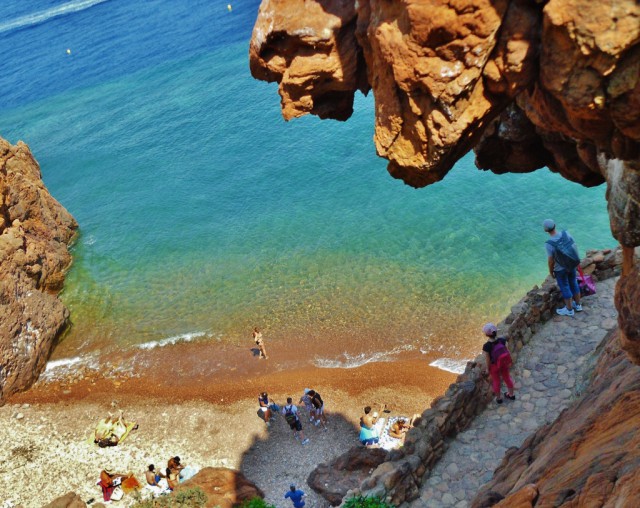 Our house swap this summer was to Grasse in the South of France. Grasse's inland location allowed us to make forays into the mountains as well as get more easily to various beaches along the Côte d'Azur. Our favourite area was Théoule-sur-Mer with its orange rock pinnacles, white pebble coves with azure pools.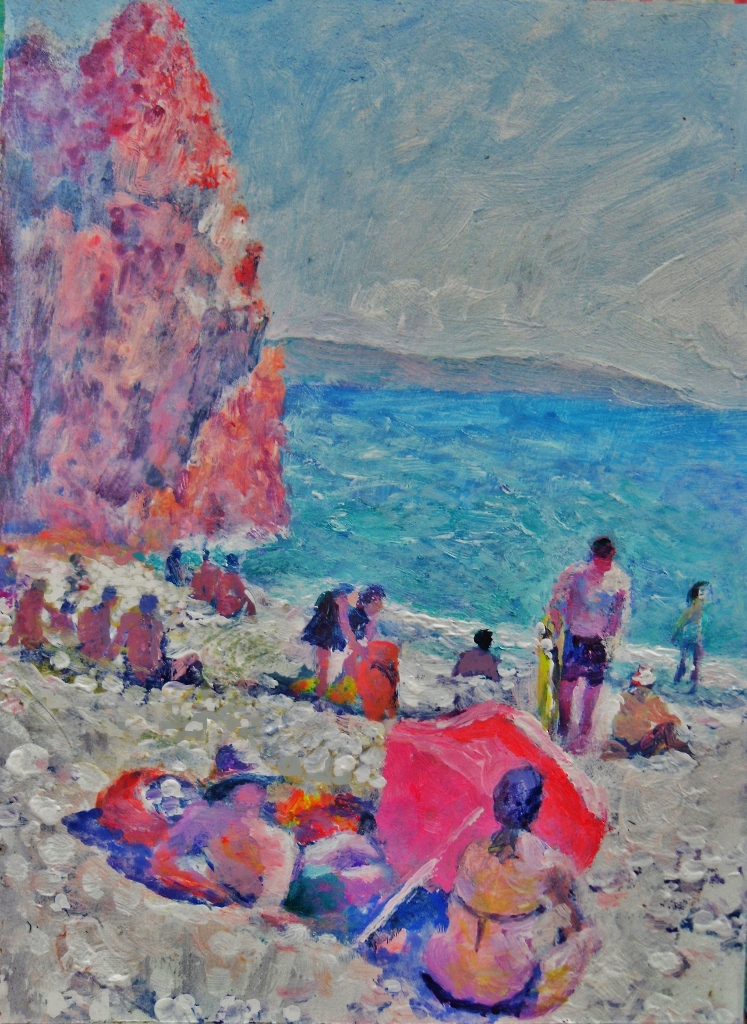 I had wanted to visit Théoule to see Antti Lovag's Bubble House. When we drove round the corniche, we were amazed to spy not one, but two bubble houses: one down on the sea cliffs, the other like a giant meiosis of mutated telly-tubby tops nestling amongst the palms higher up the mountain.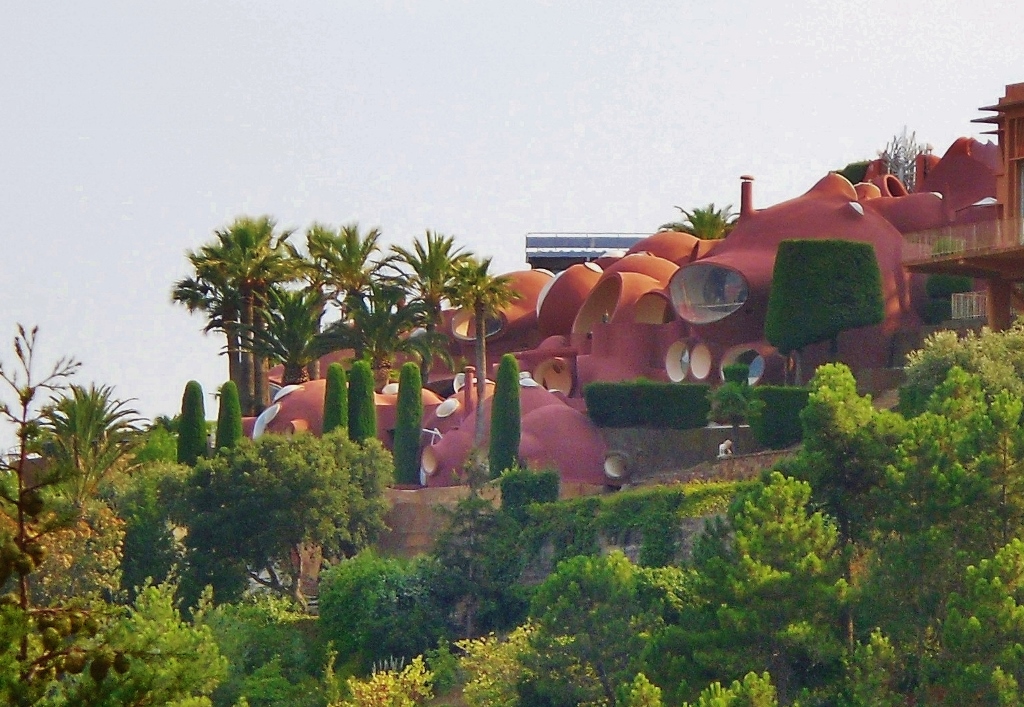 Later, looking down from above, it was delightful to see a classic, white Citroën DS (not a bubble car or a flash supercar) snuggled in the drive-through car port.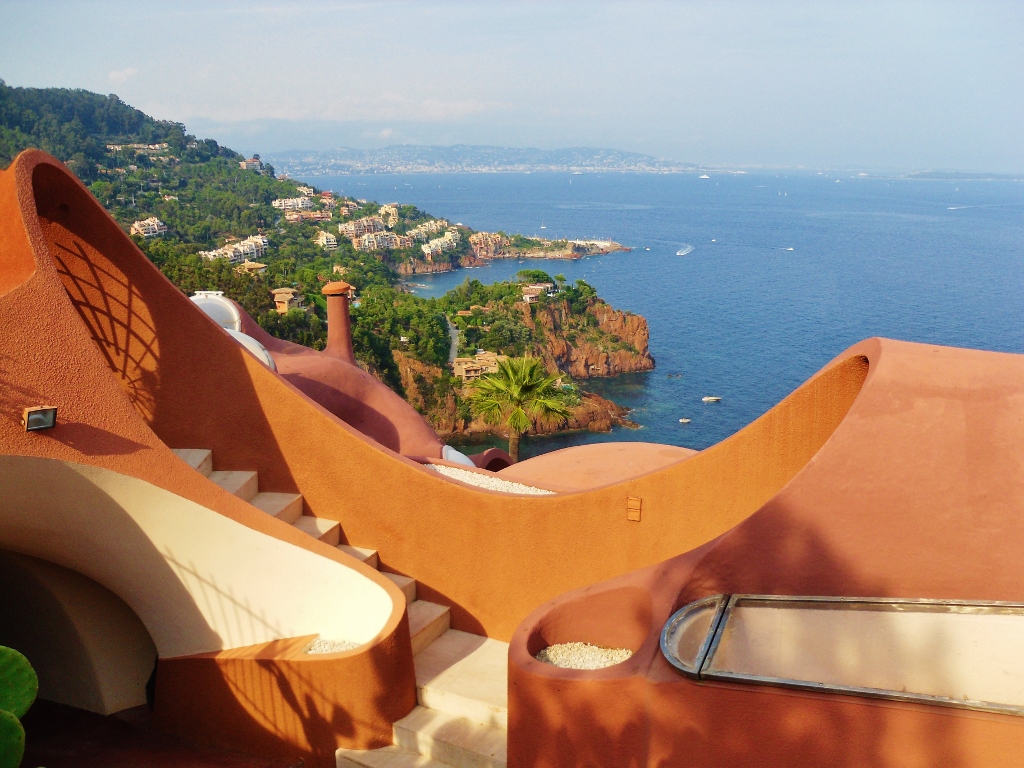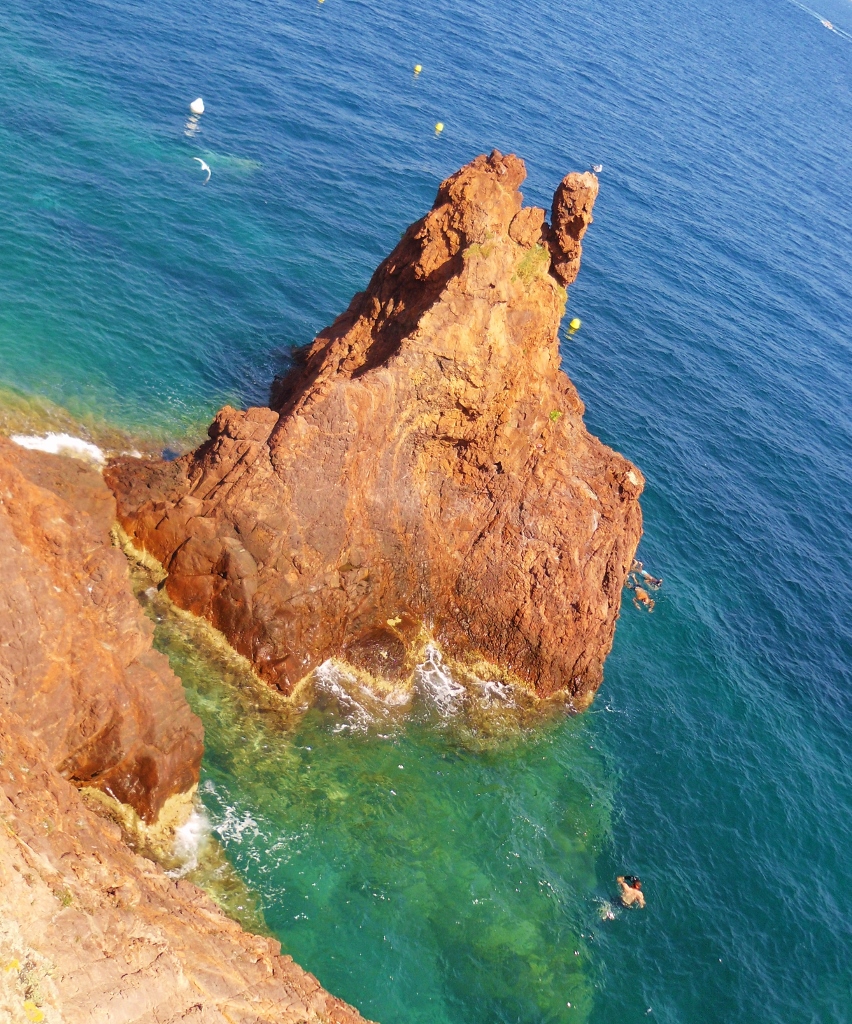 Back on the sea cliffs I was busy with a camera collecting elements from the coves below from which I'm now constructing a new set of paintings – little packages of continental heat and light to spur the serotonin through the winter months.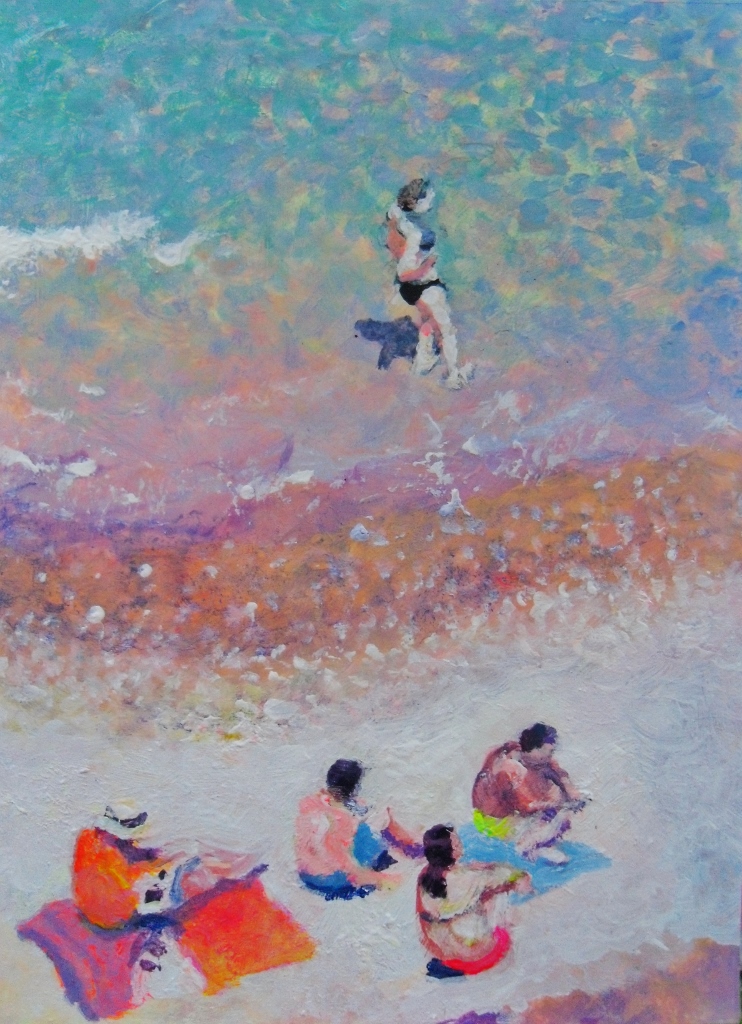 The other week I received an email from Annie Fiore, in whose house we stayed, with a poem attached inspired by a larger painting of a scene similar to those we saw at Théoule (not surprisingly one of her family's favourite spots). She describes it as un cadeau-poème écrit dans l'atelier, face au très beau "Contemplating the depths". I'm afraid my literal English version following it doesn't do it justice.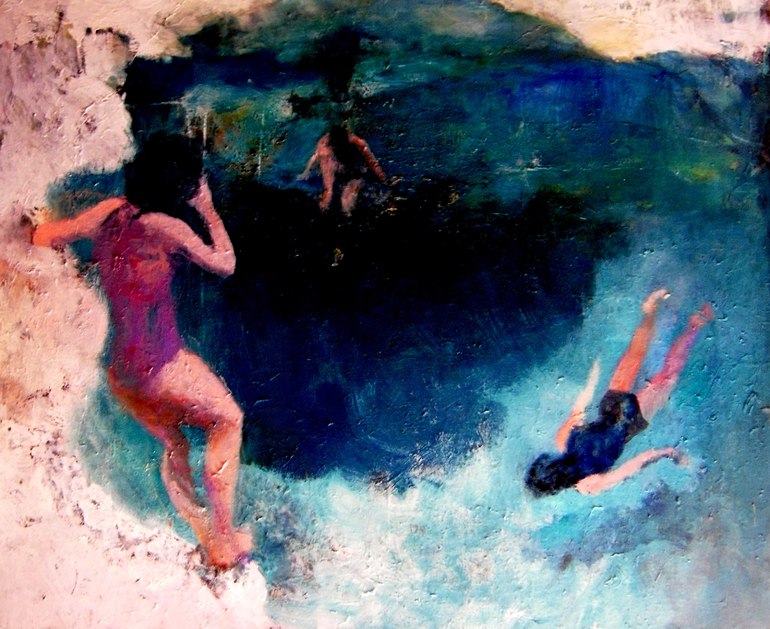 Maillot mouillé, elle a escaladé pieds nus la roche coupante des parois,
elle se penche maintenant au surplomb de l'eau.
Un trou béant d'obscurité
aspire du regard un garçon immobile.
Elle le hèle. Lui résiste,
happé par d'infinies histoires qui l'enchainent
aux chevilles et ont entrainé ses rêves
bien au-delà du corps. Se couler
dans les algues jusqu'au sable, par les rochers profonds
glisser, les yeux ouverts, jusqu'aux abimes.
Lui, qui poursuit les girelles vives
à la recherche de galions échoués gisant
au loin des côtes, tout à leur trésor éventrés,
boussoles ensevelies presque à jamais.
L'appel s'est répété pour mieux se perdre au fil des vagues.
Il n'est de voix que celles des sirènes; elles ont murmuré
son nom, aux profondeurs
l'entrainent. Toute amarre a lâché.
Devancées par son âme, dont les reflets changeants
se mêlent aux bruns des algues. Il plonge à présent
aux confins des abysses. Tout à sa liberté.
Les courants portent loin.
A peine entraperçus, ces mondes se retirent
sous les cris moqueurs des mouettes. Porte close.
Ses pieds agitent l'eau. Les girelles le fuient, se réfugient au cœur des algues.
Un soleil tiède a peint les vagues d'argent et d'or, qui s'en viennent mourir.
L'heure de partir, lui crie-t-elle encore.
Le bateau n'attend pas.
Annie Fiore, août 2014
※
A translation:
Wet swimsuit, she climbed barefoot the cutting rock walls,
now looking to overhang the water.
A gaping hole of darkness
draws the gaze motionless boy.
She hails. Resist him,
caught by endless stories that chain her
ankles and lead her dreams
well beyond the body. To slip
in algae, to sand by the deep rocks
drag, eyes open, to abyss.
He who has the sharp girelles
Looking for galleons stranded lying
off the coast, all of them gutted treasure
compasses almost buried forever.
The call was repeated better to lose over the waves.
There is no voice like the sirens;
they murmured his name
to the depths they drove it . Any rope broken.
failed his soul, whose changing reflections
mix with brown algae. He dives now to
the edge of the abyss. All his freedom
The currents carry away.
Barely glimpsed, these worlds retire
under the mocking cries of the seagulls. The door closes.
His feet stir the water. The girelles the fleeing took refuge in the heart of the algae.
A warm sun painted the waves of silver and gold, which are coming to die.
The time to leave, she yells at him again.
The boat will not wait.
Annie Fiore, August 2014
Will Smith / The Rowley Gallery