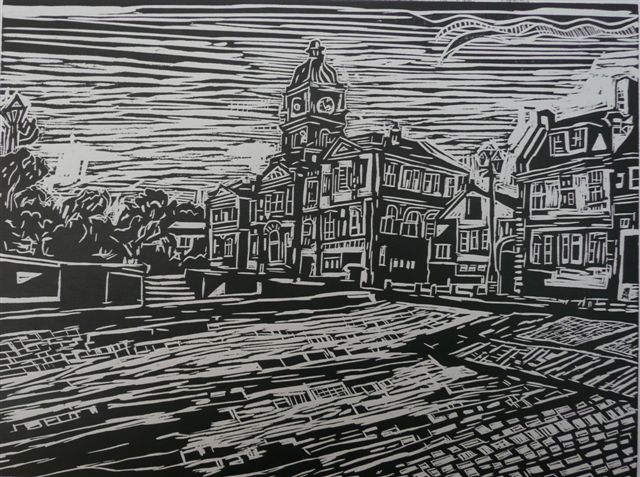 Essentially I am a painter who also enjoys making prints. This affection for printmaking grew at art college where the much loved and renowned teacher Kass Cohen introduced me to a range of processes and latterly gave me some of his lithographs which were made in Paris after the war.
At the Slade I was interested to hear Philip Sutton extol the virtues of printing without a press and specialist materials, and saw him make silk screen prints using Rowntrees Jelly as a barrier. In my own work for the past six years or so I have started to make woodcuts. I don't have a press and so tend to hand burnish them, using the handle of a burin or the back of an engraving tool. It is an activity which I can do at home at the back of the house when it is too dark to paint.
In October I took my wife Cris to Yorkshire to visit the small industrial town where I spent my formative years before coming down to London to attend art college. Batley had been a bustling town which had grown rich by recycling old cloth and making new cloth from old, a process called "shoddy"; this I have to say is nothing to do with quality, just good old northern know how and thrift. All the women in my family worked as weavers or finishers at J T & J Taylors Mill in Batley. The men historically were miners, or worked in industry supporting the pits, but Dad was encouraged to "get some learning" and became a teacher. It was with some excitement that we set off. Most of the town was as I remembered, with the exception of Commercial Street were the shops were. The Market Place, Library and Post Office were still there, though the latter was now a restaurant.
I made drawings of the Market Place, the first I had ever made of Batley, and the Market Place and Library was to form the subject of a new woodcut. I'm not sure if I make my prints in an orthodox way, but this is how I made the print of Batley Market Place.
Initially I made an ink drawing. I like to draw in ink, brush and pen because it gives you an idea of the black and white distribution which will appear on the print.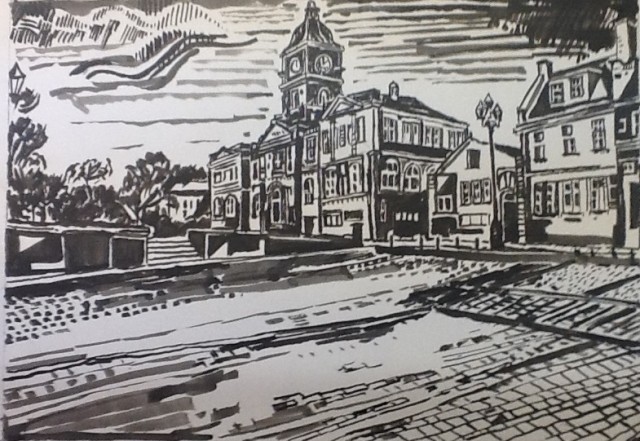 I will then lightly brush black pen ink onto the surface of the block. Then I trace out the ink drawing and cover the block with a white transfer paper and on top of this carefully place the tracing. After lightly pressing the outlines and areas I want to be white, I will remove both paper layers, to reveal a silvery image on the darkened block. I can then cut away with my wood cutting tools everything I want to remain white in the final print.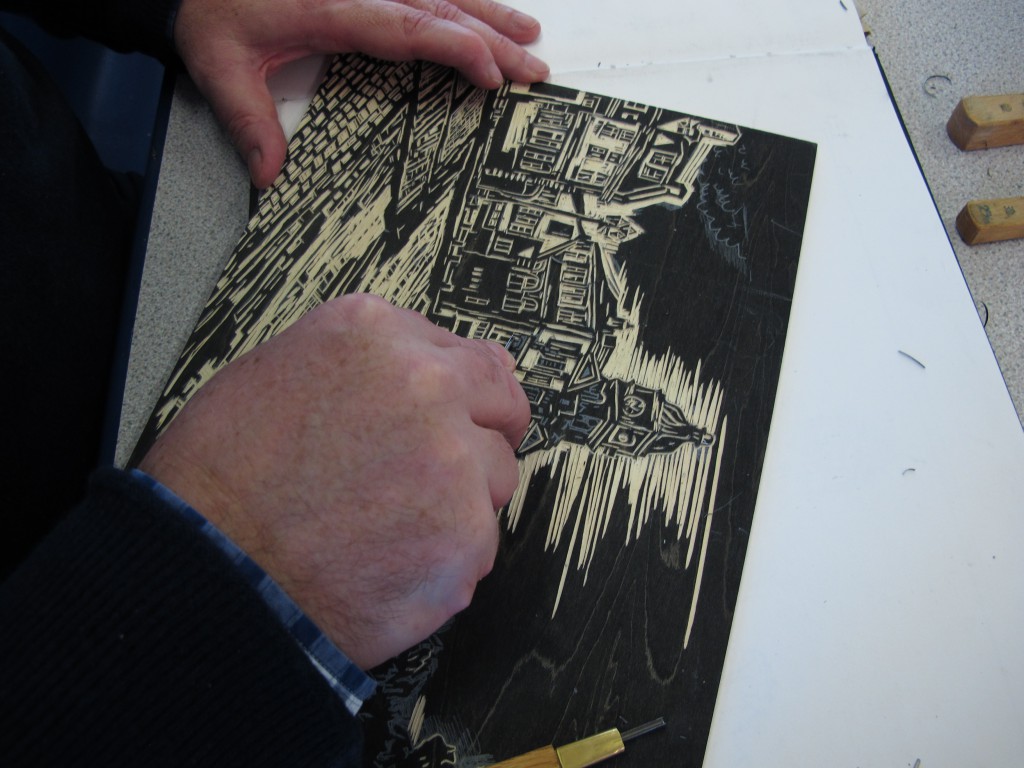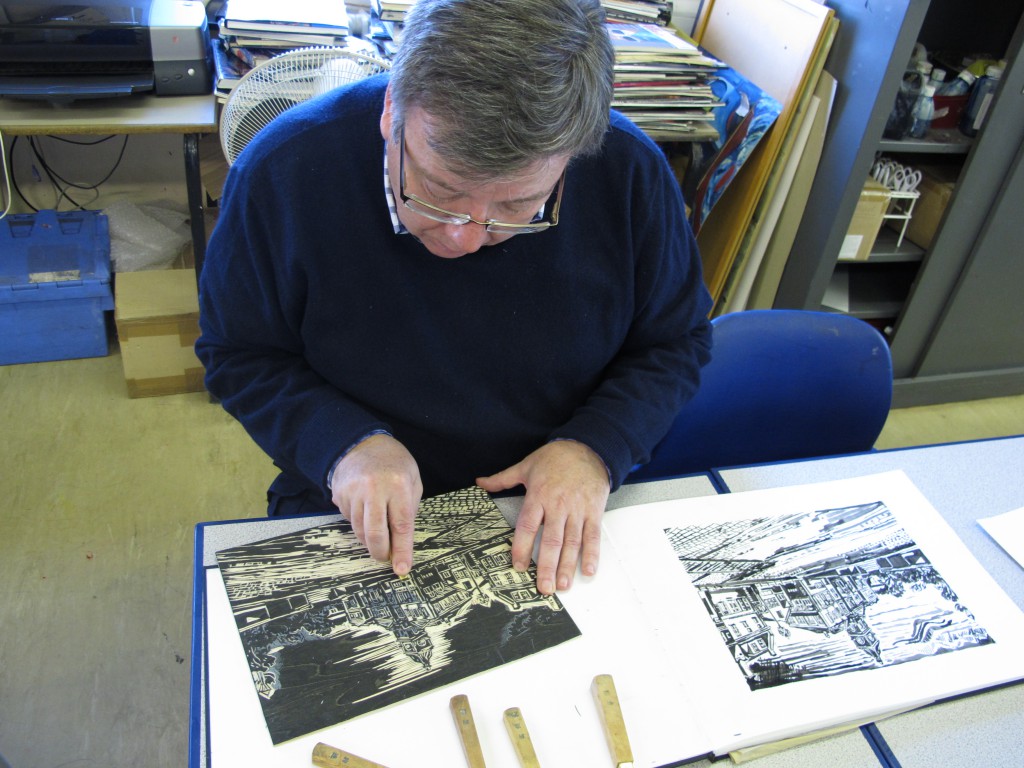 Now I can print. I ink up the block, I use a good roller which is smaller than the block, and black printing ink.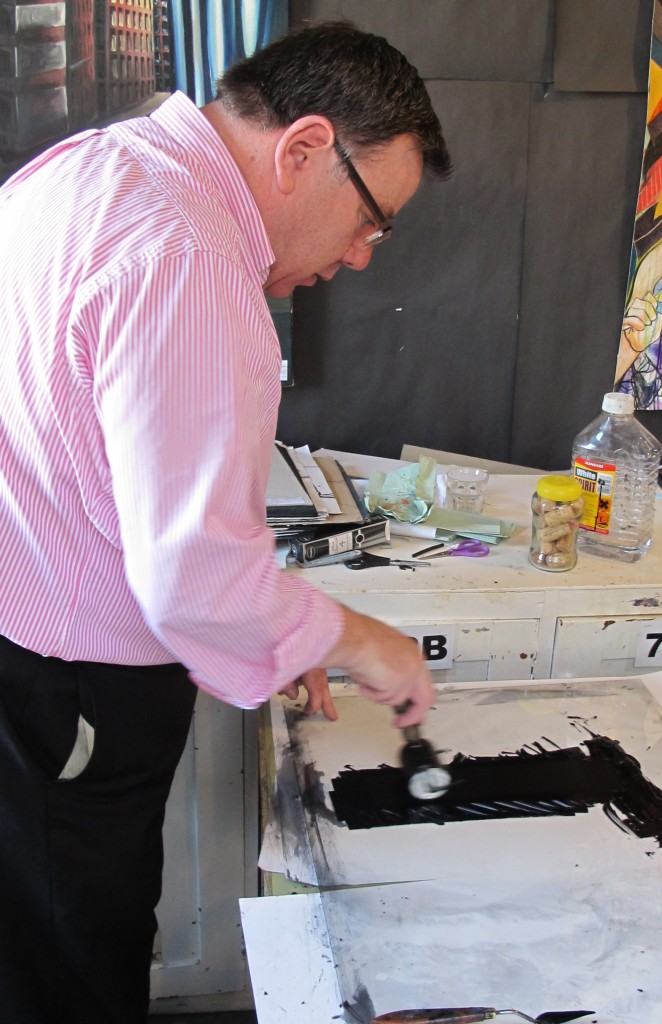 I can now place paper on the inked block and having made a clean initial contact use a burin's smooth wooden handle to encourage the ink from the block onto the paper. Depending on the inking and the size of the block this can be a lengthy and strenuous process. The joy comes when you pull a clean even print from the block.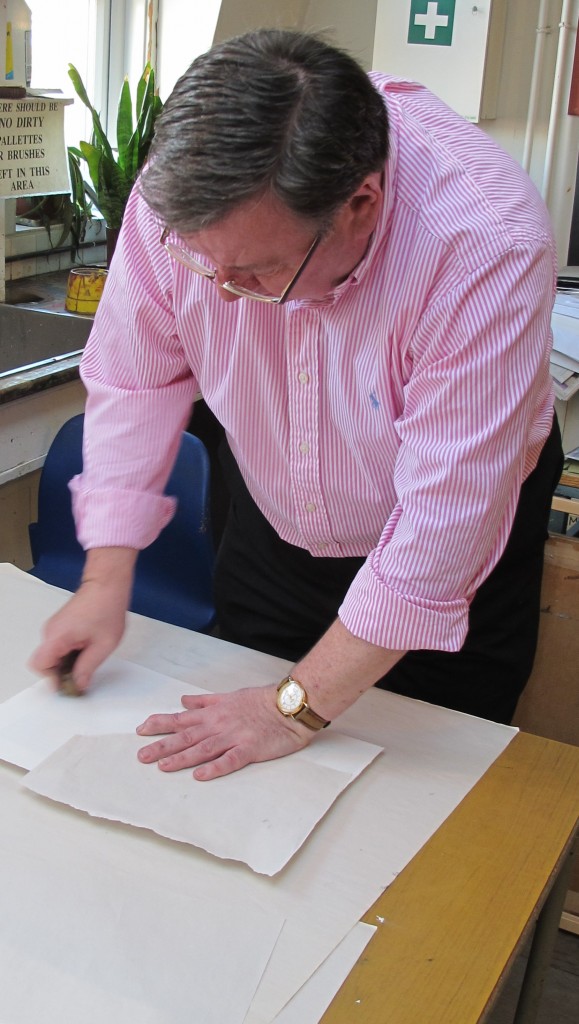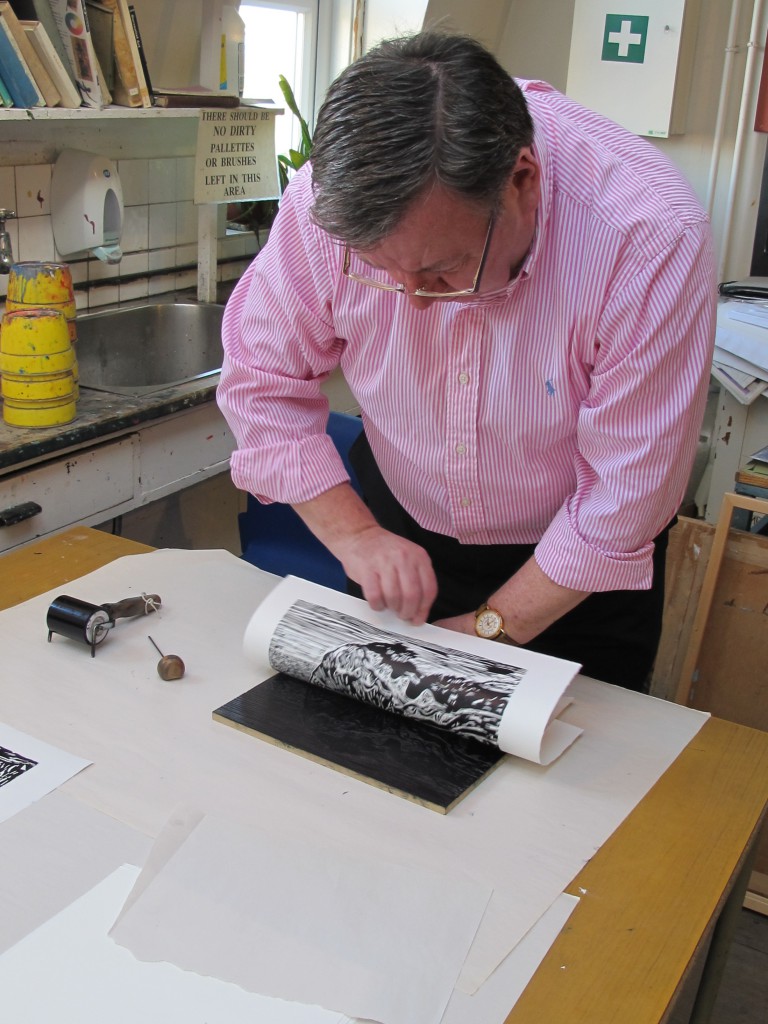 With this print I decided to have it editioned professionally, so I went to see David Borrington at Dekkle Print in Hertfordshire, a small fine print studio.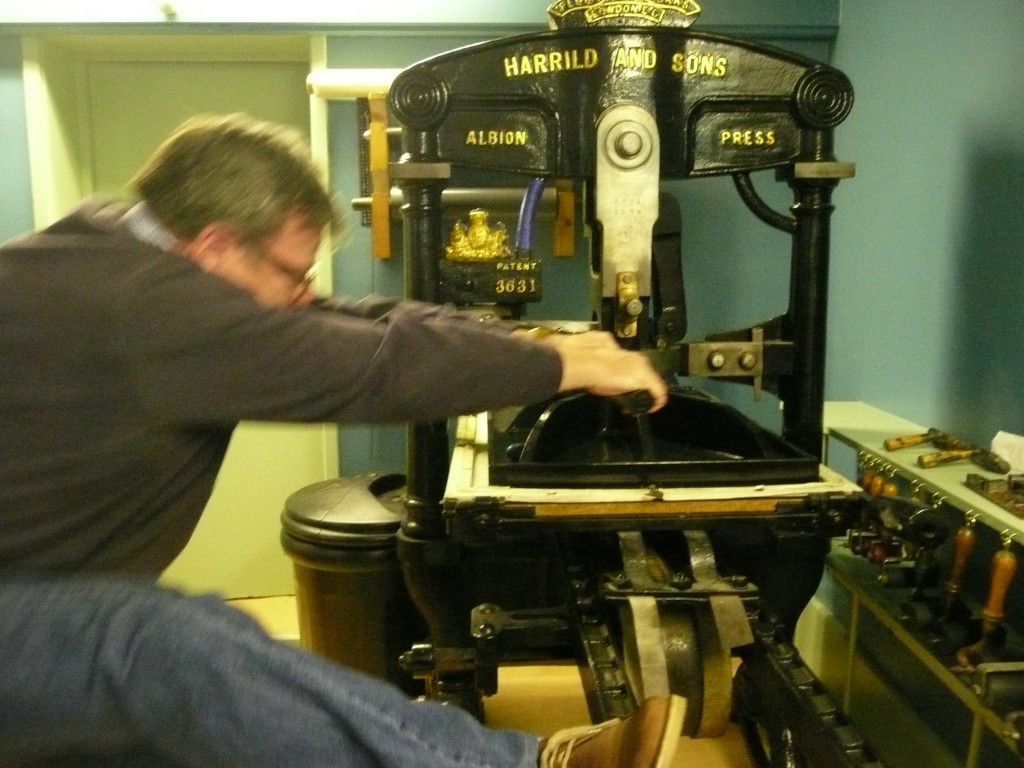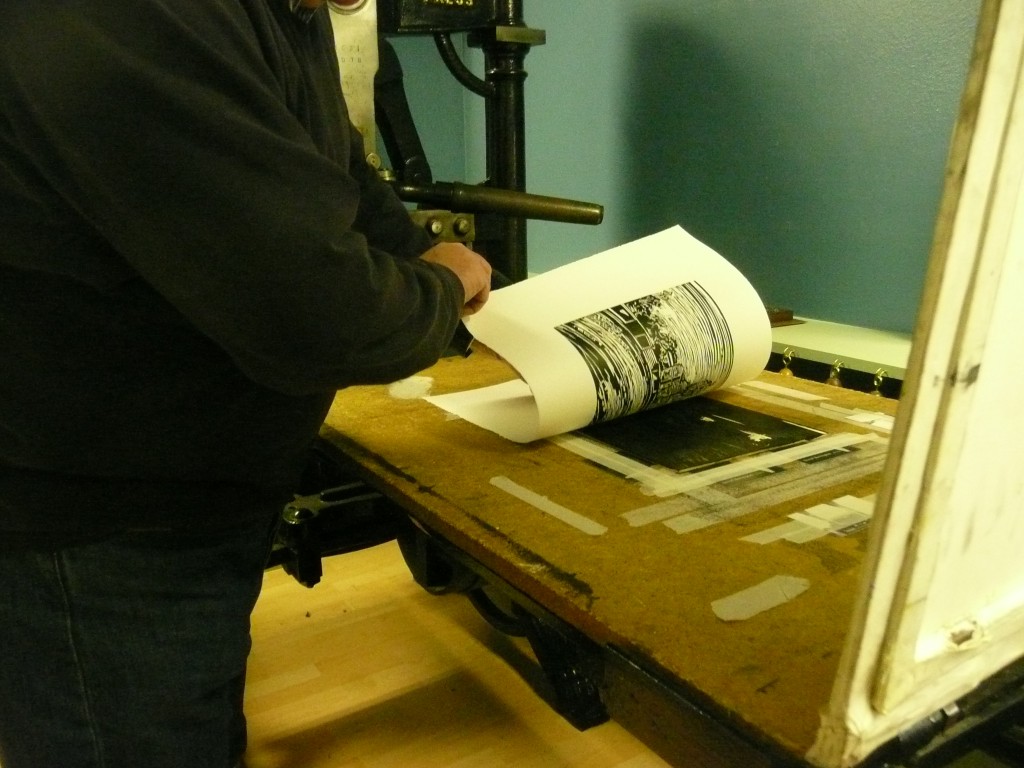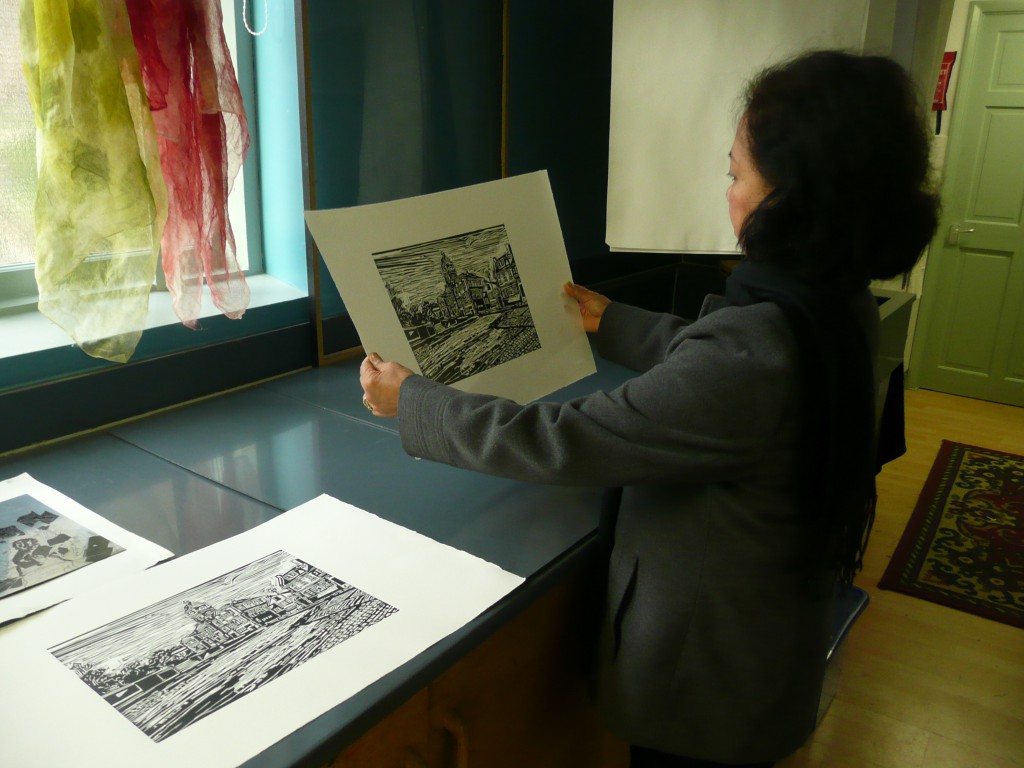 Batley Library & Art Gallery, where I did all my revision and in the Art Gallery aged eleven I saw my first real paintings, an exhibition of Kitchen Sink paintings which had a real impact. Jack Smith's interiors and Bratbys. I think the gallery in a small northern town was on the Arts Council touring exhibition circuit.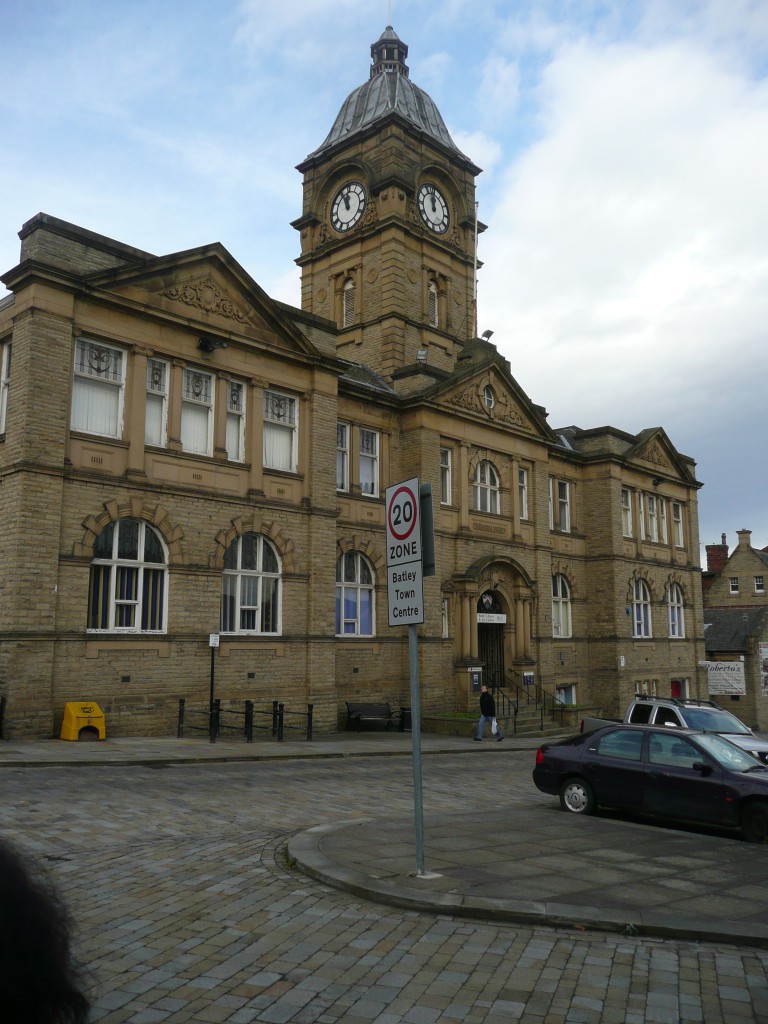 Paul Finn / The Rowley Gallery