On Friday 17 February at 9 pm BBC Four are broadcasting Beyond The Notes, a film by Dick Fontaine which is centred on the 80th Birthday Concert for Sonny Rollins at New York's Beacon Theatre in September 2010. There are guest appearances from Jim Hall, Roy Haynes and Ornette Coleman.
I first saw Sonny Rollins at Ronnie Scott's Club in 1974. No advance booking, we just turned up and got in for half-price by showing our student cards. We didn't really know what to expect. I don't think I'd heard much of him before. But it was a revelation, most memorably for a fantastic performance of Swing Low Sweet Chariot when Sonny duetted with Rufus Harley on bagpipes!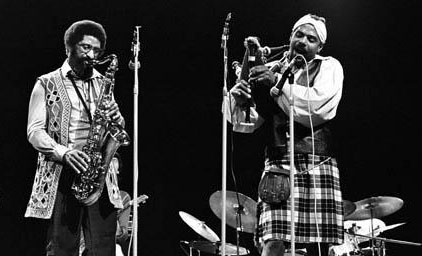 I next saw him at the Royal Festival Hall in 1980; Don't Stop The Carnival and St Thomas and all the favourites. The first concert my wife and I saw together. Then 30 years later we saw him again in 2010 at the Barbican where he appeared as part of his 80th Birthday Tour. And now I've just learned that Beyond The Notes is to be followed by Sonny Rollins '74: Rescued!, a film recorded at Ronnie Scott's in 1974 and apparently not seen since it was recorded. Look out for me in the audience!
Here's a nice piece about Sonny by John Fordham from 2009 – Sonny Rollins: Confessions Of A Colossus.