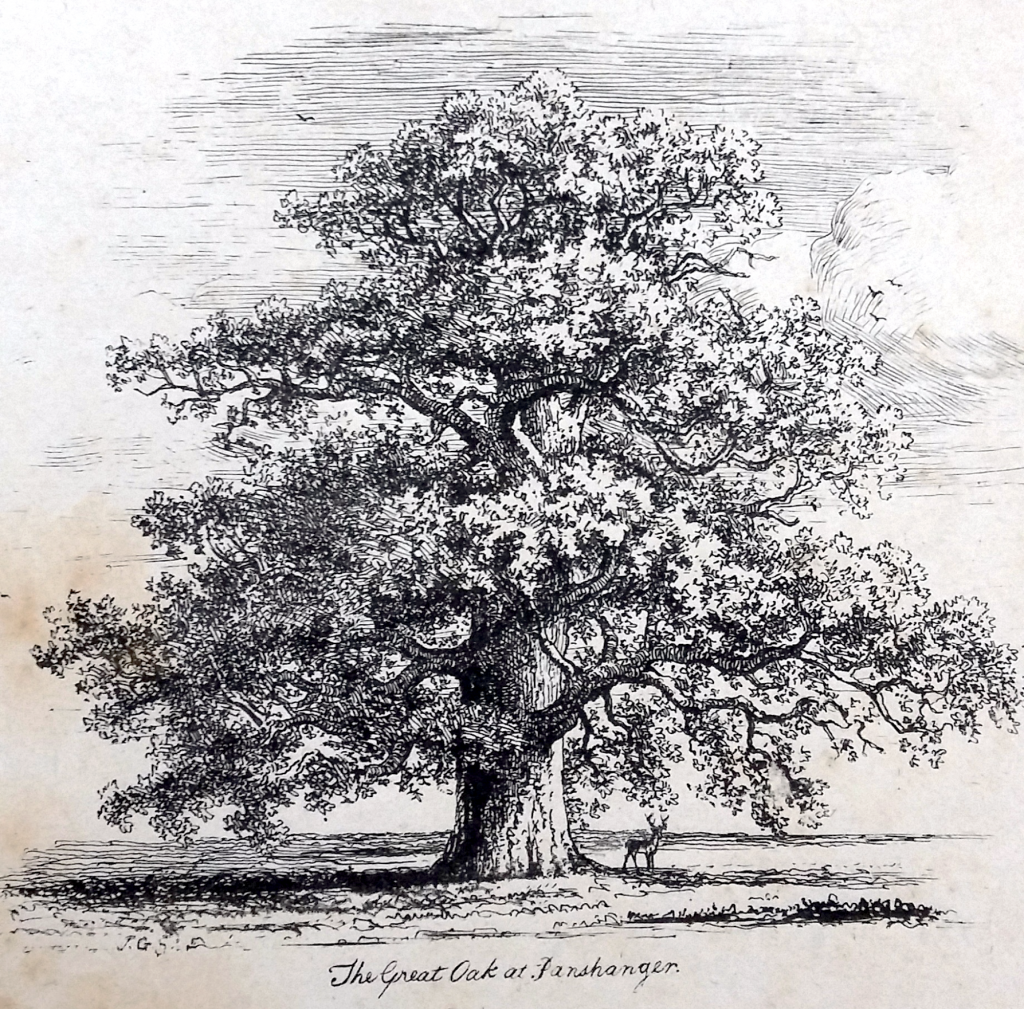 I think I first knew of the Panshanger Oak after we'd walked a circuit from Tewin, Sunday 16th February 2019 BC (Before Covid). A No Entry sign on a path that had previously been open had sparked my curiosity. I later found references to an ancient oak tree, a hugely significant specimen, the oldest, widest, tallest oak in the land. The website for The Chilterns AONB declares it to be "the largest maiden, or clear-stemmed oak, in the country and is believed to have been planted by Queen Elizabeth I" but access is by appointment only. I called the recommended phone number repeatedly but got no reply. I also looked on the Ancient Tree Inventory website but they say it is Private – not visible from public access.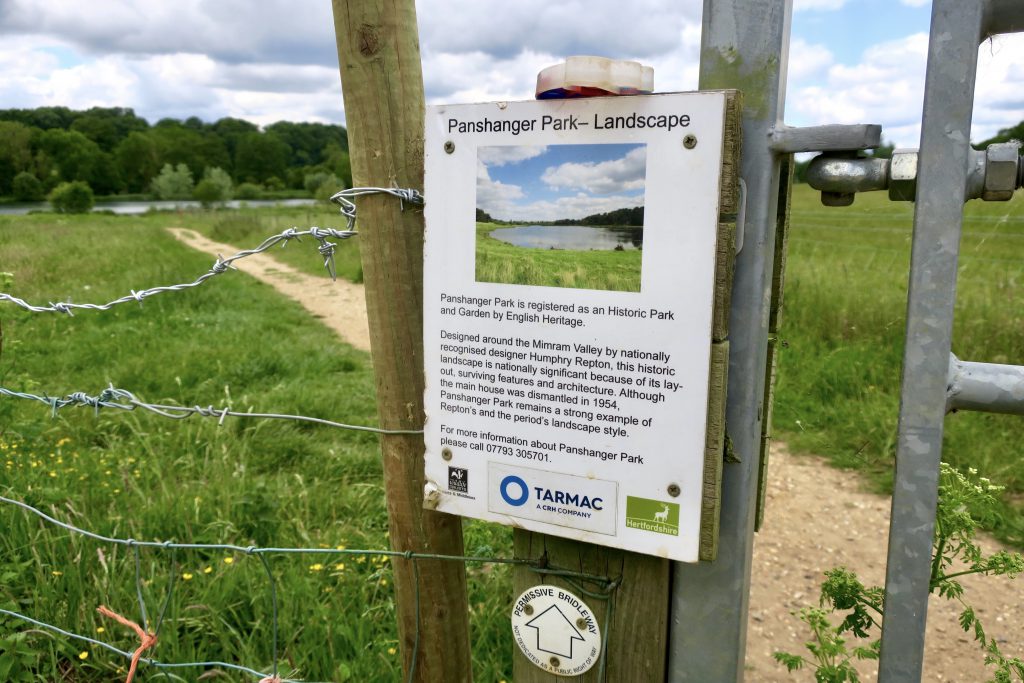 The Panshanger Estate has had many owners. In 1540, the land between Welwyn and Hertford belonged to the Marquess of Exeter. He was beheaded for treason in 1539 and his estates and the Blakemore and Panshanger estates went to Henry Vlll. He gave it to Nicholas Throckmorton who was cousin to Queen Catherine Parr (the one who survived) and ambassador to France. For the next century or more it passed through many hands, (including Queen Elizabeth 1) finally arriving into the possession of the Cowper family.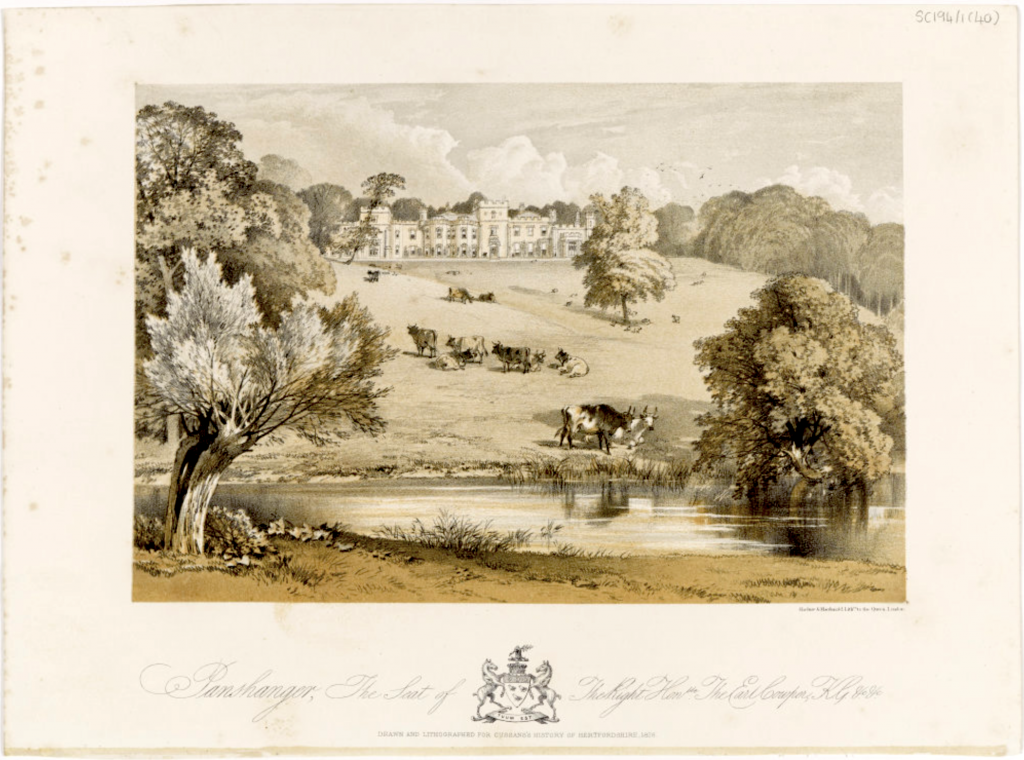 Earl Cowper commissioned Capability Brown to landscape the grounds, then later his heirs further developed the estate under the direction of Humphry Repton. See A potted history on the Friends of Panshanger Park website. More recently the park was owned by Lafarge Tarmac for extensive gravel extraction, but now most of the grounds are open to the public.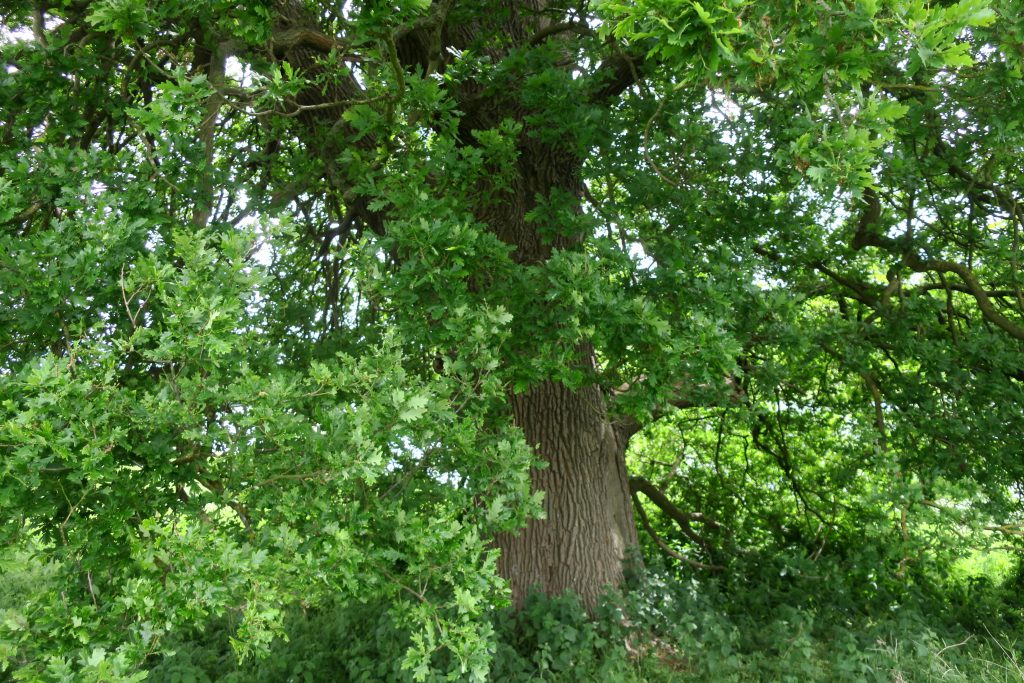 Which is a relief. I wasn't looking forward to sneaking in and trespassing.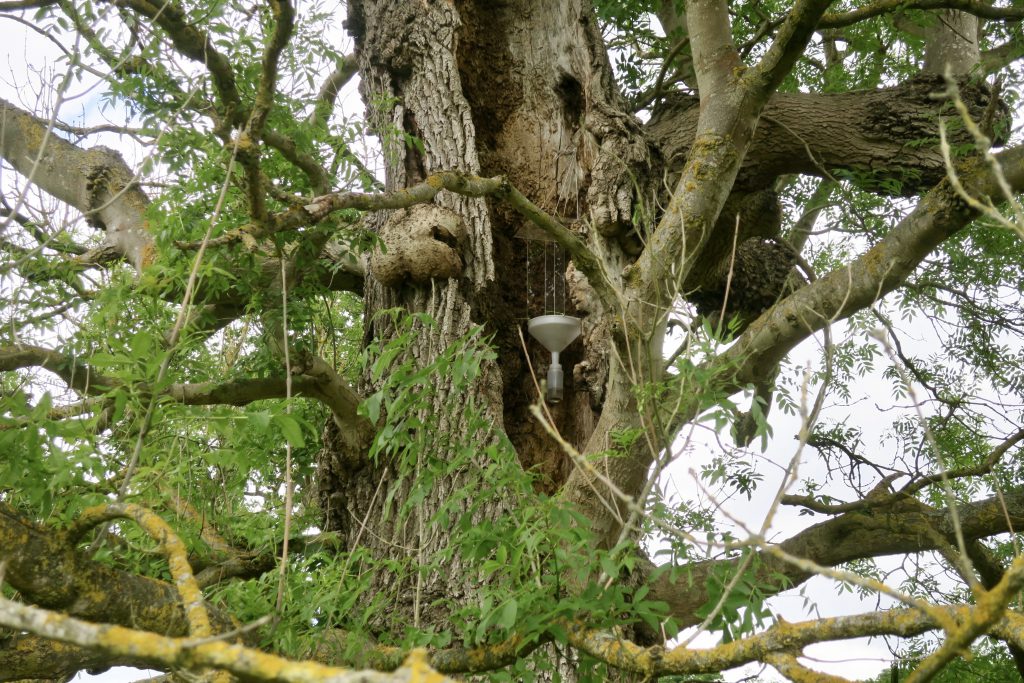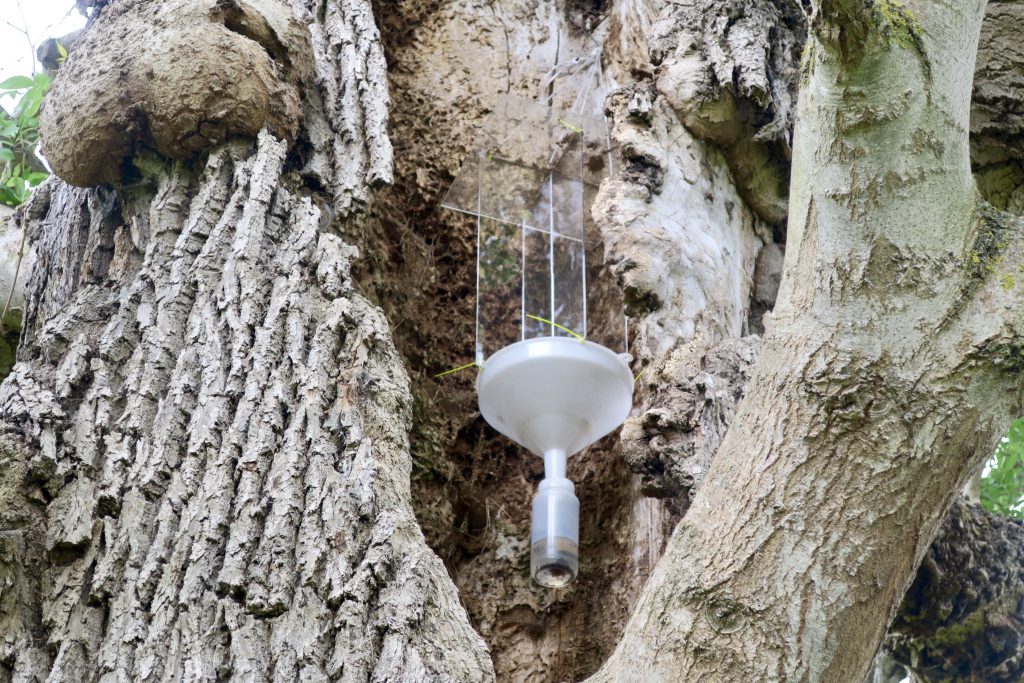 There are some interesting trees here, some with curious traps attached. One inside a hollow ash and another on an old oak. What's going on?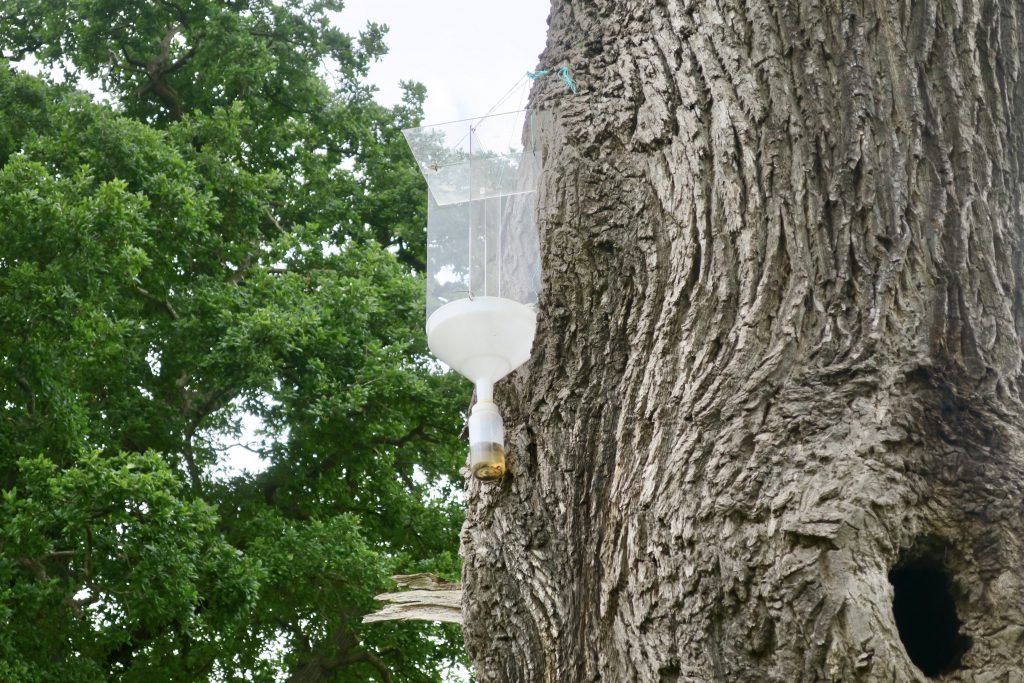 Thanks for your enquiry. The traps that you have seen are in association with an invertebrate survey that is currently being carried out on a number of the large trees across the park. The information gathered will help inform management of the trees and build our knowledge on which different species are associated with the trees. I hope that helps.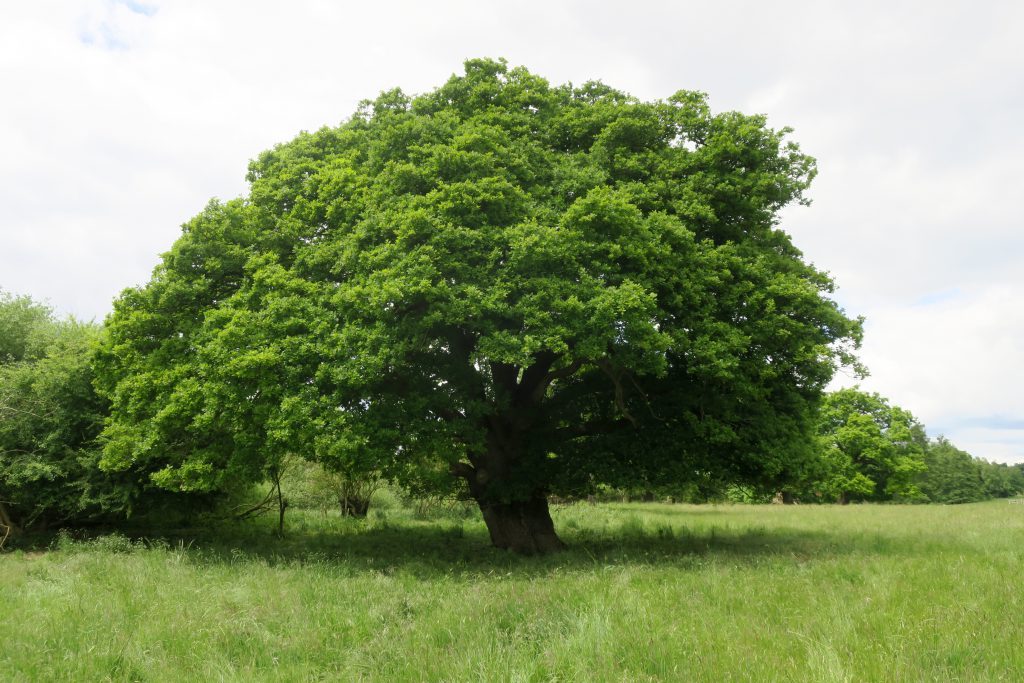 Down by the river there are some handsome veteran oaks, relics perhaps of ancient wood pasture. The grass beneath them had been recently flattened.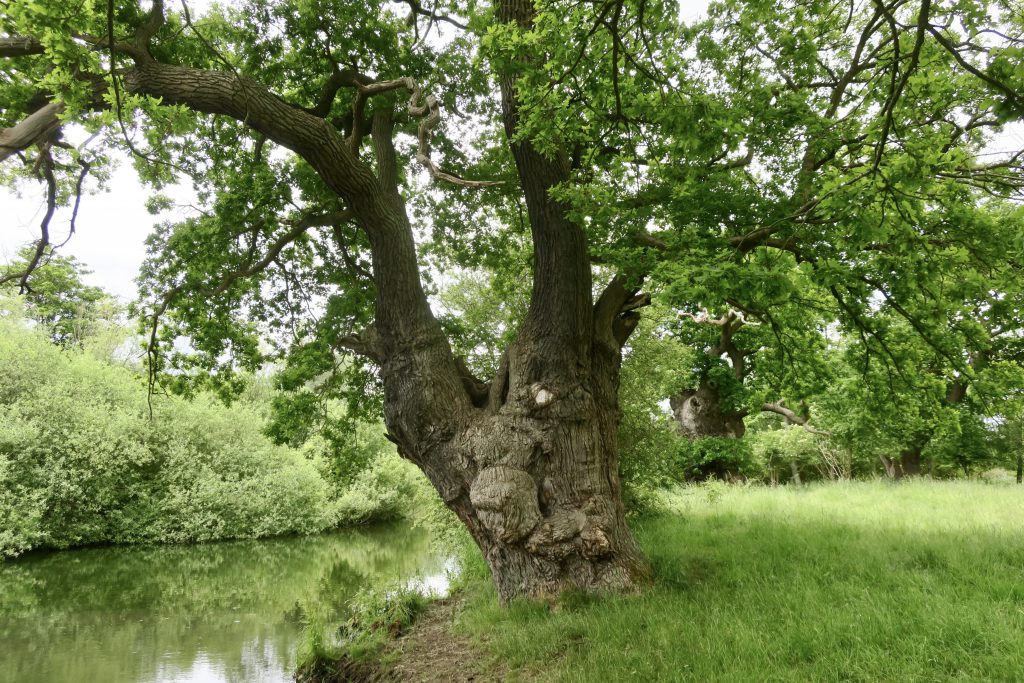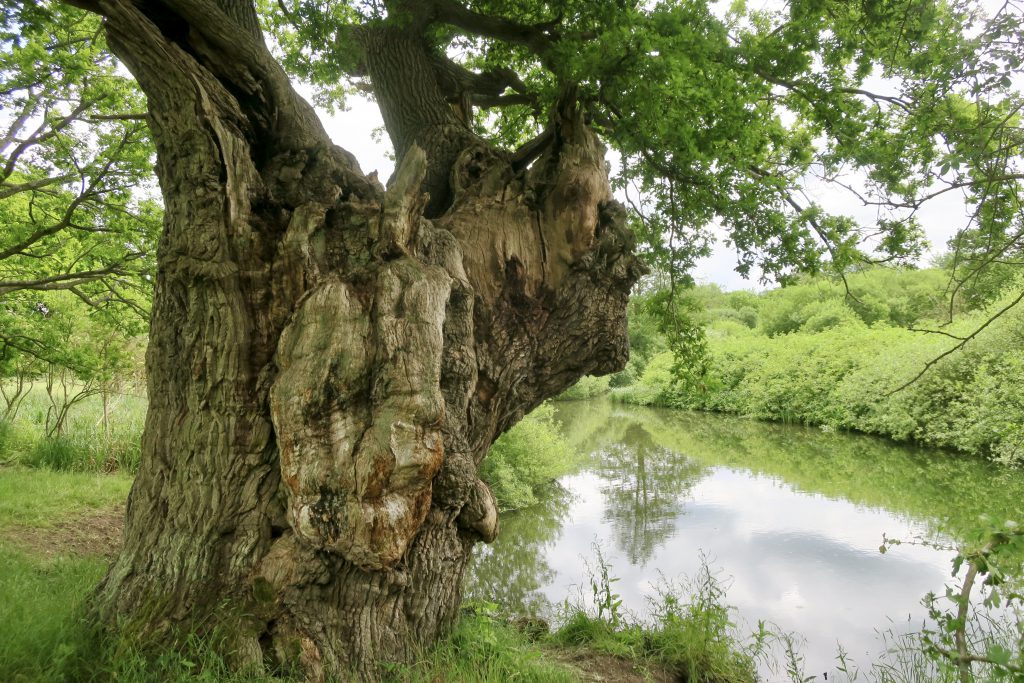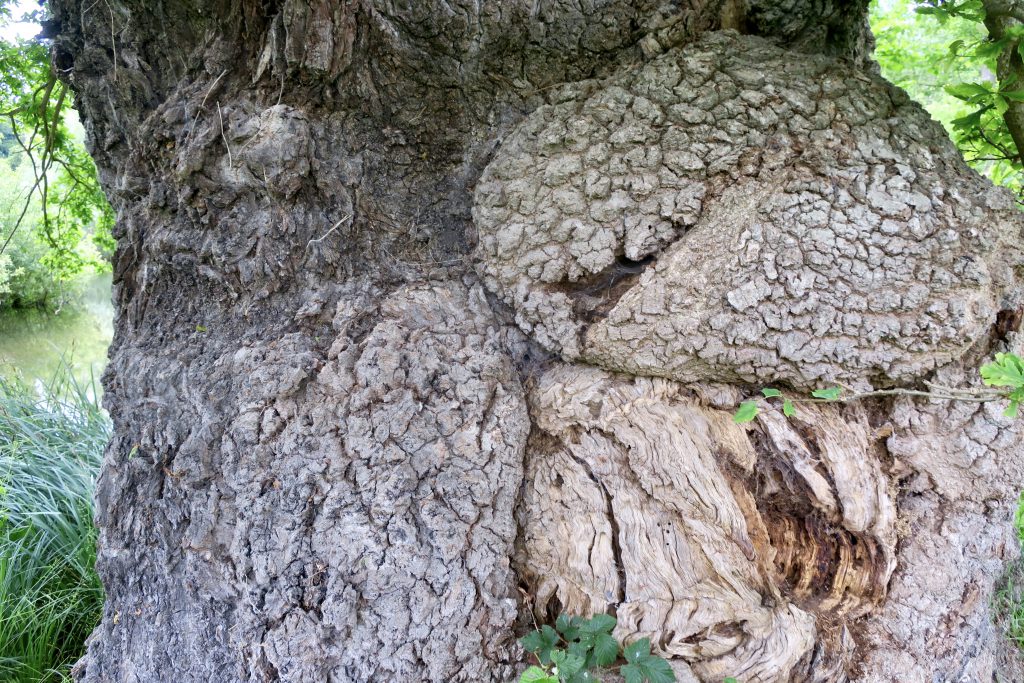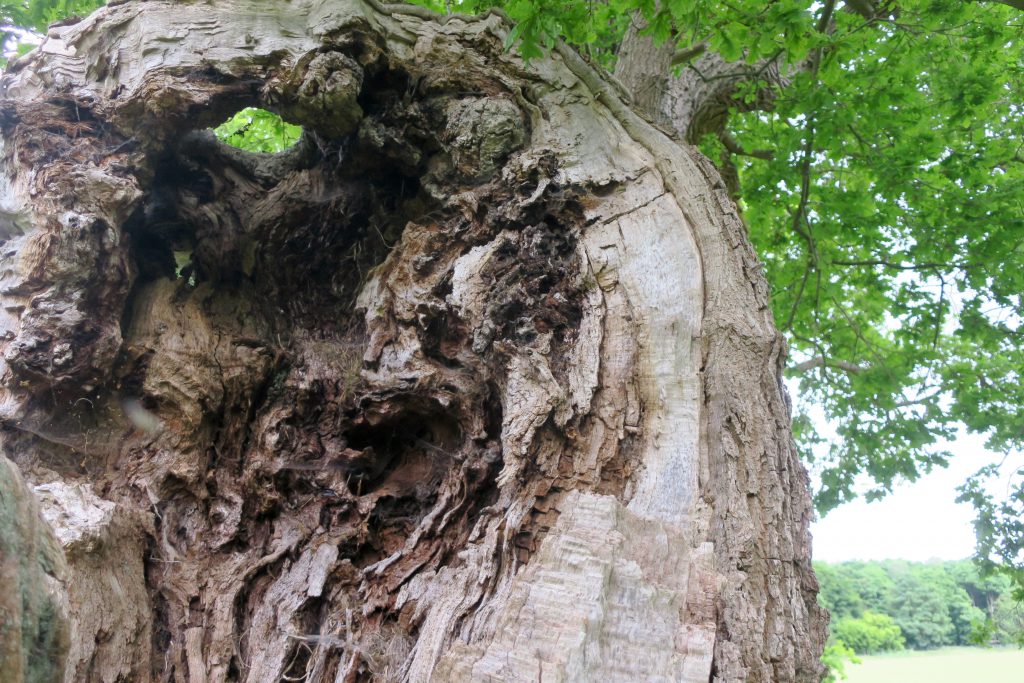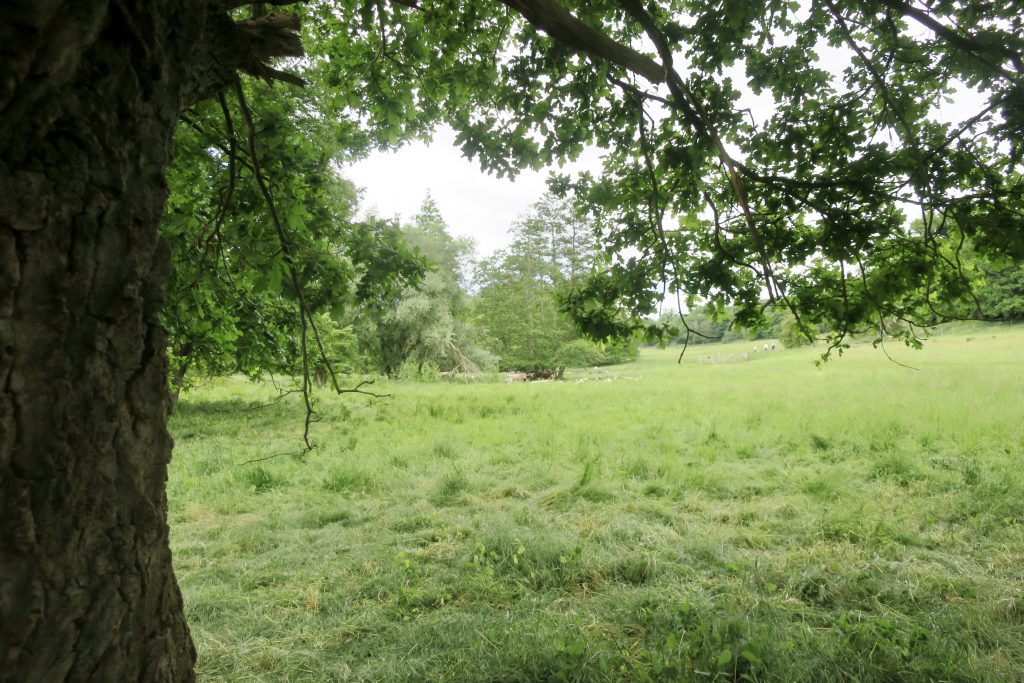 Then away in the distance I catch a glimpse of why the grass is so flat. There's a herd of resident longhorns, still grazing the ancient wood pasture.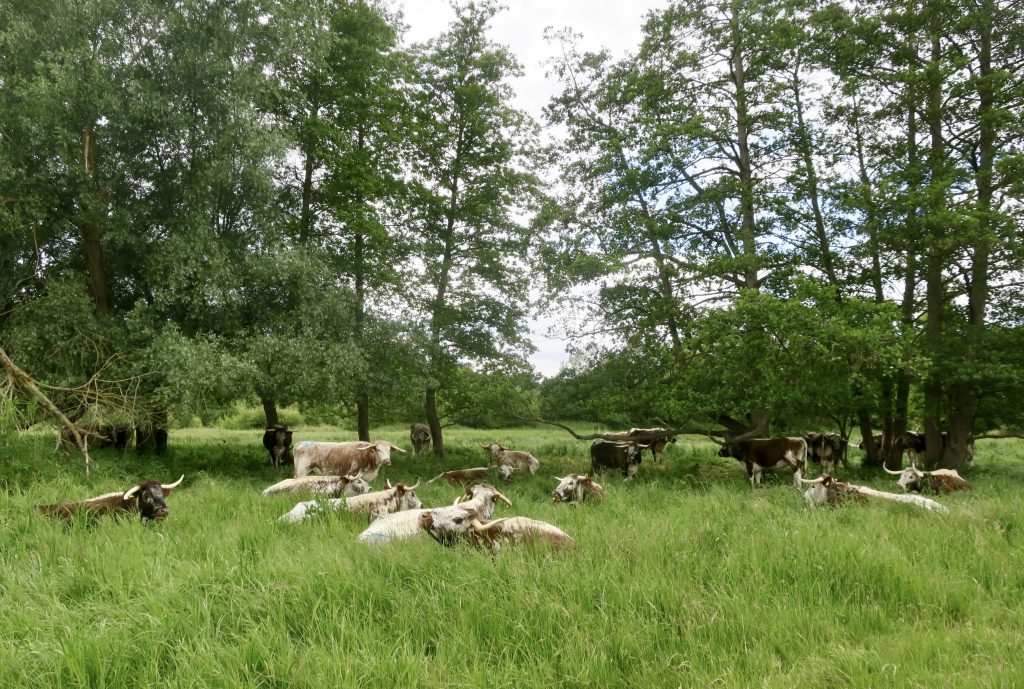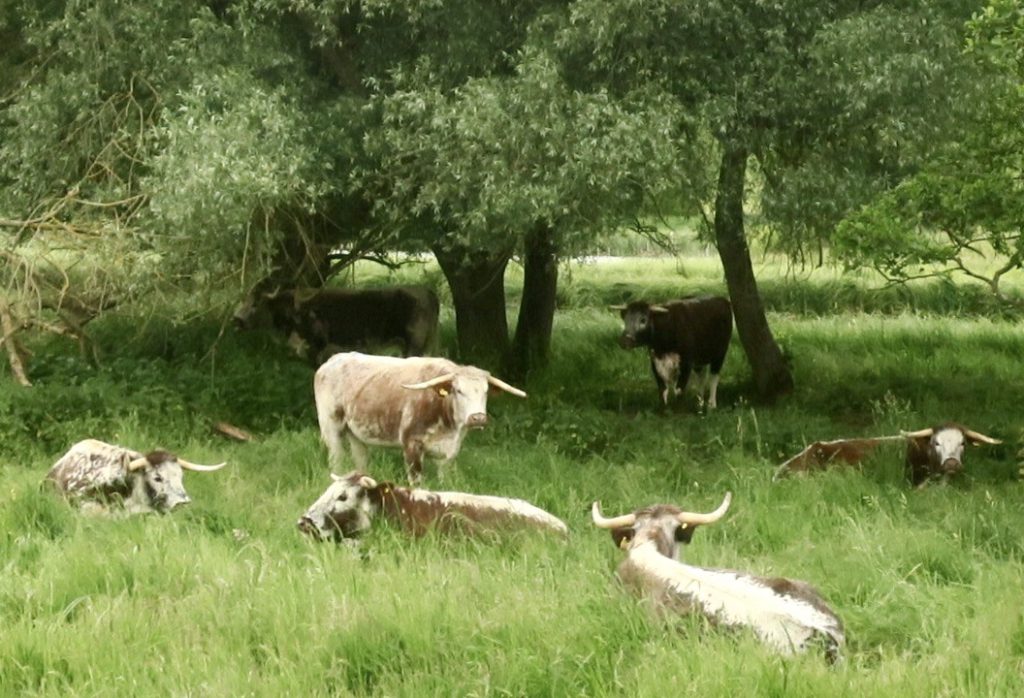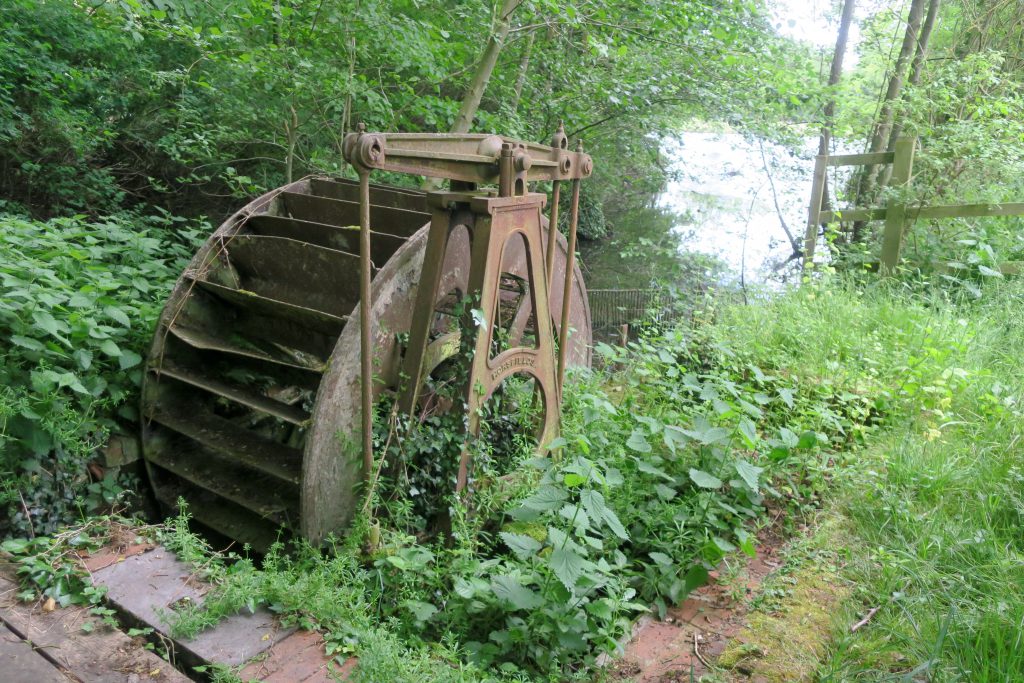 On the edge of the Broadwater there's a rusty old water pump, a vestigial remnant of Panshanger House which stood at the top of the hill until 1957.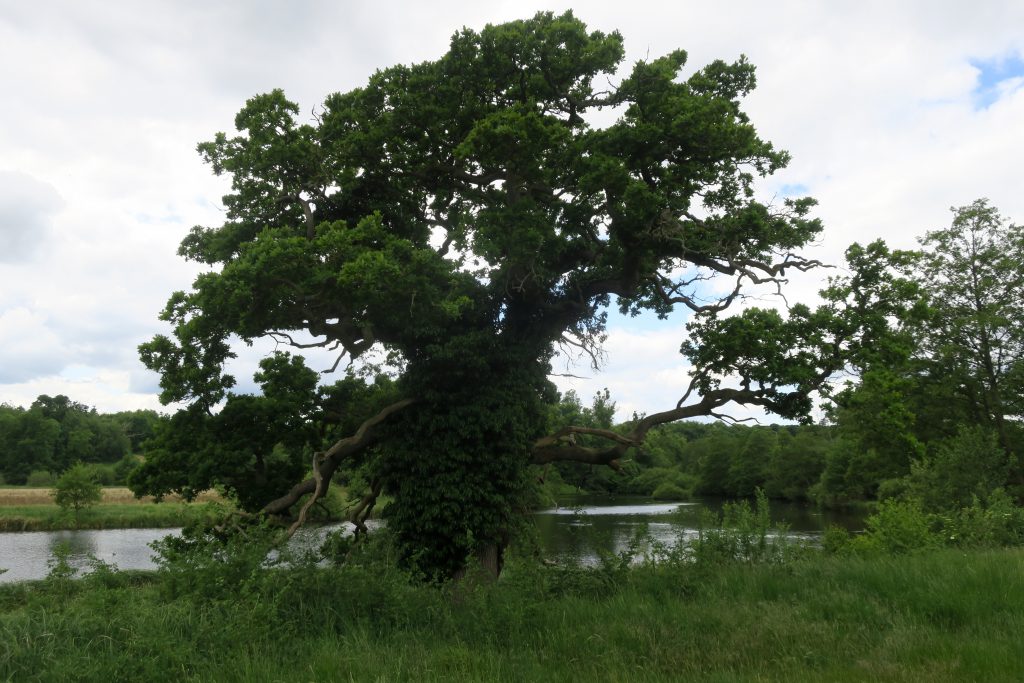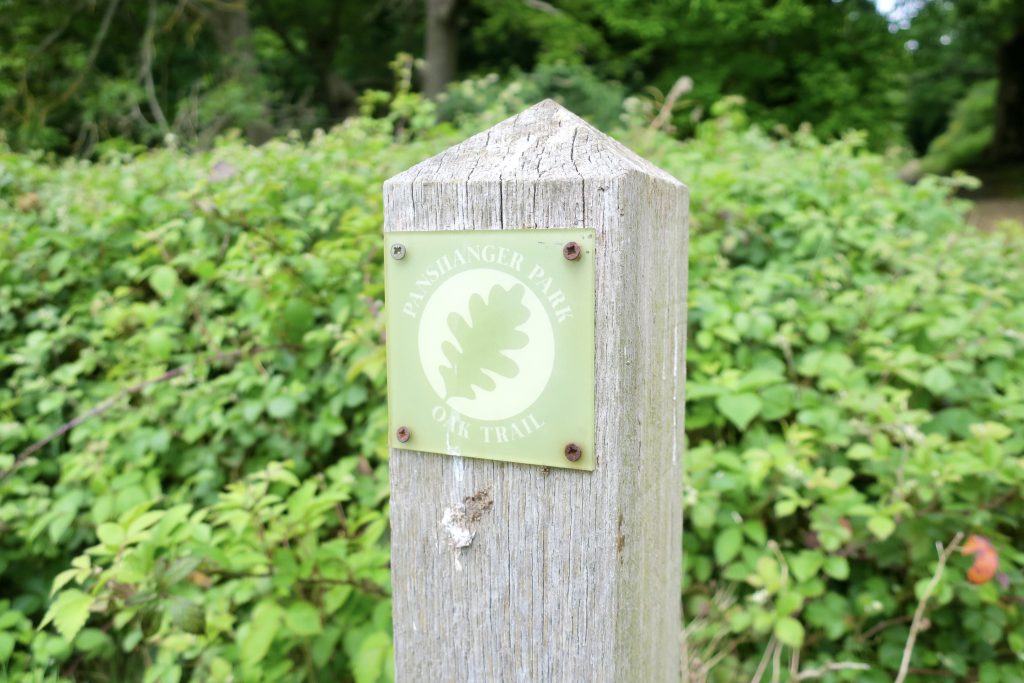 There's a path, if you can find it, that leads to the Panshanger Great Oak, but we lost it and wandered further afield before getting back on track.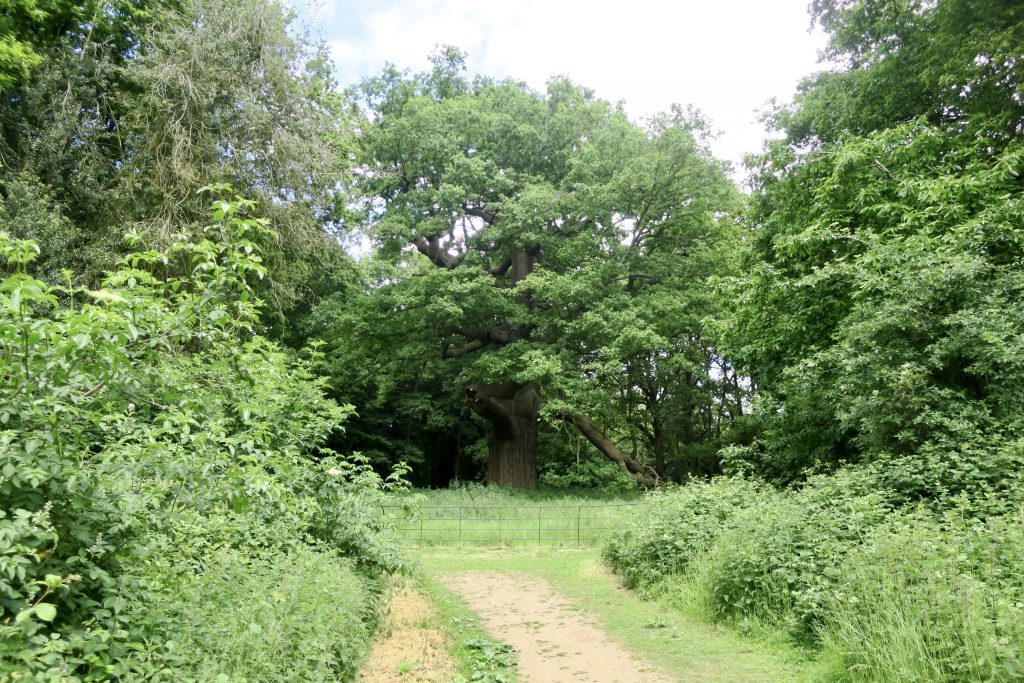 But the Great Oak was still there waiting for us. It is now encircled by an elegant iron fence, to protect its roots and frame its dignity.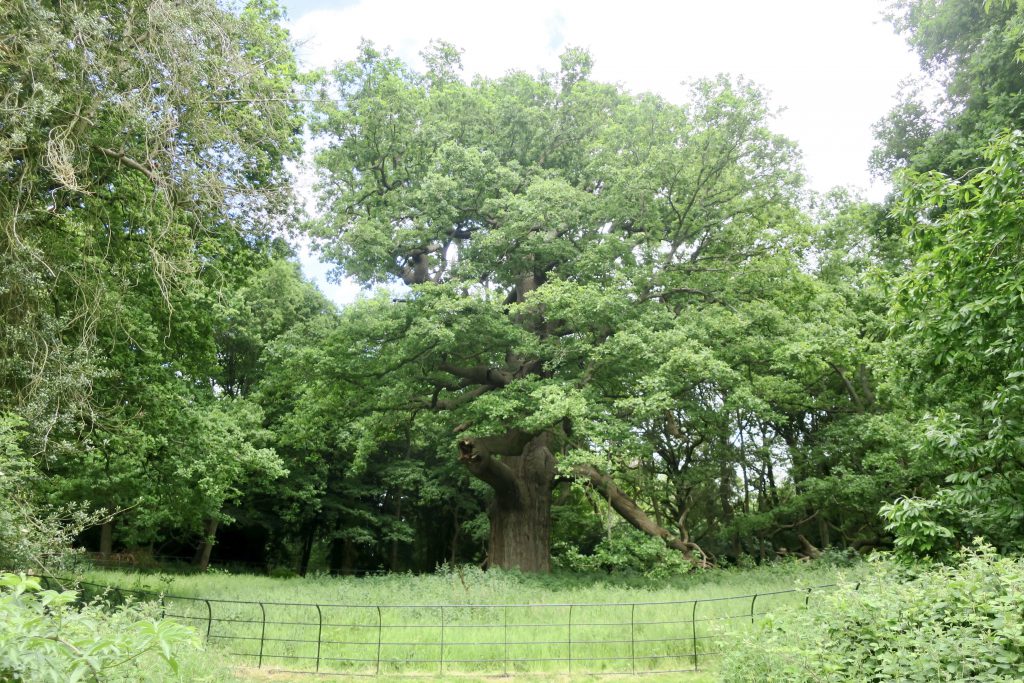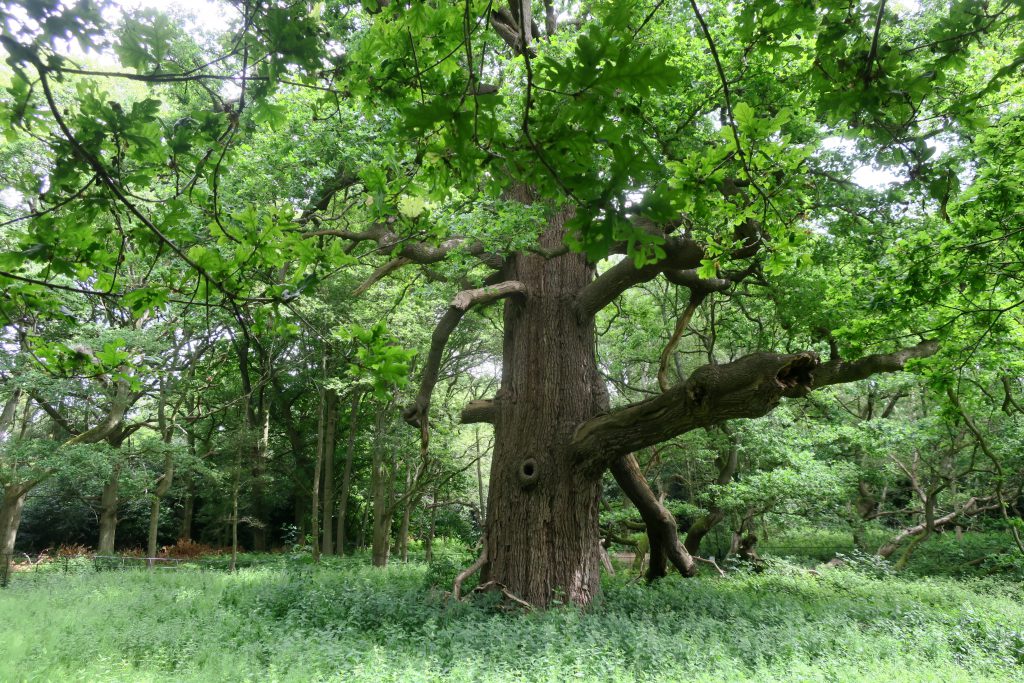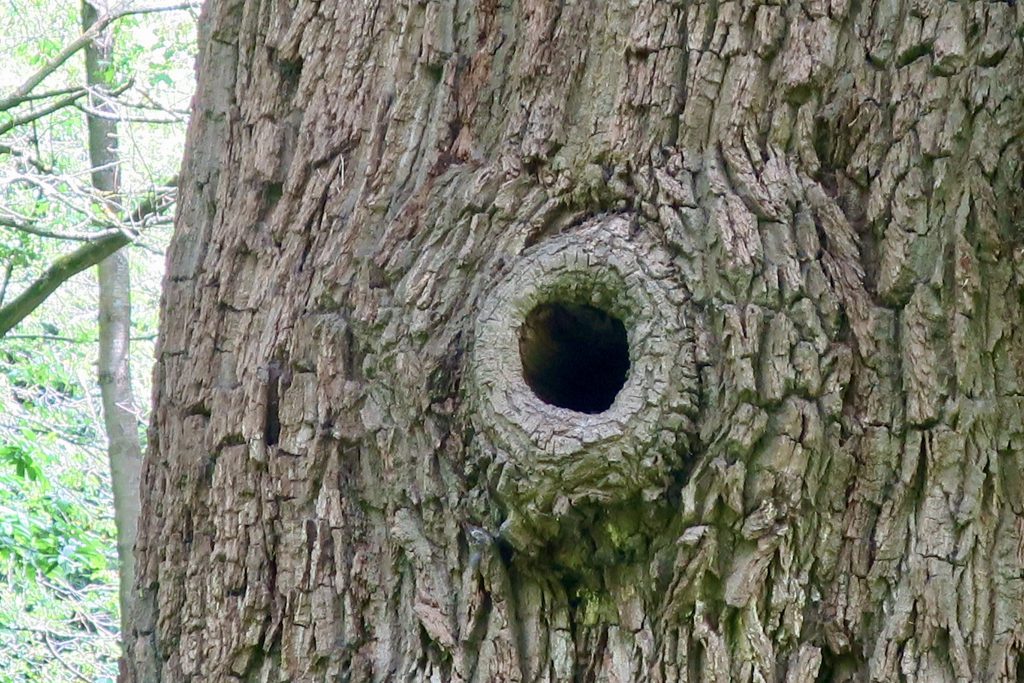 Its navel is where the jackdaws live.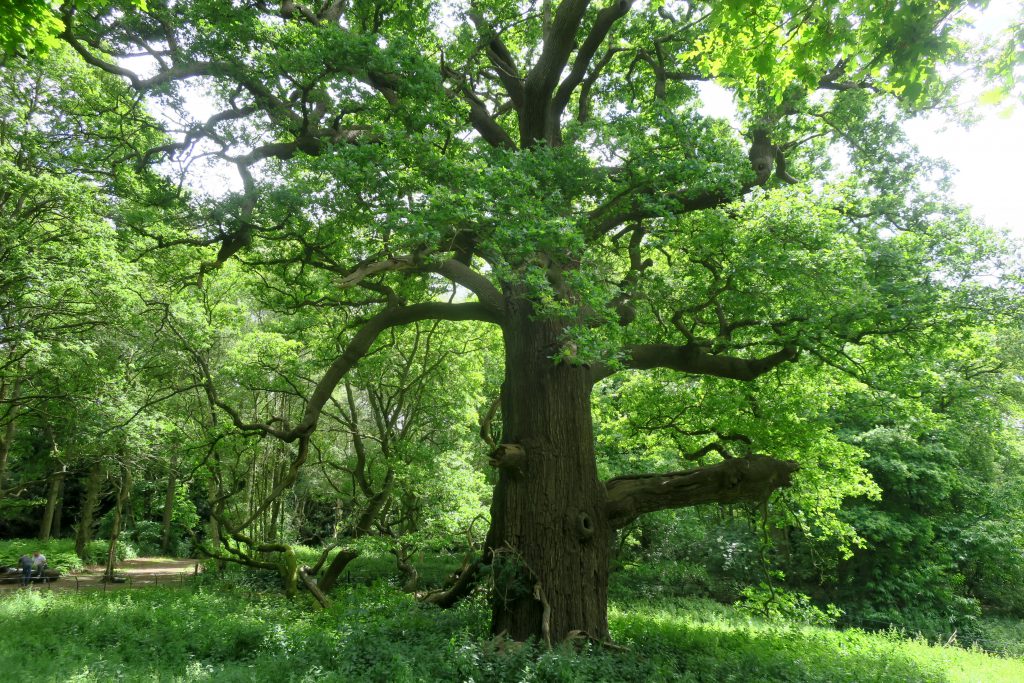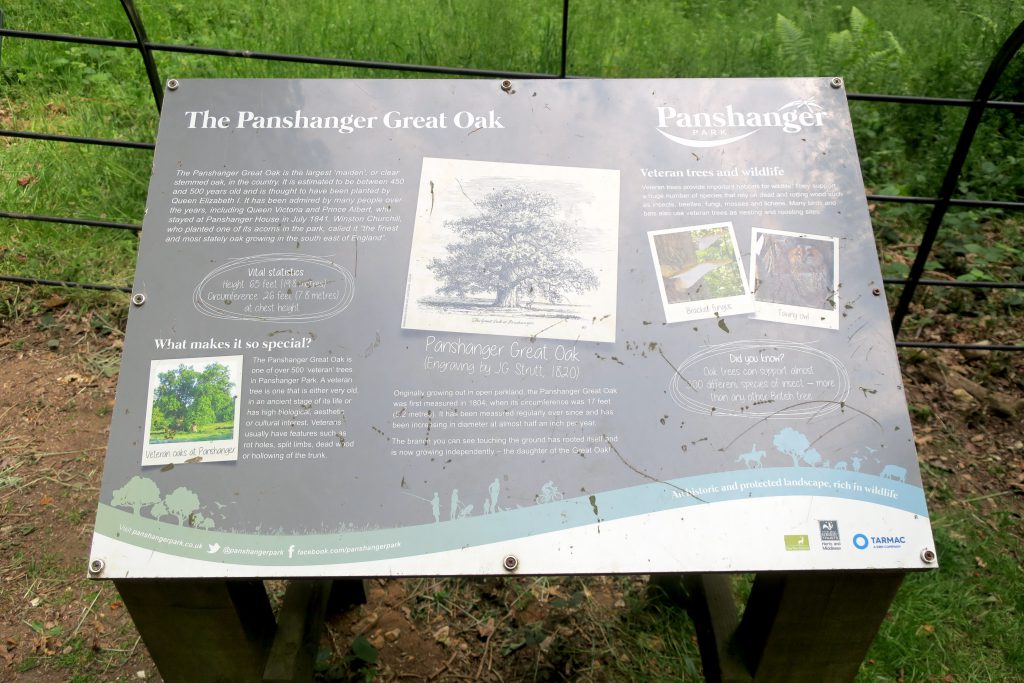 The Panshanger Great Oak is said to be the largest 'maiden', or clear stemmed oak in the country. It is certainly very tall but not so wide as the Majesty oak in Fredville Park, which is also said to be the largest maiden oak…
※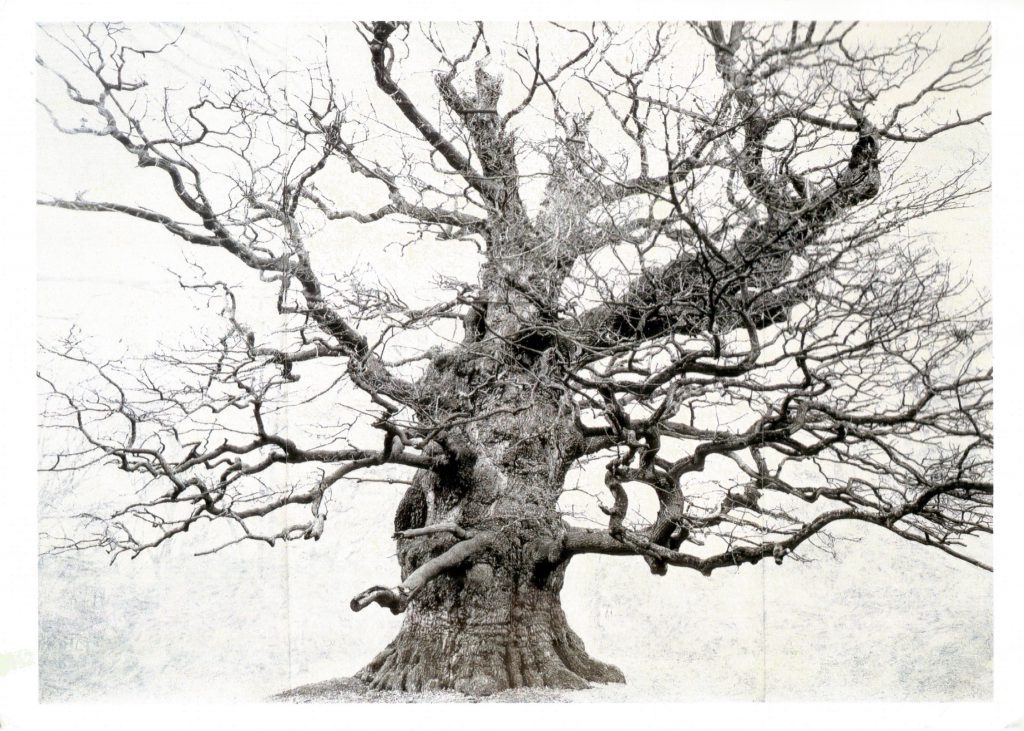 Majesty: Tacita Dean
In a park, near Deal, in the county of Kent in England, are oak trees, the most remarkable for height, and size in the kingdom. They are distinguished by appropriate names, but the most remarkable of them are those called 'Majesty', 'Stately' and 'Beauty'. 'Beauty' is sixty three feet from the ground, whilst the uniformity of its branches, and the regularity of its bark are beautiful beyond conception. The circumference of this tree, five feet from the ground, is fifteen feet, nine inches; its solid contents, bark not included, twelve ton, twenty five feet!
'Stately', at four feet from the ground, measures in circumference, eighteen feet, and its solid contents, twelve ton, thirty three feet one inch, bark not included! But 'Majesty', the most wonderful of all these trees, had, eight feet from the ground, a circumference of twenty-eight feet, four inches; and at twenty-eight feet from the ground, fifteen feet, six inches. It has one arm which contains sixty-eight feet, eleven inches; another, sixty-four feet, two inches; a third, sixty feet, nine inches and several others of nearly equal dimensions. The total contents of this huge baulk of timber are thirty-six tons, twenty eight feet, four inches, bark not included.
Anonymous: Remarkable Trees, Shrubs and Plants, 1821
※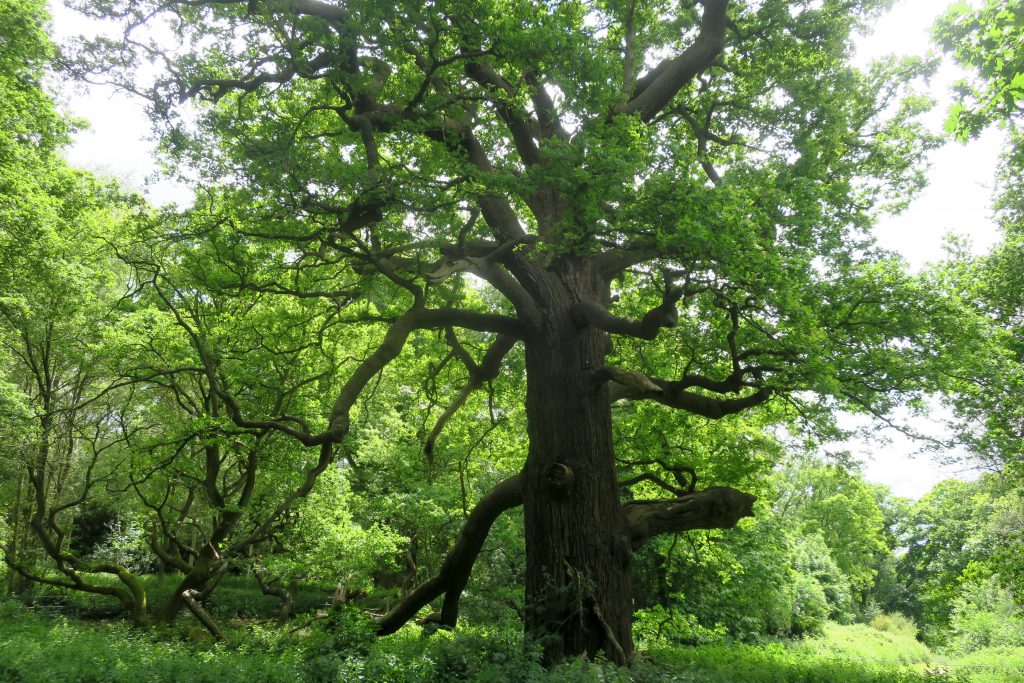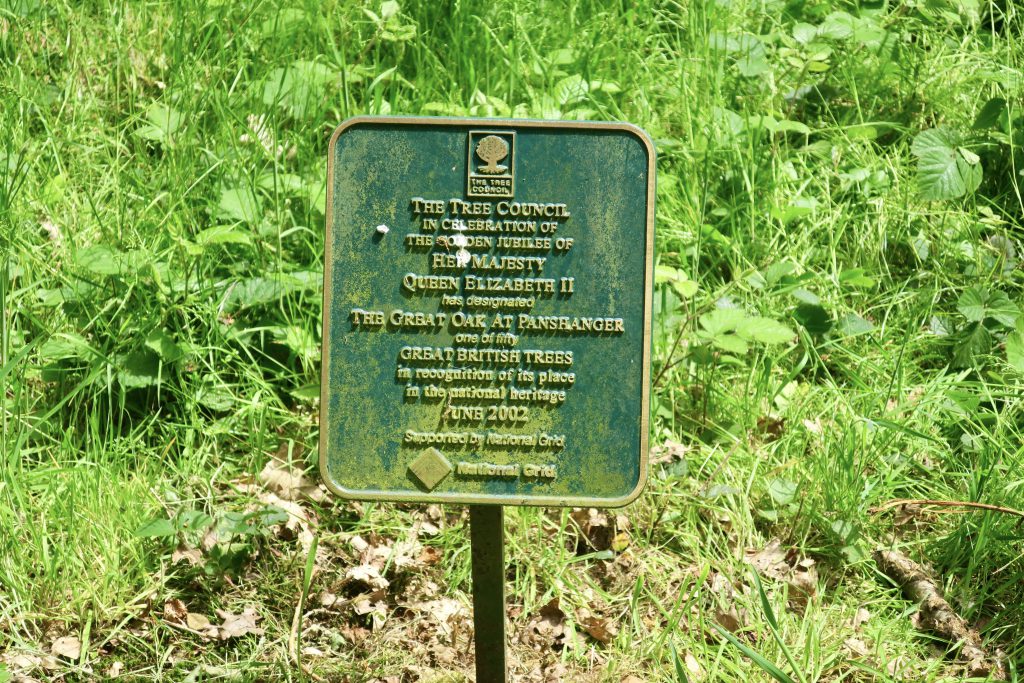 In 2002 the Panshanger Oak was designated one of fifty Great British Trees in celebration of the Golden Jubilee of Her Majesty Queen Elizabeth II.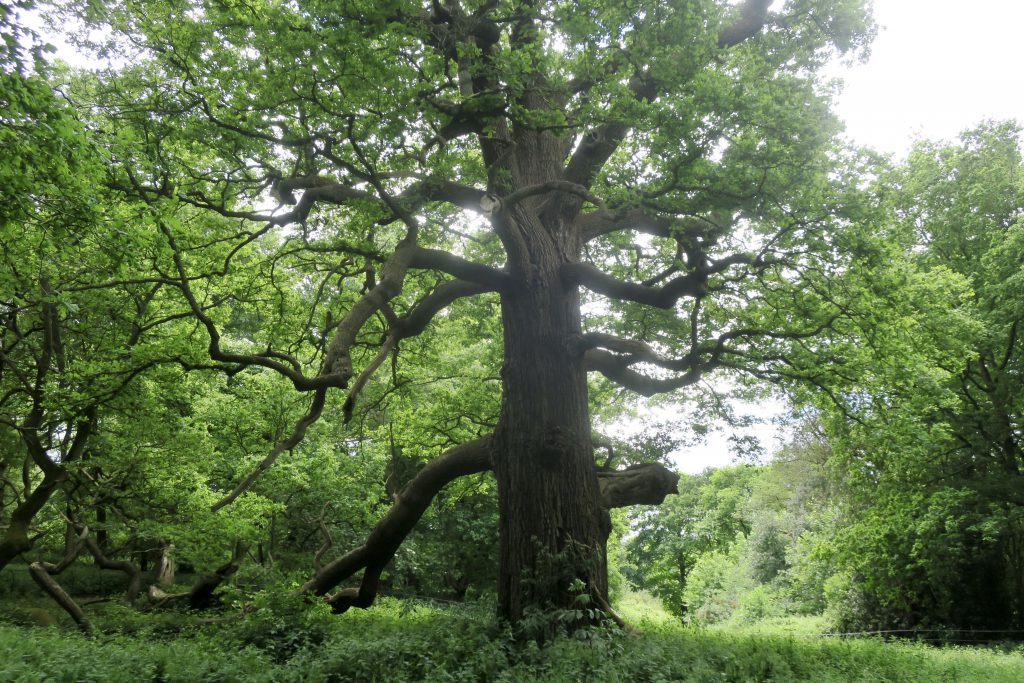 Queen Victoria travelled widely throughout her realm during her long reign and it is said that she had many favourite oak trees and planted quite a few herself. Because she survived to celebrate not just a golden jubilee but also a diamond one she left her legacy in the hundreds of oaks that people planted in her honour all over the country, and the custom has continued. When Elizabeth II was crowned in 1953 the nation was once again swept up with patriotic fervour and planted 'coronation' oaks in commemoration. A rather fascinating turn of events in the Forest of Dean connects the reign of all three queens (Elizabeth I, Victoria, Elizabeth II). In 1861, Queen Victoria's husband, Prince Albert, planted what became known as Prince Consort's Oak, near Speech House. This tree had been grown from an acorn taken from the Panshanger Oak in Hertfordshire, which was, allegedly, planted by Elizabeth I. In 1957, Elizabeth II visited the Forest of Dean, where she planted another oak tree, this time one grown from the Prince Consort's Oak, thus completing the link. Happily, all three trees are still thriving. The Panshanger Oak, originally planted on what was once the estate of Earl Cowper, was, as the agriculturist Arthur Young recorded in 1804, 'a most superb oak, which measures upwards of seventeen feet in circumference at five feet from the ground. It was called the Great Oak in 1709'. Various authorities measured it throughout the nineteenth century and the English naturalist and artist Jacob George Strutt made a sketch of it in 1822 for his book 'Sylva Britannica' (1826, reprinted in 1830). The tree's shape today compares well with Strutt's drawing and it currently has a girth of 25 feet, which is exceptional for a maiden oak tree.
Archie Miles: The Trees That Made Britain, 2021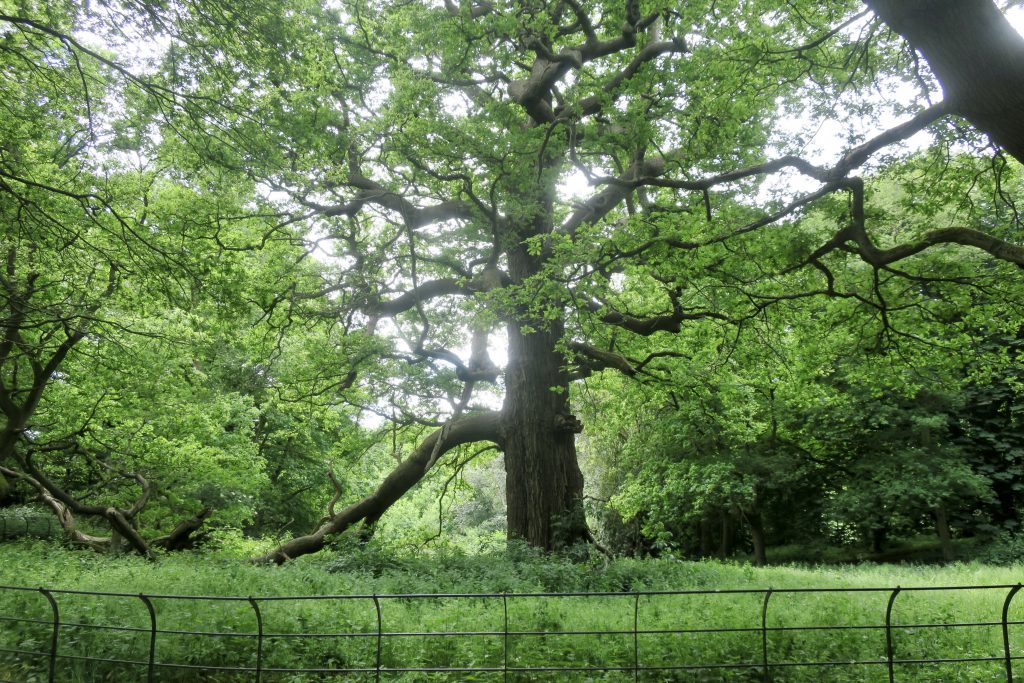 As we went around this great spinning tree, 'a winding tree to spin the yarn of centuries', it unravelled and lost a large branch and became unstable. But over time it has extended an outstretched buttress to steady itself, and now springs anew as if to clear the perimeter fence and escape. A balancing act to increase stability and spread the word. An evangelical leap of faith.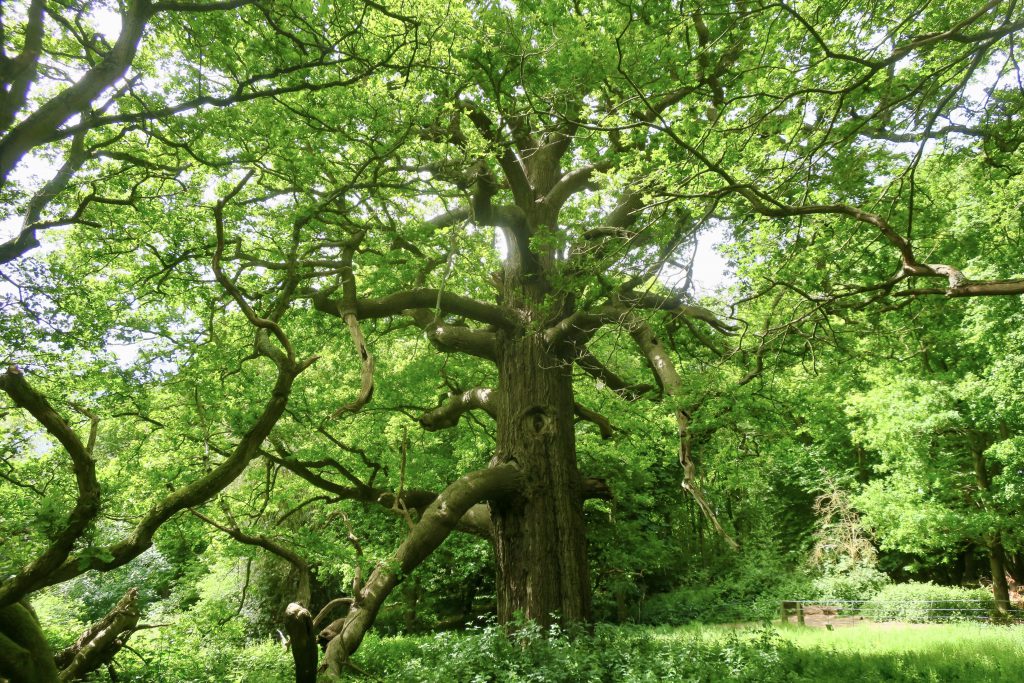 I am surrounded here with law, order, and beauty, and am myself absolutely happy here. There is nothing to make me unhappy. No evil thing meets my eye, there is nothing bad here. I begin to grasp the obvious fact that this place is – perfect. And suddenly I realize where I am! I am in the Garden of Eden. I had heard about it always as a definite place in the past. There was no error in speaking of the Garden as existing, but the mistake lay in tying it down in time and place. For it still exists – all we need is the key of the gate. The first two persons in history dwelt in the Garden, it is said. But they ate of the Tree of Knowledge and had to go. That must be the truth: at the birth of consciousness we became 'onlookers' and were separated from Nature, and left the Garden to create a world of our own apart from Nature. Our next step is a further extension of consciousness when we shall realise the unity of life on a higher plane of understanding. Having tasted of 'that' tree of knowledge we shall enter the Garden of Eden once more, and Paradise shall be regained.
John Stewart Collis: The Wood, 1973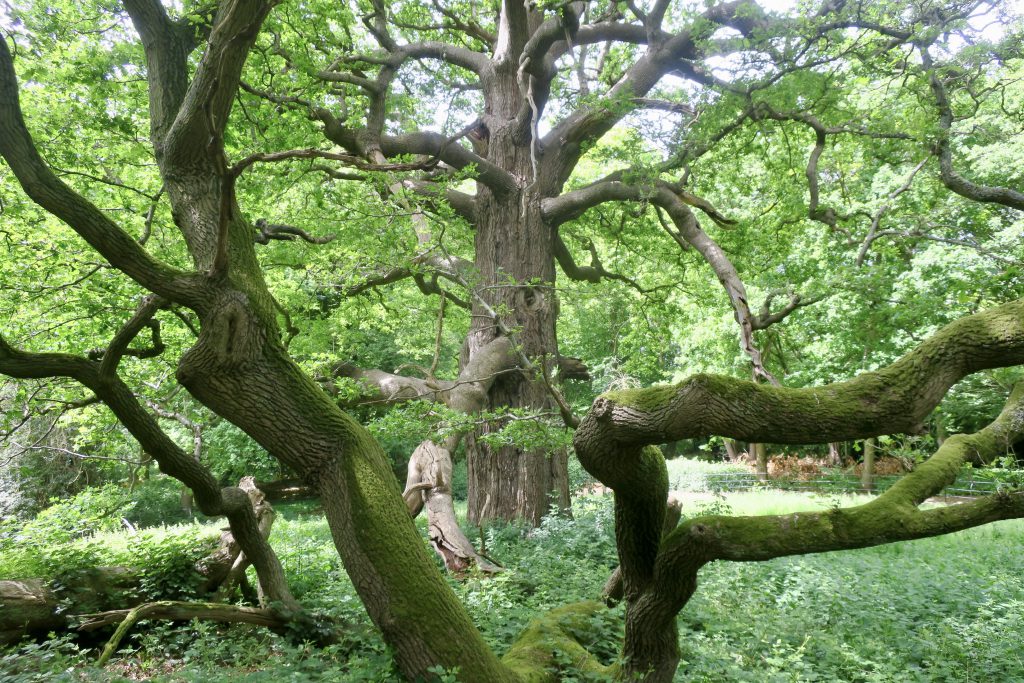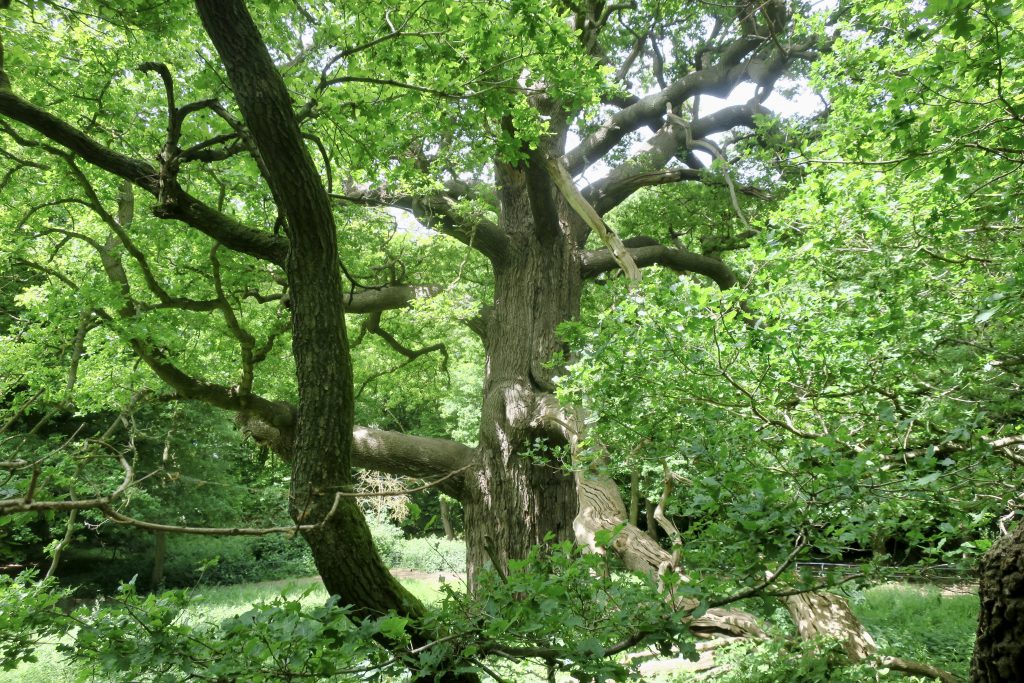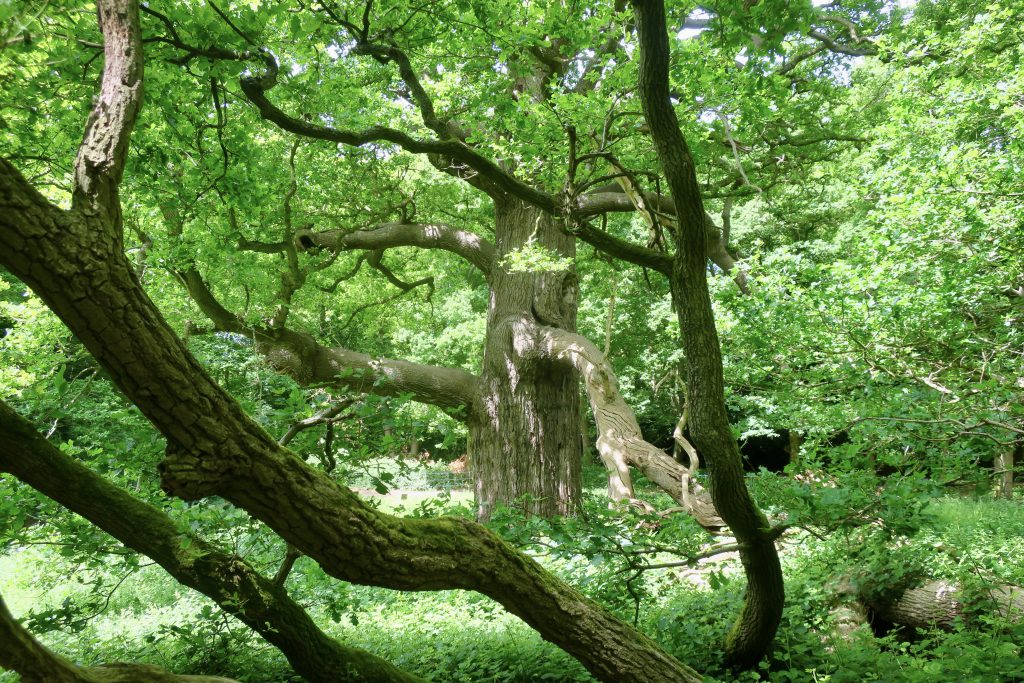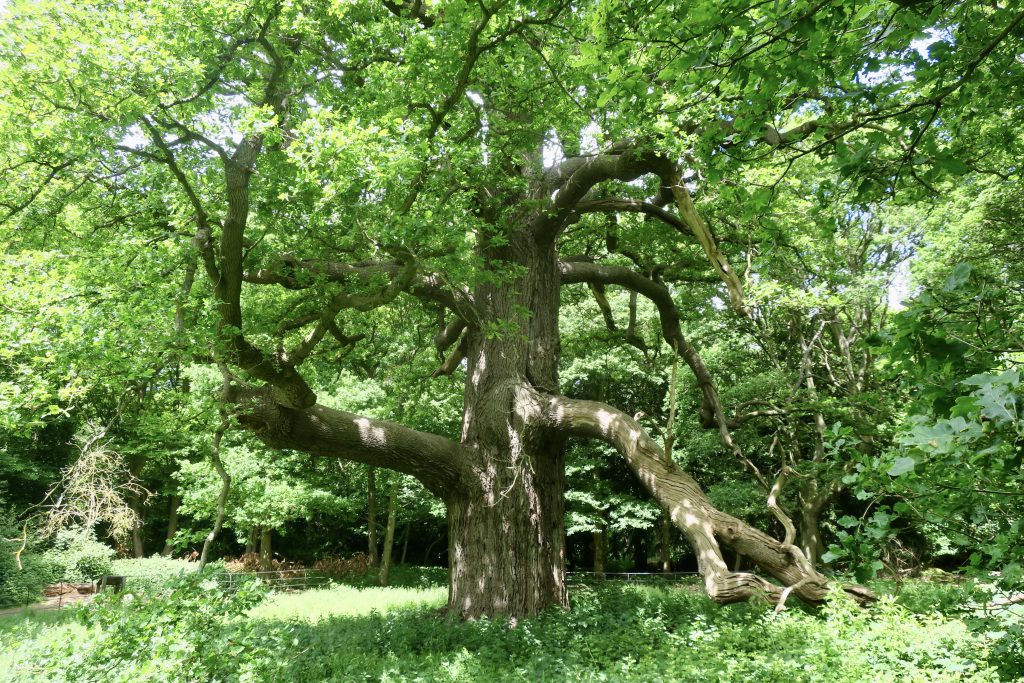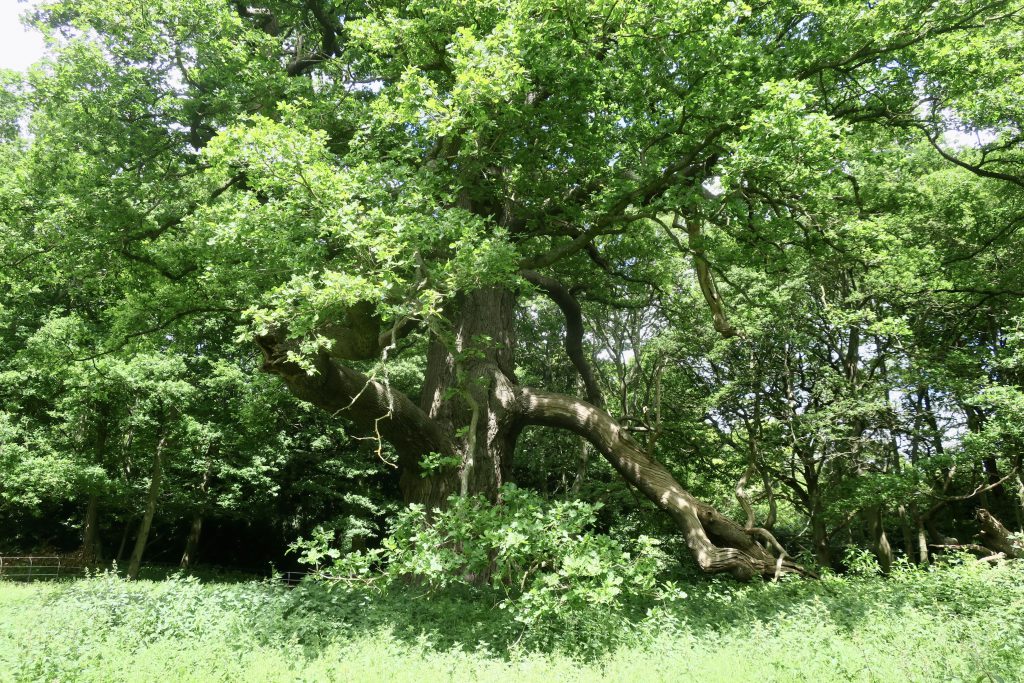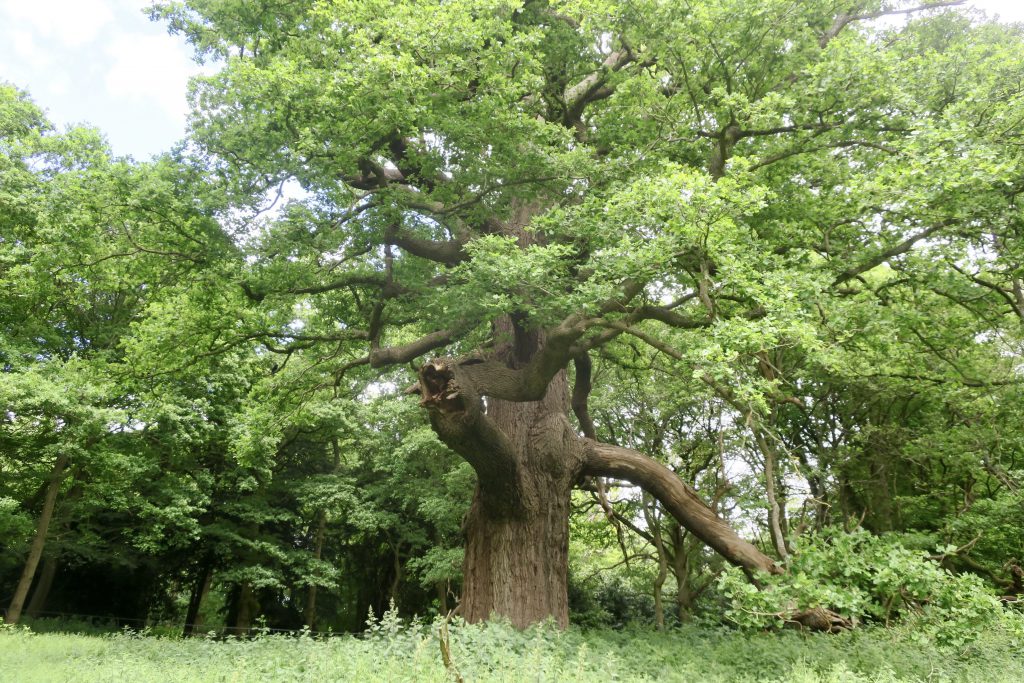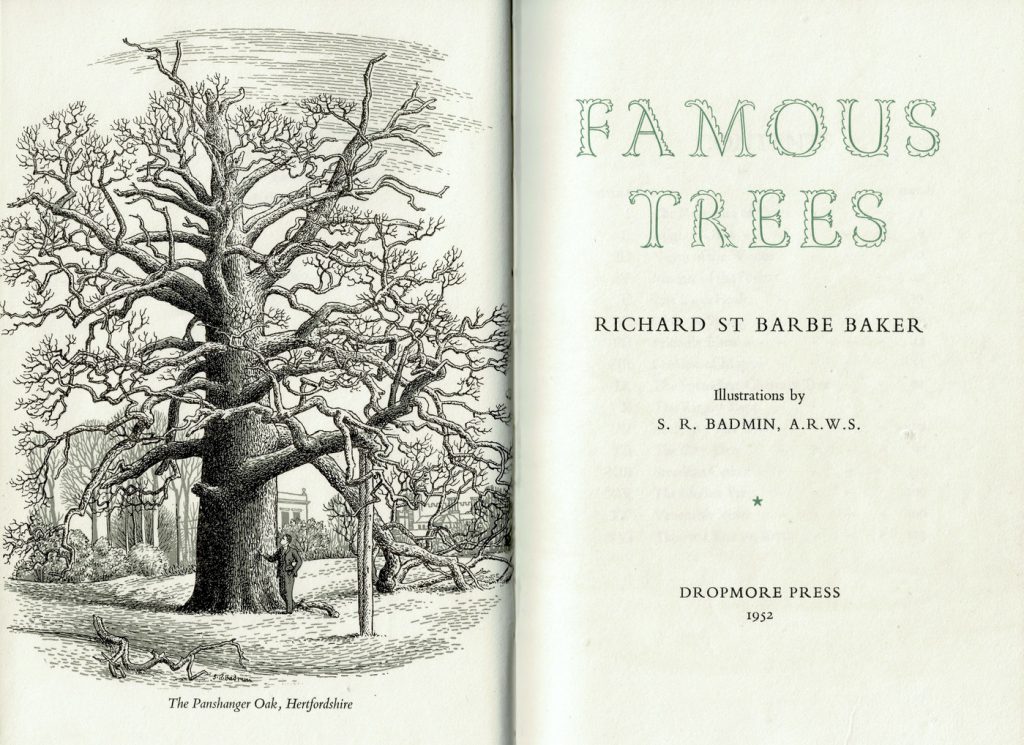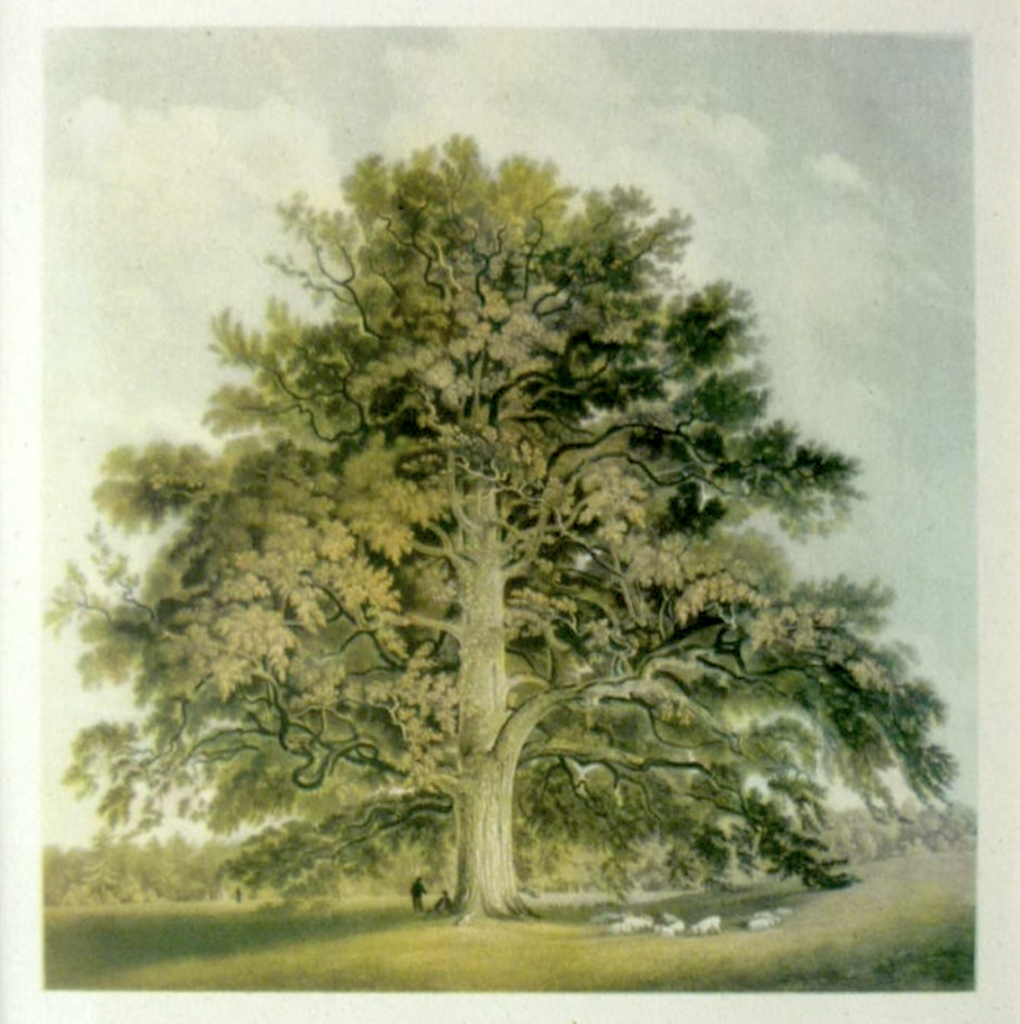 The largest clear-stemmed oak in the country, the Great Oak is believed to have been planted by Queen Elizabeth I. This ancient English oak (Quercus robur) has a well recorded history, including a visit in 1789 by the Hampshire naturalist, Gilbert White. It was first measured by Arthur Young in 1804 and then recorded by Strutt in his 'Sylva Britannica' in 1830 as being 19 feet (5.8 metres) in circumference 3 feet (0.9 metres) from the ground. Currently its girth is a massive 25 feet (7.6 metres).
Sir Winston Churchill, who planted an oak nearby grown from one of its acorns, described it as the finest and most stately oak growing in the south-east of England.
The tree grows in the grounds of Panshanger House. In 1957 Lady Cowper, the owner of the estate, decreed that when she died her family home should be knocked down so that nobody else could live in it. Her wish was duly carried out.
Jon Stokes & Donald Rodger:
The Heritage Trees of Britain & Northern Ireland, 2004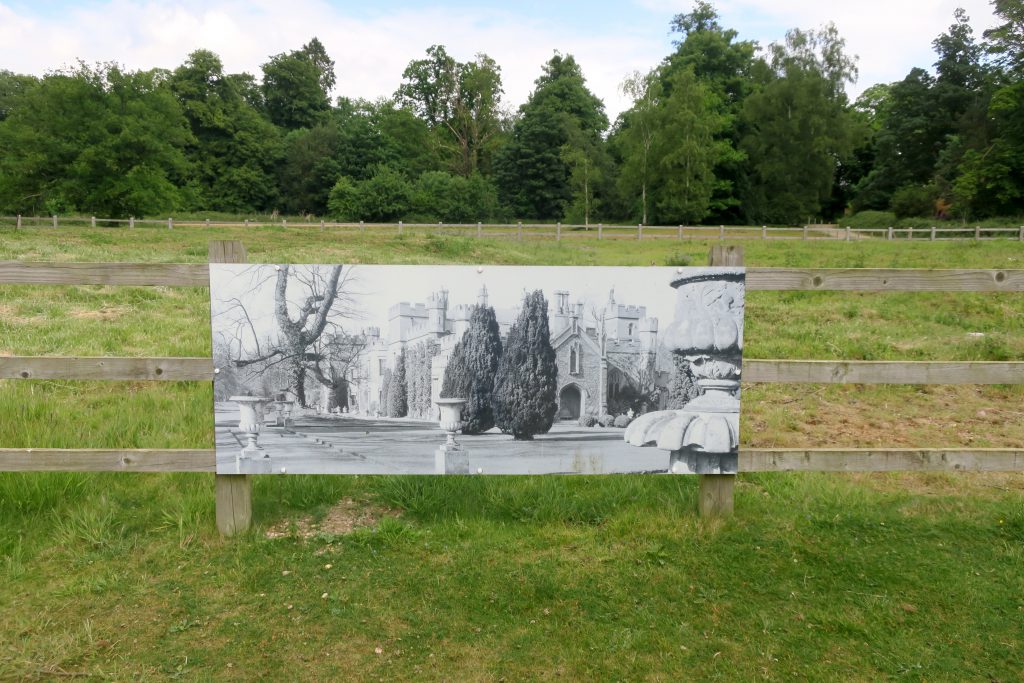 Panshanger House was demolished but thankfully the Great Oak was spared and can now be viewed without prior appointment.
※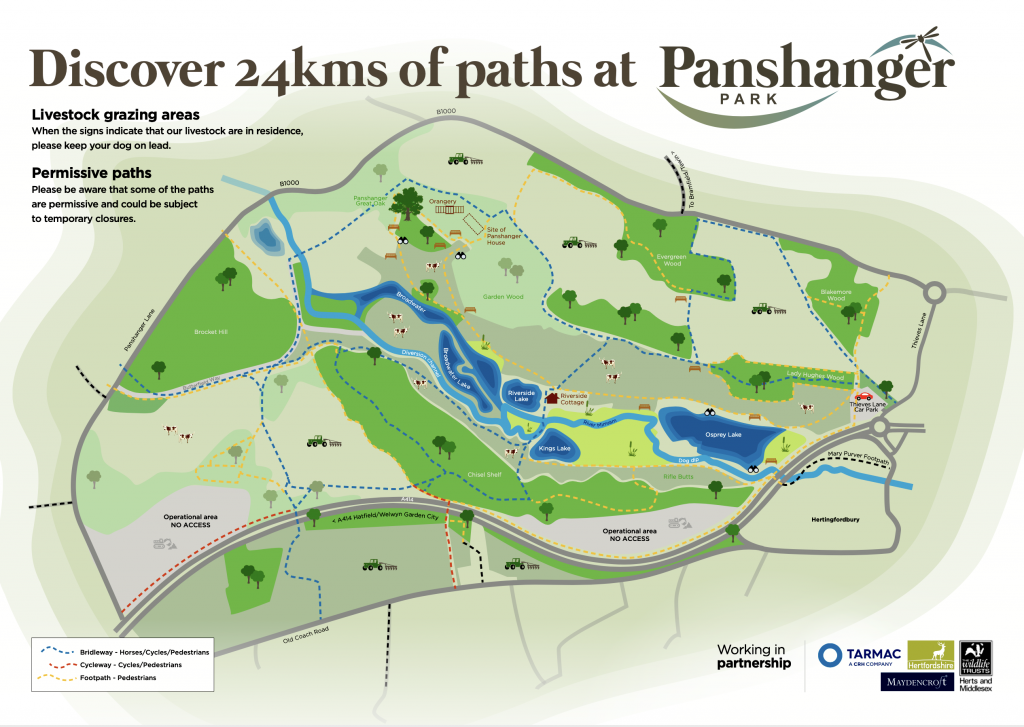 Panshanger Park | Panshanger Park
※
PS: If you enjoyed this you might also enjoy an earlier post about another ancient maiden oak tree – Majesty.