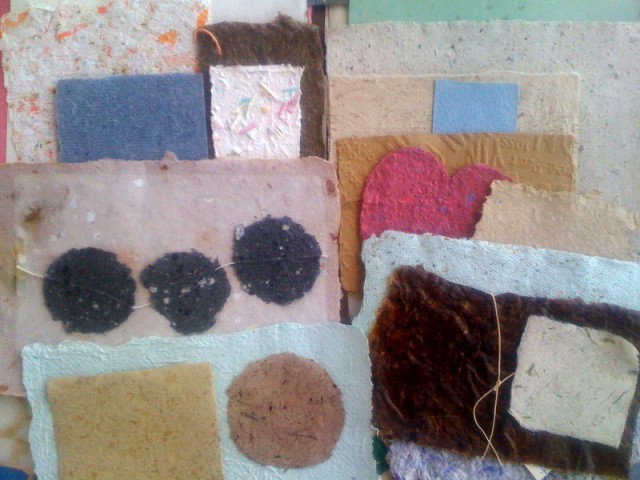 In March I participated in an annual papermaking swap with 40 papermakers from different countries. The package of papers which I received in the post from the organiser Elena Siff, of Etsy Papermakers Guild, introduced me to the diverse and creative papers of 40 paper artists like myself, each experimenting in their worlds of paper, plant fibres, colour and pulp. The variety and quality of the papers was wonderful and the experience was very inspiring.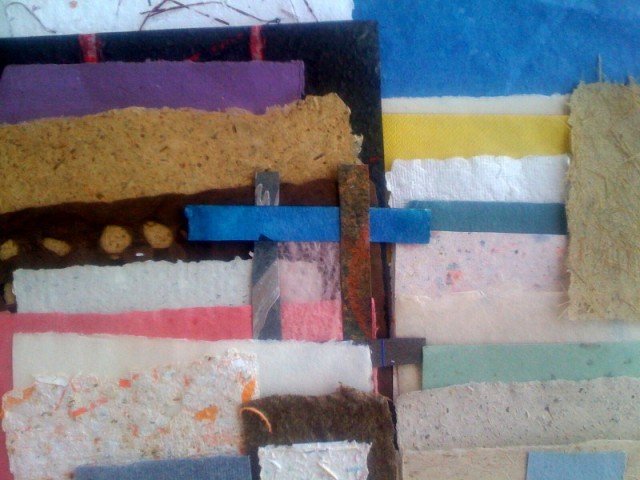 Having worked on my own with paper for a long time I joined the Yahoo Papermakers Group, (many of the papermakers in the swap are in this group) and I am quickly discovering that papermakers everywhere are giving workshops to help people learn the skill of making paper by hand, which involves recycling, re-using, foraging, up-cycling, being both creative and practical, all at once, and which can lead to an income.
Most papermakers start off using a kitchen blender (you can also beat by hand with a thick piece of wood in a bucket) to pulp their plants and recycle their paper into a mulch ready for making paper. Cooking up and breaking down plant fibres is essential too, but this stage involves lye, or washing soda, and is best done away from the kitchen.
The very desirable step up from the kitchen blender however is to own a Hollander Beater, a machine usually way too expensive for the artisan papermaker… that is, until Mark Lander (an artist and papermaker from New Zealand) designed a portable and affordable version which is now available to papermakers. The Hollander Beater has the ability to happily handle anything stringy and tangly – plants from your garden, linen and cotton rags, and in large quantities too, rendering the plants suitable to make both decorative and functional papers, or simply huge amounts of pulp ready for moulding, casting and sculpting, and for someone or a group to establish a mill for small scale paper production.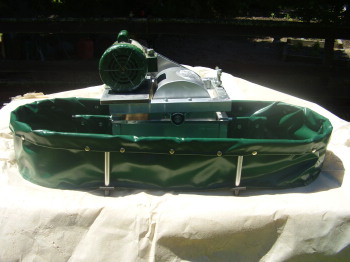 Mark's first 'Critter' (Hollander Beater) was made and sent by post, bit by bit, to the Womencraft project in Chicago, who were training the homeless in papermaking. Up until this point they had been using a line up of kitchen blenders to process office waste into the most beautiful cards and albums. It is now 12 years since Mark began his inspired and remarkable Critter Project and 358 machines have been made and sent all over the world. If you stacked them end to end they now stretch higher than the Empire State Building! His small profit margin and willingness to serve and provide has allowed him to make Critters for deserving causes. Take a look at Fancy Stitch, beautiful embroideries backed with amazing handmade papers. This project provides income for 400 families. Critters go to schools for the deaf in Tanzania, orphanages in India, one has even gone up the Amazon in a canoe!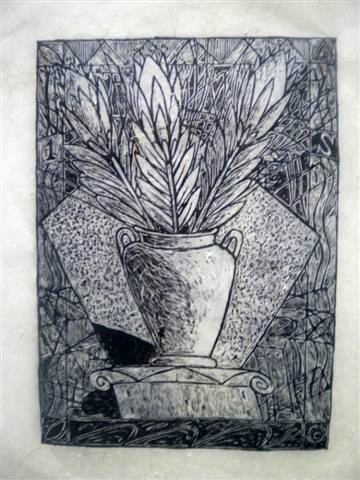 This year there is a Spring Critter Promotion, which everyone can join in on. Mark has made an original woodcut print on his A1 poster sized New Zealand Flaxpaper, numbered and signed, this is folded up into an envelope for posting around the world. There are 130 in the edition, these are our 'shares' in a 2lb capacity machine. But this is the fun bit, when you enter the draw by using the link below you will receive one of the prints in the post shortly afterwards, and when all the tickets are sold Mark will do a draw and someone wins a Hollander, which he has made especially for this event. Keep it if you are a papermaker, or if you want, you can donate it to a charity that will really appreciate and benefit from using one of these marvelous machines. Just ask Mark and he will be able to advise you. The winner will be contacted directly. To buy a print please click here.
The Hollander beats rather than cuts the fibres,so it has the capacity to make very strong pulp for papermaking. I received my print in the post today and the paper itself is stunning, so many long fibres make a beautiful texture in an almost transparent paper with beautiful soft edges. The photo does not do this print justice. You can choose your number and the print will press flat on arrival. Although I don't need any extra encouragement to get excited about the draw and to have faith in Mark's promotion actually receiving the print has renewed my enthusiasm!
Please see Mark Lander and The Critter Project for more information.
Annabel Keatley / The Rowley Gallery