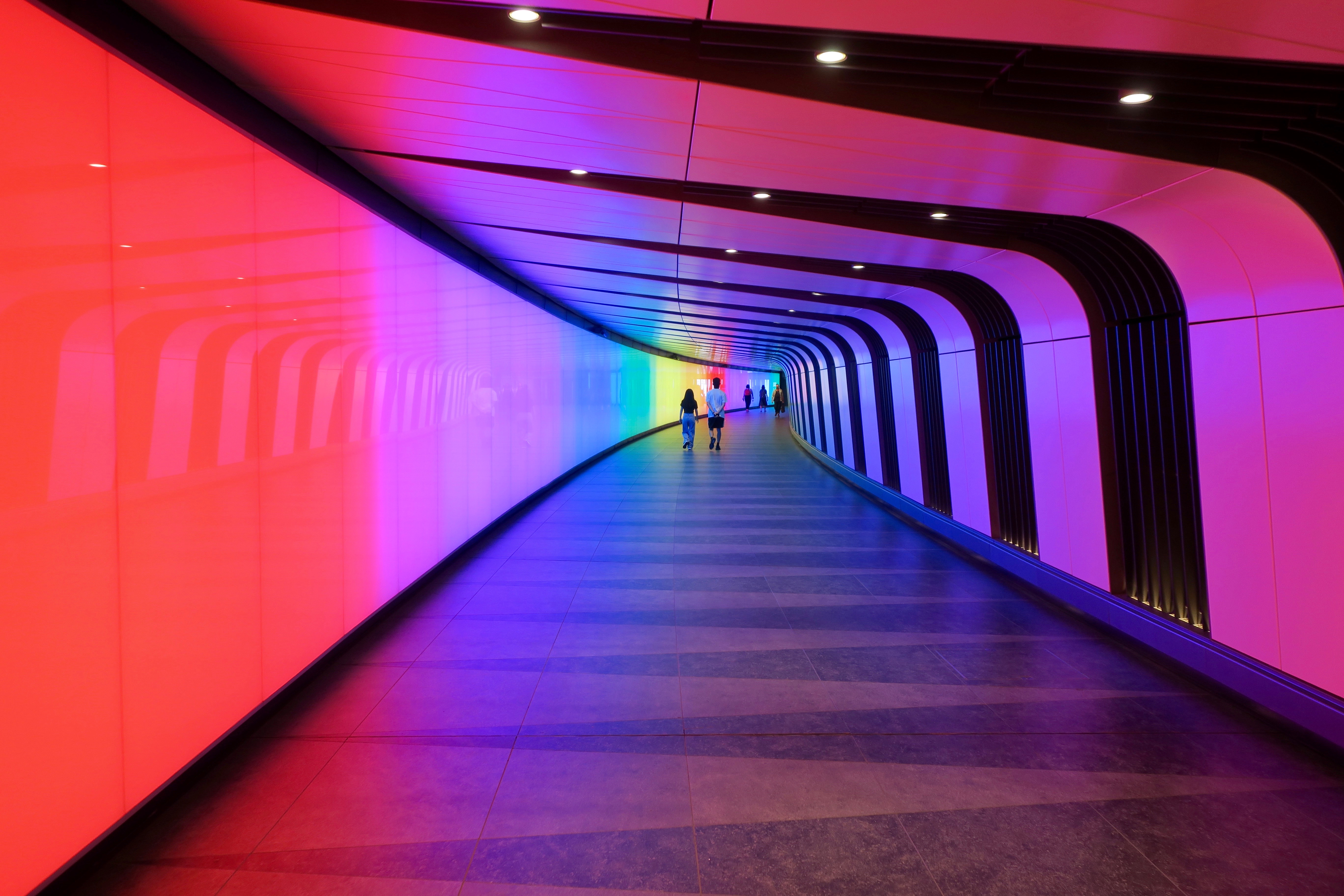 We came down from Granary Square via the King's Cross Tunnel. Its multicoloured lightwall appears to be a taste of things to come. This was back in August, school-holiday time, and our grandchildren were staying for a week, so before daytrips to Madame Tussauds, Brighton, Lavenham, the British Museum and Camden Lock, I suggested Tate Modern and we took a train to Blackfriars.
We'd got in the mood the night before and we were all ready to go (sideways).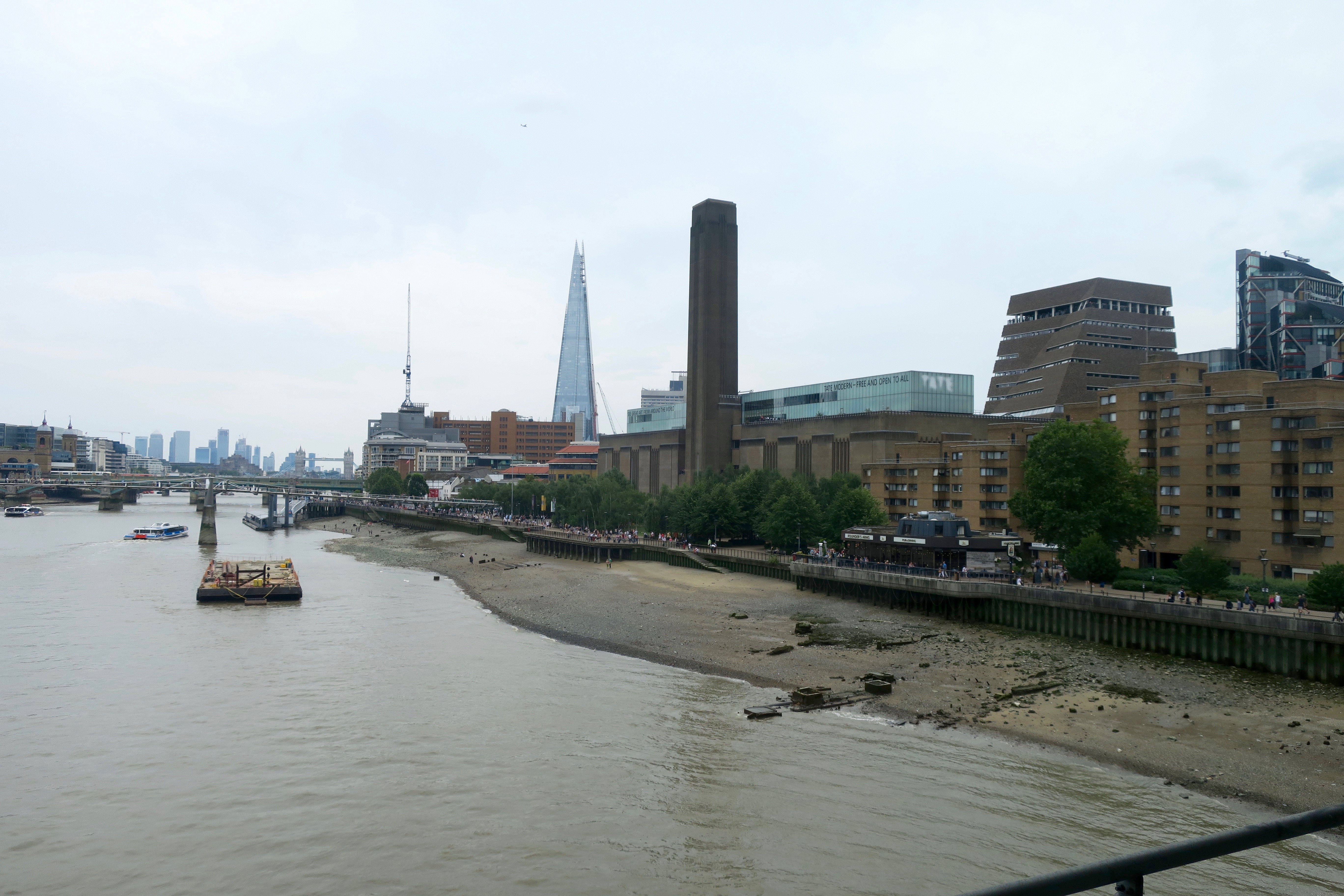 The new Blackfriars Station is on Blackfriars Bridge over the Thames, with a view of the former Bankside Power Station – SEE GREAT ART FROM AROUND THE WORLD – TATE MODERN – FREE AND OPEN TO ALL. The plane over the Shard was a harbinger of the helicopter to come.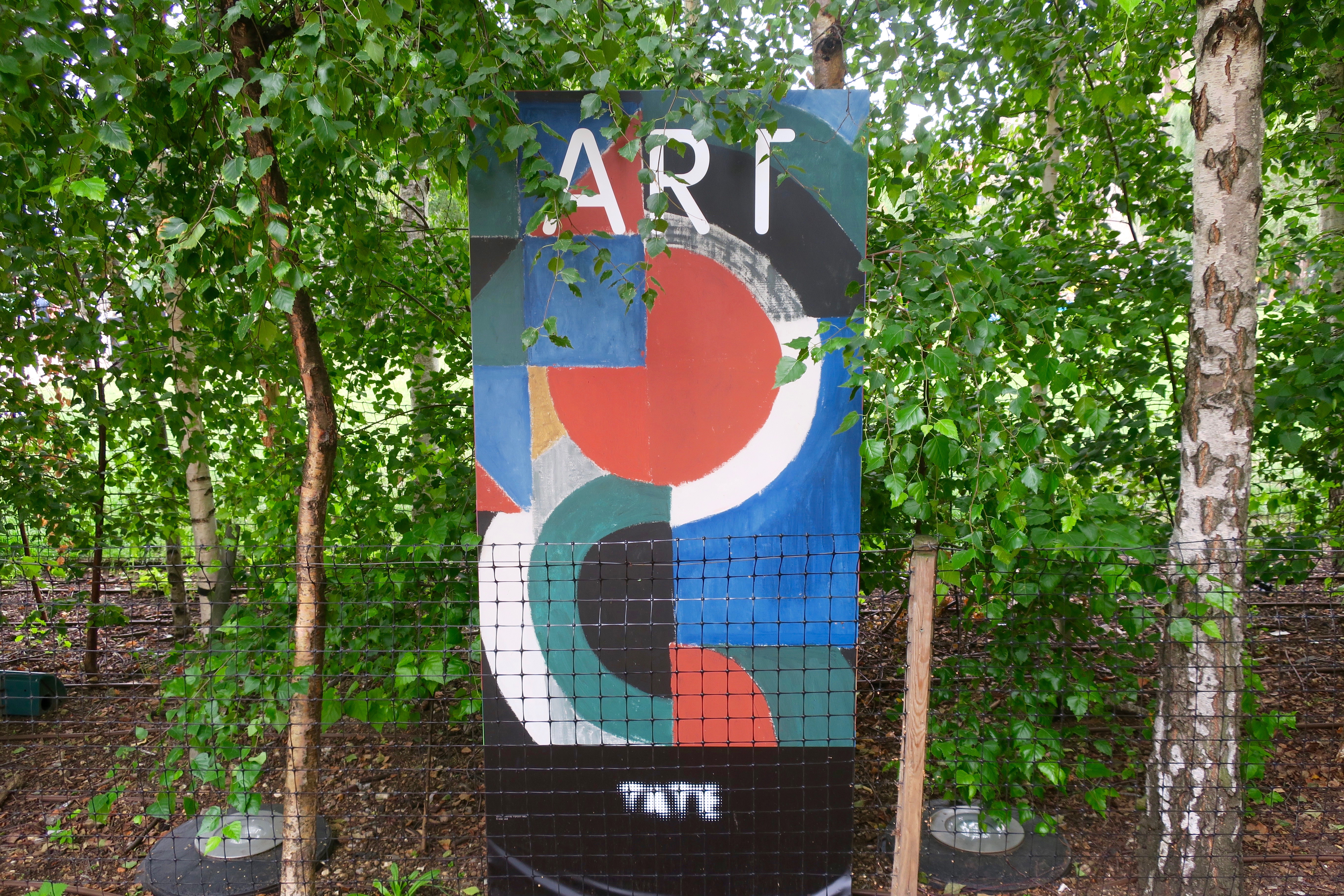 It was nice to find Sonia Delaunay waiting to greet us.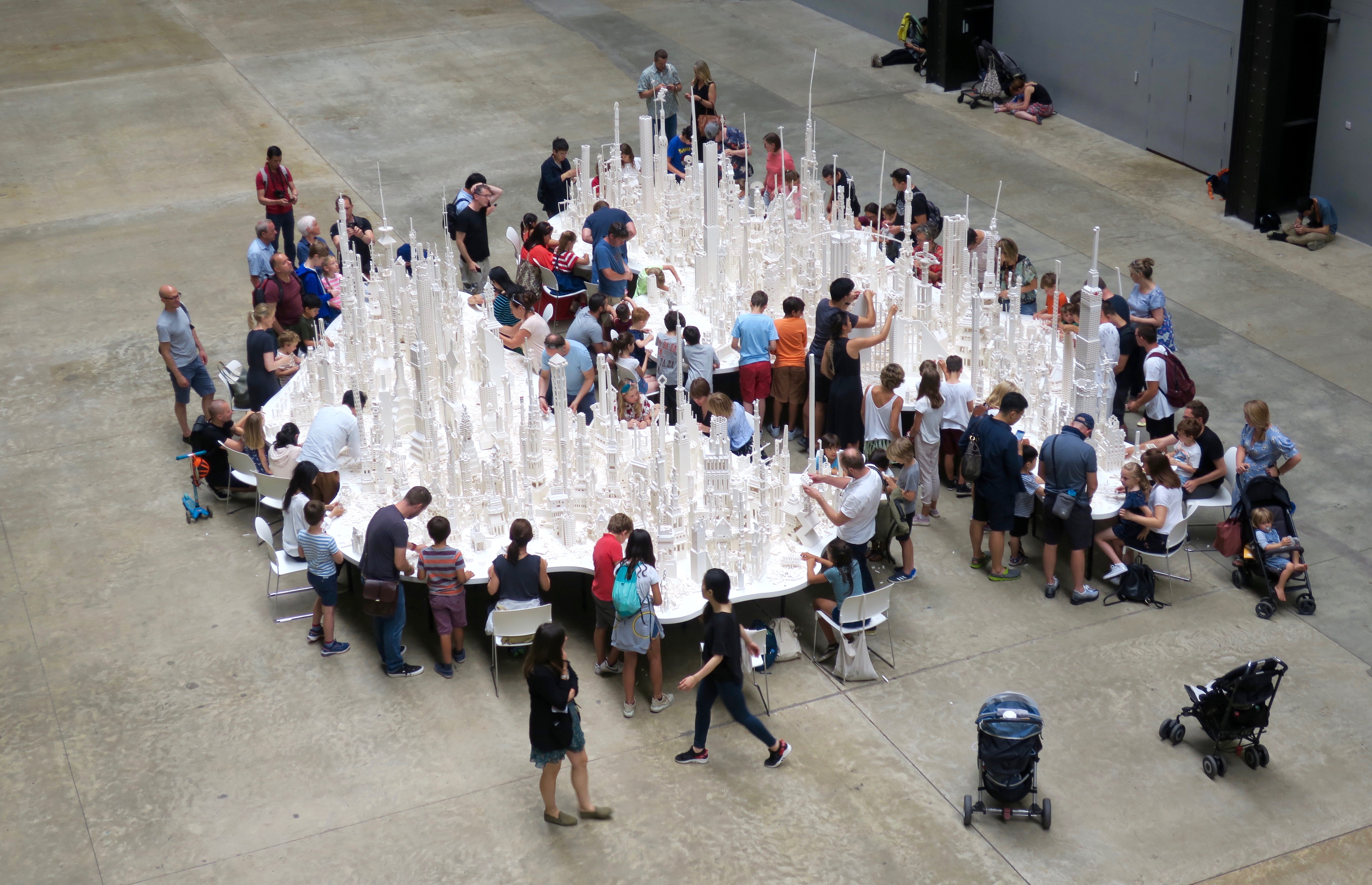 And in the Turbine Hall children worked together to create giant model LEGO buildings.
The Cubic Structural Evolution Project
Heaps of white Lego bricks are spread out over a large table at which visitors are invited to build their vision of a future city. The models made by each person are modified and elaborated by subsequent visitors throughout the course of the exhibition.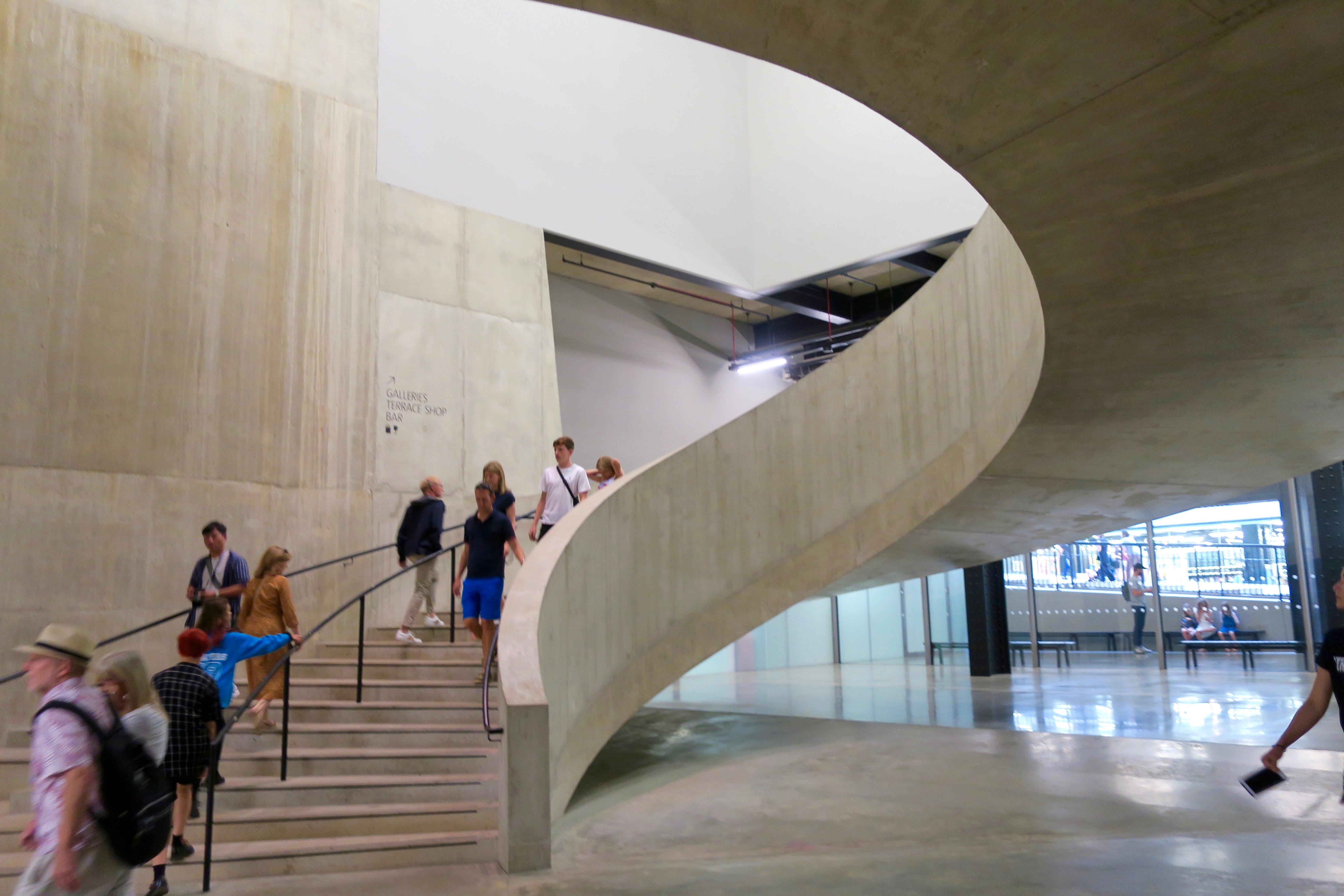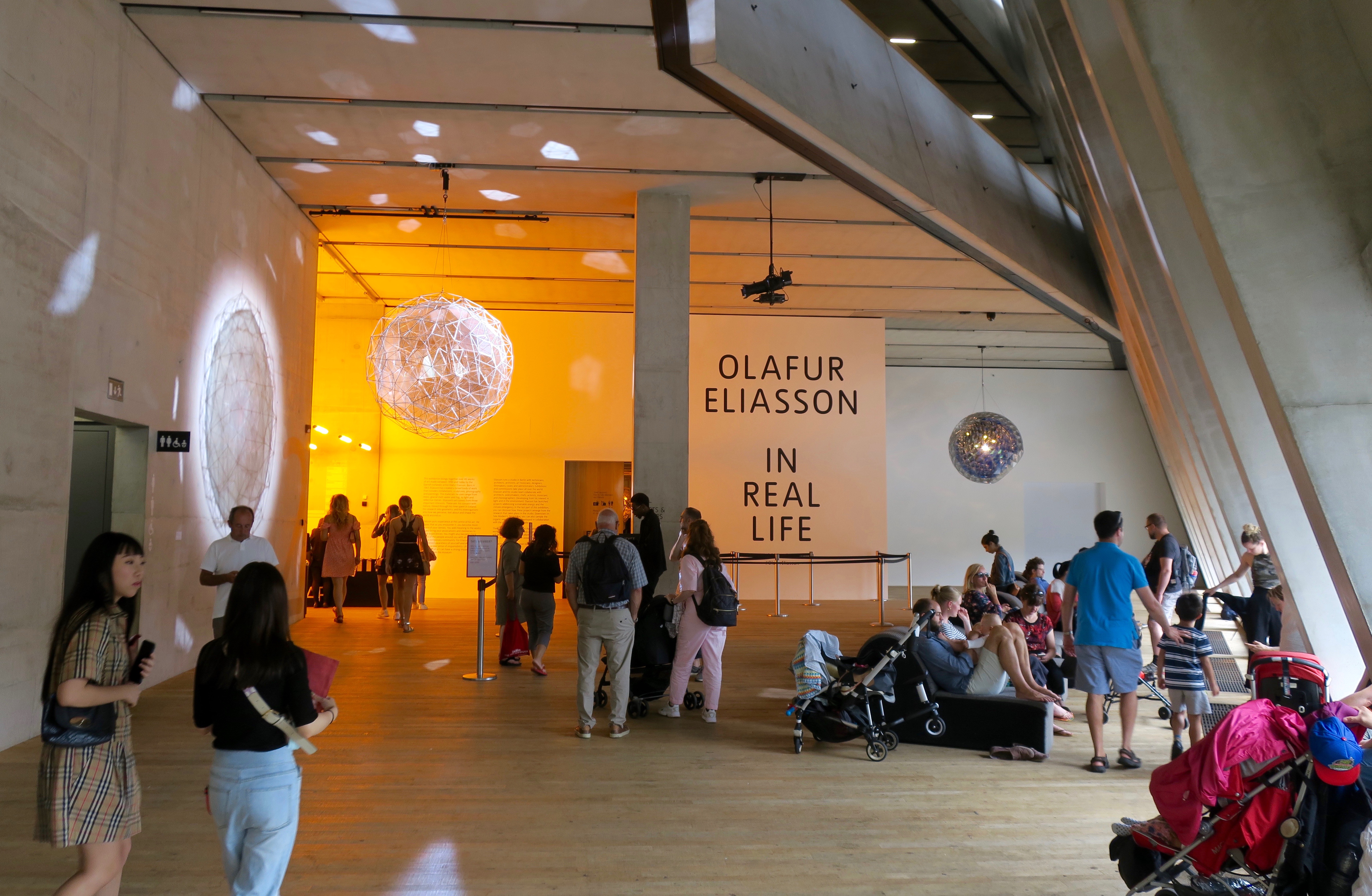 Olafur Eliasson: In Real Life
This exhibition brings together over 40 works of art made between 1990 and today by the Danish-Icelandic artist Olafur Eliasson. Born in 1967, Eliasson has created a broad body of work that includes immersive installations, sculptures, photography and paintings. The materials he uses range from moss, glacial melt-water and fog, to light and reflective metals. Eliasson's art comes from three particularly important interests. These are: his concern with nature, honed through his time spent in Iceland; his research into geometry; and his ongoing investigations into how we perceive, feel about and shape the world around us.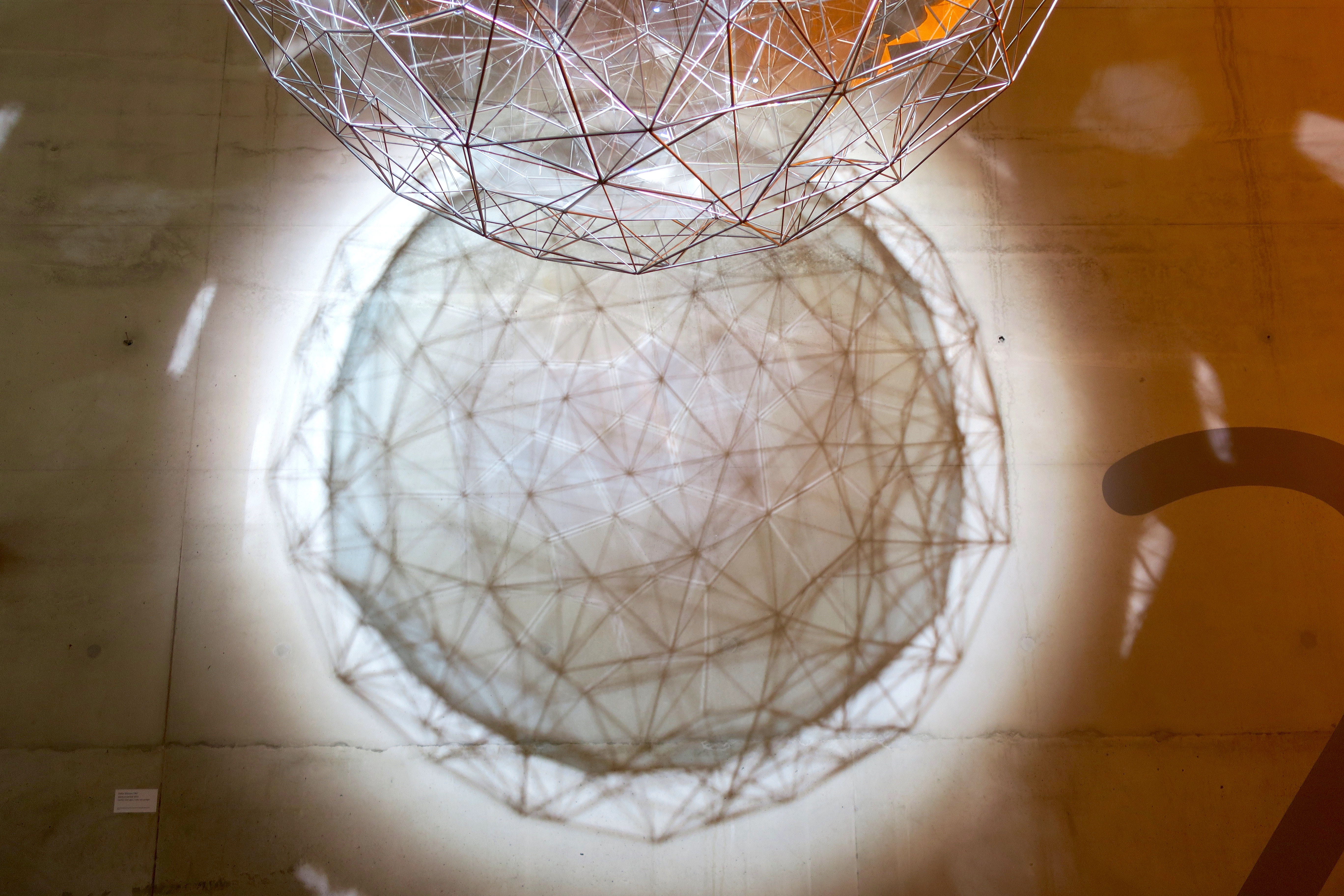 Eliasson puts experience at the centre of his art. He hopes that as you encounter it, you become more aware of your senses. You add meaning to the works as you bring your associations and memories to these experiences. You might also become more aware of the people around you with whom you form a temporary community. For Eliasson, this heightened awareness of yourself and other people creates a new sense of responsibility. Ultimately, he believes that art can have a strong impact on the world outside the museum.
More information on the works in the exhibition is on www.olafureliasson.net.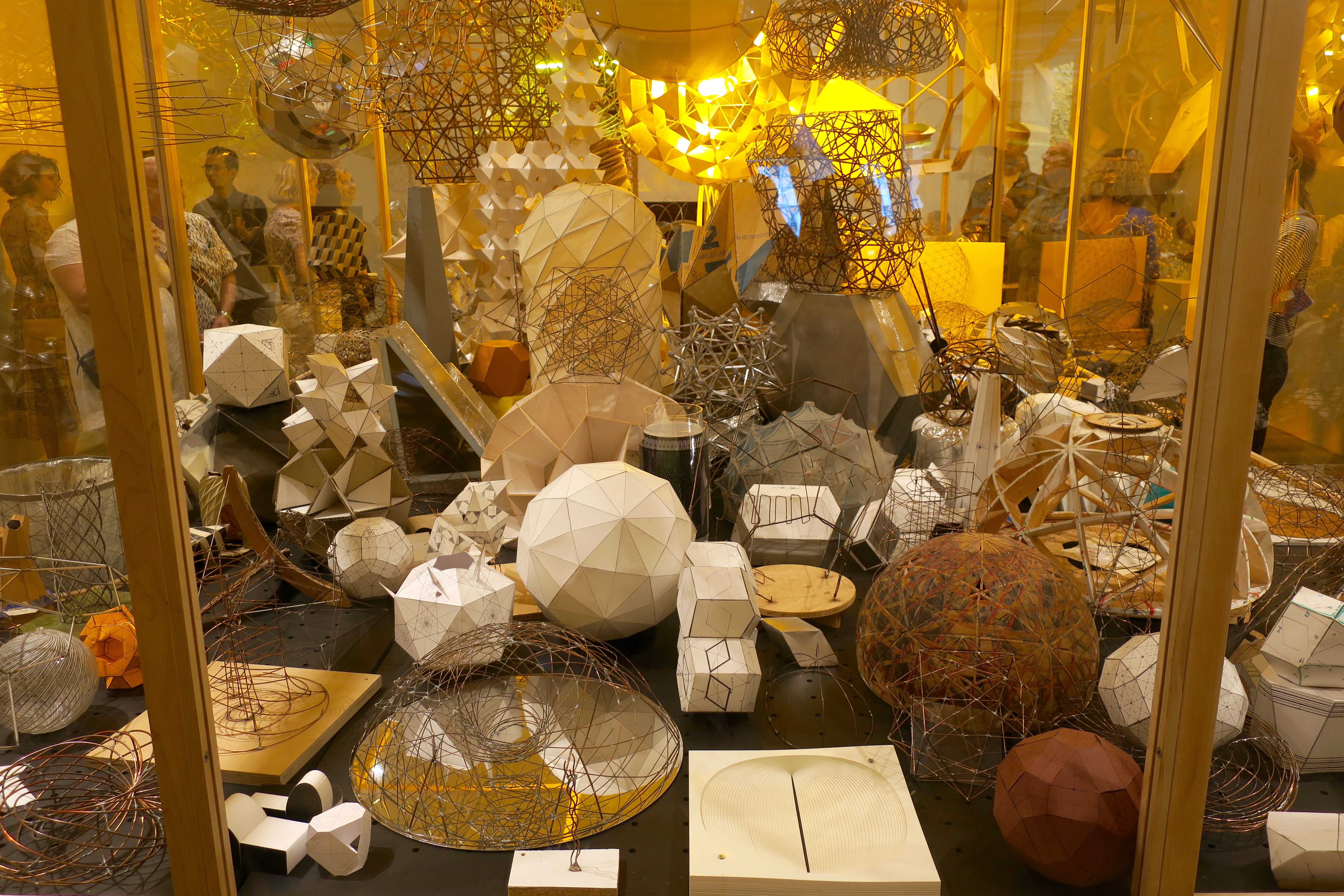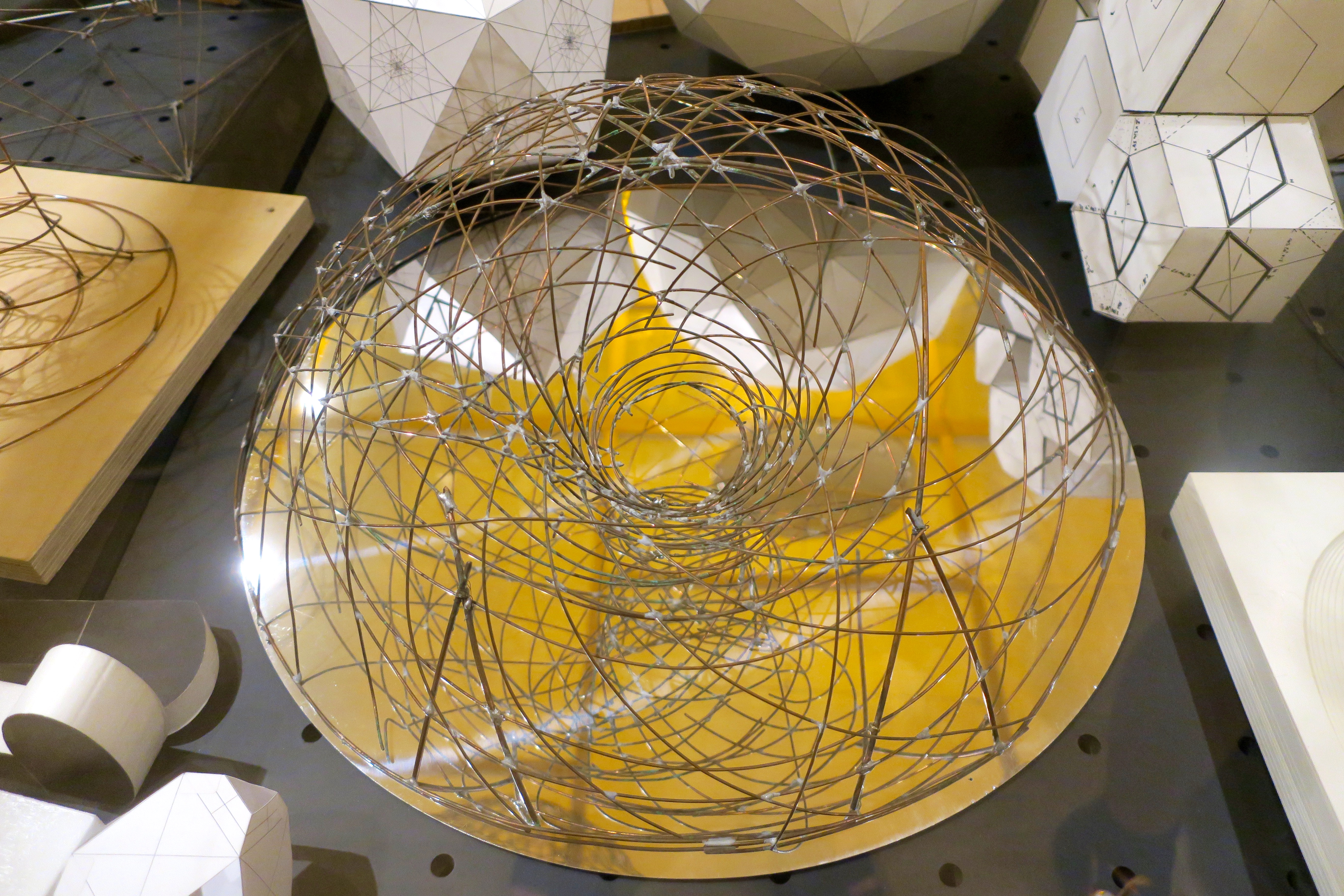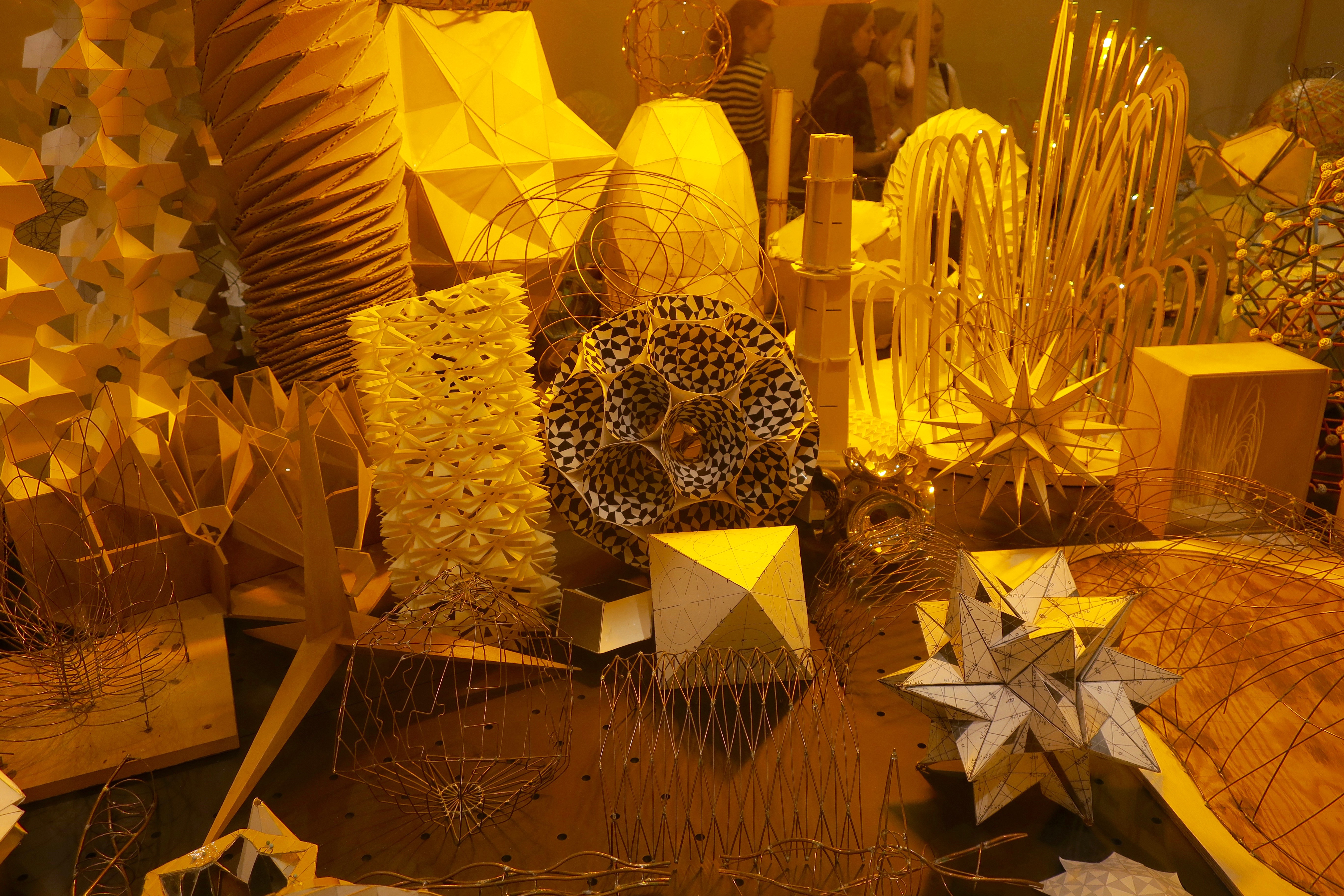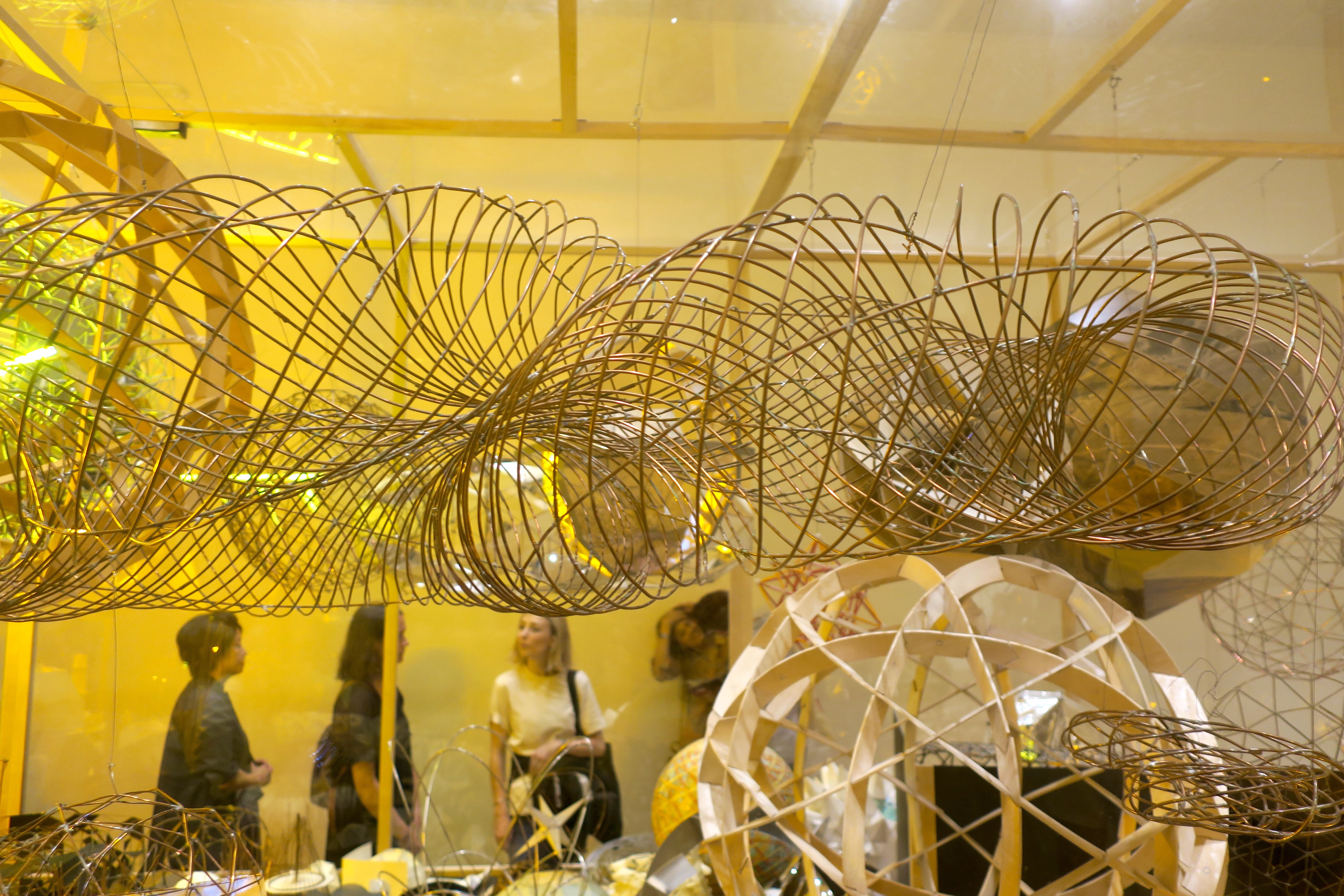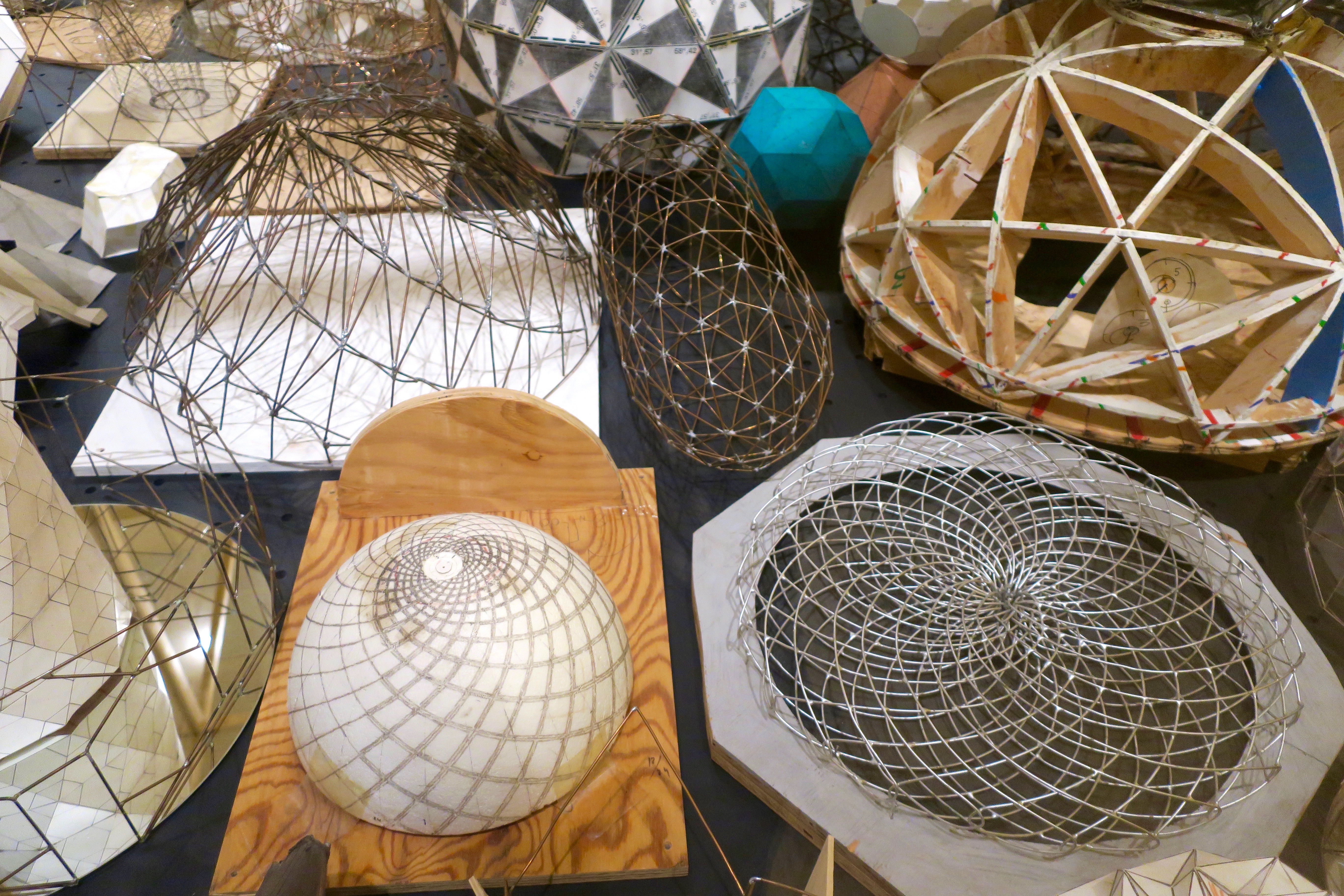 Model Room
This case contains around 450 models, prototypes and geometric studies of various sizes. Together, they form a record of Olafur Eliasson's work with his studio team and with Icelandic artist, mathematician and architect Einar Thorsteinn (1942-2015).
Between 1996 and 2014 Thorsteinn and Eliasson collaborated on several projects and researched the geometric forms, symmetries and ratios that structure a number of Eliasson's sculptures and pavilions. One of the modular shapes you see here, for example, is a study for 'Your Spiral View' 2002 which is installed in this exhibition.
These models are made from different materials including copper wire, cardboard, paper photocopies, Lego, wood, foam and rubber balls. For many years, they served as a reference 'library' for Studio Olafur Eliasson. Now, 'Model Room' is held at Moderna Museet, Stockholm, but the studio, and particularly its design and geometry teams, continue to create models and prototypes as part of its research.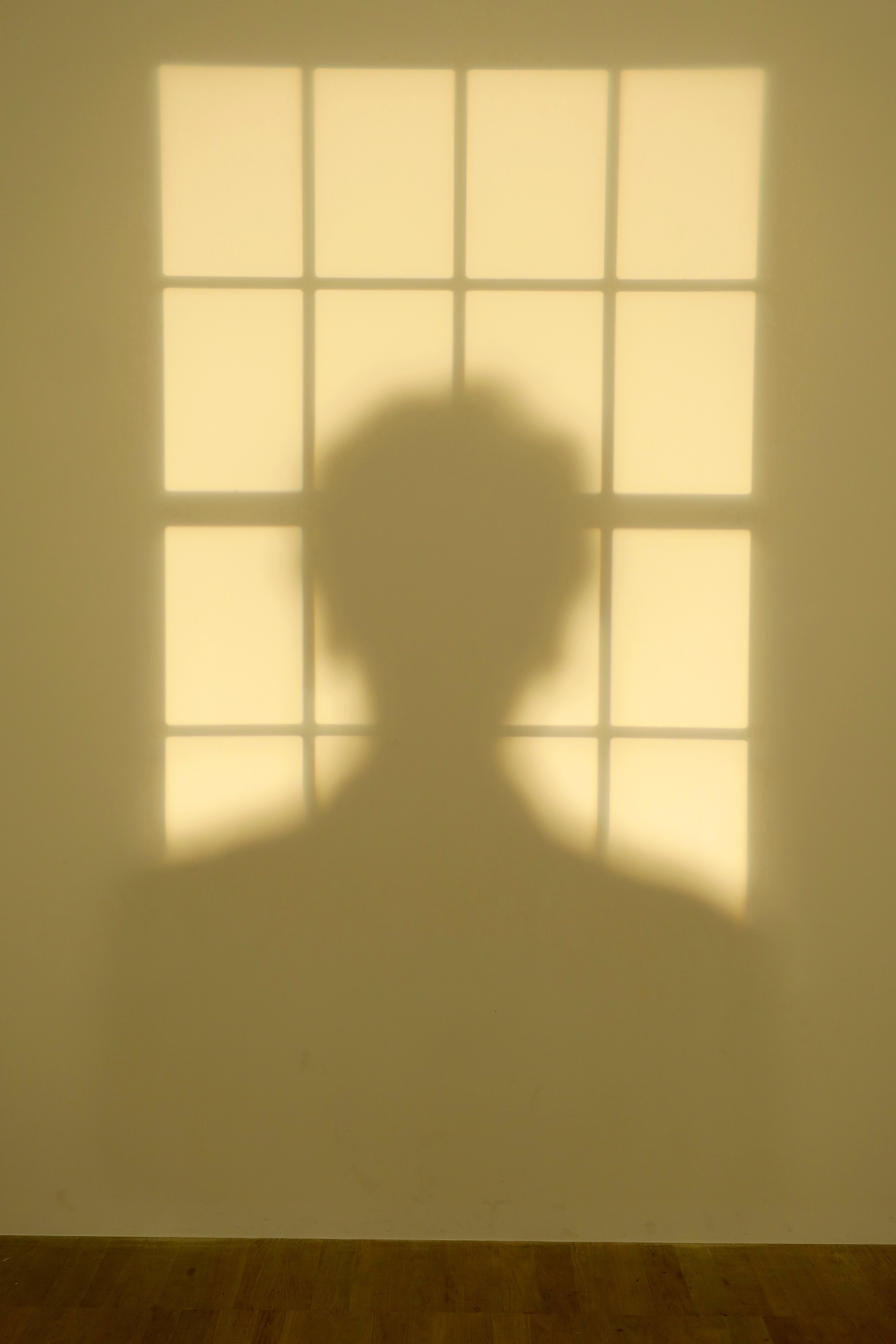 Window Projection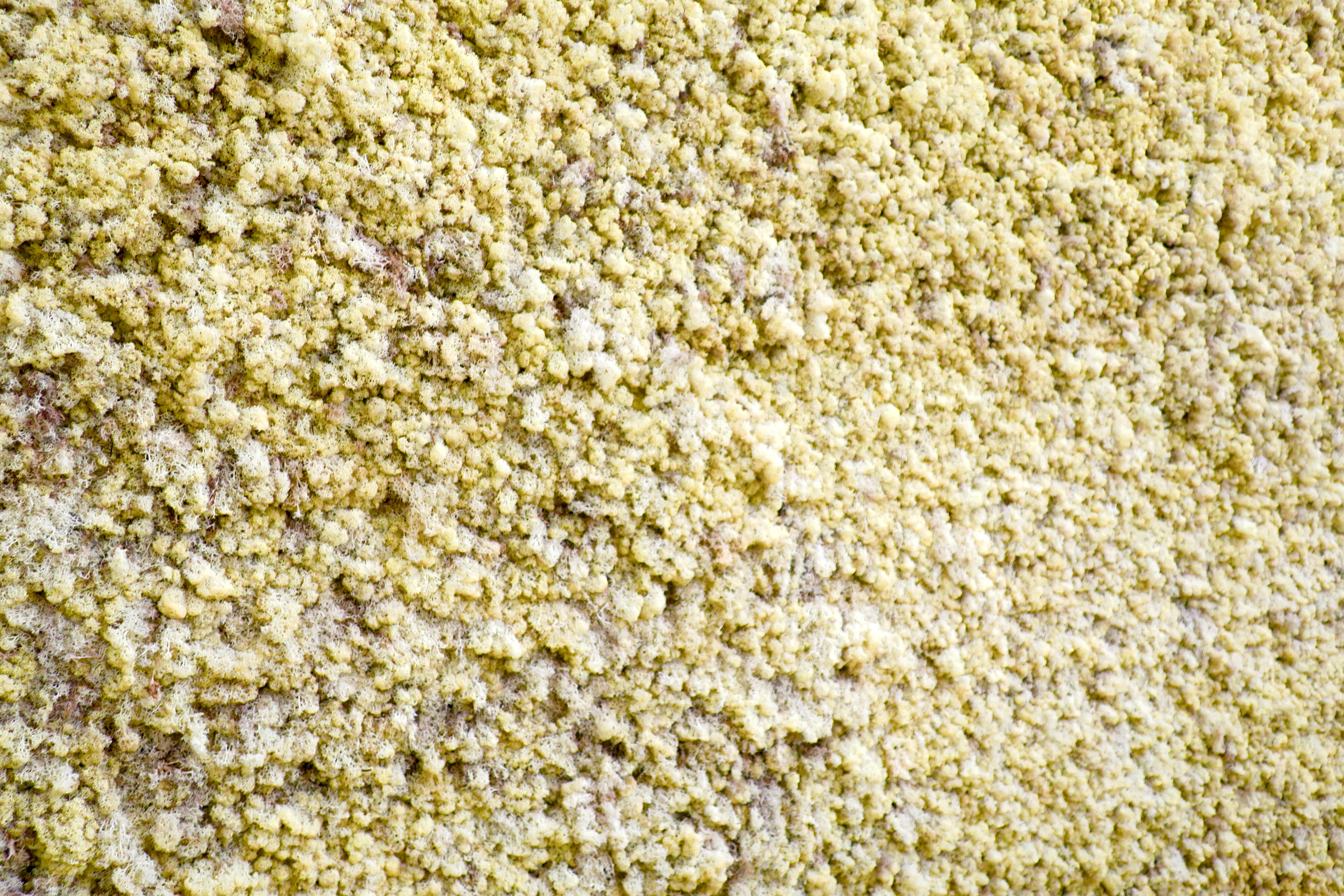 Moss Wall
Reindeer moss (Cladonia rangiferina), a lichen native to countries in the northern latitudes including Iceland, is woven into a wire mesh and mounted on the wall of a gallery. As the lichen dries, it shrinks and fades; when the installation is watered, the moss expands, change colour again, and fills the space with its fragrance.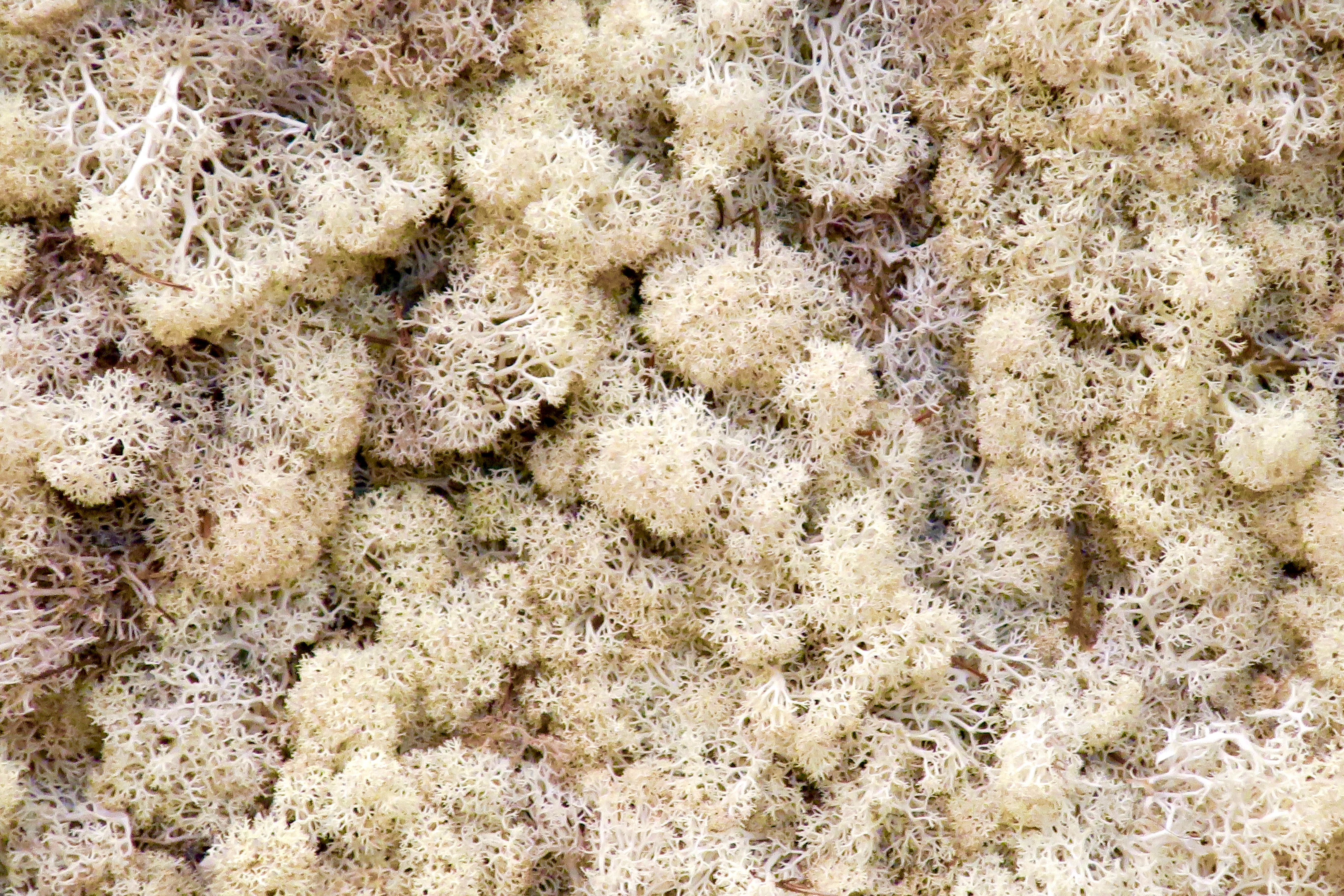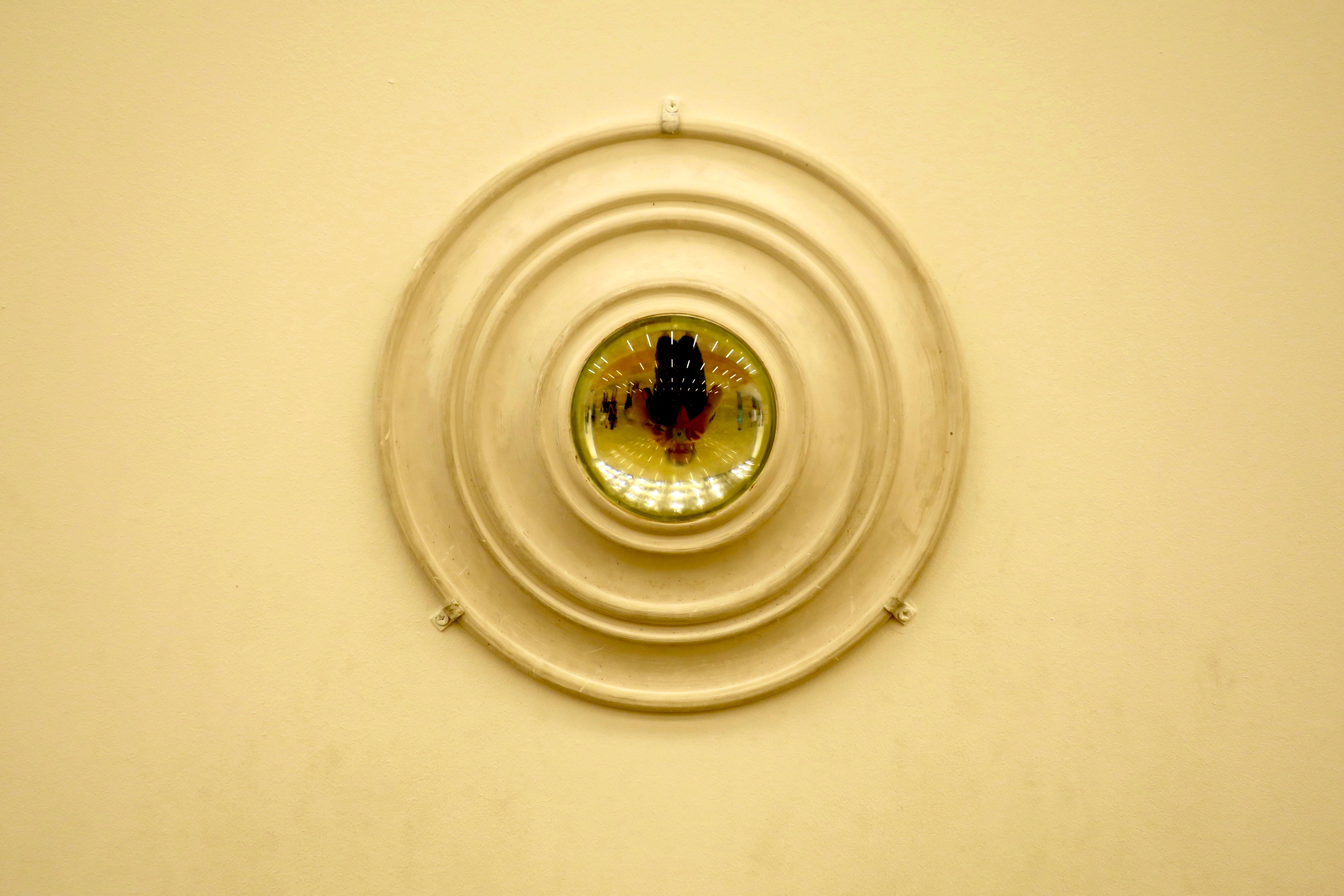 Untitled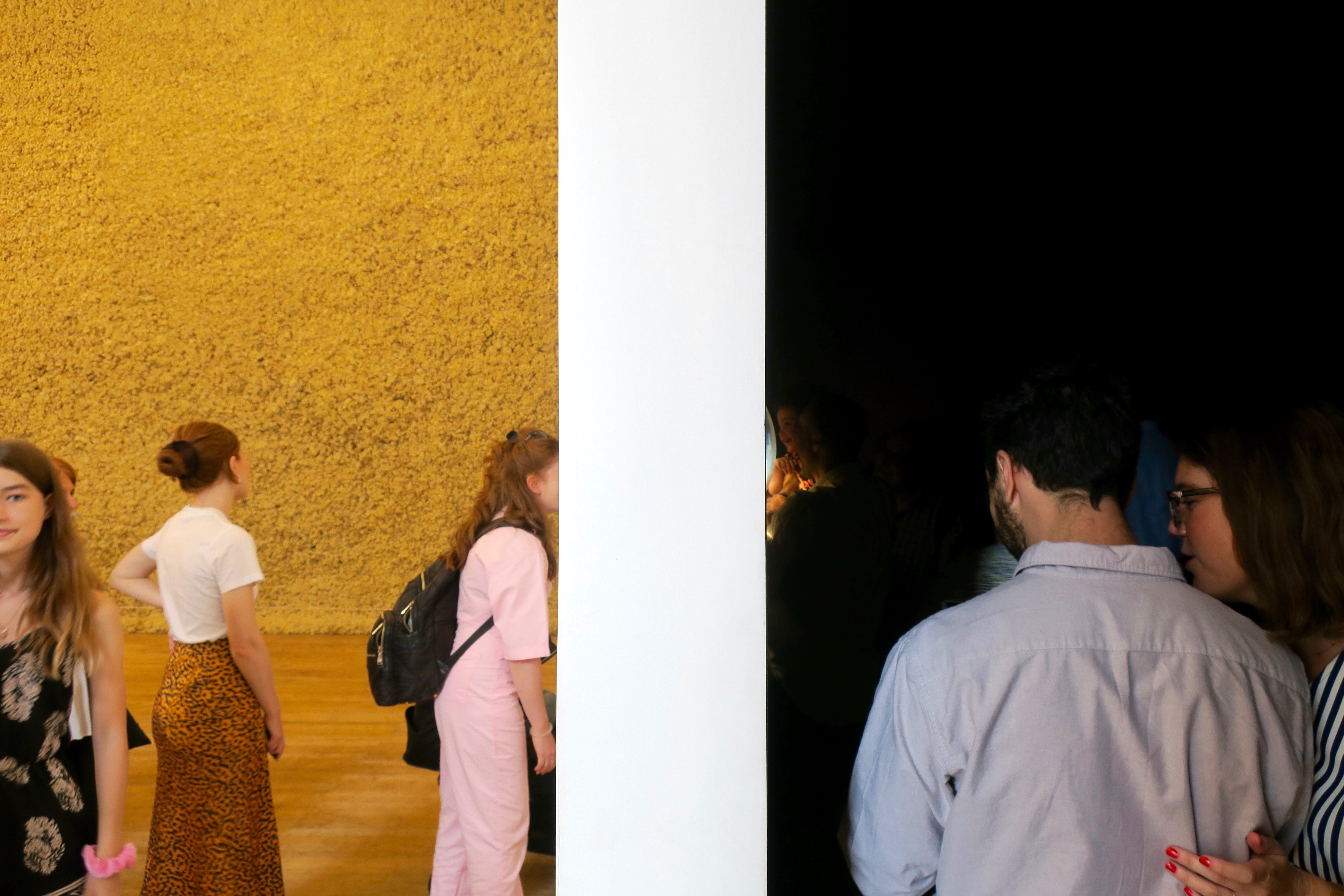 The Seeing Space
A lens set into a dividing wall so that fellow exhibition-goers can come face to face.
A large glass sphere, set into the wall, serves as an optical device that offers visitors distorted, inverted views of the activity in the room on the other side.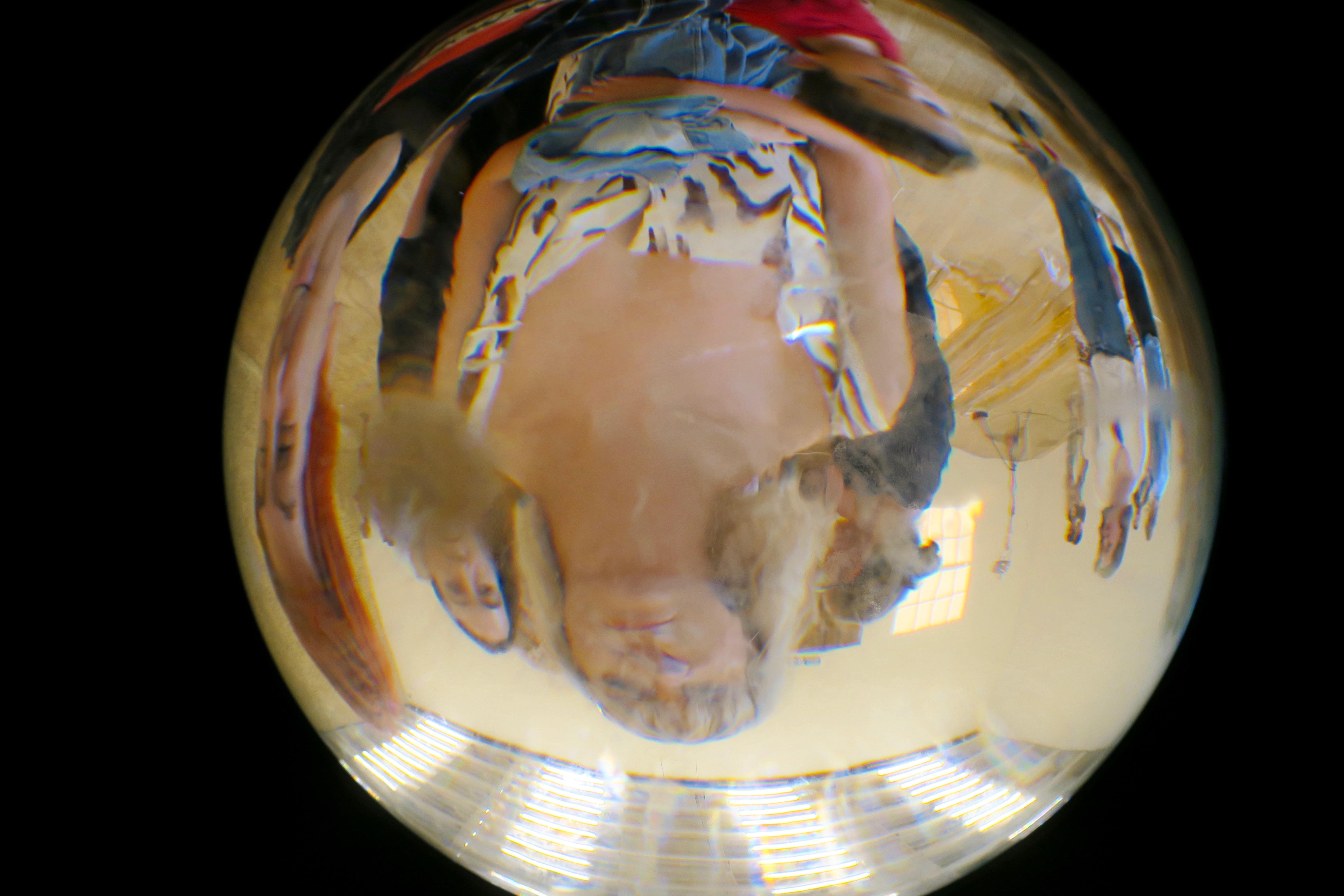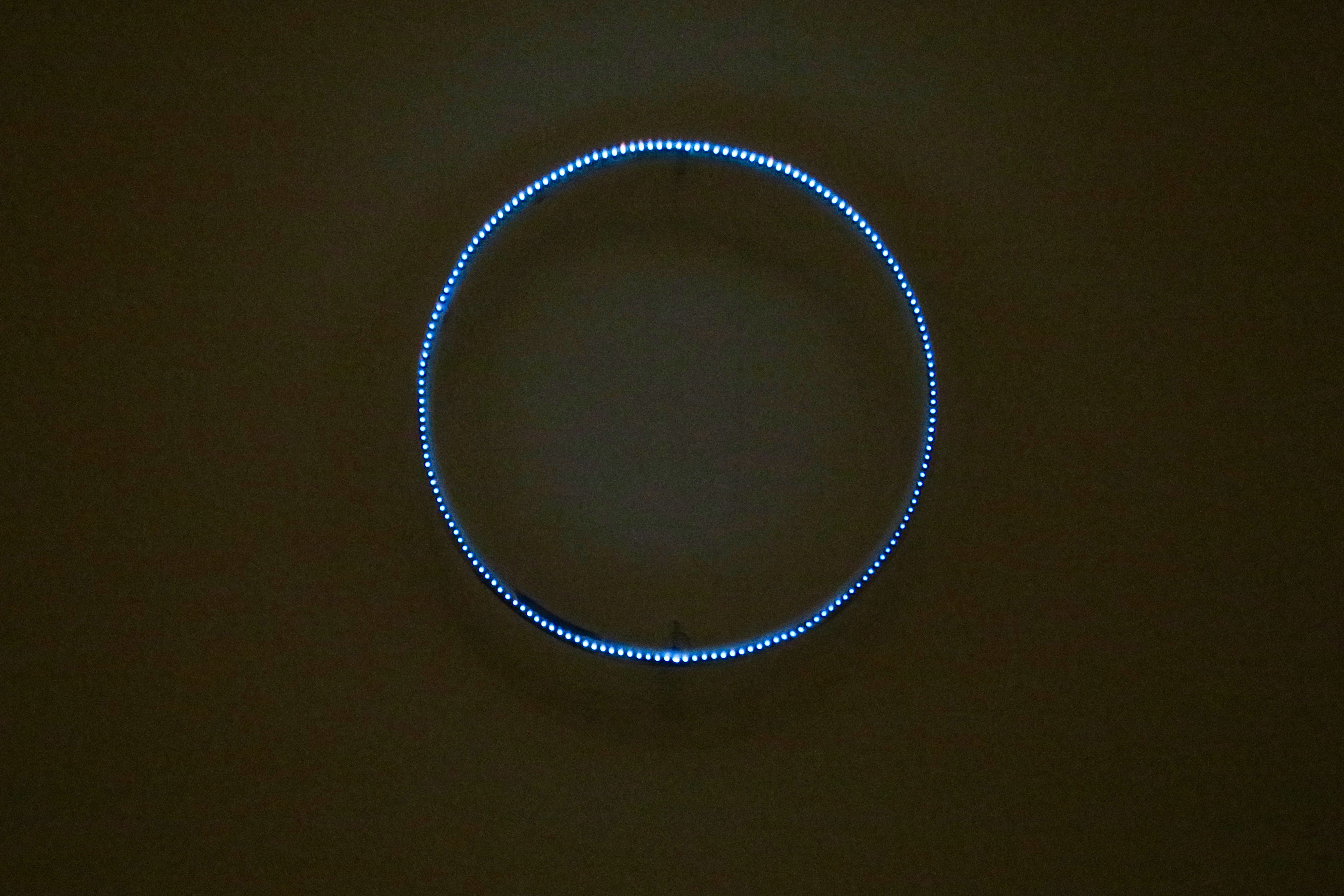 No Nights in Summer, No Days in Winter
A metal ring studded by gas nozzles around its circumference is hung at eye level in a darkened room. When filled with propane and lit, small flame jets emit heat, light and a constant hiss. The title refers to the phenomenon that occurs in regions north of the Arctic Circle in which the sun does not rise or set for months at a time.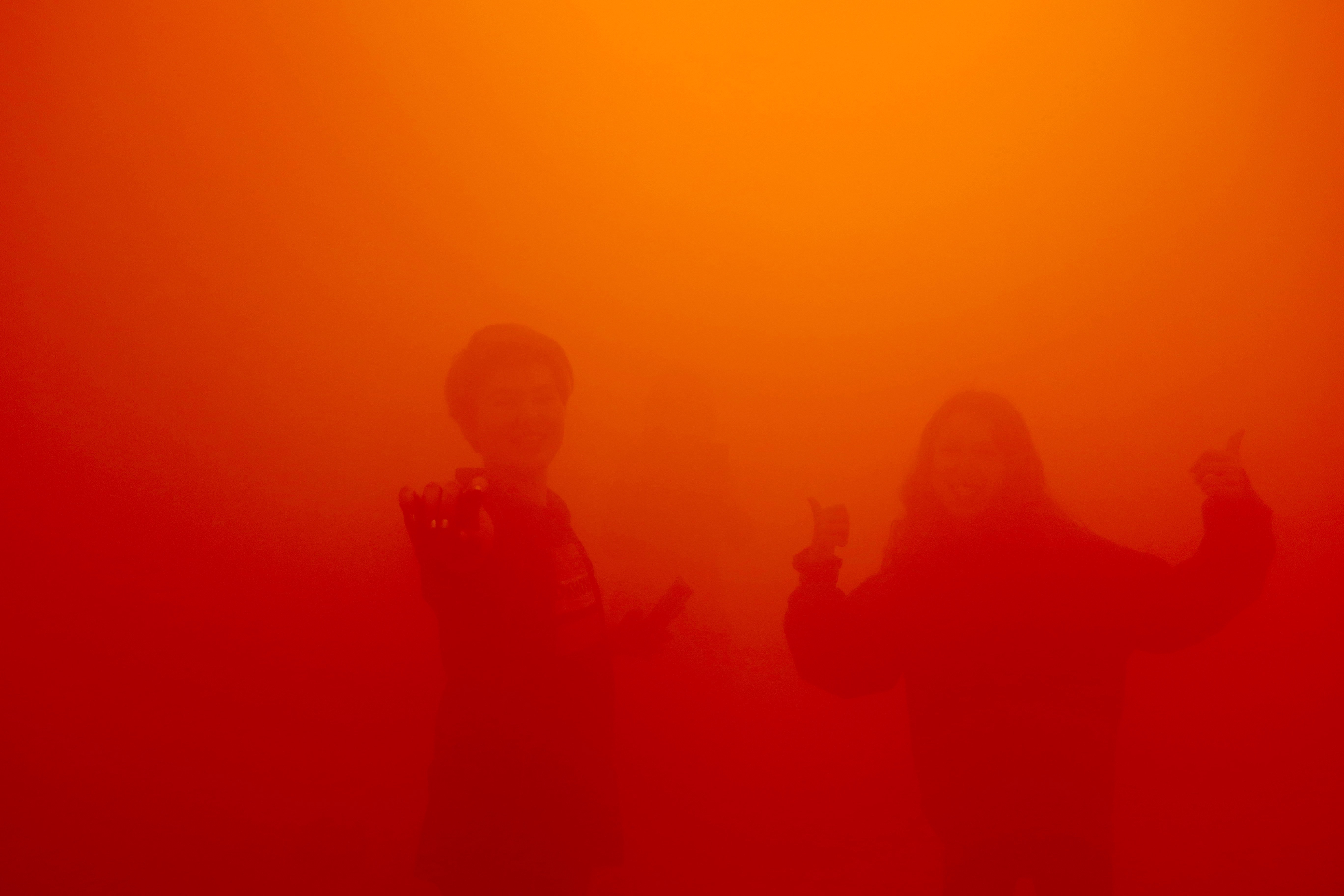 Din Blinde Passager (Your Blind Passenger)
We entered a fog-bound passage, 39 metres long with visibility reduced to 1.5 metres, not the most comfortable part of the exhibition. I proceeded cautiously with arms outstretched, while the others followed excitedly with arms aloft, dancing wildly to imaginary beats and to invisible silent sounds.
Upon entering this long, narrow corridor, visitors are temporarily blinded by brightly illuminated fog that requires them to rely on other senses to orient themselves. As they progress through the corridor, they move through zones of different hues. 'Blind passenger' is the Danish expression for a stowaway.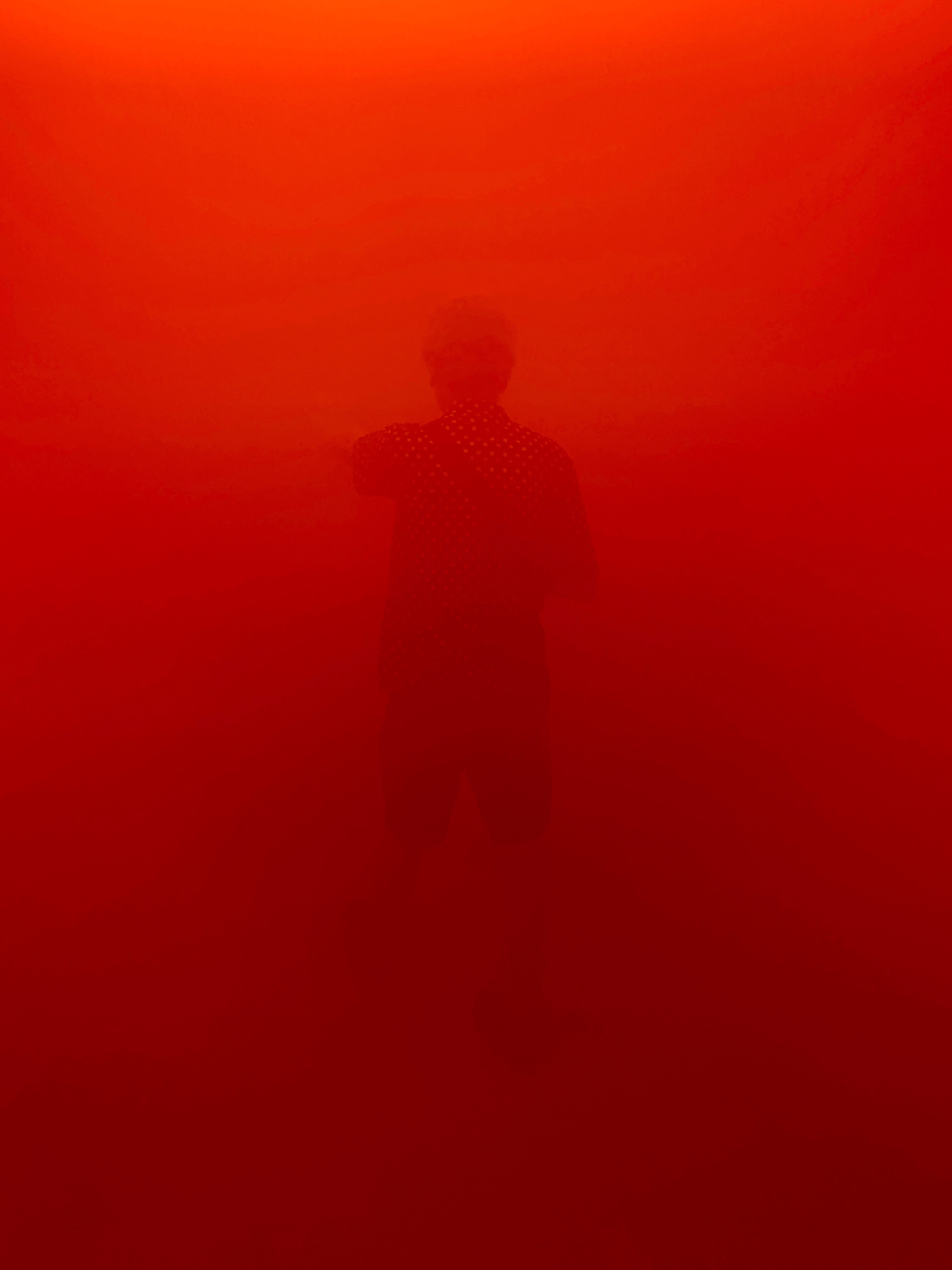 We were swallowed up, processed, and then spat out into the next space – a room filled with dancing, coloured projections from a giant disco ball.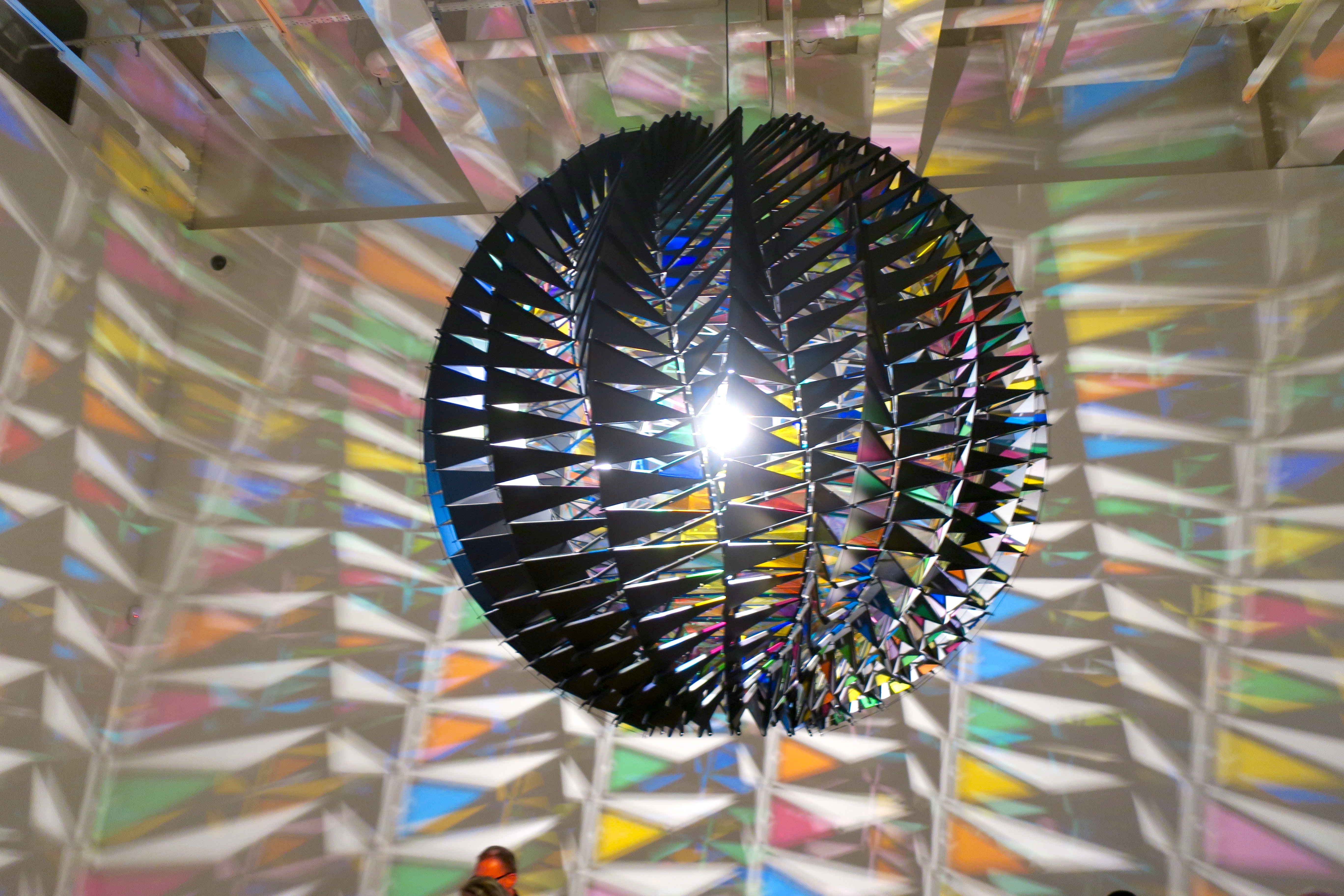 In Real Life
A large sphere composed of aligned, curling ridges is formed by individually folded modules of anodised aluminium held together by tense metal cables. The modules support panes of glass; a lamp at the centre of the sphere shines out to project a colourful pattern of light and shadow onto the surroundings.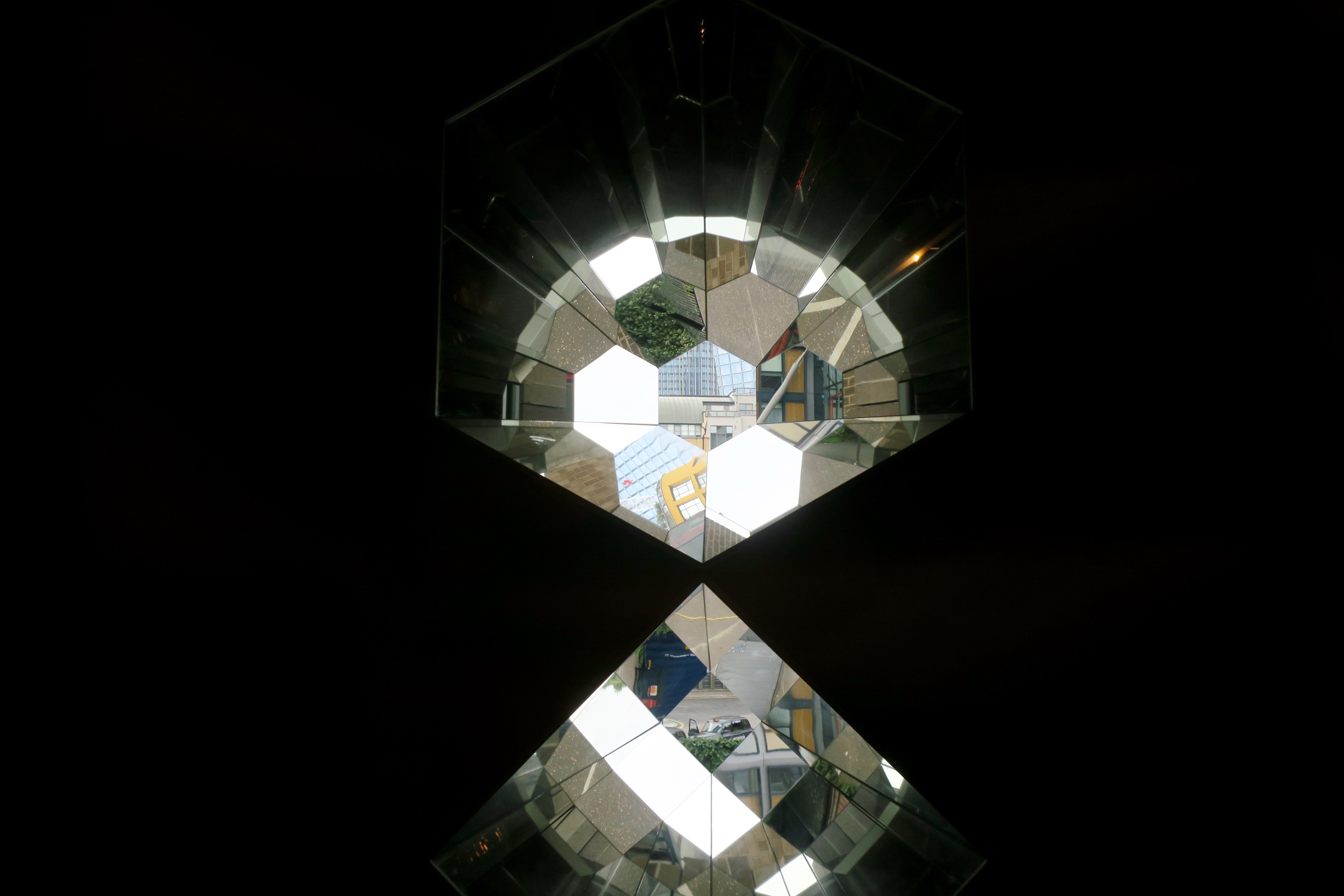 Your Planetary Window
A row of tapering shafts is set into a wall; each is lined with reflective glass to produce a set of kaleidoscopes through which visitors can see the environment outside. The shape of each kaleidoscope causes the illusion of a different three-dimensional form to appear within; fragmented reflections of the surroundings continually shift in response to the movements of the viewer.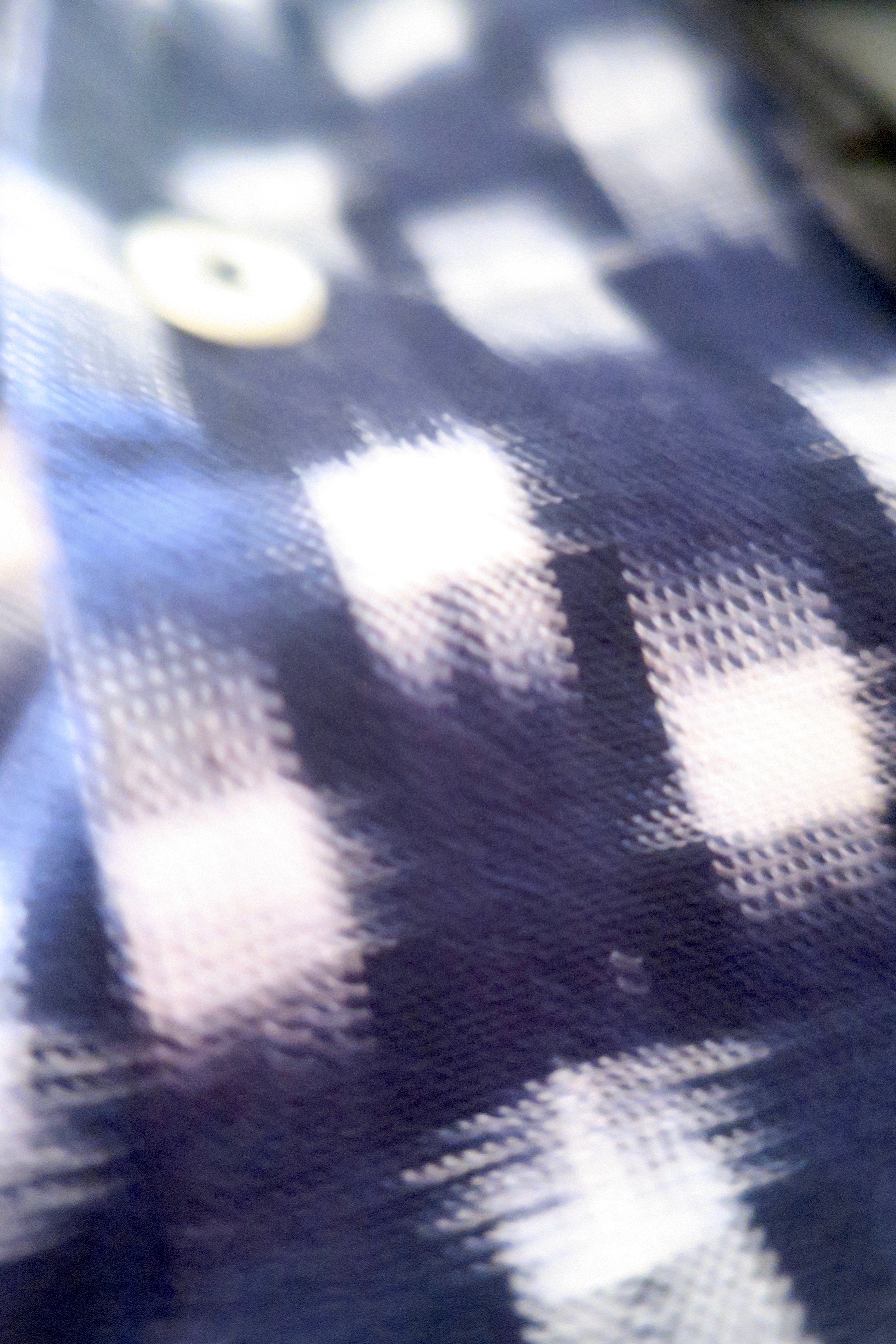 An accidental photograph of my shirt.
Normally I'd delete it, but in the circumstances it seems quite appropriate.
Your Spiral View
This free-standing tunnel is constructed from steel plates that form two sets of spirals, coiling in opposite directions. Upon entering the work, visitors find themselves within a kaleidoscope in which the space they have just left and the space up ahead are mingled in reflected fragments.
Its a hall of mirrors, a spectacular crowd-filled funhouse, and we're propelled by the onward rush of a constant stream of spectators.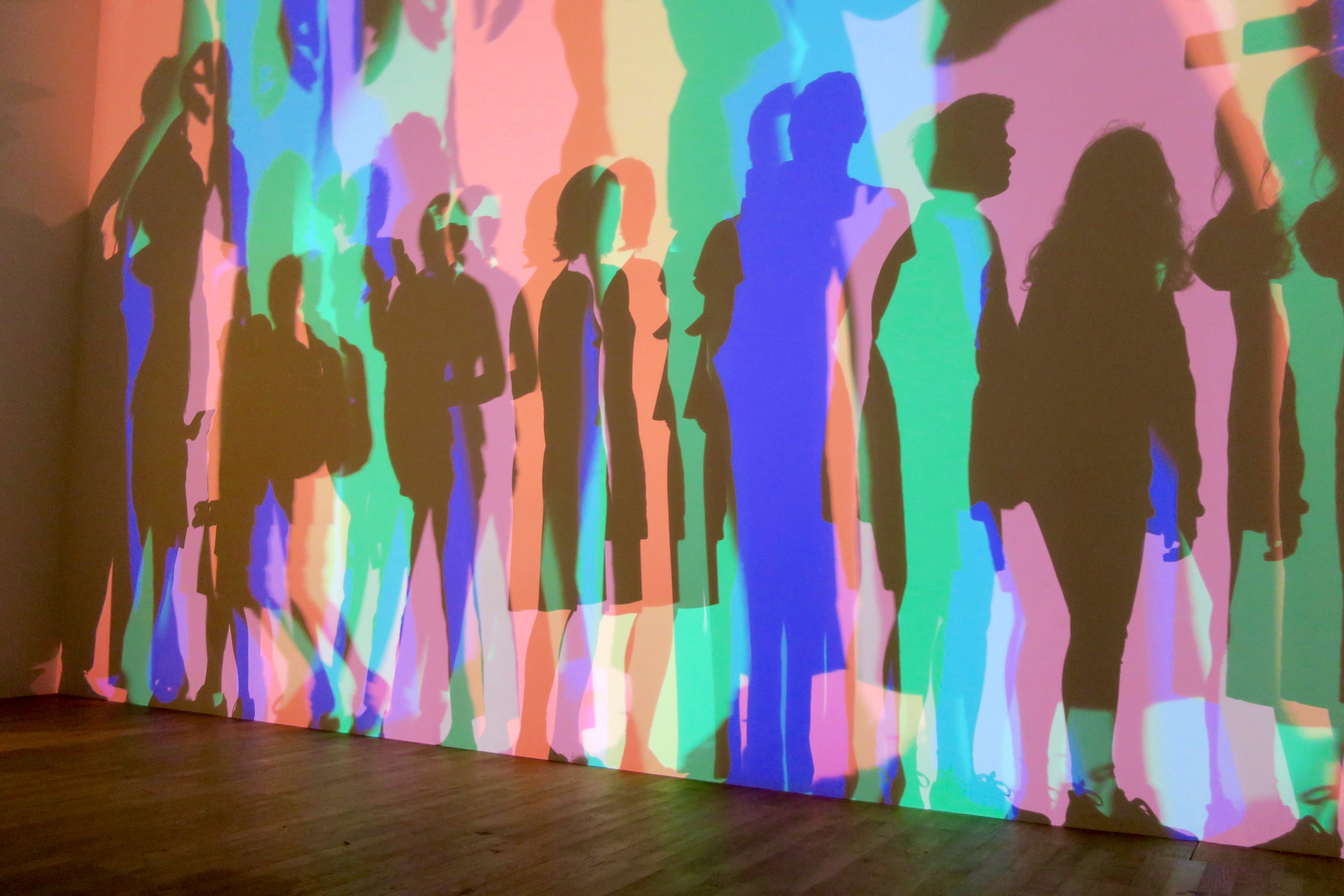 Your Uncertain Shadow (Colour)
Different coloured spotlights, positioned side-by-side on the floor, project light on a white wall where the colours blend to produce white light. When visitors walk into the space before the spotlights, their shadows appear on the wall as clusters of colourful silhouettes that amplify every movement and reveal the apparently white light's component colours.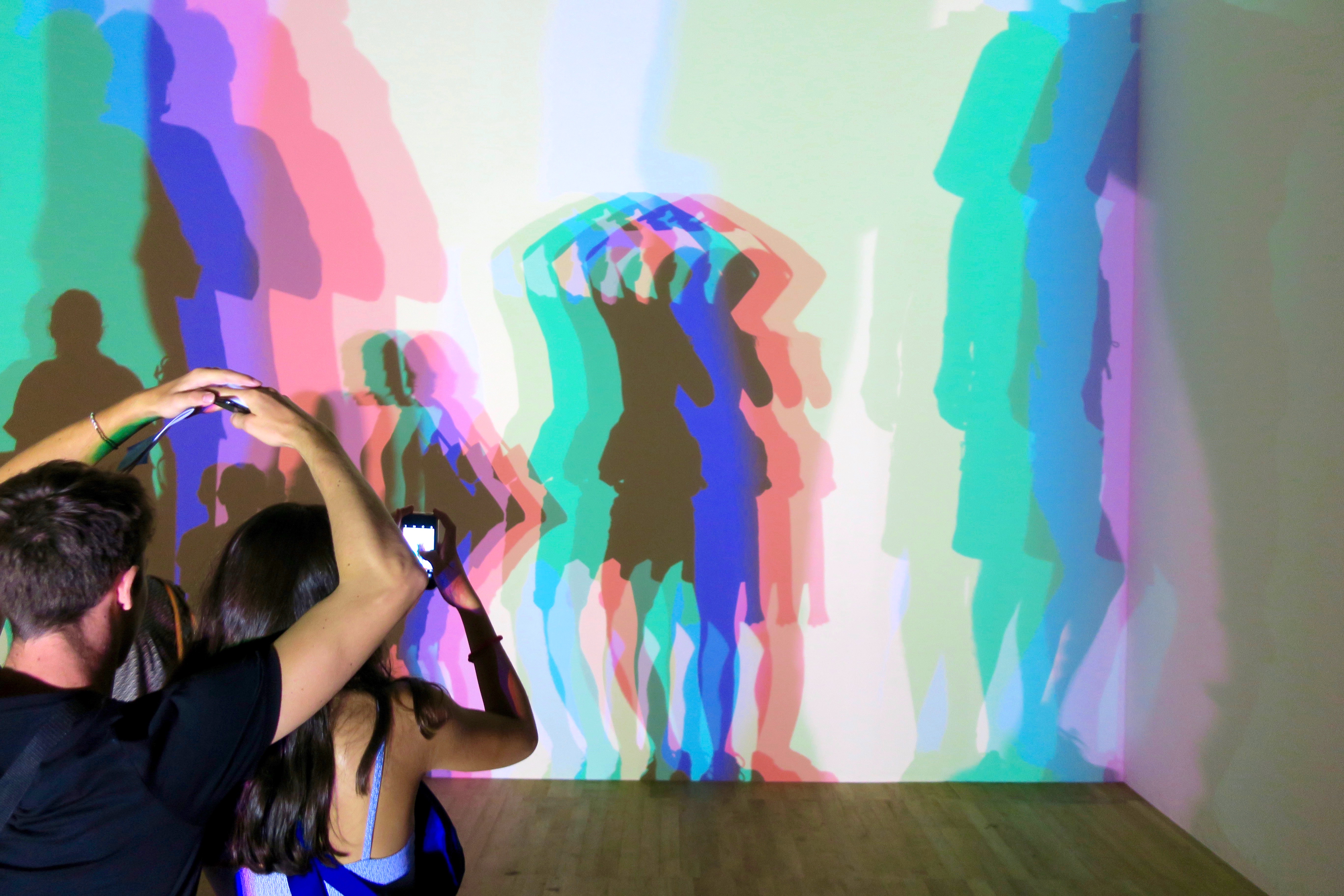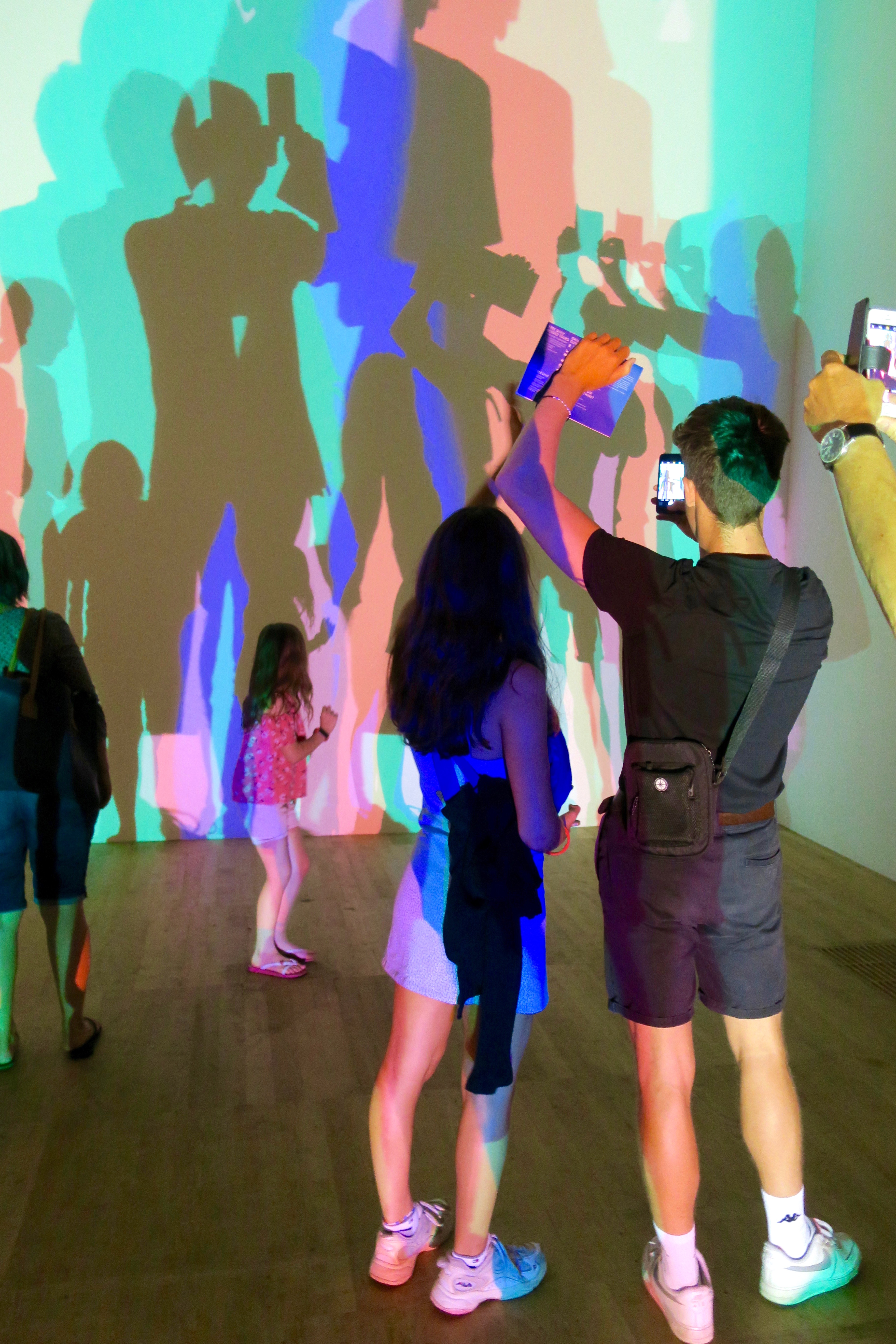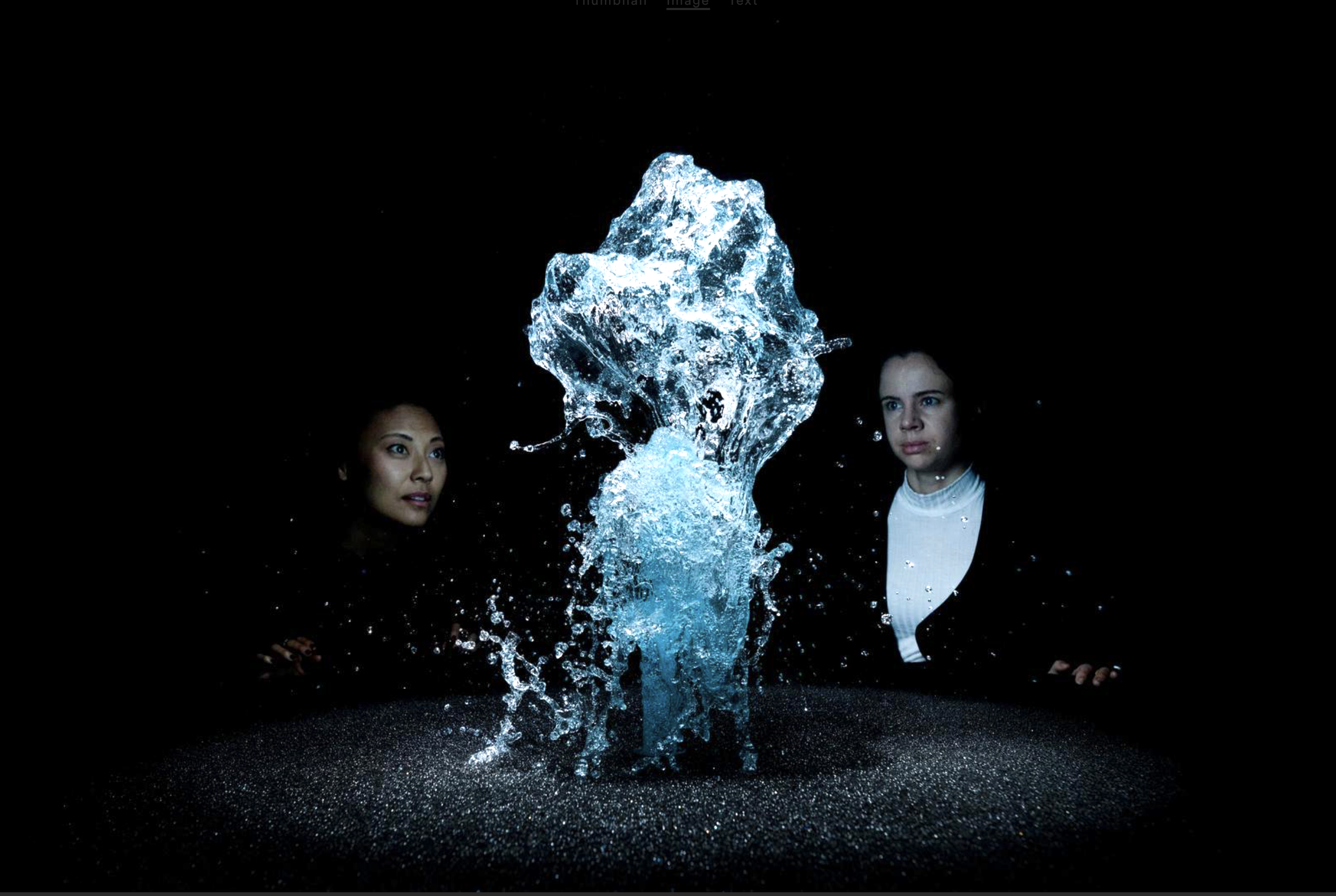 Next up was Big Bang Fountain but I wimped out. I didn't fancy another claustrophobic communal space and since photography was not permitted I gave it a miss, though I seemed to be the only one.
Big Bang Fountain
A strobe light illuminates a pulsing fountain of water, appearing to freeze its bursts into an ever-changing sequence of unique and unpredictable sculptural forms, each of which lasts for only an instant.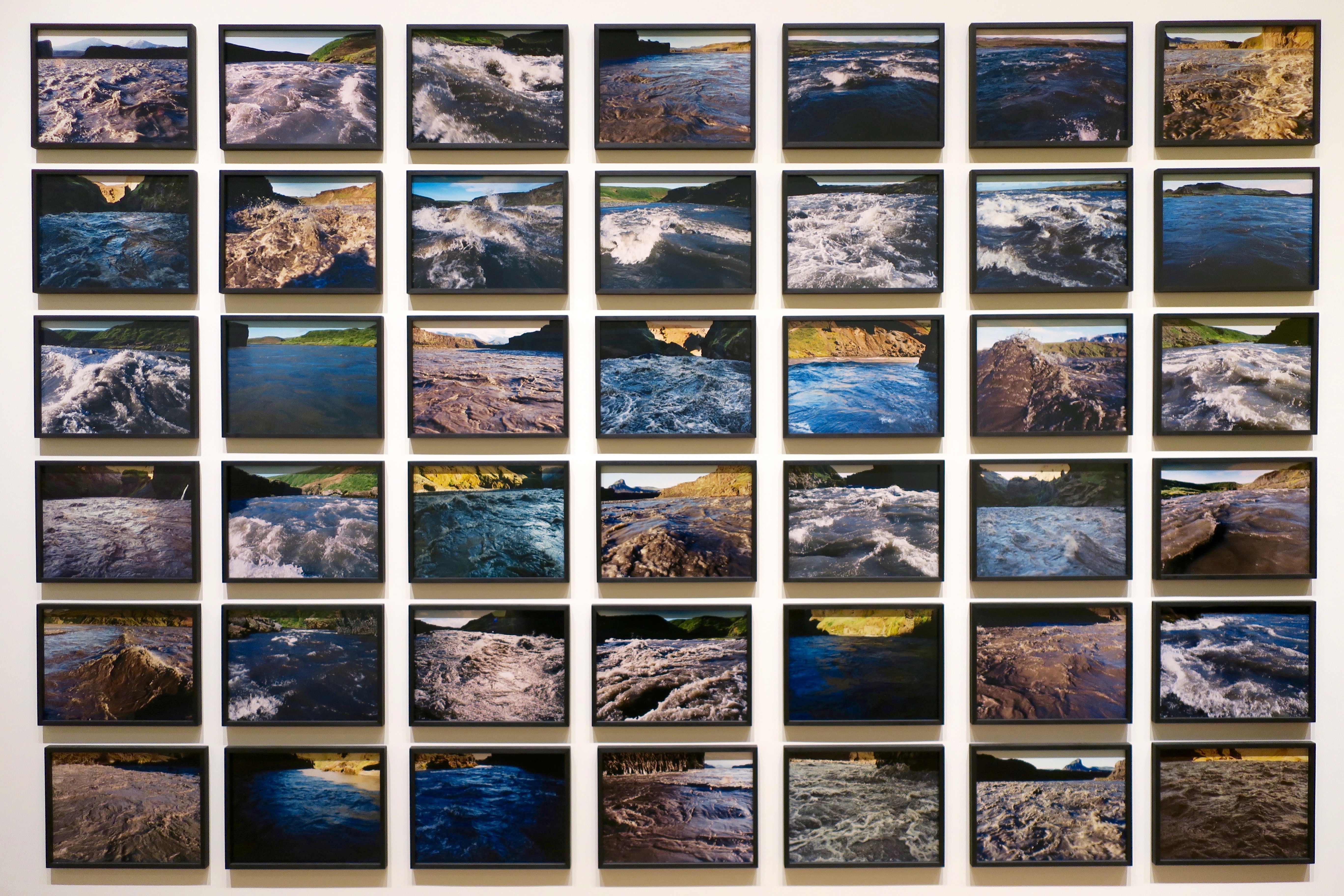 The River-Raft Series
These photographs, part of Eliasson's ongoing project to photographically map Iceland, are the result of his attempt to document the Markarfljót river while floating down it on a small rubber raft. The framing of the individual images was largely determined by the river itself, as the raft bounced unpredictably along the current.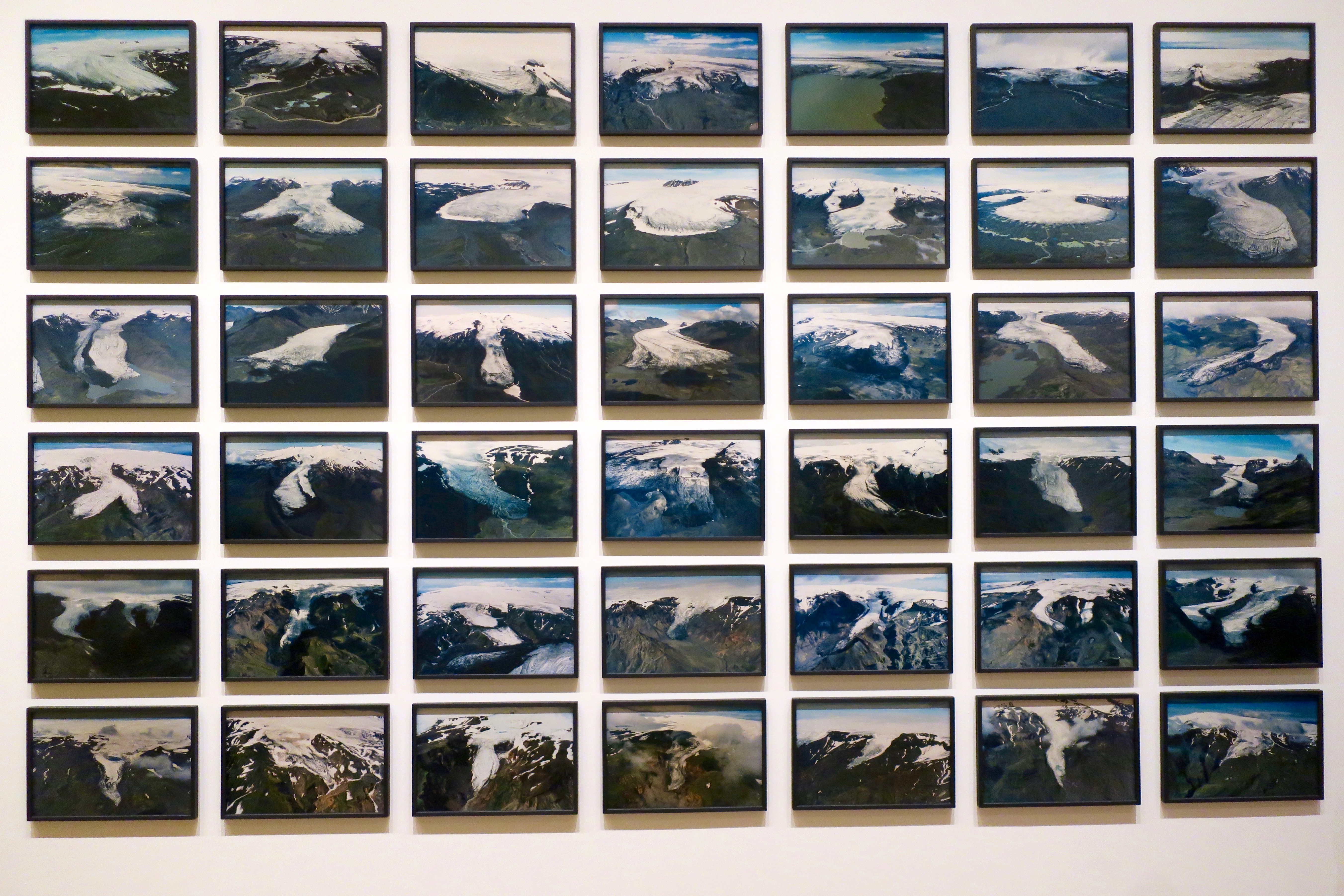 The Glacier Series
In this series, massive glaciers are seen from above, at a distance from which one can appreciate their magnitude. The incremental movement of glaciers is a phenomenon understood by virtue of scientific knowledge, it cannot be seen with the naked eye.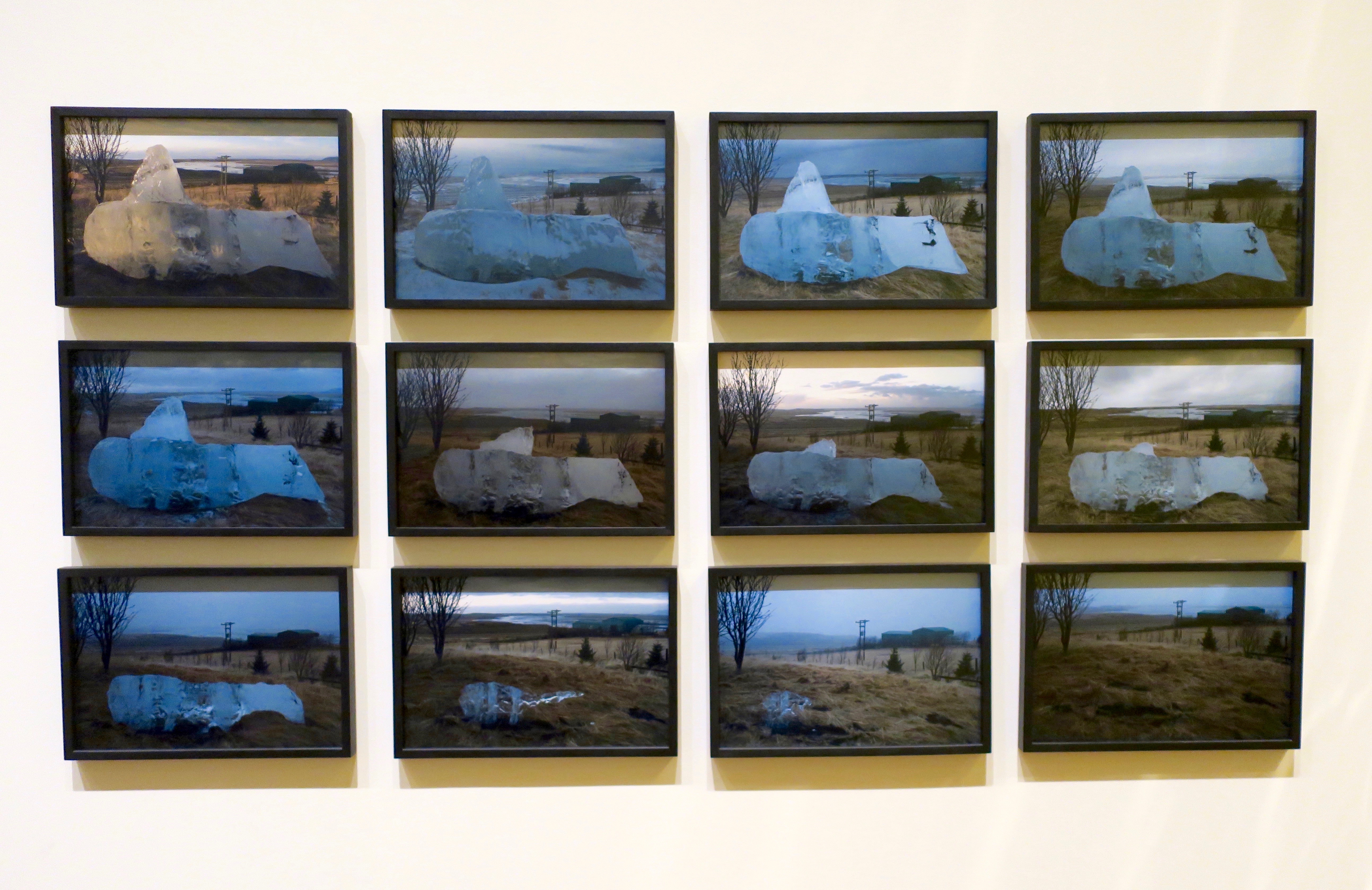 Melting Ice On Gunnar's Land
These twelve photographs document a chunk of ice as it melted away on land owned by Gunnar Örn Gunnarsson, a family friend of Eliasson's, in Iceland. The lighting conditions and the weather change in the background of the images as the ice disappears.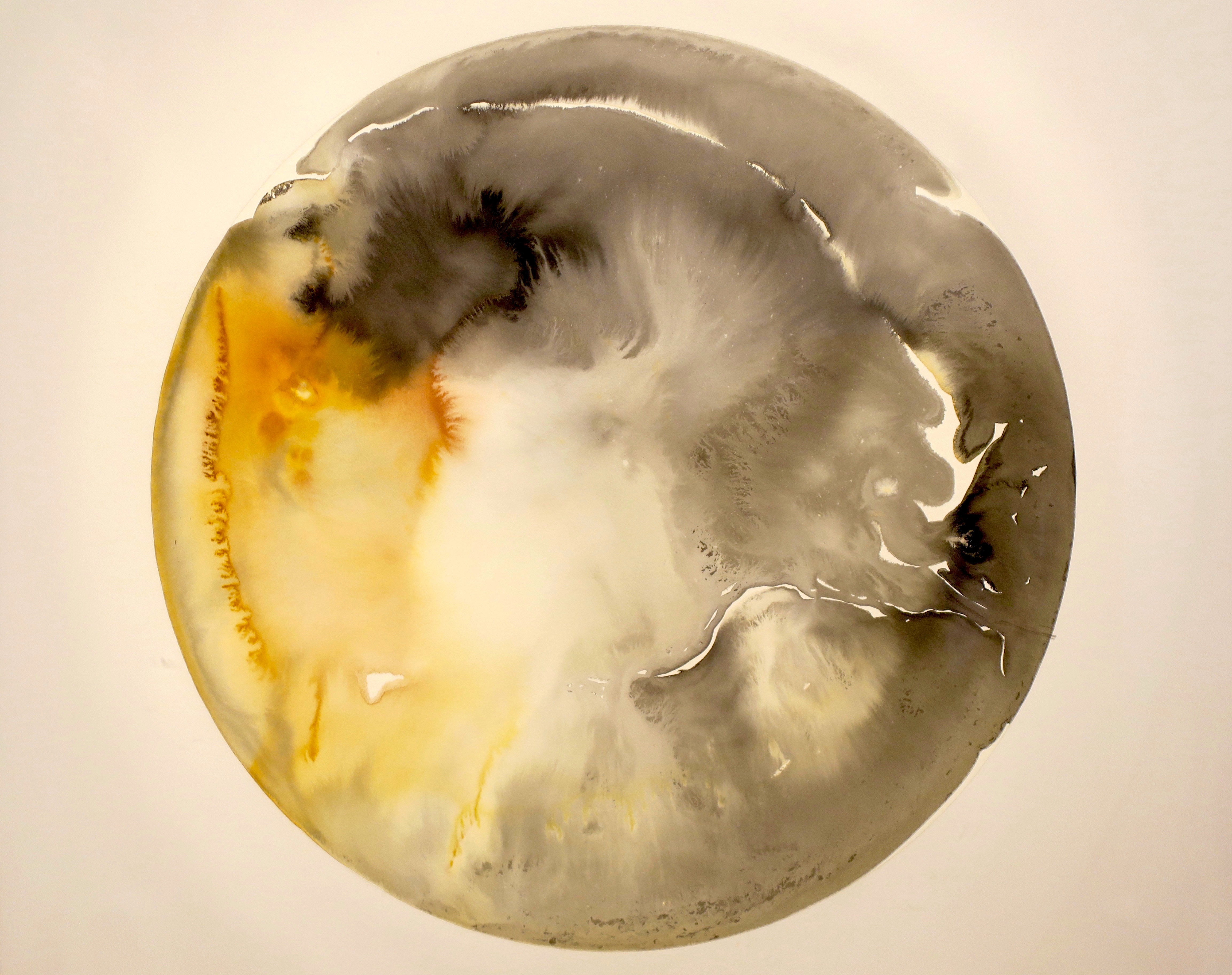 Glacial Currents (Yellow, Sienna)
These watercolours were produced using chunks of ancient glacial ice that were fished from the sea off the coast of Greenland. The ice was placed atop thin washes of colour on a sheet of thick paper. As the ice gradually melted, the resulting water displaced the pigment, producing organic swells and fades of colour.
※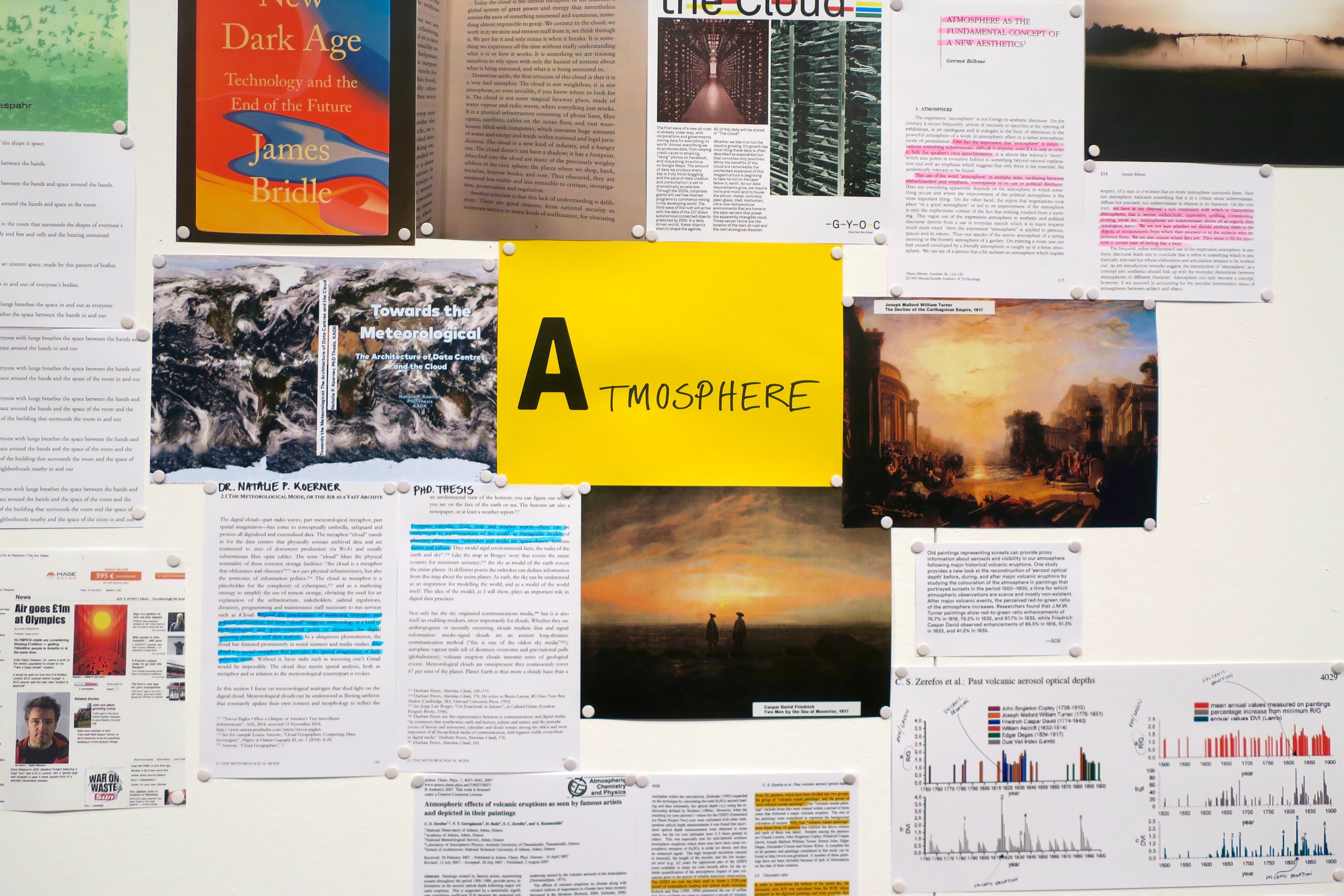 The Expanded Studio
For some time, Eliasson's practice has extended beyond making artworks, installations and public sculptures. It now includes projects that address questions facing the world today to do with climate change, migration and renewable energy. Studio Other Spaces, Eliasson and Sebastian Behmann's office for art and architecture, has completed designs for projects in countries including Denmark, Ethiopia, Greenland and Mexico, and through his educational research project, Institut für Raumexperimente (2009-14), he explored different forms of teaching and learning.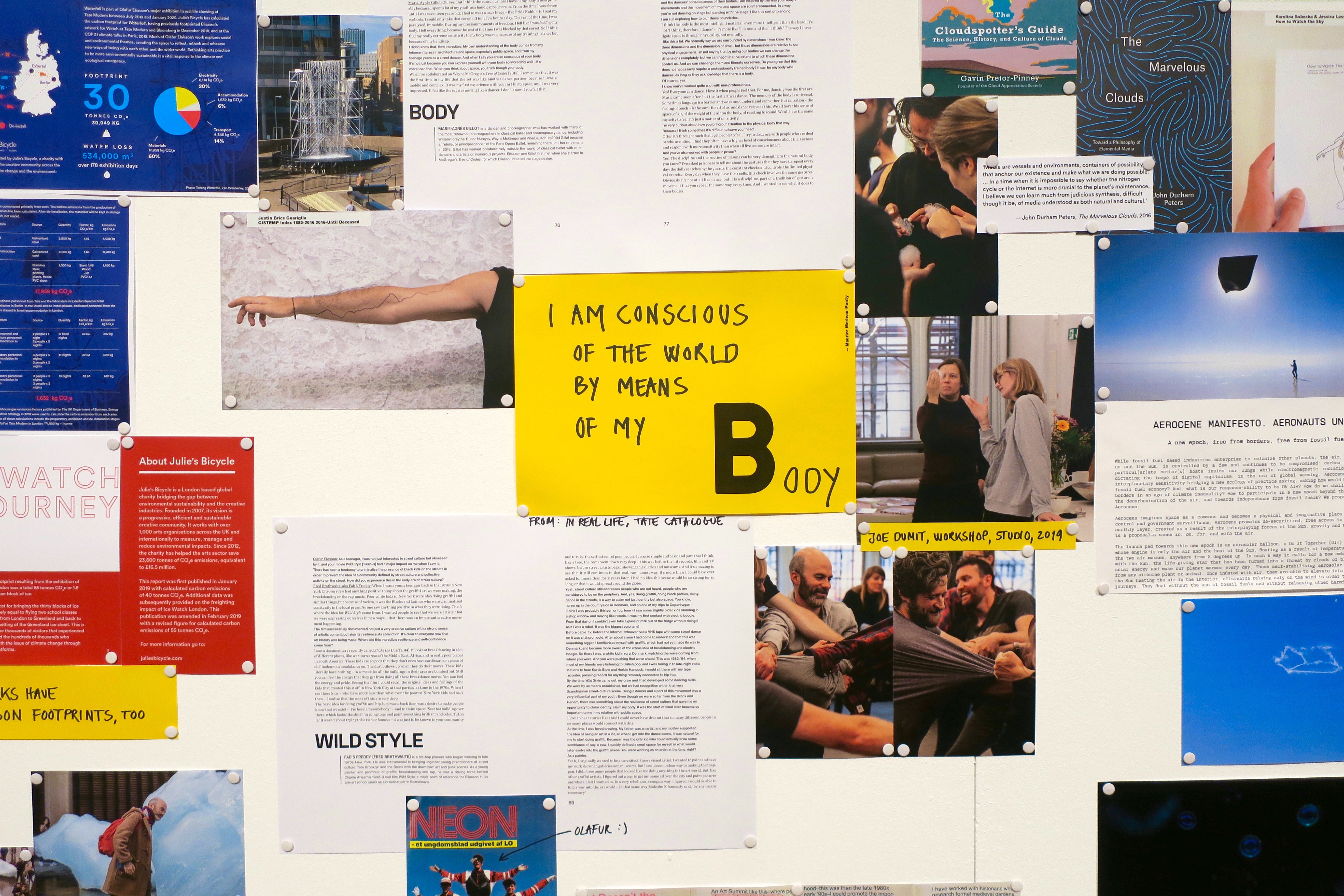 In order to capture this dimension of his work, the exhibition 'Olafur Eliasson: In Real Life' includes The Expanded Studio, a zone that evokes the environment of the studio in which all these projects are generated. Large panels replicate the pin-boards on the studio walls in Berlin where Eliasson and his teams collect articles, images, and questions that lead to projects such as 'Little Sun', 'Ice Watch', and 'Green Light'. Images and videos present new architectural commissions such as the Fjordenhus in Vejle. Visitors are able to sit and look at material on the Studio's website and soe.tv, its video platform. Continuing Eliasson's interest in intellectual exchange and dialogue, every other week a live link-up in this space enables visitors to pose questions about these activities to members of the studio.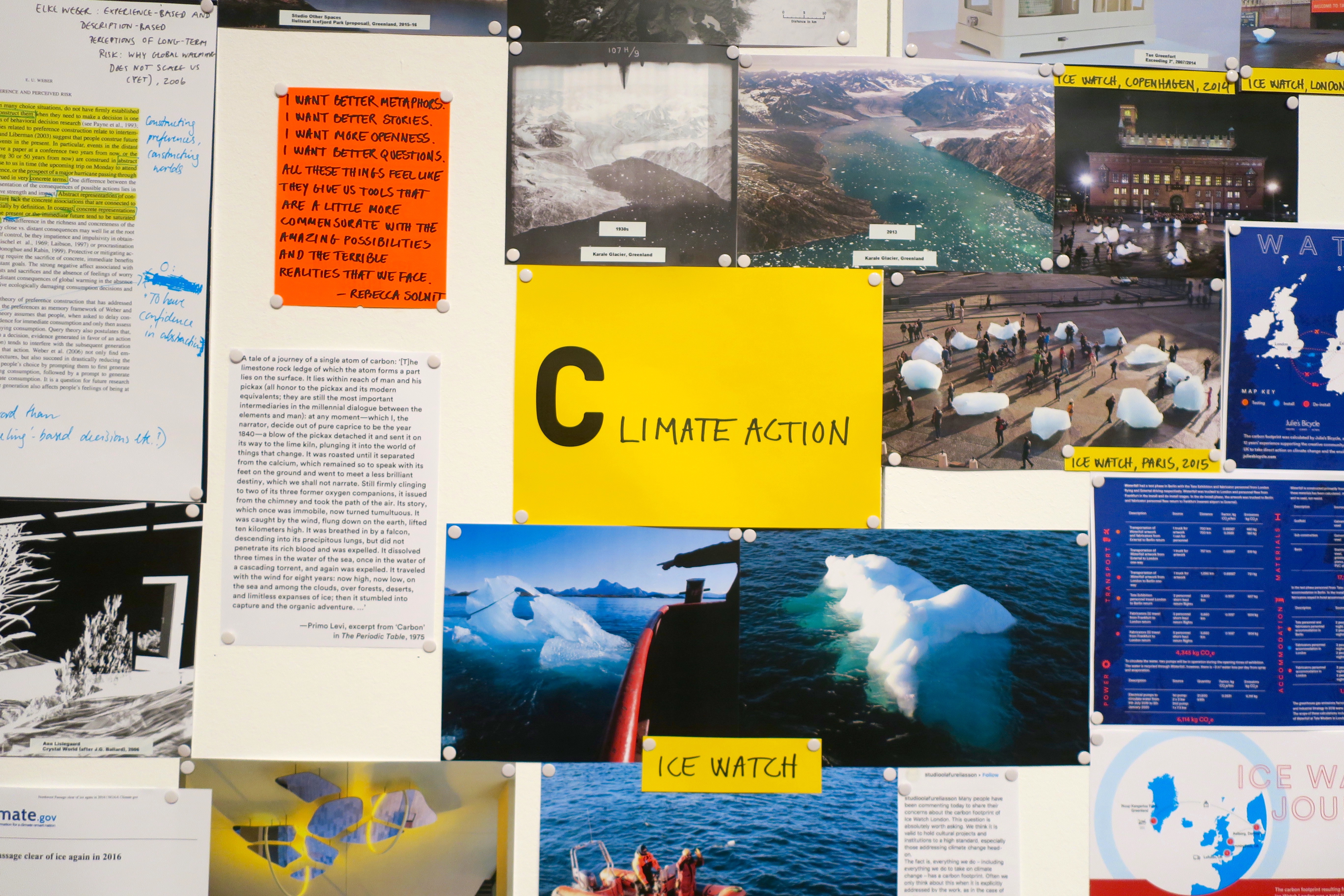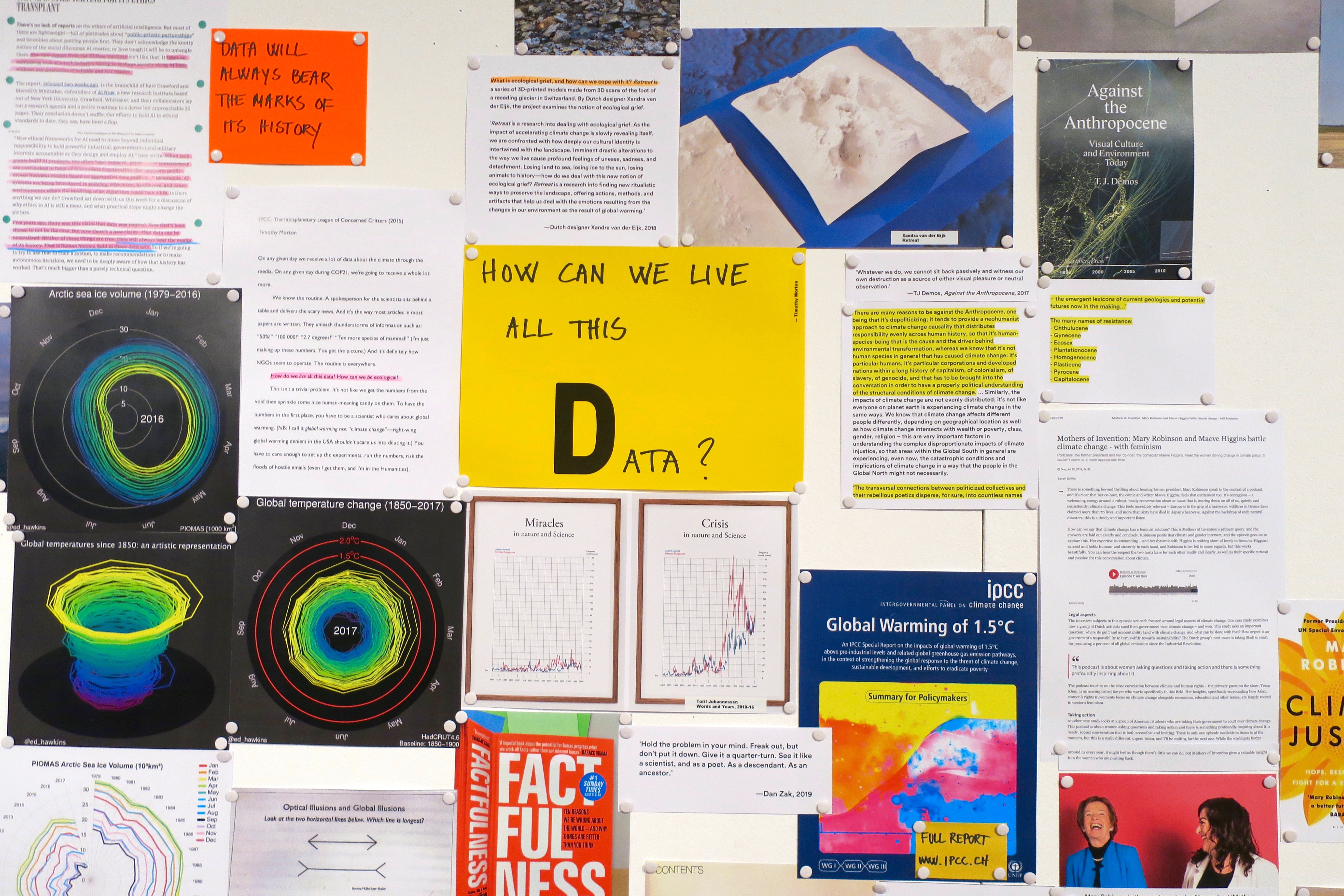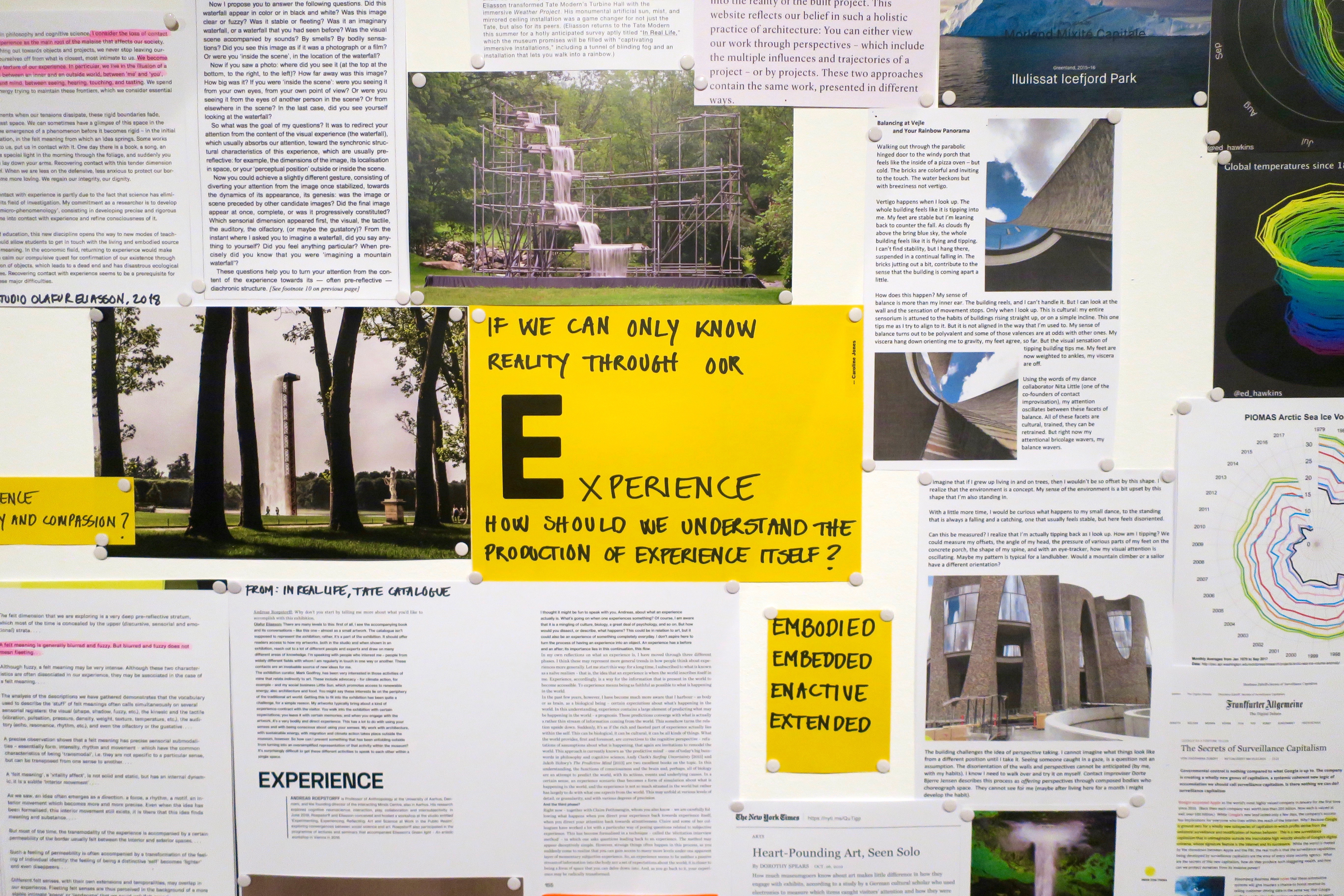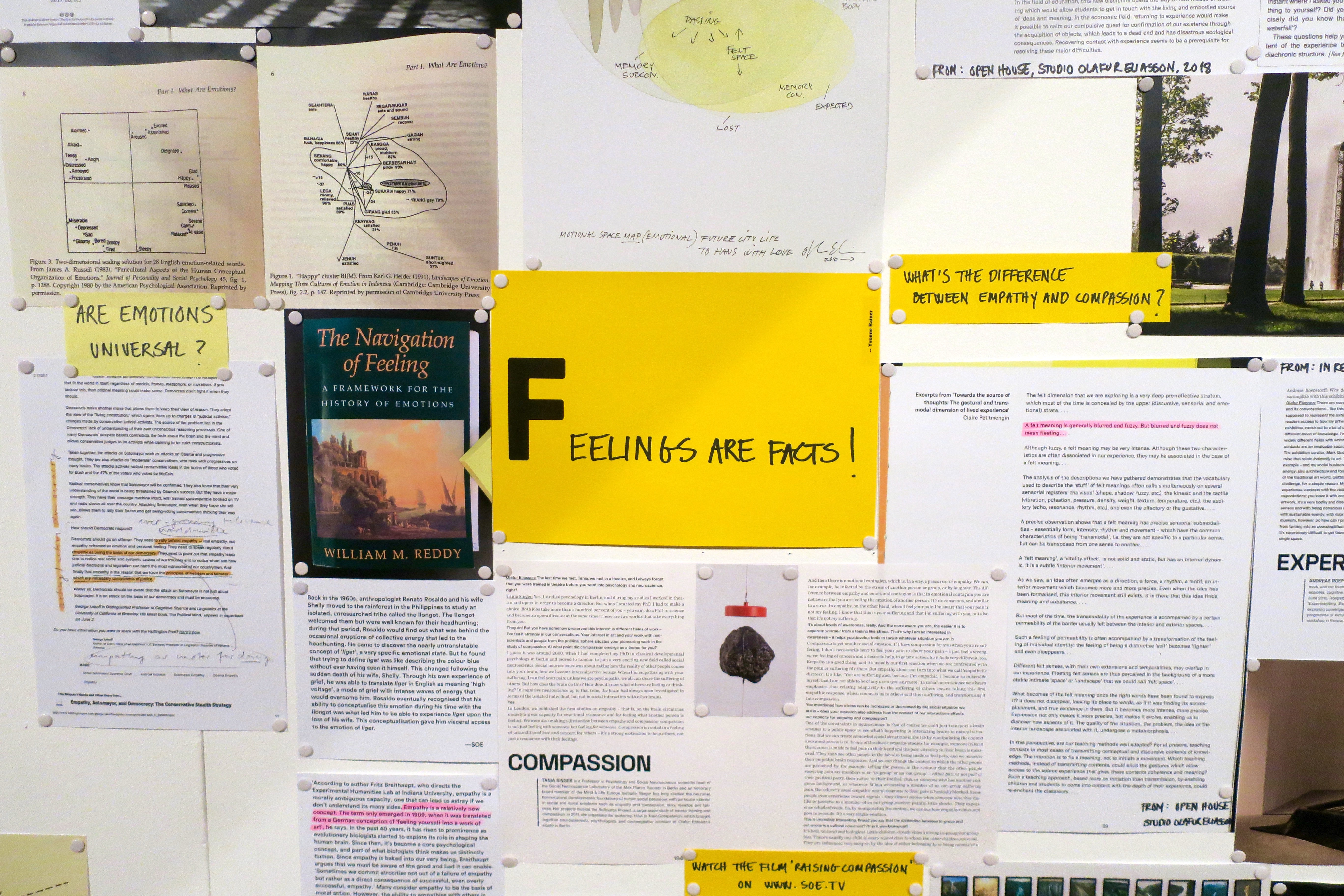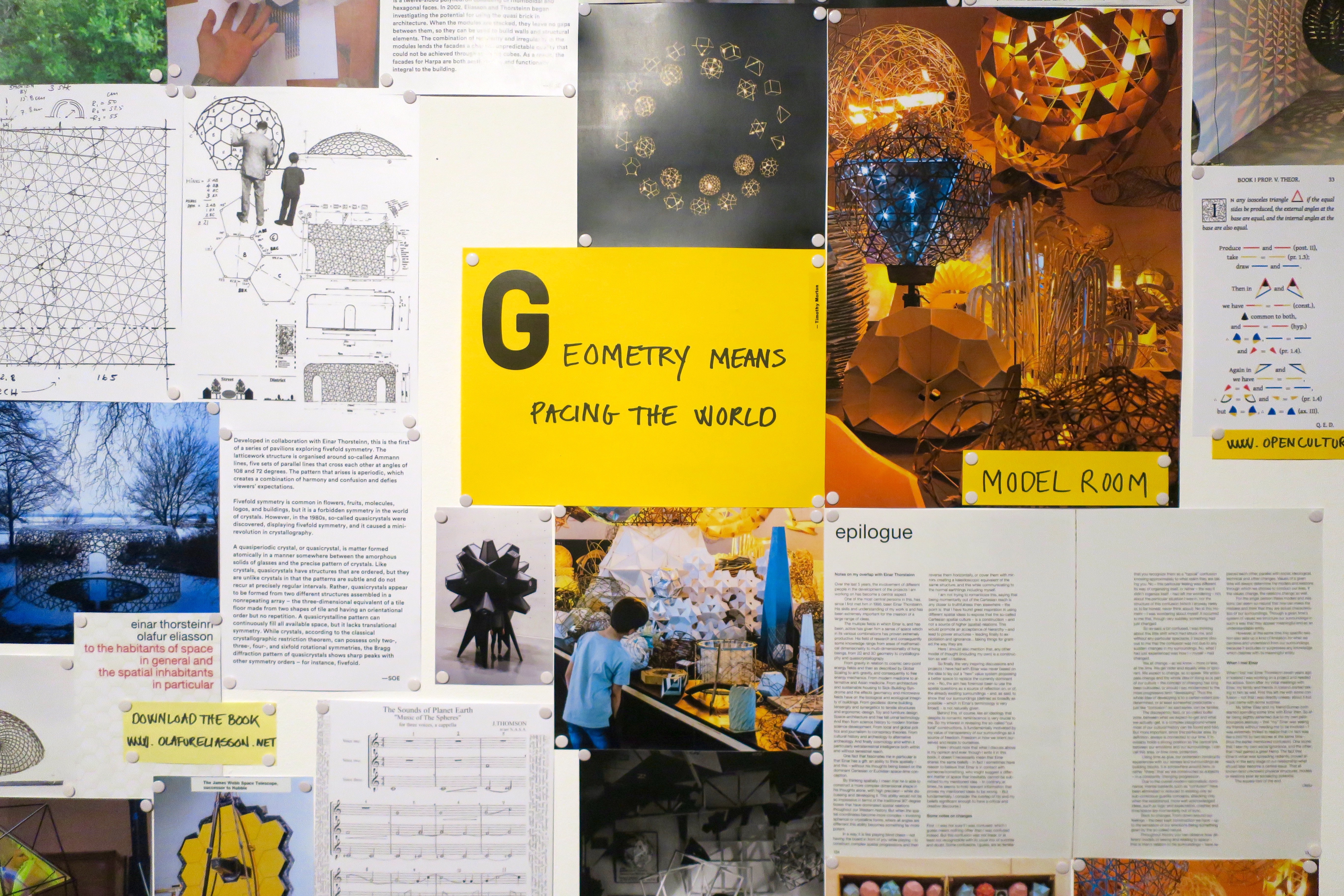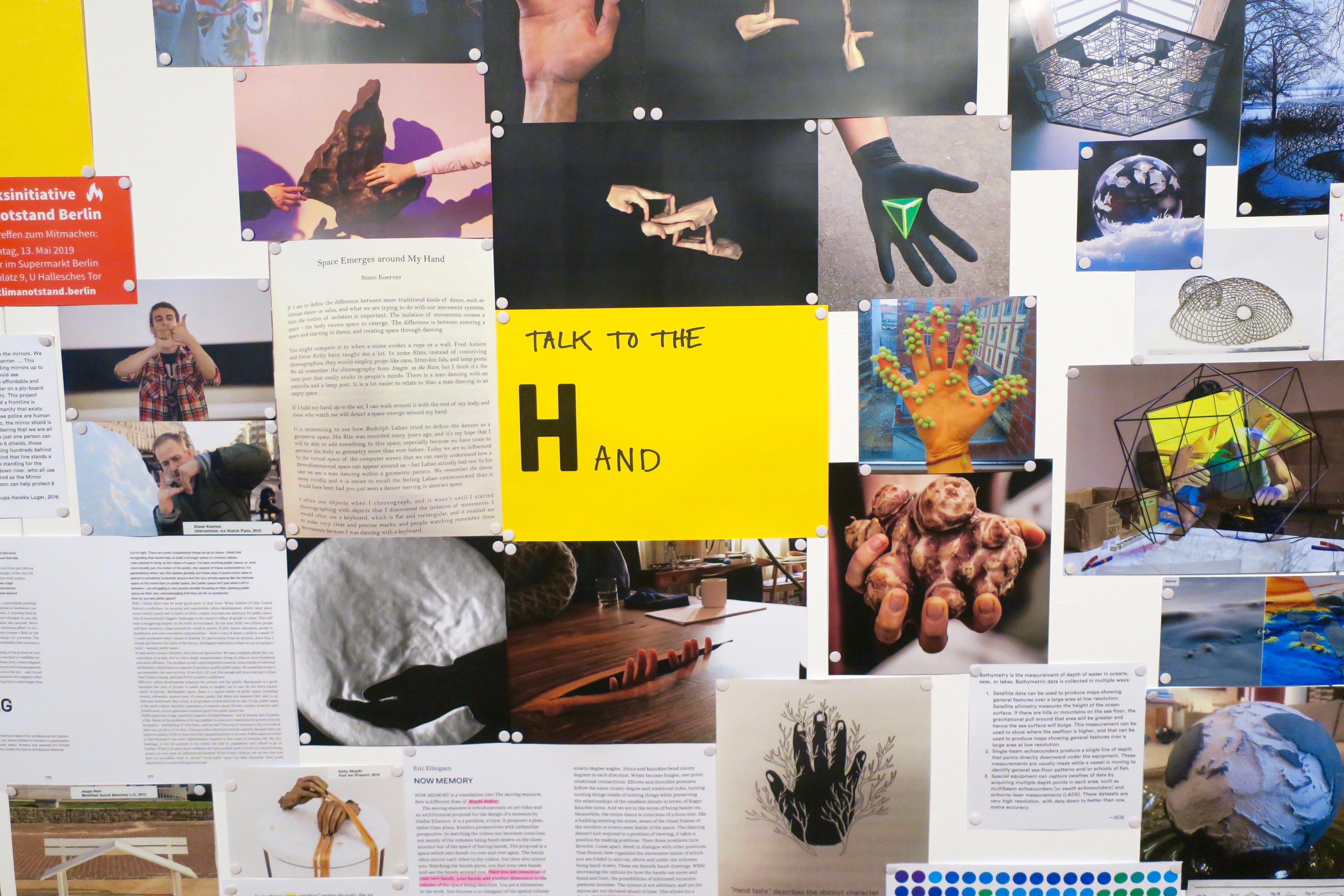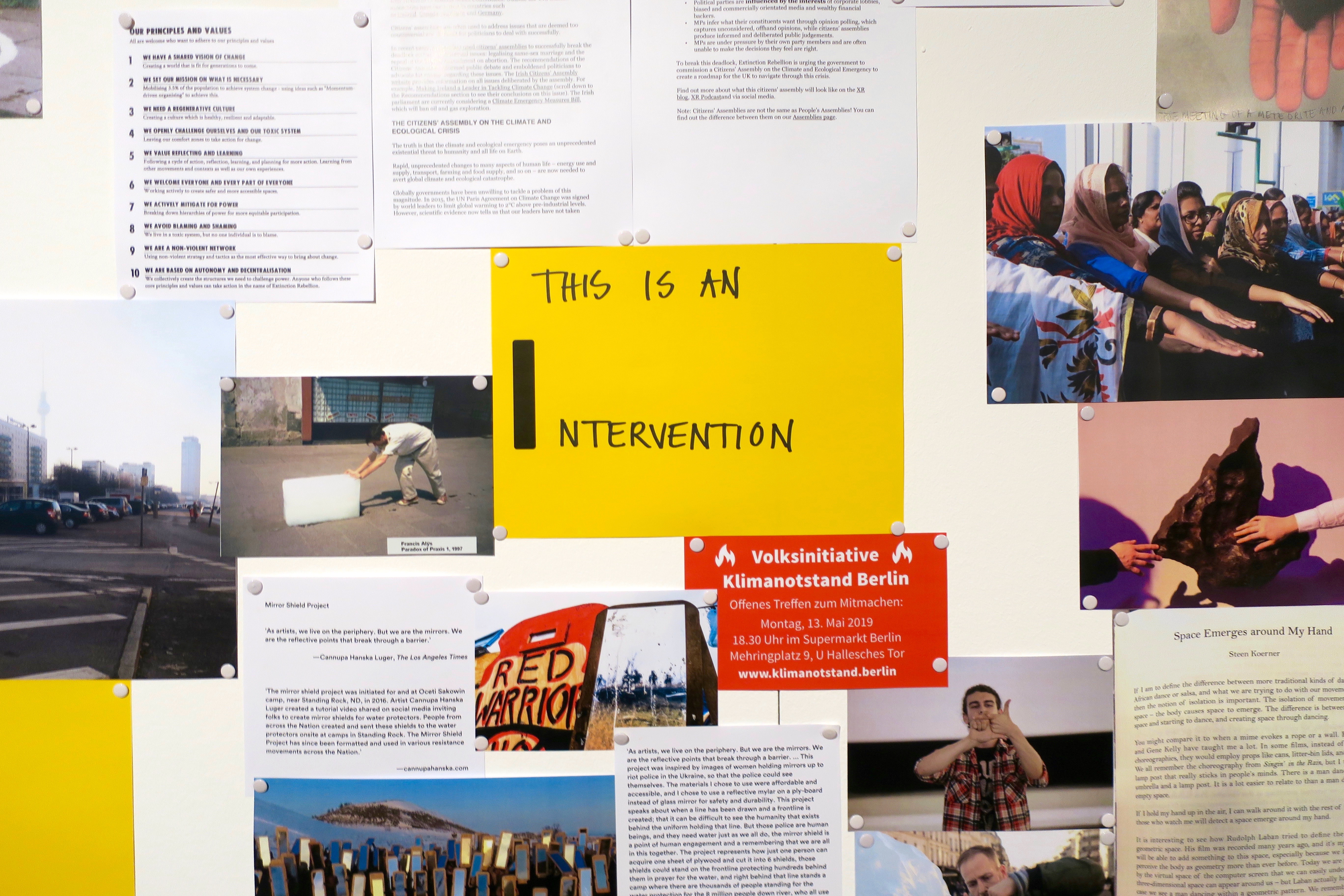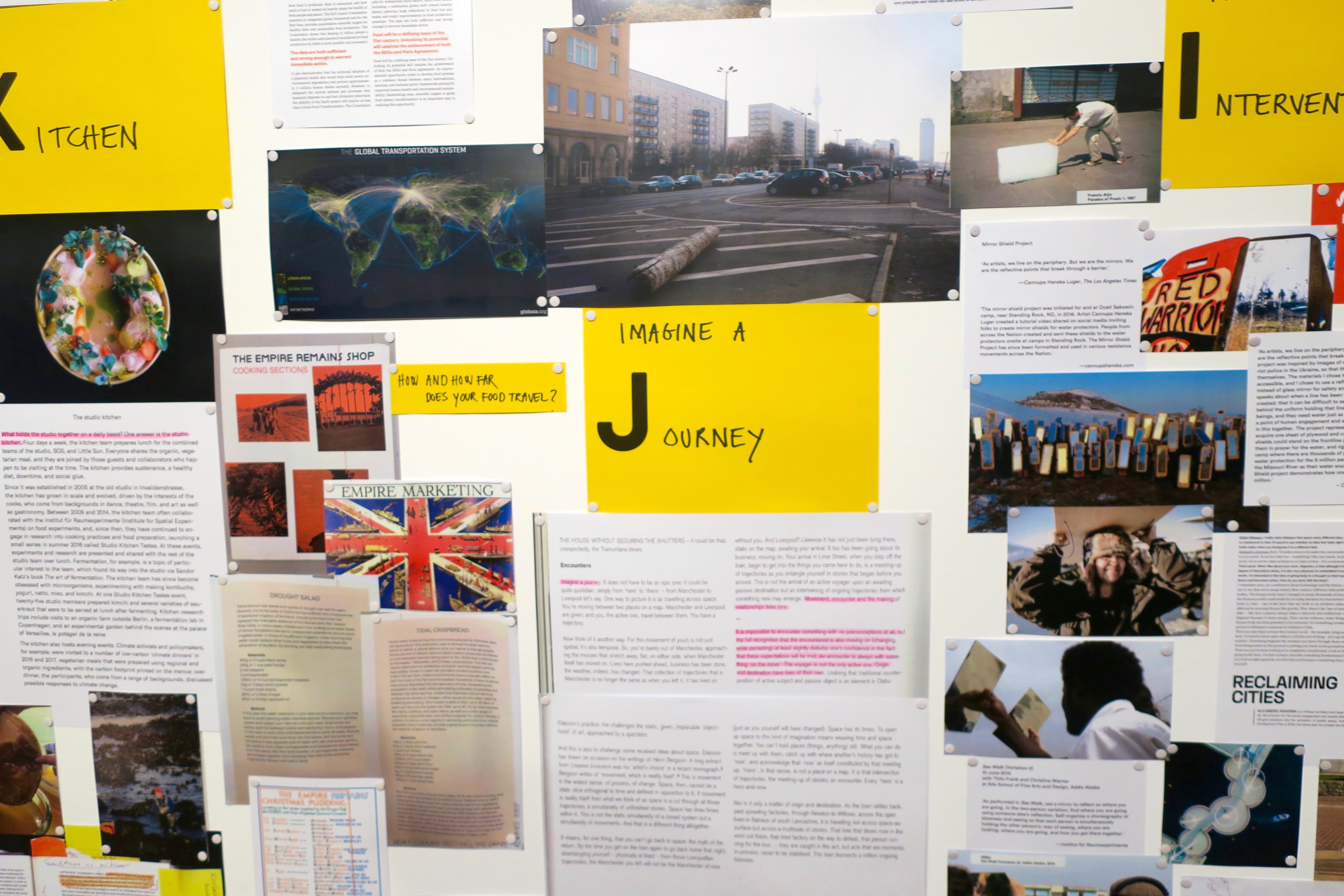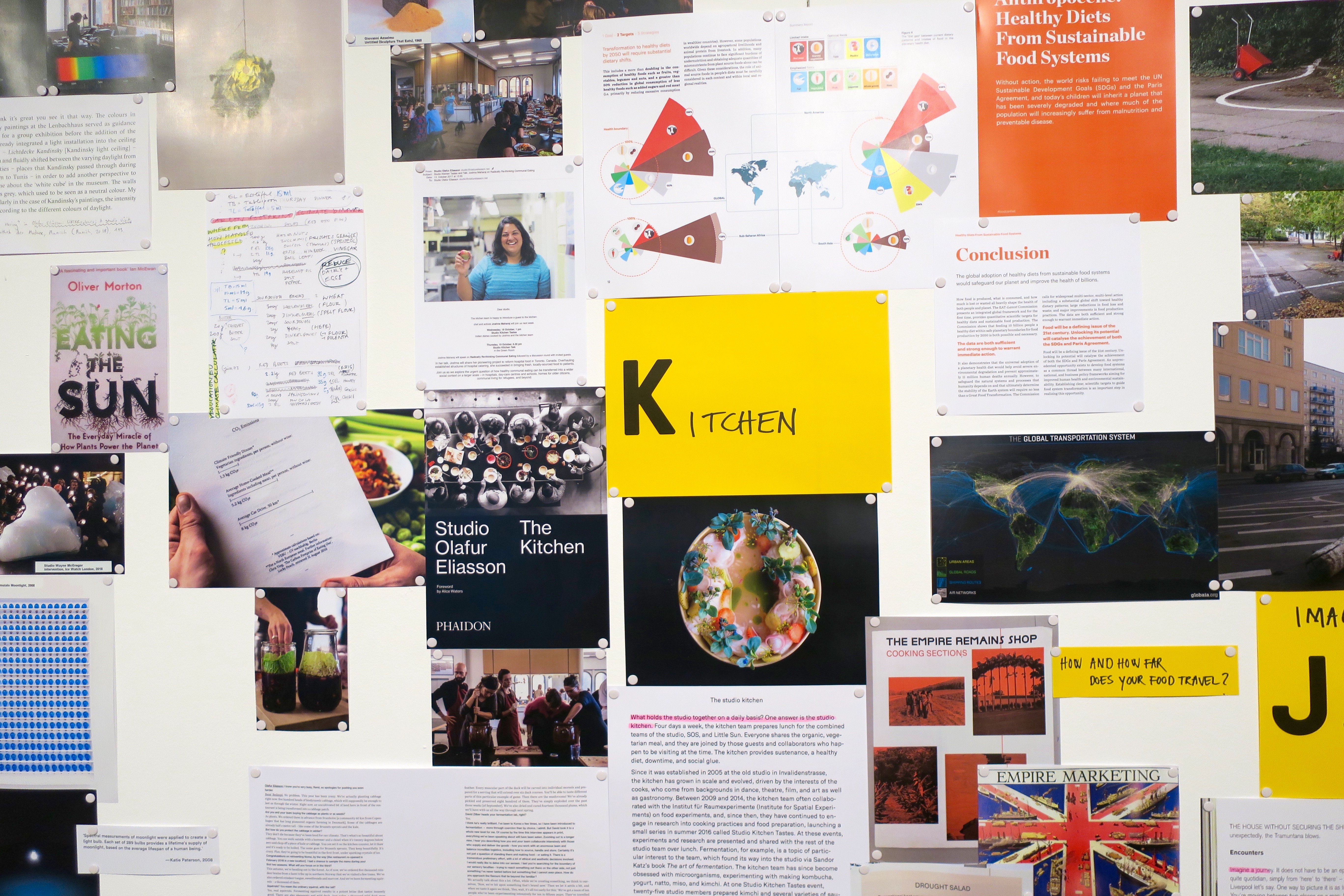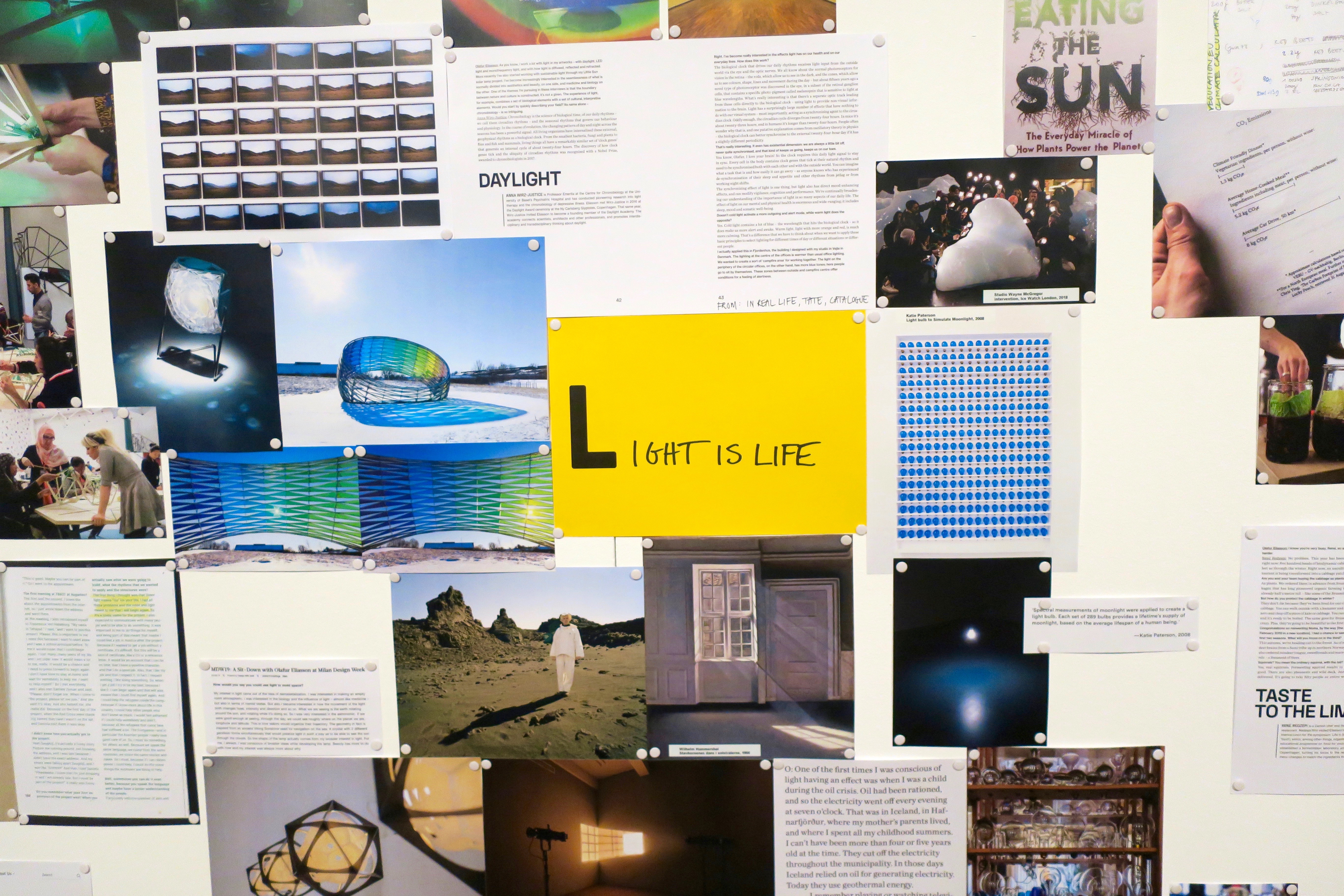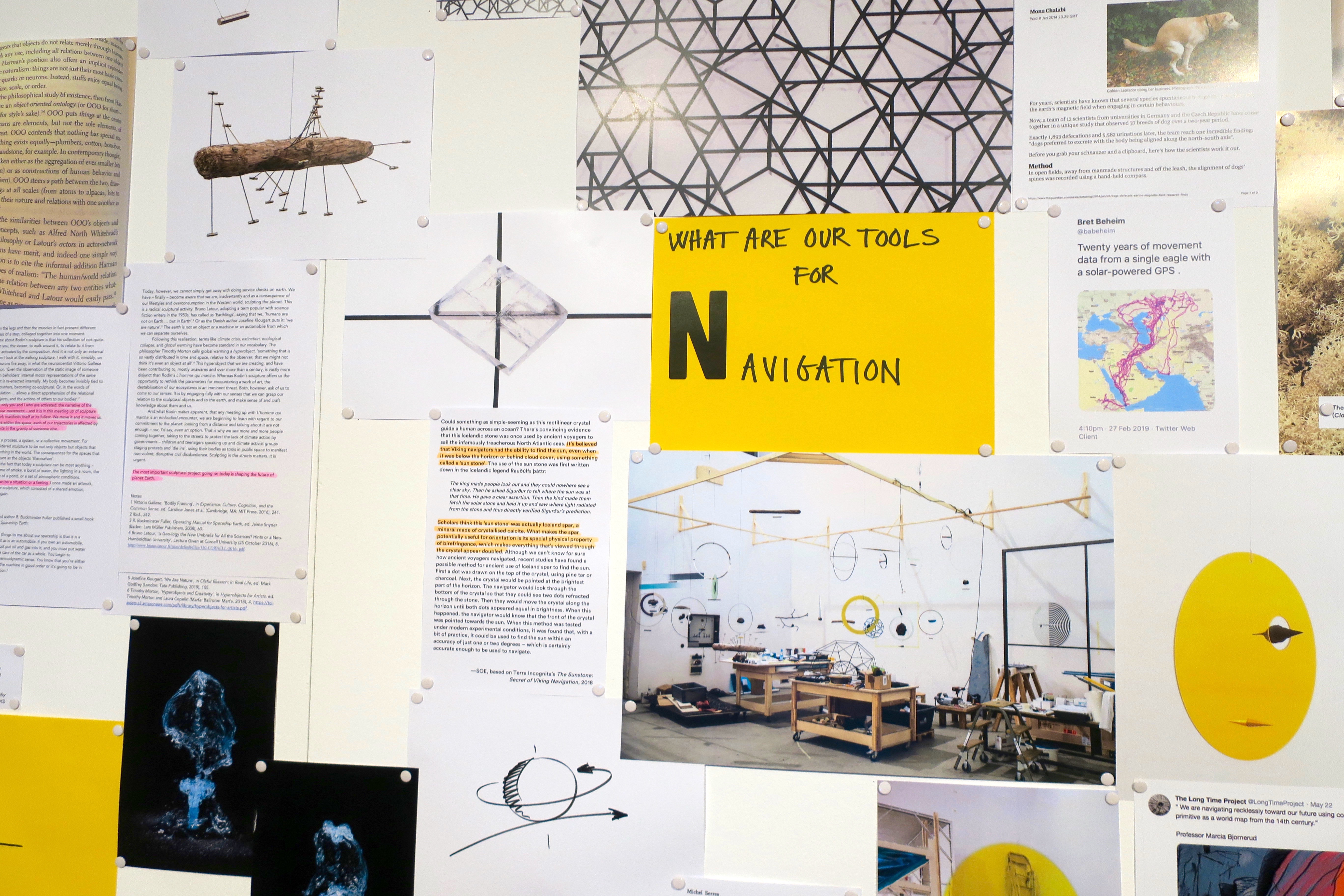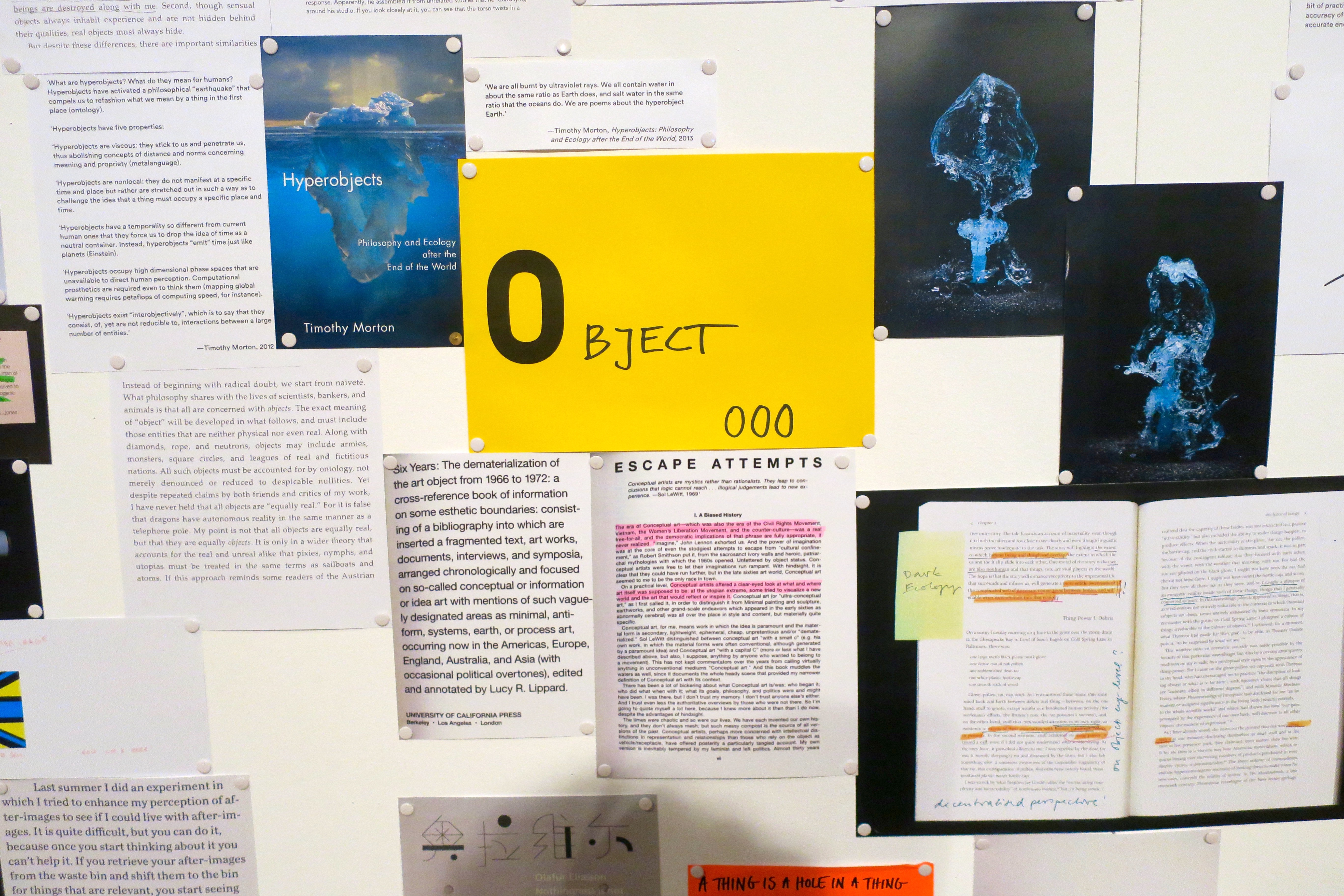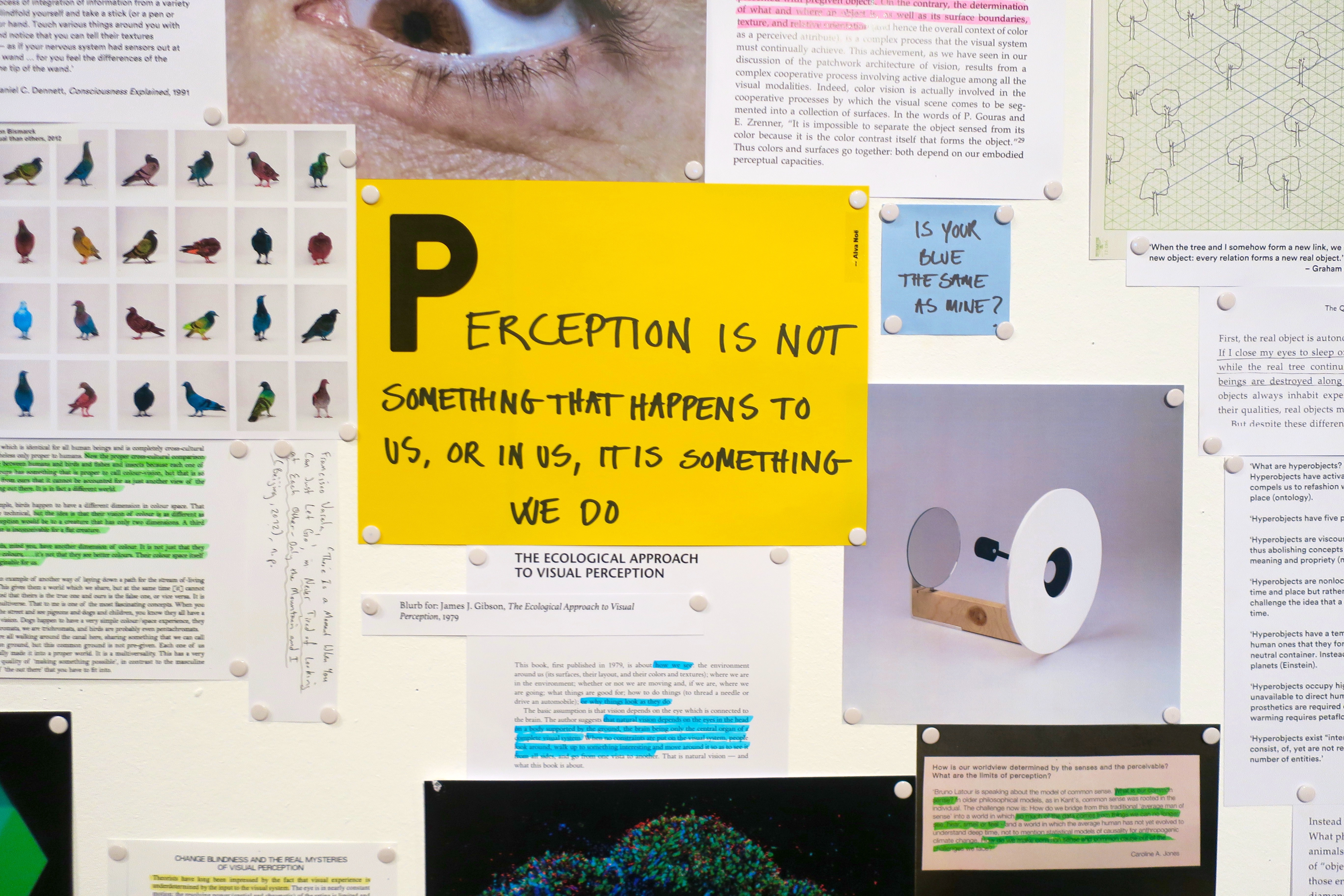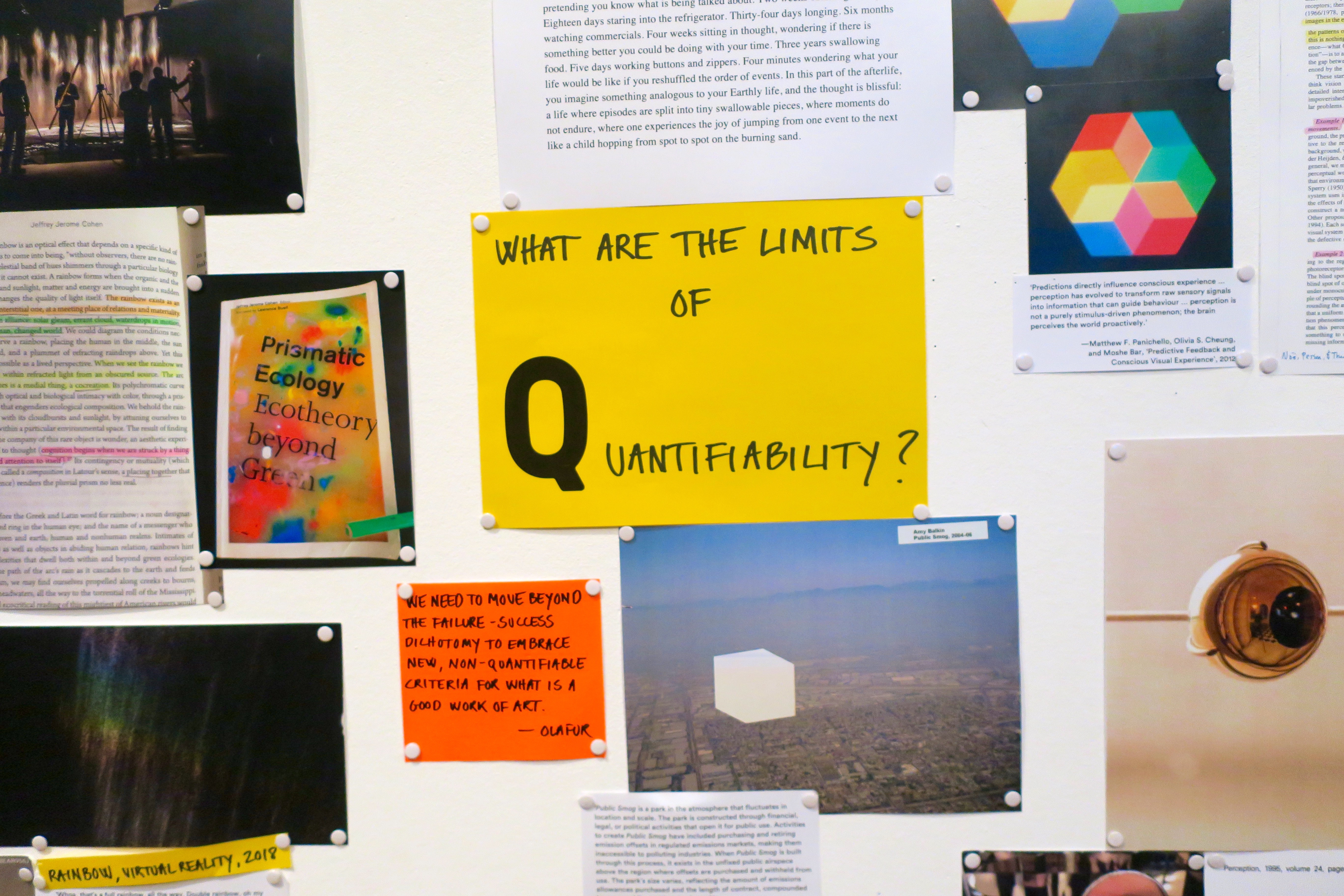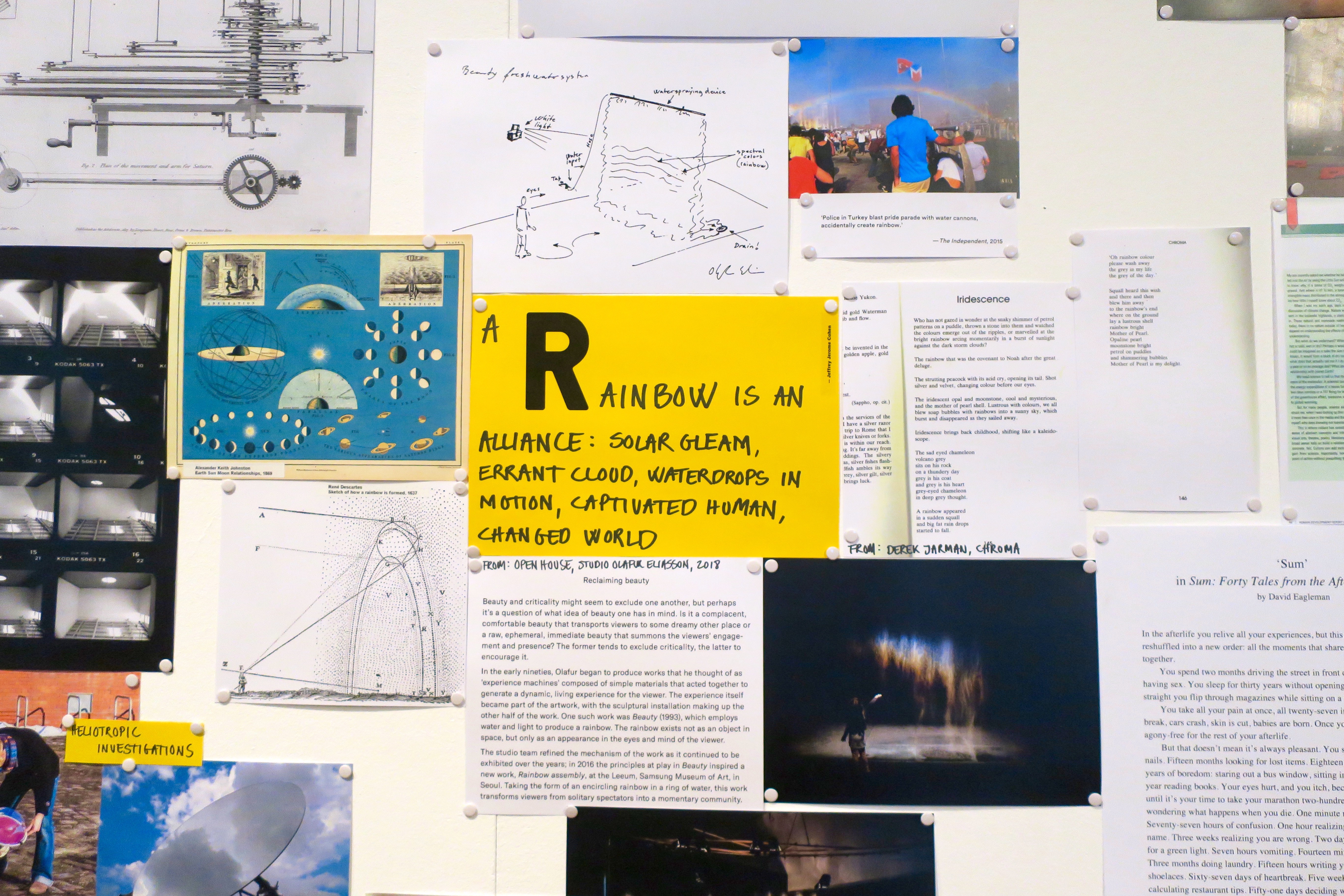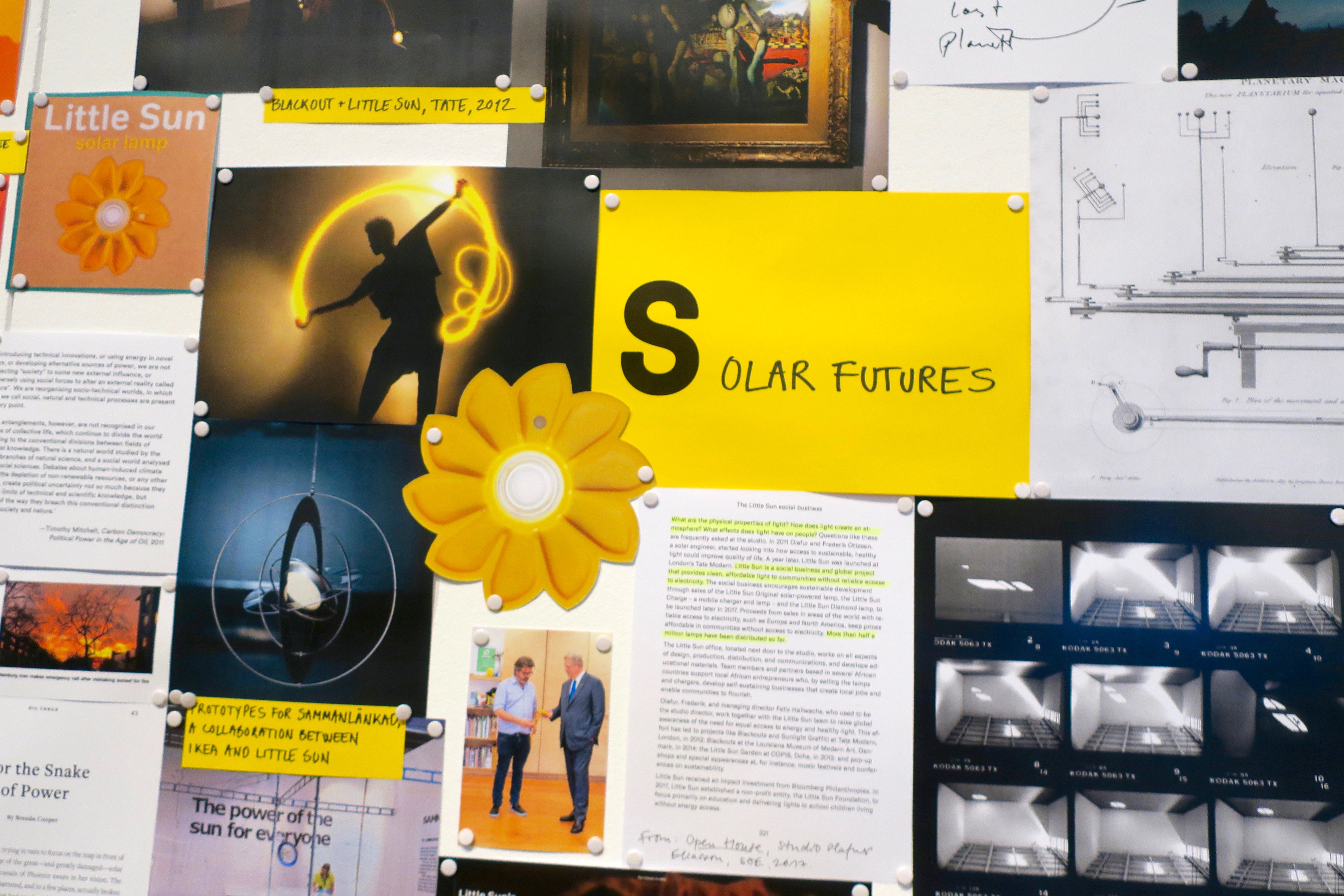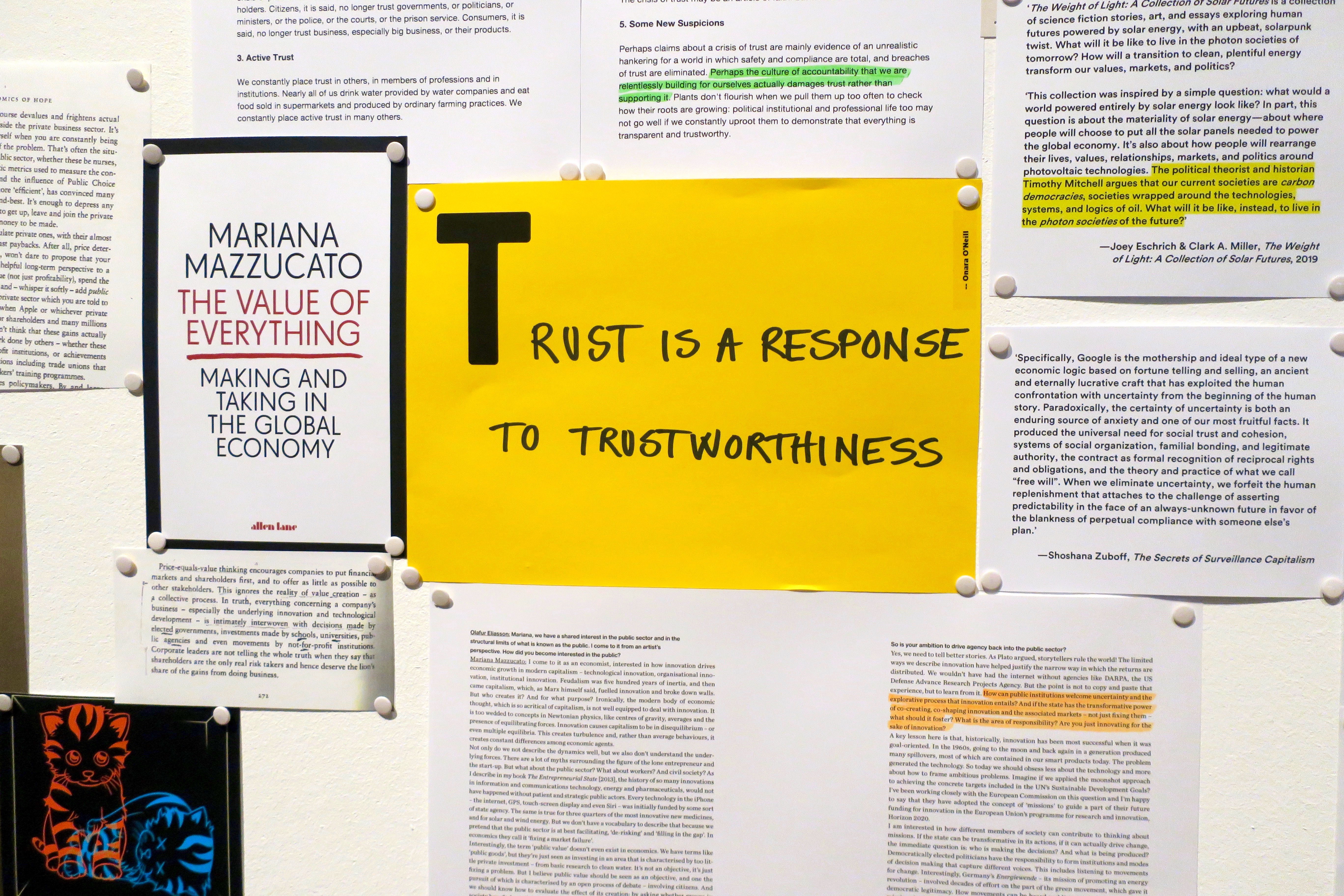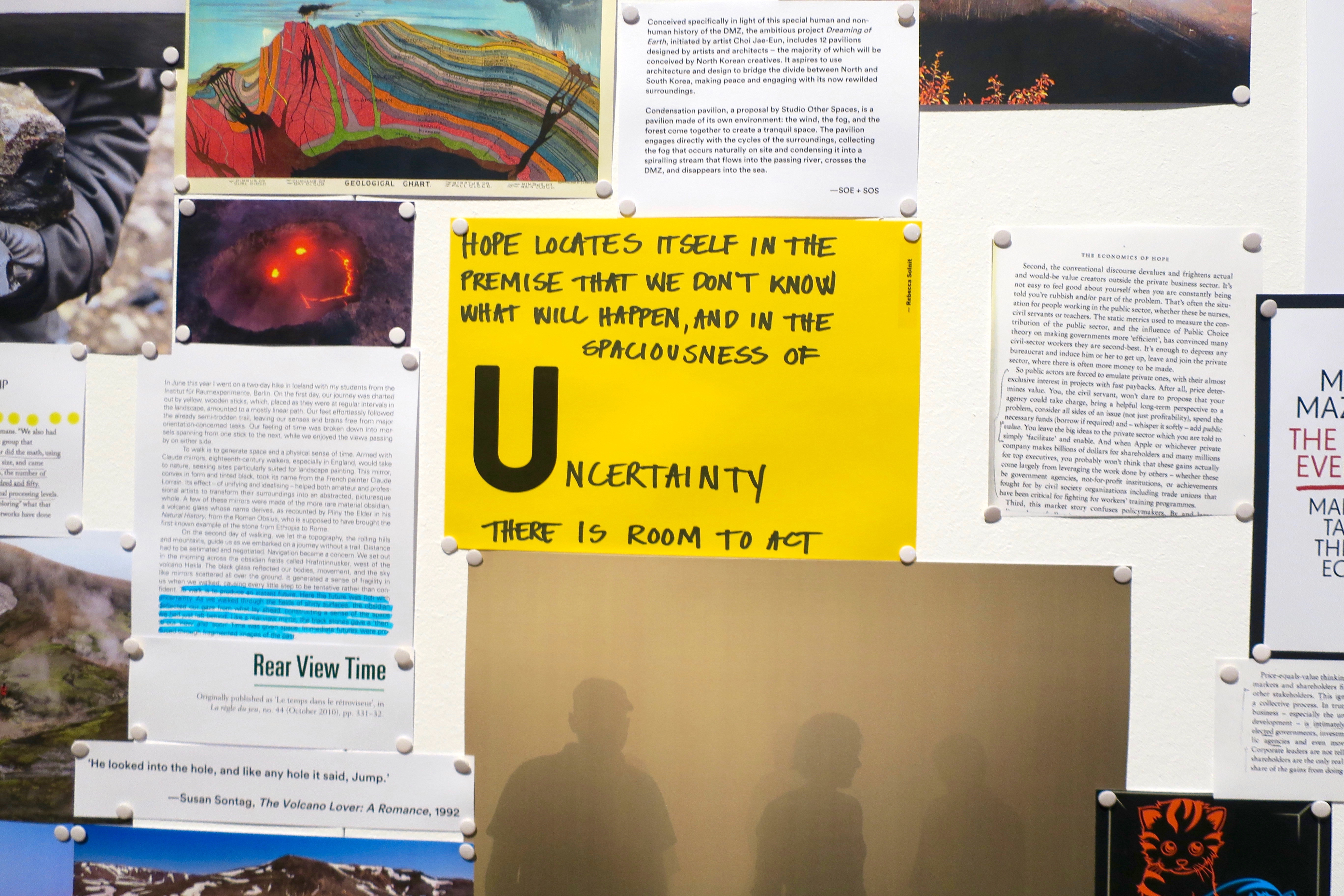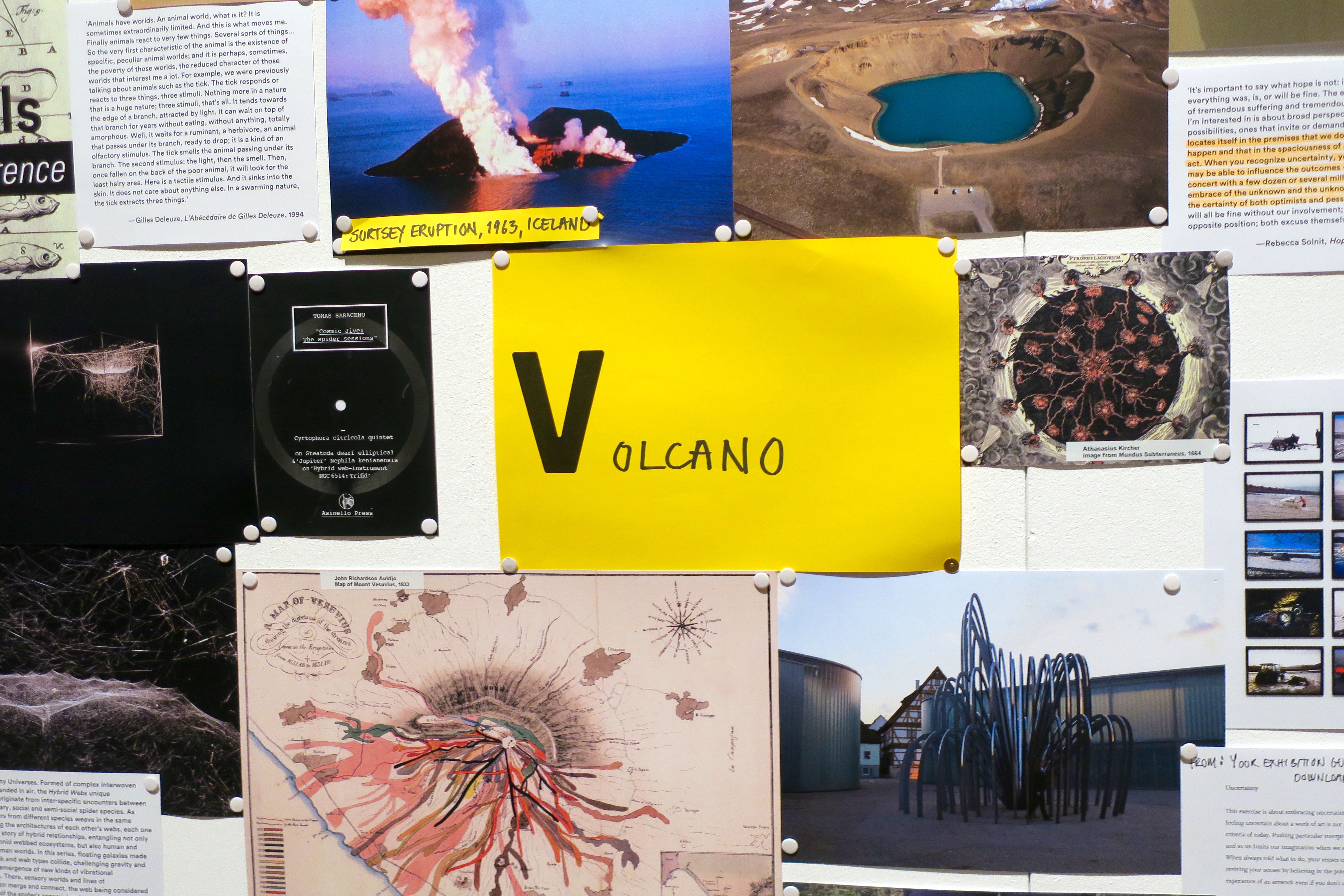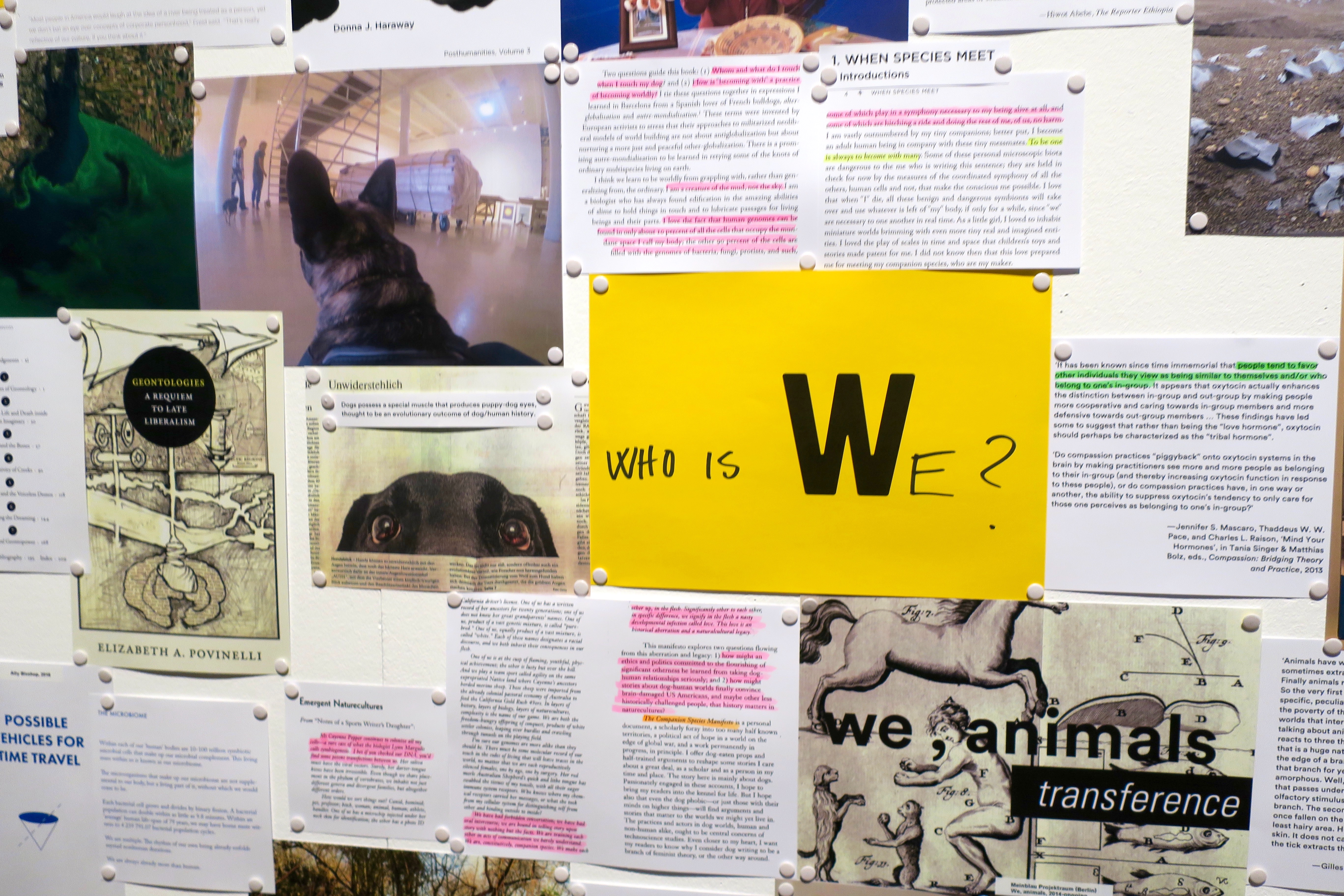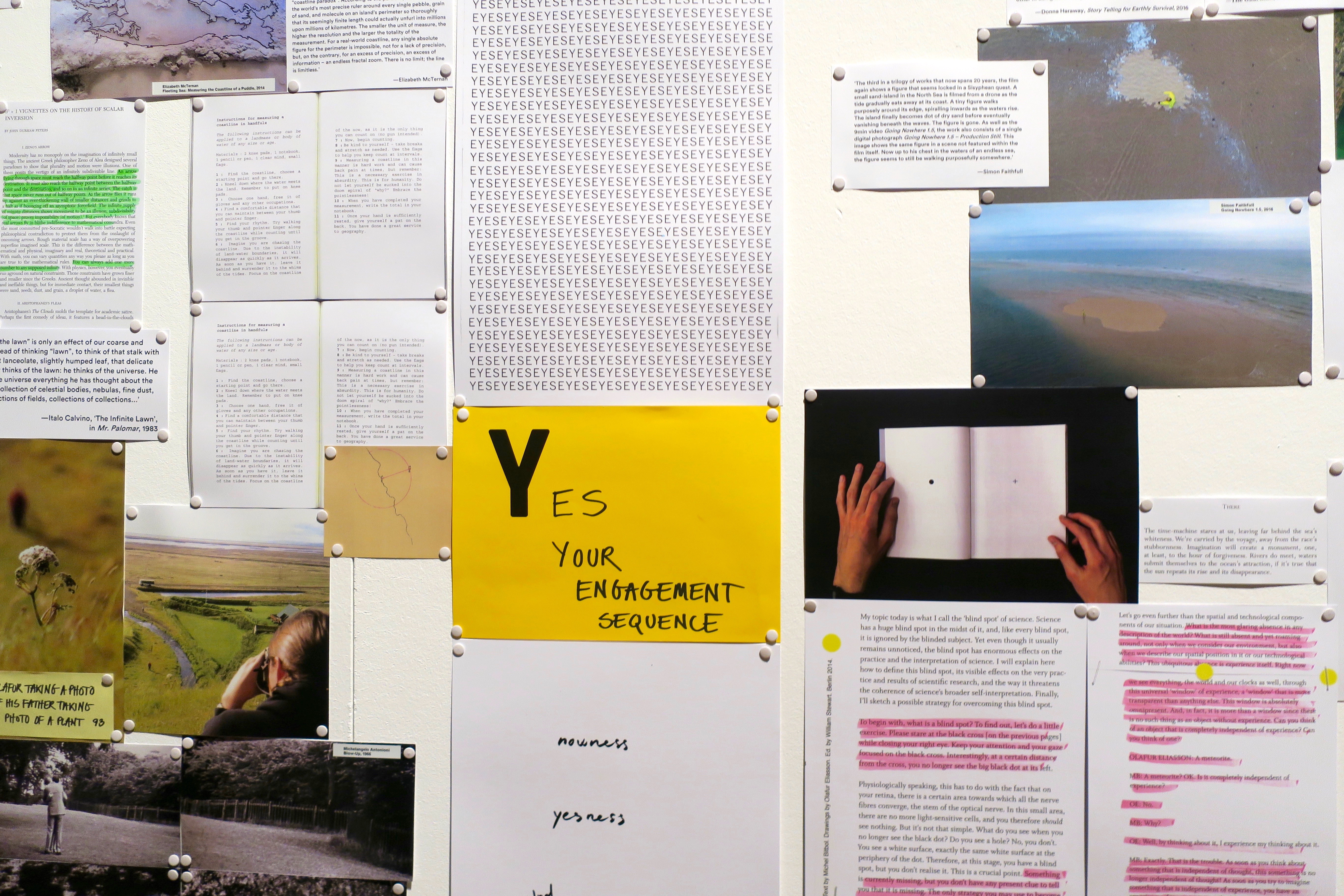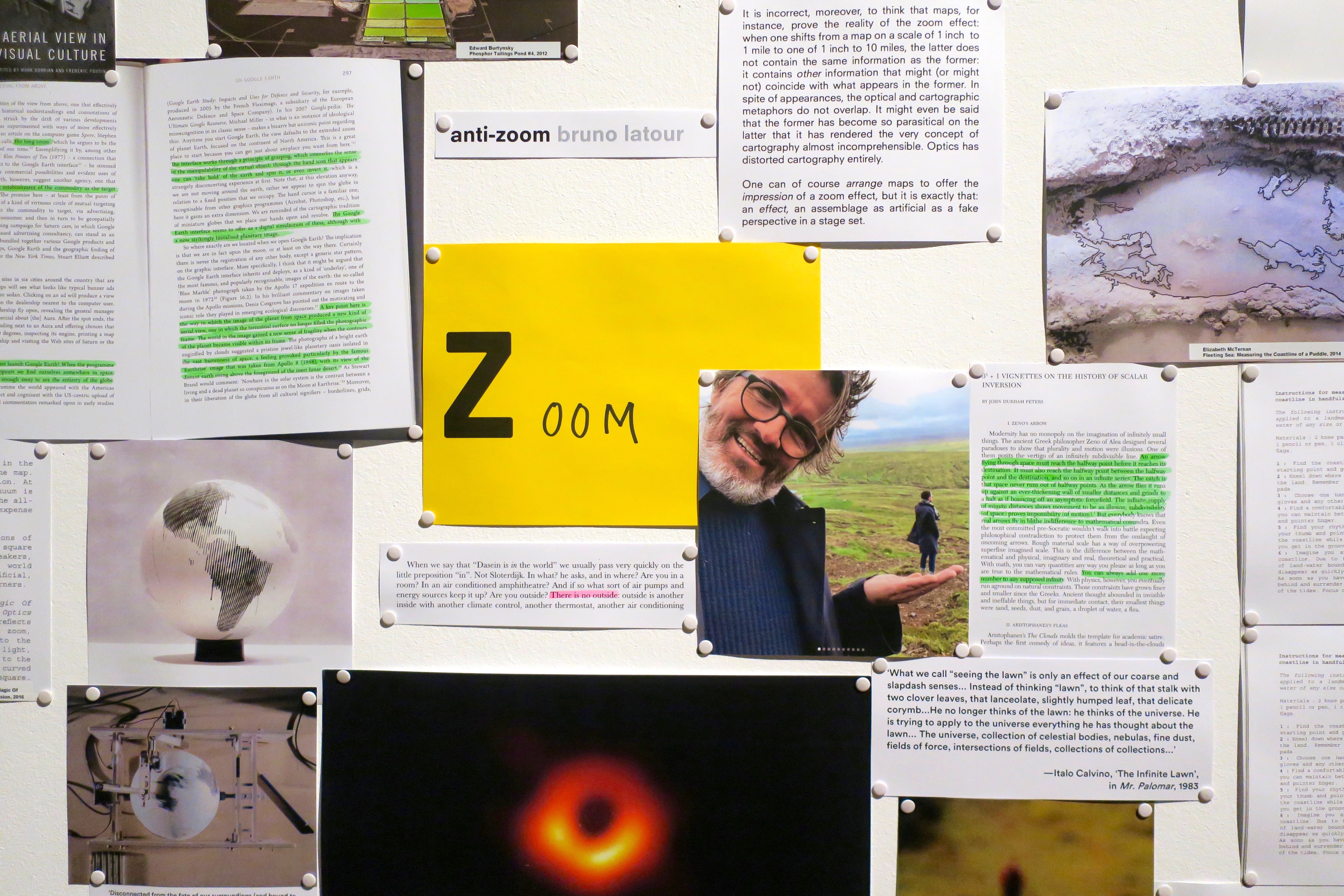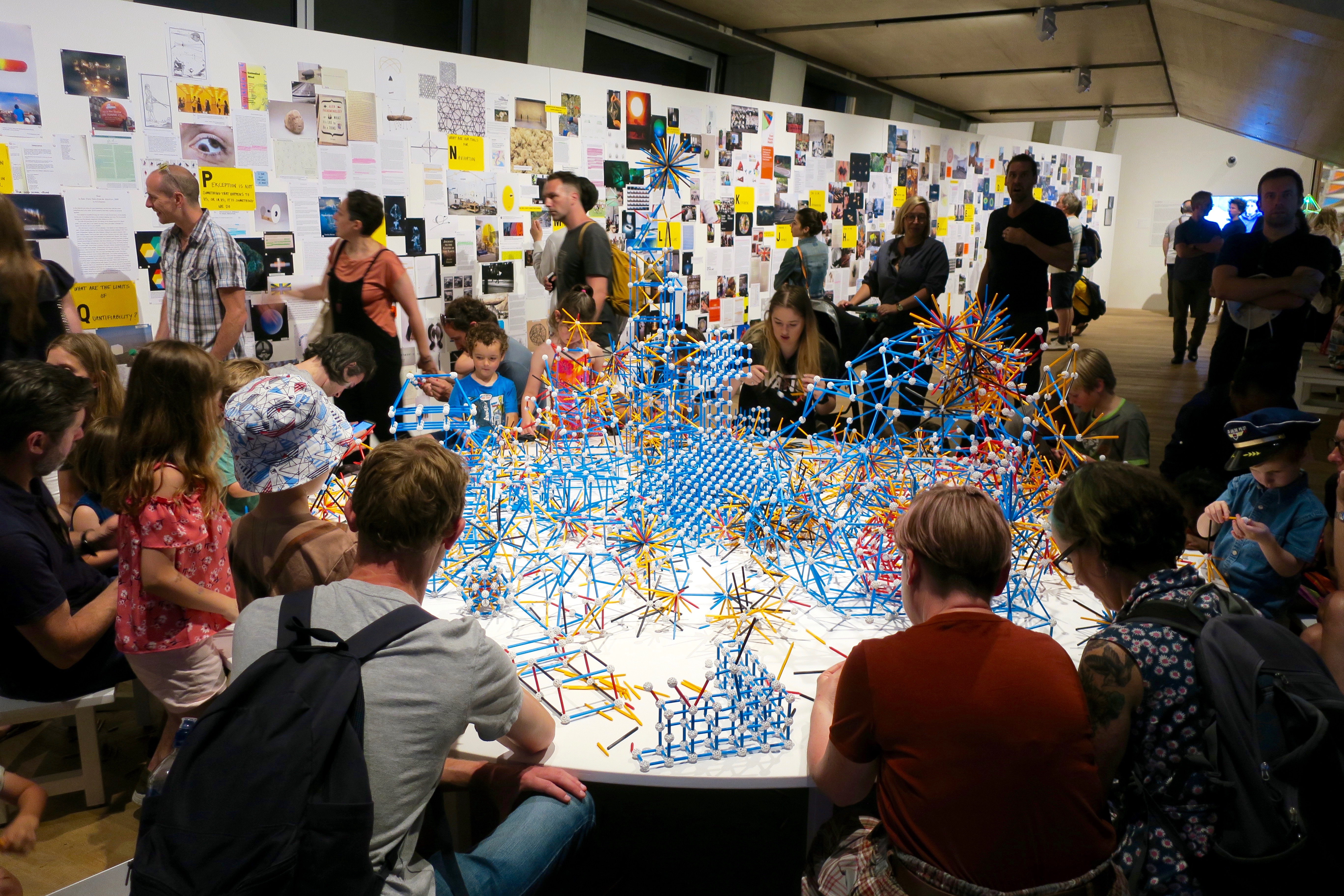 The exhibition ended with a walk through The Expanded Studio, a wall of alphabetically displayed ideas and projects that brought to mind The Whole Earth Catalogue and An Index of Possibilities.
The Structural Evolution Project
This piece requires the participation of visitors, who collaboratively create a continuously evolving three-dimensional structure using Zometool construction sets. The Zometool system was invented by Steve and Holly Baer and inspired by the work of Buckminster Fuller.
※
We left the exhibition and had lunch at Wagamama in the street behind Tate Modern. On the way we looked at Waterfall, an open-air sculpture by Olafur Eliasson made from scaffolding, water, wood, plastic sheet, aluminium, pump & hose, but it was broken. Afterwards we returned to the gallery but we couldn't get in. The building was being evacuated. We came around to the riverside path and, for the first time ever, we stepped down onto the beach for a view of St Paul's Cathedral over the water.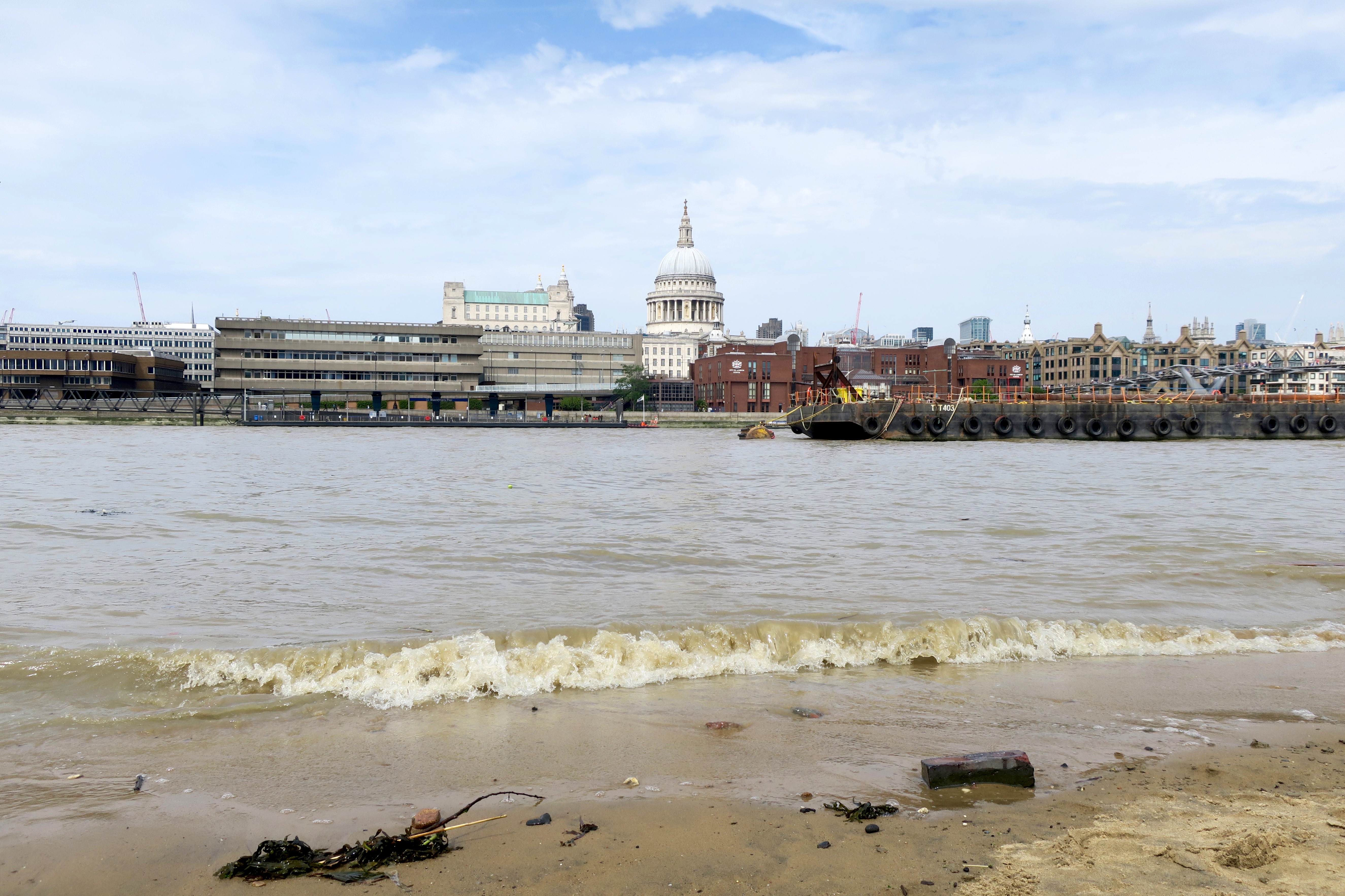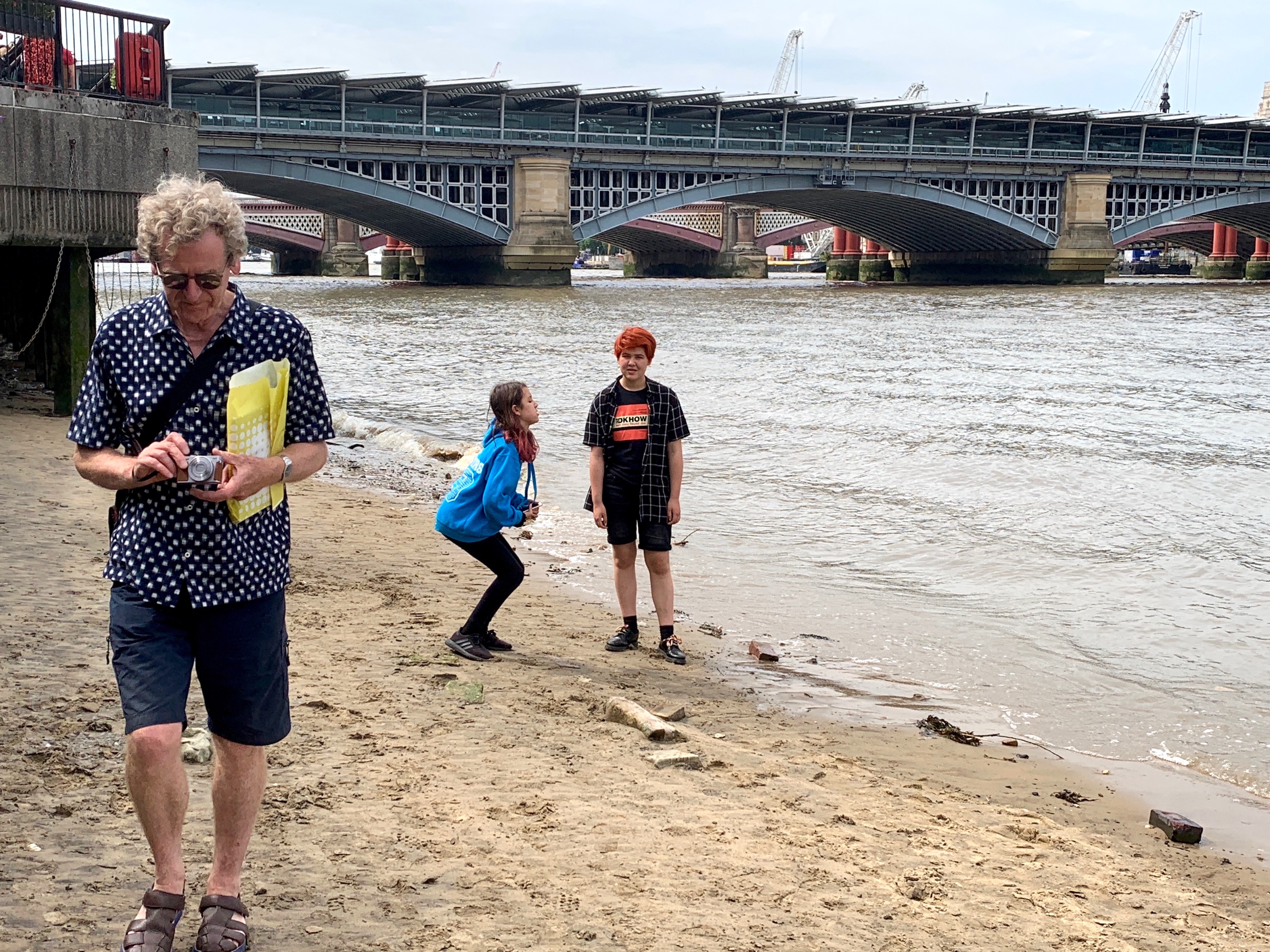 We left the beach and headed back to the station behind us on Blackfriars Bridge. The helicopter suddenly sounded loud and very close. From the station platform we watched its hesitant approach, looking for a place to land. But it was only when we got home that we learned what had happened.
A child had been thrown from the tenth floor. Whilst we sat eating lunch down below, up above a six year old boy was ambushed by a total stranger and thrown from the viewing platform of the Blavatnik Building. He fell 100 feet onto the fifth floor roof of Tate Modern. Somehow he didn't die – he must be an angel to survive such a fall, but he suffered life-changing injuries. And all the inspiration we'd got earlier from the exhibition felt suddenly dissipated. So now I want to channel all that love for the planet, all that love of experiment and curiosity, playfulness and enthusiasm, awe and wonder and humanity – I want to channel it all into a prayer for that little boy's recovery and rehabilitation.
More here – GoFundMe