The Goosewoman & Old Bright, The Postman; c.1840. Private Collection
After 18 months of researching, writing, photographing and designing, my book George Smart, the Tailor of Frant: Artist in Cloth & Velvet Figures has finally been published. I first encountered George Smart's pictures when I was a student at Maidstone College of Art over 25 years ago. I came across a few thumbnails of his work in a book by James Ayres and, despite being poorly printed, they jumped off the page at me and lodged themselves in my mind.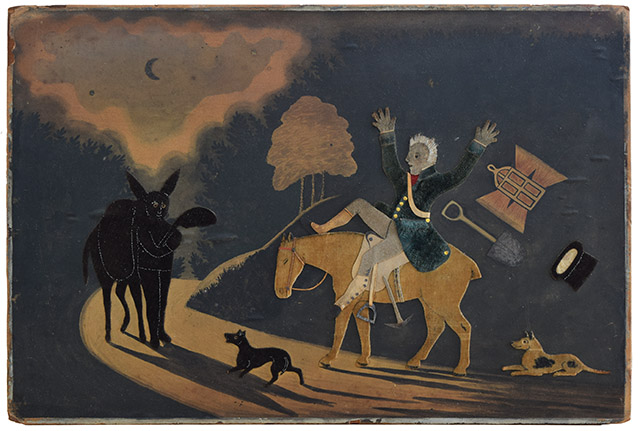 The Earthstopper; c.1830. Tunbridge Wells Museum
I'd always wondered why examples of his work were not easy to find; Smart is so under-represented in our public museums and collections. The Tunbridge Wells Museum has the best collection. They have nine pieces that cover the range of his themes from Old Bright, The Postman, to The Goosewoman and The Earthstopper, as well as two dummy boards of a bird and a dog. Compton Verney in Warwickshire have a couple, and Scotney Castle in Kent (owned by the National Trust) has one solitary Postman.
I live in the village of Frant, two miles south of Tunbridge Wells in Kent, where George Smart worked as a tailor in the first half of the nineteenth-century. Smart's most popular subjects are the characters Old Bright, The Postman and The Goosewoman. Both were real people, not inventions; locals he would have seen passing his shop window in Frant everyday. The villagers and tourists would also have seen them and maybe this is why they have become his most commonly seen pictures. They have a strong prescient graphic quality and a bold beauty; their cut-out coats creating striking, flat shapes against Smart's delicate watercolour backgrounds. There is something for everyone here: paint, collage, humour and real life, right down to the glint in their glass bead eyes.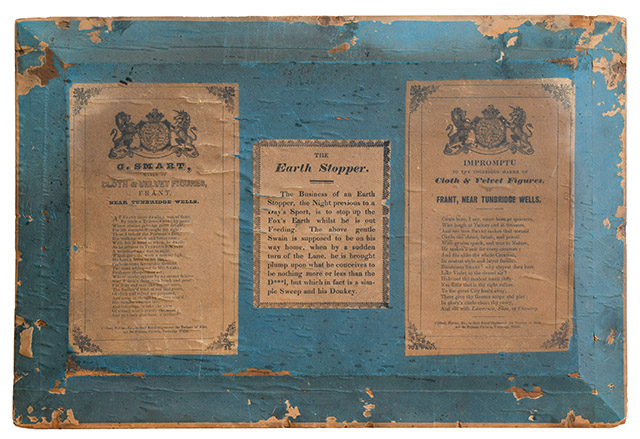 Reverse of The Earthstopper showing 3 of Smart's trade labels; c.1830. Tunbridge Wells Museum
The catalyst for my book was Tate Britain's 2014 exhibition, British Folk Art. Out of nowhere, twenty-one pieces by Smart were on show to the public… from the shadows of obscurity to the spotlight of one of the world's most prestigious galleries. They held their own against more famous "folk" artists such as Alfred Wallis and Mary Linwood. It was a unique event, twenty-one Smarts reunited for the first time in nearly two hundred years, but still only five pictures were reproduced in the catalogue. At that point, I felt a strong urge to write the book I'd been looking for all these years.
So many of the images I tracked down were in private collections, and the subsequent generosity of the owners and the auction houses allowed me to include the full extent of Smart's known output in my book. I had the opportunity to photograph some of these pictures myself, having to learn the skill of shooting art under glass. I managed to get the lens right up close to the surface where Smart's delicate watercolour washes and textured collaging was revealed. I slowly realised I had something much deeper and textured than just a few scattered pictures. I had a book on my hands!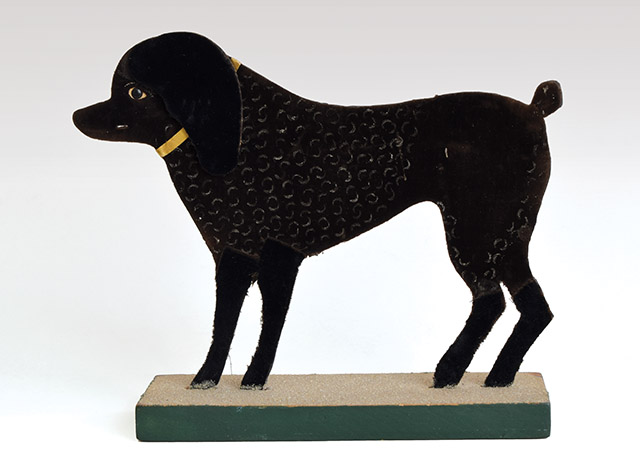 Felt Dog; c.1830s. Tunbridge Wells Museum
In the end, I found over seventy artworks (along with numerous other images) that really started to tell the tale of this tailor. Much of Smart's life is a black hole of information. Where was he born? Did he go to school or take an apprenticeship? Why did he move to Frant? What did the clothes he made look like? How much did he sell his pictures for? Why did he die a pauper? These questions still remain partly unanswered, but I feel his pictures and printed labels already tell us so much about who George Smart really was. They are full of humour and detail. His labels are witty and incisive. We may not have a painted portrait of Mr Smart, but I feel his character has emerged well beyond the borders of Smart's former parish.
※
George Smart, the Tailor of Frant: Artist in Cloth & Velvet Figures by Jonathan Christie is now available here from Unicorn books. There's also a website for George Smart here.
Jonathan Christie / The Rowley Gallery
※
If you enjoyed this you might also like British Folk Art.