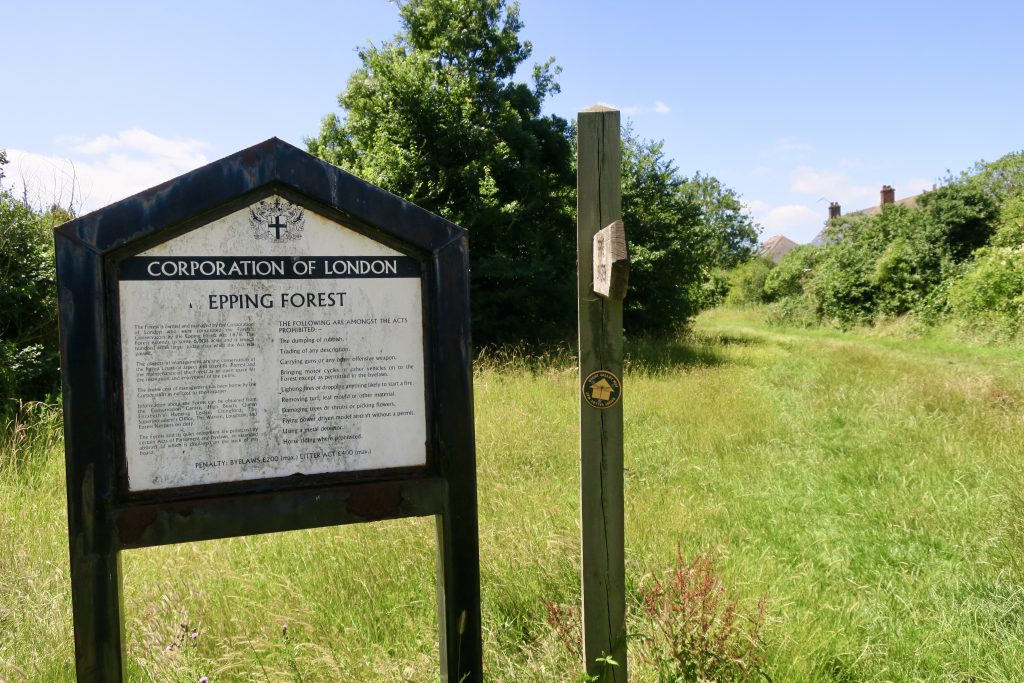 Epping Forest was busy. There was plenty of space for everyone to walk comfortably, but it seemed like social distancing among the trees had become the new normal, and the car parks were all full. Previously, as a last resort, we'd parked on the roadside at Baldwin's Hill. The bonus was a glass of beer from the doorway of the Foresters Arms, before plunging downhill into the forest for a gently meandering walk along Loughton Brook. But today it felt safer to avoid the crowds, and instead of going into the centre of the forest, I looked for somewhere quieter on the outskirts.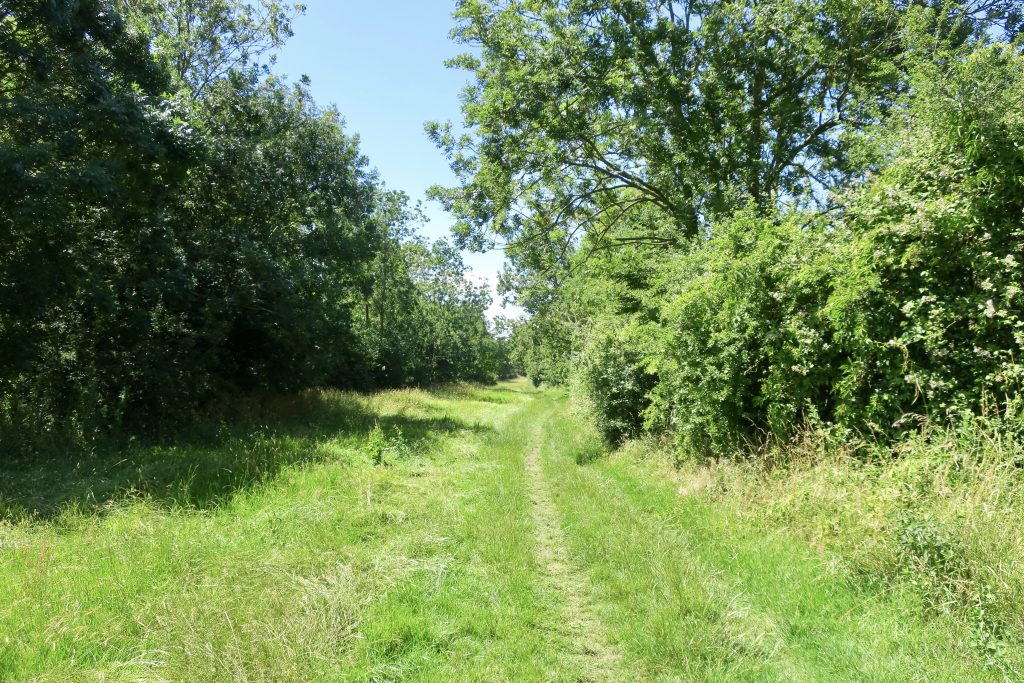 I found a nice spot to park the car beside another pub, The Traveller's Friend in Epping Green, but sadly the pub was closed. It was the start and the finish of our circular walk, and under normal circumstances it would have been the perfect place to stop for refreshment. I hope they'll reopen for business again soon. It stands at the entrance to a bridleway heading east along a vestigial outpost of Epping Forest, a green lane between verdant hedgerows known as Epping Long Green.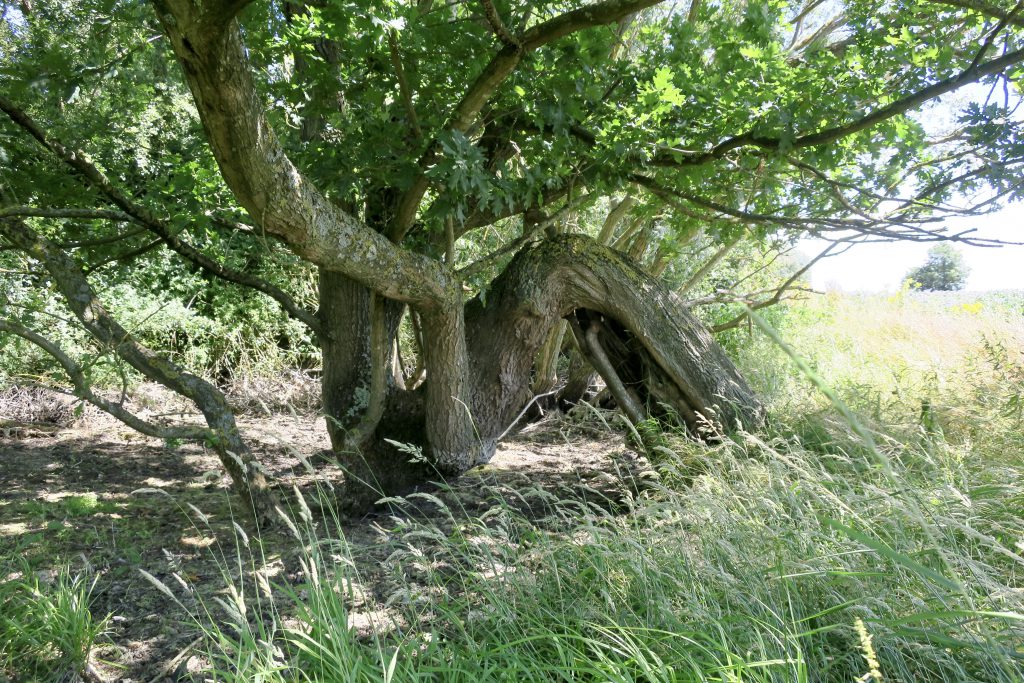 On our left I noticed a strangely serpentine oak, kneeling as if to drink from a dried-out dew pond.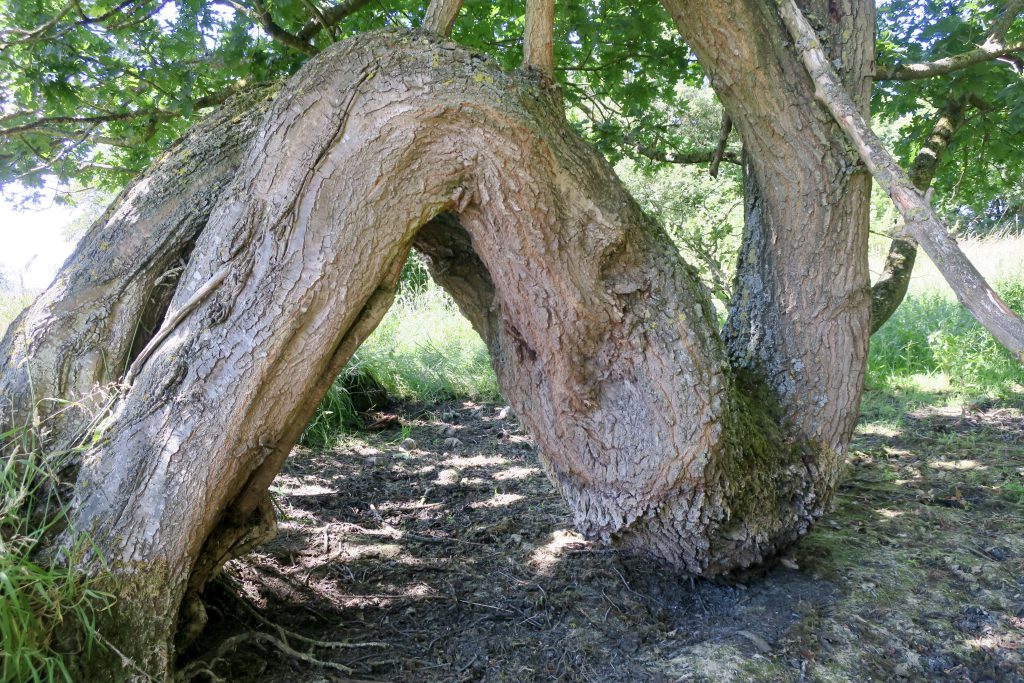 It grew alongside a fair field full of flowers.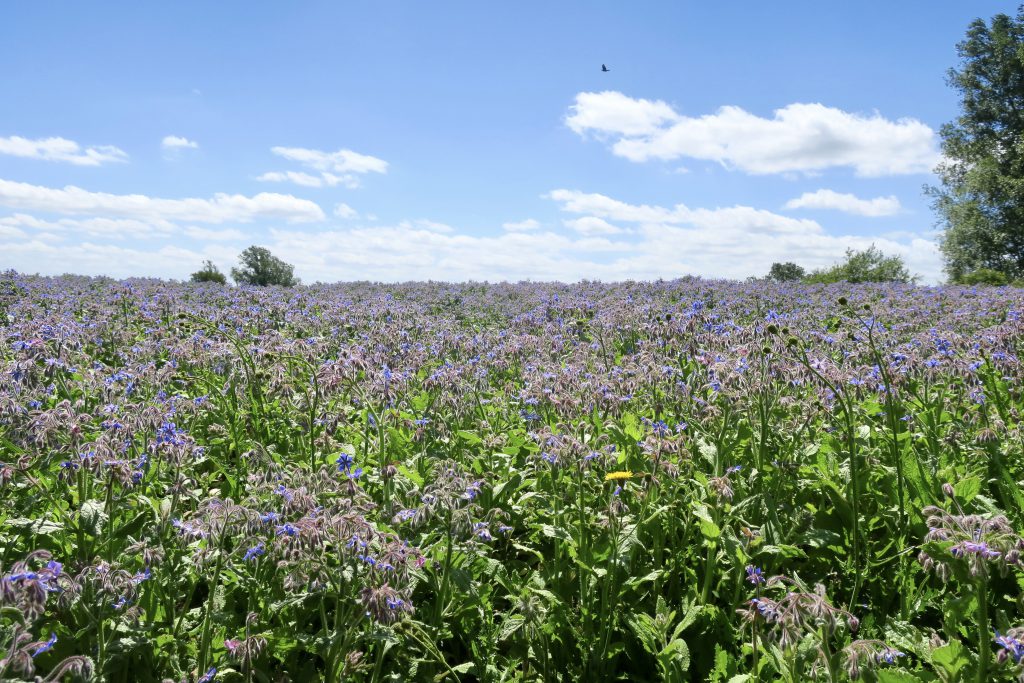 A blue field is a surprising sight. At first I thought of flax, but on closer inspection I discovered these are borage flowers, grown for their omega-6 oil, for use in dietary supplements and skin ointments.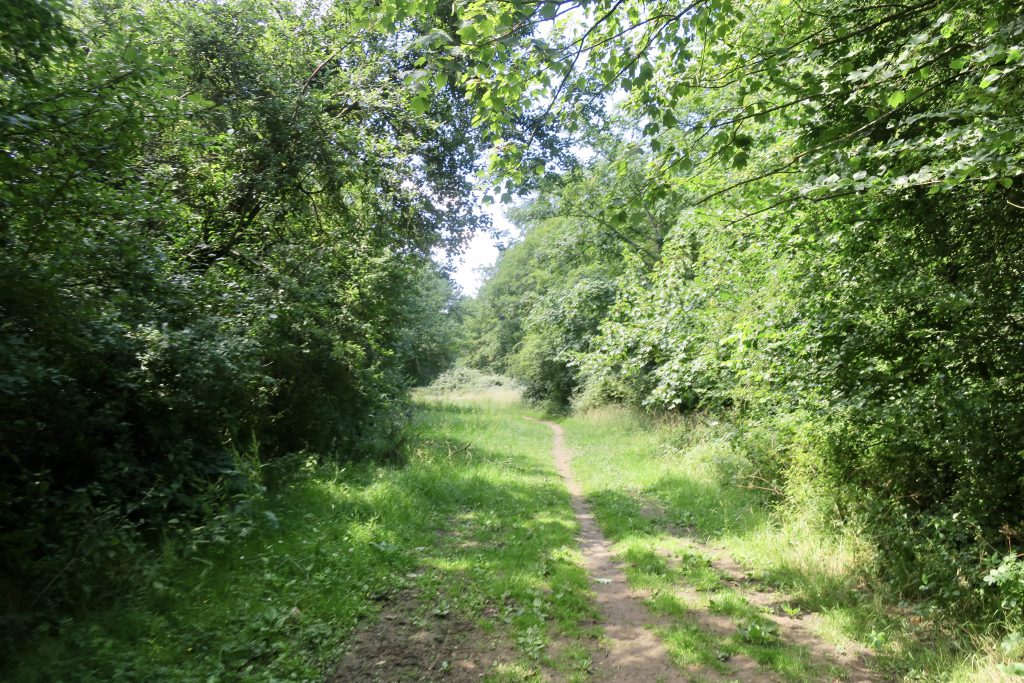 The path threads its way between hedges on either side,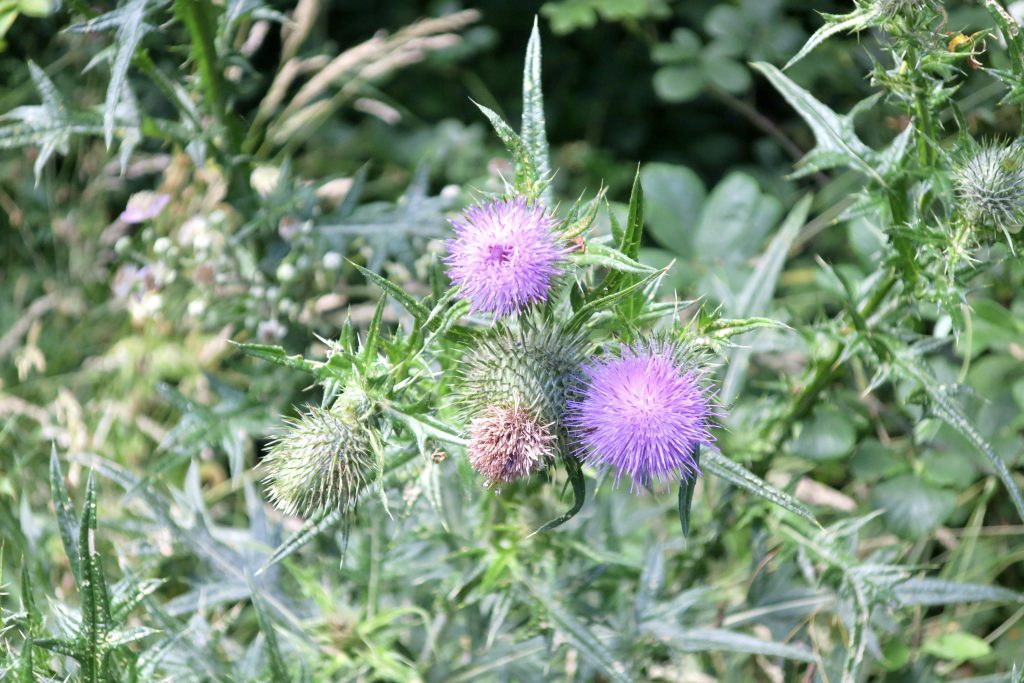 a green corridor rich in wildflowers and butterflies.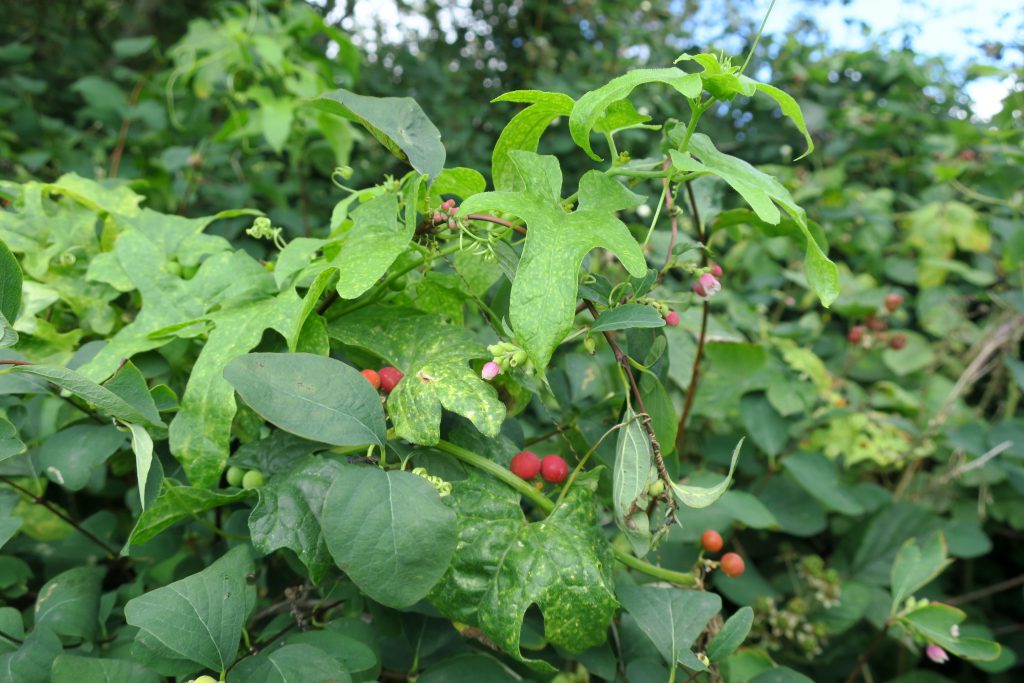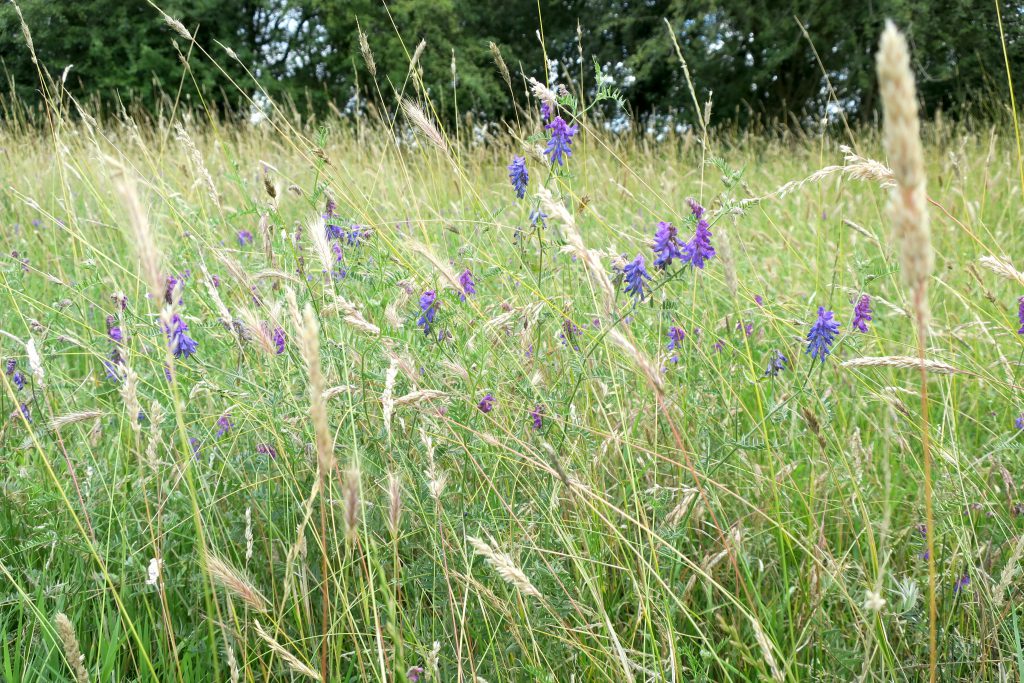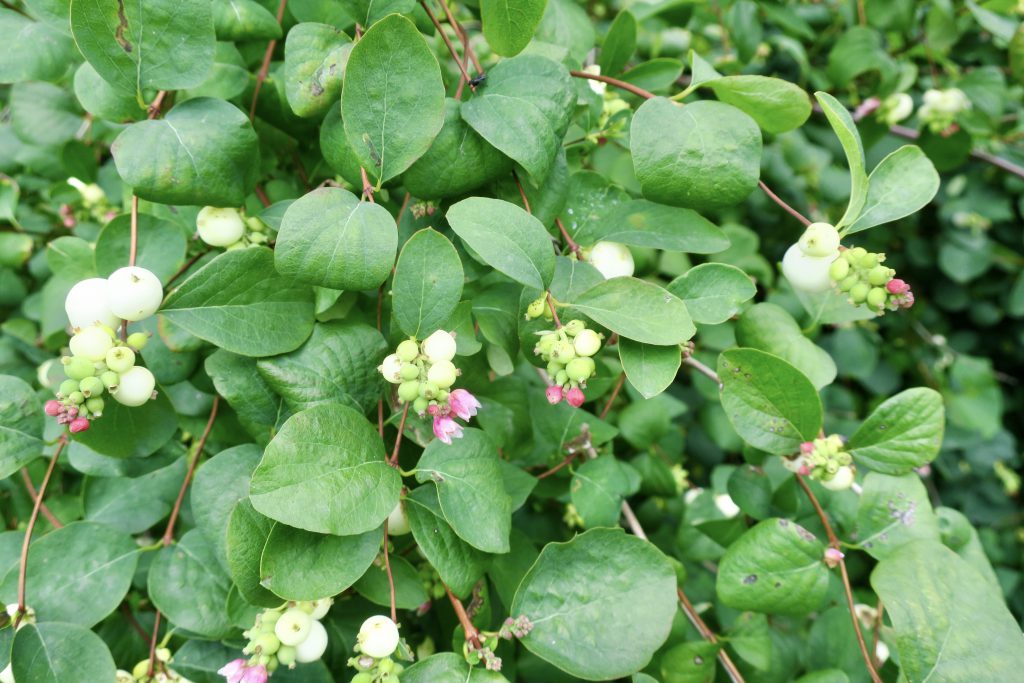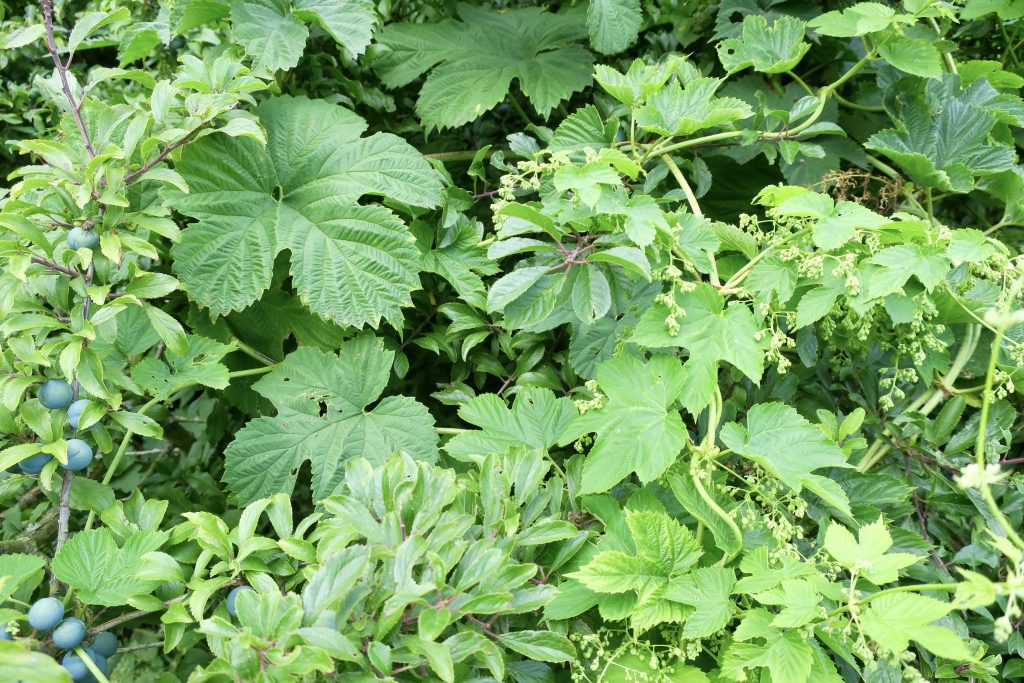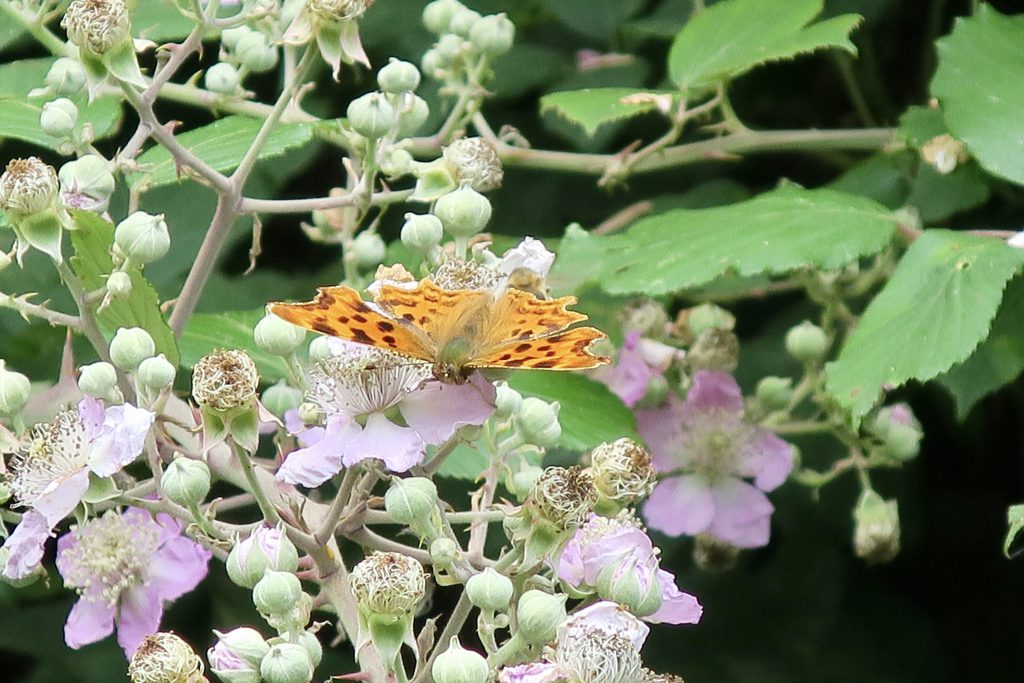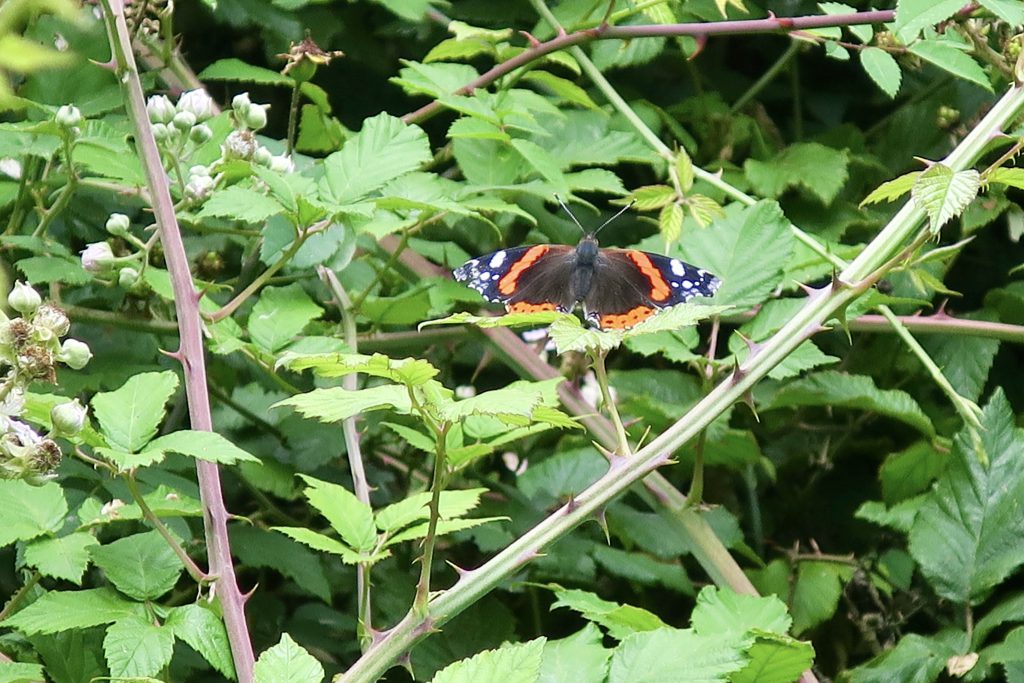 Thistle, bryony, purple vetch, snowberry, hop and sloe, comma, red admiral, and much much more.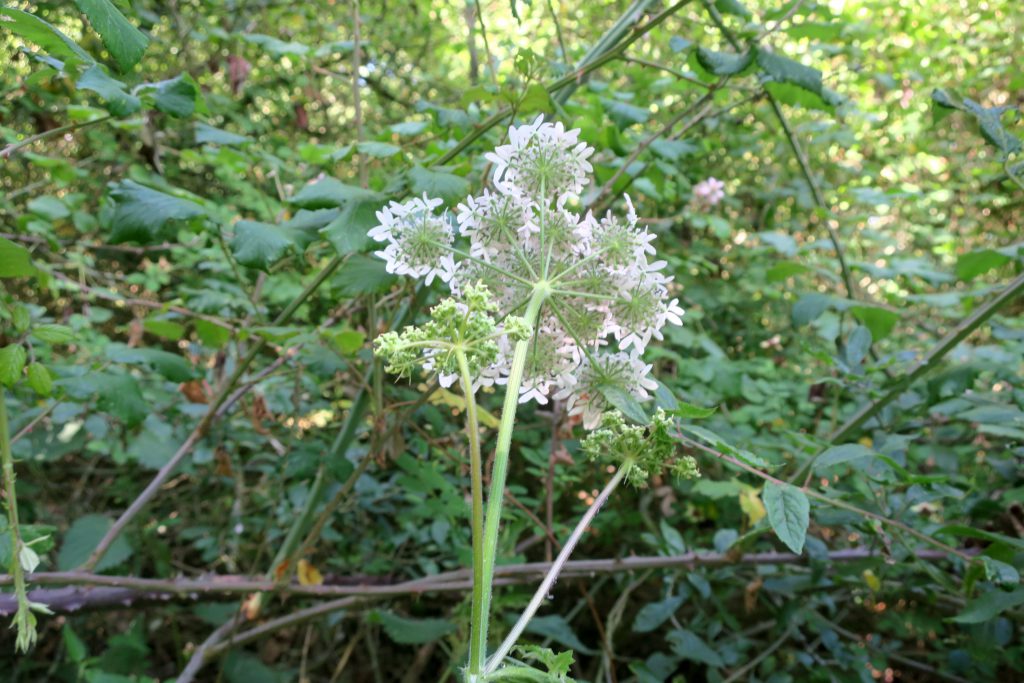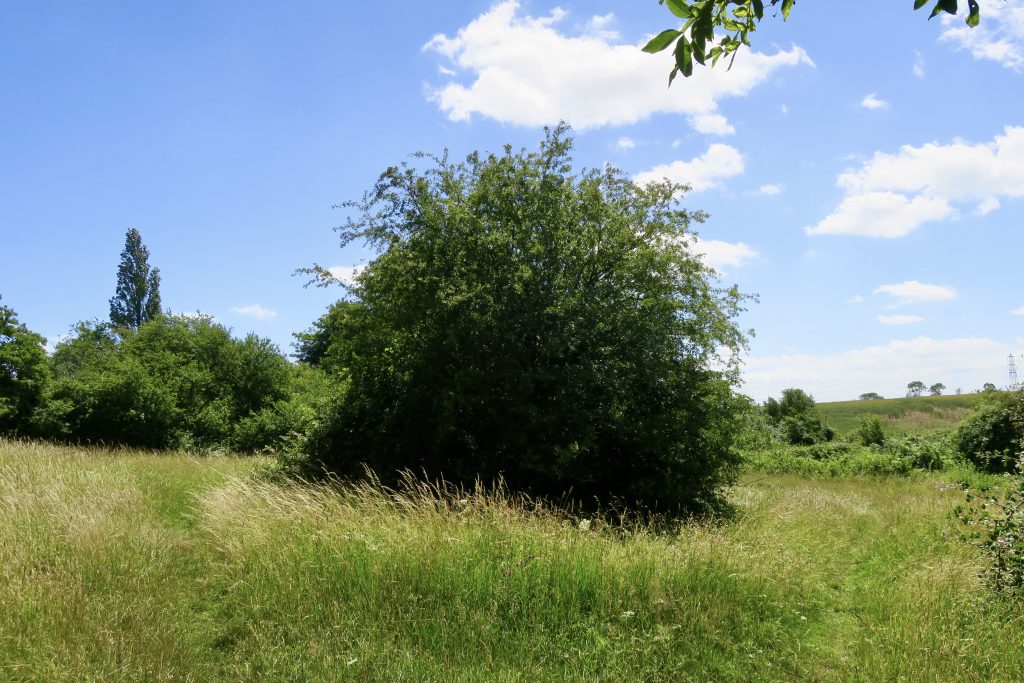 The path swells to become a green, long grass and wildflowers and an open-grown hawthorn.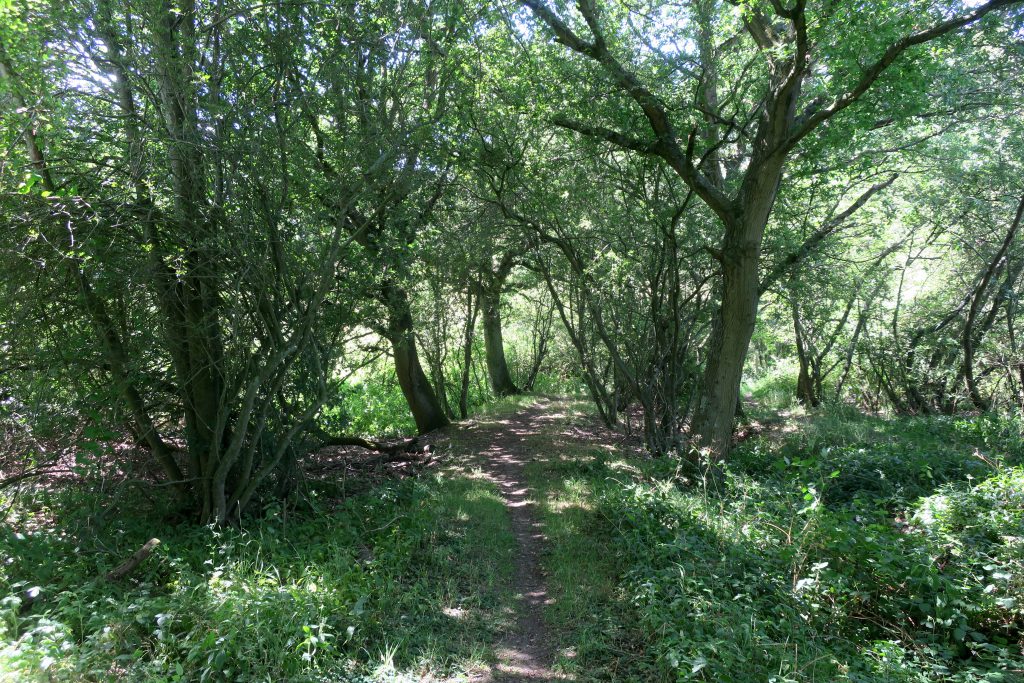 We branch to the right and follow a path into the trees that leads to a tunnel inside the hedgerow.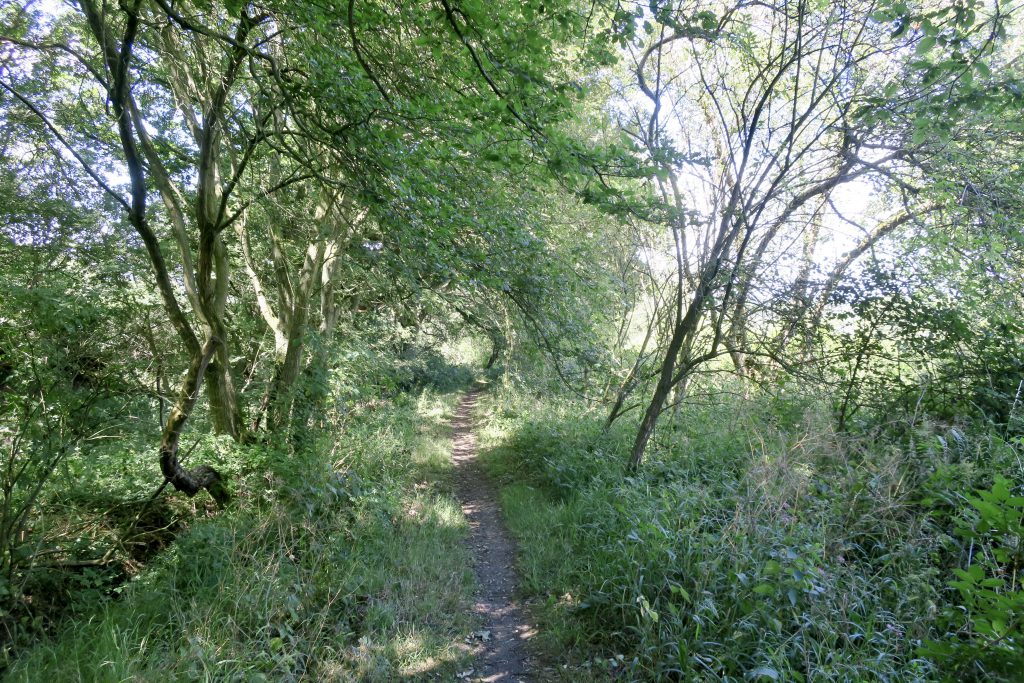 From under the sky we were swallowed up under the trees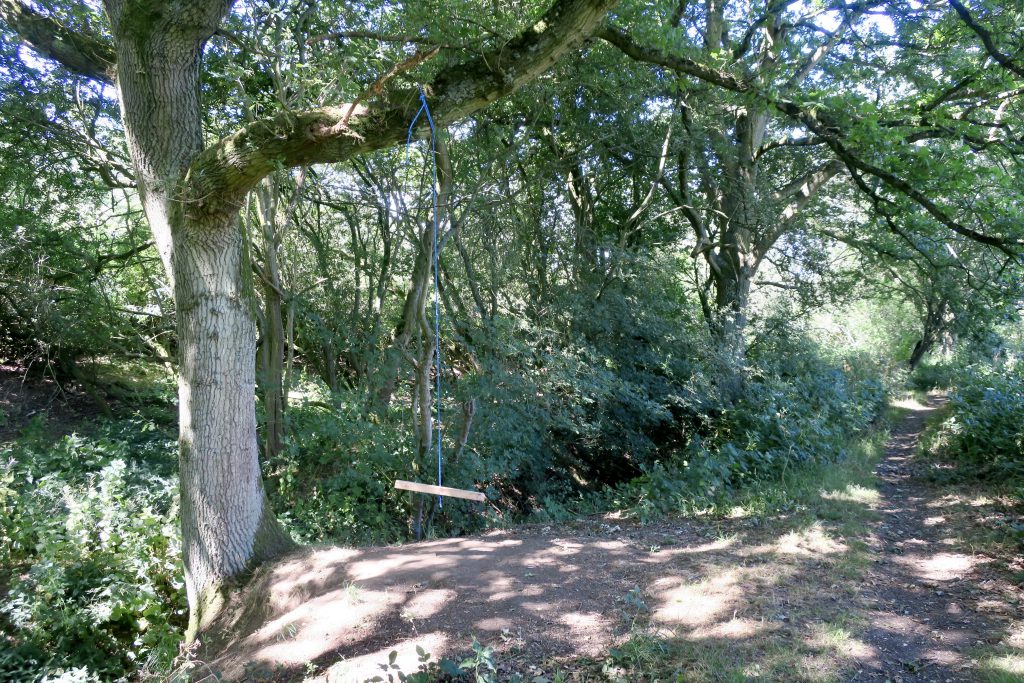 where a rope-swing was waiting, a pendulum at rest, but with dreams of flying.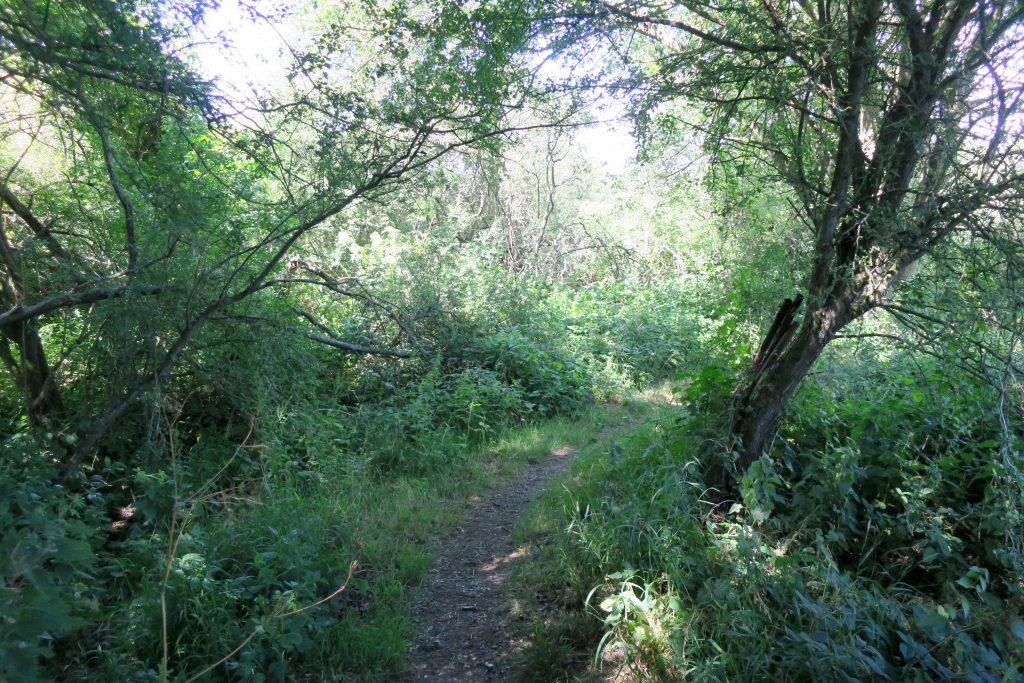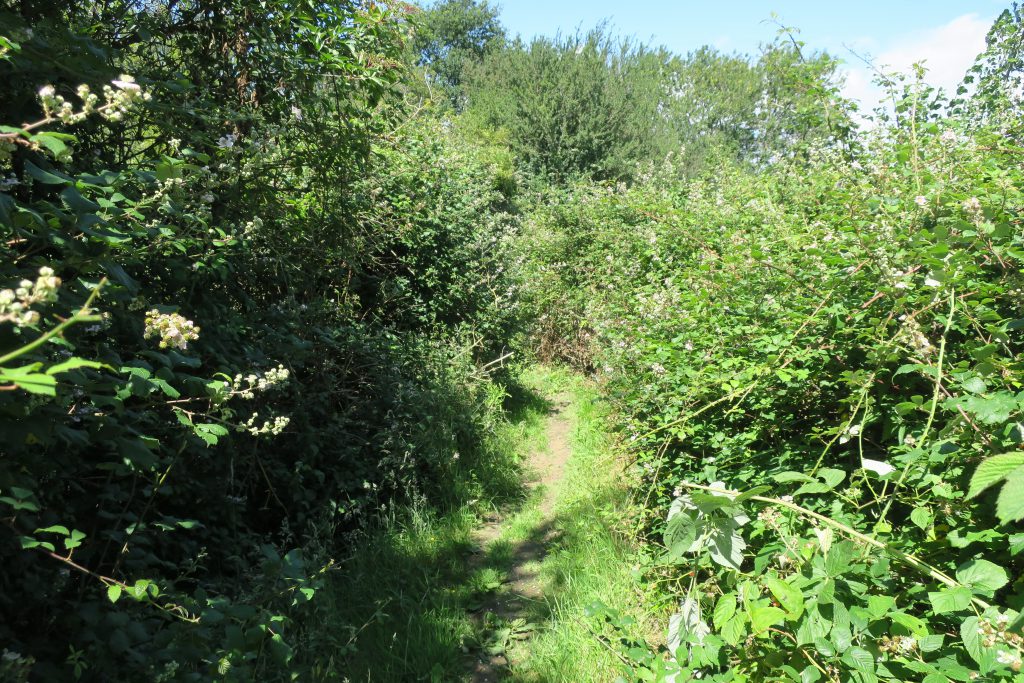 The path led us through the thickness of the hedge, through brambles and blackthorn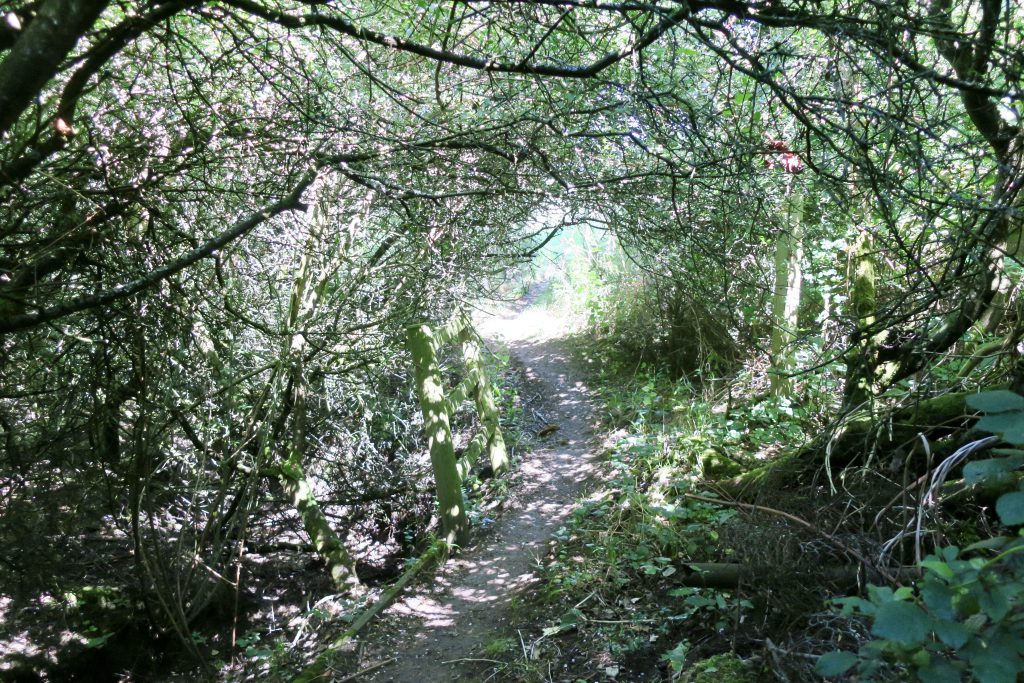 and alongside a ditch where once ran a stream but now run dry.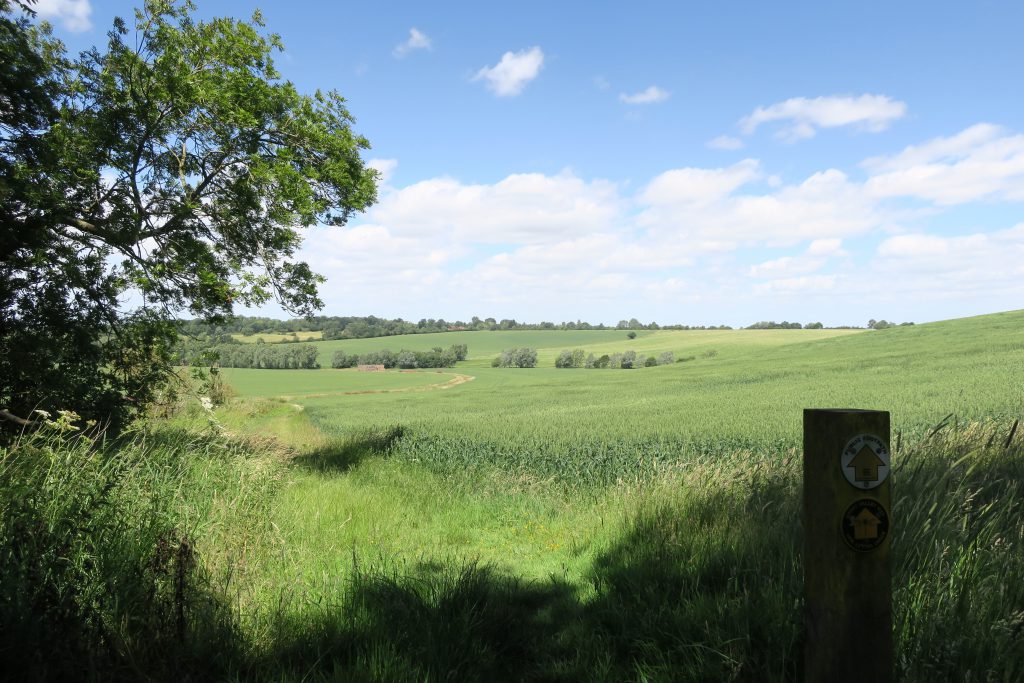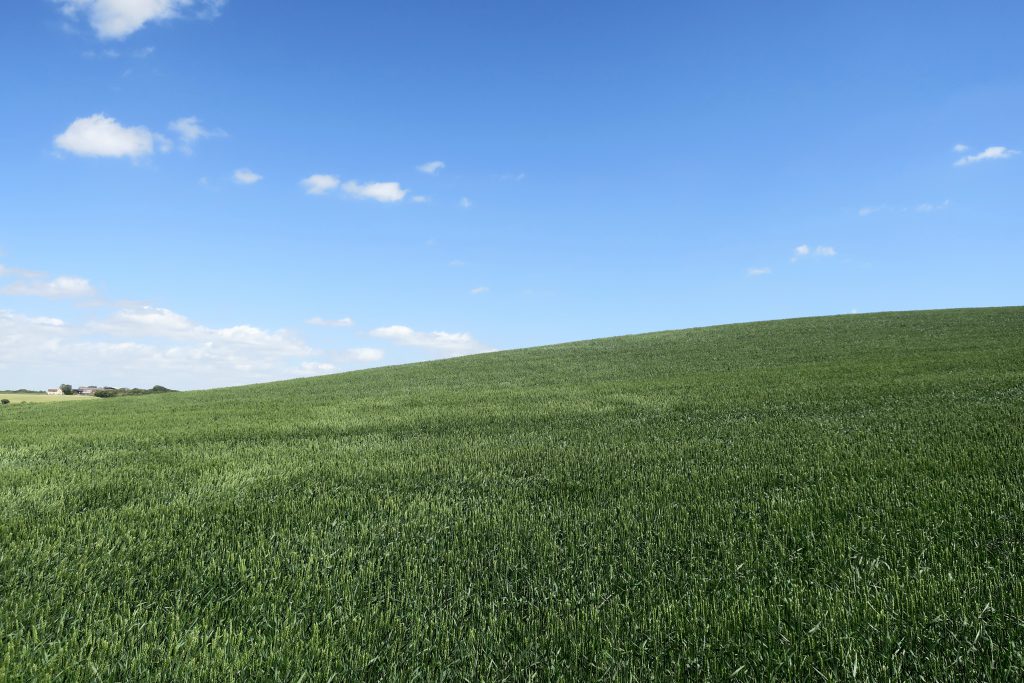 We emerged at the edge of a huge rolling field of wheat.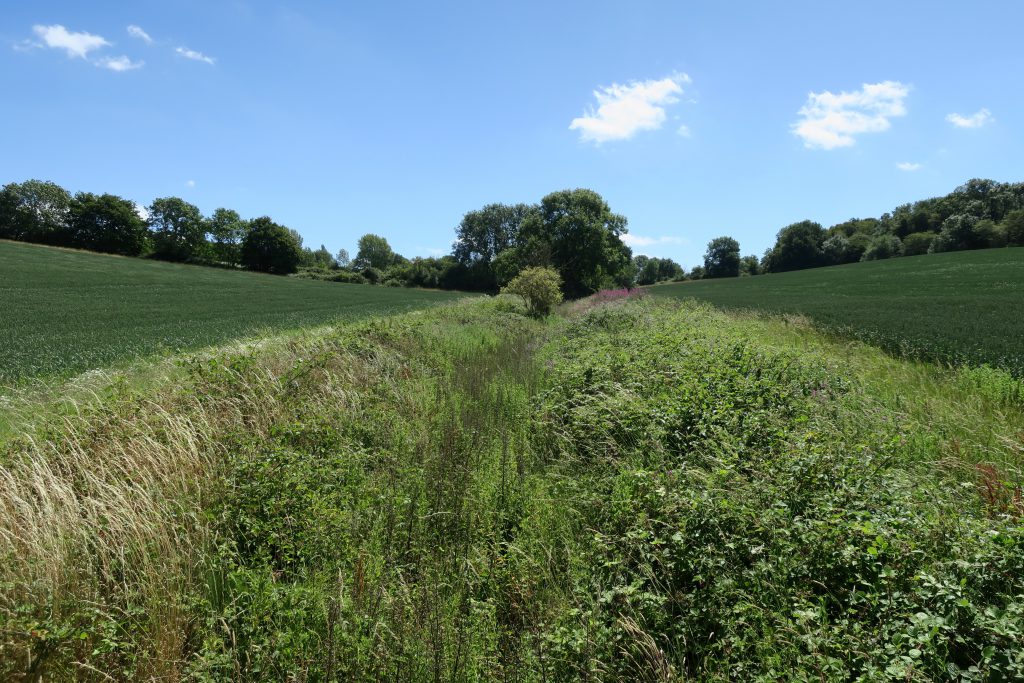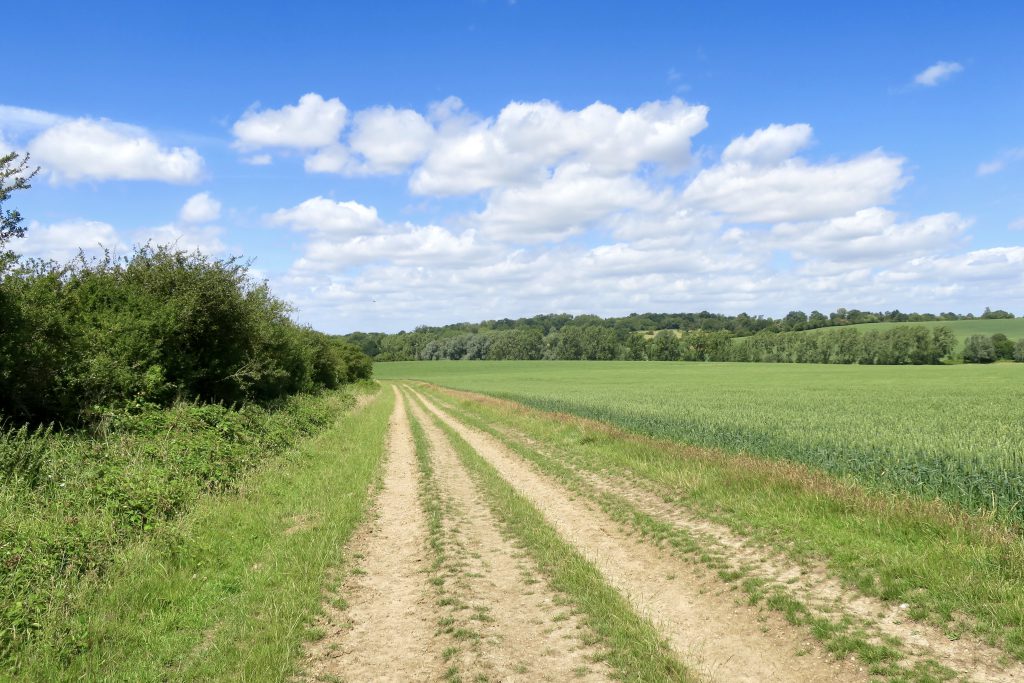 This stretch of land is known as Nazeingwood Common and was once common grazing land, but it was commandeered during WW2 for use as a decoy airfield. Then in 1941 it was put to the plough.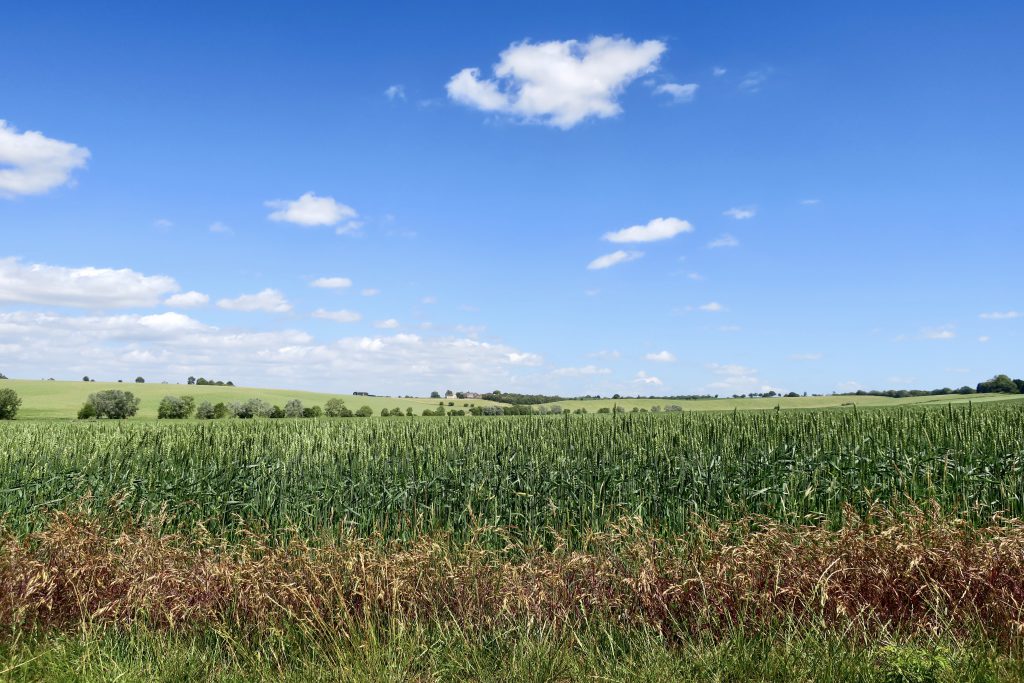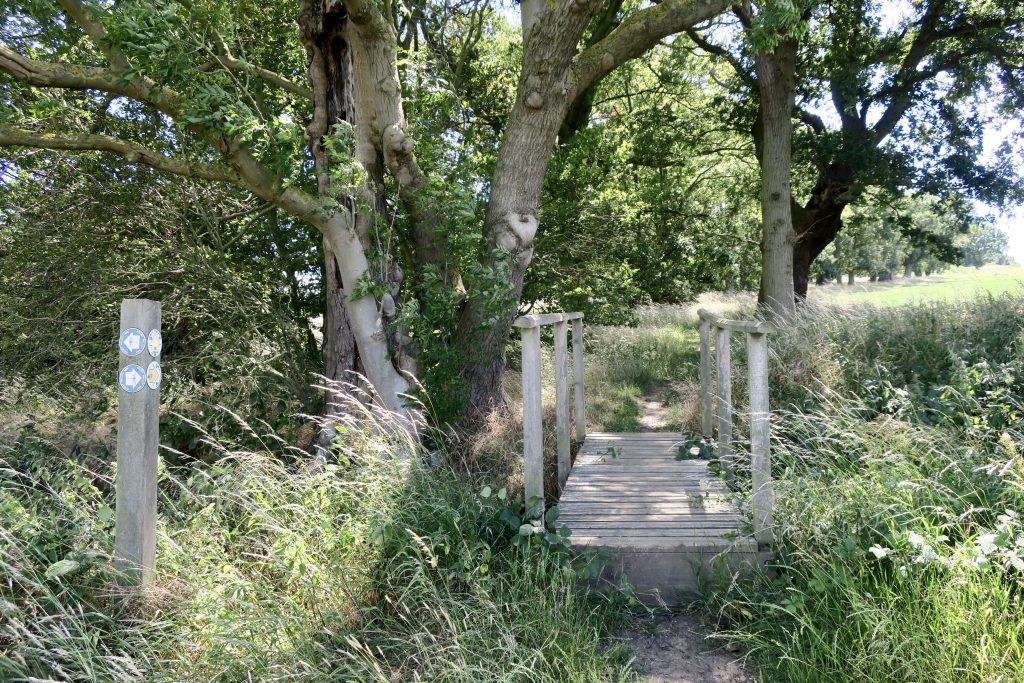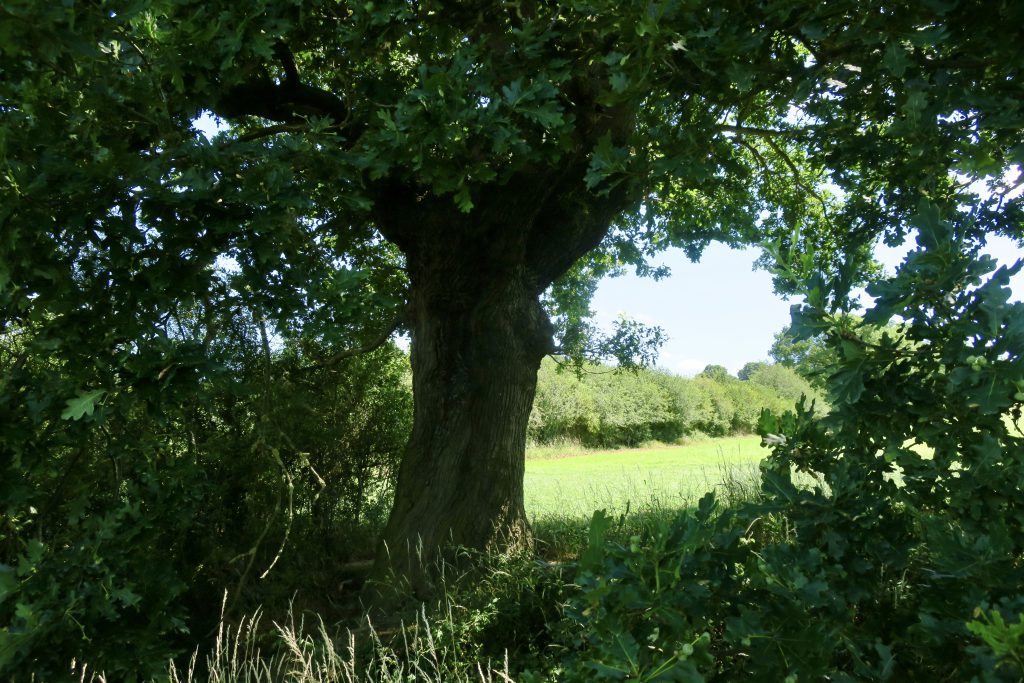 Between this tree and the next we discovered the King Harold's Head, a pub newly emerged from lockdown on the main road at Bumble's Green. We were obliged to give our names and address, an unusual request from a publican but one that led us to discover that we had once been neighbours!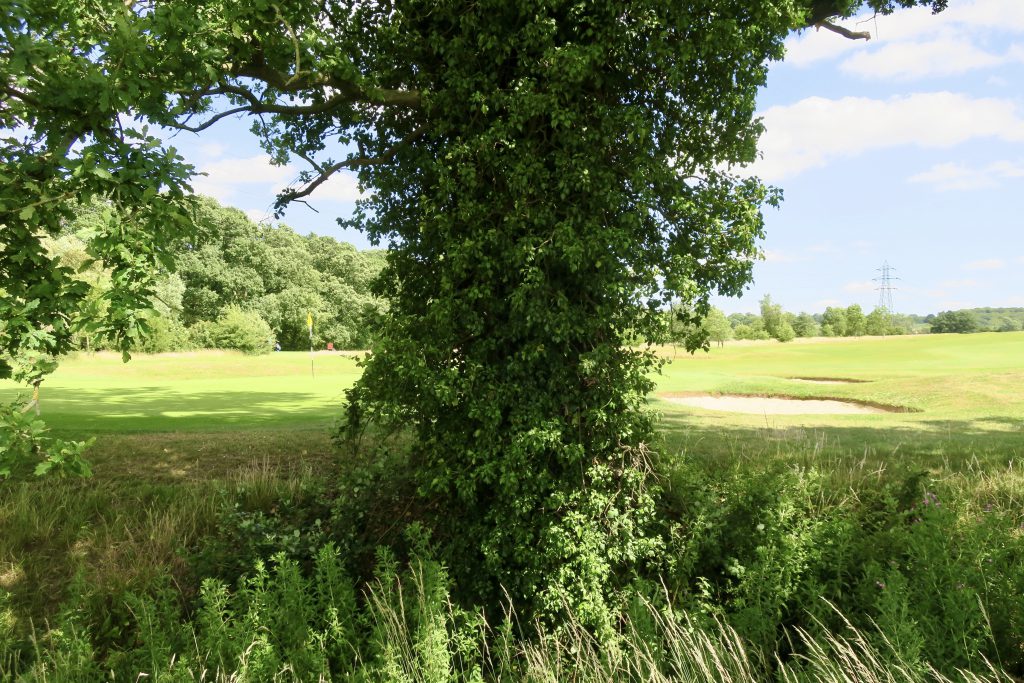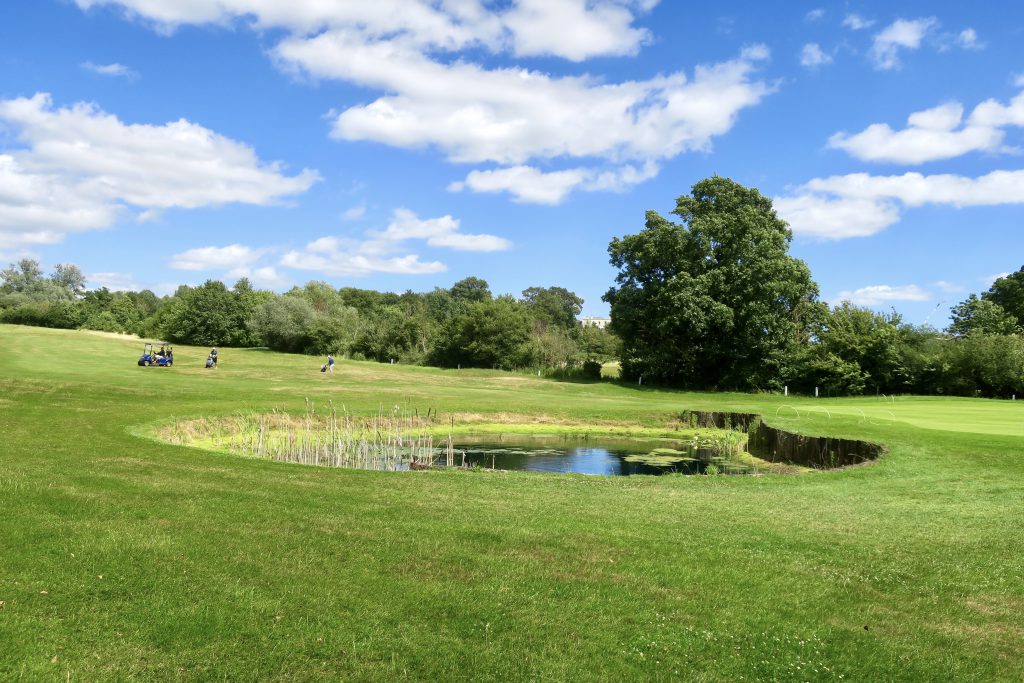 Our route took us over the golf course.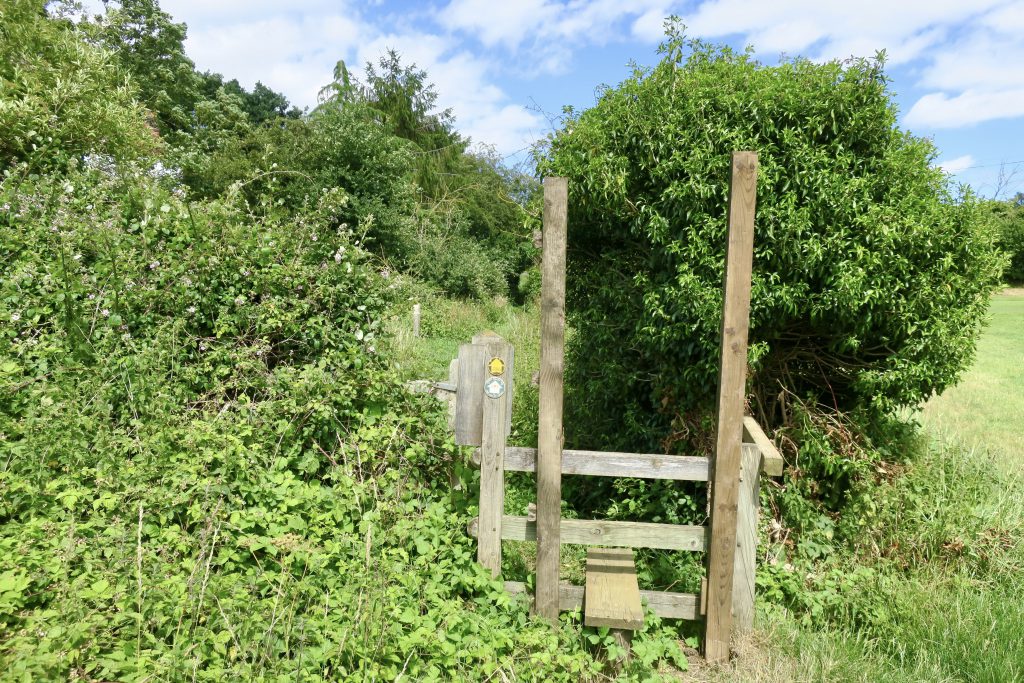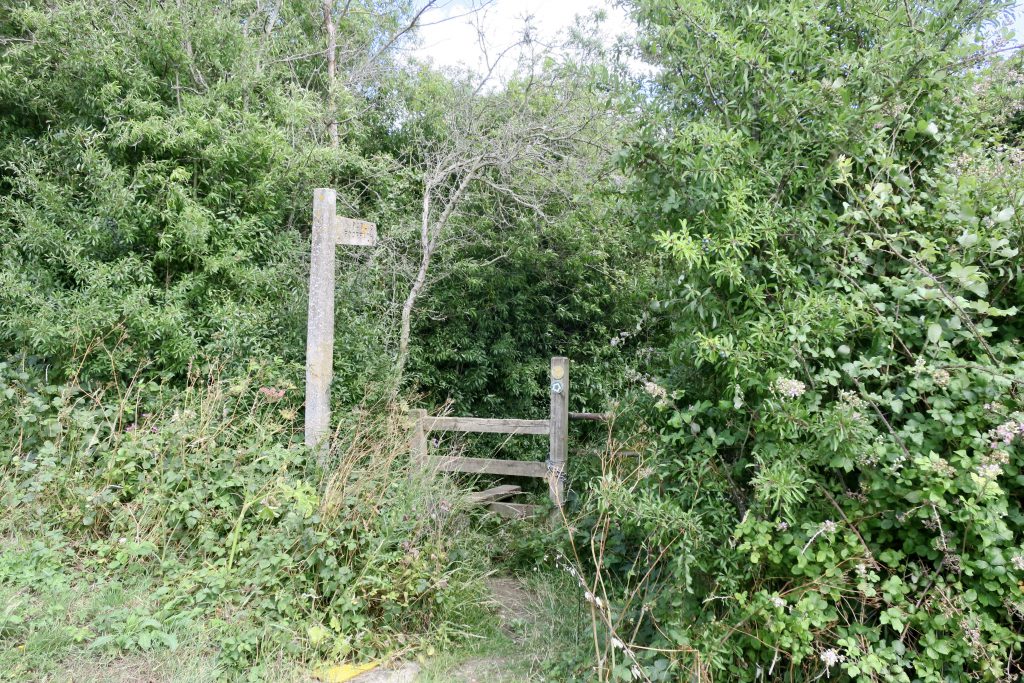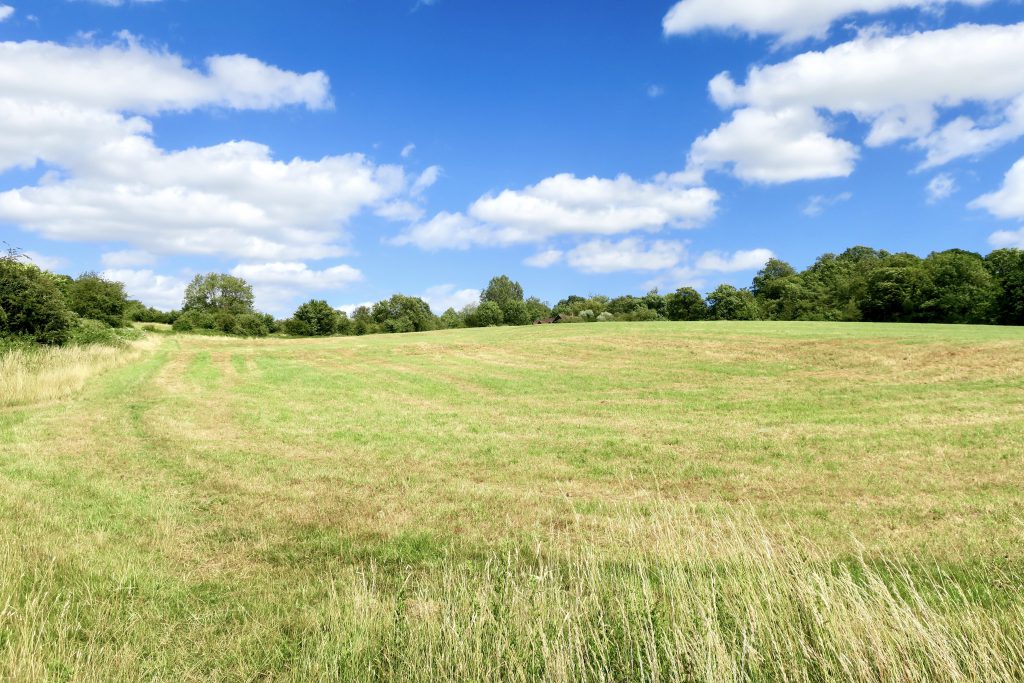 Then over the fields to Nazeing village.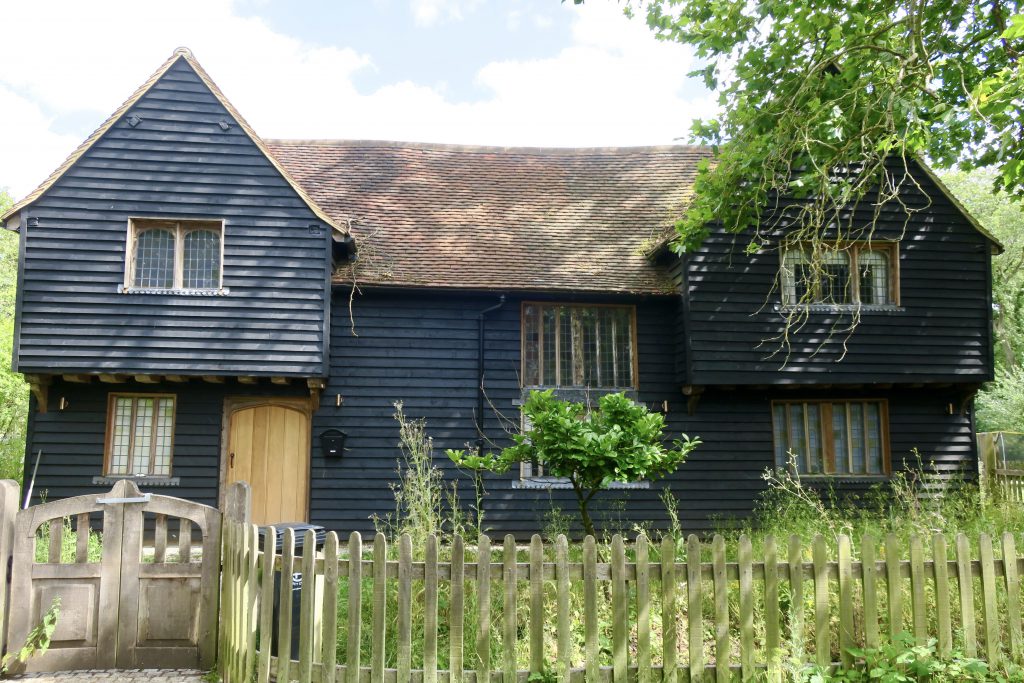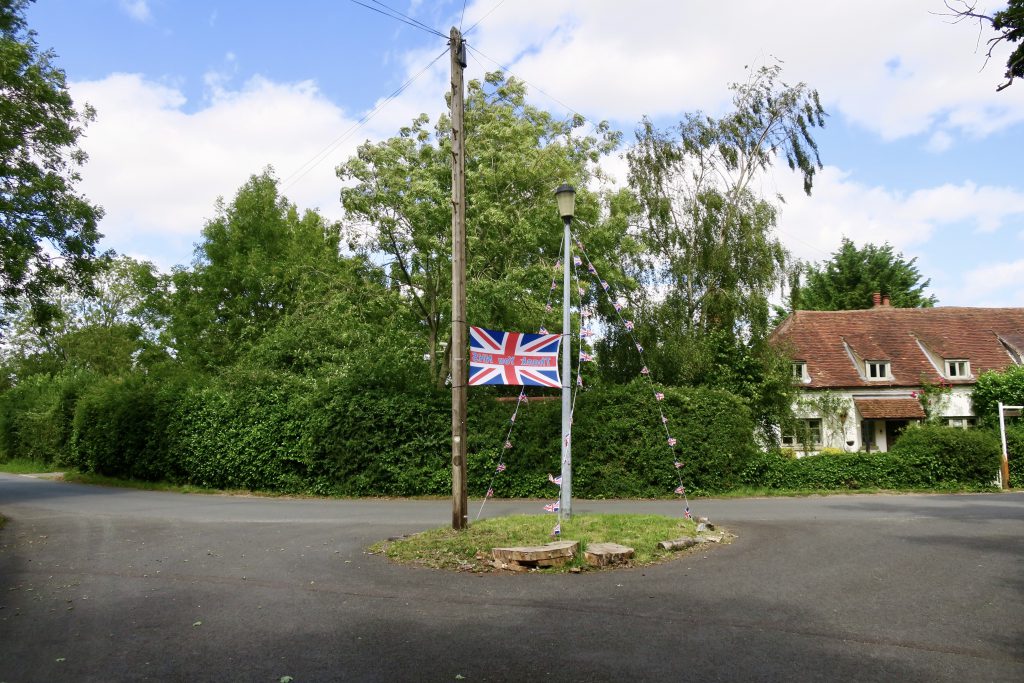 Thank You NHS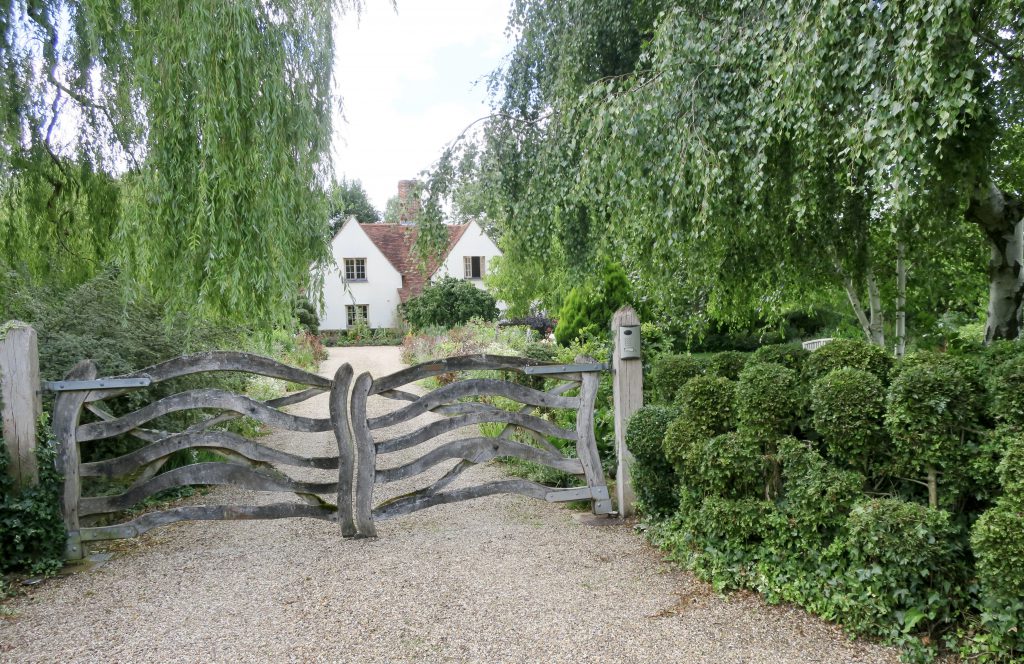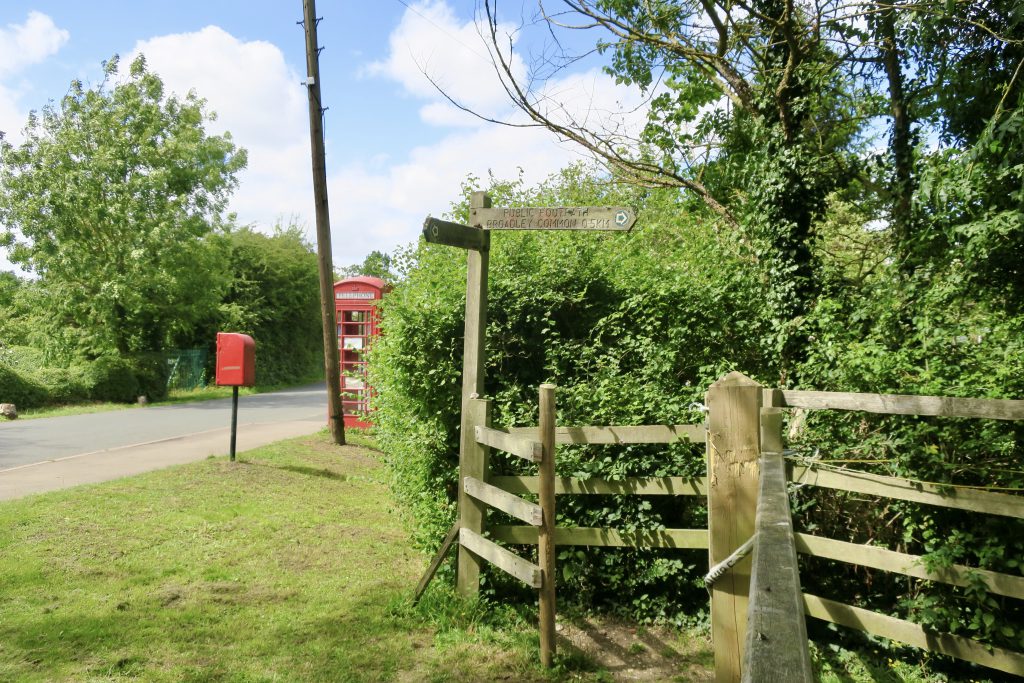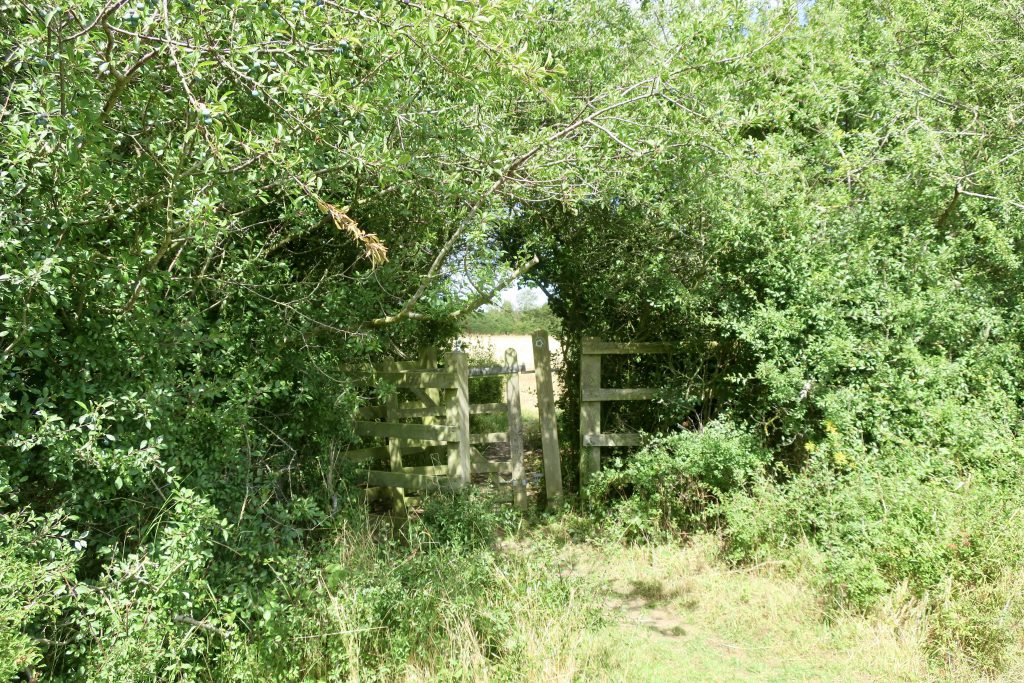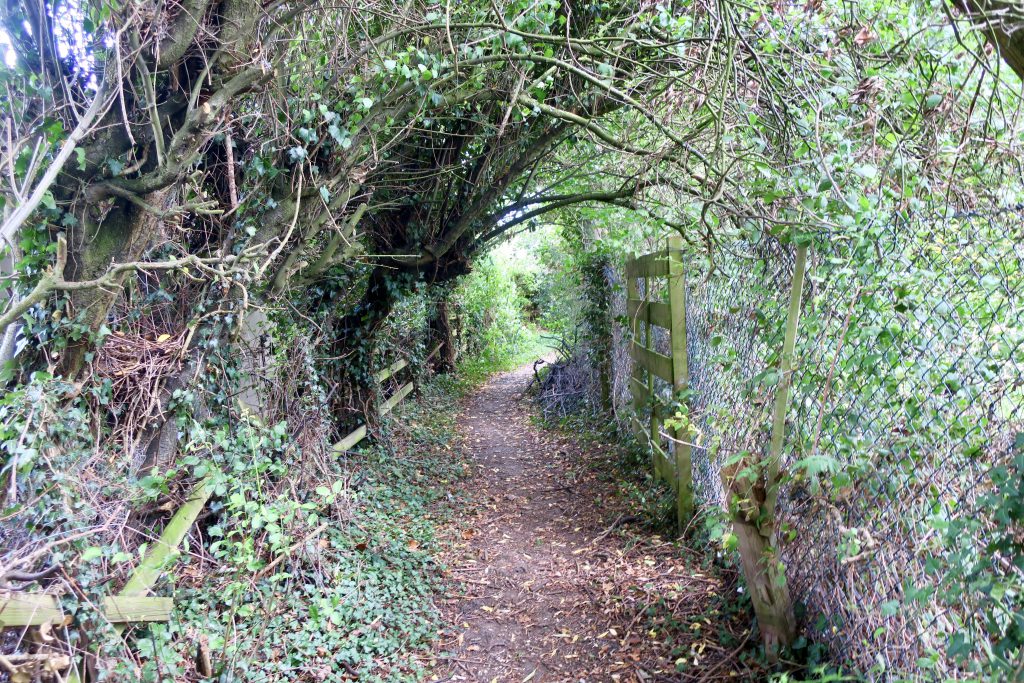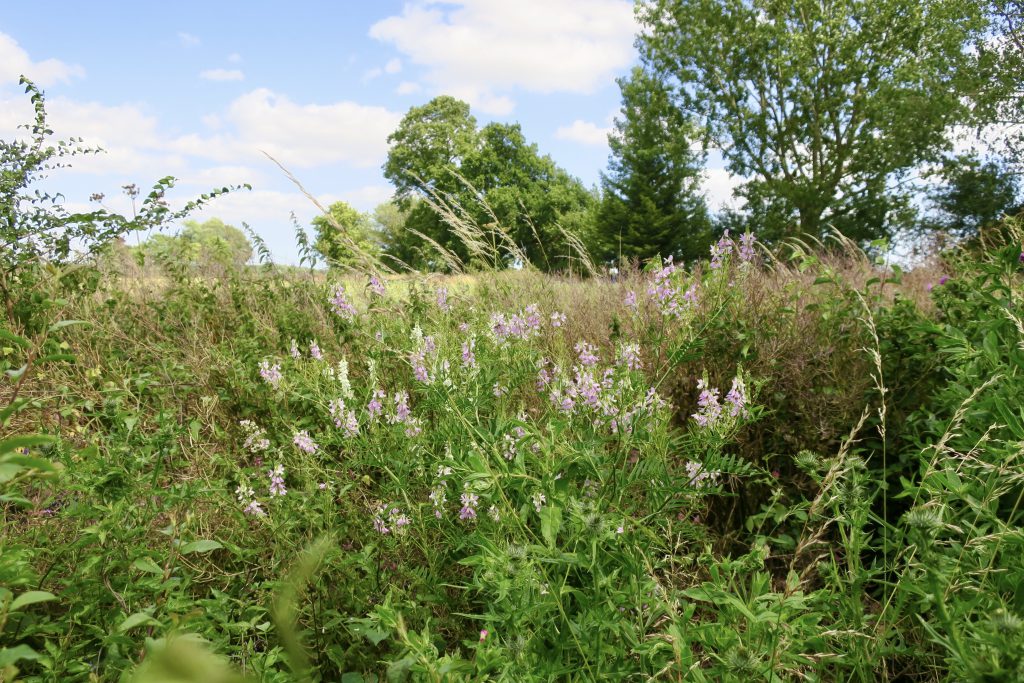 We took a wrong turn and followed a wrong path to Nazeing Common cricket ground. It's pitch was freshly cut but the clubhouse was without a roof, the clock had stopped and the path was overgrown.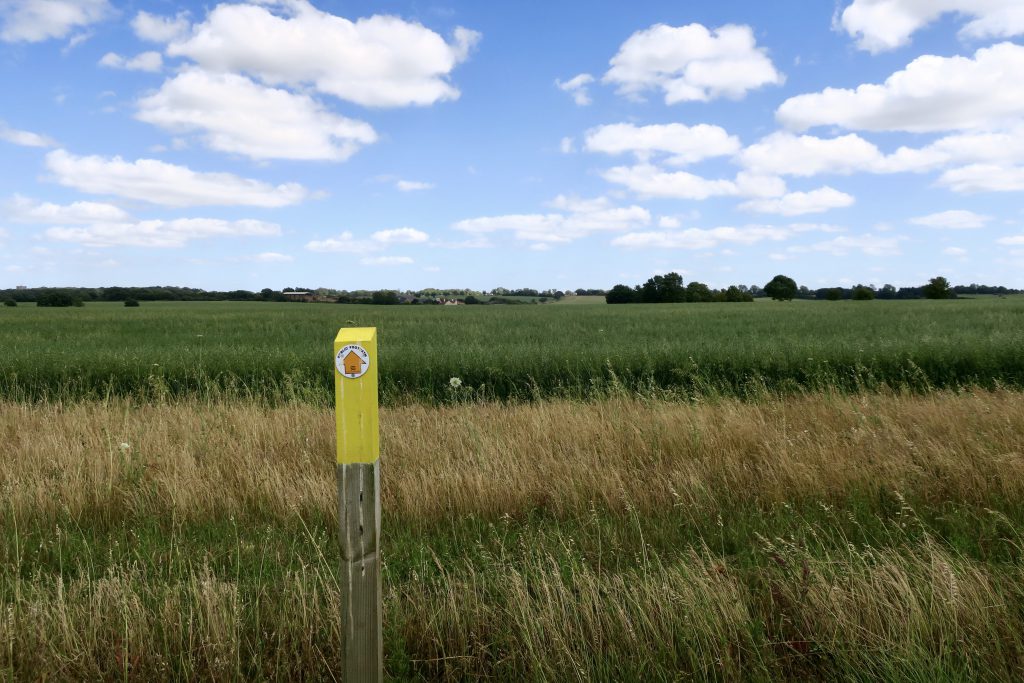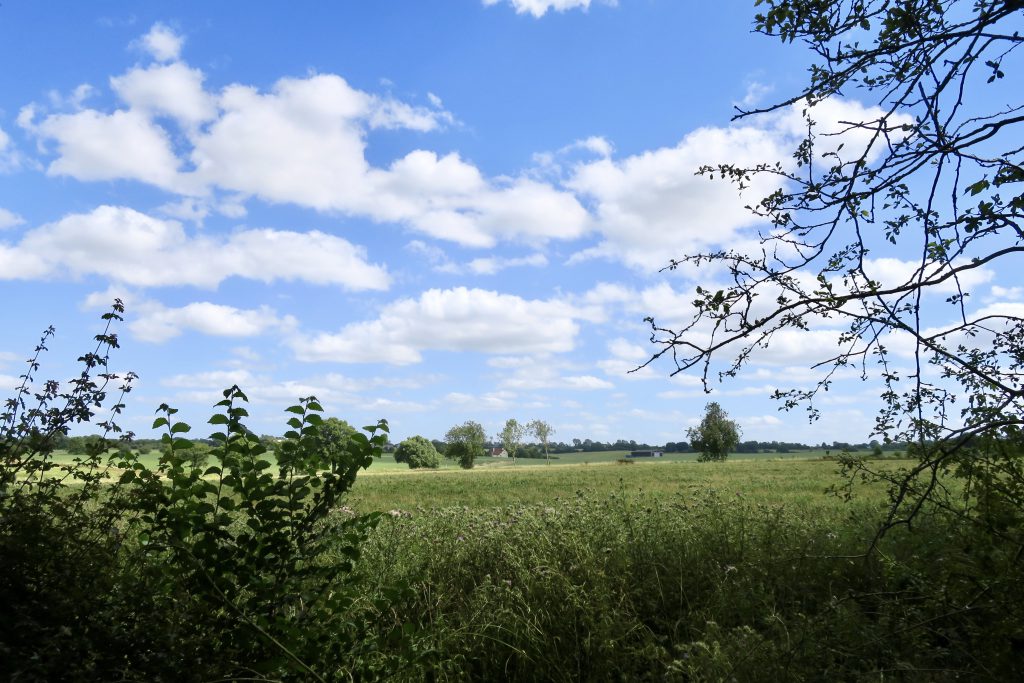 We backtracked and found another way.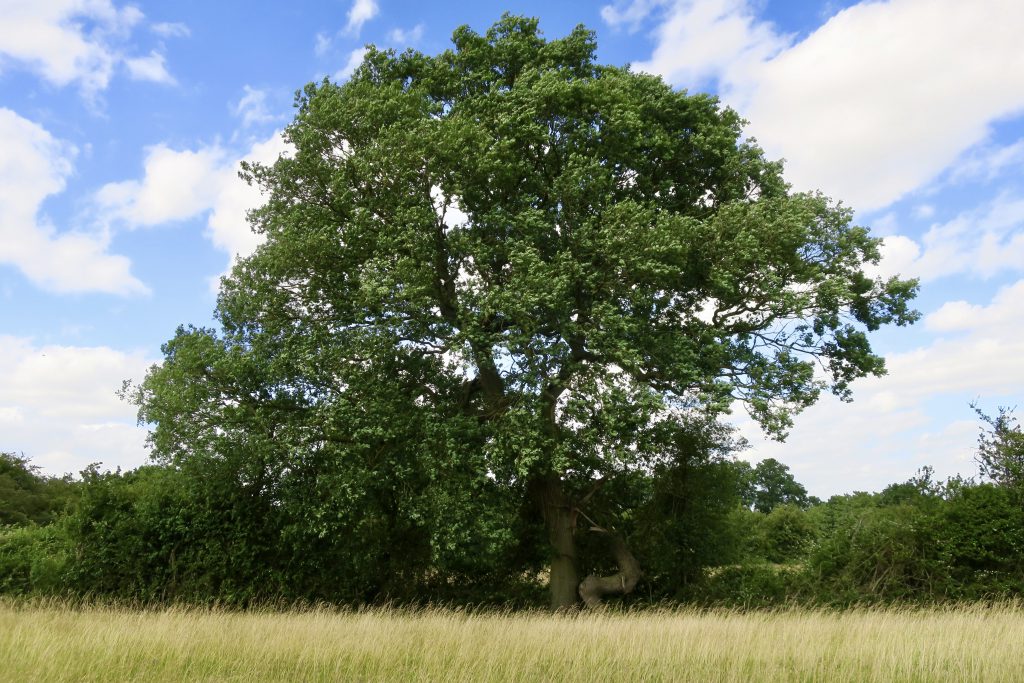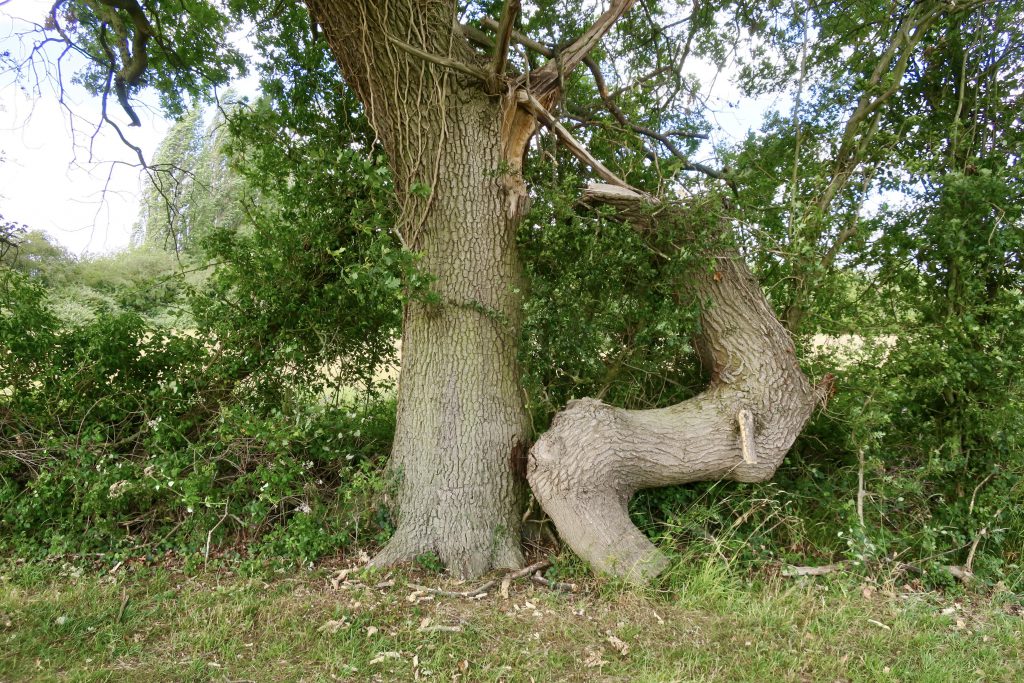 Broken hedgerow oak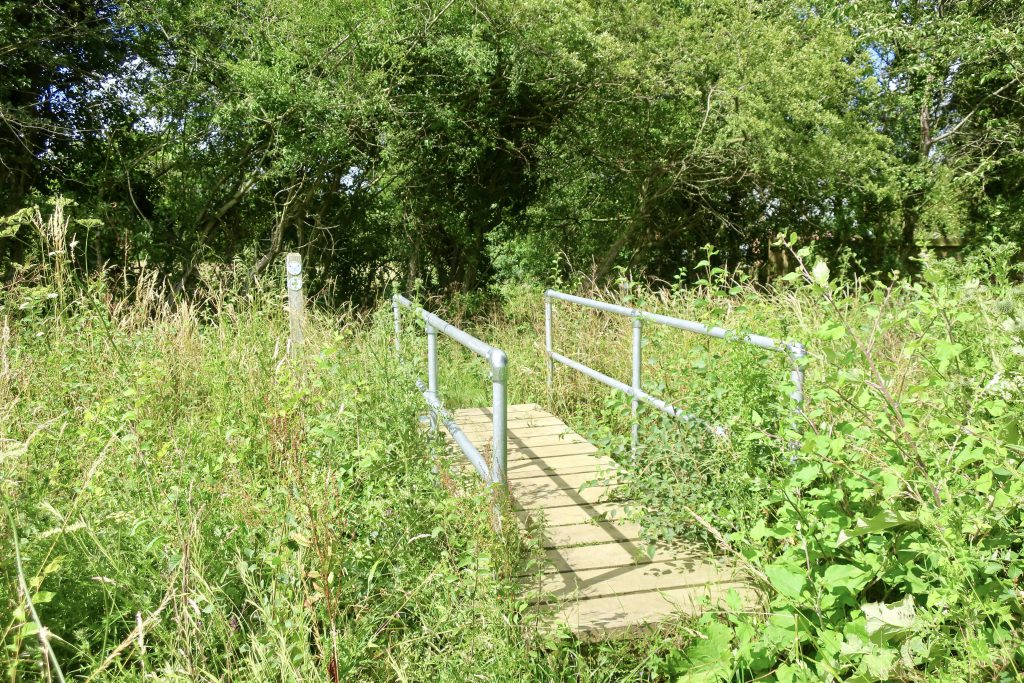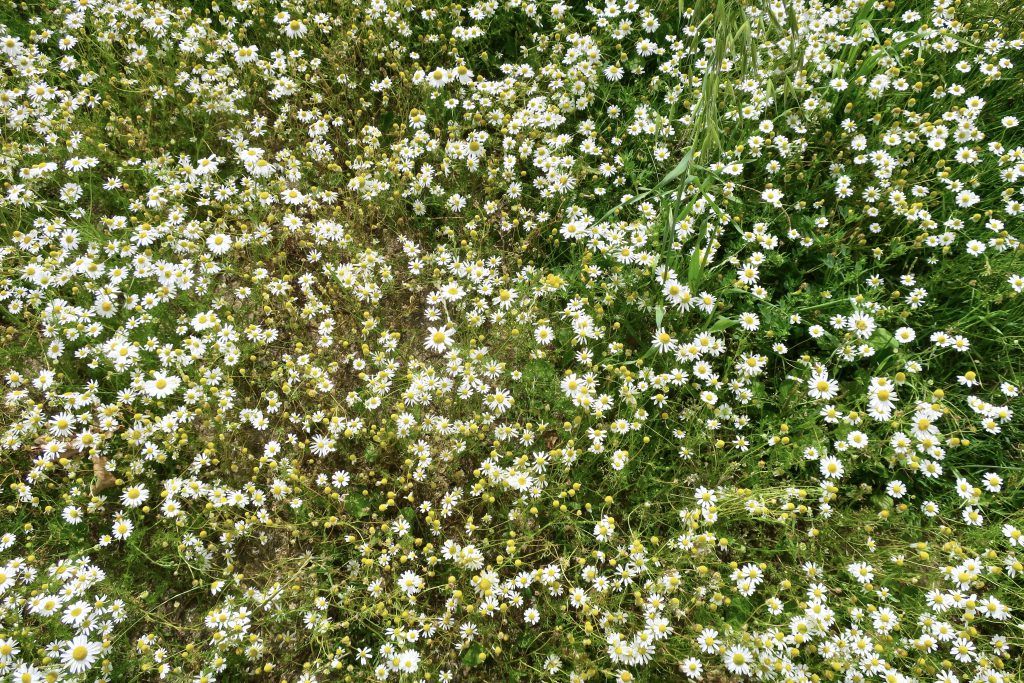 Chamomile and meadow vetch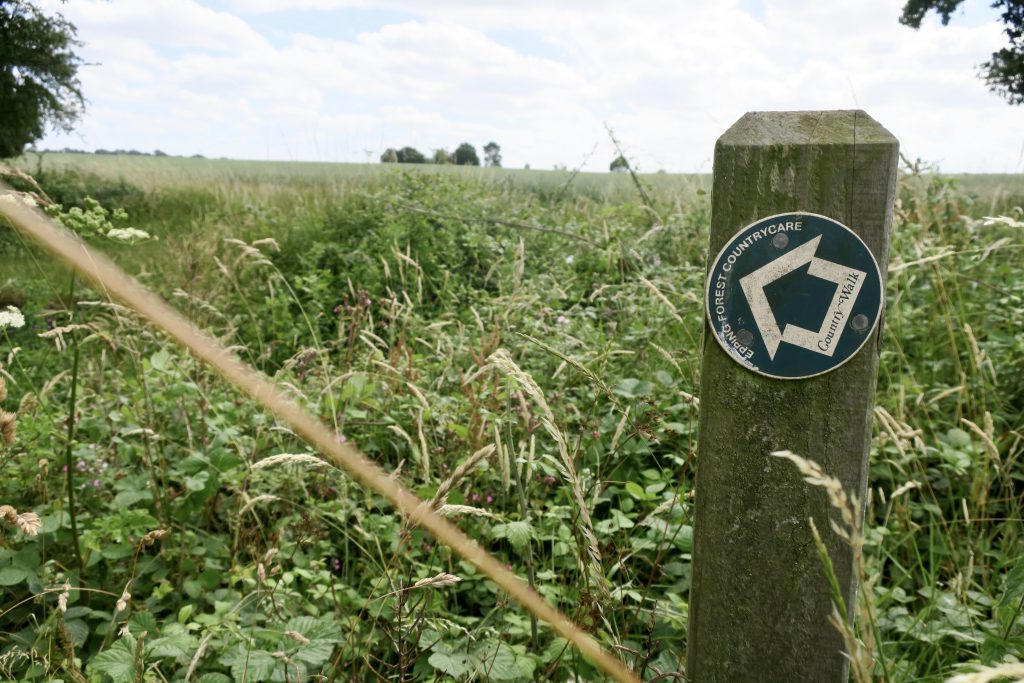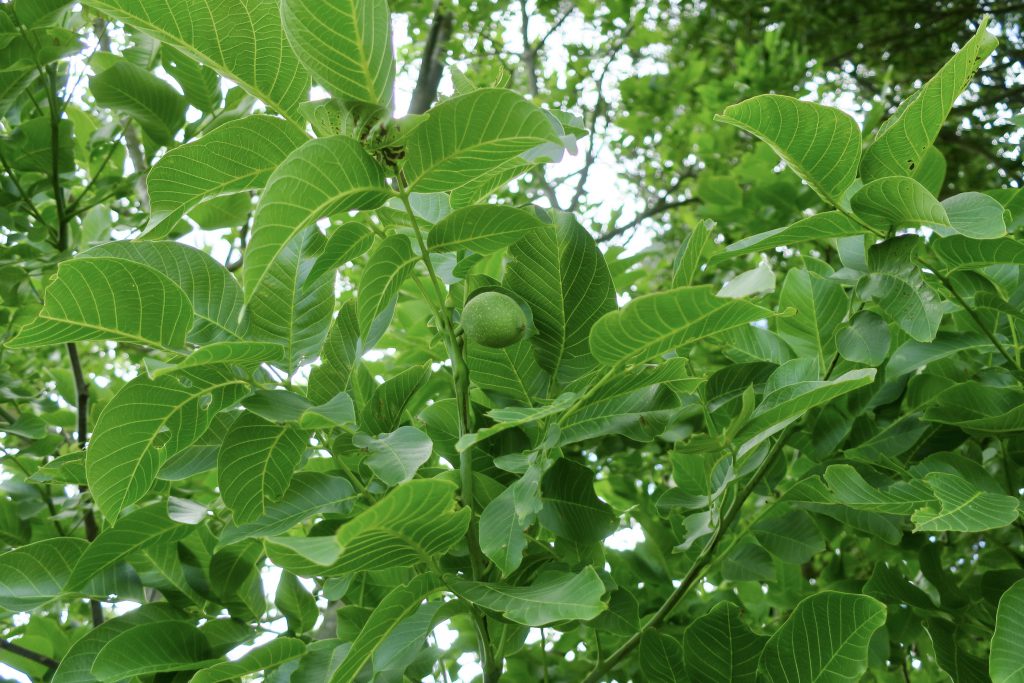 Wayside walnut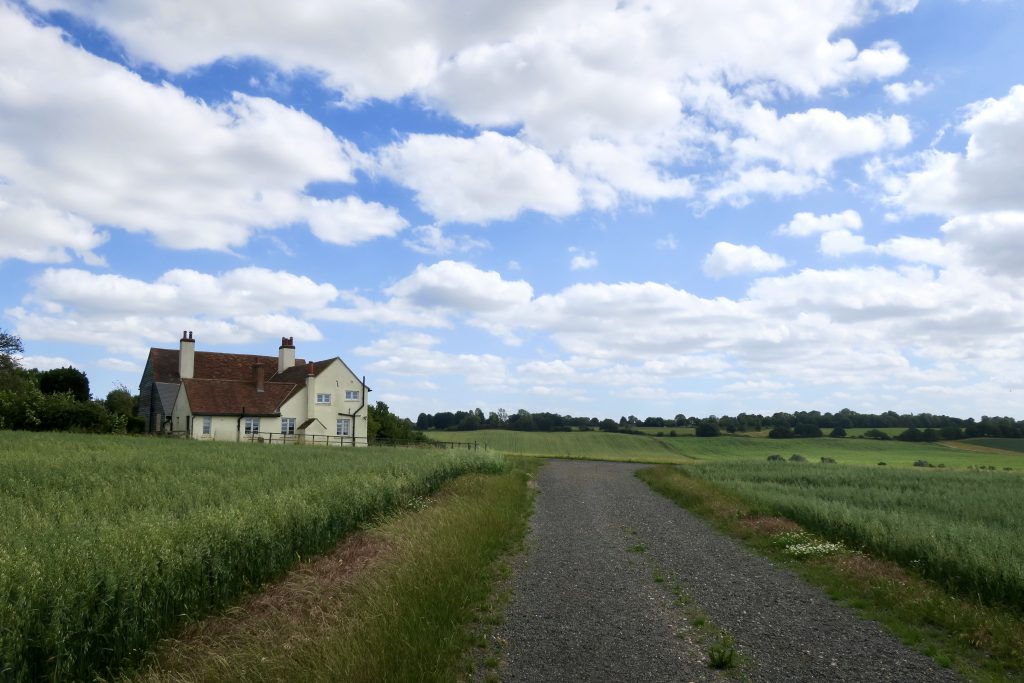 We came up by Lodge Farm, a familiar presence since we'd first seen it from below, in the far distance across Nazeingwood Common when we'd emerged from the hedgerow path. And again at intervals all throughout our walk we'd noticed its distinctive shape watching over our progress from the horizon.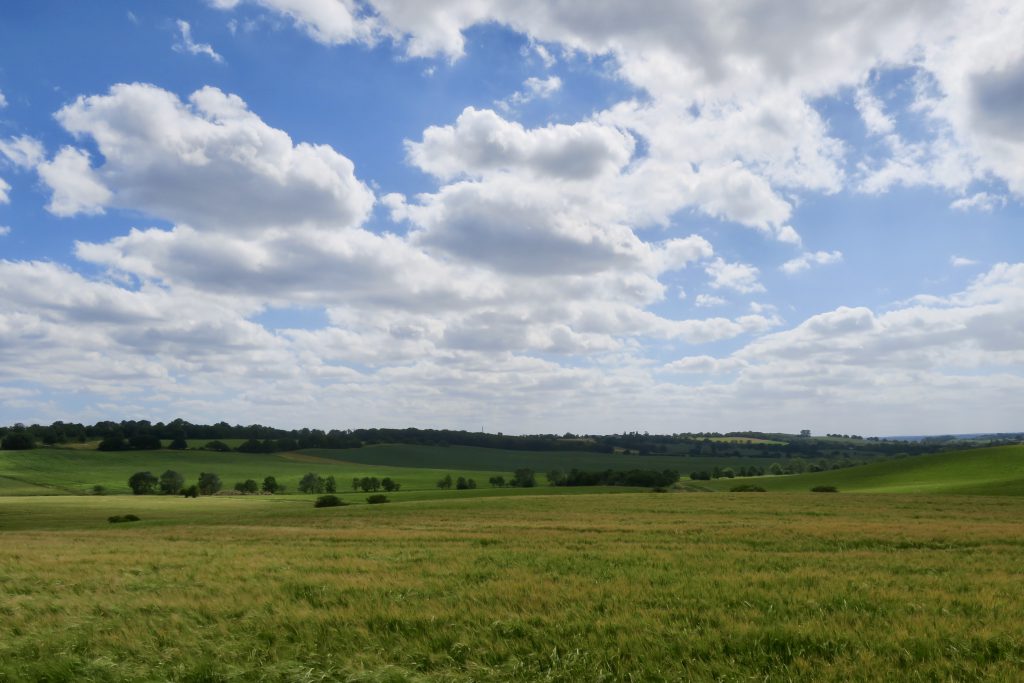 The land before it fell away into a great bowlful of greens, and we tried to imagine our earlier selves walking across its panorama. A sweeping vista without hedgerows or trees. Nothing to laugh at at all.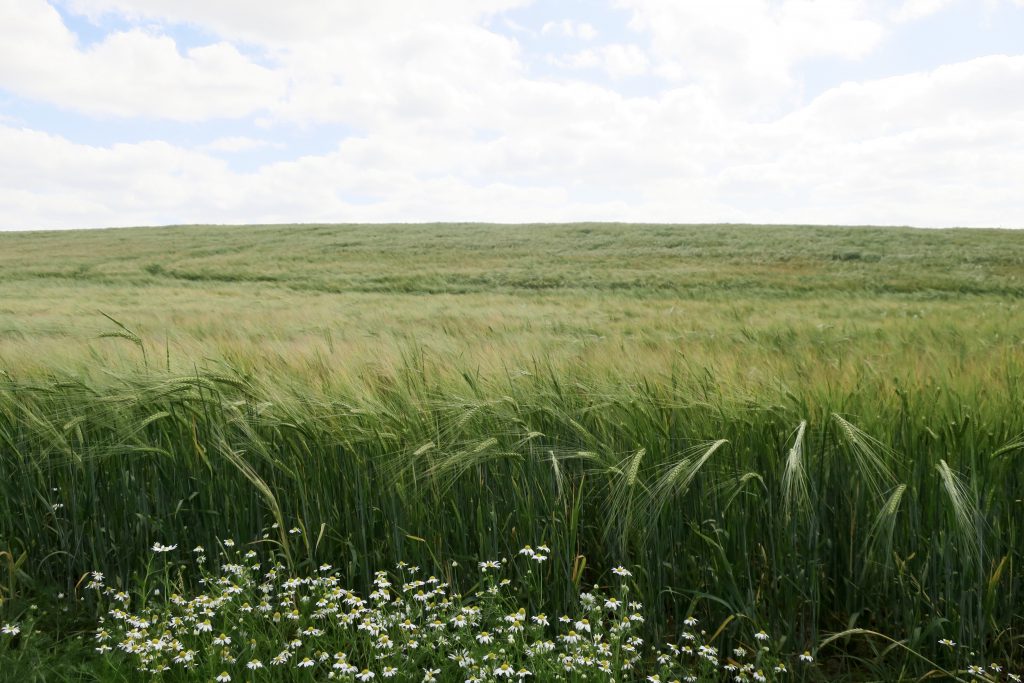 An ocean of barley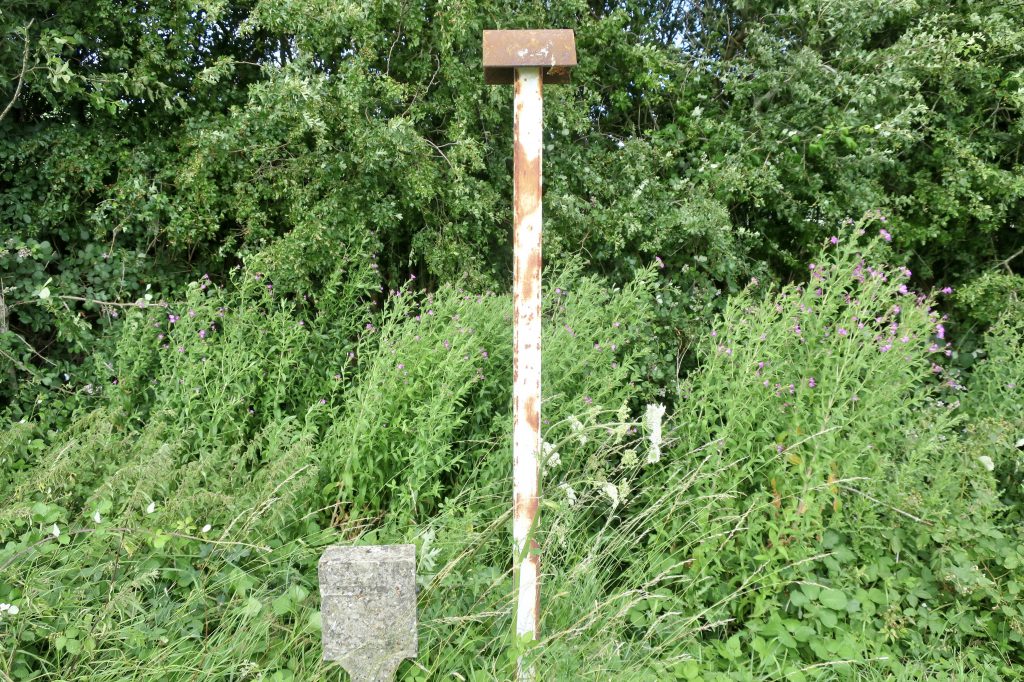 Up periscope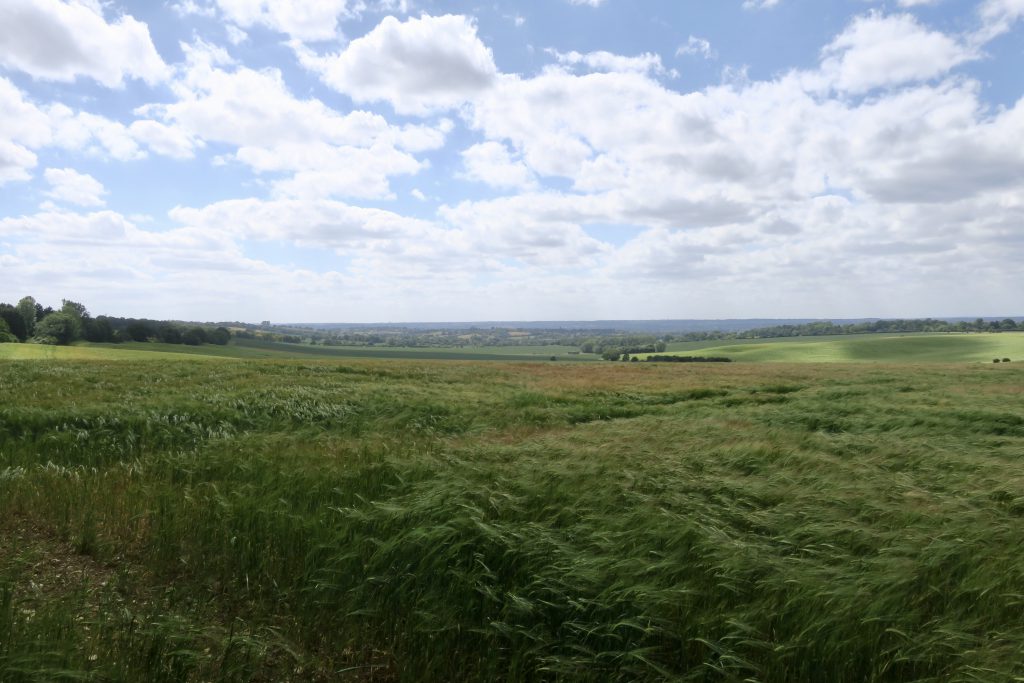 Barley as far as the eye can see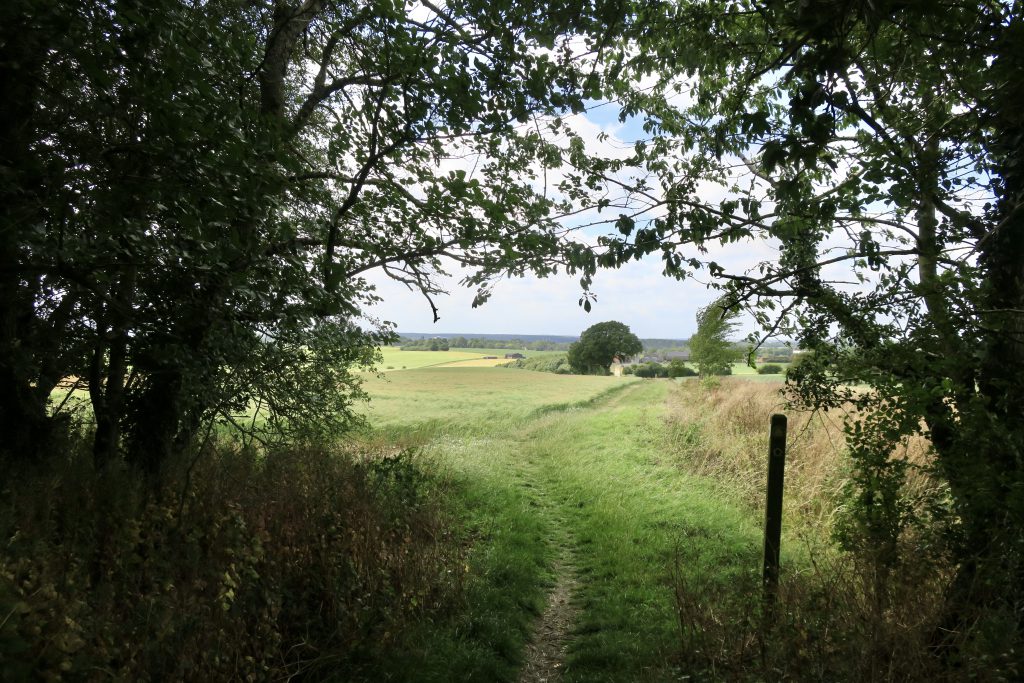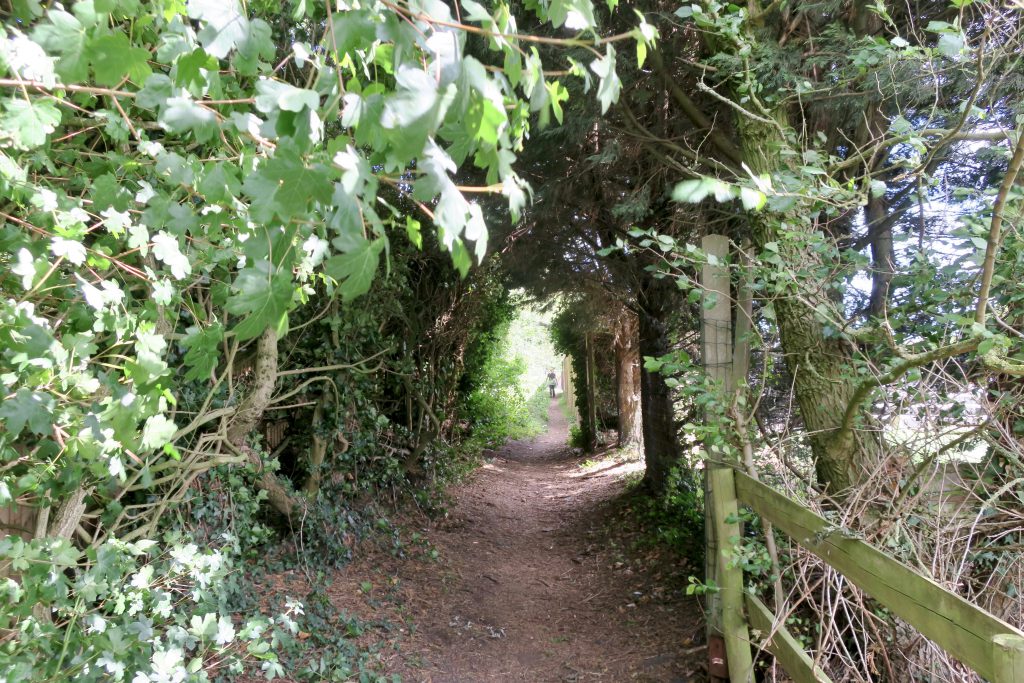 At the top of the field a path led us between fences to suddenly back where we started from.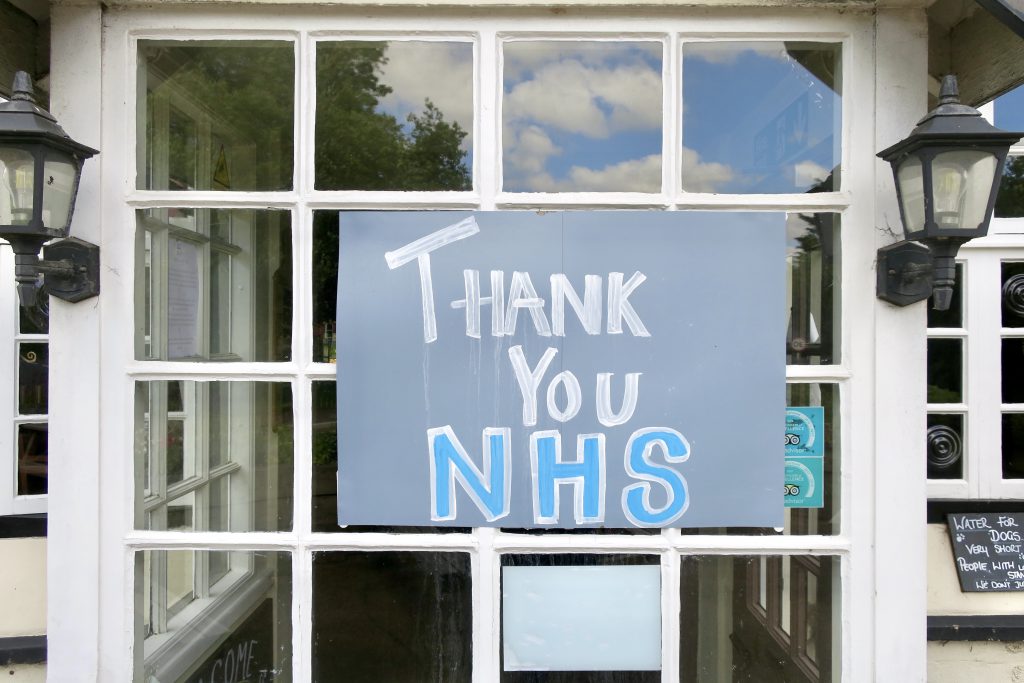 The Traveller's Friend was still closed but there was a note on the door.
※
※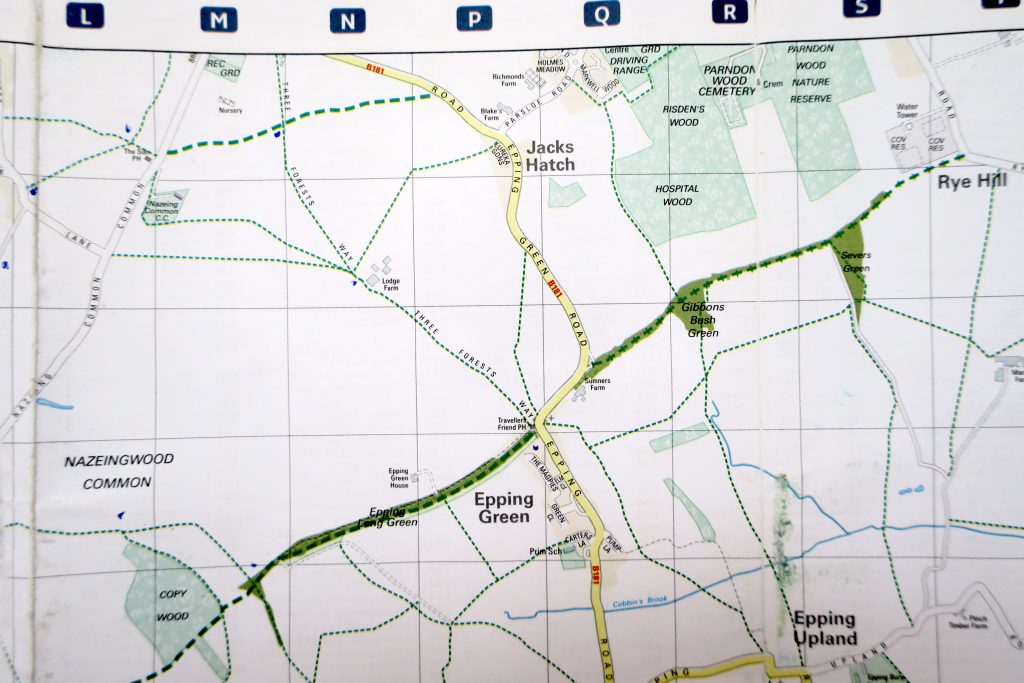 And then later, when I looked at the map and reviewed our walk, I realised there was more to Epping Long Green than I first thought. We'd walked the section west from Epping Green to Copy Wood but now I could see there was another branch to the east as far as Rye Hill, and I knew we must return…