May Bank Holiday weekend, on Bottom Road between Tring and Wendover, a single-track road winding through green tunnels and burrowing deep into the Chilterns. We drive the full length of it searching for Dancersend Nature Reserve, without success, and without meeting another vehicle. It's a quiet secluded stretch of bucolic country lane, absorbing us into its depths and hollows, where overgrown signposts are easily overlooked. Eventually we turn around and head back.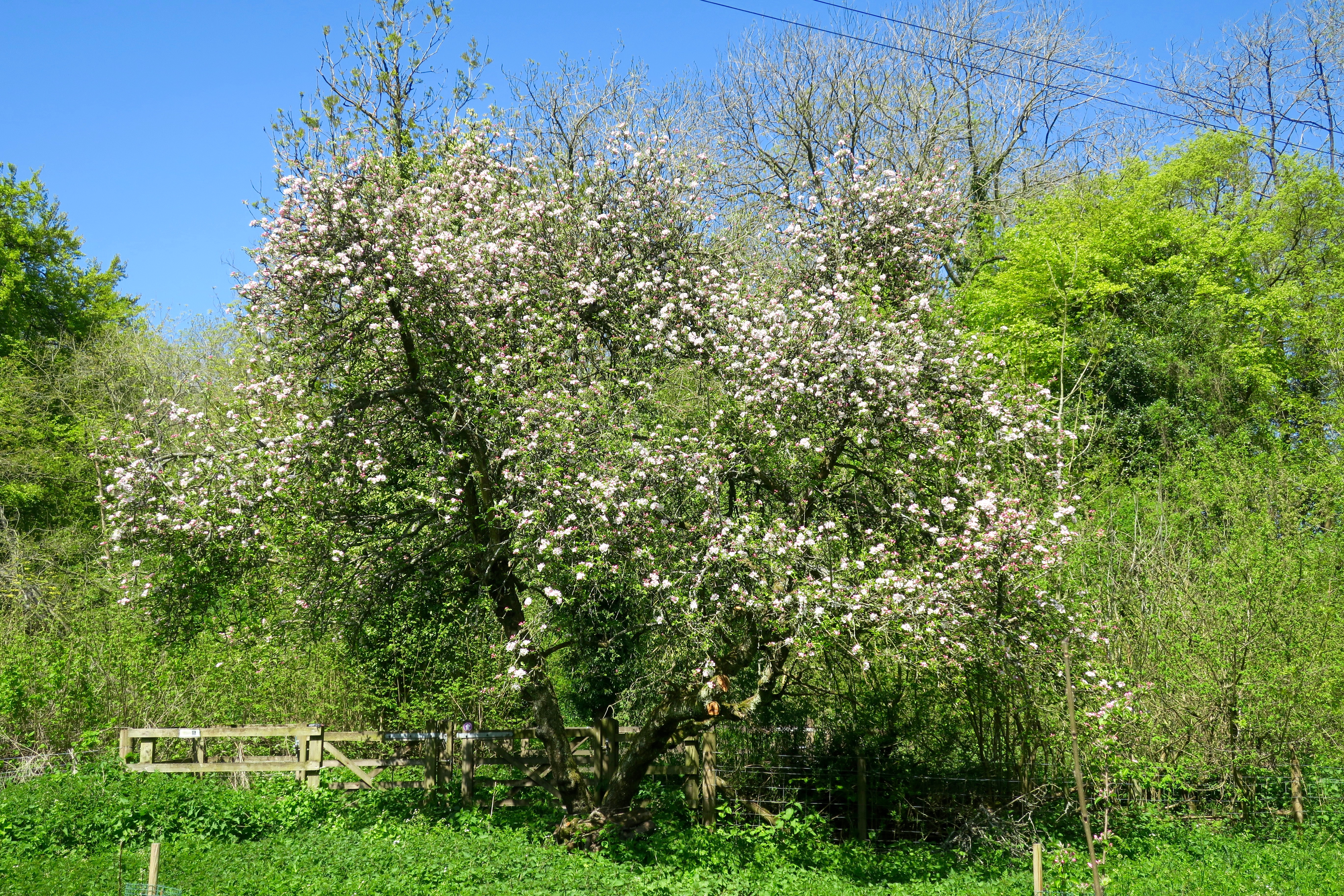 This way it's easier to spot the car park at the water works, and the path down by the apple tree.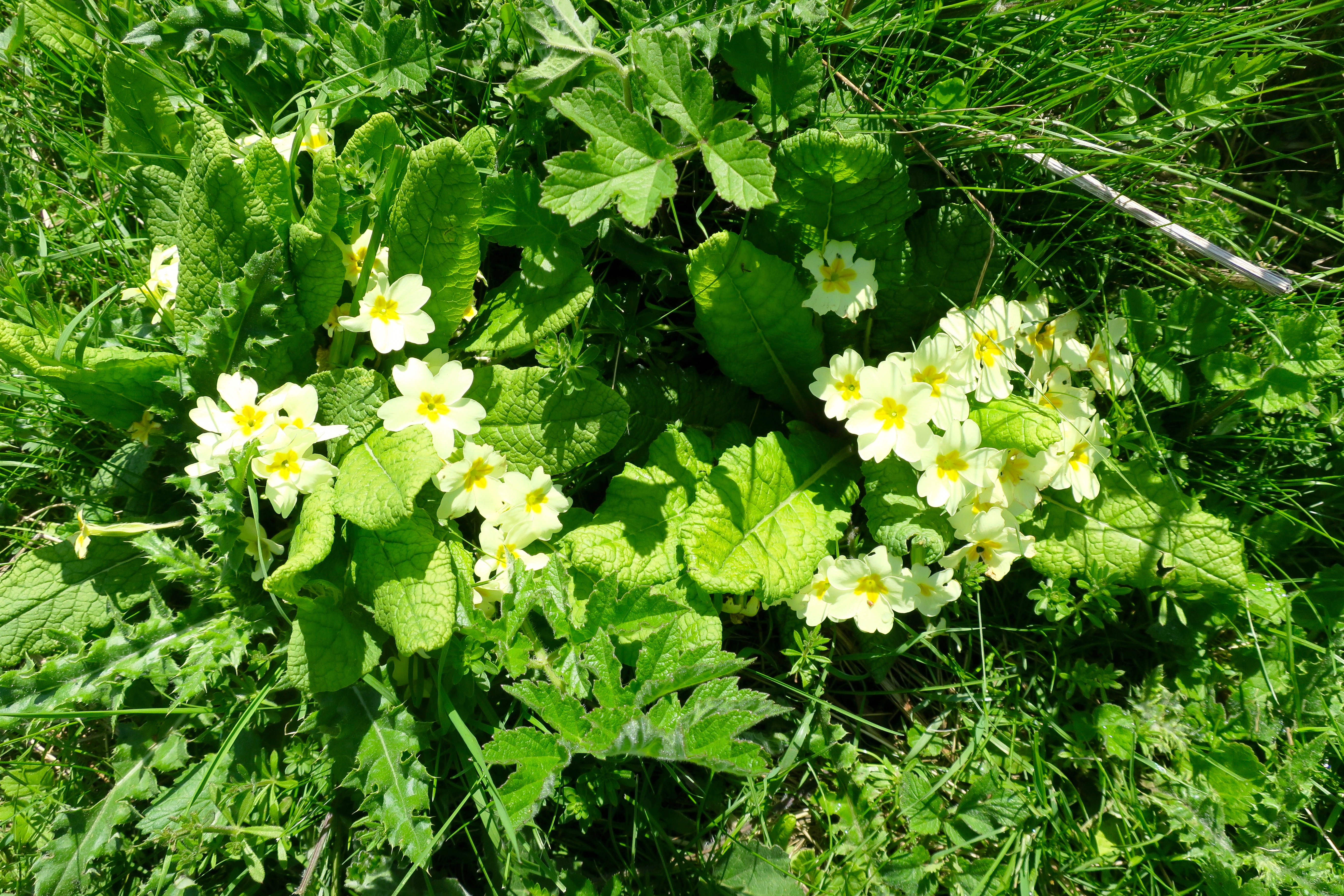 Primrose (Primula vulgaris)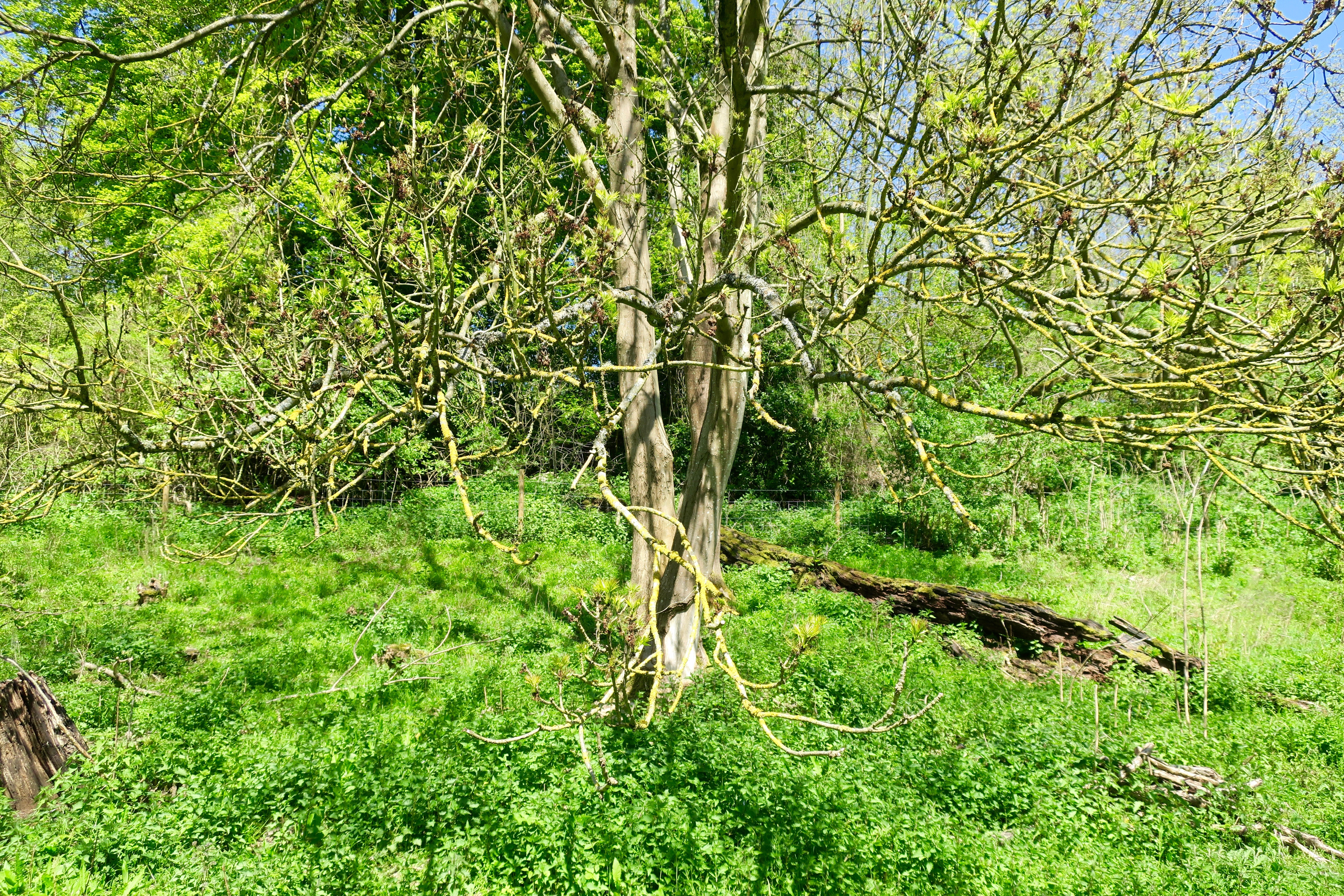 An ash tree stretches out its branches, offering its newborn leaves to the sun.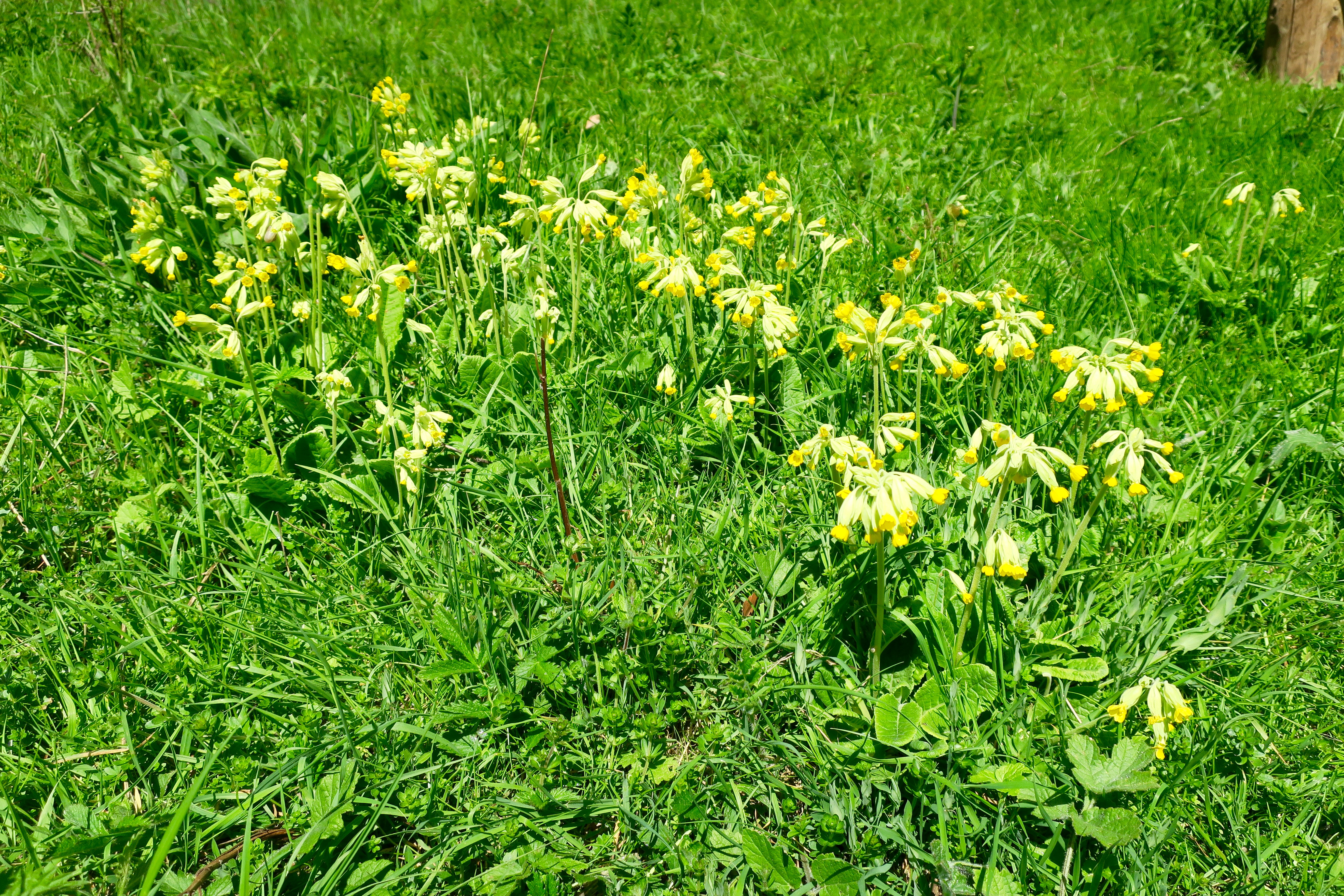 Cowslip (Primula veris)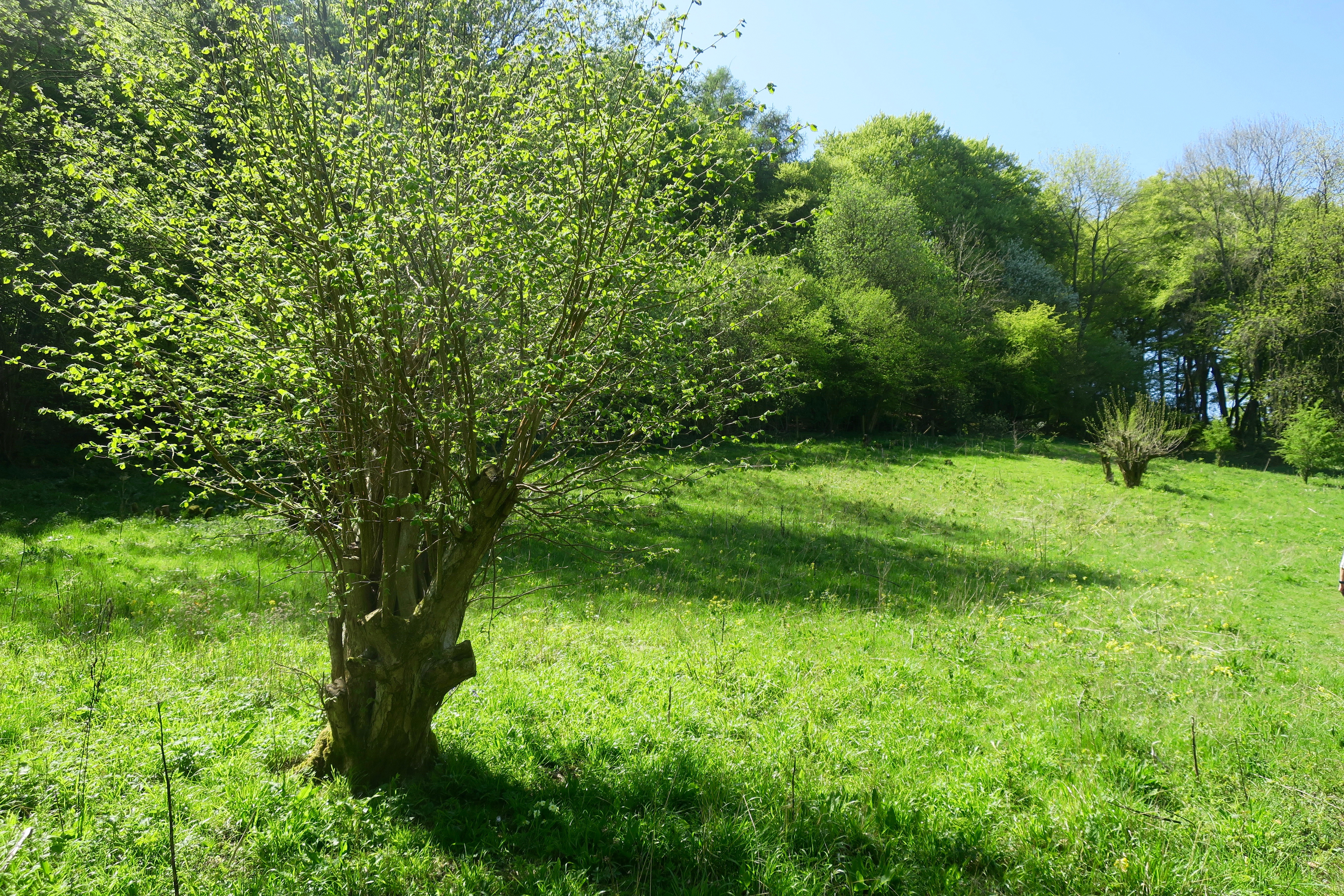 We come in across Crong Meadow then climb steeply up into Bittams Wood.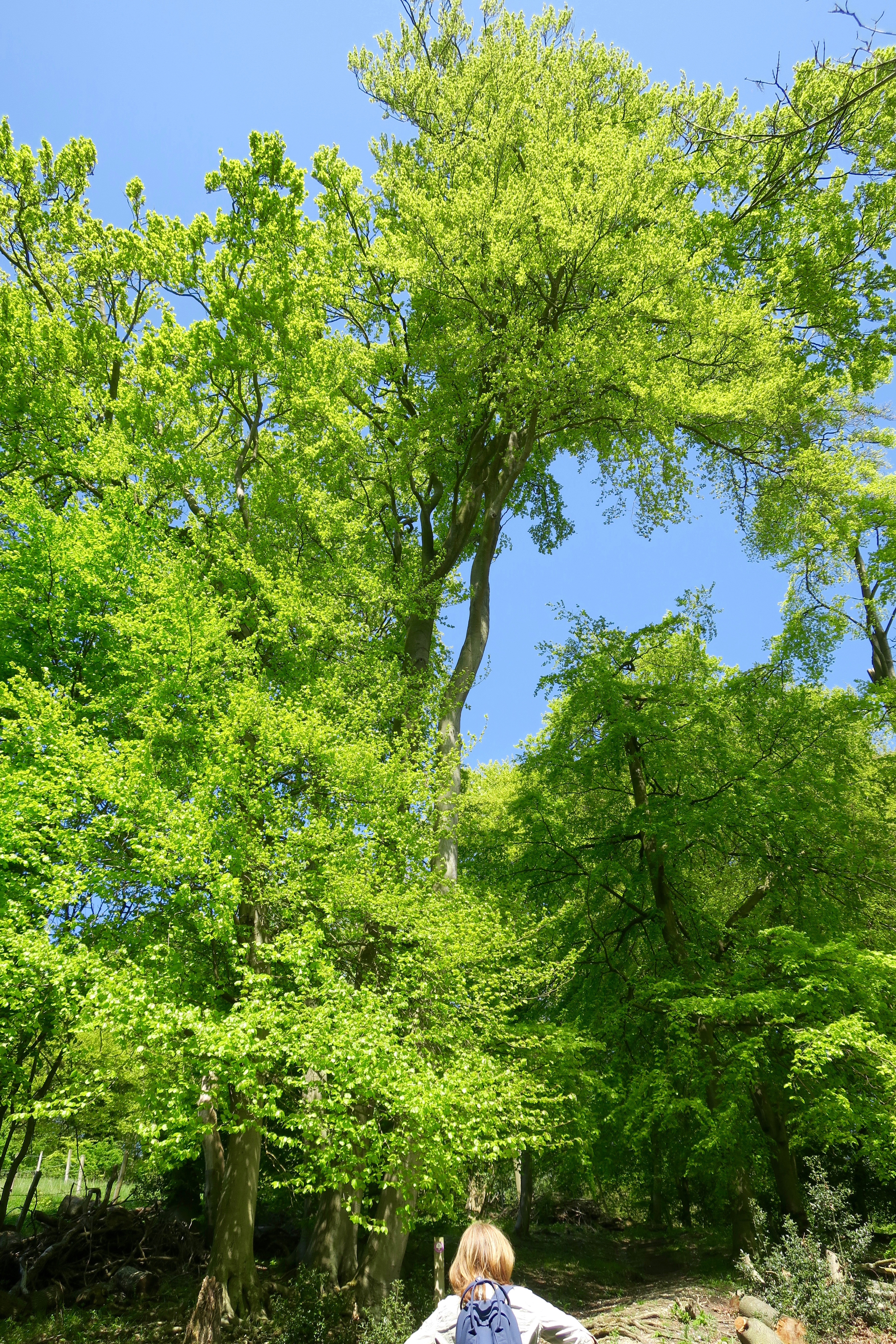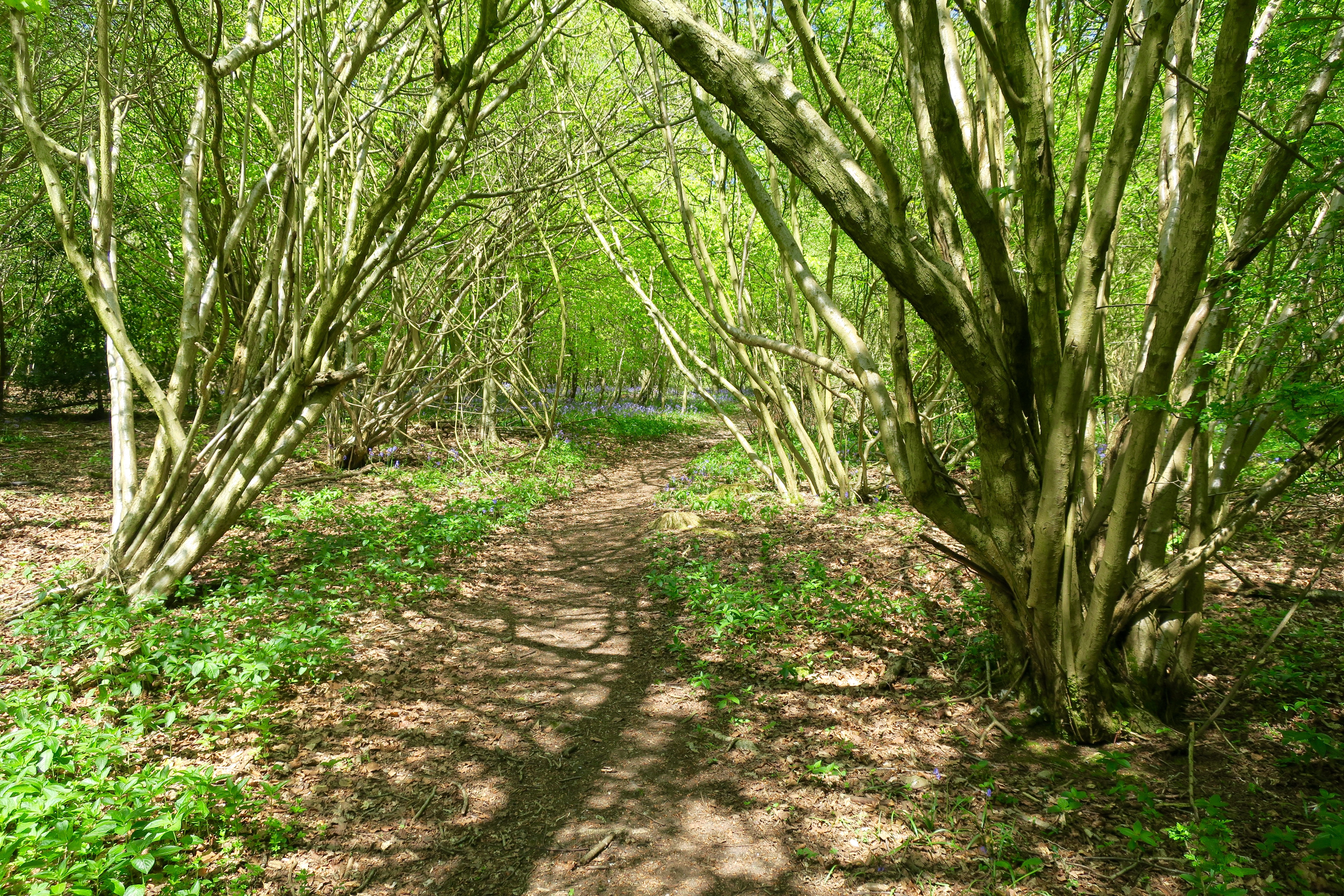 Through dancing light.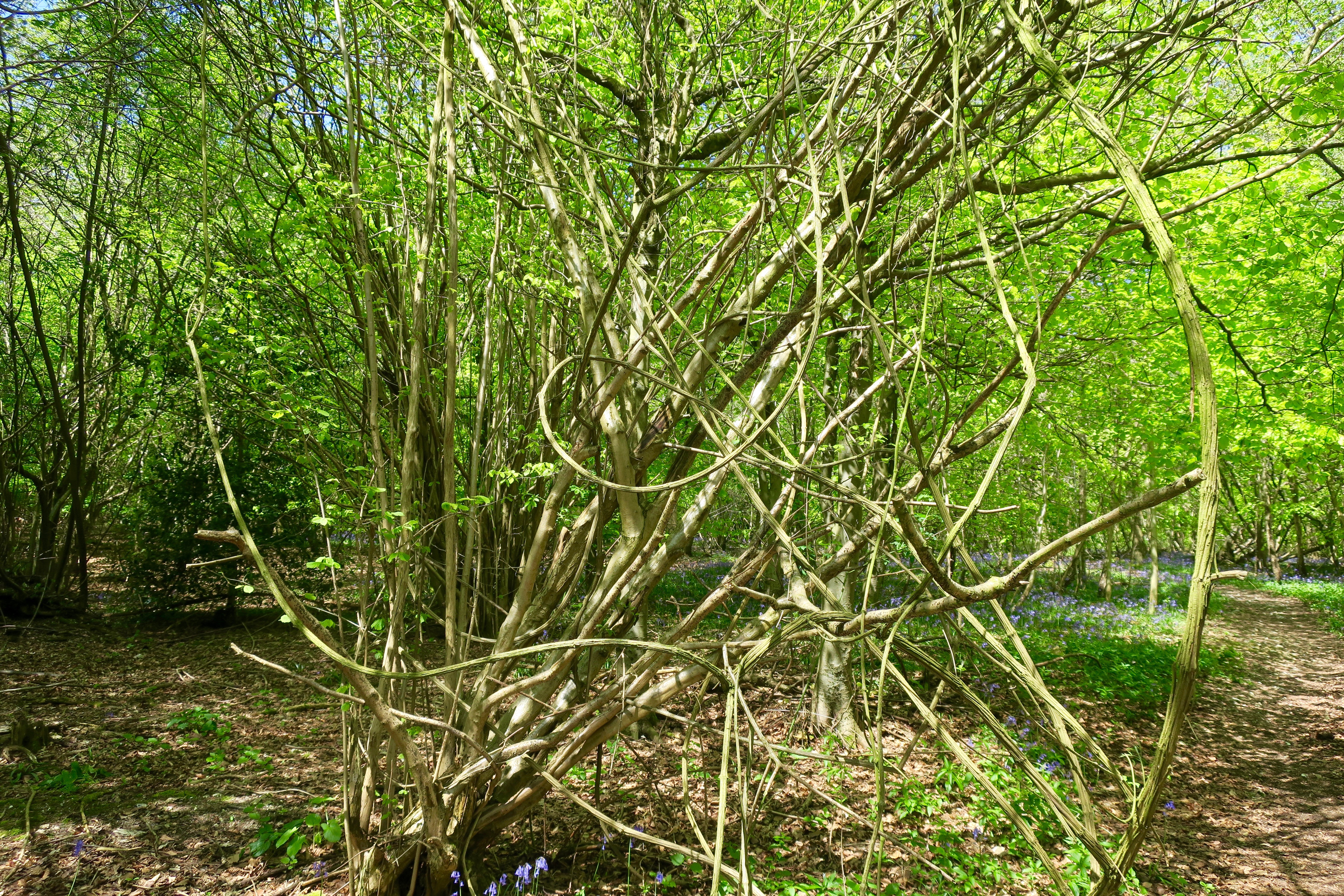 Entangled in Dancersend.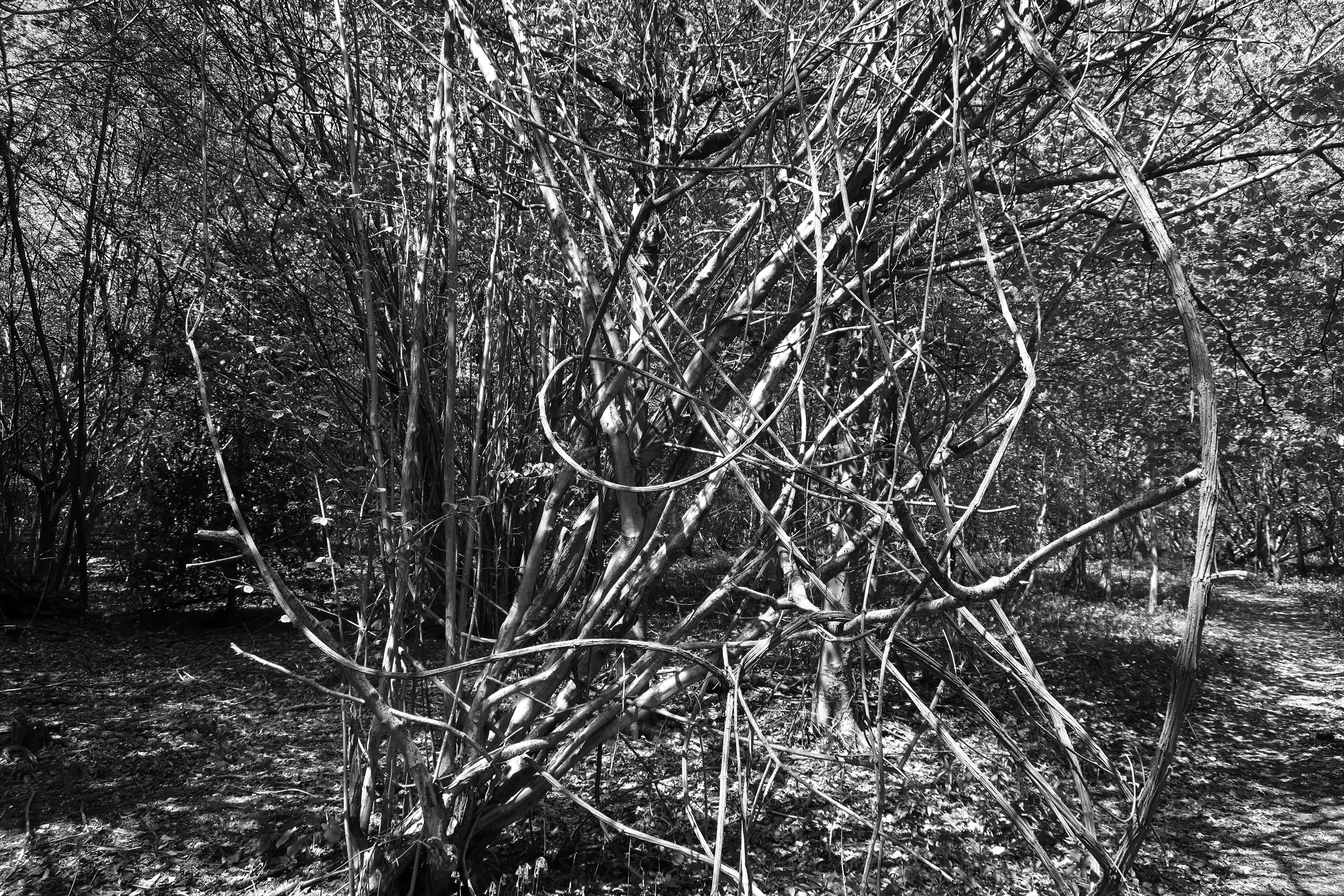 In black & white it's A Quality of Dancing.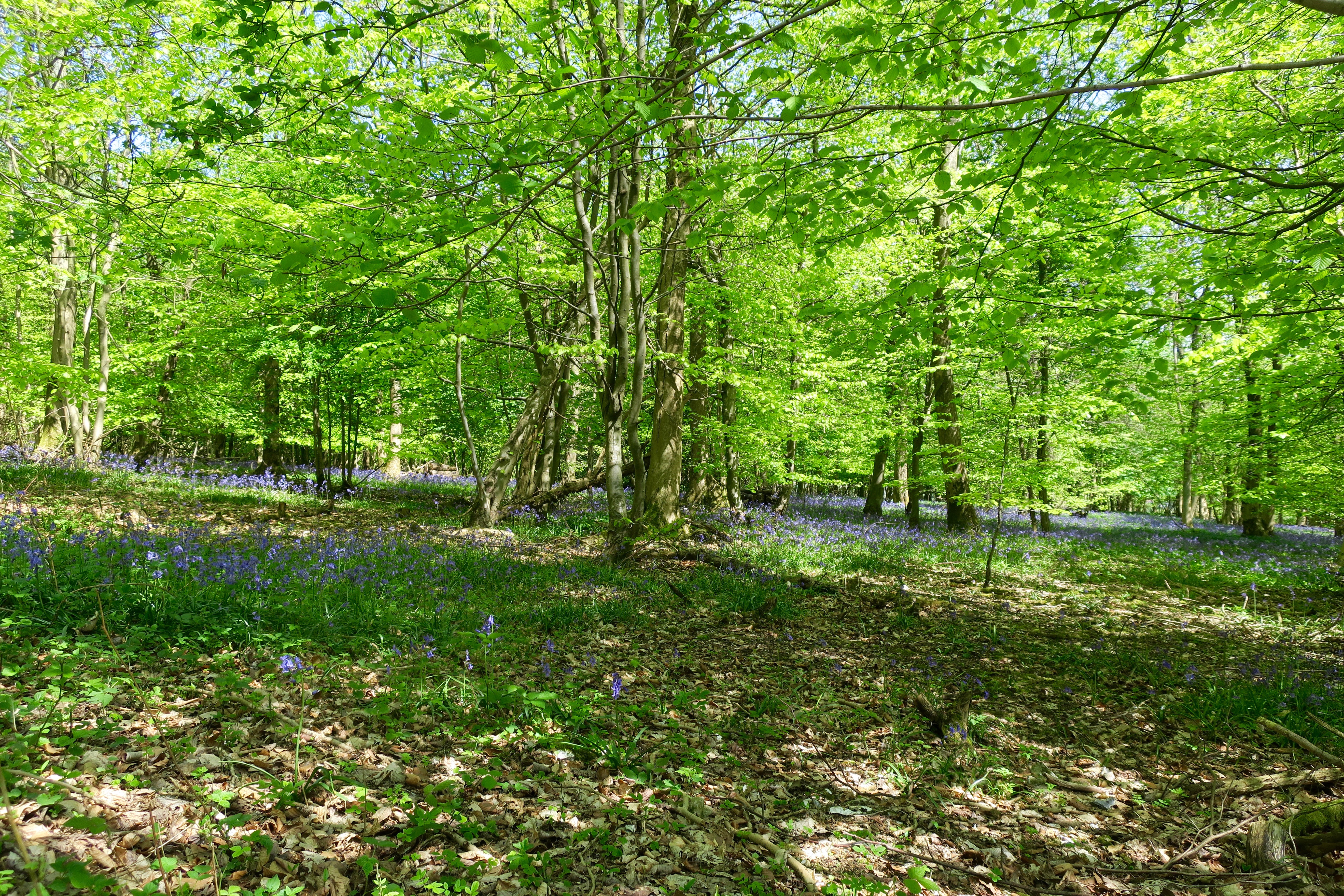 The woods are flooded with the scent of bluebells, and the colours are a sea of Blue in Green.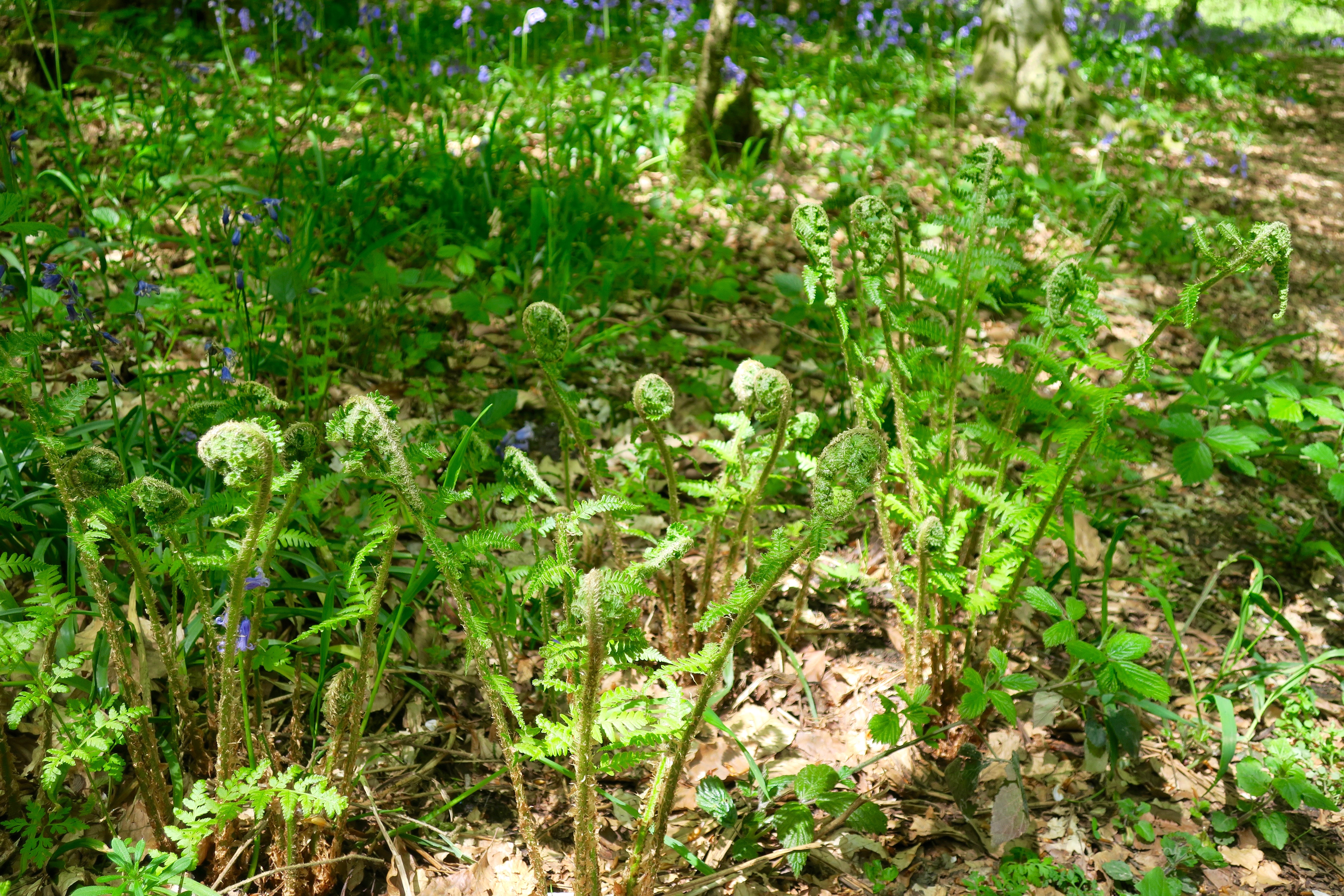 The furled forms of fresh fern fronds, also known as fiddleheads.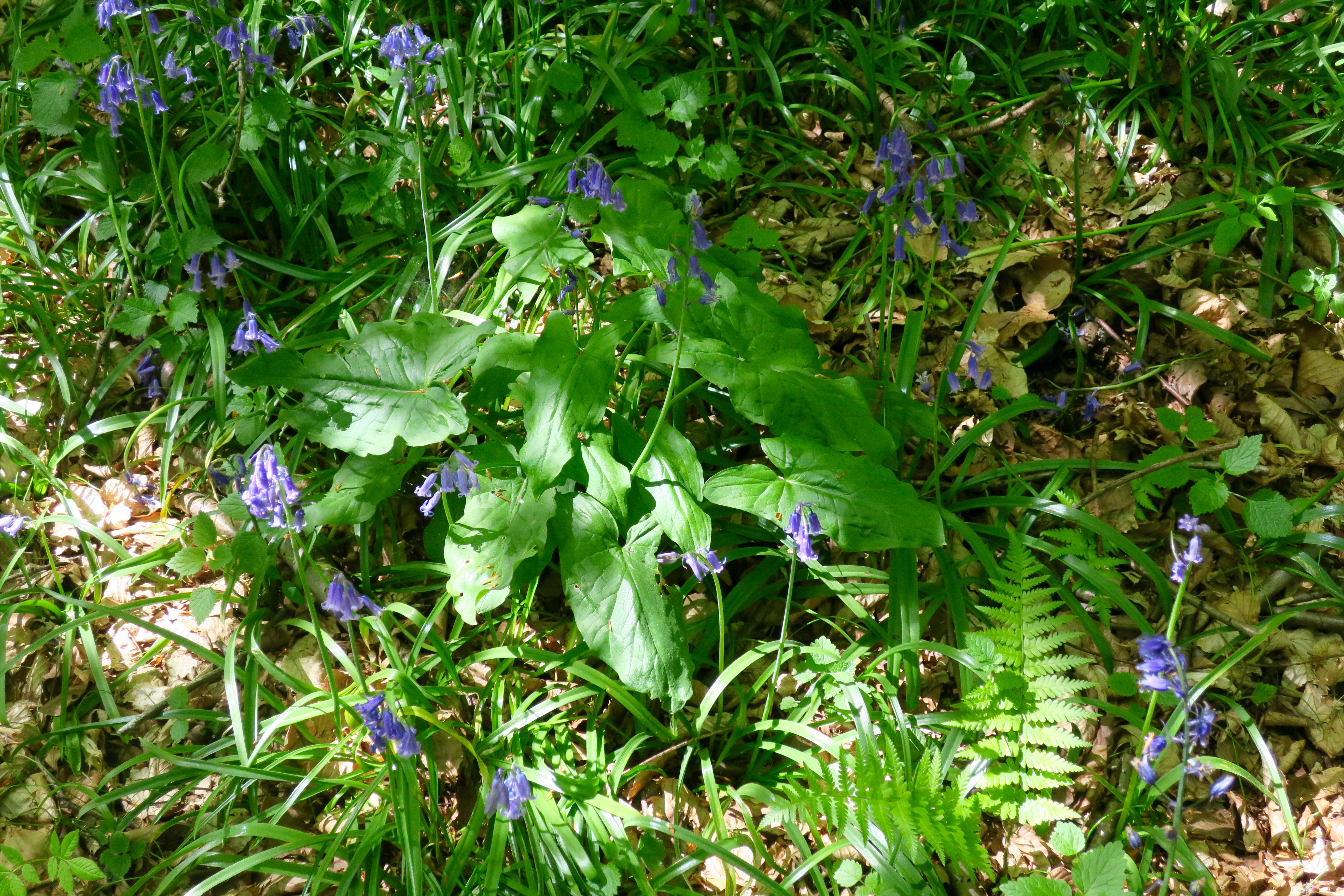 Bluebells and cuckoo-pint leaves.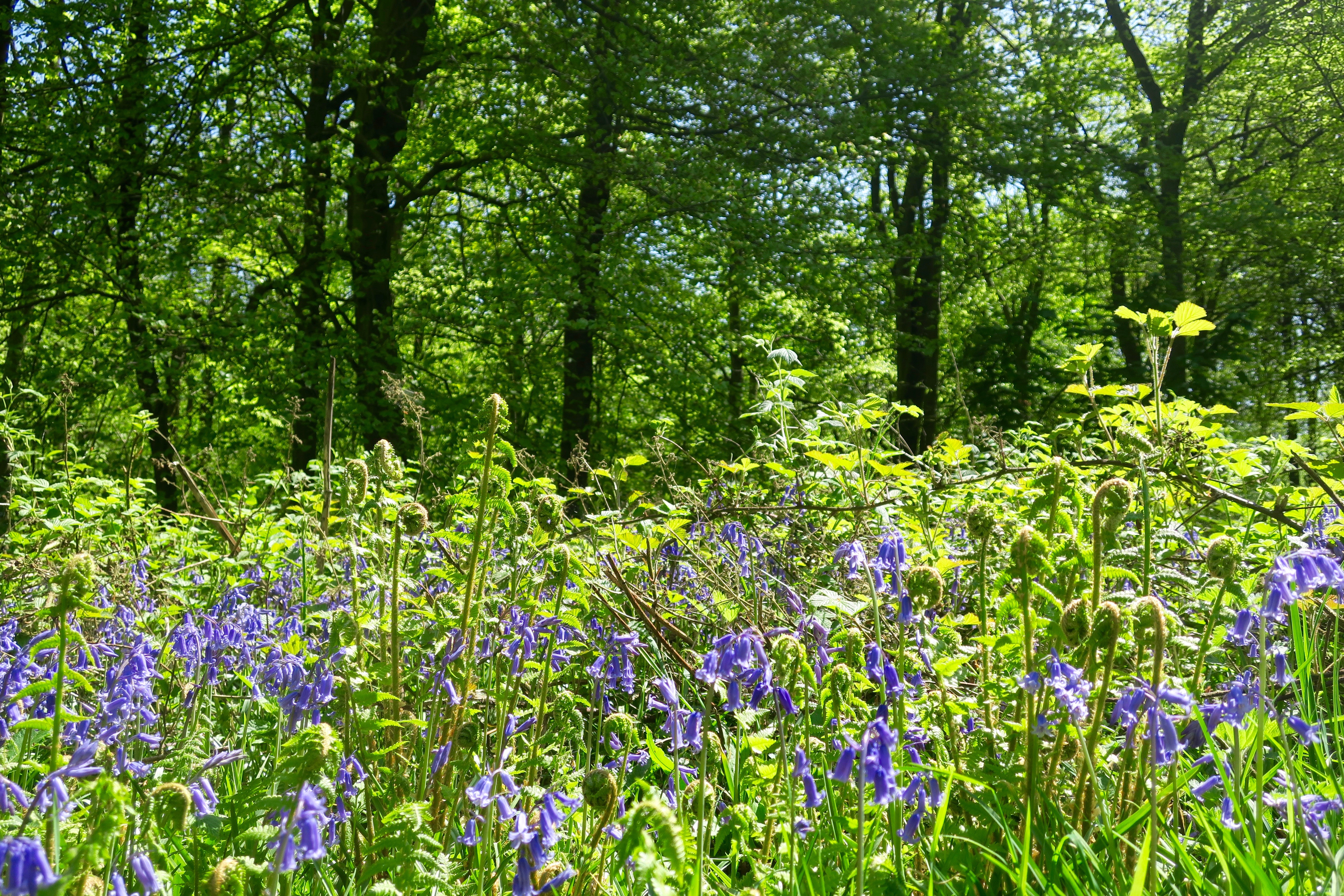 I propose a 'euphoria' as the collective noun for bluebells.
I float on mauve air going through them, and their delicate honey smell.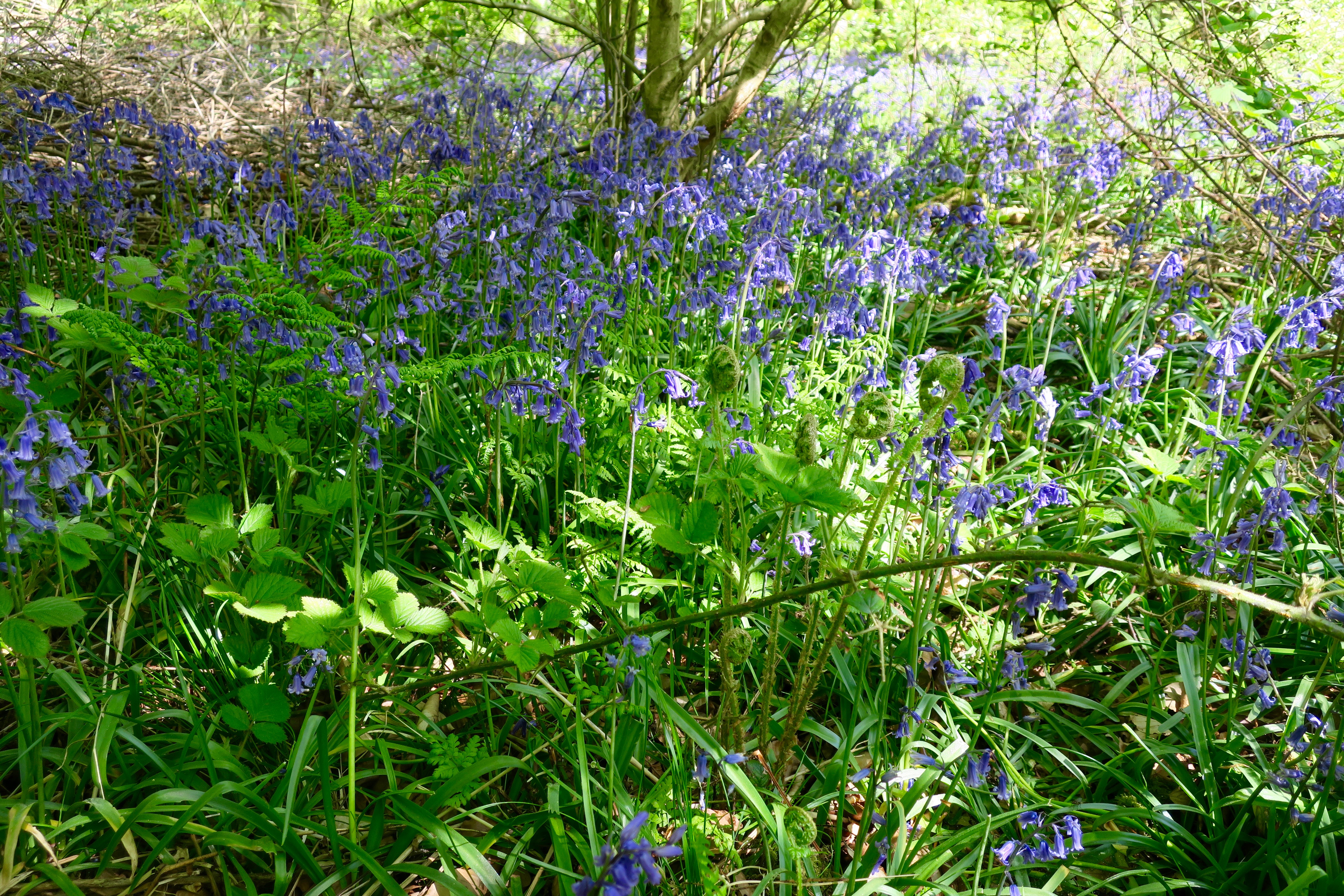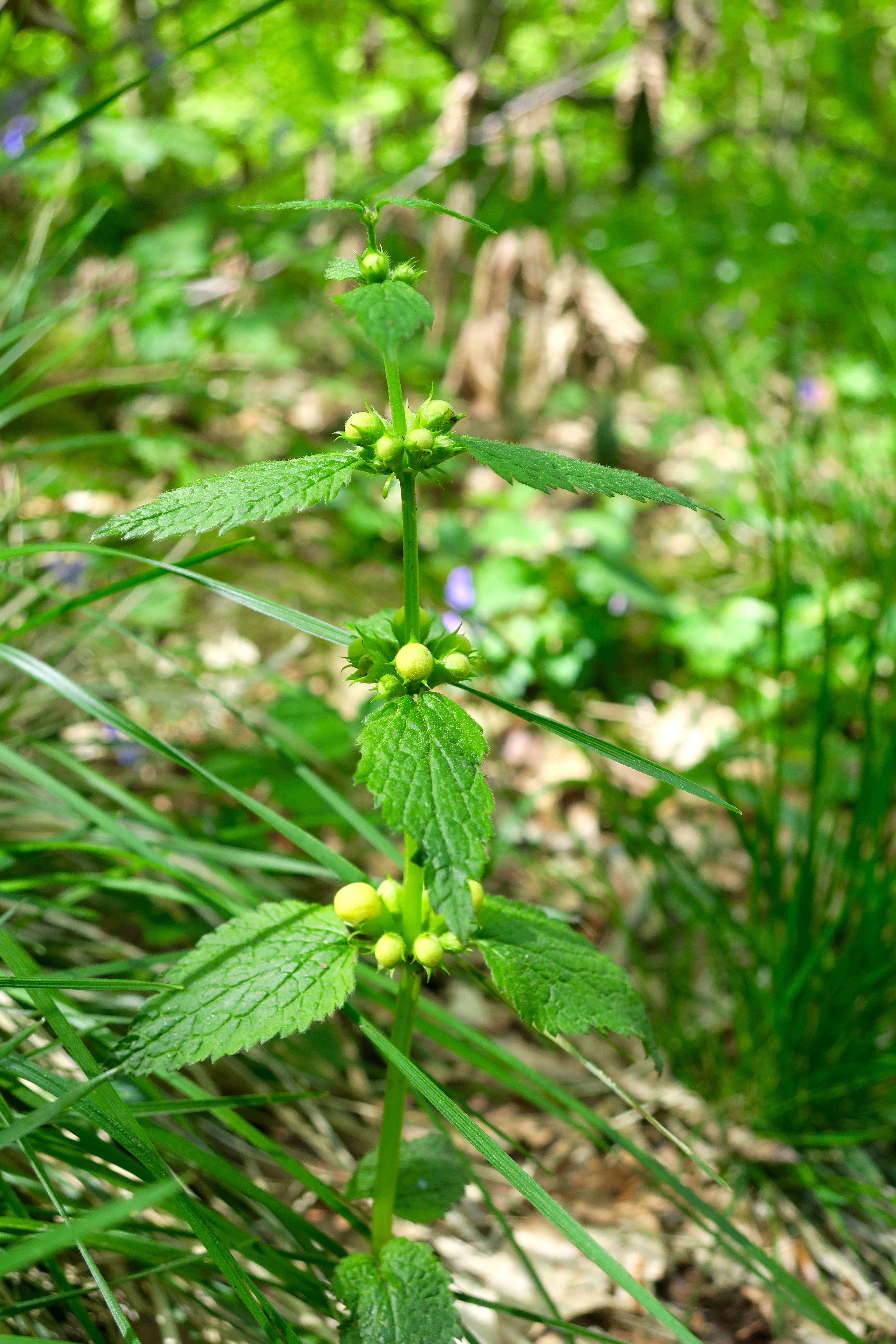 Yellow Archangel (Lamiastrum galeobdolon)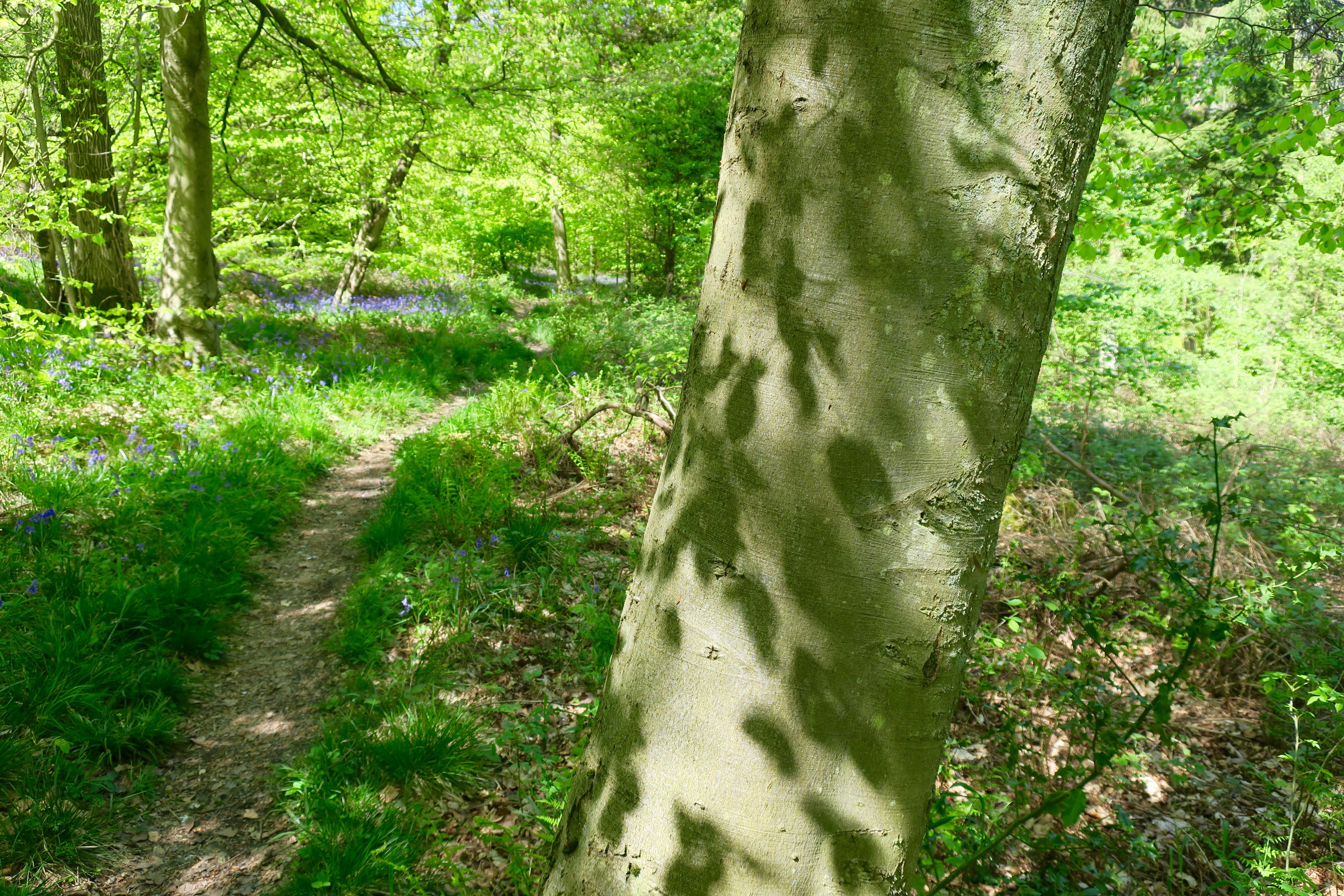 And the magic begins…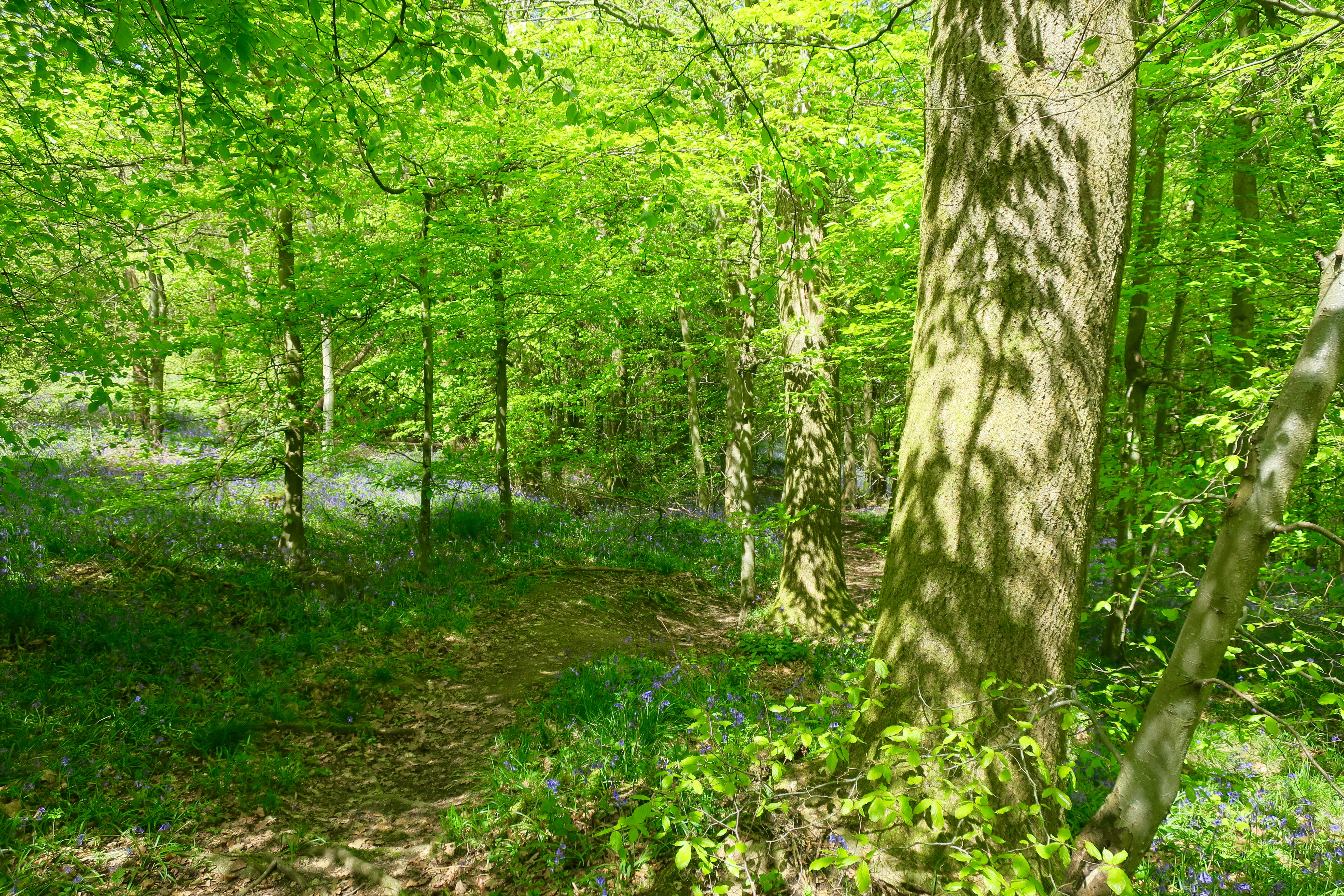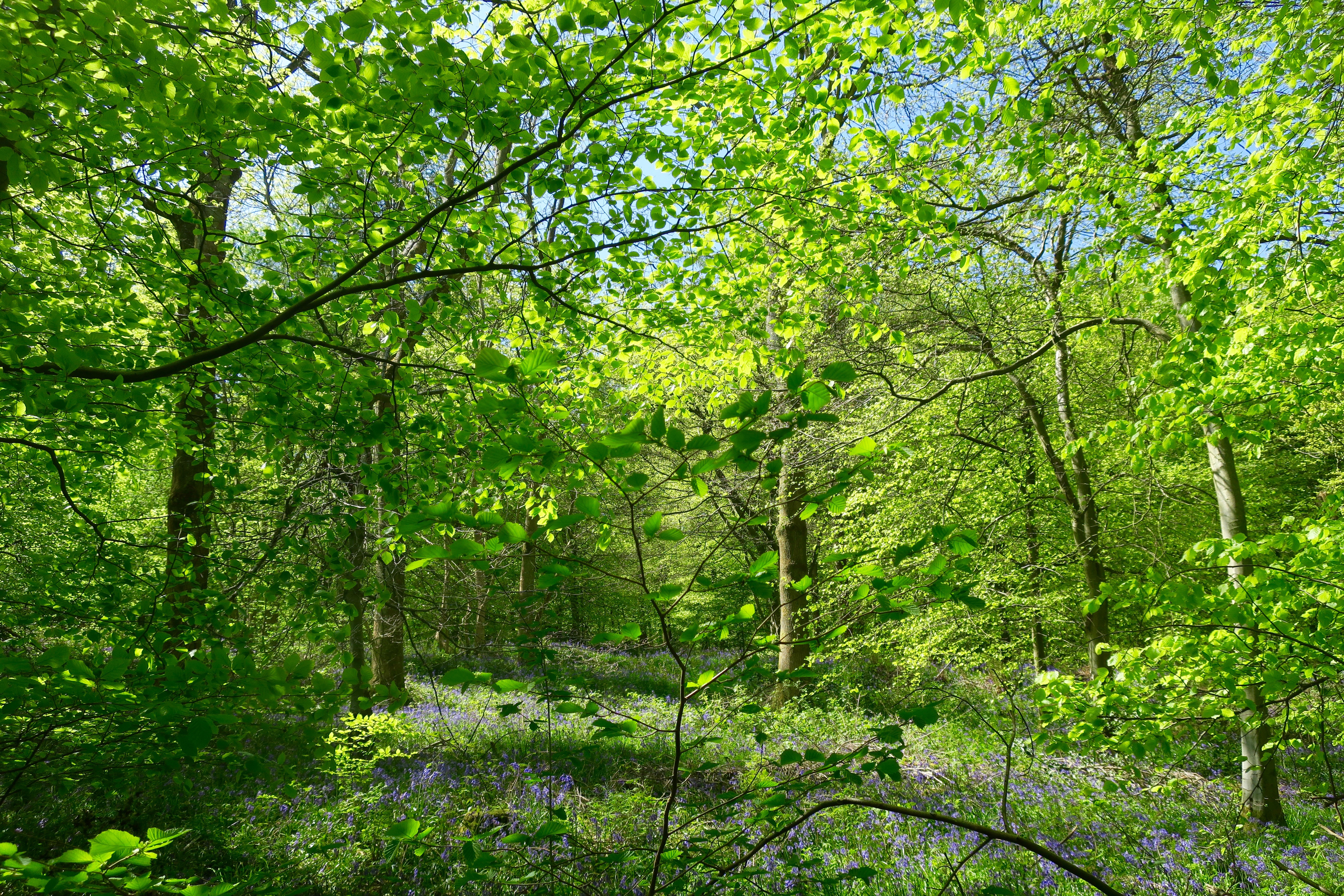 The green-gold sunlight that falls through the young leaves of trees & woods in spring,
May-light, May-shine, Maeinschein.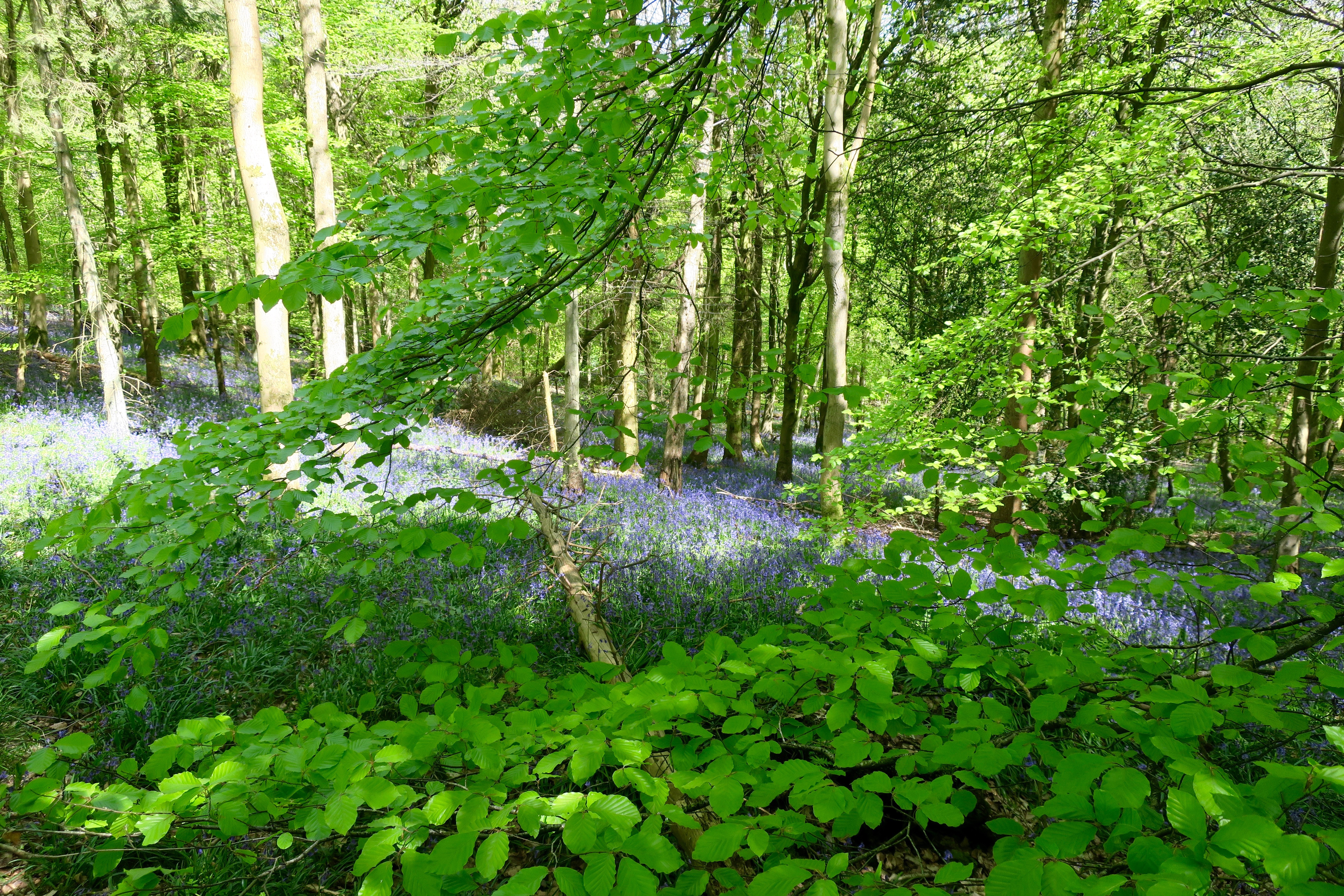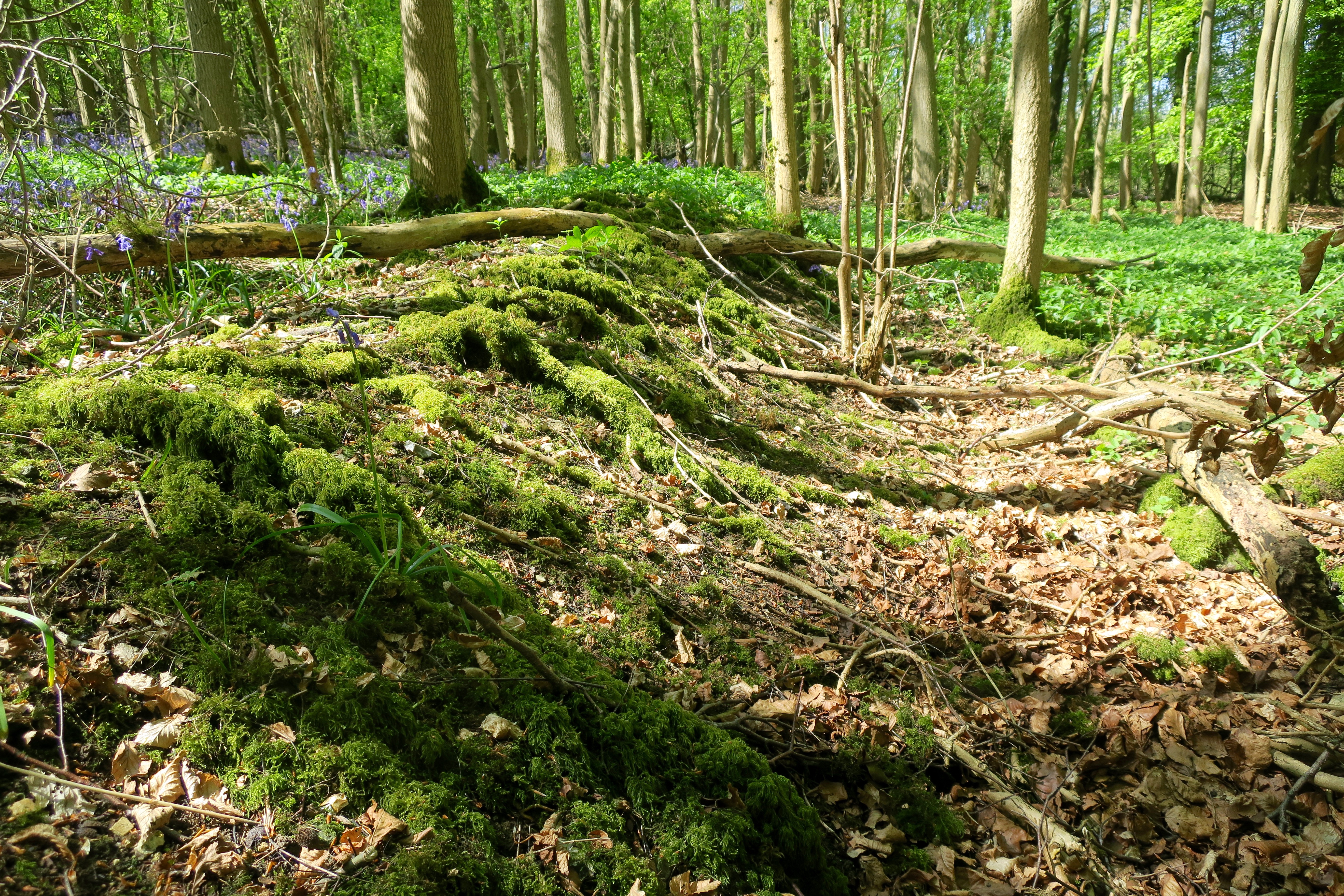 An ancient woodbank but few ancient trees.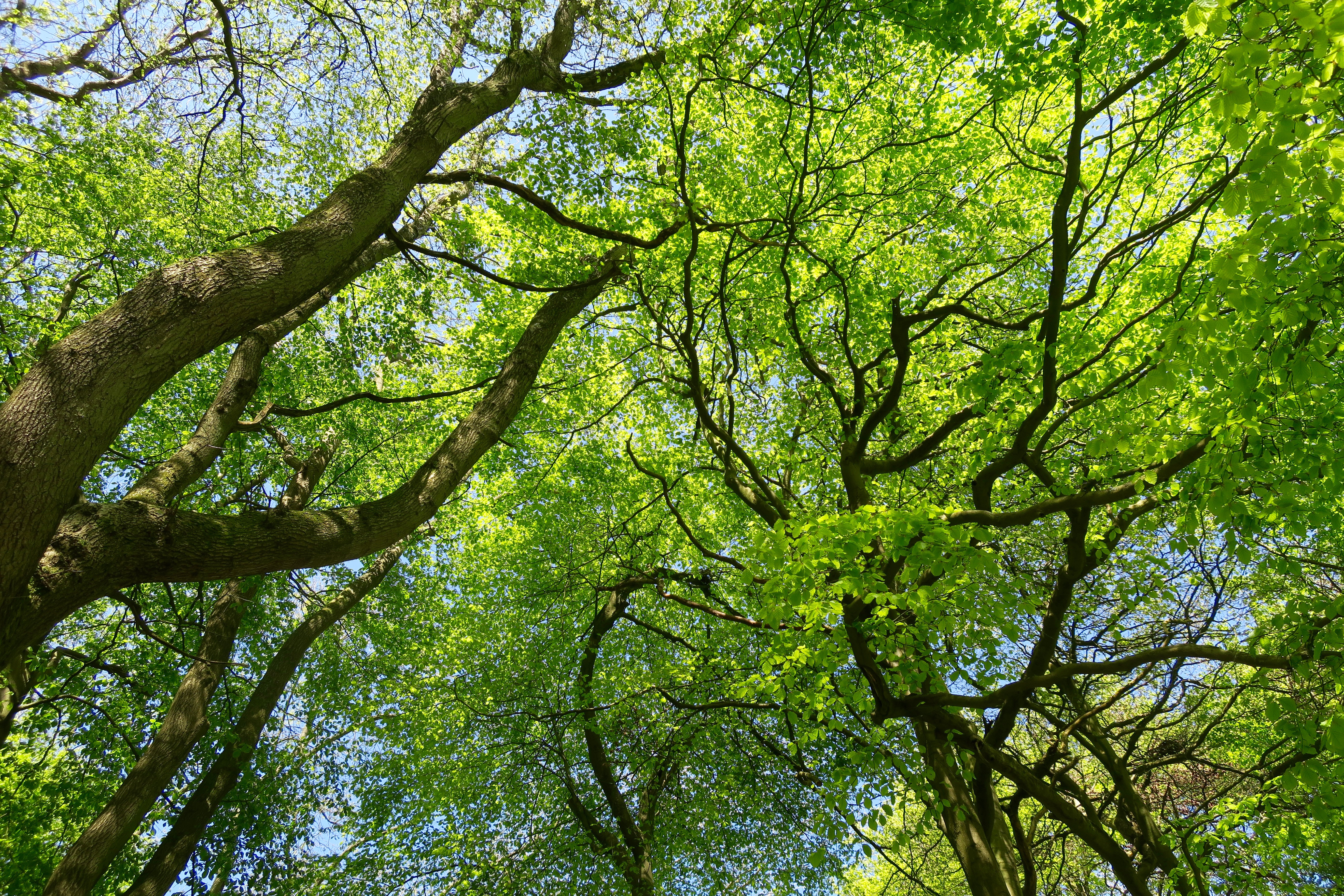 The woods at Dancersend have been allowed to regenerate, following post-World War II clearance and planting with beech and conifers in the 1950s. Dense areas have been thinned, allowing ancient woodland survivors, such as stinking hellebore and yellow archangel, to reappear. Raptors, like red kites, now use the tall trees for nesting.
A tall tree in four instalments.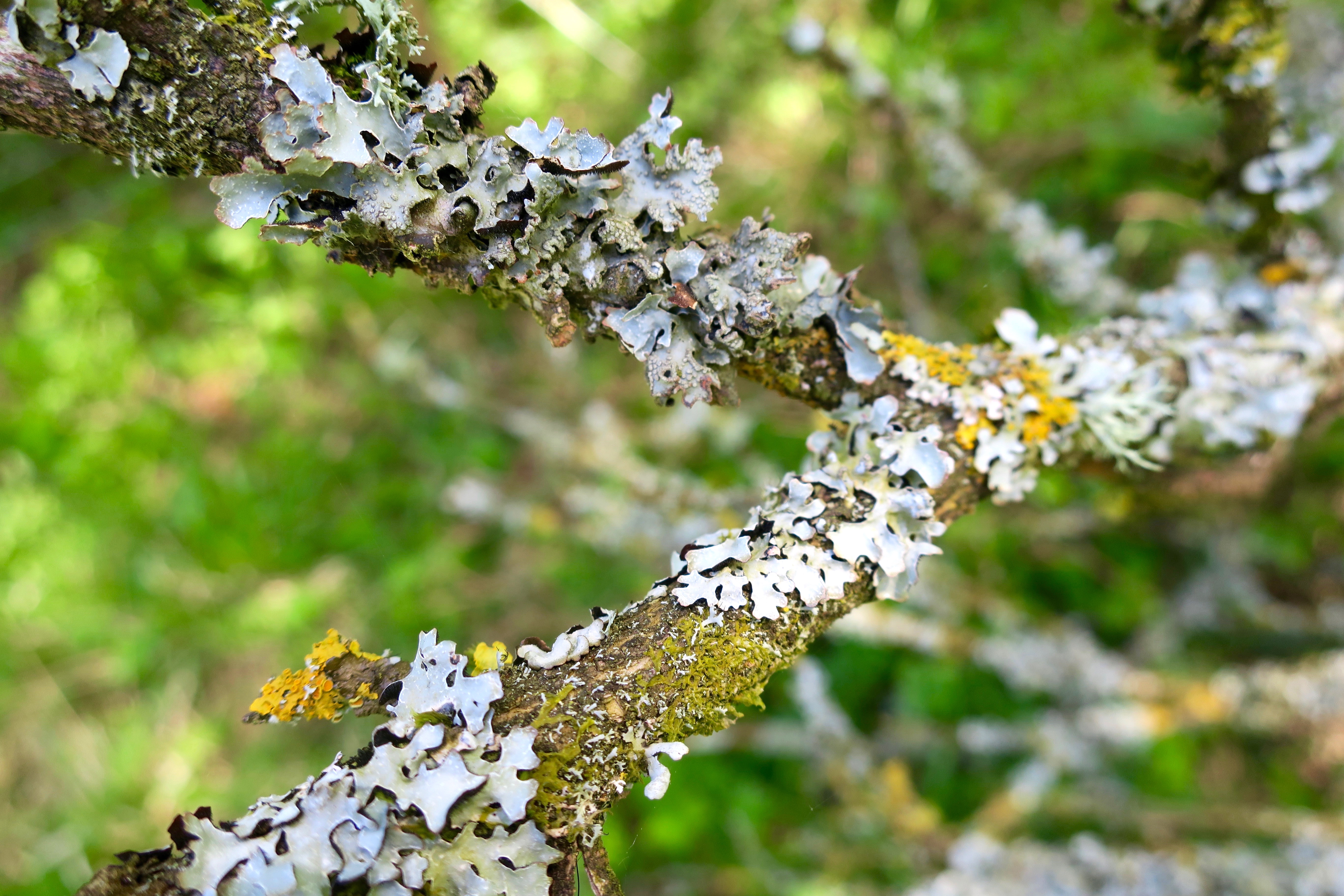 A branch covered in lichens, possibly the grey leafy one is Parmelia and maybe the orange one is Xanthoria but I can't find a name for the green slimy one, perhaps it's an algae, perhaps it's a moss?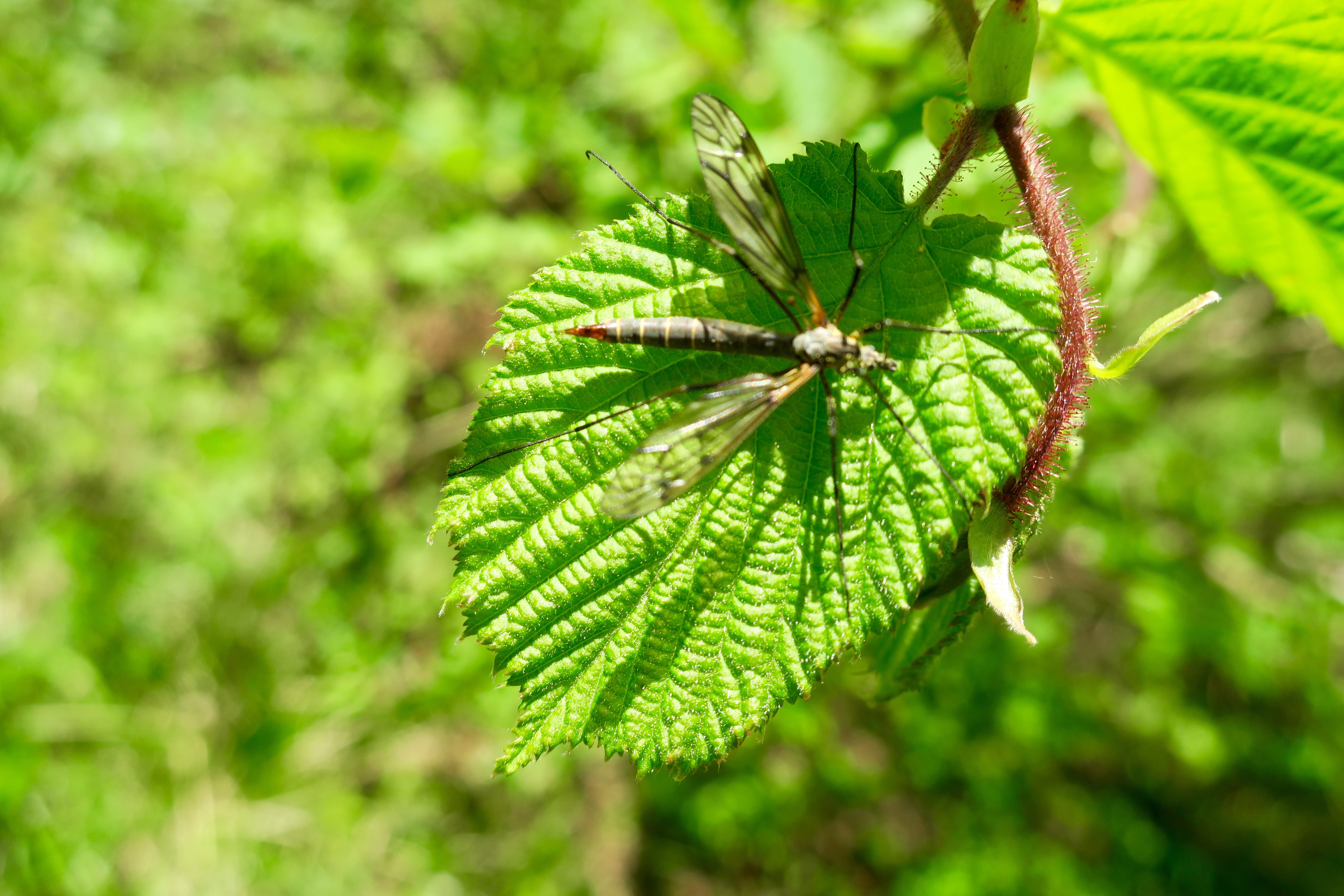 A stripey cranefly on a hazel leaf.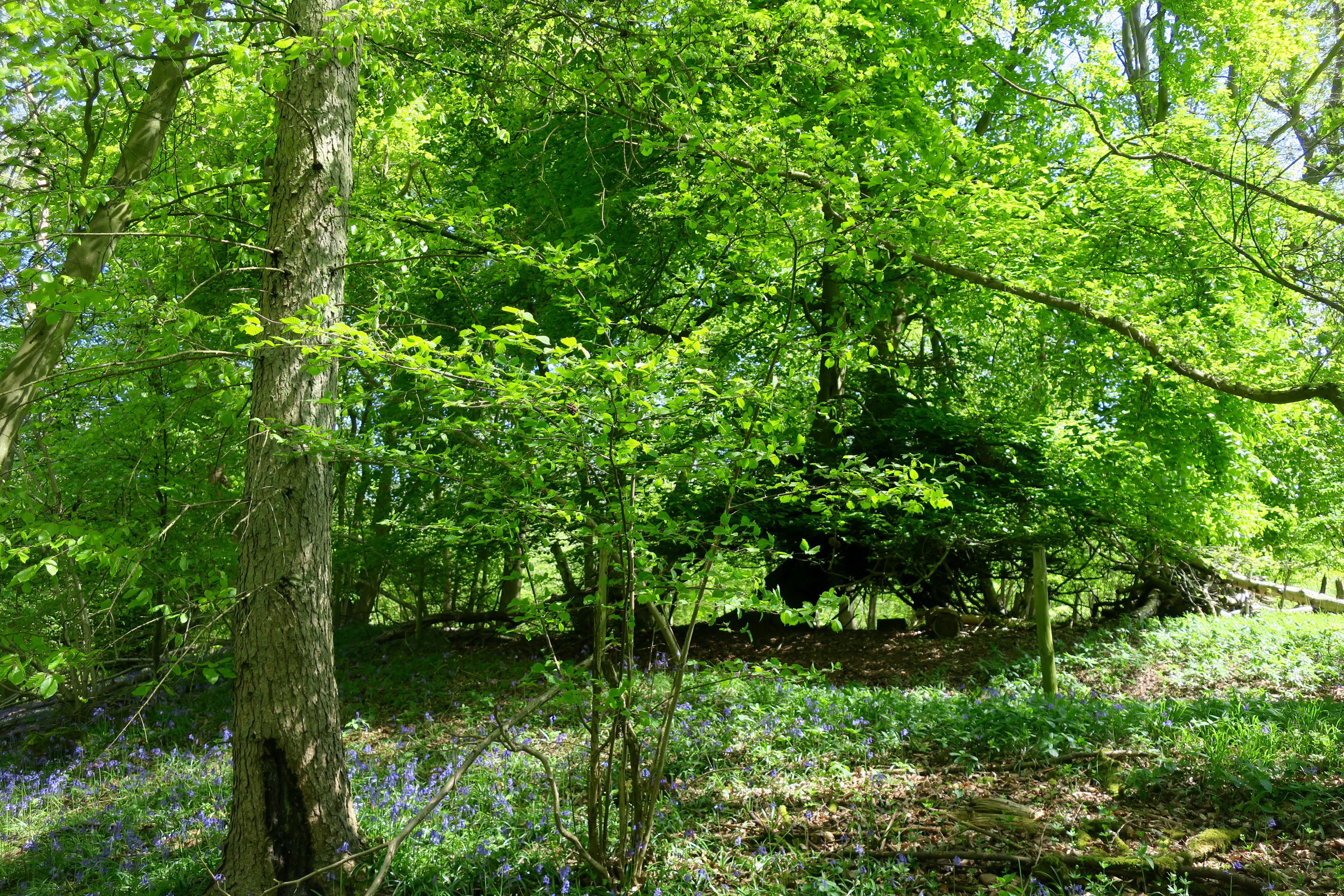 Then there's a rustle in the undergrowth, and a shadow moving quickly away from us.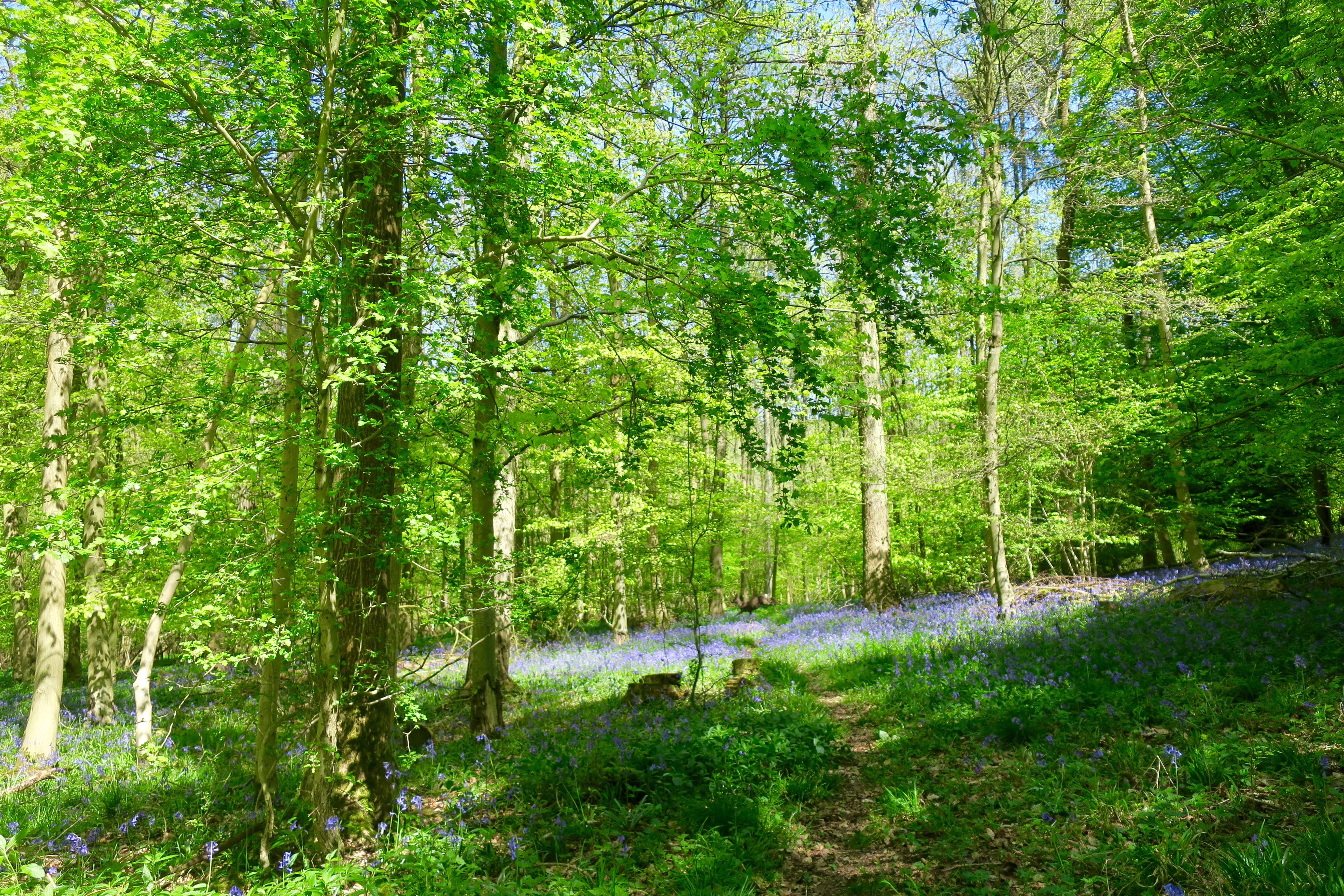 There, now, quick, straight ahead, over the bluebells, a roe deer jumping across our path.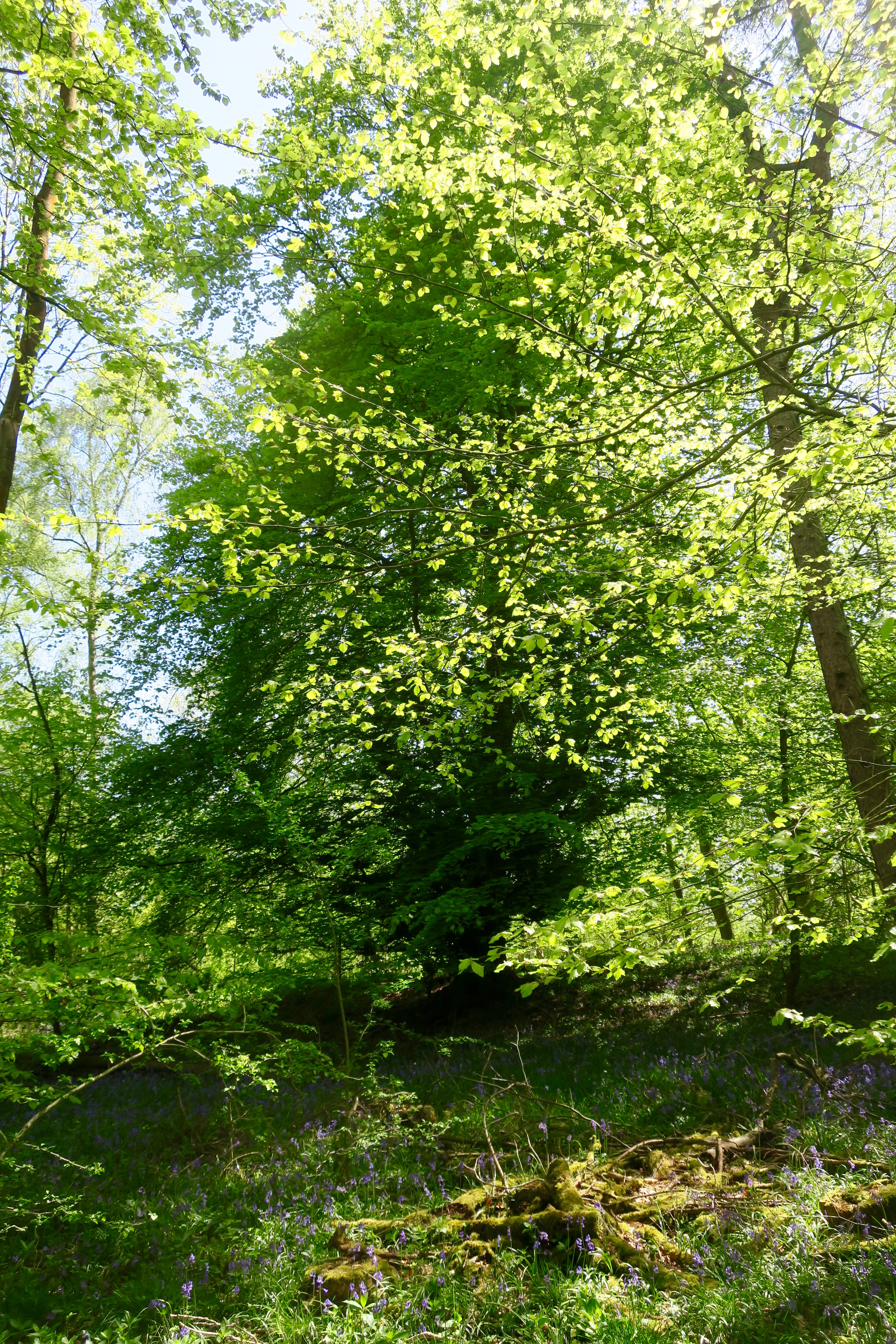 And more sparkling May-shine.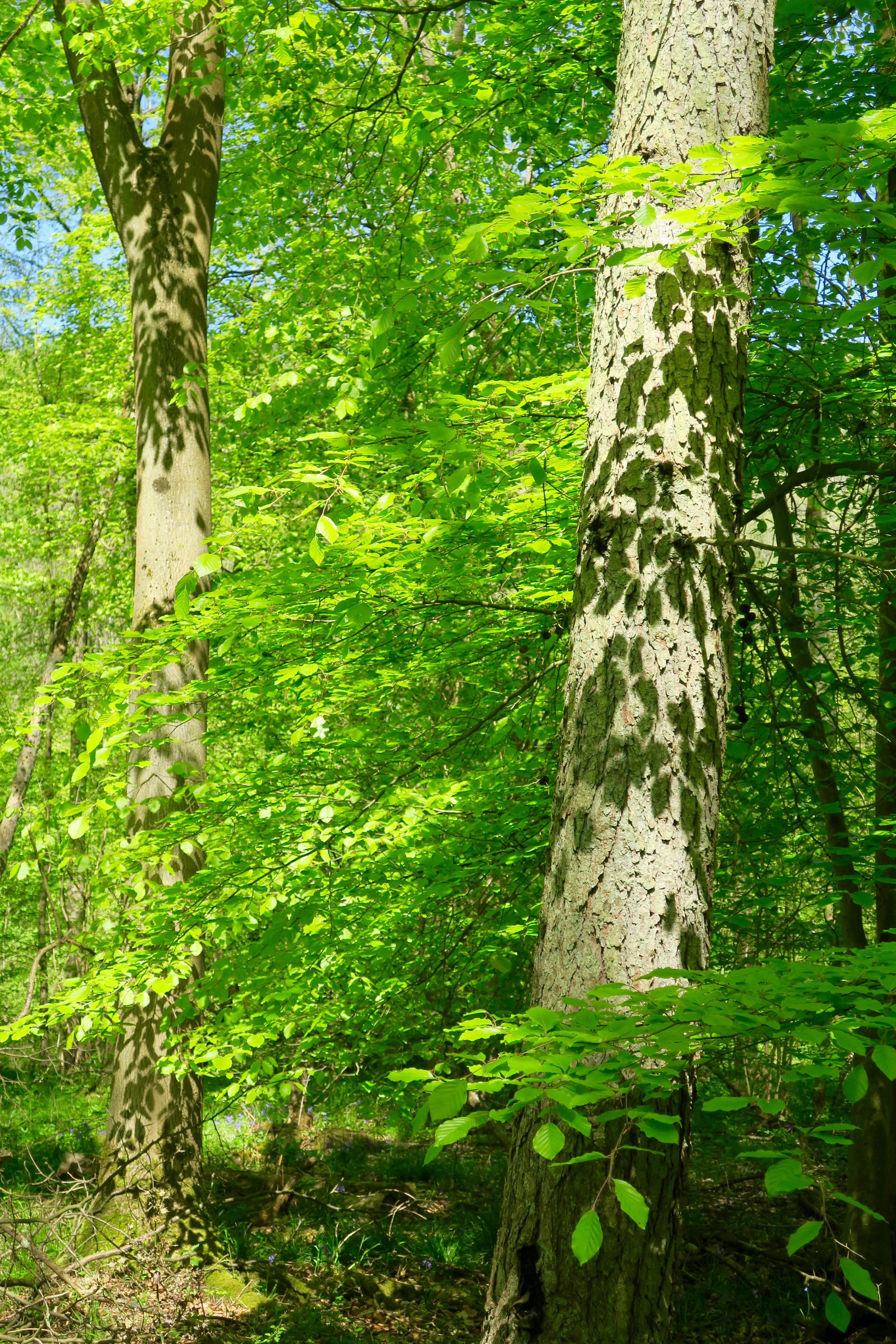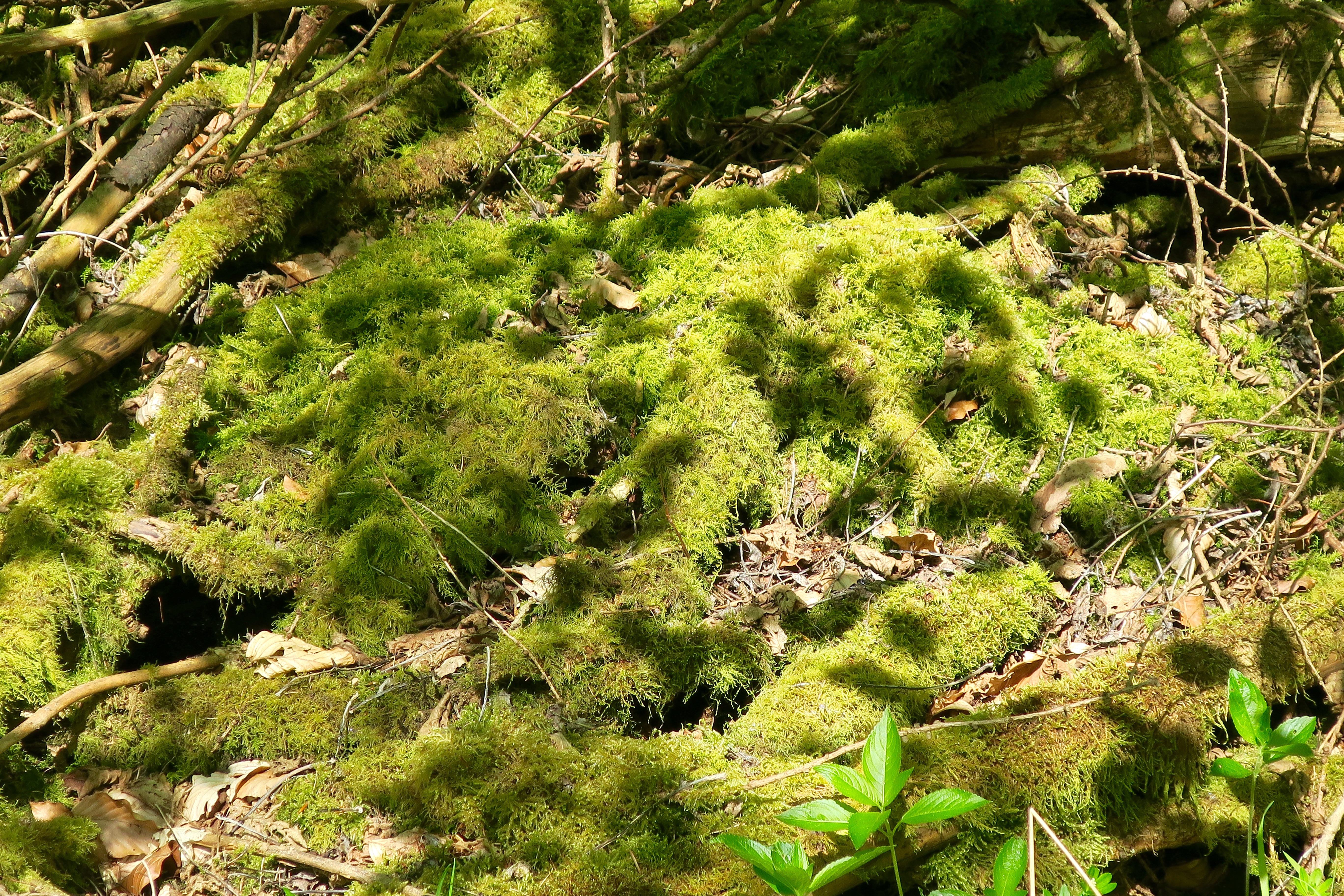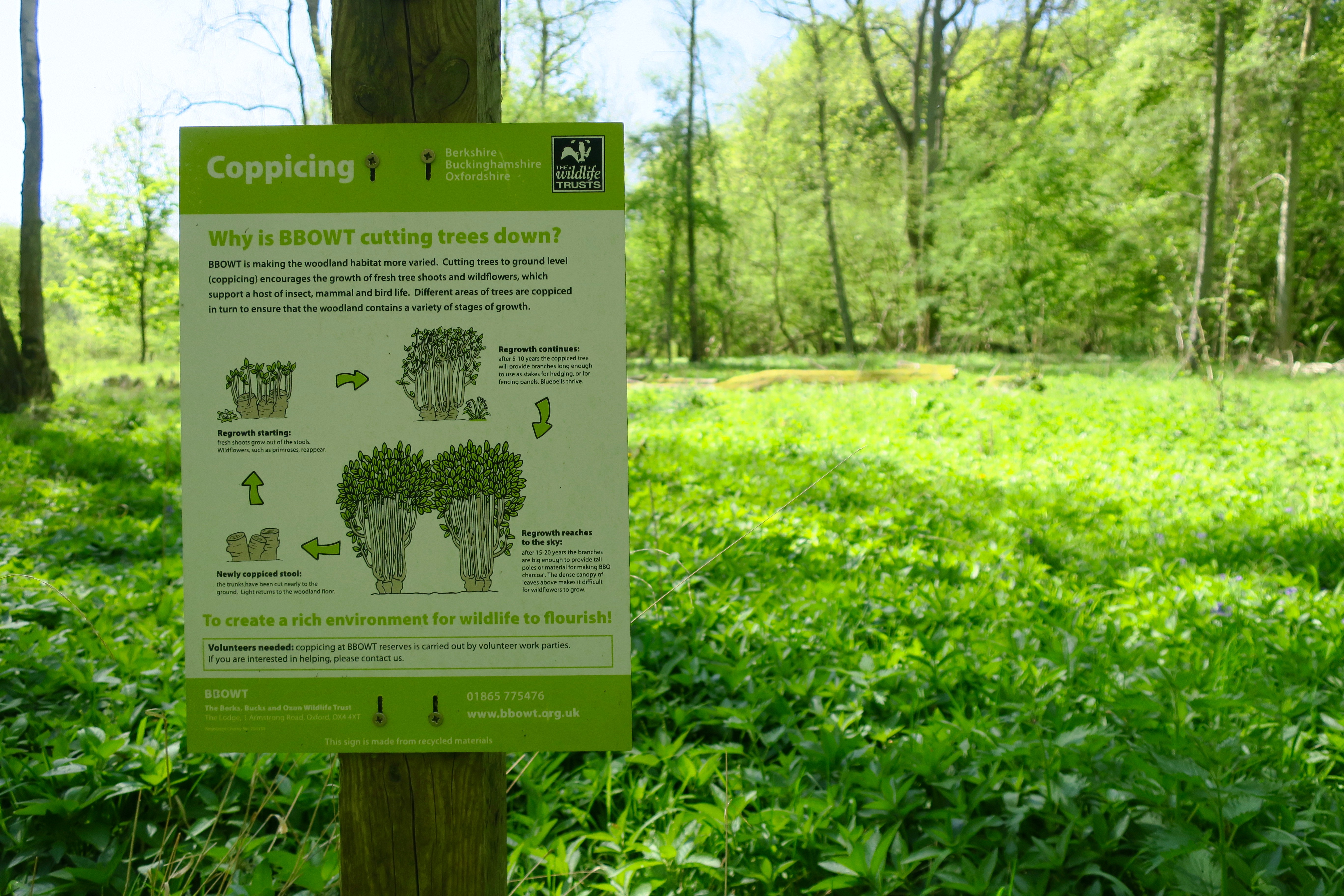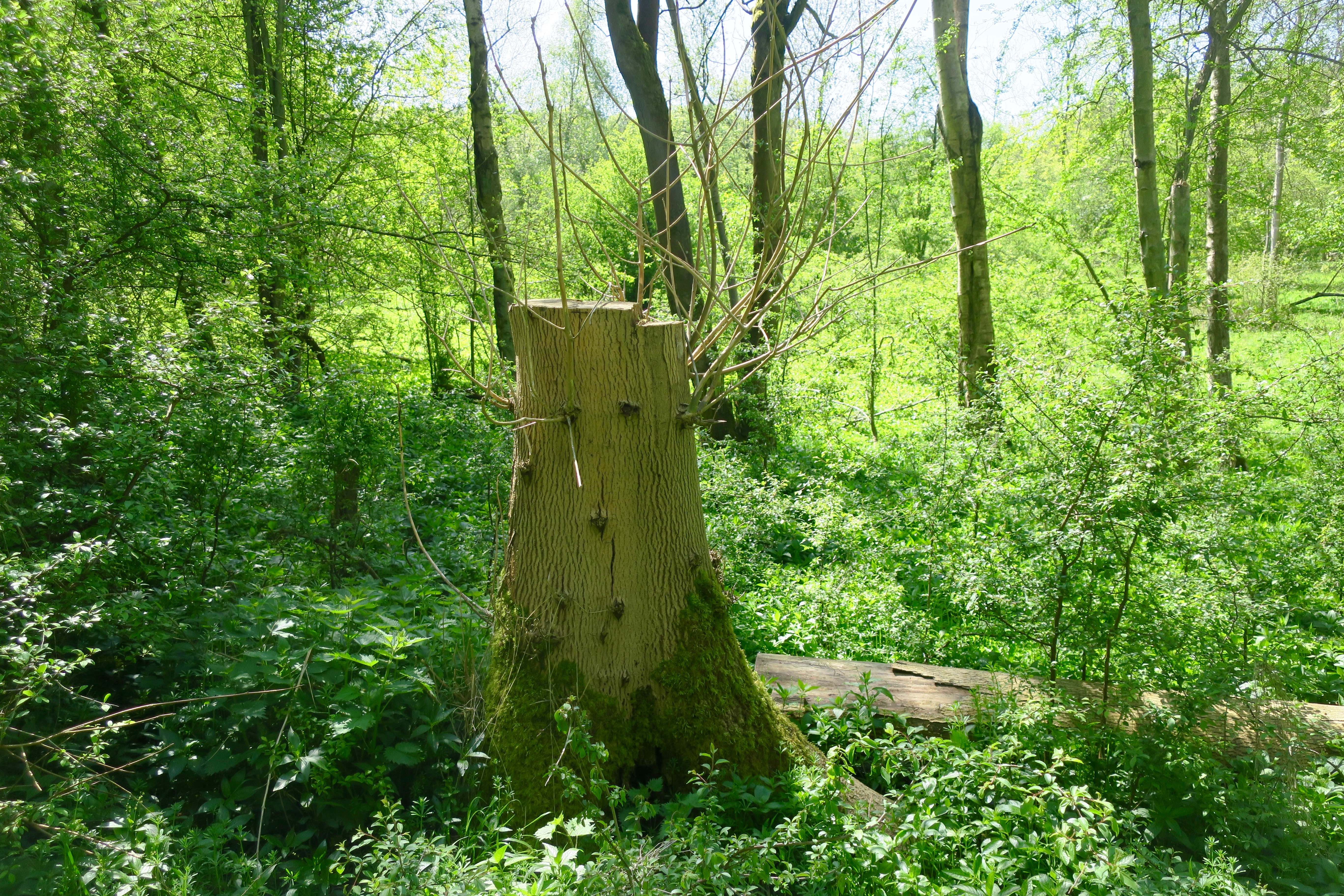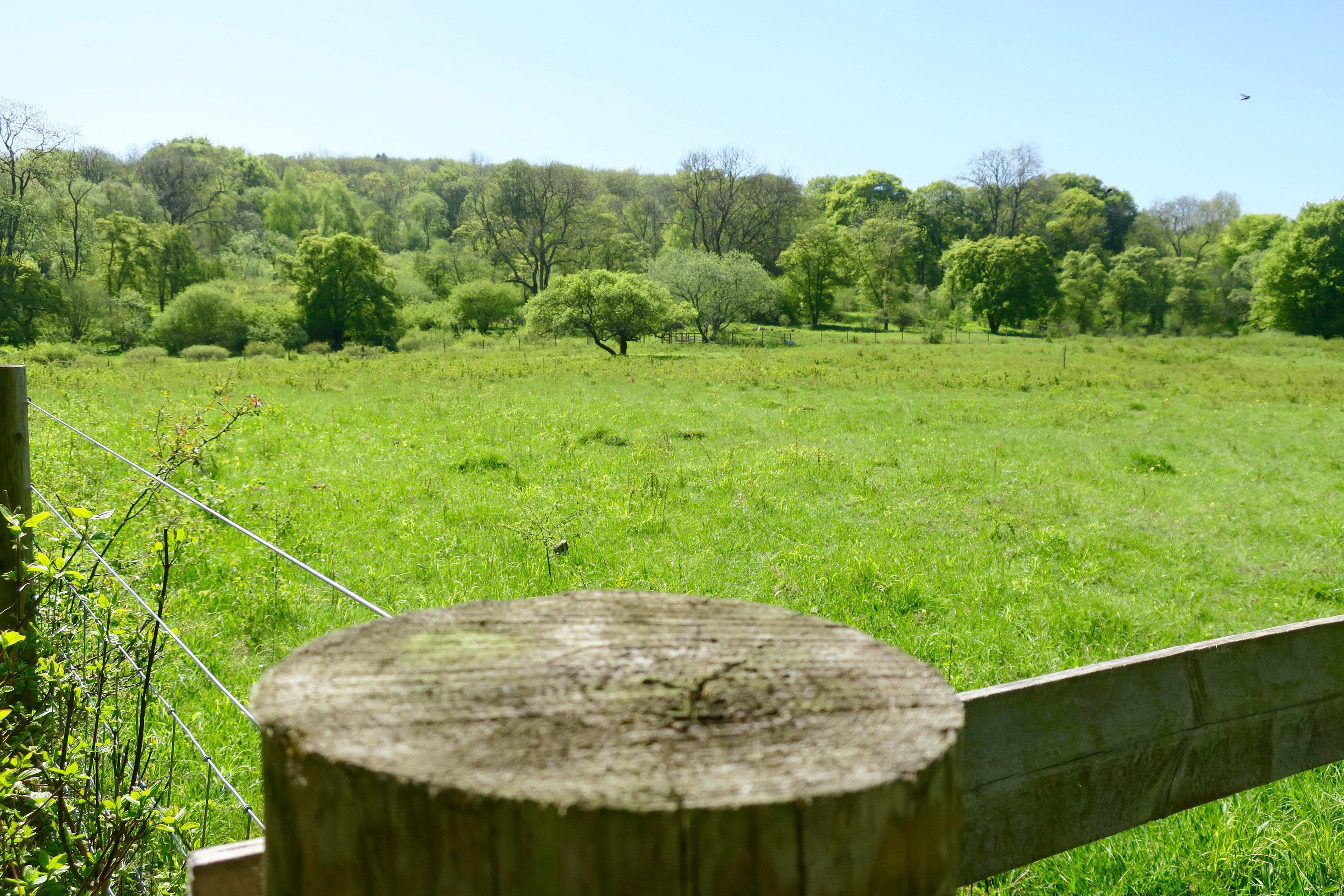 Once part of the Rothschild family estate, Dancersend Reserve was established in 1939 in memory of Charles Rothschild, who set up the Society for the Promotion of Nature Reserves – regarded as the launch of the Wildlife Trust movement in Britain.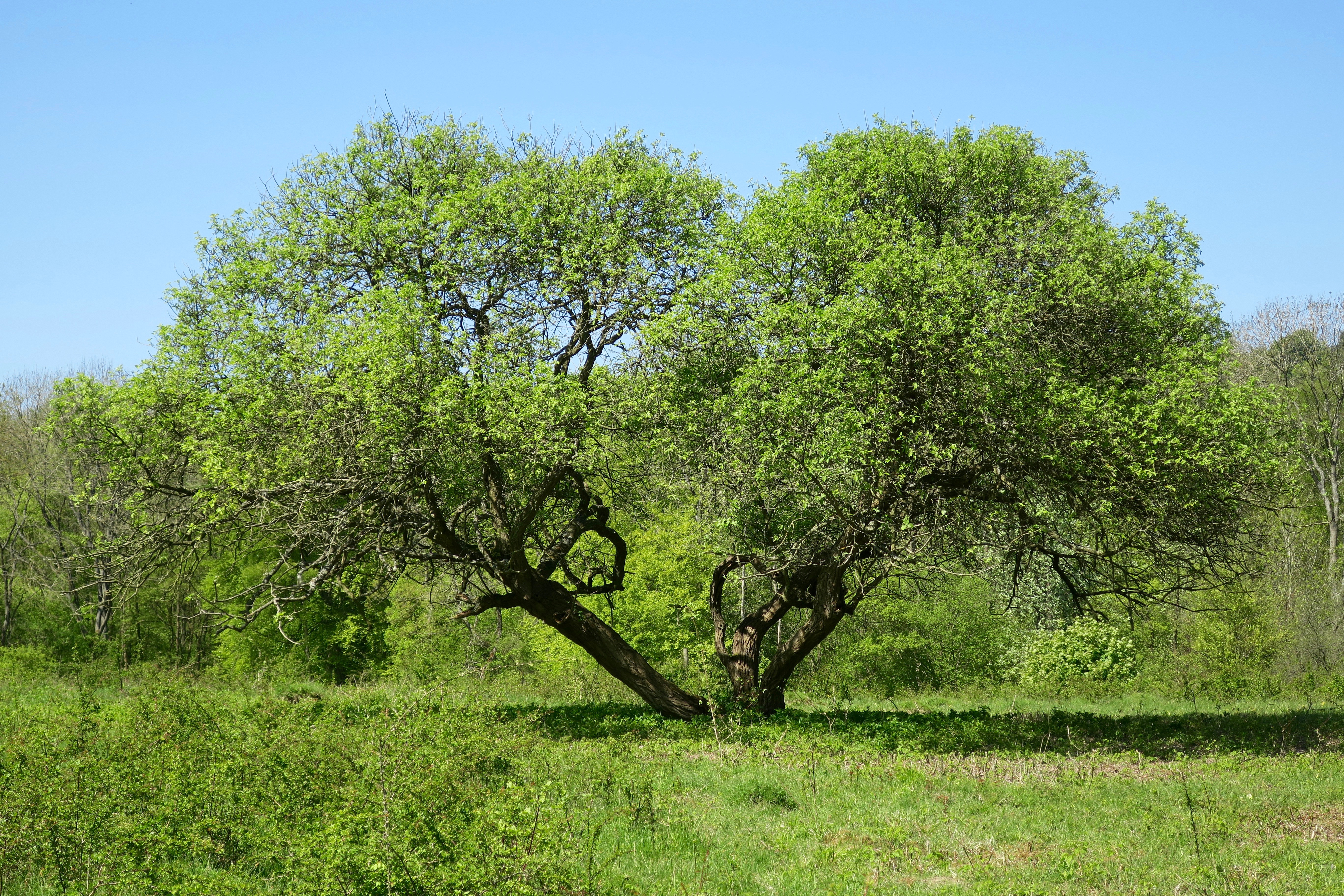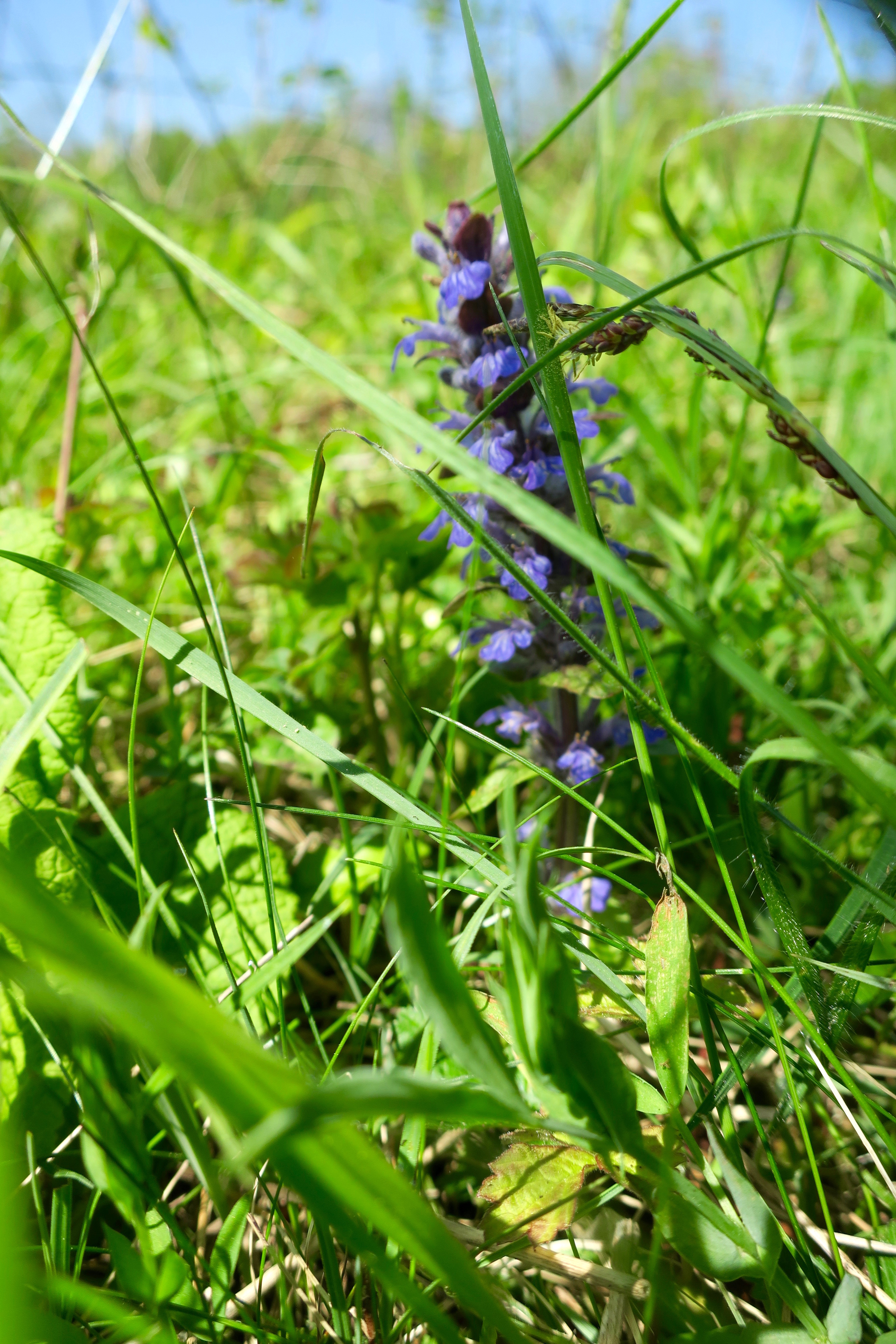 Bugle (Ajuga reptans)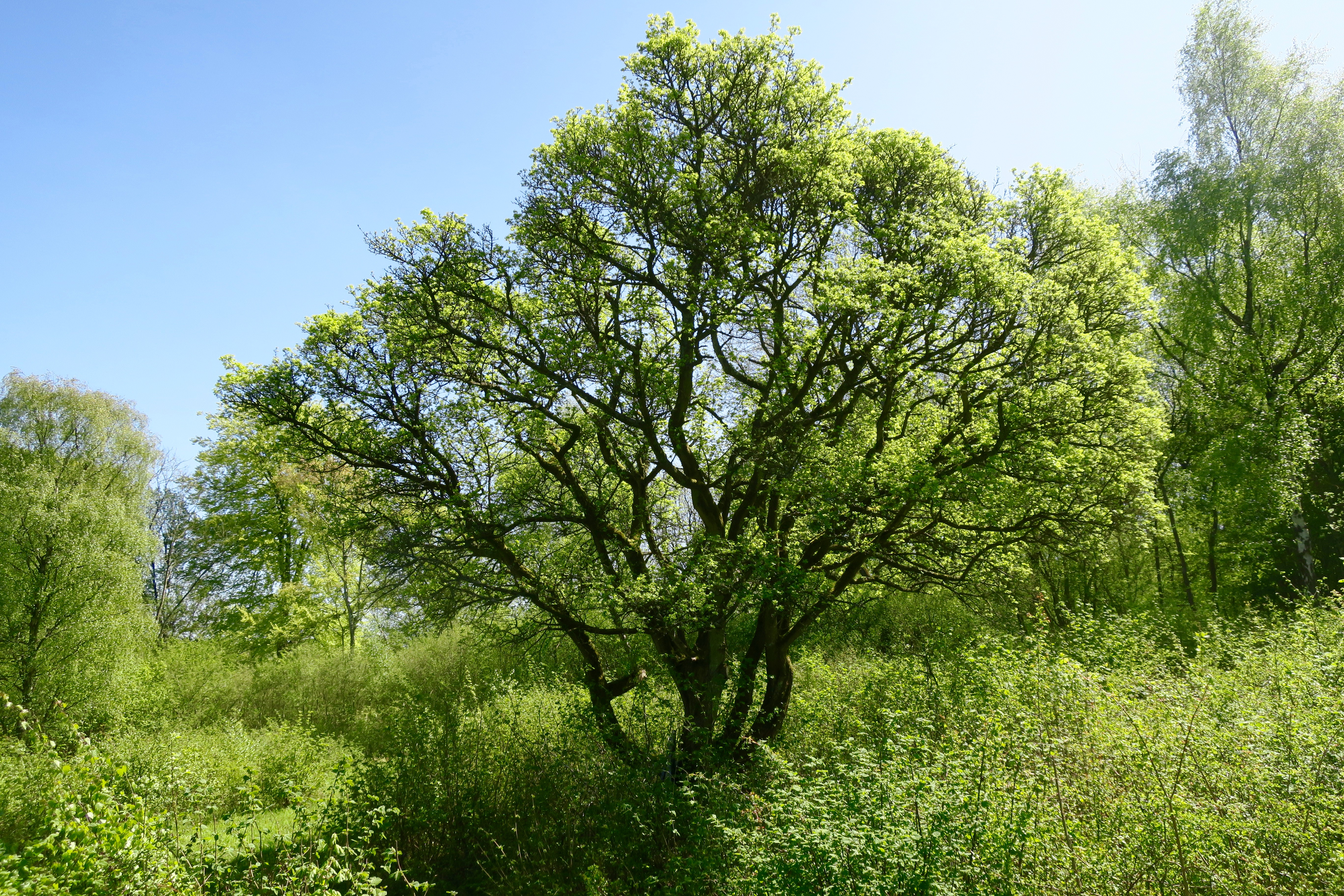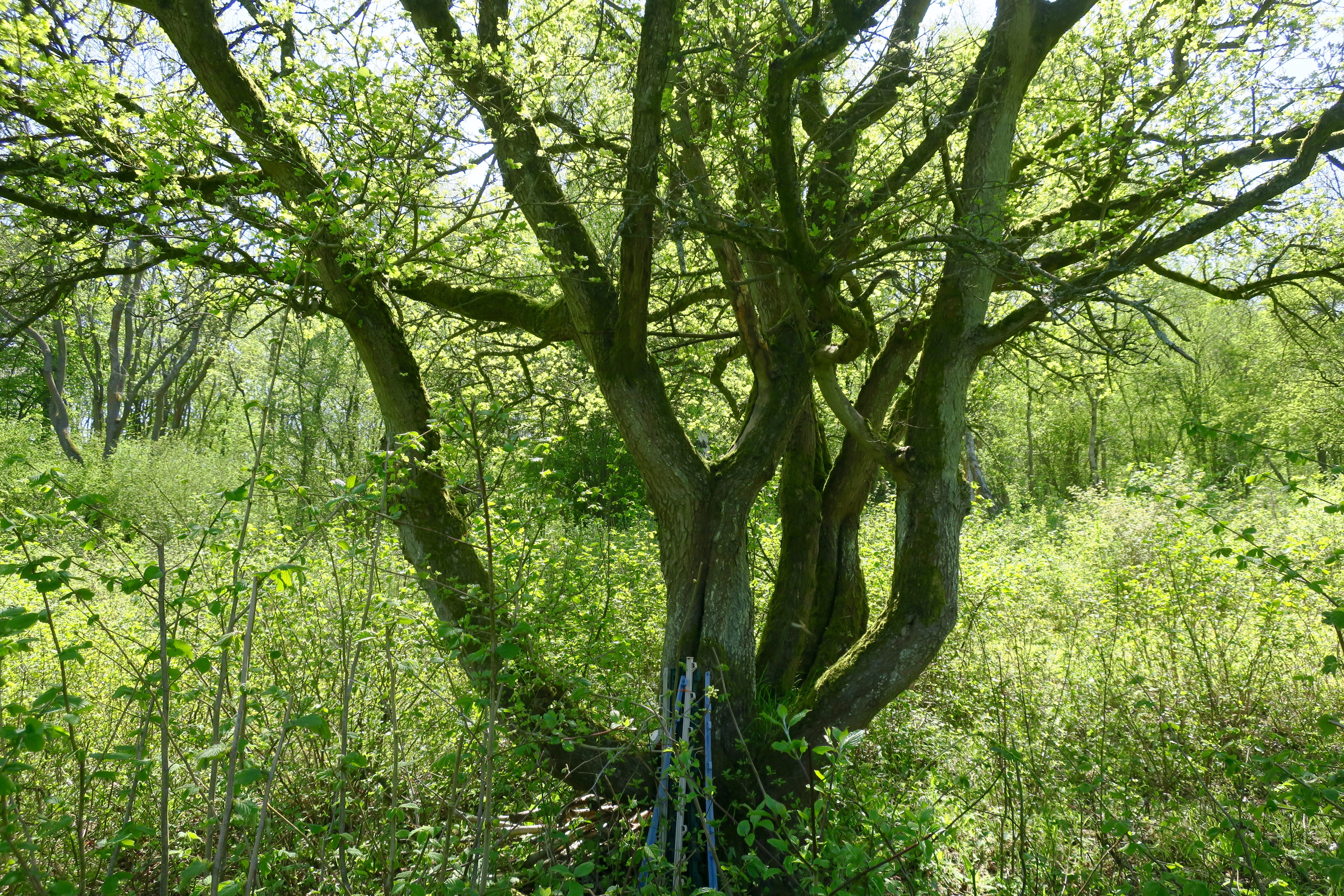 In memory of
Susan Cowdy M.B.E.
A Guiding Light for this Nature Reserve
and the Whole Conservation Movement
1914 – 1996
Obituary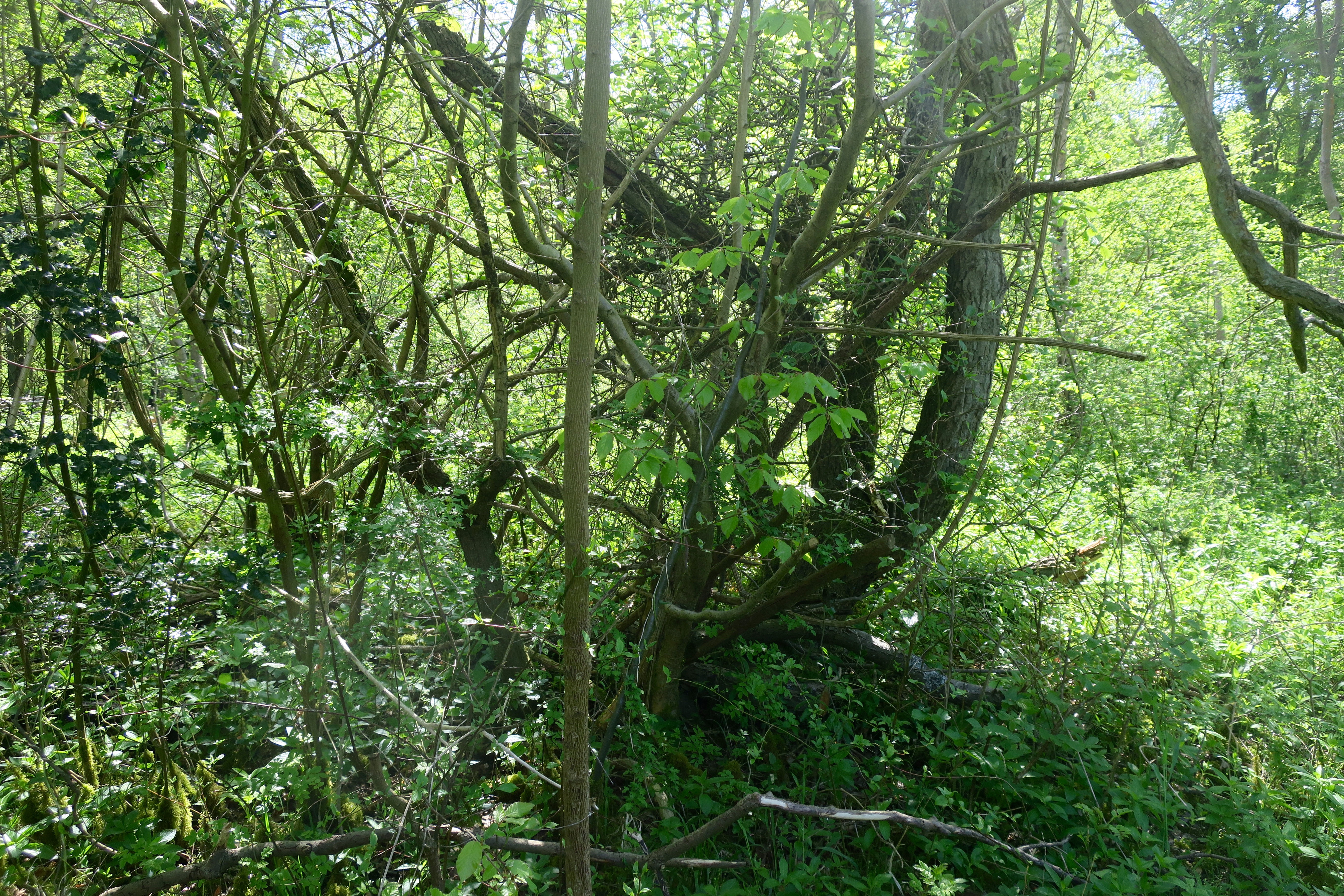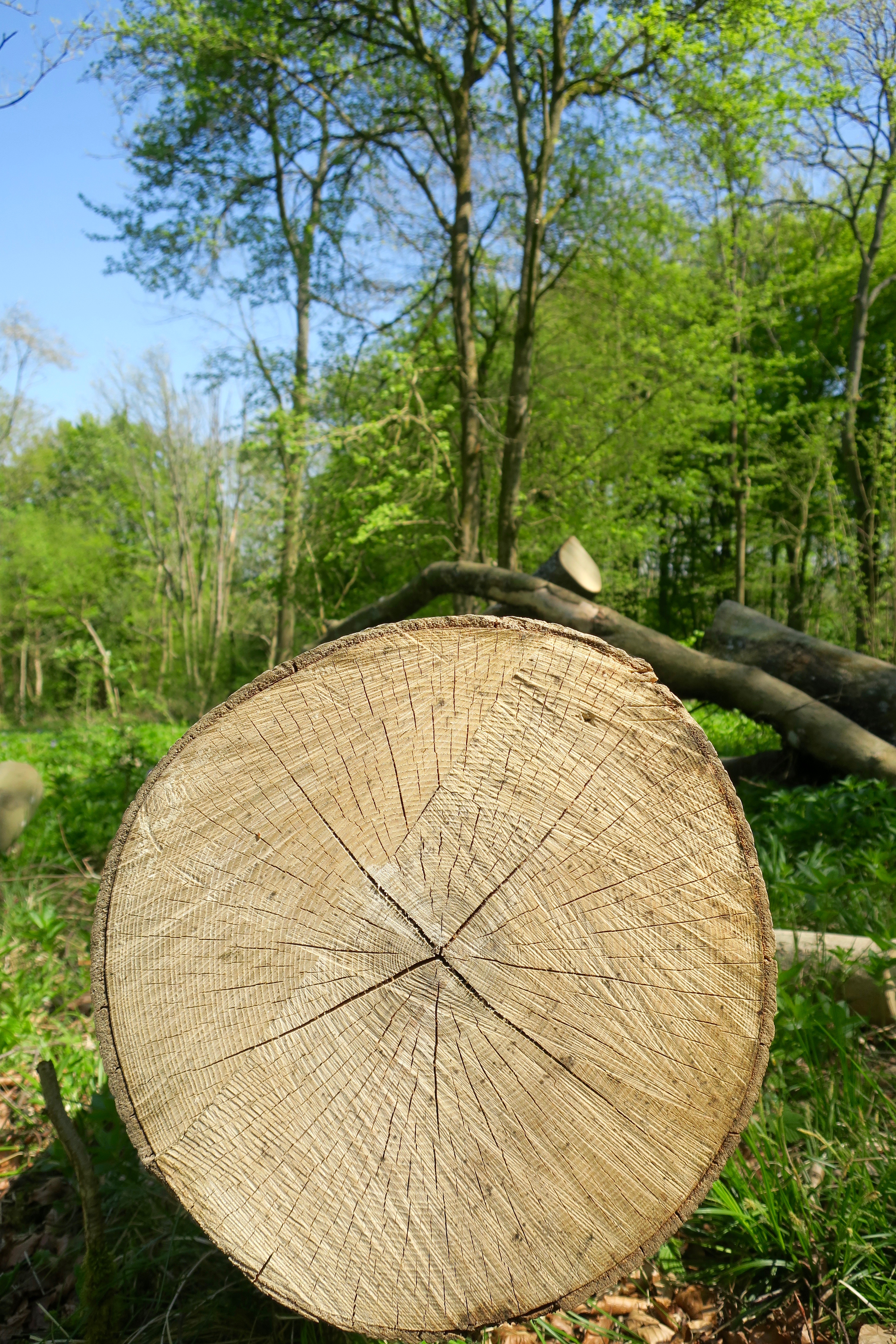 We make a clockwise circuit of the Meadow Plots, but thinking we're following the Circular Wildlife Walk in an anticlockwise direction, as indicated on the map. So we're feeling a bit disoriented when we arrive back at this clearing and realise we've gone the wrong way around the circle.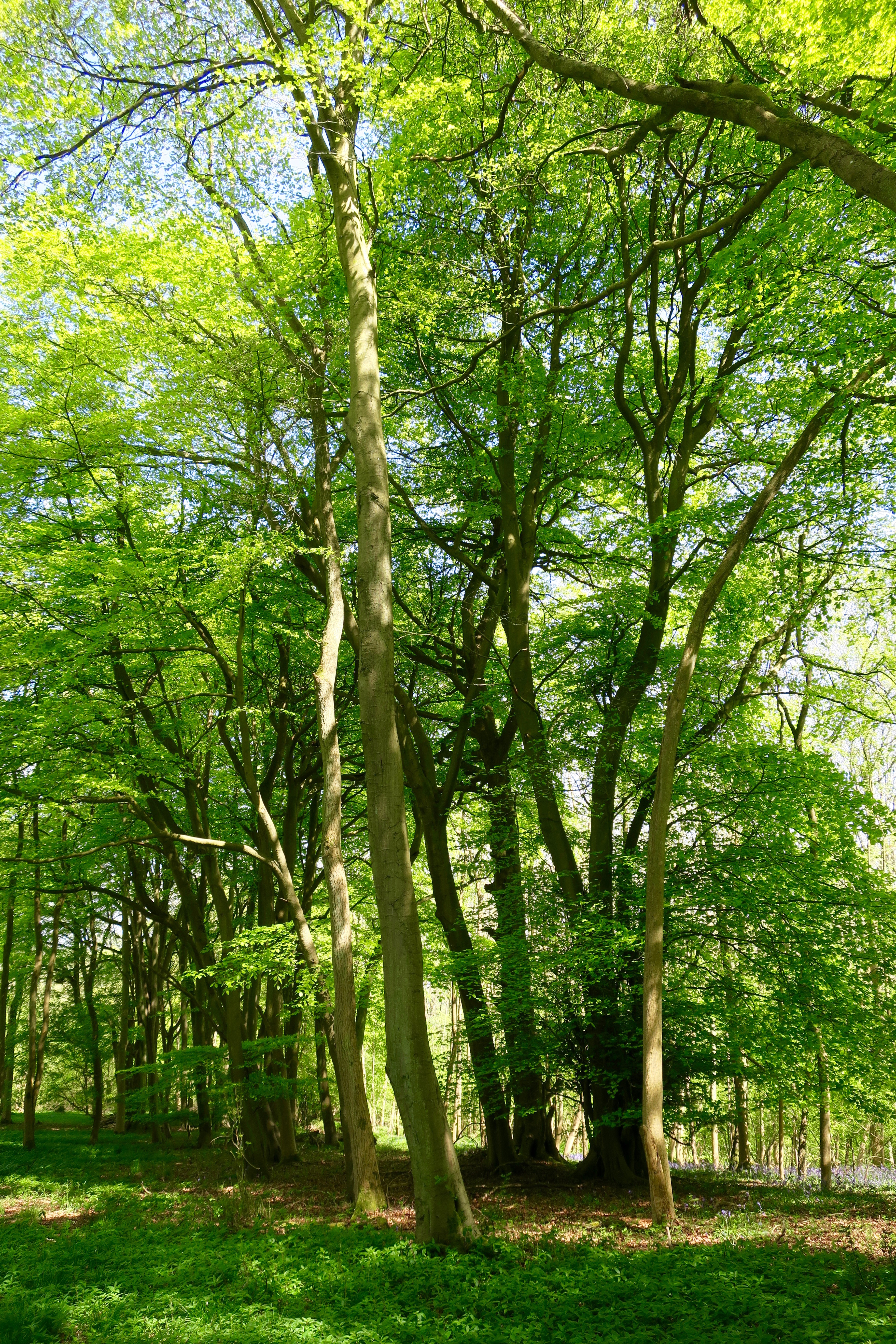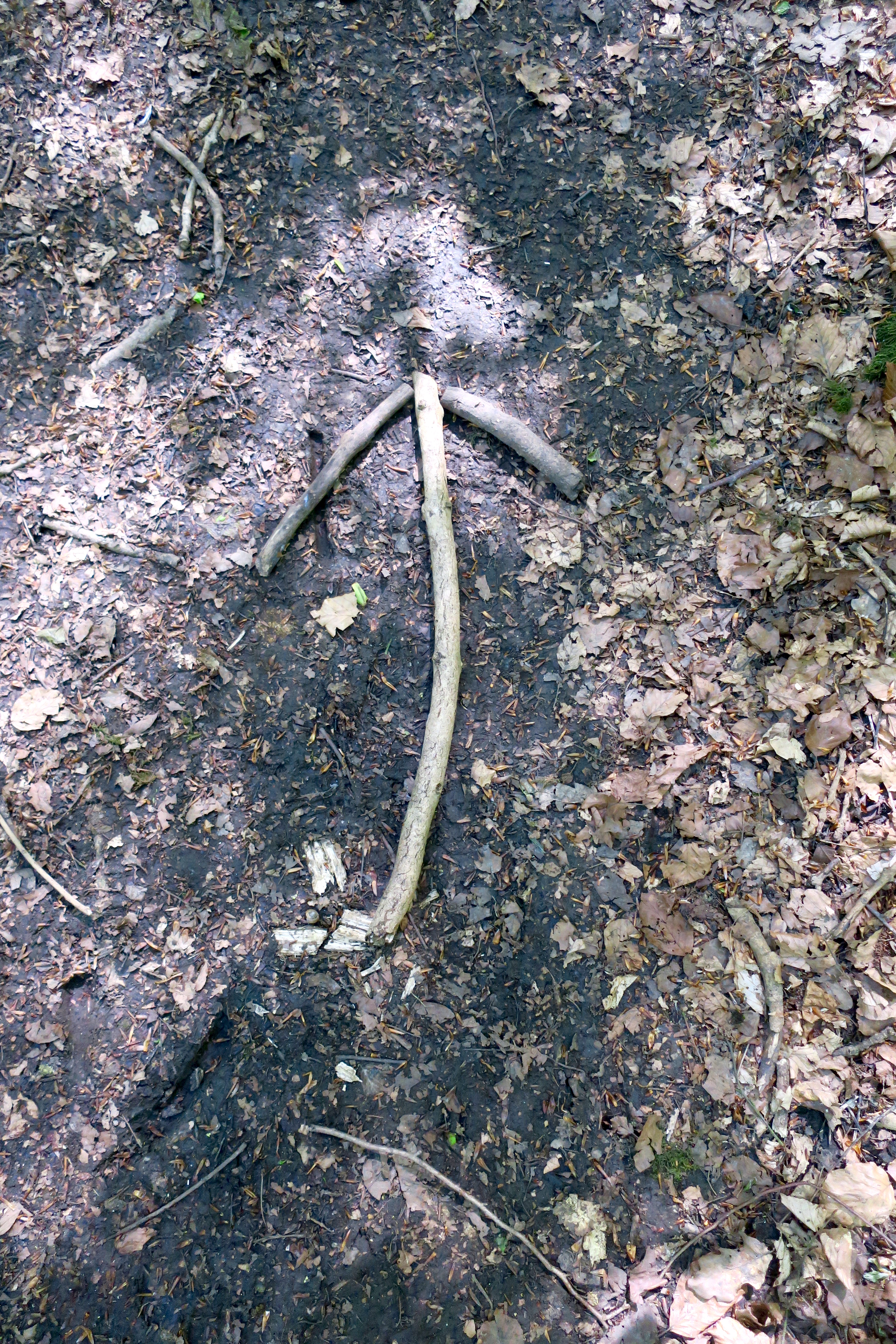 Anyway either way is the right way and today it's this way.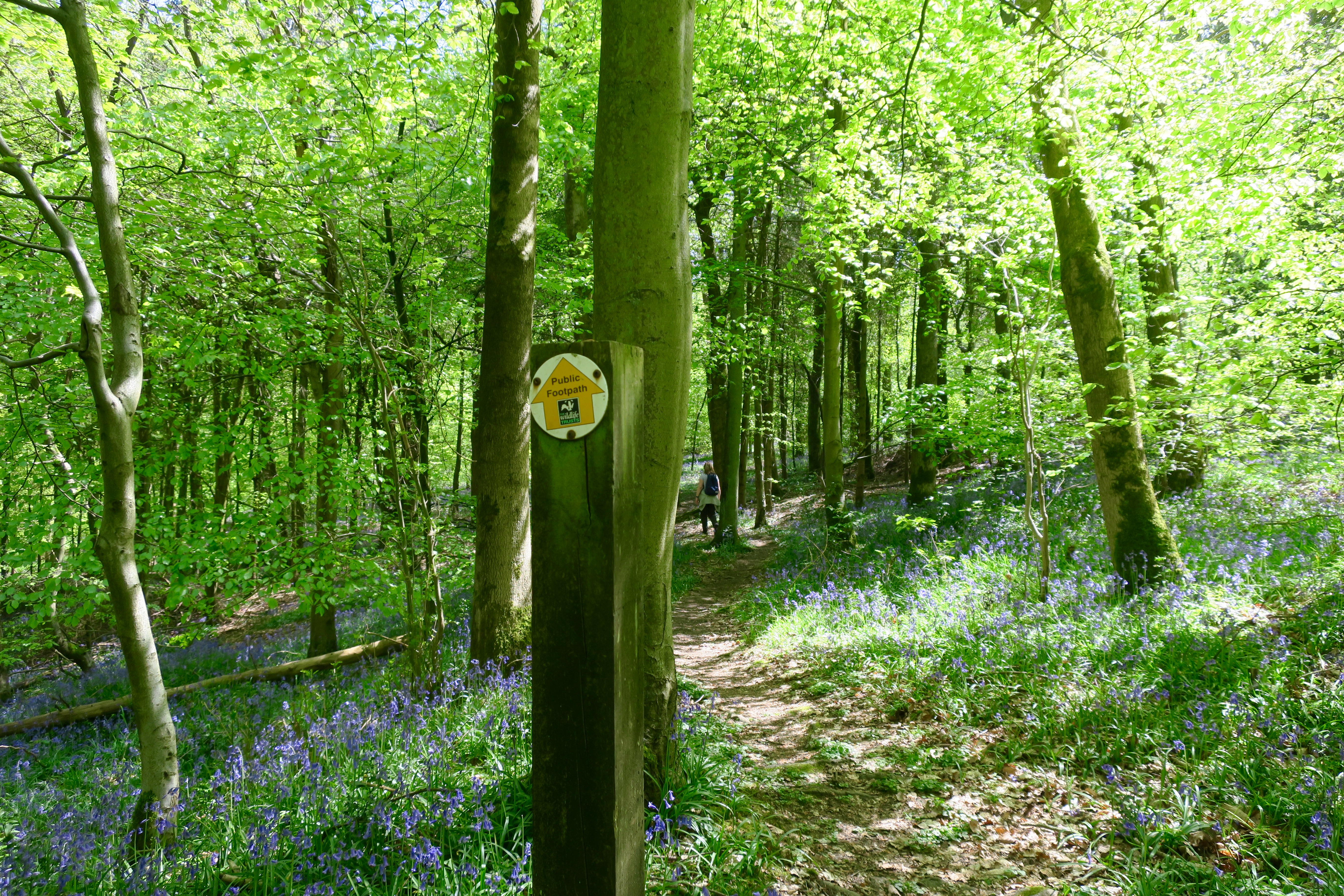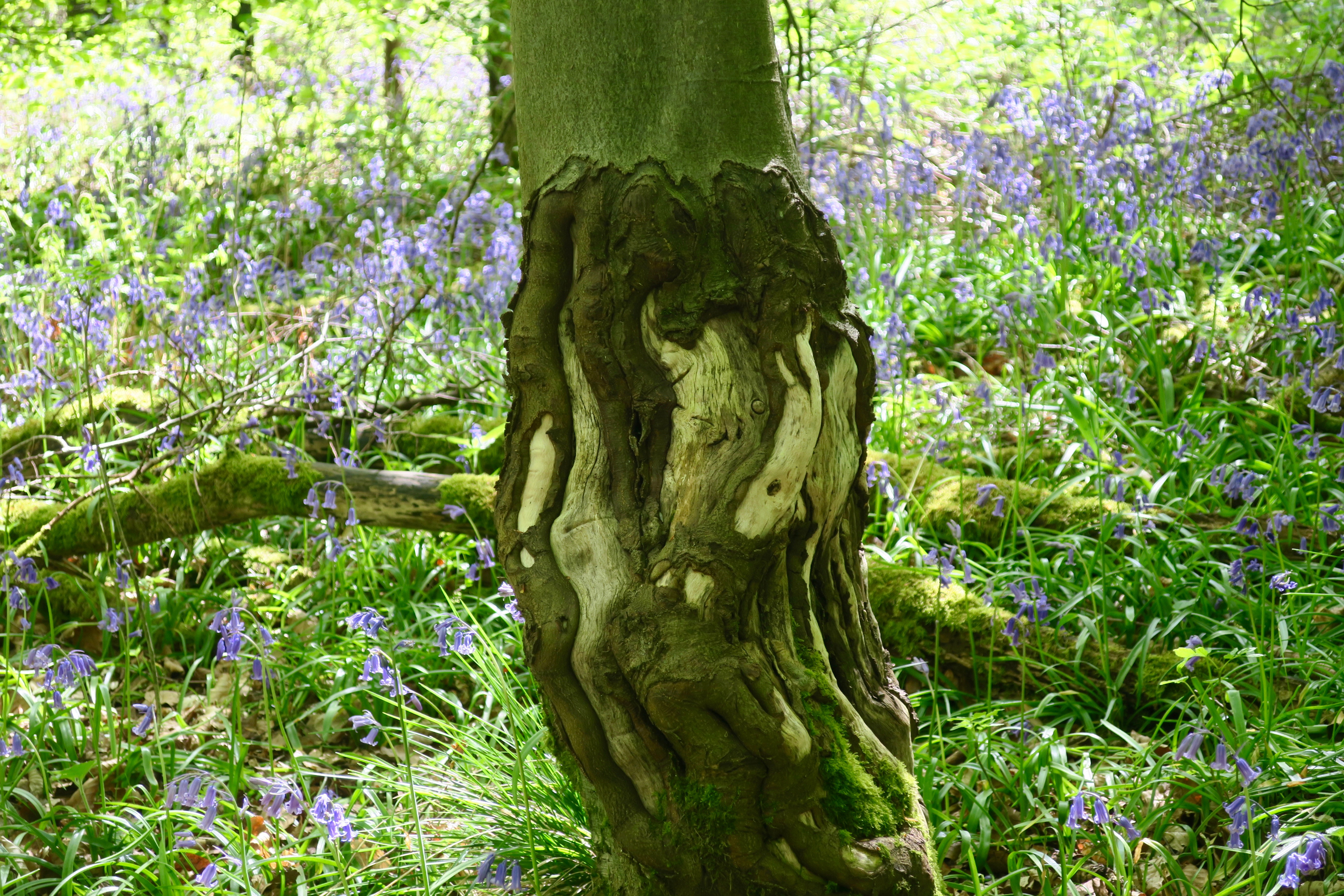 Where deer get a taste for bark.

And another blue haze comes drifting down through the trees.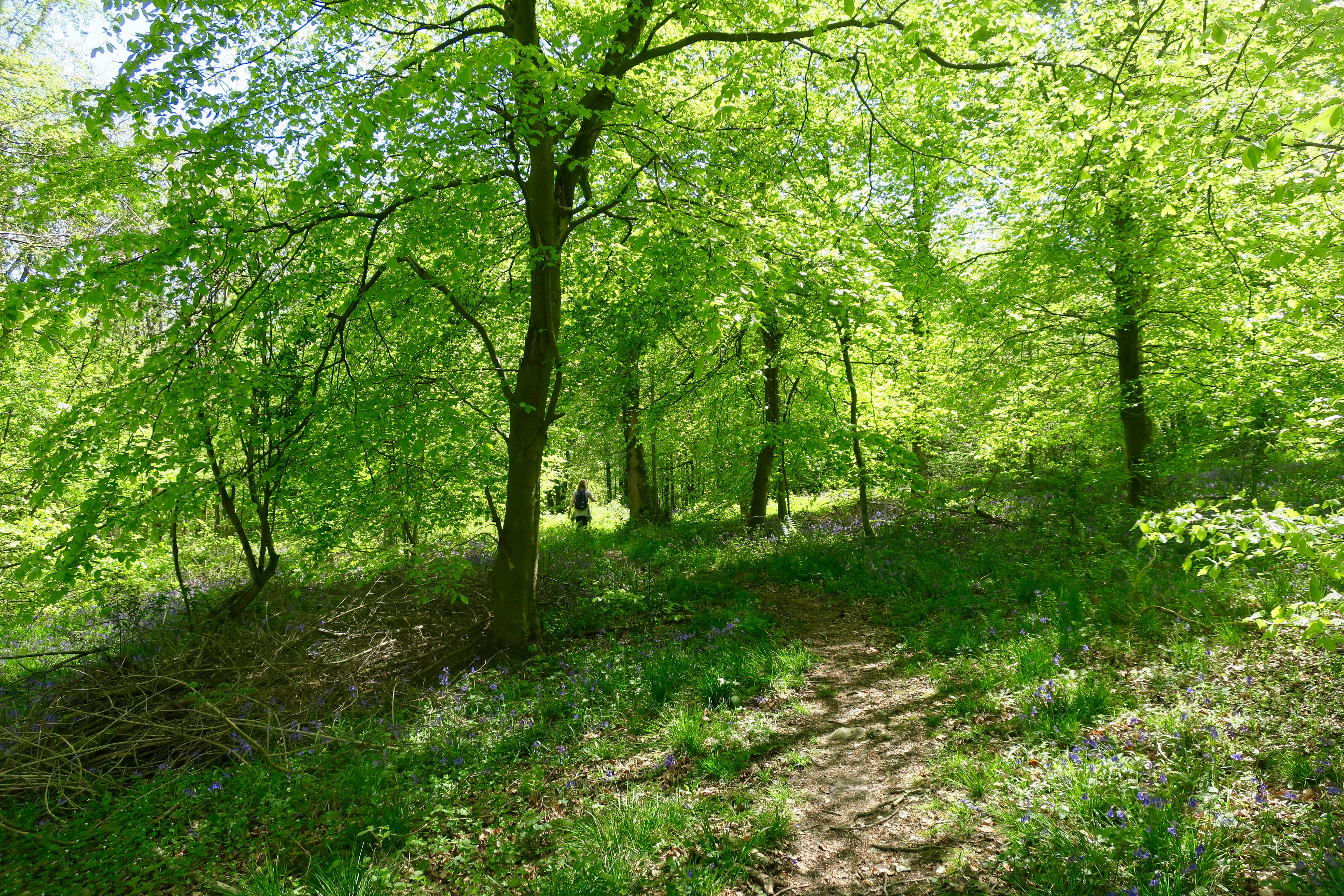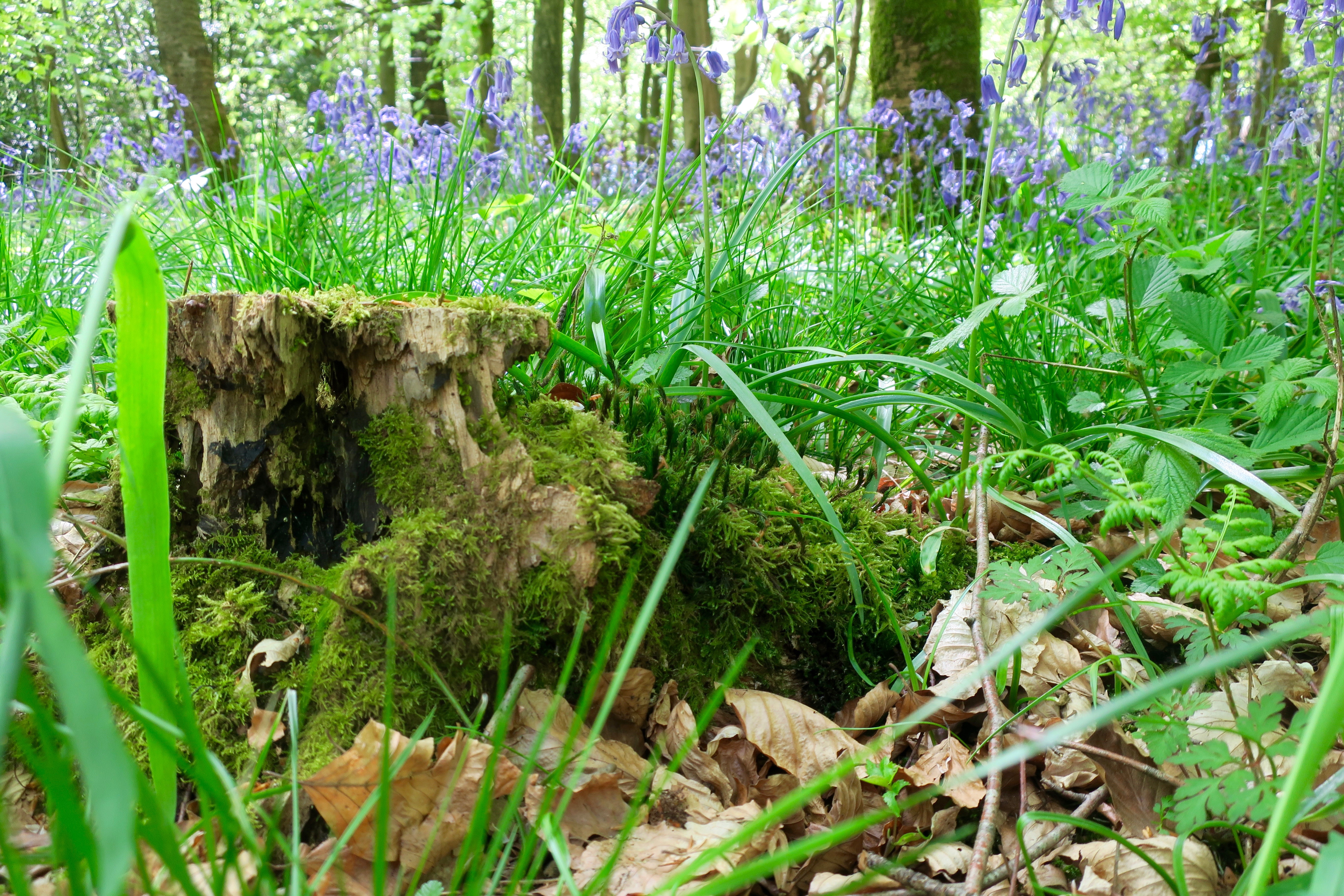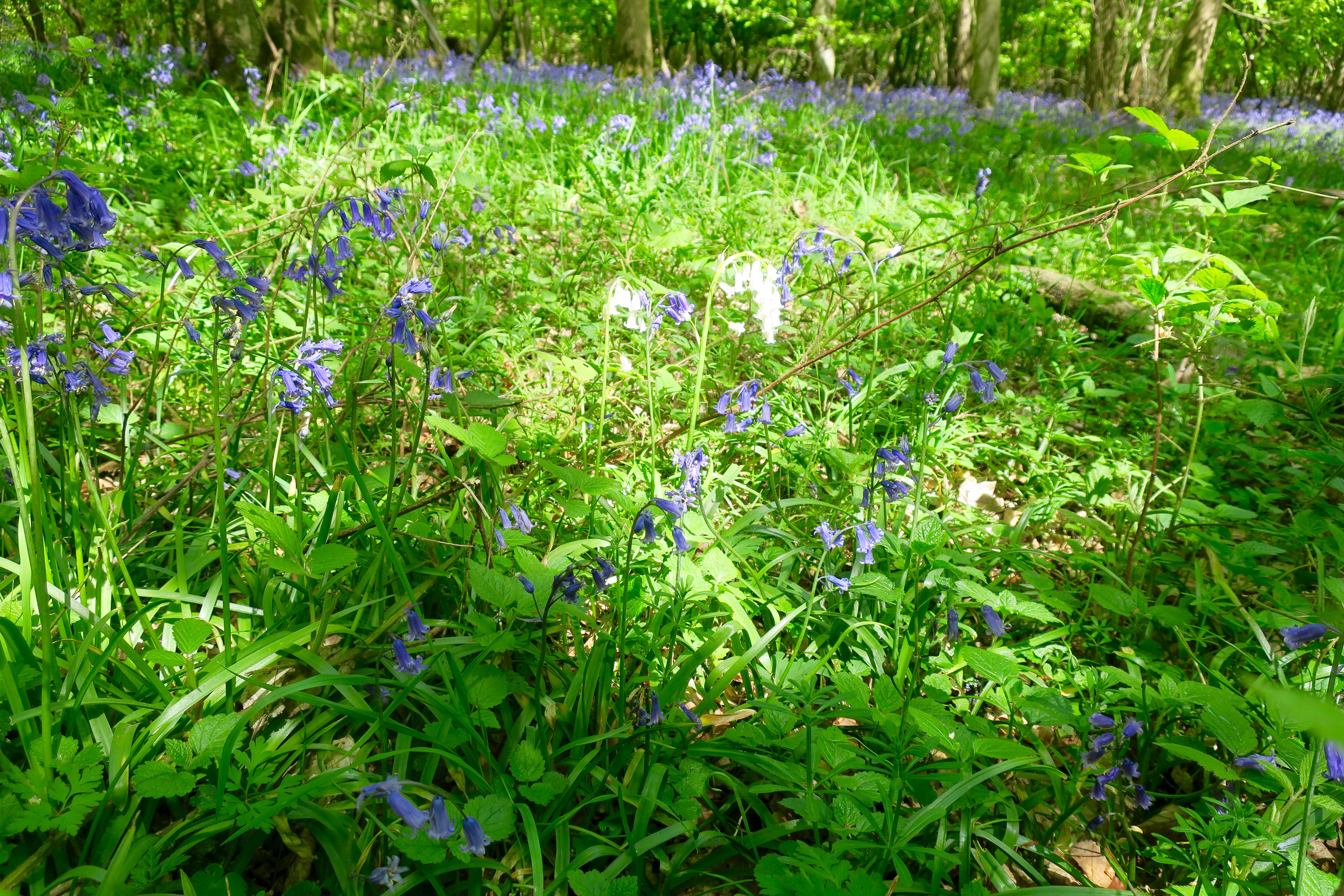 Bluebells and whitebells.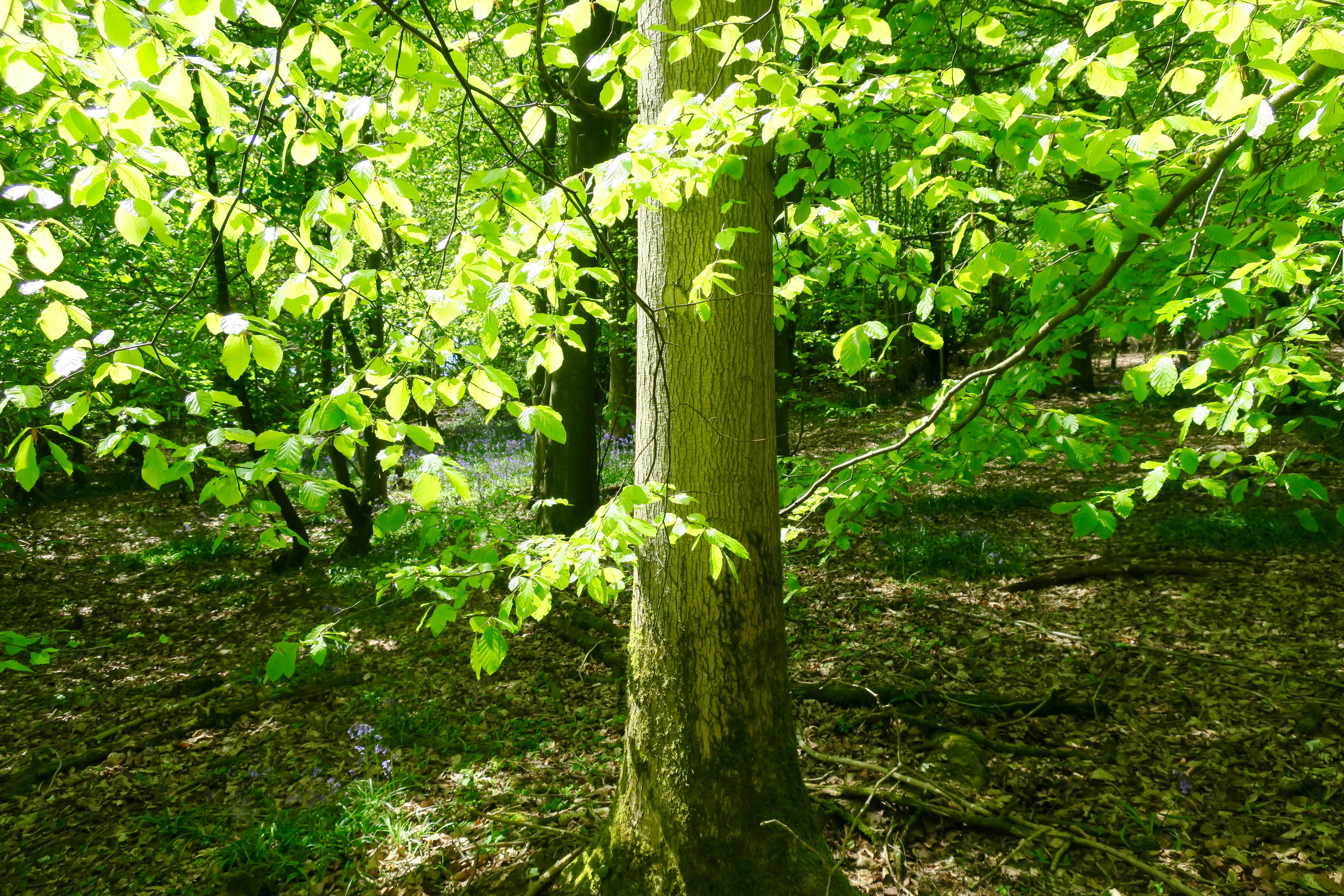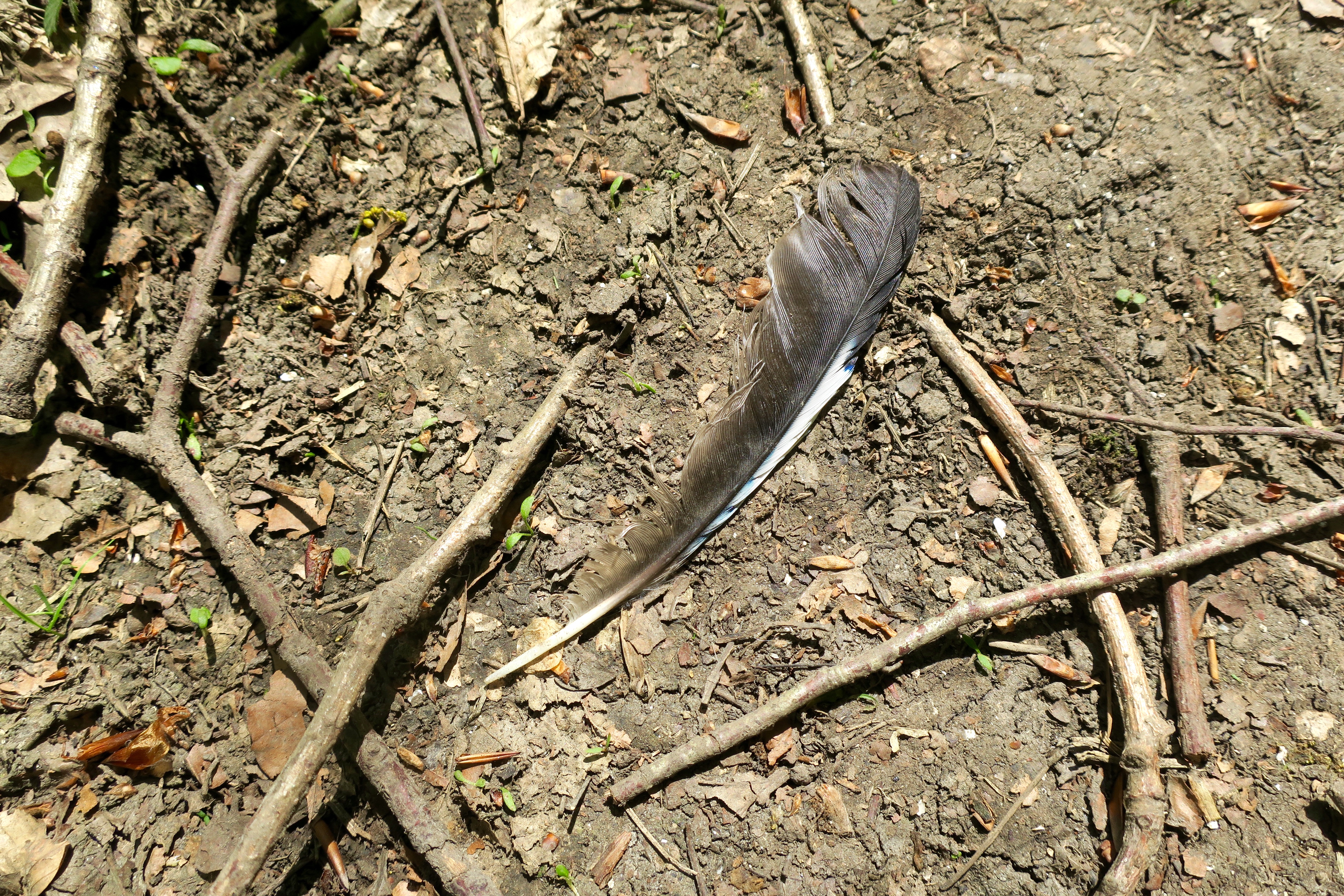 Magpie or jay?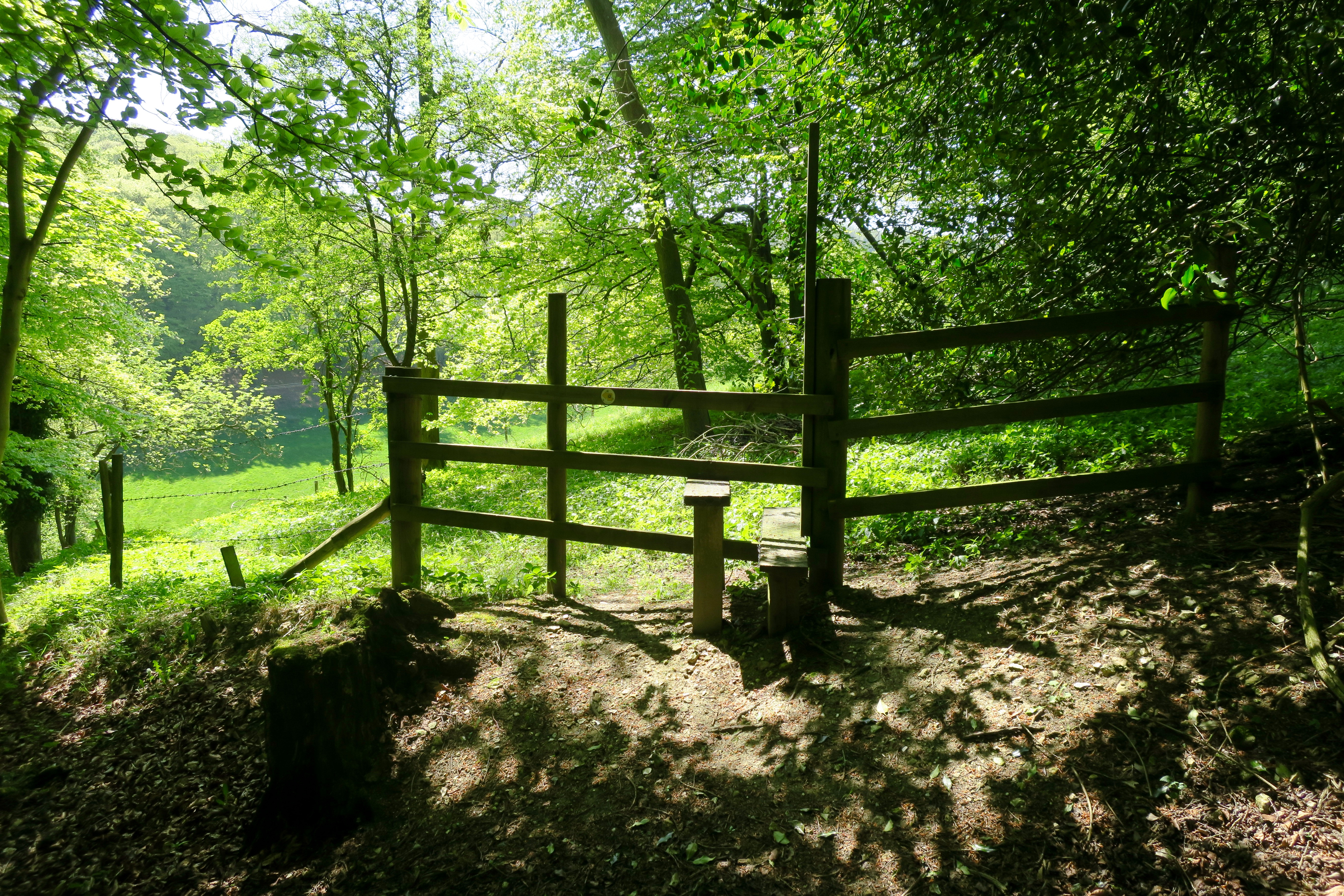 It's a little corner of protected woodland, a small consolation for all the trees we've lost, a precious reminder of a home most of us never knew, but here they're growing back and long may they remain.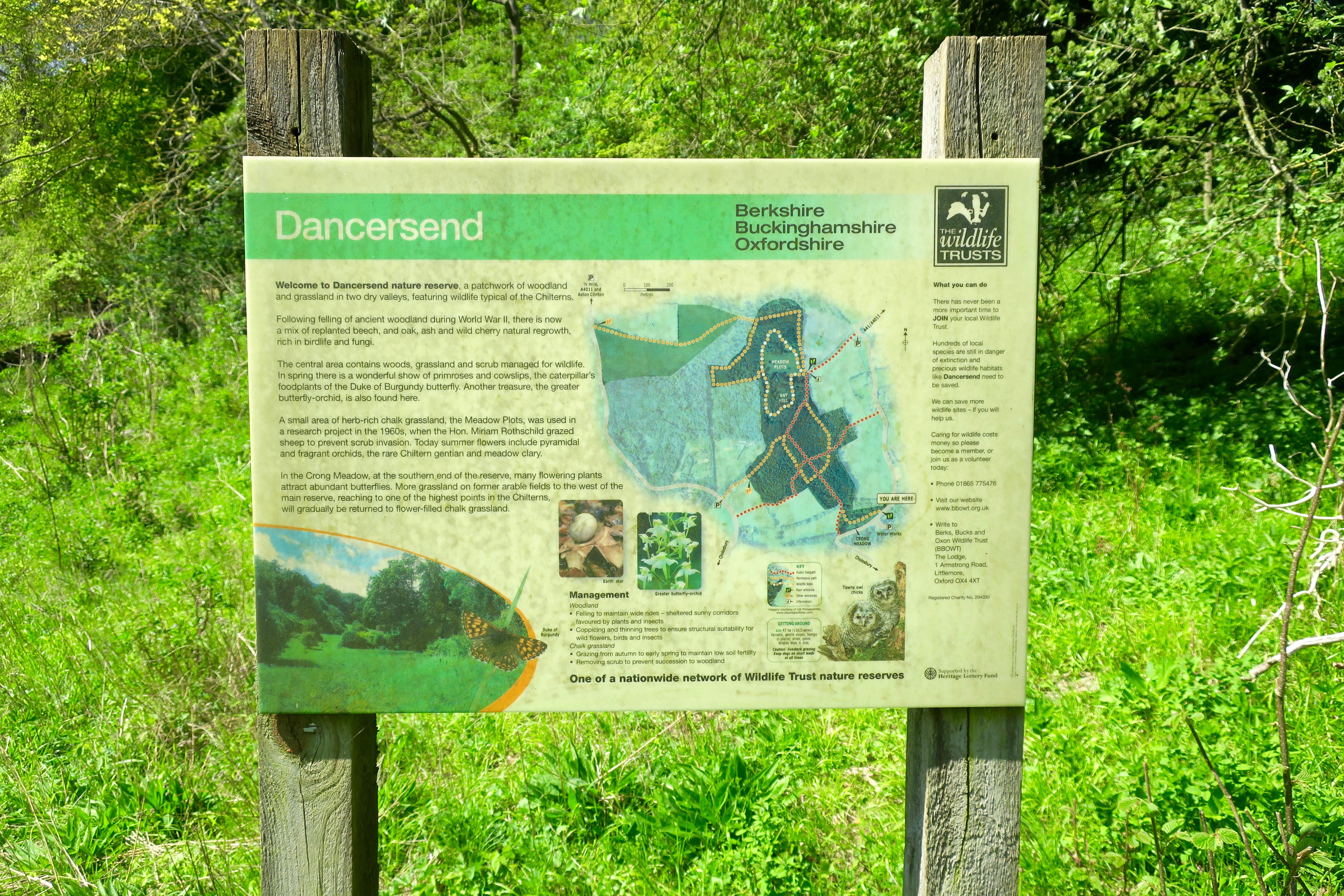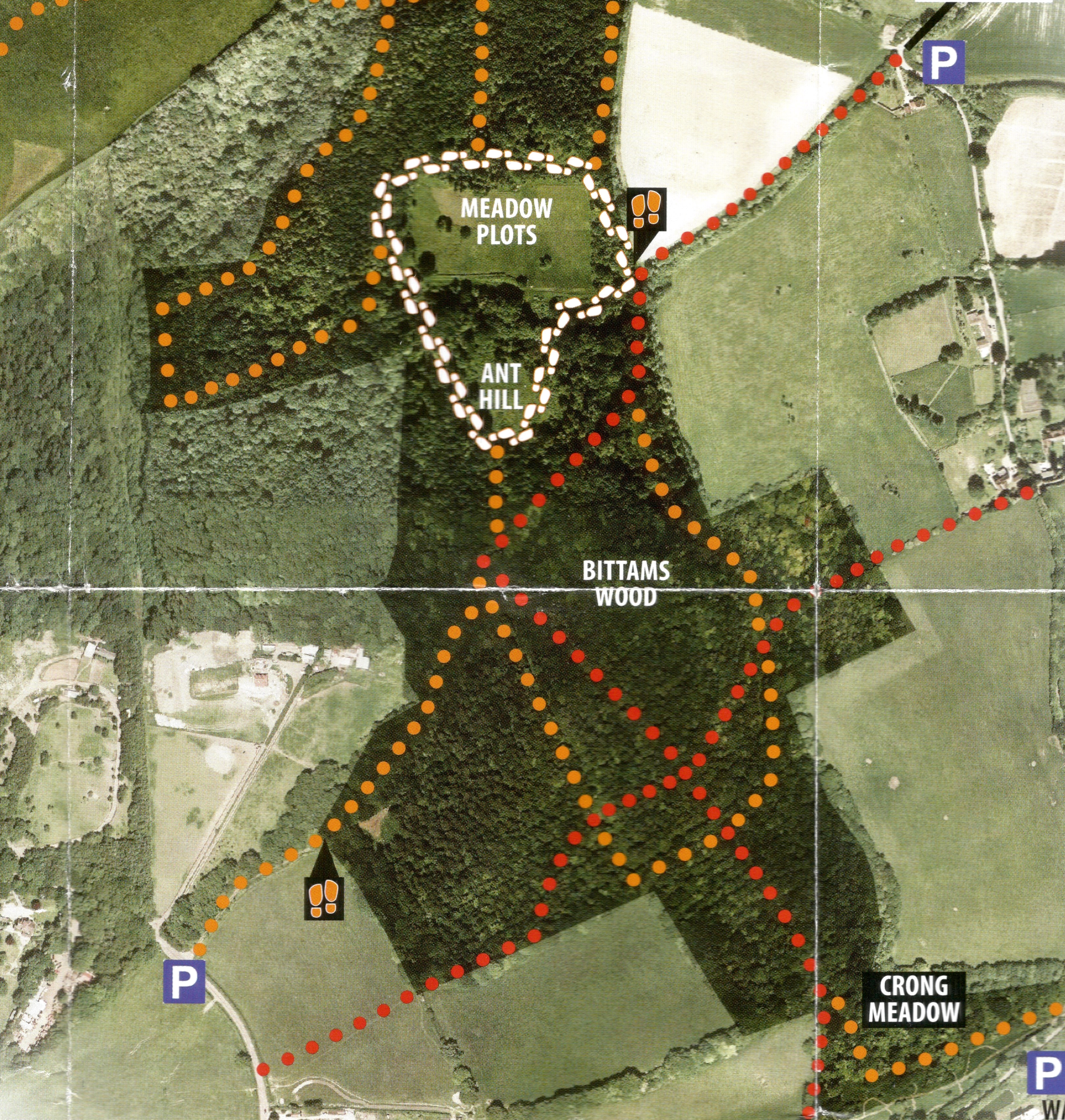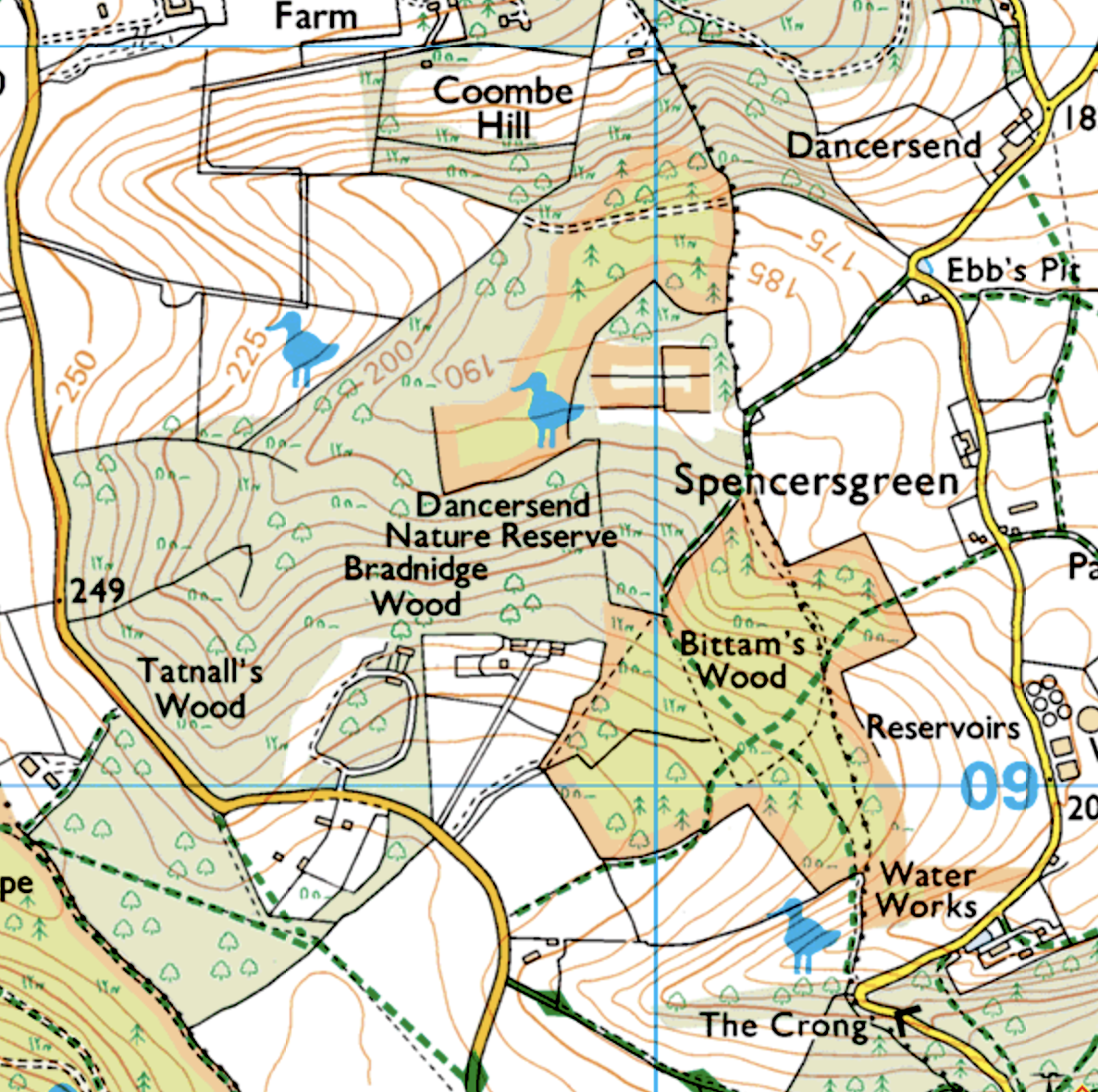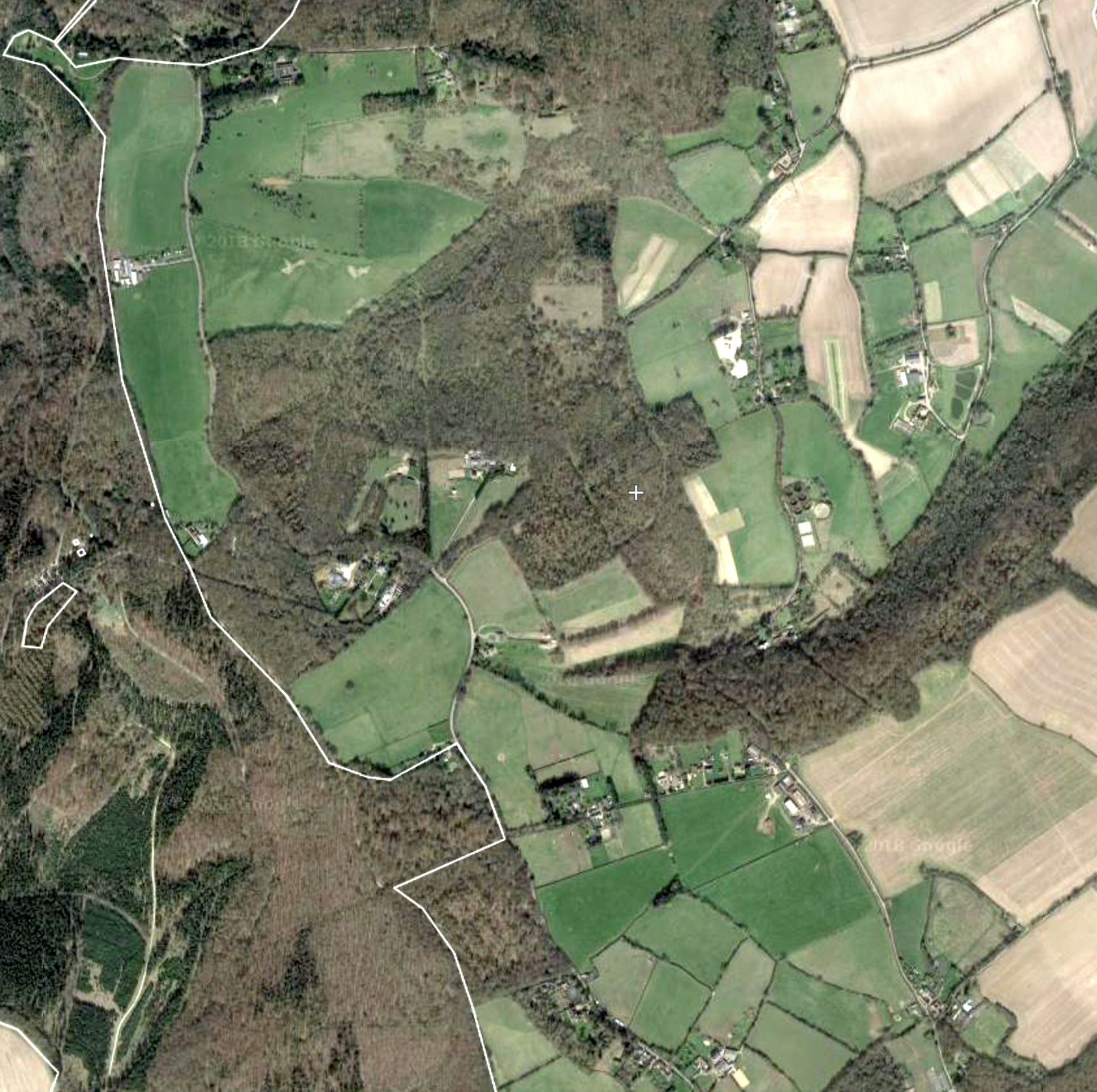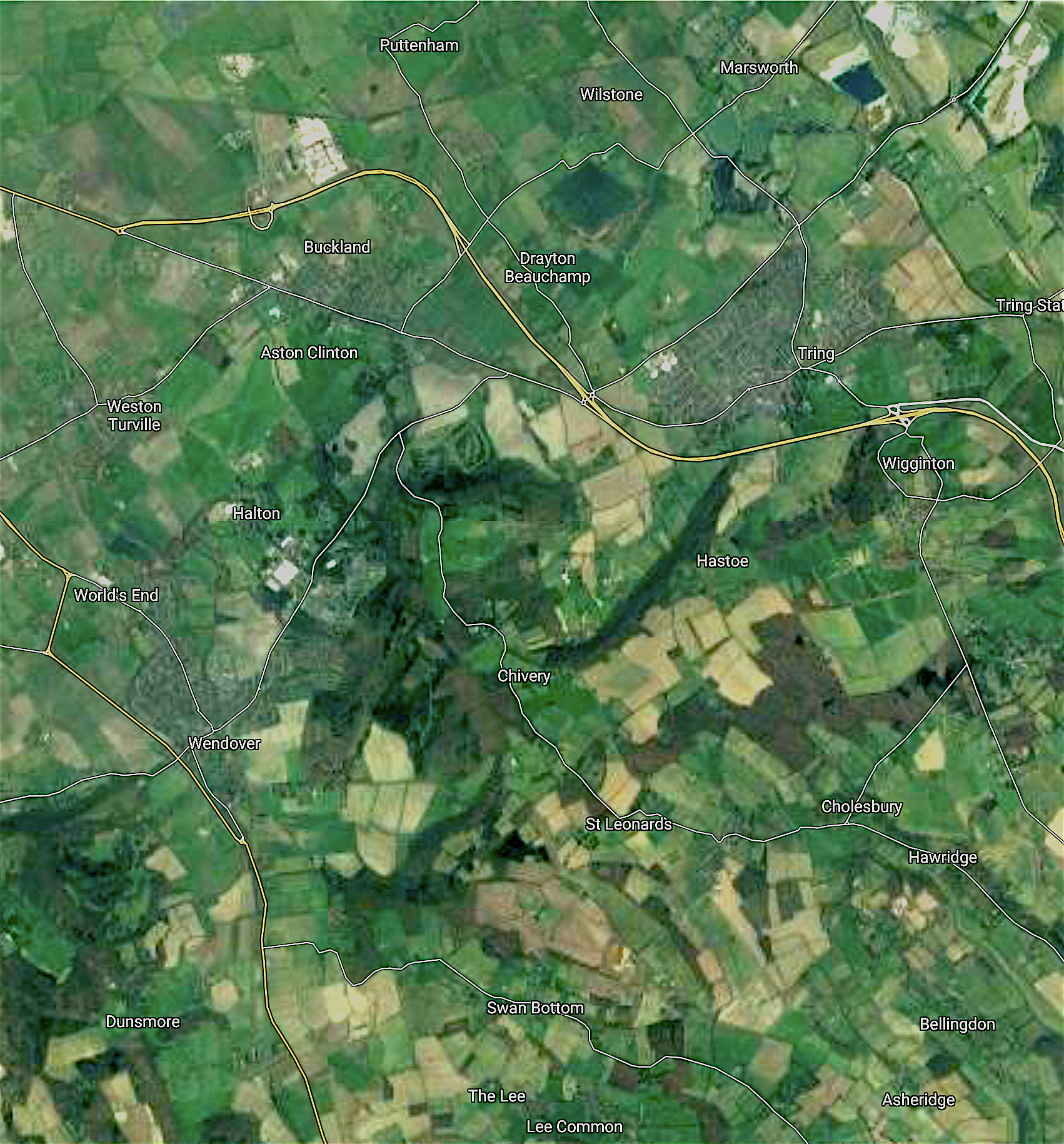 And this too was once all covered with trees.