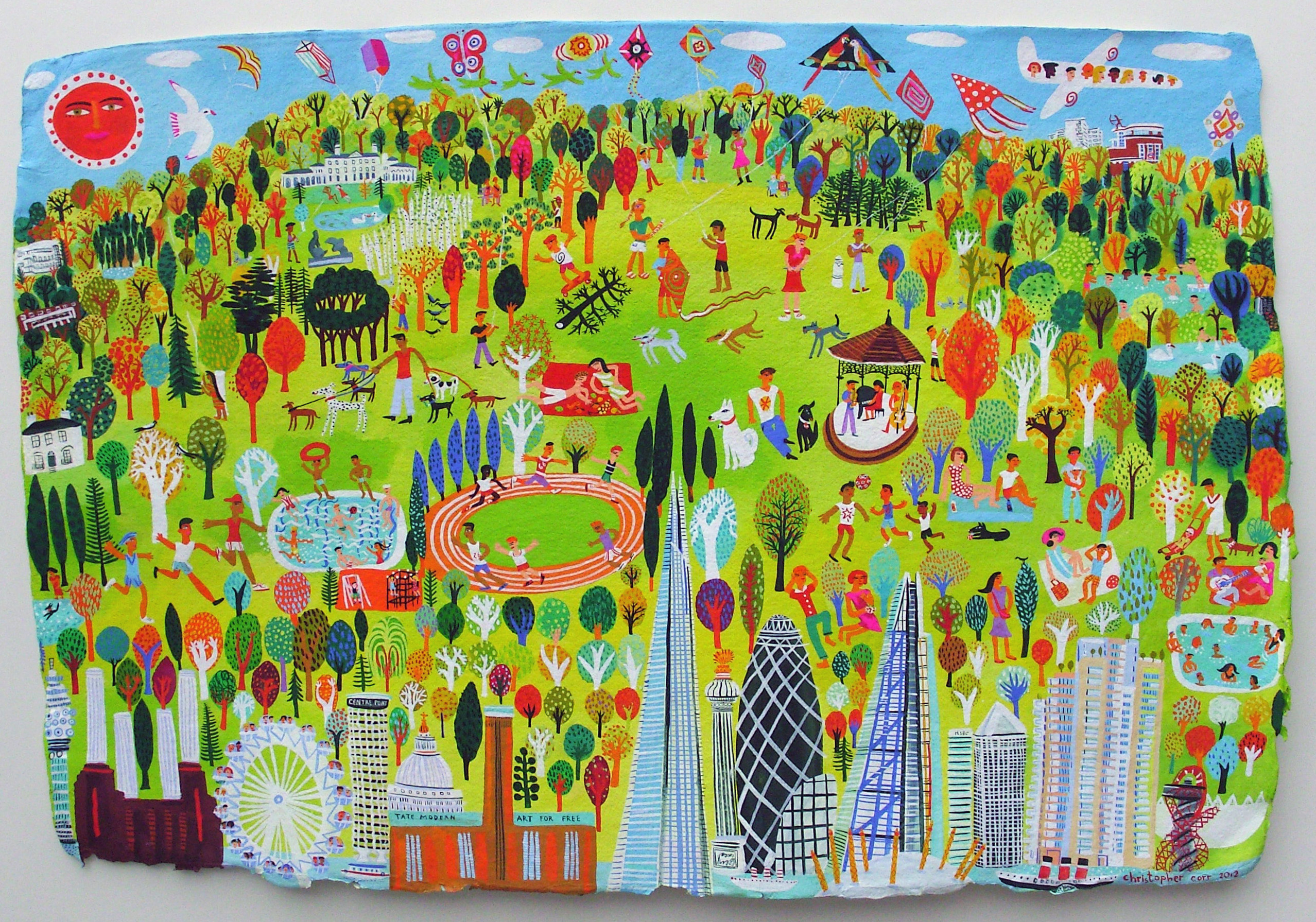 I love this picture. It reminds me of a 'fayr feeld ful of folk' from Piers Plowman. Christopher Corr made it for a client from London now living in Washington. The brief was to paint the view from Parliament Hill with all London's landmark buildings plus Gospel Oak lido and running track. He cleverly reversed the viewpoint so we're looking back down on this earthly paradise. Click on the image to enlarge it and explore it in detail. The painting measures 106 x 74 cms.
This is how Christopher Corr describes the painting:
It's Autumn on the Heath and became more so as I worked on the picture and revisited the Heath, Kenwood and Parliament Hill. With every visit I saw dramatic changes in the colours of the trees and leaves. I've featured a few important buildings like East Finchley tube station; Lubetkin's Highpoint modernist flats; 2 Willow Road, the home of and designed by Erno Goldfinger; the Isokon flats on Lawn Road; Keats House and Kenwood House.
I've shown a selection of London city buildings, for example the BT Tower; Battersea Power Station; the Monument; the Gherkin; Centre Point; Tate Modern; the Shard; the Plaza, a new east London skyscraper development at Bromley-By-Bow and a hint of the Olympics site.

I've painted a good selection of people relaxing and enjoying sport in the park, walking their dogs, resting with their dogs. Other animals shown in the painting include rabbits, parakeets, swans & ducks, squirrels and magpies. The sky is dotted with kites and clouds.