We'd been here before, but last time was such a wonderful surprise we had to come back and show Maura. This is her beautiful photograph of Eduardo Chillida's Topos V, hidden away in Plaça del Rei in the Gothic Quarter of Barcelona. It seems perfectly positioned, forming a corner of the square, its semi-circular openings echo the medieval arches and suggest a B for Barcelona.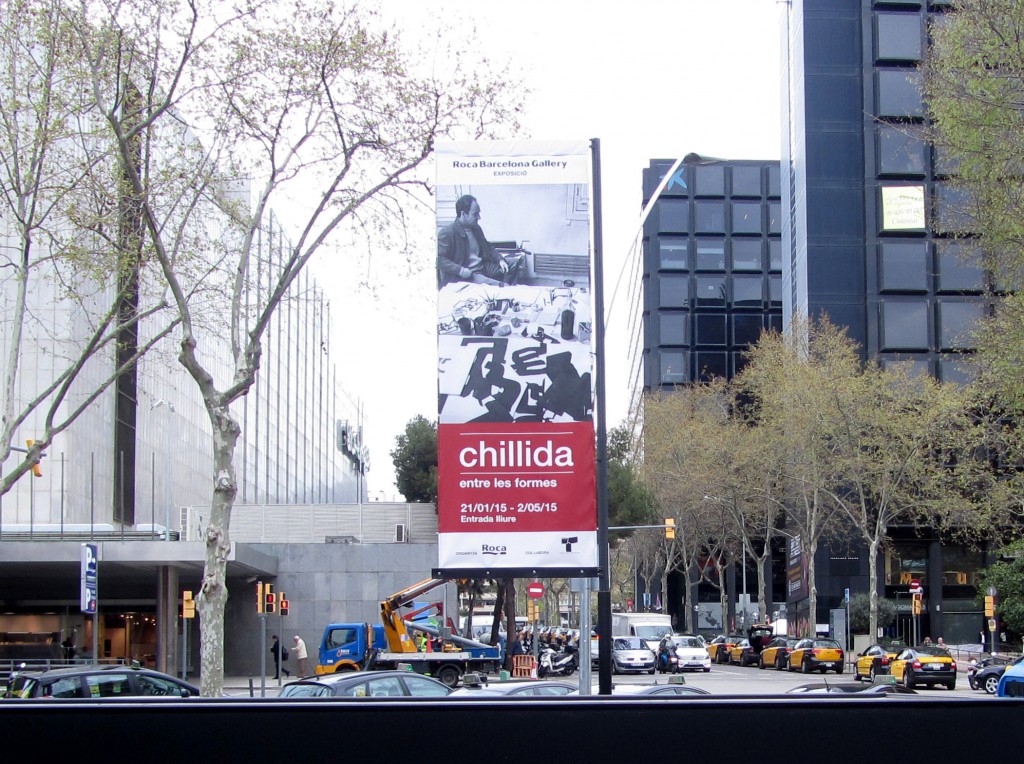 This time I was hoping we'd find something new, and the promise of a Chillida exhibition in a bathroom shop sounded intriguing, though a little incongruous. But it was no ordinary bathroom shop. Roca have showrooms around the world, they work with leading international designers, their London gallery was designed by Zaha Hadid and their Barcelona gallery by Carlos Ferrater.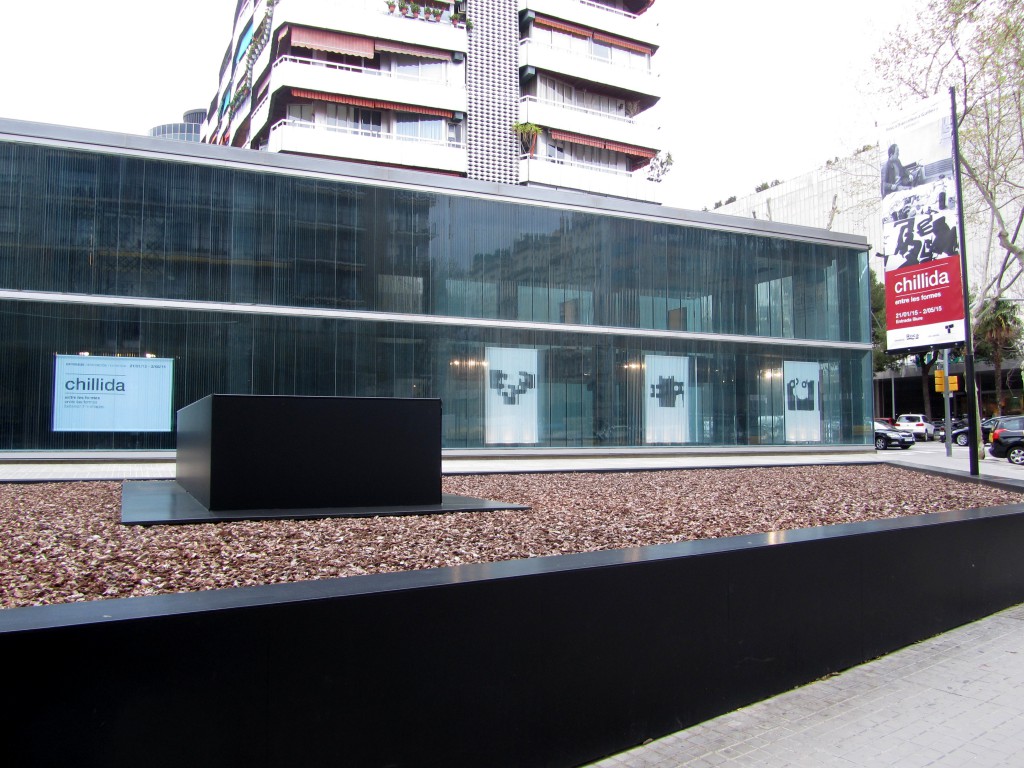 "I care more about what happens between shapes rather than about the pieces themselves. My drawings don't look like my sculptures, they are not literal and yet, there is a certain way to operate, behaviour and laws that govern the drawings and the sculptures. It is not literal; however, this is one of the reasons that also makes my work process intuitive, which in fact I consider conceptual."
Eduardo Chillida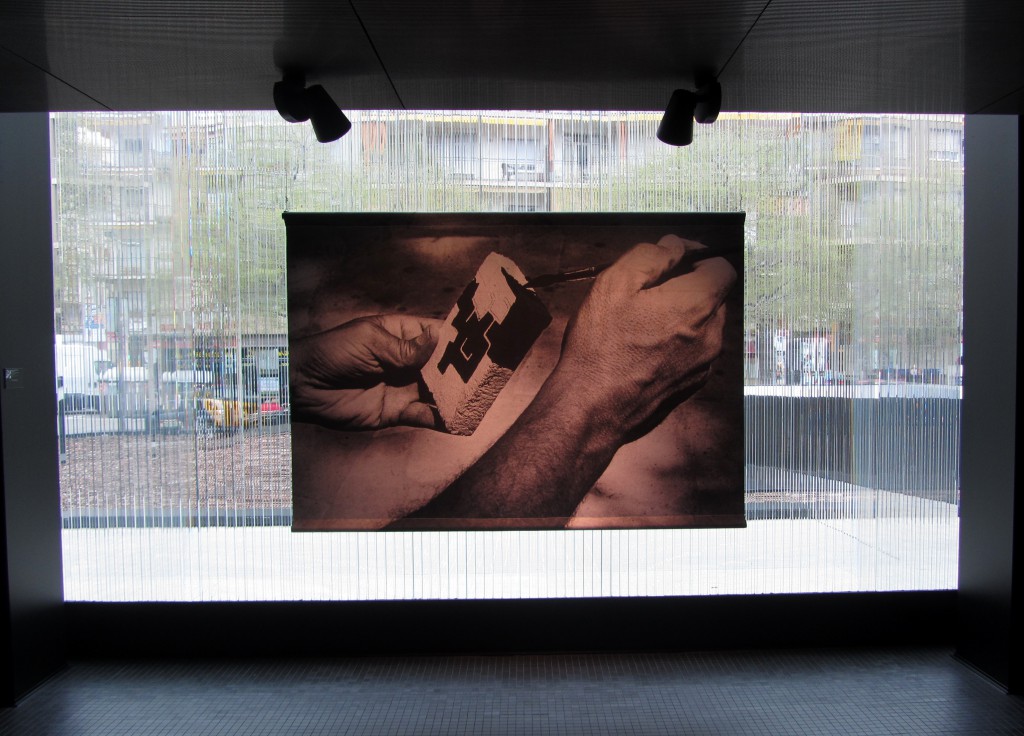 The exhibition 'Chillida: Between The Shapes' takes a look at Chillida's personal language, which is shared by all his extensive artistic output. This language is characterised by a boundless dialogue between forms, the relationship between interior and exterior spaces and the definition of lines whose sole purpose is to ensure that space always plays the leading role.
To this end, a range of items is on display – plans for public works, small-format sculptures and a range of materials, graphic and written work and photographs – to provide a coherent and consistent overview of the artist's work. Both monumental sculptures and smaller pieces are infused with the same spirit. Chillida's work bears witness to his wish to explore space.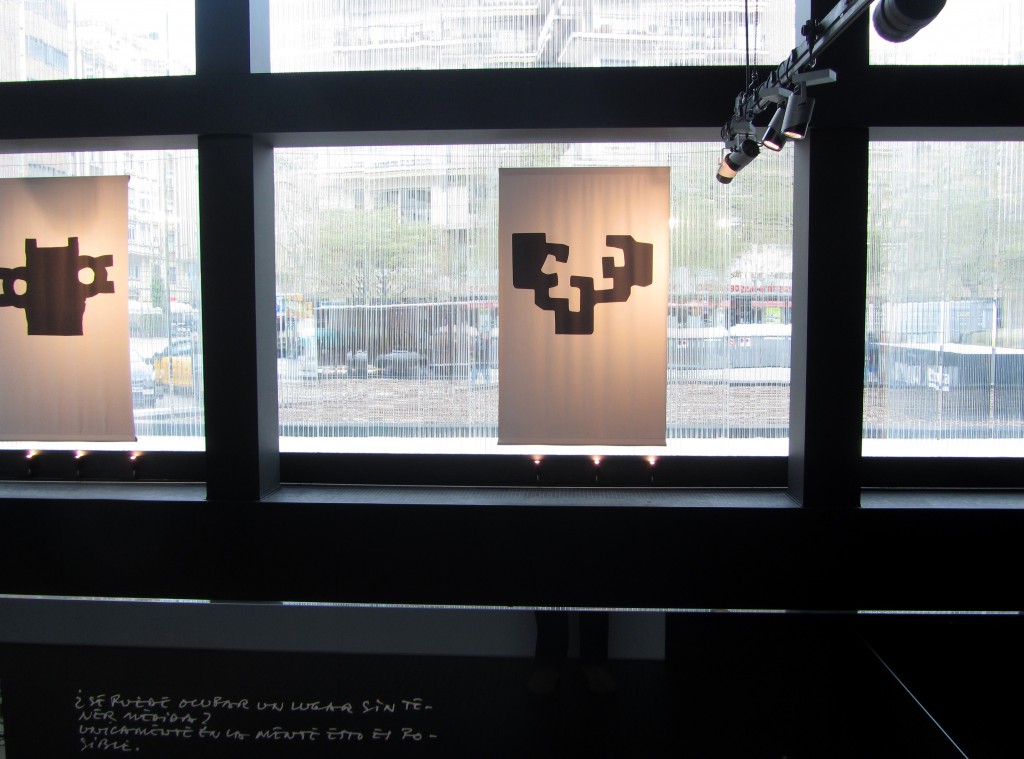 Born in San Sebastián in 1924, at the age of 19 Chillida moved to Madrid to study architecture, a course he would leave in 1947 to begin drawing at the Circulo de Bellas Artes. In 1948, he settled in Paris, where he began sculpting. Three years later, he moved to Hernani, where he discovered iron and created his first abstract work, 'Ilarik'. In 1954, he held his first individual exhibition in Madrid's Galeria Clan. In 1958, he was awarded the International Sculpture Prize at the Venice Biennale. His works are on display in leading museums around the world. In 2000, the Chillida-Leku Museum was opened, home to part of his legacy. He died in San Sebastián in 2002.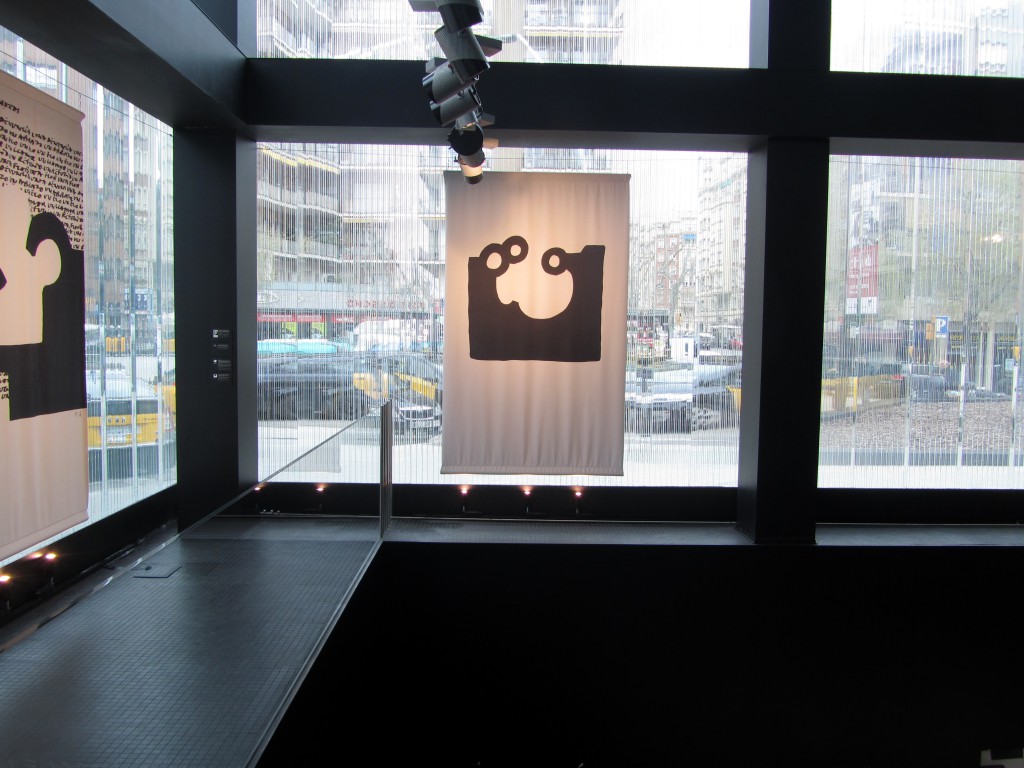 The ground floor windows were hung with blow-ups of drawings printed onto banners. There were also vitrines with books, drawings, photographs, prints, collaborations with philosophers and poets.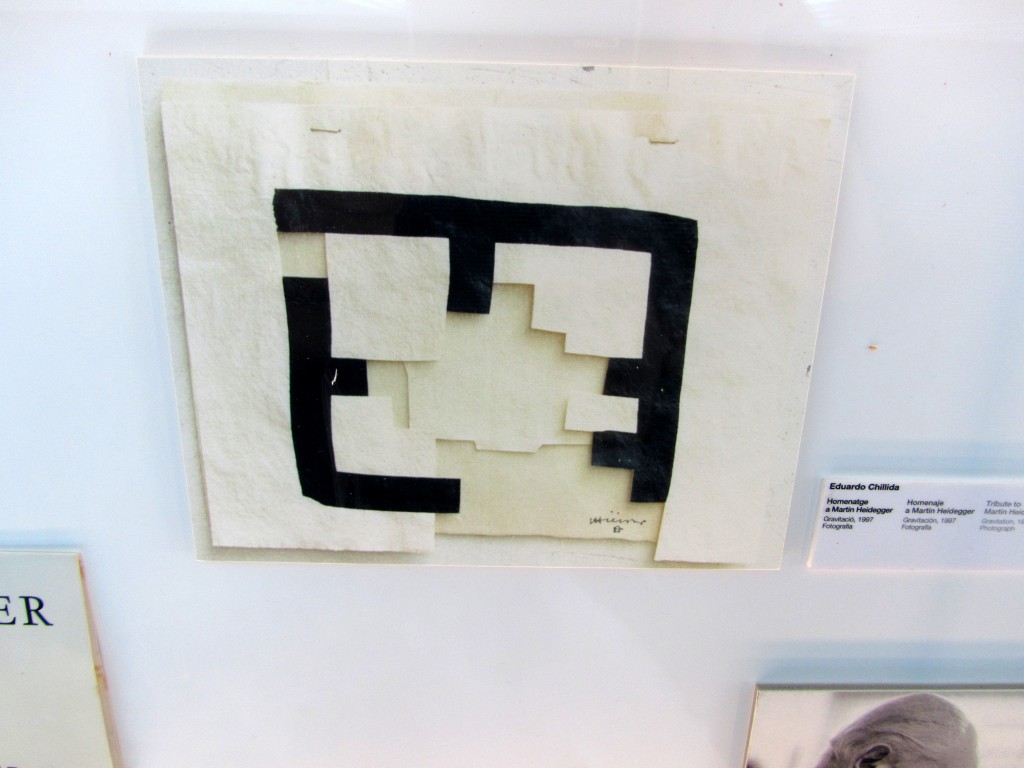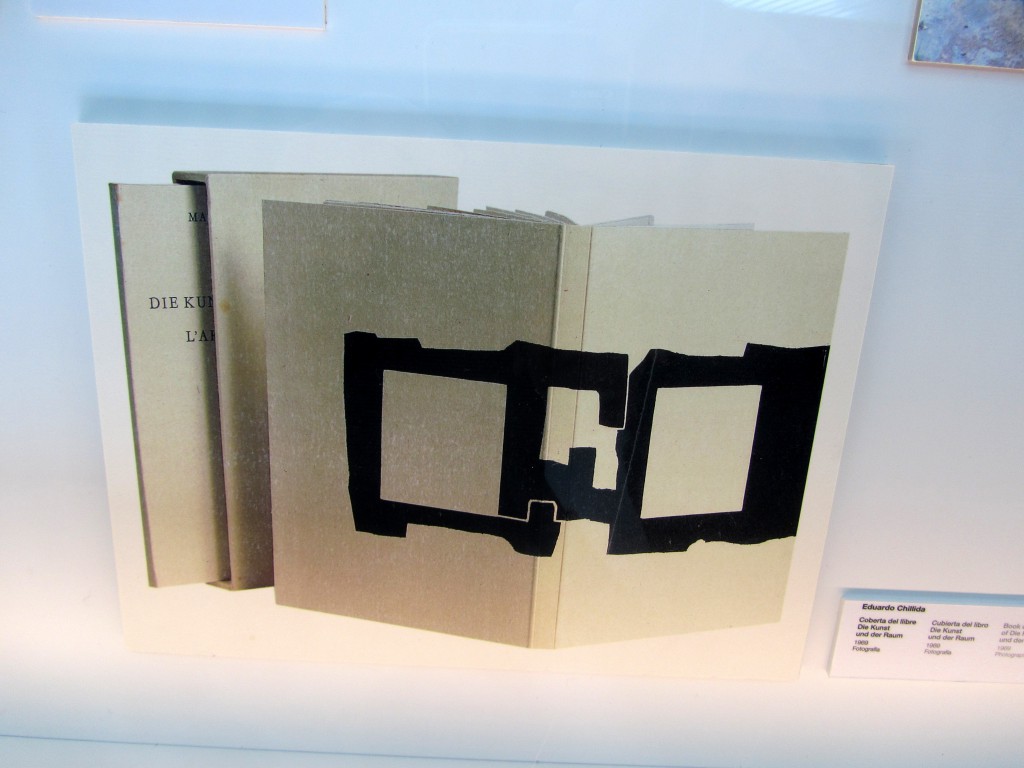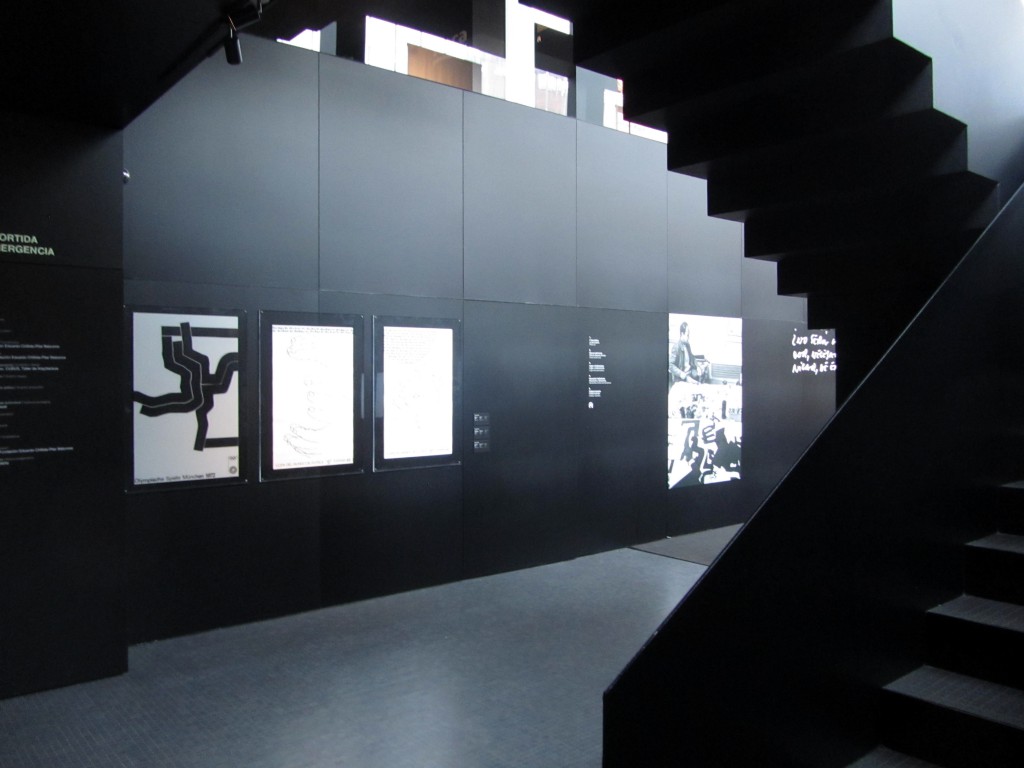 And downstairs there was a lot more, a great variety of pieces ranging from maquettes for grand public monuments to intimate pieces made for friends and family and never previously exhibited.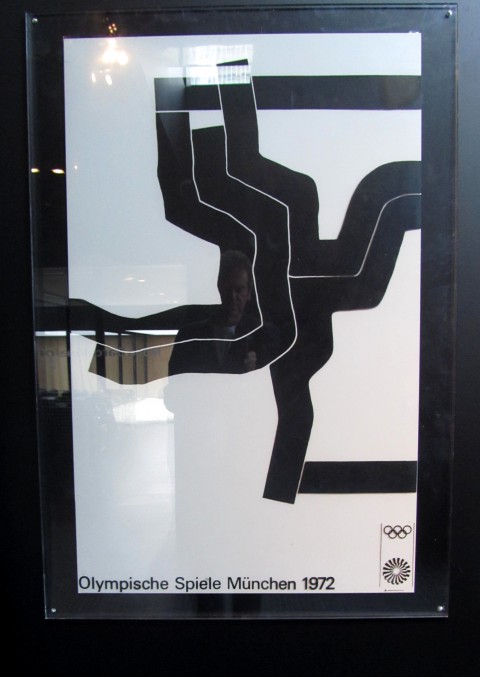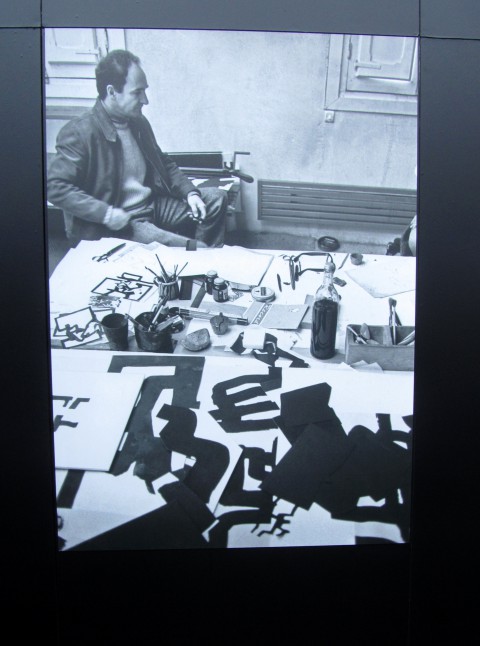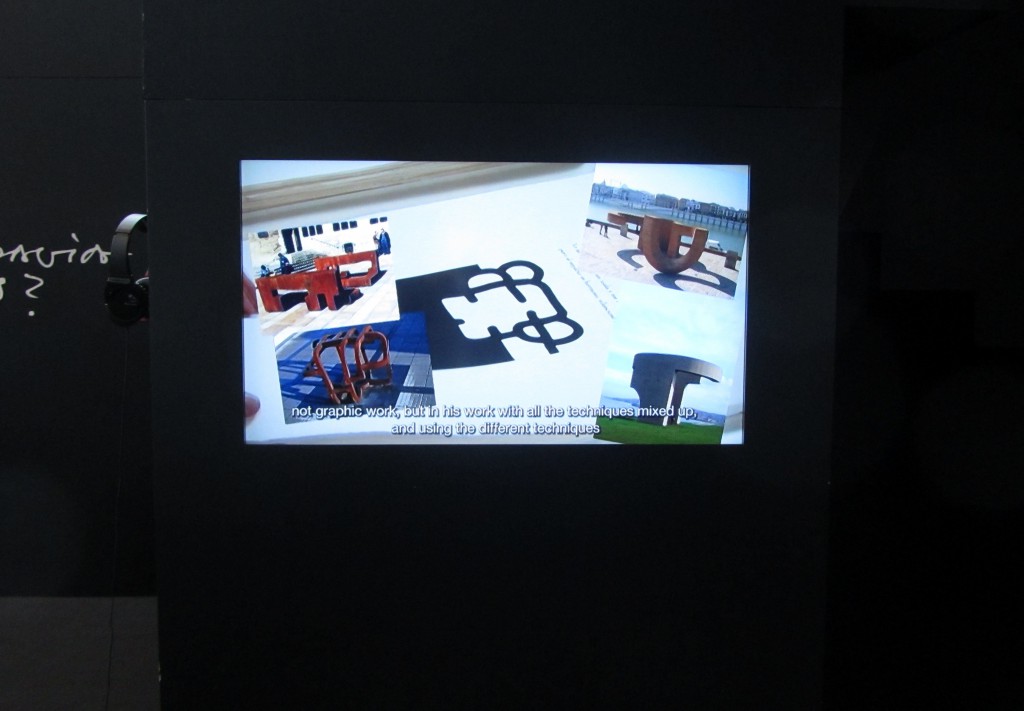 There was an excellent video narrated by the artist's son, Ignacio Chillida, but unfortunately it was not available for me to post here. The video below is the best alternative I can find.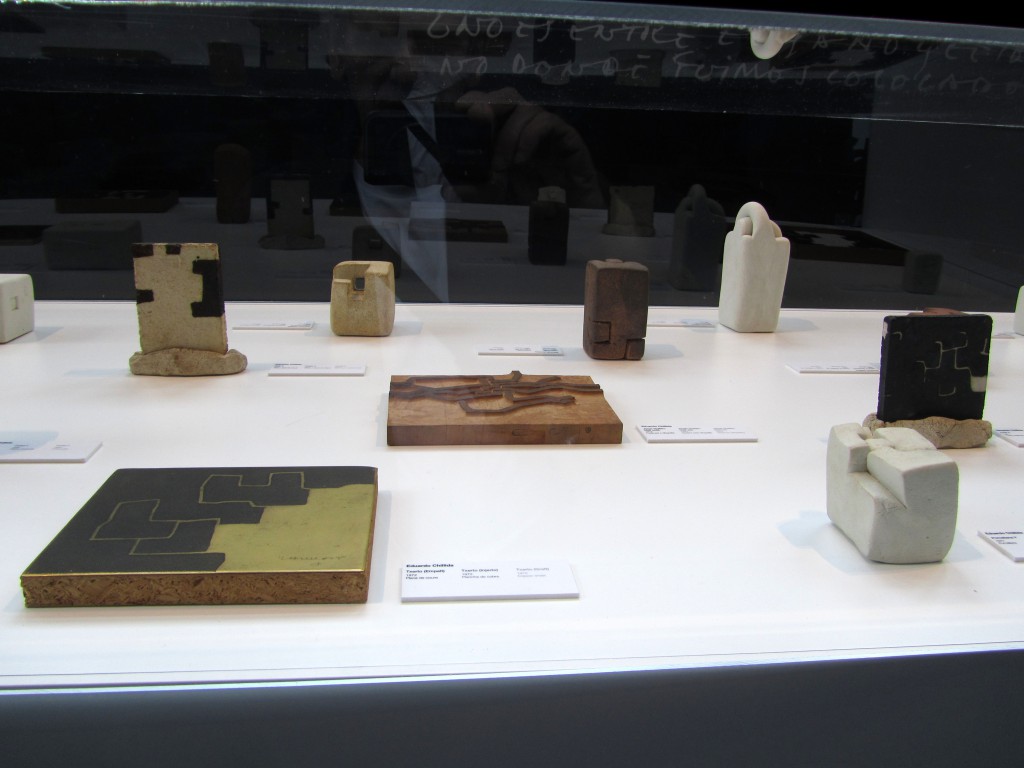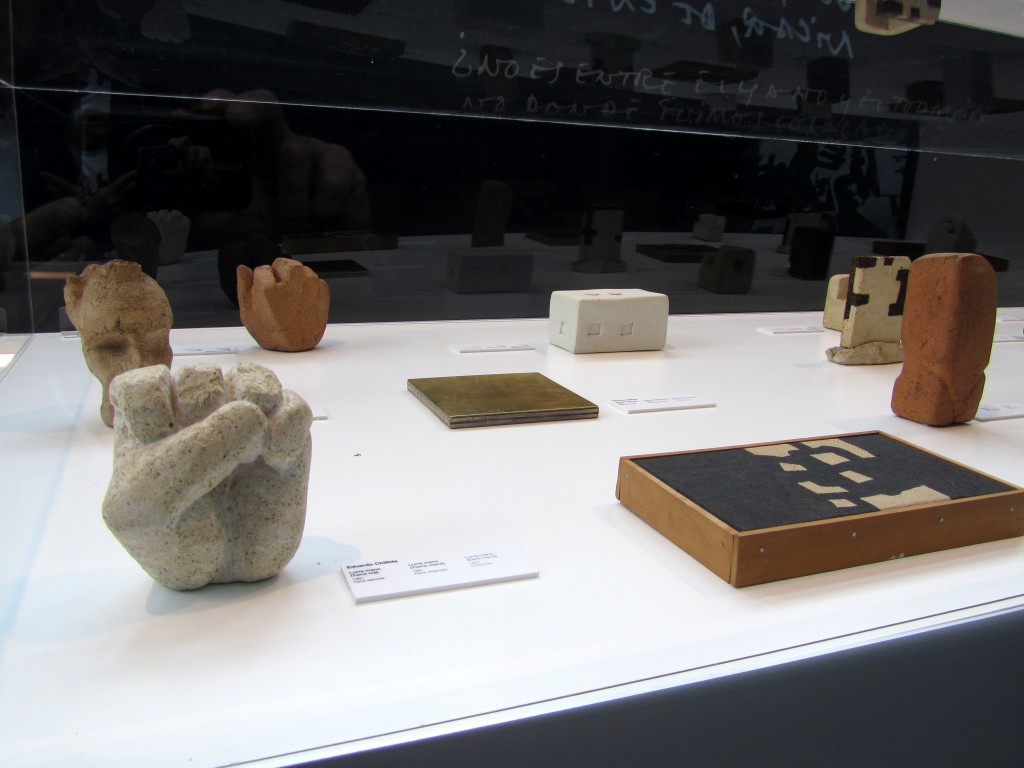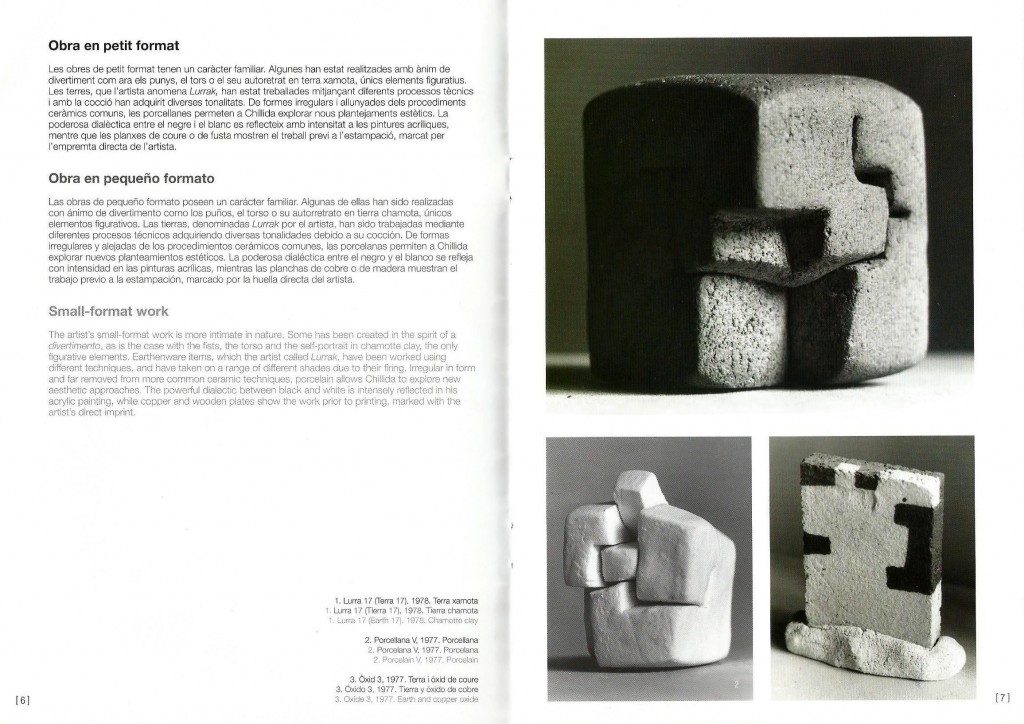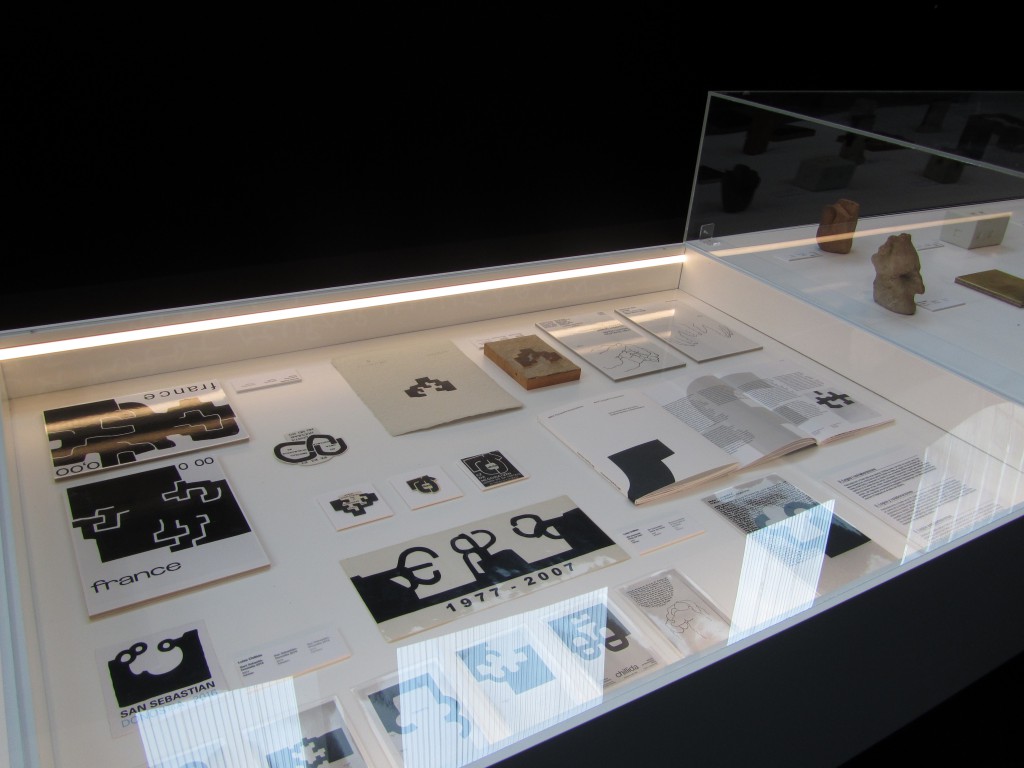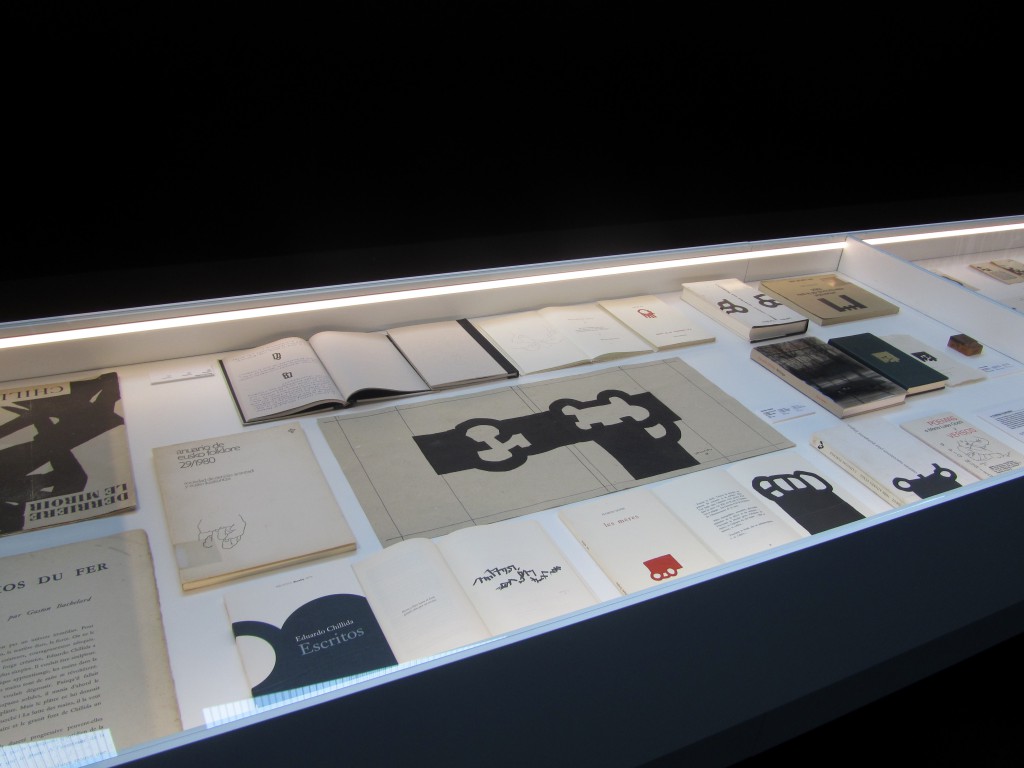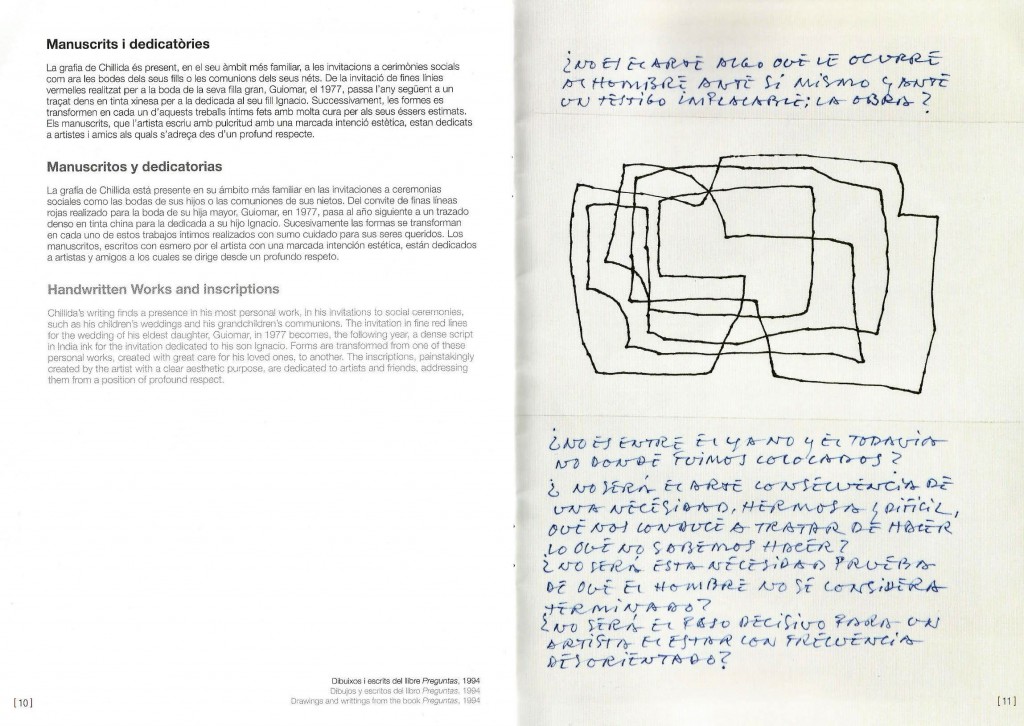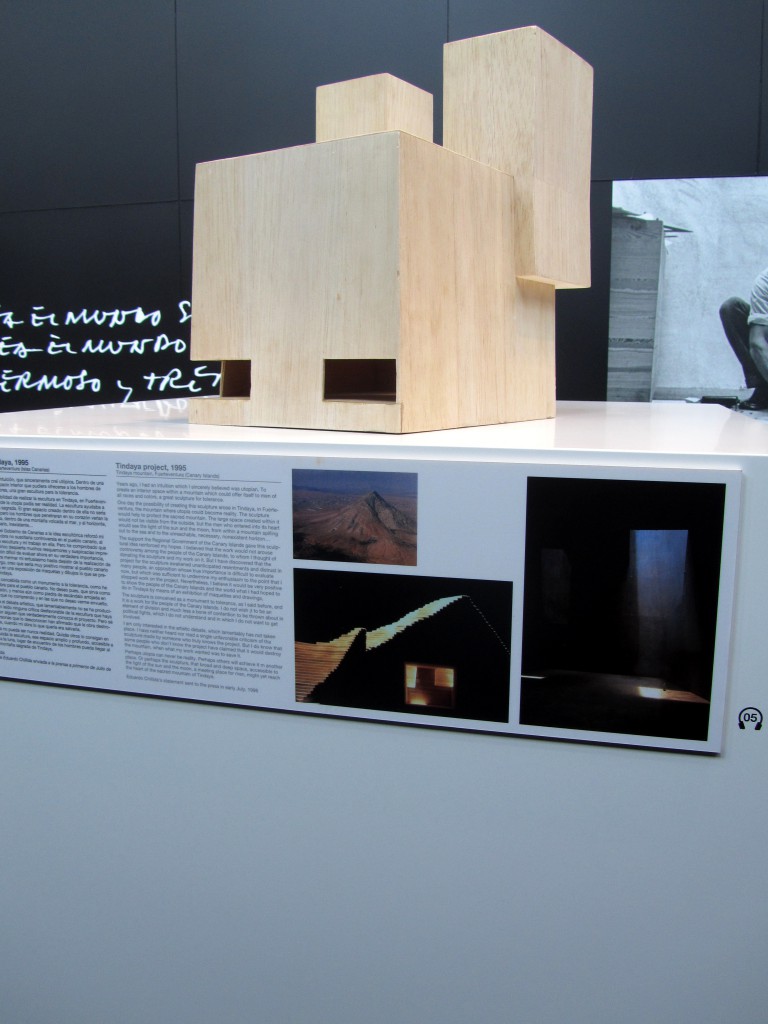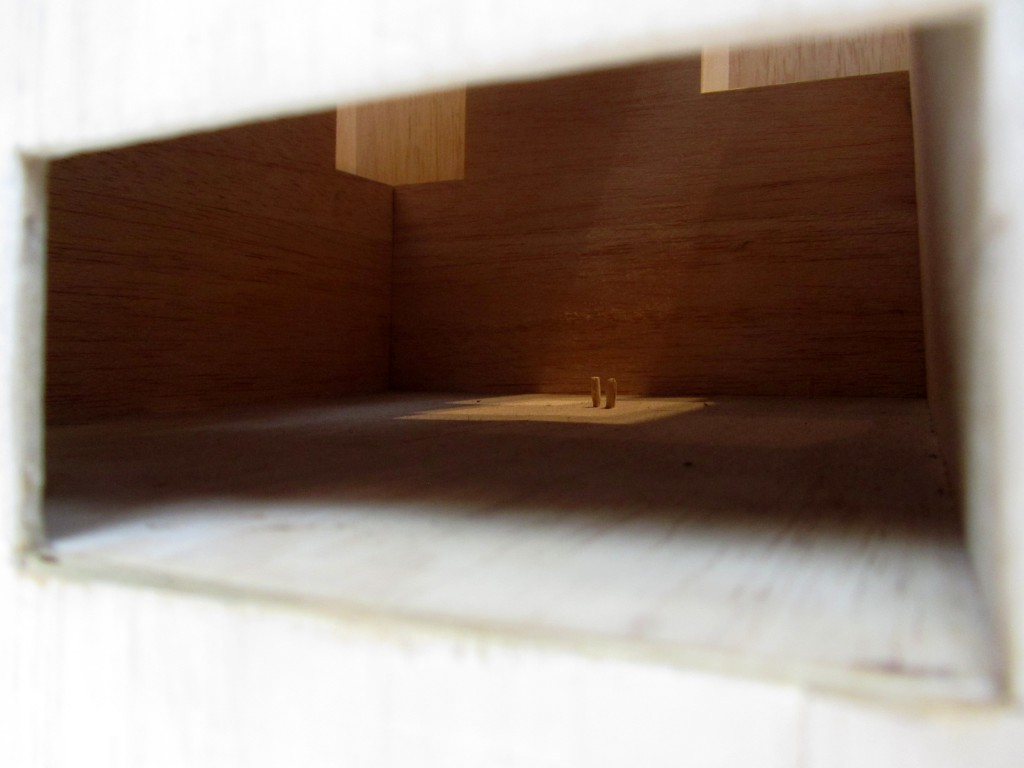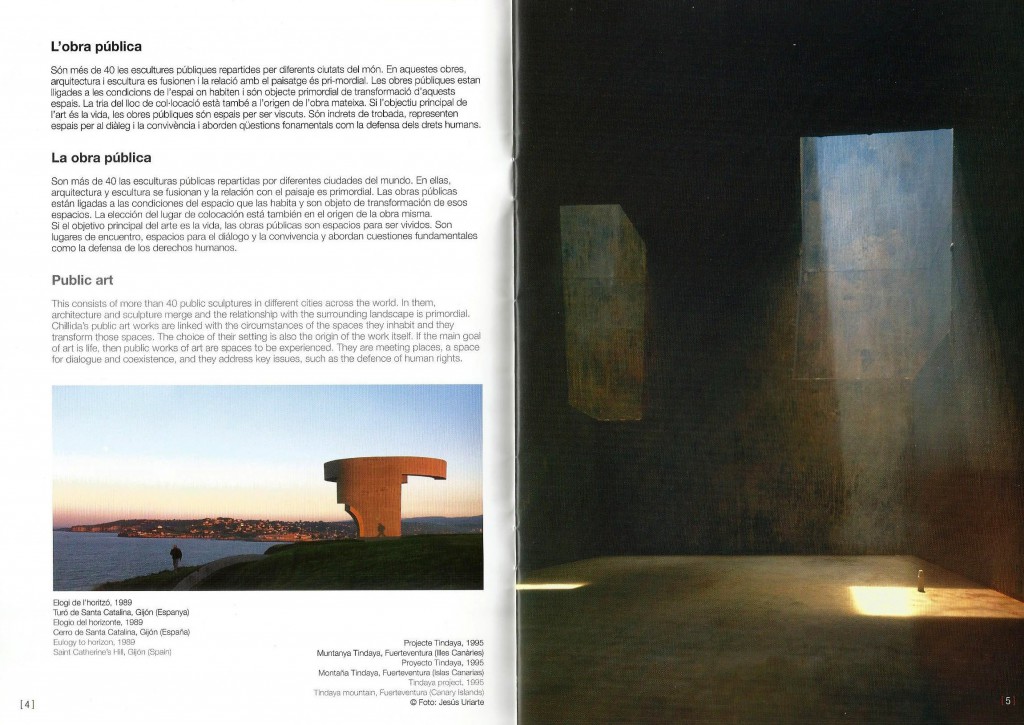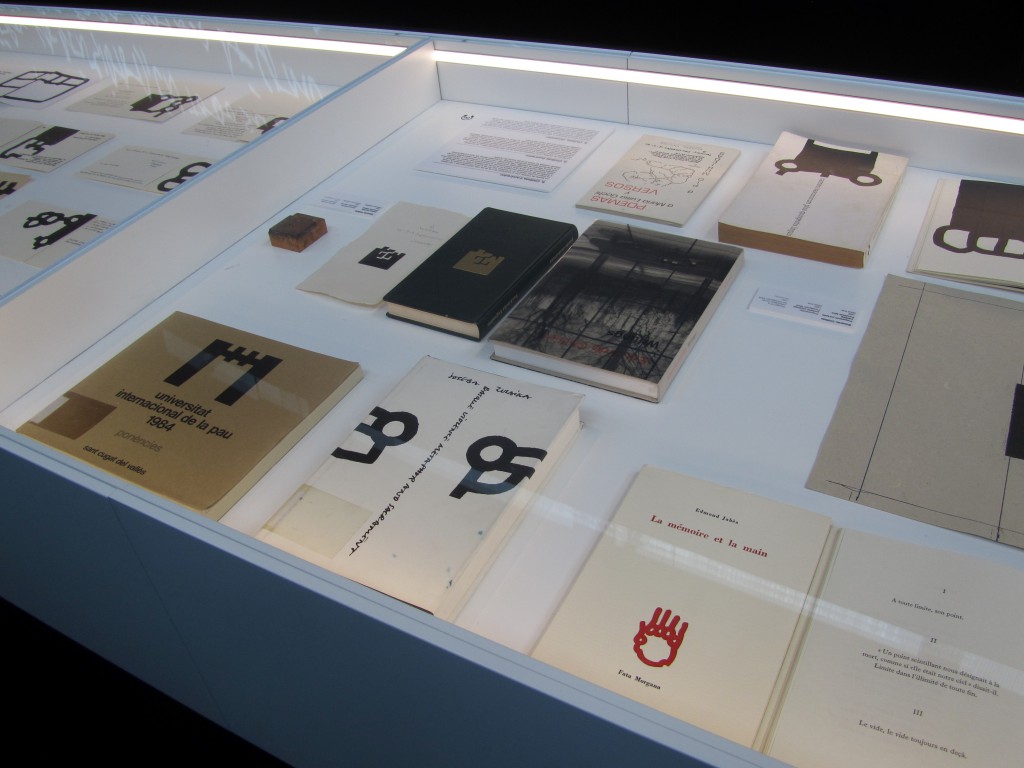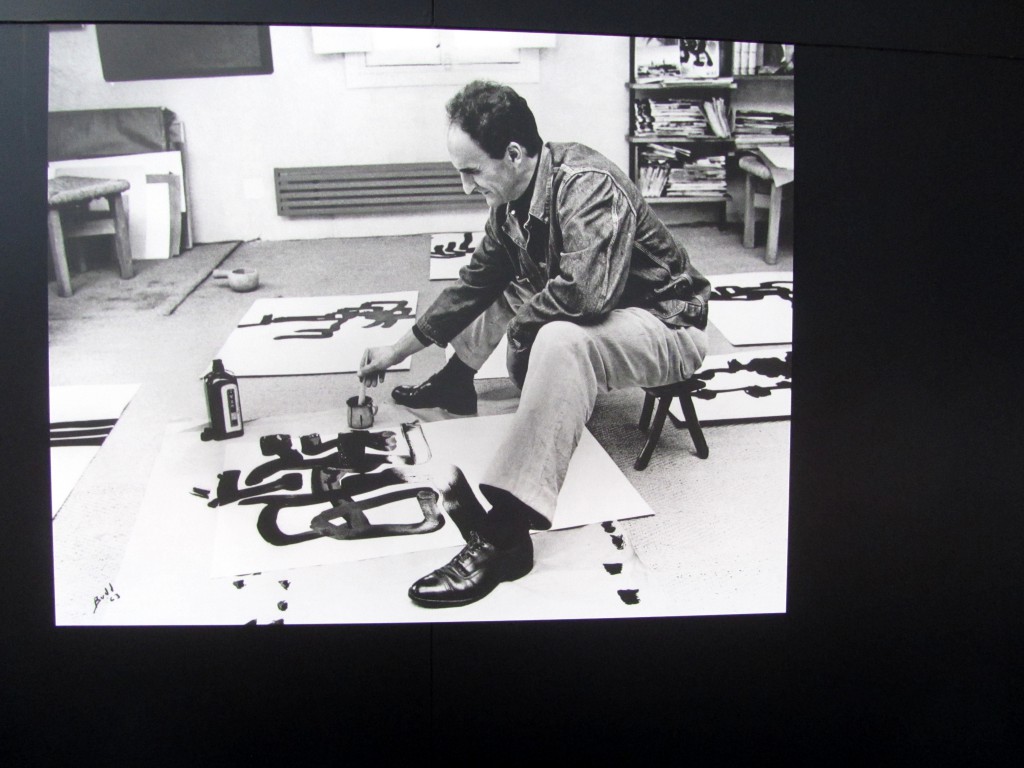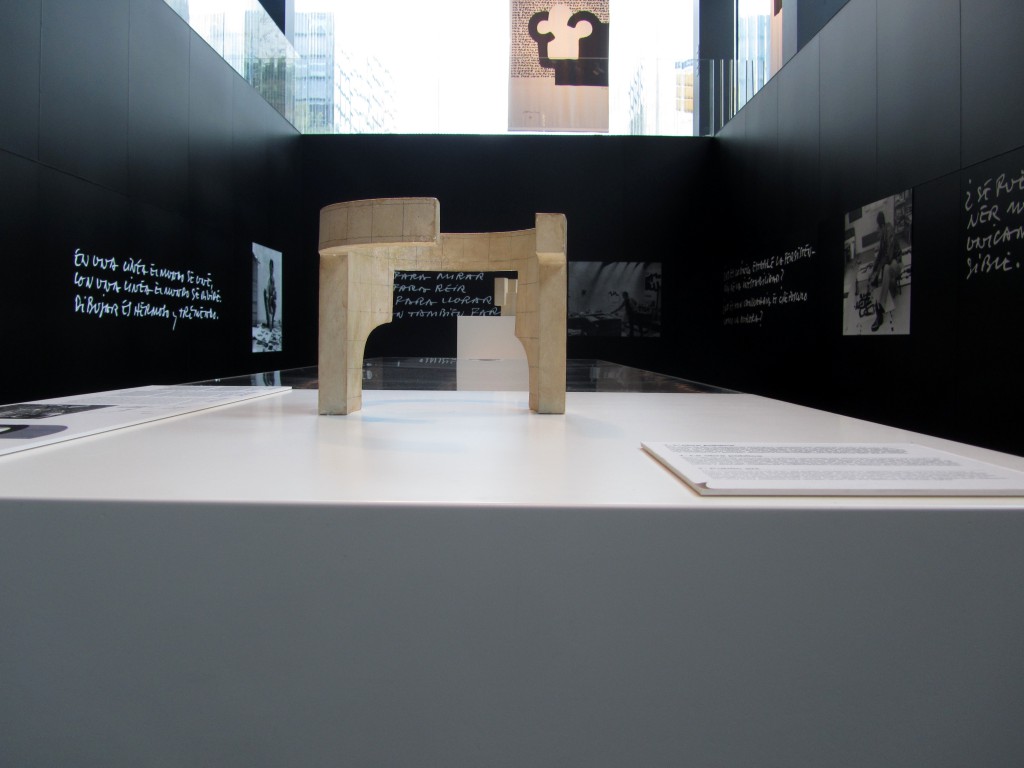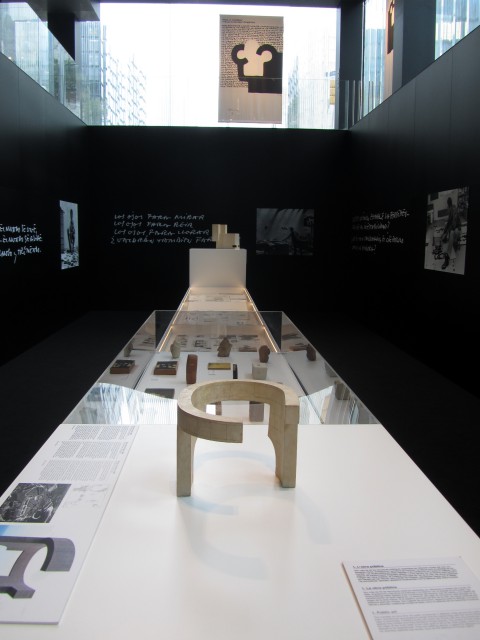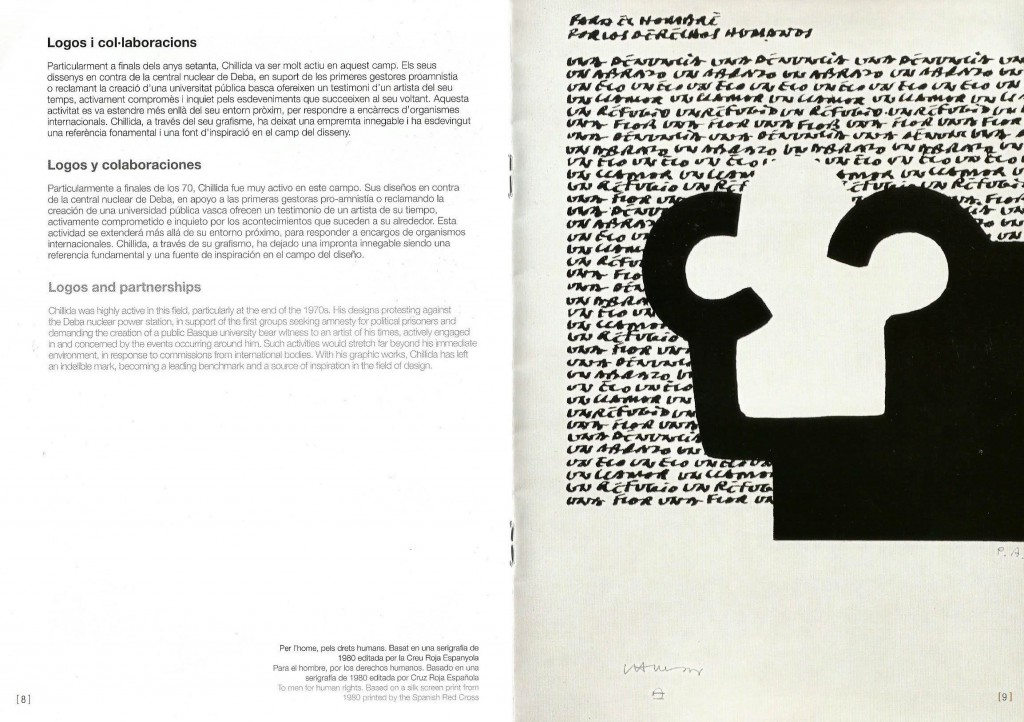 This was a beautiful exhibition where all the various facets of Chillida's art could be seen together, where his distinctive visual language displayed all the signs of its own unique handwritten grammar.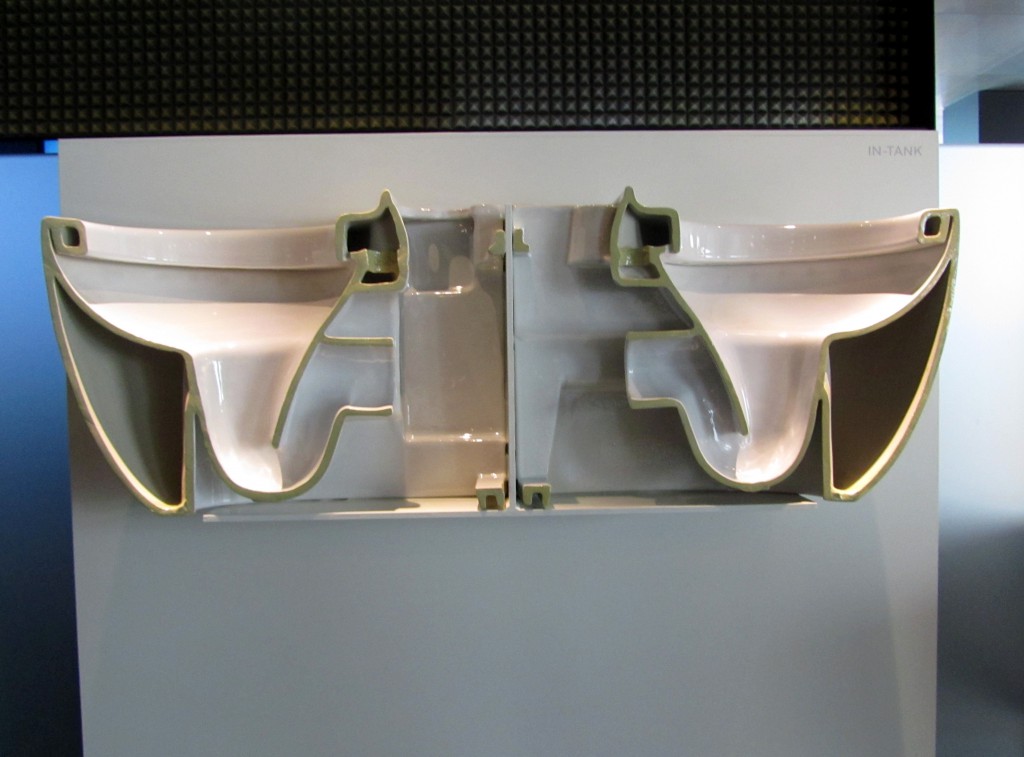 It was a surprisingly successful location for a Chillida exhibition. Upstairs, amongst Roca's display of bathroom fittings, I found a remarkable ceramic piece that seemed to be speaking the same language.
※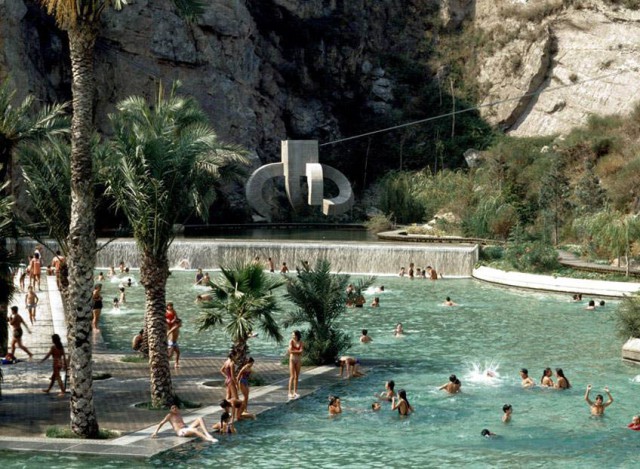 Next day we went to a neighbourhood park in the residential suburbs, in search of one of Chillida's great masterpieces. This is the description of Parc de la Creueta del Coll from KeyGuide Barcelona –
Perhaps only in Barcelona would you find an abandoned stone quarry turned into a park by the design team that rebuilt the waterfront for the 1992 Olympics. And perhaps only in this design-conscious city would it be complete with a swimming pool and a work by one of the country's most eminent sculptors. The shallow artificial lake, used as the pool, and the 'Elogio del Agua', a huge work of oxidized metal [sic] by Basque sculptor Eduardo Chillida (1924-2002), are typical of the sort of imaginative design Barcelona is renowned for in the creation of its public spaces. Summer is the best time to visit, when the local children are splashing around in the lake. At other times, try to go just before the sun sets, and enjoy the serenity of this truly unique oasis.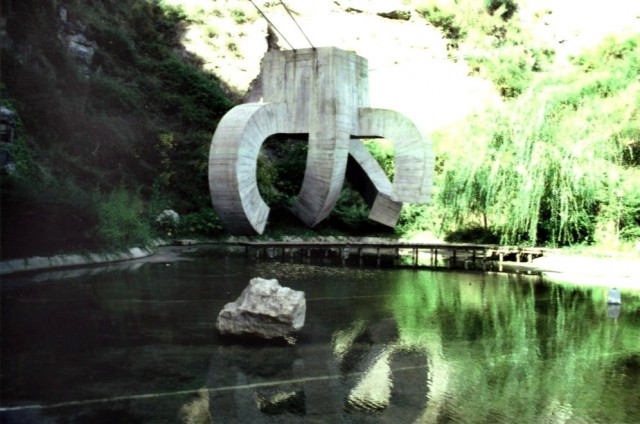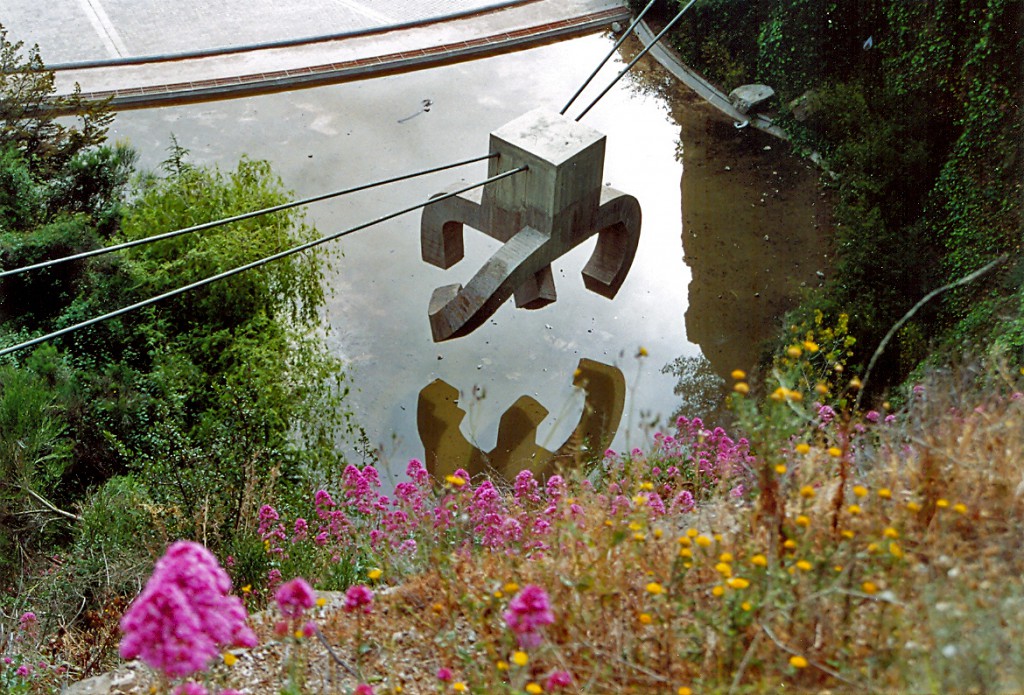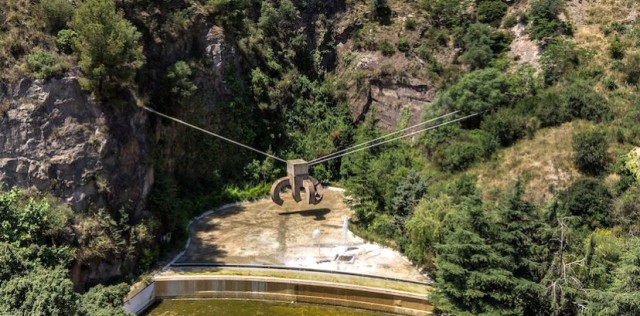 Elogi de l'Aigua is an awe inspiring work, a massive concrete 'hand', weighing over 50 tons, it hangs suspended by steel cables above a reflecting pool of water.
Below are two pages from Chillida 1948-1998, a book published to coincide with exhibitions at Museo Reina Sofía and Museo Guggenheim Bilbao.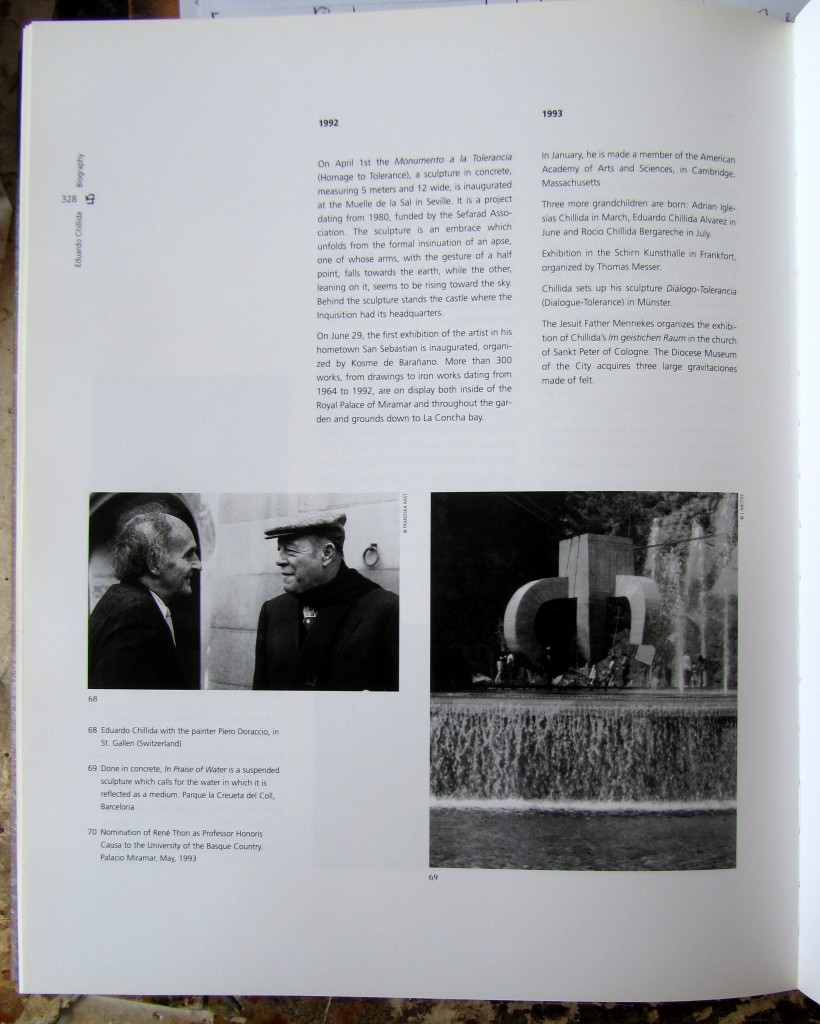 69 Done in concrete, 'In Praise of Water' is a suspended sculpture which calls for the water in which it is reflected as a medium. Parque la Creueta del Coll, Barcelona.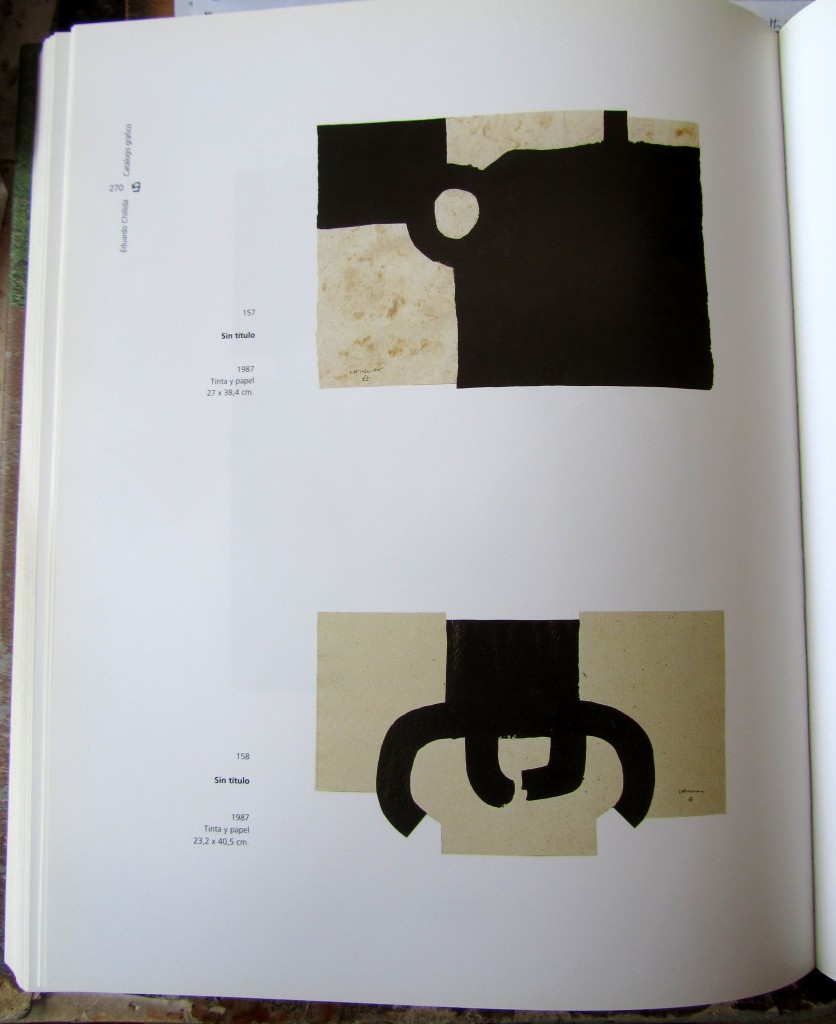 158 Sin titulo 1987 Tinta y papel 23.2 x 40.5 cm.
And from the same book, an excerpt from Chillida or Transparency by José Ángel Valente –
All that the hand -his hand- represents throughout the development of his work is well known. The hand closes; it is a fist: pure inside. The hand opens; it is a palm: pure form to be given to others -solidarity. The hand opens and closes, it blinks, or beats like a wing: the hand is a wing, a bird, a sign of annunciation. In that double movement, the hand has the rhythm of the heart.
'When I exhale I become breath; when I inhale I become a man', are words written around the 2nd century A.D. in the Book of Changes of Lao-tzu. Breath unites me with the world; inhalation with my -our- own interior.
Hands are an absolute symbol of creation. In the Book of Genesis, God (first a sculptor and, of course, an abstract one because the form of man did not exist) raises the human form from the dampened clay. This is the unique creative act. What comes after is multiplication.
That divine act of sculptor-potter determines a whole way of understanding creation. I felt all the creative force of those hands -as Eduardo Chillida, that great constructor of concavity has doubtlessly felt much more forcefully -in poem XXVI of El fulgor (1983):
With the hands words are formed,
with the hands and in their concavity
the words we could not say
are corporally formed.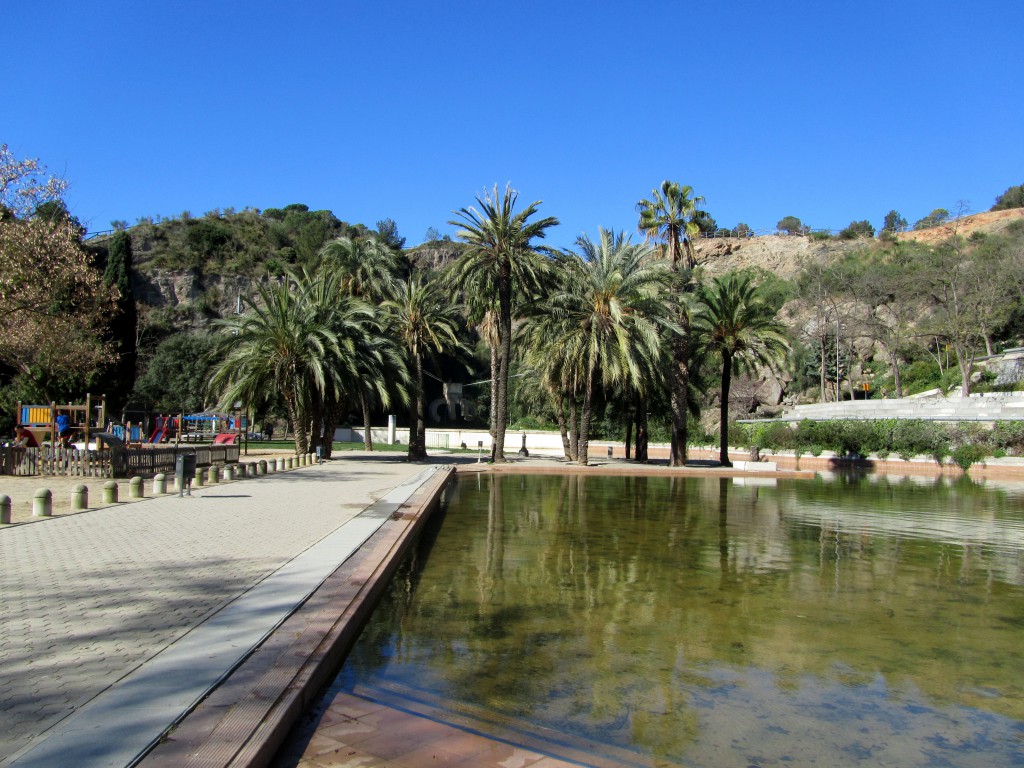 On the day we visited, the pool was empty of bathers and the fountains were turned off. It was early and the park was still quiet. Beyond the café and the ping pong tables and the morning dog walkers we got our first distant glimpse of Chillida's majestic sculpture.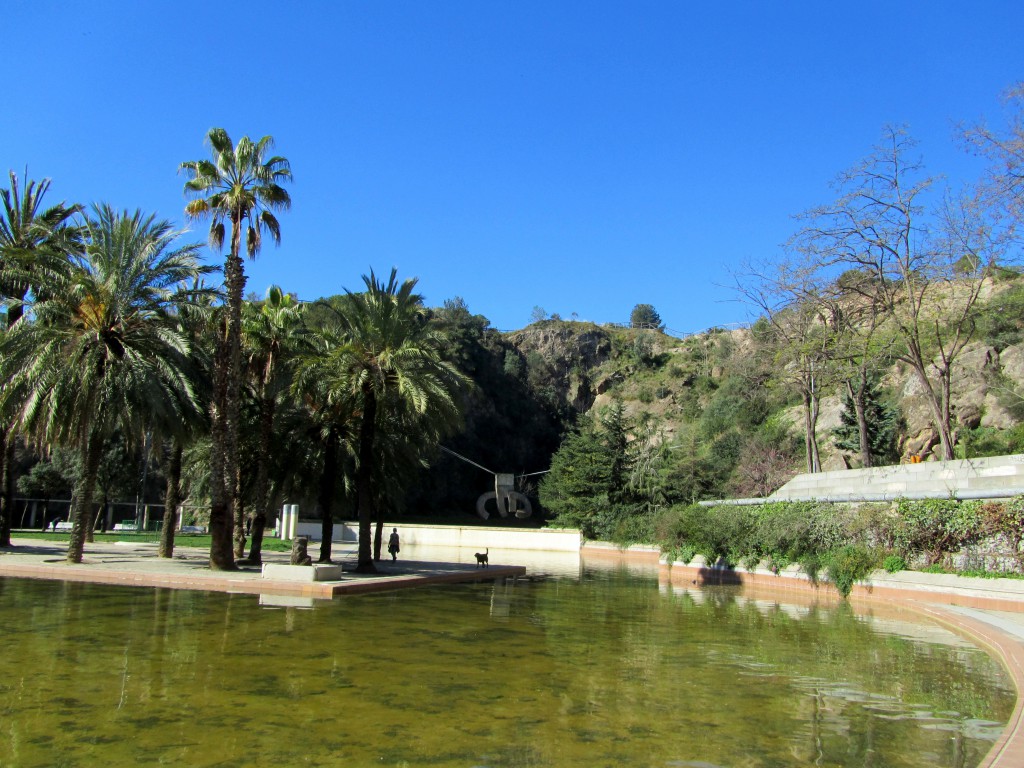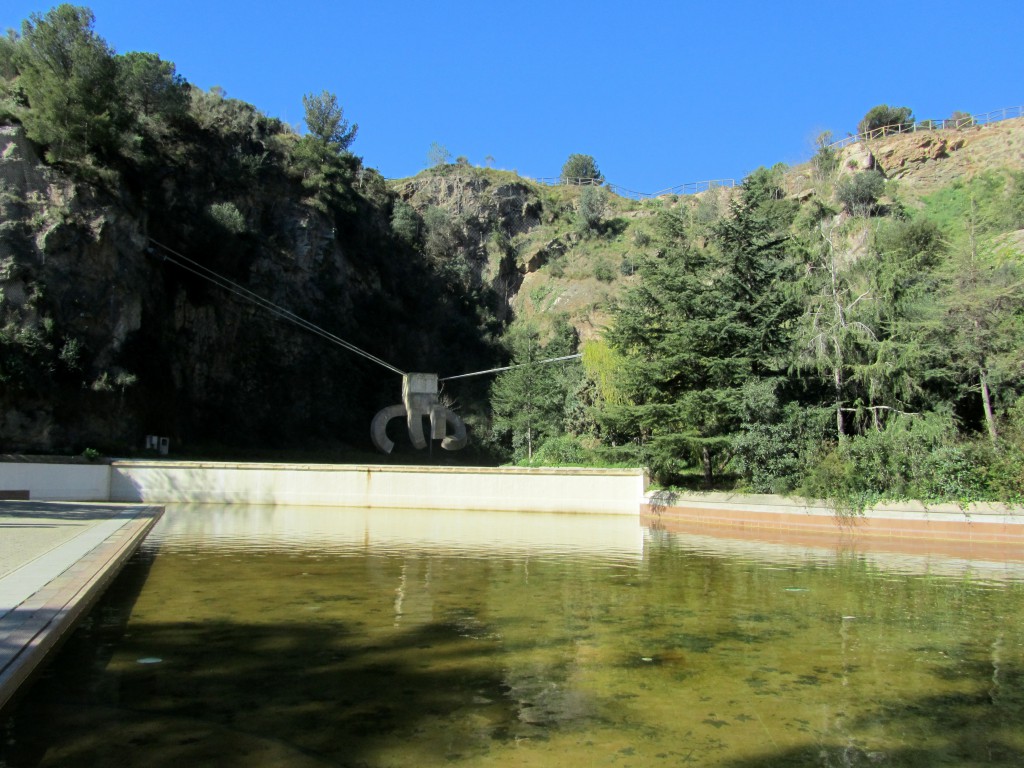 It hovers over the water, a giant claw reaching for its reflection, full of movement but perfectly still, marking this local playground as a place of special spiritual significance.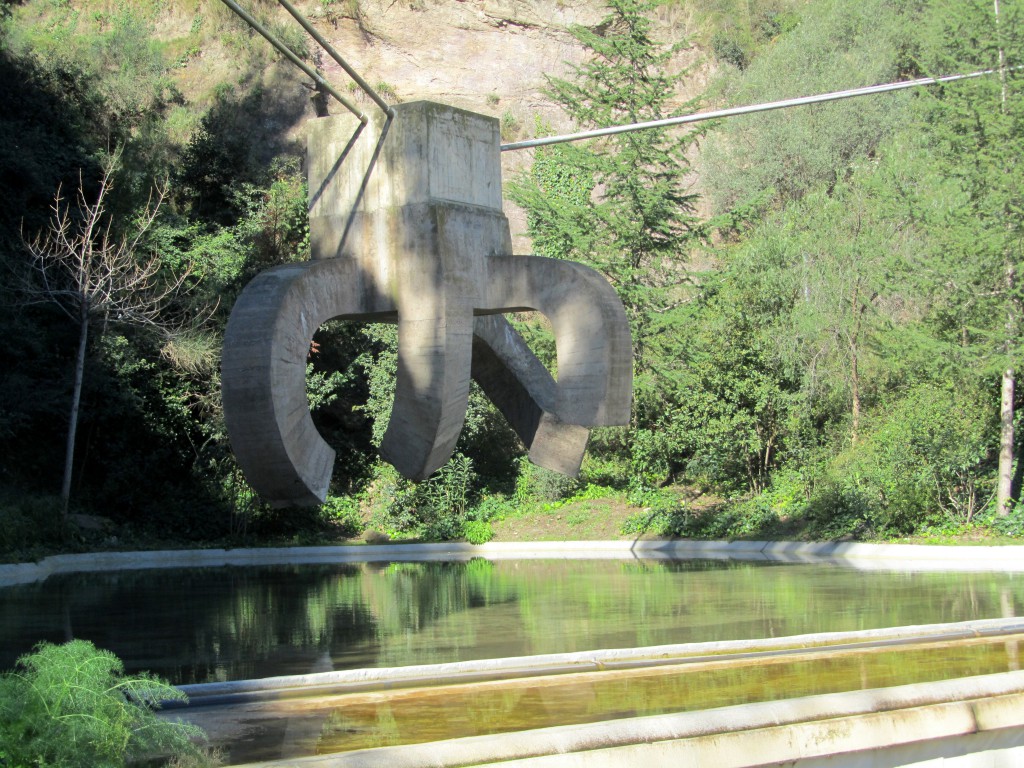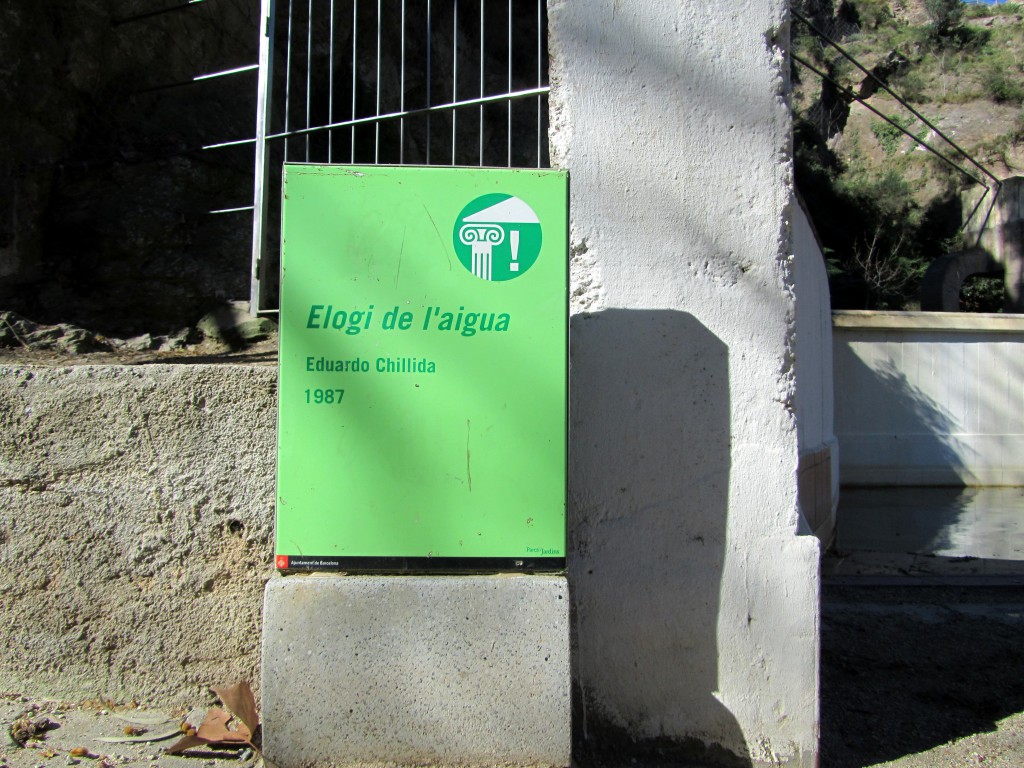 We'd entered the park by the backdoor, unaware there was another sculpture over by the main gate.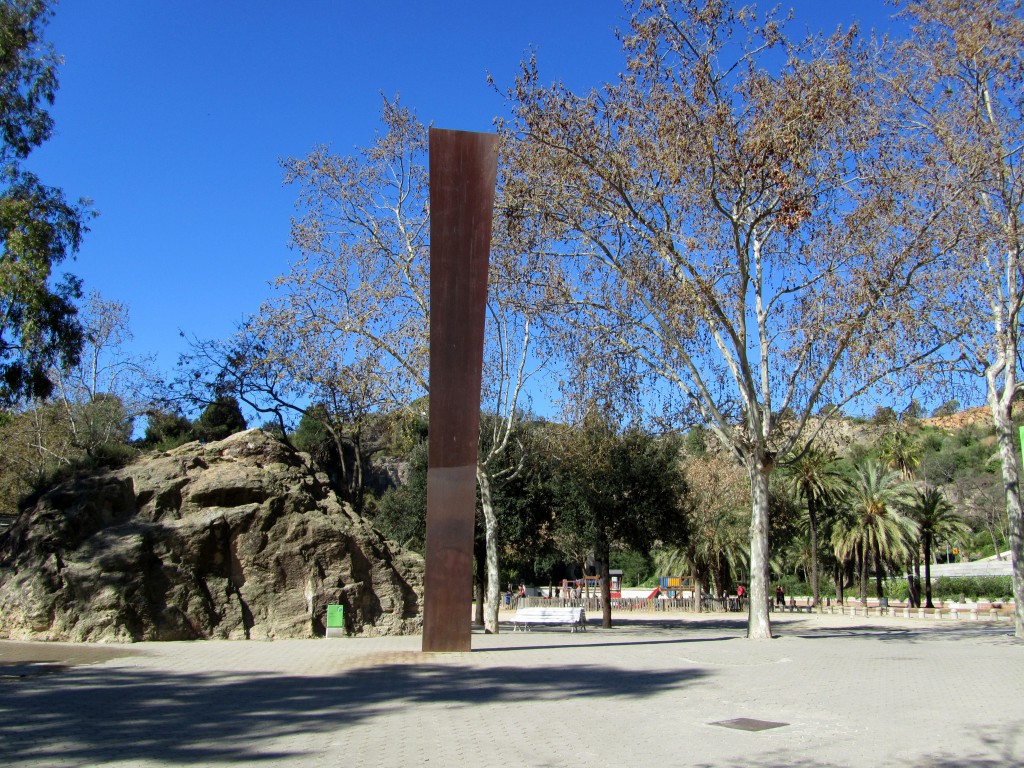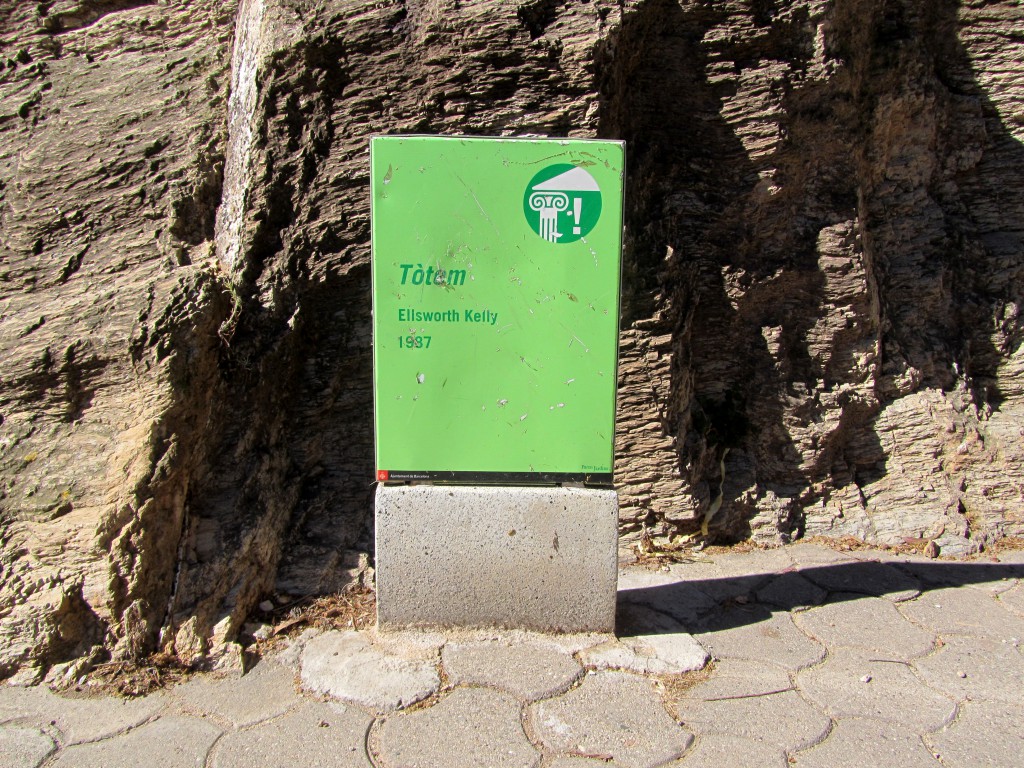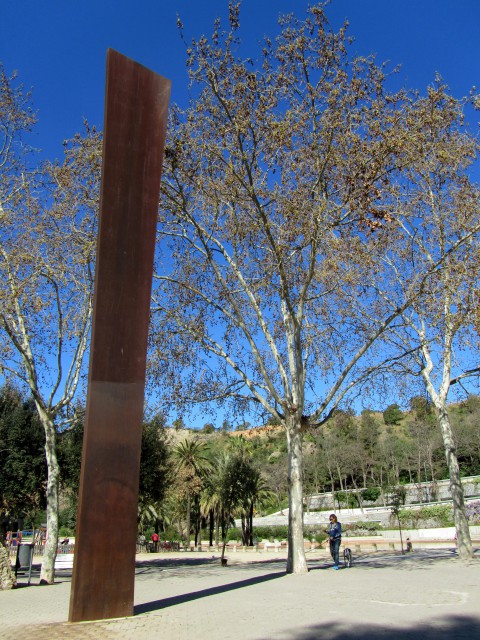 Totem by Ellsworth Kelly was a bonus and a nice surprise.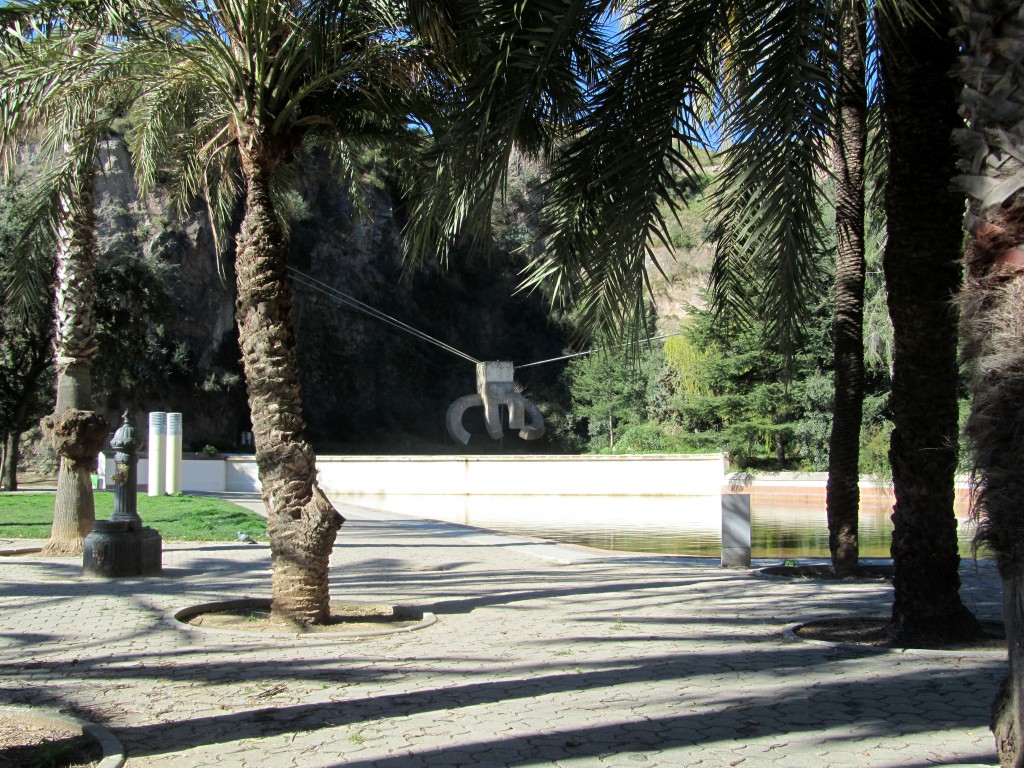 But Elogi de l'Aigua was the reason why we came and its presence persists, it dances in my head and floats in my memory. It's a spider spinning a line, one part of a great web of interconnected Chillidas.
※
There's another post about it here, Elogi de l'Aigua, sadly not in English but the pictures tell the story.
※
Signs Of Chillida / Chillida: From Iron To Light / Wind Comb / B For Barcelona