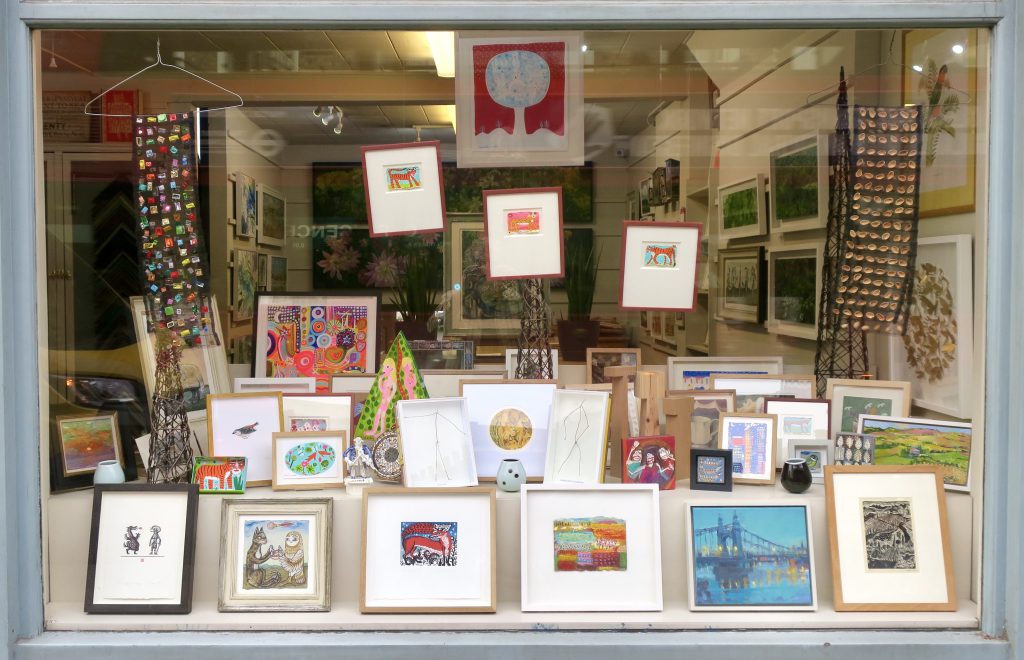 It's like a compilation album with hits from all your favourite artists. They just take a bit of finding. And whilst you're looking you might discover something new, something previously overlooked. You might even need to come inside and look around. But quick, it's getting late.
The Churchill Arms is famous for the best lightshow in London and next door, beneath the Christmas star, is the best Nativity in town.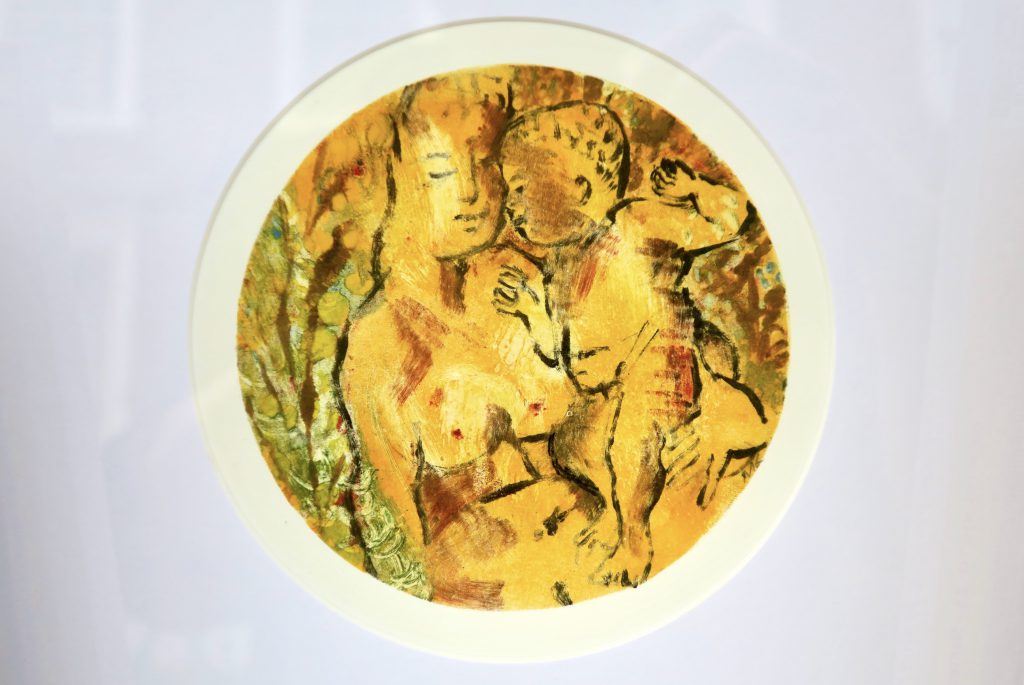 Mother & Child by Mary Kuper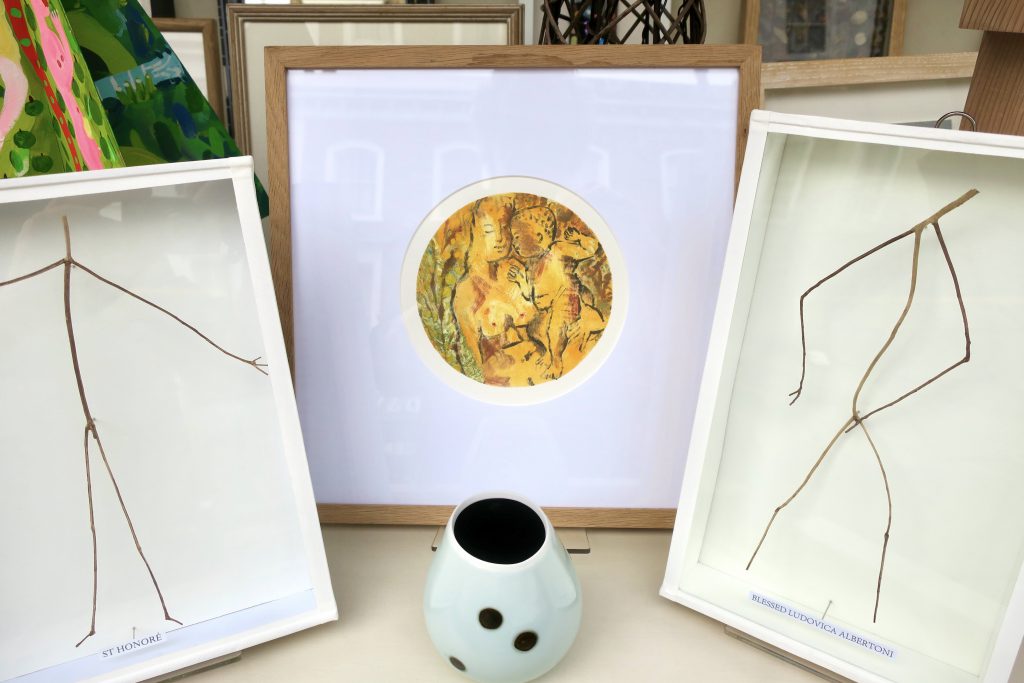 A mother and child flanked by twig saints gathered around a three-spot vessel of the trinity amidst an adoration of offerings and wonders, blessings for a better year to come.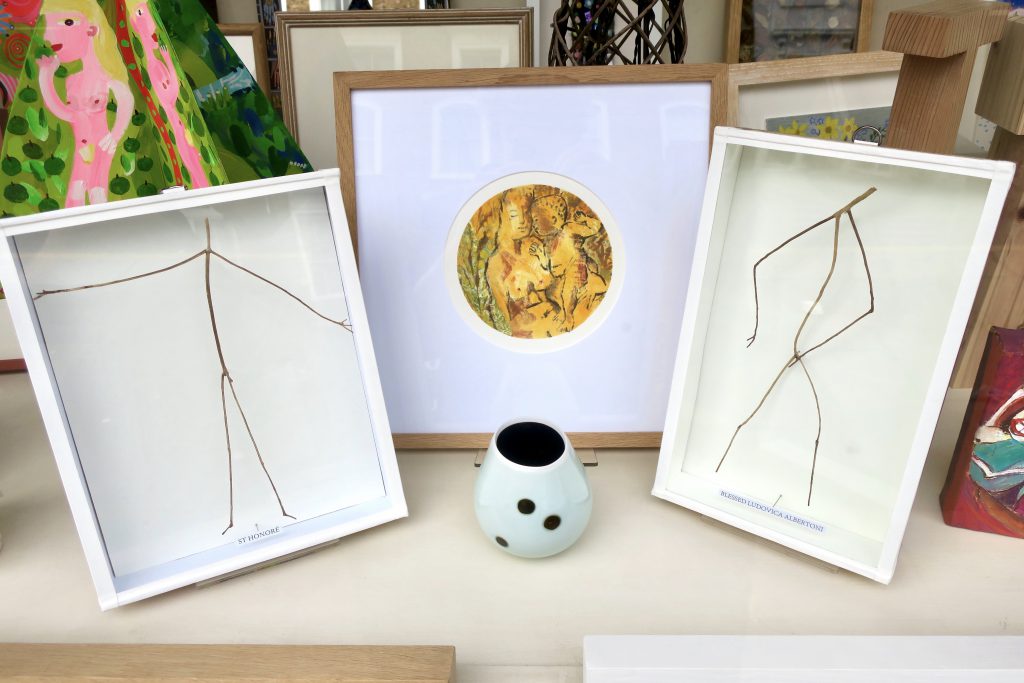 Rocking Bowl by Chris Keenan
St Honoré and Blessed Ludovica Albertoni by Chris Kenny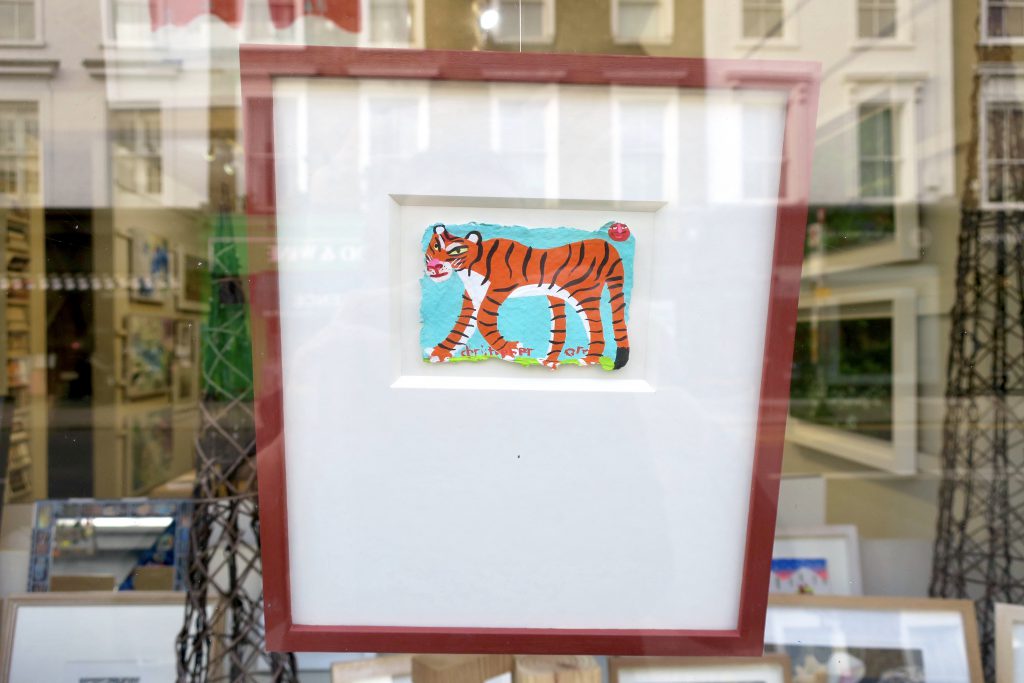 A little big cat by Christopher Corr, one of three hanging in our window, and there's a fourth standing down below.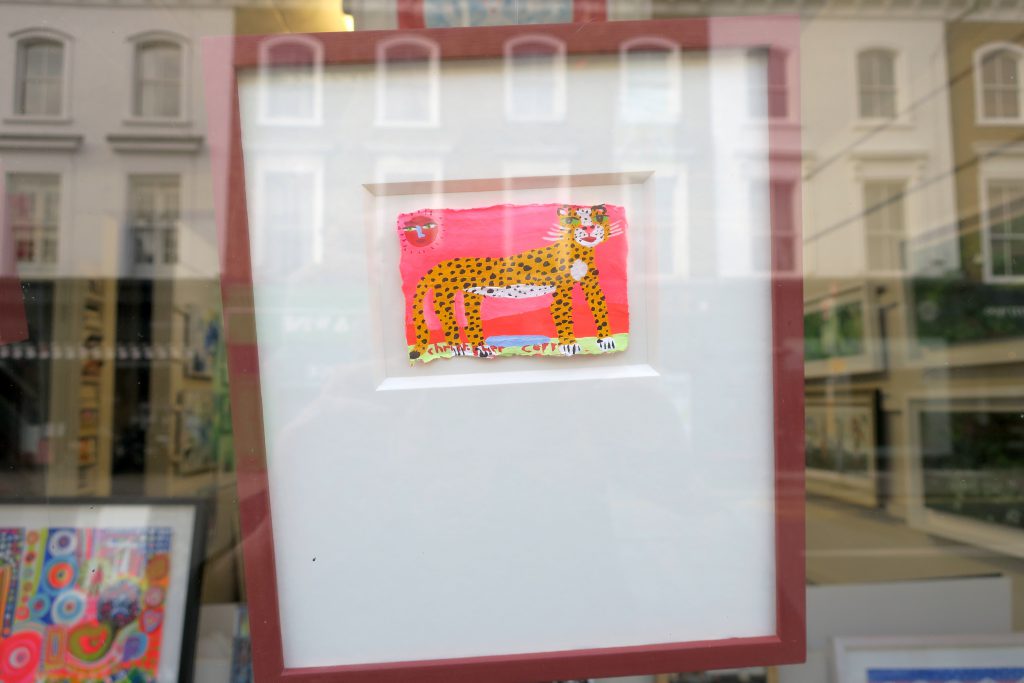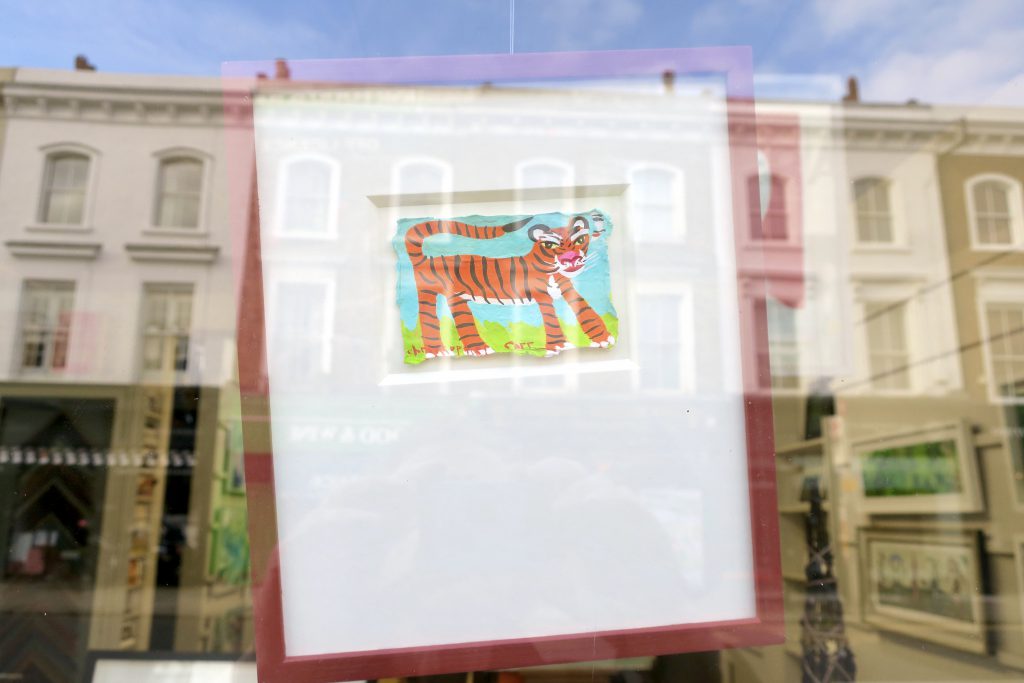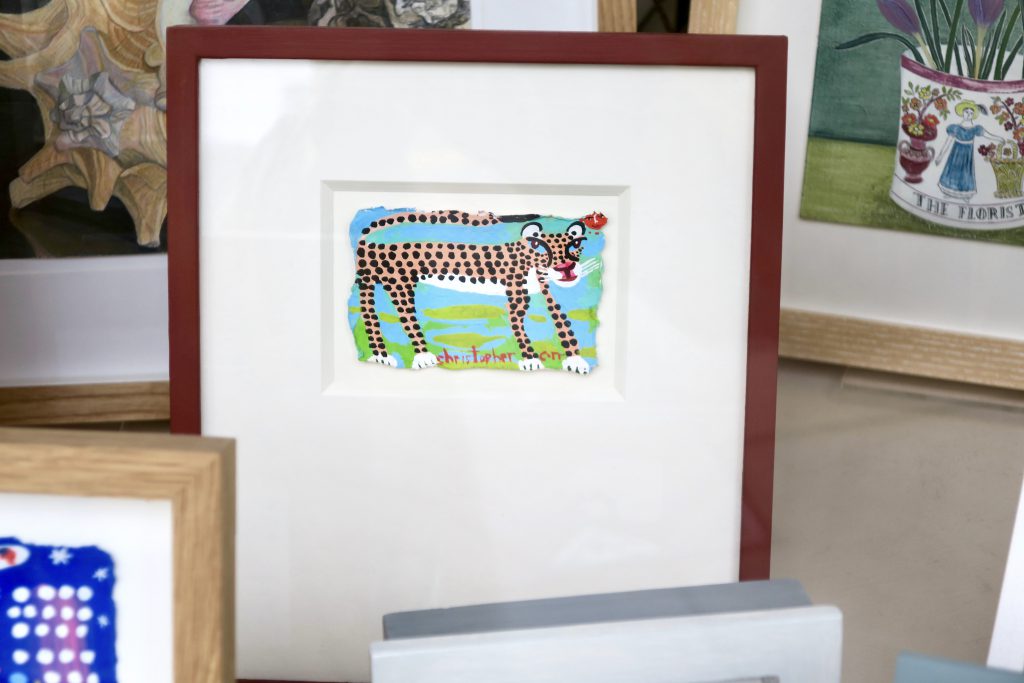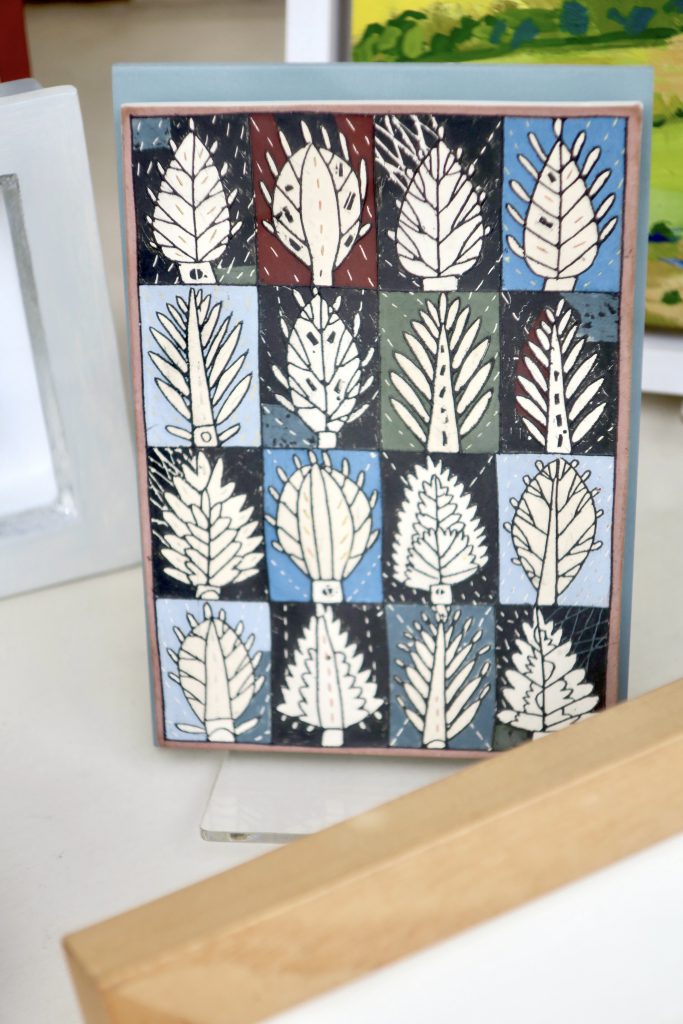 A little ceramic plaque with multicoloured inlays engraved with drawings of Winter Trees by Joanna Veevers.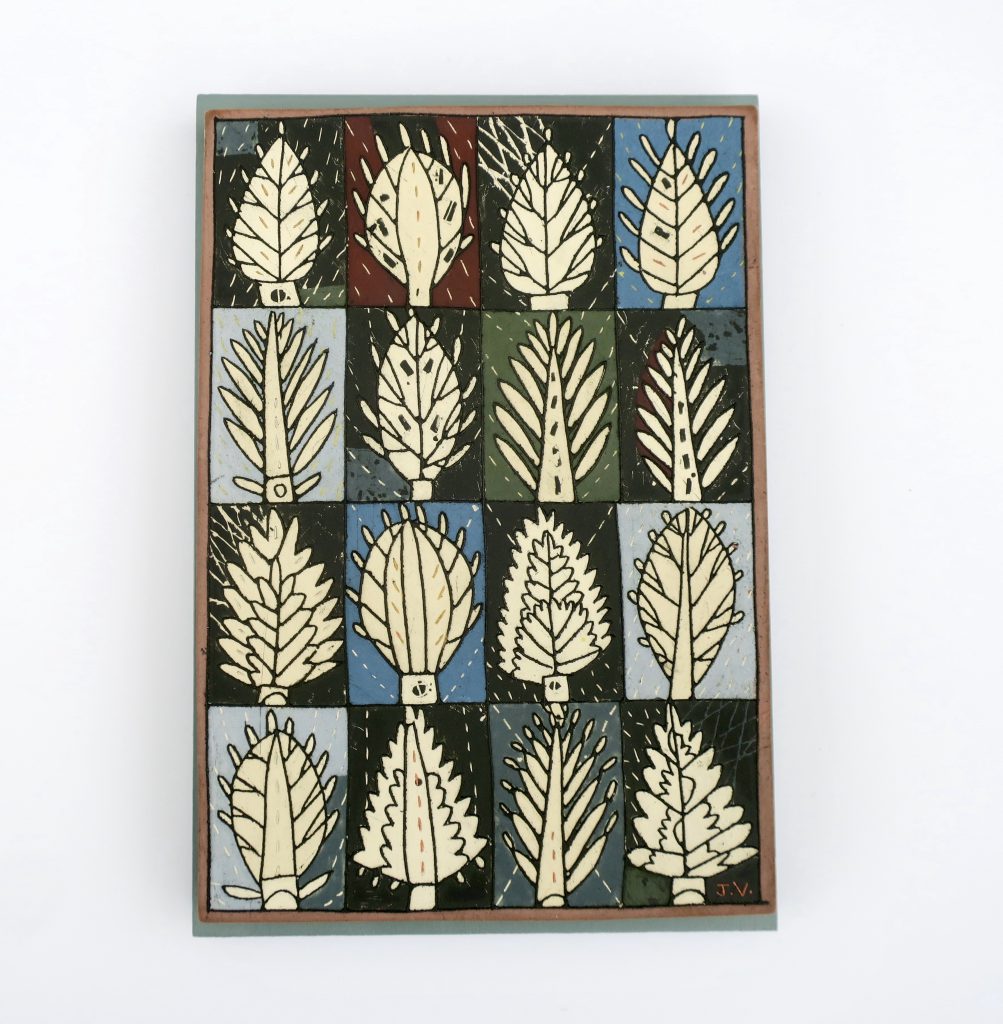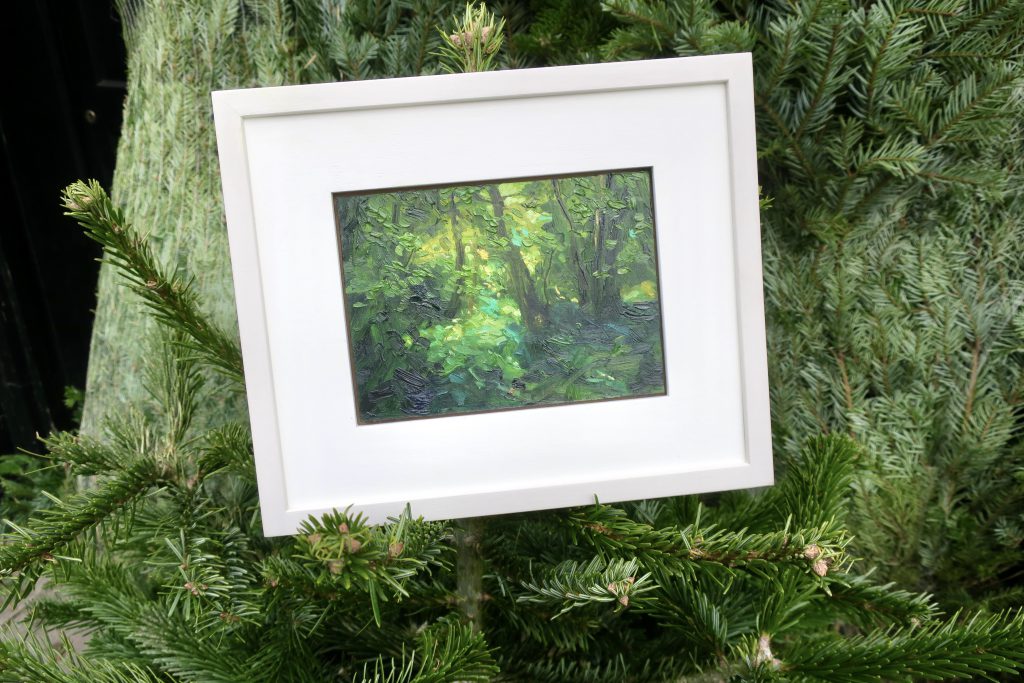 And everyone needs a Jelly on their Christmas tree, so here's an anjellyc little oil painting,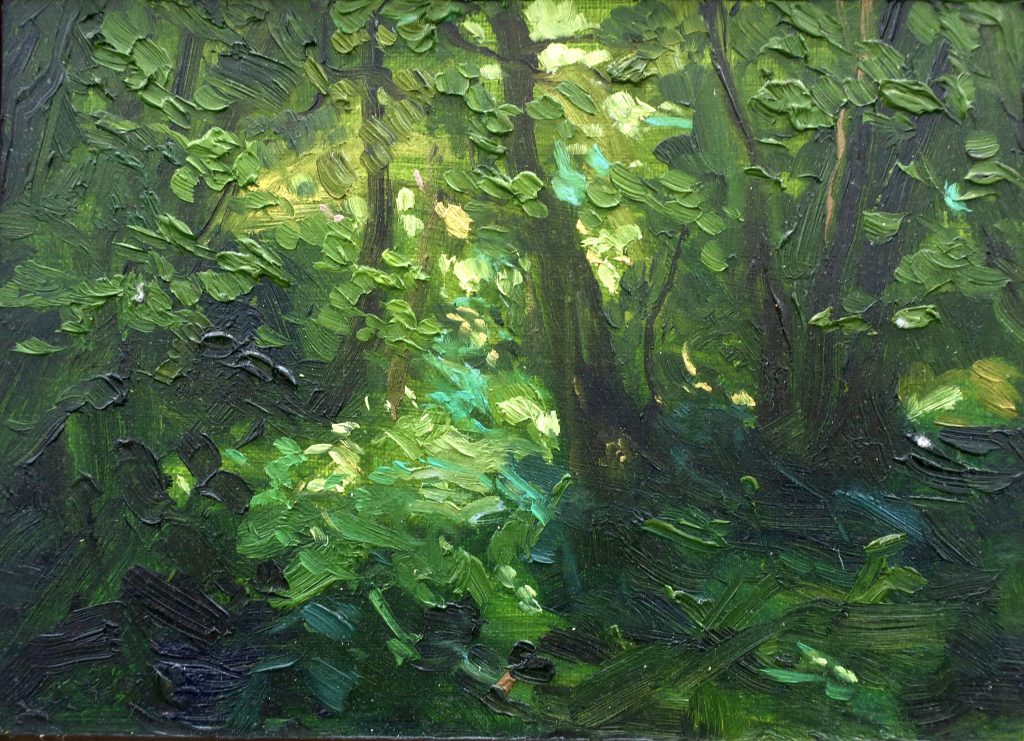 Summer Woodland – Dallinghoo by Jelly Green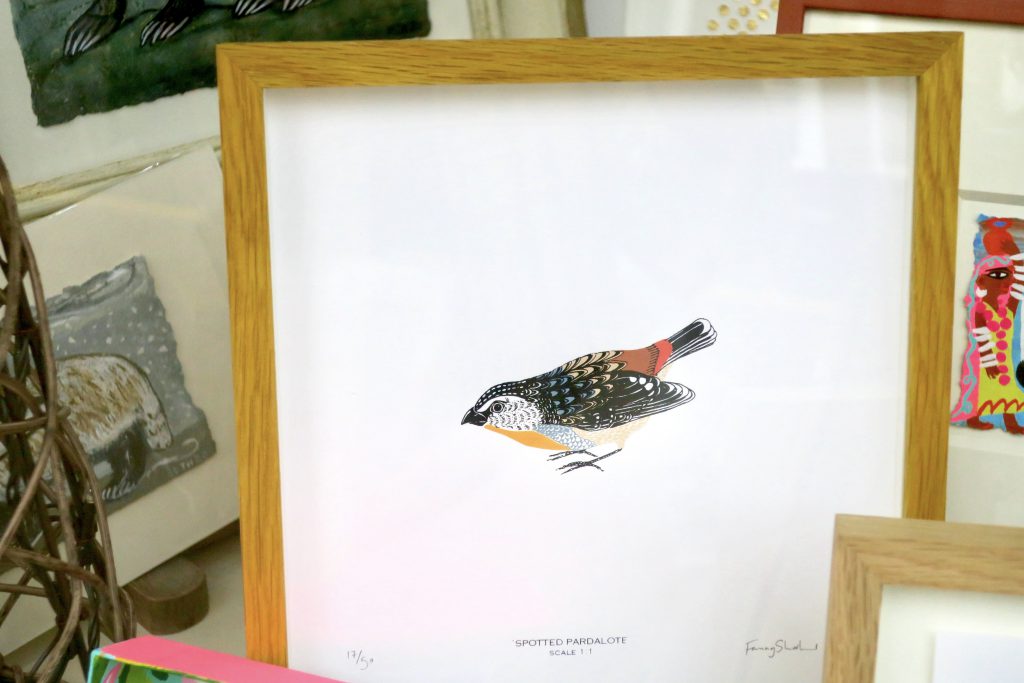 A 1:1 scale exquisitely detailed handmade screenprint by Fanny Shorter. It depicts a Spotted Pardalote, one of Australia's smallest birds, a colourful, miniature, bejeweled bird-of-paradise, this is its actual size.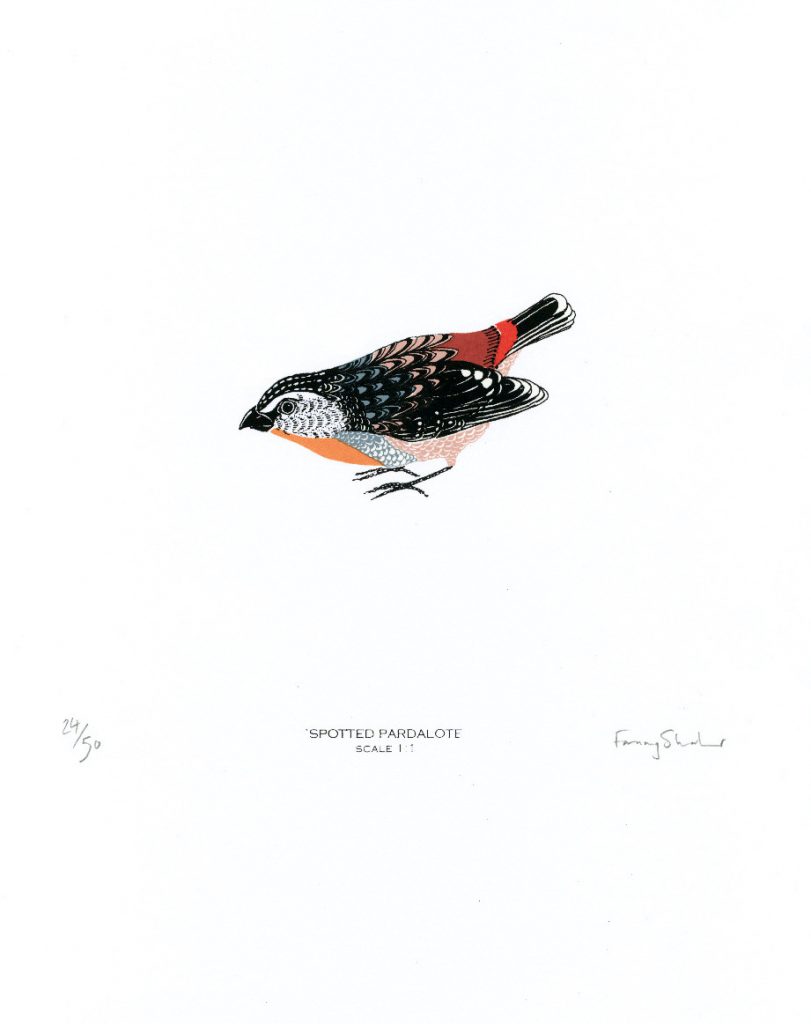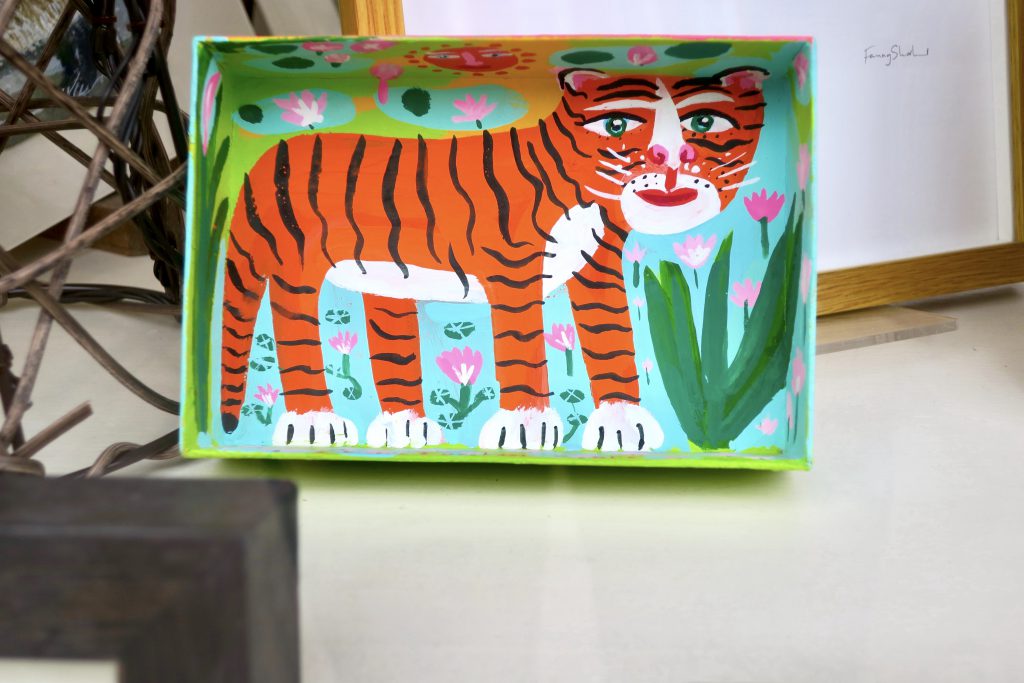 The lid of a box of paints painted with a tiger and lotus flowers by Christopher Corr.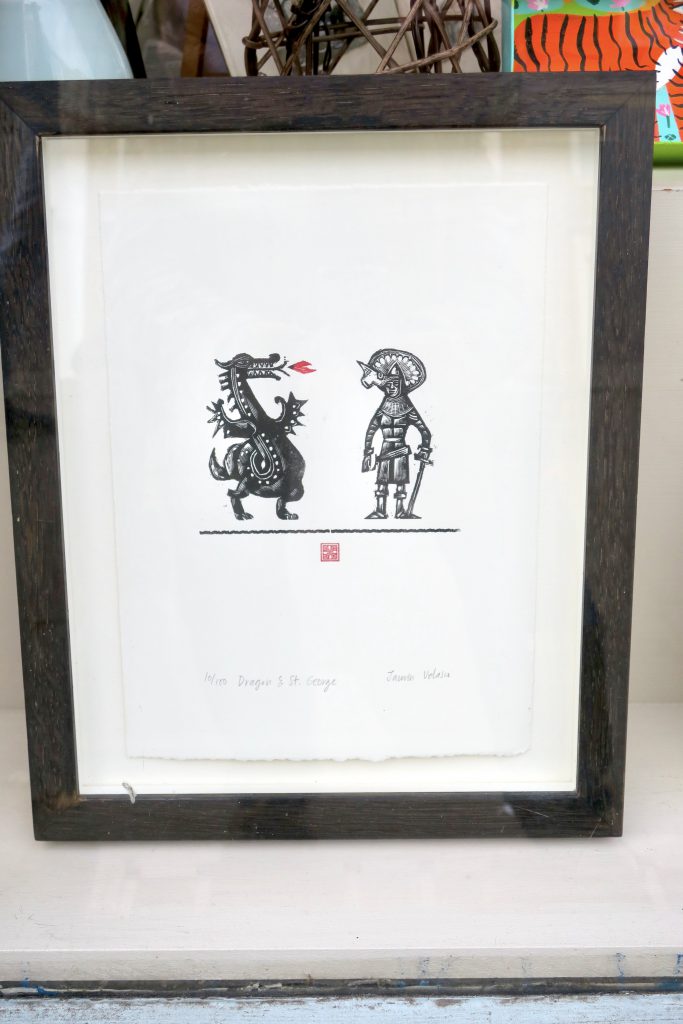 Dragon & St George, a wood engraving by Jazmin Velasco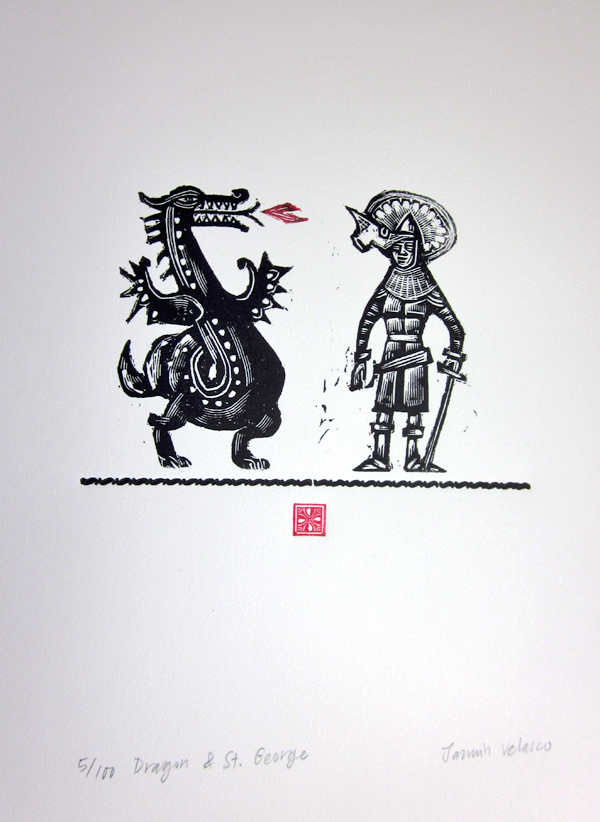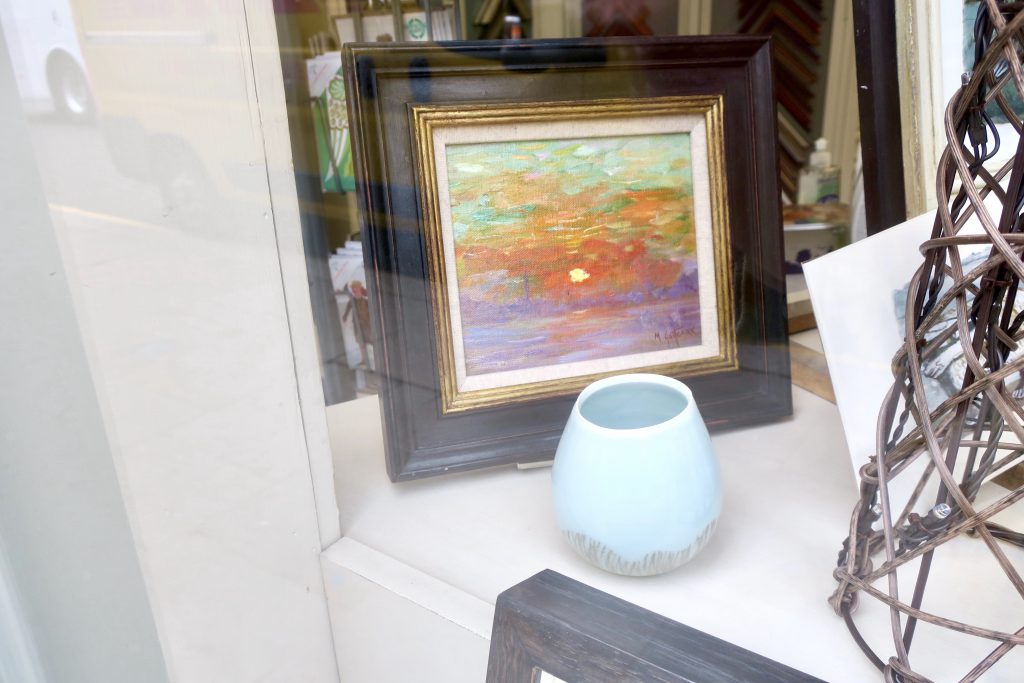 A little painting of Venice by Marcel Gatteaux and another Chris Keenan rocking bowl.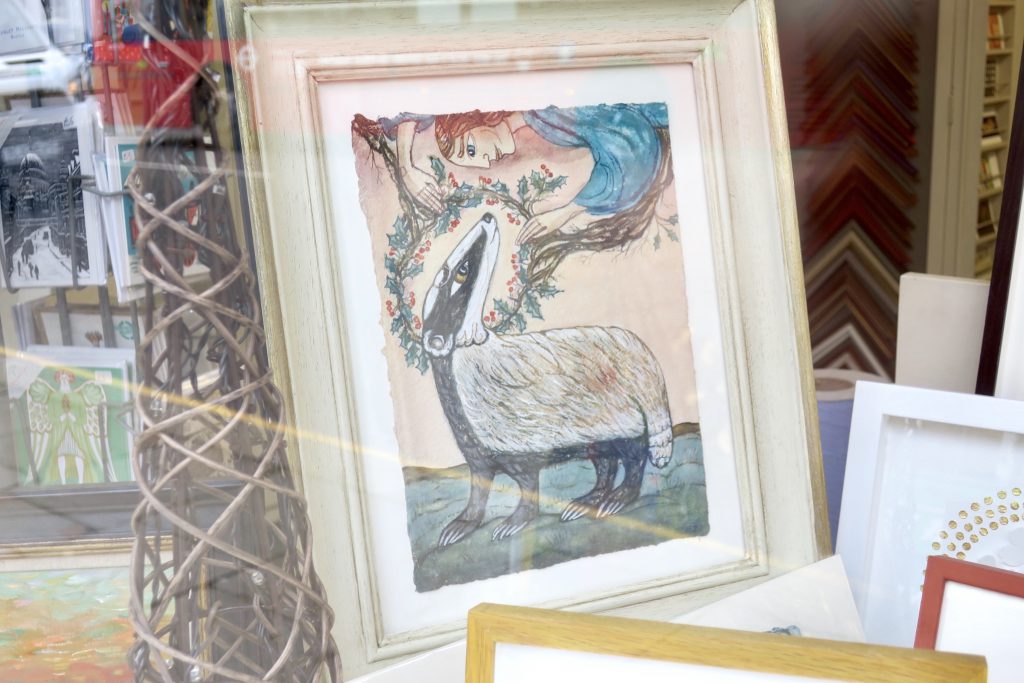 Cherish by David Hollington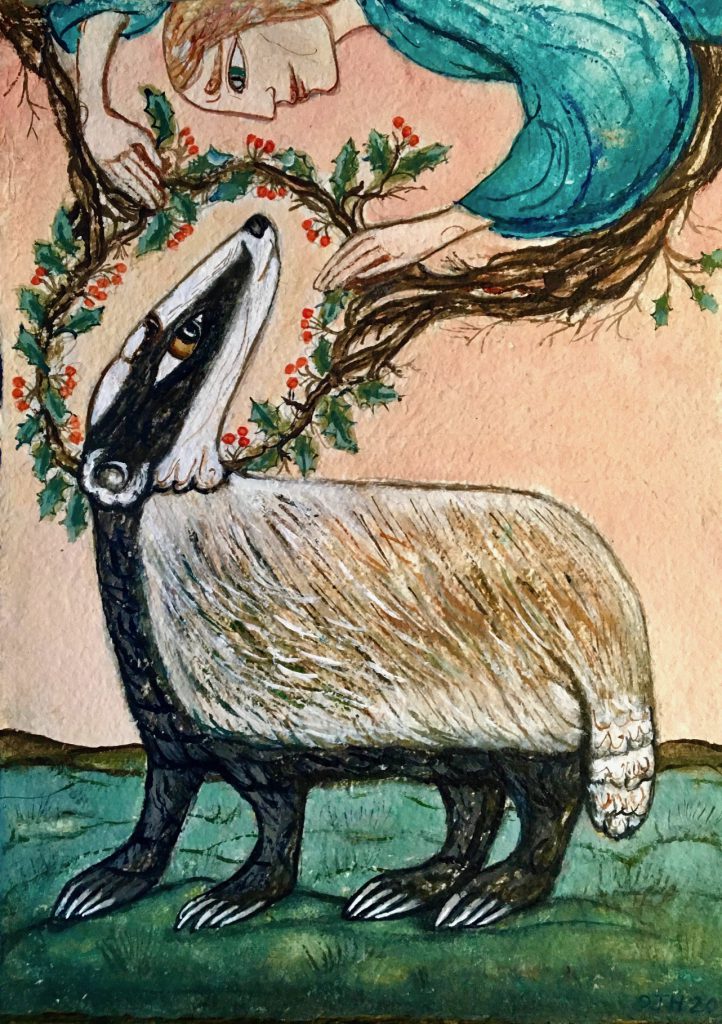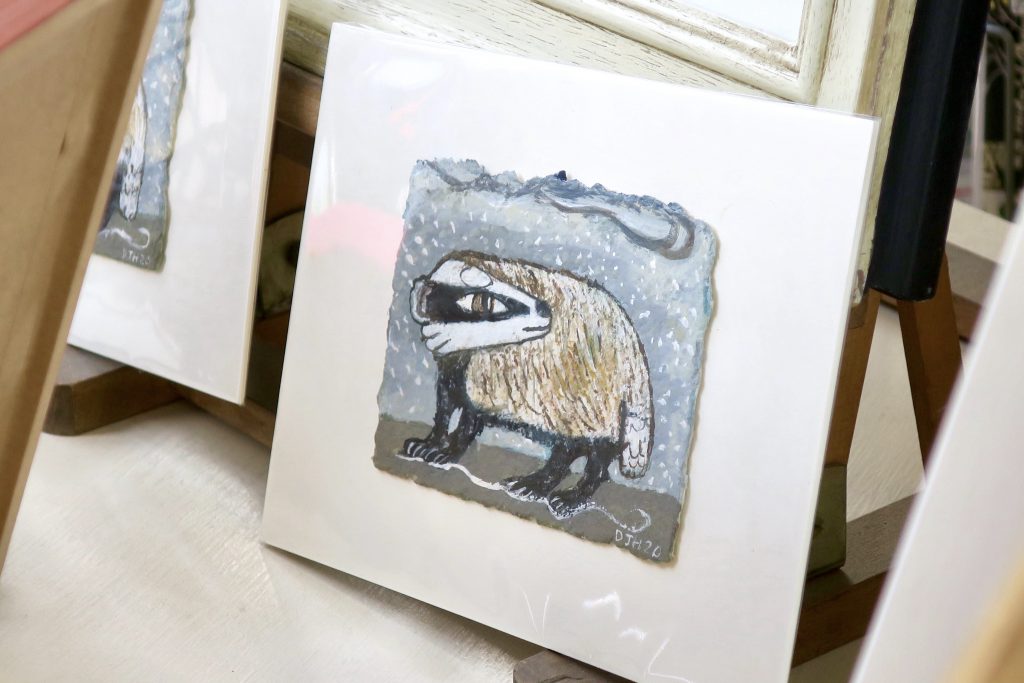 and a trio of miniature badgers…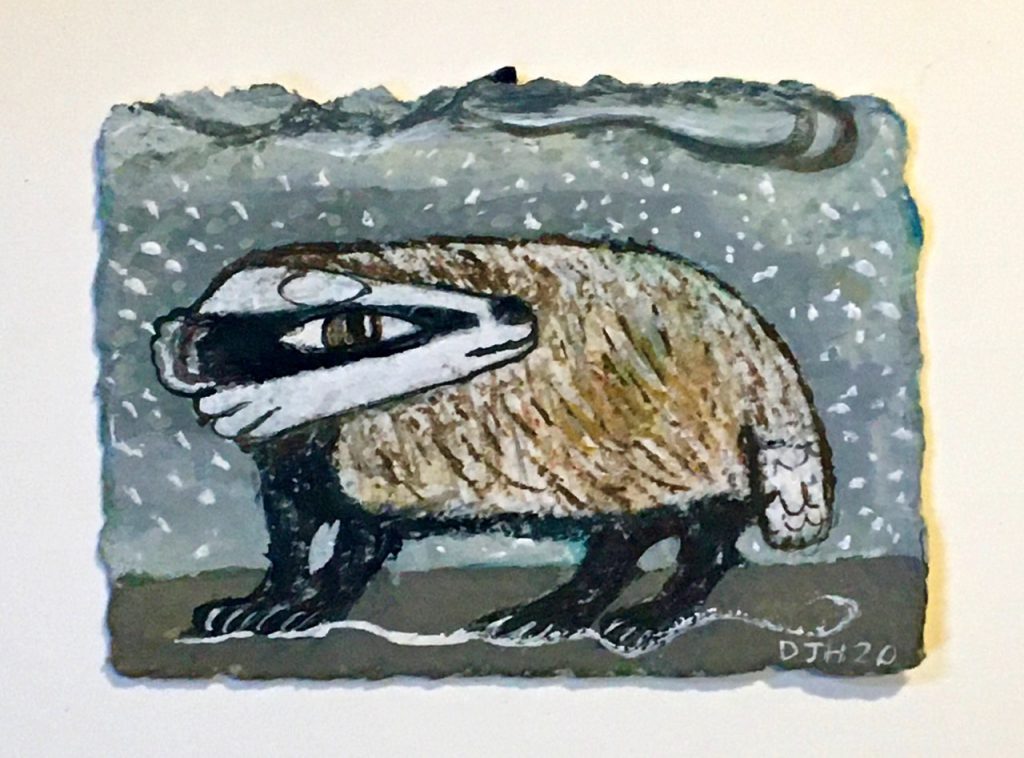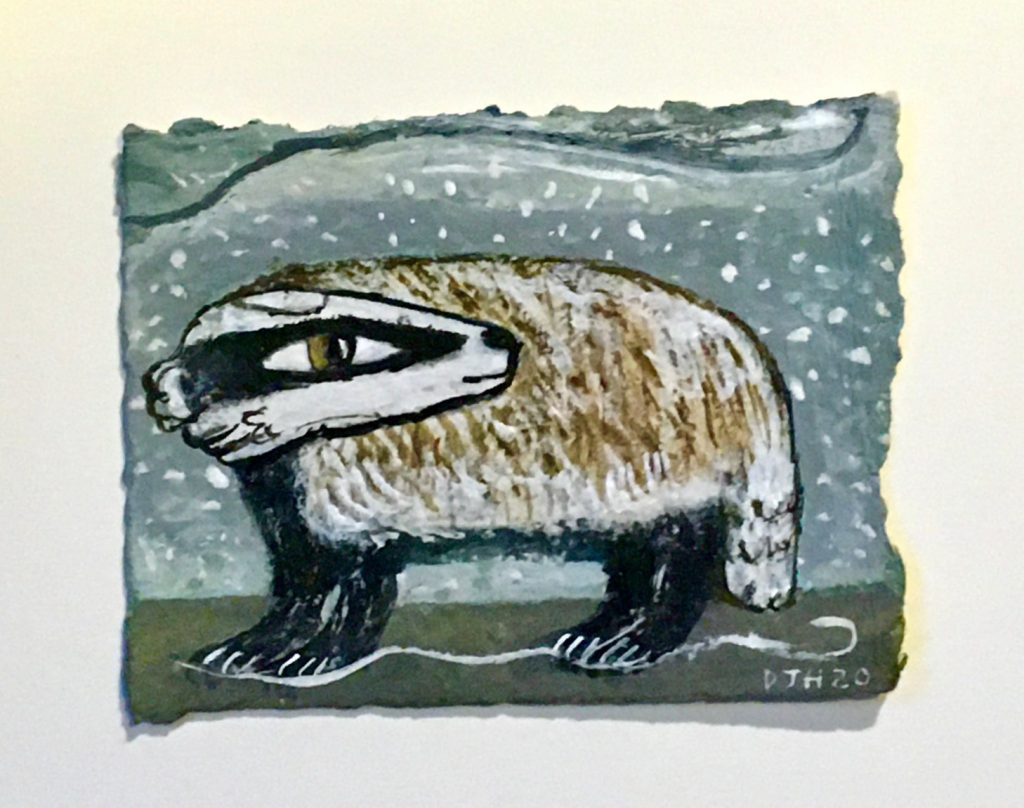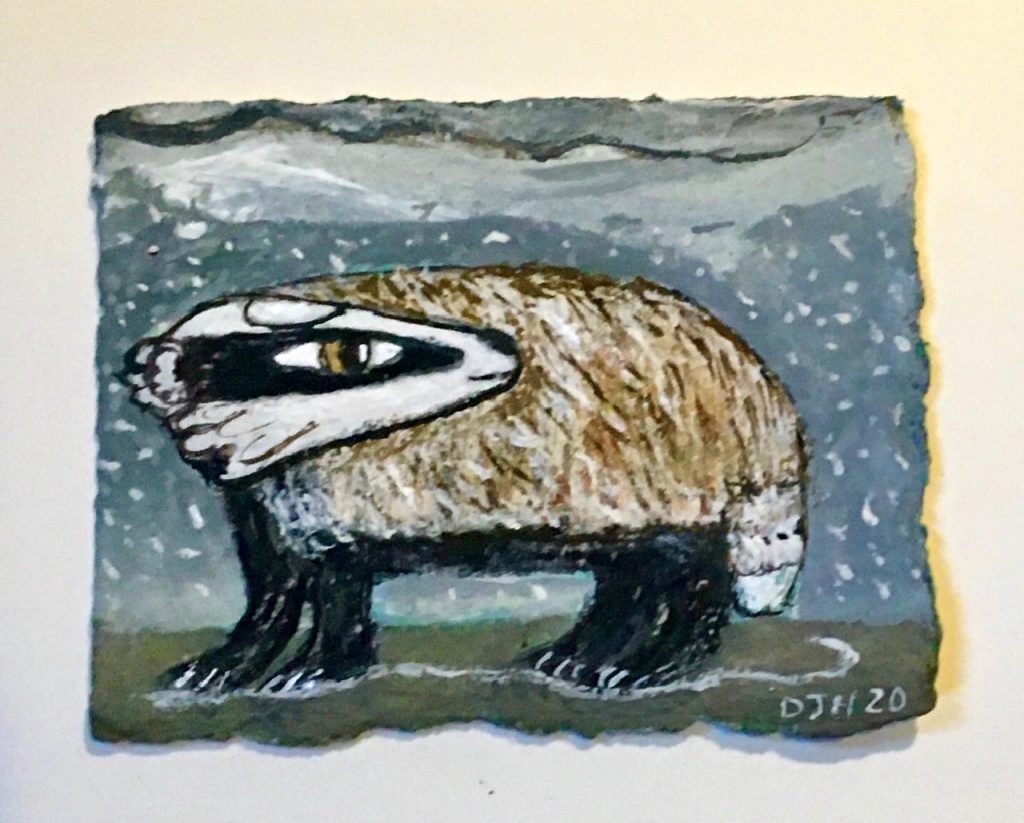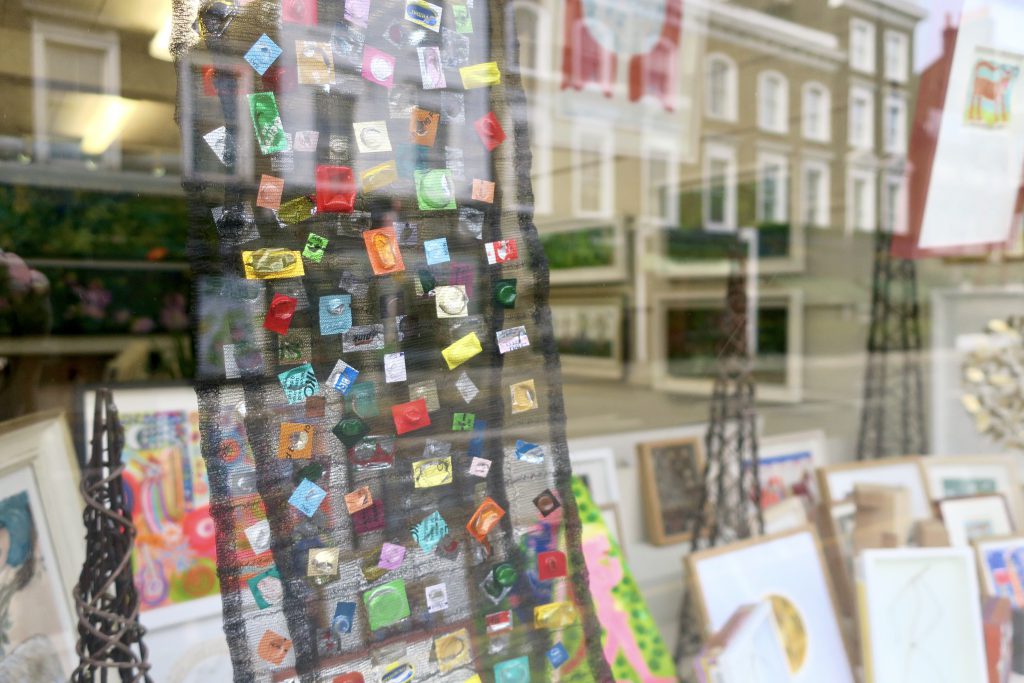 Pill Pack Scarf, a pocket knitted textile by Susie Freeman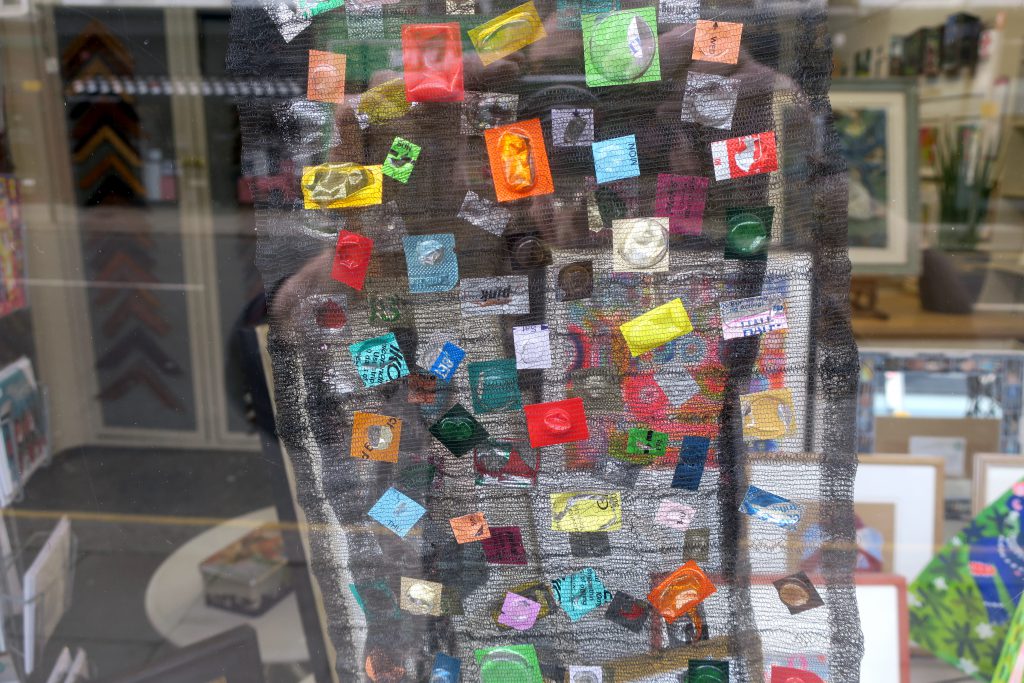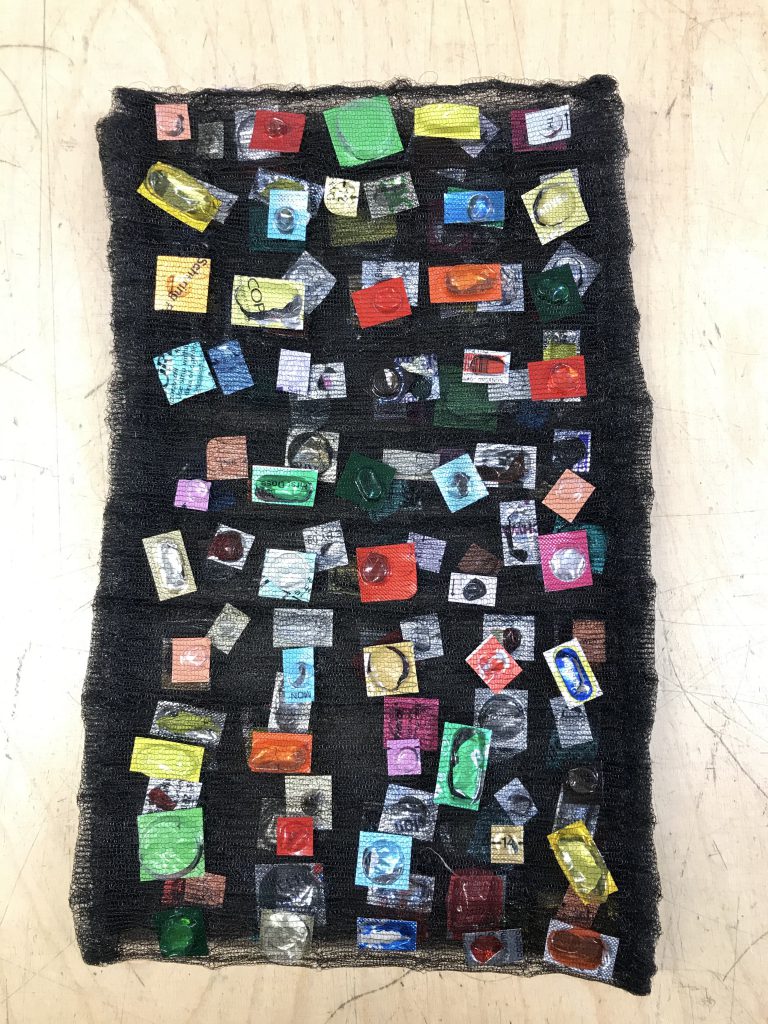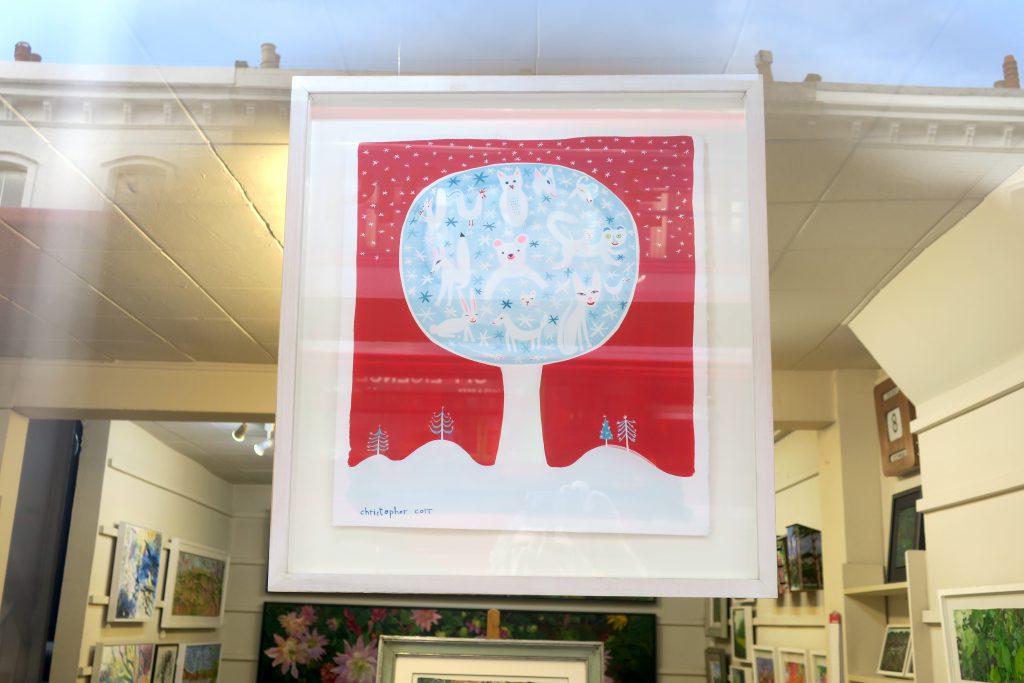 Snow Globe, a painting by Christopher Corr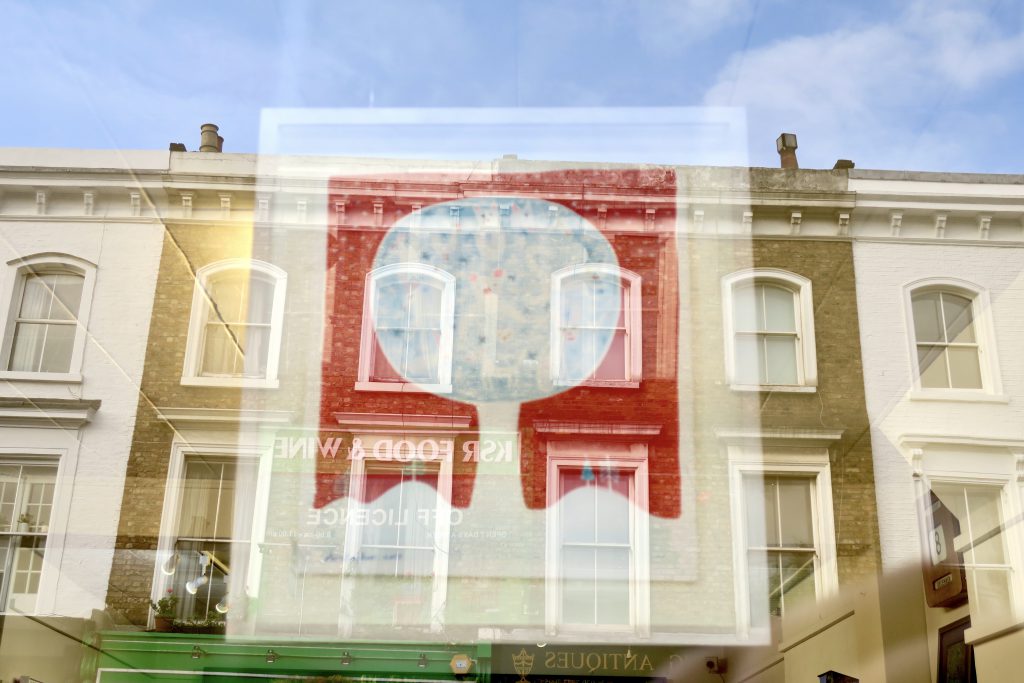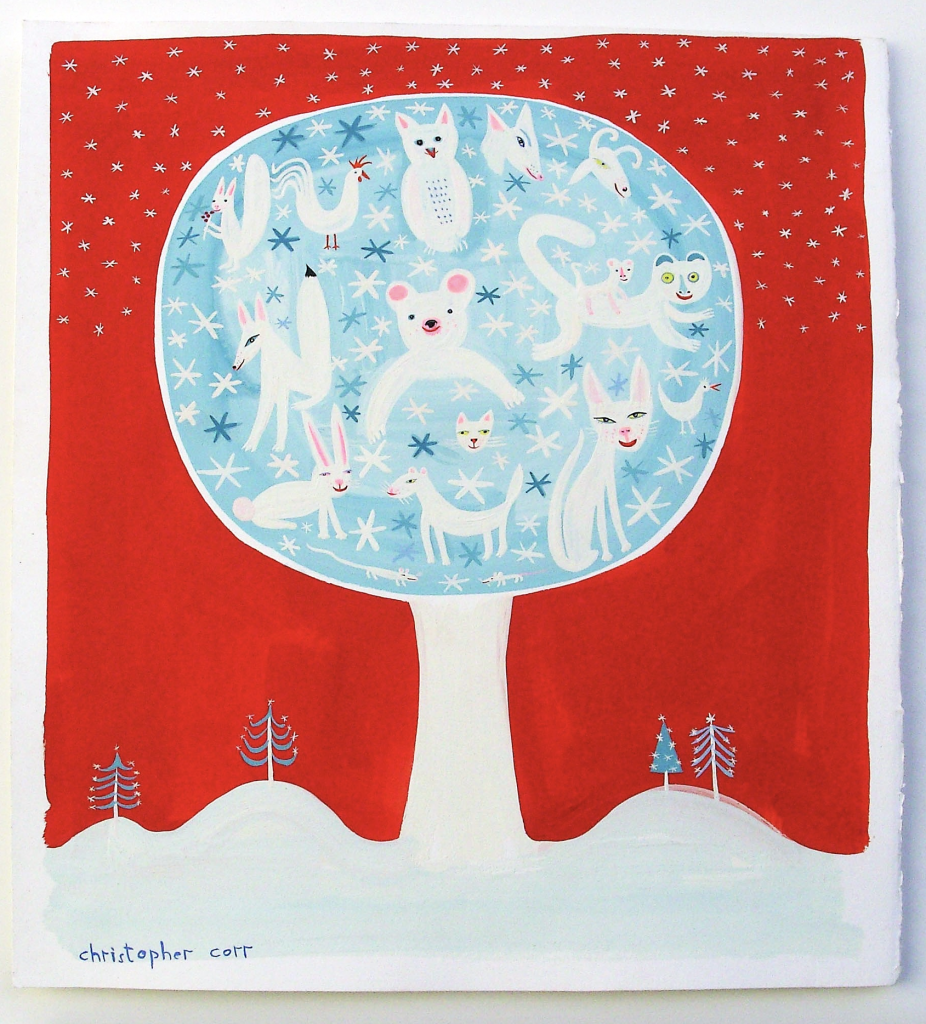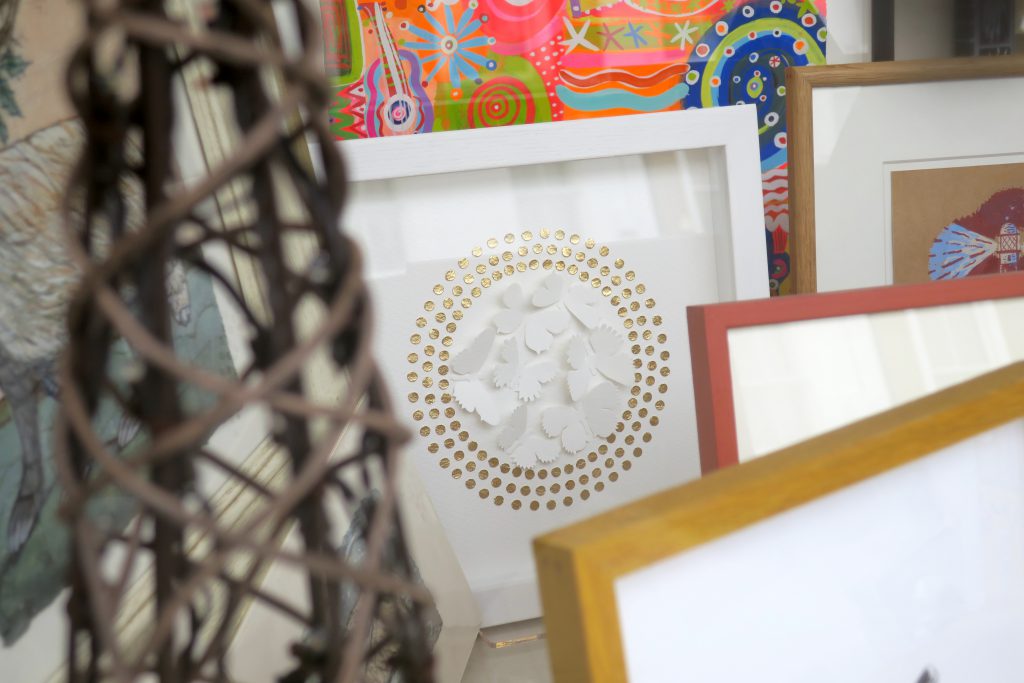 Rêve, a paper-cut by Joseph Silcott, aka Joseph Scissorhands.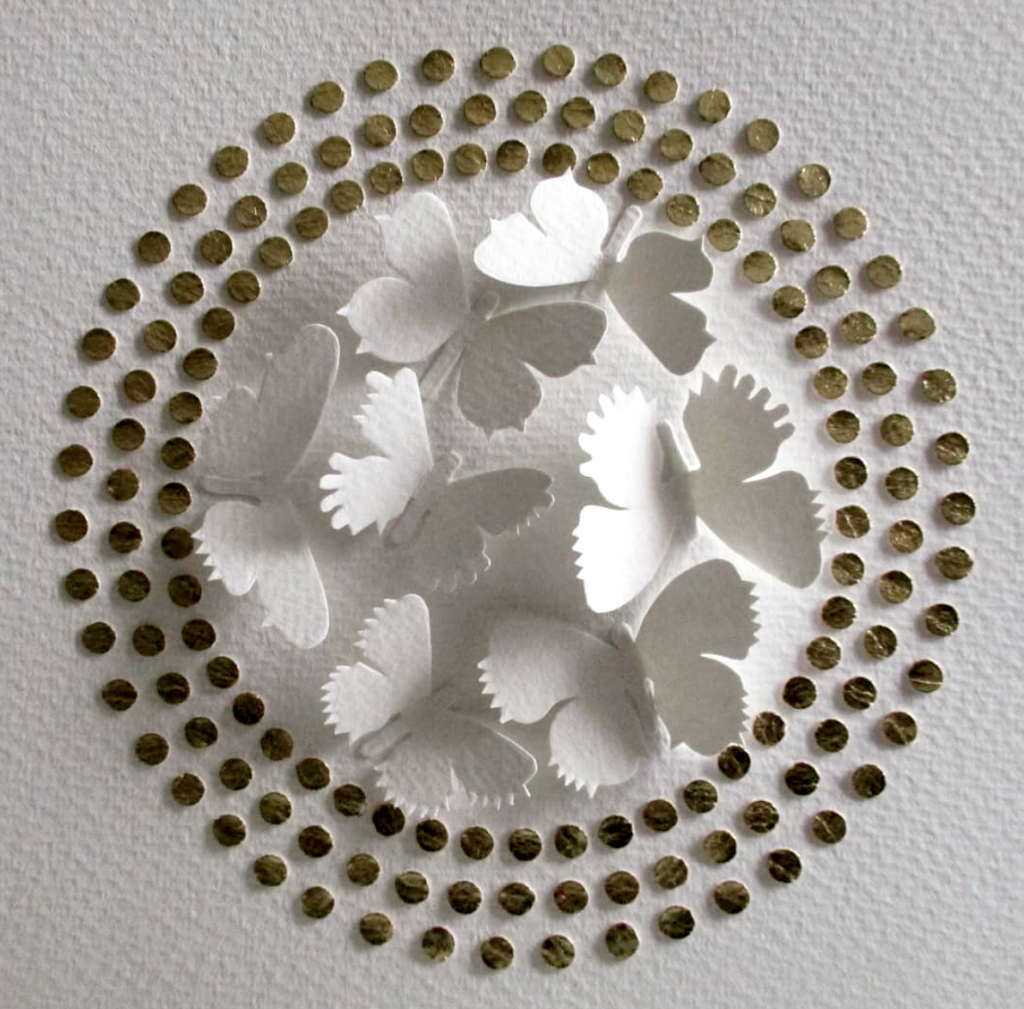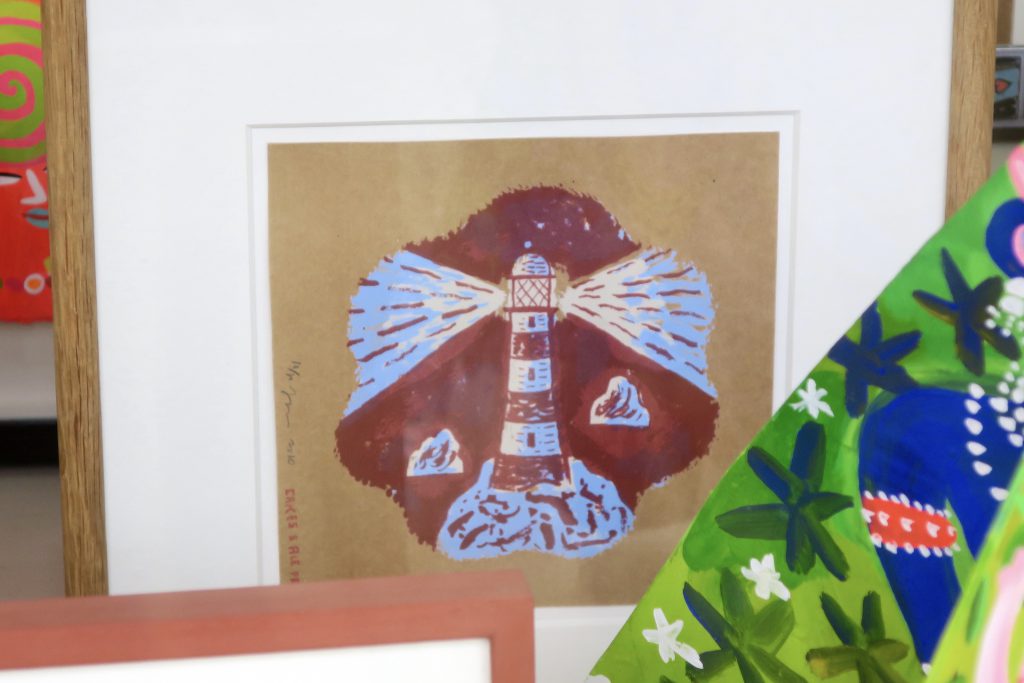 Lighthouse, one of several screenprint motifs for The Captain's Pattern, a fabric design by Jonny Hannah.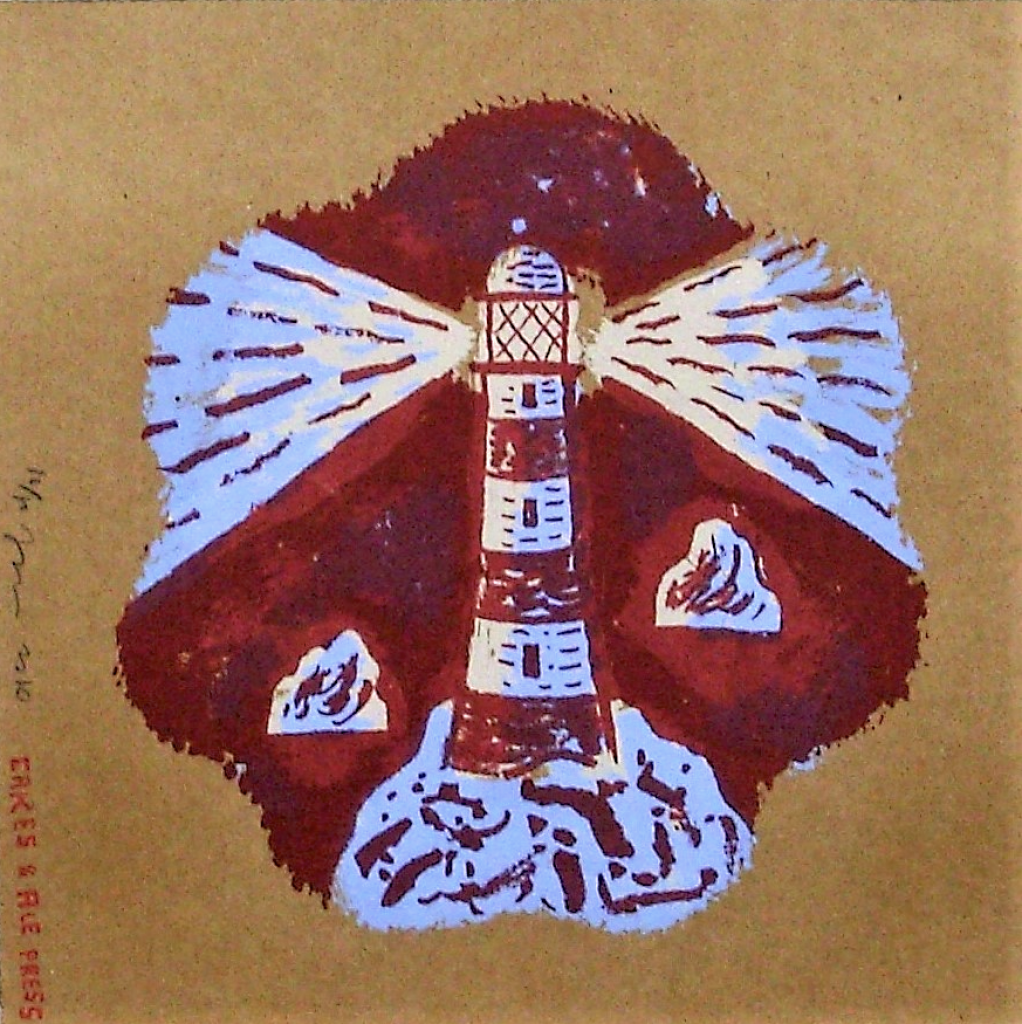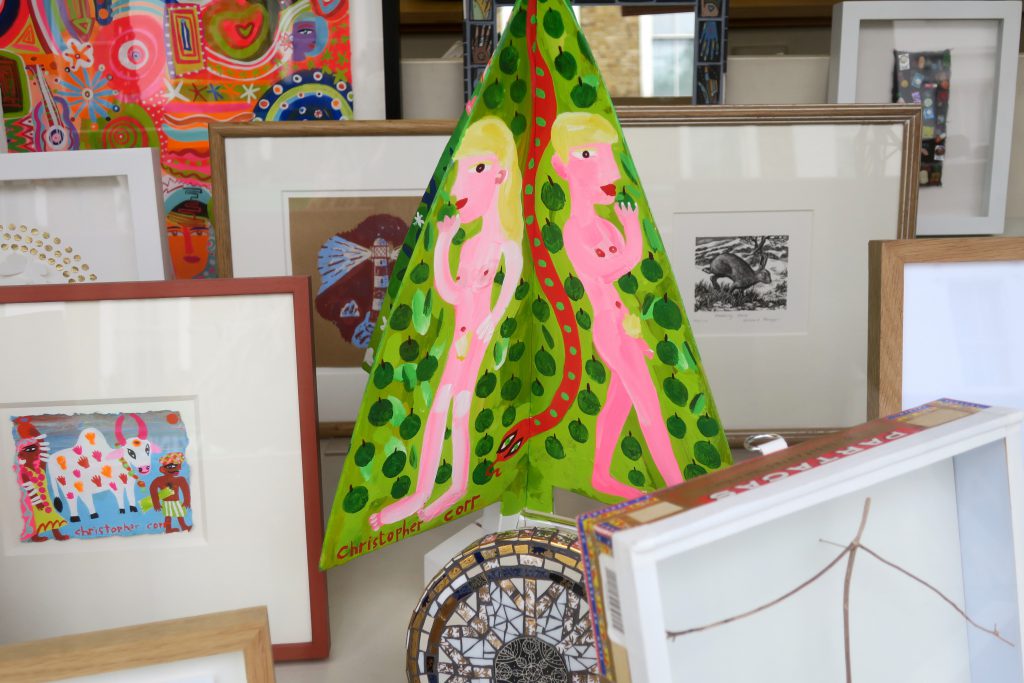 Spirit Tree,
a four-sided wooden cut-out with four paintings by Christopher Corr.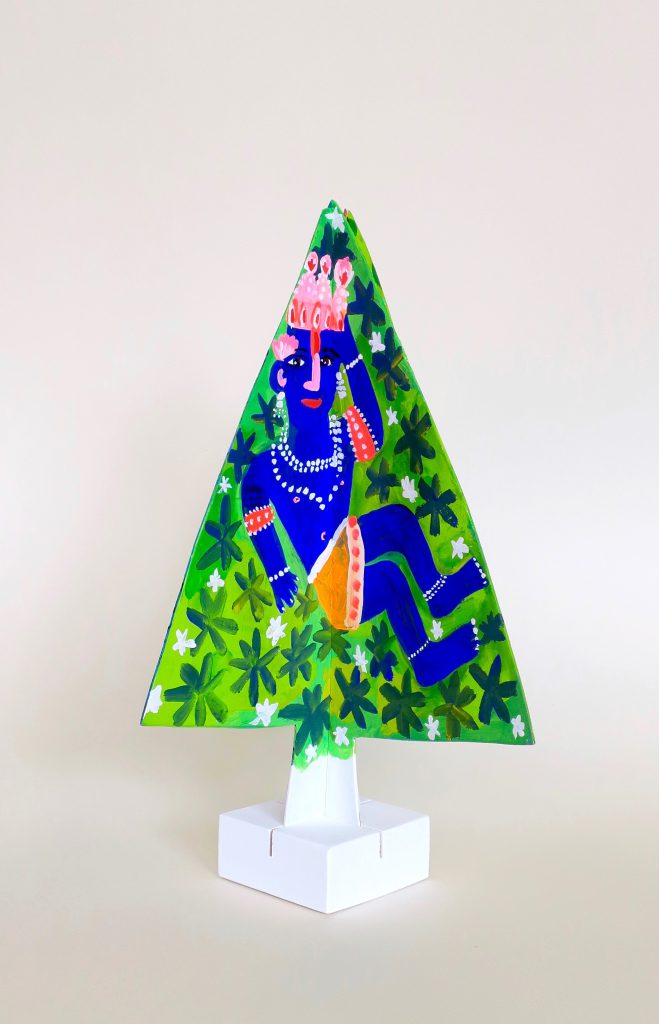 Krishna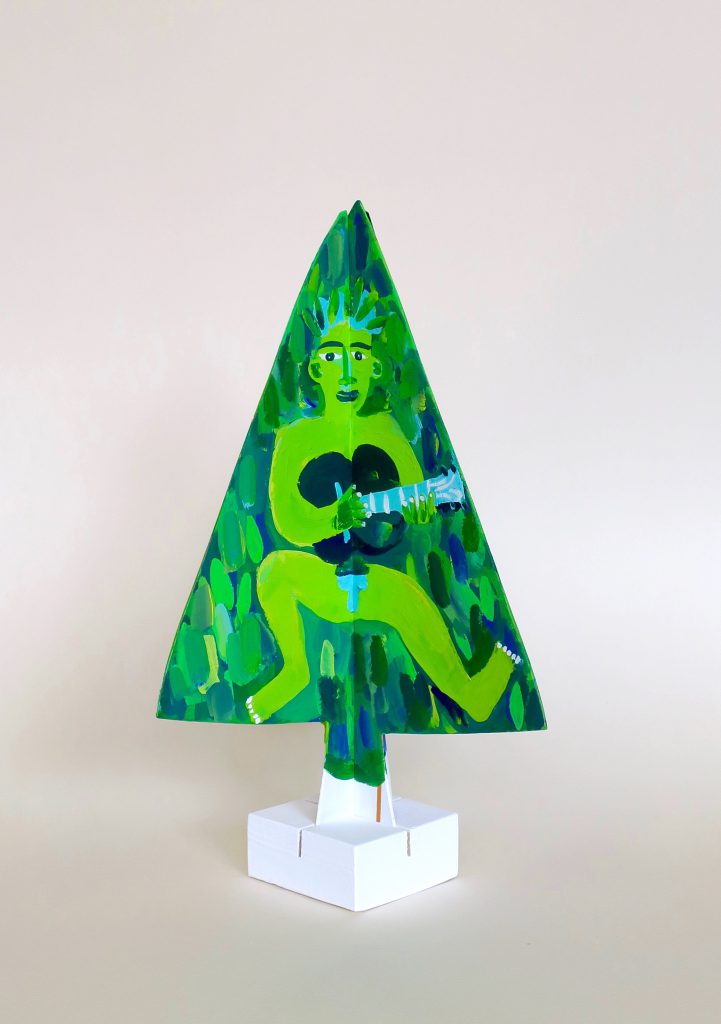 Green Man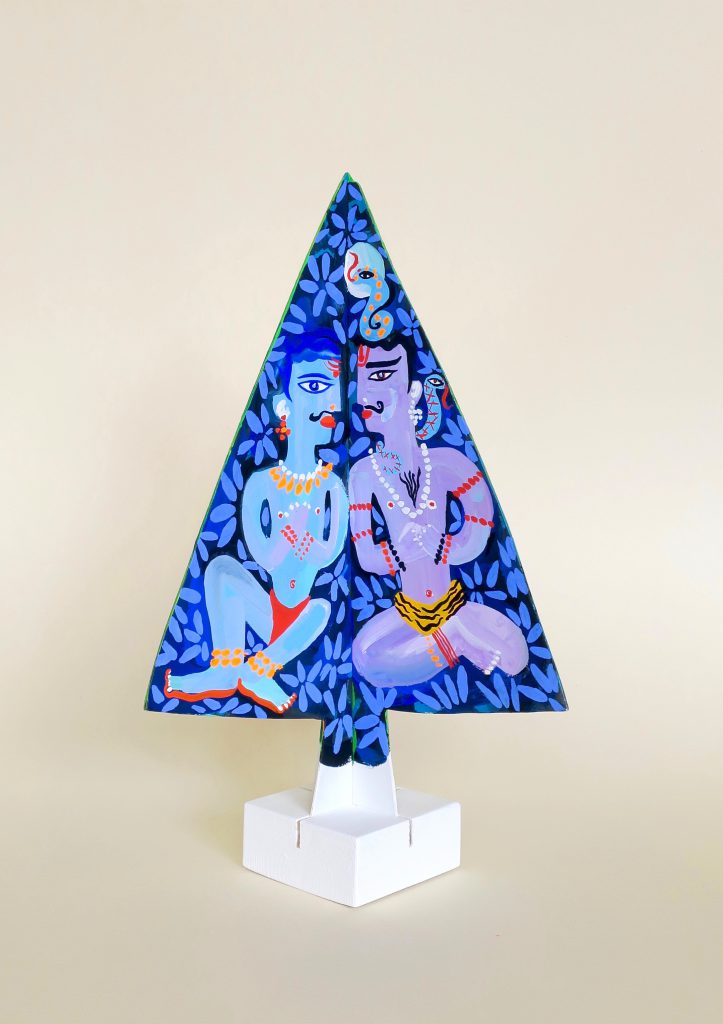 Vishnu & Shiva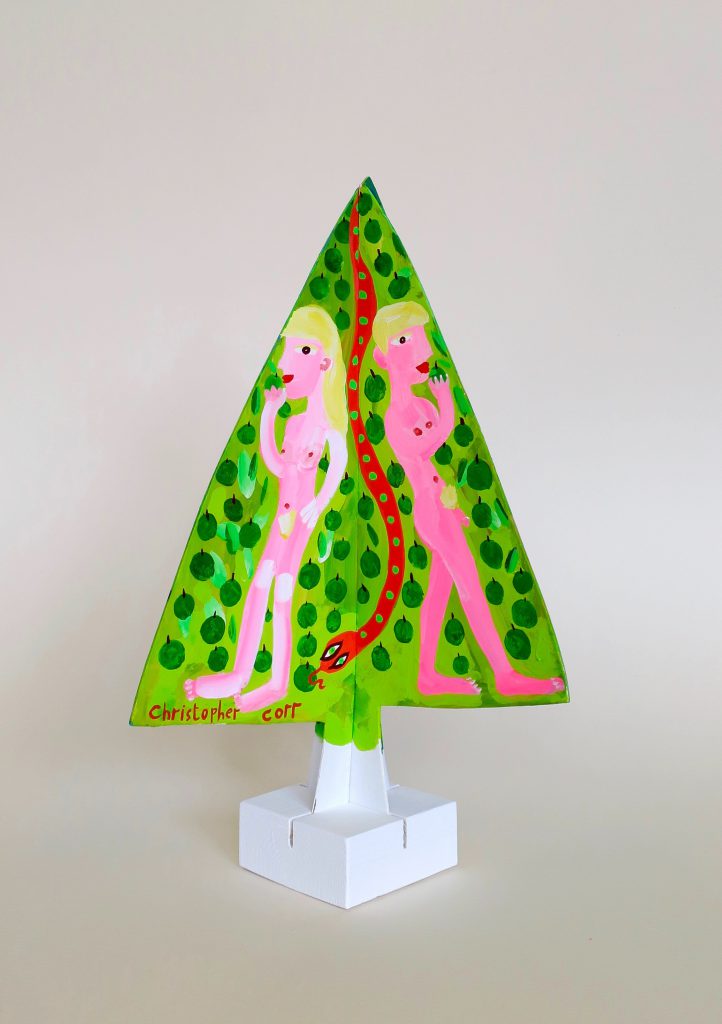 Eve & Adam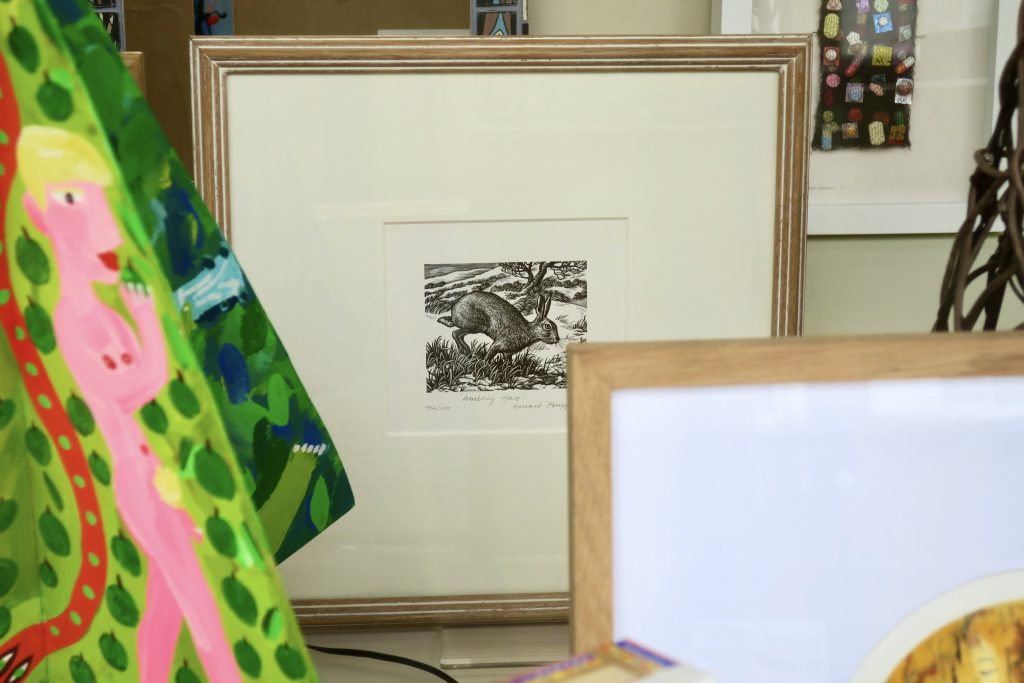 Ambling Hare, a wood engraving by Howard Phipps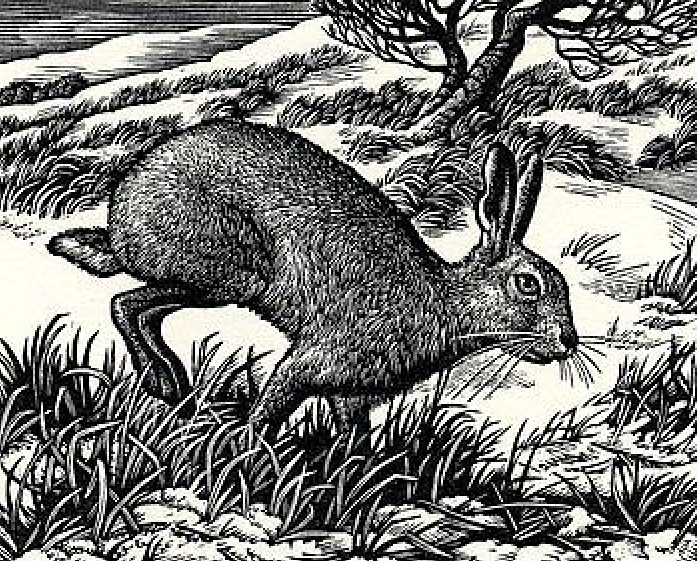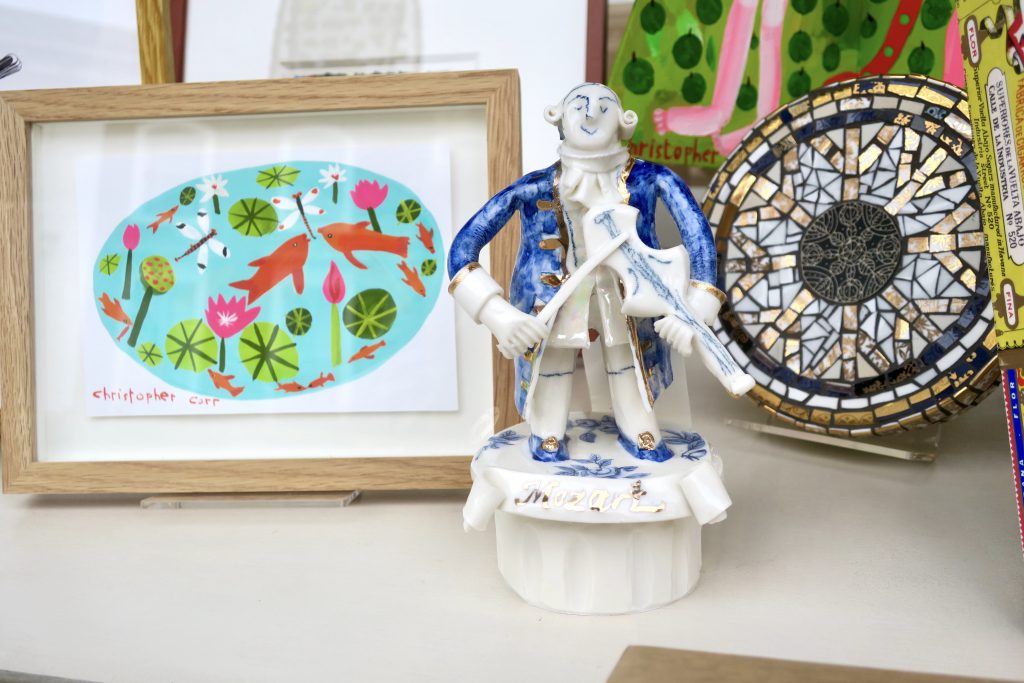 A ceramic figurine by Jazmin Velasco of Wolfgang Amadeus Mozart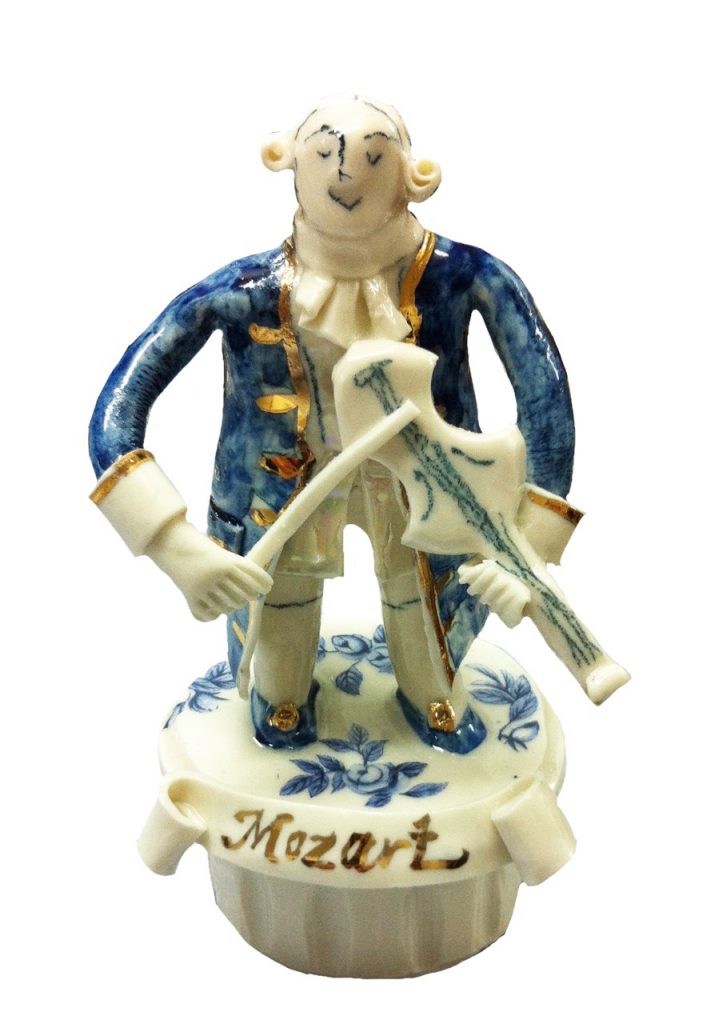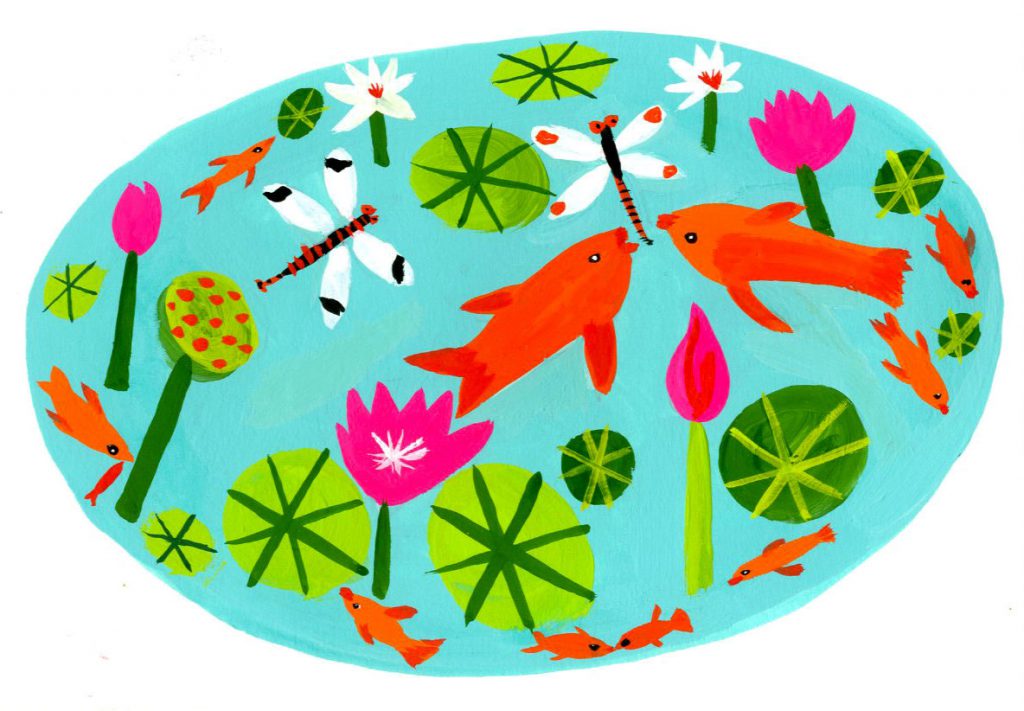 A vignette by Christopher Corr from The Great Race: The Story of the Chinese Zodiac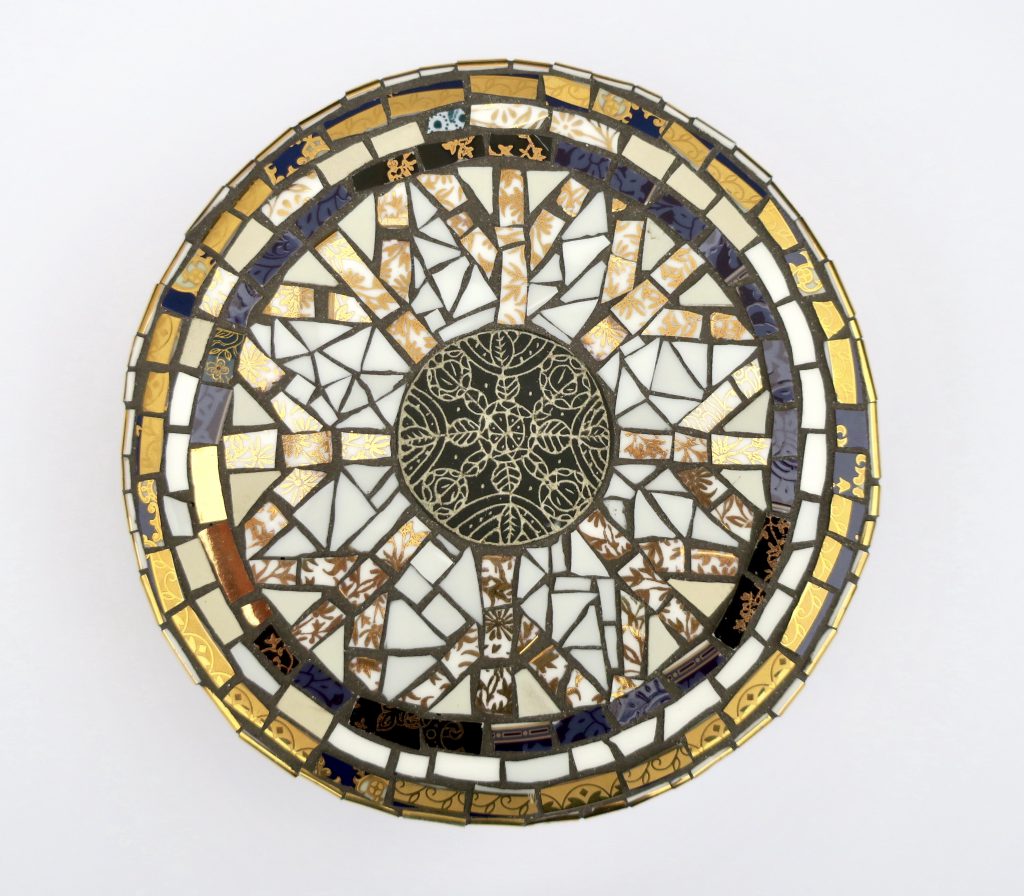 A mosaic roundel by Joanna Veevers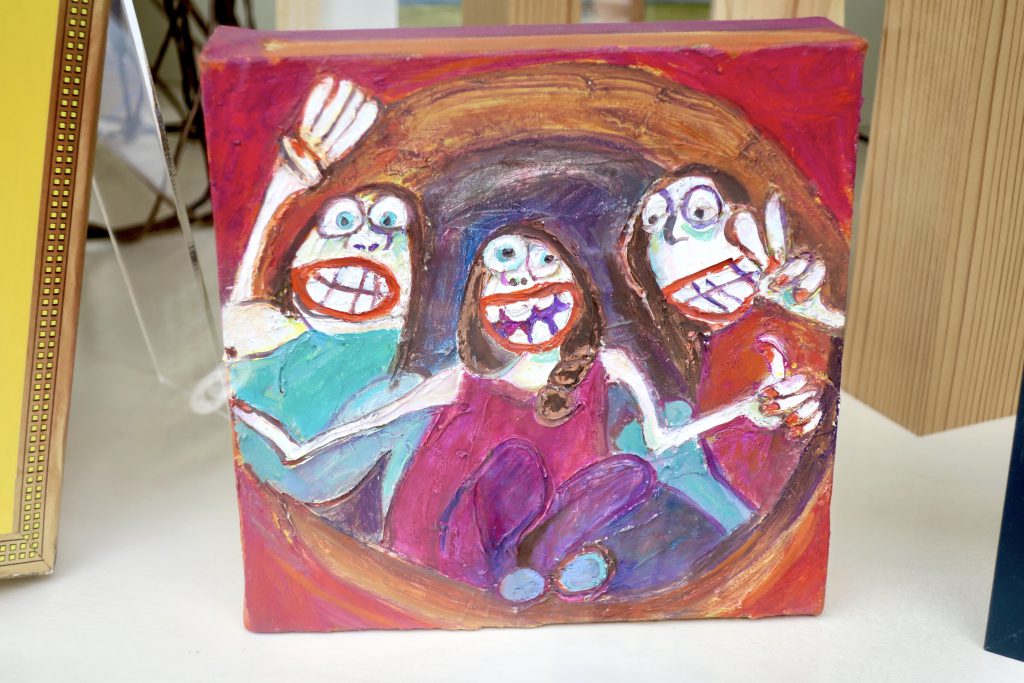 Three in a Hole by Joanne Hodgen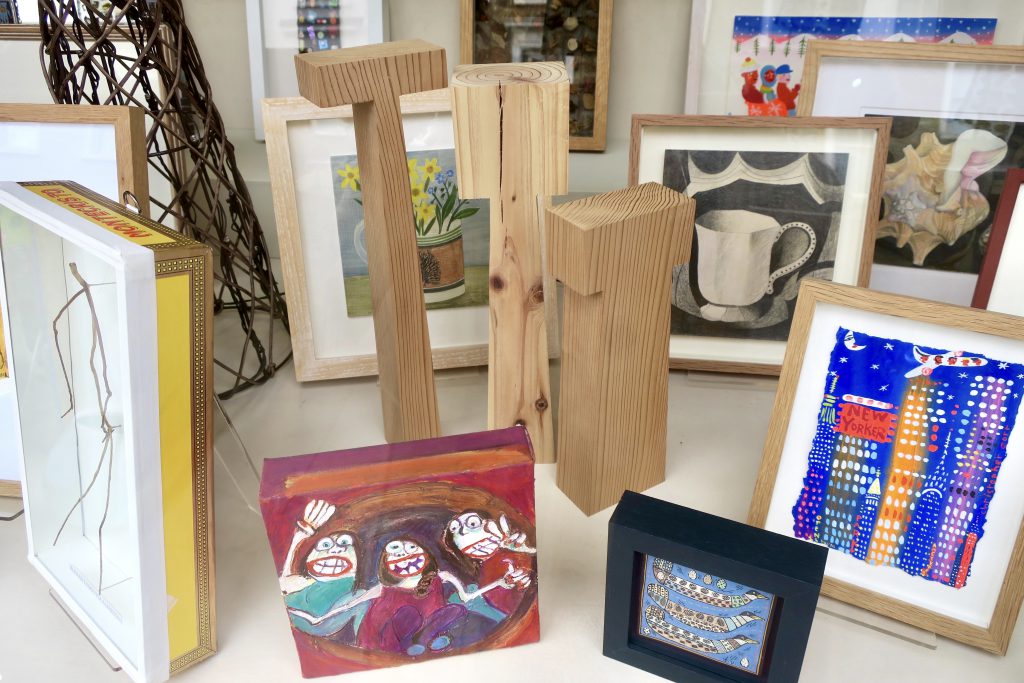 A trio of wooden Kokeshi by Emi Shinmura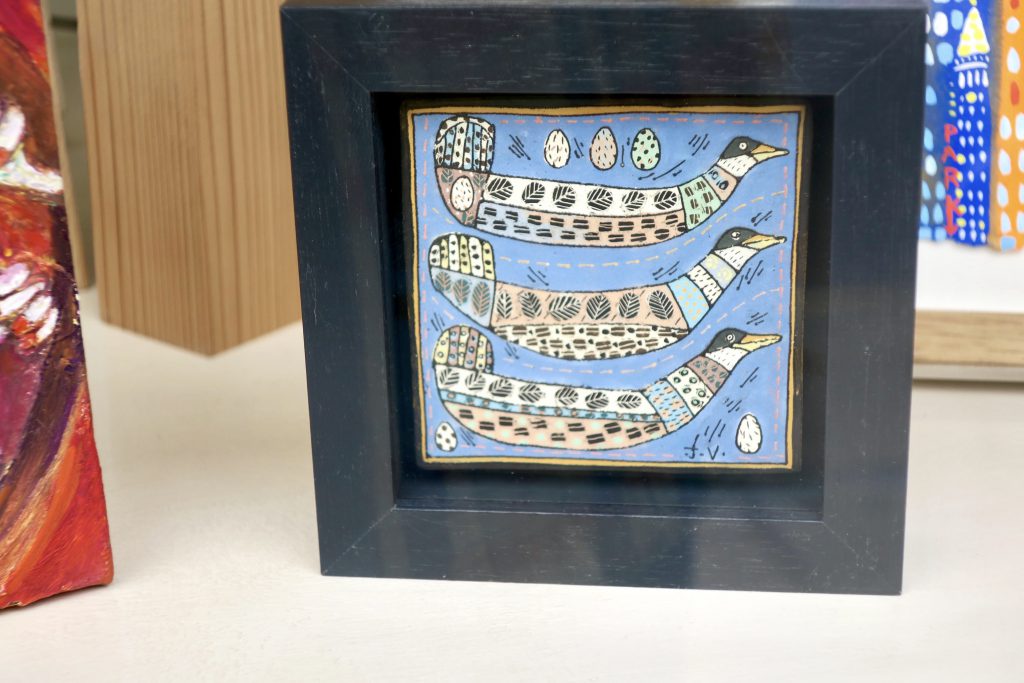 Ducks on Display by Joanna Veevers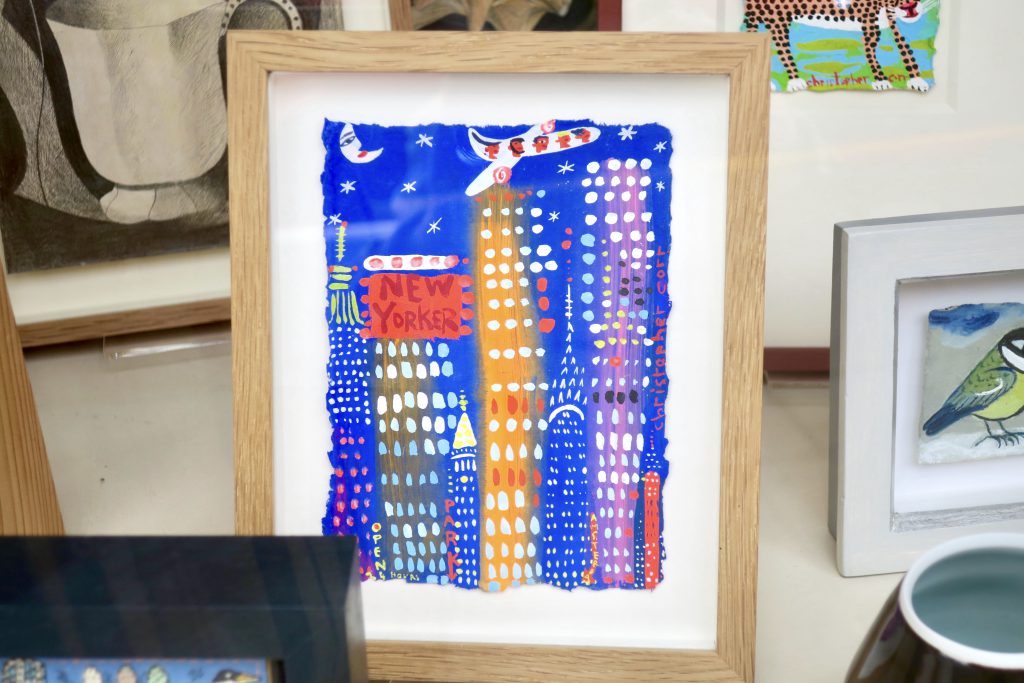 New Yorker Night Skies by Christopher Corr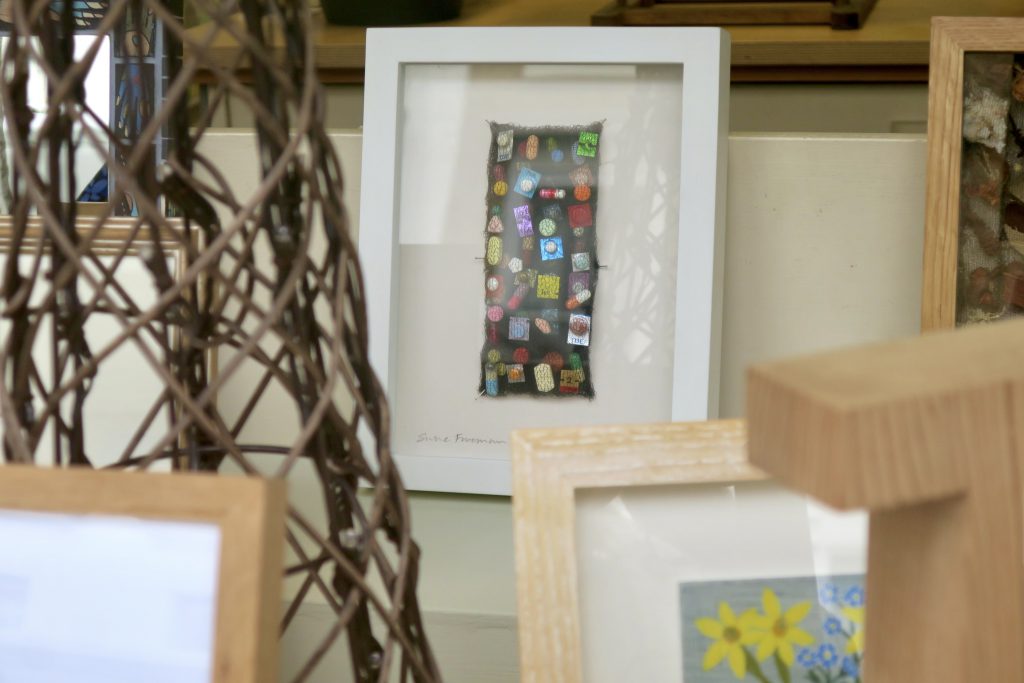 Tuesday by Susie Freeman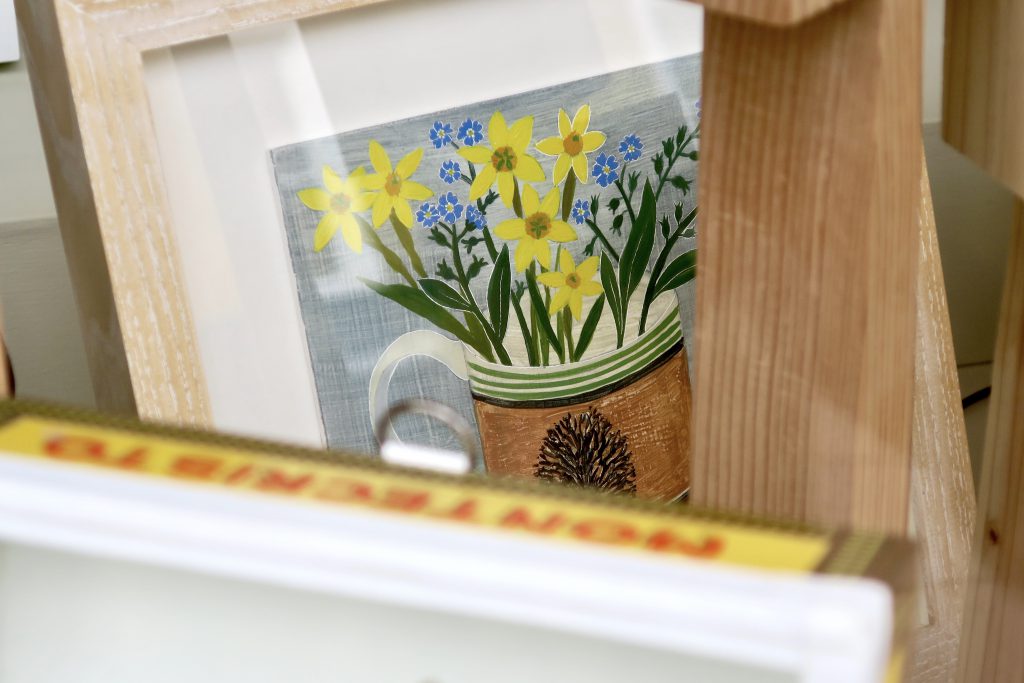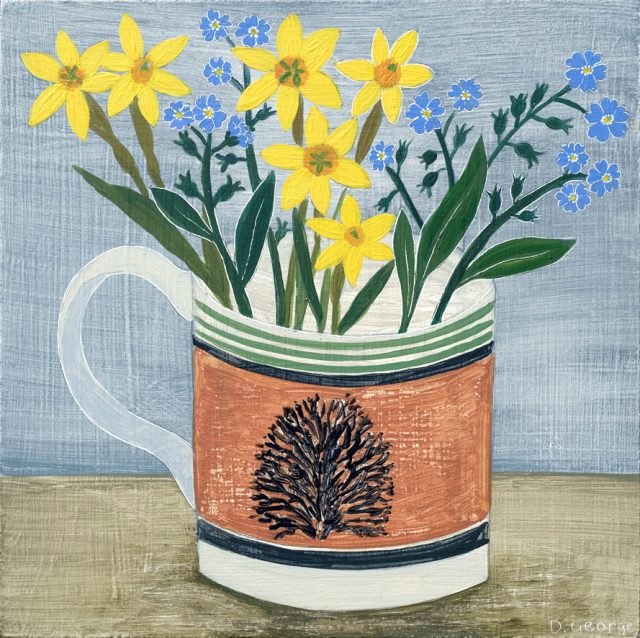 Mocha Ware Cup by Debbie George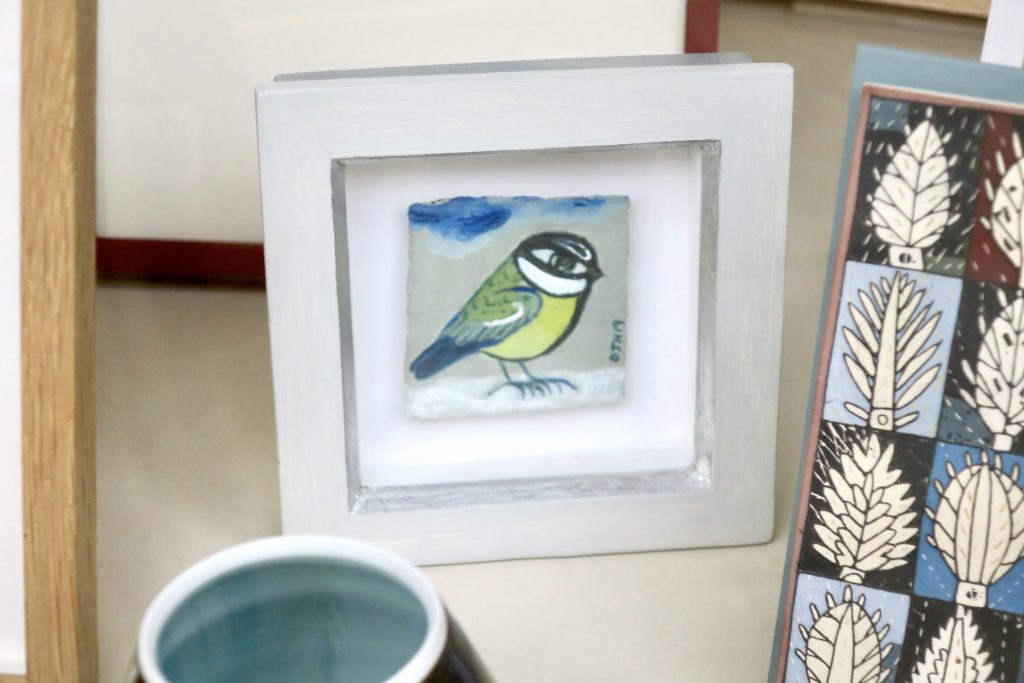 A miniature Bluetit by David Hollington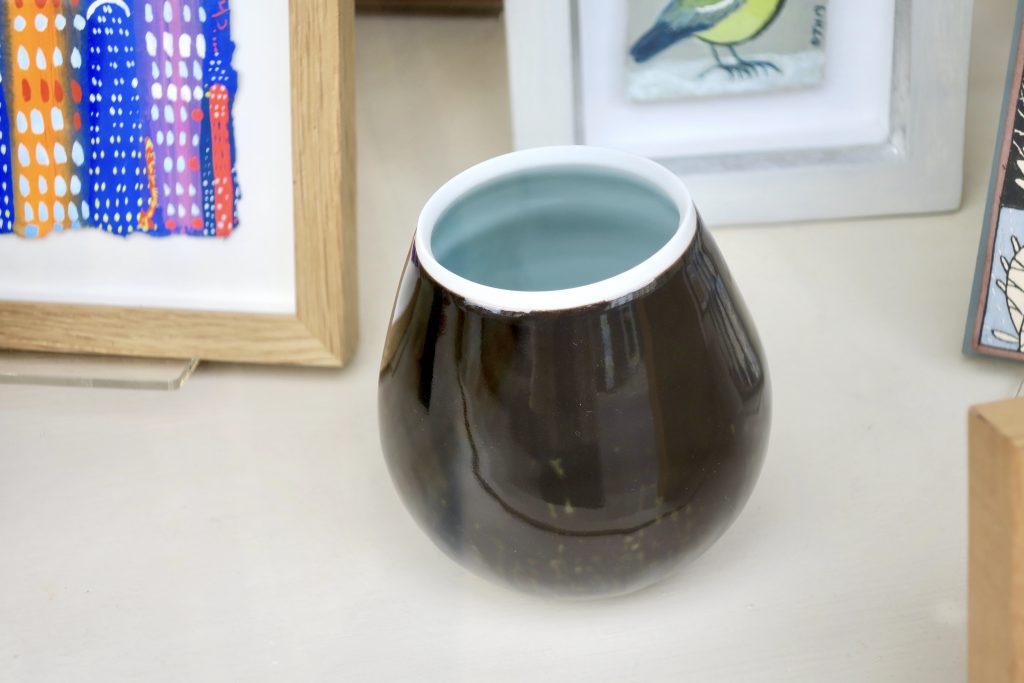 A beautiful porcelain Rocking Bowl by Chris Keenan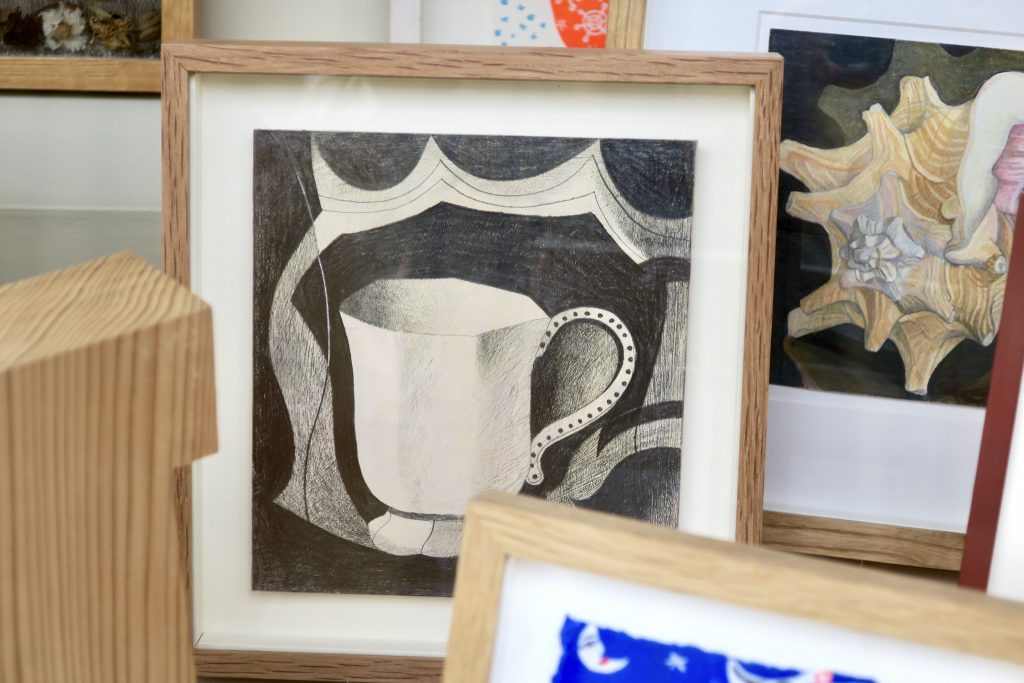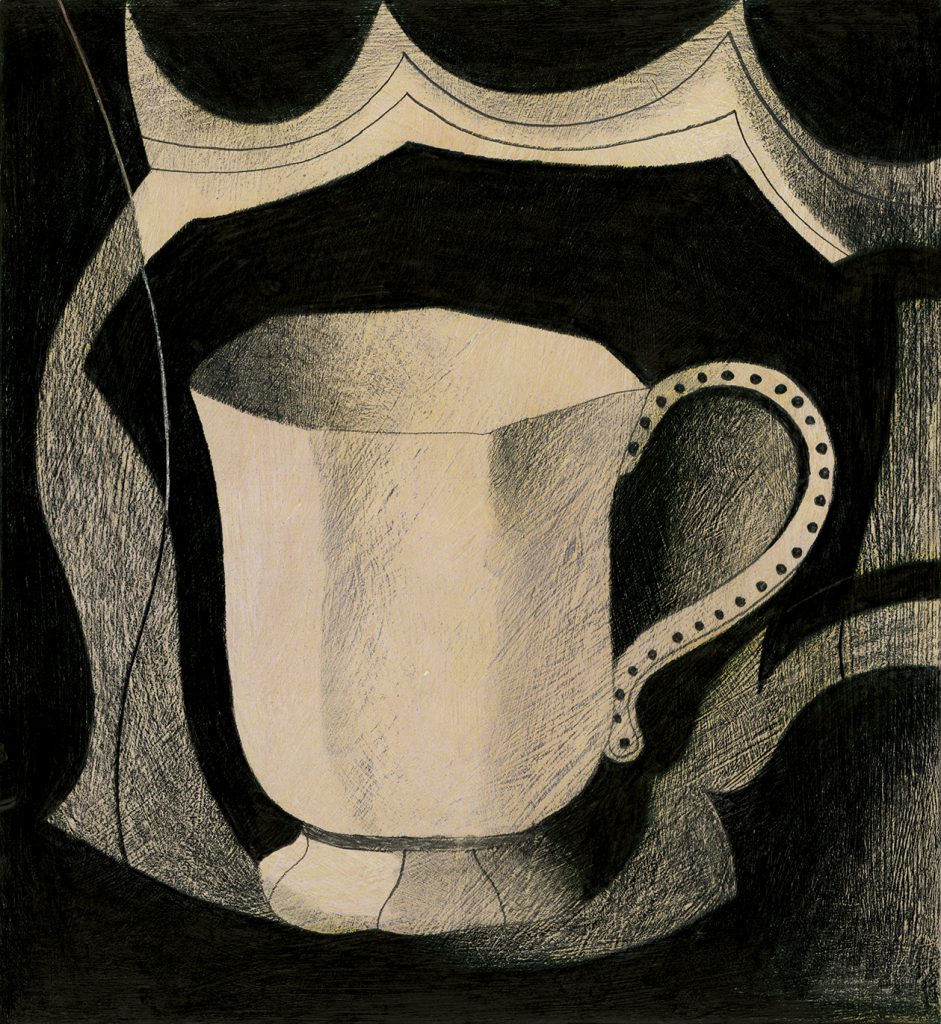 Shadow (Mug II) by Jonathan Christie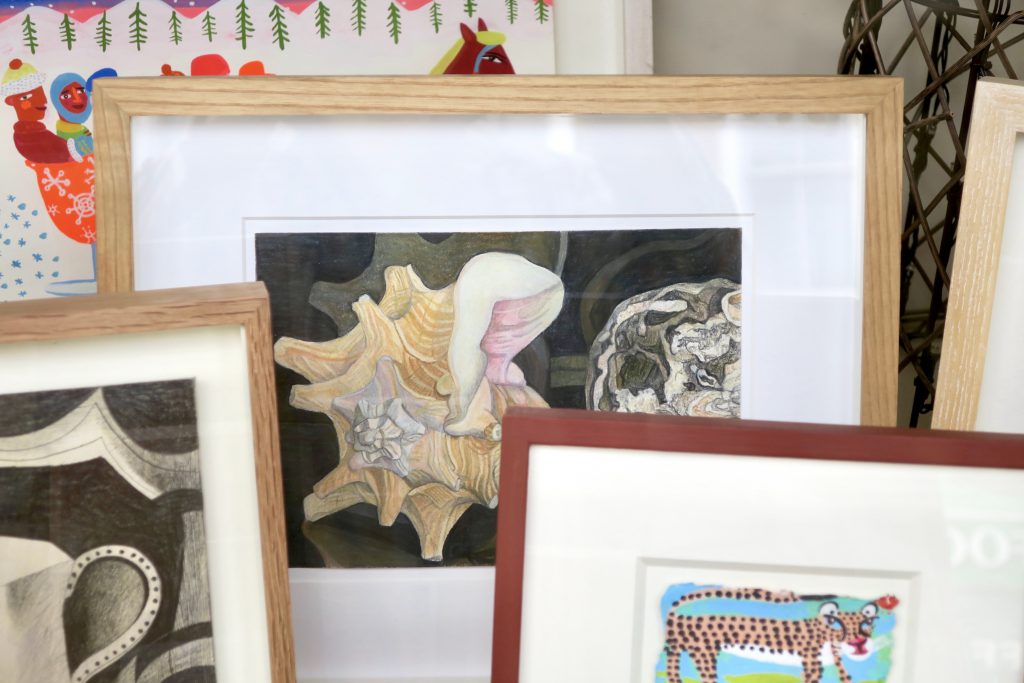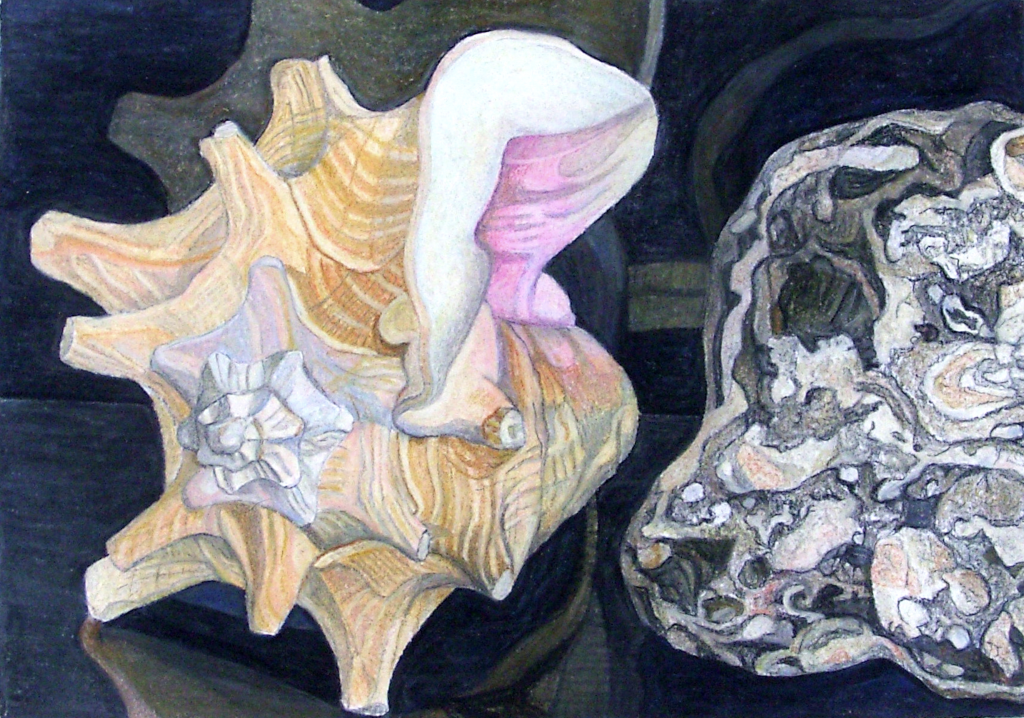 Flint & Shell by Aaron Kasmin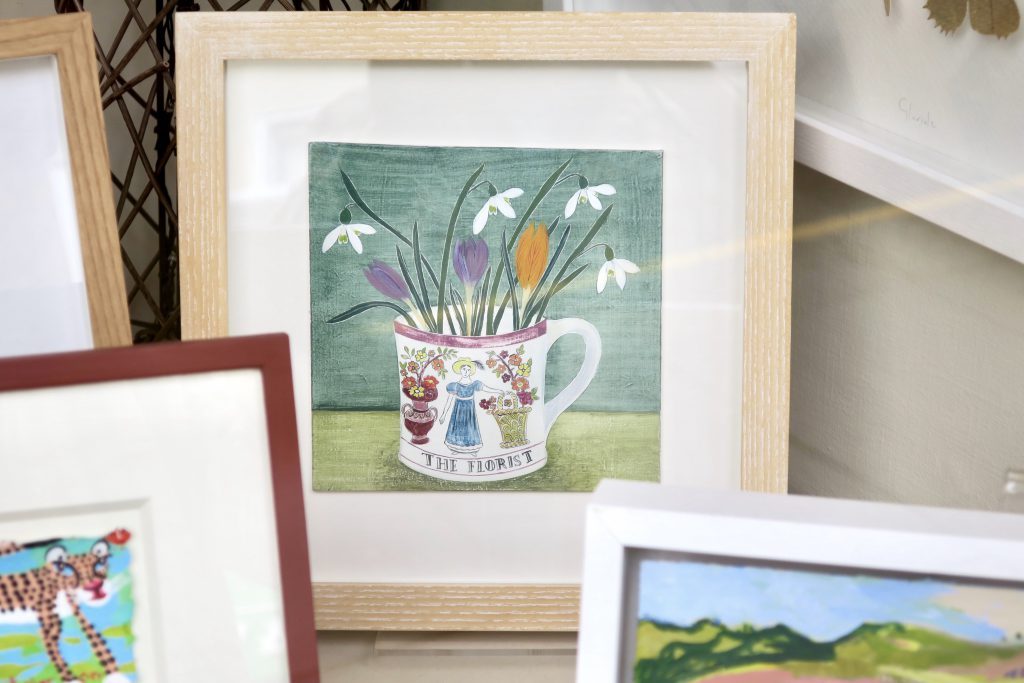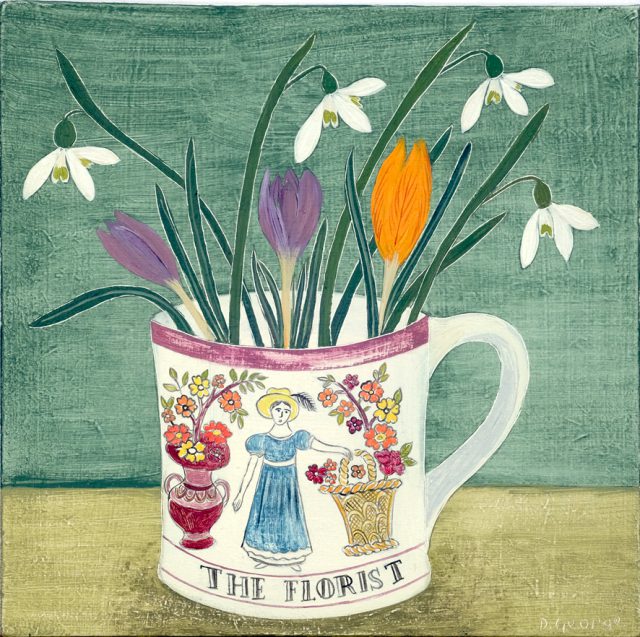 Florist Cup and Spring Flowers by Debbie George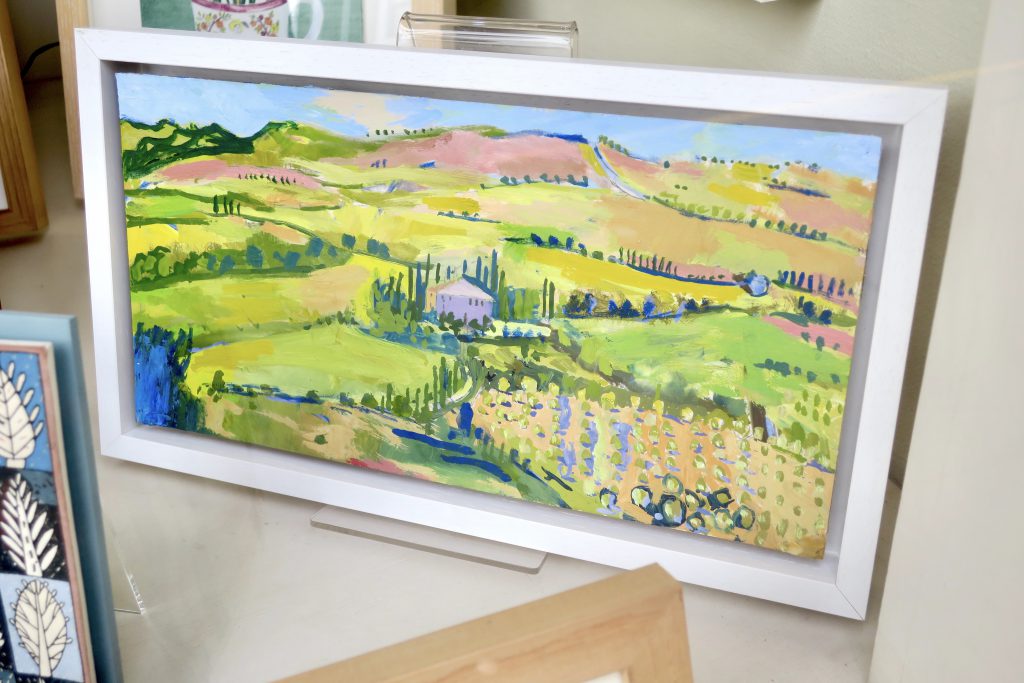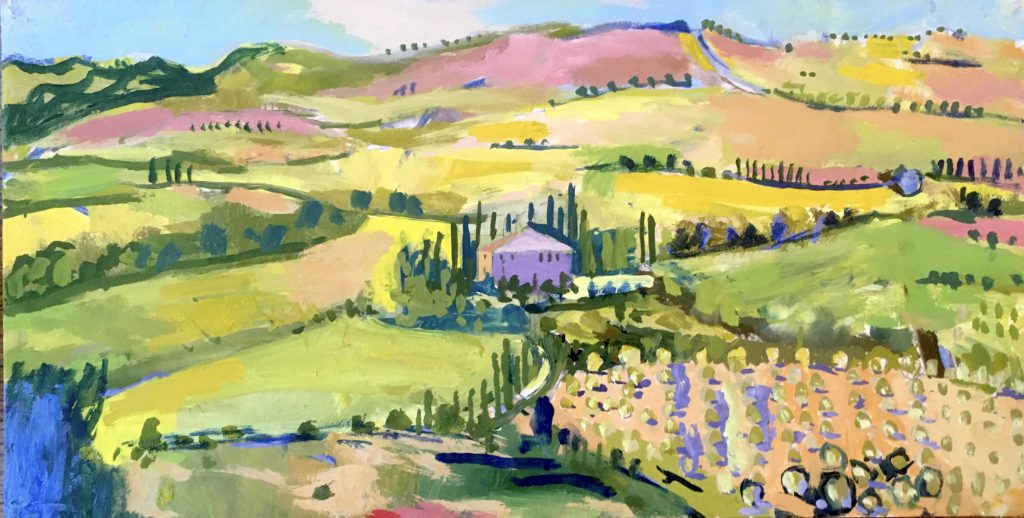 Val d'Orcia by Paul Finn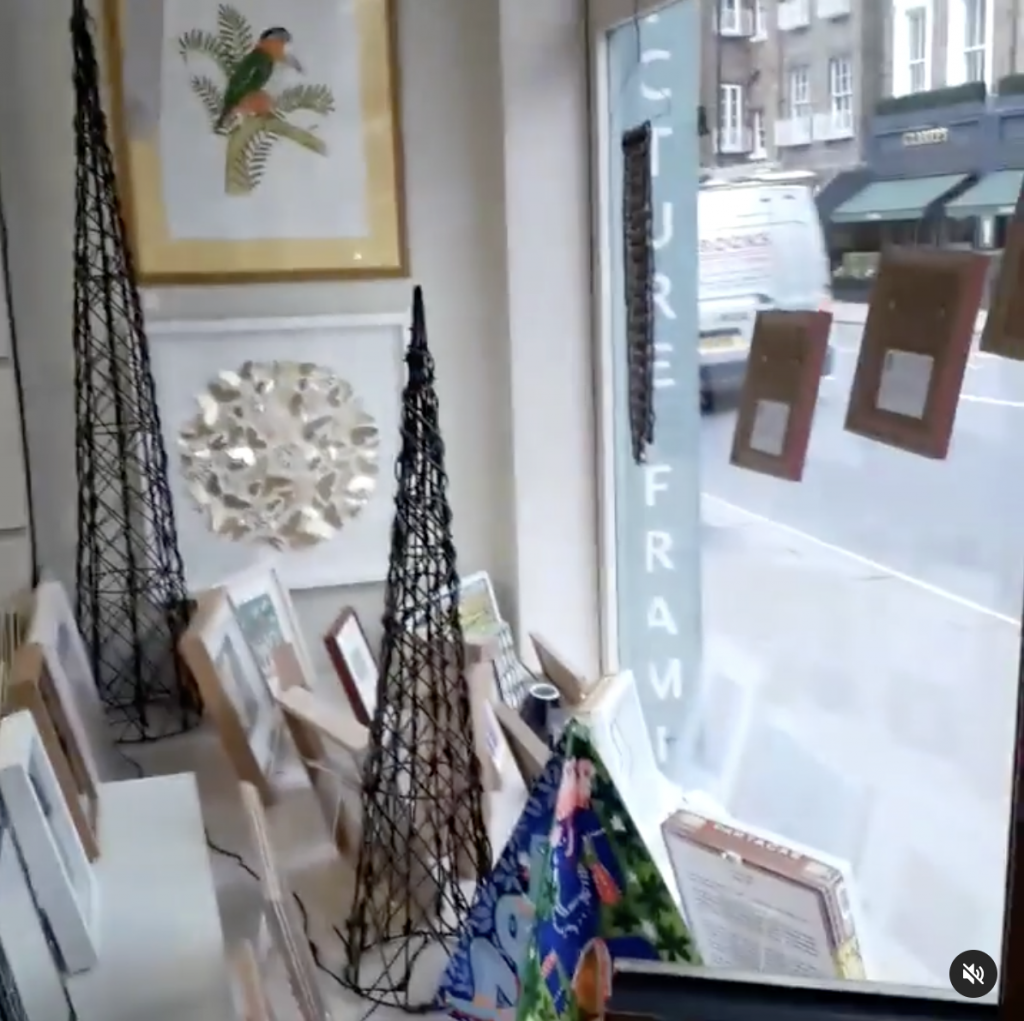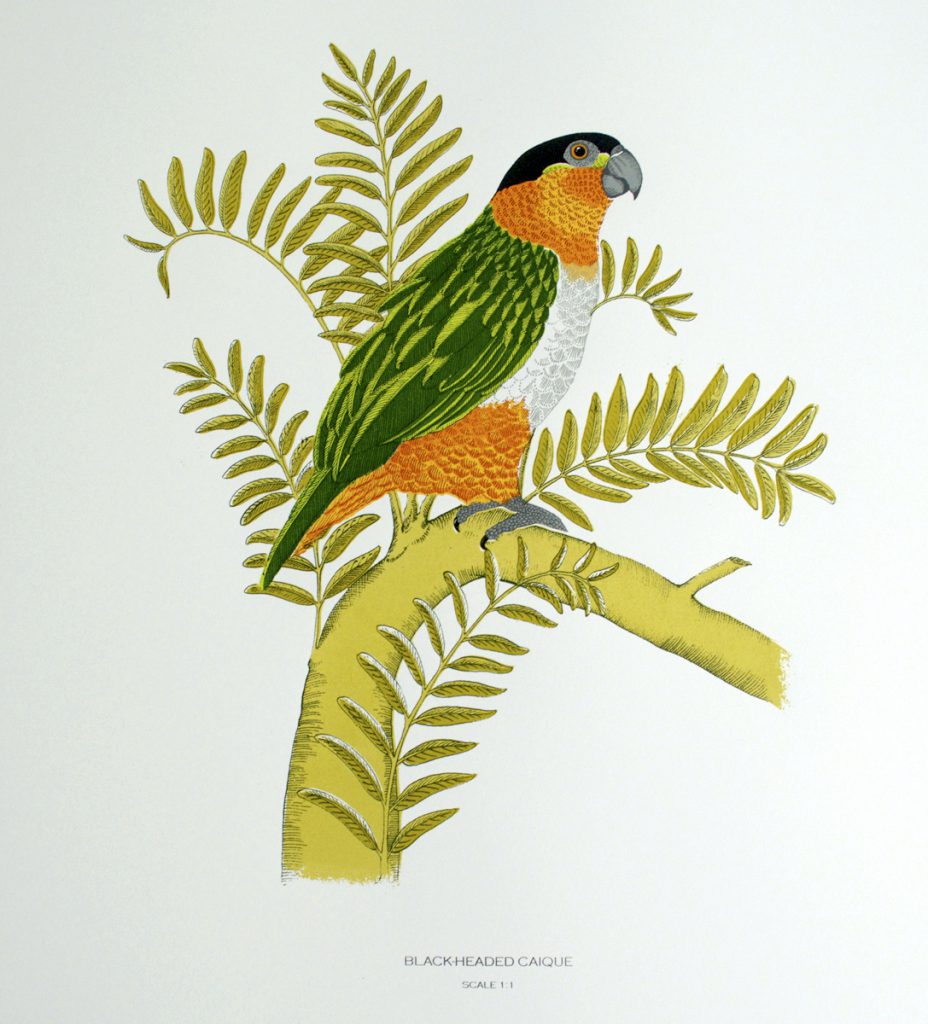 Black-headed Caique, a screenprint by Fanny Shorter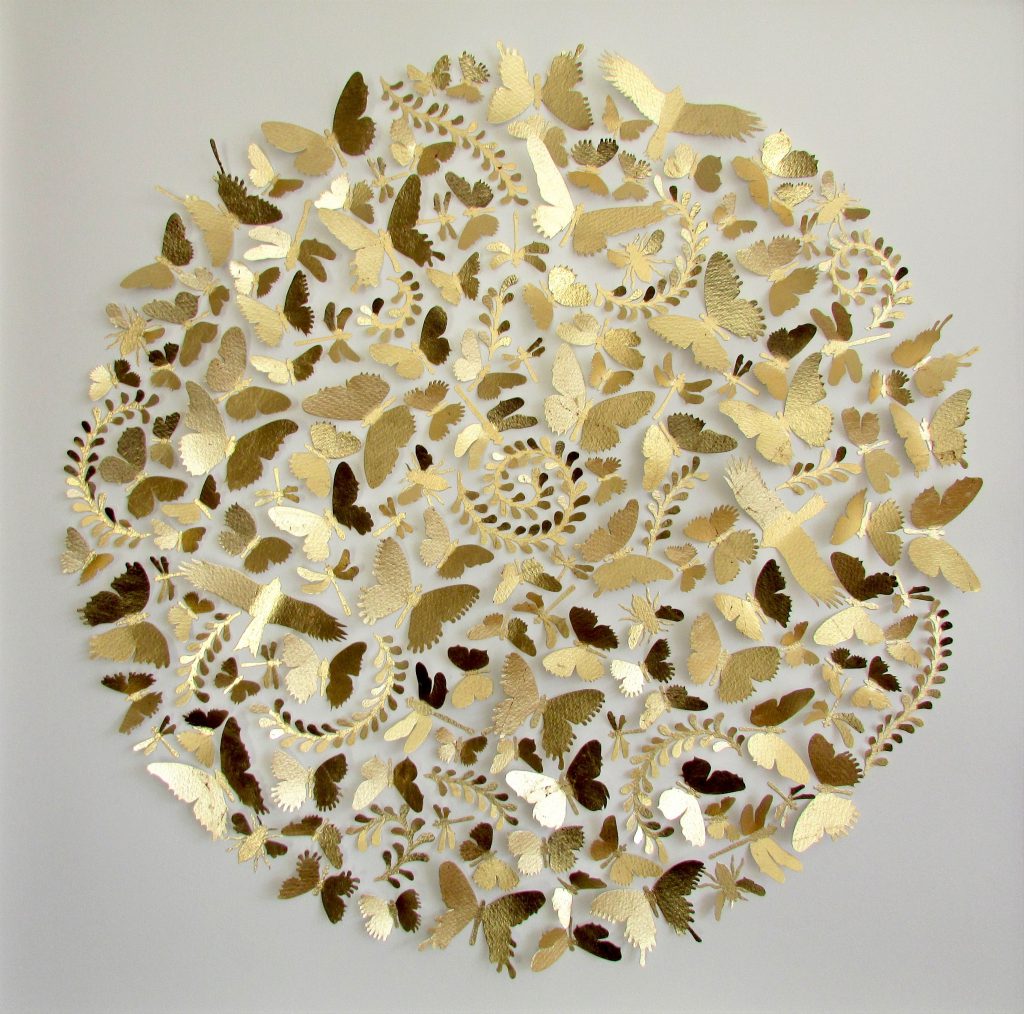 Gloriole, a gold leaf paper-cut by Joseph Silcott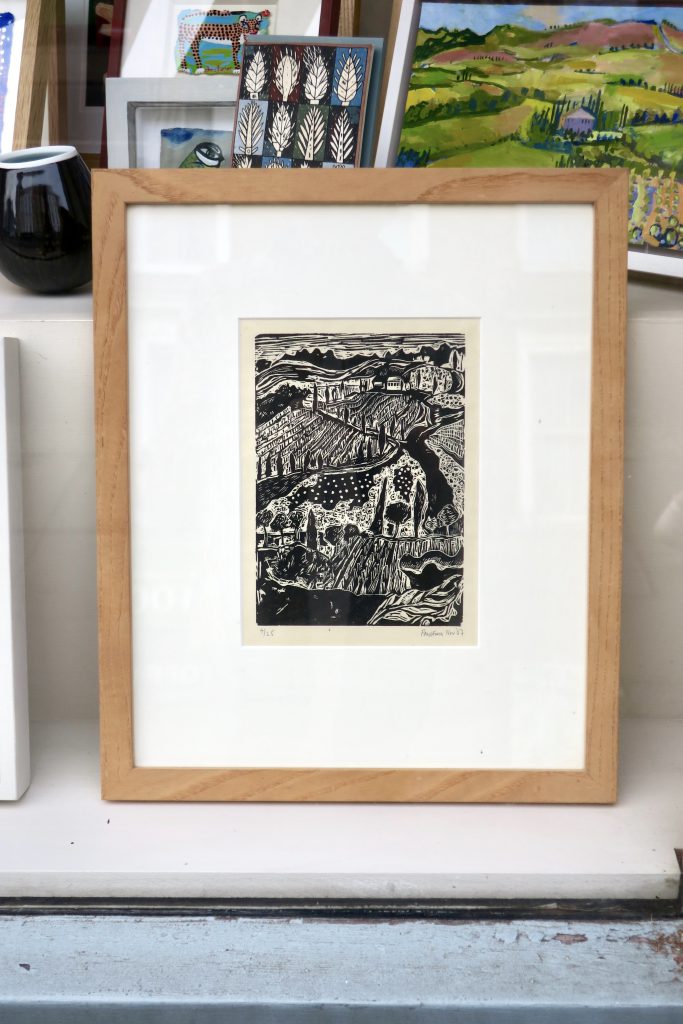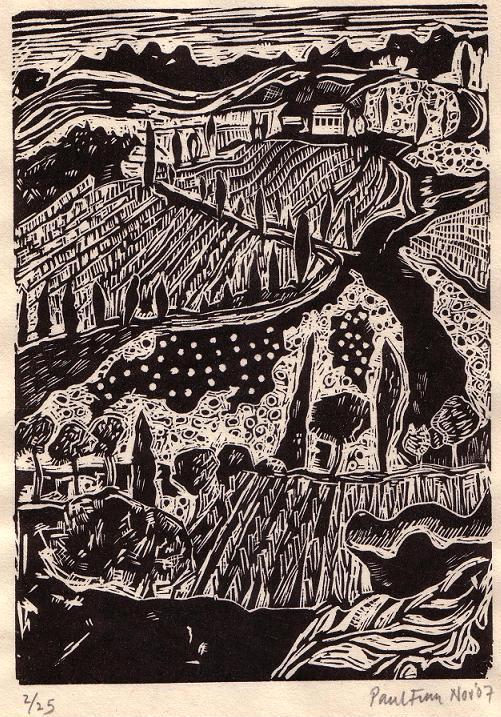 Tuscan Landscape, a woodcut by Paul Finn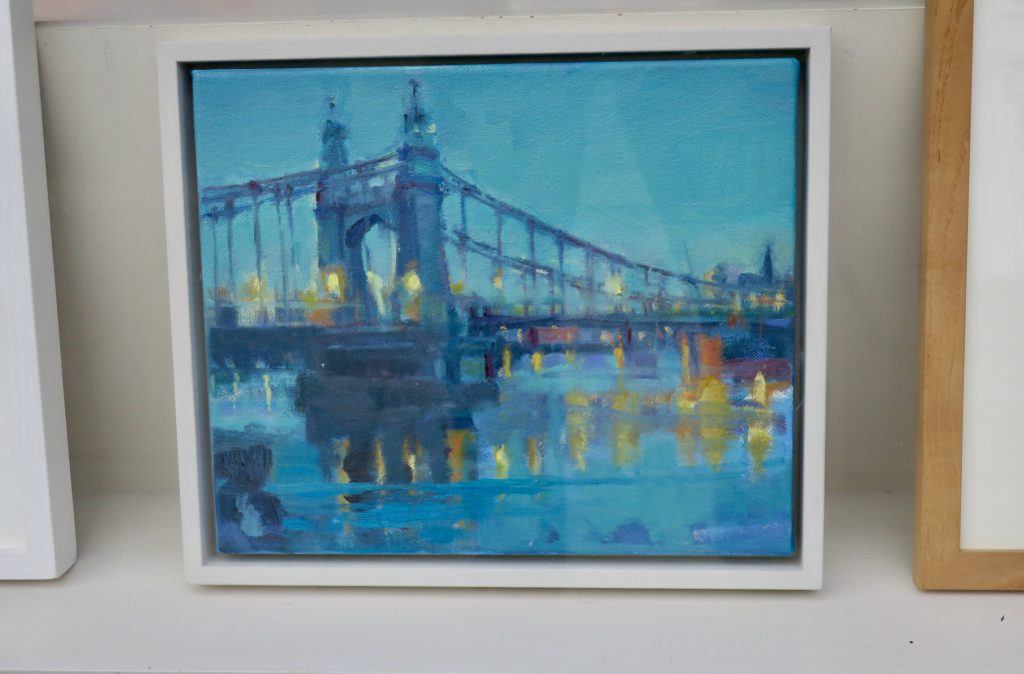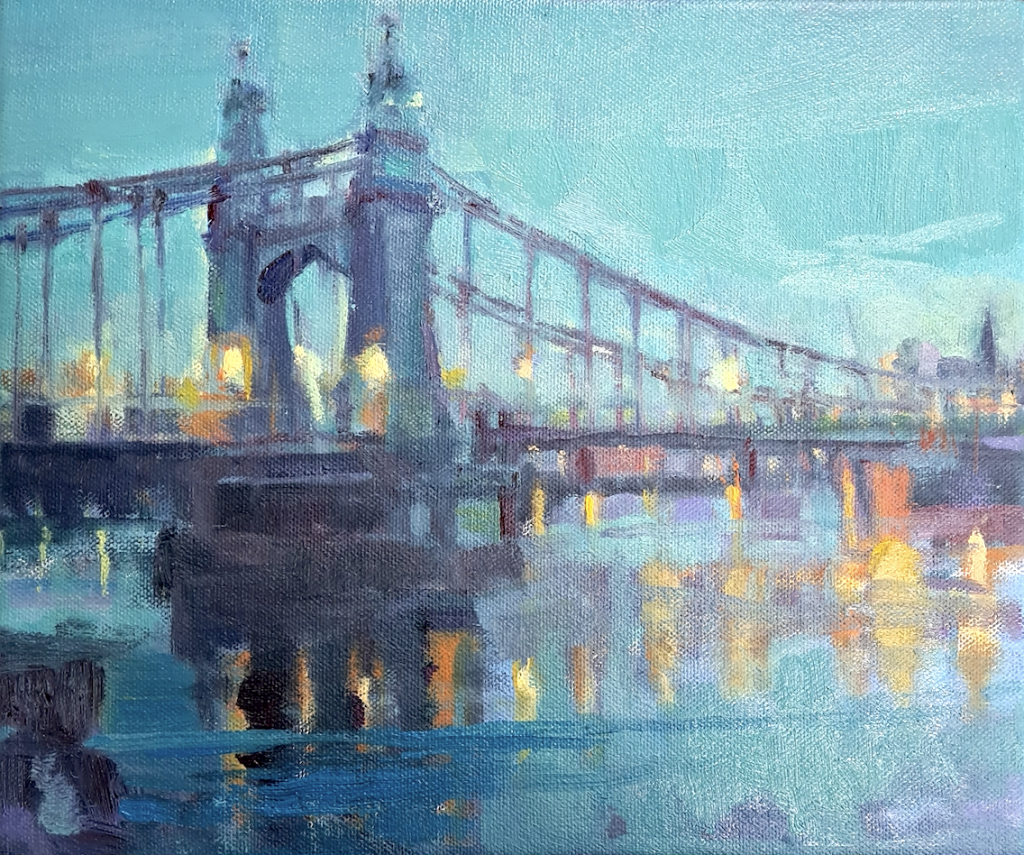 Hammersmith Bridge, Twilight by Isobel Johnstone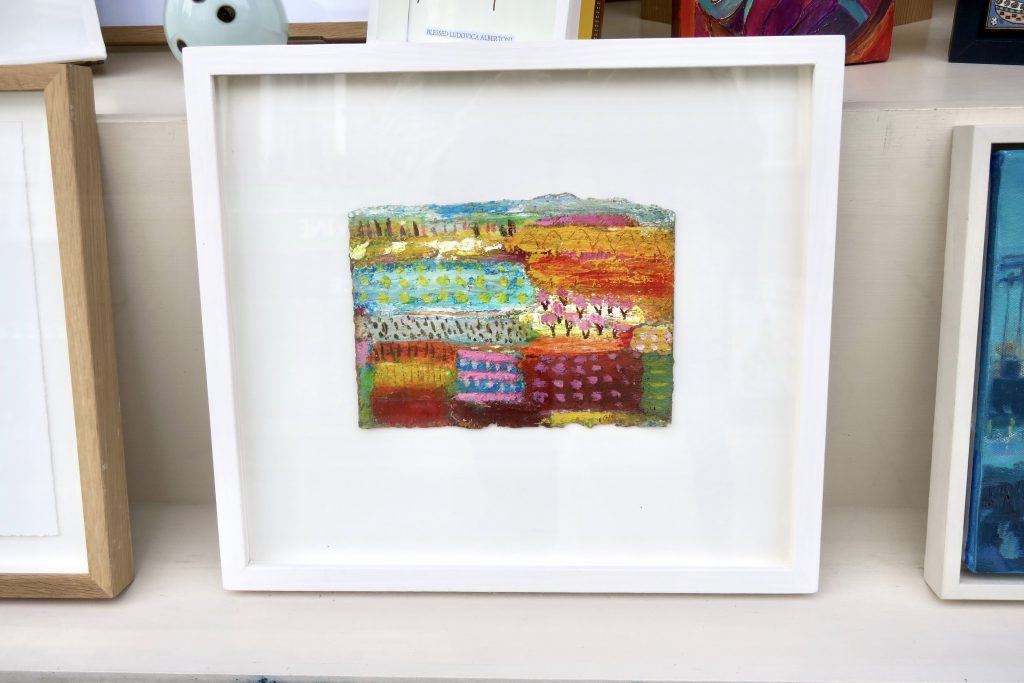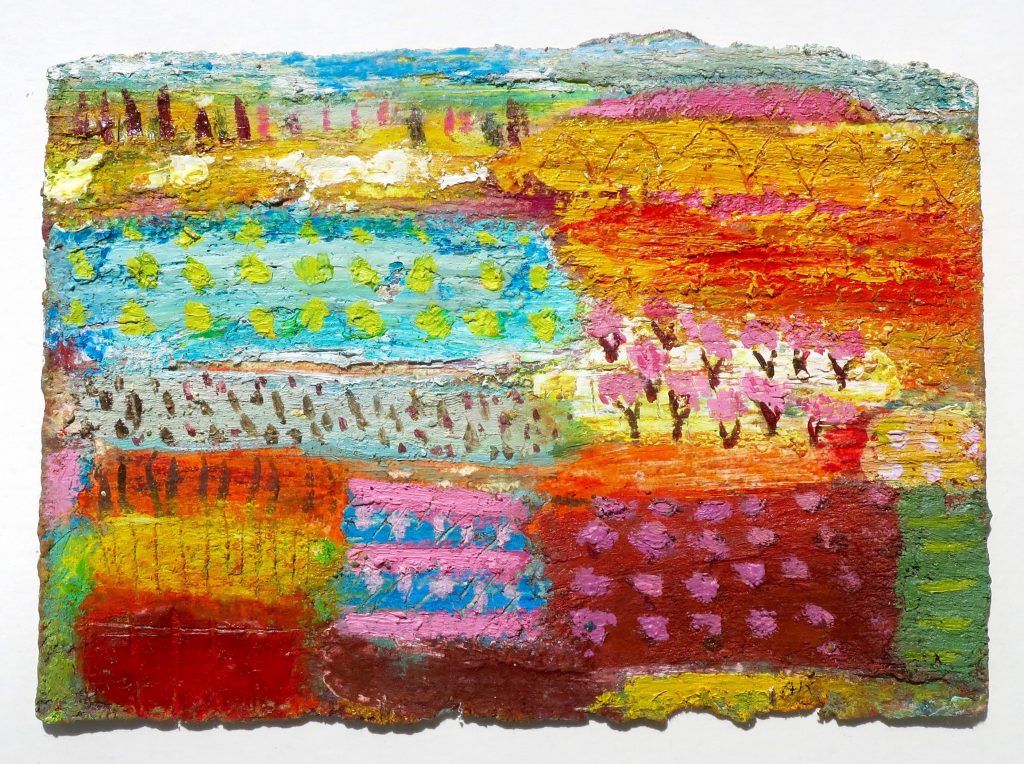 Patterns of the Earth by Annabel Keatley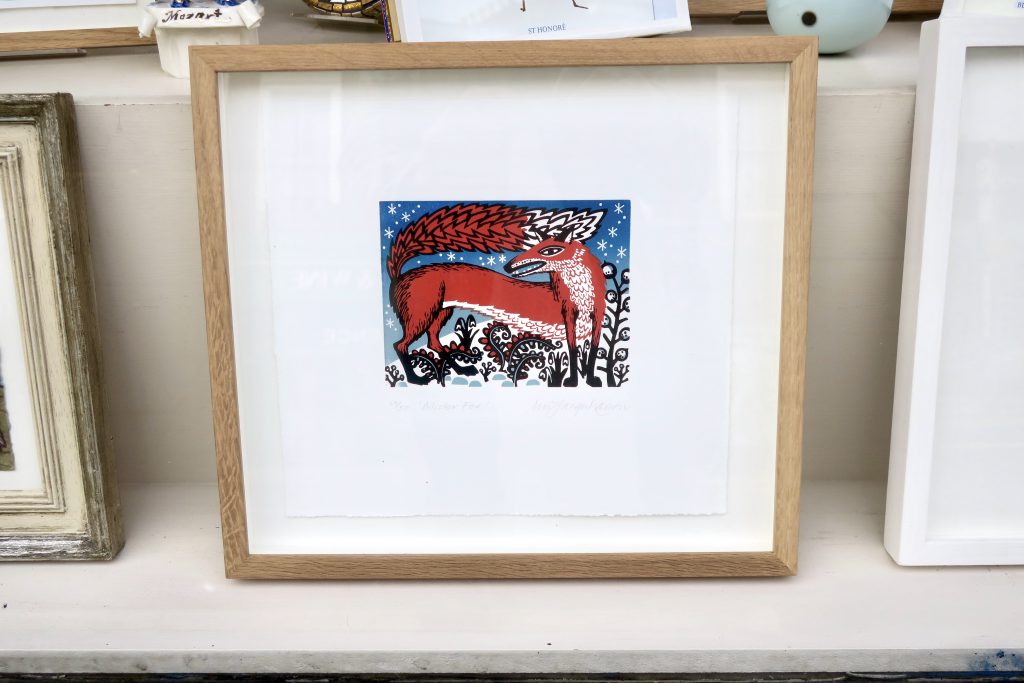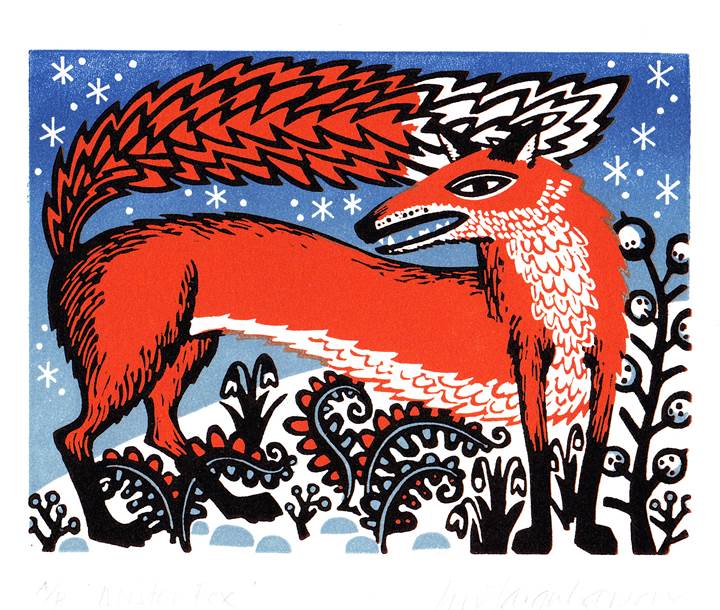 Mister Fox, a linocut by Linda Farquharson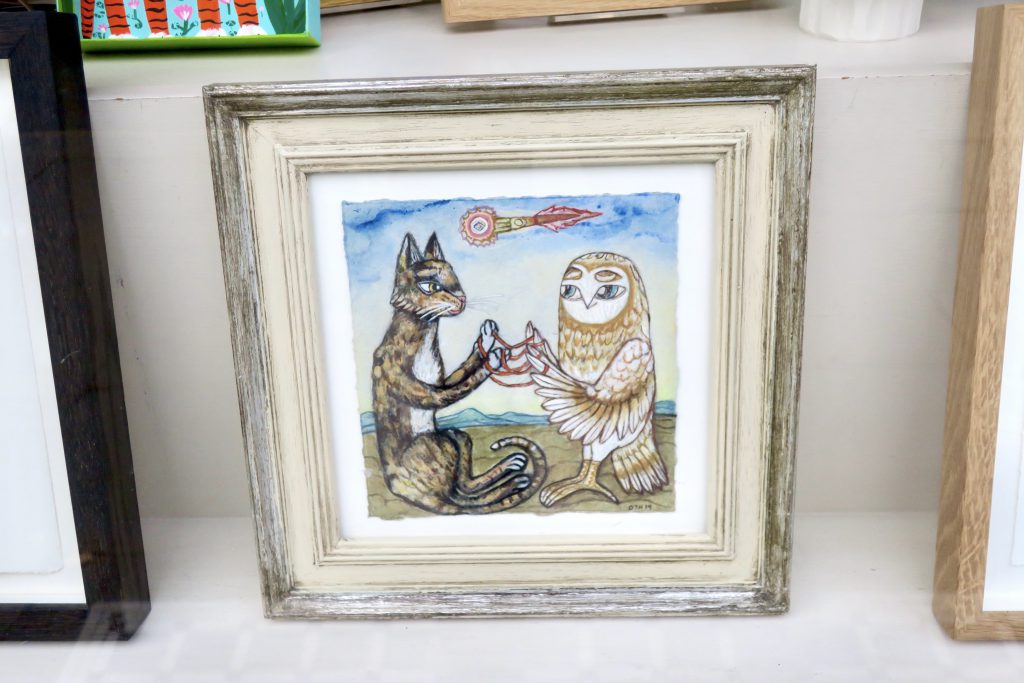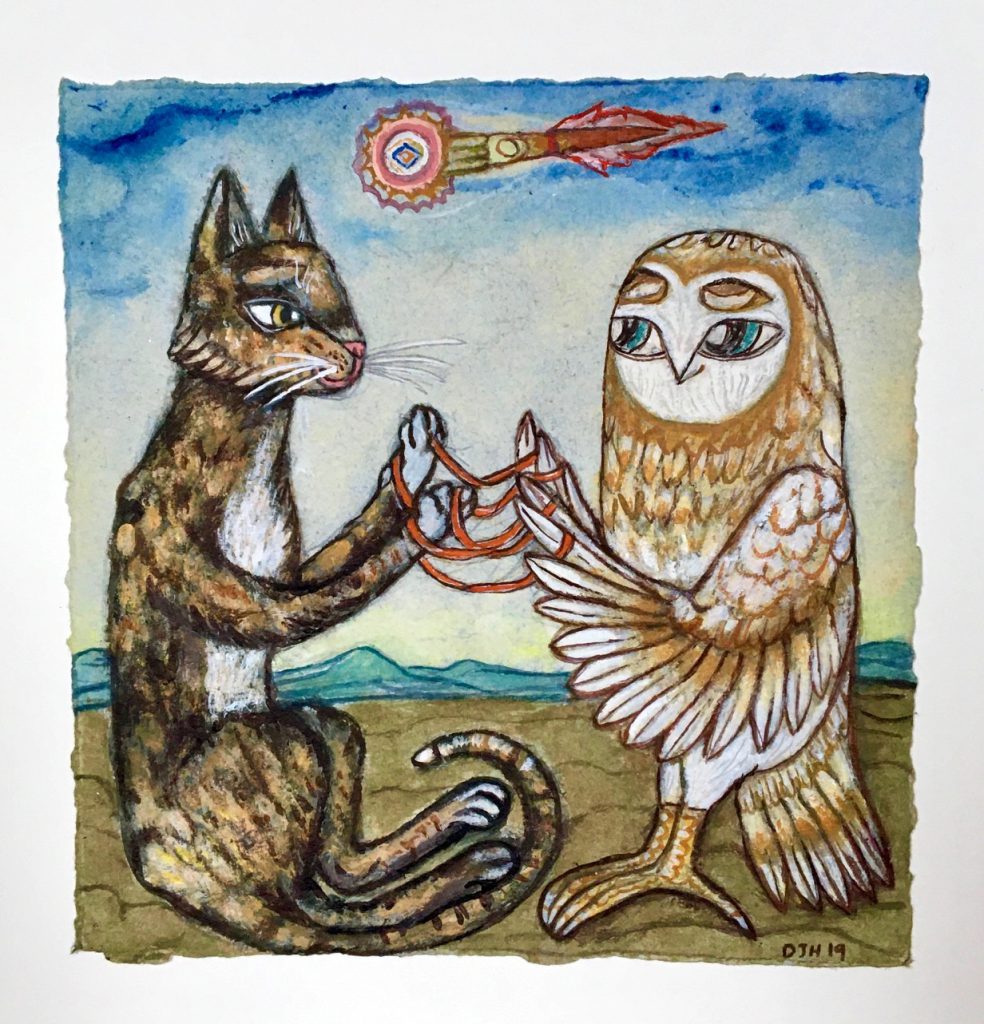 Cat's Cradle by David Hollington
※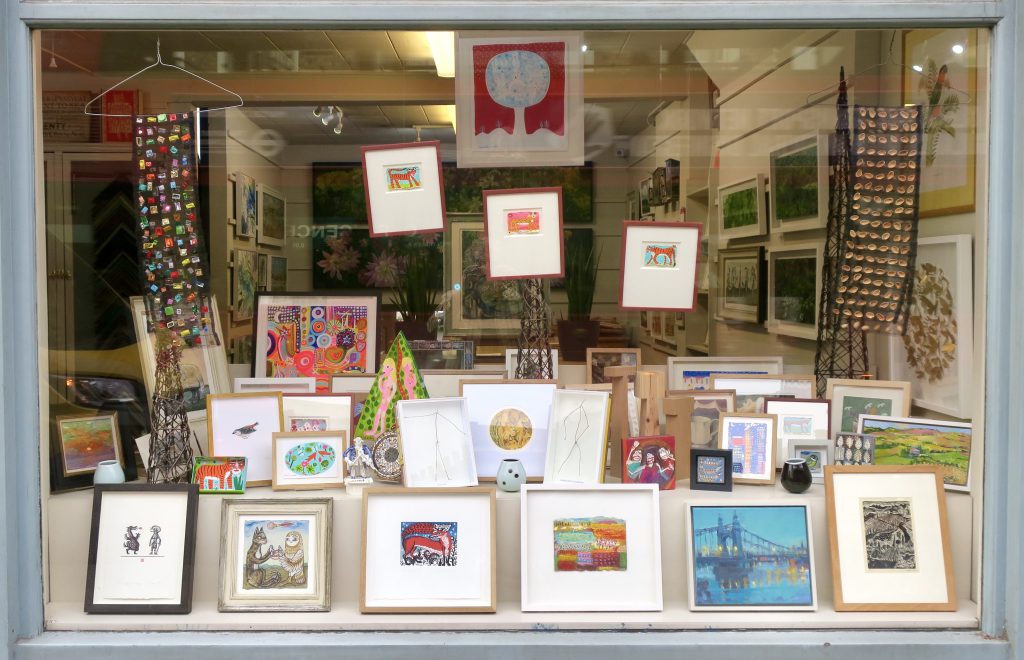 Apologies for the late arrival of this blogpost, I've been without broadband for two weeks, but now catching up, I'll add more in the coming days. Please if you can, come and see for yourself, it's changing all the time, pictures are sold and new ones arrive, the story is changed and a new one gets told.
※
Now finally this blogpost is finished, but too late, the gallery is closed until 2021. London is in Tier 4 and pretty much on lockdown. But we can pick up emails remotely and happily answer any enquiries. Comments are always welcome. And the window display remains as a free street exhibition.
※
Happy Christmas!