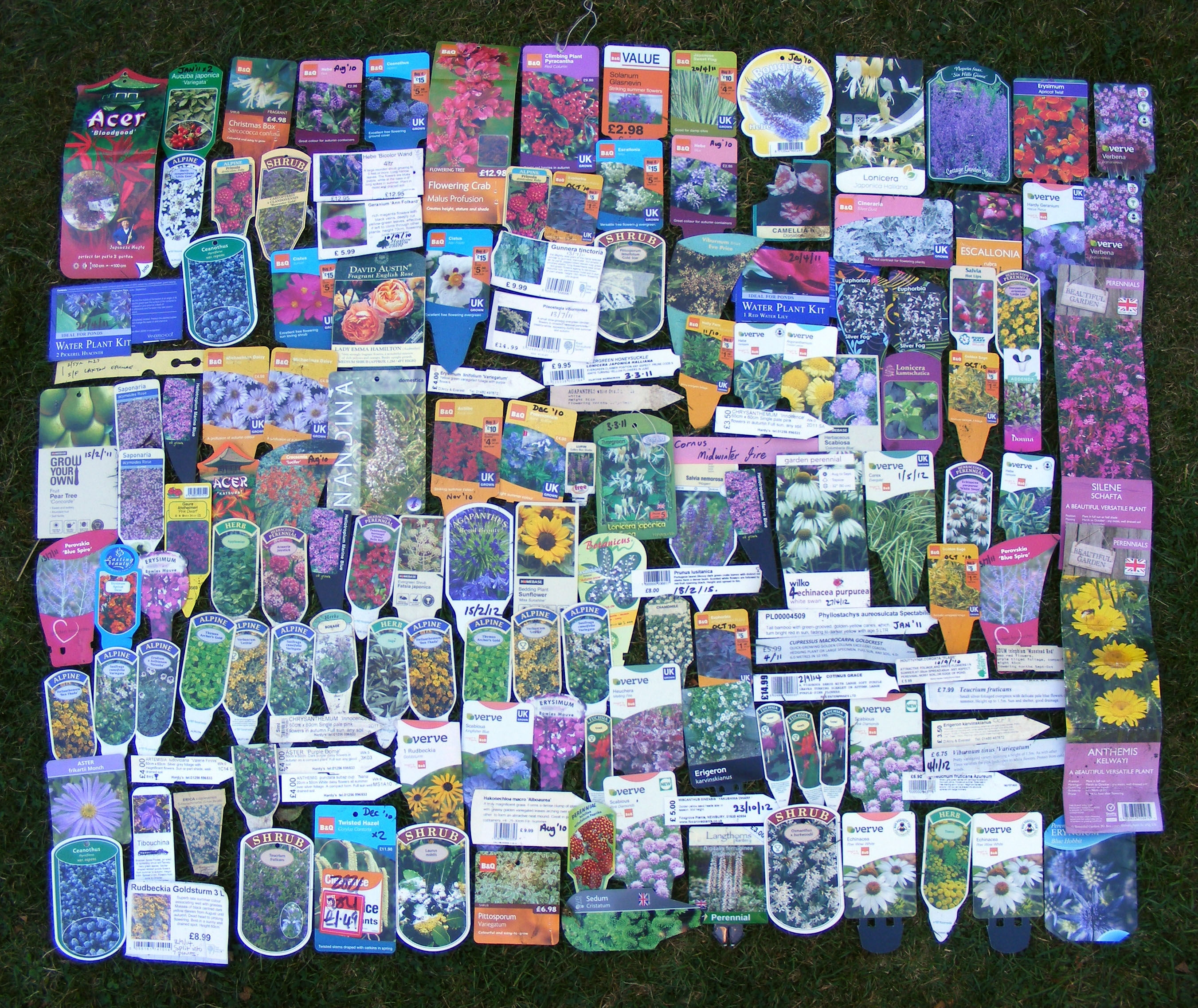 Every time I buy a plant I save the label, if there is one. A recent search for a particular label spurred me to lay the entire contents of my label box out on the lawn. Seven years of gardening has furnished the plot with over 170-plus plants – not including the ones that didn't come with a label, or boxes of seasonal bedding plants.
So what does this say about my abilities as a gardener? I am good at killing plants? I am indecisive? I shop for plants like a (normal) woman shops for shoes? My findings:
– Judging by the quantities of labels I have a hard time in keeping Echinacea alive from one year to the next (helped in no small part by slugs).
– Two twisted hazel trees purchased for £1.49 each – another B&Q bargain at 90%off from their neglectful garden centre.
– A Tibouchina – a most dazzlingly exotic purple flowered plant I bought on a whim from an RHS flower show, which really belonged in a conservatory and that I managed to kill within weeks.
– Anthemis 'Kelwayi' – an unexpectedly good purchase from a 99p Store that has flowered its little yellow socks off all summer (see 'A July Garden').
– Many and varied alpine plants that didn't survive the winter wet on my clay soil and disappeared into a mush.
– I mostly shop at B&Q. Not ideal, but four local nurseries have succumbed to housing developers in the last seven years. The fifth and last is closing down next spring. I shall have to resort to buying special plants mail-order.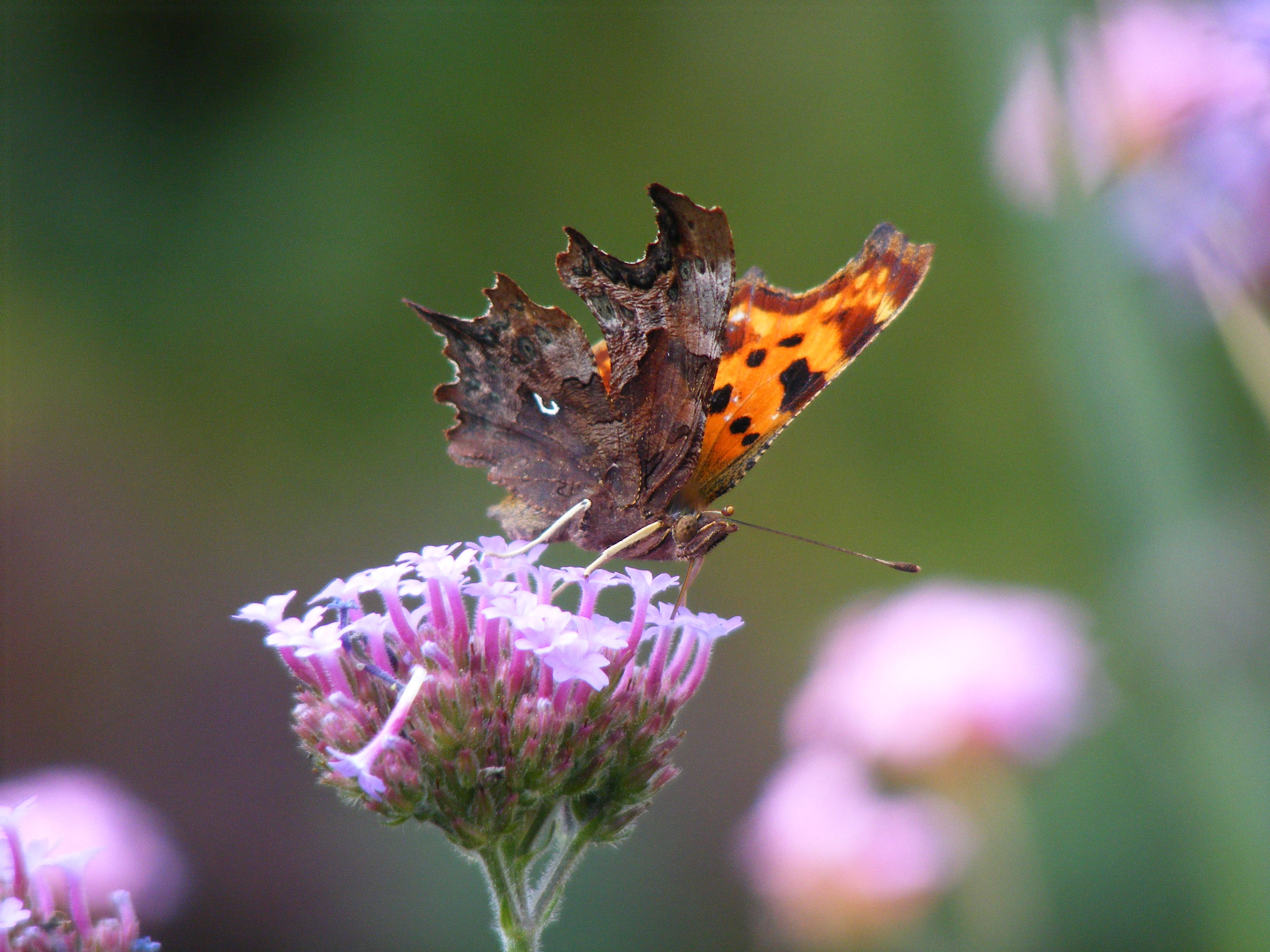 The unmistakable Comma butterfly is yet another visitor to the popular verbena bonariensis. So named for its white punctuation mark on the underside of its hindwings, its raggedy wing shape mimics a dead leaf when not in flight.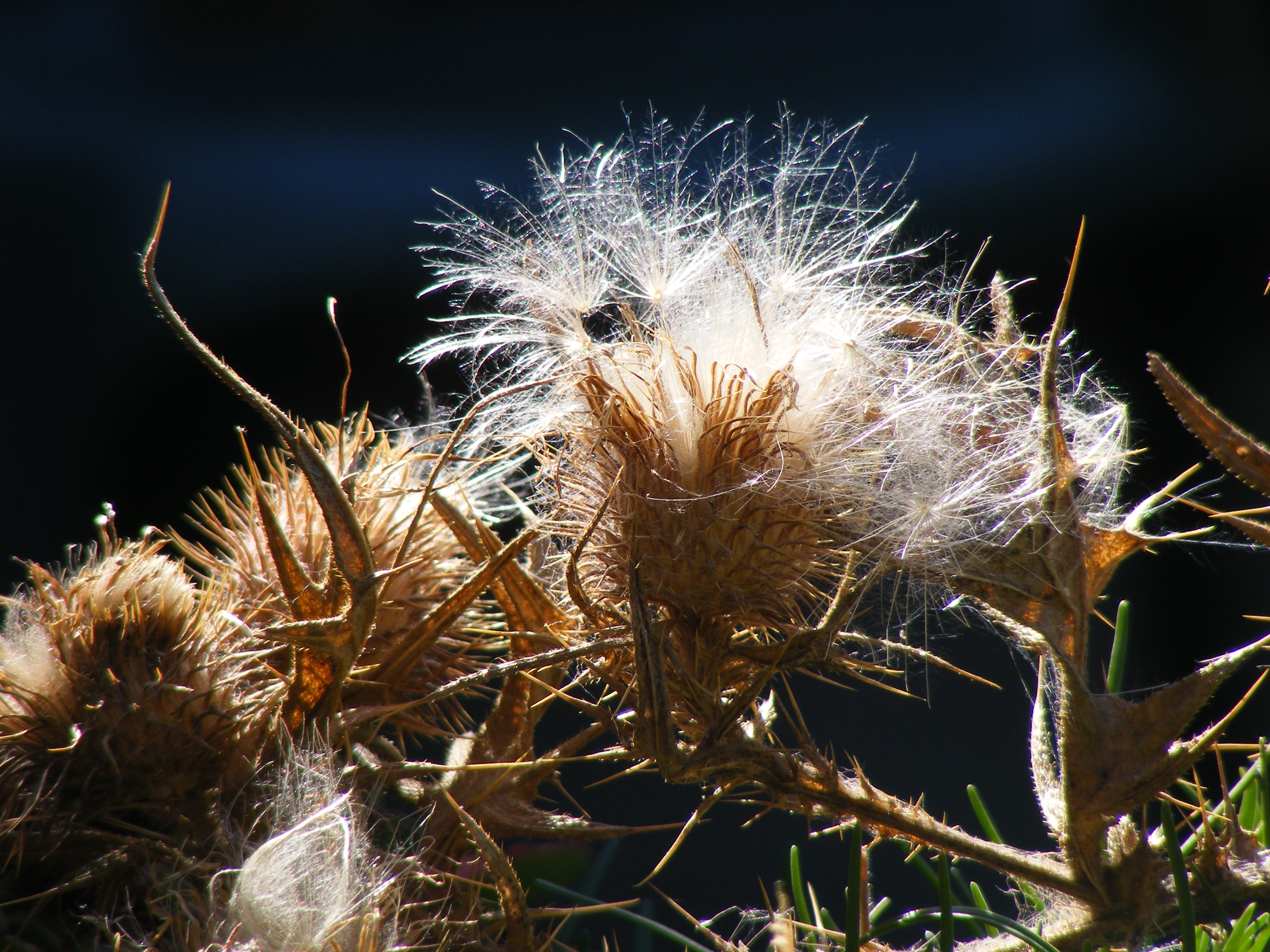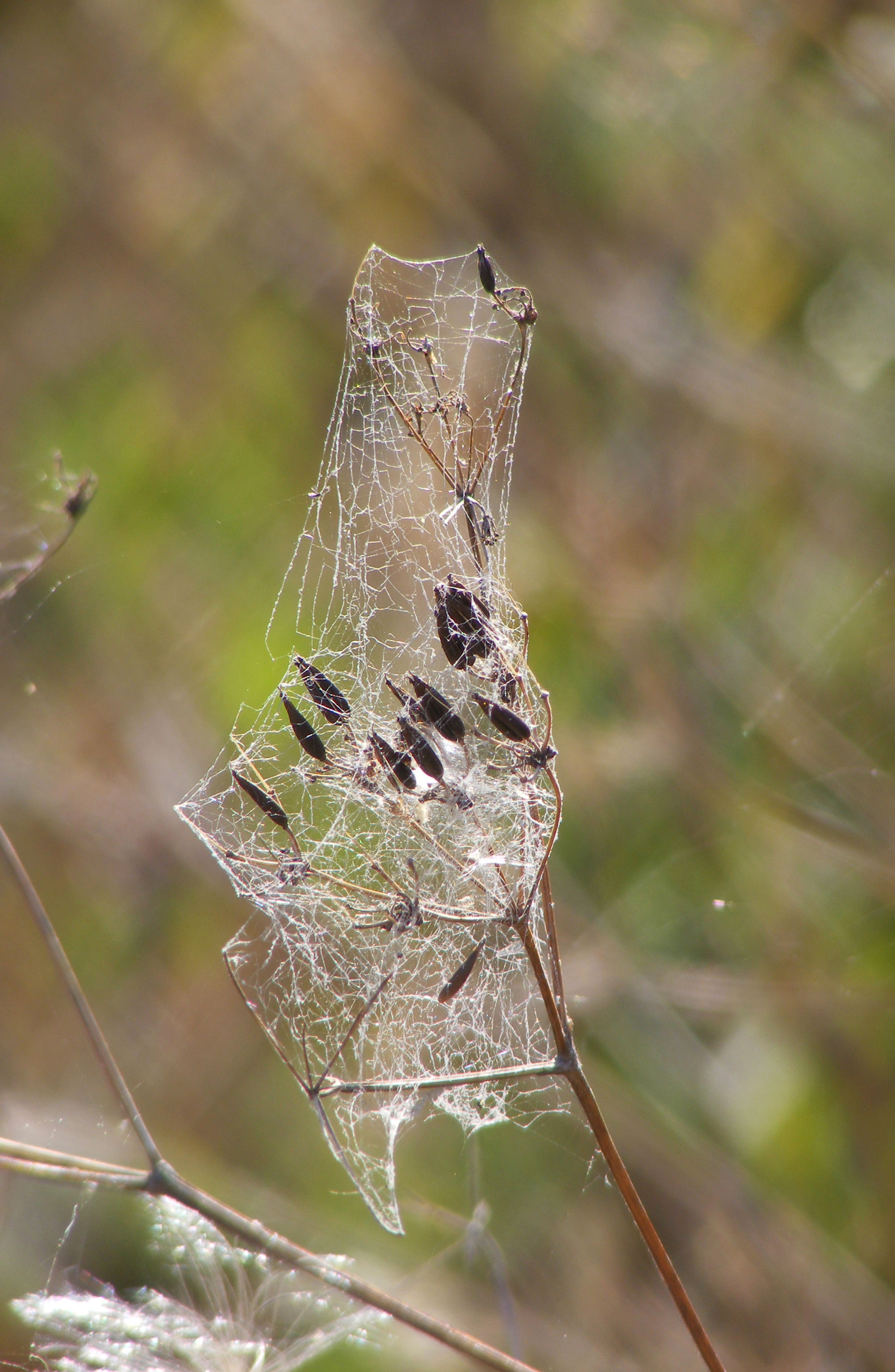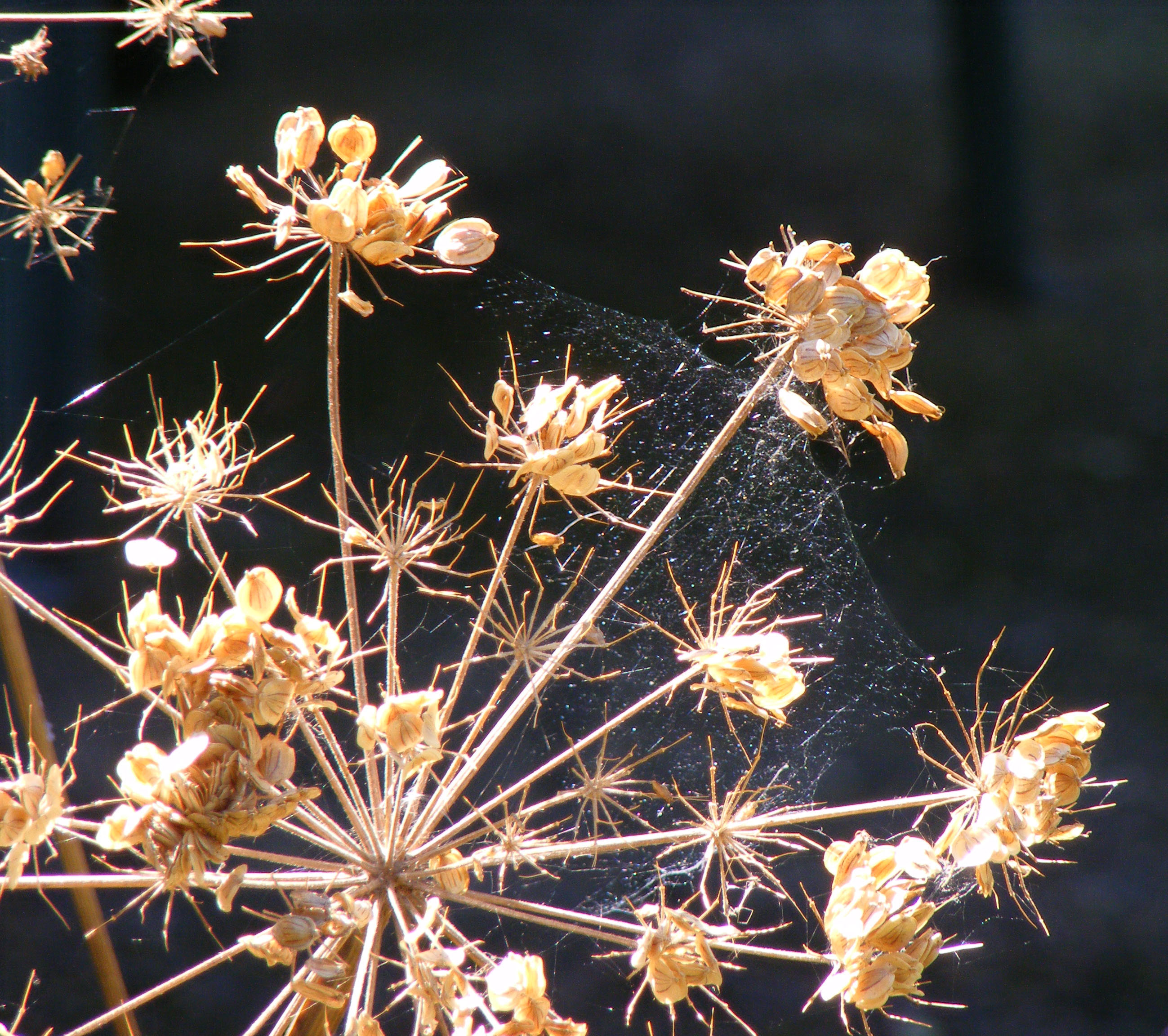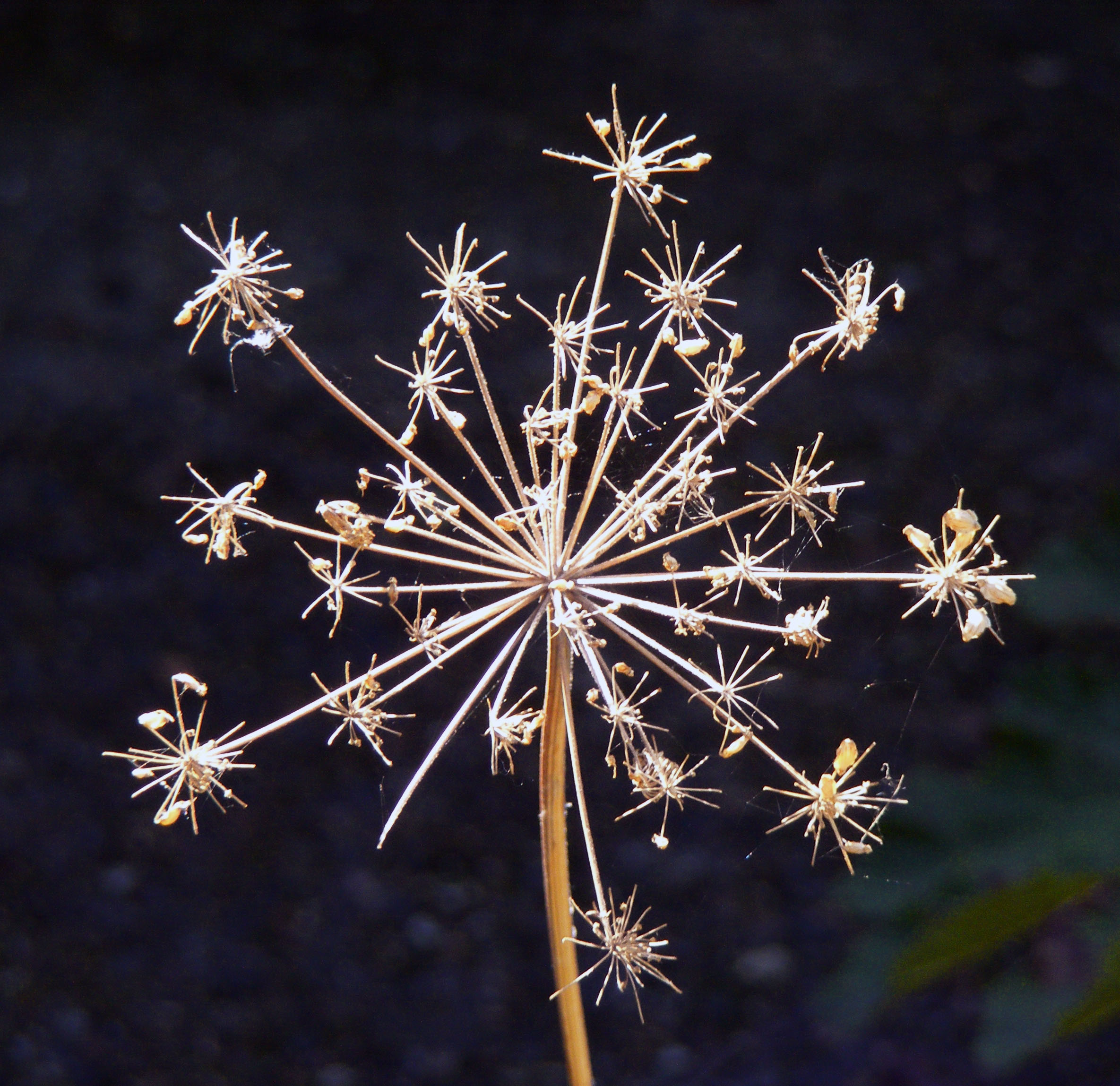 I took a walk along an area of scrubland one morning in search of dried plant material to photograph. I took these, and found some 'safety sparklers' for use on bonfire night.
Sheila, my next door neighbour, recently coerced me into doing a bit of scrumping. Her garden backs onto another garden which is presently unoccupied; at the bottom is a large mature apple tree. Sheila thrust a plastic bag into my hand and, with step-ladder tucked under her arm, scuttled off towards the back fence with visions of apple crumbles swimming in front of her eyes. Sheila's a lively, 70-odd year old bird and was up that ladder like a rocket. She gathered as many apples as she could reach, which amounted to a whole carrier bag full, and we split the booty 50/50.
I don't know the variety of apple but they were large, squat, pale yellow, with a deep pink blush. The flesh turned pink when I took a bite, and it tasted not unlike 'Discovery'. Knowing Discoveries do not store well but are best eaten soon off the tree, I pondered on what to do with them. I decided to make some apple and tomato chutney, as I had a glut of 'Super Marmande' tomatoes. Not having made chutney before, I consulted my Delia bible, and spent the next three hours being guardian to a hot bubbling mass of fruit, onions and vinegar. On the hottest day of the year. I hope it will be worth it – but I will have to wait till Christmas before I am allowed (according to Delia) to open a jar. If it's good I will give one to Sheila, in honour of her scrumping abilities.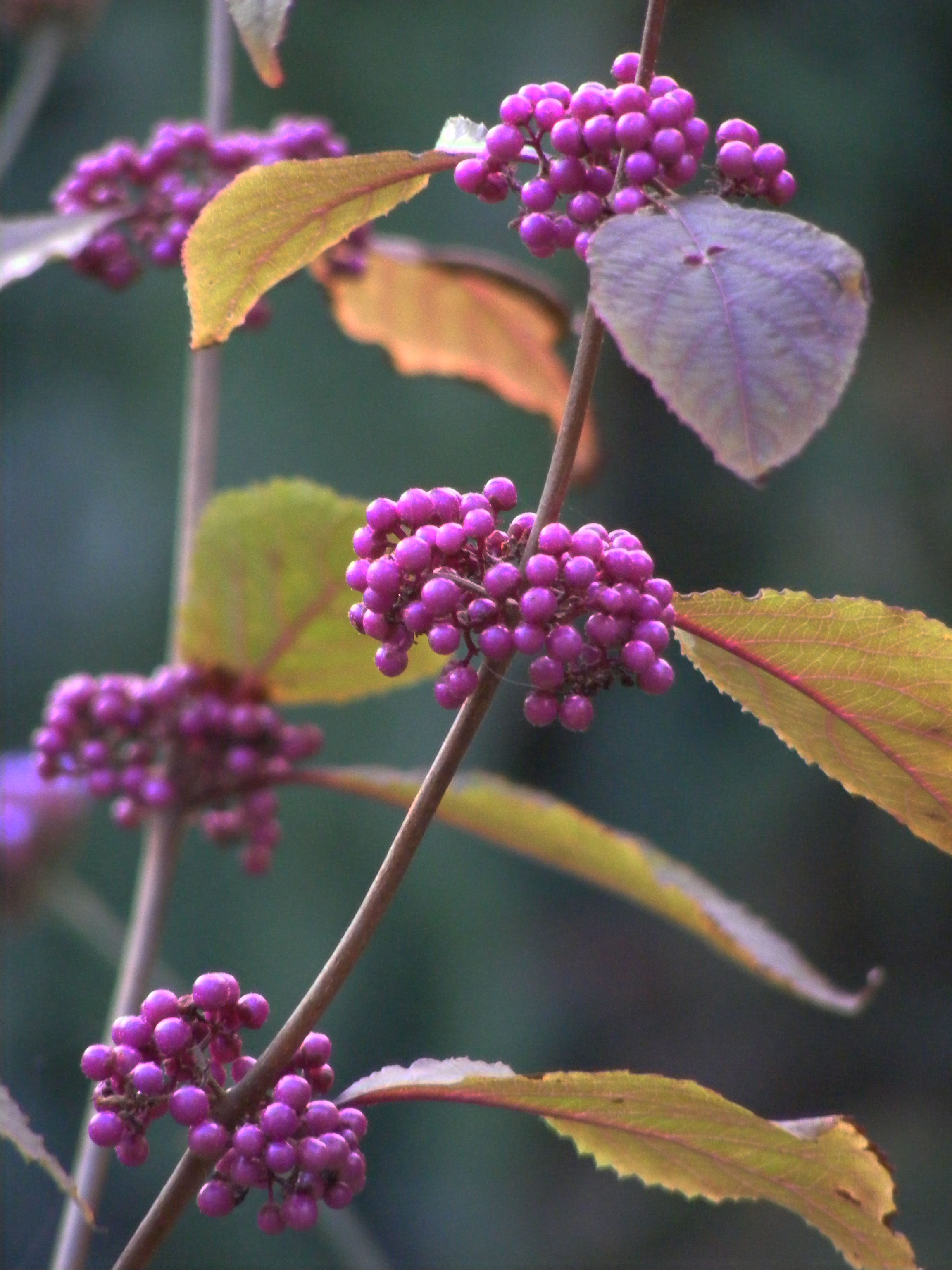 Callicarpa, or Beauty-berry.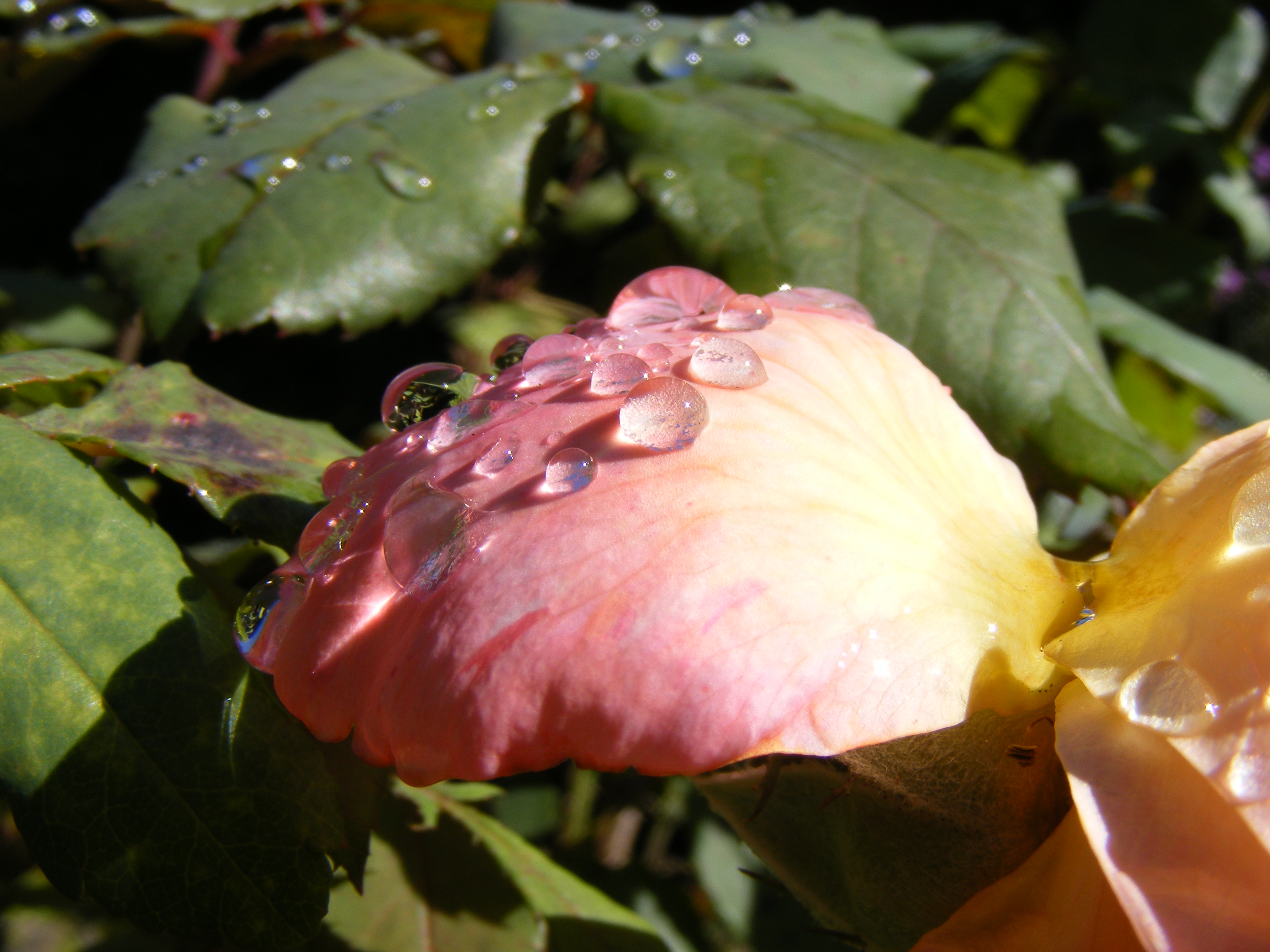 Water droplets on a rose petal. They remind me of glass paperweights.
A pretty hoverfly on Erysimum, Asters in the background.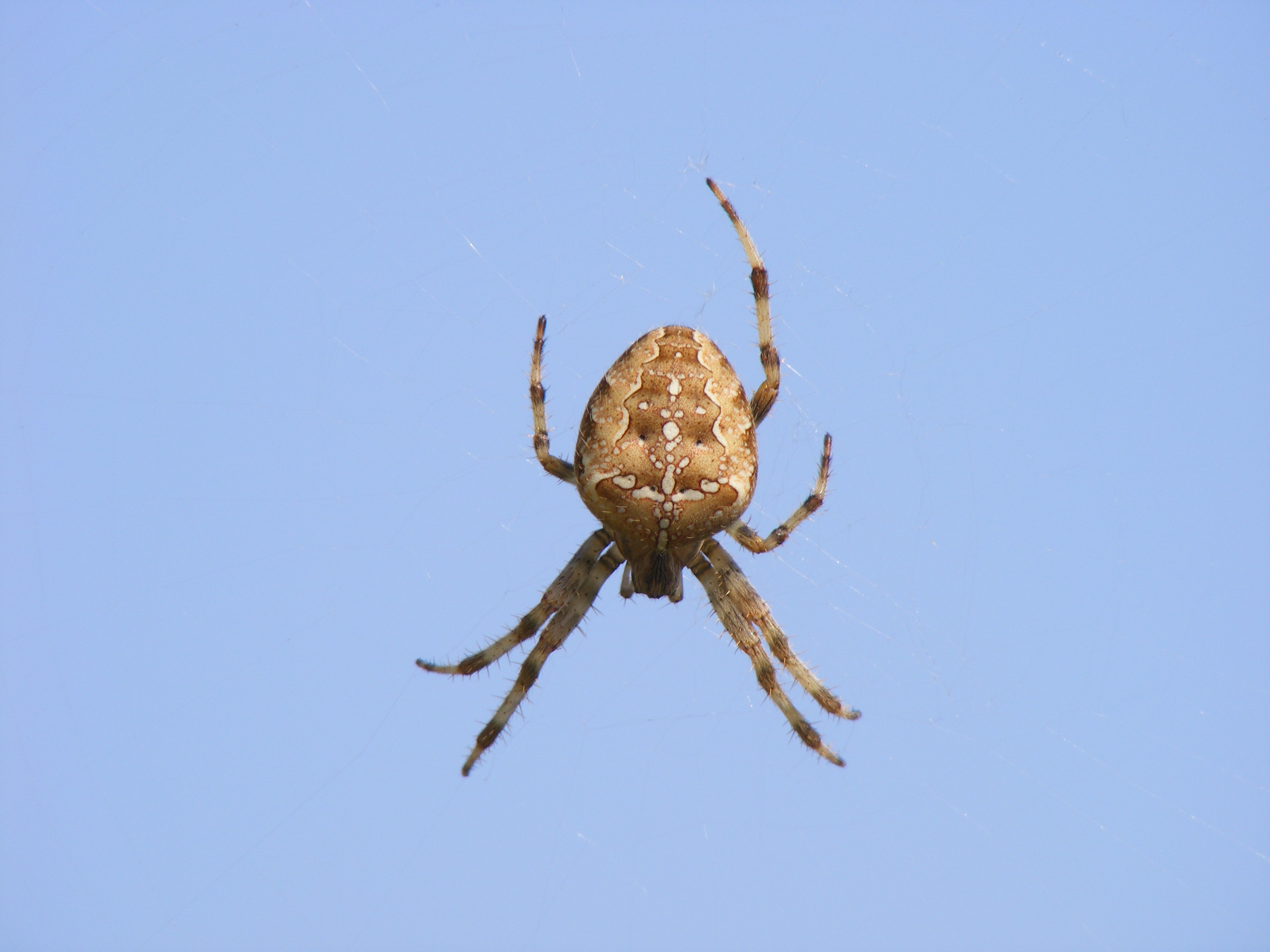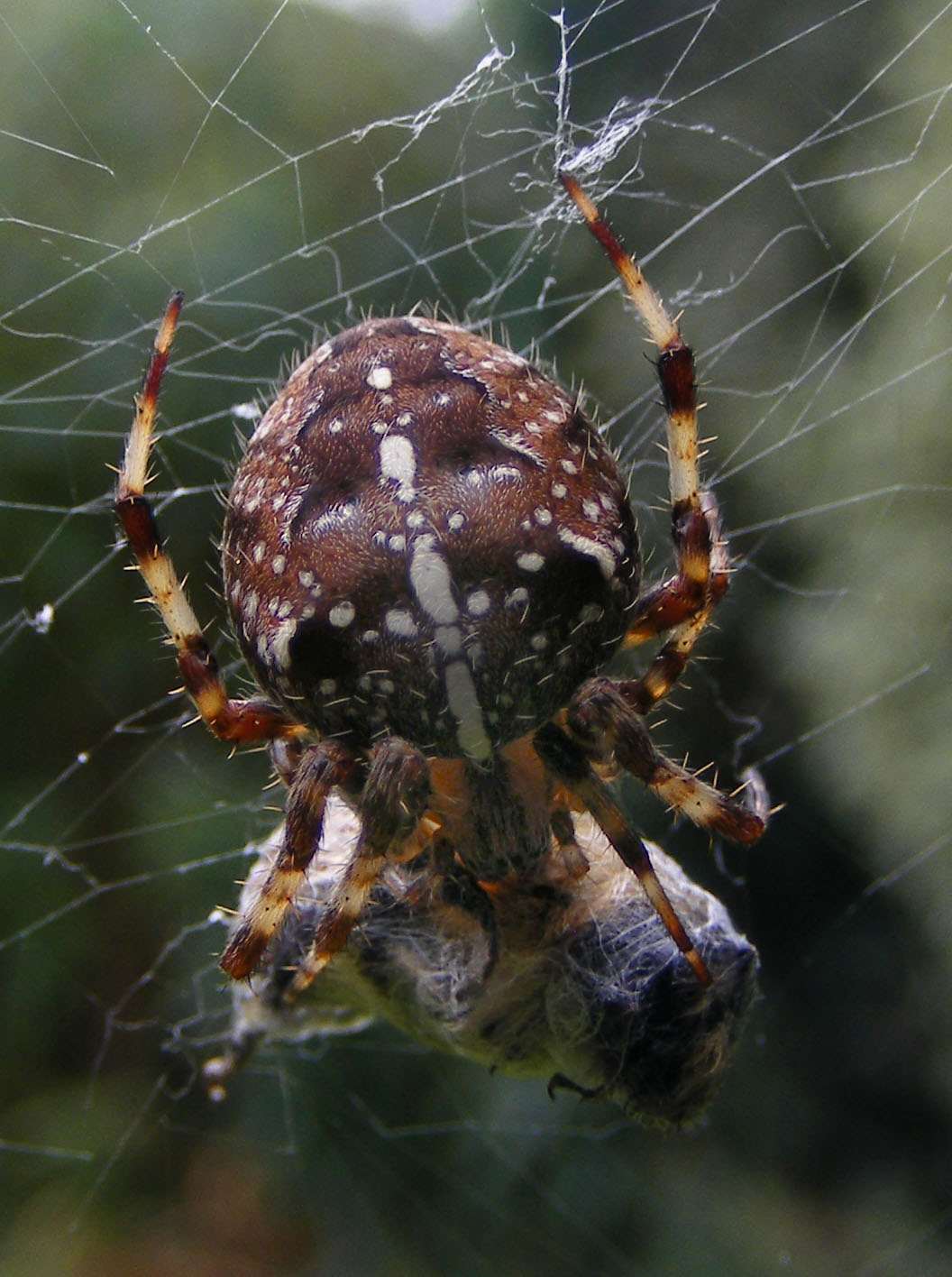 These diadem or garden cross spiders are everywhere now, mopping up late-flying insects. Usually in the most inconvenient places – with webs stretched right across the path ready to decapitate an unwary gardener.
The medges continue to visit the back door every evening for their cat biscuits and peanuts. John wants to open up the garage for them to hibernate in (with a gap in the door for them to exit if need be) but I'm in two minds. Should they be left to their own devices, to hibernate naturally outside, or are they so critically endangered (numbers have declined by a third in 10 years) that any help to get them through the winter should be attempted? Your thoughts would be appreciated!