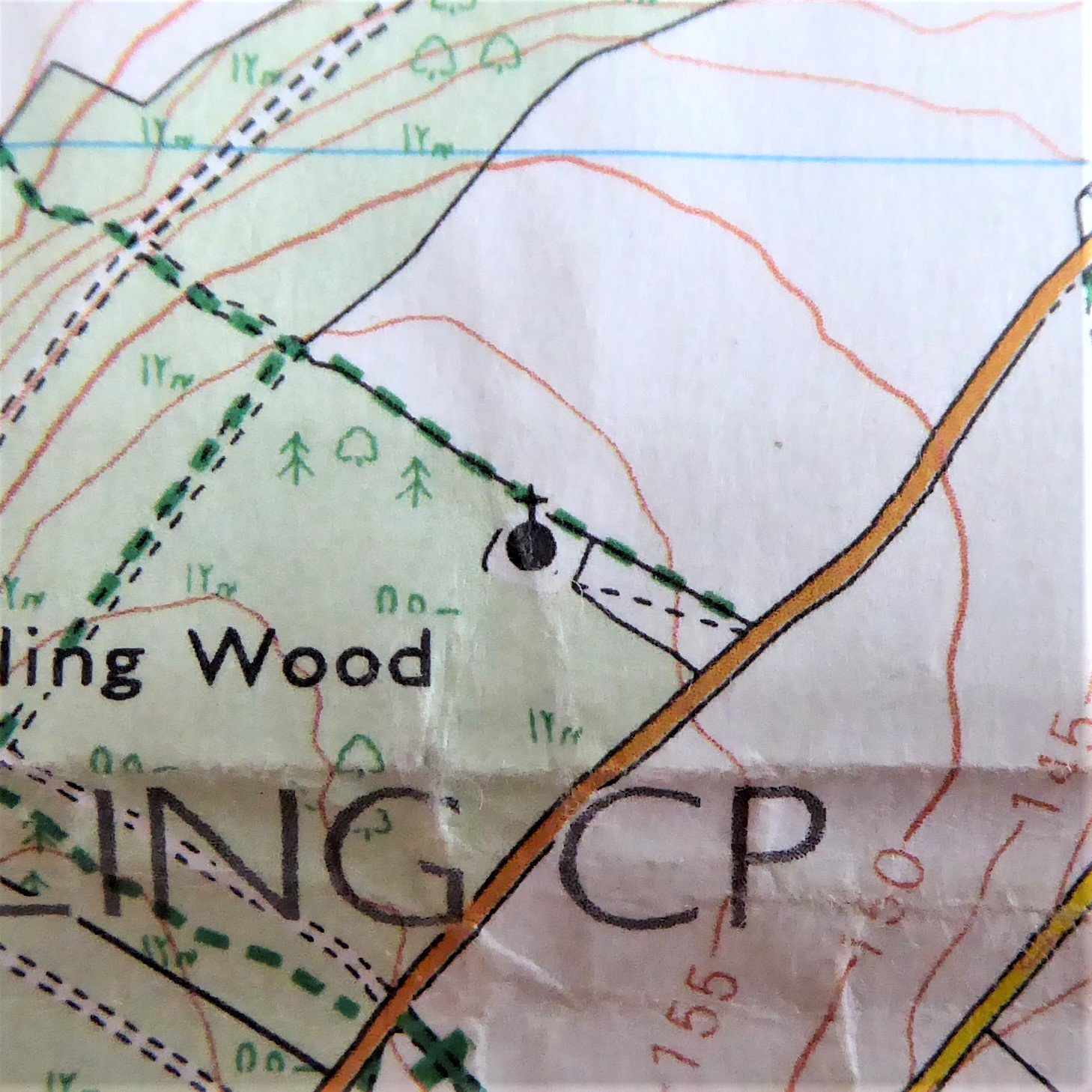 I saw this on an OS map and couldn't not investigate. A place of worship symbol in the middle of bloody nowhere on the edge of a wood. It was a foggy, atmospheric day up on the North Downs, so I decided to walk three sides of a square through the wood to reach it.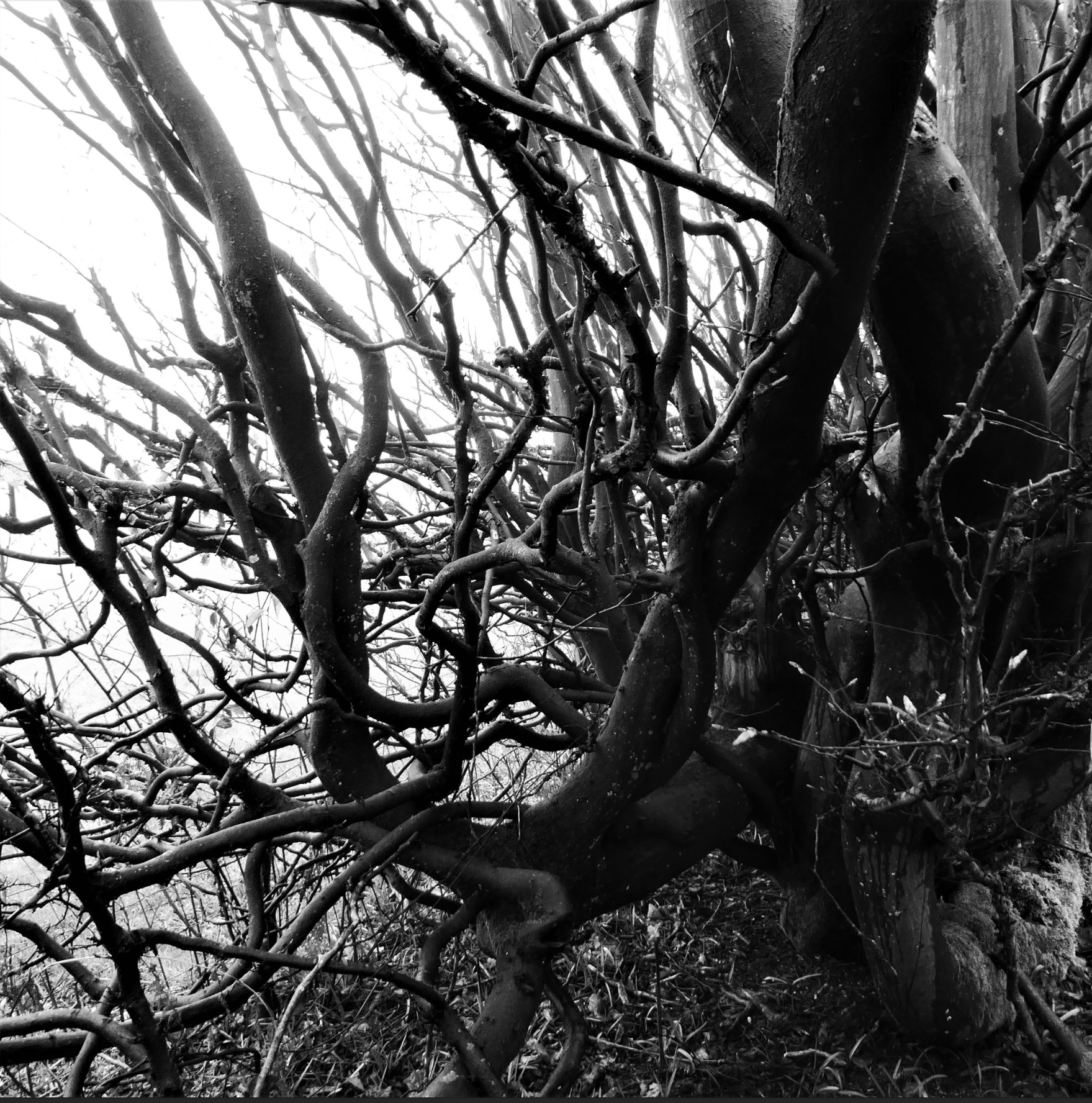 I'm always moved by old woodbanks, knowing that they've acted as boundaries for centuries, and this wood was bounded by one, topped with spaghetti beeches and hornbeams.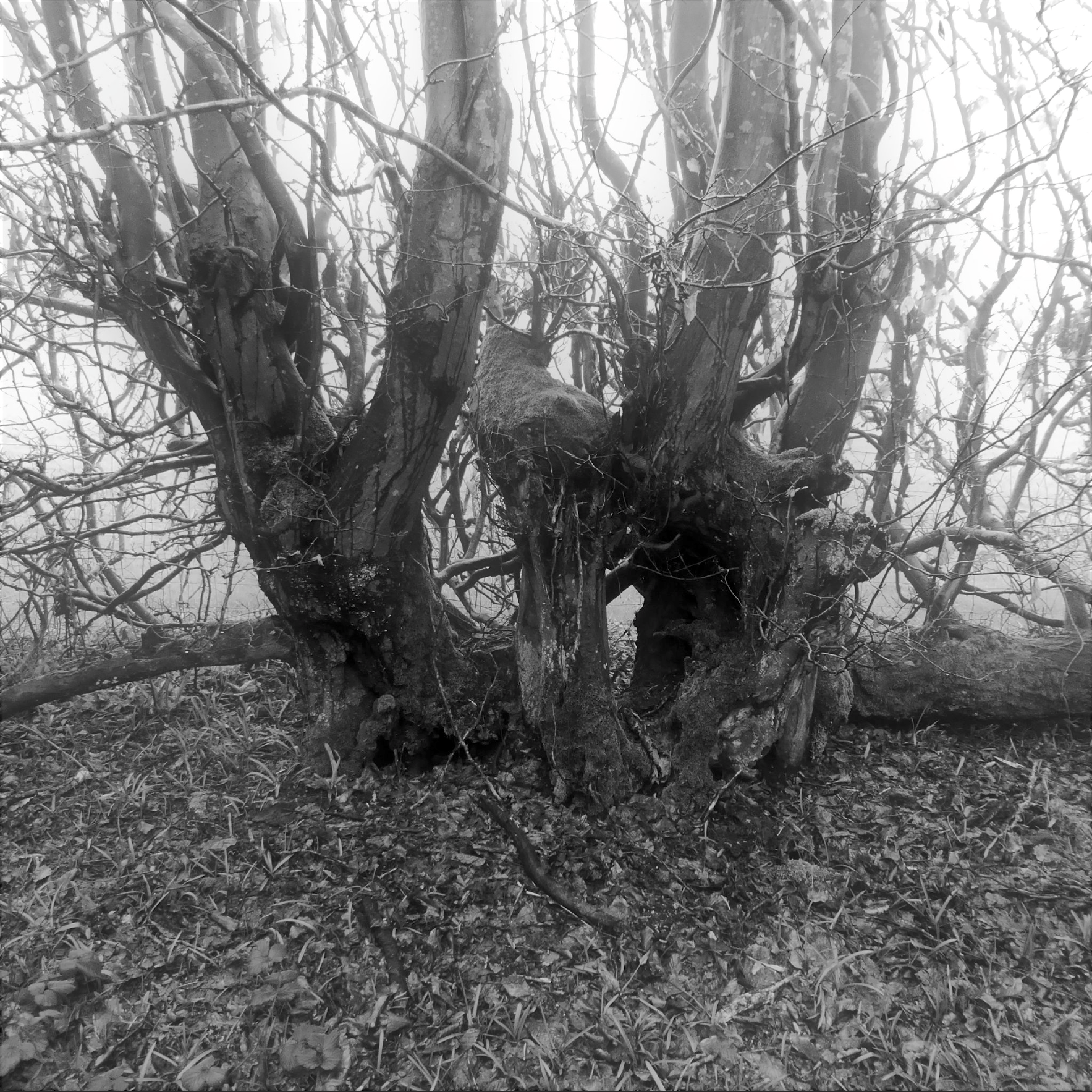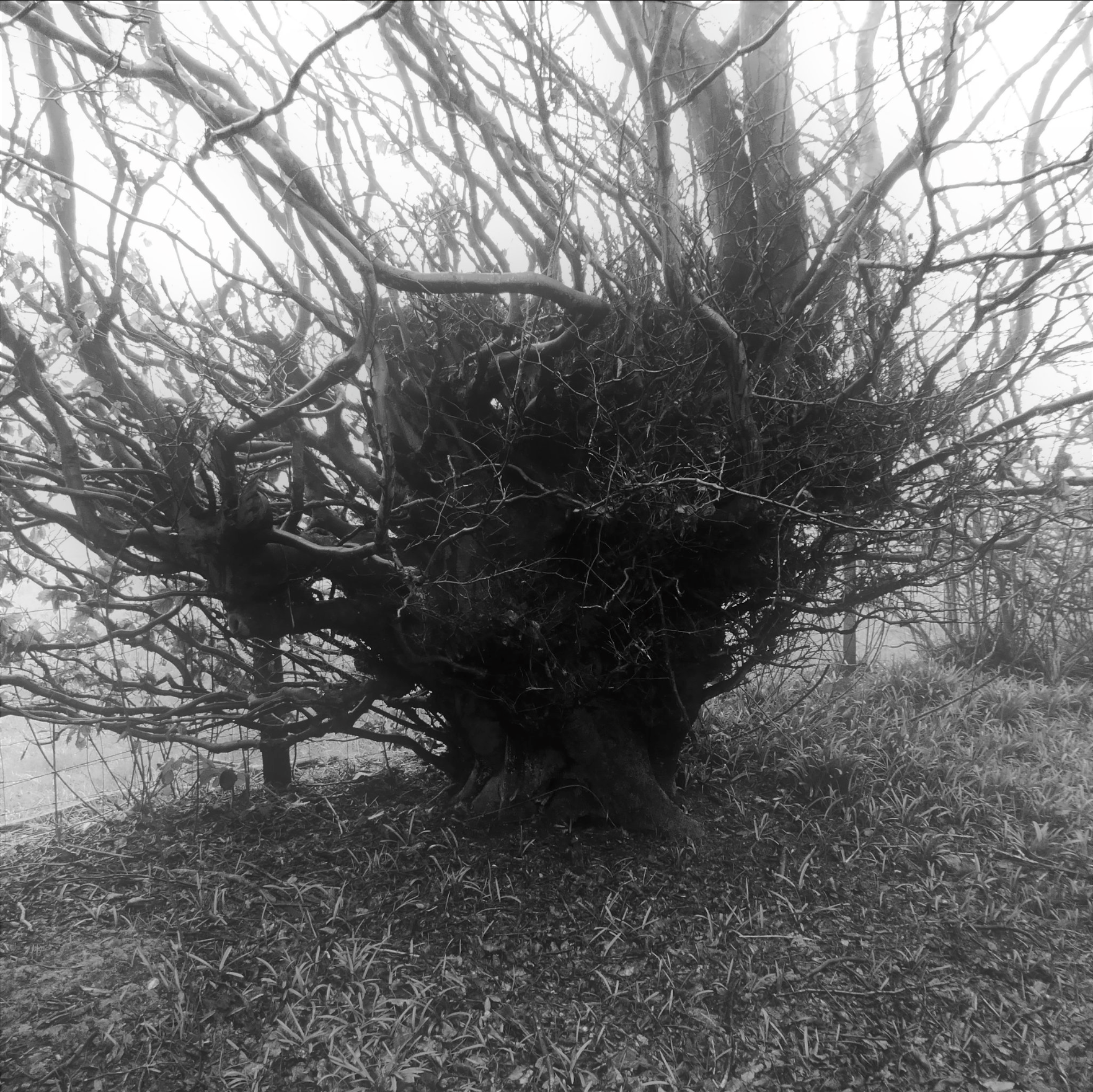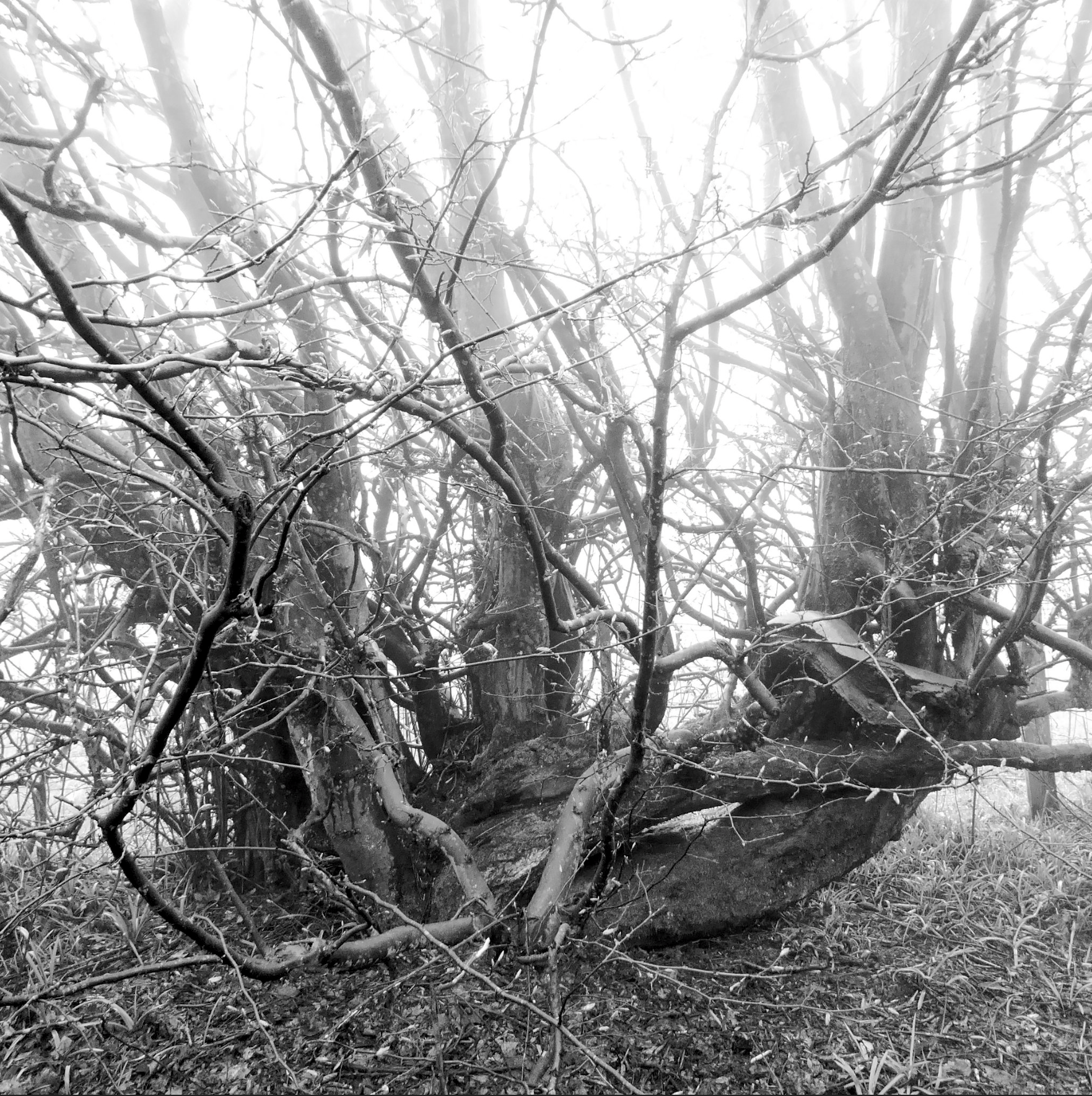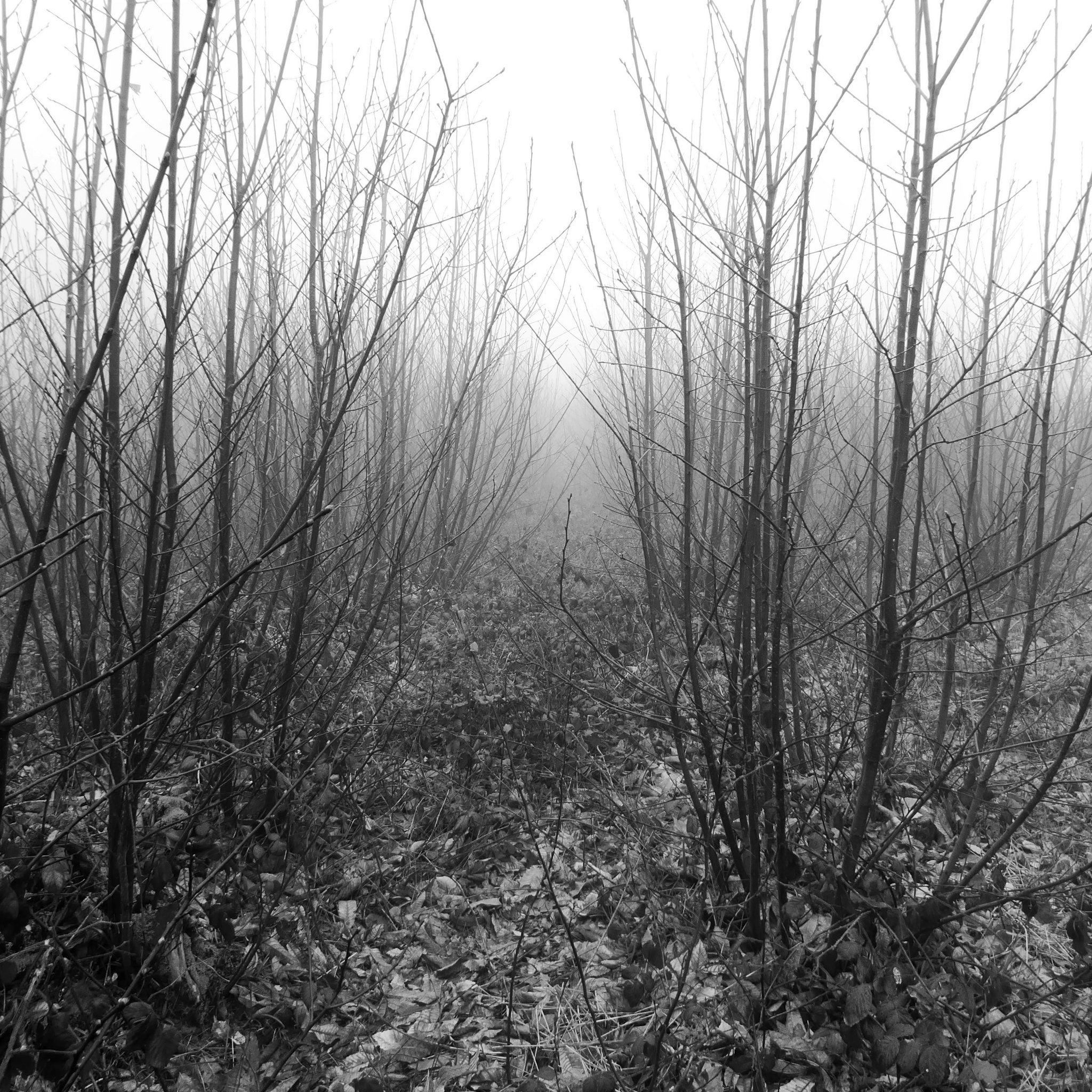 The first section of wood was dominated by hazel coppice, which I feel I don't encounter very often. I always imagine hazel as a friendly tree, which is just as well in this very Poe fog.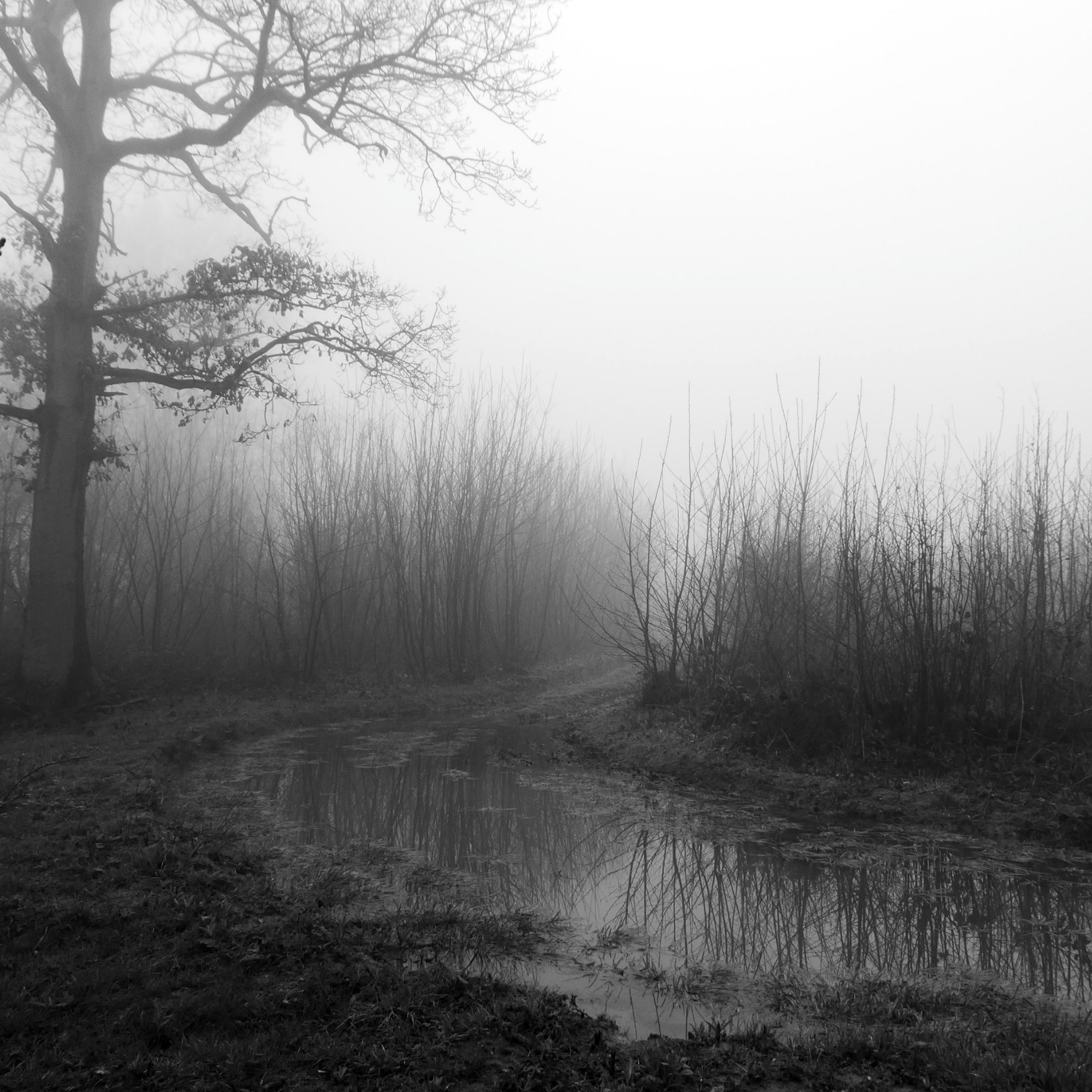 I came to my first turn, I had to turn right, at a right angle, on reaching this flooded track.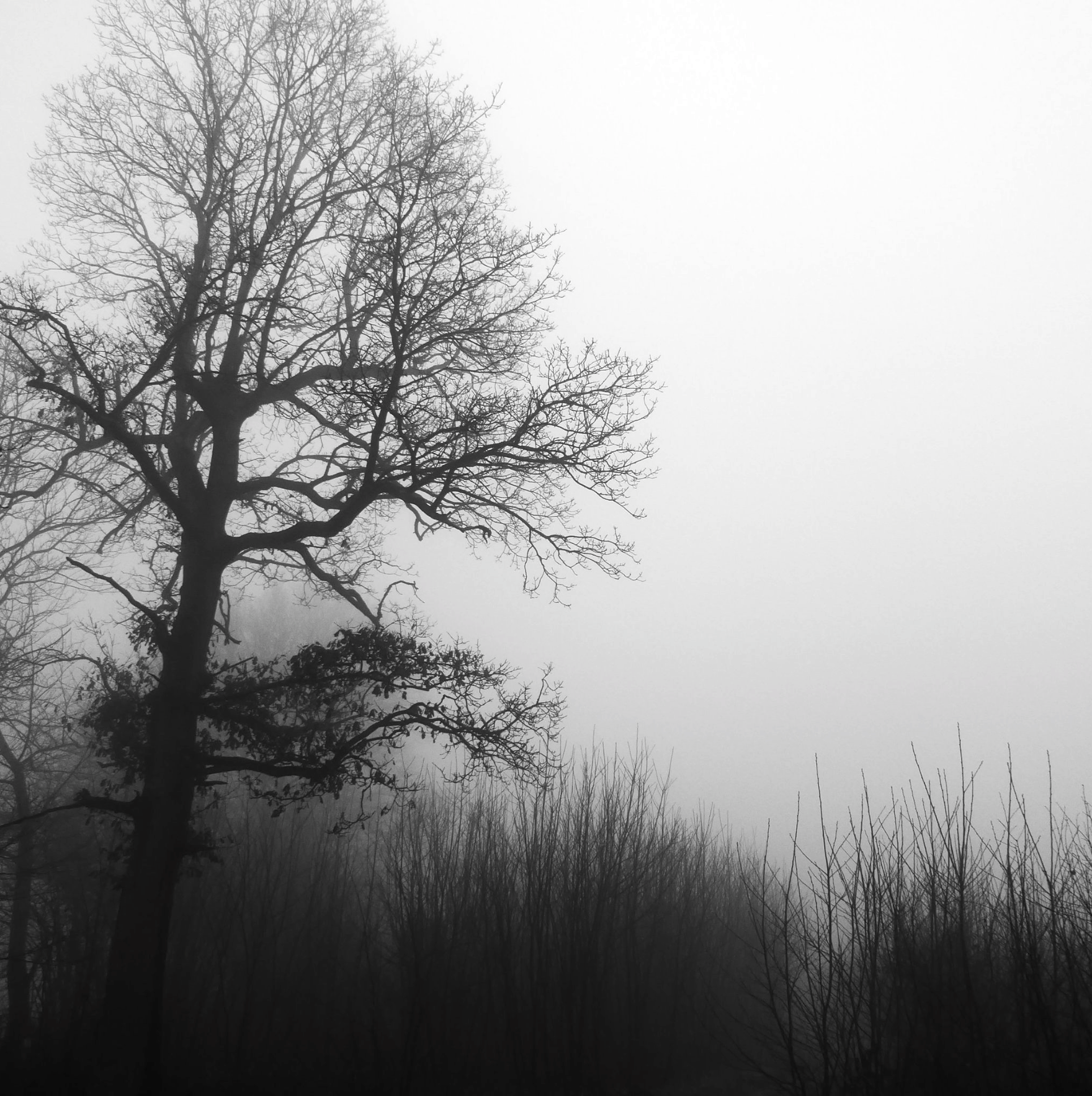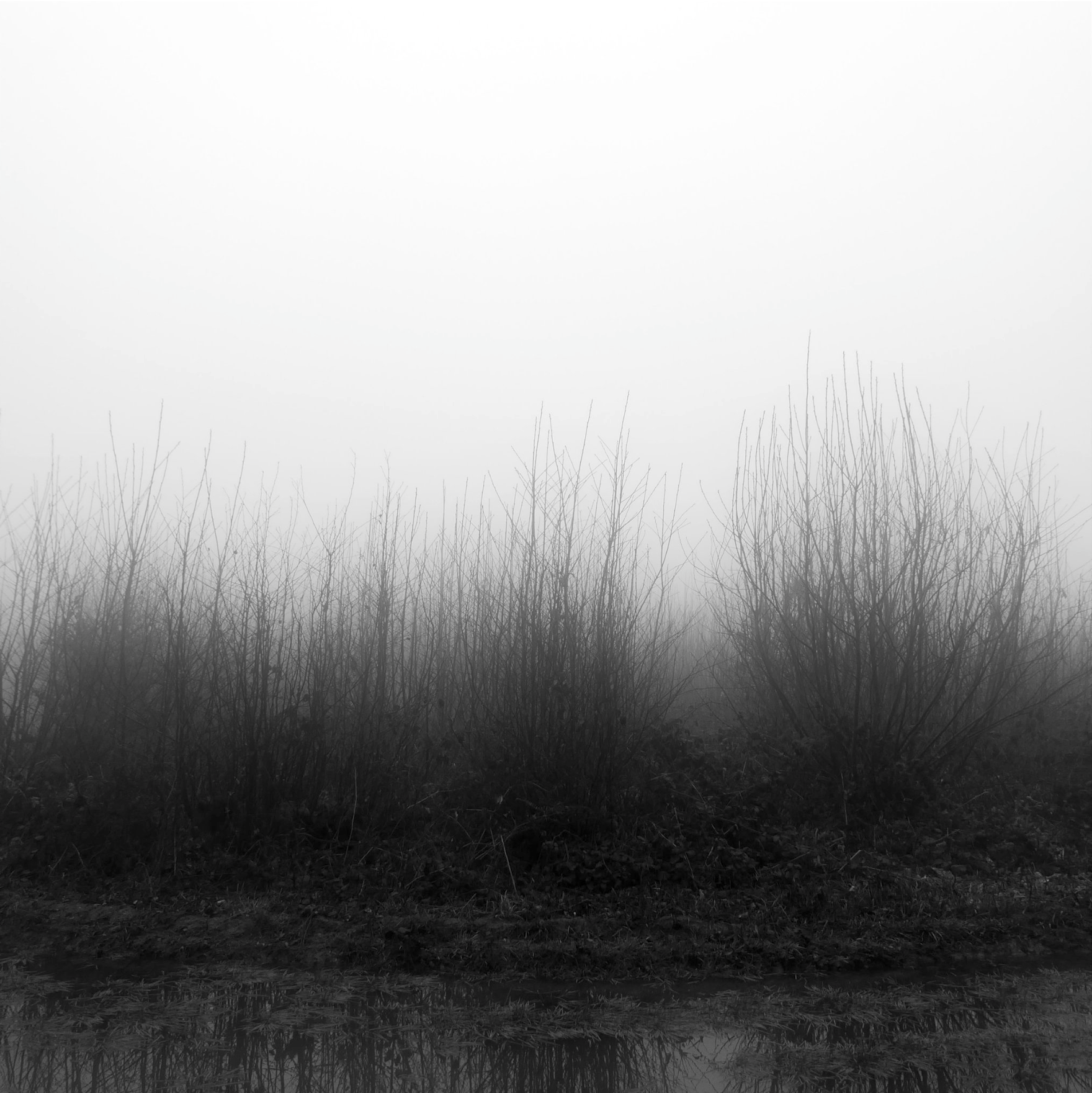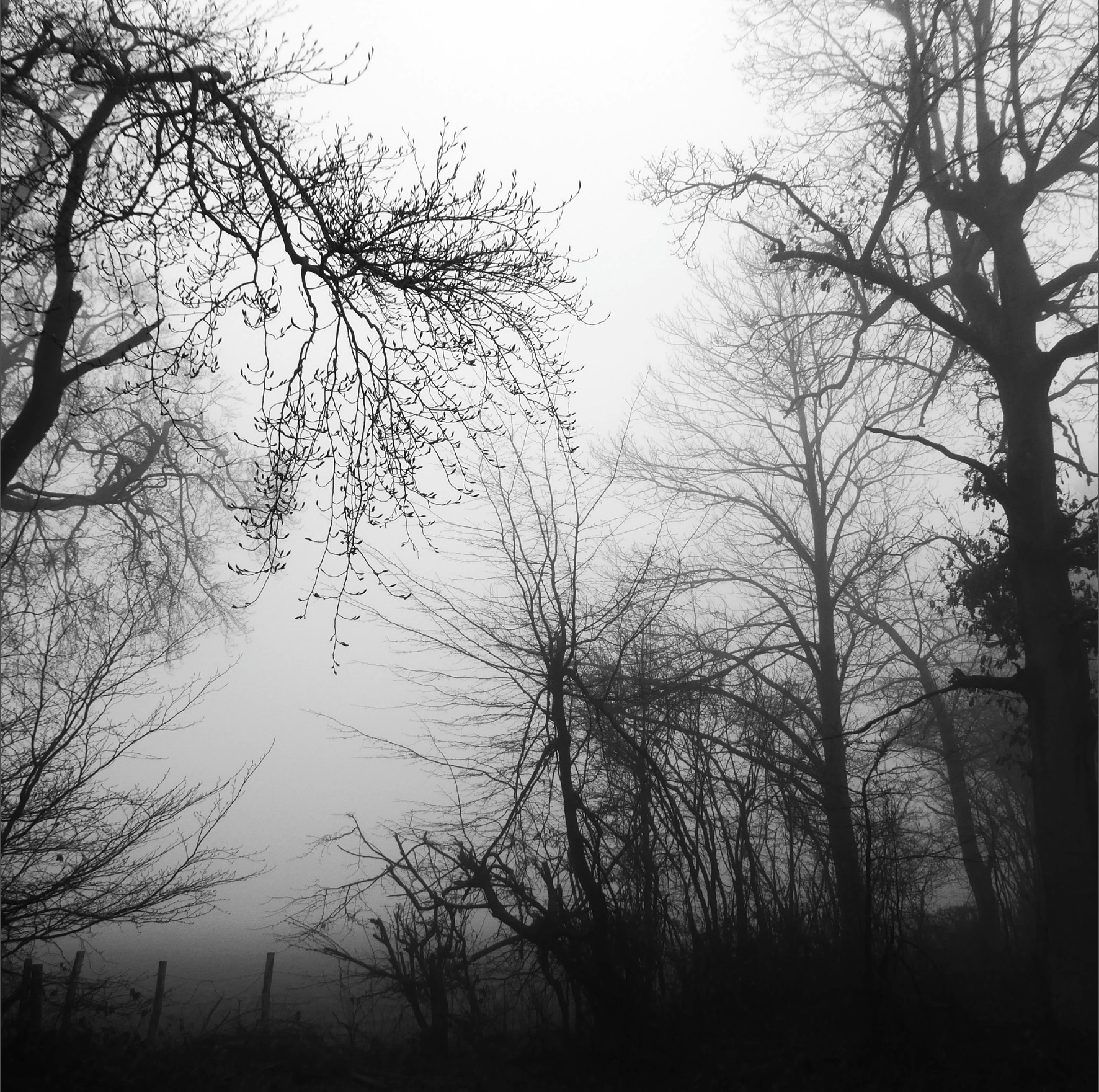 I set out preoccupied by what I would find at my destination: a church? A chapel? A mere stony suggestion of a ruined sacred place? I was leaning towards the latter, given the odd and remote location.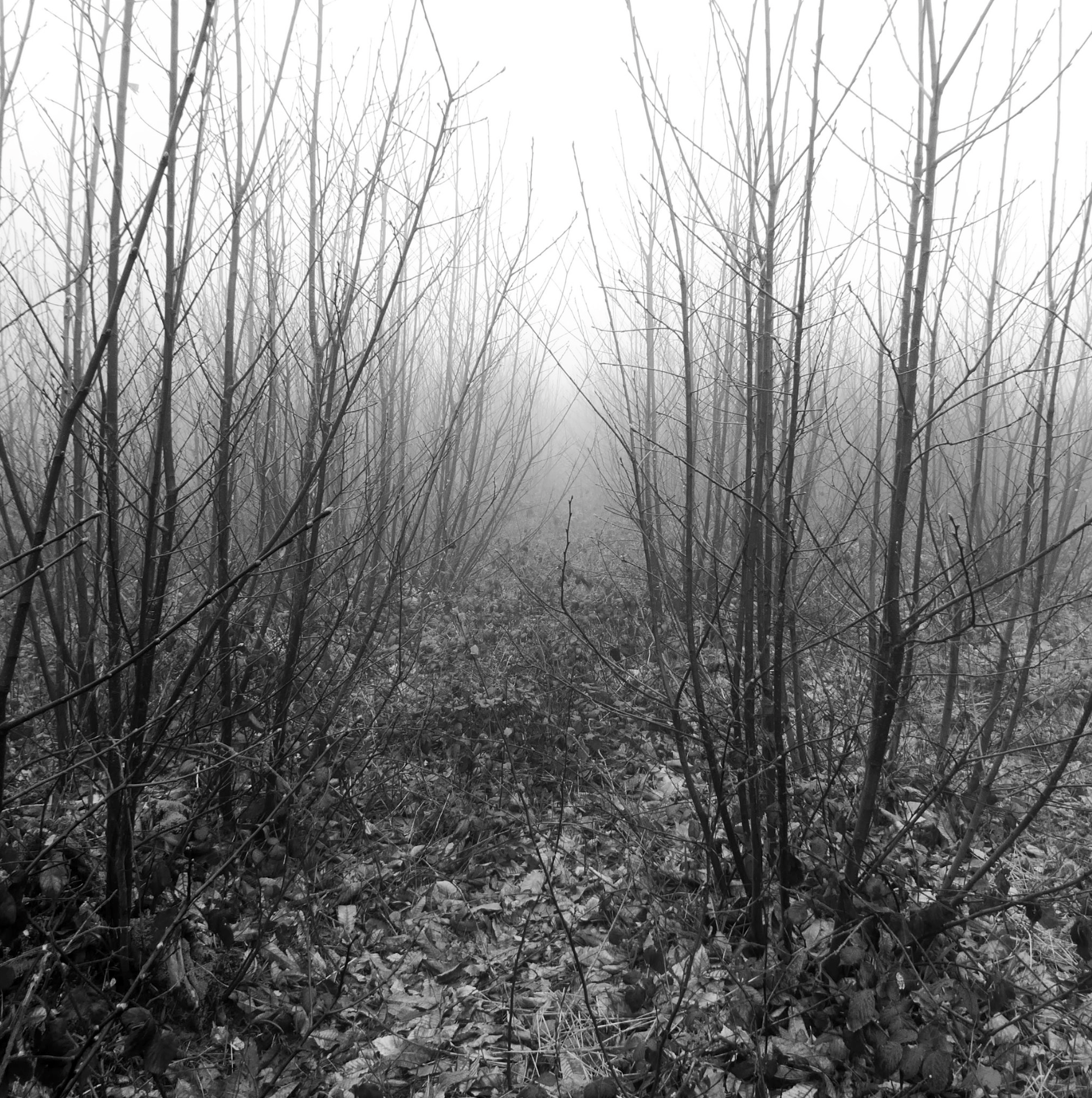 But the experience of the woodland in this dense fog was a joy – the everyday took on an entirely different presence.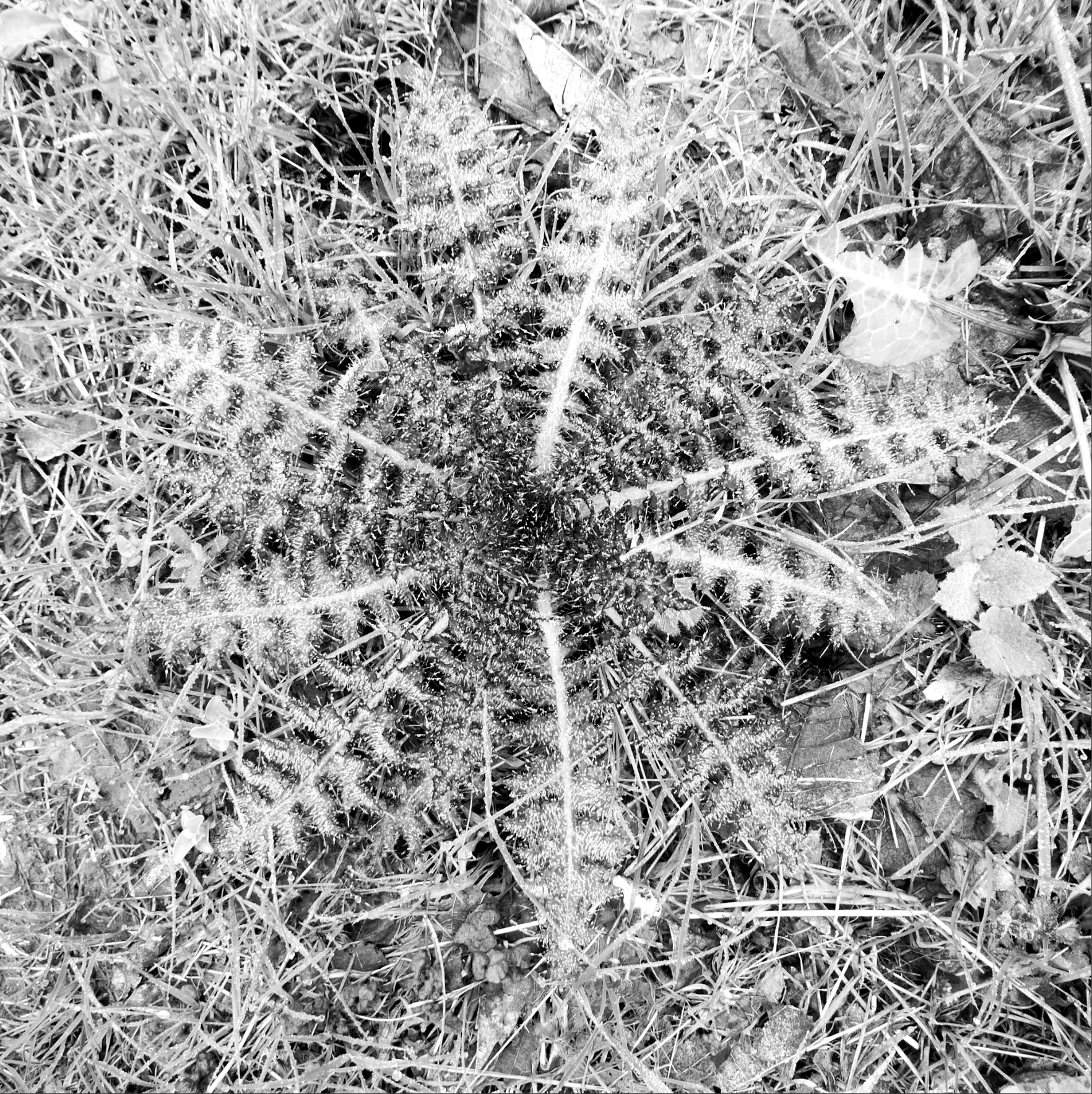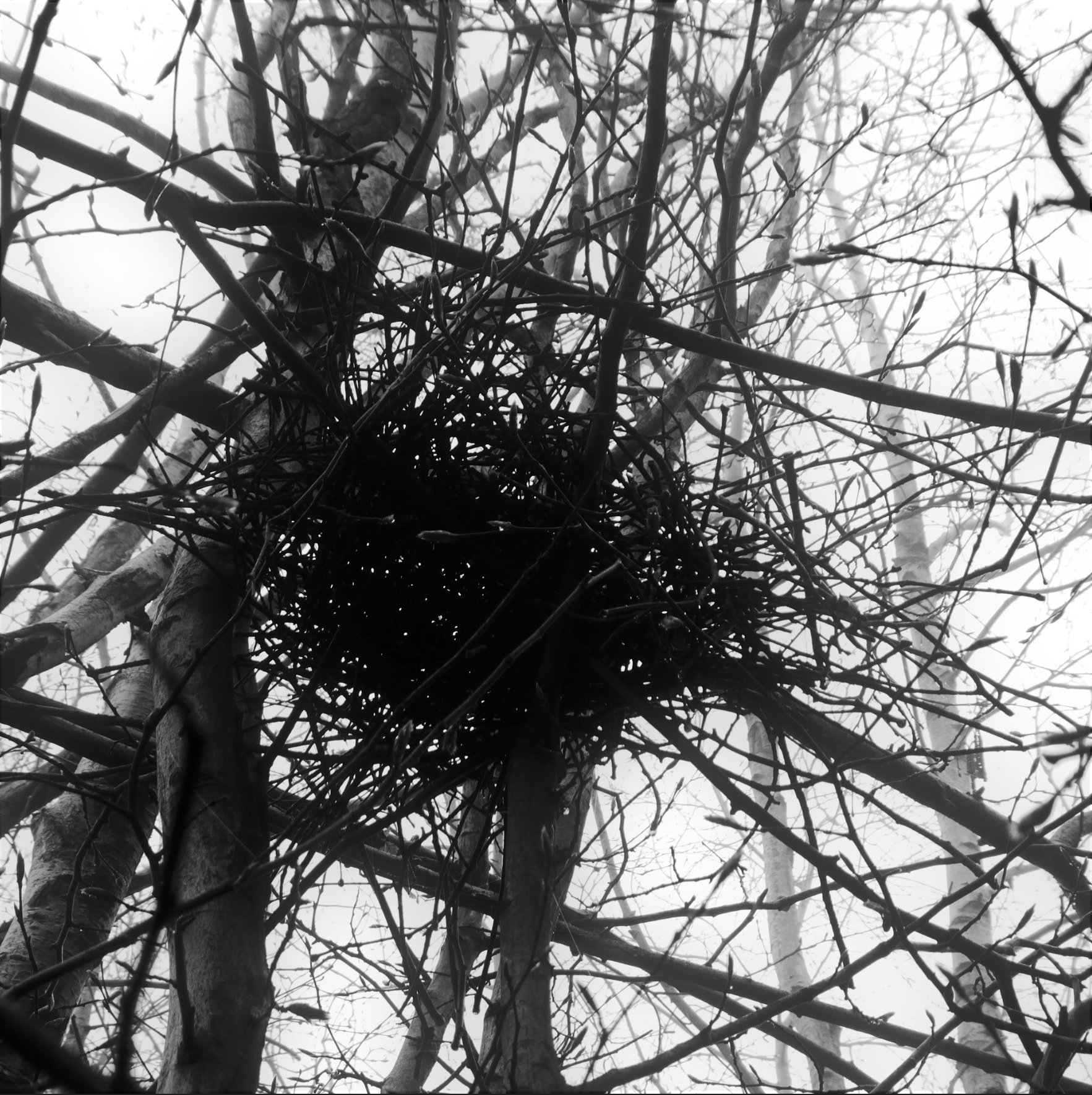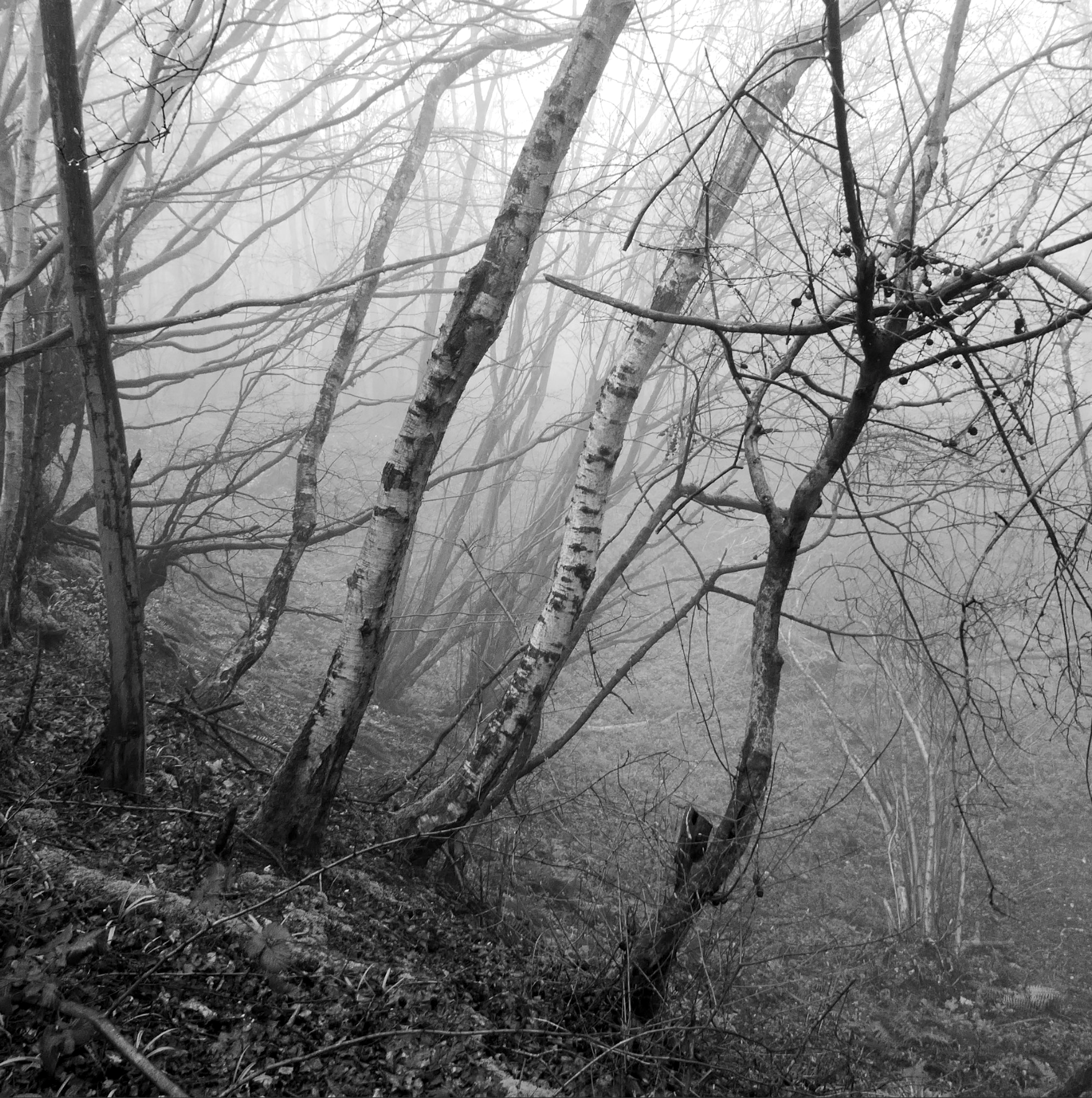 I came across a sudden steep hollow. It seemed unmarked by any horsehoe of close contour lines on the OS map, so this is when I first started to suspect that I'd lost my way.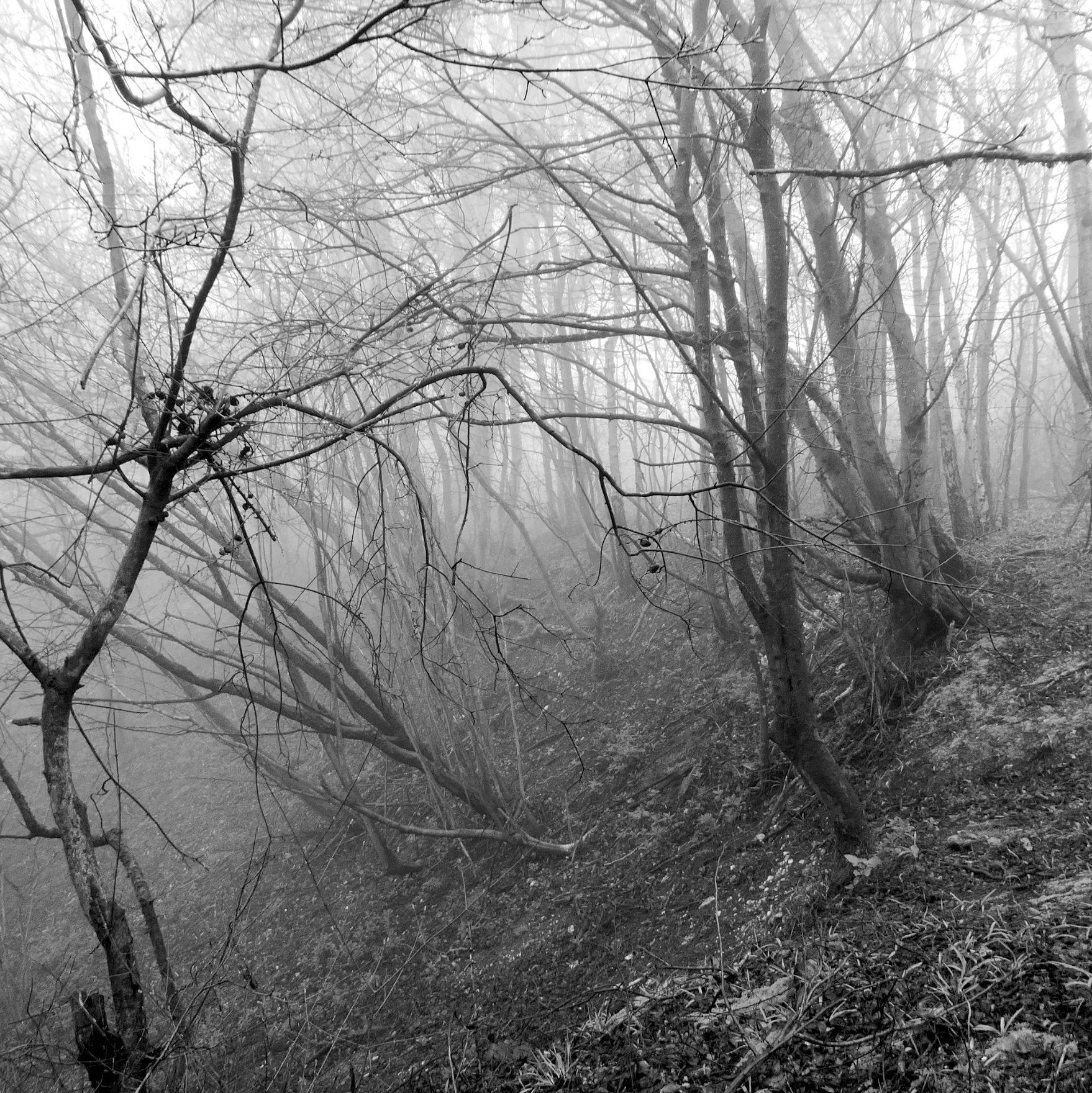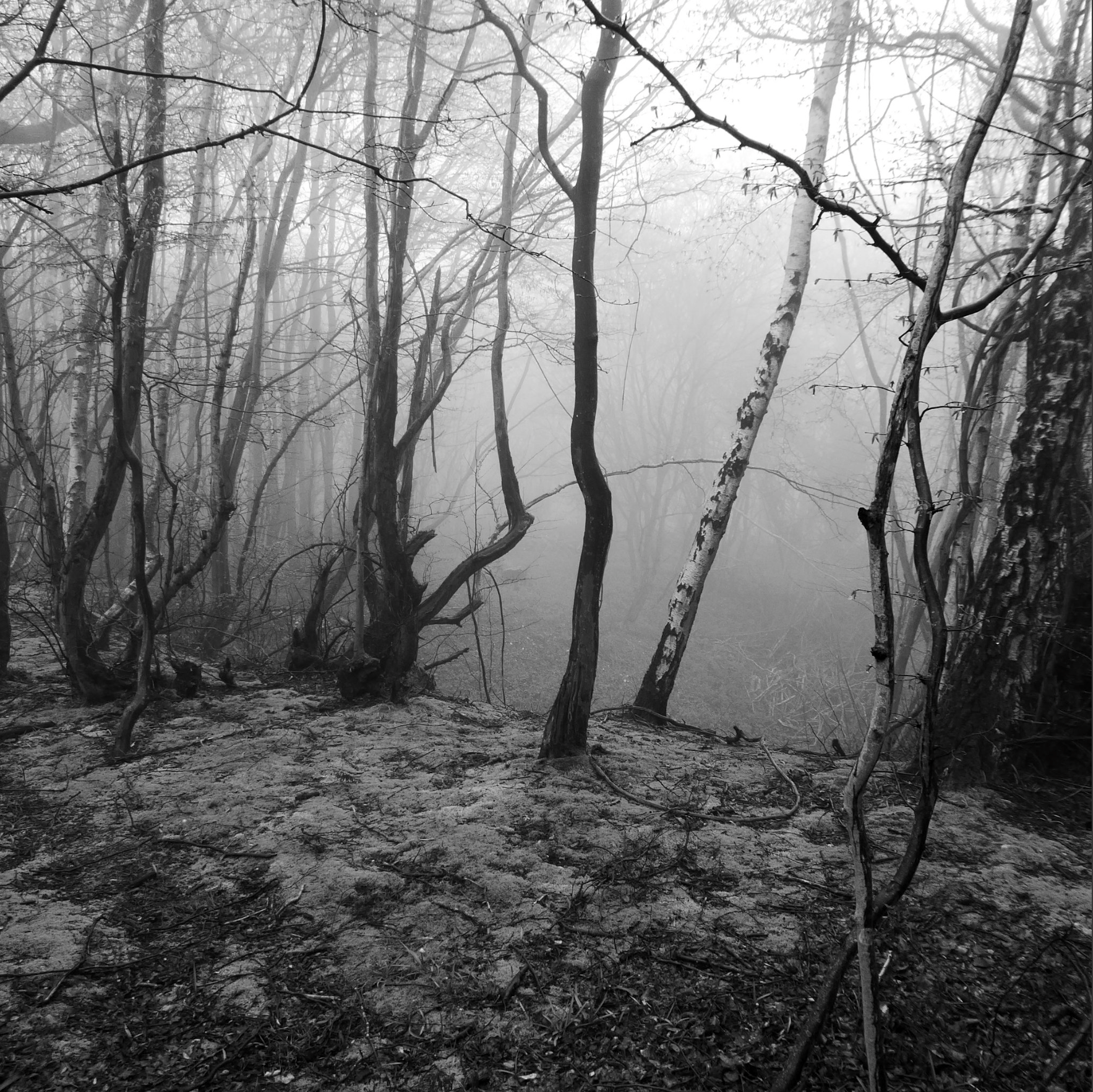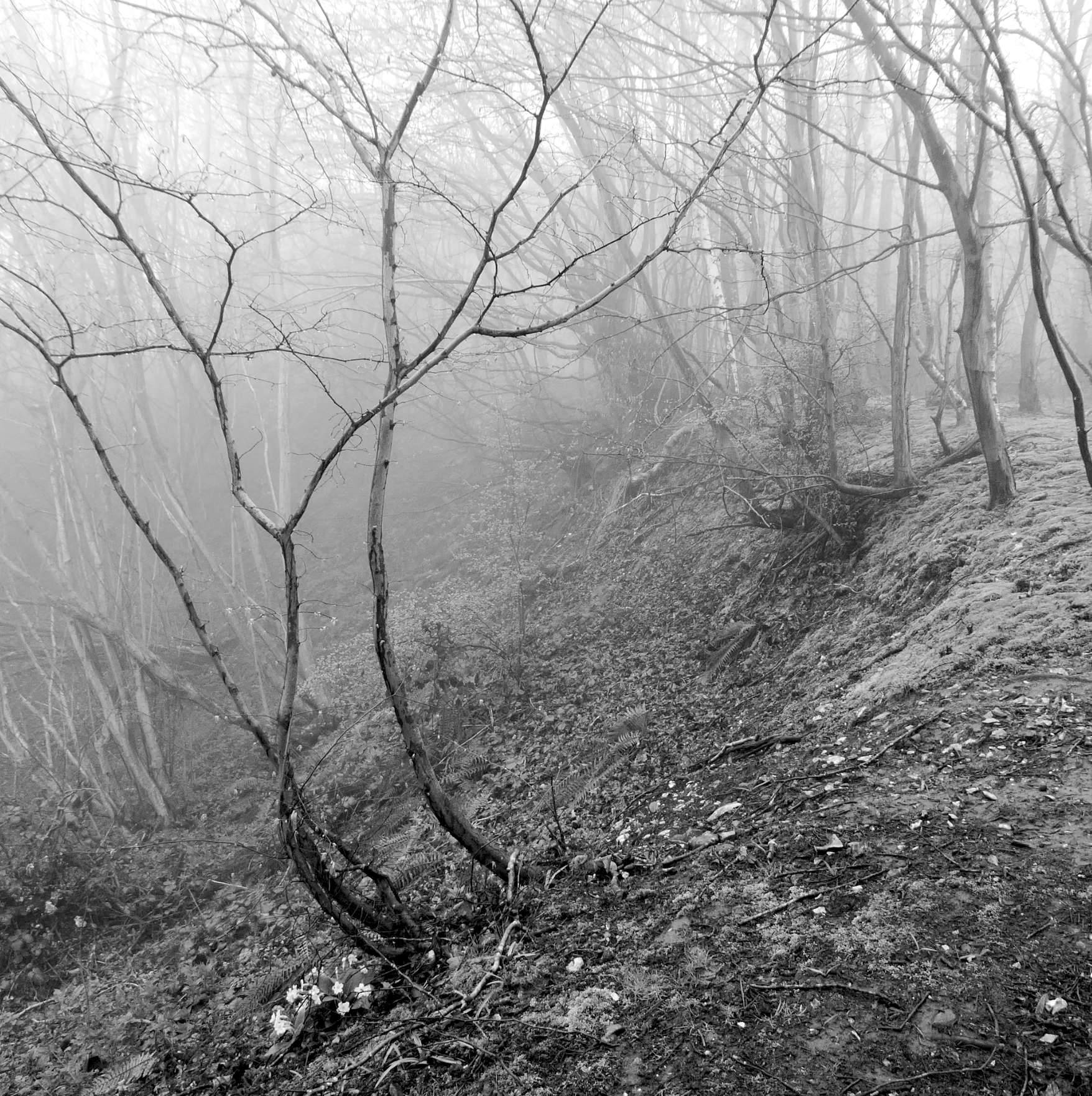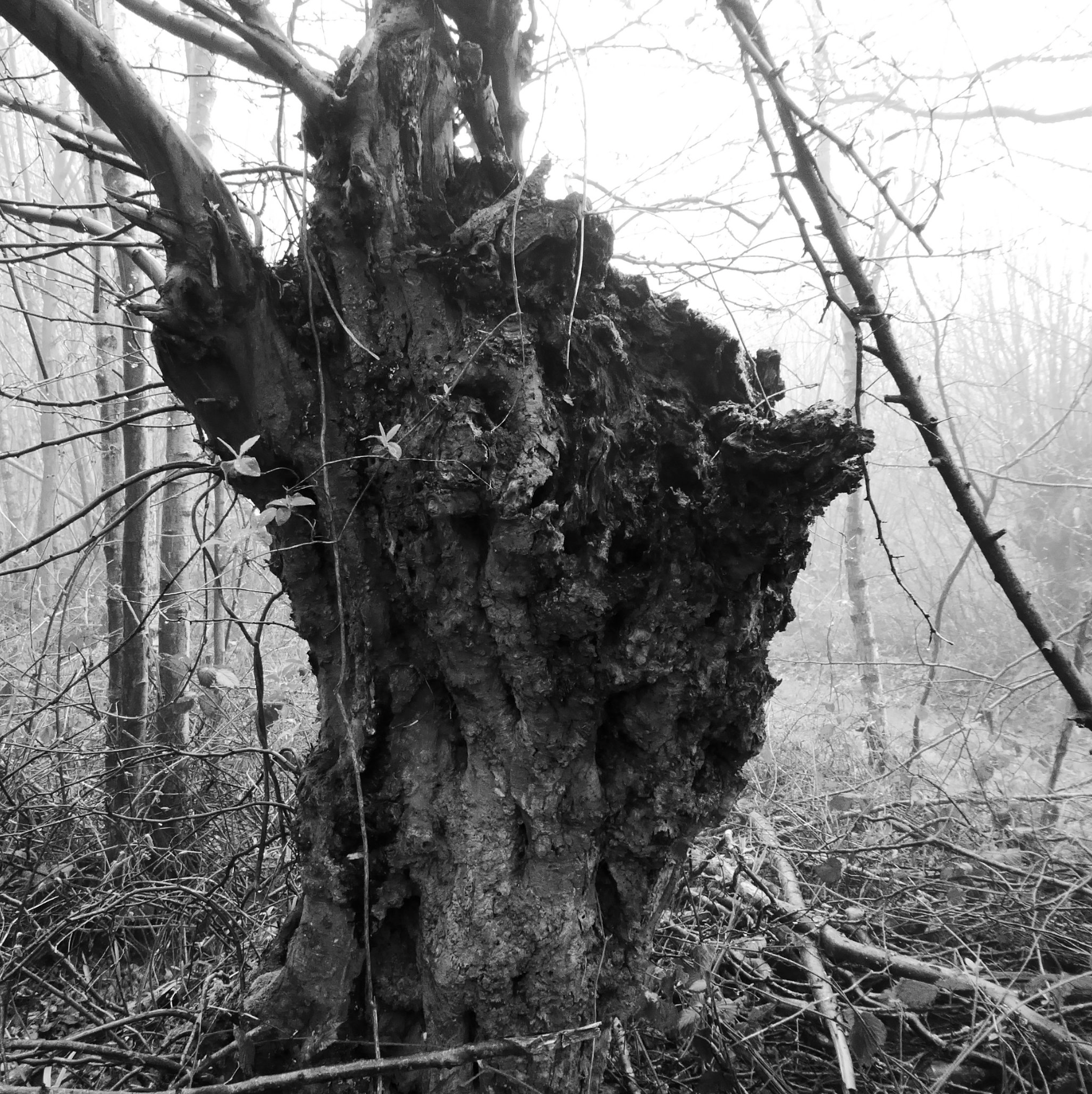 By the hollow, this old tree was simultaneously living and dead – a termite metropolis nevertheless sprouting fresh young limbs.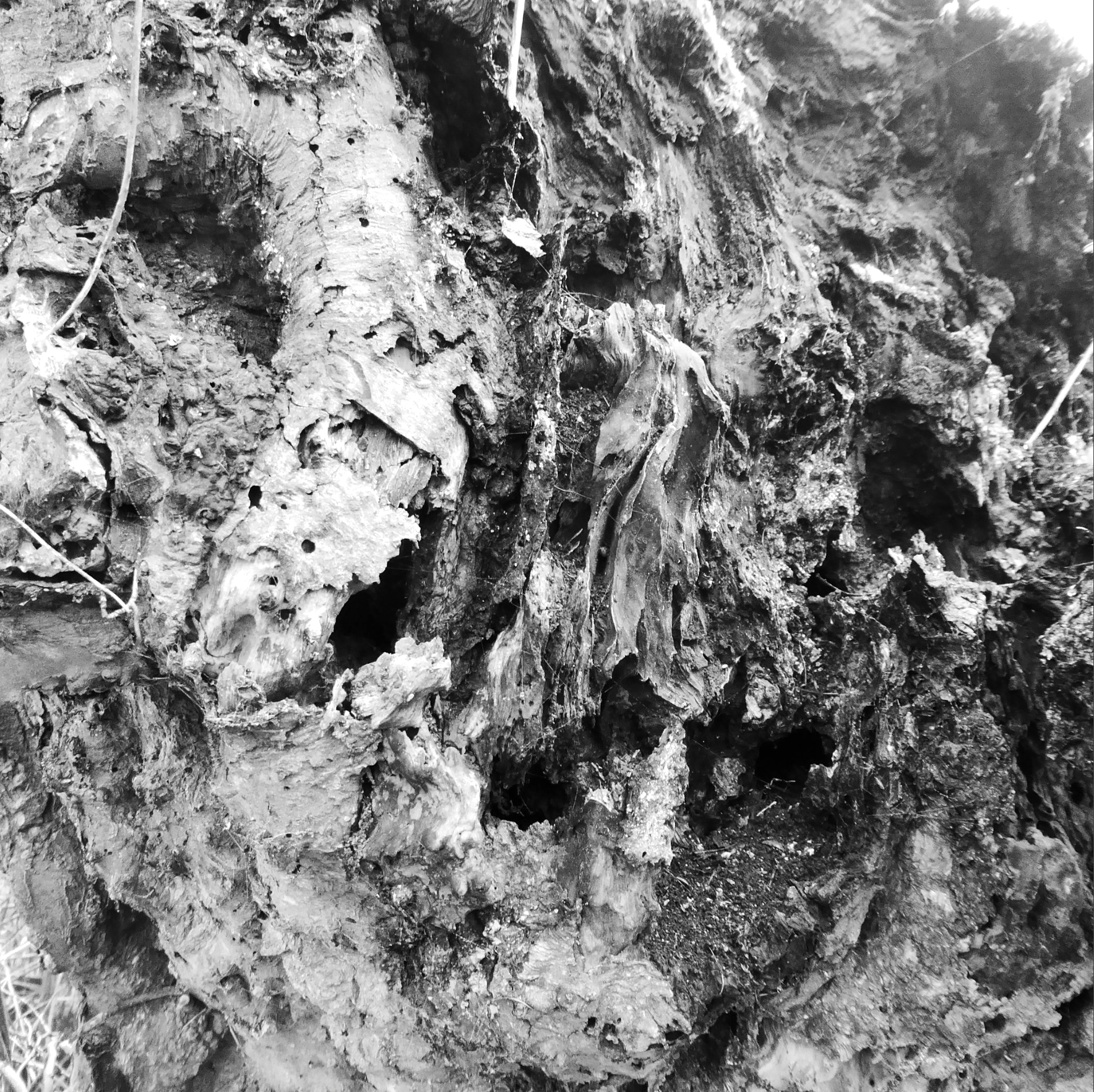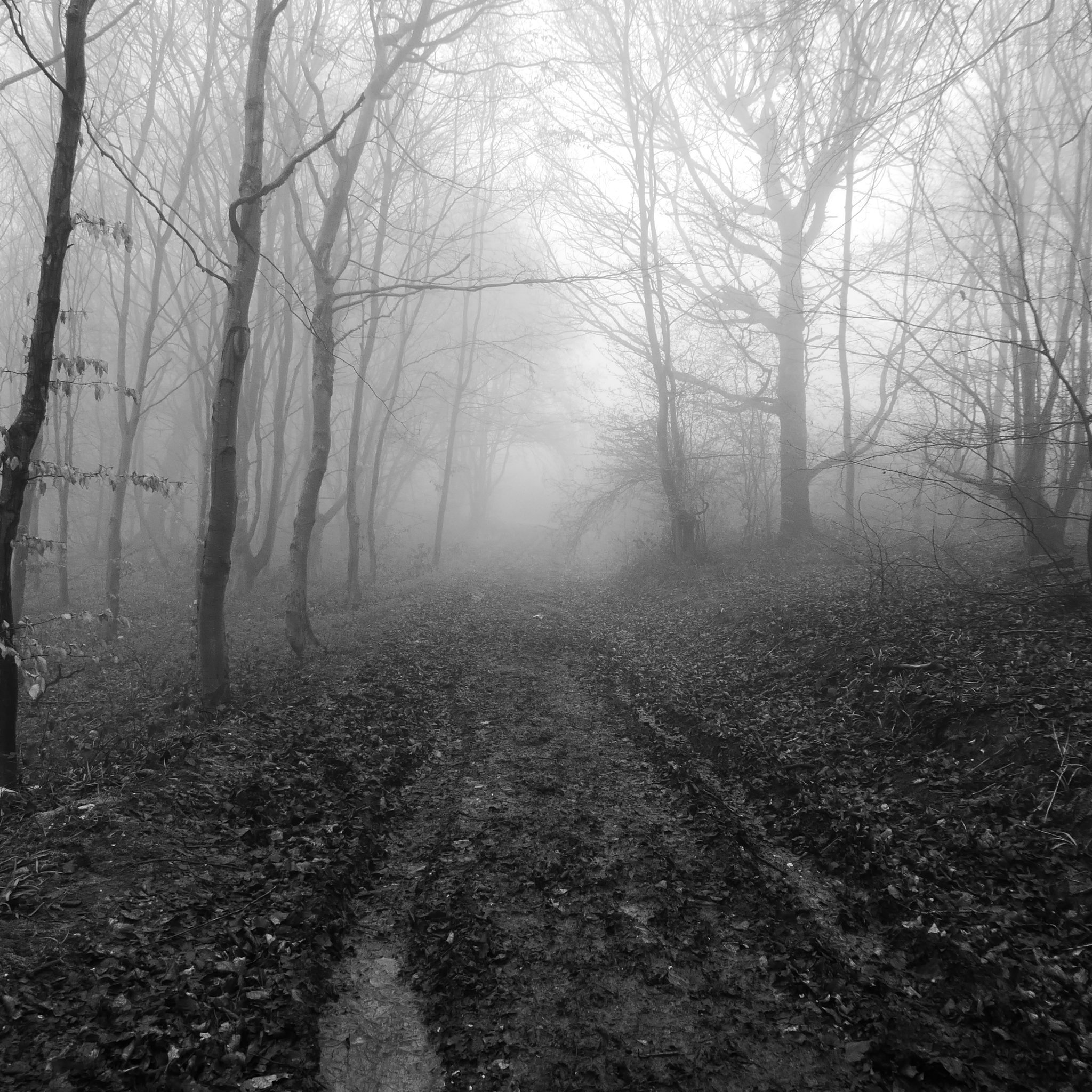 I checked my map again. Three sides of a squarish rectangle was my route. Two right angled turns to the right. Just past the hollow a muddy but confident track went fogward at 90 degrees. This must be my second turn. I must be pretty close.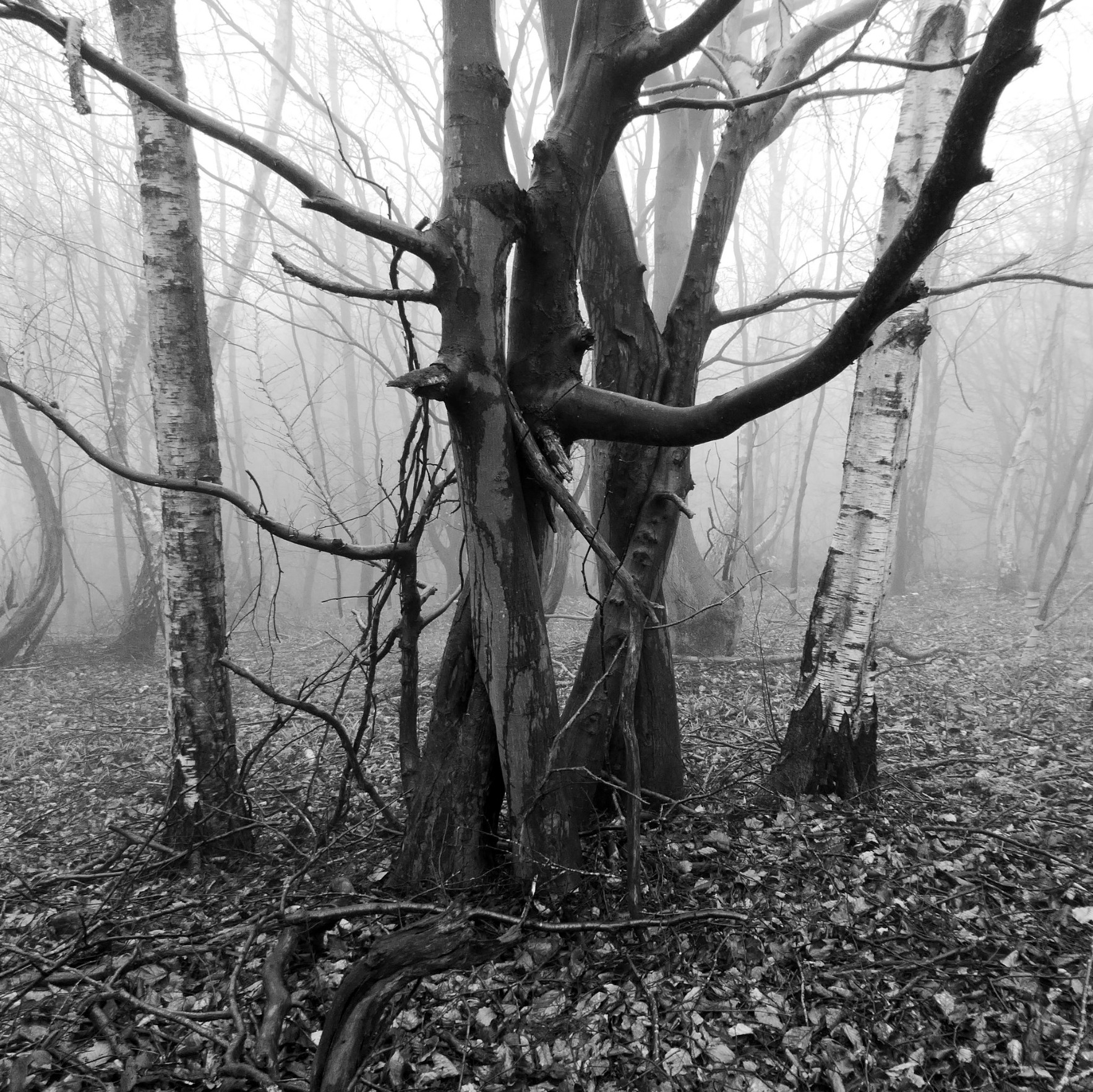 Two pairs of beeches waltzed with each other alongside the track, as two birches stood by, waiting for their chance to cut in.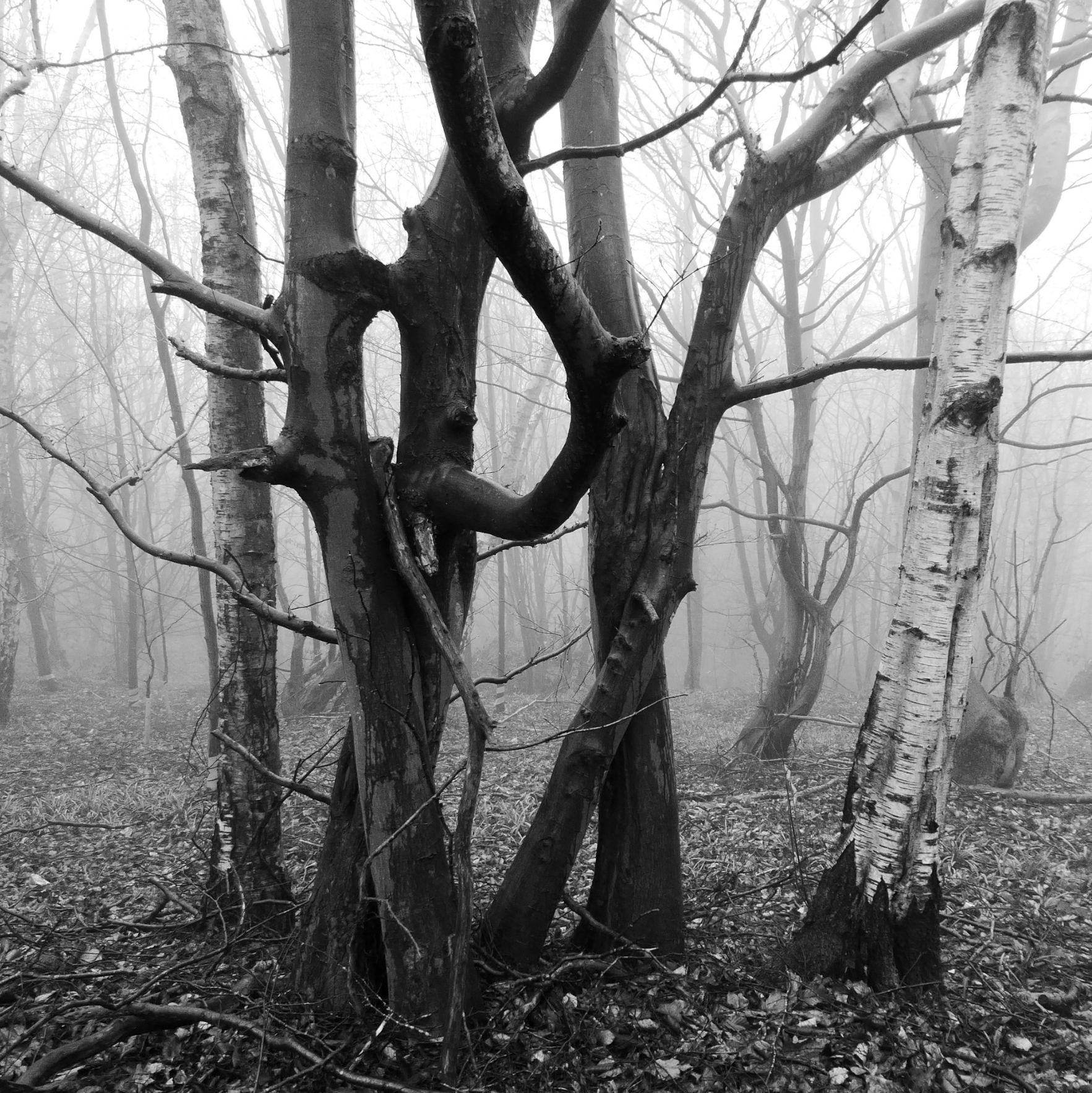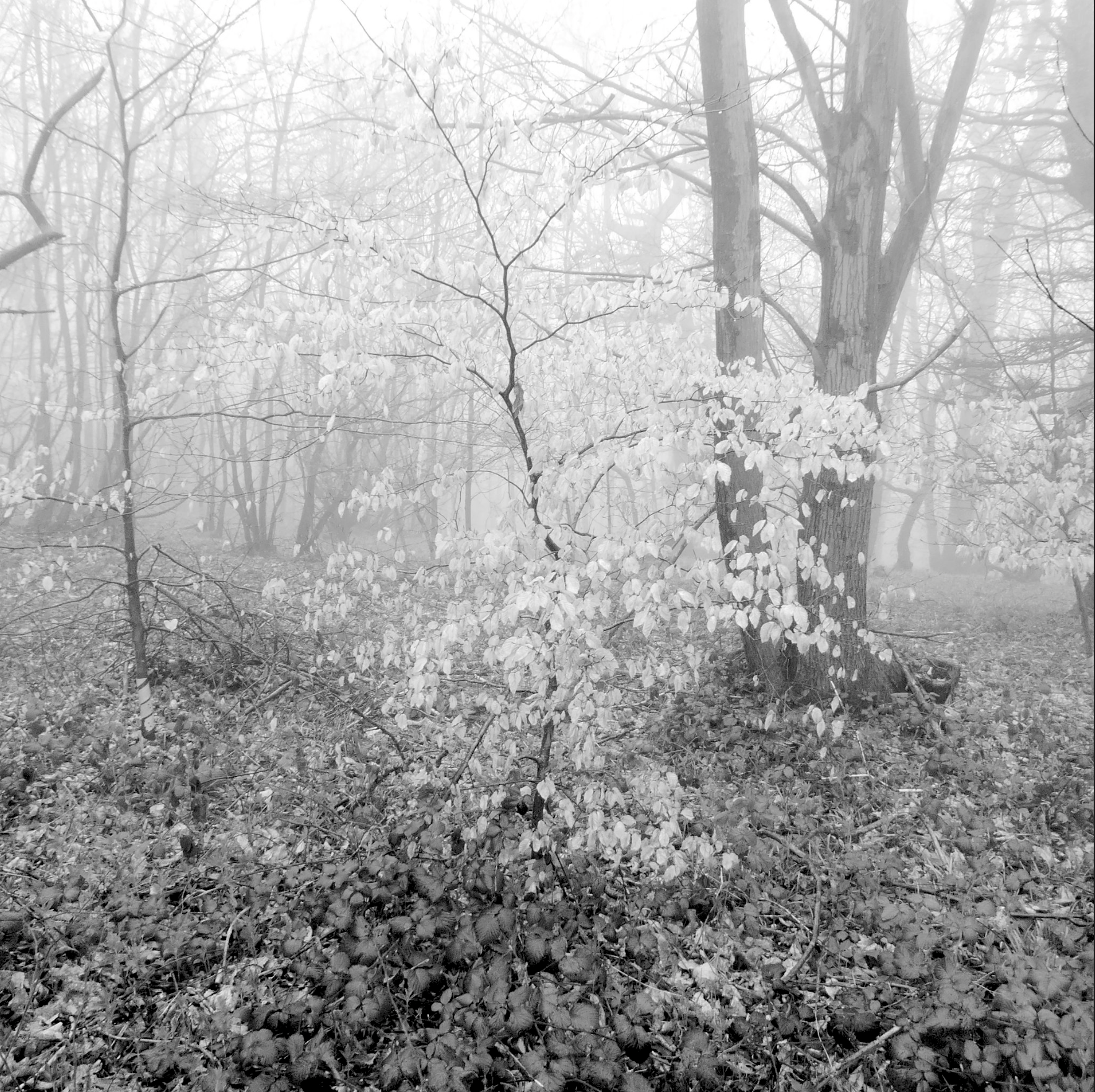 Last year's beech leaves were still clinging on to saplings in the understory, where the winter winds weren't able to dislodge them. A strange bright confetti in the murk.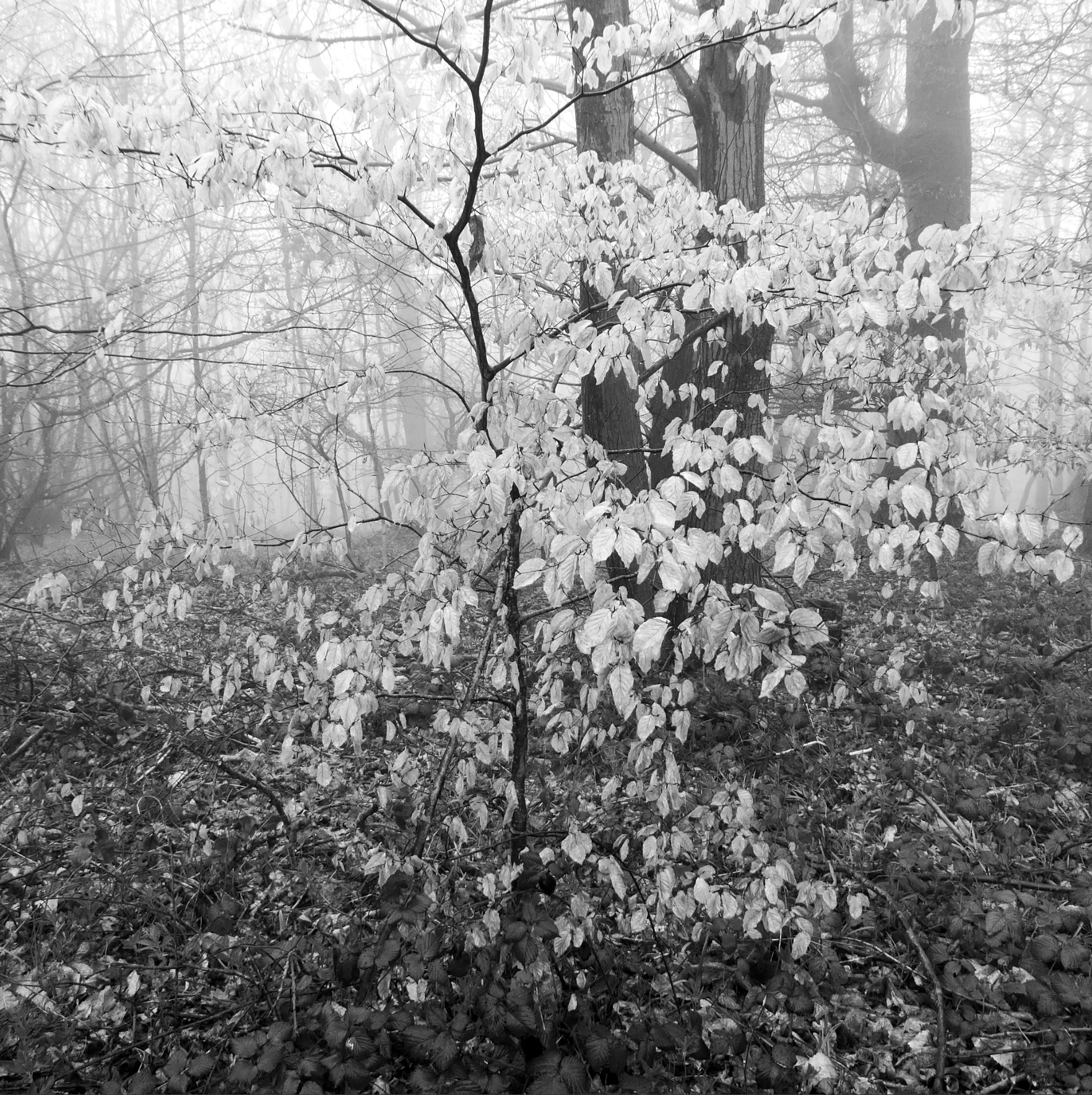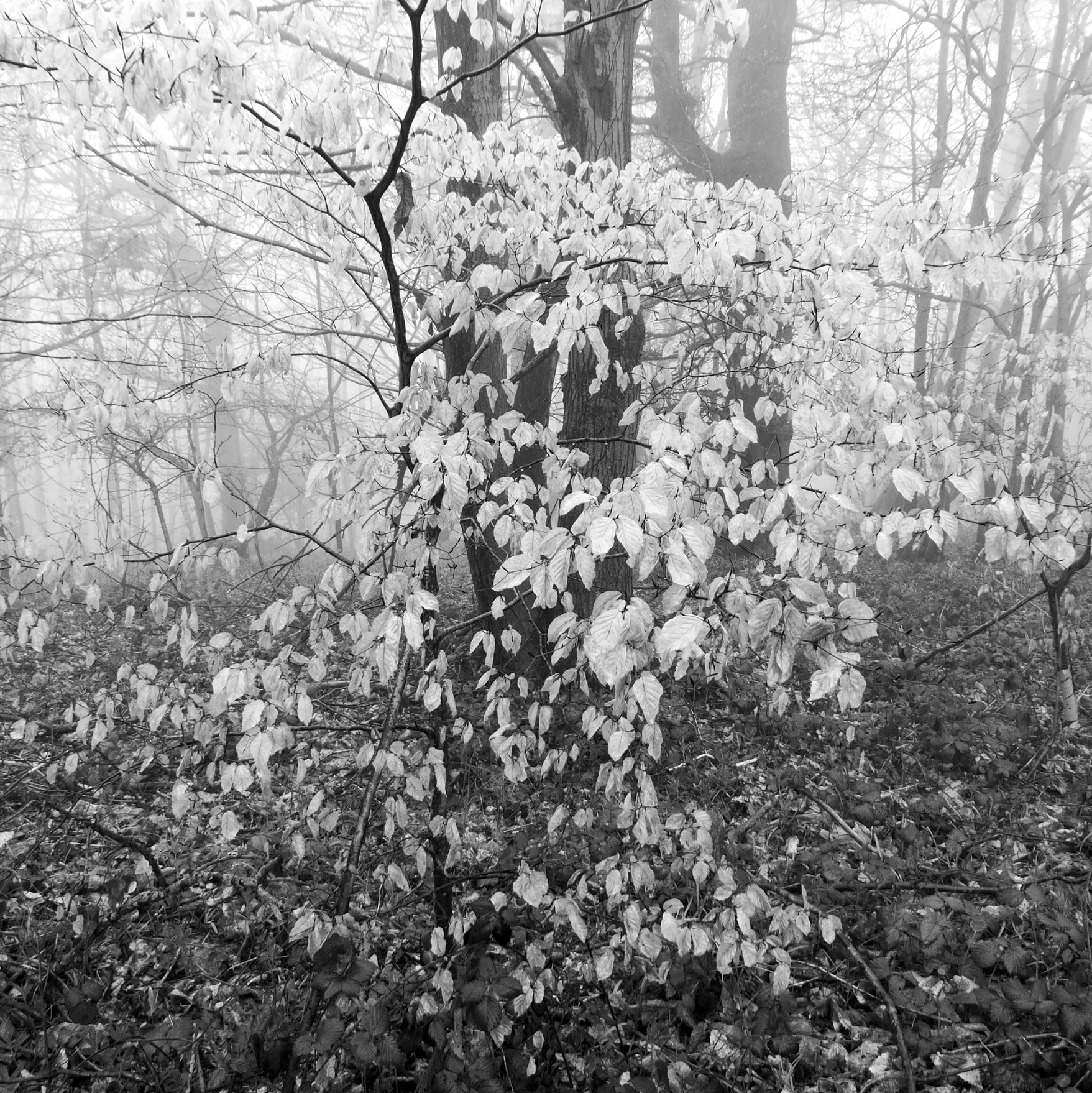 I found the wood falling away to the left of the track – another slope that I couldn't find contoured on the Ordnance Survey. I started to wonder if I should backtrack. But how lost can you get in Kent, for God's sake? Pull yourself together, it's just a bit of fog.
But this side of my square route was getting absurdly long, it didn't make sense any more. This imperious beech appeared to give me directions, but I couldn't interpret its gestures and I don't speak beech.
Primroses cheered me on though, urging me not to panic. Thanks guys, you're the best.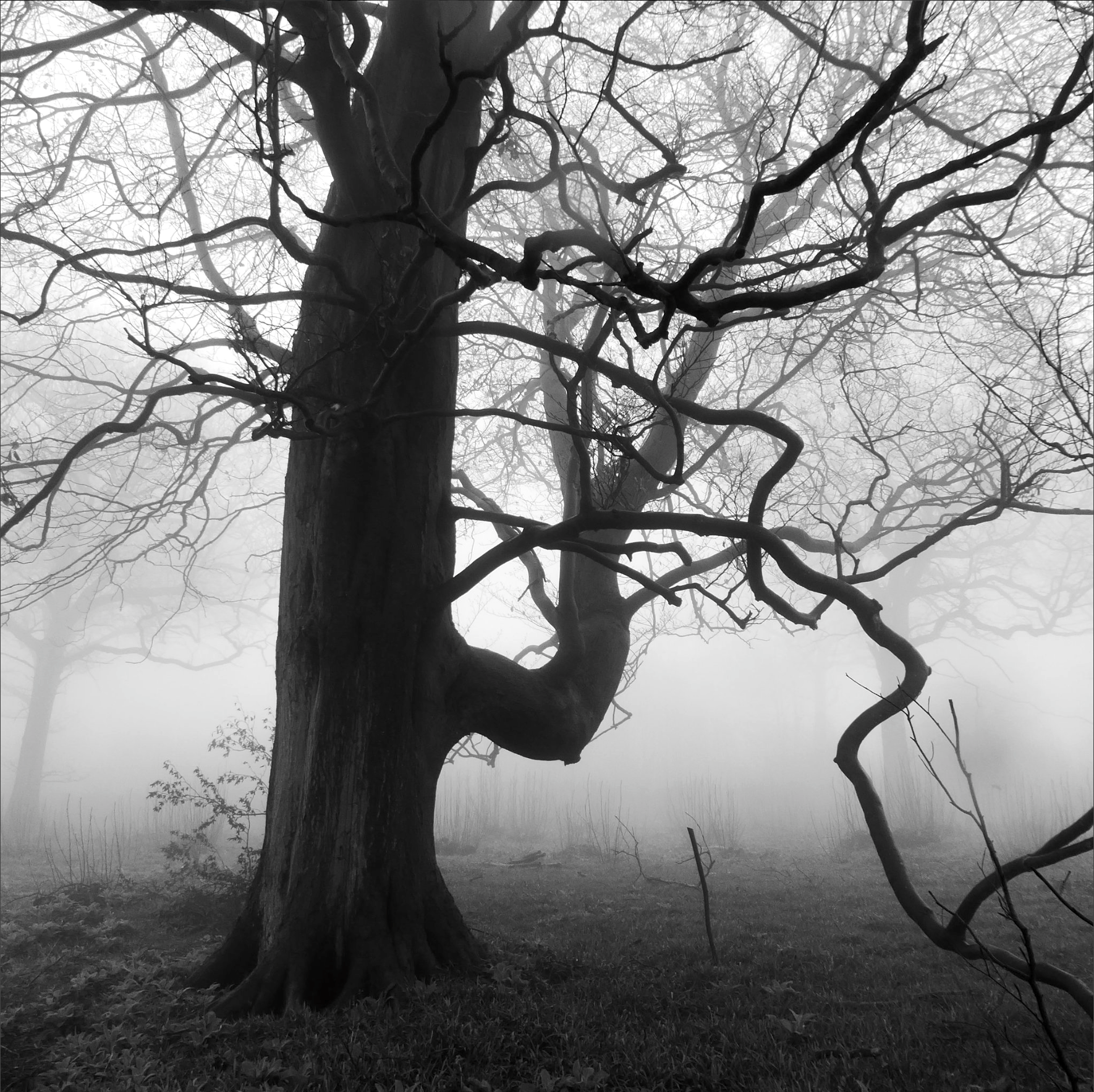 I decided to take the next obvious right and hope for the best. It took me through a recent coppice, where the felling had exposed another monumental beech (a very unusual standard tree in a coppice, where oak is much more usual). (Beeches transfix me, I can't fully explain why.)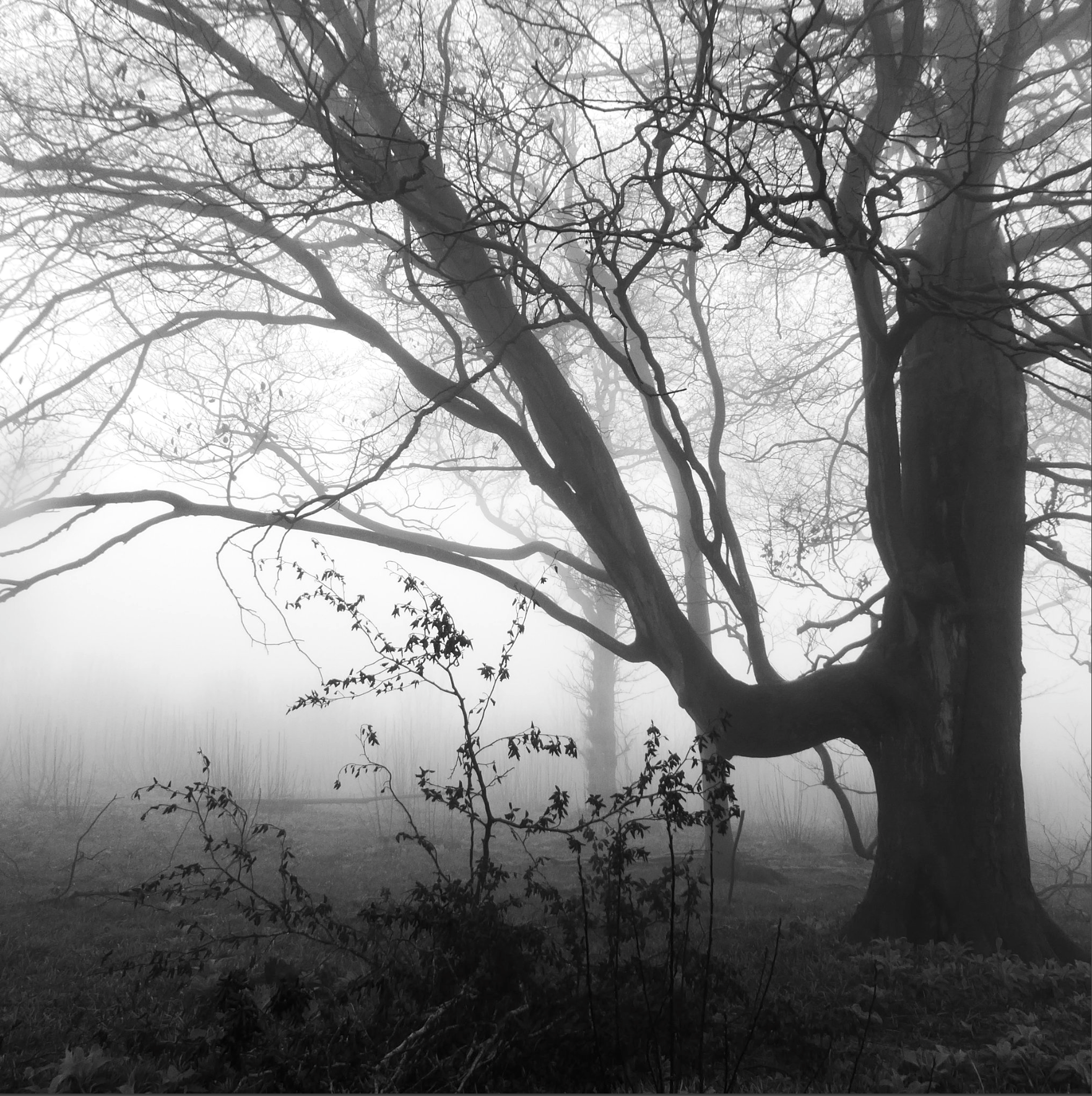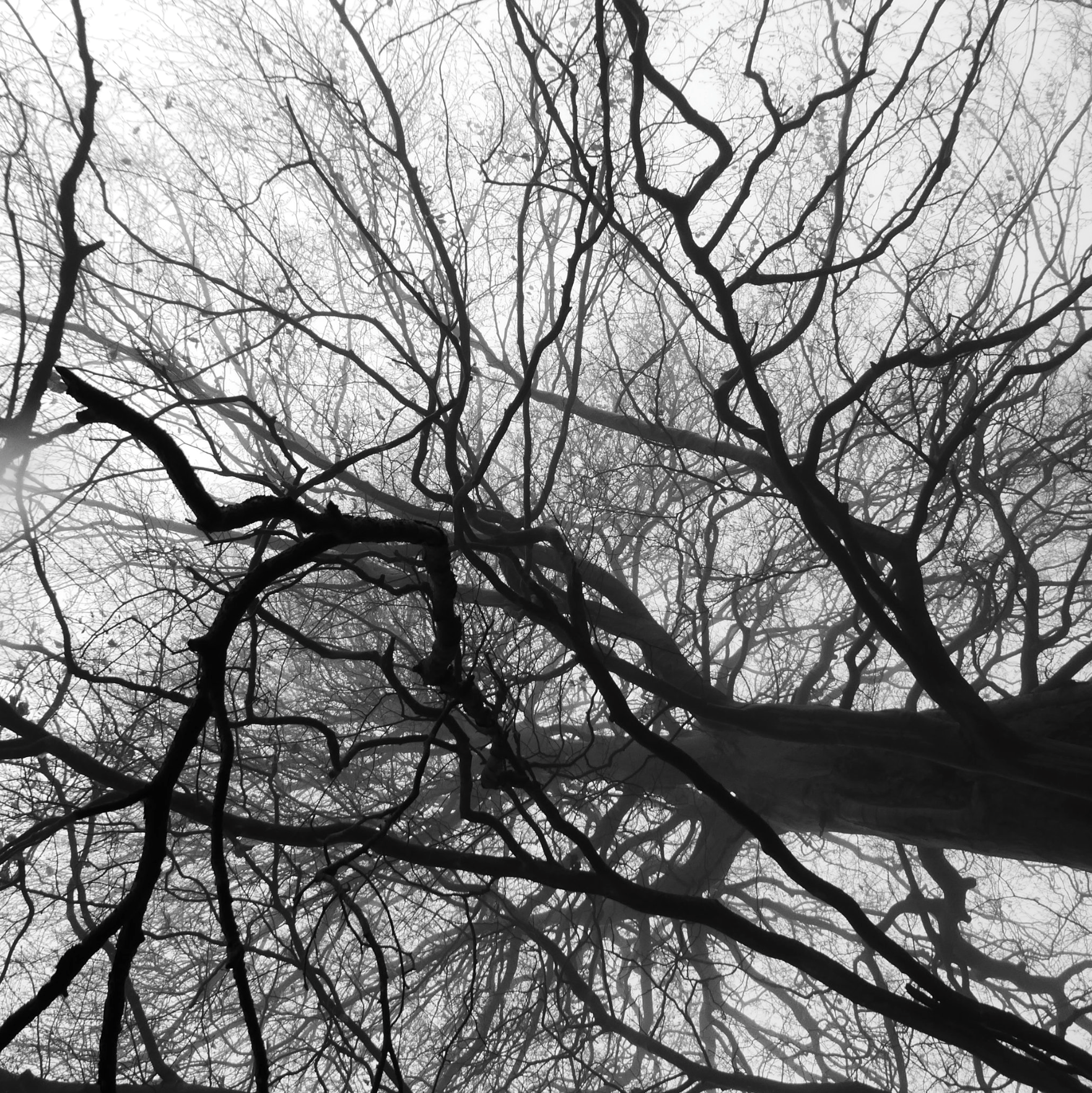 Finally, to the left of the path, the wood gave way to an open field that stared blankly back at me through the fog. Reality was starting to converge with the cartography again. If I kept field to my left and woodland to my right, something sacred should emerge.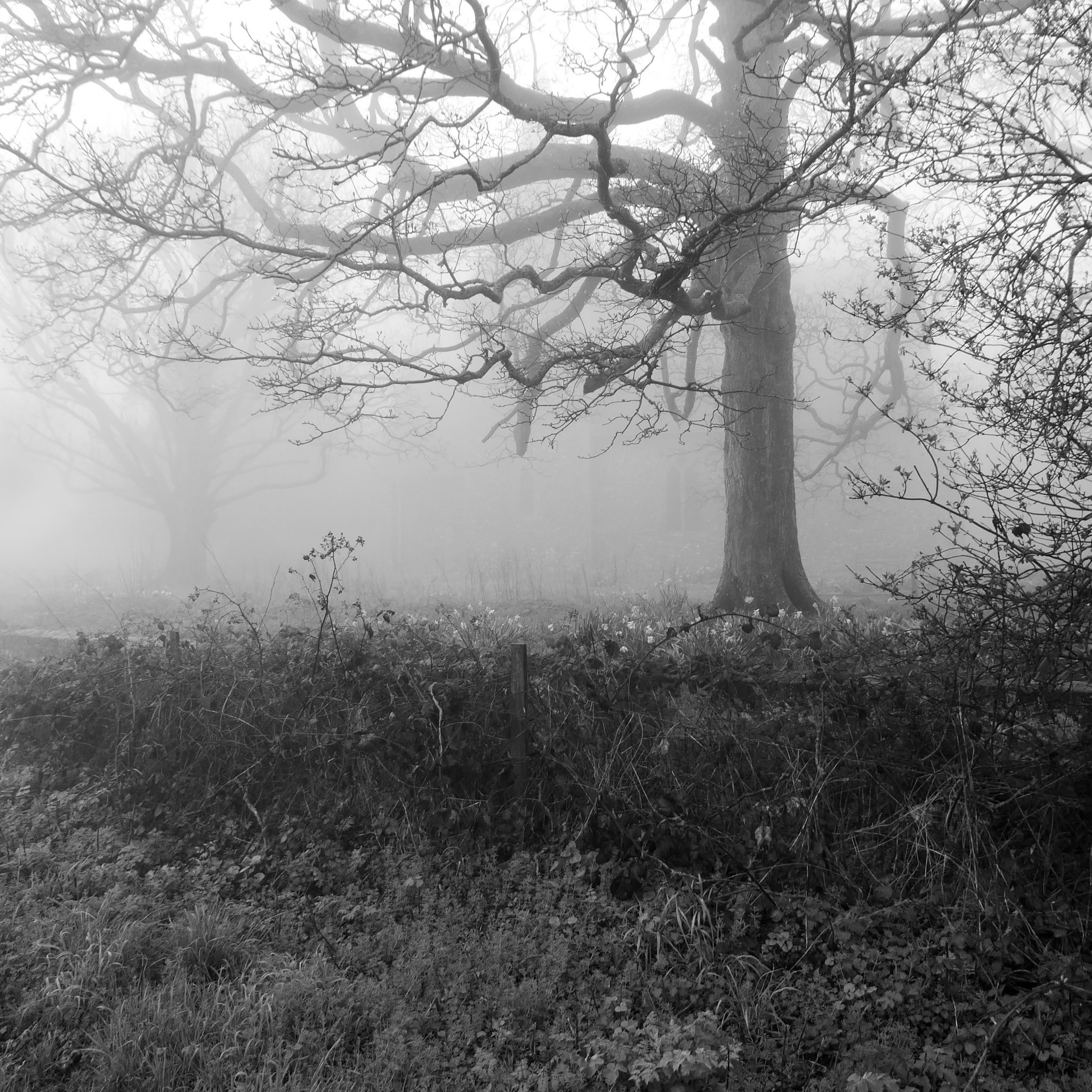 I wasn't quite sure what I was looking for – a recognisable structure, a hollow overgrown by hornbeam? But suddenly the hairs on my neck stood up and I realised I was already looking at it: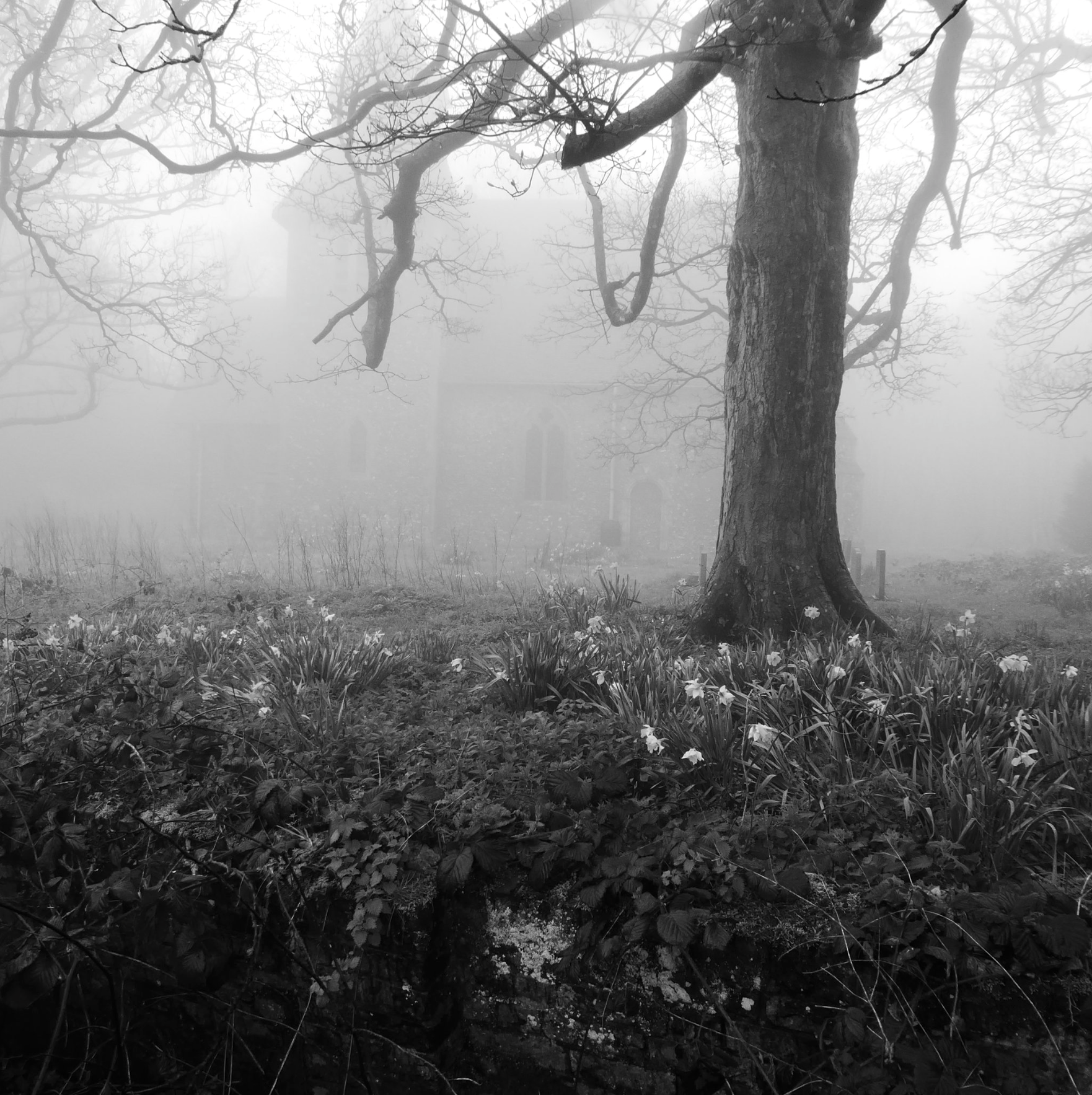 Just the suggestion of a gable, an echo of a spire, materialising surely with each step forward.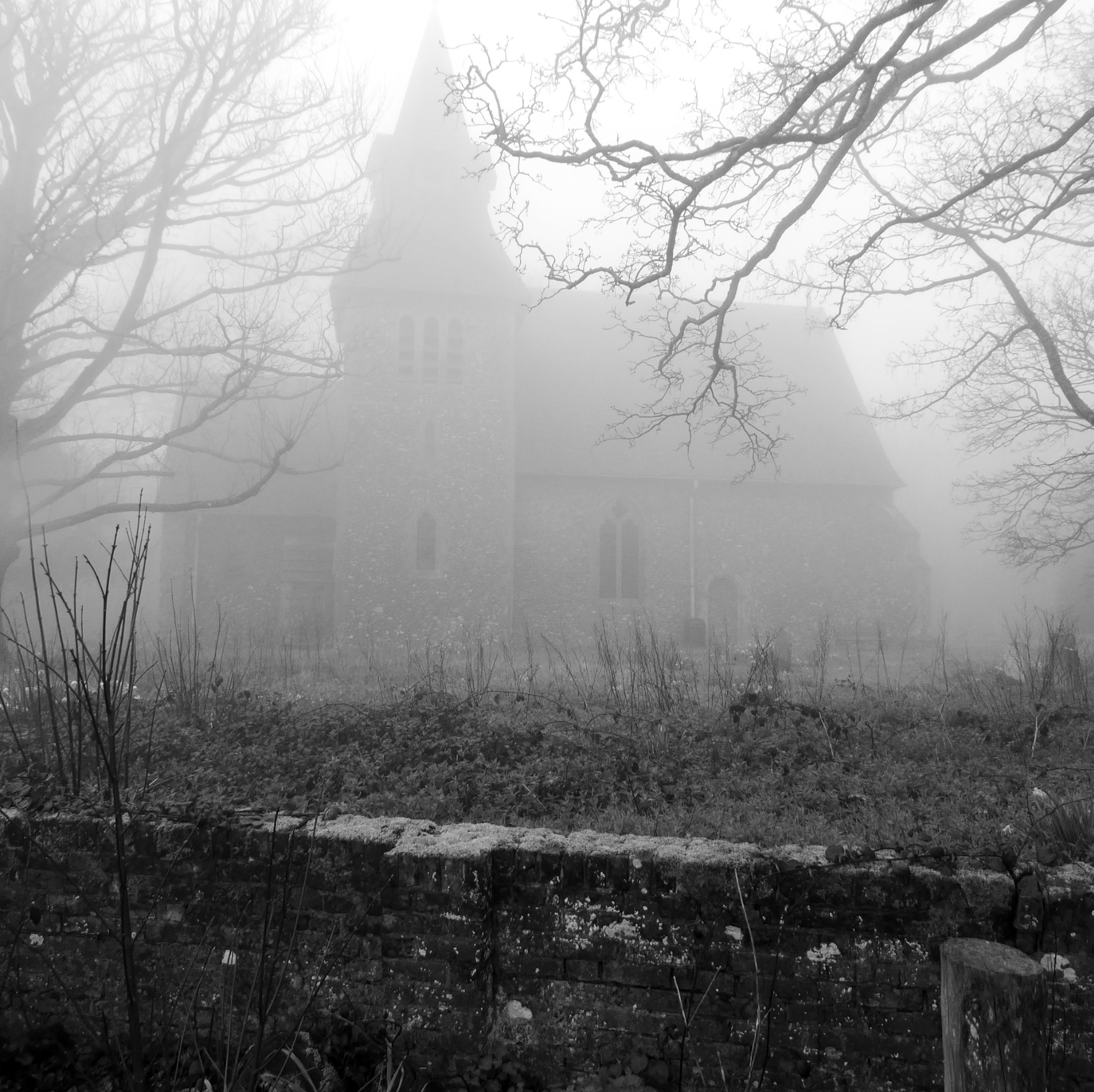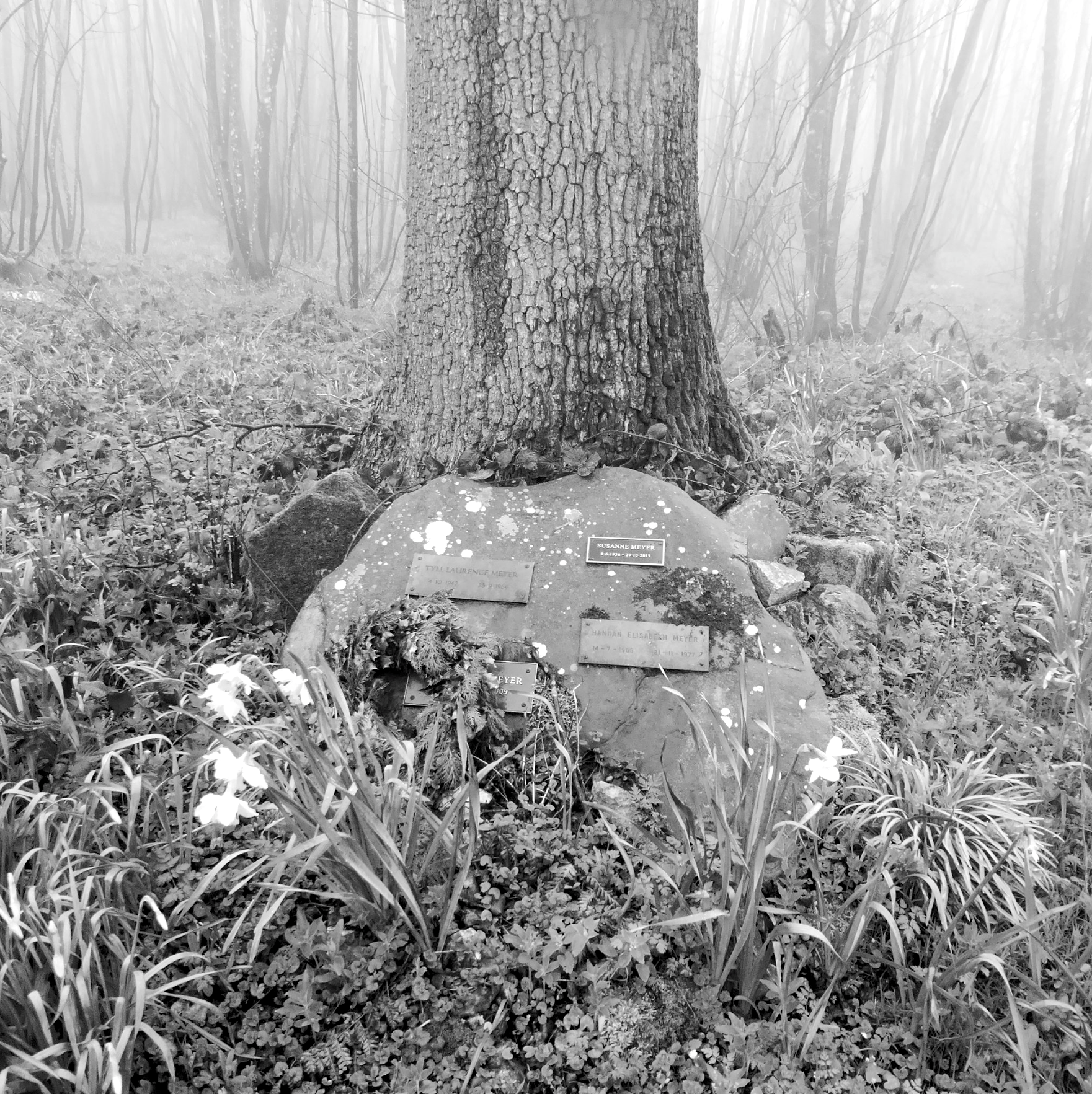 It wasn't the heap of stones I'd half expected, but a tiny, living church that seemed to transpirate from the wood that it was nested in.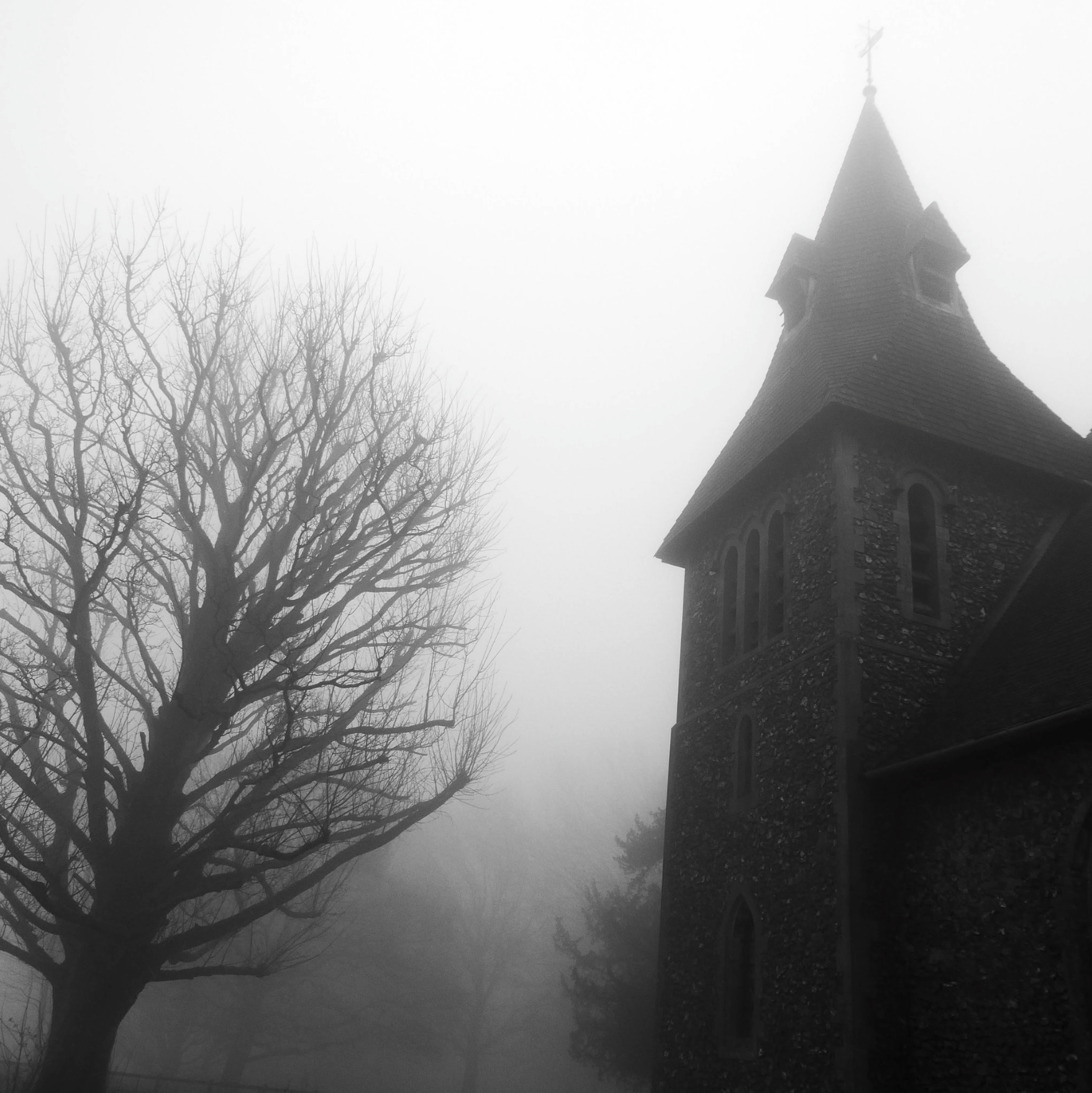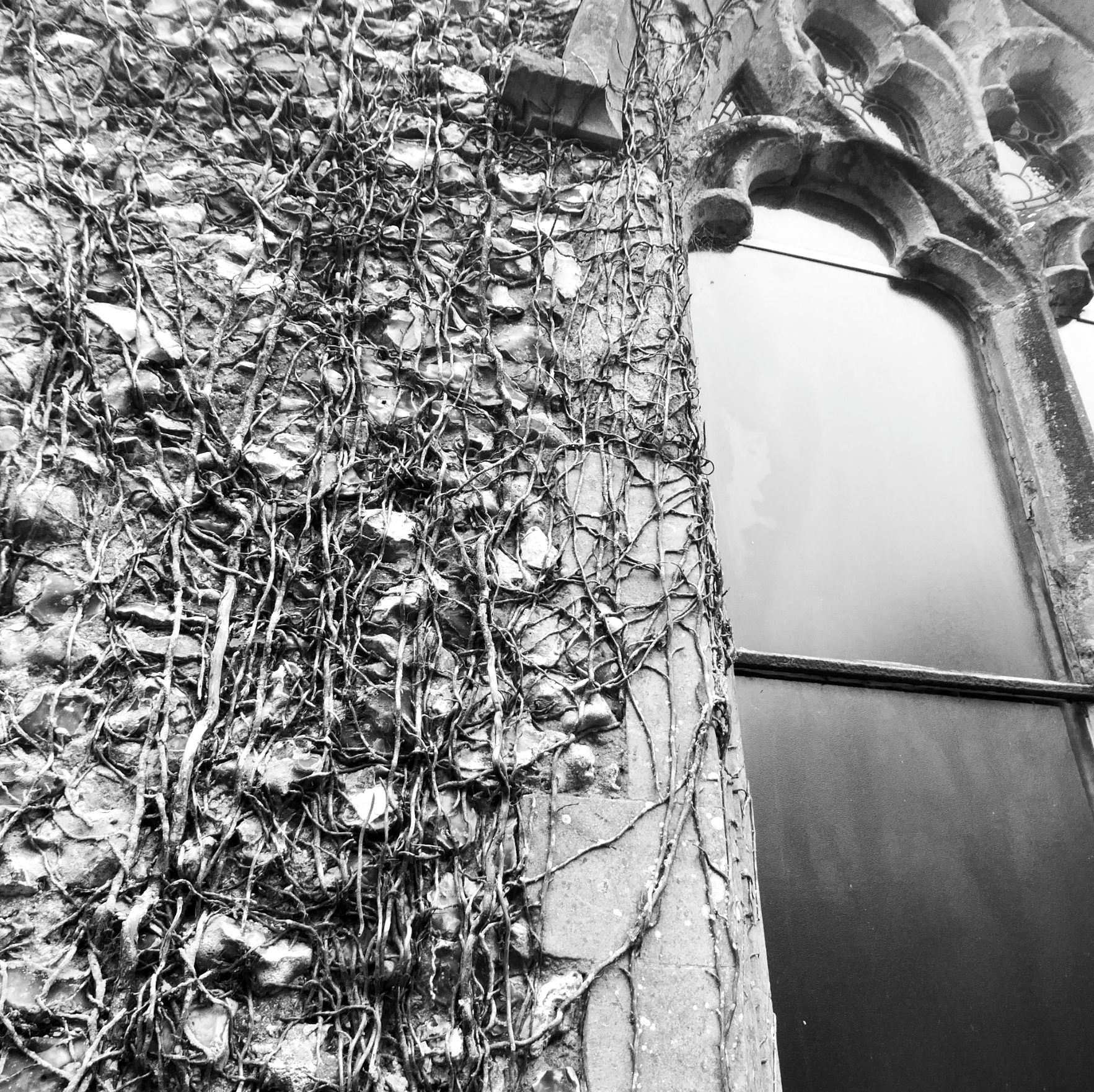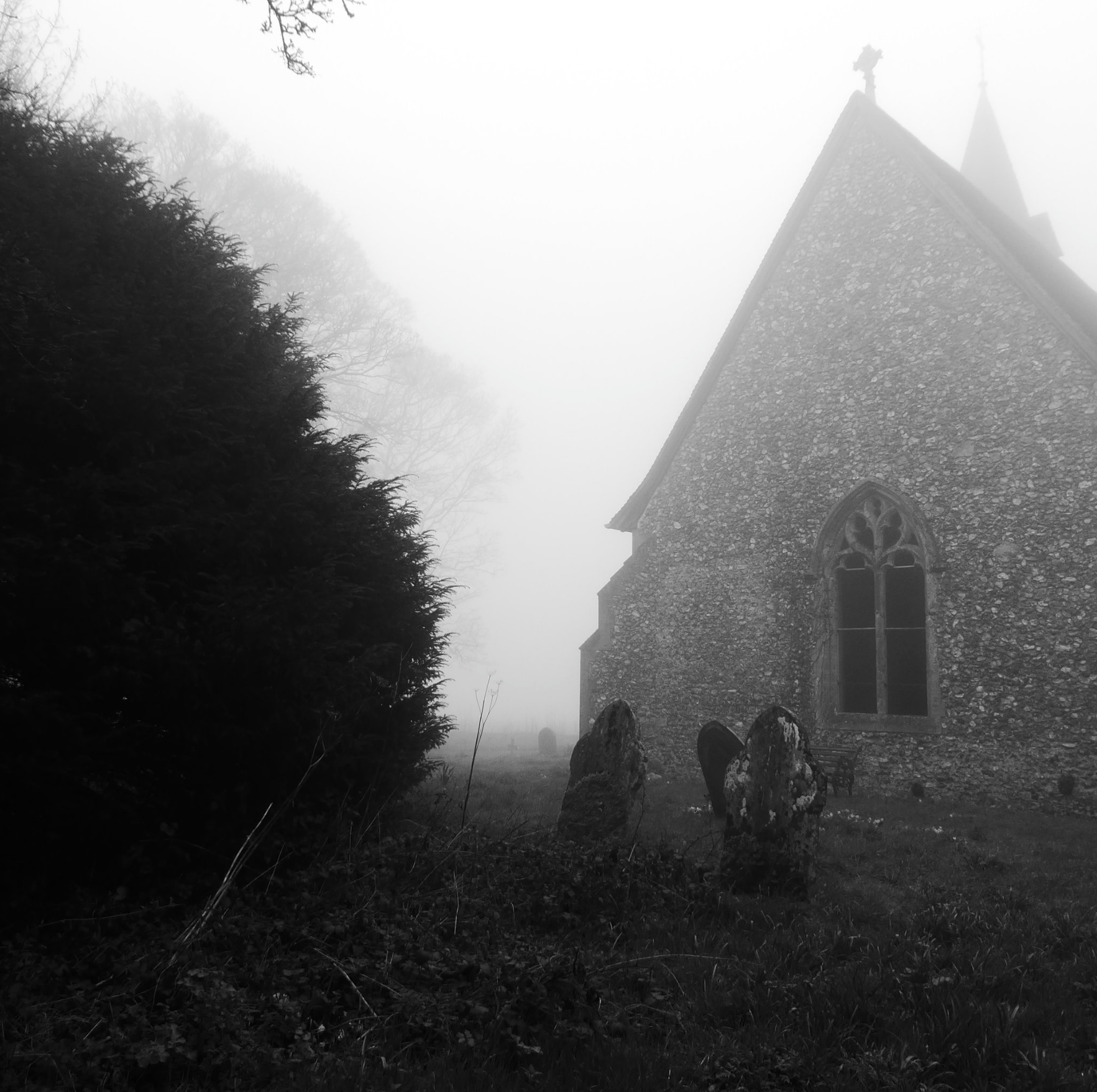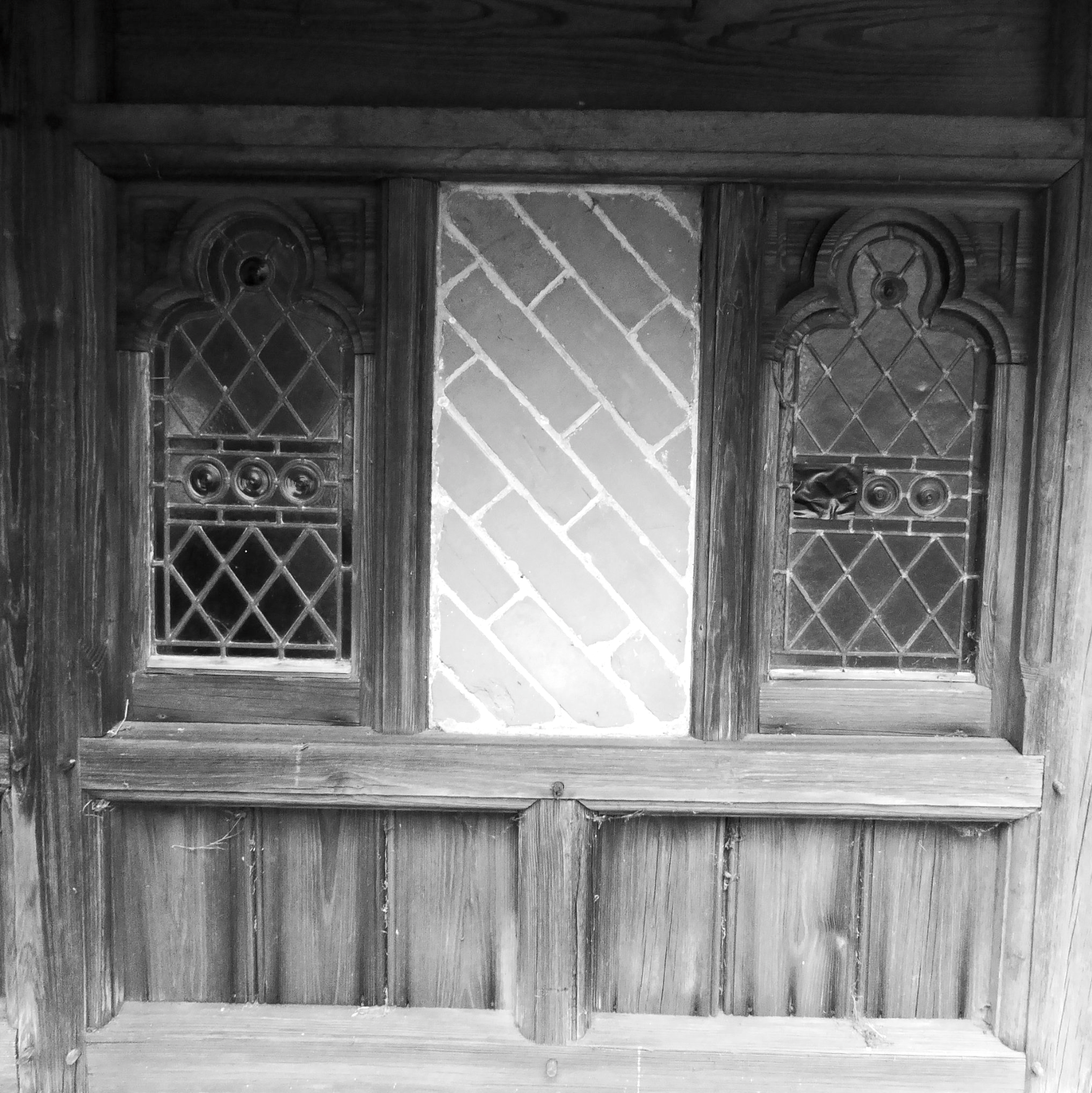 I found it was open.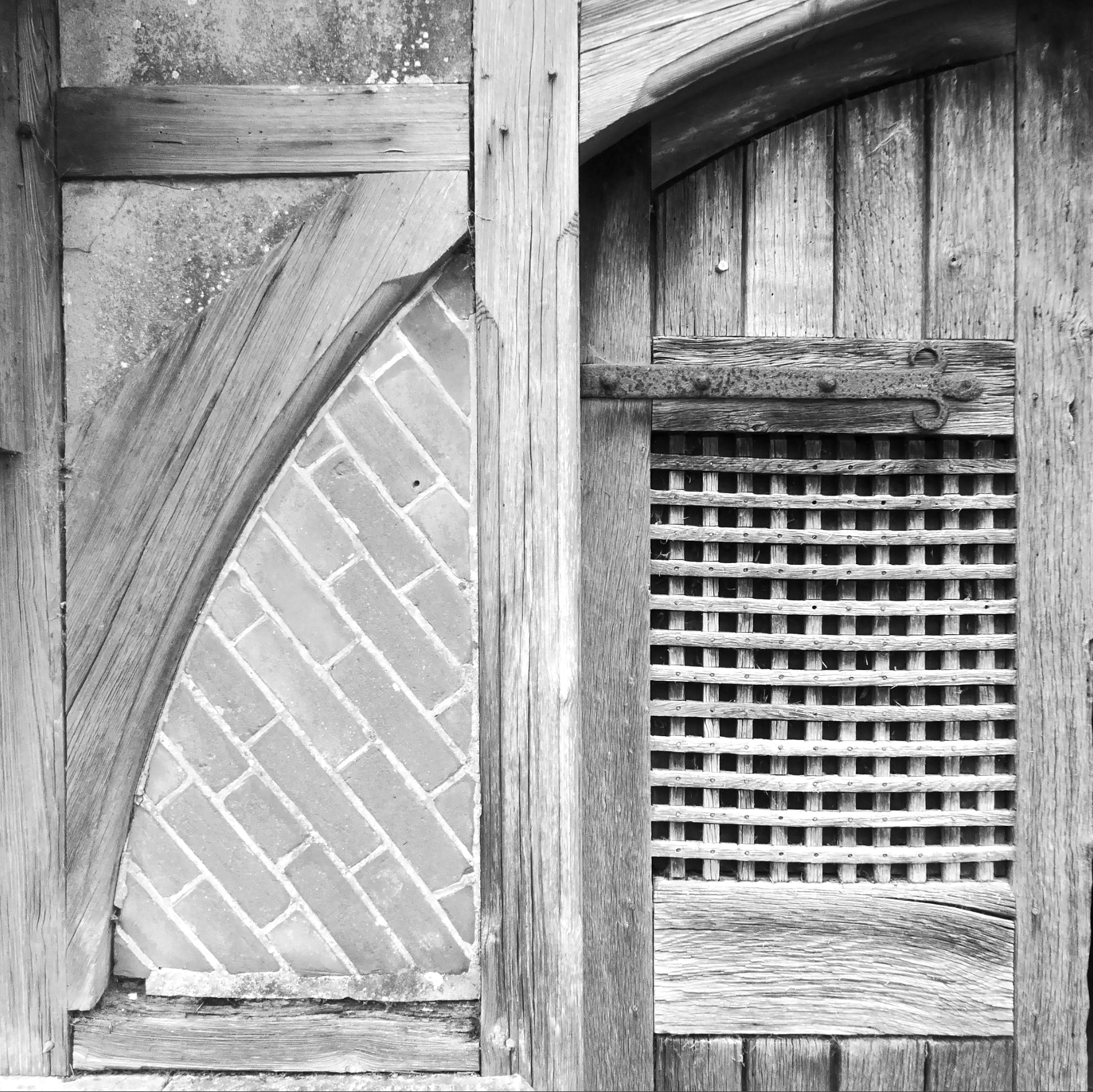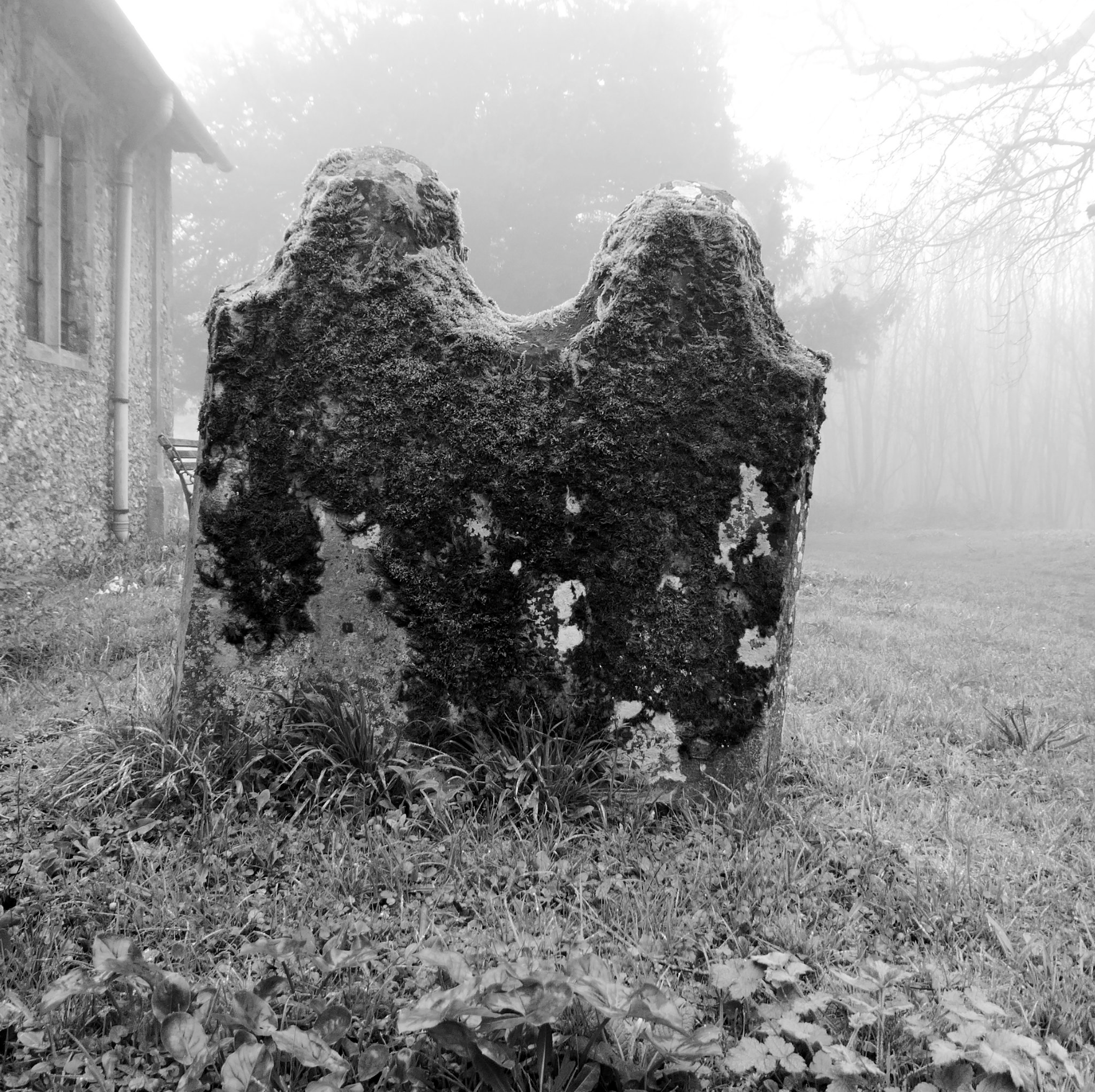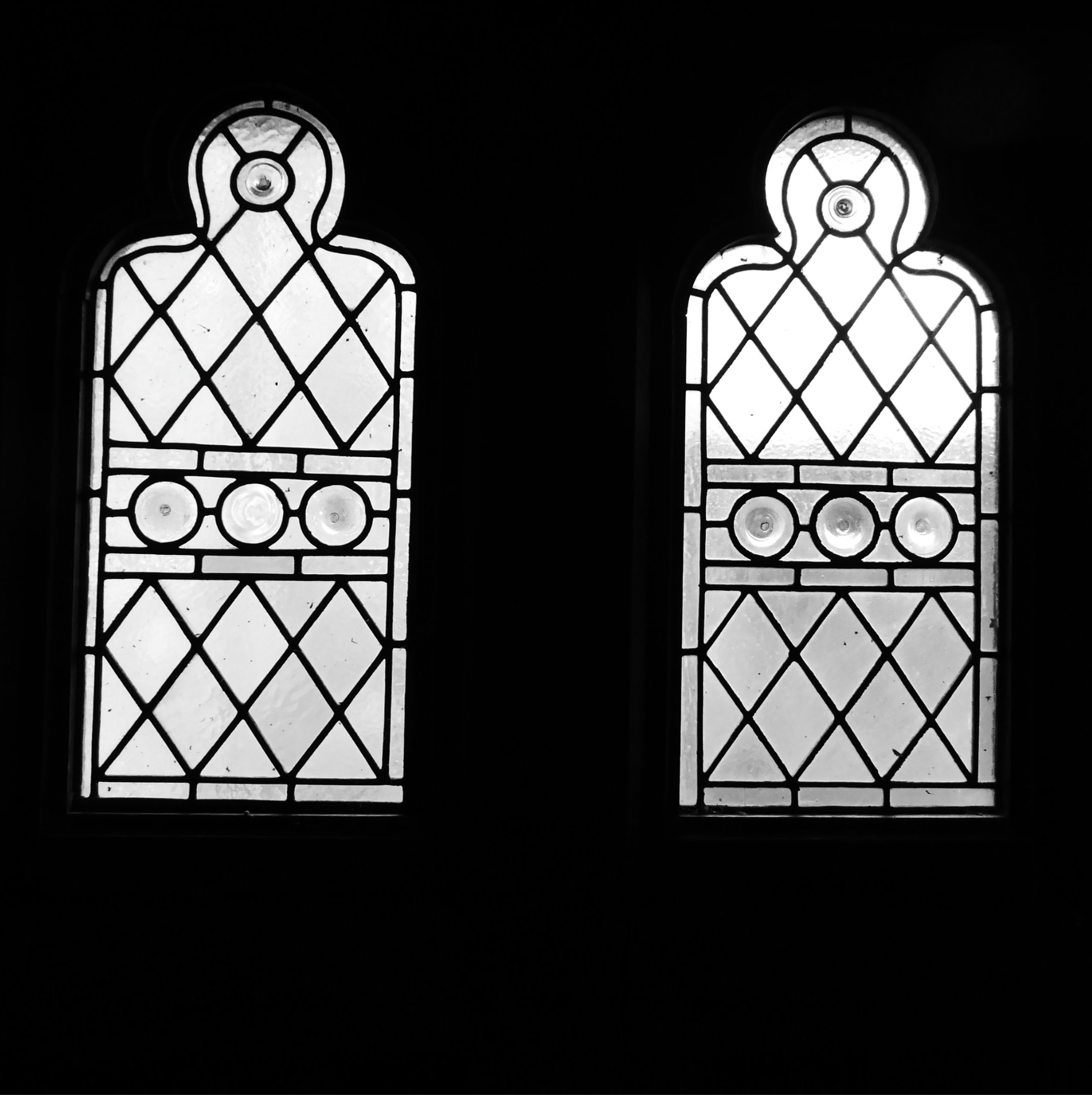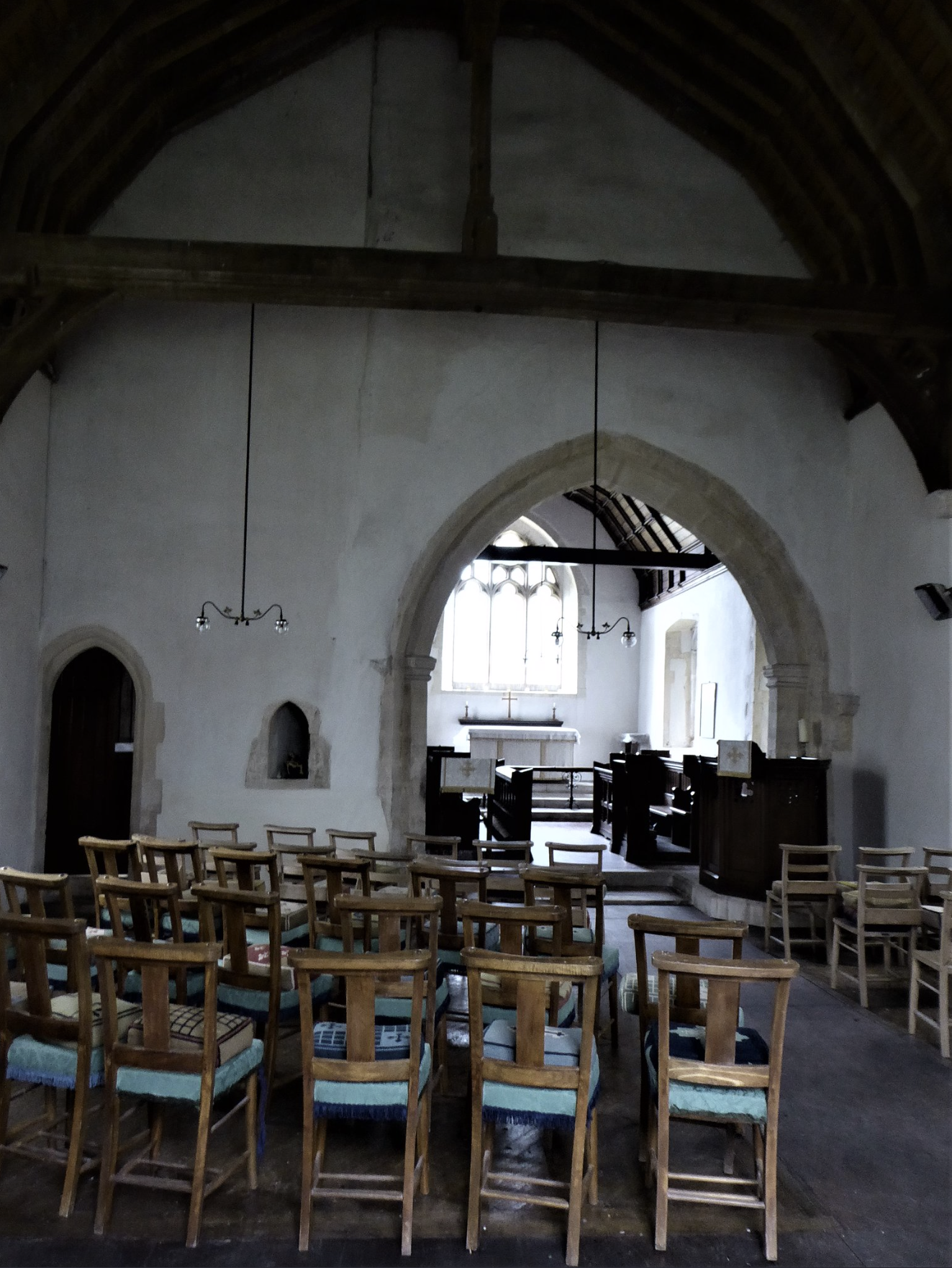 I find it hard to state this without hugging myself and clapping my hands in childish glee, but this church has no electricity and is still lit by working gas lamps.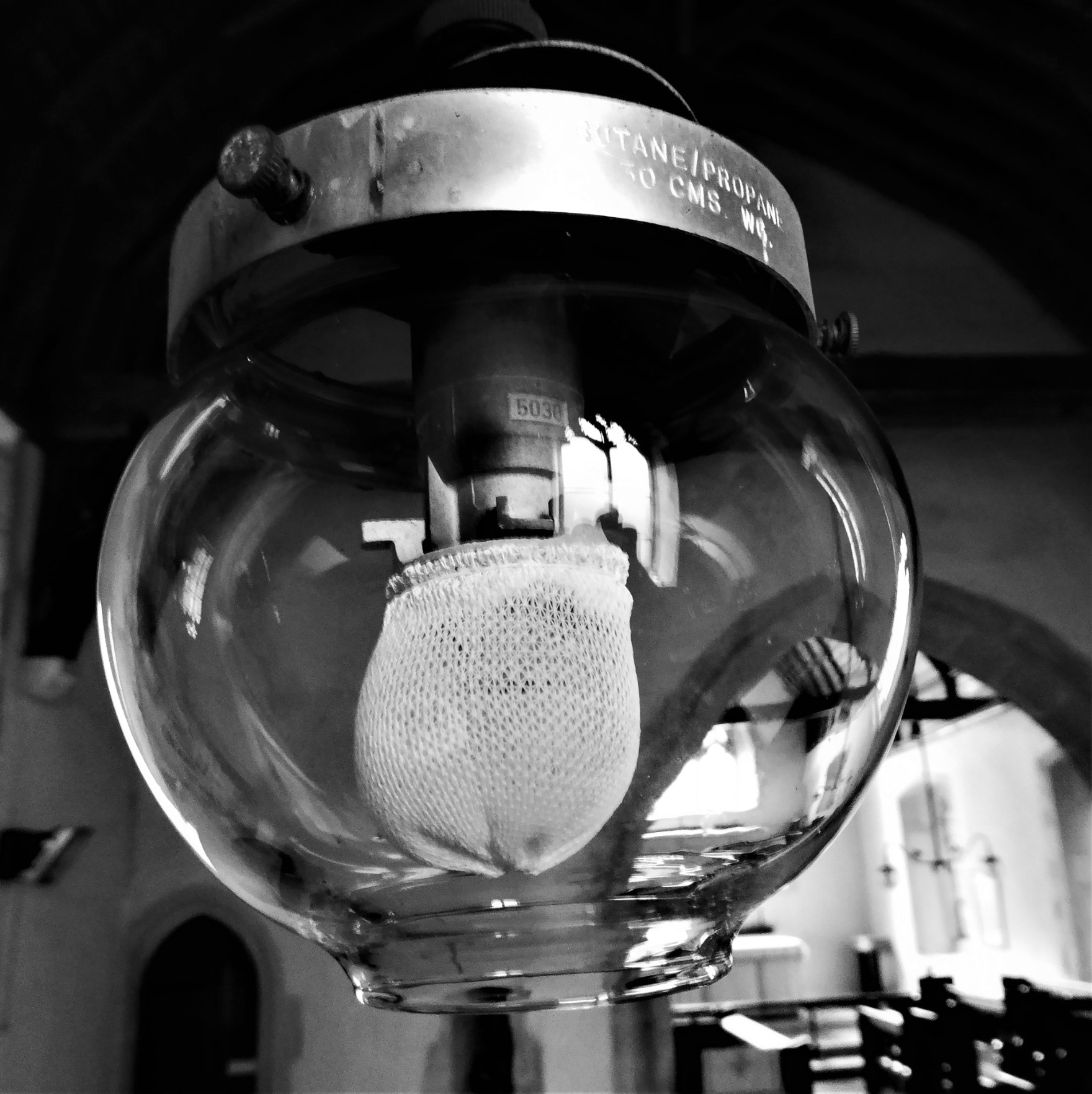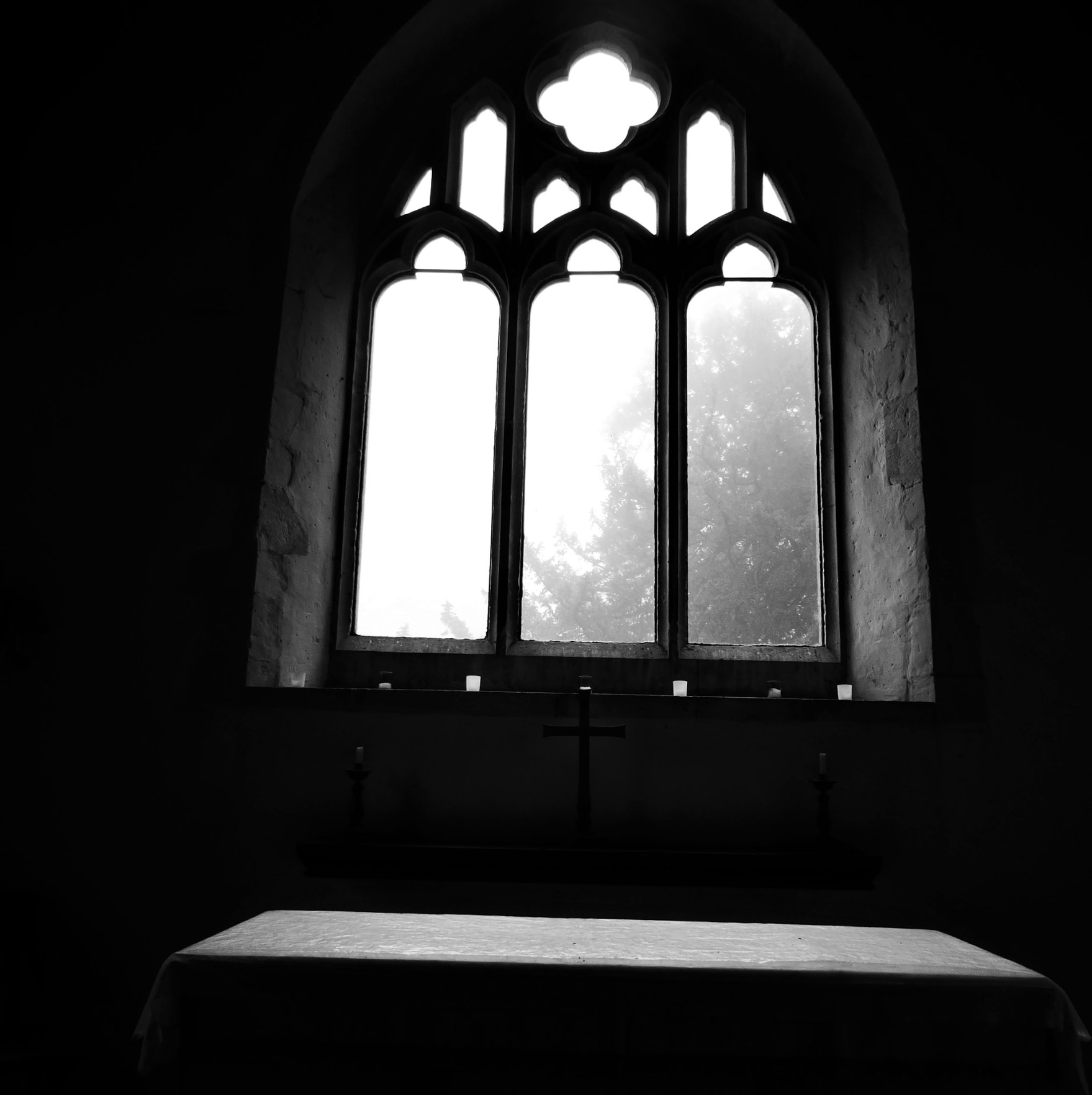 The fog seemed to press its nose to the windows.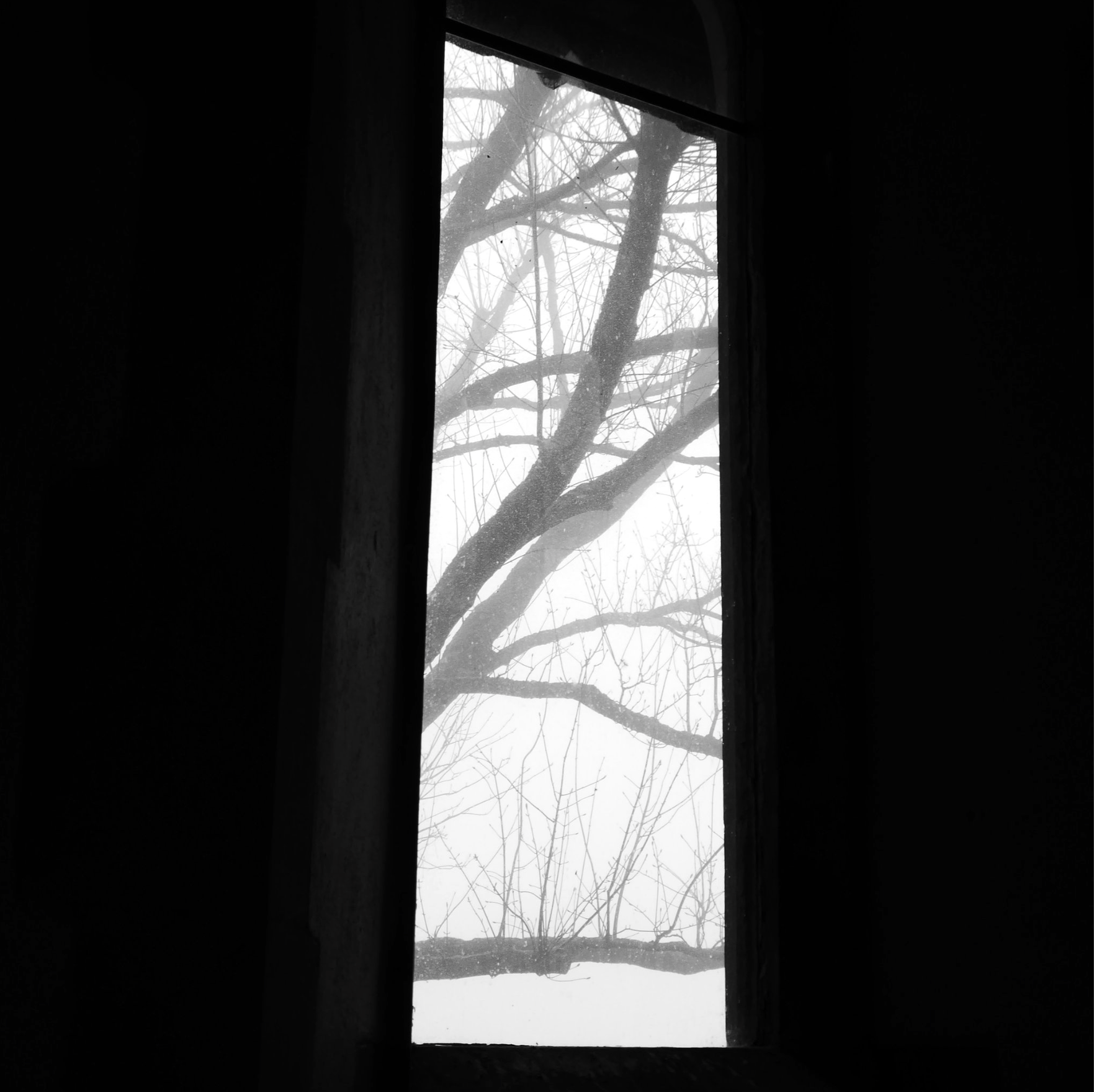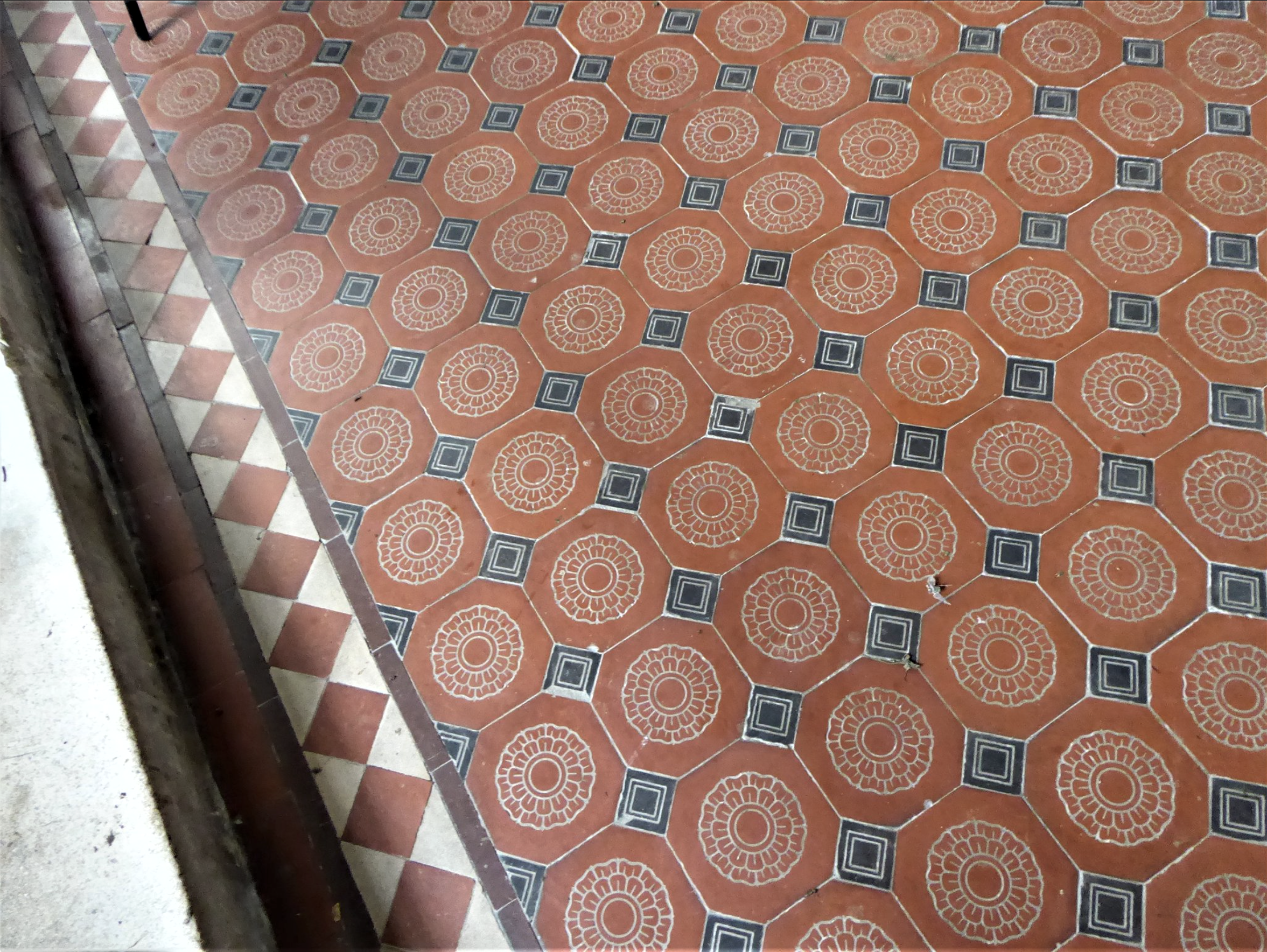 But it was held at bay by the colours inside.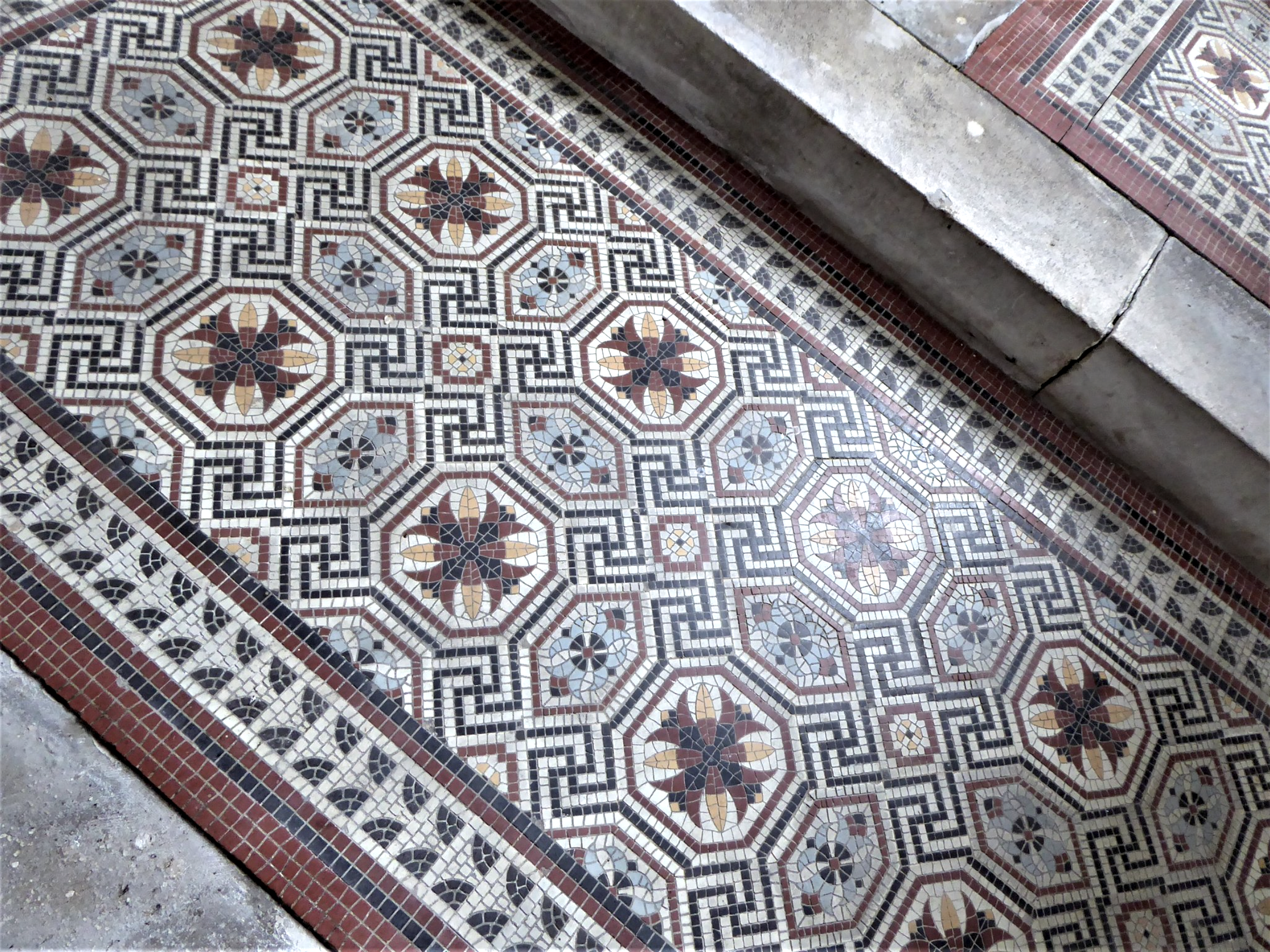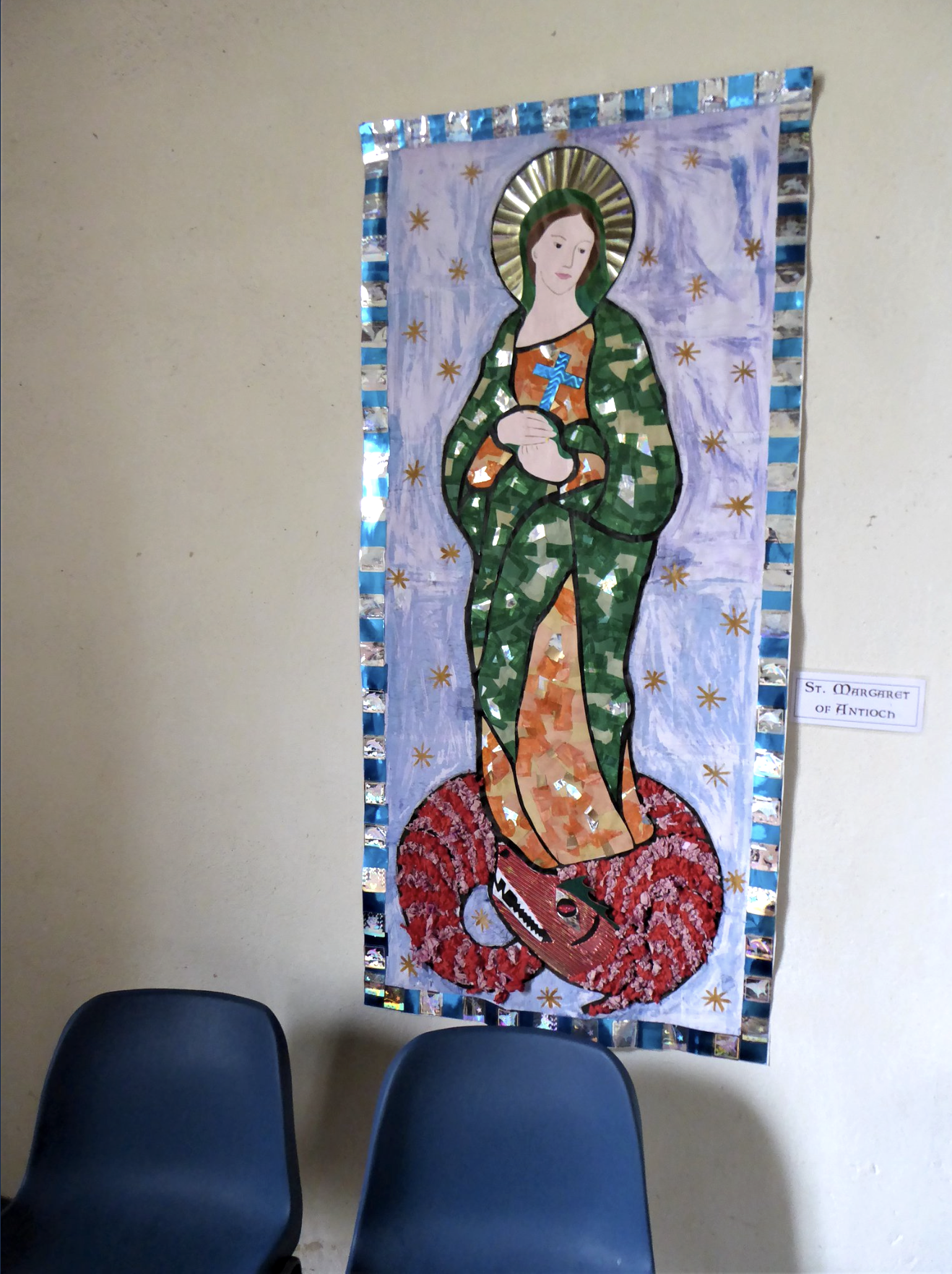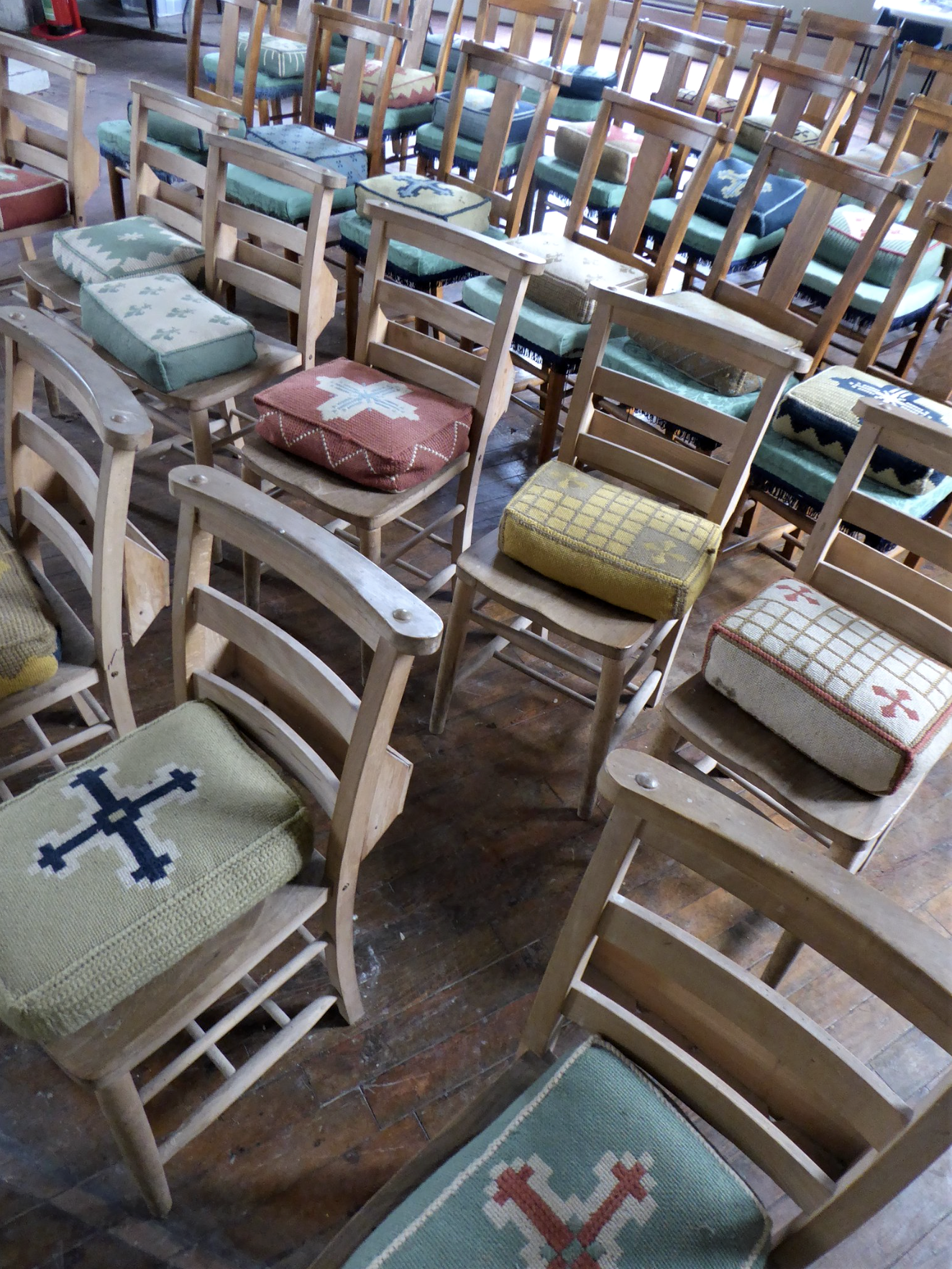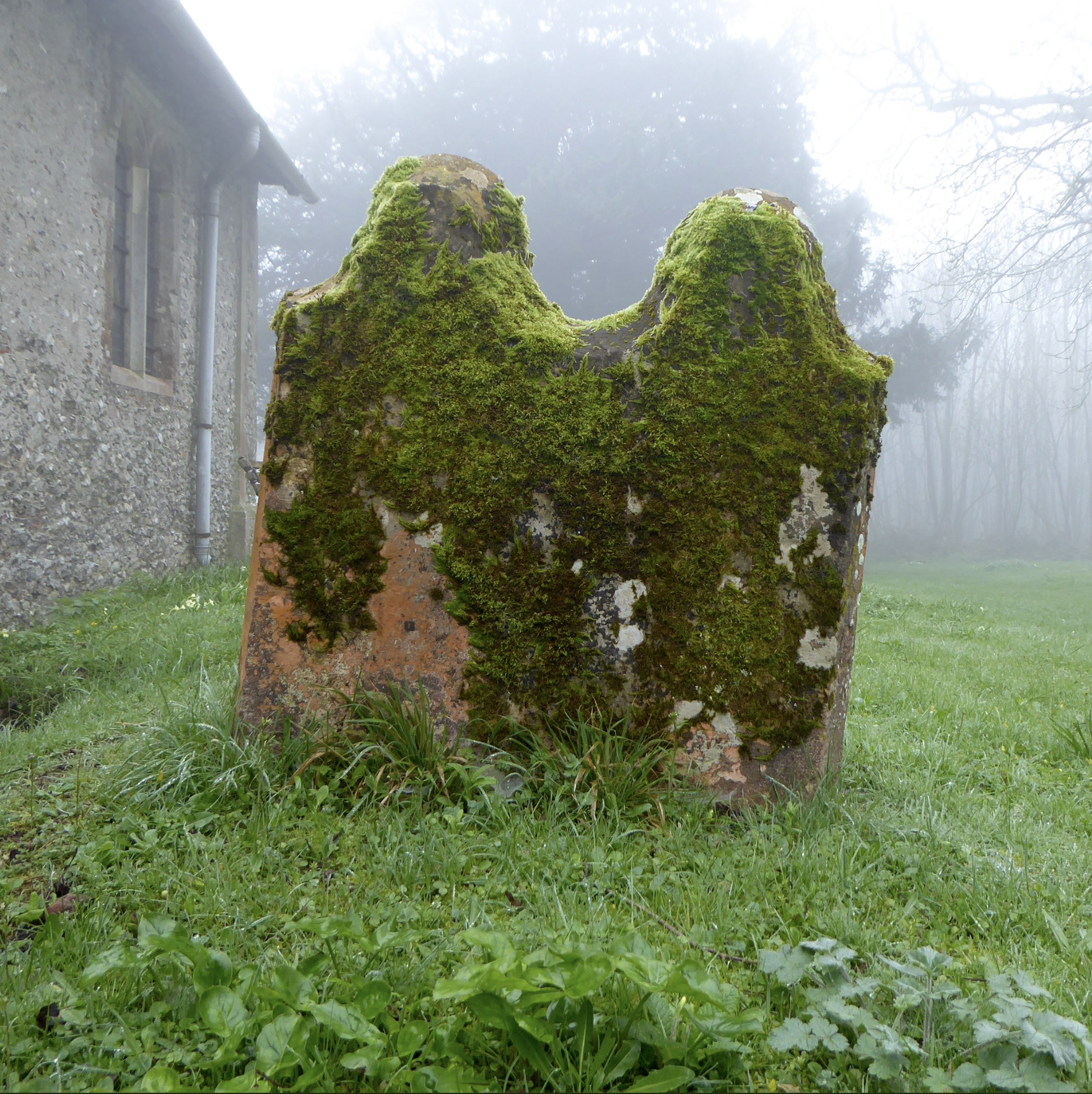 The colours were not only literal. I am not a Christian, but so much about this gorgeous, humble, magical little church spoke to me. It's part of the Green Christian movement, and manages its churchyard for wildlife. 'Caring for God's Acre'.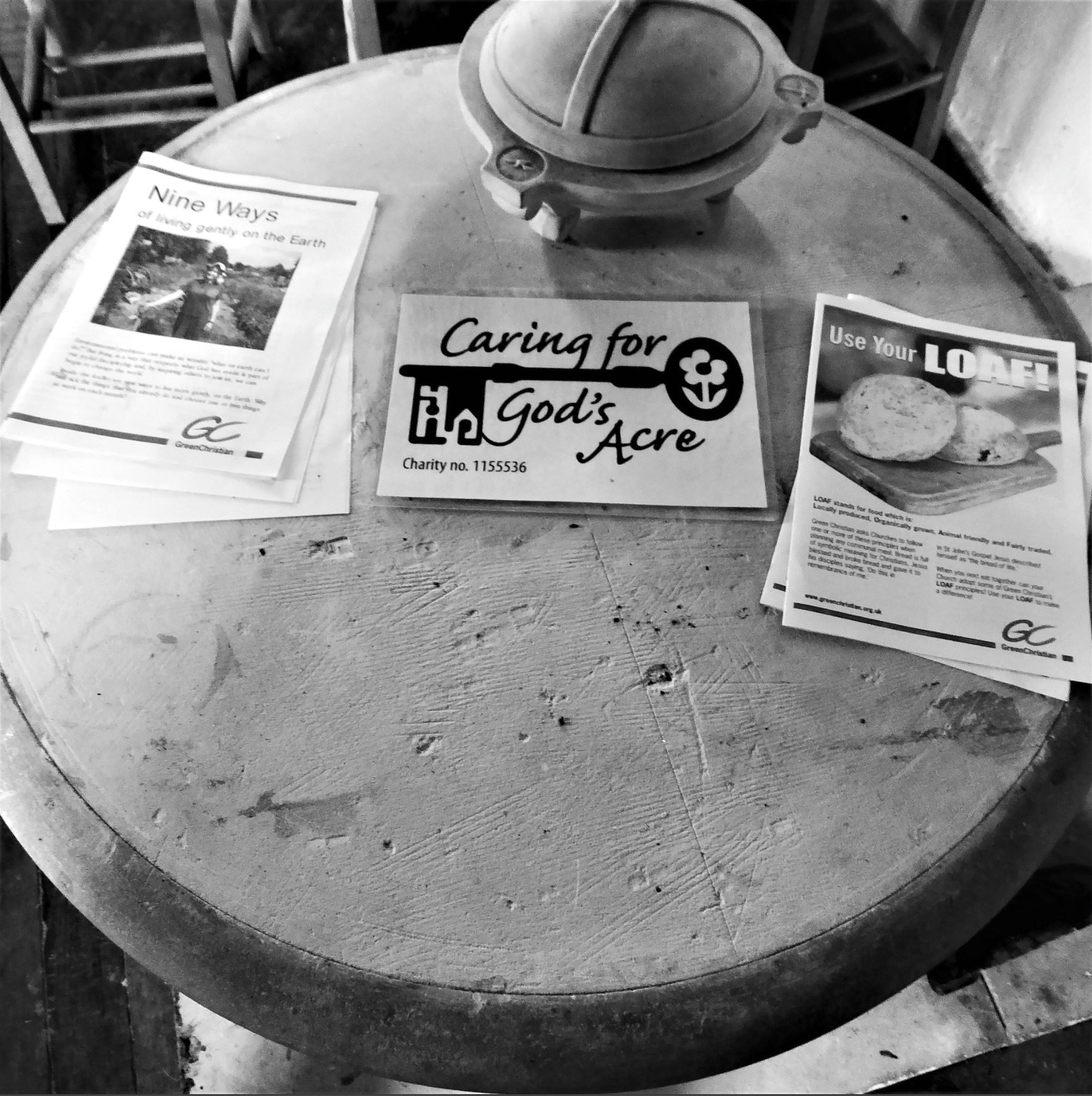 They do an annual bat survey (the bats roost in the roof and poo on the seats), as well as counting moths and butterflies.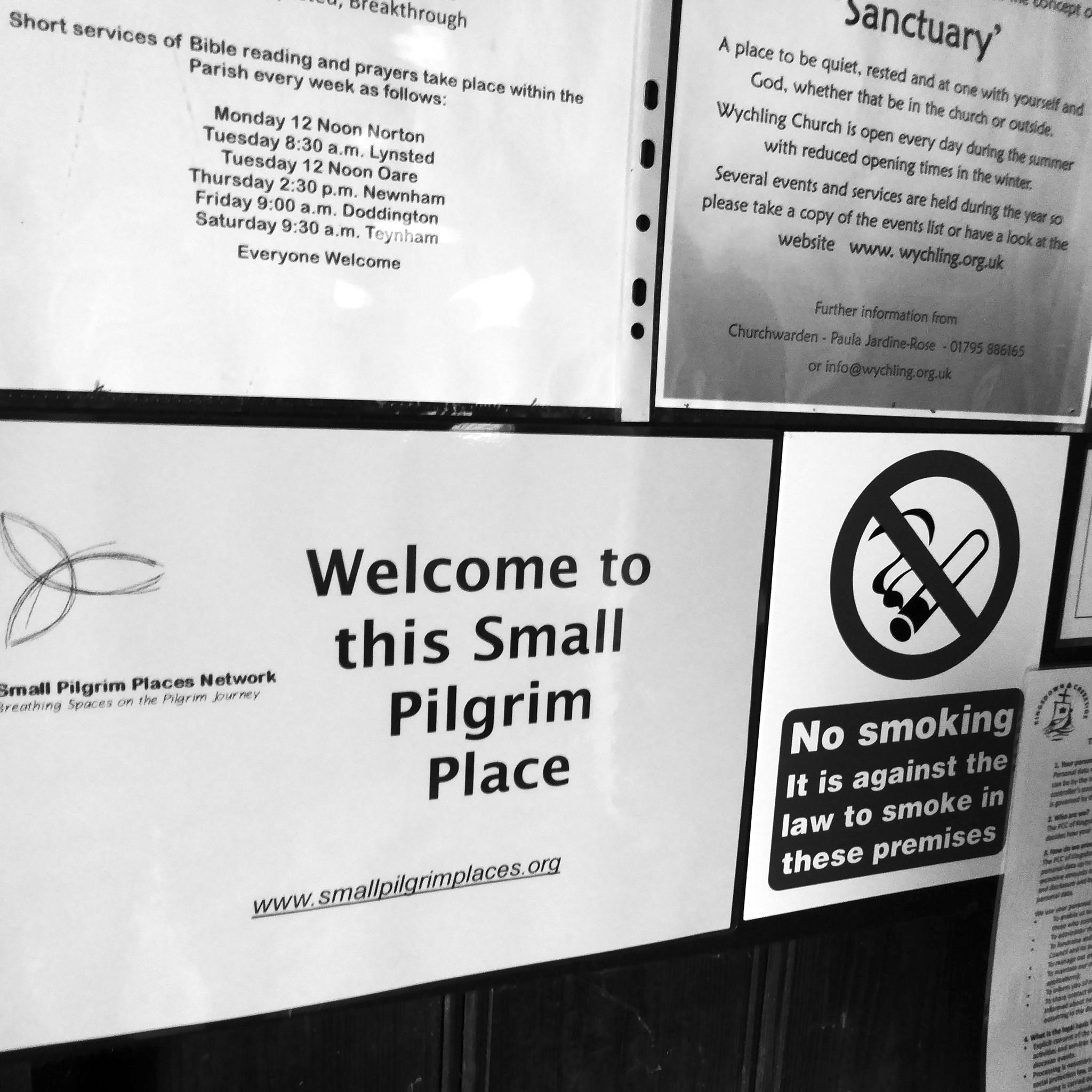 It's also part of the Small Pilgrim Places Network – a smattering of places across the country that allow "pondering, breathing, meditating, praying and 'being'". They should be places off the map that don't draw crowds. They may be churches, gardens, ruins, wells, open spaces.
Seamus Stewart, from the network, wrote here about 'thin places' "where slender divisions separate heaven and earth, past and present"… Finding a thin place.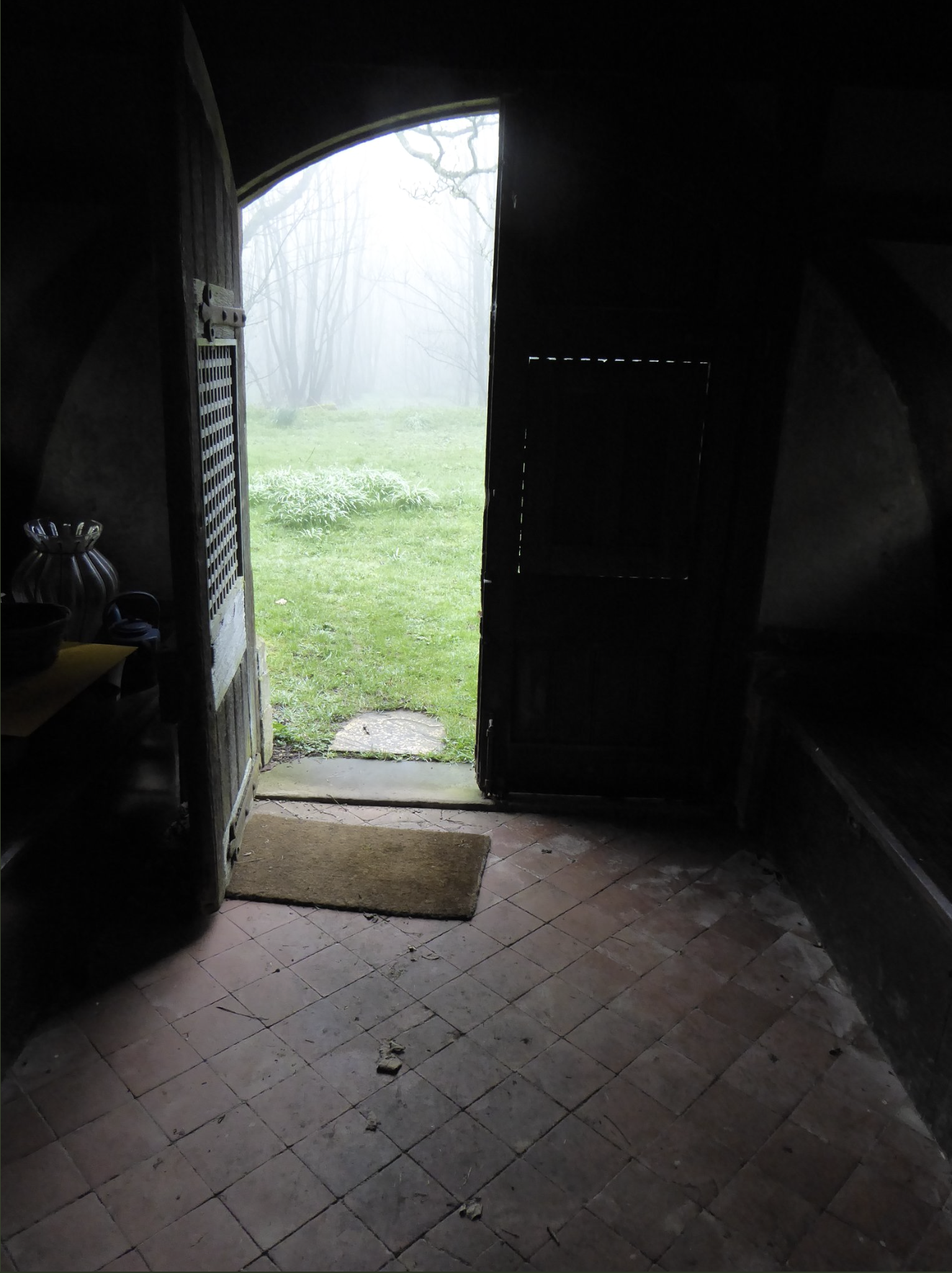 I'm not a believer in heaven, but I appreciate the notion of places where other forms of reality become tangible, where past and present interlace. This place is certainly one, helped by the apparent merging of this ancient human structure with the woodland crowding close.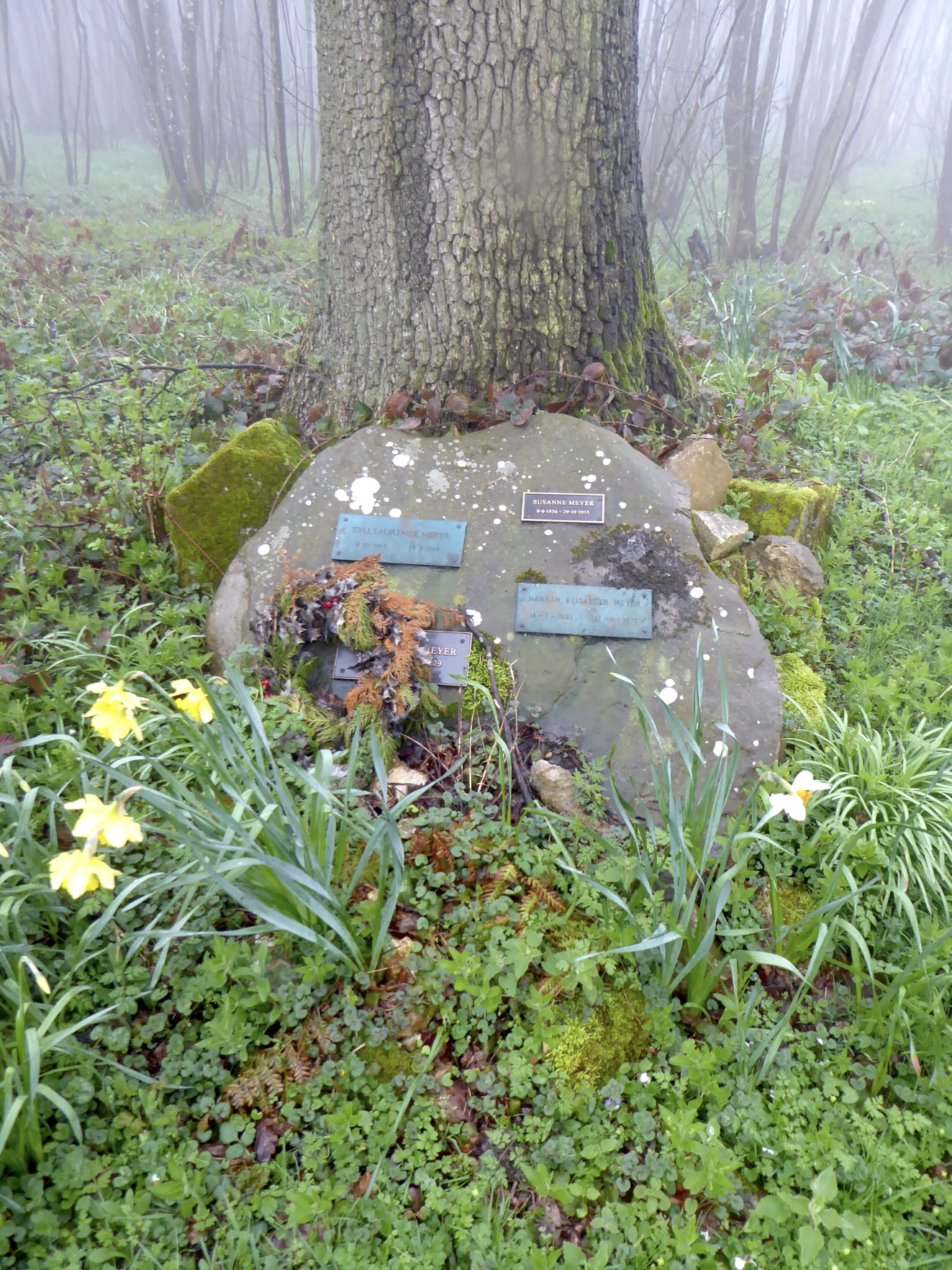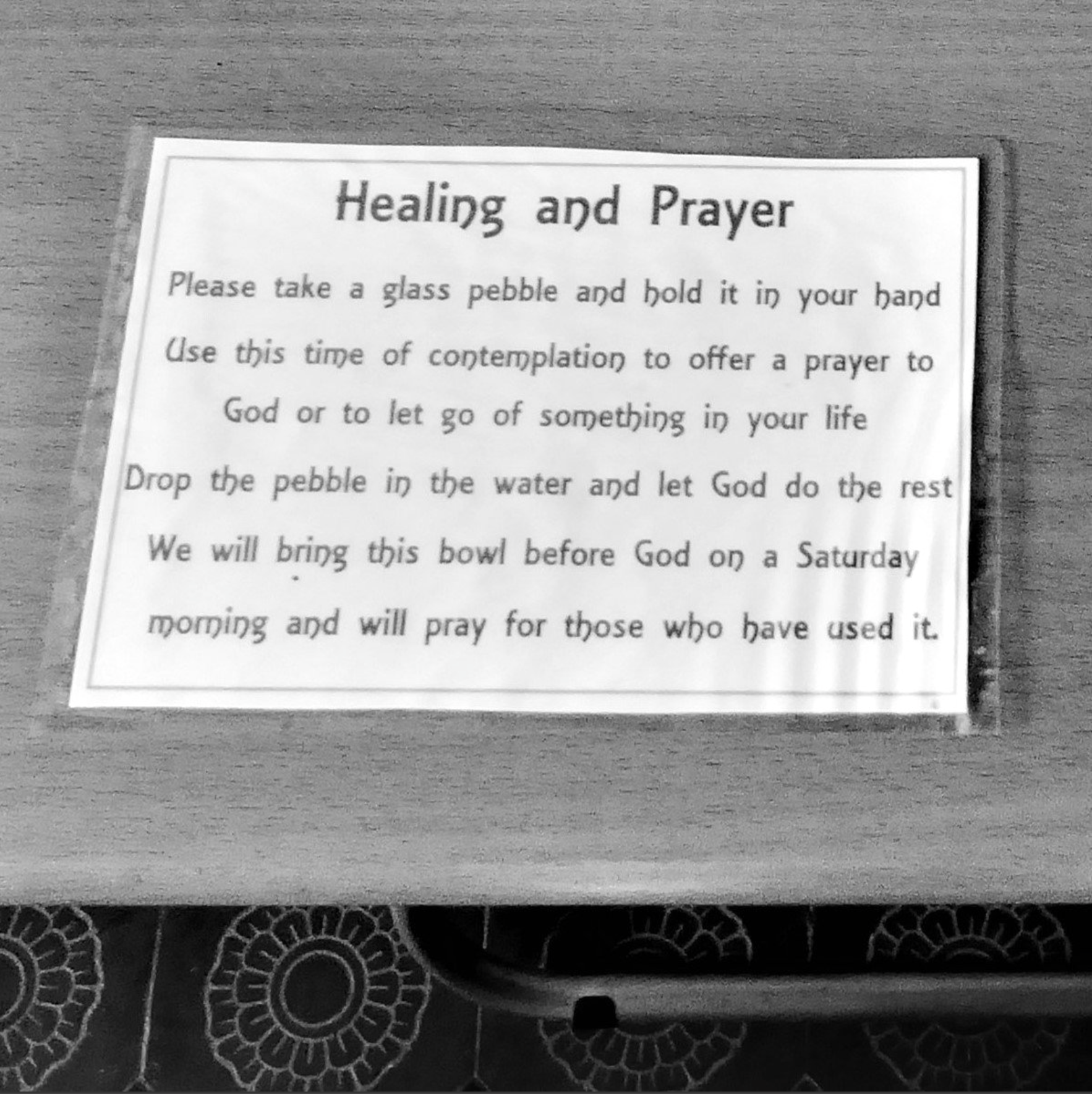 I also appreciated this simple offer that combines the mindful, the tangible and the prayerful in a way that doesn't seem to exclude those not used to church settings and their trappings and orthodoxies.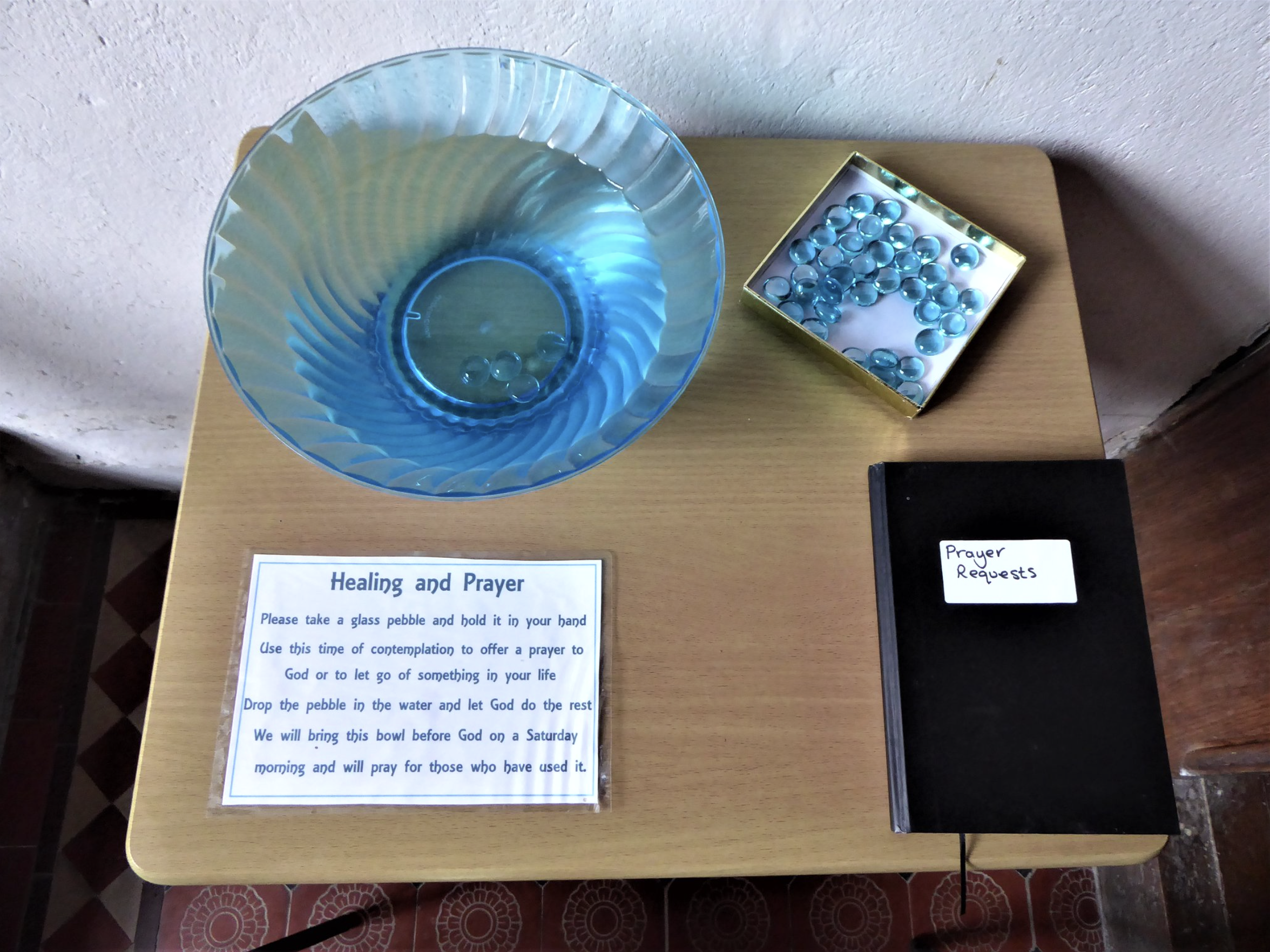 This place is deeply, deeply old – its list of rectors goes back to the 13th Century, and the building itself is older still. It fell into disuse (it's next to no village and never has been through its history), but – bucking the trend of isolated rural churches – it's reviving.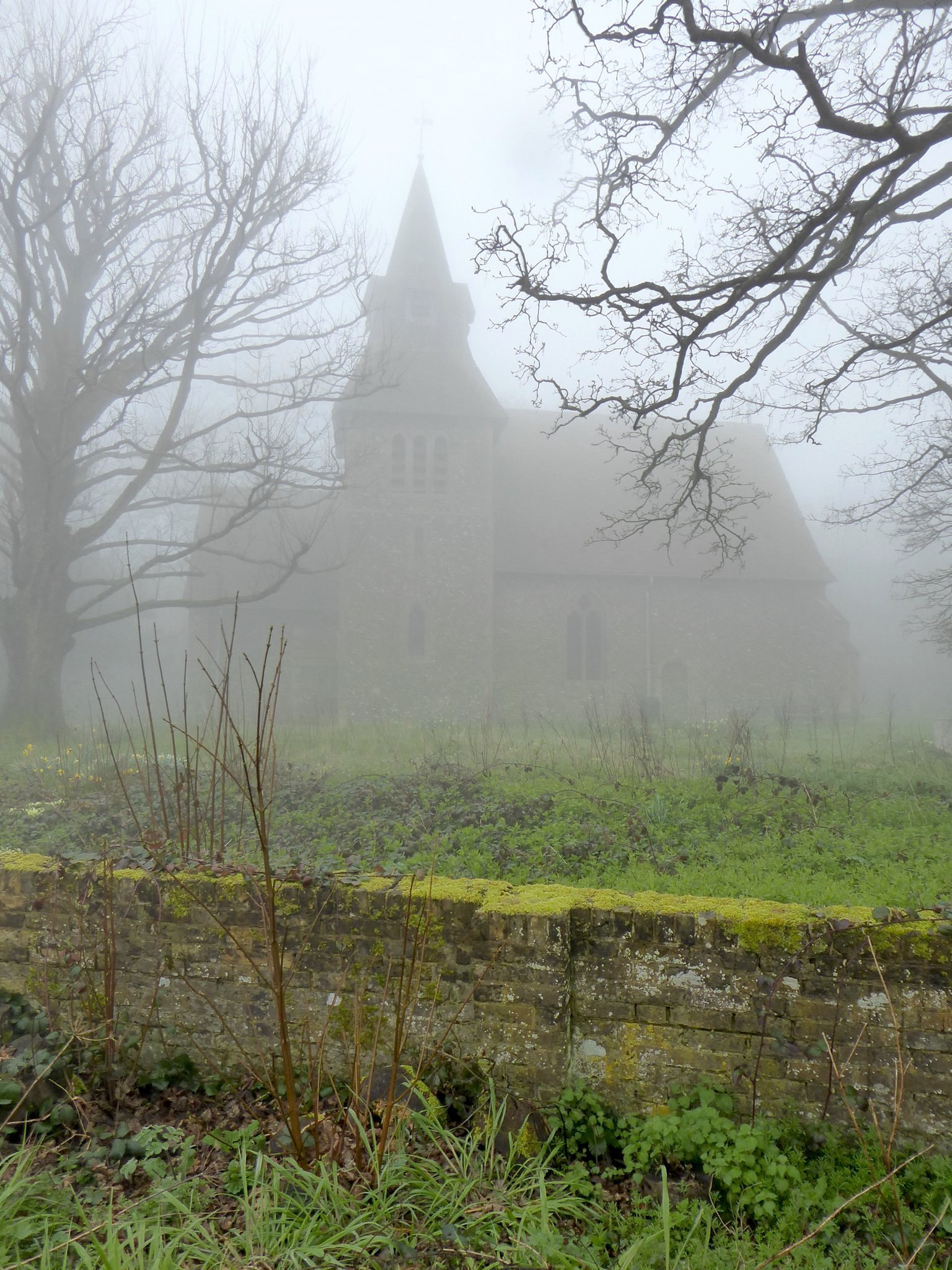 While deeply old and rather magical, it's also humble, functional, inclusive and grounded in nature, and I wonder if that partly explains its, ahem, resurrection. It's now open from Easter to October, when there is regular Evensong, 'Wild Church' and other goings on.
I set out for my walk yesterday with a strong sense that I was about to have an adventure, but probably hoping, I think, to come across a mostly inexplicable ruin onto which I could project fantasies and musings and dreams of something pre-Christian, perhaps. Something fogbound.
I found something better, and I find myself surprised to prefer it: a living, breathing, colourful place of communion with nature through God or God through nature or a union of the two, and a feeling that a flexible interpretation of Godness would probably be welcome here.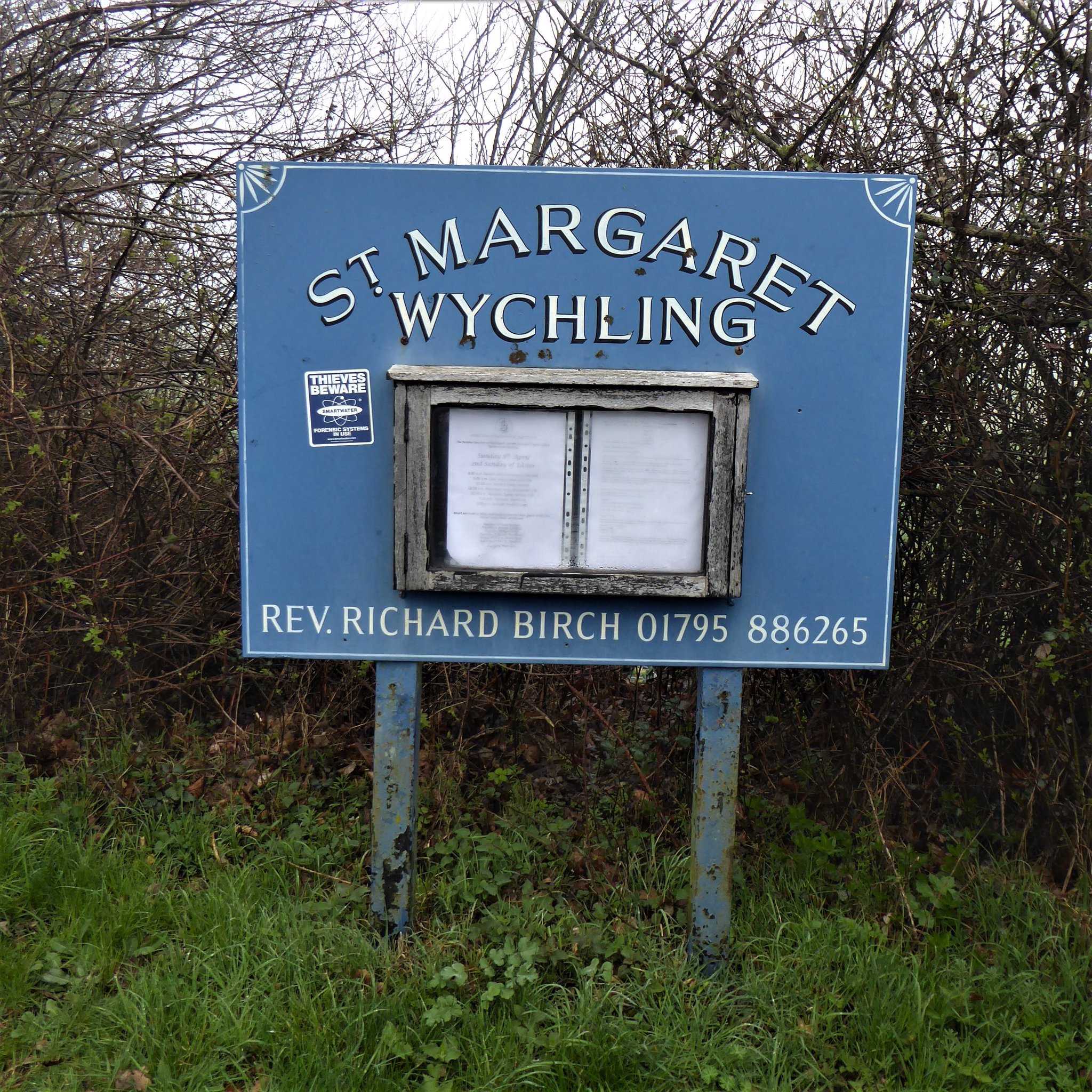 Thanks for joining me for my walk. If you'd like to visit the church, this is it, St Margaret's at Wychling, up on the North Downs between Doddington and Lenham. If you go, give them a penny or two towards funding new seats that are easier to wipe the bat poo from.
※
This blogpost first appeared as a thread on Twitter
I saw this on an OS map and couldn't not investigate…