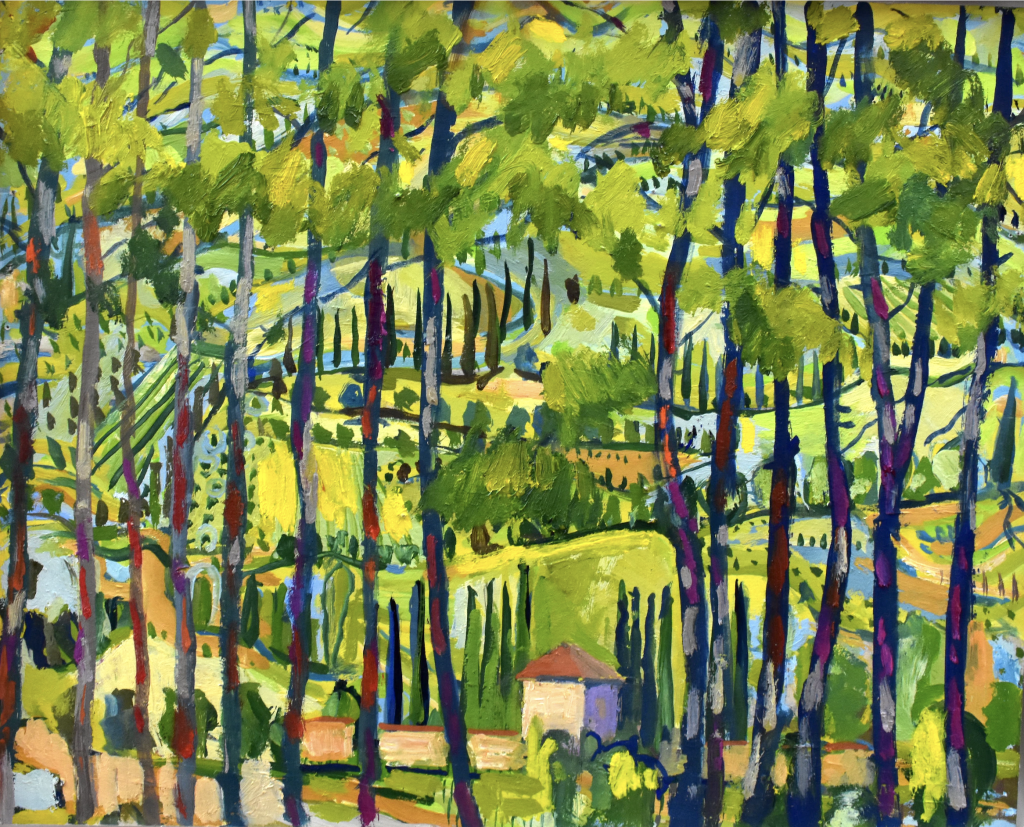 Through The Trees
My primary interest in painting for the last 40 years has been how to depict and respond to a range of landscapes. Before I can begin to think about painting a place, there has to be a specific reason to do so, and the place must have a particular resonance with me. My recent work can be divided up into three groups: paintings of Tuscany and Umbria, paintings of Andalucía and paintings of the Thames Estuary around the RSPB reserve at Rainham Marsh, not too far from my home.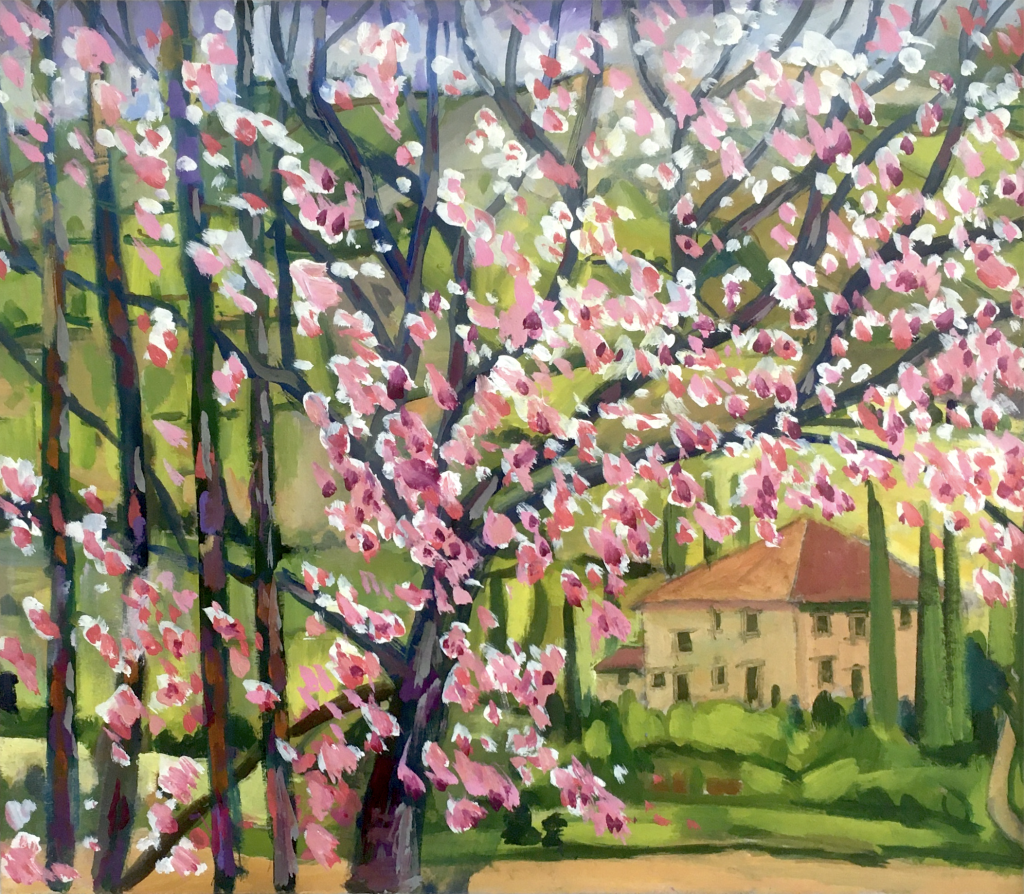 Tuscan Blossoms
In each place I ask myself what is 'paintable', what is it about these places that is unique, and what is my relationship to them. Paintings develop from an extended process of drawing in front of the landscape, but they are made in the tranquility of my studio away from the landscape. In this way I am able to combine a number of elements such as imagination, invention, recollection and memory.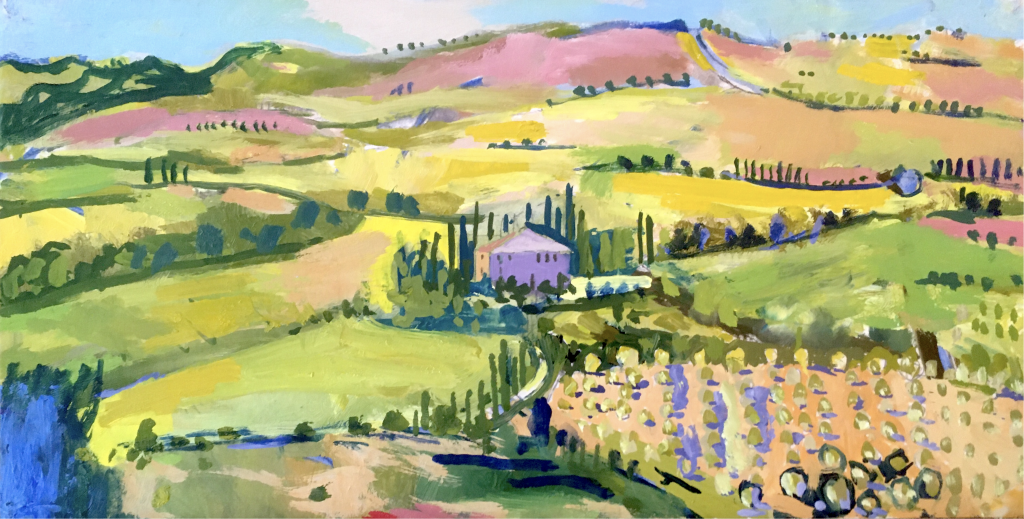 Val d'Orcia
My paintings do not progress according to predetermined stages, when I start a painting there is no preconceived idea about what the painting may eventually look like. In this way my paintings change many times, with the paint being wiped and scraped away and the image lost, changed and reclaimed until it is 'right'. Additionally drawings are works in their own right, and are not really preparatory studies for paintings, although what I discover through the process of drawing may add to the well of images in my memory.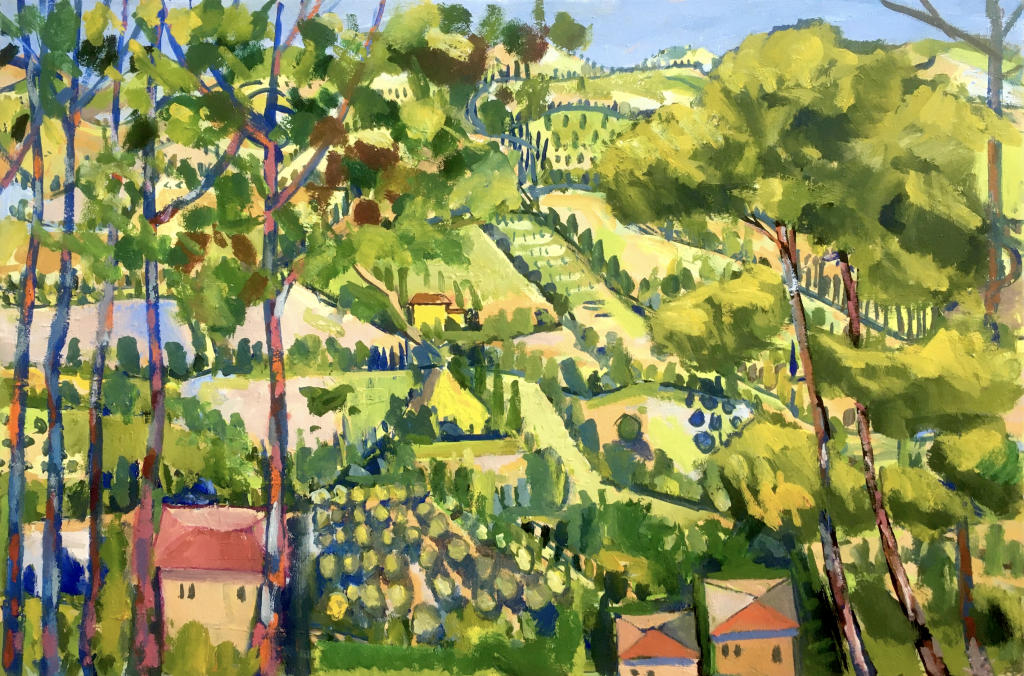 Summer Umbria
Tuscany and Umbria: These paintings have been made after many sparkling spring or late autumn visits, wandering around the gentle slopes of the landscape near the village of Marcialla, within reach of San Gimignano and an easy drive to Siena Province.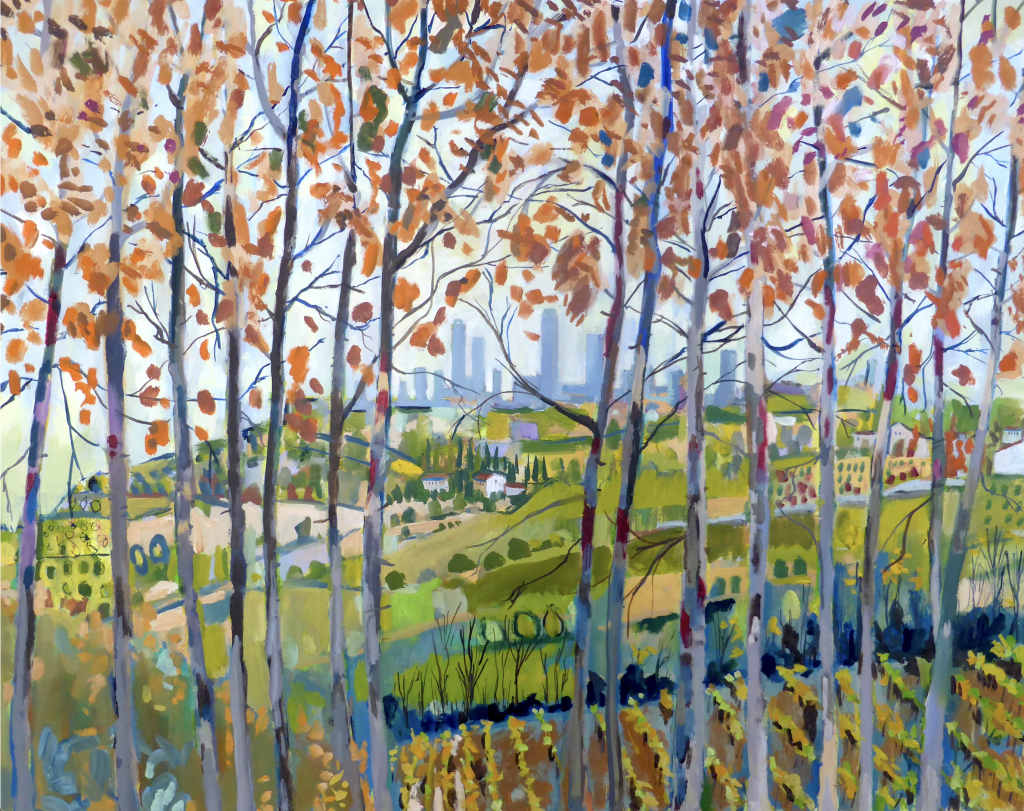 Autumn San Gimignano
Having learned the names of all the famous Florentine and Sienese artists as a schoolboy, I was walking in the footsteps that fed their visual inspiration. The chalky colours, the patterns of wild and cultivated land, the timeless quietness became my inspiration too. The process of making these and all my work has been nurtured by my fascination with the power of memory and recollection to create images which I hope possess an emotional and visual resonance.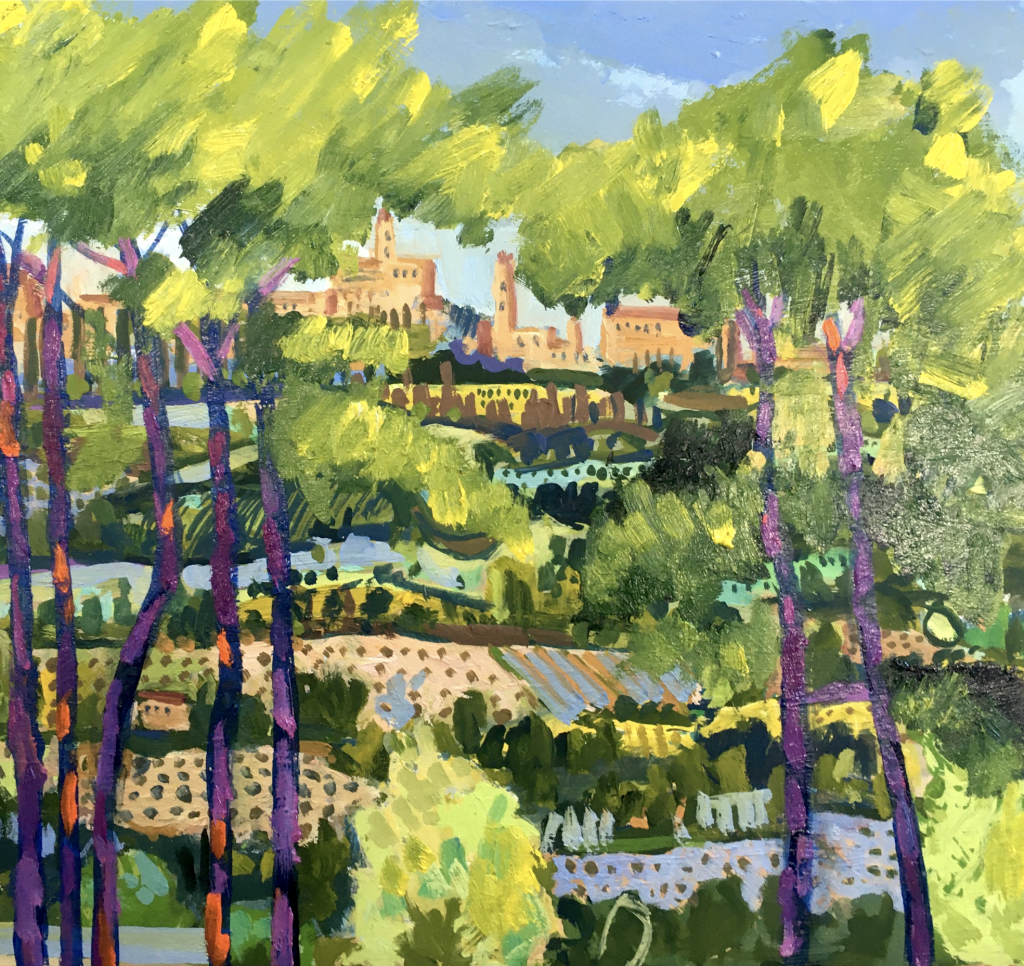 Pienza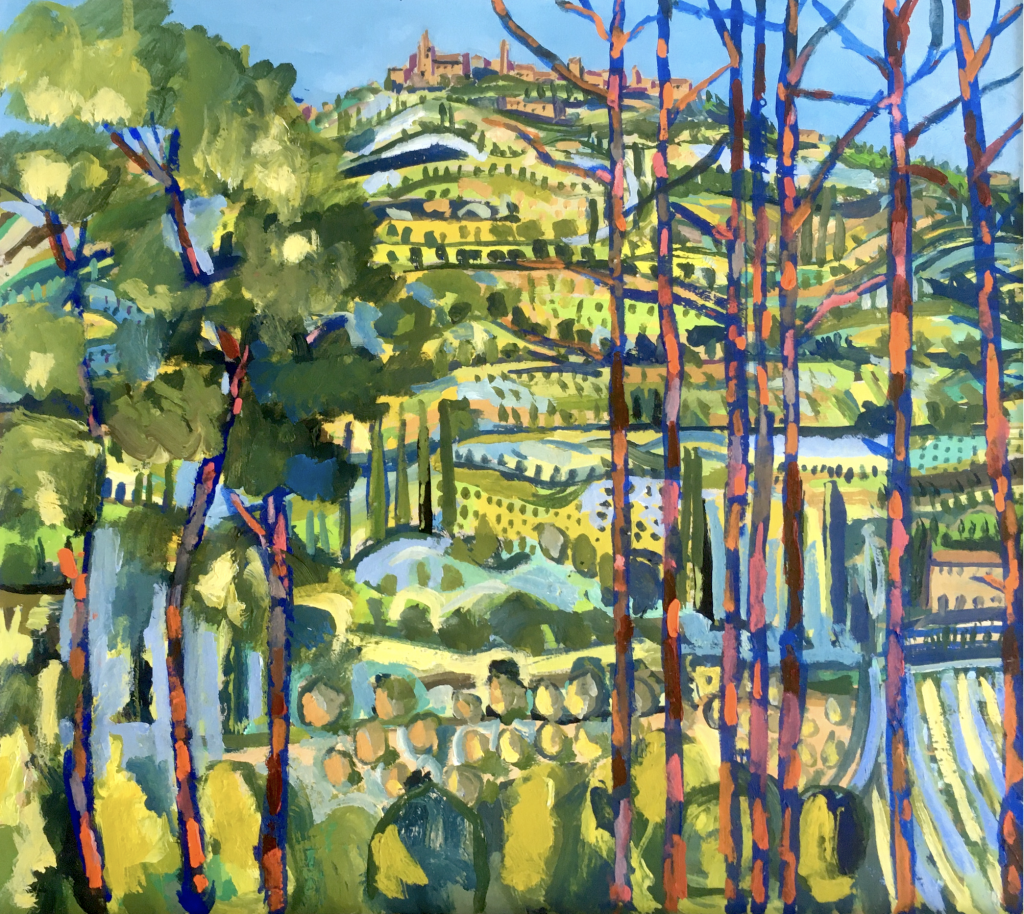 Through The Trees Pienza
My last visit to Italy was November 2019 for the canonisation of Cardinal Newman. For the final two days of my visit I travelled by train from Roma Termini to Orvieto. I love the landscape which is seen far below the town ramparts, and have been trying to paint it for the last 20 years.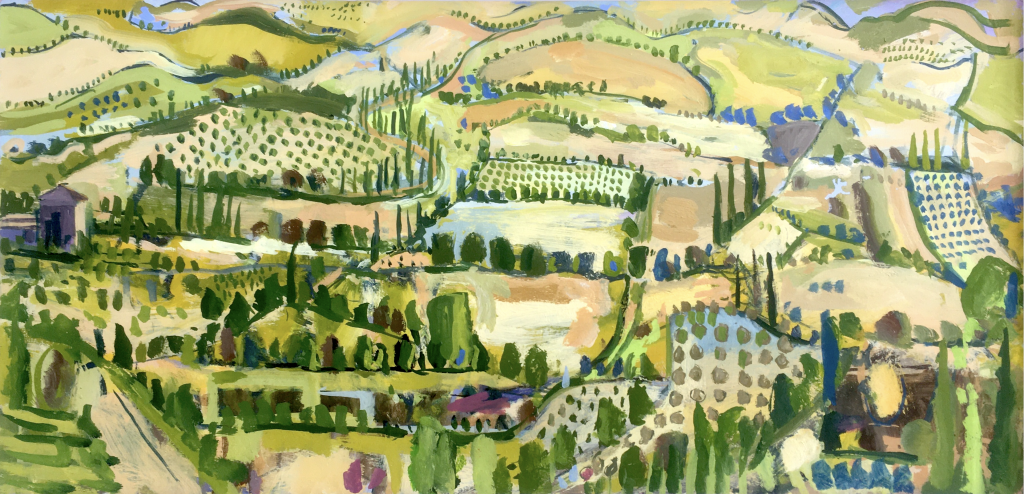 From Orvieto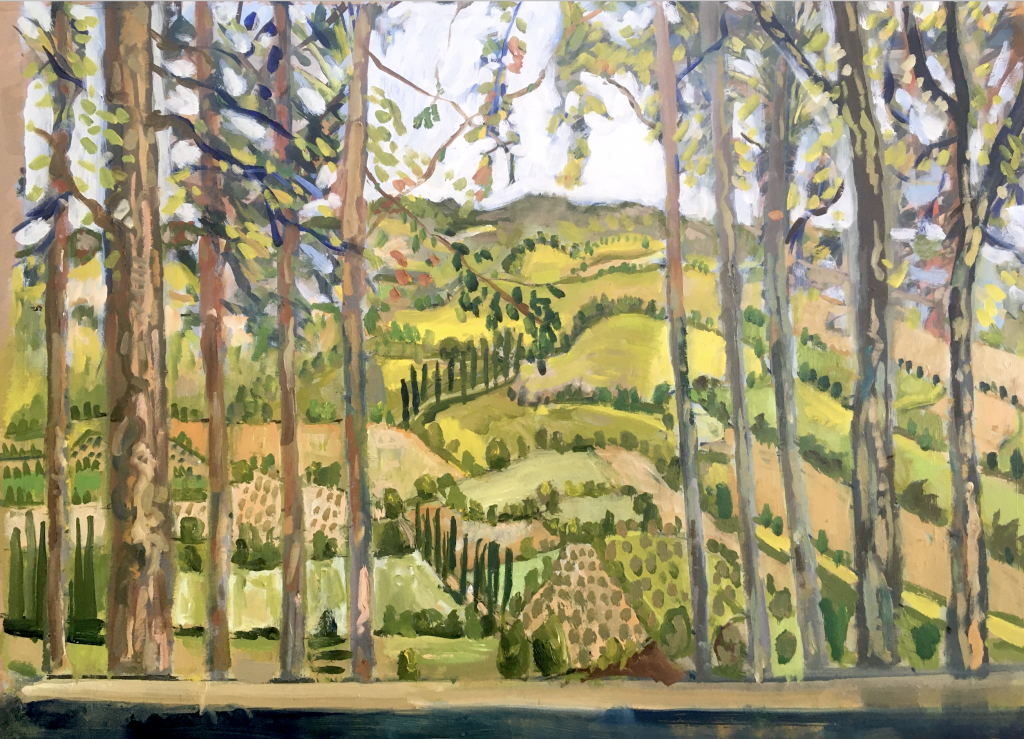 From The Balcony Orvieto
I never tire of looking at it in all its variations of light, colour and atmosphere. It is a landscape unchanged for centuries. This time I took a small 5″x7″ sketchbook and a couple of pens, and spent time just being there, looking and drawing. The painting 'From The Balcony Orvieto' is the result of those few precious days in Italy.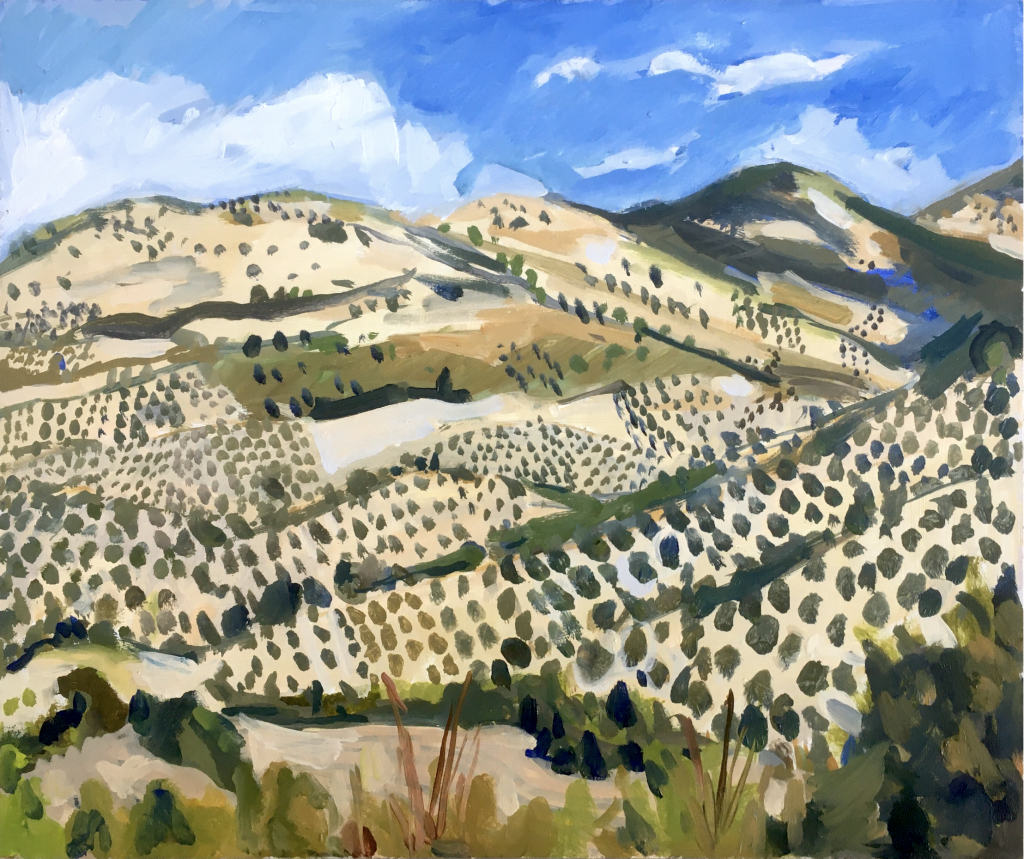 Andalucía
Andalucía: This group of paintings are of an area in the hills south of Granada on the way to Córdoba, around the historic and beautiful village of Moclin. There is still evidence of prehistoric dwellings here, and in the 14th century Moclin was on the route of the Caliphs. There are breathtaking views of the snow-capped Sierra Nevada mountains and views down to Granada.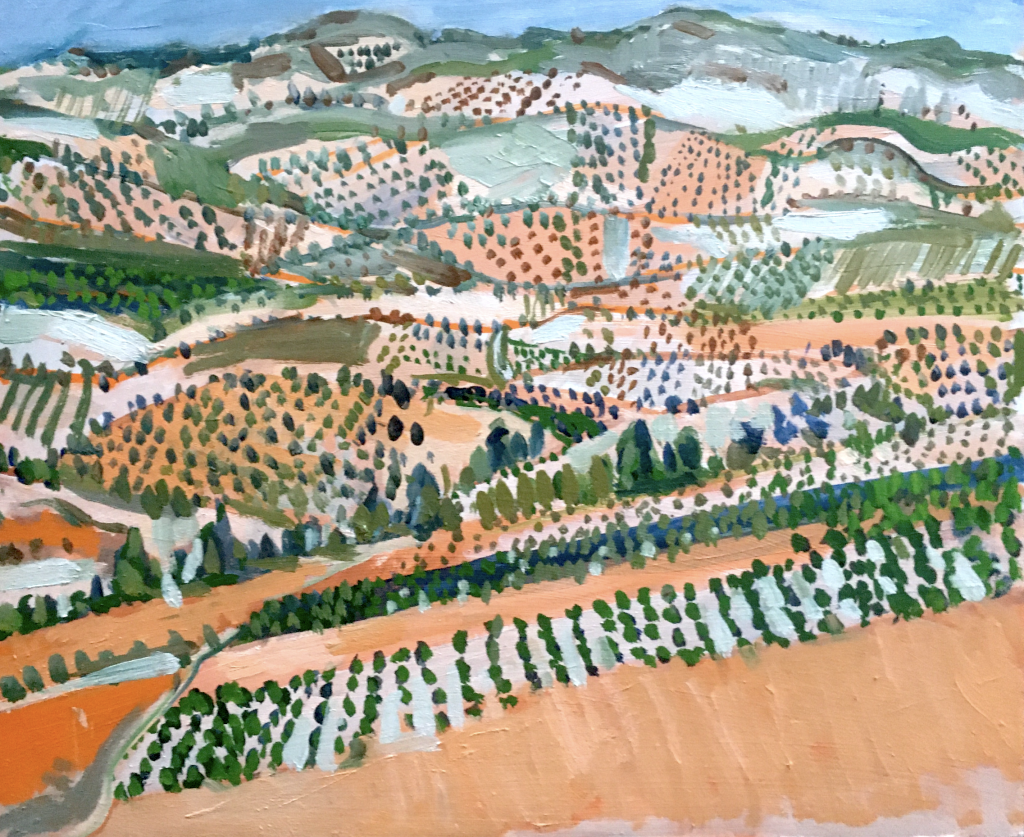 South of Granada
The village nestles amongst almond and olive groves. It is quite different to Tuscany and Umbria in that it is a more rugged place, but it is equally beautiful. During the Spanish Civil War some buildings (now restored) were partly destroyed. Historically the village is imbued with a sense of history which is palpable. During my all too brief visit drawings were made from a vantage point near some Moorish watch towers, which served to track the movements of Christian troops, and which provide wonderful high viewpoints to look at the awe inspiring landscape.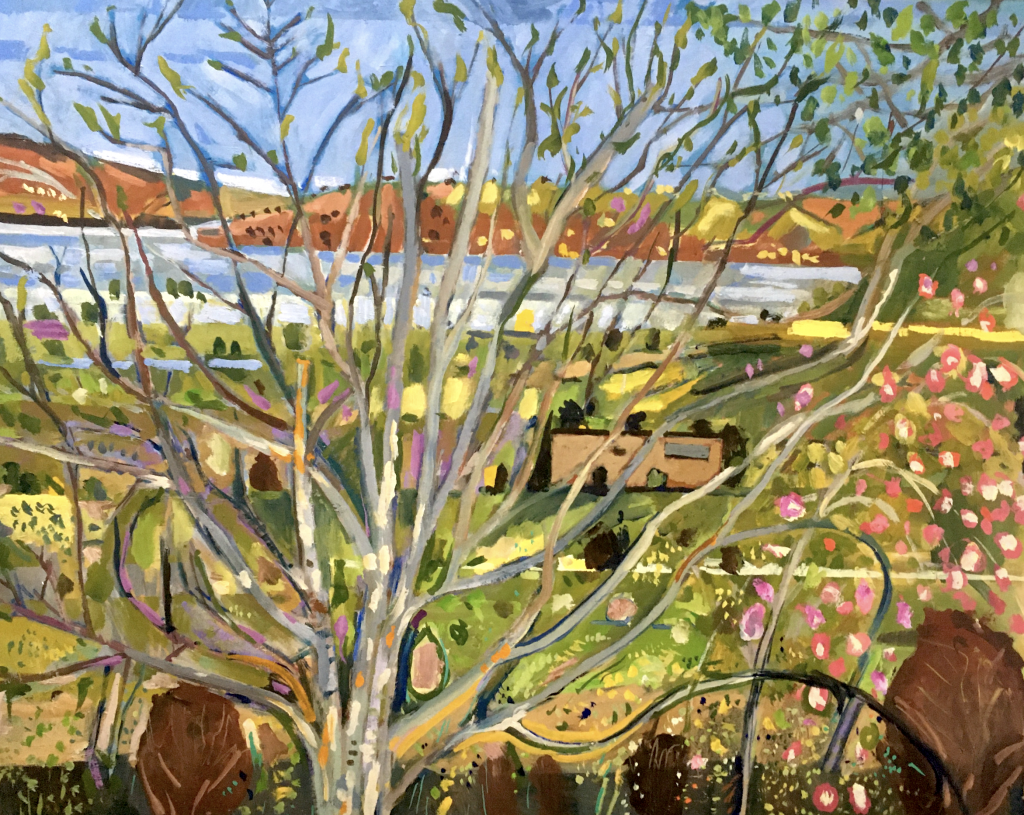 River Tree
Rainham Marsh and the Thames Estuary: I don't have to travel far to be at Rainham Marsh. Rainham is an RSPB reserve located not too far from the bustling streets of the city of London. You can see Canary Wharf to the west. The interest for me here is the interplay of the Thames, the Marsh and industry. It's quite unique and took me a while before I understood Rainham's visual potential. I fill sketchbooks with drawings looking across the Marsh with its discrete hides, towards the busy A13 and Eurostar line. Peregrine falcons, hobbies, whitethroats, Cetti's warblers, bearded tits, spoonbills and hundreds of other species of birds fill the reserve with a cacophony of noise. I love the fact that it's a bit of a magical hinterland. The landscape is prehistoric with remnants of ancient trees. In more recent times it became a munitions storage area for the Army and was a firing range in both world wars. The Army offered it to the RSPB and it was opened to the public in 2000.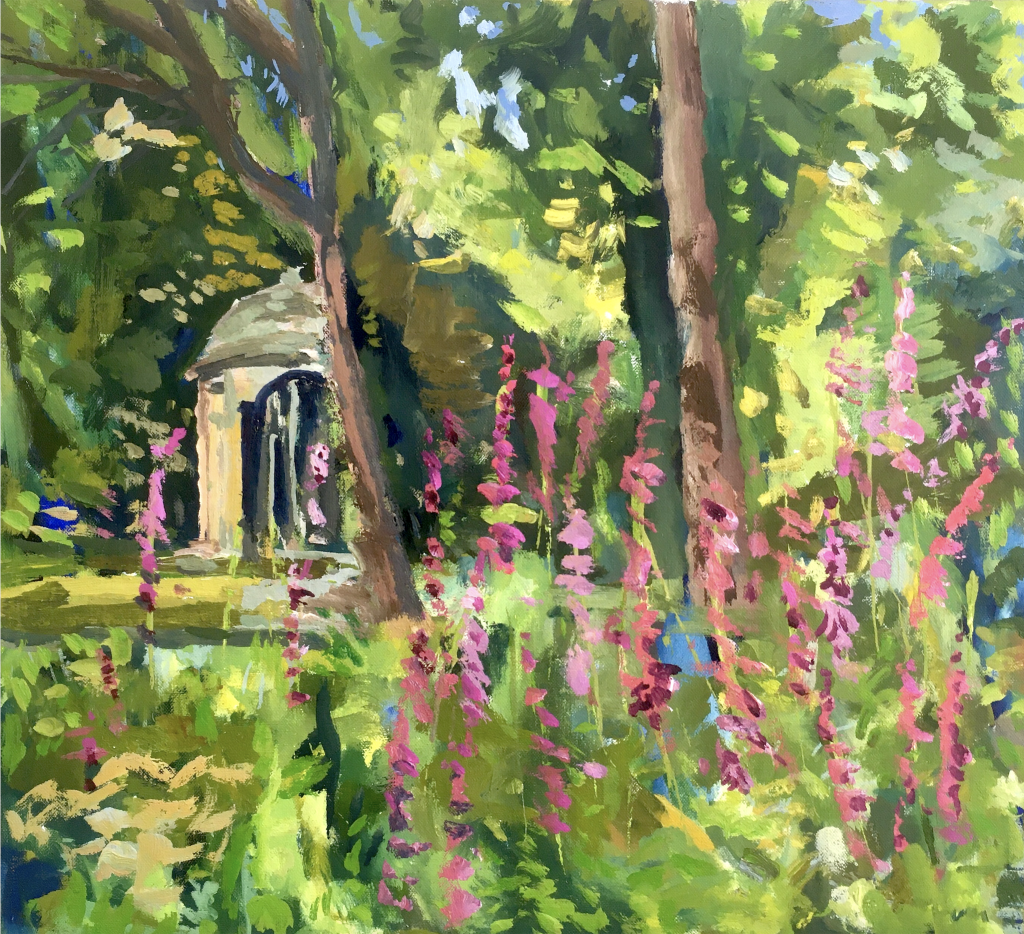 Folly
In the studio: I use a fairly limited set of colours and prefer to use Michael Hardings oil paints, but use Williamsburg and Old Holland paints too. I use a Liquin medium. My regular colours, the ones I always have are: Cadmium Yellow Light, Naples Yellow, Yellow Ochre, Raw Umber, Kings Blue Light, Cerulean, Cobalt Blue, Ultramarine, Cadmium Scarlet and Magenta. Sometimes I'll introduce one or two others but this is my go to set of colours. I use a few whites, Cremnitz White and Michael Hardings Titanium #1. I have three wooden palettes which after a set of paintings I'll scrape down and I use a 24″x16″ thick sheet of glass to mix on. I'm not very organised when I arrange colours on my palette but I try to arrange them in families of colours.
New compositions: Anticipation grows as I glimpse something I want to see and draw whether I am walking or driving. Often I will see my goal partly hidden or obscured by trees or foliage. I rarely see a clear view. Riding on a train to a beautiful house or village it is obscured by trees and evades scrutiny. The train hurtles on. For those and other reasons in recent works I have started to incorporate trees into my compositions as strong vertical elements counterbalancing the horizontal divisions of the landscape. The combination of both horizontal and vertical hold many possibilities for me.
※
A Tuscan Sonnet
The Orange sunrise over Certaldo
greets silent echoes of Decameron
as they whisper ancient opinion
of the lost spirit of Boccaccio.
A bitter sweet taste of Pecorino
fills the moist air with anticipation
for eternal carnal supplication
drunk from a bottle of Vino Santo.
Rolling landscape and dusty forest track
to Empoli past sober Tavarnelle
where opposing factions make their last attack
and create a scene from the depths of hell
besieged and locked in a towering stack
haunted by the sound of a tolling bell.
Written by my friend Huw Morgan, and shared here in appreciation of his fine companionship during our stay in Tuscany in October 2014. Some of the paintings on show at the Rowley Gallery were painted from that memorable trip.
※
※