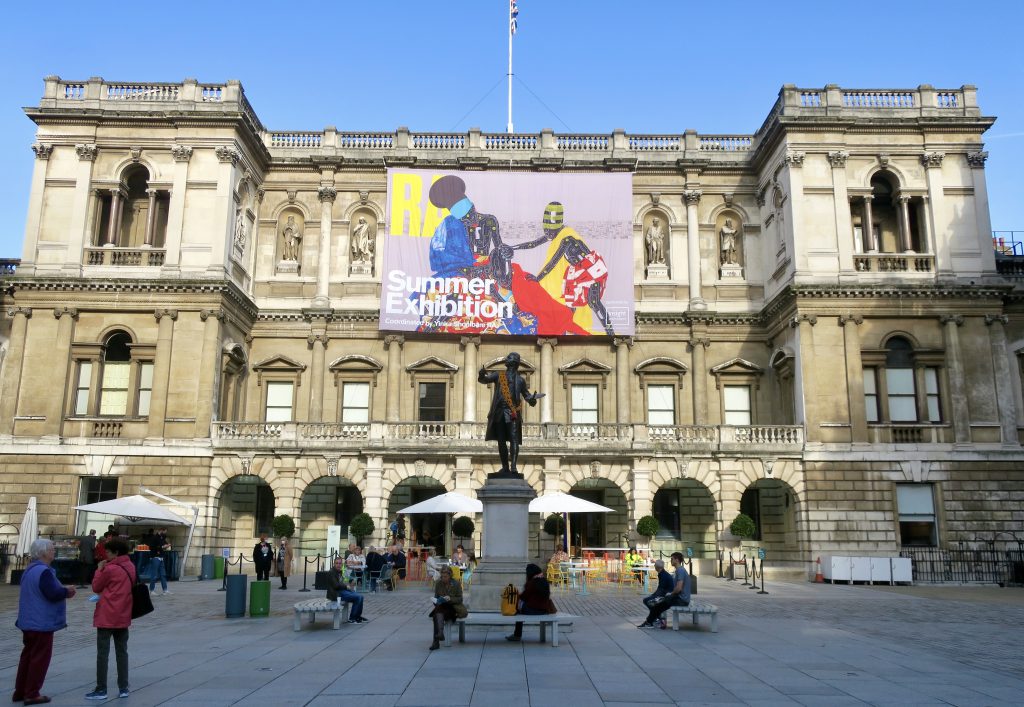 I drove to work early but I arrived late. I'd forgotten about all the extra school-run traffic. It was 9:30 when I got to Notting Hill Gate and my ticket was for 10 o'clock at Piccadilly. I walked through the park, dodging cyclists, dazzled by trees, energised by the green space on our doorstep that I so often overlook, thinking I must do this more often, but knowing I wouldn't. I should've been working. It was 10:10 when I got to the Royal Academy.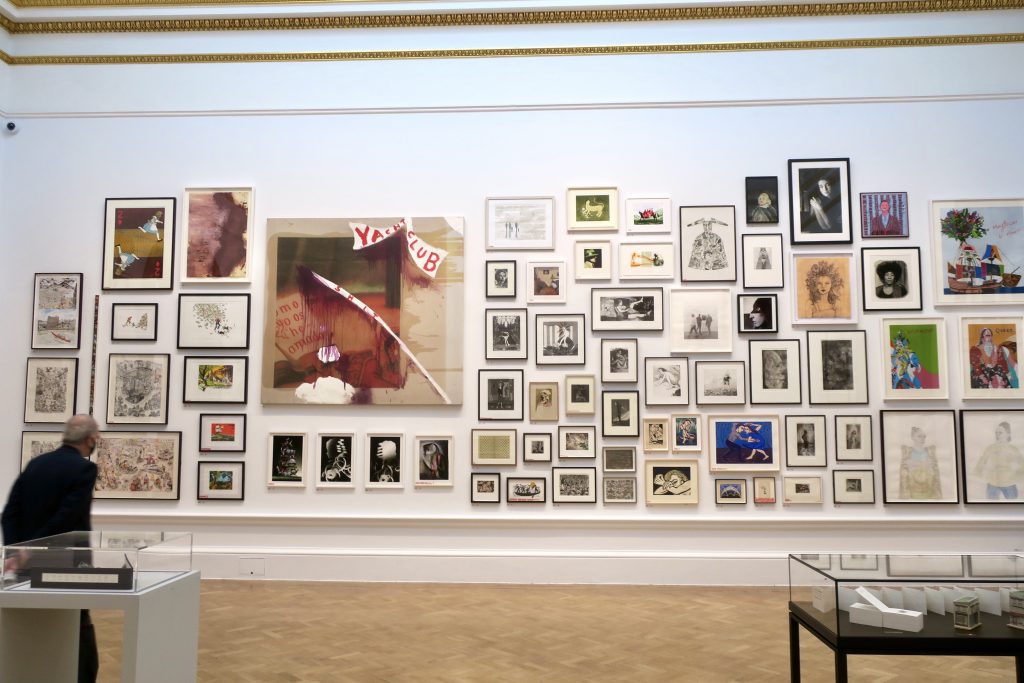 There was hardly anyone else there. But for a couple of other masked spectators I had the galleries all to myself. The walls were piled high with joyful colourful stuff. It was a jolly show. But I had eyes only for Jazmin.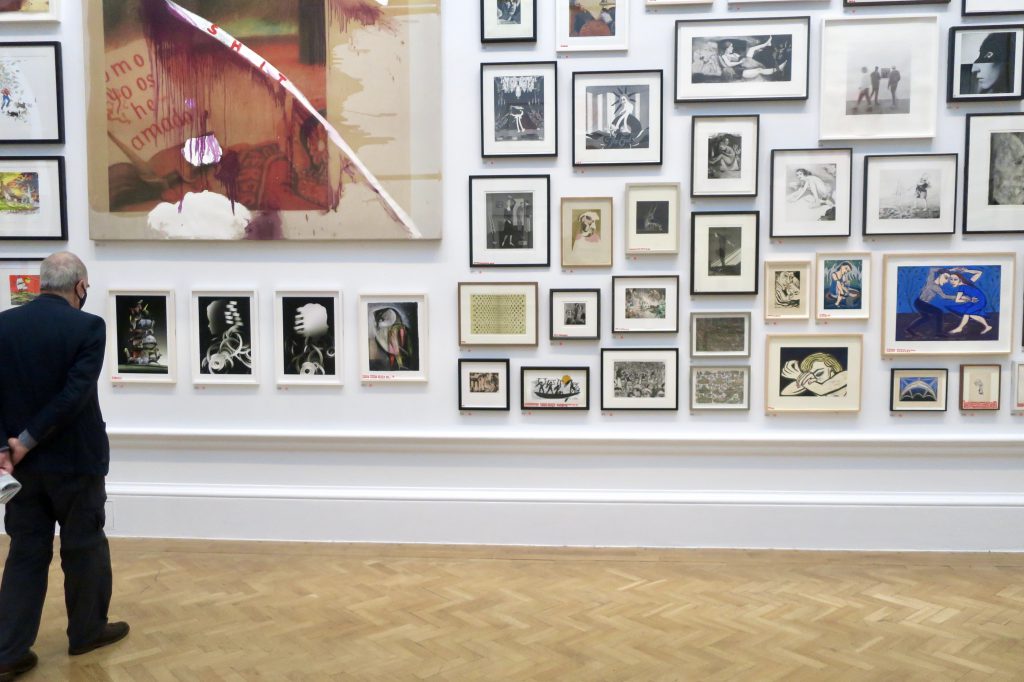 We've been showing the work of Jazmin Velasco at the Rowley Gallery for about 15 years, since we first decided to show art, she's part of the fabric of the place. So it was a sad day when we learned of her sudden and untimely death from a brain haemorrhage on 15 June this year. She was just 50 years old. We still have some of her prints but there will be no more. This one in the RA Summer Show is special. She first brought us quirky prints, Mexican flavoured with a touch of Saul Steinberg, then as she settled here her subject matter became more of "an Aztec descendant observing English life", more Jane Austen and country customs. She loved all the pomp and circumstance, the pageantry and traditions of her adopted homeland.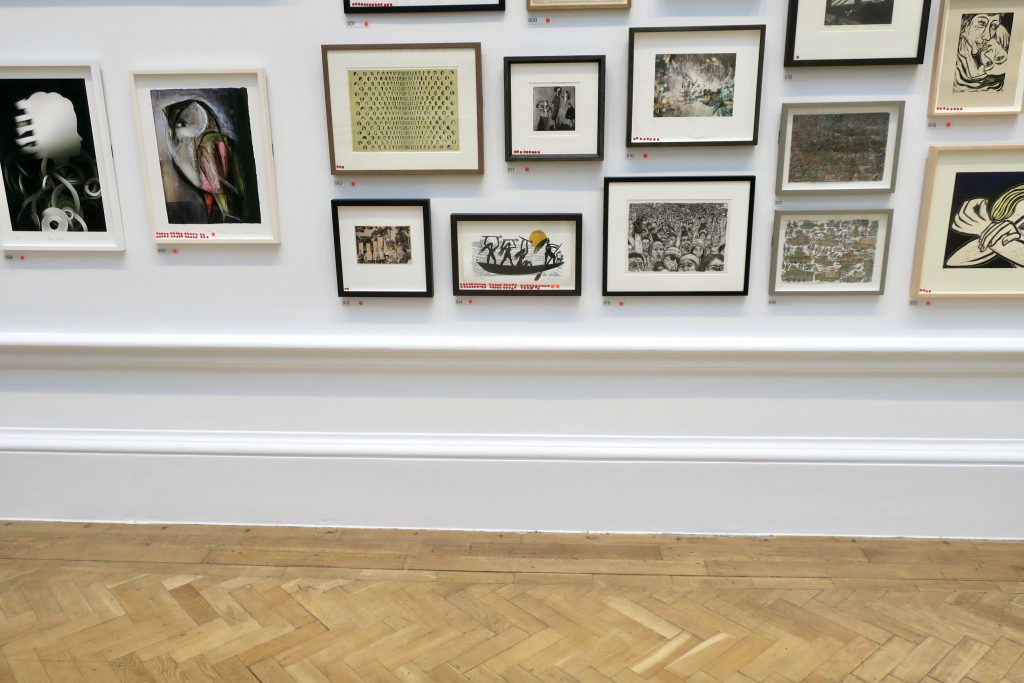 But this one is a return to Mexico. I imagine her fed up with Brexit and Covid and Climate Change, raging against Colonialism and all its twisted histories. She and her sisters are heading back across the ocean to seek their revenge. They're spearsome and fearsome, their pointed breasts on high alert, taking no prisoners as the sun goes down.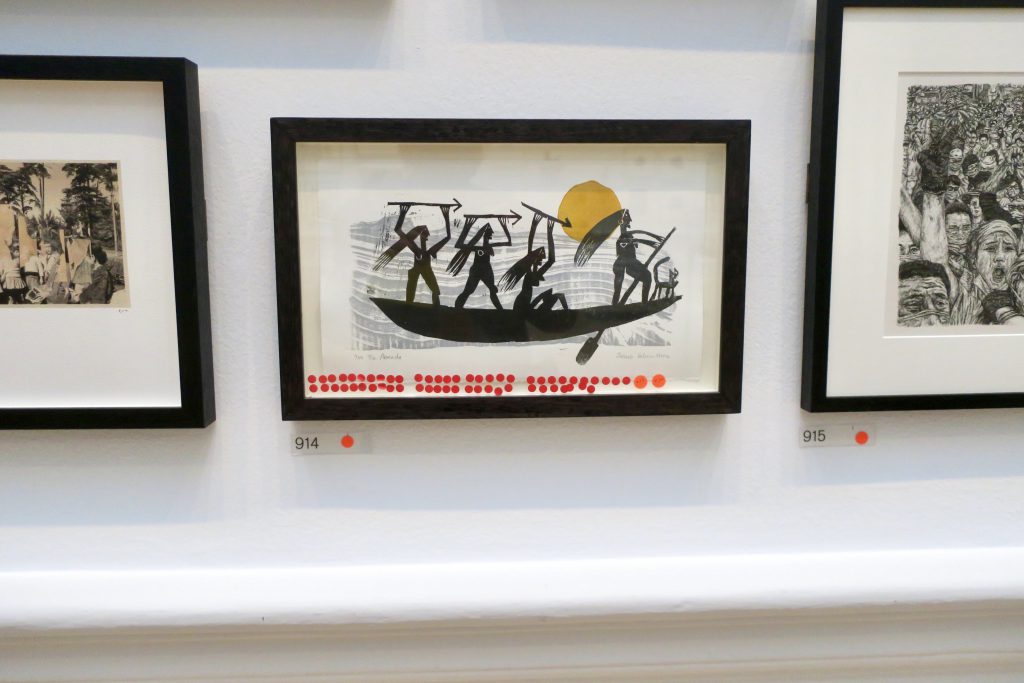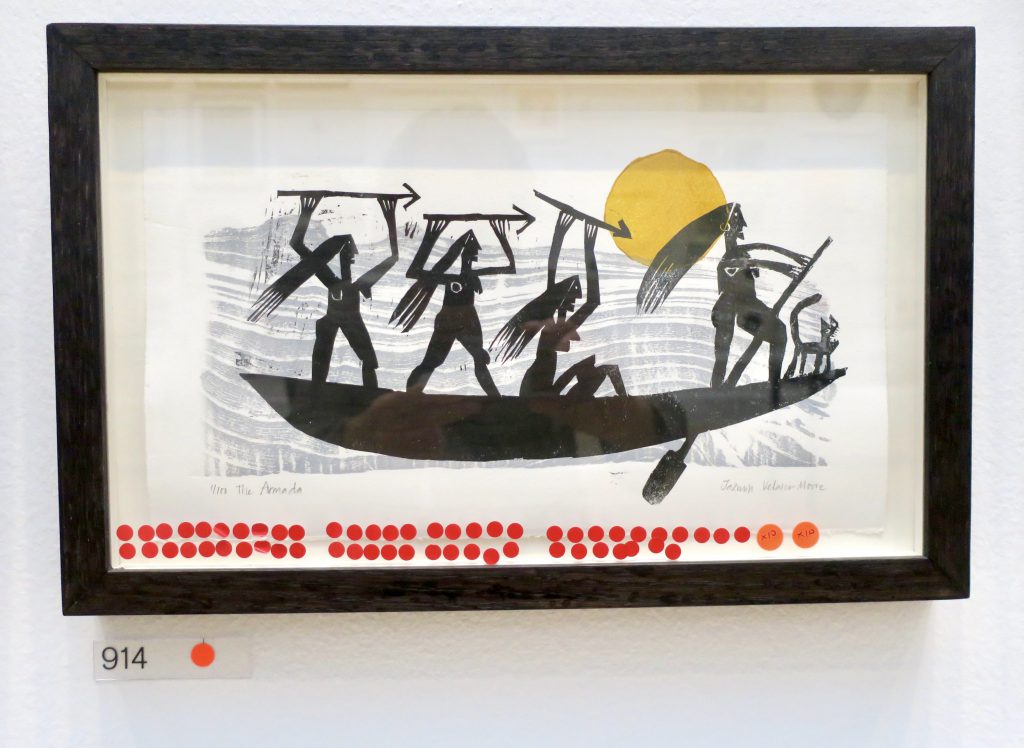 And it was when I went down on one knee to photograph Jazmin's print in close-up that I realised this was a pilgrimage. I'd come to pay my respects and say goodbye to this feisty and angry and lovable and magical artist.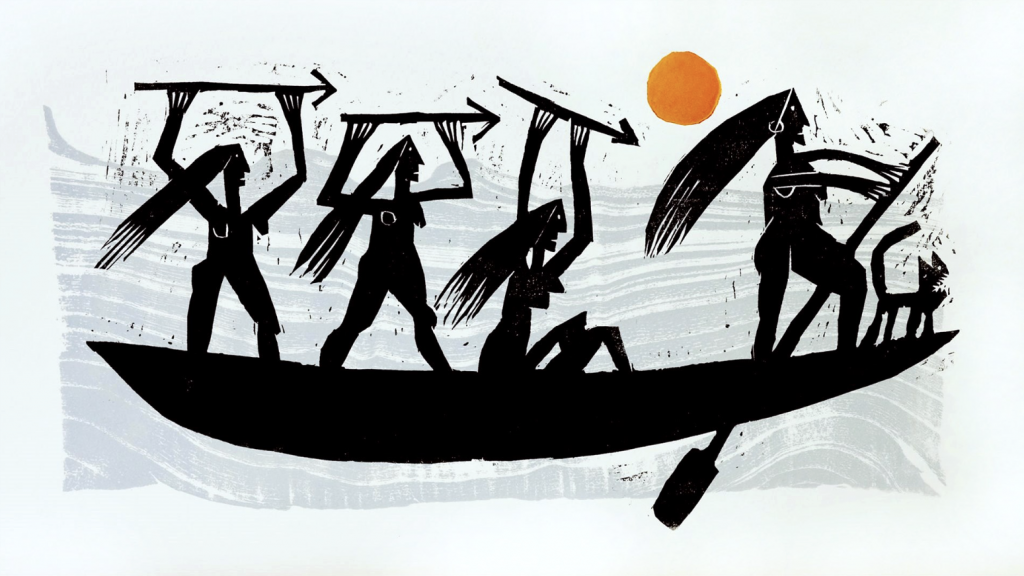 The Armada
The late Jazmin Velasco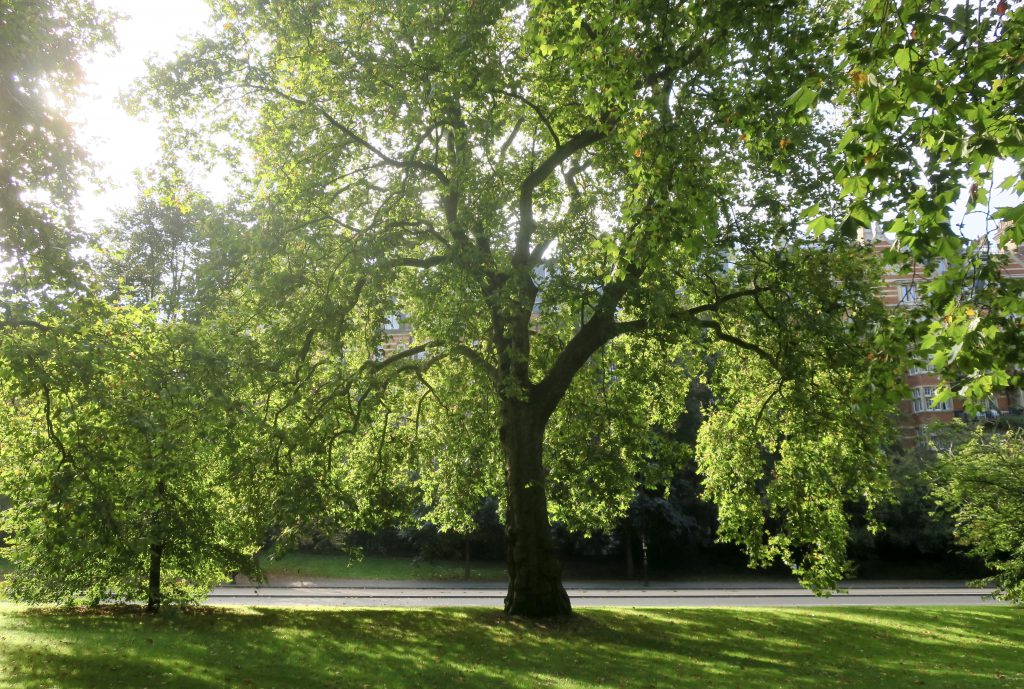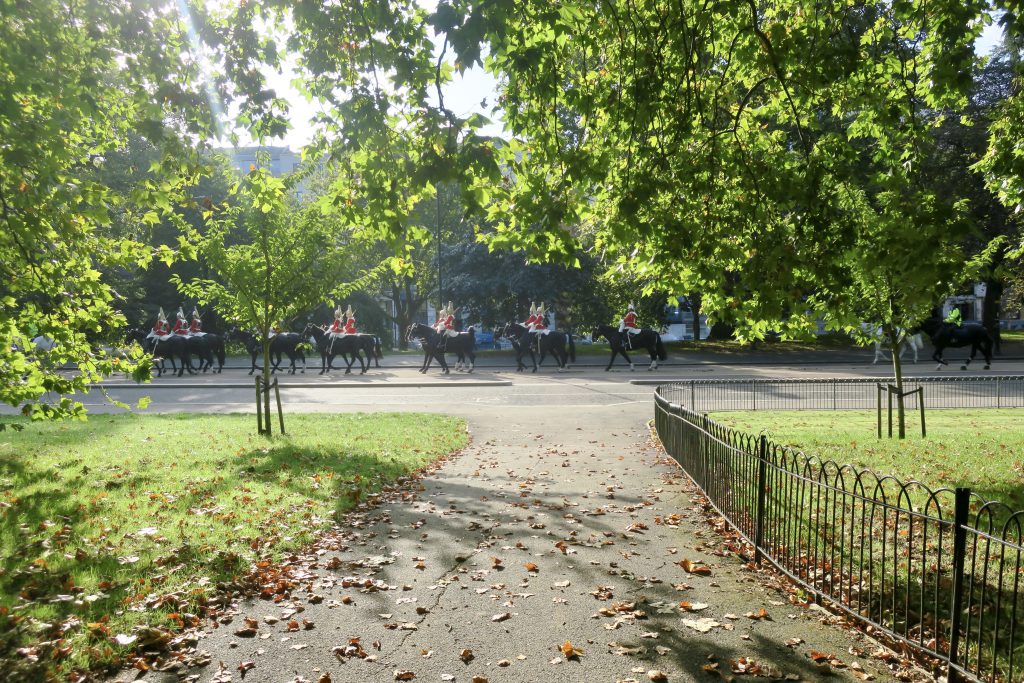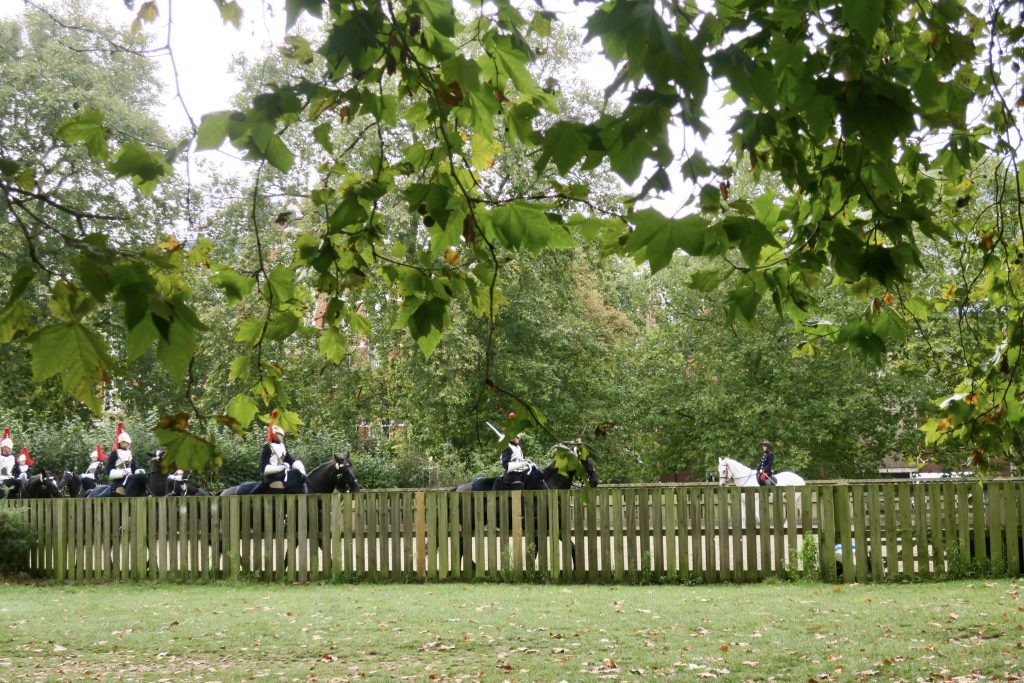 On my way back through the park and suddenly the Household Cavalry are everywhere, going through their paces, working out, round and round, Step in time! Step in time! I couldn't help think that Jazmin would've loved it.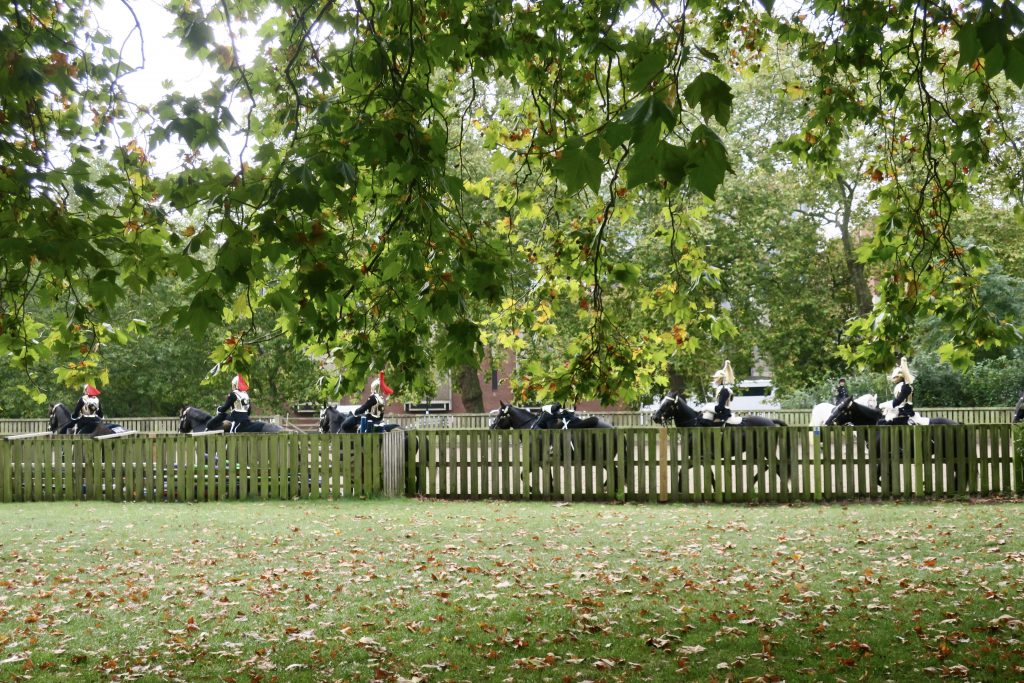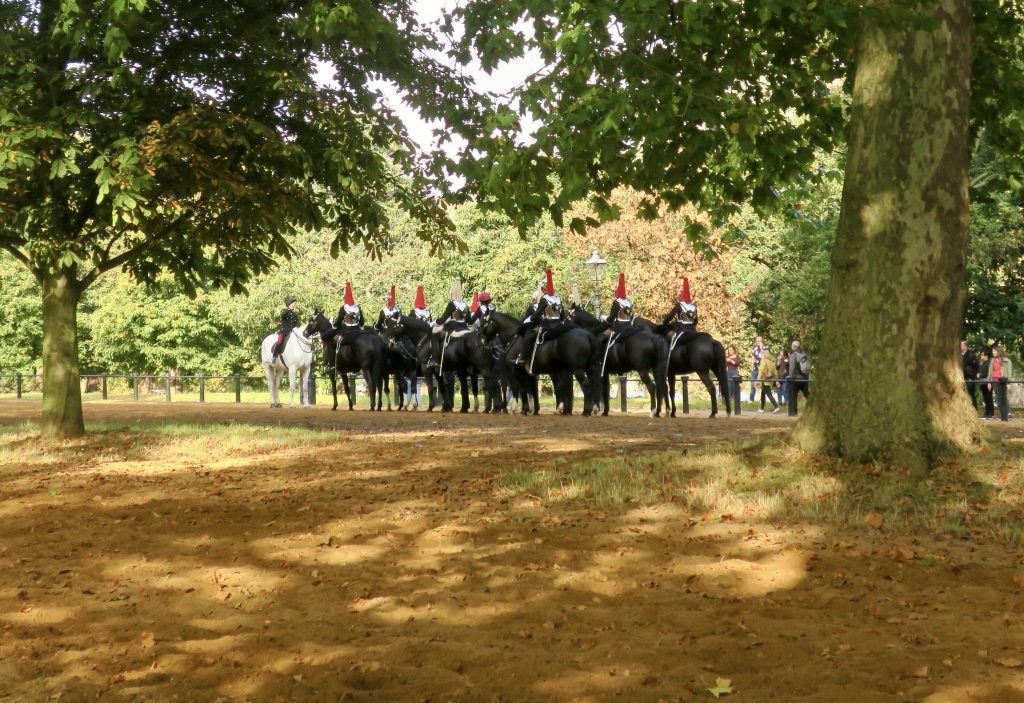 She would have enjoyed the picturesque Englishness of it all. But she'd have ambushed them with her ferocious feminists and their piranha pussycat.
※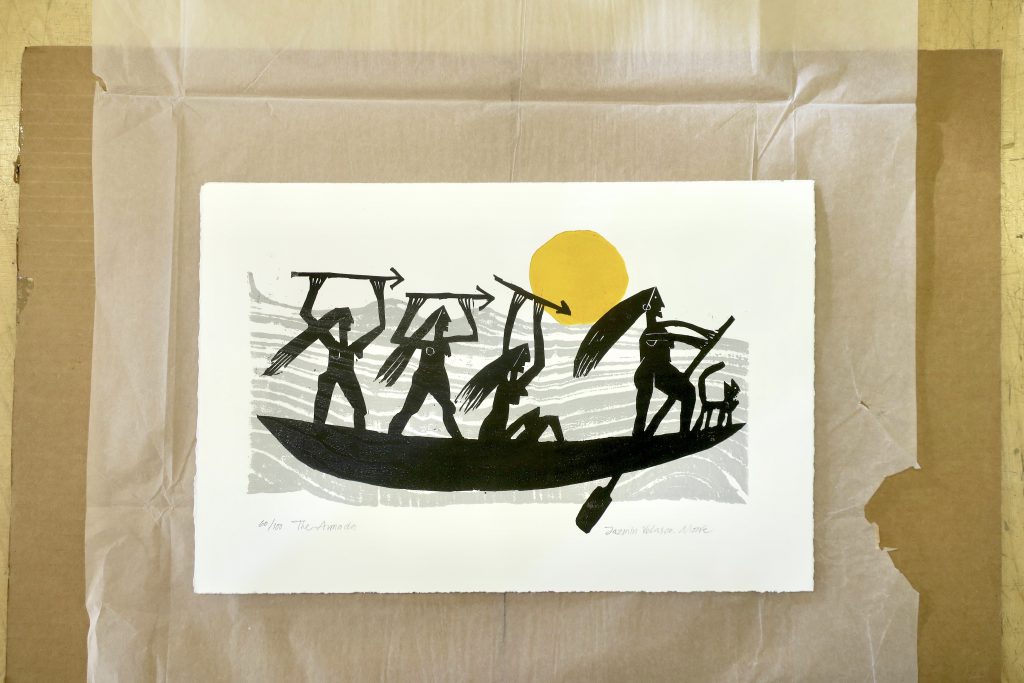 Back at the Rowley Gallery I unwrapped the print that was delivered to us yesterday for framing, four Jazmins and her cat, Sami – The Armada. xxxx
※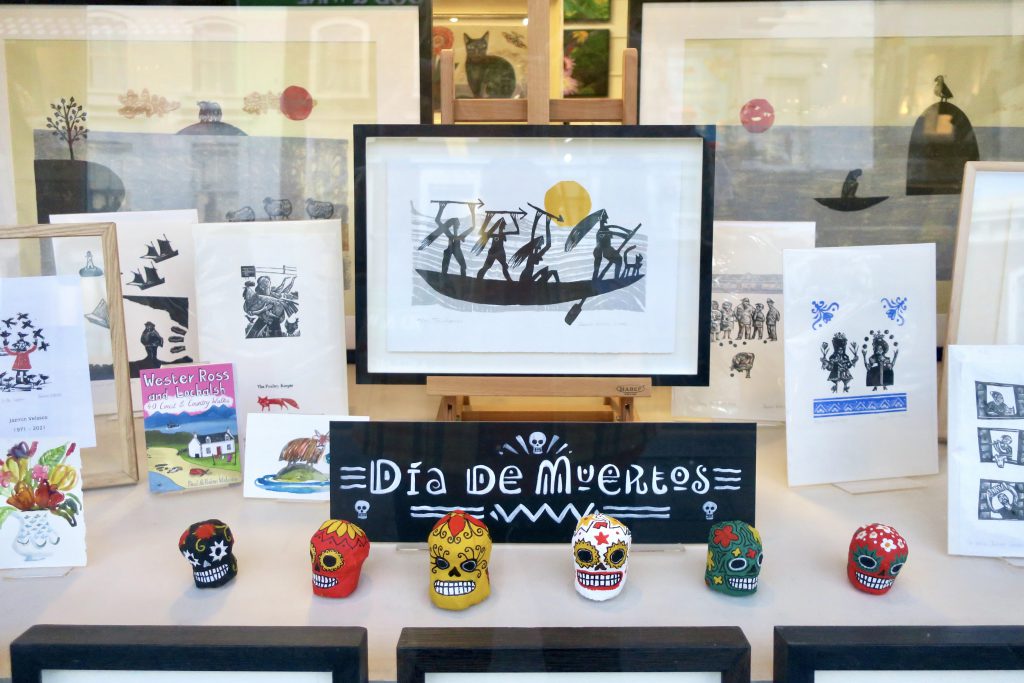 Two weeks later it's framed, and in our window just for a day,
one very special day, a Day of the Dead for Jazmin. ¡Adiós, amiga!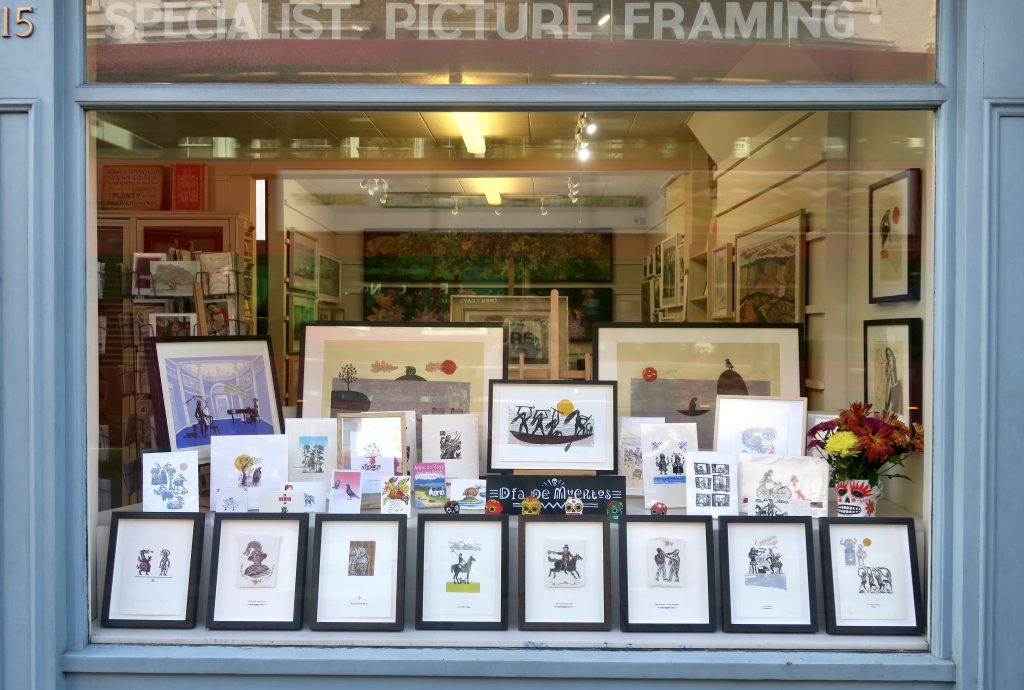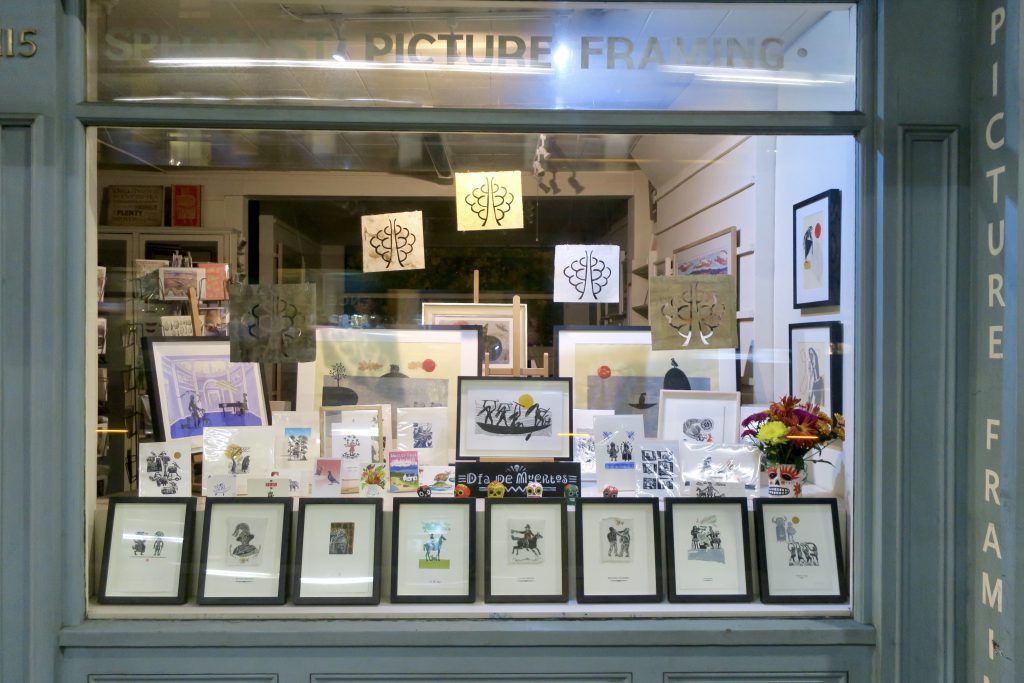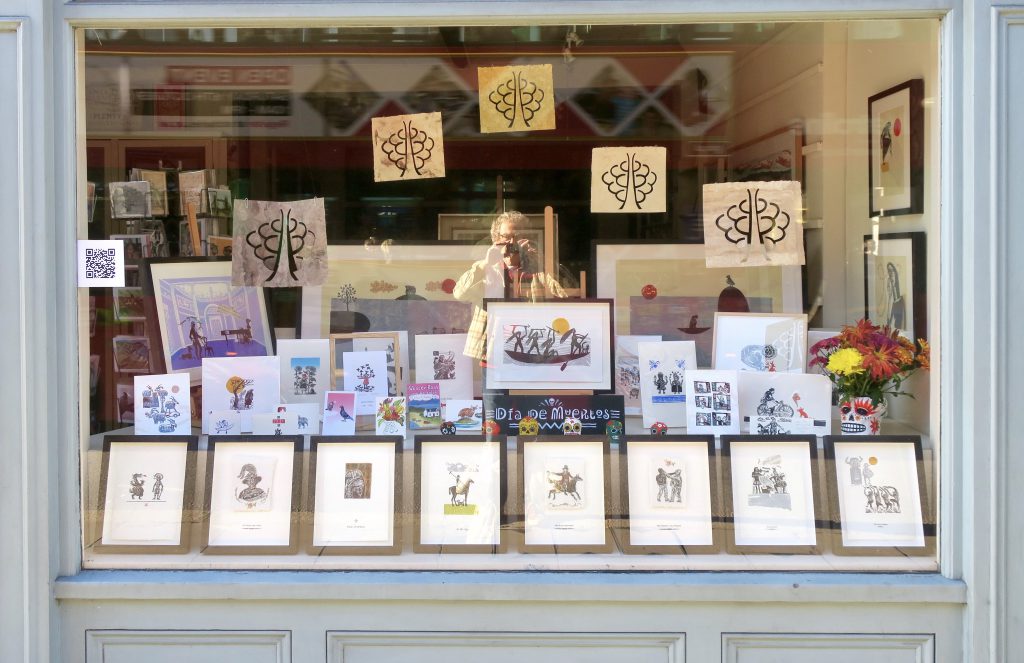 ※
Jazmin Velasco / The Rowley Gallery