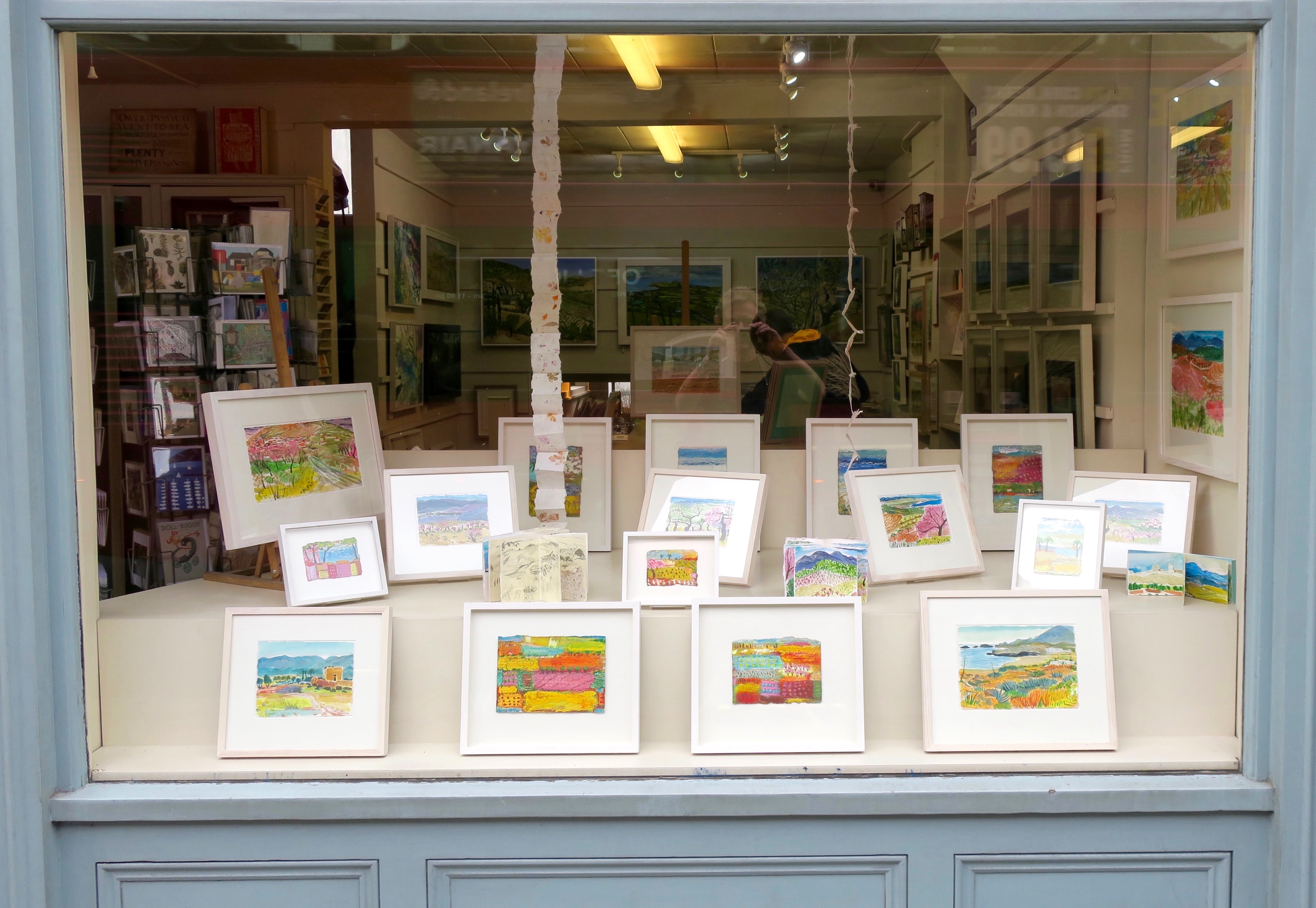 We've got a whole host of springtime in our window for May, paintings made earlier this year by Annabel Keatley in Andalucia where she lives, soaking up the light and the colours and the heat of southern Spain, absorbing, extracting, expressing it all in her joyful pictures. "There are two Springs here, one in January and February when the almond blossom is in flower, and now, when most of the wildflowers are out… So it was the first Spring when I painted most of this series…"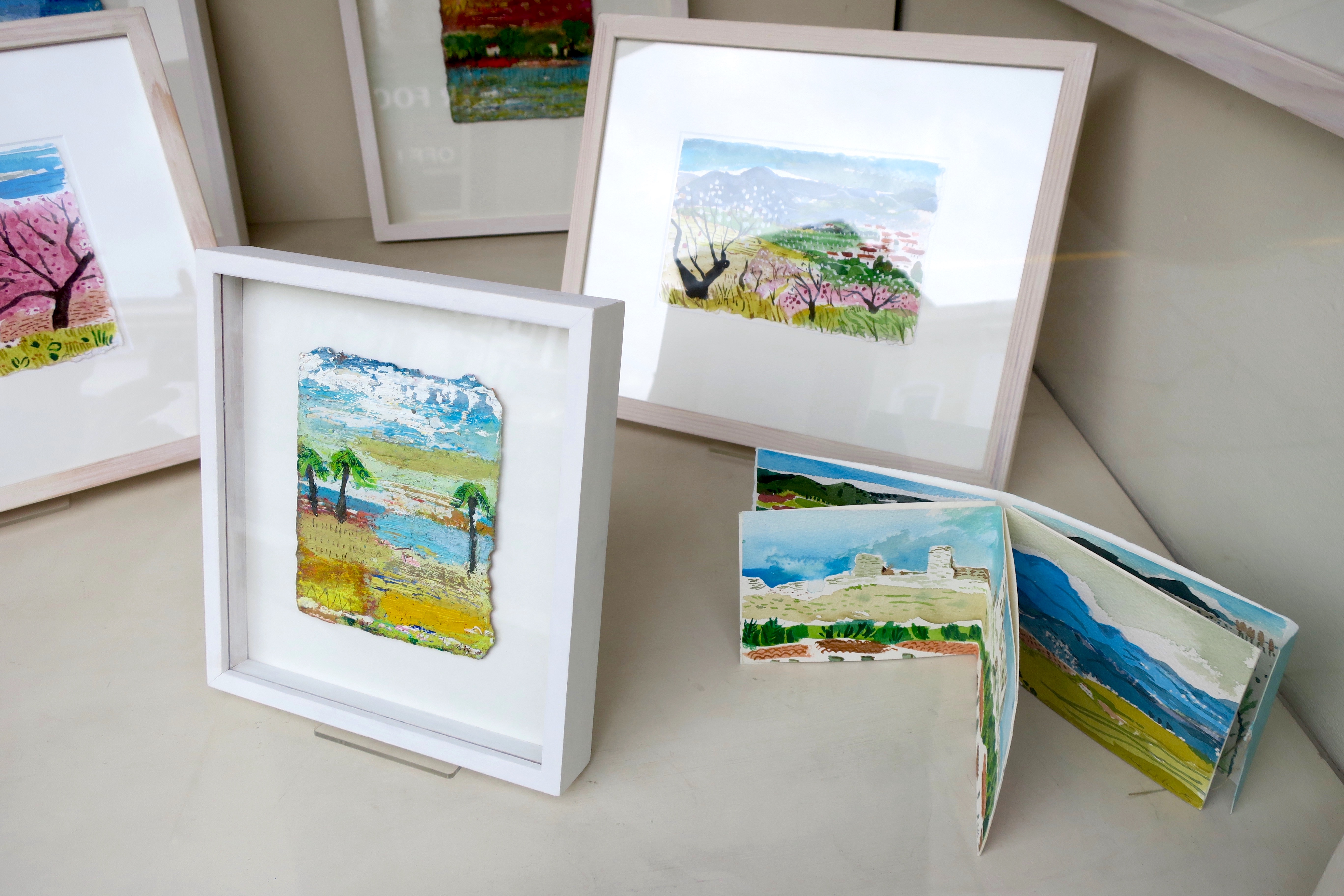 We've got framed oil paintings mixed with beeswax and sand on handmade paper, we've got framed watercolours from the Lecrin Valley, and we've got a booklet of unframed watercolours from Ronda.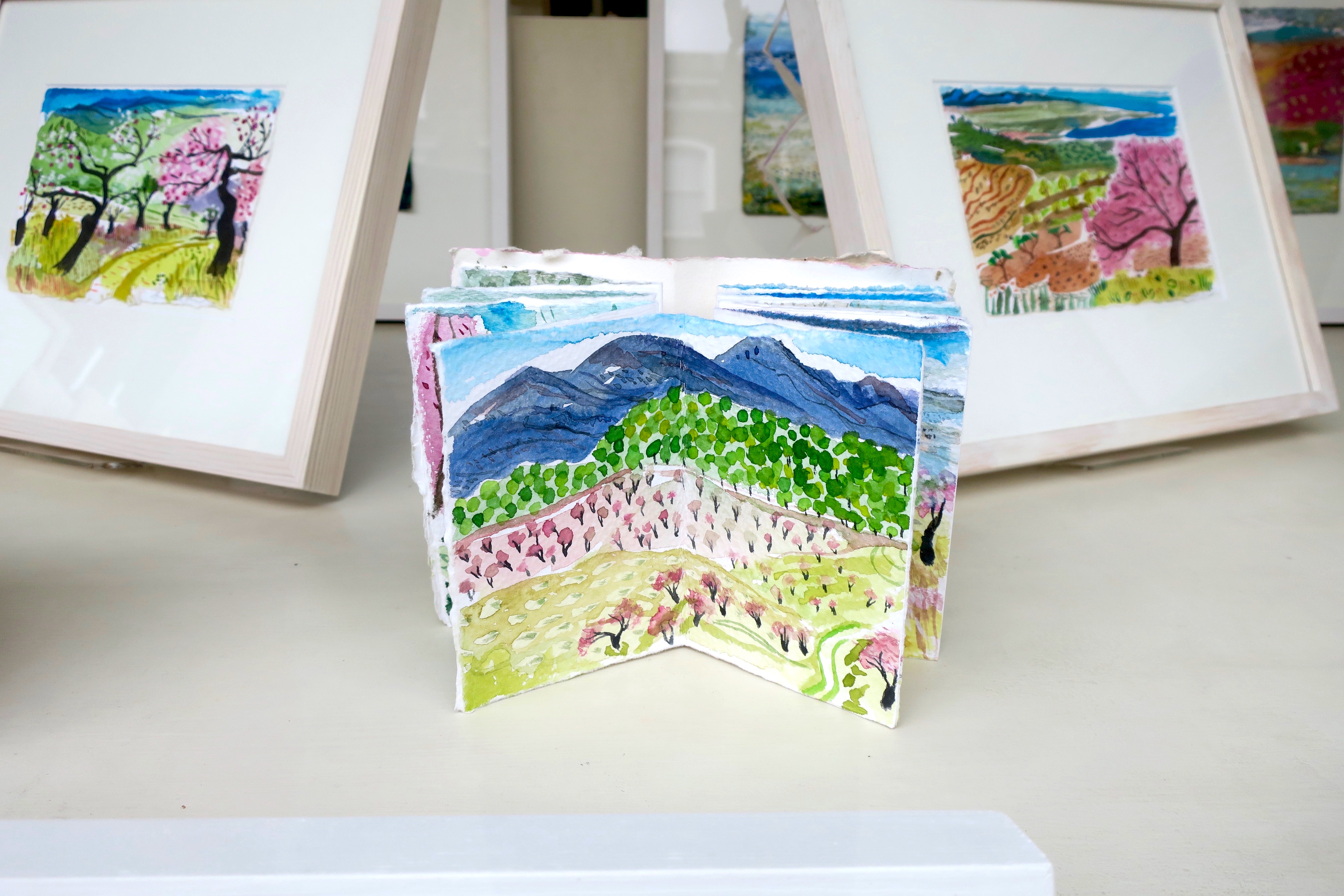 We've got a fabulous book of eight Primavera watercolours on handmade paper.
Almond Tree In Blossom
We've got a concertina sketchbook of pencil drawings.
Lisboa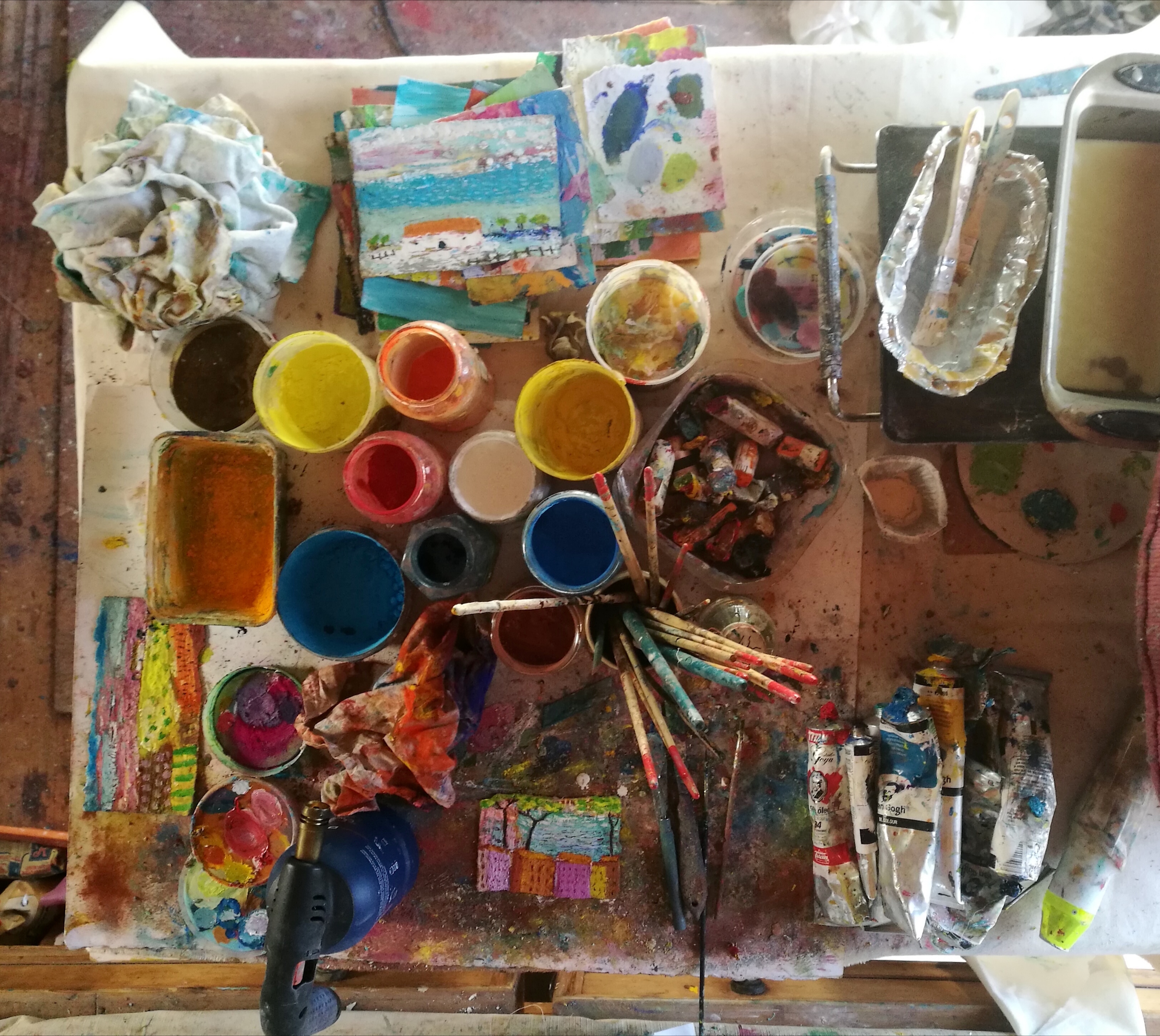 We've got a photo from Annabel's studio with a little Lisbon painting.
Sol y Sombra I
Pine Trees & Almonds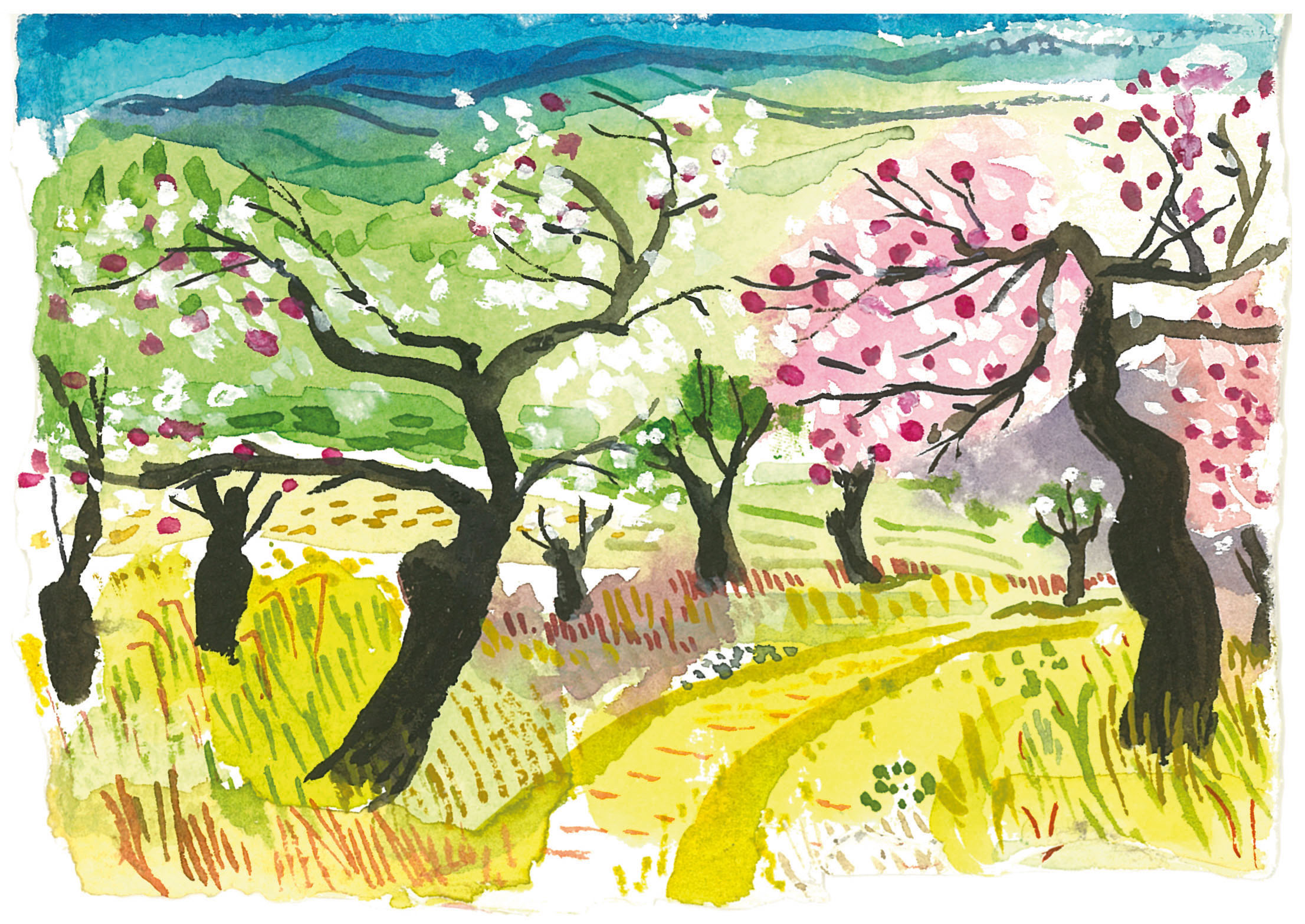 El Camino III
We've got booklets of handmade paper impressed with spring flowers and honeysuckle and fig leaves.
We've got a paper wallet tied up with string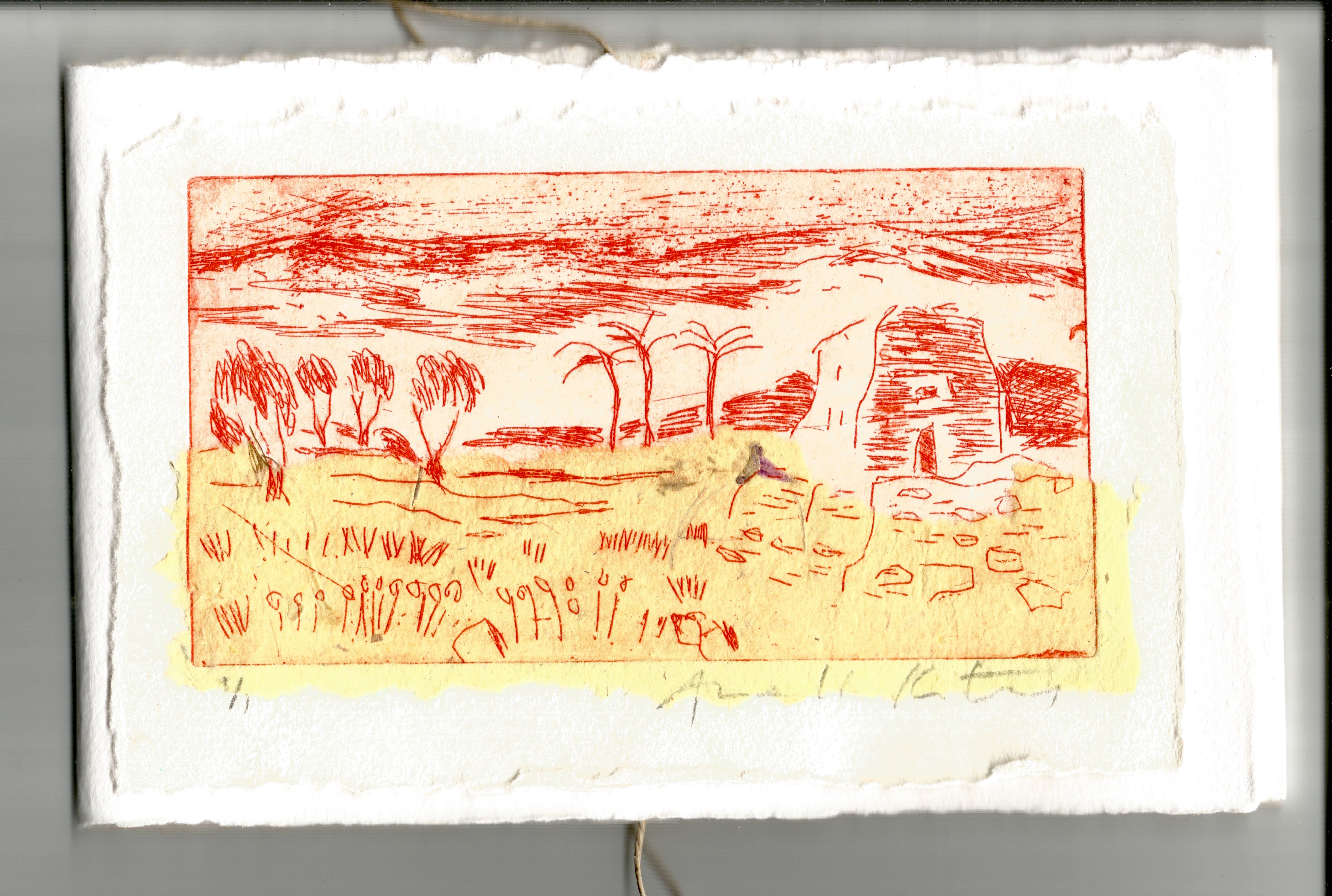 and enfolded with three coloured etchings…
And we've got a few words from Annabel herself…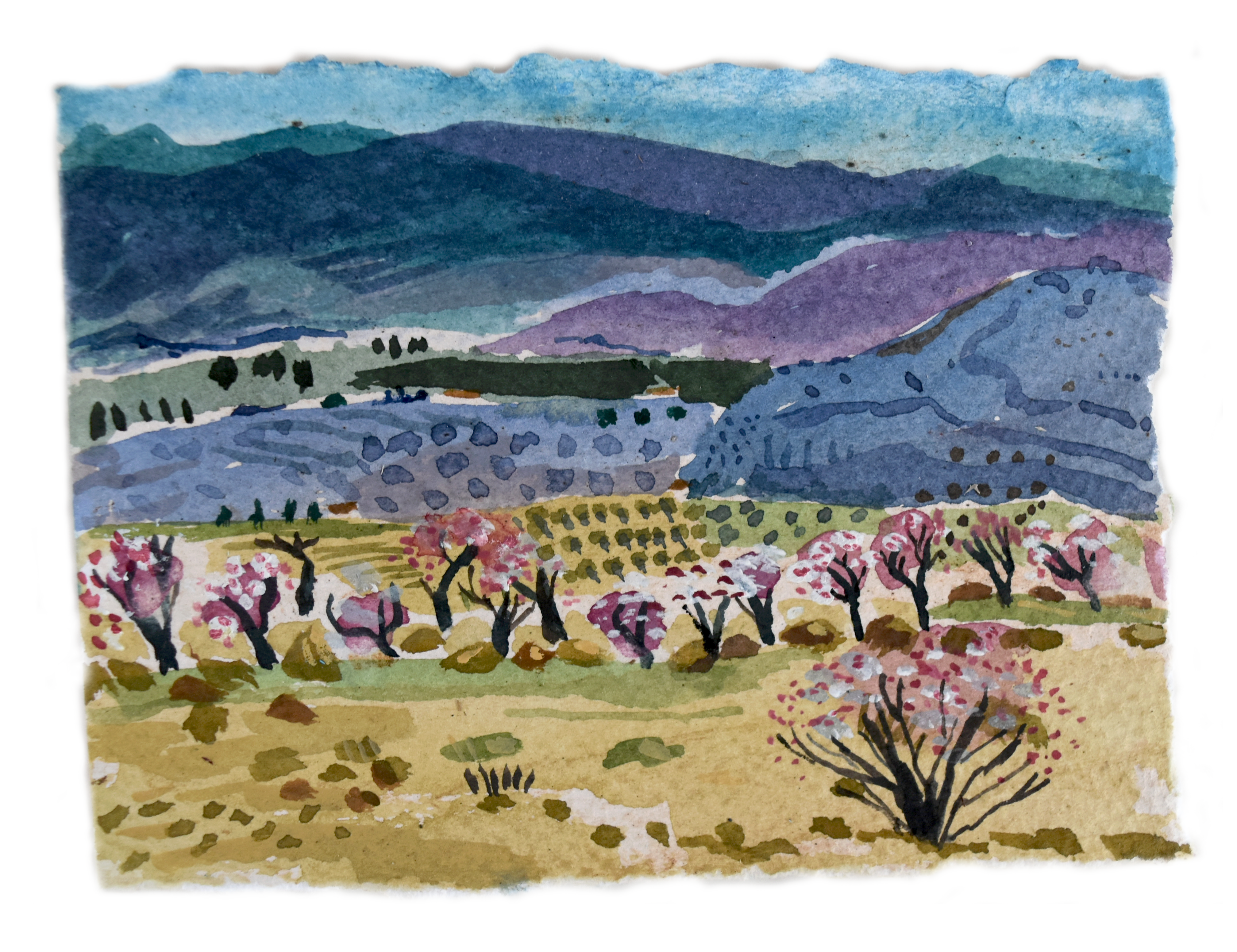 I first went to paint in the Lecrin Valley four years ago. The almonds were in full blossom, pinks and whites sprouting from stark black branches and twigs, pruned into strange shapes over many years. I drove through overcrowded orchards of trees laden with lemons and oranges and huge ancient olive trees. I've lived in Andalucia for more than 20 years, so I've seen this kind of abundance before, but there was something so beautiful about this valley and I went home actually moved to tears, and I couldn't paint a single thing. So for the past 3 years I've been going back to the same field, painting in the exact same place, in the same lane, and sitting in the same orchard, in an attempt to enjoy this incredible place and get used to its magical quality and paint it. I've since learnt this valley, Valle de Lecrin, is known as the "Valley of Happiness".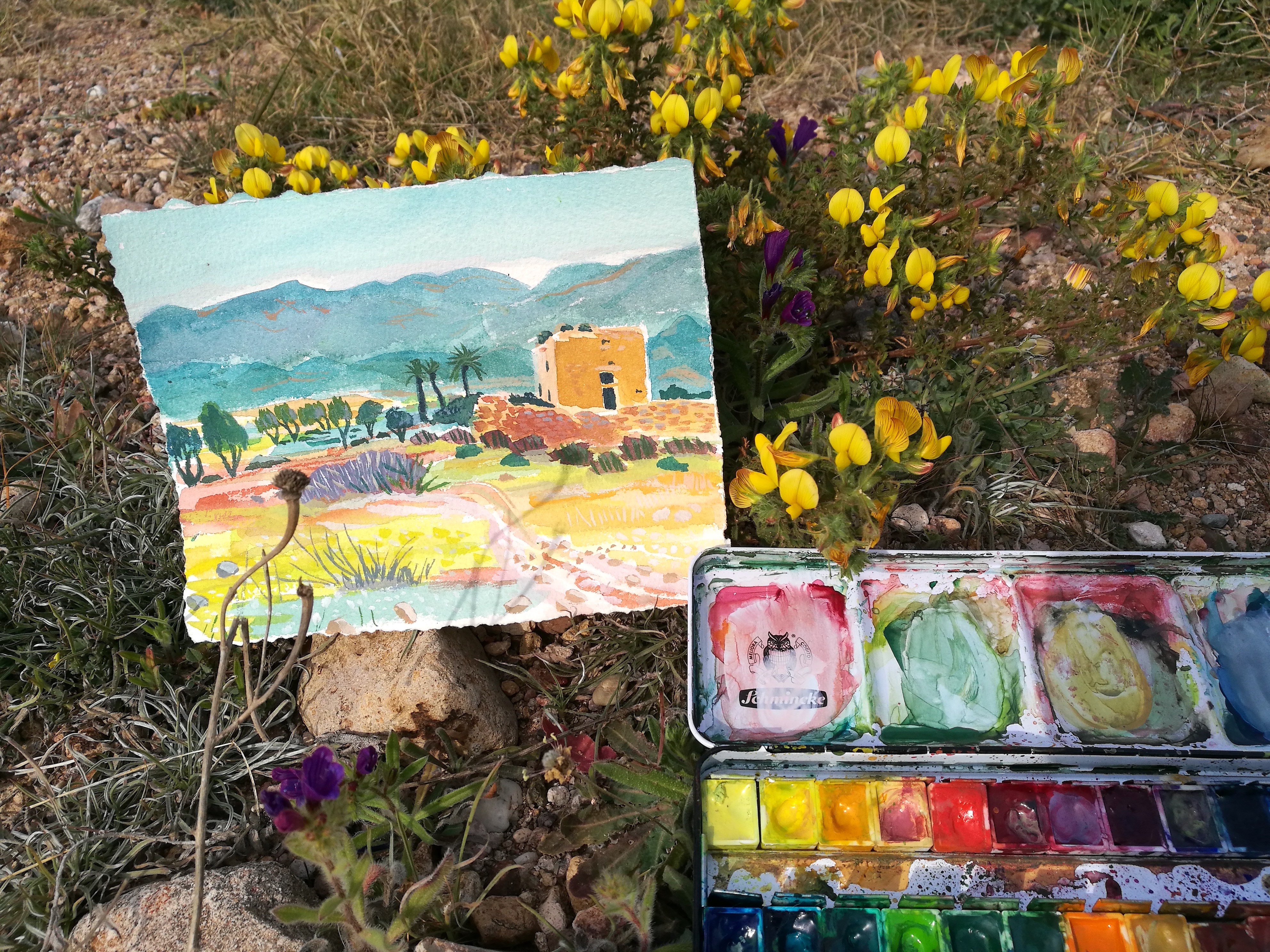 Outside I work in watercolour, and this winter I also travelled to Almeria, the parched desert best known for the spaghetti westerns that were filmed there. I've always been attracted to vast open spaces, hot colours and arid land, and all of this is just a few hours drive from me. Barren, dry and empty, there's supposedly nothing to paint here. But of course there is so much, and I could have spent weeks painting in this gem of a place, a mini Arizona, protected and looked after so beautifully.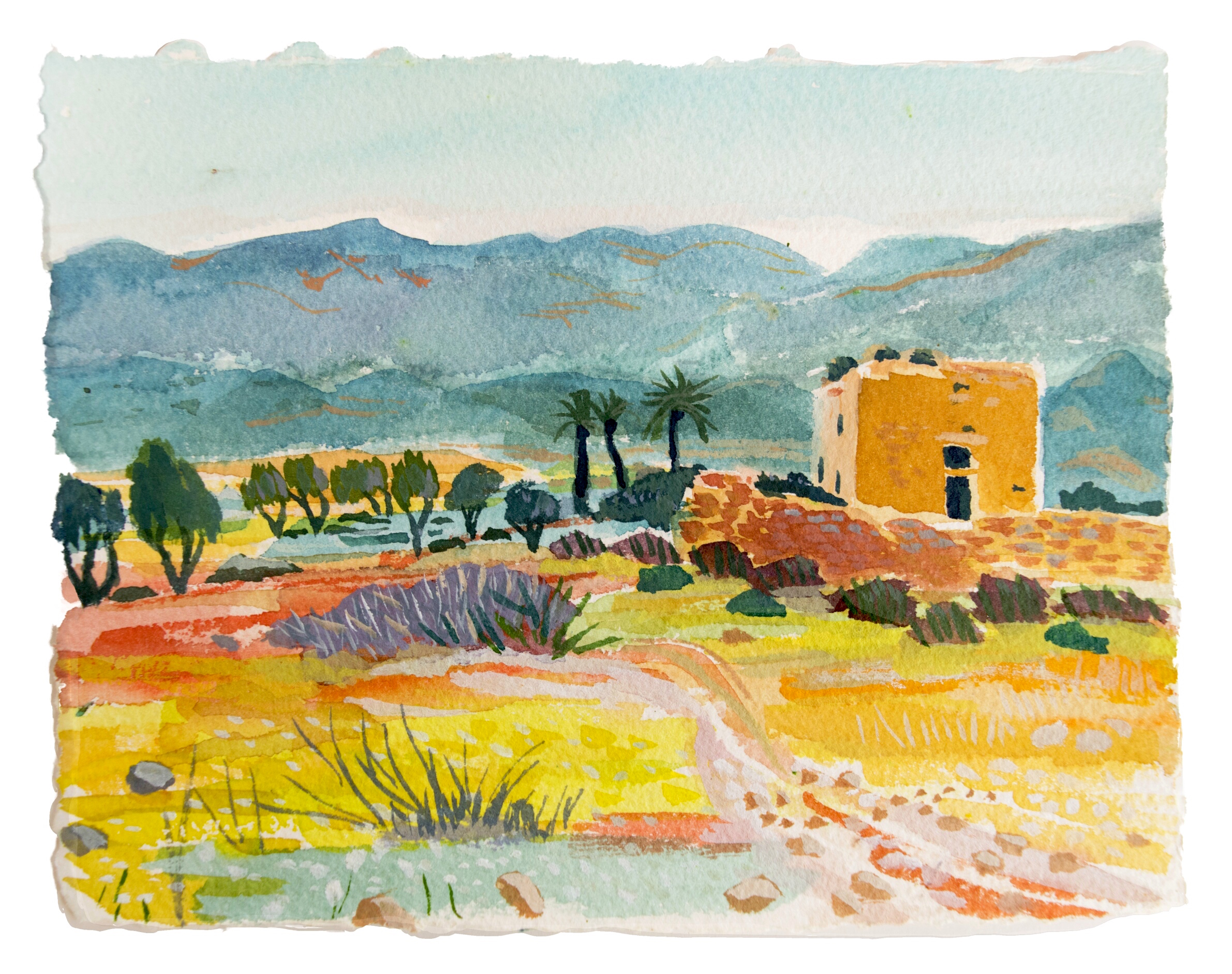 Sitting in the Andalucian landscape painting, it has to be one of my favourite things to do ever and although I don't really refer back to my watercolours when I'm in my studio, what I have absorbed must then come back to the surface. In the studio the process is completely different, I will spend weeks and months building up layers of oil paint, using beeswax and organic materials like sand, earth and leaves. My watercolours are finished in a day, but my oils are very slow, with literally hours of experiments with colour and composition, building up layers of colour only to burn and scrape away the colour and marks and re-paint. Sometimes it does cross my mind just how many paintings are underneath the finished painting… They are long journeys into my own interpretations of the spirit of Andalucian light, countryside and ocean.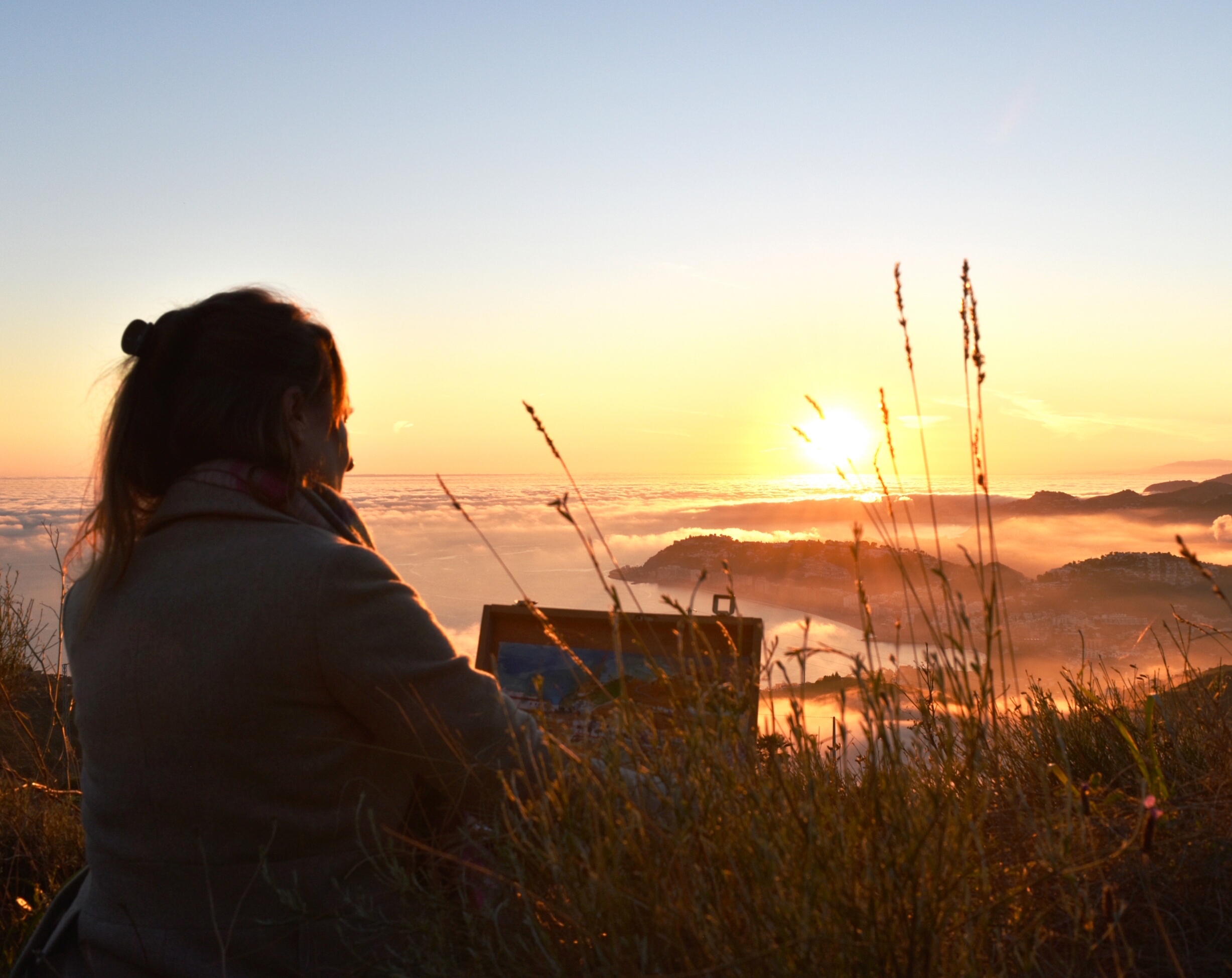 ※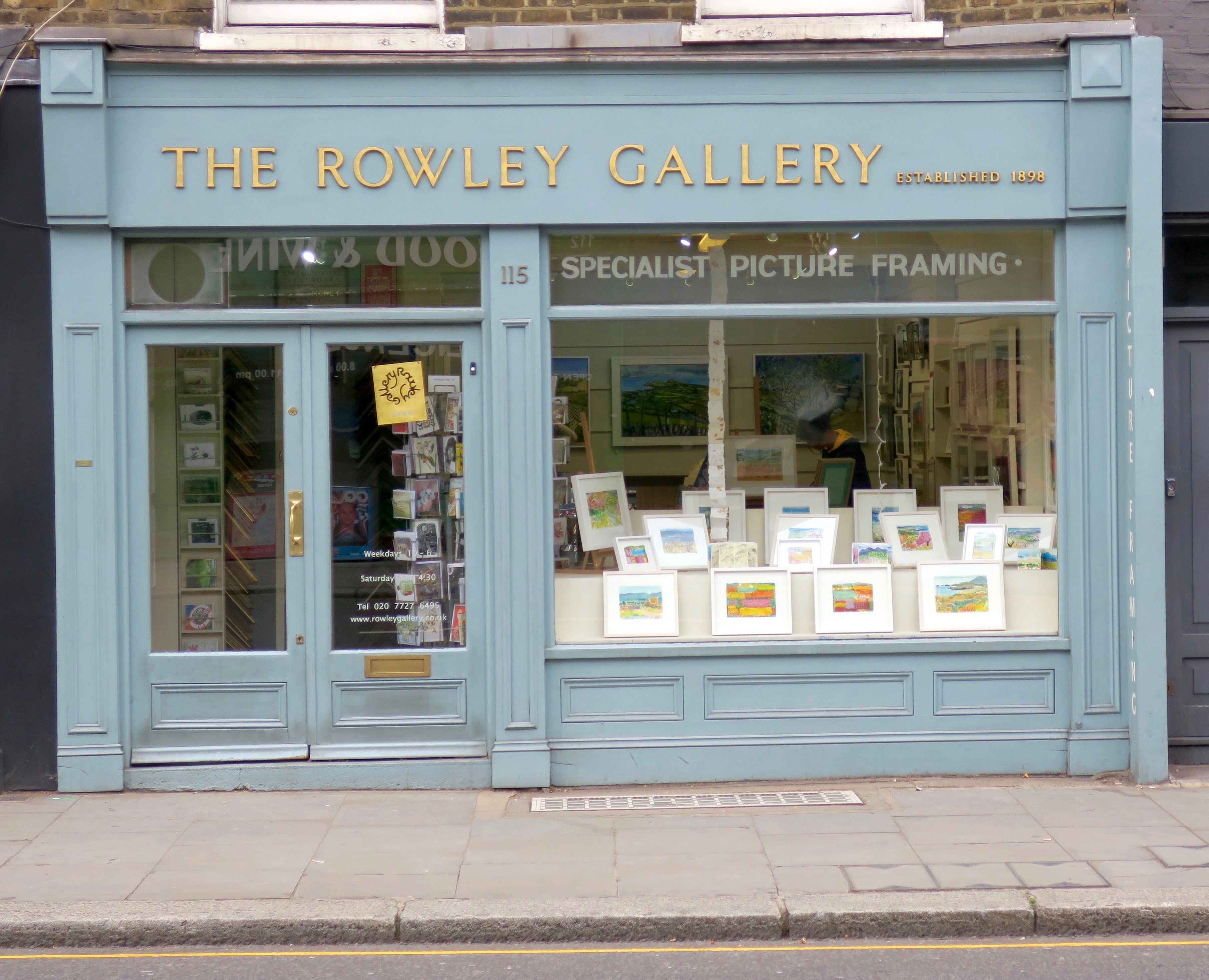 We've got Annabel's pictures in our window until the end of May. Please come and see.
Annabel Keatley / The Rowley Gallery
※
Espacio Creativo is Annabel's shop in Almuñécar and her website is annabelkeatley.com.