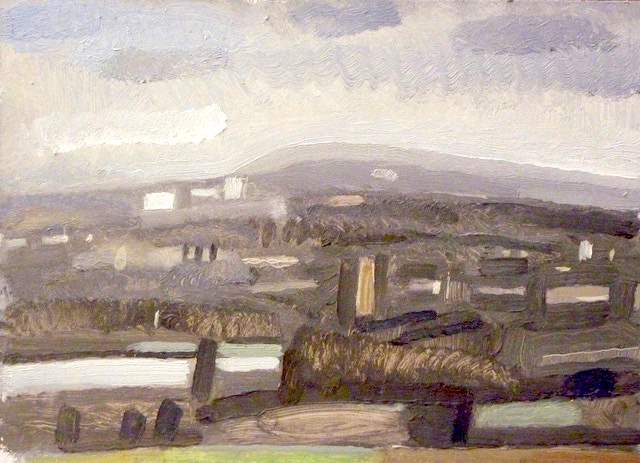 The experience of landscape and how to interpret it has been a major preoccupation for many years. In the 1960s as a student I made large abstract canvases which were in fact about space. It was the time of the first moon landing. Since then I have travelled a bit. To Canada, to India, to Spain, and here to the Lake District and Cornwall. I have made paintings and drawings in all these places. The vast scale of the Rocky Mountains, the heat of Spain, the colour and smell of India, the cold of the Lakes in December, all have presented me with the strange problems of how to get something out of these very different environments. But I always return to my home turf. One I have lived in for almost all my life. This year I began what I had hoped to be a project painting in the same location for most of the year. To this end I overhauled my gear and began work in the chill of early February high over Oxford looking down from Wytham Woods, a stretch of woodland covering a hill to the west of Oxford, owned by the university and the site of 70 years of ecological research.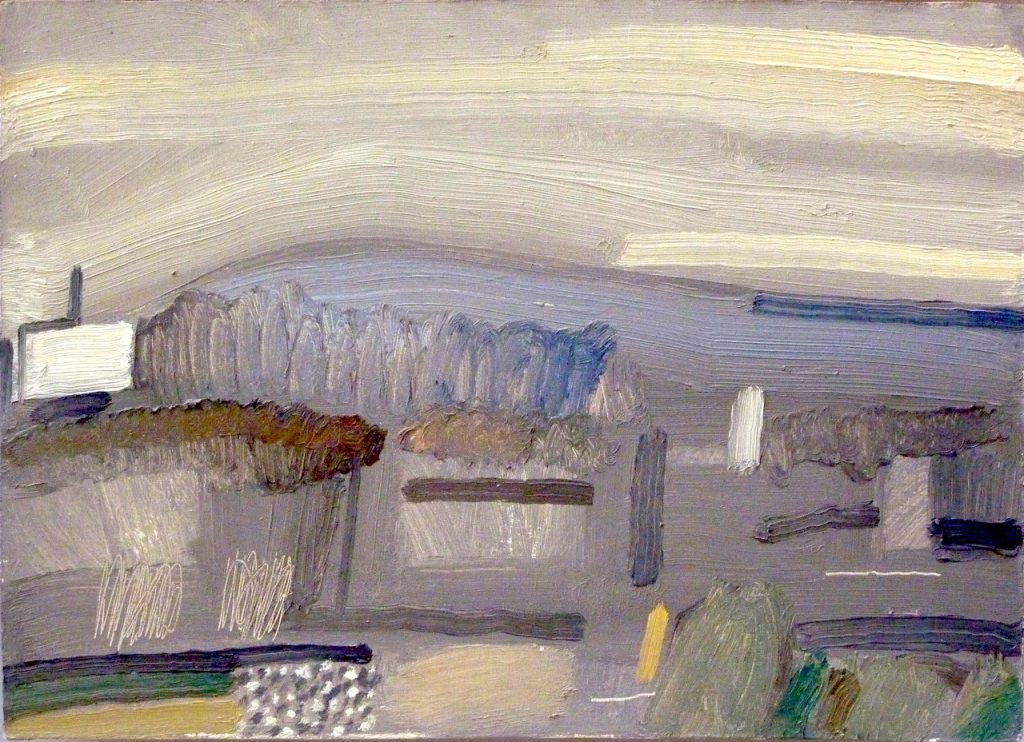 I have taken these notes from two sketchbooks from February & March 2020.
Landscape painting kit, 1. rucksack; 2. tripod; 3. pochade box; 4. boards; 5. brushes, approx 10 hog & sable; 6. palette knife; 7. small bottle of turps; 8. turps holder; 9. paint tubes: titanium white, paynes grey, ultramarine, raw umber, raw sienna, naples yellow, hooker's green, violet/purple, cad. yellow; 10. rags; 11. tin; 12. brush tube; 13. travel seat pad; 14. A6 sketchbook; 15. rotring art pen; 16. conte; 17. A5 sketchbook; 18. camera; 19. small umbrella; 20. drink and sandwich; 21.fruit. Total weight 14lb. Walking shoes or boots and warm clothes.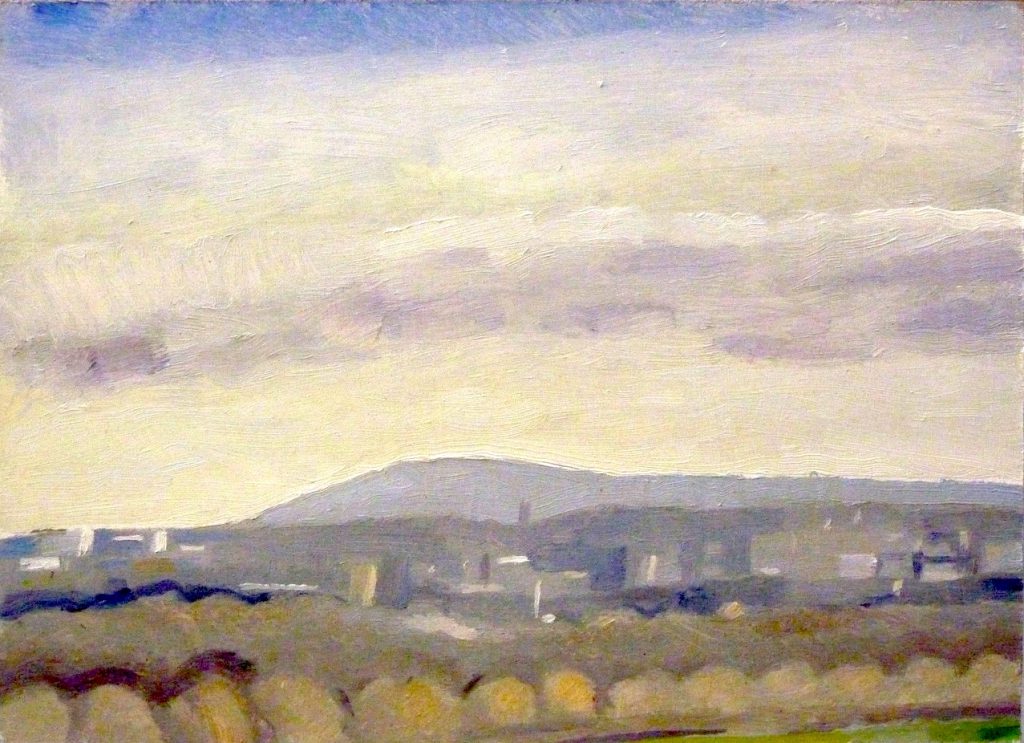 I make sure all the equipment fits in the rucksack. It is compact. The little painting box that is marked EAW on the lid belonged to my great uncle E.A.Walton. I have converted it into a "pochade" box by adding an extra compartment on the base to hold two panels. Also made an attachment to connect with a photographic tripod I bought in Oxfam and changed hinges for heavier ones. A day or two's work to arrive at useable kit. Cutting and priming boards also takes time. I will see if using bought oil paper is easier. I have learnt by trial and error what I need and what to leave behind.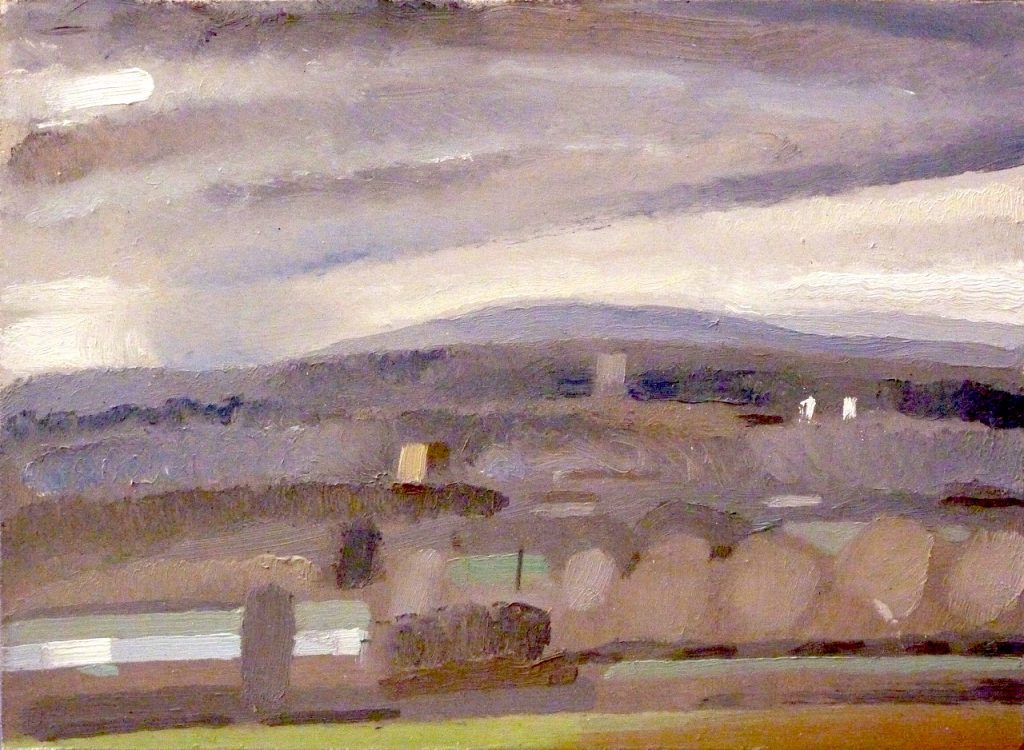 19th Dec. 2019
What is it that stirs me as an artist? Landscape, in particular landscape in vivid weather. Brilliant light – stormy skies, heavy rain, frost, snow. Collections of things (stones, fossils, skulls, feathers). Music and Poetry
I have walked and I used to run the track from Botley Lodge up to the woods for many years and recently have been there to draw and paint. Now with lighter more portable kit I can go further though working on a smaller scale. 7×10 inch fits in the paintbox lid. The drive from home takes 10-15 minutes. I park, change shoes for boots & putting on the rucksack I walk through the gate & start up the track. If I walk steadily the climb takes 15 minutes. At the top a bench is set just before the deer fence & gate into Wytham Woods. I look down and see the painting above.
(The view east over the floods on Port Meadow, the whole sweep of the city & up to Shotover & Elsfield on the left. A panorama of the landscape where I have lived most of my life. Port Meadow, the Thames, the old corporation tip, places of my childhood adventures. Elsfied where my grandfather was the vicar, the white blocks of the John Radcliffe Hospital where my children were born, etc.)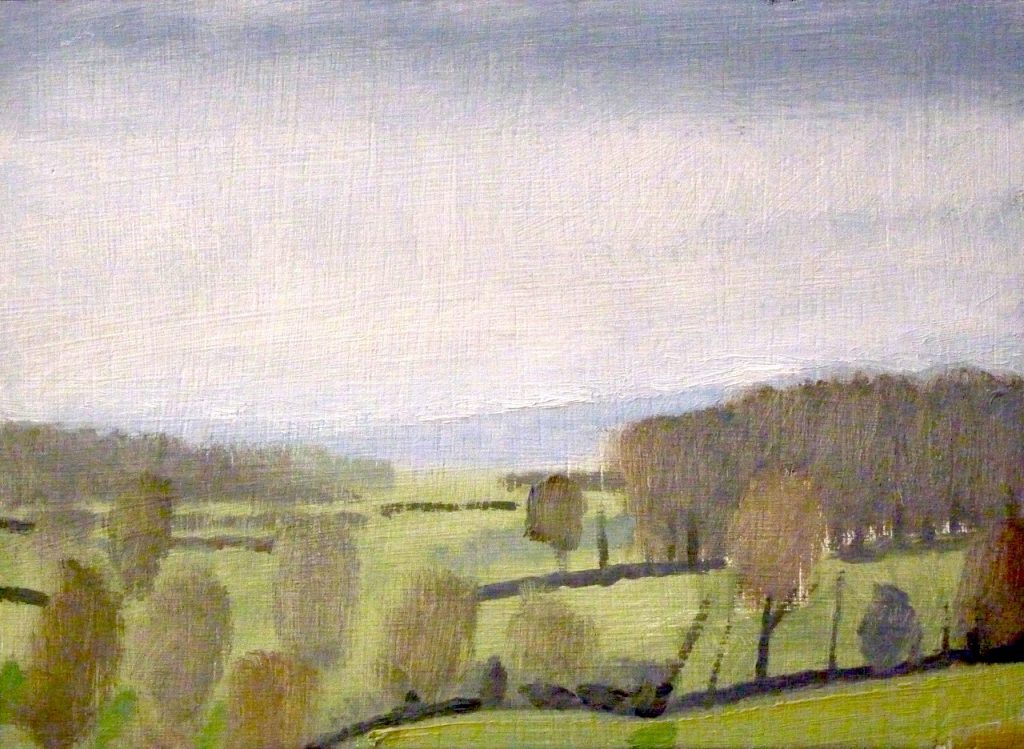 What am I doing? There is something about the physical challenge. A need to push myself, to be active as I get old. 72 years old! I can't really believe it despite prostate and heart problems in recent years.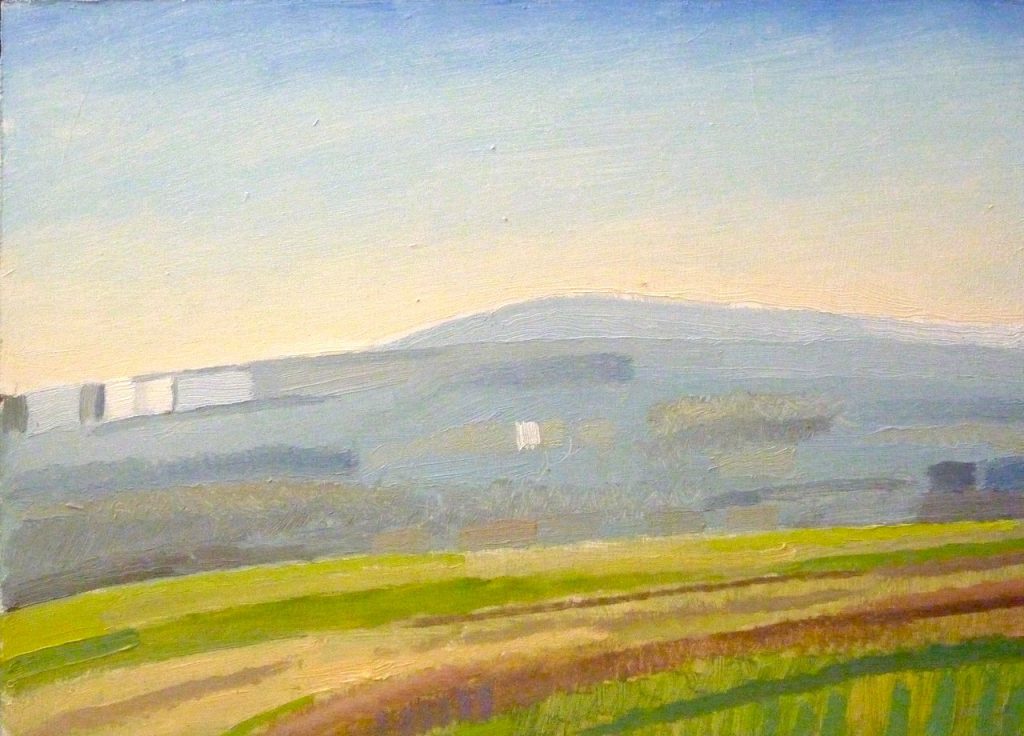 The seemingly conventional art of landscape painting is about many things. Being out. Getting there. Being there. Present in it. In time. In the weather, atmosphere, actual place. Season, time of day. Time experienced. Light moving as sun moves. Wind, cloud, etc, are never constant in the UK. Weather blows in from the Atlantic.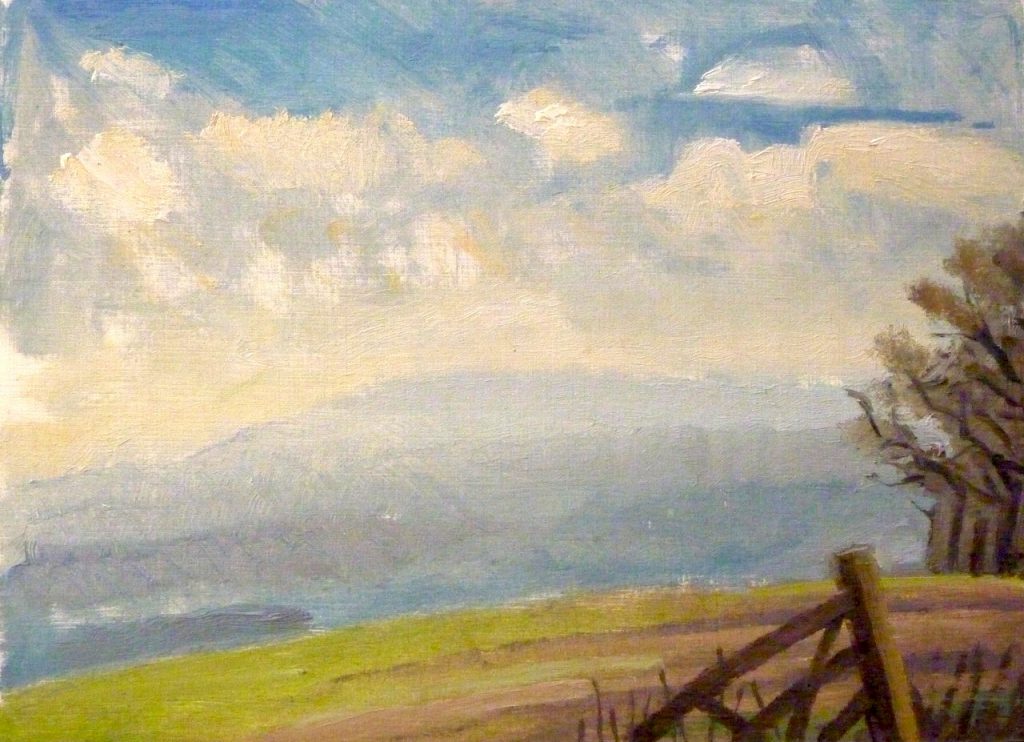 The craft of painting sets boundaries. Time, size of image, surface and paint temperature (below freezing, watercolour becomes unusable). To paint I am still. I sit and watch. Become aware of general colour, tone, space, features of the land. Details of gates, trees, buildings, sky. The process of painting means I see more & more of this. As the earth revolves the light moves over the landscape and about three hours is the most it is possible to work before all is changed. So for me small paintings suit this phenomena. I have to feel comfortable in a place. Safe. Not to be interrupted.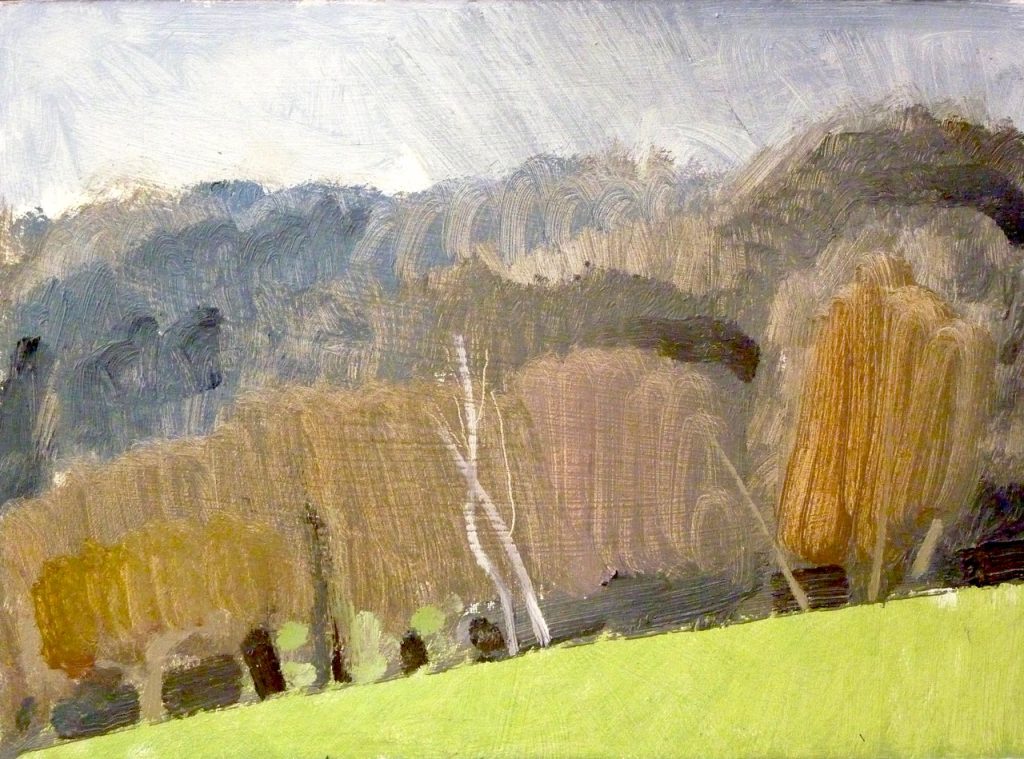 Then the curious process begins.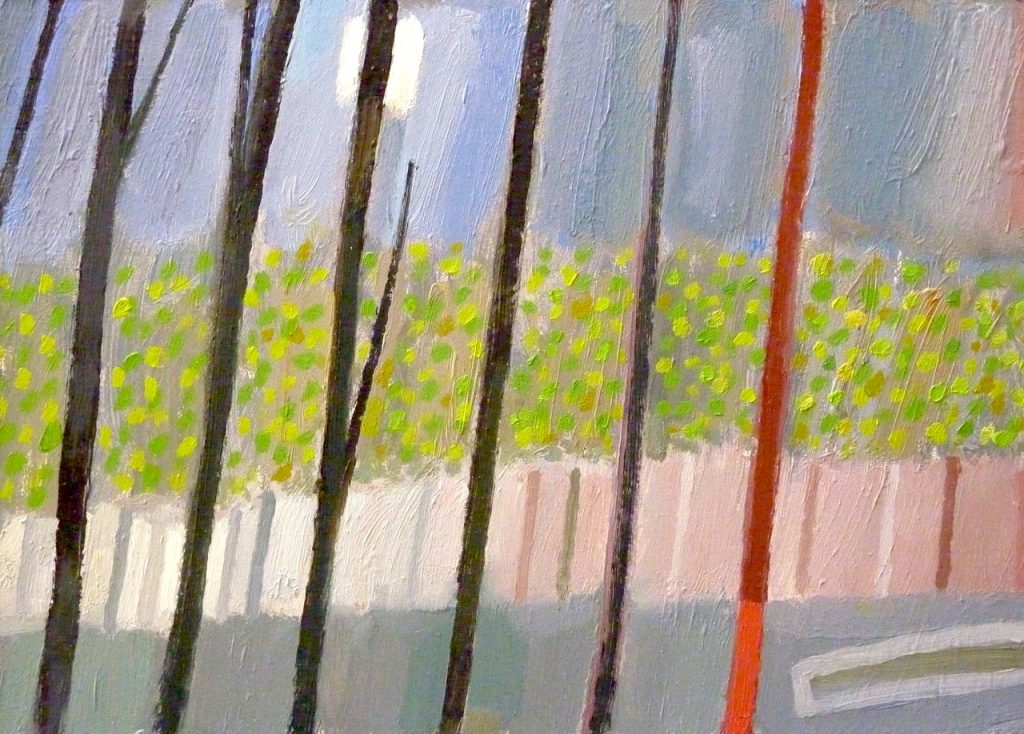 I follow in the footsteps of others back in the 17th century Francis Place, Hollar, Rembrandt. The C18th Thos. Jones and all those British painters in Europe. Alexander & John Robert Cozens, Sandby, Turner, Girtin and Constable. Seurat's small oil studies, and of course all those C20th artists, Nash, Ravilious, Bawden, Bomberg, Minton, Sutherland etc. etc.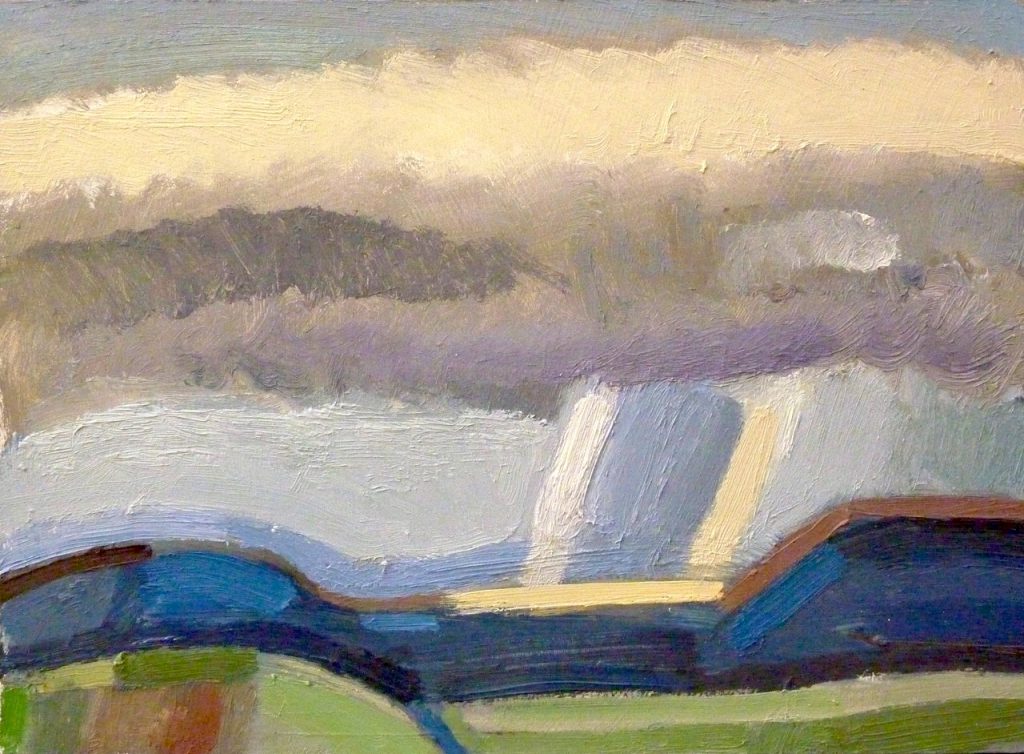 The artists and illustrators who accompanied the British explorers & scientists as they mapped the world for the first time in a scientific manner; they made art despite not trying to make "art", but did anyway. I am not doing that but a visual diary does interest me. What do I see. What can I paint. What photograph. What write about. The sound of a wood pecker drumming. The smell of damp earth and wet leaves in winter. The smell of sheep or cattle. Temperature and wind. Memory and how to include people! (Not cracked that problem yet.)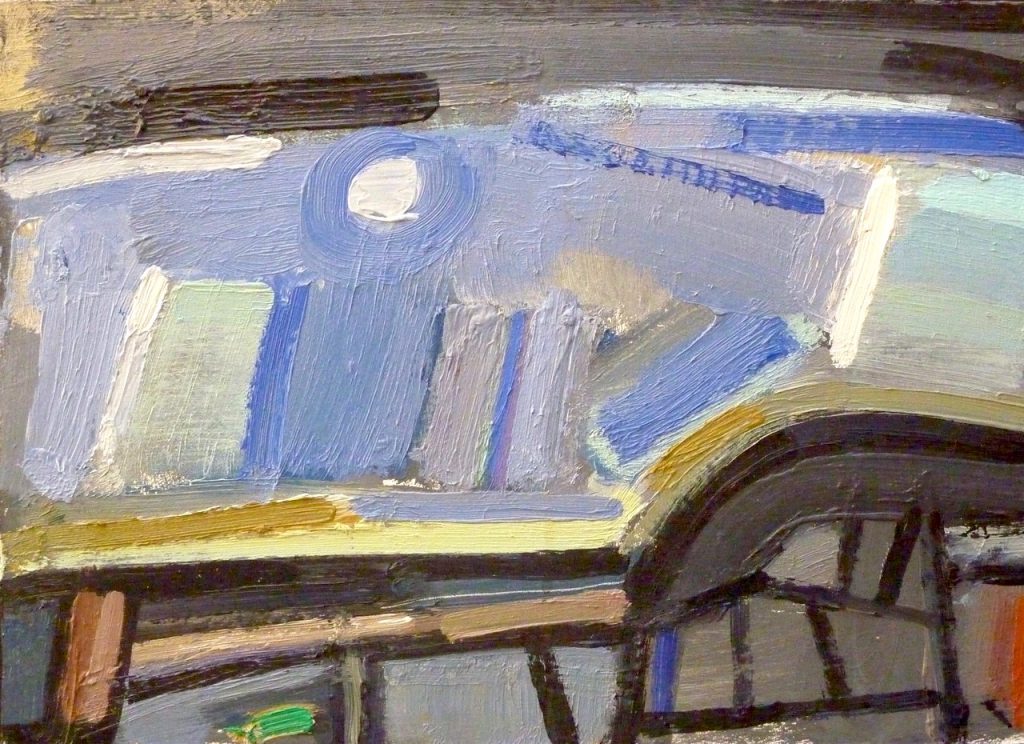 5th Feb. 2020
Woodpecker drumming in the trees beside the track up to the woods. Possible sight of jay. Green woodpecker looping flight. Crows. 15 minutes walk to painting site. Once I had settled and worked the presence of small birds. Tzee Tzee – Tzee Tzee. Small brown birds calling from hidden places.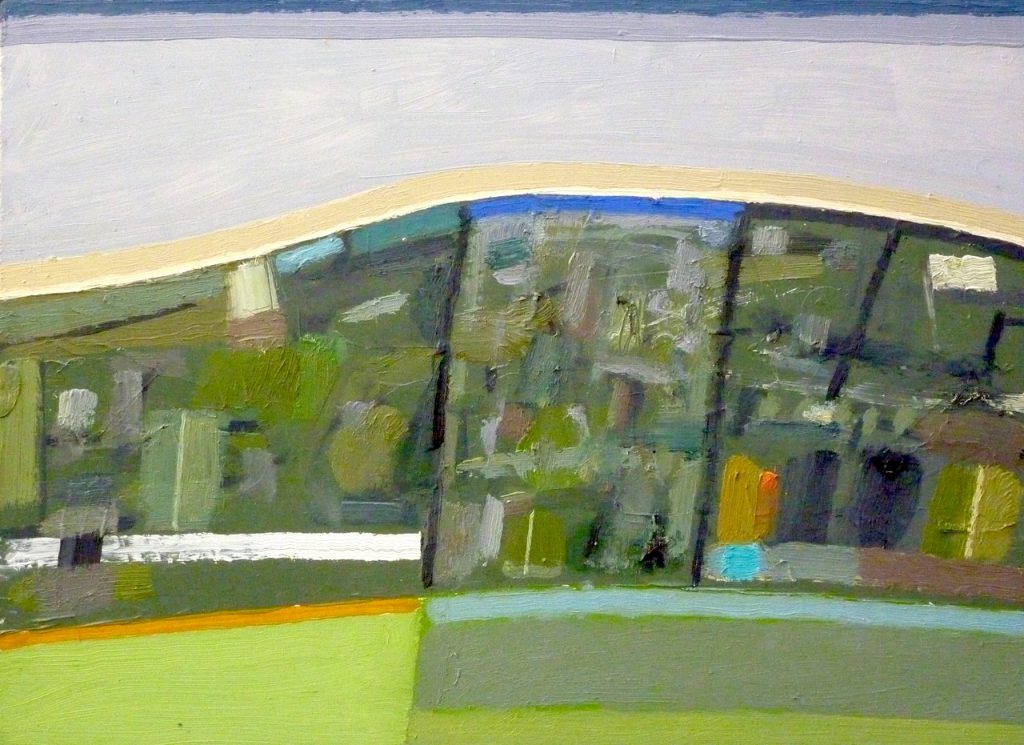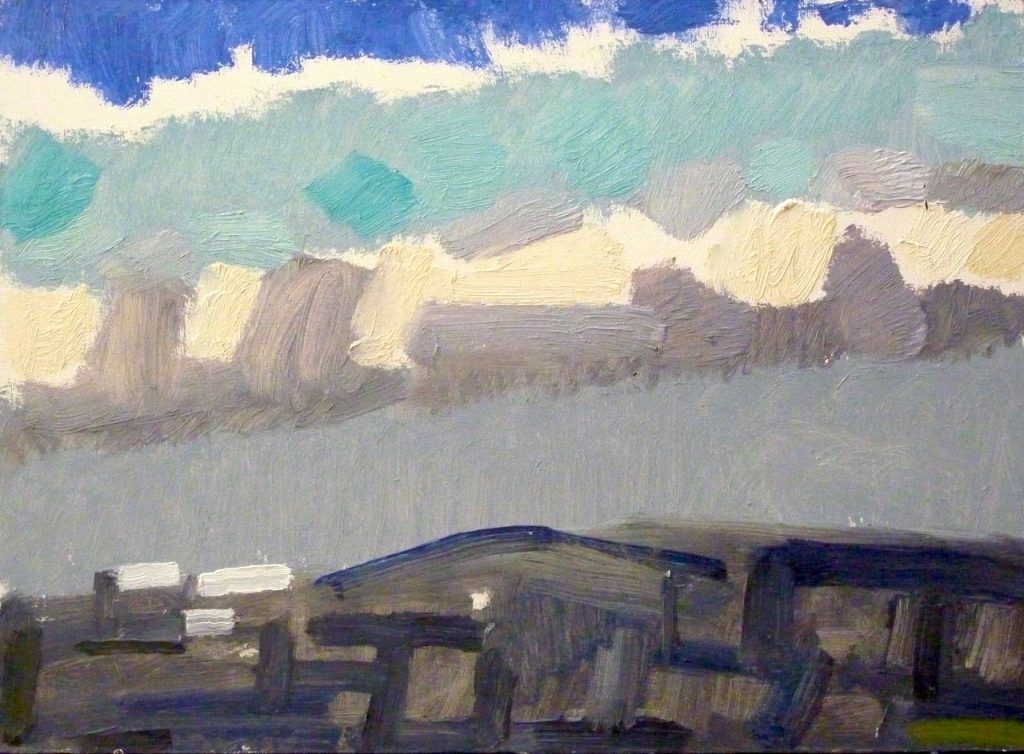 23rd Feb. 2020
It is Sunday. Early afternoon. Winter sunlight reveals the grime on the window. Traffic passes. The clock tuck tuck second by second. This moment follows days of heavy rain and gales. The flooding round the city is evident in it's extent if seen from Wytham Hill.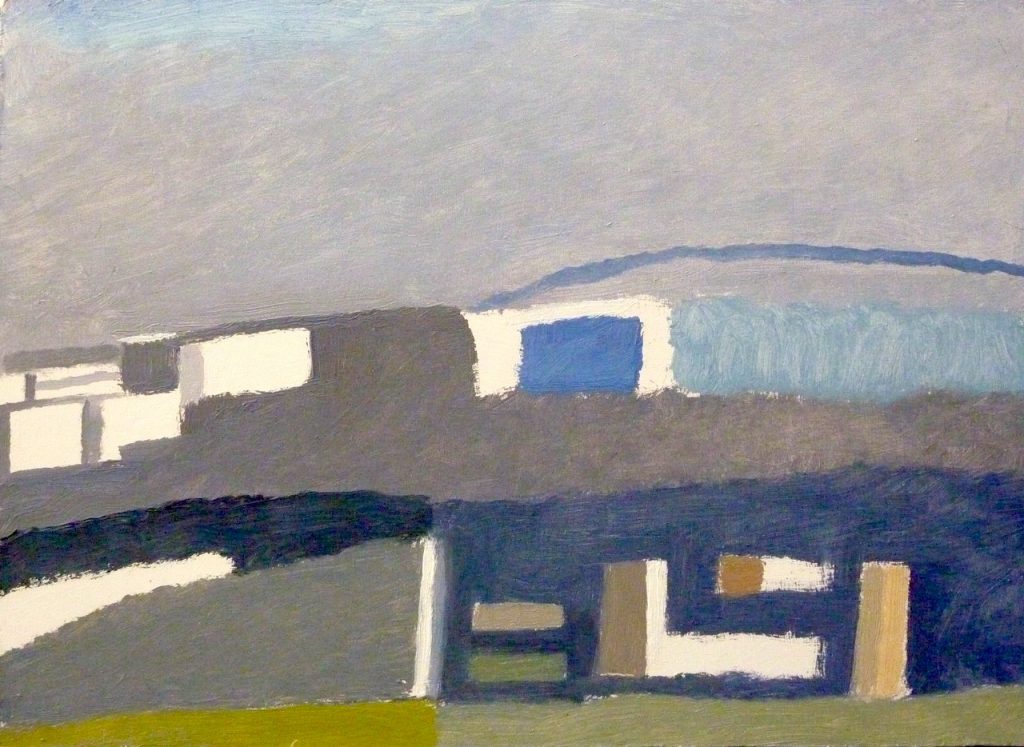 Now at 72 I am urgently trying to paint better. Small plein air landscapes from hills about Oxford. High distant views which on each visit have different tone and colour that I try to capture in a single session. Part of this work is to do with physically challenging myself, so the hike up a steep track carrying all I need to paint in a backpack is essential in the activity. Needing to feel as alive as possible to walk – climb, think, photograph, draw, paint, watch, listen, breath. Note the passing of time, the temperature of air, find spots to work out of the wind. Warm clothes, flask of coffee.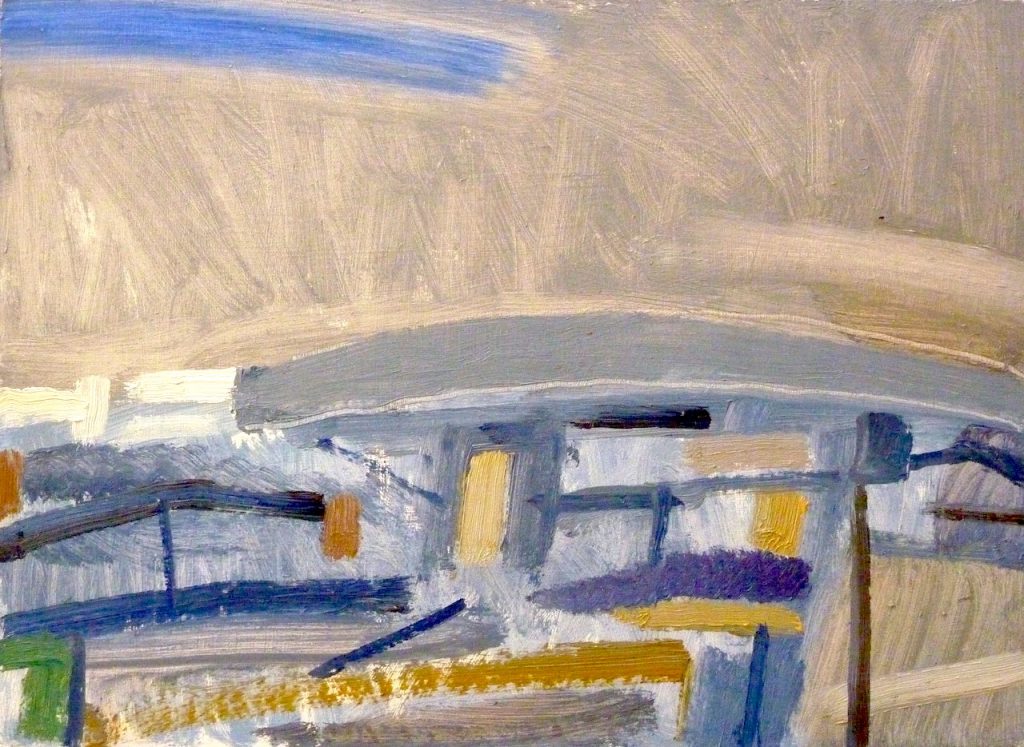 Repeating the walk, the painting, the delight. All gets condensed into these small paintings.
35 years ago I would run up the track & follow the ridge until the track became tarmac & dropped to the river, then down the meadow to home. An 8 mile circuit. Now I am hard put to run 100 yards to catch a bus.
This solitary work I want to share. I need to record. To leave a record.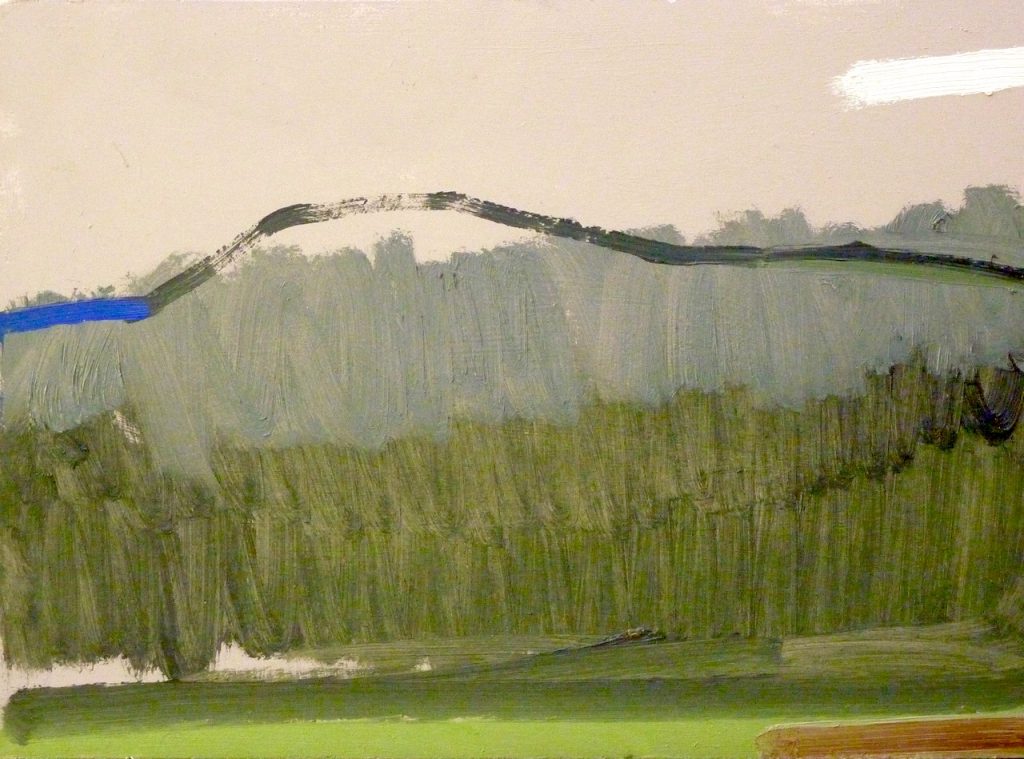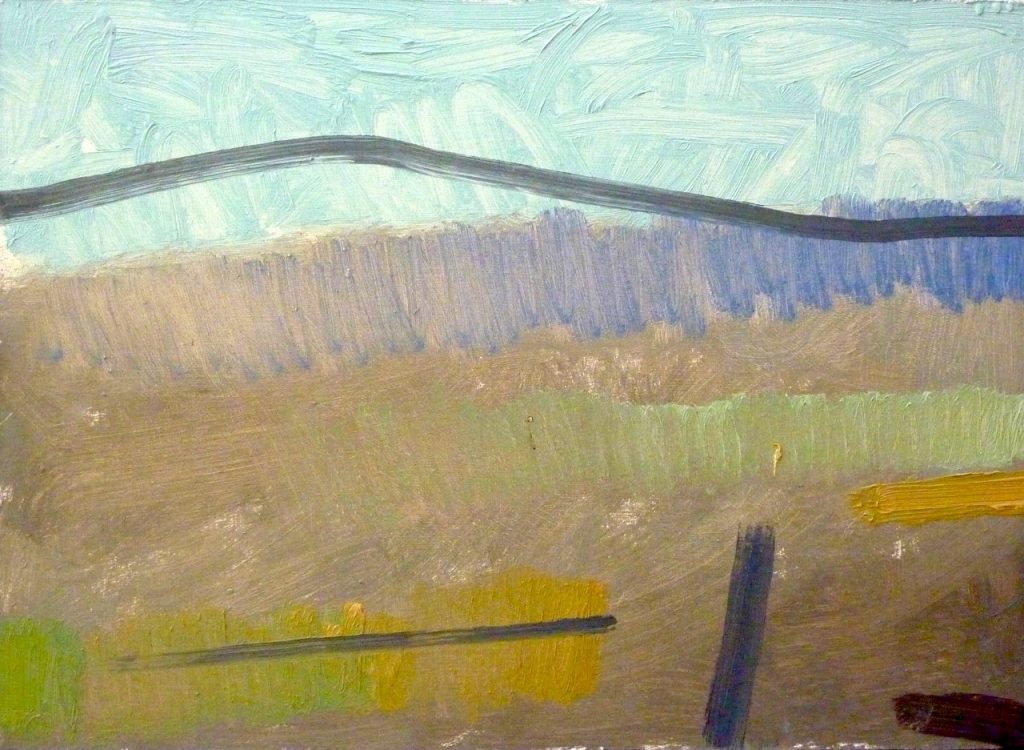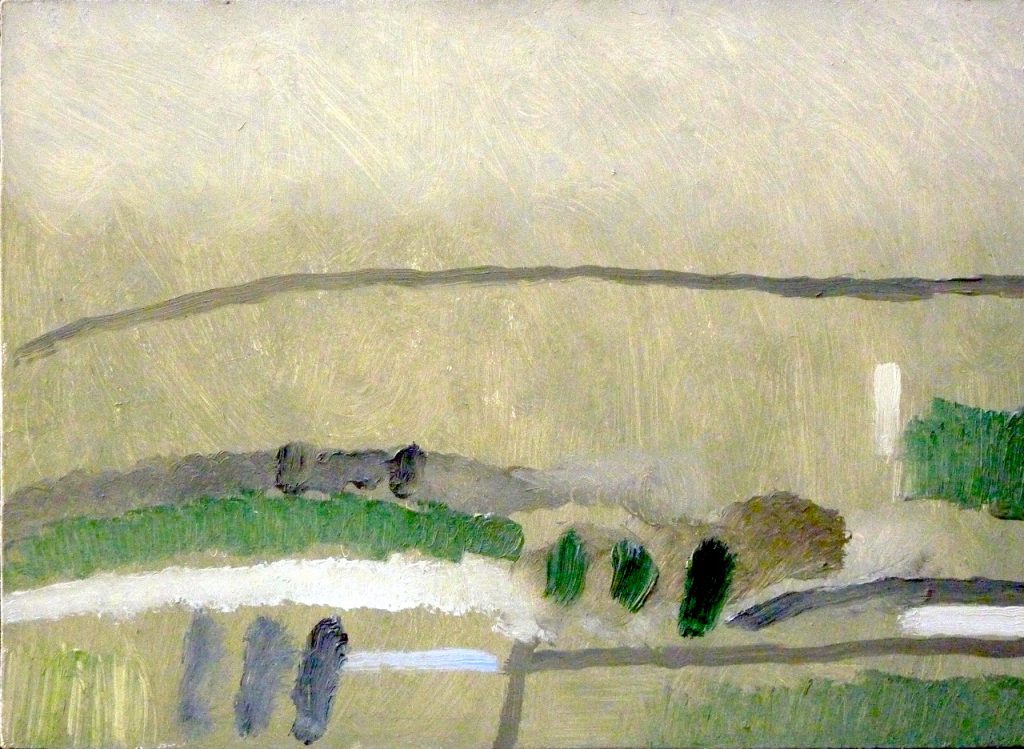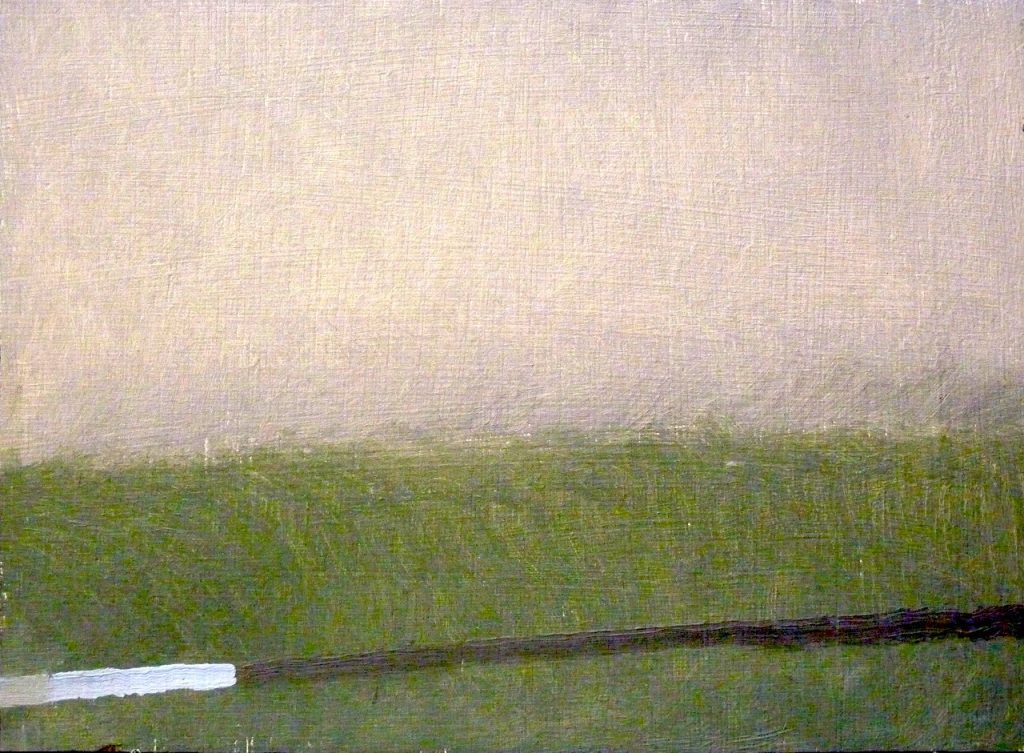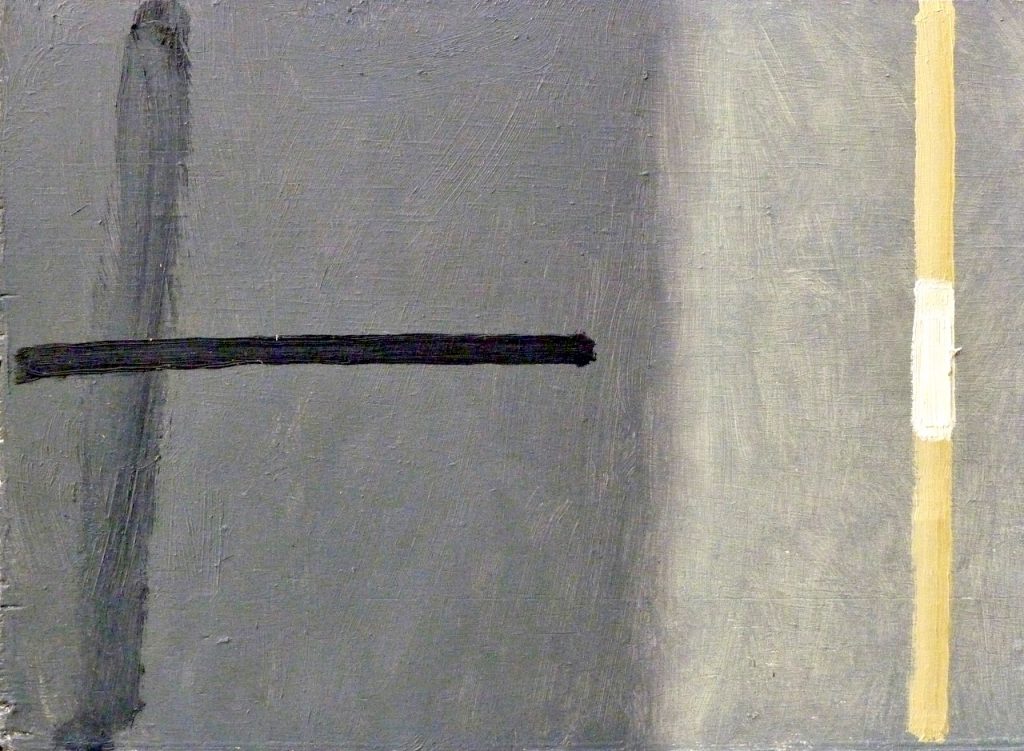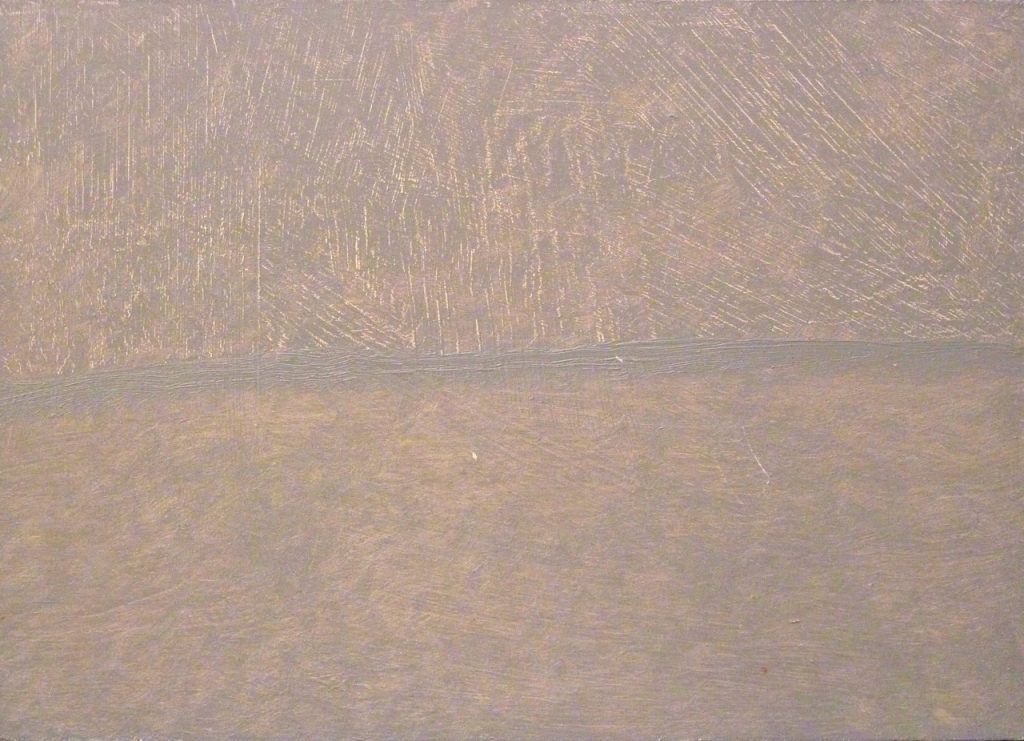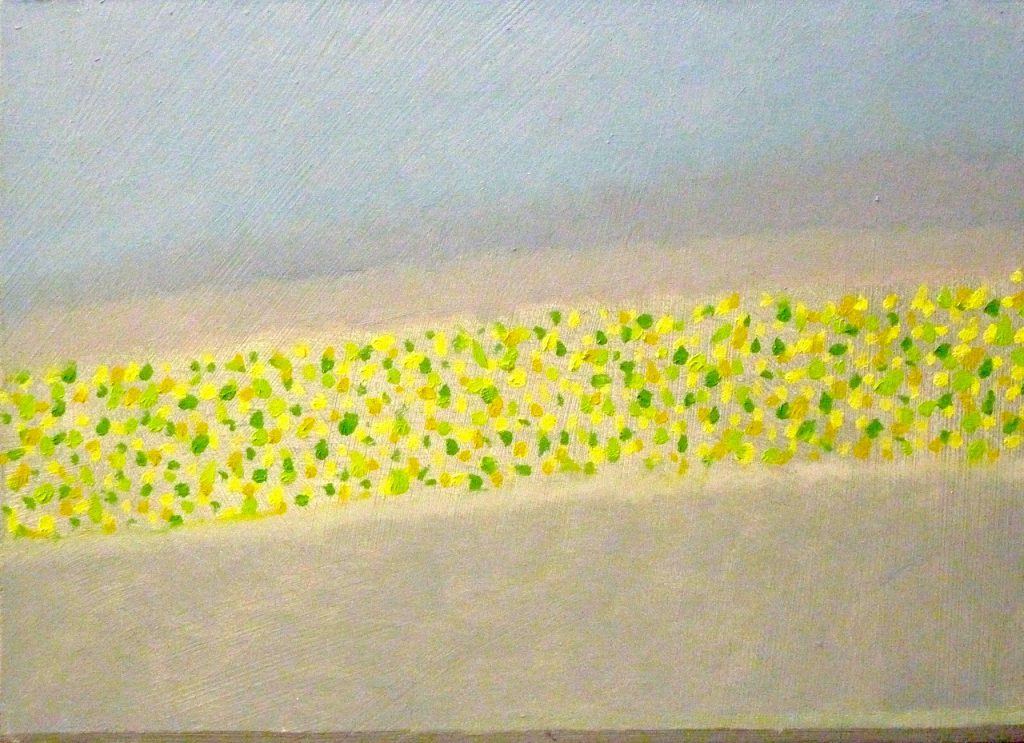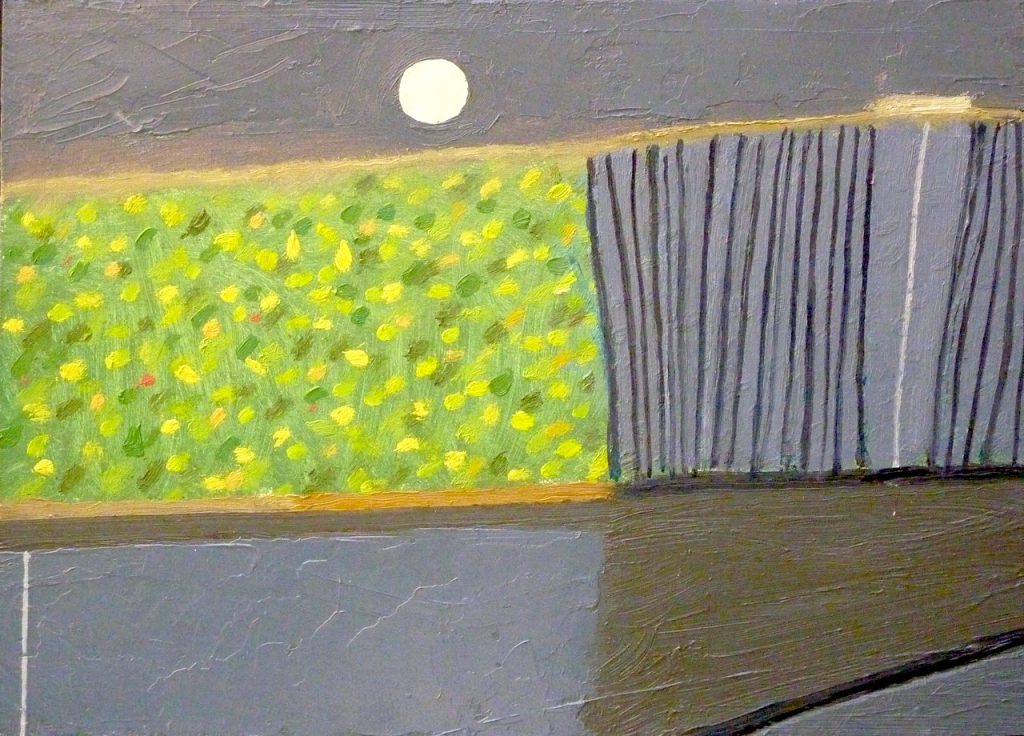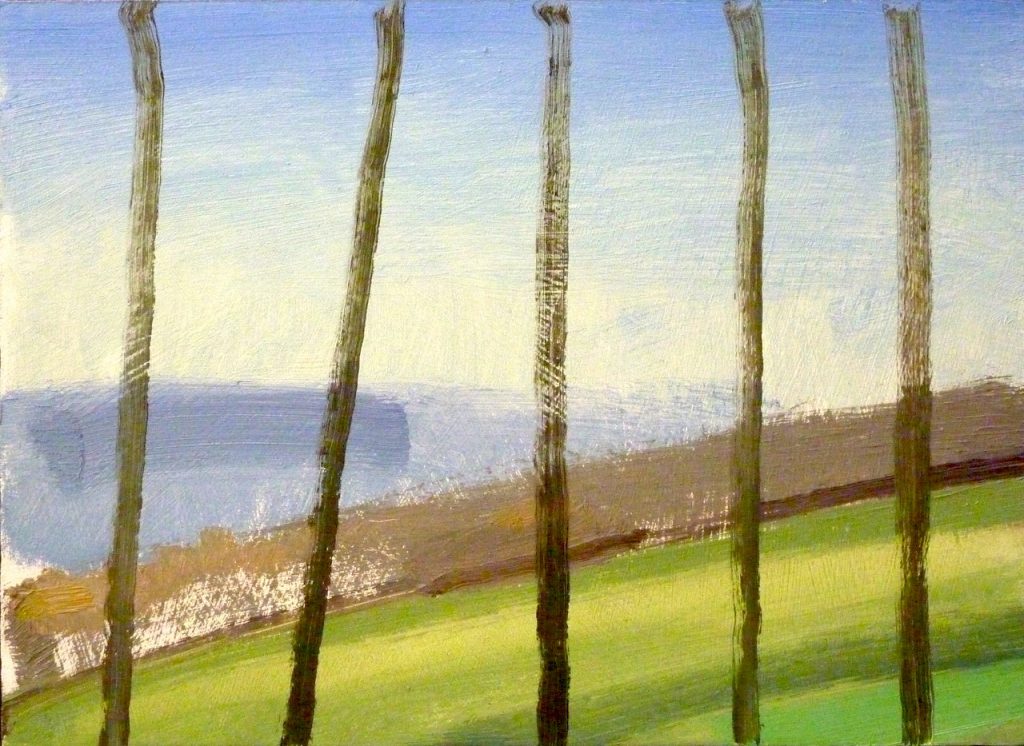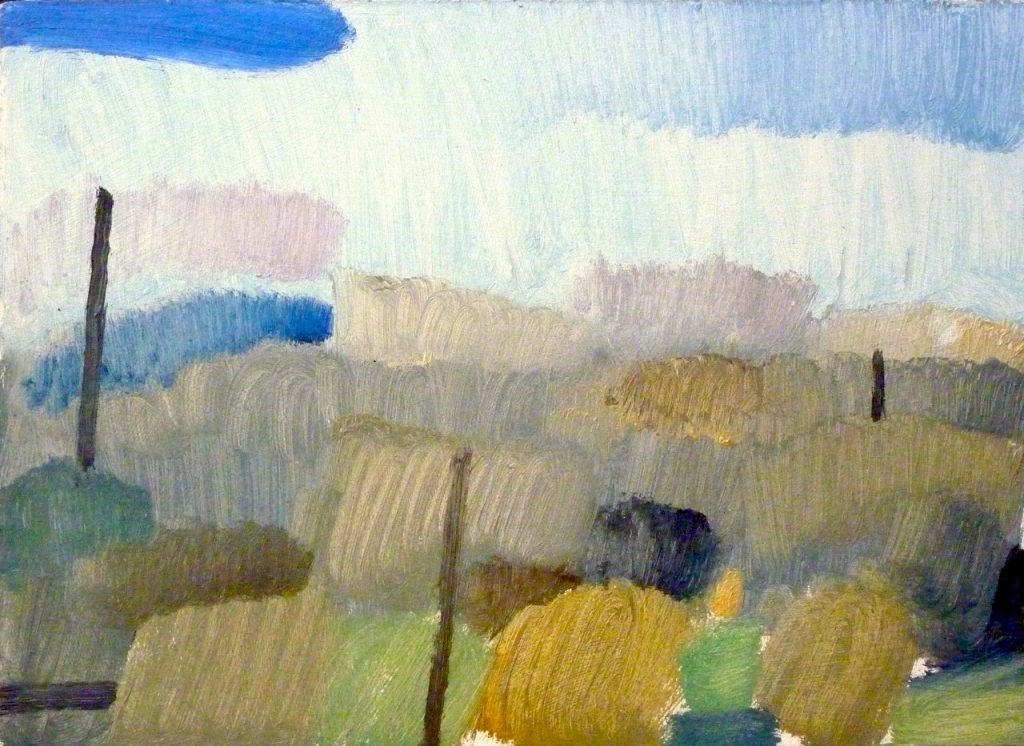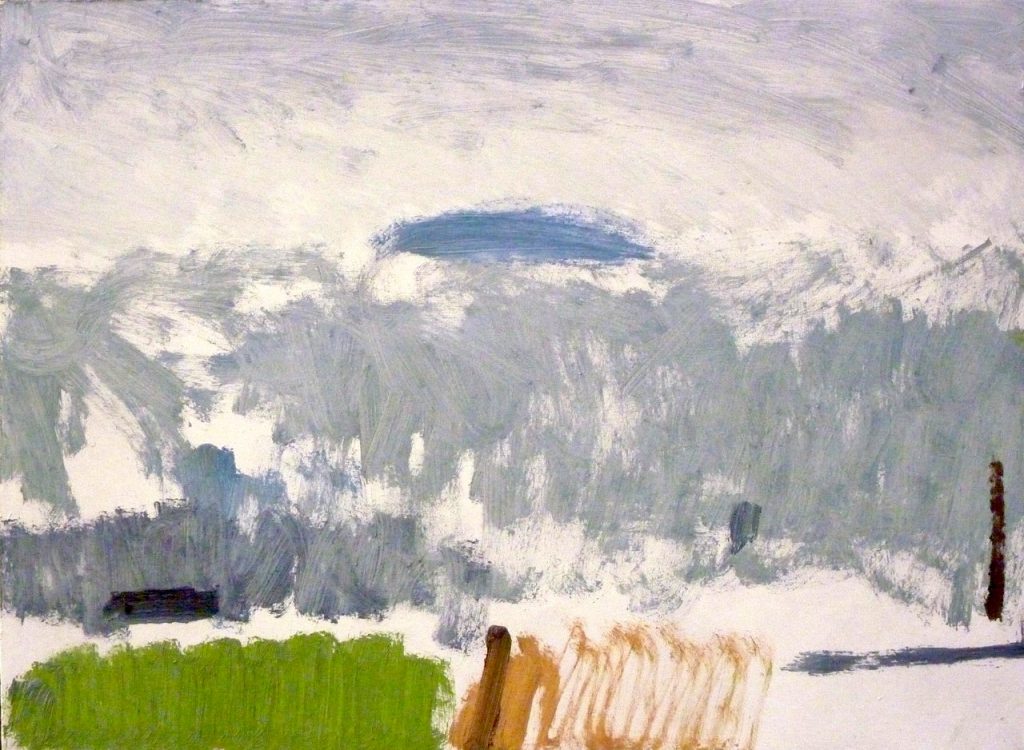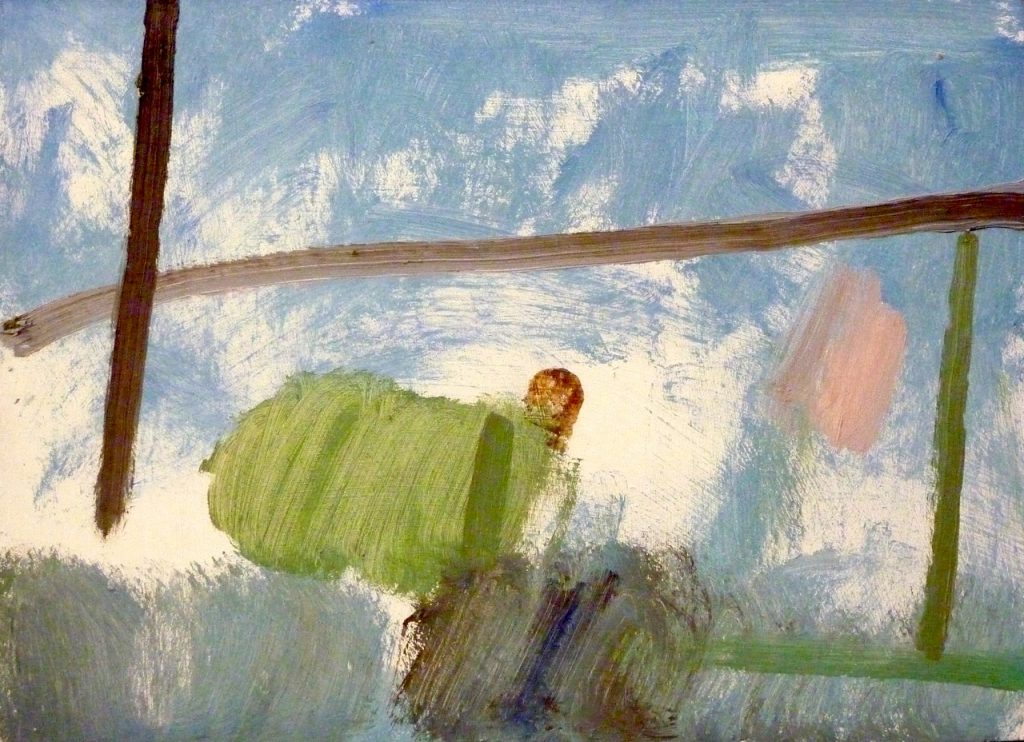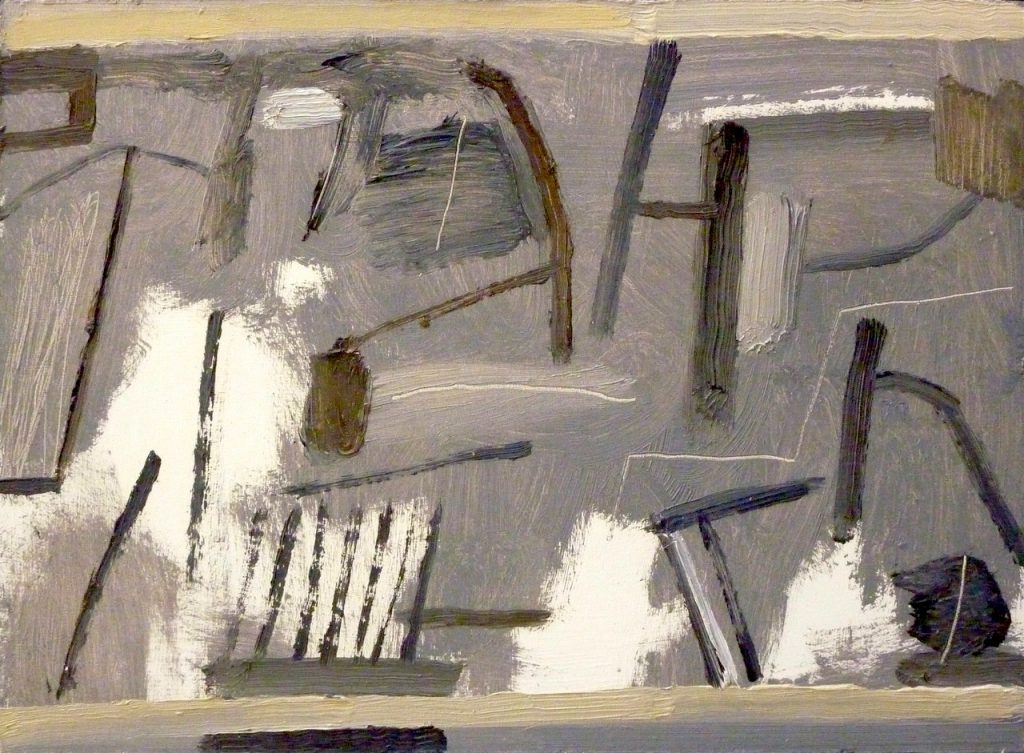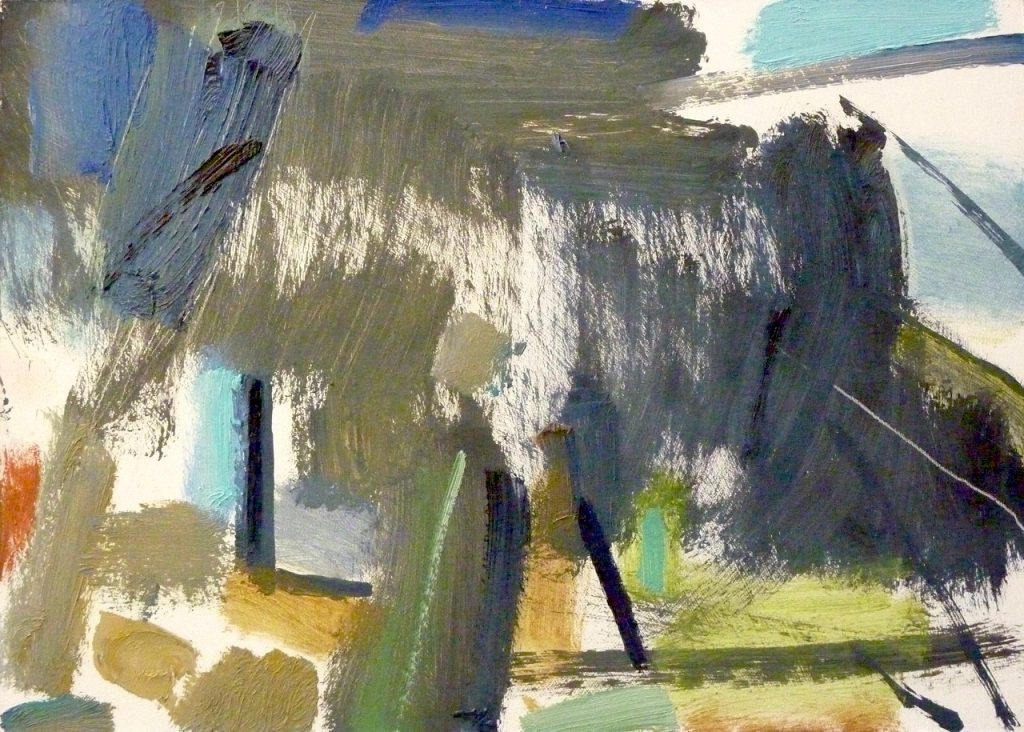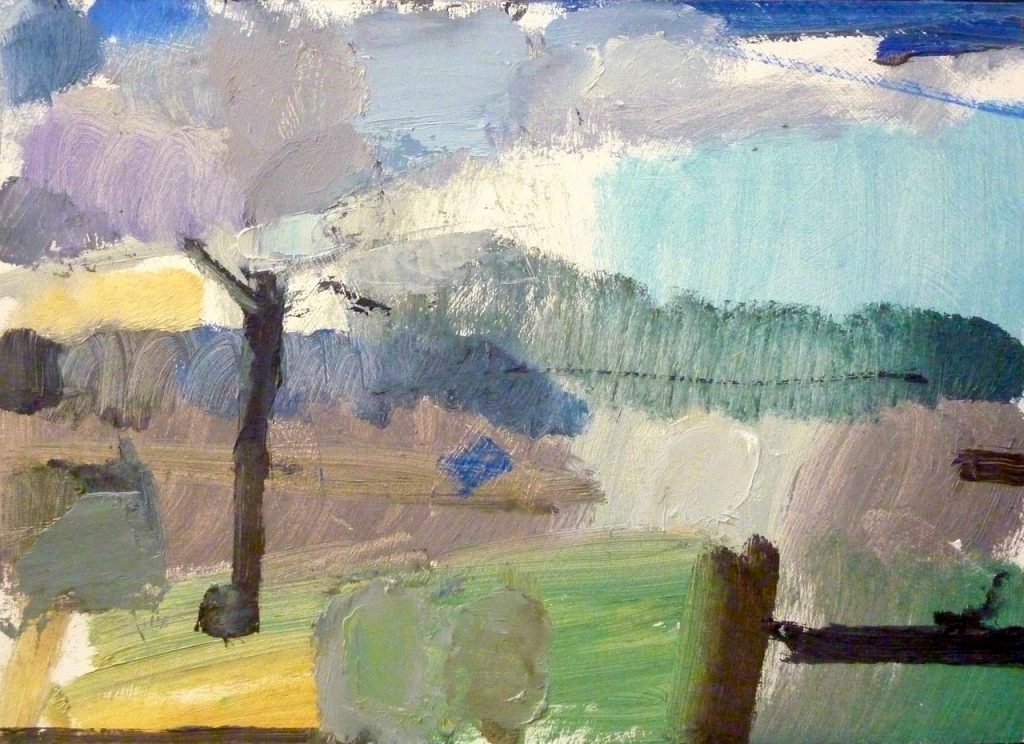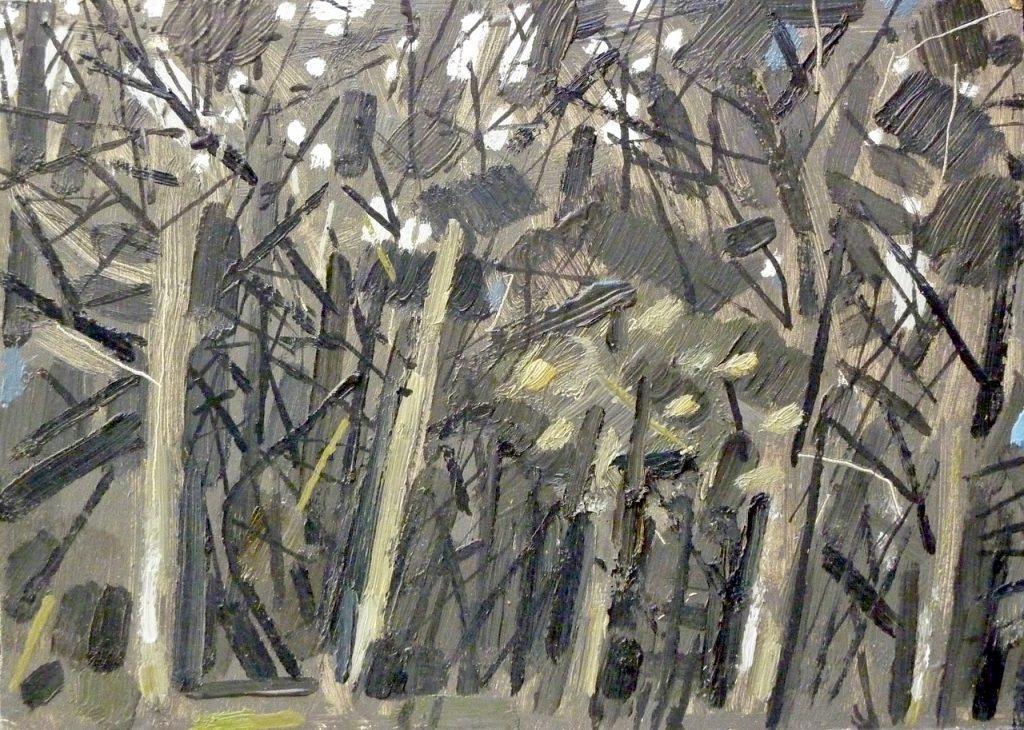 26th Feb. 2020
A couple of small tasks then I am out to climb the track up to Wytham Wood.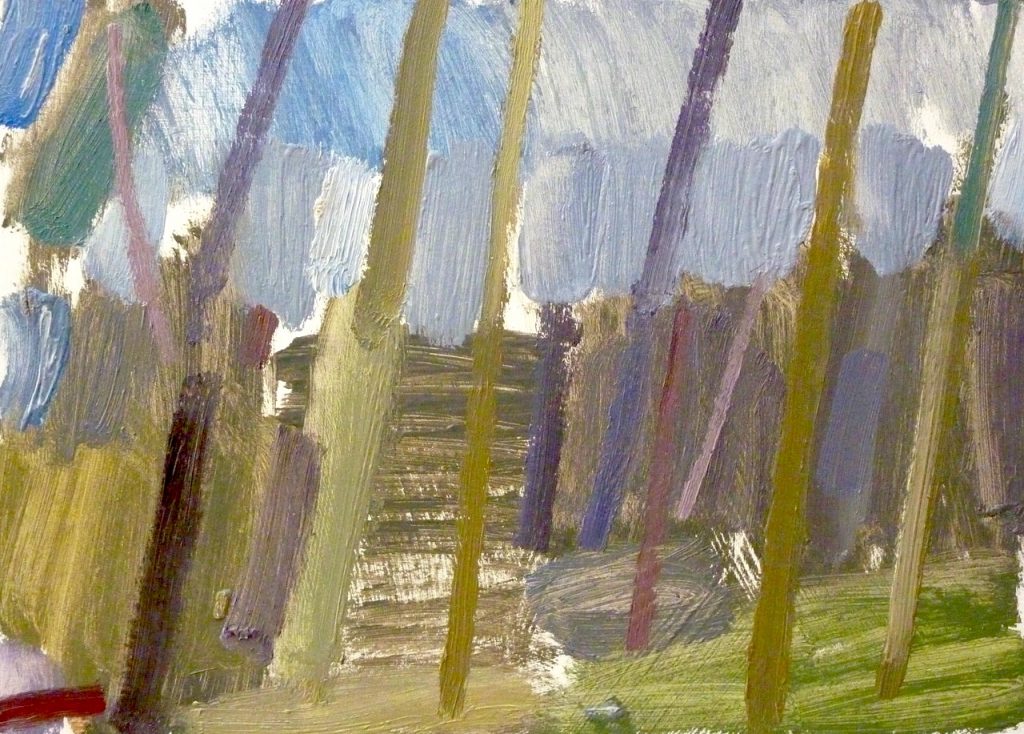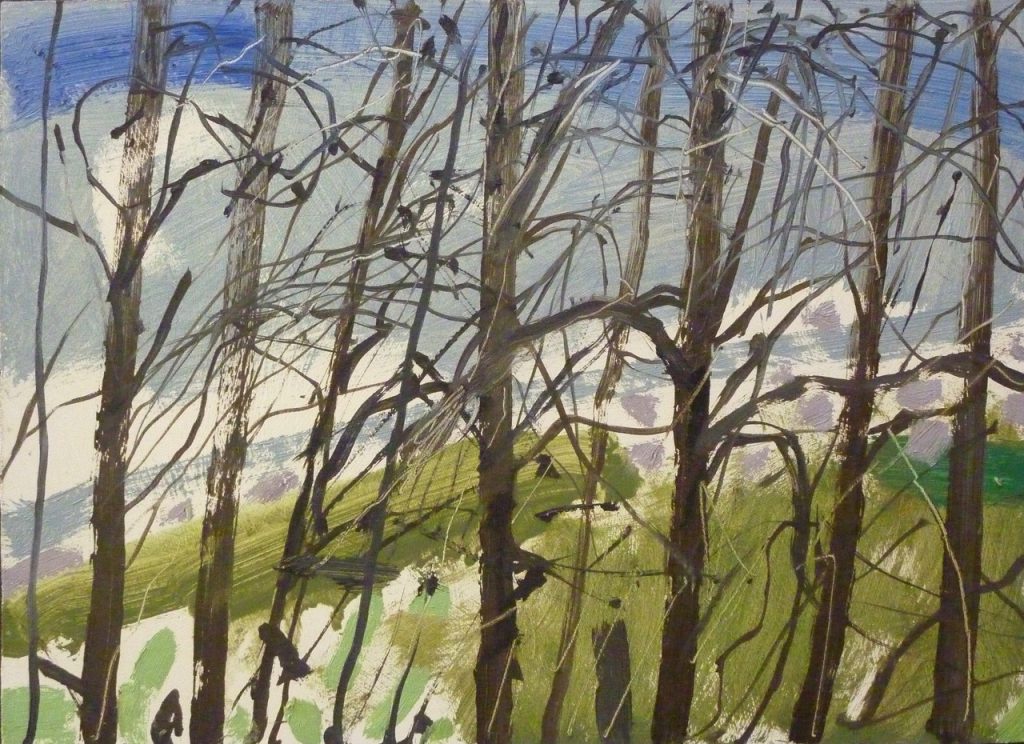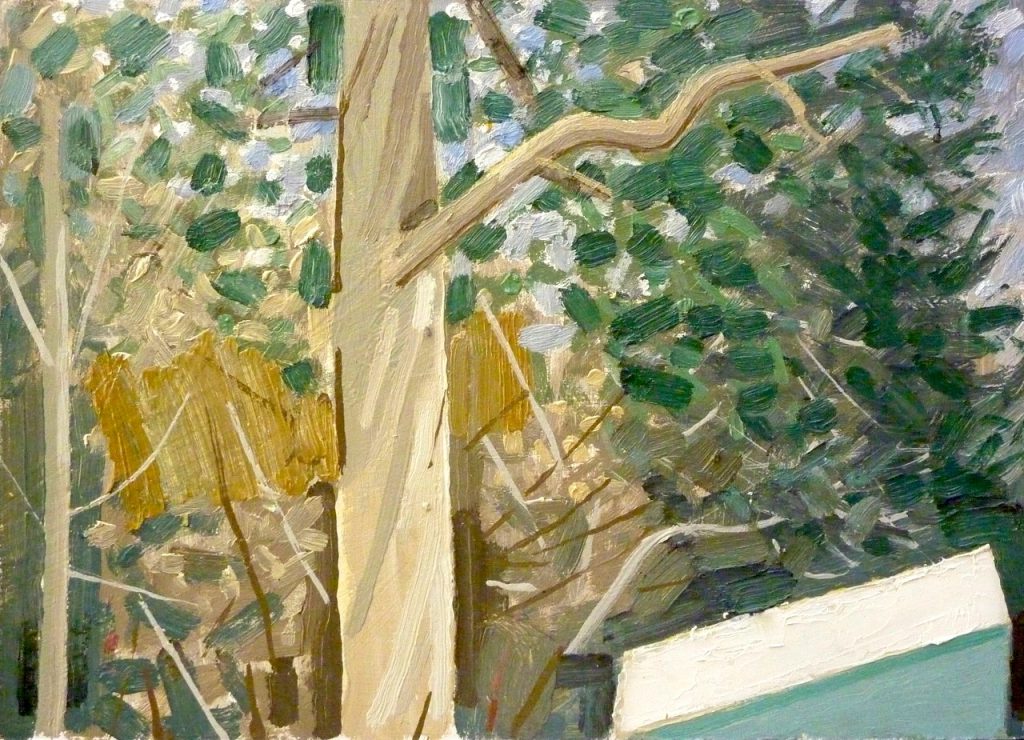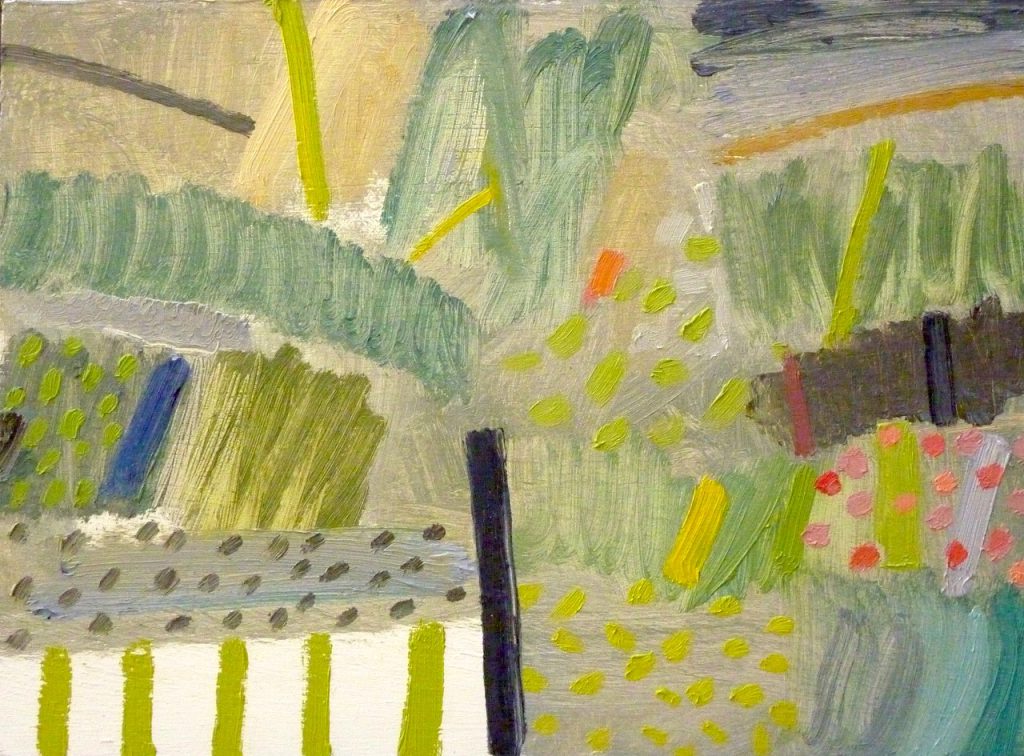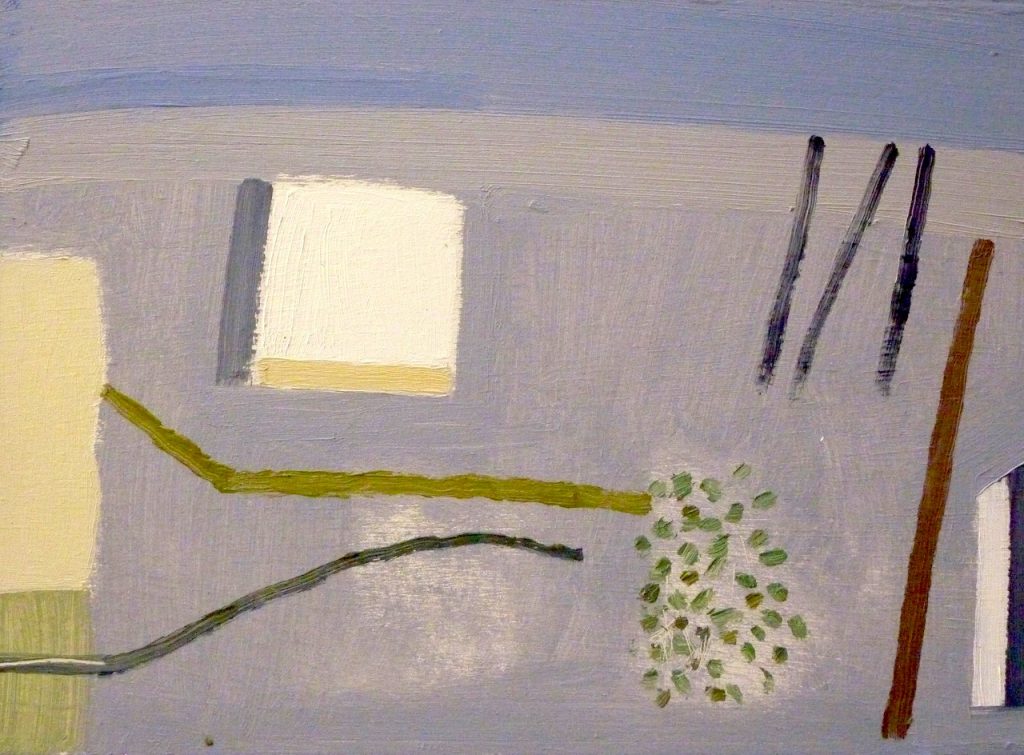 ※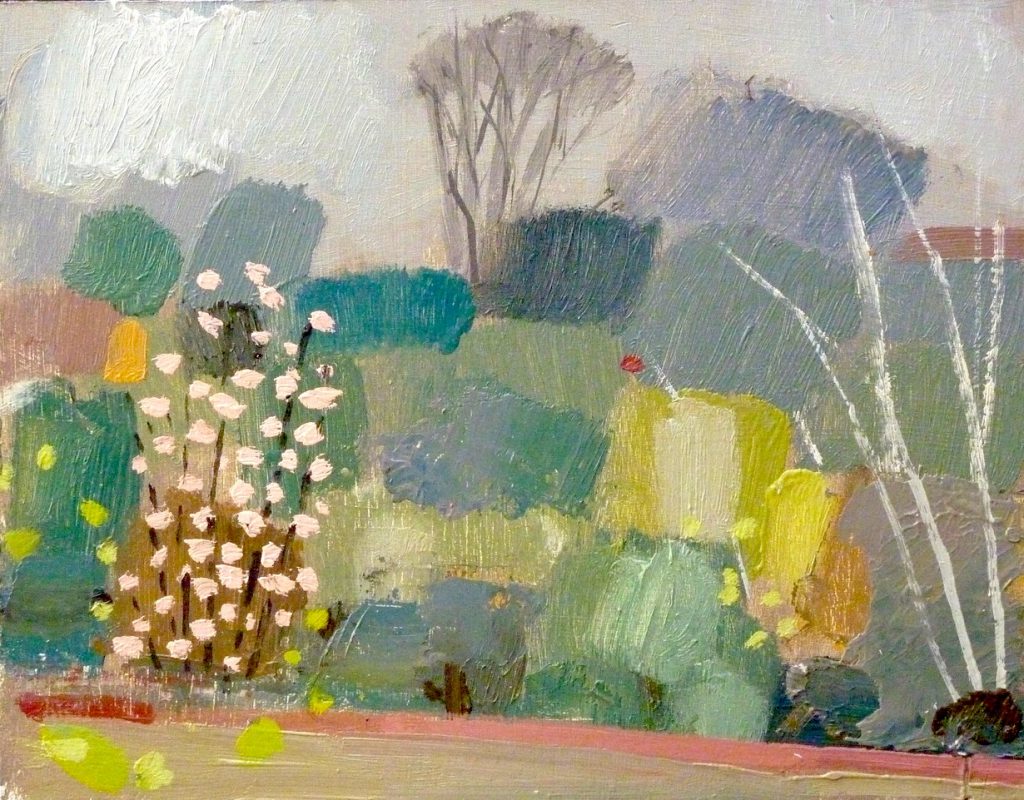 Since then Wytham Woods are closed. Lockdown has prevented me working outside. I have done some work from the bathroom window looking out over the back gardens. Blossom and leaves altering the colour day by day.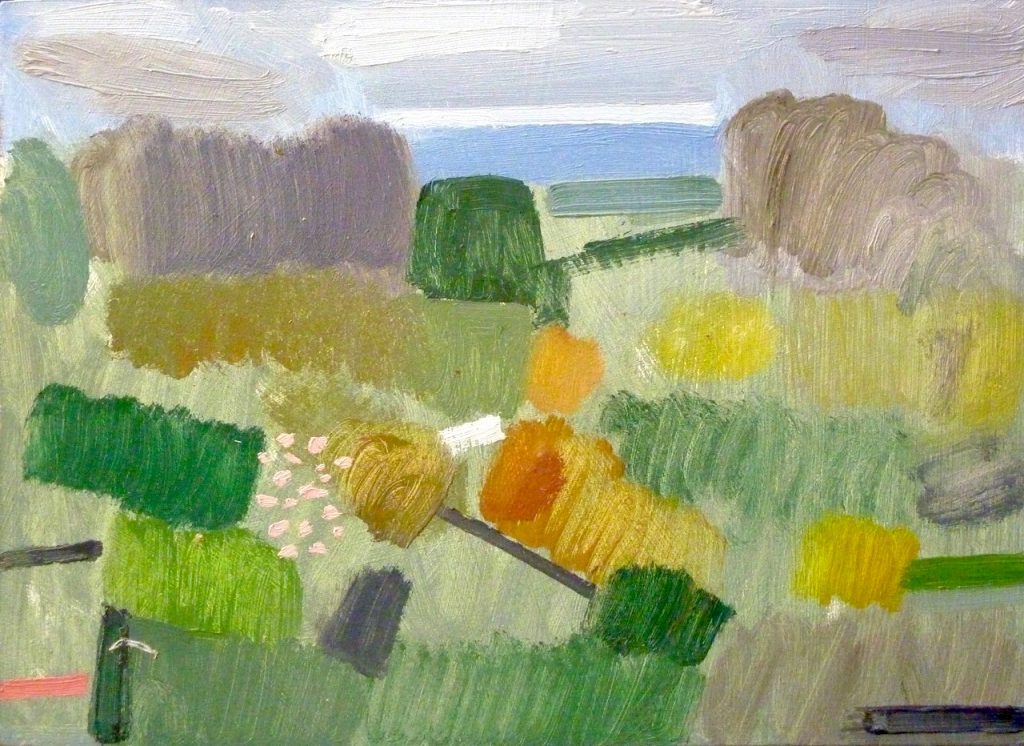 Some of these paintings are a clear re-presentation of what is before me. There is a method, a craft. It can be fiddly and painstaking. Following the rules means I keep control. Though that does not always happen. I might complete a "naturalistic" painting over 3 or 4 hours then paint very quickly using the colours left on the palette and somehow find something that is a condensed image of the previous hours. Other times things go wrong. It is too cold, rain threatens, I lose concentration or the scene has changed radically. I have made a mess which requires totally re-working, getting muddled and thickly worked images that seem wrong at the time but on later viewing have something interesting, ambiguous, restless.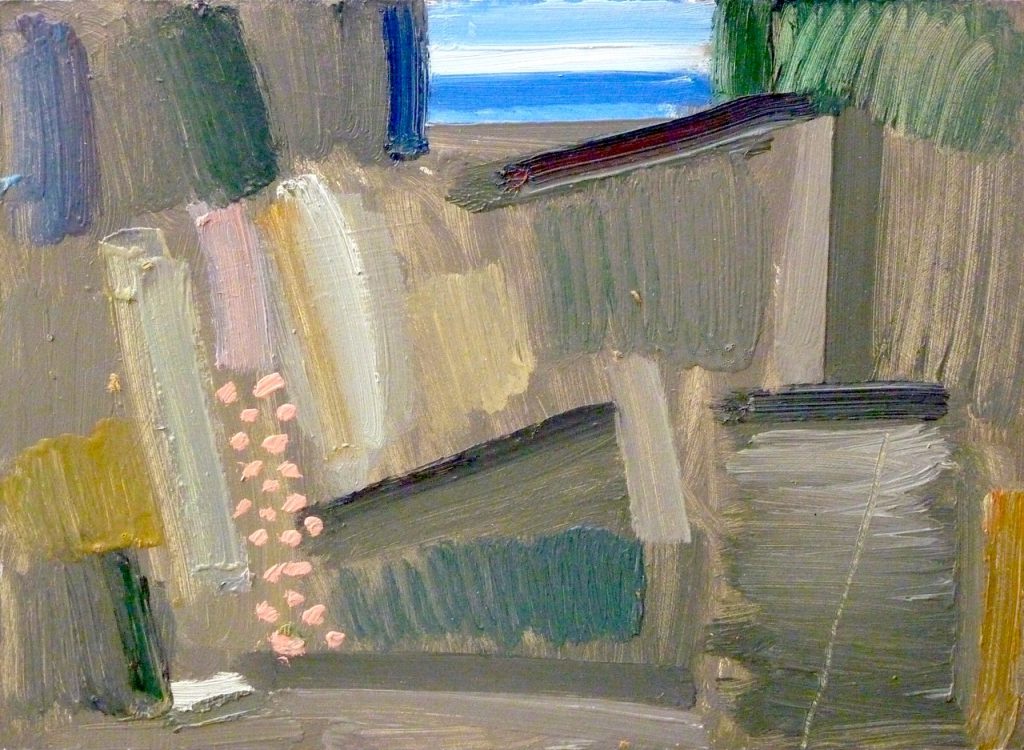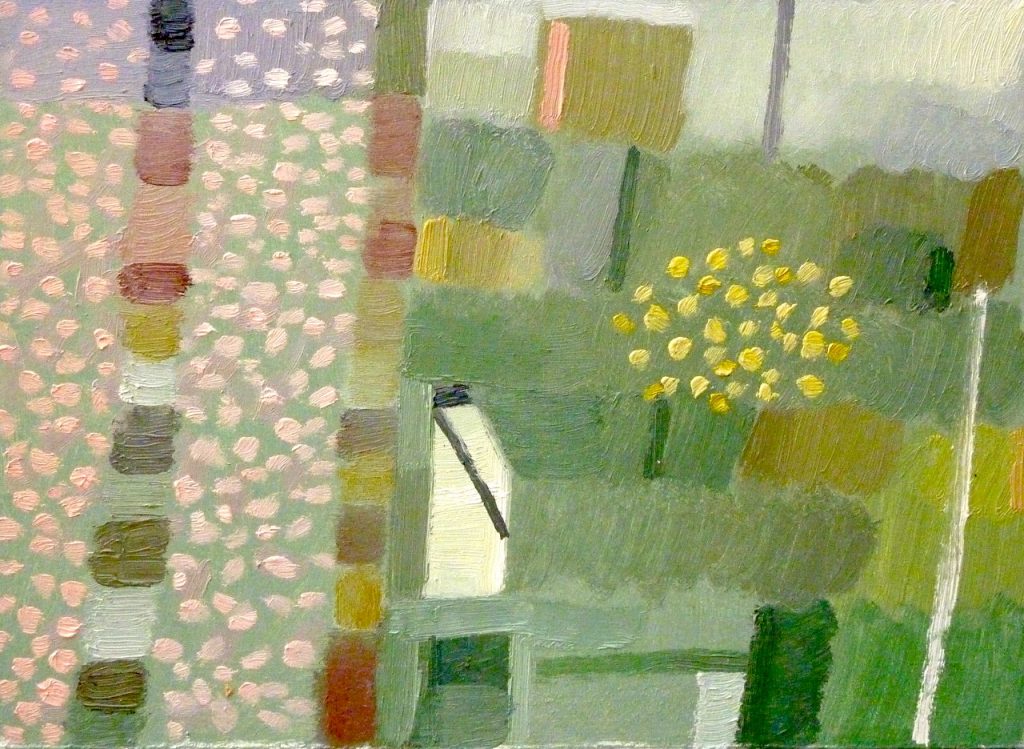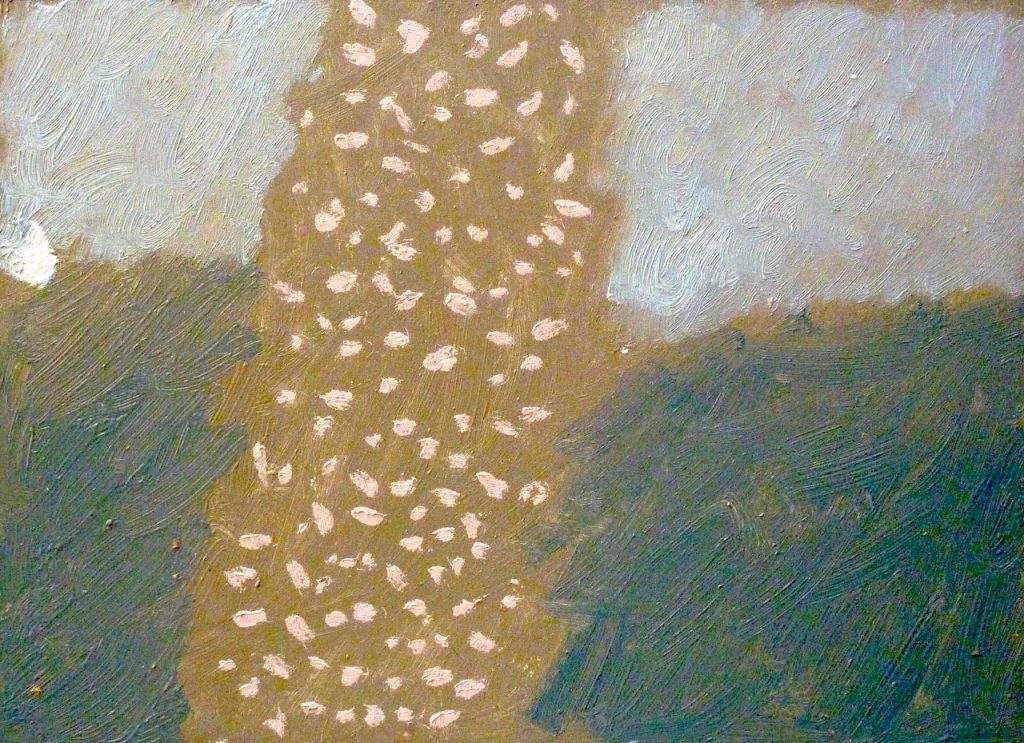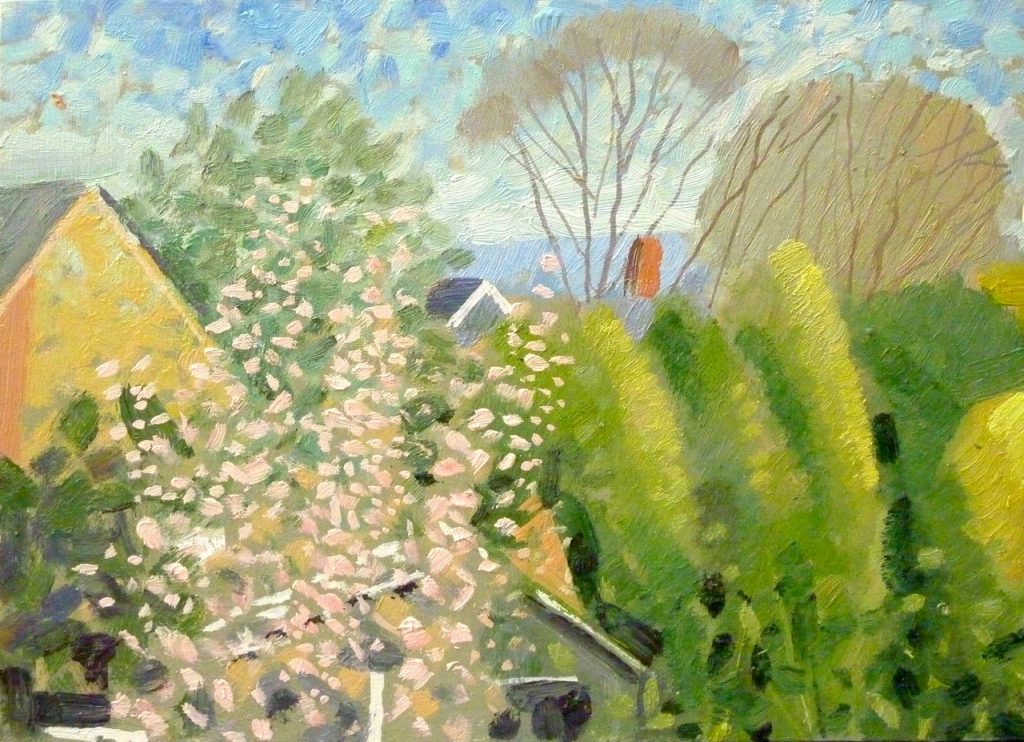 When painting I carry with me my kit but also the way my body works, knowing without thinking how long a line will be or what colour to use next. Instinct, muscle memory, and all the stuff in my head accumulated over a life of looking at art.
I might find out how to do it someday.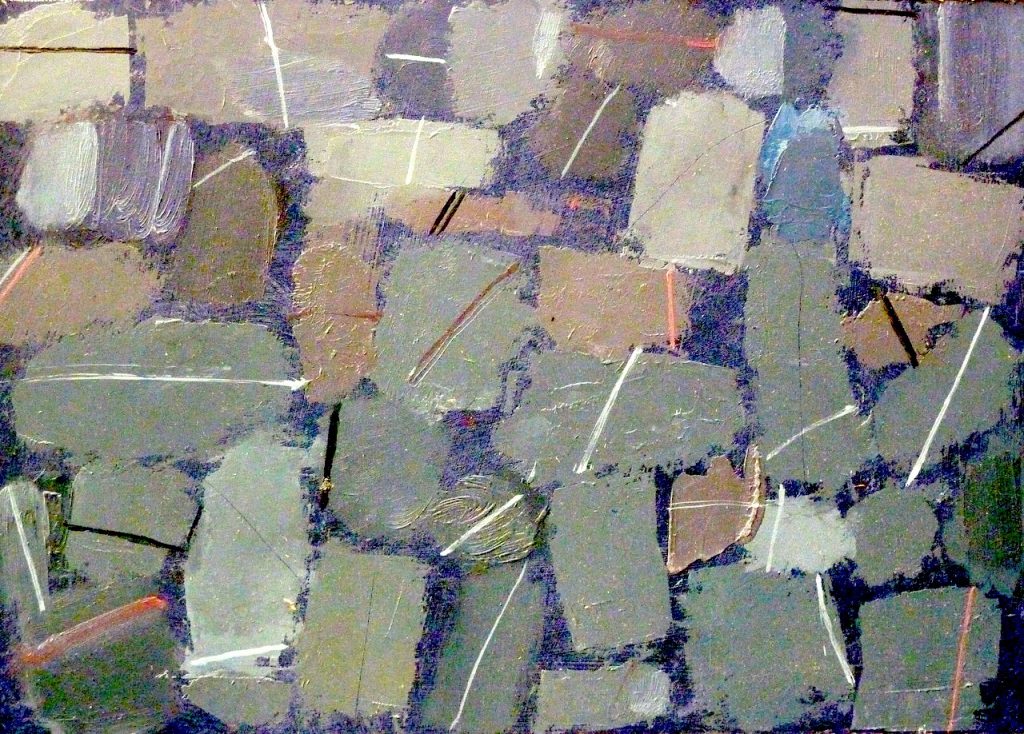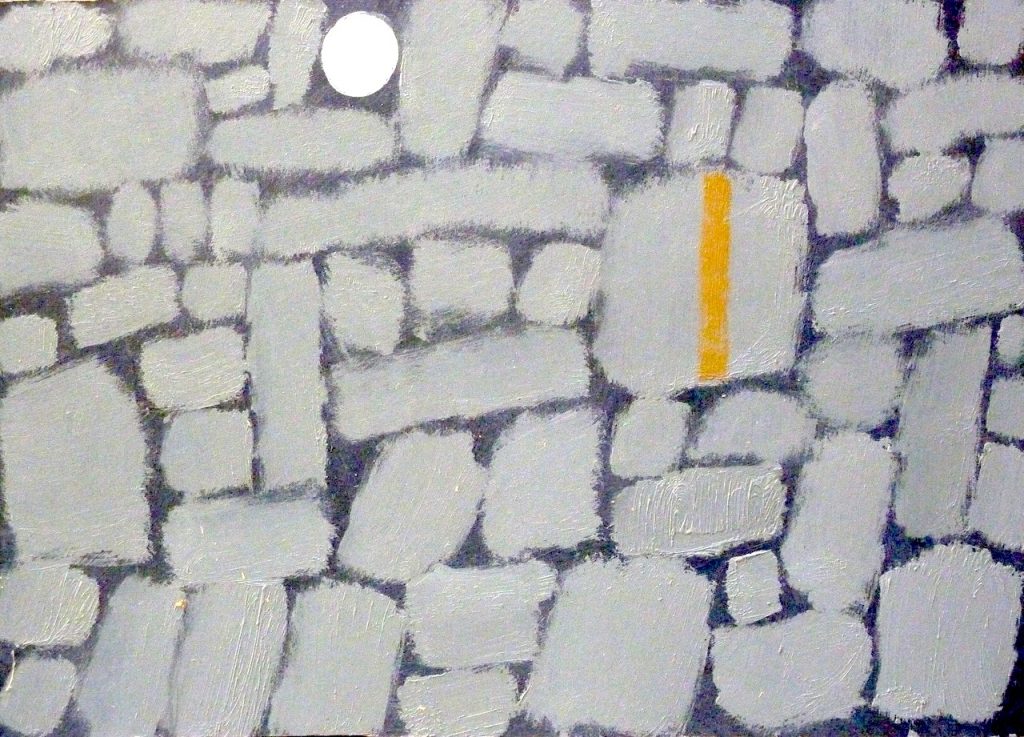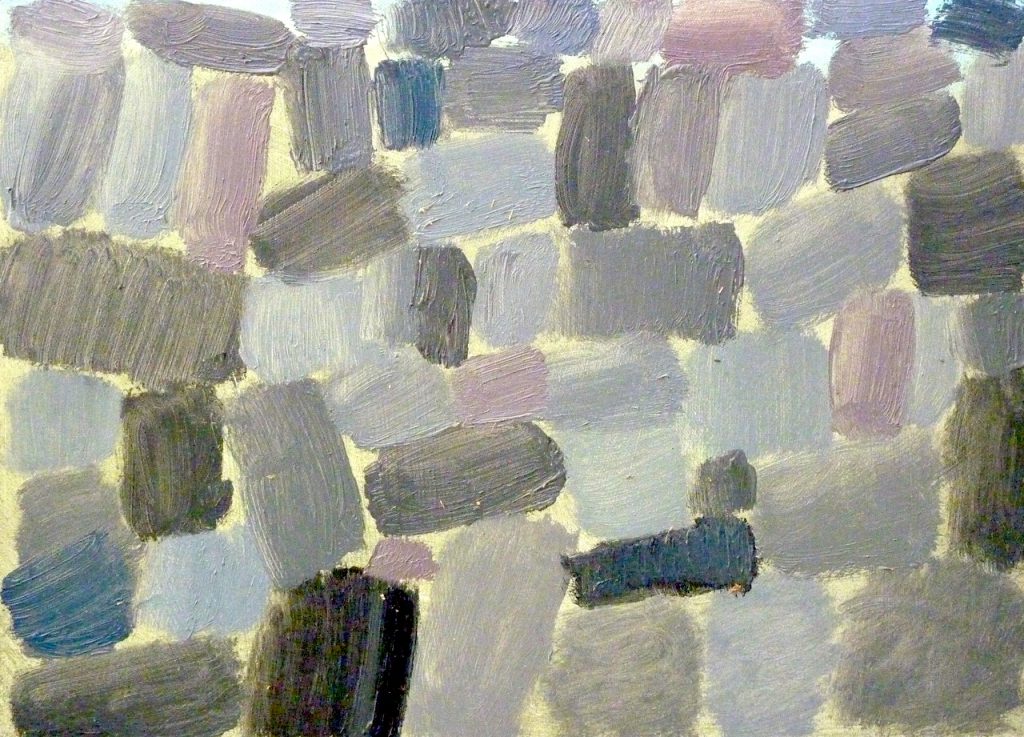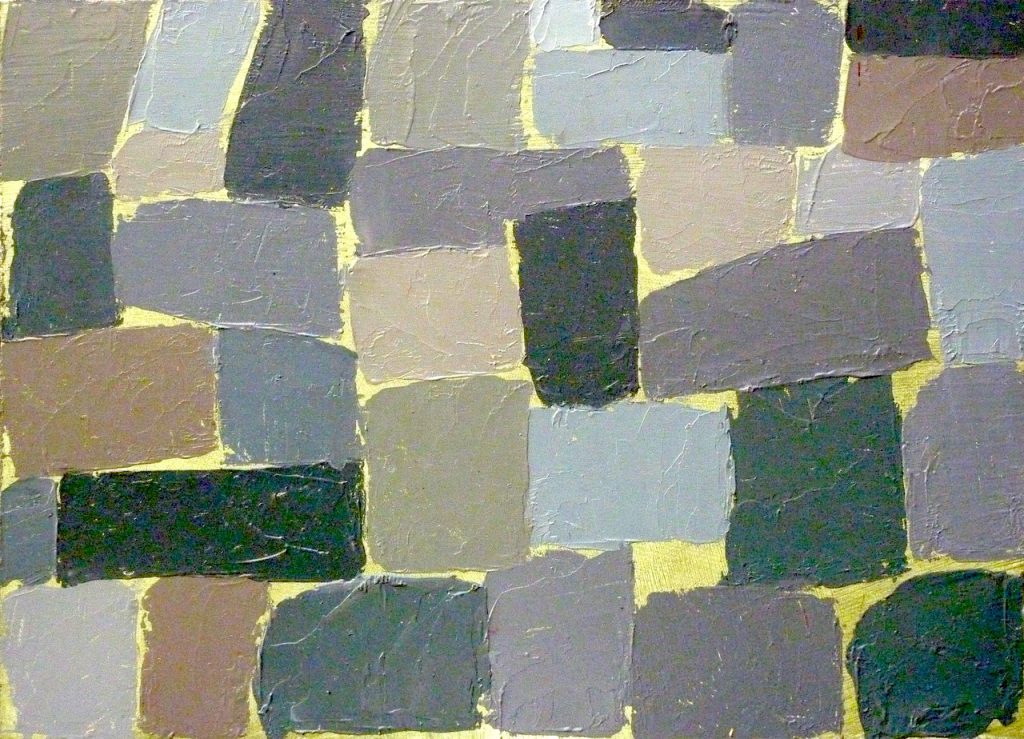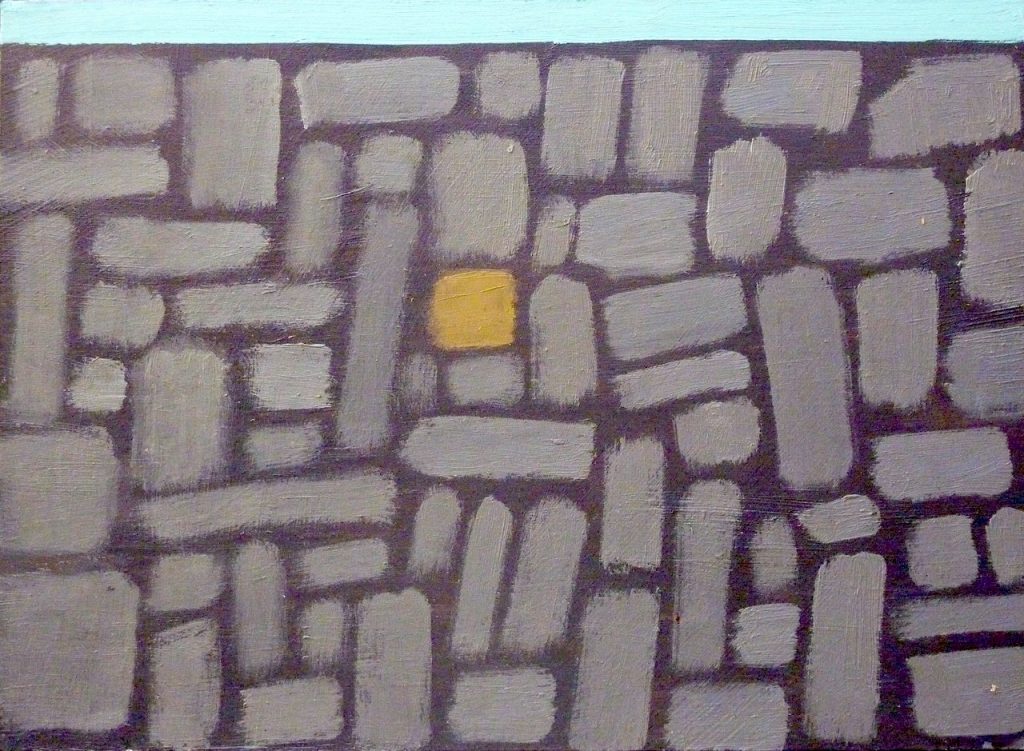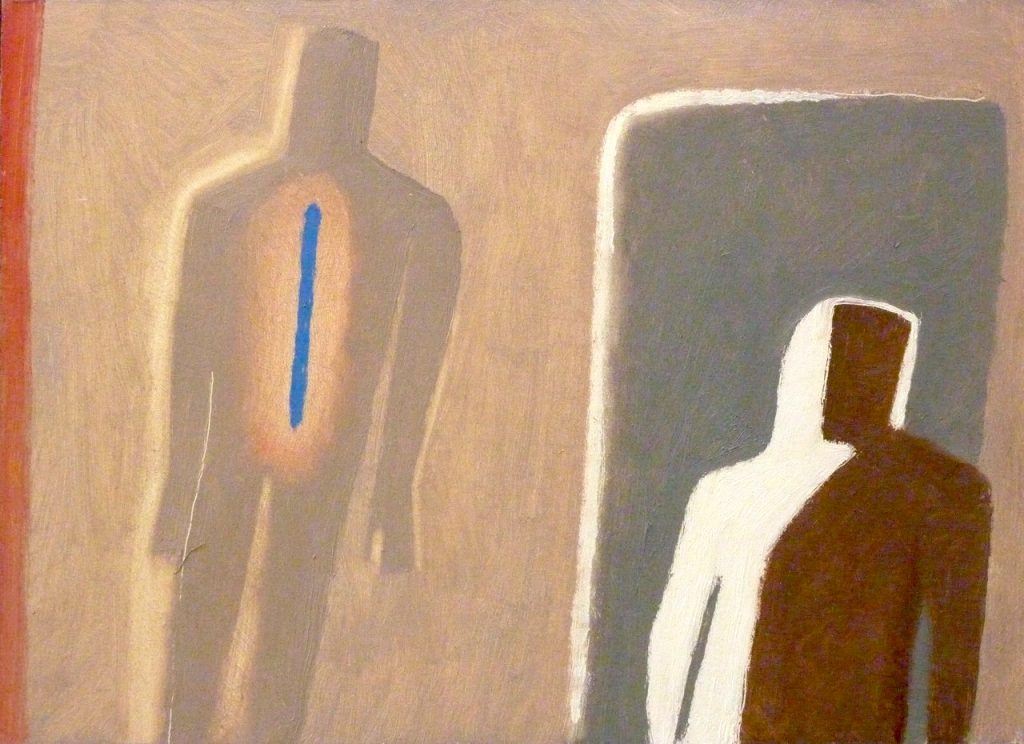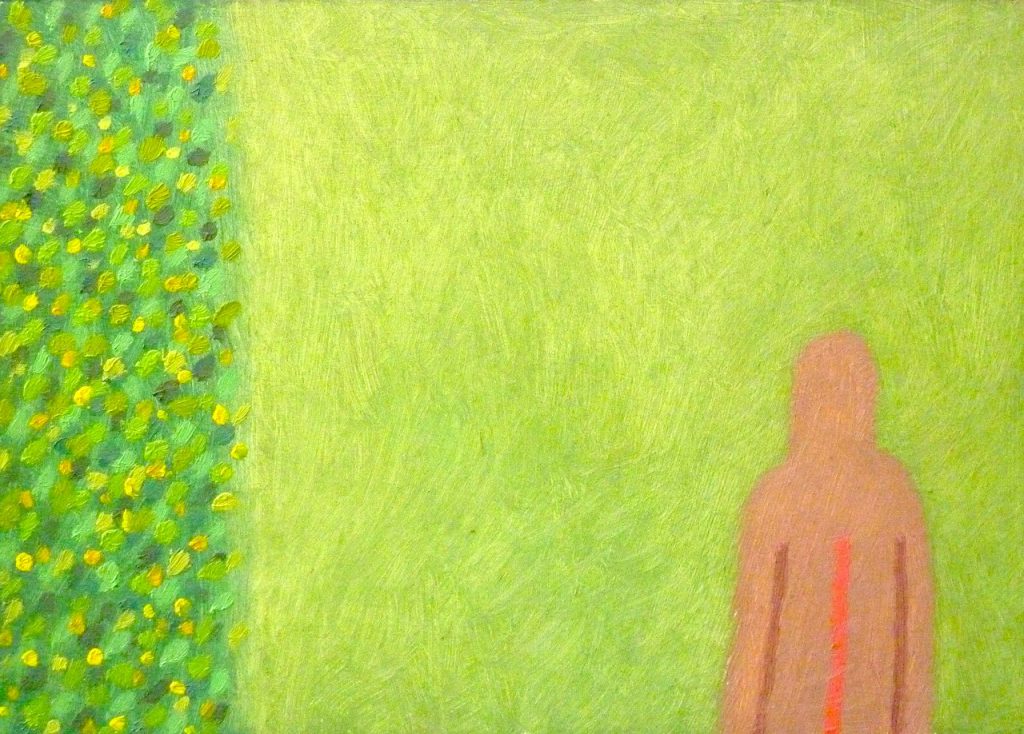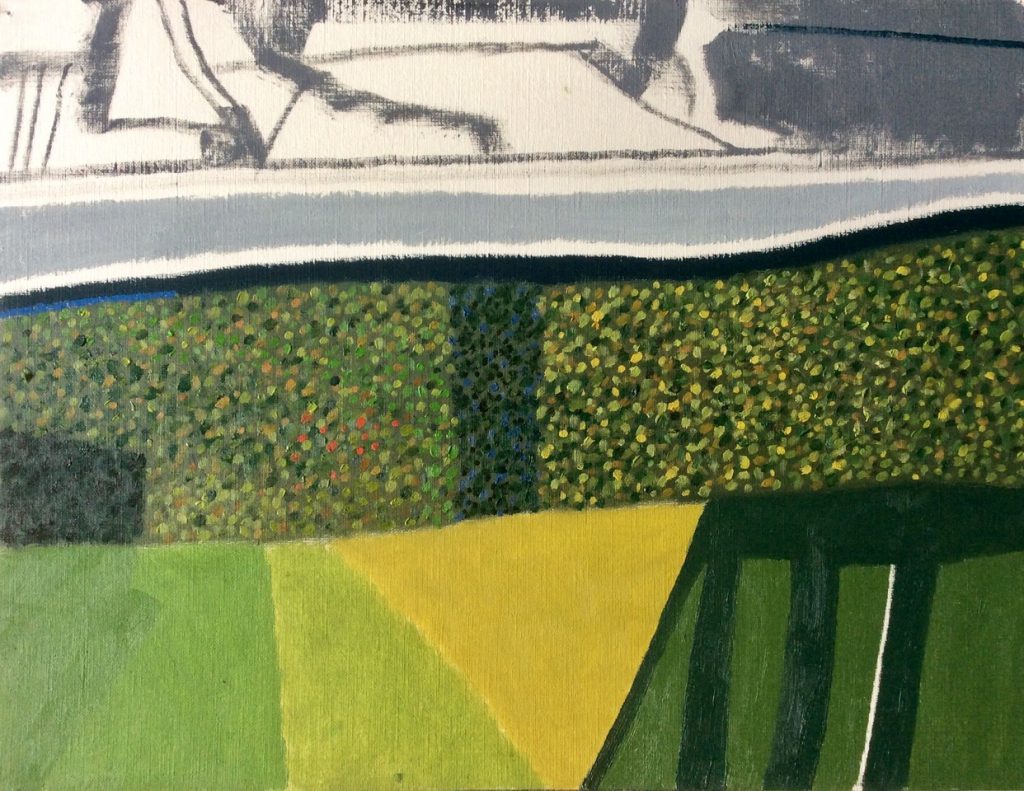 ※
Andrew Walton Artist
Andrew Walton / The Rowley Gallery
Andrew Walton / Jenny Blyth Fine Art