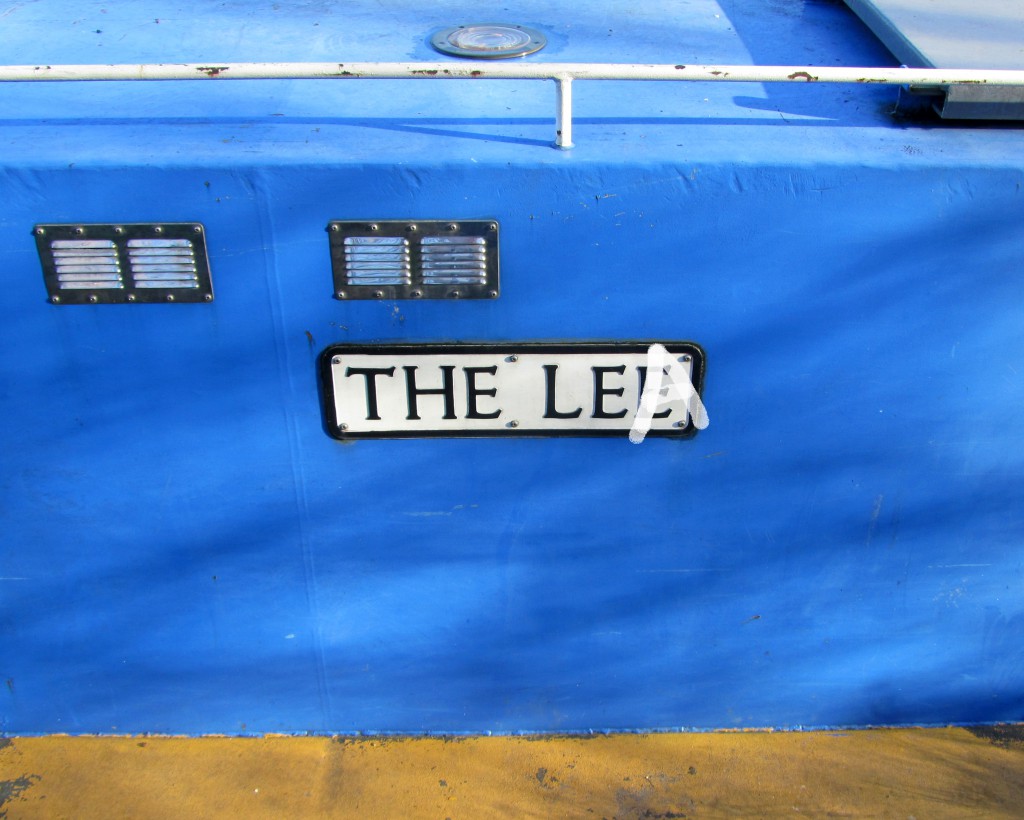 Sometimes it's the Lee, other times it's the Lea, and most times it's confusing. The River Lea rises at Leagrave, north of London near Luton (Leatown) and flows south via Leyton (Leatown) to join the River Thames at Leamouth. Over the years many of its twists and turns got straightened out to make it more easily navigable and the artificial channels and canals became known as the Lee Navigation. Nowadays the river (Lea) and the canal (Lee) are almost indistinguishable.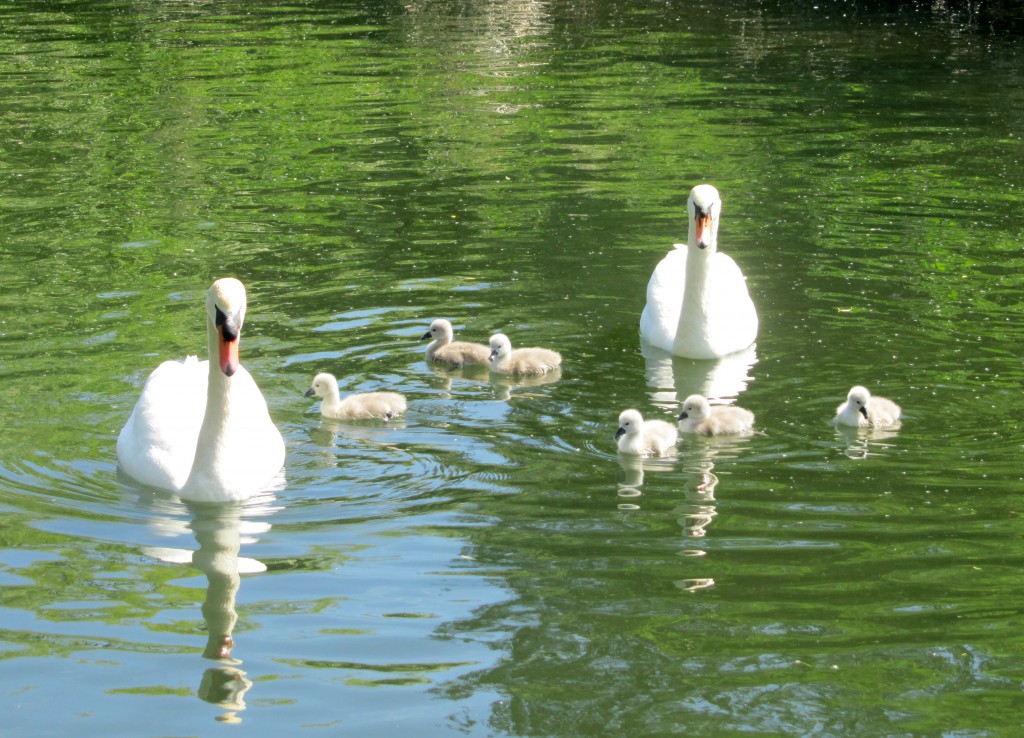 We've walked many of their banks without knowing which course we were following, just glad to be walking by the water. So, in no particular order, here are a few photos from up and down the river.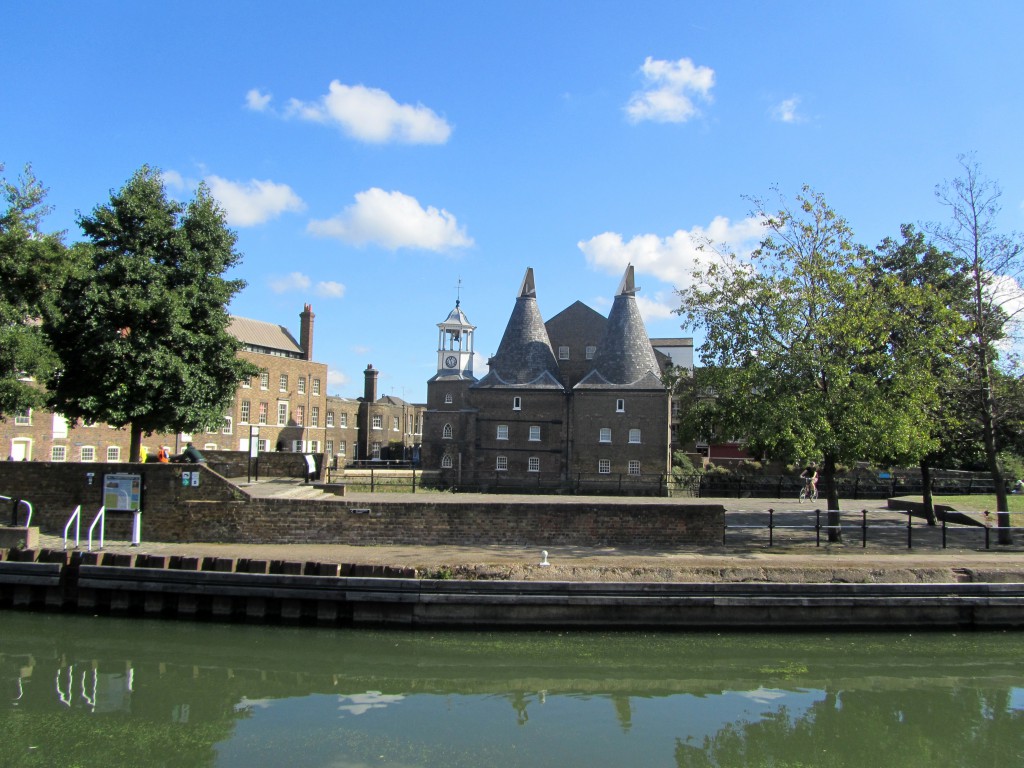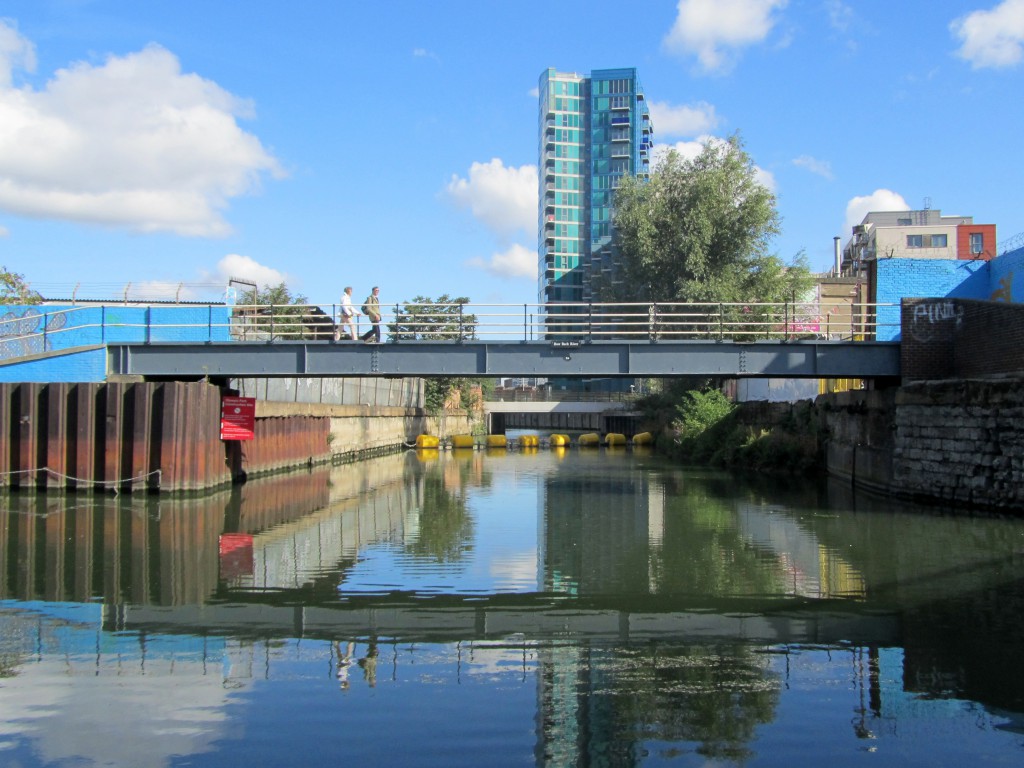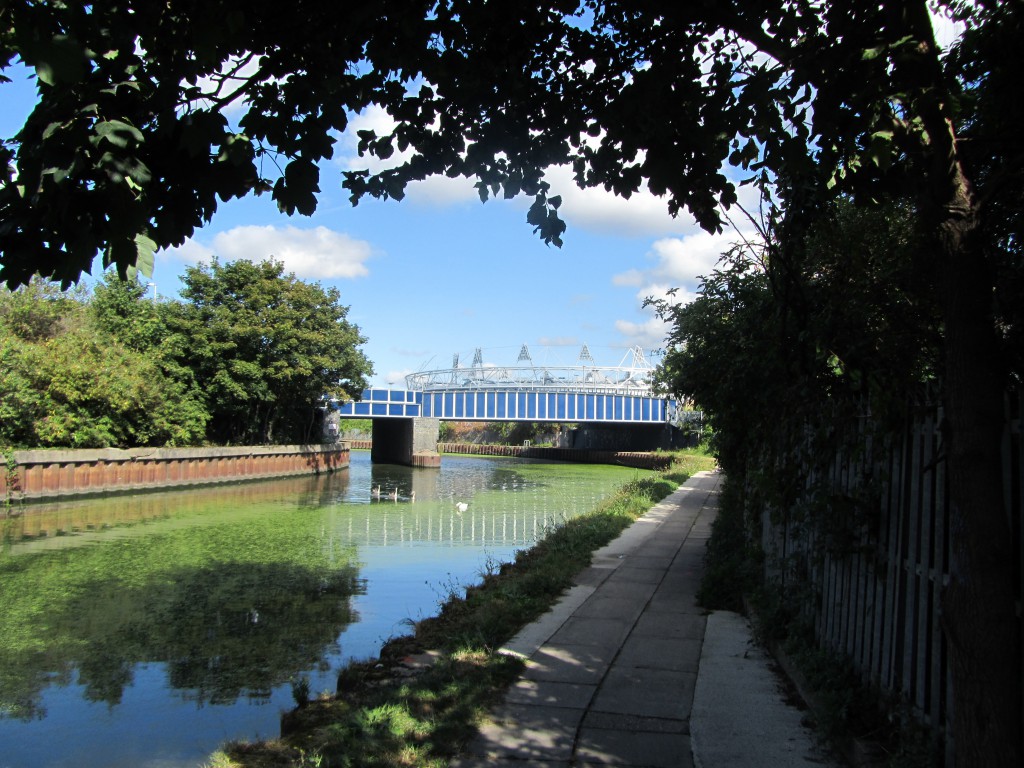 These three are from 2012 when we walked along the River Lea from Three Mills to its junction with the Hertford Union Canal, alongside the forbidden zone called Olympic Park – Bridges & Towpaths.
※
Then last year its name was changed to Queen Elizabeth Olympic Park and we were all invited inside for the Open East party in celebration of the first anniversary of the London 2012 Games.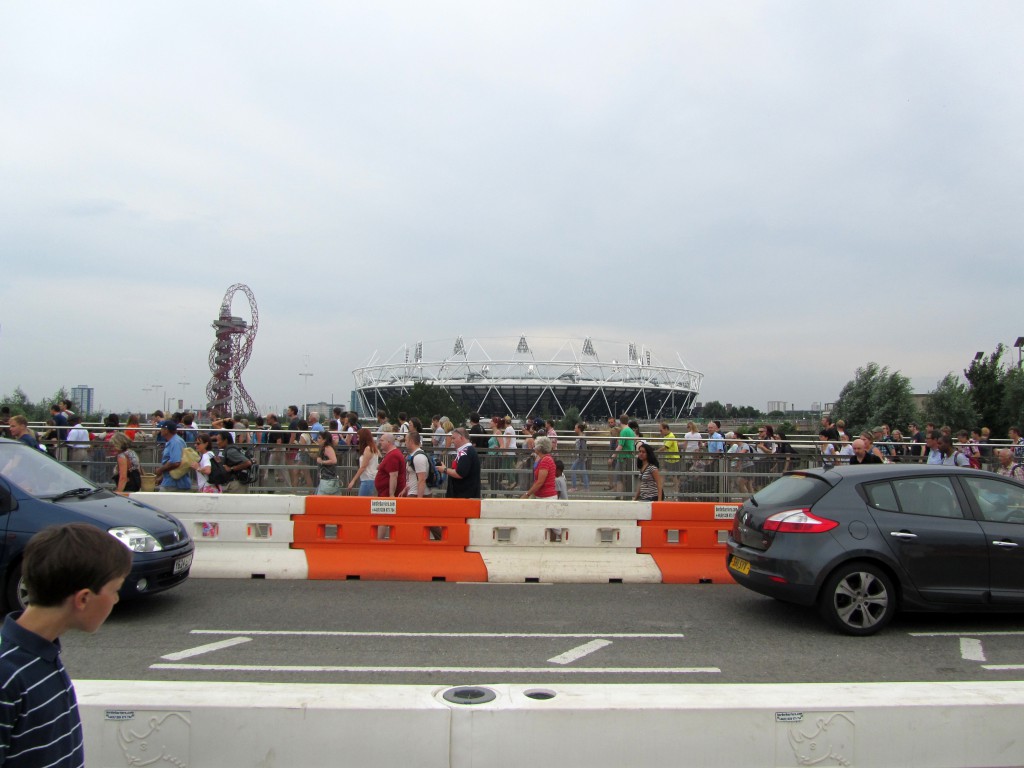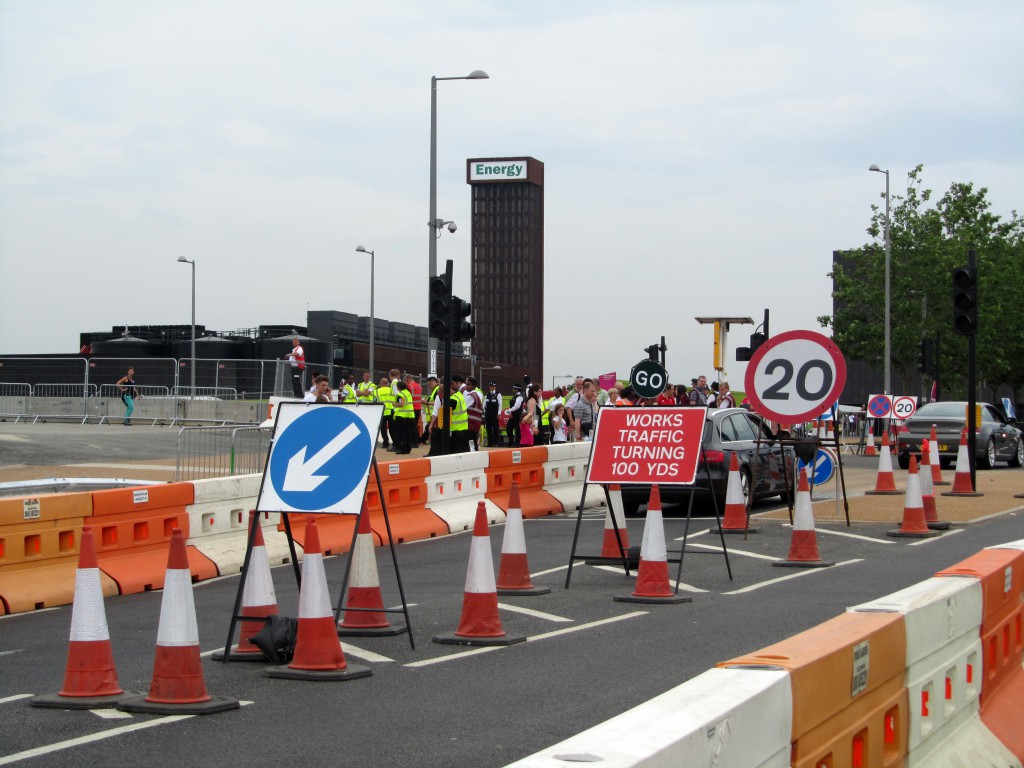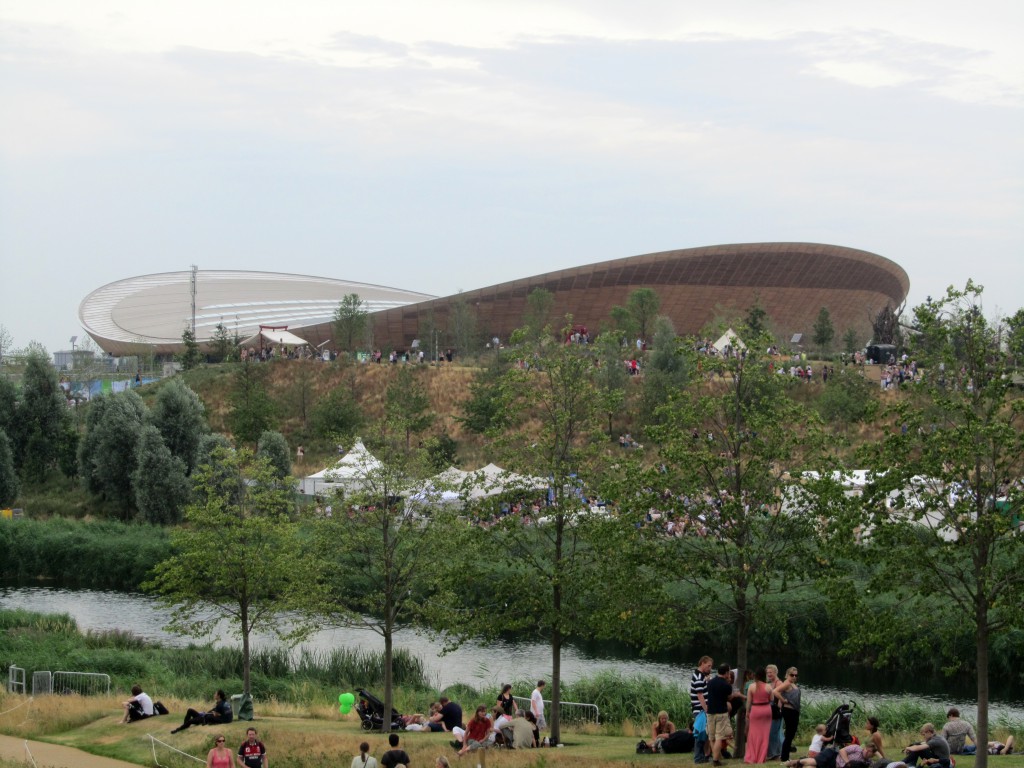 The sky was grey and the sun refused to shine but there was lots of high energy and enthusiasm. Vieux Farka Touré played a great set with Fatoumata Diawara and there was some fiery brass playing on the bandstand. Fiery street food too and beers from some of London's finest breweries, apparently; the beer tent was so popular it was impossible to get to the bar!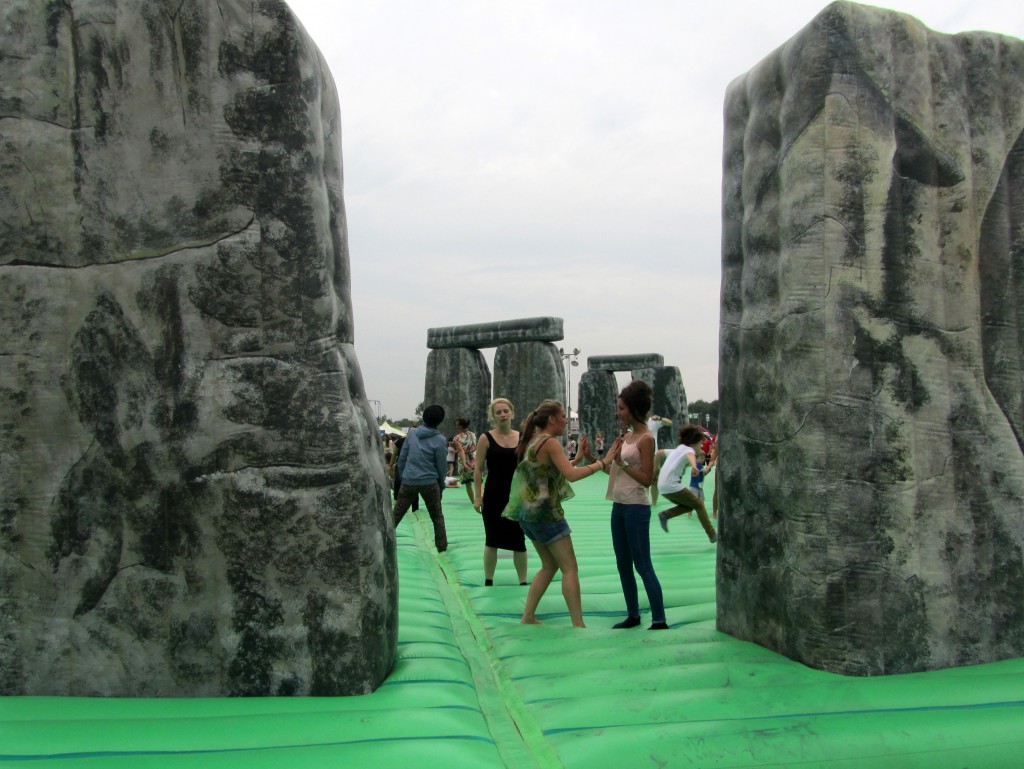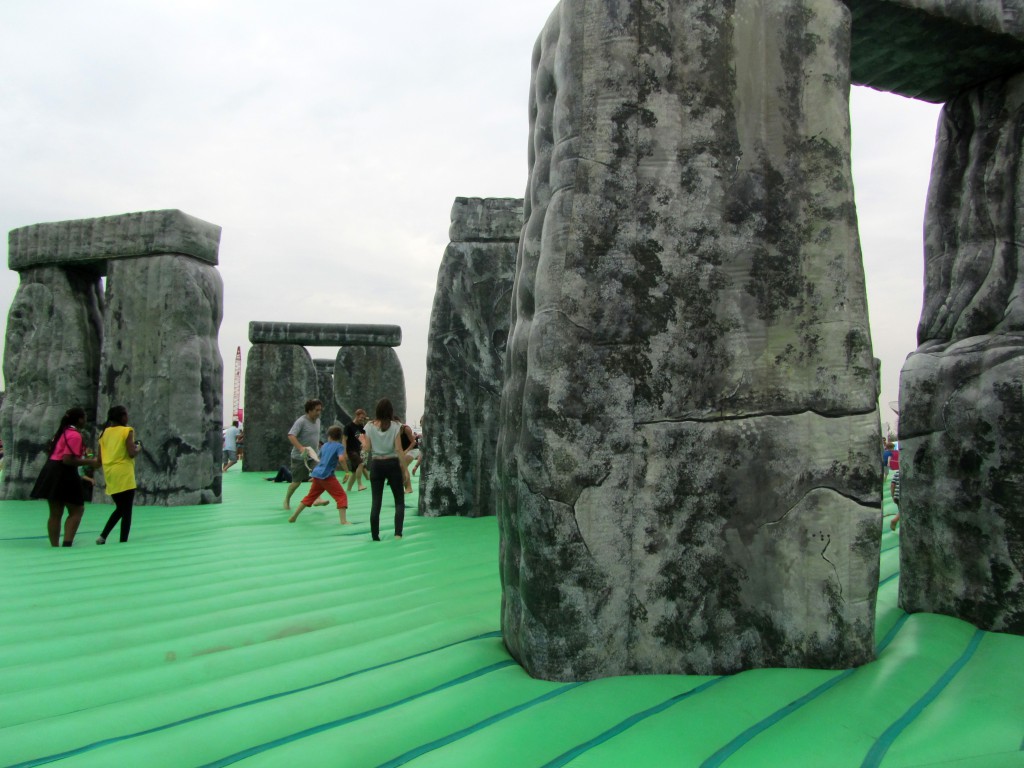 Sacrilege, Jeremy Deller's bouncy Stonehenge was also popular but I'd rather climb the tree bridge.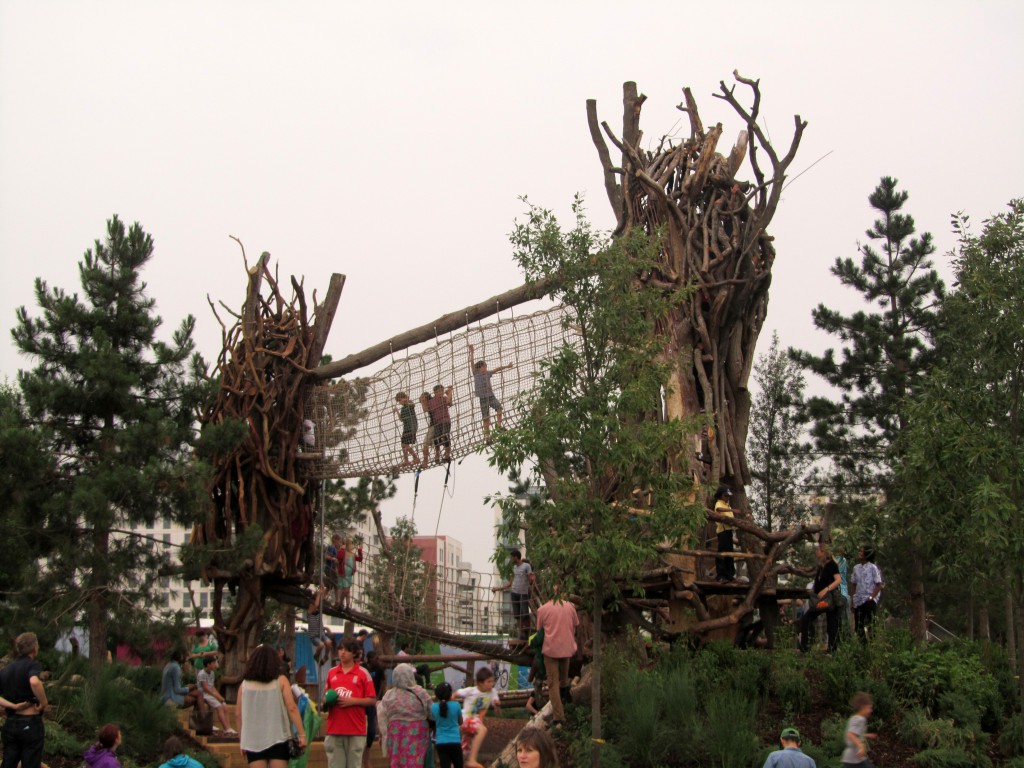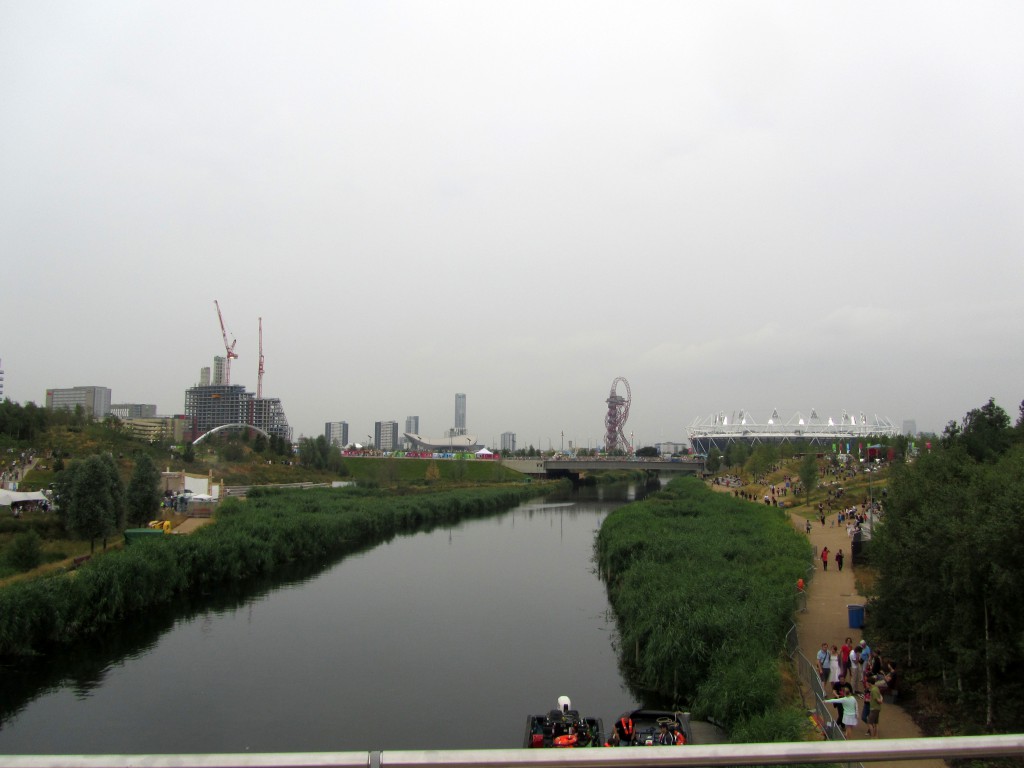 Instead we crossed the Lea bridge, just as the dark clouds burst and suddenly it was time to leave.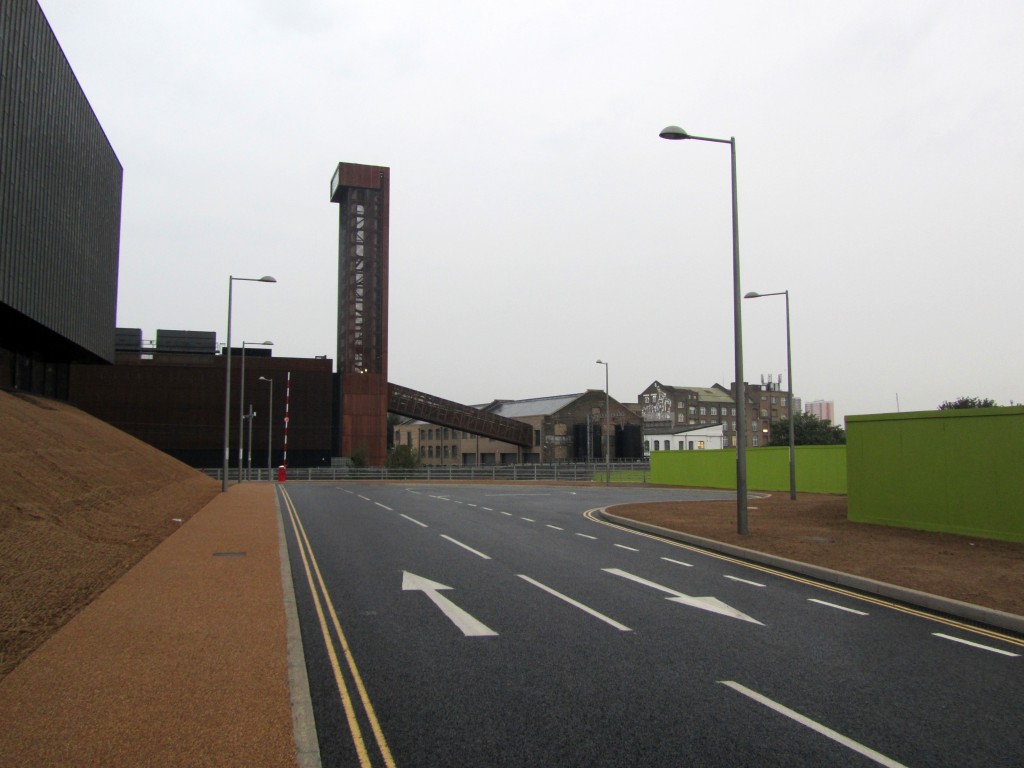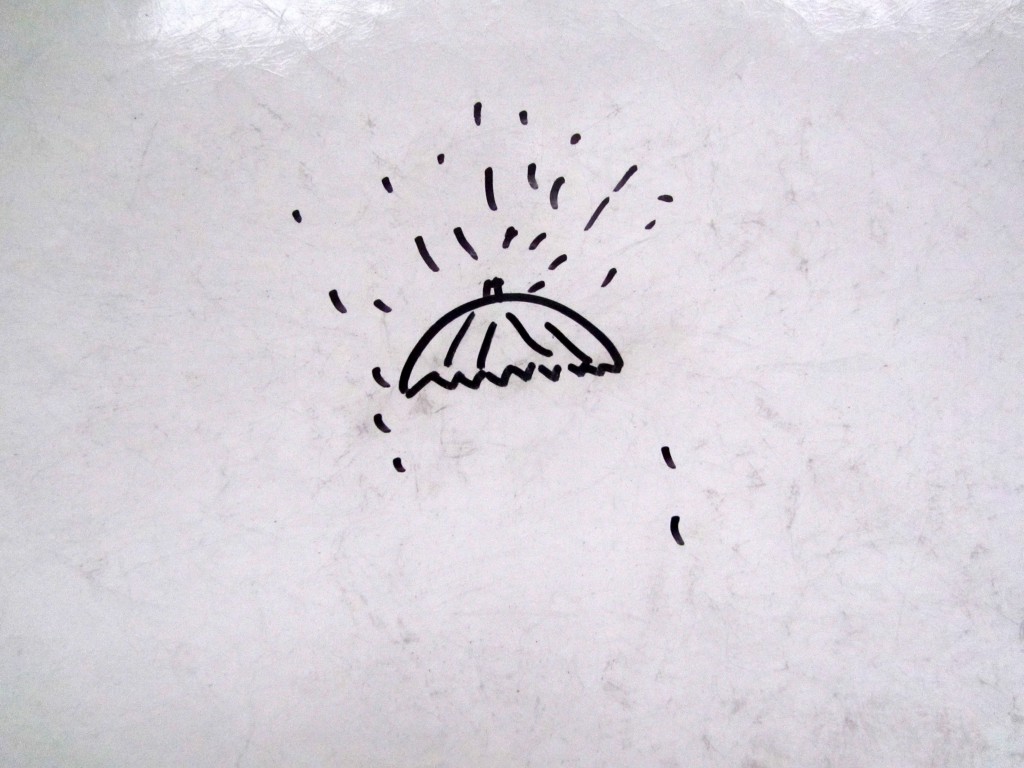 To avoid the crowds heading for Stratford we left in the opposite direction towards Hackney Wick, but wrong turns and diversions, roadblocks and frustrations led us, soaked to the skin, to a Temple Mills bus stop by New Spitalfields Market. The graffiti confirmed we were not the first to take shelter there.
※
Undeterred, six months later we returned to Hackney Wick on the second day of 2014 after walking down along the Lee/Lea from Tottenham, and enjoyed an unhurried lunch at the Counter Café, with a direct view of the Olympic Stadium from its riverside terrace. Curiously the nearby White Building, had appeared in the last but one photo above, taken as we'd fled Queen Elizabeth Olympic Park.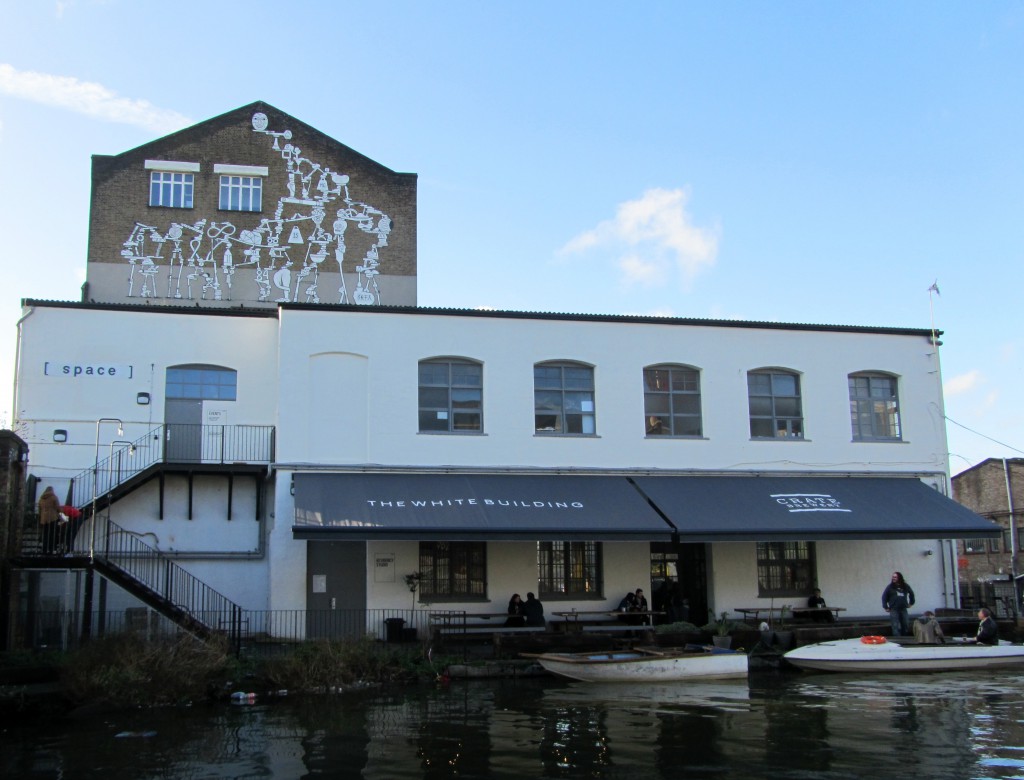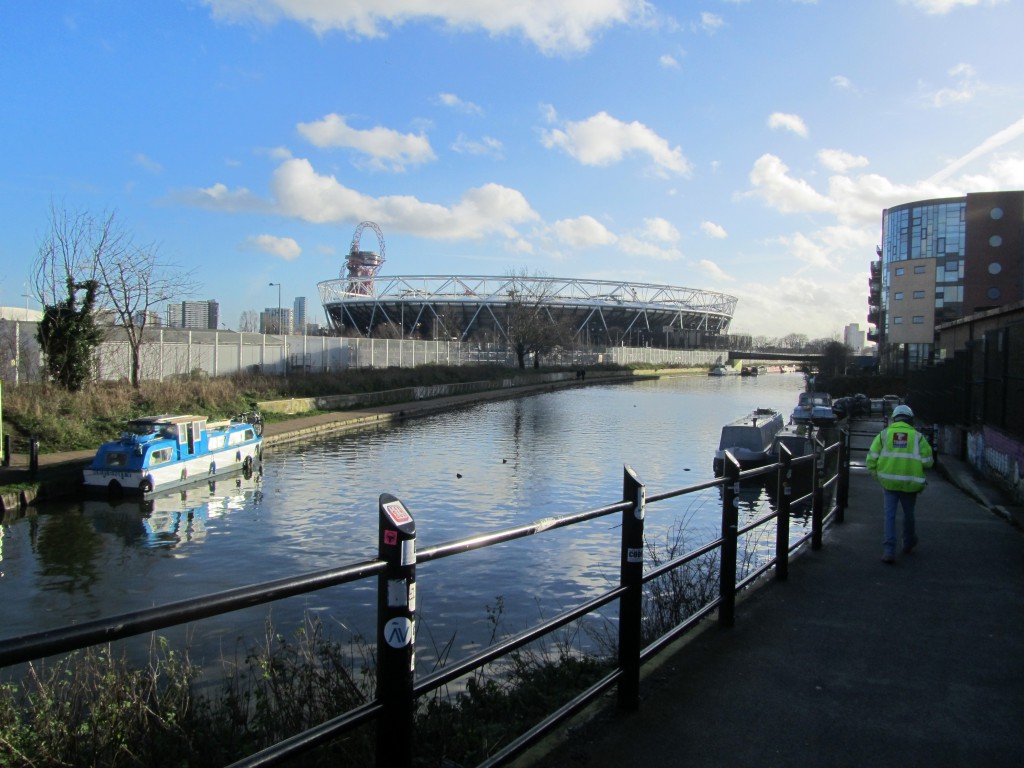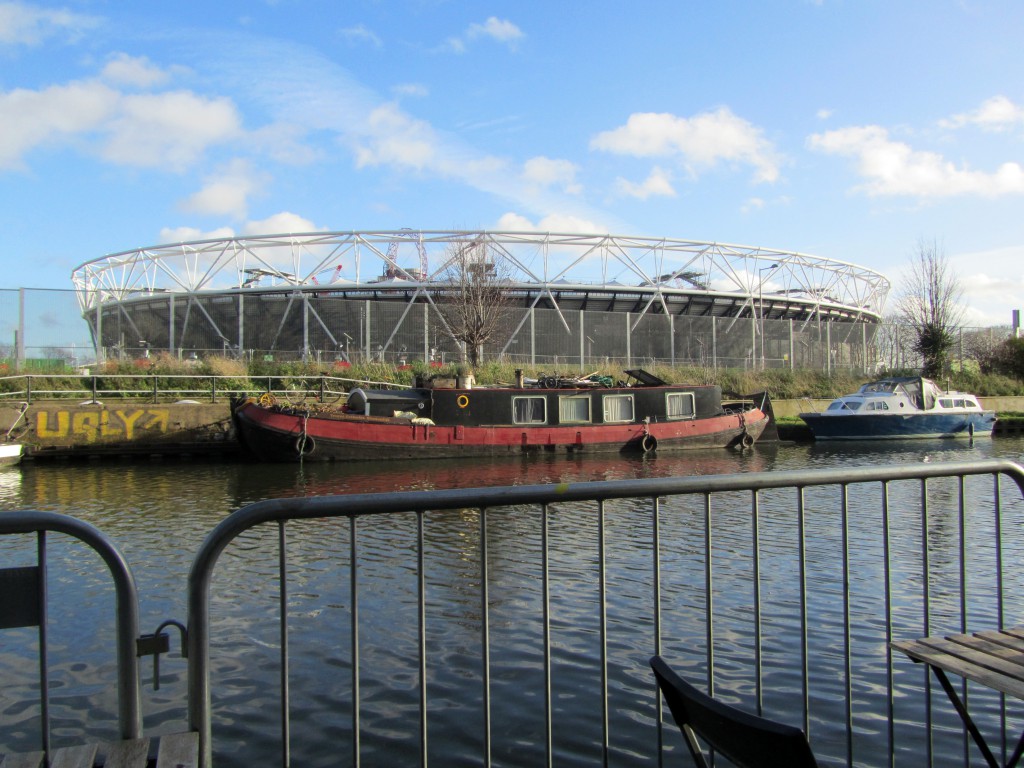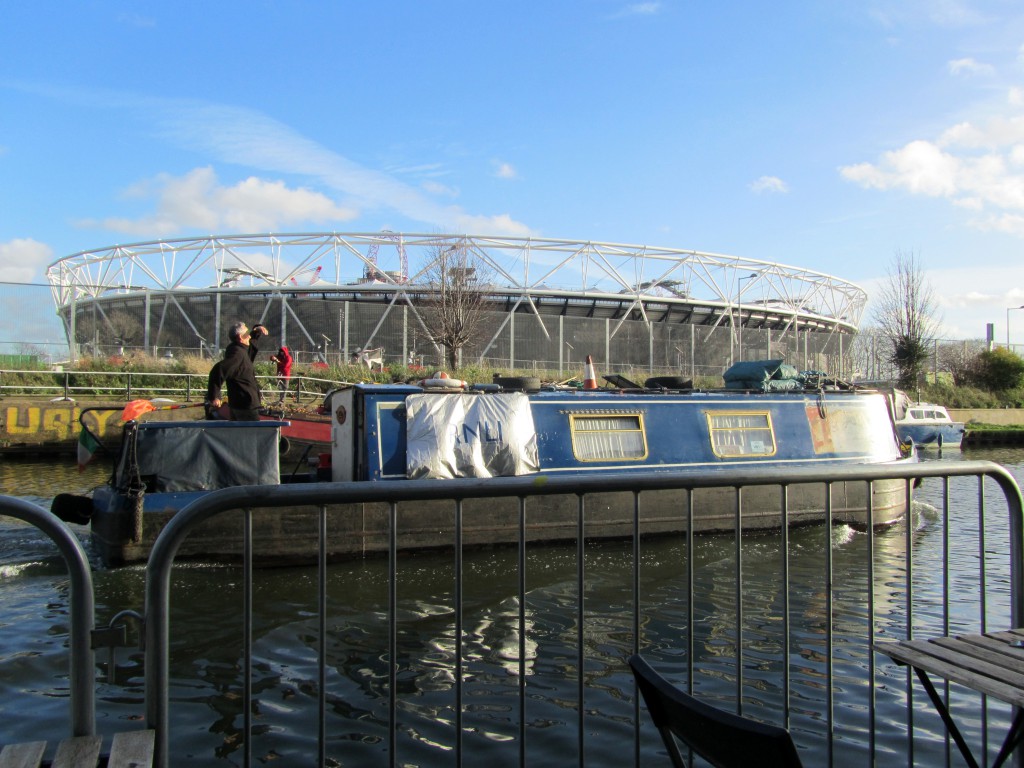 We'd set out from Markfield Park, South Tottenham's escape route downriver to the Thames and home to the Markfield Beam Steam Pumping Engine since 1886 – click on the link for a 360° view.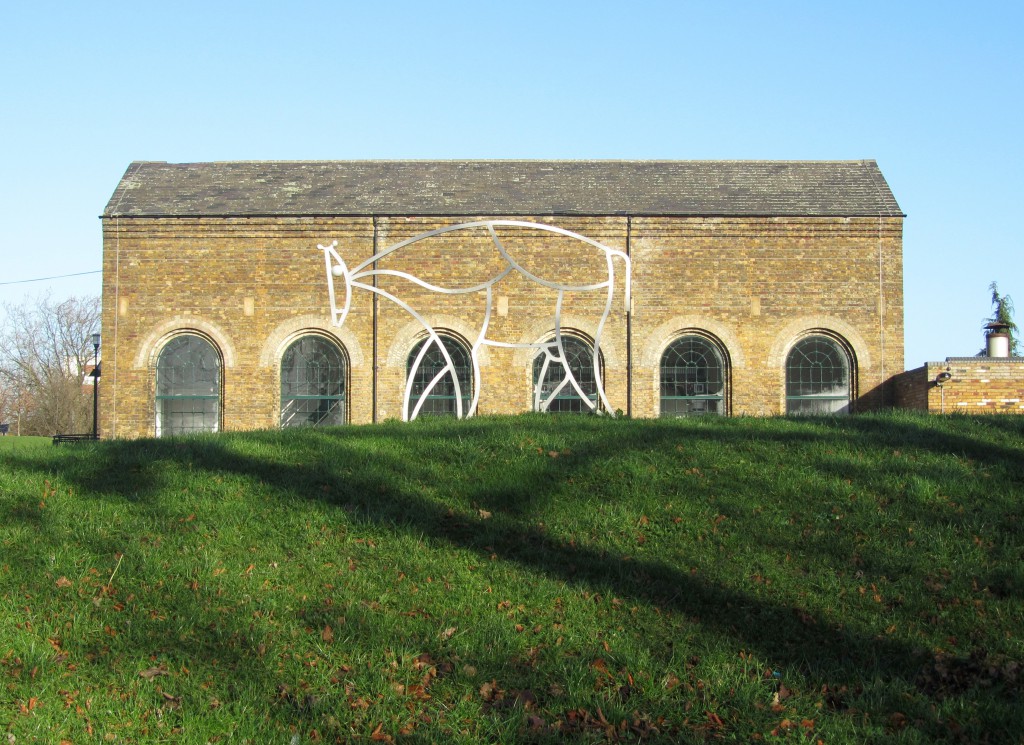 We'd lived near here in the early 1980s in a house provided by the Acme Housing Association. Our neighbour who was well into her 90s impressed our twin daughters by her great age and credited her longevity to a regular diet of oranges. Her name was Mrs Lee, or Lea. I never asked how she spelled it.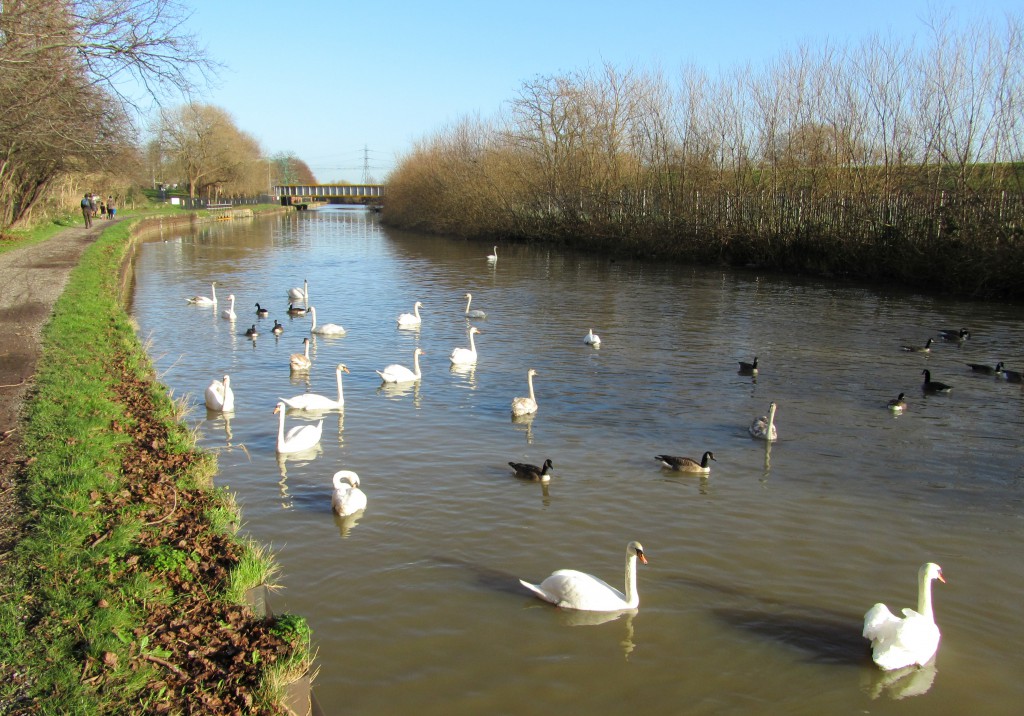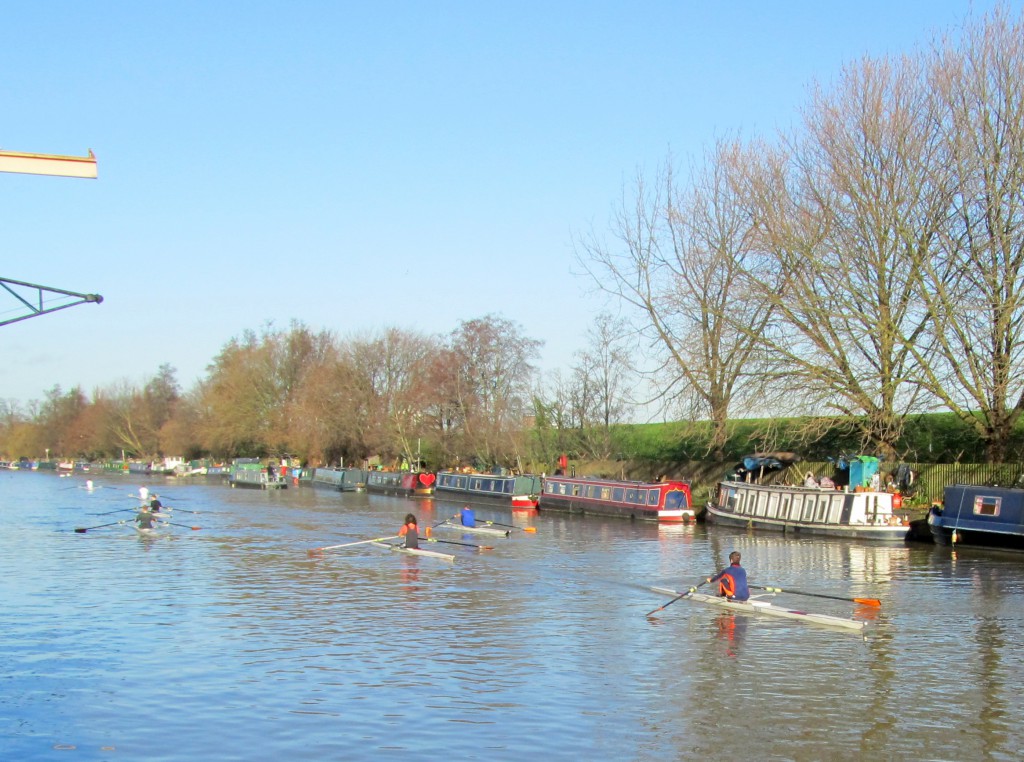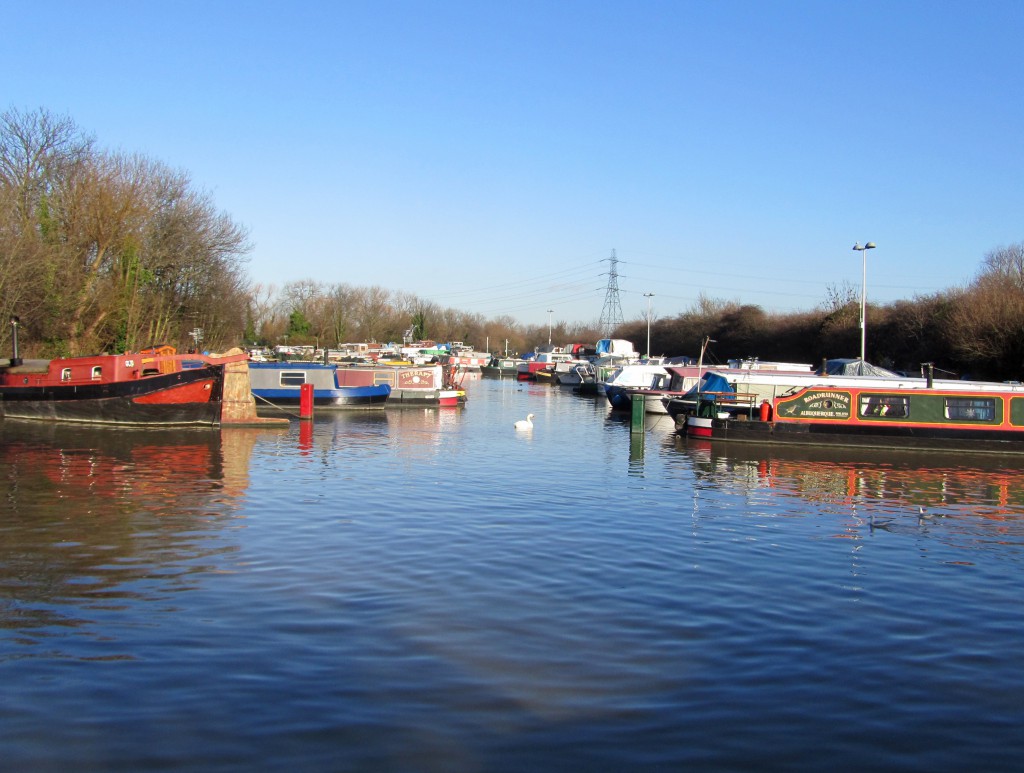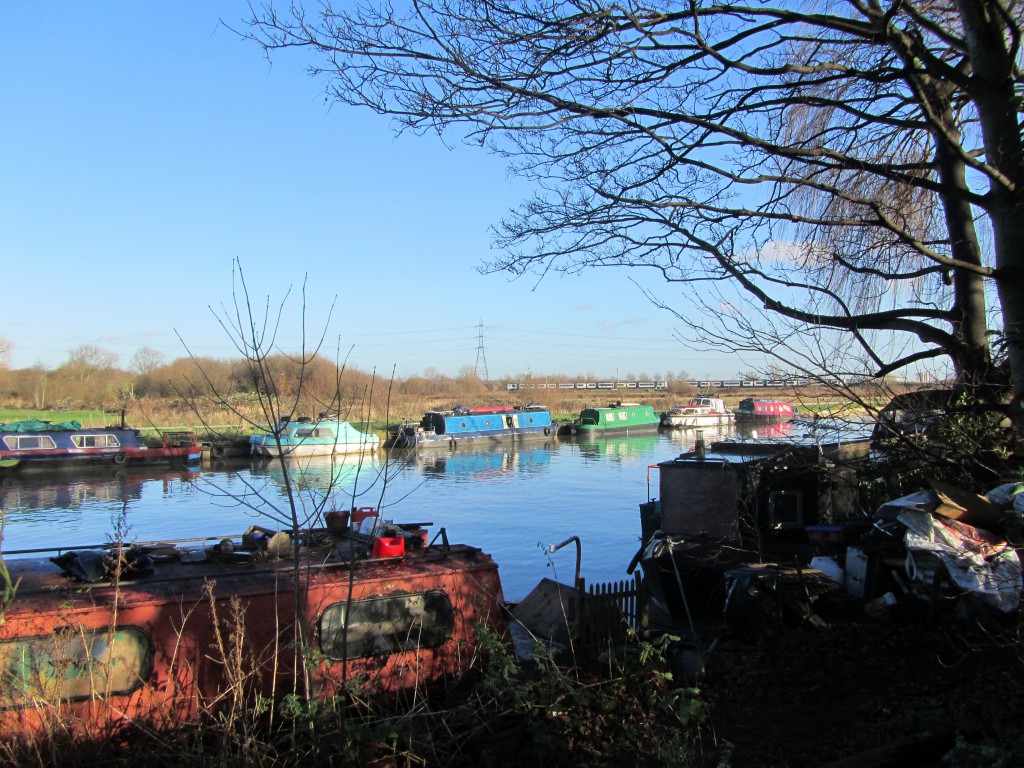 We came down by Lea Rowing Club and Springfield Marina, below the natural springs of Springfield Park, memorable for its ancient mulberry tree and looked across the river to Walthamstow Marshes.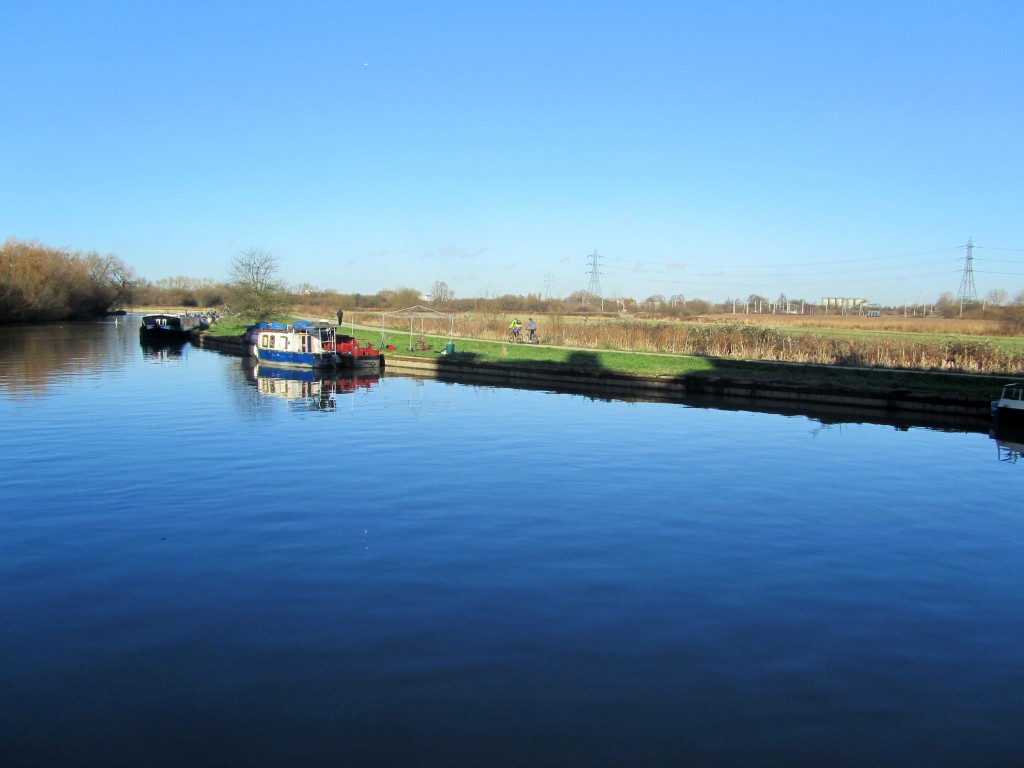 In 1987 a 1000 year old Saxon log boat was discovered here. It is now on display in Hackney Museum together with a modern reconstruction carved from a single oak log, illustrated by Merlin Evans.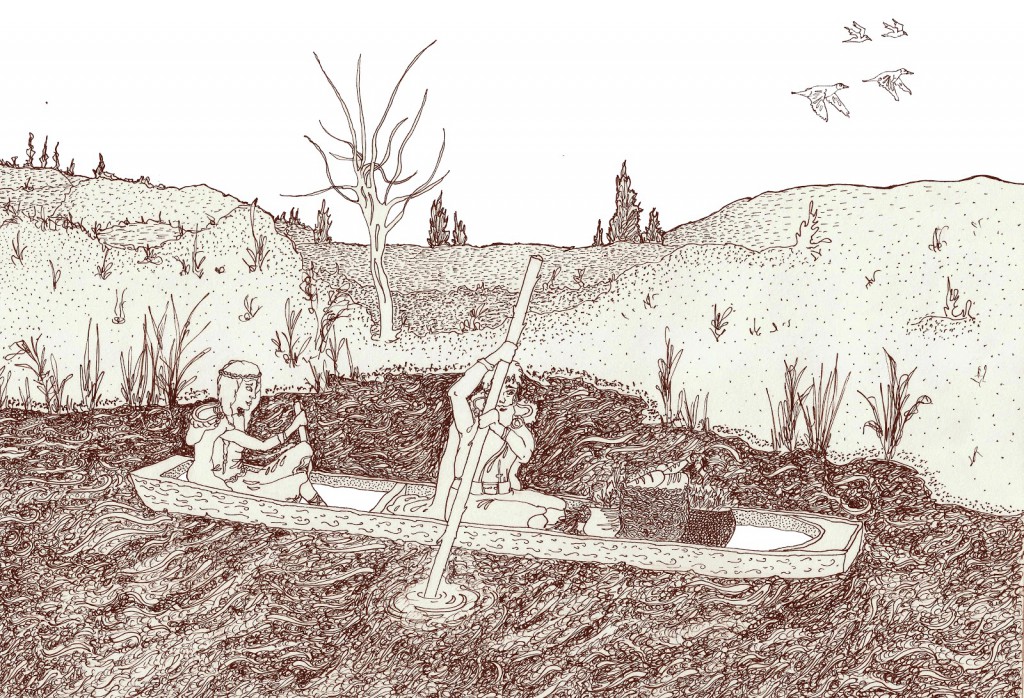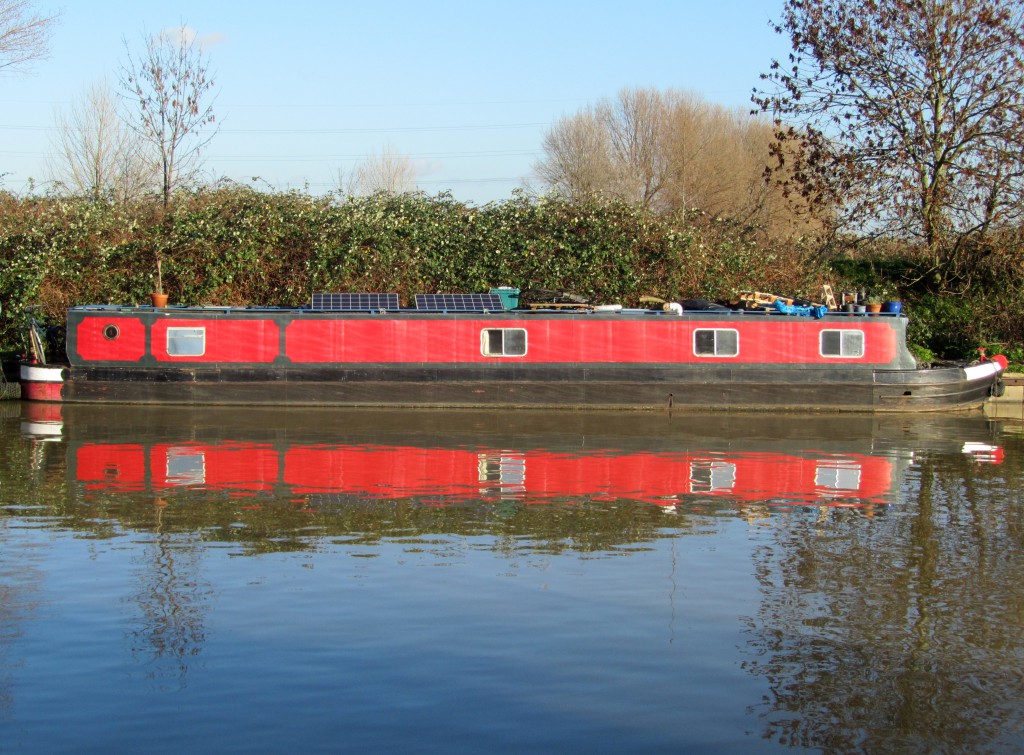 There are many more houseboats now and it's all much busier and more vibrant than I remembered. The Lea Bridge between Clapton and Leyton has been transformed by new riverside developments.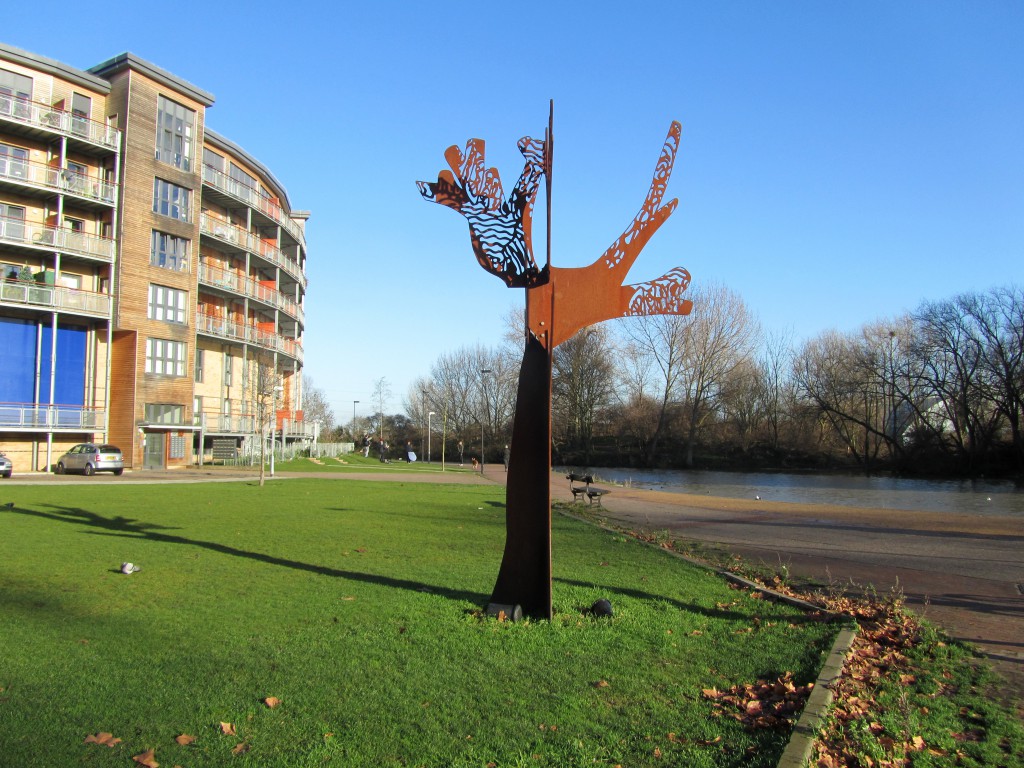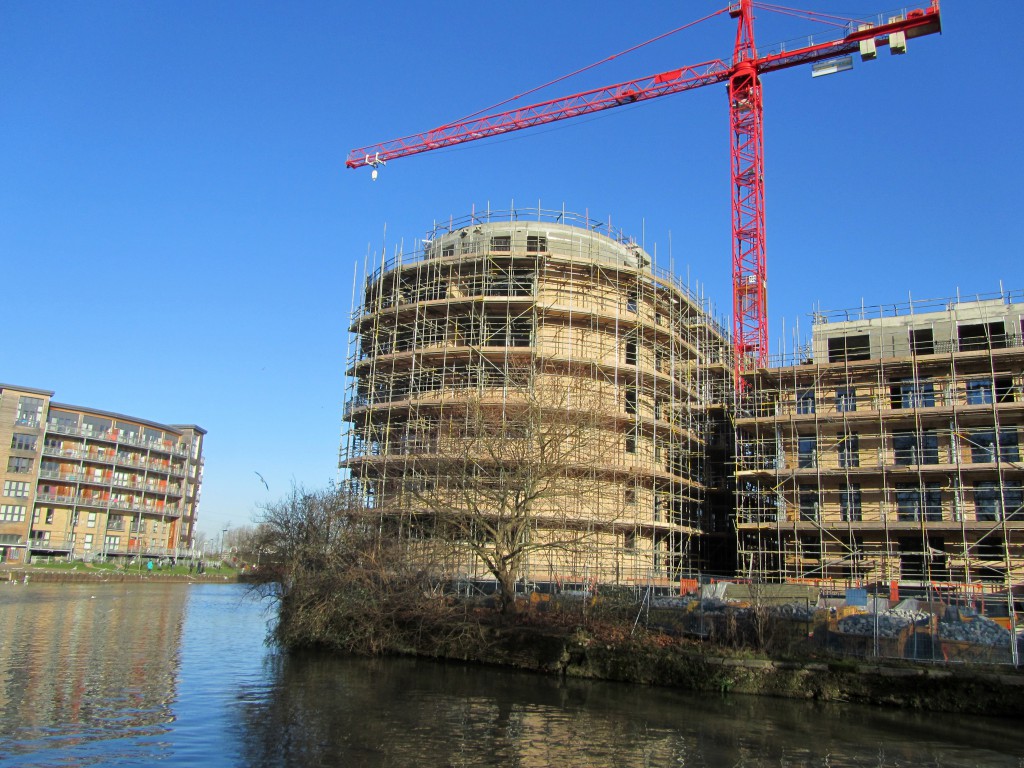 Then we came alongside the romantically named Middlesex Filter Beds Nature Reserve and its enigmatic stone circle. I tried unsuccessfully to photograph it but you can see it much better here. The River Lea branched off eastwards and we followed the River Lee Navigation along Hackney Cut.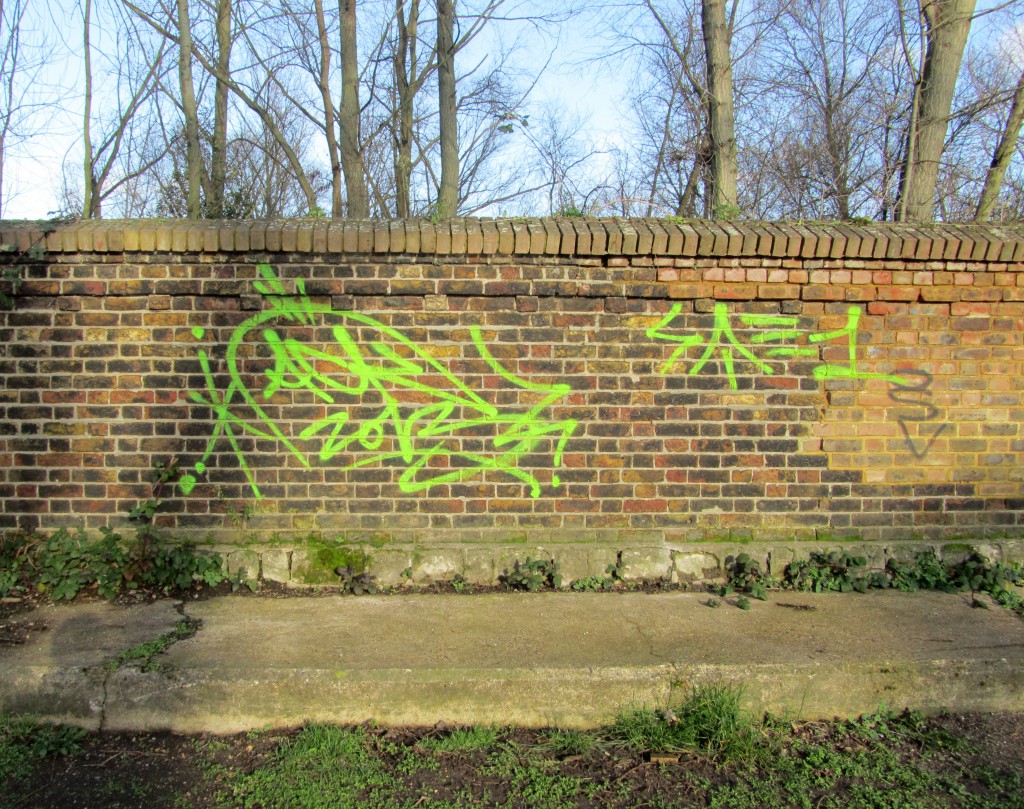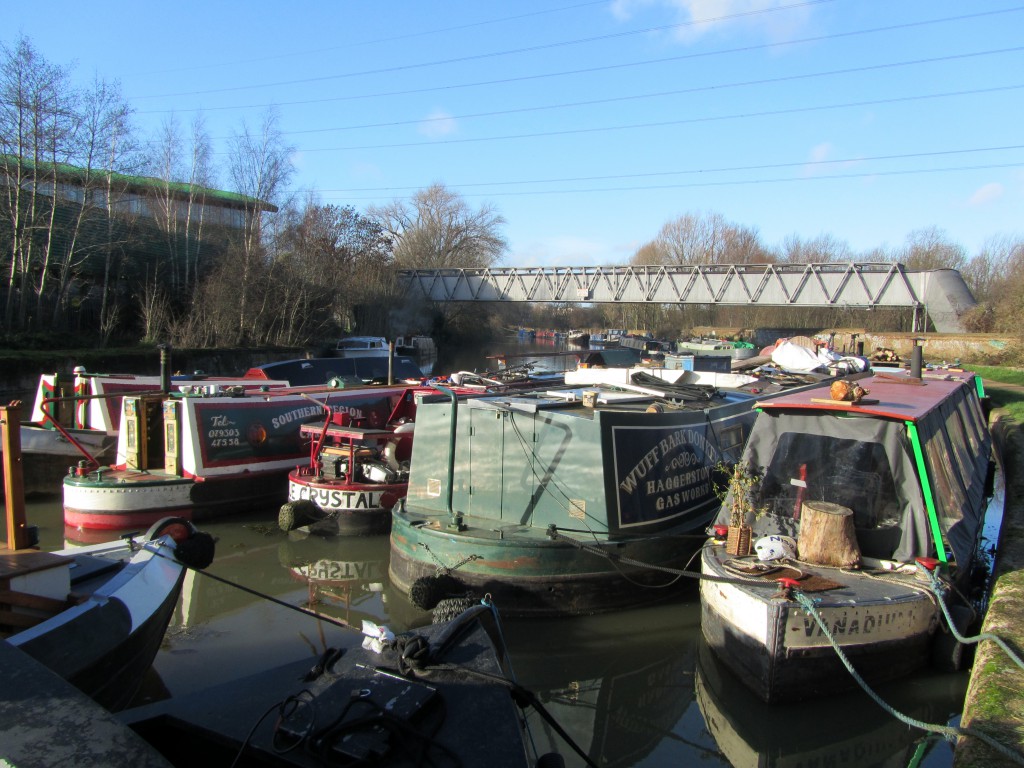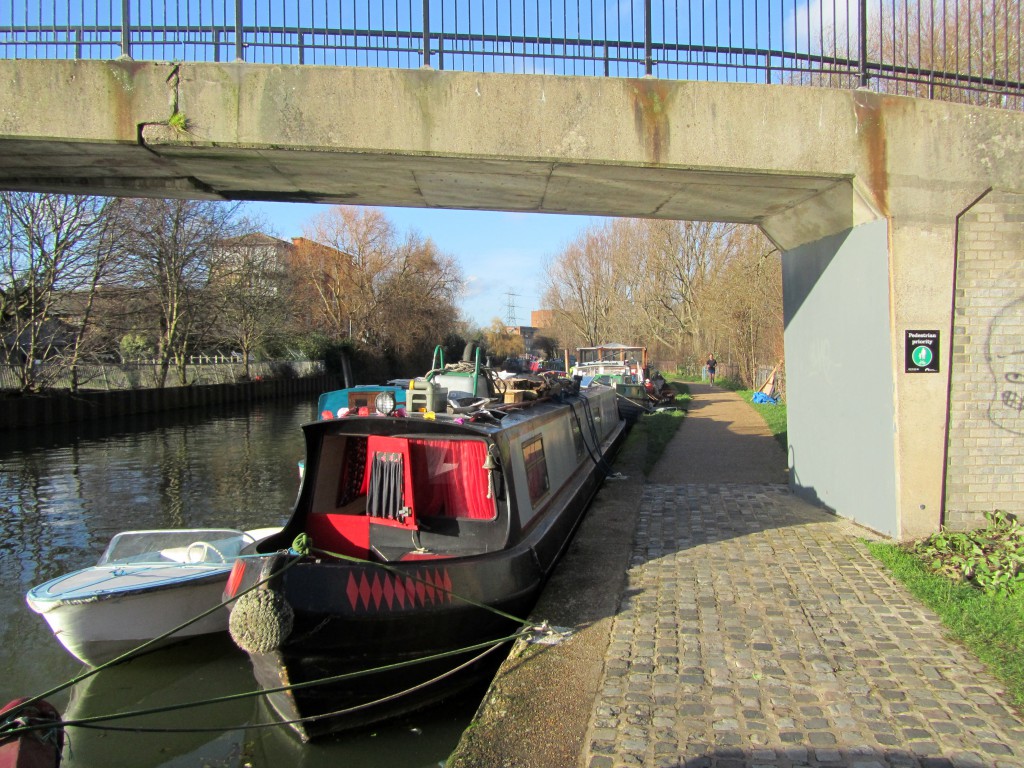 By Hackney Marsh and Wick Woodland the recent storms had provided plenty of fallen branchwood, perfect firewood to feed the houseboats' stoves and many boat dwellers were busy splitting logs.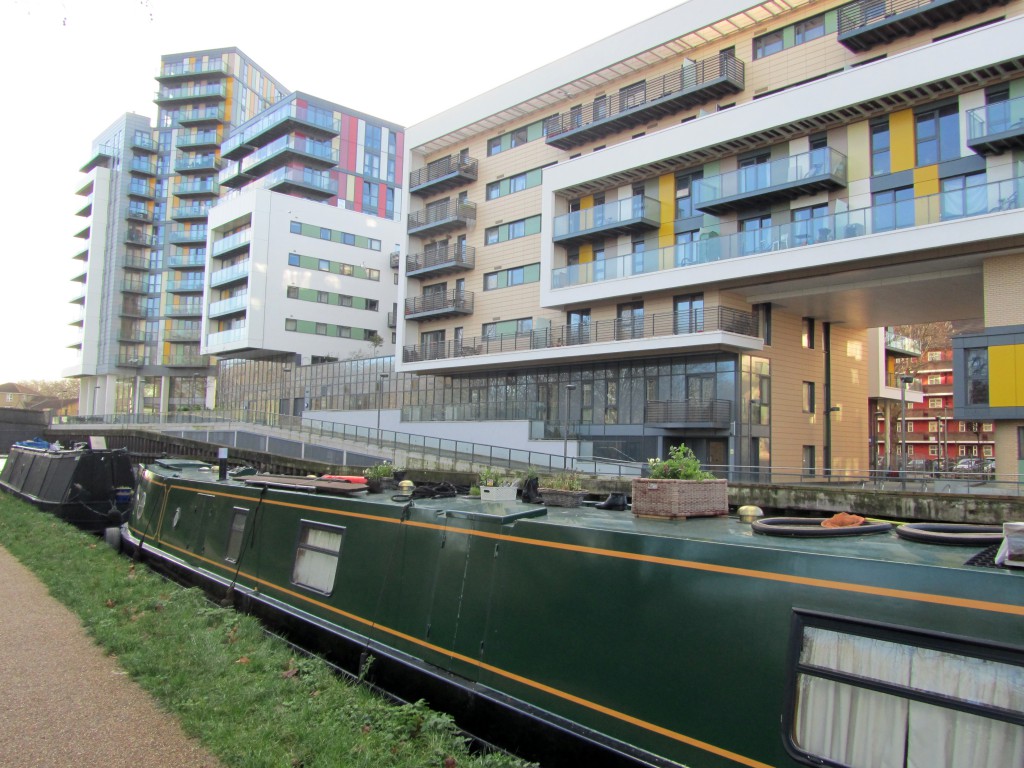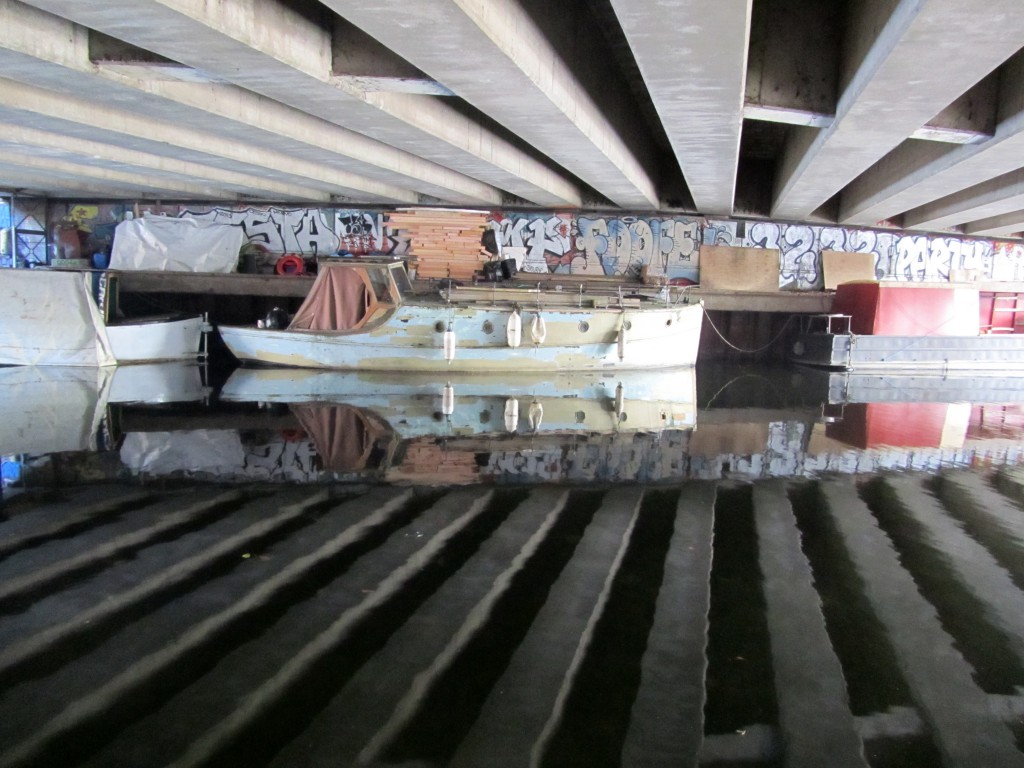 Then we turned right, and after lunch we made our way home alongside Victoria Park via Dalston. This photo is a bit of cheat but I include it because it's one of my favourites; it's not on the Lee/Lea, these boats are sheltered from the storm beneath the East Cross Route on the Hertford Union Canal.
※
On another occasion, last year when the towpaths were bursting with late May blossom, so it was probably June, we went further north and explored the surprisingly bucolic River Lee Country Park.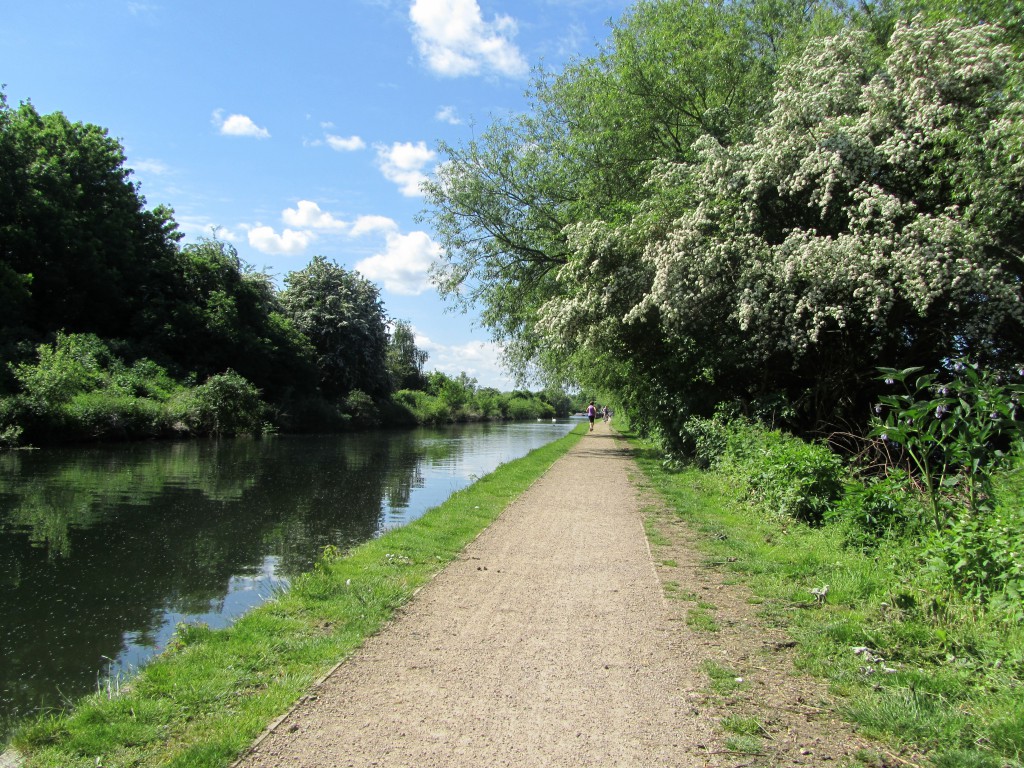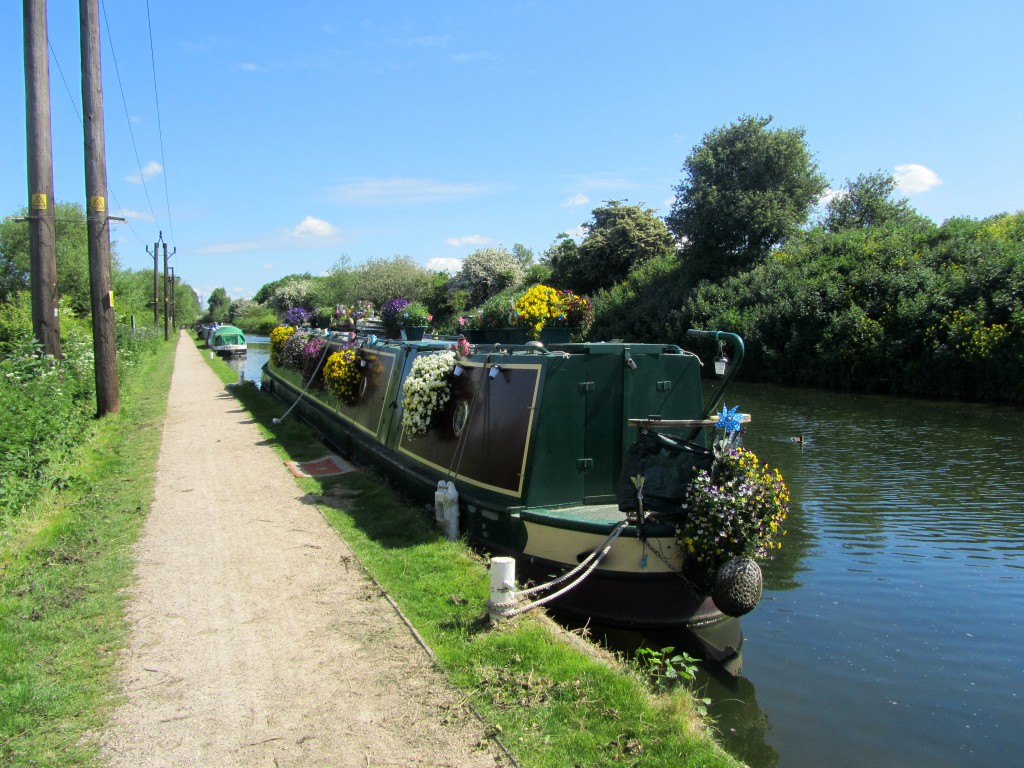 This is an area of reclaimed gravel pits, now transformed into lakes on either side of the river, with countless other watercourses threaded between. This is the River Lee Navigation but there's also the Old River Lea, the Small River Lea, Hooks Marsh Ditch, Turnford Brook, Horsemill Stream, Cornmill Stream, the poetically named Flood Relief Channel and up near Broxbourne there's the New River.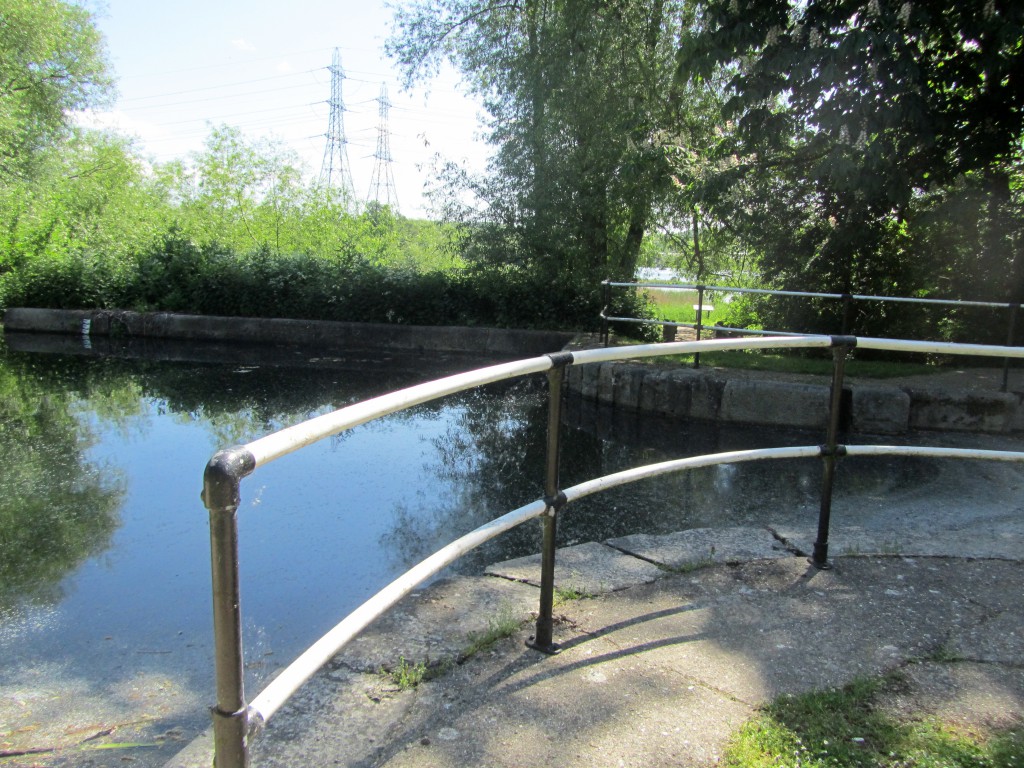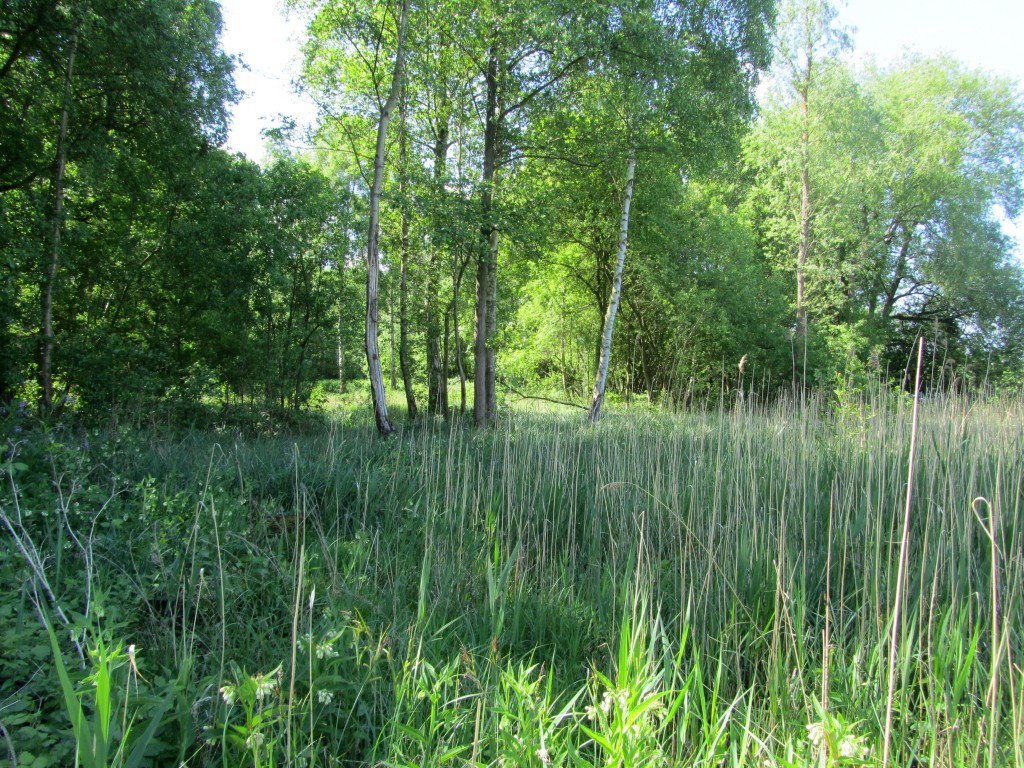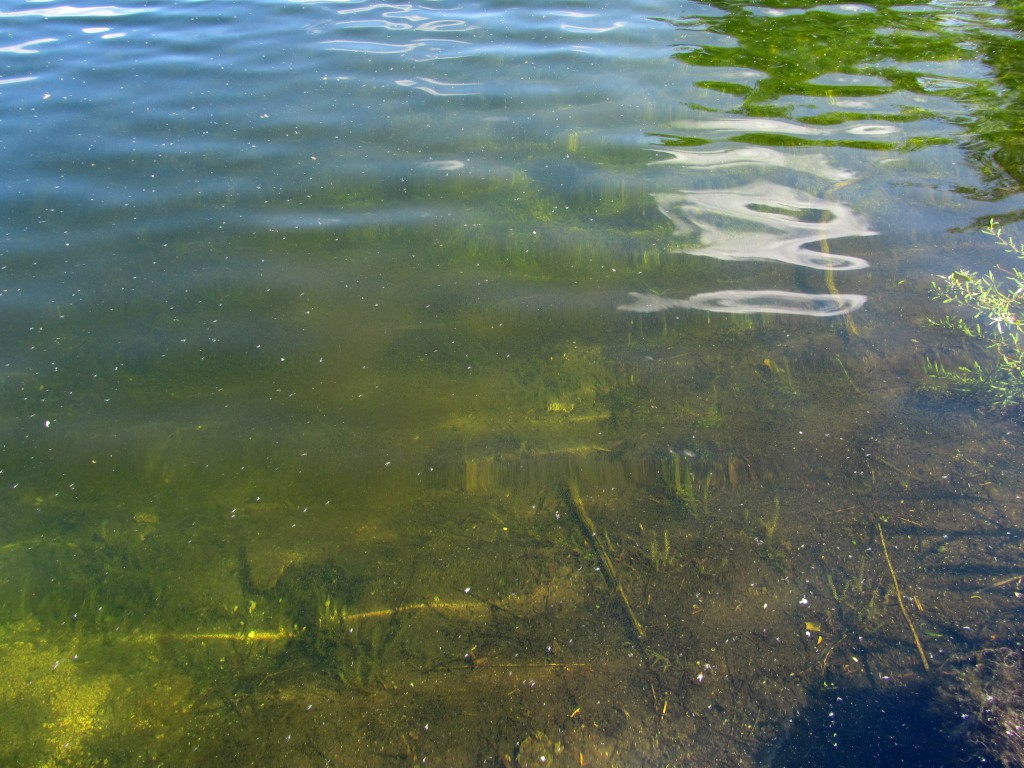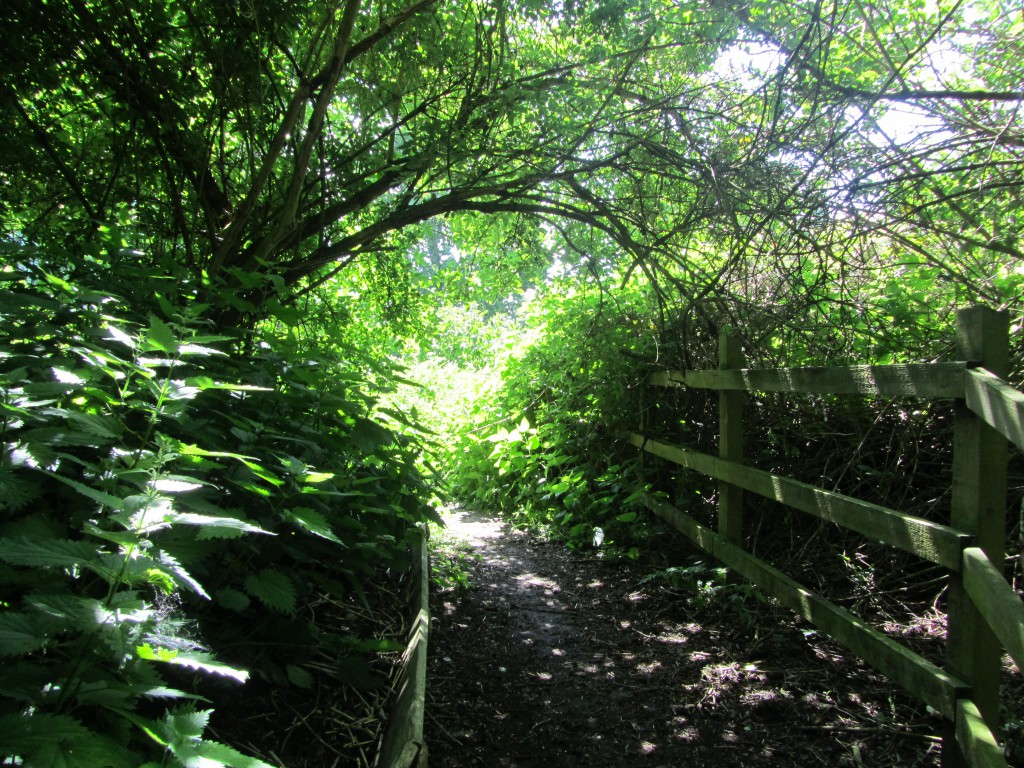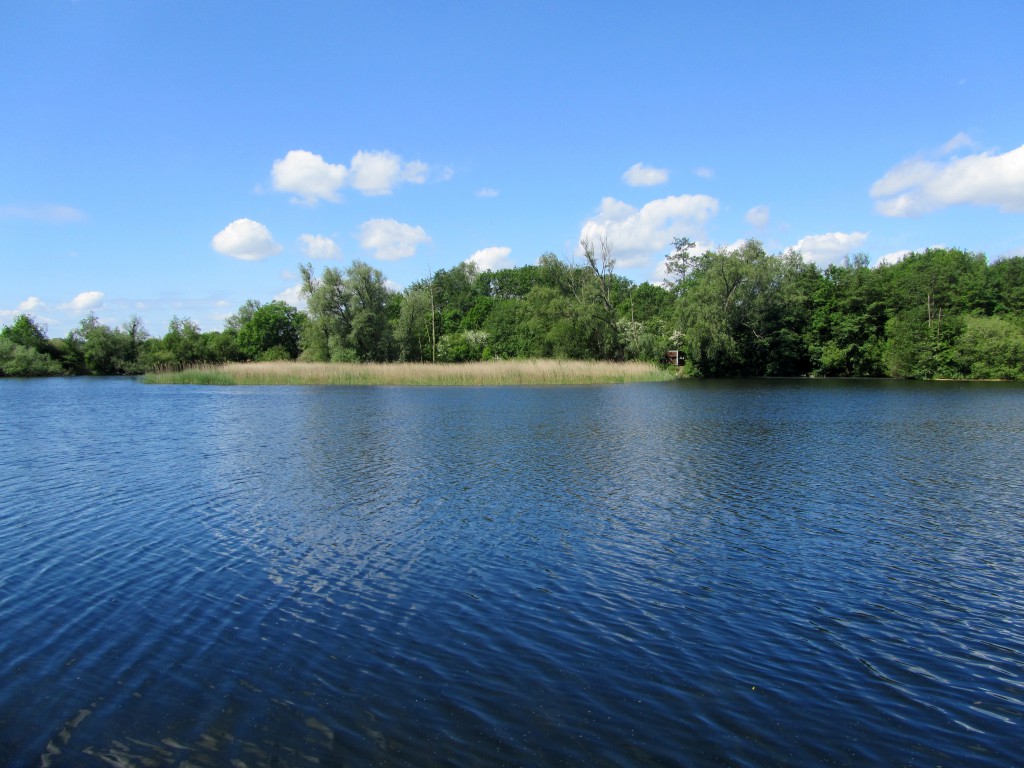 We started out from Cheshunt and headed upriver, so this lake must be North Metropolitan Pit, looking west to Nightingale Wood and the carefully hidden twitchers' box known as Pochard Hide.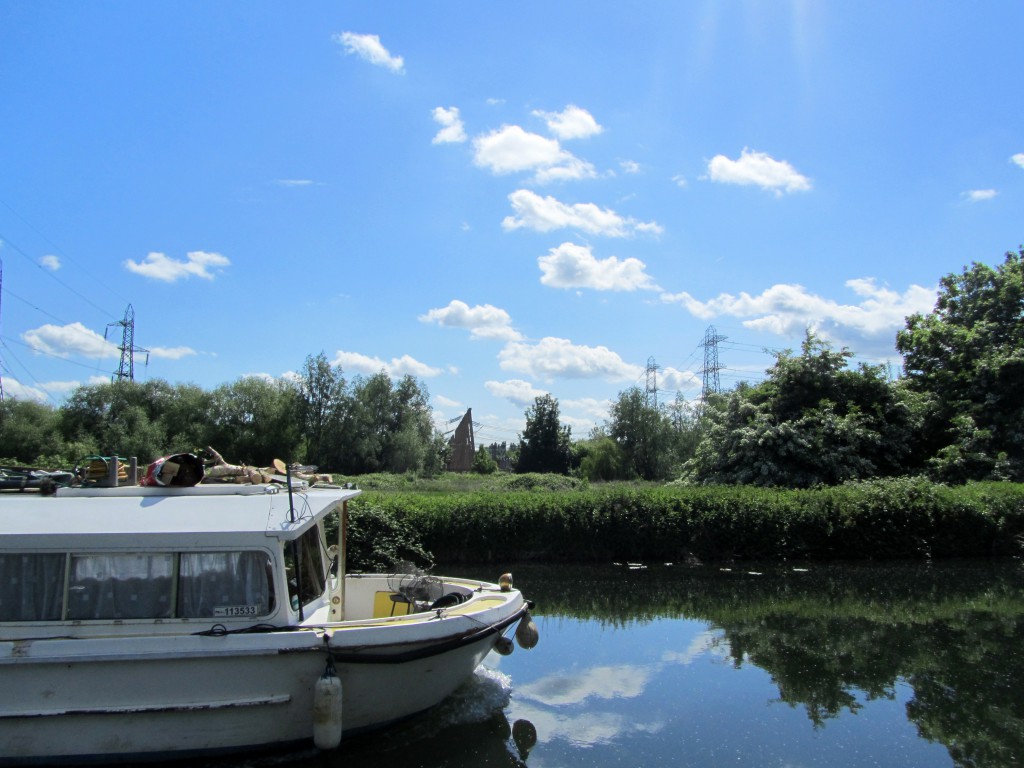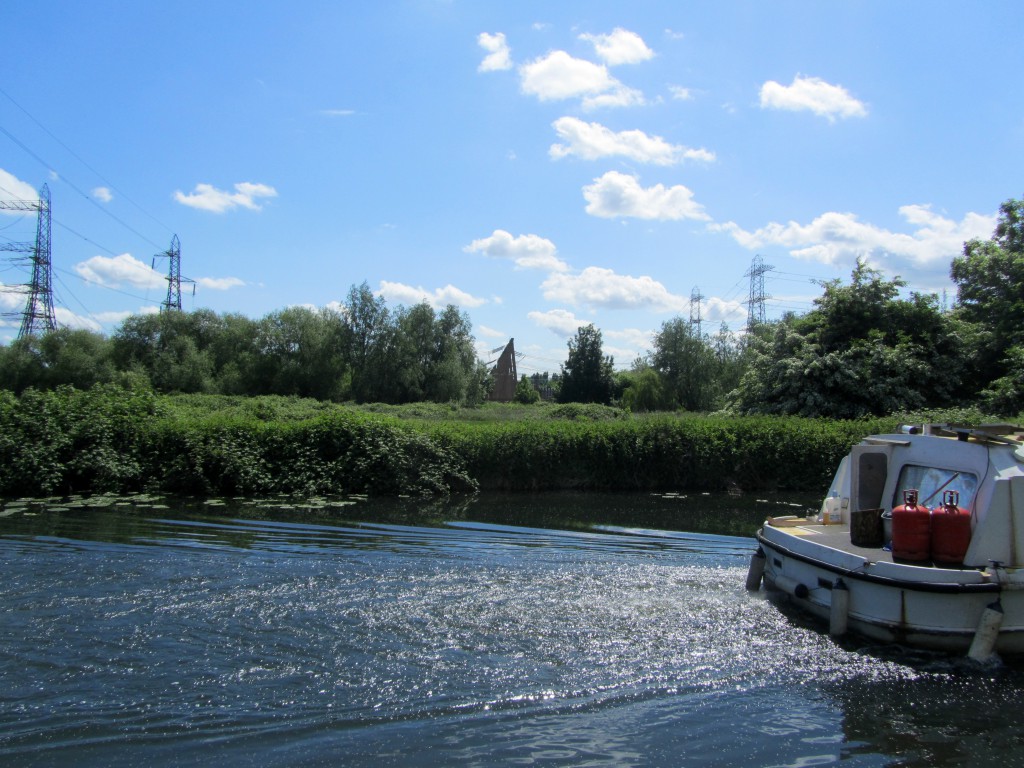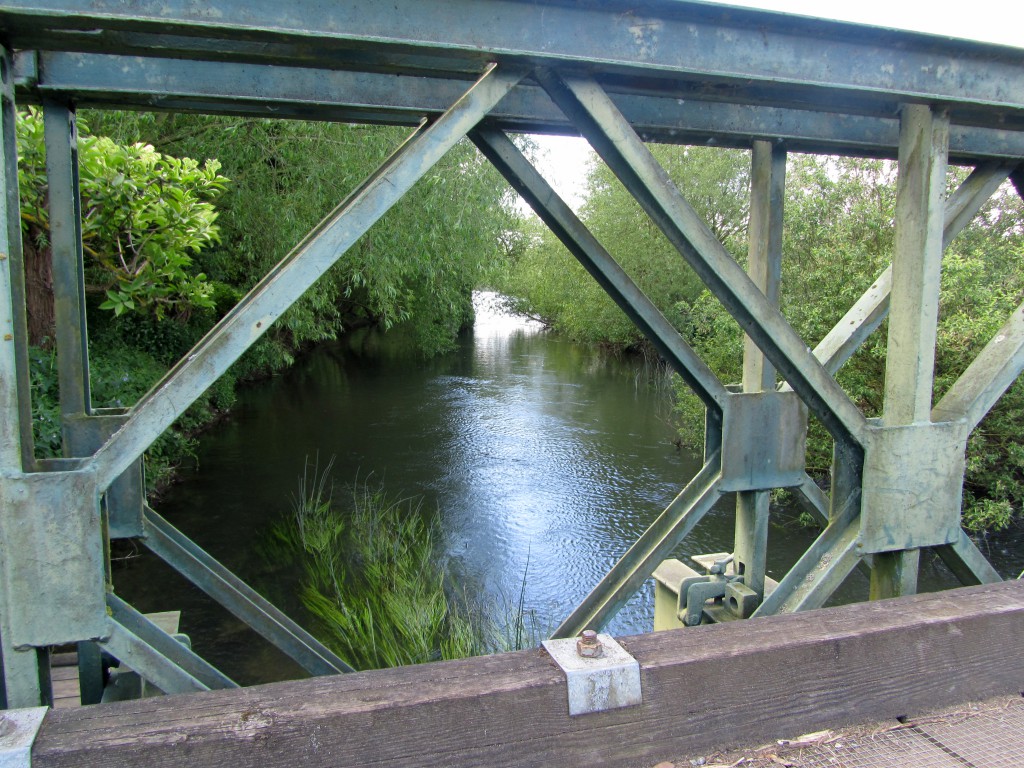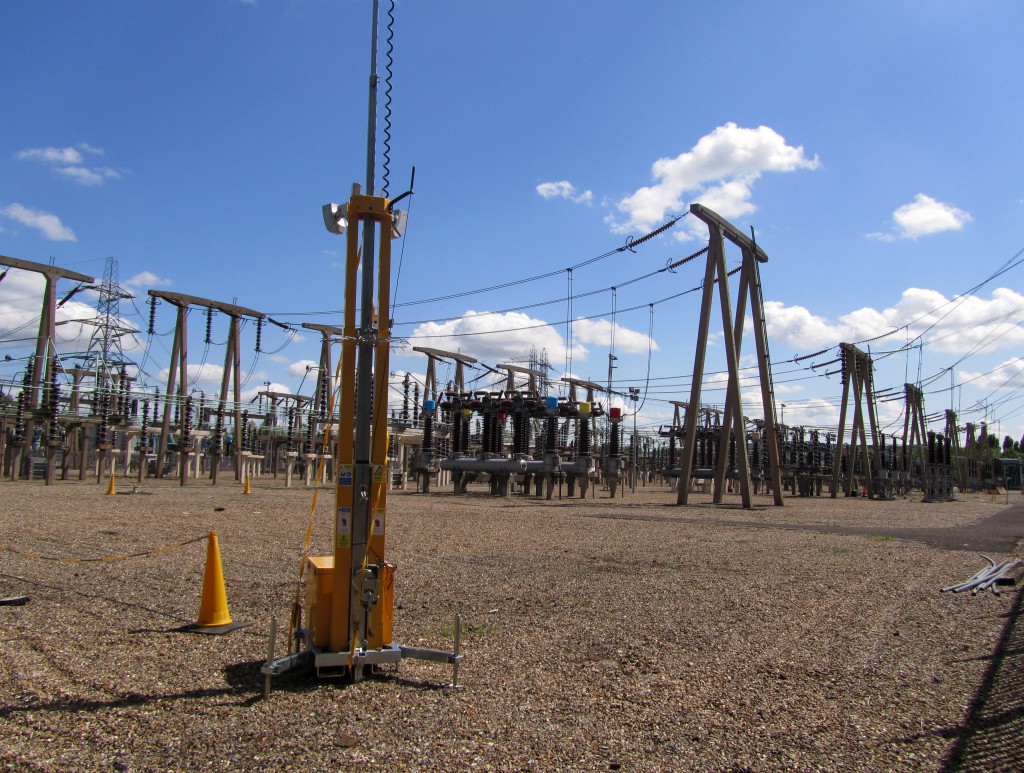 Then eastwards over the River Lee Navigation and across the Old River Lea, as if drawn irresistibly to the magnetic heart of the River Lee Country Park. The National Grid substation is the elephant in the room, overwhelming but ideally overlooked, a field of coils and cables for bryony vines and tendrils.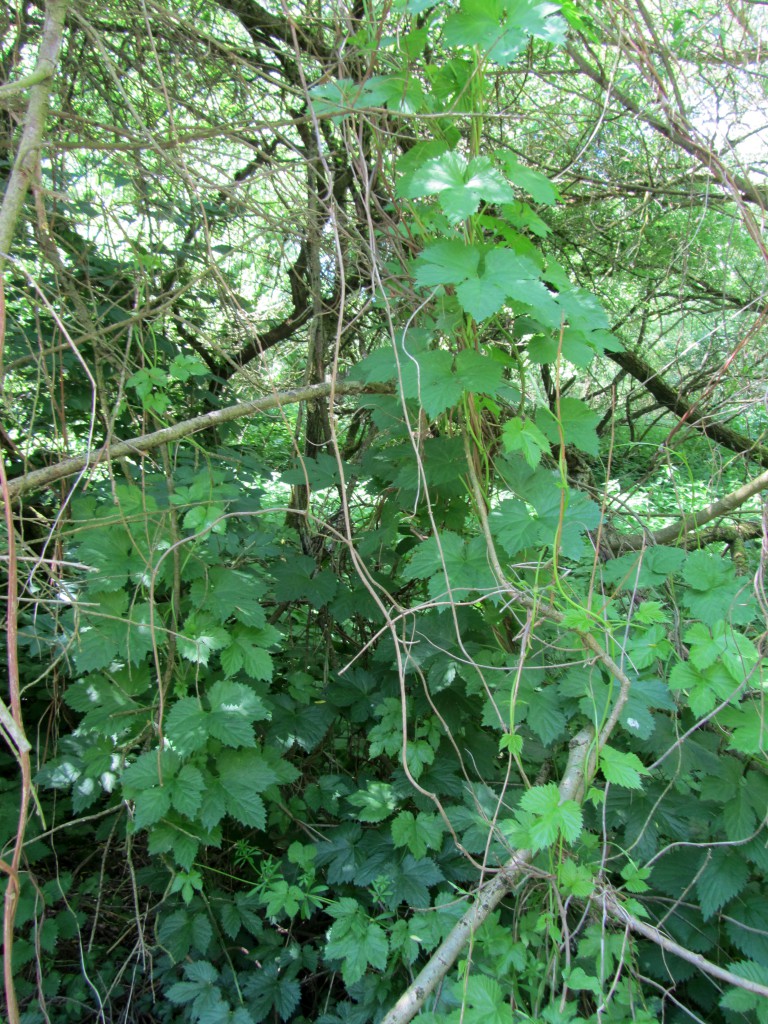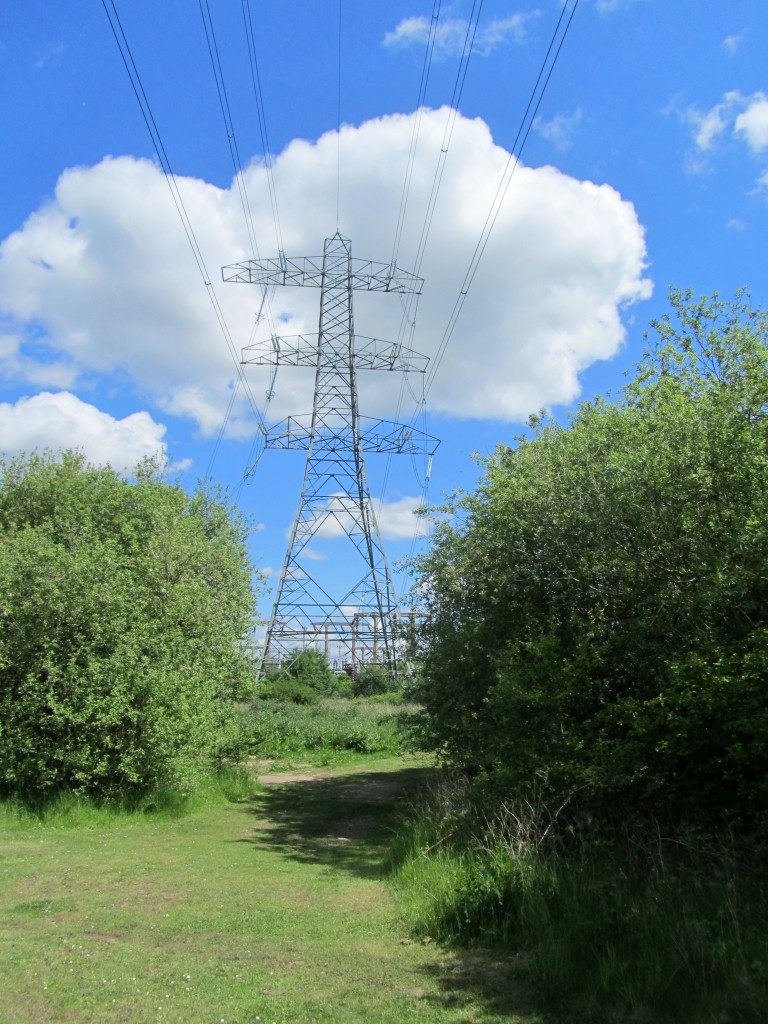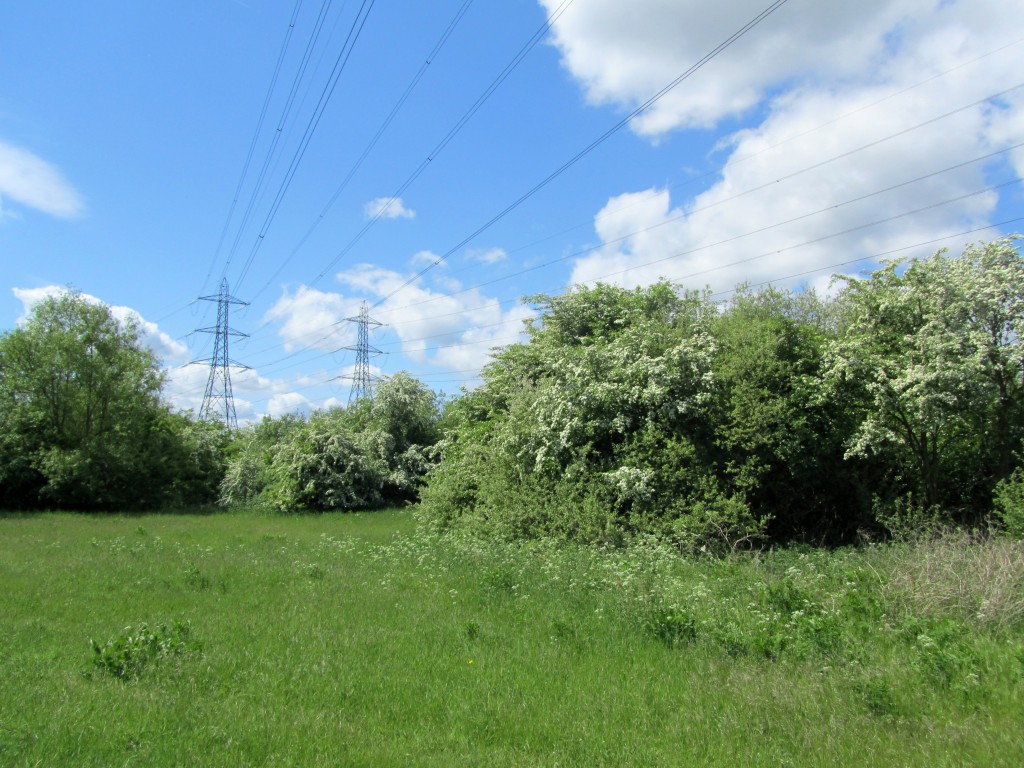 Linger too long in electrostatic overload and it's like mobile phone headcharge. Fizzy brain hum. Though the hawthorn appears energised, its branches bursting with foaming clouds of May blossom.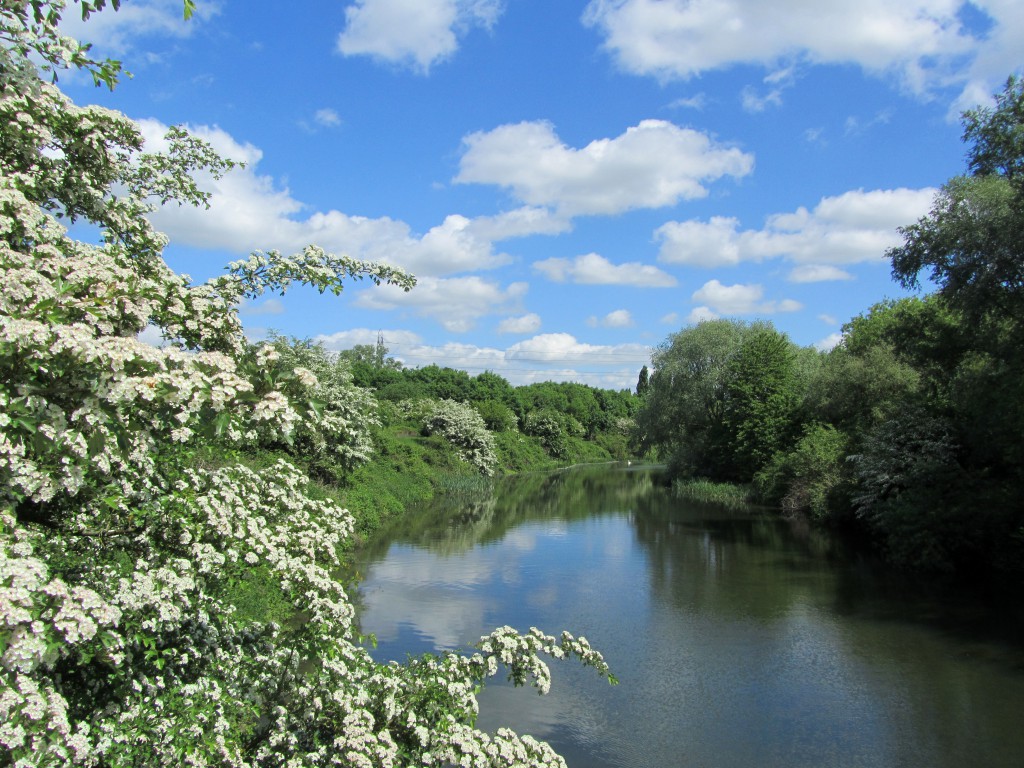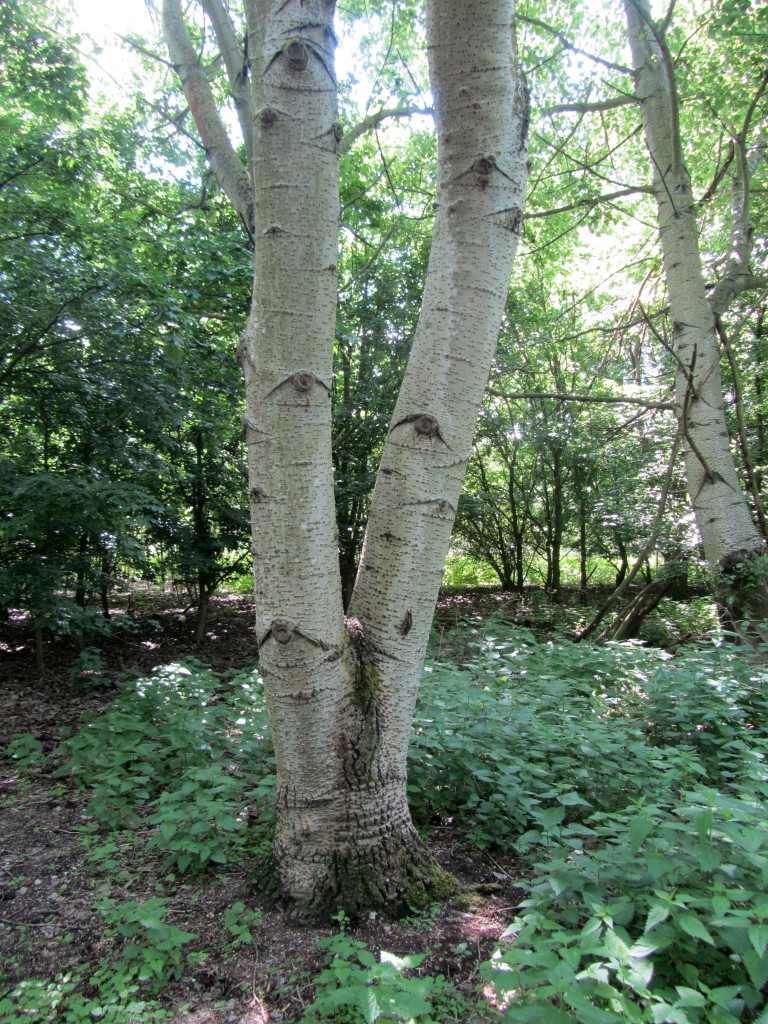 At Fishers Green the silver bark eyes of the birch trees watched us pass by, to Hayes Hill Farm for a late breakfast. The path led us through the largest field of hemlock I ever saw. More fizzy brain hum.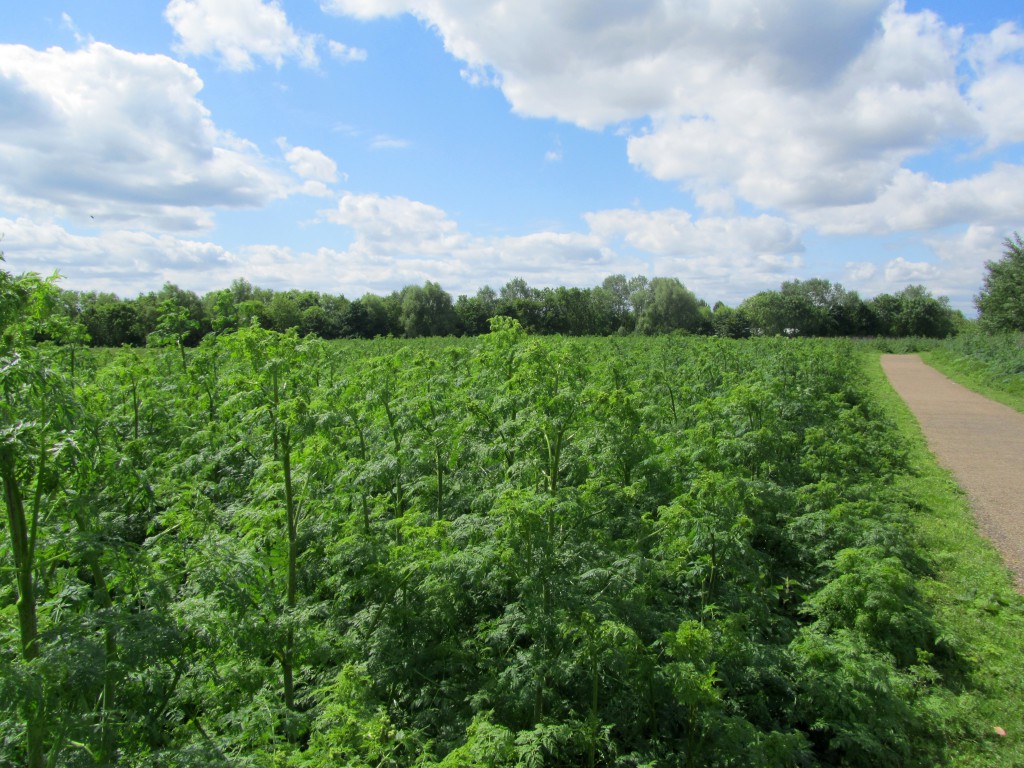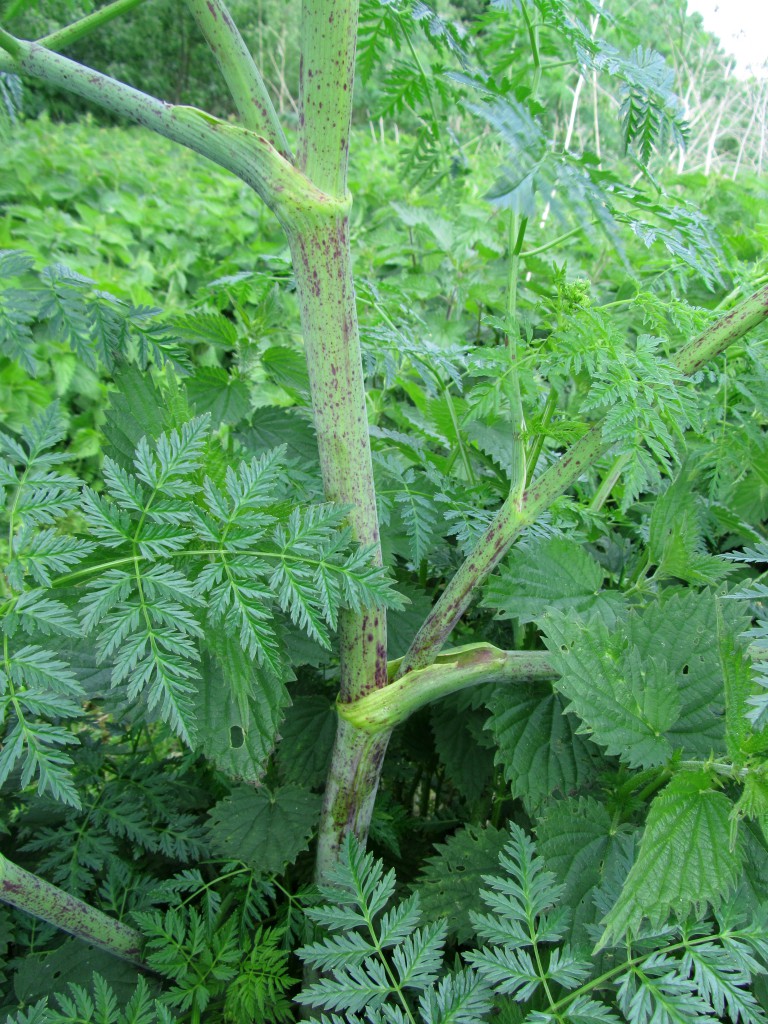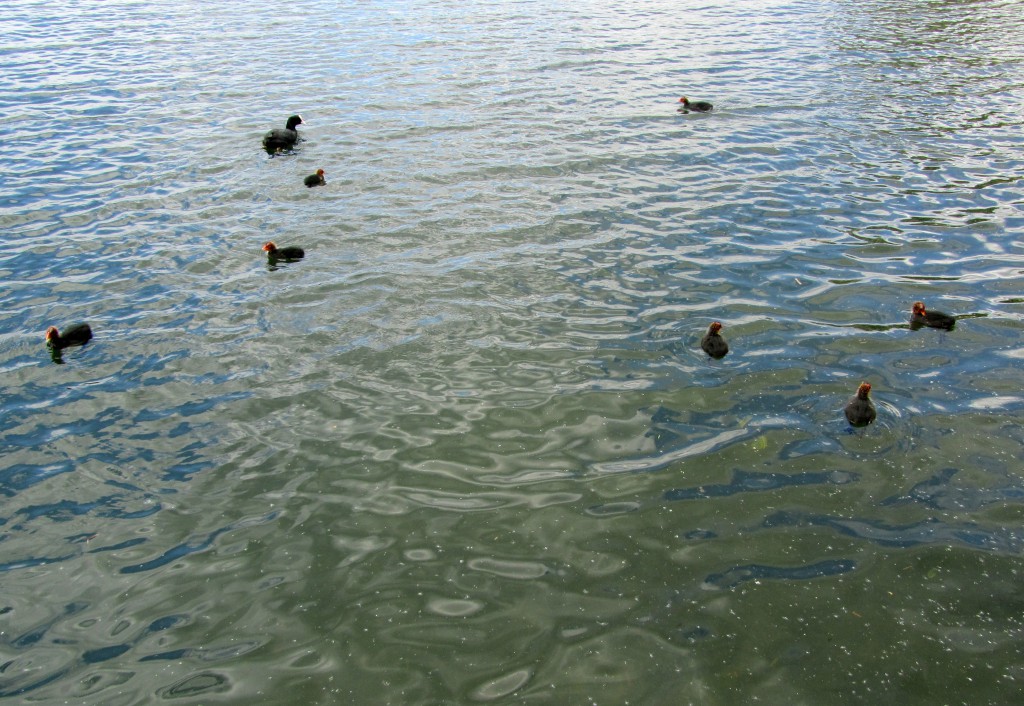 At Seventy Acres Lake we saw swans, ducks, geese, moorhens, grebes and coots all with their chicks, all very sociable and keen to greet us. The bittern was in hiding. This photo is thanks to Mark Braun.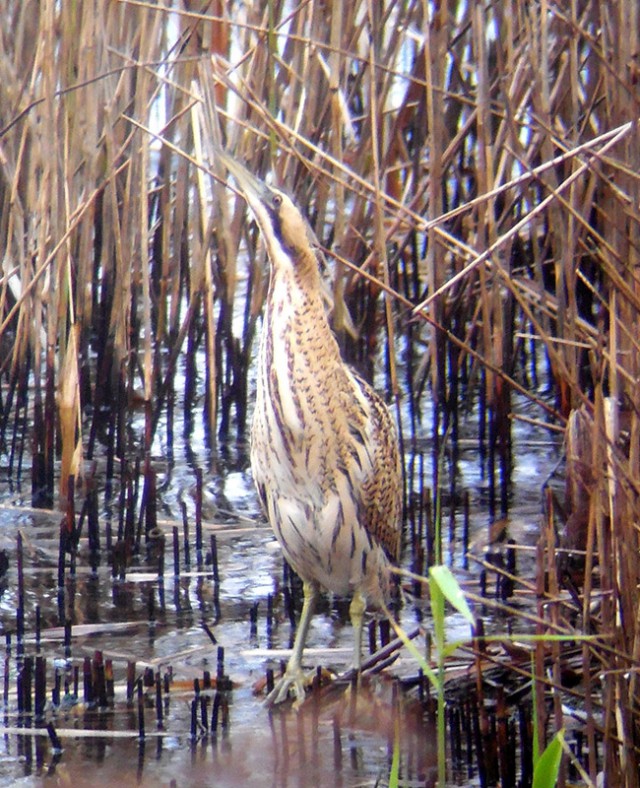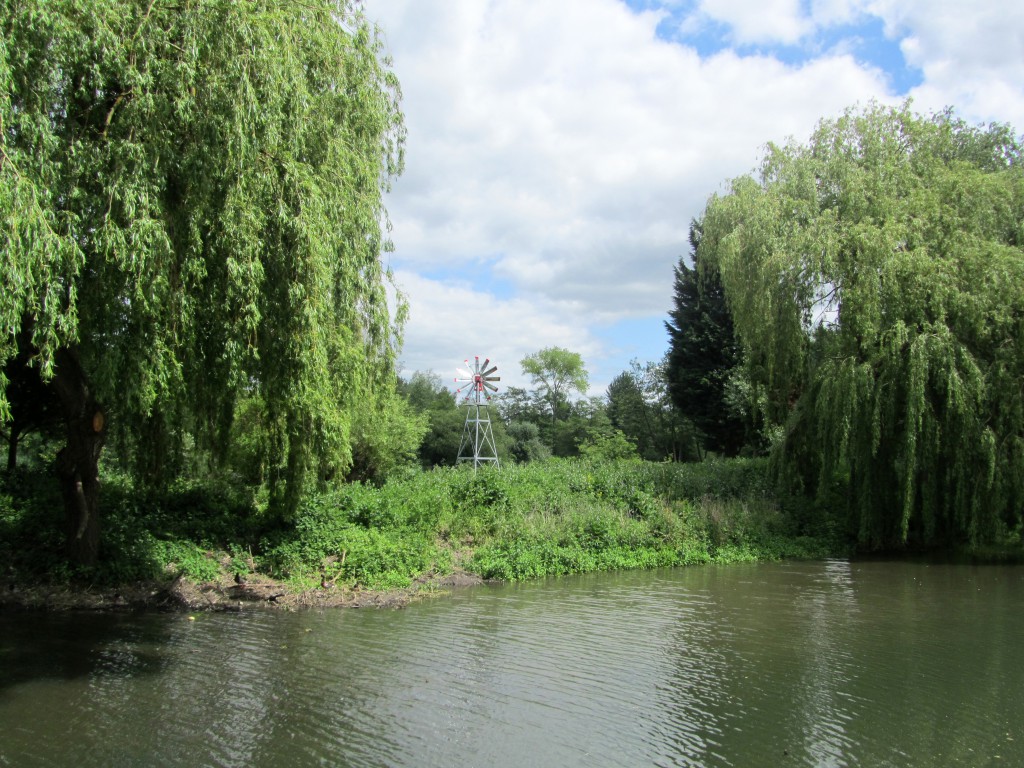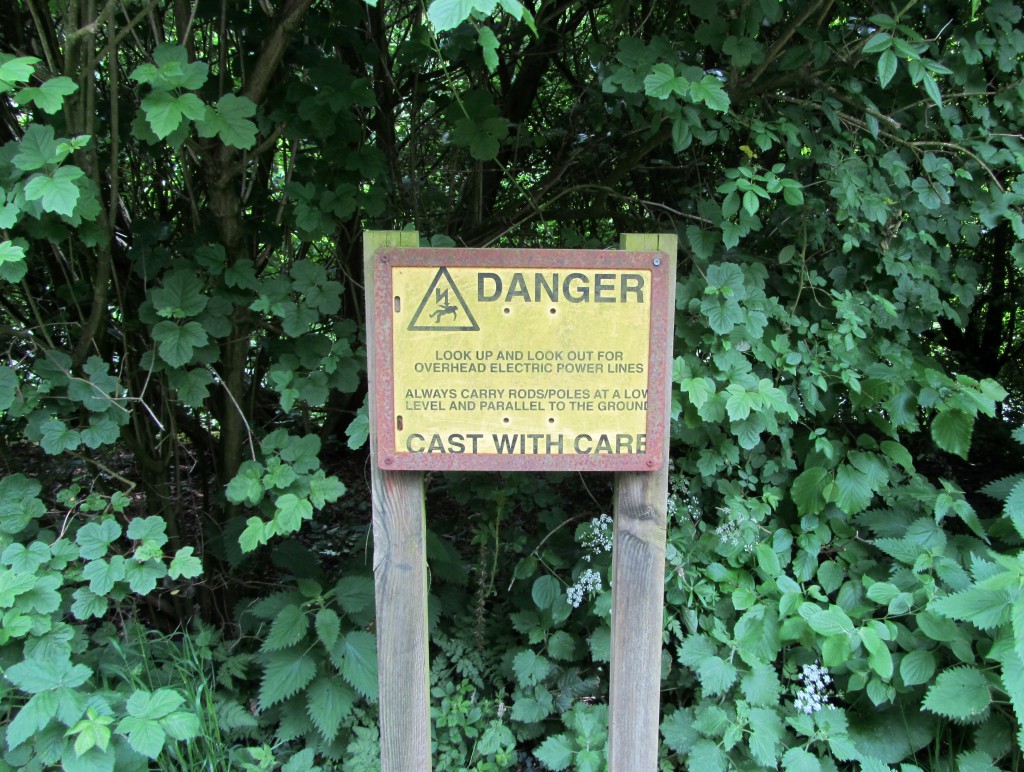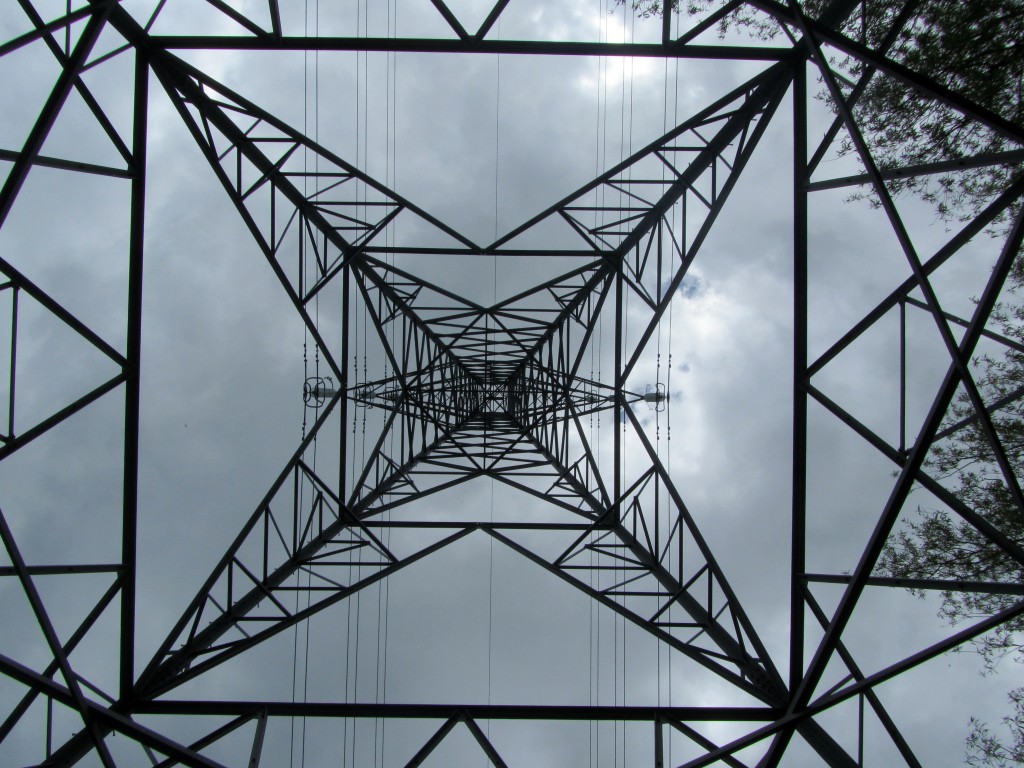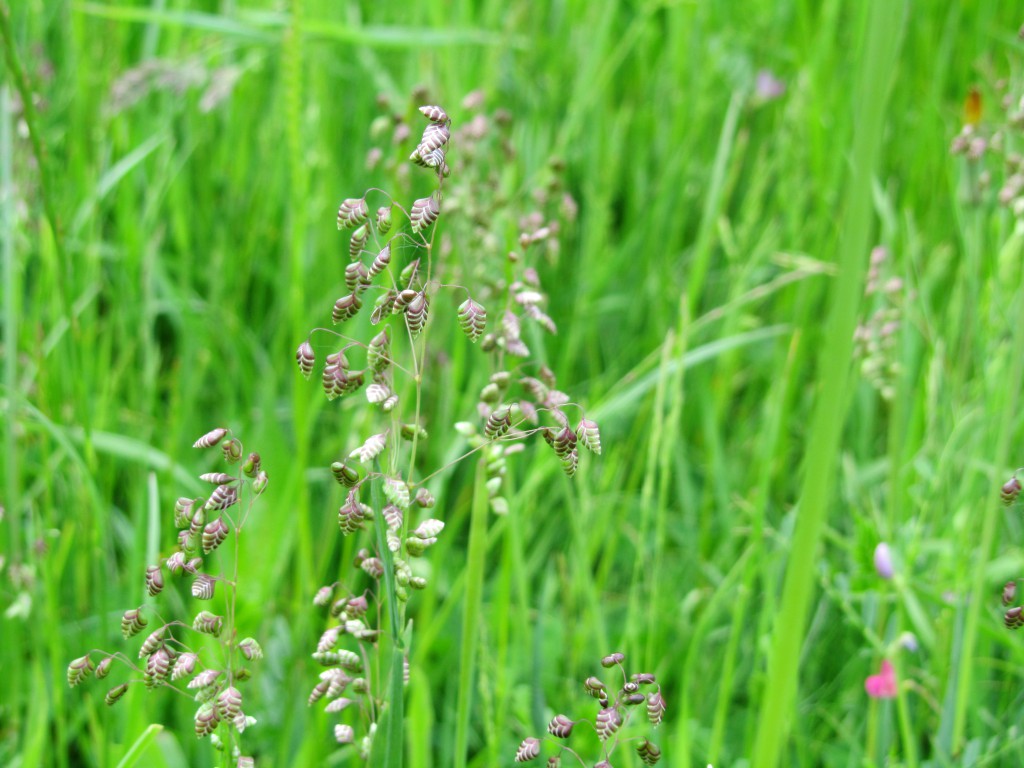 We came down by Hooks Marsh and along Walton's Walk beside Horsemill Stream to Hall Marsh Scrape, A Wet Grassland For Wildlife & People, home to Redshank, Lapwing, Wigeon and Shoveller.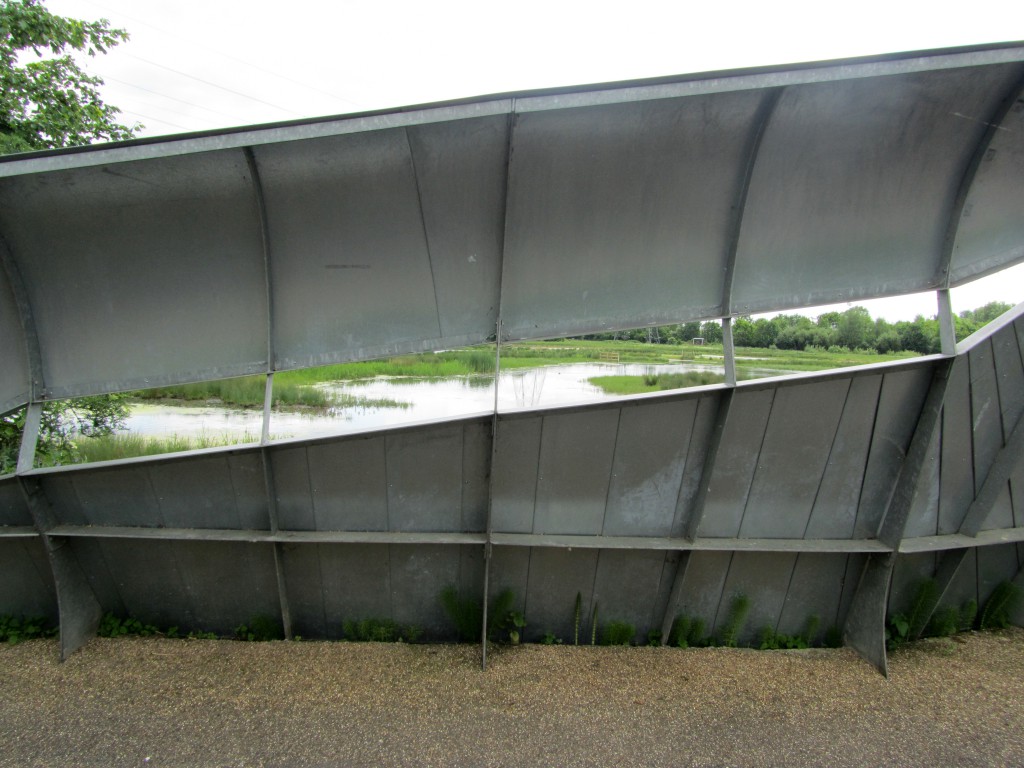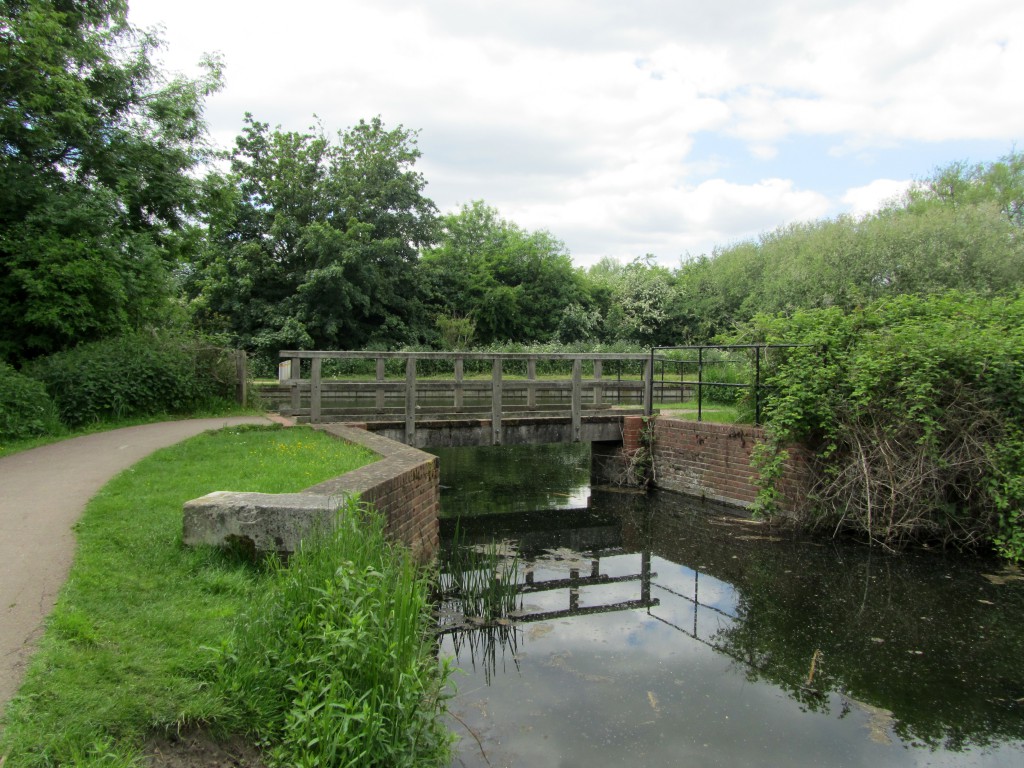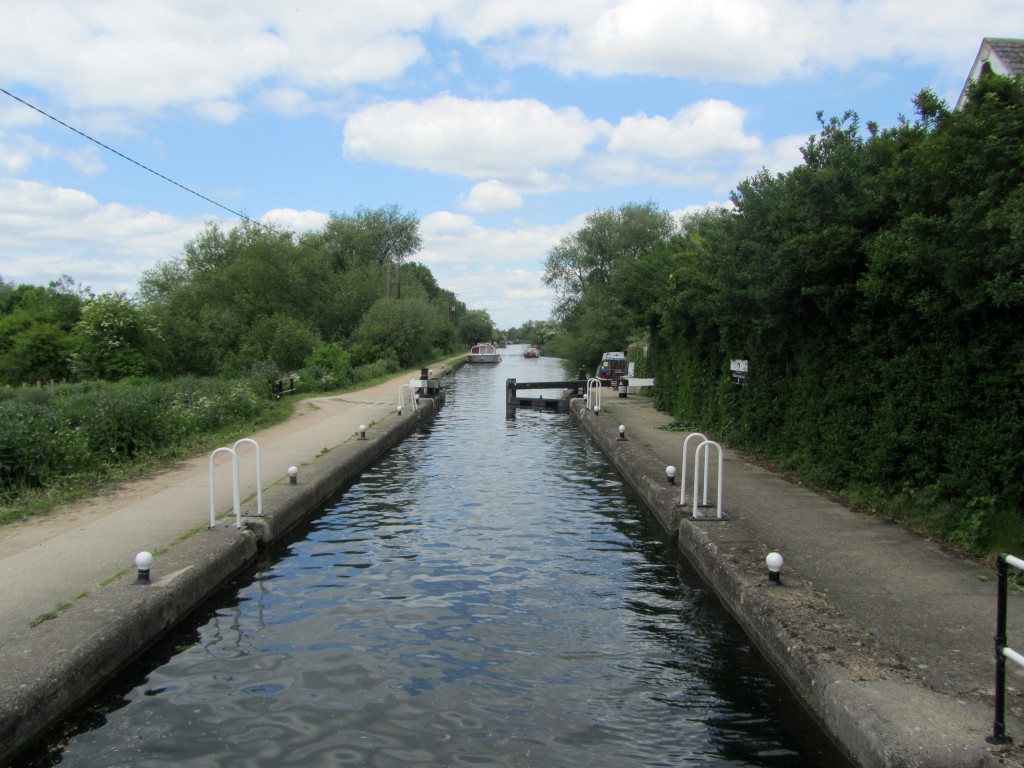 We rejoined the River Lee Navigation by Hooks Marsh Ditch at Waltham Common Lock. Over to our right, just visible above the opposite bank, stands a concrete pedestal used during World War II as a Bofurs anti-aircraft gun platform. Nowadays, crumbling and unstable, it's used as a blank canvas for graffiti tags. The sign by the towpath tells us it's a Scheduled Ancient Monument.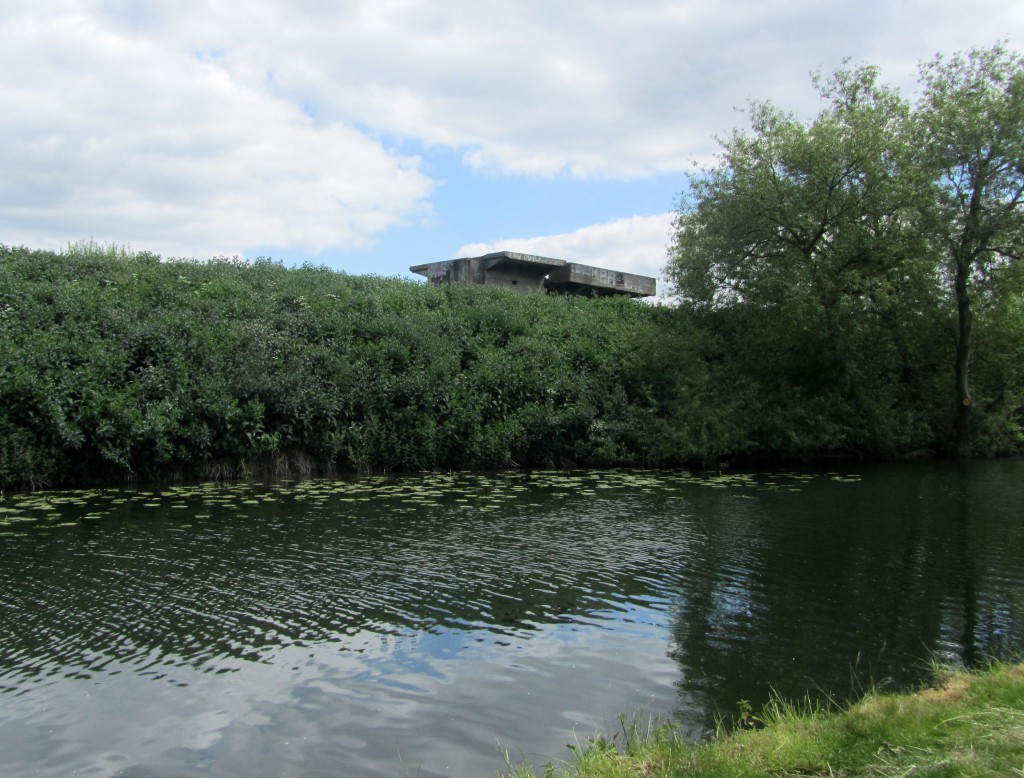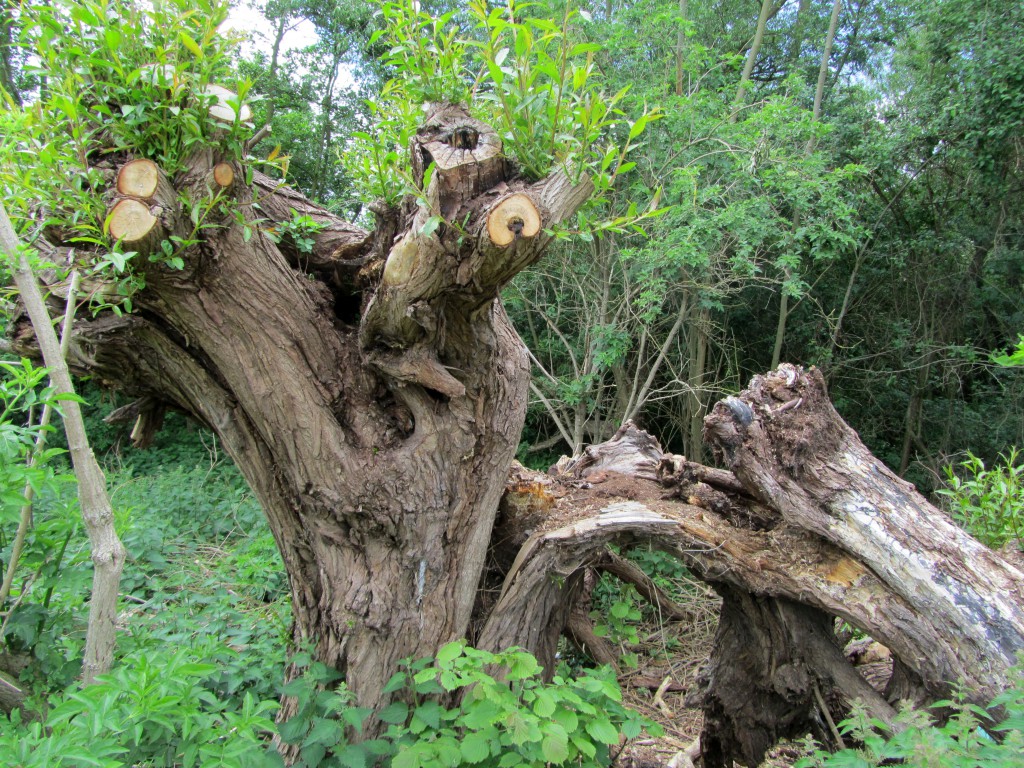 Then on our way home, a little way downriver, we called in at Waltham Abbey and its Norman church.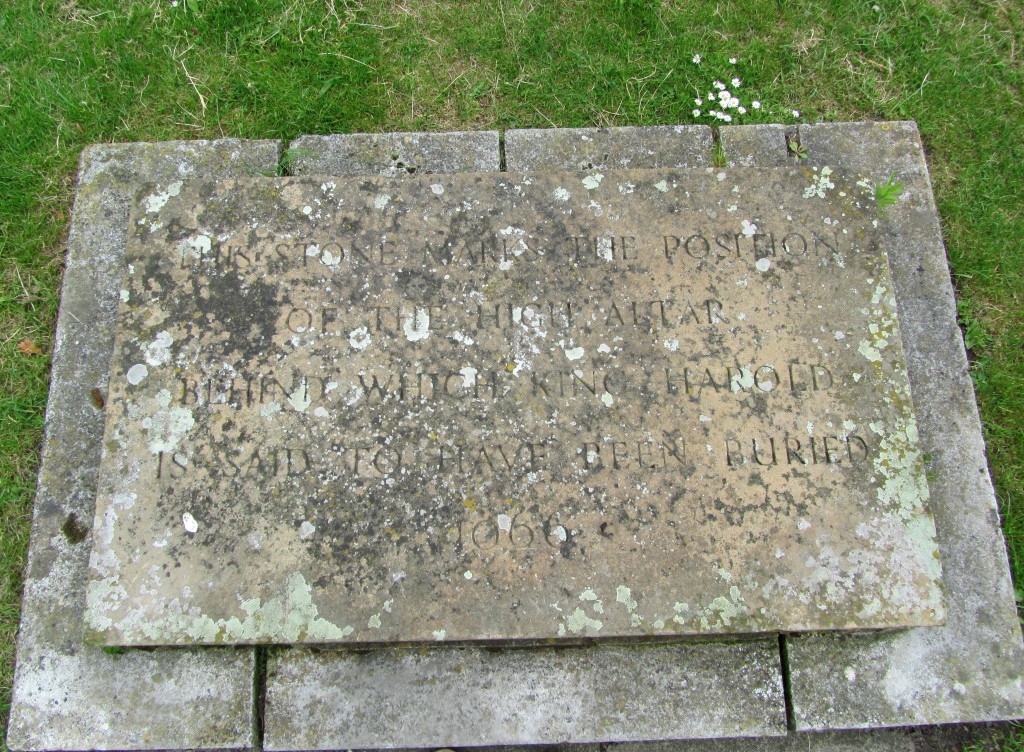 THIS STONE MARKS THE POSITION
OF THE HIGH ALTAR
BEHIND WHICH KING HAROLD
IS SAID TO HAVE BEEN BURIED
1066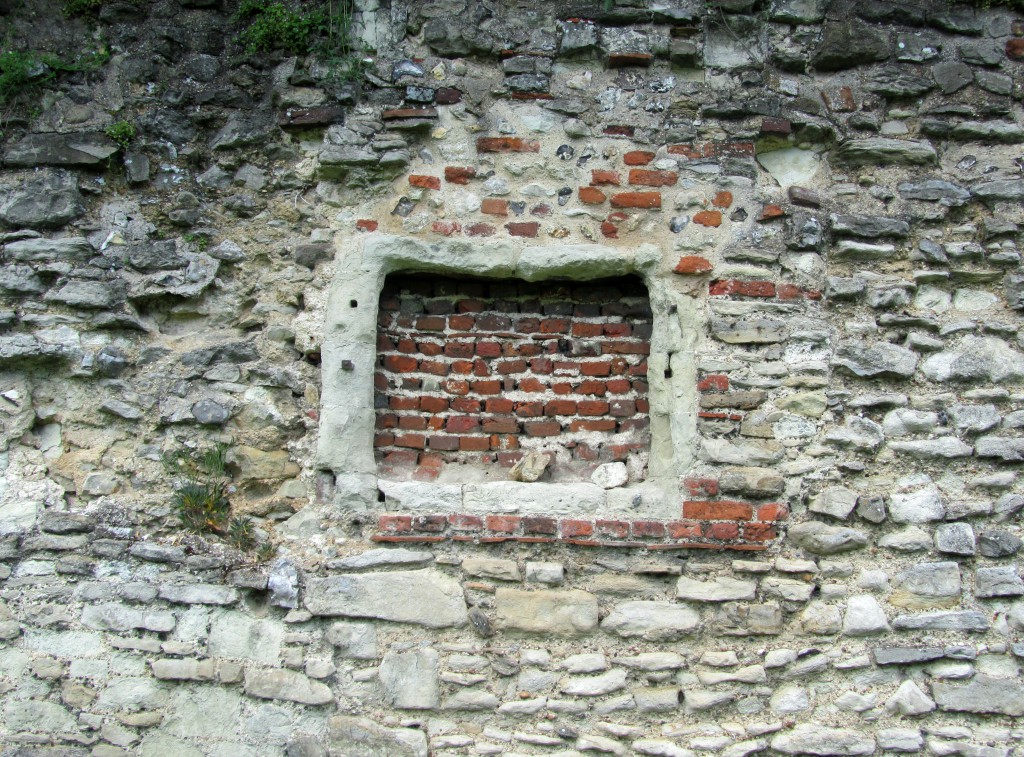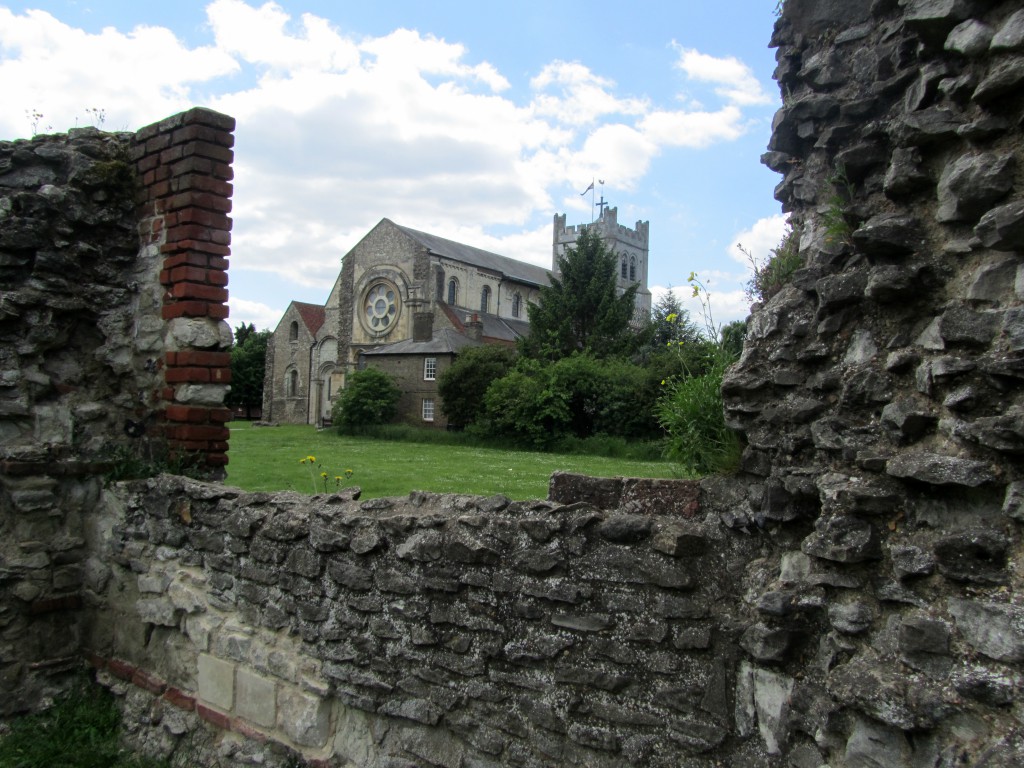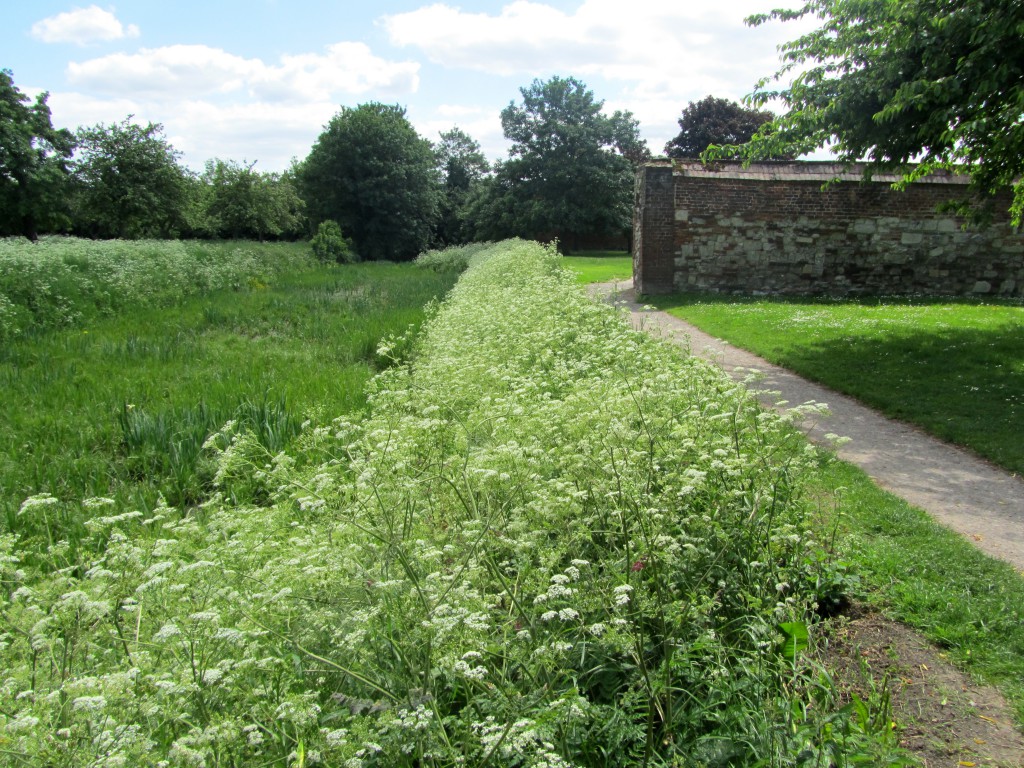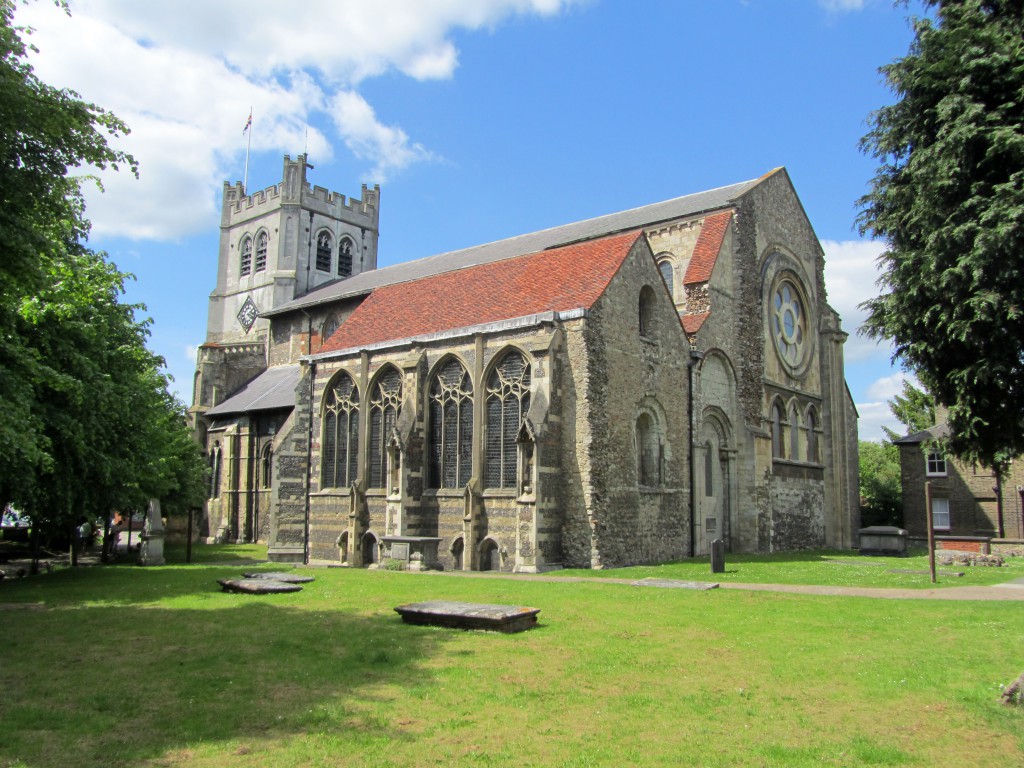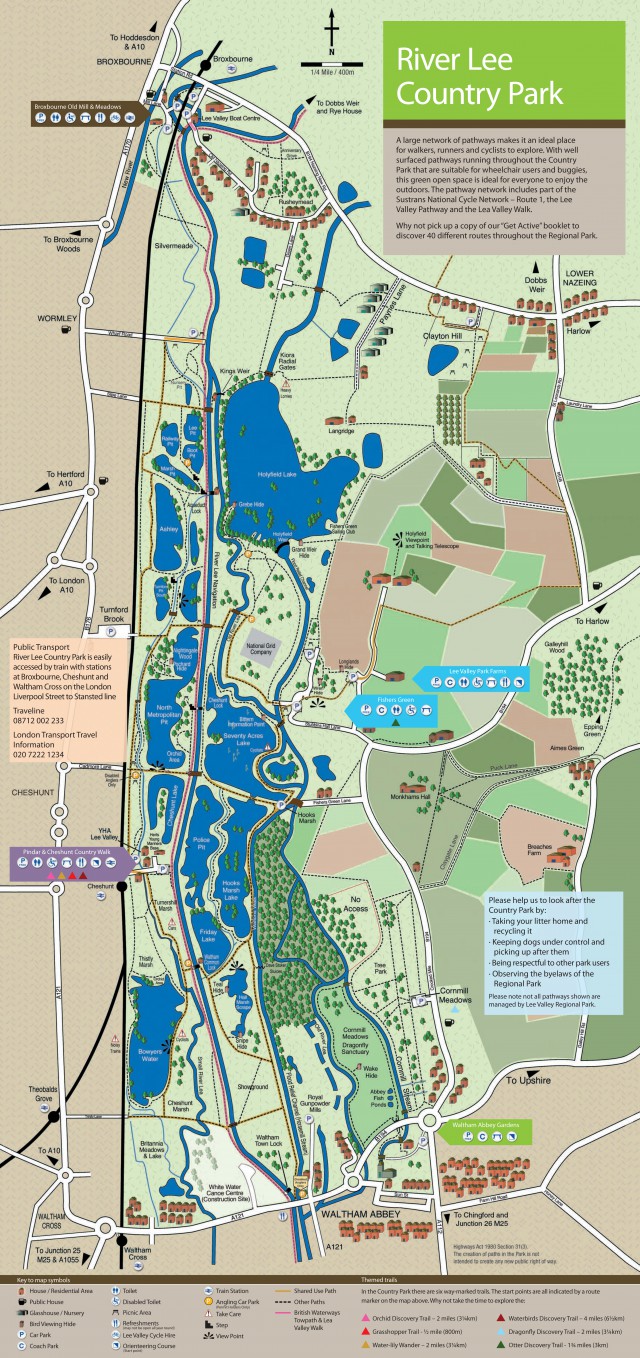 ※
Finally two short films from Margaret Howell, reflections on the River Lea…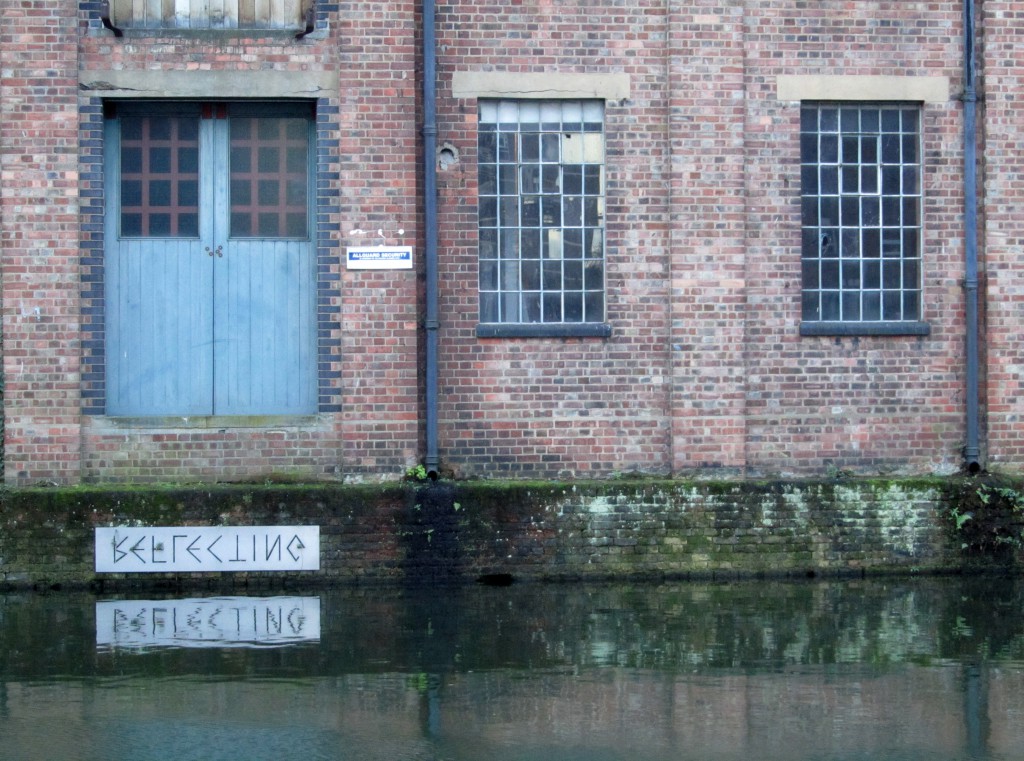 Lea Valley Walk / Lee Valley / River Lea / Queen Elizabeth Olympic Park / The Lea Valley