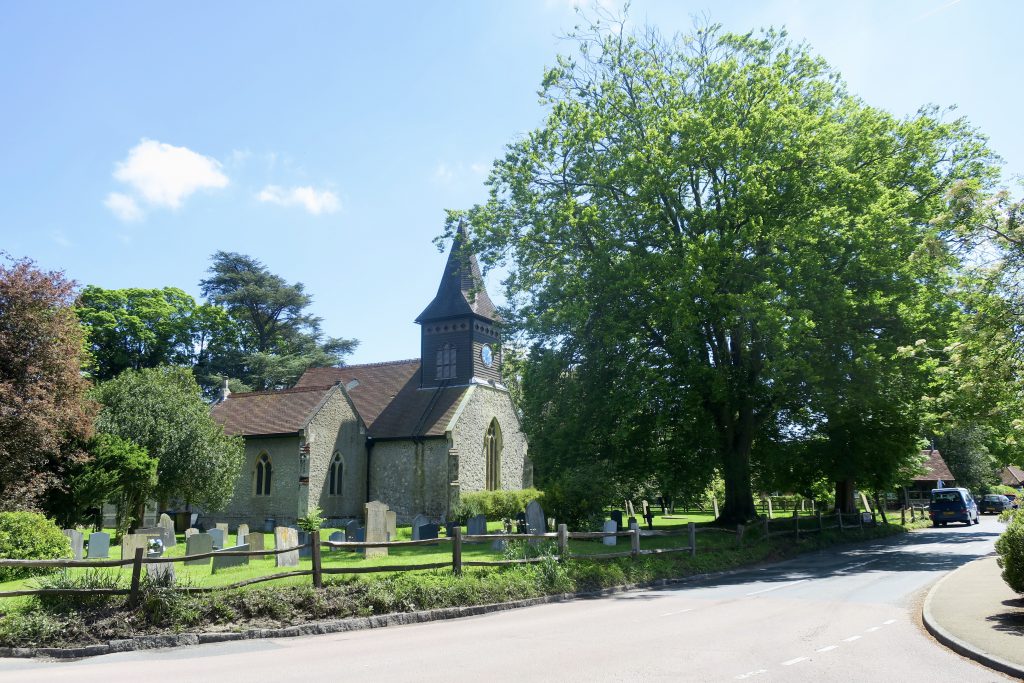 St Andrew's Church at Little Berkhamsted is, like so many village churches, a place of worship surrounded by trees. Ancient trees are often found in churchyards. I imagine they're vestigial survivors of the original forest, before it was cleared for farming and agriculture. Or planted as replicas of the Garden of Eden. A woodland glade is a naturally consecrated place.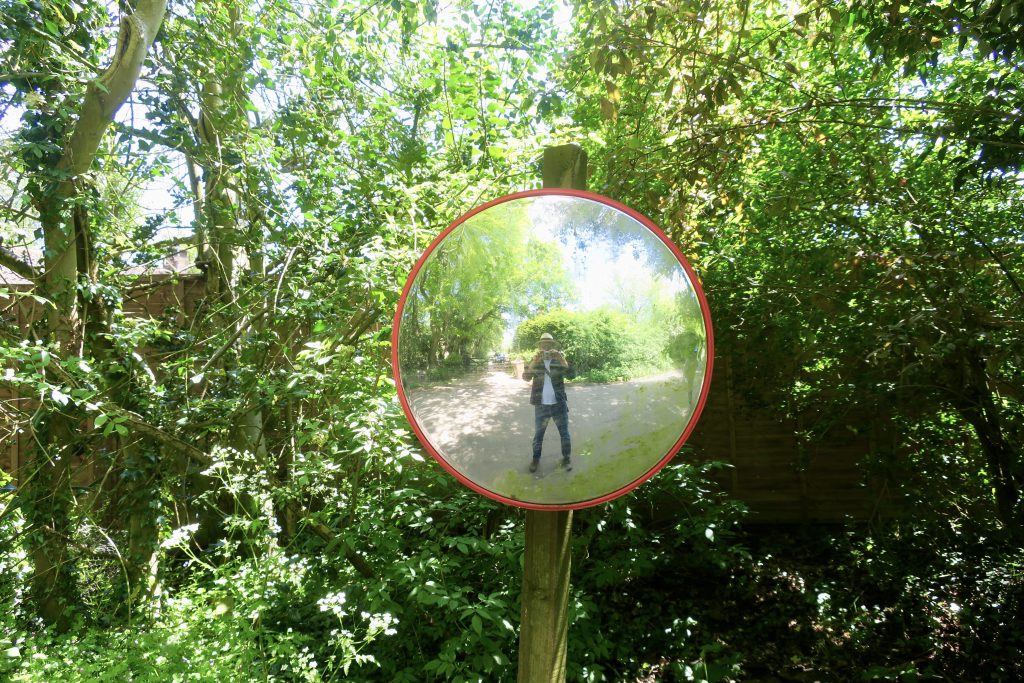 This was May 2021, another long since walk, but I'm remembering it now to conjure and rekindle some much needed winter sunshine.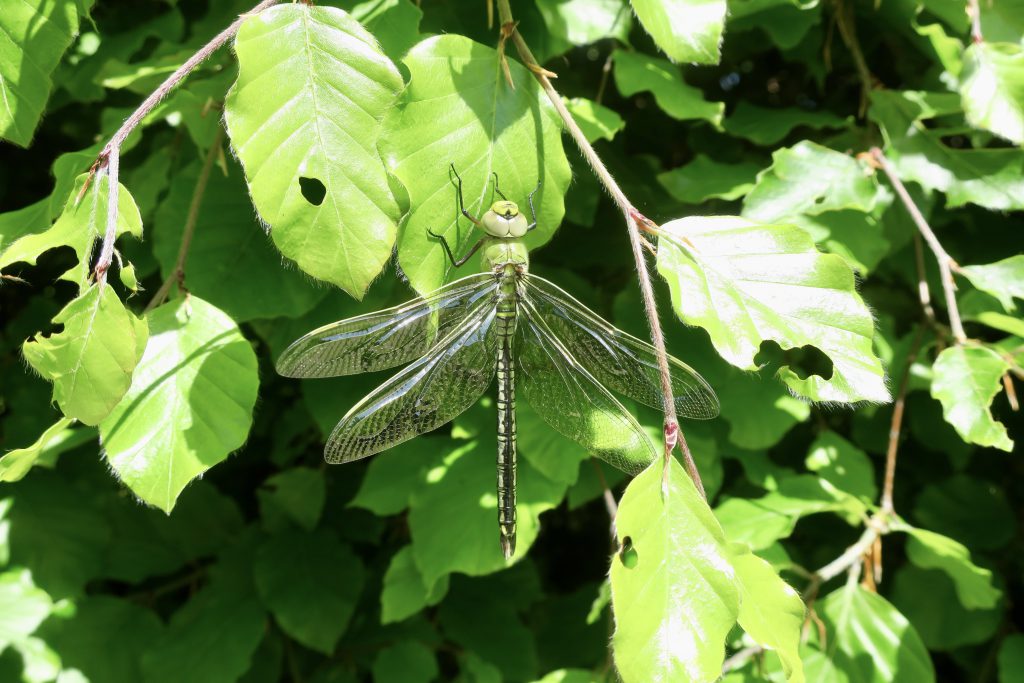 Here's a dragonfly basking in the sun.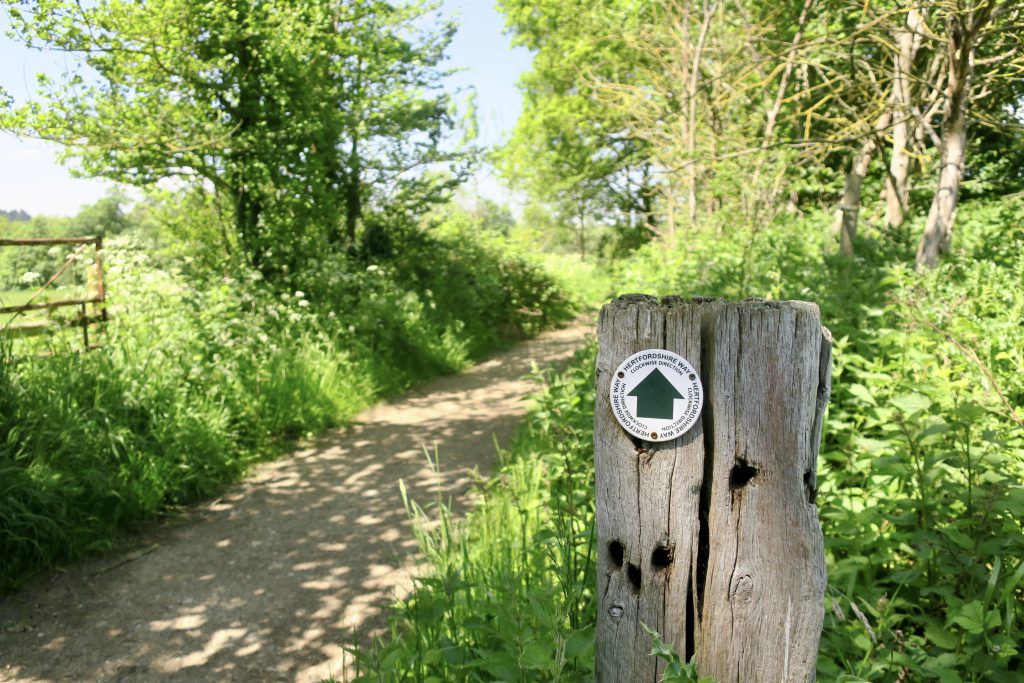 We were following the Hertfordshire Way in a clockwise direction, rewinding our spiritual mainsprings and recharging our solar batteries.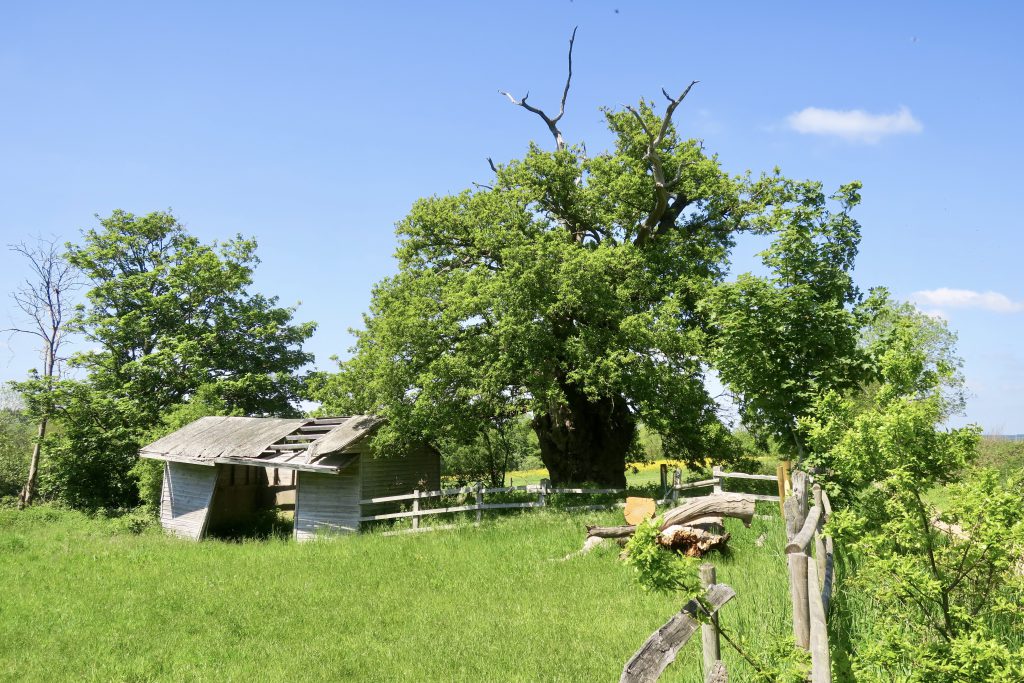 An ancient oak.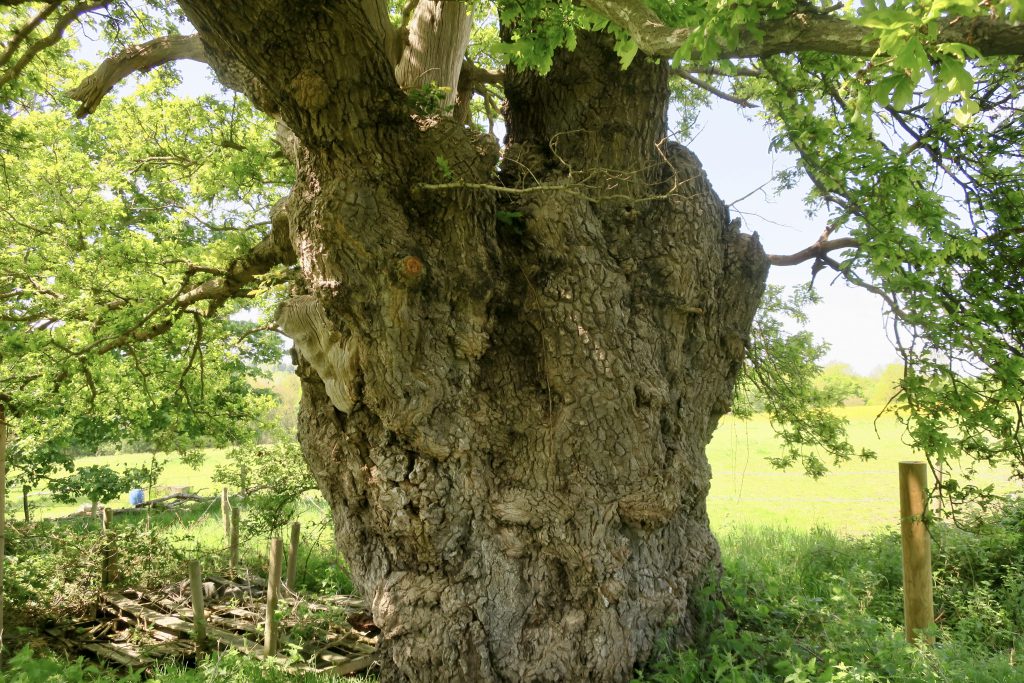 To walk with trees is to be accompanied by numinous beauty.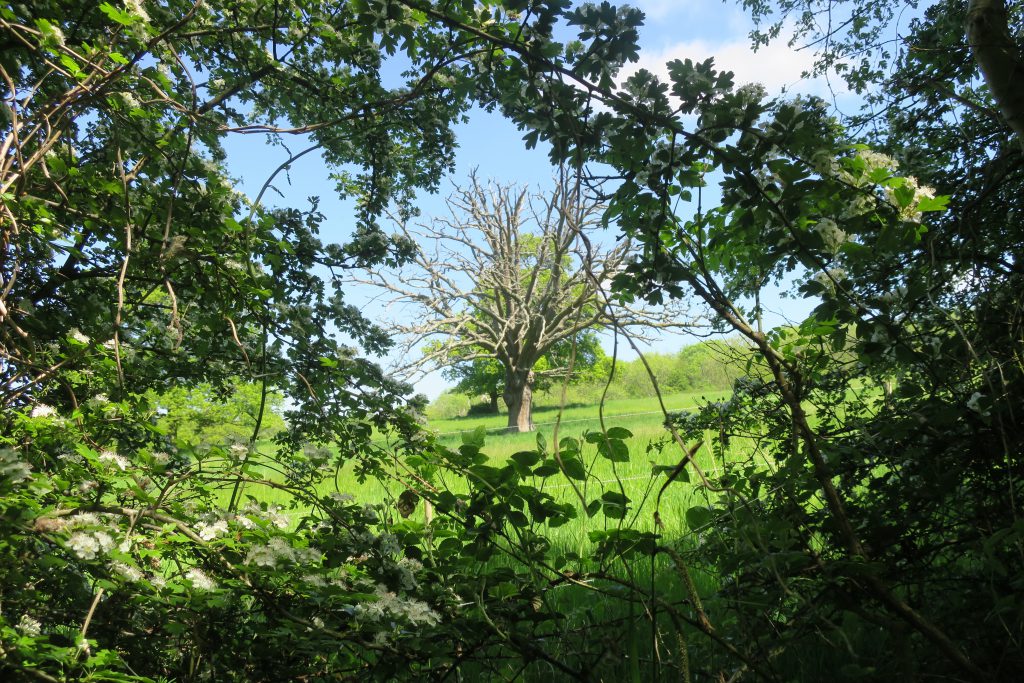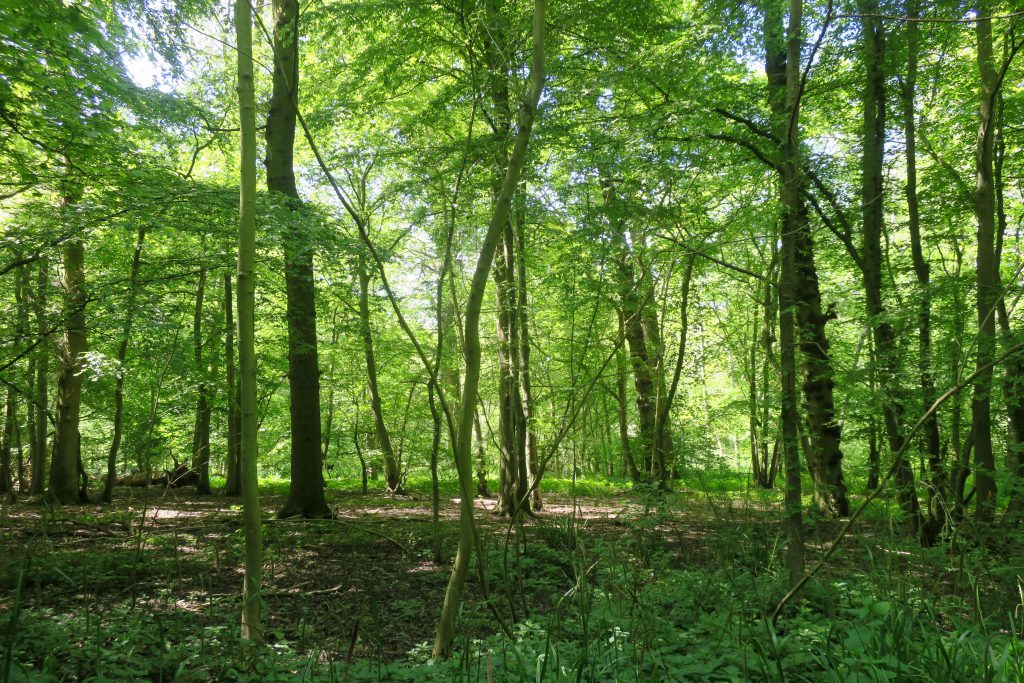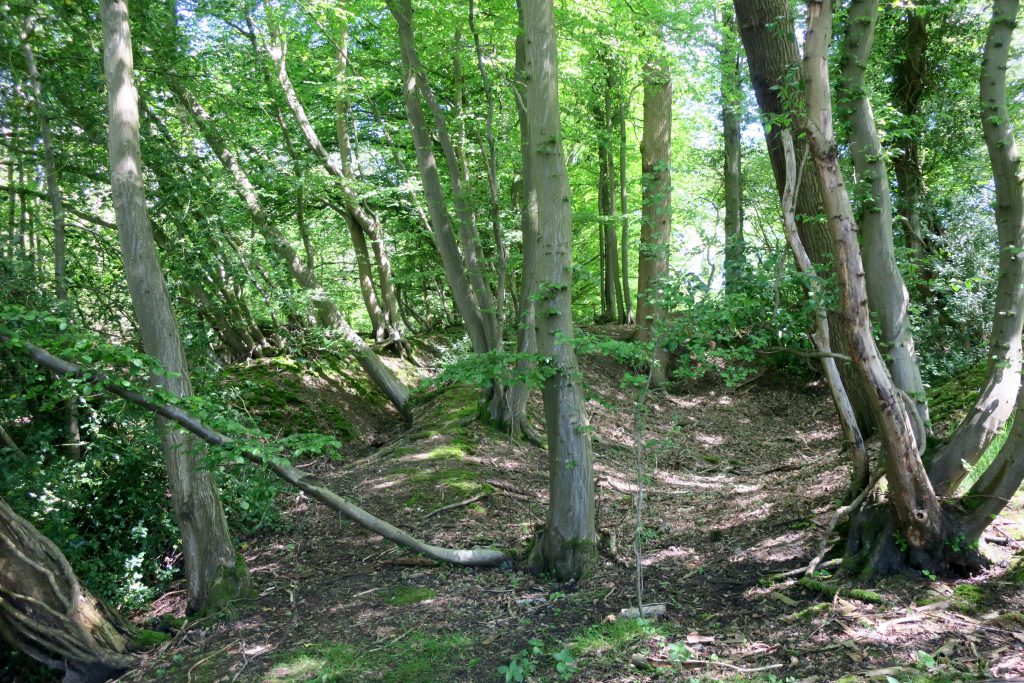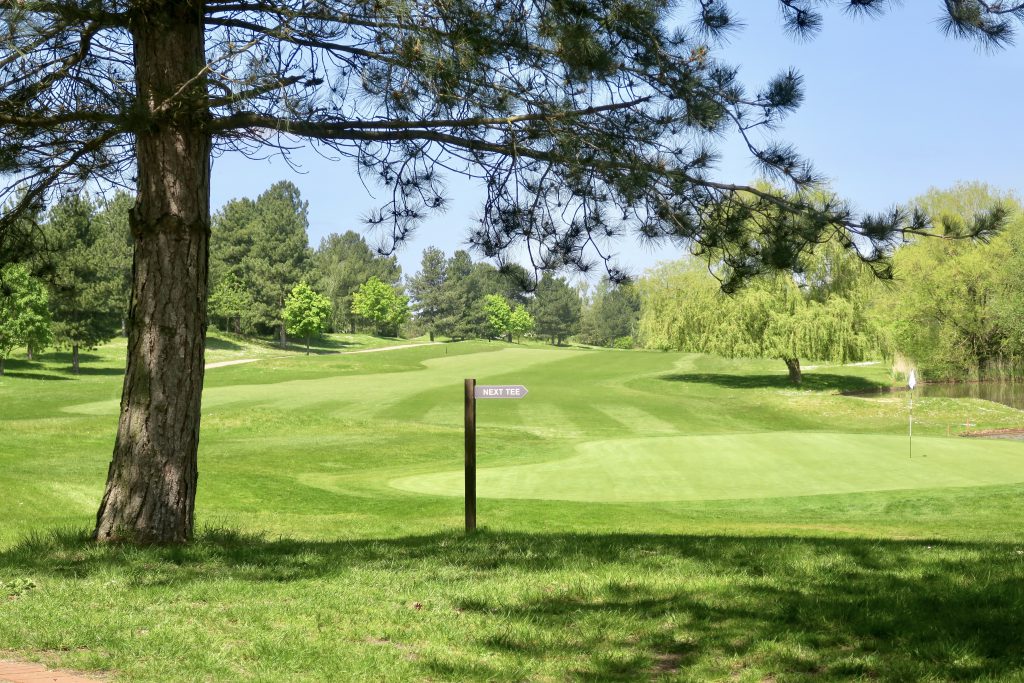 Our path took us across a fairway at Essendon Golf Club,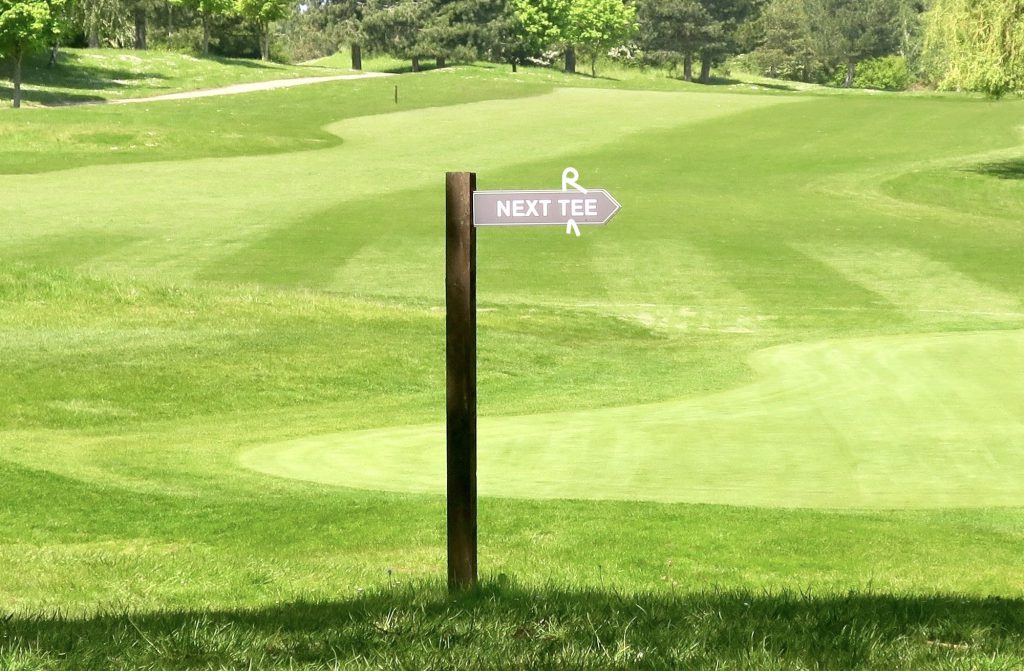 where we followed a route from one tree to the next.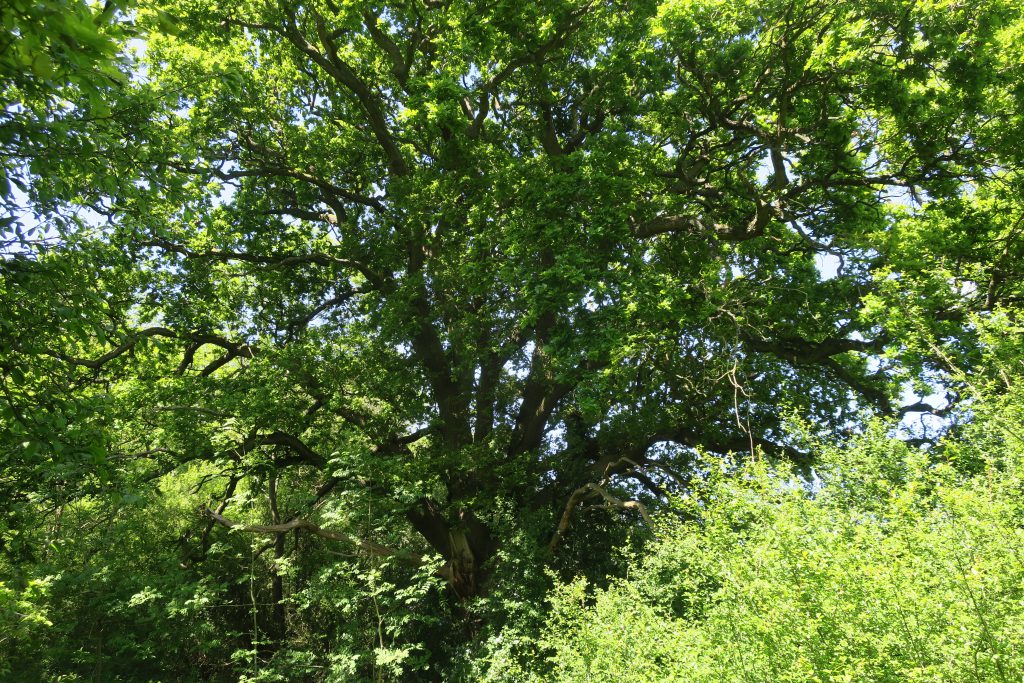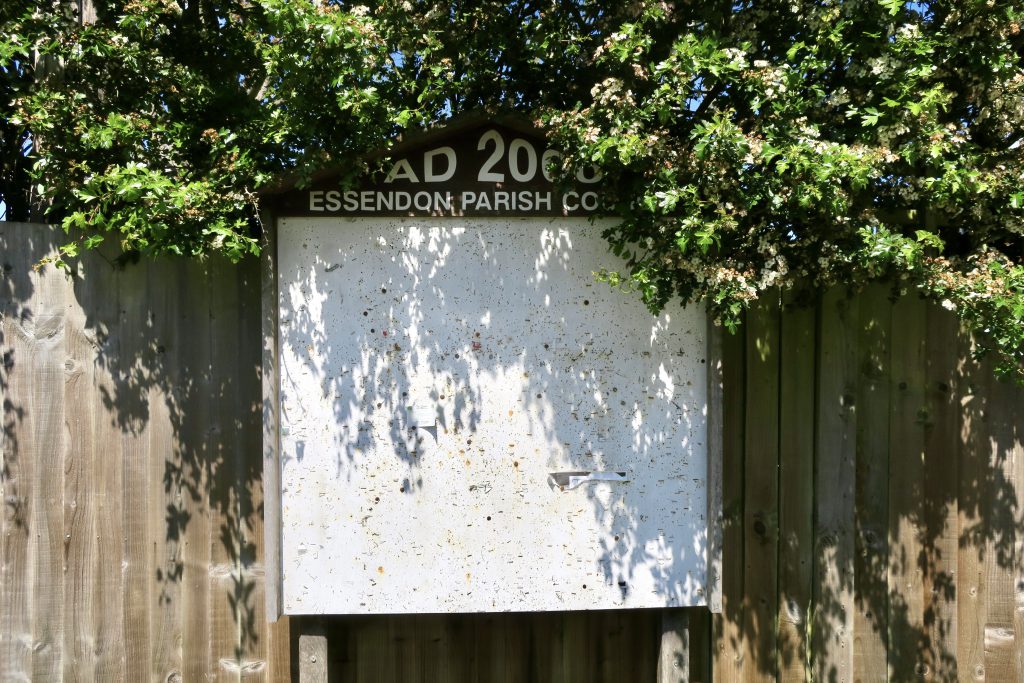 It led us to an empty noticeboard on School Lane. Leftover pins and staples described a latent drawing of the Essendon Oak, an ancient and imaginary tree, but I resisted the temptation to join the dots and bring it to life.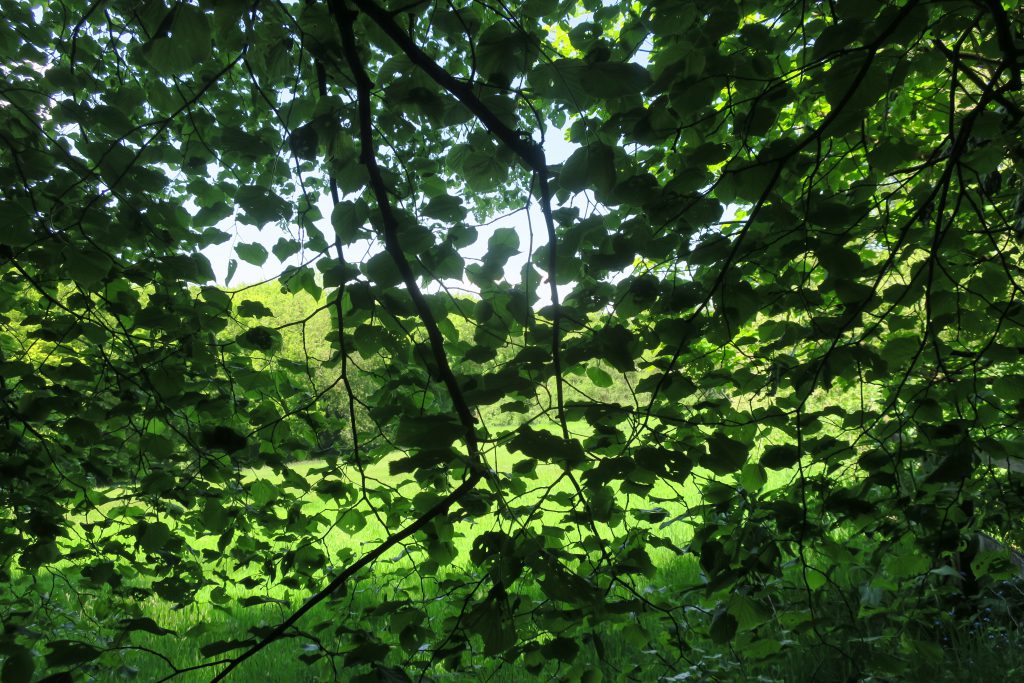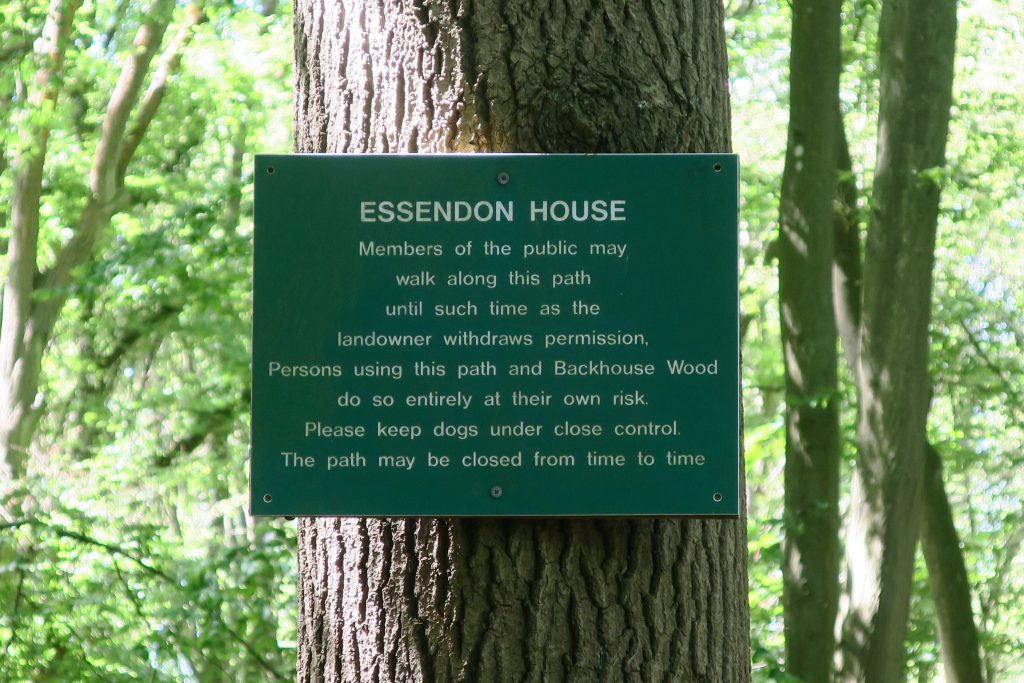 We skirted Essendon cricket ground and followed a permissive path through Backhouse Wood. It was entirely at our own risk. It was a numinous frisson.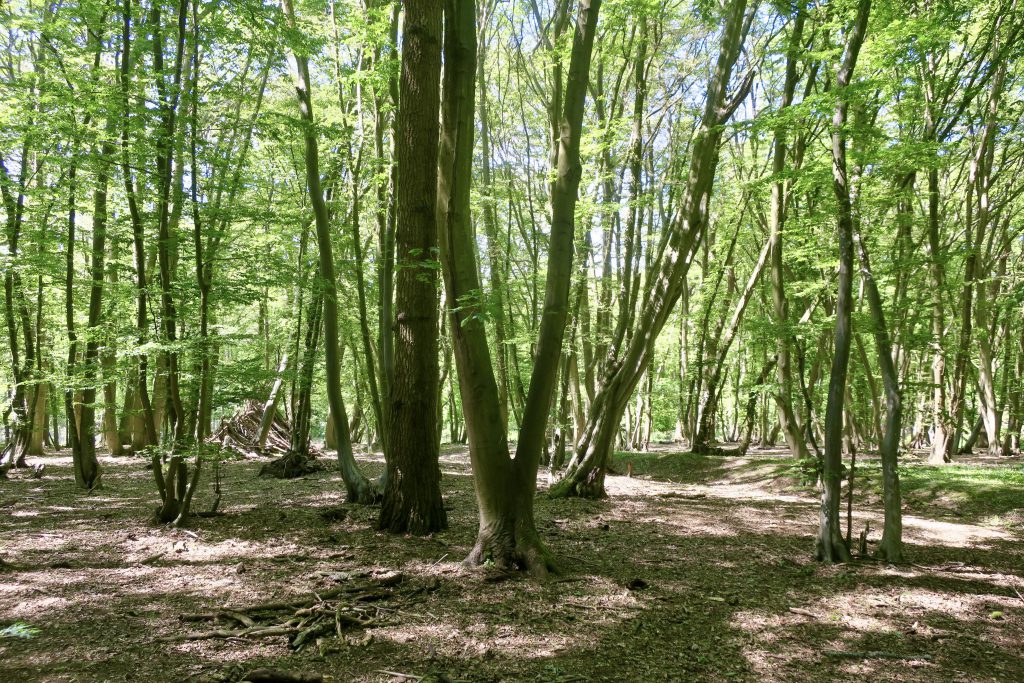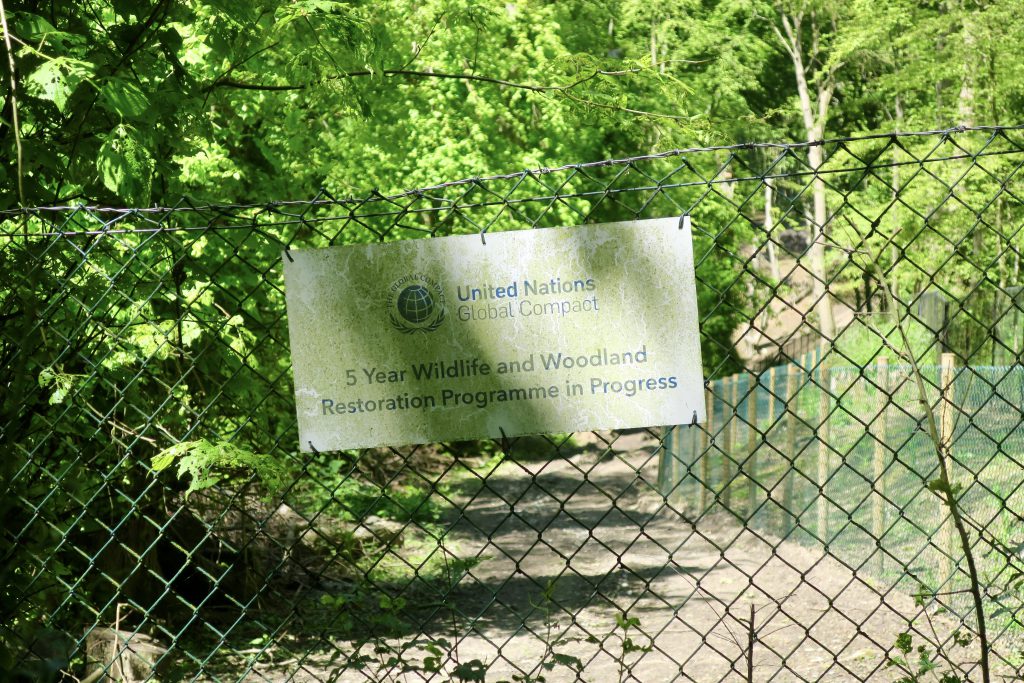 But it pretty soon became a numinous frustration.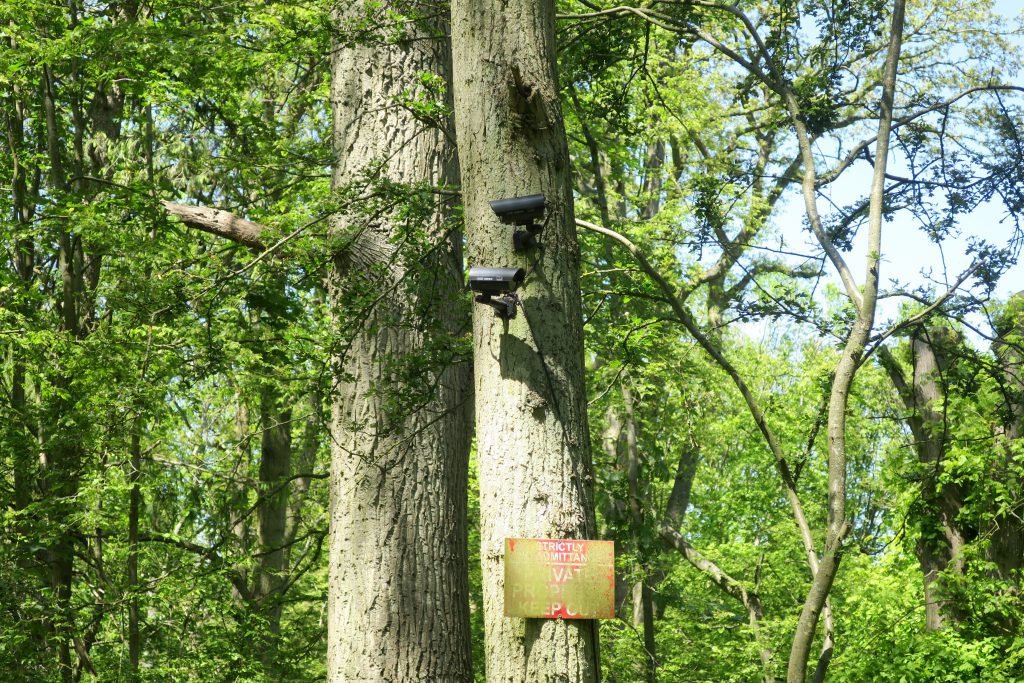 STRICTLY NO ADMITTANCE PRIVATE PROPERTY KEEP OUT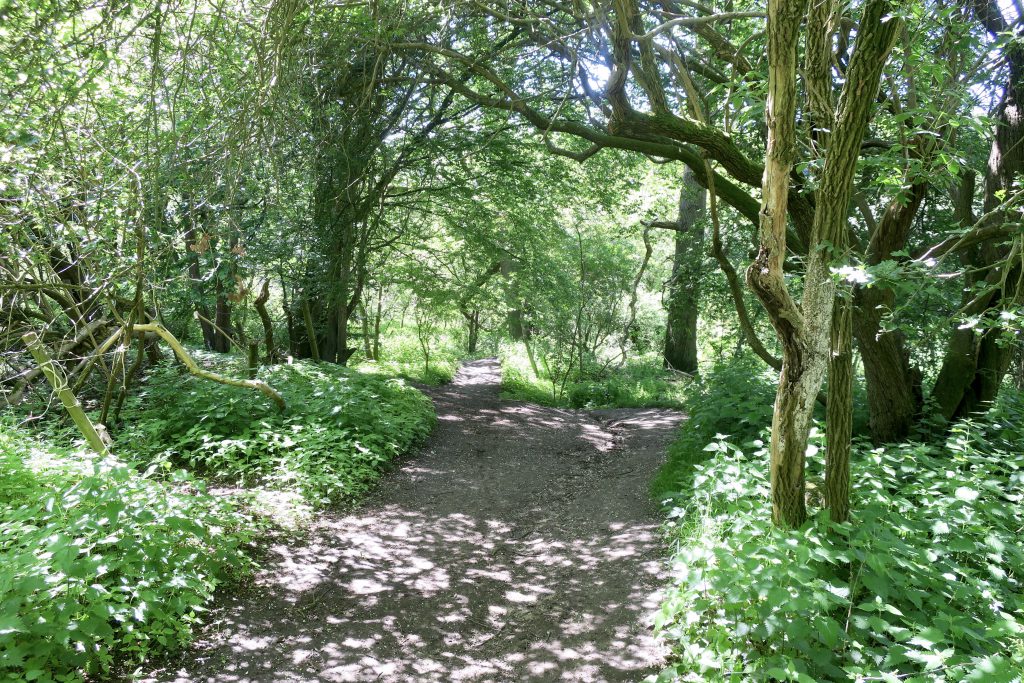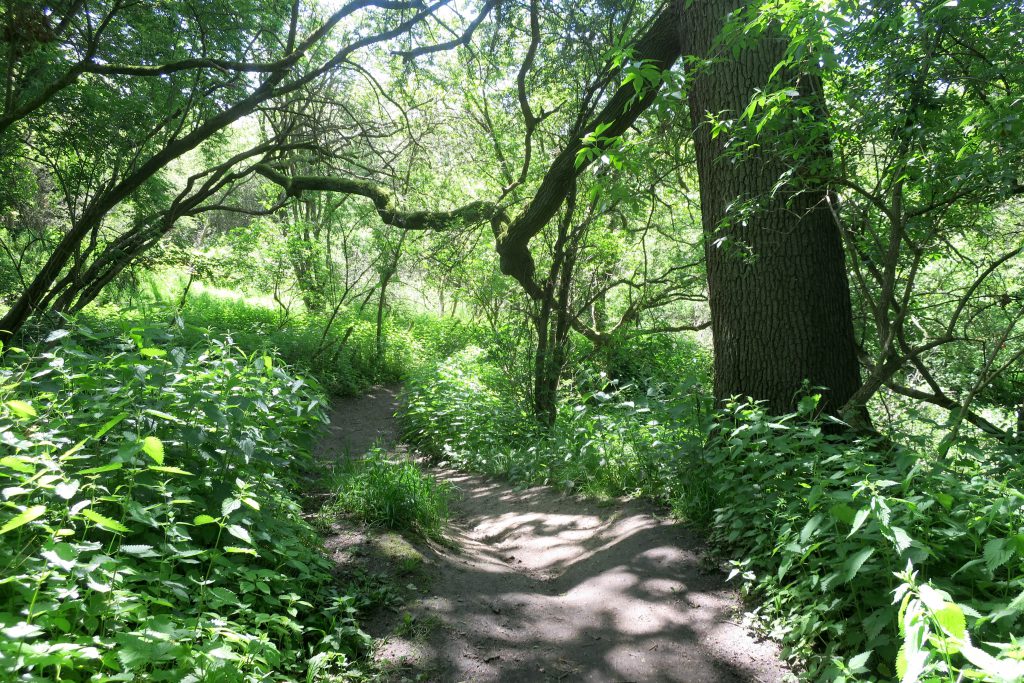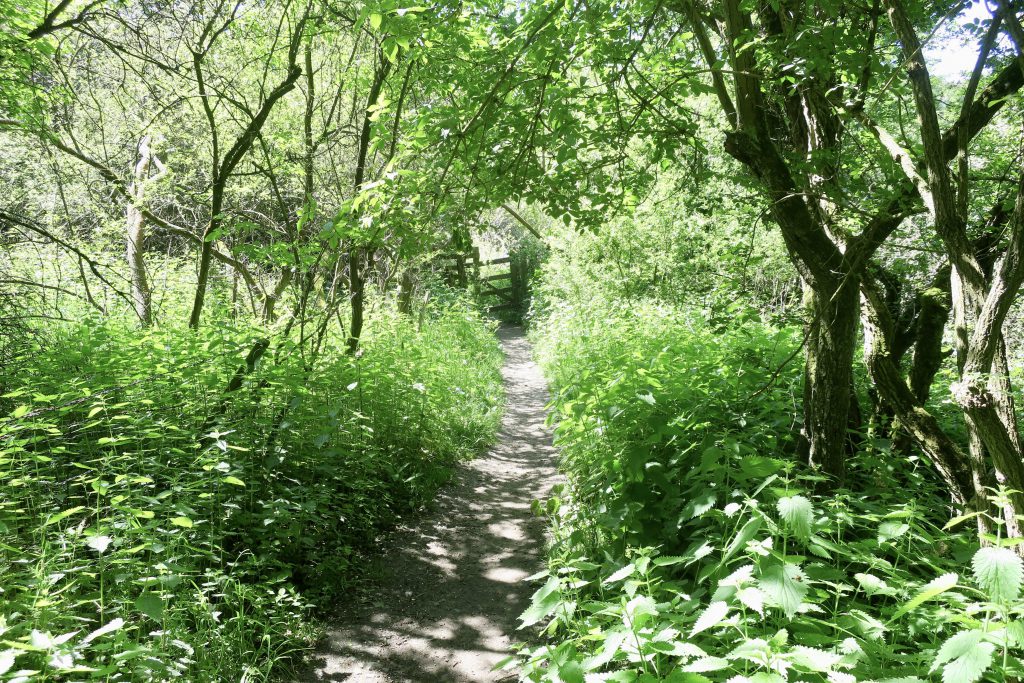 But then the path descends through twists and turns with the light through the leaves to a footbridge over a brook into an explosion of May blossom!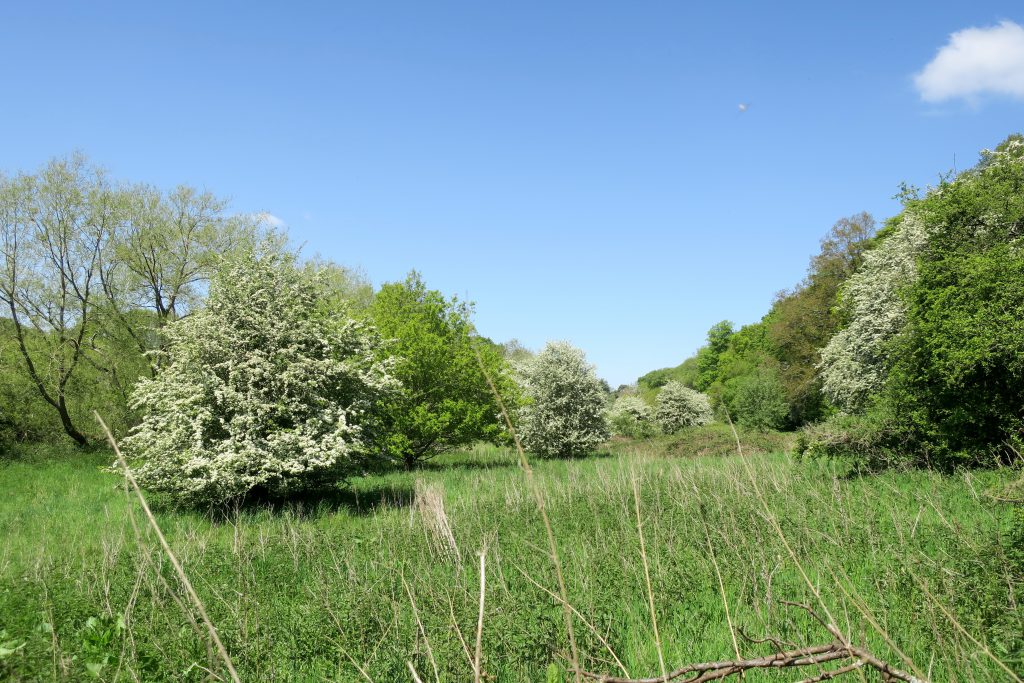 Numinous blossom!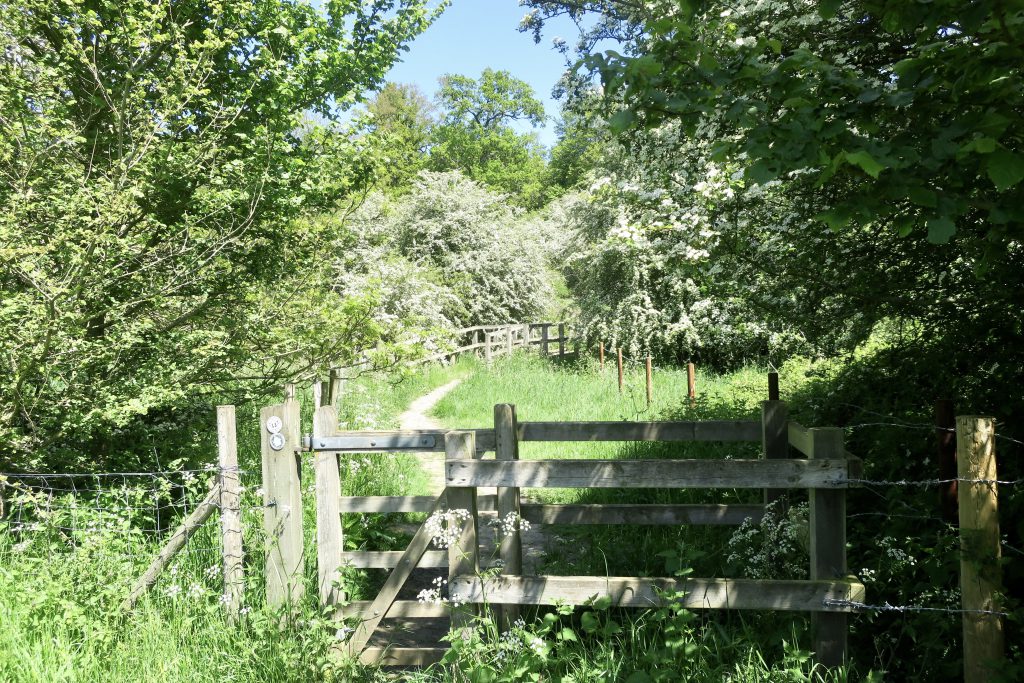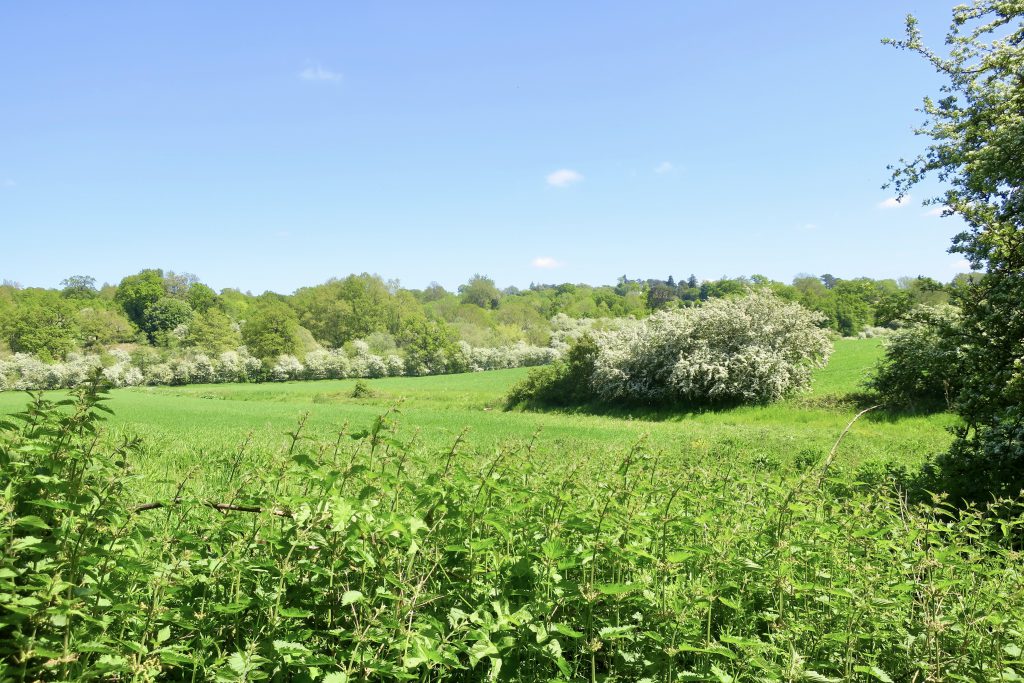 Ahead of us the sweep of the meadow is deep and wide, and a deer emerges from the hedgerow. It sees us and quickly disappears back where it came from. But I'm happy to see it and to know we're not the only visitors here.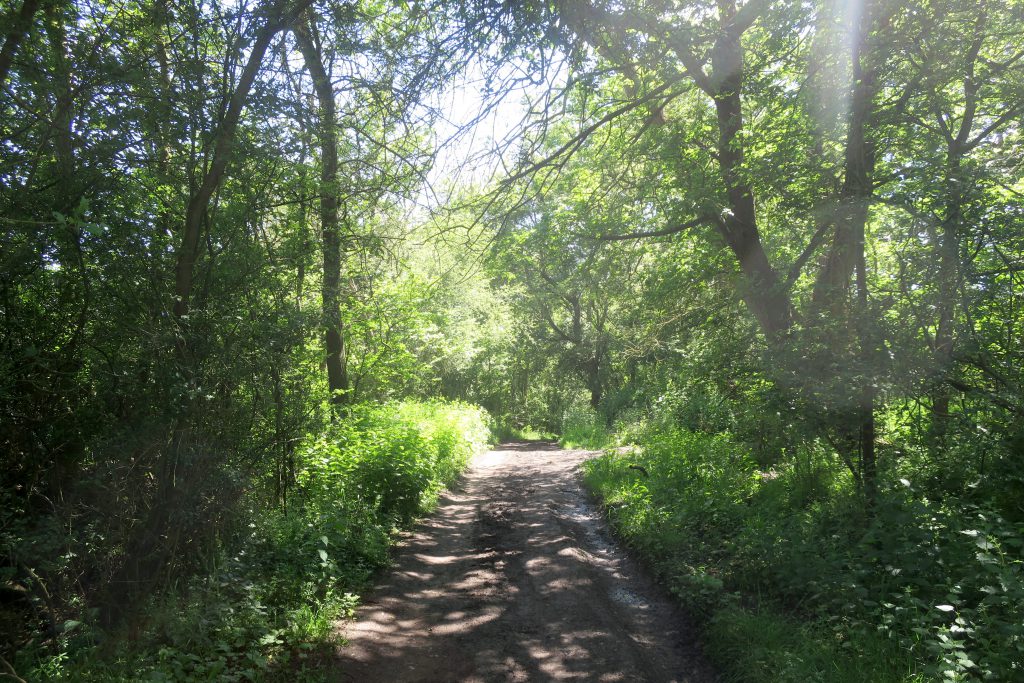 At the top of the field we follow an ancient path through the trees.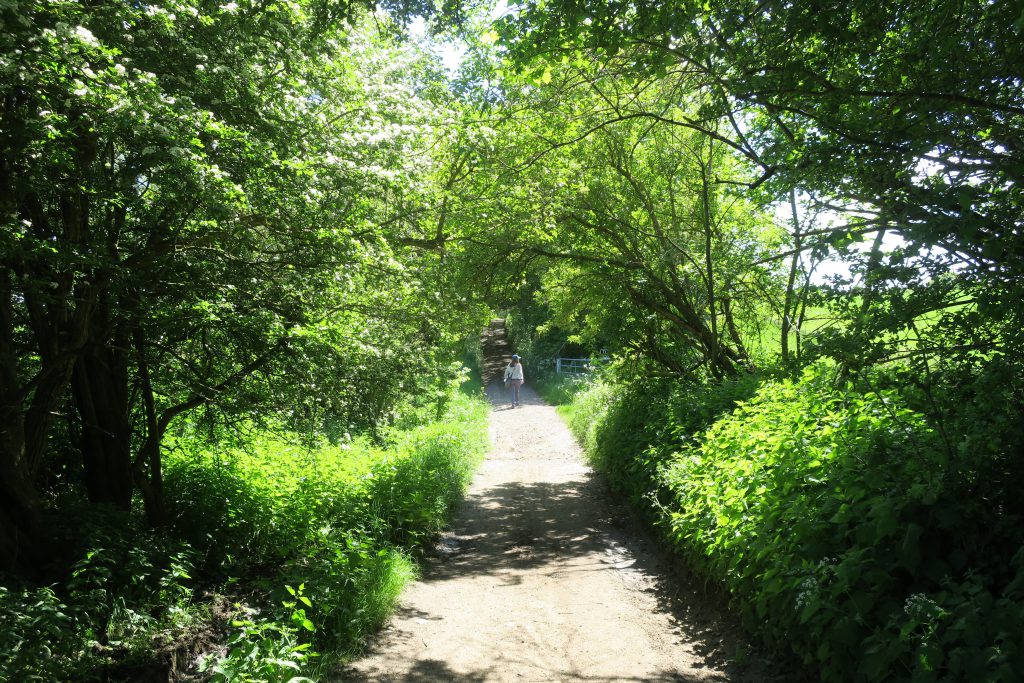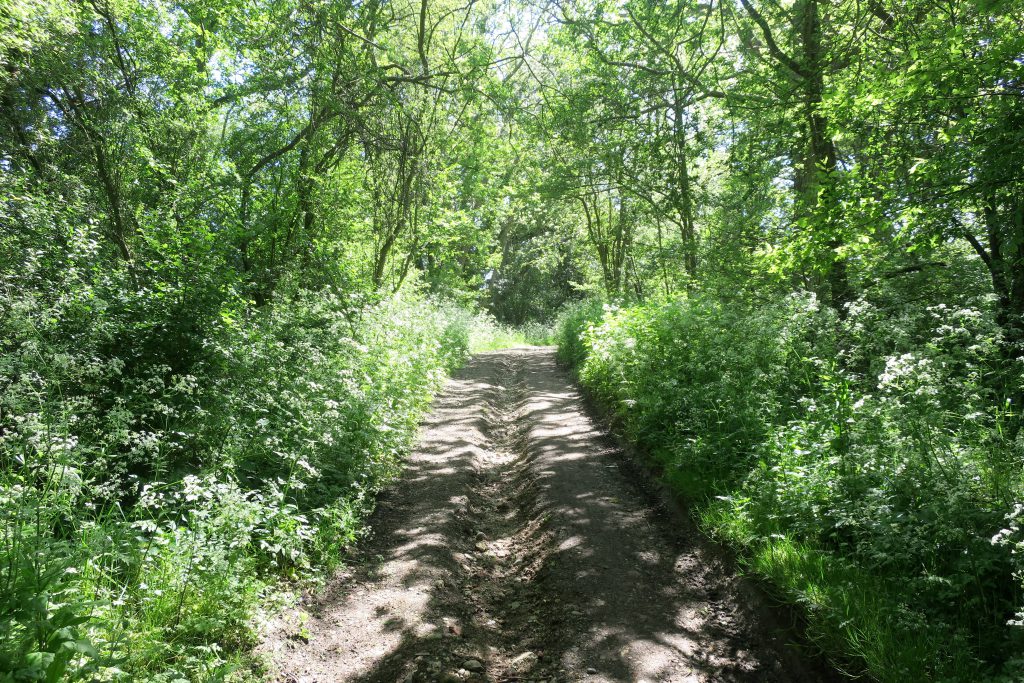 As I write these words I'm remembering a May walk in January. There's a lot to be said for a summer's walk in winter but I'm not sure I can say it all here. I walk in search of numinous New Year light but it's hard to find.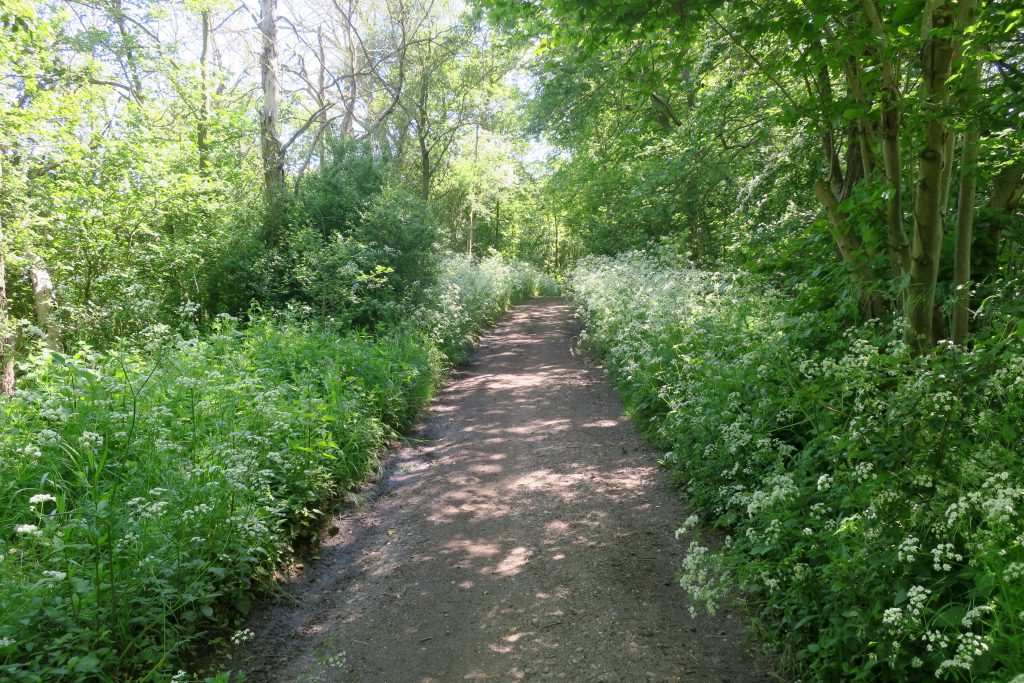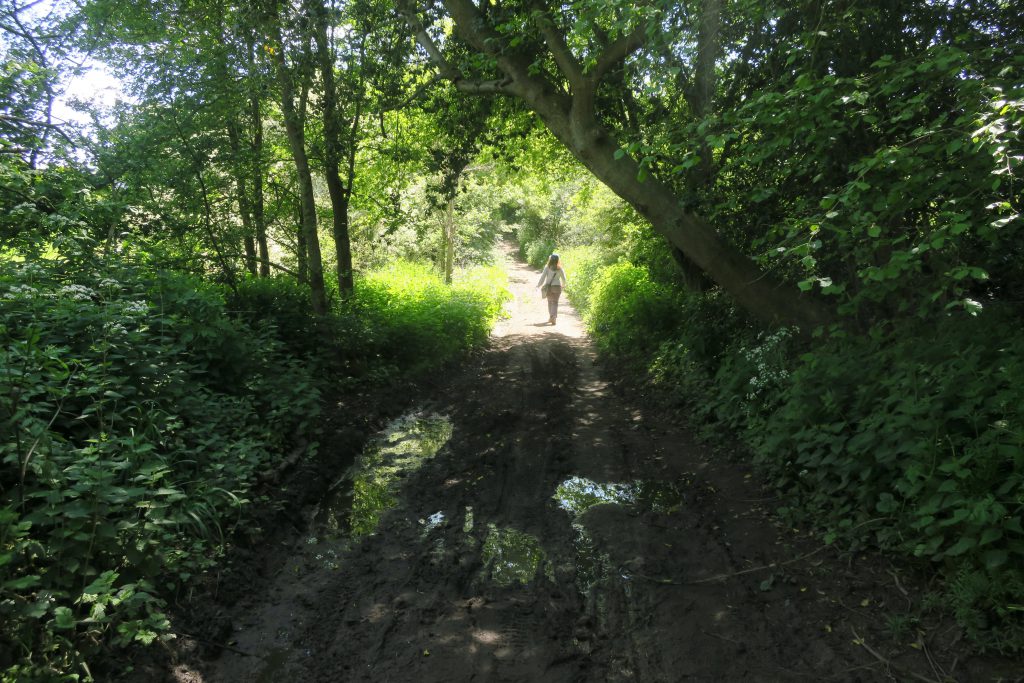 So I'm back here again, on this dappled path, bright and early, in shadows and light and footstep reflections, and it's my life running away before me.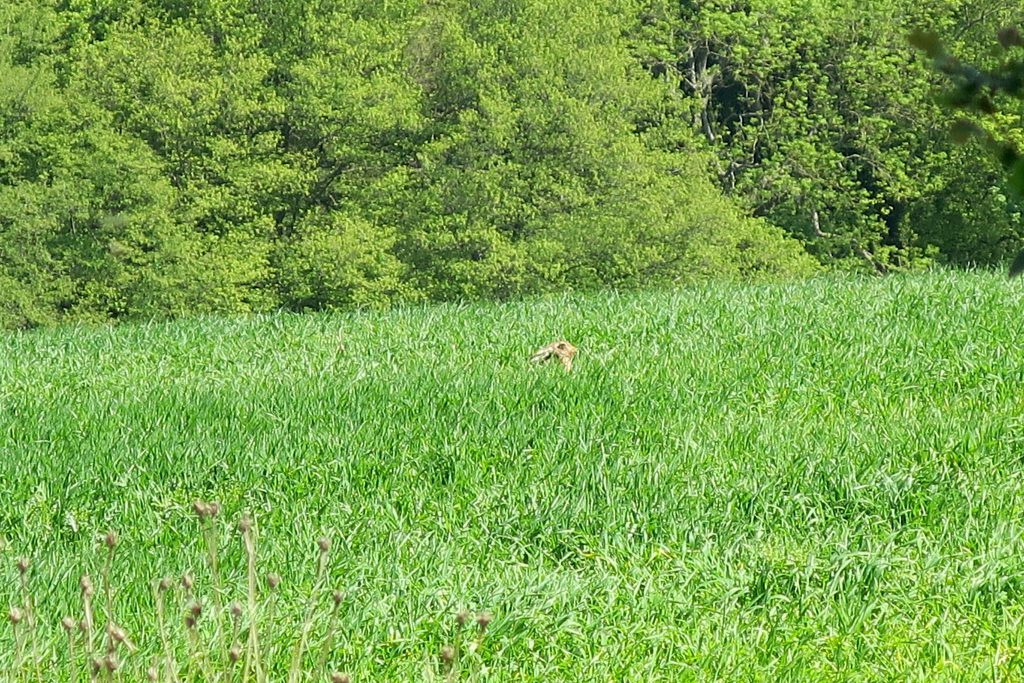 Then quick, stop, look, there's a hare in the field beside us, crouched down in the long grass, watching us, waiting, and in the blink of an eye it's gone.
According to the map the nearby wood is known as Harefield Wood.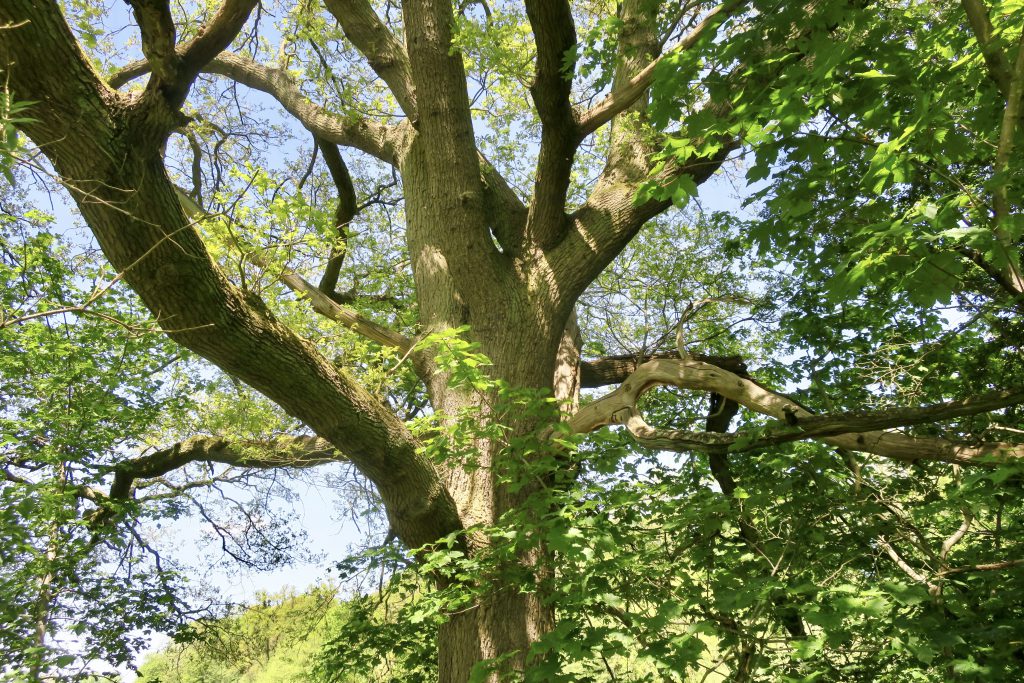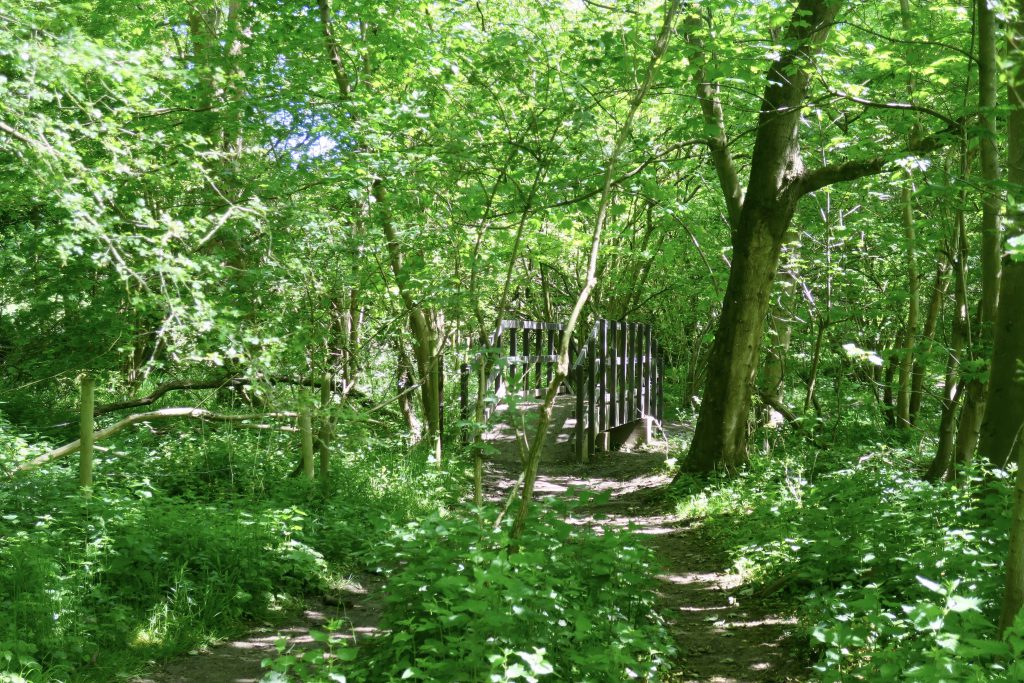 At the next footbridge we cross Wildhill Brook just as it joins Essendon Brook which we'd crossed earlier, and we follow it through the woods.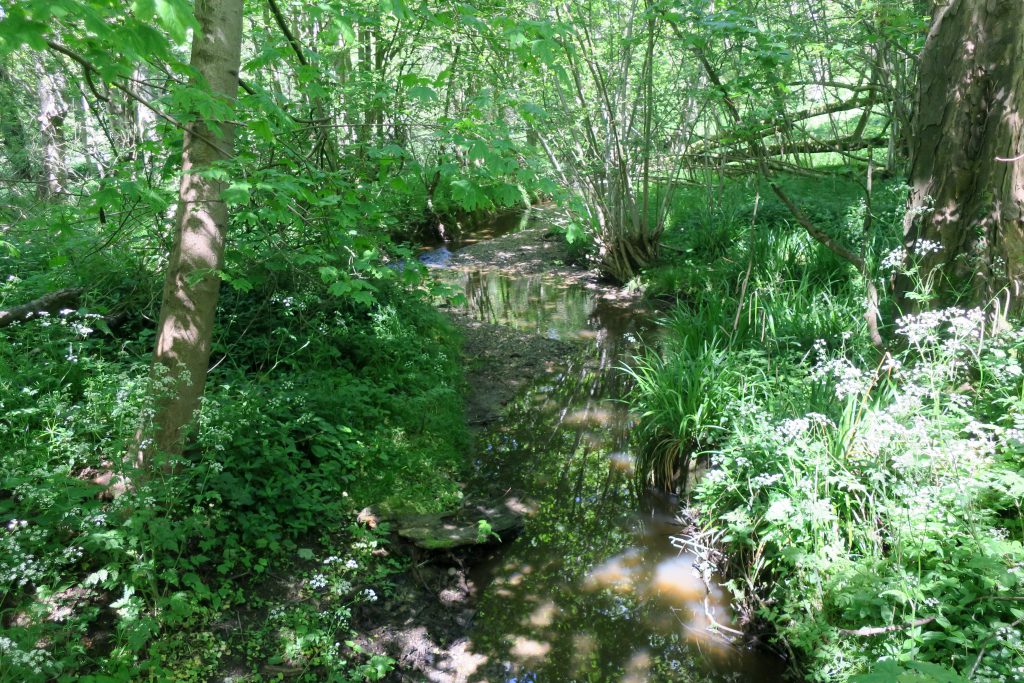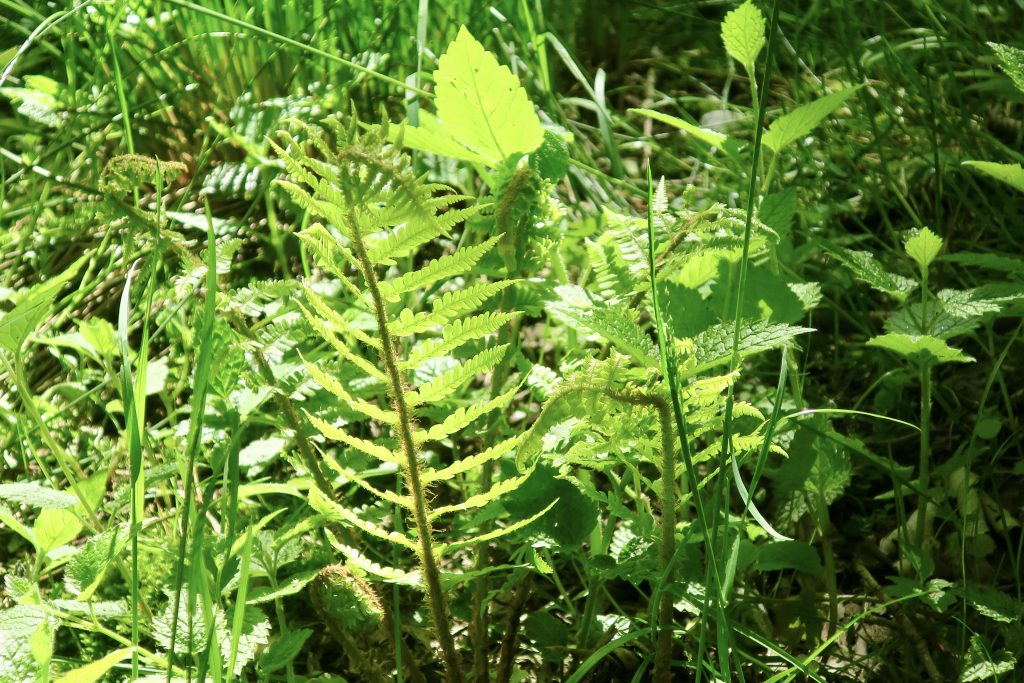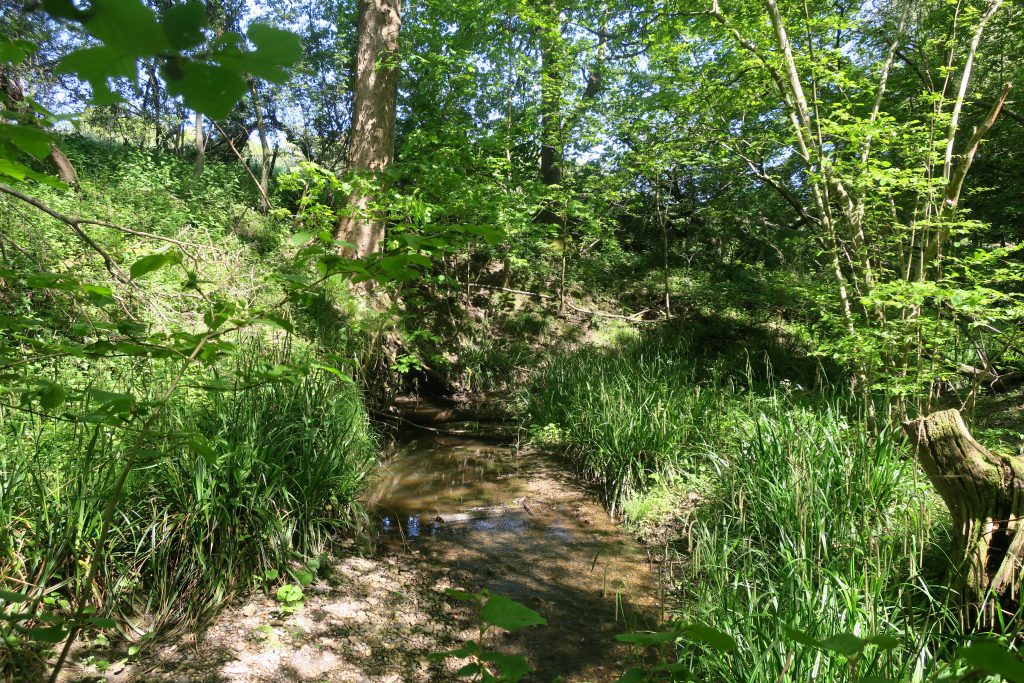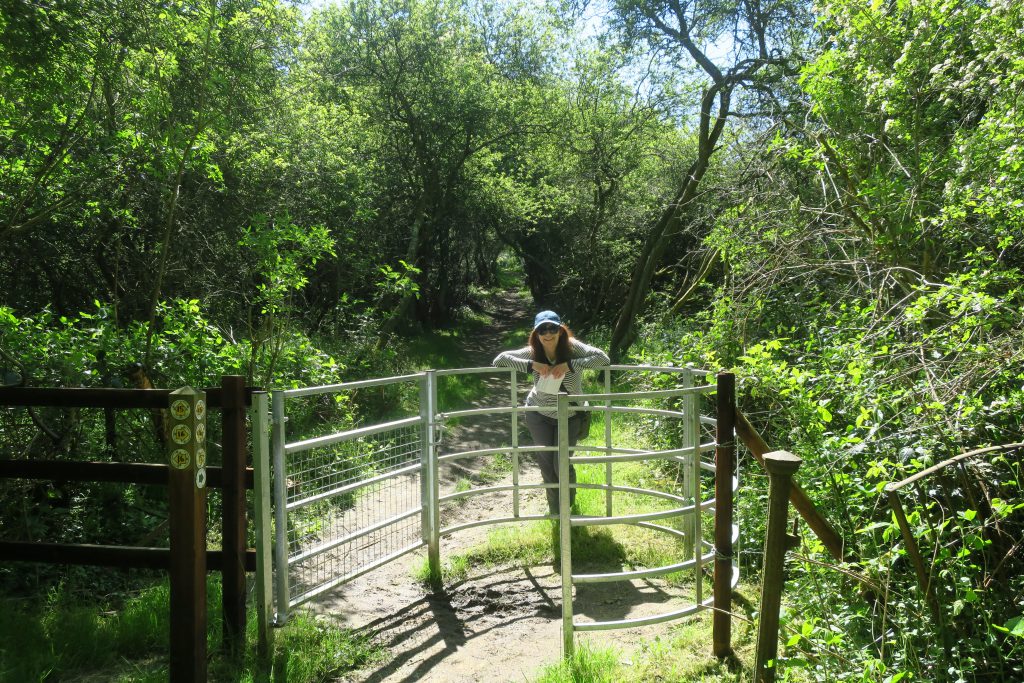 To where the Hertfordshire Way turns sharp right through a kissing gate.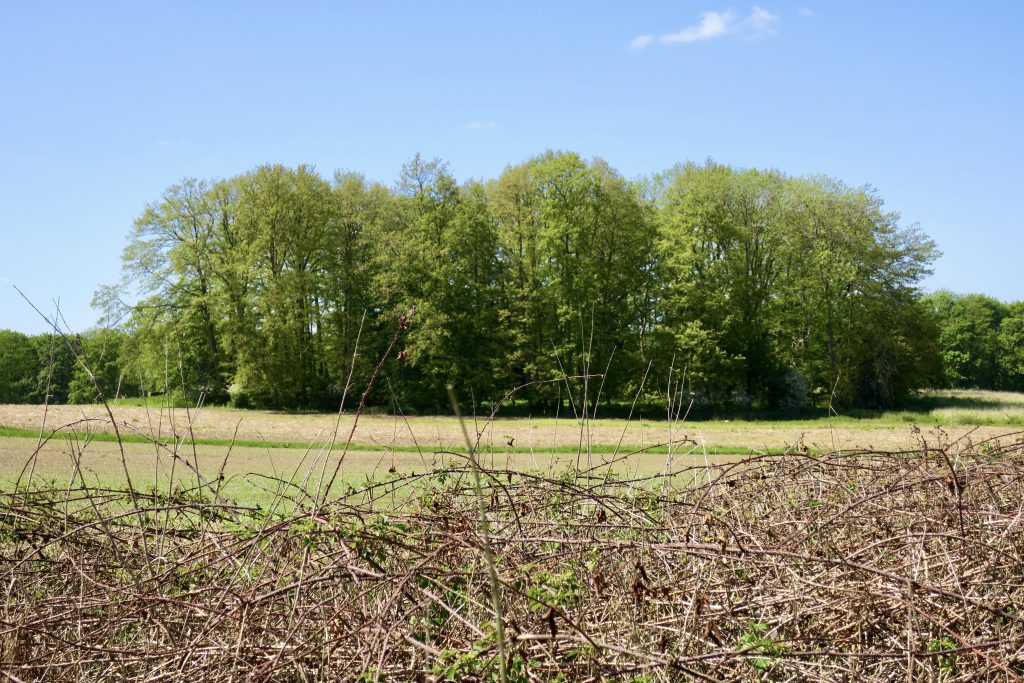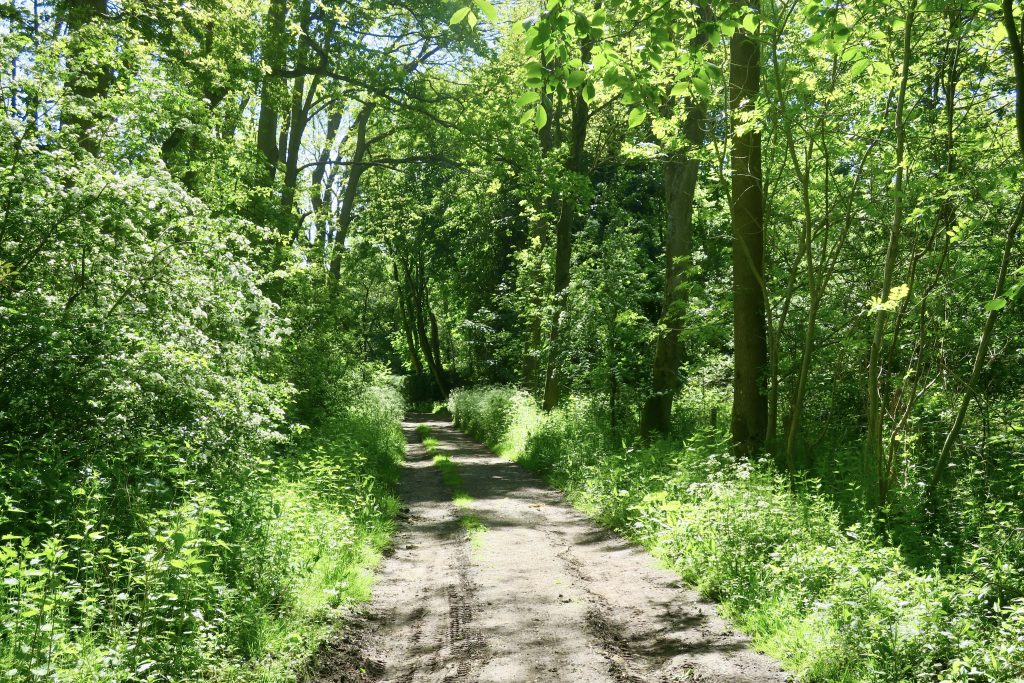 We proceed through the trees to Cum Cum Hill, then over the road to Hornbeam Lane and after another mile we come to Cucumber Lane.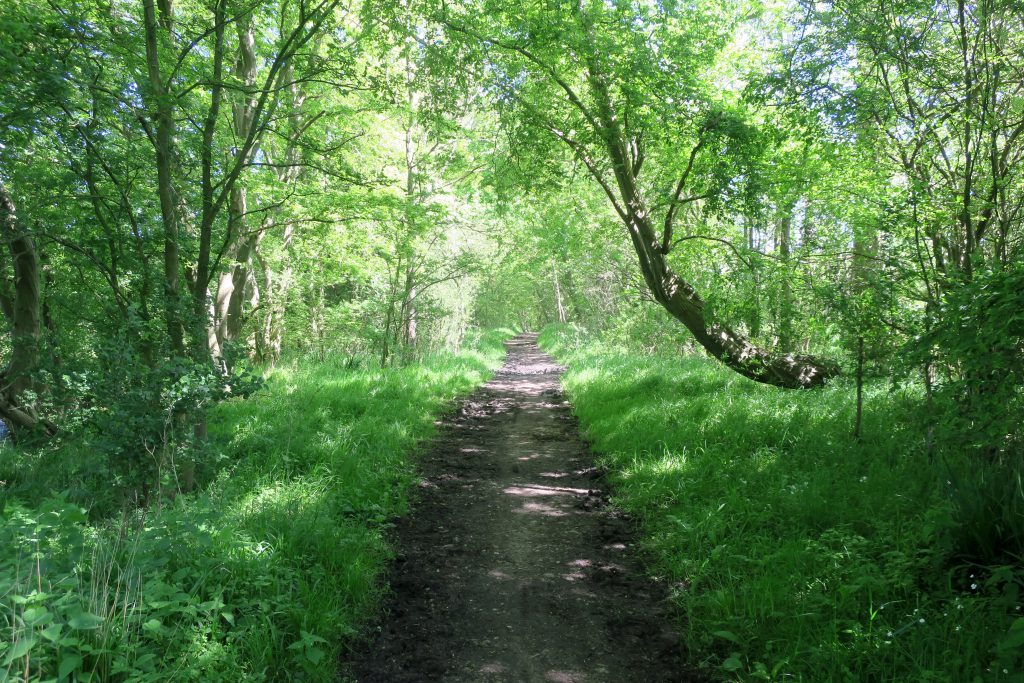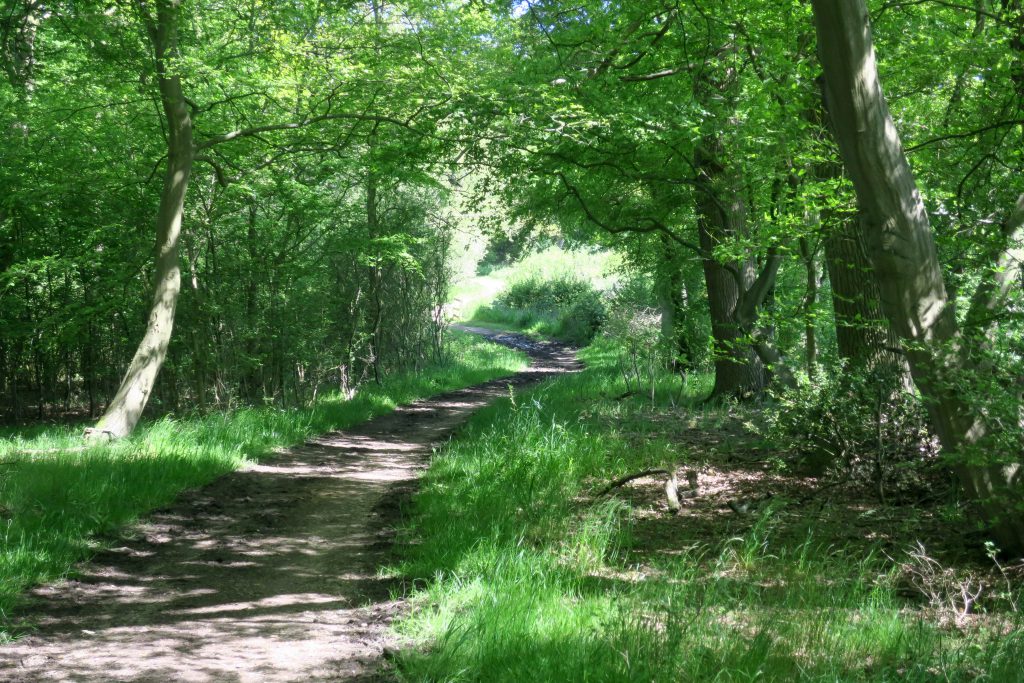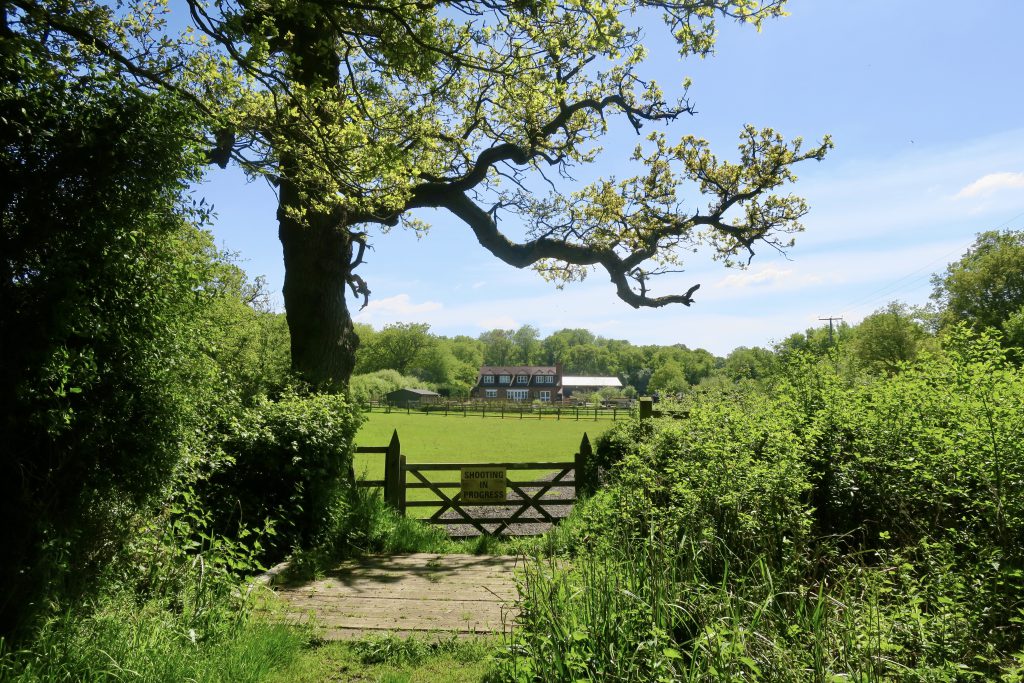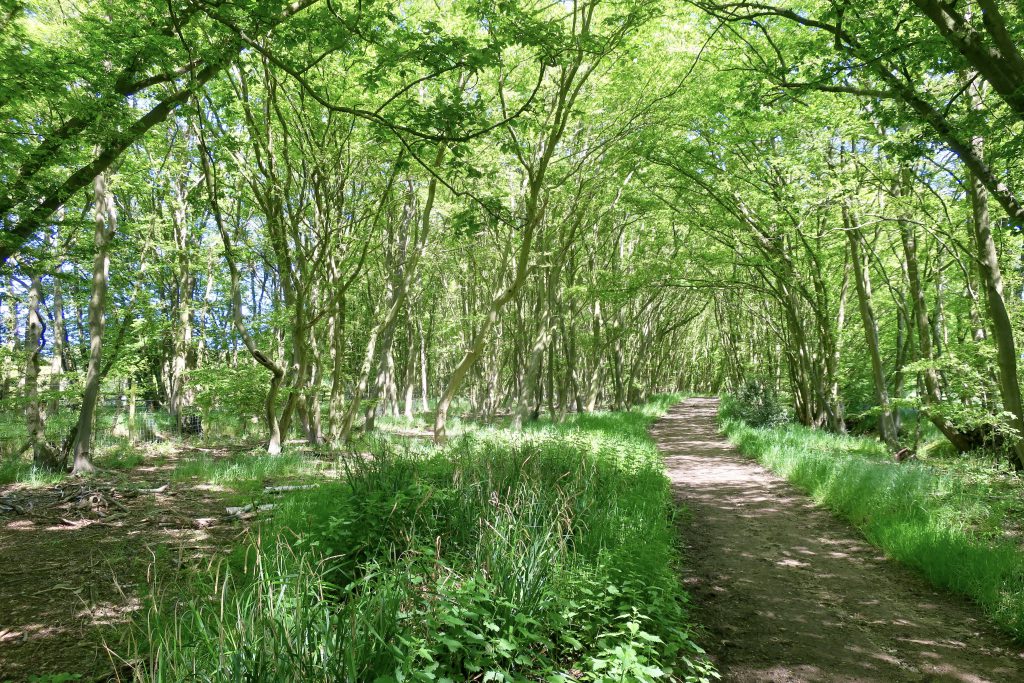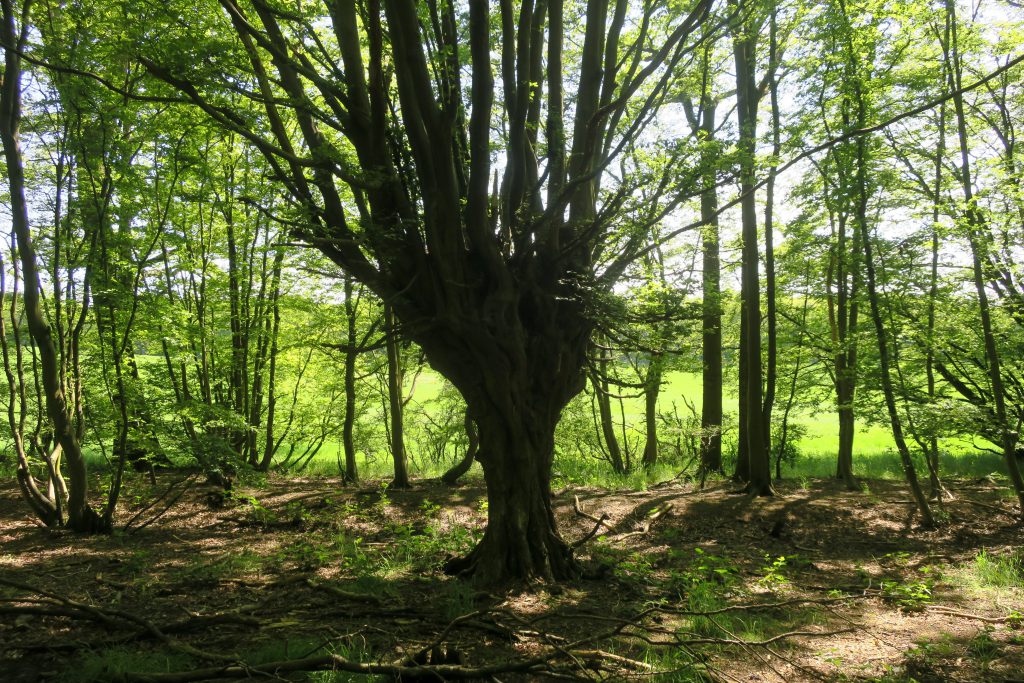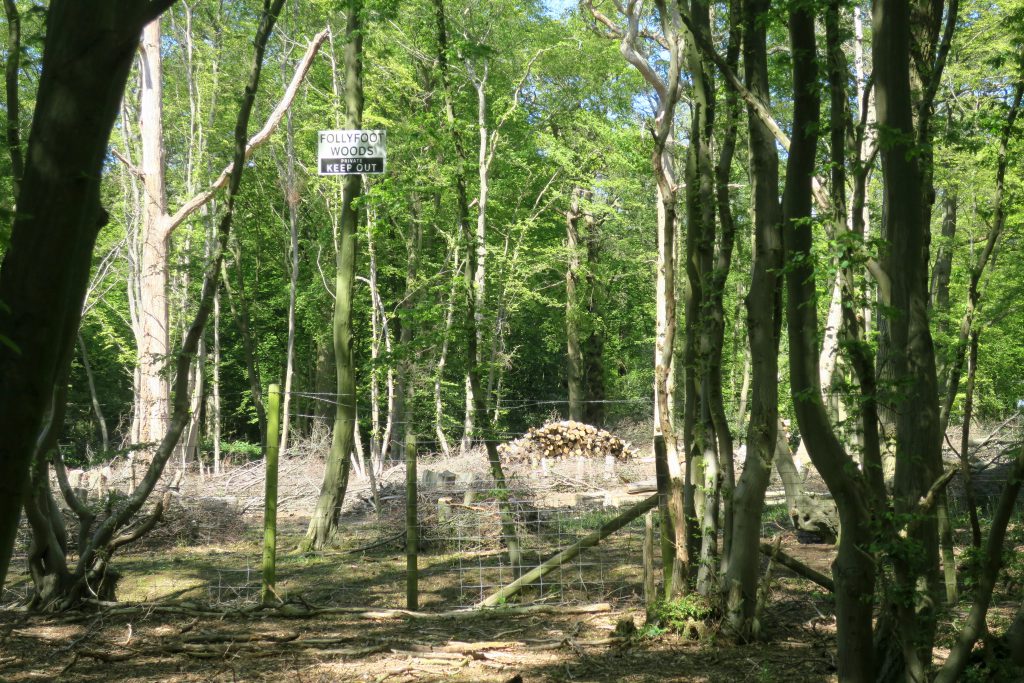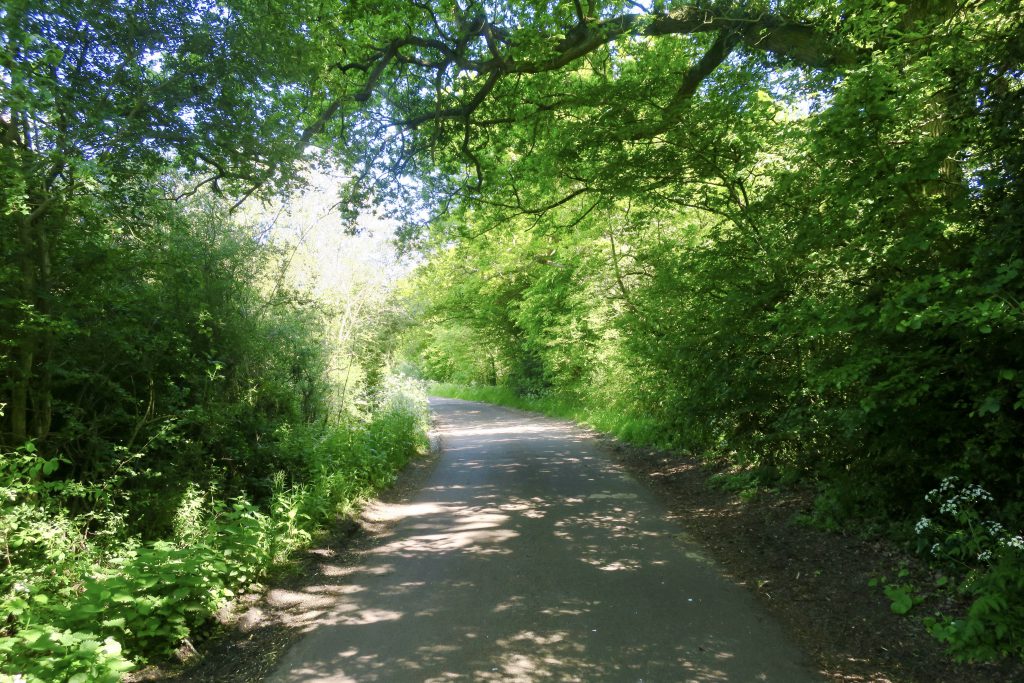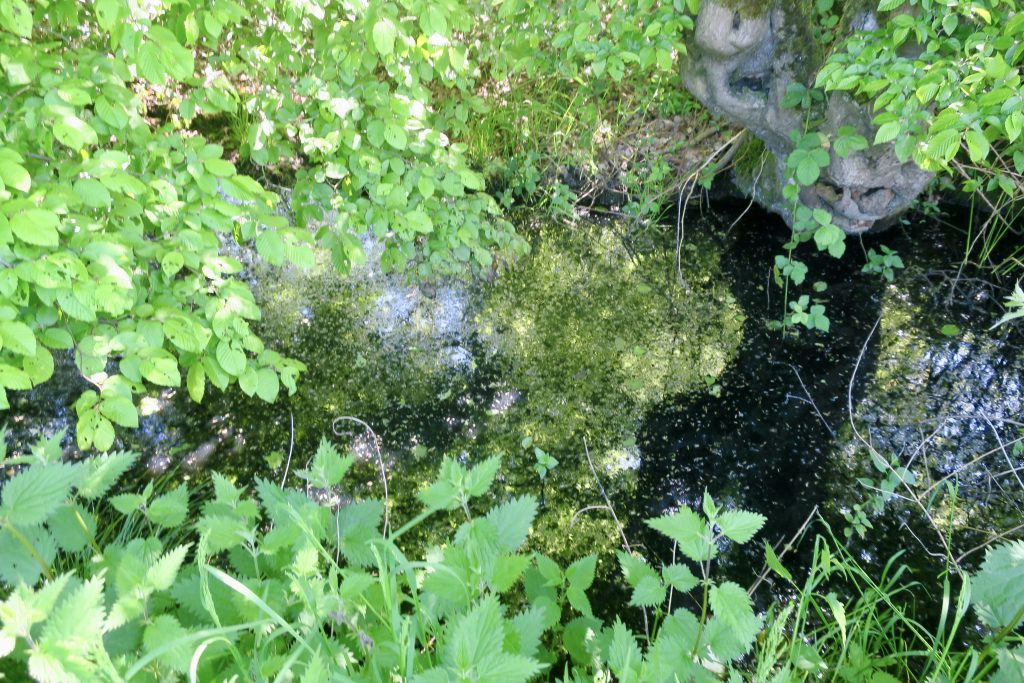 The ditch beside the lane is an ancient moat.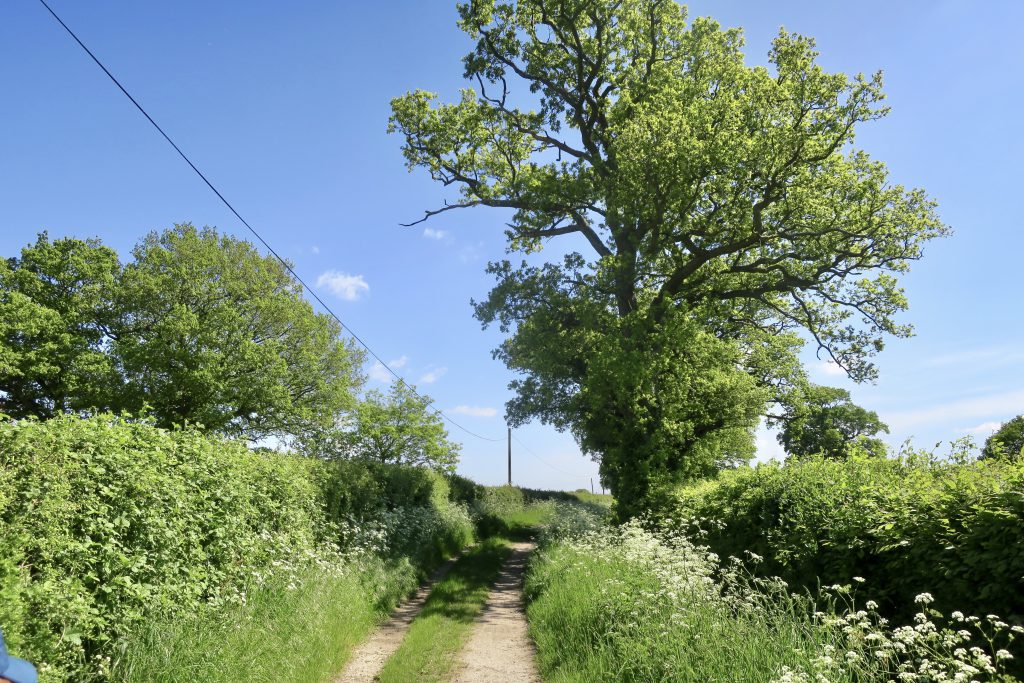 Then it's all high oaks and green hedges, deep shadows and cow parsley, and there's nowhere I'd rather be.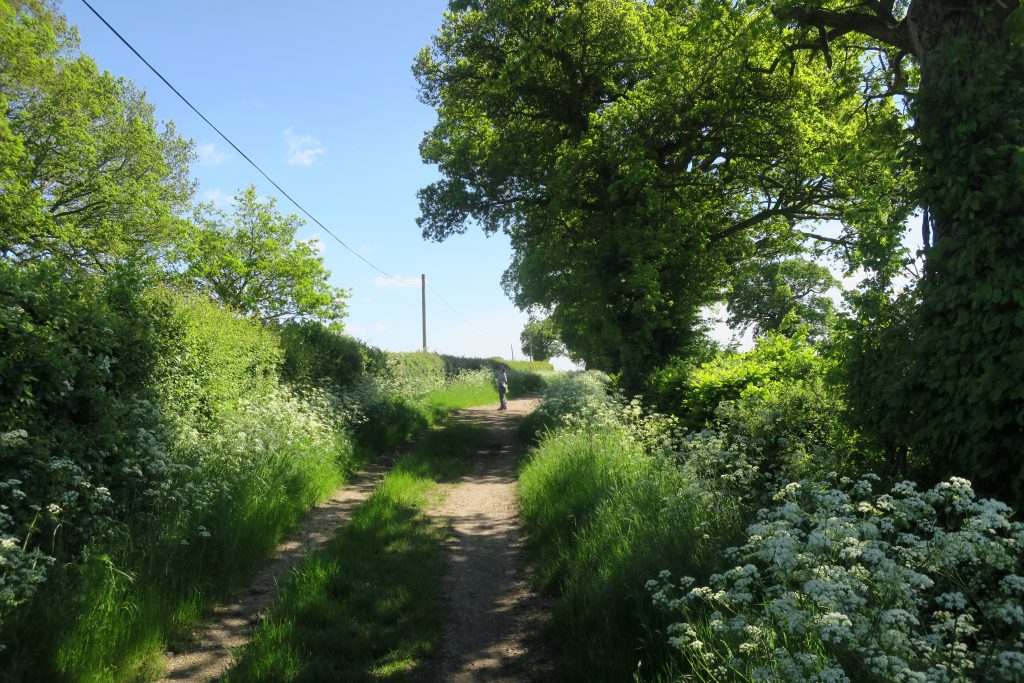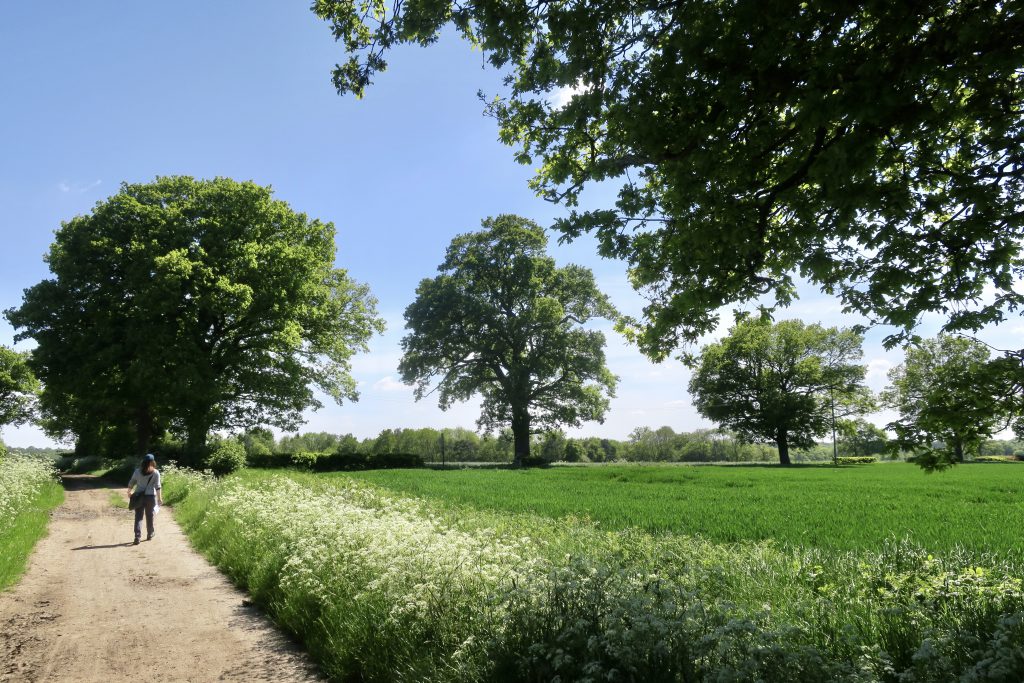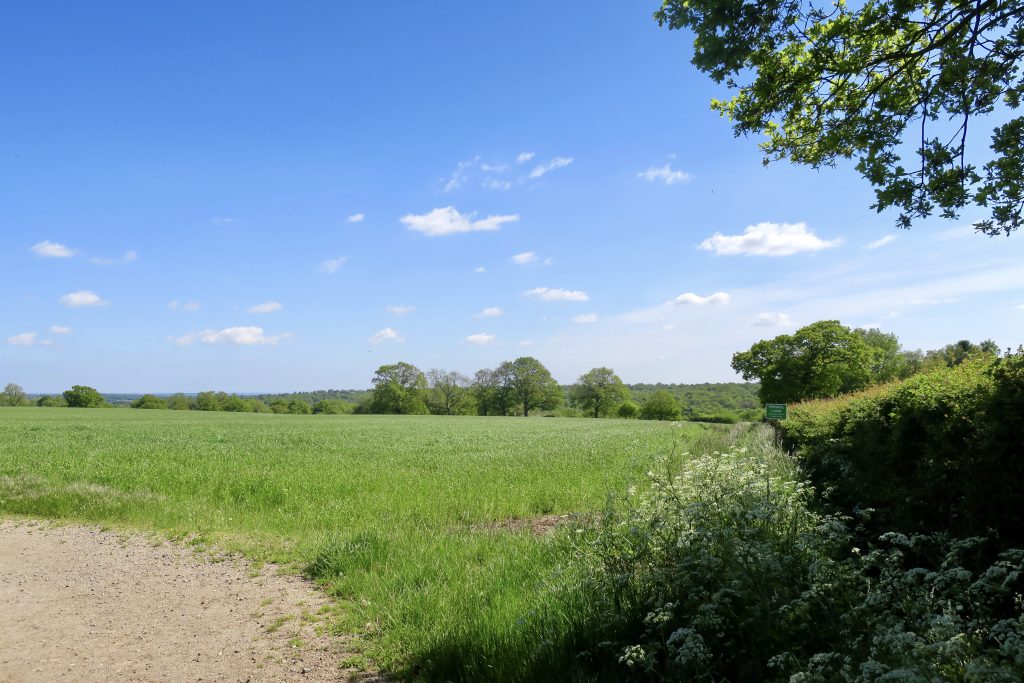 The path turns sharp left as a sign warns us of Private Land ahead. My eyes trespass over the field and along the horizon to a distant familiar sight.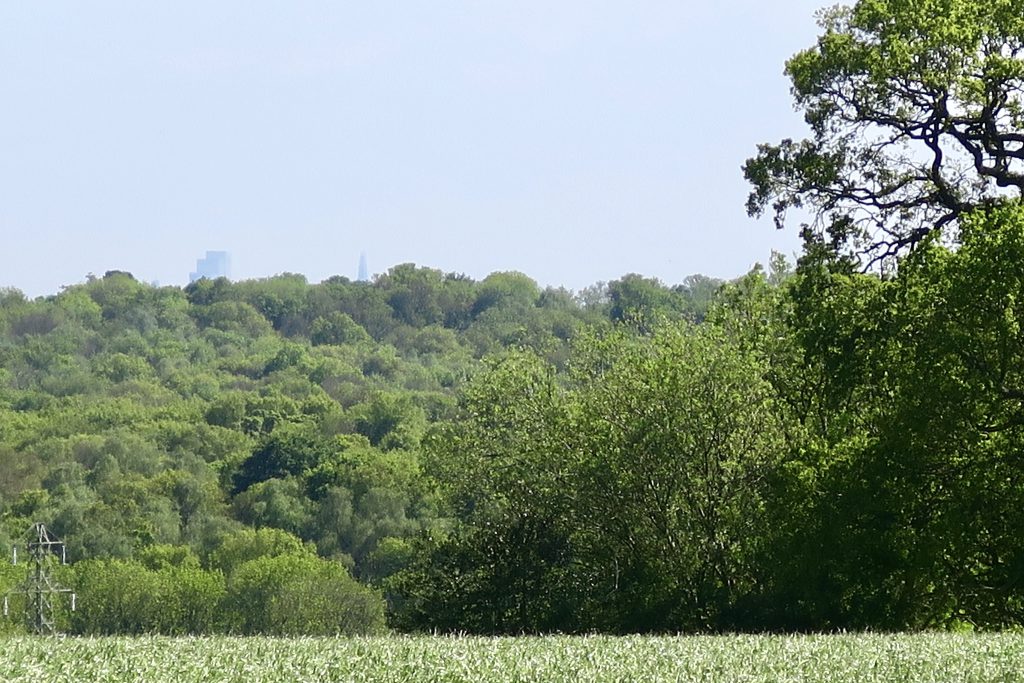 There on the right I spy the distinctive shape of The Shard, and beside it the unfamiliar stepped outline of Twentytwo, the second tallest building on the London skyline, previously known as The Pinnacle, and completed in 2020.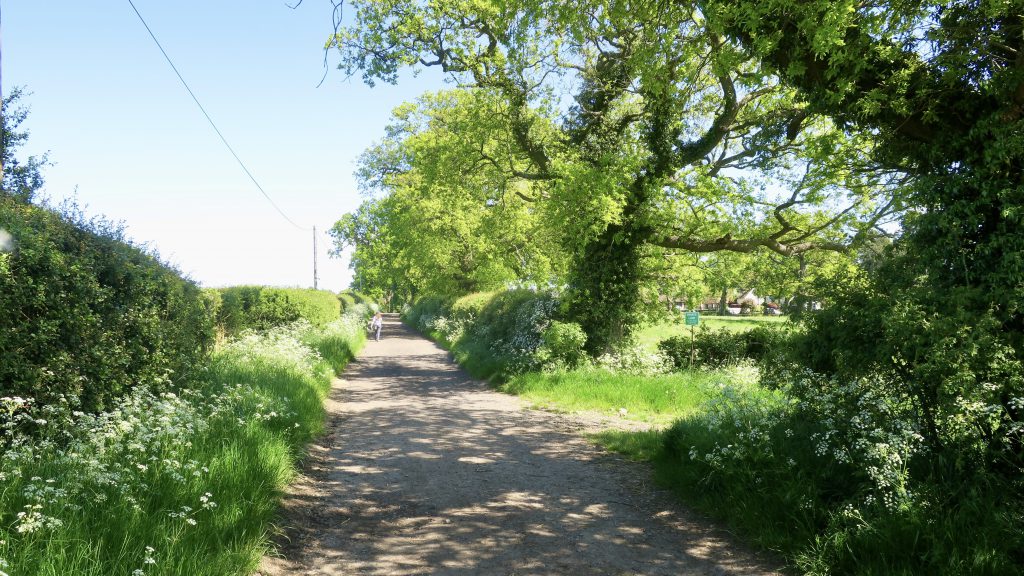 Draw a line south from here between these two landmarks and it will cross Newgate Street in London, which is a nice coincidence because if we follow this lane to its end we come to the village of Newgate Street, Hertfordshire.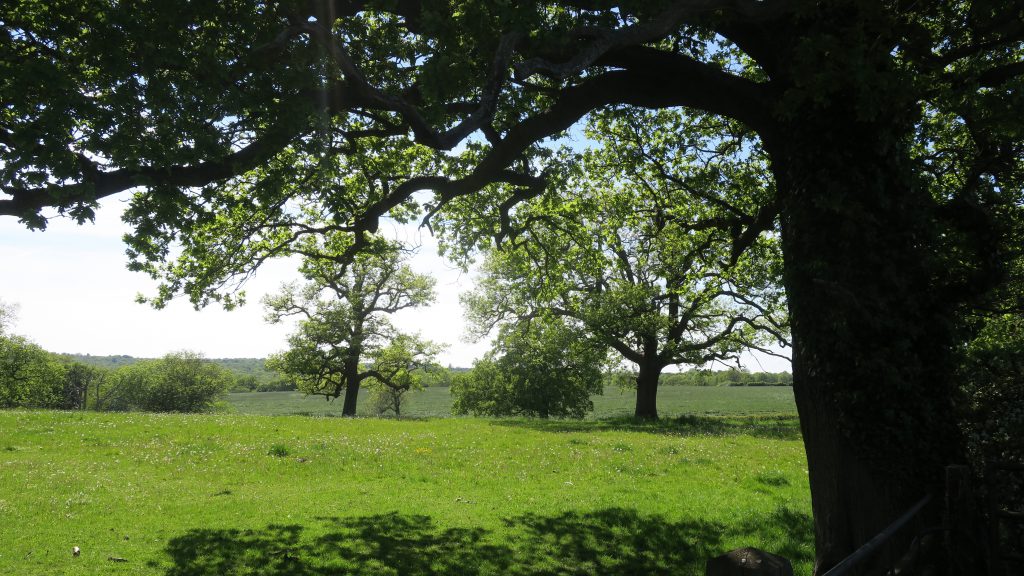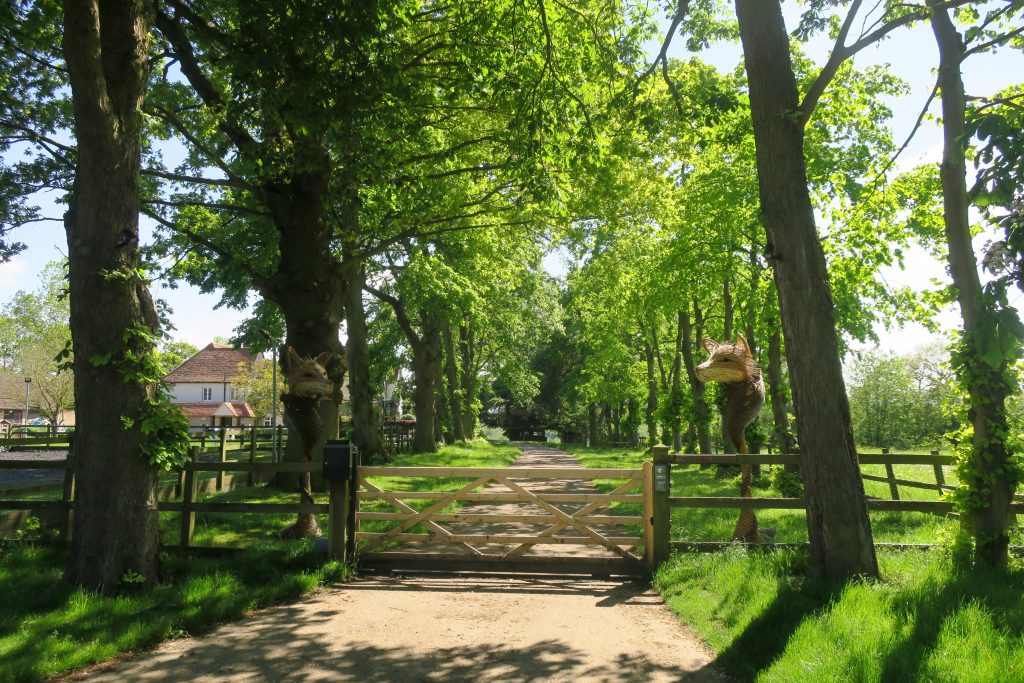 At the entrance to New Park Farm we met a couple of gatepost guardians.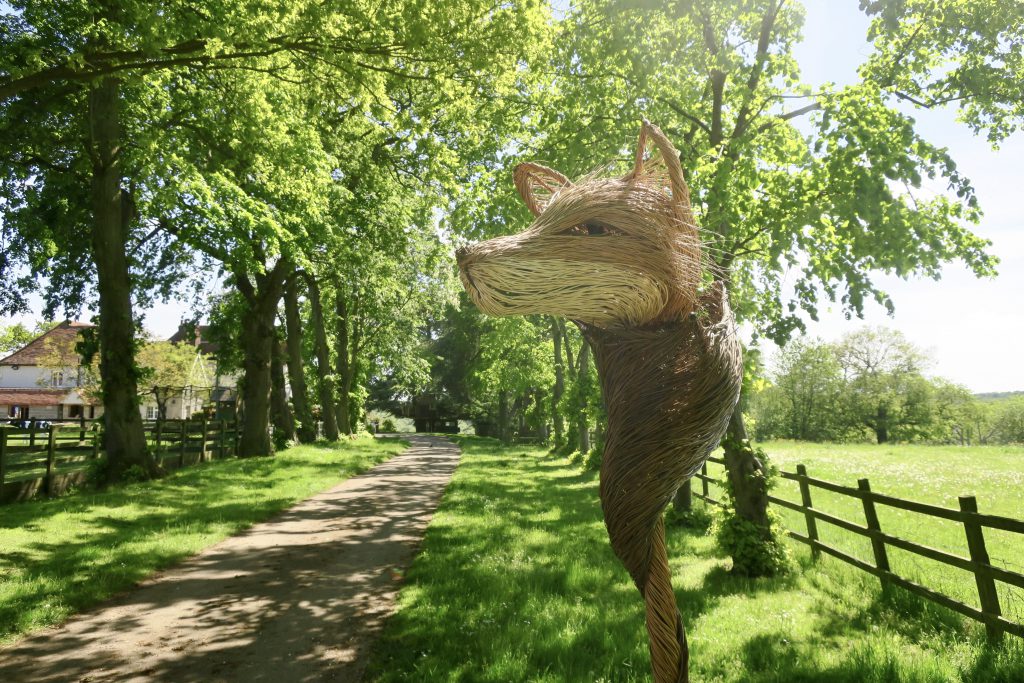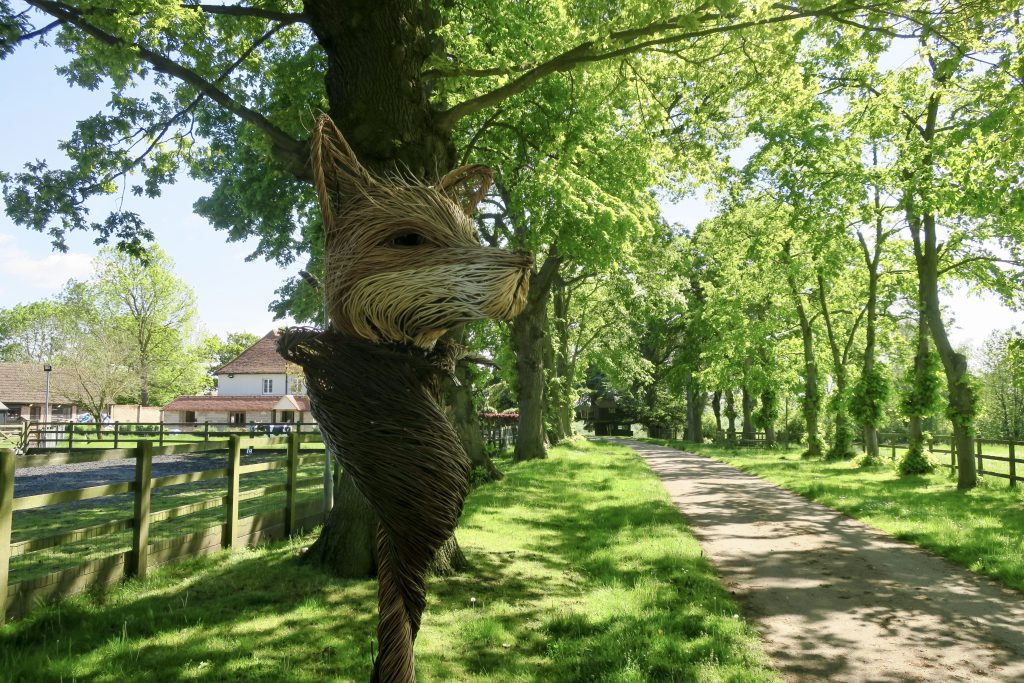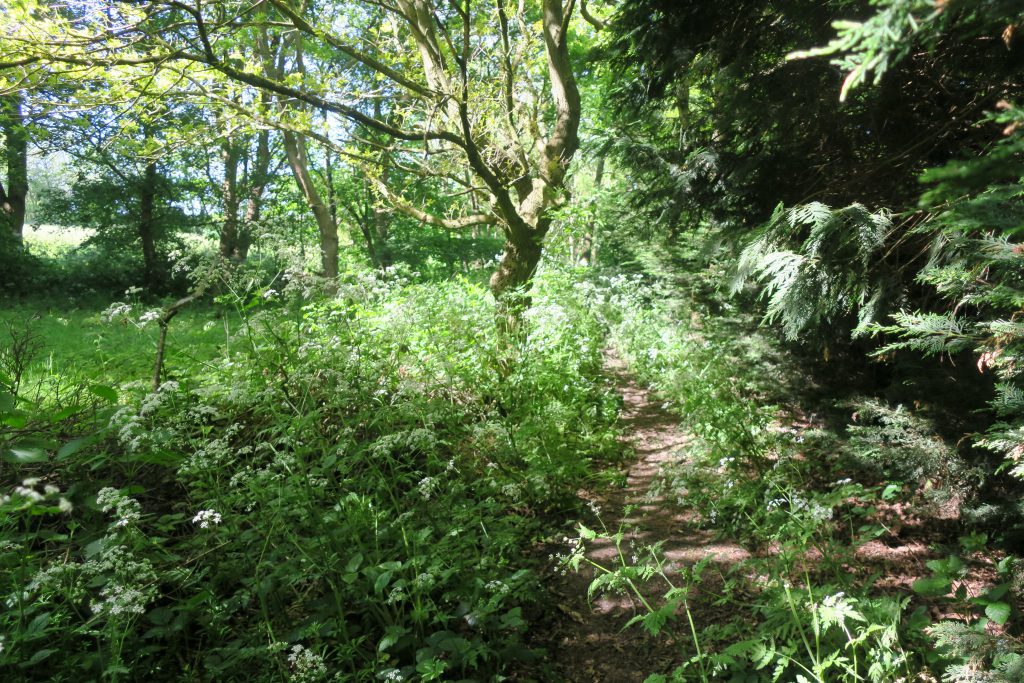 Then just short of Newgate Street we turn off the the lane and head north onto a tiny indistinct track through the trees.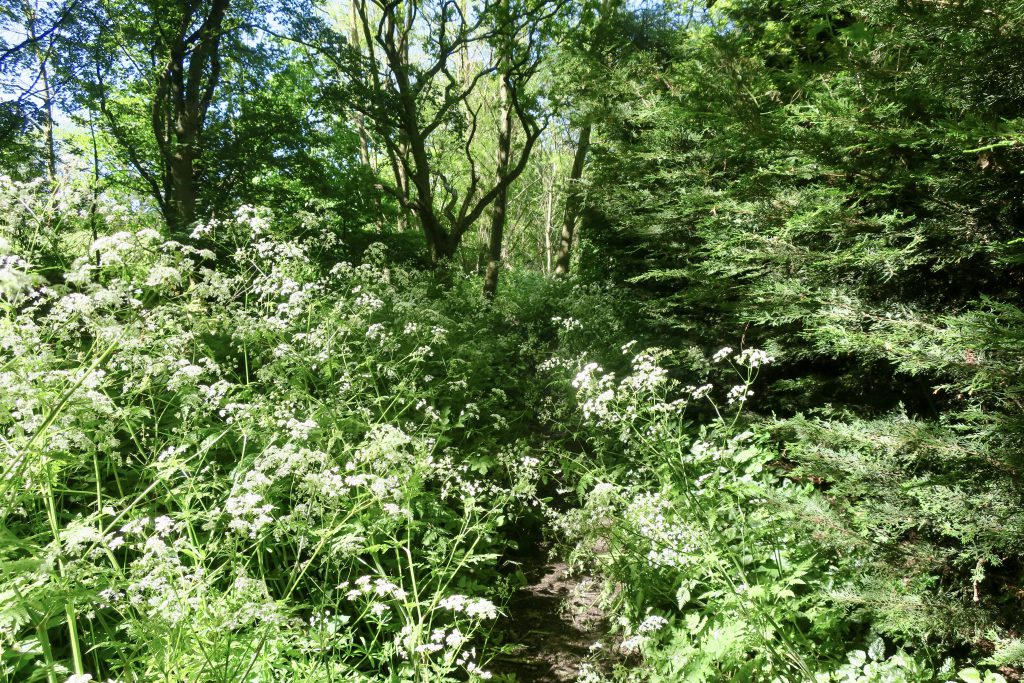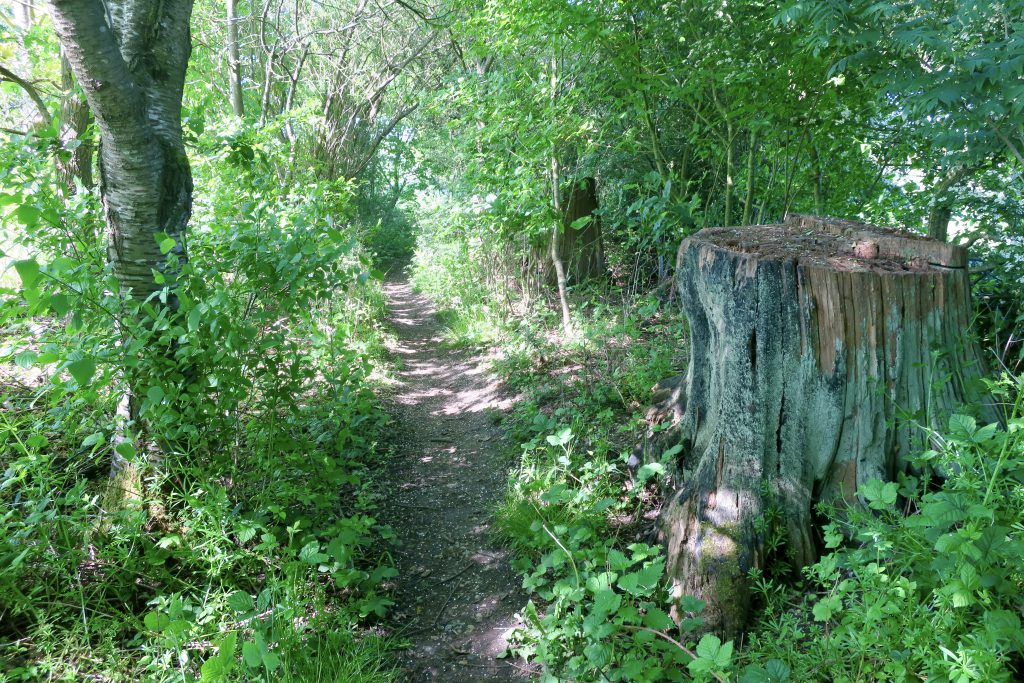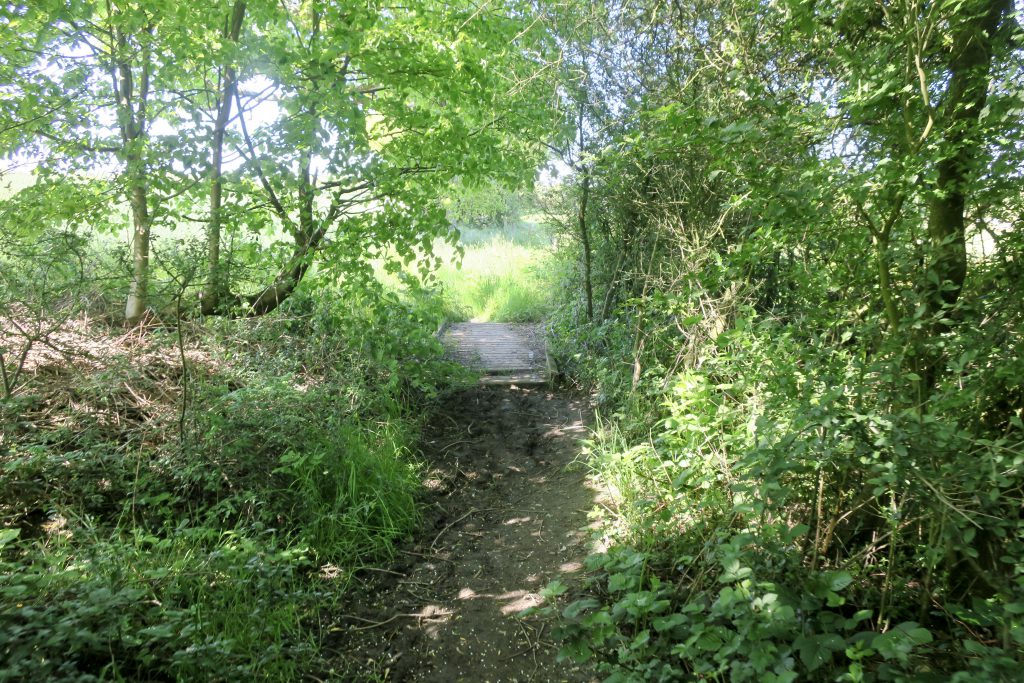 We emerge into the light and walk down beneath majestic field oaks.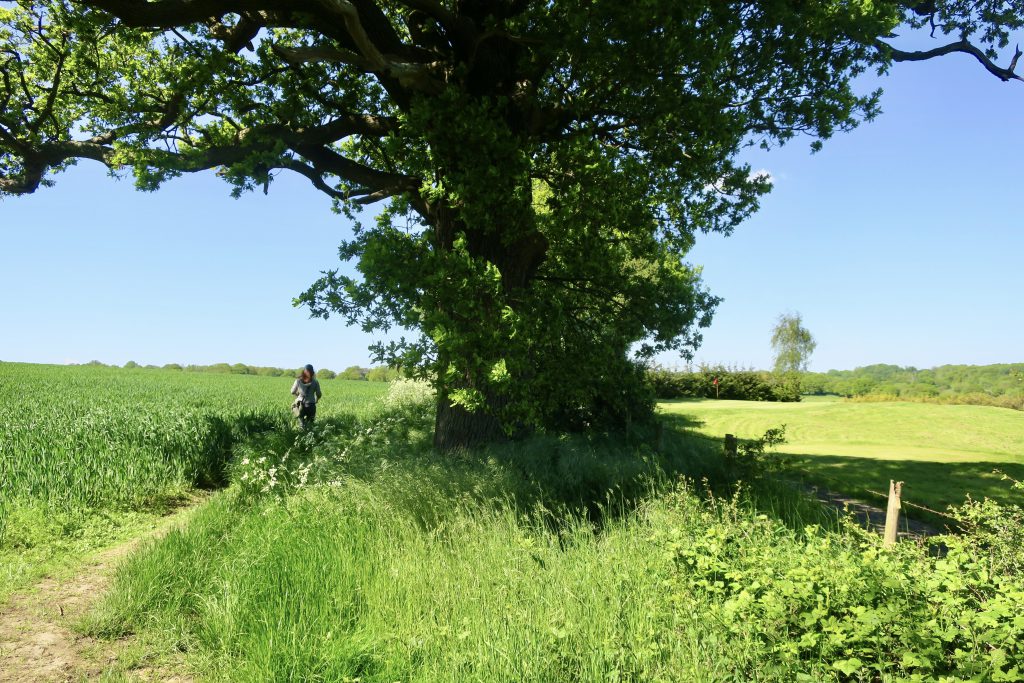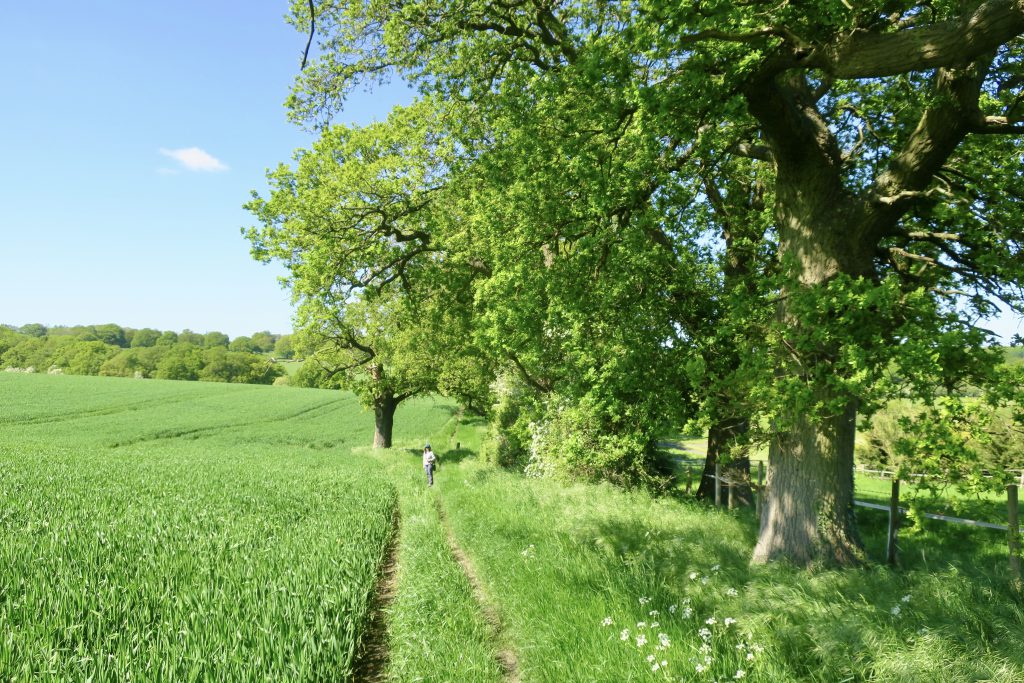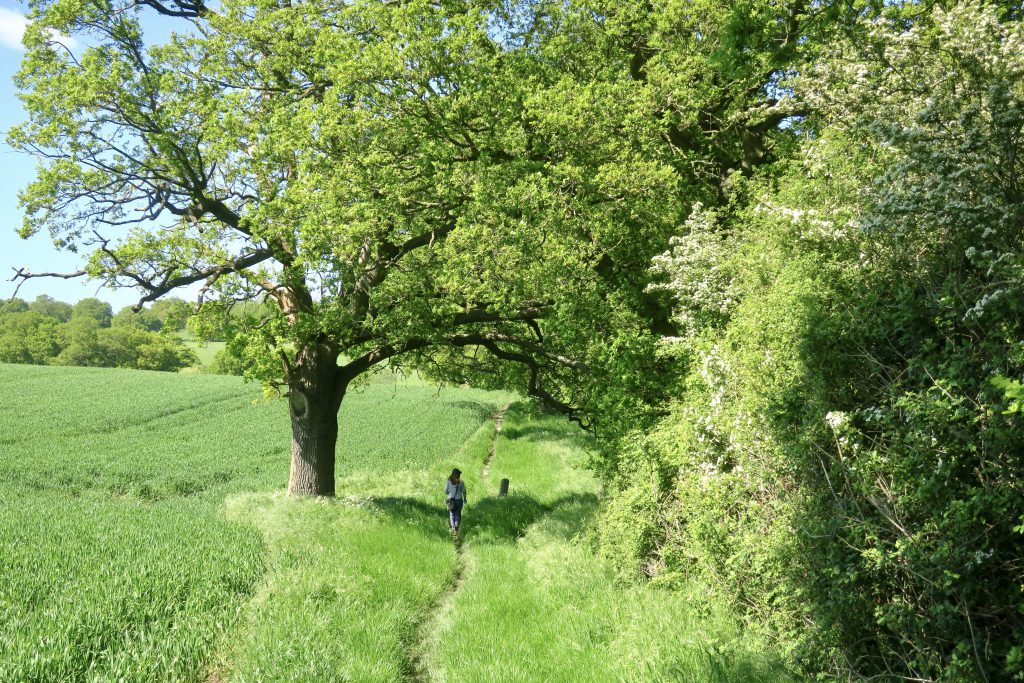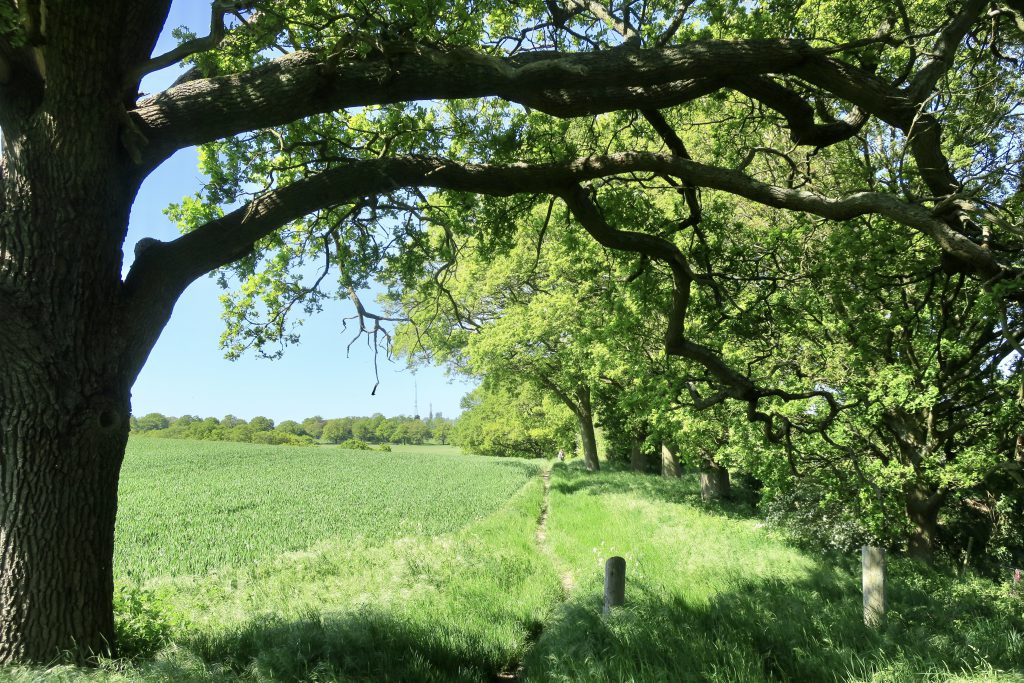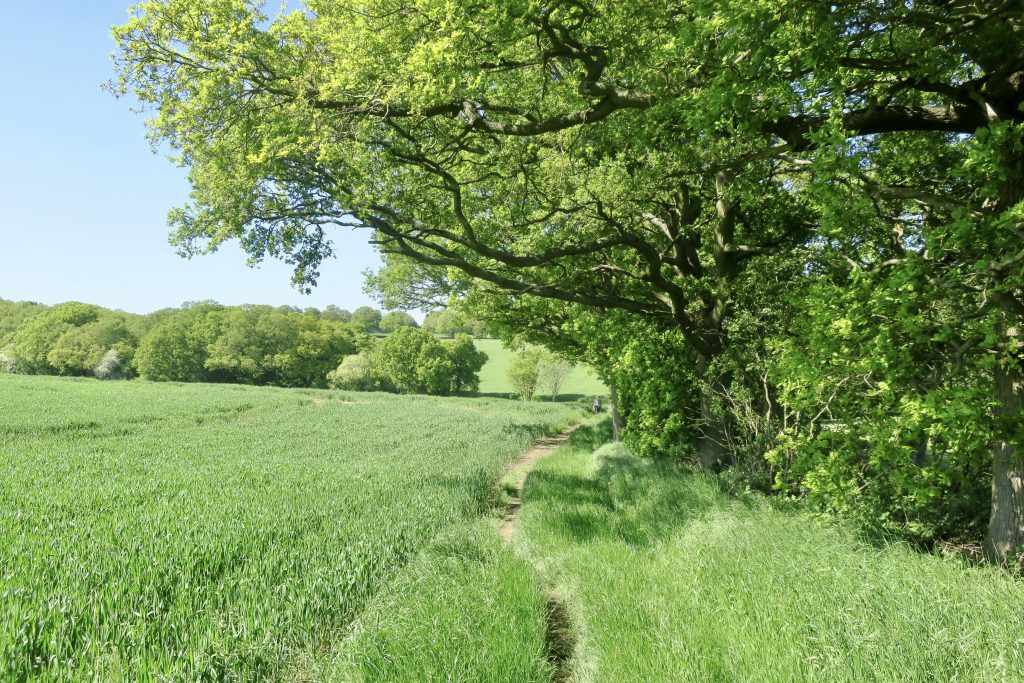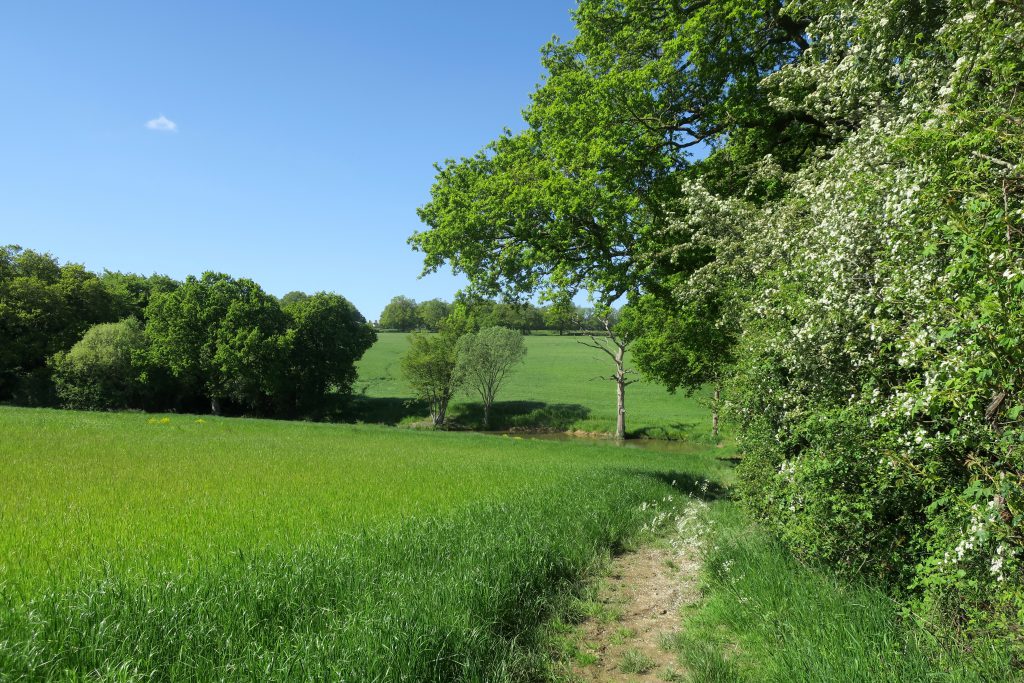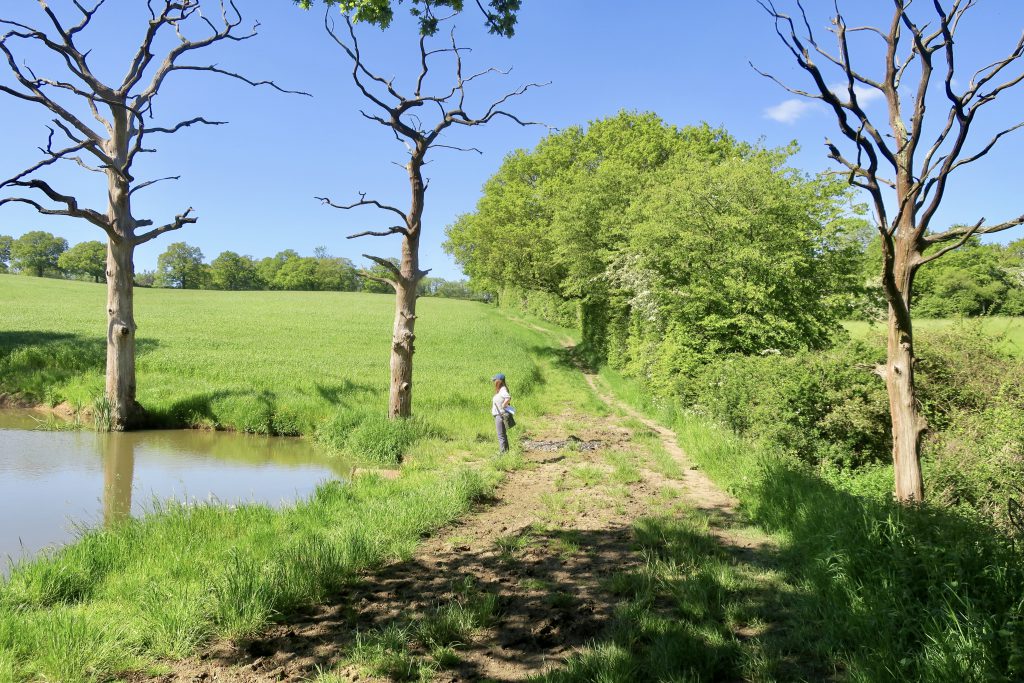 To where the run-off from the fields feeds the spring in the valley where dead trees stand with their roots in the stream… What's in the water?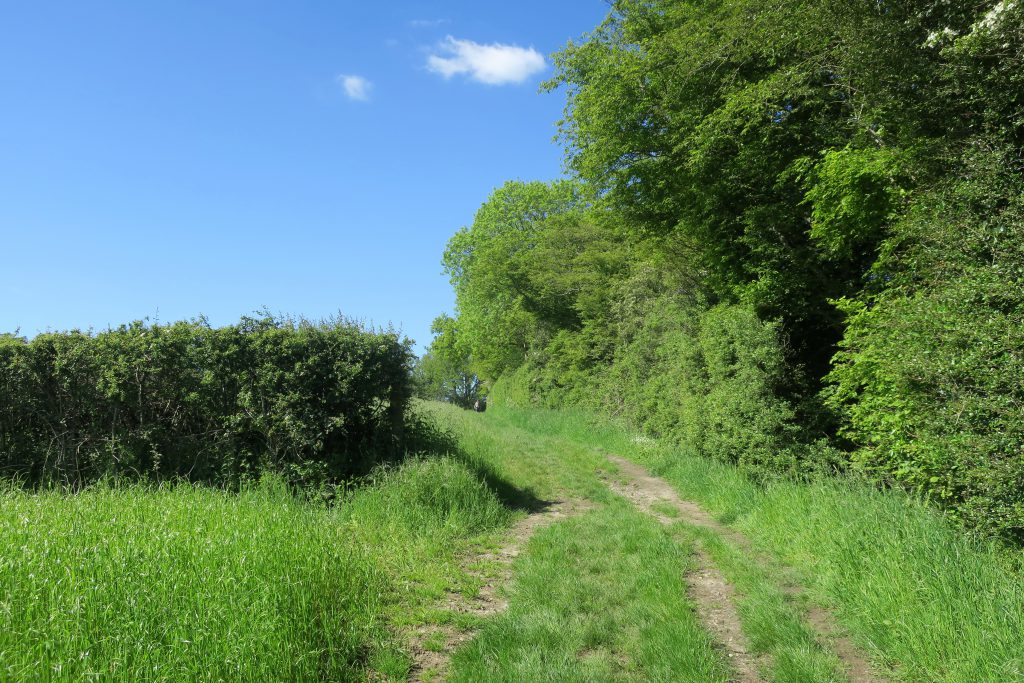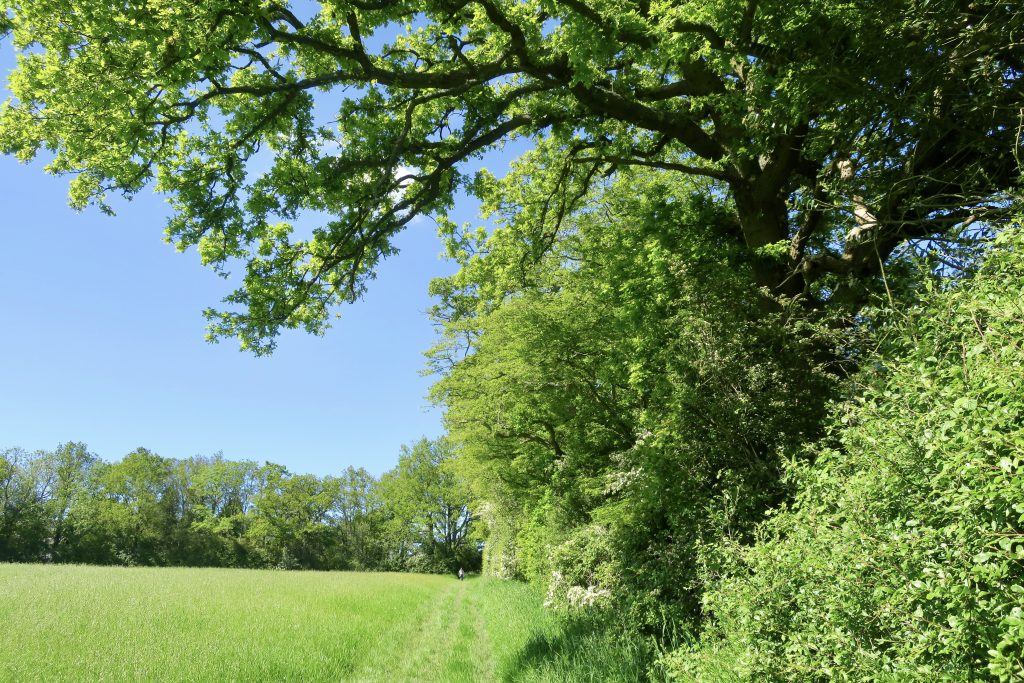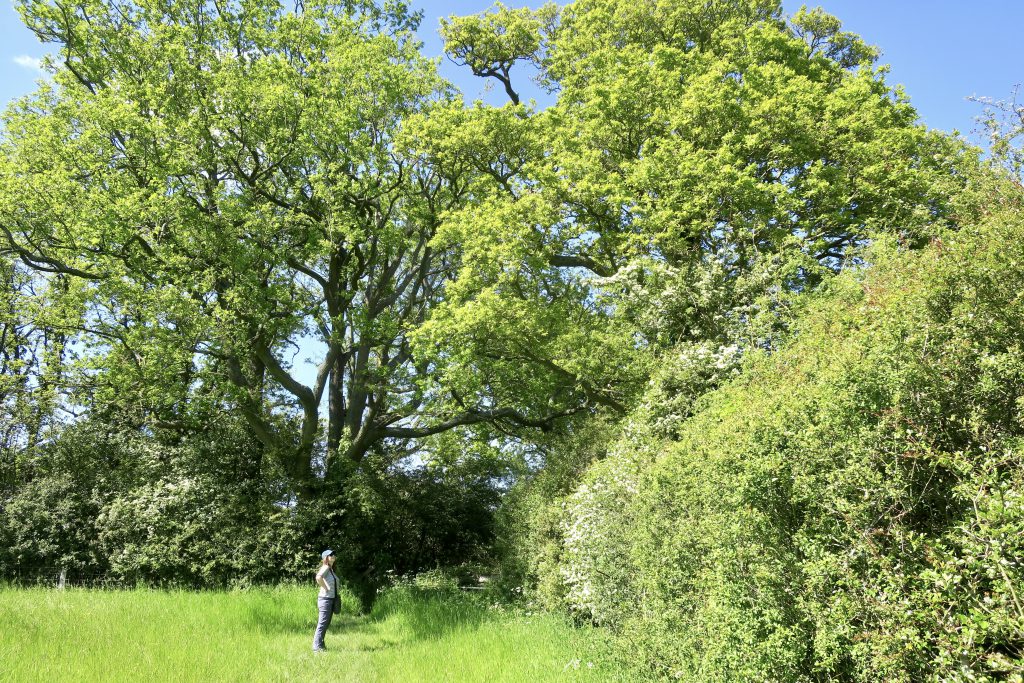 Then up the hill alongside a great hedge, high and deep and I'm tempted to explore it on the inside, tangled and dark and a welcome refuge for wildlife, but I need to change my shape, act natural, see the light through the leaves and absorb its numinous beauty, dissolve in its luminous hoochie coochie.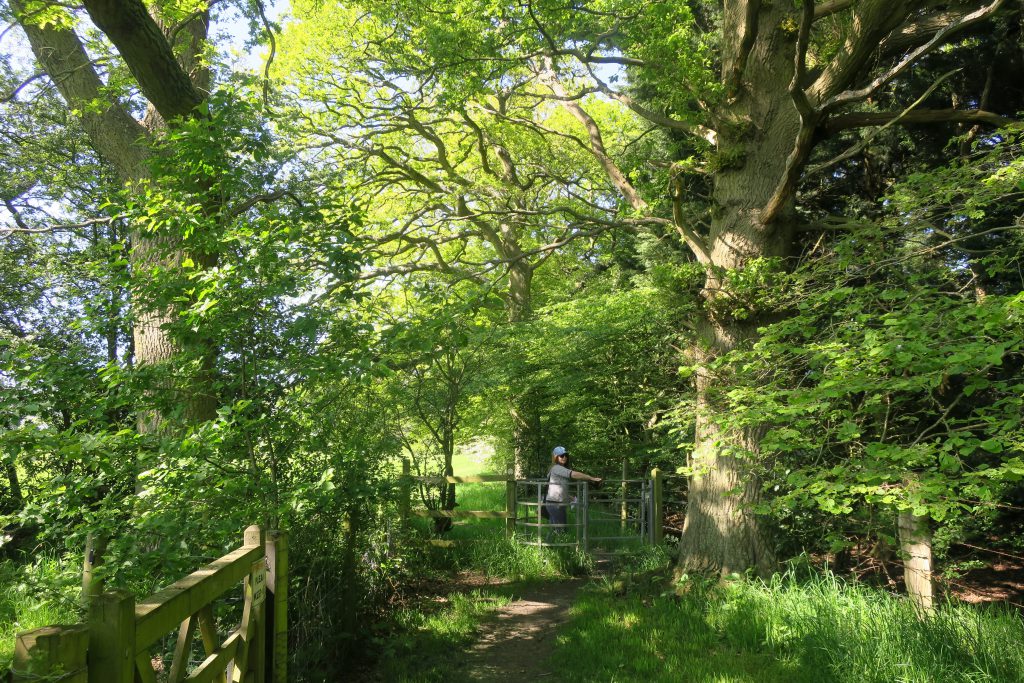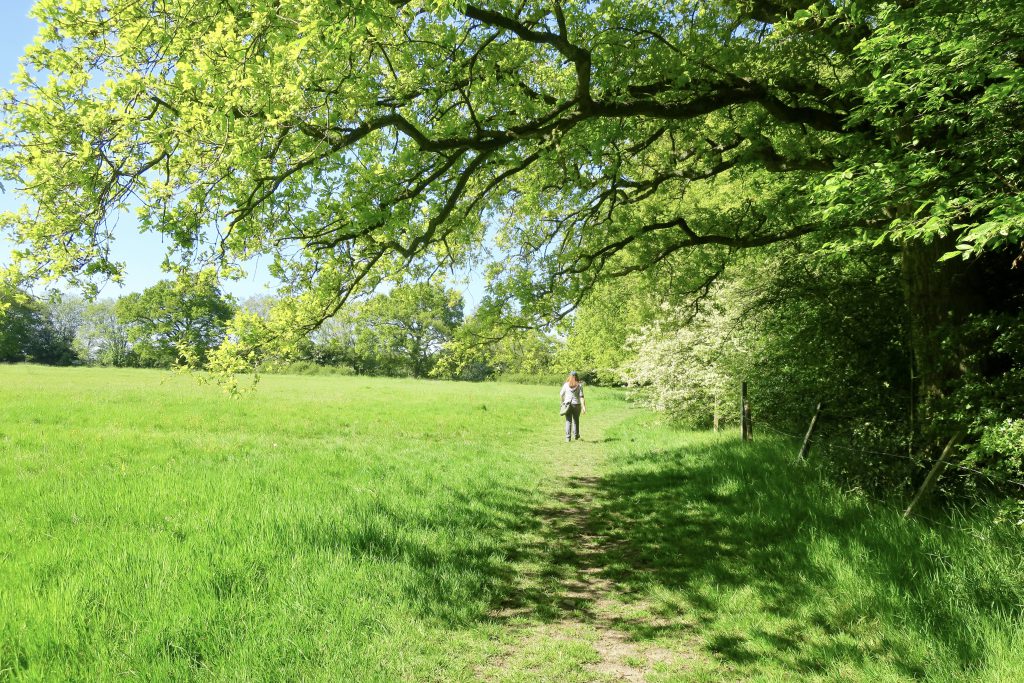 And it's again. Along the path under oak trees. Green and tempting, shape-shifting and transporting, briefly to another place like here and now but twice there and then. And back again. All green and luminous and there's much more room in us for spatial exploration and countryside rumination.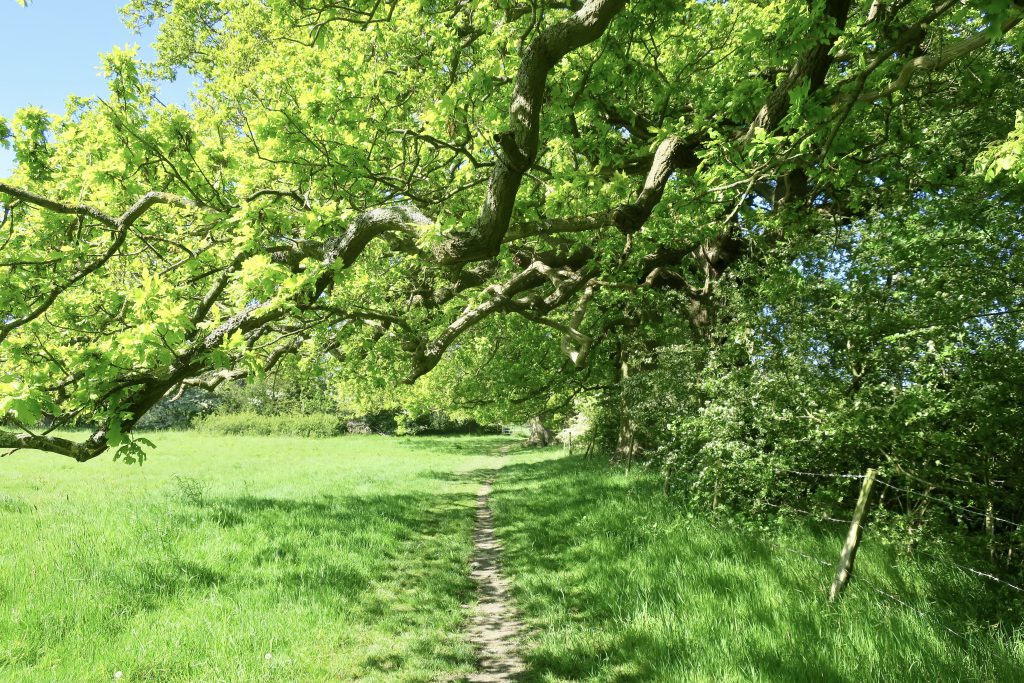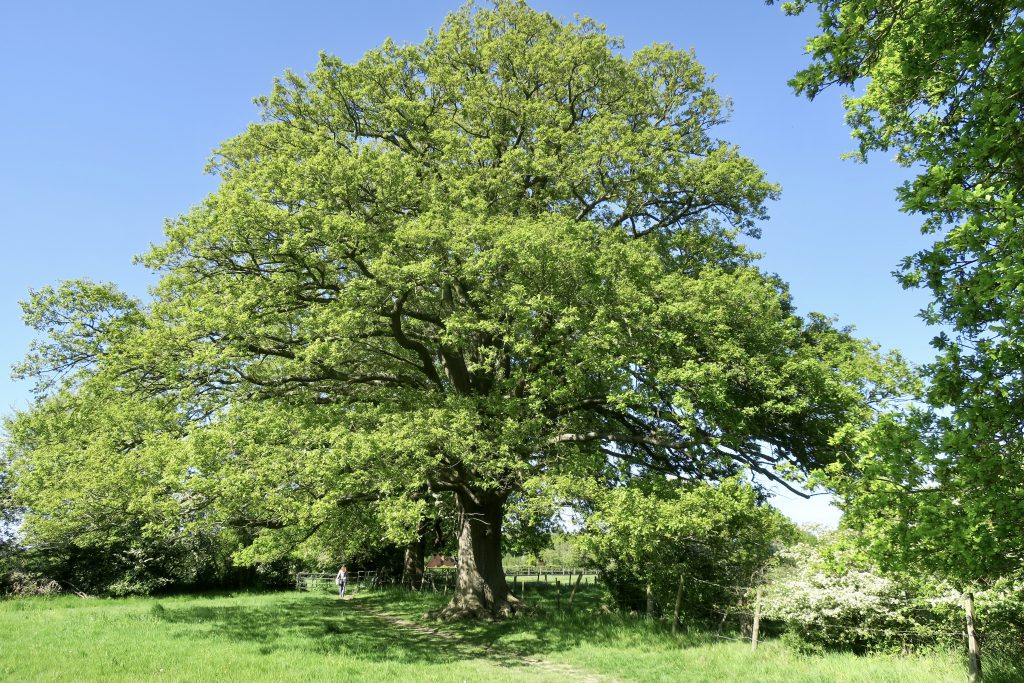 And all I really want is to be a luminous and numinous oak tree.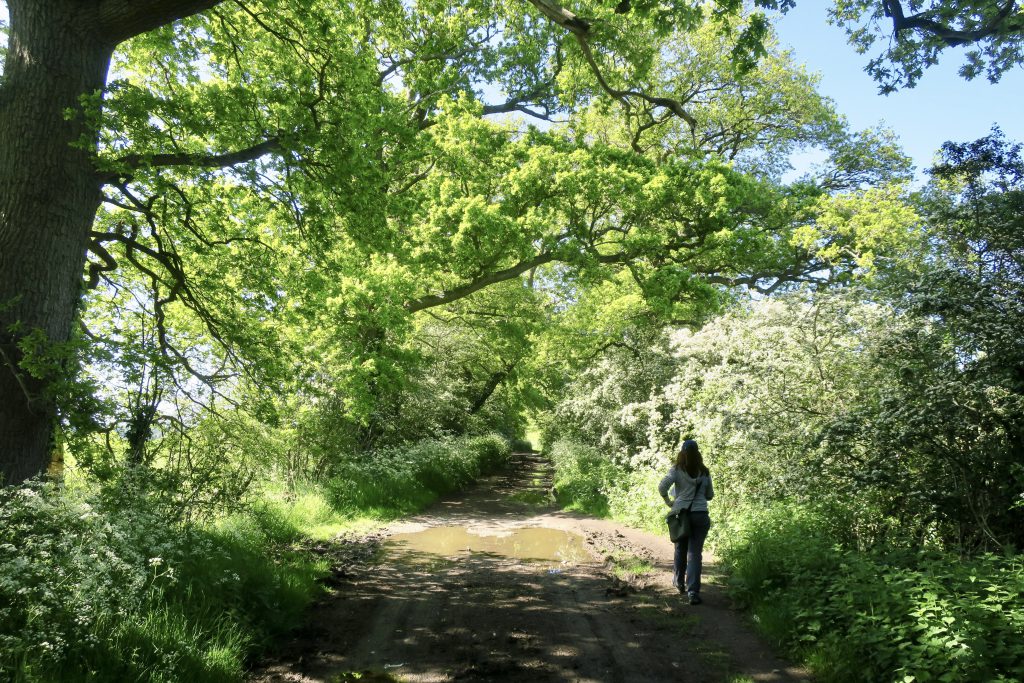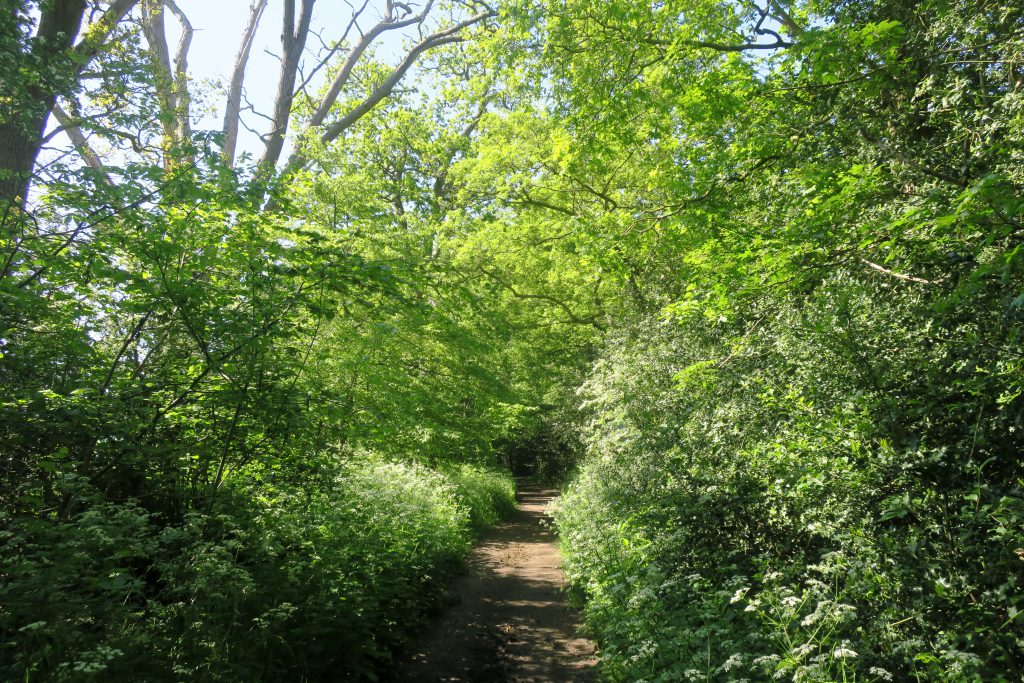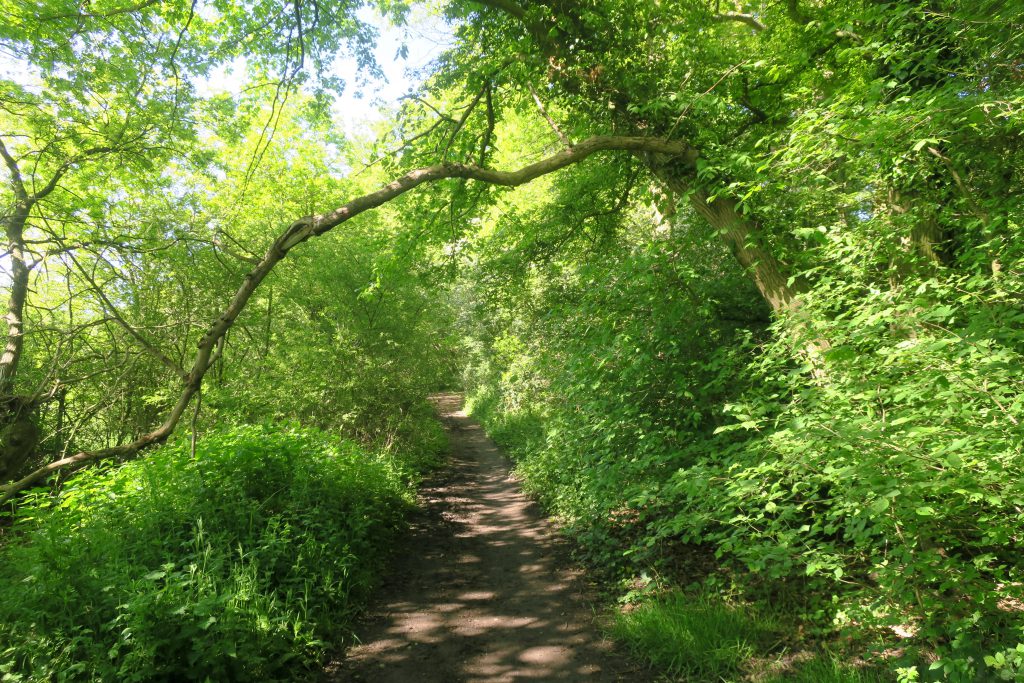 Lost in a green lane I'm anonymous, the light is voluminous,
it's the best place to be. My heart is a tree.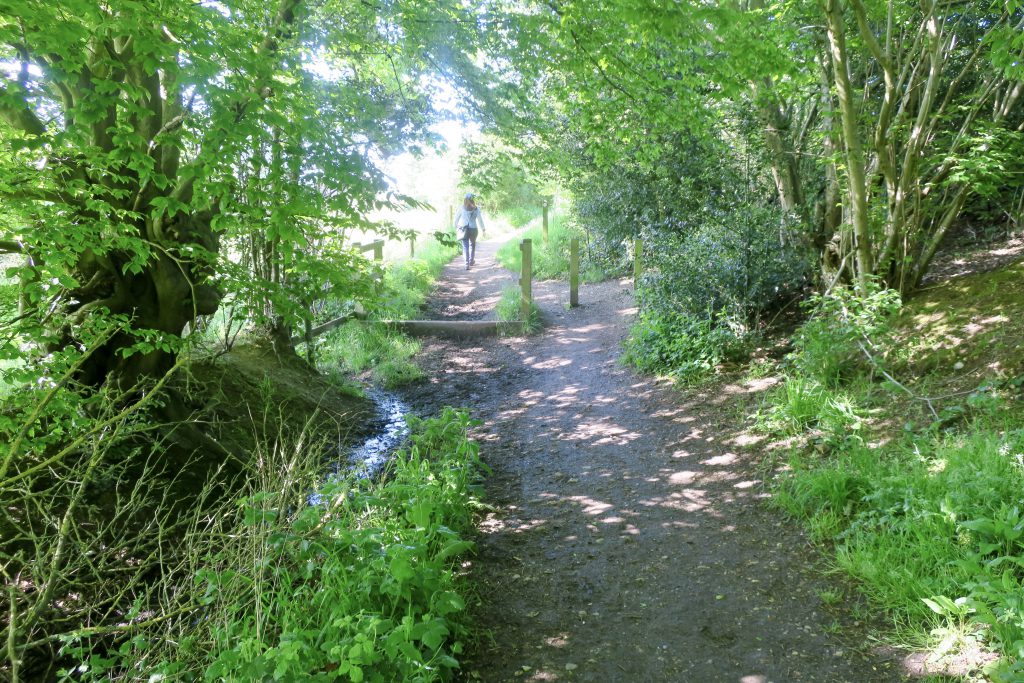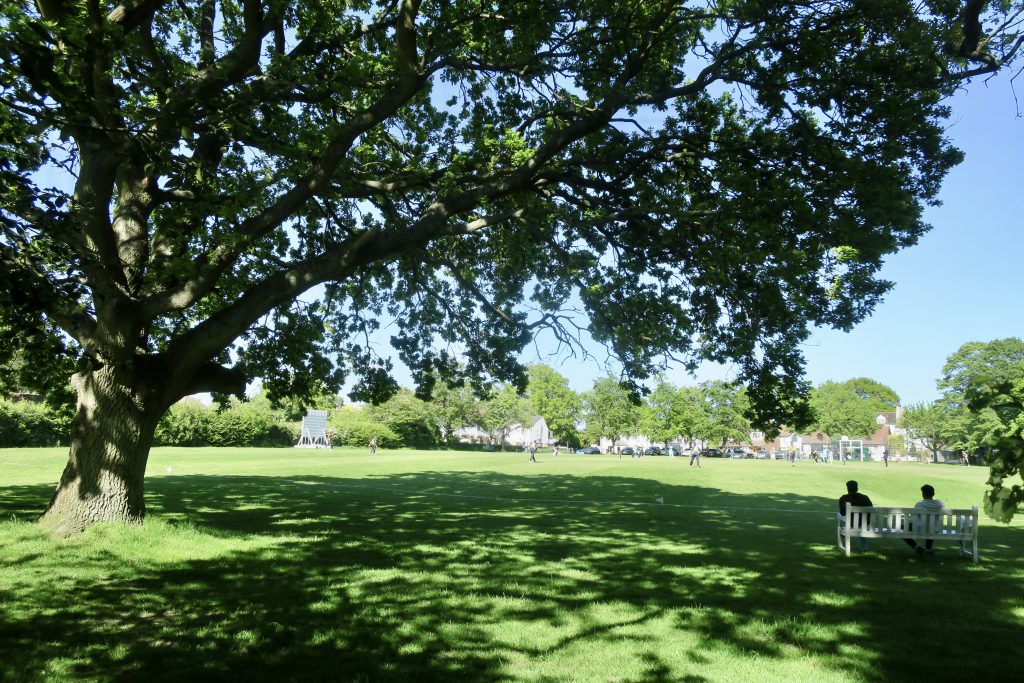 And under a tree in Little Berkhamsted there's a cricket match on the Recreation Field. And there's just time for a pint at the Five Horseshoes.
※
※
※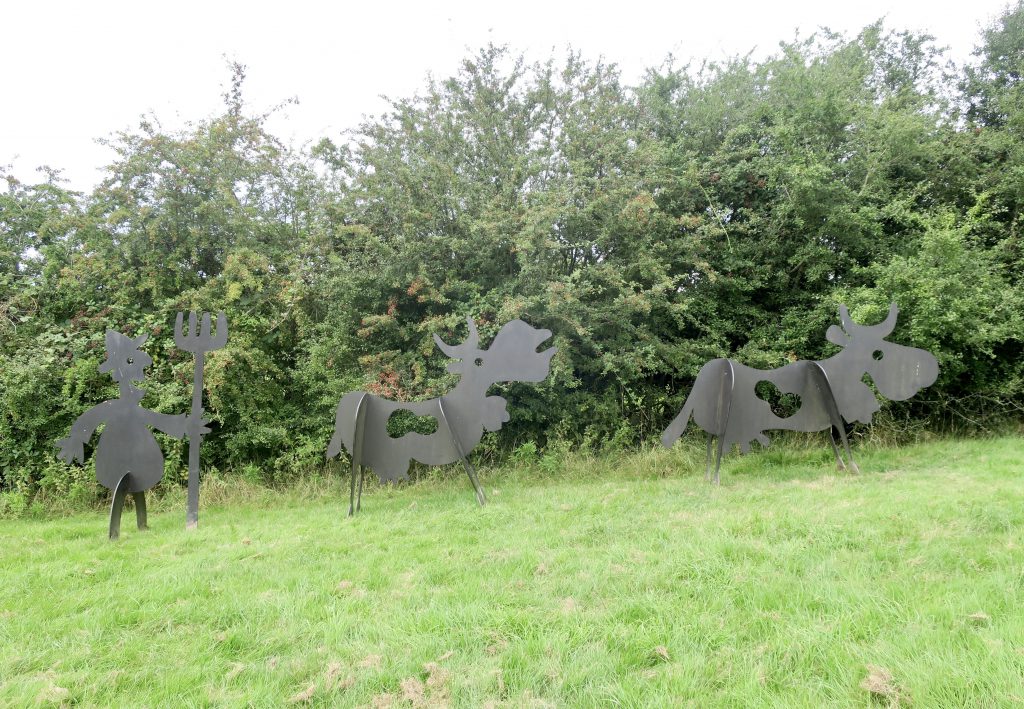 PS: Three months later, at the end of August, we came back again, but the sun didn't come with us. The numinous was less numerous. But never mind, here's a postscript and some supplementary photos, beginning with this curious trio hiding behind a hedge just below Essendon Cricket Club.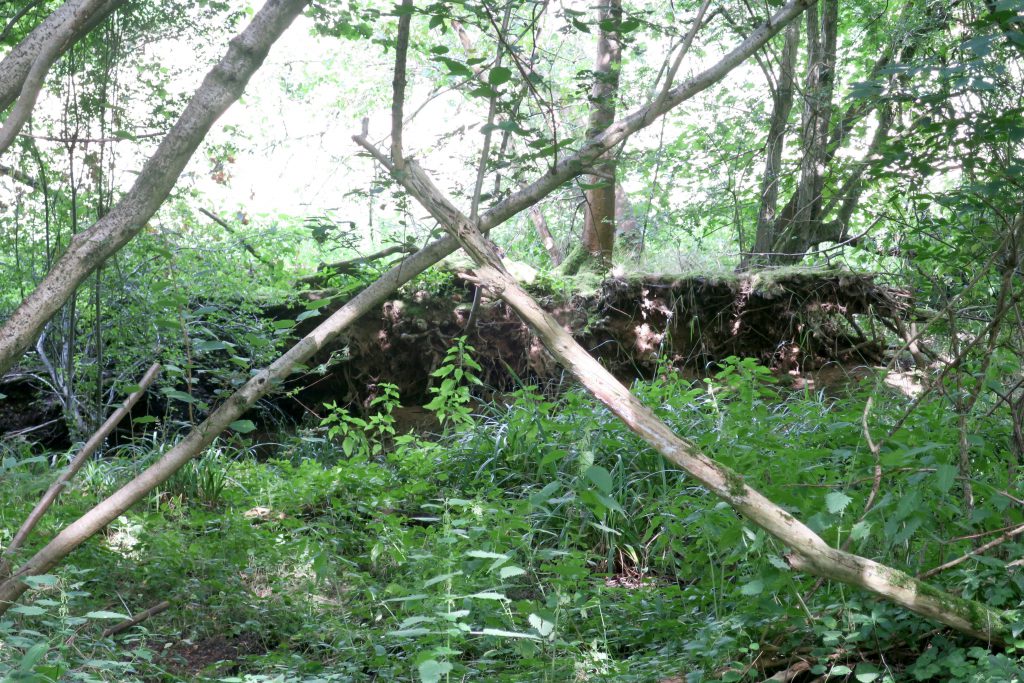 Then X marks the spot down by Essendon Brook.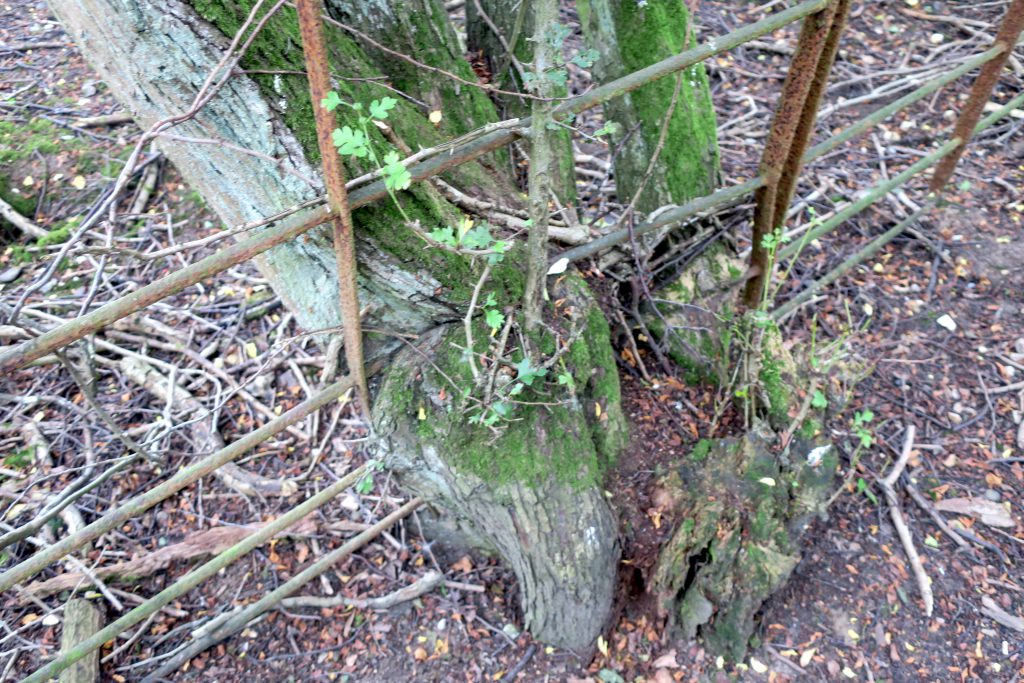 We followed an ancient thread of iron fence and hawthorn, all plaited together like snakes and ladders climbing the hill up from the stream.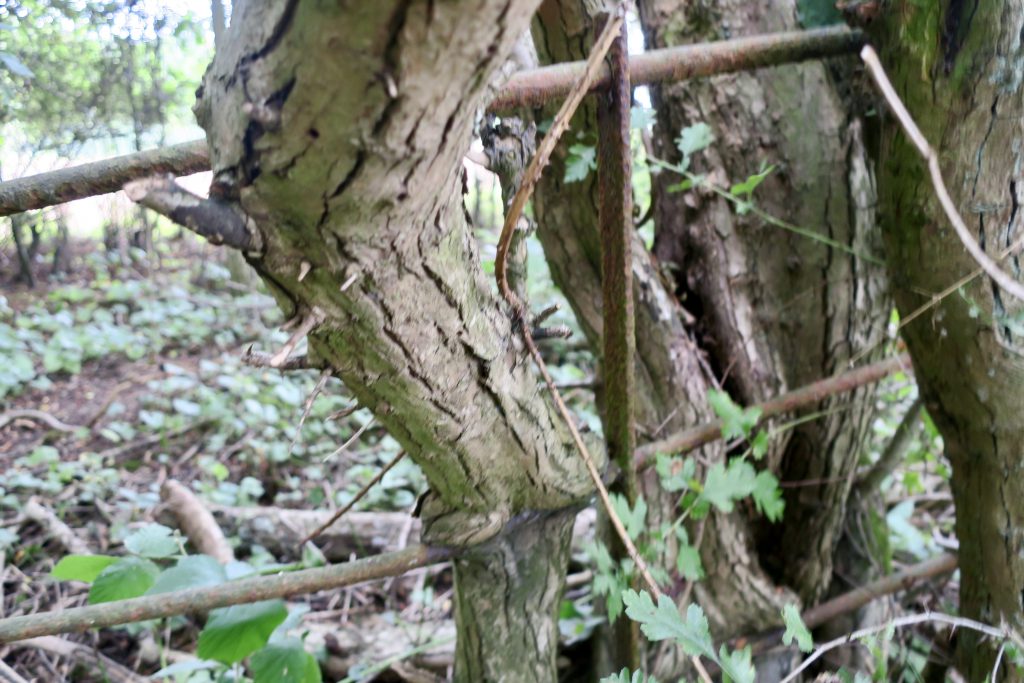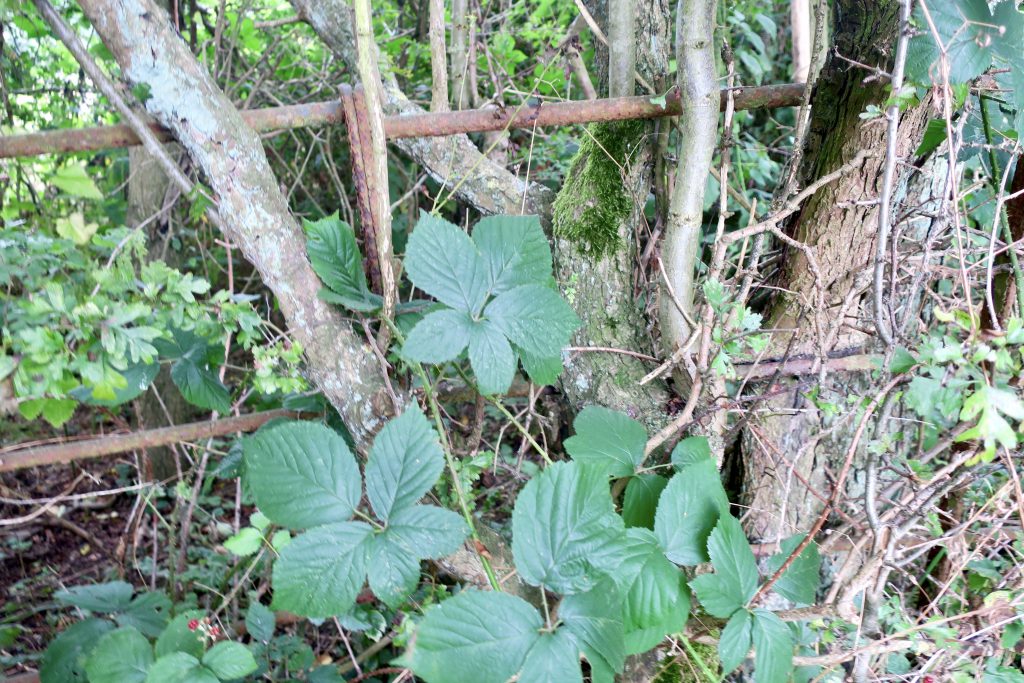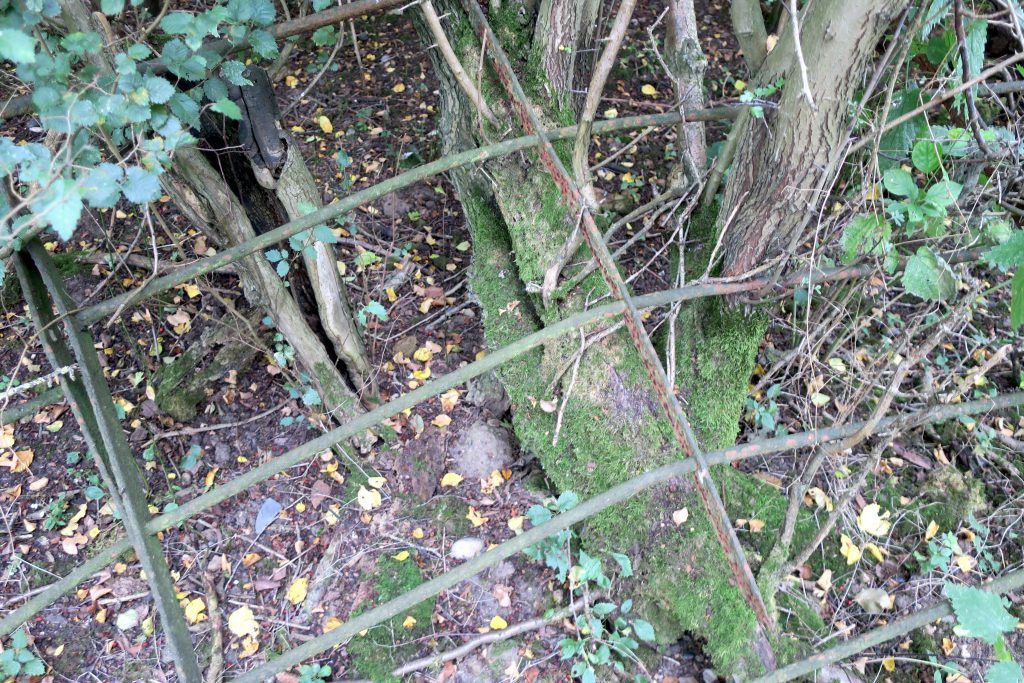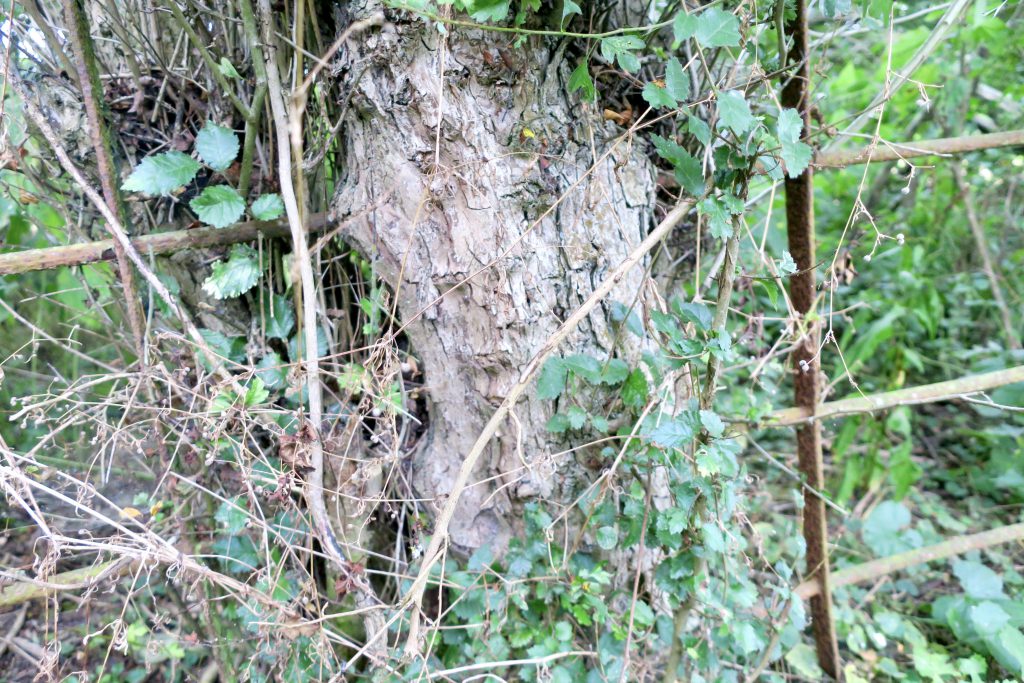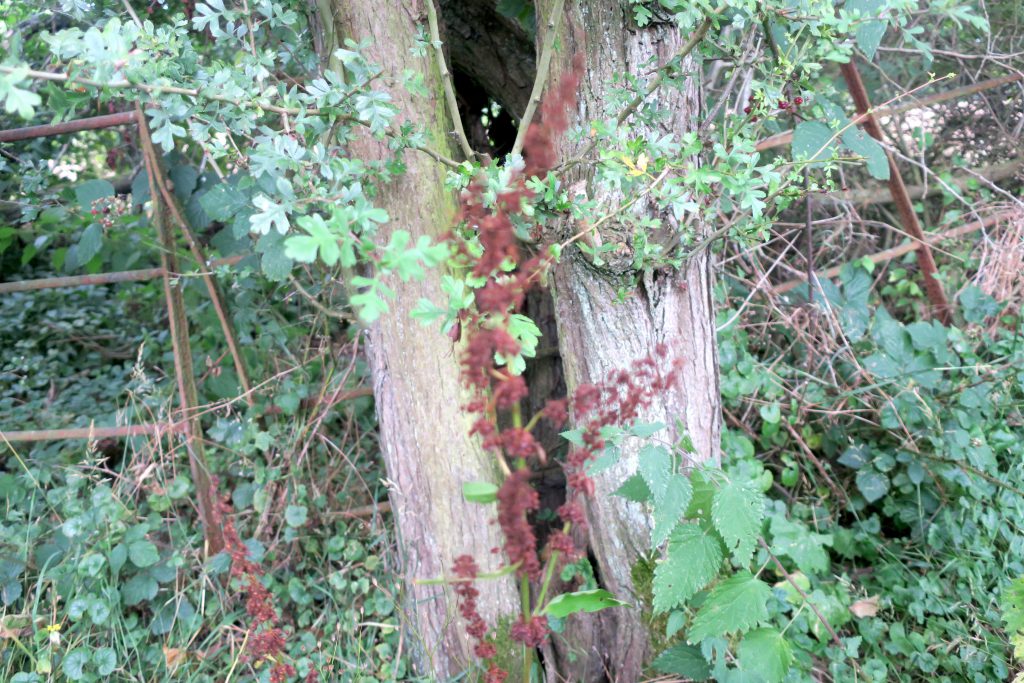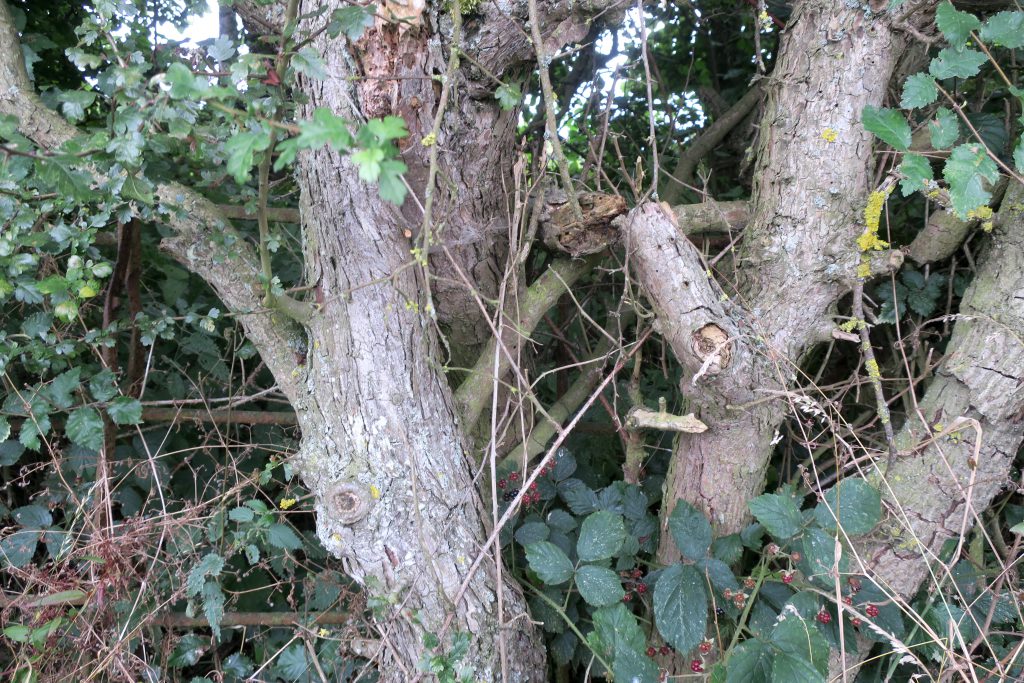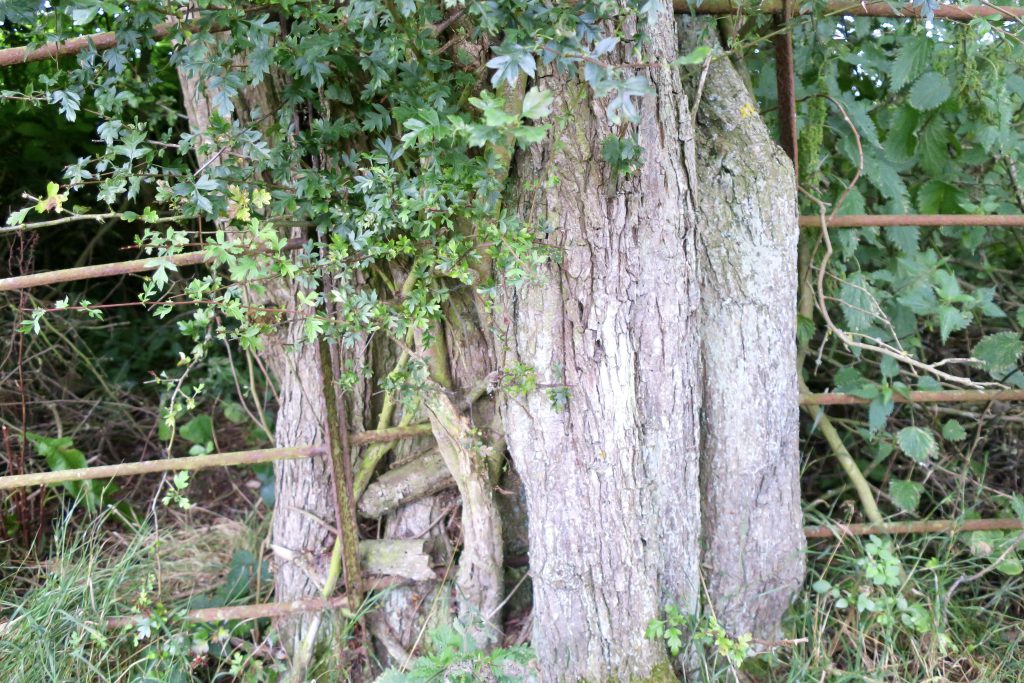 Fencerow and hedgepost were confused and so tangled and interwoven they didn't know if they were coming or going.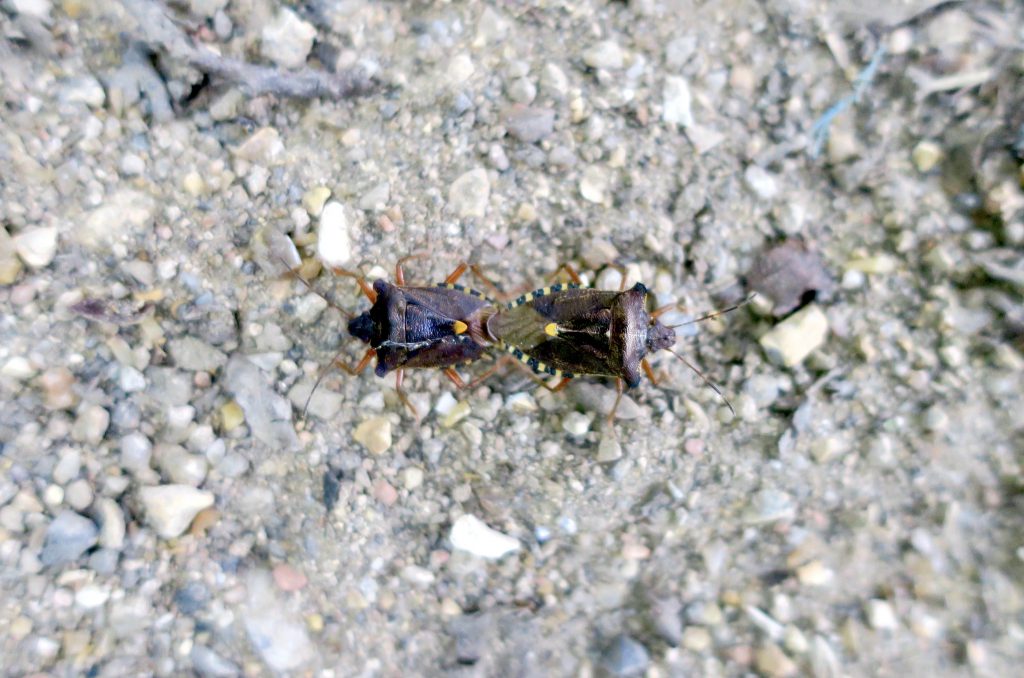 And the same might be said for this coupling pair of forest bugs.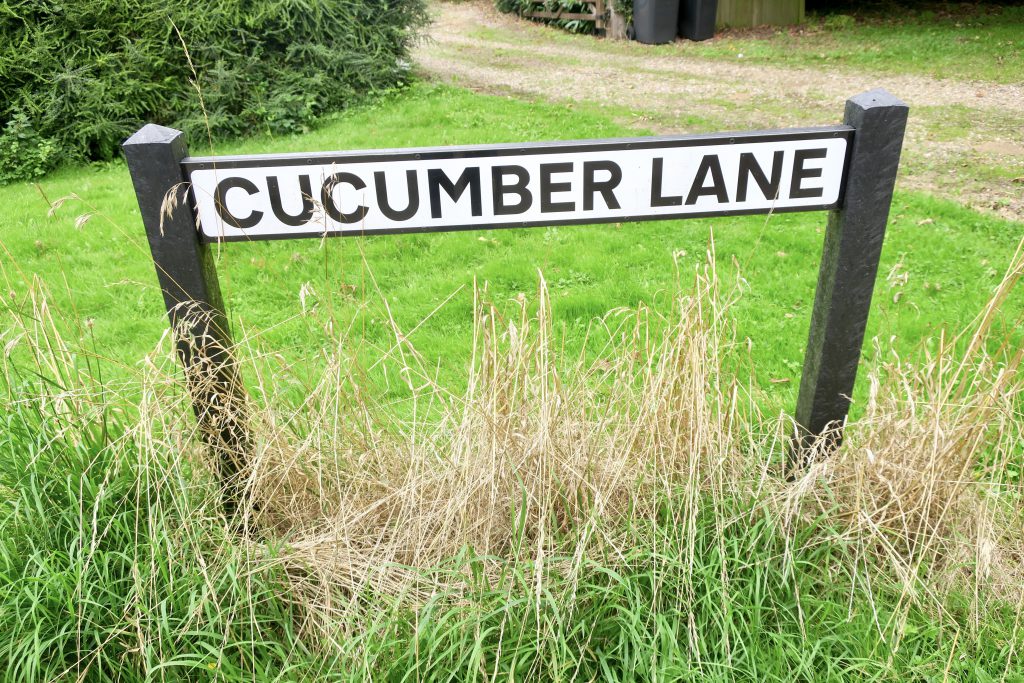 Caught between Cum Cum Hill and Cucumber Lane.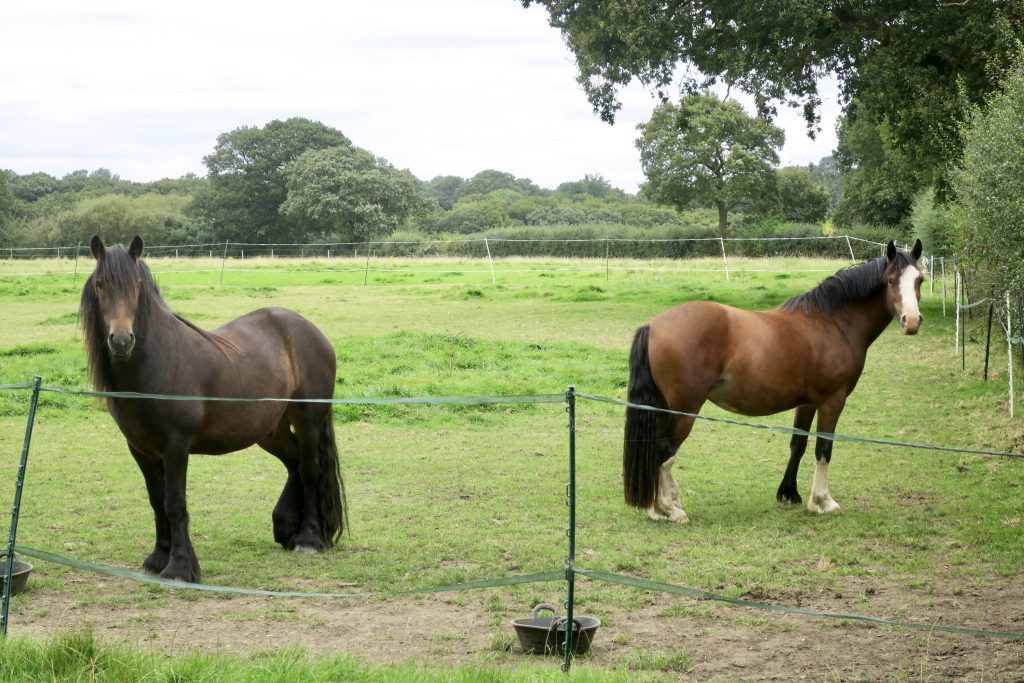 Then metamorphorsed and unhitched at New Park Farm.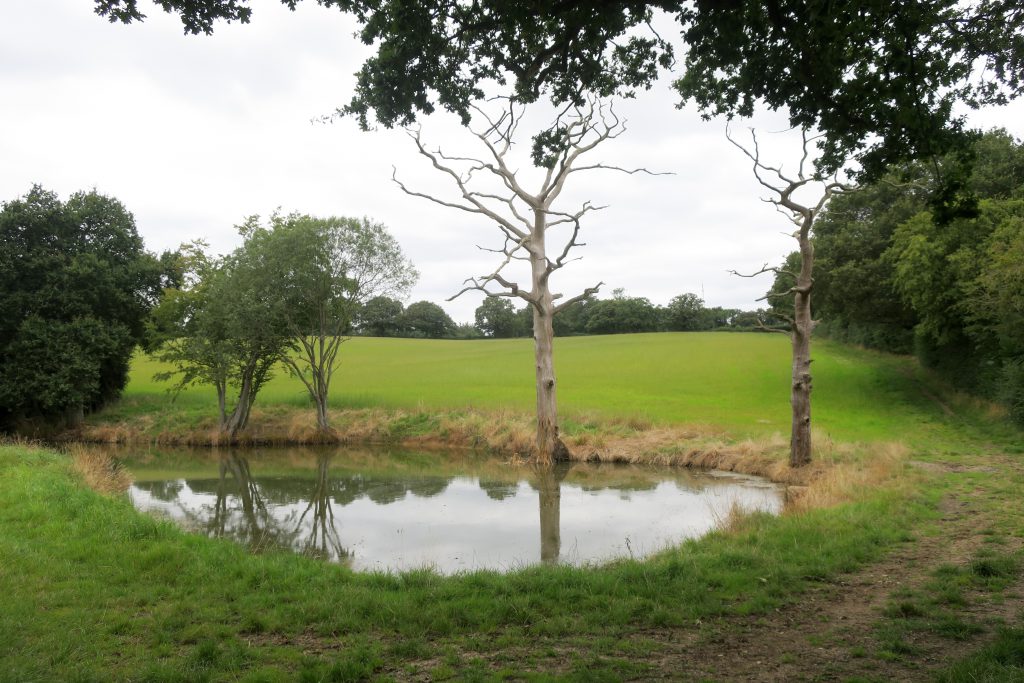 Expired in Poisonwood Pond.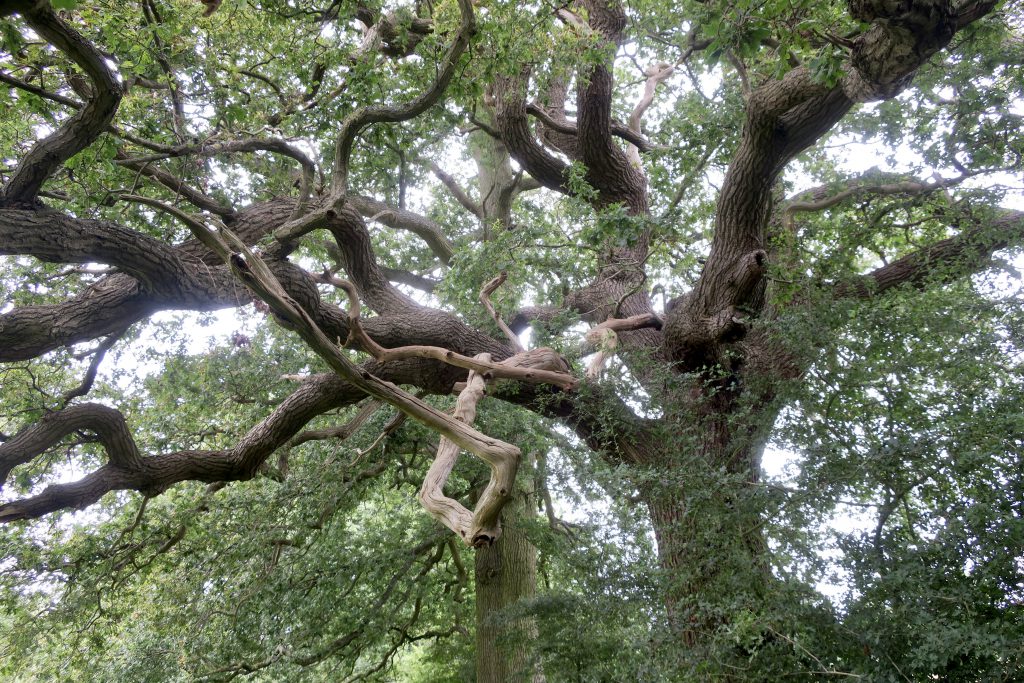 Reborn in Tanglewood Tree.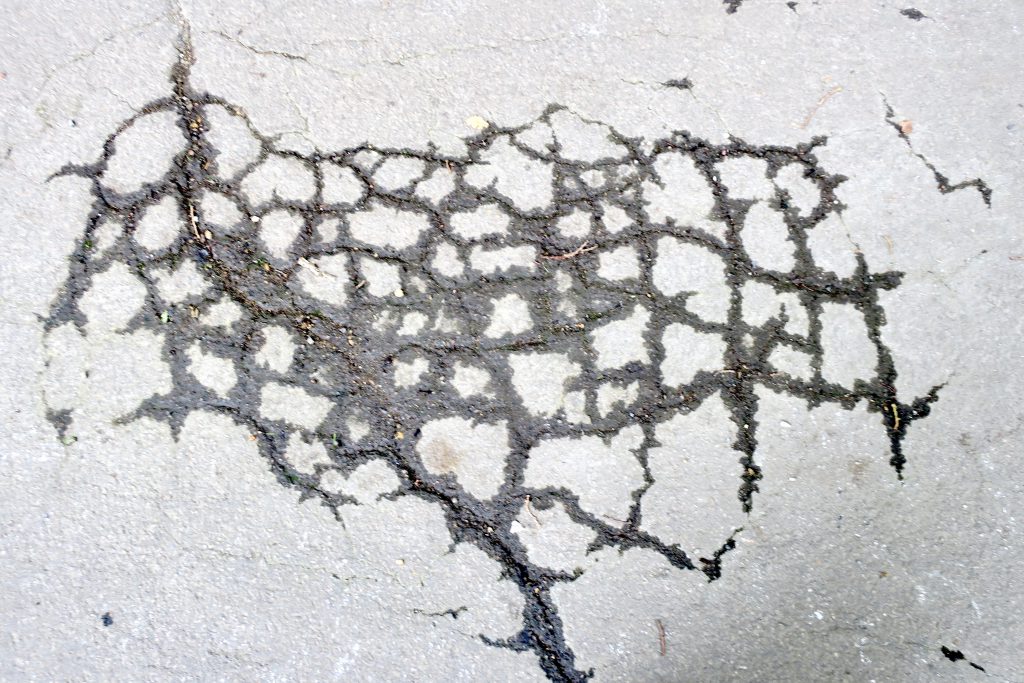 But second time round (unlike the first time) we took a wrong turn and walked in circles around Epping Green (no, not that one, a different one) so we had to consult a map. Luckily a dried up puddle had left one at our feet.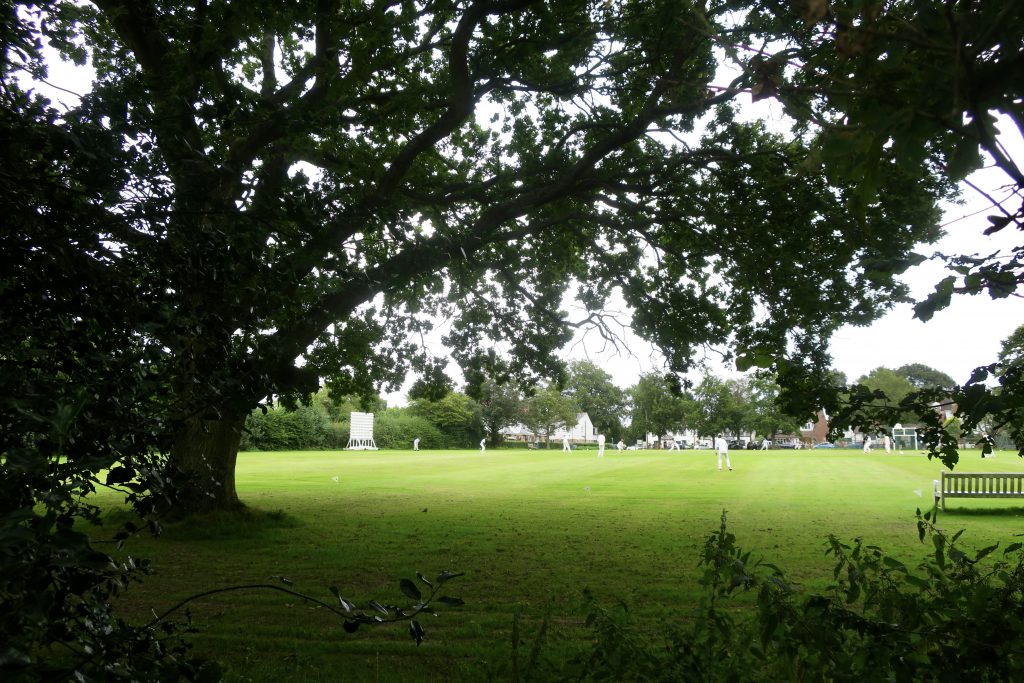 And, hey presto, we're back on the Rec at Little Berkhamsted where cricket never stops, and the oak tree watches over every over, over and over again.
※