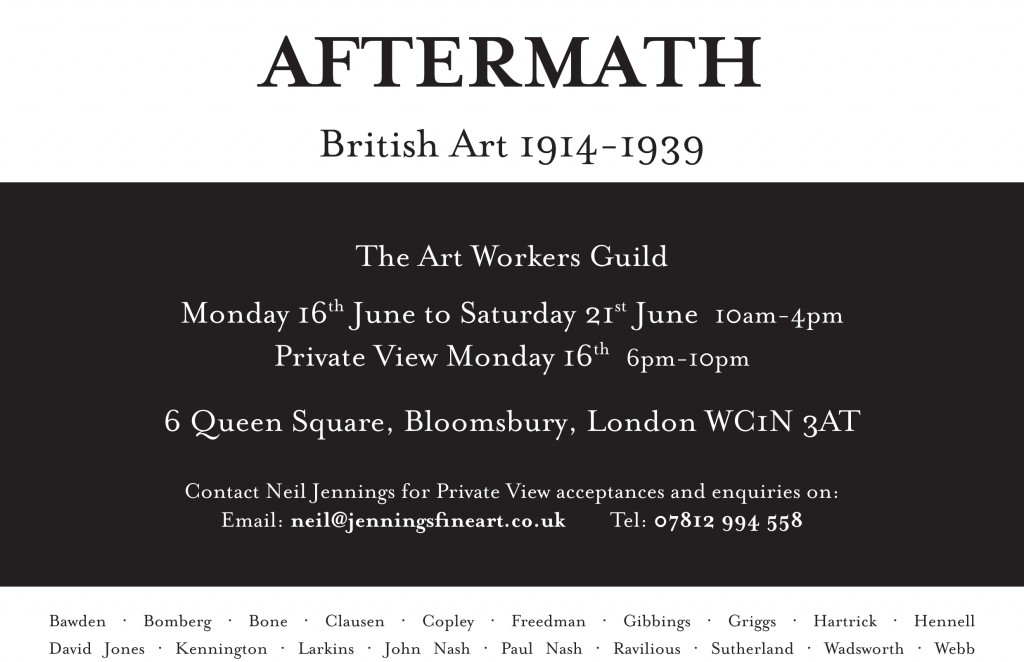 This exhibition at the Art Workers' Guild in Bloomsbury features work produced during both the Great War and in the uncertain years which followed.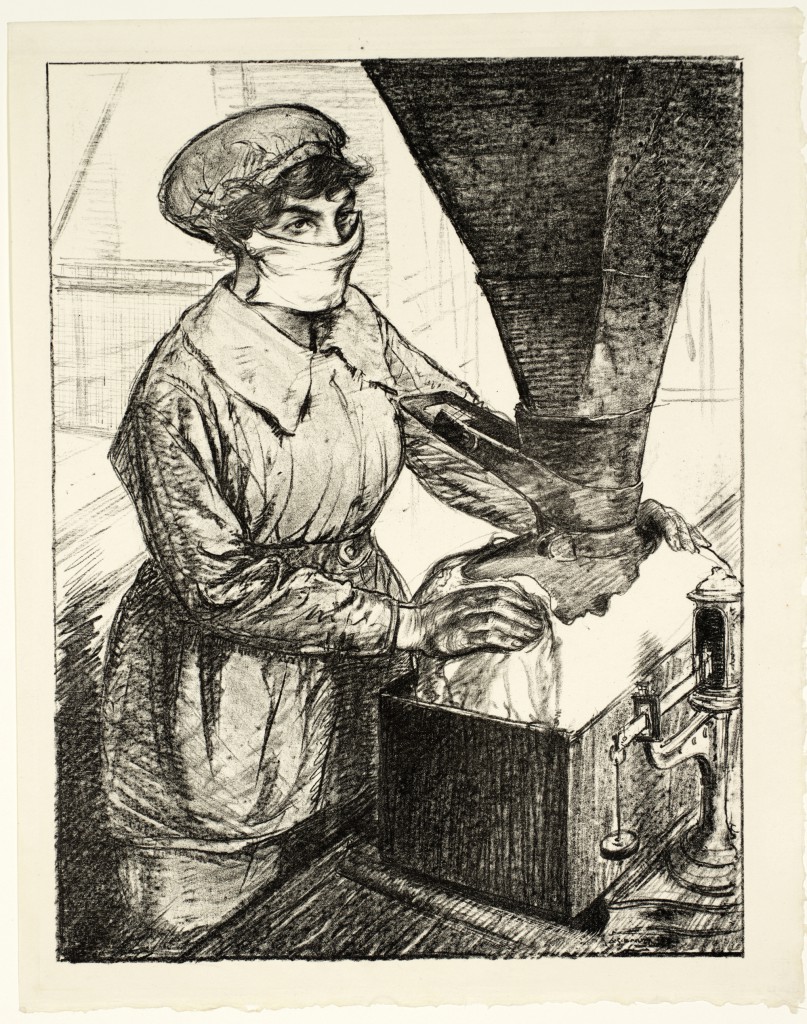 It begins with an extraordinary lithograph by A S Hartrick, Dangerous Work – Packing T.N.T.. Hartrick was a master of lithography and the image of the young woman performing such hazardous work with clearly inadequate protective clothing highlights the conversion of Britain's industries into a war machine, with an army of women supplying the necessary weapons, transport and food to sustain the machine.
The need to remember and record the appalling loss of life dominated British art and literature in the years following the Armistice. Many widows, family members and colleagues made pilgrimages to France and Belgium after 1918. An etching by William Larkins shows the facilities for these visitors springing up amongst the ruins of the Cloth Hall at Ypres.
As many of the artists looked back to a quieter, pre-industrial Britain they went to live and work in the British countryside. Paul Nash, after painting The Menin Road in Buckinghamshire, moved to Dymchurch and produced an intense body of work deeply influenced by the empty, unforgiving landscape he had chosen to live in.
Other artists took a more explicitly rural and nostalgic approach. F L Griggs produced an etching made not for publication but as a gift to friends in 1919, Epiphany. The standing cross below the night sky 'synthesises the actual crosses he and Gimson were being asked to design for villages and towns in the Cotswolds and elsewhere as war memorials'. (Dr J N Moore).
A younger generation of artists discovered the pastoral vision of Samuel Palmer – Sutherland, Drury, Webb and William Larkins, who combined the technique of Palmer and Griggs with modern images stemming from his upbringing in the East End of London.
There were fresh opportunities for travel in the early 1920s and the exhibition includes a wood engraving by Ethelbert White, Le Pont Neuf, and a sepia and wash drawing of the south of France by Edward Wadsworth, A Ships' Chandlers.
David Bomberg produced Russian Ballet, a set of six lithographs in 1919, although they relate to drawings executed before the War. Bomberg and his wife tried to sell them in the stalls at a performance of Diaghilev's company but Diaghilev himself chased them back to the gods!
The sure touch of inter-war design and illustration is represented by posters by Claude Lovat Fraser and Paul Nash, original commercial artwork for BP & Shell-Mex by Edward Bawden and Barnett Freedman and a preparatory drawing for High Street by Eric Ravilious.
Finally, a new linocut by Marthe Armitage, Tiger Moth, commissioned by Jennings Fine Art is most definitely out of period but not out of context; Mrs Armitage is a Past Master of the Art Workers' Guild.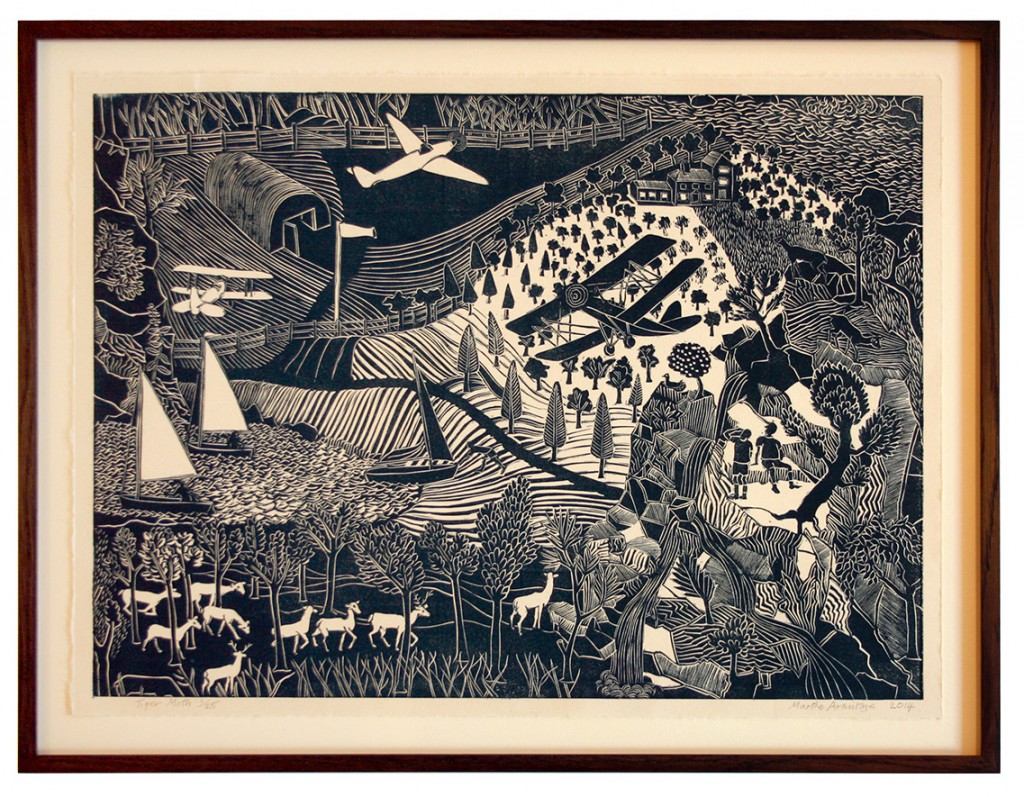 Linocut printed in midnight blue, 2014. Titled and signed by the artist in pencil. Printed by hand in an edition of 25 impressions on hand-made Atsu Shi paper on an old lithographic proofing press. Tiger Moth was originally cut as a repeat wallpaper pattern. The subject derives from the artist's journey in a Tiger Moth flown by her nephew over Norfolk in 2013.