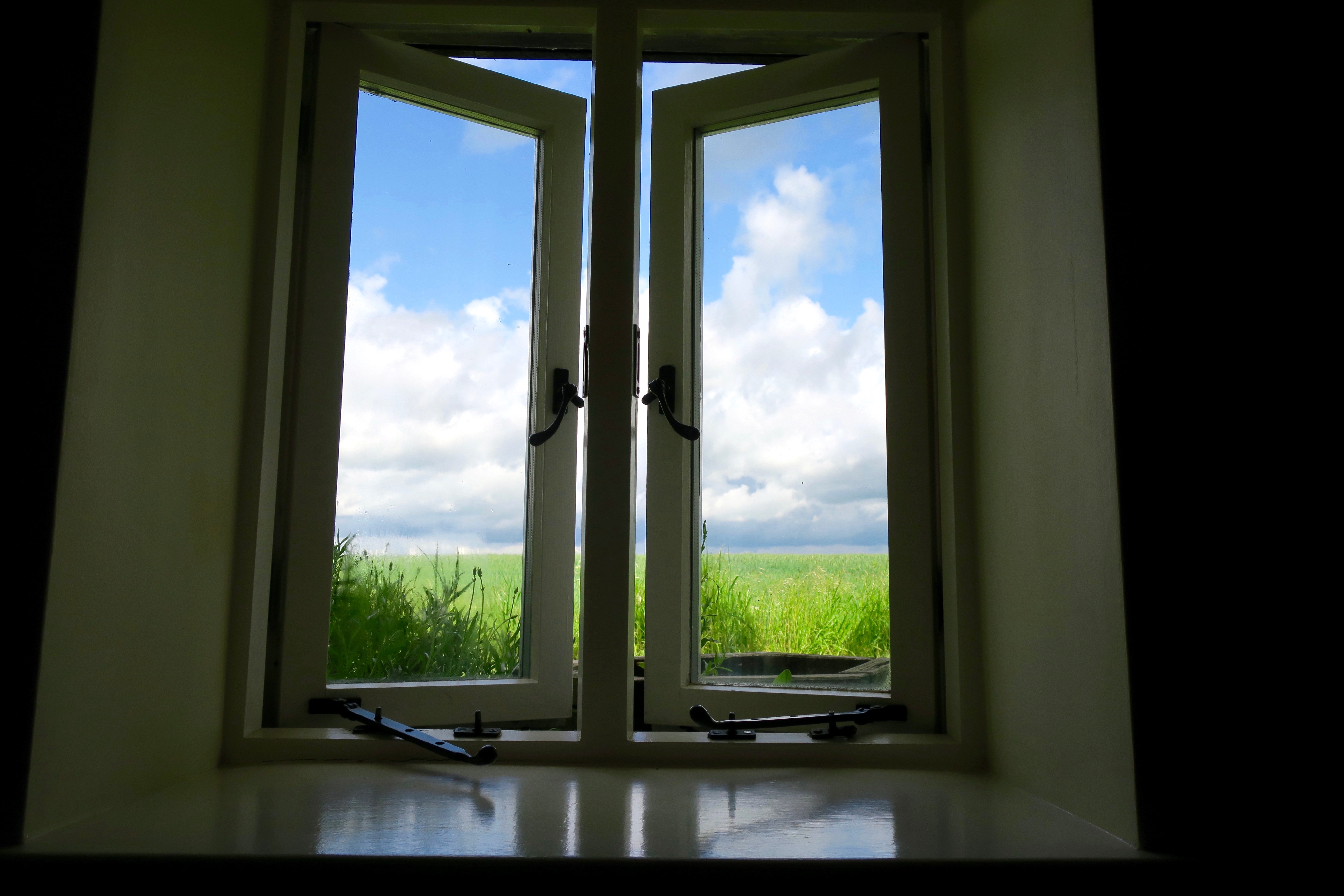 A month after my birthday and my present was to wake up under a new sky. We'd come away for the weekend and the bright morning window offered a fresh perspective, the fast-moving clouds seemed to suggest anything was possible. I'm writing this a month later, on the eve of a new dawn. Yesterday the General Election voted for a hung parliament, a brave new world where even Kensington seemed to be turning red. But here in Chichester the sky is perpetually blue.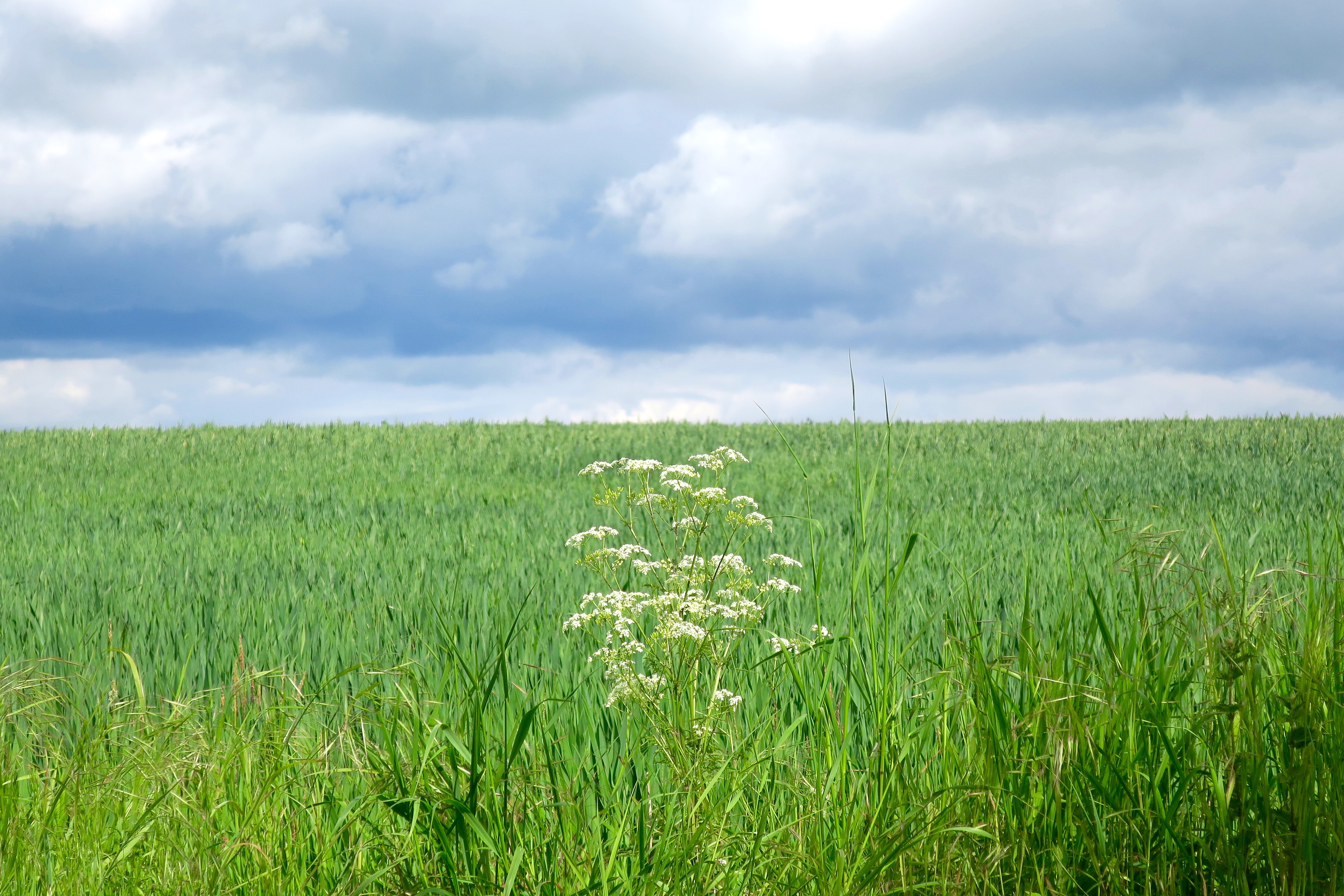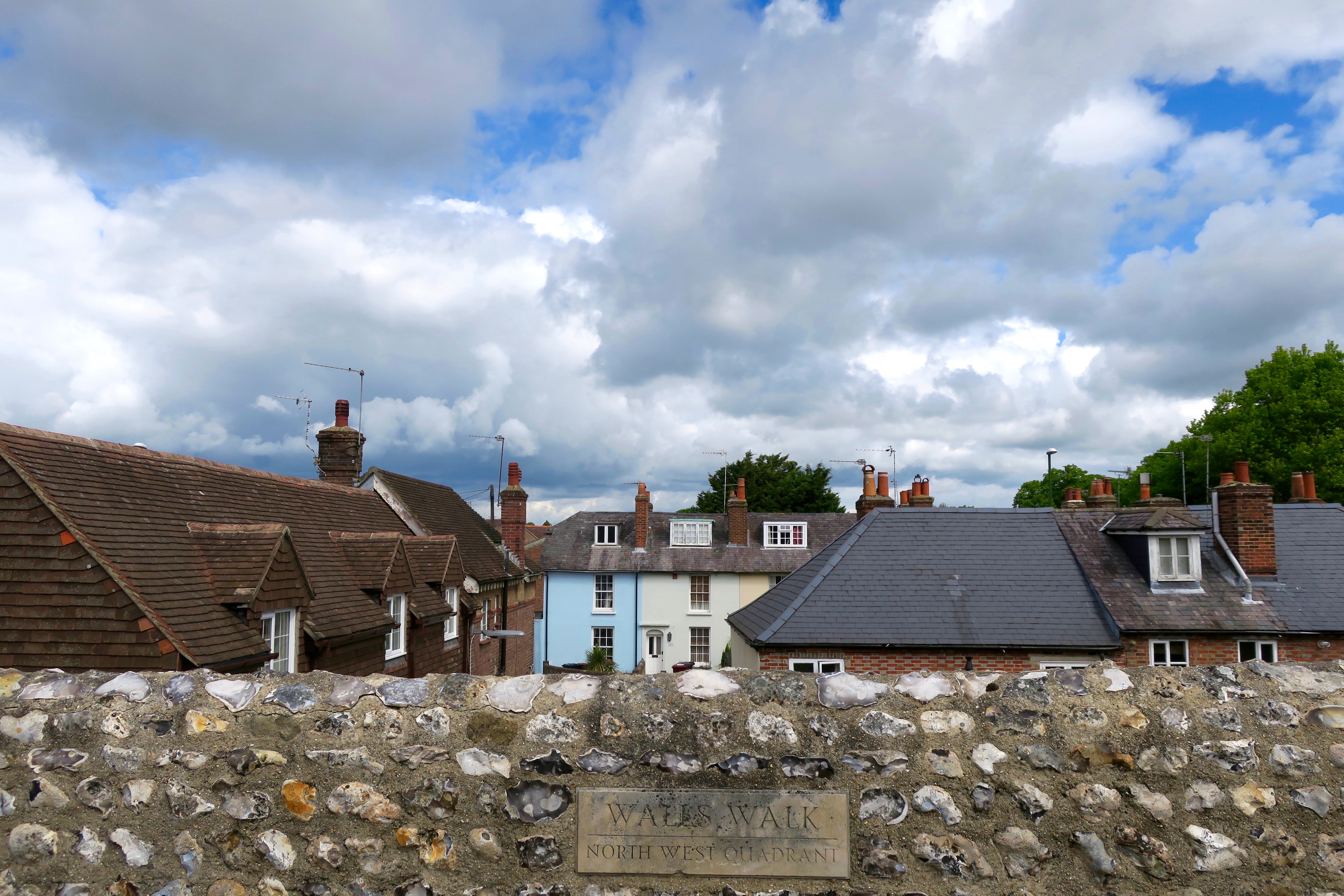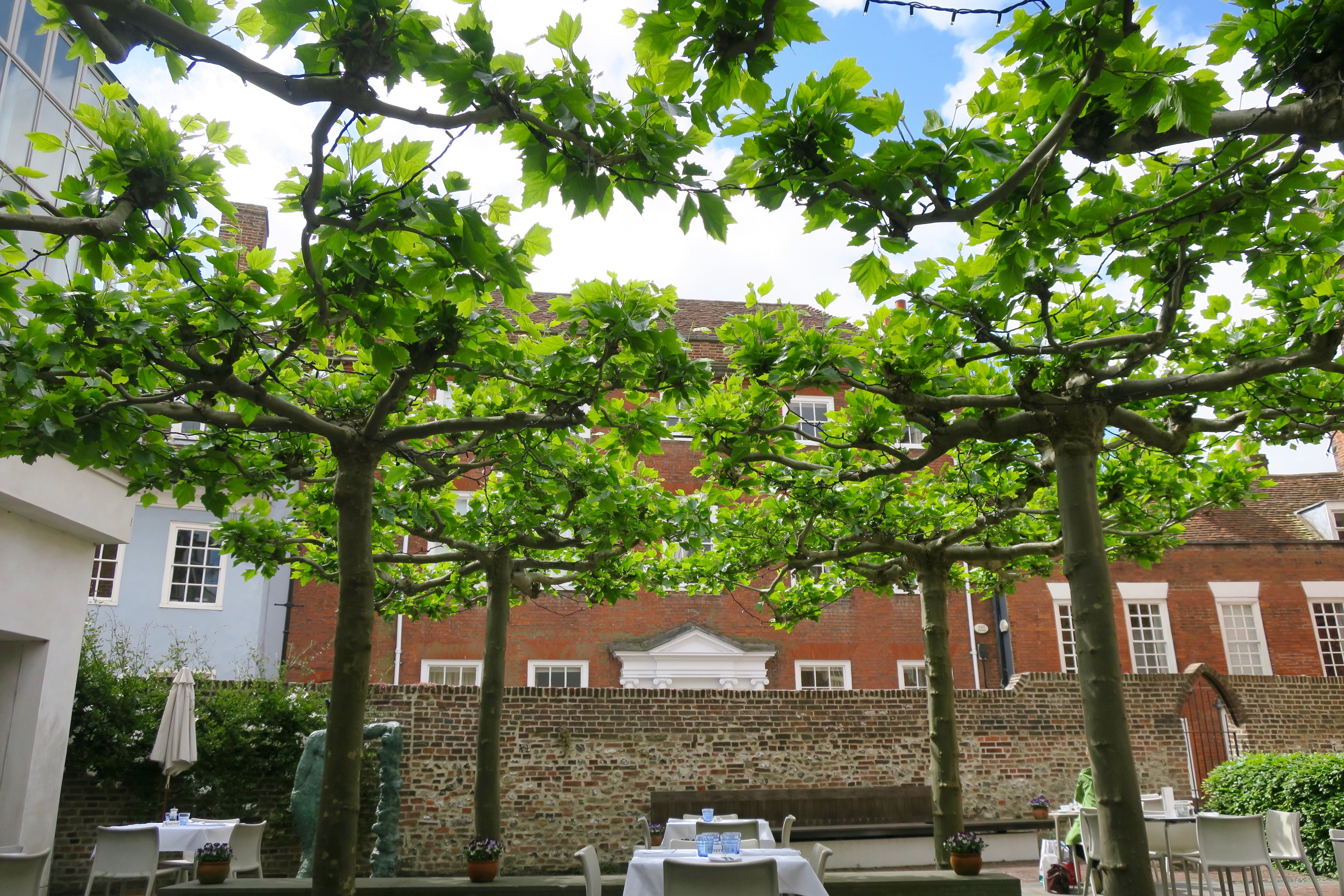 At Pallant House the blue was tempered by a screen of green. In the courtyard, beneath a new-grown sunshade of pleached plane trees, we found a garden of changelings entitled Beauty in the Beast.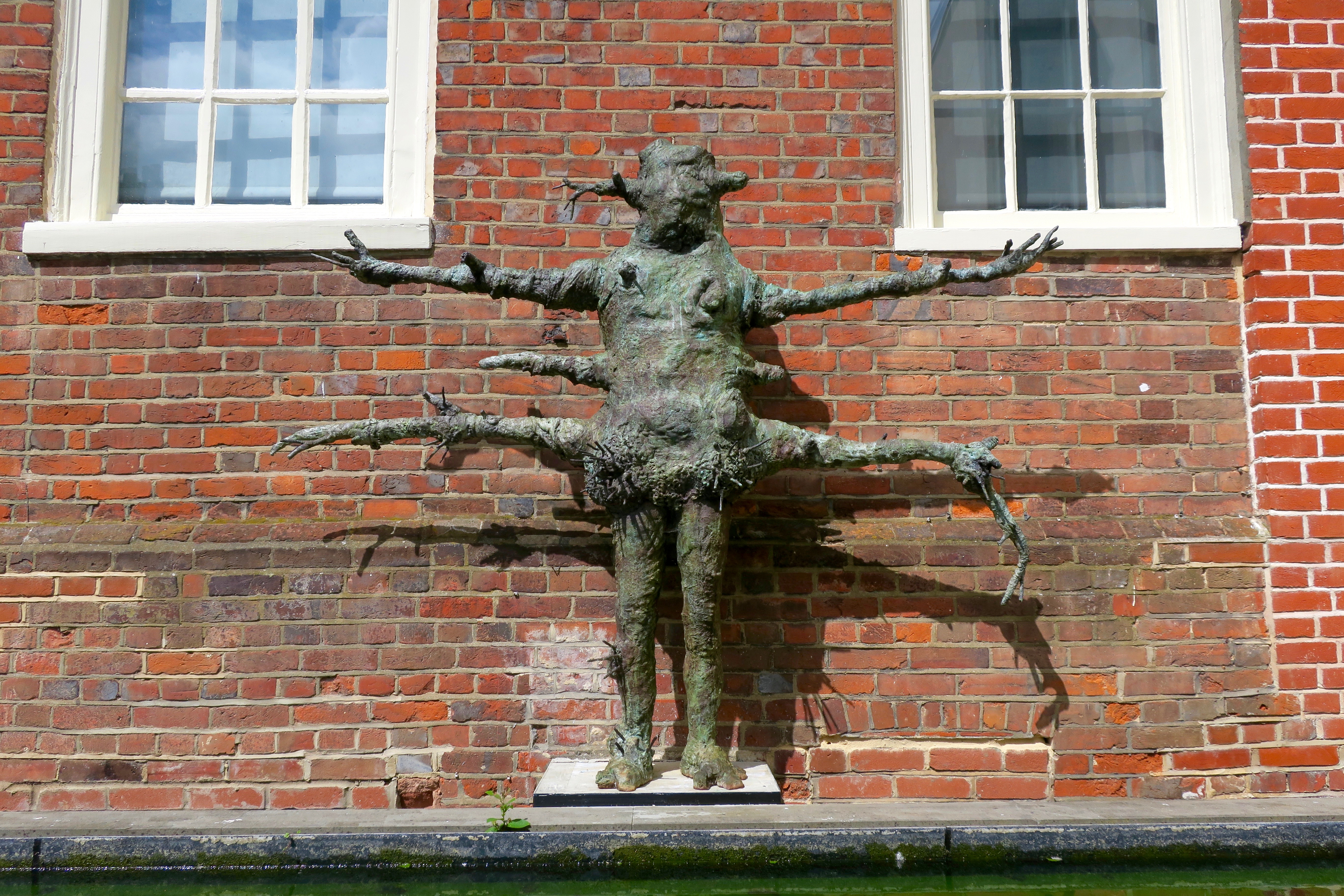 Espaliered Woman: Laura Ford
This is believed to be the only woodcut Nicholson made and was printed in a portfolio that included Jean Arp, Joan Miró and Pablo Picasso. Nicholson was the only Briton to be represented, demonstrating his central position within European modernism. The composition loosely represents a table top still life, but Nicholson's playful evocation of projection and recession also parallels his experiments with abstract reliefs dating from the same period.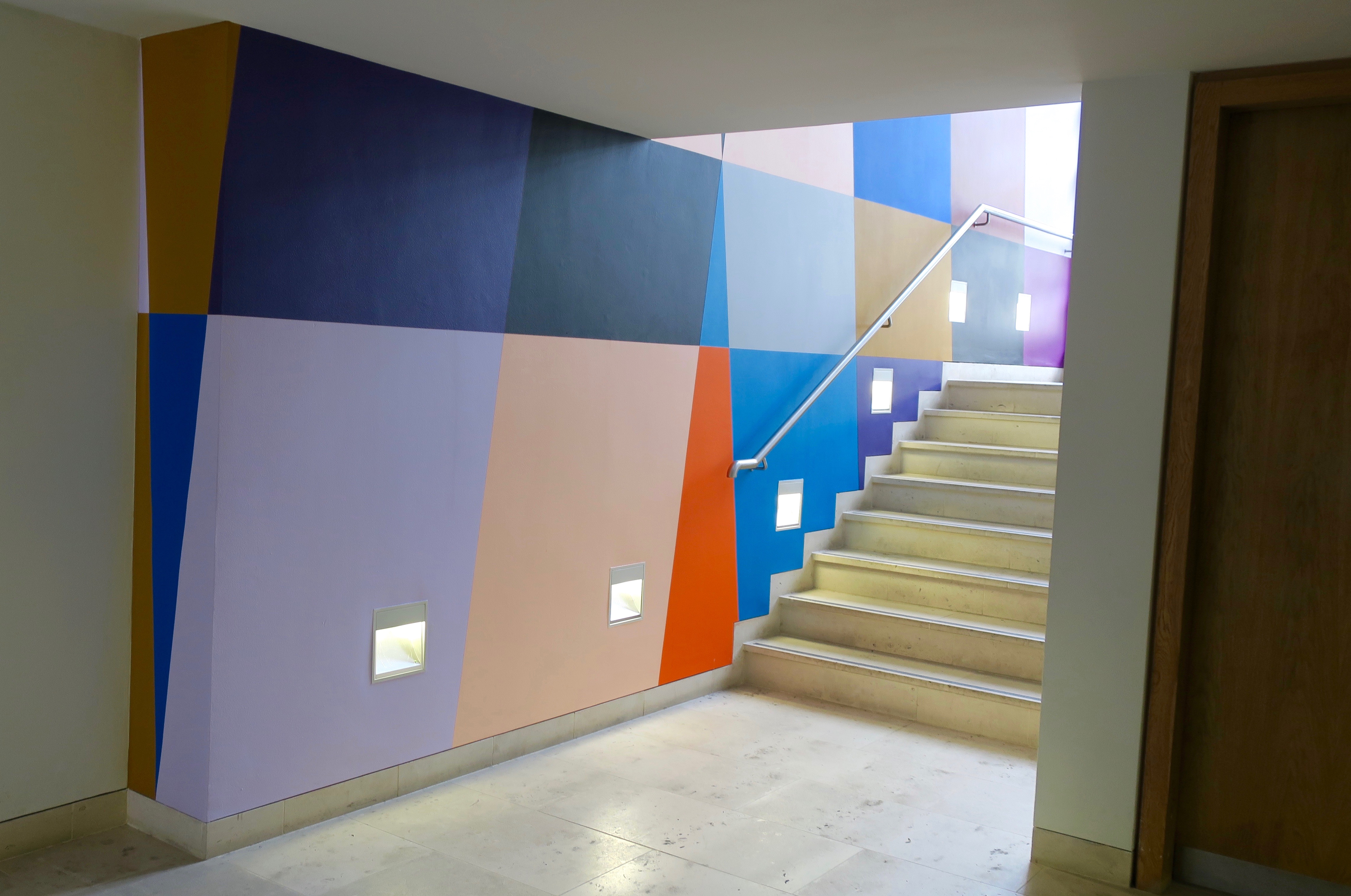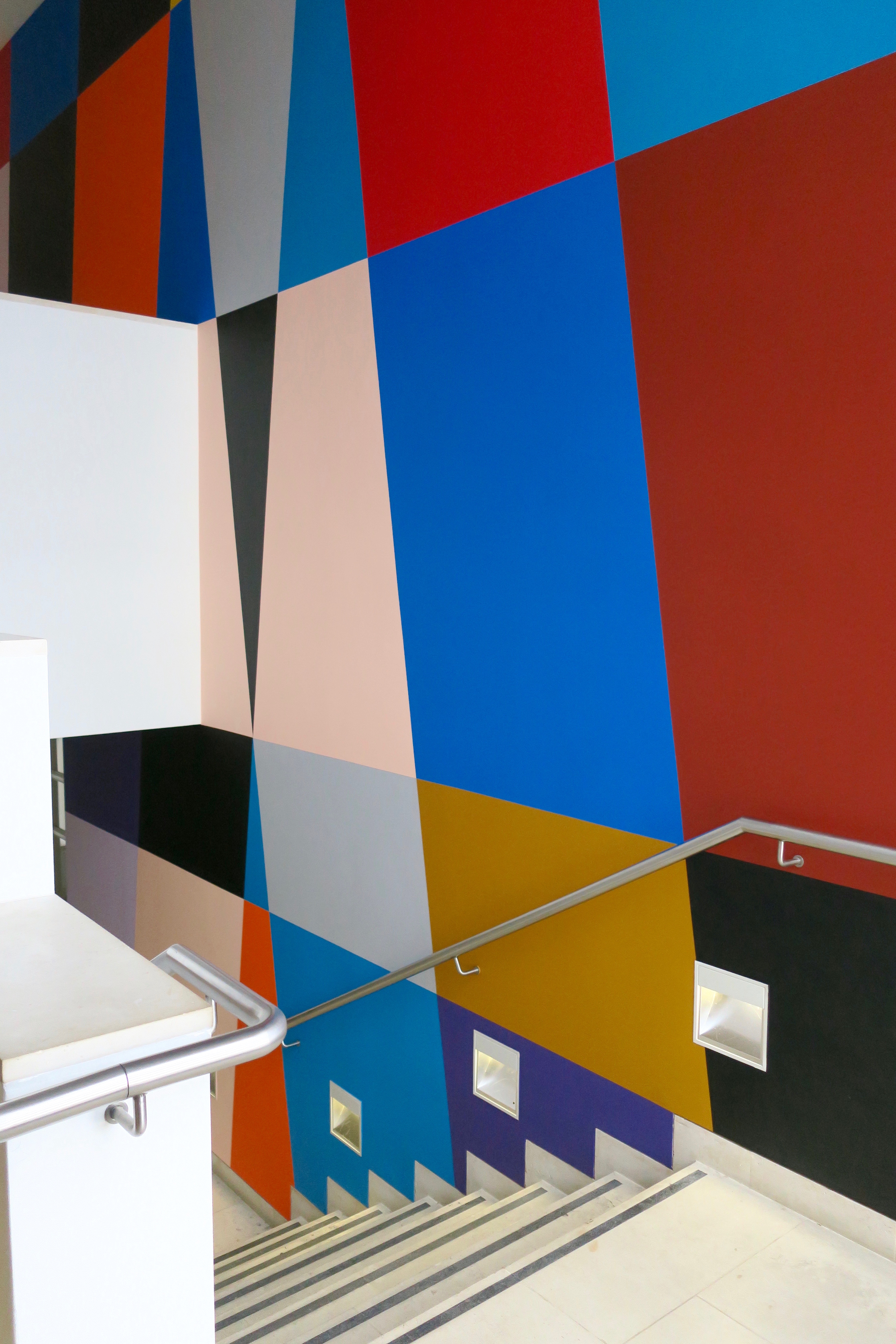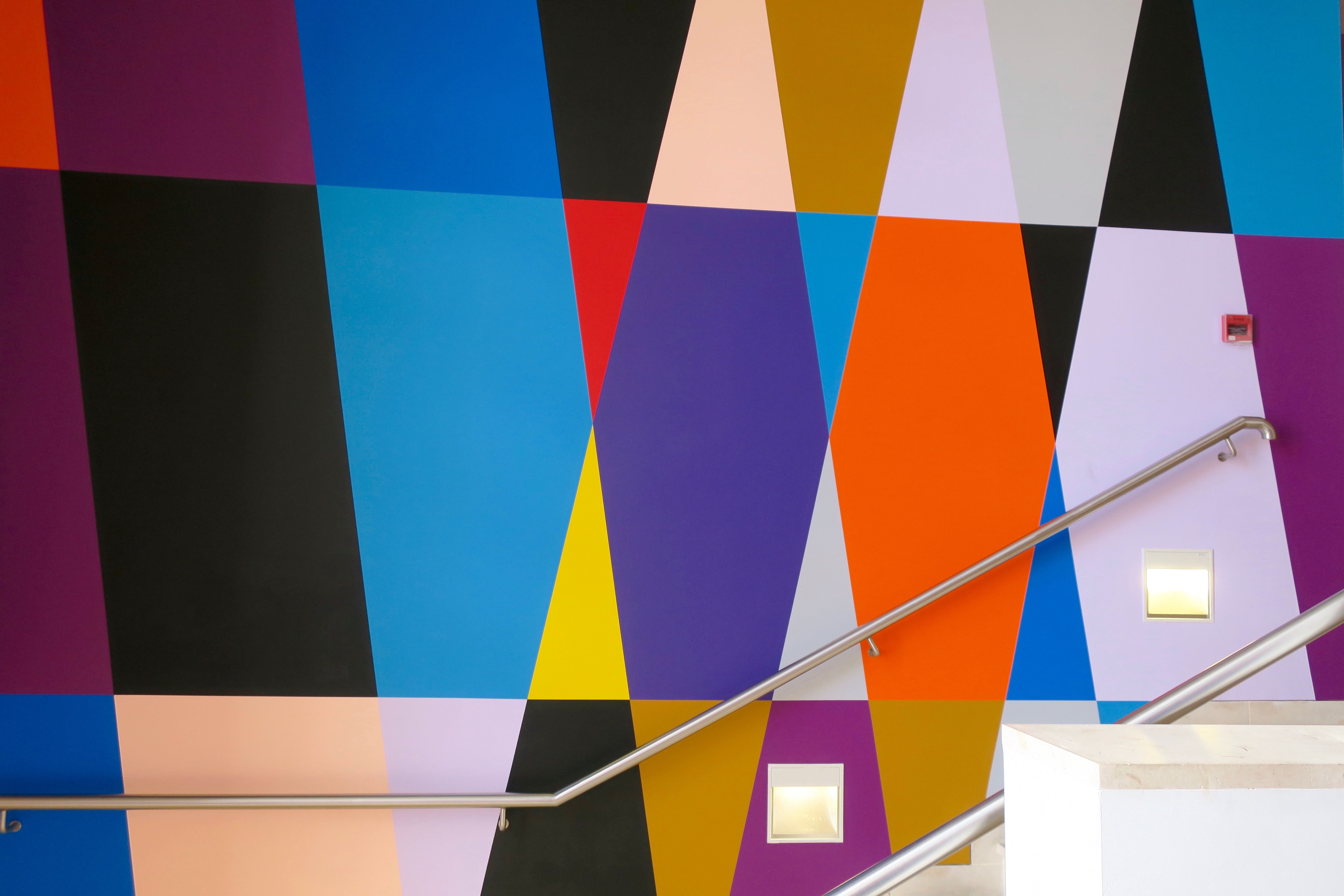 Composition for a Staircase: Lothar Götz
This site-specific mural by the abstract artist Lothar Götz (b.1963, Günzburg, Germany) has been commissioned to mark the 10th anniversary of the opening of the Gallery's contemporary wing in 2006. Influenced by Wassily Kandinsky, the Bauhaus movement and Ben Nicholson, Götz's large-scale geometric murals create an intuitive dialogue with the architecture and social function of a space. This is the first time that the Gallery has commissioned a contemporary artist to create an installation in the stairwell of the contemporary extension, designed by the architect Colin St John Wilson in association with Long & Kentish.
Best known for his large-scale wall paintings and installations, Götz's work is characterised by use of intensely coloured abstract geometric forms, shapes and lines. His site-specific installations are informed by both the reality of the space and history of the building, but also fantasy spaces. His work creates connections between the real and the abstract, working to defuse the tension inherent between the two. Götz is especially interested in how architecture can change a shape as it is seen from different perspectives. Stairwells are particularly appealing to him as they ask how, through wall painting, 'one can make a space more than a space, so it is not just a used space'. Götz is represented by Domo Baal in London and Petra Rinck Galerie in Düsseldorf.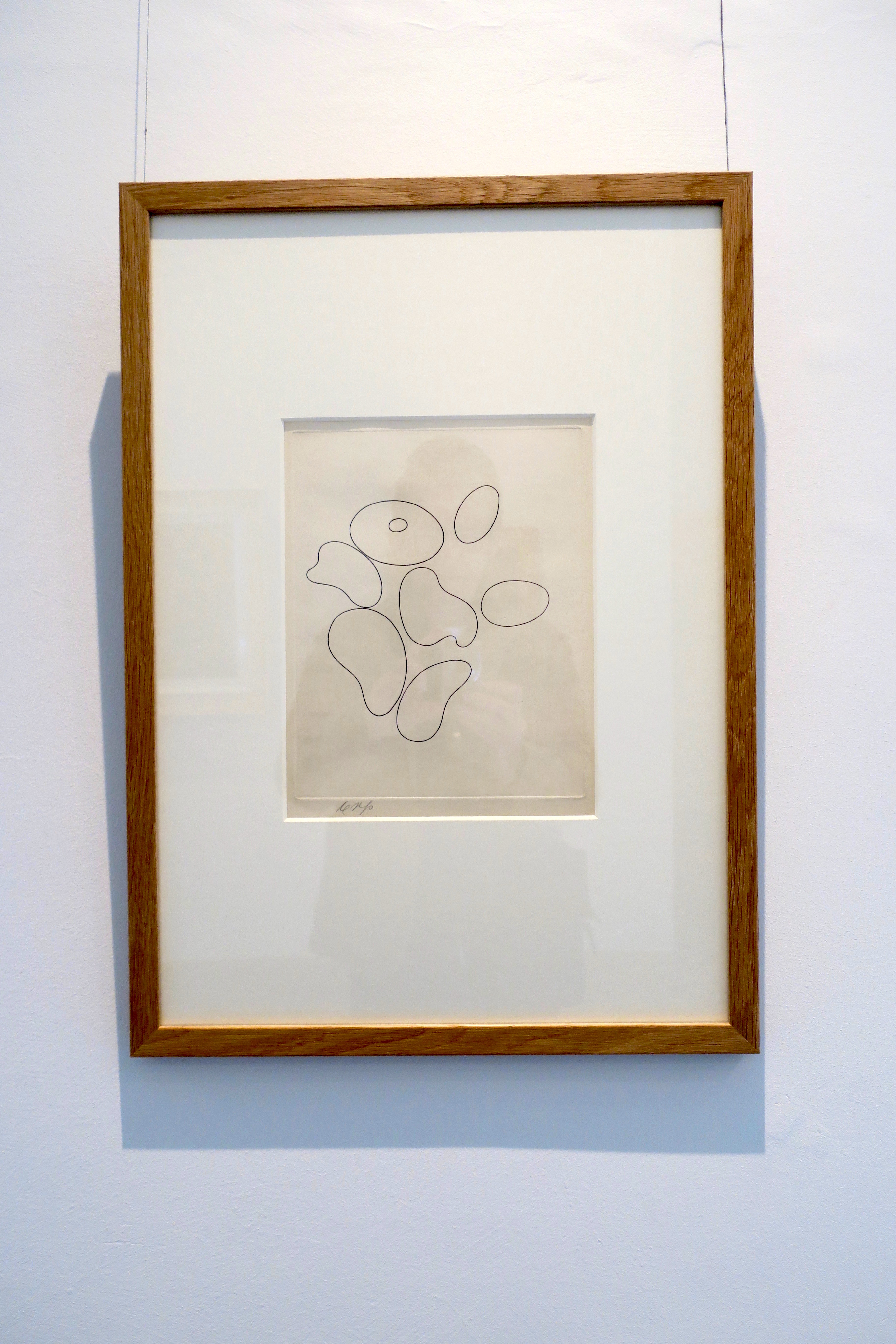 Untitled: Jean Arp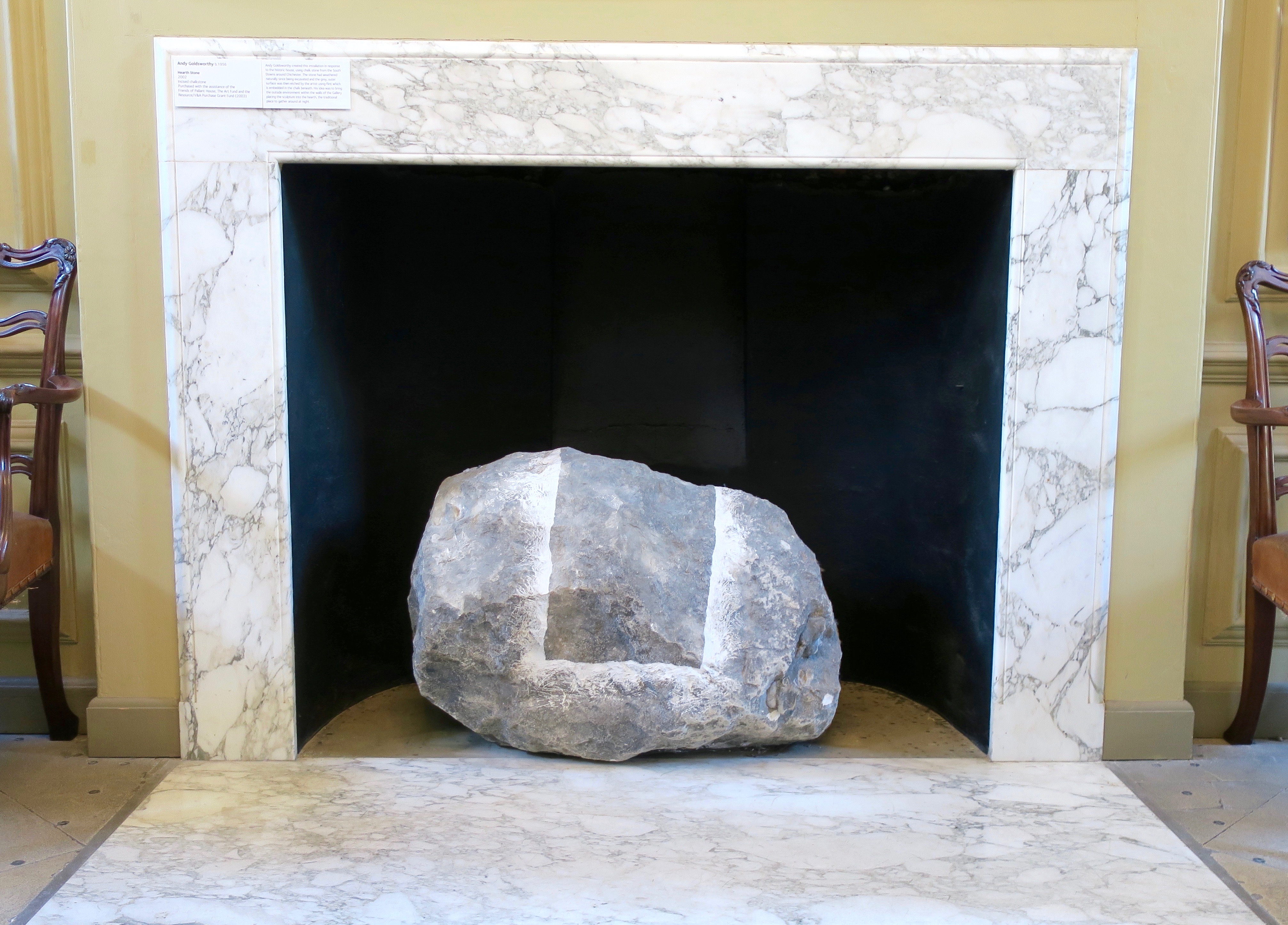 Hearth Stone: Andy Goldsworthy
Andy Goldsworthy created this installation in response to the historic house, using chalk stone from the South Downs around Chichester. The stone had weathered naturally since being excavated and the grey, outer surface was then etched by the artist using flint to reveal the white chalk beneath. One of a number of works made as part of a collaboration between the artist and the museum. Intended as a riposte to the marble surround of the fireplace in situ and also inspired by Ben Nicholson's 'Still Life – Cerulean' in the museum's collection.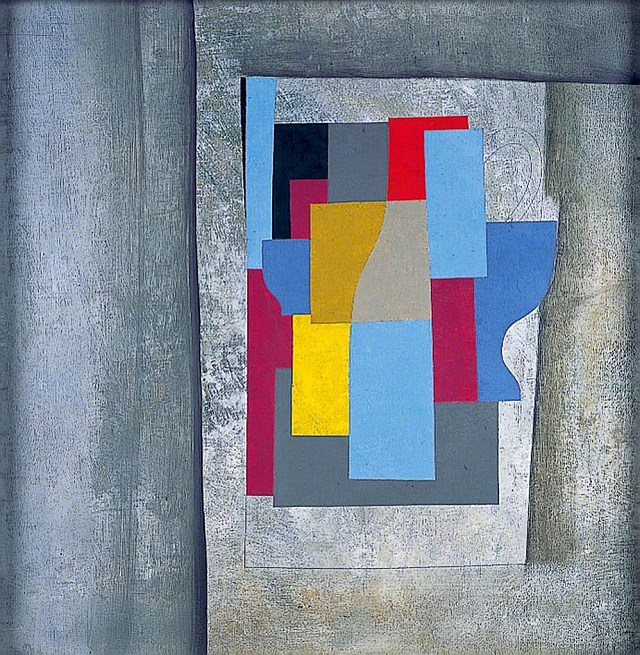 1946 (still life – cerulean): Ben Nicholson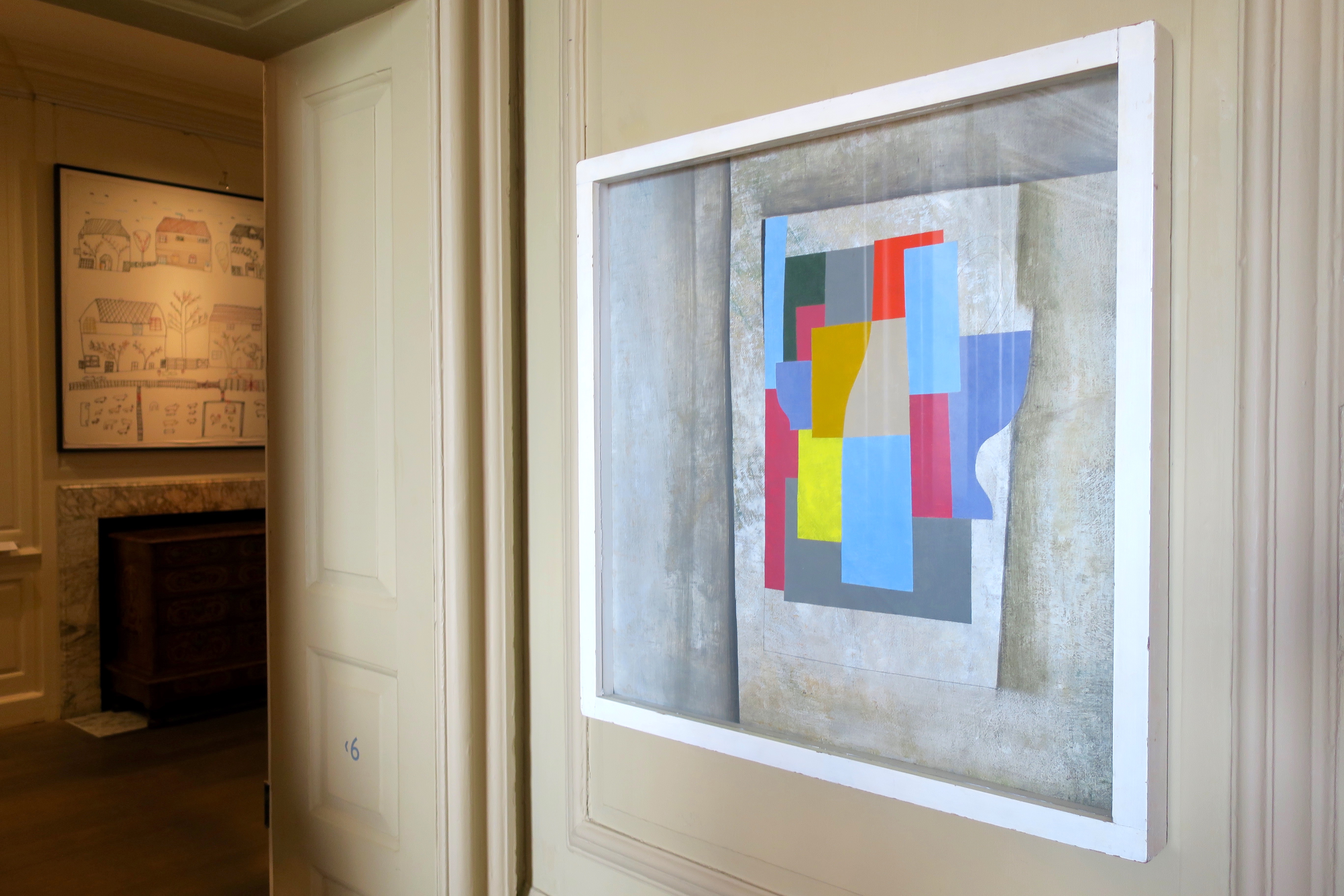 I think this painting was probably the reason why I first knew about Pallant House Gallery.
This is one of a collection of 66 works bequeathed to Pallant House by Charles Kearley in 1989. Kearley was a builder and property developer. Kearley built a small block of flats in Kensington in the later 1930s which Maxwell Fry had designed, and the architect persuaded him to add a penthouse for himself at the top. Kearley found the flat very bare so, on a budget of £700 per year, started to furnish it with works by Paul Nash, John Piper, Paul Cézanne, Gino Severini and others.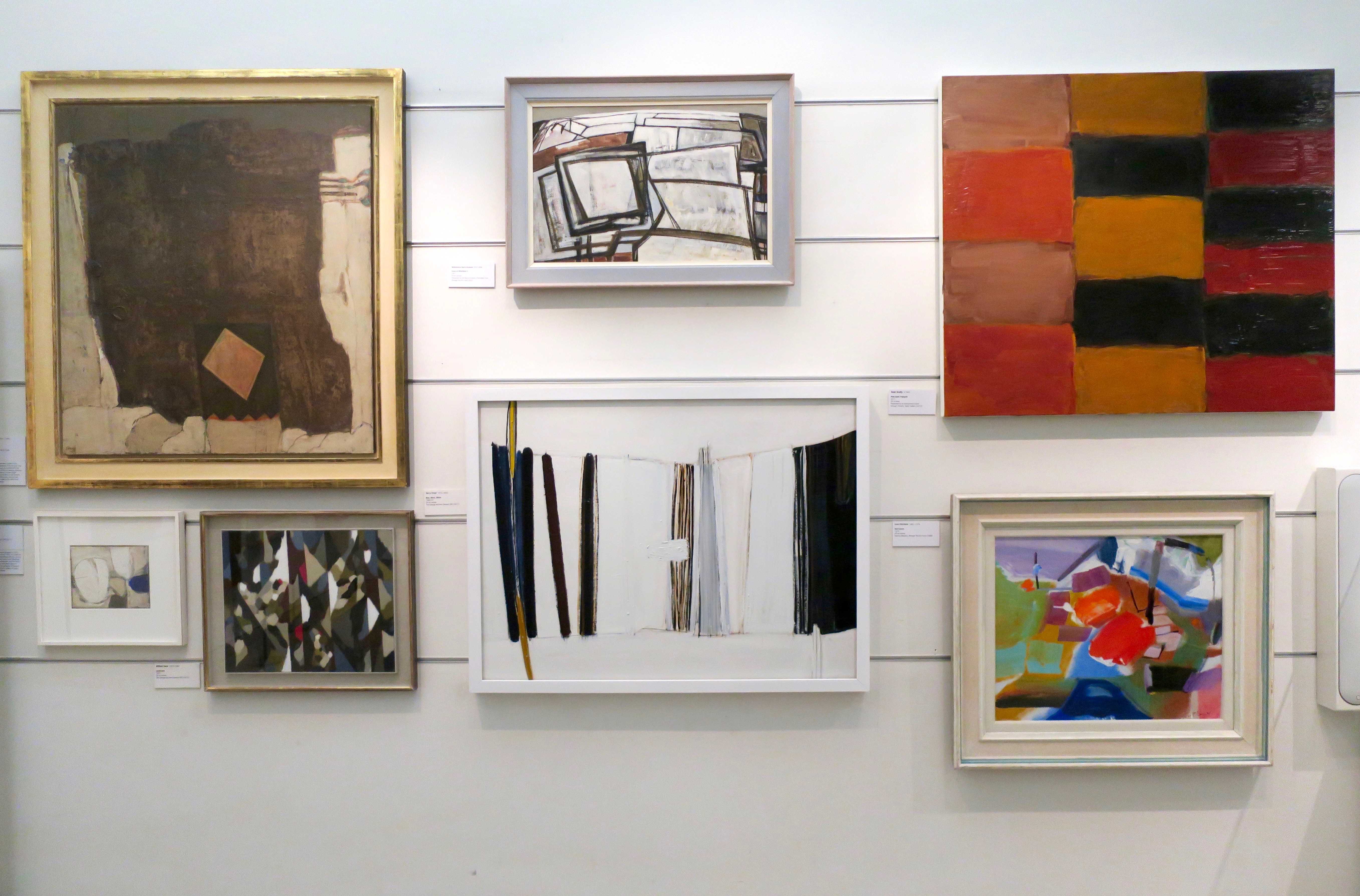 A wall in the Reserve Collection room with paintings, clockwise from top centre, by William Scott, Sean Scully, Ivon Hitchens, Terry Frost, William Gear, Paul Fieler and Prunella Clough.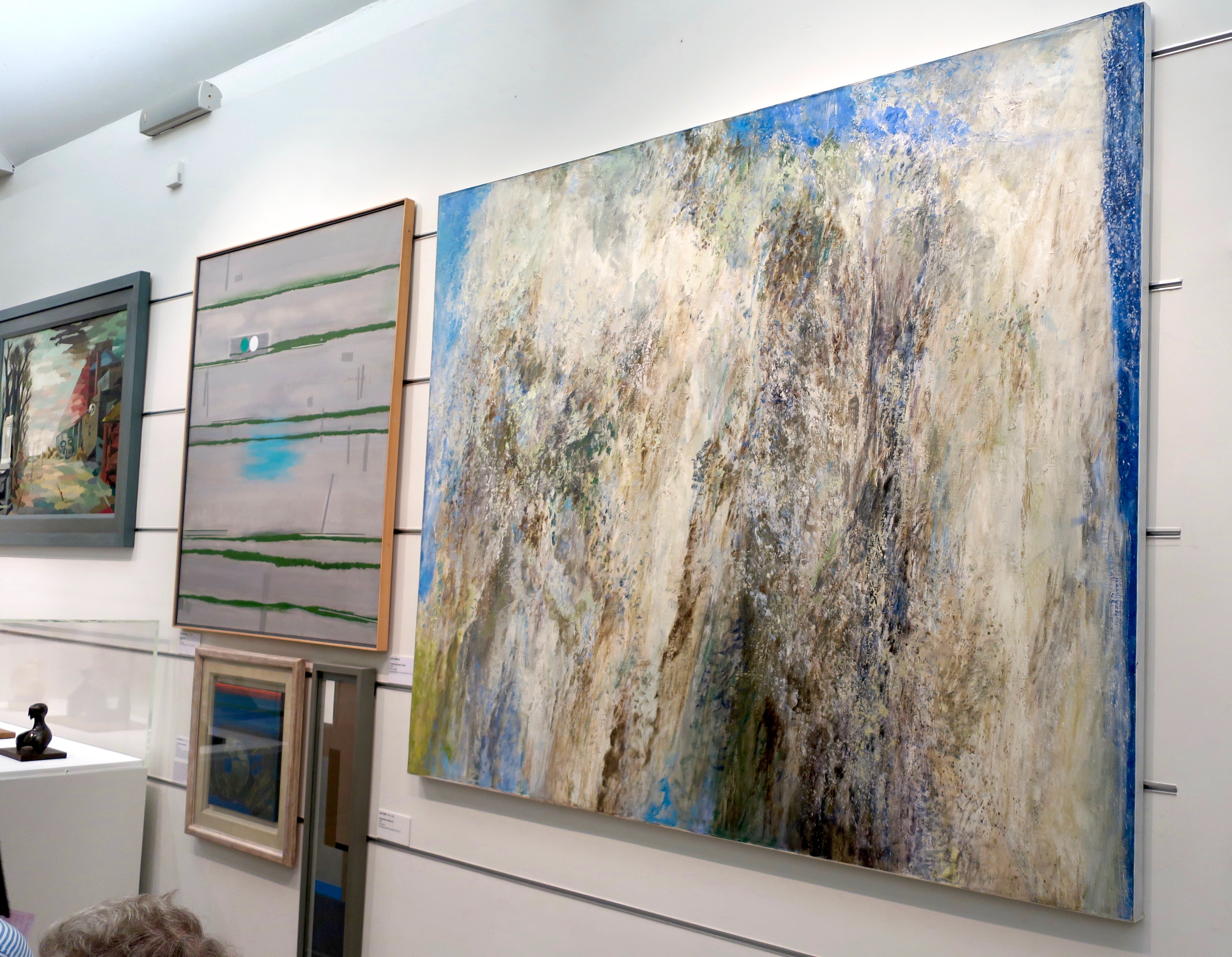 And a lovely surprise, Coastal Landscape, Dorset by our sadly missed dear friend John Hubbard.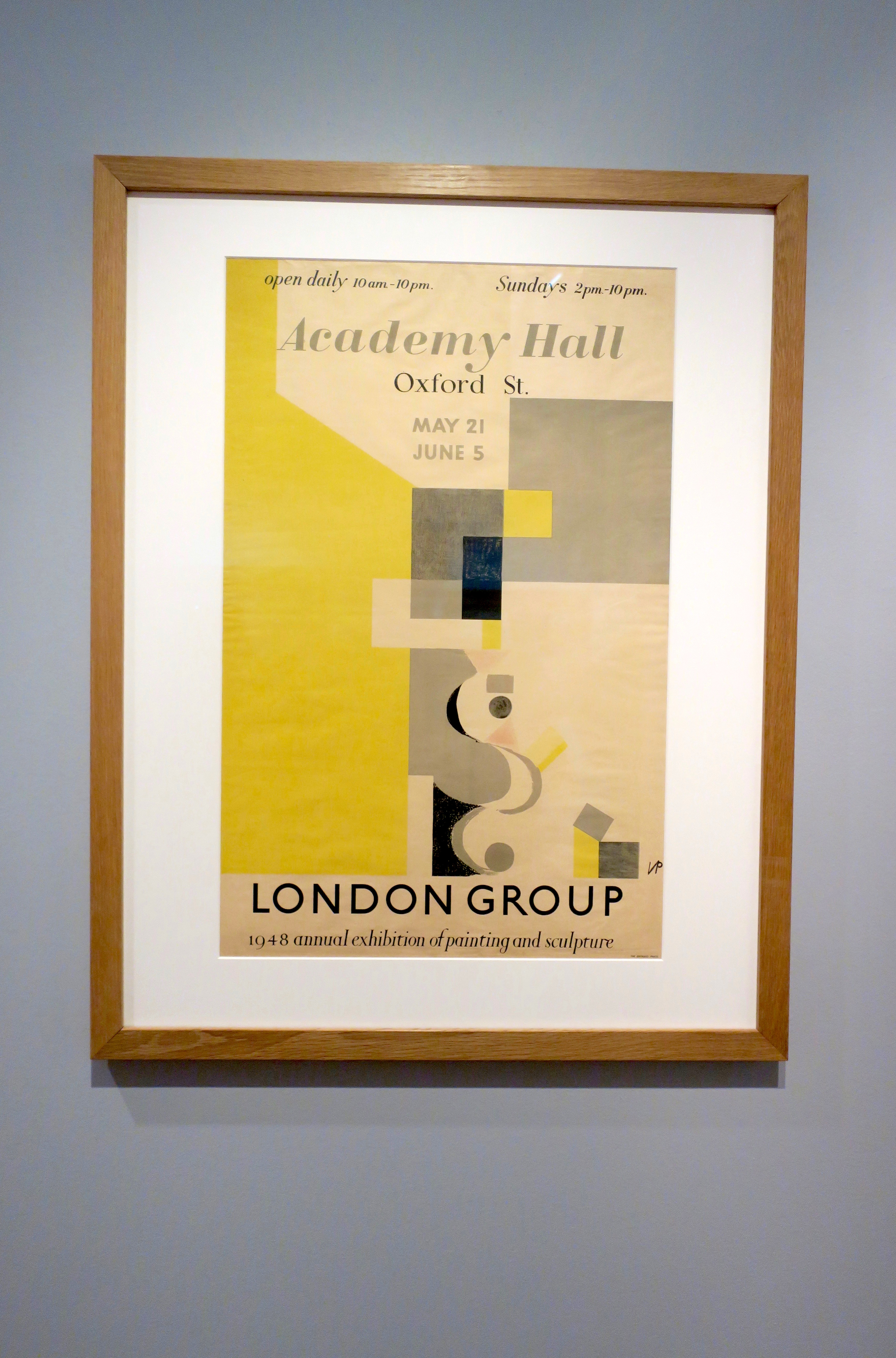 The next five rooms were occupied by Victor Pasmore: Towards a New Reality, an excellent exhibition showing the development of his work from the Euston Road School of figurative painting in the late 1930s to the idealism of Abstract Constructivism at the end of the 1960s. He showed his first abstract paintings at the London Group Exhibition of 1948, for which he also designed the poster.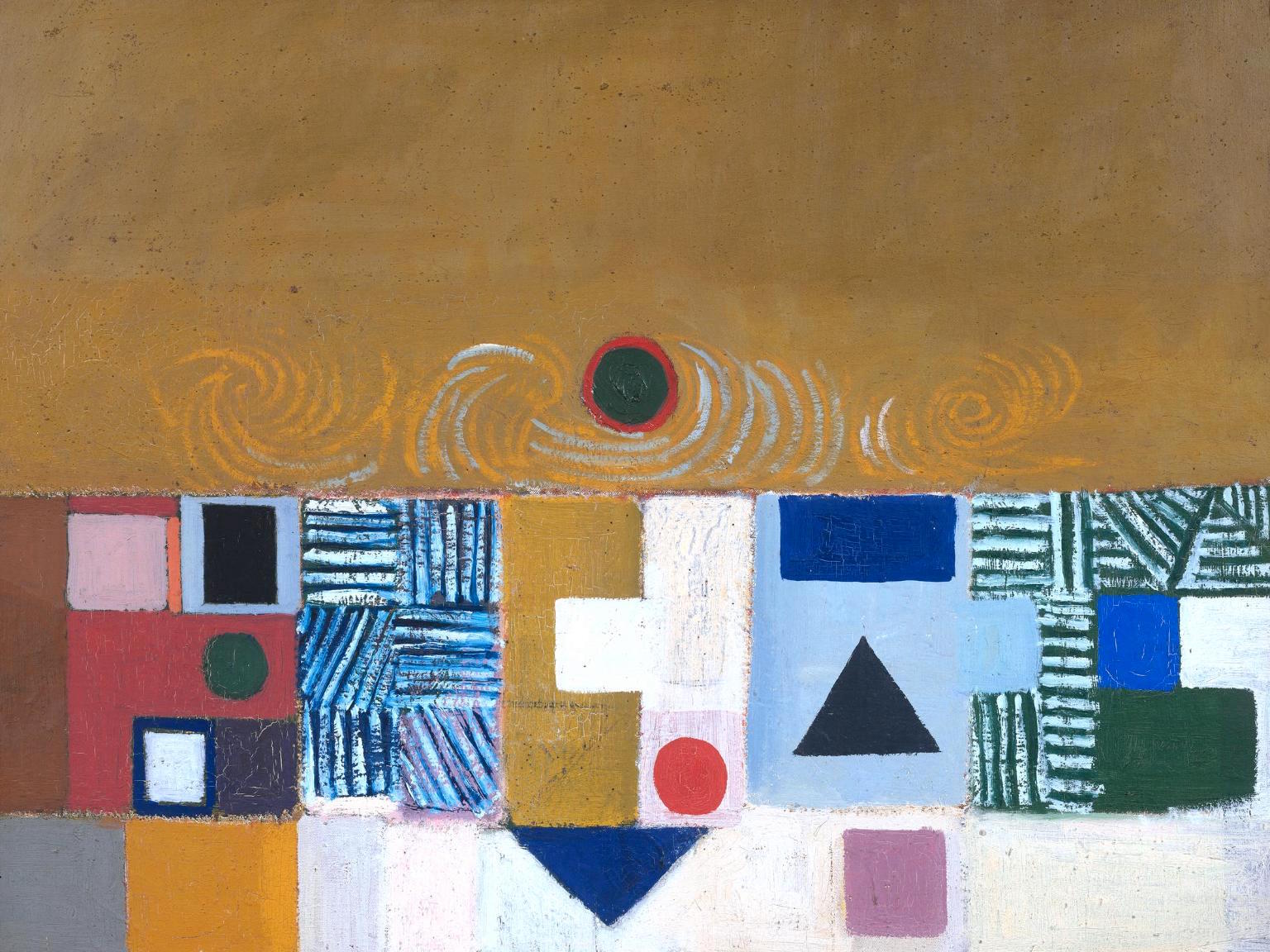 Square Motif, Blue and Gold: The Eclipse, 1950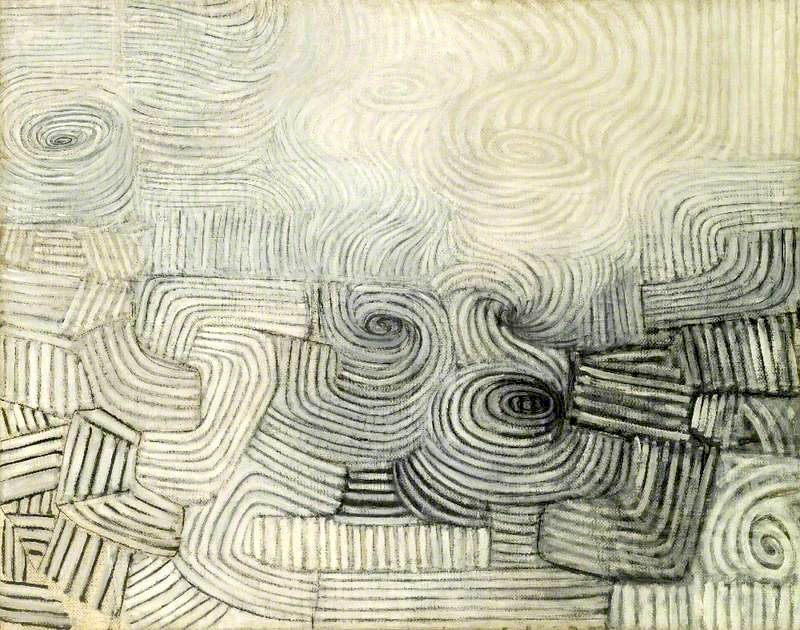 The Snowstorm: Spiral Motif in Black and White, 1950-51
In conjunction with the Festival of Britain held in 1951, the Arts Council invited sixty British artists to produce a large painting of certain dimensions for a touring exhibition. This is Pasmore's contribution, one of only two abstract works to be submitted. In it, he reaches the summit of his engagement with the spiral motif although it would have been challenged in its scale, complexity and impact by the other work undertaken by Pasmore on the South Bank for the festival: a black and white tiled mural (28 x 32 feet) of spirals and hatched lines for the external wall of the Regatta Restaurant. It was later destroyed when the site was demolished.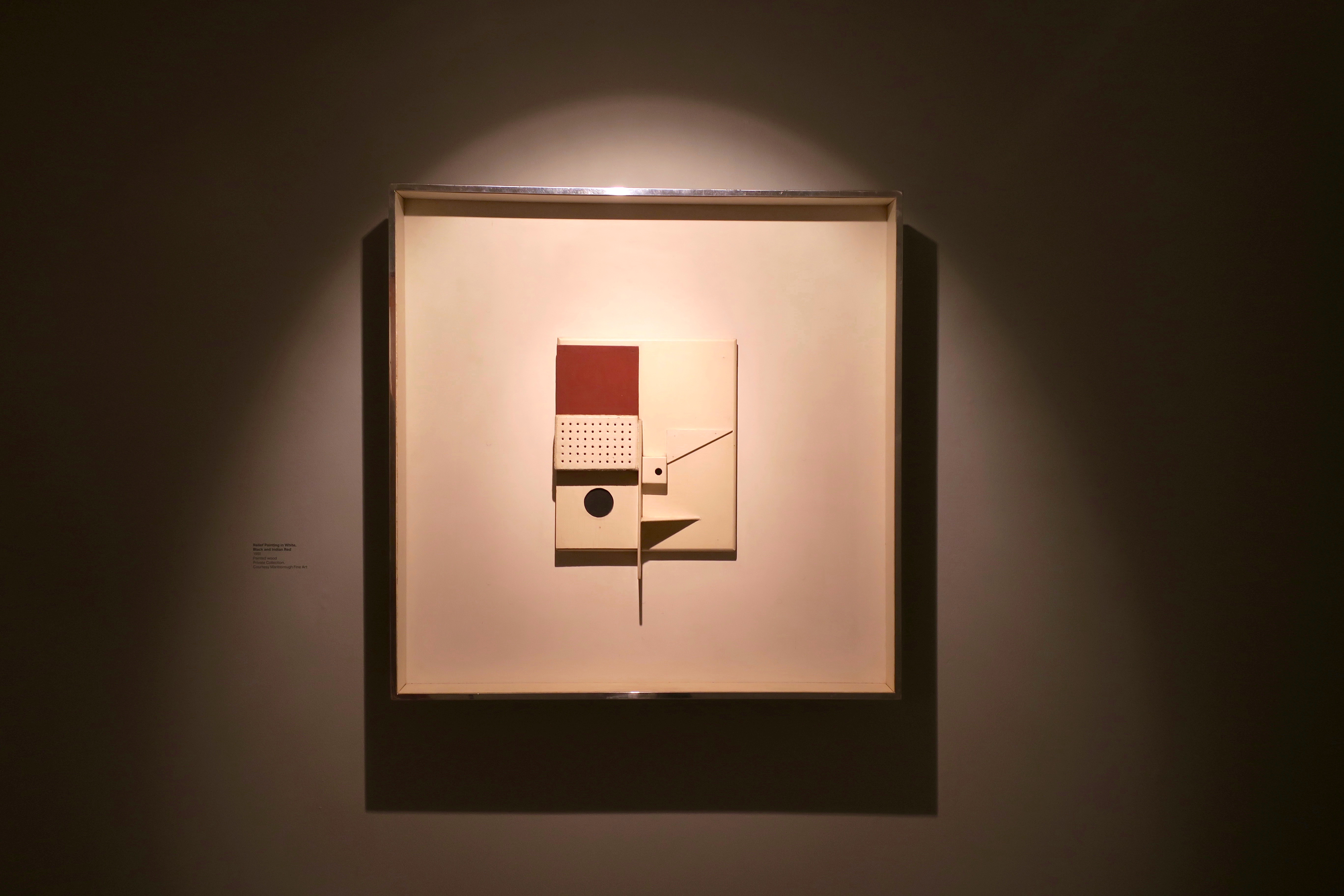 Relief Painting in White, Black and Indian Red, 1951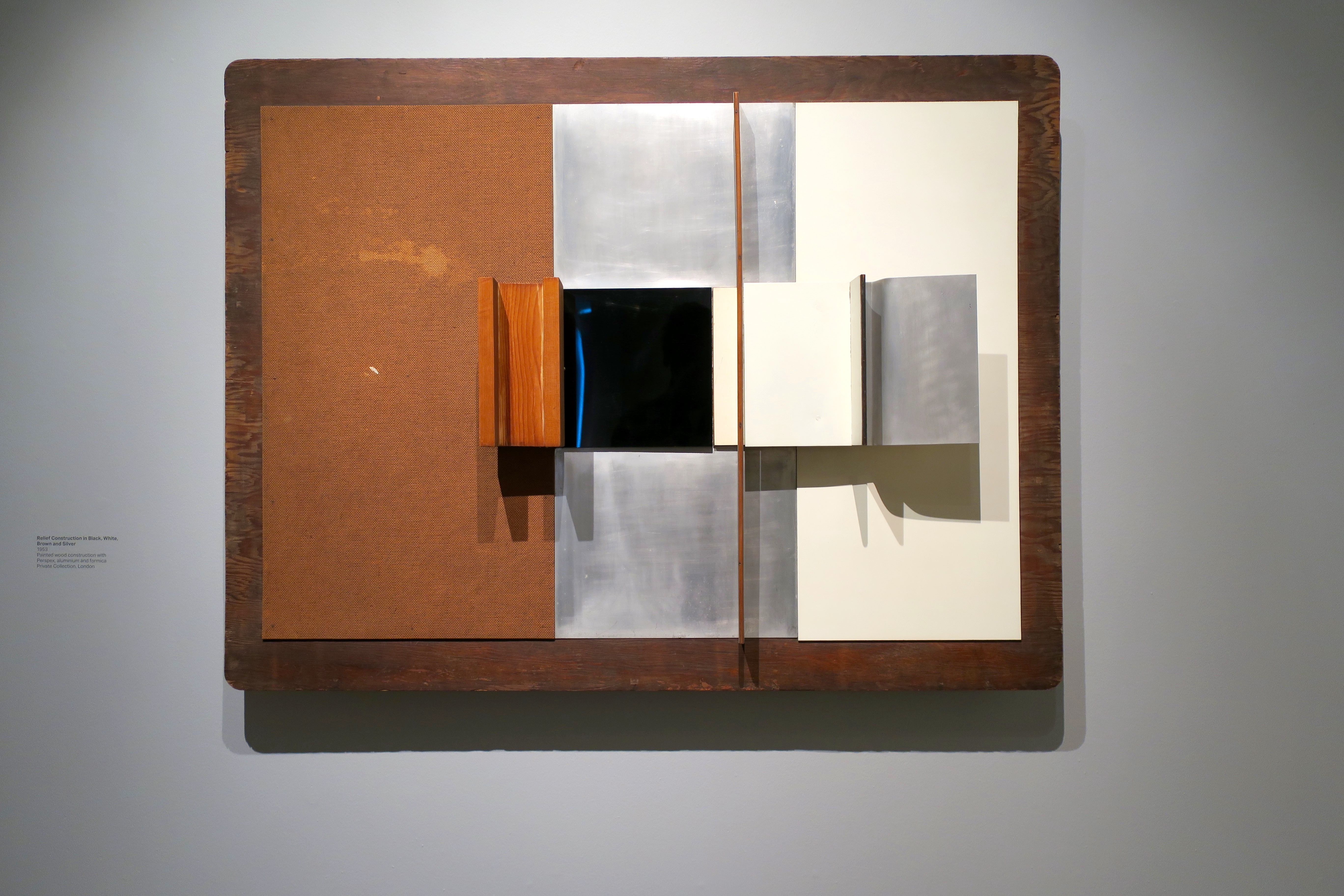 Relief Construction in Black, White, Brown and Silver, 1953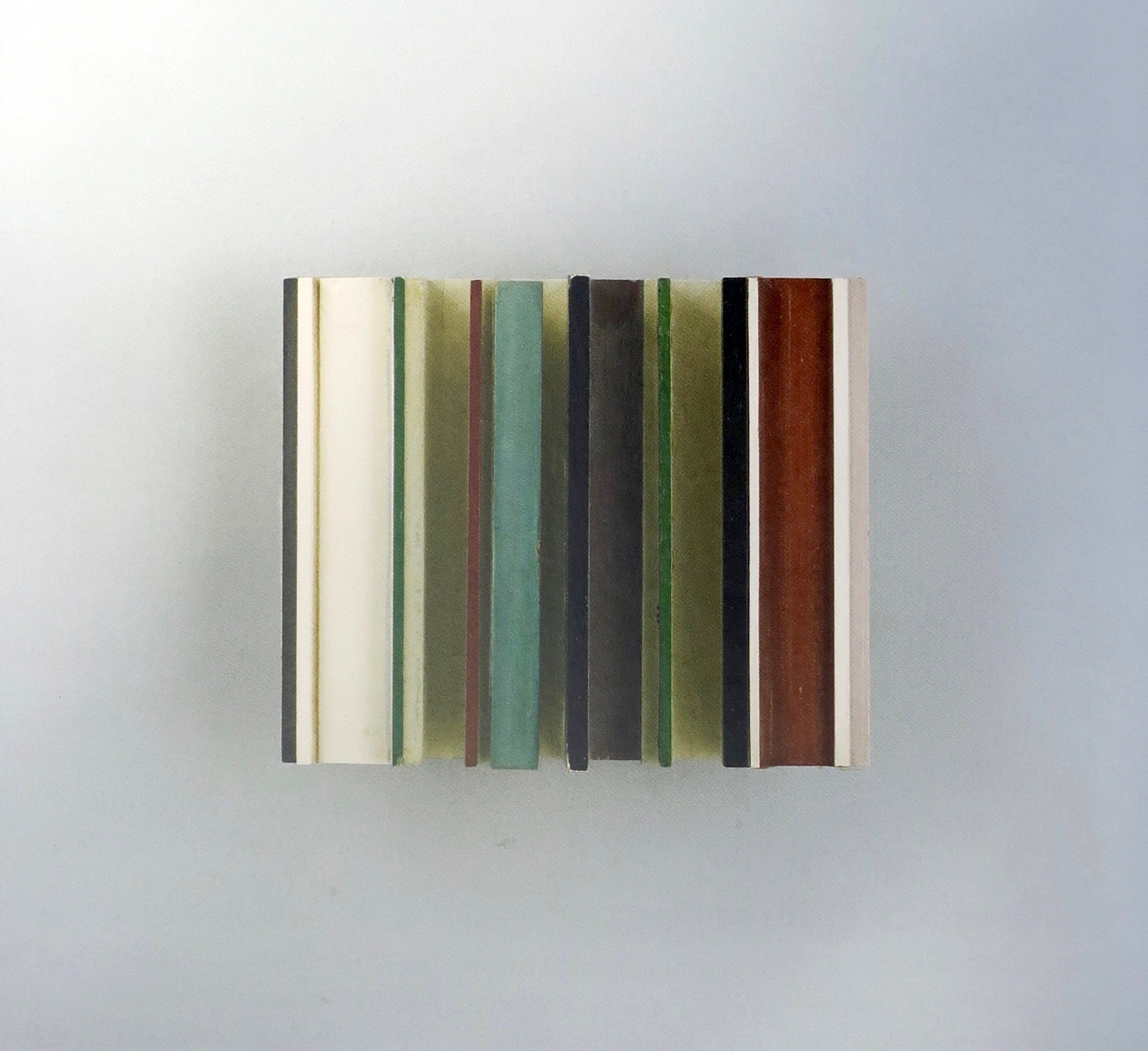 Transparent Relief Construction in White, Black, Green and Crimson, 1955
Did Victor Pasmore invent the barcode?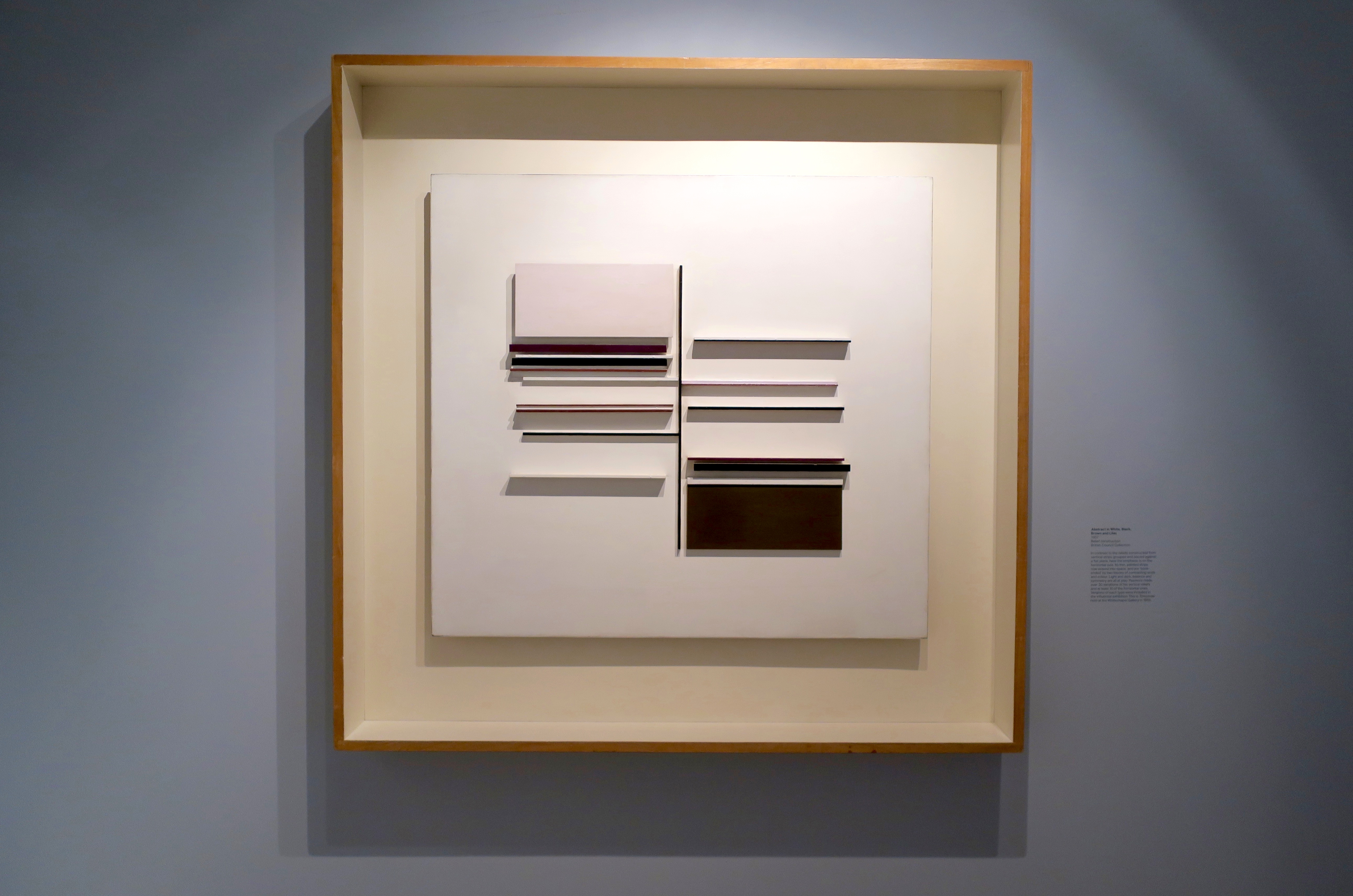 Abstract in White, Black, Brown and Lilac, 1957
In contrast to the reliefs constructed from vertical strips grouped and placed against a flat plane, here the emphasis is on the horizontal axis. Its thin, painted strips now extend into space, and are 'book-ended' by two blocks of contrasting scale and colour. Light and dark, balance and symmetry are all at play. Pasmore made over 20 variations of his vertical reliefs and at least 10 of the horizontal ones. Versions of each type were included in the influential exhibition 'This is Tomorrow' held at the Whitechapel Gallery in 1956.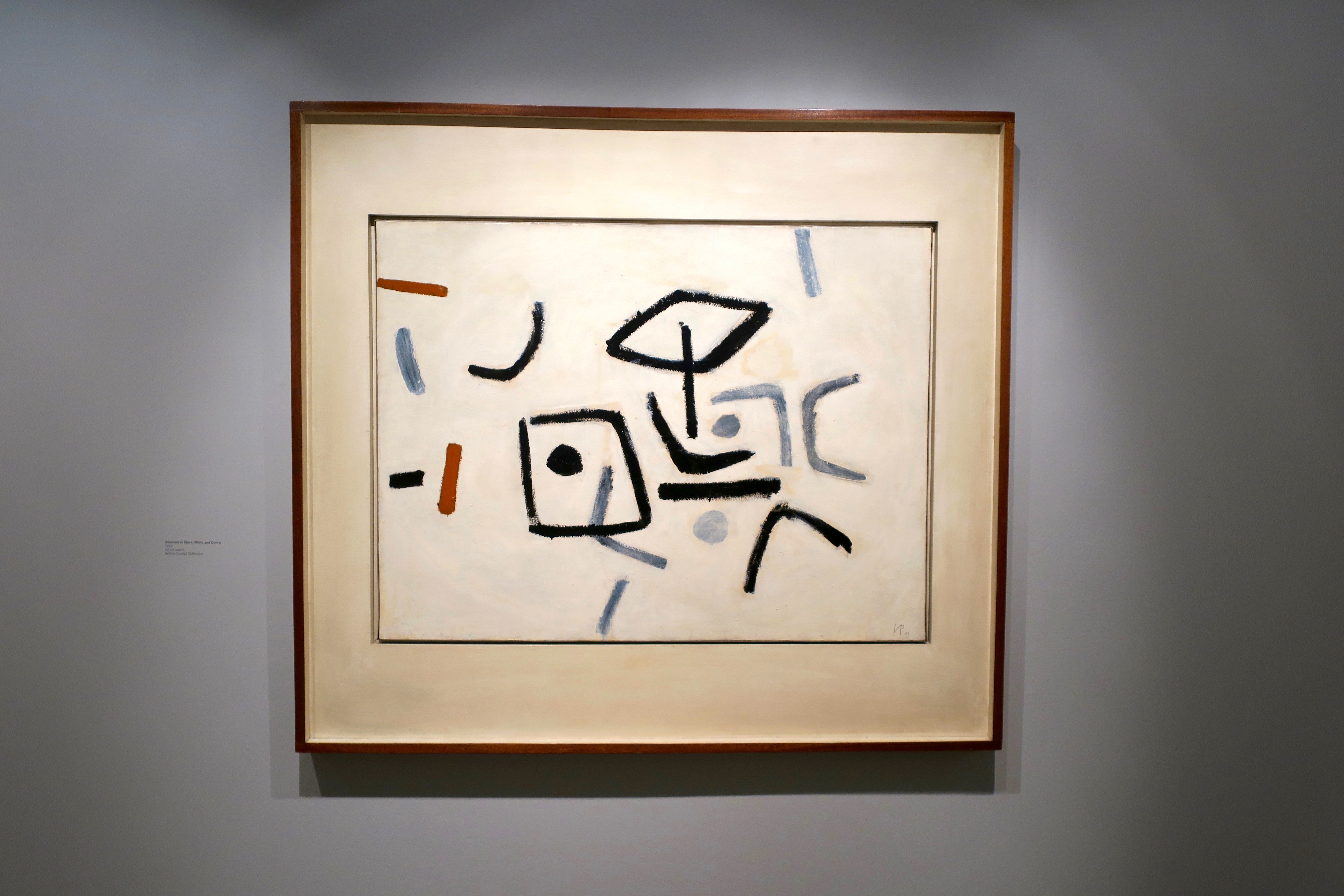 Abstract in Black, White and Ochre, 1958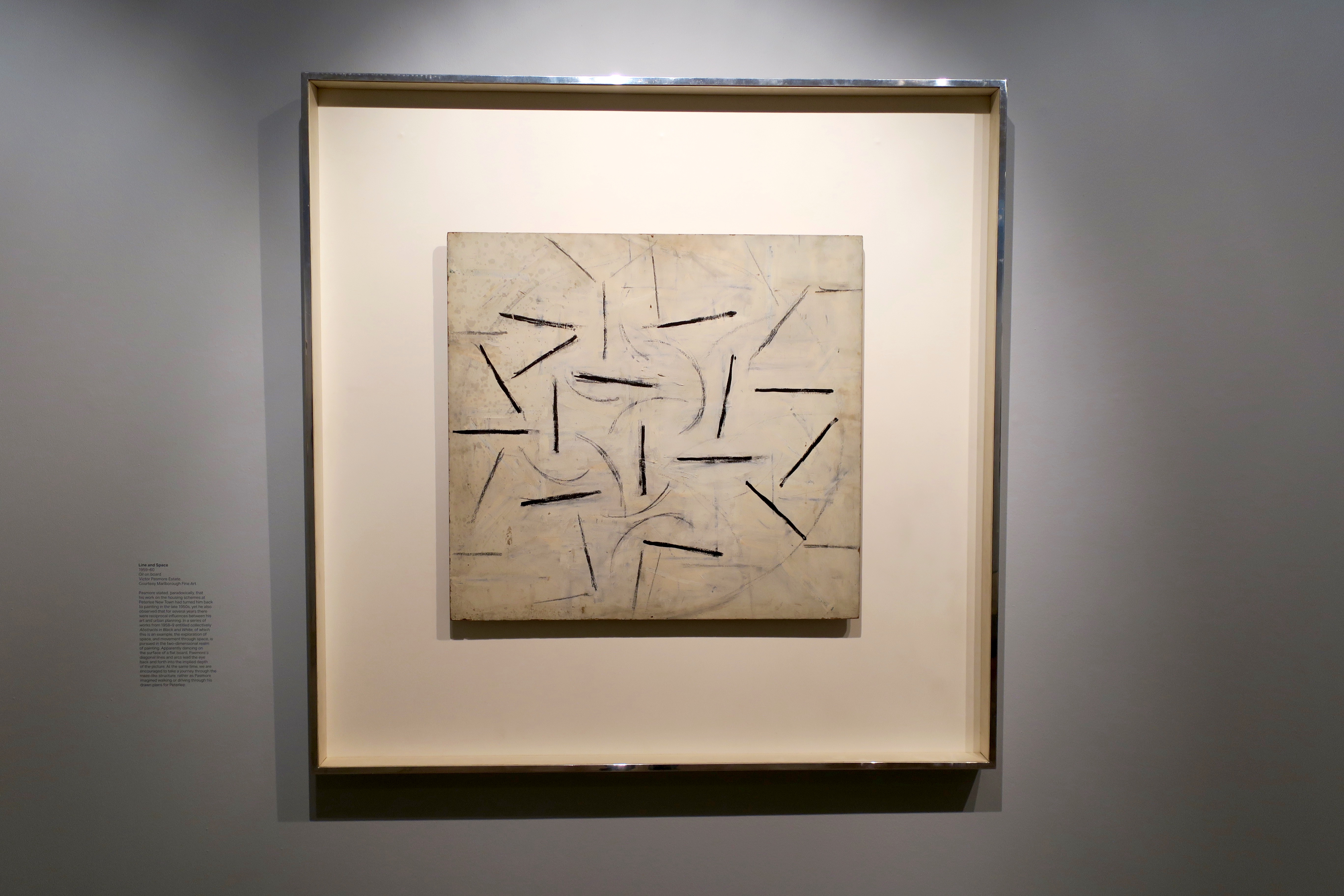 Line and Space, 1959-60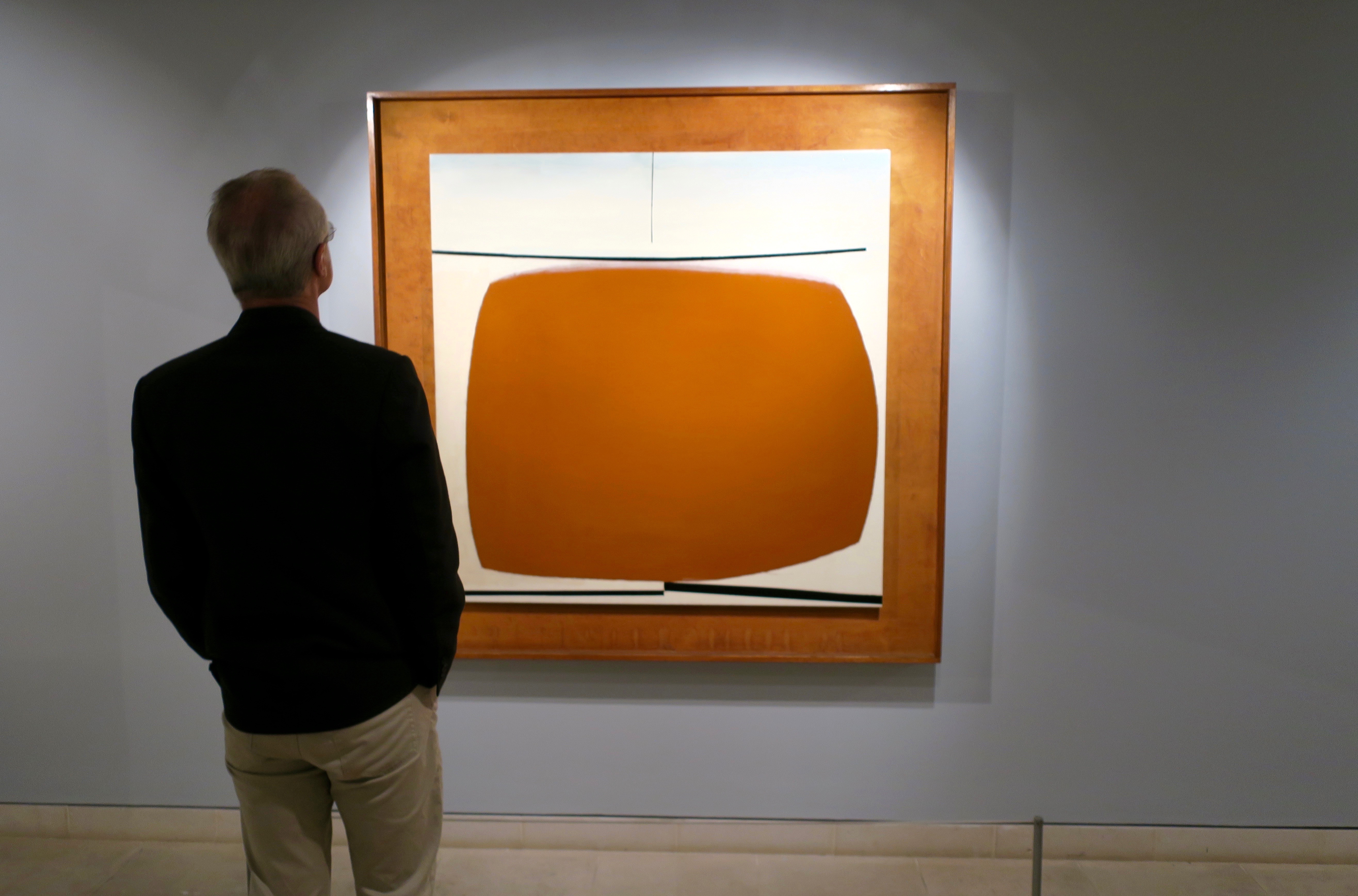 Yellow Abstract, 1960-61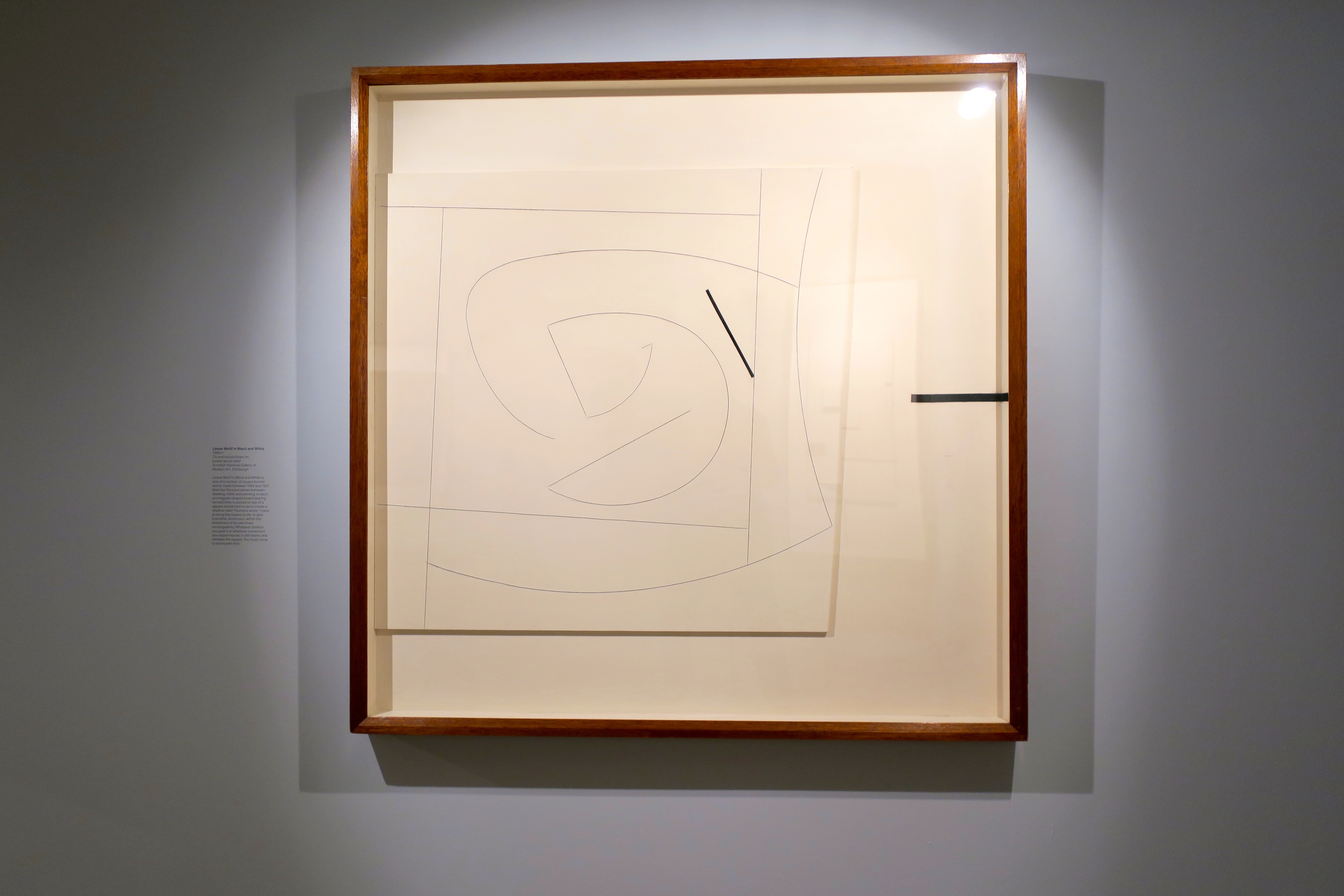 Linear Motif in Black and White, 1960-61
It was a privilege to be allowed to photograph the exhibition, to capture the artworks in situ within their frames, to see them in context, rather than the more usual isolated image. It's clear that great consideration was given to their framing. The type of moulding, its depth, the space within the frame, the width and colour of the mount. In this instance, the heavy horizontal line on the right-hand side doesn't stop when it meets the frame but continues perpendicular to the surface of the painting, rising up the inner edge of the frame. The frame is an integral part of the art.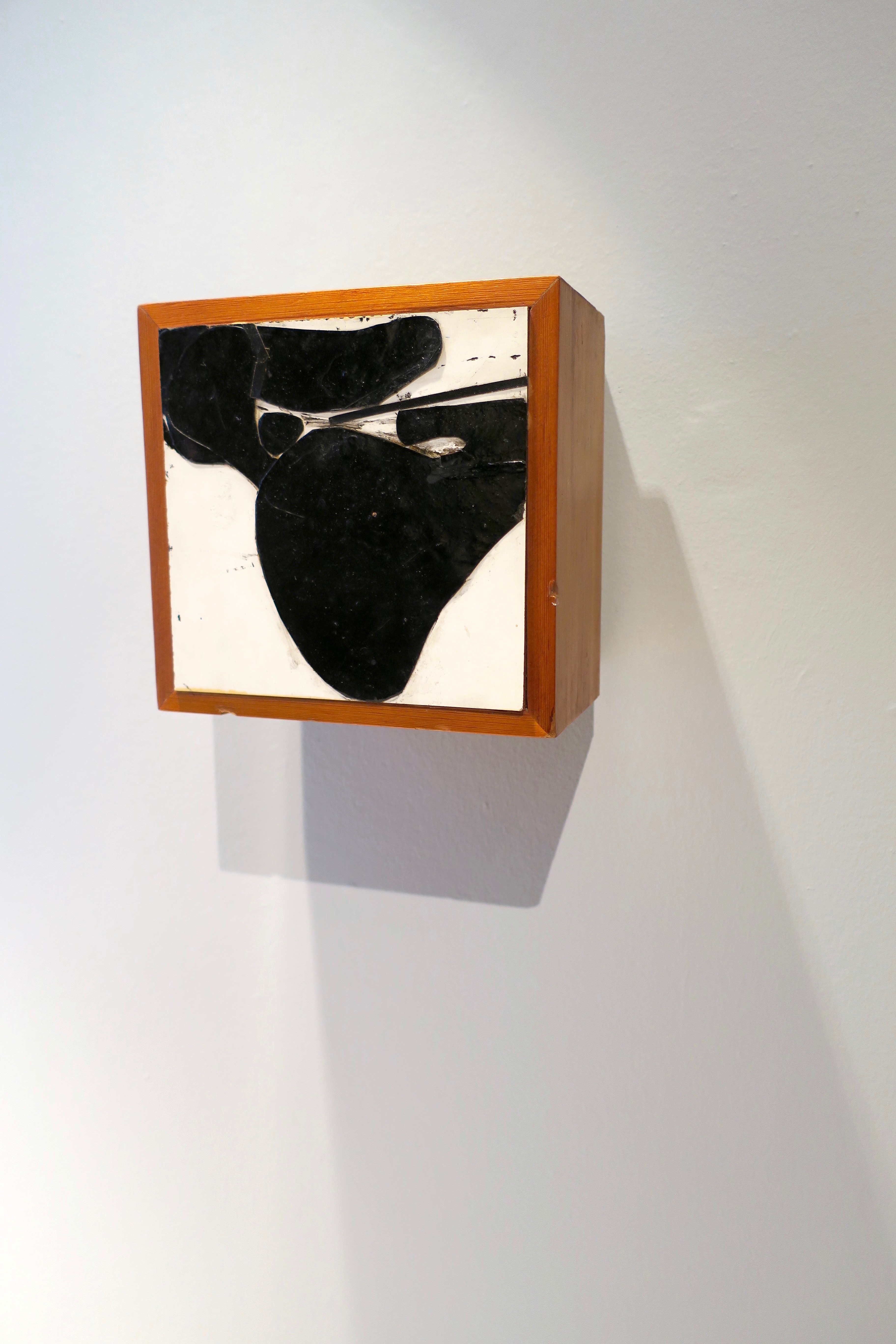 Black Development No.76, 1963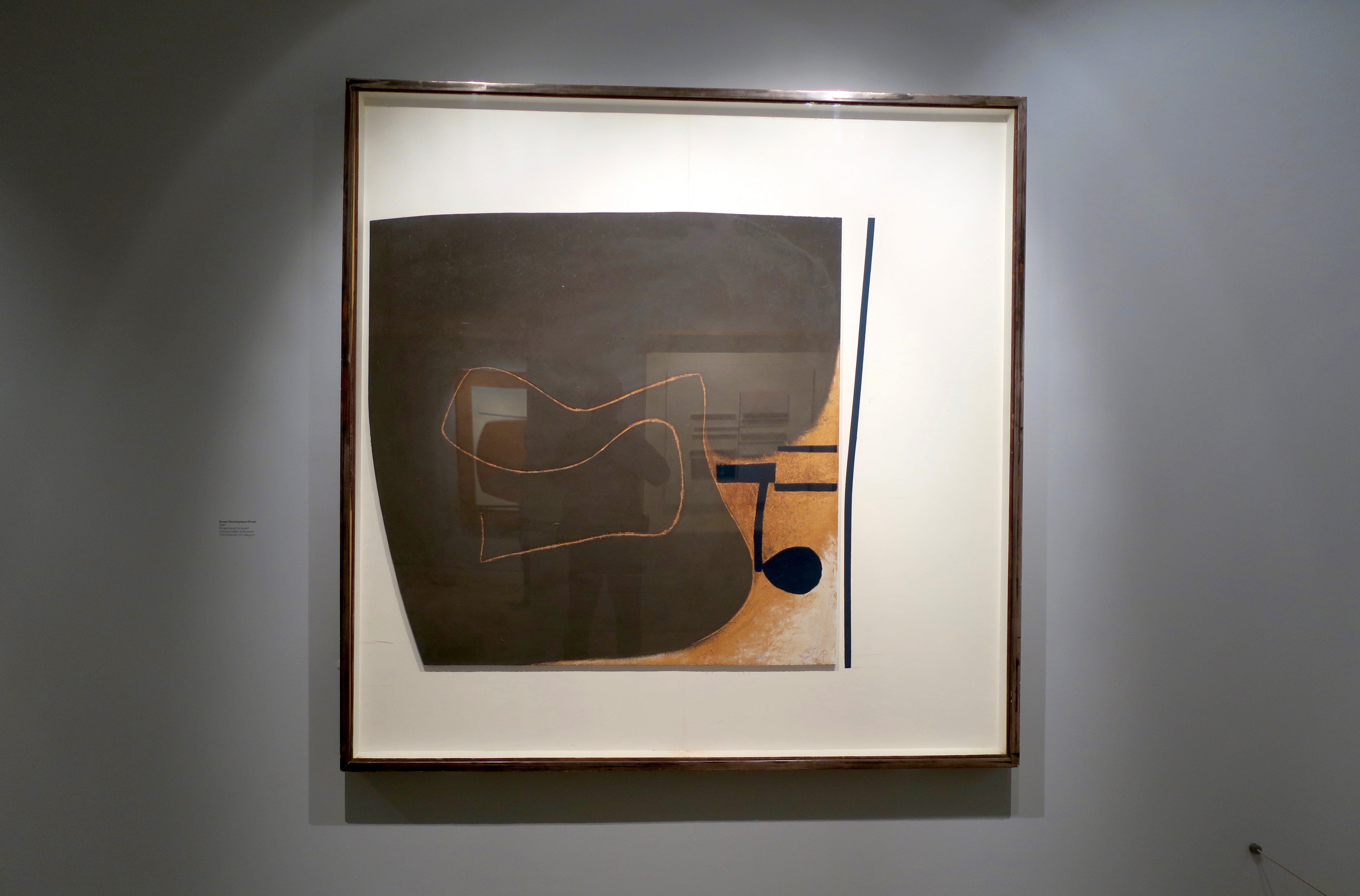 Brown Development (Peat), 1967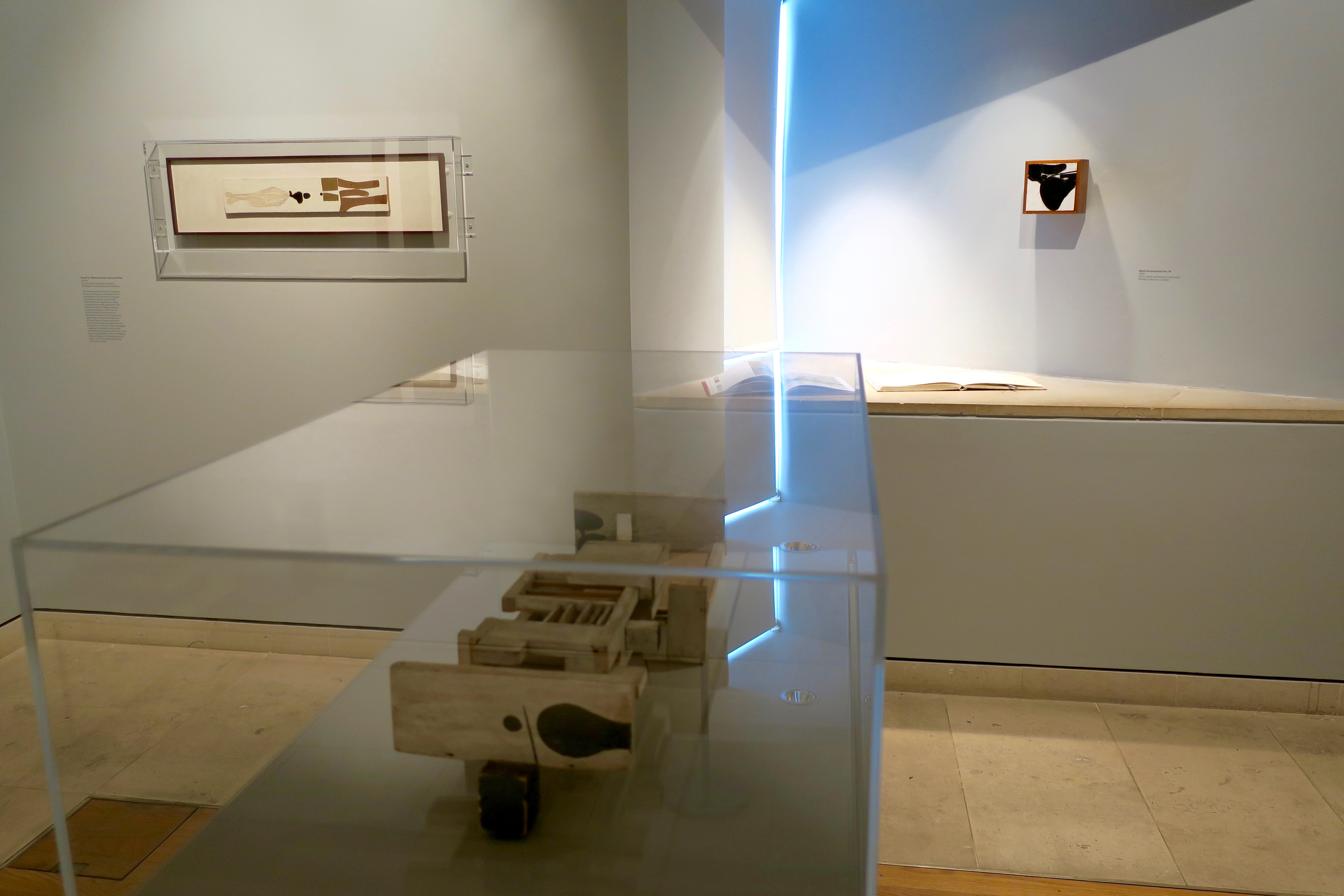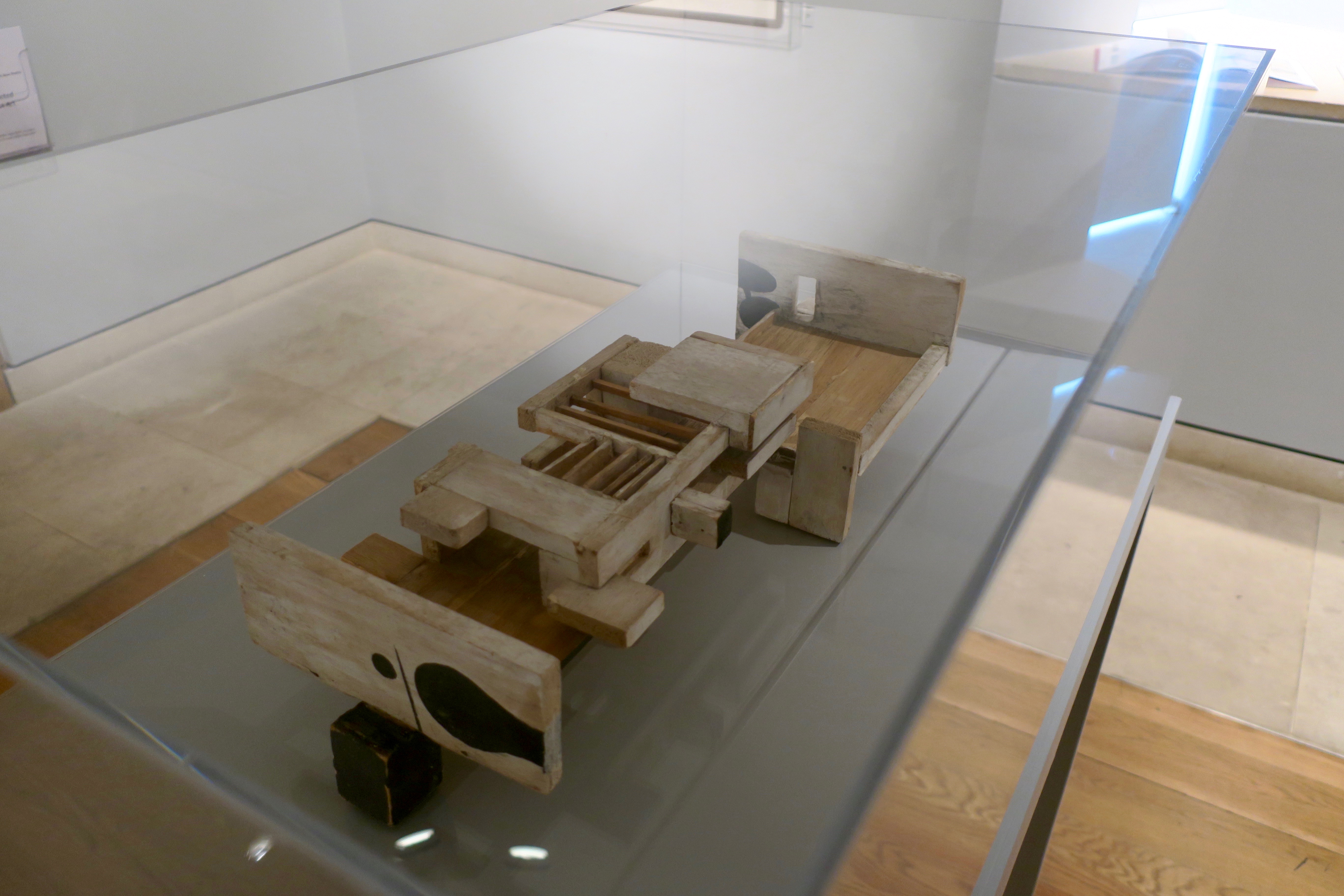 Maquette for Apollo Pavilion at Peterlee, 1967
In 1955, Pasmore was invited to collaborate with architects on a housing scheme for the New Town of Peterlee. Their brief was to create an urban environment that was integrated, dynamic and stimulating. In a later phase of work, the artist designed the layout of roads and houses on a site called Sunny Blunts that also featured a man-made pool. Completed in 1970, and named after the first manned landing on the moon, Pasmore's Apollo Pavilion was created to form a dramatic focus and passageway spanning the end of the pool. His pavilion was a two-storey modular construction in concrete with painted designs at either end. It might be considered the most complete expression of his belief in the integration of painting, sculpture and architecture; a pure 'work of art' that was not merely an object to be looked at, but one to be physically entered and walked through.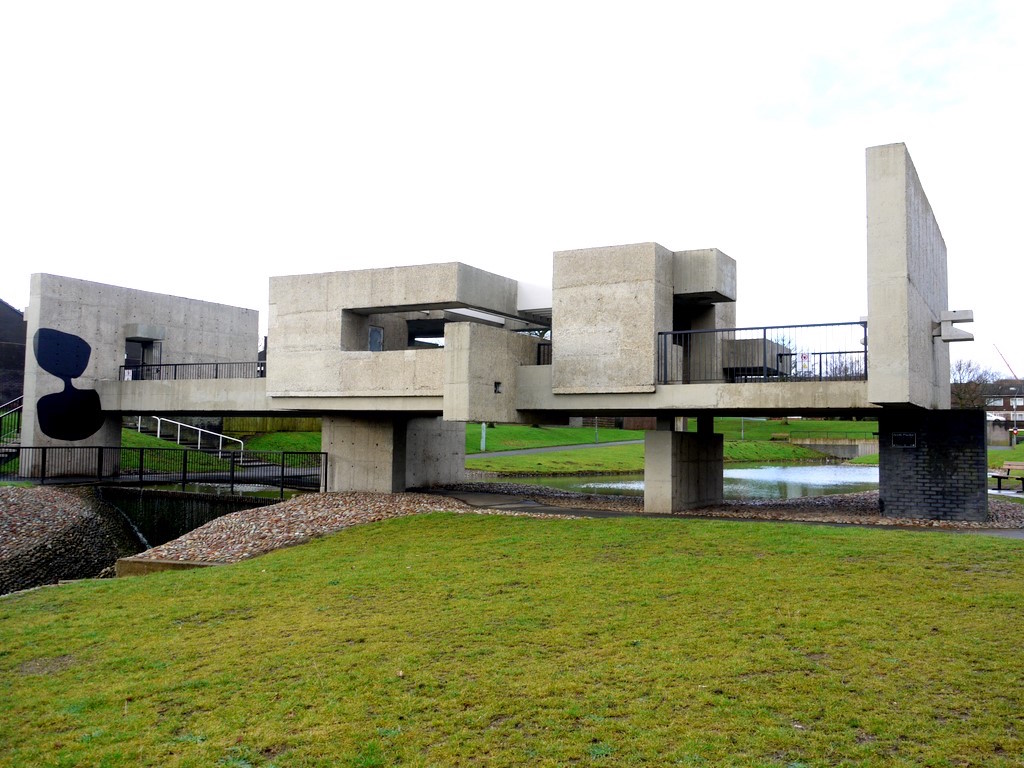 The next room at Pallant House was devoted to British Constructivism: The Catherine Petitgas Collection, a display of sculptures, reliefs and constructions by Victor Pasmore and his contemporaries in the British Constructivist movement, including Kenneth and Mary Martin, Anthony Hill, Norman Dilworth and John Ernest, drawn from the Petitgas Collection.
Abstract in natural wood with white and black, 1965-66
Pasmore regarded his abstract works as constructed objects assembled from preformed elements. He stressed that 'pure forms refer to no other objects. It is a reality, logical and sufficient in itself' and that such abstract art is able to establish a new relationship with its spectator which is both intimate and dynamic.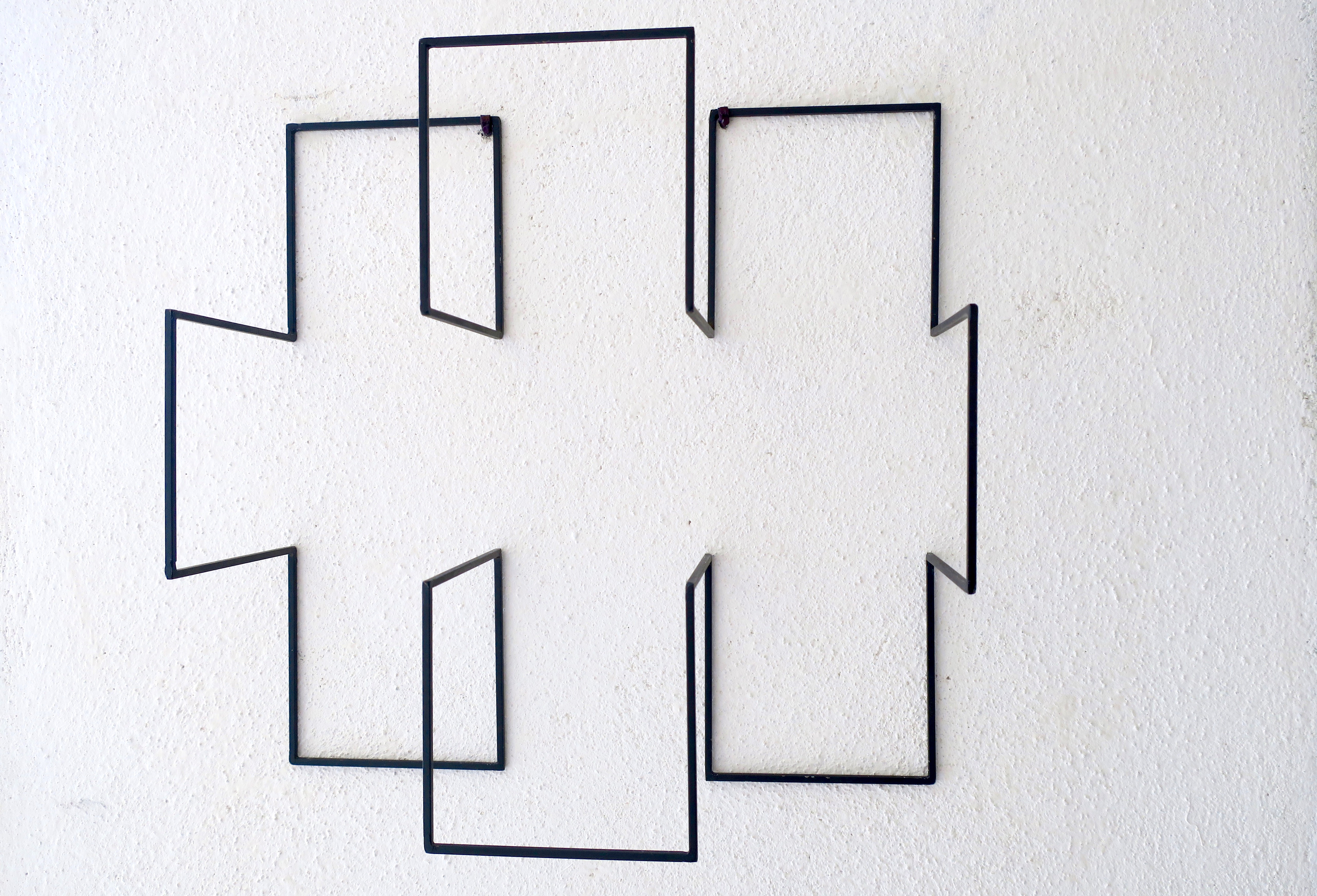 Relief Series 4/B/6: Norman Dilworth
Structures Series 2A, No.2: Norman Dilworth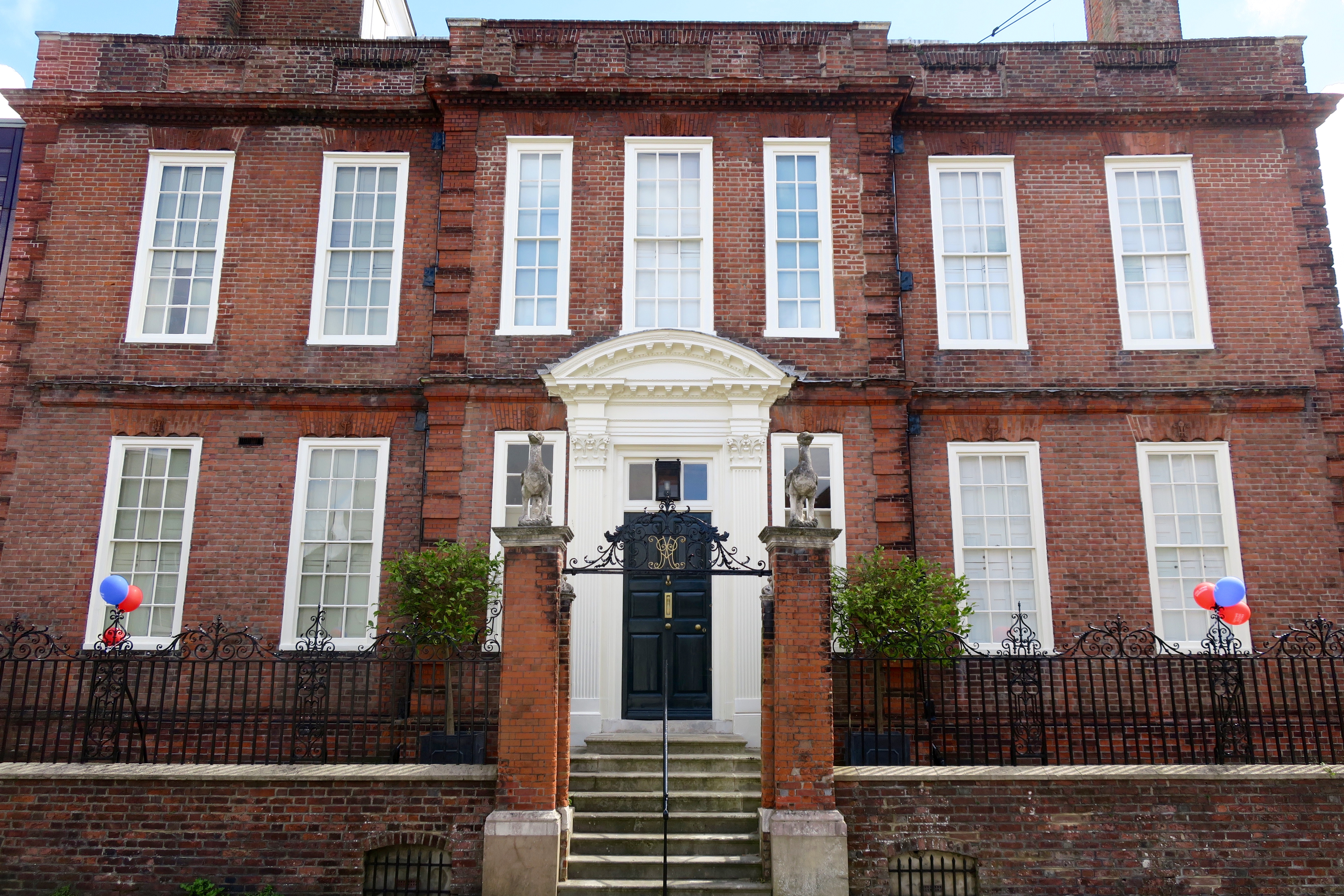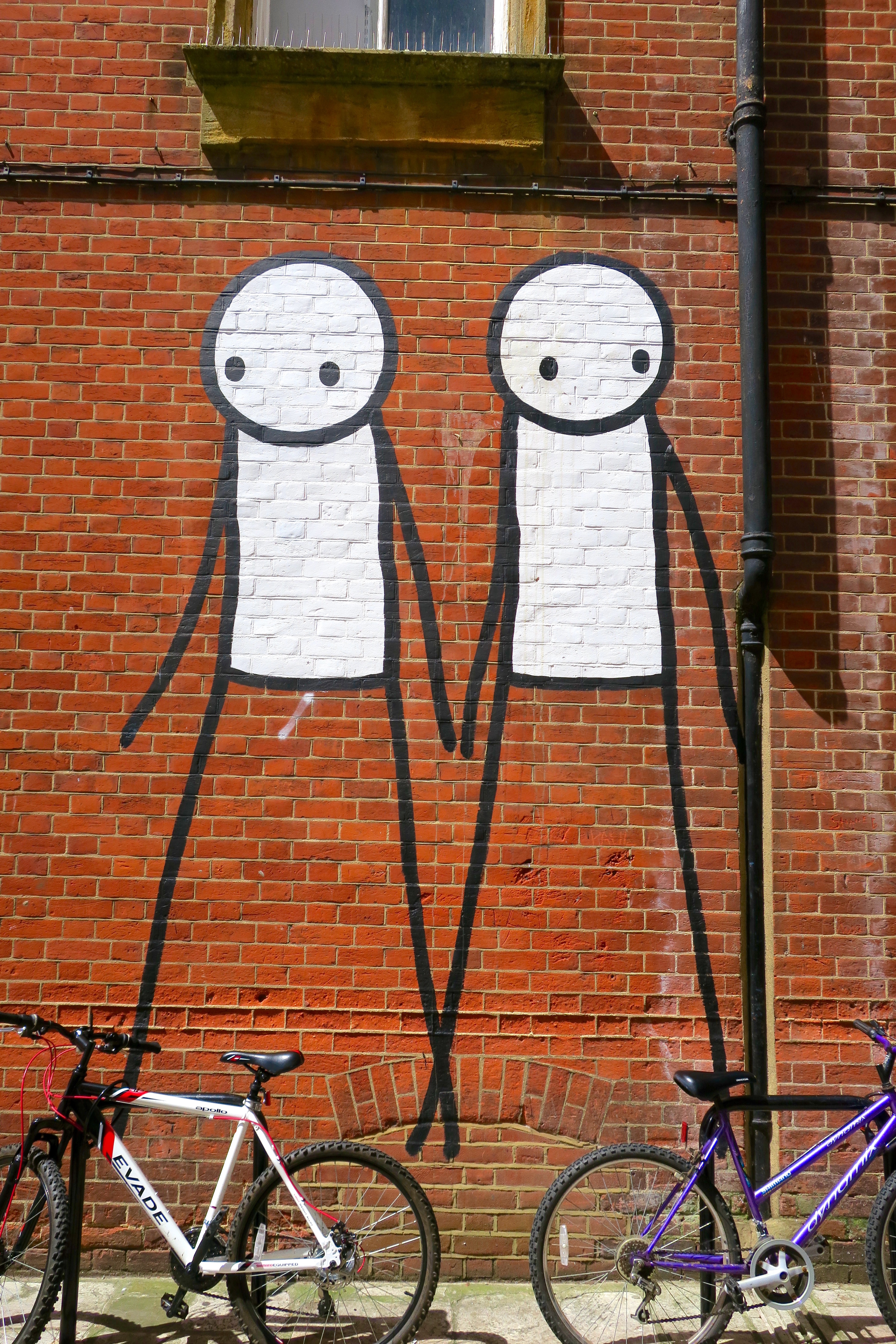 Back out on the street we walked together into town and it seemed
like there were double acts and doppelgängers wherever we looked.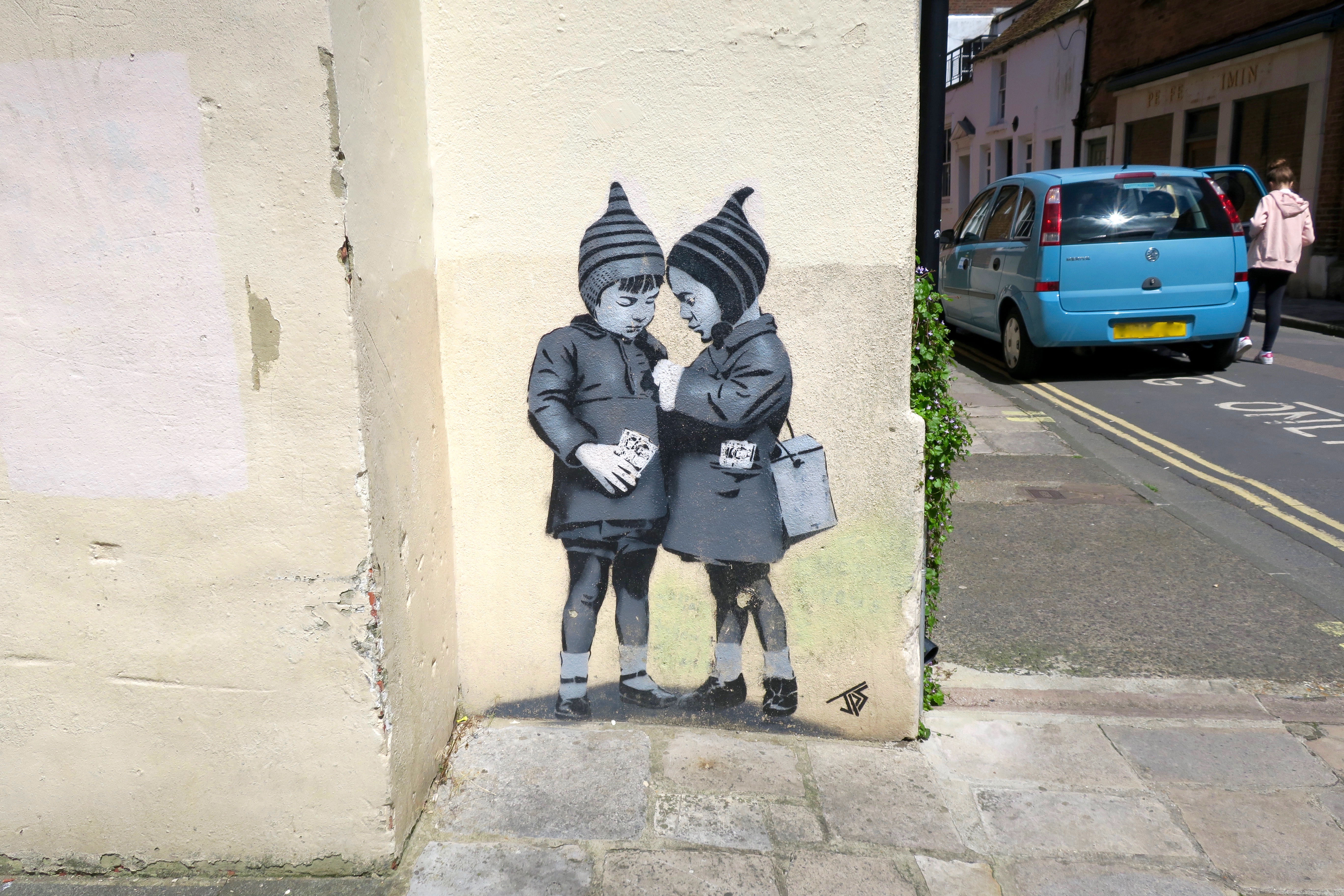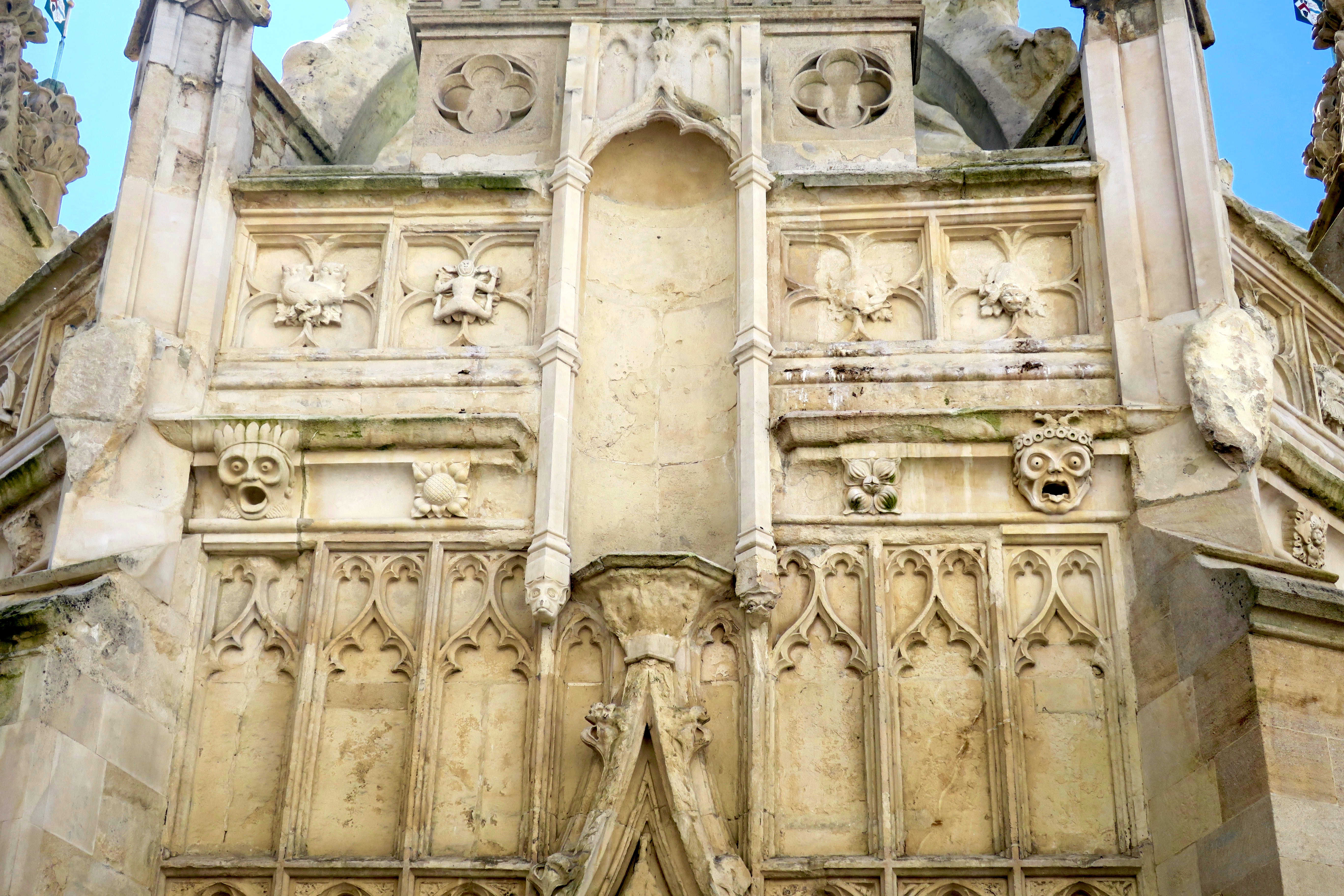 A pair of wide mouthed gargoyles on the market cross.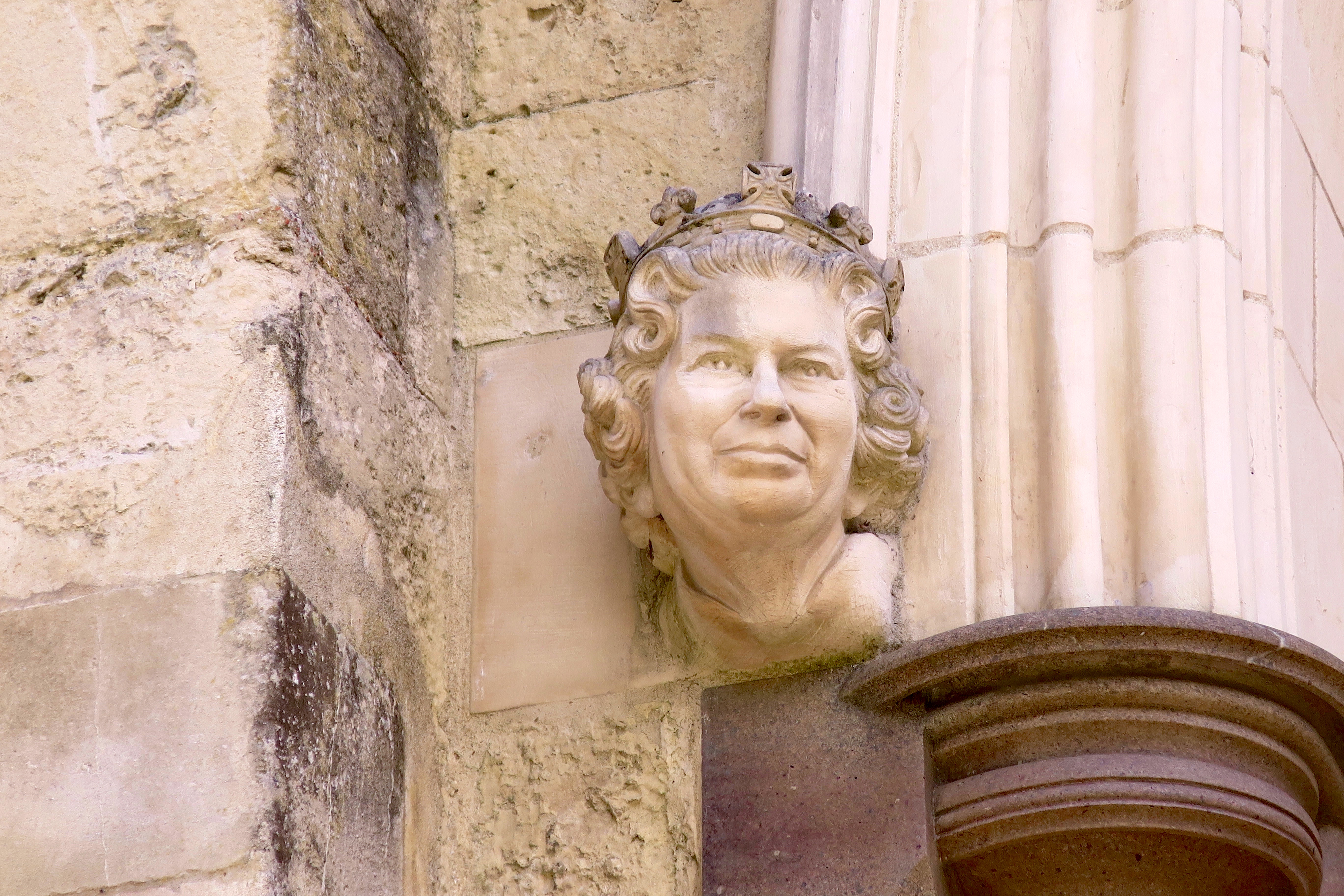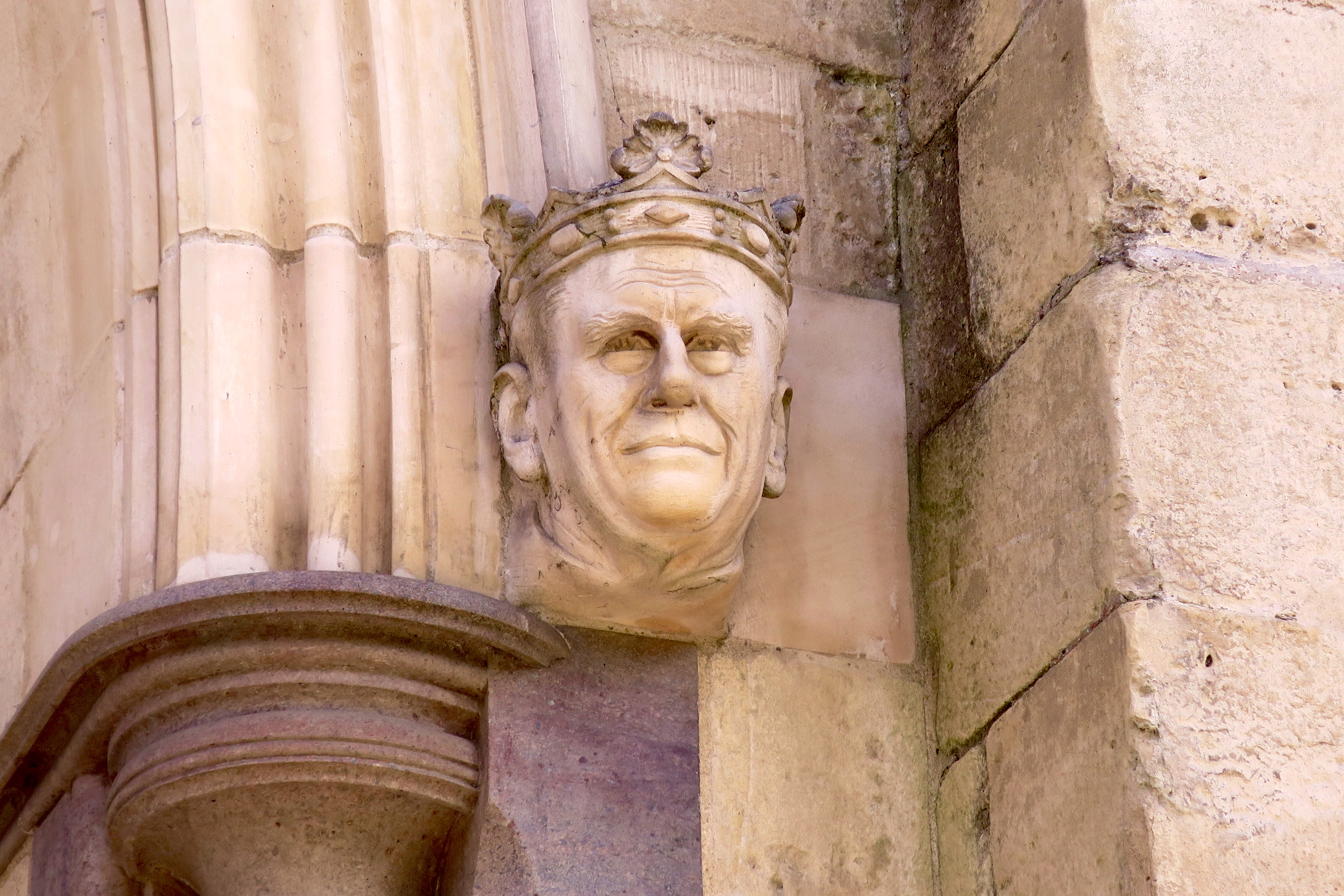 A couple of royal gargoyles on Chichester Cathedral.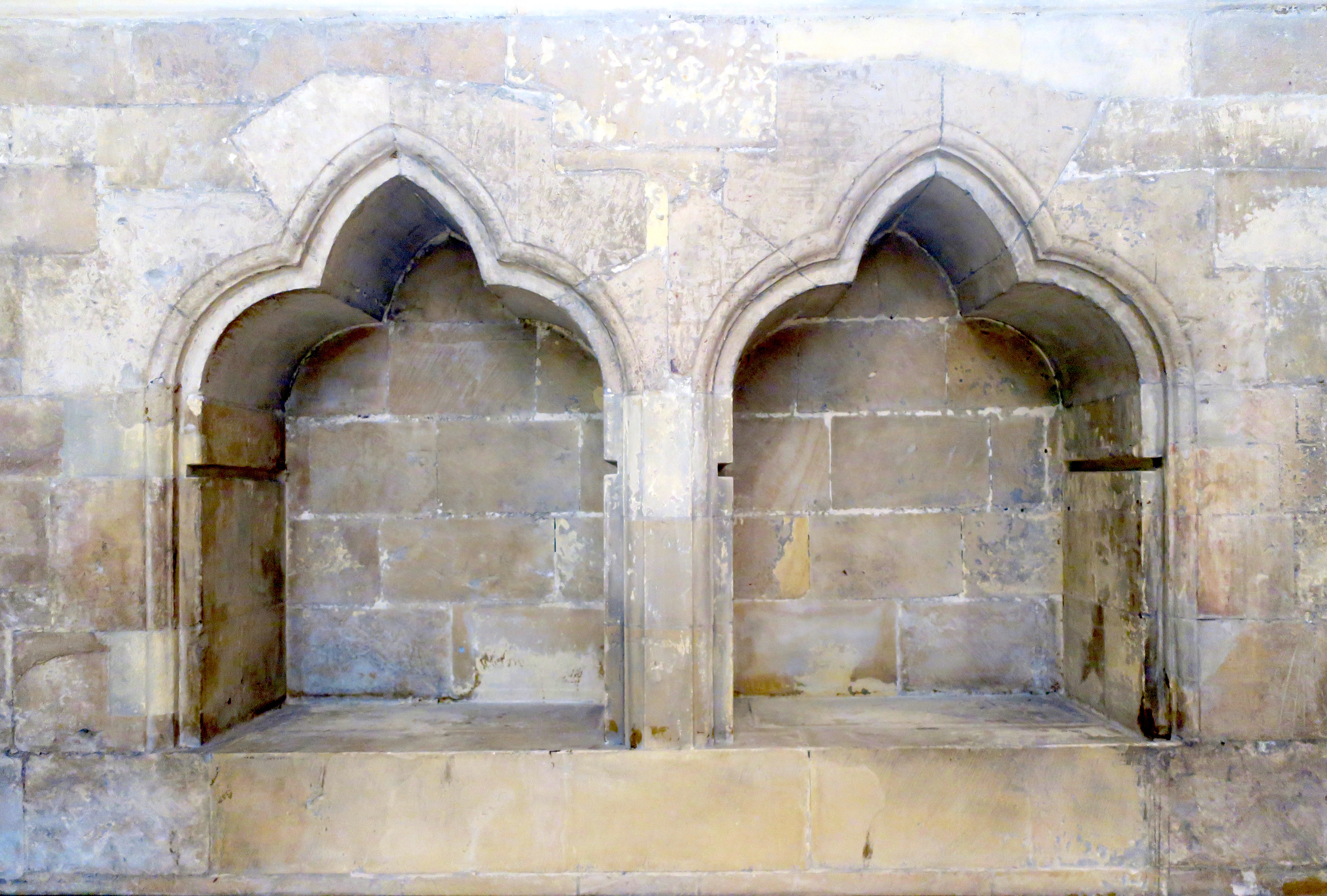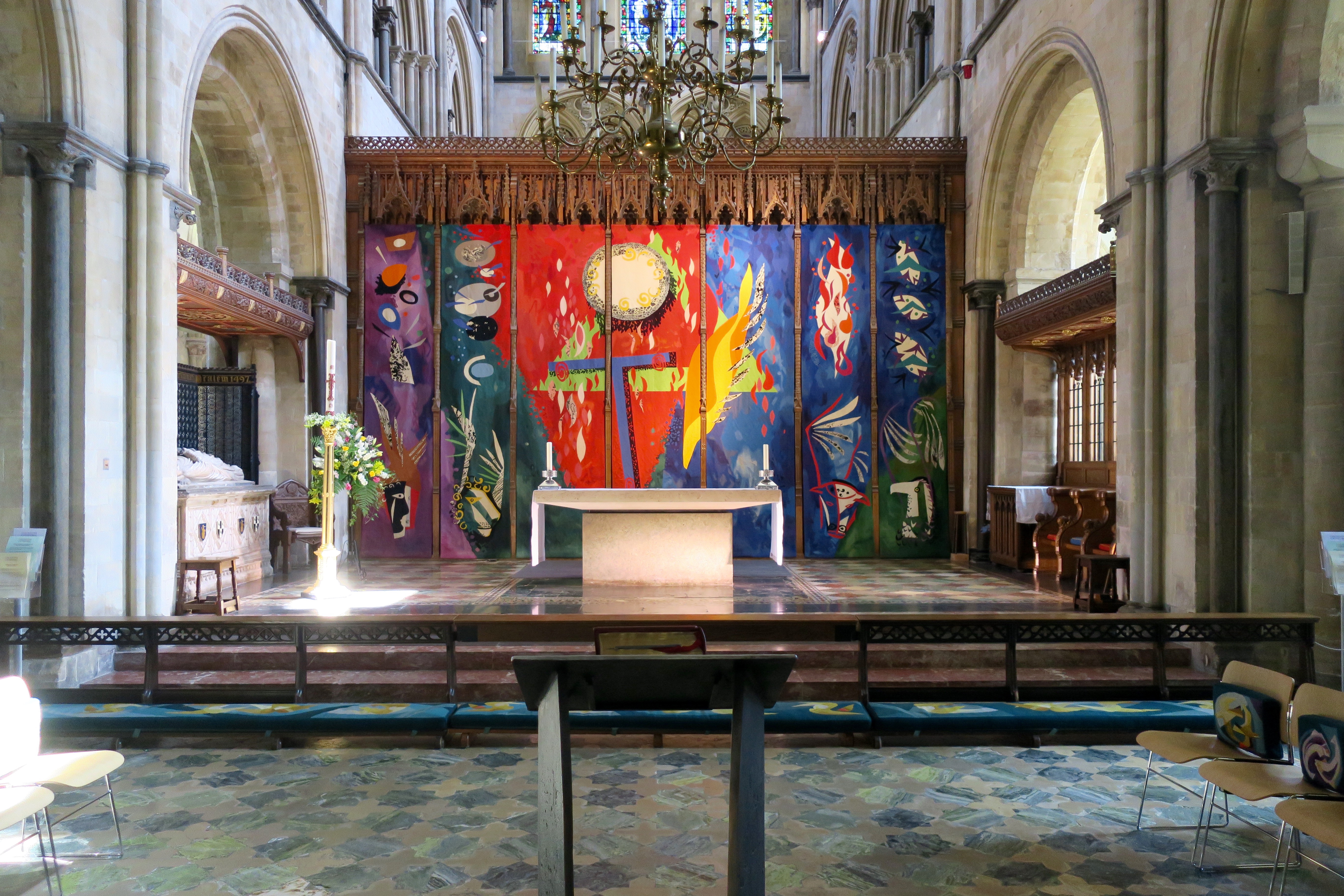 A tapestry by John Piper behind the High Altar.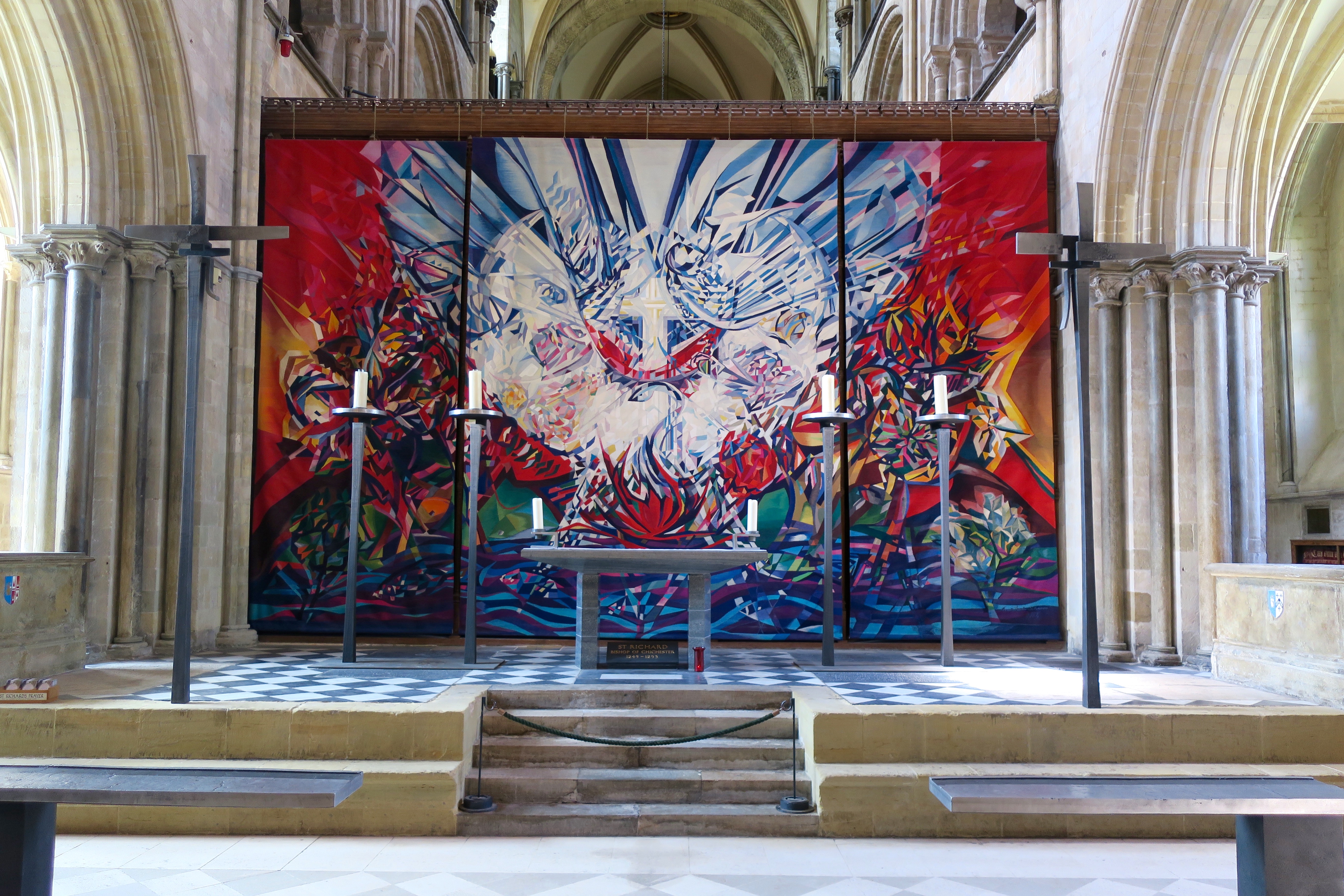 A tapestry by Ursula Benker-Schirmer at the Shrine of St Richard.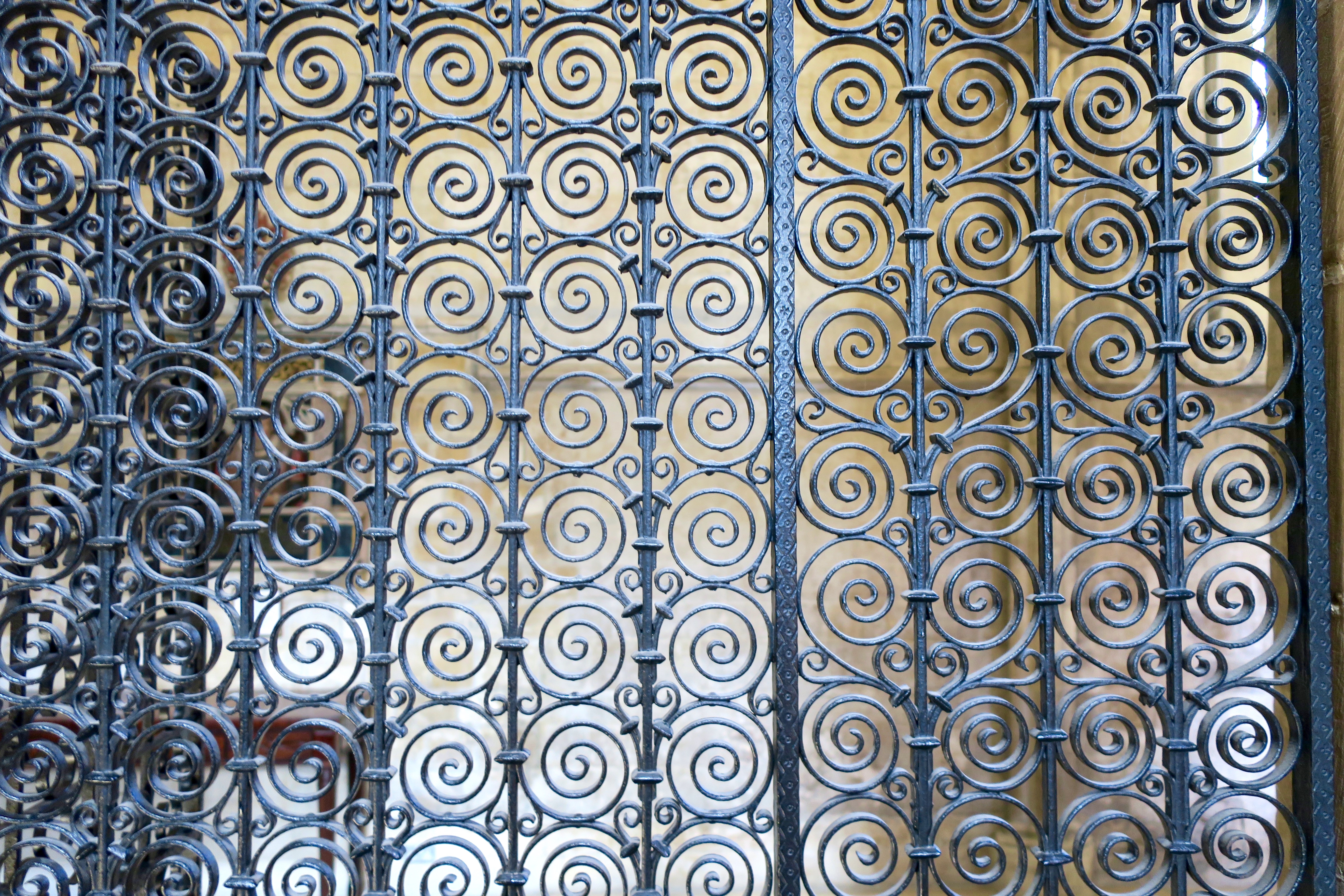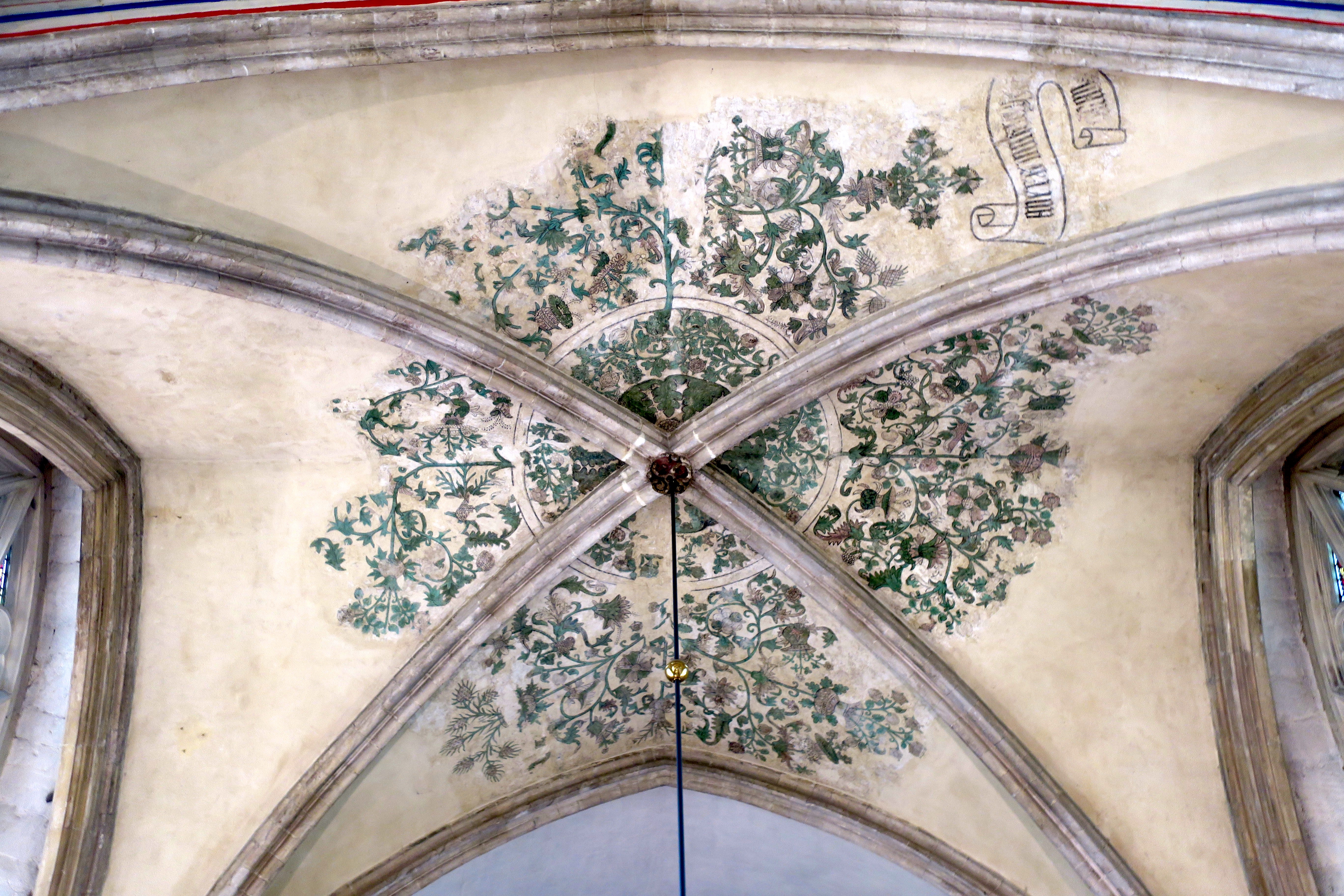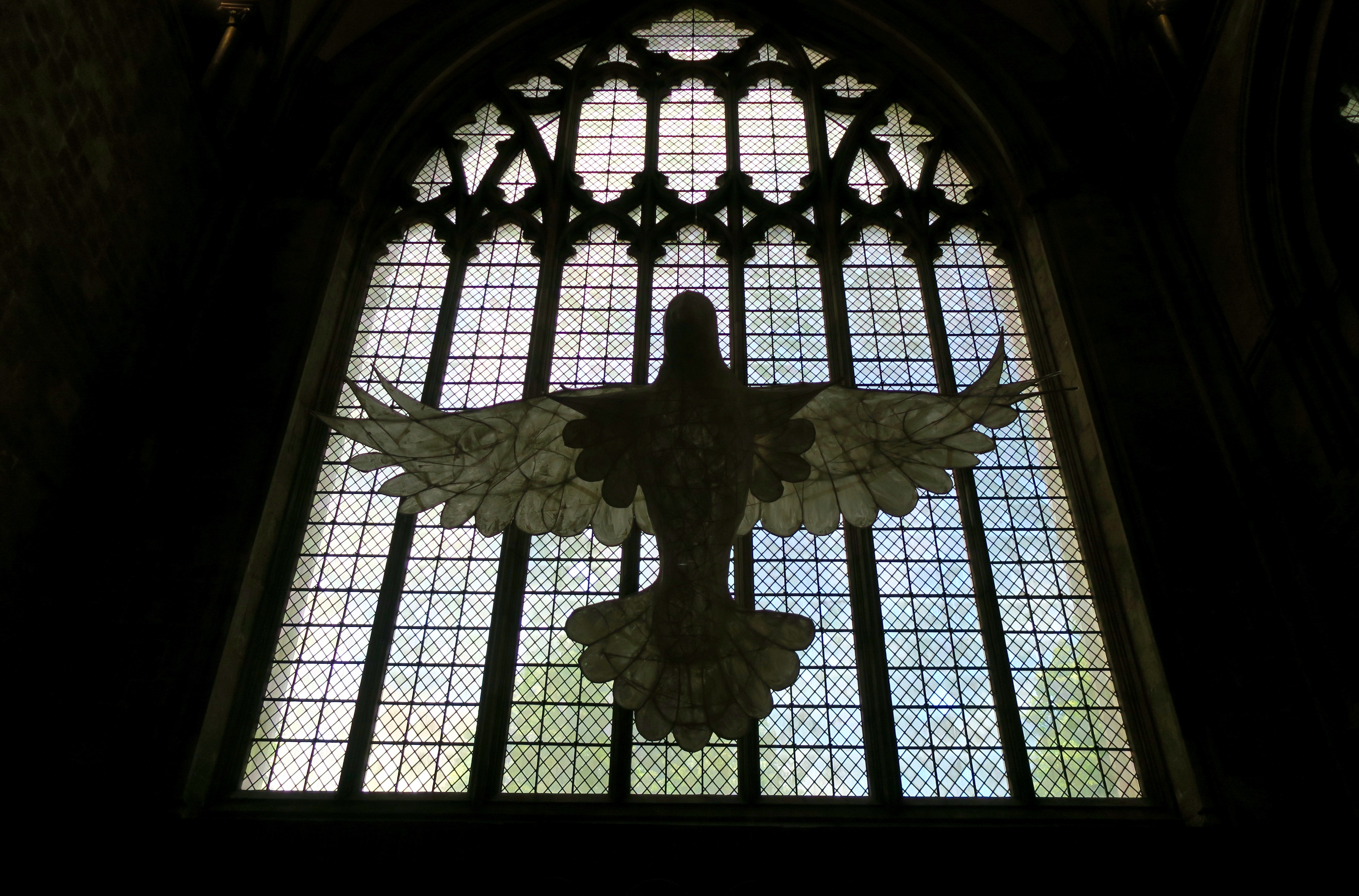 A dove of peace in the North Transept.
※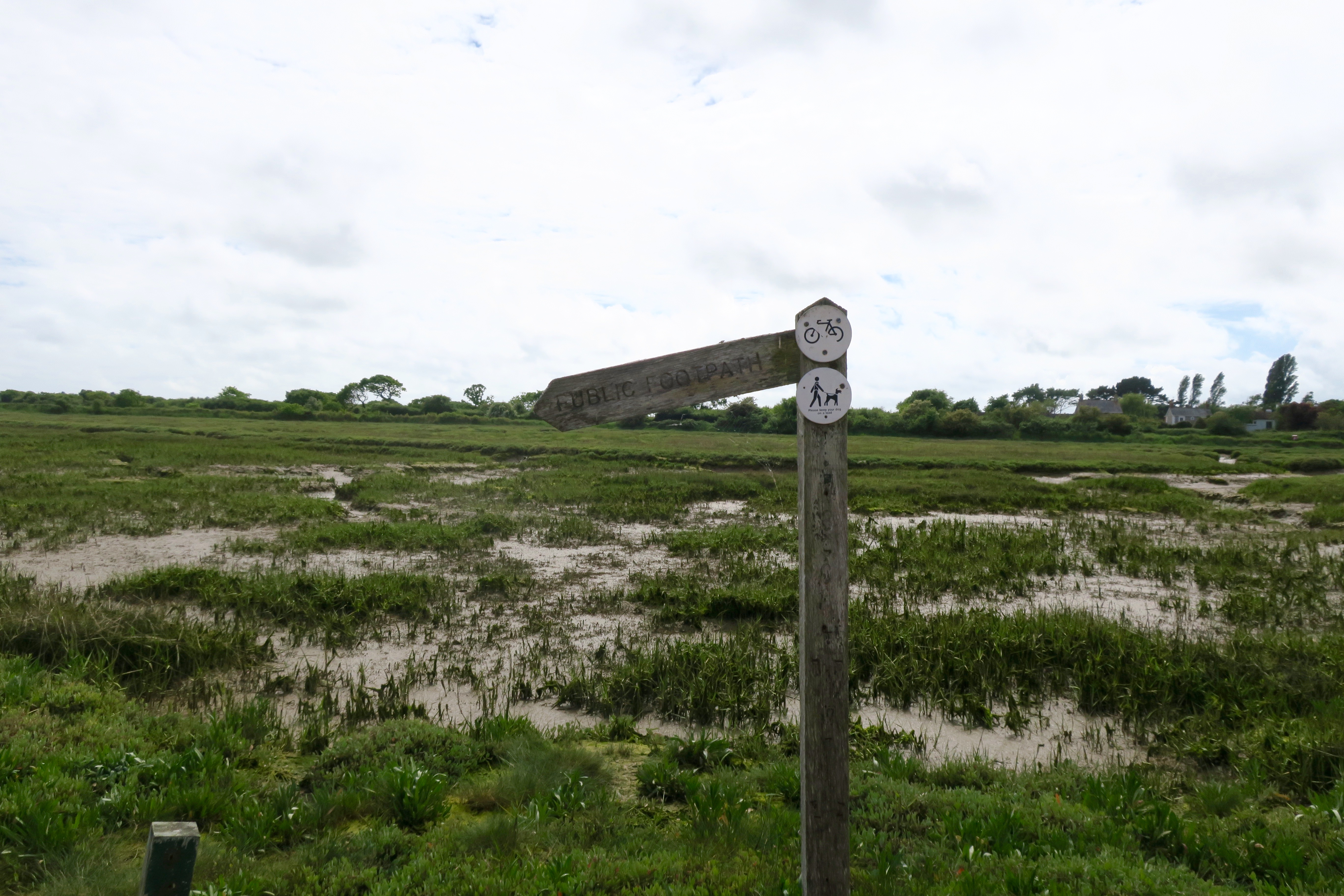 We left Chichester and headed south towards the coast, not really knowing where we were going but knowing we couldn't go too far because of the sea. Before long we found ourselves at Sidlesham Quay where we had lunch at the Crab & Lobster then walked the saltmarsh path around Pagham Harbour.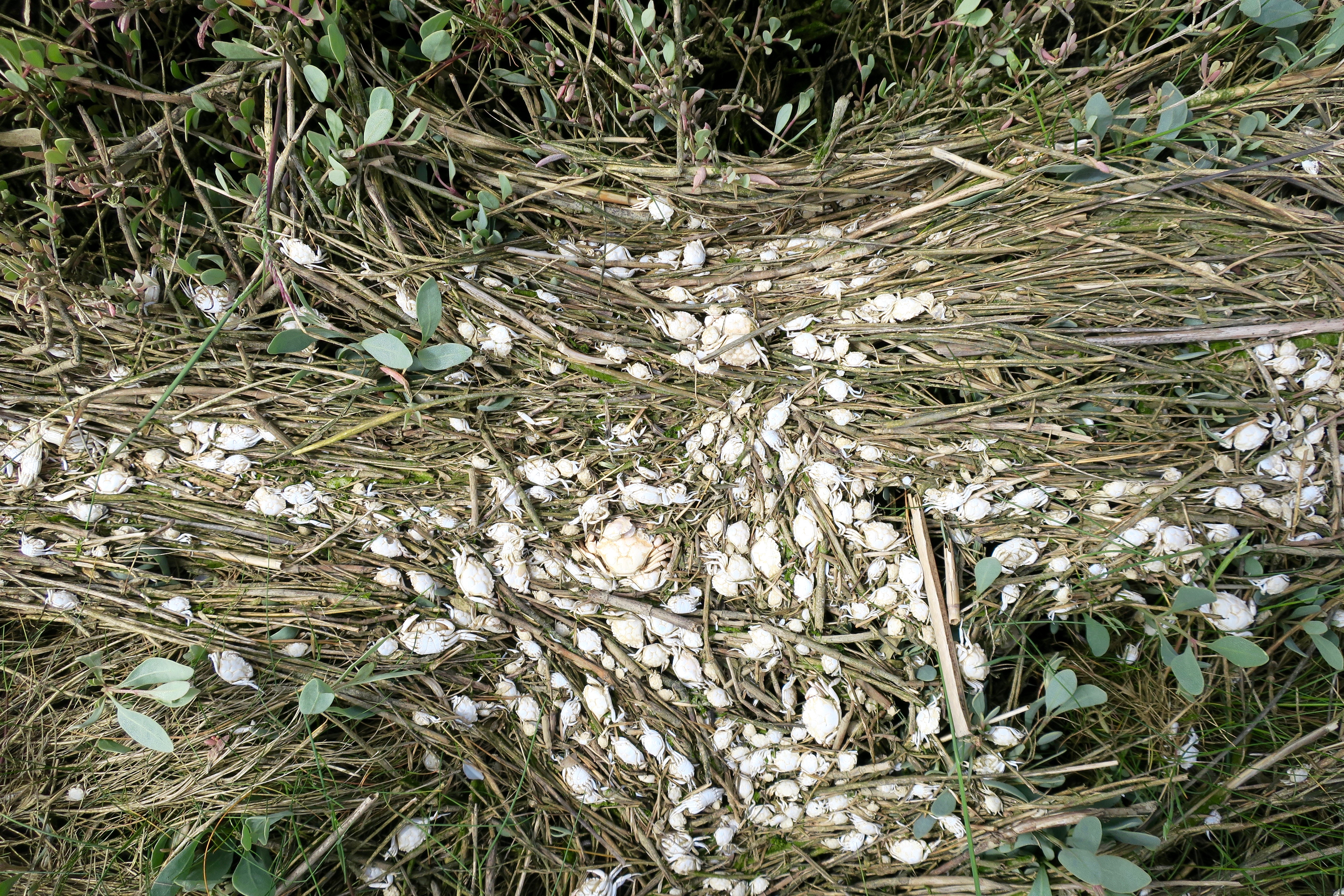 Skeletons of tiny white crabs, washed-up at high tide and stranded in the grass.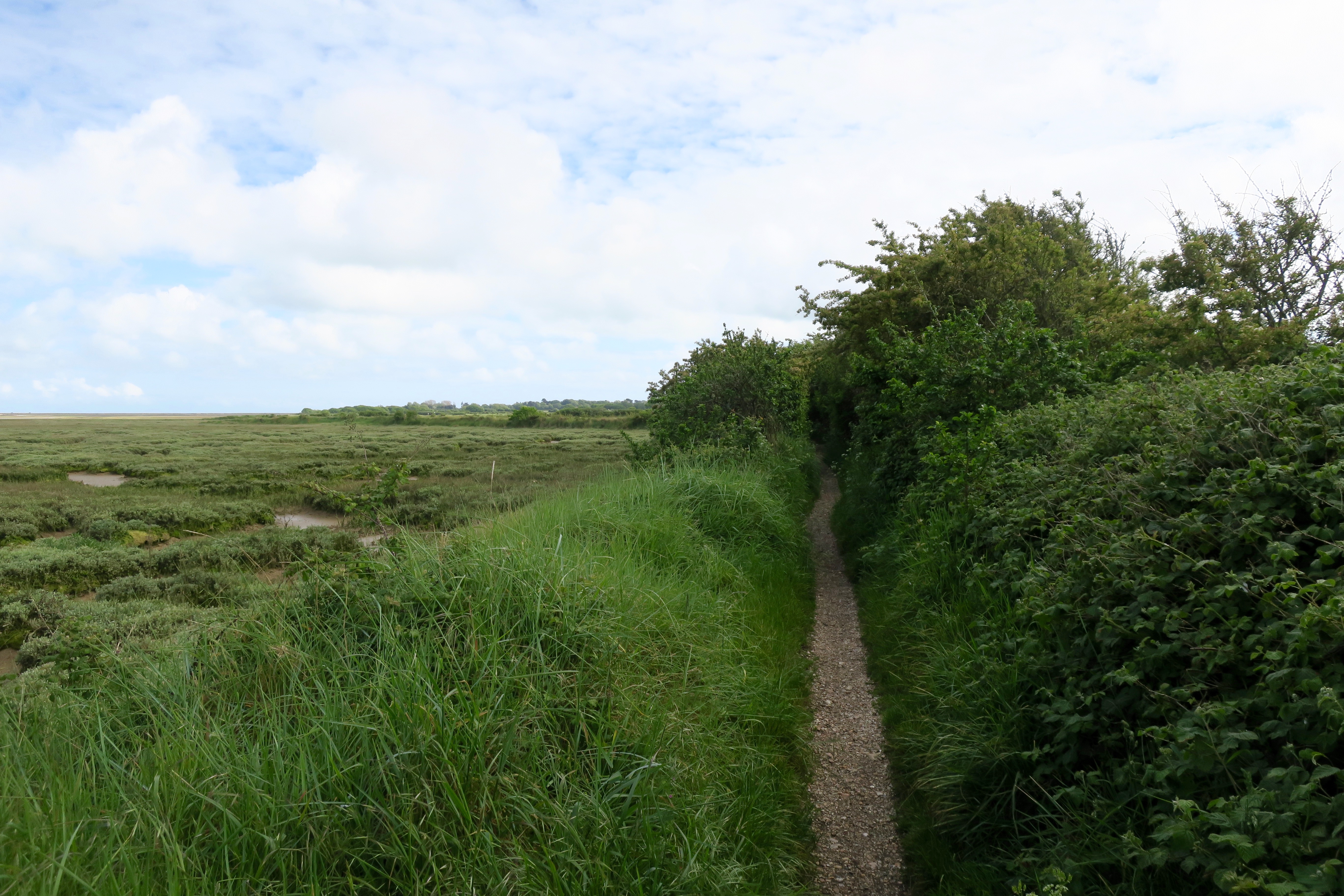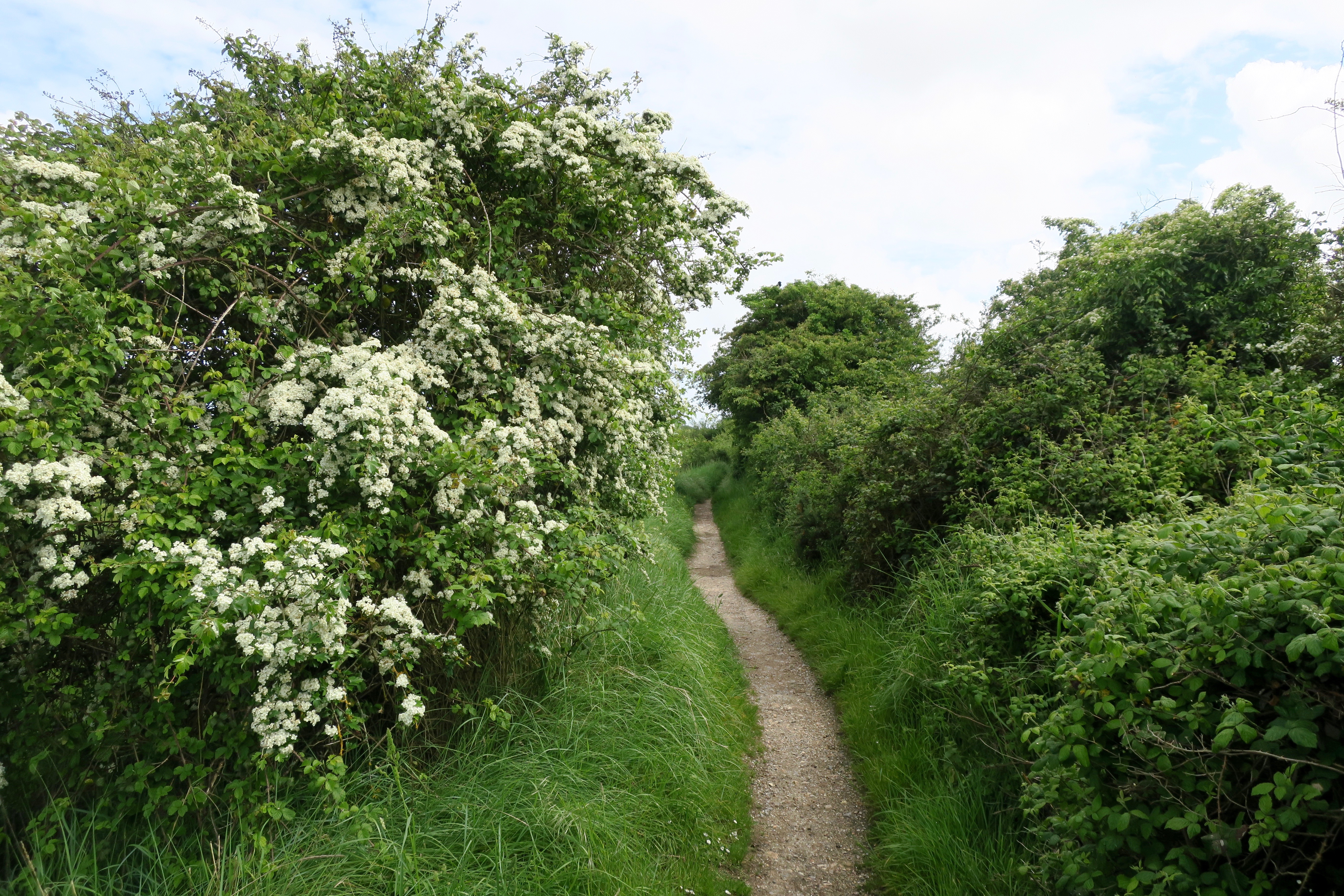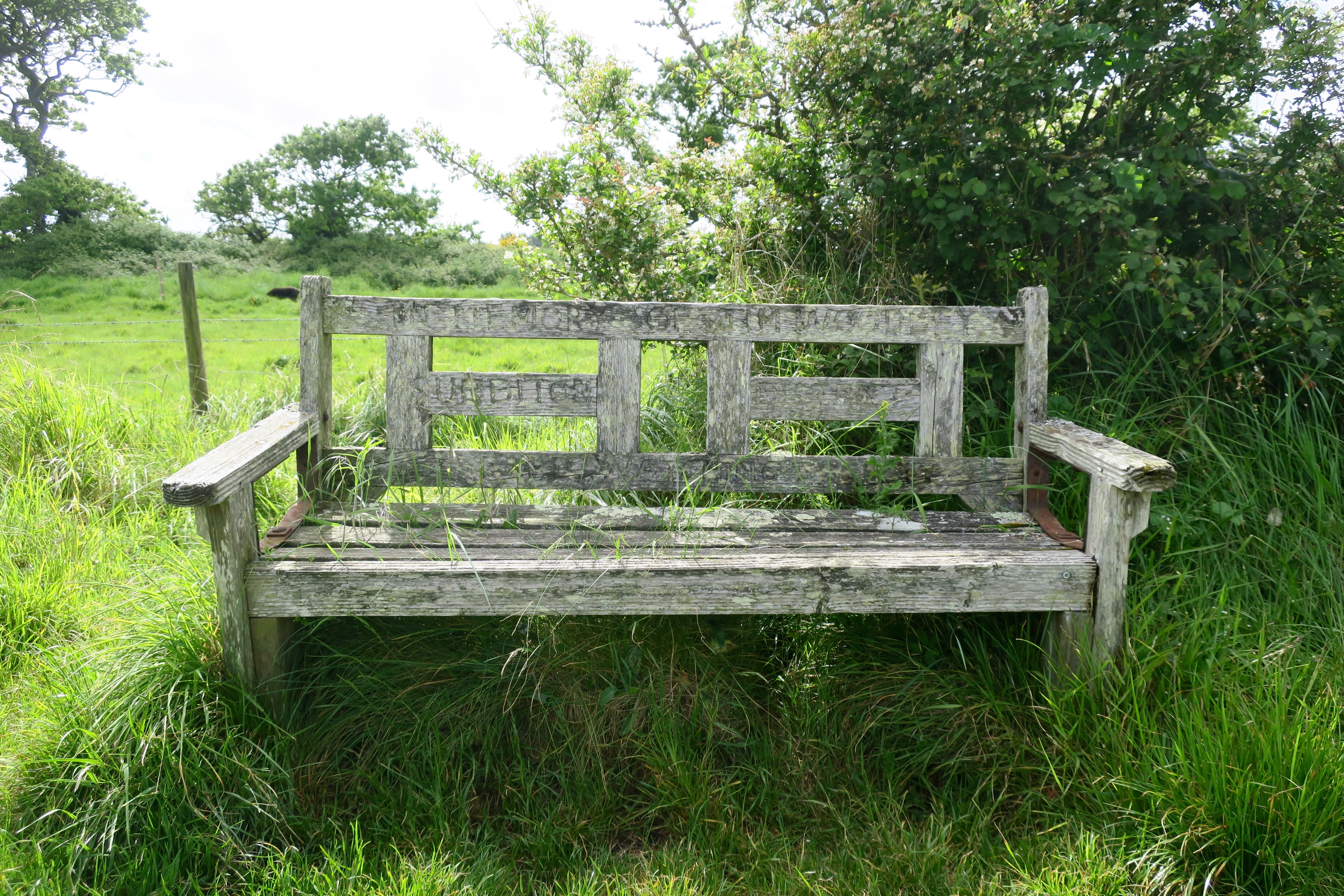 A memorial bench, its carved inscription eroded, but for the word SURBITON.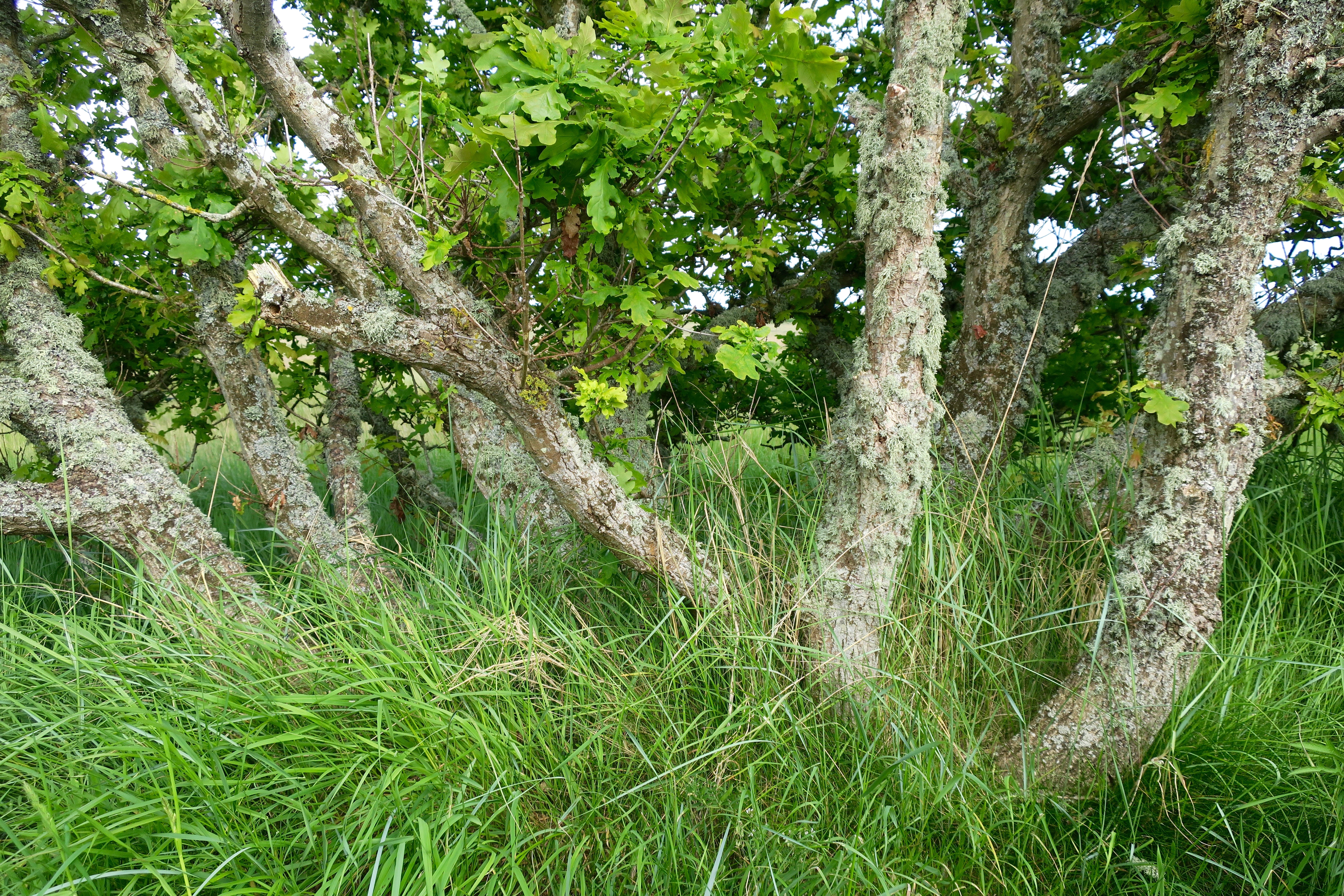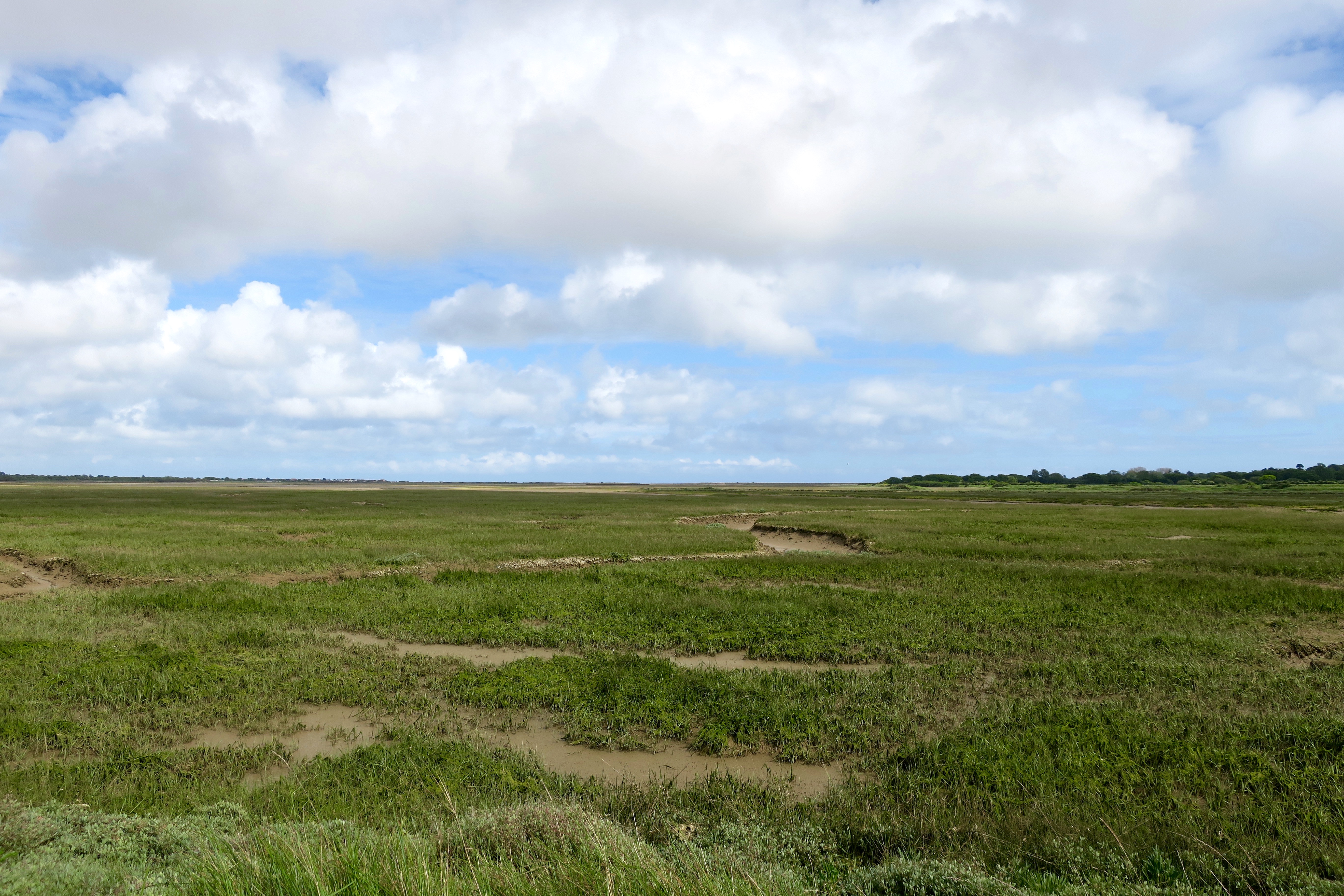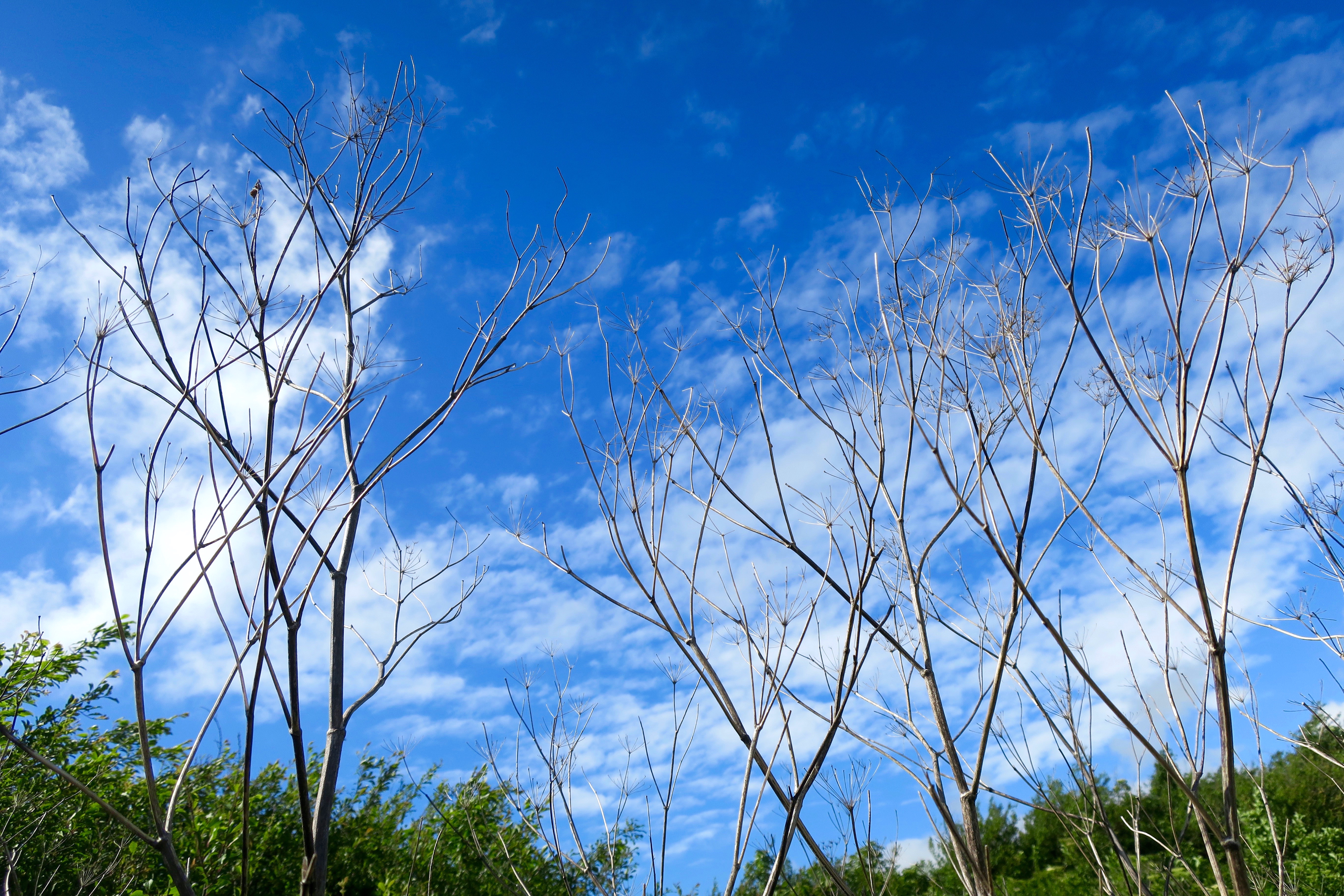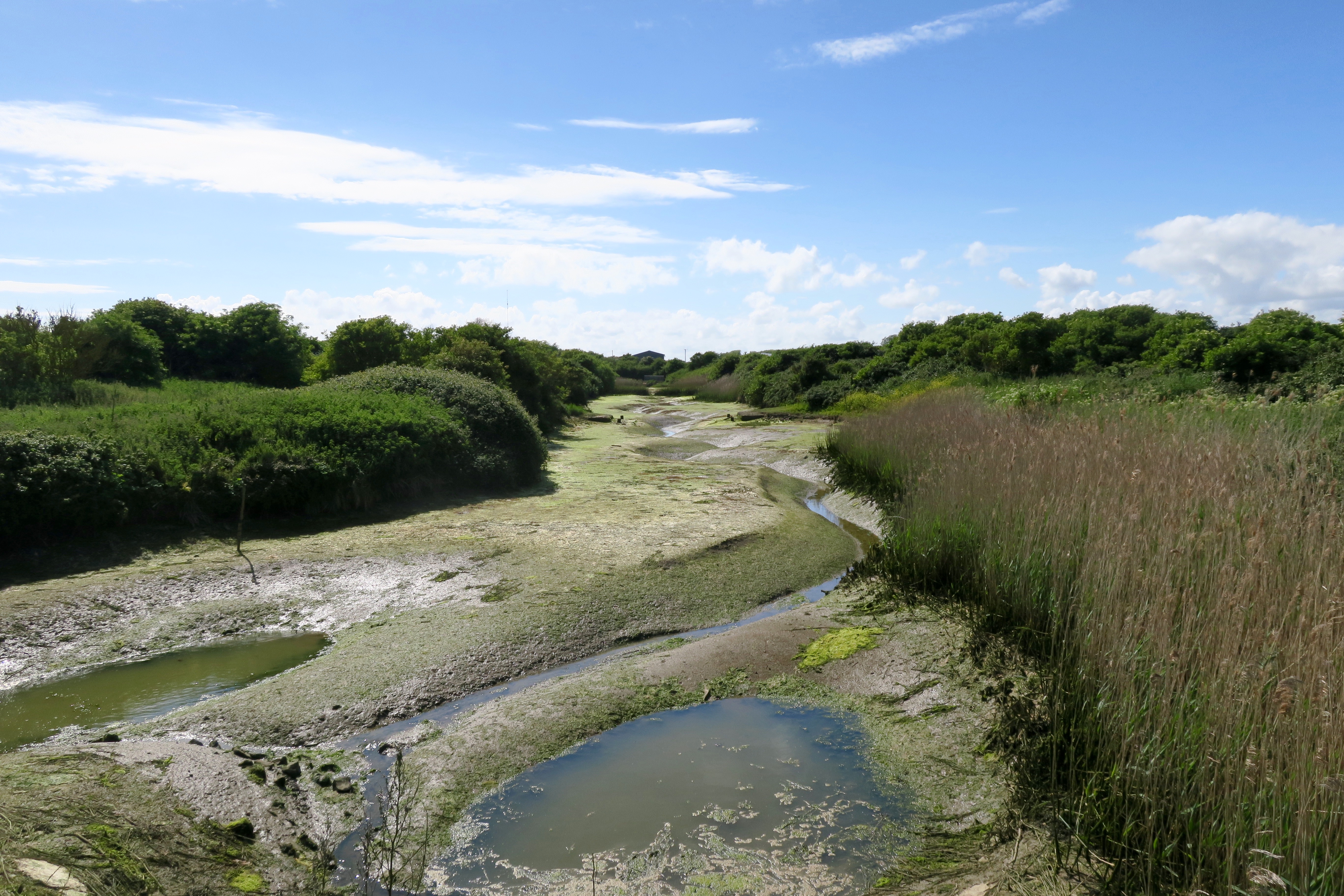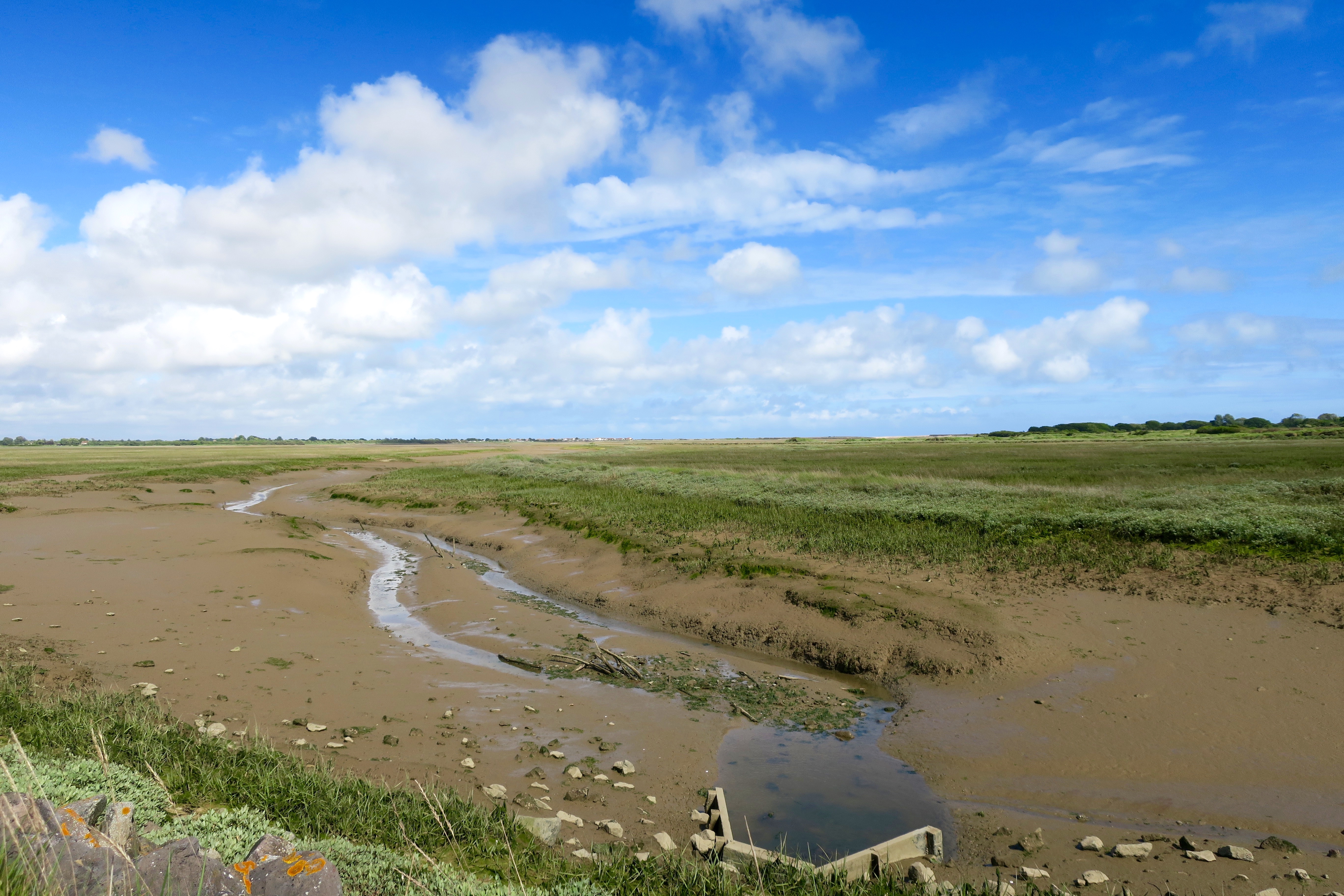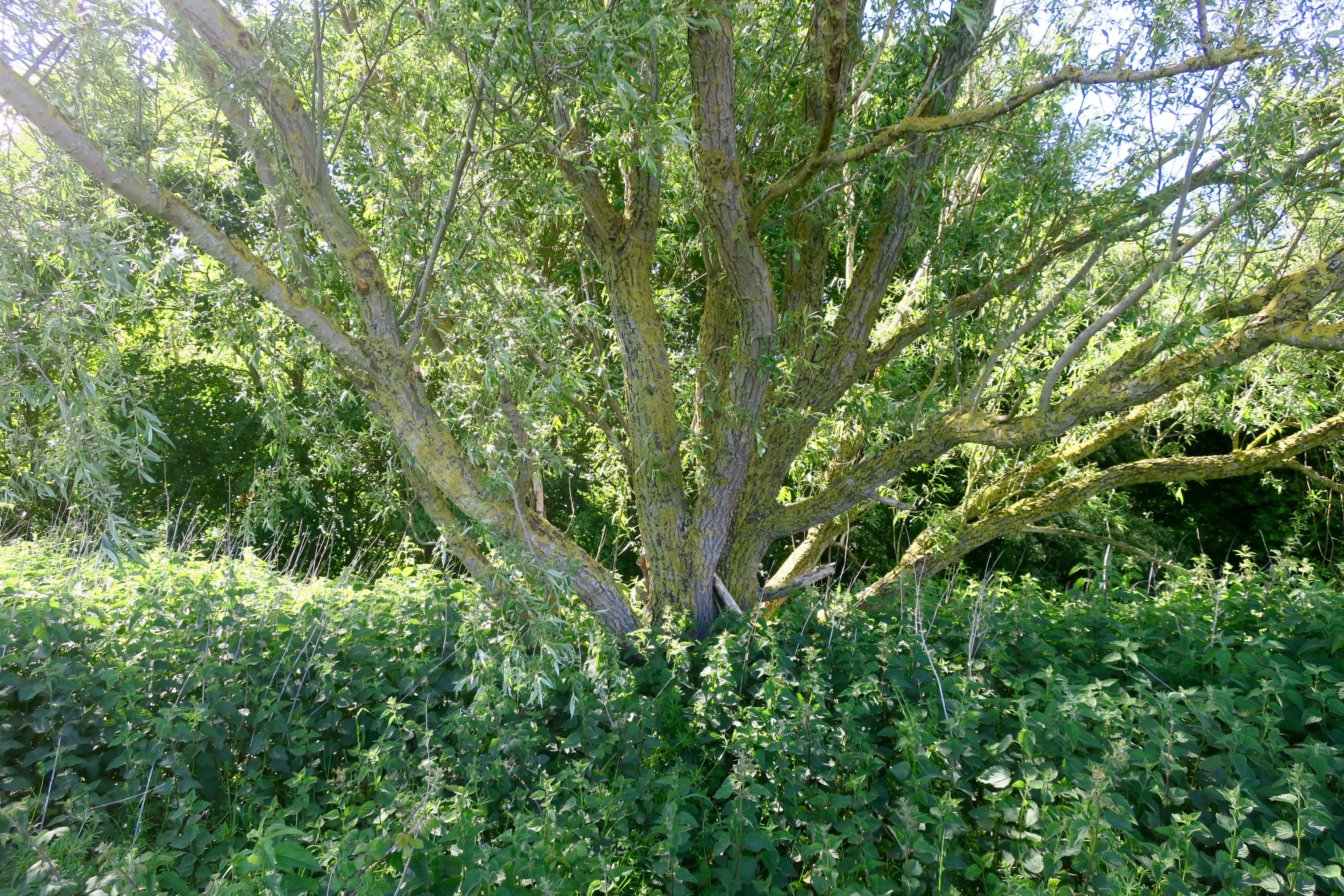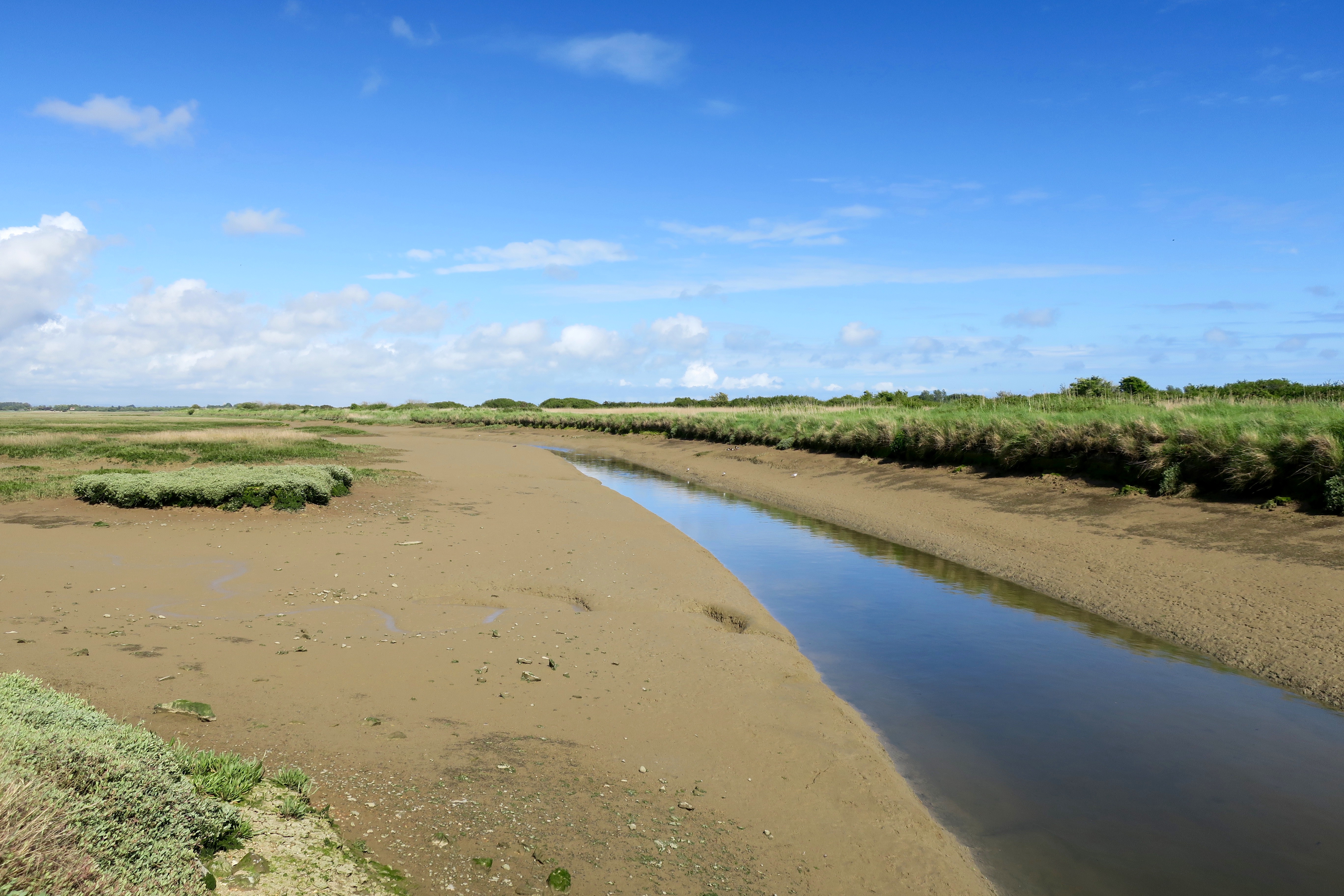 Tern, egret, black-tailed godwit and lapwing.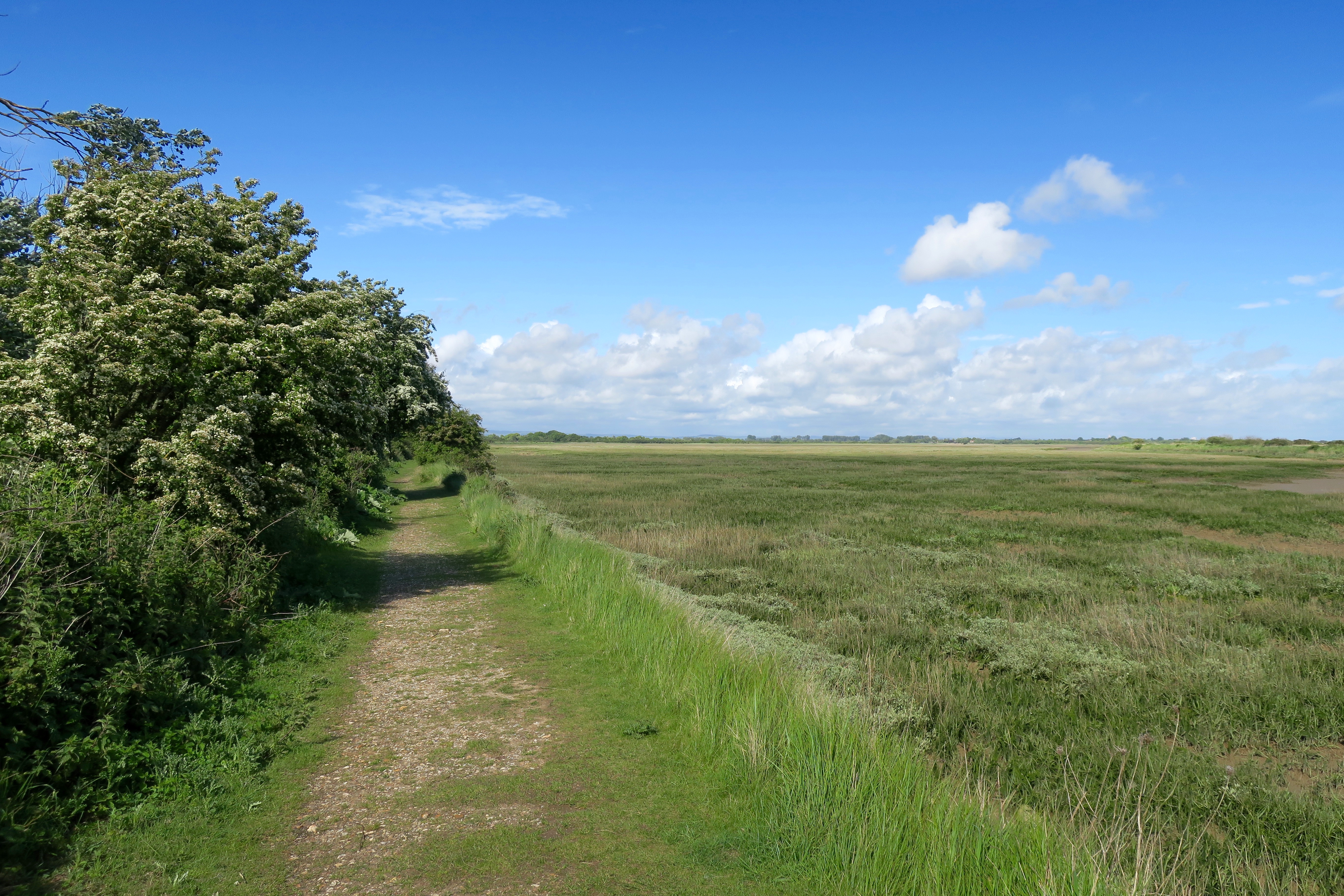 Sand martin, swallow and a flock of chiffchaffs.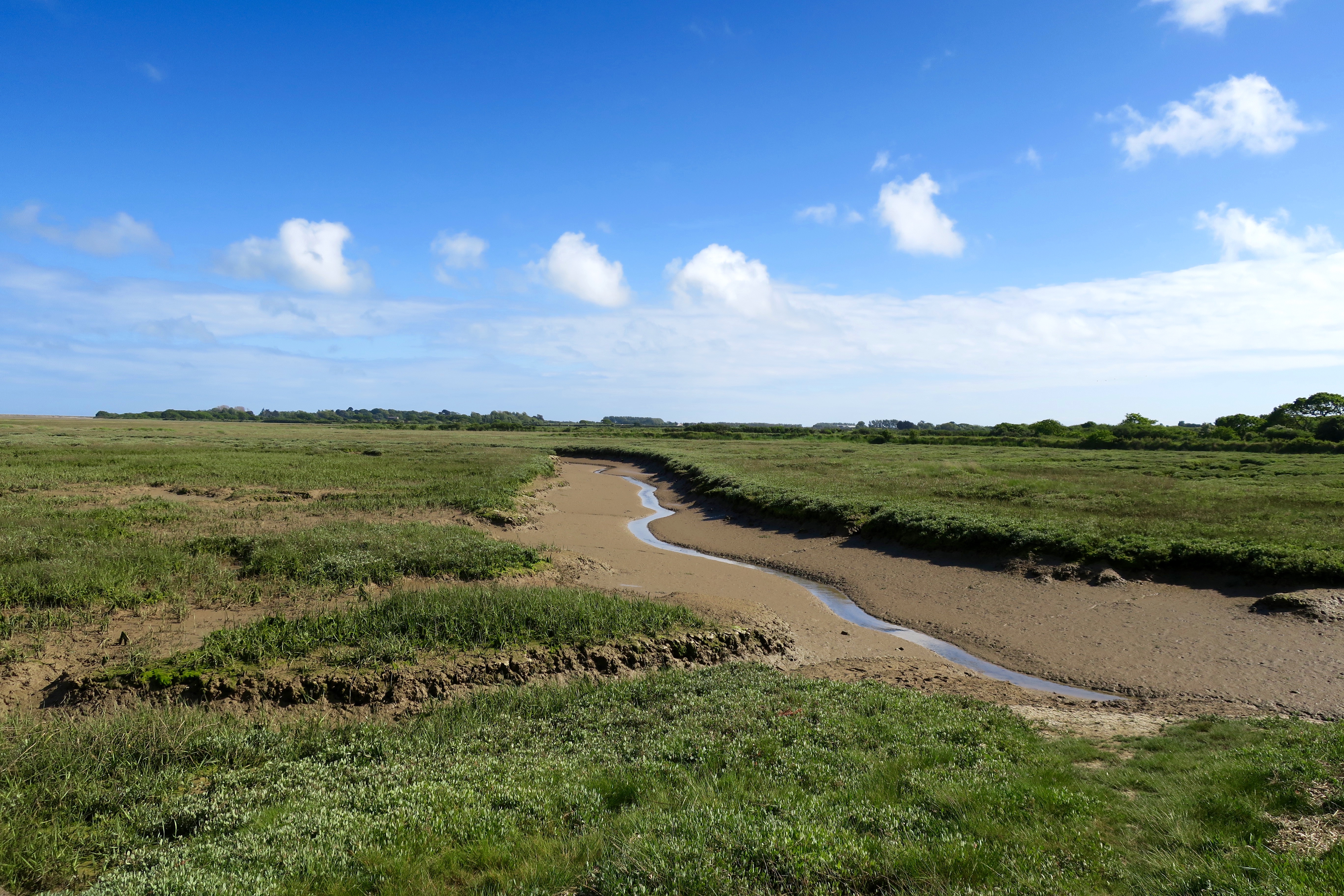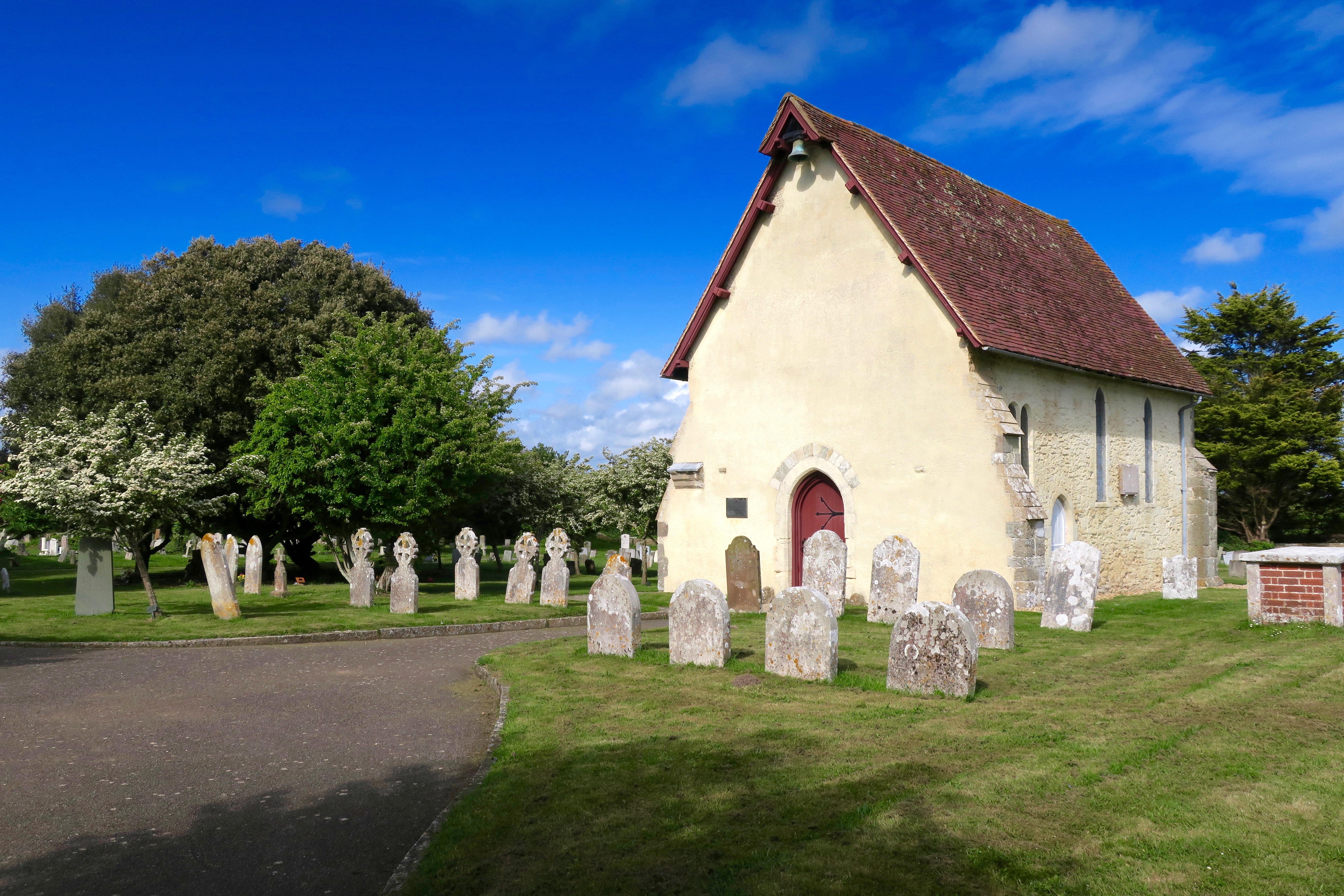 St Wilfred's Chapel at Church Norton.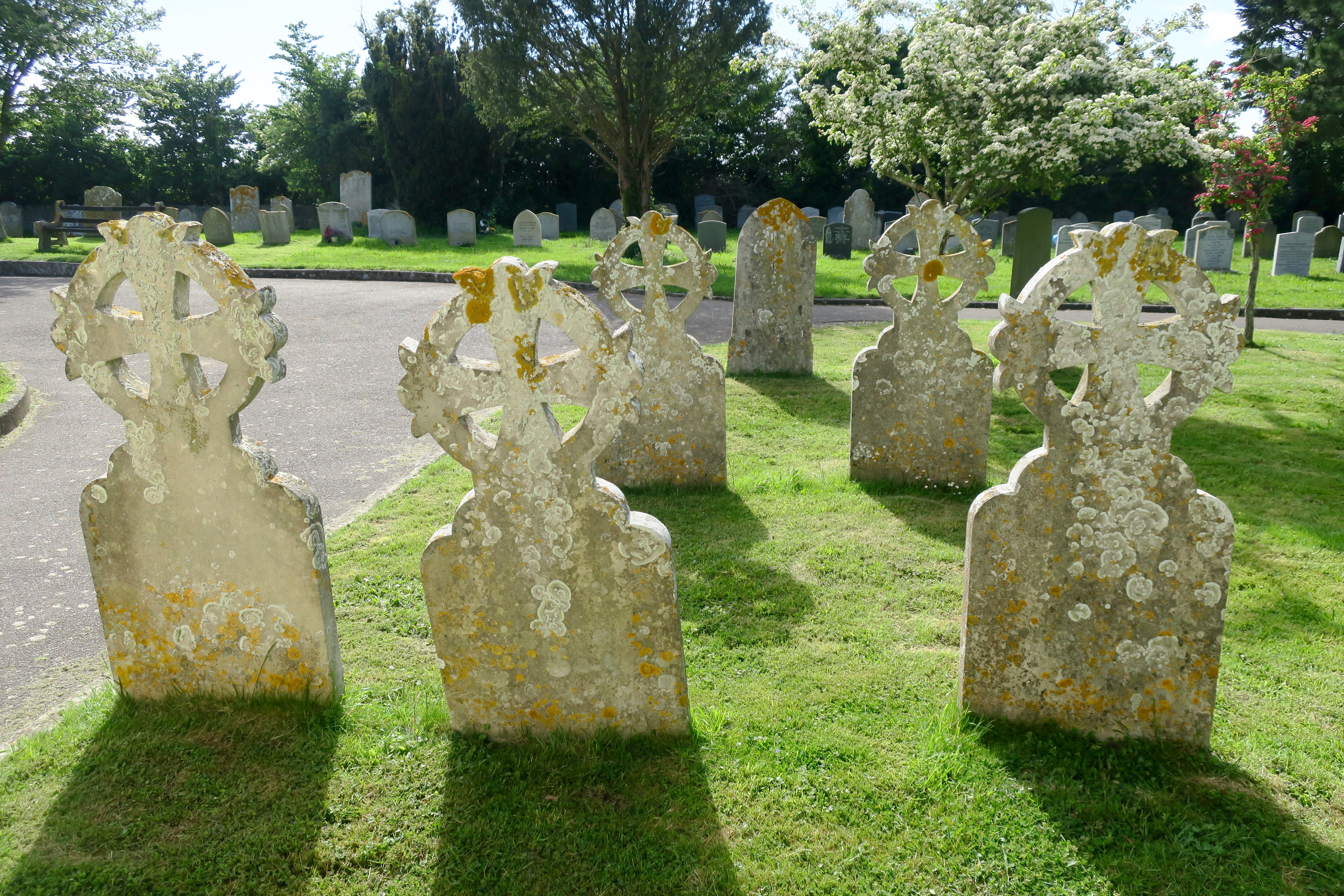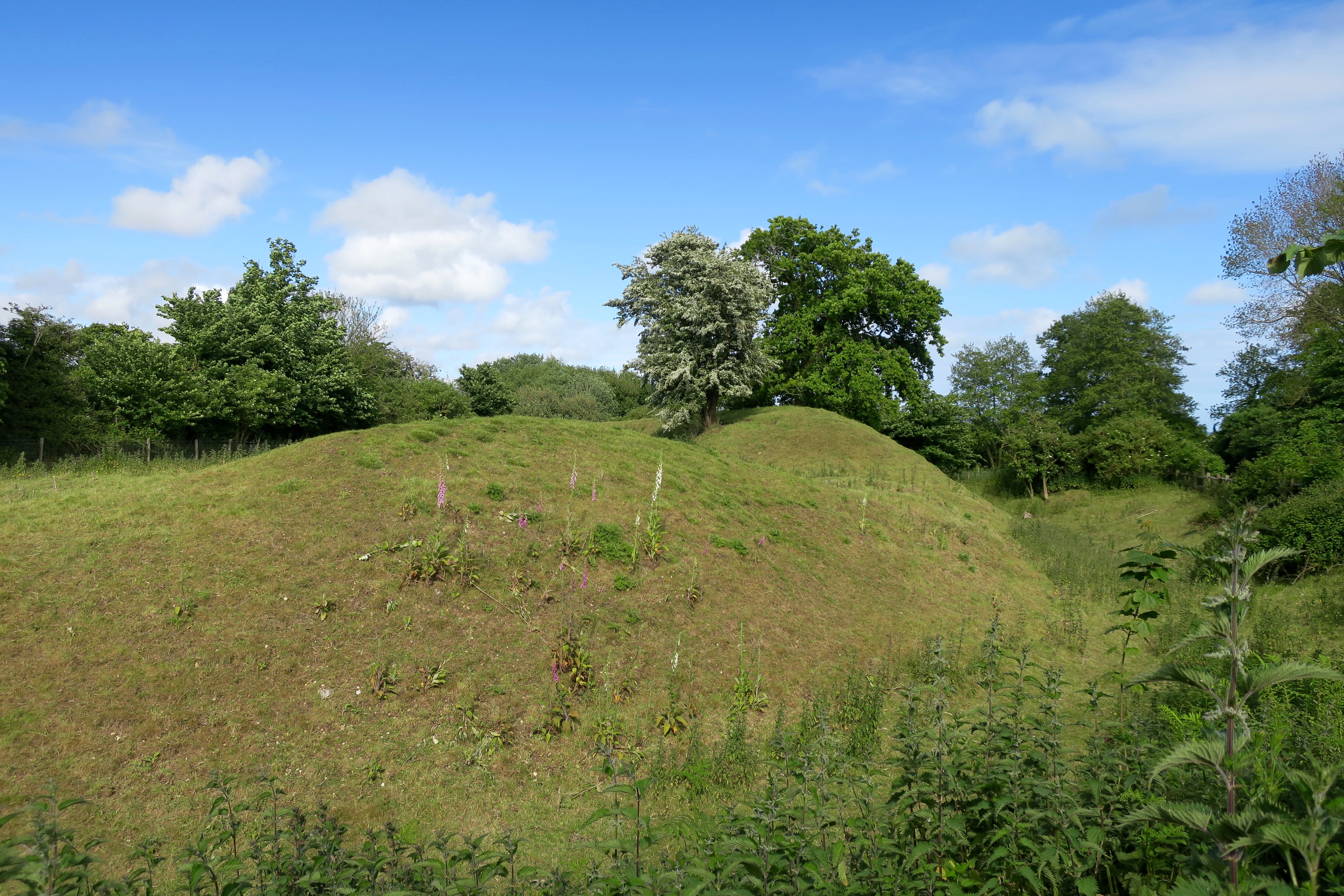 Church Norton Mound, an ancient 11th century earthwork, once the site of a Norman castle,
now home to grazing sheep and a colony of foxgloves.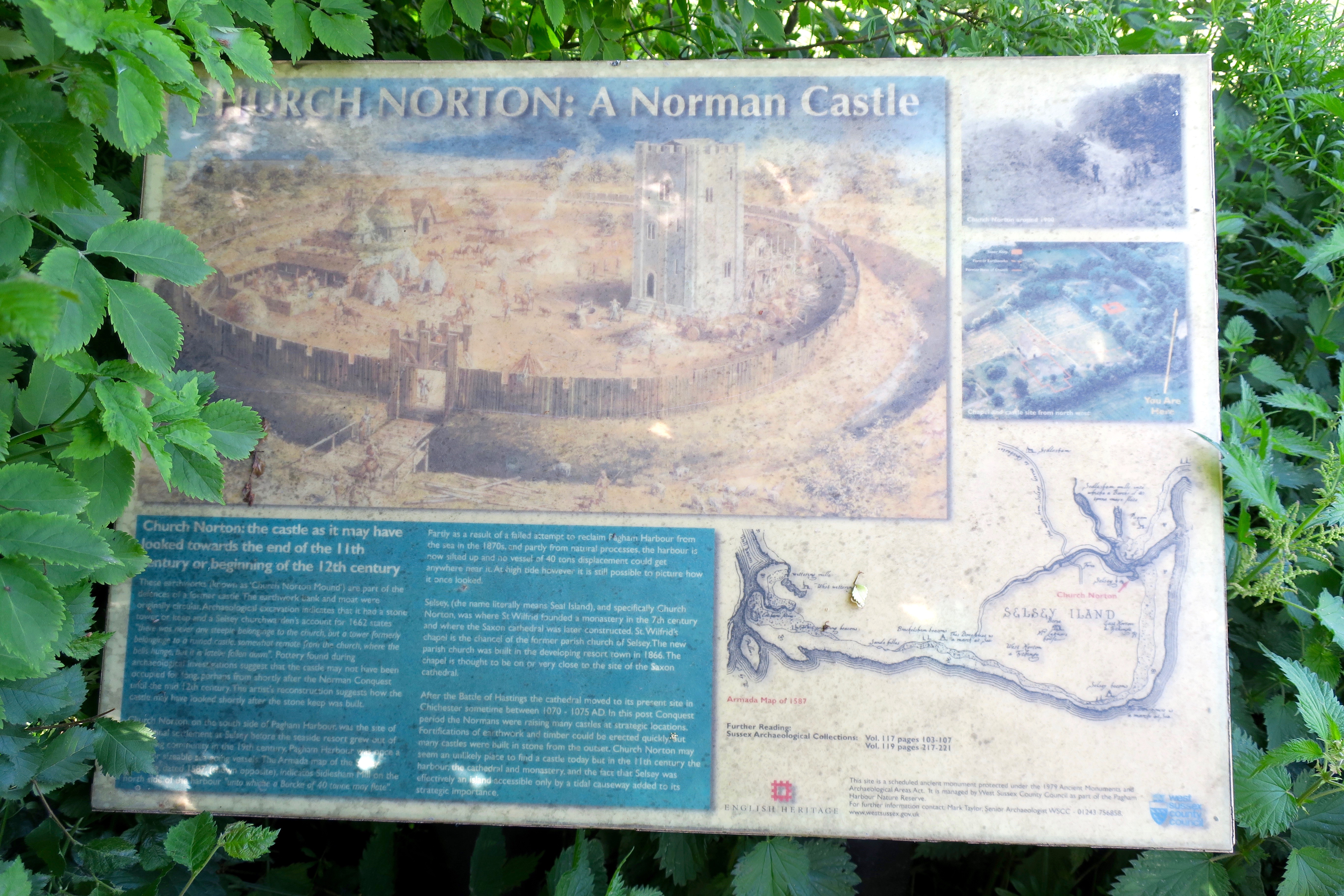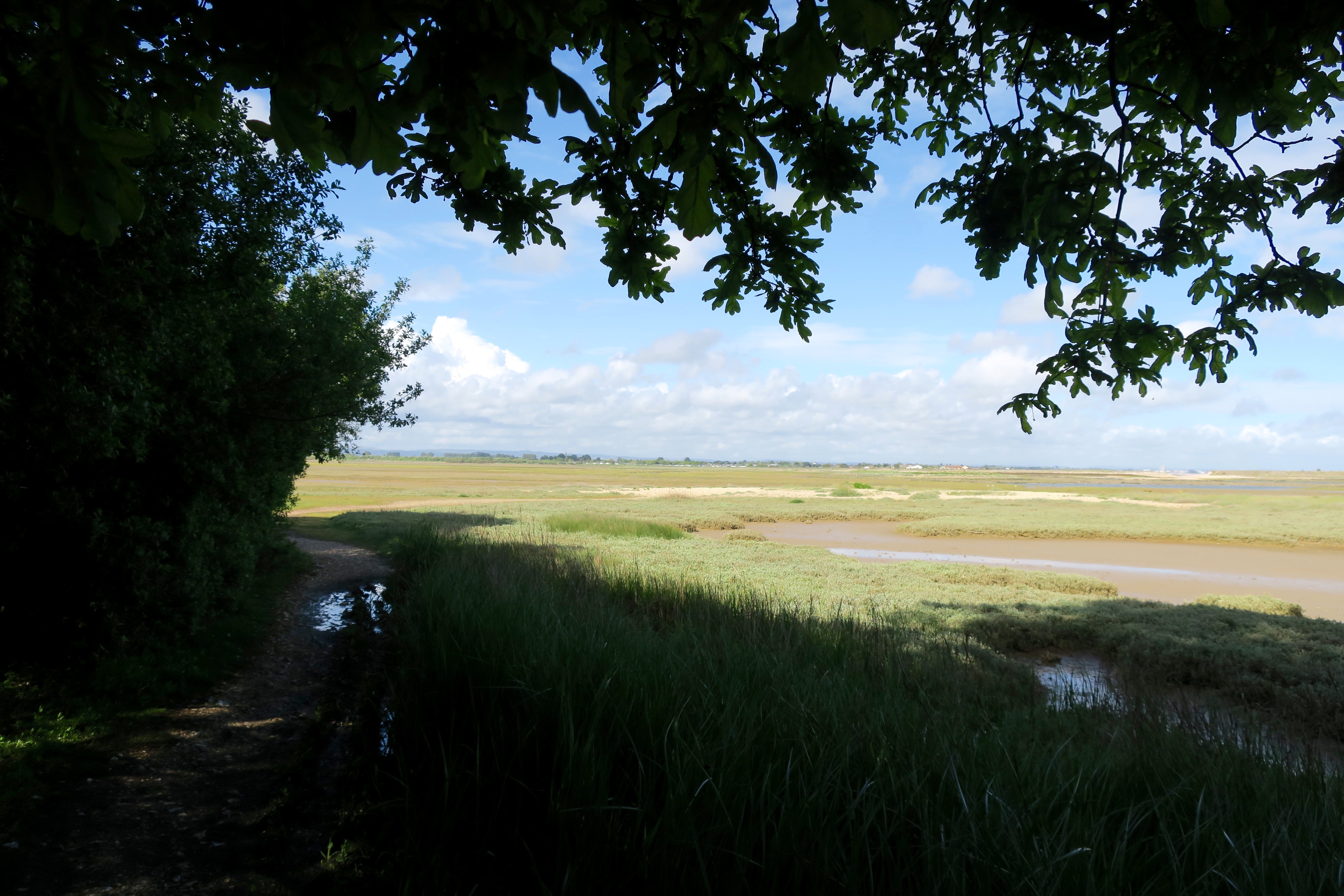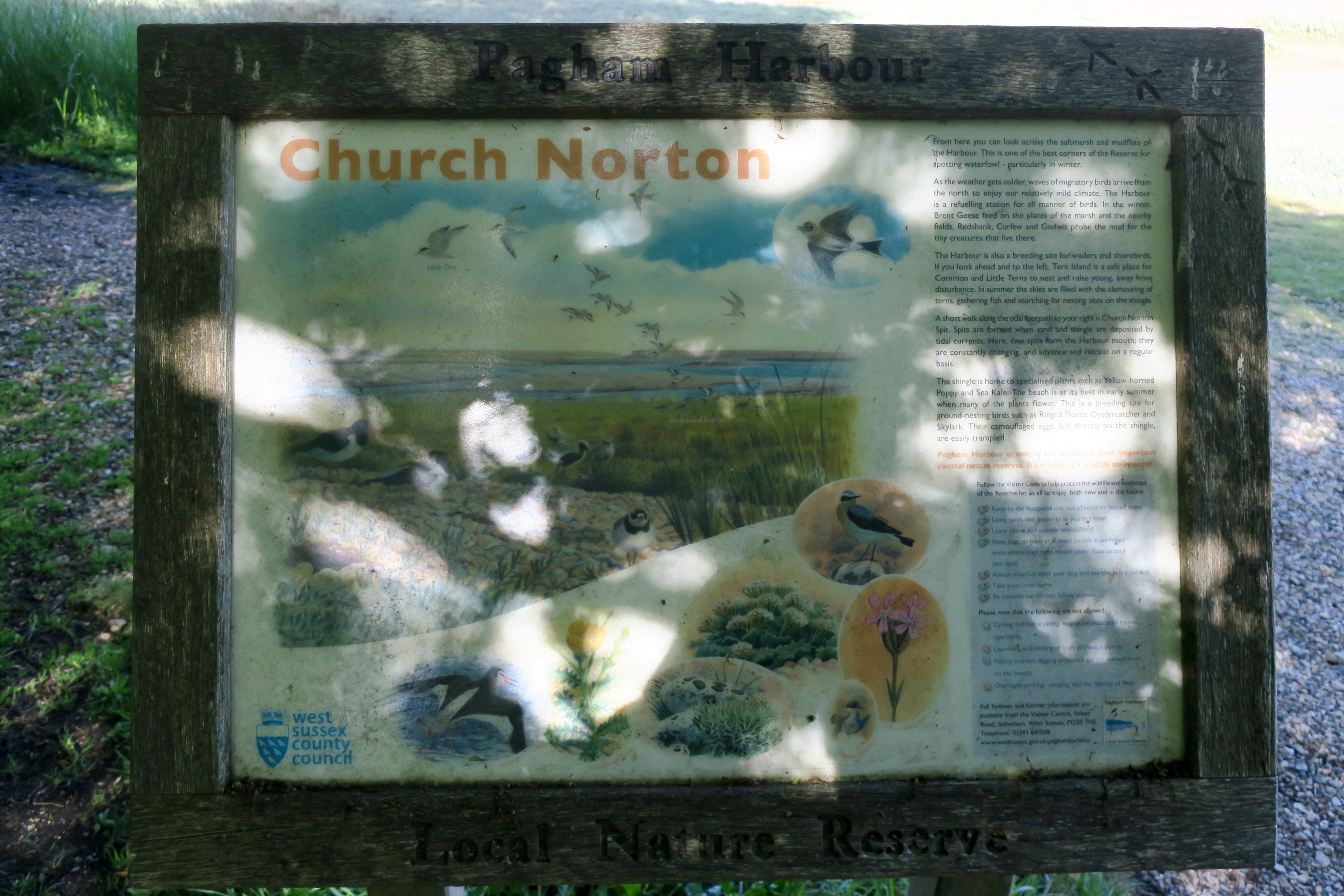 From here you can look across the salt marsh and mudflats of the Harbour. This is one of the best corners of the Reserve for spotting wildfowl – particularly in winter.
As the weather gets colder, waves of migratory birds arrive from the north to enjoy our relatively mild climate. The Harbour is a refuelling station for all manner of birds. In the winter, Brent Geese feed on the plants of the marsh and the nearby fields. Redshank, Curlew and Godwit probe the mud for the tiny creatures that live there.
The Harbour is also a breeding site for waders and shorebirds. If you look ahead and to the left, Tern Island is a safe place for Common and Little Terns to nest and raise young, away from disturbance. In summer the skies are filled with the clamouring of terns, gathering fish and searching for nesting sites on the shingle.
A short walk along the tidal footpath to your right is Church Norton Spit. Spits are formed when sand and shingle are deposited by tidal currents. Here, two spits form the Harbour mouth; they are constantly changing, and advance and retreat on a regular basis.
The shingle is home to specialised plants such as Yellow-horned Poppy and Sea Kale. The beach is at its best in early summer when many pf the plants flower. This is a breeding site for ground-nesting birds such as Ringed Plover, Oystercatcher and Skylark. Their camouflaged eggs, laid directly on the shingle, are easily trampled.
Pagham Harbour is one of the county's most important coastal nature reserves. It's a haven for wildlife and people.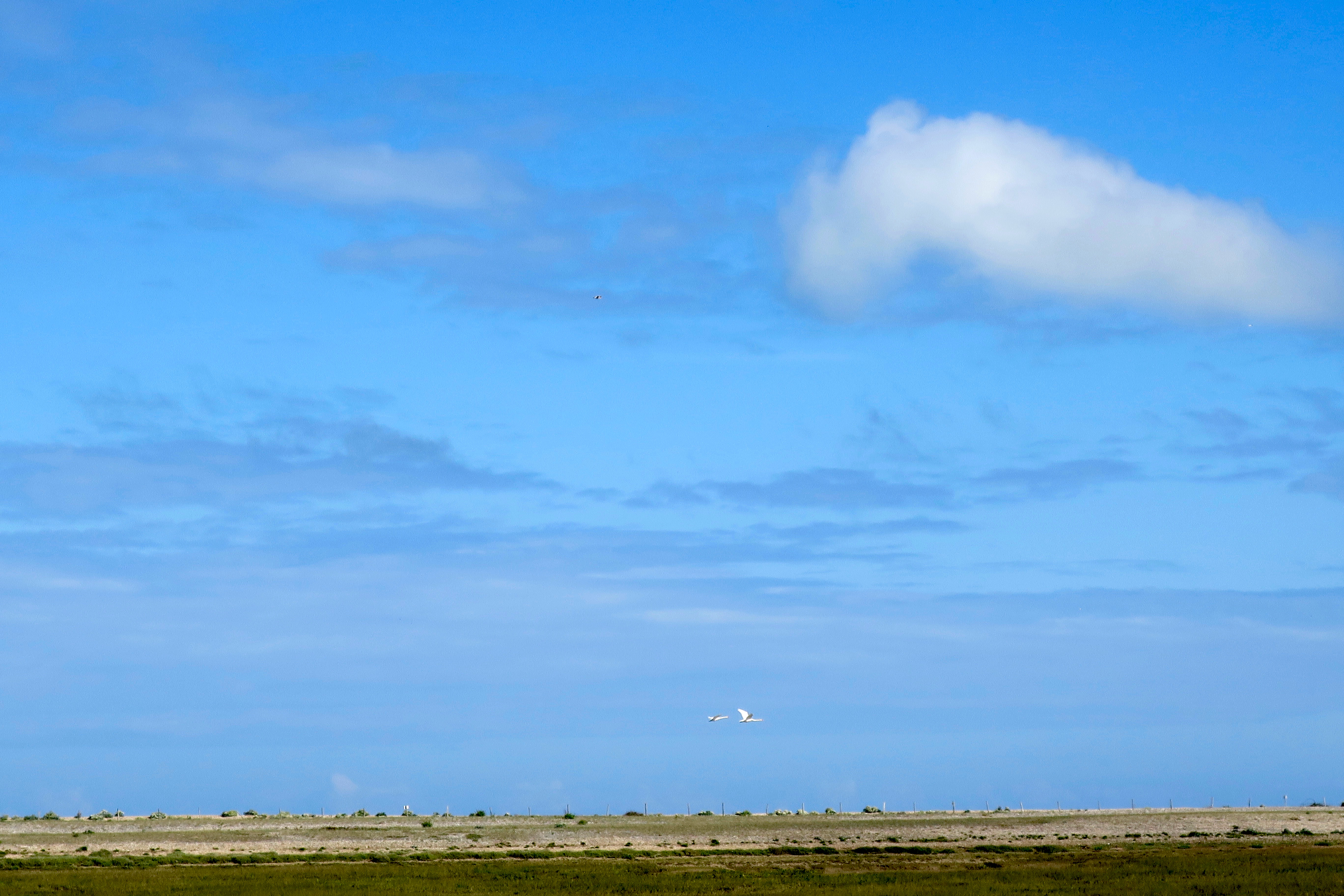 White swans in a blue sky. Maybe a red sky tonight.