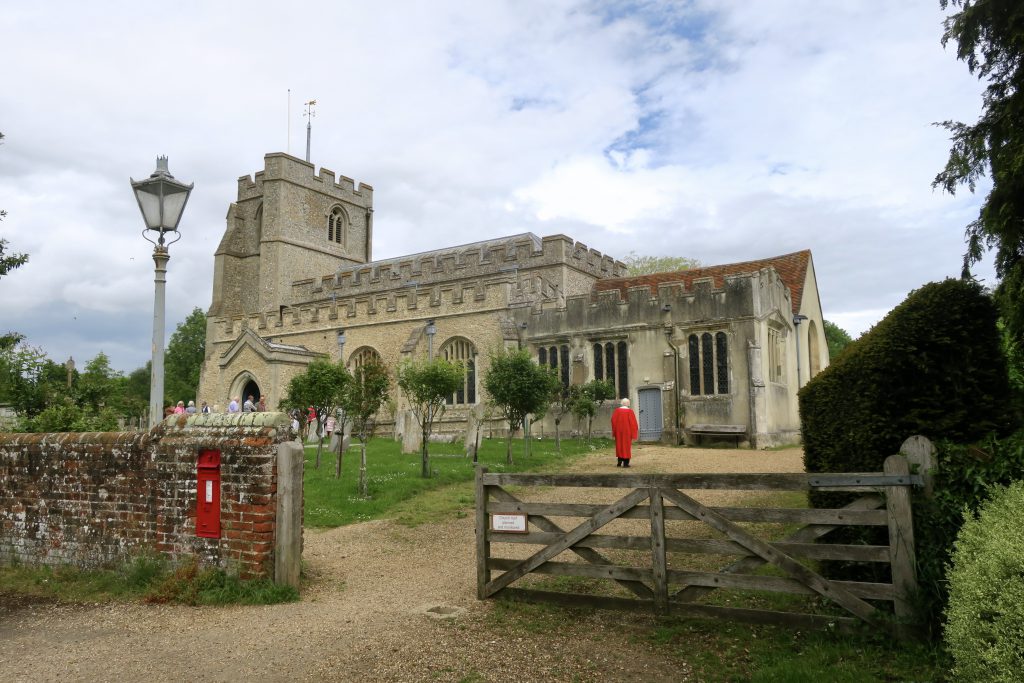 Another Sunday church, another country walk. This was June last year, and another from the Hertfordshire Walks website. We started out at the church in St Paul's Walden. I guessed it must be called St Paul's, but when I searched online just now I found All Saints Church. And I also found its vicar is Canon Stephen Fielding, who we knew from St Mary Abbots in Kensington. What a small world! I wish now that we'd stopped to say hello. He had introduced a Living Advent Calendar to Kensington, so that the windows of local businesses became part of a borough-wide Christmas countdown. We had twice taken part at the Rowley Gallery with special window displays by Joseph Silcott in 2016 and Susie Freeman in 2017.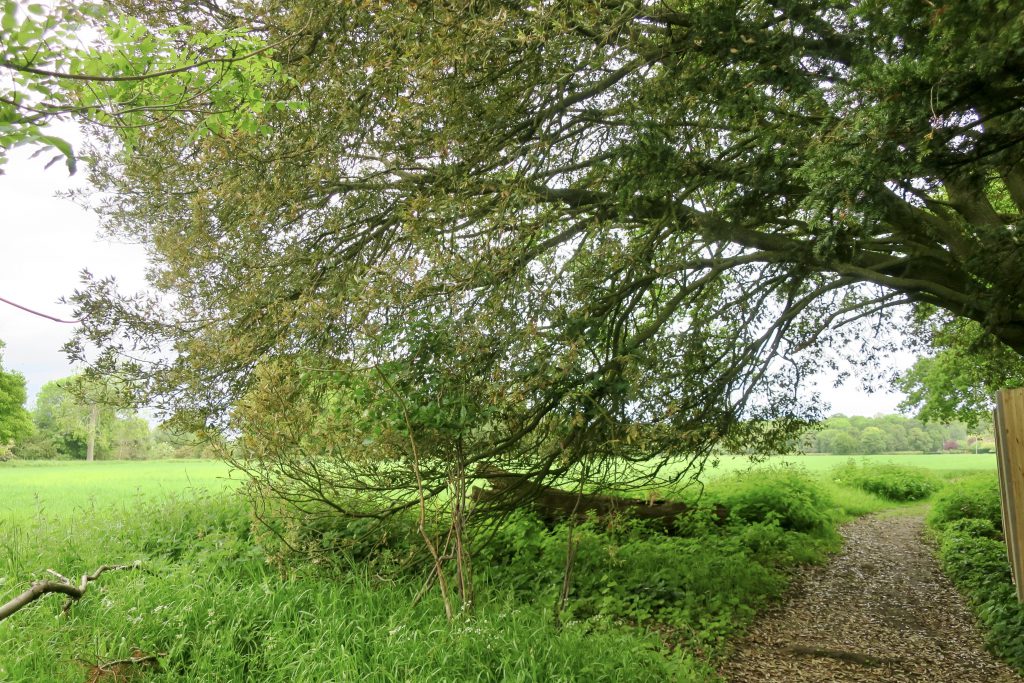 Funny now to realise that as we skirted around the east end of the church, Stephen was leading a service inside. It feels like an auspicious coincidence.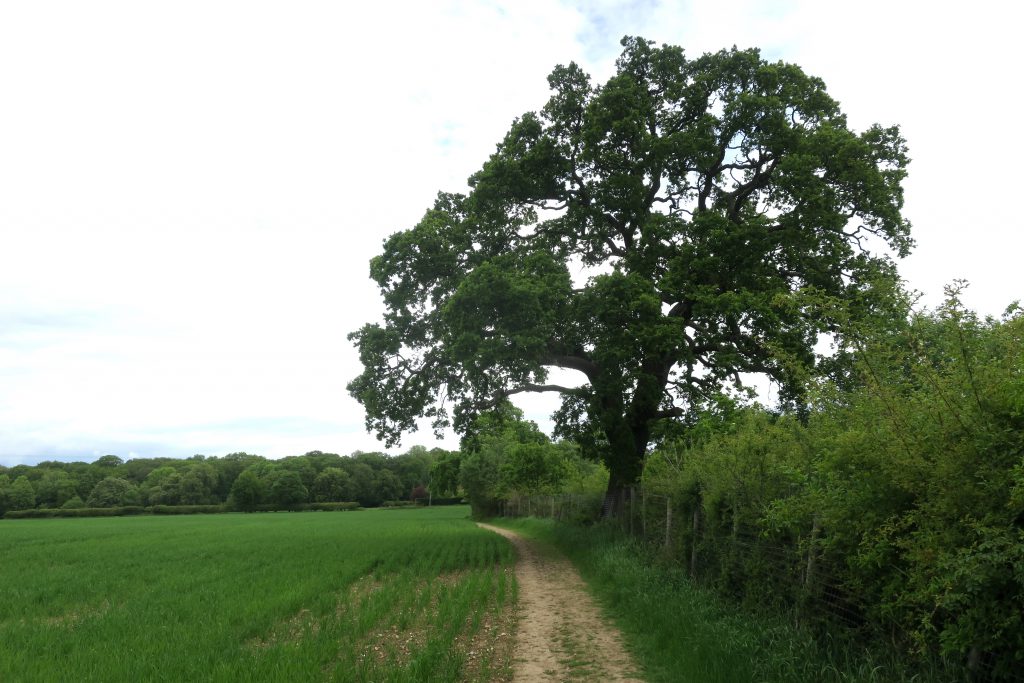 It was a good walk.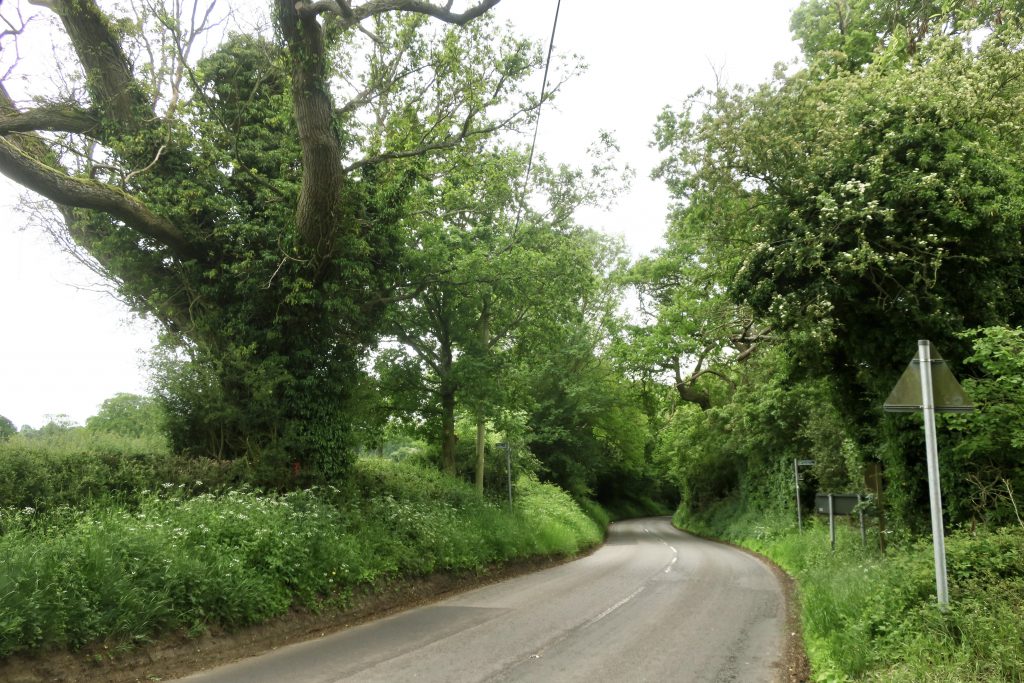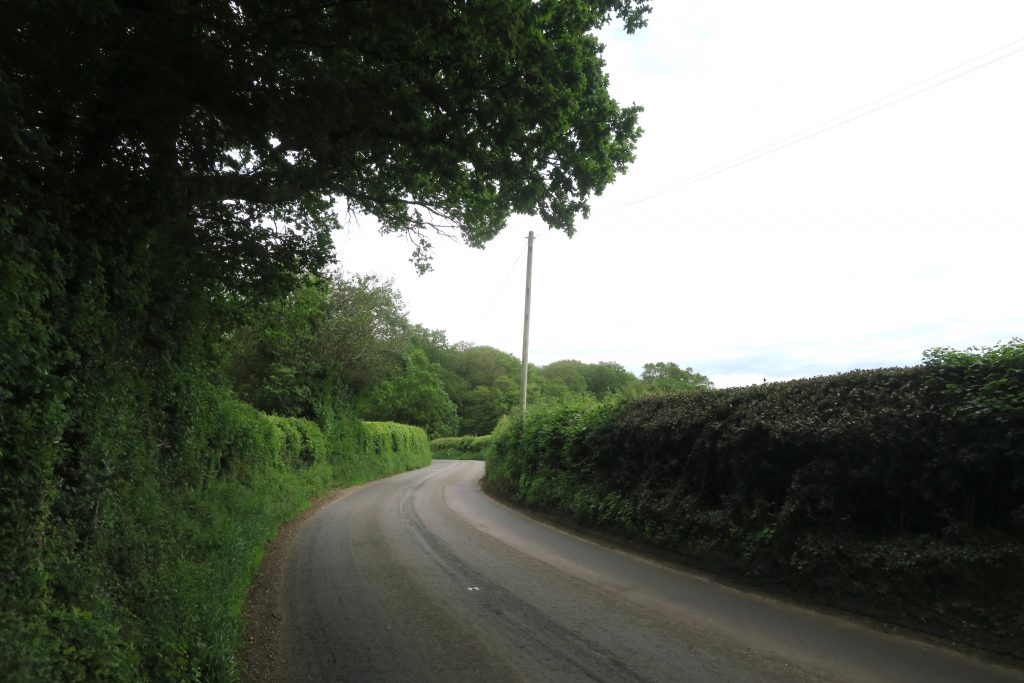 Despite a short section along a country road without a footpath (Always walk facing oncoming traffic!) and the added distraction of a selfie mirror opposite the entrance to Stagenhoe.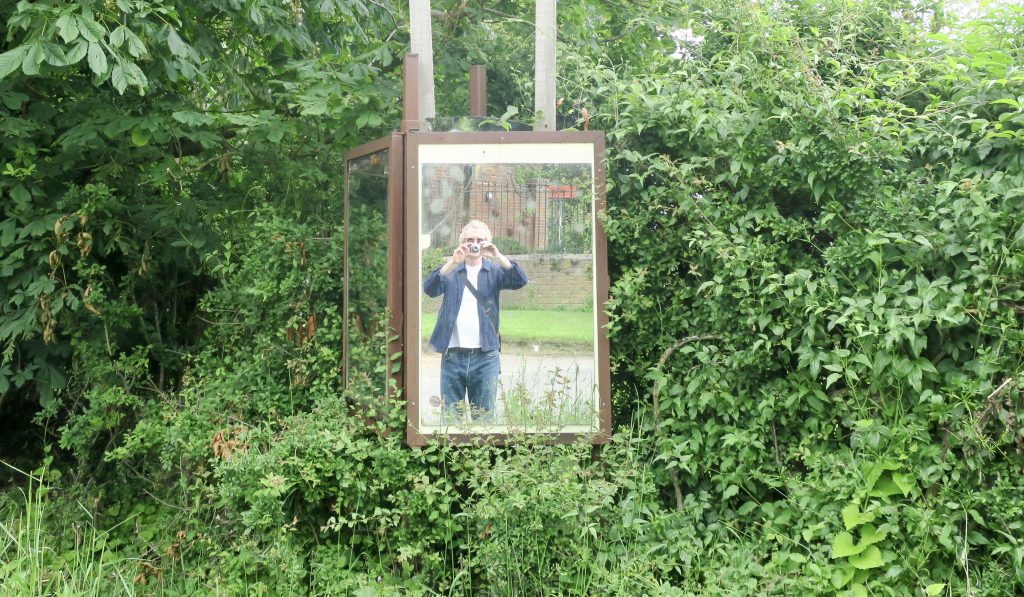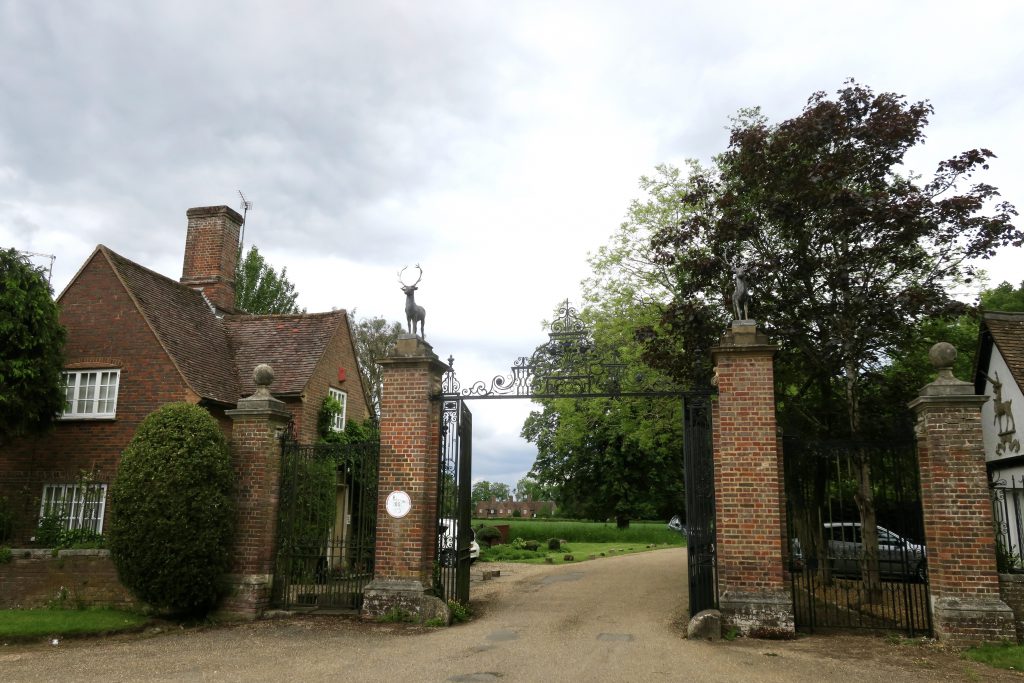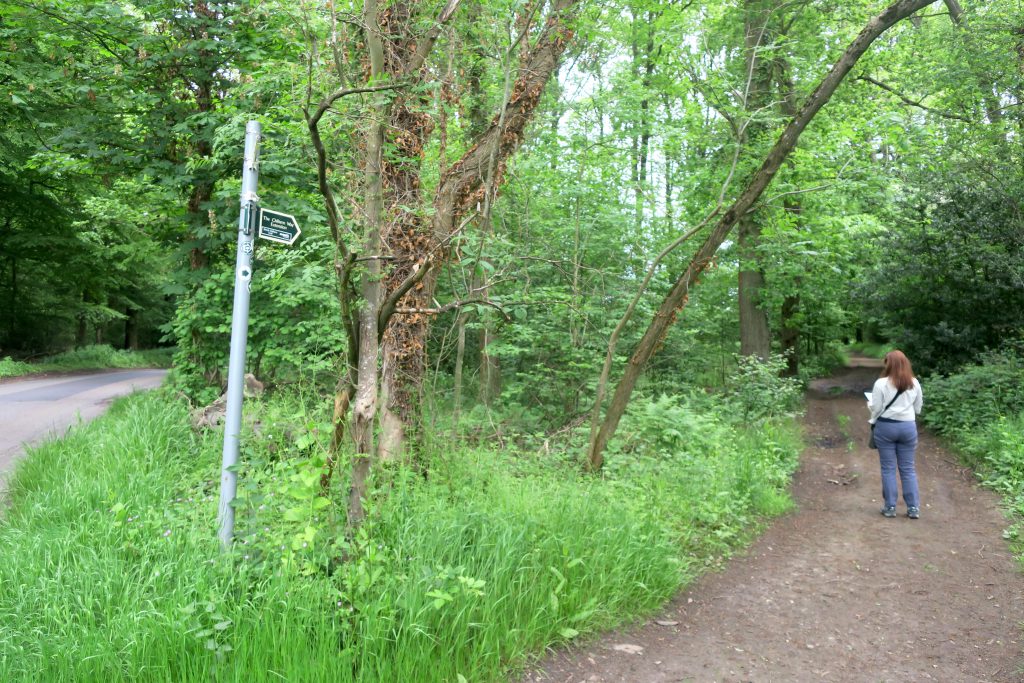 But pretty soon there's another path, signposted Chiltern Way Extension.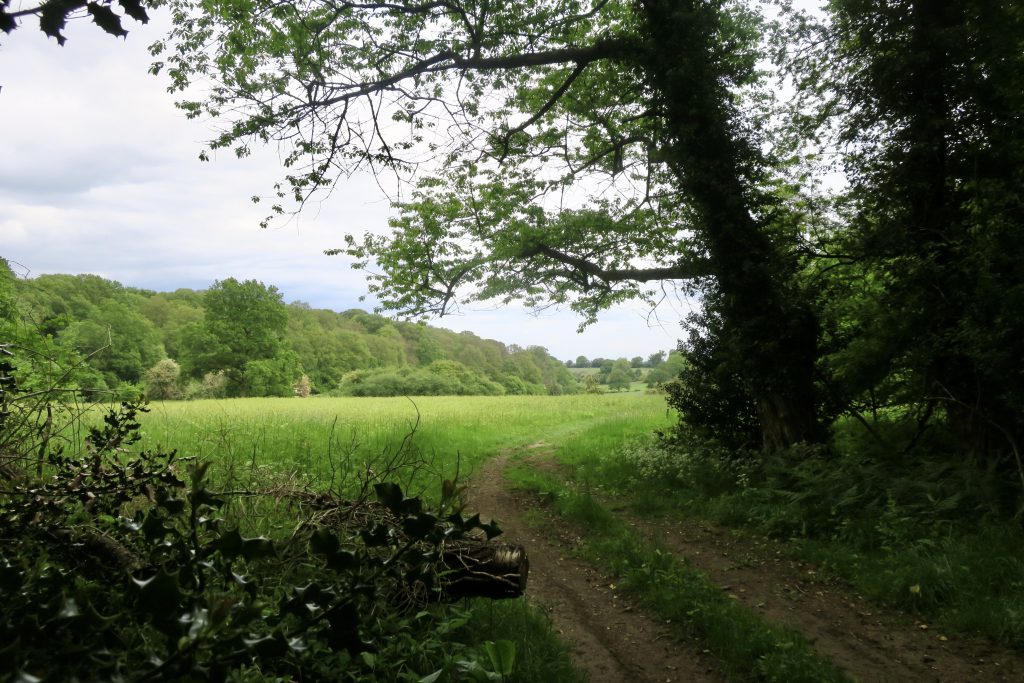 That leads us down through a long slow meadow beside Hitch Wood.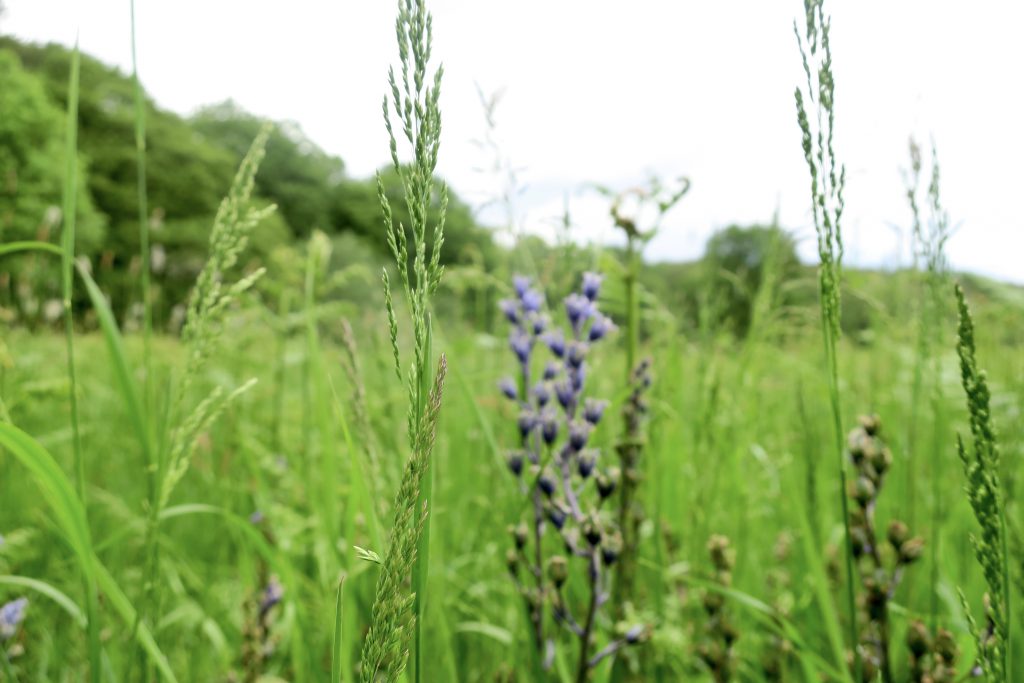 And a few random automatic photos.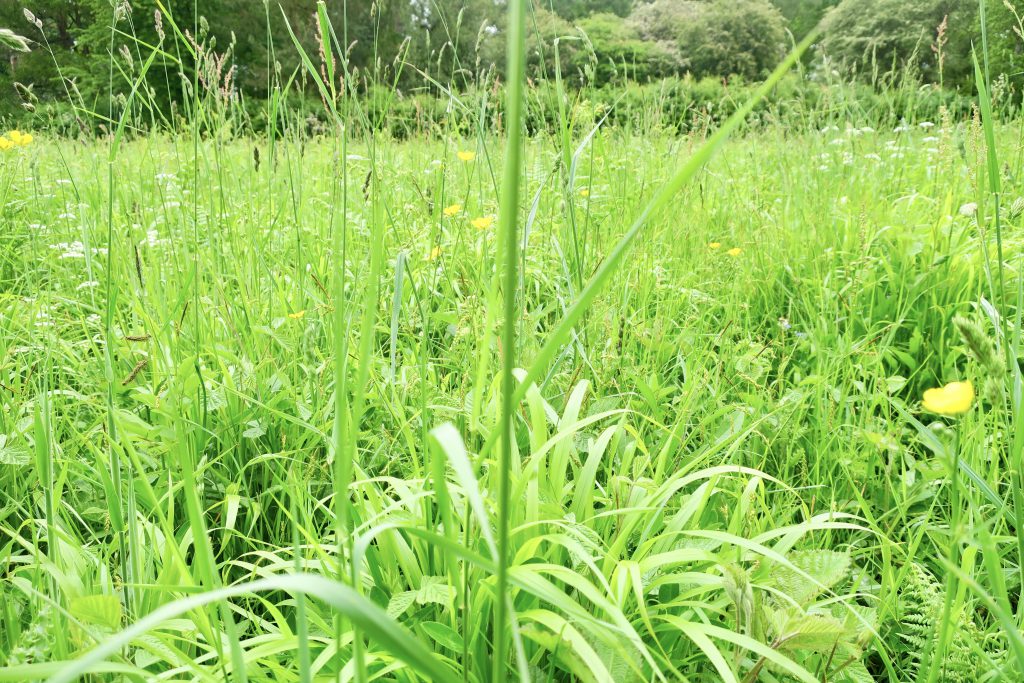 Rolling in the long grass.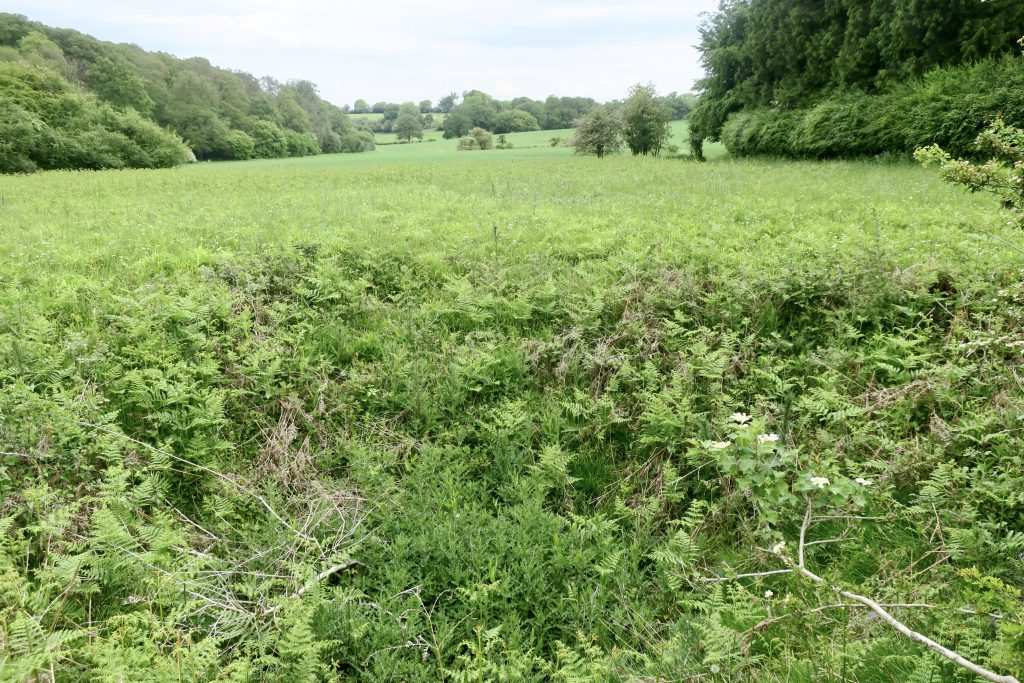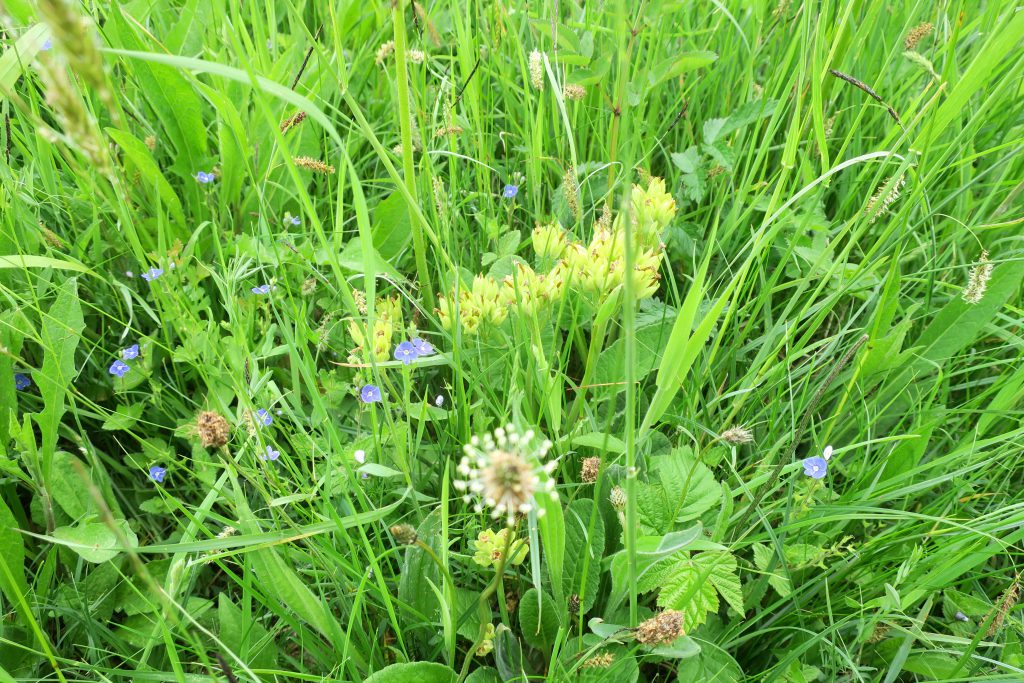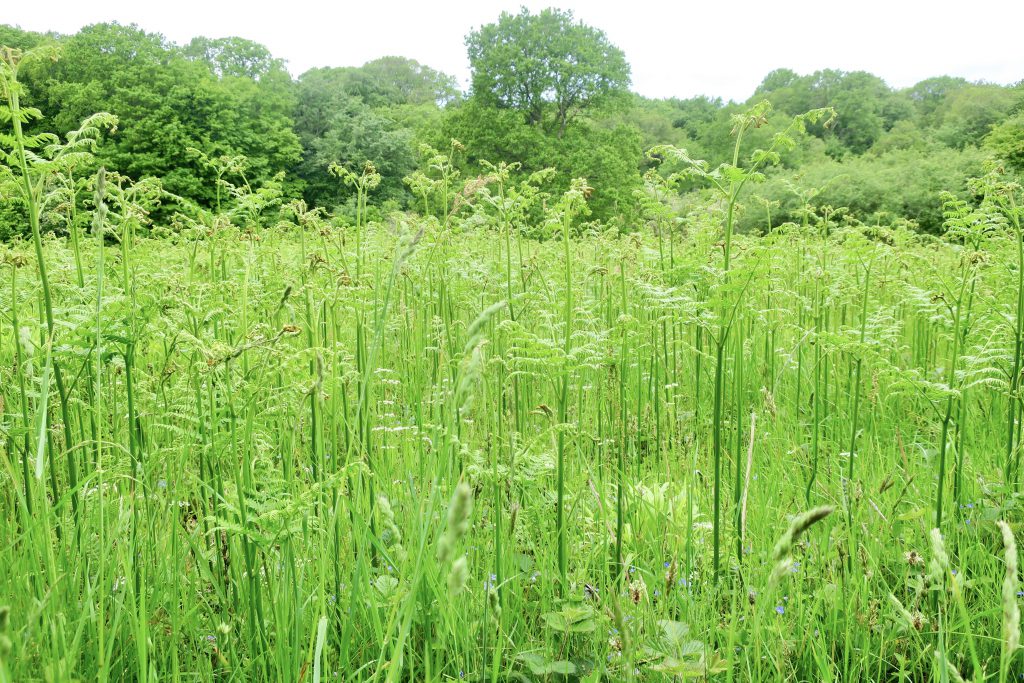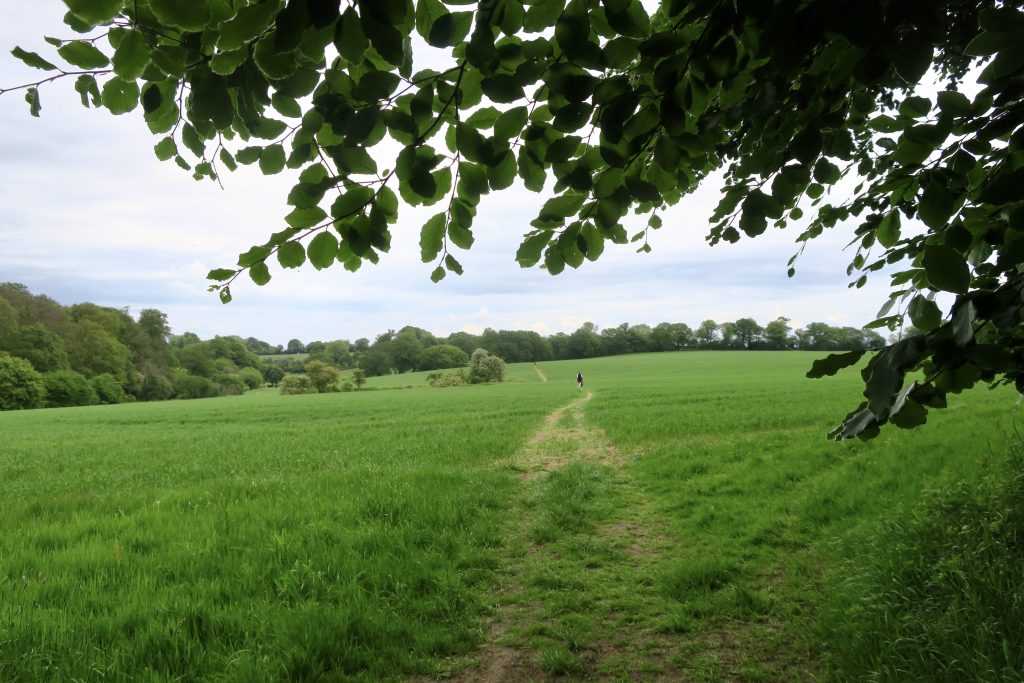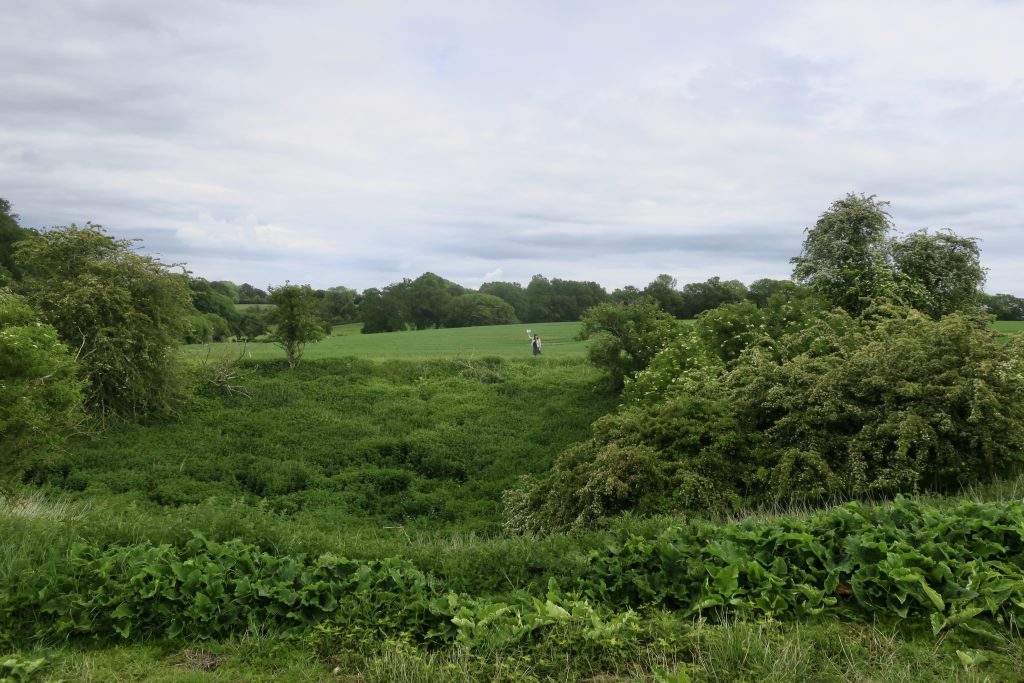 Until this hollow place, where perhaps a meteorite once fell, then dug as a chalk pit, and flint nodules arose, turned up by the plough, caught in the hand and piled up in a cairn, like a stack of interstellar wayfaring stones.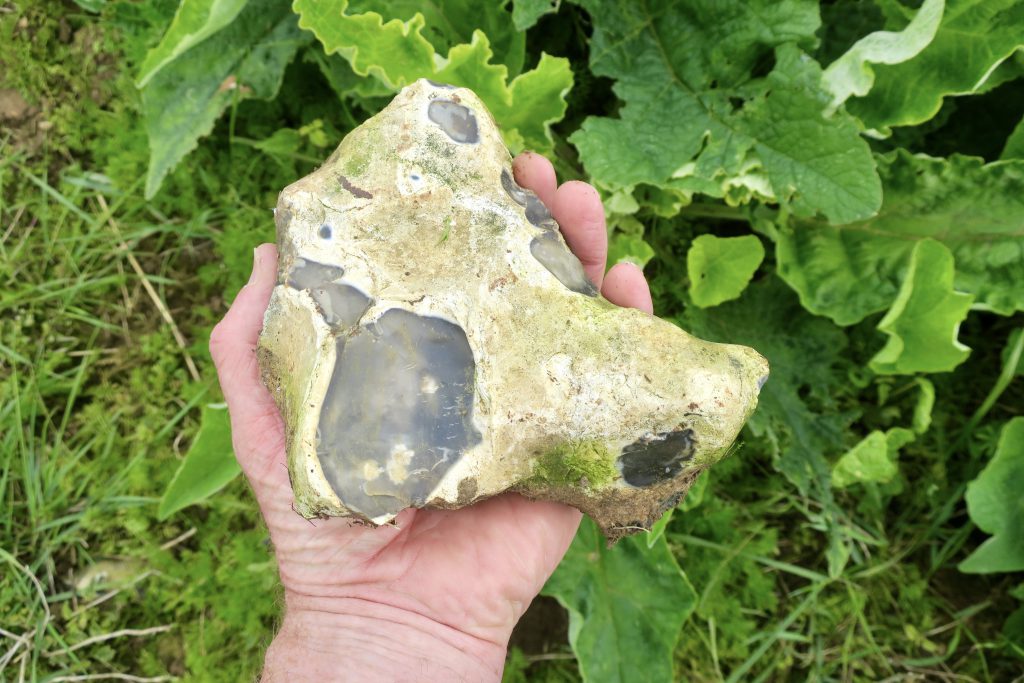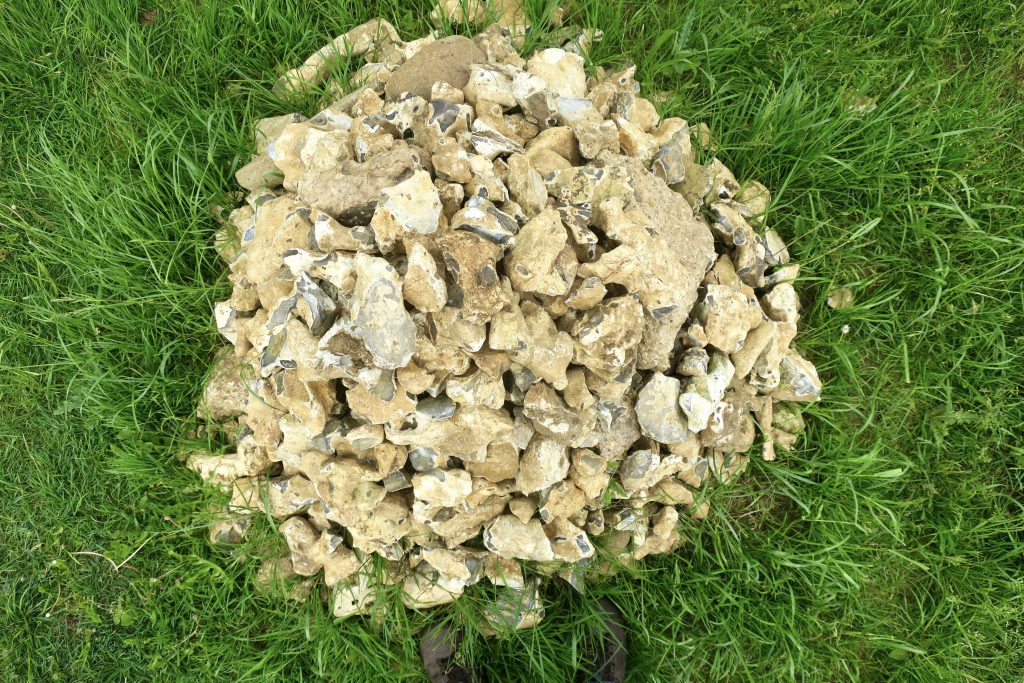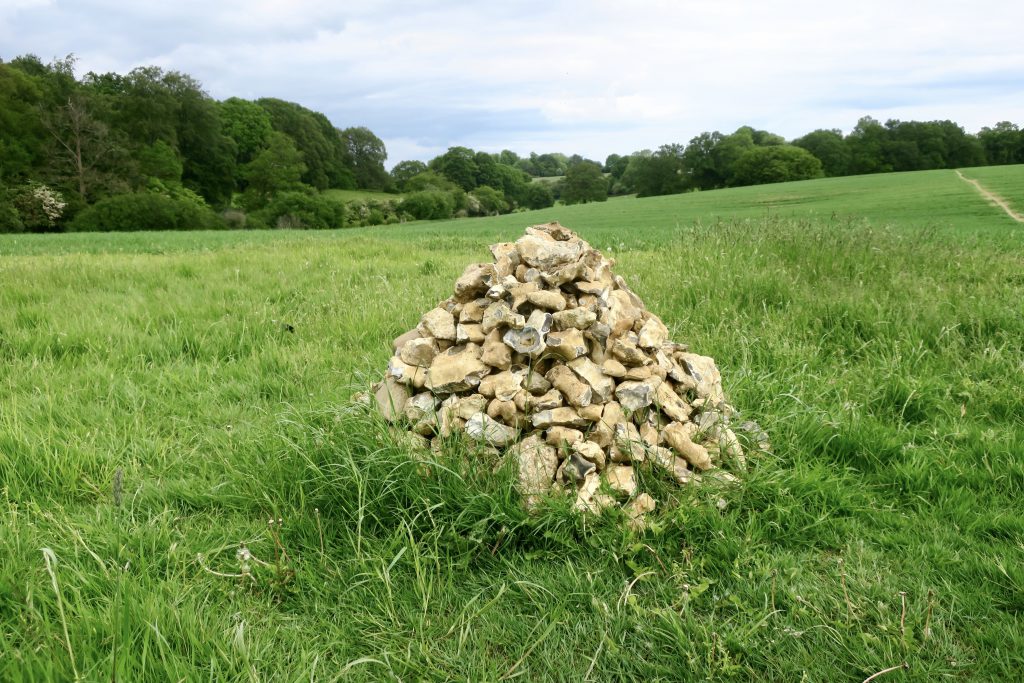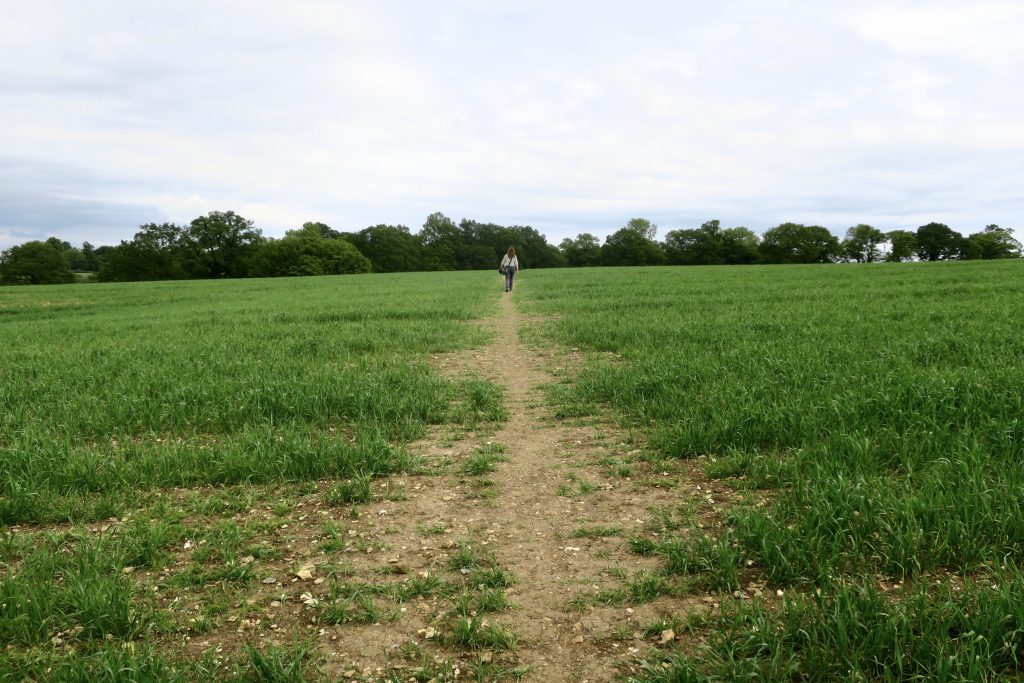 Then over the field strewn with flints scattered like seeds.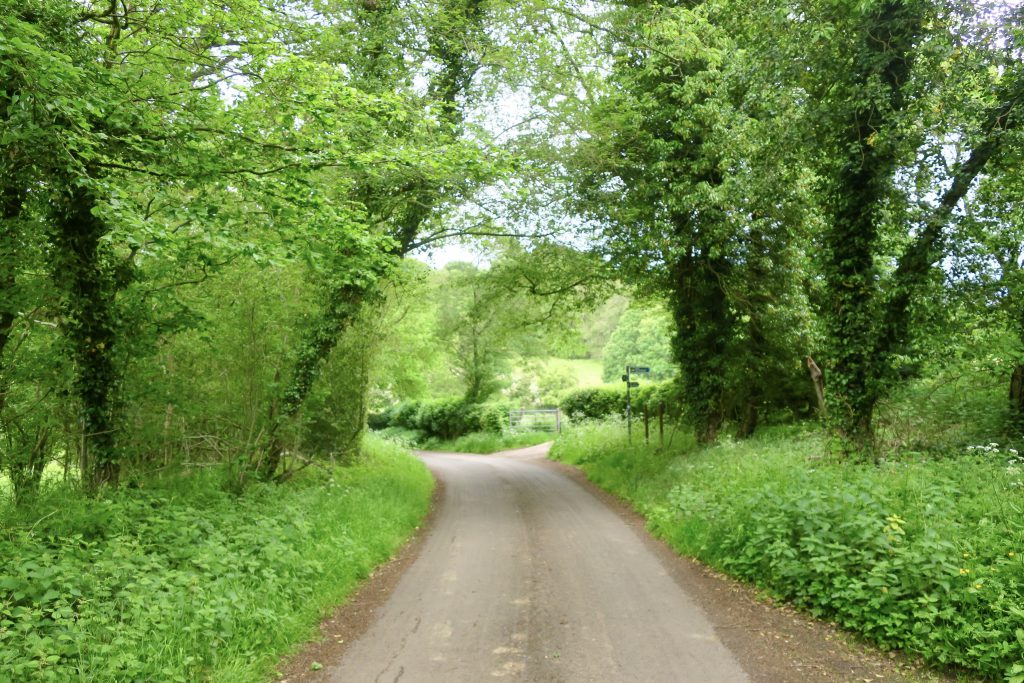 And down the path to Langley End.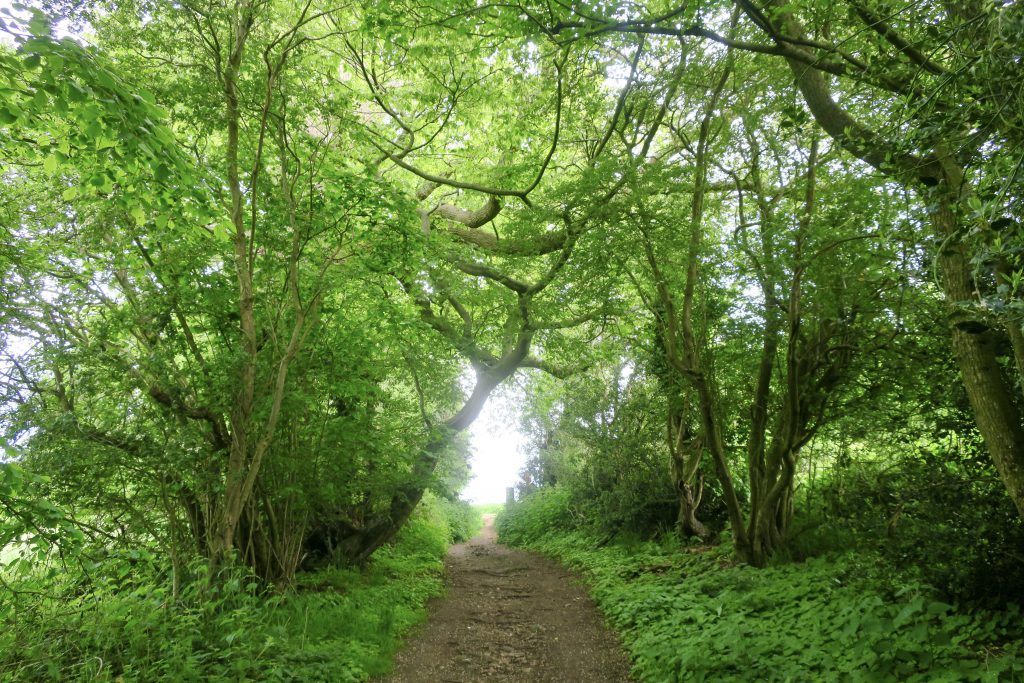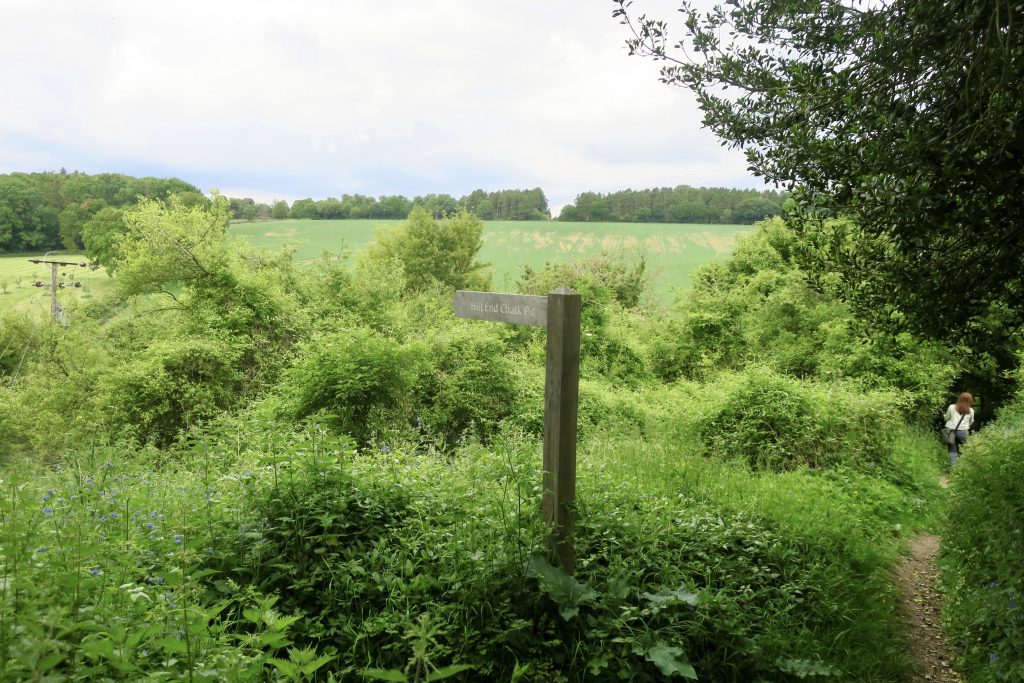 Where a fingerpost pointed to Hill End Chalk Pit, so I dived off down to the left while Sue continued forward along the path to the right.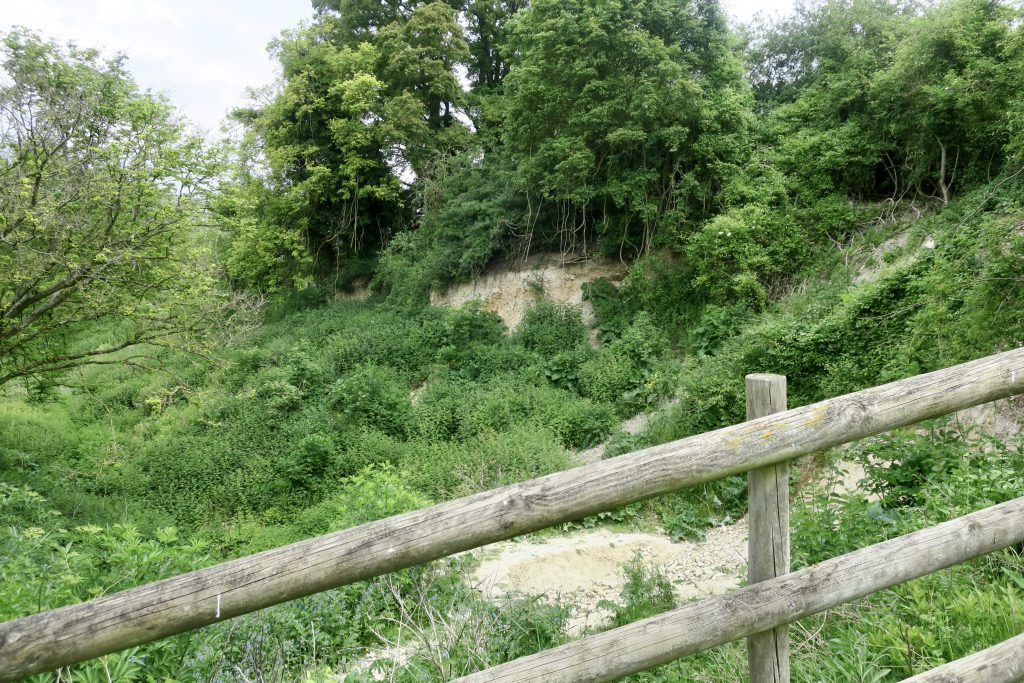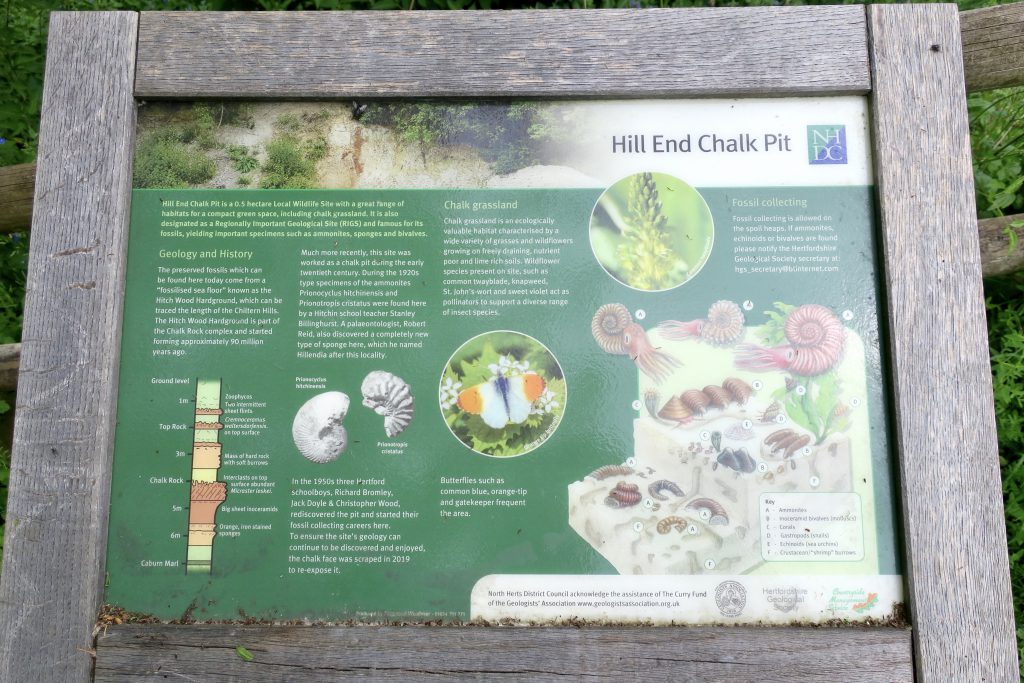 The notice board promised a hoard of fossils but the ancient chalk quarry was flooded with a sea of nettles.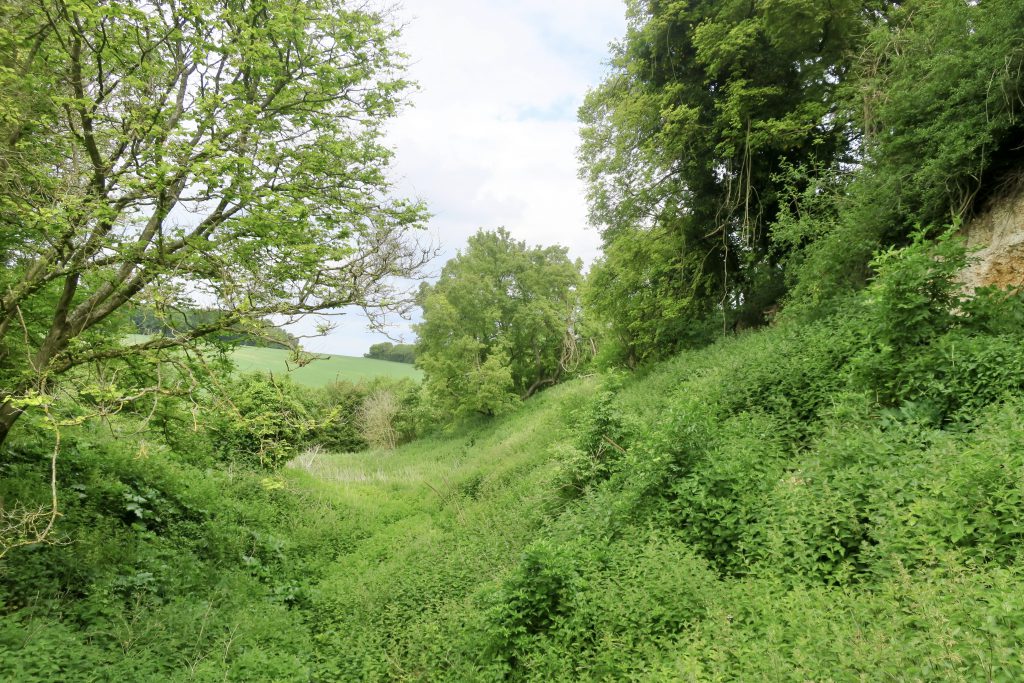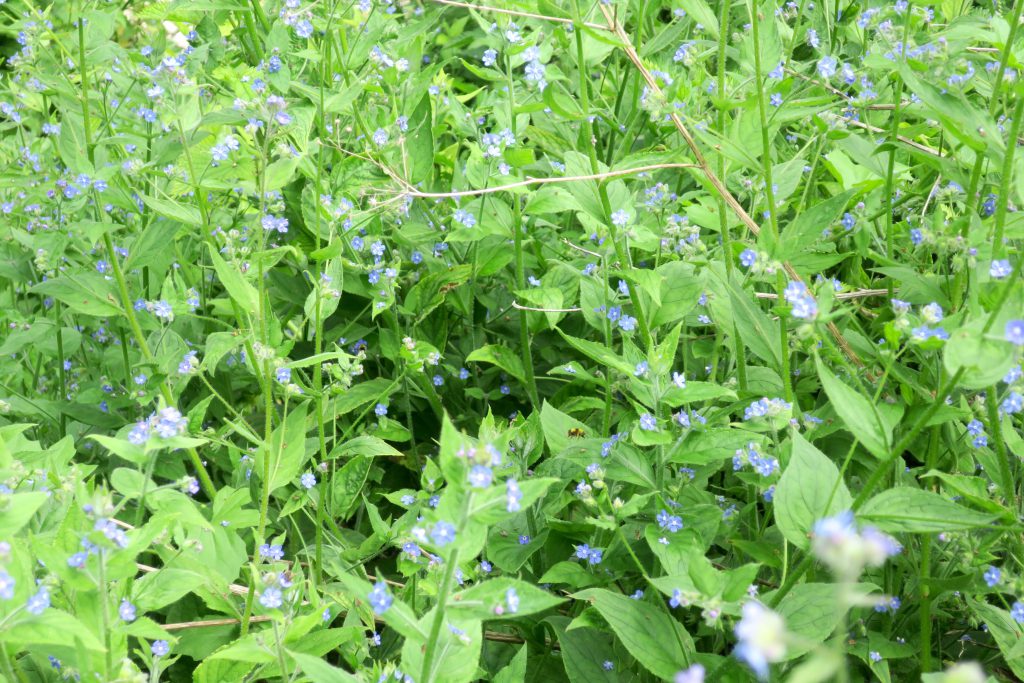 Mostly I remember it alive with the humming of hundreds of bees feasting on the bright blue flowers of green alkanet.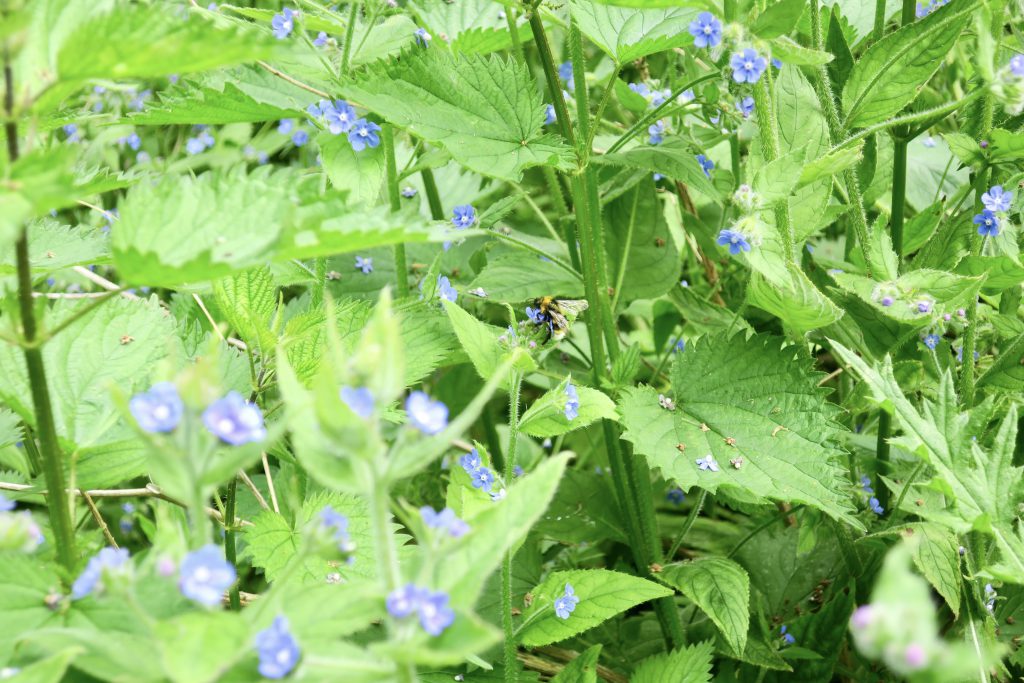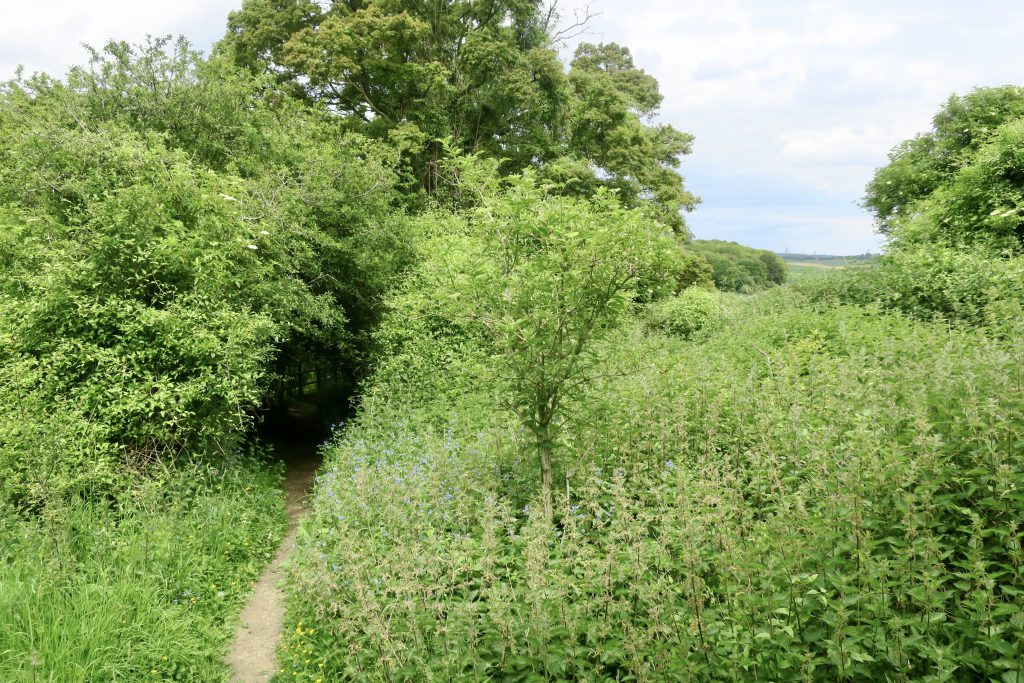 I climbed back up and followed Sue along the rim of the chalk pit.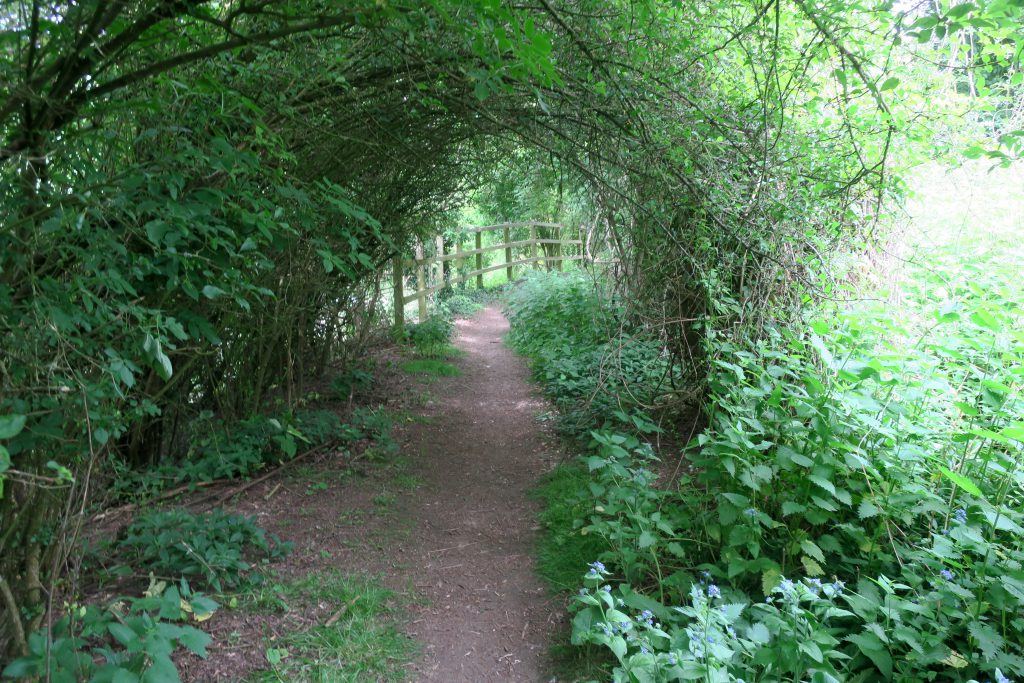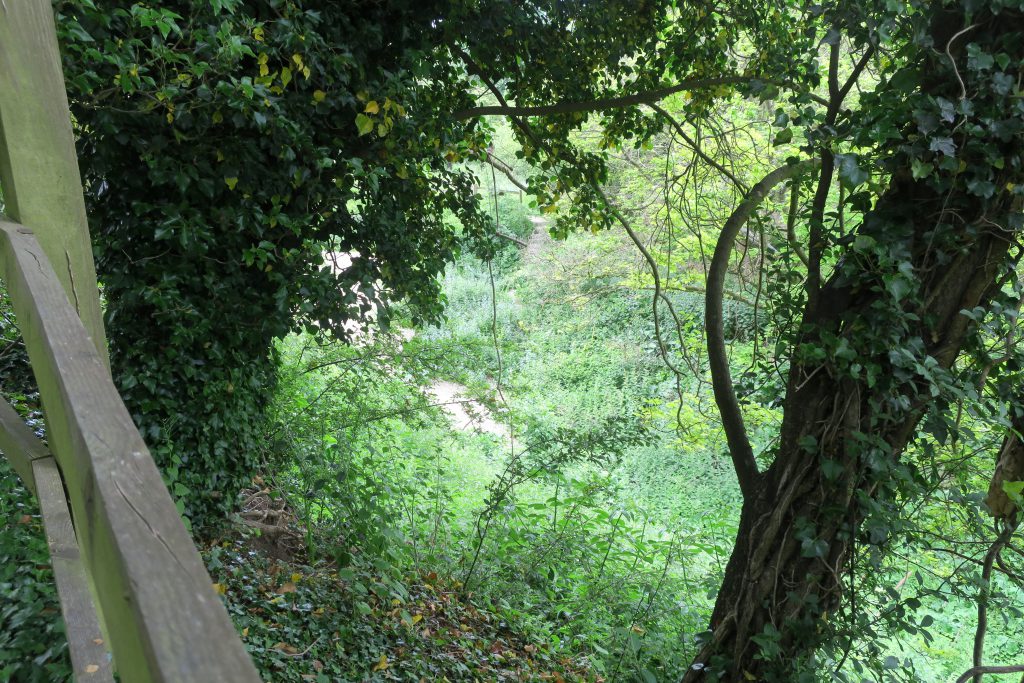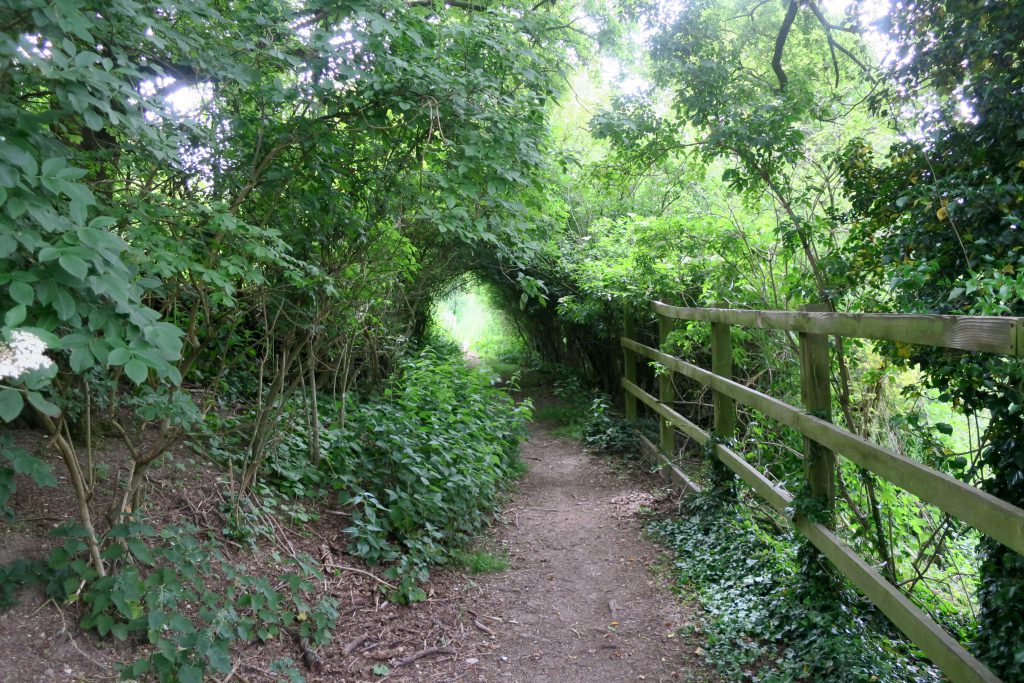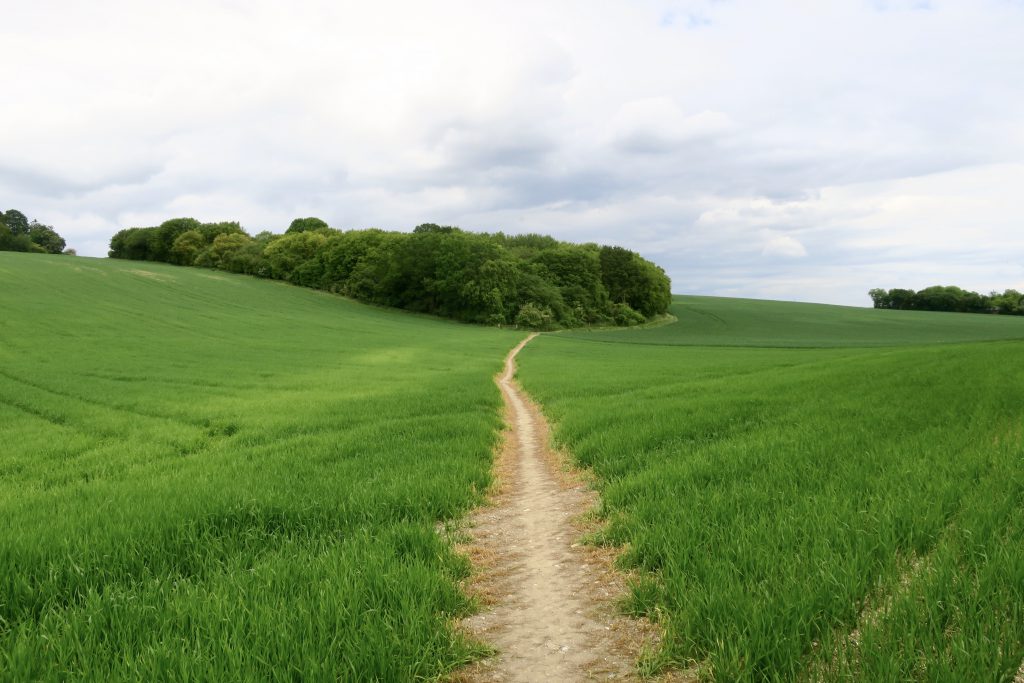 We cross a road and follow a diagonal field path uphill and around a wood.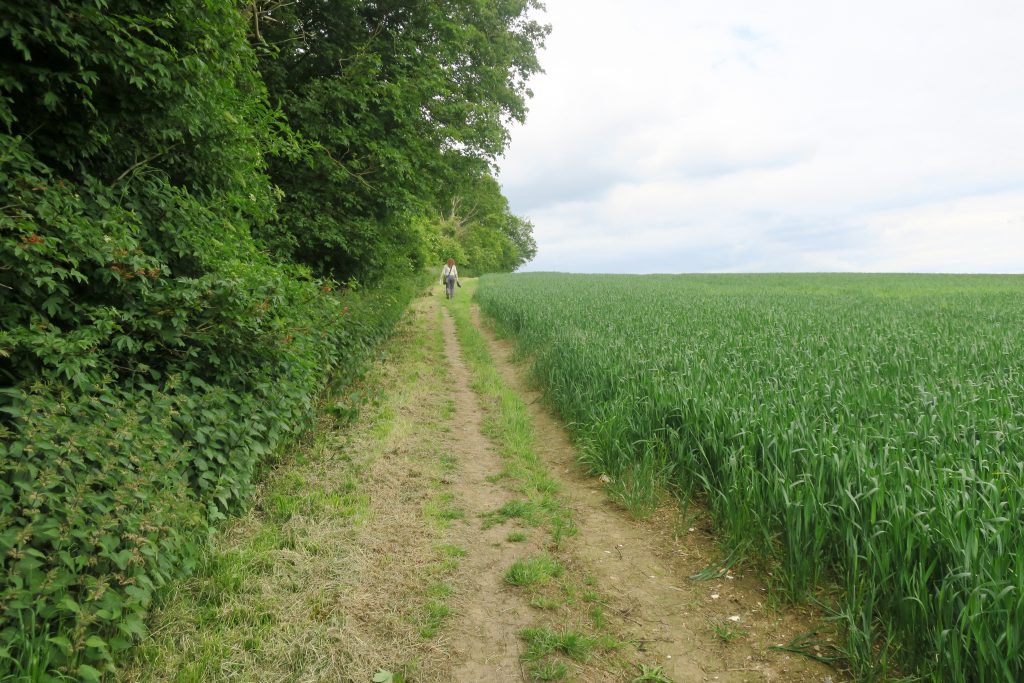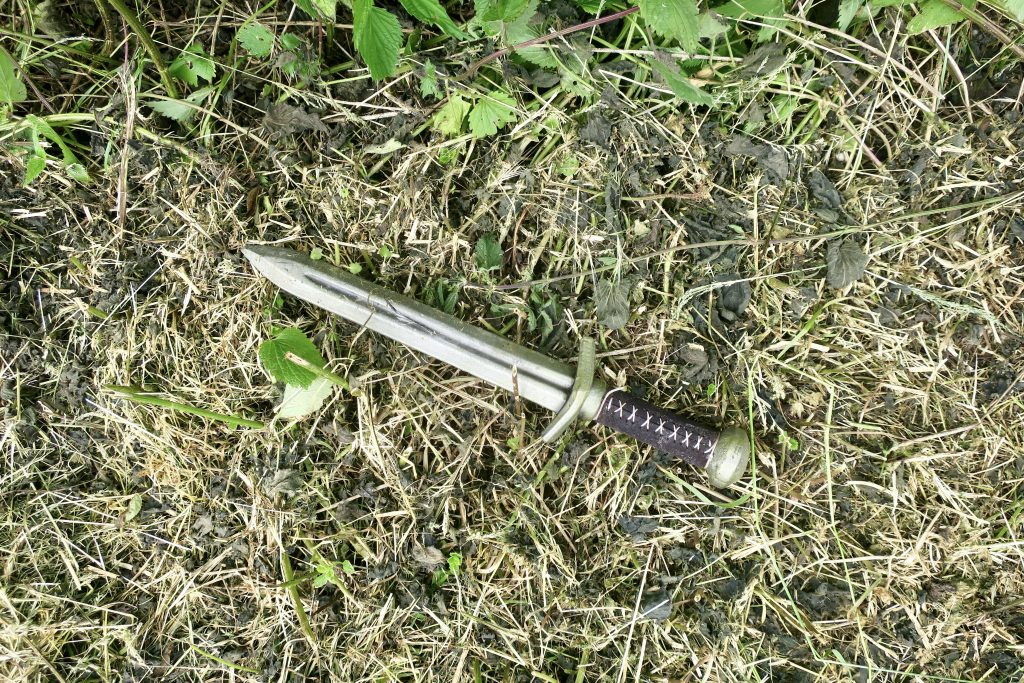 On the strimmed margin between field and wood lay a strange Excalibur.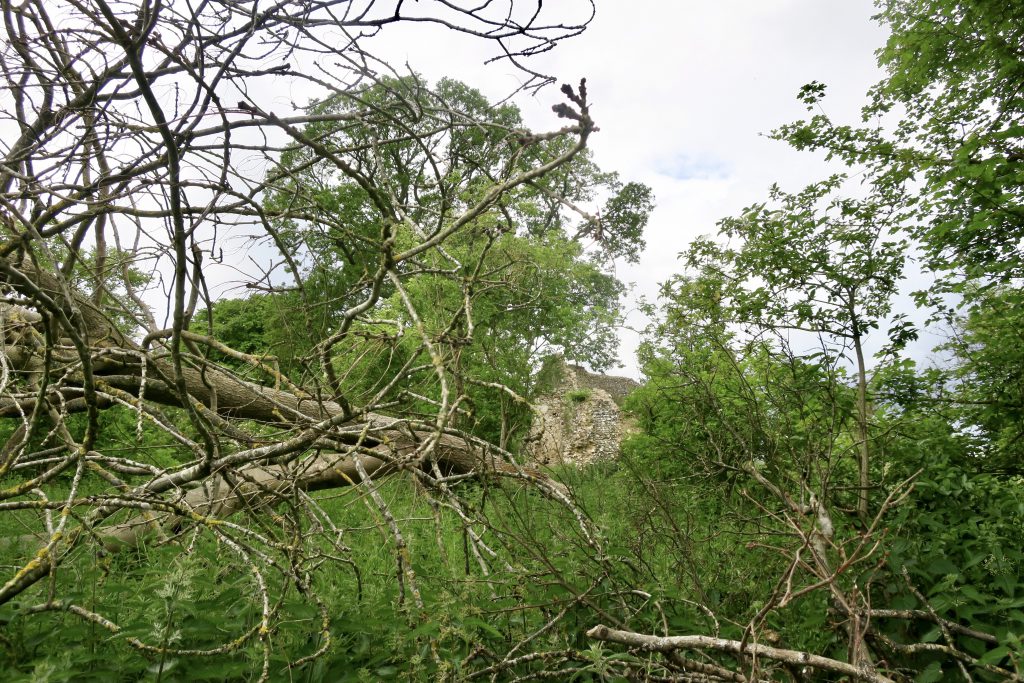 And then through the trees at the far corner of the wood there's a glimpse of the relic walls of the 14th century Minsden Chapel.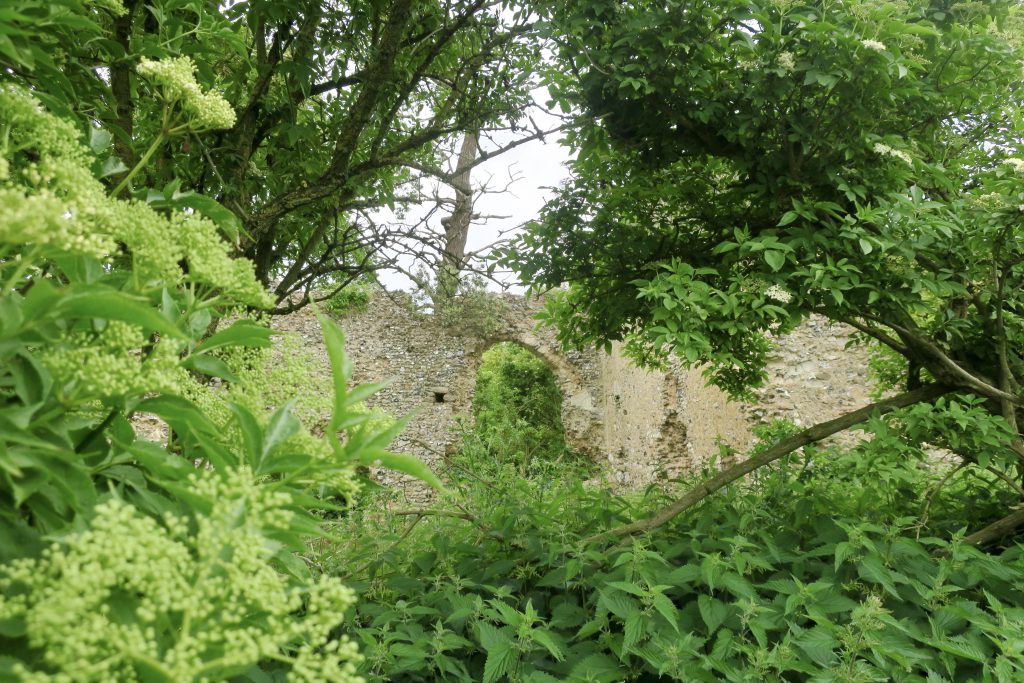 I turned off the path and over the stile and into the wood for a closer look.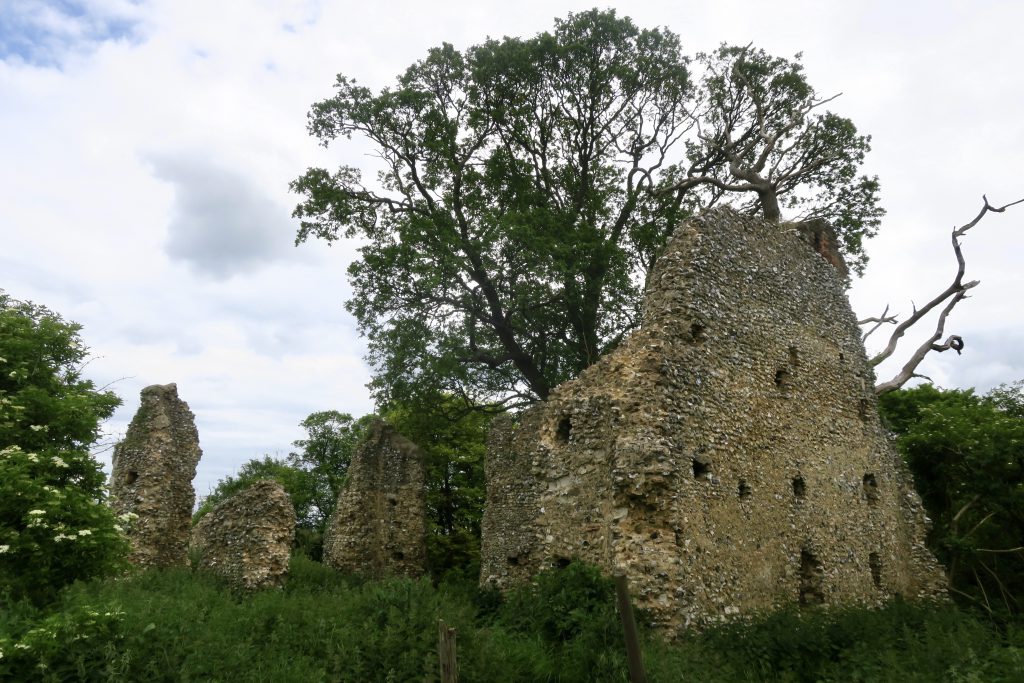 A 600 year old pile of stones, flint and mud slowly returning back to earth.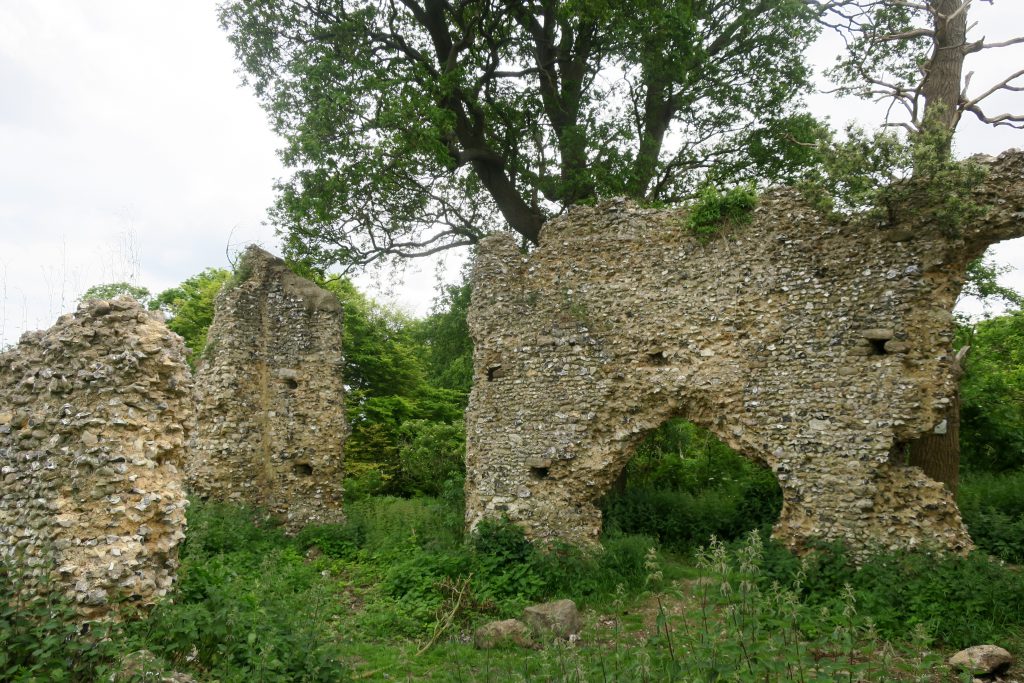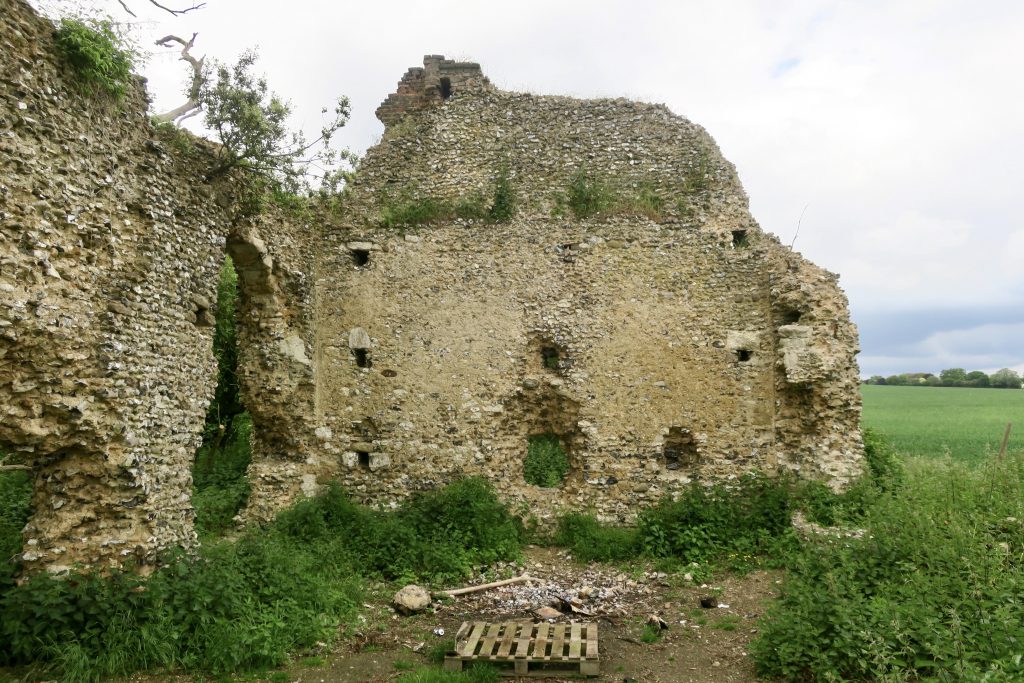 The remains of a campfire.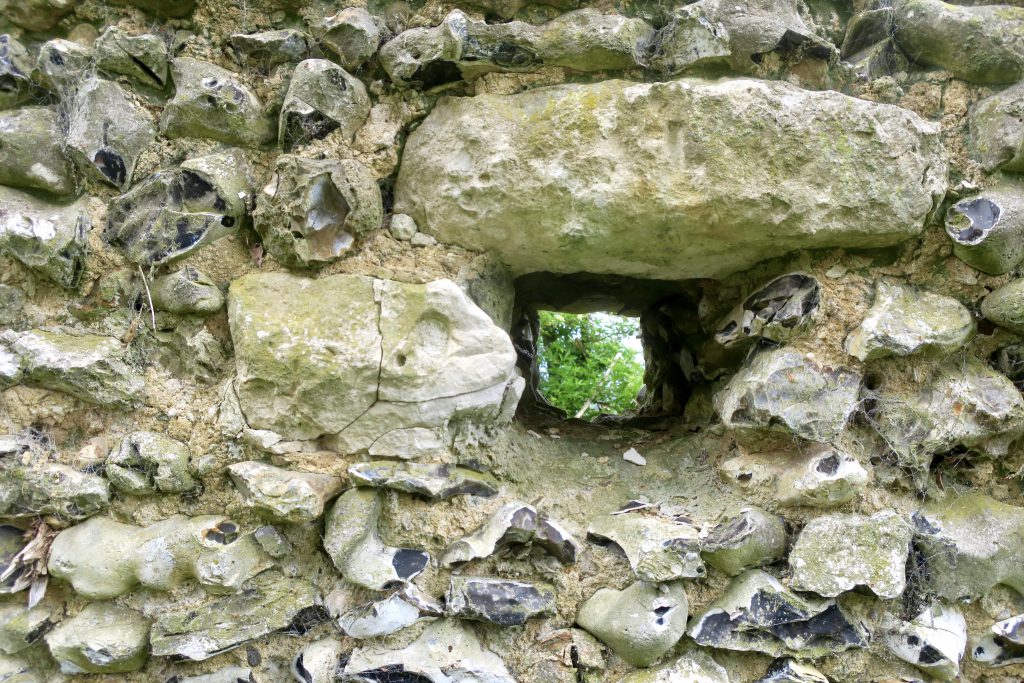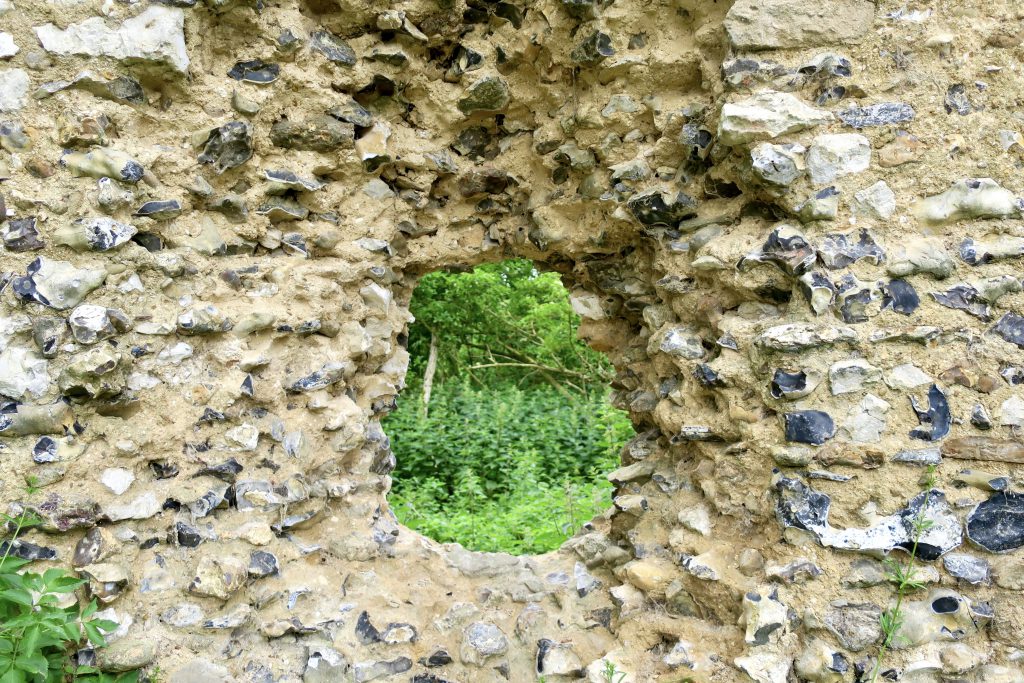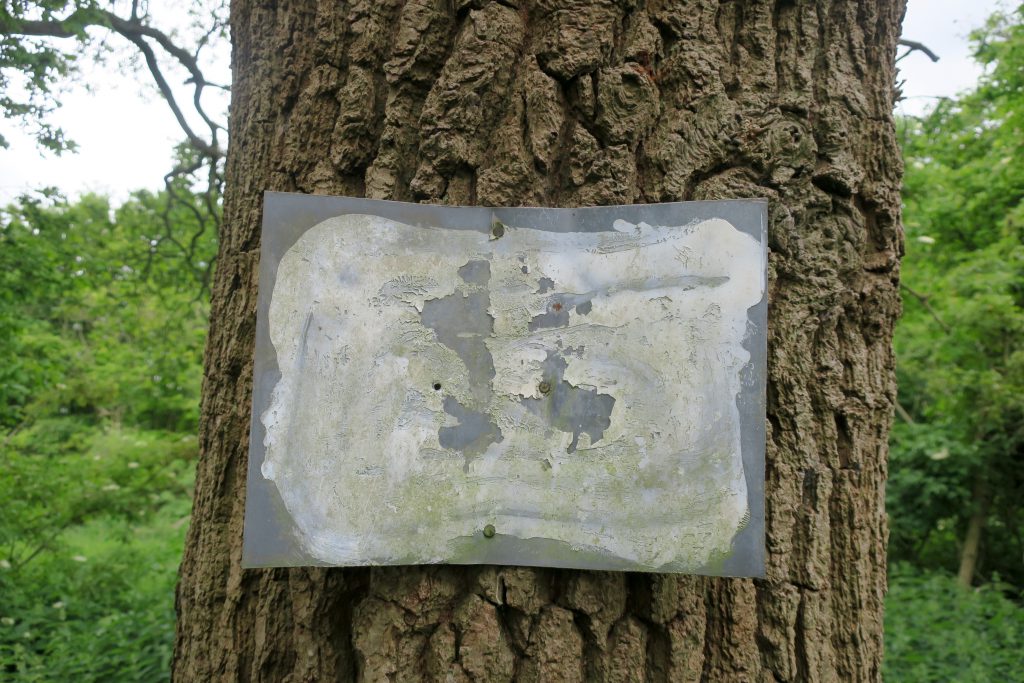 An empty notice.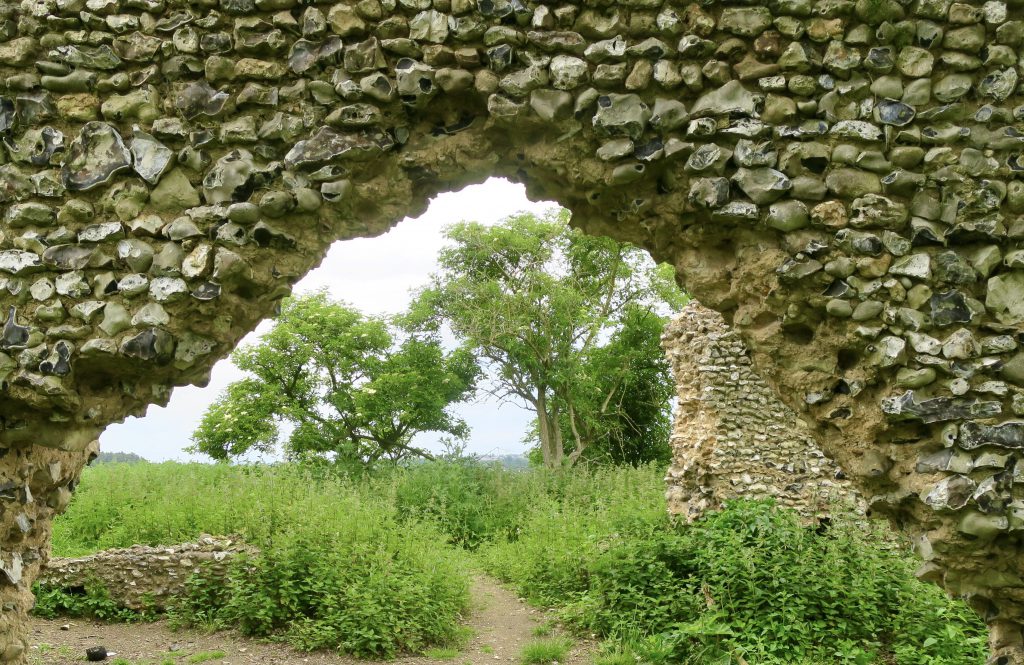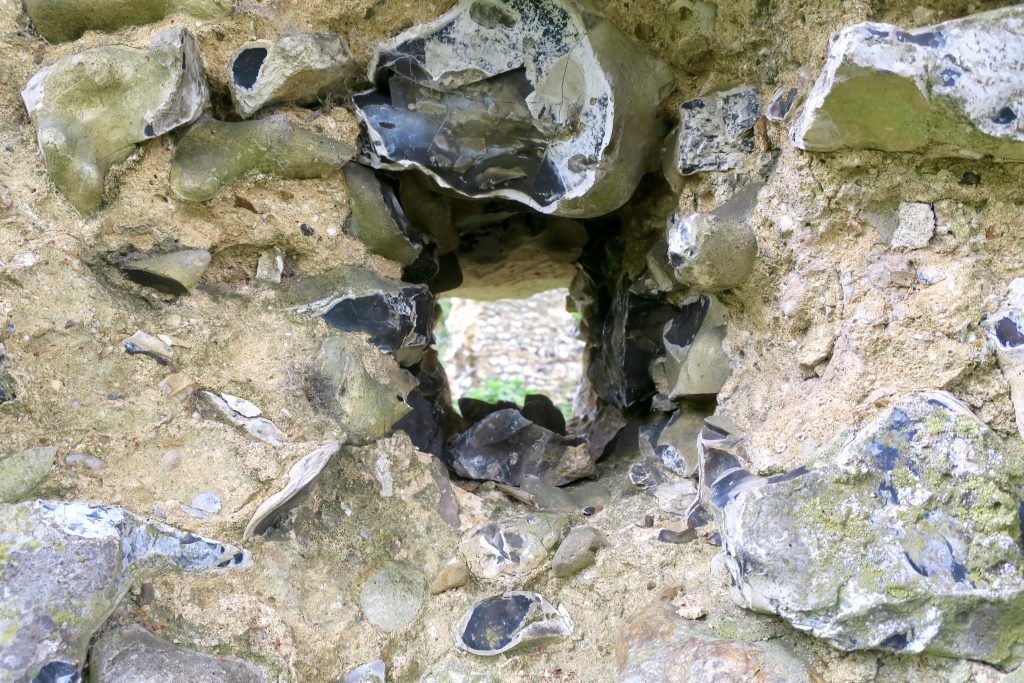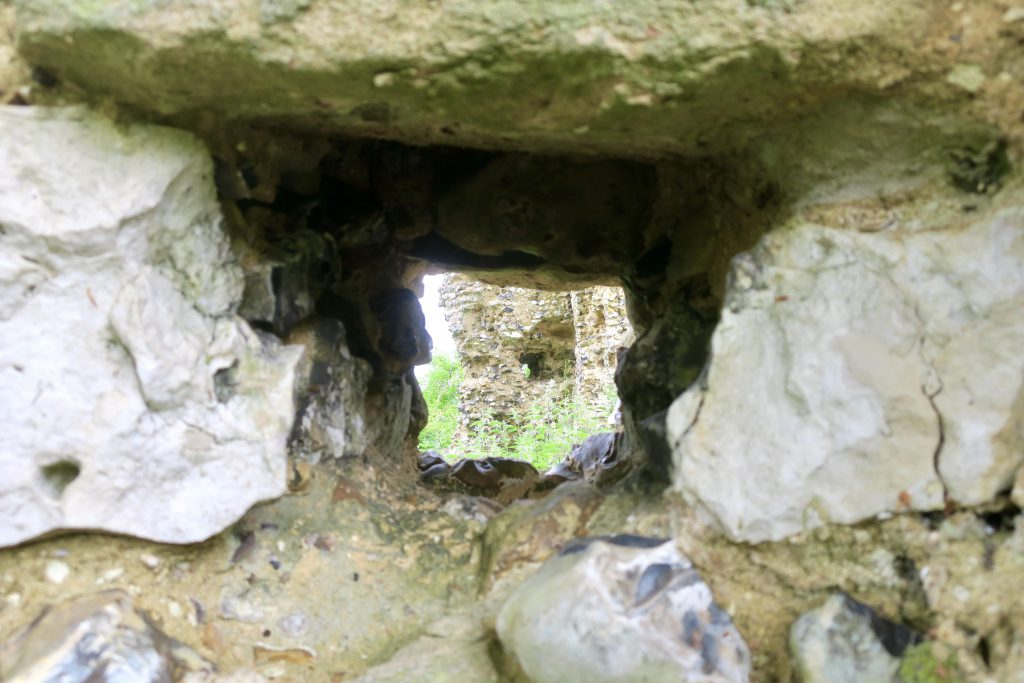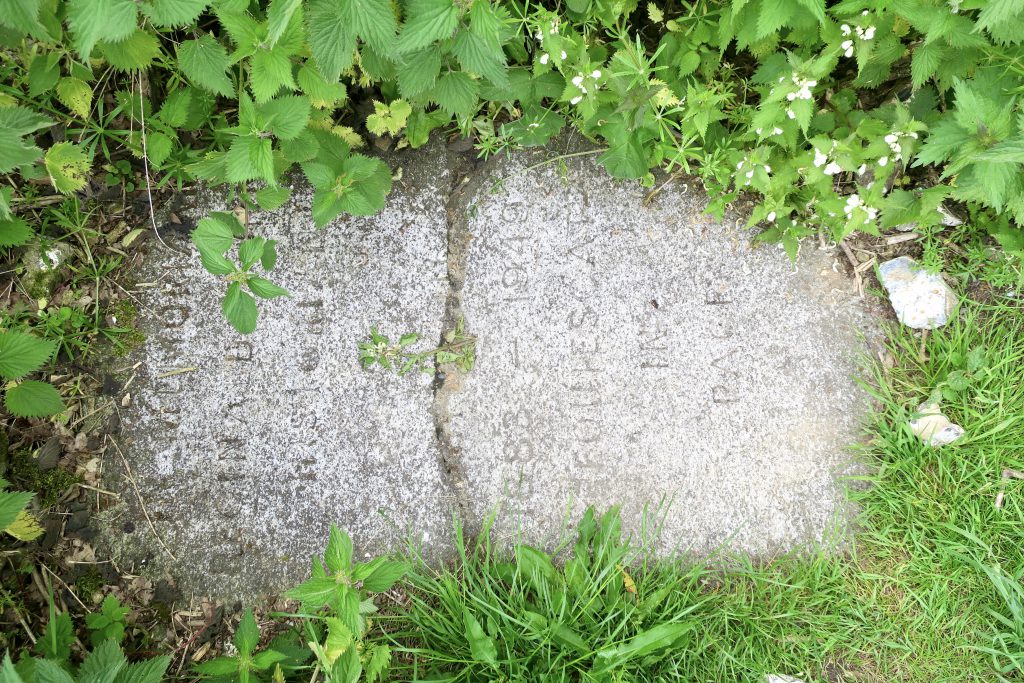 In the 20th century the chapel was closely associated with the historian Reginald Hine from nearby Hitchin. He frequently visited here, and eventually obtained a lifetime lease of the building from the vicars of Hitchin. So fond of the chapel was he, that he even bade "trespassers and sacrilegious persons take warning, for I will proceed against them with the utmost rigour of the law, and, after my death and burial, I will endeavour, in all ghostly ways, to protect and haunt its hallowed walls". Contrary to popular belief Hine is not buried at Minsden. His body was cremated at Golders Green (London) and his ashes were subsequently scattered at the chapel. His family erected a memorial stone at the site, which was subsequently re-laid in its current grave-like horizontal position by them after it was damaged by vandals in the early 1980s.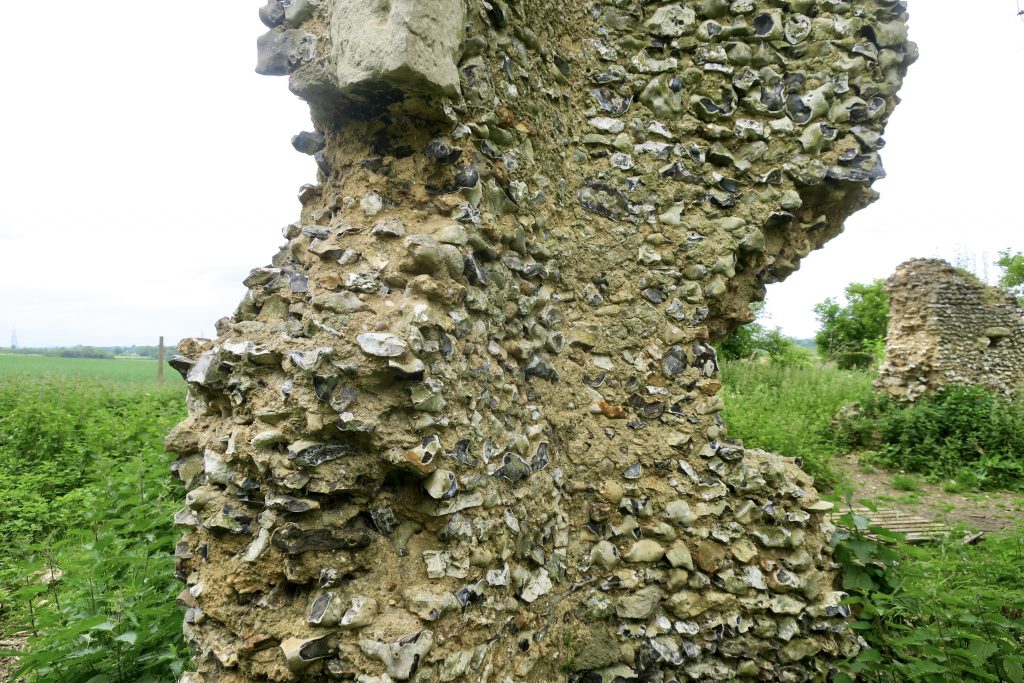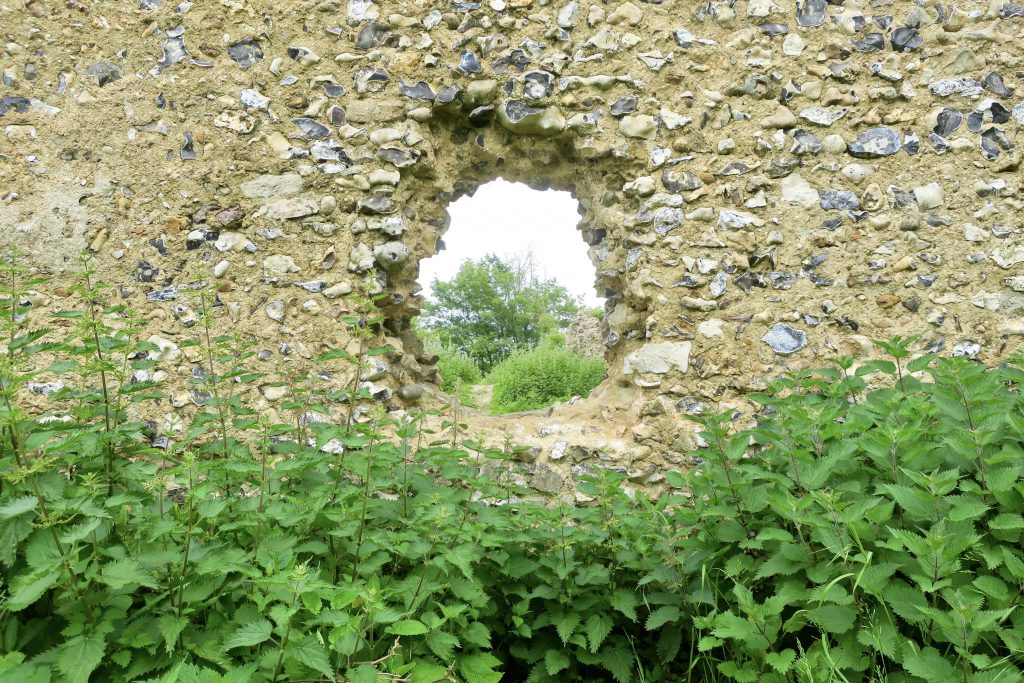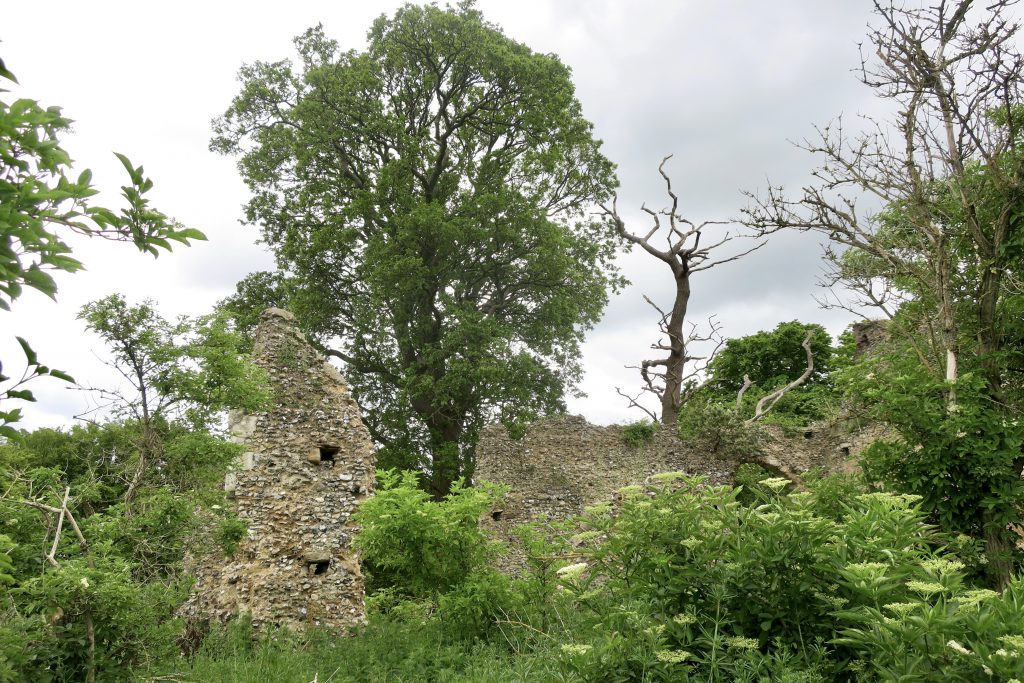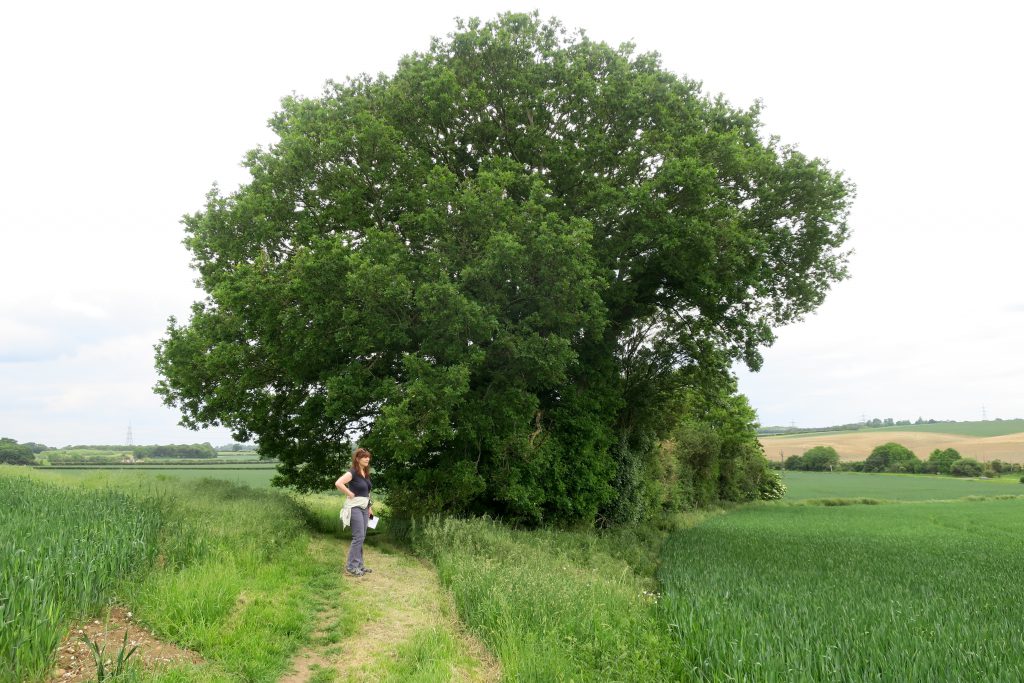 Sue kept her distance and preferred to wait on the path whilst I visited the ruin. Maybe the old chapel was haunted, but if there were any ghosts there they passed straight through and I knew them not.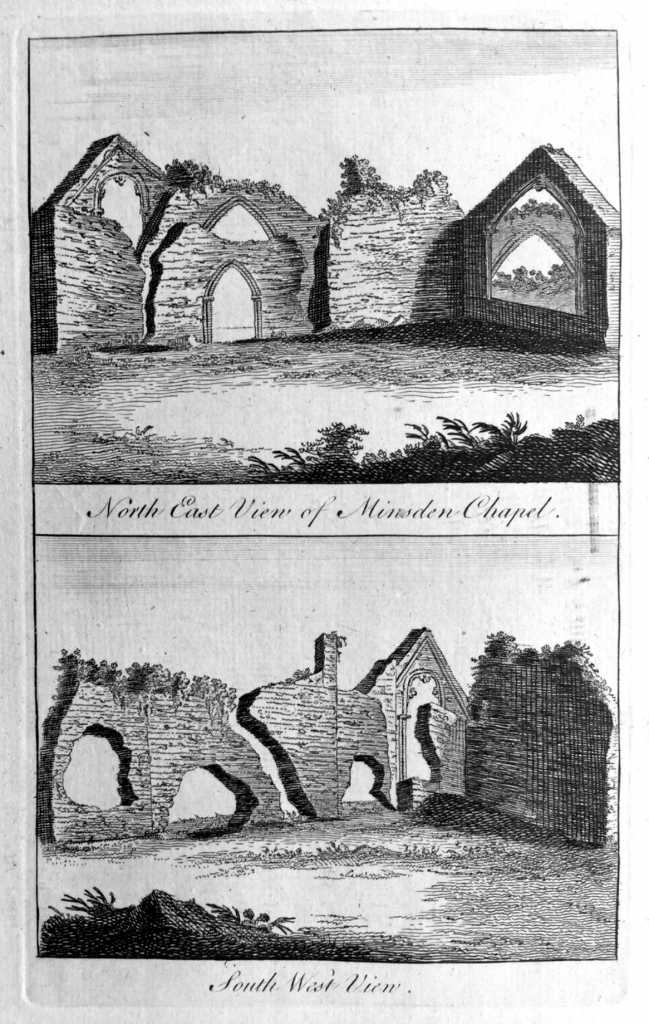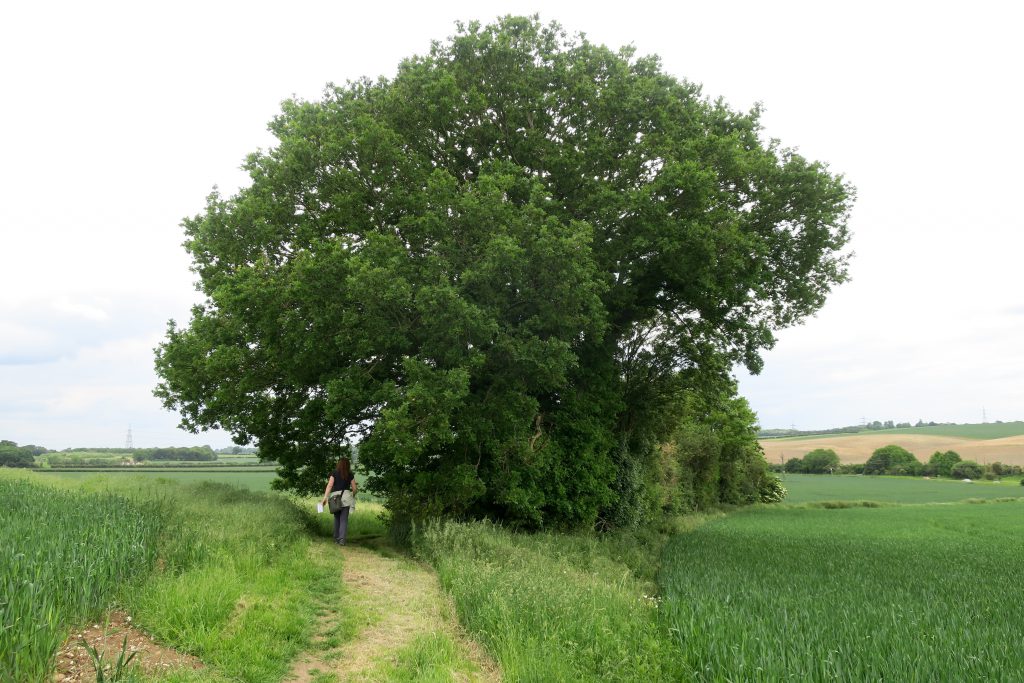 We continued on down the path beneath this spreading oak tree and descended into a sunken green lane.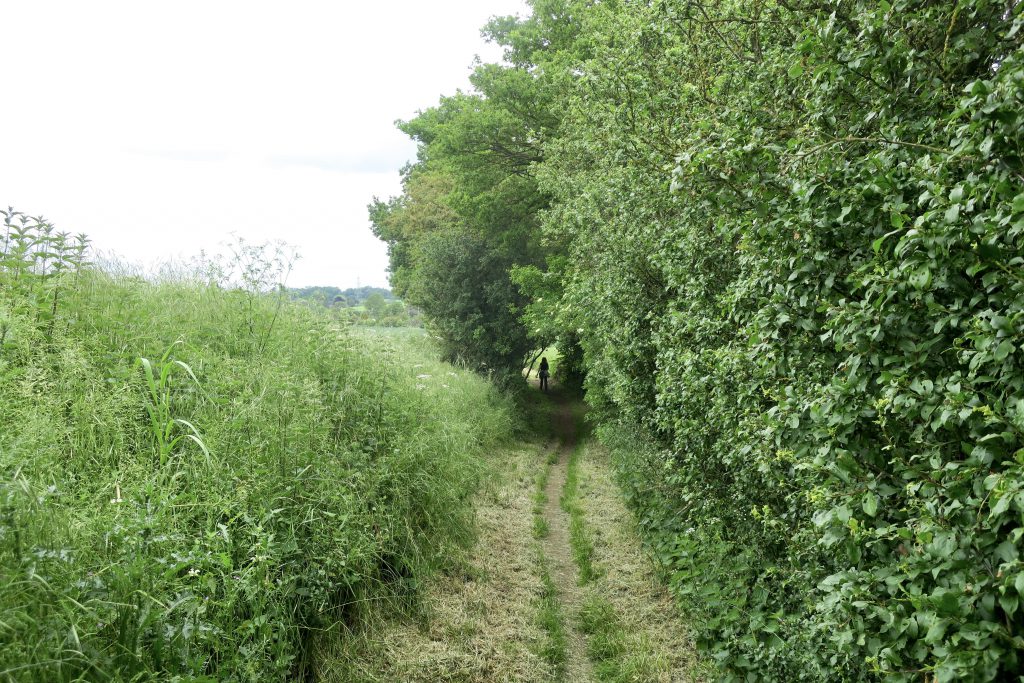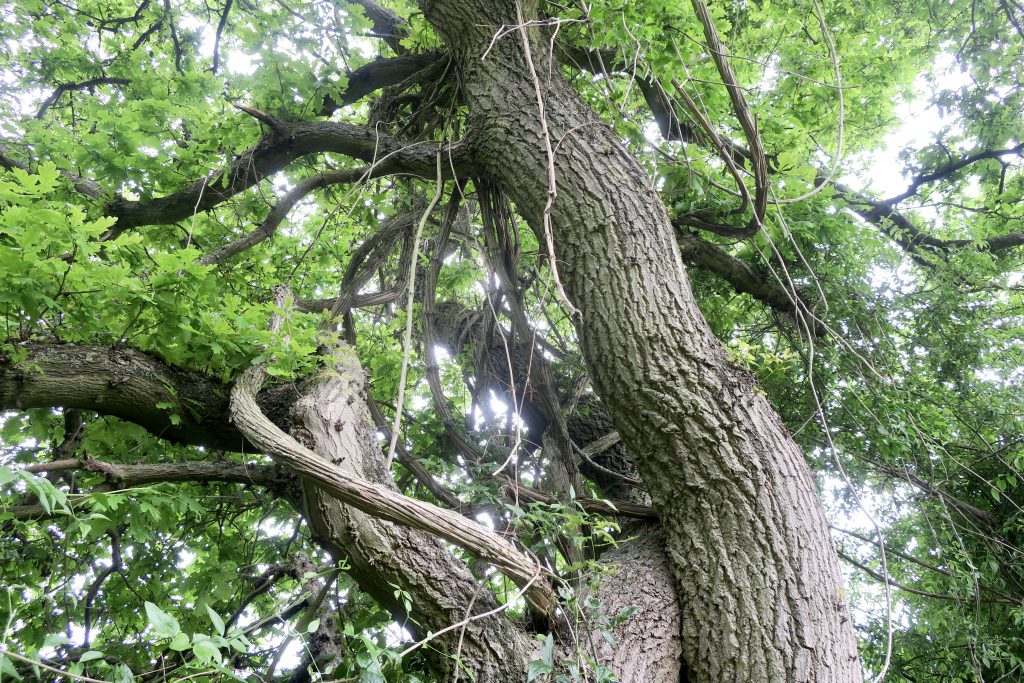 Oak tied up with honeysuckle.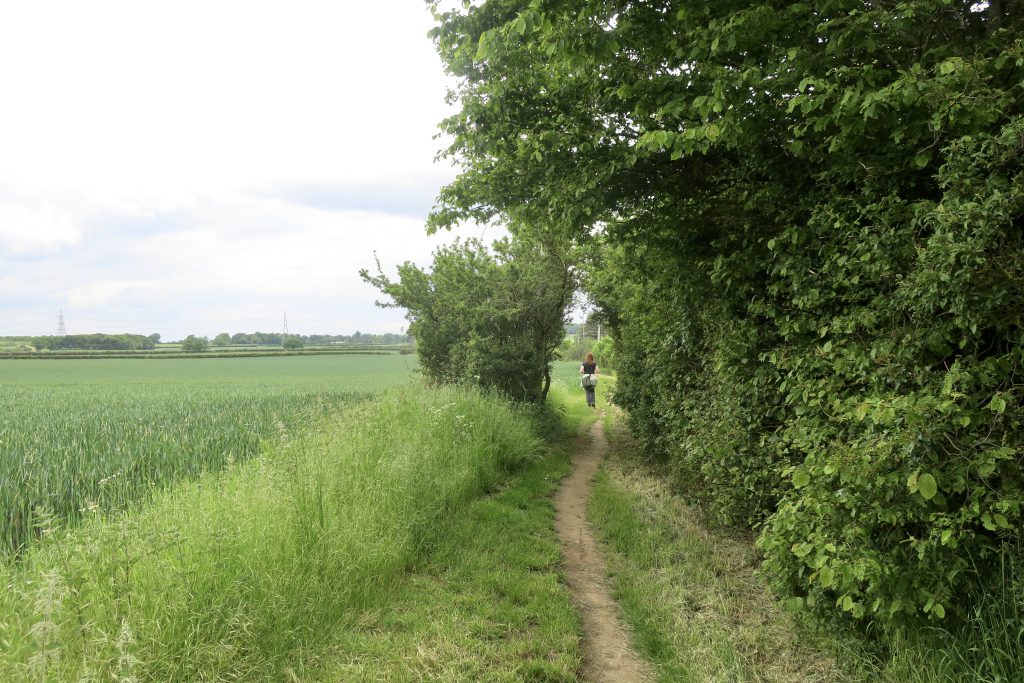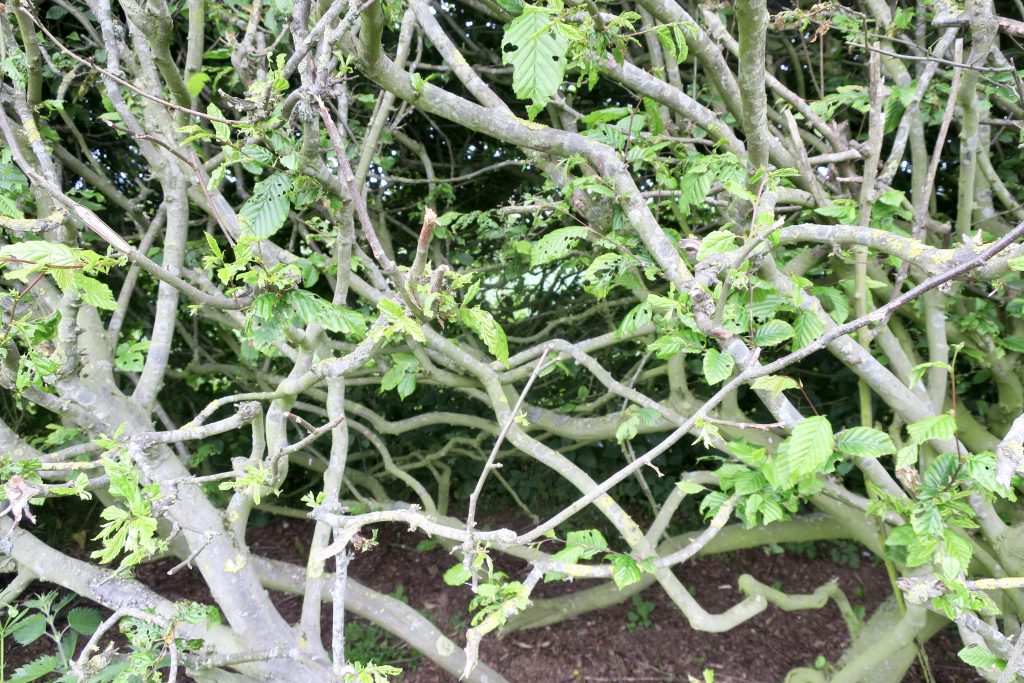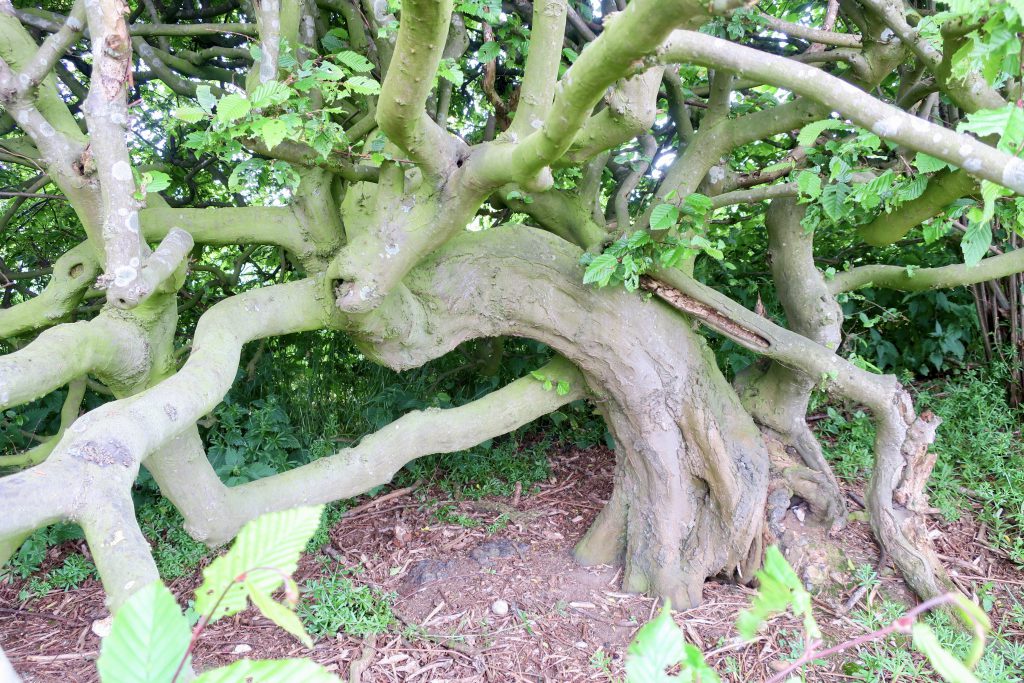 An ancient hedge of beech and hazel and then field maple and hawthorn.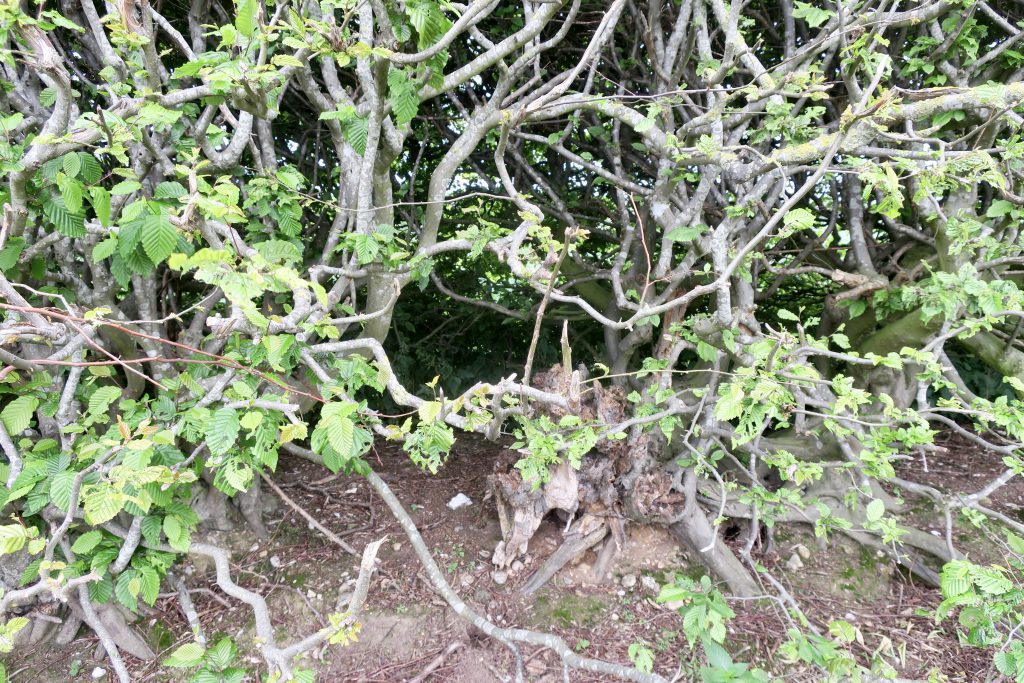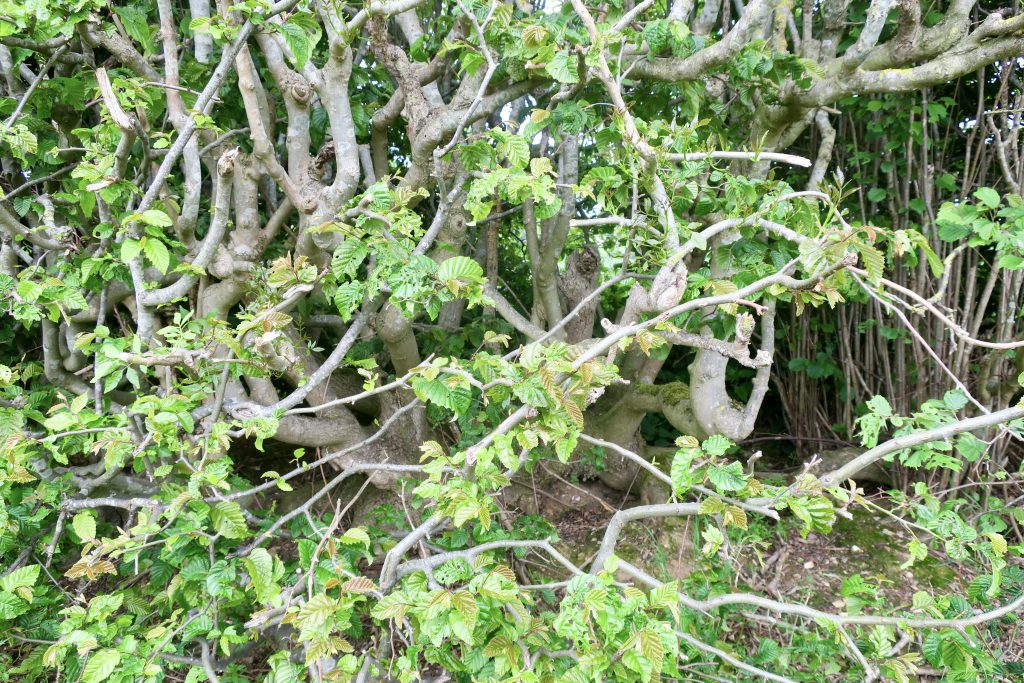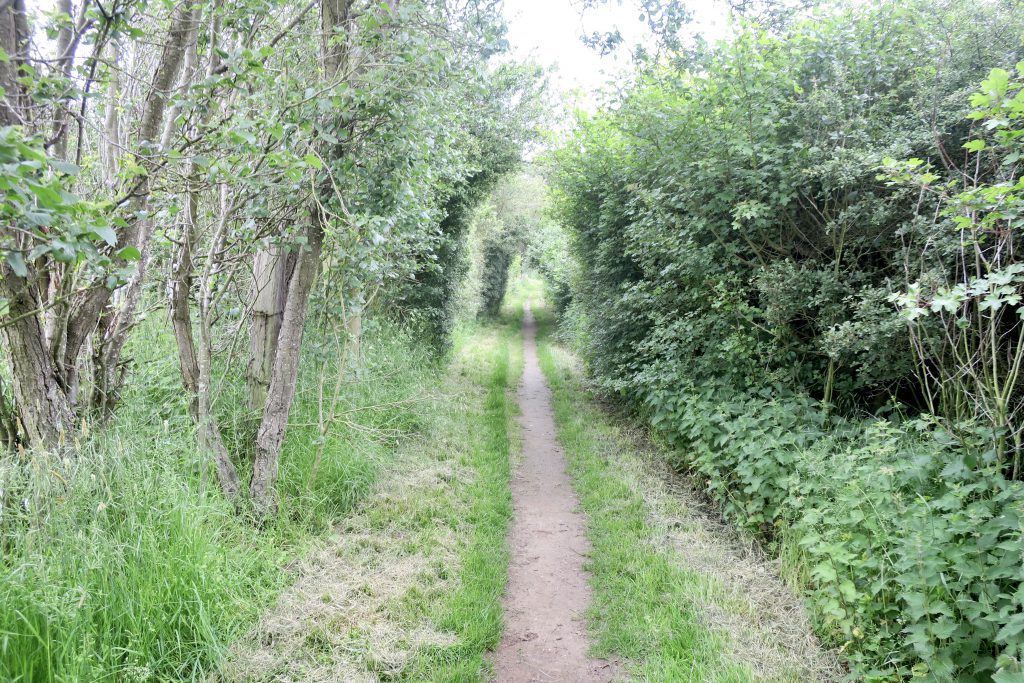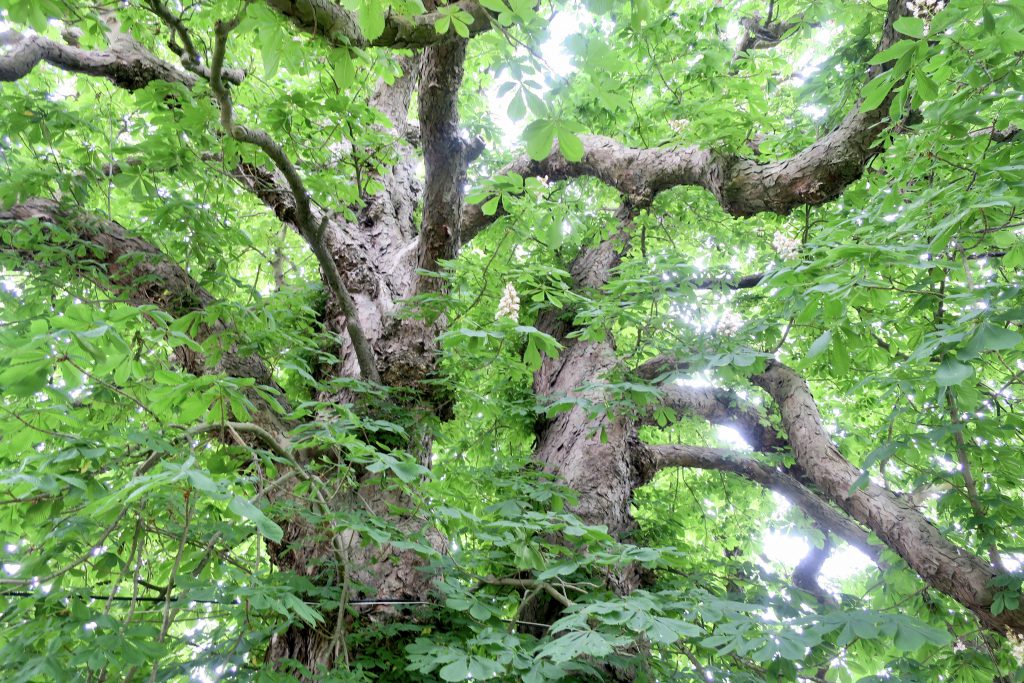 Our guide at Hertfordshire Walks had promised a pub called The Royal Oak at the end of the lane. We found a grand old horse chestnut but alas the oak had disappeared, and the pub had changed its name to The Rusty Gun, and Covid-19 regulations meant booking was essential, even in the garden.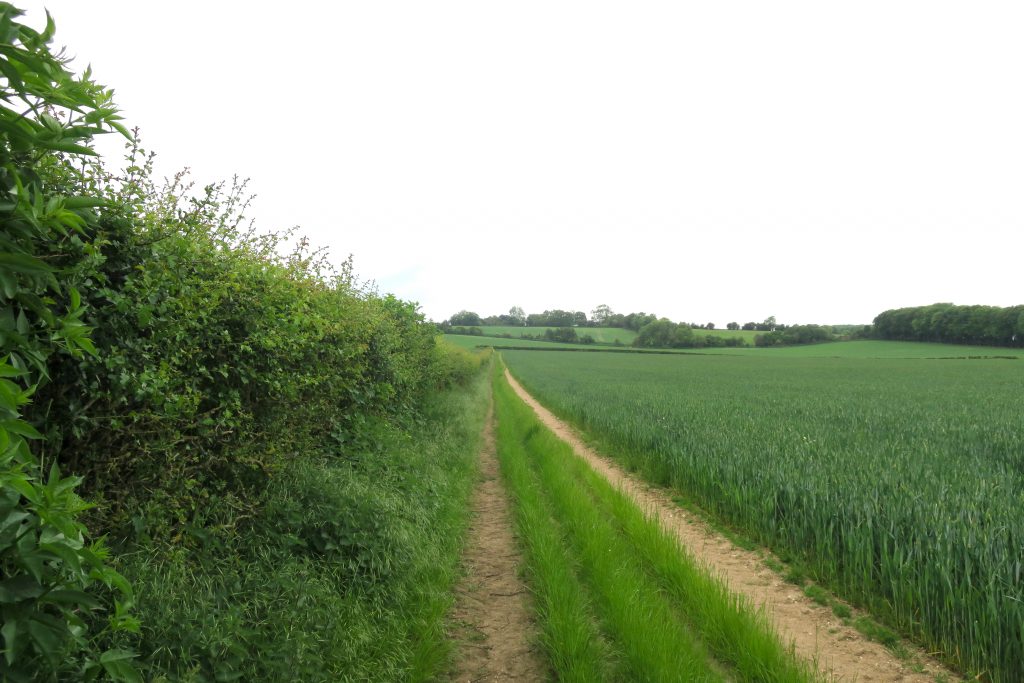 We were not welcome, we were ejected and dejected, hungry and thirsty we took a wrong turn and missed our way around a section of the walk through Almshoe Bury, and accidentally took a short cut over the fields to Poynders End, where caterpillars spun silk nets over the blighted hedgerow.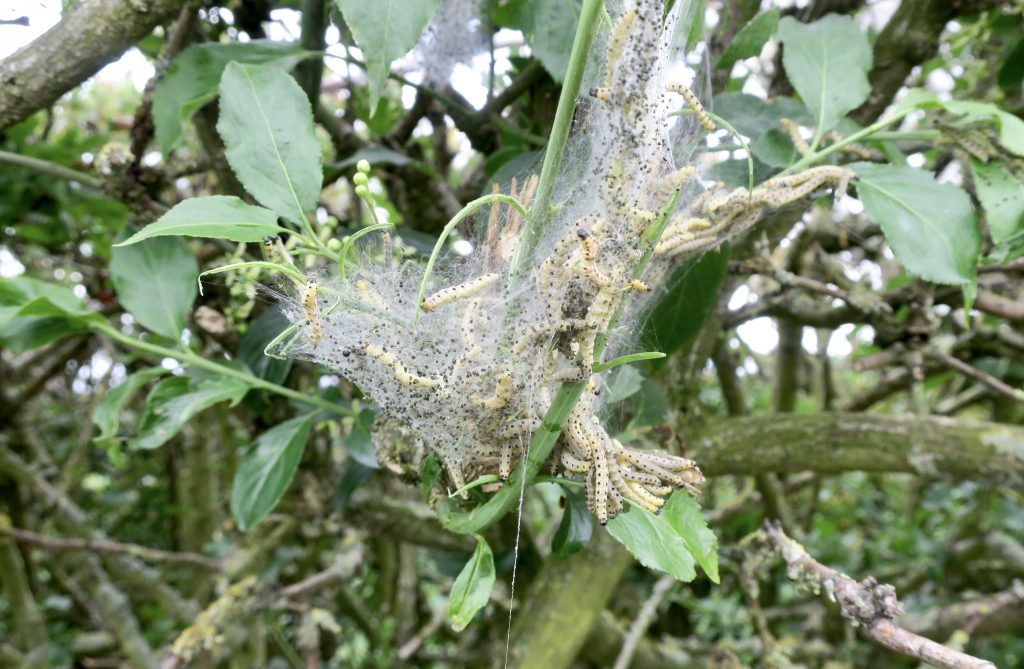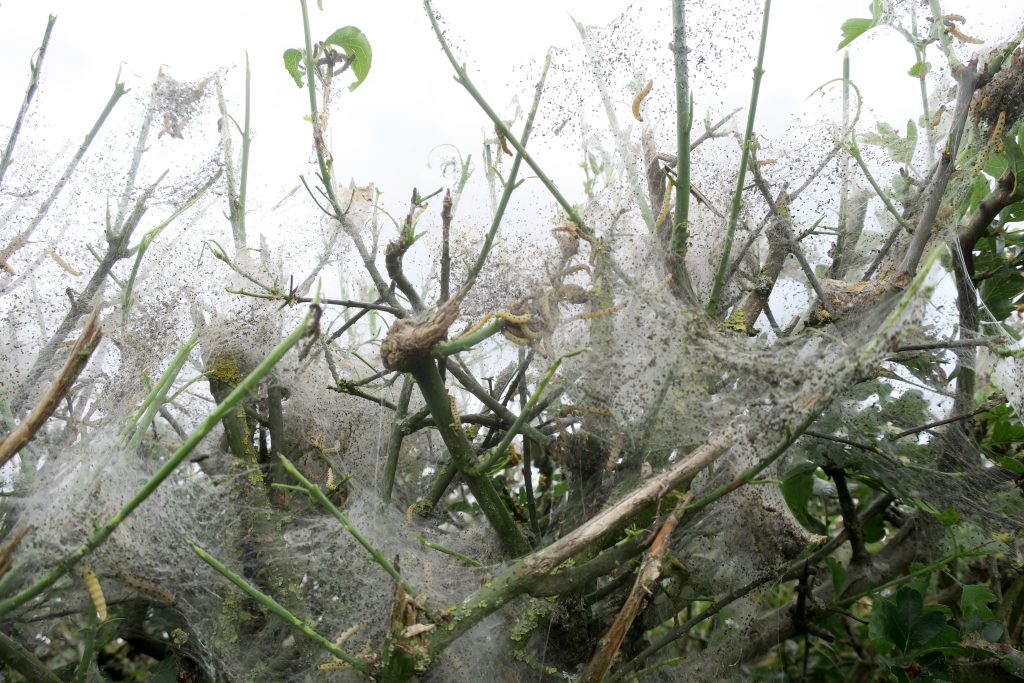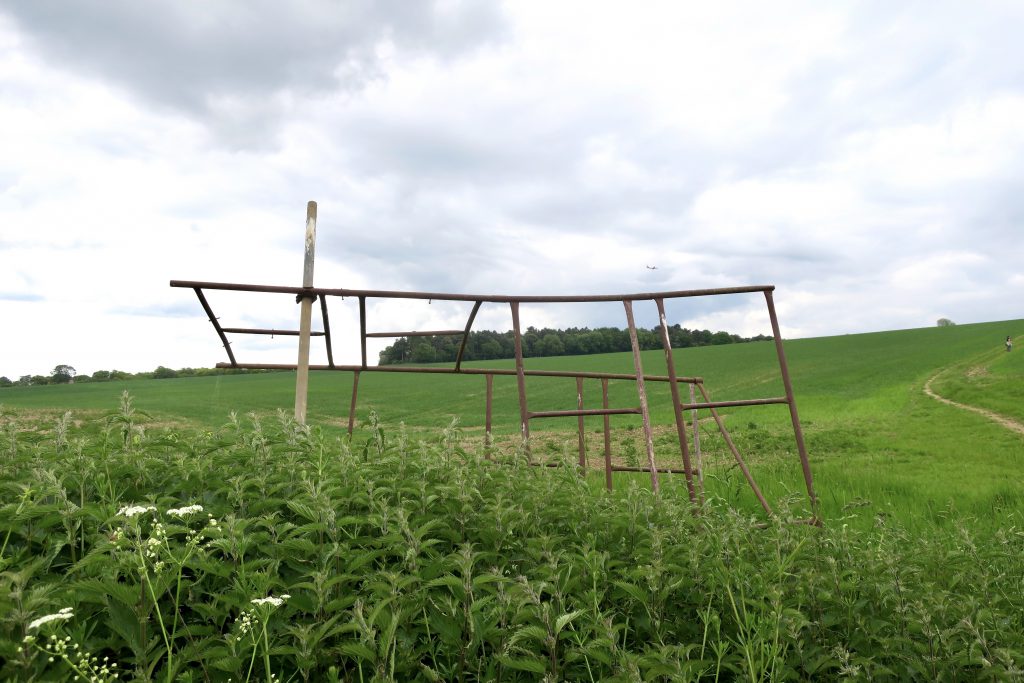 A spaceframe at the edge of the field, an aeroplane above pointed at Luton, Minsden Chapel on the left horizon and Sue climbing the hill on the right.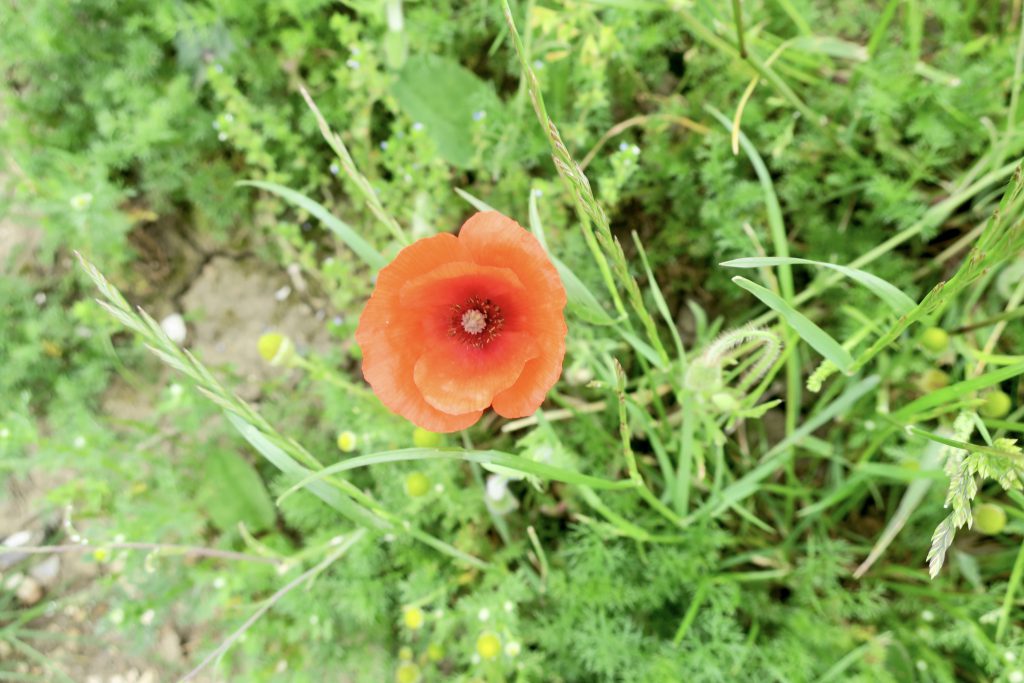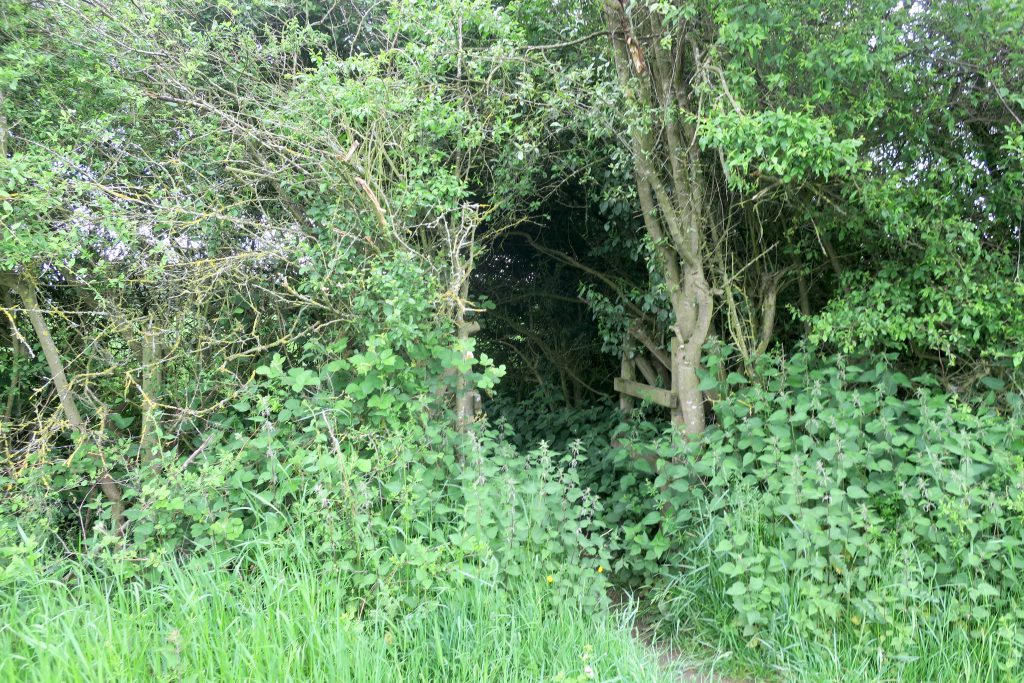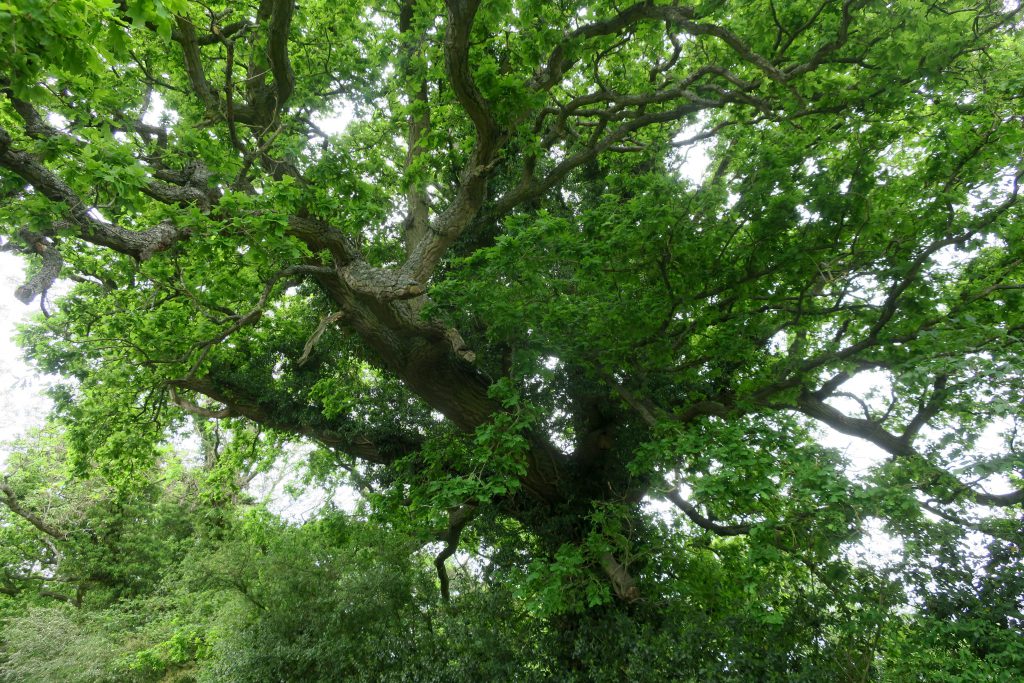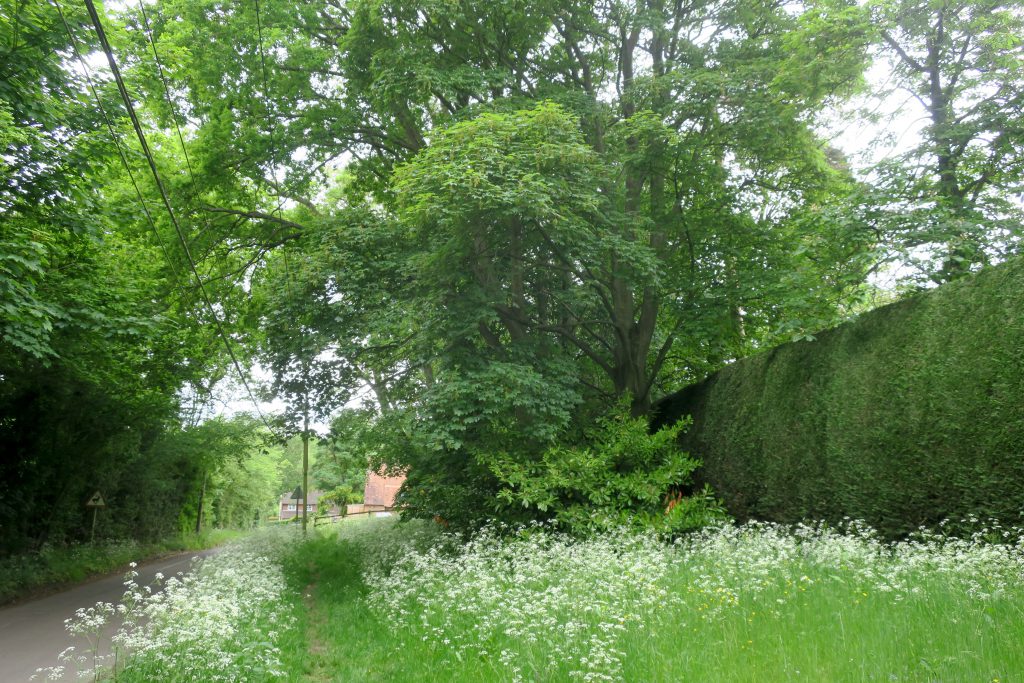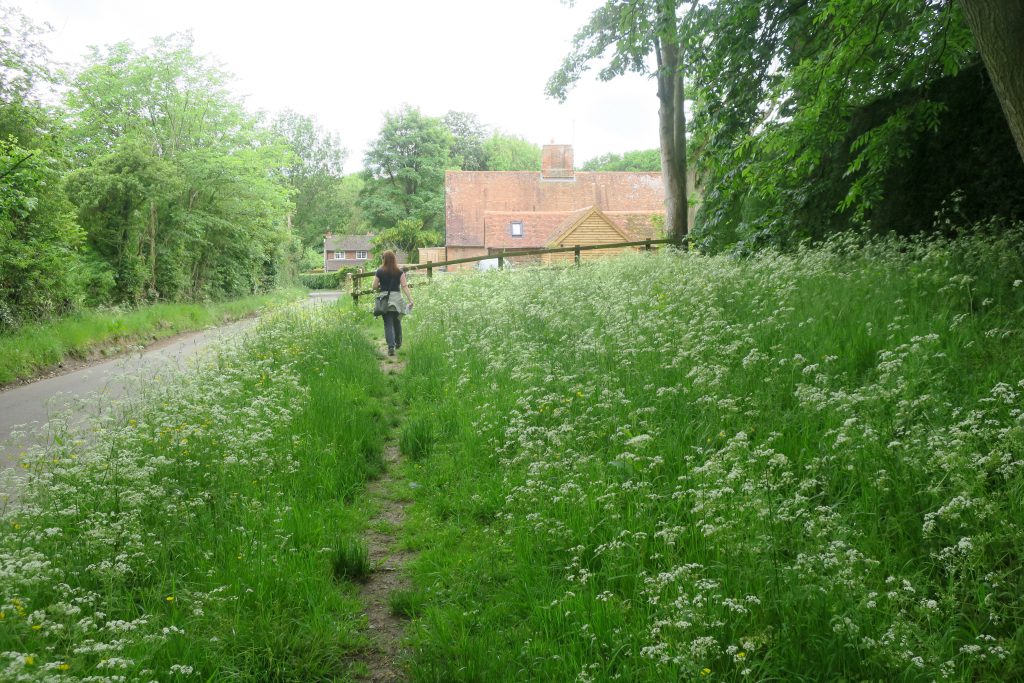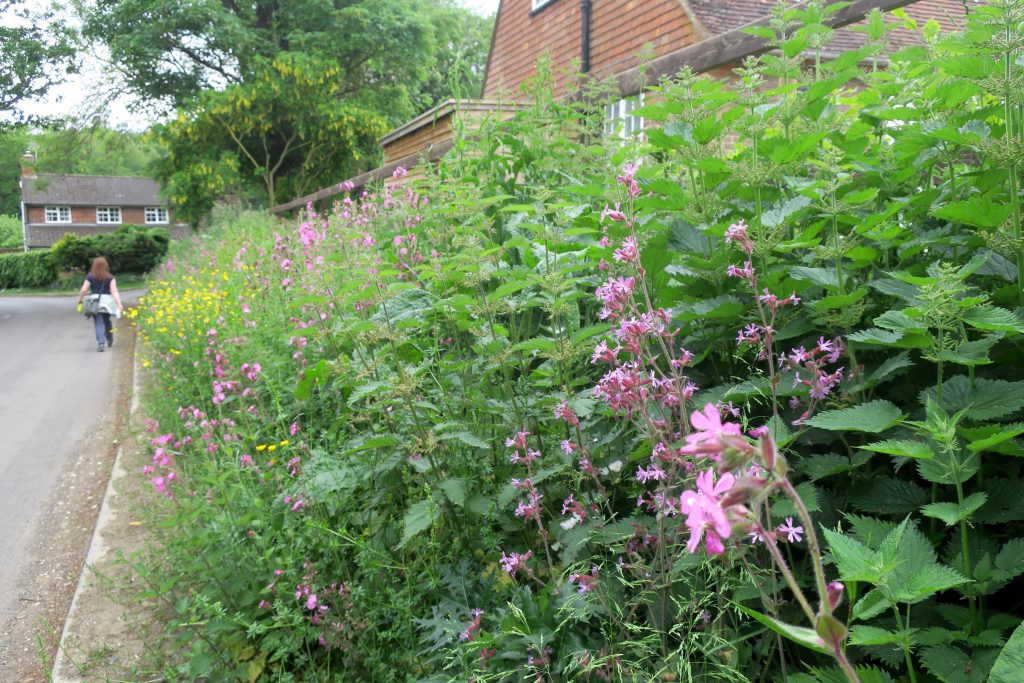 We came by Minsden Farm then alongside Lady Grove and into Hitch Wood.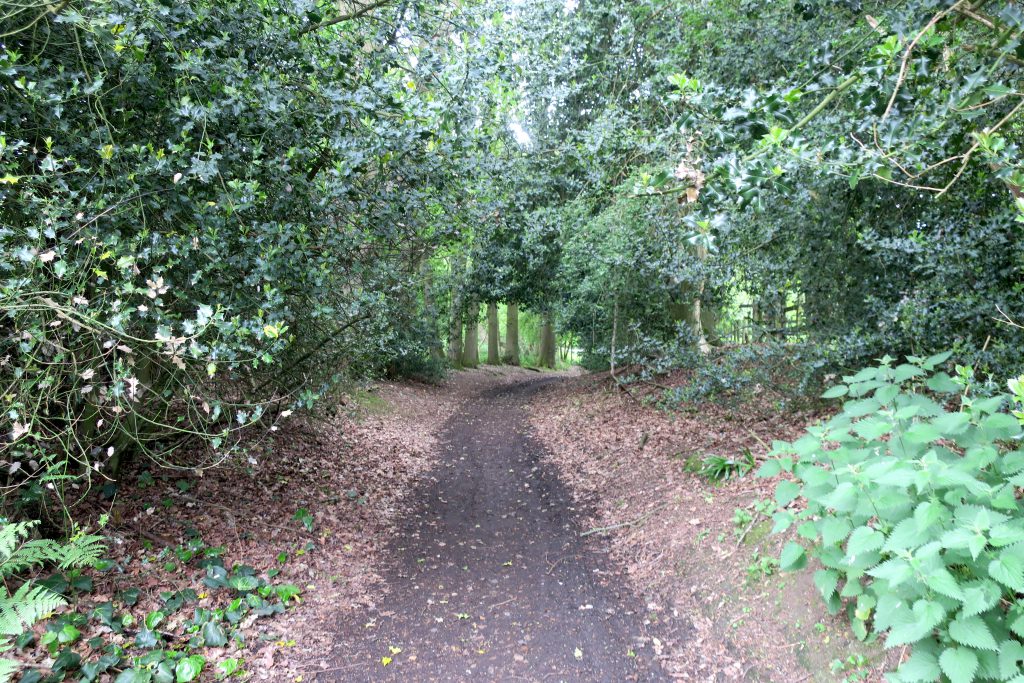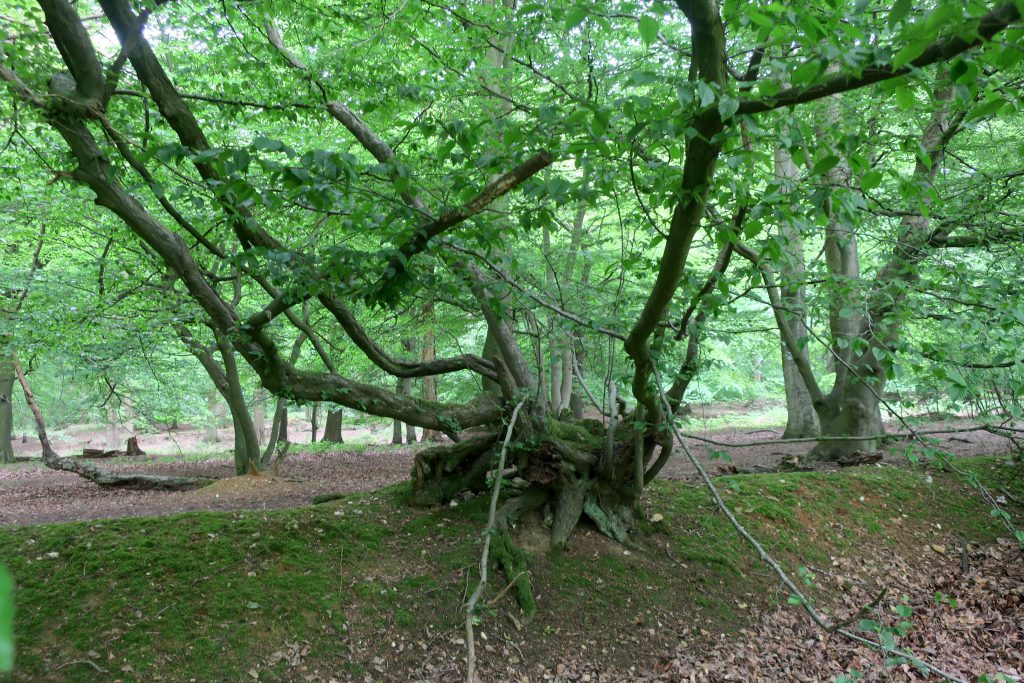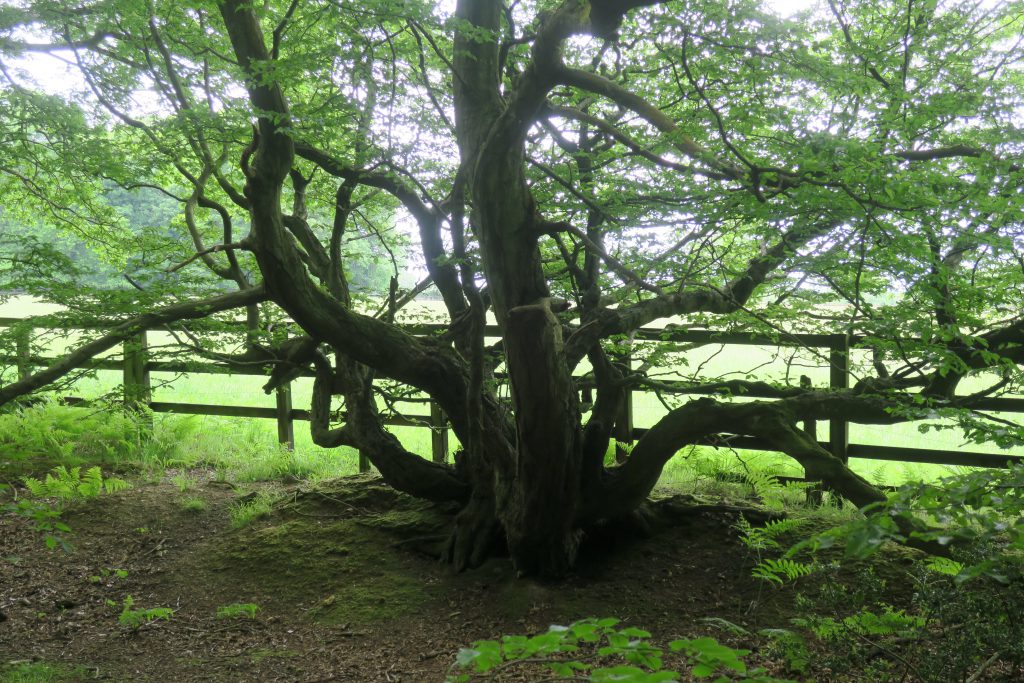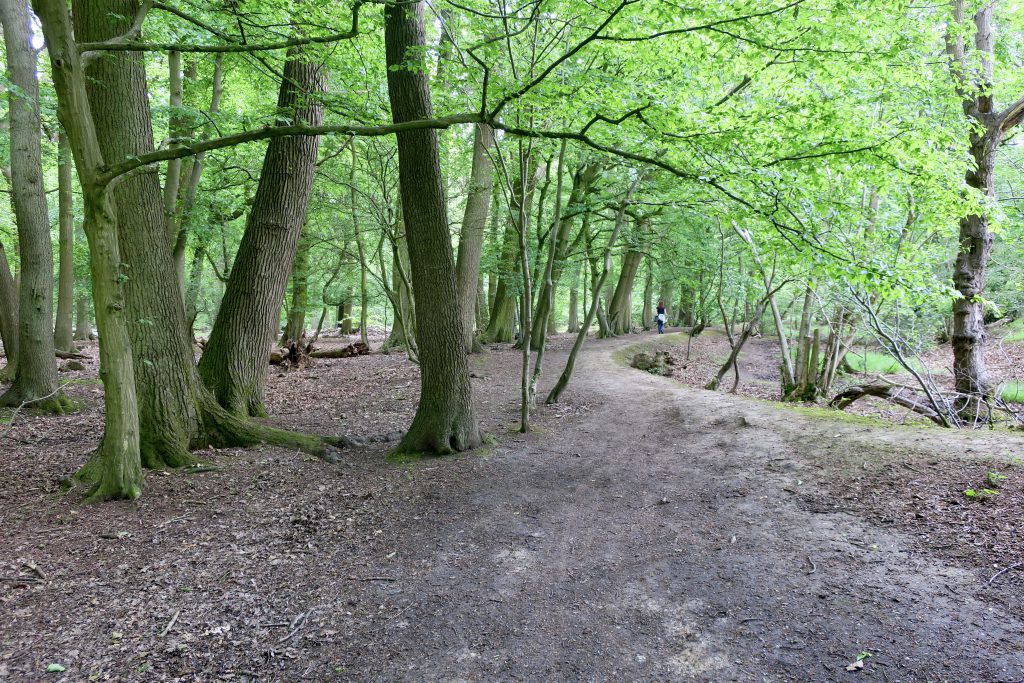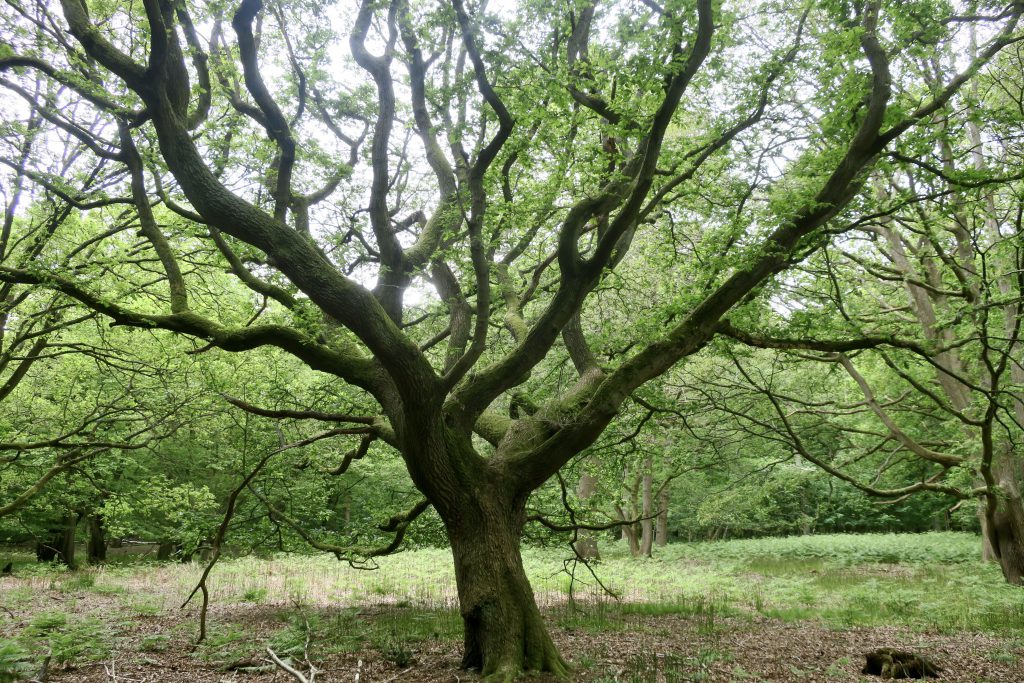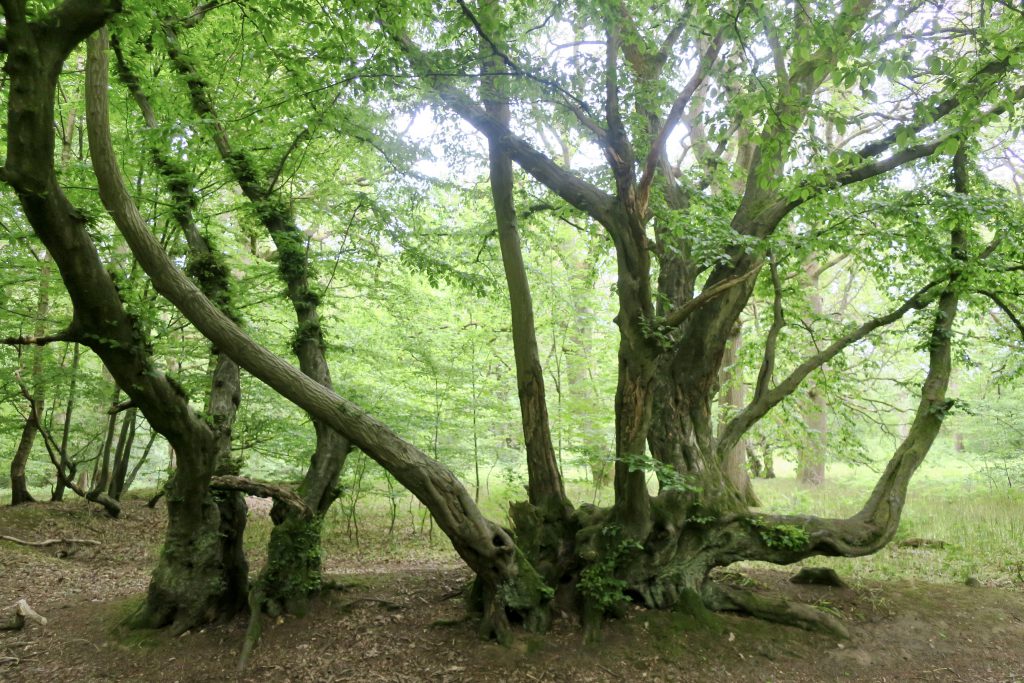 The old track follows the edge of the tangly wood, where great spreading jabberwocky hornbeams – ancient, coppiced, layered – watch and wait along the bank beside the path. They see us coming.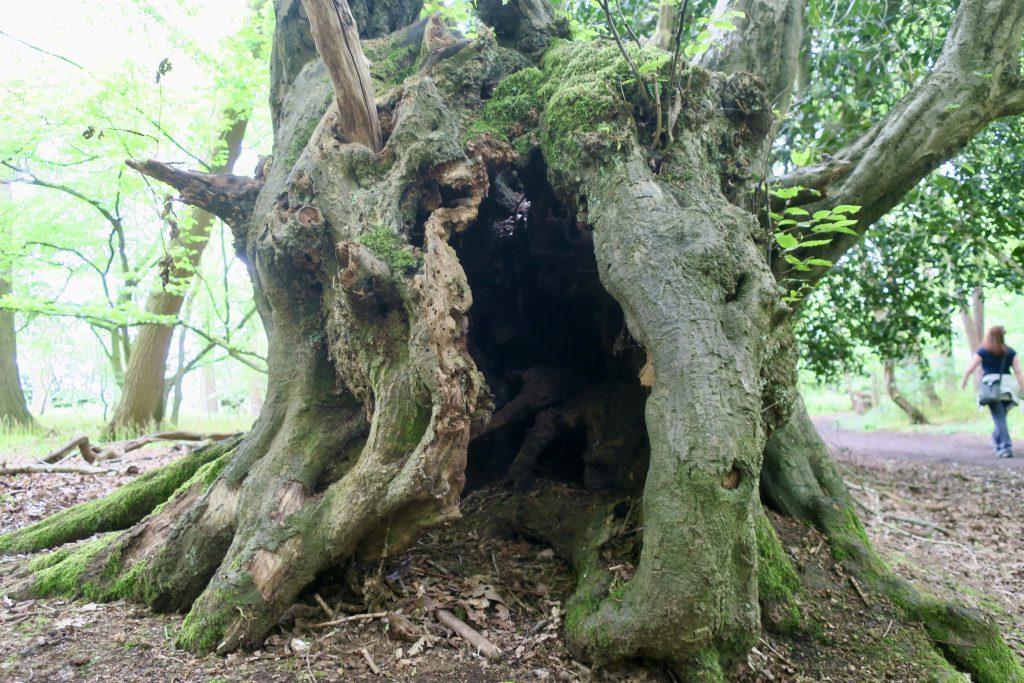 And they yawn as we pass.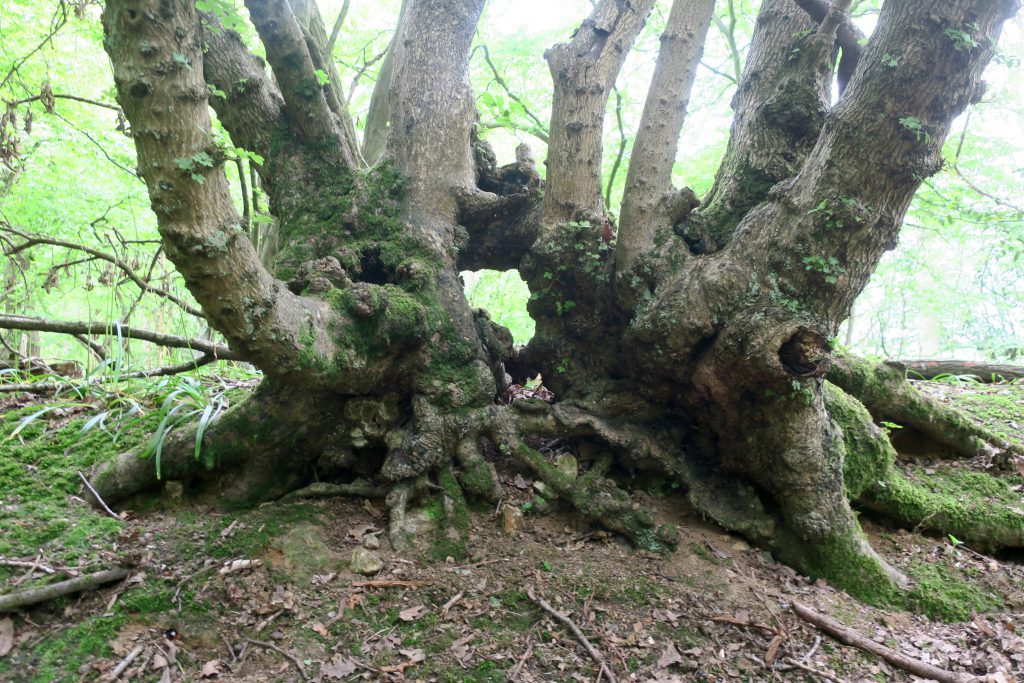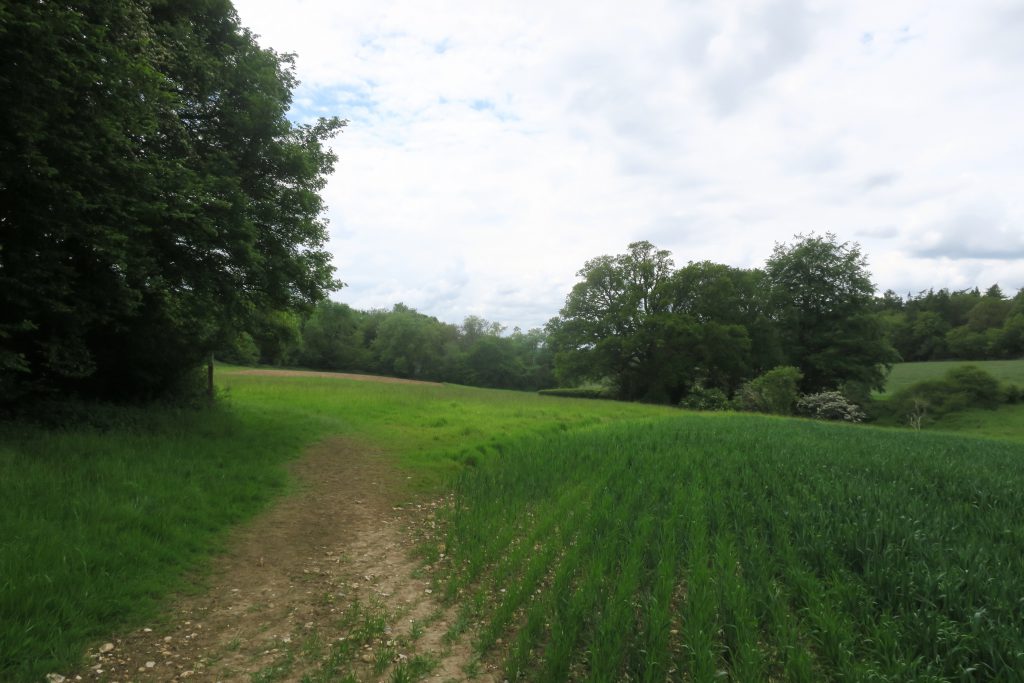 We continue along the edge of Pinfold Wood and Foxholes Wood.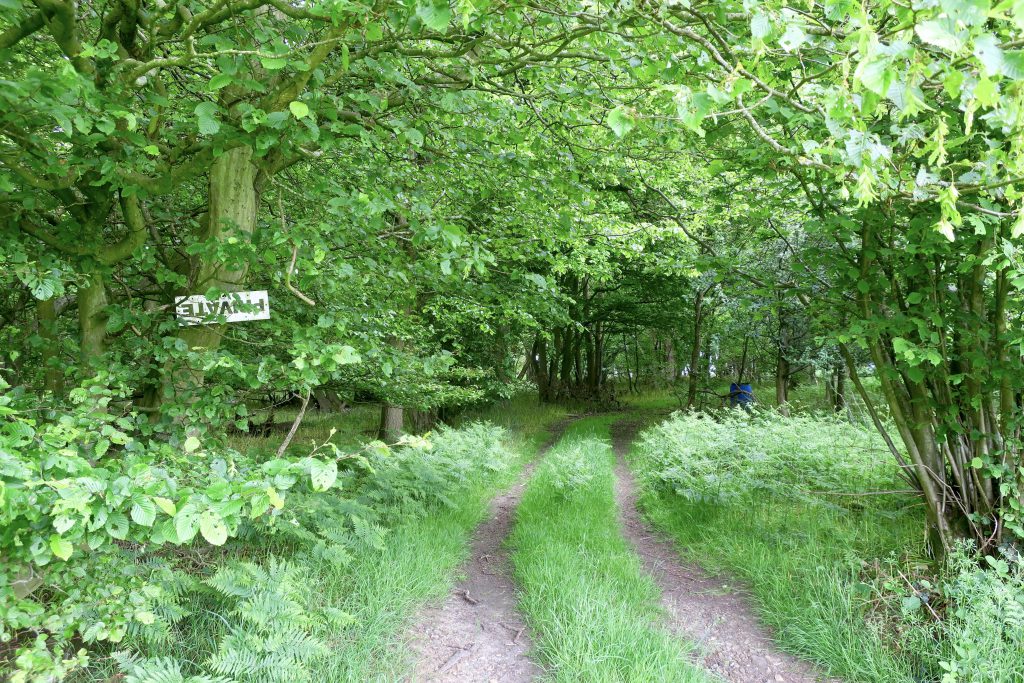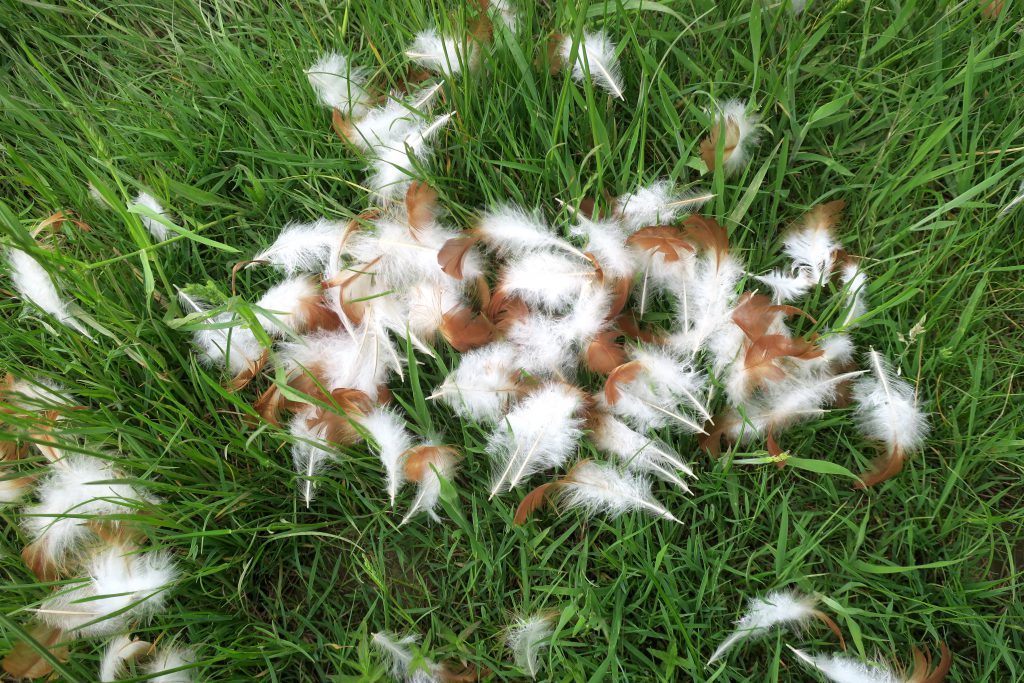 Signs of a kerfuffle.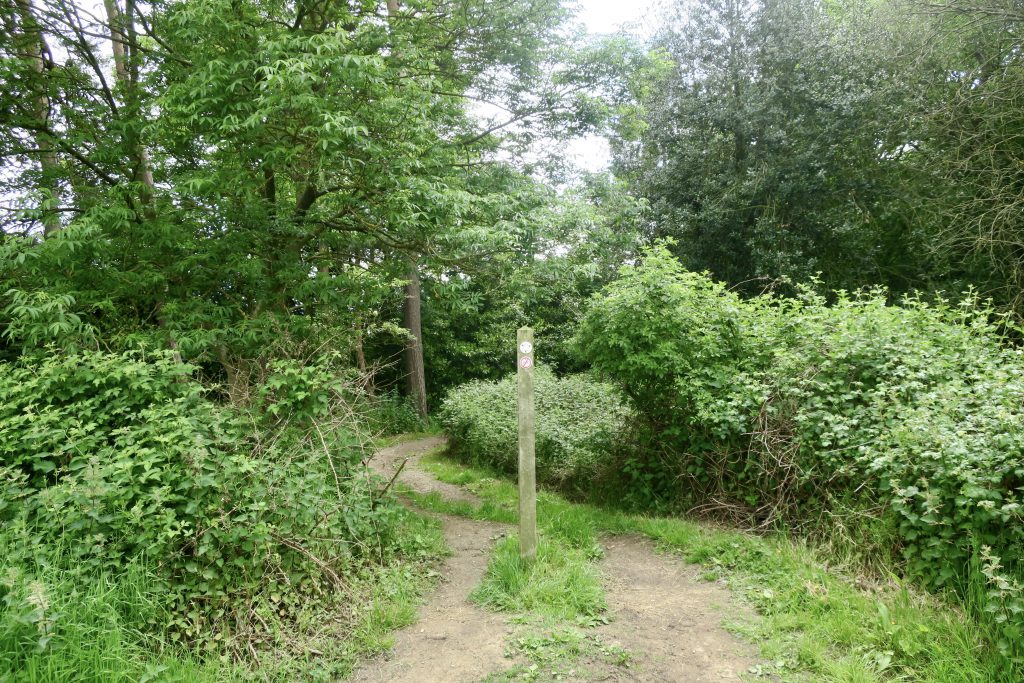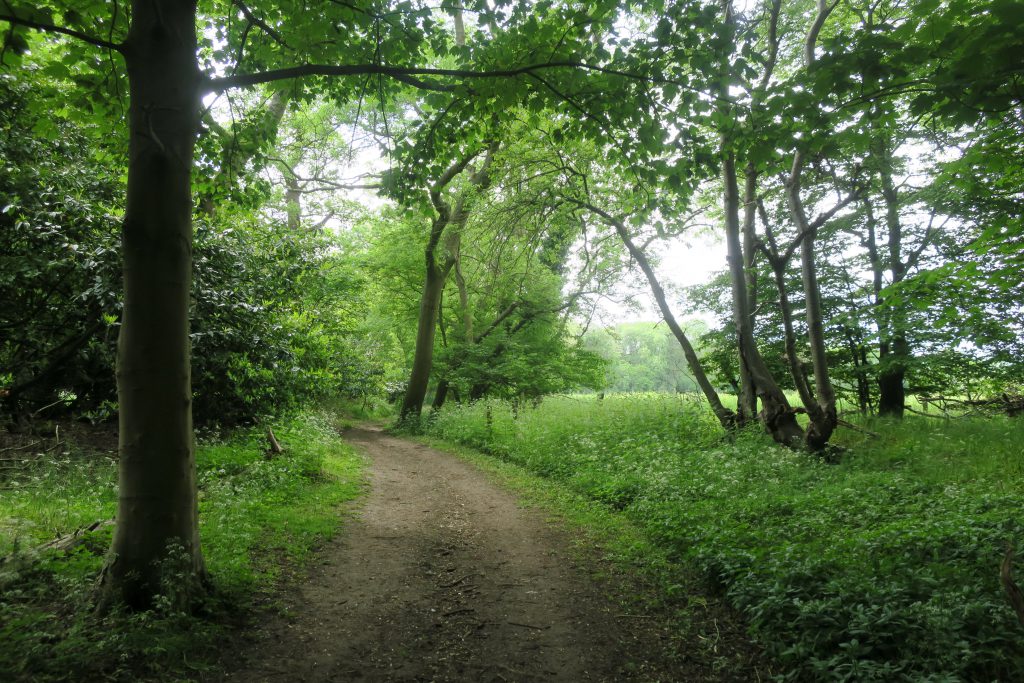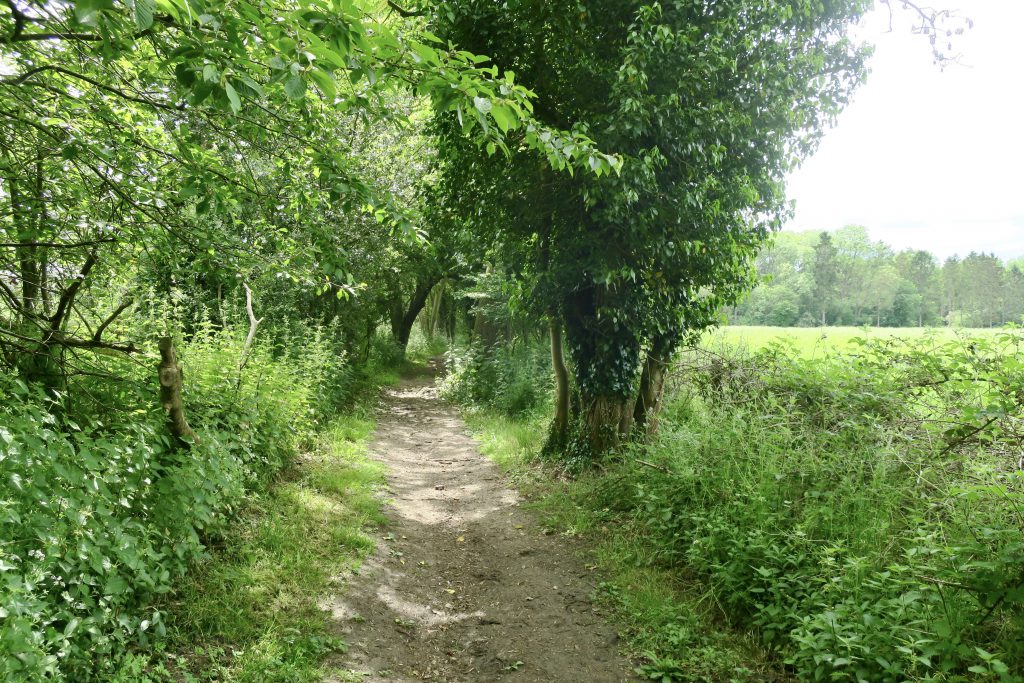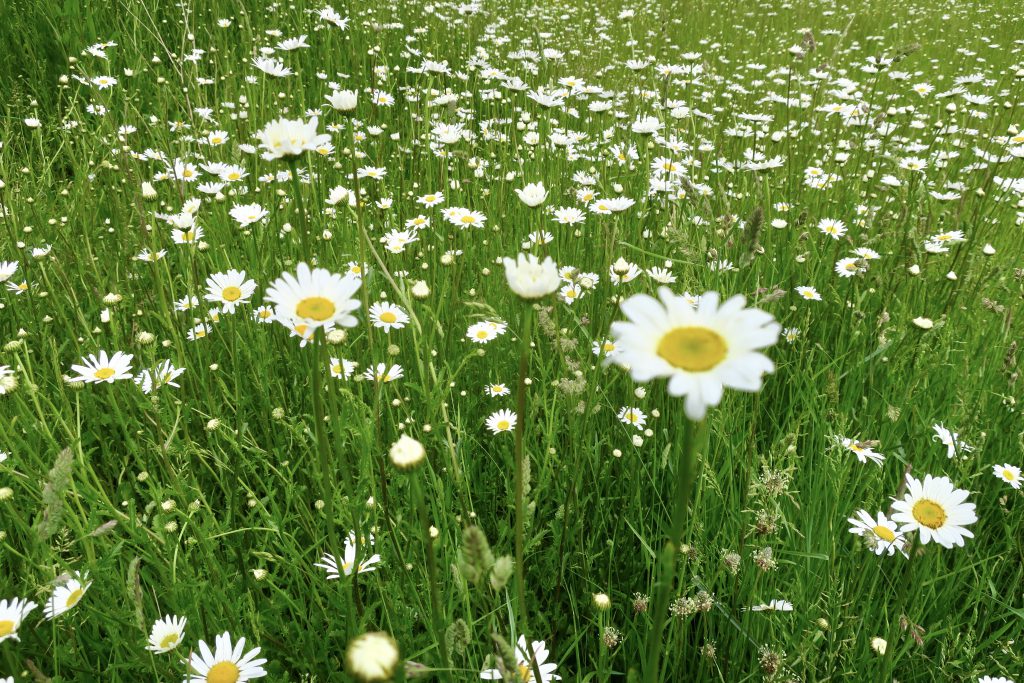 Oxeye daisies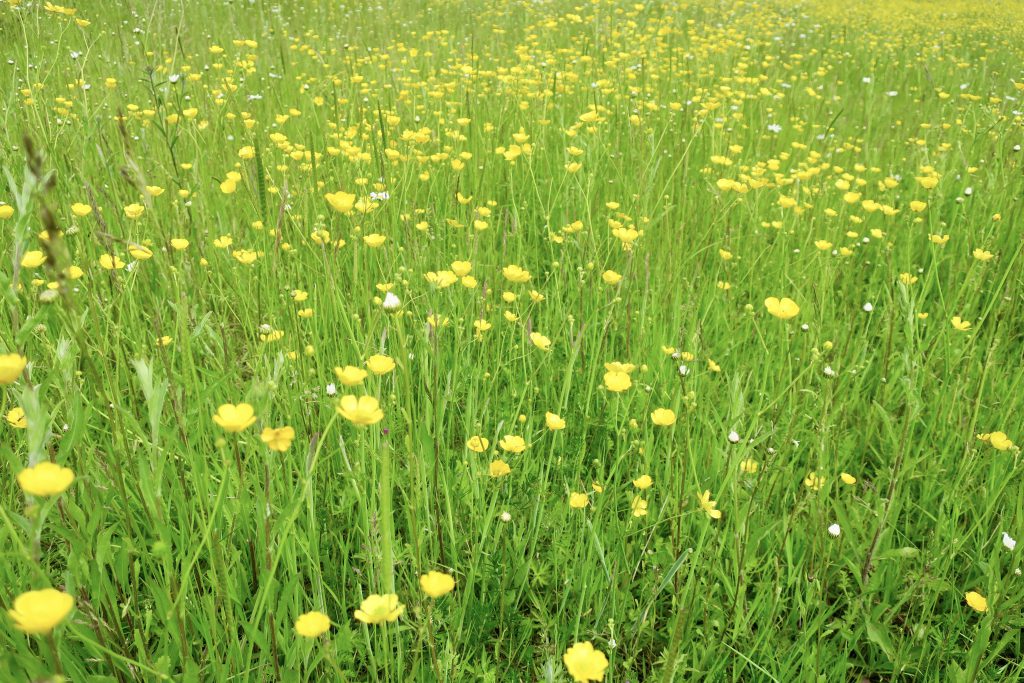 Buttercups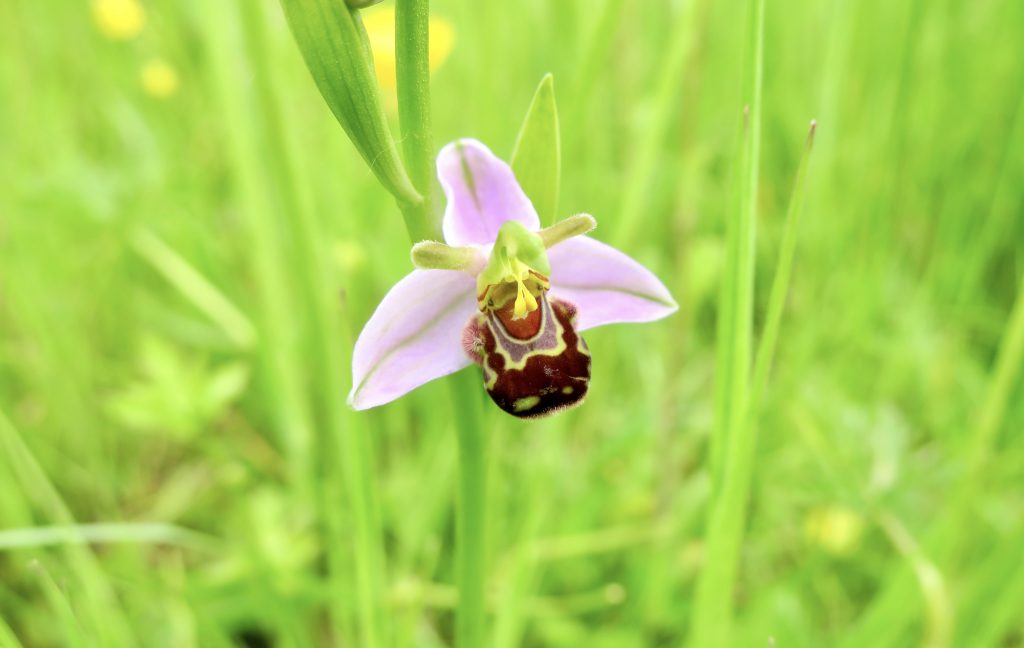 And hidden amongst them I discover my first bee orchid. It's a spectacular deception, evolved to mimic a bee for pollination, but sadly our native bees are not deceived, they don't fancy it, which perhaps explains why these plants are so few and far between. A lost flower in search of a bee.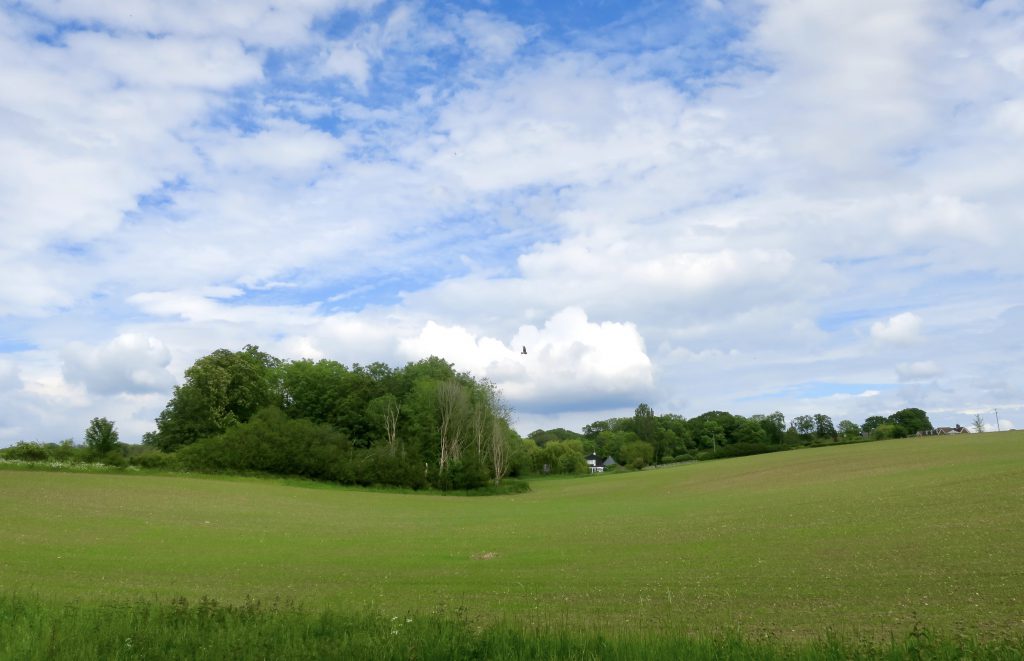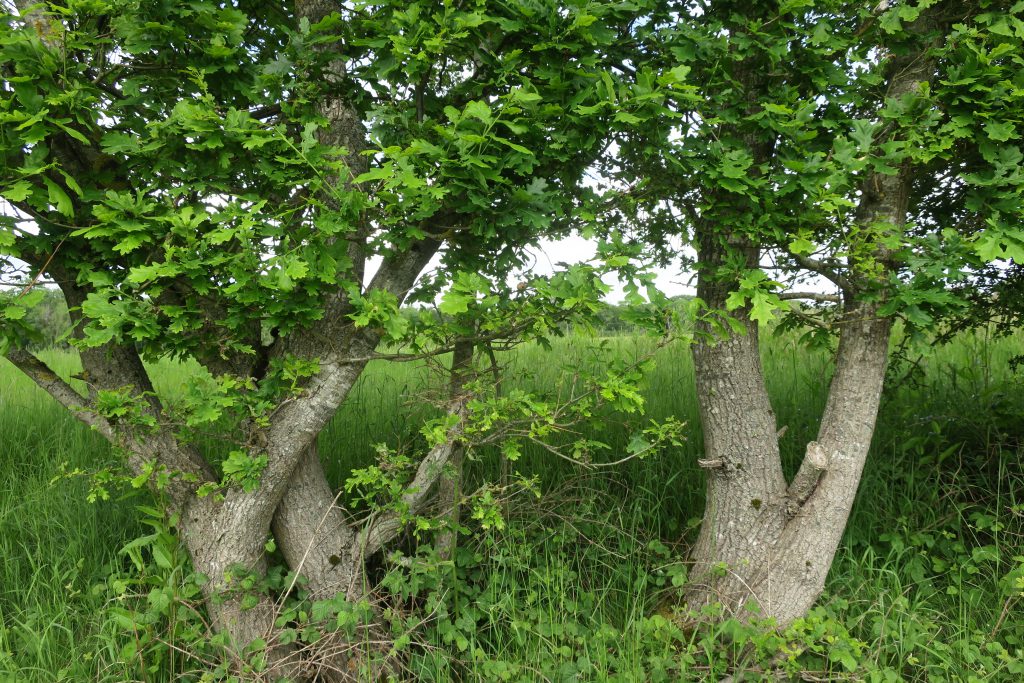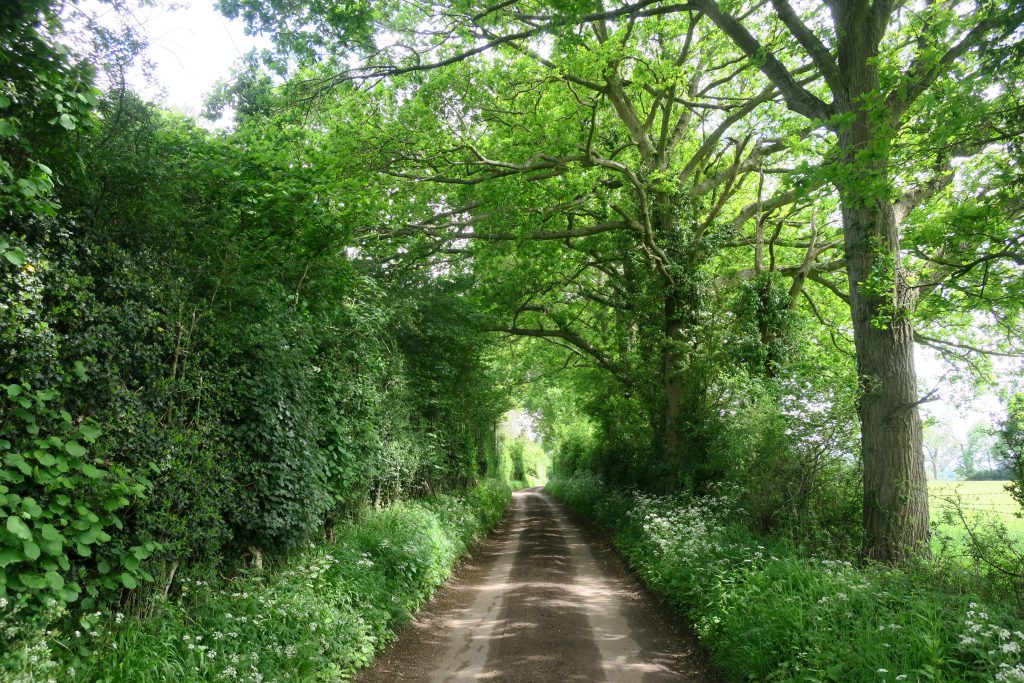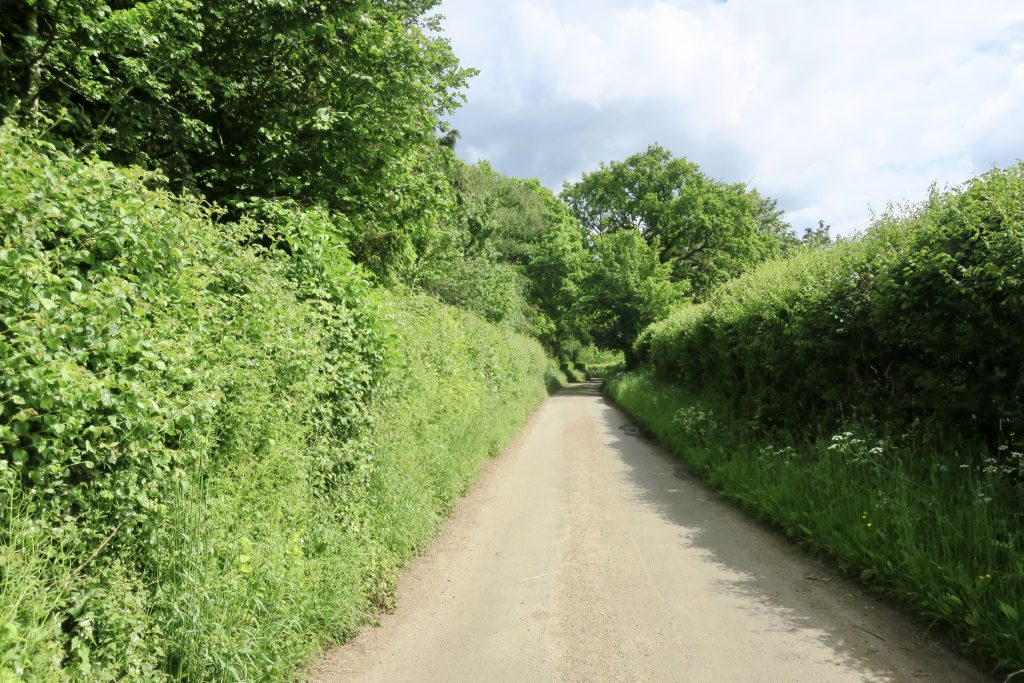 Then down the lane and back again to All Saints Church at St Paul's Walden.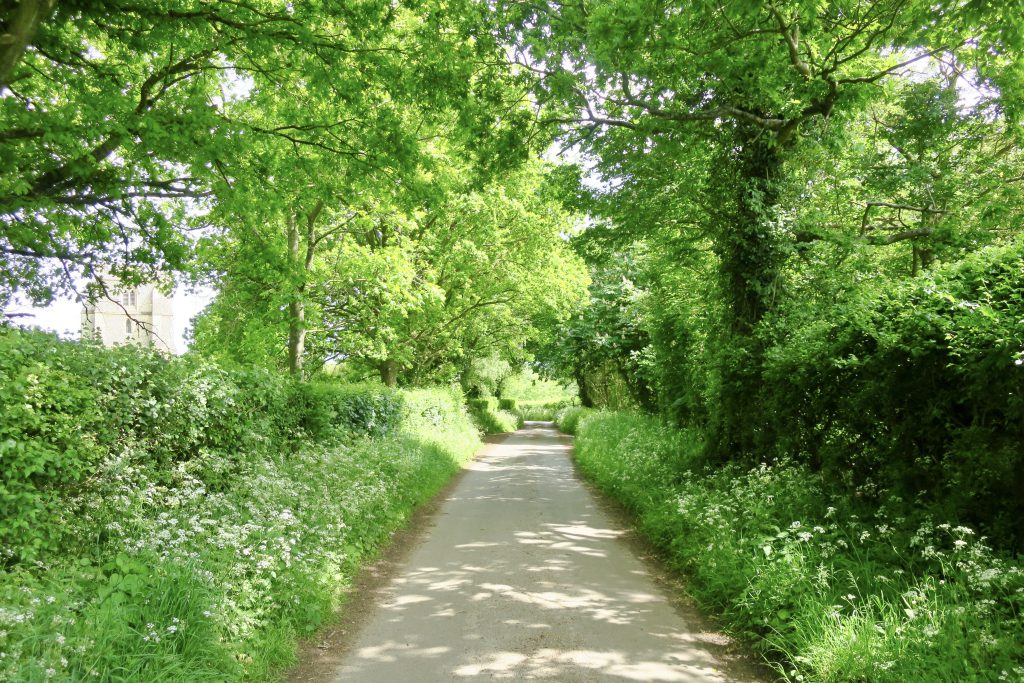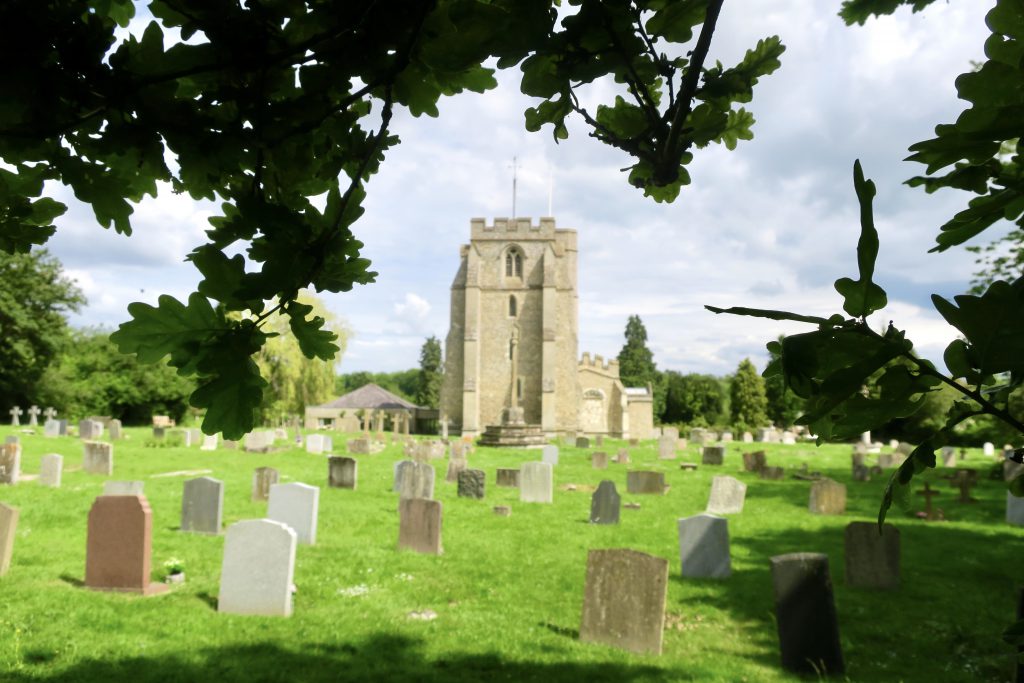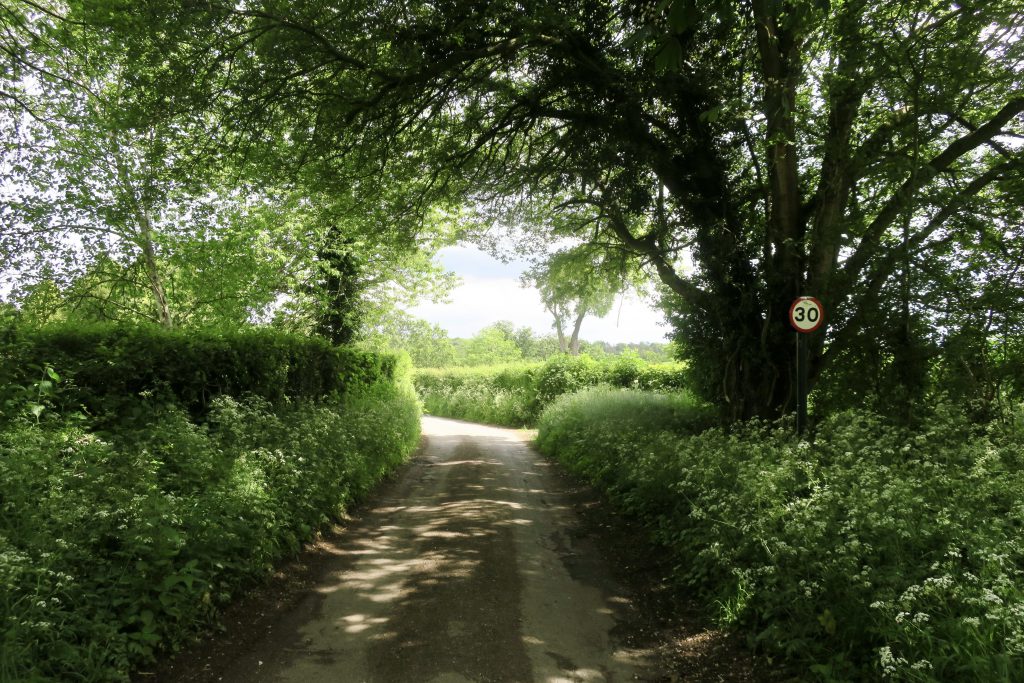 It's a hub. There are paths in all directions. We will return again soon.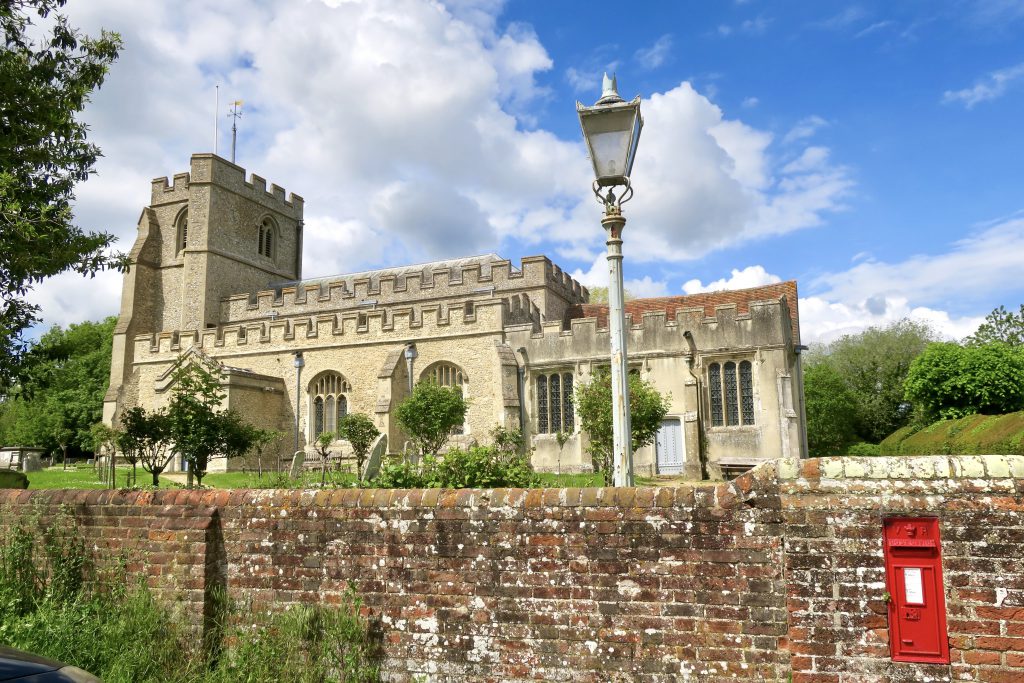 St Paul's Walden is so named because the manor was owned by St Paul's Cathedral in London. Prior to that it was Abbot's Walden and belonged to the Abbey of St Albans. Nearby King's Walden was named after Harold, the last of the Saxon Kings. Walden was also Waldene and Waldenei. There's another Walden in North Essex that became famous for its crocus trade, and changed its name to Saffron Walden. In North America, Henry David Thoreau retreated to Walden and it became famous for transcendental pastoralism. Now I think perhaps a walk around St Paul's Walden is a good way to find some old English transcendental pastoralism.