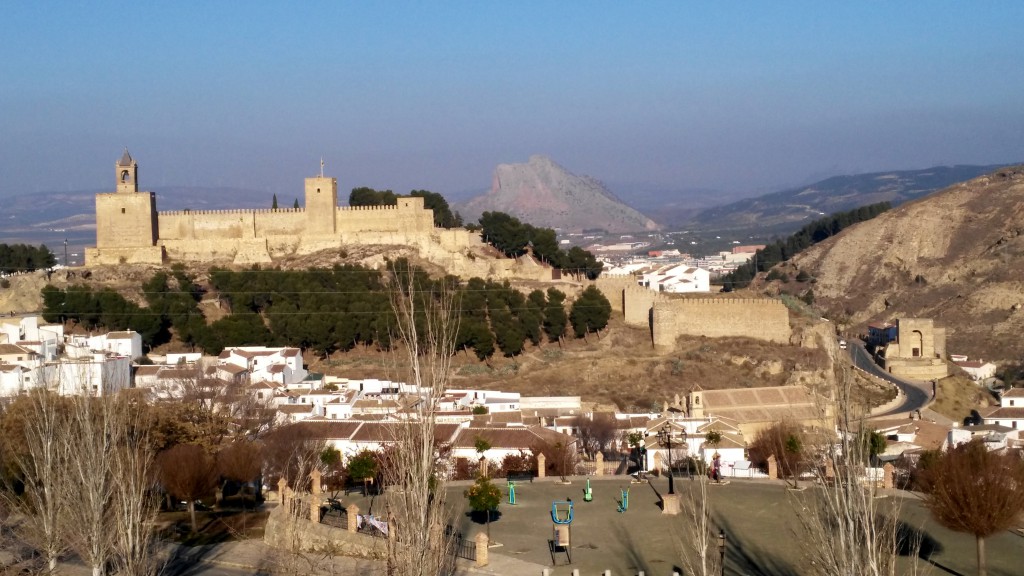 In early December I got the opportunity to travel across Andalucia from my home on the Costa Tropical near Granada to Bolonia, on the Costa de la Luz.
I knew the area already because when I first came to Spain it was to work with artists at the Delfina Studios in Manilva, having been awarded a scholarship to paint there for 3 months in 1993. I loved Andalucia, even though we were in the heart of the over-developed Costa del Sol. But the incredible Spanish landscape changes every half an hour you drive and I happily prolonged my stay by going back to London to get my van and spent another 3 months driving, sleeping, and painting in my little white ex-ambulance, exploring the Costa de la Luz.
So, our first stop was the Galeria Cartel in Granada to drop off my work for a Christmas show (this is a beautiful drive in itself) and then we headed east through huge expanses of flat land, rich red fields of burnt up asparagus, acres of olive groves and open spaces lined with thick rows of autumnal yellow-leafed poplar trees, often growing with the wind, all leaning to the west, shimmering in the sun. Sometimes I would see the red leaves still hanging on the kaki trees close to the farmhouses. Every now and again a lone farmhouse with no trees, totally on its own in the vast landscape.
On the left we pass the impressive 'Lovers Cliff' or 'La Peña de Los Enamorados' named after an impossible and tragic love story between a Christian boy and an Arab girl.
We reach Antequera (above with 'Lovers Cliff' beyond) and struggle from one end of this surprisingly enormous town to the other, following the odd sign marked 'El Torcal'.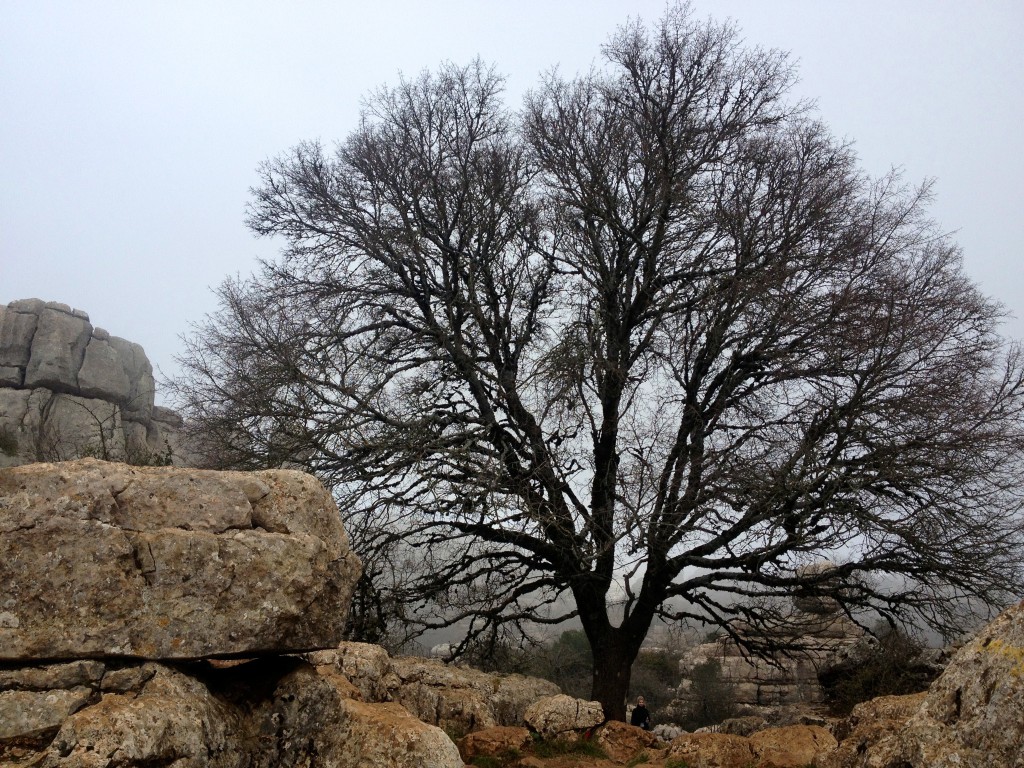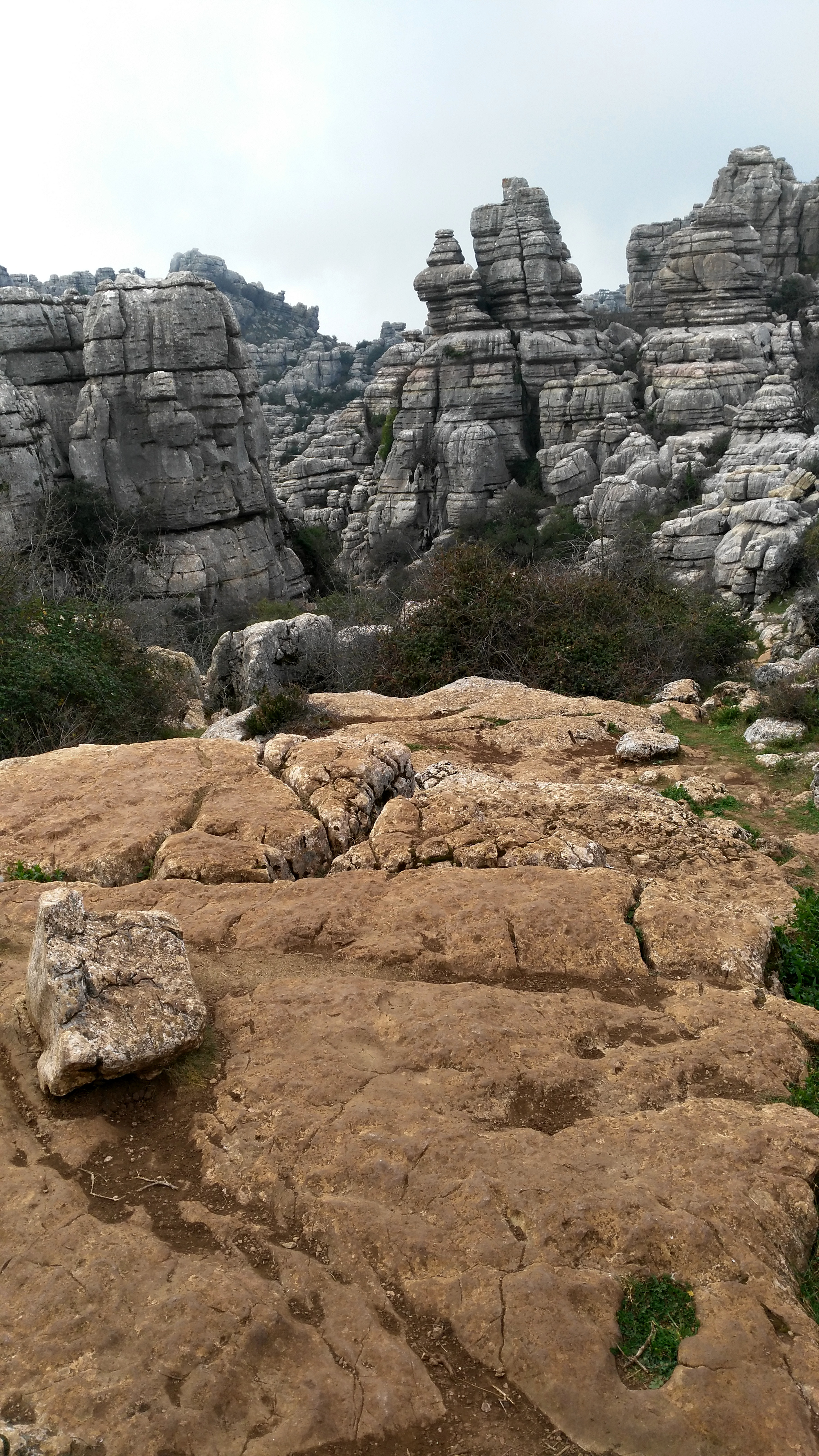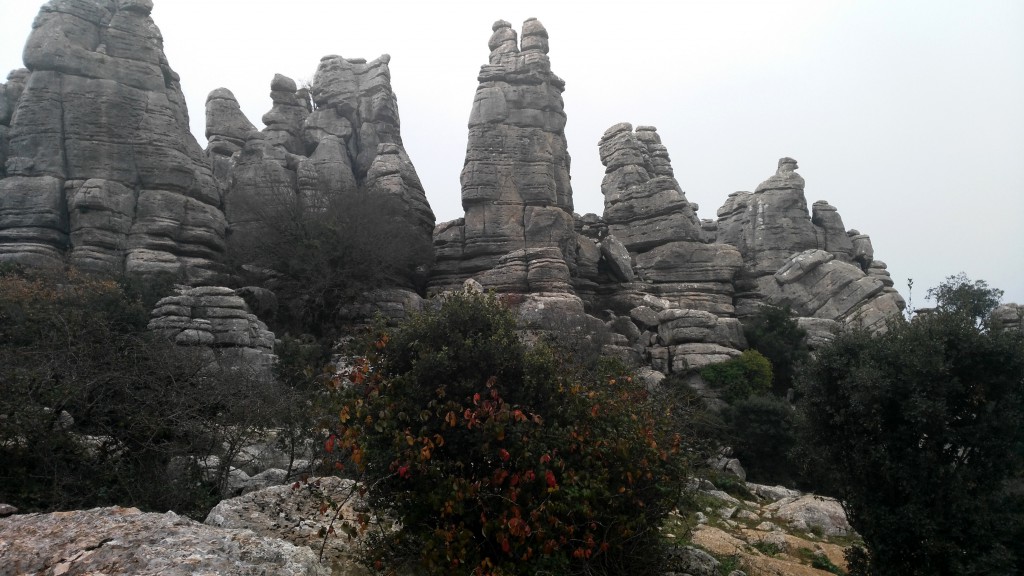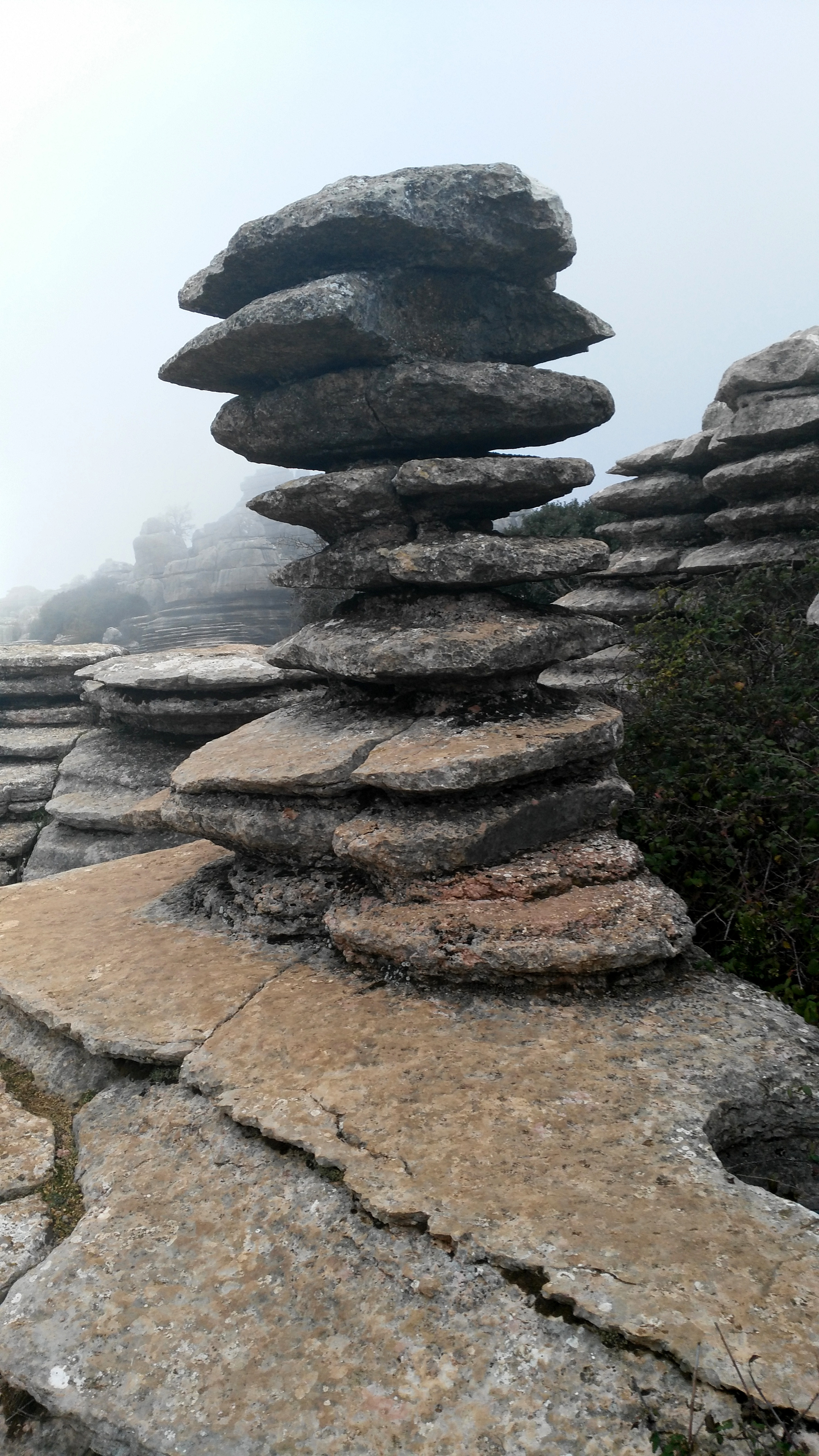 This enchanted mountain range was for many years under water; it emerged and being formed of limestone, the rain and wind have chiseled away at the rocks to make incredible shapes, natural formations, strange figures and faces. There are a number of walks through this landscape and apparently over 30 different varieties of orchid.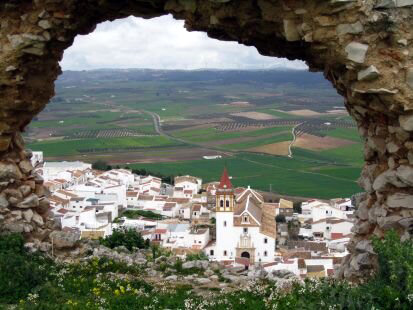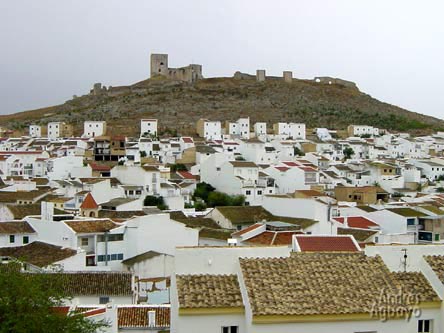 Out into the open sweeps of almost uninhabited farmland ,olive and cereal plantations, we reach Teba and I like it a lot and want to do some painting. This is a village steeped in history, connected to the transportation of the heart of Robert the Bruce, which was in a silver casket at the time, on its way to Jerusalem.
From here on the landscape dramatically changes and north of Ronda open spaces are now covered by a carpet of green.
Soft rolling hills, rich greens and blues and endless forests remind me of England and as much as I love shade in the summer I realise how I'd actually choose the huge barren open spaces over this.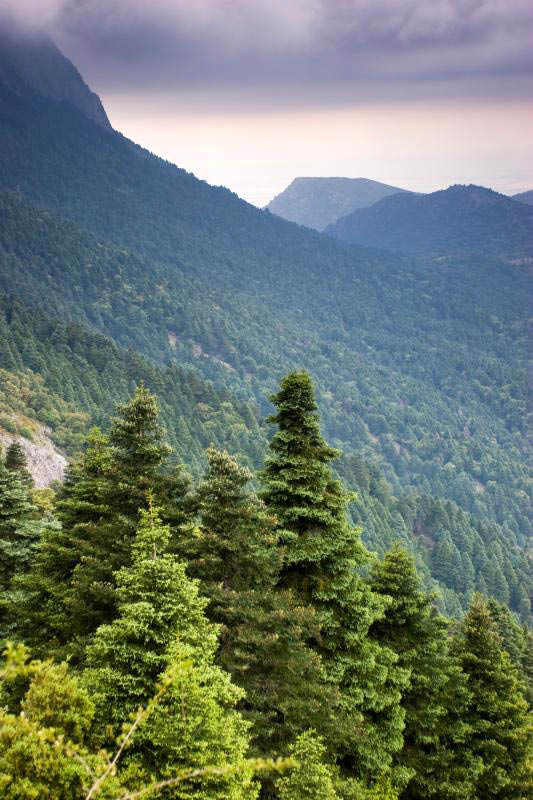 We drive north of Ronda and on to the town of Grazelema , which is full of families, hikers and day trippers, (its a national holiday) and is stunningly beautiful nestled amongst the forests of the rare and protected pine trees (the 'pinsapo') specific to this area because of its unusual quantity of rainfall.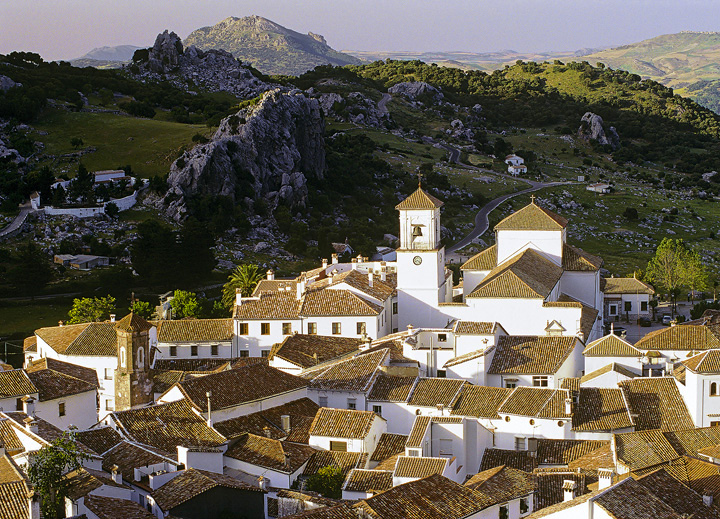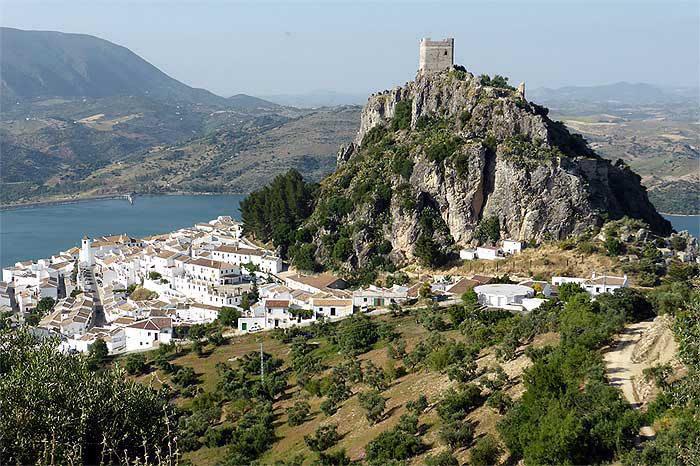 We are heading for Vejer de la Frontera; if I've been here in the past I can't remember it. I'm happy though because its a perfect, very well cared for, typical white Andalucian village, wrapped around its Moorish castle, with beautiful light and a healthy ocean breeze from the Atlantic coast, the Costa de la Luz, which is now only 20 minutes away.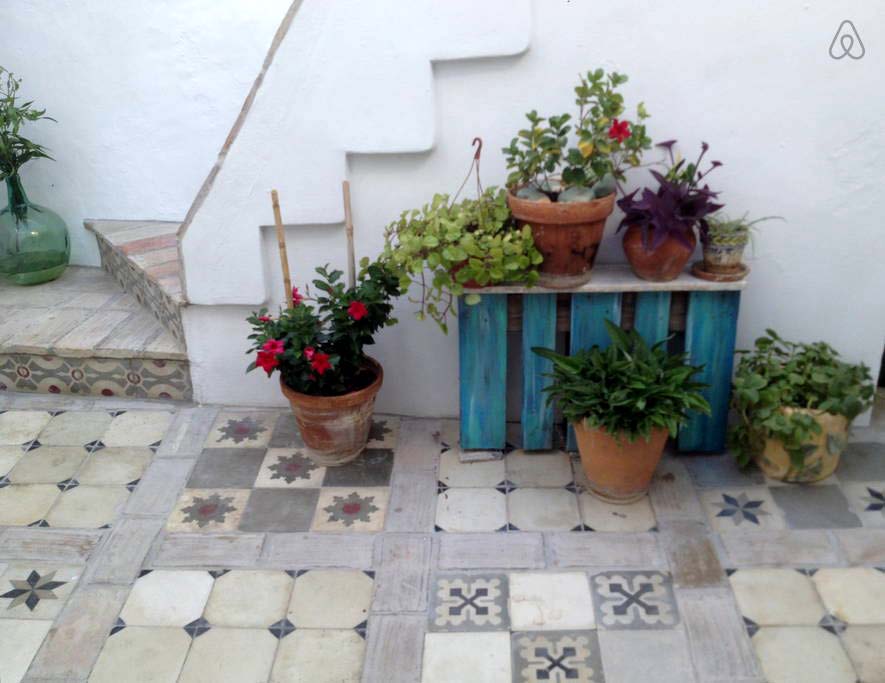 Here most houses have the typical internal courtyard, and everyone seems to have been obliged to preserve the old ceramic tiles, iron and roof work… which sadly in many places isn't the case. We even eat authentic Moroccan food in the Plaza España; it's December and it's still possible to eat outside.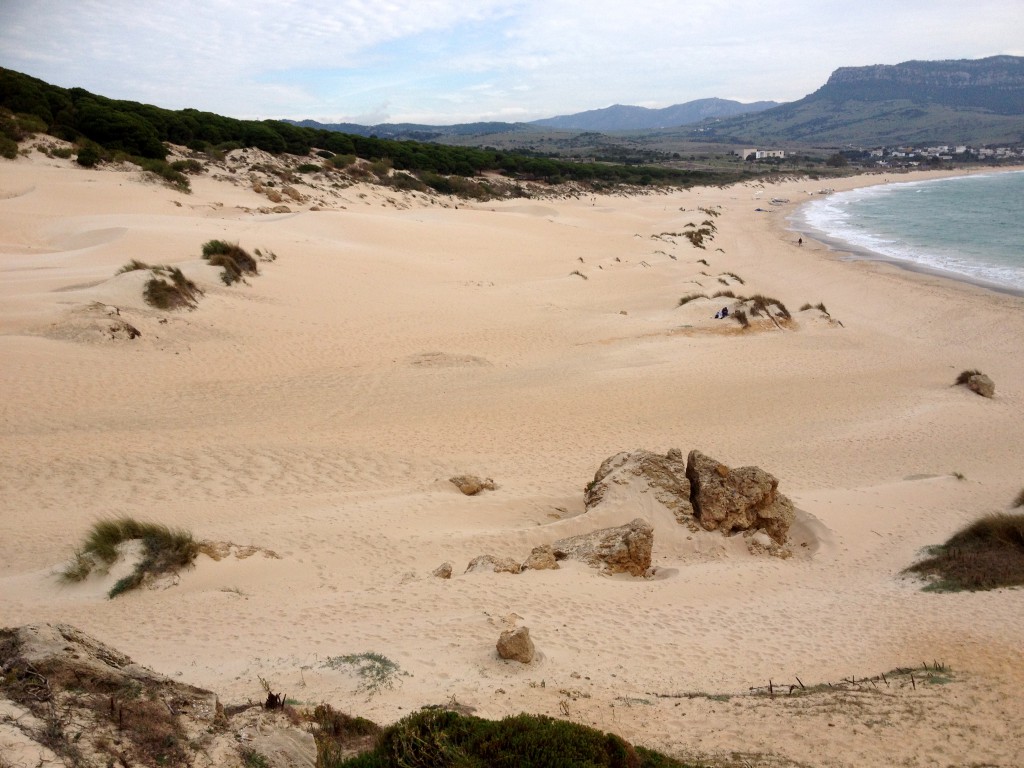 In the morning our first stop on the coast is Cape Trafalgar (site of Nelson's great victory). Endless stretches of yellow sand full of small pieces of broken pink shells, some beach huts, family cafés, kite surfers and camper vans… soft small constant waves with white splash. Its very quiet, relaxed and natural. All this coast is battered by strong winds but there is no other place I know of here in Andalucia that is so wild and there's a special light. The ocean is shallow and safe and further up the coast, driving through the natural park, is Bolonia, also home to surfers, but also with a beach huge enough to accommodate every type of visitor. This is a village protected because its part of the Natural Park and set away from the main coast road. It's still rugged and has a remote feeling, with cows grazing in makeshift fields and pine trees getting buried by sand dunes made by the constant movement of sand blowing up the beach.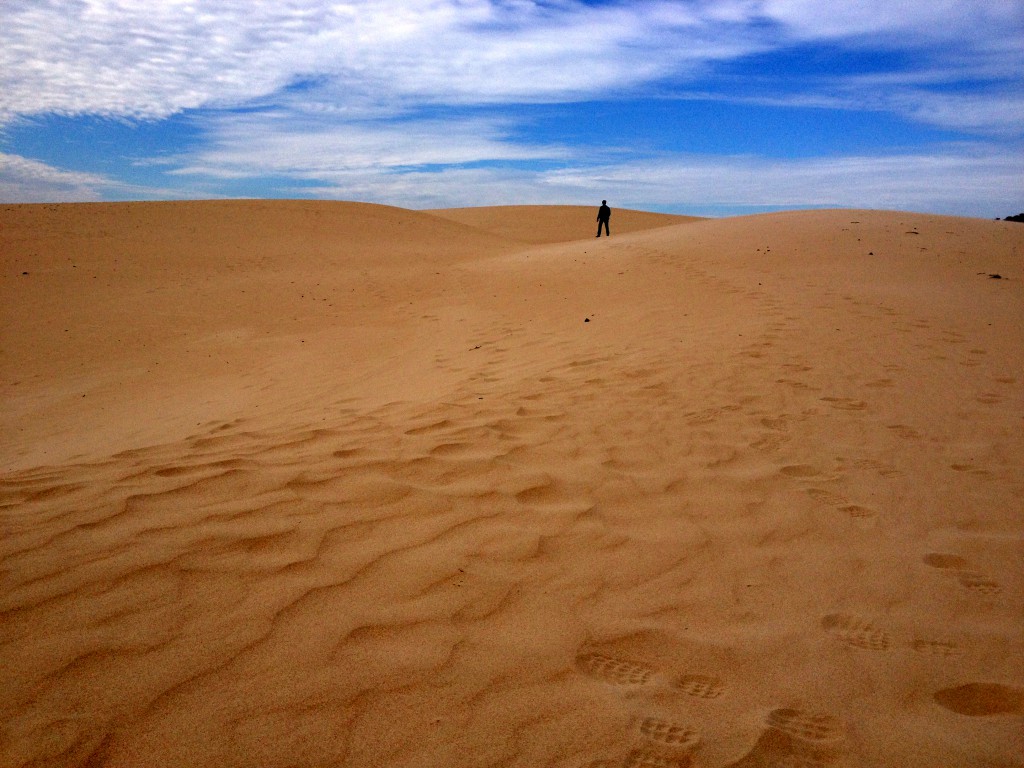 Going for a windswept walk past the Roman ruins and into the sand dunes is like being in a mini desert with always the turquoise blues of the Atlantic on our left.
From Bolonia we drove along the coast through Tarifa but we didn't stop, and I closed my eyes whilst we went through the hugely populated Costa del Sol which seemed like another country.
No paintings yet but soon I hope.
Annabel Keatley / The Rowley Gallery