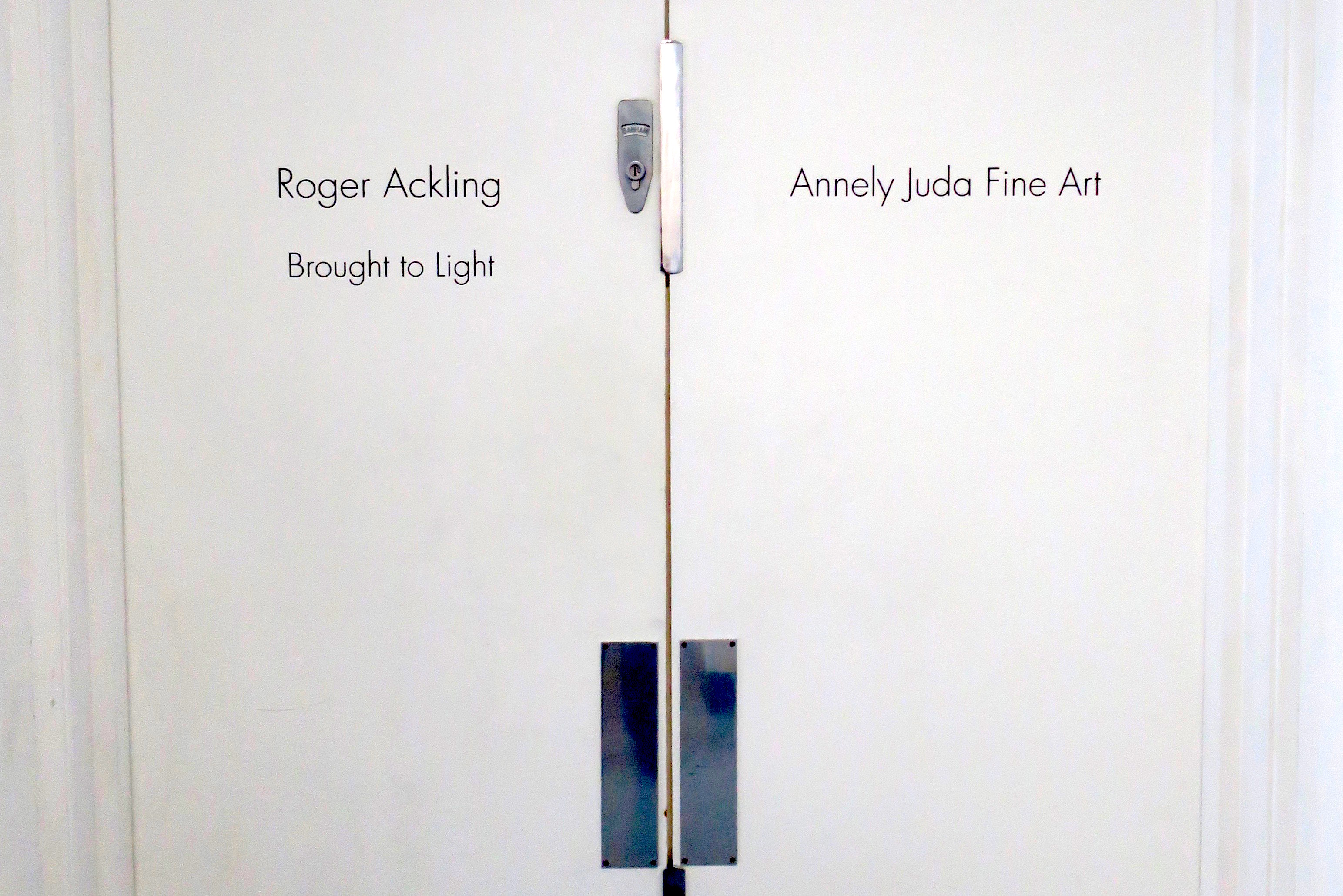 Roger Ackling lived on the north Norfolk coast where he collected driftwood. His house was close to the cliff's edge, which was constantly eroded by the North Sea. Maybe his house is now under the sea. He recorded his time there by making his mark on the driftwood he found on the beach. Using the lens of a magnifying glass he burned sunspots to leave his shadow on the wood.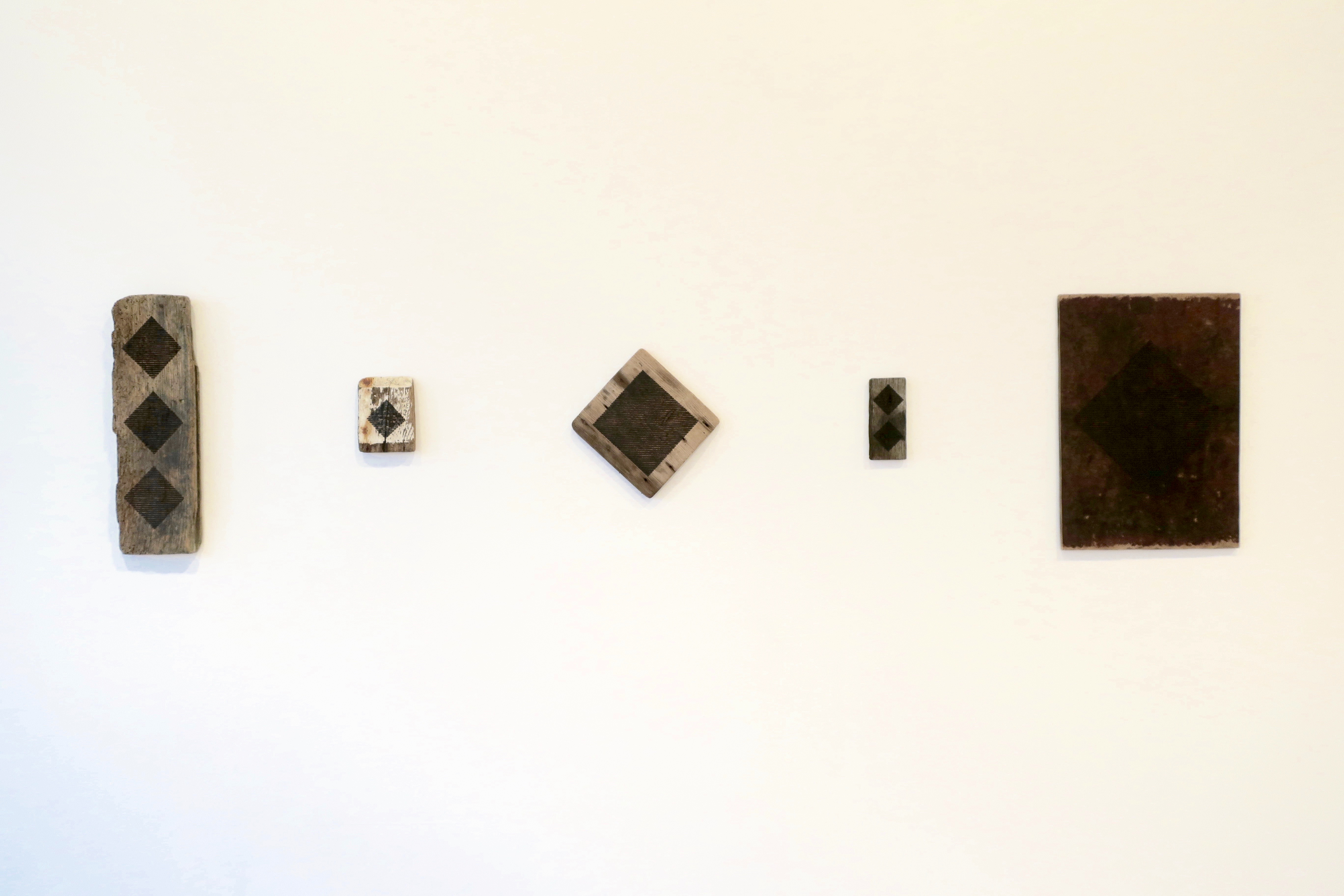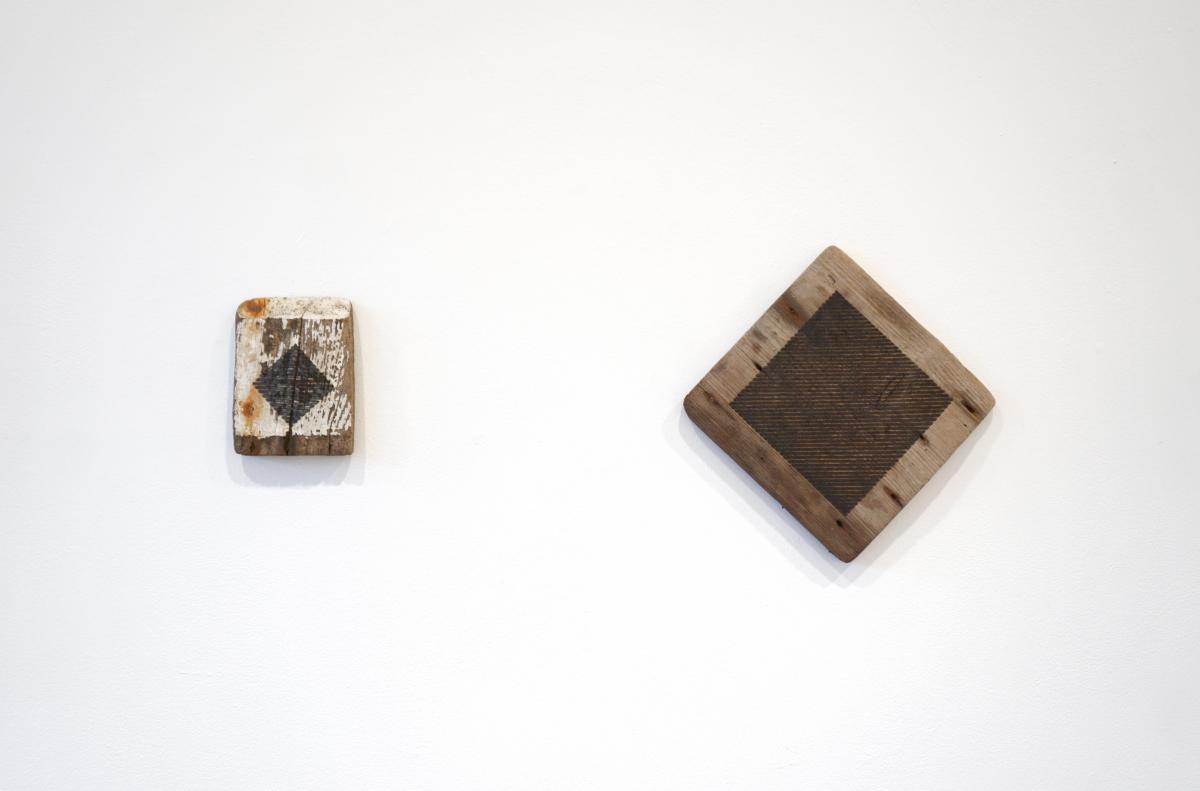 Weybourne (Left: 2008 Right: 1994) sunlight on driftwood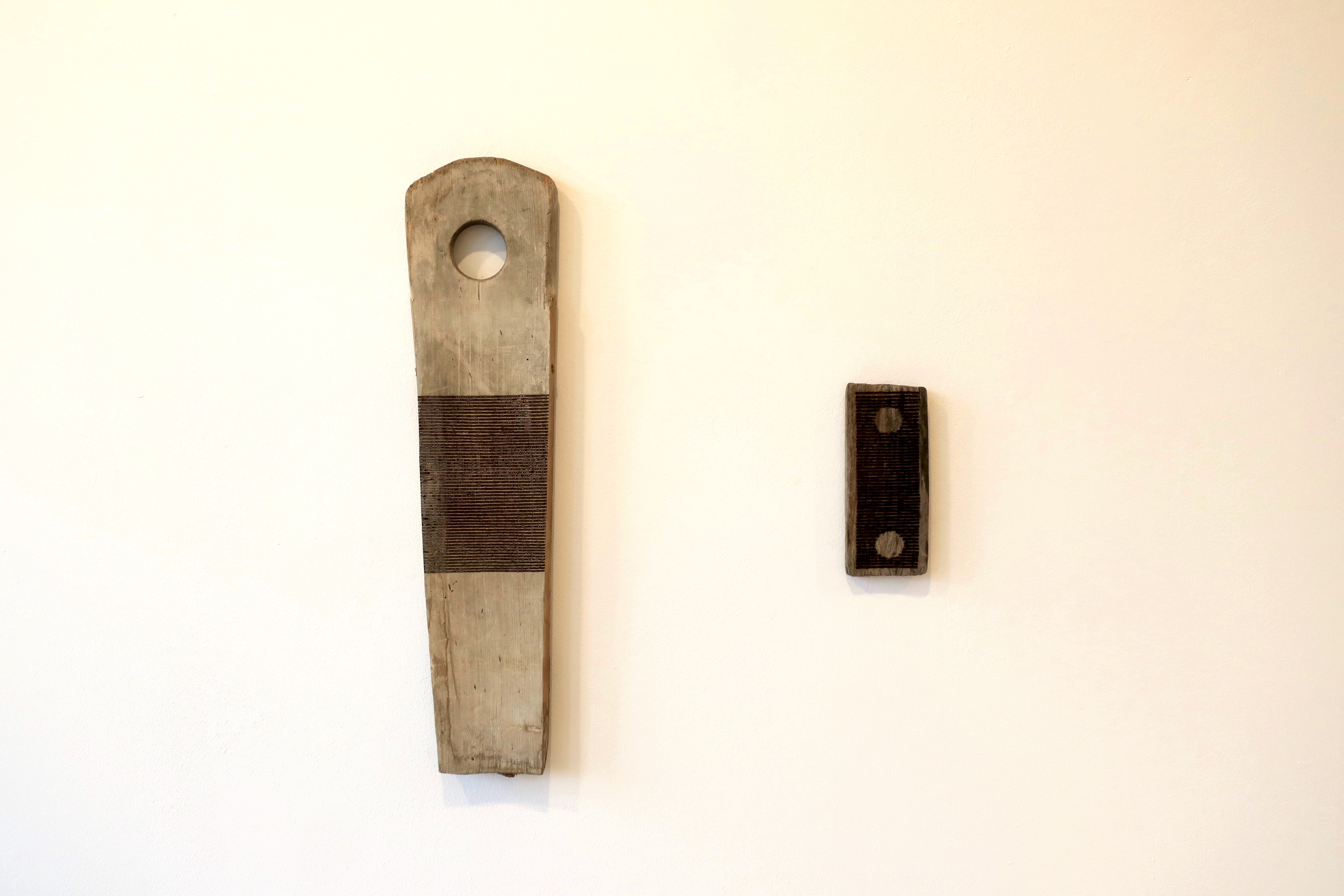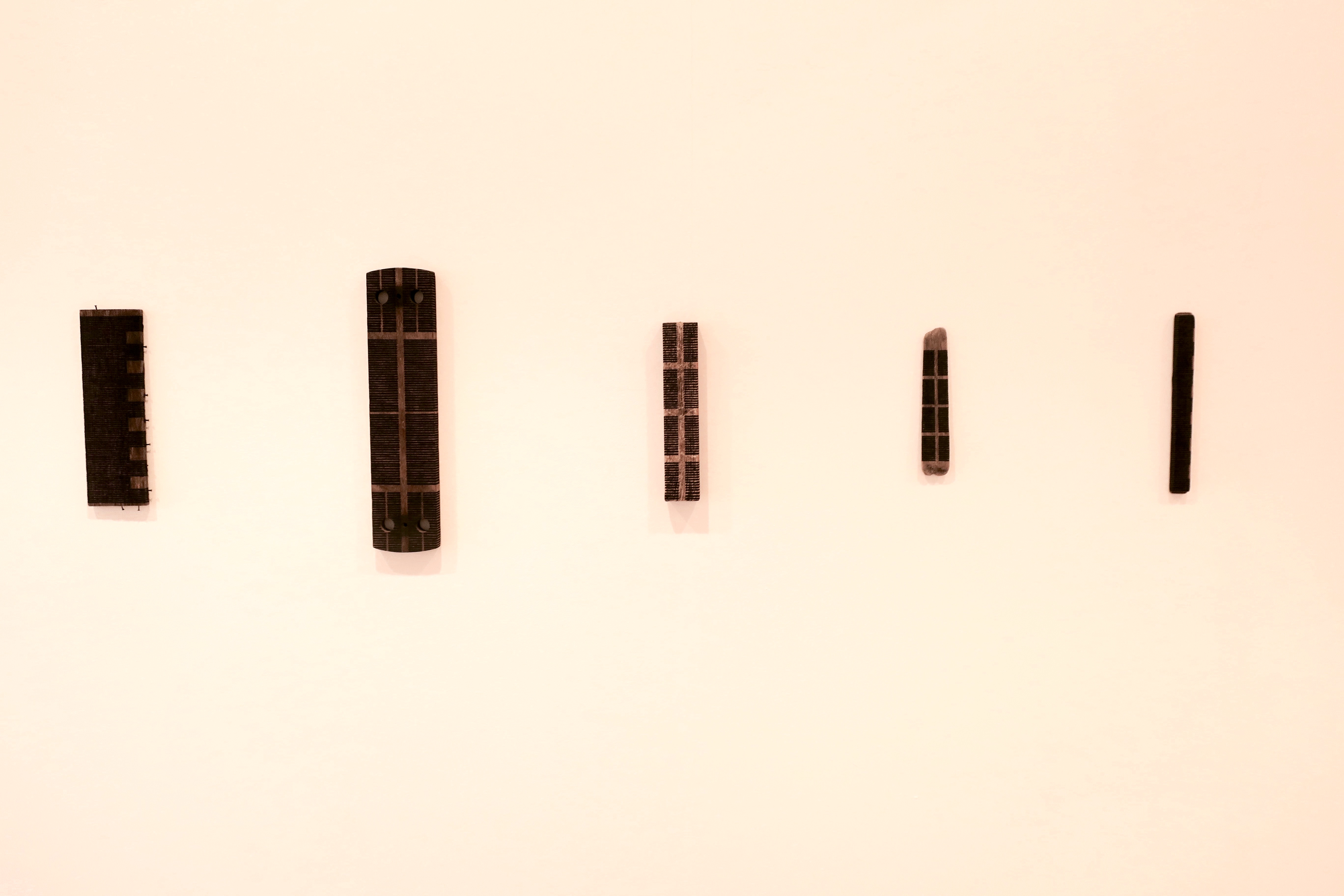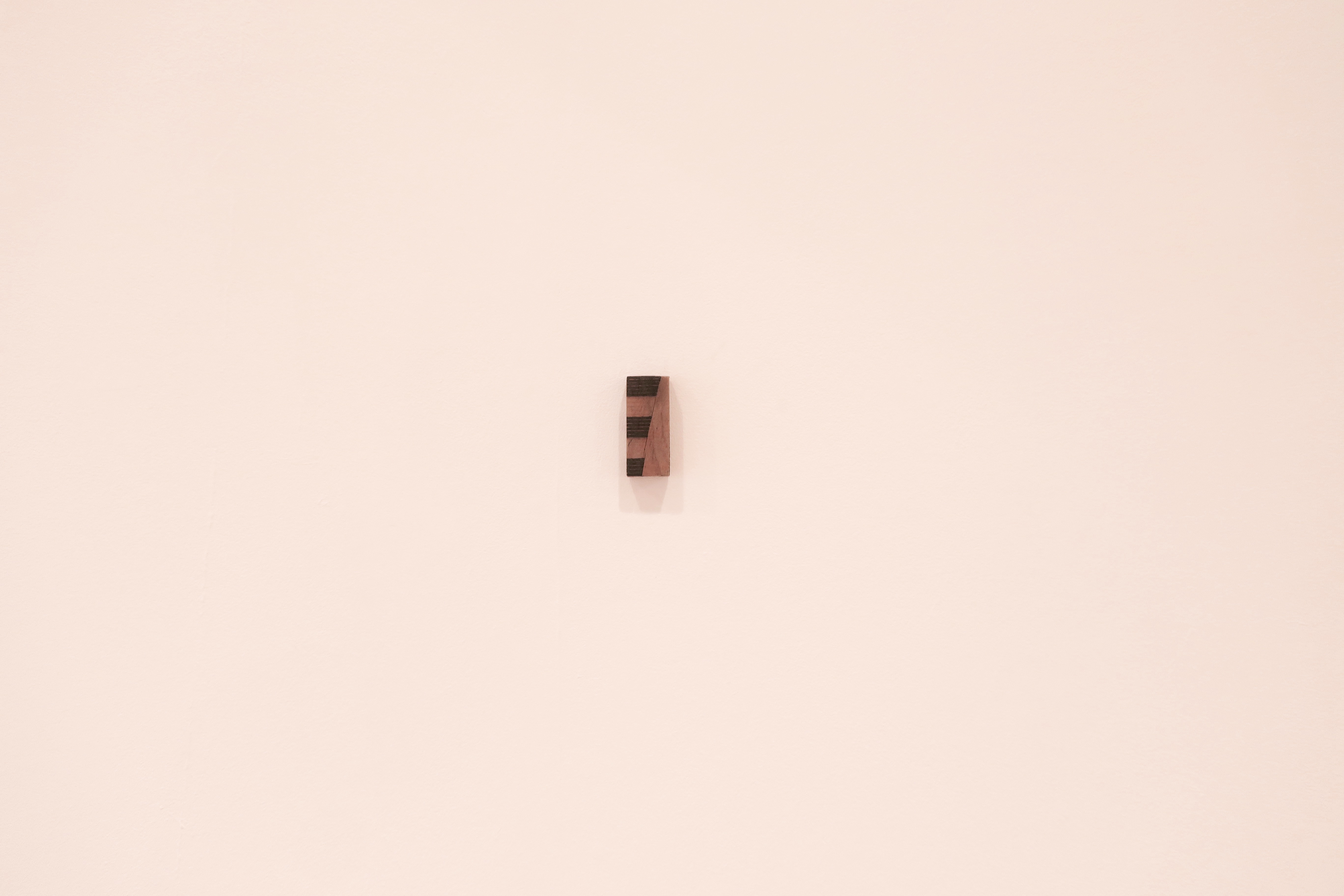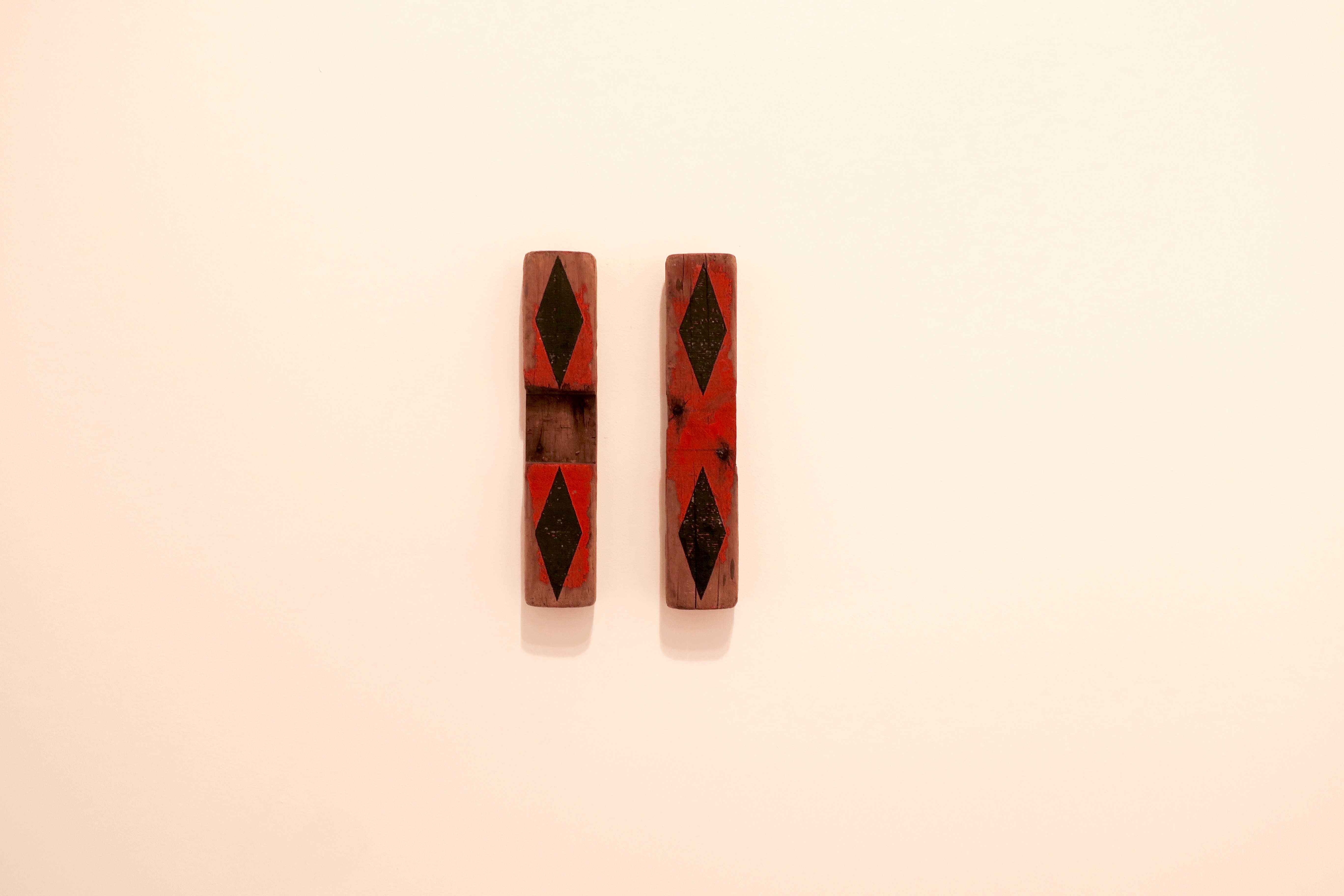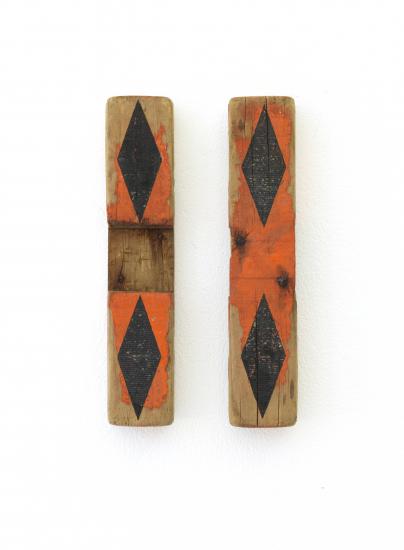 Voewood (2006) sunlight on driftwood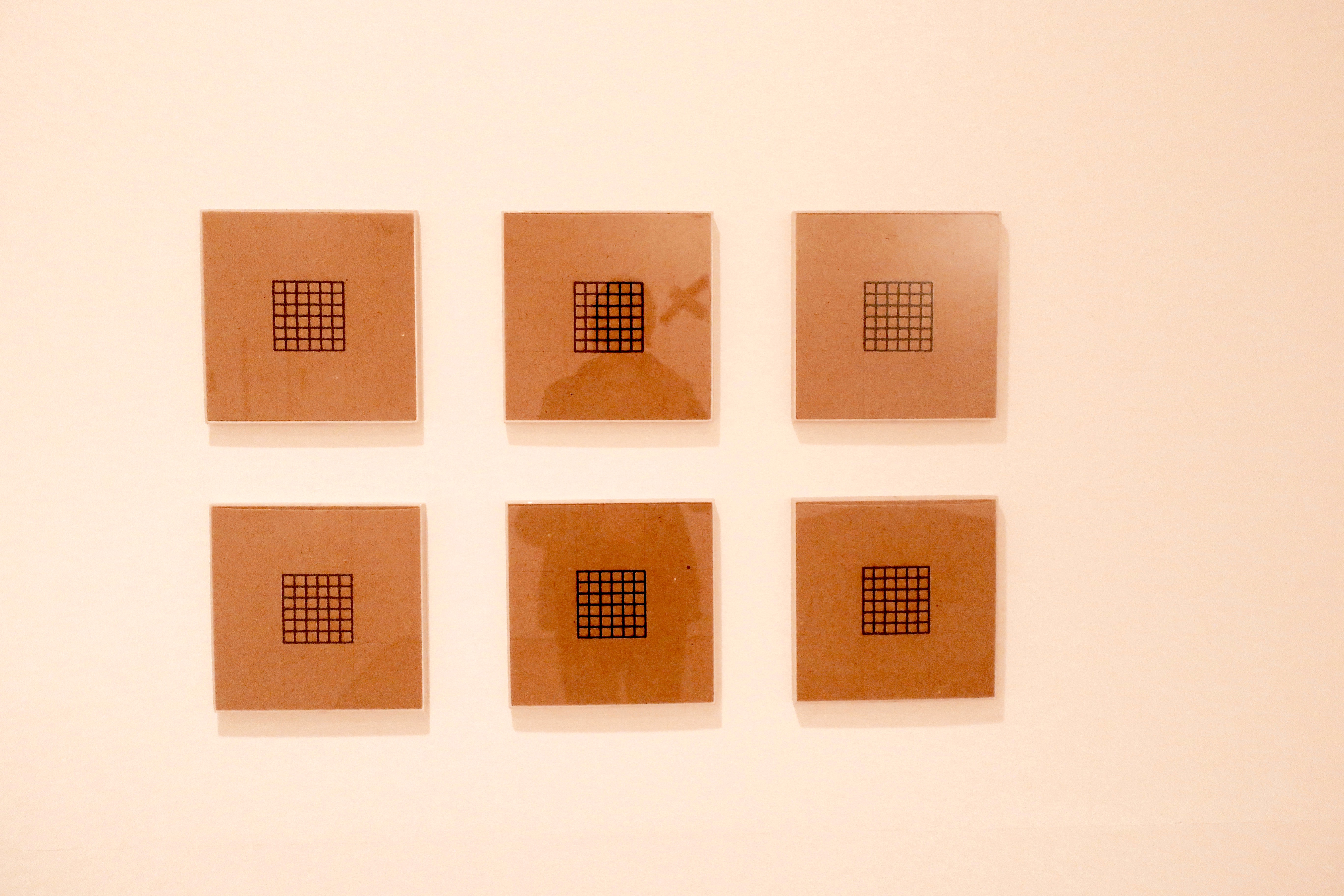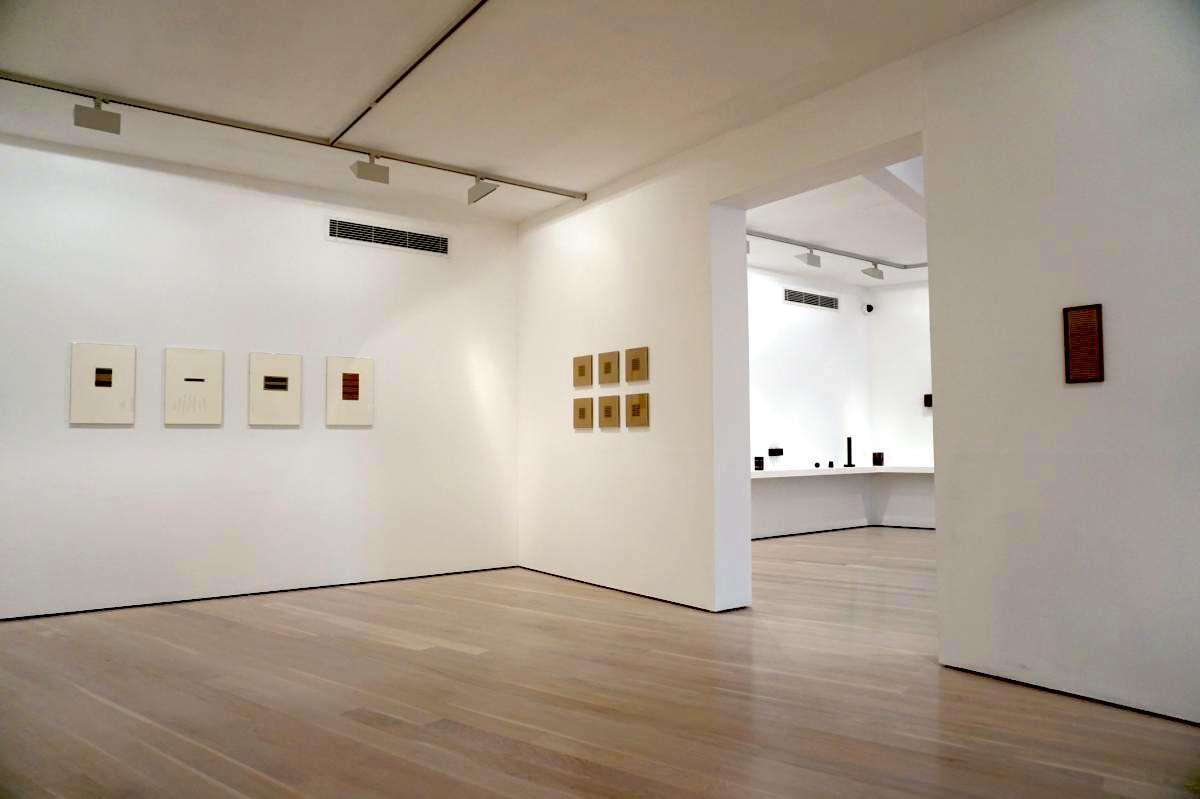 Roger Ackling Brought To Light installation, Annely Juda Fine Art (2018)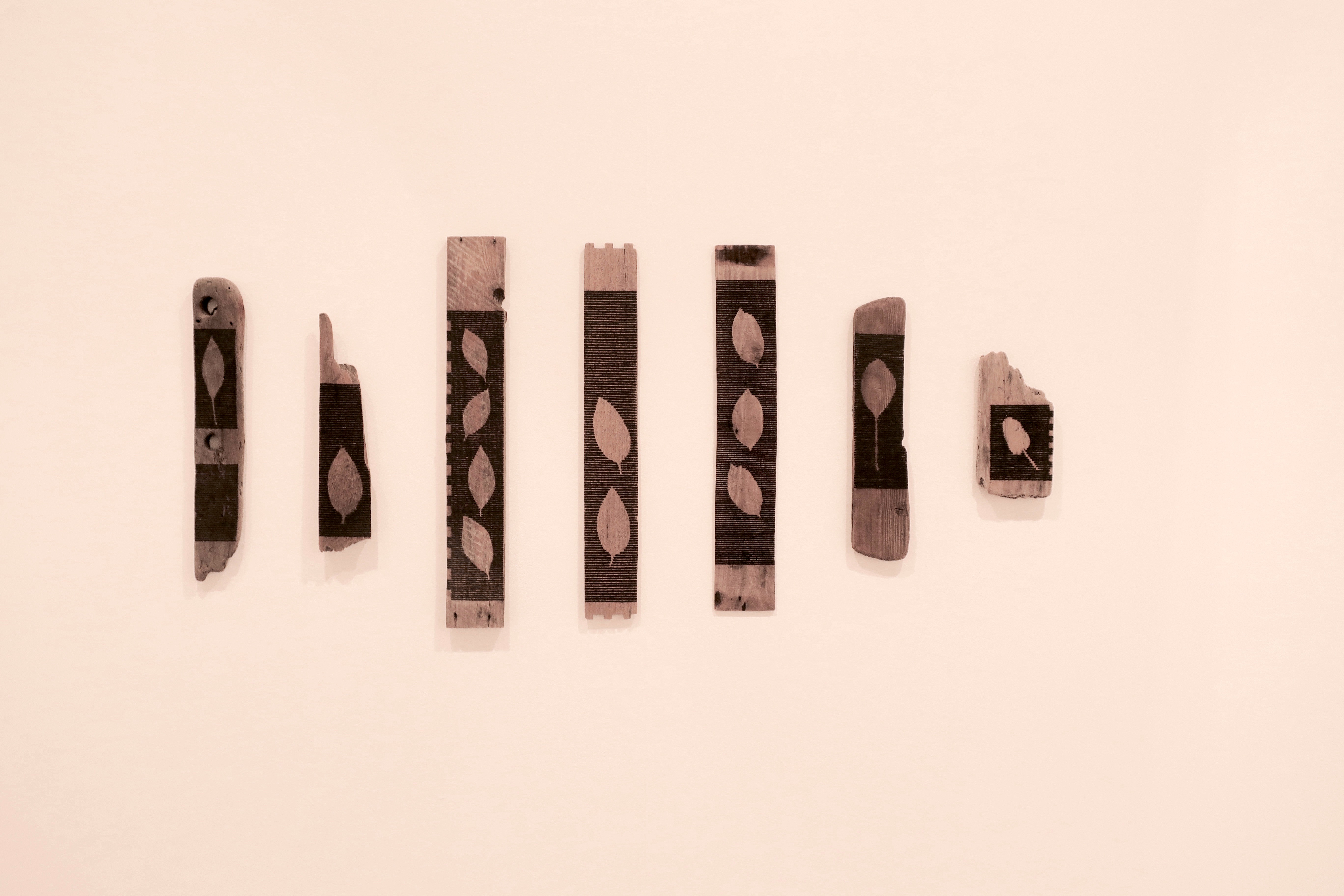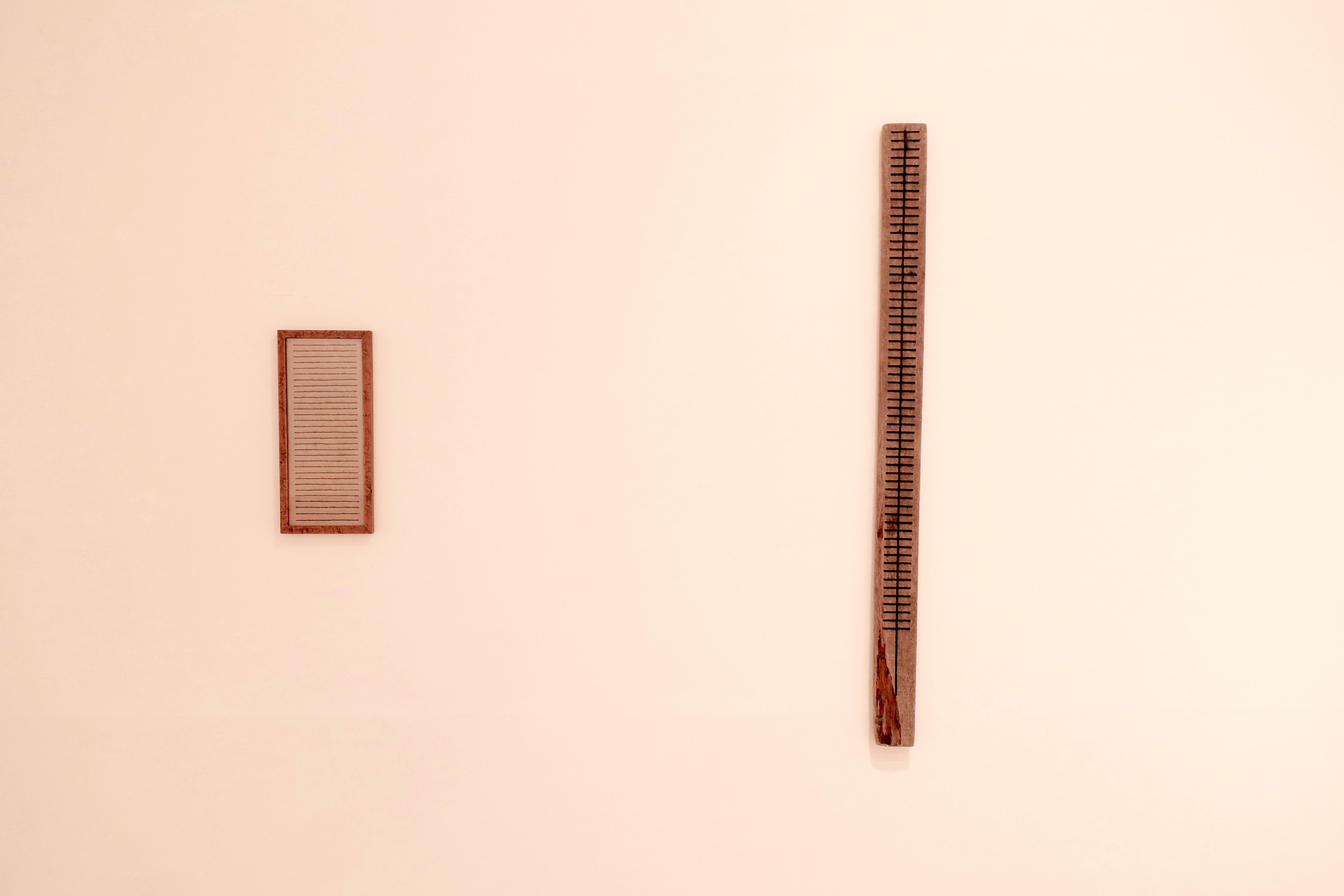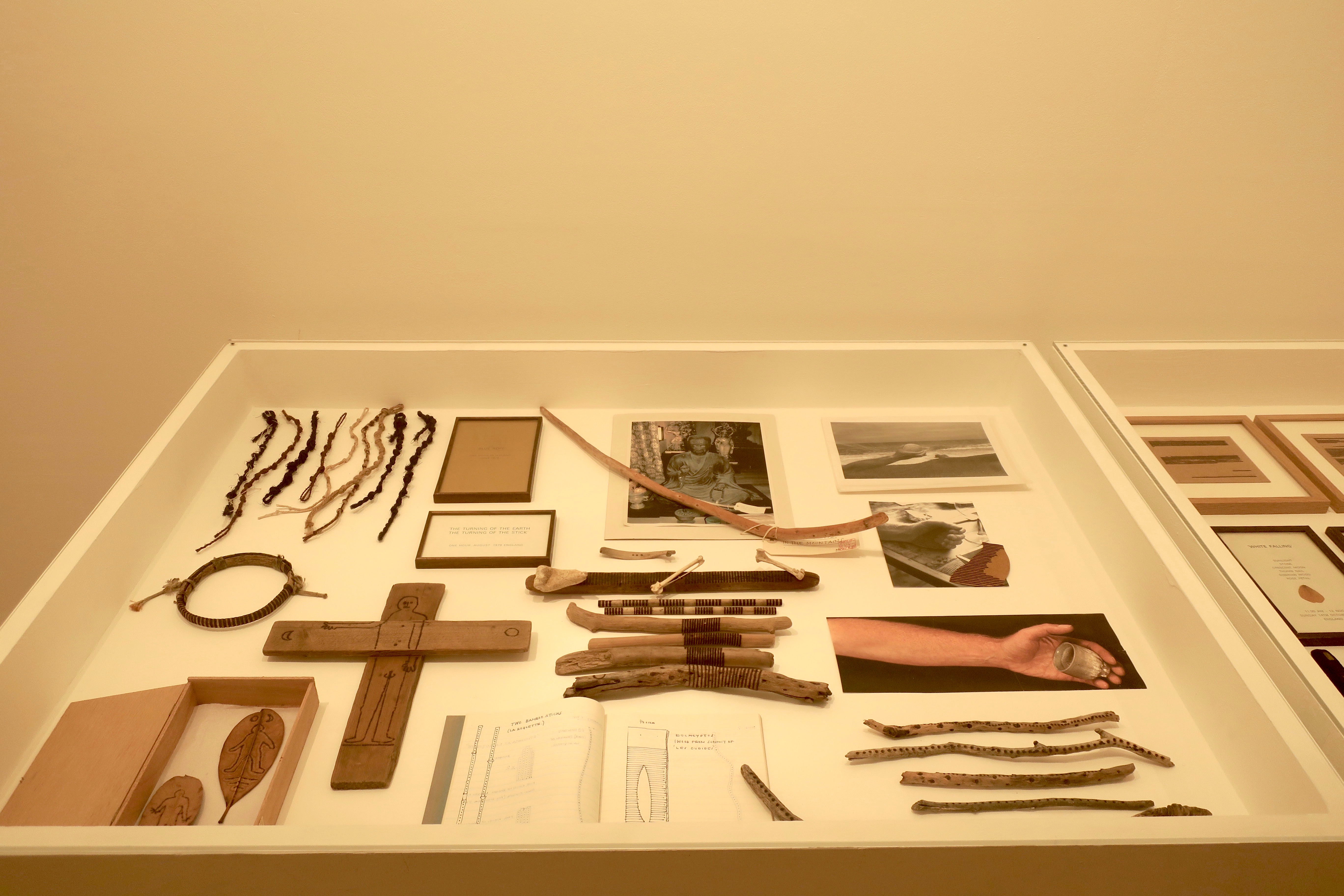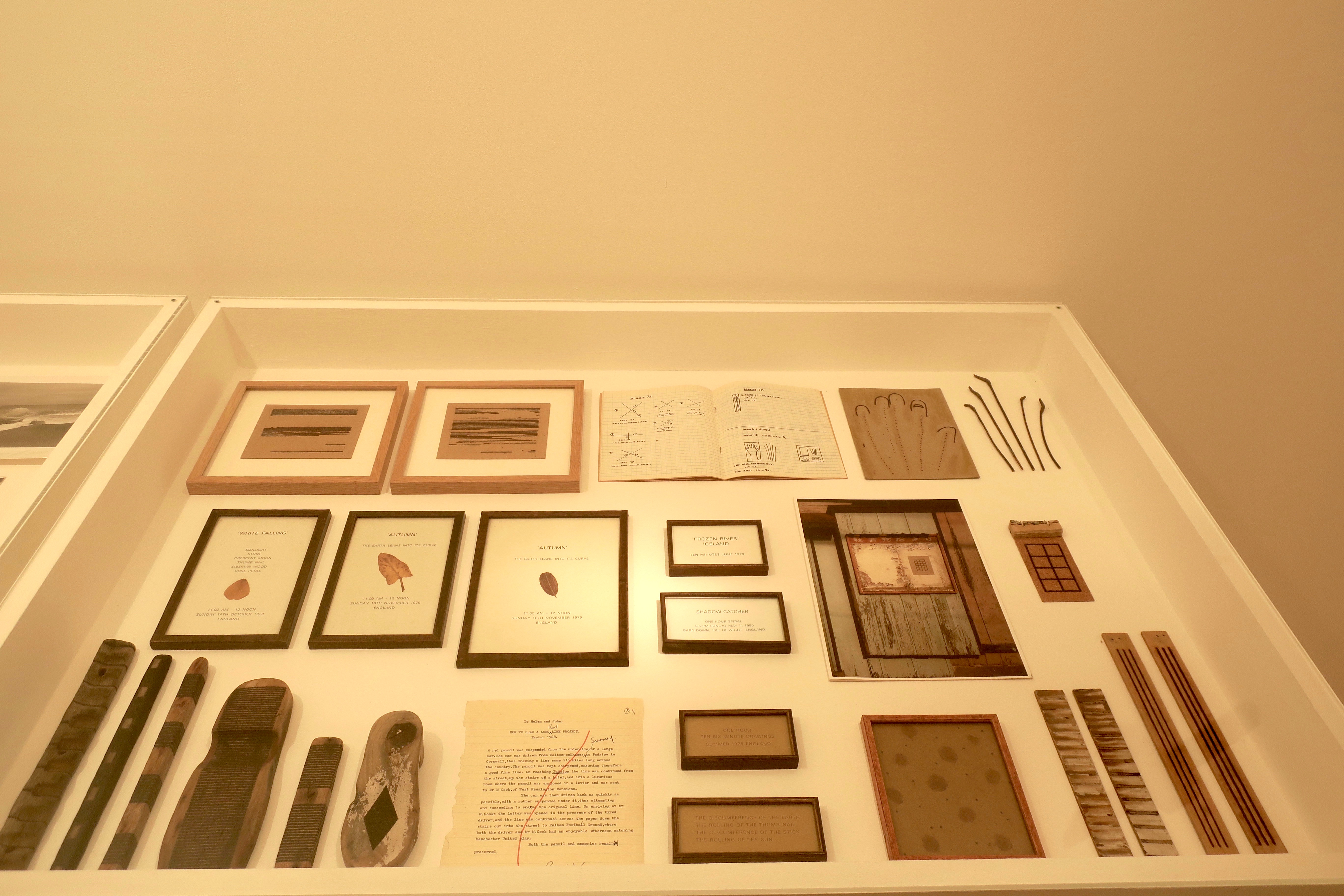 In the exhibition, Roger Ackling 'Brought to Light', Annely Juda Fine Art will be showing early archival works alongside an exhibition co-curated by Roger Ackling's long-time friends and collaborators Trevor Sutton and Carol Robertson.
(There) will be a selection of early notebooks, framed sun drawings, texts, photographs and works on paper that show Ackling's first explorations of nature and art through the use of time and light, made concrete on found objects. In early works Ackling used the sunlight focused through a magnifying glass to record time by burning lines onto card and paper. Moving the burning line across the paper, there would be interruptions caused by clouds coming between his lens and the sun, resulting in breaks in the burnt lines. The titles of these works record their location, time and duration. Sometimes in these early works the burnt lines are supplemented with seeds and petals, ephemeral and fleeting, like the records of the sunlight and passing clouds.
Ackling's work stemmed from his presence in the natural world and his record of that time spent. The sculptures that resulted from those encounters are made from every manner of wooden flotsam and jetsam that have been scribed with lines and dots of sunlight, sometimes made where the object was discovered, or returned to his studio. Reflecting his lifelong interest in Japan, Ackling created a Zen gravel garden next to his studio. Surrounded by walls, a small wooden platform was positioned in the most Southerly position, allowing him to work in the sun for most of the day. It is no coincidence that Ackling chose to make his work in a Zen setting, a garden designed to imitate the essence of nature, not an attempt to reproduce it; a place for contemplation and reflection. Ackling's repetitive and time-consuming burning of found wooden forms had many parallels in the daily raking of a Zen garden's gravel. The formation of dense parallel lines that trace around and define the boulders and stones in the garden are like the scribed lines of sunlight that made the shapes and forms on his sculptures. These resulting sculptures are contemplations made solid, recording in sunlight the many hours Ackling spent in the natural world.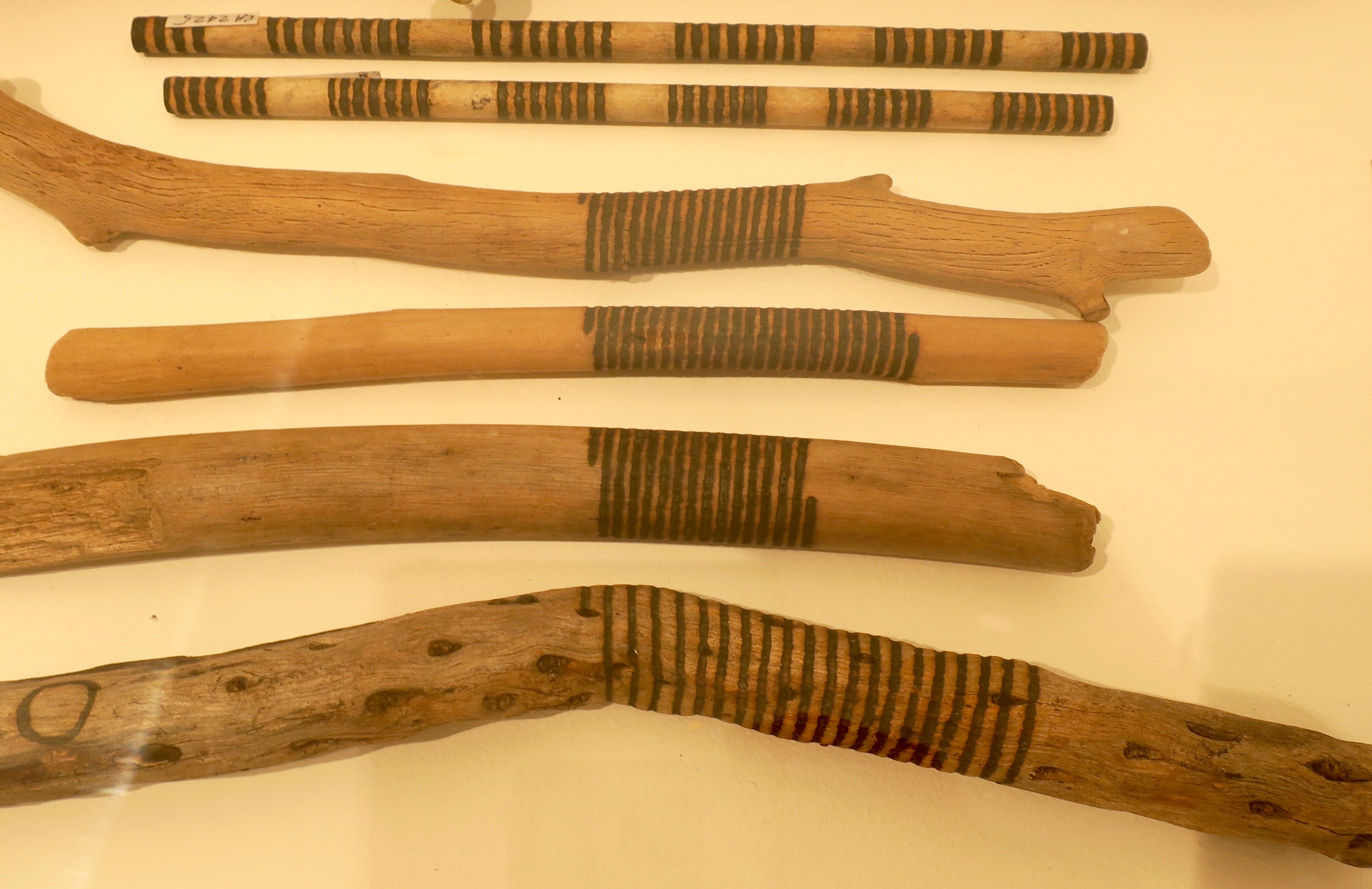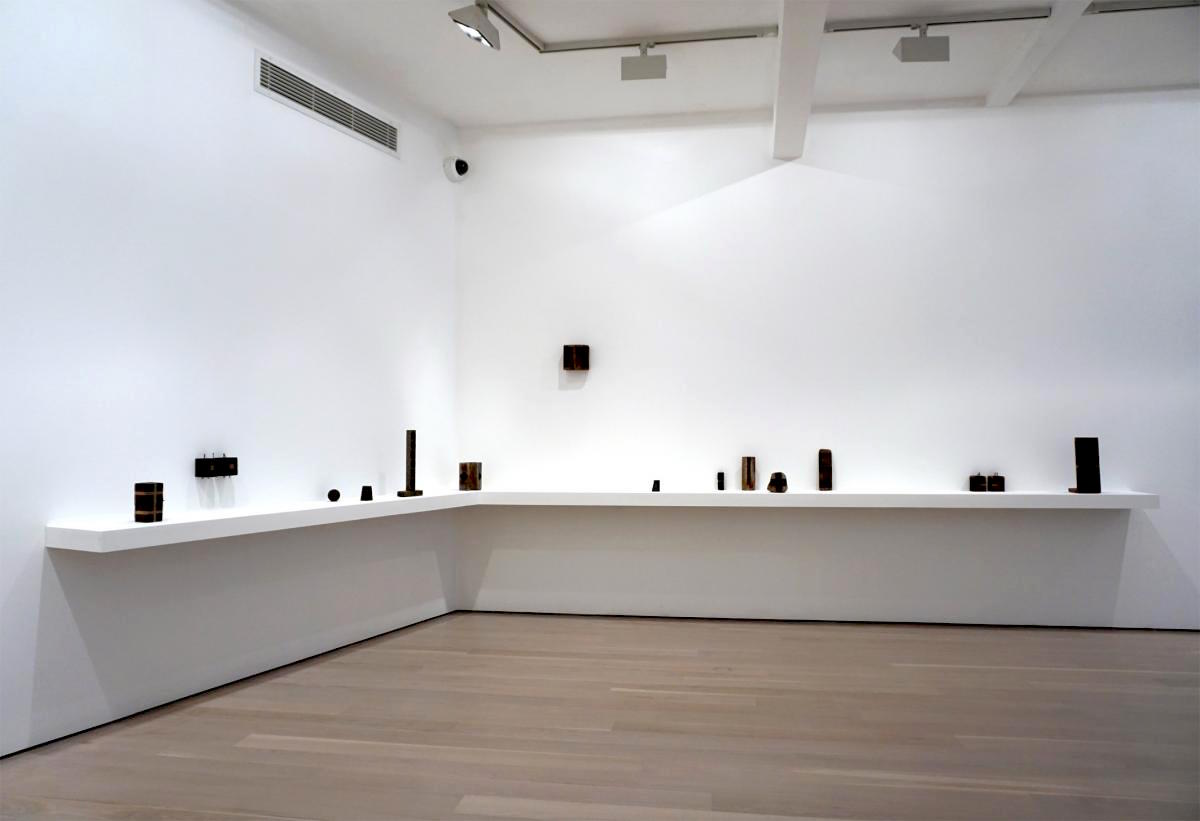 Roger Ackling Brought To Light installation, Annely Juda Fine Art (2018)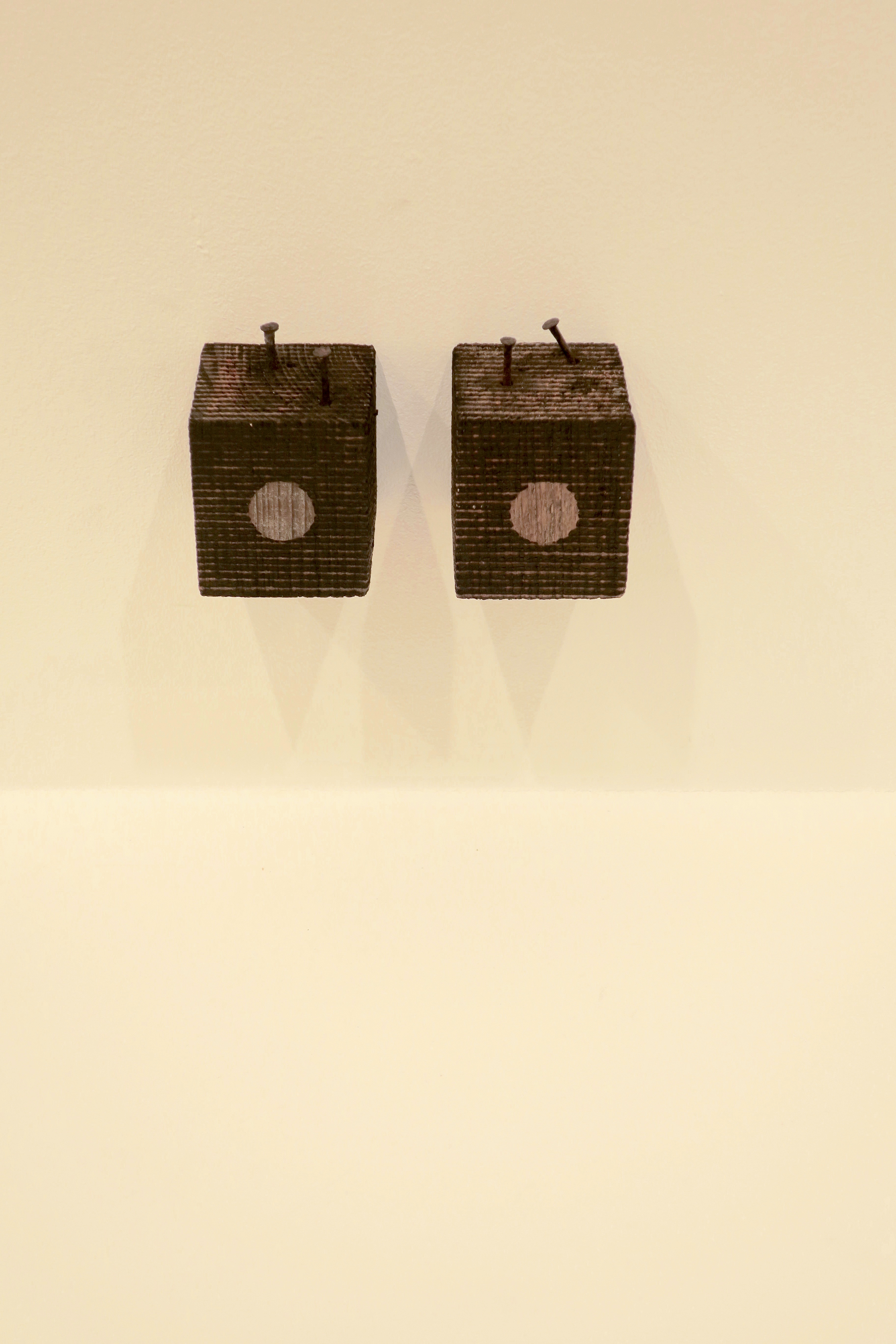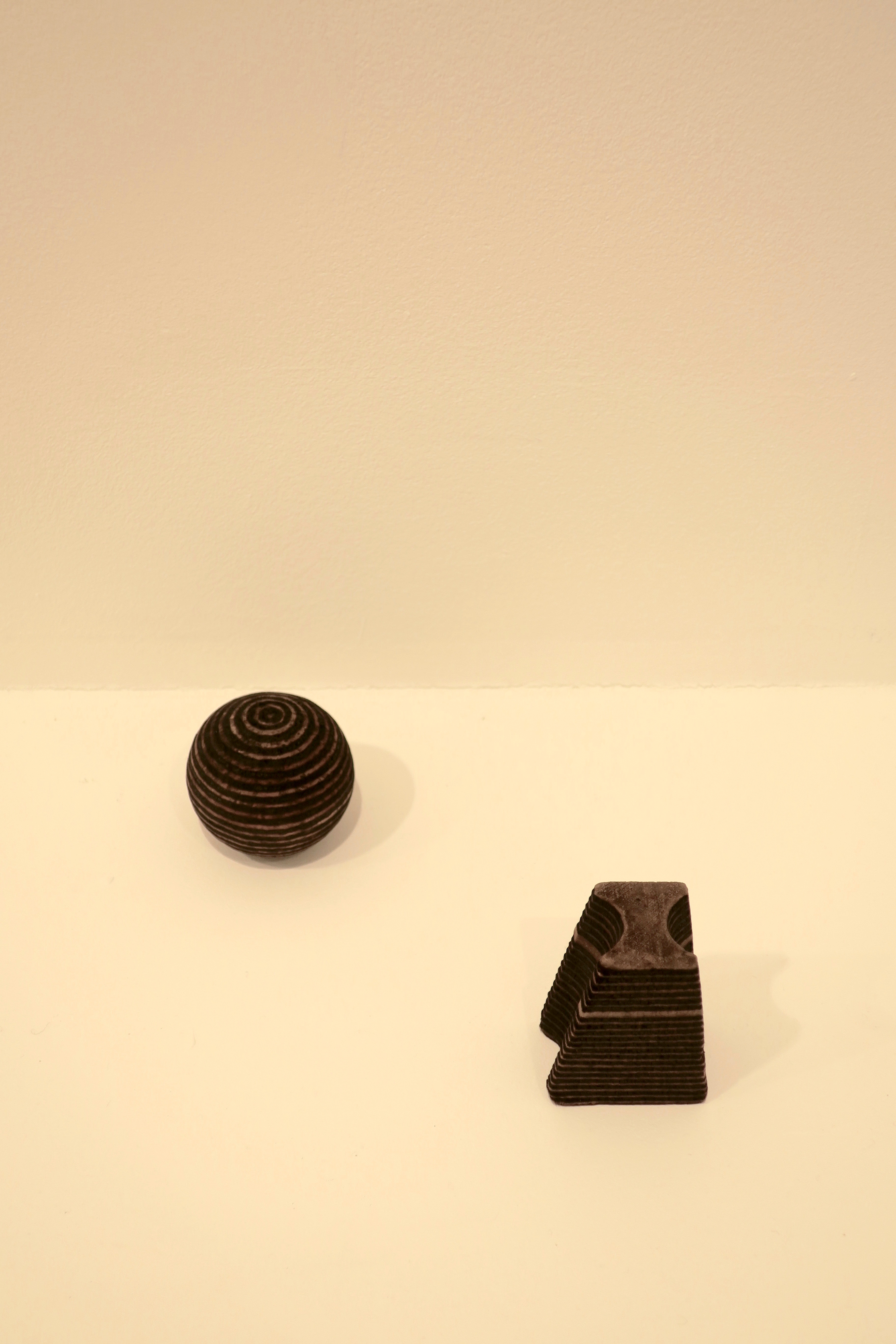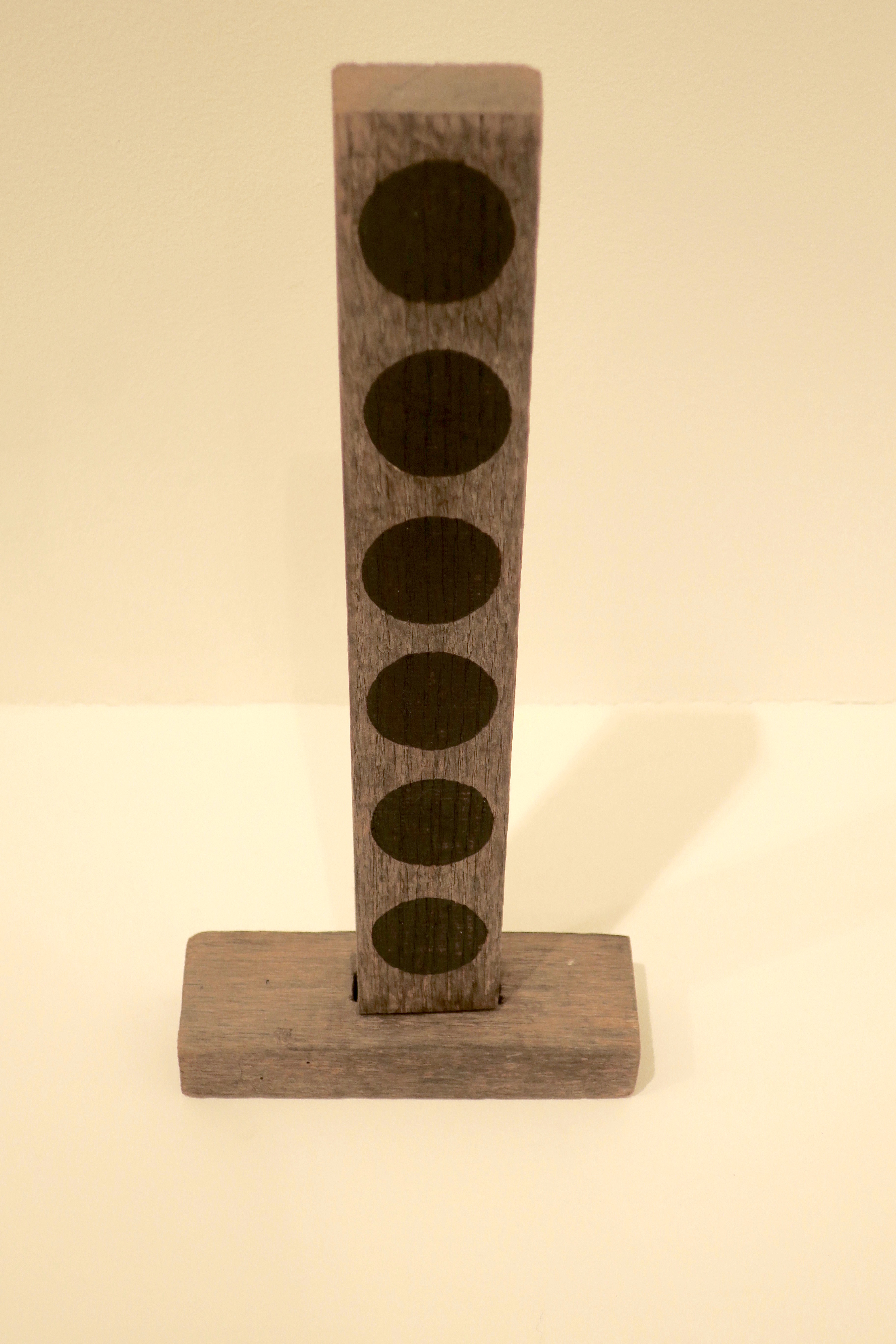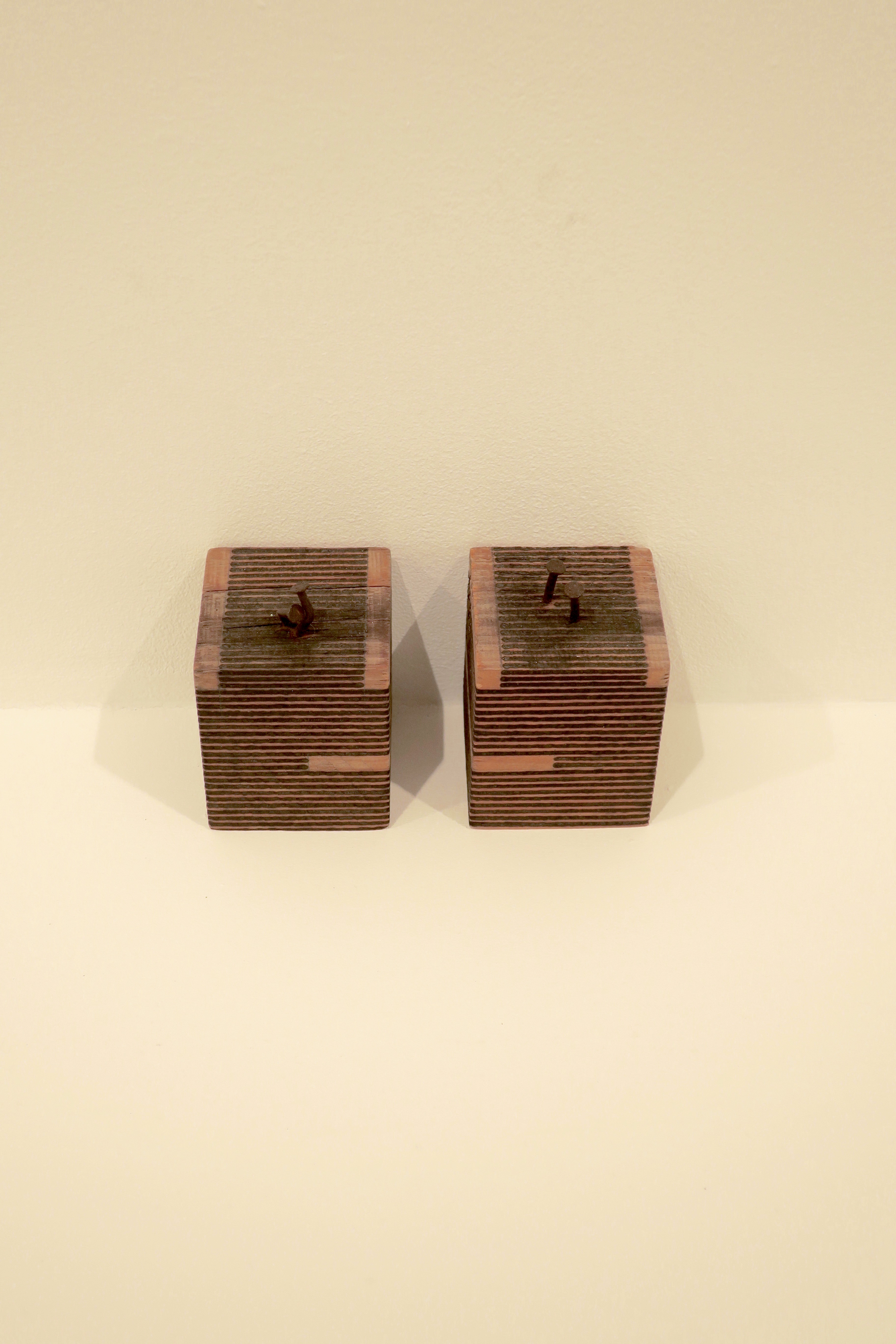 As many have for centuries I want to offer back into
the world an affirmation of what is wonderful…
I work on the surface but am aware that the spirit is
often hidden within like a shadow in the darkness.
Roger Ackling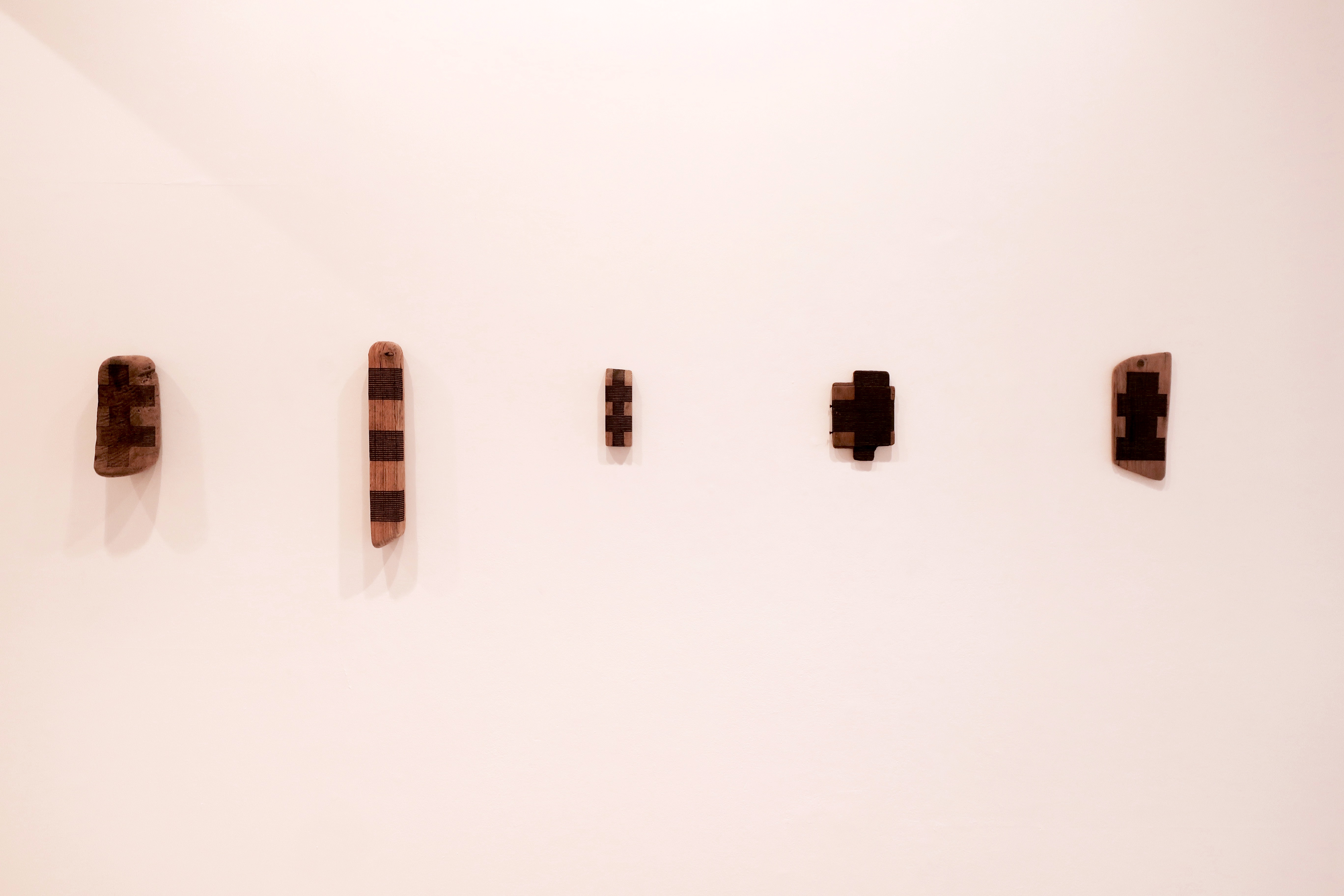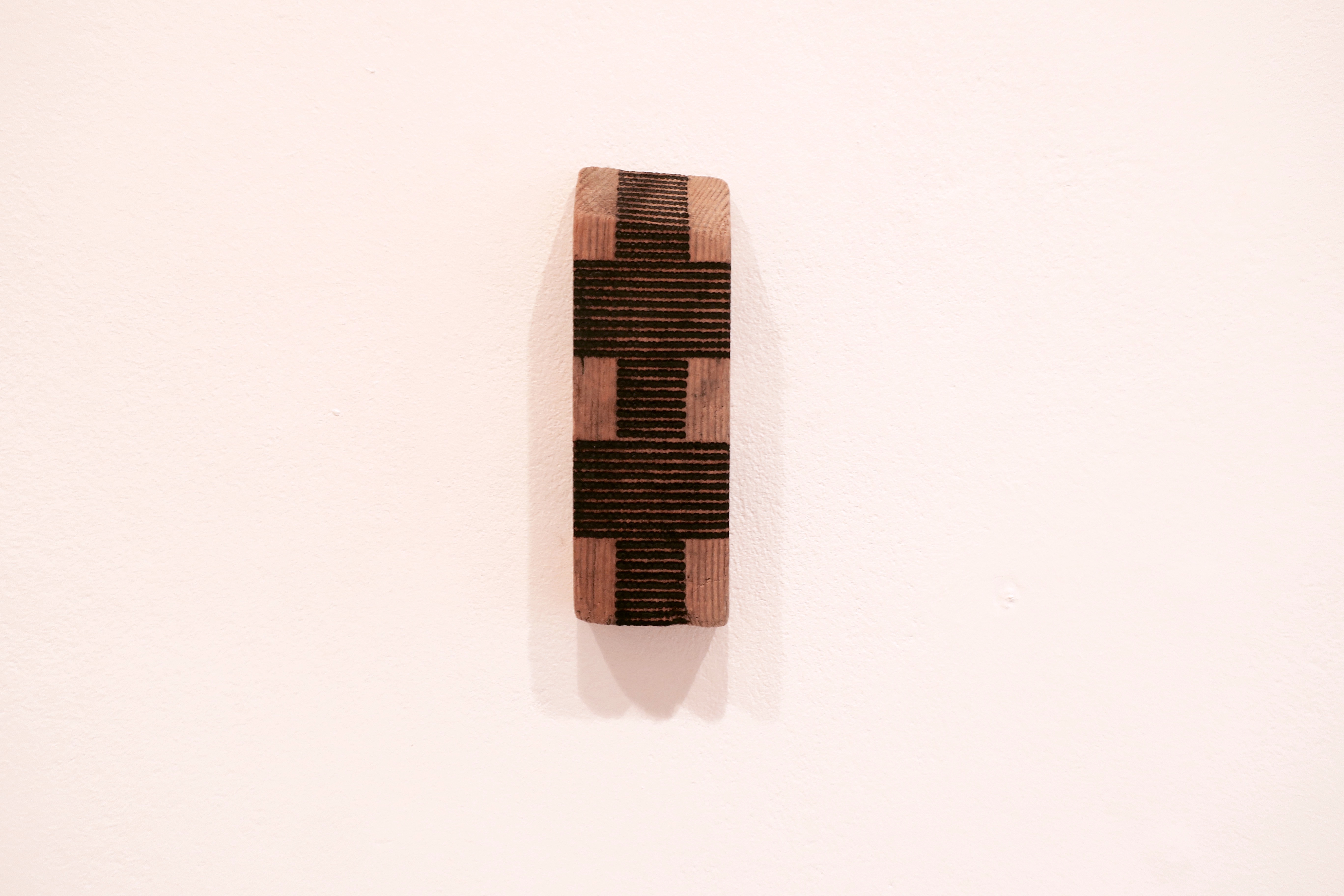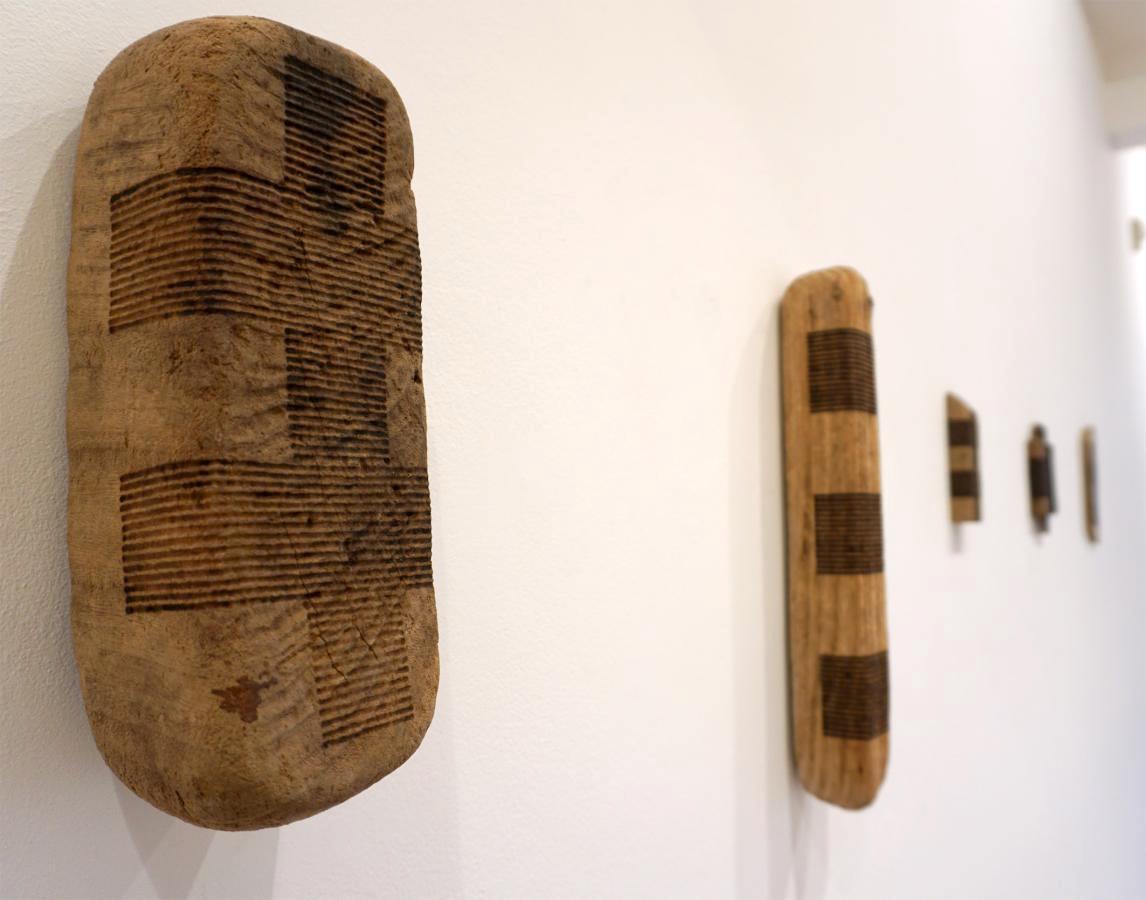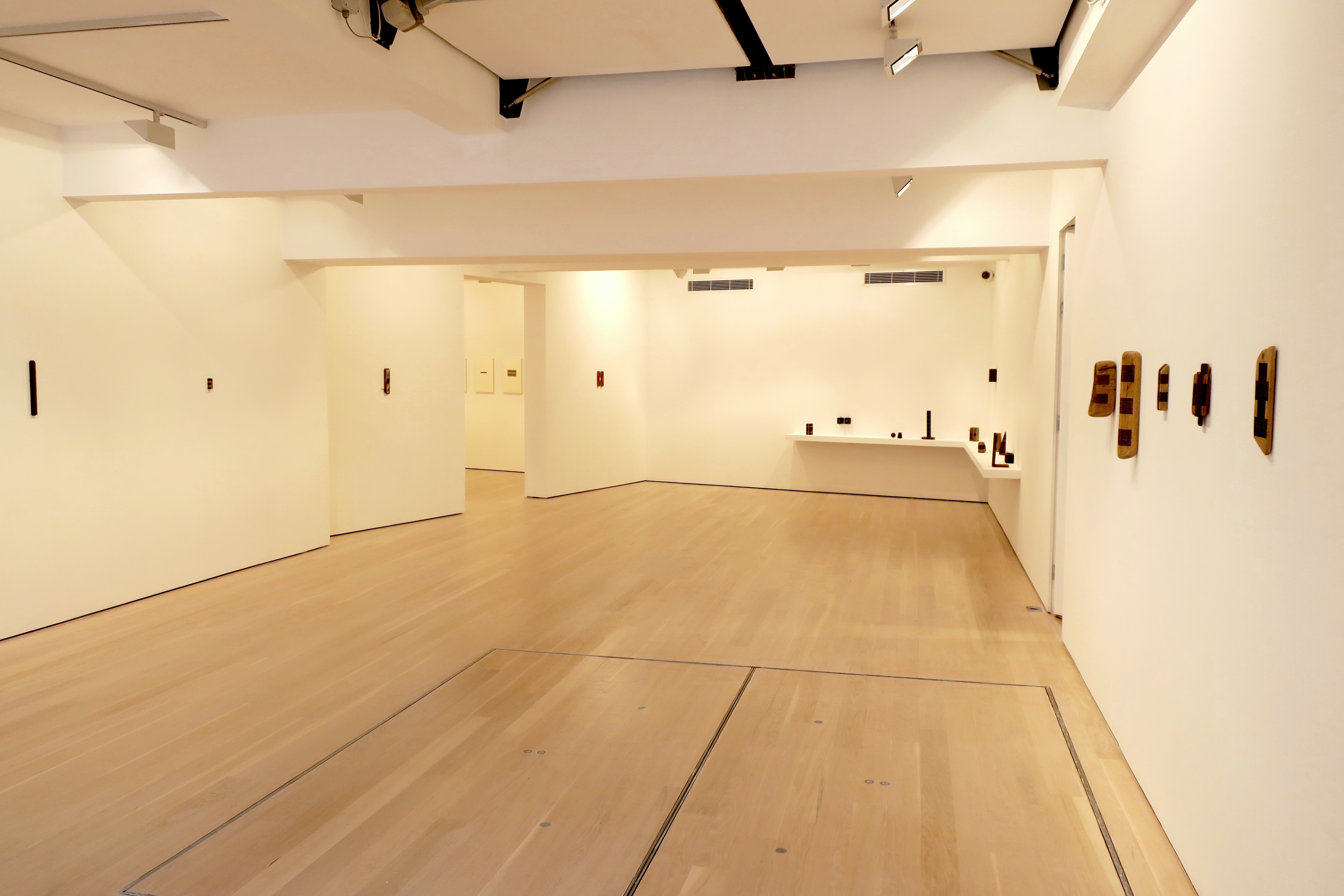 I knew this exhibition was coming up at Annely Juda's, I'd been looking forward to it, I love these driftwood talismans, humble found objects transformed by sunlight into solid prayers, but I'd not yet decided when to visit. Until I saw a tweet from Alexander de Cadenet and I had to come straightaway.
This caught my eye today: the sacred sun spot twigs by British artist Roger Ackling on show at Annely Juda Gallery.
Roger was a hero of mine; he was one of the most authentic and also one of the most empathetic artists I have had the pleasure to meet. His M.O. was to take walks along the beach and collect the jetsam and flotsam bits of wood that caught his eye. Once a piece was chosen, he would then burn in patterns and geometric shapes by concentrating the suns rays through a magnifying glass into a lazer.
It's the first time I saw these twig works with their Aborigine, path-like burn spots meandering their way through the knots of the wood, (itself grown from the sun's energy). I had no idea these works existed and they must be exceedingly rare!! His art was about the poetry of transformation, of harnessing the energy of nature in a manner that both honoured and celebrated the meditative process of making art itself. Each blackened burn mark is a reminder of our connection on planet Earth to the cosmos; it is also a bridge between the world of form and that which exists beyond form.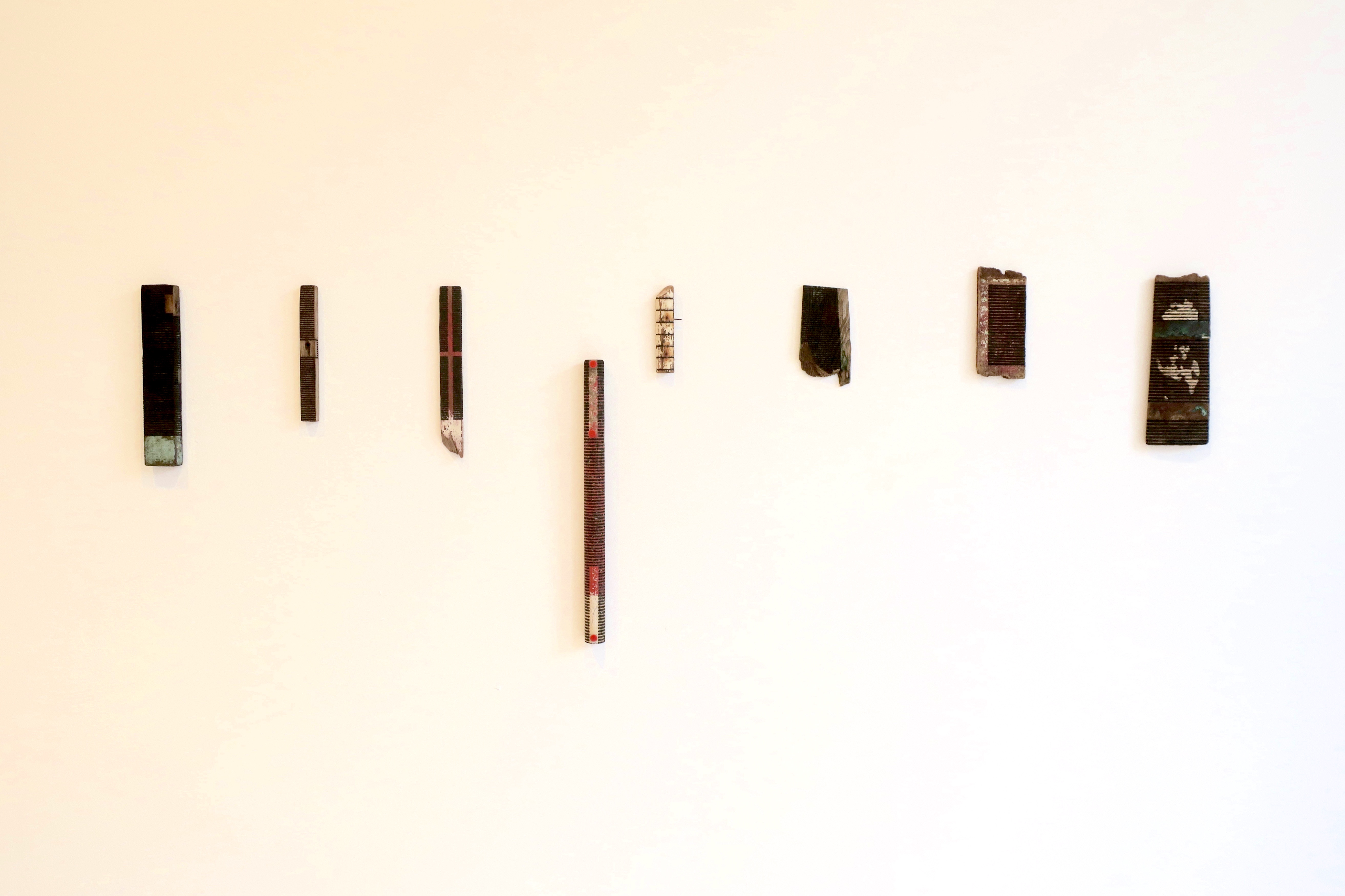 ※
Roger Ackling: Brought to Light