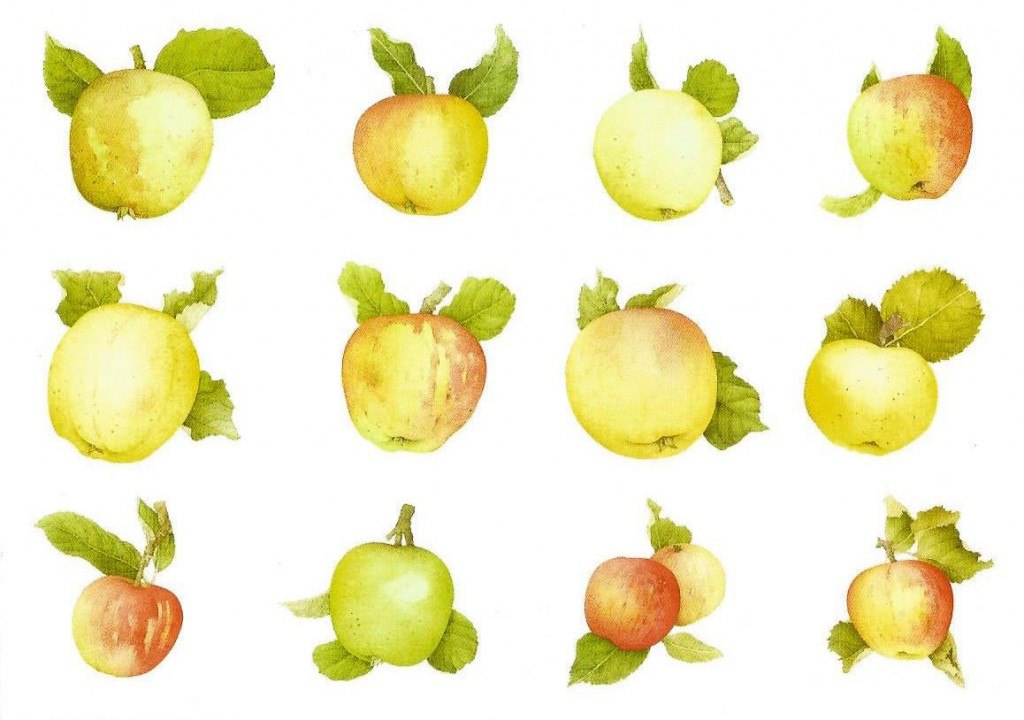 The tradition of Apple Day began on 21 October 1990 when the charity Common Ground took over the Piazza at Covent Garden in London with a demonstration to celebrate the cultural importance of the apple, as an enduring symbol of diversity and local distinctiveness. It coincided with an exhibition of specially commissioned photographs of West Country Orchards by James Ravilious. Over the last 25 years Apple Day has become a popular festival, celebrated across the country in schools and museums, village halls and the Houses of Parliament.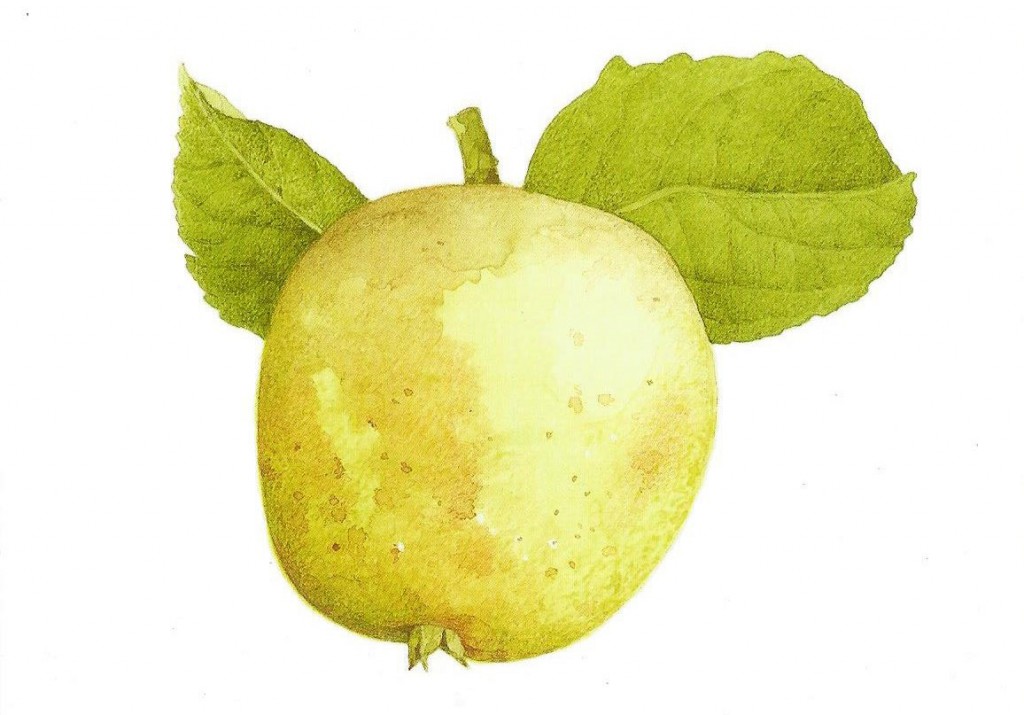 D'Arcy Spice (Essex)
Discovered in about 1785 in a garden at The Hall, Tolleshunt d'Arcy. It does best in sandy soil and dry areas and doesn't thrive outside East Anglia. Needs a hot, dry summer to gain its richly aromatic and spicy flavour. Choose to plant apples originating in your area, as they are often better adapted to local conditions and reinforce the particularity of place.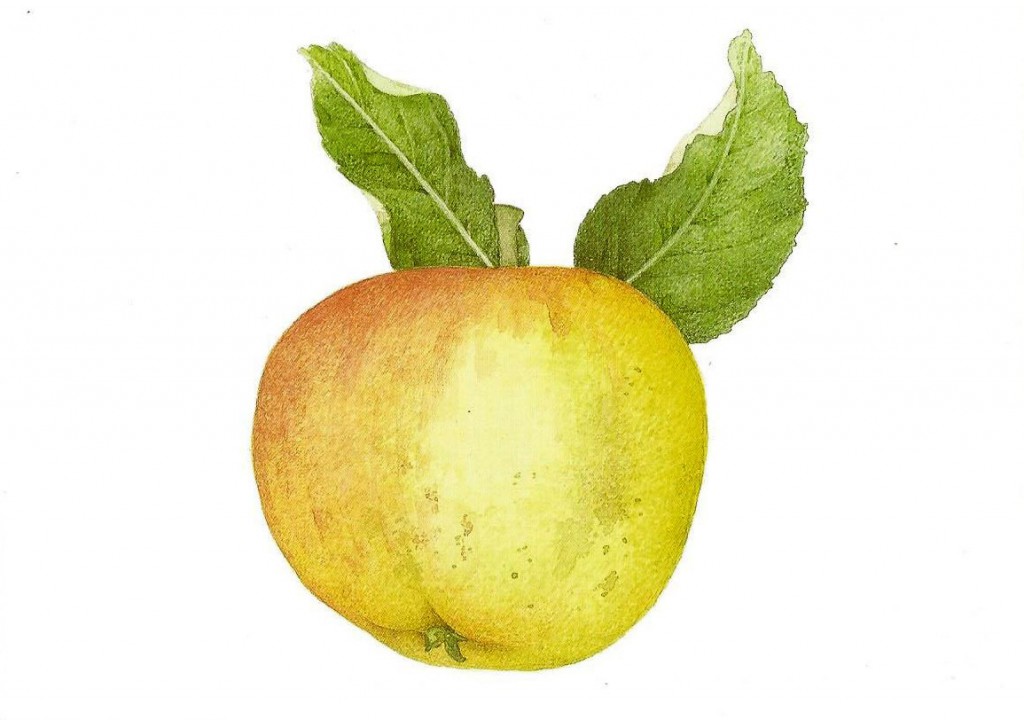 George Neal (Kent)
Raised by Mrs Reeves of Otford in 1904 and named after the nurseryman who introduced it in 1924, when it received an Order of Merit from the Royal Horticultural Society. A large apple, sharp when eaten fresh but which keeps its shape well when cooked and has a sweet delicate flavour, needing no extra sugar. Said to be the best variety for apple sauce.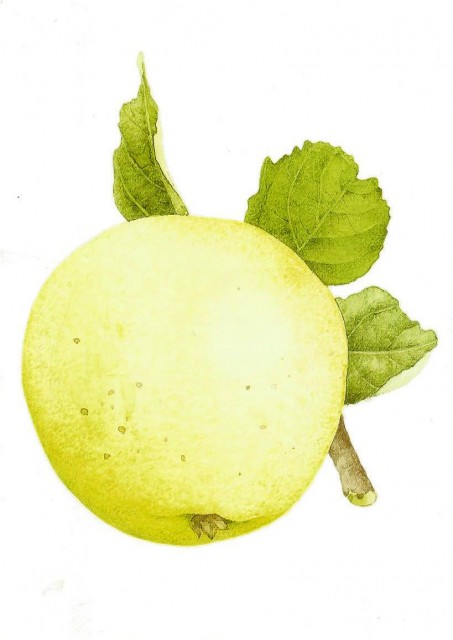 Golden Noble (Norfolk)
Discovered in an old orchard in 1820 near Downham Market. This medium sized apple was considered by the Victorians as one of the best cookers having an extremely fruity flavour which keeps its shape. It is ideal for baking as a whole fruit, in apple pies and open tarts. Can be eaten as a dessert apple as it becomes sweeter with storing.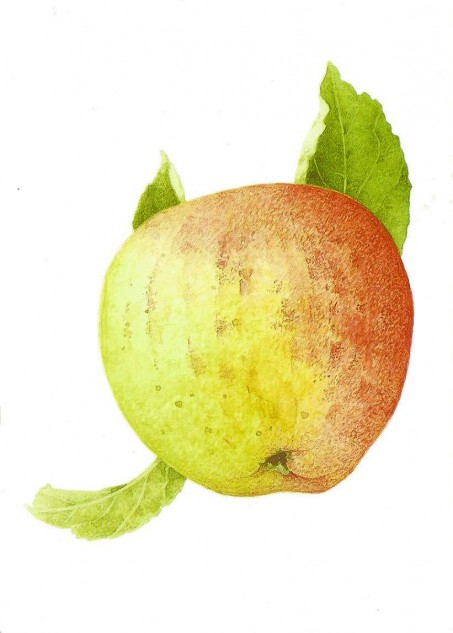 Howgate Wonder (Isle of Wight)
This large culinary apple was raised in 1916 in Howgate Lane, Bembridge. It is a vigorous, spreading, heavy cropper, often grown as a standard tree providing a good habitat for birds to hide and nest in, lots of anchor space for fungi, mosses and lichens, potential deadwood for beetles and woodpeckers, and enough fruit to go round. Apple trees can survive for a century or more and tall, older trees can support a greater diversity of wild life than commercial bush orchards.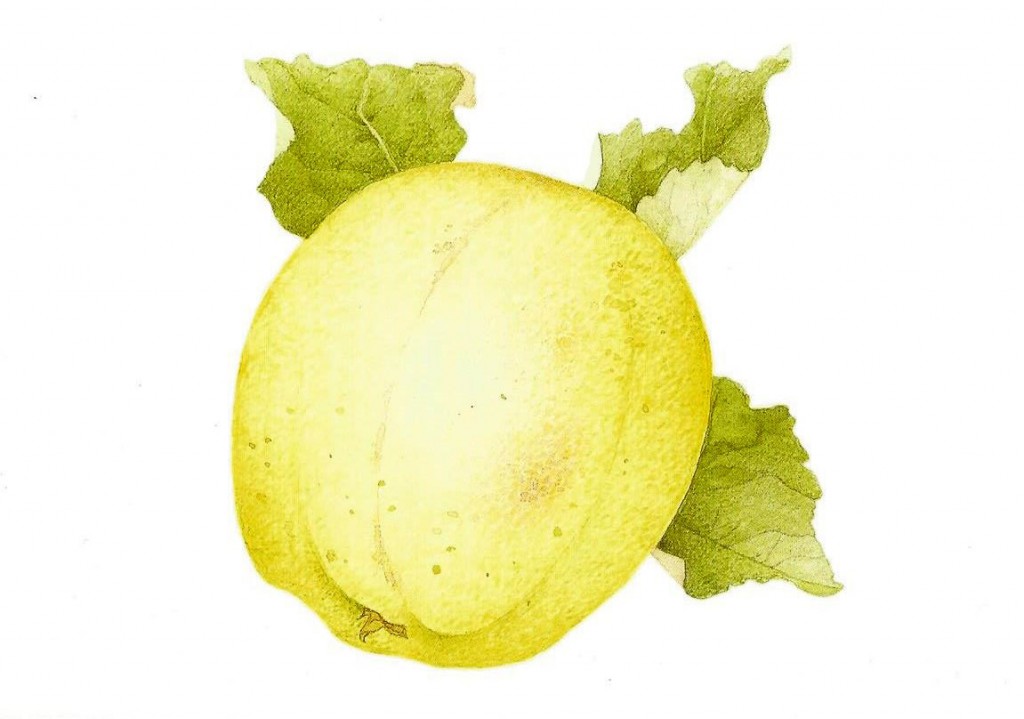 Keswick Codlin (Cumbria)
A distinctly angular apple found growing among rubbish behind a wall at Gleaston Castle near Ulverston. Mr Sander, a Keswick nurseryman, introduced it in 1793. An apple for all seasons: it has a profusion of decorative early blossom making it popular for planting in bowers; in July its apples can be cooked in tarts or baked but they sweeten with age as their starch content turns to sugar, they can be stored for eating well into winter.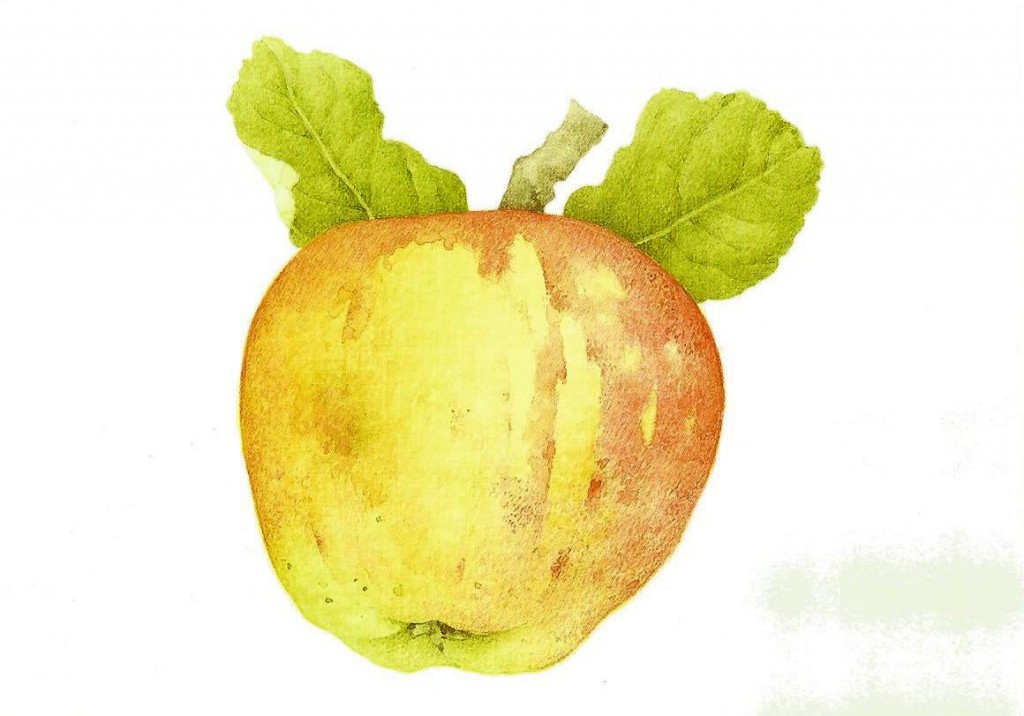 Ribston Pippin (Yorkshire)
Discovered in the gardens at Ribston Hall, near Knaresborough. One of the most richly flavoured apples, crisp, juicy and aromatic it contains 31mg/100g of Vitamin C, six times that of Golden Delicious. It keeps well, providing a good source of vitamins in winter.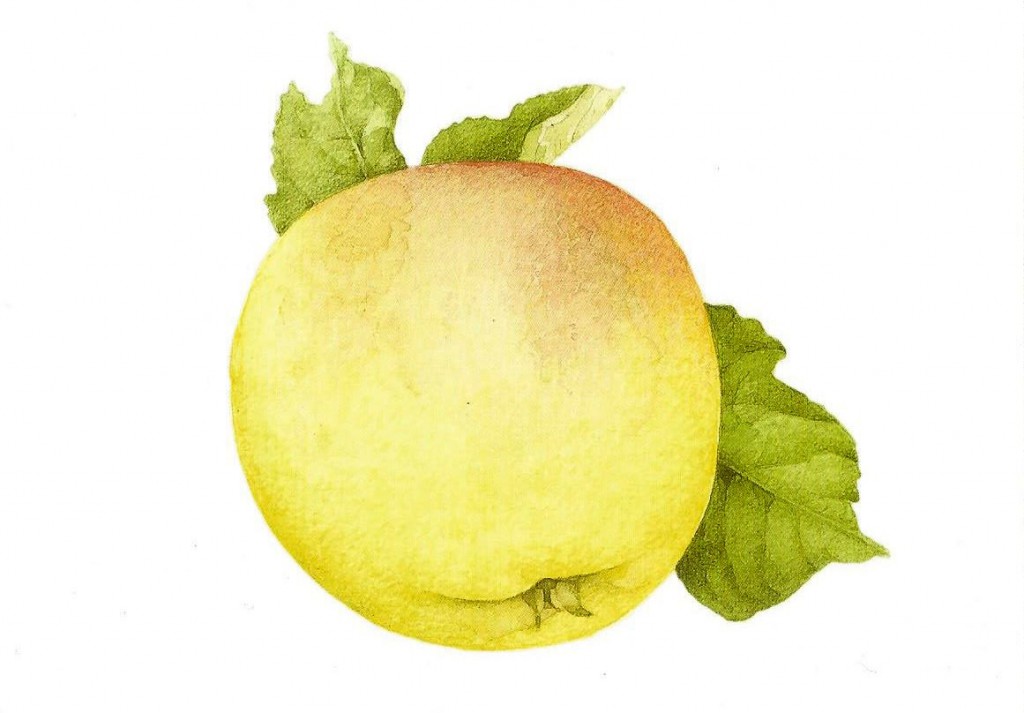 Stirling Castle (Stirlingshire)
Raised in the garden of toyshop owner John Christie in Causey Head near Stirling in 1820. It was considered amongst the top ten cookers in the 19th century. Excellent for growing in colder areas, its intolerance of sprays leaves more bugs to encourage orchard birds such as tits, robins or tree creepers. This makes it a practical choice for organic growers.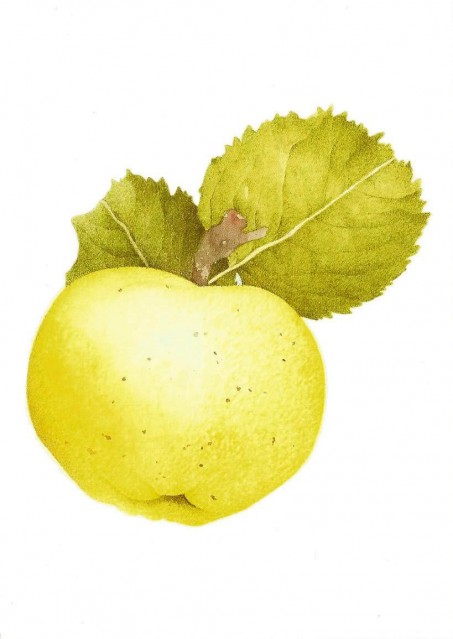 Sweet Alford (Devon)
This is a sweet/bittersweet cider apple raised in the early 18th century. It produces juice of high enough quality for vintage cider. Cider apples have been cultivated to produce qualities of sharpness, bitterness, or sweetness which are blended to produce the desired taste. The inherent sugars affect the alchohol content of the cider, while the fruit's acidity adds sharpness and tannins add body and bitterness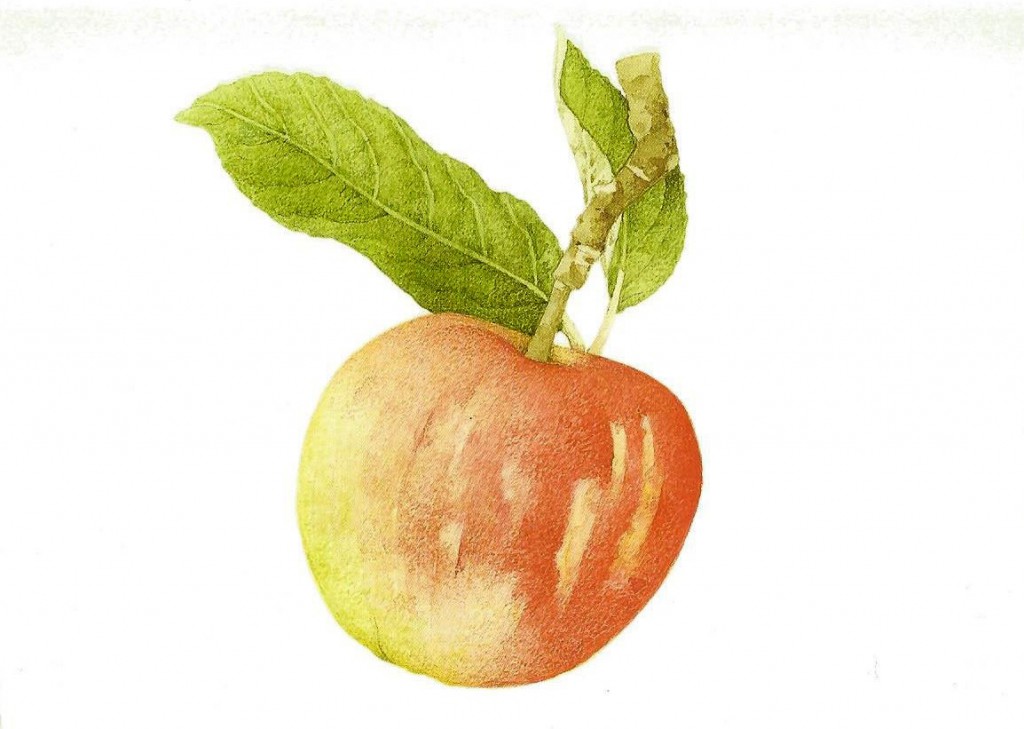 Tom Putt (Devon, Somerset, Dorset?)
Stories differ: raised by Sir Thomas Putt of Combe Estate, or by the Rev Thomas Putt of Trent in the late 18th century. It is really a cider apple and grown as such in the West Midlands. Trees of Tom Putt show considerable differences in different counties, or between areas of the same county, possibly because it has been widely propagated from seedlings as well as by grafting.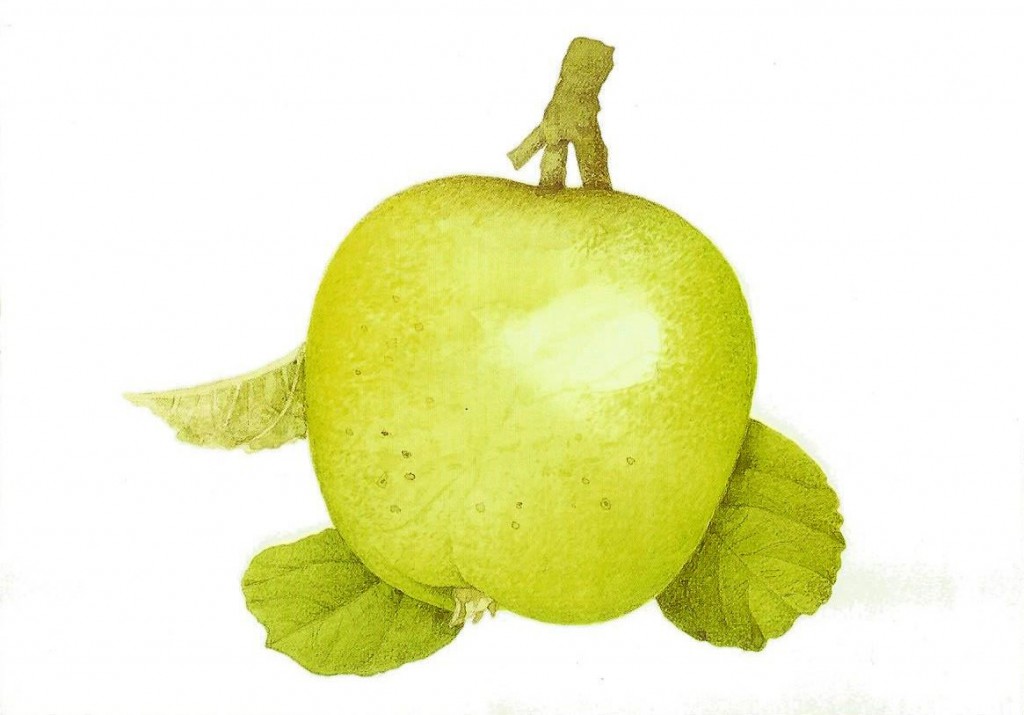 Tower of Glamis (Clydesdale)
An old variety known before 1800. It is hardy and grows well in the north. Its distinctively aromatic green apples are valuable, being unusually heavy. Apples are a great source of antioxidant flavanoids which lower cholesterol levels and provide a good source of fruit fibre in the diet.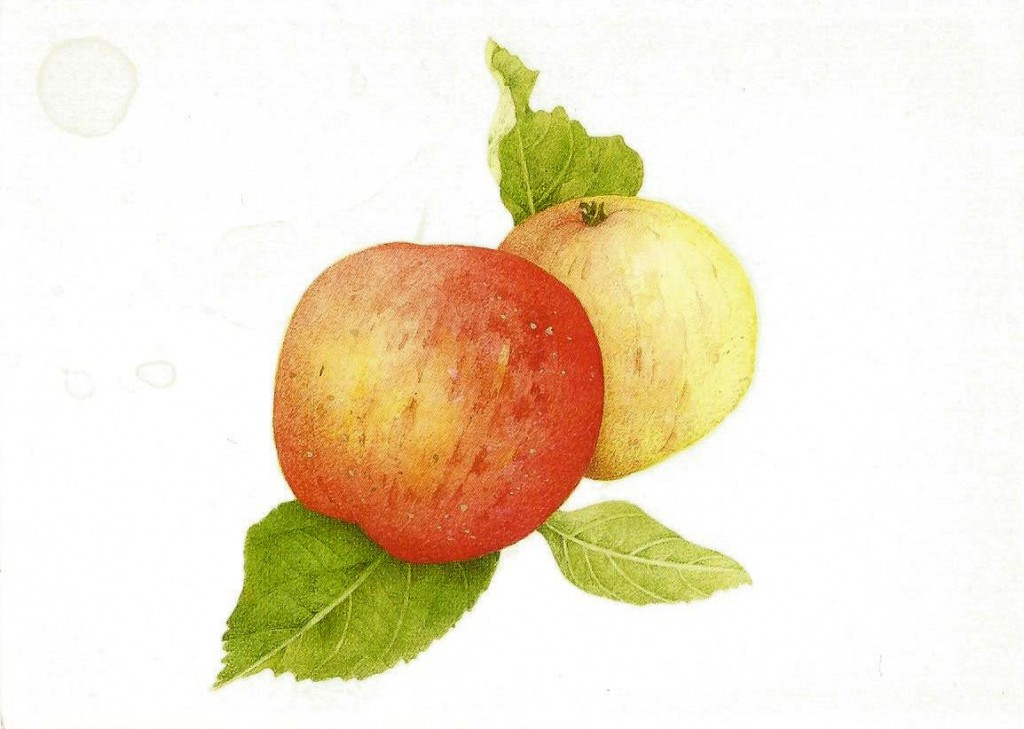 Worcester Pearmain (Worcestershire)
Thought to have been raised by Mr Hale at Swan Pool in about 1870, it remains one of the ten most widely grown commercial varieties. This sweet, juicy, early dessert apple was raised from a pip of the Devonshire Quarrenden. It is a good example of how apples don't grow true from seed and how, with nature, we have managed to create thousands of varieties – 6,000 eating and culinary apples in the UK alone.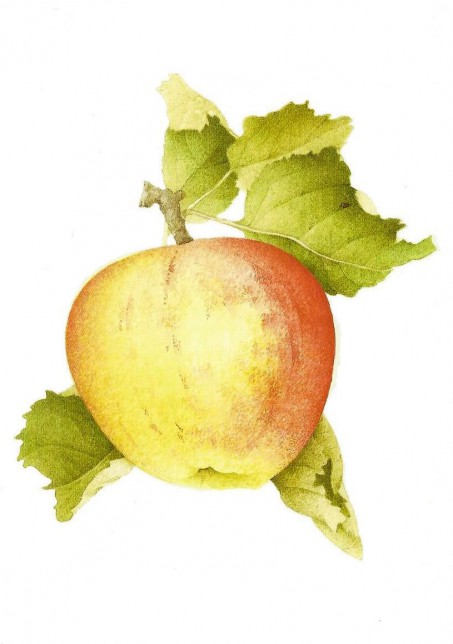 Yarlington Mill (Somerset)
This cider apple was found growing in a wall by a water wheel at Yarlington. Somerset remains one of England's most important cider counties and one where wassailing continues in many orchards on Twelfth Night. This ancient tradition is said to encourage the trees to produce a good crop in the following year and details of its celebration vary from place to place.
※
The watercolours by Charles Raymond were reproduced as postcards by Common Ground.
A limited selection are available for sale at The Rowley Gallery.